Top 10 Creative WordPress Blog Themes of 2022
May 16, 2019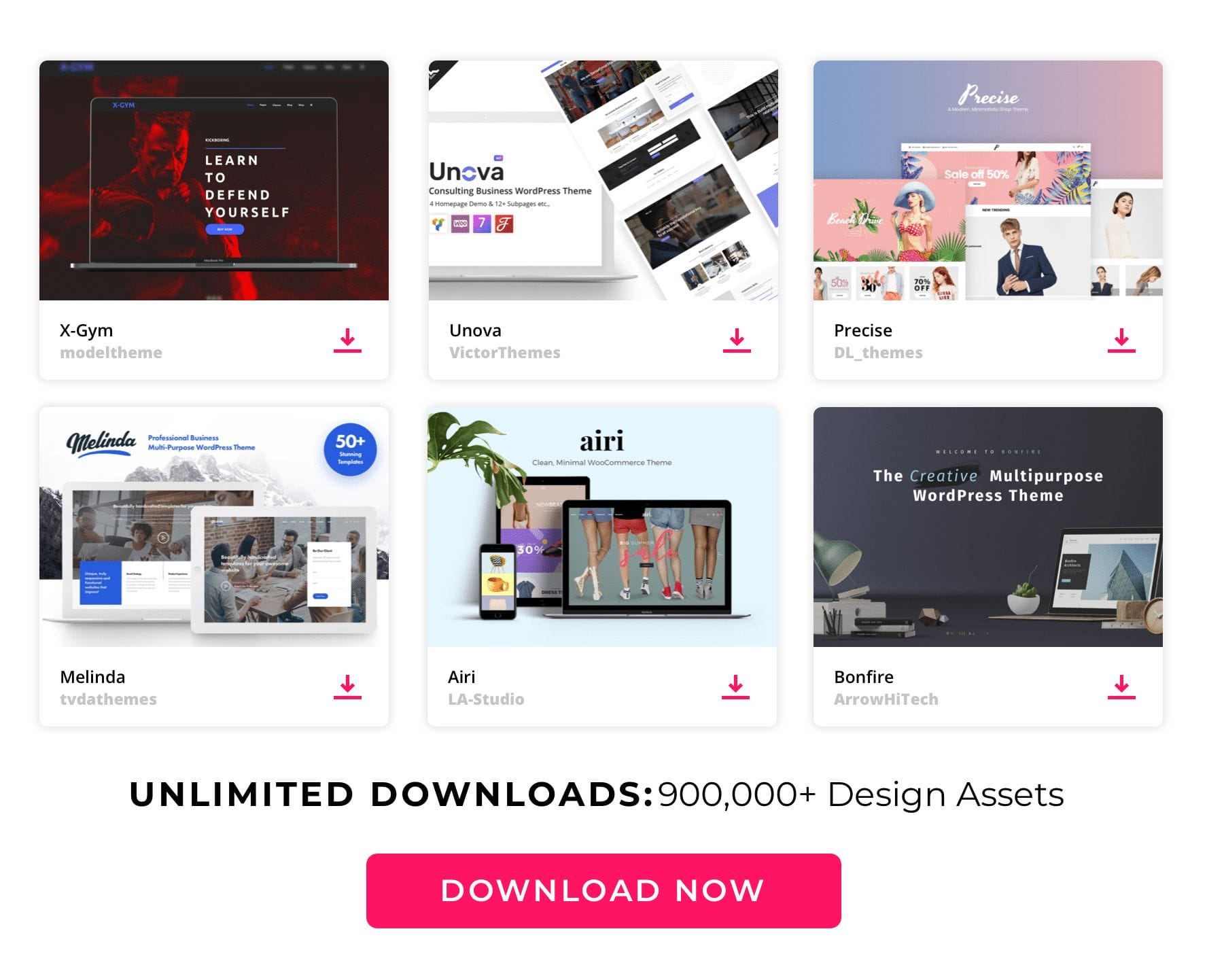 Well, there's nothing more casual on the web than a blog. It seems that blogs have been out there forever since the inception of the Internet. However, modern blogs are the consummate business and marketing tools that stand apart from their predecessors. Do you want to create such a new-gen blog? We've selected the 10 best Creative WordPress Blog Themes just for you.
See also : 300+ Best Responsive WordPress Themes
How These Themes Were Selected?
WordPress Themes we present today are some of the most popular blog building tools on the web this year. With their help, a number of businesses created successful and high-converting websites that are bound to rock on for a long time. Below, we list the aspects that make these blog themes superior in the blogging niche:
Visual Builders. Forget about custom code and shortcodes. Enjoy editing your website with your mouse only.
New-gen responsiveness. True professionals keep taking theme responsiveness to the new level. Eye-witness this by testing our top 10 web design WordPress themes in different viewports.
Ready-made Custom Elements. Now, creating a professional site on the go is possible with custom block presets provided by theme designers. You can use these presets for adding content with visual builders.
High-end Performance. As theme packages lose their weight, your website becomes ultimately fast-performing. You'll rejoice to see your score by PageSpeed Insights.
WordPress Categories
There are more draws of 10 best blog WordPress themes to uncover. Go through the template descriptions below to uncover the functionality and feature set of each template.
Monstroid2 [$75] WordPress Blog Theme
Let us start with the most prominent WordPress theme of this year. Designed in 2018, this best-selling template was the first to introduce modules like the new convenient working blocks. Thanks to this, Monstroid2 gives you a cool opportunity to mix-and-match the blocks from different skins, creating a unique and diverse UI for each page of your site. We can't also pass on the fact that after the latest update Monstroid2 rocks on WordPress 5 and supports Gutenberg.
There are numerous advantages of Monstroid2 that root for its superiority. Firstly, this complex and multi-skin theme is surprisingly extremely lightweight. Thanks to its feather-light package, Monstroid2 performs smoothly and always gets a high rating with Google Speed. At the same time, this theme delivers you as much as 500+ pre-designed sections, Elementor Builder, Magic Button, user-friendly Installation Wizard, and many other pleasing features:
500+ Magnificent Sections;
Popular Elementor Page Builder;
User-friendly Wizard;
Competent Support Team;
Spectacular Visual Effects.
Imperion [$75 & Free Version Available]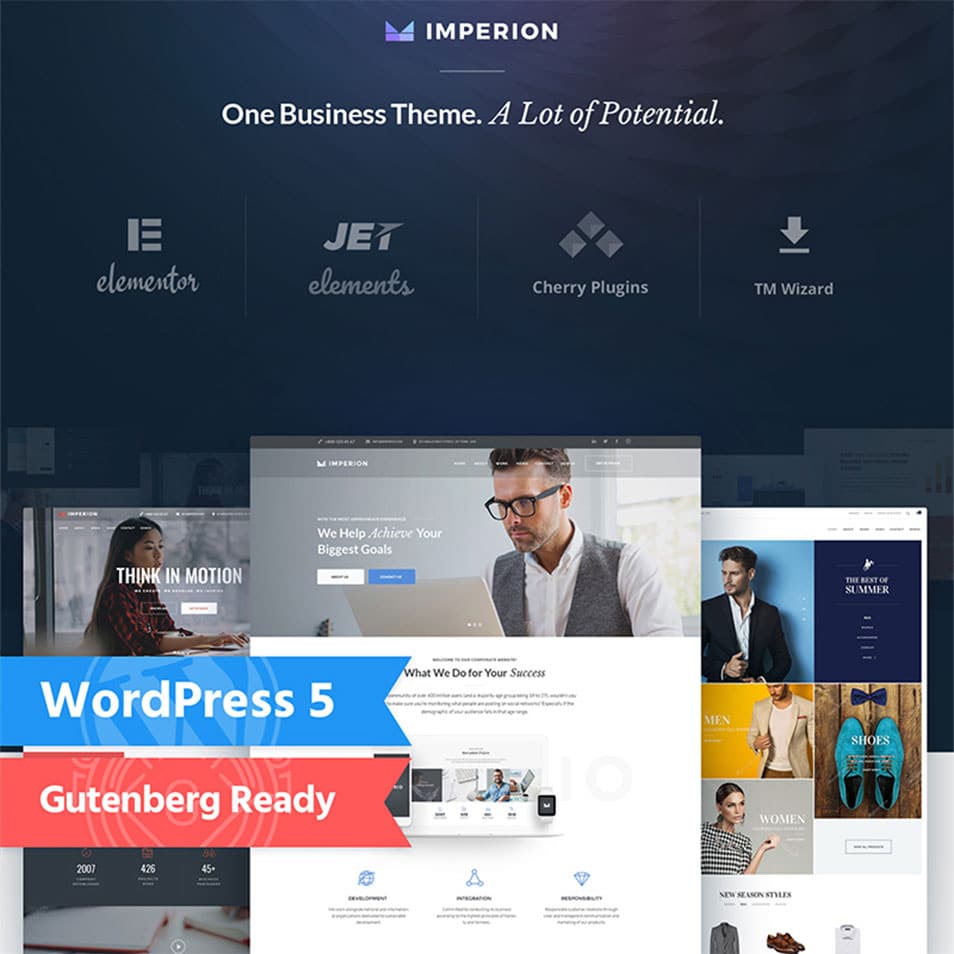 Great news! The universal Imperion business template is now compatible with WordPress 5 and Gutenberg. This best-selling theme is renowned for its splendid collection of designs that range from classic business sets to creative and minimal gems. Within the package of Imperion, you get the skins for shops, company websites, presentations, digital agencies and more.
Moreover, with Imperion, you're not restricted to using only Gutenberg to edit your website. On the contrary, this theme includes the feature-rich Elementor Builder. With this modular constructor, you can create dazzling layouts and effortlessly customize the content of your site. Finally, with Imperion, you won't ever feel that you miss the needed setting. This template has a robust admin panel with tons of settings that let you control every element of your website. Moreover, such types of content as attractive Brands, Carousels and Post Sliders are available thanks to JetElements addon. Other theme features include:
Slider Revolution;
JetMenu and JetElements plugins;
All Images Included For Free;
Elementor Builder;
WooCommerce Package.
Details Live Demo Free Version
Gutenberg Starter [Free]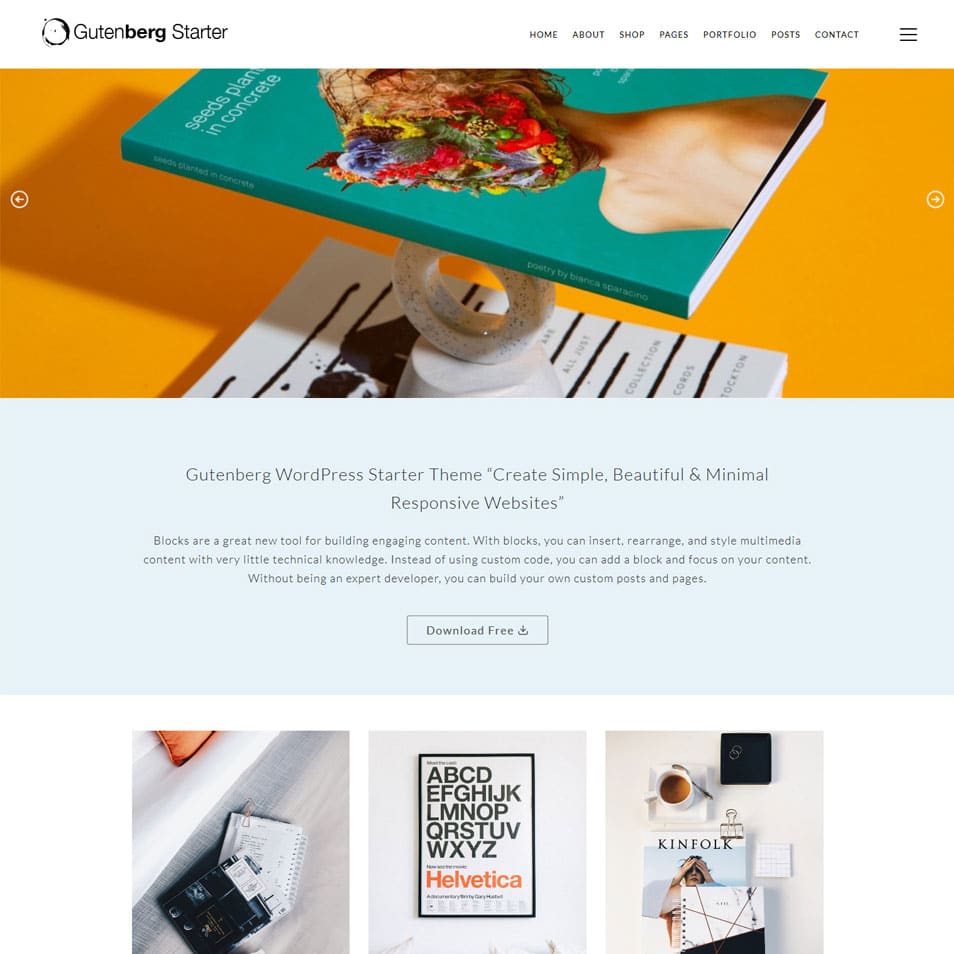 The free Gutenberg Starter WordPress Theme is a good starter for anyone eager to build their first website with Gutenberg without spending a penny. This theme introduces you to the new comprehensive block editing technique. With blocks, you can insert, rearrange and restyle different engaging content without any technical know-how. Moreover, thanks to pre-designed Gutenberg blocks your content looks professional and meets the needs of commercial websites.
Fortunately, Gutenberg Starter Free WordPress Theme boasts not only of its customizability but also of its comprehensiveness. Instead of spending your time working with custom code, you can really wrap your head around the effectiveness of your content and make it to the top. Needless to say, this theme is as lightweight as a feather, pleasing your website users with lightning-fast loading and impressive performance. So, the free Gutenberg Starter WordPress Theme has the following features:
Theme Options;
Menus Capability;
Responsive Design;
Valid XHTML + CSS;
WordPress – Current Version;
Search Engine Optimized, etc.
24.Storycle [$75 & Free Version Available]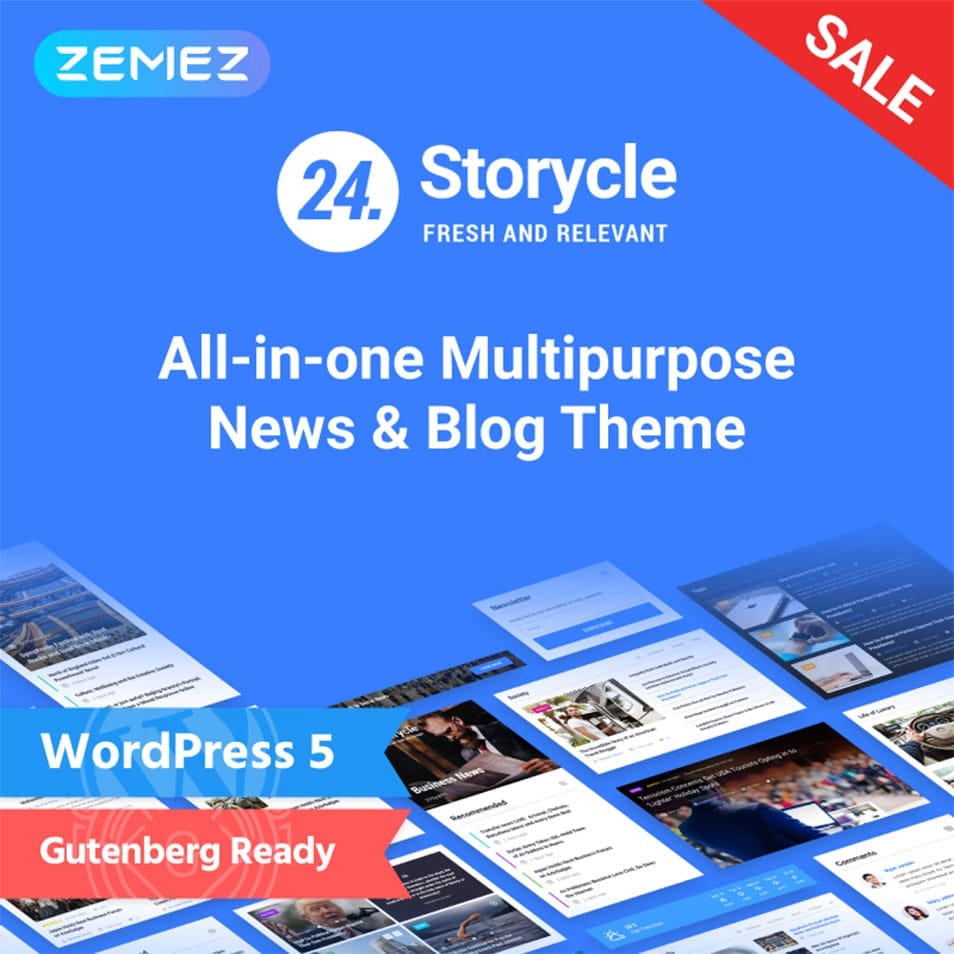 Create your own universe of effective storytelling with the popular 24.Storycle template. This theme lets you make your sound entry to the digital world with multiple skins that account for different needs of general and niche news websites. Fashion, lifestyle, technology, traveling and business – 24.Storycle has 15+ skins for every news website you can dream of. Moreover, all the designs it includes and compatible with Gutenberg.
If you're not ready to switch to the new standard WordPress editor, enjoy the premium Elementor Visual Builder generously packed by the theme developers. The capabilities of this builder are immense as they make next to every website design rearrangement possible. Among other useful theme tools, we should mention Header and Footer Builder, MegaMenu Builder, etc. Moreover, the theme Post Slider allows you to create different tile layouts and style them up to your preferences. Other 24.Storycle features:
10 Single Post Layouts at Hand;
Create News Tickers;
Vertical and Horizontal Video Playlists;
Multiple Layouts for Tabs and Accordions;
Extended Review Functionality.
Details Live Demo Free Version
Philosophy [Free]
If you're looking for a kind of fresh minimalism that sells in 2019, Philosophy is the theme that will be an apple of your eye. Built using candid colors and breathing layouts, this theme ensures that your content scores high in readability and is digested by the majority of your website users. Moreover, the comprehensive blocks and pages of this theme are livened up with fun animations and sleek transition effects.
Fortunately, Meltony is the theme that works with two different block website builders. One of them is Gutenberg, the much-awaited staple of WordPress 5.0. The second builder is the reputed premium Elementor Builder that works with the theme without a hitch. With Elementor, you get a chance to completely change the appearance of any page of the theme or create your custom pages using the ready-made blocks. Within the Elementor, you'll find the block templates for different purposes: content presentation, media display, social sharing, and, of course, formatting.
Hazel [$98]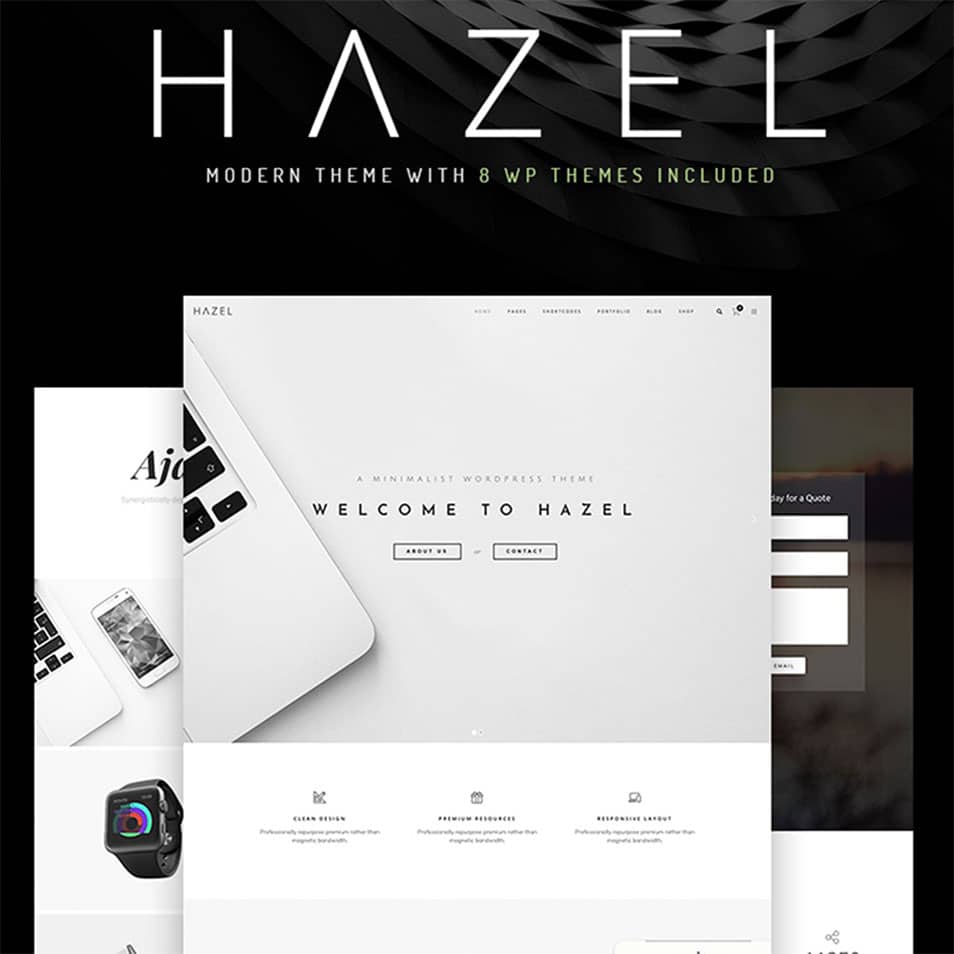 If you haven't decided on the design of your website yet, Hazel is a really good option. This multipurpose template comes handy bringing you 9 different WordPress website designs instead of just one. By the way, the ninth skins is a crisp one-page design added by the developer team during the latest Hazel's 2.0 update.
Fortunately, the new trendy minimal skin is not the only goodie that you get with the new update. Firstly, you can also now work with page builder templates. These templates let you build website pages way faster. Secondly, with the recent update, the theme package got shredded from 17Mb to just 3.2Mb. Now, no doubts about the theme's performance should ever bother you. Thirdly, the blog functionality and design were also improved to help your website stay on the verge of web innovation. Other theme features include:
Stylish Centered Menu with Hover Border;
Demo Contents Included;
Powerful Admin Panel;
Cool Fully Customizable Portfolios;
3 Blog Types.
Baltazar [$39]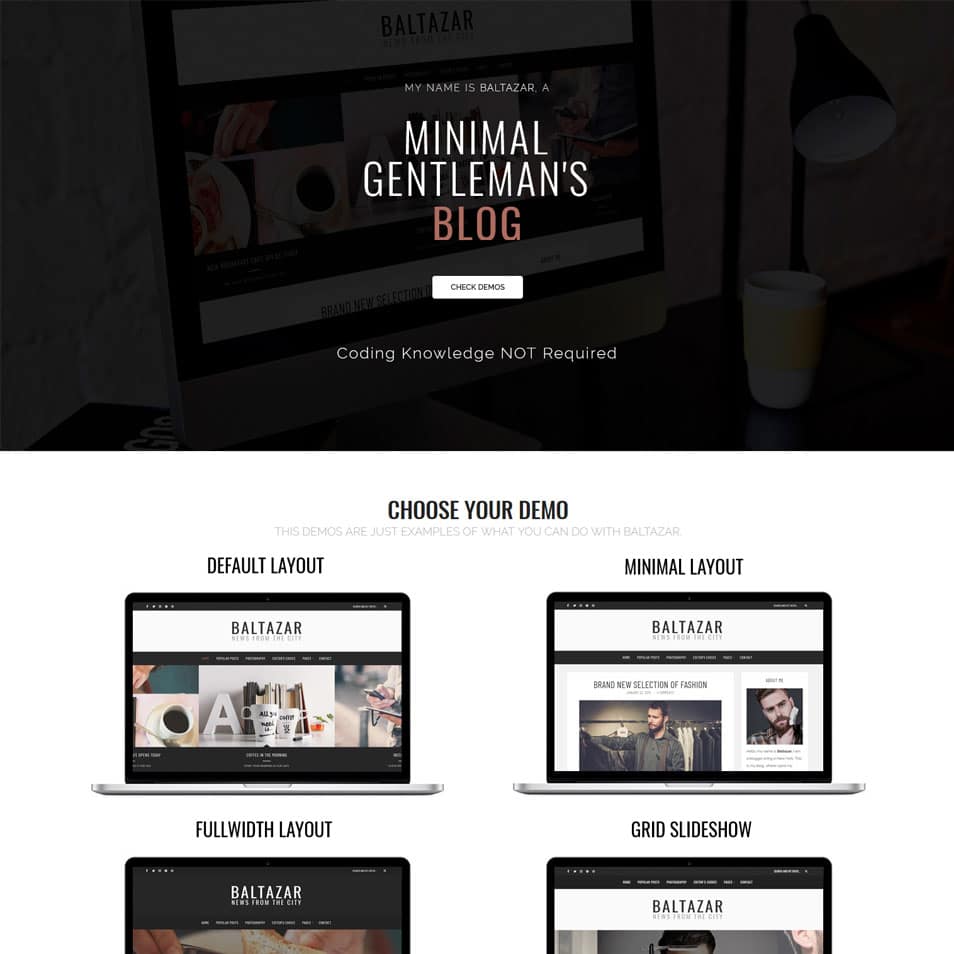 Are you after a minimal website that nails down every of its conversion points? Then, Baltazar should be a matching design for your Blog. This theme incorporates some of the trendiest fonts of 2019 that ensure the sleek appearance of your well-structured contents. Moreover, Baltazar delivers you 4 ready-made website demos with all the demo content included to the package.
Other themes features are:
responsibe & retina ready;
support for popular WordPress Plugins;
SEO-Friendly;
Font Awesome Integrated;
reliable Support.
Mia Ittalloni [Free]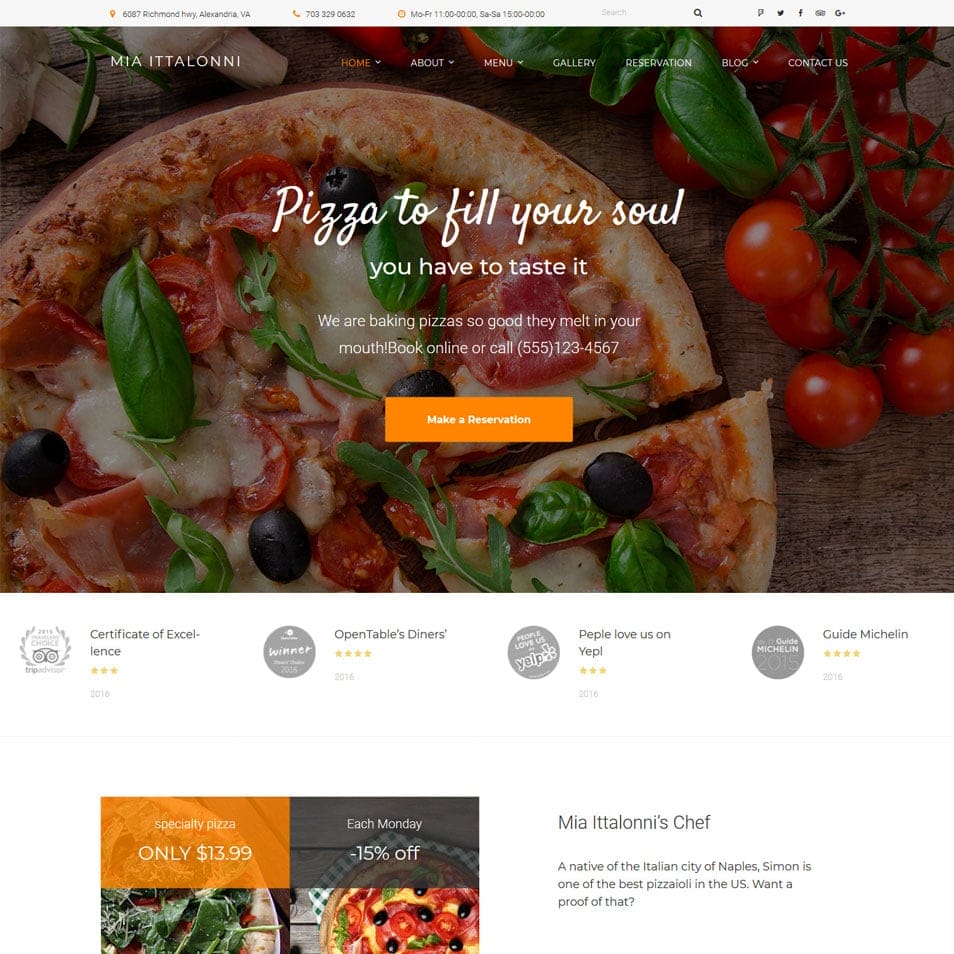 It may seem that food blog is a well-covered niche on the web and it's hard to make a mark with a food website. However, it's your website's design that decides whether the newcomers get hooked by it or not. With the freshest 2019 Mia Ittalloni, the users are bound to enjoy spending their time on your usable website and to keep returning to your portal for a fresh dose of nutritional lifehacks.
If you pay attention to the yummy Mia Ittalloni homepage, you'll see that this theme has a sound and engaging header with all the needed contact details at hand. As you scroll down, you'll get enthralled with the smooth animated content scroll and creative asymmetrical blocks. Fortunately for many, Mia Ittalloni is a theme that combines blog and e-commerce functionality, allowing your site guests to make purchases from you on your website in a convenient time and manner. The links to the Cart and User Profile are neatly placed in website header and footer.
Center [$39-$59]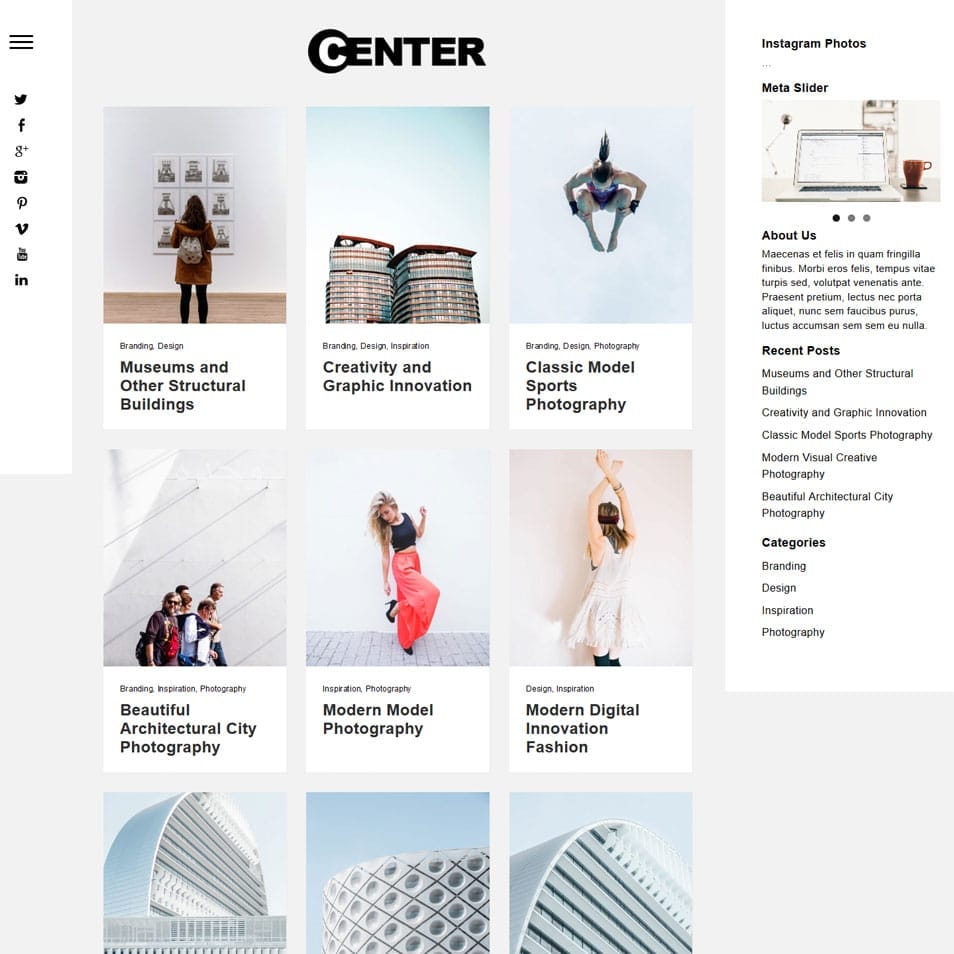 Sleek grey, minimal white and motivating orange constitute the color scheme of this highly successful Center WordPress design. The theme has a full set of pages necessary for an effective web presence. For example, you get an attractive tiles Portfolio page, great Blog section, convincing Contact Us page, well-designed About page, etc.
Finally, Center theme is build with the mobile-first approach and delivers your users an unparalleled UI on mobile. Other template features are:
custom google fonts;
responsive layout & design;
Search engine optimised;
unlimited domain usage.
Insightis [$75]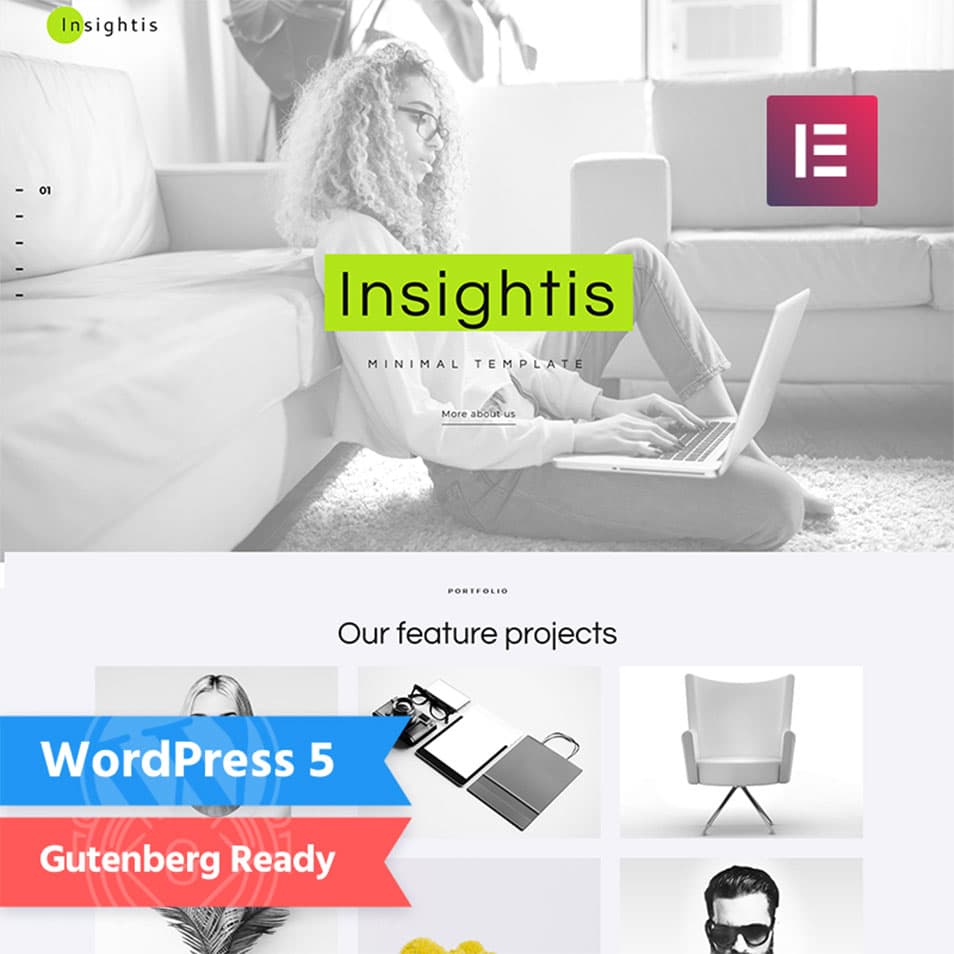 Insights is the theme that uses all the visual means to bring creativity and power of imagination to the foreground. It uses a set of inventive design elements that dissociate your website from the crowd and create its memorable and positively-tuned interface. Needless to say, the interface of Insights looks equally professional on mobile and large screen devices, ensuring that your website appeals to users on every screen.
Thanks to Elementor Builder included to the theme, you get a chance to create custom content with the help of pre-made block presets. You get a large number of these presets thanks to the number of Jet Plugins that all provide for streamlined content creation. Moreover, with Insights, you get a chance to create a comprehensive modern MegaMenu that ensures that all the pages of your website are easily discoverable. Other template features include:
Cherry Plugins Layouts;
Different Footer Lsayouts;
WordPress Live Customizer;
Valid HTML and CSS Code;
SEO-friendly.
MalcolmY [Free]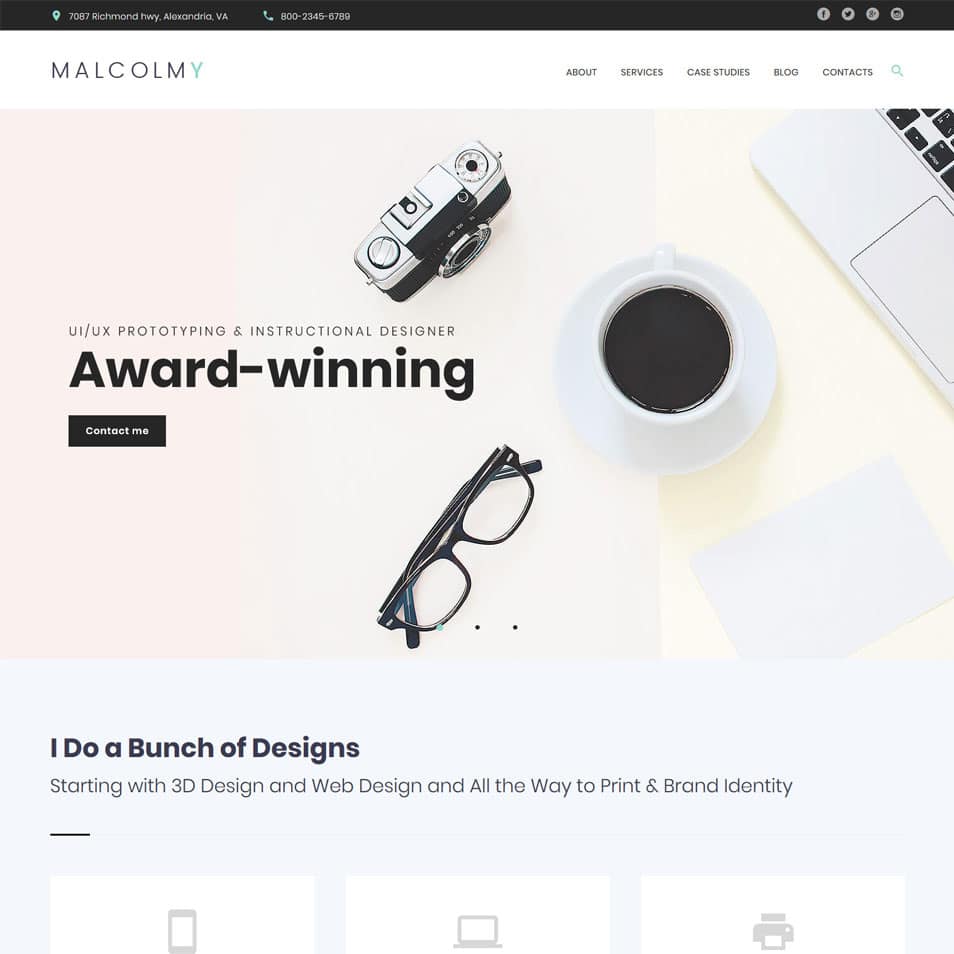 The last item we inspect in this post is MalcolmY, the universal WordPress theme with unique and amazing skins for different needs and niches.
Thanks to Cherry Plugins the standard set of Power Builder gets more than doubled with professional pre-made block templates and custom elements. Moreover, MalcolmY template provides for fast performance and a good score of your website in terms of SEO. Other template features include:
Fully Responsive;
Retina-ready;
WooCommerce-ready.
We hope that you've enjoyed learning our top 10 picks for best blog WordPress themes. Fortunately, all of these themes support visual editing and breach the boundaries of web designs both for professionals and non-techies. Anyway, if you ever feel puzzled working with one of these templates, the high-quality 24/7 customer support will be your safeguard whenever you find yourself in trouble.
We wish you good luck with launching your website using one of these themes. If you have any questions or considerations, feel free to share them in the Comments section below.
Take care!