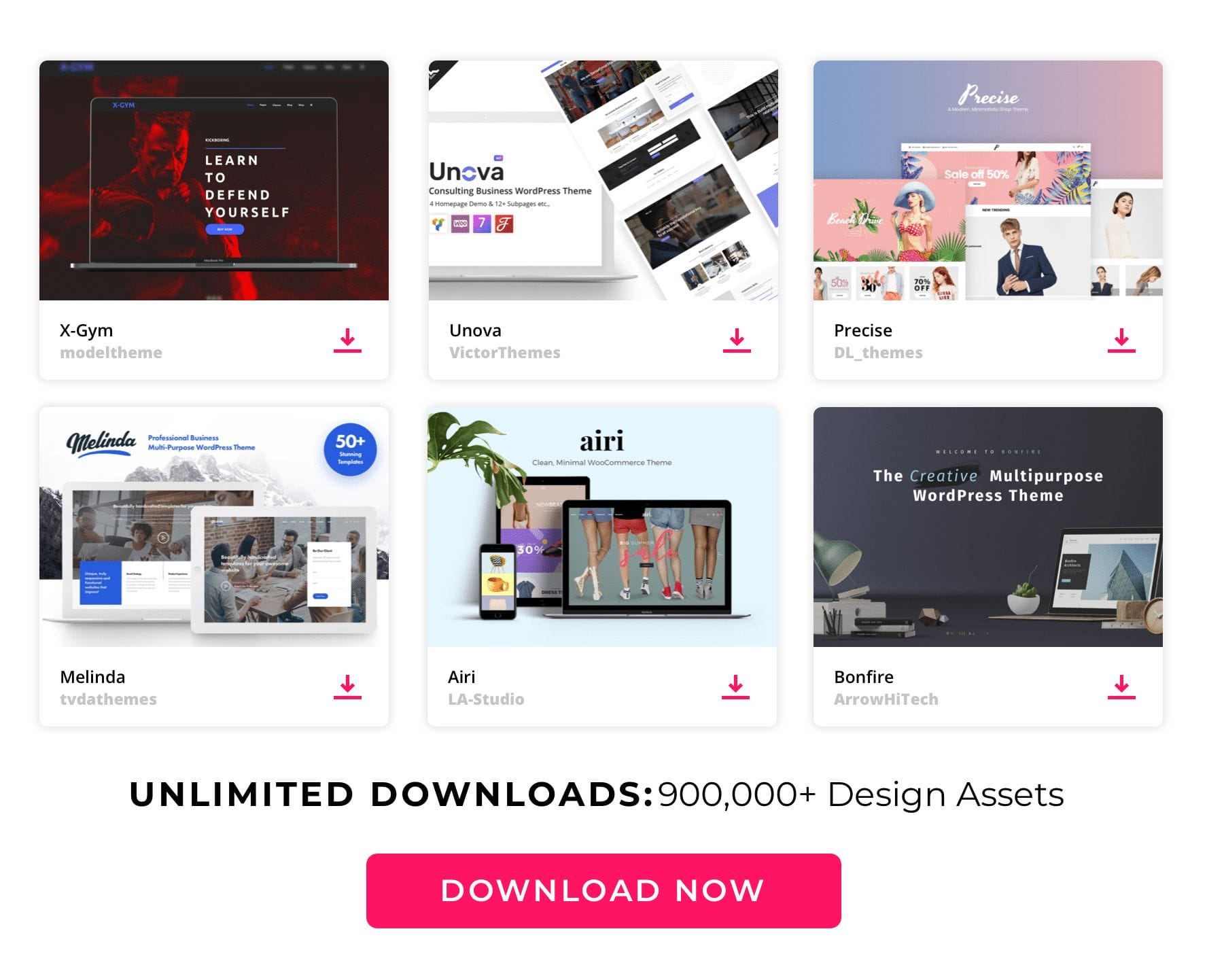 15+ Simple Ways To Run Your Perfect Website With Responsive WordPress Themes
Nowadays, everyone wants to run a professional website and here is why. Needless to say, we live in the times when everything is as comfortable as possible. Digital progress continues developing every single day. As a result, shopping becomes faster when finding the needed services becomes easier. All in all, modern customers love comfort. It comes for everything but especially for your business.
Actually, it doesn't really matter what your business is about. In 2022, there is no way to enter the global market without making your business online. All startups, as well as all new companies, require professional websites. So, would you like to launch your own online project? Today, it's the best and the proven way to showcase your services to the whole world. And how can you do it?
WordPress Categories
There's no secret, these days, you don't need to work with source code to create a cool site. Luckily, modern technologies make this process simple and even interesting. There are no special skills needed! All you need to do is to choose your business WordPress themes. Here are the must-haves that should be in the pack of any worthy theme:
responsive design and cross browser compatibility,
drag-and-drop editor with live preview,
Search Engines Optimization,
changeable color schemes,
flexible design elements,
visitor-friendly navigation, etc.
Obviously, now these digital products are extremely popular. And the variety is incredibly rich… So, how to choose your perfect theme?
Also, keep in mind that your theme should be:
easy in use,
easy-to-customize,
and easy-to-install.
However, the most important question is: which options and design components should you look for? Well, I'm about to help you! Let's start with the most popular platform – WordPress. It has multiple themes (both free and premium) for any business niche. In this post, I'll review 17 fresh responsive WordPress themes. I've selected for you real examples of what any non-techie needs in 2022 to run their site. Let's get started!
WordPress is one of the most popular content management and blog publishing application on the web today. it was first released in 2003 as a basic blog engine. But it's become a fully featured and customizable website building application. Now used by millions of individuals, businesses, and organizations around the world.
WordPress is known as a well-coded platform that suffices the needs of every small to medium size enterprises. Most of the startups initiate a business with the basic web presence but are always looking for advanced features to expand as they succeed in their ideas.
With WordPress, you can start with a one-page website and expand to a multi-line online store. It has the scalability to expand as you succeed in your business. With the installation of a WooCommerce plugin, you can turn a simple website into an exclusive webshop and exhibit a lot of products or services.
A theme serves as the foundational pillars of a WordPress website. If it is well optimized for speed, performance, and SEO, you need to get it soon. Relying on a theme alone is not a good practice, as most of them prove to be slower when you actually use it for your specific business needs. Most of the beginners go for a theme that offers extensive customization options. It may improve the appearance of your website, but slow down its load speed and performance.
As the time goes by new WordPress theme development techniques also introduced. these days its pretty hard to find a good theme for your needs. There are tons of free WordPress themes out there, most of them are useless. So you have to be prepared before you choose your responsive WordPress theme. We have done a great research and made a great list of latest free responsive WordPress themes. All these themes are hand picked based on different criteria's. all them are pretty good quality, well developed and documented responsive WordPress themes. all you need to do is browse throw the list below and pick one suited your needs.
Business WordPress Theme
Gutenberg Starter – Business WordPress Theme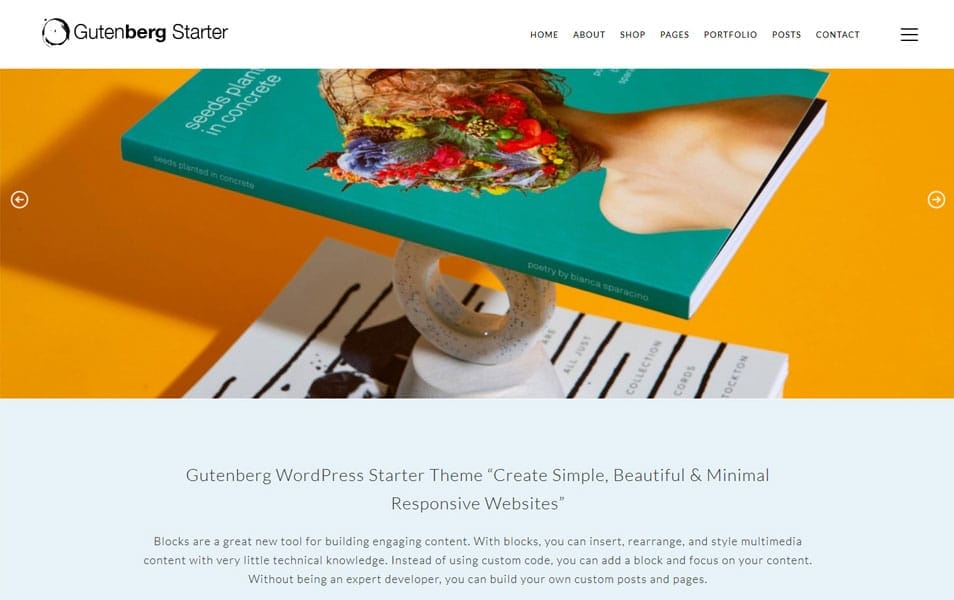 To start with, in 2019, WP is more than just a platform. Today, in addition to multiple premium themes, WP team offers many free items. So, as you can see, this WordPress theme is one of them. Although Gutenberg Starter is completely free, it allows you to run a stylish and fast online project. Yep, you will get all the must-haves and some cool web design features as well.
In case you are going to build engaging content, Gutenberg Blocks feature is just what the doctor ordered! There is no coding needed! To say more, you won't need any experience or technical knowledge at all. This WP theme is 100% creator-friendly, so you will be able to manage various custom posts and manage new pages. With the help of built-in Gutenberg Blocks, you can design website content, rearrange, and replace it easily.
Among the pre-packed options of Gutenberg Starter Theme, you will find the next features:
menus capability,
100% responsive design and responsive layouts,
valid XHTML and CSS,
SEO-ready design,
Chrome Compatible/ Safari Compatible/ Firefox Compatible/ IE11+ Compatible design,
friendly support,
regular updates,
Theme Video Overview option,
unlimited domain usage, and more!
Meridian One – Free WordPress Theme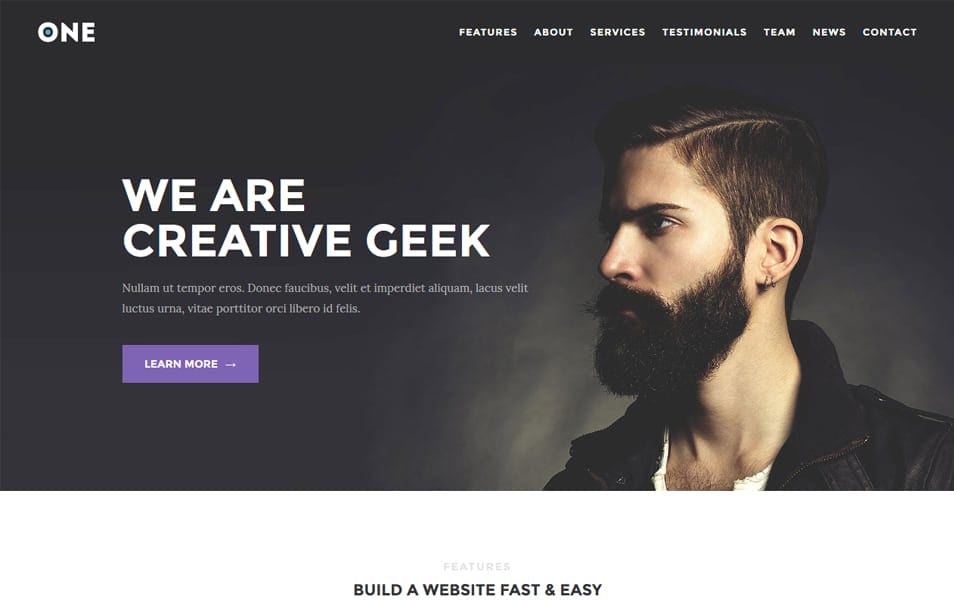 Creativ Business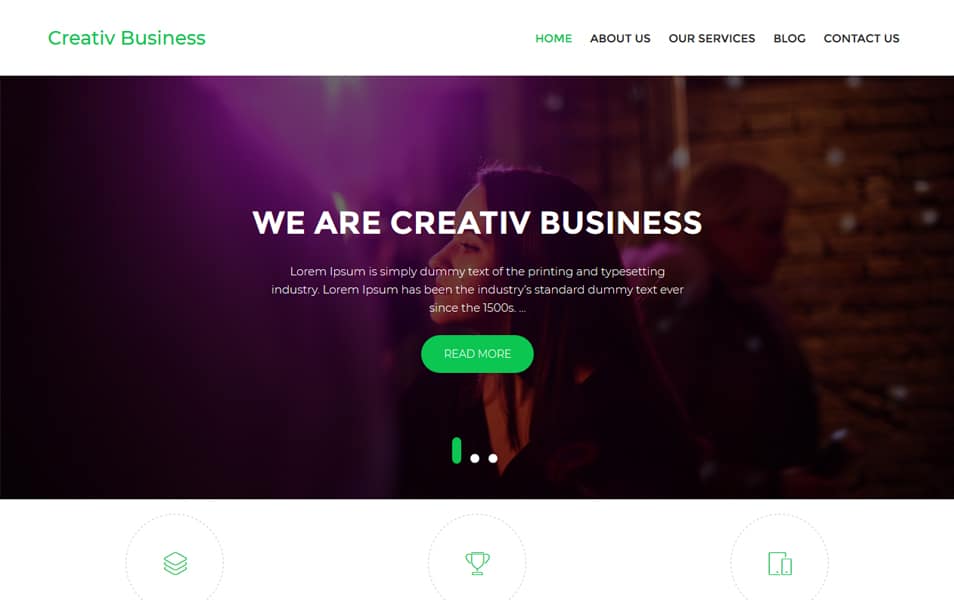 Imperion – Business Marketing WordPress Theme (Premium)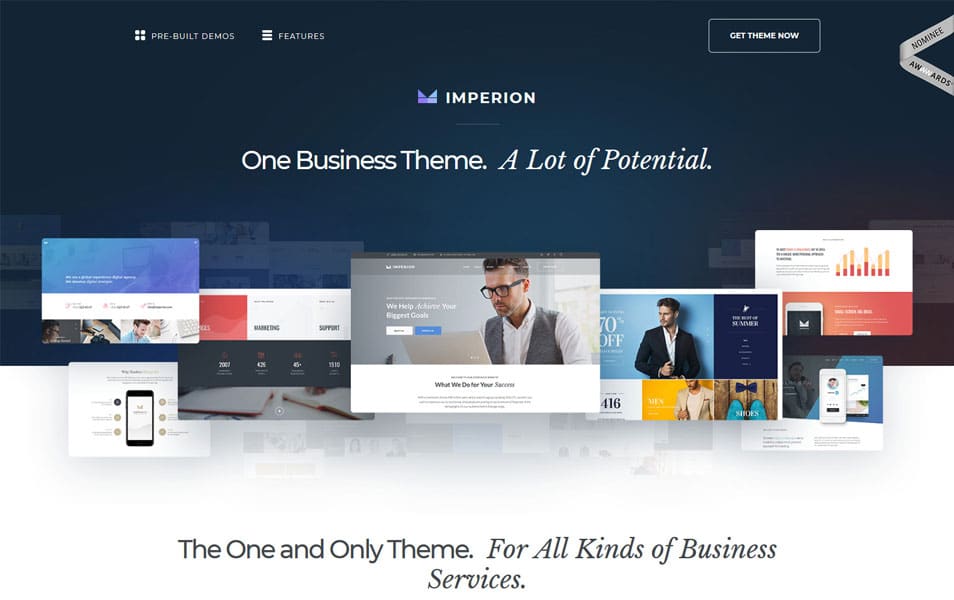 In case you are looking for a worthy corporate WordPress theme, don't miss Imperion! This is a well-featured and professionally structured business theme that requires no coding and other special skills. To say more, Imperion is a multipurpose product. It means that you can use this single theme to run multiple online projects. All in all, the theme covers so many business niches! You will get a wide range of skins for all the sites you are about to run.
Here are the ready-to-use demos you will get with Imperion:
Main Theme,
Imperion Presentation,
Imperion Digital,
Imperion Finance,
Imperion Experience,
and Imperion Shop.
As all the professional responsive WP themes, Imperion is so easy in customization! You can style any element up to your business needs or personal taste. Thanks to multiple options, diverse settings, and user-friendly interface, you will customize the site with lightning-fast speed.
What else will you get with Imperion? The theme also provides user with:
mesmerizing Revolution Slider to showcase your content in all its beauty,
must-have JetElements addon,
JetMenu that gives you limitless potential in creating menus,
WooCommerce package, etc.
Business Maker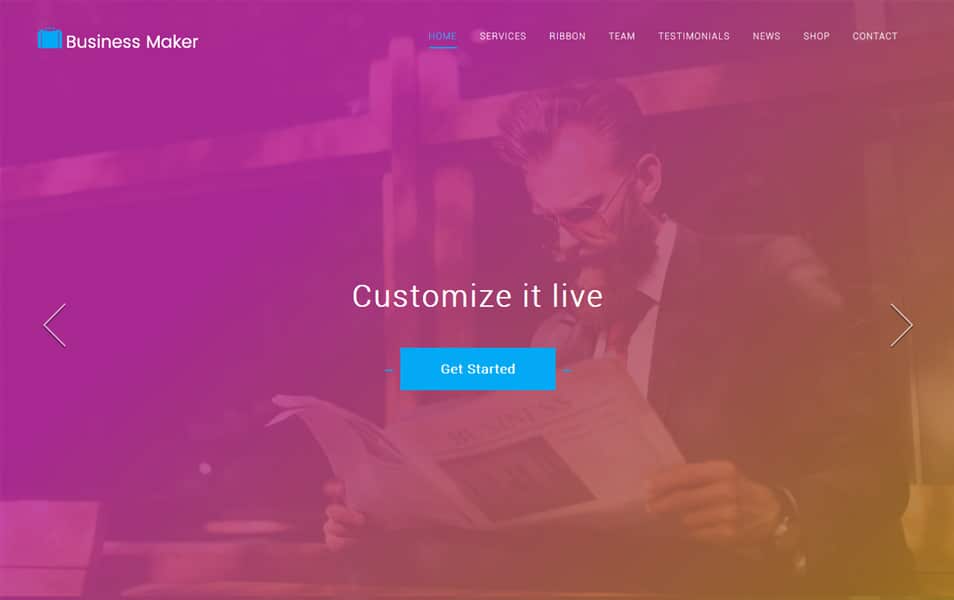 Consor – Business Consulting Elementor WordPress Theme (Premium)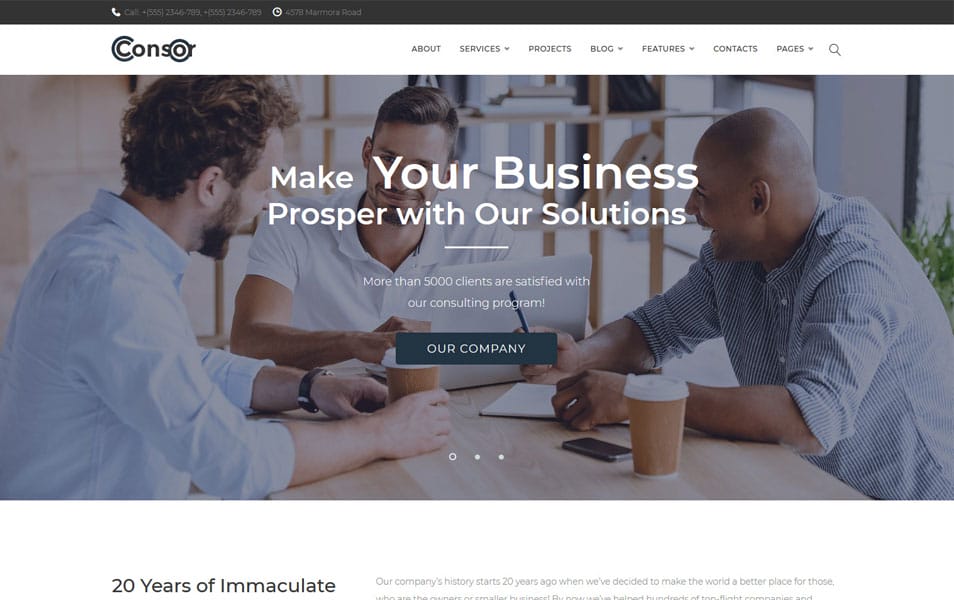 Here is another easy-to-use business consulting theme for those users who prefer working with WordPress. Like all of today's themes, Consor is an extremely responsive product. By using the theme, you make your online project automatically transform according to the visitor's device. Now you can forget about browser and gadget testing. There's no matter which screen size a prospect has in hands. Your site will fit all of them!
Without a doubt, in 2019, it's even more important to create a visitor-friendly website. All in all, your customers got used to comfort. Thus, nobody will like the website which has time, place, or any other limits. Thanks to the responsive design Consor comes with, people will be able to enter your business project anytime.
What else will you get with this ace WordPress theme? Among the main features of Consor, you can see:
Cherry Plugins Layouts,
readable and eye-friendly web fonts,
Search Engines Optimization,
different Footer Layouts,
Elementor Page Builder, etc.
Emerge – Free WordPress Theme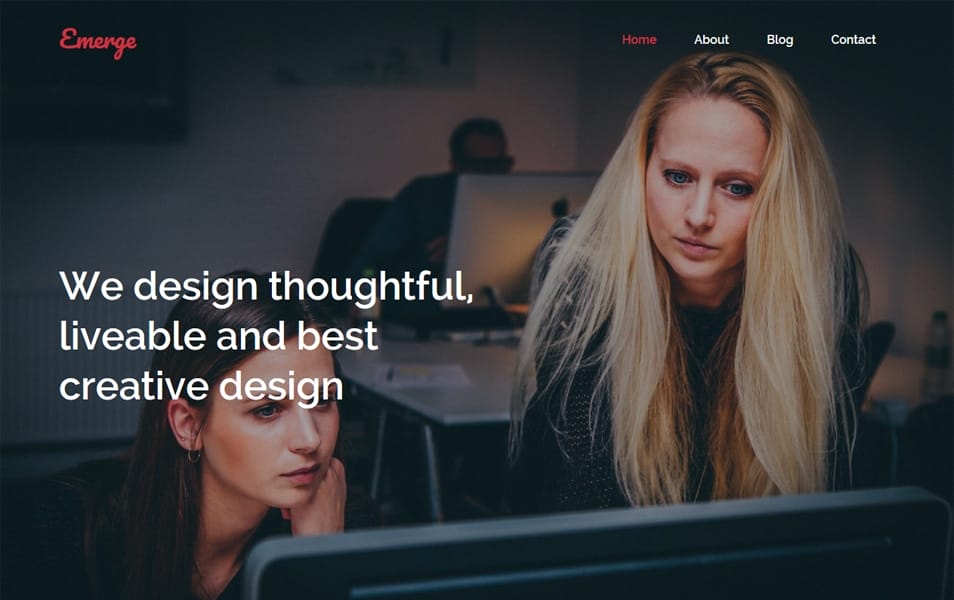 Business Booster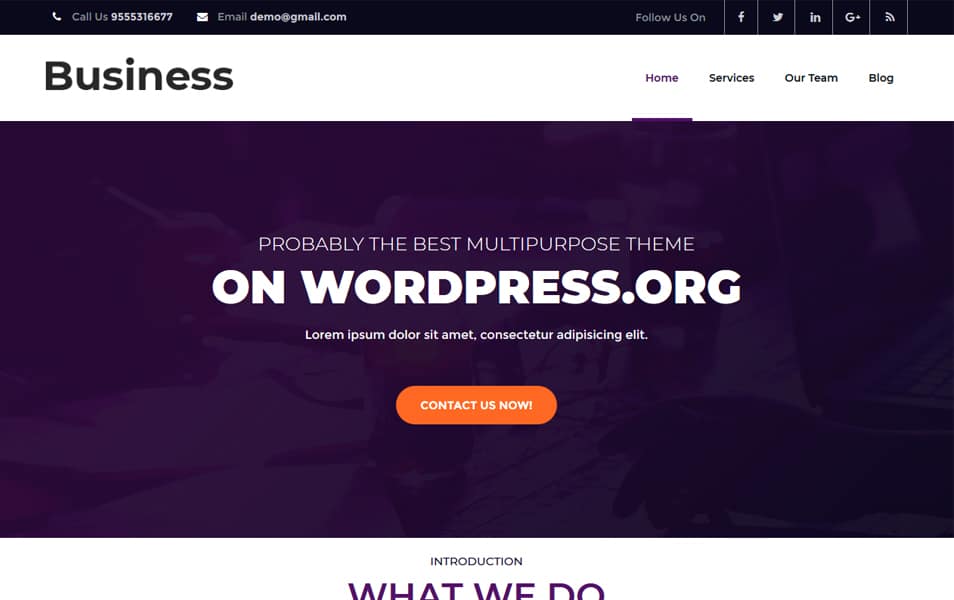 Agency X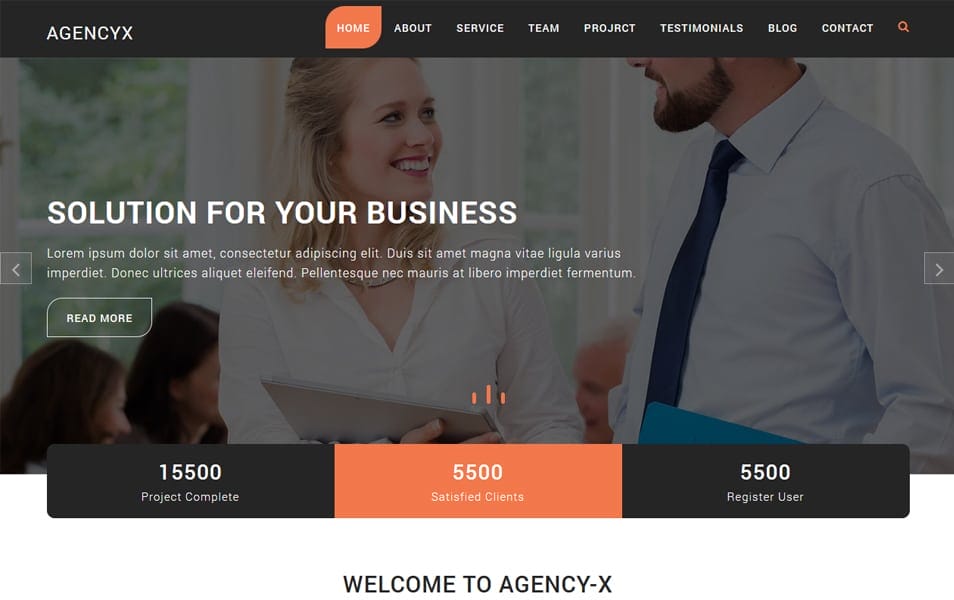 Proman – Business Multipurpose Modern Elementor WordPress Theme (Premium)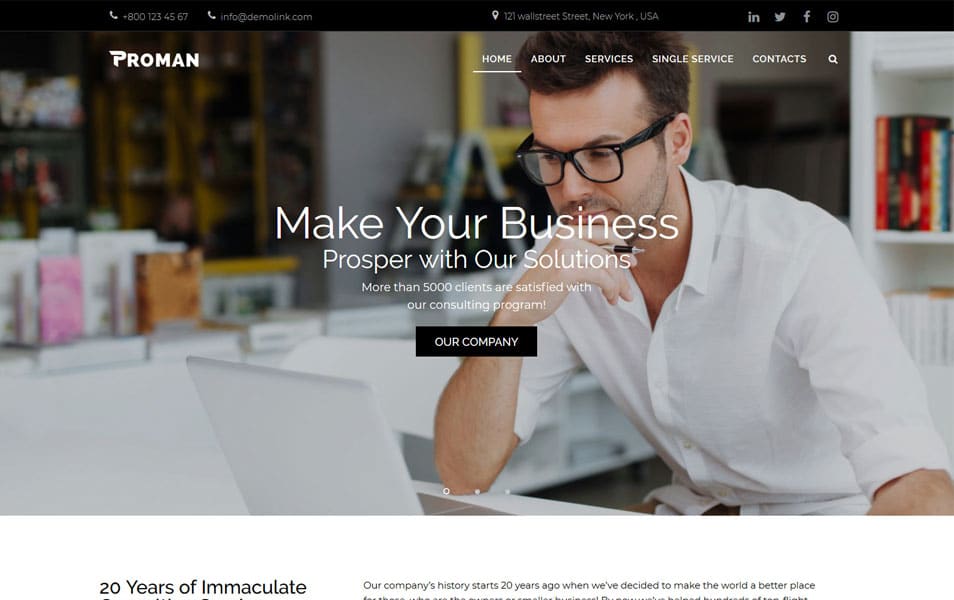 To make a long story short, Proman is a professionally styled WordPress theme. It's multipurpose and was made to showcase your business online. In fact, today, there's no startup or company that can stay on the market without being online. Would you like to double your audience and find new customers abroad? In this case, let's see which features you will get with Proman.
To start with, Proman comes with an amazing JetBlog asset. Let's take a closer look at this plugin! JetBlog is one of the well-known JetPlugins that were created to be used in Elementor Page Builder. This smart asset contains multiple blog-oriented components. As always, all the elements are super easy in use and customization. With it, you will be able to create fresh content for your blog. You can do it by simply dragging and dropping the modules you like into the page's canvas.
Needless to say, inside the pack, you will see lots of premium modules. These features were added to provide your blog with maximum content power. For example, there are several styles to present your ideas. You can choose from:
Smart List,
Smart Tiles,
Smart Video,
and Smart Ticker.
In addition, this premium WP plugin is fully responsive. Therefore, you can be sure that your business site and its blog will always look classy.
BCorporate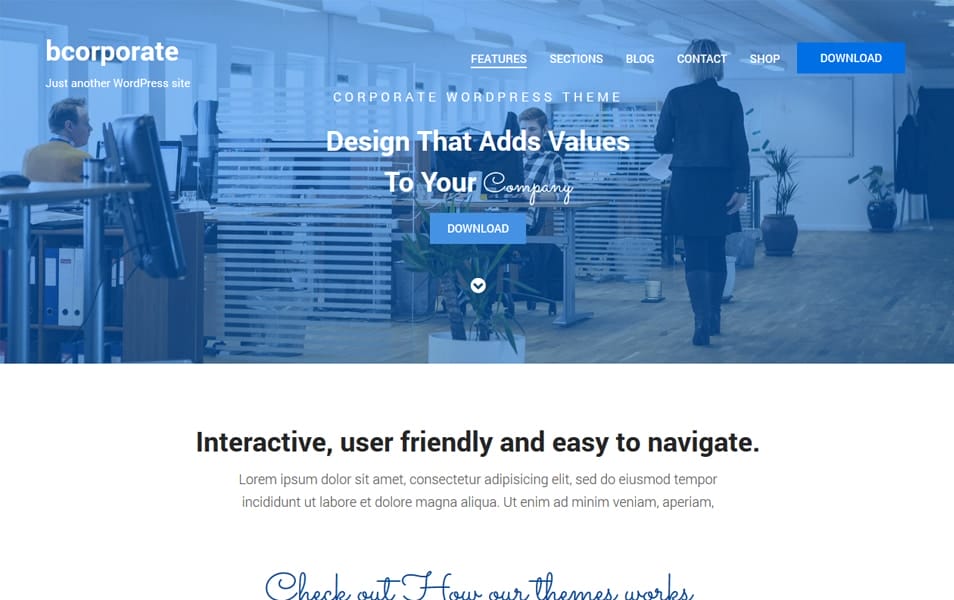 Corporate Landing Page – Free WordPress Theme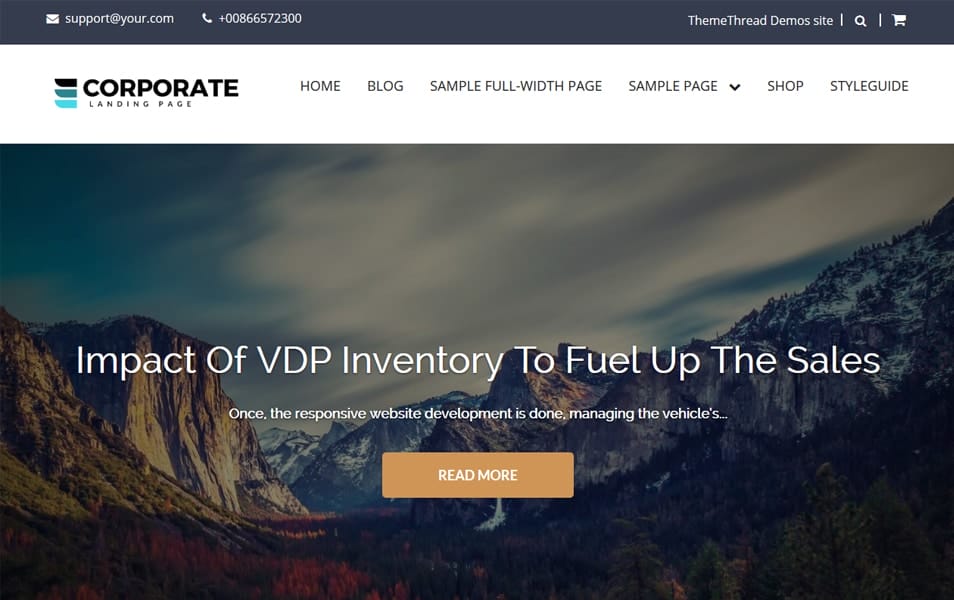 Impressive Business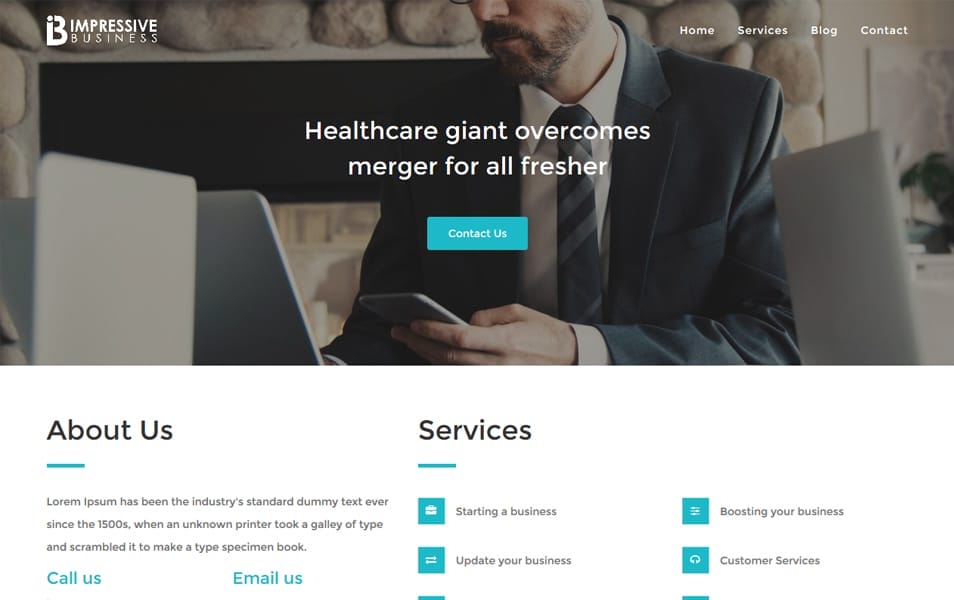 Ecommerce WordPress Theme
Ganess Store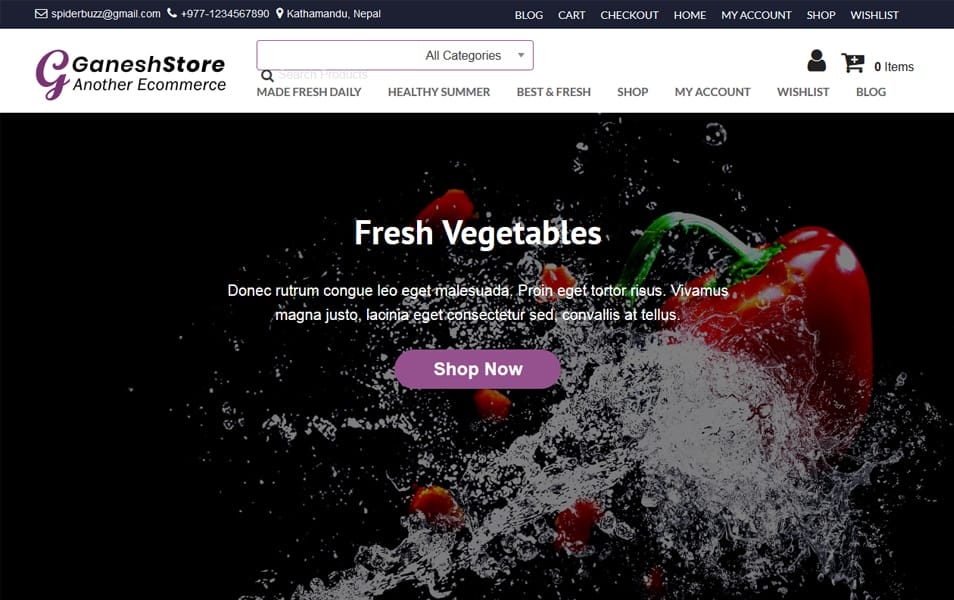 Shopline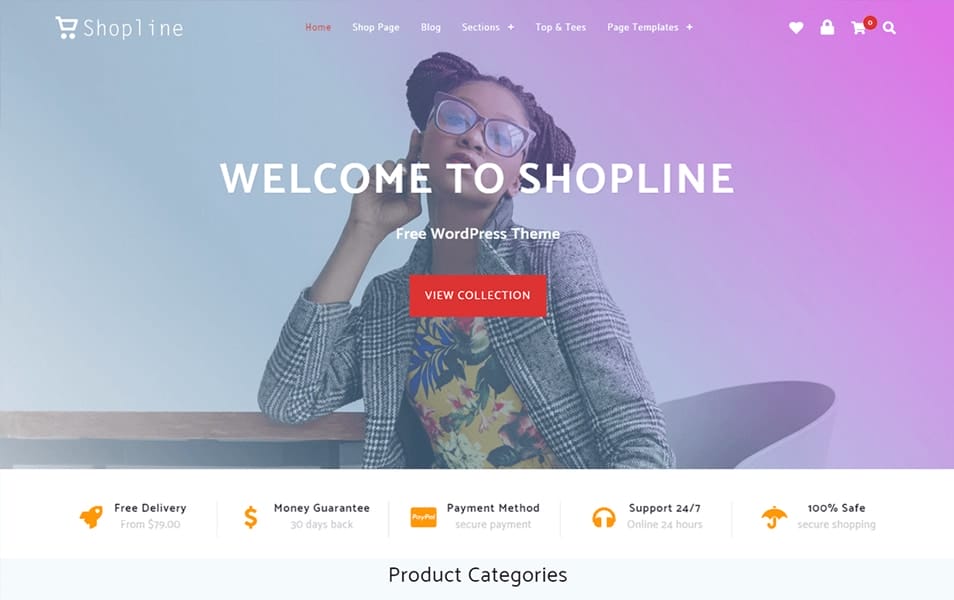 Business Shop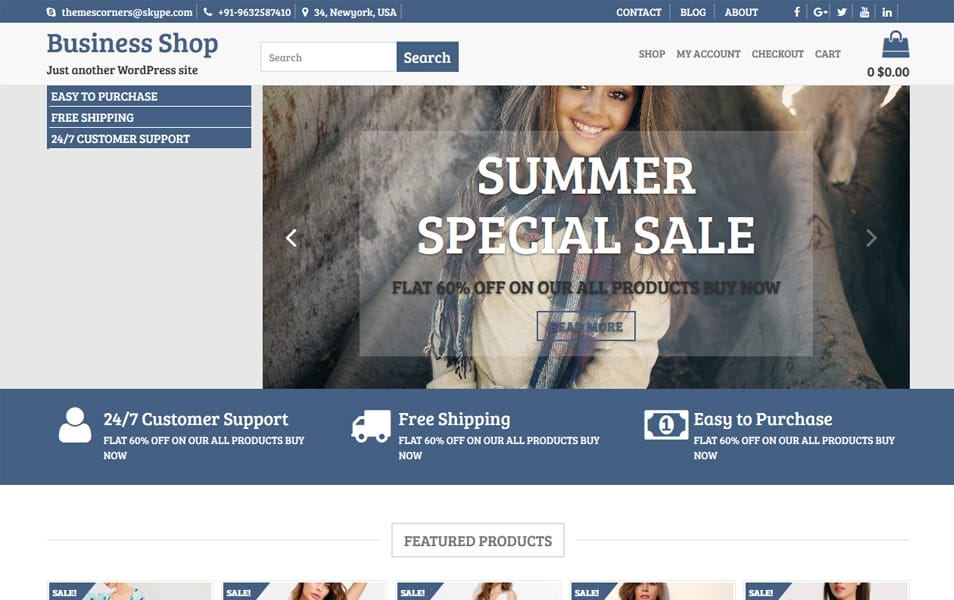 Flower Shop Lite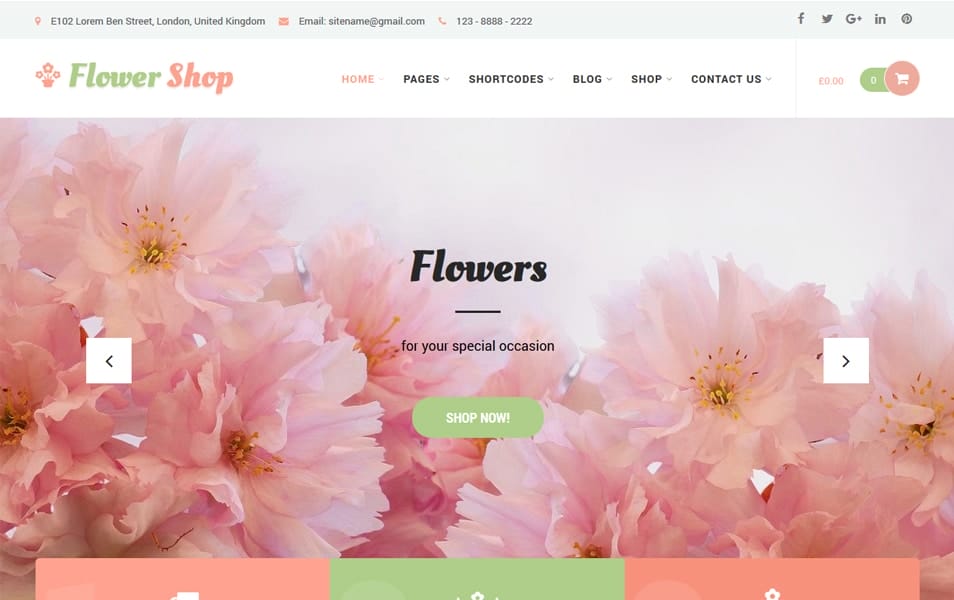 Bulk Shop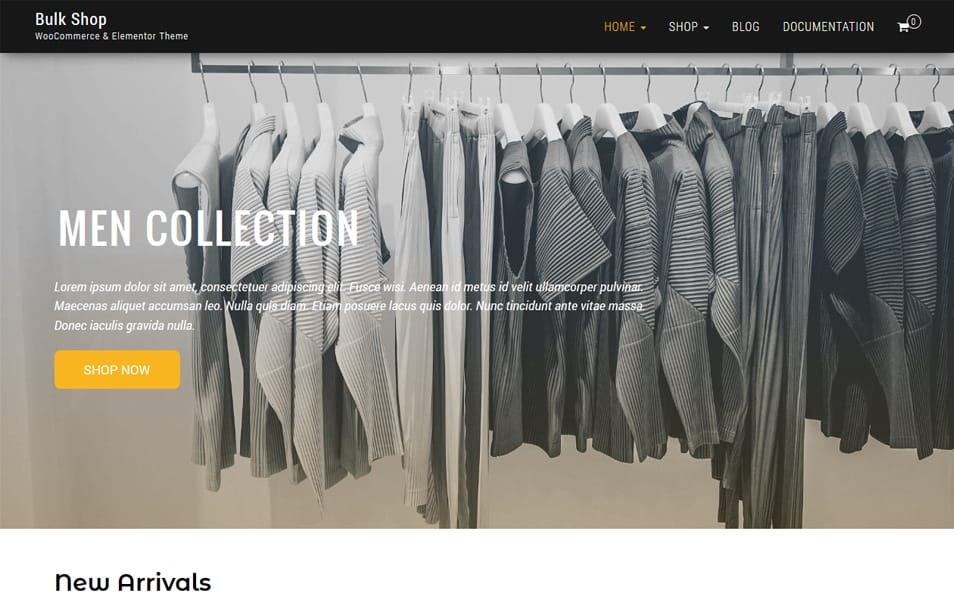 Online Shop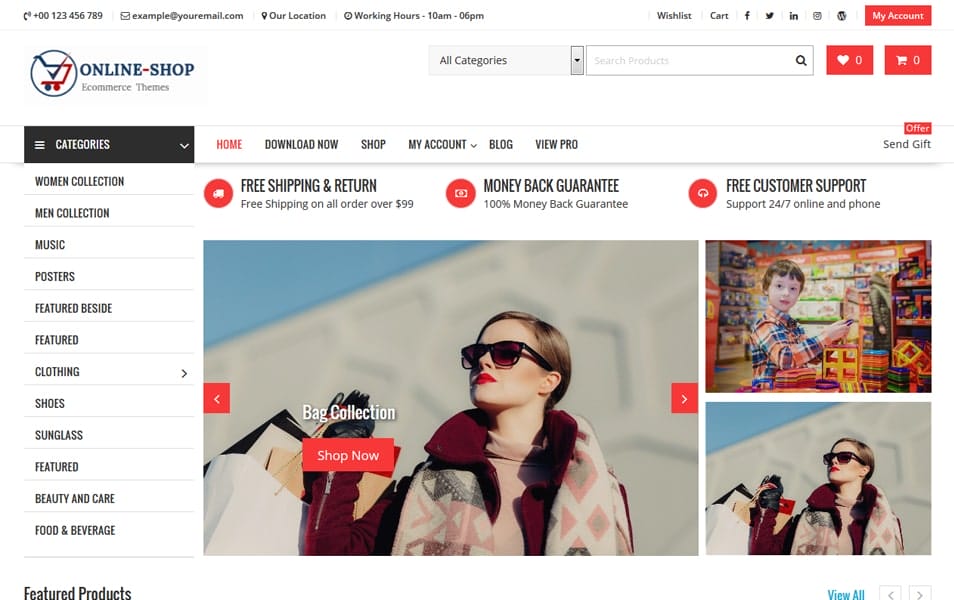 Leto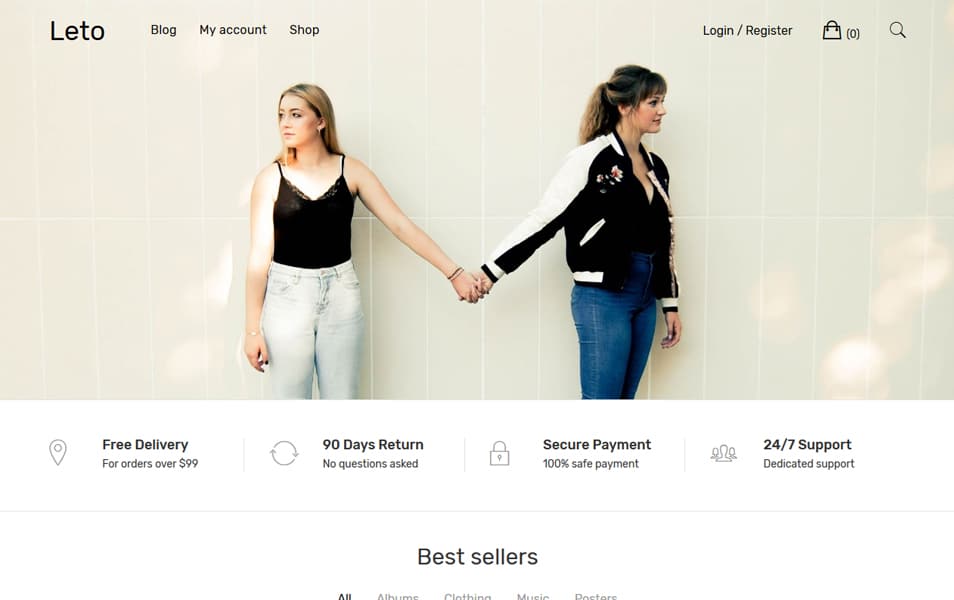 InVogue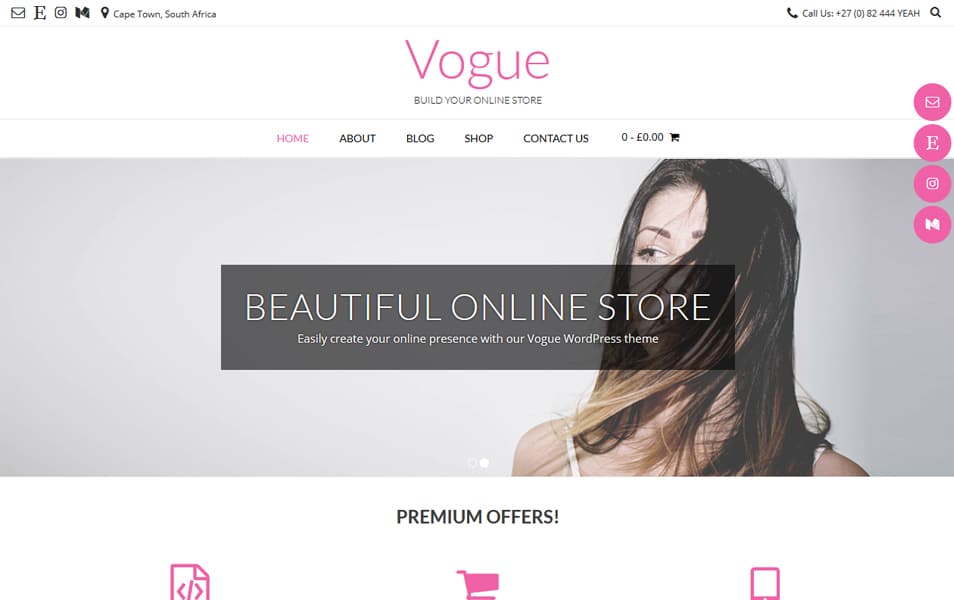 Portfolio WordPress Theme
XI Portfolio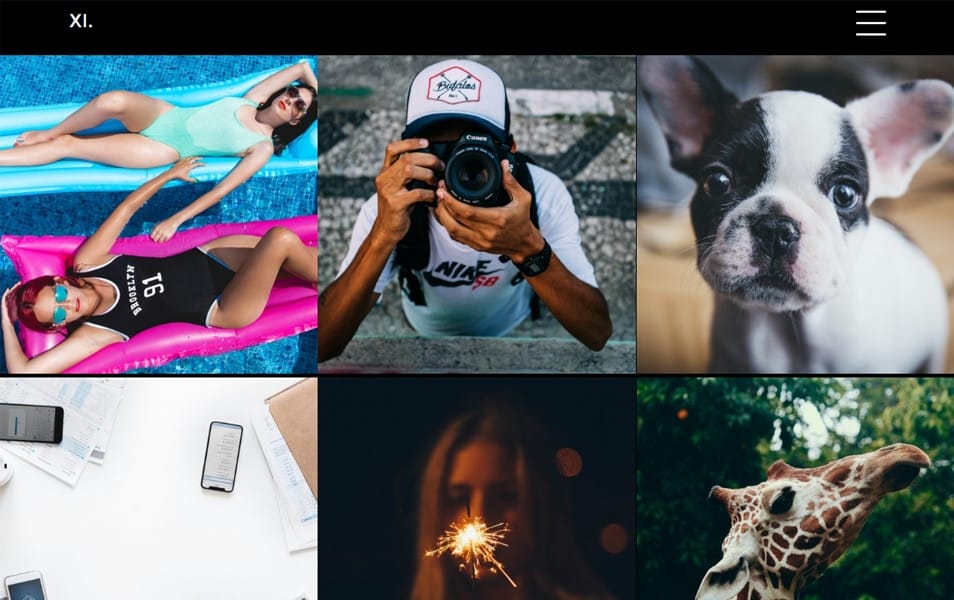 RichOne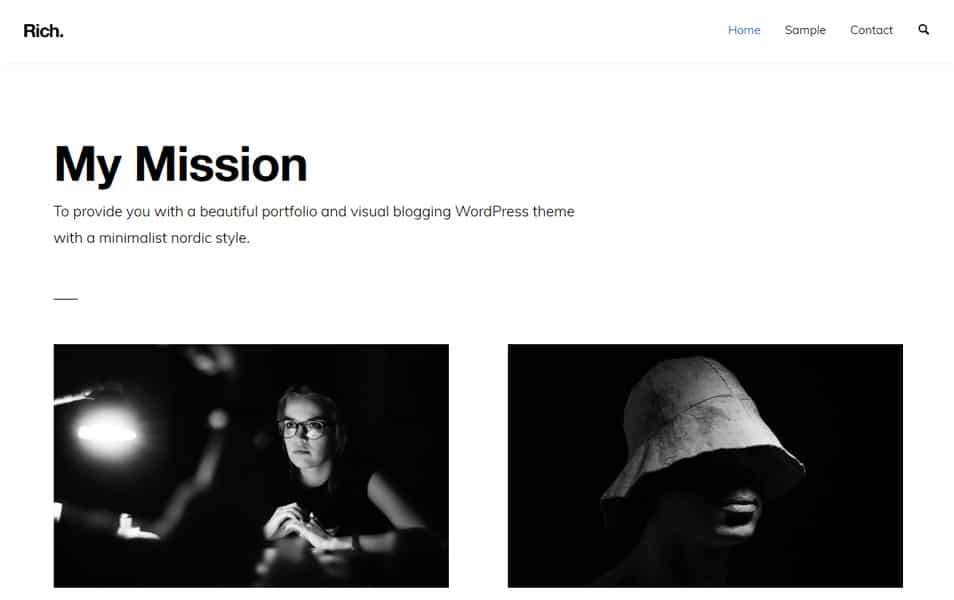 Thumbs Portfolio
Qusq Lite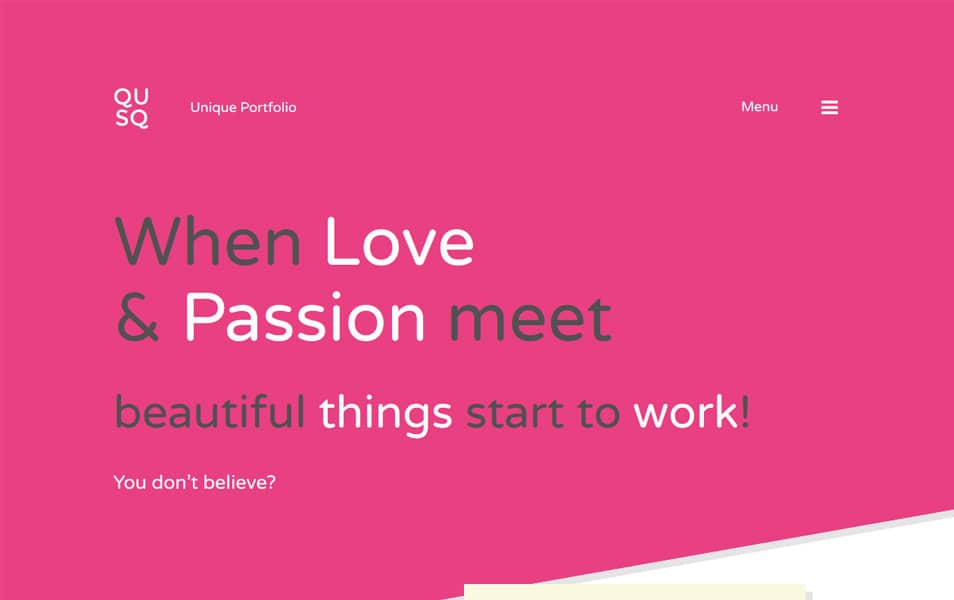 York Lite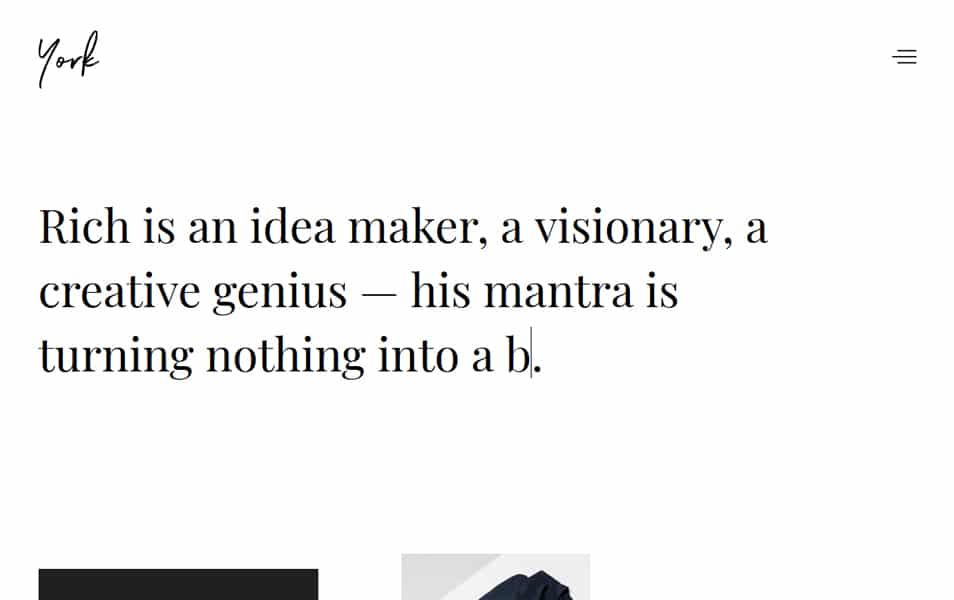 Portfolioo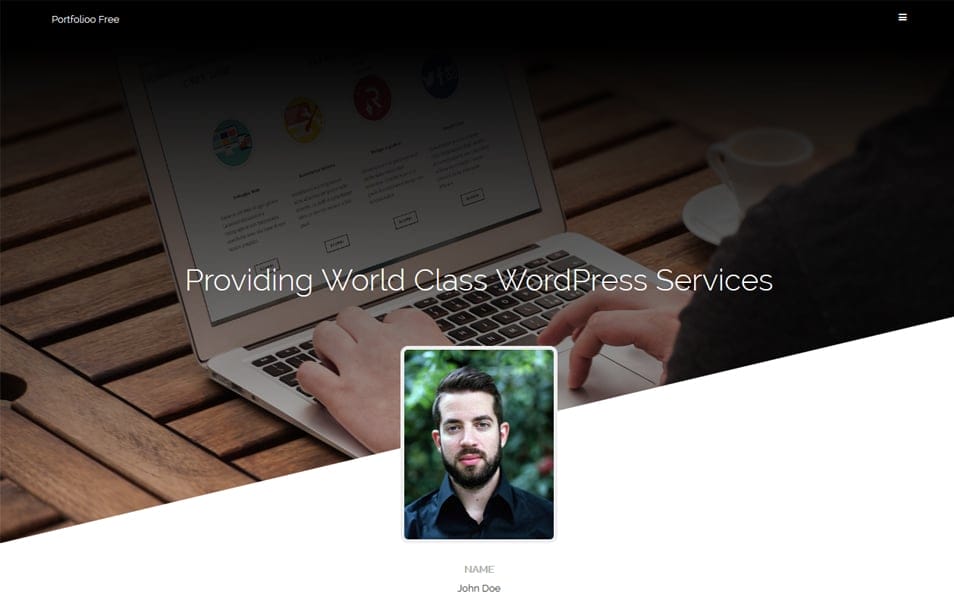 Adagio Lite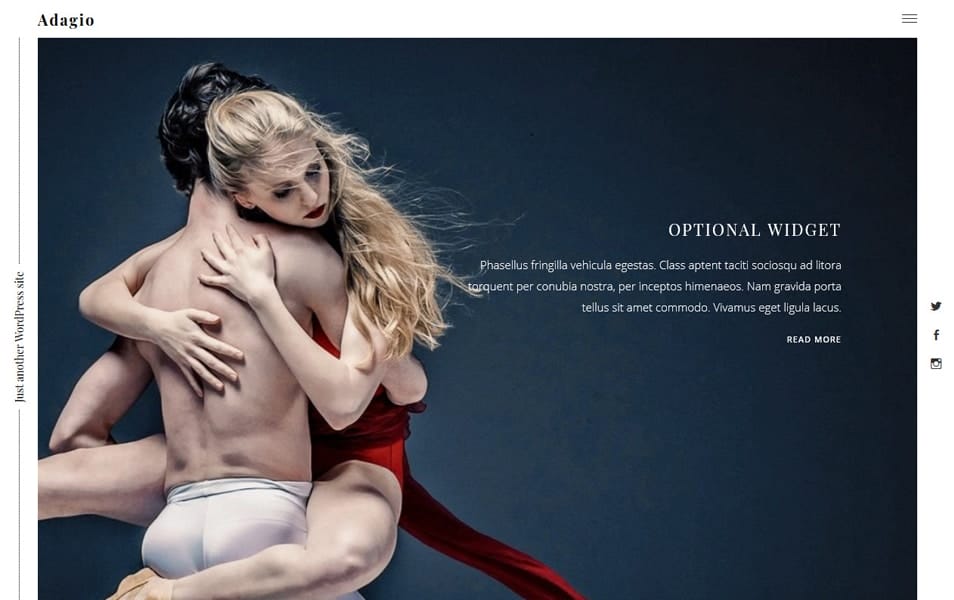 Olivo Lite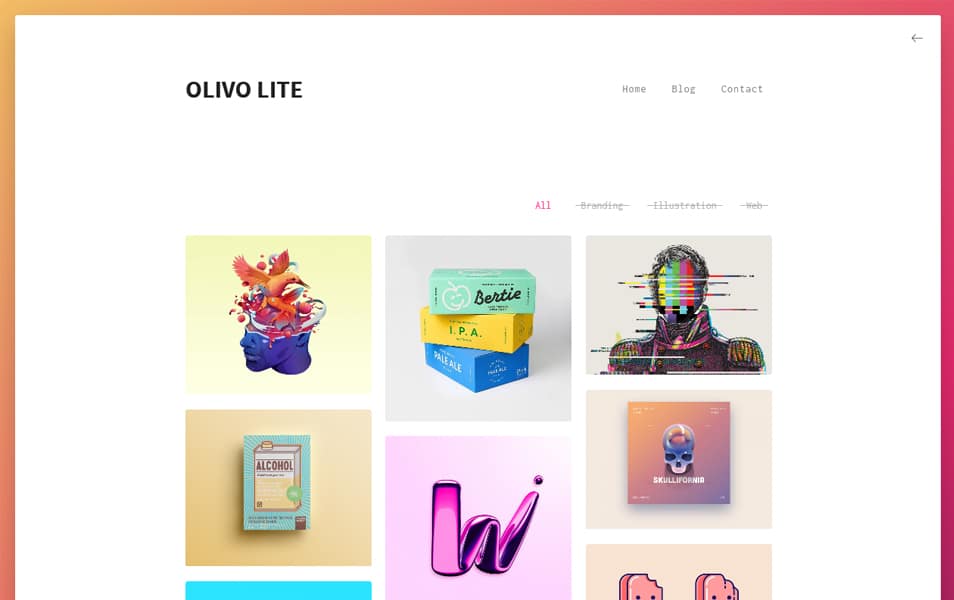 CleanPortfolio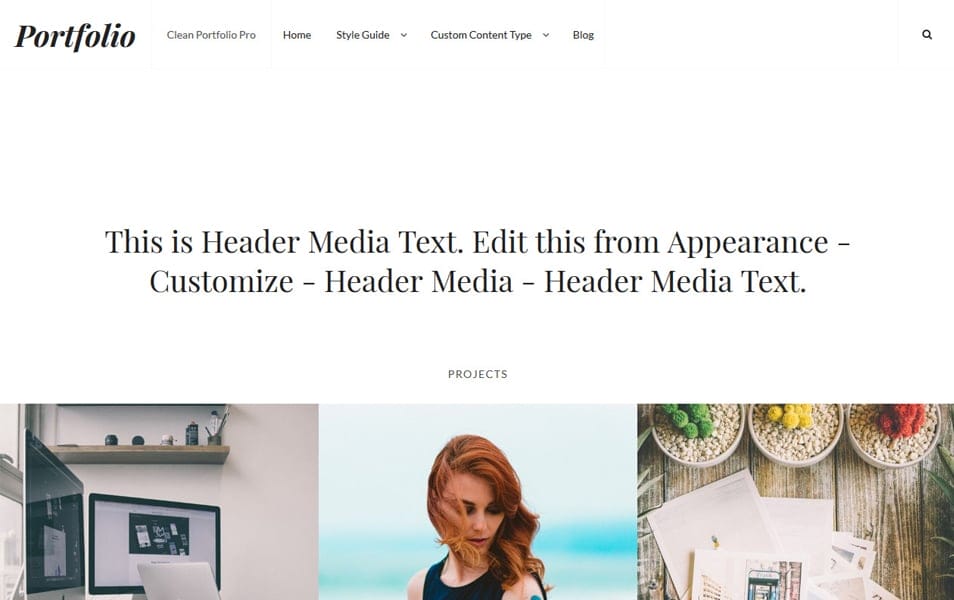 Personal Info
Magazine WordPress Theme
Spectr – Magazine & Blog WordPress Theme (Premium)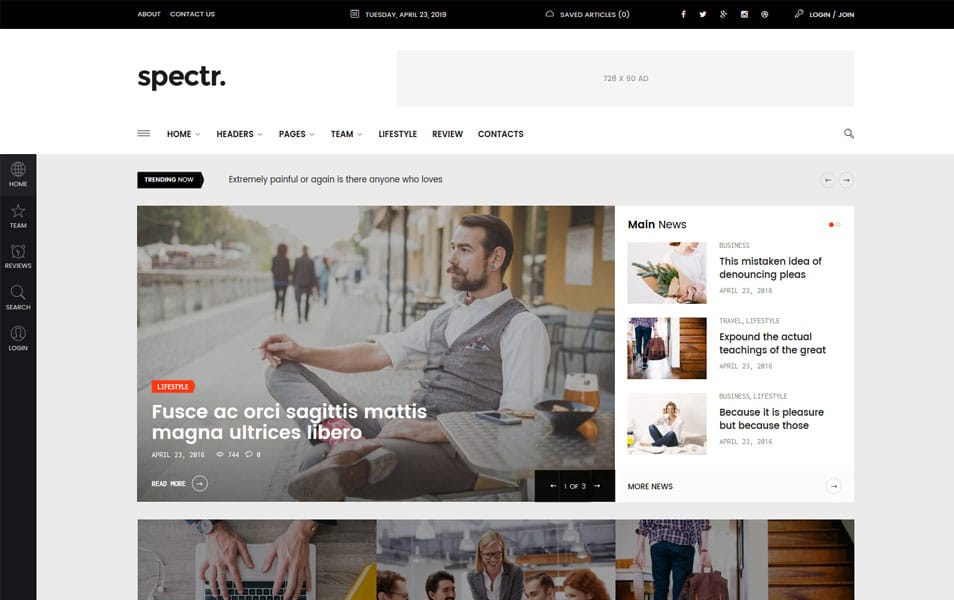 Spectr is another perfect WordPress theme for those users who want to manage a website related to:
news portal,
any kind of blog,
or magazine.
The theme comes with a powerful drag-and-drop Visual Composer. This page builder is handy enough to help you run the desired website without a hitch. You can build the online project of your dream even if you have never run a website before. Here are some options Spectr contains in its pack:
55 custom-made shortcodes to enrich your site,
4 pre-designed headers,
unique demos that are absolutely ready-to-use,
6 homepages that come with fully customizable elements,
7 blog post pages,
5 post formats,
3 Team Pages, and more!
Among the other features of Spectr, you can see dropdown menus. This is a neat web design element that already became a real trend. To make a long story short, a dropdown menu will help you to showcase lots of info in a minimalist way. Thanks to the feature, the design of your online project will remain clean even if you add hundreds of new pages.
Story Magazine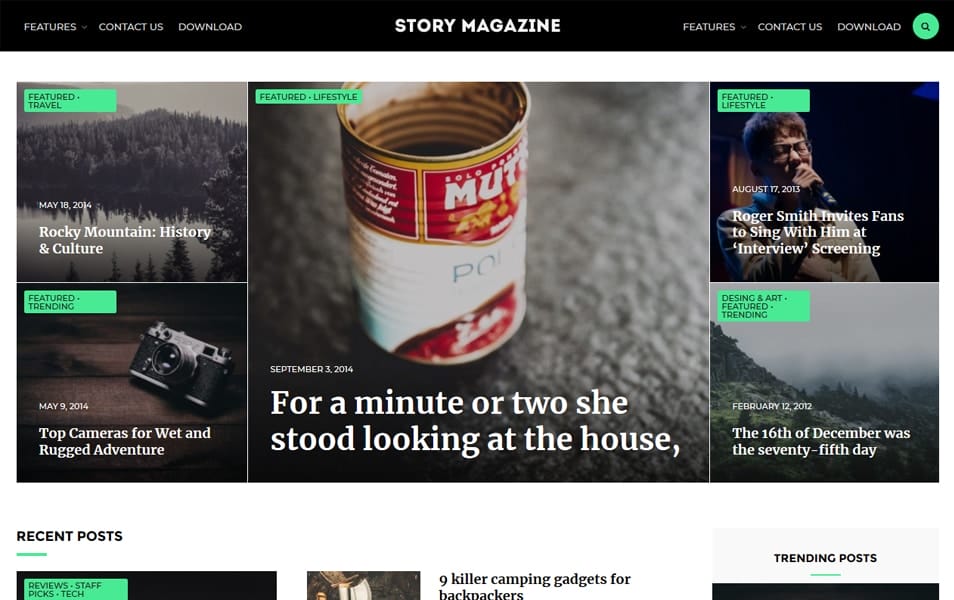 Magazine O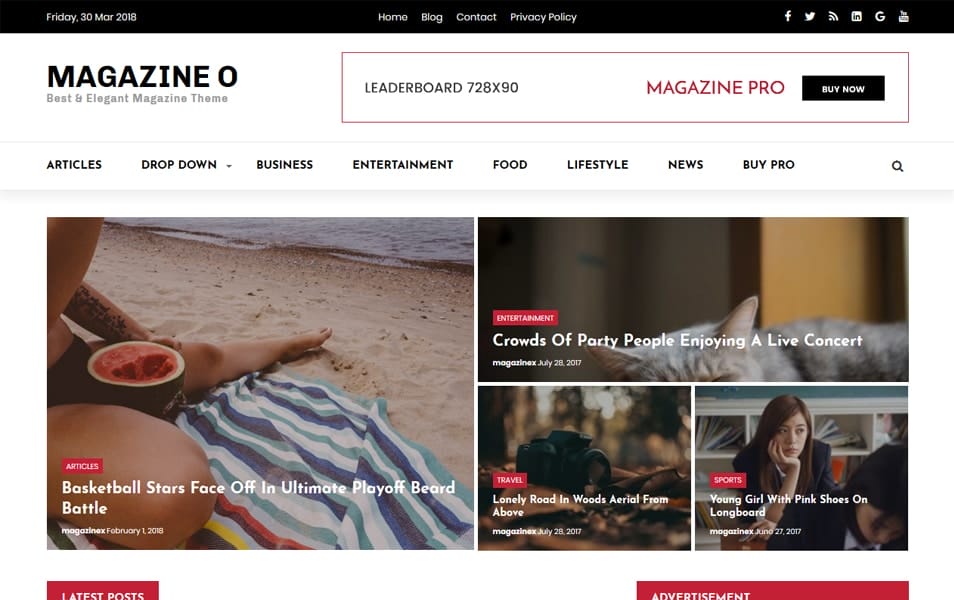 News Vibrant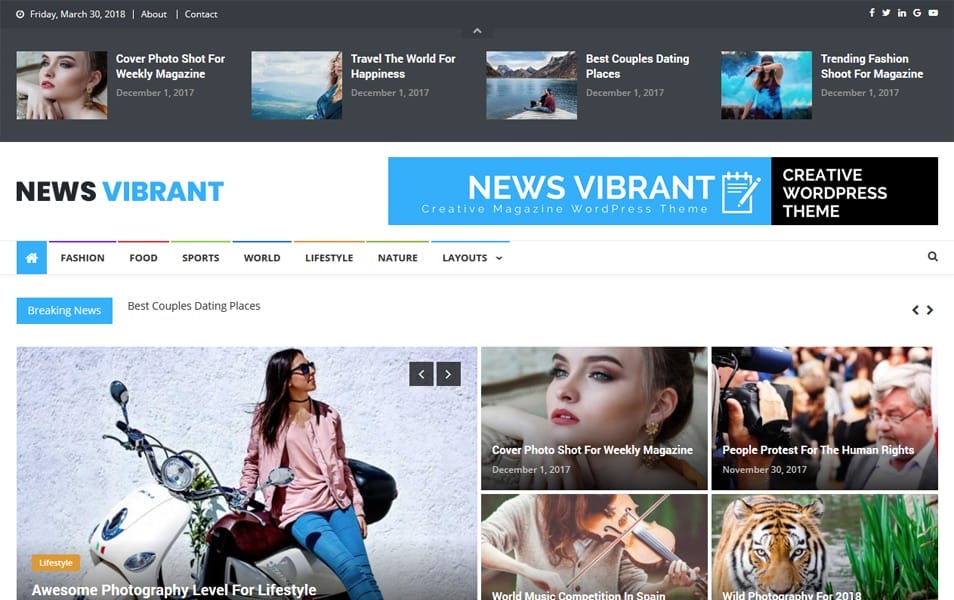 Magazine Elite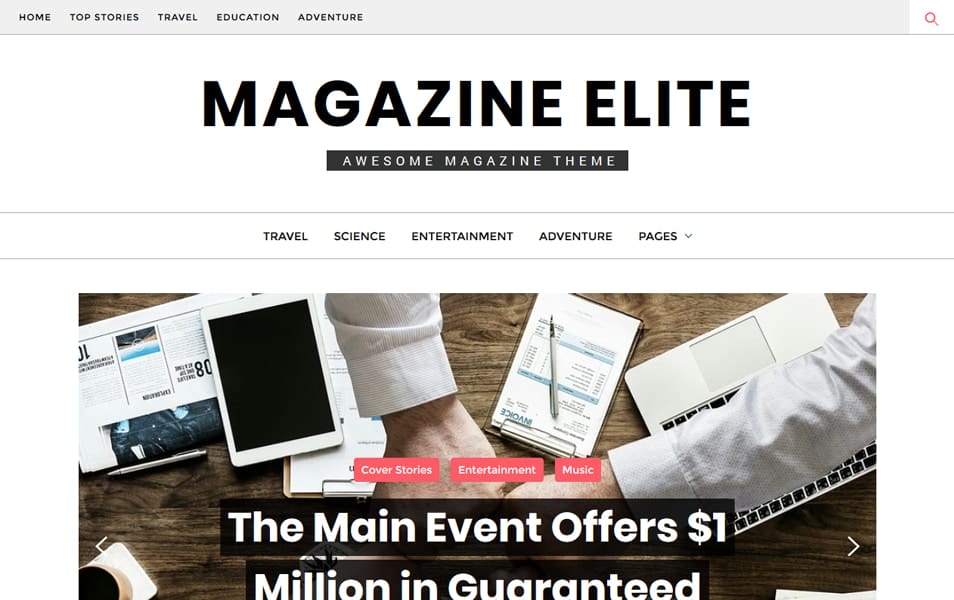 PostMagazine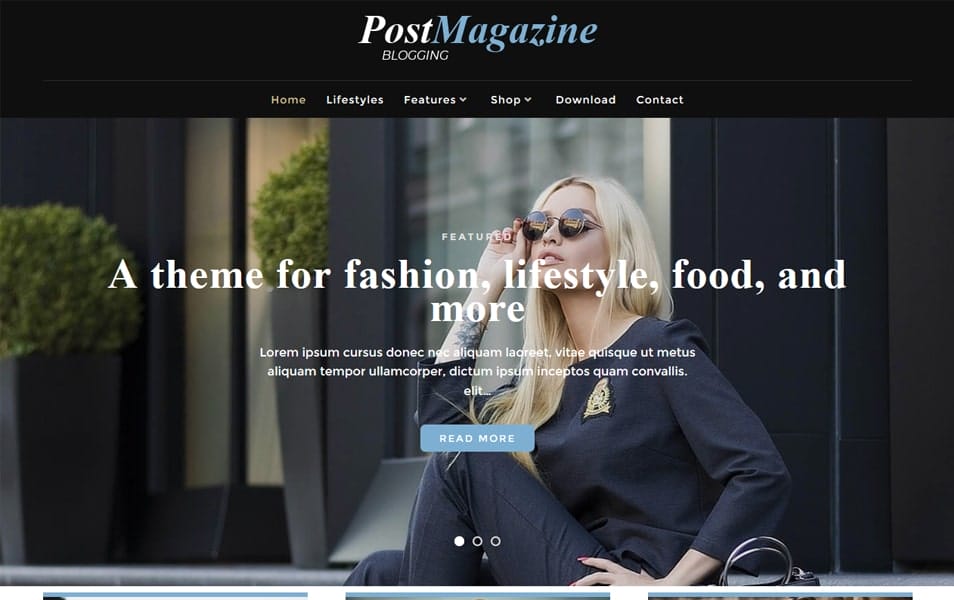 First News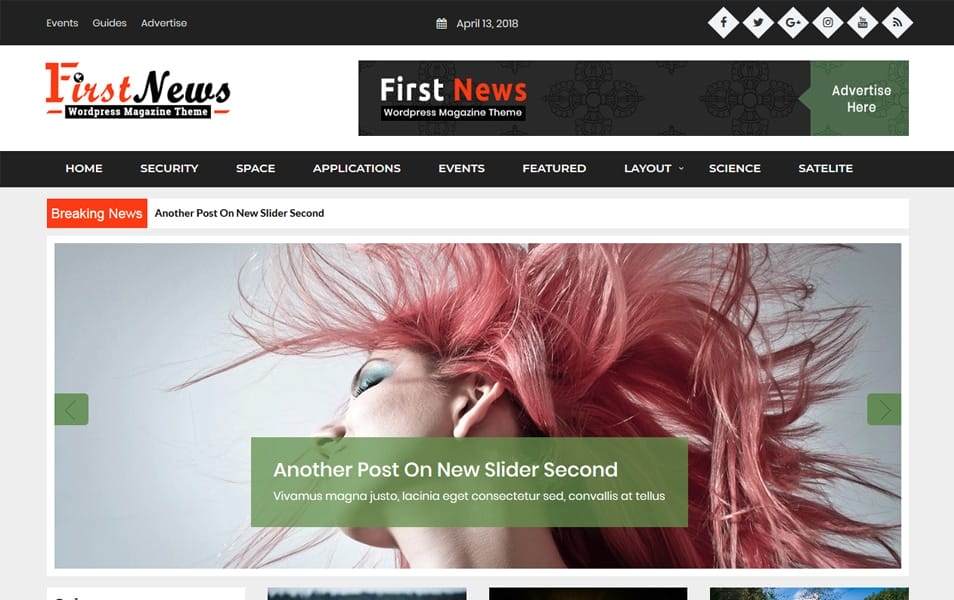 Envo Magazine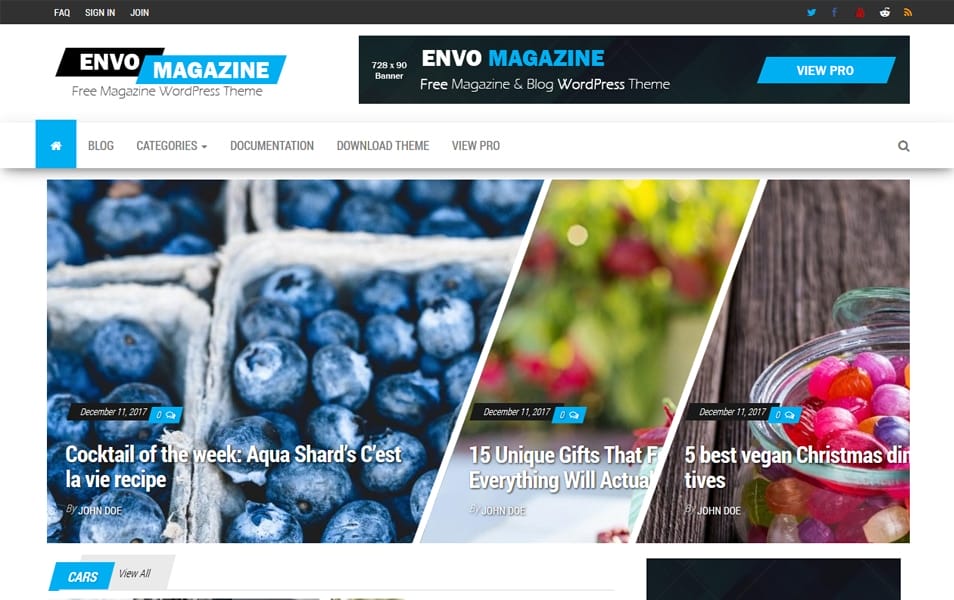 RT Magazine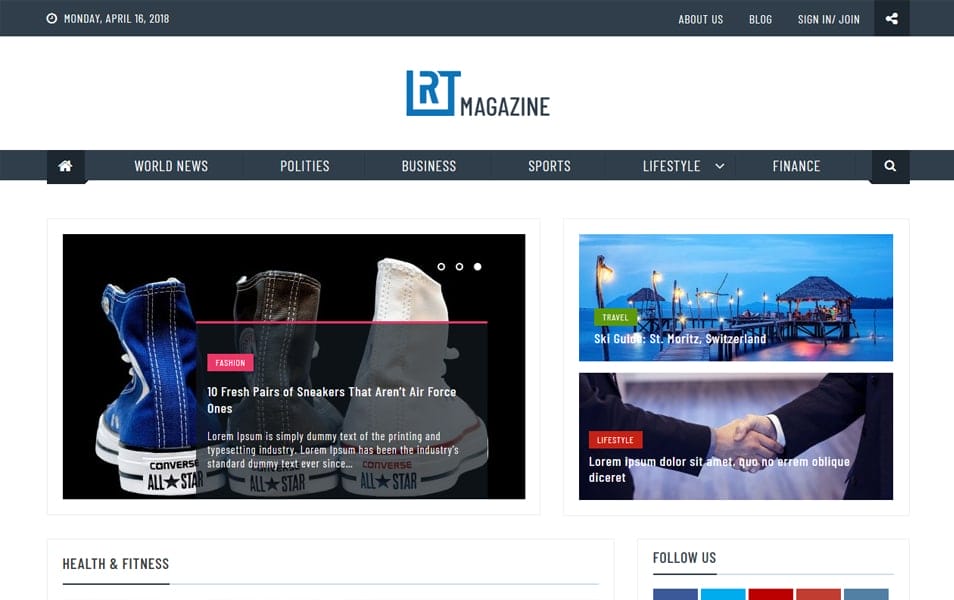 Blog WordPress Theme
BamBom – Lifestyle Blog Multipurpose Minimal Elementor WordPress Theme (Premium)
To put it briefly, BamBom is a groundbreaking WP theme. It lets you set up a charming and modern blog effortlessly. Here are some of the main features BamBom has in its pack:
mobile-first design,
responsive design,
JetPlugins package,
Elementor Page Builder,
crossbrowser compatibility,
eye-friendly web typography,
WP Live Customizer, and much more!
Also, inside the pack of BamBom, you can see numerous eCommerce-oriented features. This theme is 100% Ecwid-ready. It means that, by choosing BamBom, you will get online shop functionality for free! Actually, there's nothing complicated! Just use the pre-packed tutorials to add store function to your site. Next, simply edit it via Elementor and add your content the way you want.
Blog Express
Personify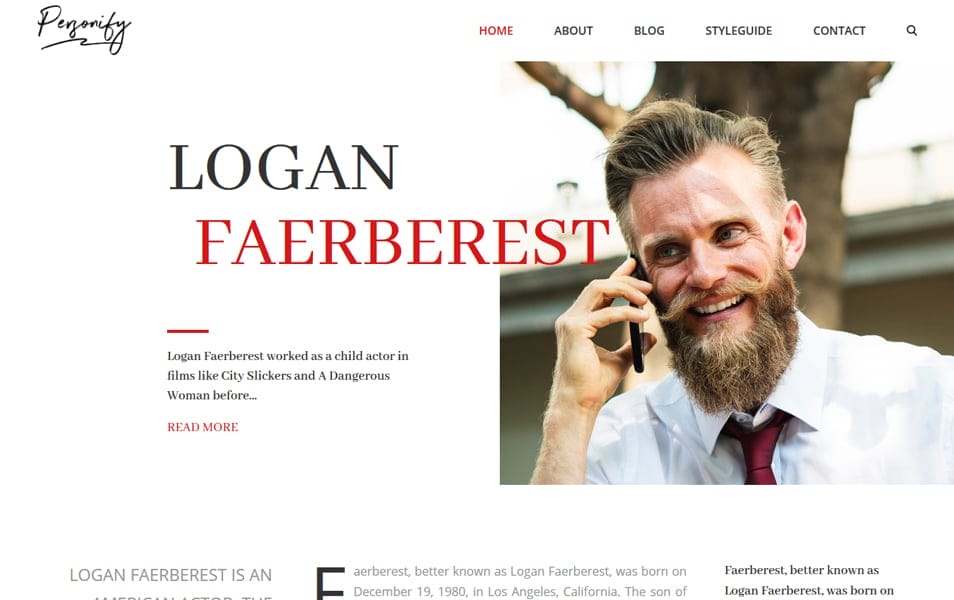 Bloomy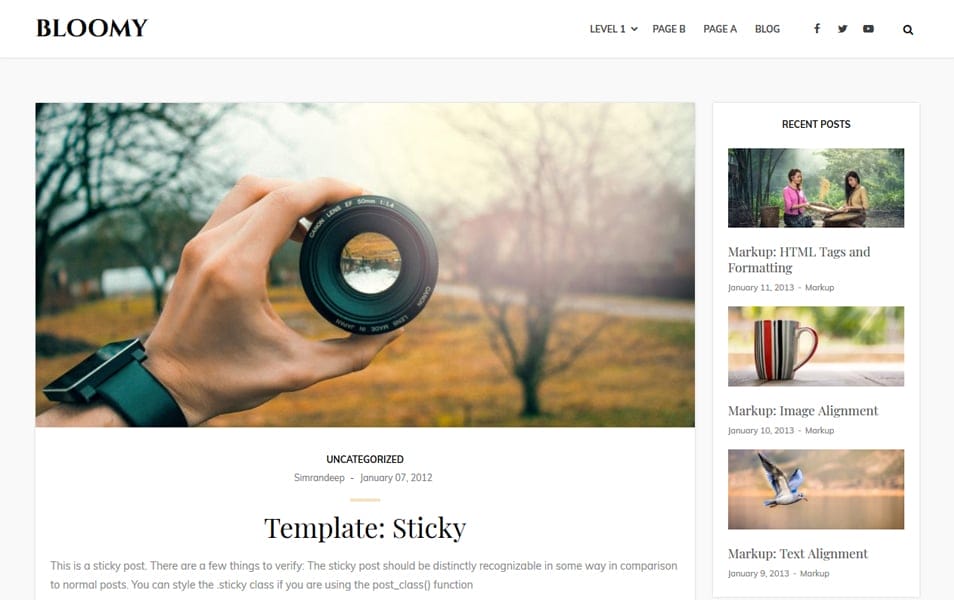 Bulk Blog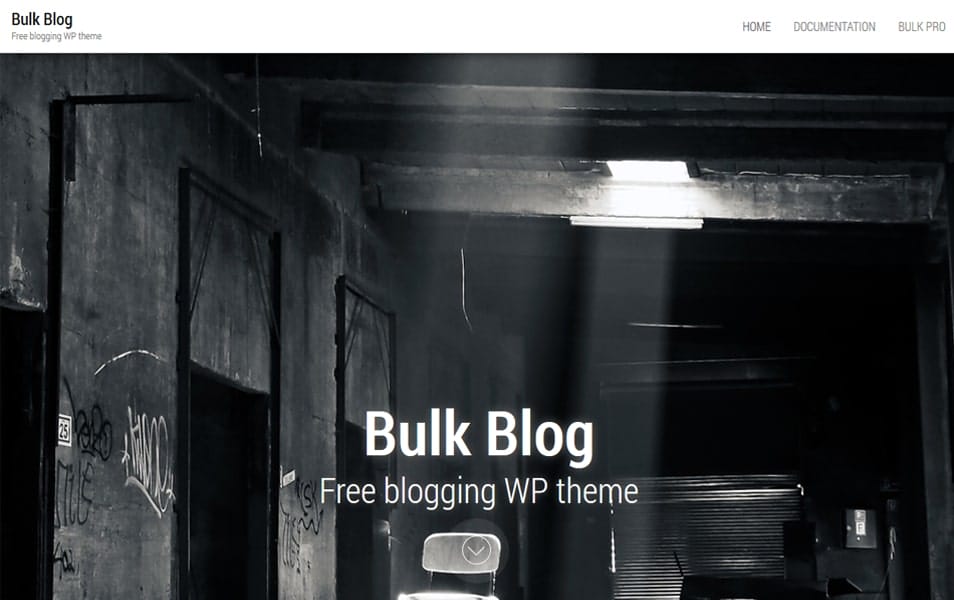 ClubHair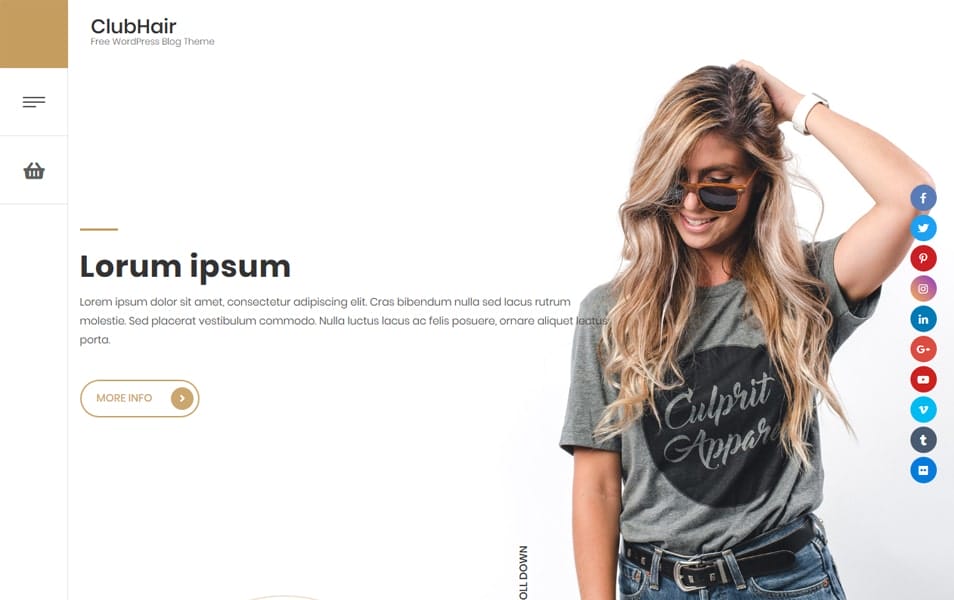 Blue Monday
Holland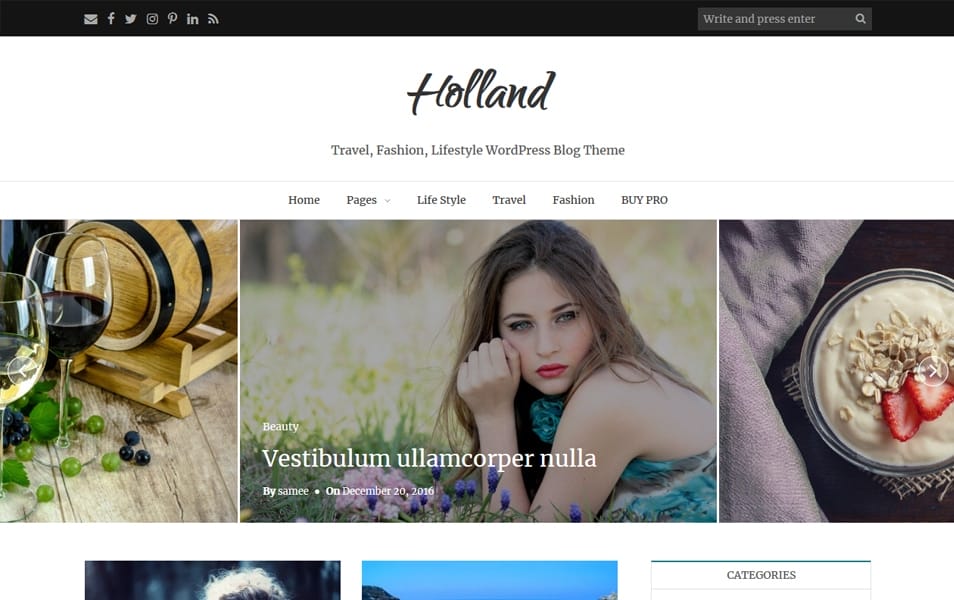 Minimalist WordPress Theme
Webion – Minimal And Multipurpose WordPress Theme (Premium)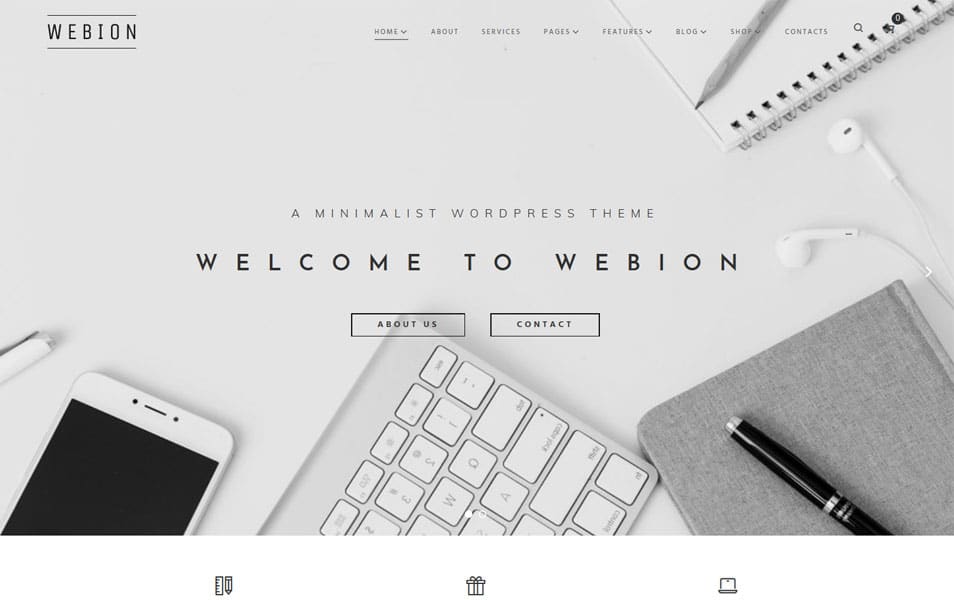 In the previous point, I already mentioned MegaMenu, so let's see why you may need this WordPress plugin. To begin with, in 2019, MegaMenu is still one of the most popular assets among WP users. And here is why!
On the first hand, MegaMenu is code-free. It's a simple and comfortable feature that allows you to build menus on any complicity. Thanks to MegaMenu, you can add images, icons, and even videos to the look of your menu.
On the other hand, this cool plugin will help you to create visitor-friendly site navigation. In fact, menu is the first thing a customer uses when they enter your site. For these simple reasons, your menu should be classy. Now your main task is to let people quickly find the needed page or item. So, MegaMenu allows you to divide all website content into categories and subcategories if needed. Actually, you can manage as many sections as you need and the design of your site will remain clean.
In addition, by using MegaMenu plugin, you improve SEO results. There's no secret, SEO-ready design is a real must-have for any website owner. Thanks to the plugin, you can get better search results. As a result, there will be more people to notice the site.
You can run the demo version of Webion to see how this marvelous feature looks in action.
Galway Lite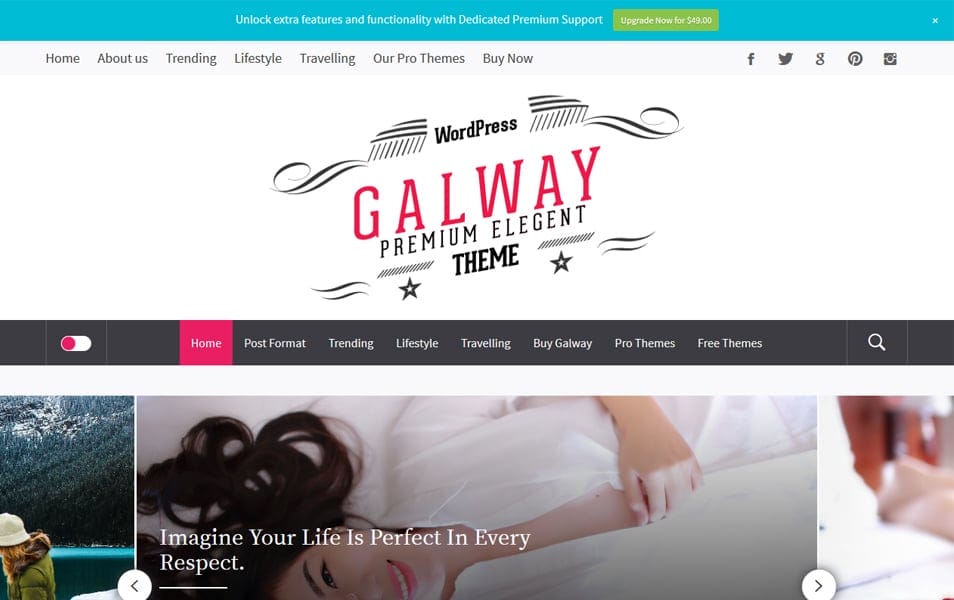 Meltony – Minimal Multipurpose Elementor WordPress Theme (Premium)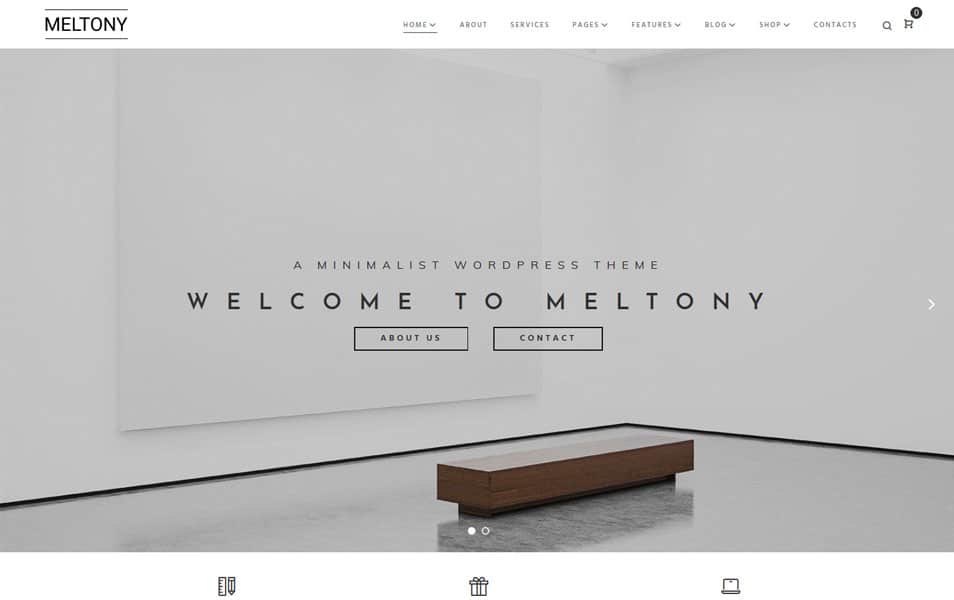 Meltony is a neat multipurpose WordPress theme based on Elementor. By tradition, this item provides you with multiple voguish options. Among them, you can see another premium WP plugin – JetElements. Honestly speaking, it might be the most popular WordPress addon because you get so many features with it! By the way, JetElements plugin also has regular updates, so there will be even more eye-catching widgets. The updates are free for all WordPress users. They will be installed automatically.
Which features JetElements has to improve the design of your website? Here are some of the options you will find in the pack:
Advanced Carousel,
Brands,
Circle Progress,
Pricing Tables,
Post Carousel and Post Slider,
Countdown Timer,
Banners,
Animated Boxes,
Recent Products,
Contact Form,
Featured Products,
Sale Products and Best Sellers,
Top-Rated Products,
Progress Bars,
Parallax scrolling,
Testimonials, etc.
Needless to say, these were just to name a few! Check out the live demo of Meltony to see other features. By the way, JetElements plugin also comes with different eCommerce elements. Would you like to add shop functionality to the site? In this case, you will get all the needed elements with JetElements plugin!
Photo Diary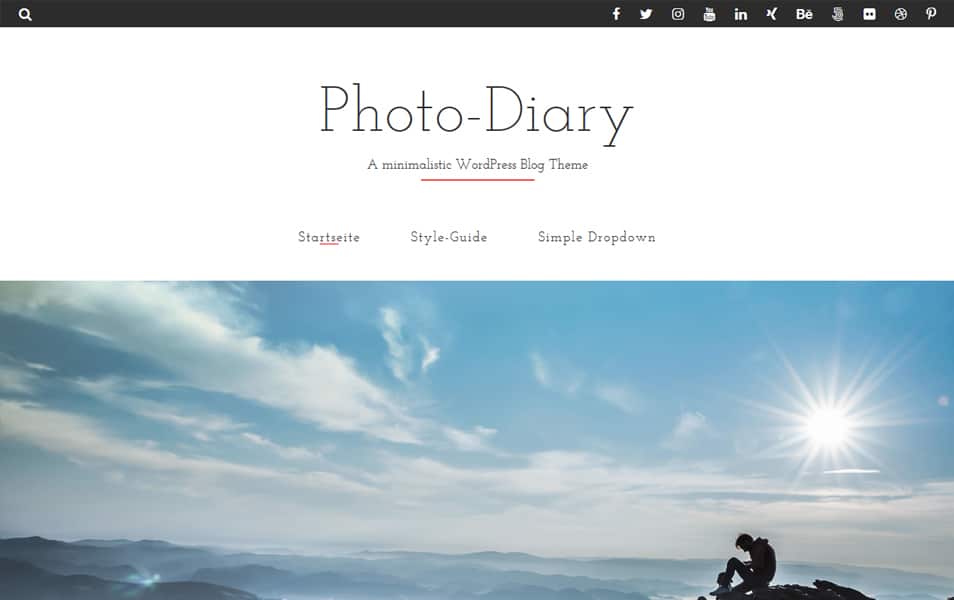 Imagery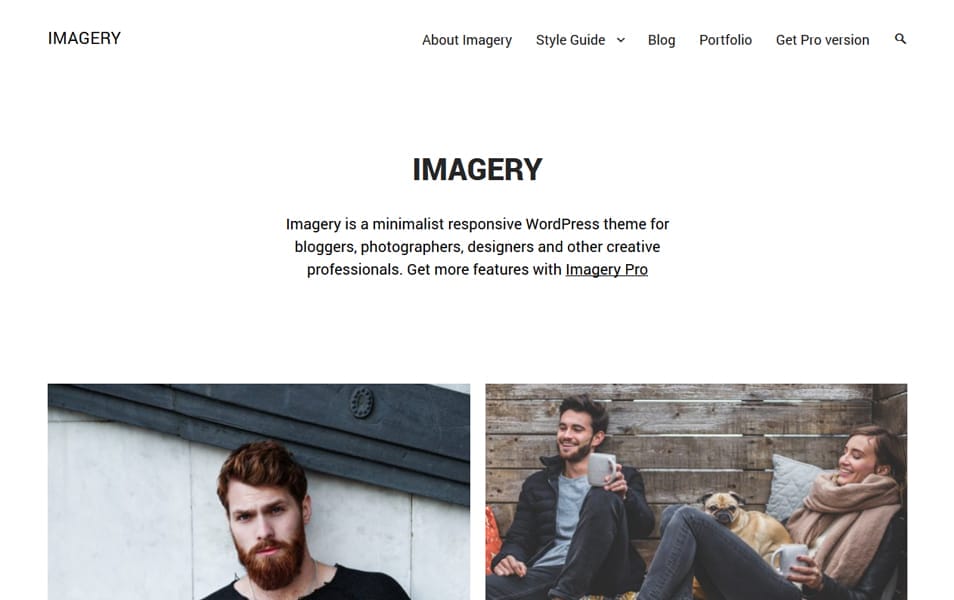 Blogzine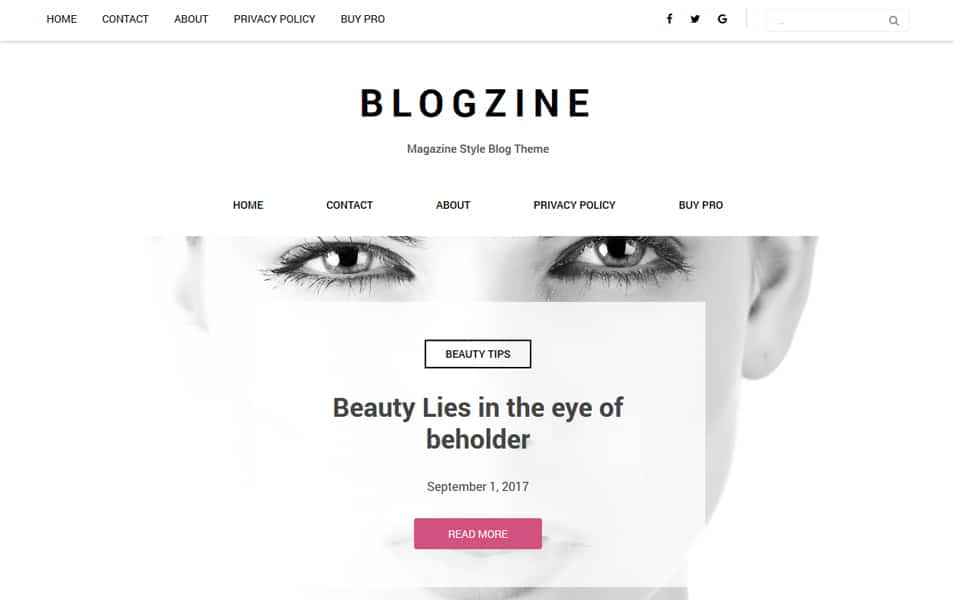 Equable Lite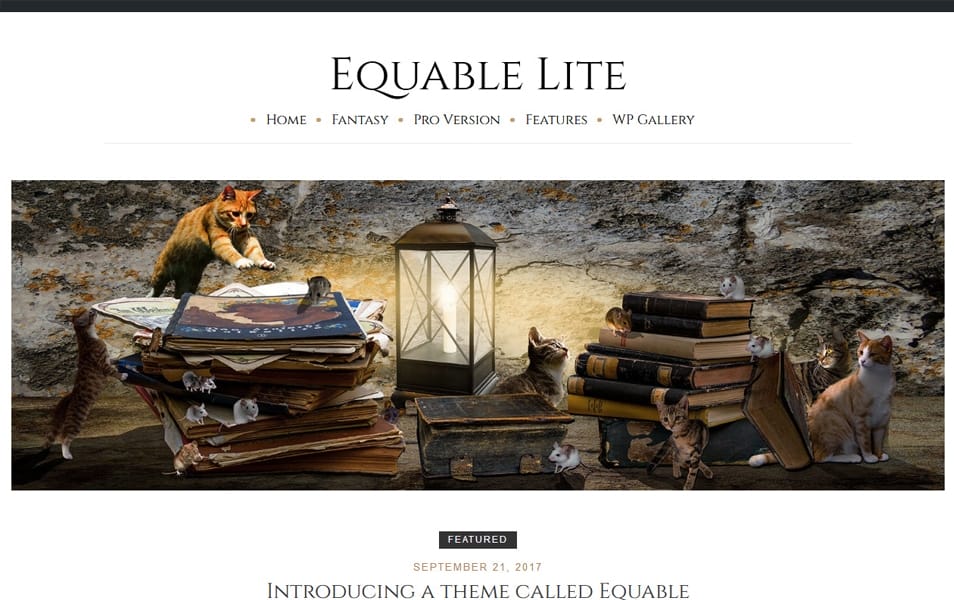 CoupLite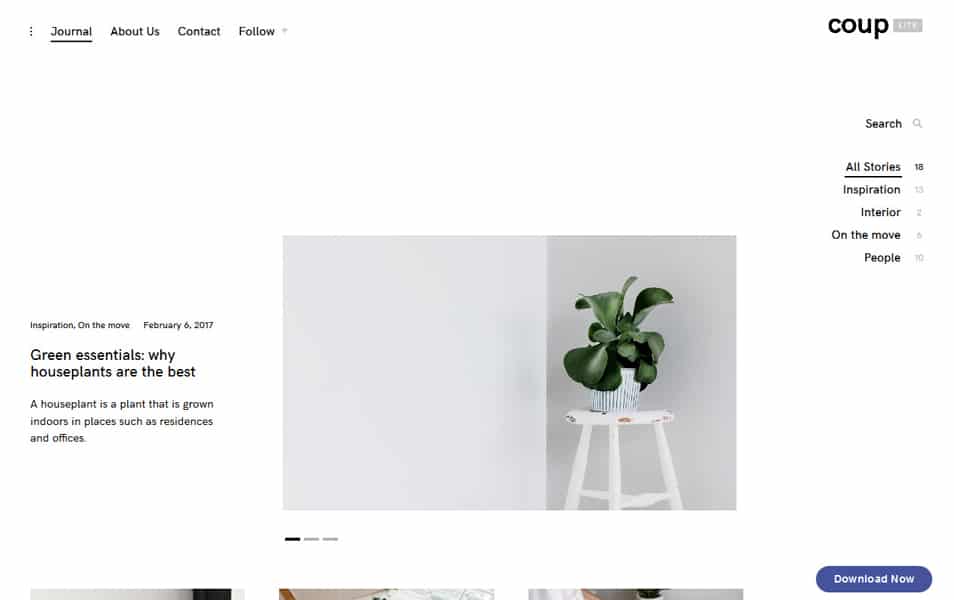 Ariel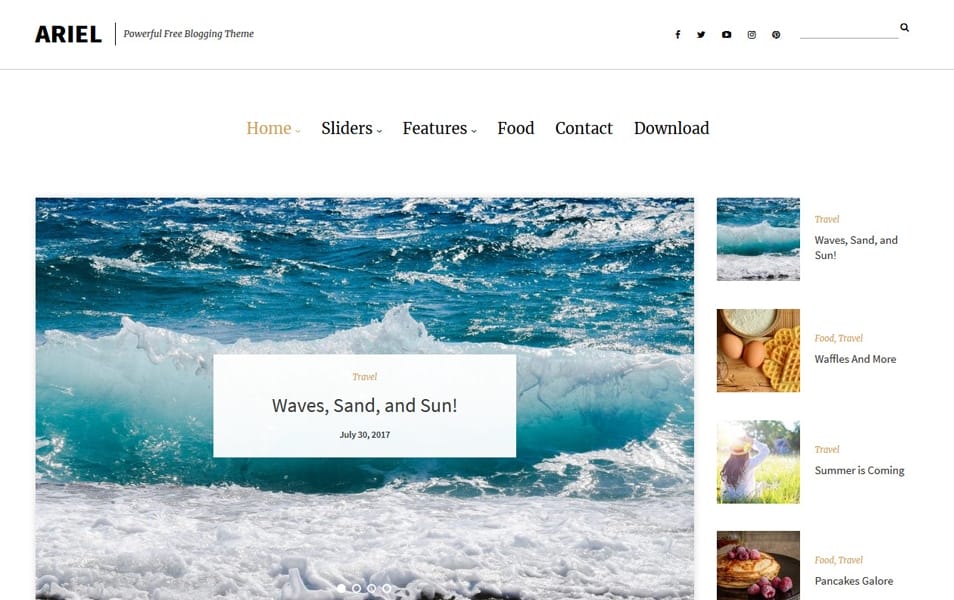 Kaira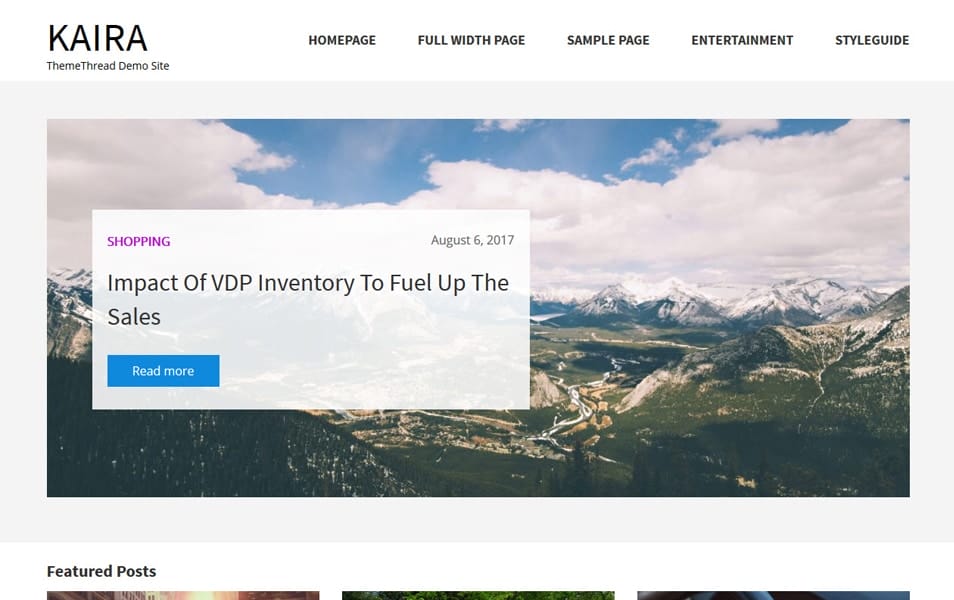 Photography WordPress Theme
Soulym – Photography Multipurpose Modern Elementor WordPress Theme (Premium)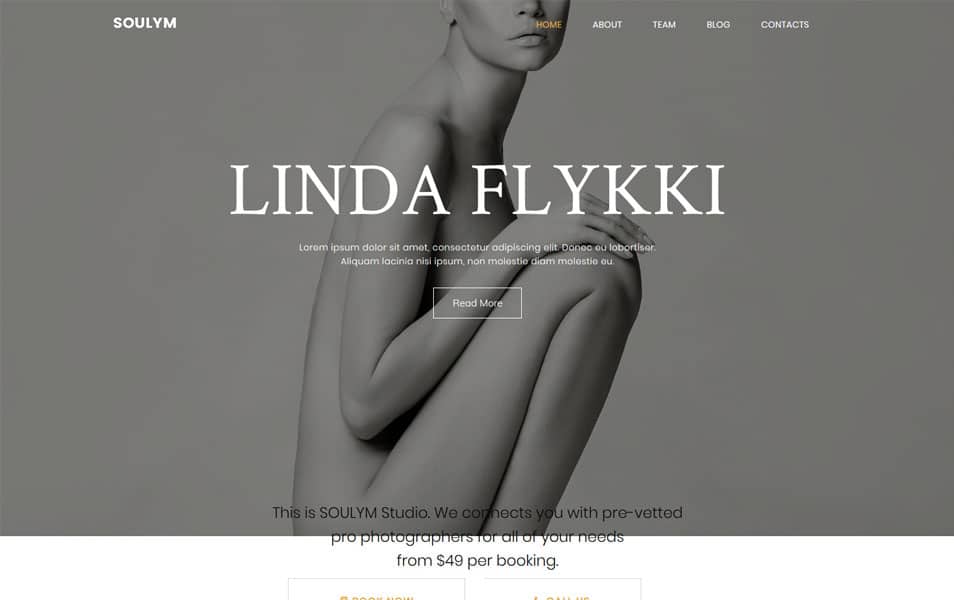 If you are looking for a responsive WordPress theme to run your art related site, don't miss this product! As you can see from its live demo, Soulym comes with a soft and eye-catching design. This top-notch WP theme is an ideal choice to create a photographer website.
To start with, the pack of Soulym contains such must-have pre-made online pages as:
Homepage,
About Us,
Our Team,
Our Projects,
Blog,
Contacts, etc.
Needless to say, this impressing theme also contains all the premium WordPress plugins I named above. Let's take a look at another vital addon for Elementor Page Builder – JetTricks. What is it and why do you need this plugin?
Shortly, JetTricks was created to help you to add various visual effects to the site design. Basically, it's your ready-made solution in case you'd like to get a unique web design. So, which features will you get to empower the site with visual effects? Here is a quick list of what the addon contains:
Parallax elements,
sticky columns for your most important content to be fixed on the screen,
unfolding functionality,
show more option,
hotspots to specify the details of your images,
Satellite,
Particles, which is mega popular these days,
Tooltip to make your content clear, etc.
TS Photography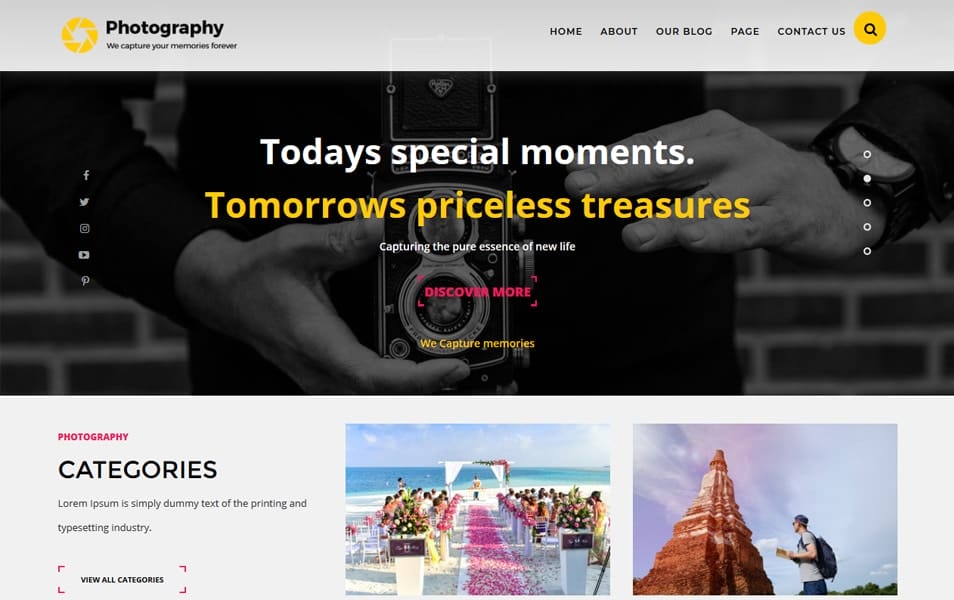 Minimalist Portfolio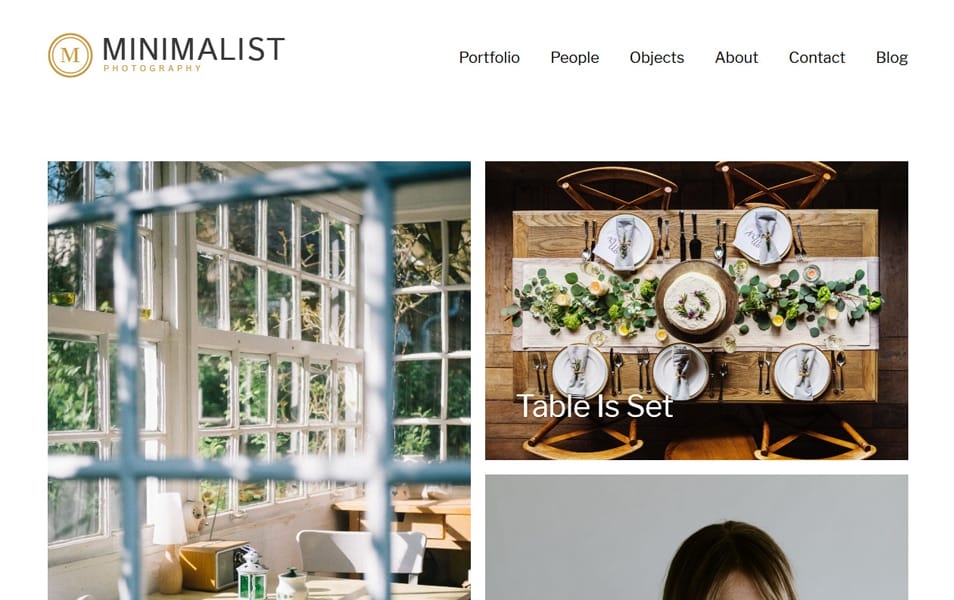 TheMoments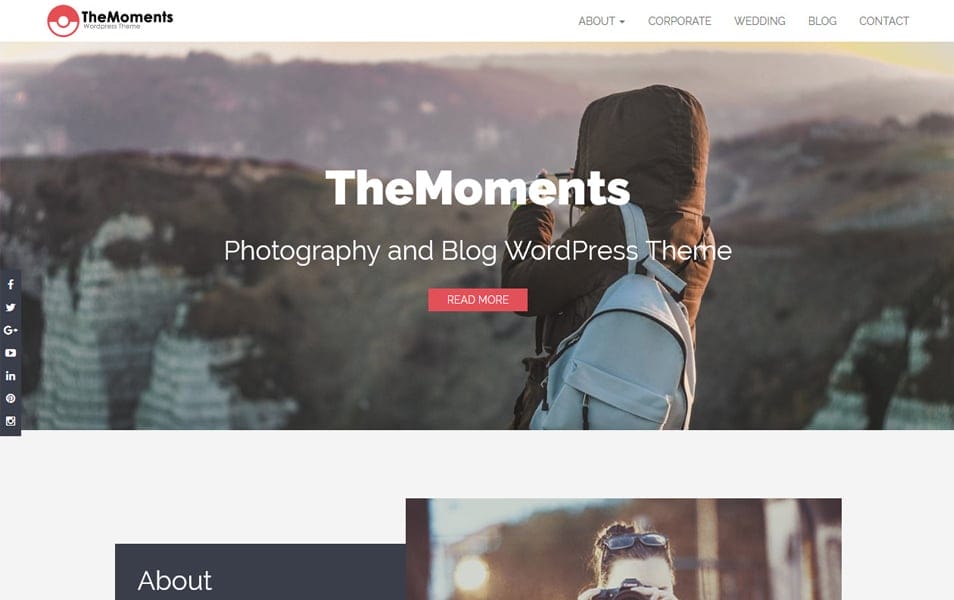 Sobre Lite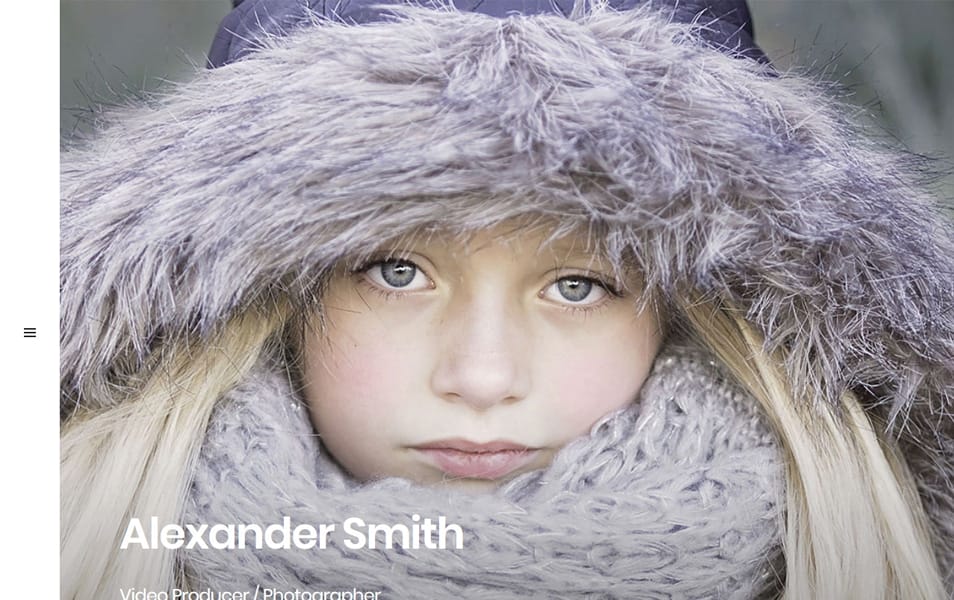 InstaBlog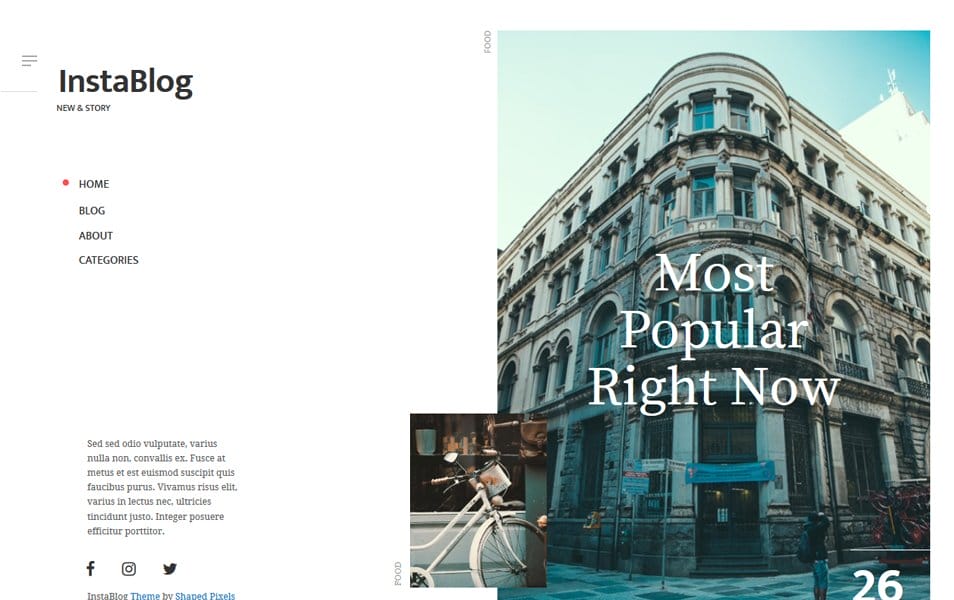 Fotografie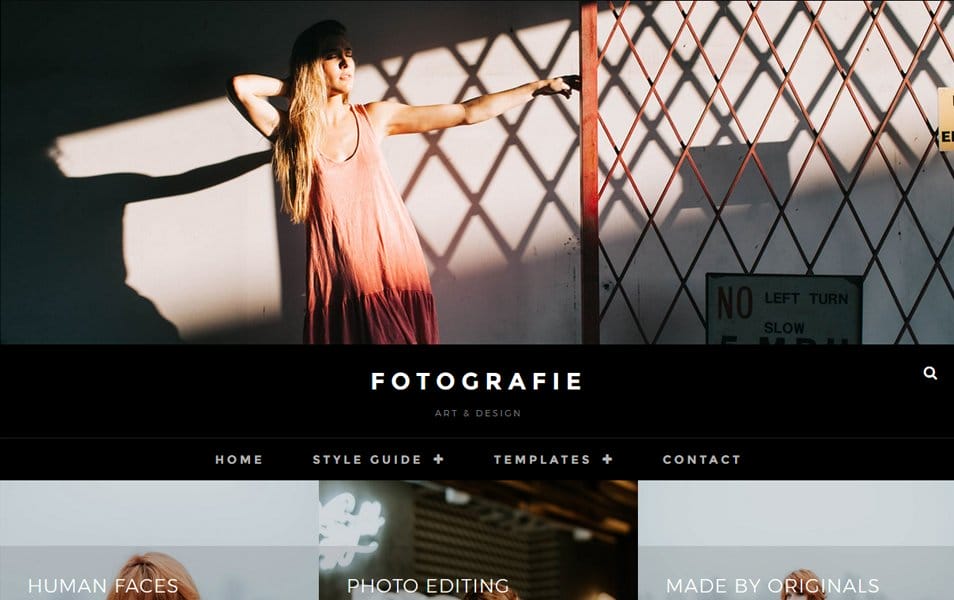 GalleryPress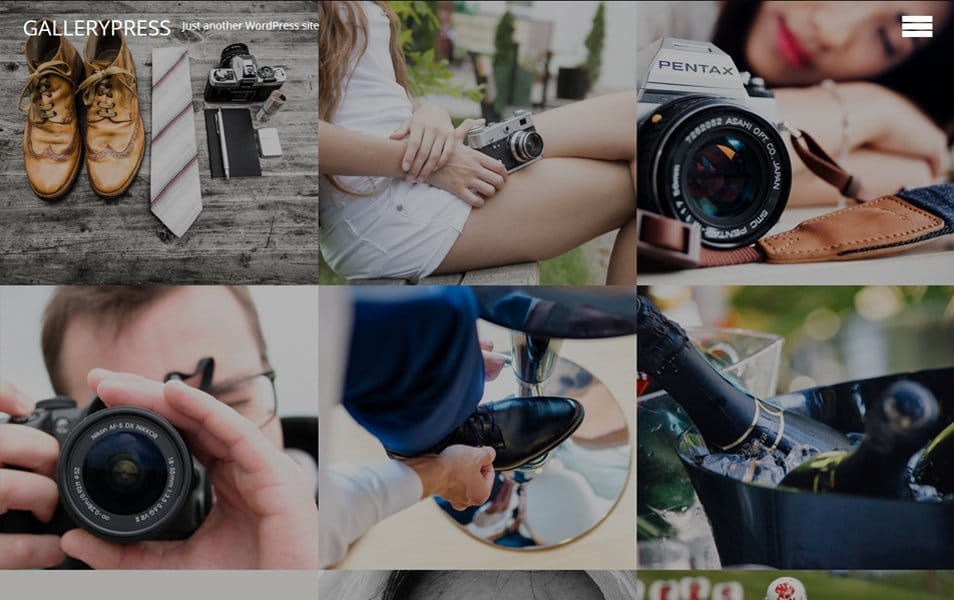 Click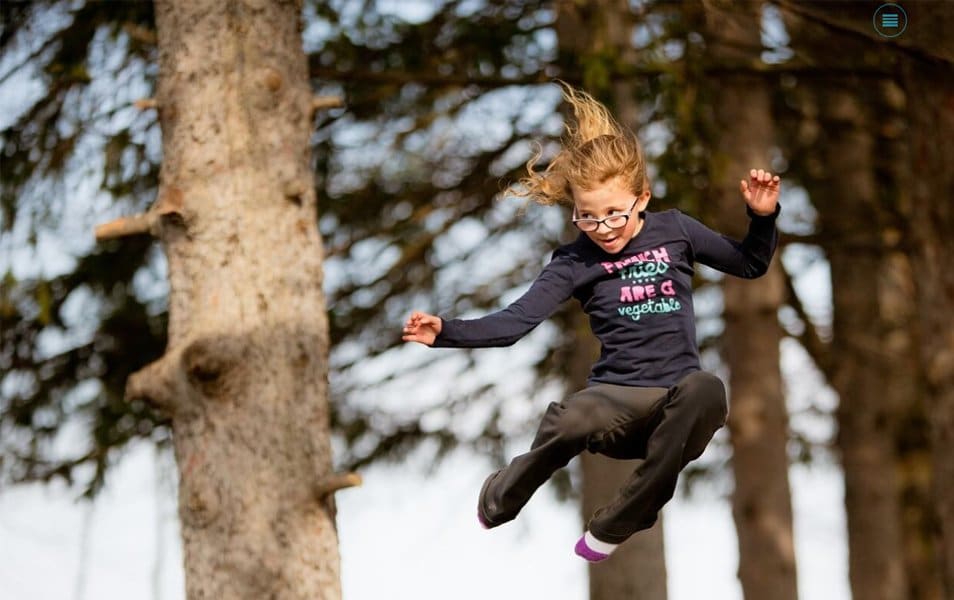 Kindler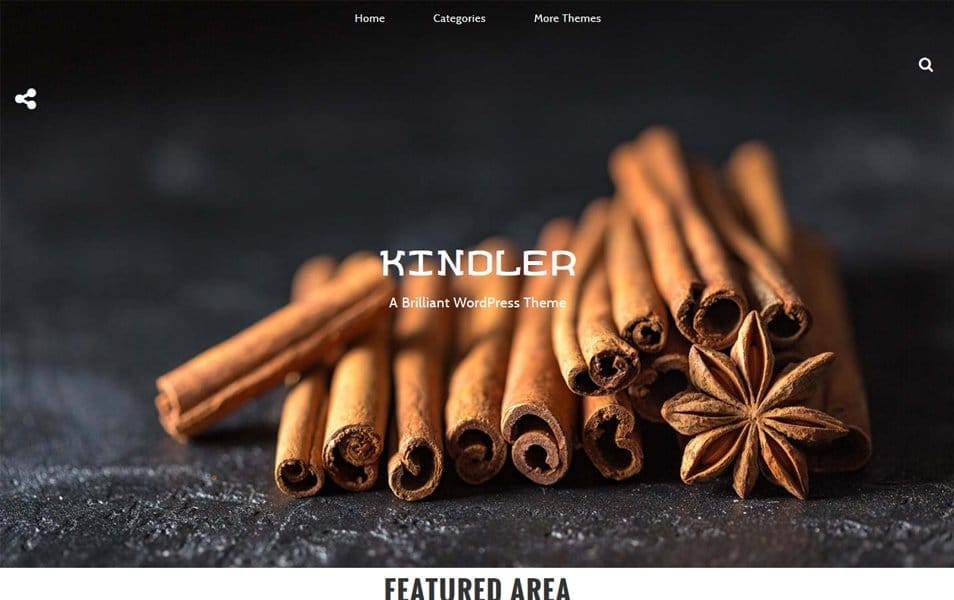 Educational WordPress Theme
College Education
Education Web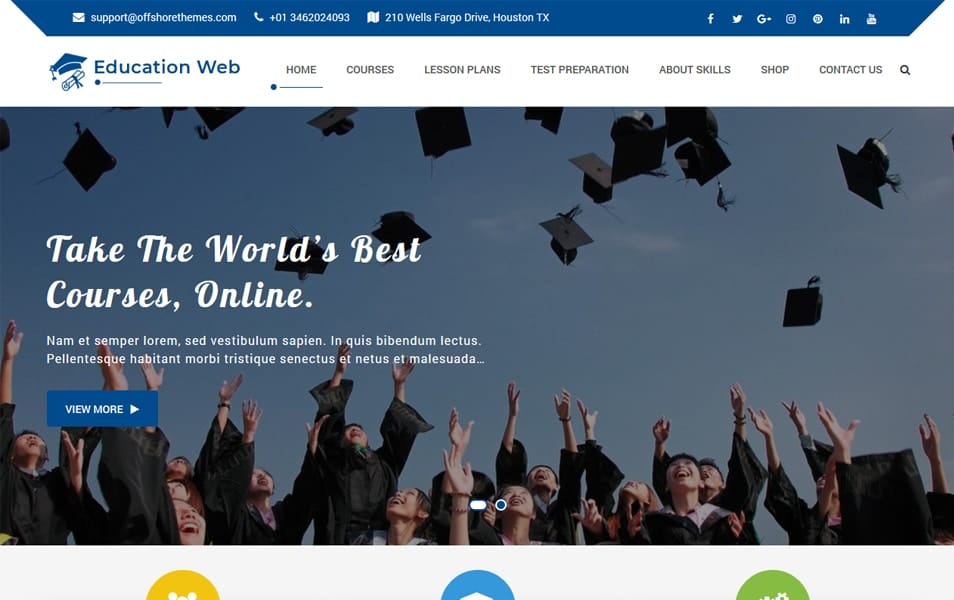 HB Education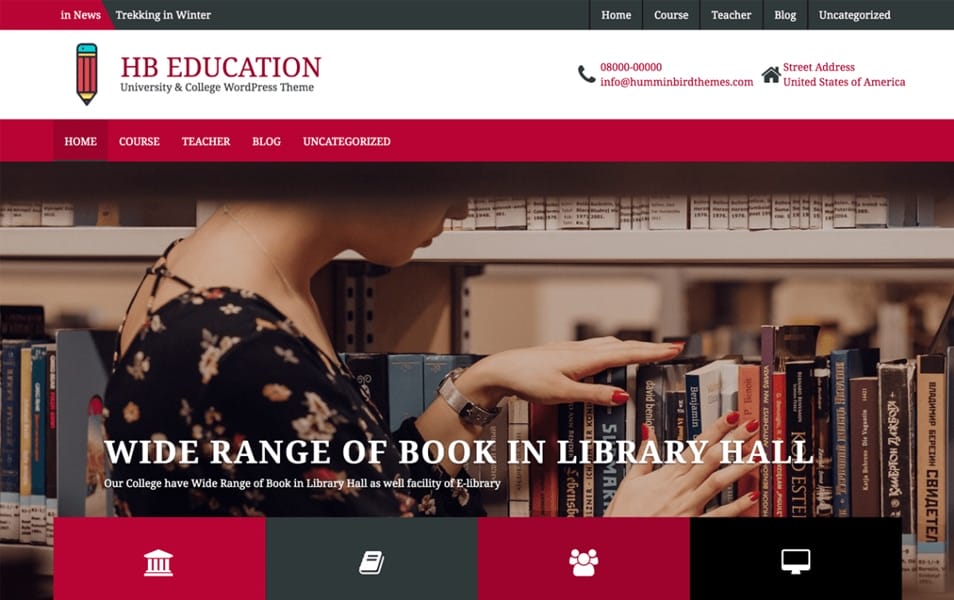 Best Education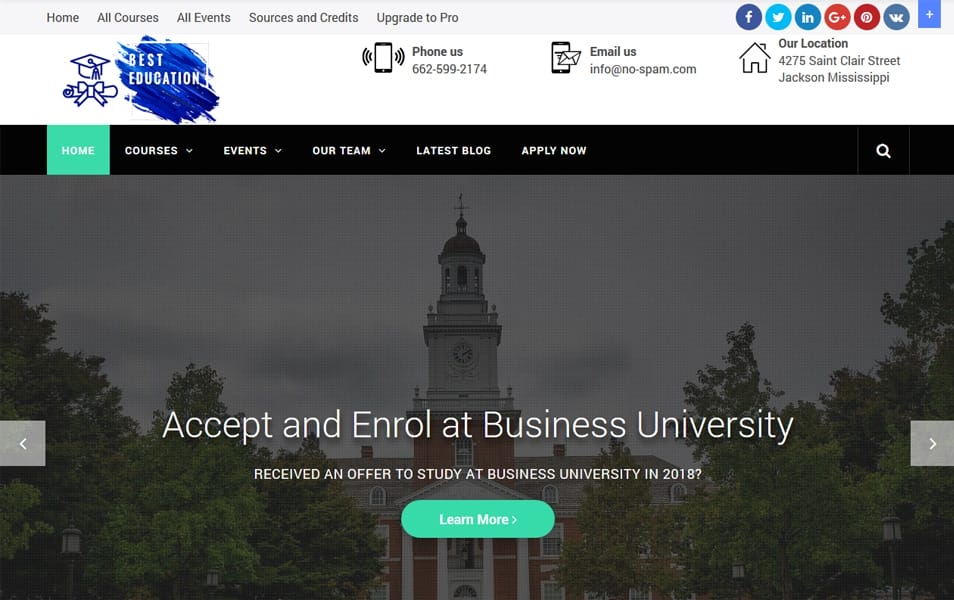 Education Mind
Elead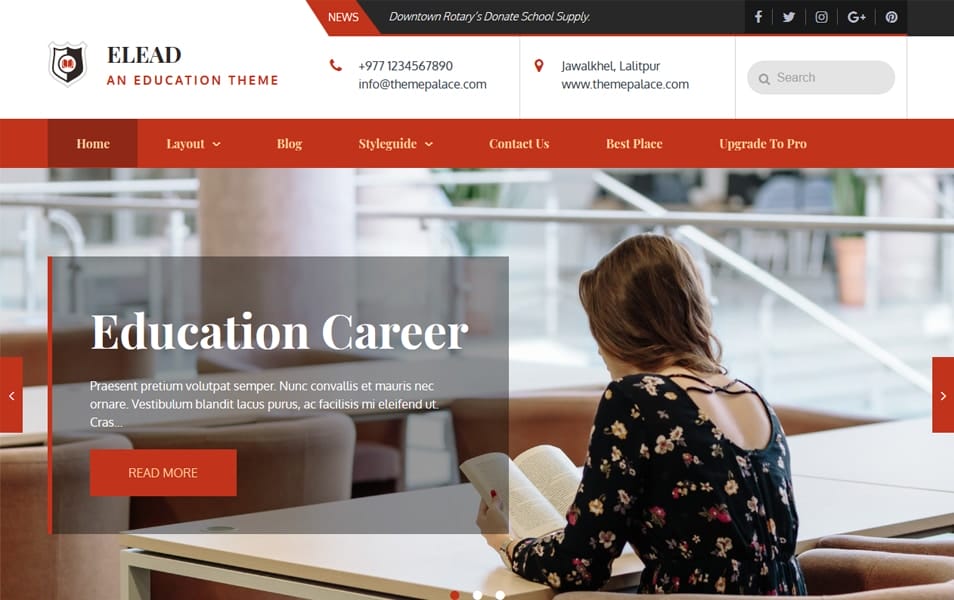 Scholarship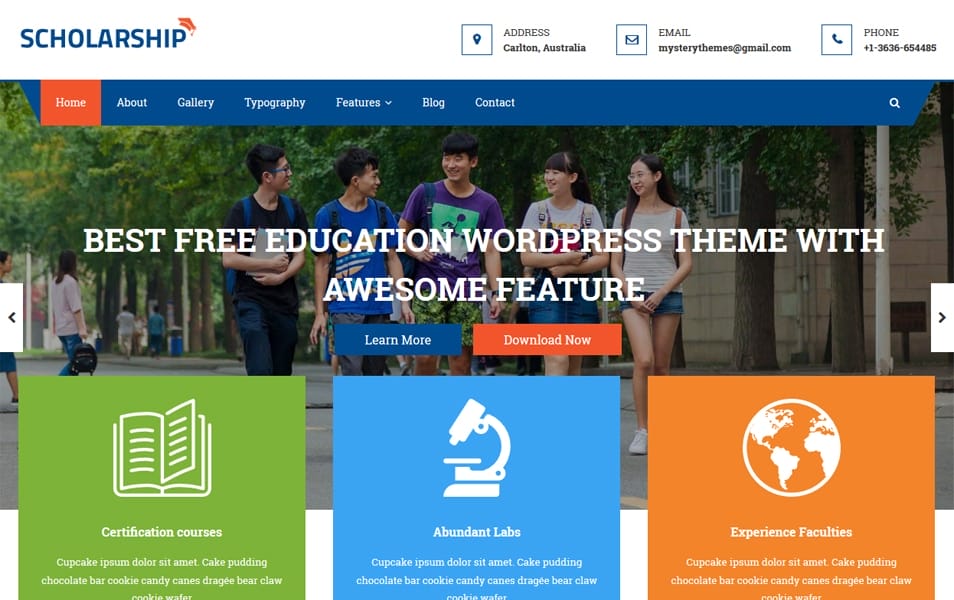 Education Park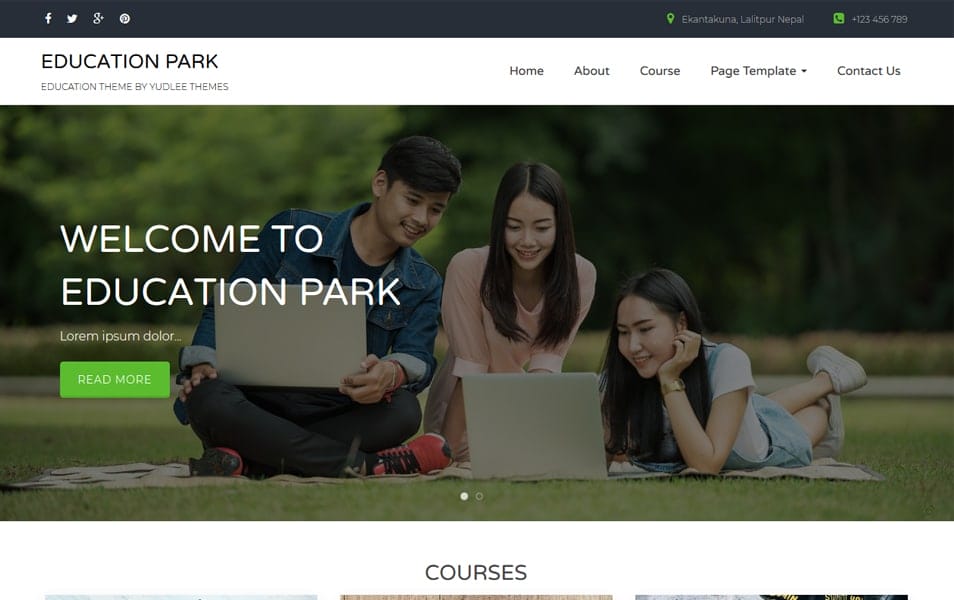 Child Education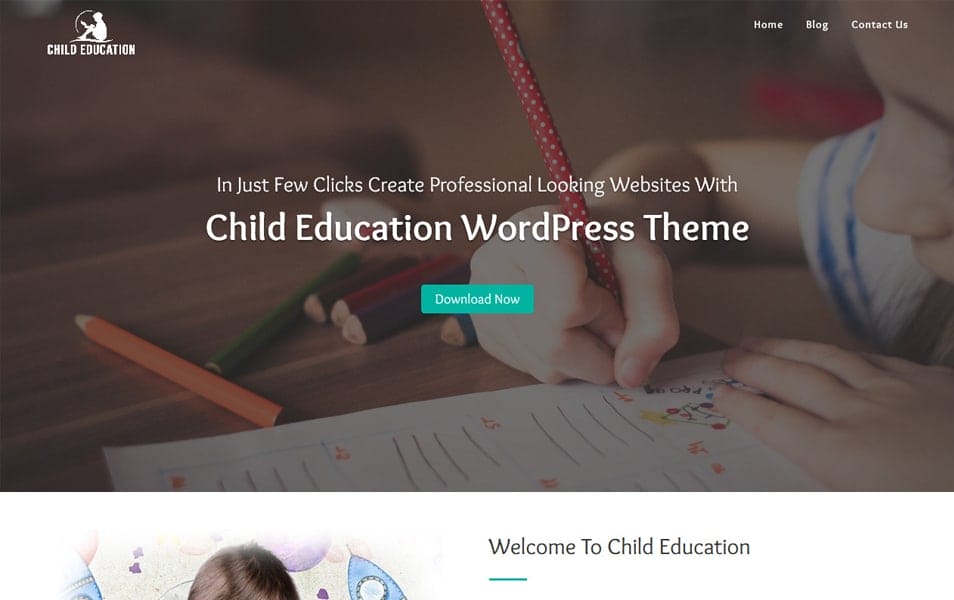 Multipurpose WordPress Theme
24.Storycle – Multipurpose News Portal Elementor WordPress Theme (Premium)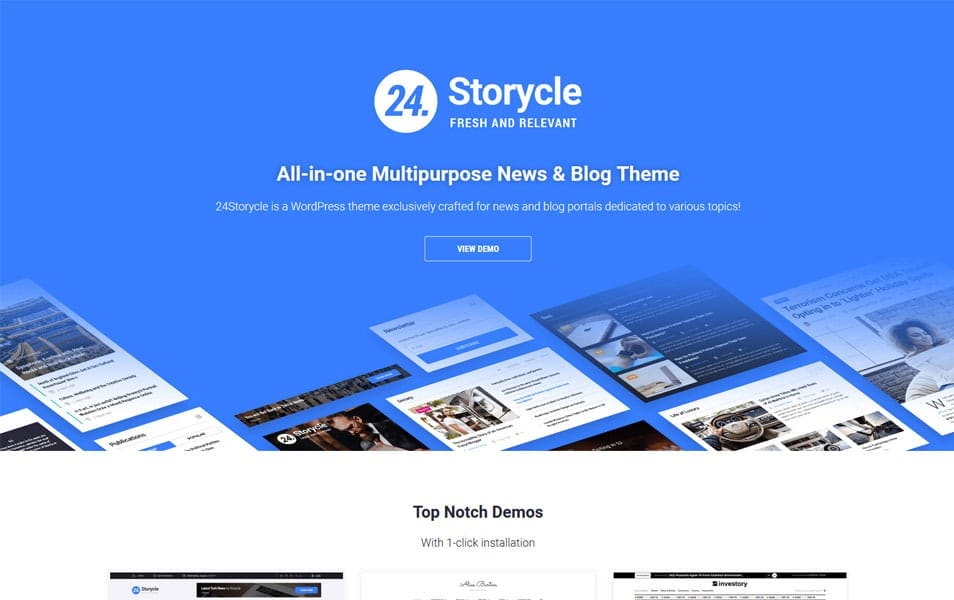 Before everything else, I should admit that 24.Storycle literally has everything and anything you may need. This premium multipurpose WordPress theme is definitely worthy of your attention! The theme comes with 1-click installation and has 15+ strikingly-colored demos. Here are the ready-made sets of pages you will get with 24.Storycle:
News Portal,
Personal Blog,
Lifestyle,
Fashion Blog,
Sports,
Tech Blog,
Cryptocurrency Blog,
Corporate Blog,
Photographer Portfolio,
Woman Blog,
Travel Blog,
Creative Personal Blog,
Newspaper Blog,
Recipe Blog,
and Healthy Fashion.
Now, let's take a closer look at the features 24.Storycle provides you with!
Firstly, there's a handy Text Ticker widget that comes with JetBlog plugin. It allows you to showcase new posts in a short form of a news ticker. Needless to say, this feature is perfect for hot news and other info that should be noticed immediately. Secondly, you will get vertical and horizontal video playlists. They allow you to display media content in a trendy and compact way. Finally, there's also a wonderful tool to create tabs and accordion blocks. With it, you can organize site content and structure it without trouble.
Surya Chandra Lite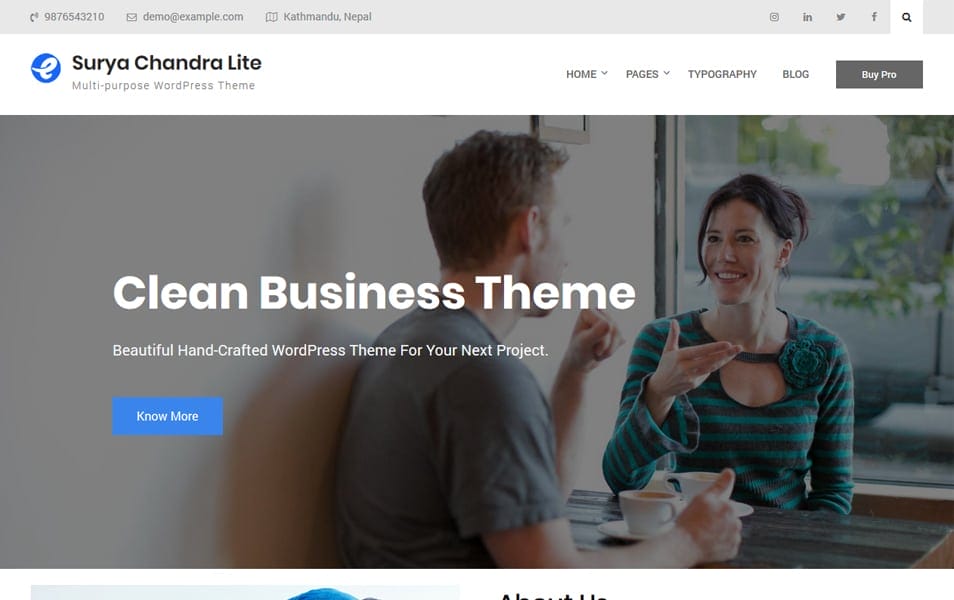 Mazino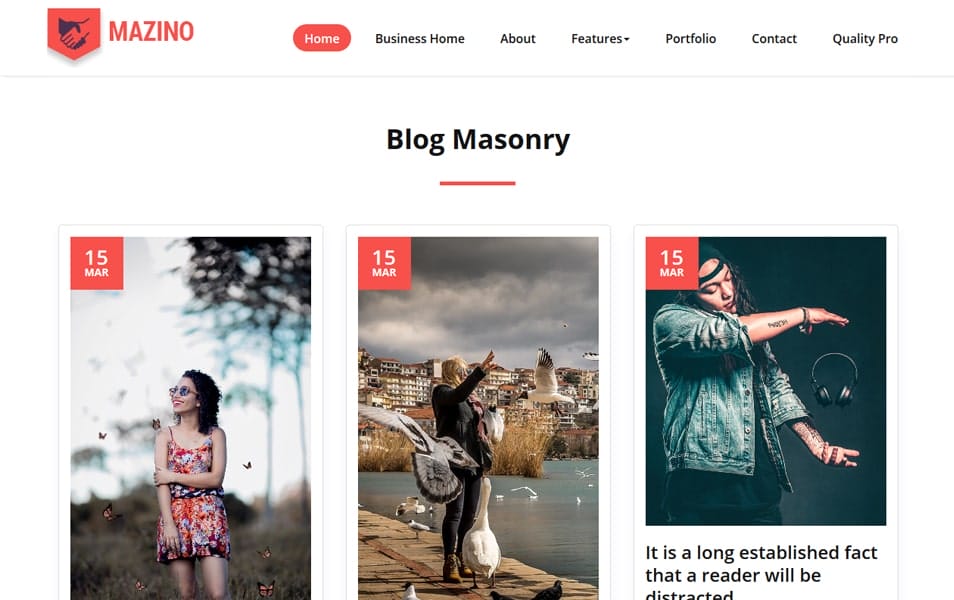 Worky – Architectural Bureau Multipurpose Modern Elementor WordPress Theme (Premium)
Worky is a good-looking multipurpose WordPress theme with elegant design. The theme will ideally fit the websites related to:
architecture and architectural bureau,
engineering company,
design studio,
web design studio,
creative agency, etc.
In case you'd like to set up a professional business website easily and quickly… Well, you know what to do. Like many previous themes, Worky comes with premium JetPlugins bundle for Elementor Page Builder. With it, you will be able to work with such premium WP plugins as:
JetElements that allows you to create visual content,
JetTabs that allows you to place your content the way you want,
JetThemeCore that allows you to create new pages from scratch,
JetTricks that creates marvelous animation effects and other visual tricks with no coding,
JetBlog plugin that has everything for a modern blog including bright widgets,
JetReviews plugin that will help you to add some beautiful reviews to site design,
JetParallax addon that provides you with countless Parallax layers, versatile animation speed, etc.,
JetMenu to create the menus of any complicity,
JetWooBuilder that contains lots of powerful widgets for WooCommerce store,
JetBlocks that allows you to enrich headers and footers with new content,
JetEngine that will help you to add and manage dynamic content to create the needed custom posts.
GTL Multipurpose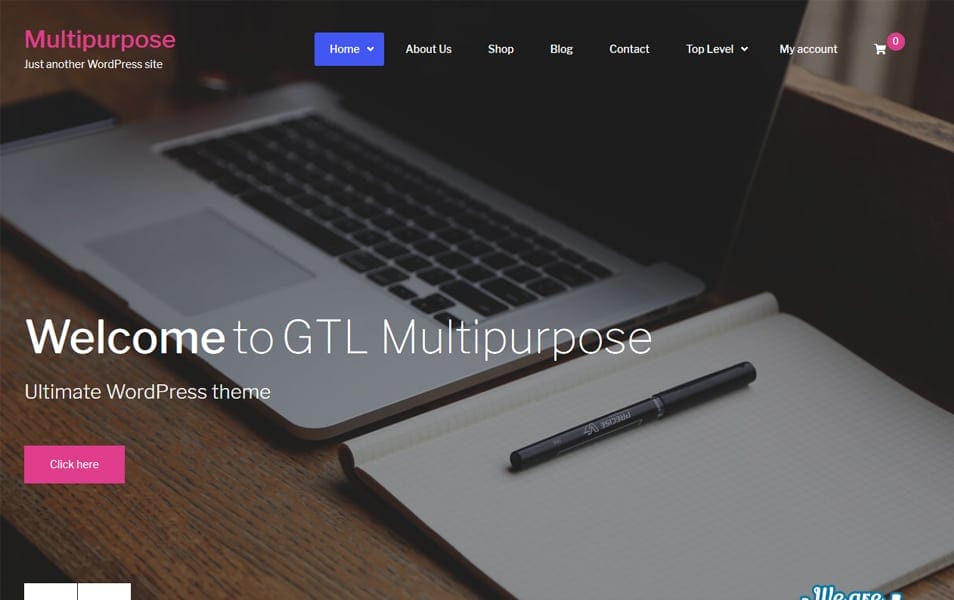 Bulk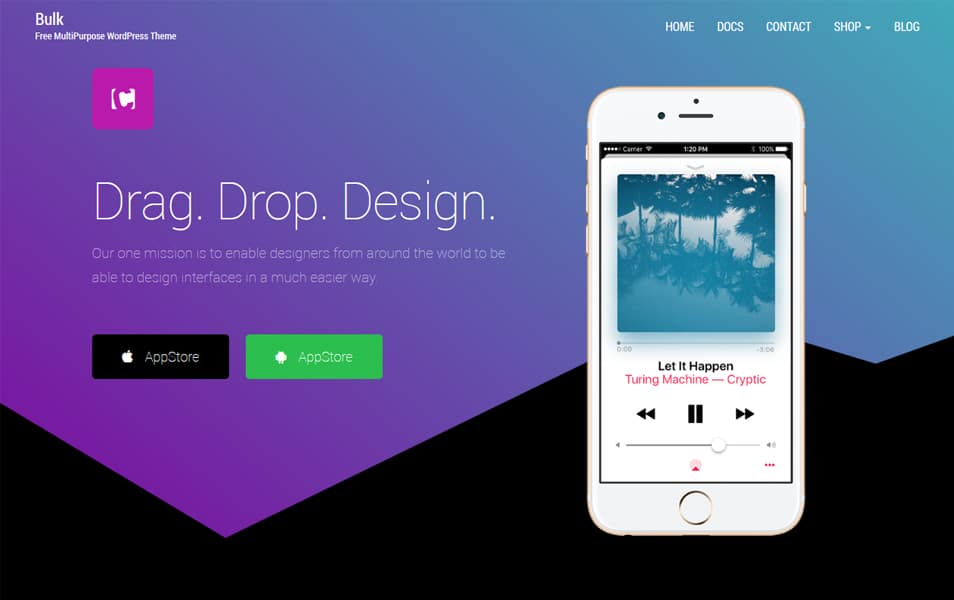 The100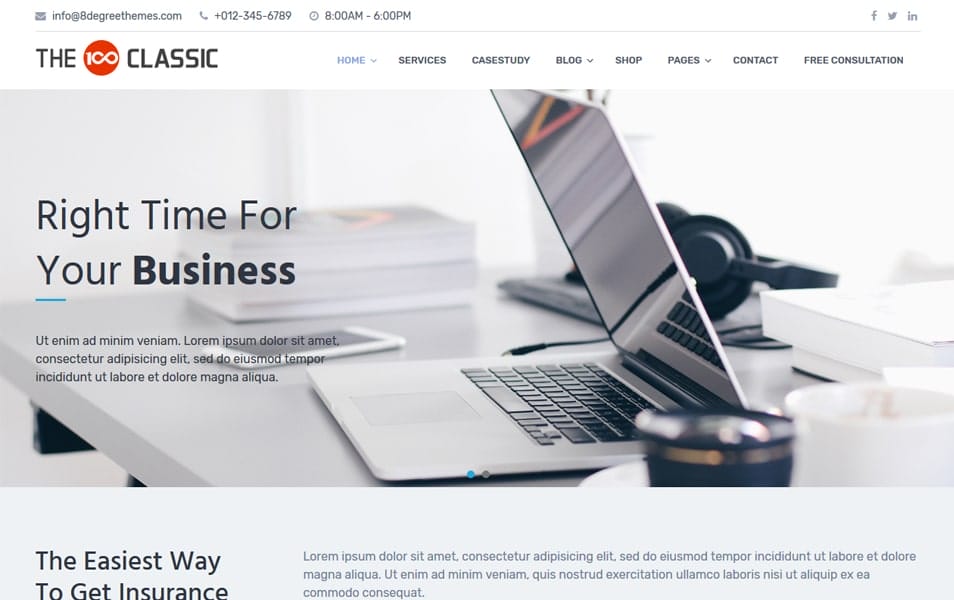 NullPoint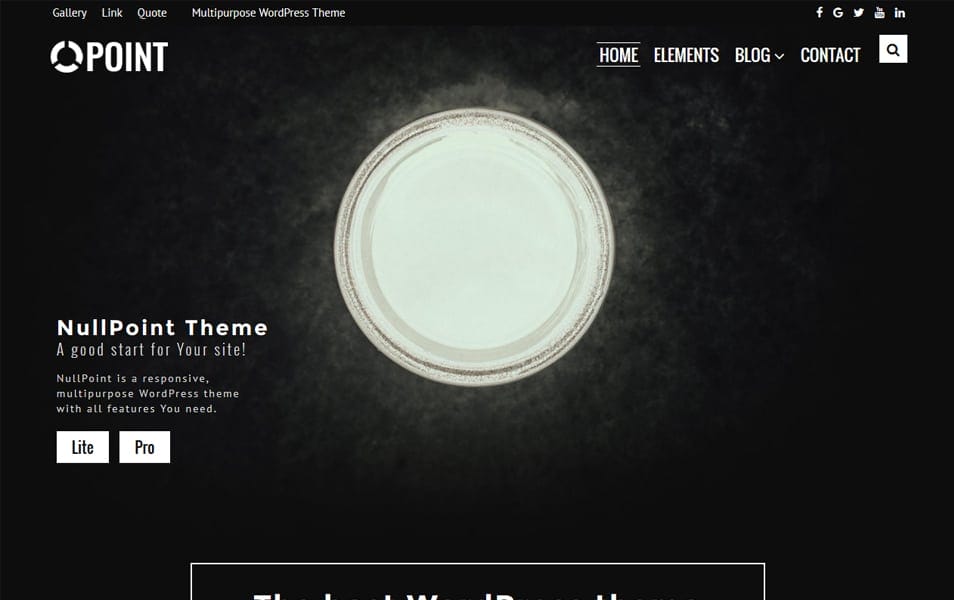 Lois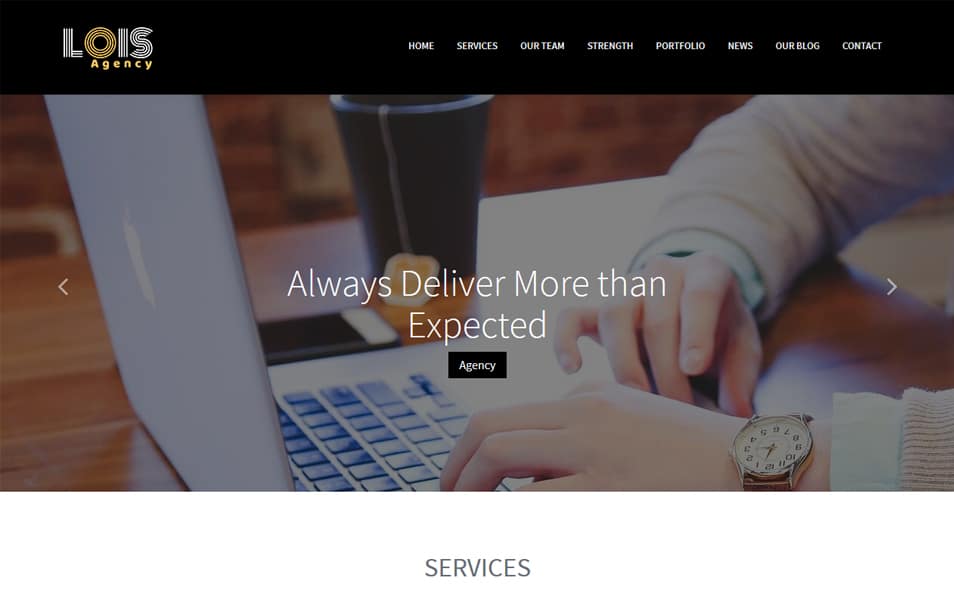 All Rounder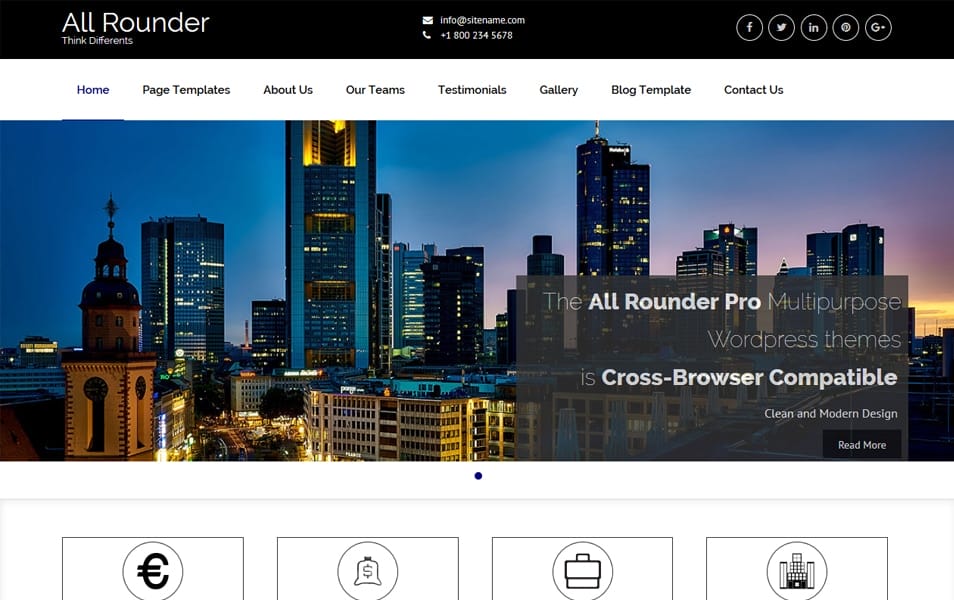 Envo Business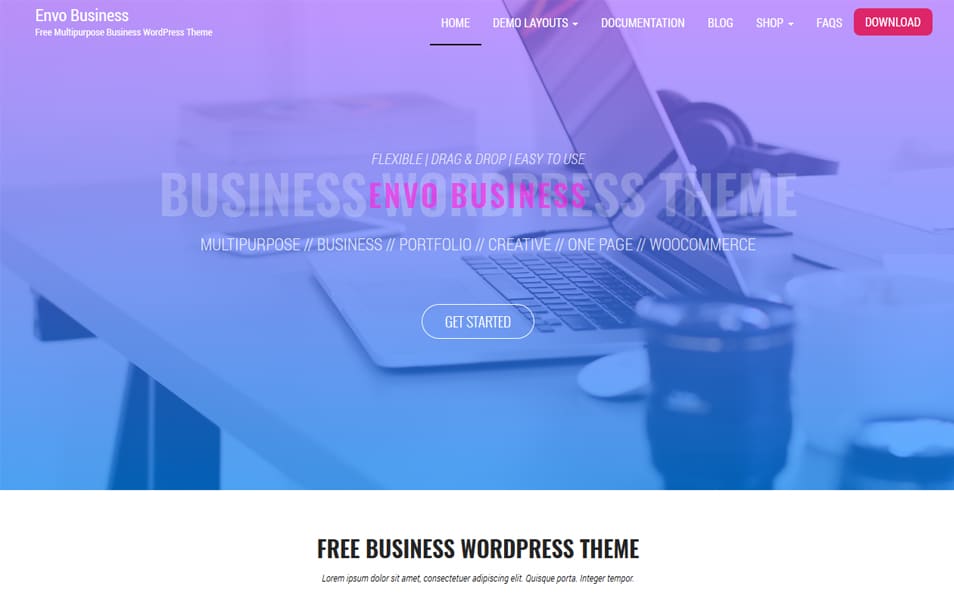 Restaurant WordPress Theme
LZ Restaurant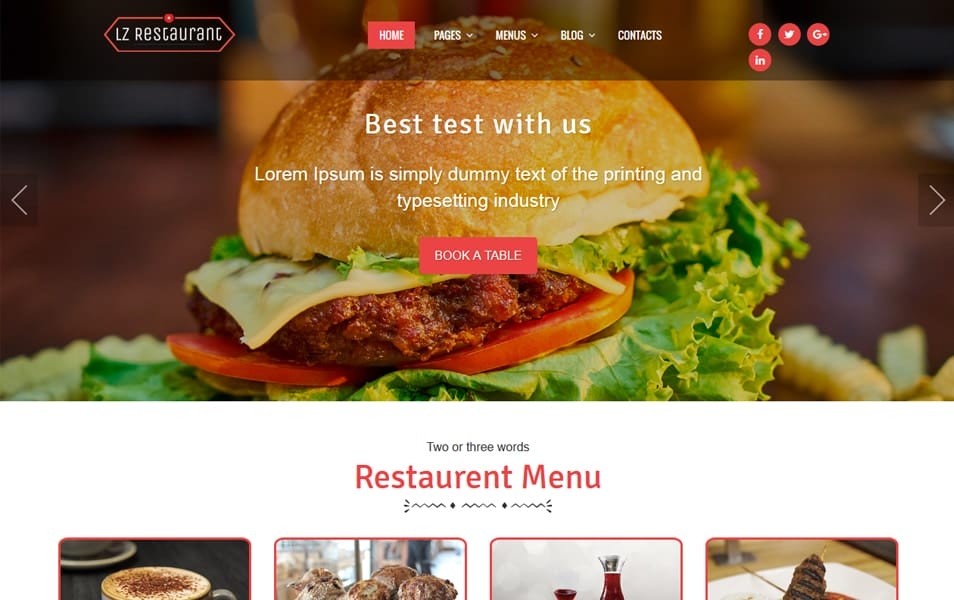 SEOS Restaurant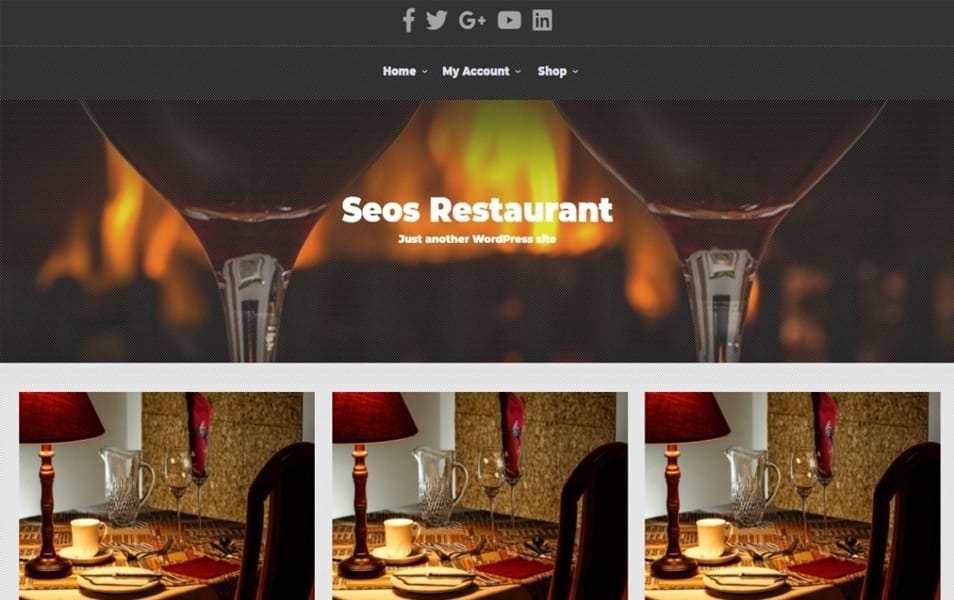 Bistro Lite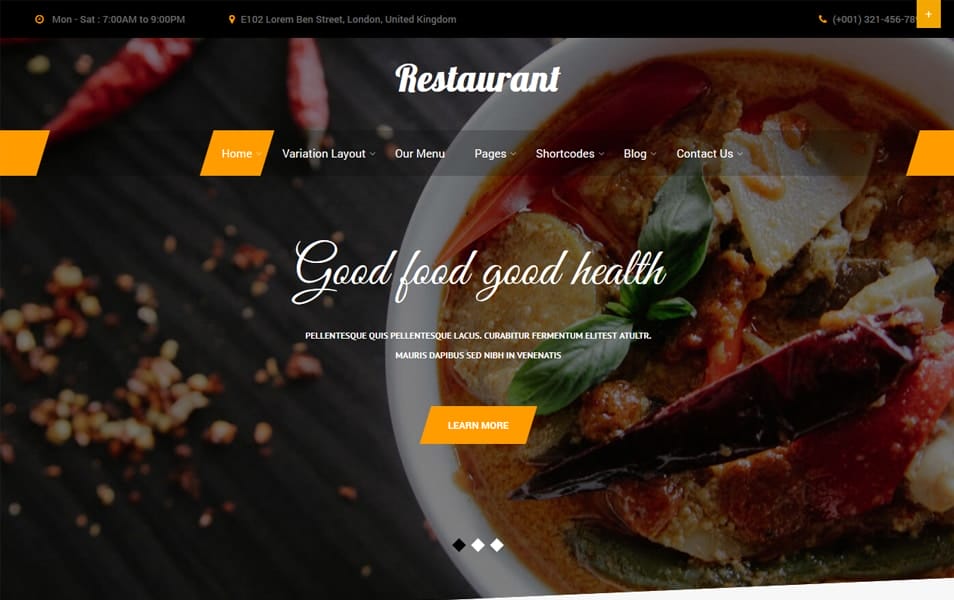 Atmosphere Lite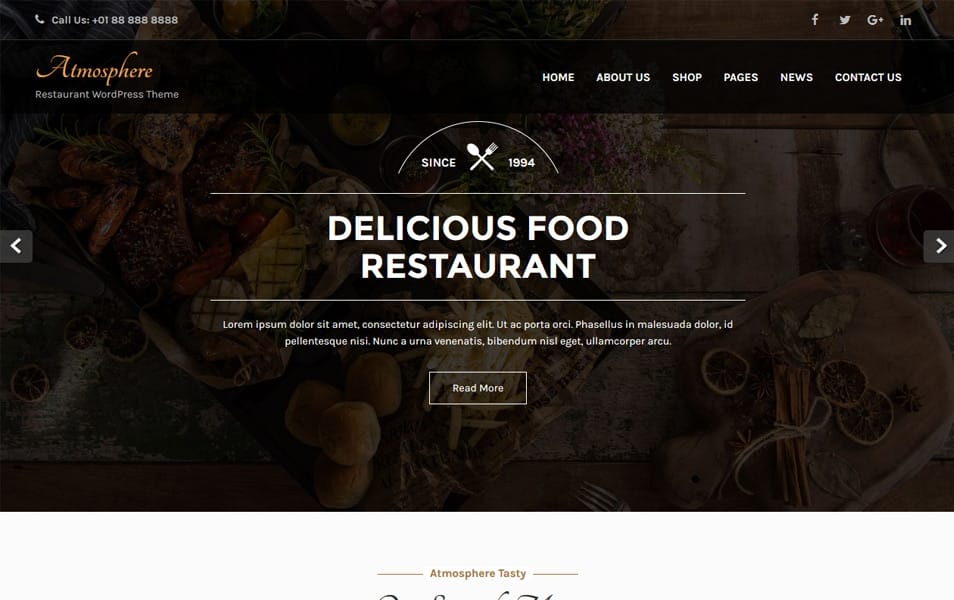 Food Restaurant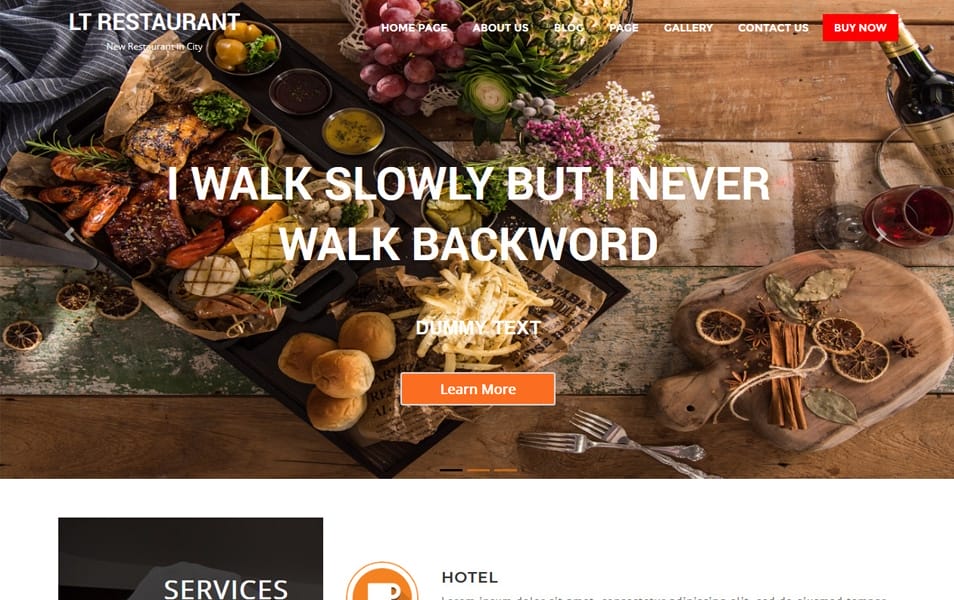 Bar Restaurant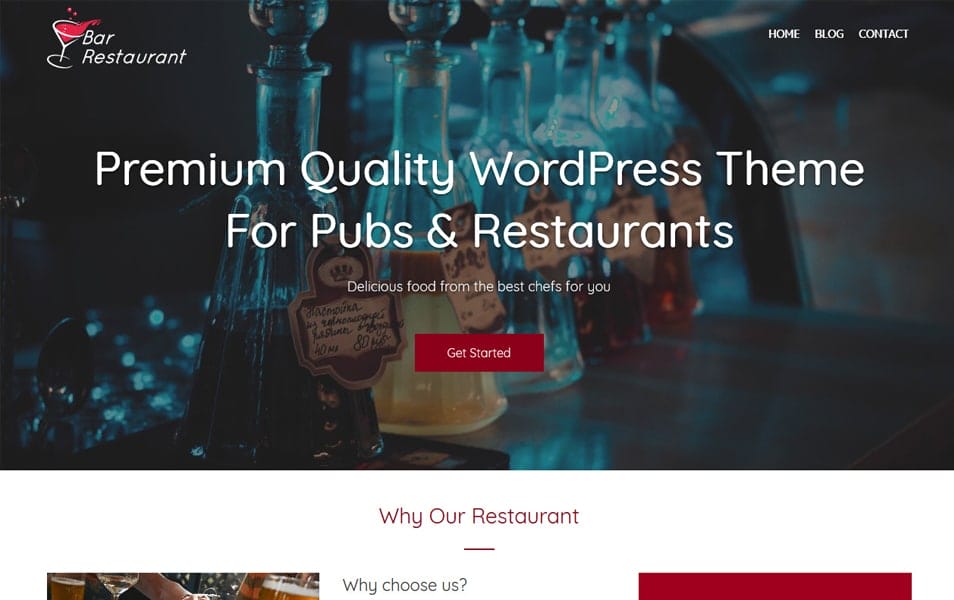 Yummy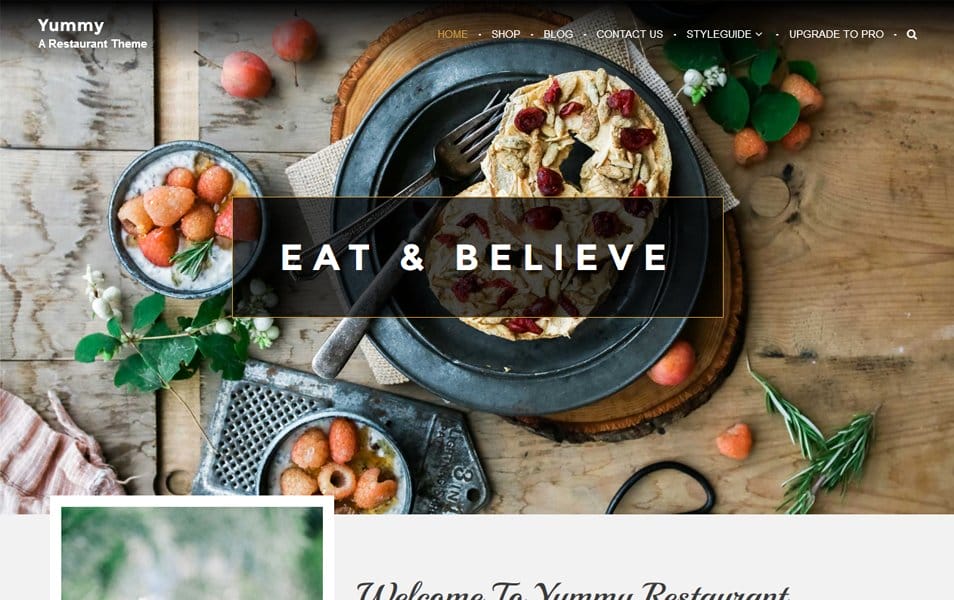 Food Express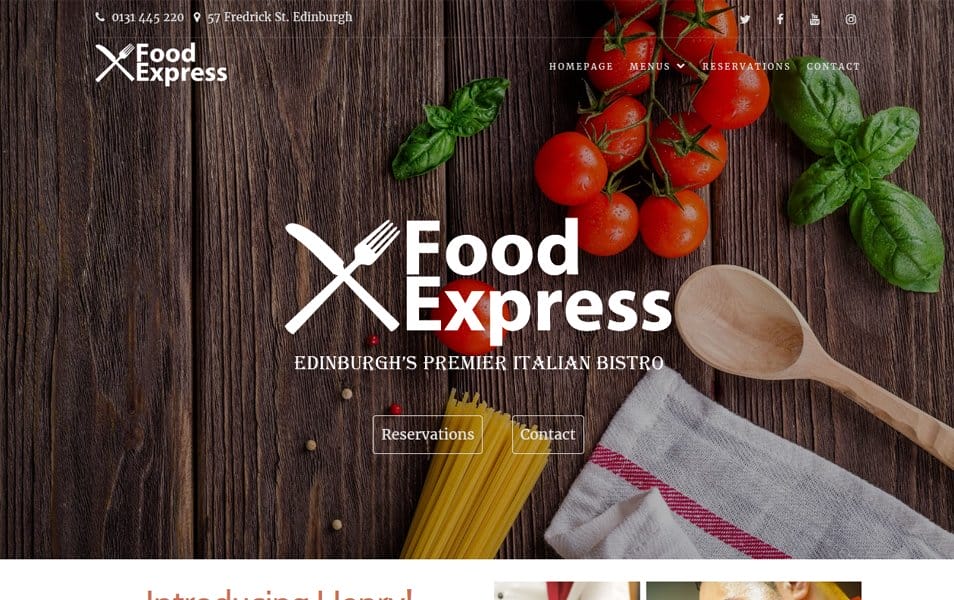 Construction WordPress Theme
Ample Construction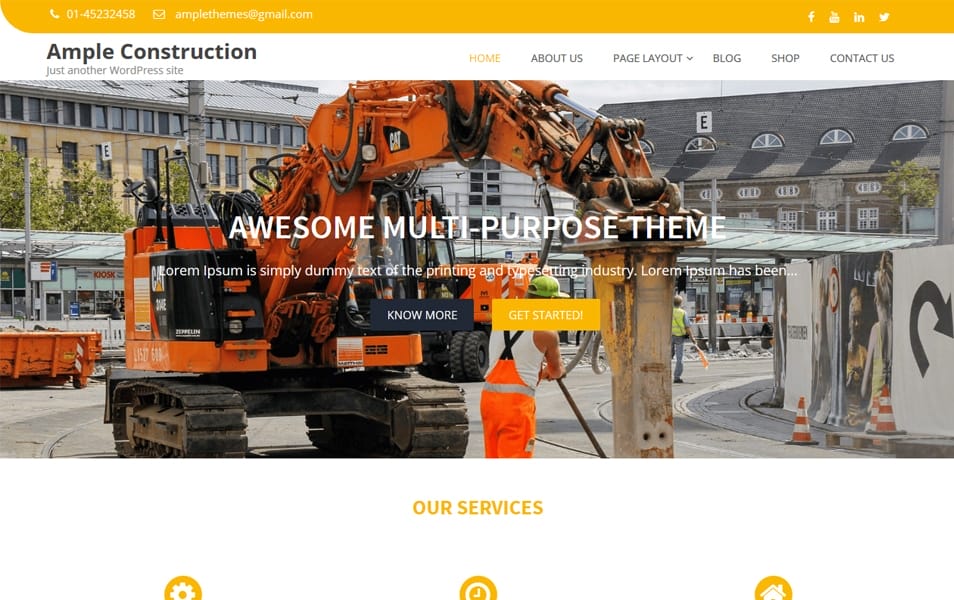 Constructup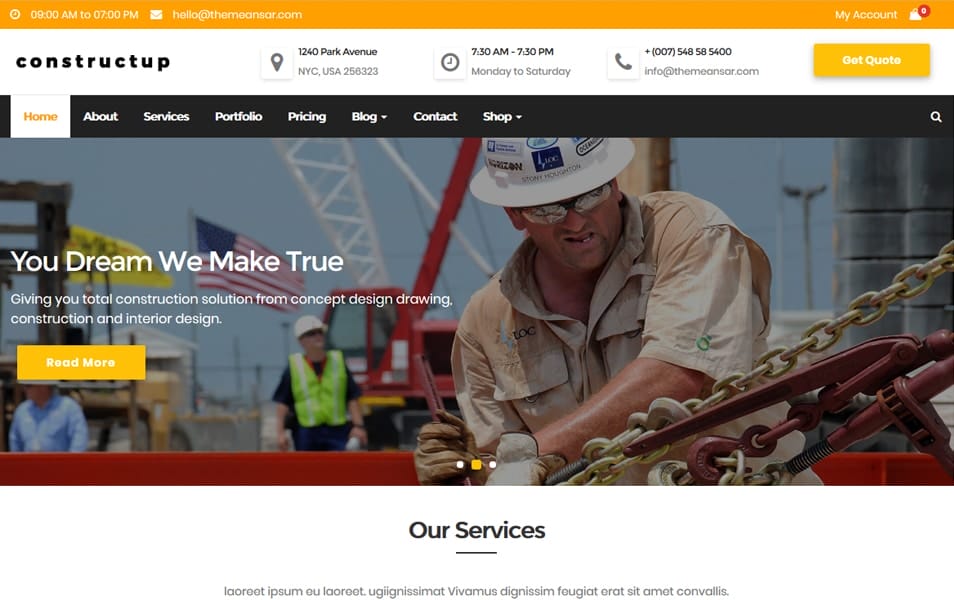 Architect Lite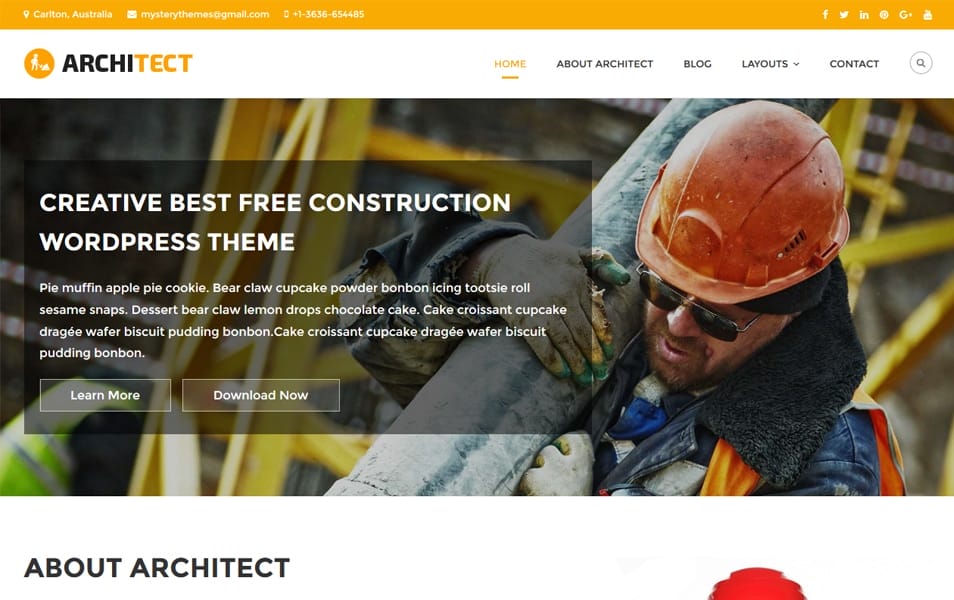 Structural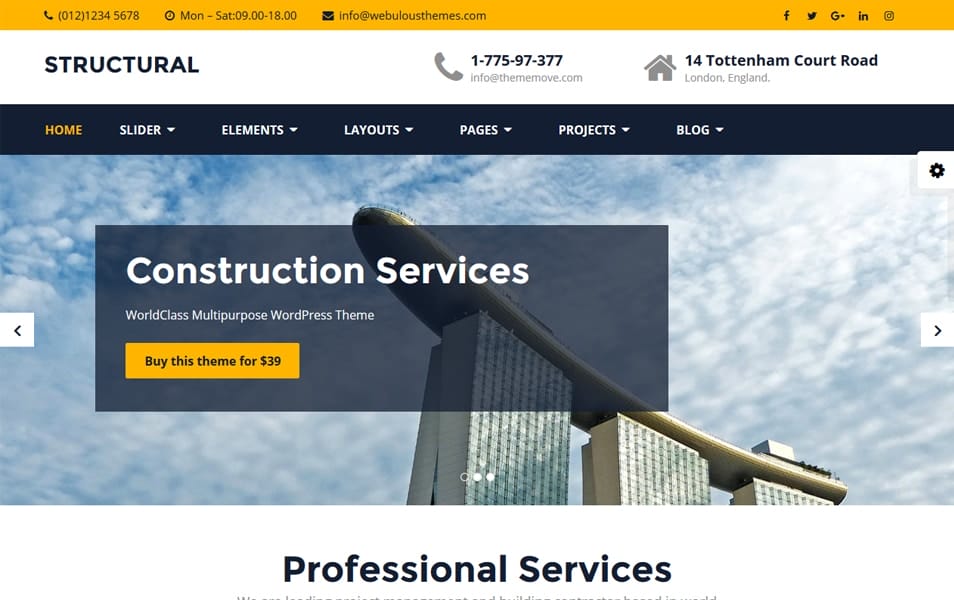 Construction Lite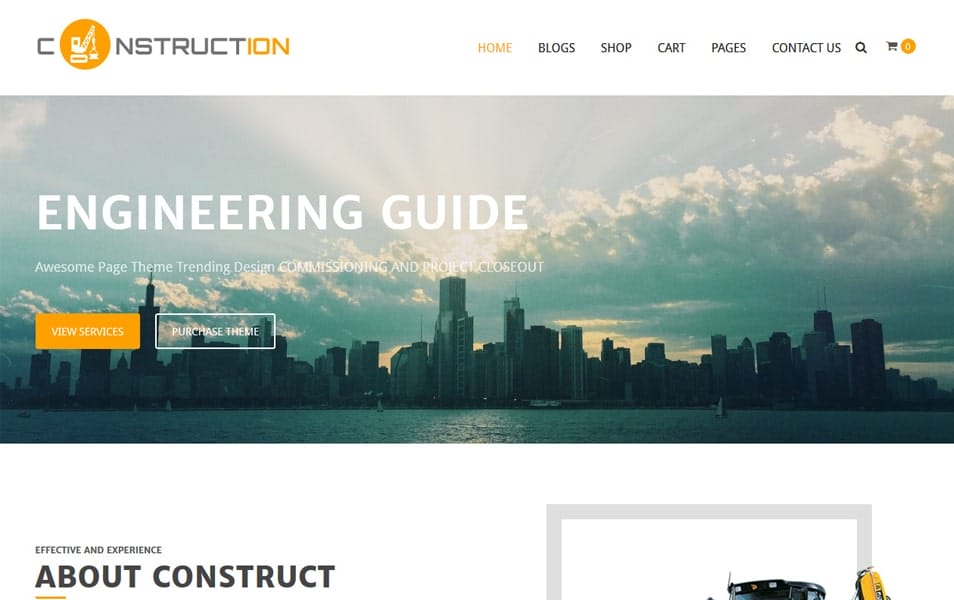 Super Construction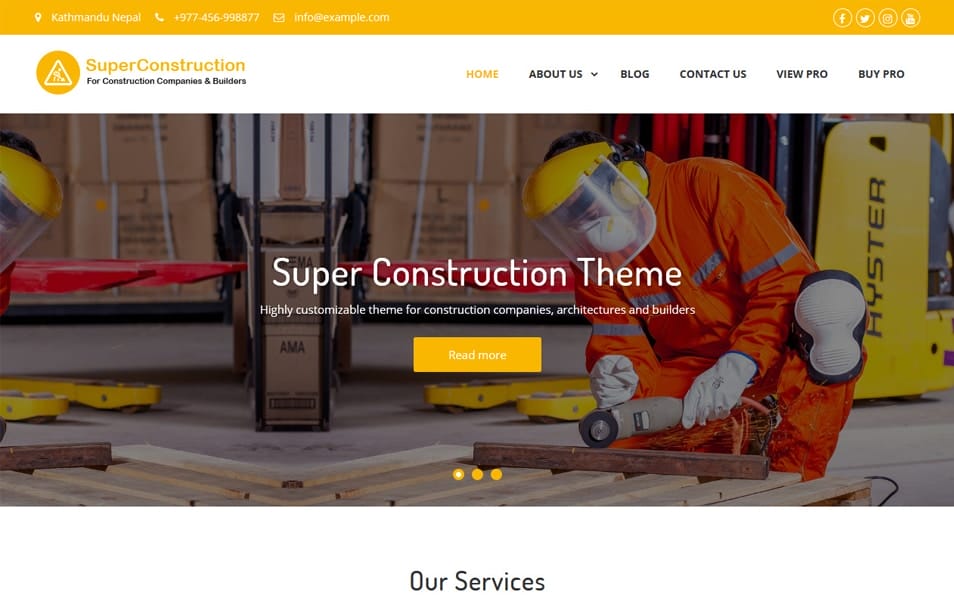 Construction Base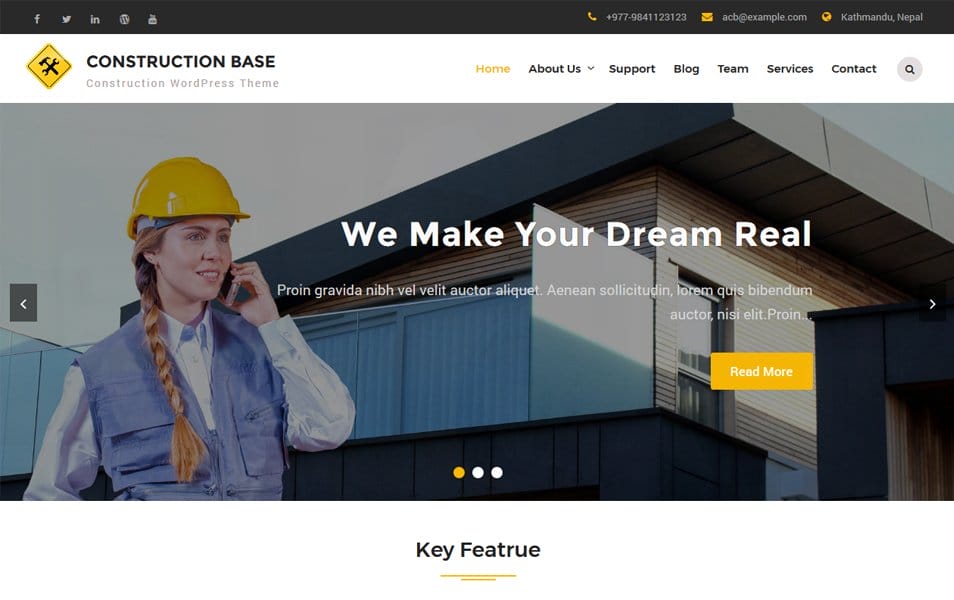 Buildup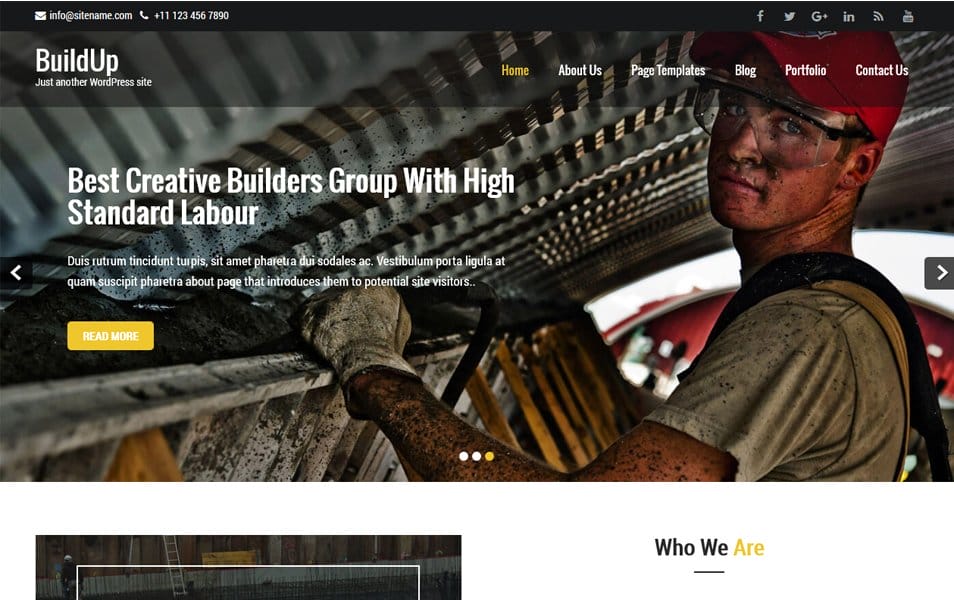 Quality Construction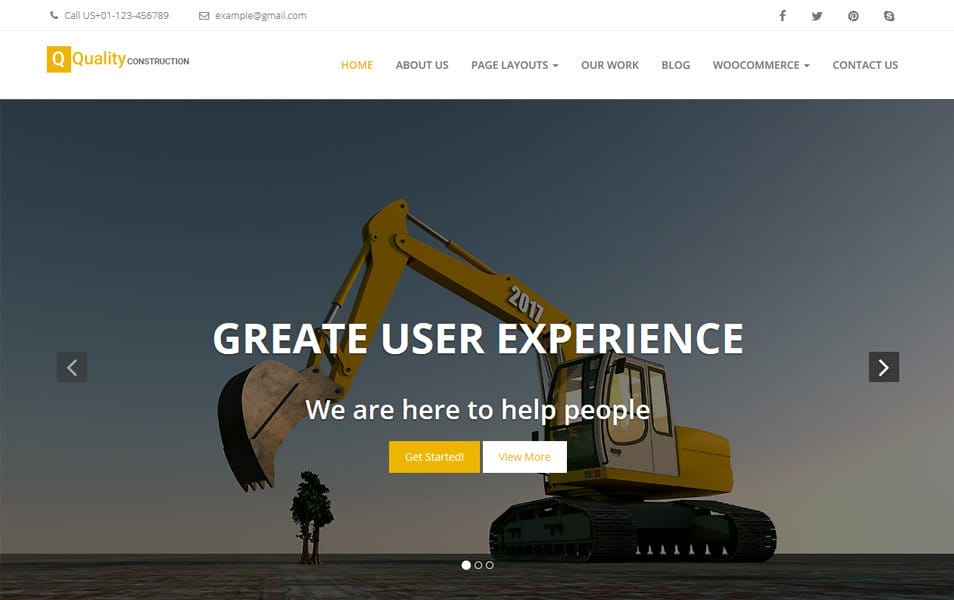 Travel WordPress Theme
Tourizto – Travel Company Elementor WordPress Theme (Premium)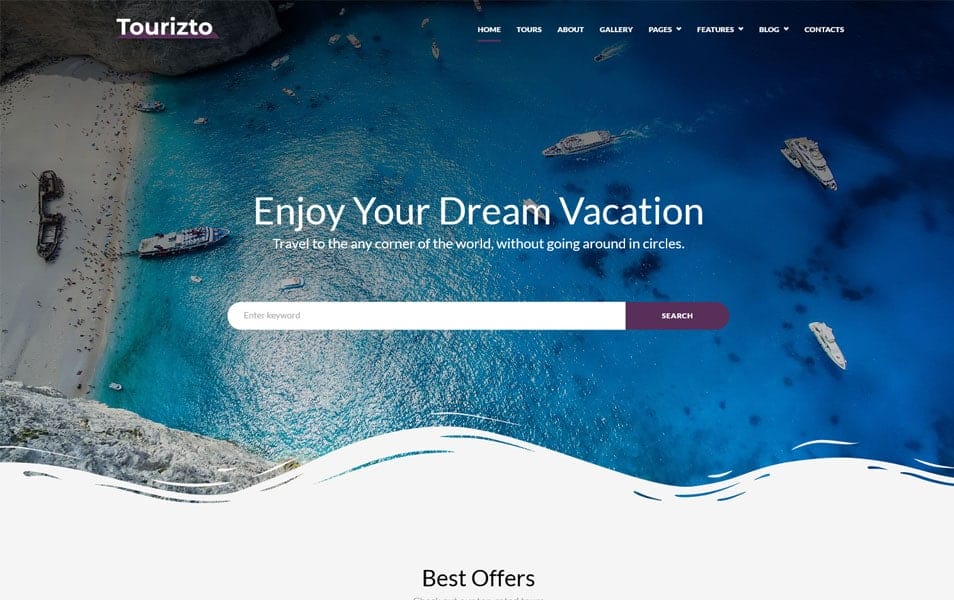 For starters, the next WordPress theme is based on Elementor Page Builder. With it, you can create, customize, and replace your designs without a hitch. This process will be as easy as ABC because Elementor provides its owner with:
fully intuitive interface,
code-free website building,
live preview that allows you to see all changes in real-time mode,
creator-friendly working mechanism,
over 500 ready-made web design elements to choose from,
pre-designed content blocks,
multiple trendy features,
interactive tutorials,
regular updates, and much more!
To sum everything up, Elementor can be used by users of all skill levels. You will get the complete package of stylish widgets inside the builder. Needless to say, all the elements are already ready-to-use. Therefore, all you'll need to do is to choose the UI component you wanna use. Then simple drug it and drop to the editor window.
Talking about Tourizto, this would be a ready-made solution for any business related to travel and vacations. What else can you find in the pack of this soft WordPress theme? Here are some of the main features Tourizto contains:
4 stunning blog layouts to choose from,
Retina-ready design,
multiple outstanding plugins including MegaMenu,
WP Live Customizer,
Google maps, and much more.
Luxury Travel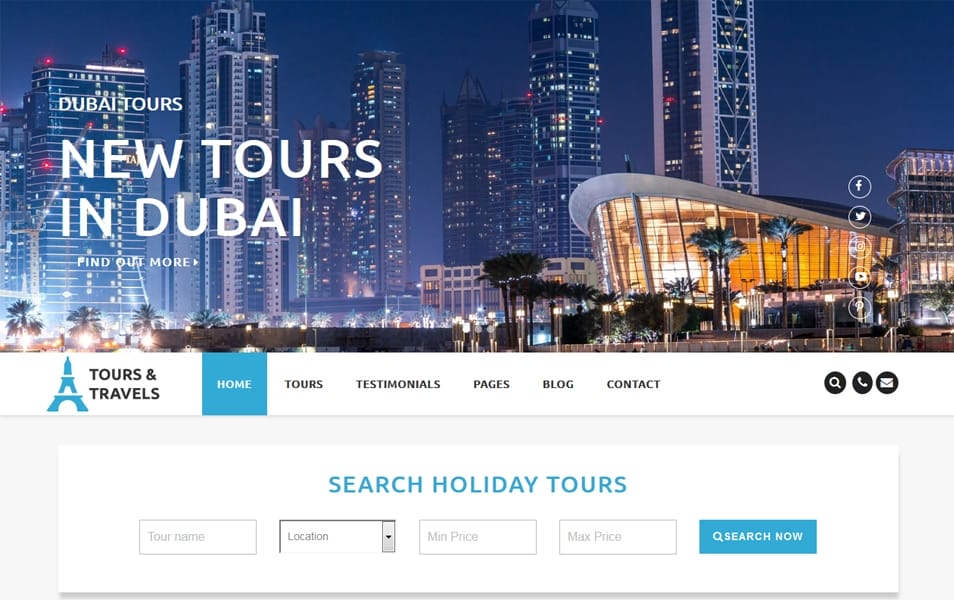 Holidays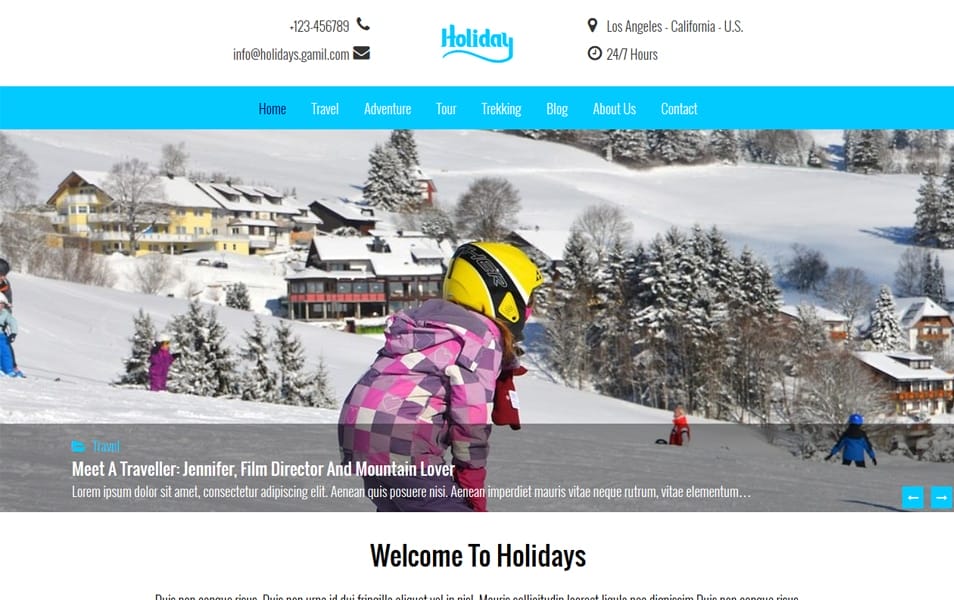 Travel Agency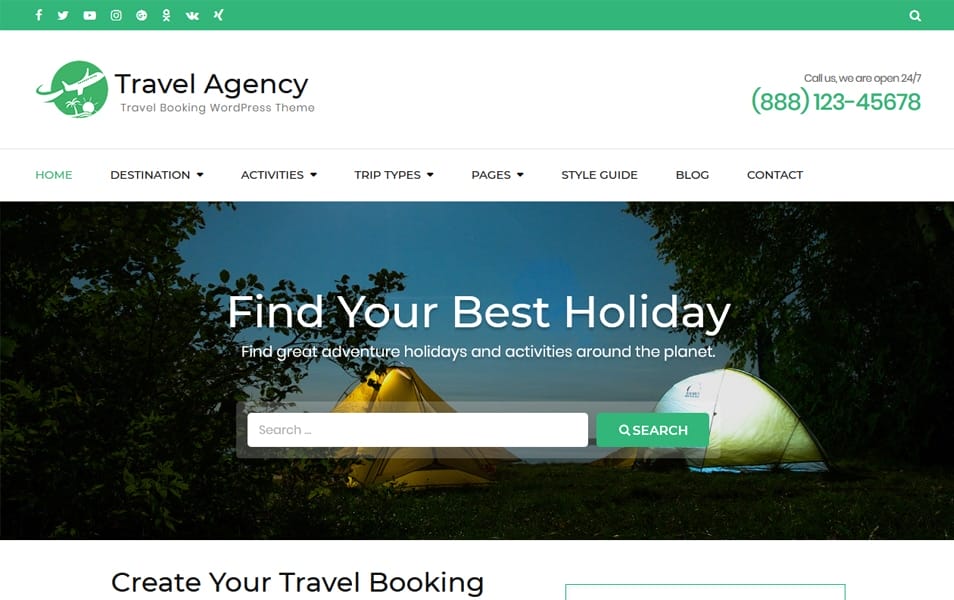 Adventure Lite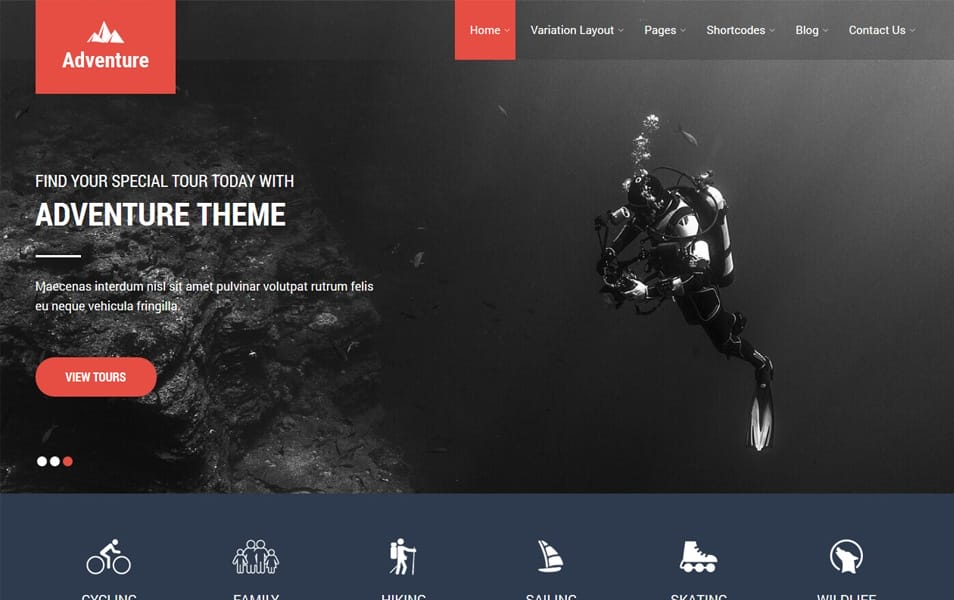 ClubTravel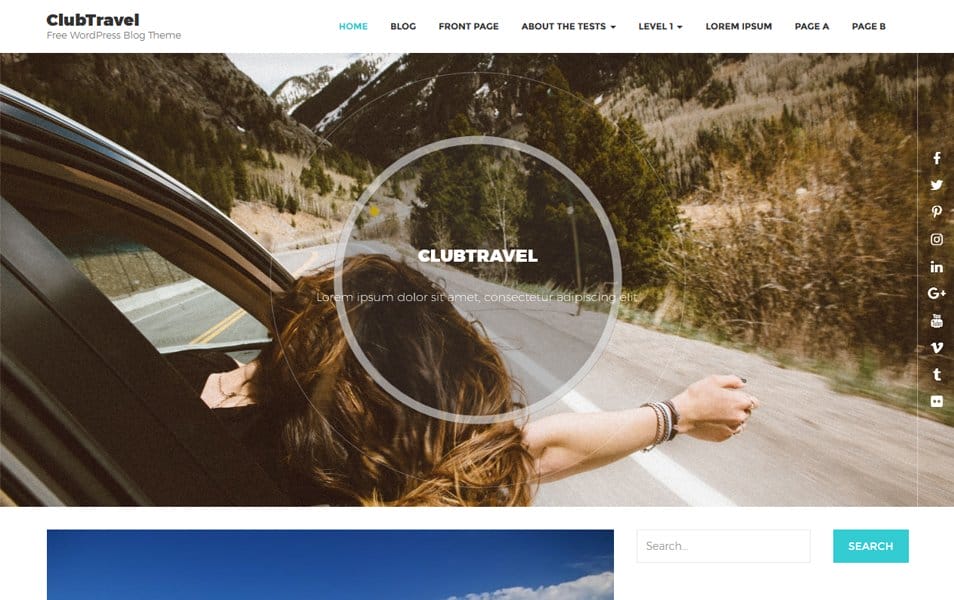 Travel Notes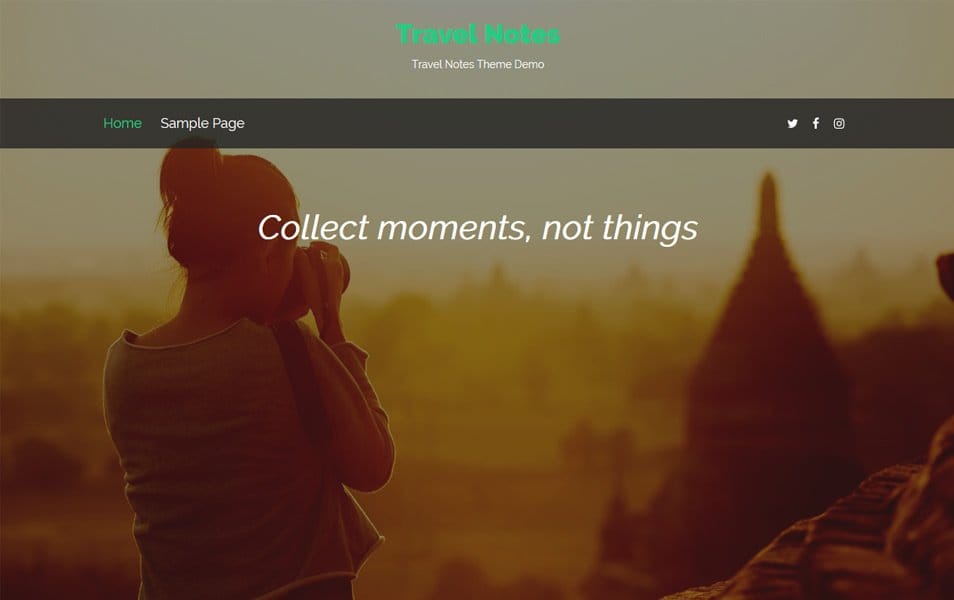 NZ Scene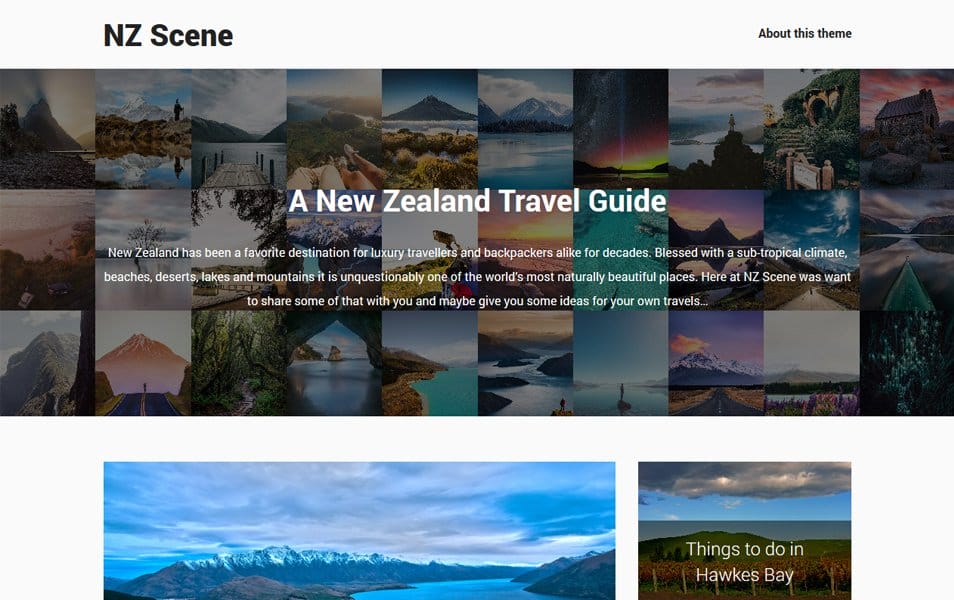 RichMasterXS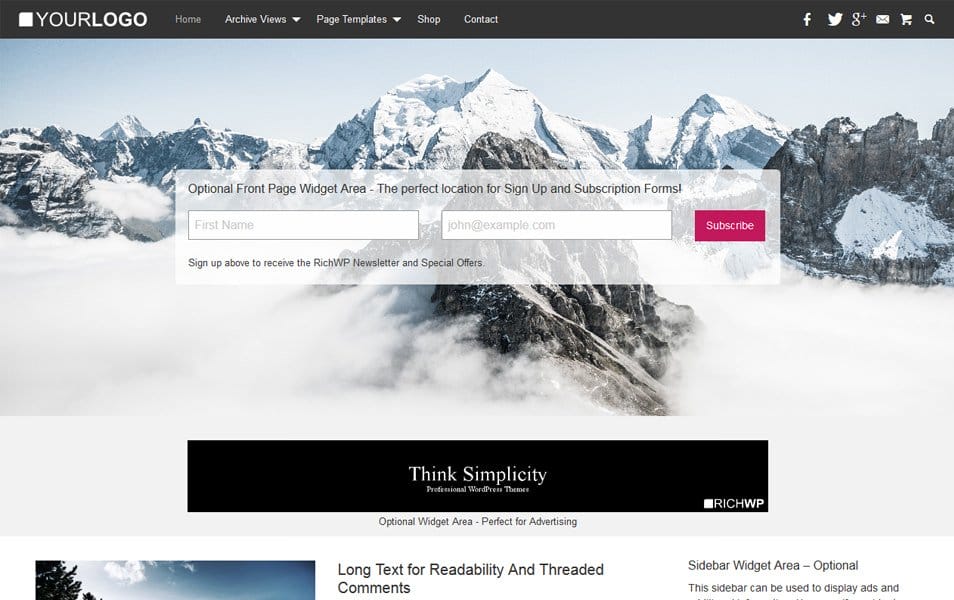 Prevalent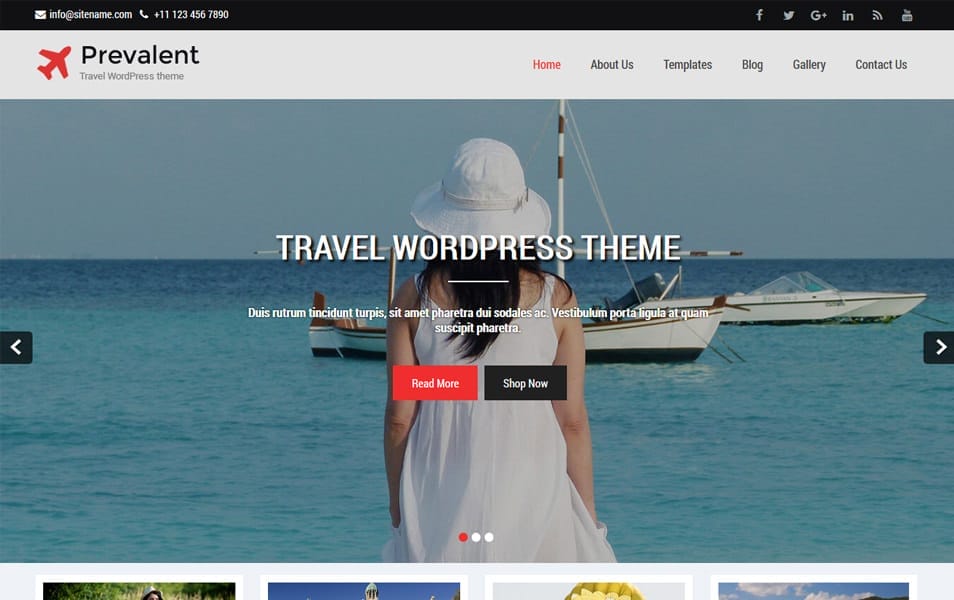 Material Design WordPress Theme
Doko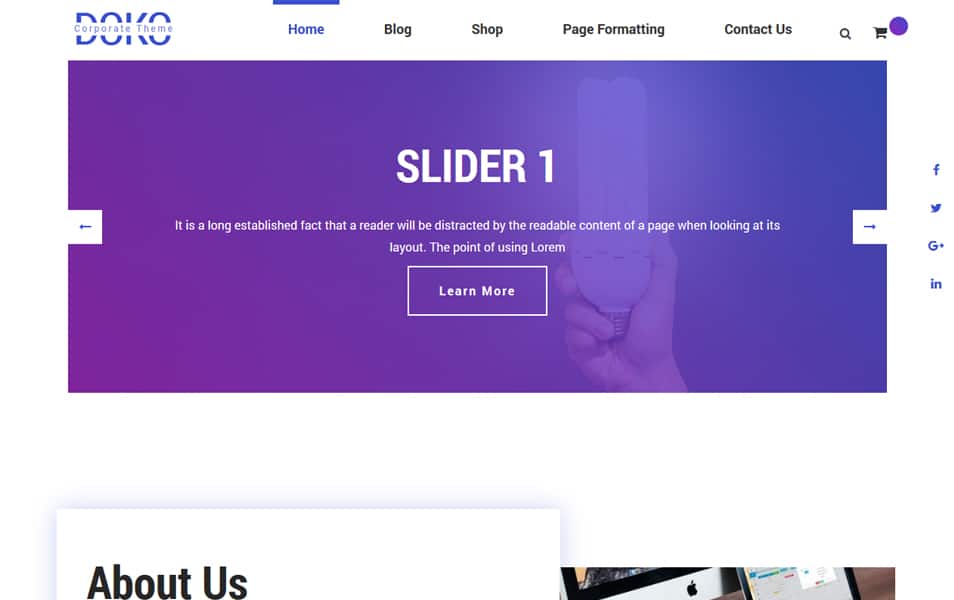 Materia Lite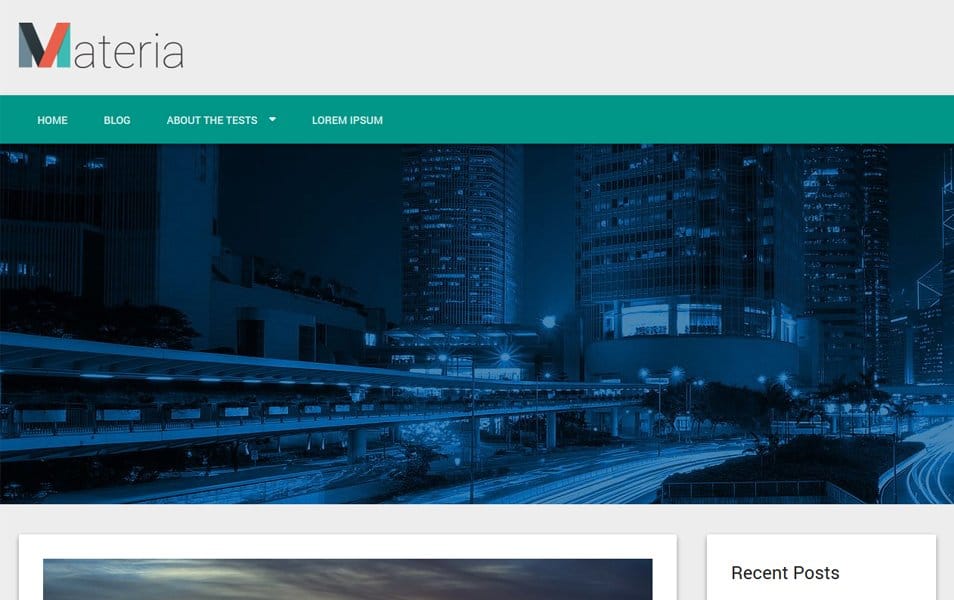 Hestia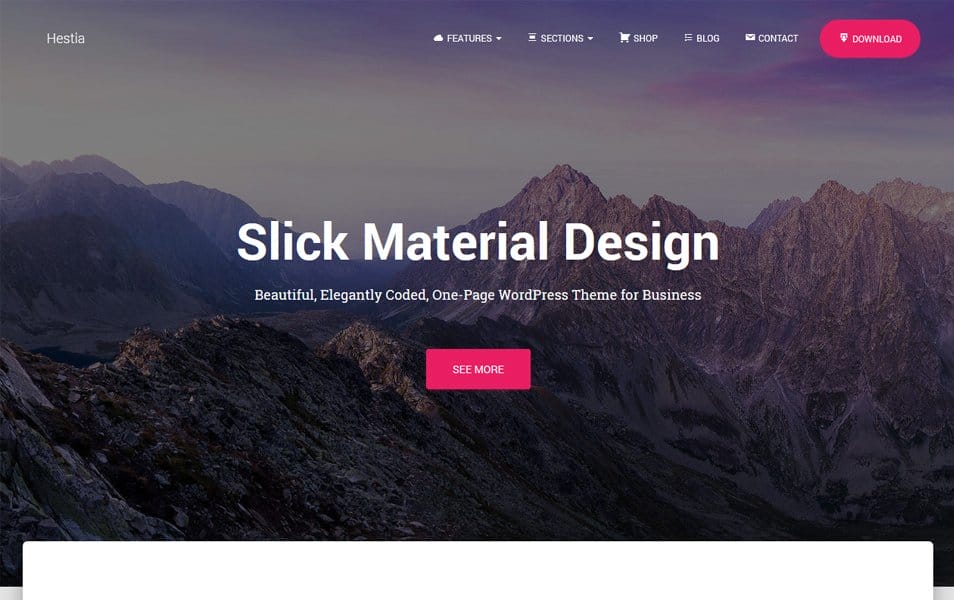 Teslata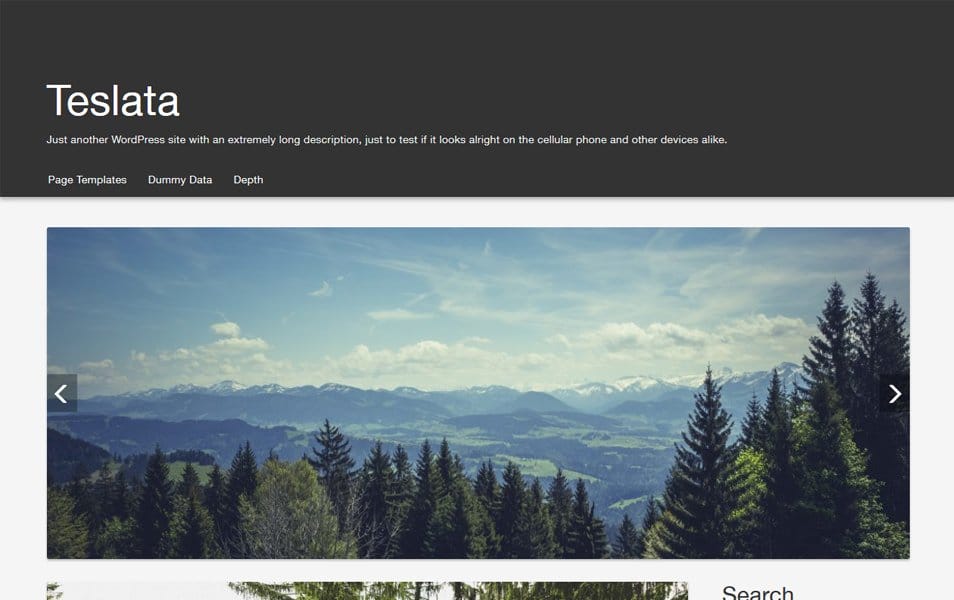 Sirius Lite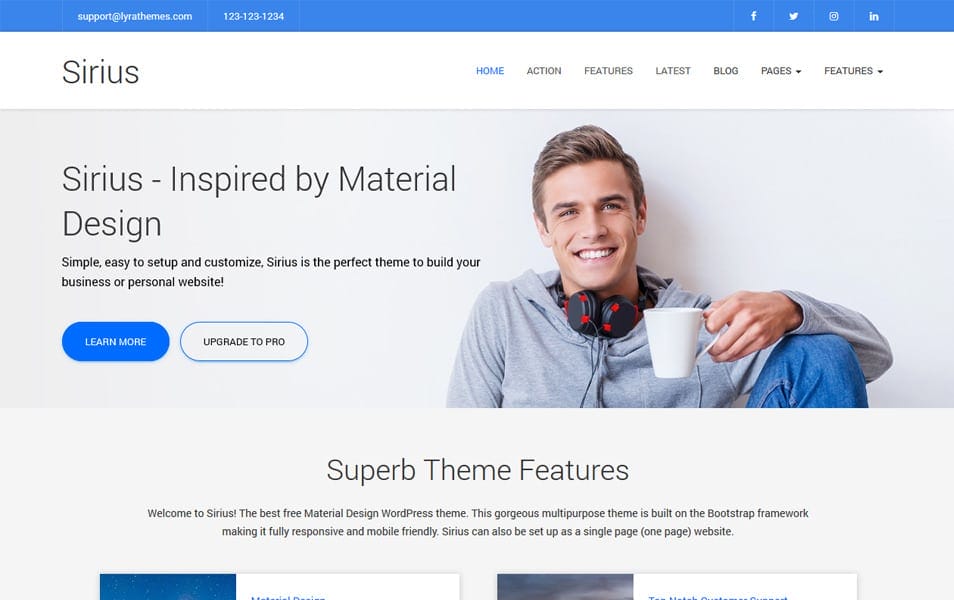 One Page WordPress Theme
Listrum – Conference One Page Animated Elementor WordPress Theme (Premium)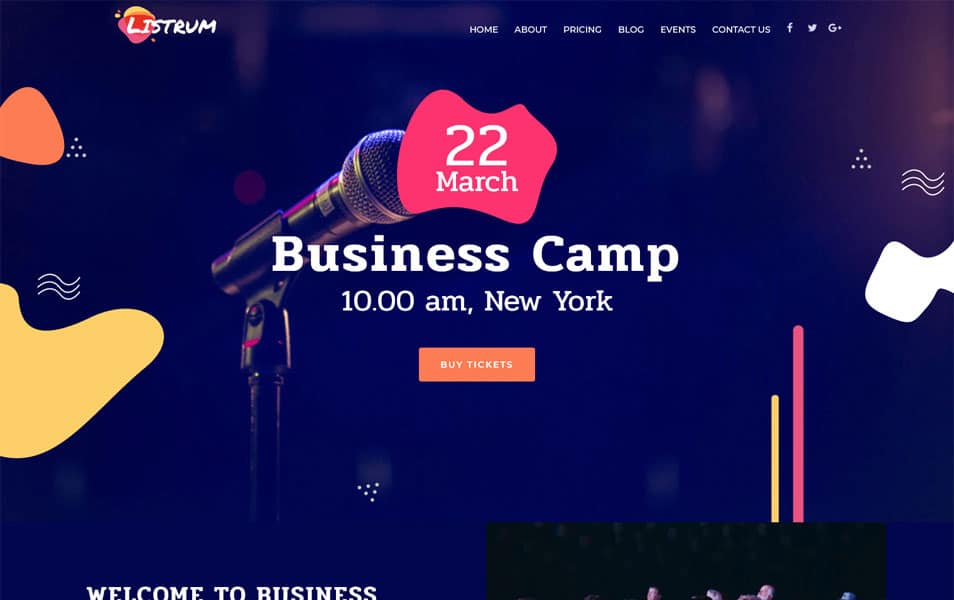 As you can see, Listrum is a colorful one page WordPress theme. Obviously, it's 100% responsive as well. However, it's not the only reason why Listrum is worthy of your attention. Before all else, you should admit that mobile traffic is extremely important these days. In 2019, the biggest half of all world traffic relates to small devices. I already mentioned that modern customers got used to a comfortable living. They don't want to waste time and prefer looking for the needed items and services online. I'm sure you don't want to disappoint your prospects and that's why your site should be mobile-friendly.
Among the features of Listrum, you can see mobile-first design. In a word, this is a popular website building technology. It starts creating your website with its mobile version. As a result, you will get the mobile version of the site when the desktop one is still in progress. Needless to say, mobile-first design is a nice thing to have. That's how you can attract first prospects when you are still working on the main site.
Business Eleven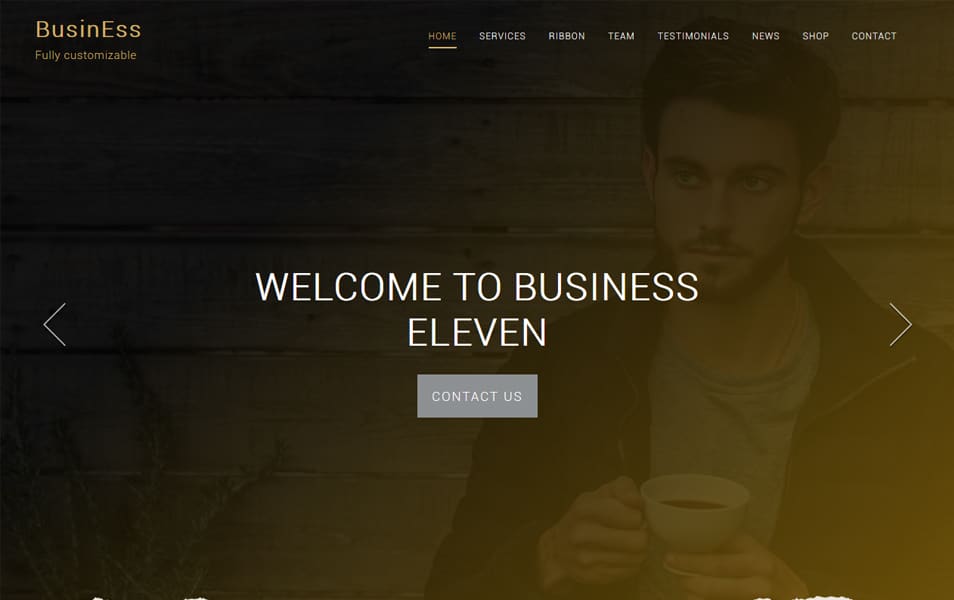 CorporateSource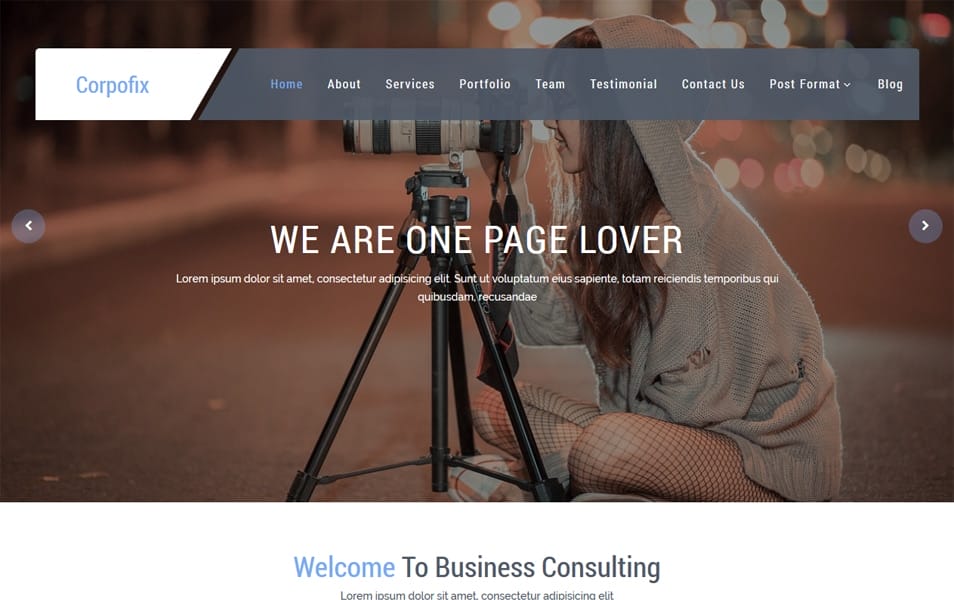 WPparallax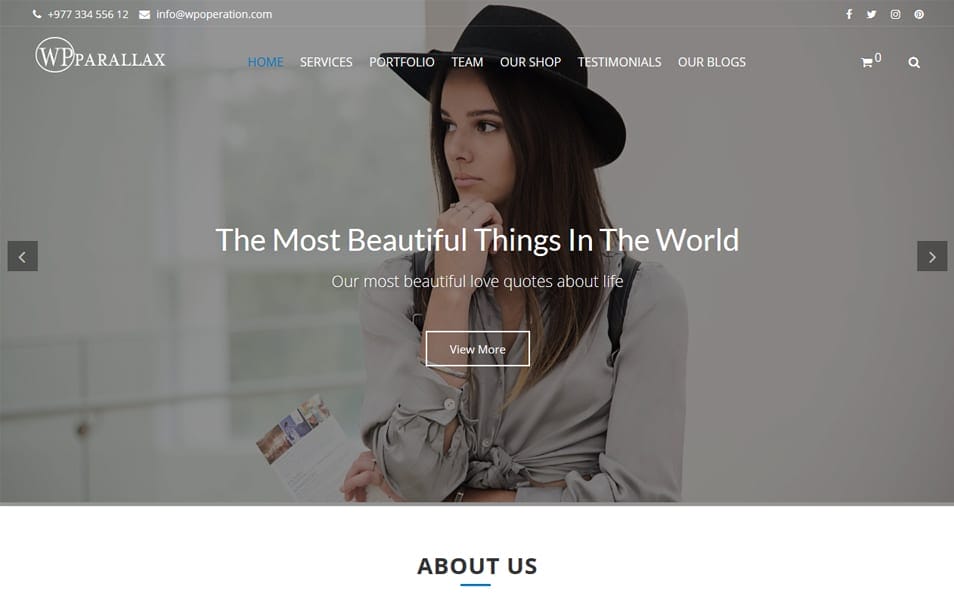 BC Business Consulting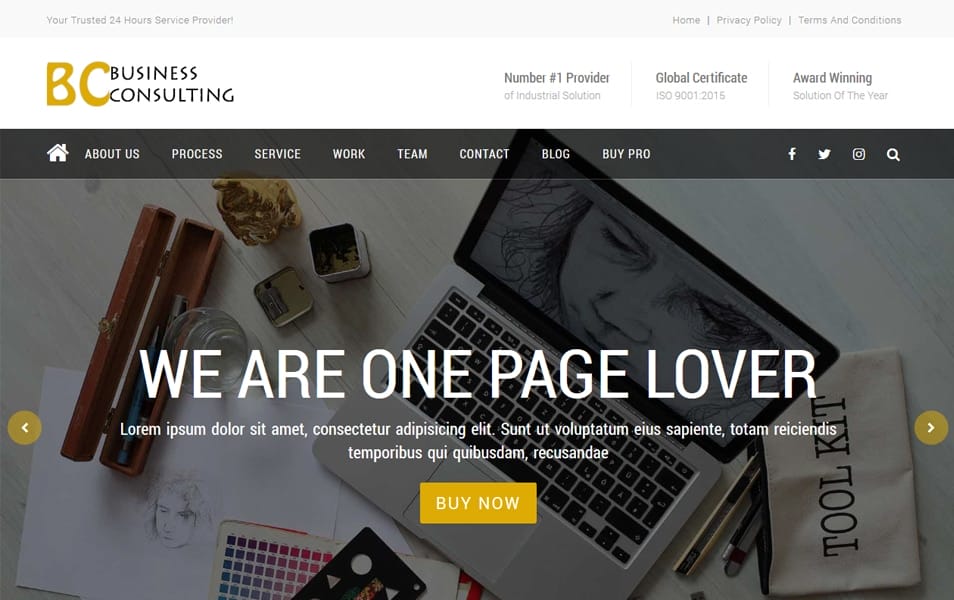 Freddo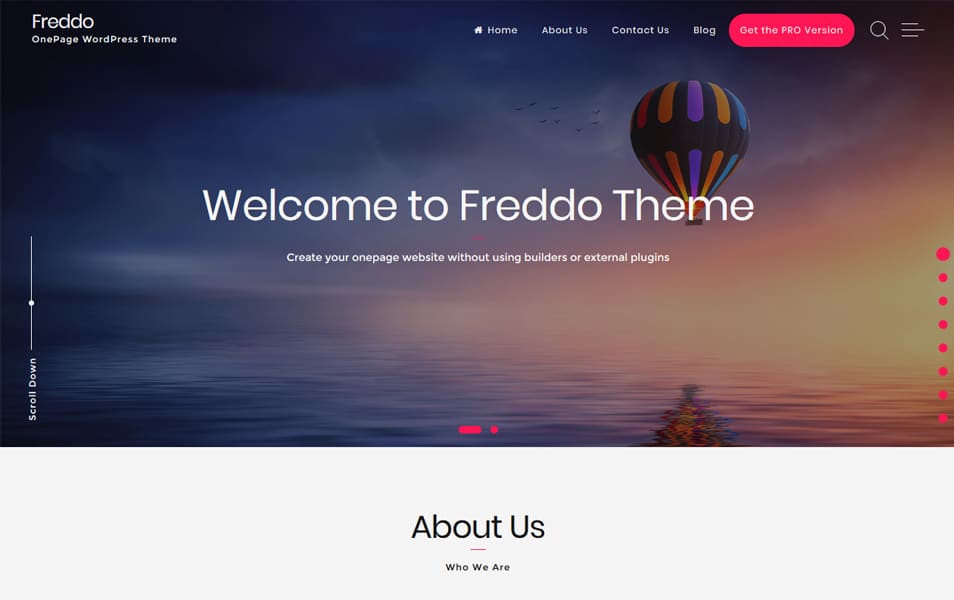 One Page Multipurpose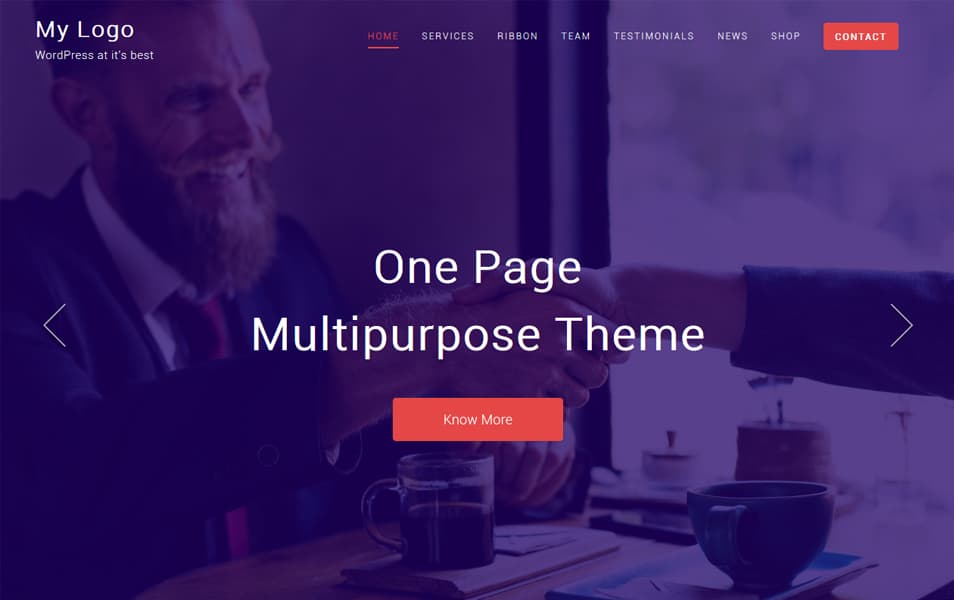 One Page X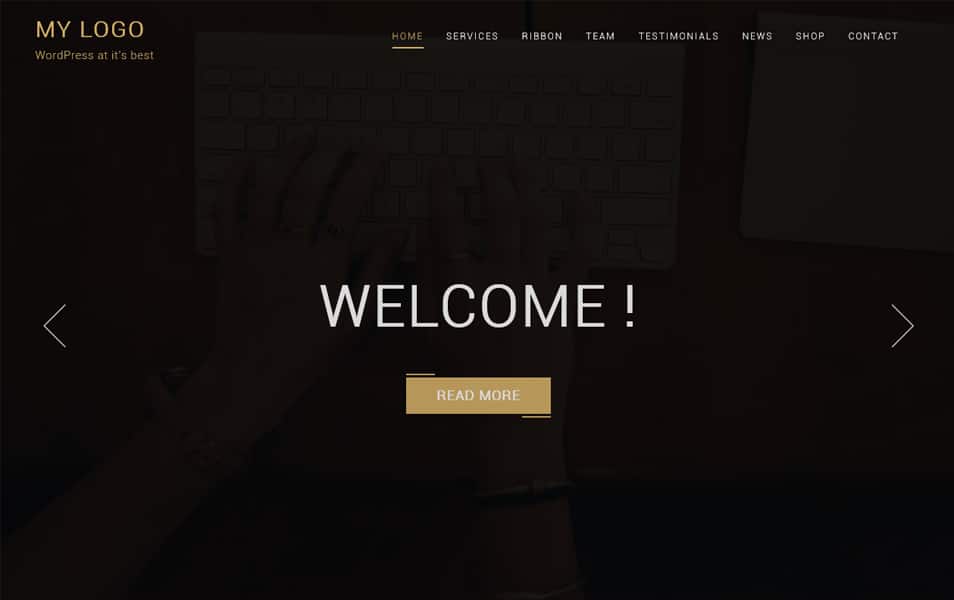 Agency WordPress Theme
Divogue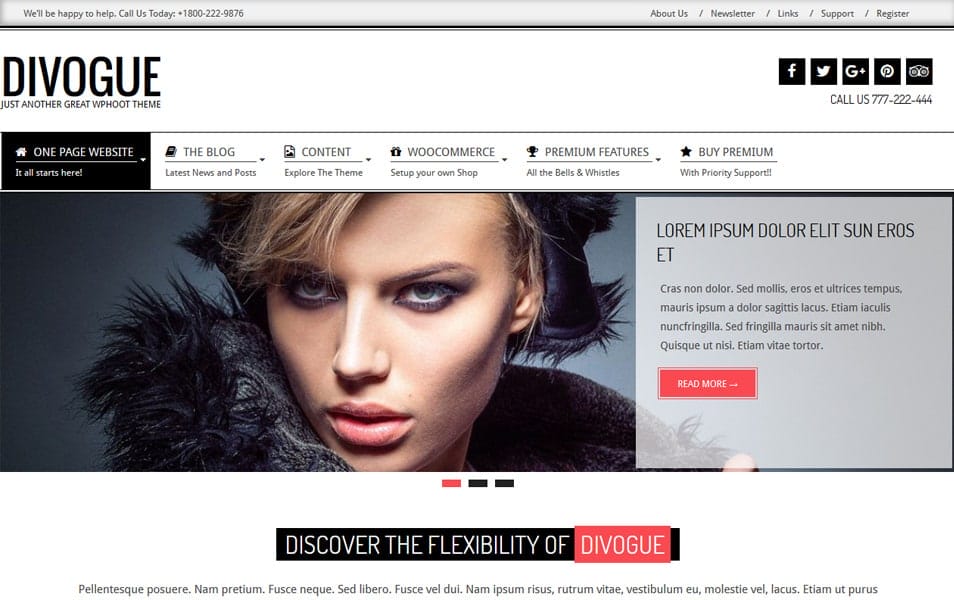 Attorney & Lawyer WordPress Theme
VW Lawyer Attorney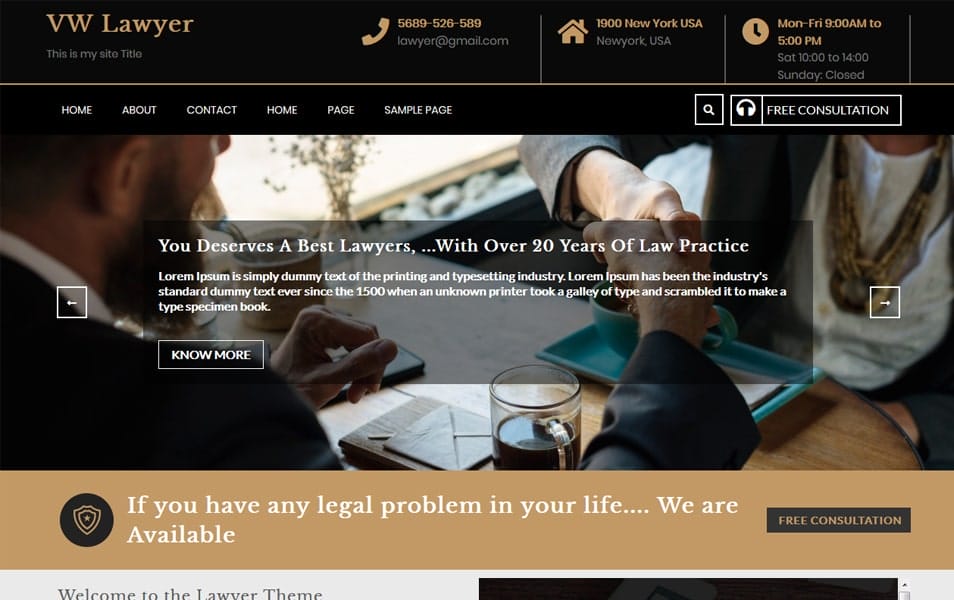 Decree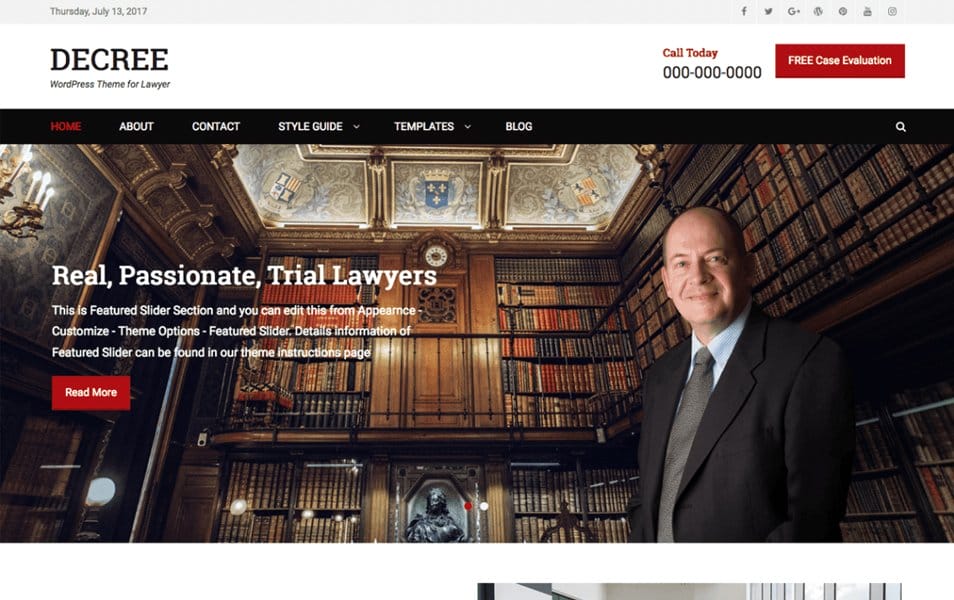 Justice
Equity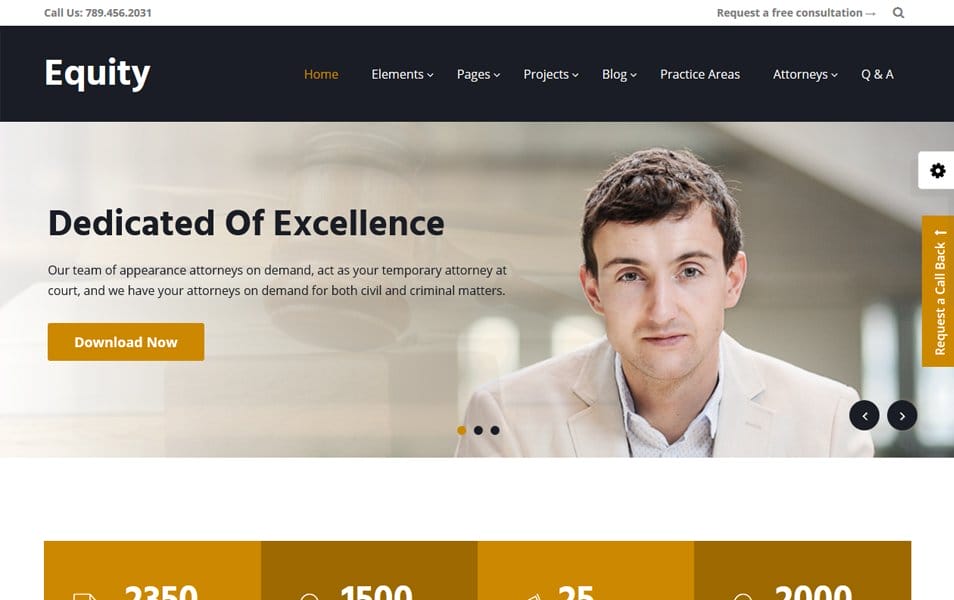 Lawyer Landing Page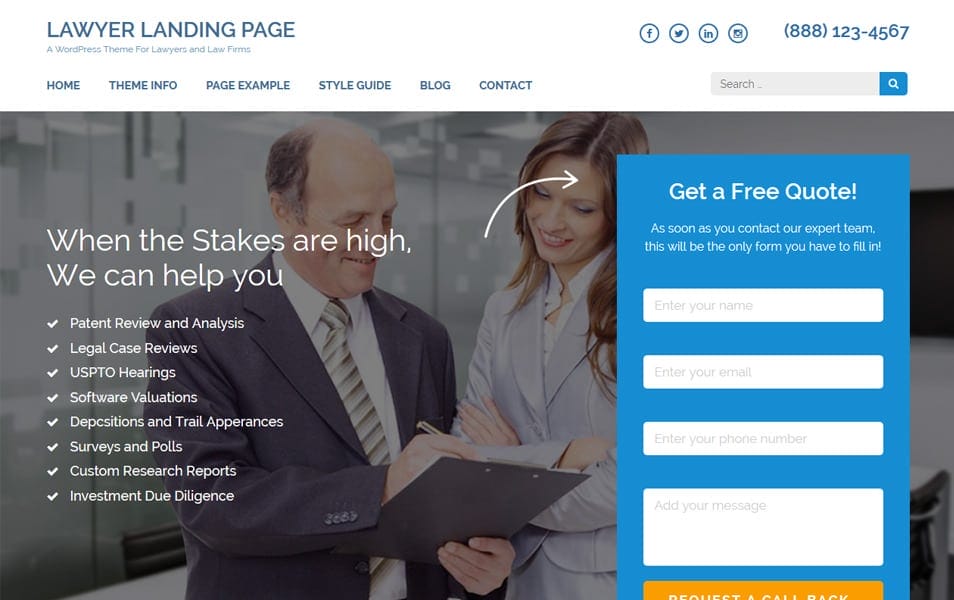 Entertainment WordPress Theme
Tromax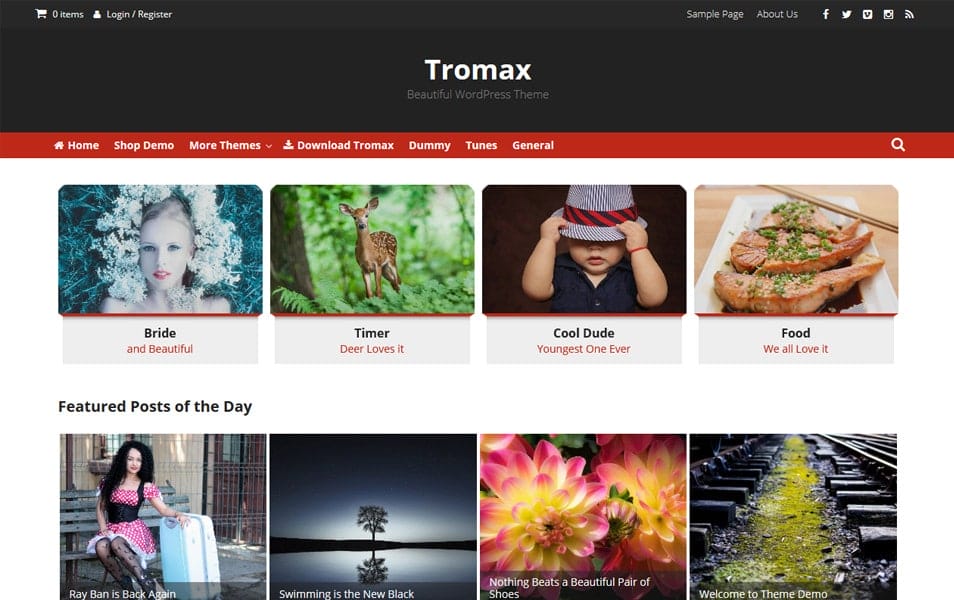 Yoga WordPress Theme
Yoga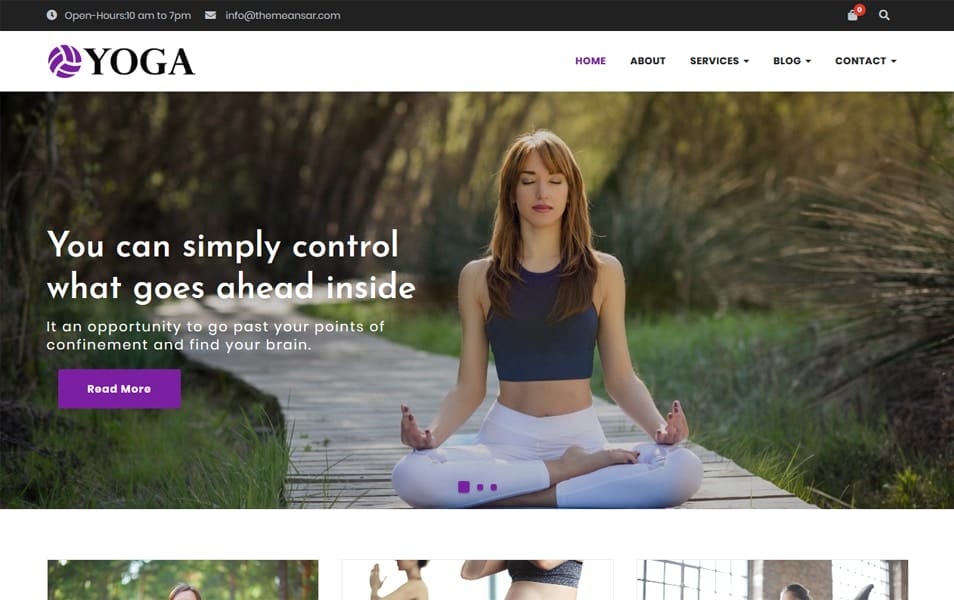 Music WordPress Theme
Music Lite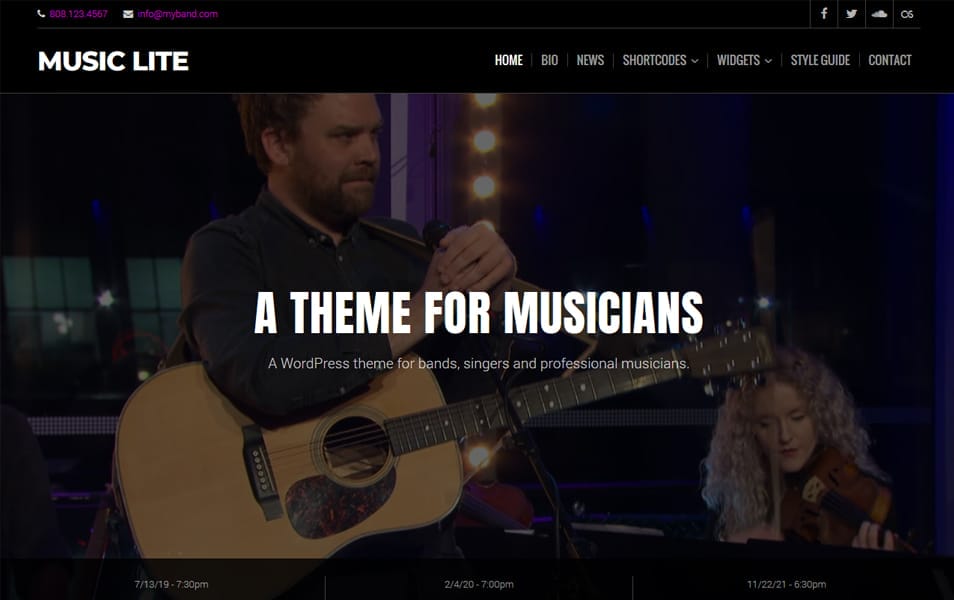 MH MusicMag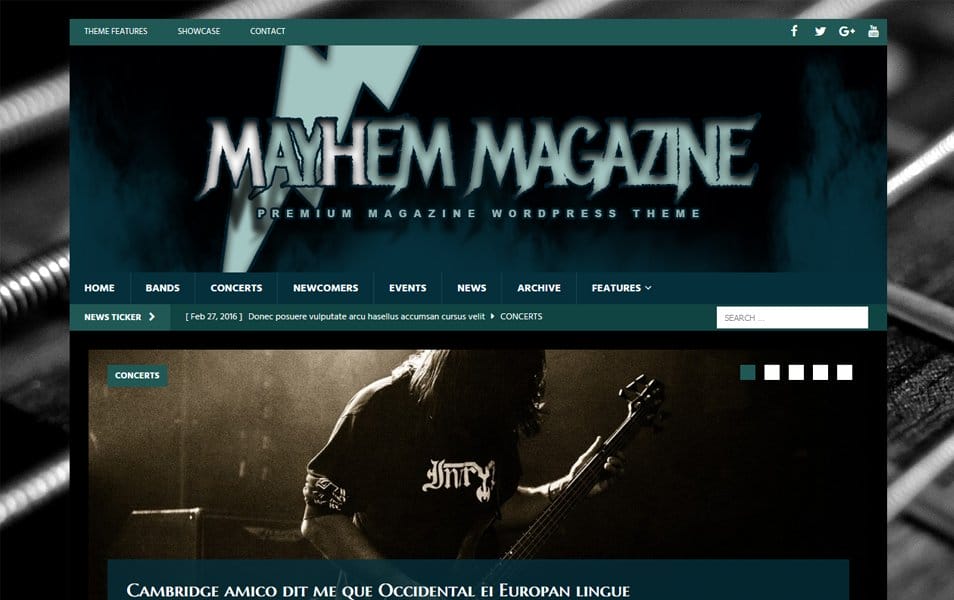 Sungit Lite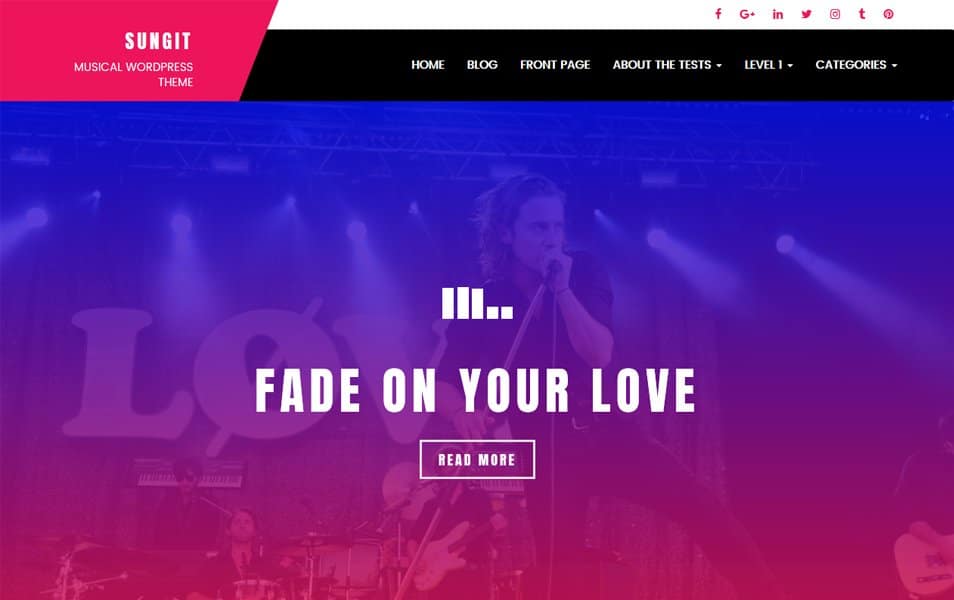 Bassist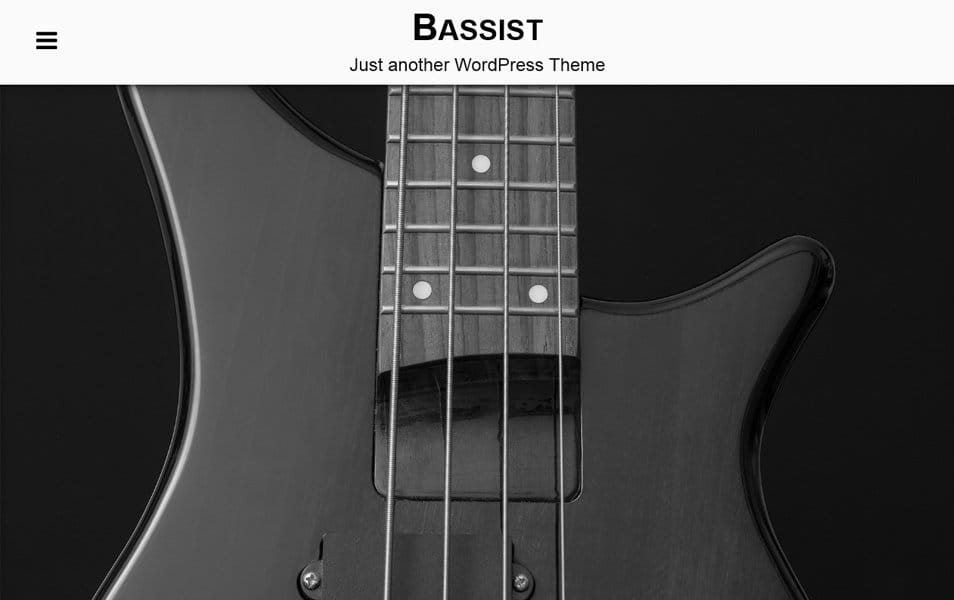 MusicMacho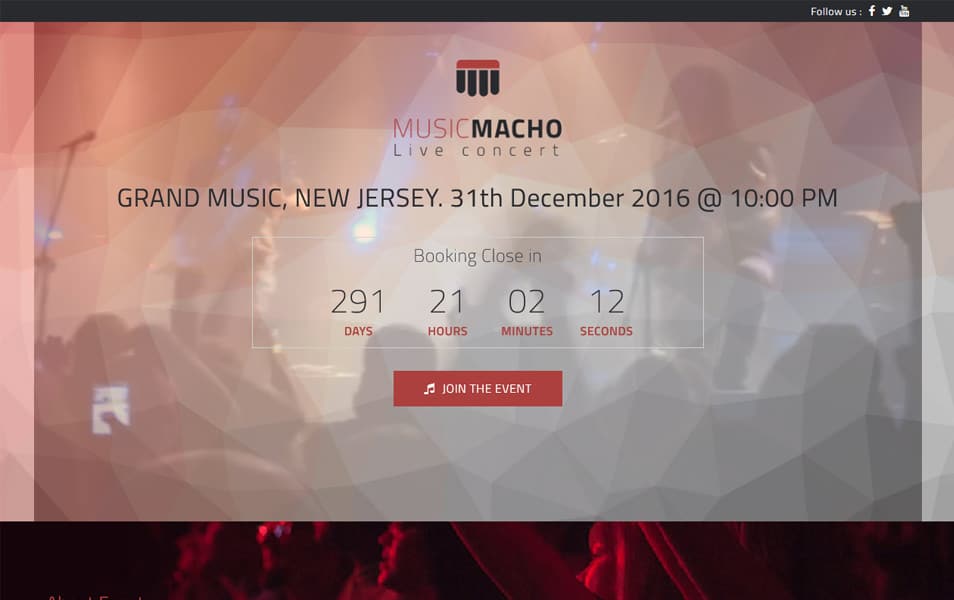 Muso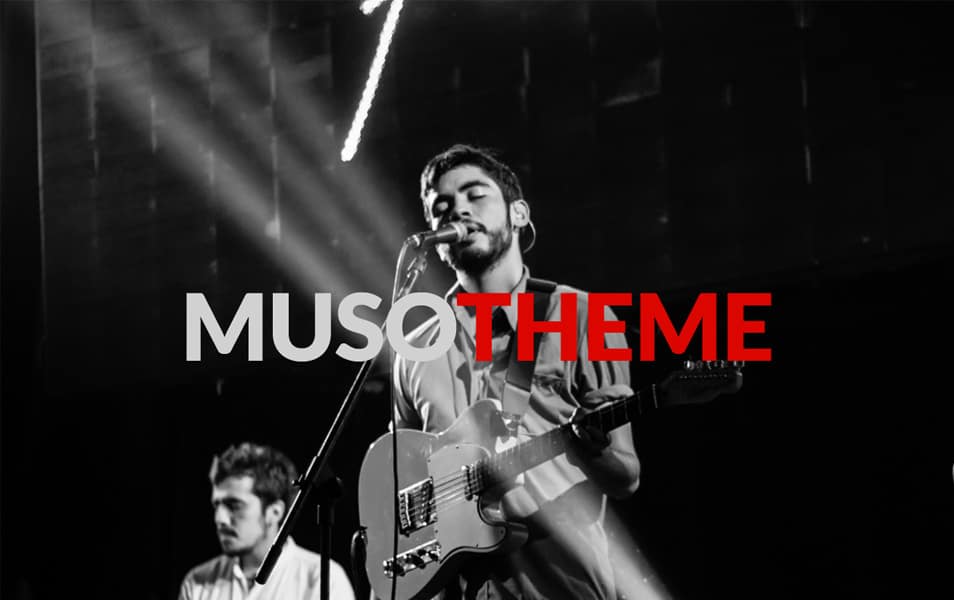 Rock N Rolla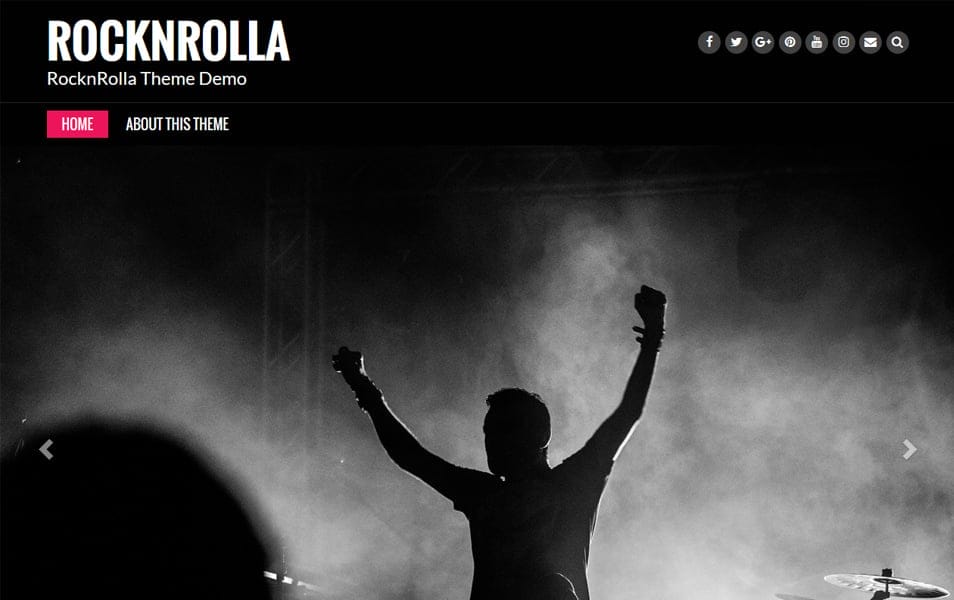 Bakery WordPress Theme
Counter
Bakes And Cakes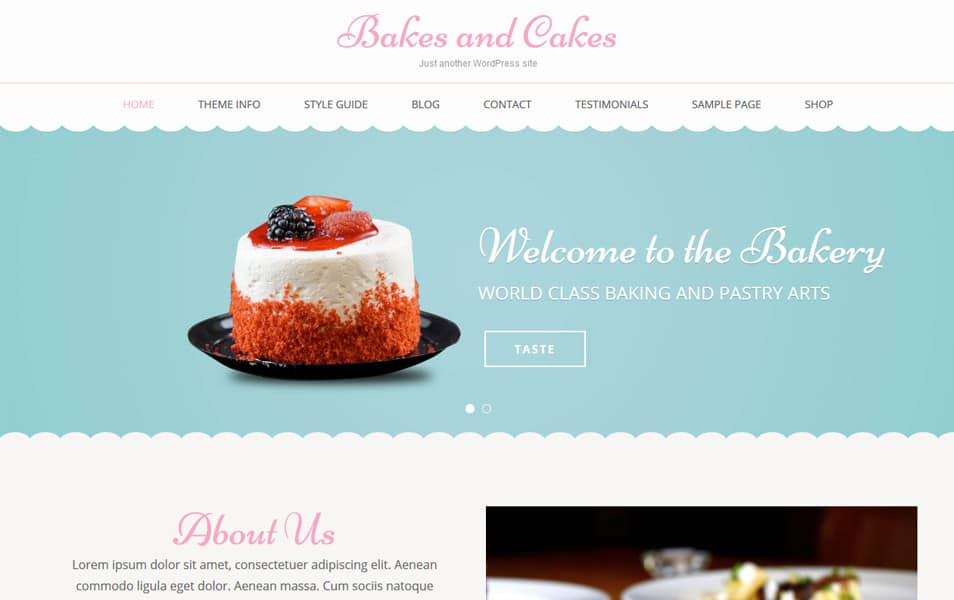 Fitness WordPress Theme
Barbellox – Gym Multipurpose Modern Elementor WordPress Theme (Premium)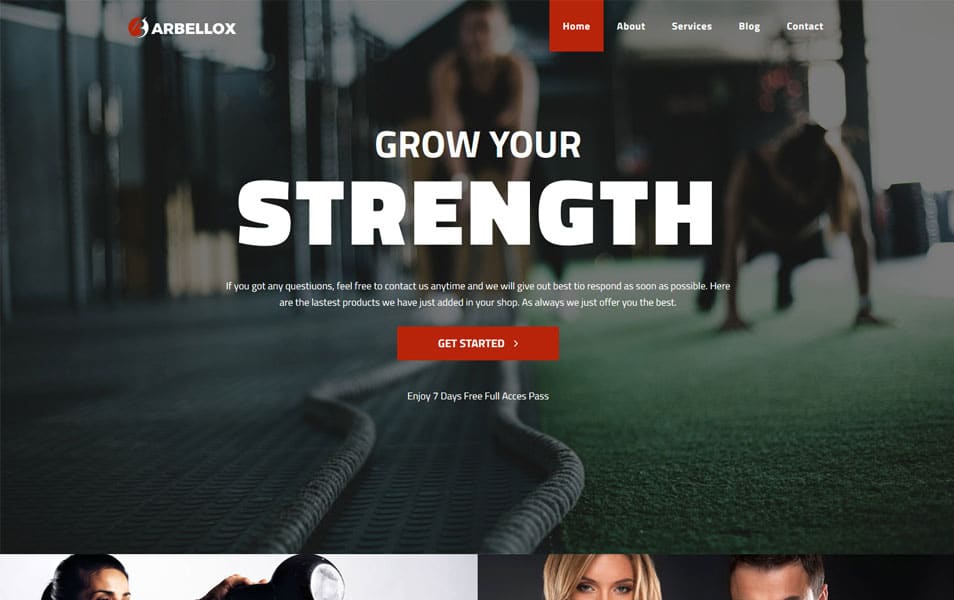 To finish with, let's take a look at this multipurpose Elementor product. Barbellox was designed to manage any type of website related to sports. Would you like to develop your gym business and present it to the whole world? Thus, Barbellox is just what the doctor ordered. Needless to say, this multipurpose WordPress theme would also be a great idea for personal trainers and things like that. So, which options will you see in the pack of Barbellox?
To start with, this WP theme is:
Retina-ready,
fully responsive,
crossbrowser compatible,
extra flexible,
creator-friendly,
modern enough to meet today's requirements,
and SEO-ready!
The theme provides you with a real WYSIWYG website building experience. As you can see, in 2019, this is the most useful and popular way to run a site. With it, you can avoid making common mistakes and build the site of your dream easily.
As always, you will get a professional customer support to work with Barbellox. The support is free for all WP users, It's also lifetime and available 24/7. You can contact the team anytime you need help.
The WP Fitness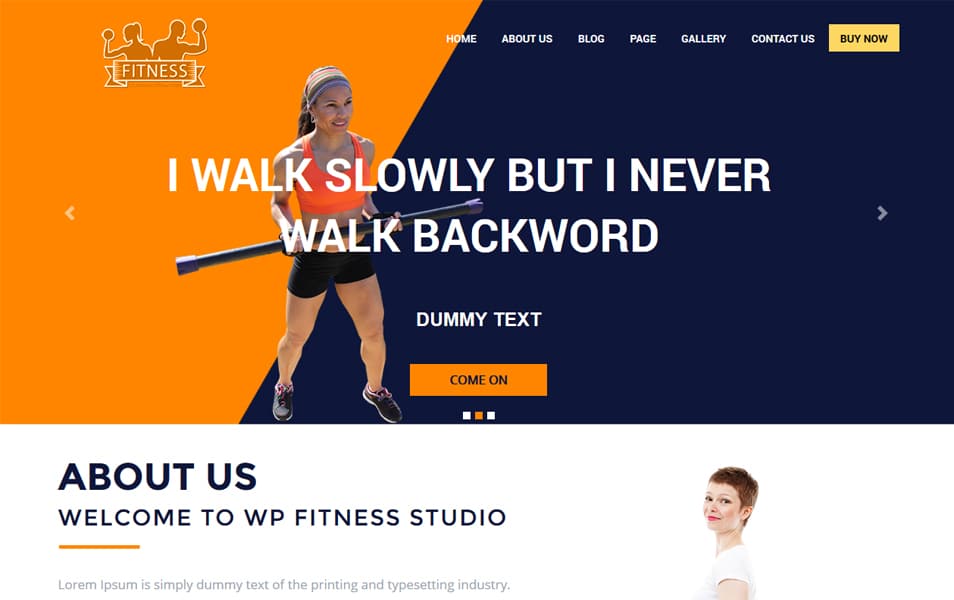 Gym Express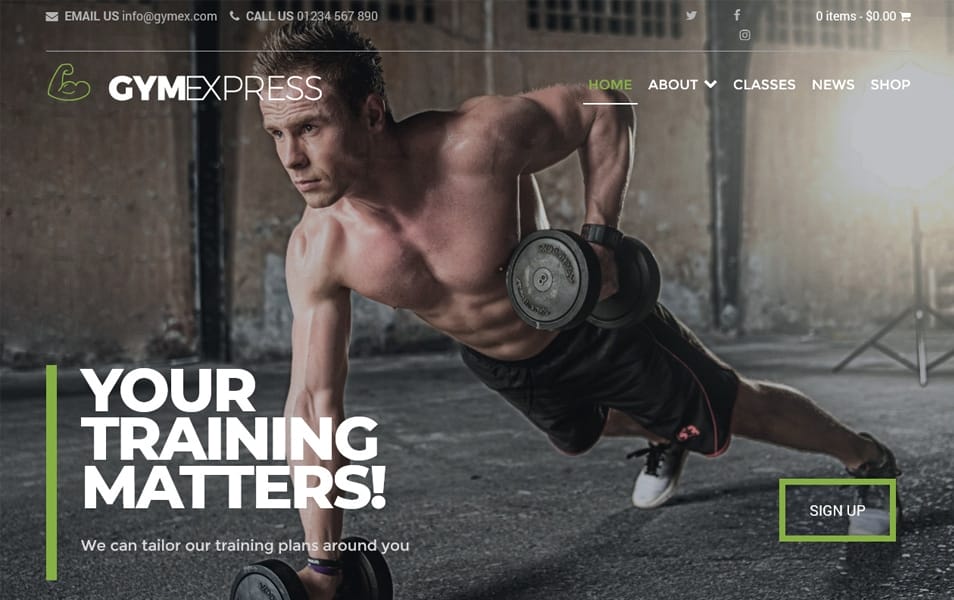 GymPress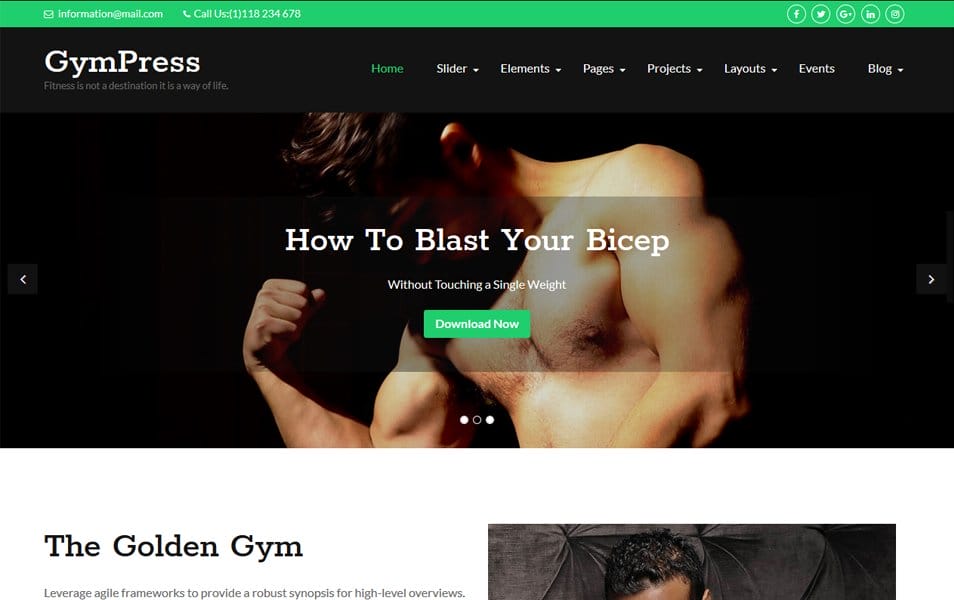 Powerclub Lite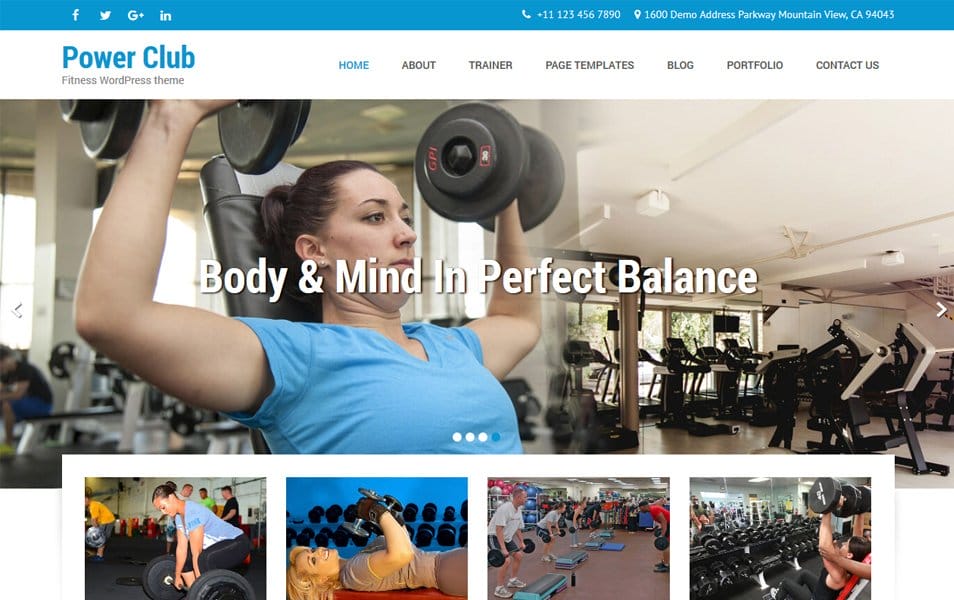 VW Fitness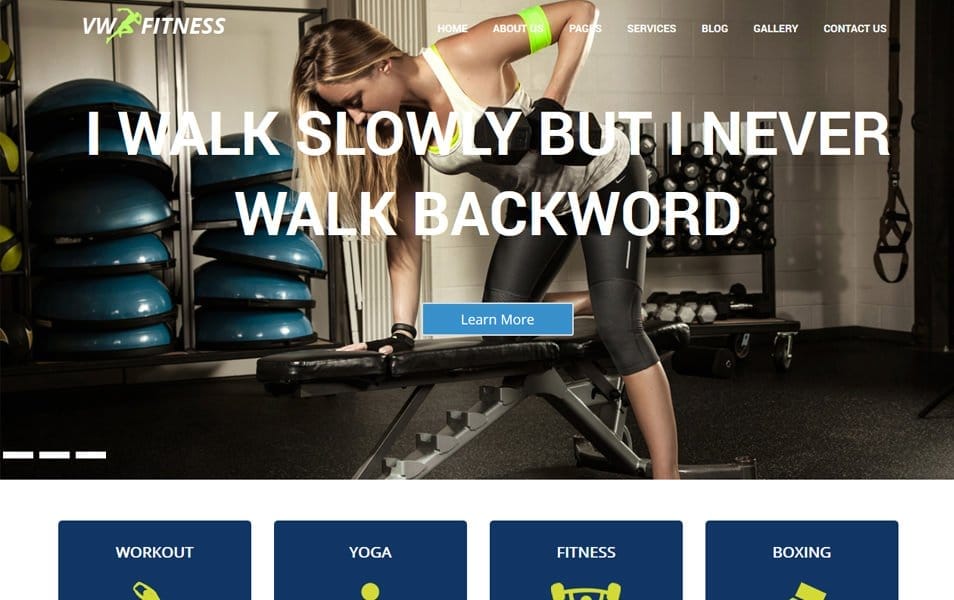 SKT Strong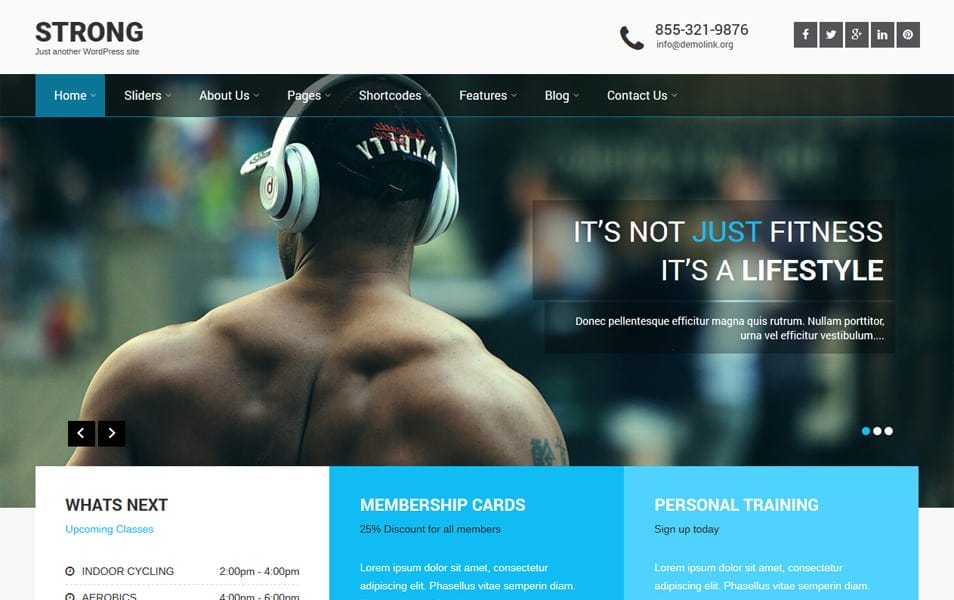 Finance WordPress Theme
Financeup
Nature WordPress Theme
Coaching WordPress Theme
Online Coach
Review WordPress Theme
Reviewer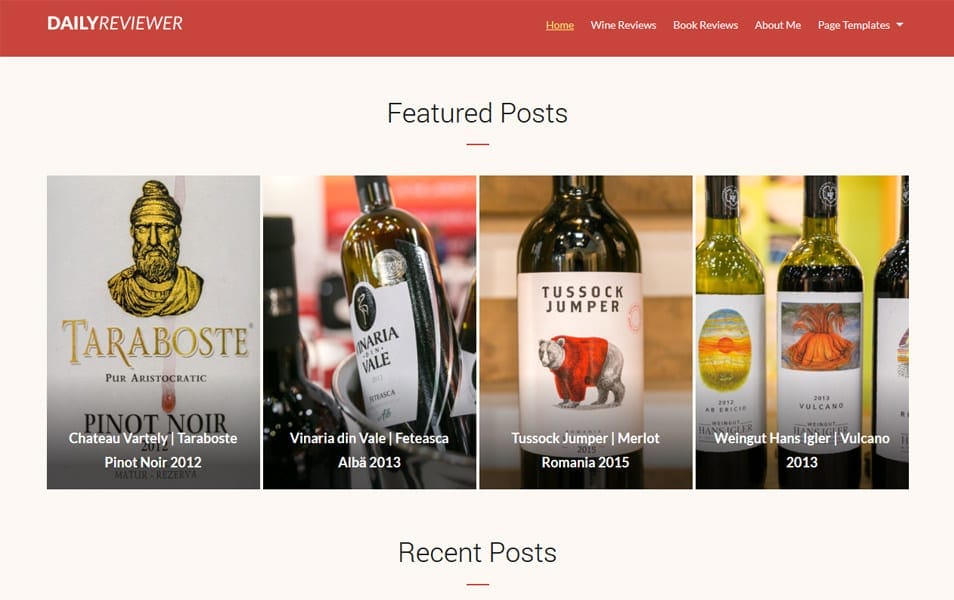 Event & Party WordPress Theme
iParty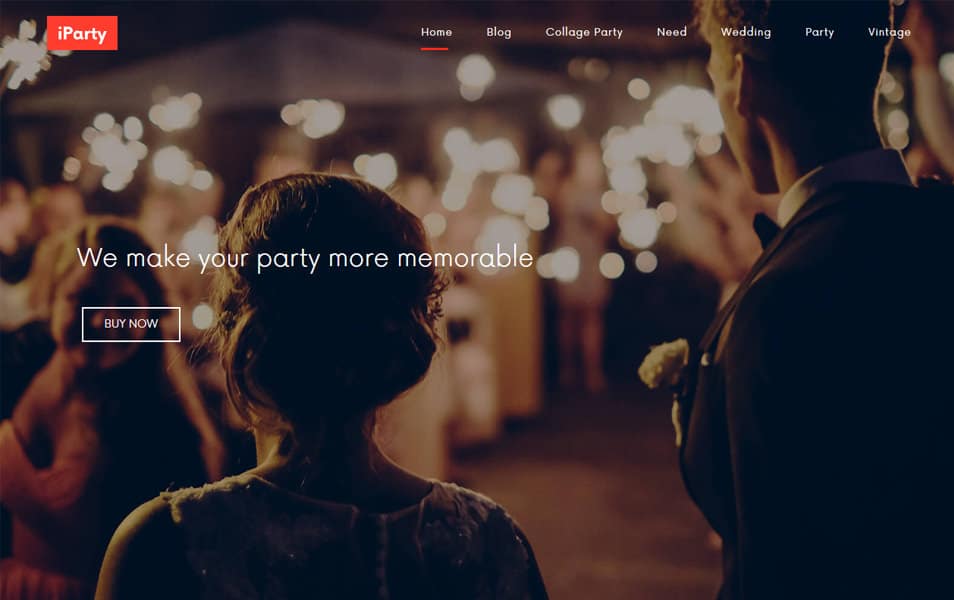 Pet & Animal WordPress Theme
Petshop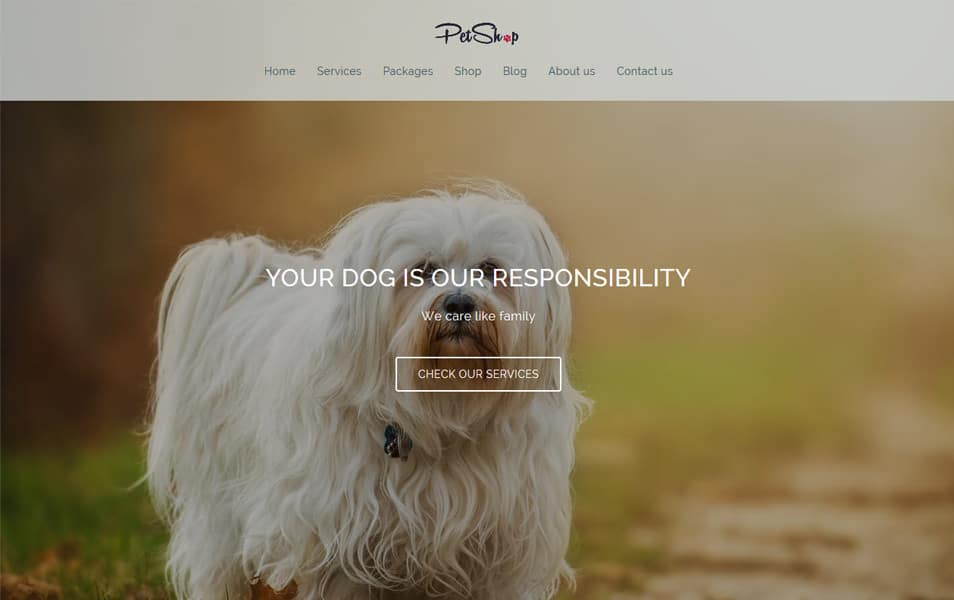 Fashion WordPress Theme
Styled Lite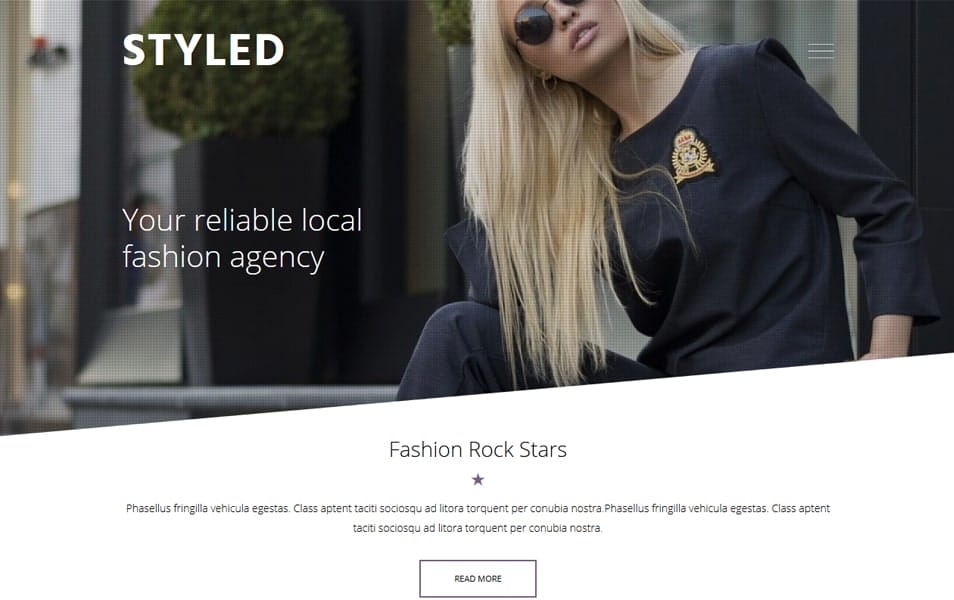 Blossom Fashion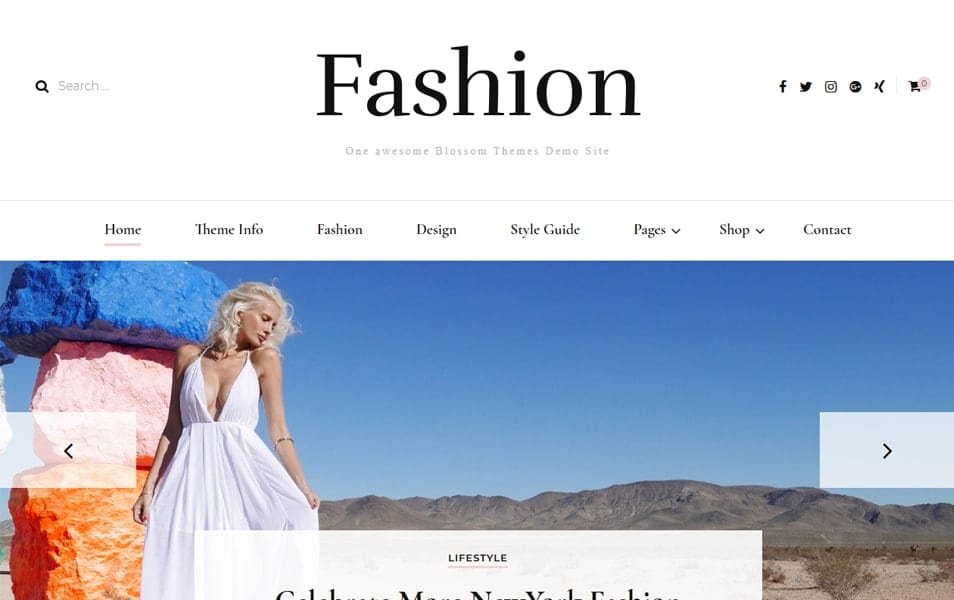 Glamour World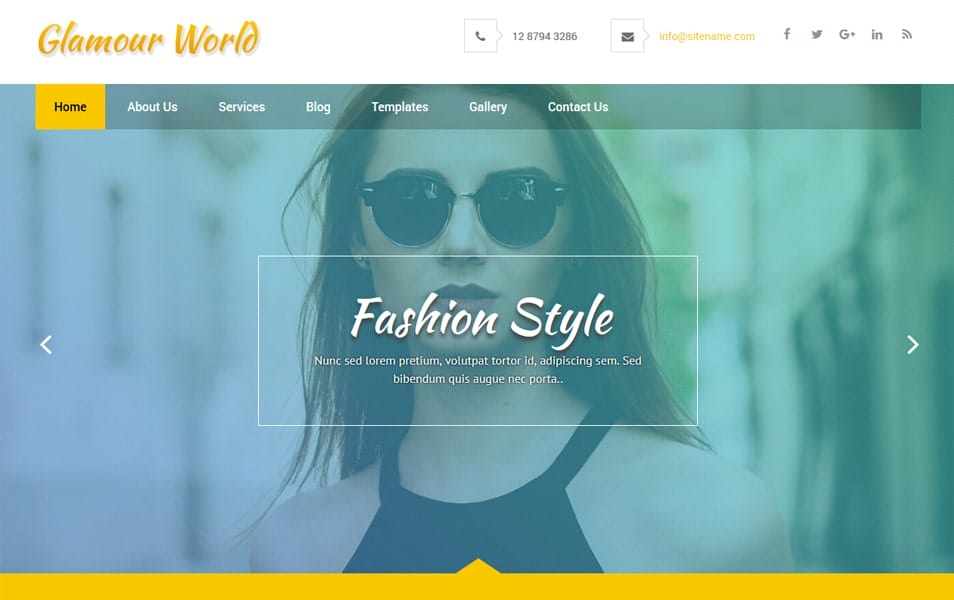 Fashionate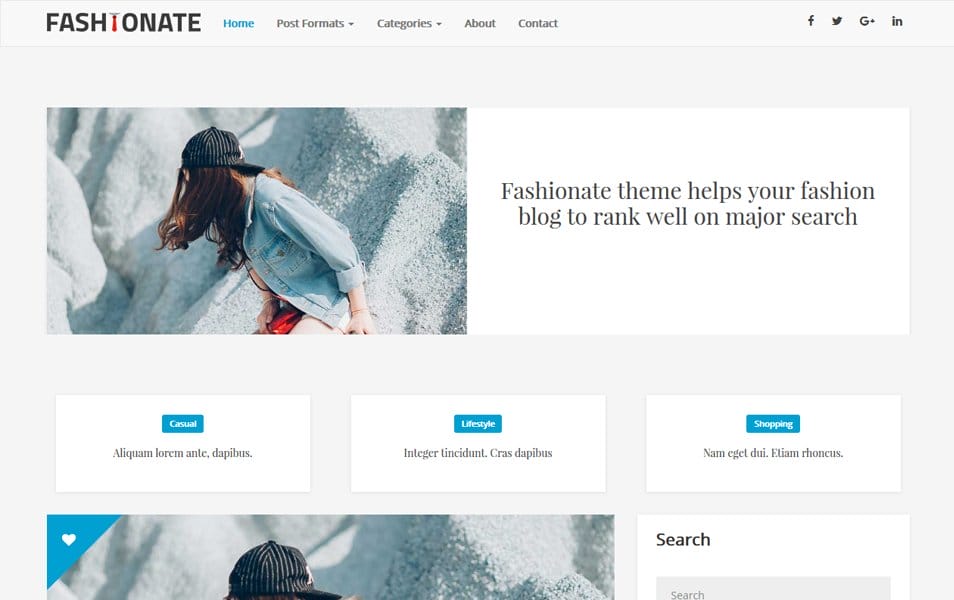 Elif lite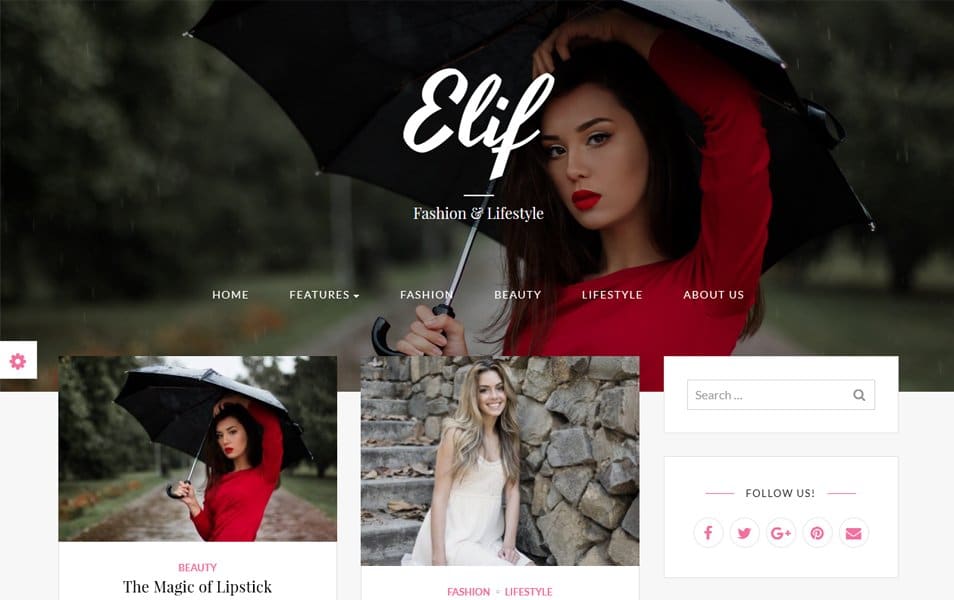 The Fash Blog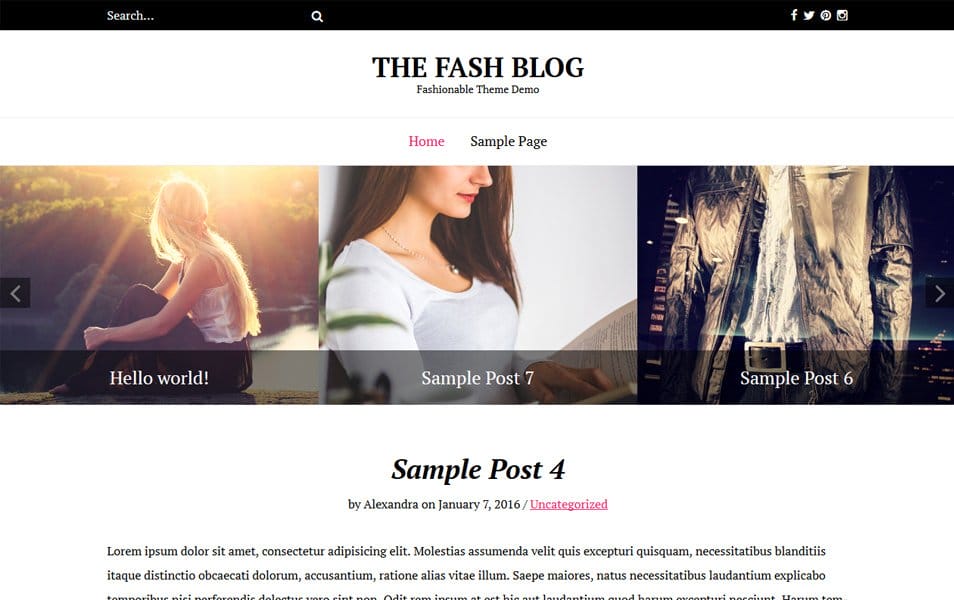 Blanche Lite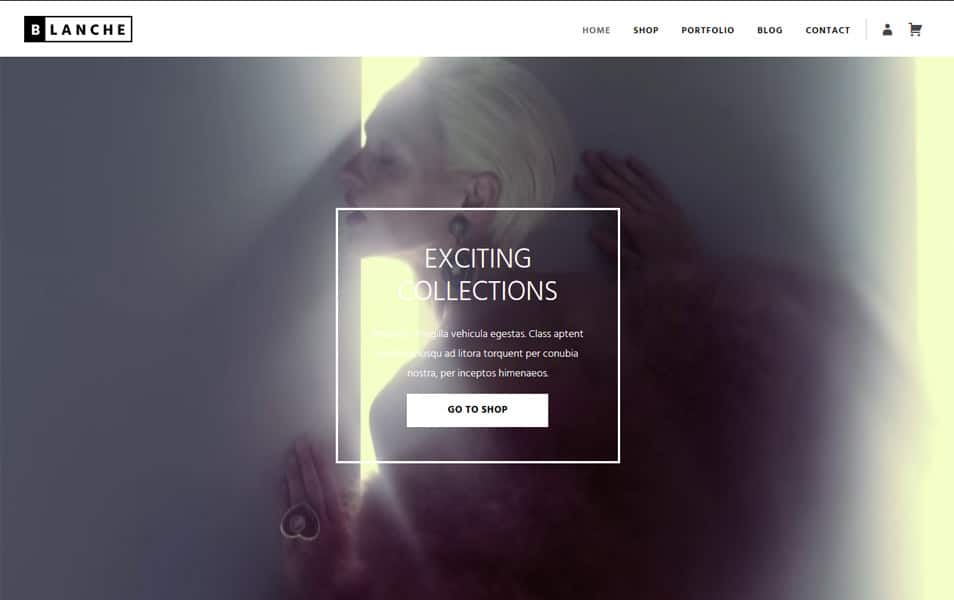 Hotel WordPress Theme
Hotel Resort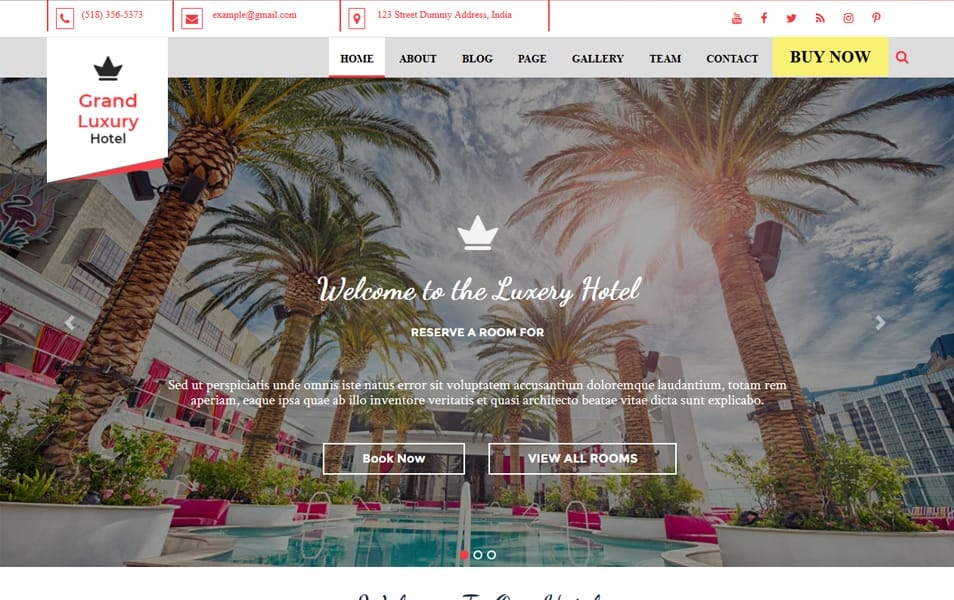 Hotel Luxury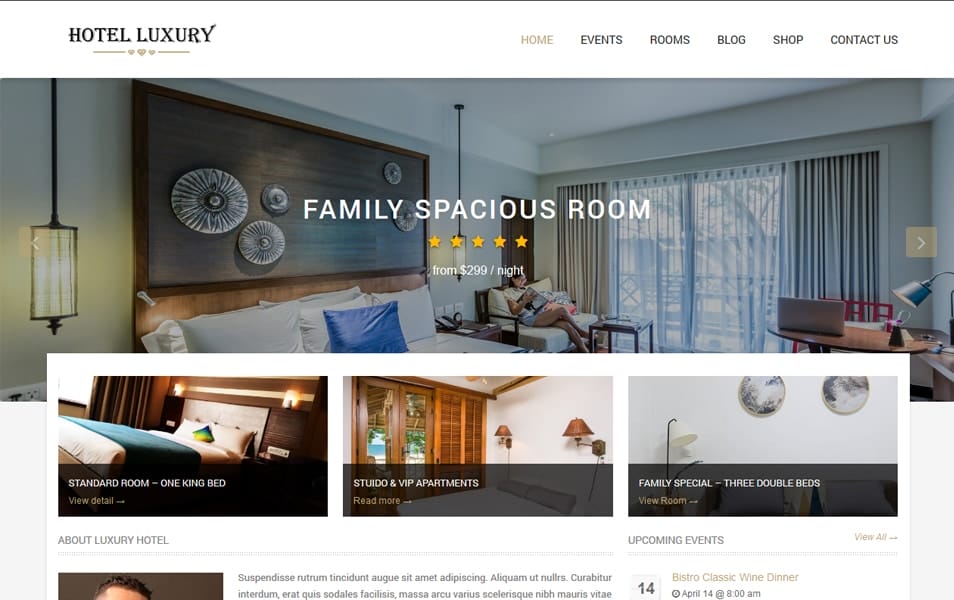 The Hotel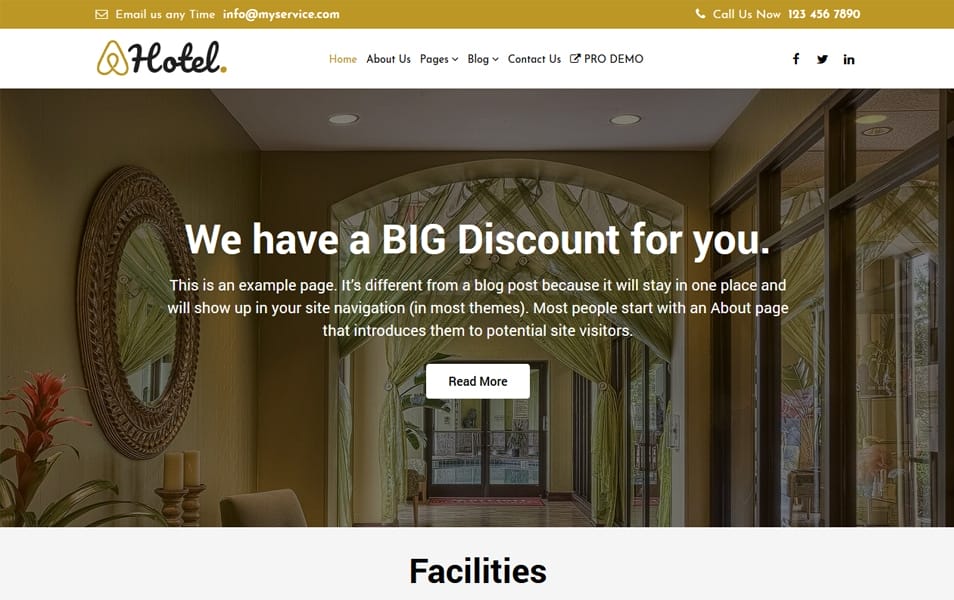 Oceanica Lite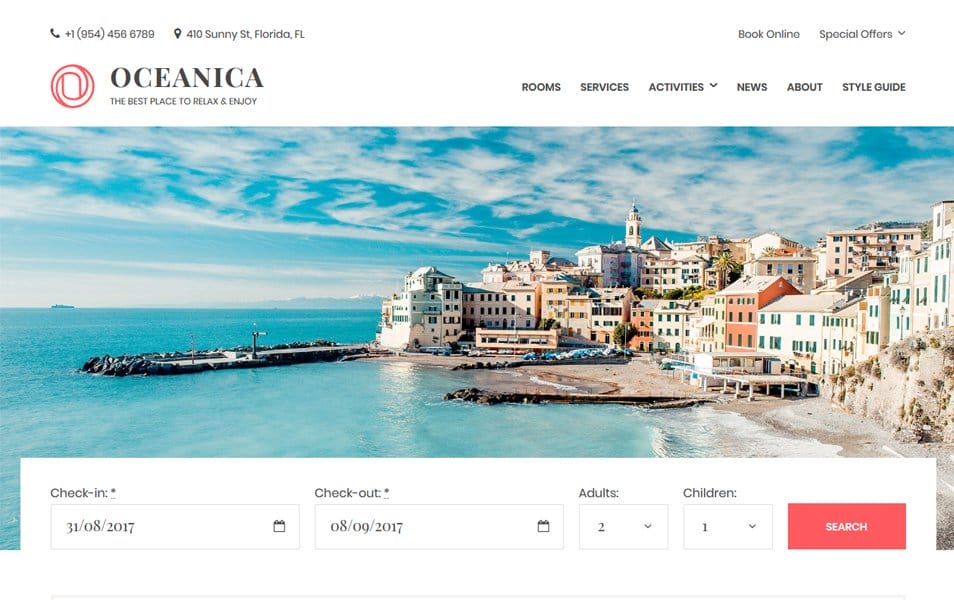 Palazio Lite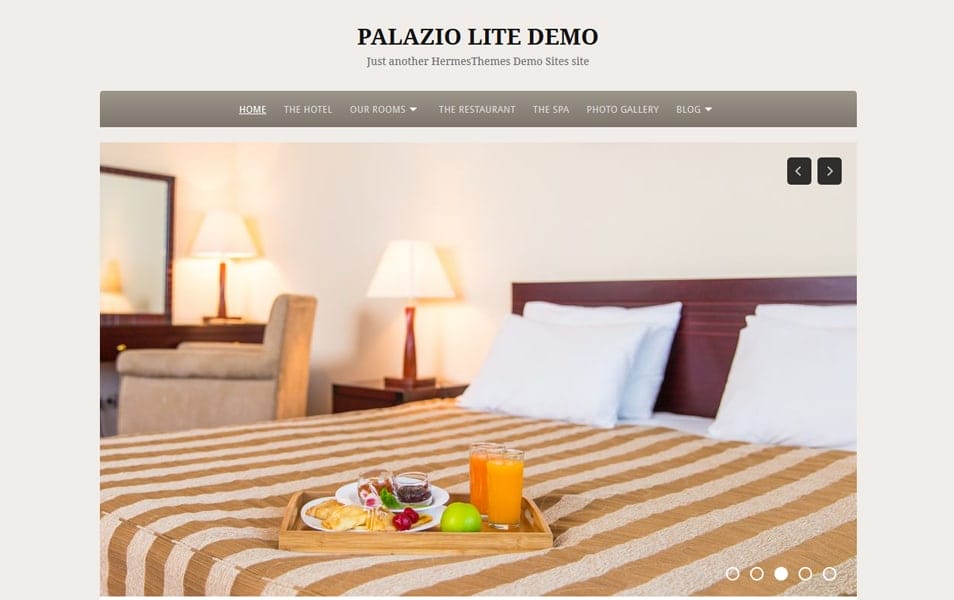 Hoteli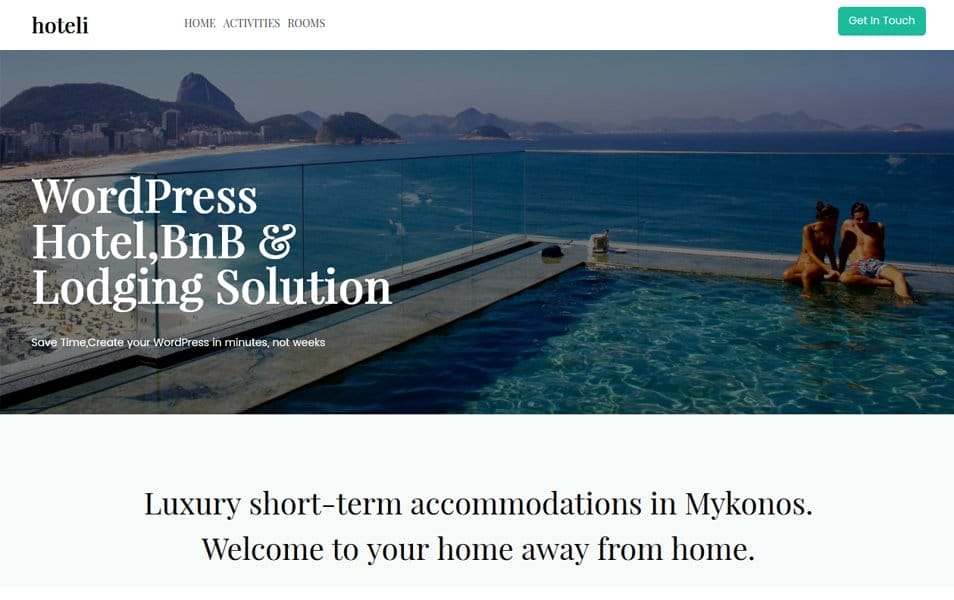 Courtyard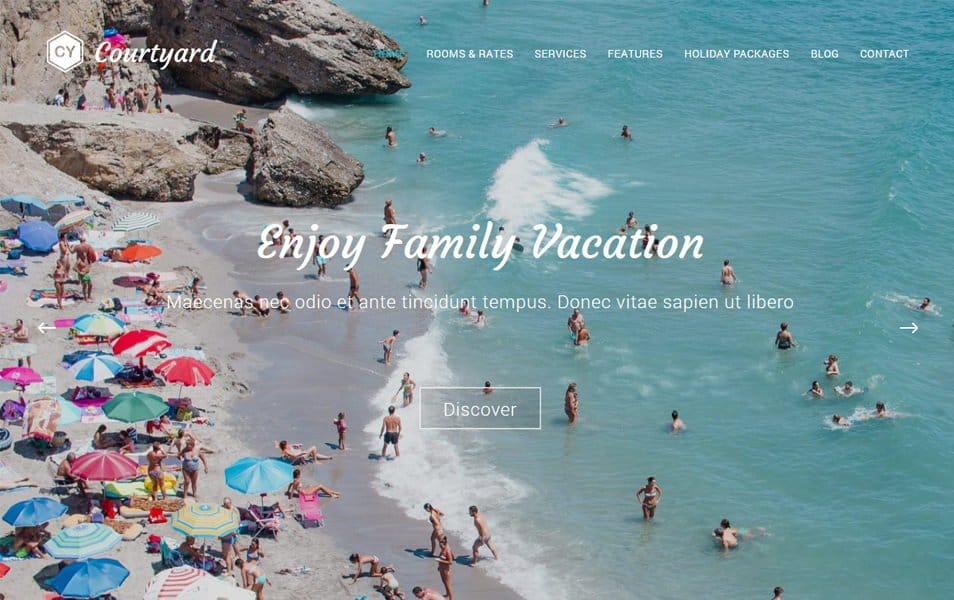 Hotel Galaxy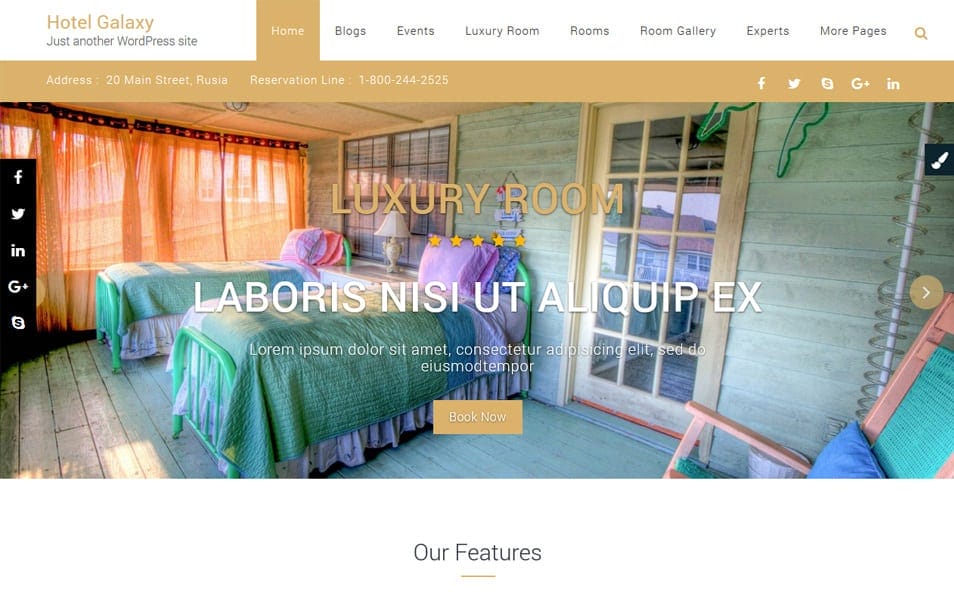 Grid WordPress Theme
Marinate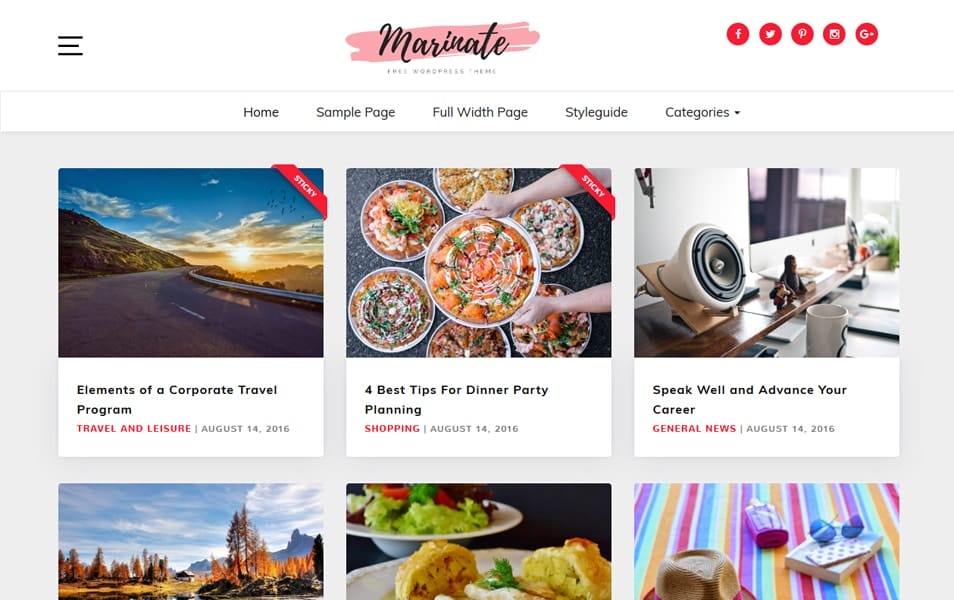 Griddle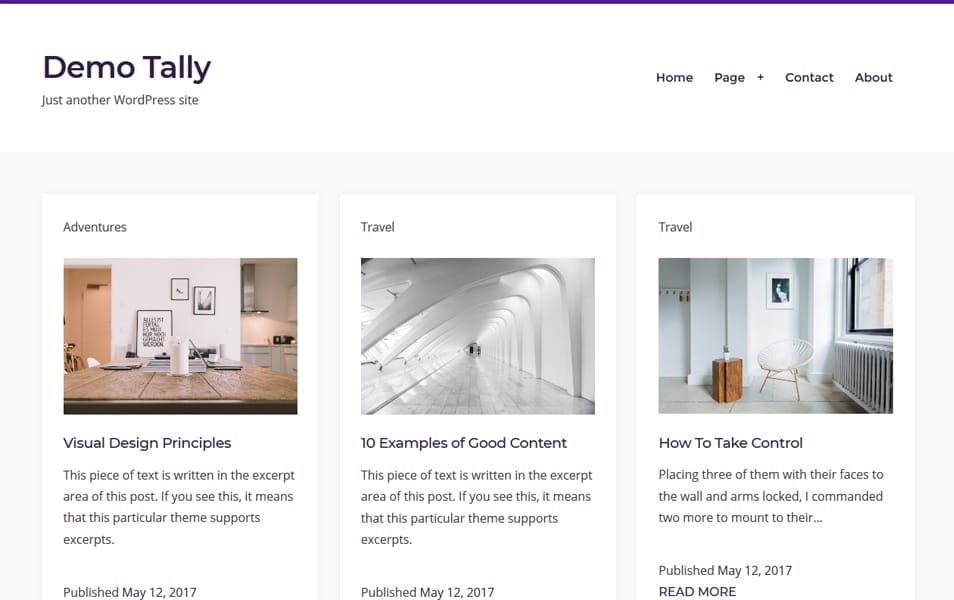 Rinzai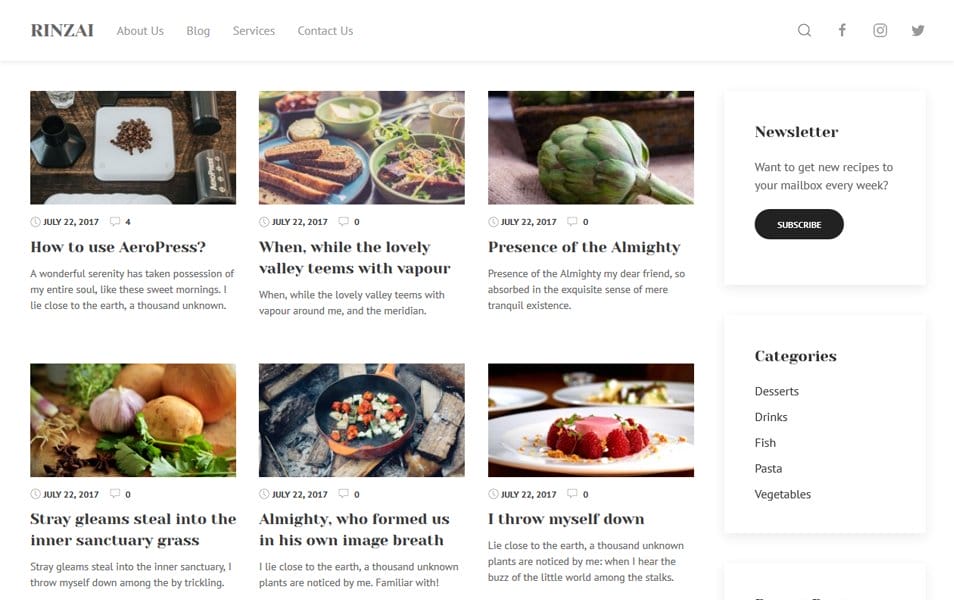 iStartups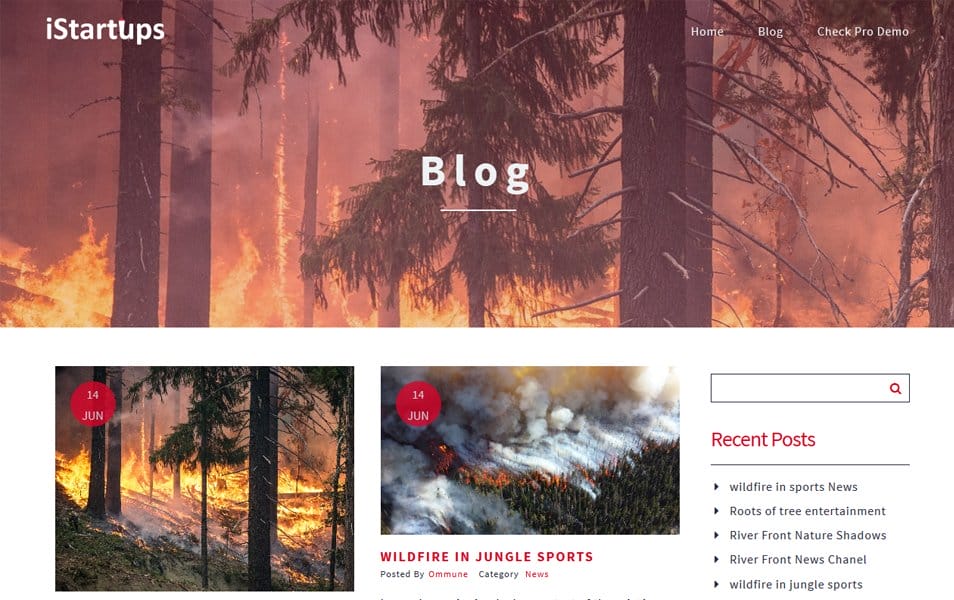 VT Grid Mag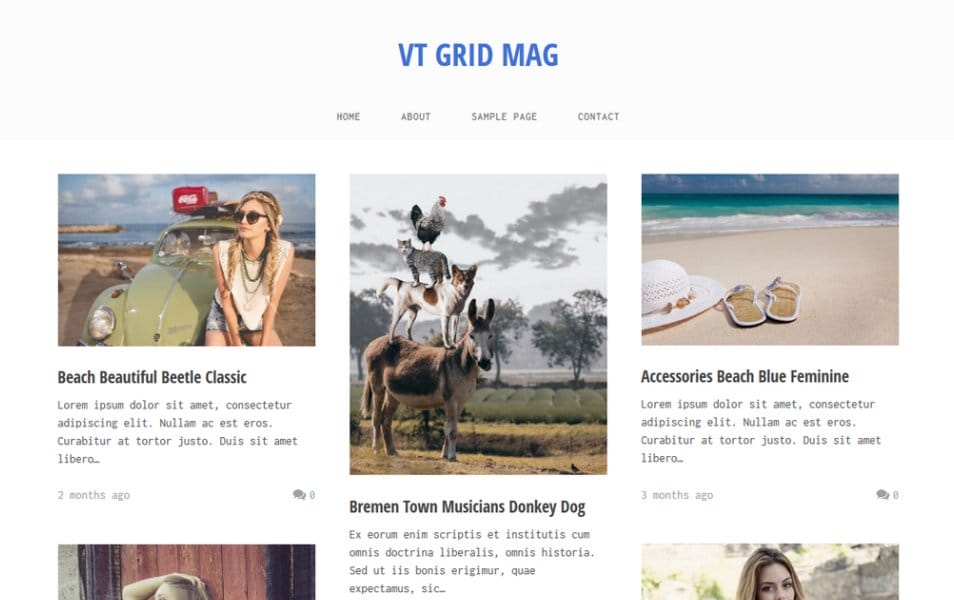 House Press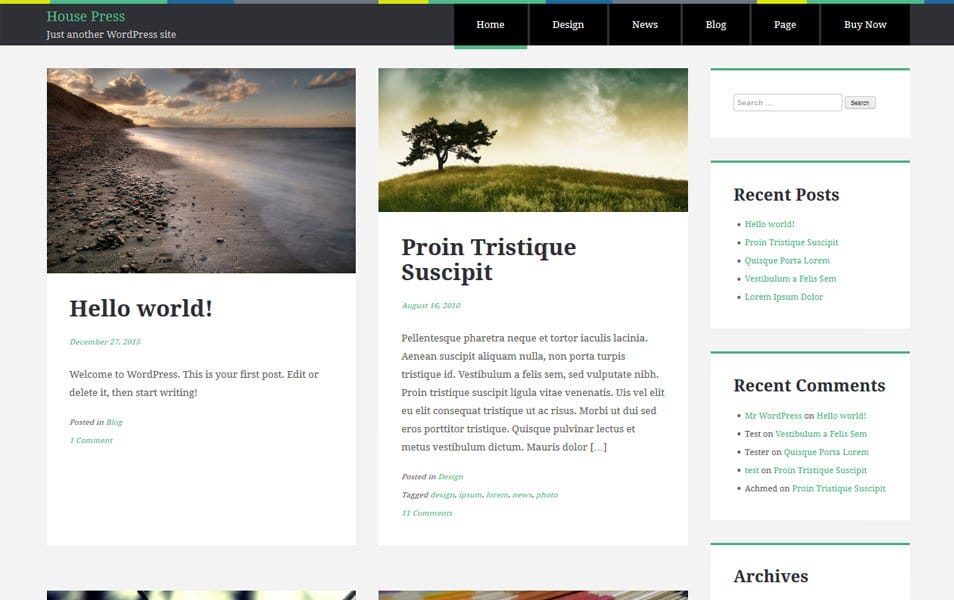 NovaPress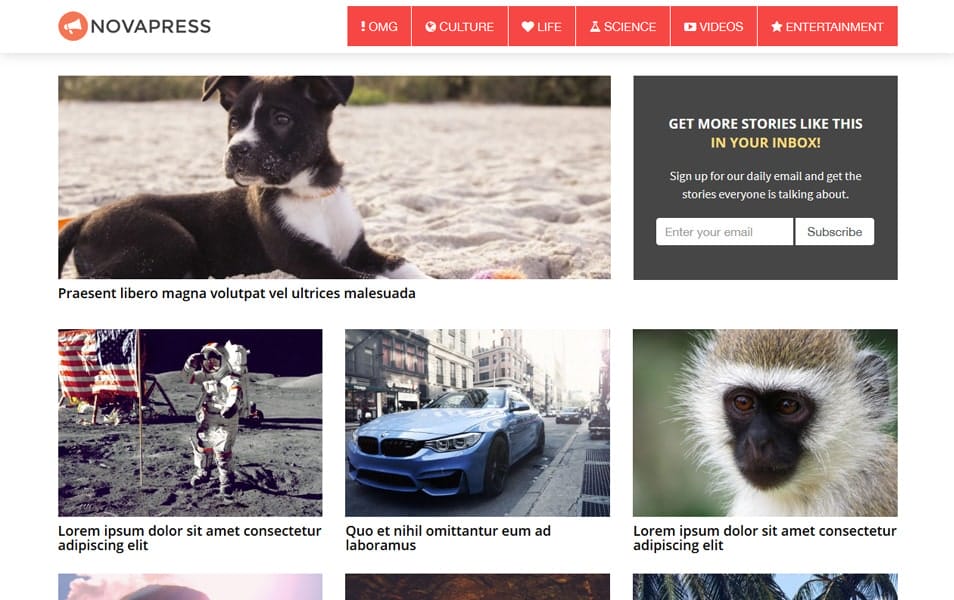 Wedding WordPress Theme
BB Wedding Bliss
Newlyweds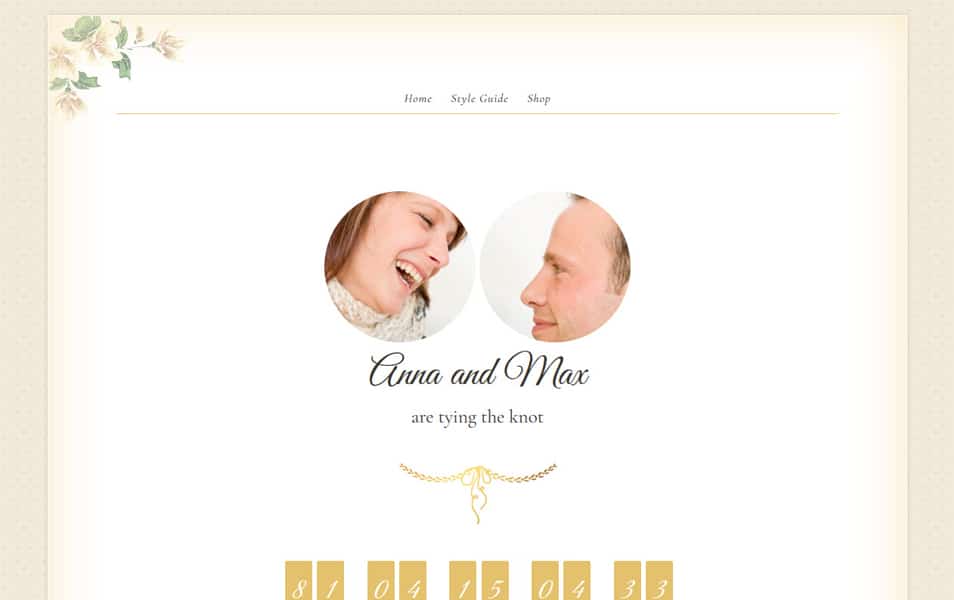 Wedding Band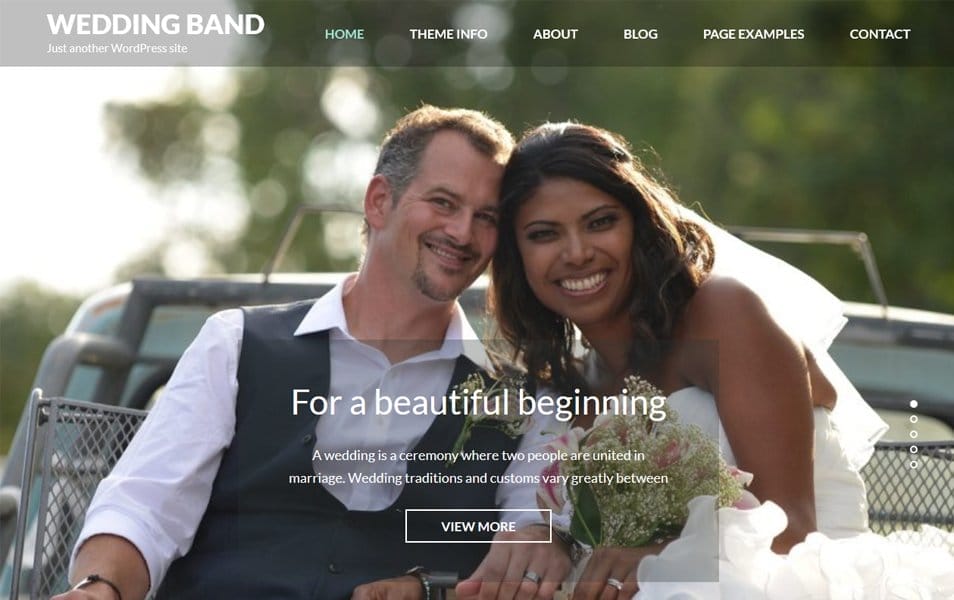 Truelove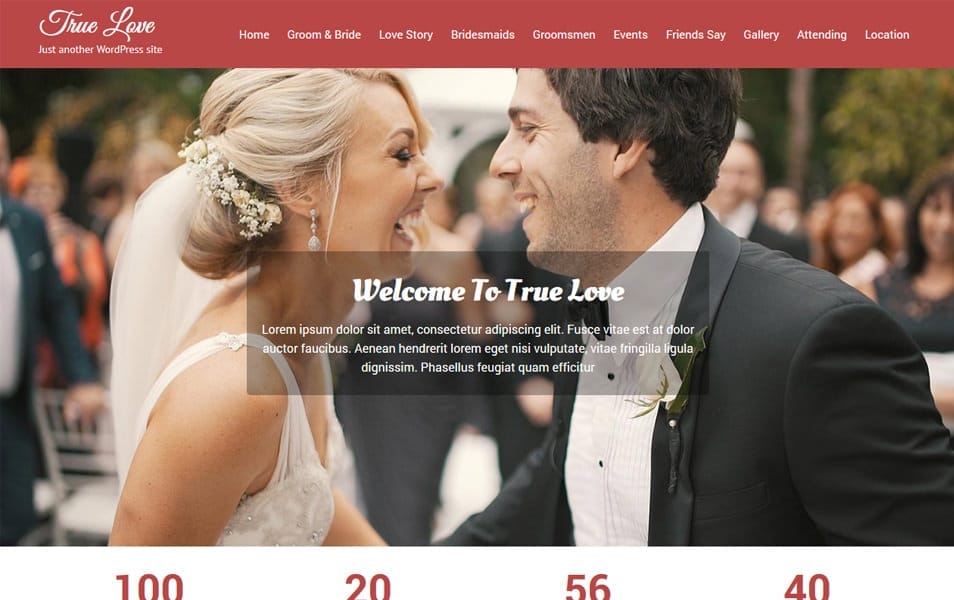 Spiritual WordPress Theme
Hospital WordPress Theme
Medical Life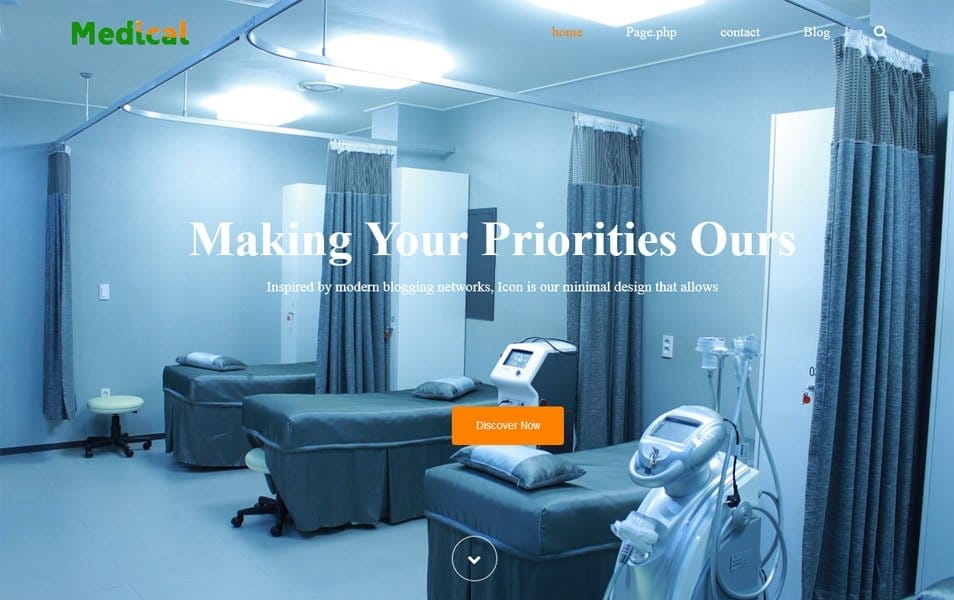 Mediquip Plus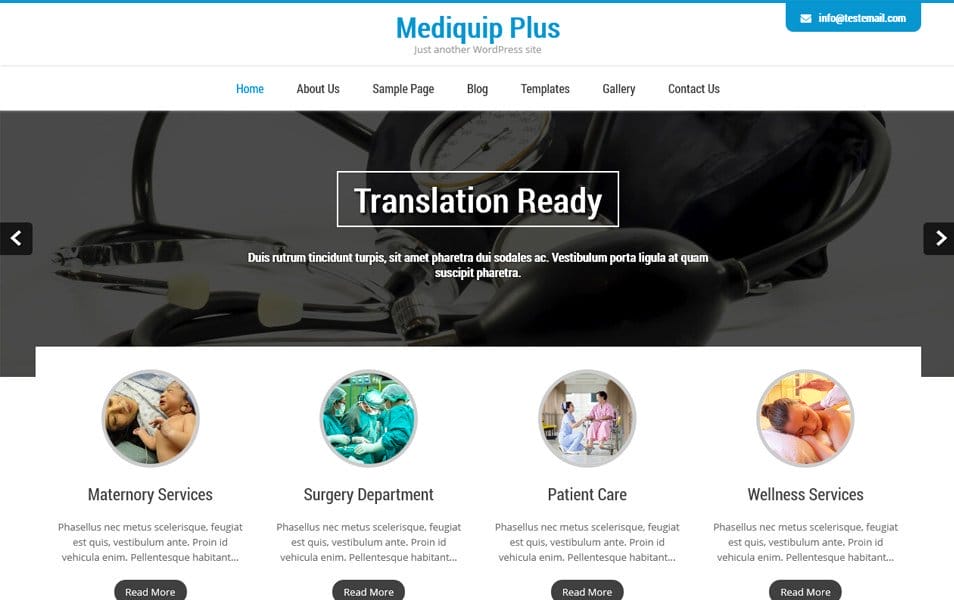 VW hospital Lite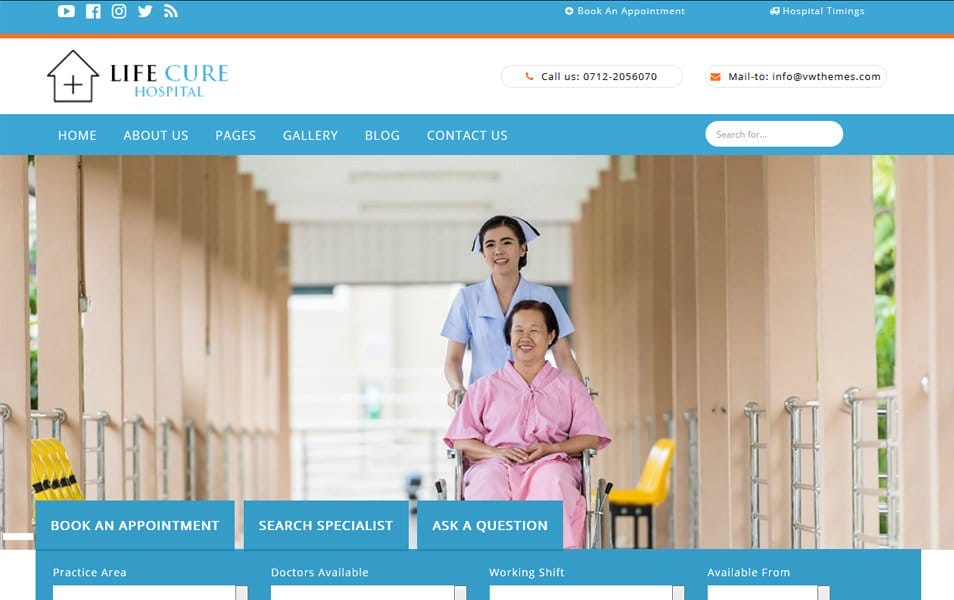 Charity WordPress Theme
Zeko Lite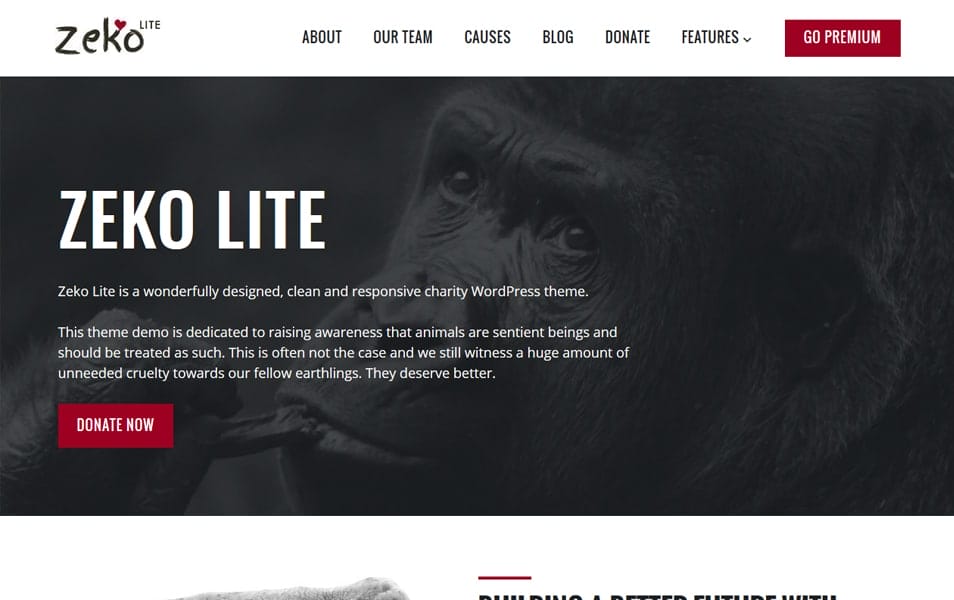 HB CHARITY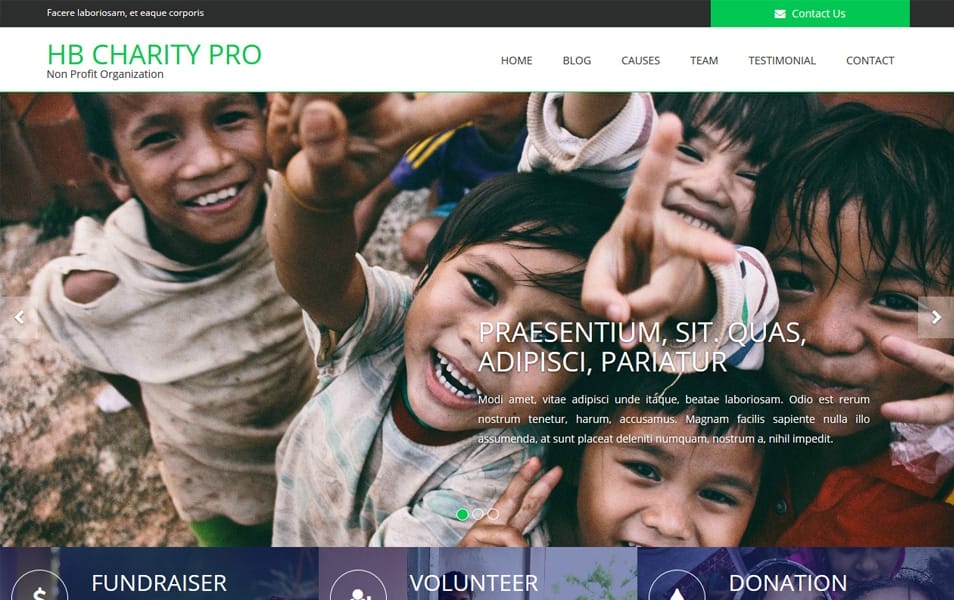 Vision Lite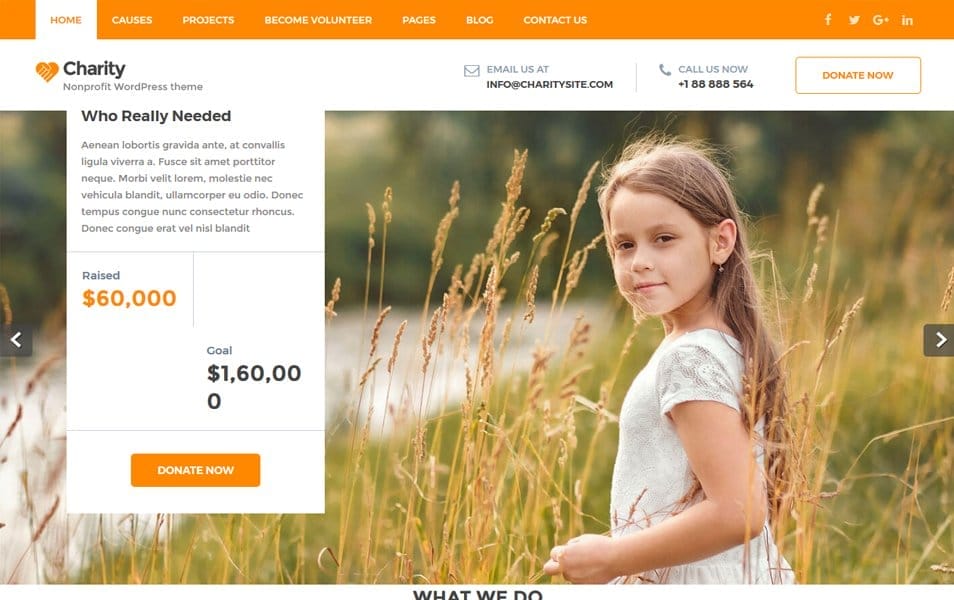 Pena Lite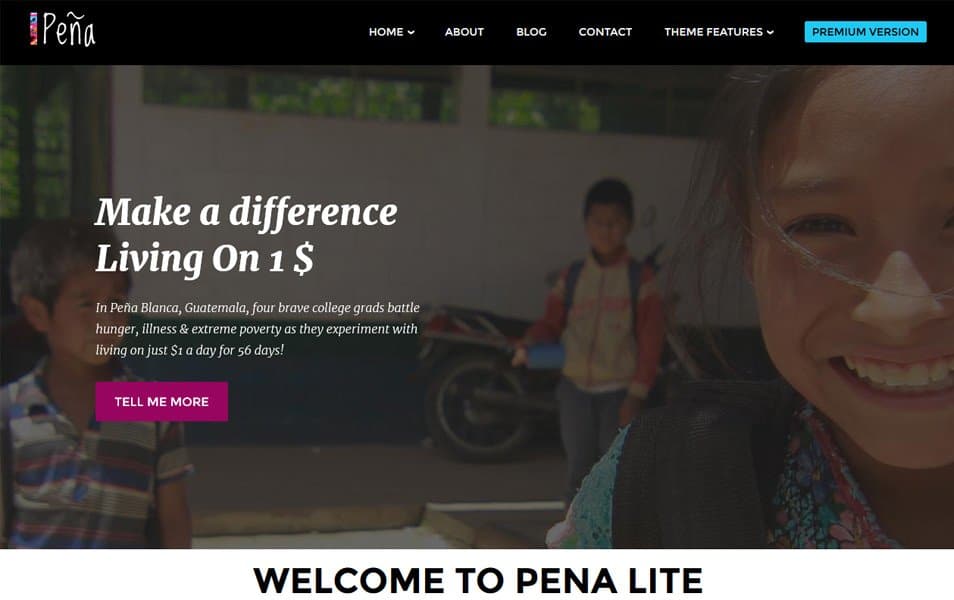 Advocator Lite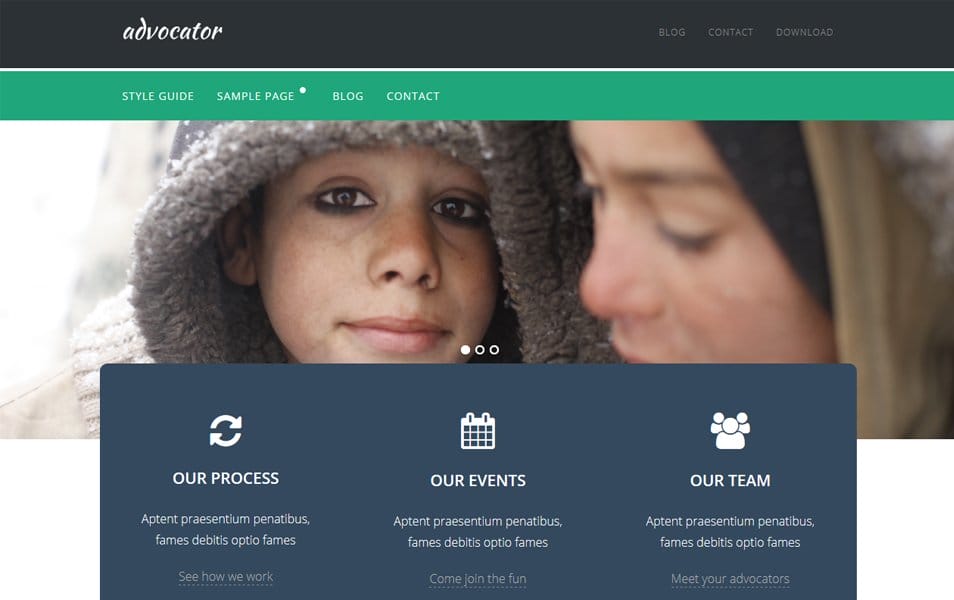 App WordPress Theme
eBoost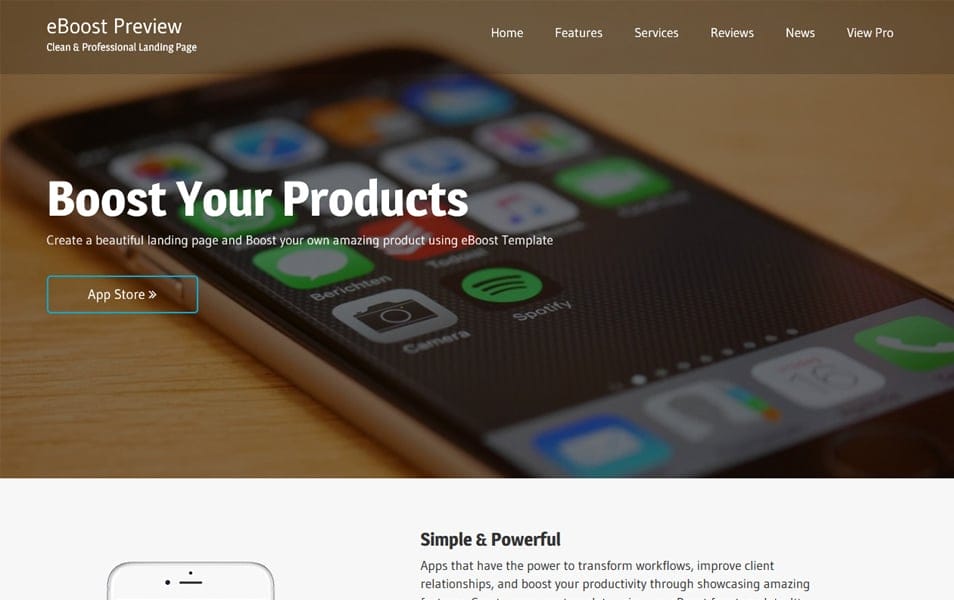 Restarter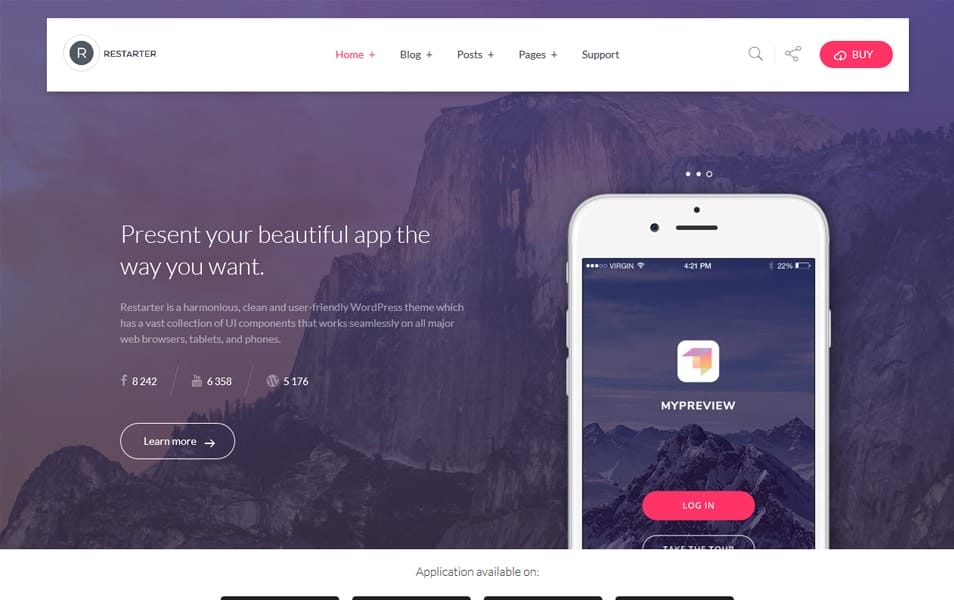 App Landing Page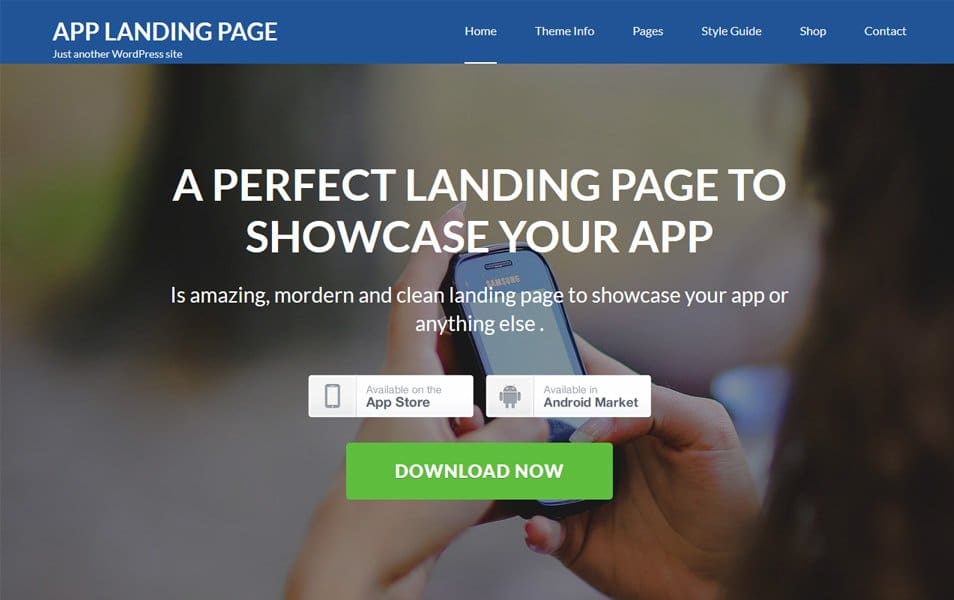 BB Mobile Application
Spa & Beauty Salon WordPress Theme
Massage Spa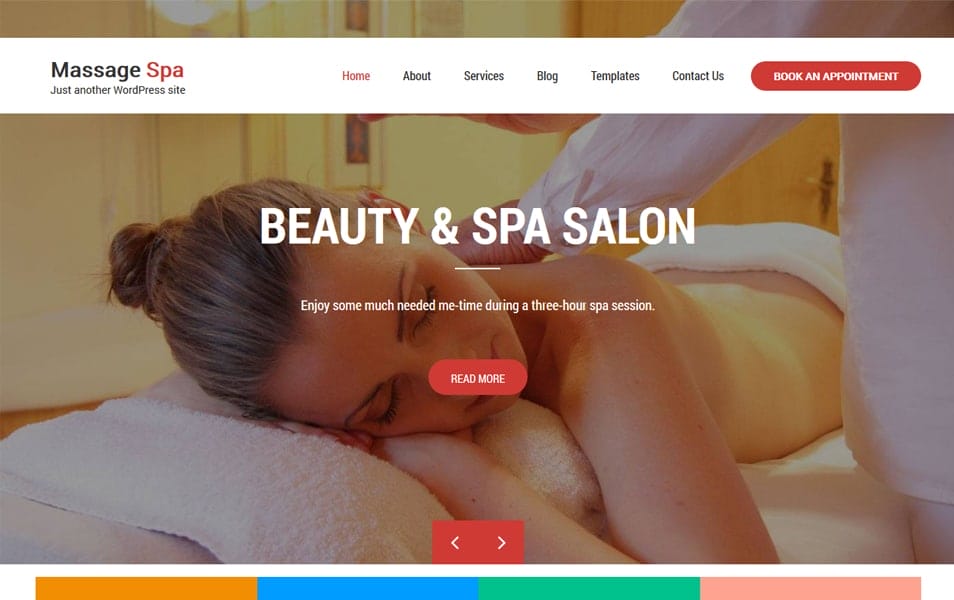 Spabeauty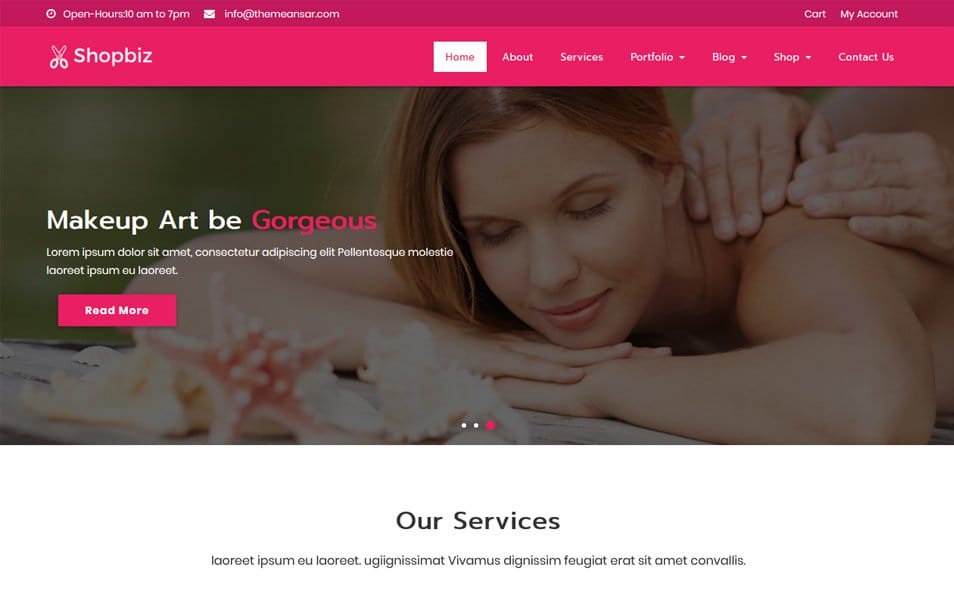 Sauna Lite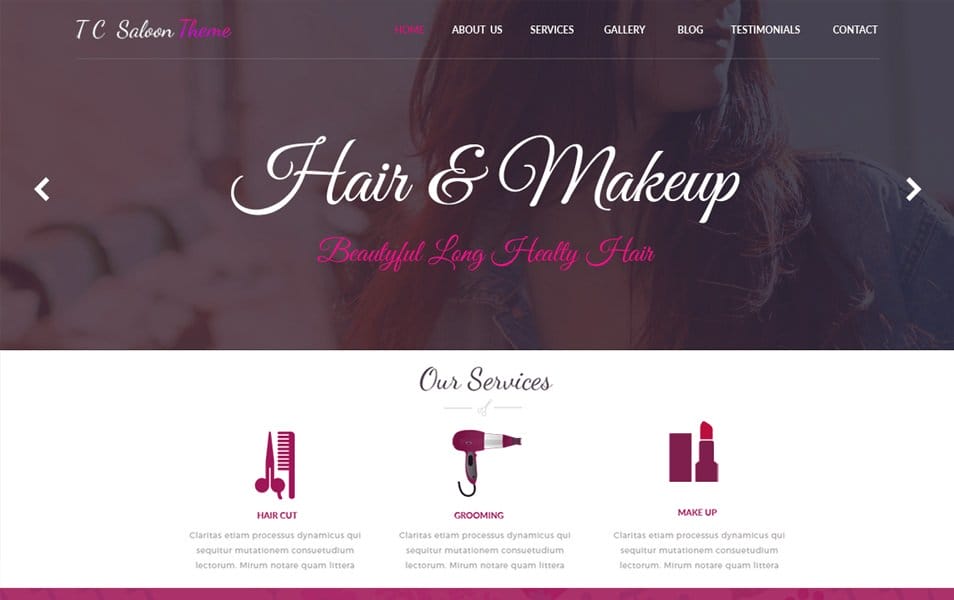 Delight Spa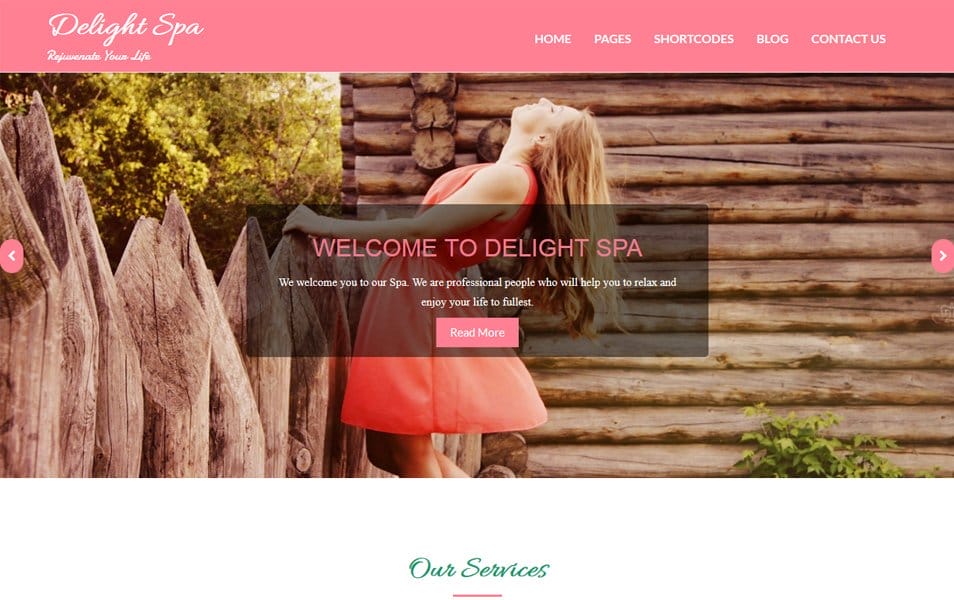 Beauty and Spa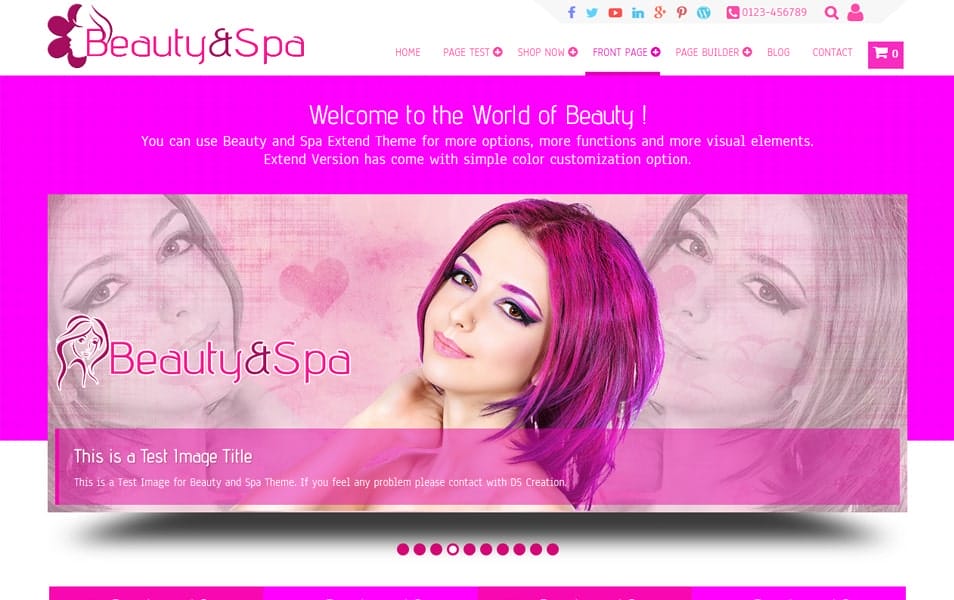 Starter WordPress Theme
WP Bootstrap Starter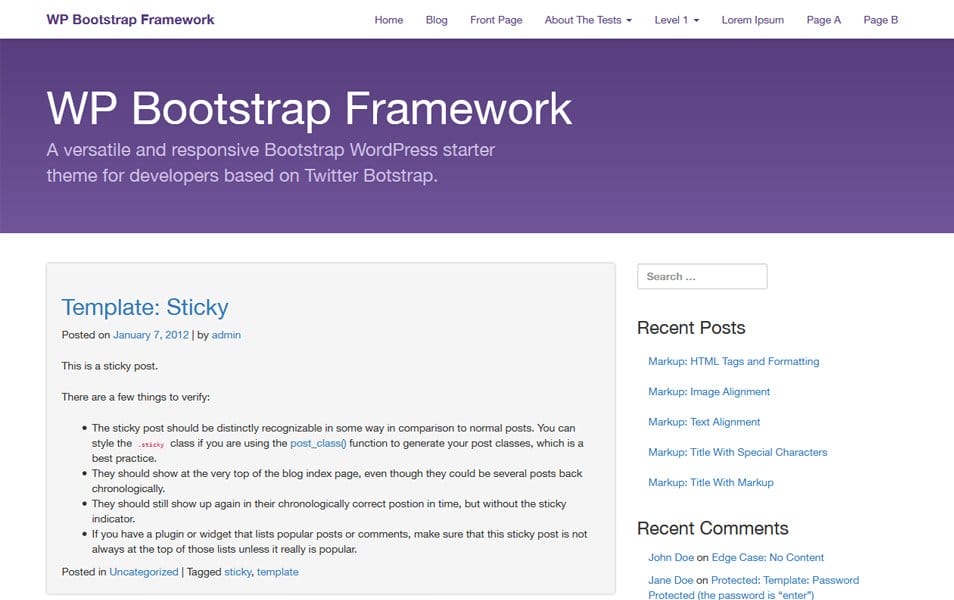 Hayley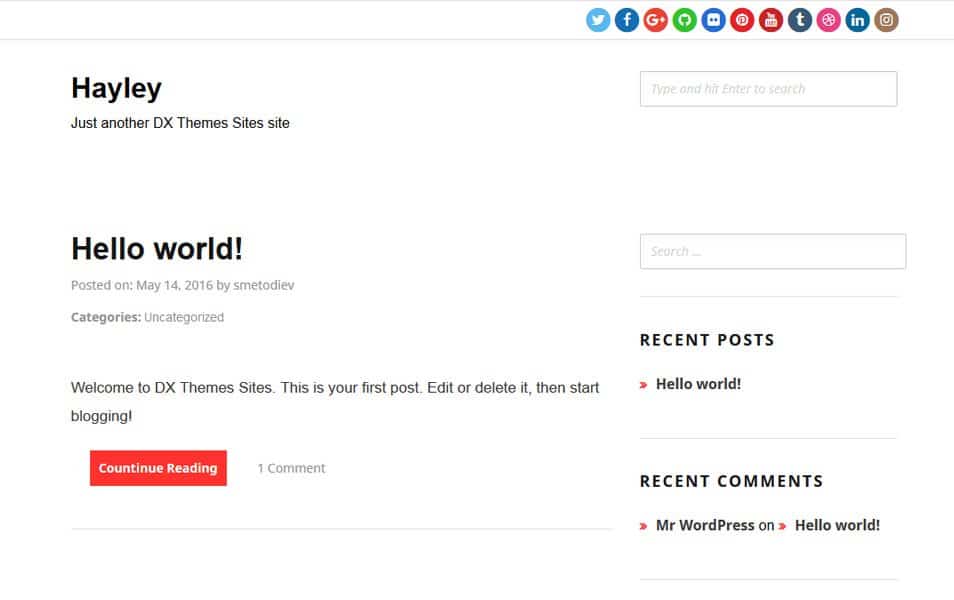 Feminine WordPress Theme
Blossom Feminine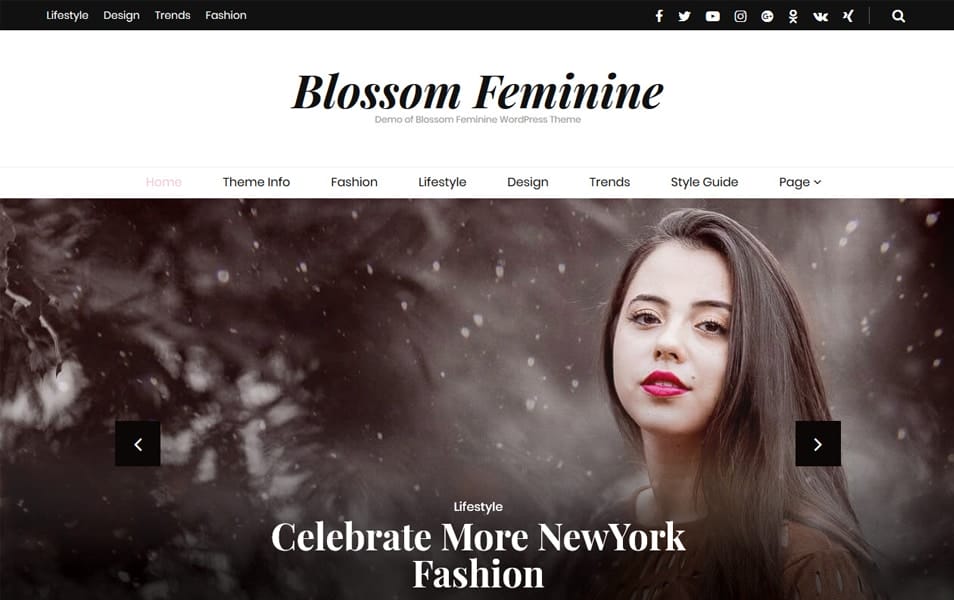 Juliet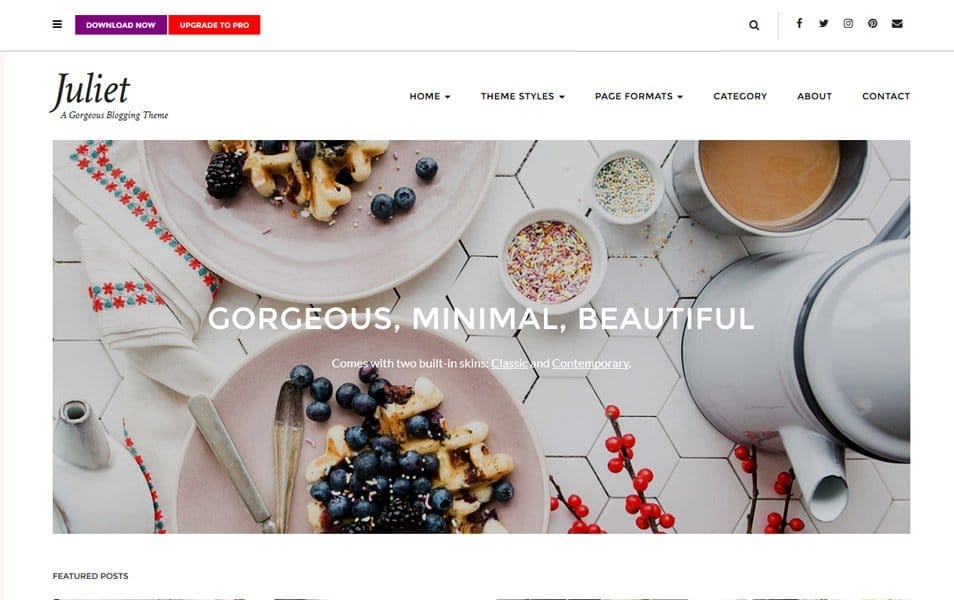 Anissa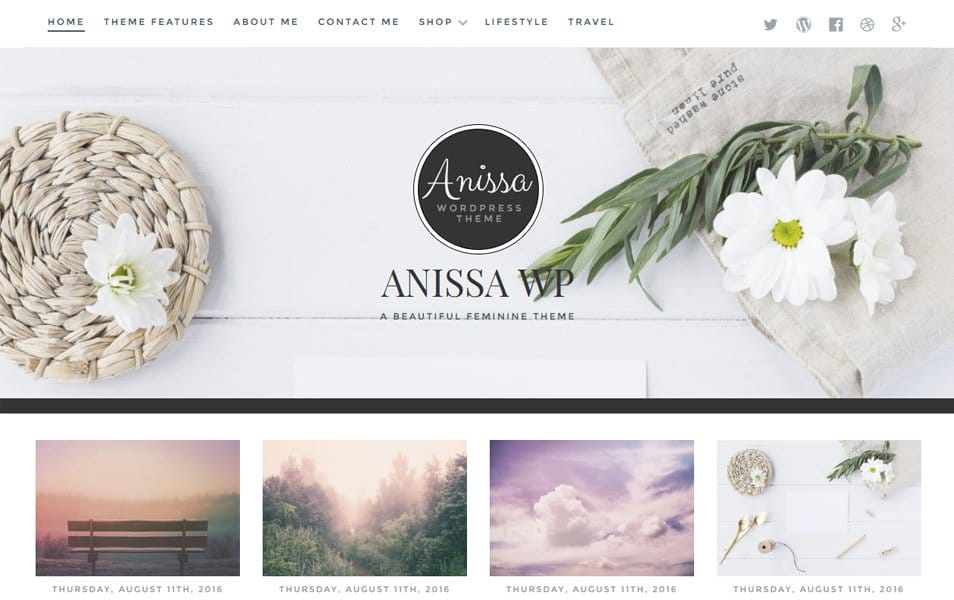 Gallery WordPress Theme
Clean Gallery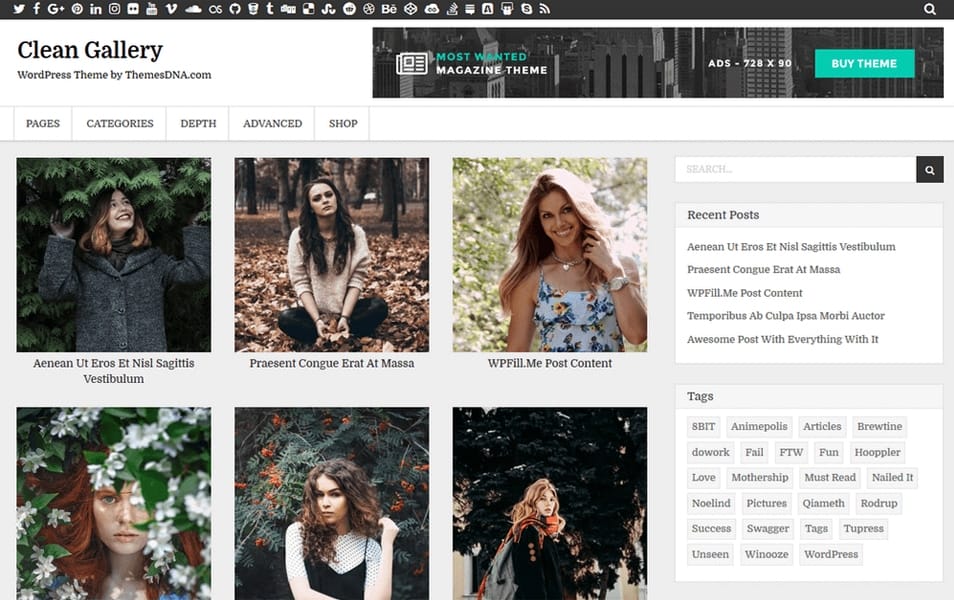 Piclectic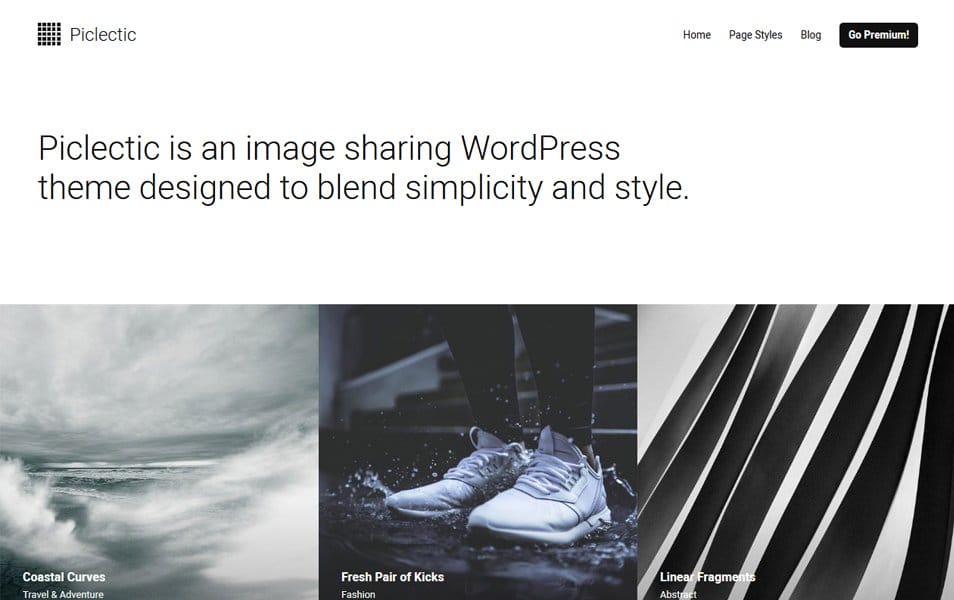 Church WordPress Theme
Faith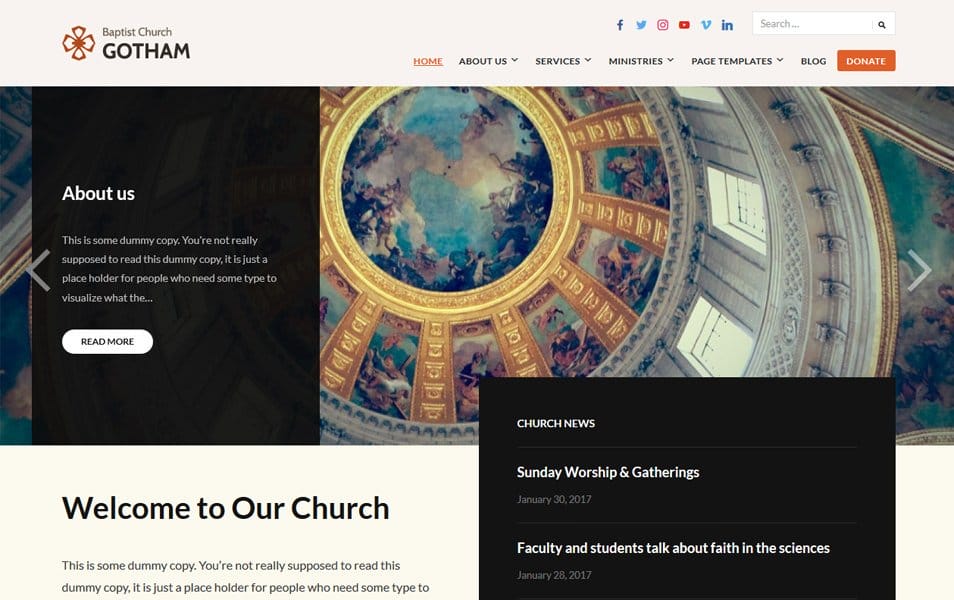 Astrology WordPress Theme
Astrology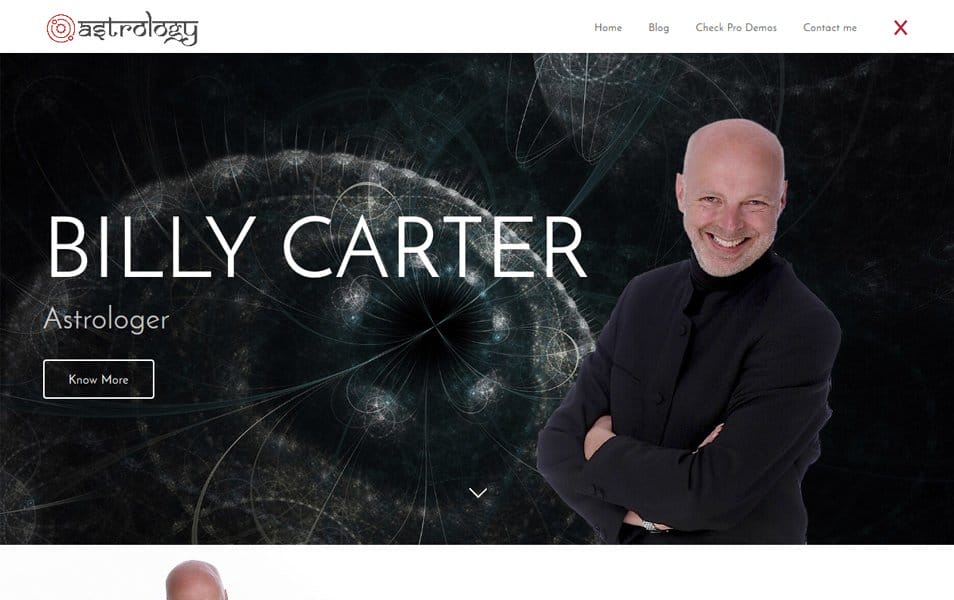 Kids & Children WordPress Theme
Childcare
Lifestyle WordPress Theme
Real Estate WordPress Theme
Free Construction Realestate WordPress Theme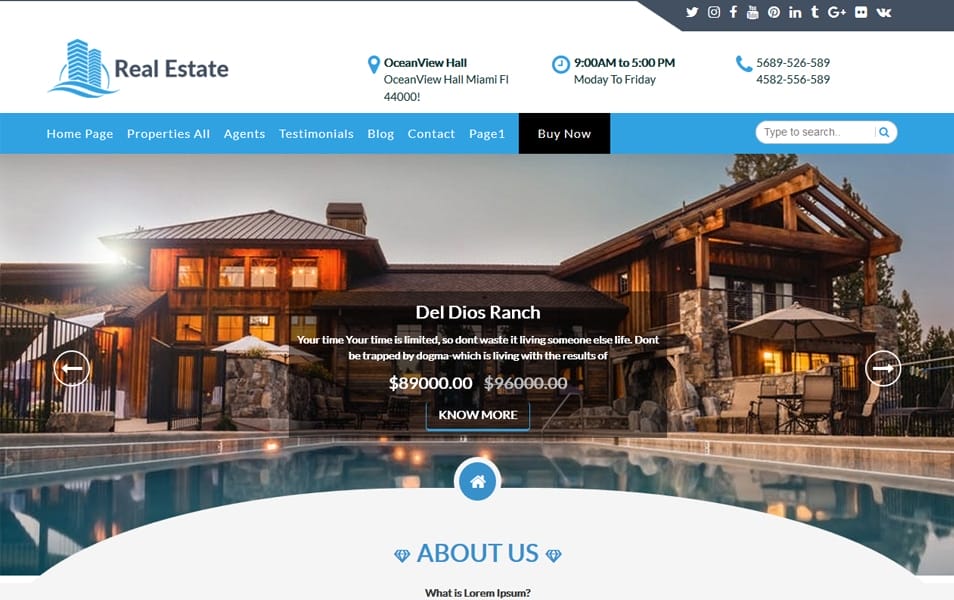 New Estate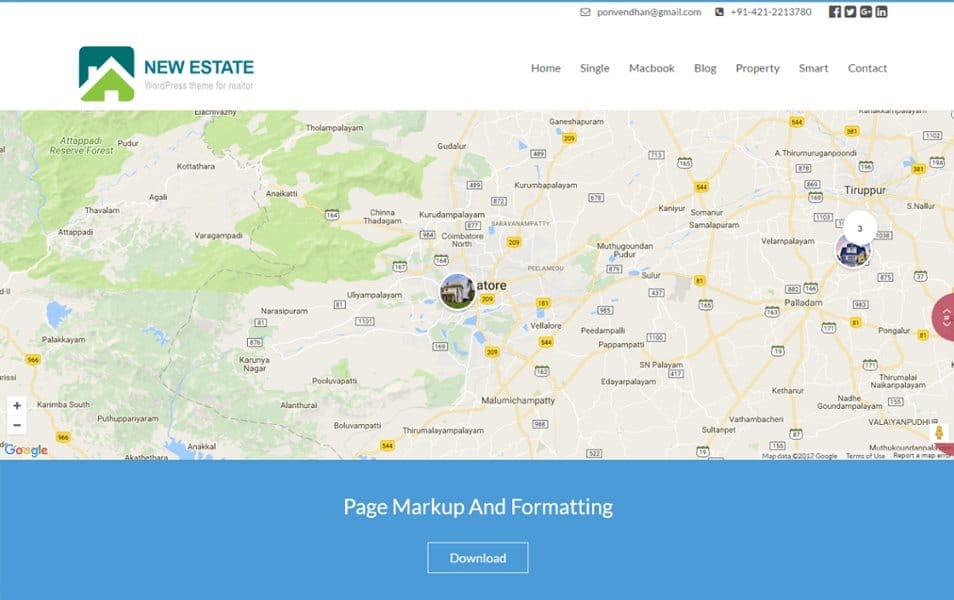 WP Real Estate
Video WordPress Theme
Car Dealer WordPress Theme
KingCabs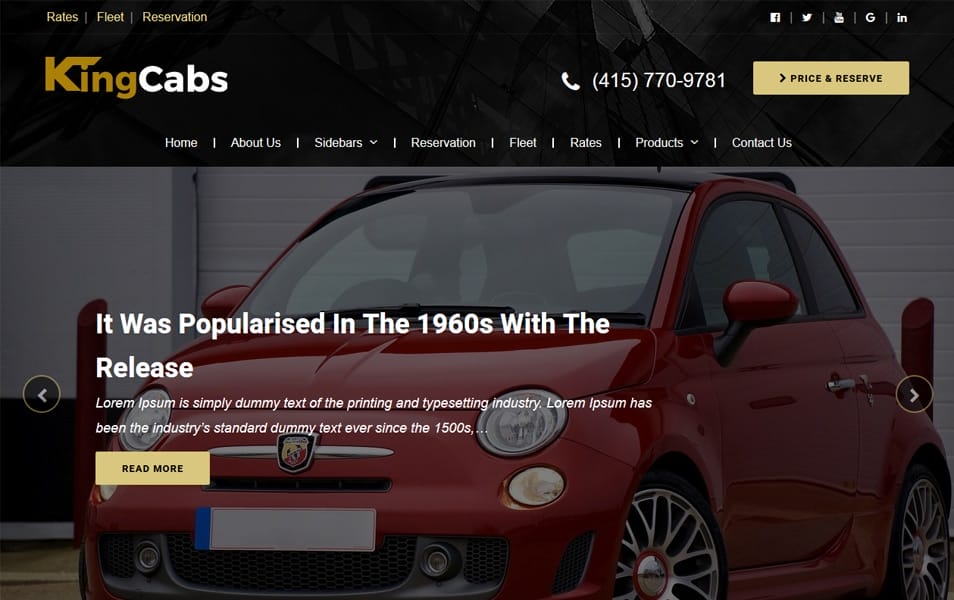 VW automobile Lite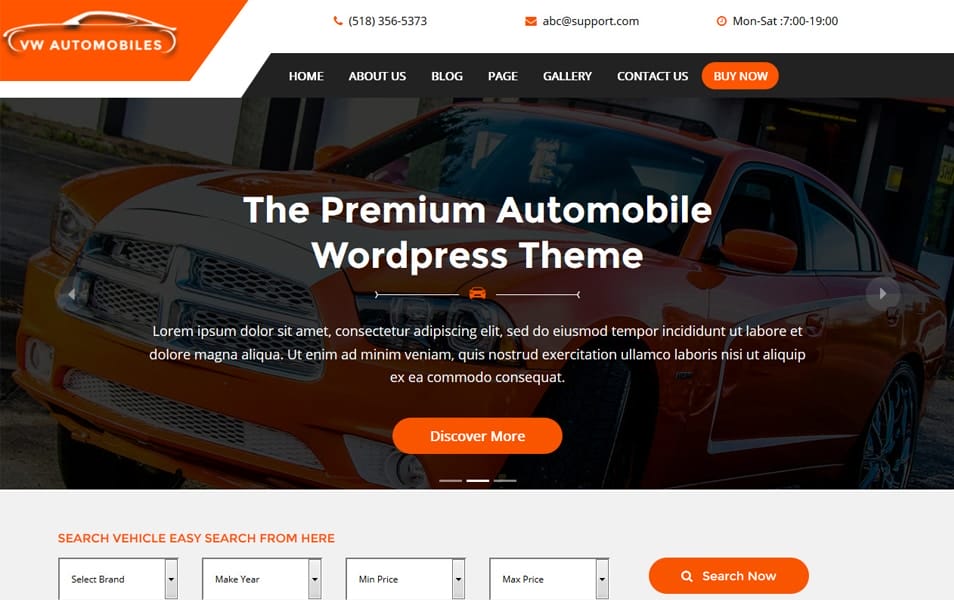 The Automobile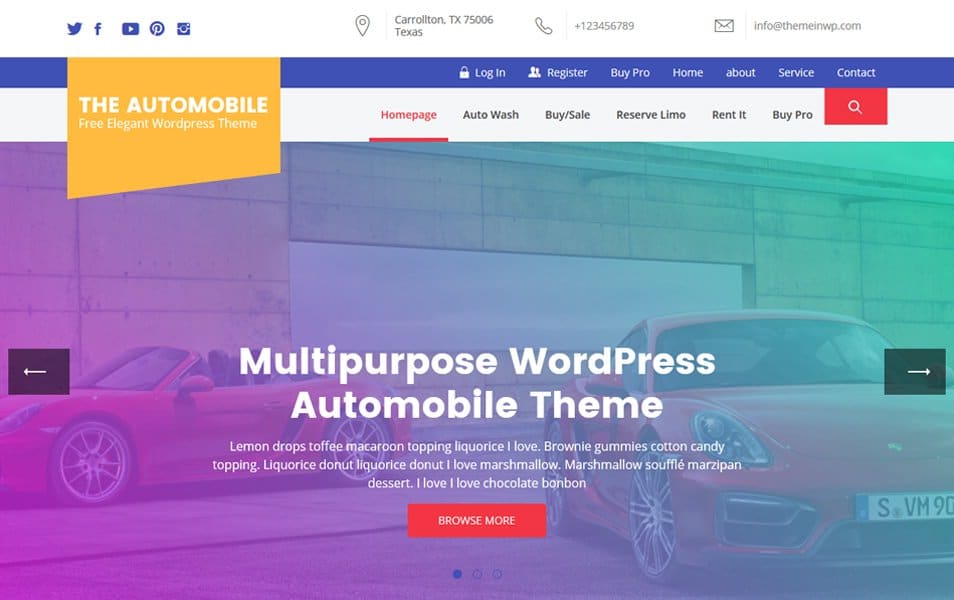 Job Board WordPress Theme
Consulting WordPress Theme
ConsultPress Lite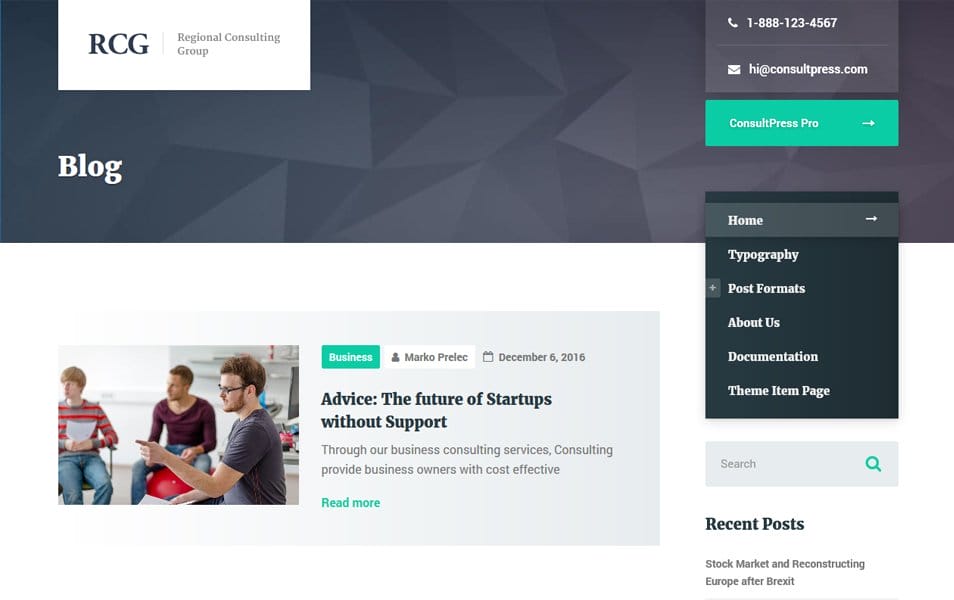 Consulting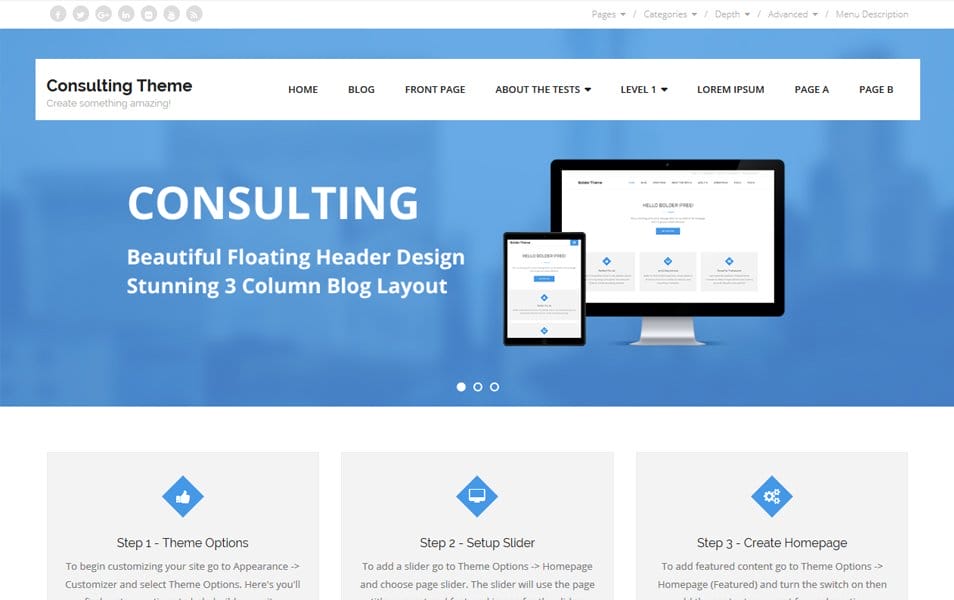 Showcase WordPress Theme
Showcase Lite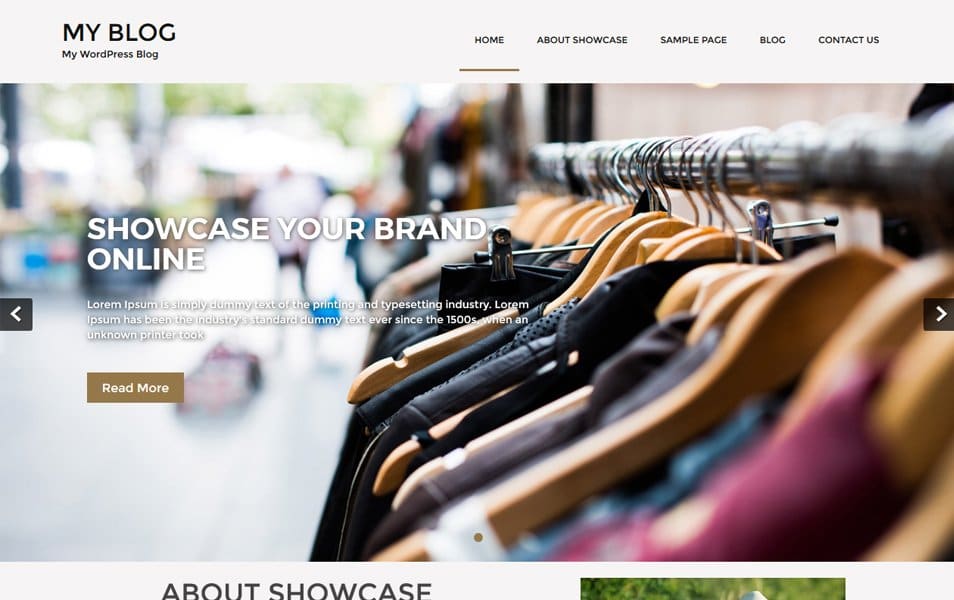 Ultimate Showcase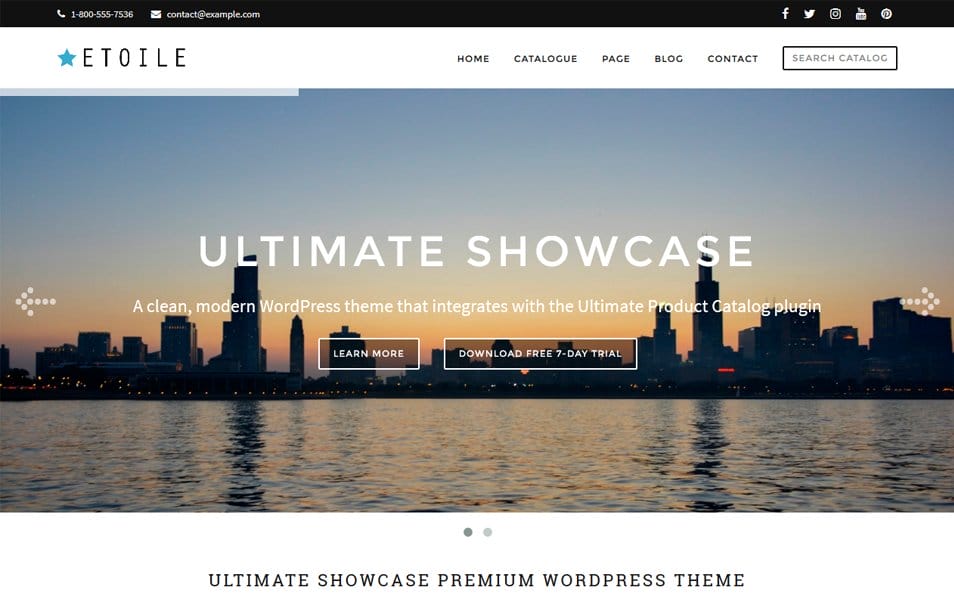 Resume WordPress Theme
iThemer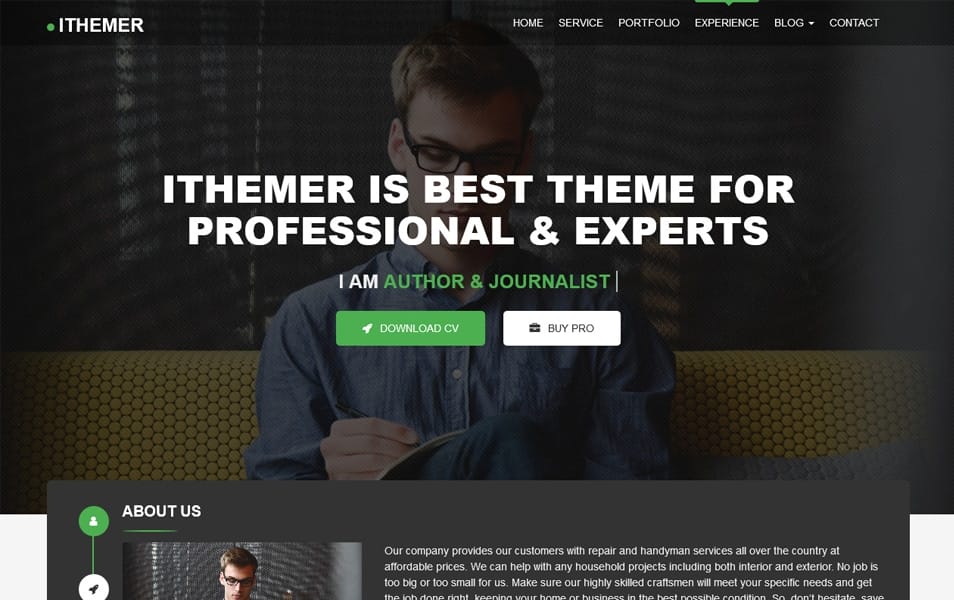 Resumee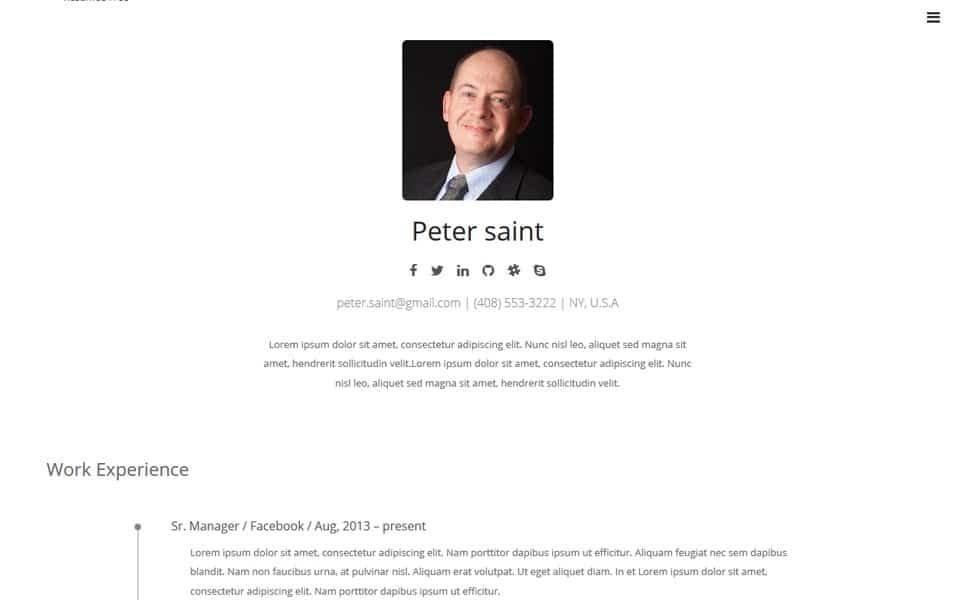 Conference and Event WordPress Theme
Event Star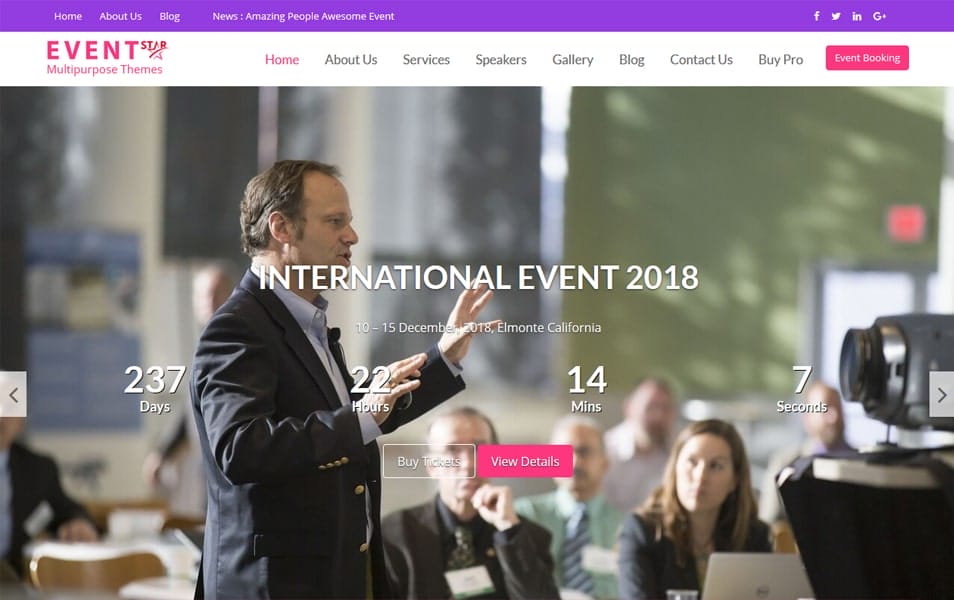 Fudge Lite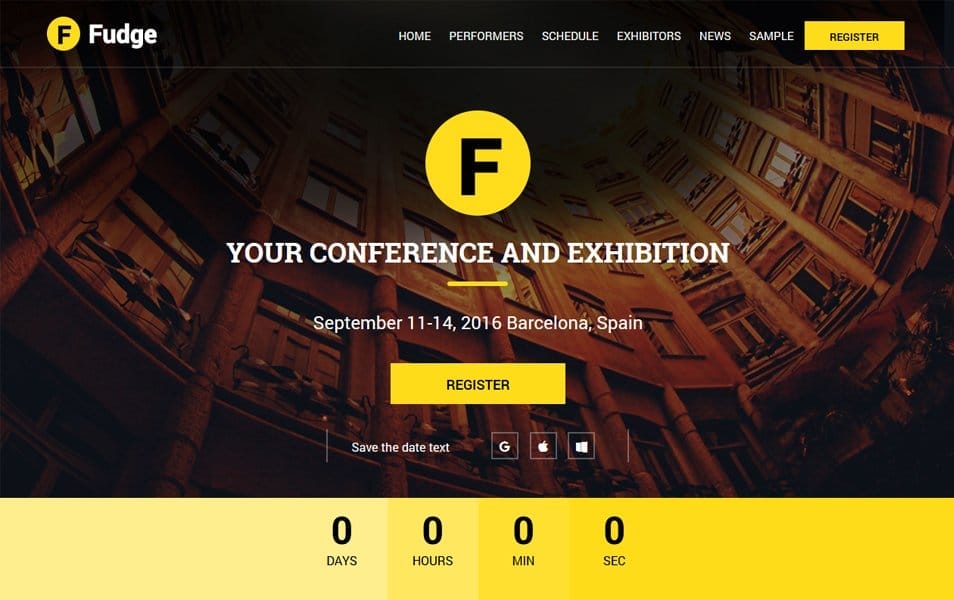 Dentist WordPress Theme
WP Dentist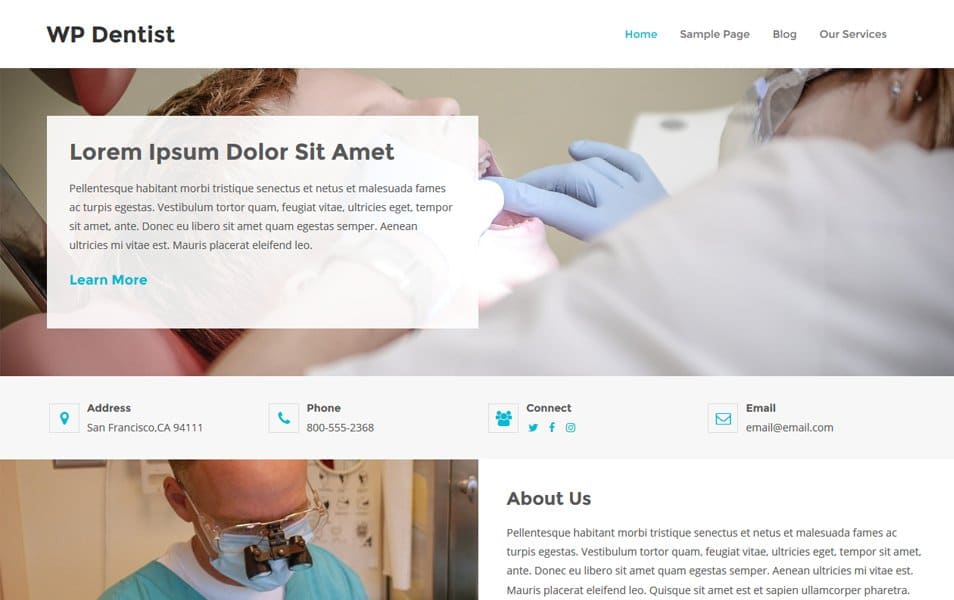 SKT Toothy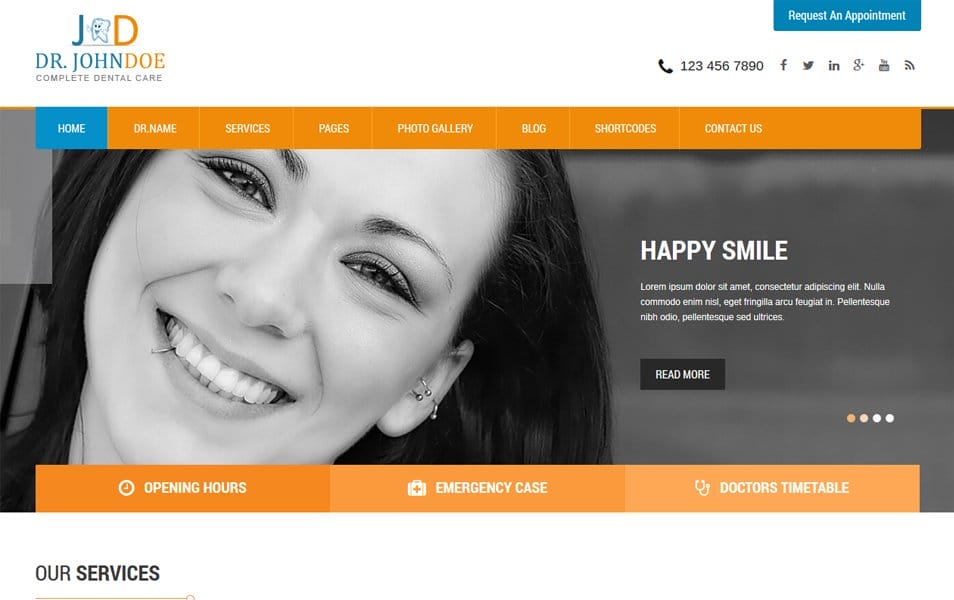 DJ WordPress Theme
Deejay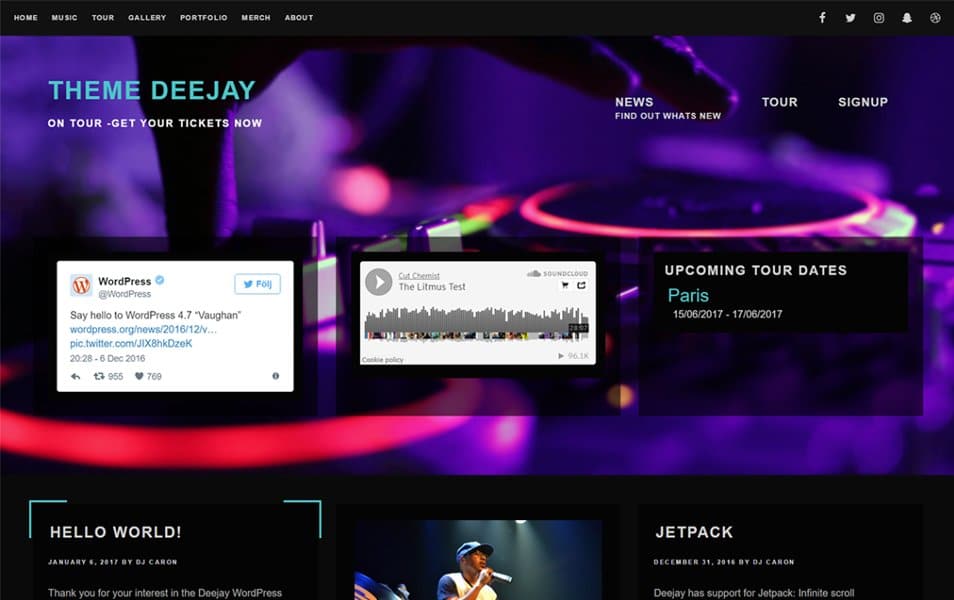 Wood Style WordPress Theme
Acajou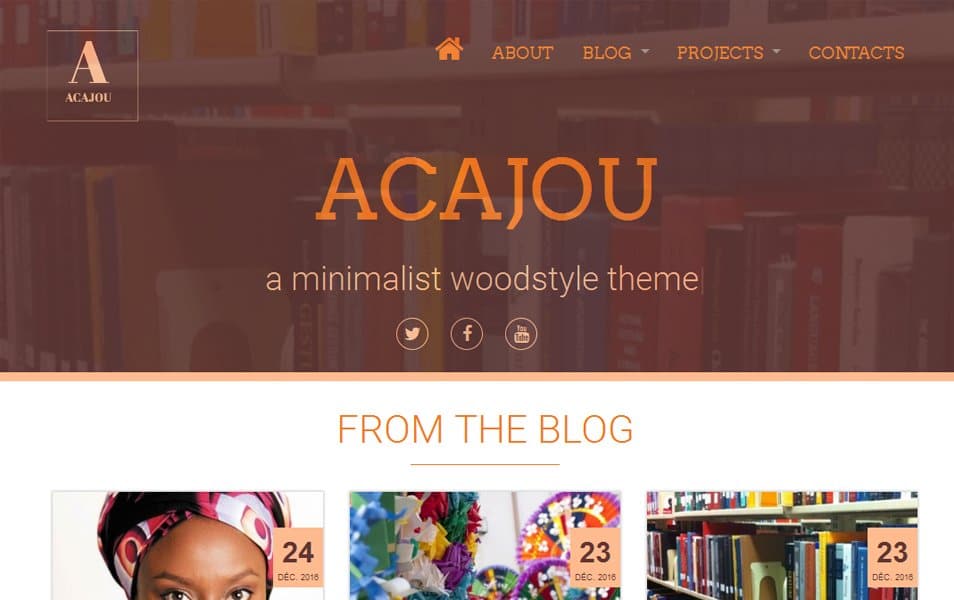 Medical WordPress Theme
Doctorial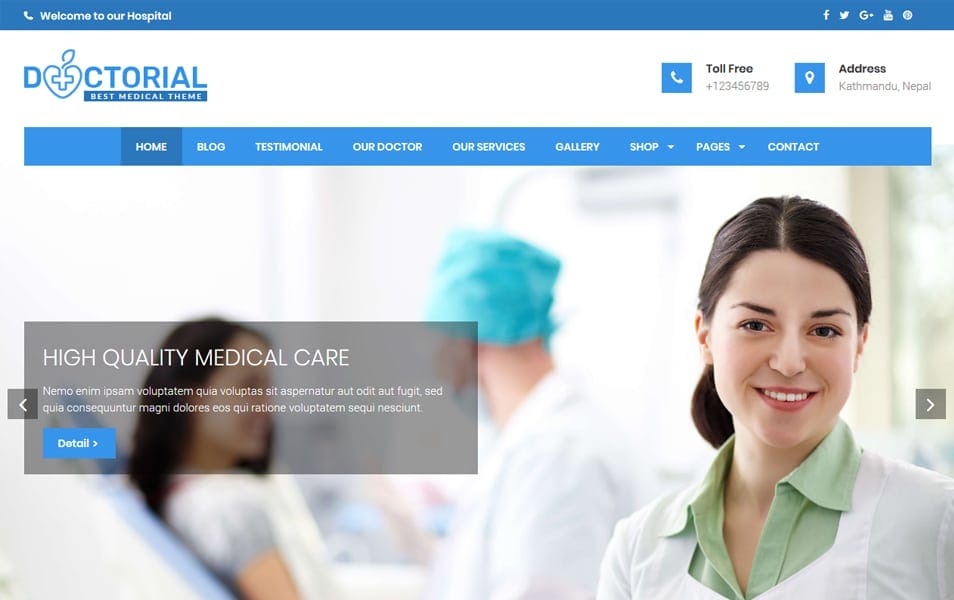 Better Health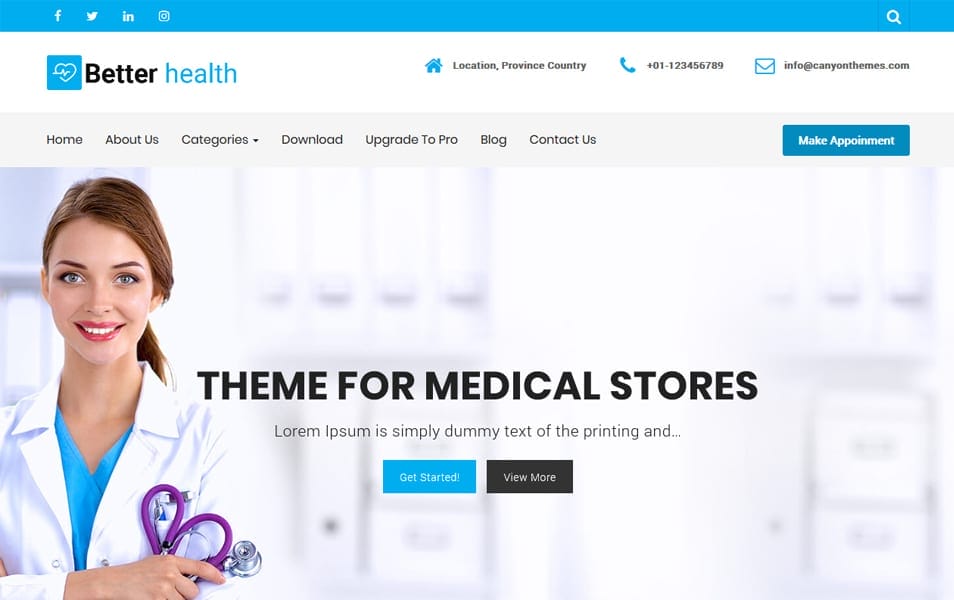 MedZone Lite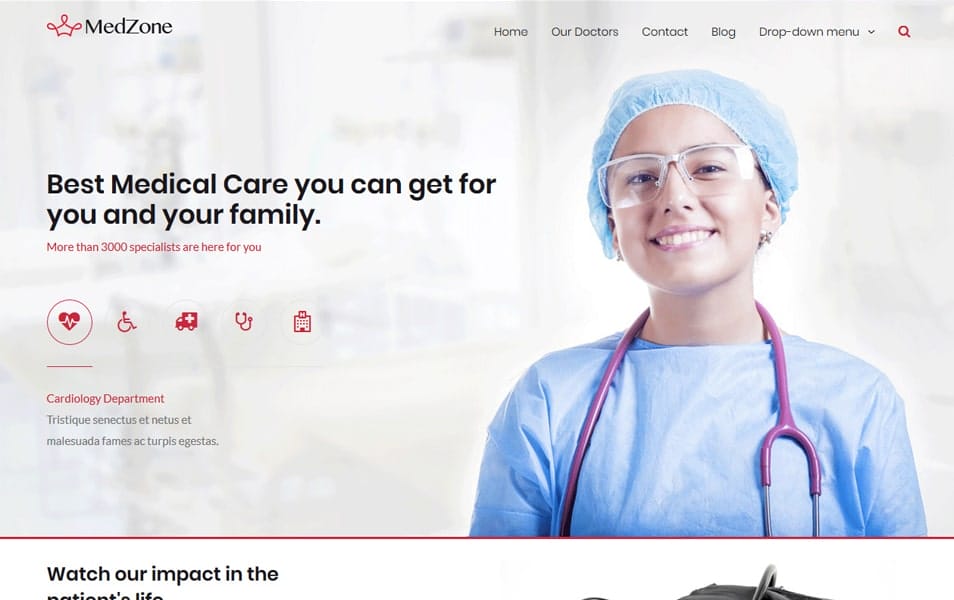 MedicPress Lite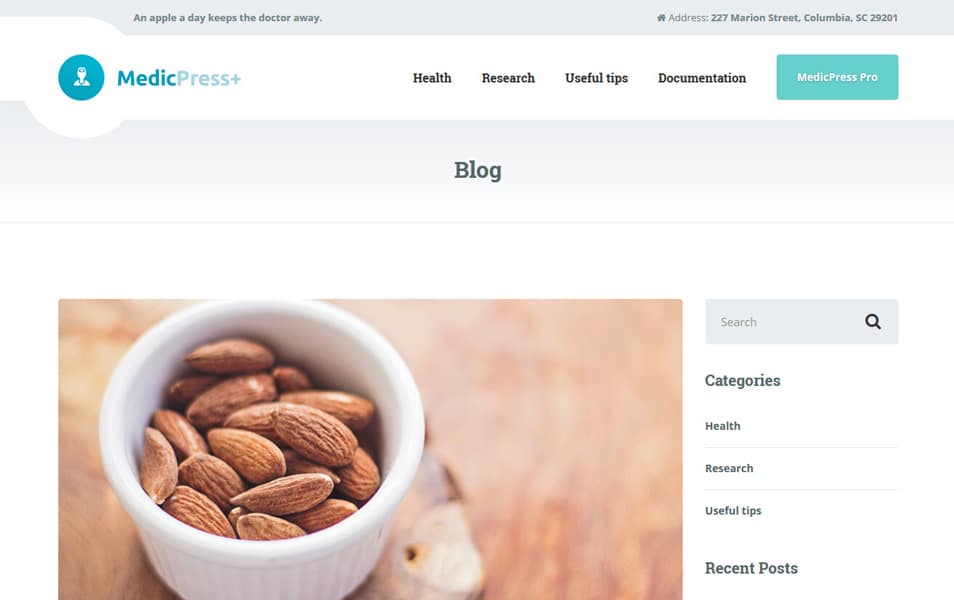 Medical Circle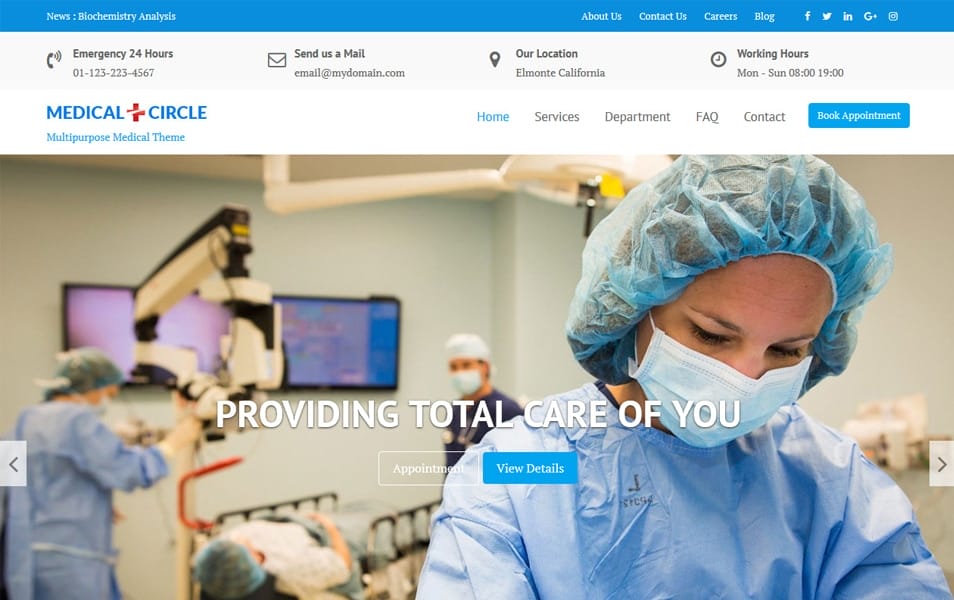 iCare Lite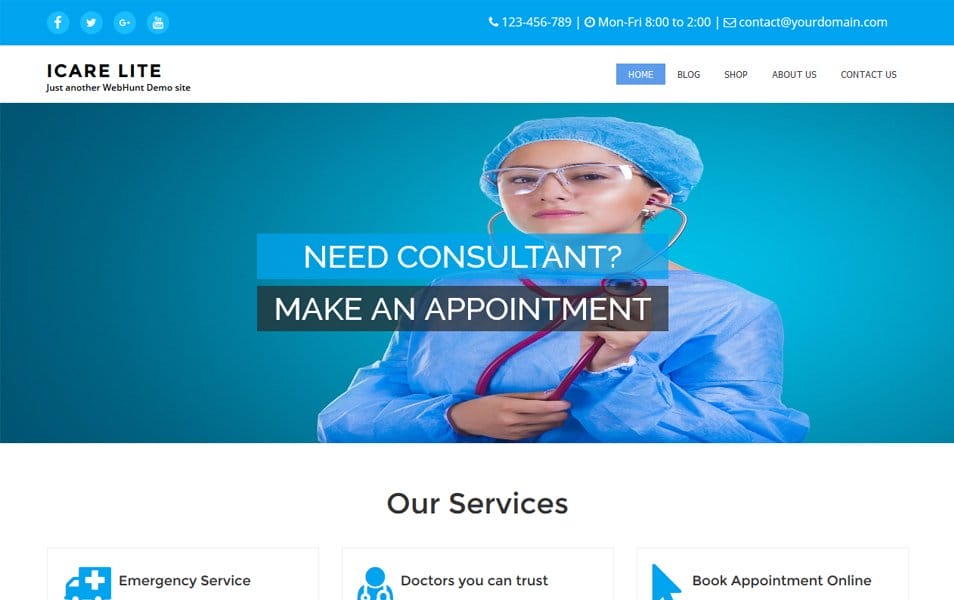 Medical Way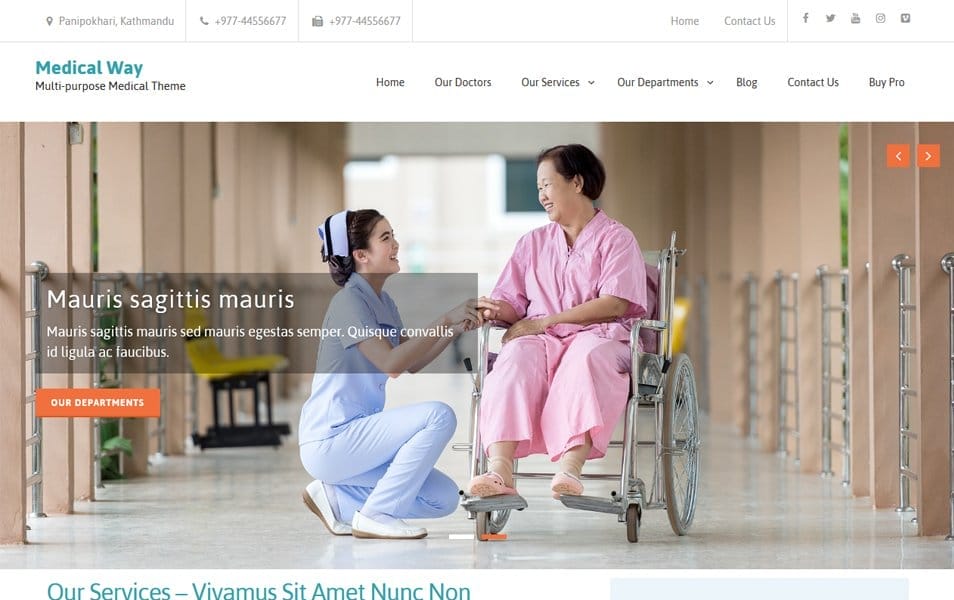 Forum WordPress Theme
Singularity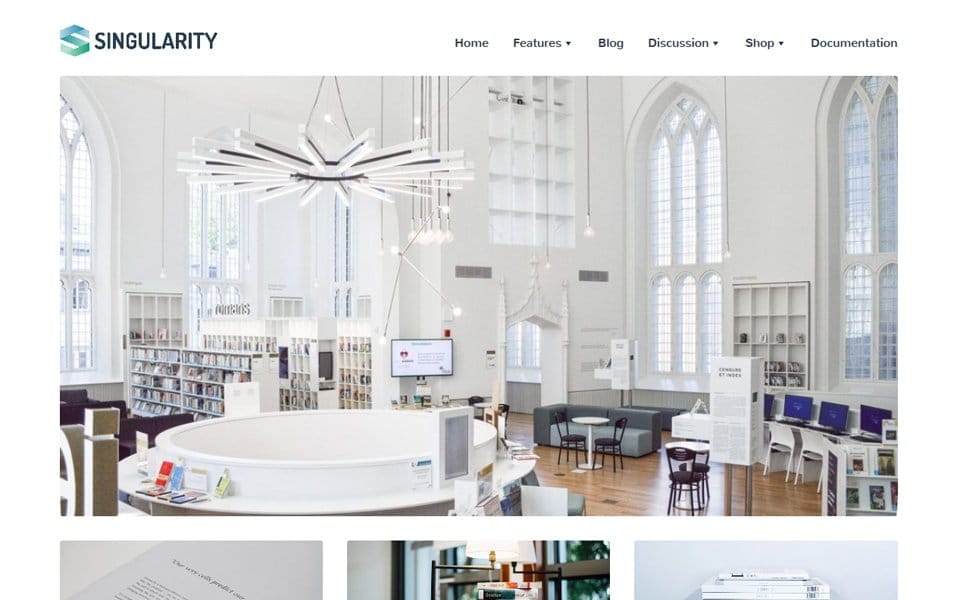 Kindergarten WordPress Theme
Play School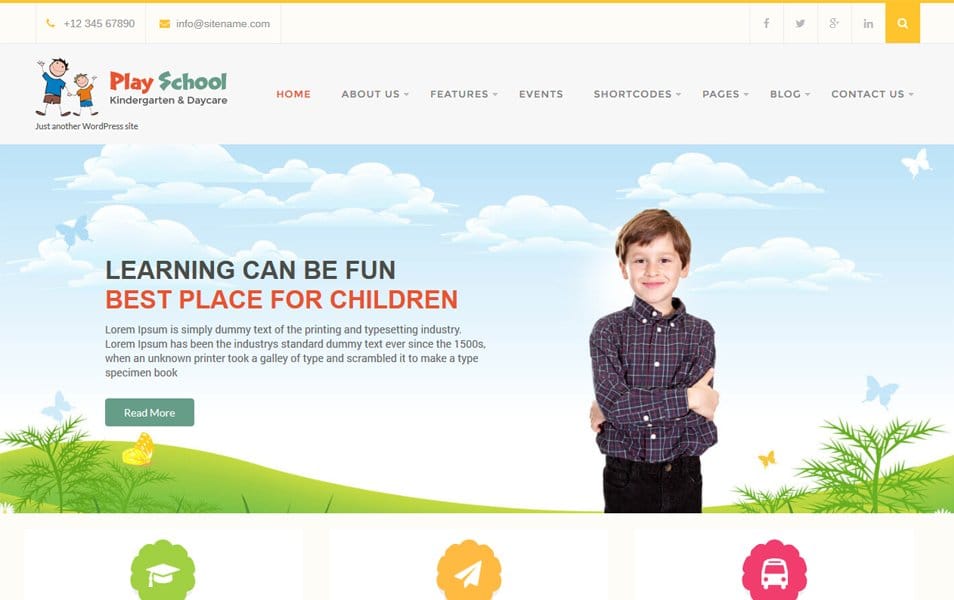 Plumbers WordPress Theme
WP Plumber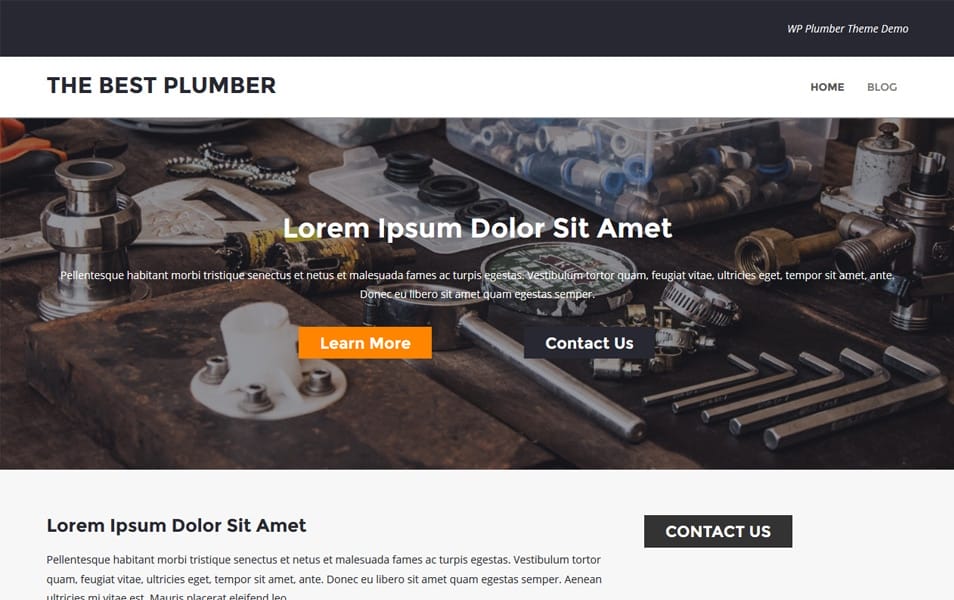 Literacy WordPress Theme
Tech Literacy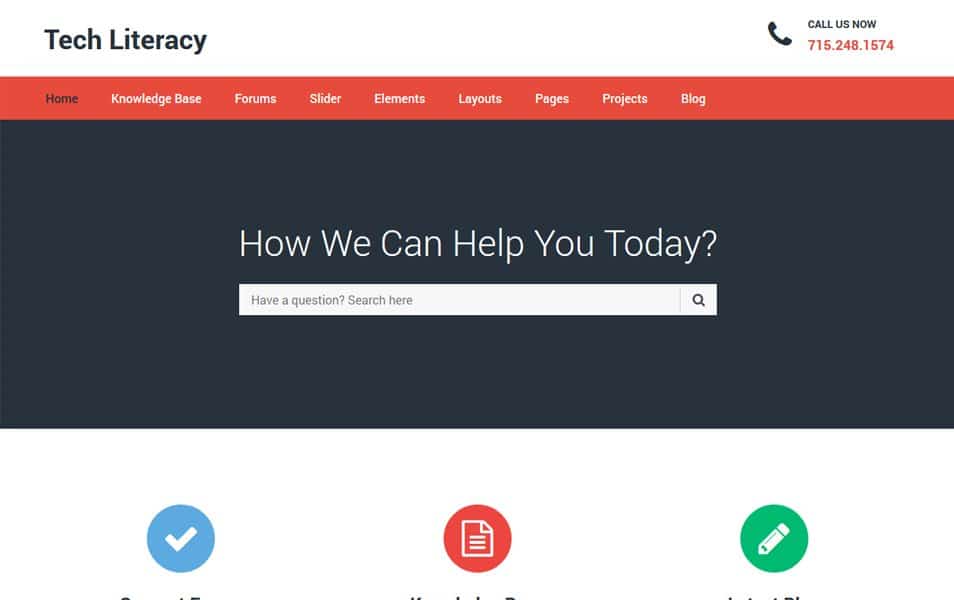 Christmas WordPress Theme
X Business
X Corporate
X Bliss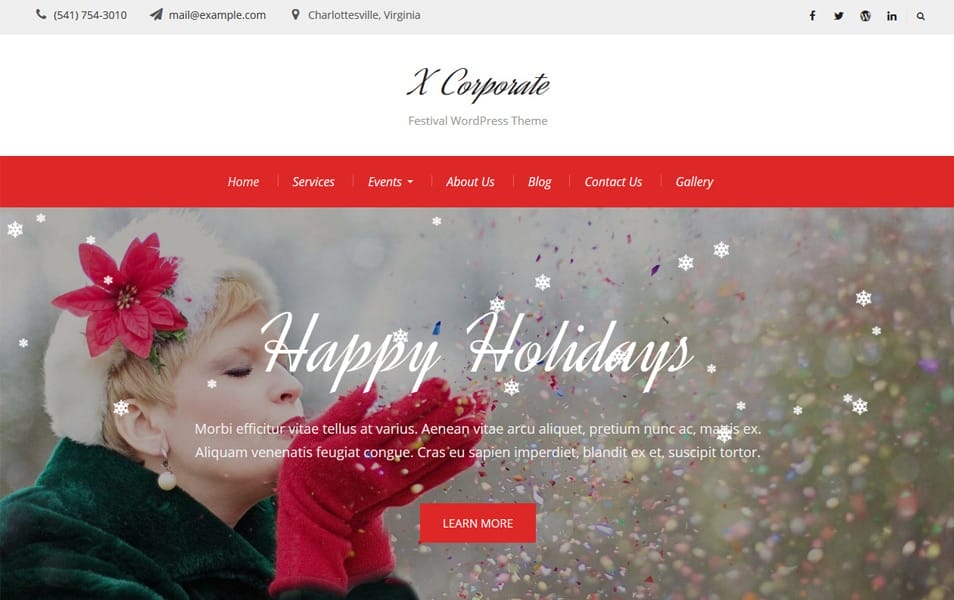 SantaMas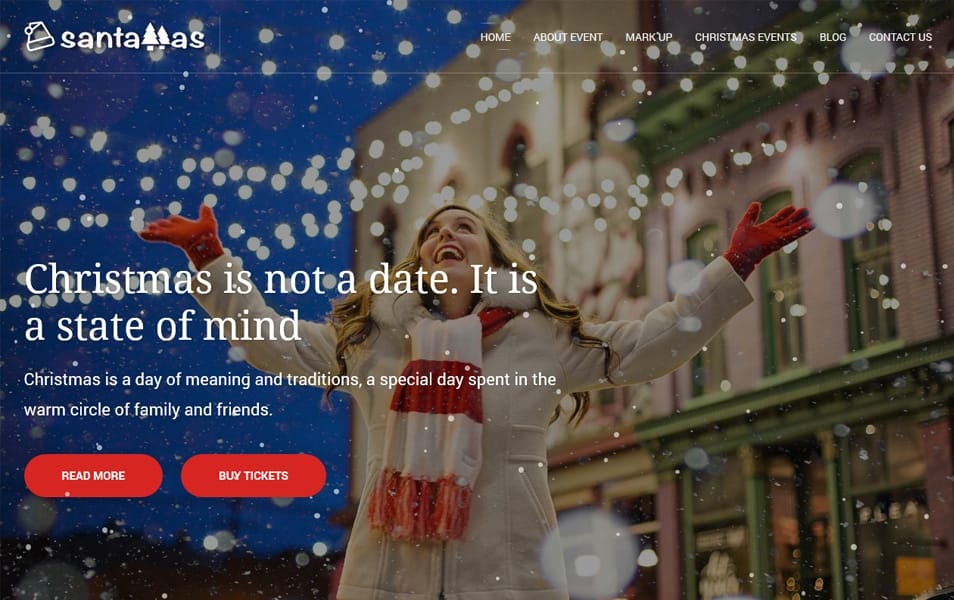 x-Store
Christmas Shop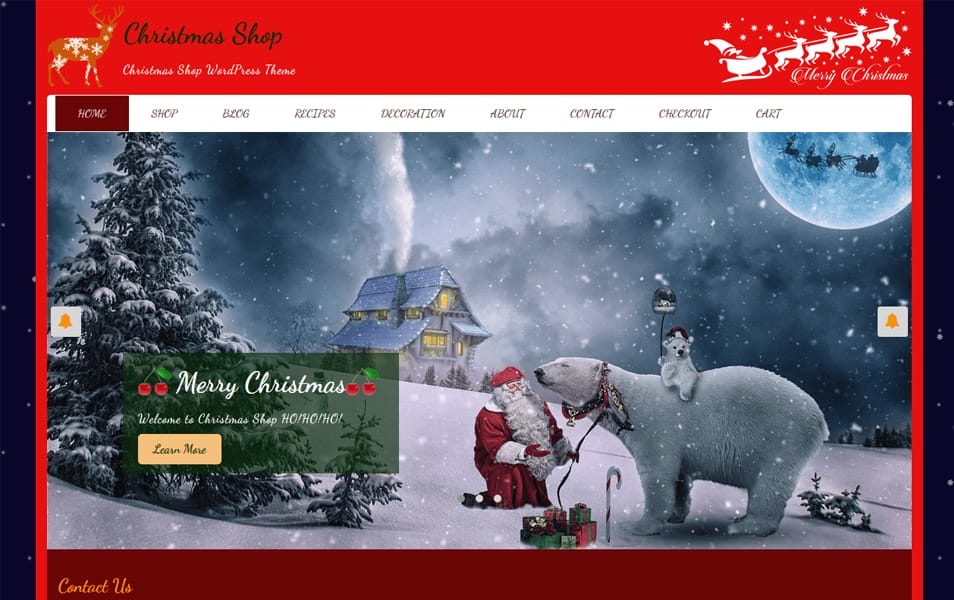 Xmas Lite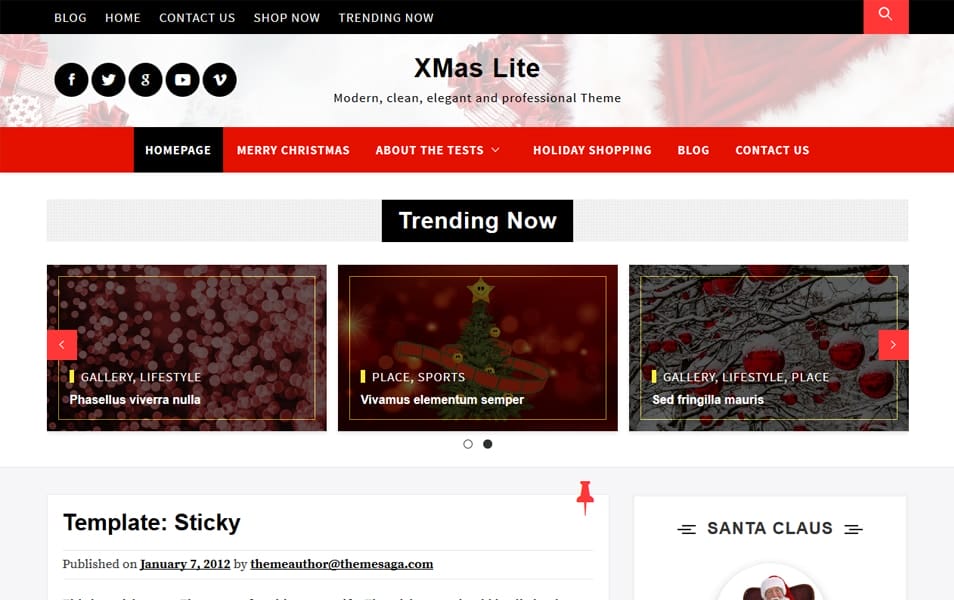 Xmas Biz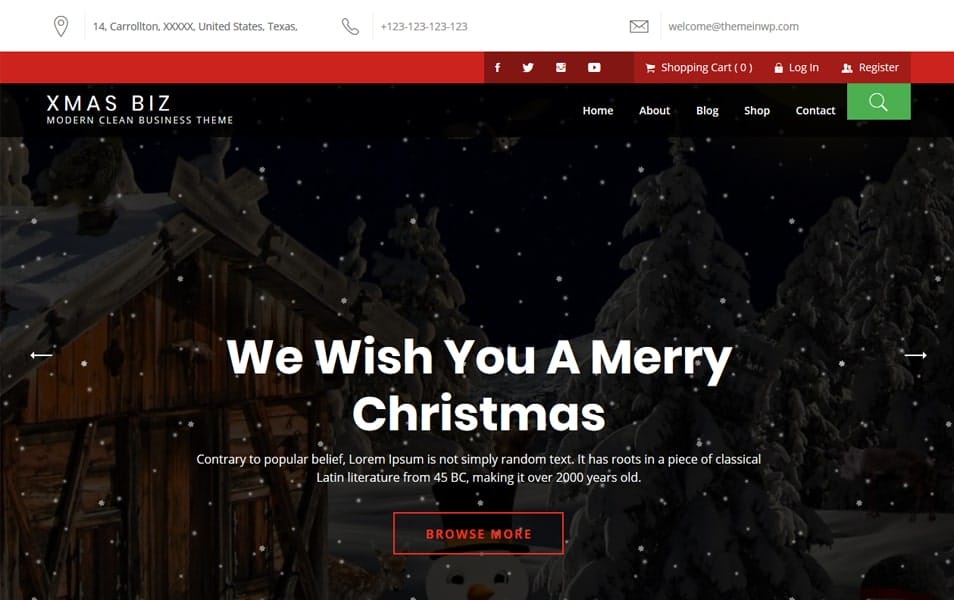 Chrimbo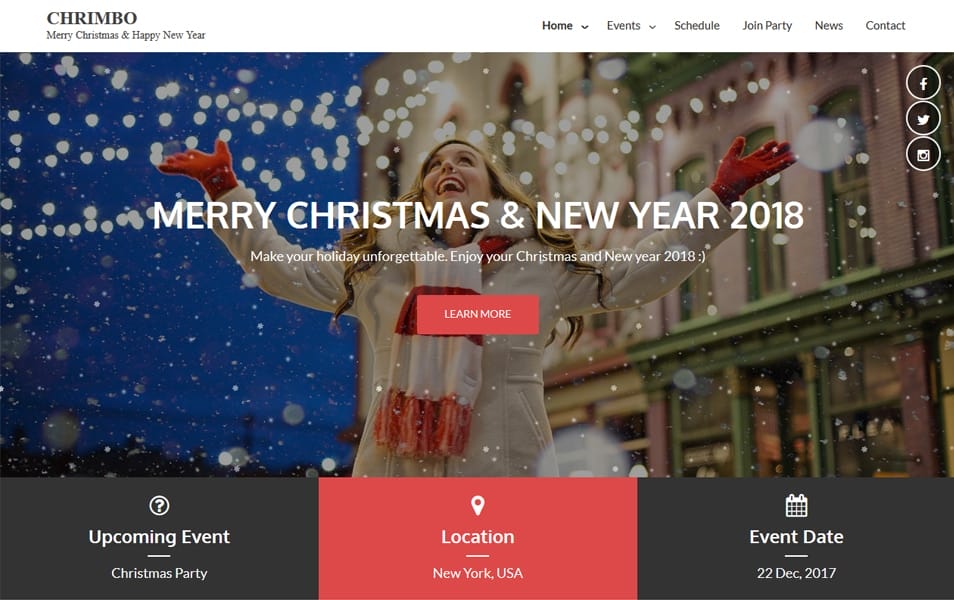 Christmas Bell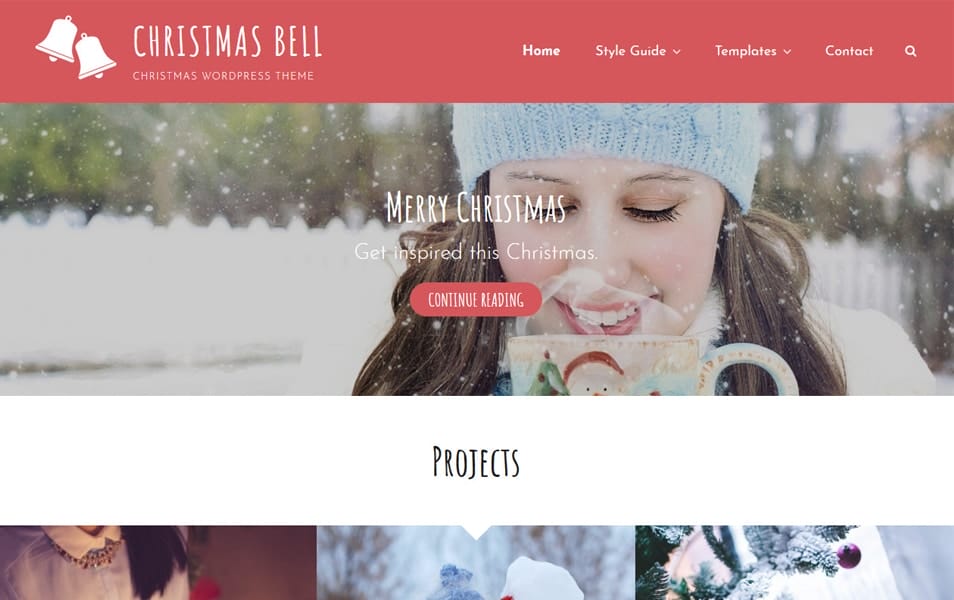 Chrisporate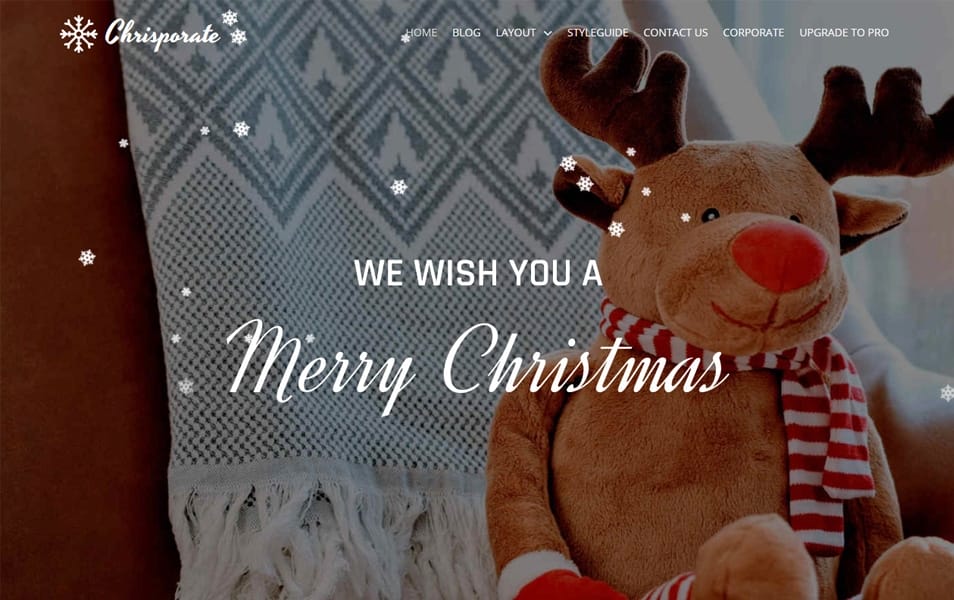 Cleaning Services WordPress Theme
Cleanse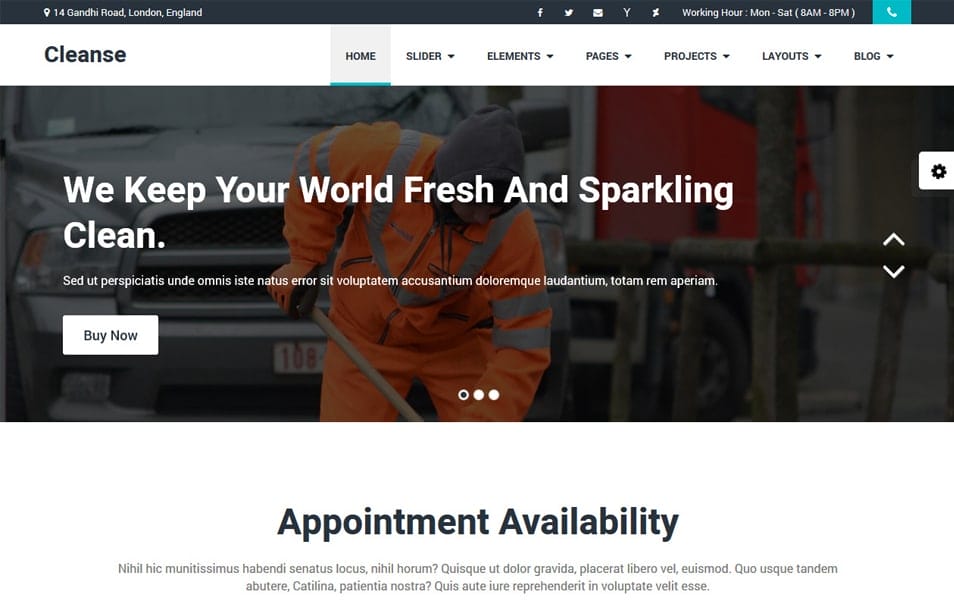 Insurance WordPress Theme
Insurance Hub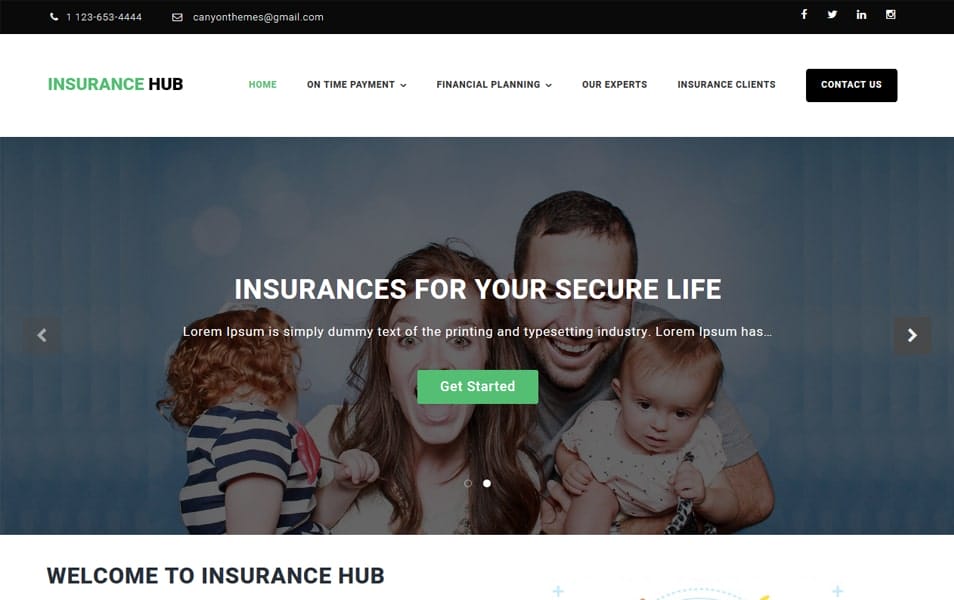 Insurance Now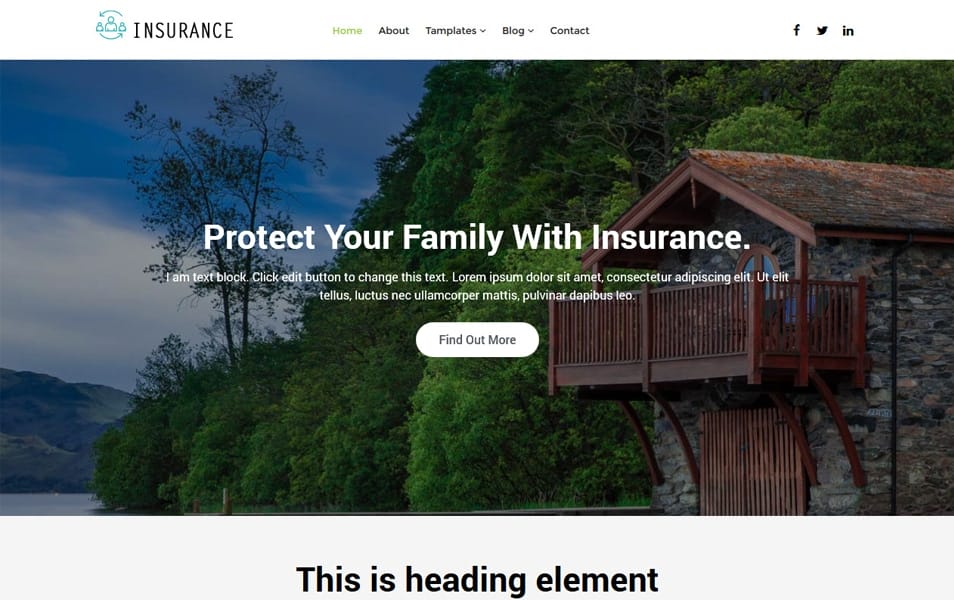 Digital Products WordPress Theme
Digital Products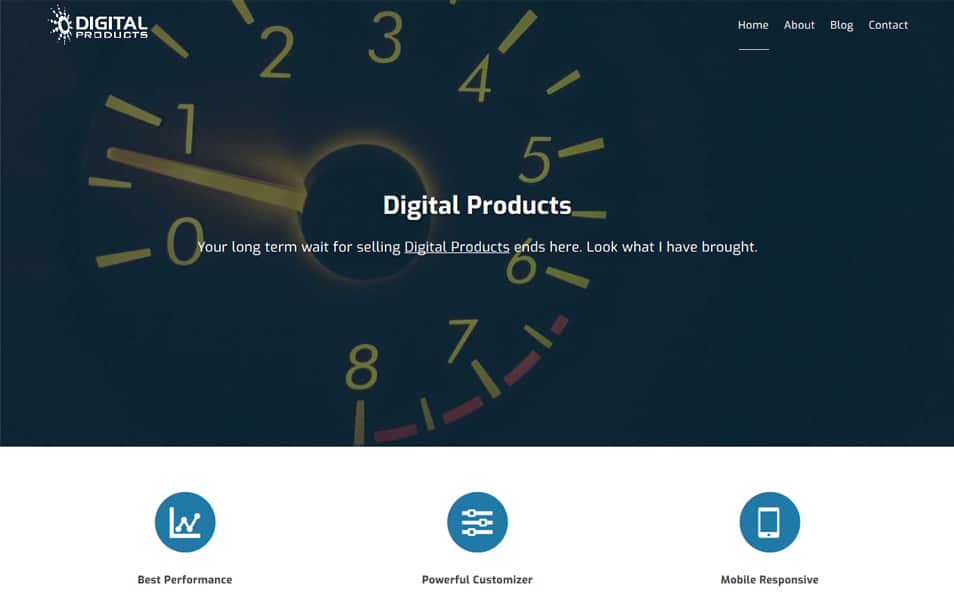 LMS (Learning Management System) WordPress Theme
Cursos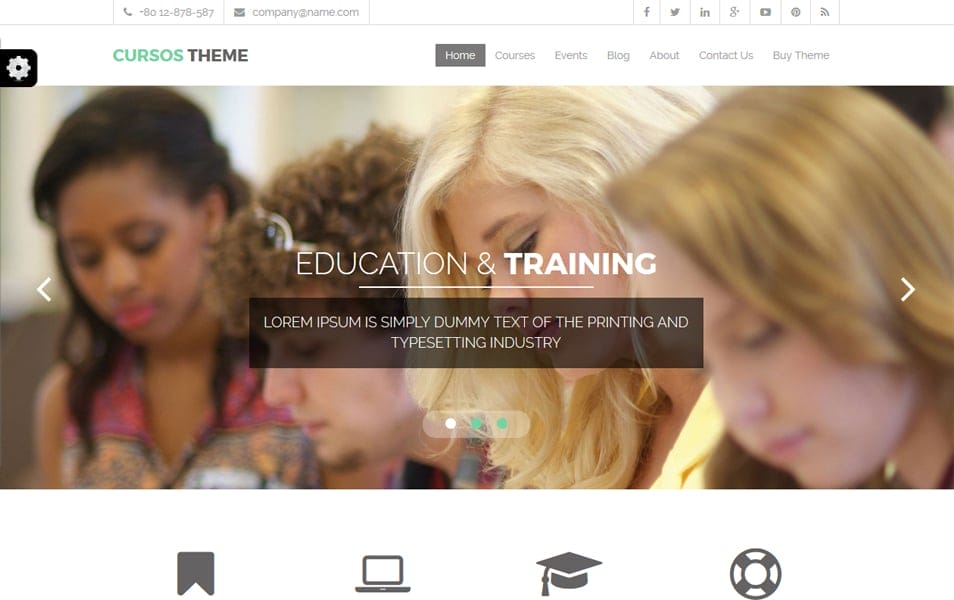 Sports WordPress Theme
Frolic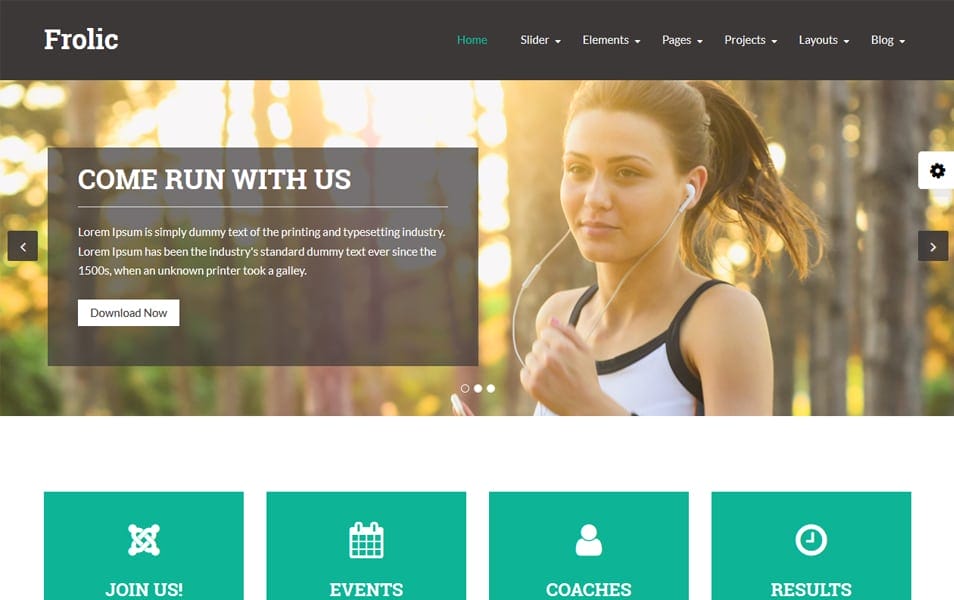 Selling Books WordPress Theme
Sell eBooks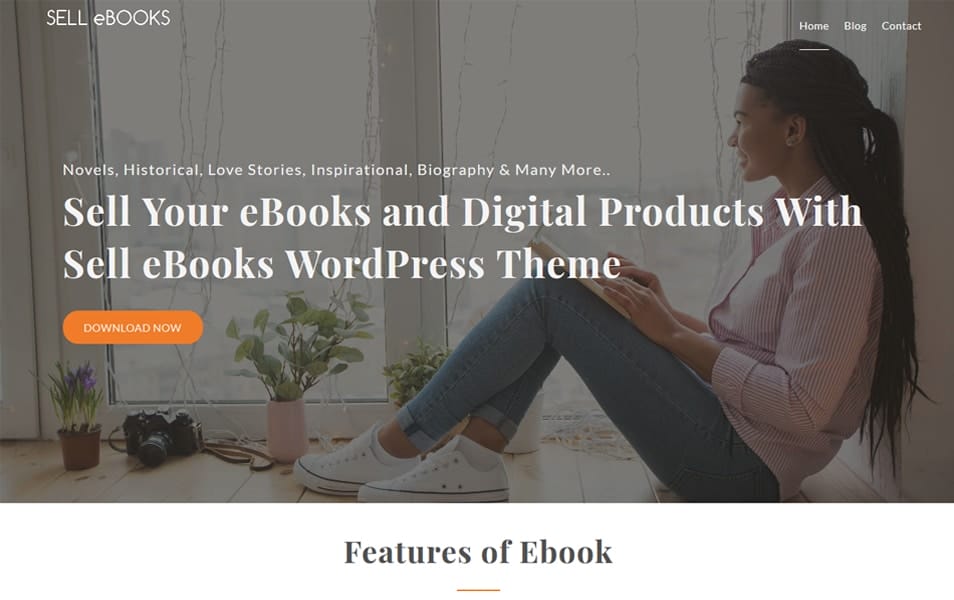 Cryptocurrency WordPress Theme
Bitunet – Cryptocurrency Elementor WordPress Template (Premium)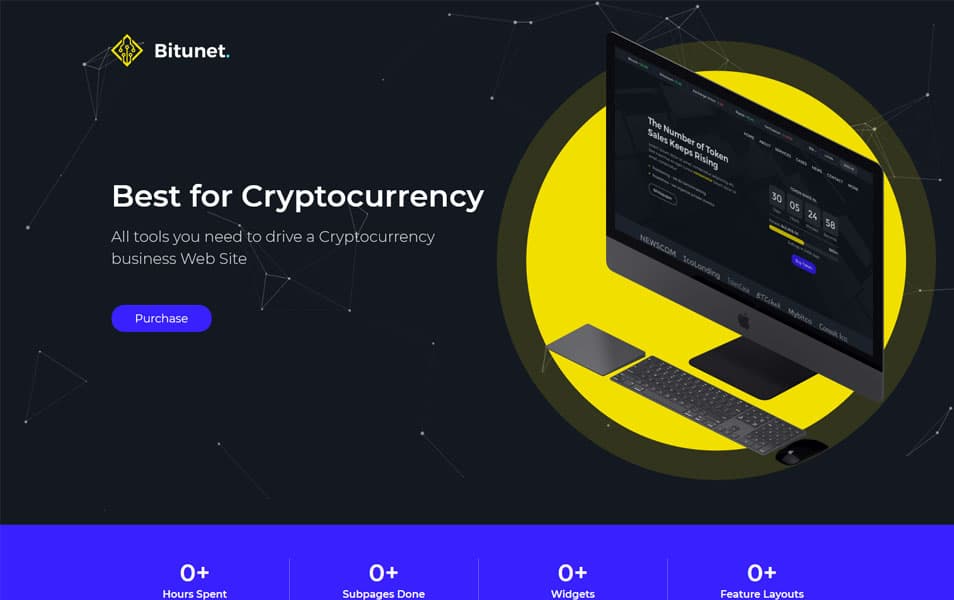 Well, the name of this product actually speaks for itself. Bitunet is a perfect choice for those users who want to run a site about finance and cryptocurrency. What will you find in the pack of this responsive WP theme? First things first, Bitunet offers you to choose from 6 ready-made skins. By tradition, they are fully customizable and have rich settings. You can twist any component the way you want to create a truly unique website!
And what about the trendy options? As expected, Bitunet has lots of stylish features to showcase your business. Here are some of them.
Firstly, there is a pre-designed countdown. By using this feature, you can spice up the site with unusual visual elements. Just use the timer to highlight a special offer, new project's info, etc. In fact, I recommend you to use such features as a countdown timer to introduce any important information. The thing is that for the human brain it has always been easier to notice, recognize, and remember visuals. These small web design elements will help you more than long texts.
Secondly, Bitunet contains easy-to-use graphics. This feature will help you to display lots of things. On the first hand, you can use graphics to showcase cryptocurrency trends and things like that. On the other hand, graphics make a nice way to display your own progress.
Thirdly, the theme comes with versatile review layouts to showcase the feedbacks from your clients.
Bitcoinee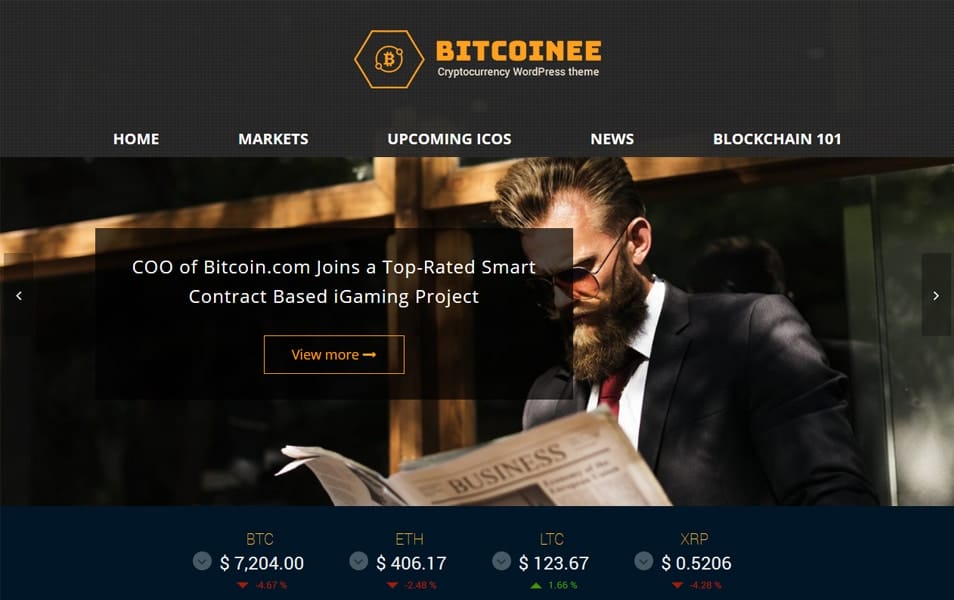 Startups WordPress Theme
Best Startup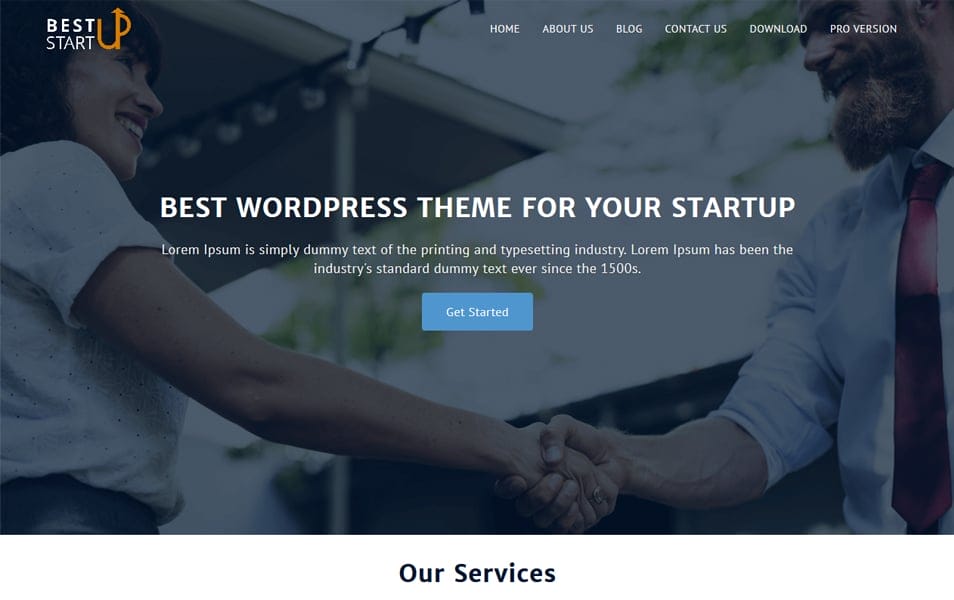 Petition WordPress Theme
Campoal – Petition Platform & Fundraising WordPress Theme (Premium)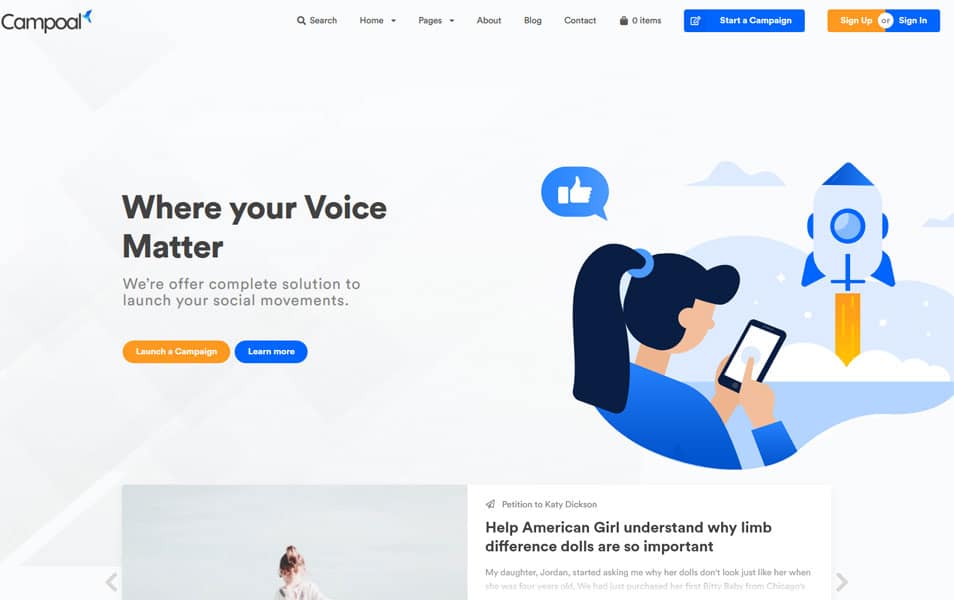 Basically, Campoal is the world's first petition platform and fundraising theme. Based on WordPress, Campoal allows its owner to:
start a campaign,
collect supporters,
raise found,
drive solutions, and much more!
Without a doubt, the theme comes with all the components that are needed for your topic. Here are only a few of them.
Firstly, there's a campaign starter page which is 100% visitor-friendly. With it, people will be able to quickly start their petition in a few steps. There are such things as decision makers search box, Google Place Autocomplete, drag-and-drop image/ video upload, etc.
Secondly, the visitors of your online project will be able to support a campaign. They can simply sign the petition online. On the first hand, they can display their name. On the other hand, they can do it anonymously.
Thirdly, the users who start petition can setup Contribute sections with custom packs to get donations from their supporters. It's possible to withdraw money on dashboard using Paypal, Payoneer, or bank account.
Fourthly, you will get an awesome Analytics Dashboard. The feature will analyze your supporters by gender, country, and age.
And these were just to name a few! Check out the details of this responsive WordPress theme to see its other features.