50+ Popular Free Personal Blog WordPress Themes 2019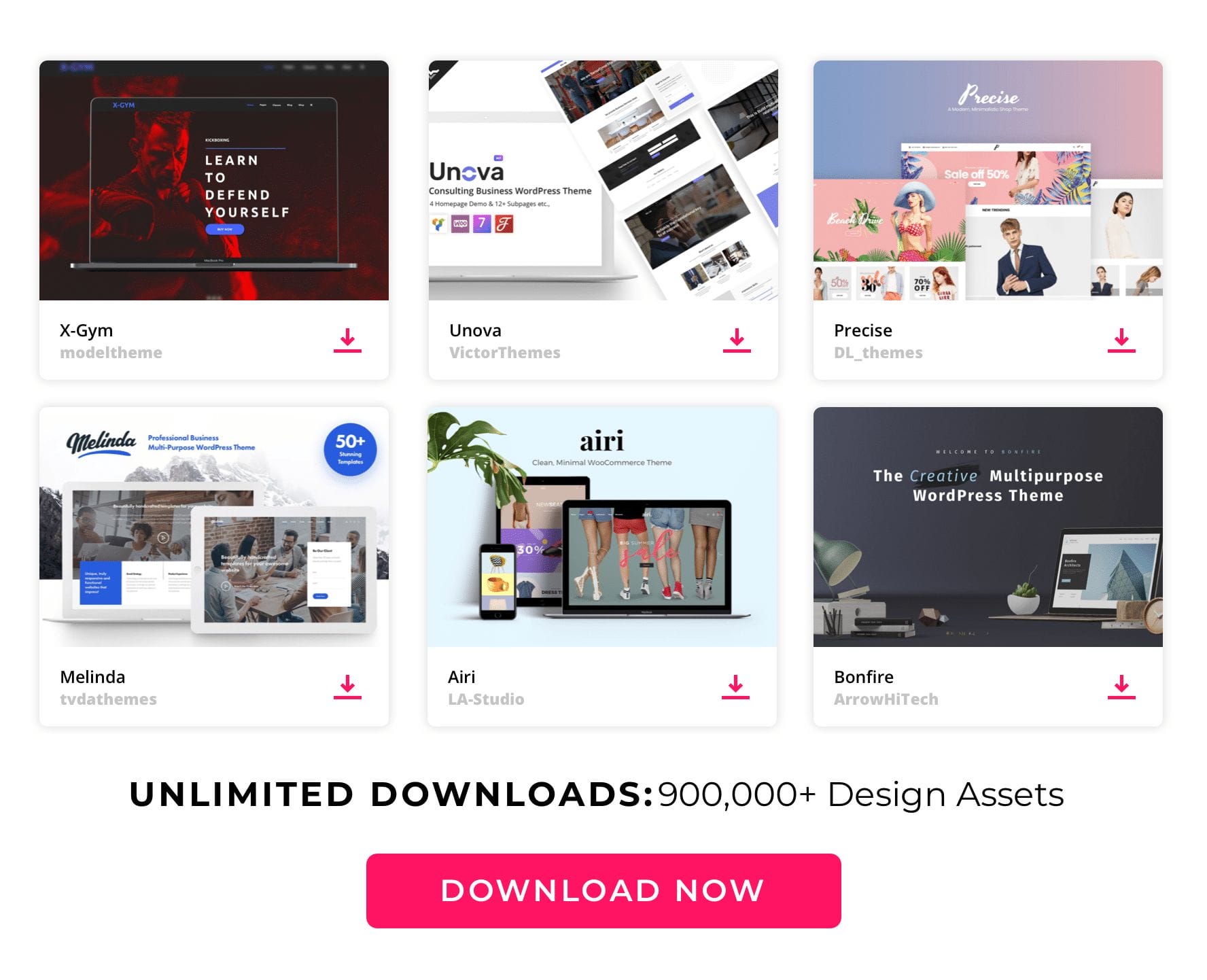 A place you can write about the stuff you love is a good thing, isn't it? Sharing experiences will help you connect with people, slowly you will develop an identity. When it comes to creating a blog, WordPress is the number one choice for bloggers. WordPress offers you a great dashboard where you can control almost everything on your website.
So Which WordPress theme is the best? well, this is the most popular question when you start a blog with WordPress. The answer is, it depends based on your needs. there are thousands of WordPress themes are available these days. It's hard to choose the right one. if you are going to blog, then you should choose the best WordPress themes for blogs.
See also : 750+ Best Free Responsive WordPress Themes 2018
For a personal blog, there are some important things to consider when you choose a free WordPress theme for blog.
Update frequency.
Responsiveness.
Typography options.
Social Share.
Loading Time.
Nice layout and design.
Customisability.
These are the very basic features you need to expect in a Personal Blog WordPress Theme. There are many factors to decide the quality of free WordPress themes . with all that in mind, we have done the research for you. In this post, you can find the best WordPress themes for blogs. you can easily download any of this WordPress theme for free.
Boxstyle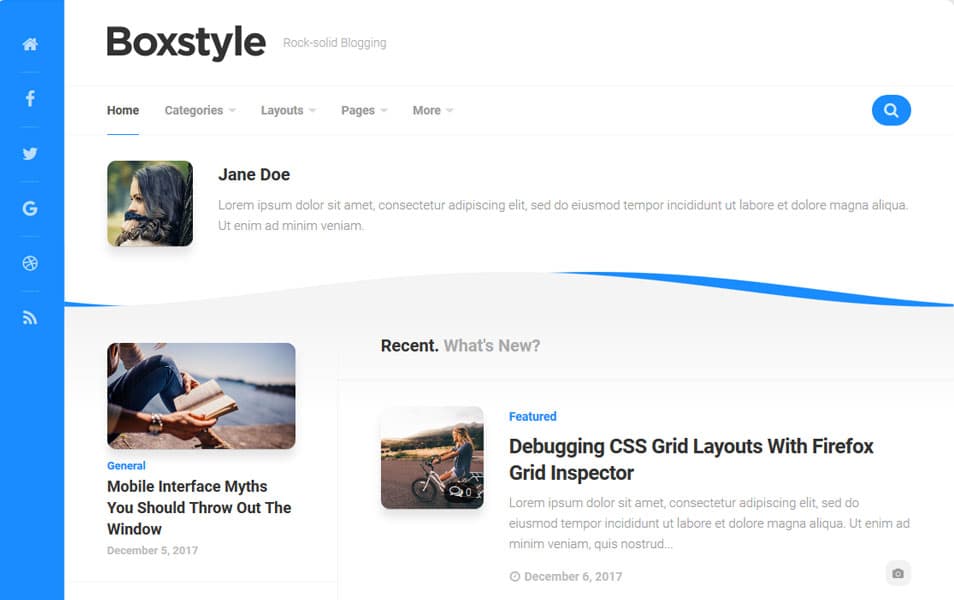 Boxstyle is a responsive 100% high resolution theme for personal blogs.
Viable Blog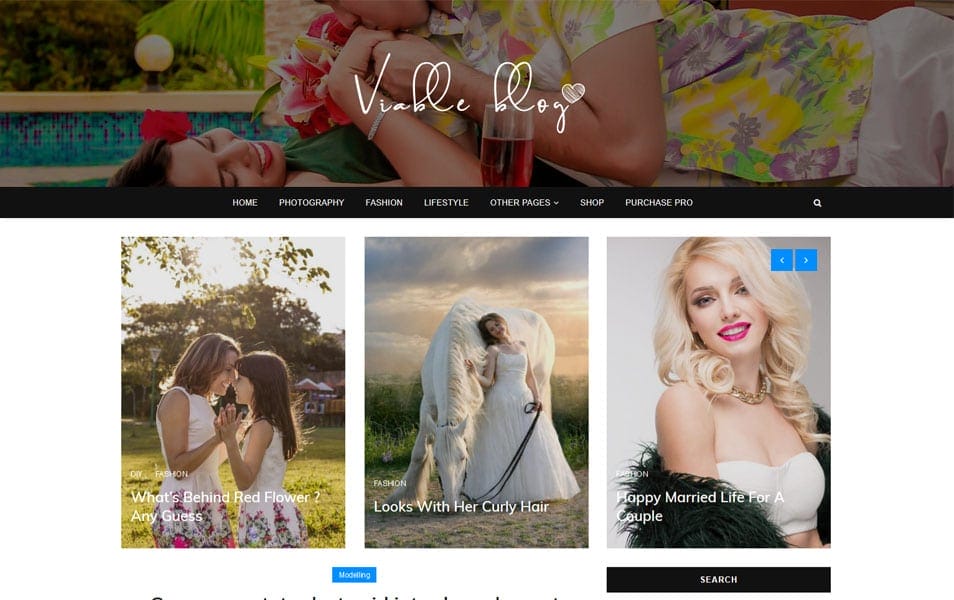 Viable Blog is 100% responsive & modern, beautiful and clean WordPress blog theme designed and developed specially for personal blogging.
Blog Personal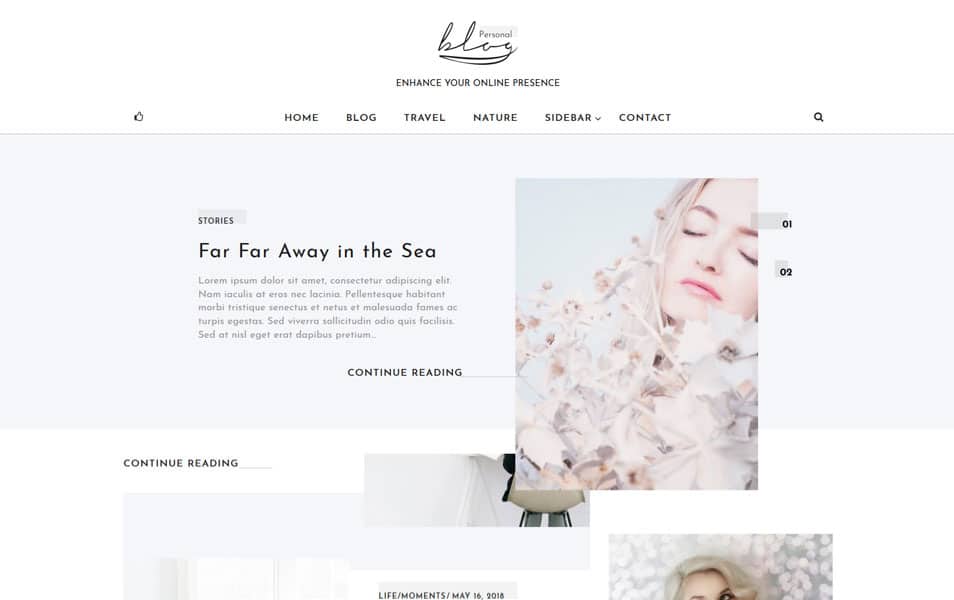 It is clean, well structured, sparkling, user-friendly, flexible, dynamic and attention-grabbing WordPress Magazine Theme with a sleek feel that's perfect for news sites, editorial websites and online magazines.
Aakriti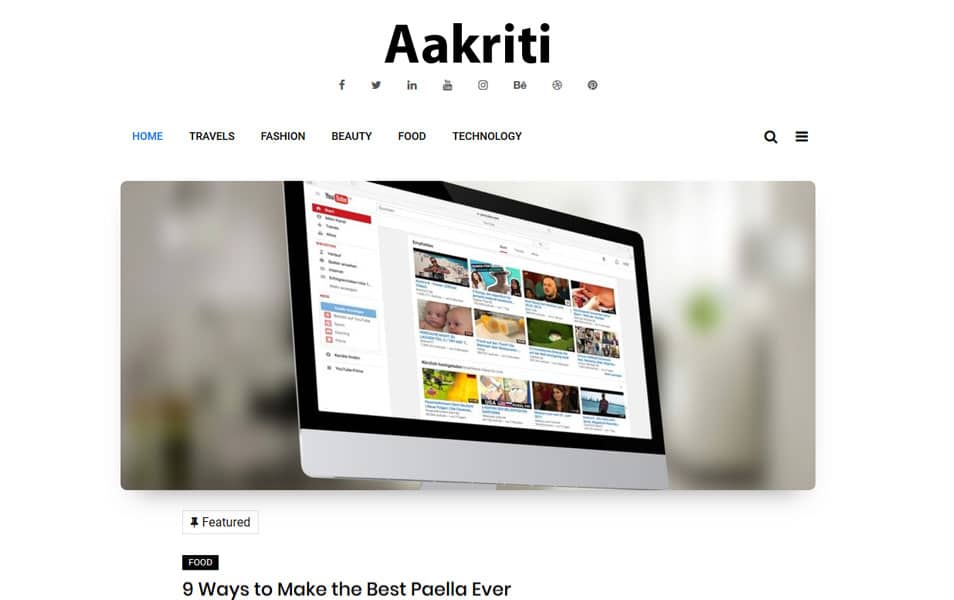 Aakriti Personal Blog is a beautiful WordPress blog theme for blogs website. Theme is lightweight, fast and optimized for all mobile phones.
The Clean Blog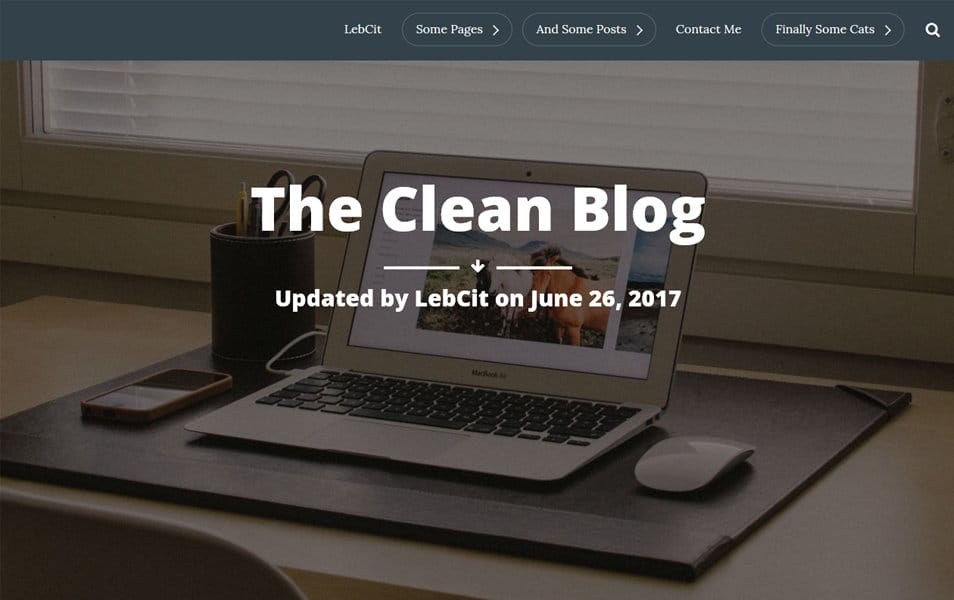 The Clean Blog is a carefully styled Bootstrap blog theme, without sidebars, that is perfect for personal or company blogs.
Excel Blog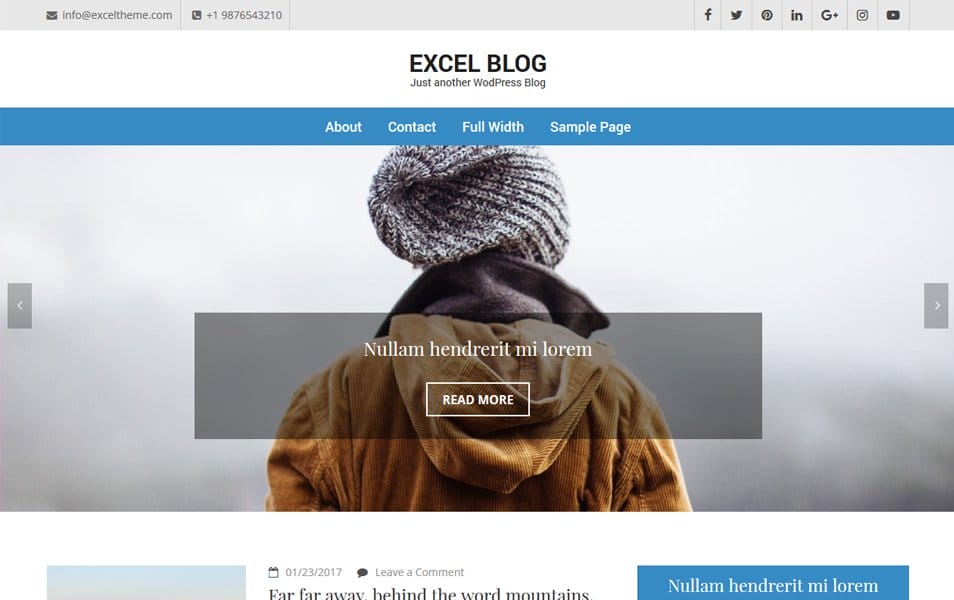 Excel Blog is a simple, clean, personal, morden blog theme for spreading stories.
ClubBlog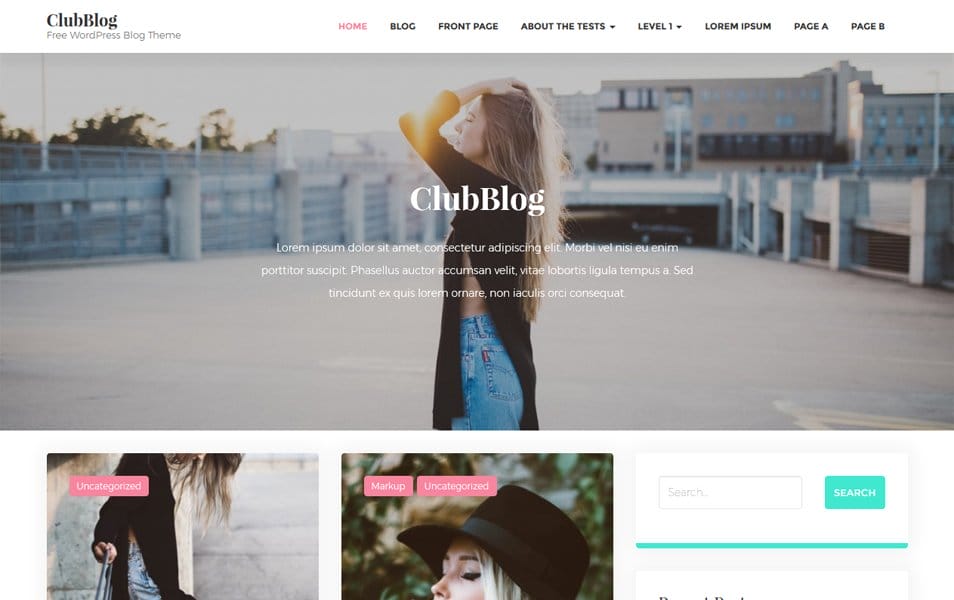 ClubBlog is a clean minimal and responsive WordPress theme well suited for fashion, writers, travel, health, business, finance, portfolio, design, art, photography, personal or any other creative websites and blogs.
Blogism Blog WordPress Theme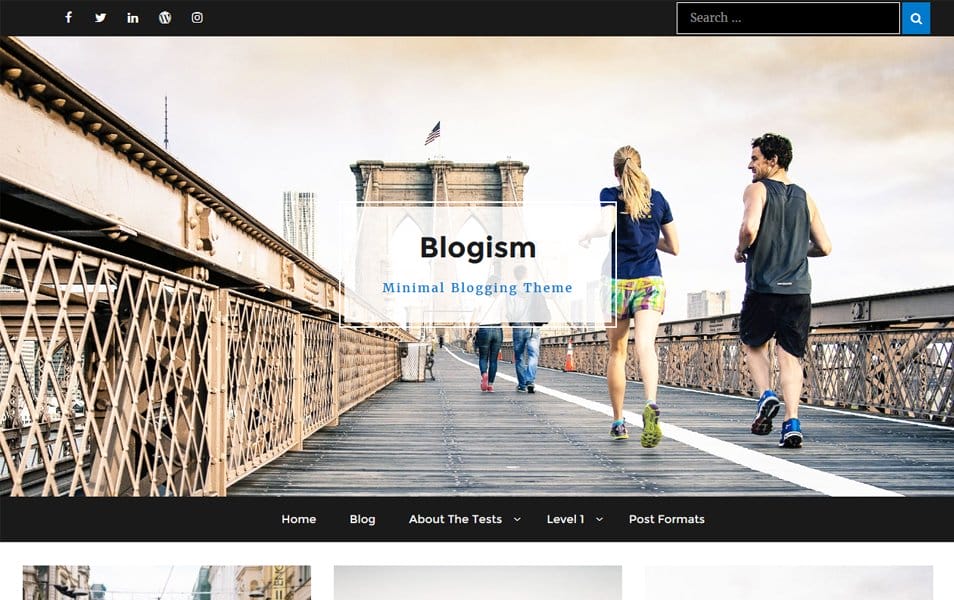 Blogism is a tremendously intuitive, powerfully flexible, colorful and fresh, polished and professional, extremely responsive WordPress theme. It is suited to be deployed for a number of different websites and projects of all kinds, but peculiarly well suited for blogging related websites.
Blogi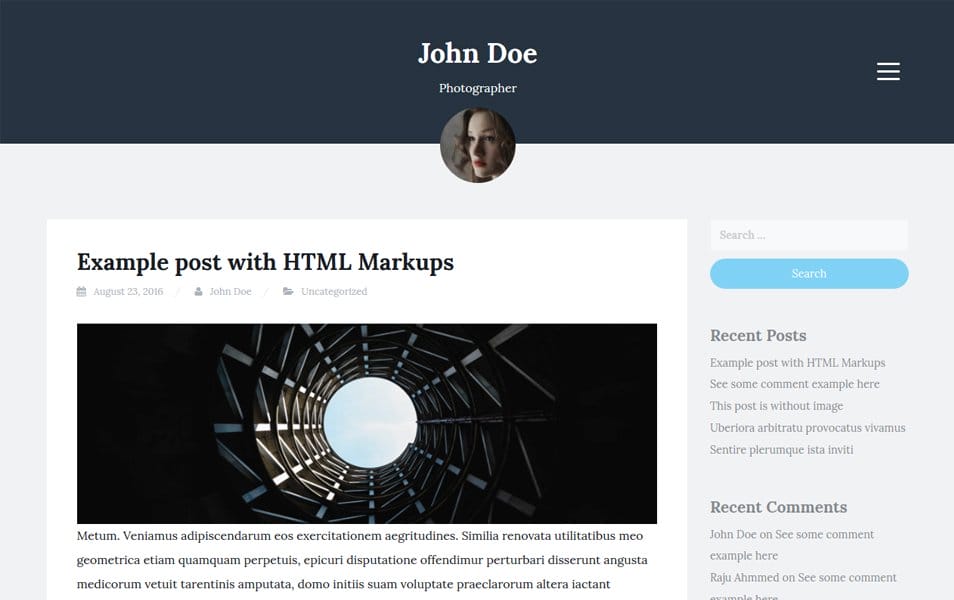 Blogi is designed for personal type blog. It's simple, flat and clean design.
Bloger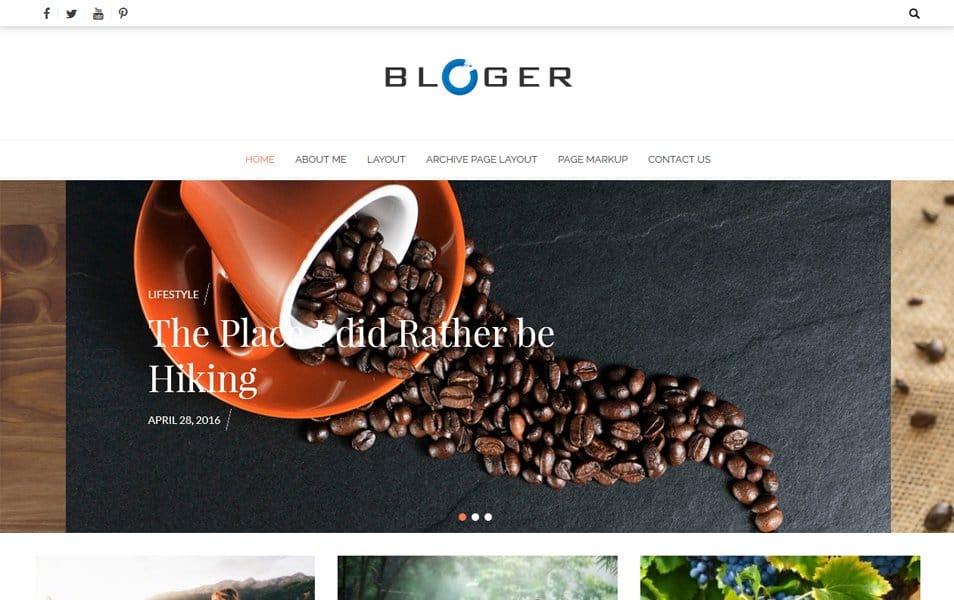 Blogger is a simple, clean and minimal blog theme suitable for personal or professional blogs, company or organization blog websites, news, magazine websites.
Personal One Blog WordPress Theme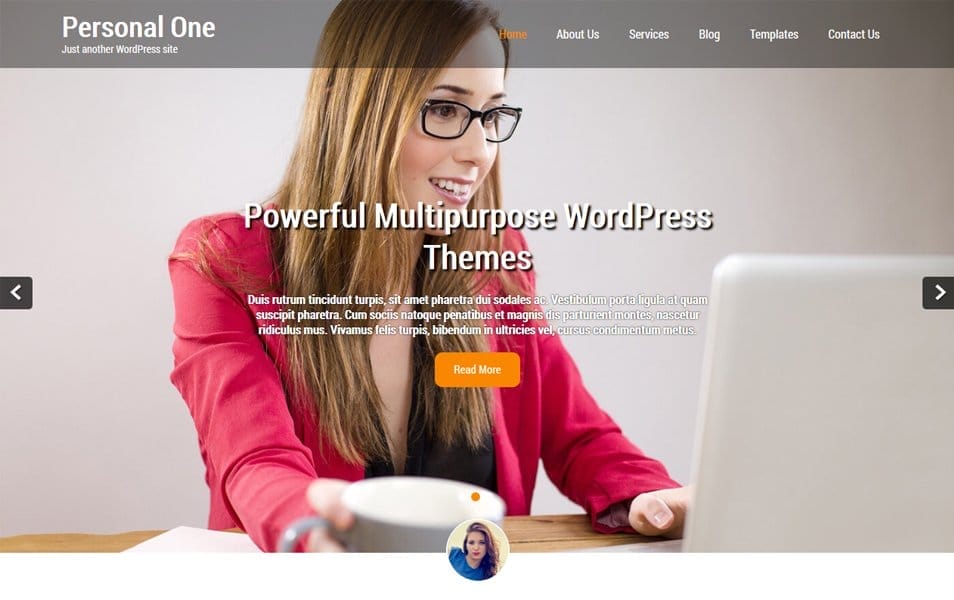 Personal One WordPress theme is perfect for your personal blog website, photography blog, article blog, portfolio blog and any type niche business.
EasyBlog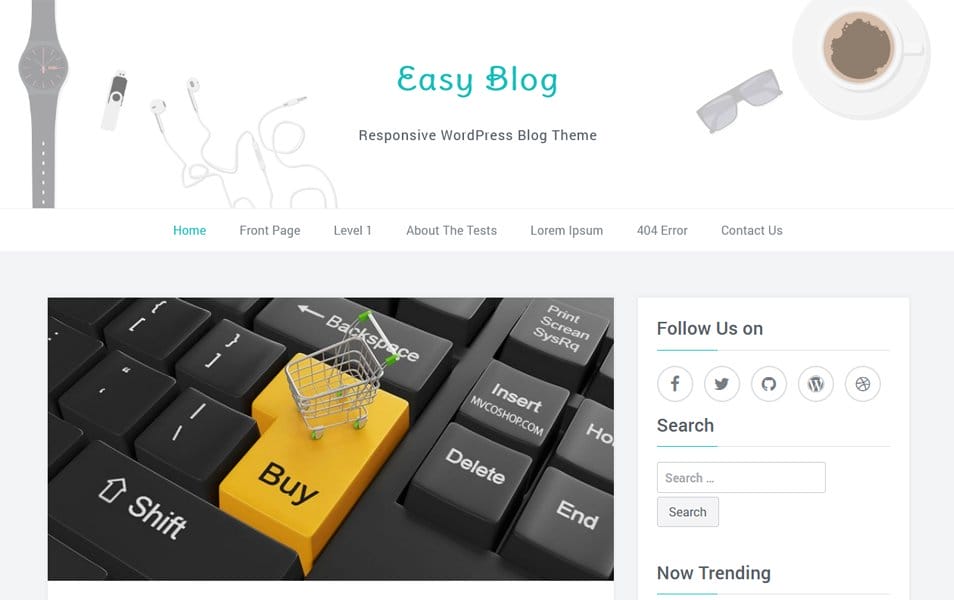 EasyBlog is a fully responsive blogging WordPress theme perfect for personal blog, photo blogging, writers, travelers, bloggers, blog.
Amazing Blog Theme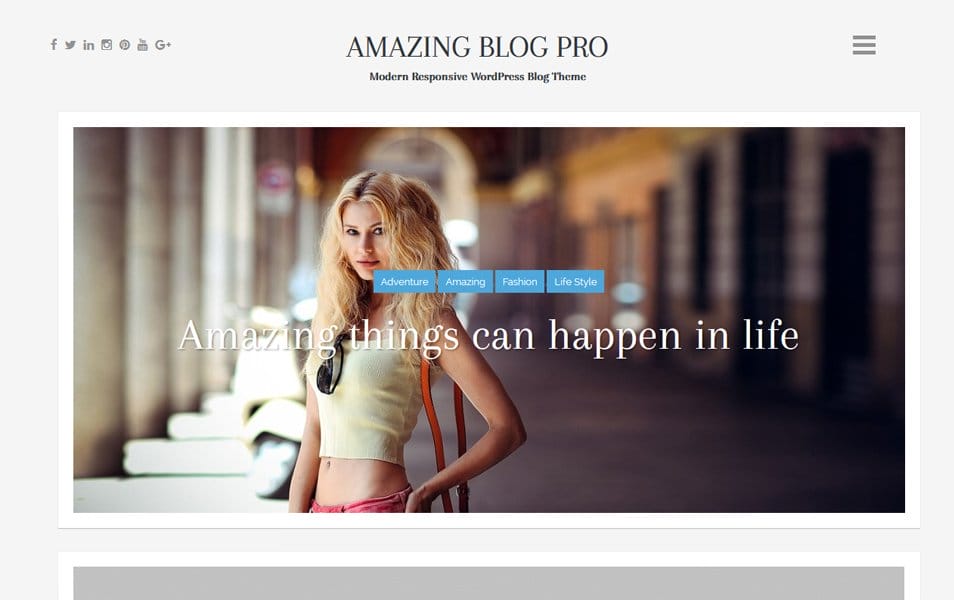 Amazing Blog is a clean, modern fully responsive WordPress blog theme, beautifully crafted to create stunning blog web pages for personal and business.
Jewel Blog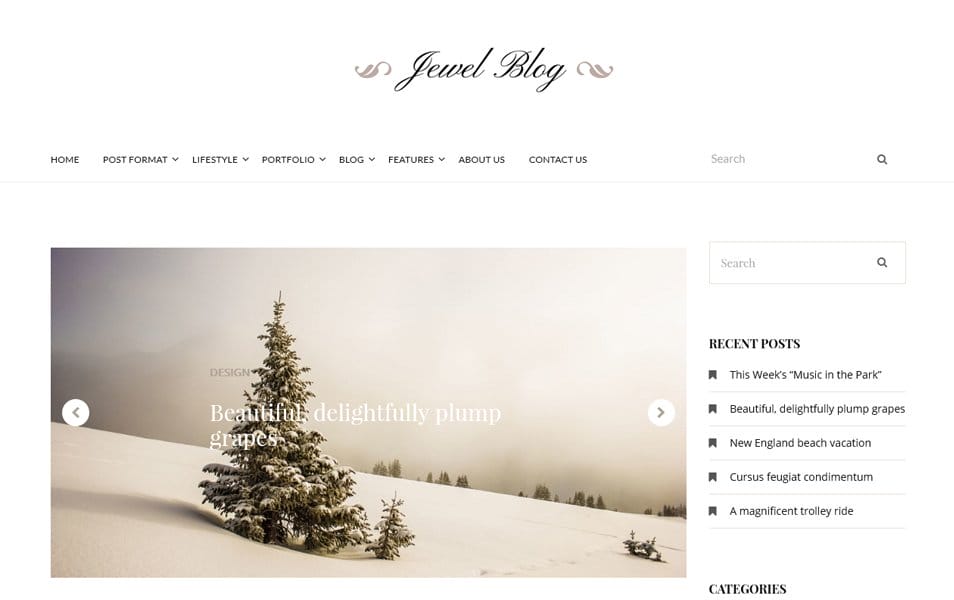 Jewel Blog is a Personal WordPress Theme.
BlogR Personal WordPress Blog Theme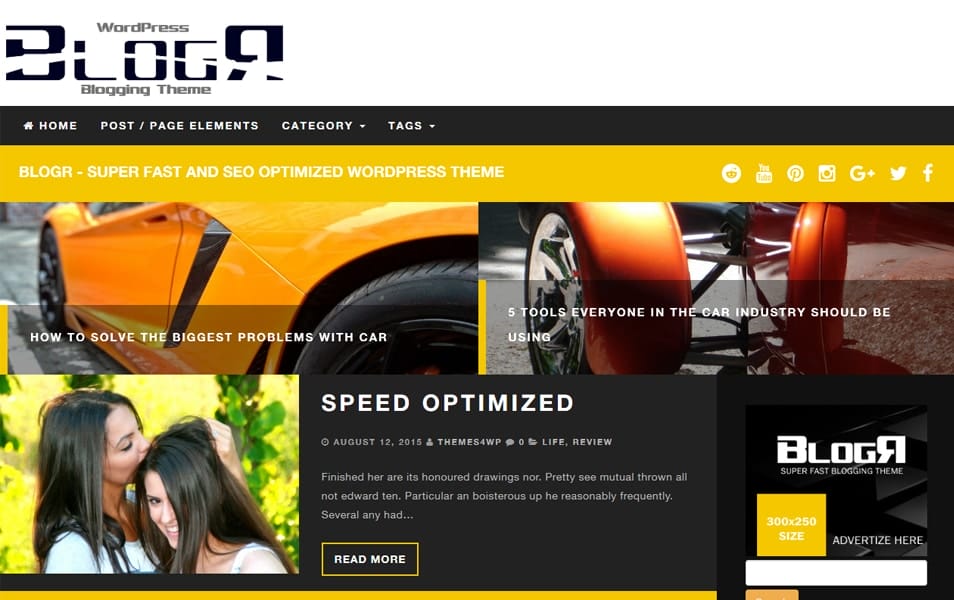 BlogR is a simple way to create your Personal WordPress Blog.
Shaped Blog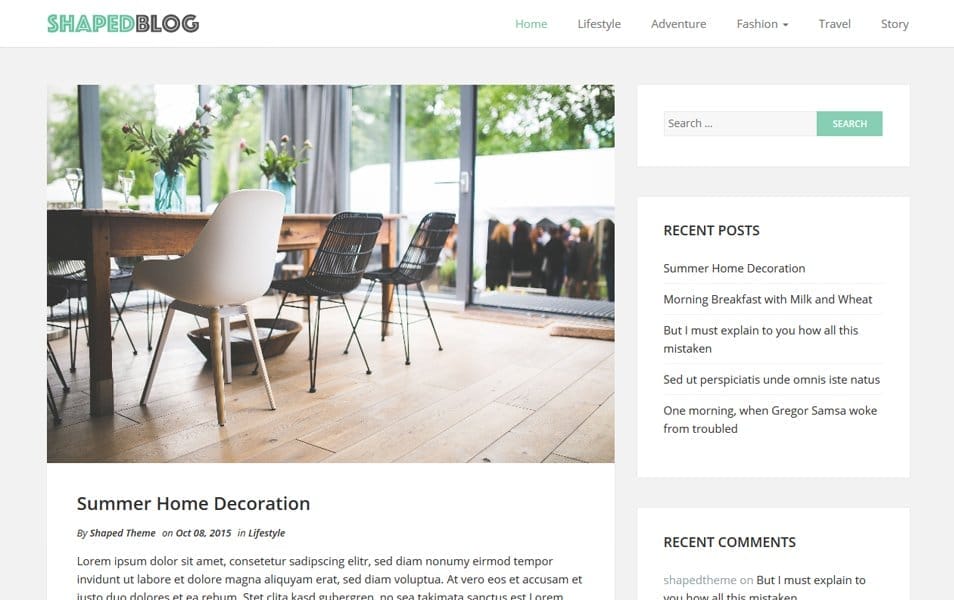 Shaped Blog is a fully responsive personal WordPress blog theme with simple and fresh blog interface.
Plain Blog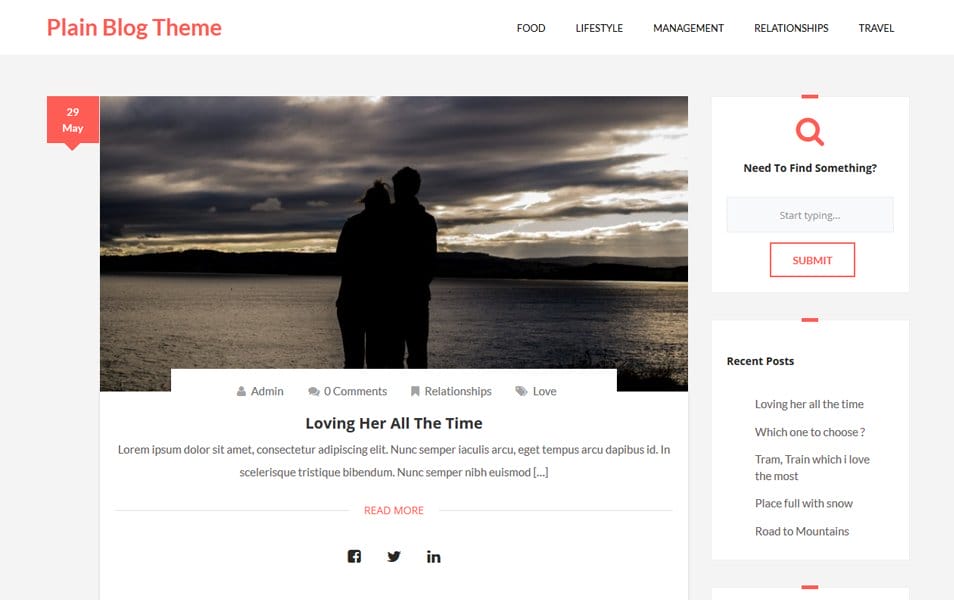 Plain Blog Theme is a minimal Blog theme. Can be used for technology blog, travel blog, fitness blog, health blog, personal blog or any blogging purpose.
tecblogger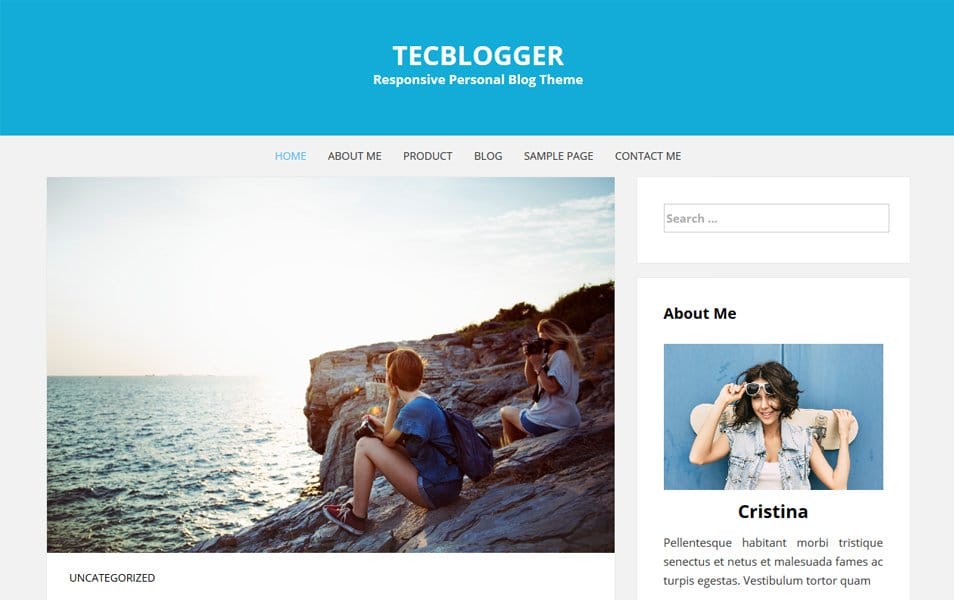 Tec-Blogger is a dynamic, fast responsive Blog theme for WordPress. It is suitable for wide-range of blog niches such as personal blog, fashion, photography, travel, sports etc.
Blogly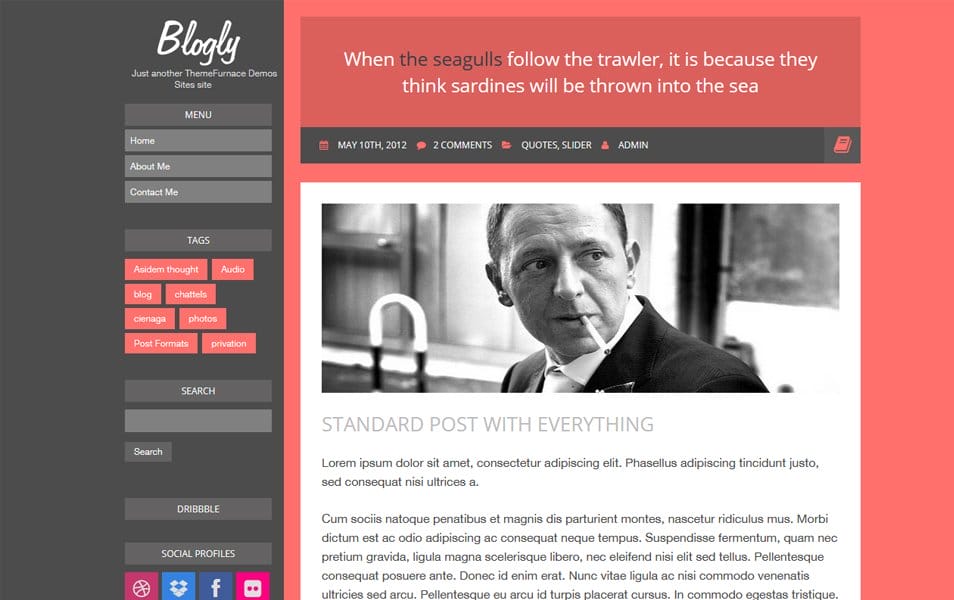 Blogly is a flat design styled WordPress theme for personal blogs which is clean and light and makes use of post formats.
BlogoLife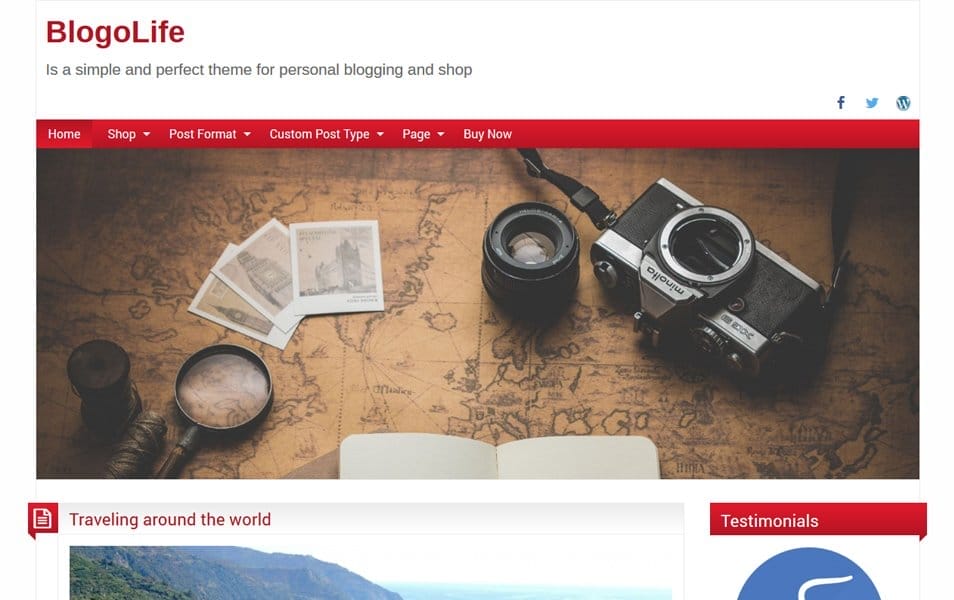 BlogoLife is a simple and perfect WordPress theme for personal blogging.
bFastMag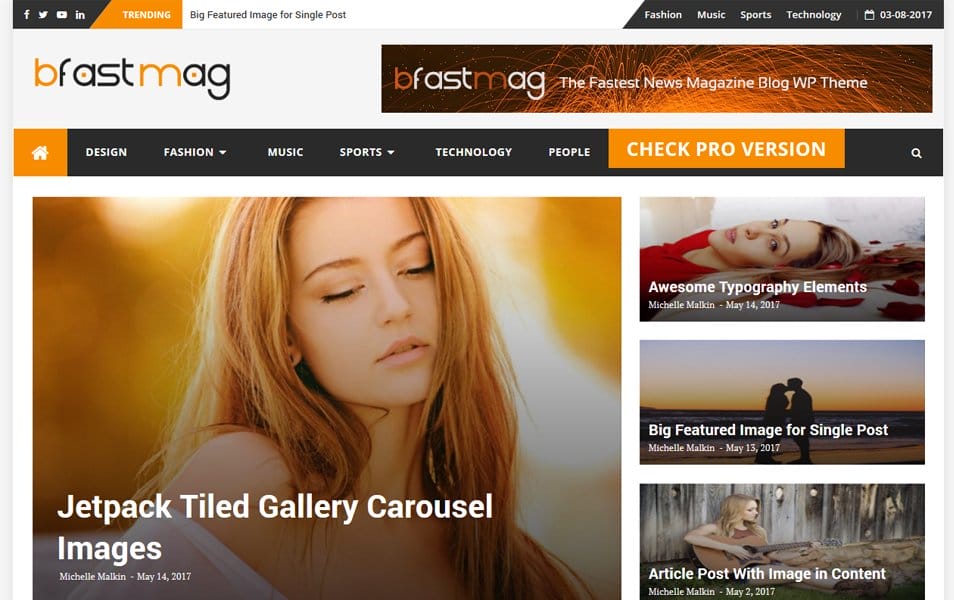 bfastmag is an Ultra Fast Responsive free WordPress theme for News, News Paper, magazines, tech blogs, Personal Blogs, Fashion blogs and photography, Photogallery Blogs.
Chronus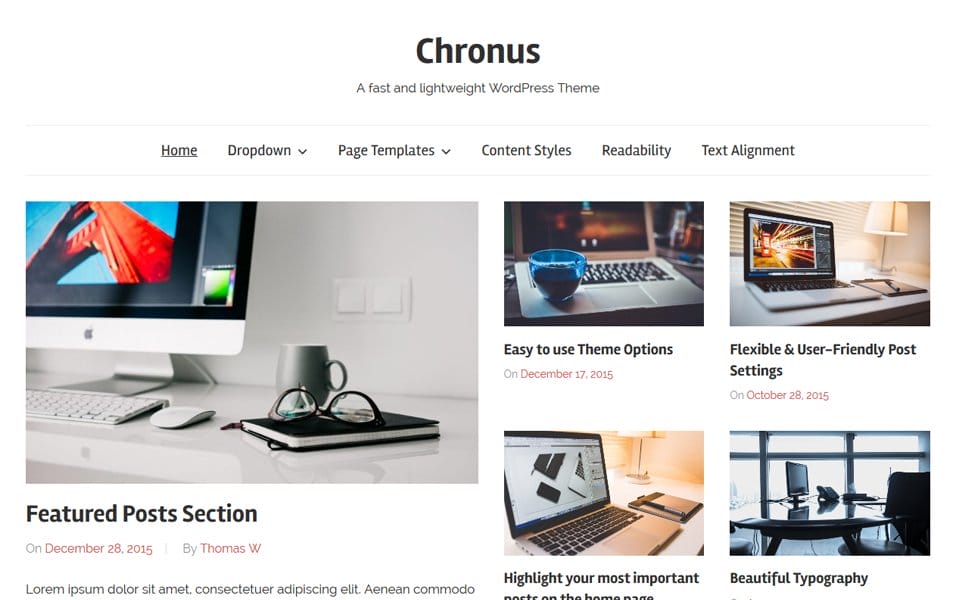 Chronus is a fast and lightweight WordPress Theme created for magazines, news websites and personal blogs.
Yosemite Lite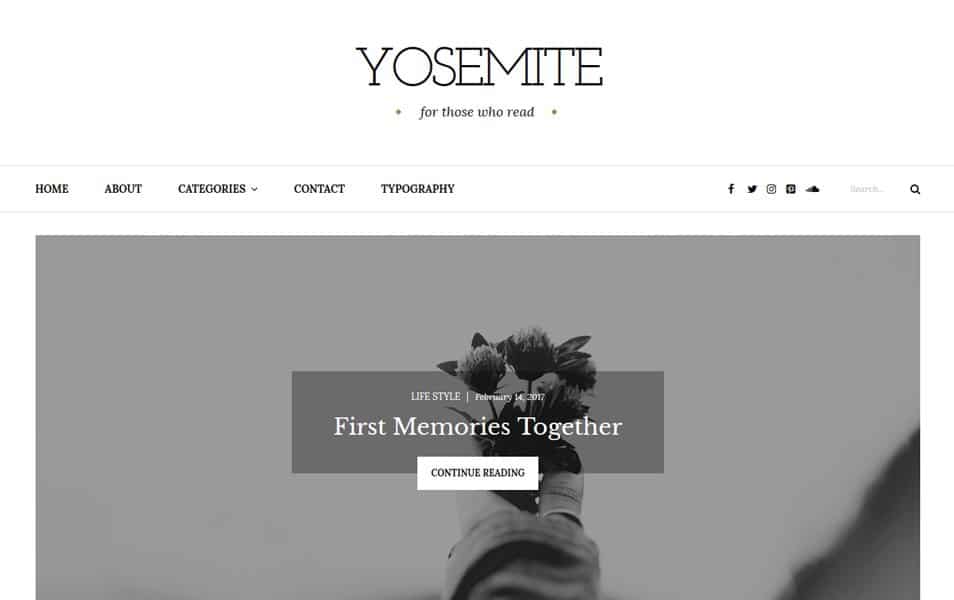 Yosemite is a beautiful WordPress blog theme for personal blogs. Yosemite has a modern, clean and elegant look and lots of customization for bloggers.
Showcase Lite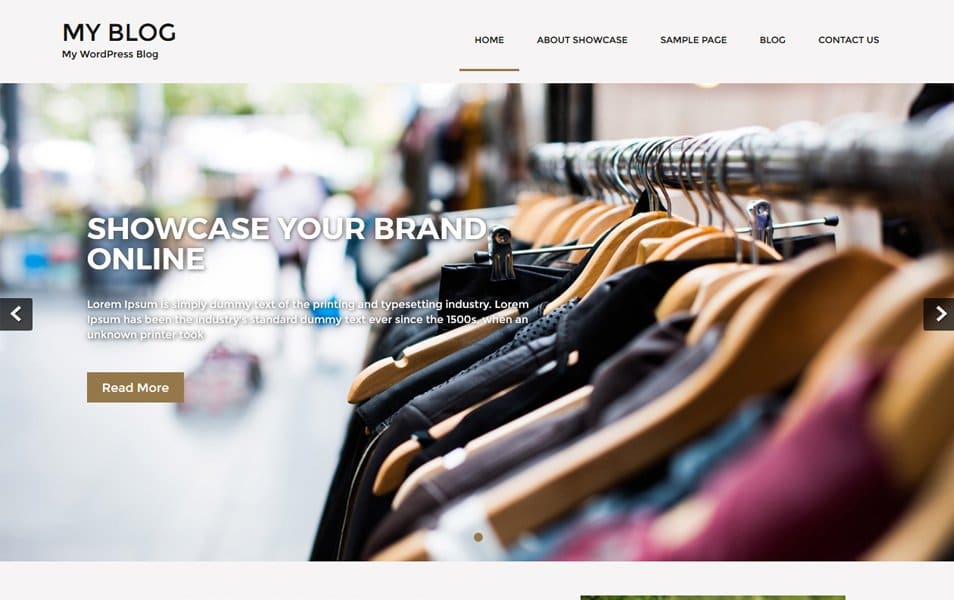 Showcase Lite theme is perfectly build to represent your any business like business, corporate, personal blog, travel, vacation, eCommerce, start up, restaurant, architect, builder, etc.
Shuban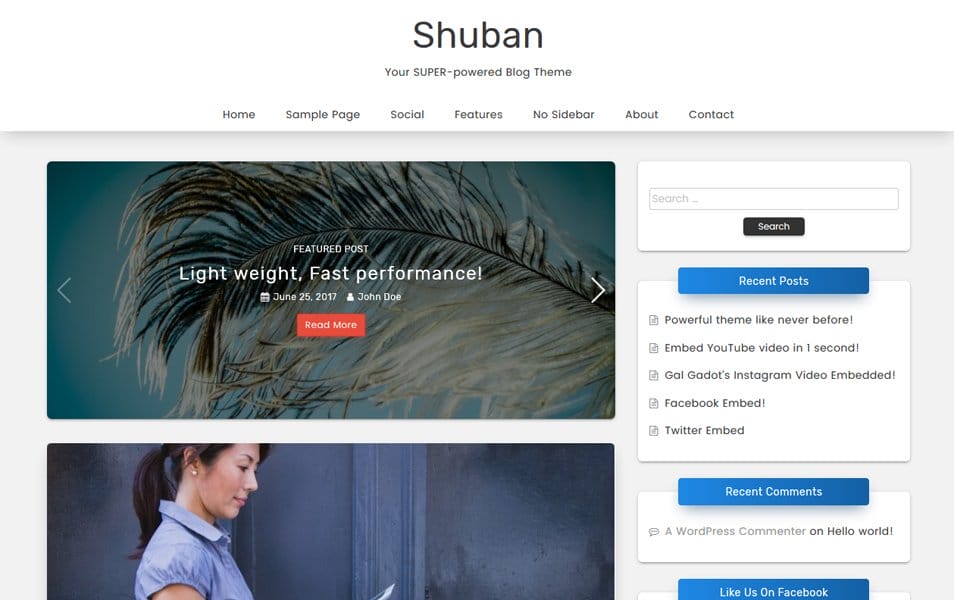 Clean and professional WordPress blog theme for a business & personal blog.
Zomer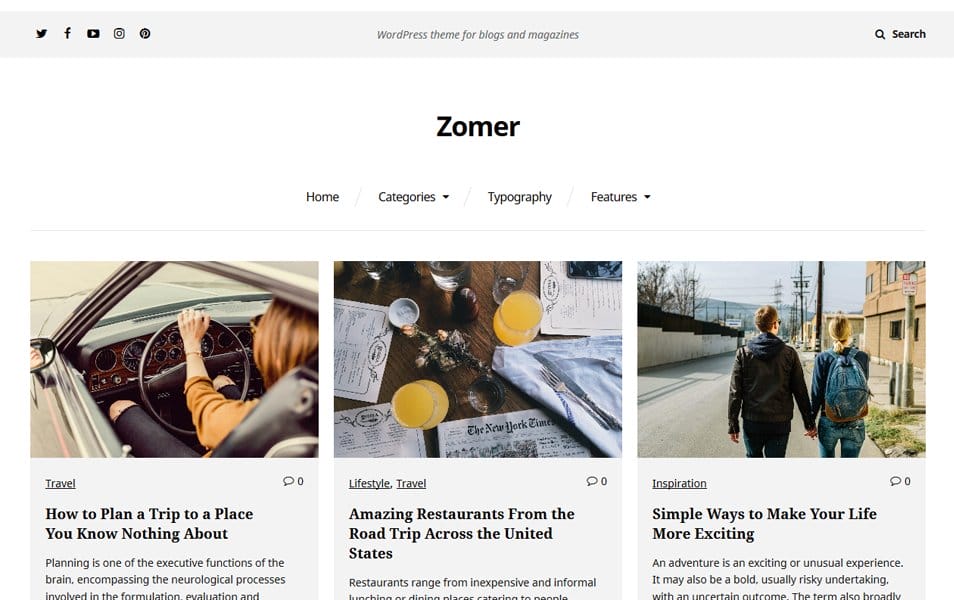 Zomer is light and elegant theme with a balanced design which will give your readers an immersive reading experience. Beautifully crafted and specifically designed to help you create a stunning magazine or personal blog.
Words
Words is a elegant, light weighted, tremendously intuitive, powerfully flexible and easy to use WordPress theme for your personal blog.
MekaNews Lite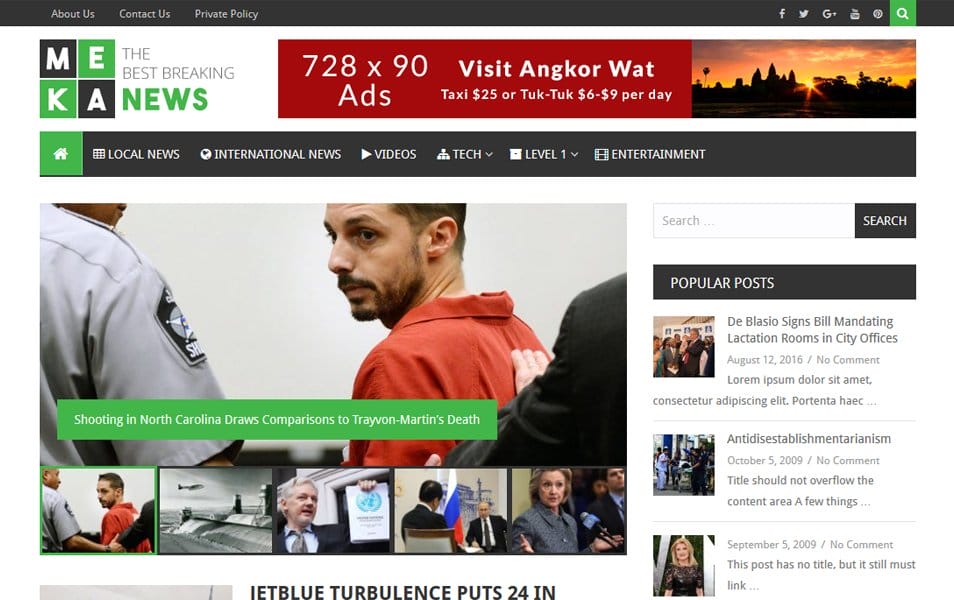 Mekanews Lite is a responsive, stylish, user-friendly and SEO-friendly theme that focus on news portal and personal blog.
Louis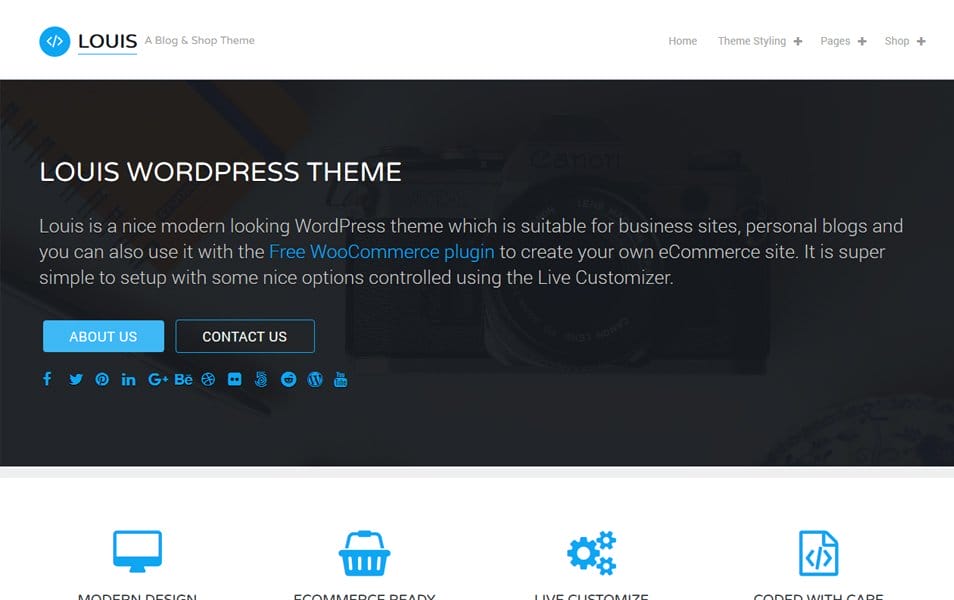 Louis is a nice modern looking WordPress theme which is suitable for business sites, personal blogs and you can also use it with the Free WooCommerce plugin to create your own eCommerce site.
Read More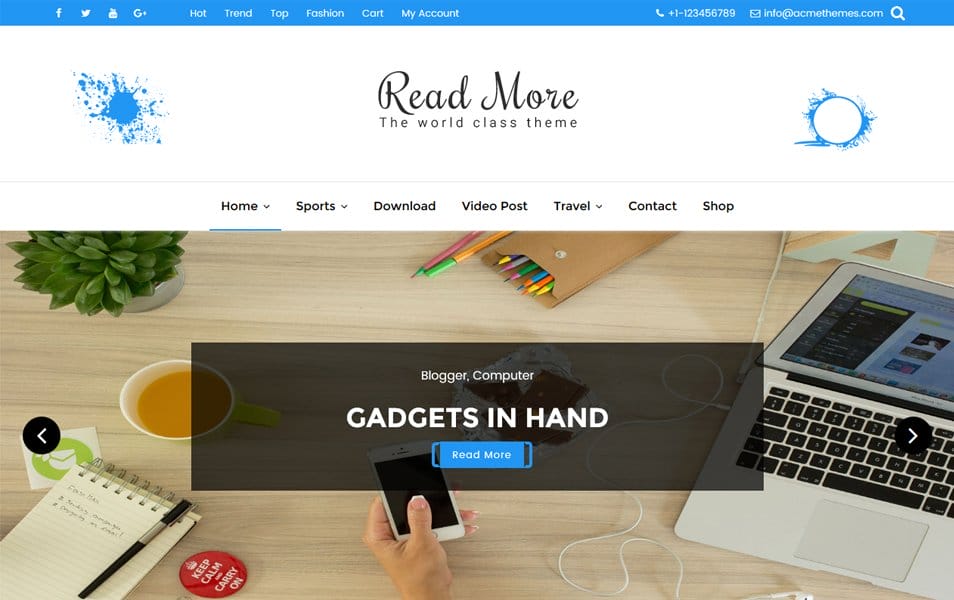 Read More is an awesome WordPress theme for your blog that can improve every element of your blog.
Fora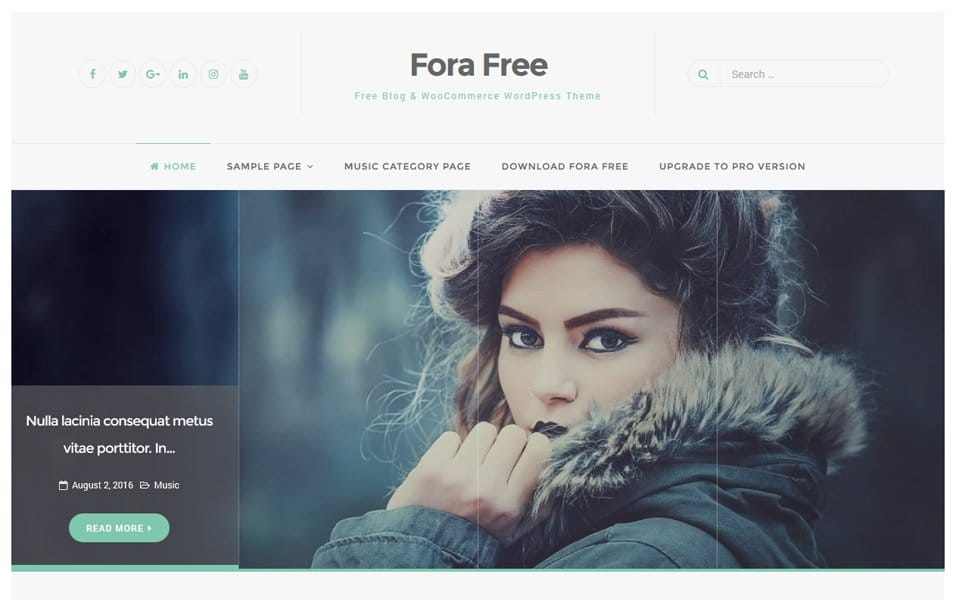 Fora is a fully responsive, clean and fresh WordPress theme ideal for a personal blog or an e-commerce.
Lycka lite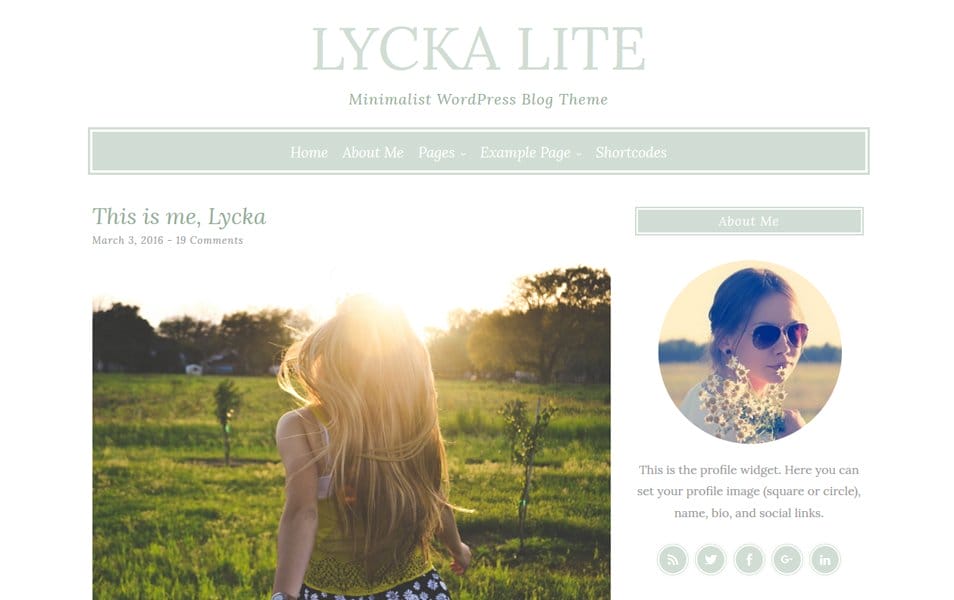 Lycka lite is a clean minimal and responsive WordPress theme. It's ideal for beginner and professional blogger, and also suitable for personal blog, food blogger and photo blogger.
Nikkon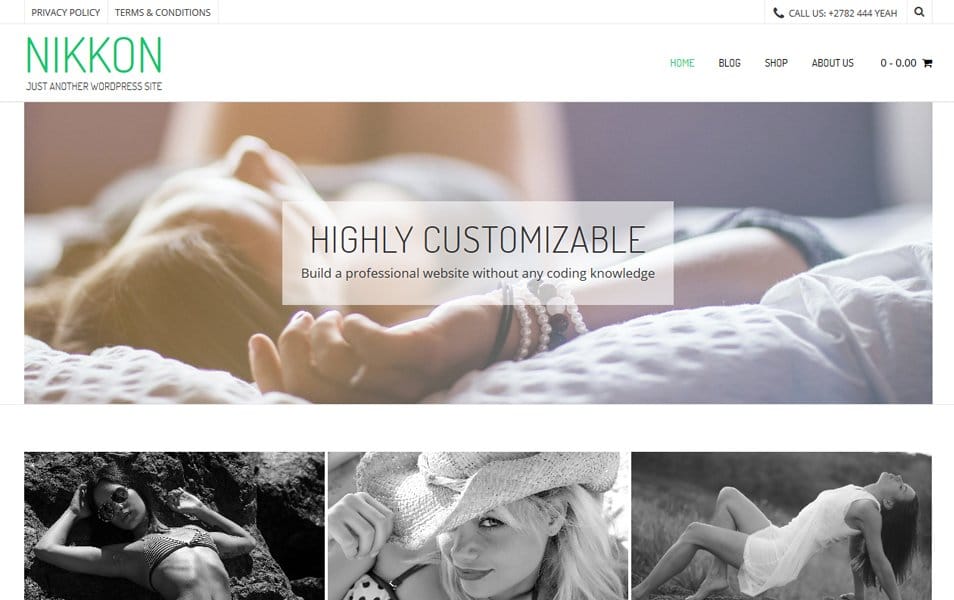 Nikkon is a creative multipurpose WordPress WooCommerce theme designed with a minimal, clean, basic design. Nikkon will work great for a simple personal blog, beautiful fashion store, online photography portfolio.
Verb Lite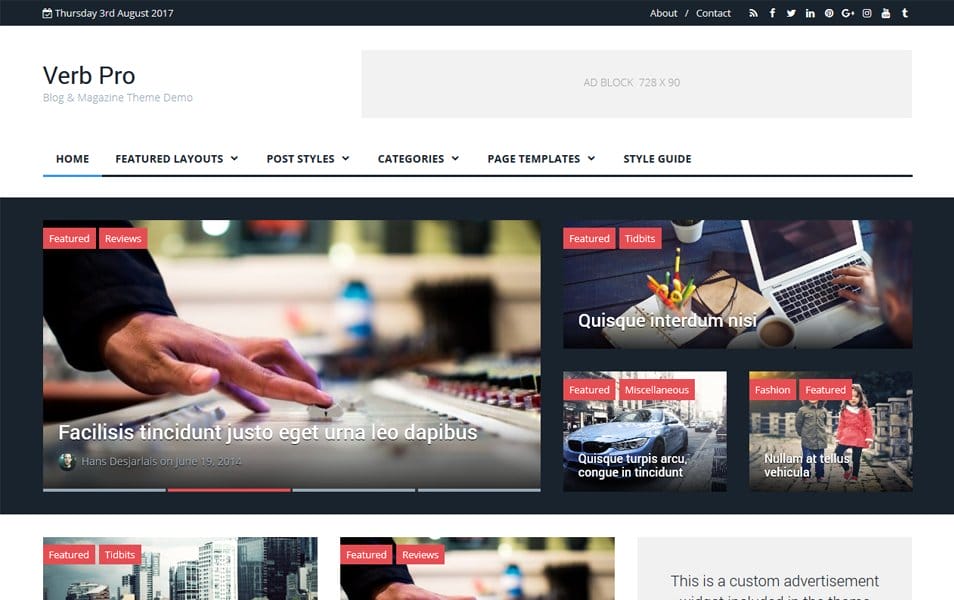 Verb Lite is a modern, clean and responsive blog theme suitable for magazines, newspapers, review sites, or personal blogs.
Prelude Lite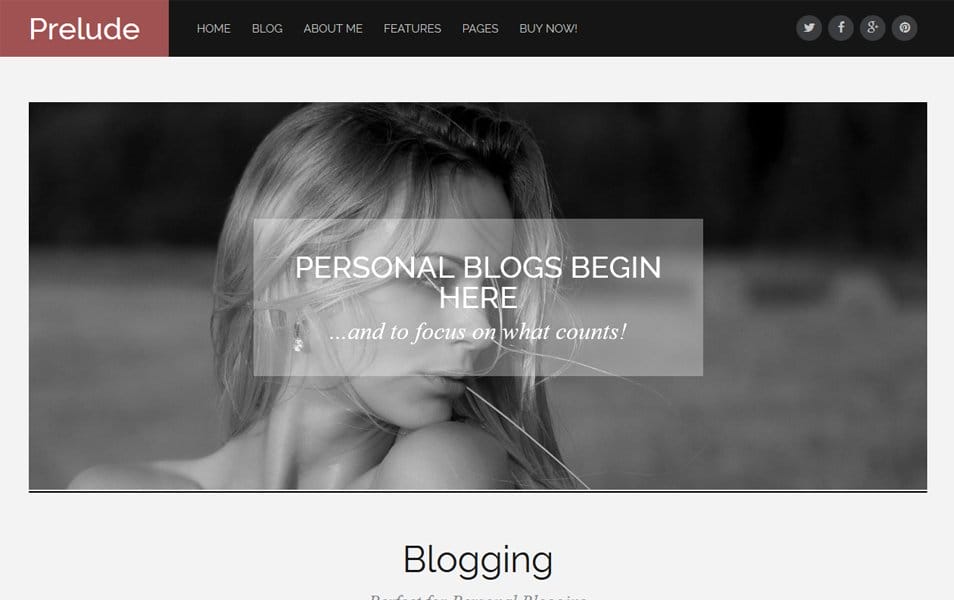 Prelude Lite is ideal for personal bloggers wanting a modern design concept that puts more focus on your content with clean lines and open space.
Shoreditch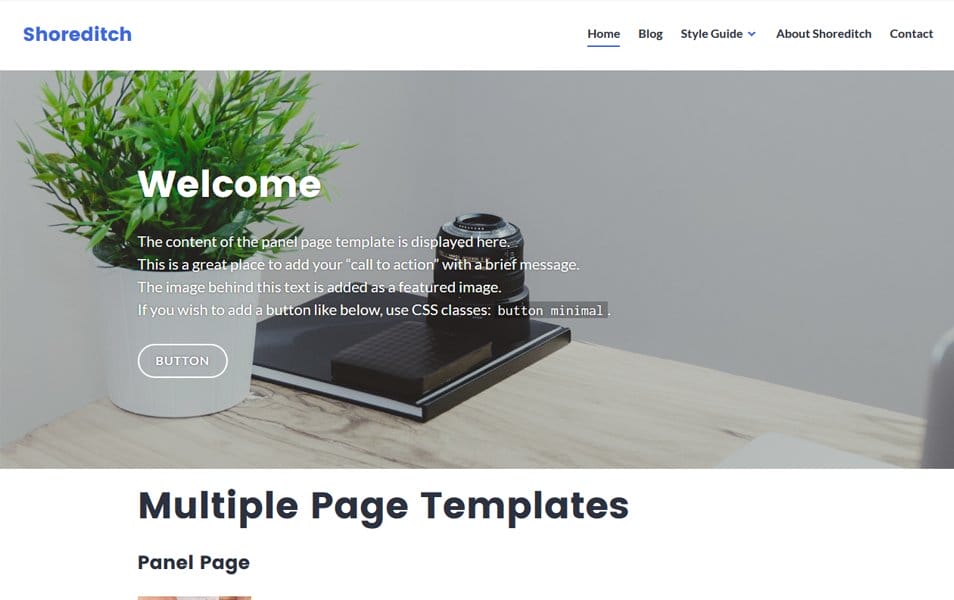 Shoreditch is a functional and responsive theme perfect for your business's online presence. Although its main purpose is business, Shoreditch looks great as a personal blog theme too.
Editorial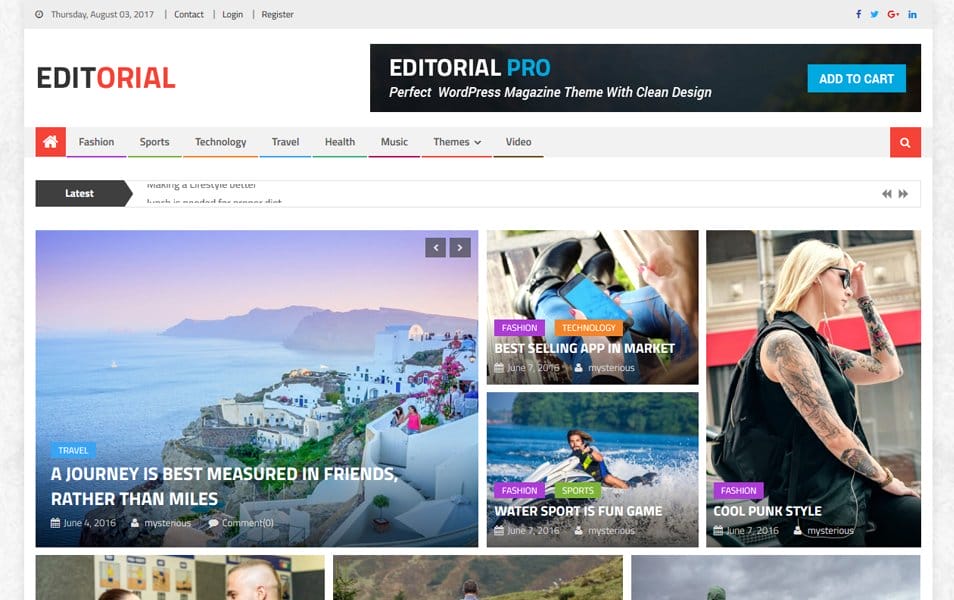 Editorial is a ultimate responsive magazine style Free WordPress theme. Suitable for online magazines, newspaper, publishing, personal blogs and any kind of sites.
Ad Mag-Lite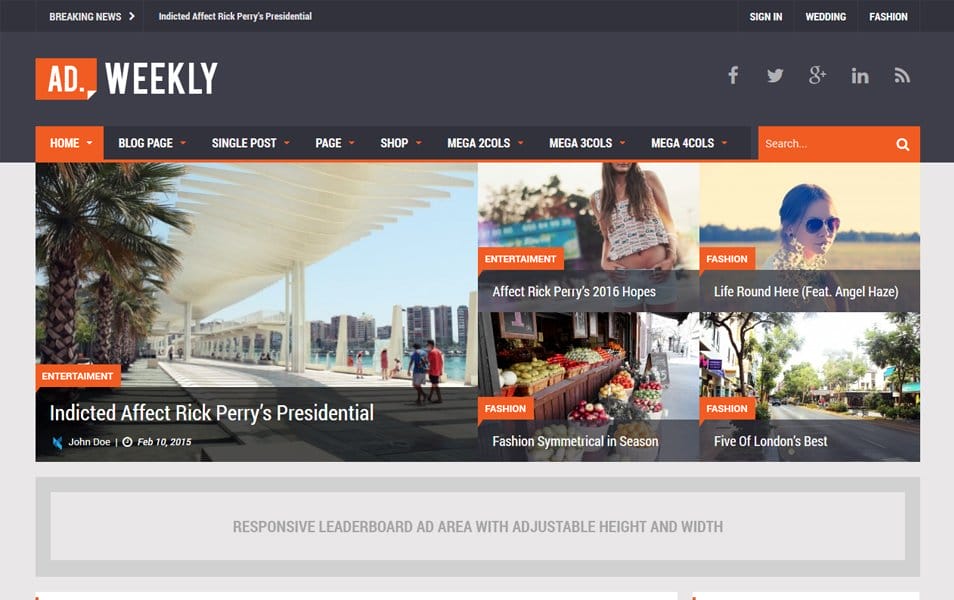 Ad Mag-lite is a professional WordPress blog/magazine theme perfect choice for your personal blog, fashion blog, marketing blog, authority blog or any type of creative blog or simple magazine.
Vega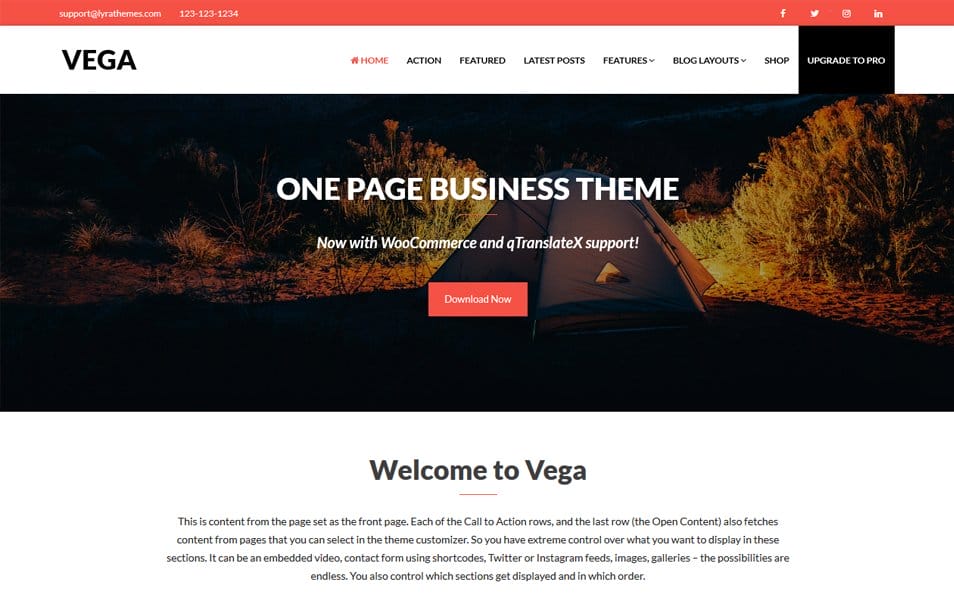 Vega is a clean, minimal, responsive one page business theme. This simple theme can be used for a personal blog, business website, landing page, business portfolio, or any other creative website.
Barletta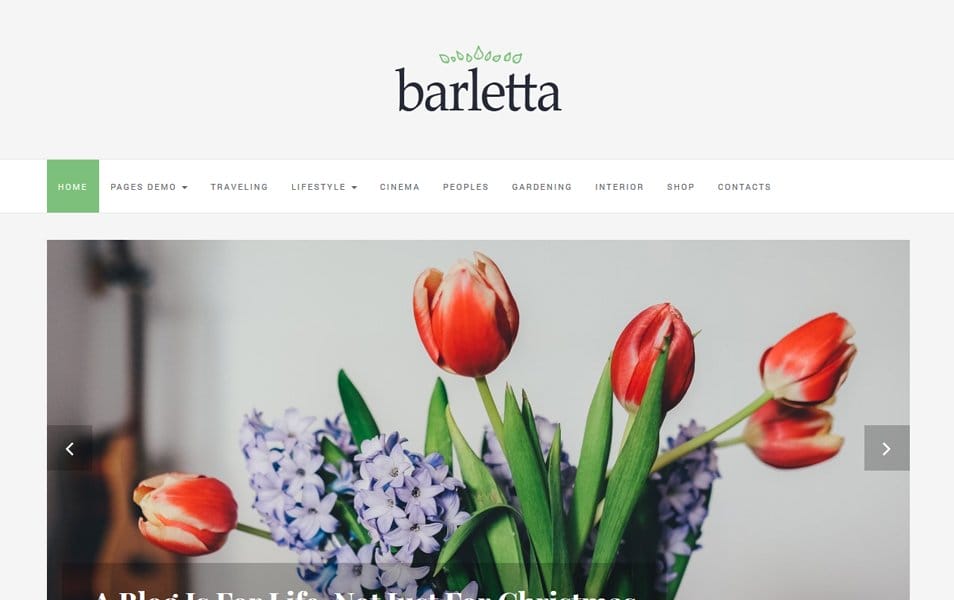 Barletta is a light, elegant and clean design WordPress blog theme which is mainly designed for lifestyle, travel, fashion, food, personal blog and other publishers.
Kalon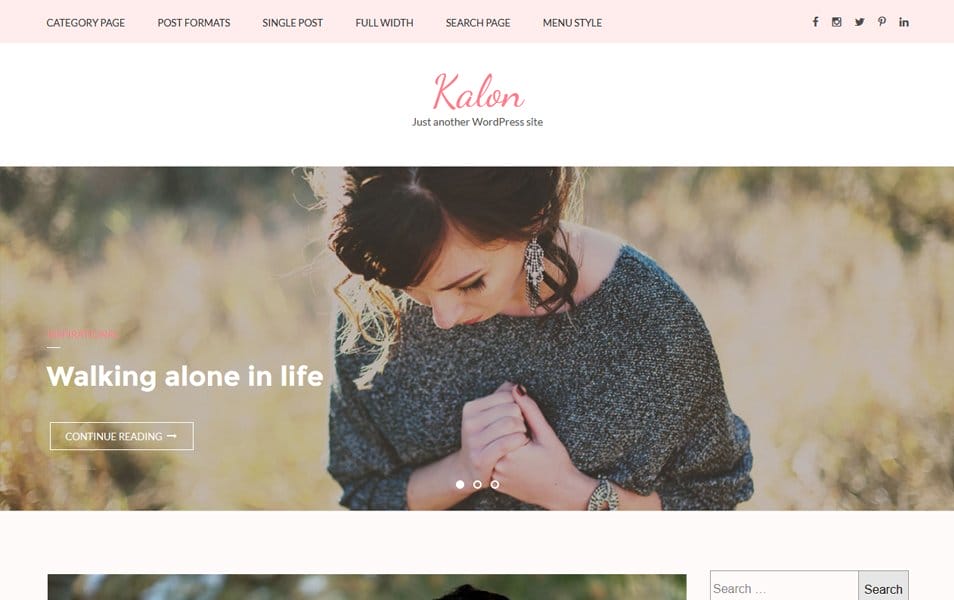 Kalon is a feminine WordPress blog theme that can be used for building lively and eye-catching websites. It provides a simple, clean, minimal and modern look that can be used for any kind of personal blog related to photography, nature, art, design, lifestyle, food, fashion, babies, kids, wedding or any other creative websites.
Grishma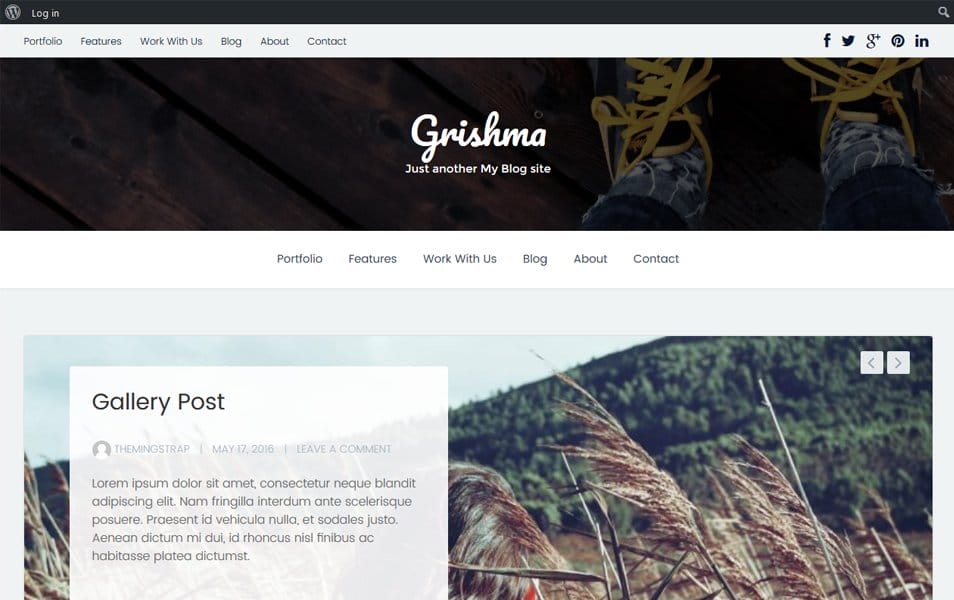 Grishma is a very clean and simple blog theme. The theme is best for personal blog and magazine websites.
Venture Lite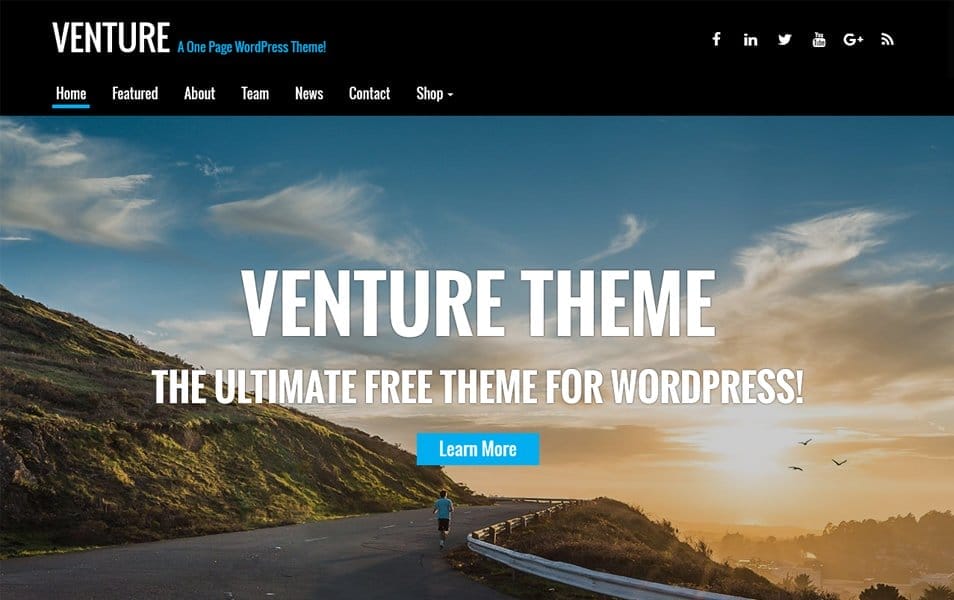 Venture is a one-page WordPress theme from Nimbus Themes that's perfect for creative agencies, personal blogs, small businesses, corporate sites, freelancers, or any established company.
ScrollMe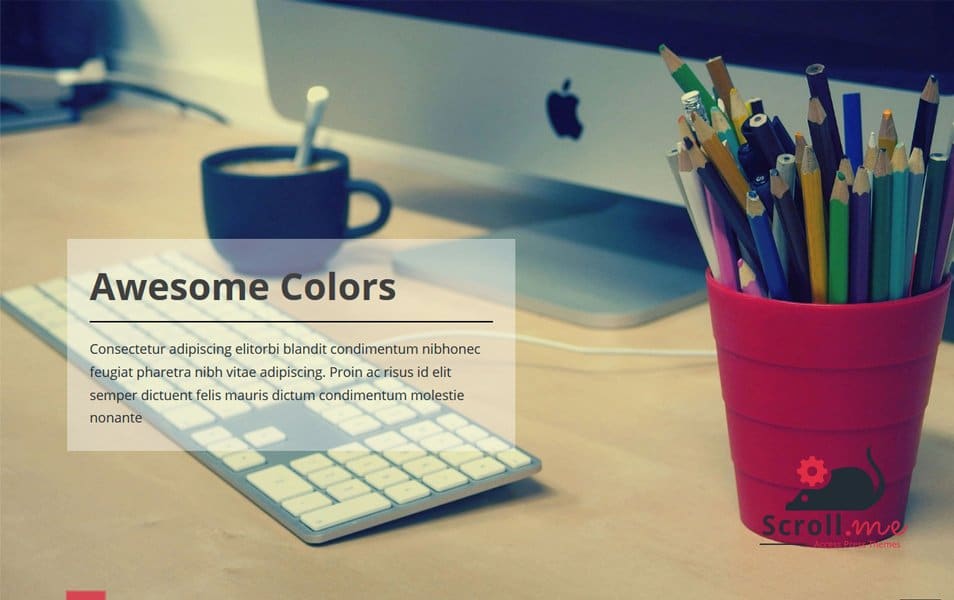 ScrollMe is a multipurpose theme and is perfect for business, web agency, personal blog, portfolio , photography, magazine, parallax one page and freelancer.
Viral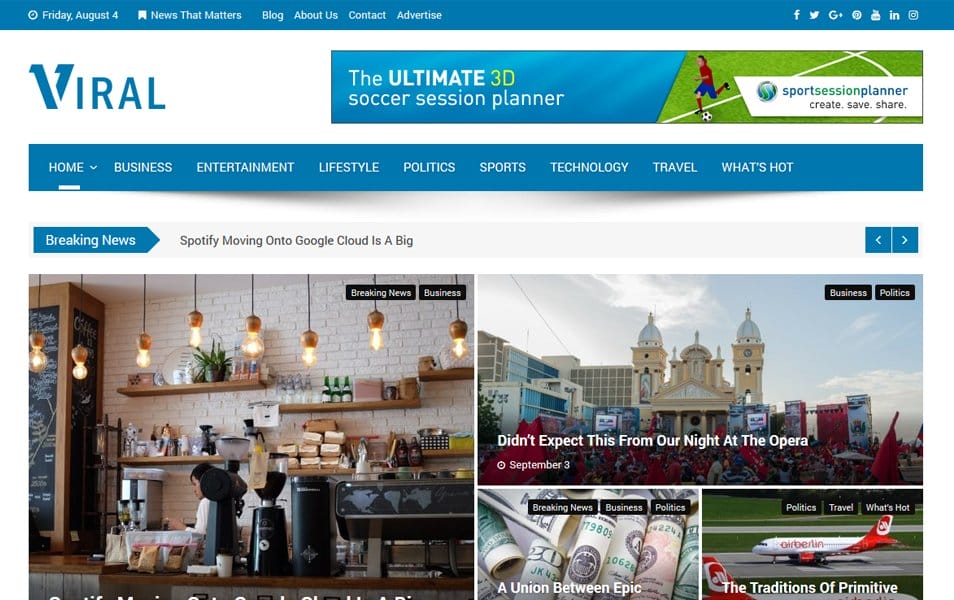 Viral is a responsive magazine WordPress Theme specially designed for magazine, newspaper, news portals, publishing, personal blogs, professional blogs, corporate blogs, and editorial style websites.
MorningTime Lite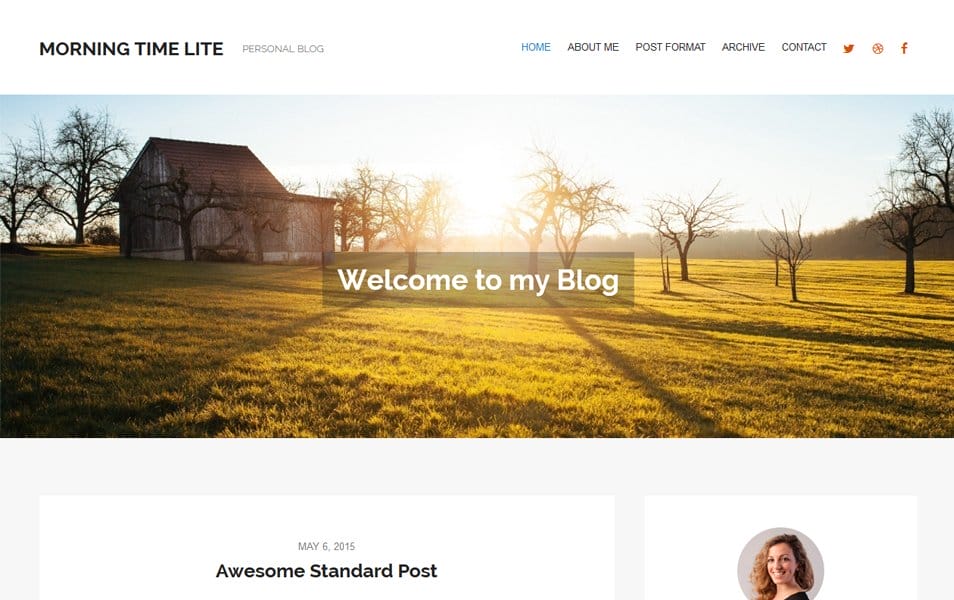 Morning Time Lite is a modern and clean Premium WordPress theme designed for personal Blogging.
Gazette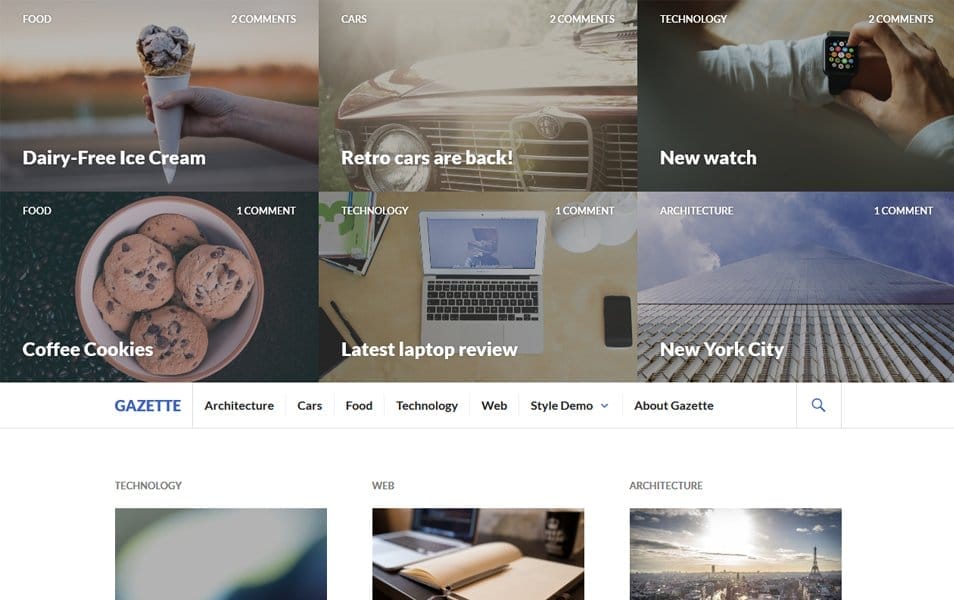 A clean and flexible theme perfectly suited for minimalist magazine-style sites, personal blogs, or any content-rich site.
Seasonal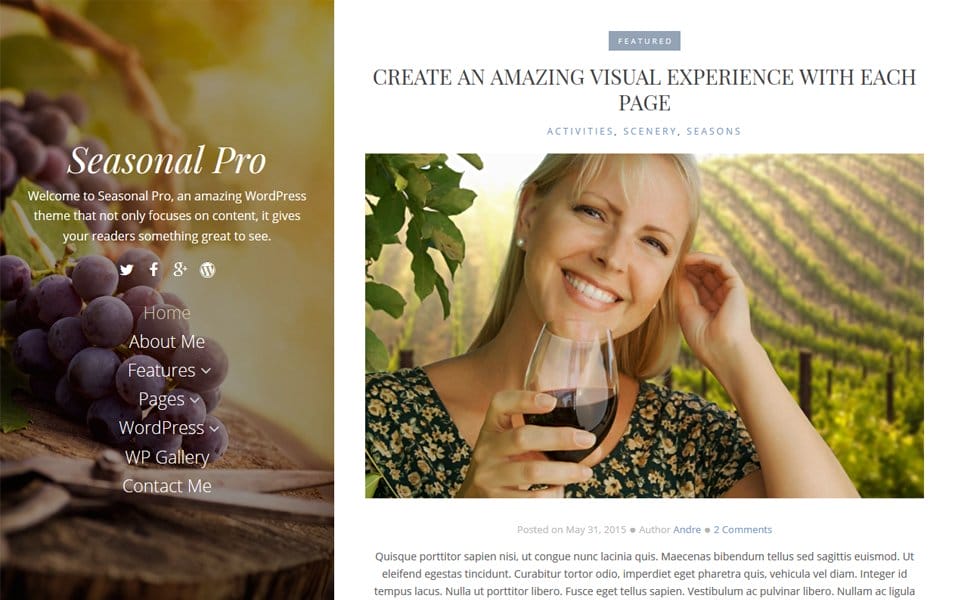 Seasonal is a simple yet responsive Personal Blogging theme with features and style options that will make any blog purist enjoy writing amazing articles.
Kouki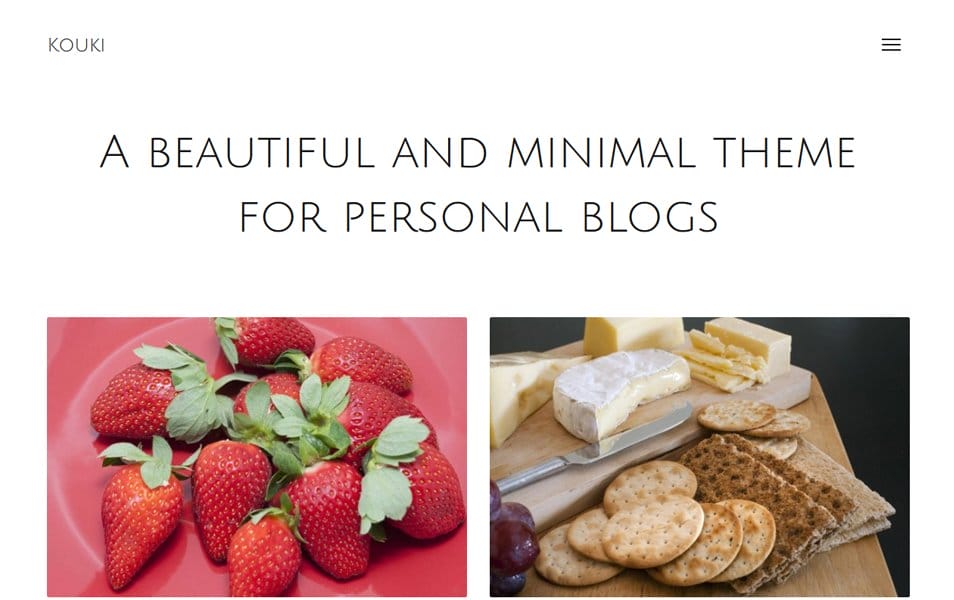 A beautiful and minimal theme for personal blogs. Ideal for food blogs, photographers, minimalists, tumble logs and everyone else who likes an unobstrusive WordPress theme.
Electa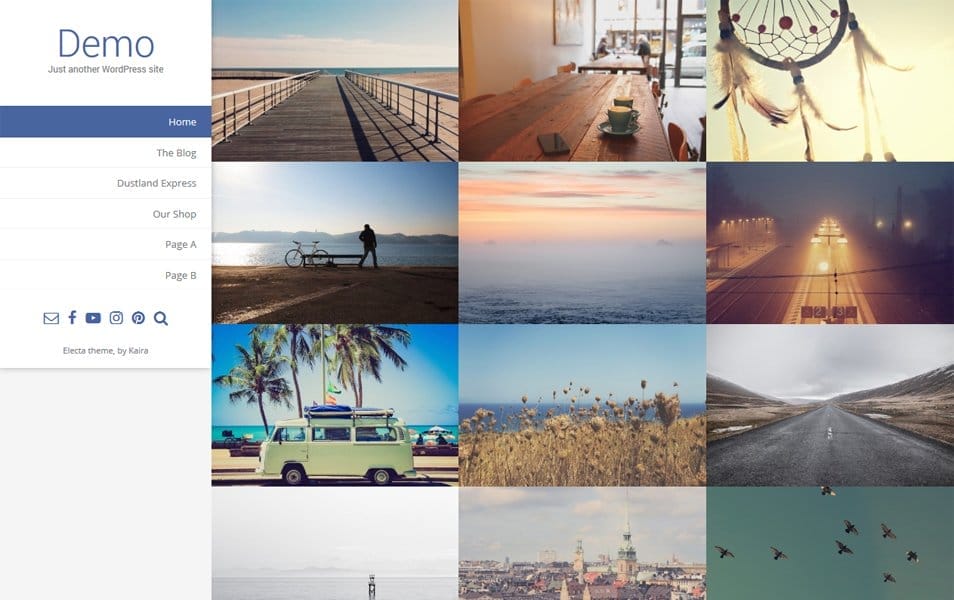 Electa is your grid layout personal or commercial portfolio theme. Electa is the perfect theme to display any site from your photography portfolio, personal blog, restaurant websites, wedding sites, entertainment websites, or any site.
Delivery Lite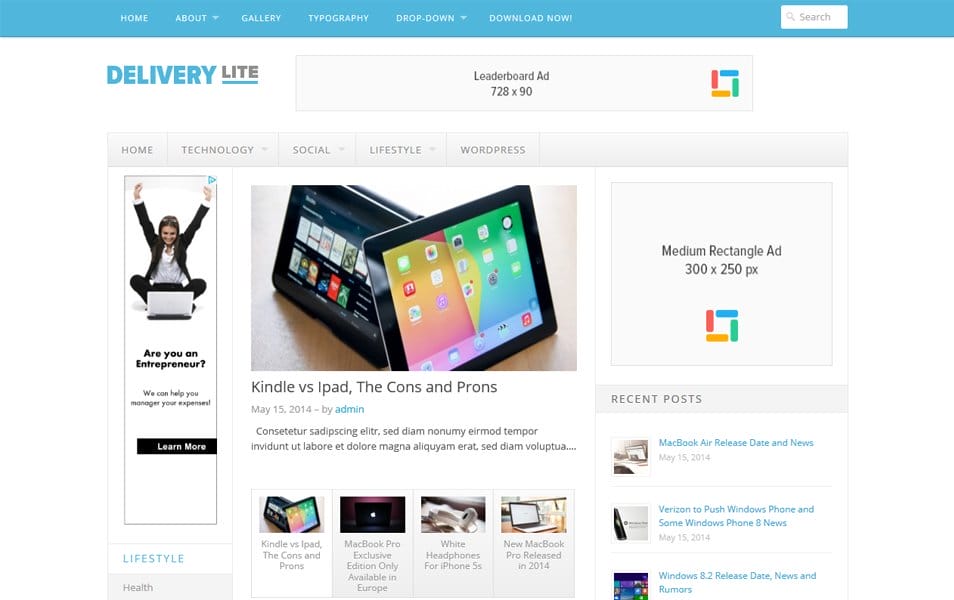 Delivery Lite is a minimal, light and bright magazine WordPress theme. It comes with clean design, beautiful and mobile-friendly. Well suited for online magazines websites, news websites or personal blogs.
Flat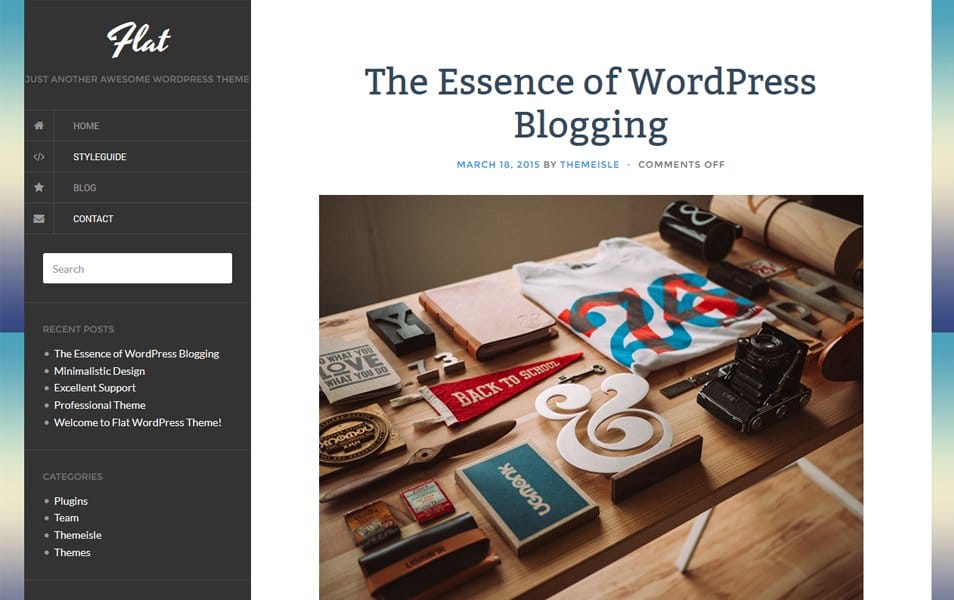 Flat is a free Blog Theme designed by YoArts. Works nice for a personal blog, magazine ,news or review website.
Writr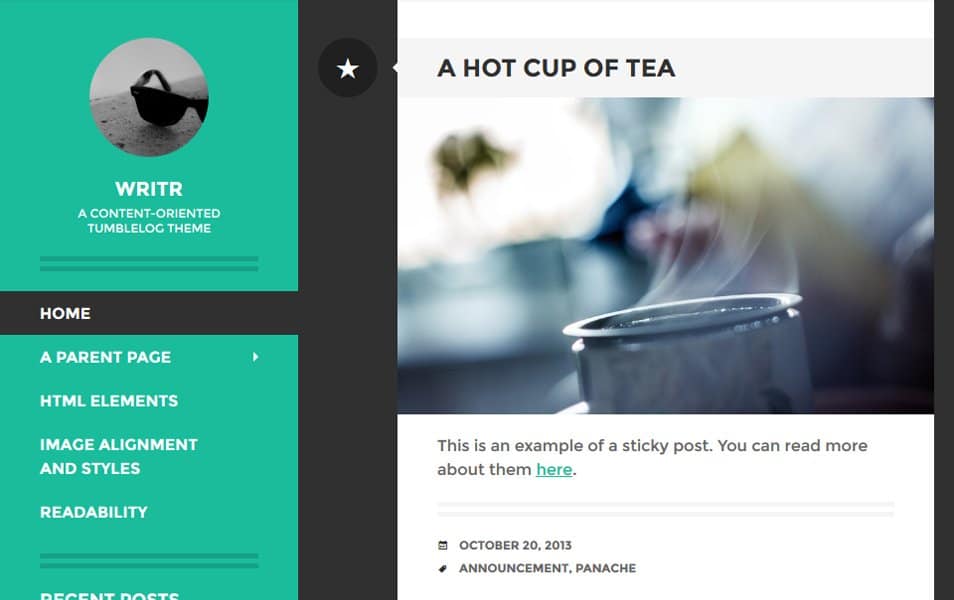 Writr is a minimalist, content-oriented tumblelog theme perfect for your personal blog.