Today we are talking over about magazine style WordPress themes also you can see a list of 100+ free magazine WordPress themes in this stake.
Magazine themes are far different from a traditional WordPress blog. Magazine style WordPress themes are designed to organize as much content as possible in a page for example a news website. When you need to share with a lot of contents the best choice might be a magazine WordPress theme for sure.
Let's check Few advantages of using a magazine WordPress theme.
1. Magazine WordPress themes are made to deal with a vast quantity of information, which enables to feature many contents in a web page. Magazine WordPress themes focus on titles it allows room for many headlines as possible.
2. Organized and presentable view: Magazine WordPres themes can be in several columns layouts which allows organize the information in a grained manner. Your web log posts, categories, articles, tags, highlights even advertisements can be well presentable.
3. High conversion rate: Magazine WordPress blogs are designed for high conversion optimization.
4. Easy to handle and maintain large volumes of information.
The principal disadvantage is you need extra effort to establish the theme more as a magazine WordPress theme so that might cost you a great deal of money.
Don't worry luckily there are scores of free Magazine Worpress themes are available, what you wanted to do is just put your time. We are here to assist you to create the best dissection. You can see latest free WordPress magazine WordPress themes below. All these themes are professional and best in quality we have done enough research to pick the best magazine WordPress themes for you, all you need to do is to select the one to fit your demands.
See also : 300+ Best Free Responsive WordPress Themes 2017
We will update this page often and then don't forget the follow us to fetch the latest updates.
Free WordPress Theme Categories
Newspaper Magazine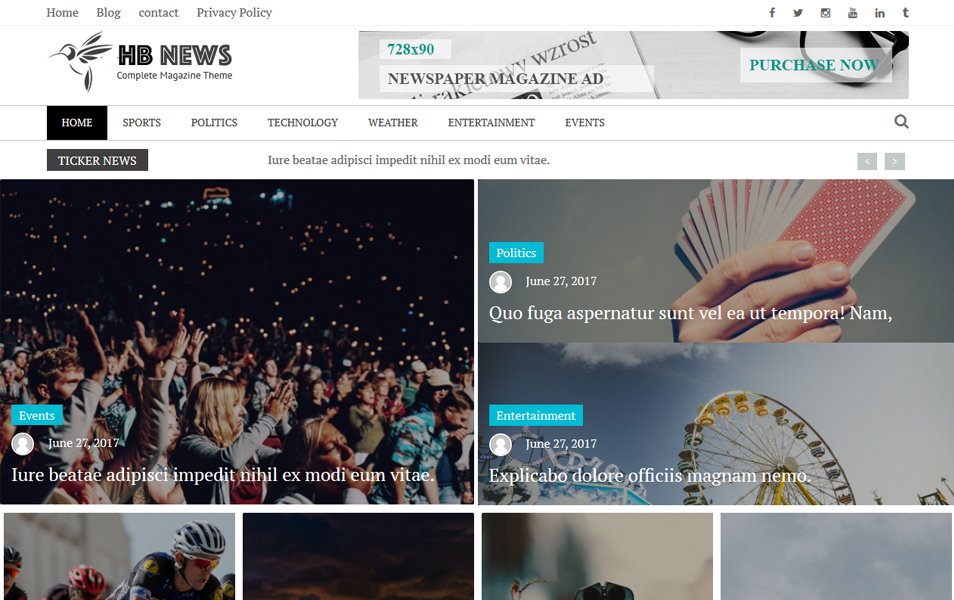 Newspaper Magazine Theme is a simple, beautifully designed responsive WordPress News & Magazine theme. Newspaper Magazine theme is especially for News and Blog theme.
VioMag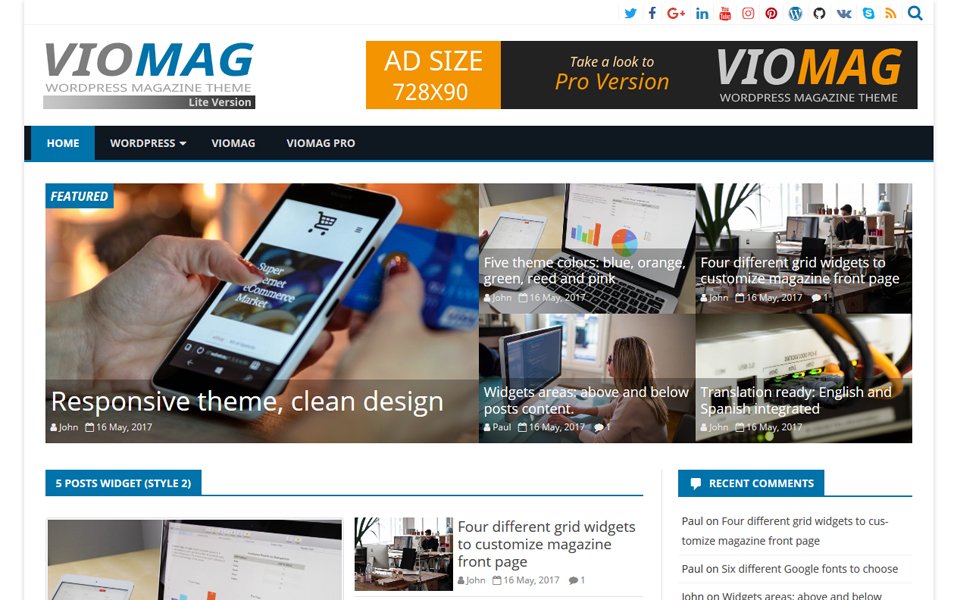 VioMag is a magazine/newspaper/news/blog theme for WordPress sites with a clear and neat design.
OnlineMag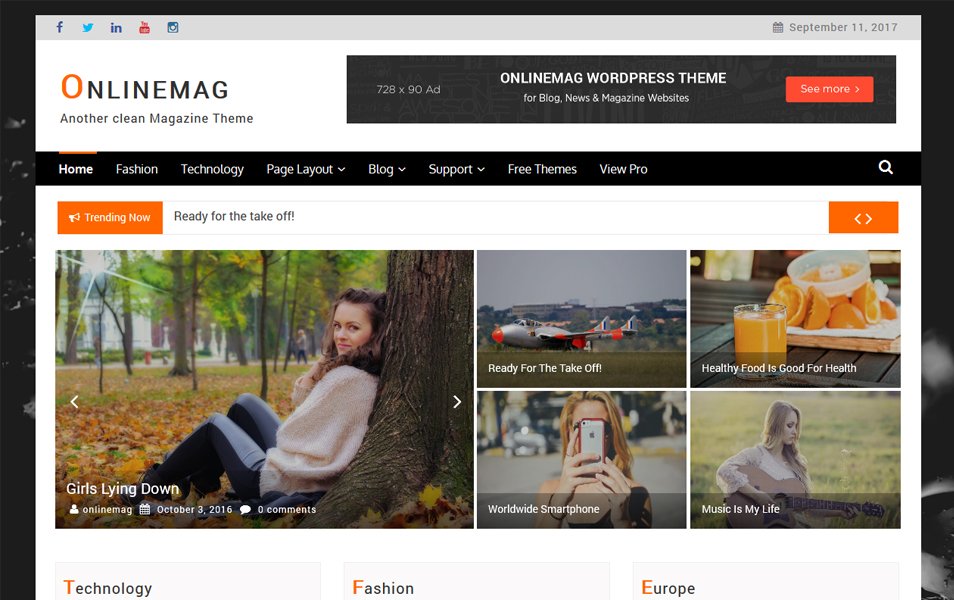 OnlineMag is a free magazine theme that has a beautiful design to help you start a professional looking news website. It can be used for any magazine niche such as tech, politics, sports, games, fashion, etc.
Neville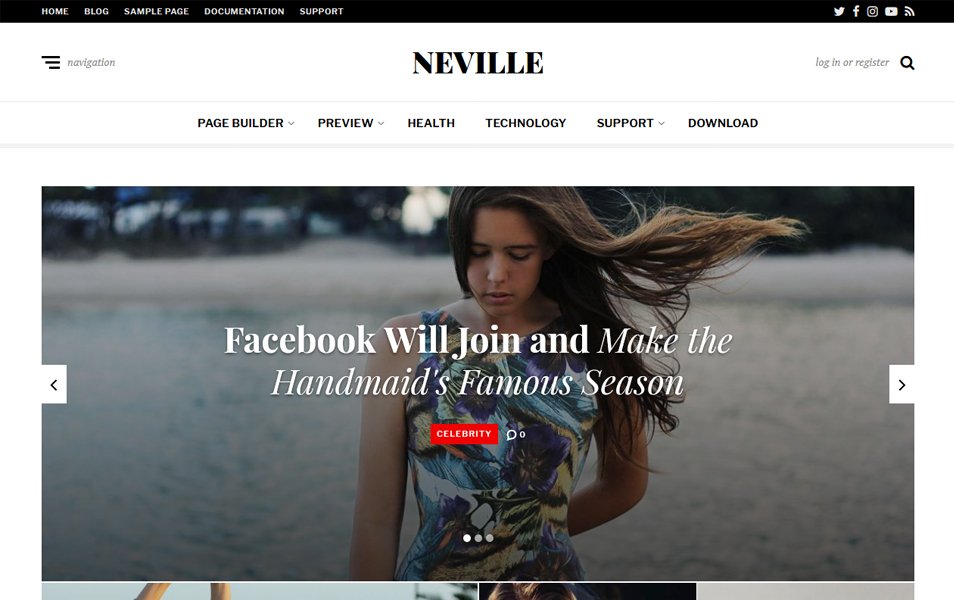 Neville is a very clean and purposeful WordPress theme that has been designed with a unique outlook. It can be used for sophisticated online newspapers or magazines, attention grabbing blogs or your daily simple journal.
HitMag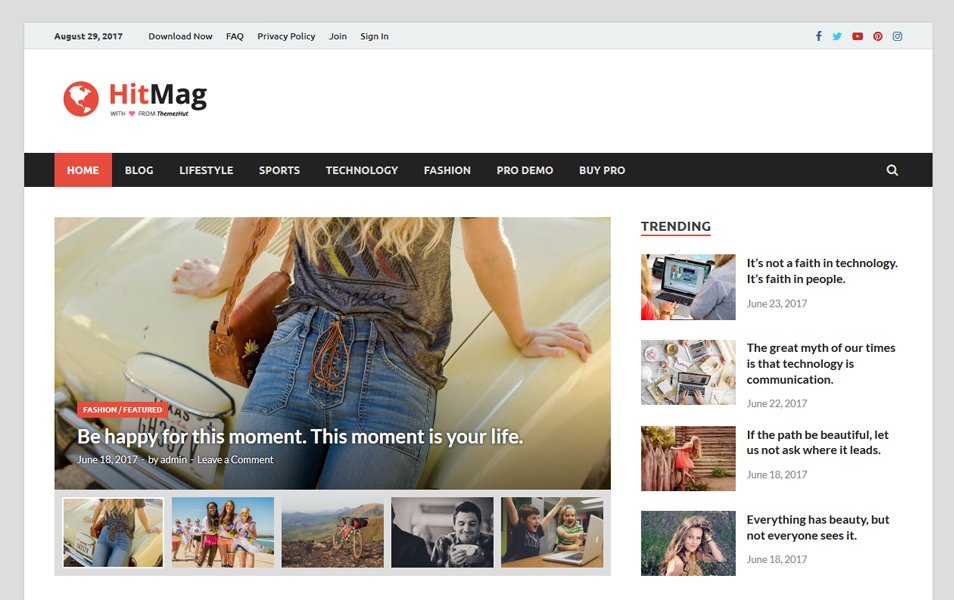 HitMag is a stylish and powerful theme crafted for magazines, newspapers or personal blogs.
SpiderMag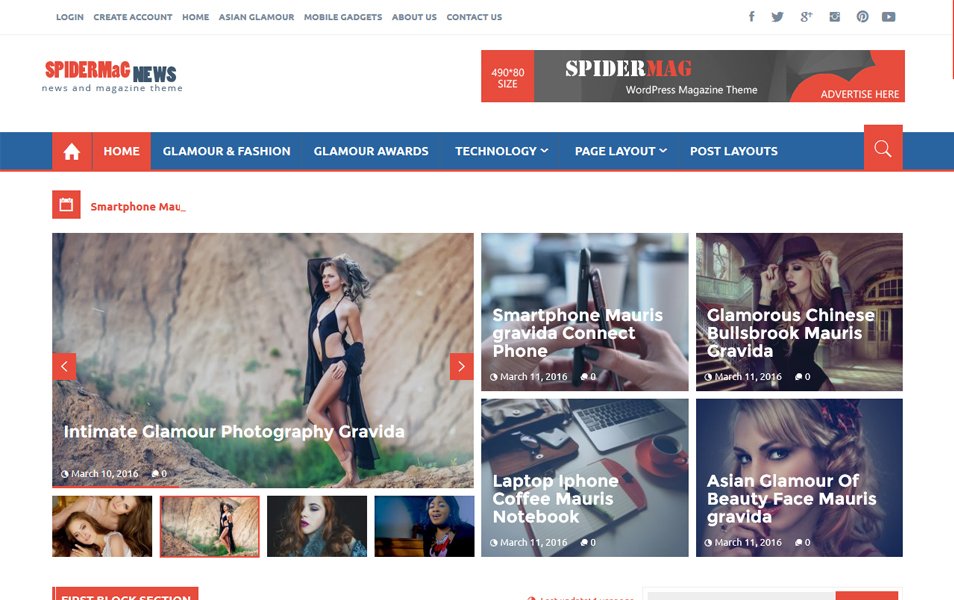 Spidermag is a responsive magazine WordPress Theme specially designed for magazine, newspaper, news portals and editorial style websites.
bFastMag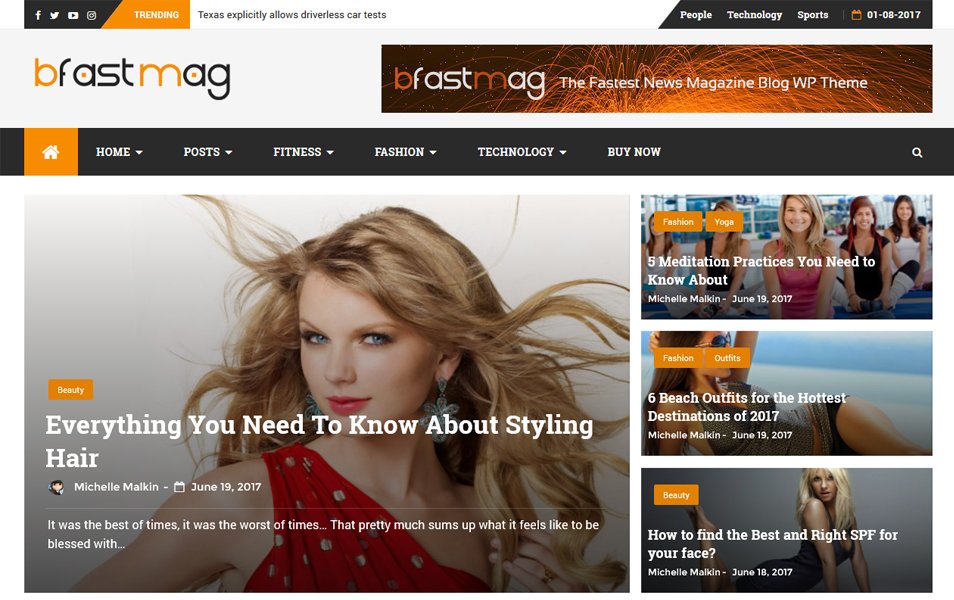 bfastmag is an Ultra Fast Responsive free WordPress theme for News, News Paper, magazines, tech blogs, Personal Blogs, Fashion blogs and photography, Photo gallery Blogs.
Online News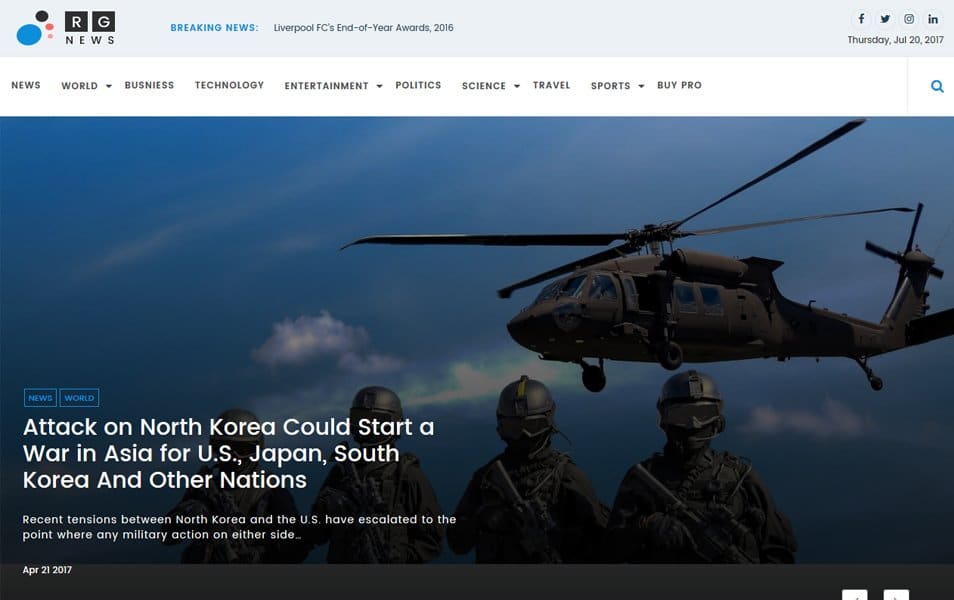 Online News is clean, well structured, sparkling, user-friendly, flexible, dynamic and attention-grabbing WordPress Magazine Theme with a sleek feel that's perfect for news sites, editorial websites, and online magazines.
Magazine Point Responsive WordPress Theme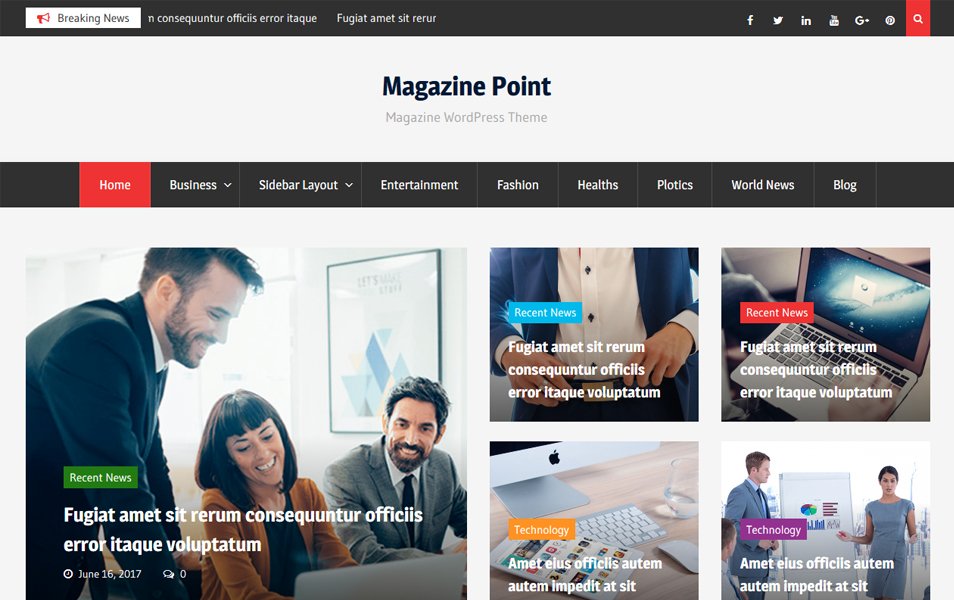 Magazine Point is a WordPress magazine theme. With Magazine Point you can build any kind of news, magazine, blog website.
Power Mag Responsive WordPress Theme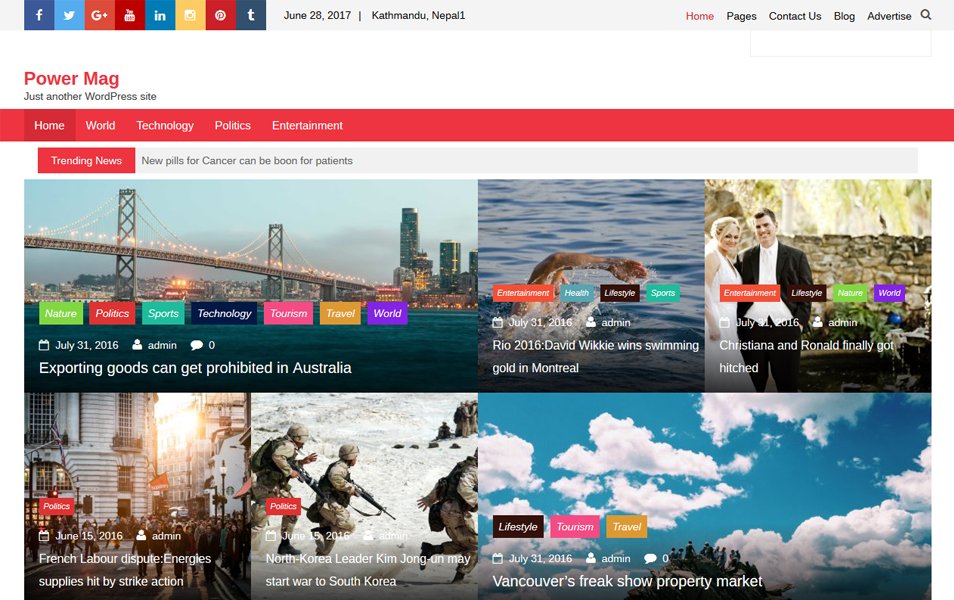 PowerMag is a powerful and perfectly responsive magazine WordPress theme. Powermag fits great with magazine, news, publishing, newspaper or any other sites.
Magaz Responsive WordPress Theme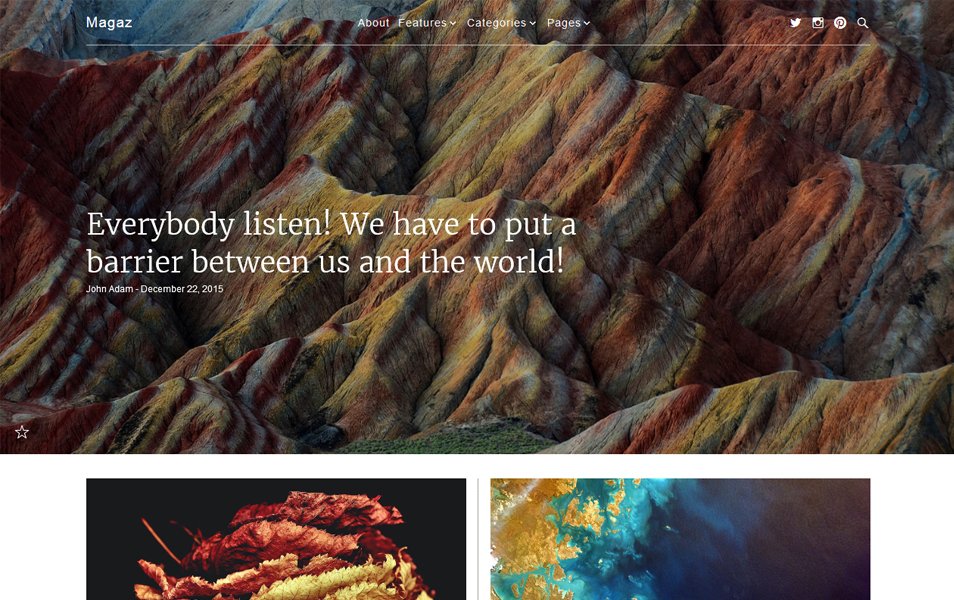 Magaz is a modern, clean, minimal, content and image focus theme for WordPress.
NepalBuzz Responsive WordPress Theme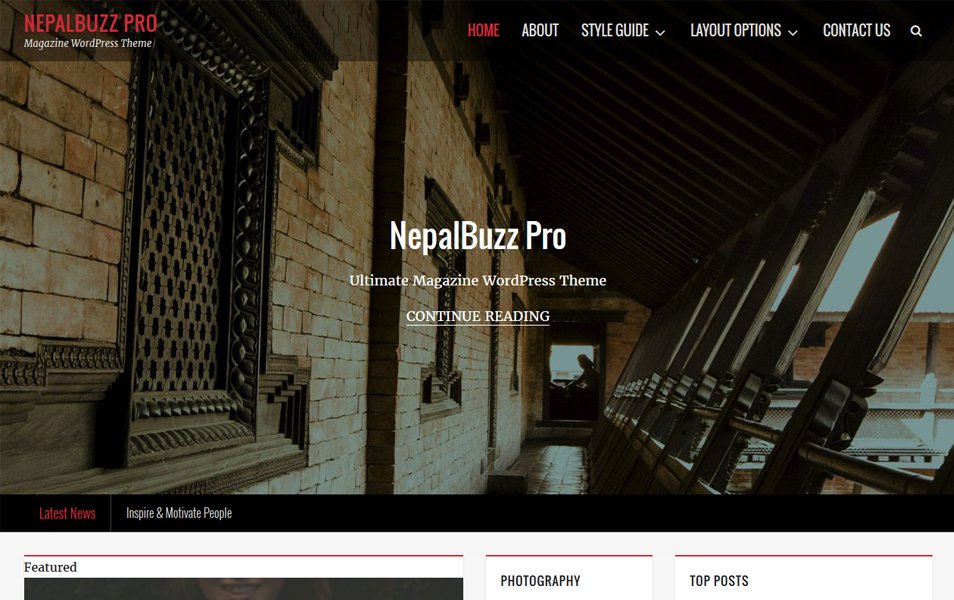 NepalBuzz, the WordPress Theme for Magazine and Blogs represents simplicity and clarity.
Publisho Responsive WordPress Theme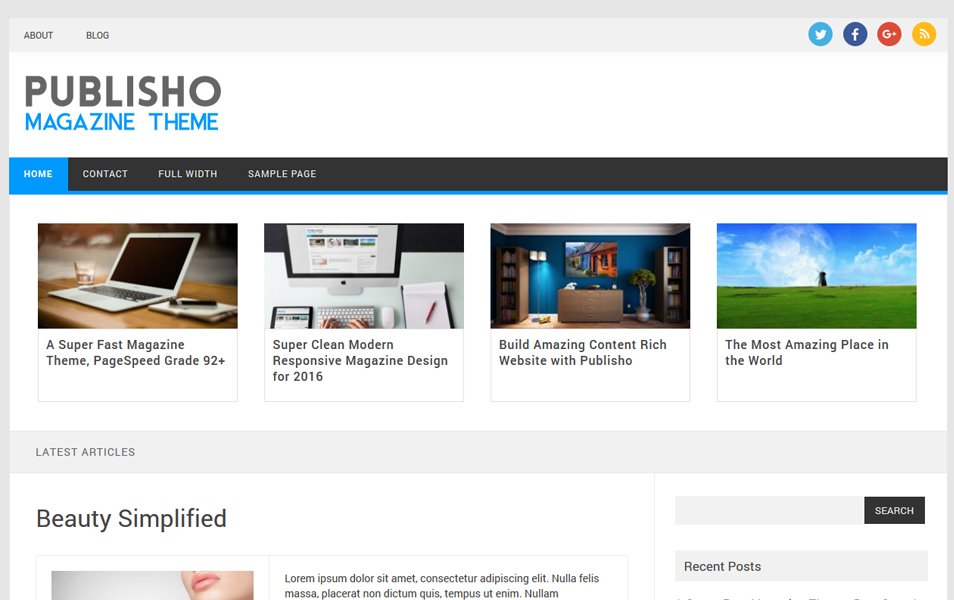 Publisho is a light weight and responsive WordPress Magazine Theme suitable for News, Publishing, Magazine, small business blog/website etc.
NewsPro Responsive WordPress Theme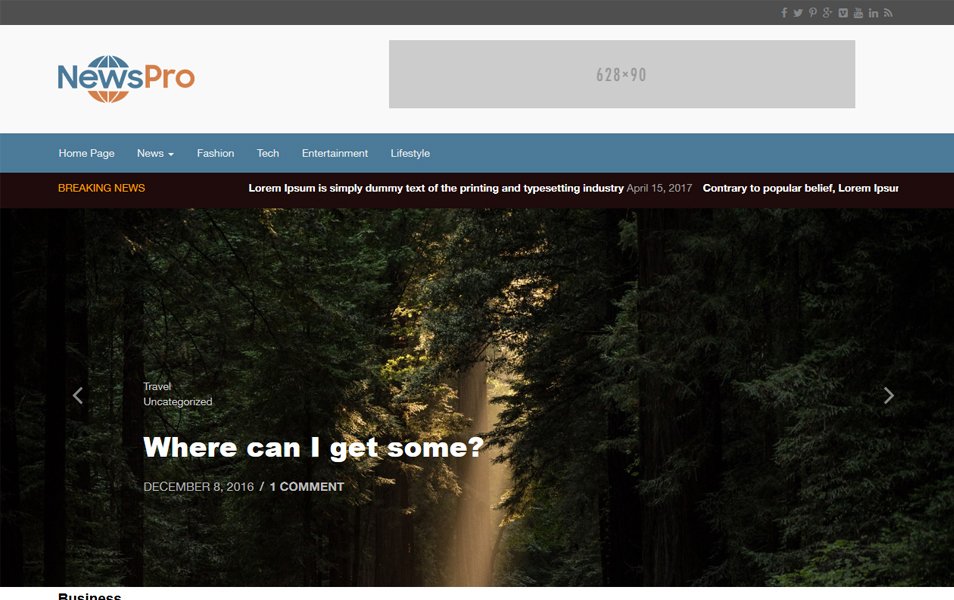 The NewsPro is the WordPress theme that perfectly suites your need in creating the news sites easily. It is suitable for creating the blog, magazine, news and personal sites.
MH HealthMag Responsive WordPress Theme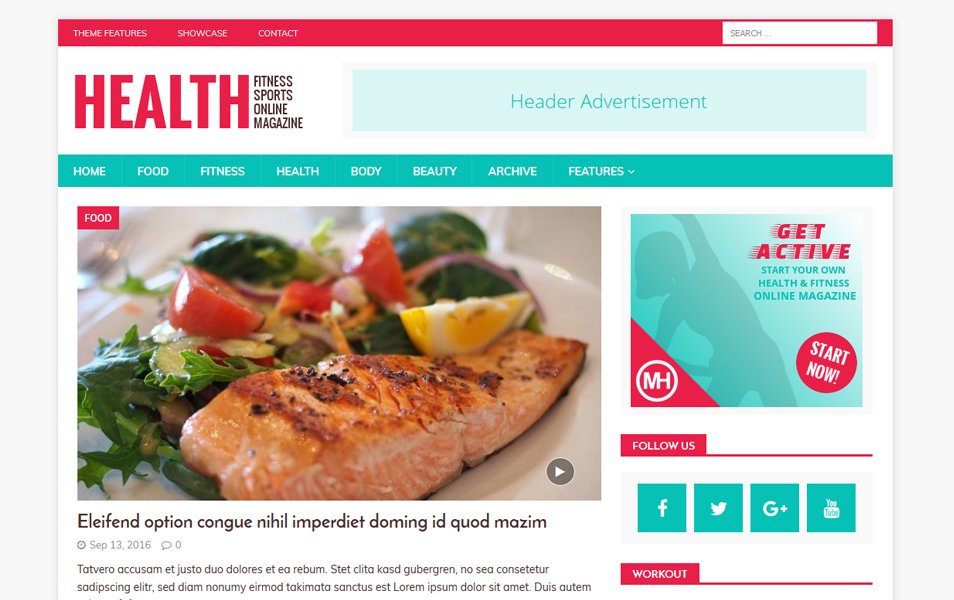 MH HealthMag is a fresh and beautiful magazine WordPress theme for editorial websites with topics like health, fitness, body, food, beauty or else.
MagZen Responsive WordPress Theme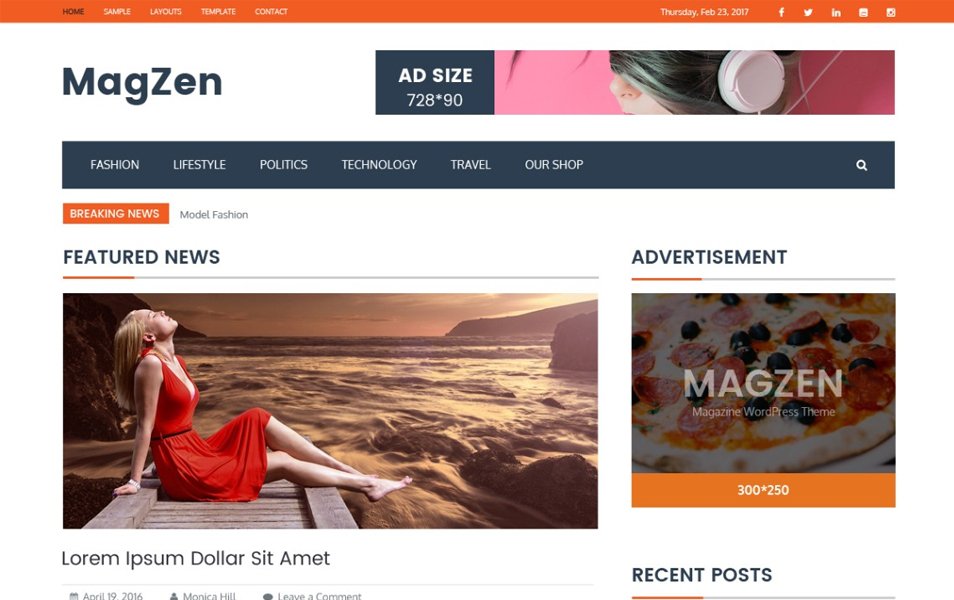 MagZen is a perfect responsive magazine style WordPress theme. Suitable for news, newspaper, magazine, publishing, business and any kind of sites.
Passport Responsive WordPress Theme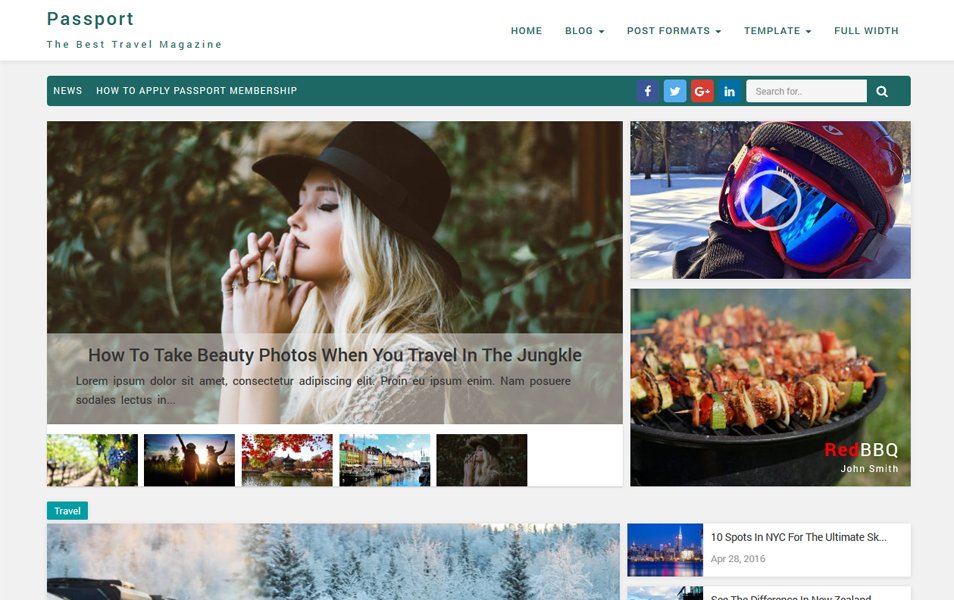 Passport is a responsive WordPress theme for magazines, newspaper, publishing, and others.
GreatMag Responsive WordPress Theme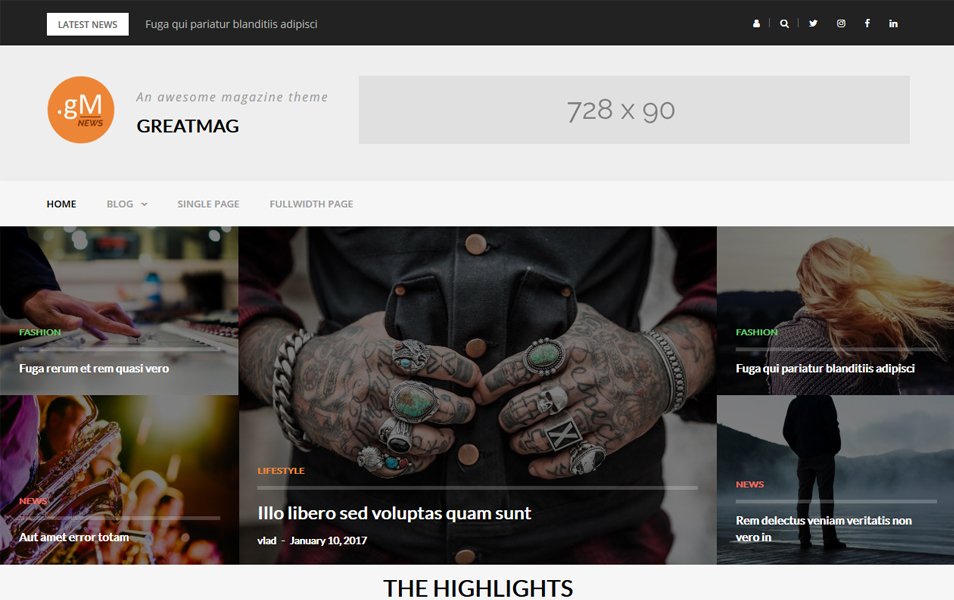 GreatMag is a modern magazine theme that gives you all the tools you need to quickly build an awesome news site or even a simple blog.
Magnetism Responsive WordPress Theme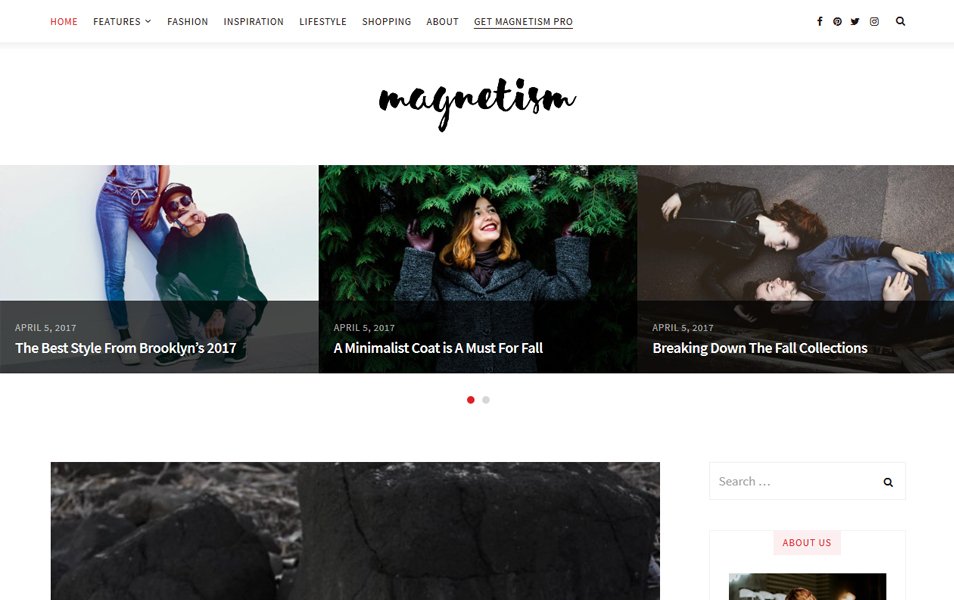 A beautiful blogging and magazine-style theme, make your content look spectacular with Magnetism.
MH RetroMag Responsive WordPress Theme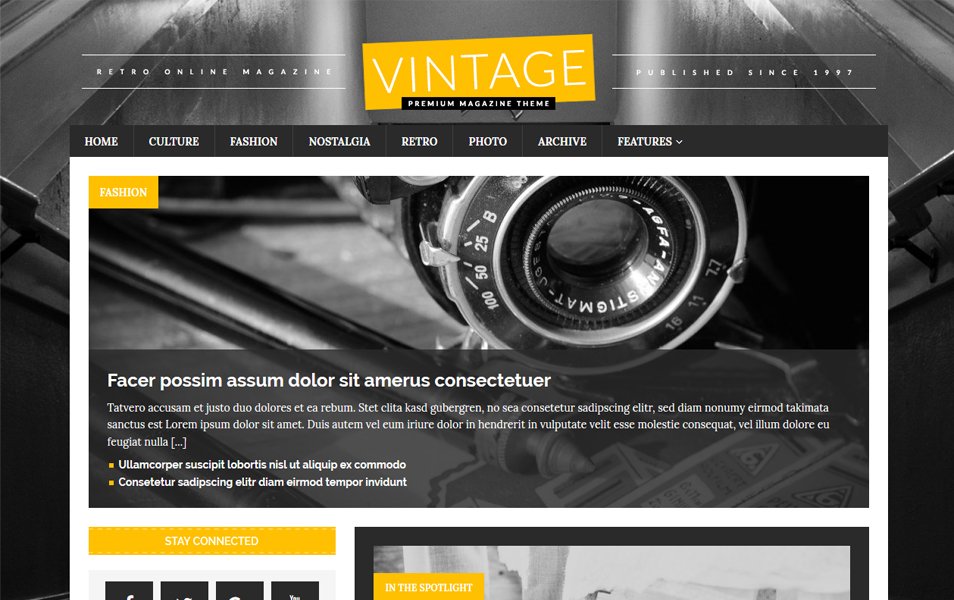 MH RetroMag is a beautiful blog, magazine & news WordPress theme for editorial retro magazines and vintage sites.
Newspaper X Responsive WordPress Theme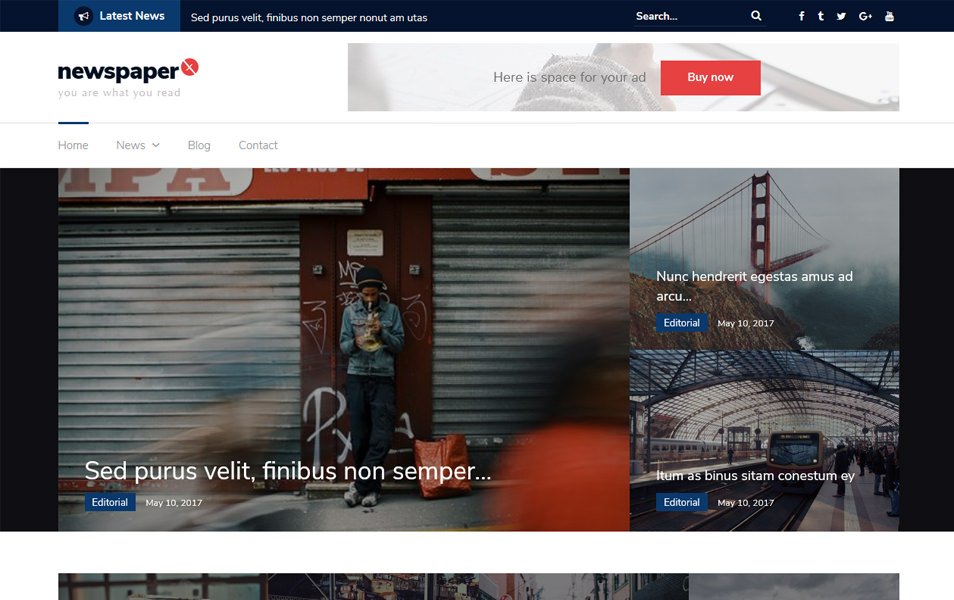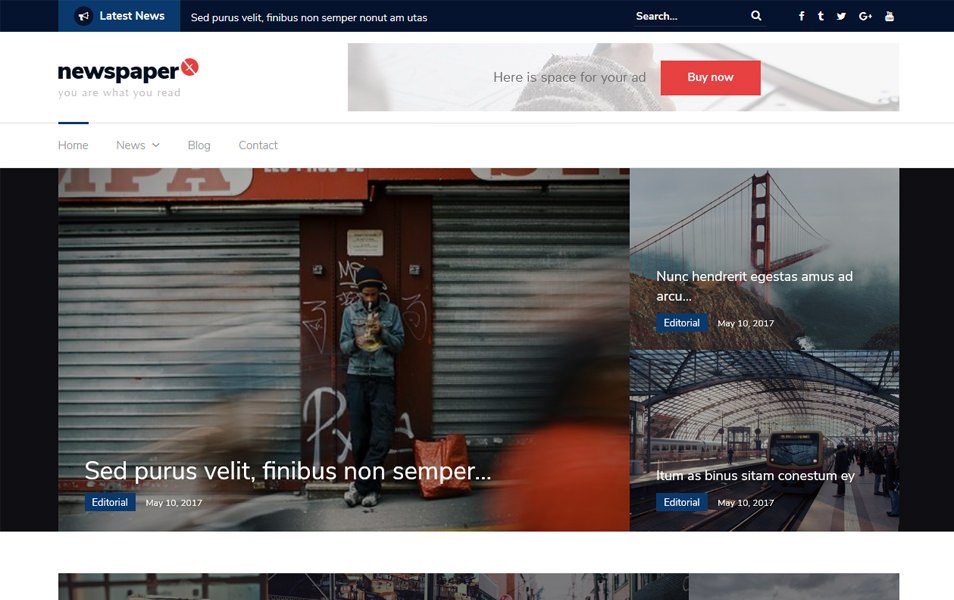 Newspaper X is a simple magazine WordPress theme suitable for any sort of magazine style website such as fashion, technology, food, lifestyle, new, cars, gamin and much more.
RainbowNews Responsive WordPress Theme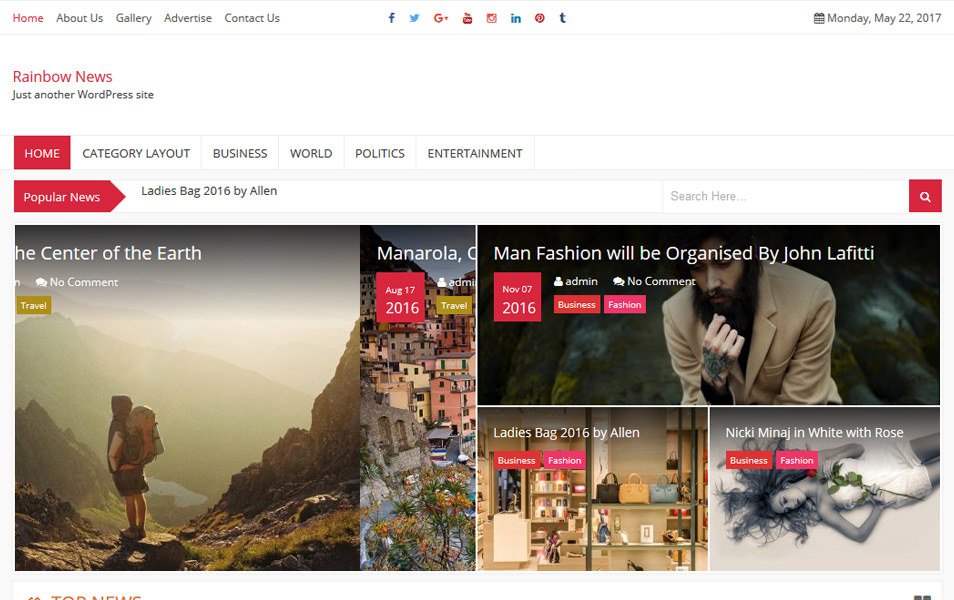 RainbowNews WordPress theme is specifically designed for magazine, news, editorial and blog websites they cover topics like: entertainment, reviews, technology and product.
Styled Mag Responsive WordPress Theme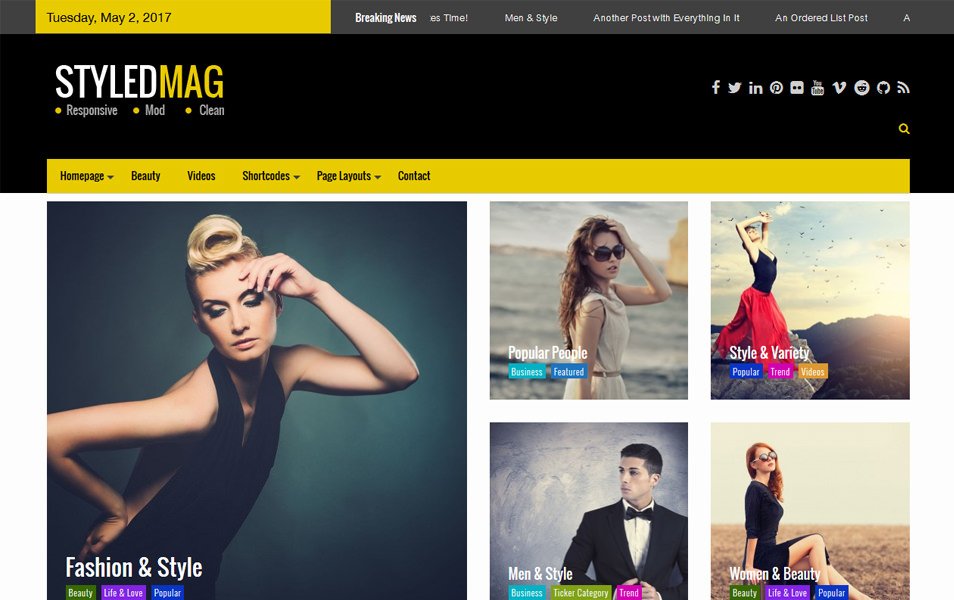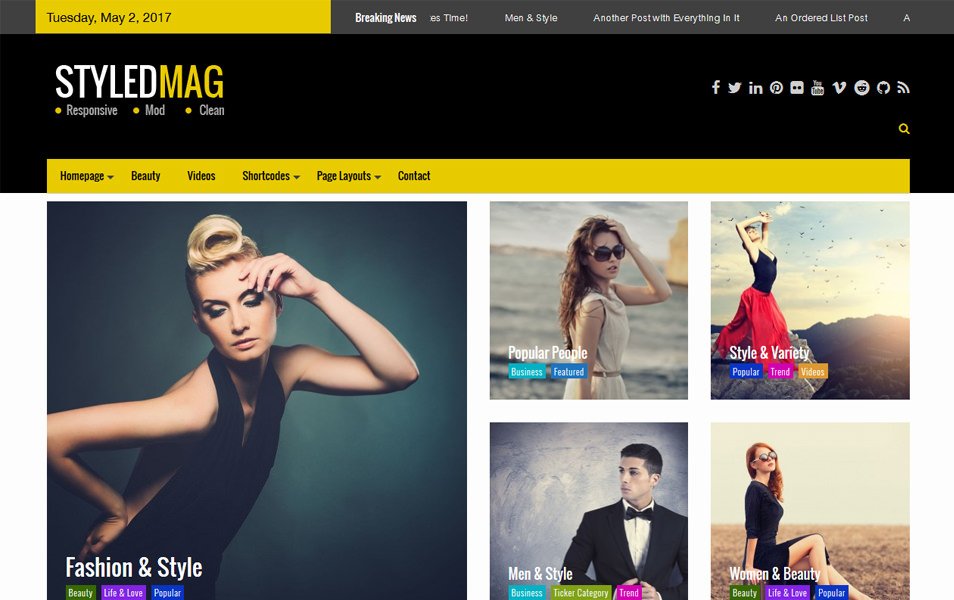 This WordPress Magazine Theme is perfect for magazines and news websites covering diverse subjects such as fashion, sports, arts & crafts, business and finance, sports, technology or even politics and current affairs.
Magazine Prime Responsive WordPress Theme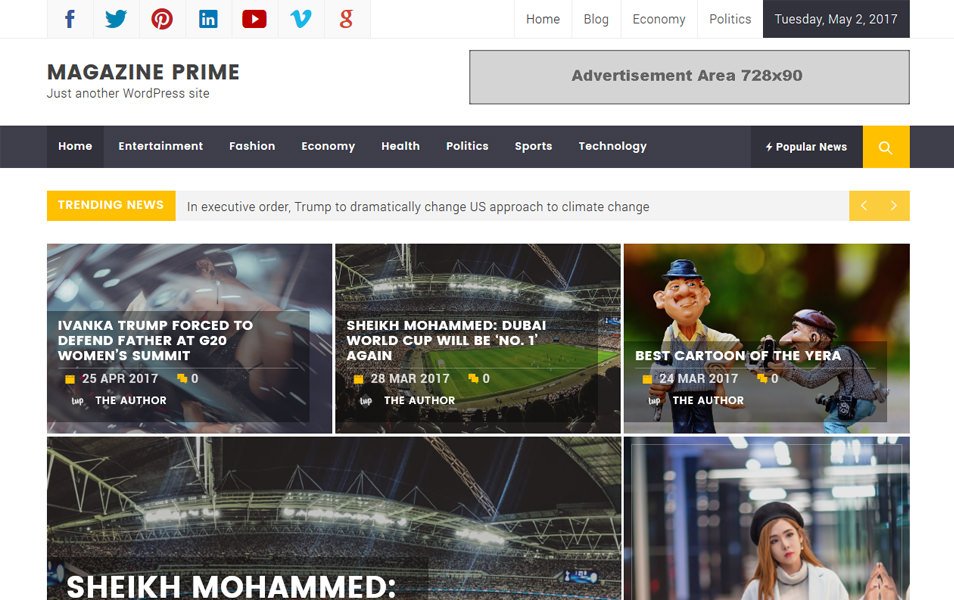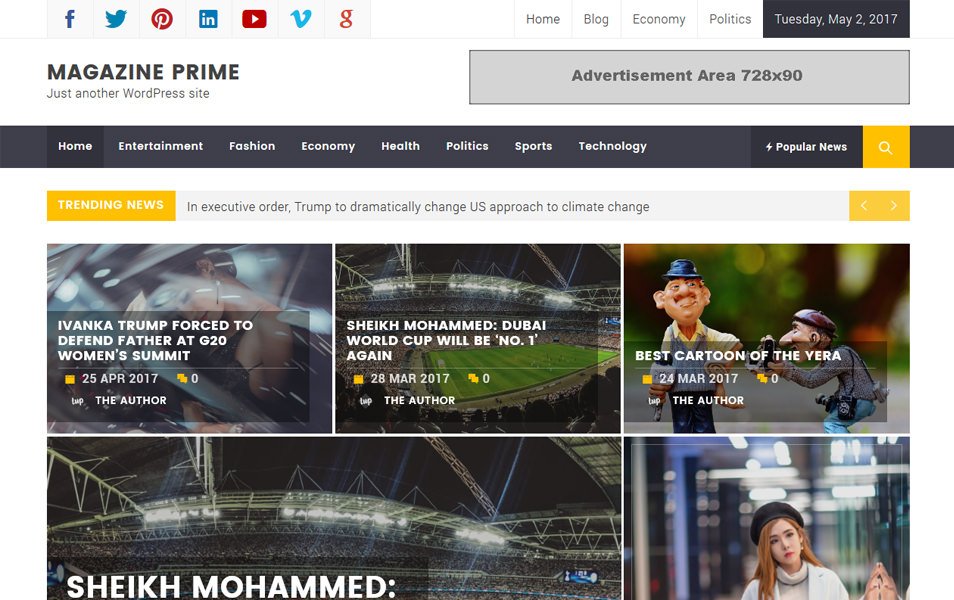 Magazine Prime is a perfect Modern WordPress magazine theme you can choose to build a professional news website from News and magazine sites, Tech Reviews, Health, Beauty and Fashion lifestyle, Arts, Celebrity News and Articles, to sports, movies and other entertainment.
Lucida Responsive WordPress Theme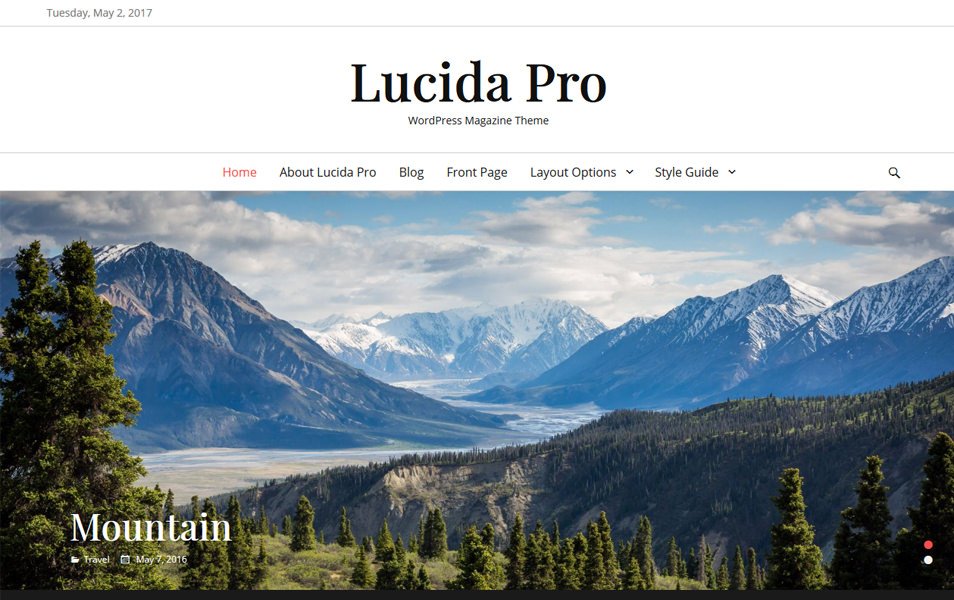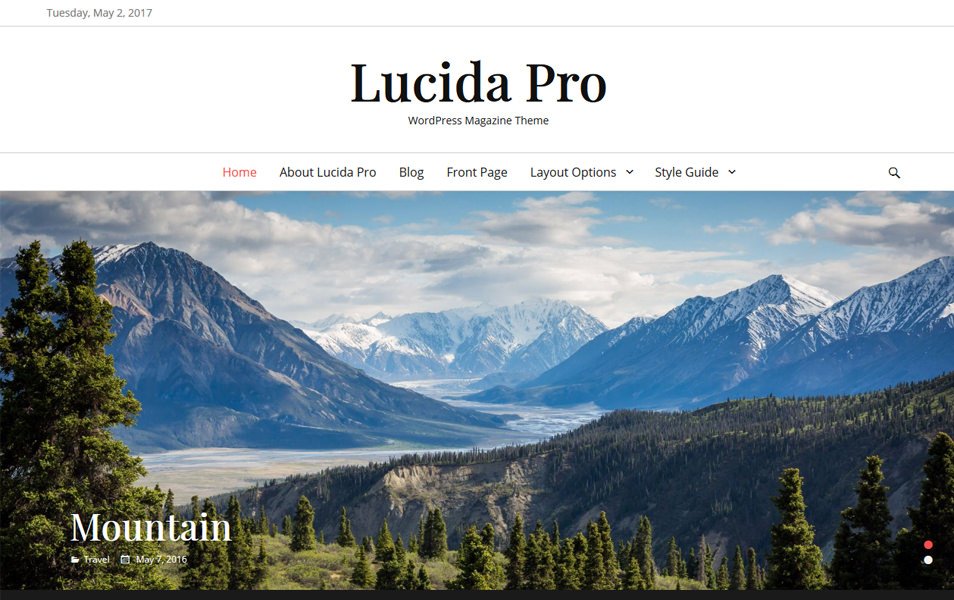 Lucida, the WordPress Theme for Magazine and Blogs represents simplicity and clarity. Lucida is completely responsive and minimalistic, all you need for magazine and blog websites.
Branches Responsive WordPress Theme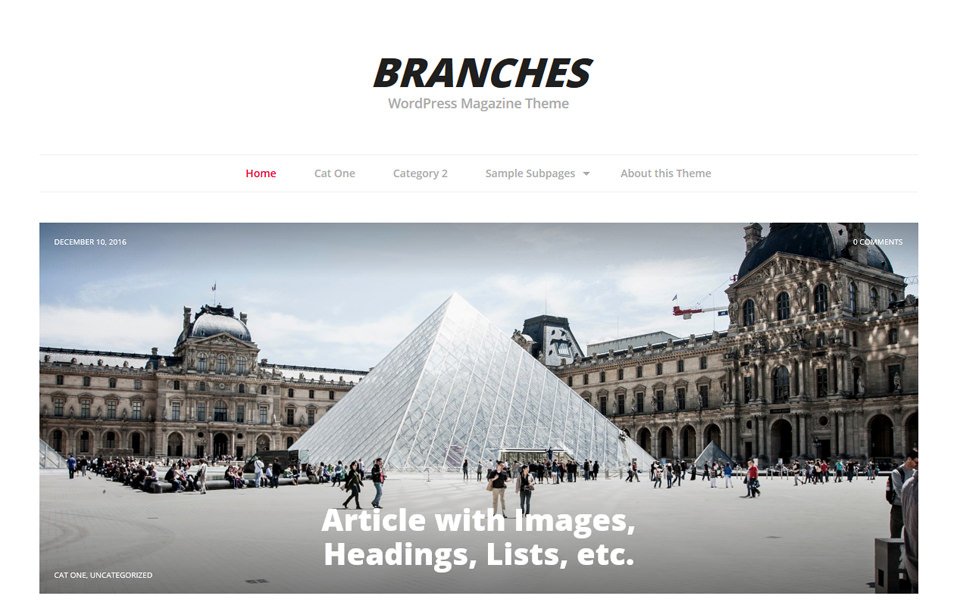 Branches is a simple, minimalistic magazine/blog theme.
BlackWhite Lite Responsive WordPress Theme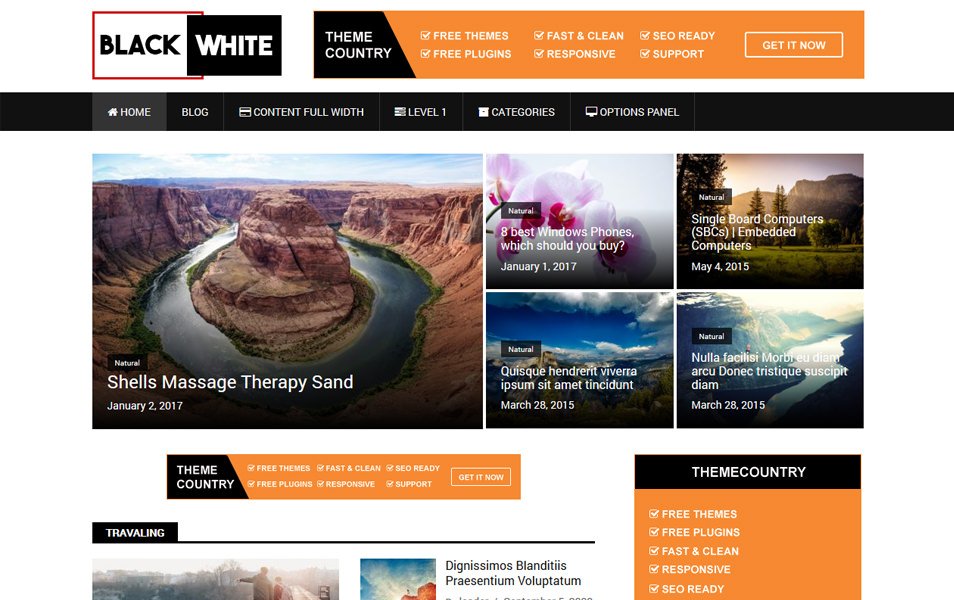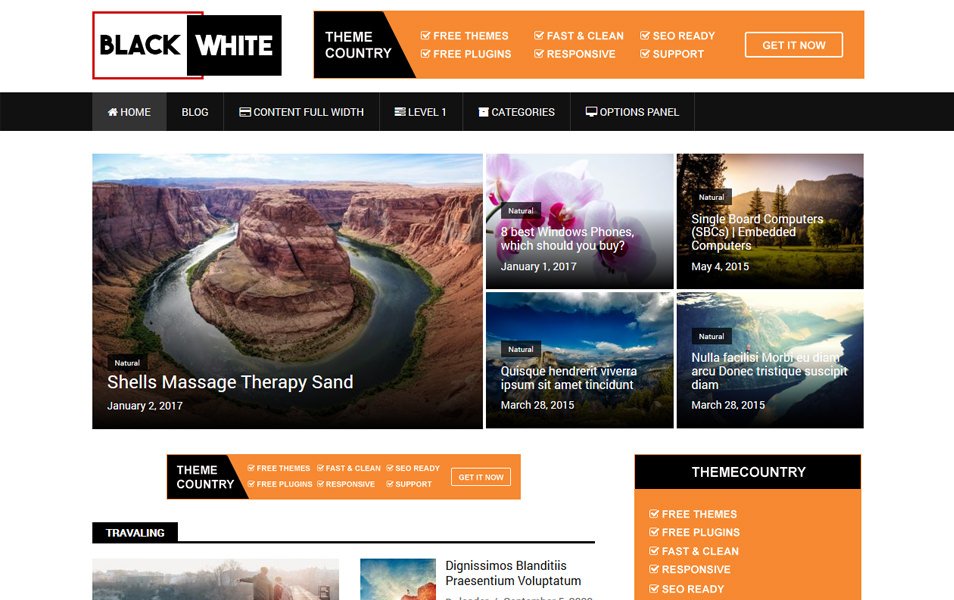 Be the leader in your industry by taking your online publishing to the next level with Black-White WordPress Magazine Theme. Easily let your readers go through content by category, archive with clean and well-organized homepage magazine layout.
Glob Responsive WordPress Theme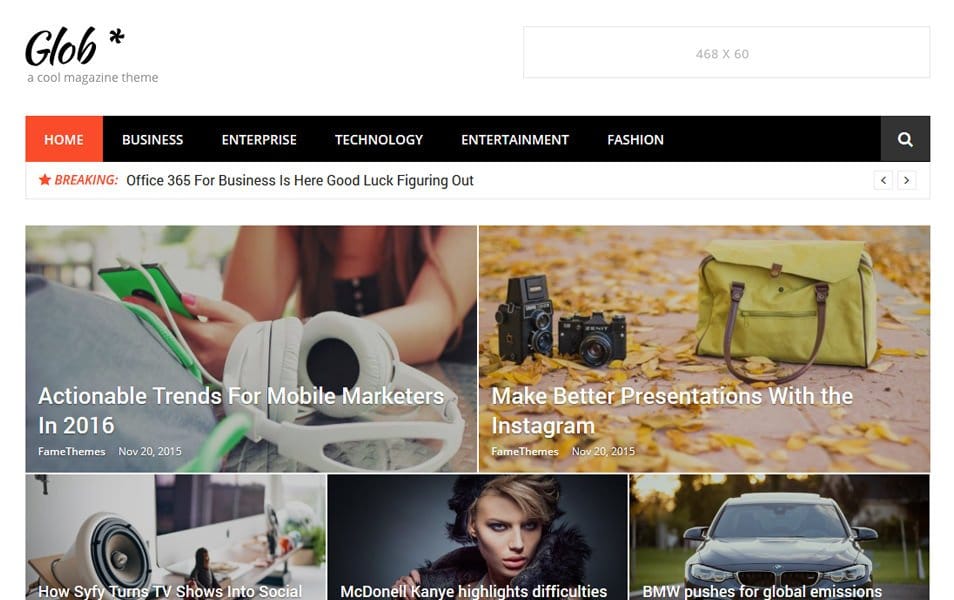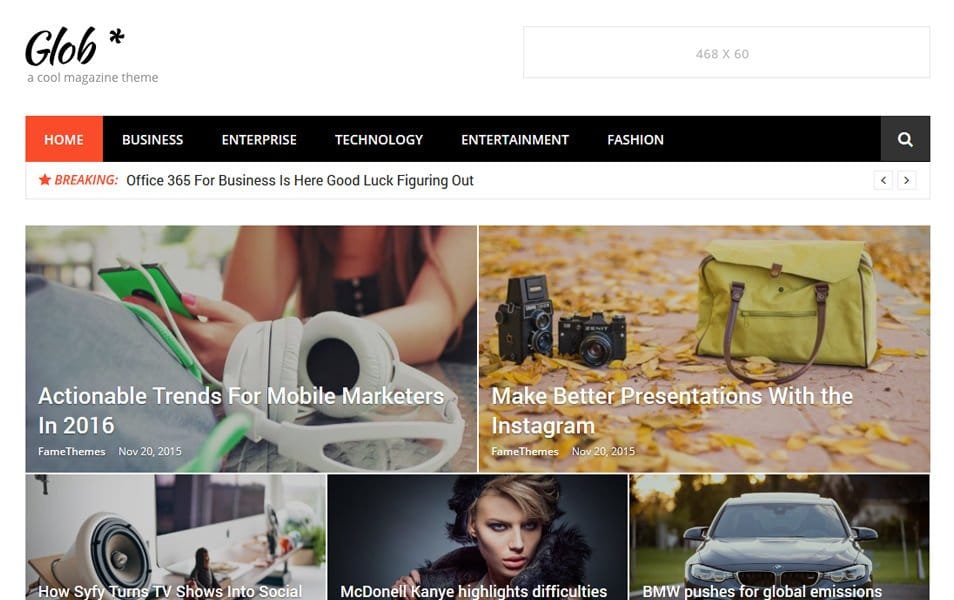 Glob is a flexible, clean, simple responsive WordPress theme, perfect for any news or online magazine website.
Daily Insight Responsive WordPress Theme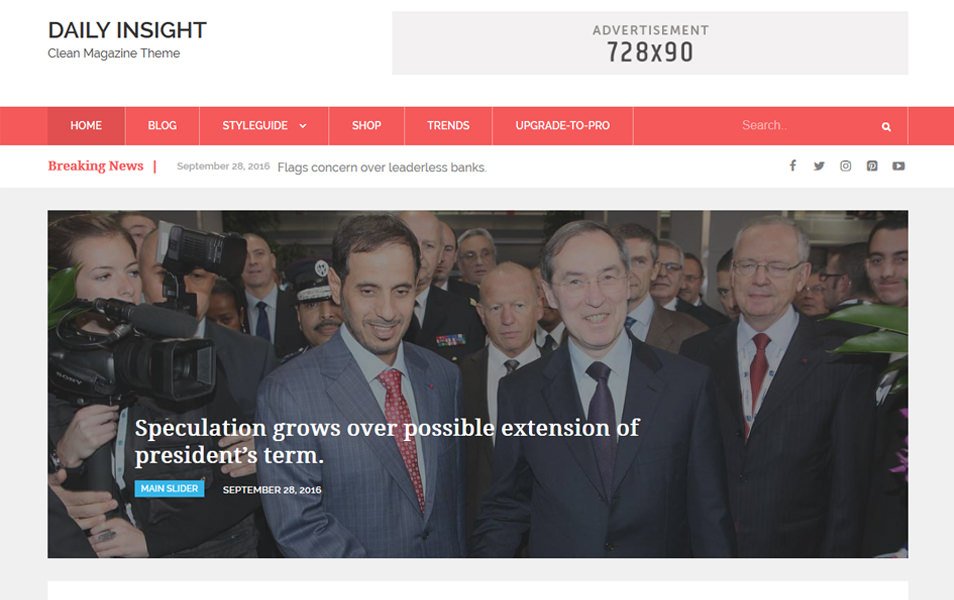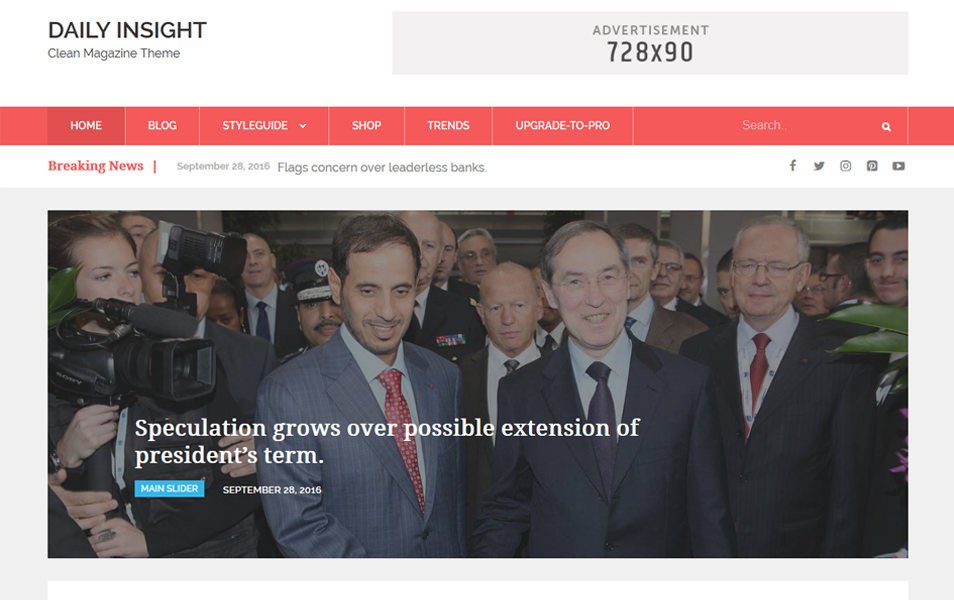 Daily Insight is a news and magazine WordPress free theme which can transform your blog into a modern online magazine which is best suited for dynamic news websites or professional blogs about technology, science, gadgets or anything else you can imagine.
Wellington Responsive WordPress Theme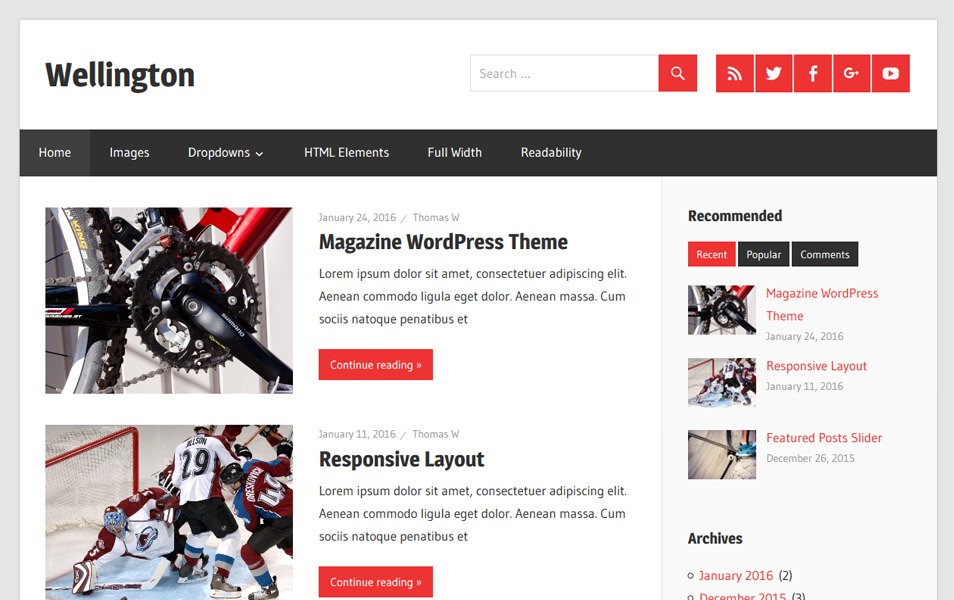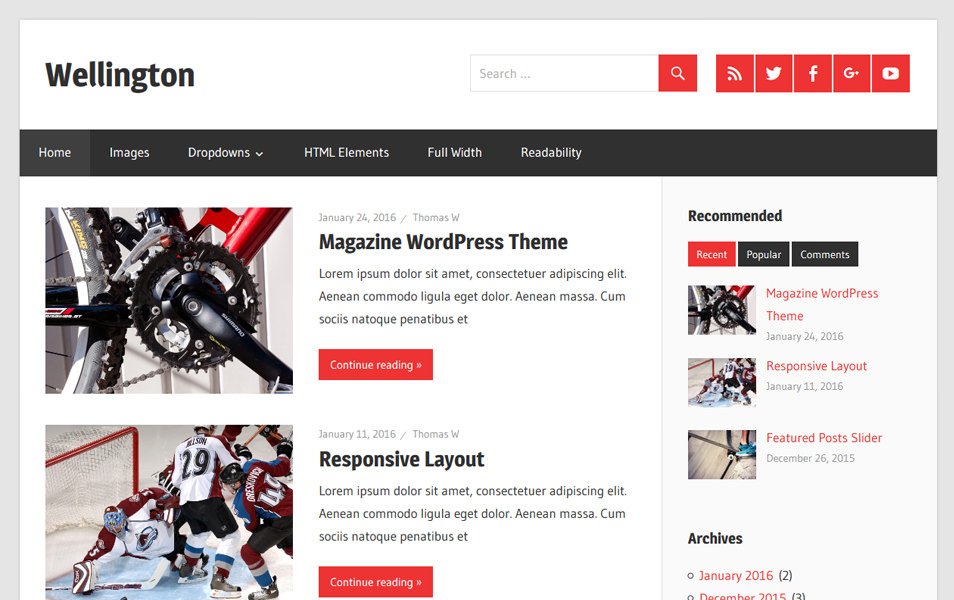 Wellington is a clean and simple Magazine WordPress theme with beautiful typography and subtle colors.
Arouse Responsive WordPress Theme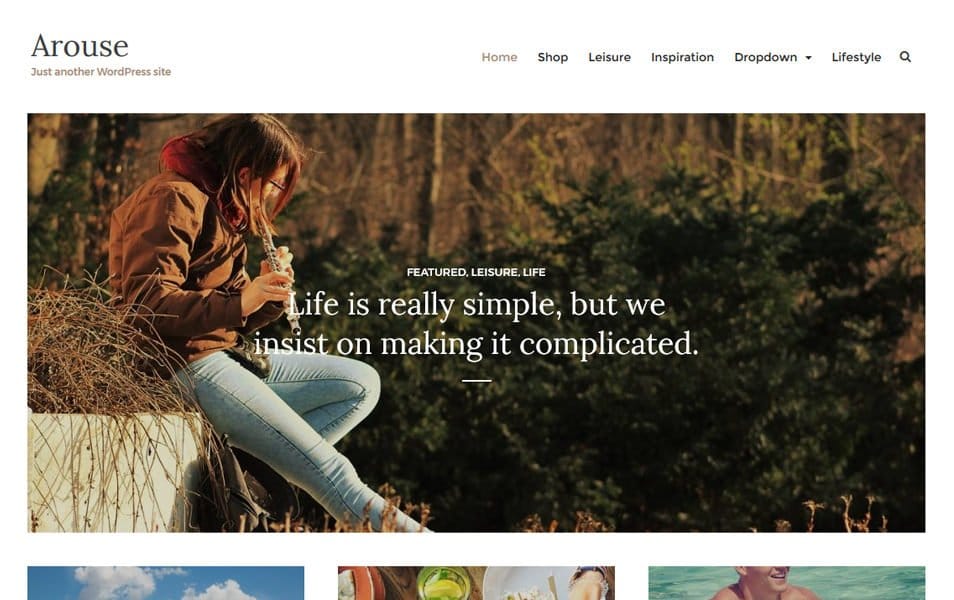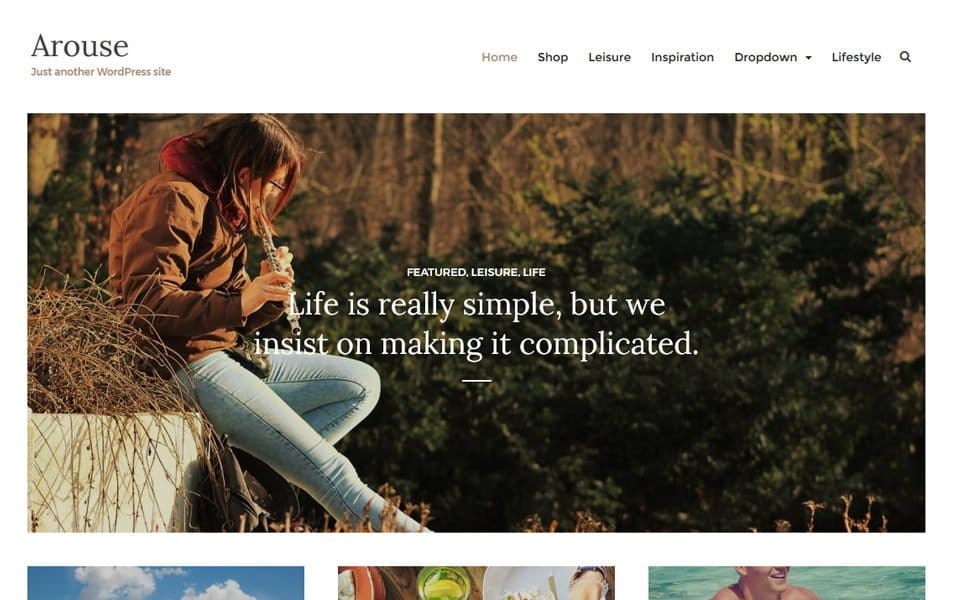 Arouse is a smart, clean and well coded WordPress theme built for bloggers. This theme can be used for any subject like Technology, Travel, Entertainment, Food and Drink, Holiday, News, etc.
Unique Munk Responsive WordPress Theme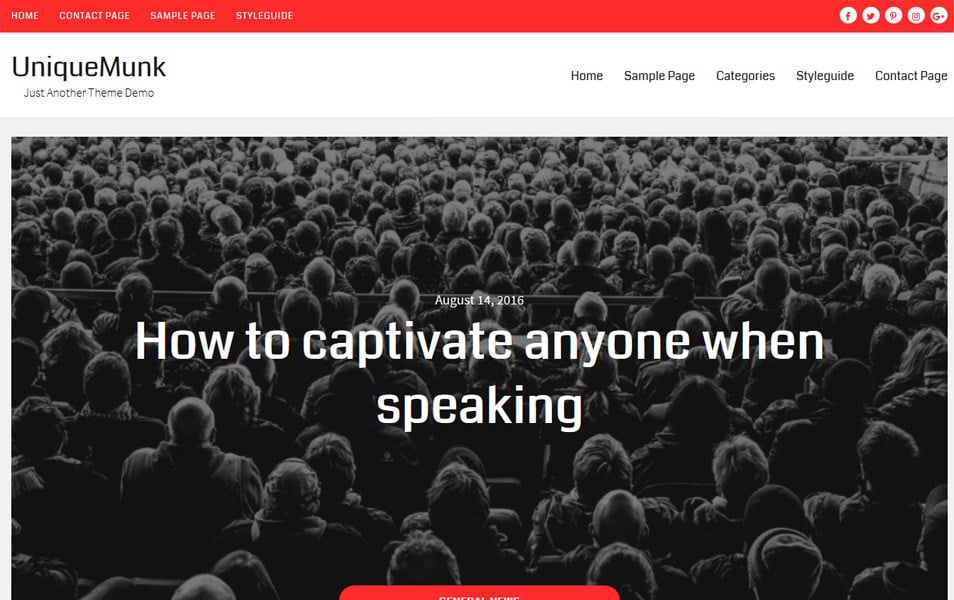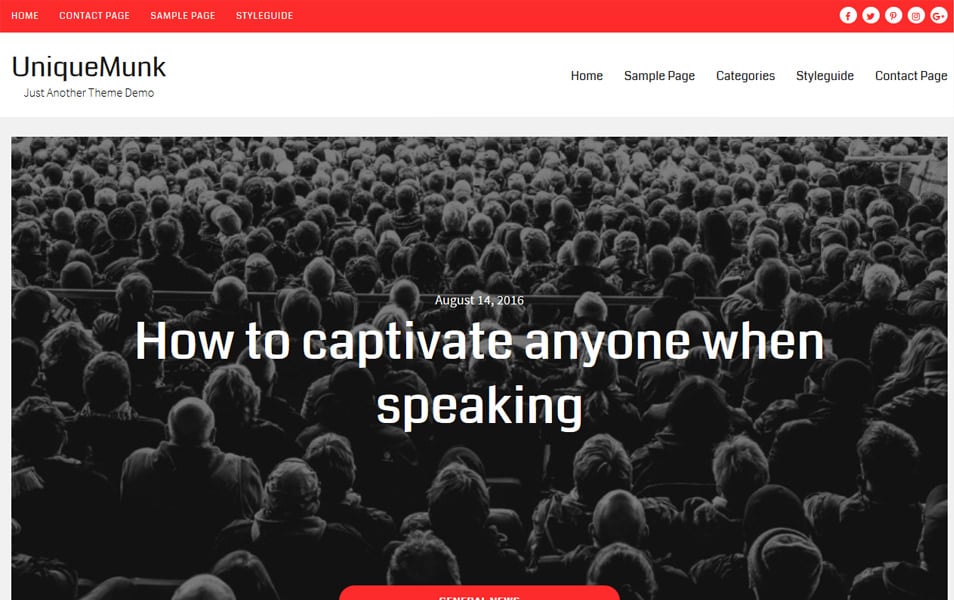 Unique Munk is a modern, clean and easy to use WordPress theme suitable for all kind of bloggers.
Fluid Magazine Responsive WordPress Theme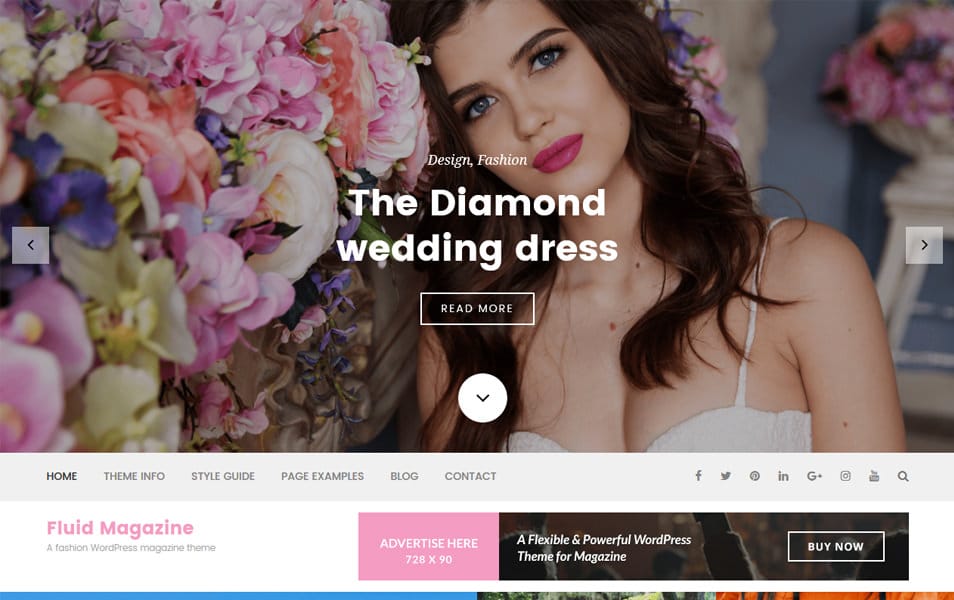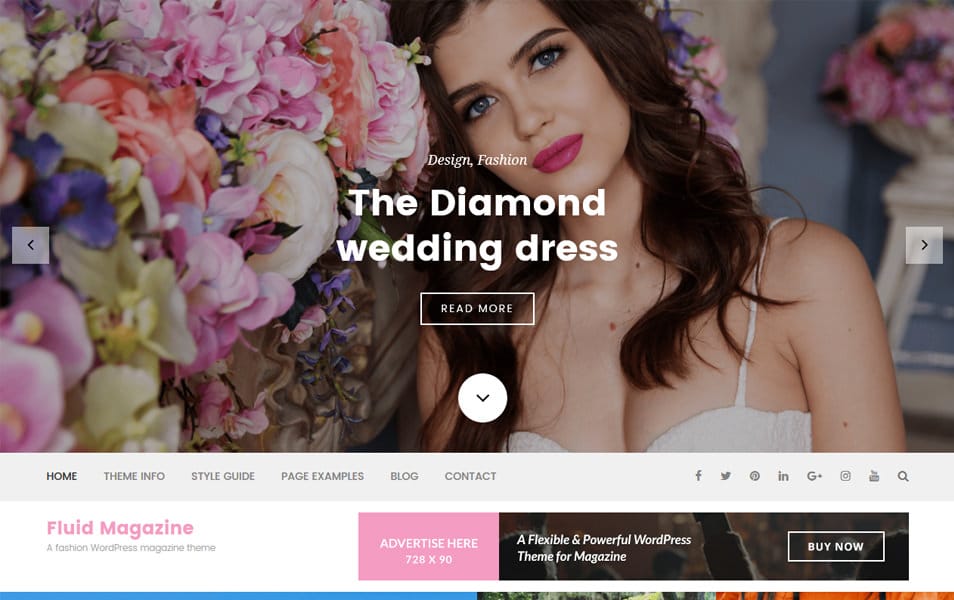 Fluid Magazine is a responsive magazine WordPress theme that will help you create a gorgeous WordPress site that your visitors will adore. It is suitable for news, newspaper, magazine, food, technology, viral content websites.
Magcast Responsive WordPress Theme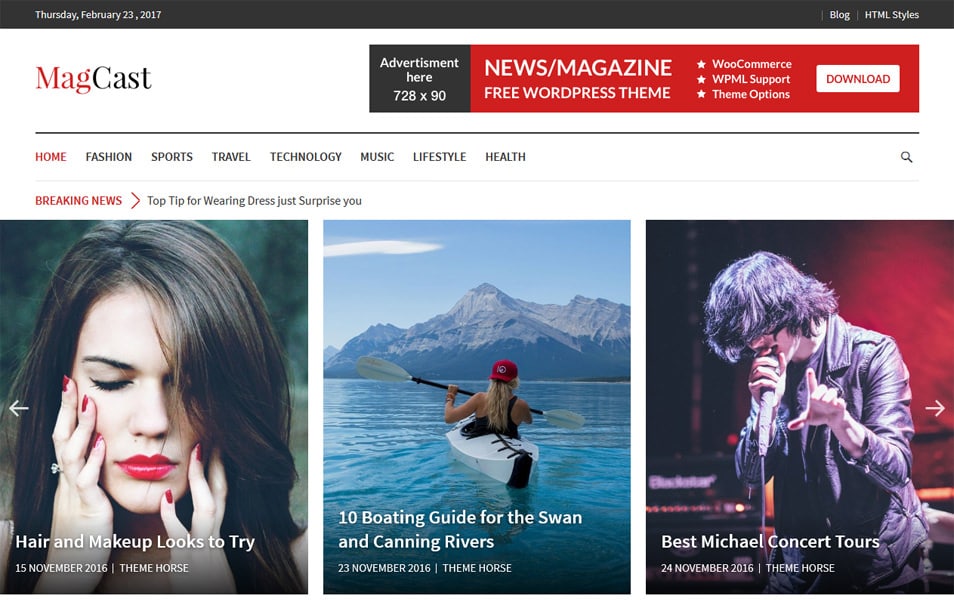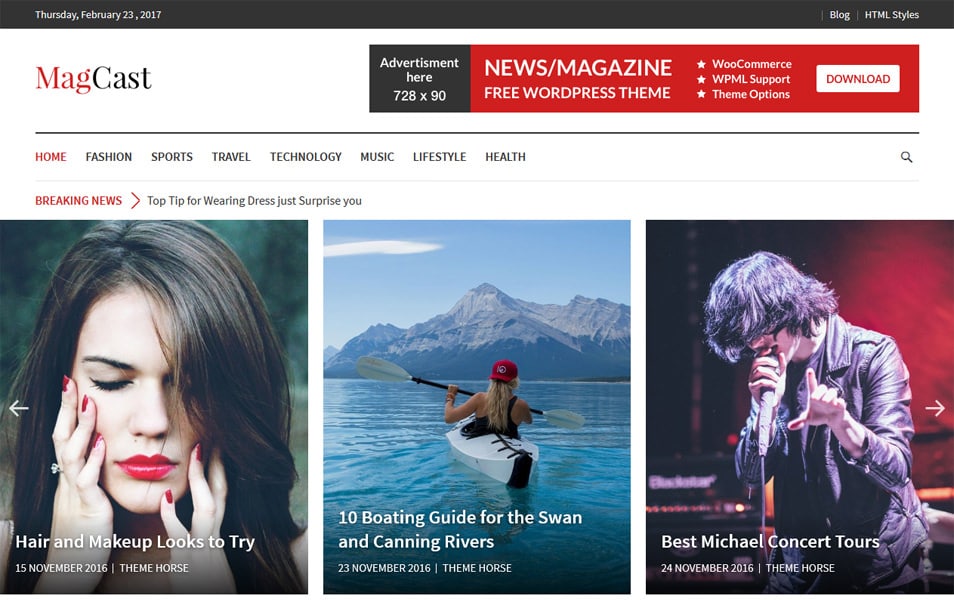 Magcast is a Simple, Clean and Beautiful Responsive Magazine WordPress Theme.
Numinous Responsive WordPress Theme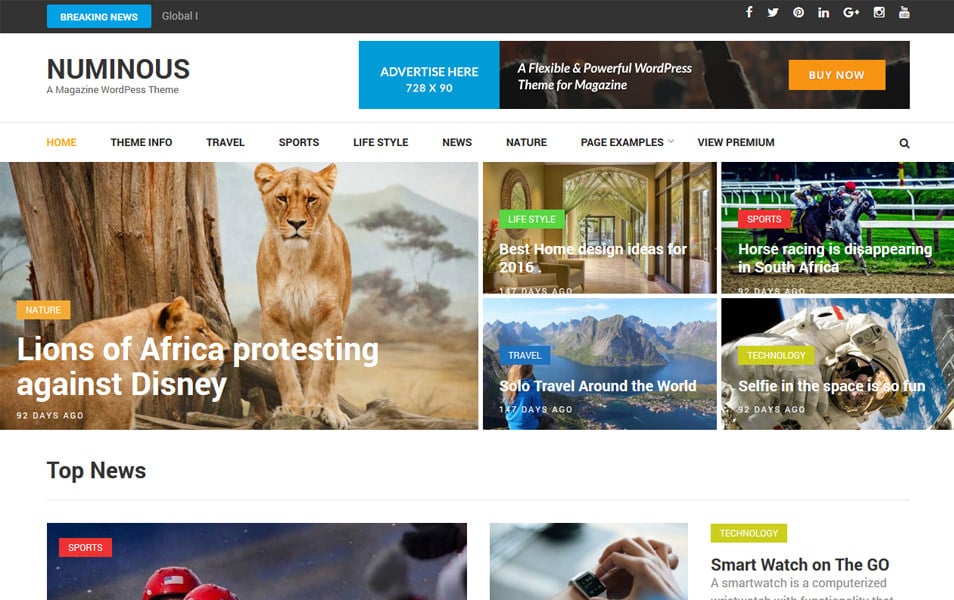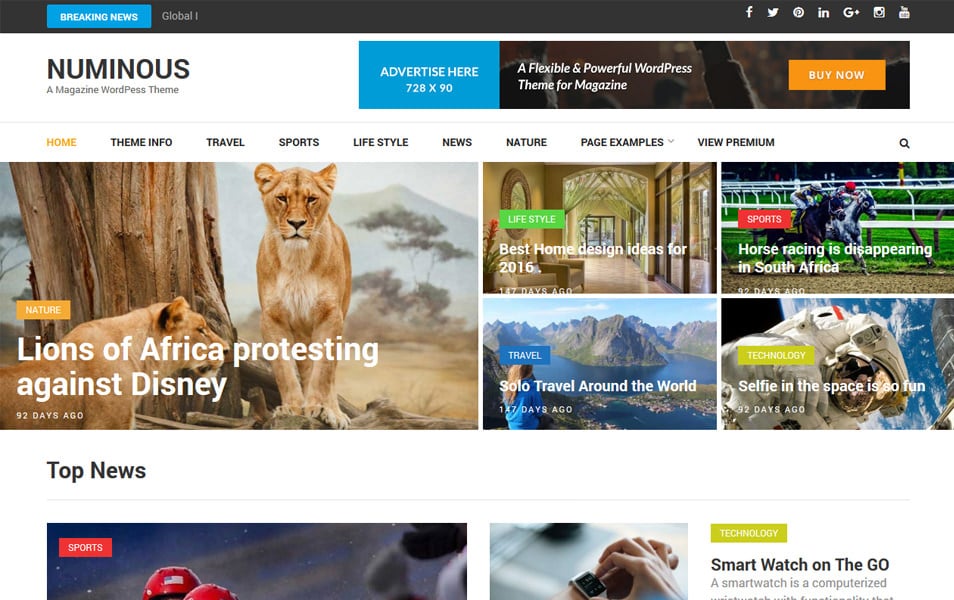 Numinous is a clean and elegant Magazine WordPress theme. It is a responsive magazine style WordPress theme suitable for news, newspaper, magazine, food, technology, viral content websites.
eMag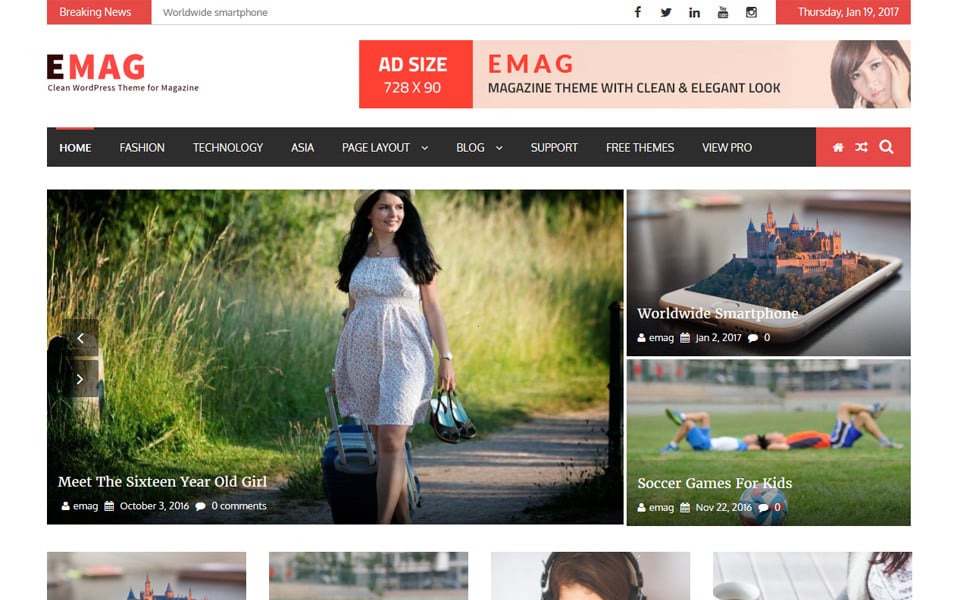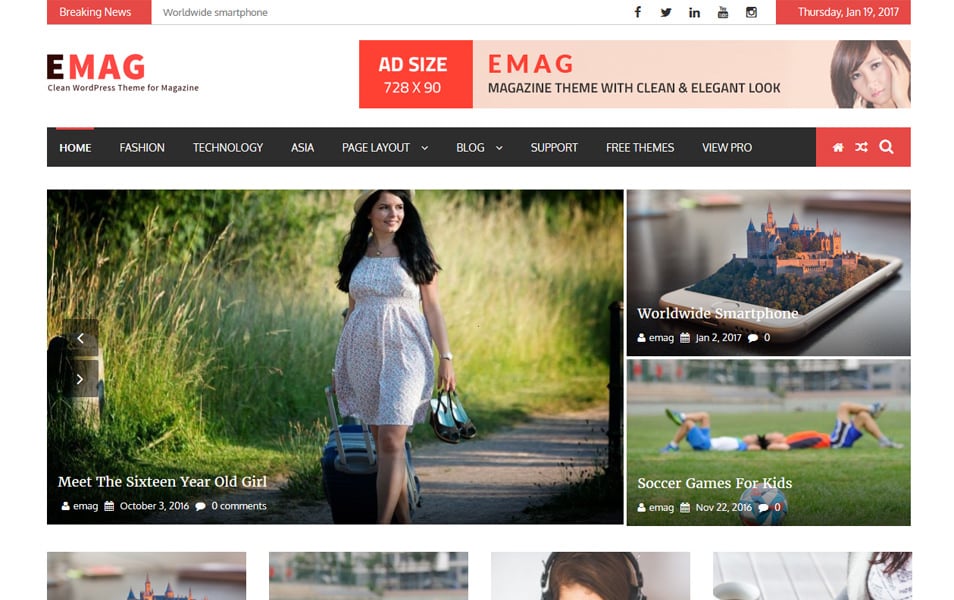 eMag, a clean and professional WordPress Magazine or blog Theme that looks awesome on any devices. It is simple to configure the setting in order to make a dynamic website for online news portal, blogging etc.
SKT Magazine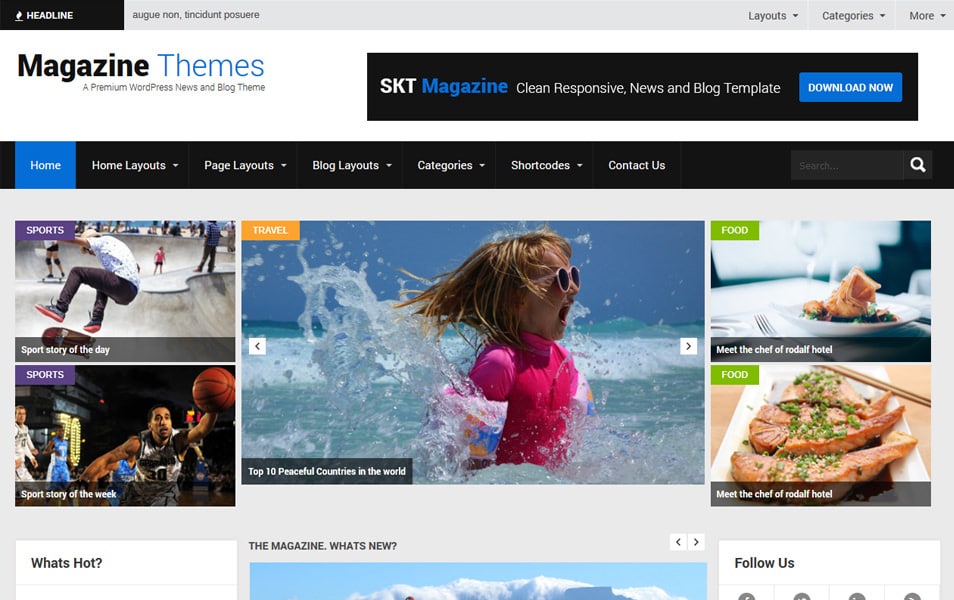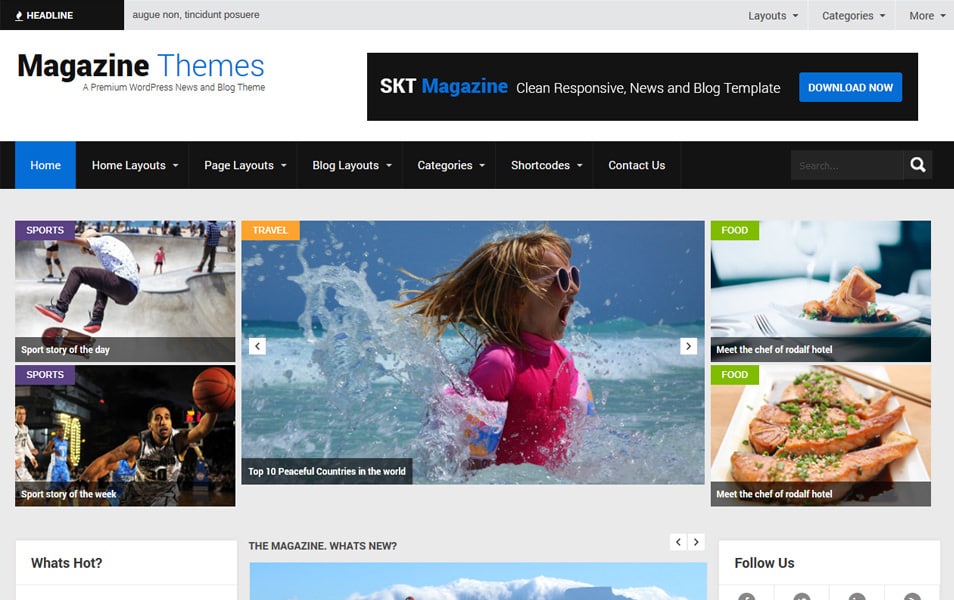 SKT Magazine is a responsive free news and magazine WordPress theme which can be used for newspaper, publishing, personal and corporate blogs, and editorial style websites.
Clean Magazine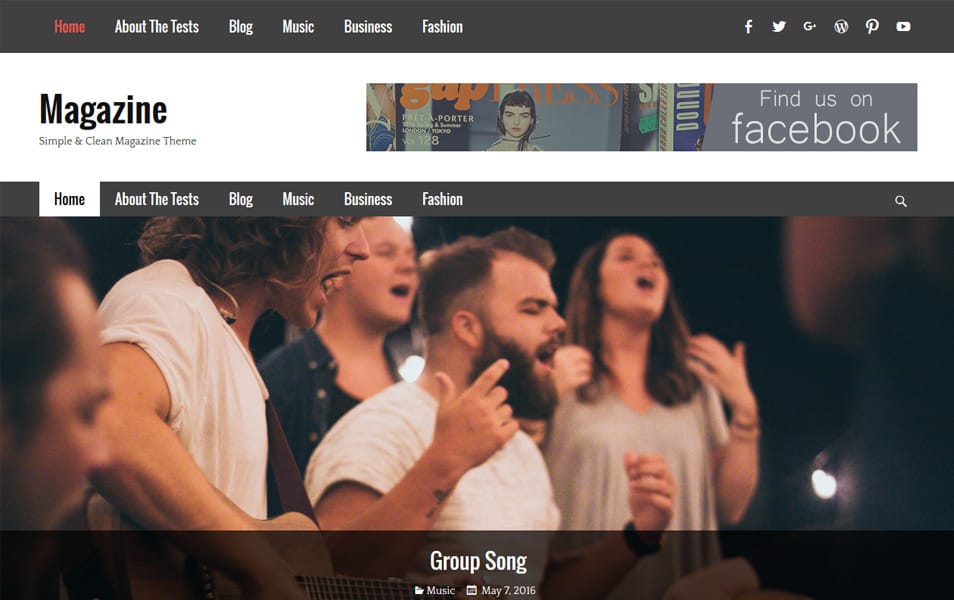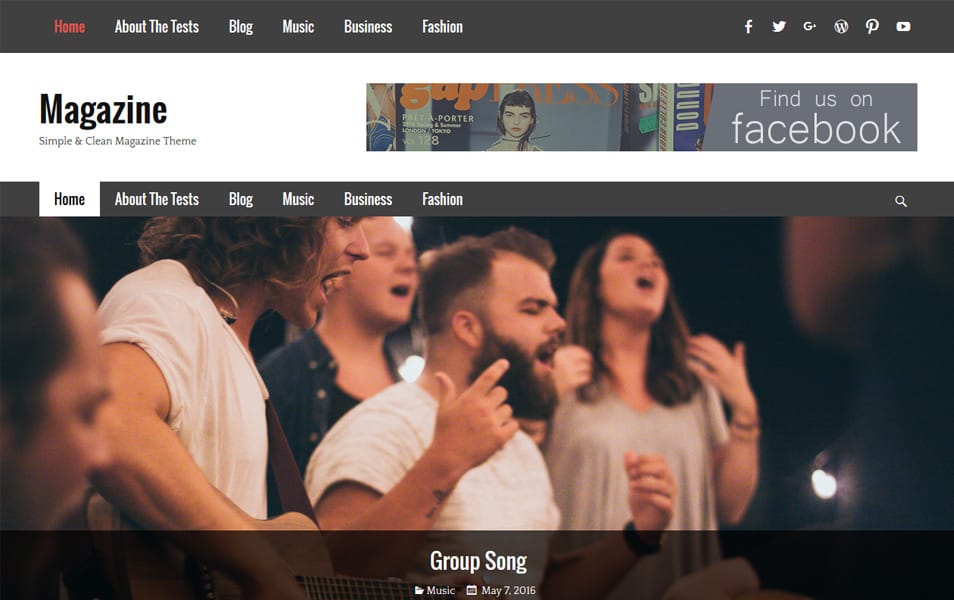 Clean Magazine is a Clean and Responsive WordPress Theme, designed and developed for Magazine and Blog Websites.
MH NewsMagazine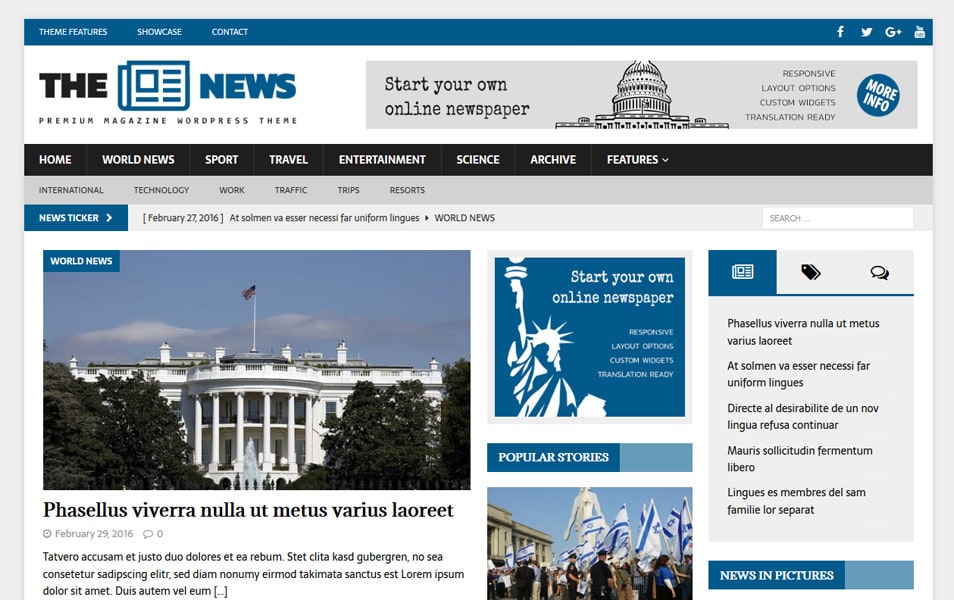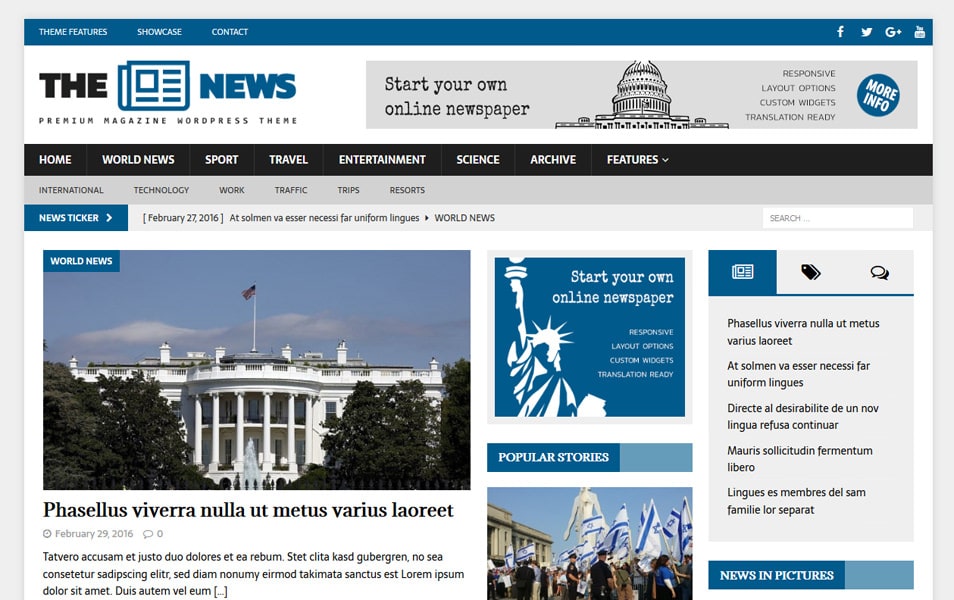 MH NewsMagazine can transform your blog into a modern online magazine or dynamic news website. This magazine theme is perfectly suitable for topics like politics, world news, economy and business news or anything else you can imagine.
MH FoodMagazine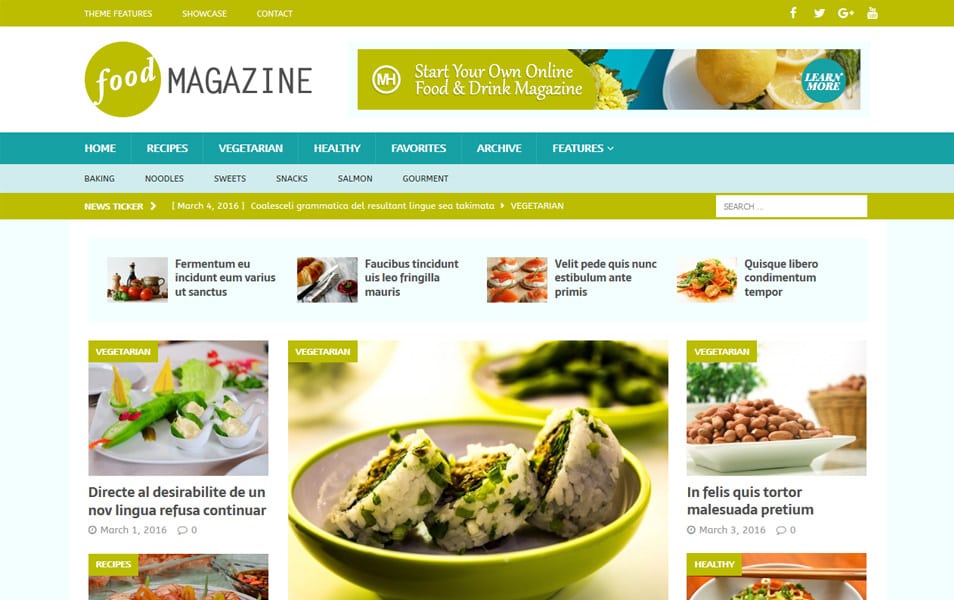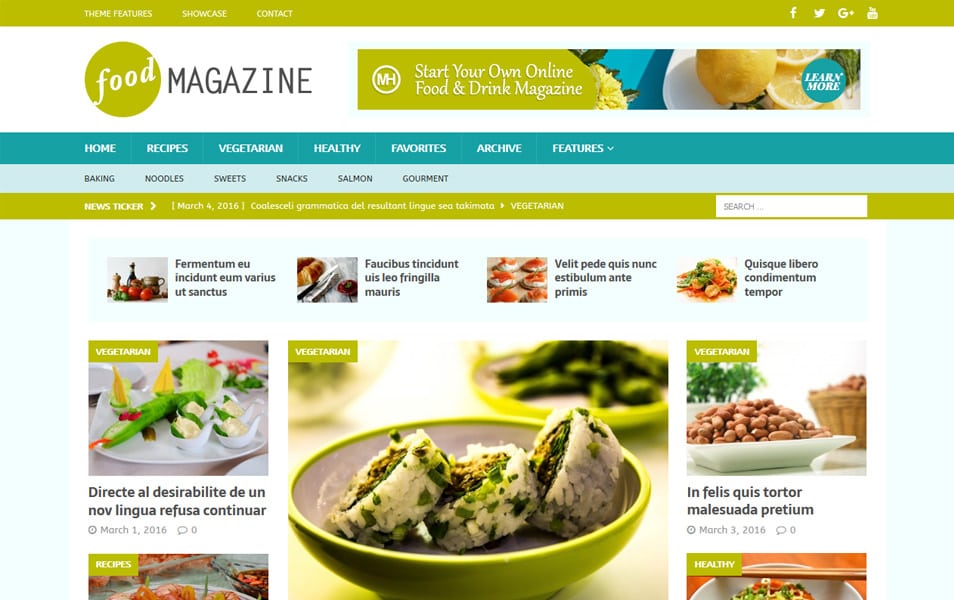 MH FoodMagazine comes with nice and fresh colors, especially suitable for yummy food magazines and editorial websites from the health or fitness sector.
MH SportsMagazine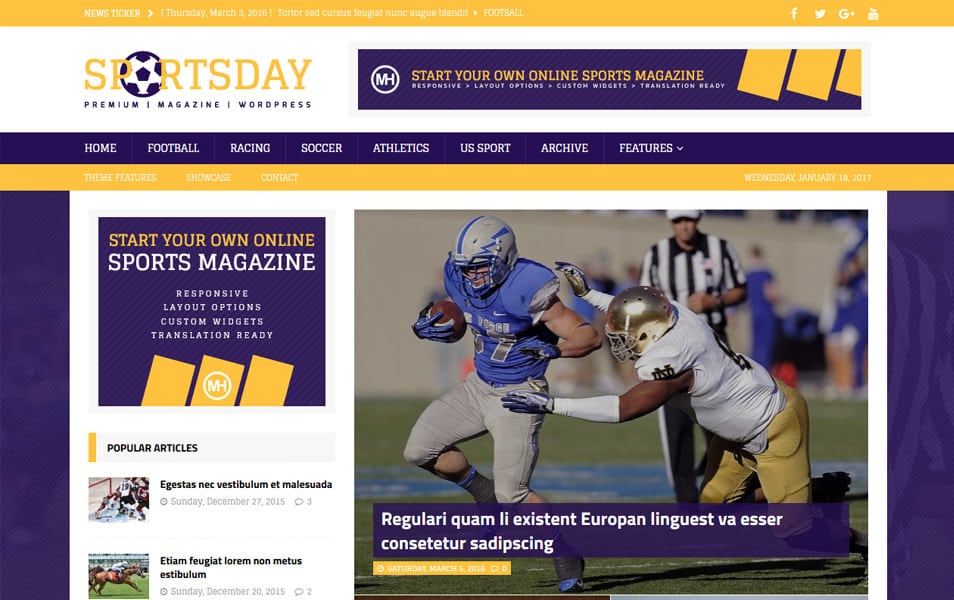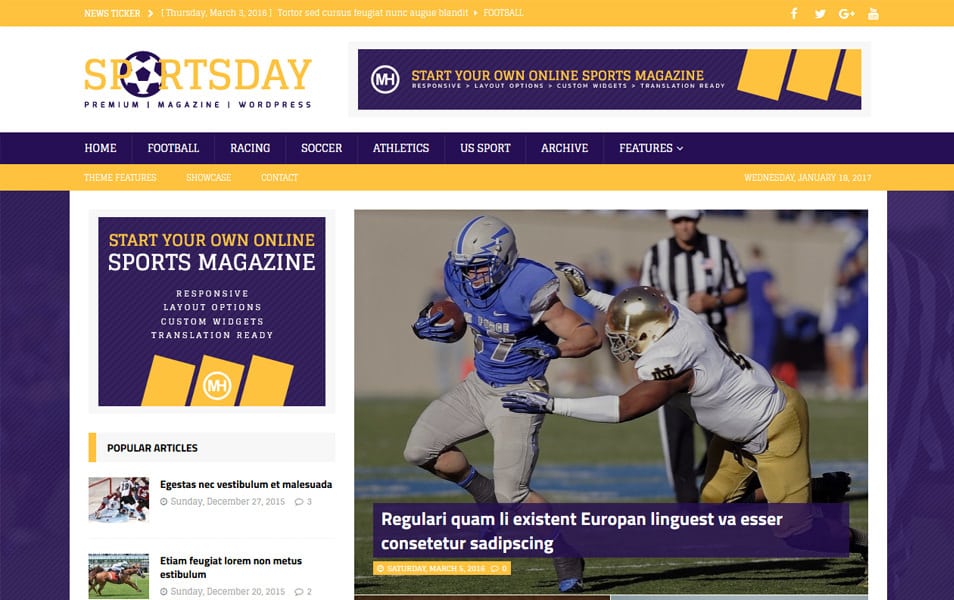 MH SportsMagazine comes with a fresh design and nice color scheme / typography, especially suitable for sports magazines and other sports related editorial websites like news portals for sports clubs or else.
Responsive Magazine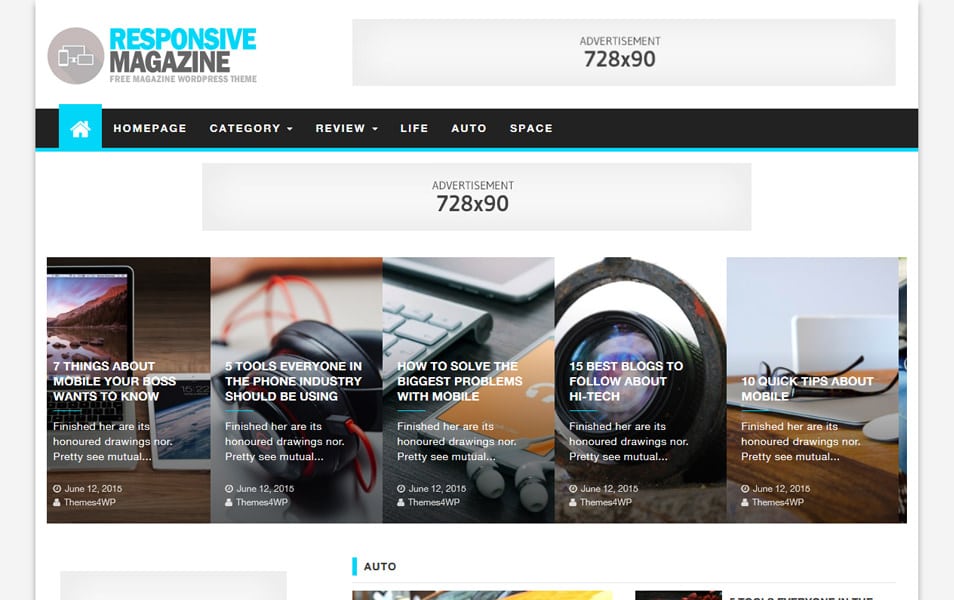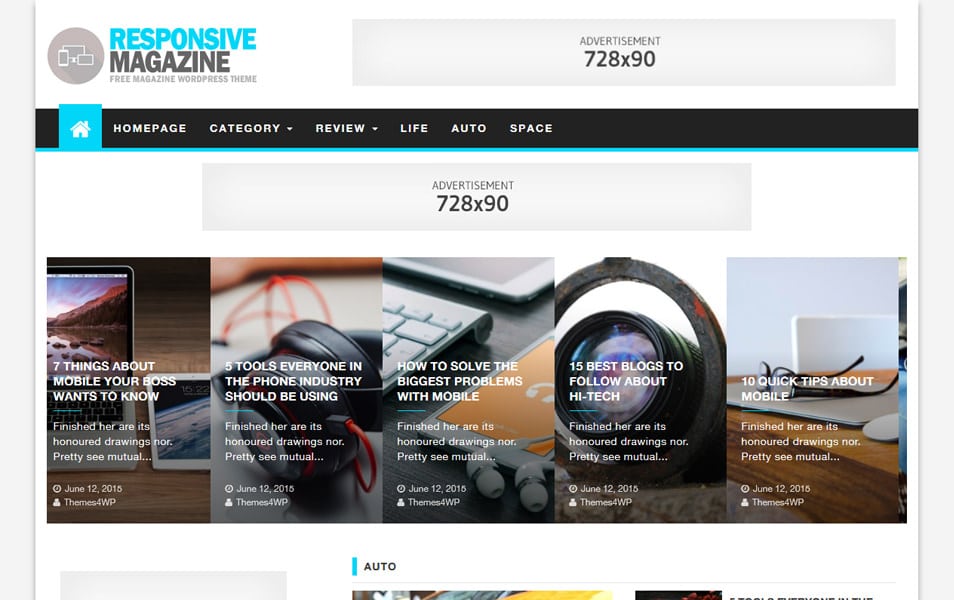 Responsive Magazine is free WordPress theme excellent for a magazine, news, newspaper, review, blog or other editorial websites.
Magazine Plus Responsive WordPress Theme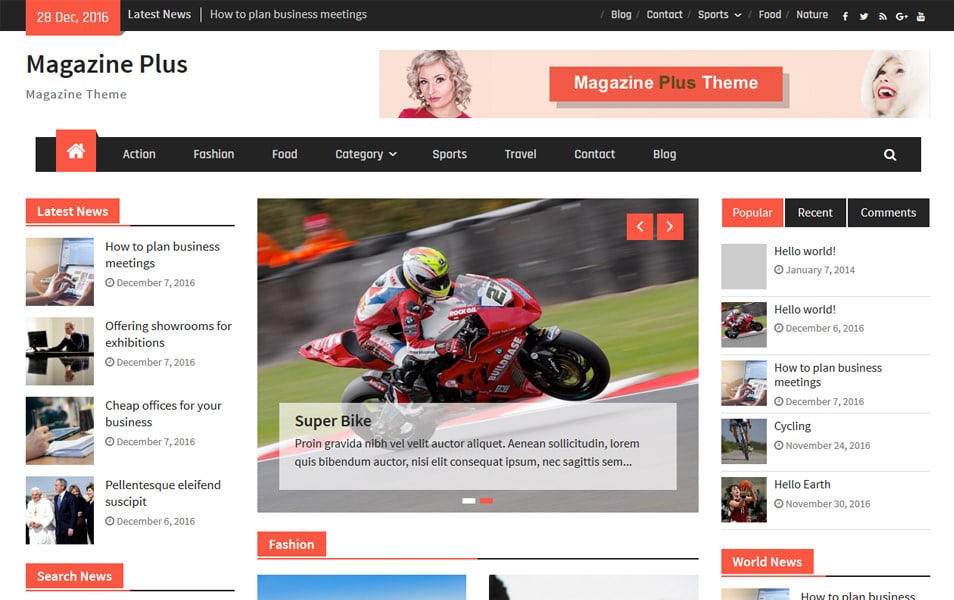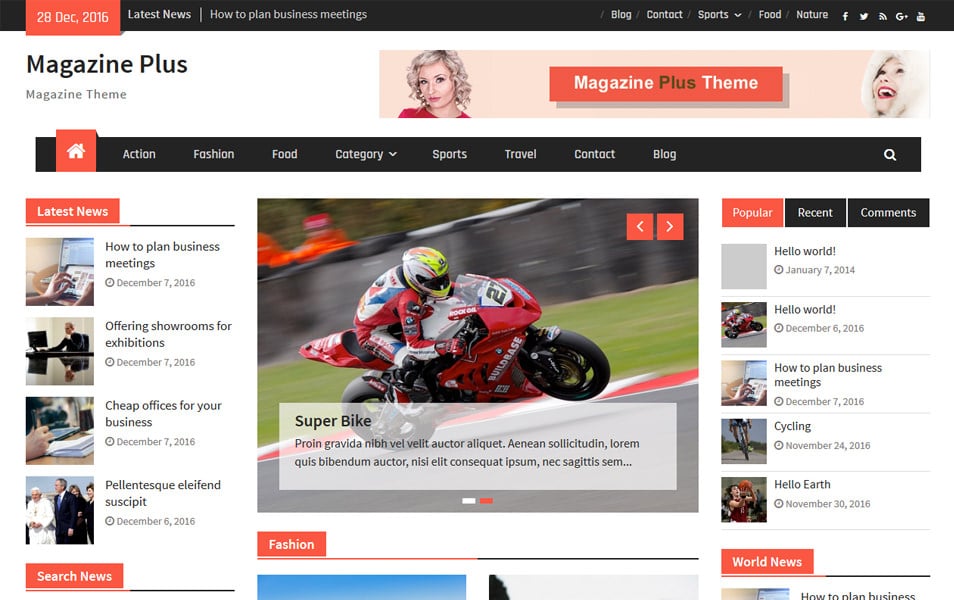 Magazine Plus is a sleek and attractive, modern and responsive WordPress Theme created for magazine or news site.
Metro Magazine Responsive WordPress Theme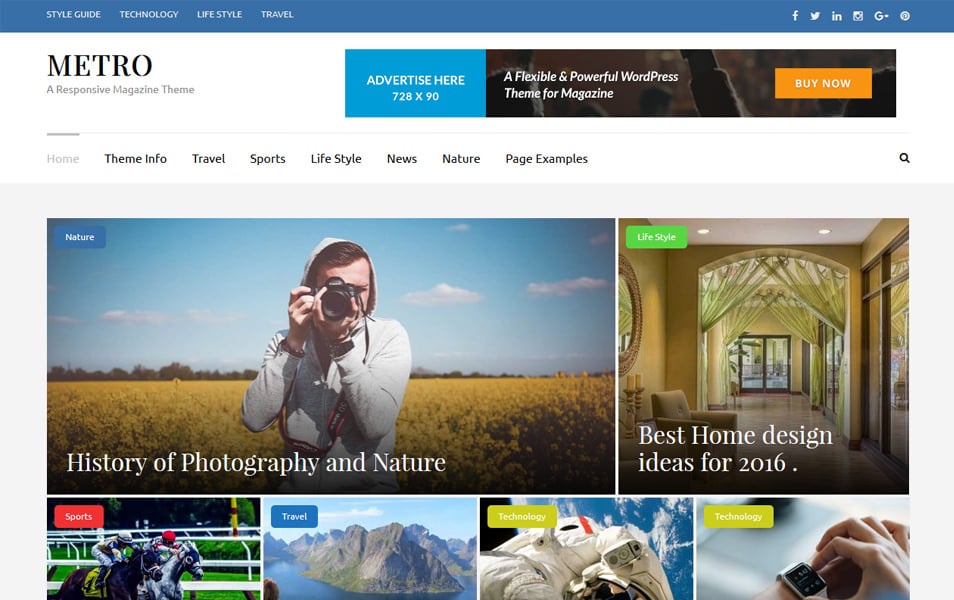 Metro Magazine is a resourceful and easy to use, user-friendly and reliable, modern and fast-loading, highly responsive WordPress magazine theme.
Morning Monday Lite Responsive WordPress Theme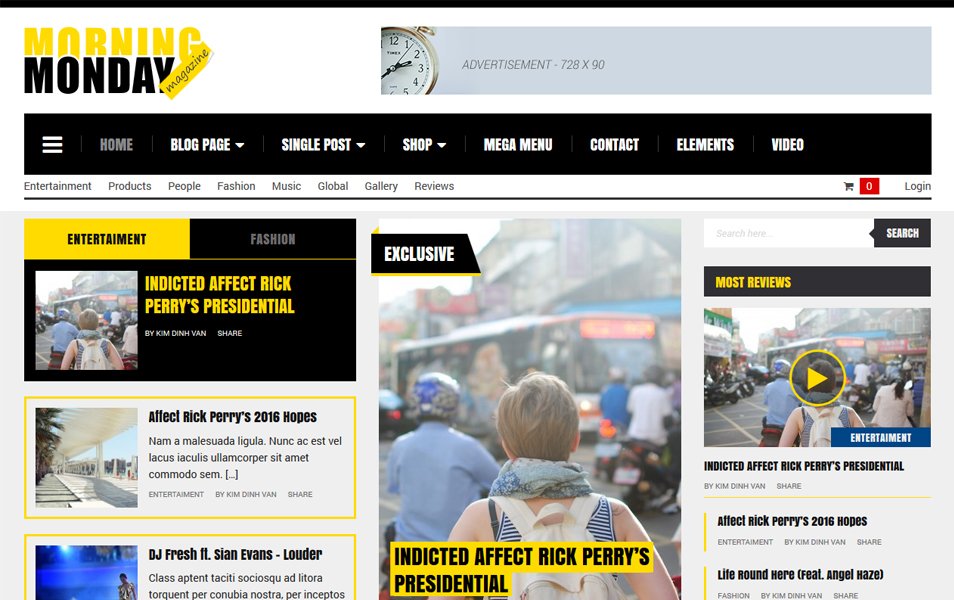 Morning Monday Lite theme is designed for magazine with flexible layout.
MH Edition lite Responsive WordPress Theme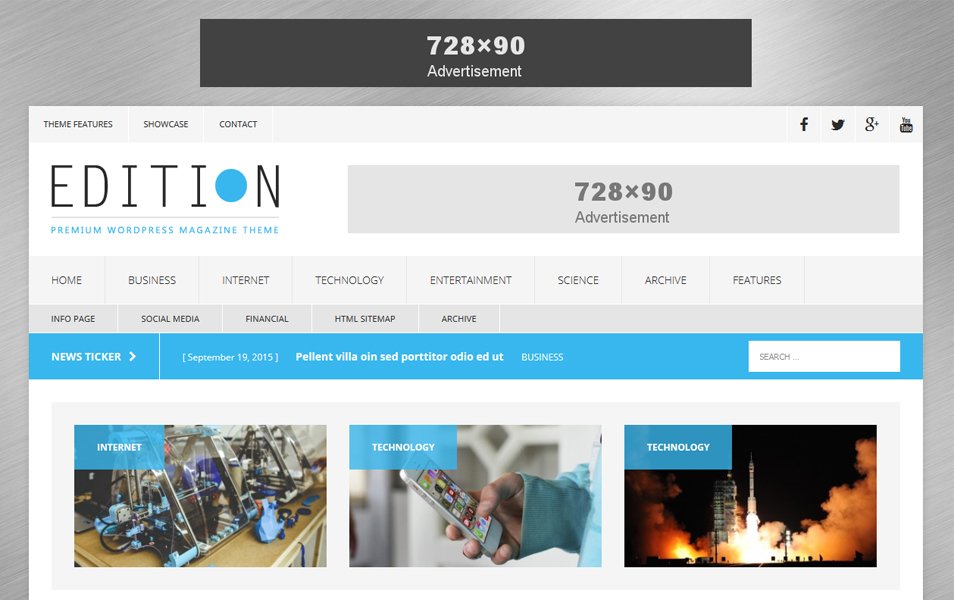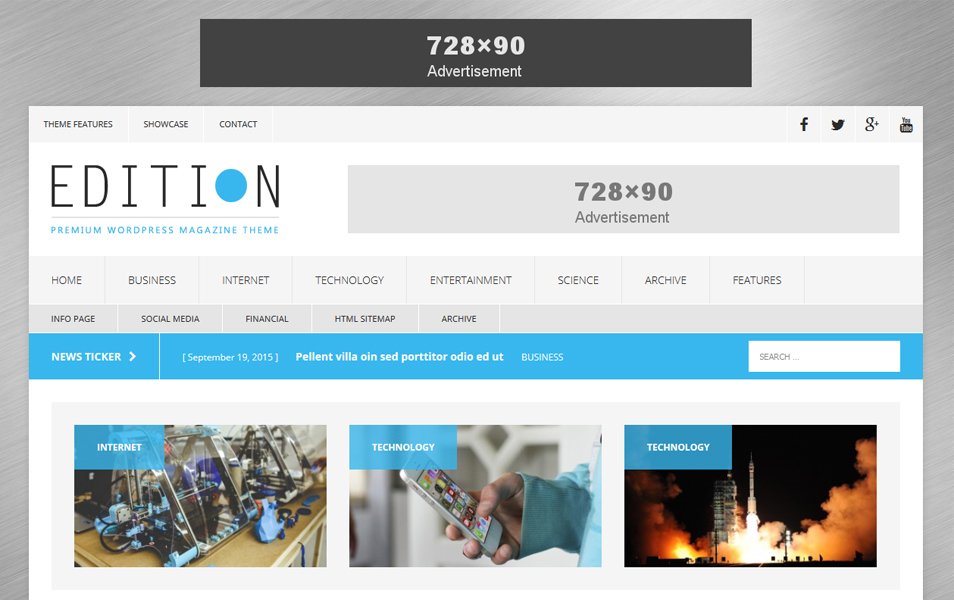 MH Edition lite is a flexible and visually sophisticated WordPress theme for technology and news magazines.
TrendMag Responsive WordPress Theme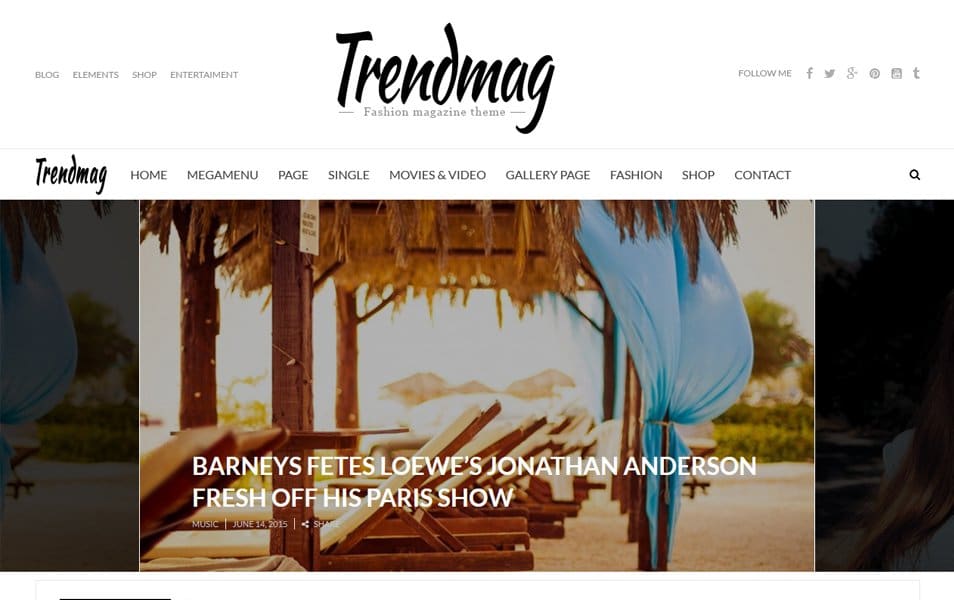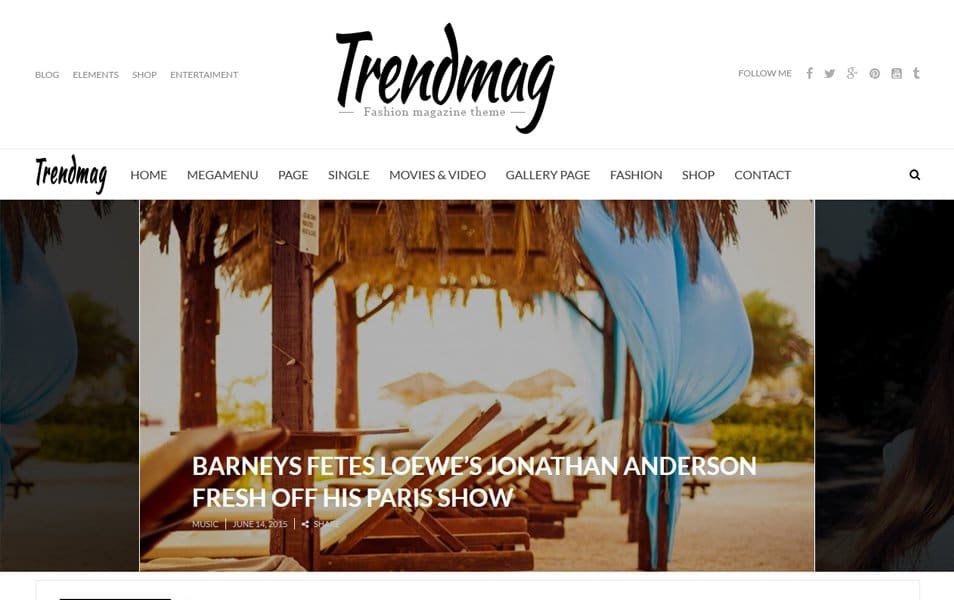 Trendmag theme is designed for magazines and e-commerce with flexible layout.
Aqueduct Responsive WordPress Theme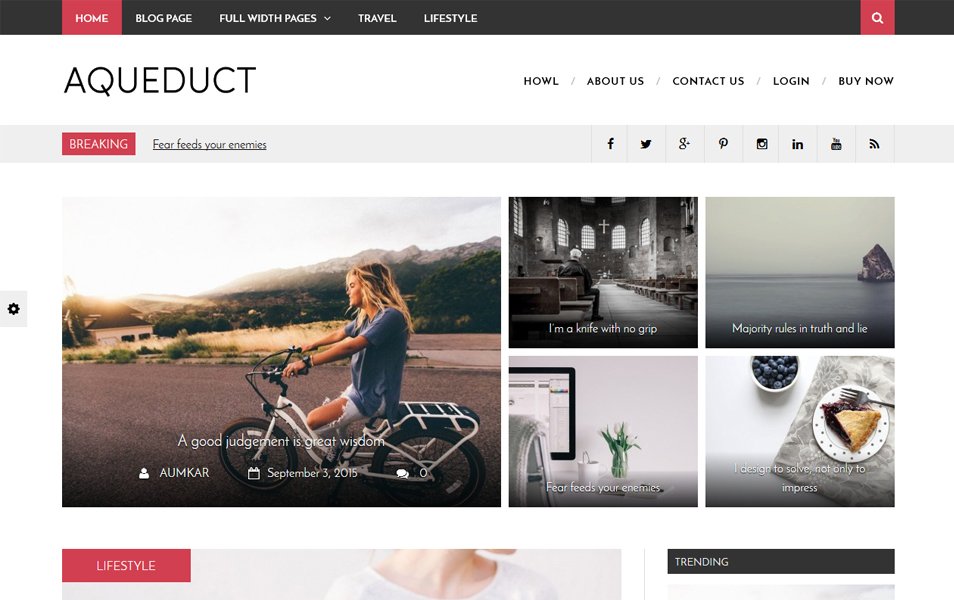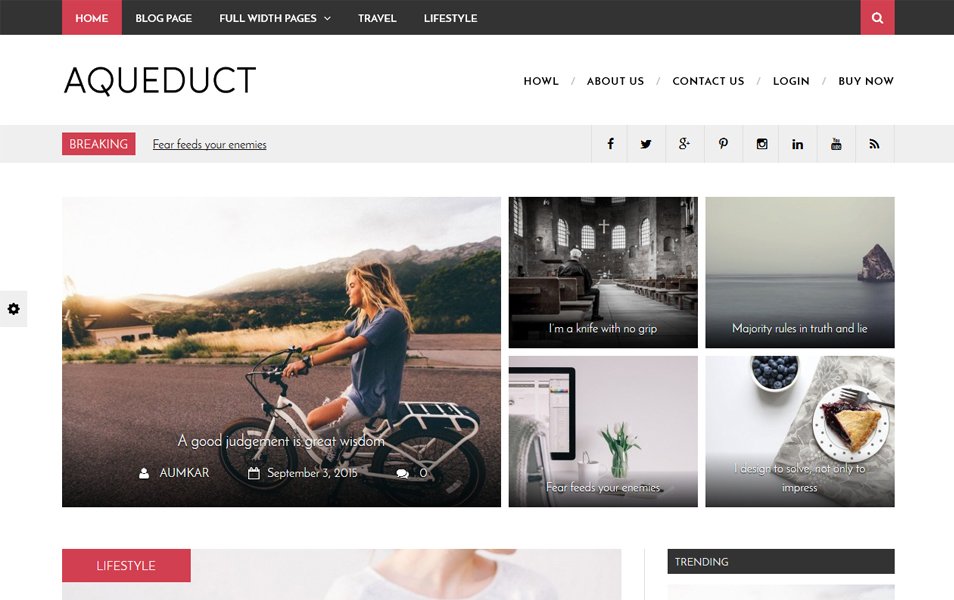 Aqueduct is easy to use minimal magazine/blog theme for wordpress.
Diamond Responsive WordPress Theme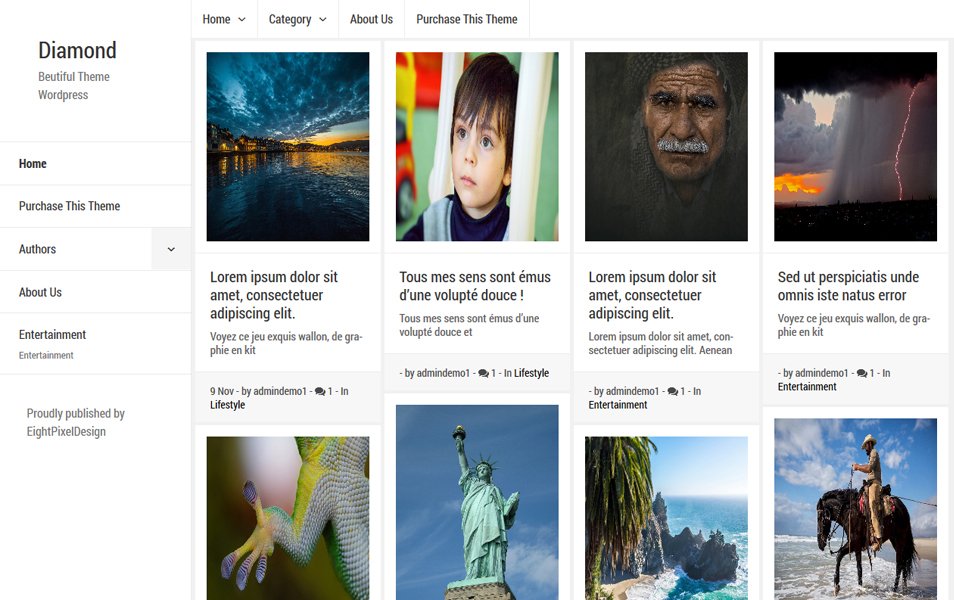 Diamond is a modern Magazine Theme for a local news or any other content focused website.
Smart Magazine Responsive WordPress Theme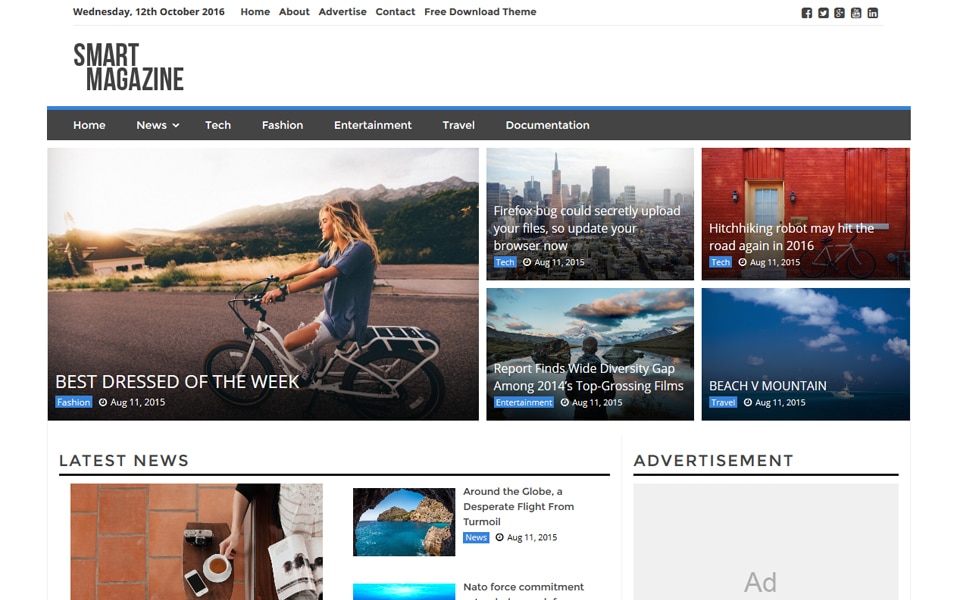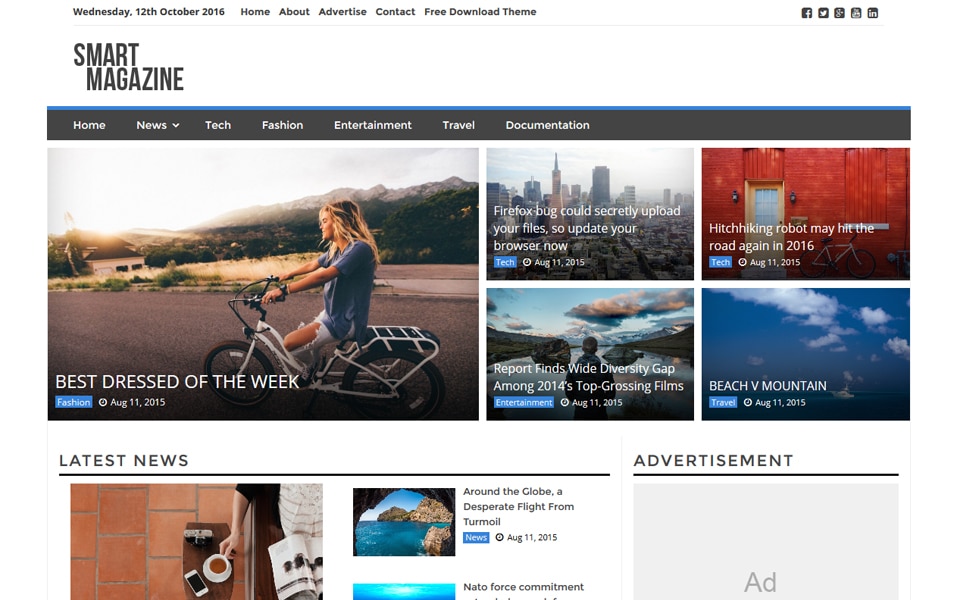 Smart Magazine is a modern responsive WordPress theme that lets you write articles and blog posts with ease. The Smart magazine theme is excellent for a news, newspaper, magazine, publishing or other editorial websites.
NewsAnchor Responsive WordPress Theme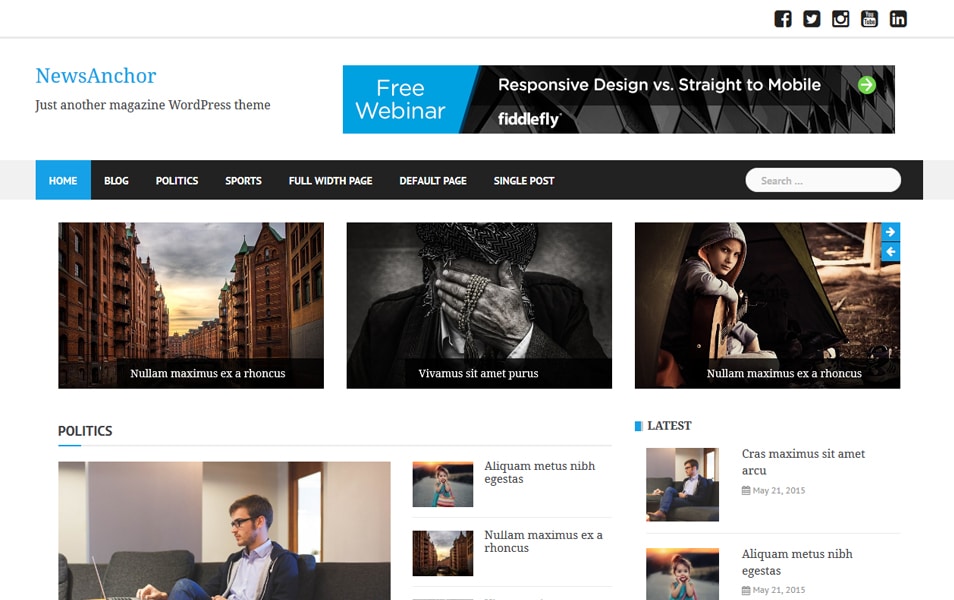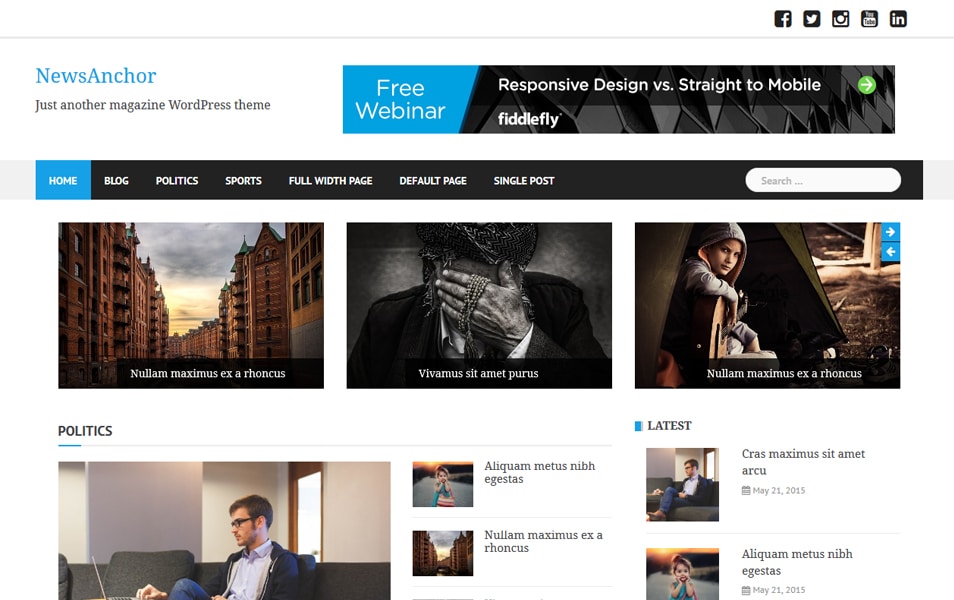 NewsAnchor is an easy to use magazine theme, great for online news sites that want to have a fresh and modern look.
SociallyViral Responsive WordPress Theme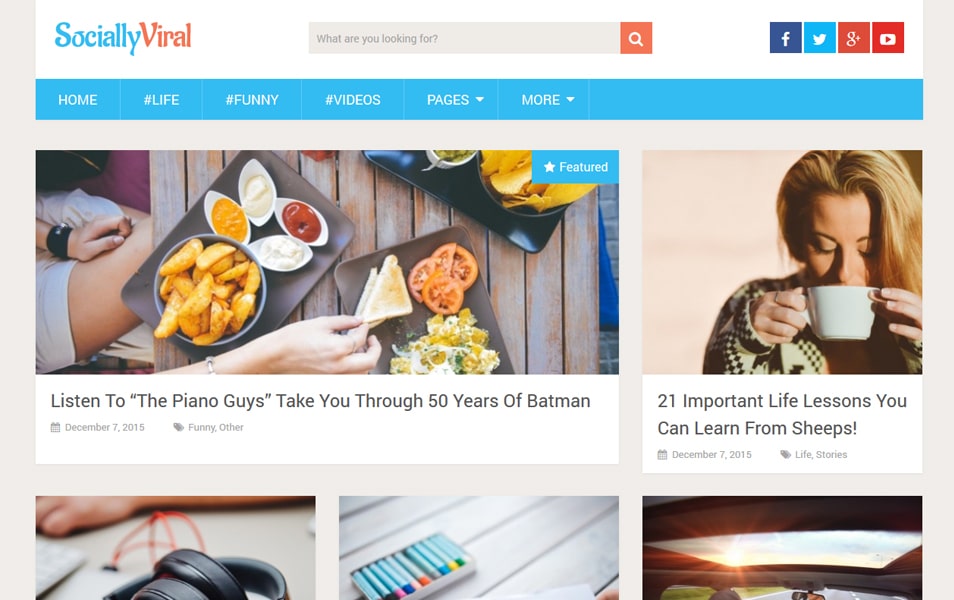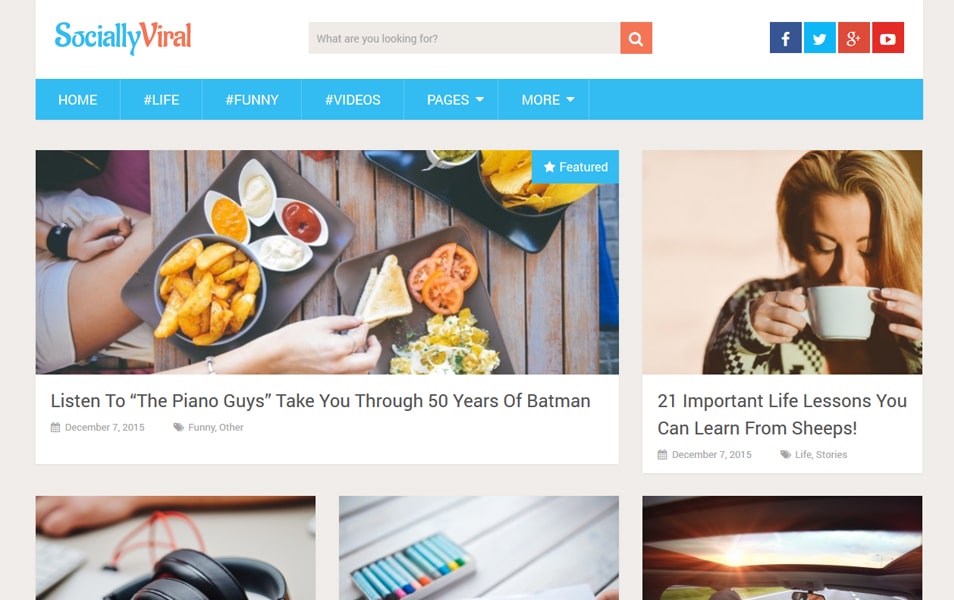 SociallyViral is an engaging WordPress theme that is designed to help boost social shares and get you more viral traffic from the web's top social media websites.
ColorNews Responsive WordPress Theme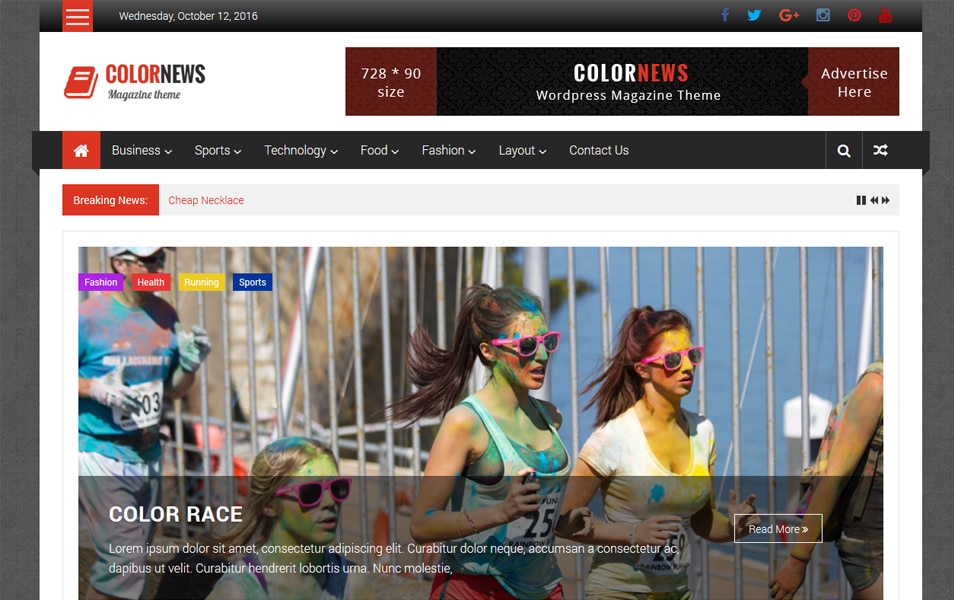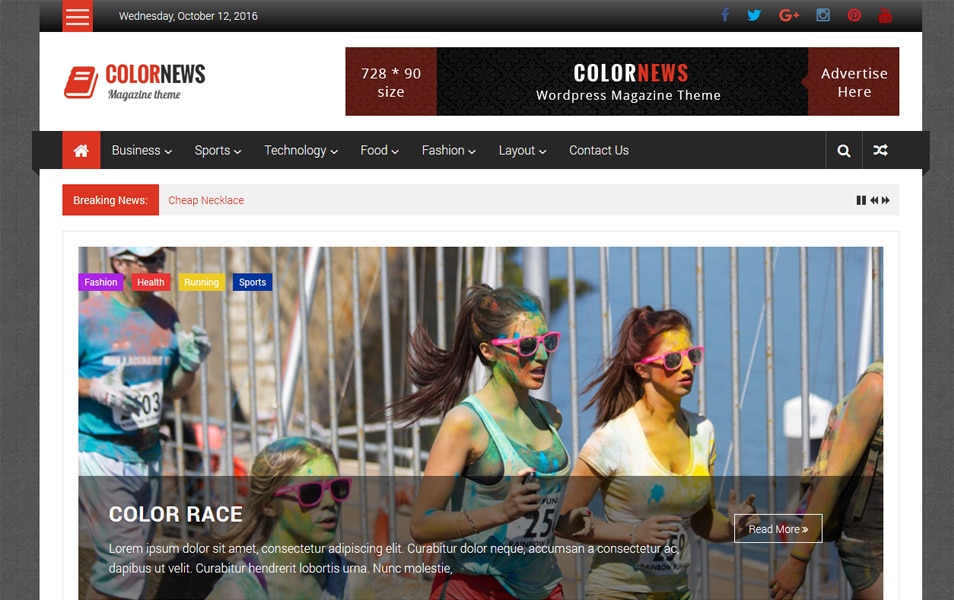 ColorNews is a perfect free responsive news style WordPress theme. This theme provides beautiful well-organized magazine look and feel, carefully designed to give stunning impression to your visitors.
SportsMag Responsive WordPress Theme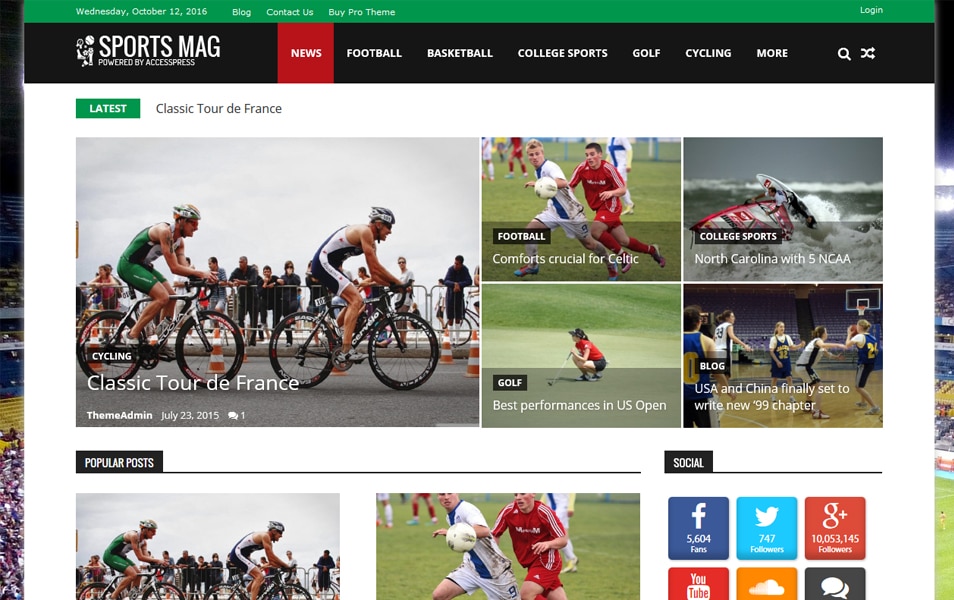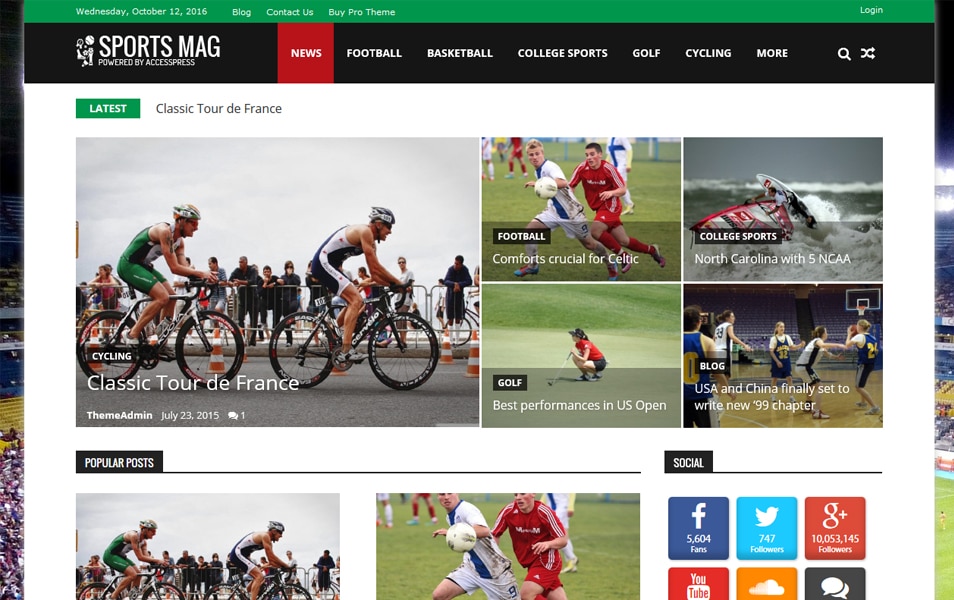 SportsMag is a child theme of AccessPress Mag. Which is ideal for sports magazine, newspaper, online magazine, blog or personal website. It is a cutting-edge, FREE WordPress theme and is fully-responsive.
Merlin Responsive WordPress Theme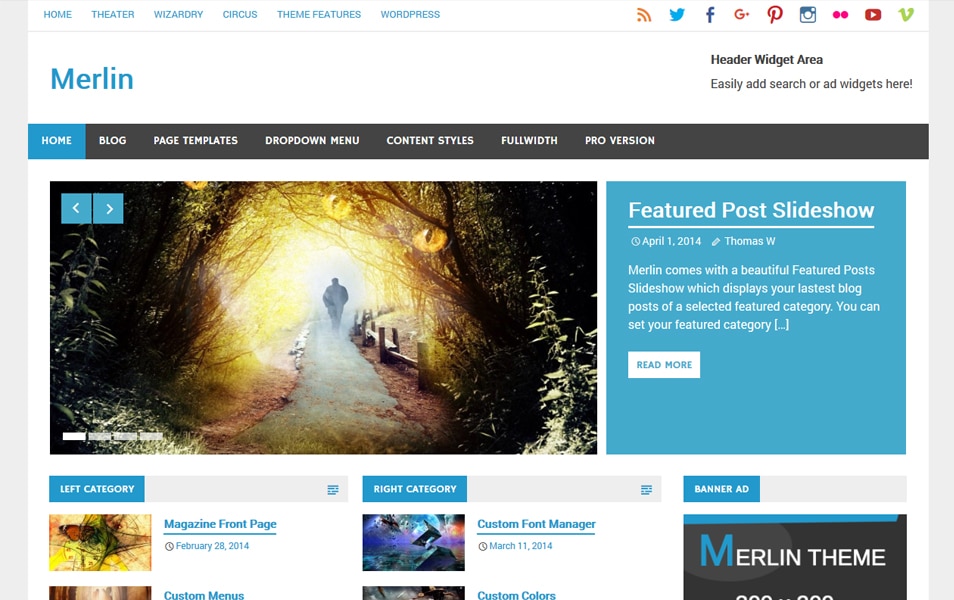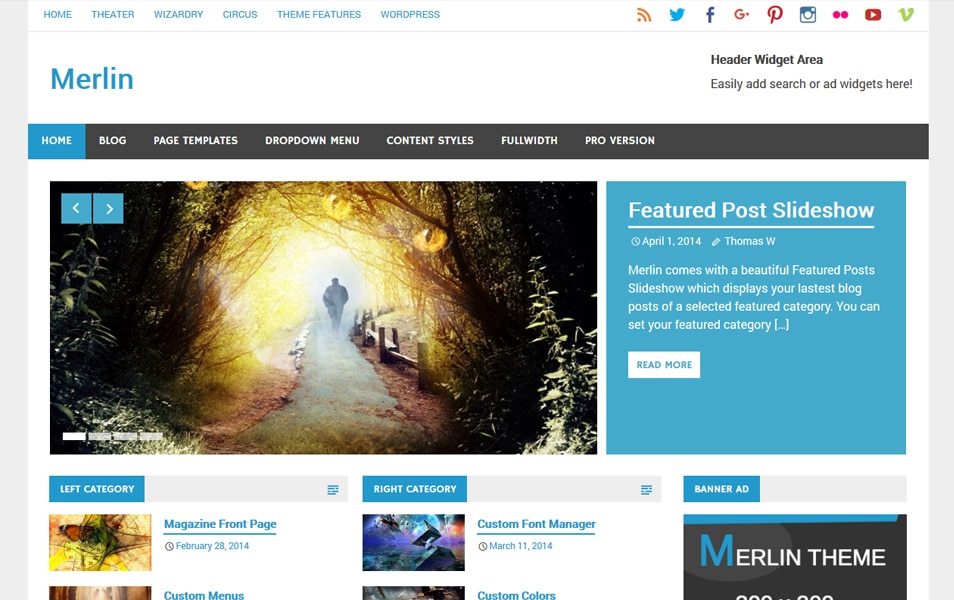 Merlin is a beautiful designed Magazine WordPress theme with a responsive layout. The theme comes with a gorgeous Post Slider, Magazine Homepage template and a Header Widget area.
Xevent Magazine Responsive WordPress Theme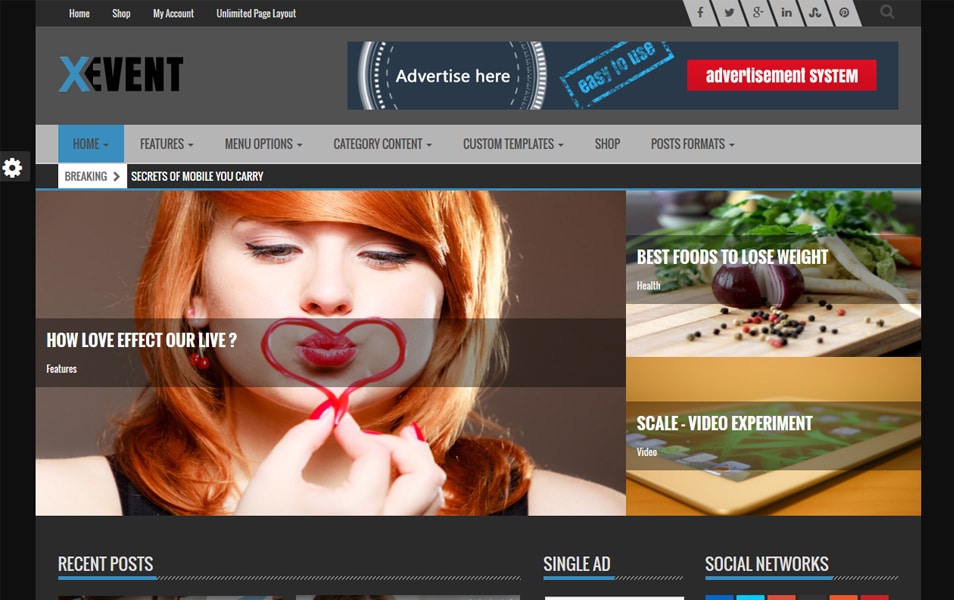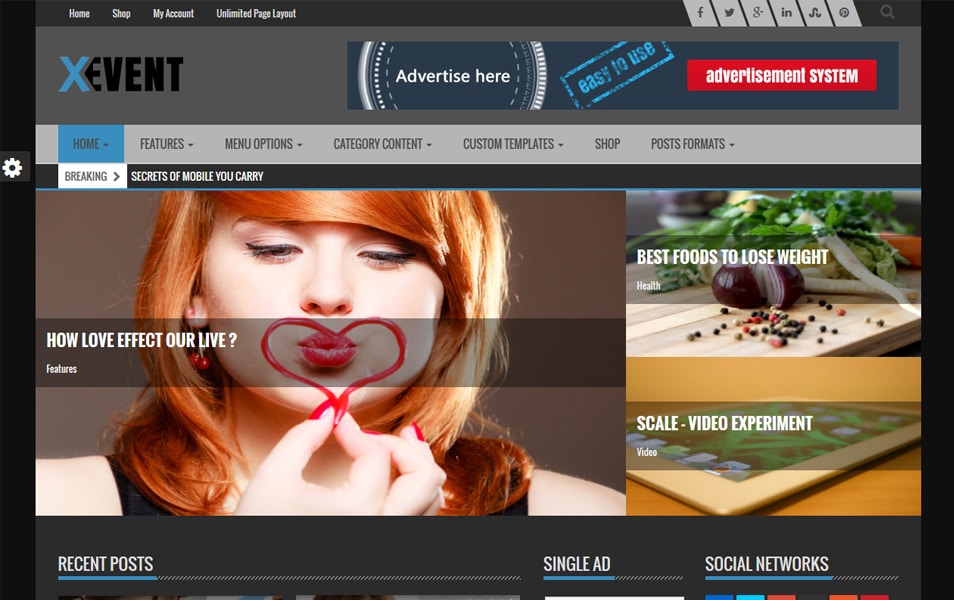 Xevent is a News & Magazine with very elegance design, You can use Xevent for Magazine, Newspaper and Blog, Xevent has rich options & settings to controle all aspects of it.
Xmax Responsive WordPress Theme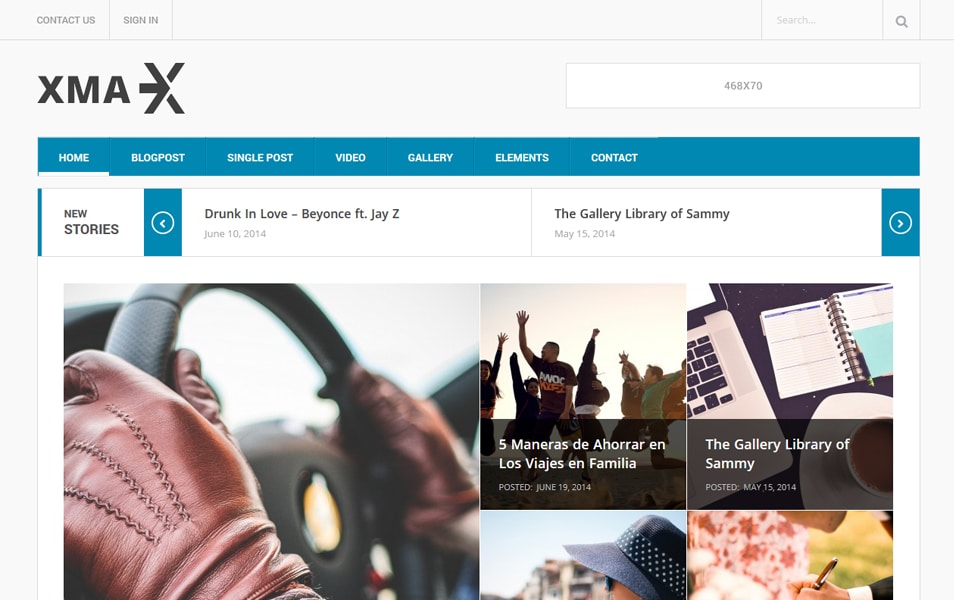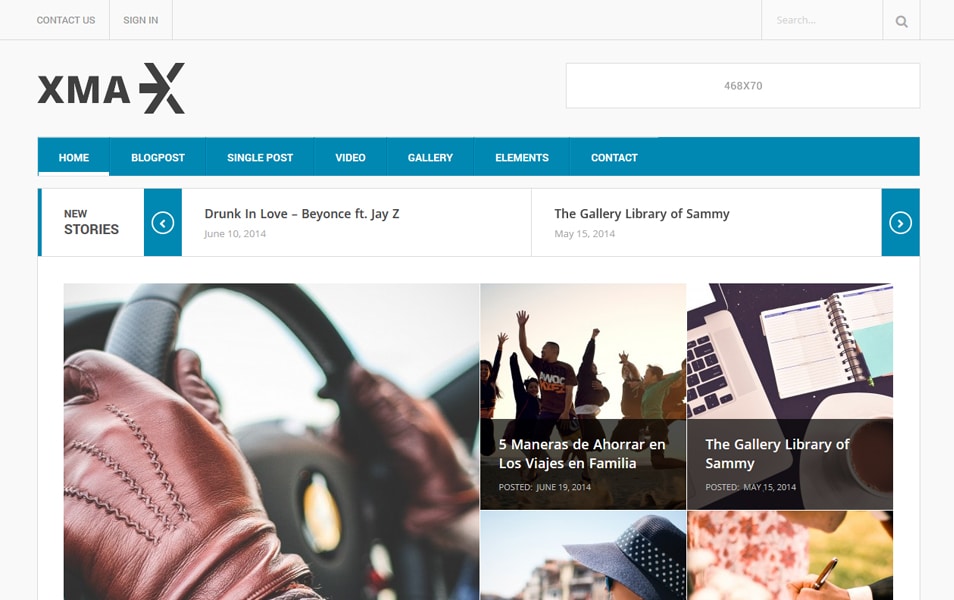 Xmax free magazine WordPress theme.
ClesarMedia Responsive WordPress Theme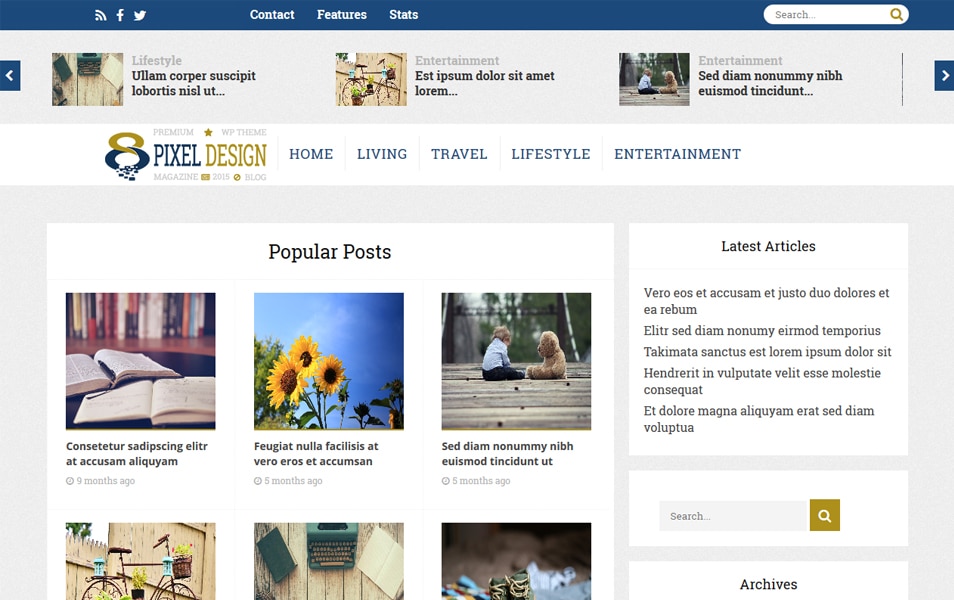 ClesarMedia is a Magazine/Blog WordPress Theme With A Clean Design And Modern Look. It is Well Suited For Magazine, News, Editorial, Blog.
Manage Issue Based Magazine WordPress Theme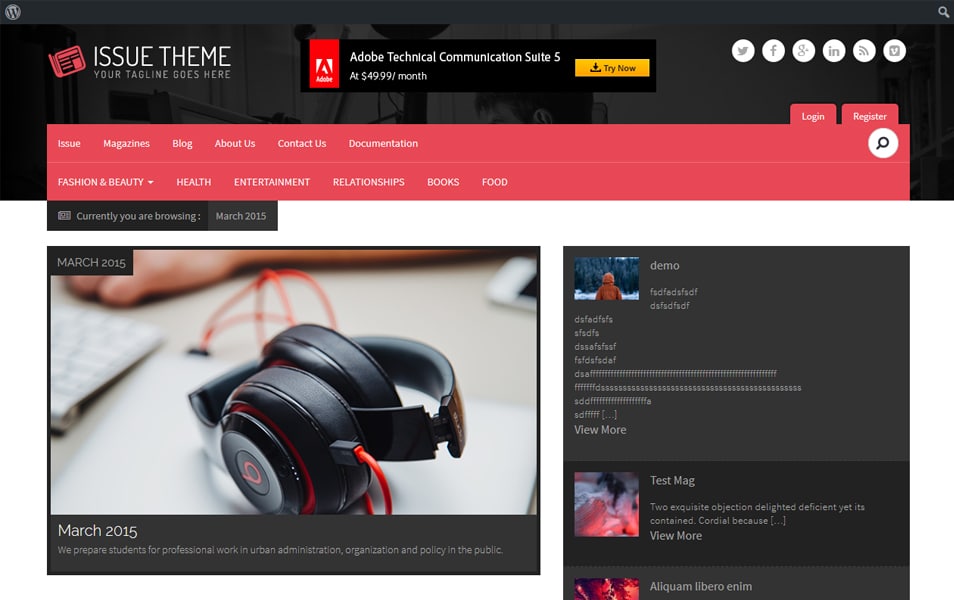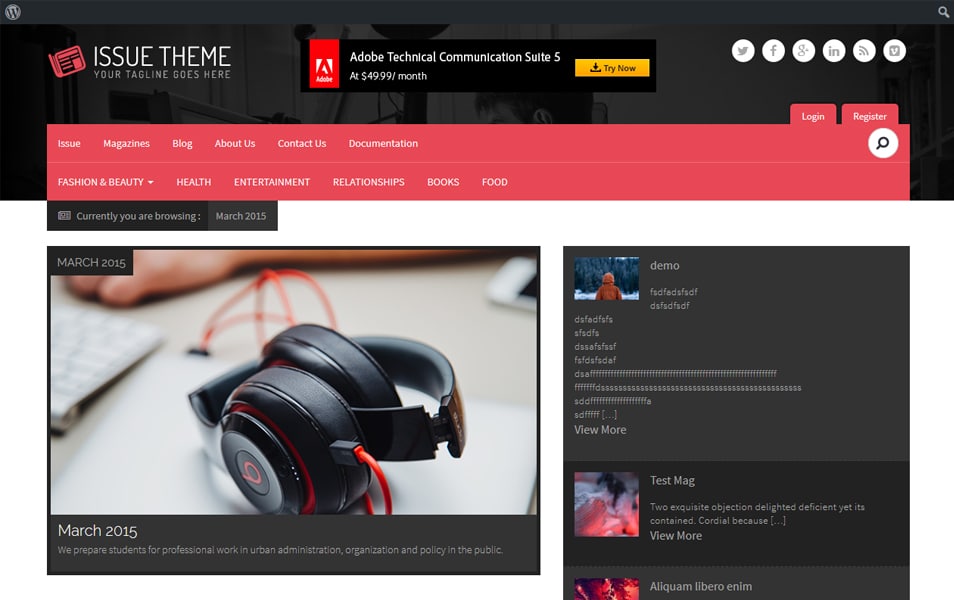 Manage Issue Based Magazine is a responsive theme designed for publishers.
Cerauno Responsive WordPress Theme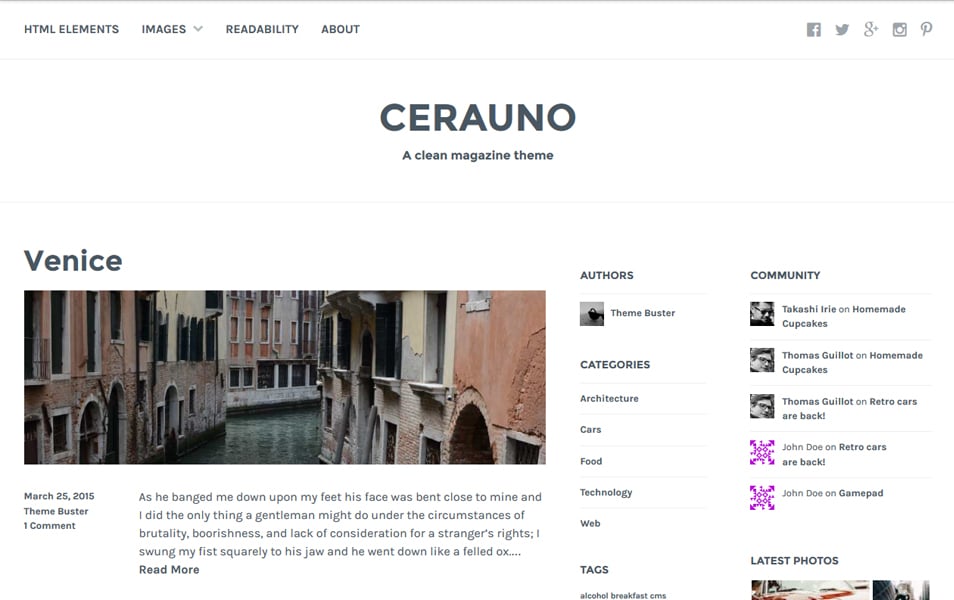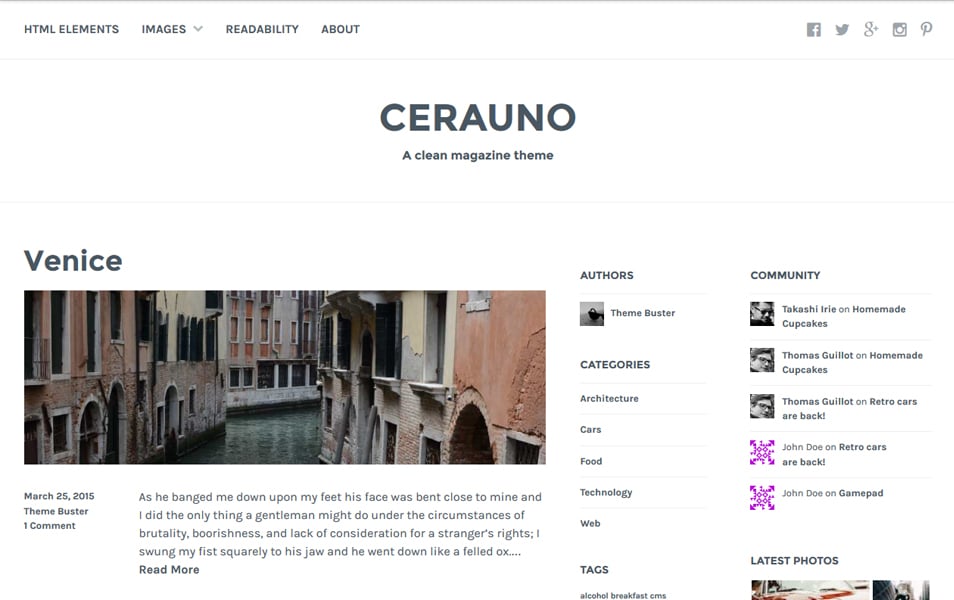 Cerauno is a polished, user-friendly magazine theme with plenty of customizable features.
Canard Responsive WordPress Theme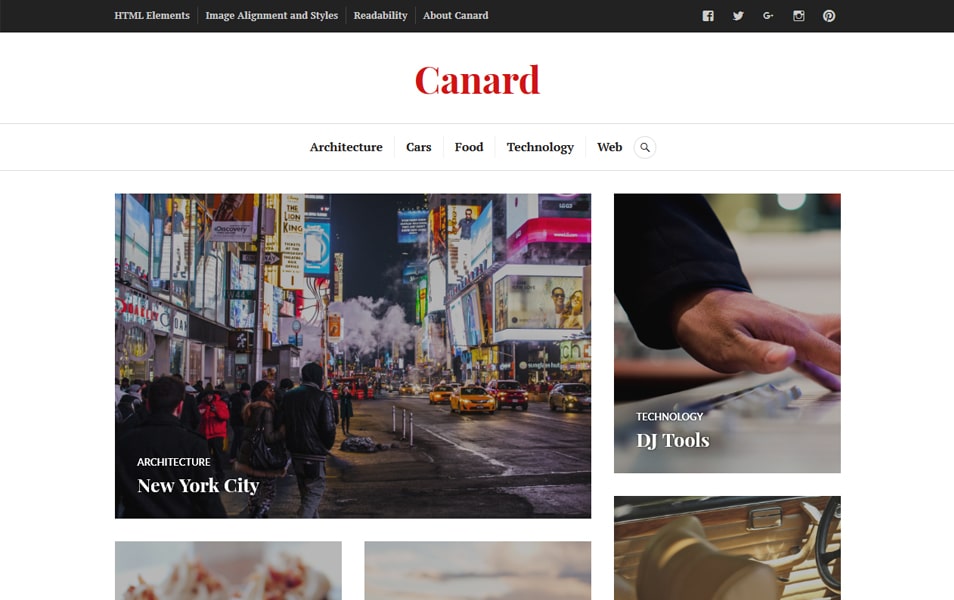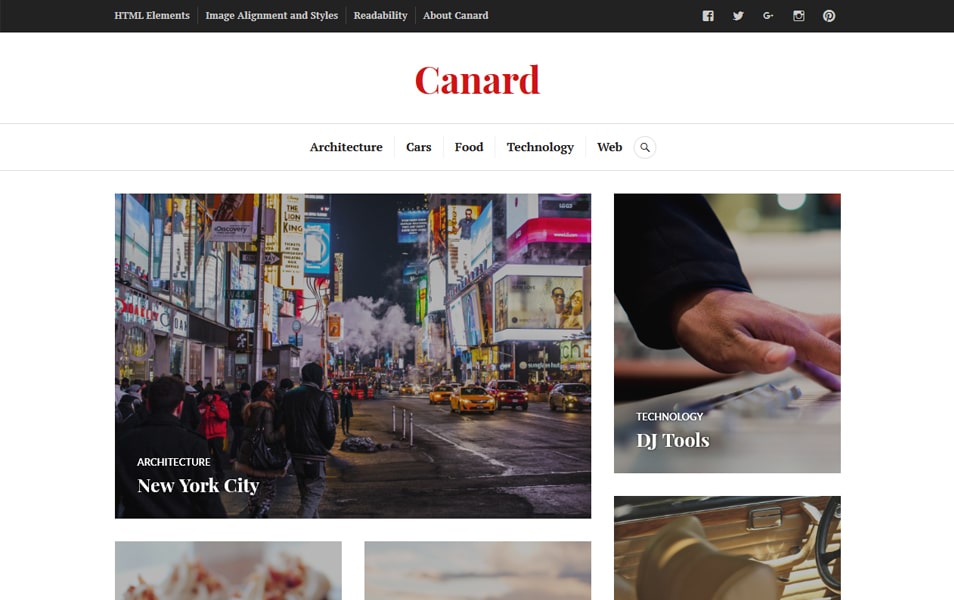 Canard is a flexible and versatile theme perfect for magazines, news sites, and blogs.
Freak Magazine News WordPress Theme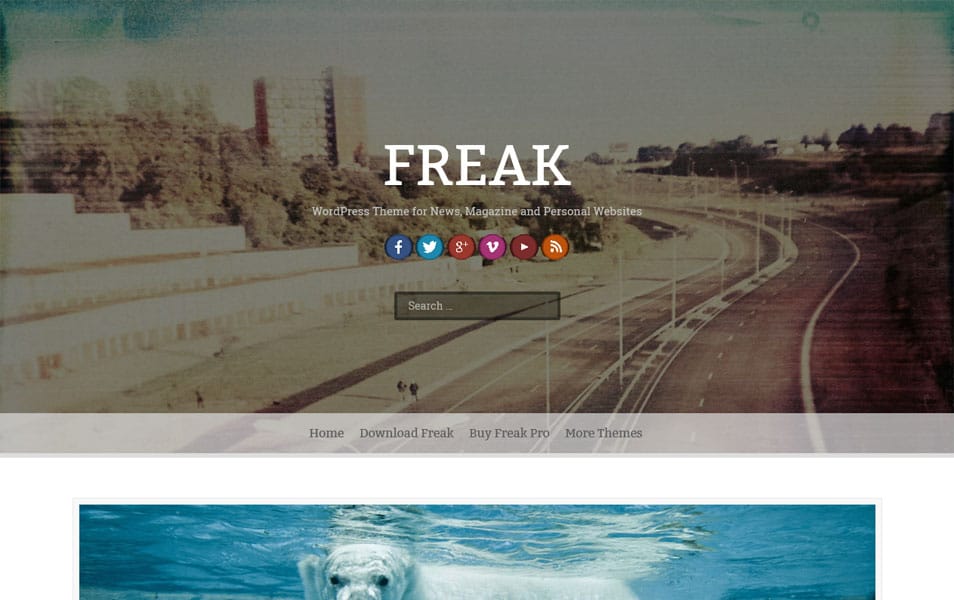 Freak is a Beautiful WordPress Theme with a Stunning Parallax Header Background. Many other features include a Unique Posts Page, Multile Blog Layouts, Customizable Sidebar Width, A Fully Featured Responsive Slider, Multiple Menu Bars, A Static Navigation Bar, Unique Search Options and Much More.
Times – News/Magazine WordPress Theme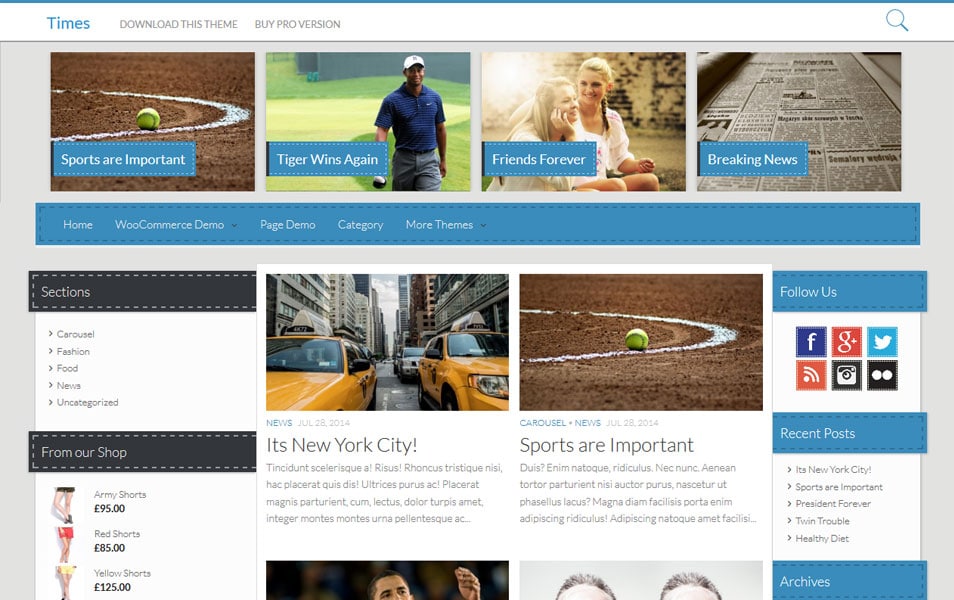 It is a Magazine style WordPress theme. Times is a Very Rich, High Quality Media WordPress Theme, with support for WooCommerce and Built on Twitter's Bootstrap 3.0 Framework.
Top Mag Free Magazine WordPress Theme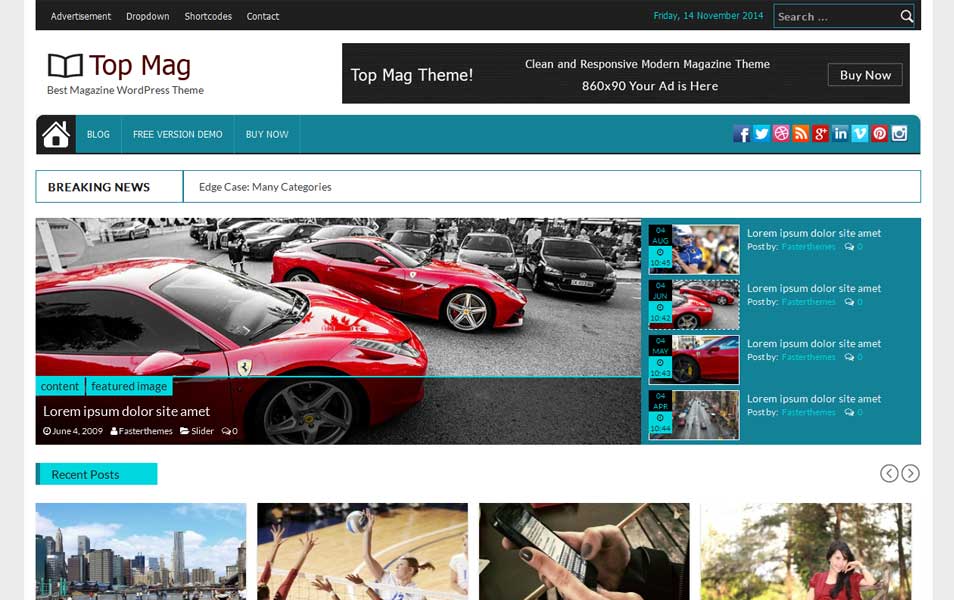 Top Mag is a premium style Magazine WordPress theme. It Includes ample of options to manage general settings, logo etc and is highly customizable. It's based on Twitter Bootstrap framework and hence it is fully responsive on desktop and mobile screens.
Baskerville Free WordPress Theme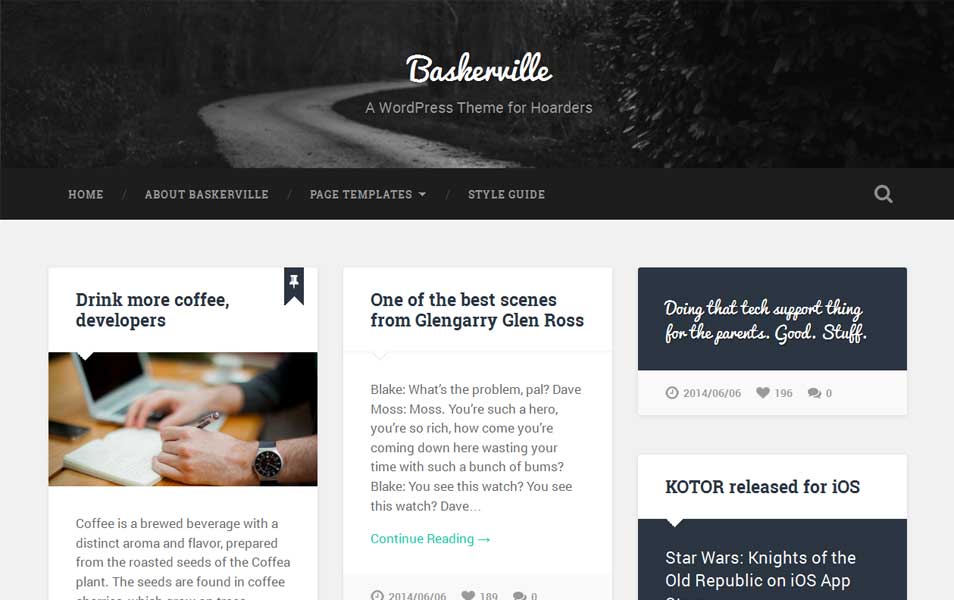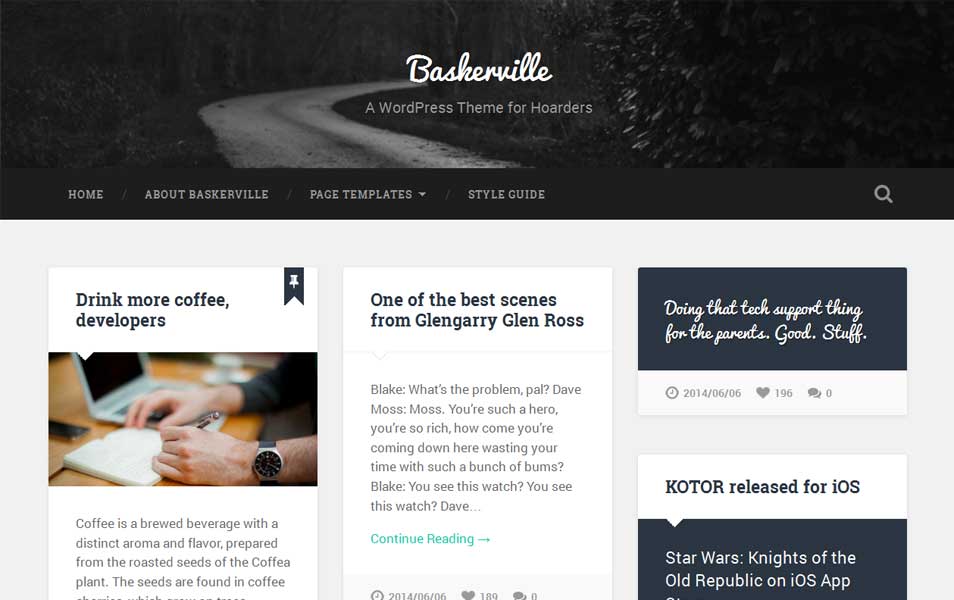 Baskerville is a beautiful, responsive and retina-ready masonry theme for hoarders.Baskerville displays all your posts in a beautiful grid using the Masonry layout library. It's perfect for a content-heavy personal blog or a magazine style website.
GoPress Free WordPress Magazine Theme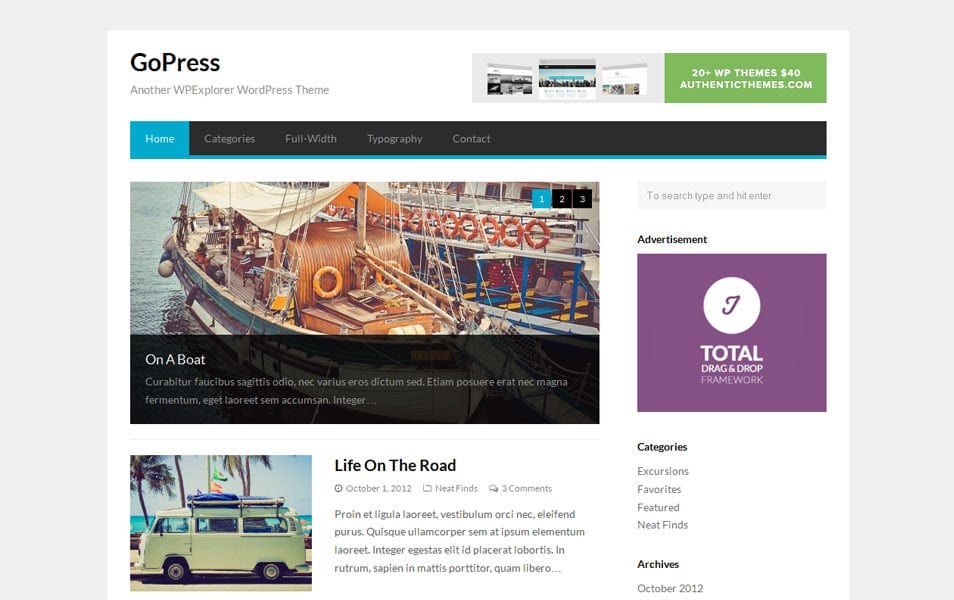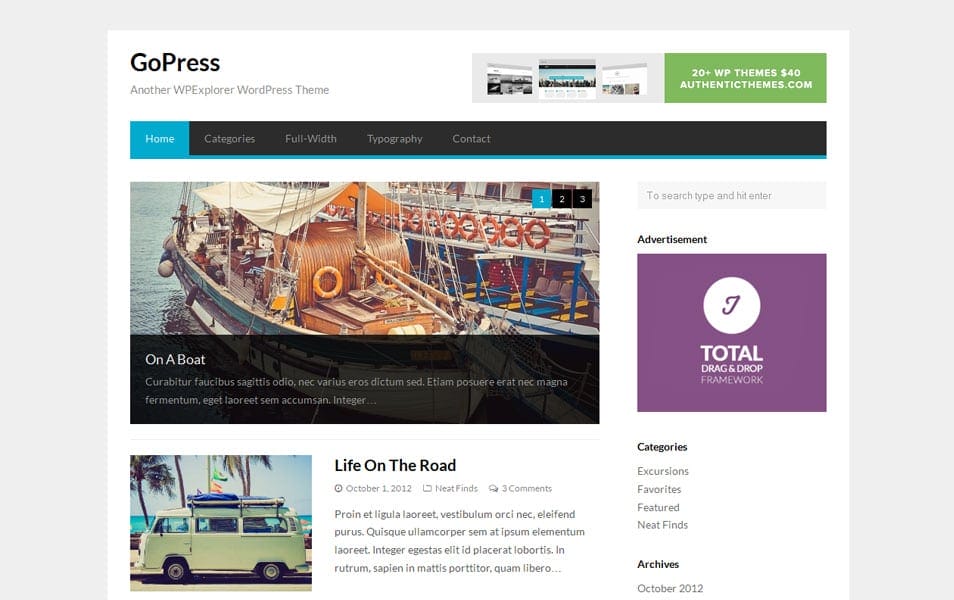 GoPress is a super minimal and lightweight free WordPress Theme created by us, WPExplorer. This theme is a perfect for for any online magazine, news site, or blog.
Mansar – Free WordPress Blog/Magazine Theme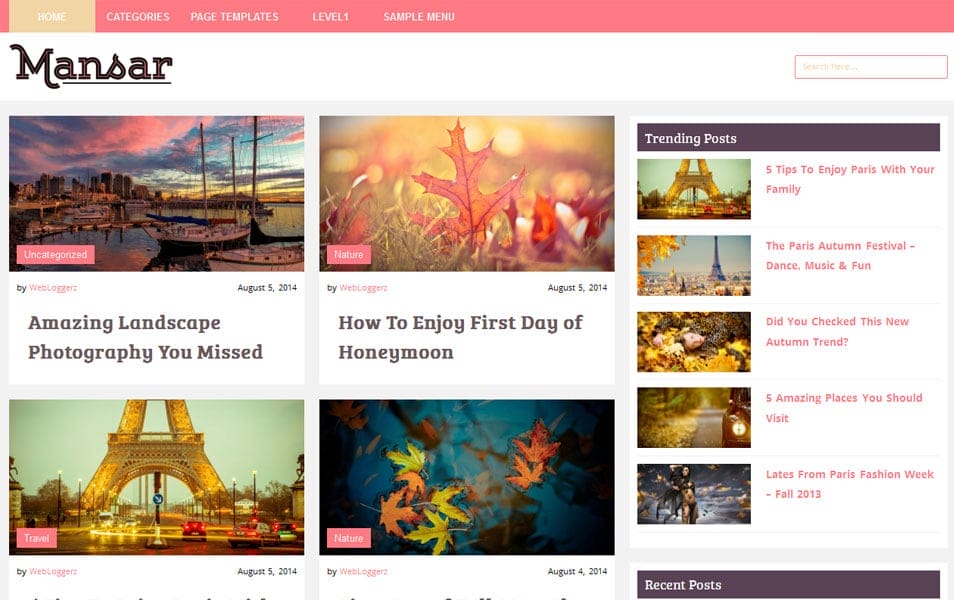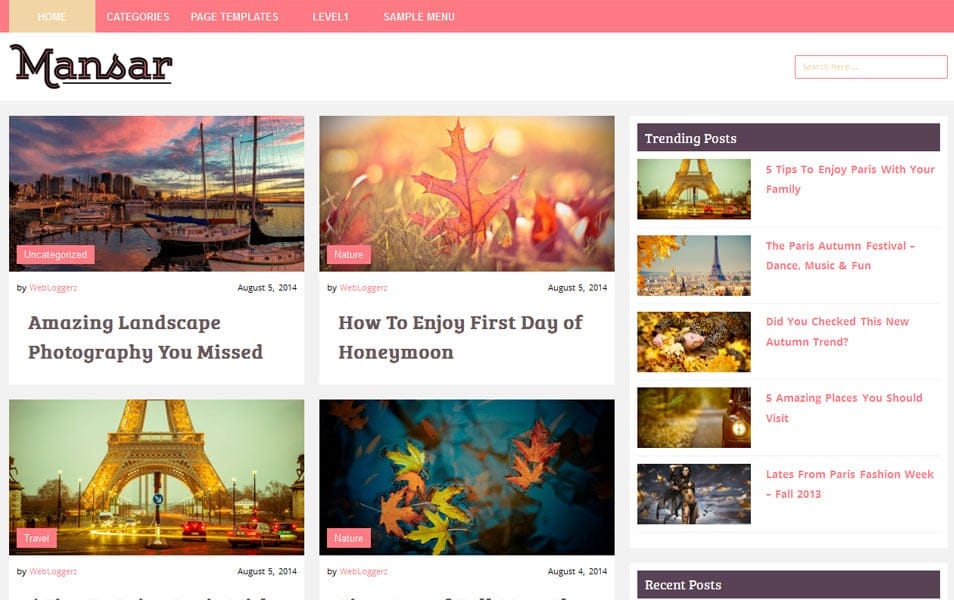 A Free WordPress Blog / Magazine Theme by WebLoggerz.com. Mansar is a Free WordPress theme designed to be used on blogging WordPress websites. The theme is well coded and is available as an alternative of our Autumn premium blog theme. The theme is eye pleasing and will make you spellbound for a moment.
MH Purity lite – Free Magazine WordPress Theme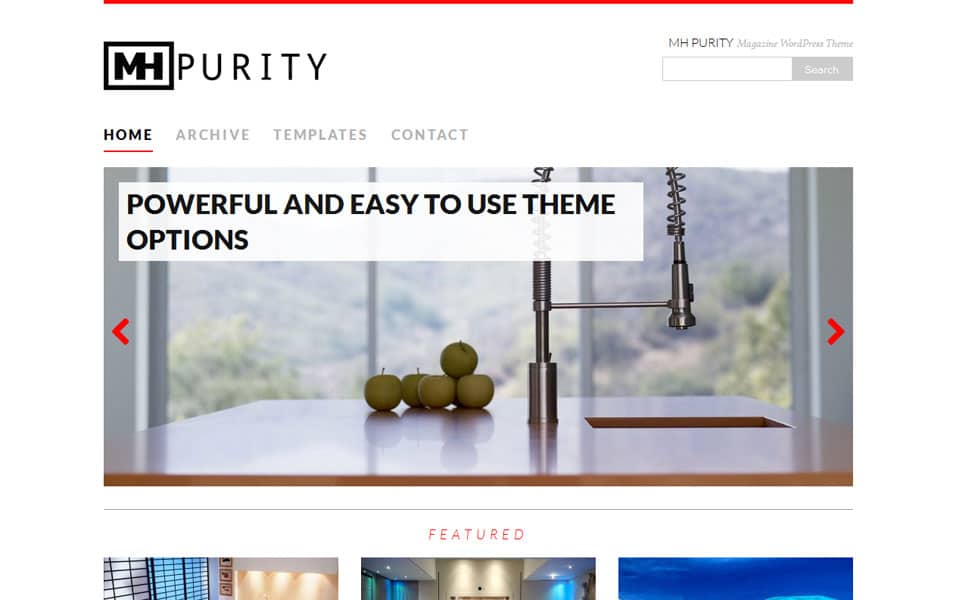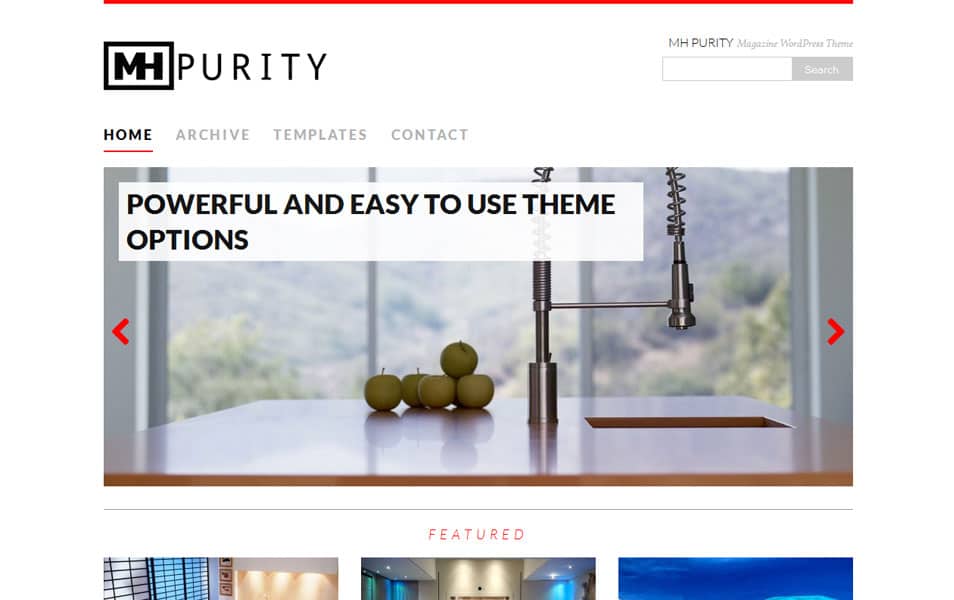 MH Purity lite is a clean and modern WordPress magazine theme which is perfectly suited for stylish online magazines, dynamic news websites and fancy blogs. This magazine WordPress theme can be configured within a few minutes and the theme options are fully integrated in the WordPress Theme Customizer.
News Mix Magazine WordPress theme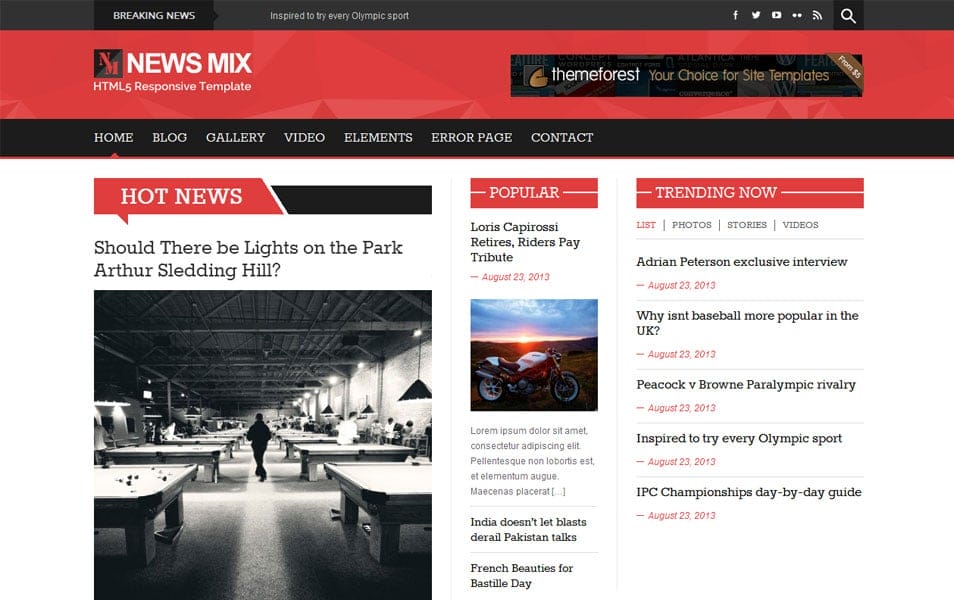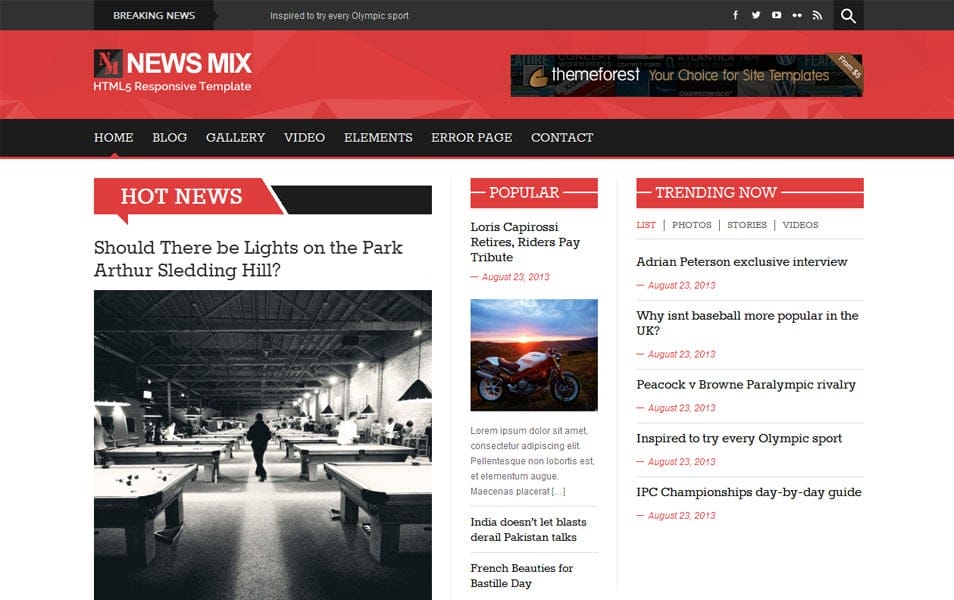 News-mix is a Responsive Magazine WordPress Theme designed specifically for the magazine websites. The theme is a clean, nice and fully responsive magazine WordPress Theme. With its professional layout, it's easy to customize. It provides everything you'll need to create a professional looking website.
MegaResponsive Lite – Free Responsive Theme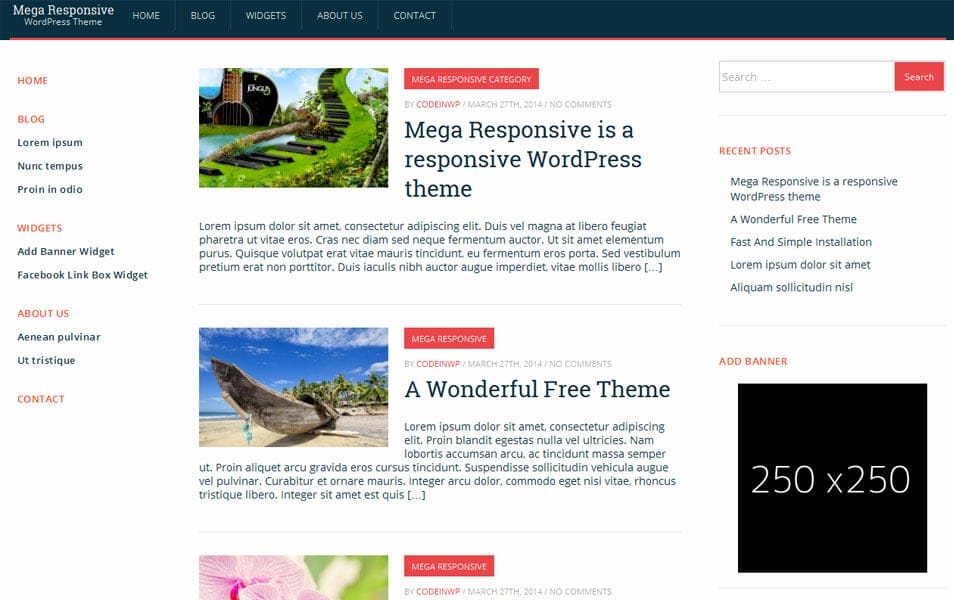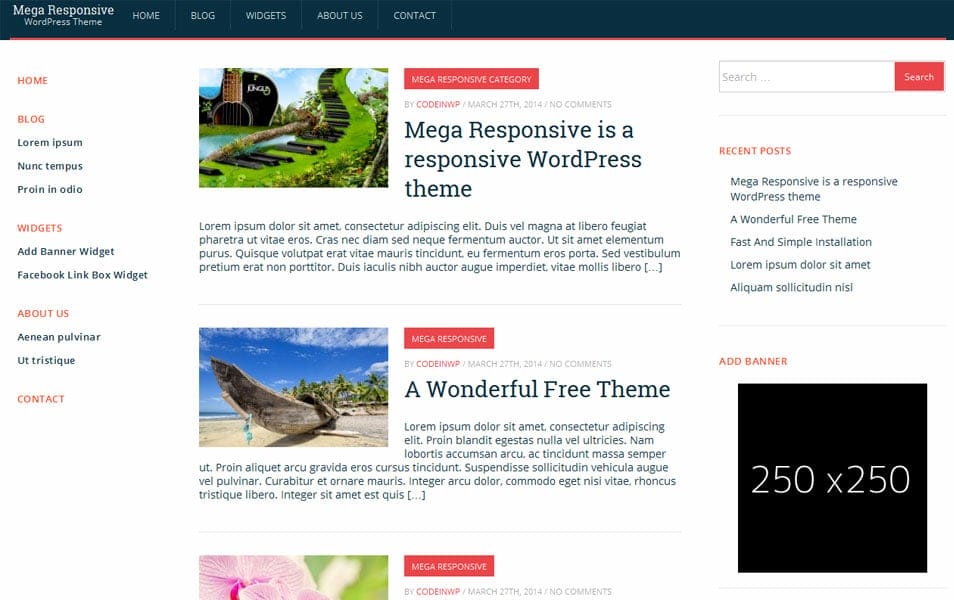 A stunning, mega responsive Magazine WordPress theme excellent for an a magazine website or a blog.
Hueman Free WordPress Theme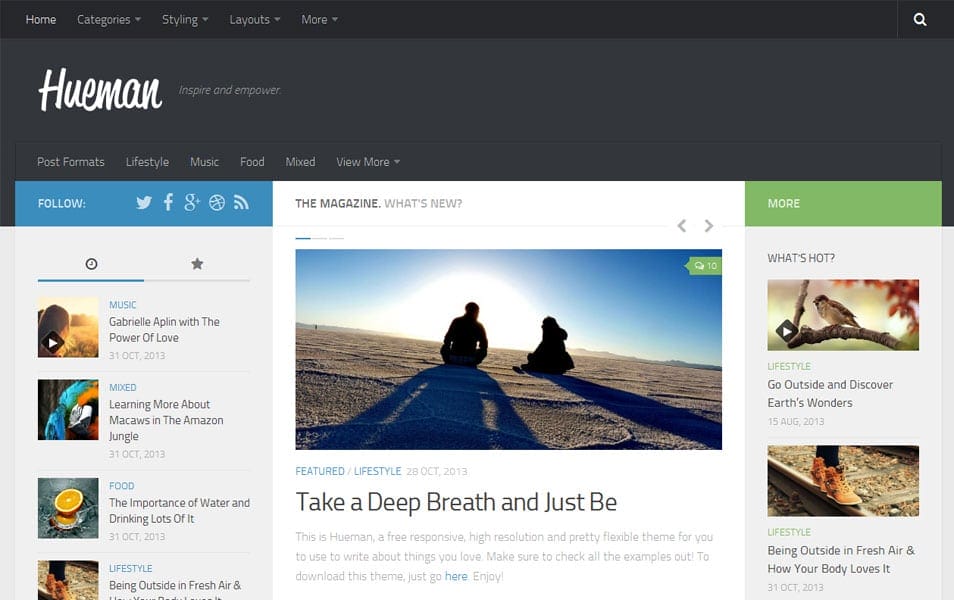 A fully featured, responsive high resolution magazine & blog theme without compromise. Hueman presents what you love to write about in a visual & user-friendly way on all devices.
Professional Free WordPress Theme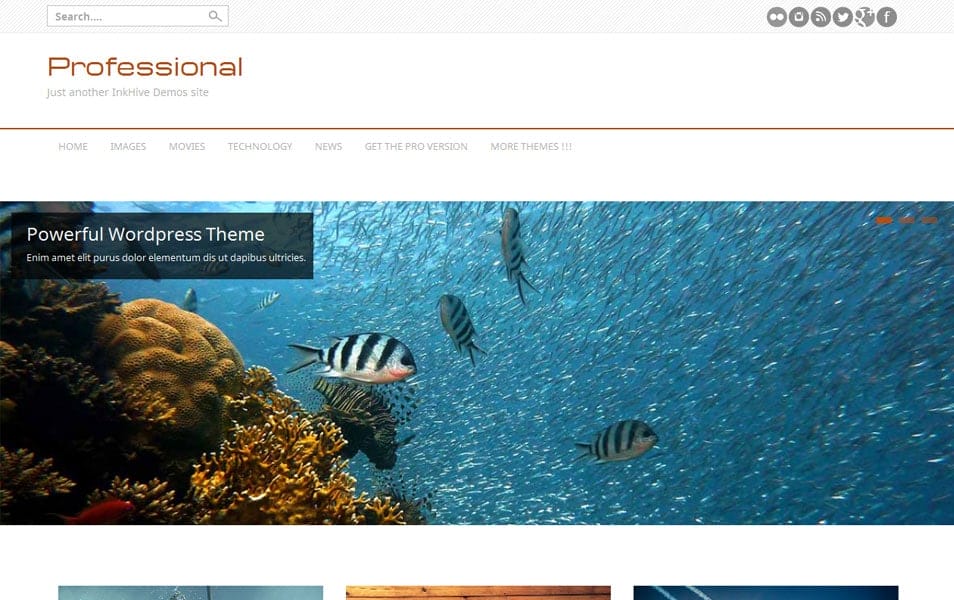 Professional is one of the most impressive themes best suitable for business, events, magazine or any other kind of blog. Basically, you can optimize this blog to use with any of your website.
Fast News- Magazine WordPress theme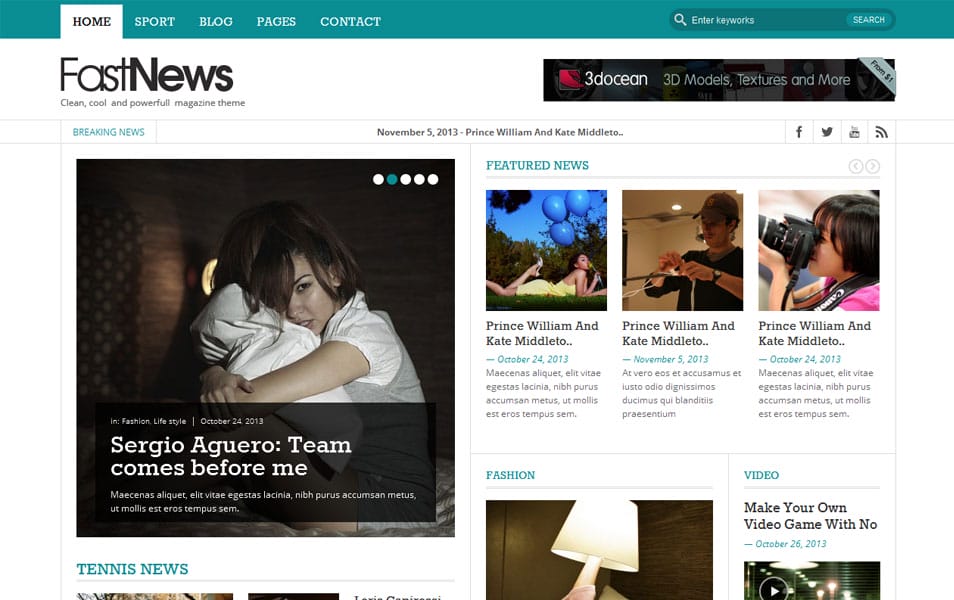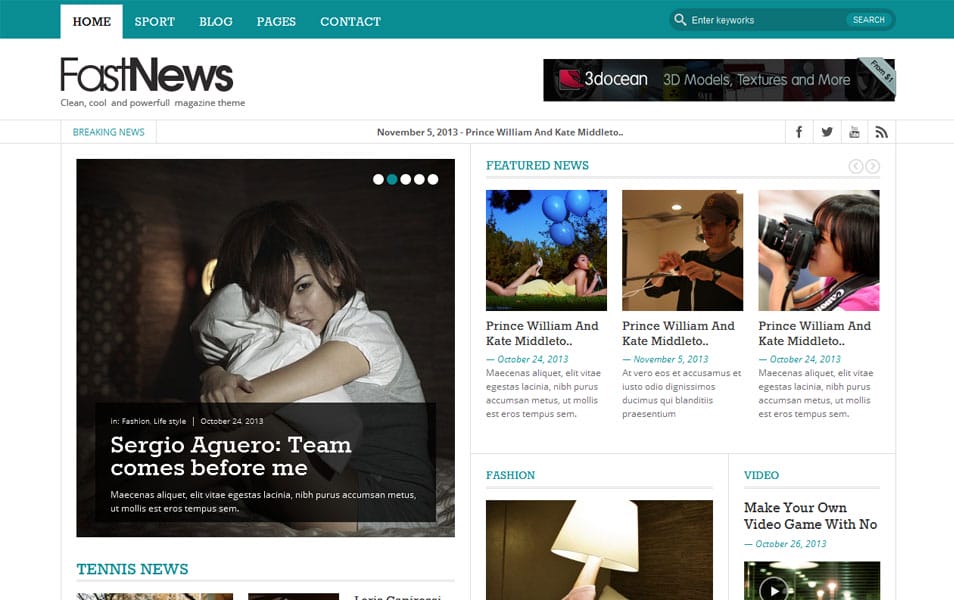 FastNews is a HTML5 & CSS3 Responsive Magazine WordPress theme with clean, minimal yet highly professional design.
MineZine Free WordPress Theme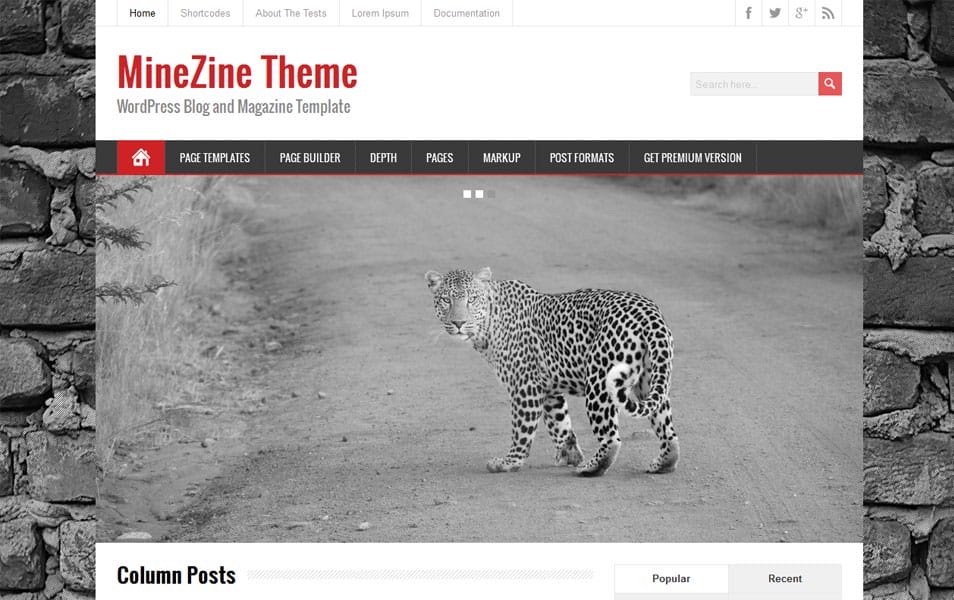 MineZine is an easy customizable WordPress blog and magazine theme. It is a fully responsive theme that allows for easy viewing on any device. Using Theme Options panel, you can customize this theme directly to your needs. MineZine is fully compatible with the WooCommerce plugin.
Delivery Lite Free WordPress Theme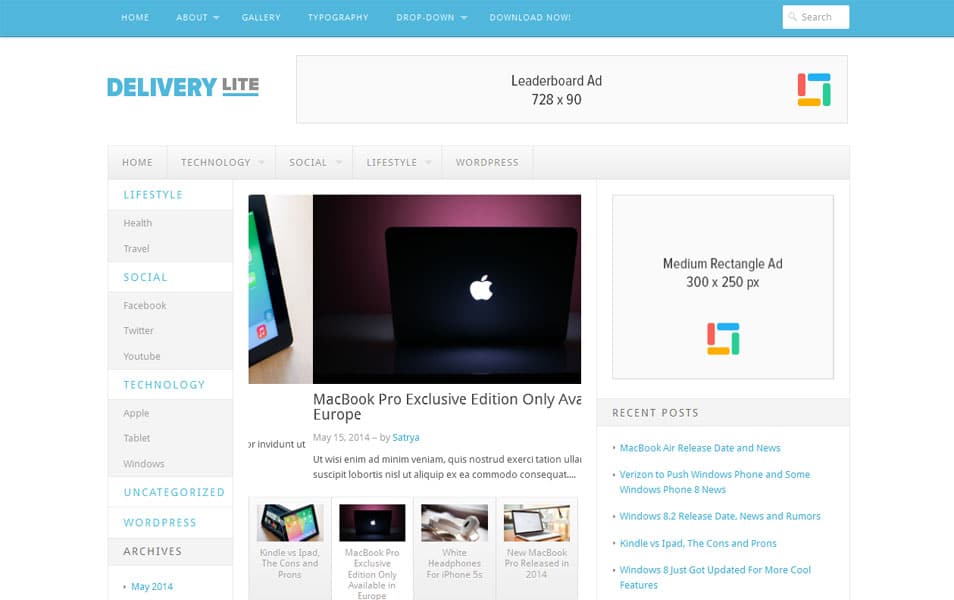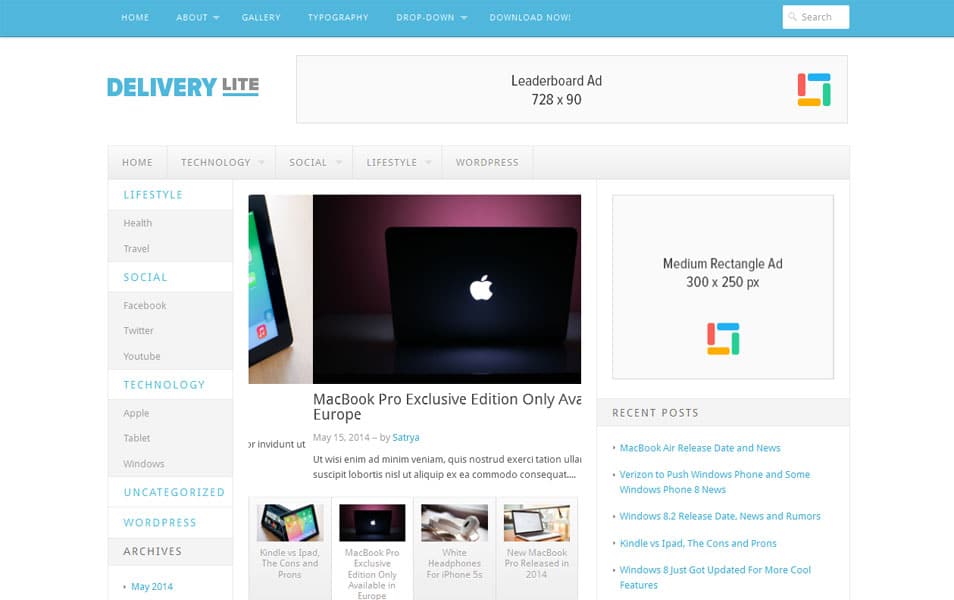 Delivery Lite is the most easy-to-use magazine WordPress theme, you won't find a thousand options in it, just install and you ready to change the world! But, it comes with clean design, beautiful and mobile-friendly. Well suited for online magazines websites, news websites or personal blogs.
Semicolon Free WordPress Theme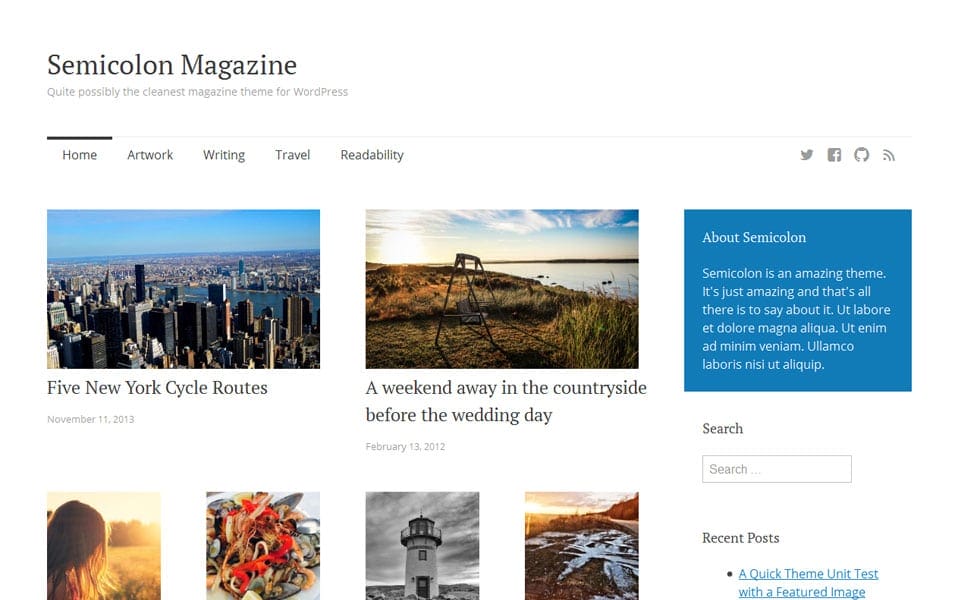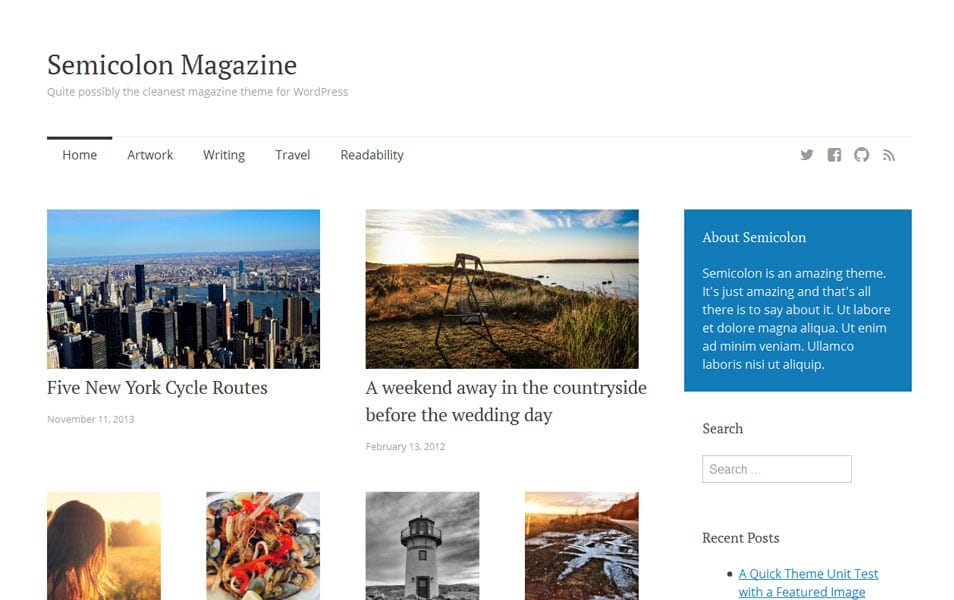 Semicolon is a simple and clean magazine theme for WordPress. It has a responsive layout, clean and easy to read typography, a unique grid layout with featured posts support, a few widget areas, a special menu for your social profiles and much more.
Tracks Free WordPress Theme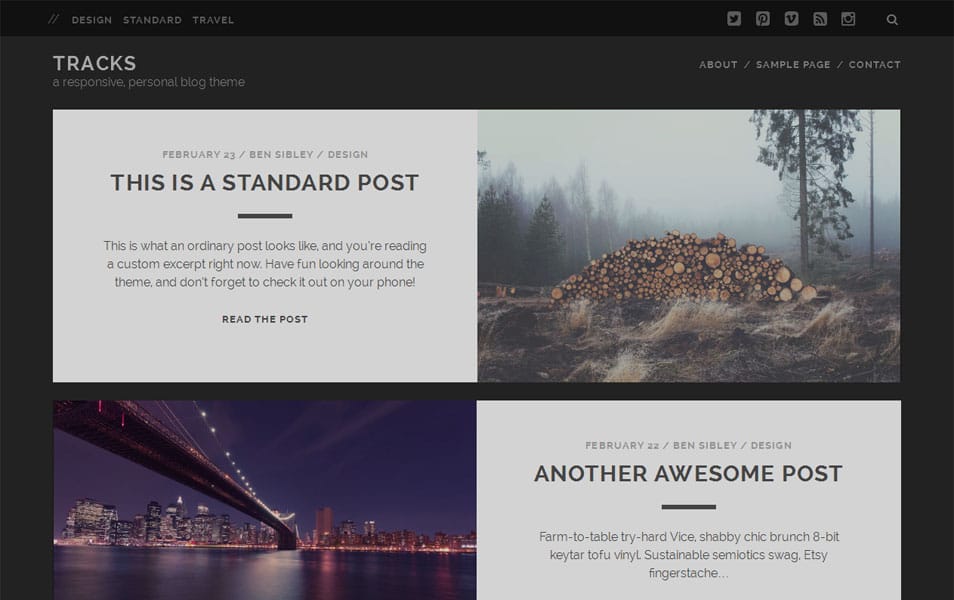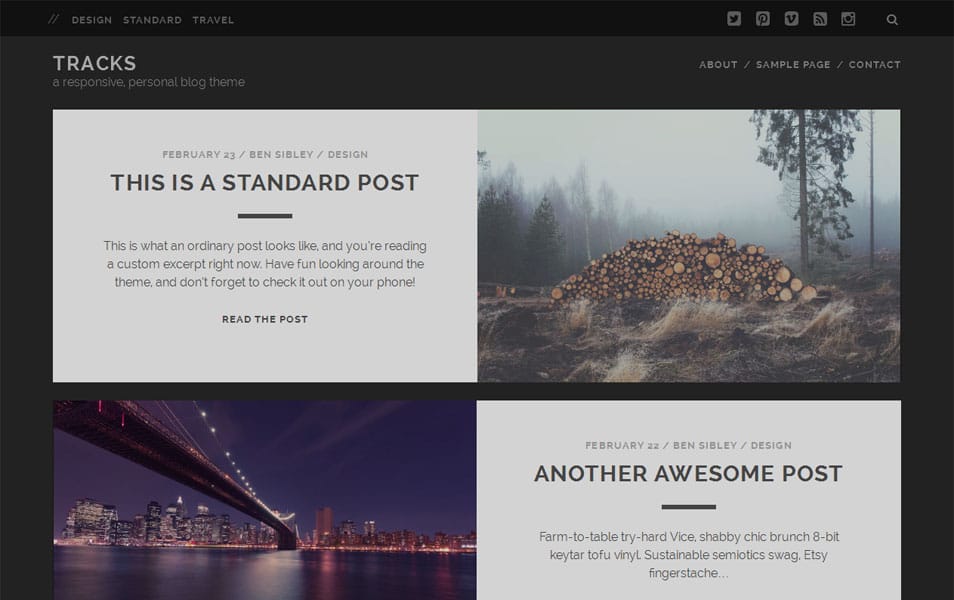 A bold & beautiful blog theme. Great for personal blogs, magazines, and photography websites.
ForceFul magazine WordPress theme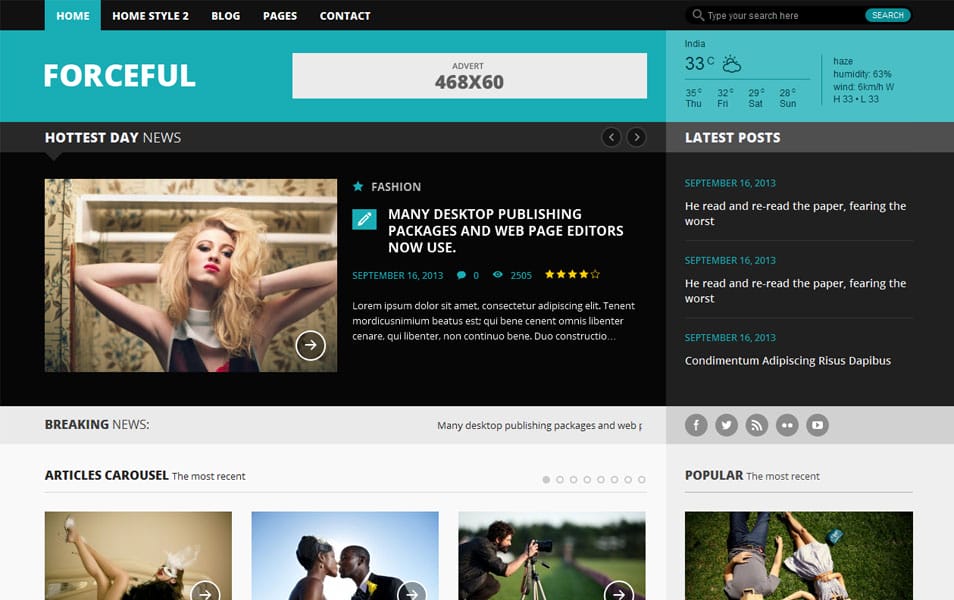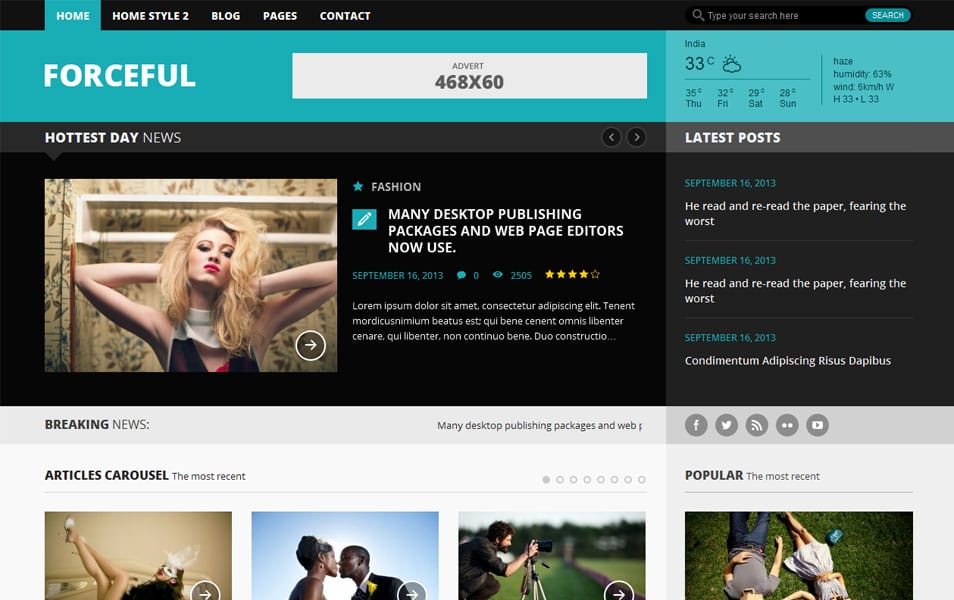 ForceFul is a stylish magazine WordPress theme which has really great look and is perfect for your magazine, blog or news websites. ForceFul has been built by using some of the most popular current design trends.
Make Free WordPress Theme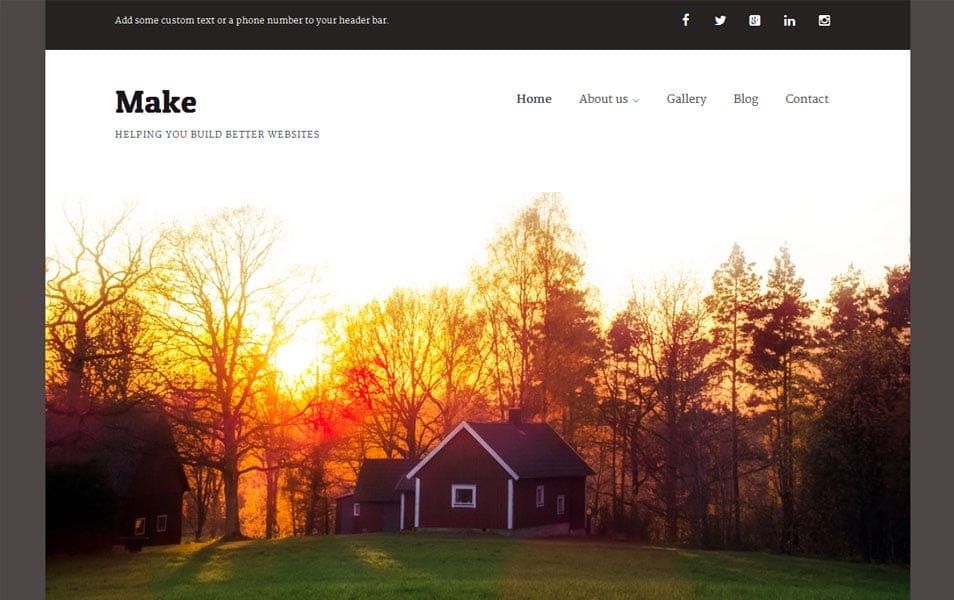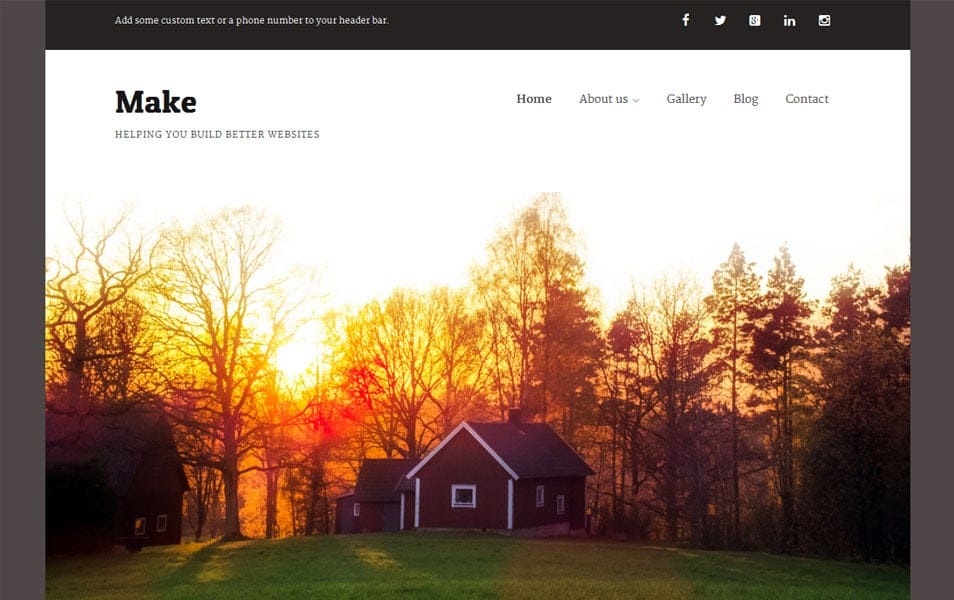 Create your website without touching a line of code. Make's flexible customization features and a powerful drag and drop page builder make designing your site fun and easy. Build almost anything: a simple portfolio or photography site, an ecommerce business site, a minimalist blog, or even a professional magazine.
Hathor Free WordPress Theme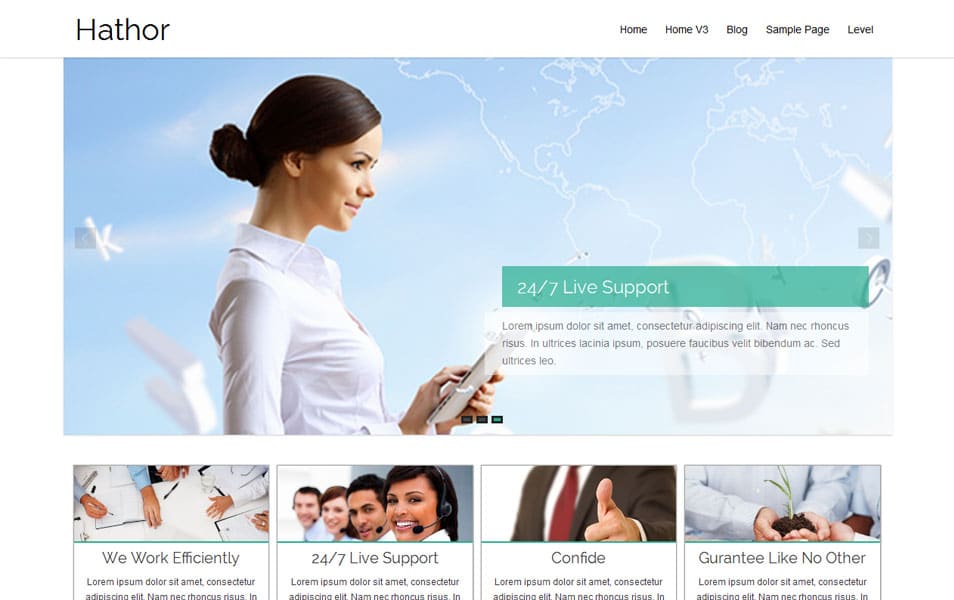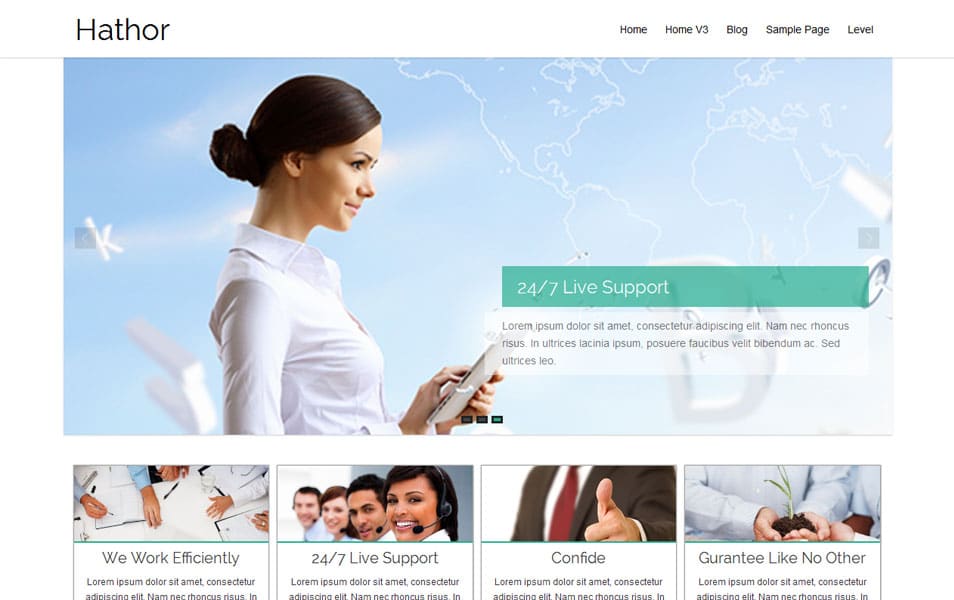 Hathor Theme makes it easy to fully customize the Layout, Colors and Style within minutes.The theme allows you to upload your logo.The Theme also has a 2 header style, 2 Service Block Style , 2 Latest Post layout , Full width and Box option ,translation ready. The theme is SEO Friendly and has plenty of user-friendly options. Due to its superb flexibility of its framework, it allows you to create unique Websites for many purposes like Magazine, Blog, Portfolio, Creative or Business. Fits all popular mobile devices and tablets.
Pisces Free WordPress Theme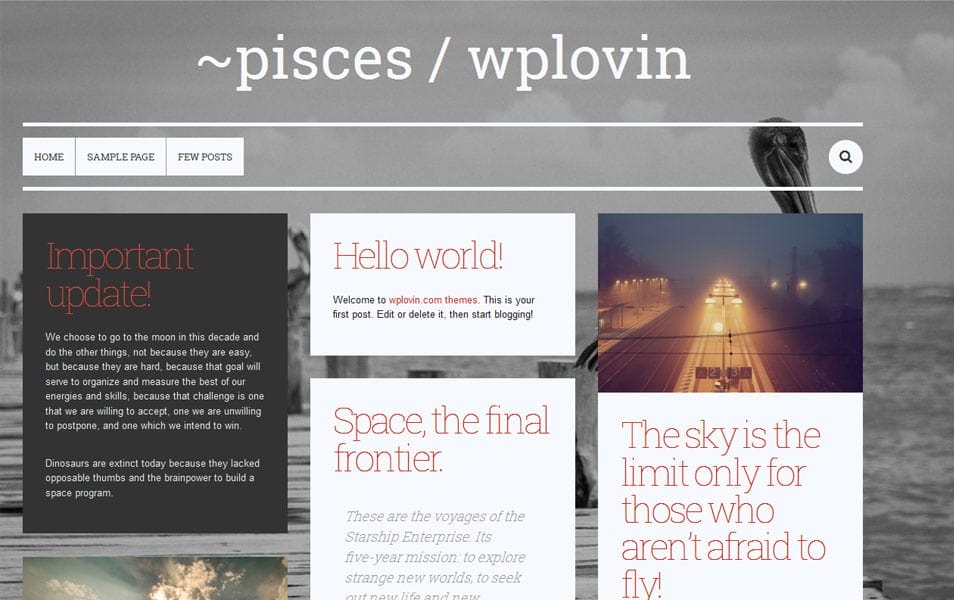 Pisces is a minimal, black & white (with some shades of gray!) sharp magazine-style theme – express your thoughts in style. Pisces incorporates smart custom background images (images less than 960px will be used as a pattern, while images above 960px resolution will be displayed fullscreen) and social footer links (just add your social links to 'Social links' menu and it's done!).
Silver Mag Free WordPress Theme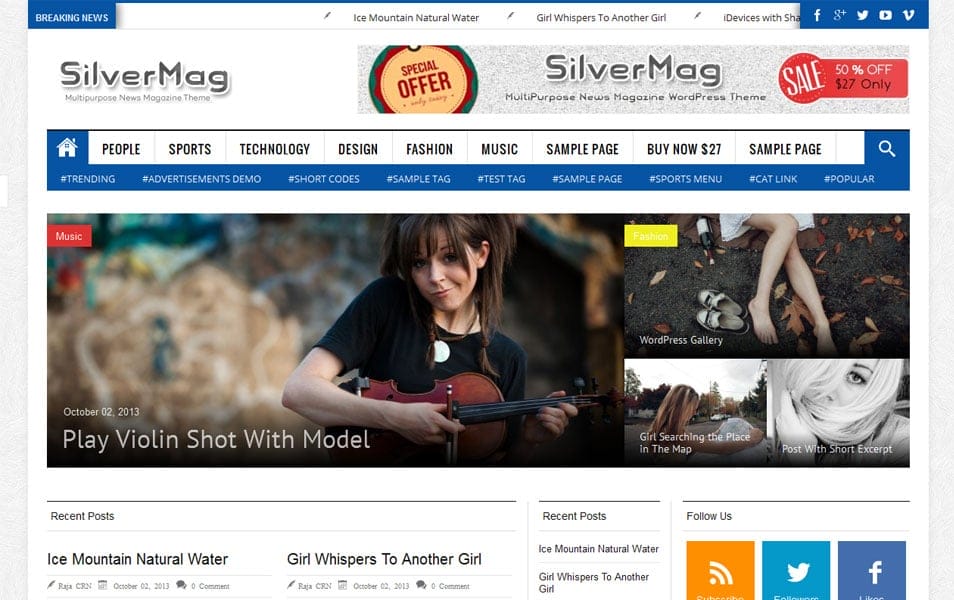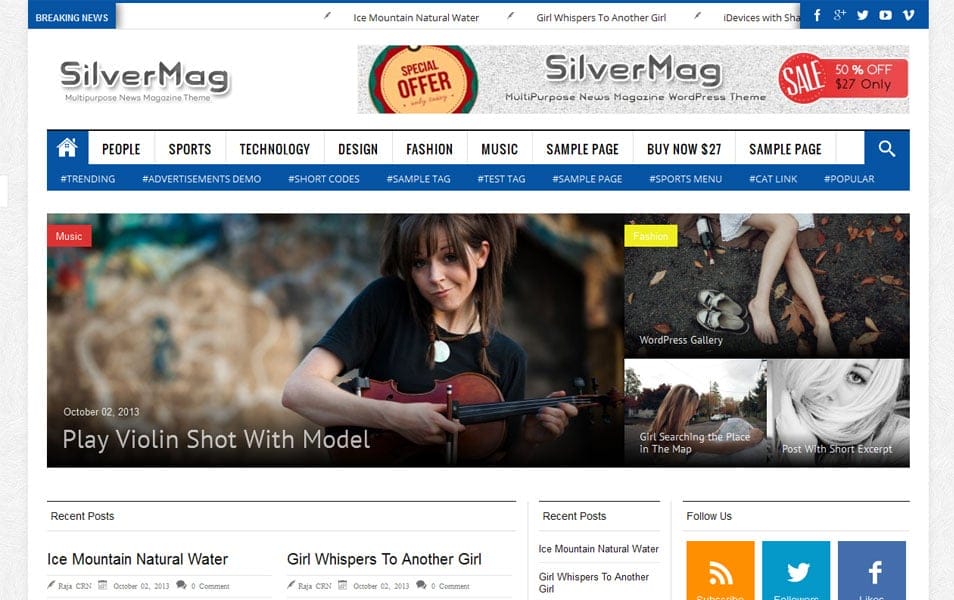 Silver Mag is a minimalistic yet Advanced Responsive Magazine Style WordPress Theme. Silver Mag is Premium WordPress theme, still it is once again released free of cost for all Themepacific WordPress users.
Socialize Lite Free WordPress Theme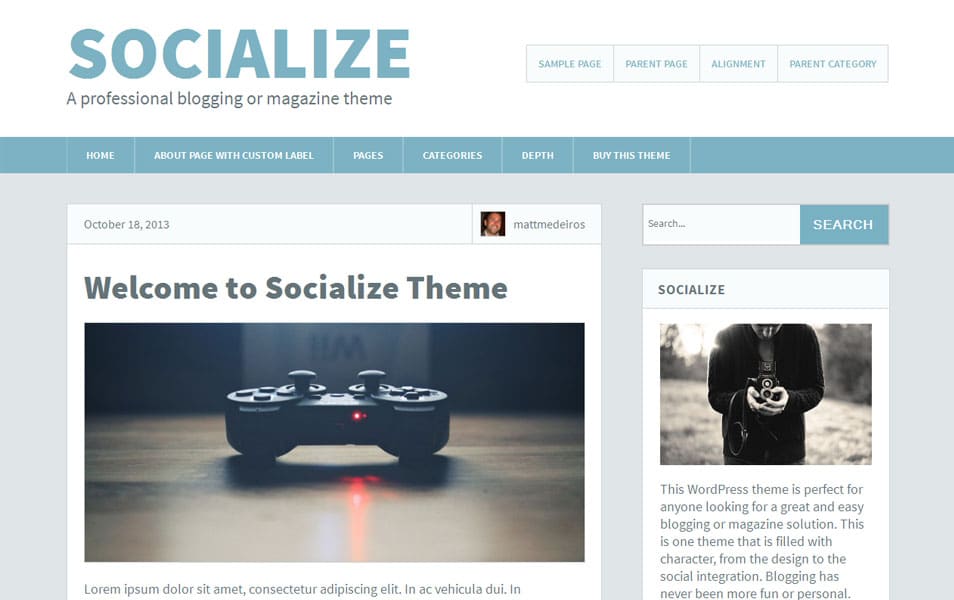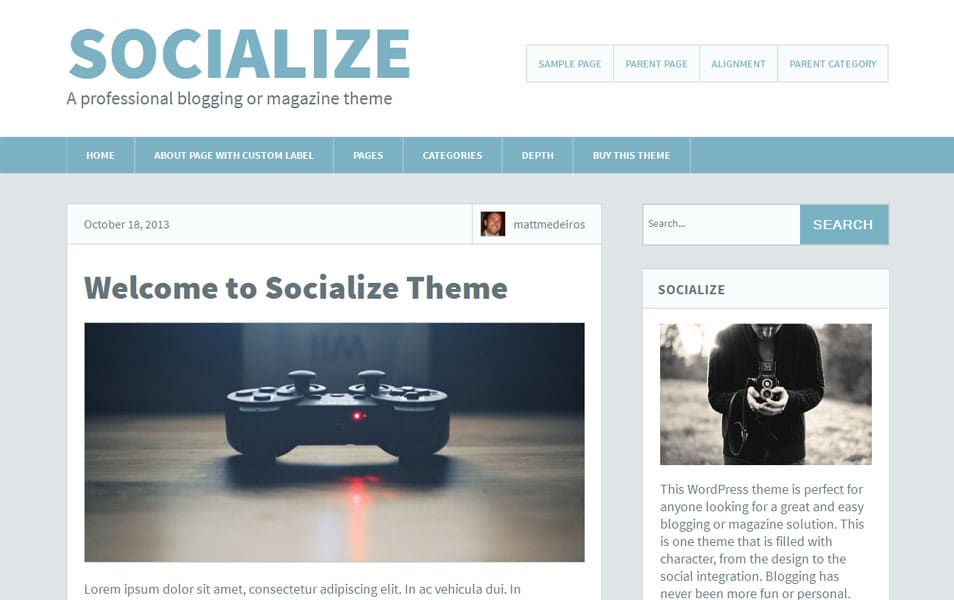 A lightweight and responsive WordPress theme. This is a simple, effective and beautiful theme for bloggers or magazine websites. Get ready to socialize!
EzyReader Free WordPress Theme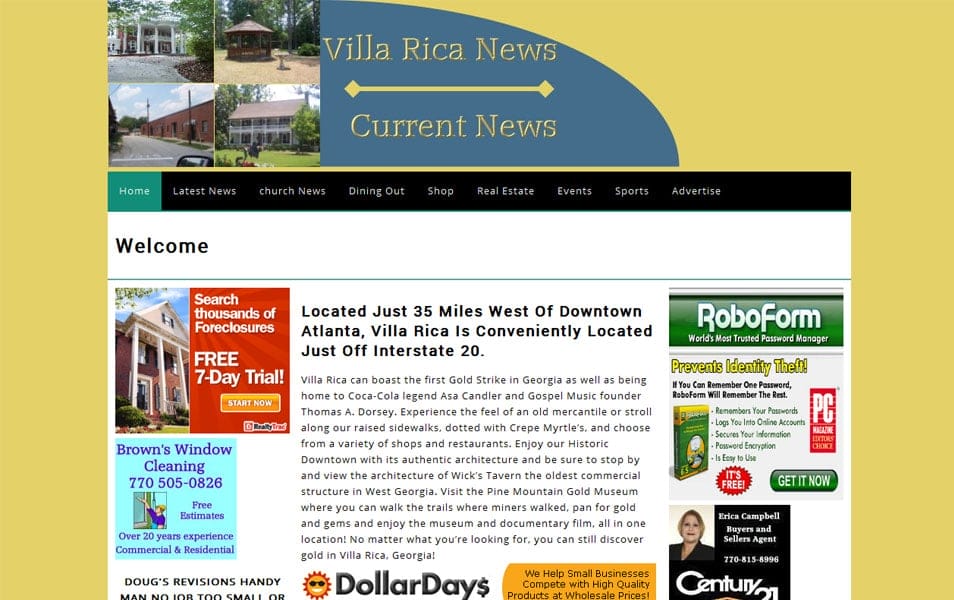 Ezyreader WordPress theme for blogs, magazine style websites, adsense websites. EzyReader is a responsive business Minimal setting theme which can be used for personal or blog type website. It supports three page layouts, custom widgets, custom logo, drop down menu, threaded comments.
PepMagazine – free WordPress theme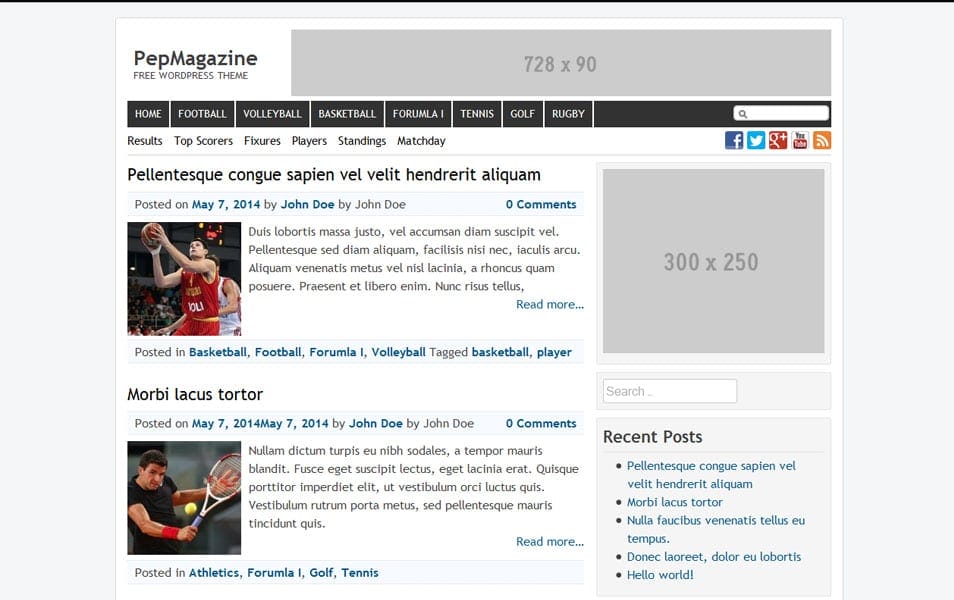 PepMagazine is simple news or magazine WordPress theme which can be used for personal blog or professional website. PepMagazine is simple and clean, but also very elegant theme. We've used latest HTML5 and CSS3 and native WordPress functions for creating this awesome look.
PR Pin WordPress theme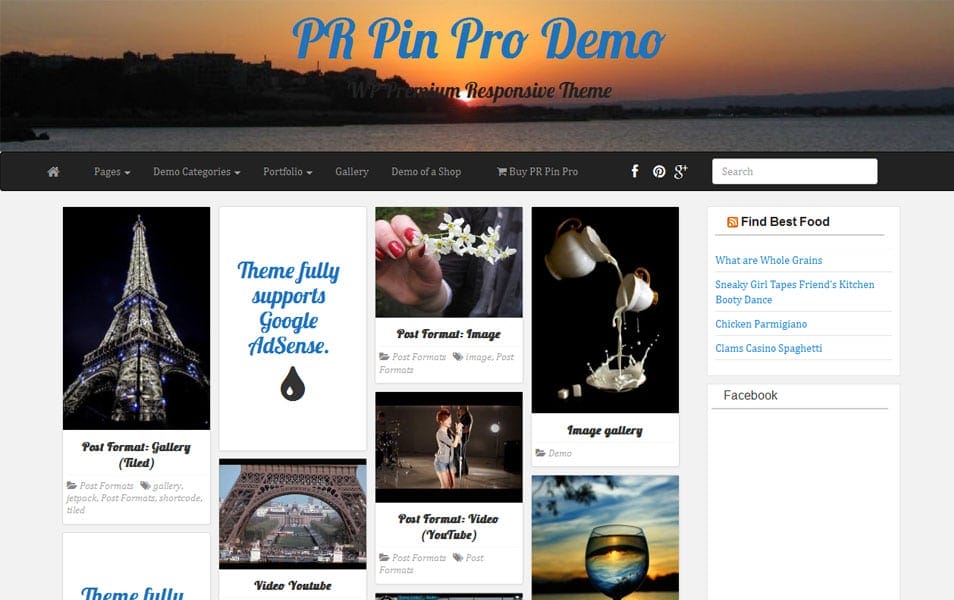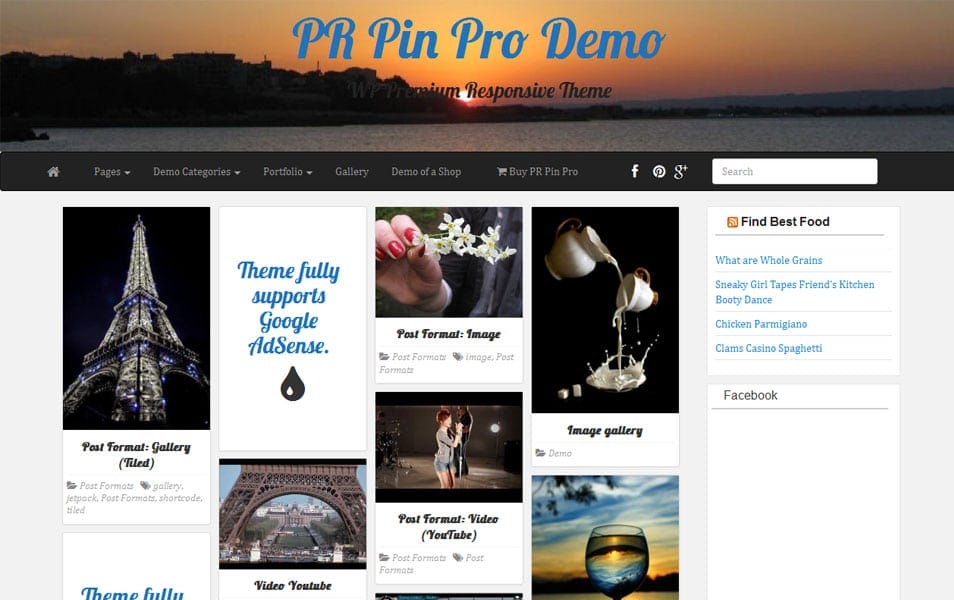 PR Pin is a powerful responsive and multi-purpose WordPress theme, perfect for news or magazine, blog website and many more. Theme designed with the popular Bootstrap 3 CSS Framework, and using Font Awesome for the lightweight usage of icons.
InkZine Free WordPress Theme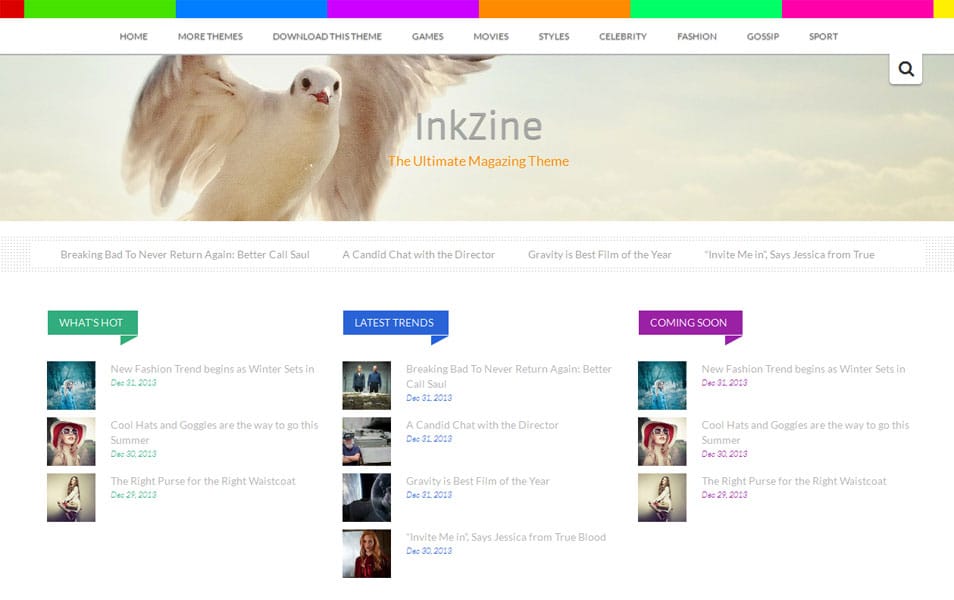 InkZine is our Latest Theme with a Very Refreshing Magazine Style Layout. This theme was built with Entertainment and Magazine Websites in mind.
BrightNews Free WordPress Theme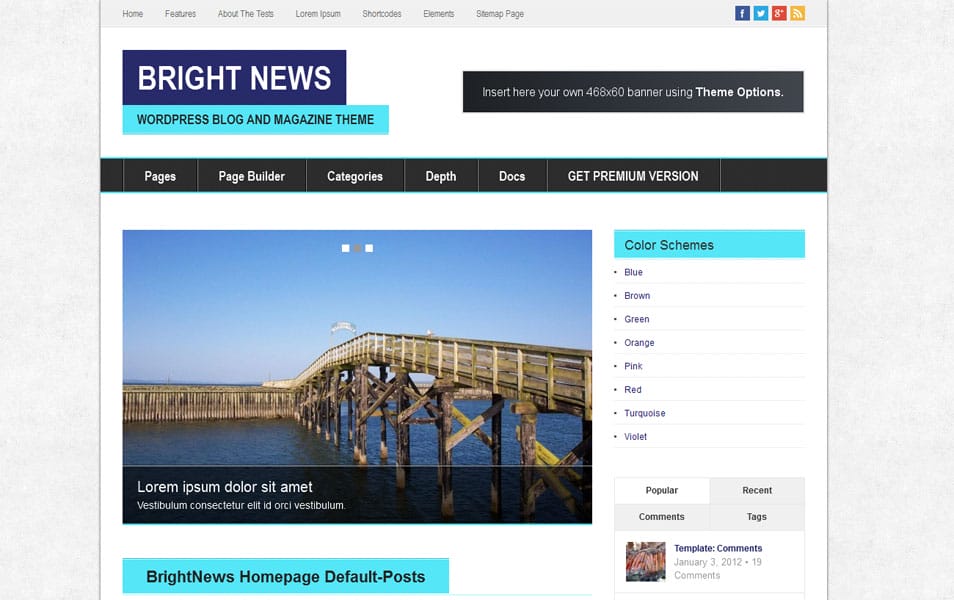 BrightNews is an easy customizable WordPress blog and magazine theme. It is a fully responsive theme that allows for easy viewing on any device. Using Theme Options panel, you can customize this theme directly to your needs. BrightNews is fully compatible with the popular WooCommerce plugin.
Preus Free WordPress Theme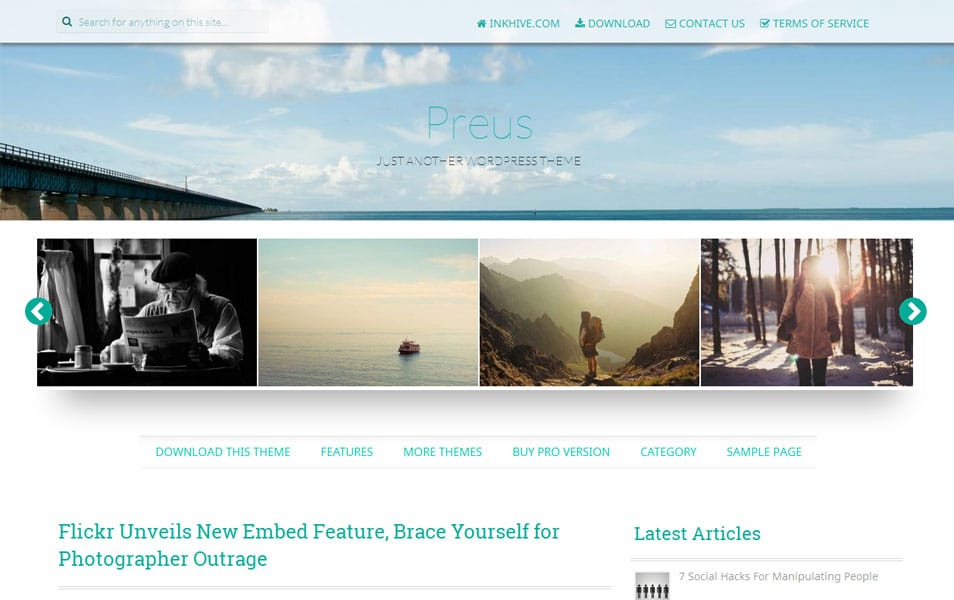 Preus is a High quality Responsive Magazine theme with a refreshing layout and a Minimal Design. Preus fashions a a Full High definition parallax header image, which is optional. The design of the site is suitable for General Magazine or Blog Layouts.
MiniMagazine Free WordPress Theme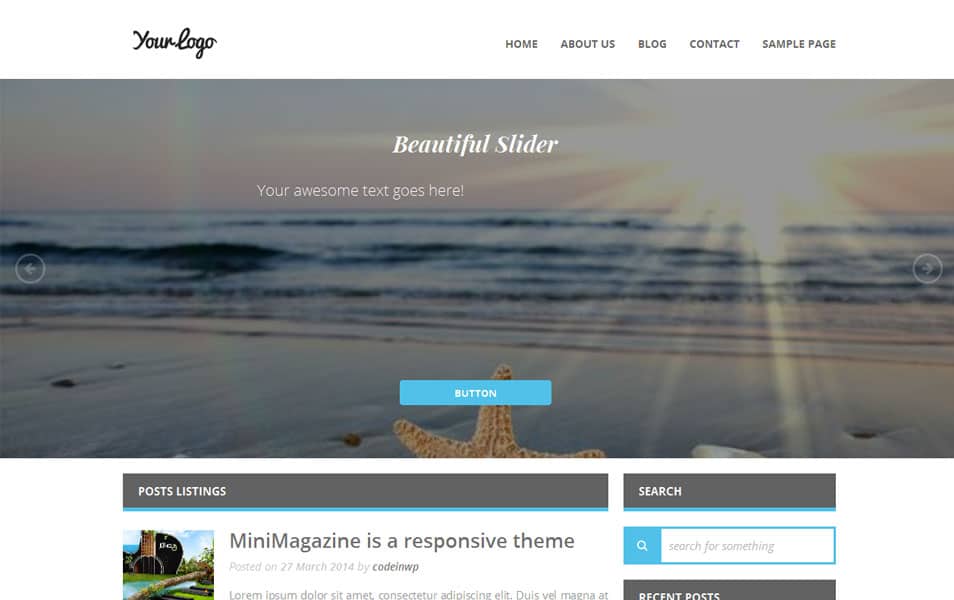 MiniMagazine Blog is free responsive Magazine WordPress theme, perfect for a personal blog.
VertiMagazine – Free Magazine WordPress Theme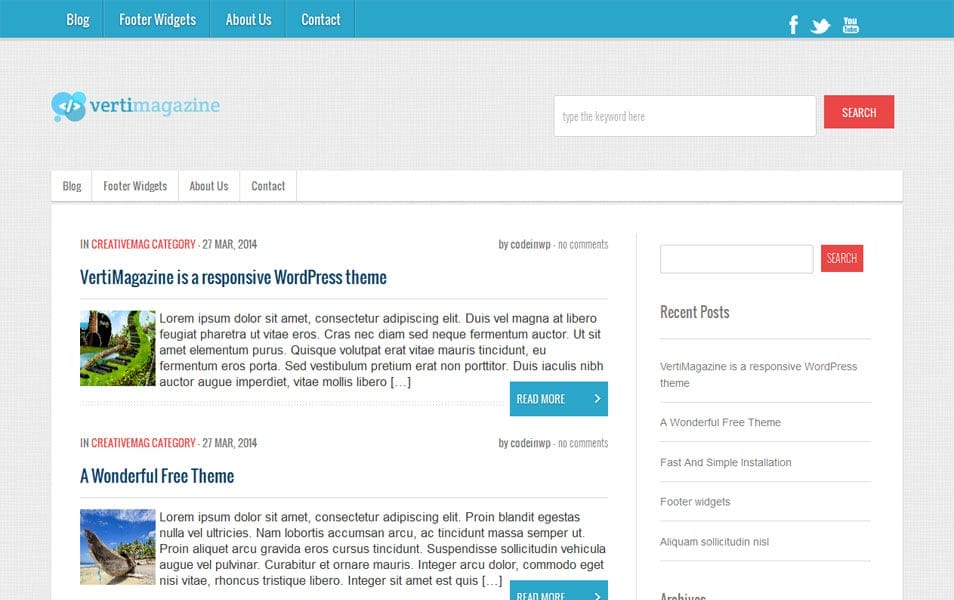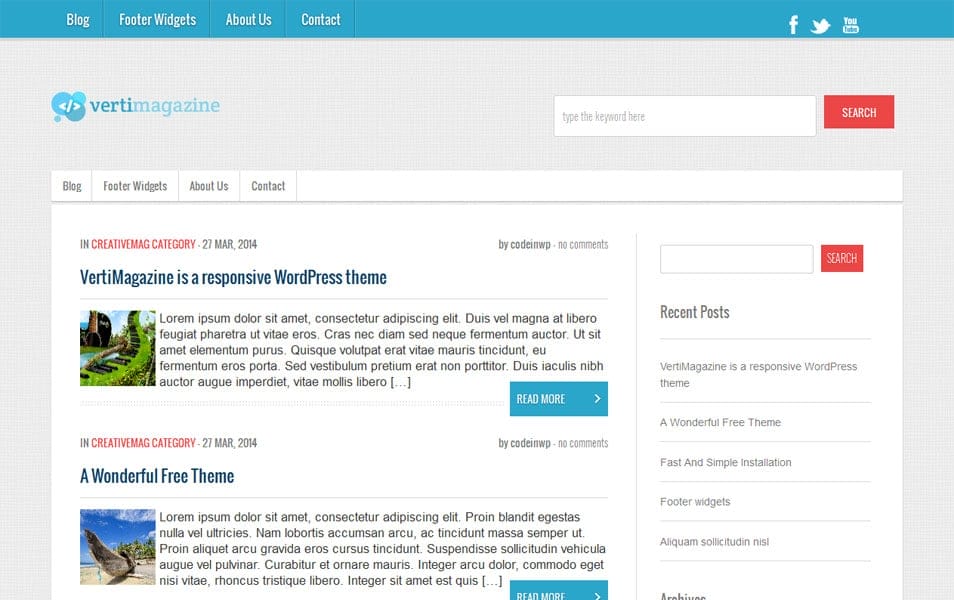 A stunning, responsive review WordPress theme excellent for an a review website or a blog.
MH Magazine lite – Free Magazine WordPress Theme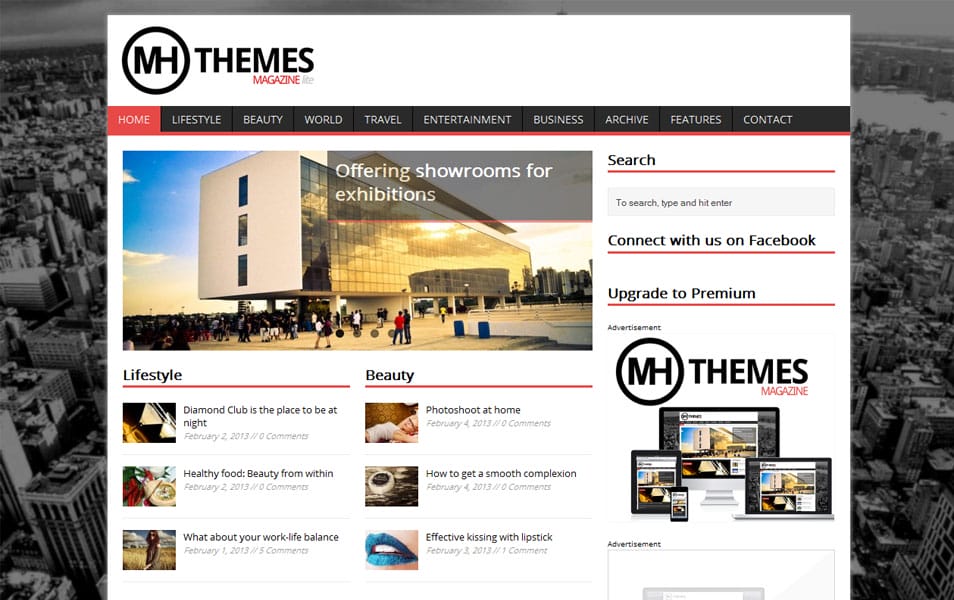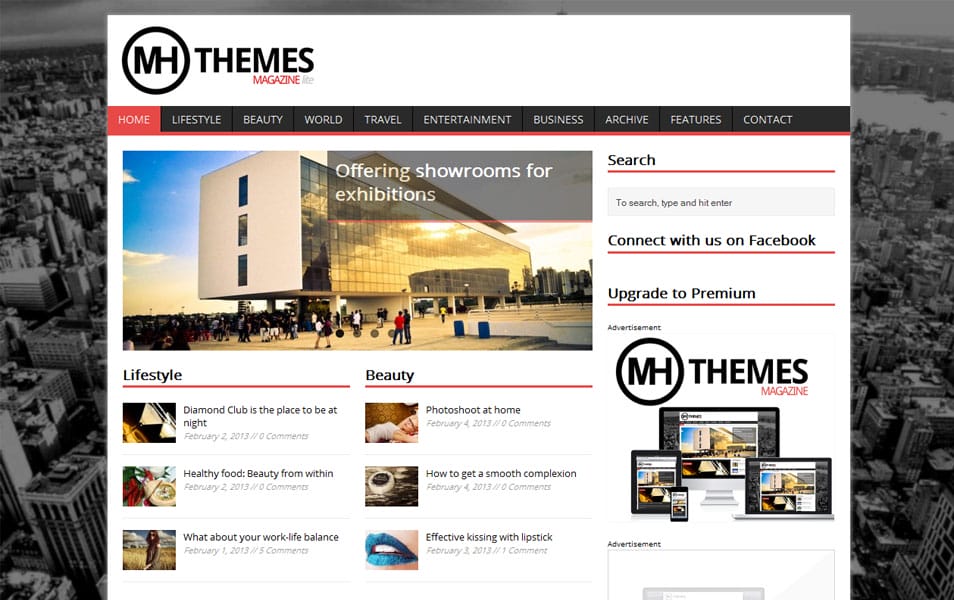 MH Magazine is ideal to create amazing online magazines within a few minutes! In case you need more professional features and options, you can upgrade to the premium version and benefit from great features and excellent theme support through our helpdesk.
Surfarama Free WordPress Theme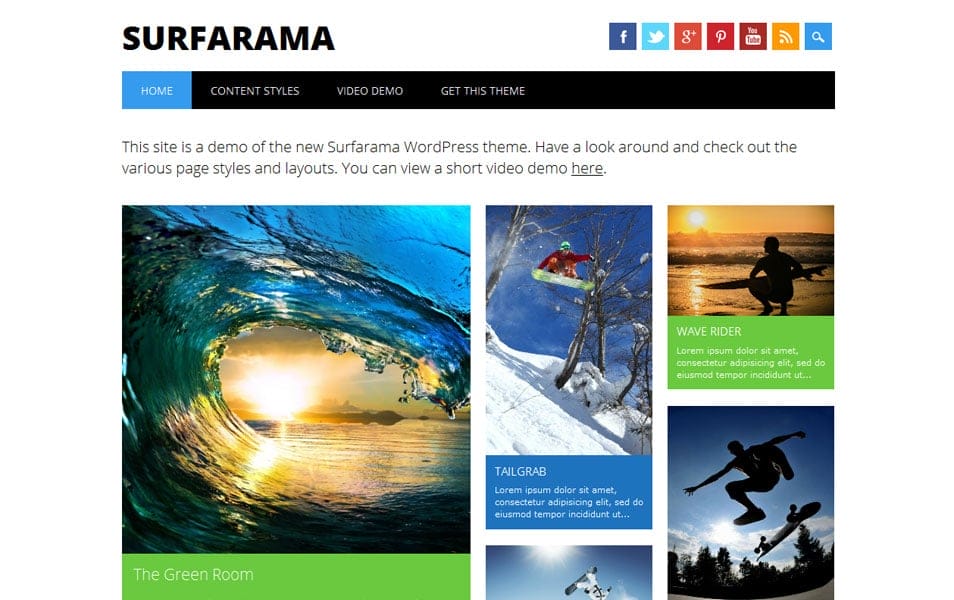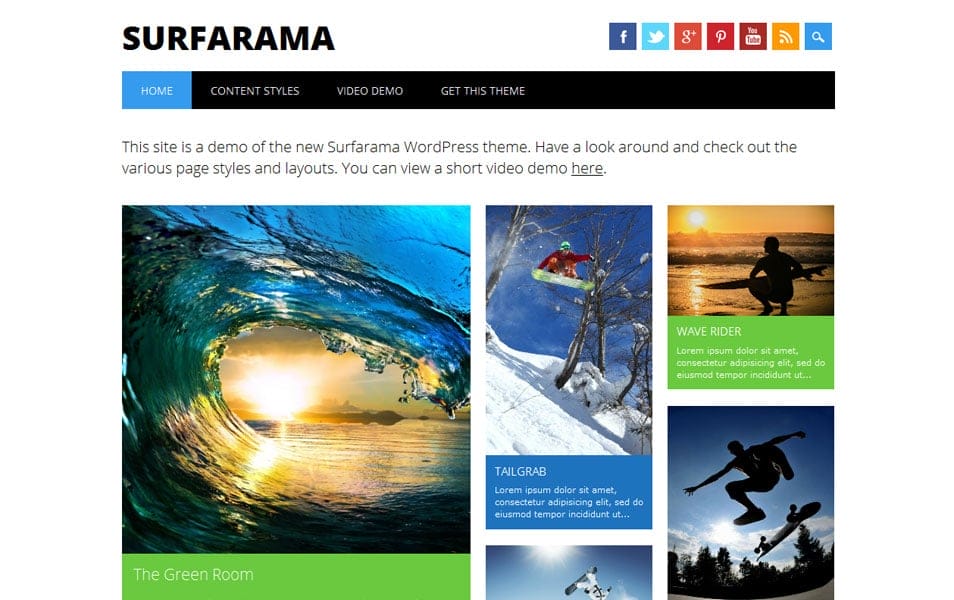 Surfarama is a bold and fun theme which uses the popular mason style layout on the home page and category pages to highlight imagery and make for a very visual presentation. It's perfect for travel and magazine style blogs heavy on the imagery.
Responsive Magazine Theme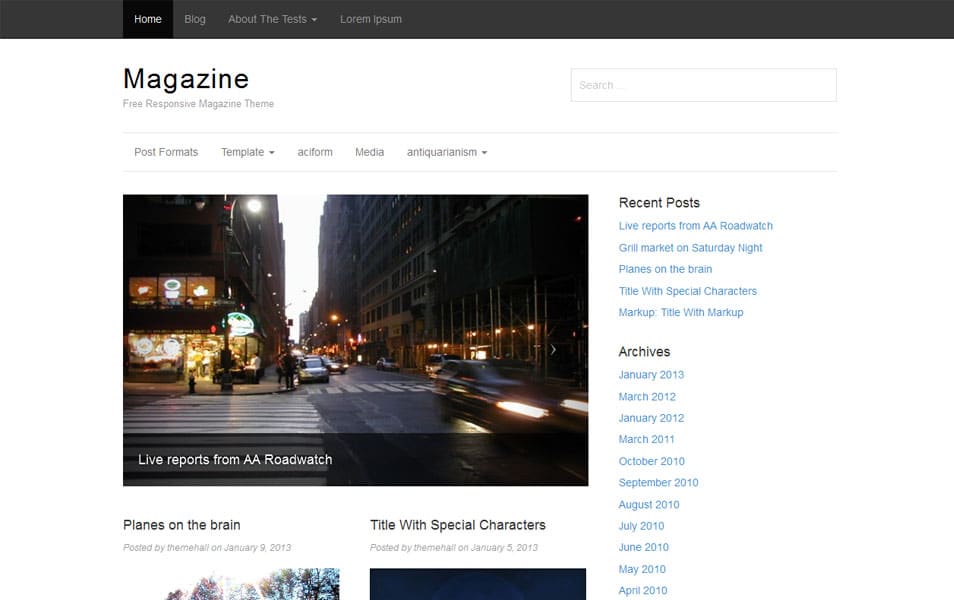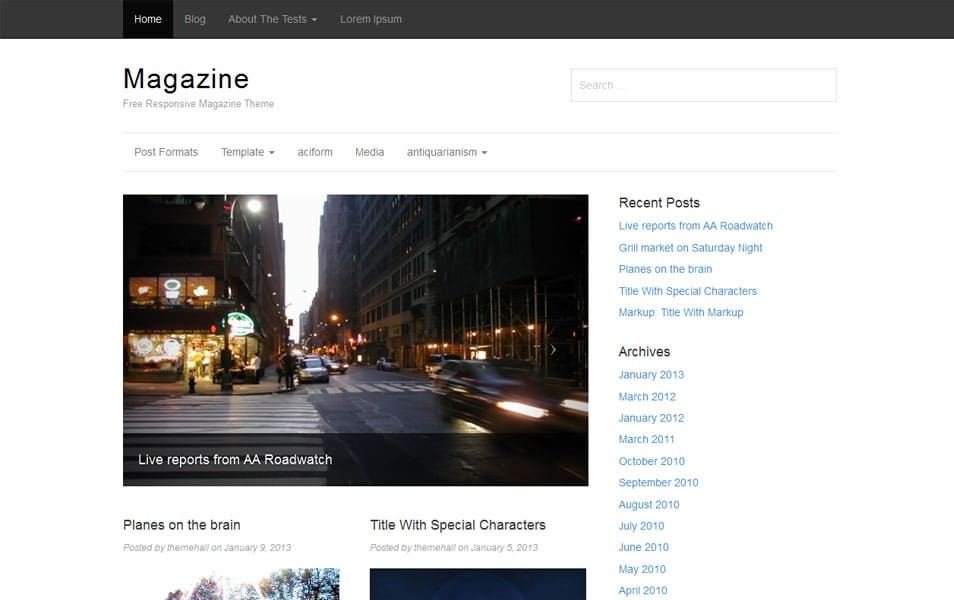 Magazine theme is a Free Responsive Bootstrap 3 WordPress theme, powered by Omega. Magazine WordPress theme comes with a clean, minimal design for your online magazine or news editorial.
BresponZive Free WordPress Theme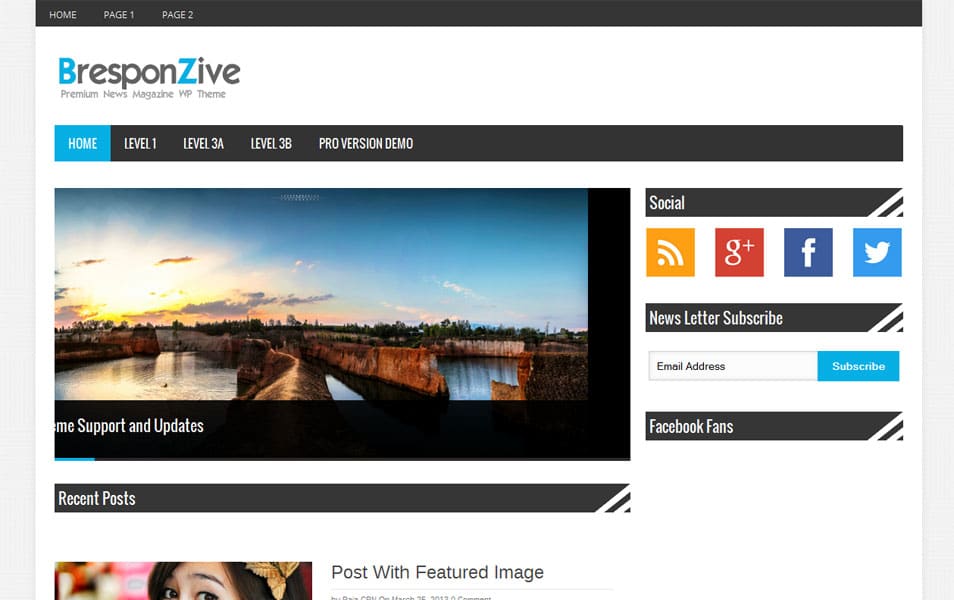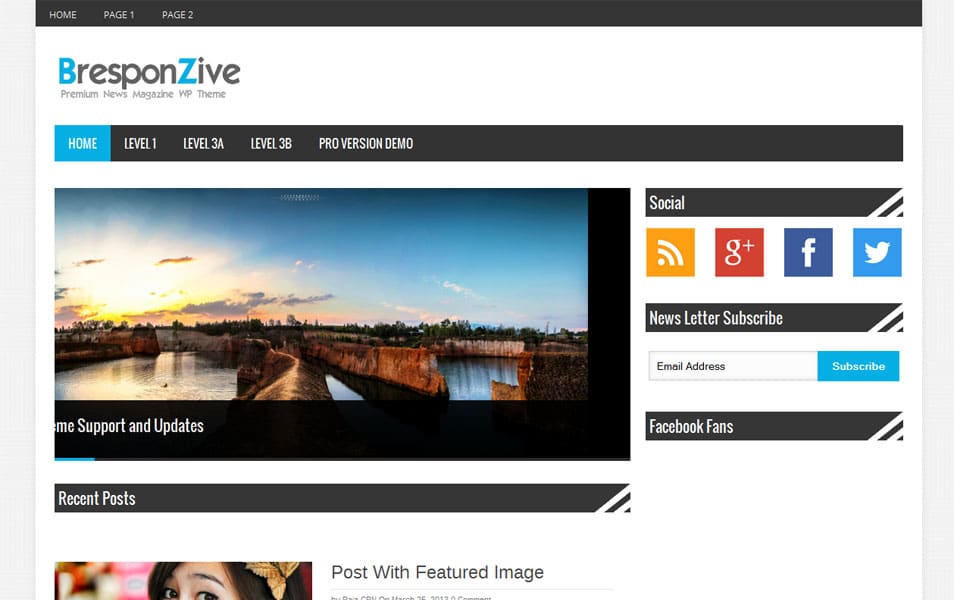 BresponZive is a Premium style WordPress theme that has come with Magazine/blog style layout.It Includes much more options and highly customizable. This has come with a fully responsive layout and design. It is an easy-to-customize and fully featured WordPress Theme. It has 2 columns, unlimited homepage Magazine style Widgetized sections.
iMag Mag Free WordPress Theme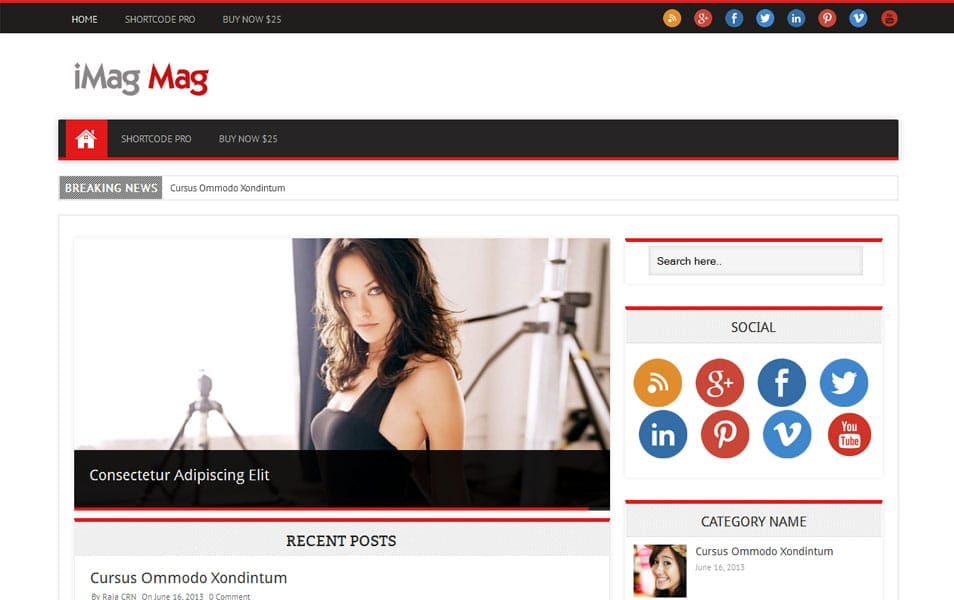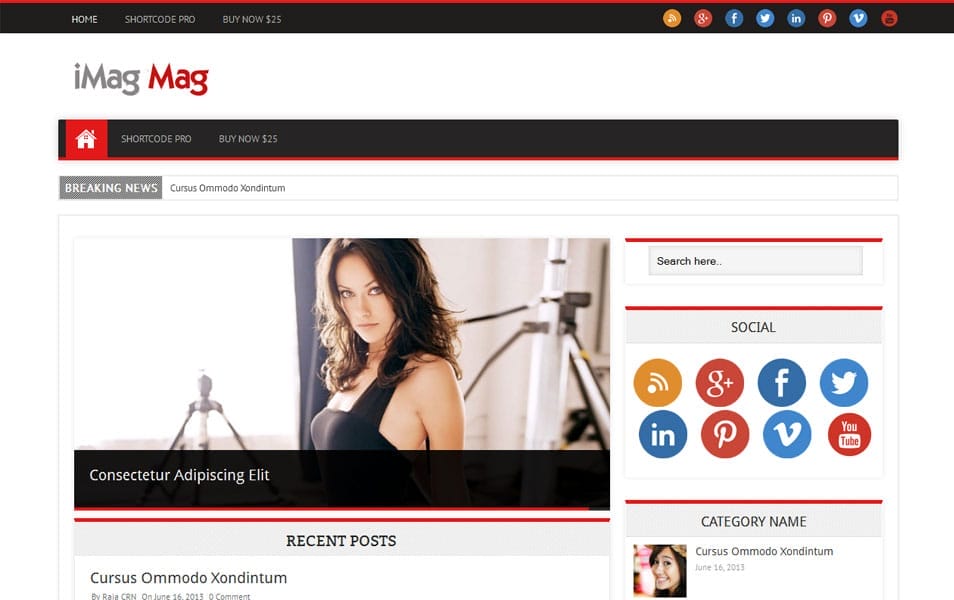 iMag Mag Pro is the fully responsive WordPress Theme, you can check that in your browser itself. This Responsive WordPress Theme has the full support for even larger screen. The Layout of the theme is bigger than normal WordPress themes, so that you can present your content elegantly with lot of space and comfort.
Columnist Free WordPress Theme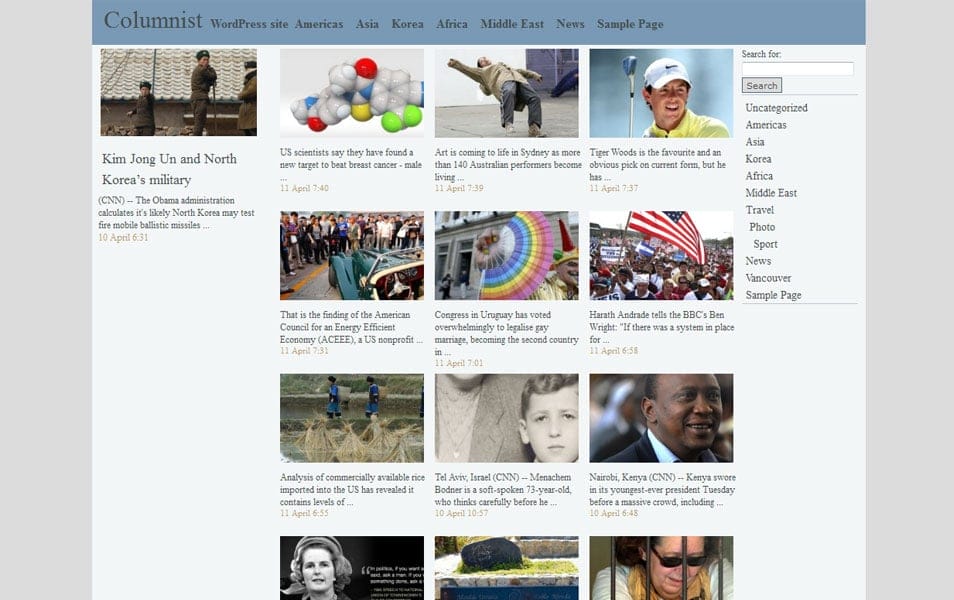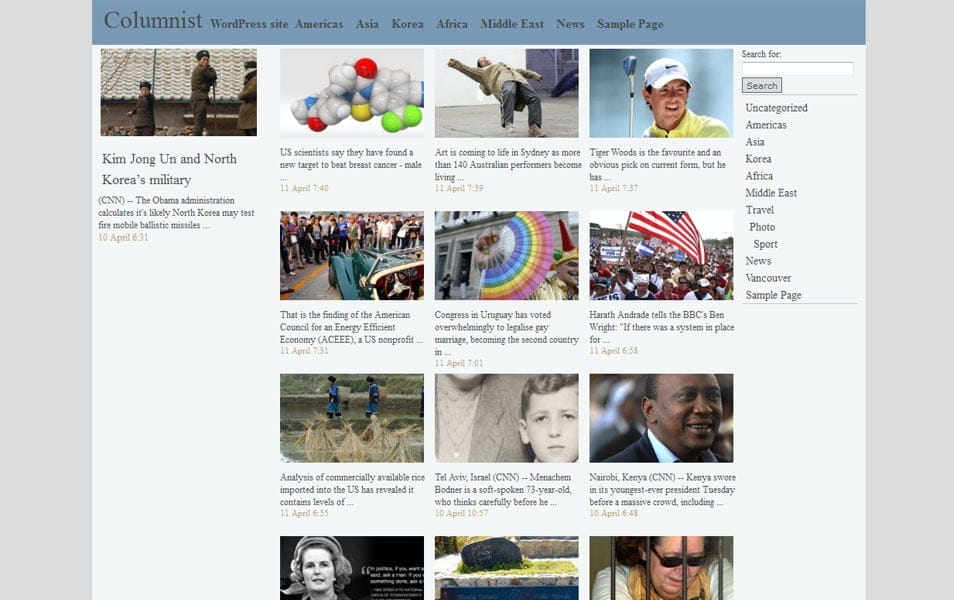 Columnist theme is a great fit if you publish magazine or news style content. This theme offers a clean and simple design but still allows for a lot of content to be presented in a magazine style.
Madura Mag Free WordPress Theme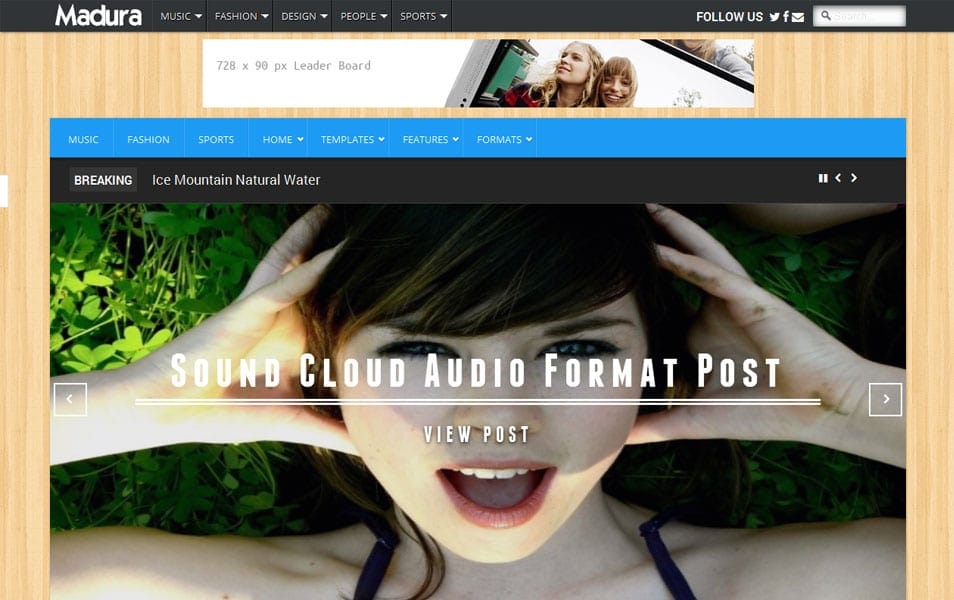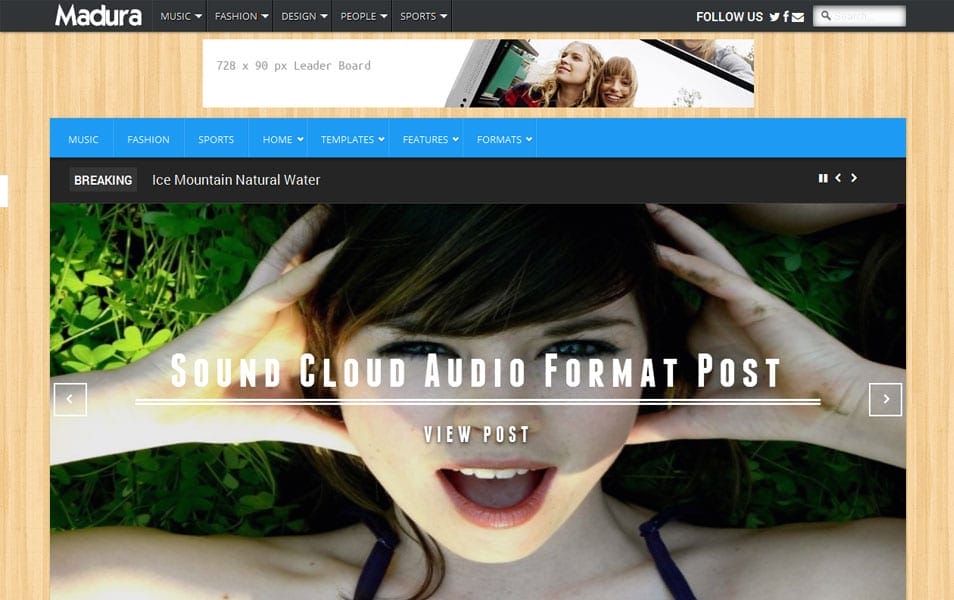 'Madura Mag' is the Fastest WordPress Theme with Responsive Layout. You can showcase your Articles and Blog posts with Awesome Design with Speed.
zeeDynamic Free WordPress Theme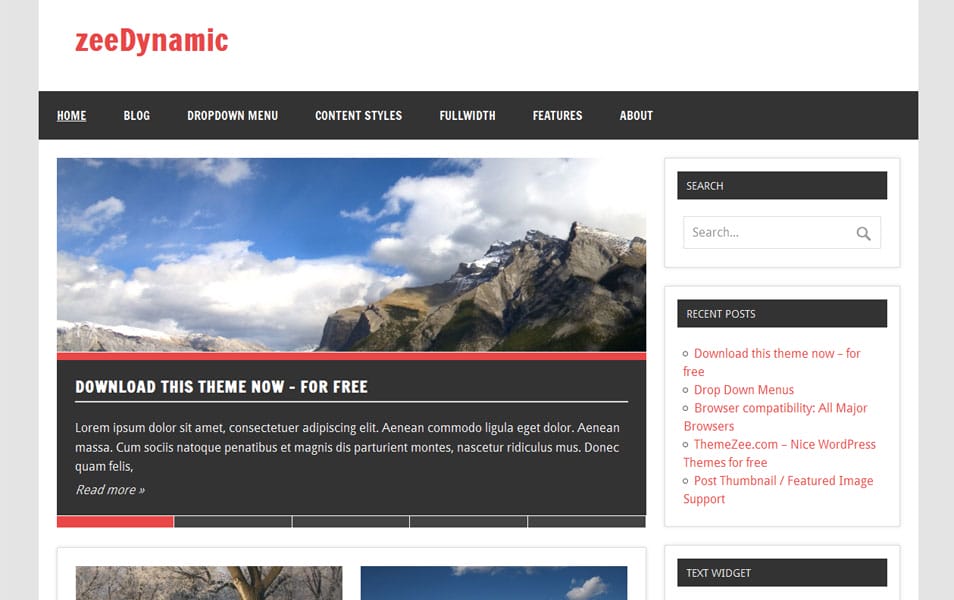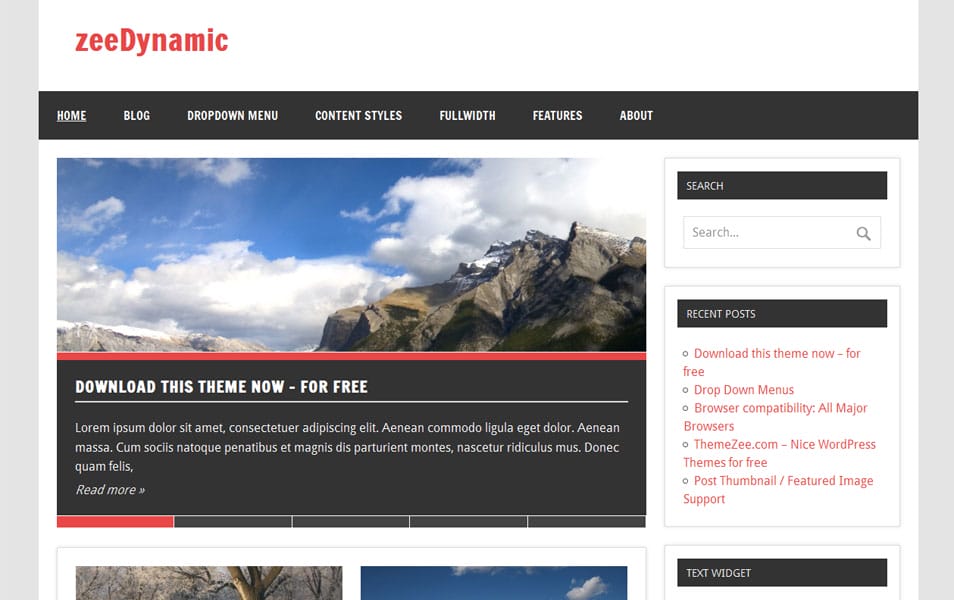 zeeDynamic is a fully responsive magazine WordPress theme with strong colors and bold fonts. The theme fits perfectly for any news, magazine or blog website with rich content.
Coco Mag Free WordPress Theme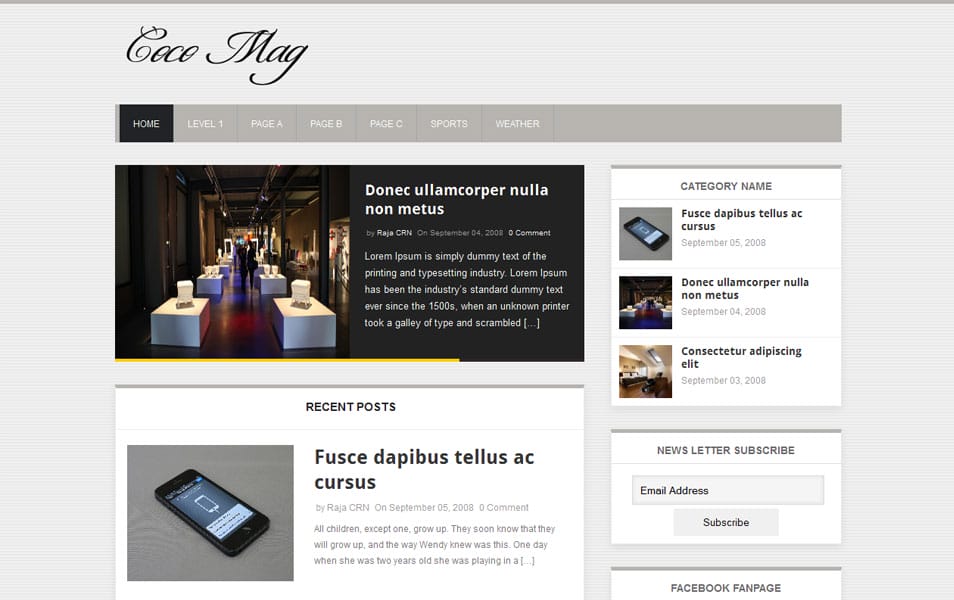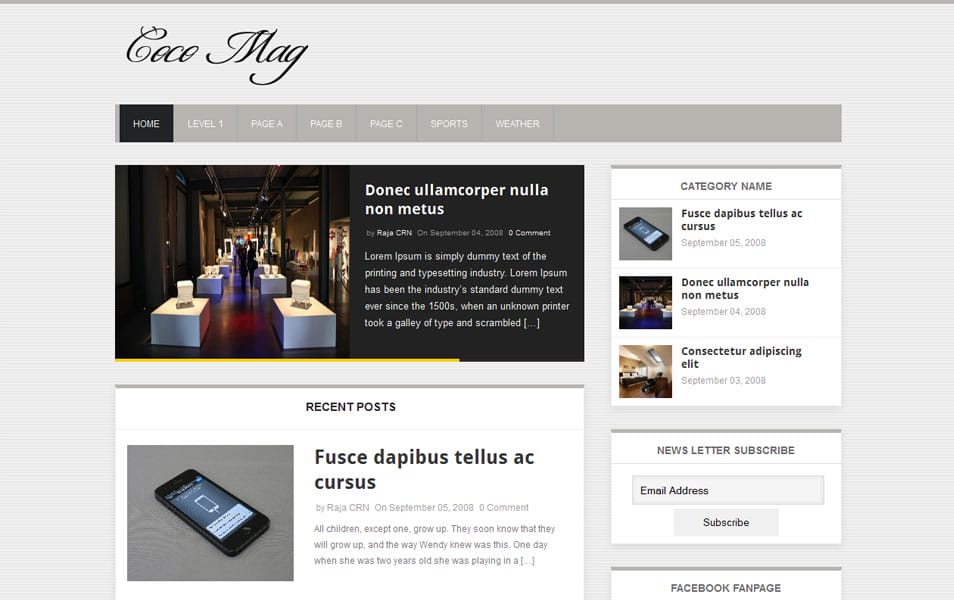 Coco Mag is a Fully Responsive theme with Magazine/blog style. It is a easy-to-customize and fully featured WordPress Theme. It has 2 columns, unlimited news sections. Theme is built on advanced solid framework which includes lots of advanced features and functions.
Rubine Free WordPress Theme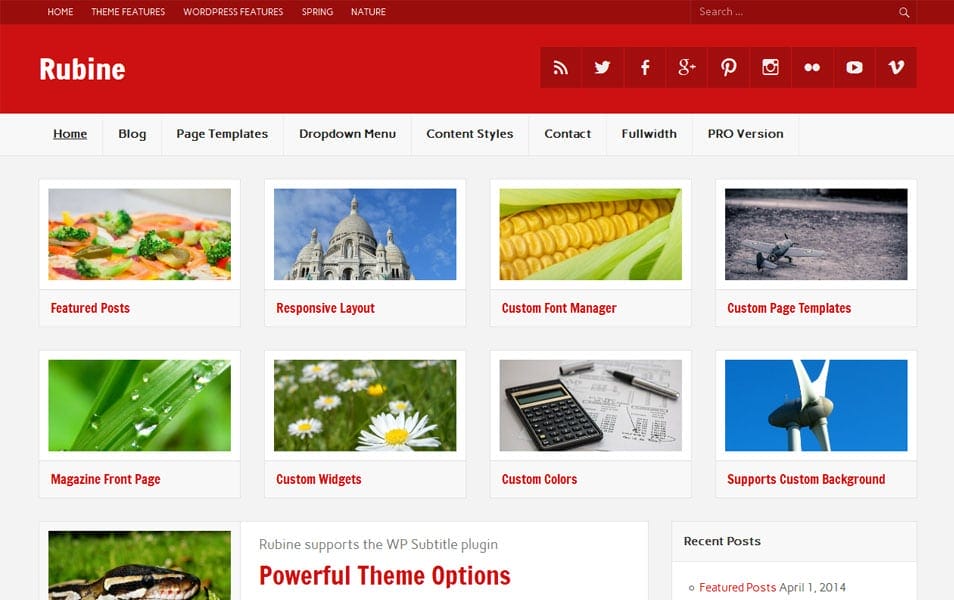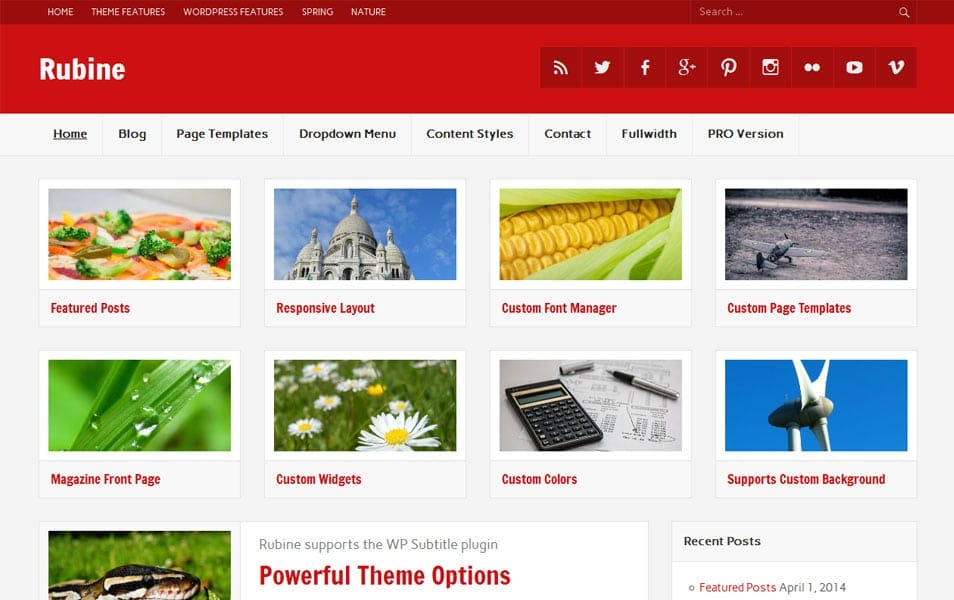 Rubine is a clean and retina-ready magazine theme created with usability and simplicity in mind. The responsive design makes your content readable on every device.
Dynamic News Free WordPress Theme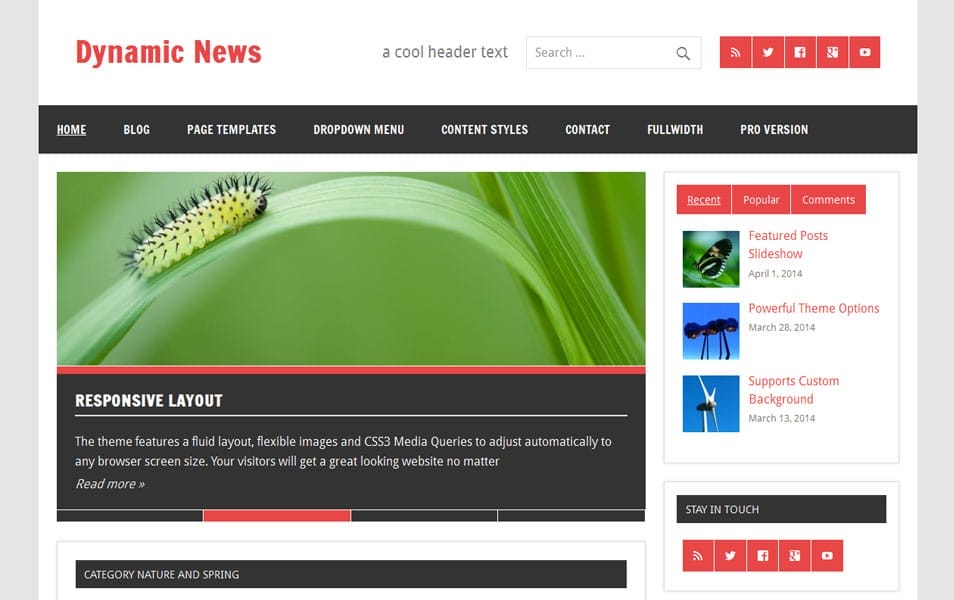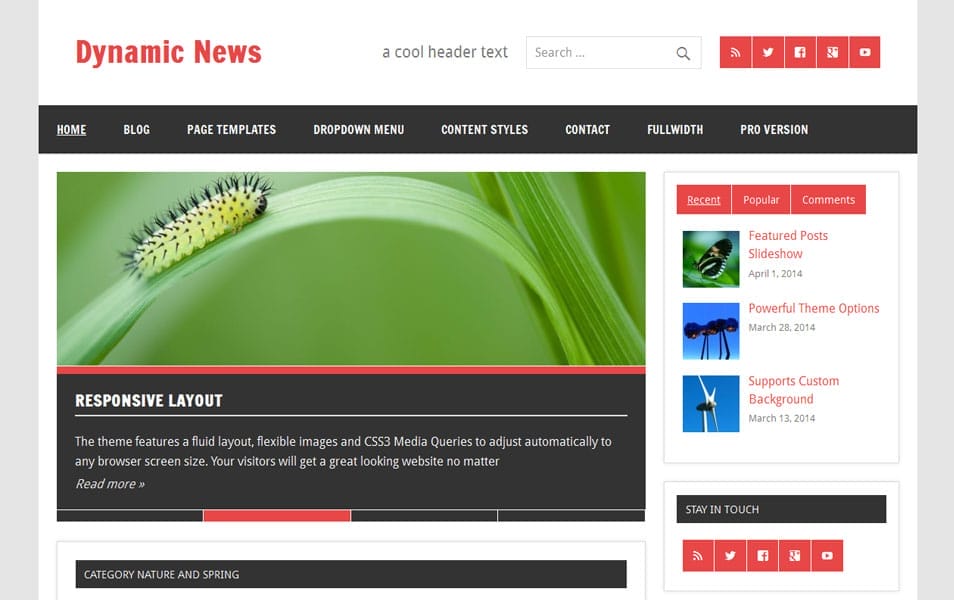 A responsive, multipurpose blogging and magazine theme with bold colors and fonts. It comes with a featured content slider and a magazine page template.
BoldR Lite Free WordPress Theme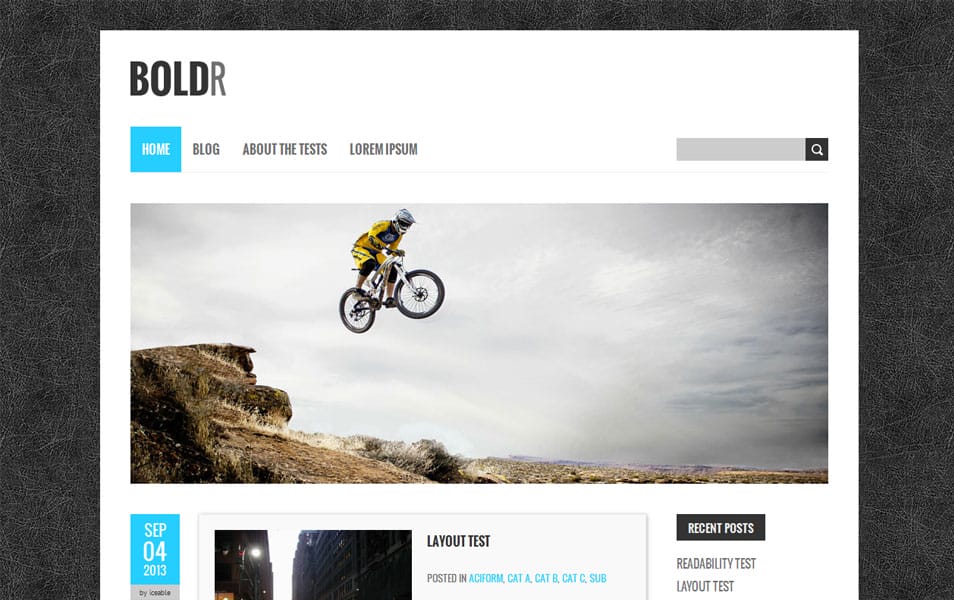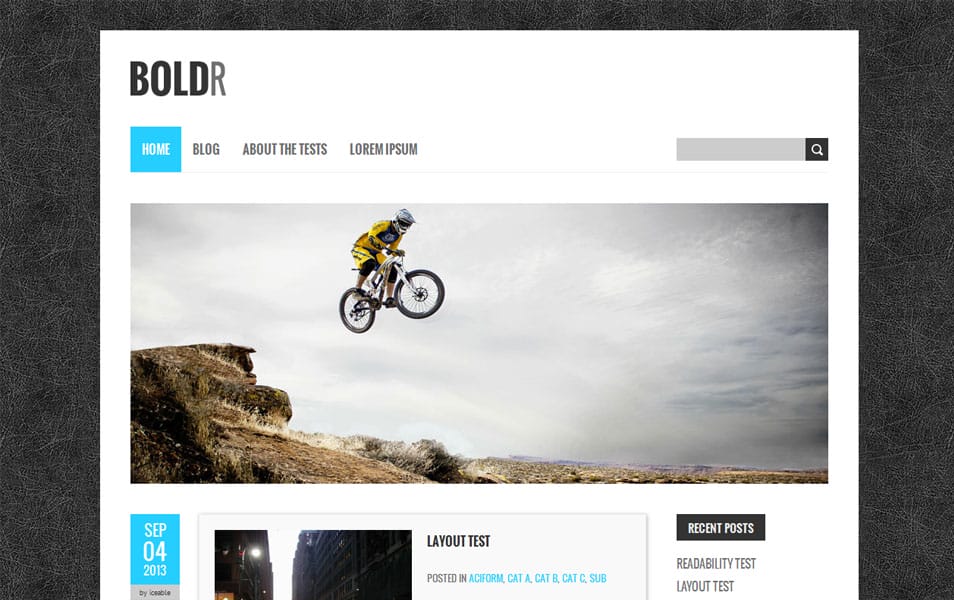 BoldR is a bold, responsive, magazine style premium WordPress Theme. Based on the powerful Icefit framework, one of the most advanced WordPress theming framework in the world, it is perfect for tech or design oriented blogs and creative business websites!
Smartline Free WordPress Theme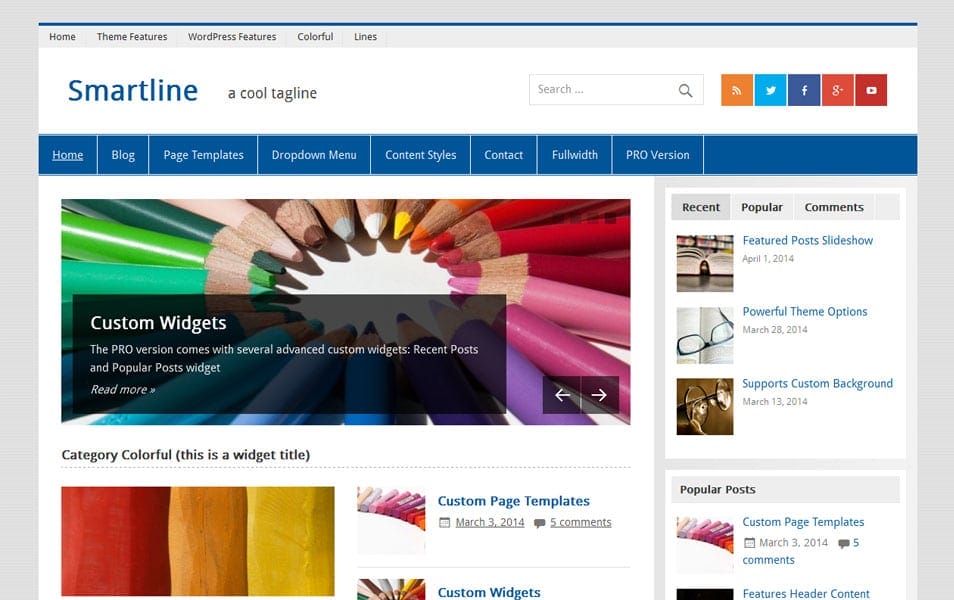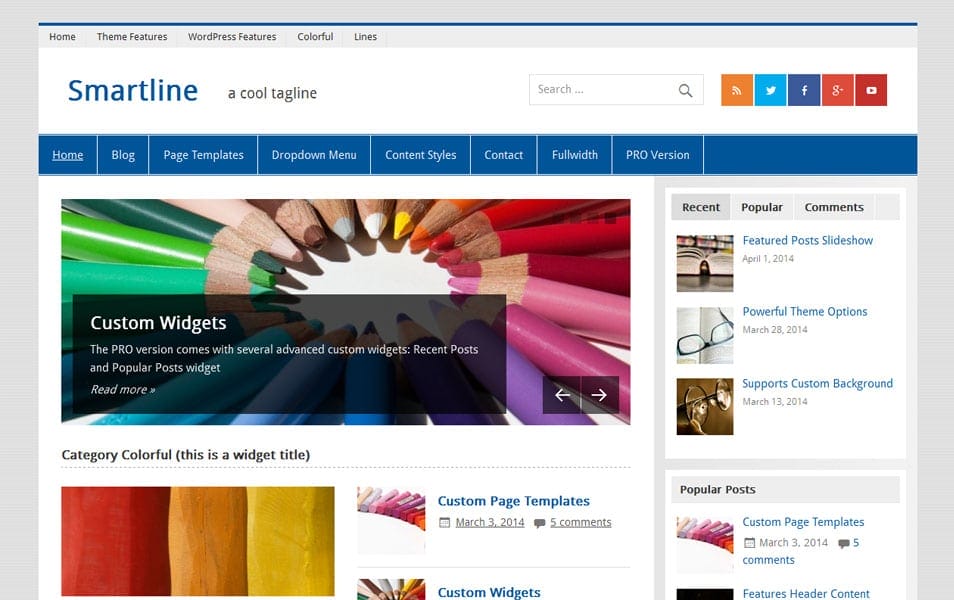 Smartline is the perfect theme for news and magazine websites as well as simple blogs. The responsive design with bold colors and smart lines looks great on any device.
Fashionista Free WordPress Theme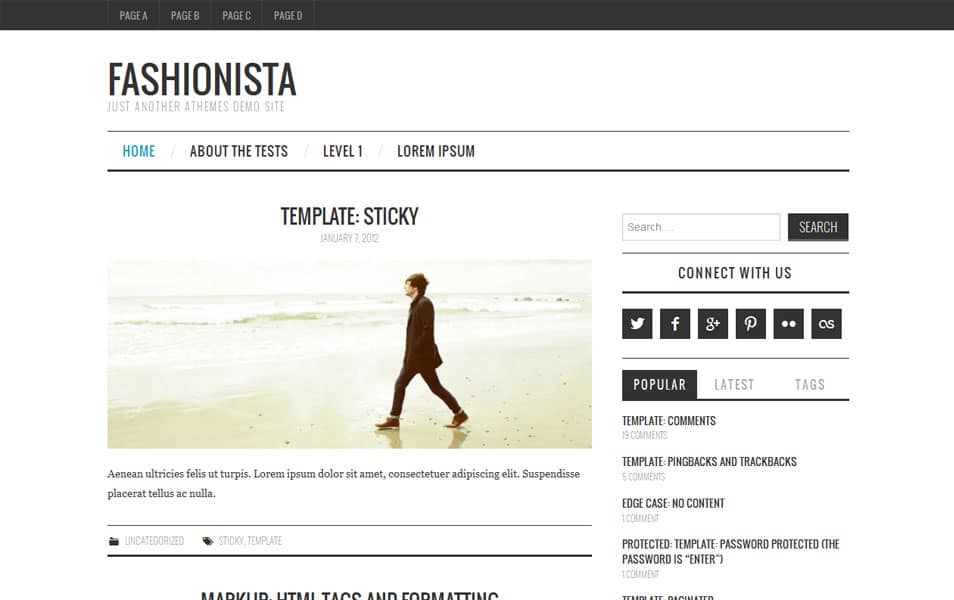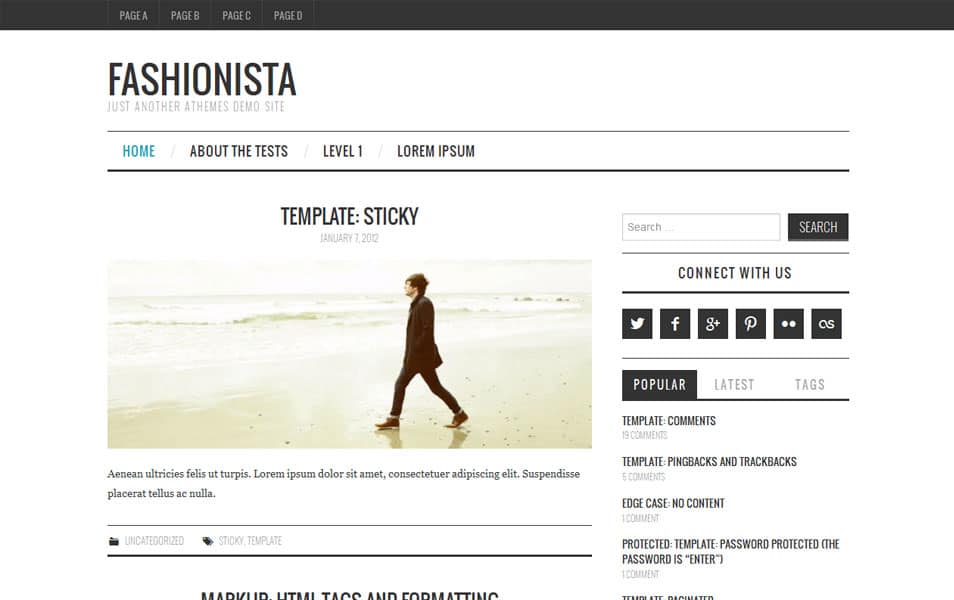 Fashionistas is a bold and fun theme built on Bootstrap, suitable for magazine style blogs.
Hiero Free WordPress Theme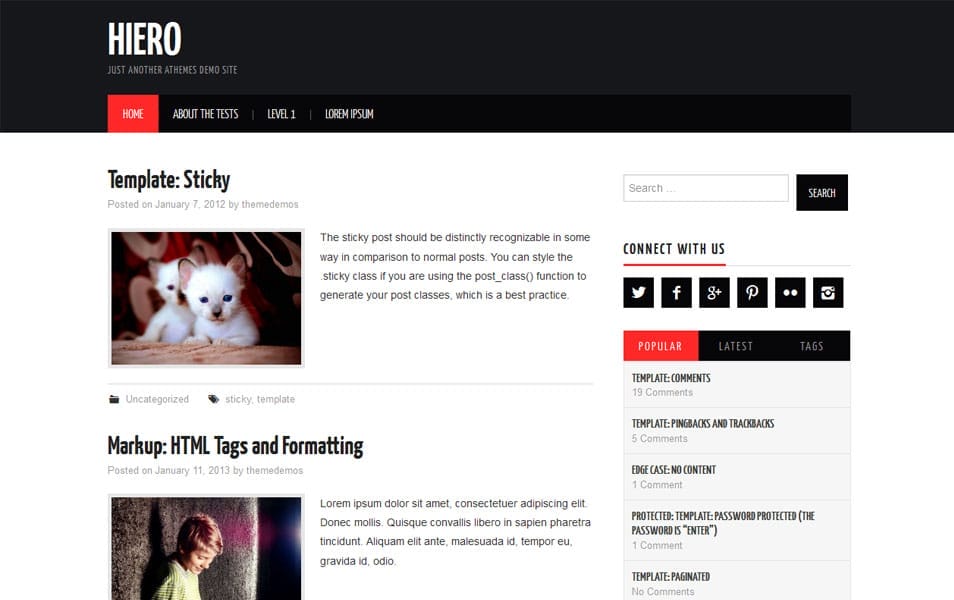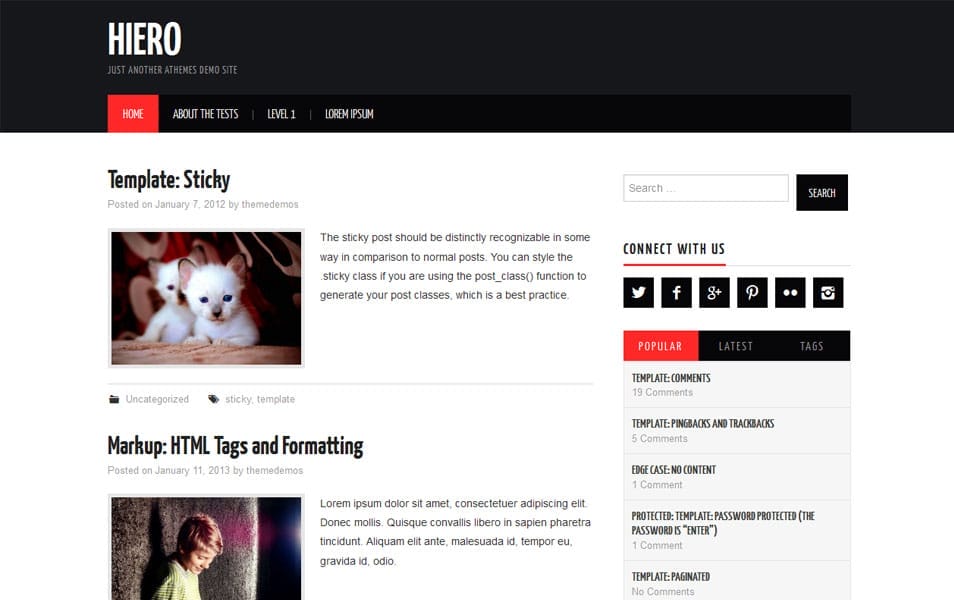 Hiero is an awesome magazine theme for your WordPress site with bold colors and a clean, simple design. Its features include a responsive layout, post thumbnails support, threaded comments, and more.
Musica- Free Magazine WordPress Theme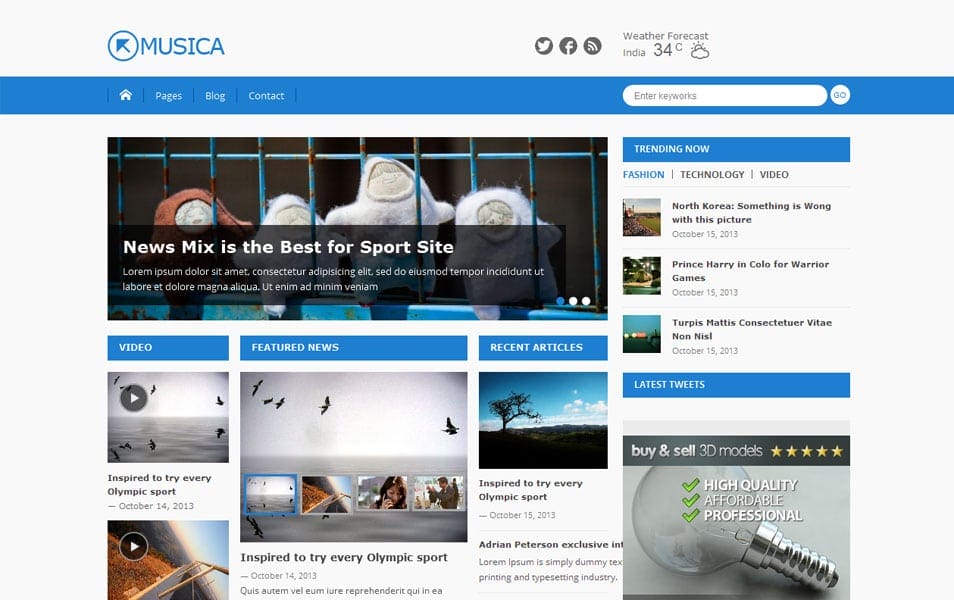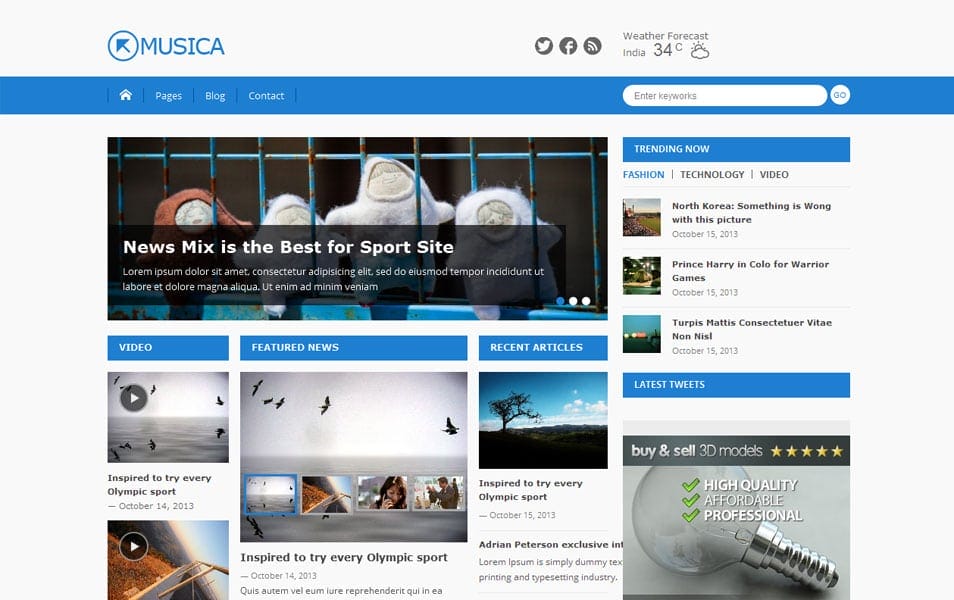 Musica – a nice magazine wordpress theme. The theme has a clean and simple design with great readability so you content really is the focus and easy to use. With responsive layout making it mobile ready and accessible on any device from desktops to mobile phones. Besides, it is free magazine WordPress theme for anyone.
PR News WordPress theme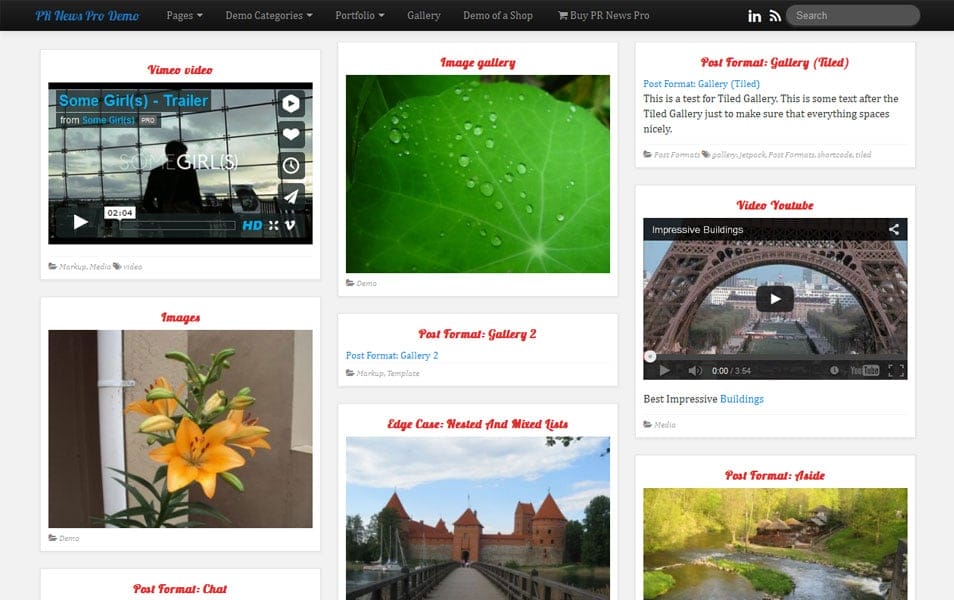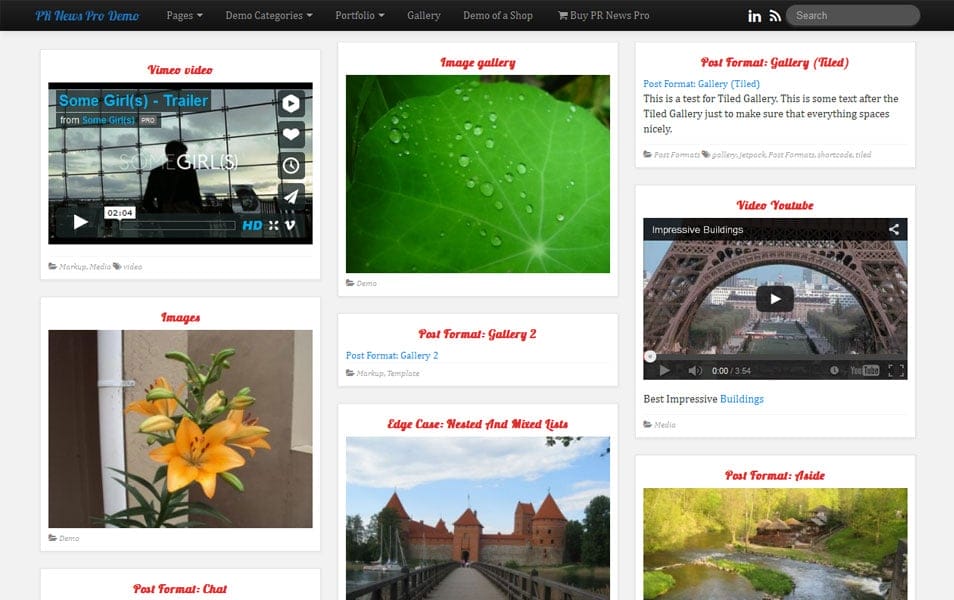 PR NEWS is a powerful responsive and multi-purpose WordPress theme, perfect for news or magazine, blog website and many more. Theme designed with the popular Bootstrap CSS Framework, and using Font Awesome for the lightweight usage of icons.
Inkness Free WordPress Theme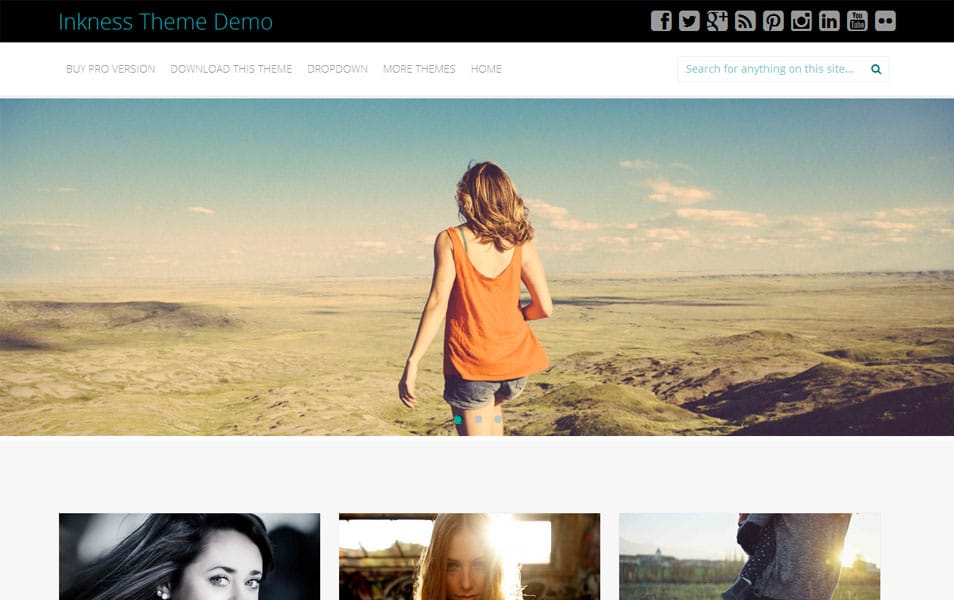 InkNess is a responsive, retina ready Royal WordPress theme, with absolutely amazing features. The feature list is long enough to be not explained in 2-3 lines. This theme is suitable for all kinds of websites. You just need to use the right images.
Twenty Fourteen Free WordPress Theme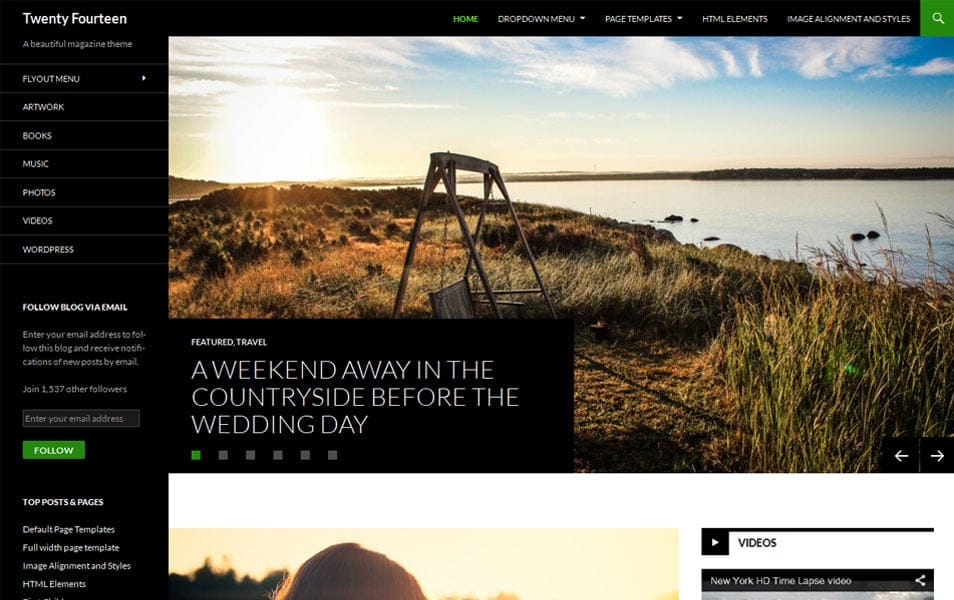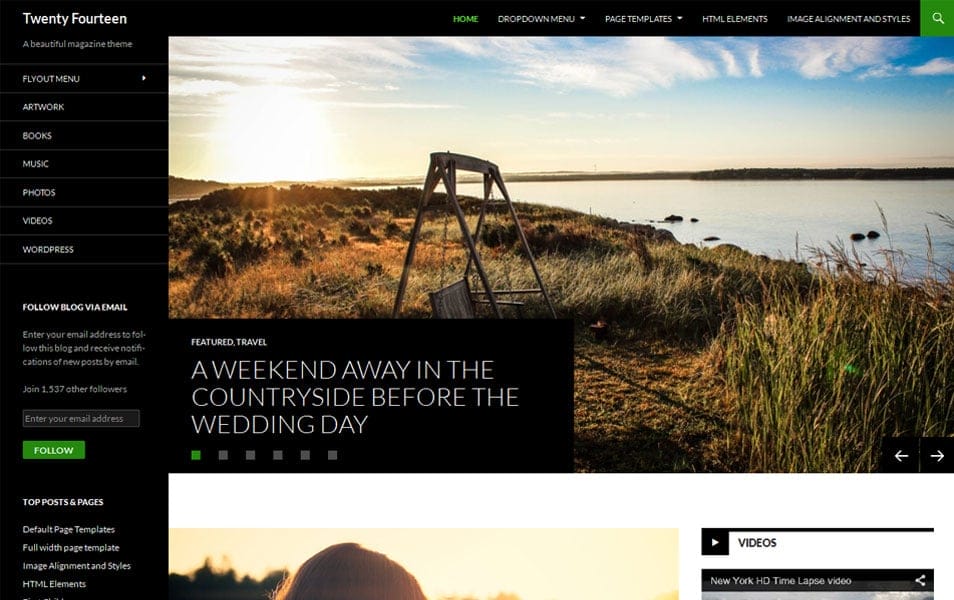 The default theme for 2014 is a magazine theme with a sleek, modern, and beautifully crafted responsive design. Twenty Fourteen is a great fit for content-rich sites. It allows you to highlight specific articles on the home page, and to balance readability with a powerful use of photography — all in a layout that works on any device.
DualShock Free WordPress Theme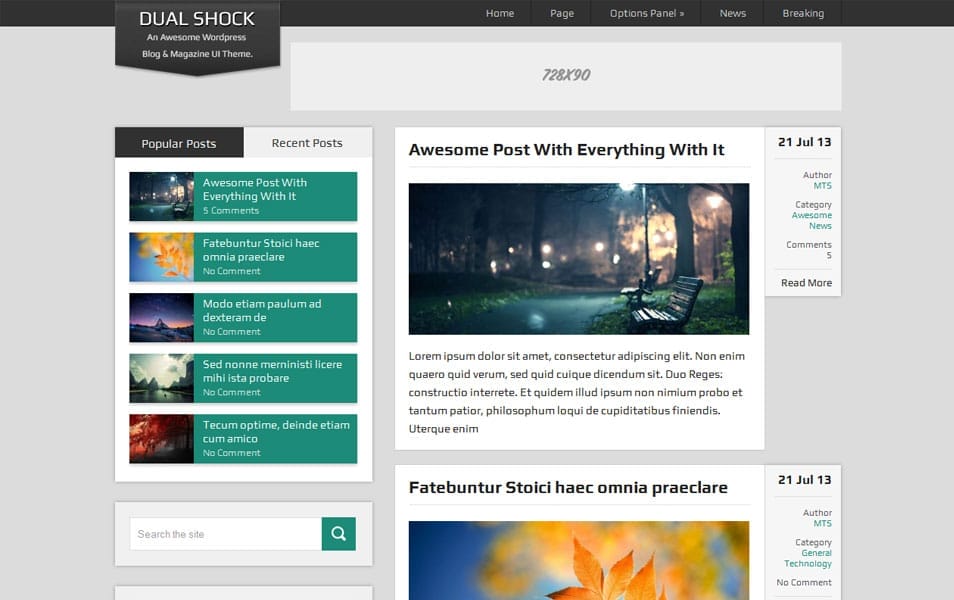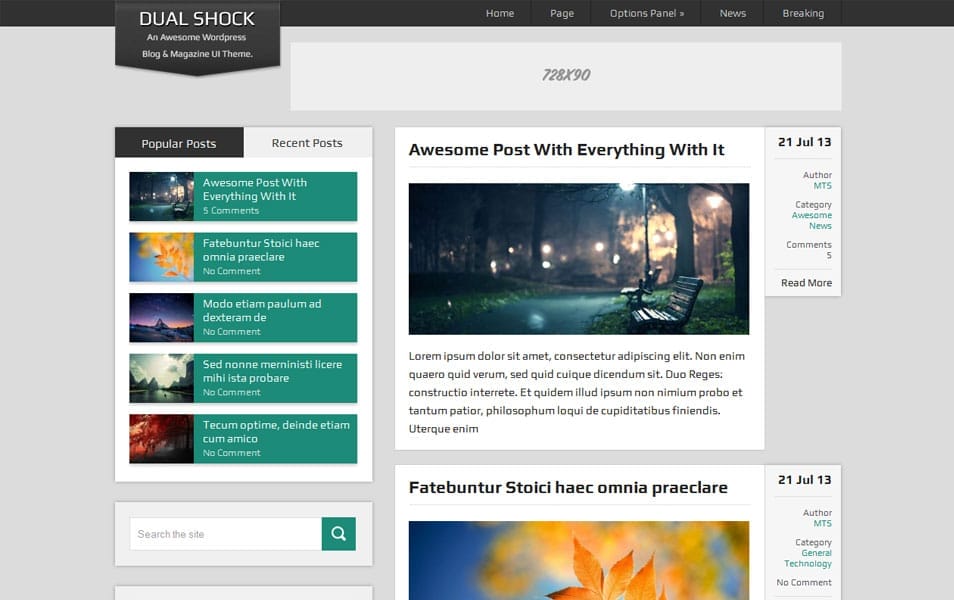 DualShock is a 100% free, dual purpose blog and magazine UI theme. It features our best features including our options panel, custom widgets, translation-ready functionality and search engine optimization.
Berlin Free WordPress Theme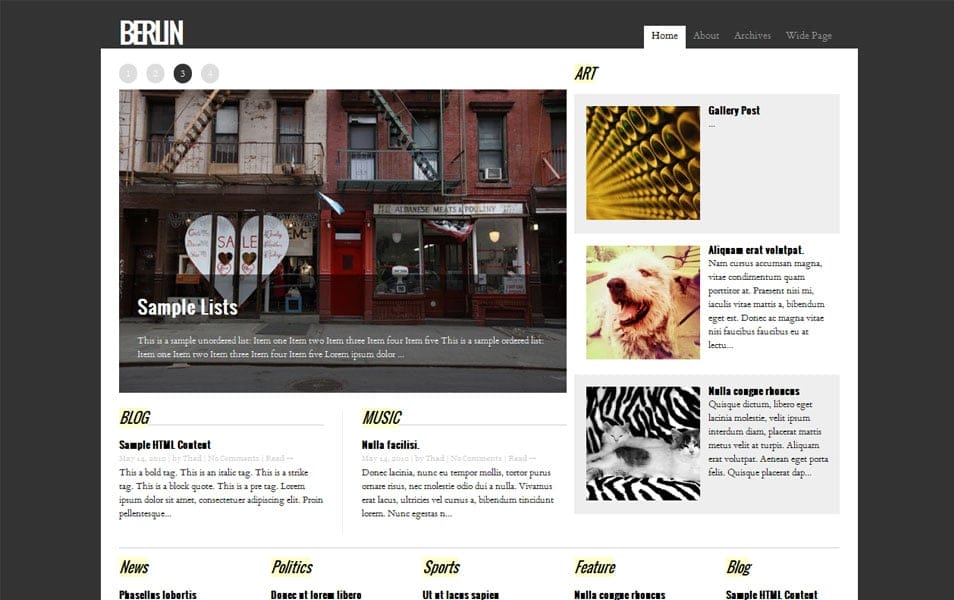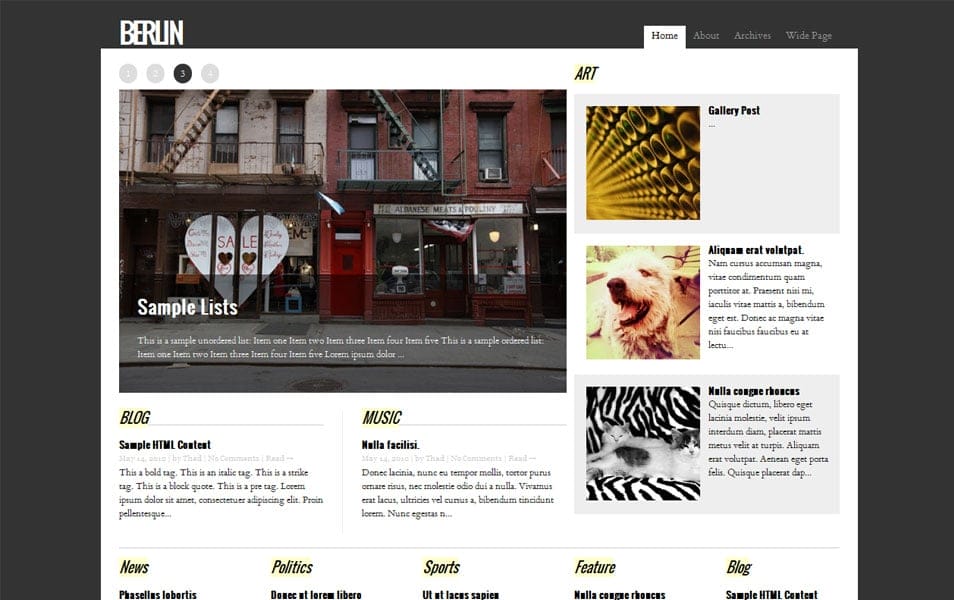 Berlin is a free WordPress theme that transforms your blog into a unique and minimal news magazine website.
Ribbon Free WordPress Theme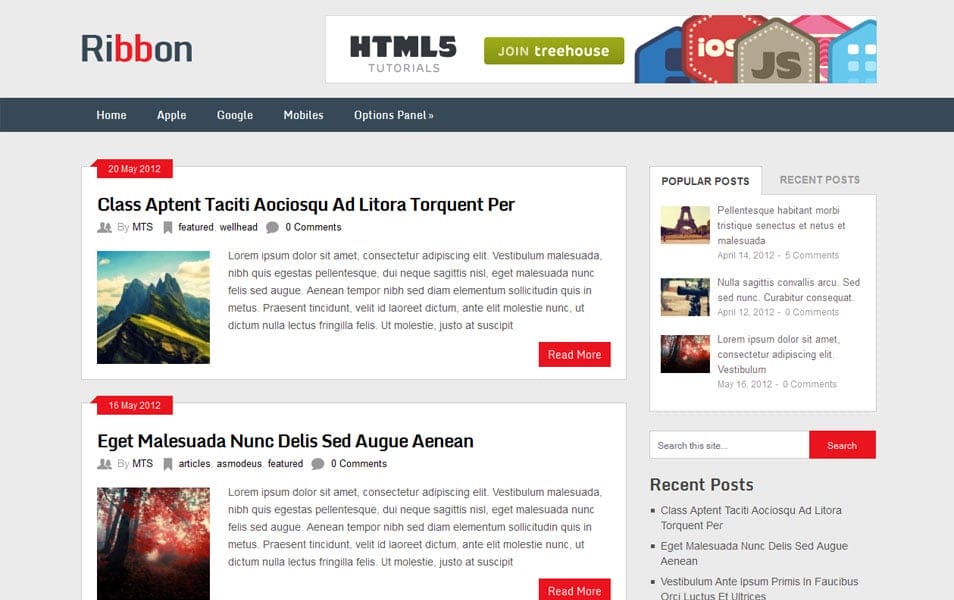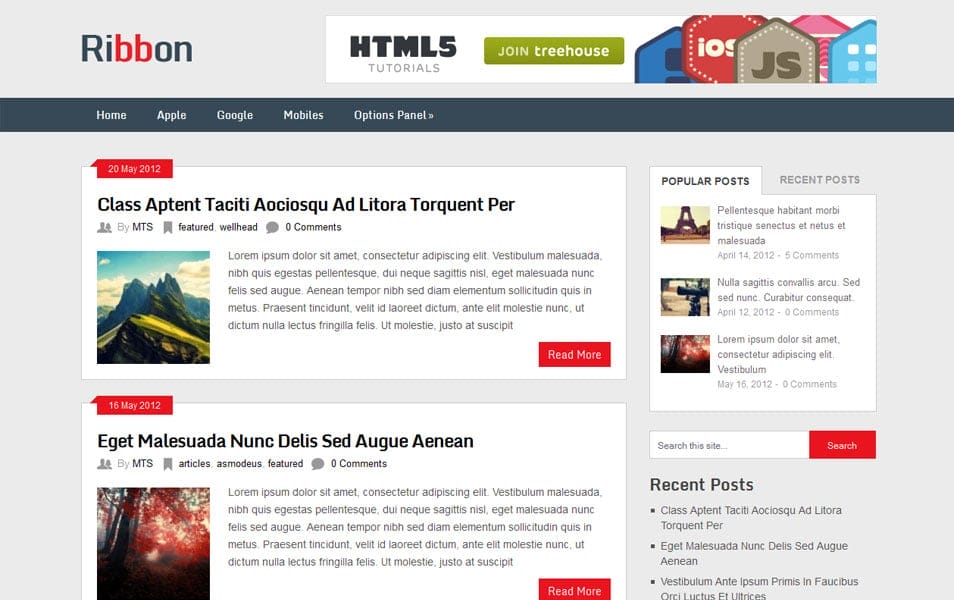 Ribbon is a wide post display, traditional structure WordPress magazine theme. With a dual color scheme, plenty of whitespace to pad your content, and all the features you'd expect from MyThemeShop, Ribbon is a perfect choice for both niche and general purpose blogs, and it's completely free!
Gridline Free WordPress Theme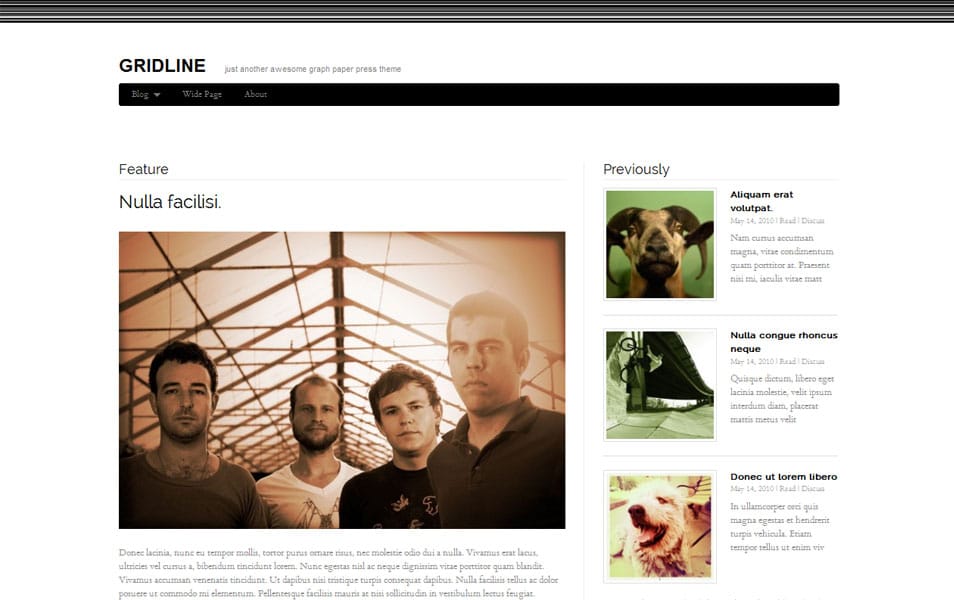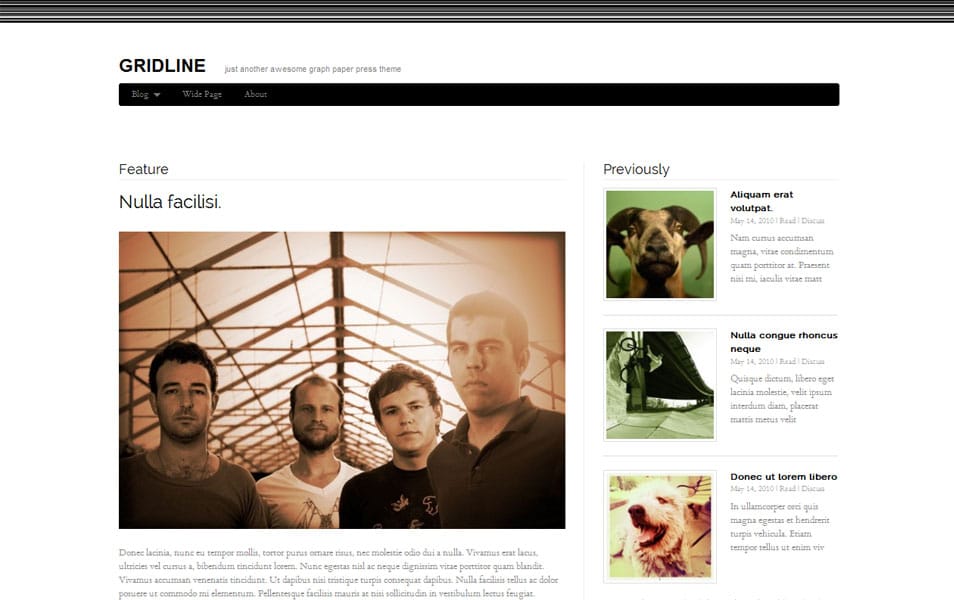 Gridline is a clean and modular news magazine theme that is packed with JavaScript to add flexibility to the important home page real estate.
Portal Free WordPress Theme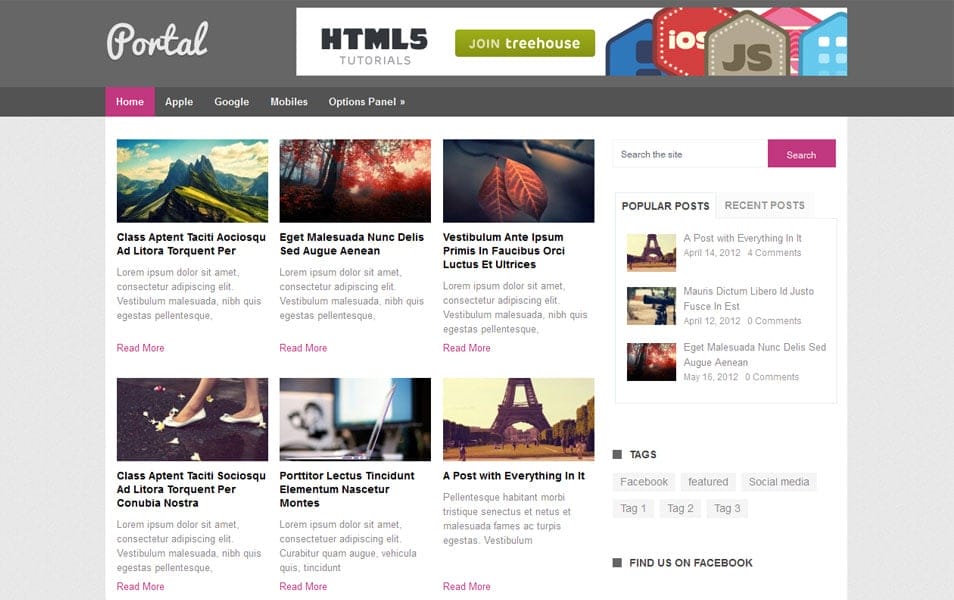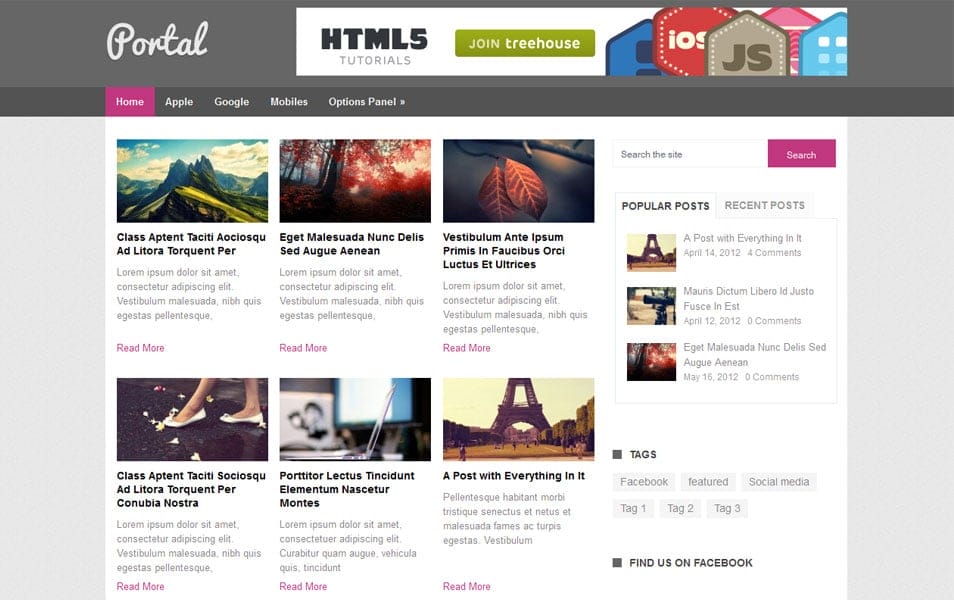 Portal is a very simple, magazine plus blog style theme with light bright colors blending nicely. With all the latest features such as Responsive layout, SEO Optimized, Custom Widgets and many more. Most of all, Portal is FREE
Monochrome Pro Free WordPress Theme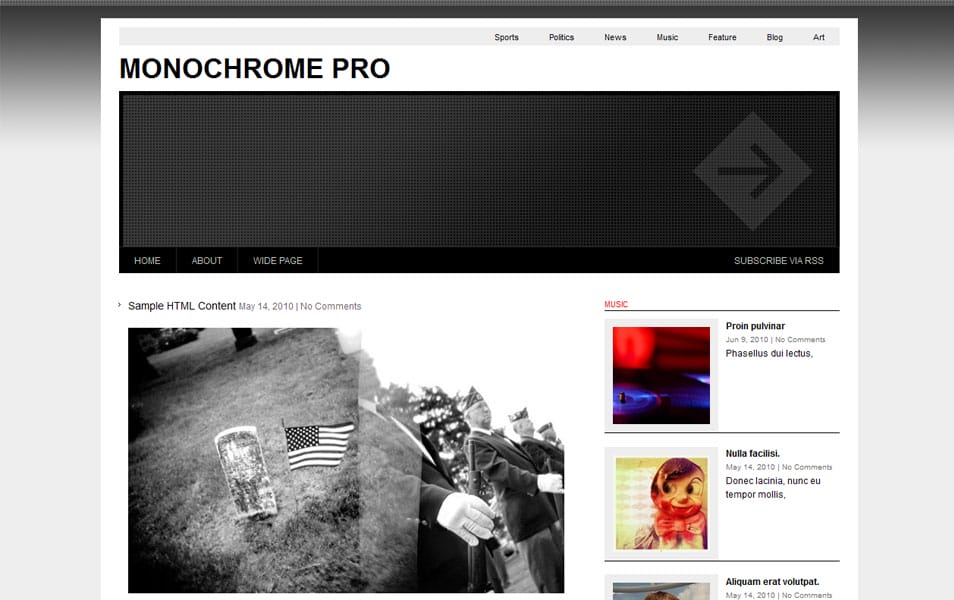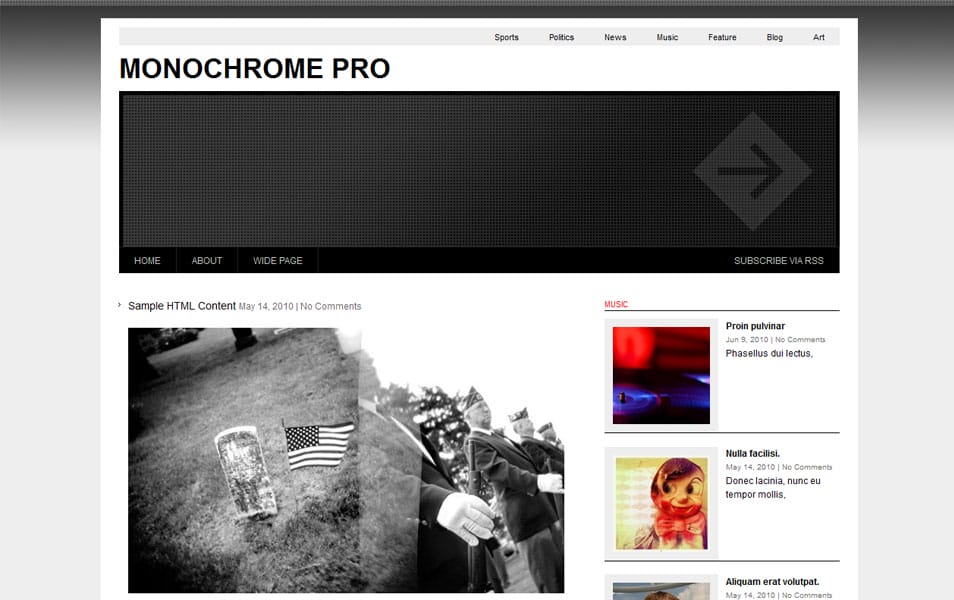 Monochrome Pro is a magazine-style theme for WordPress that features a homepage slideshow and a category grid that anchors the bottom of the fold. This theme is perfect for a news or magazine website.
WallPress Free WordPress Theme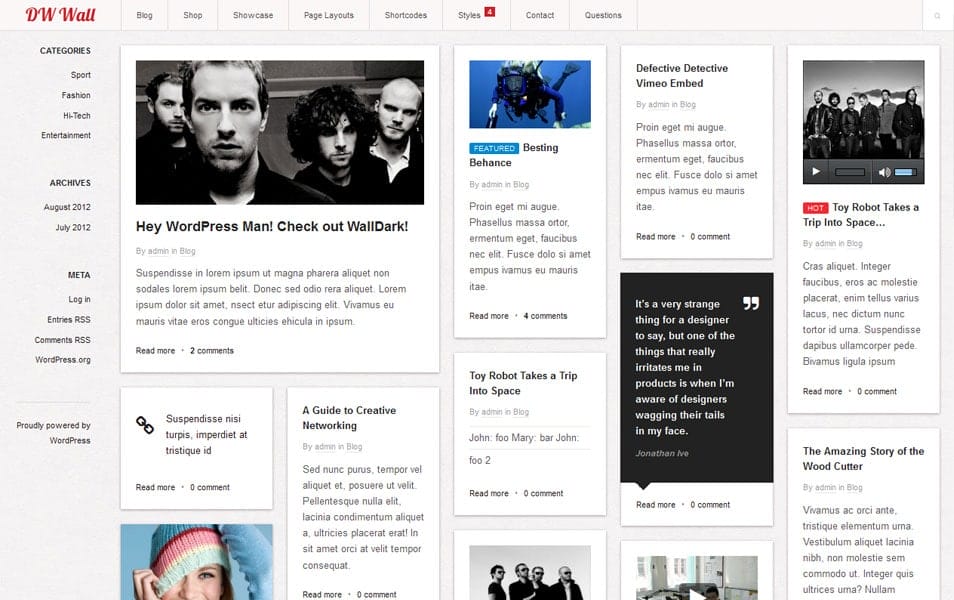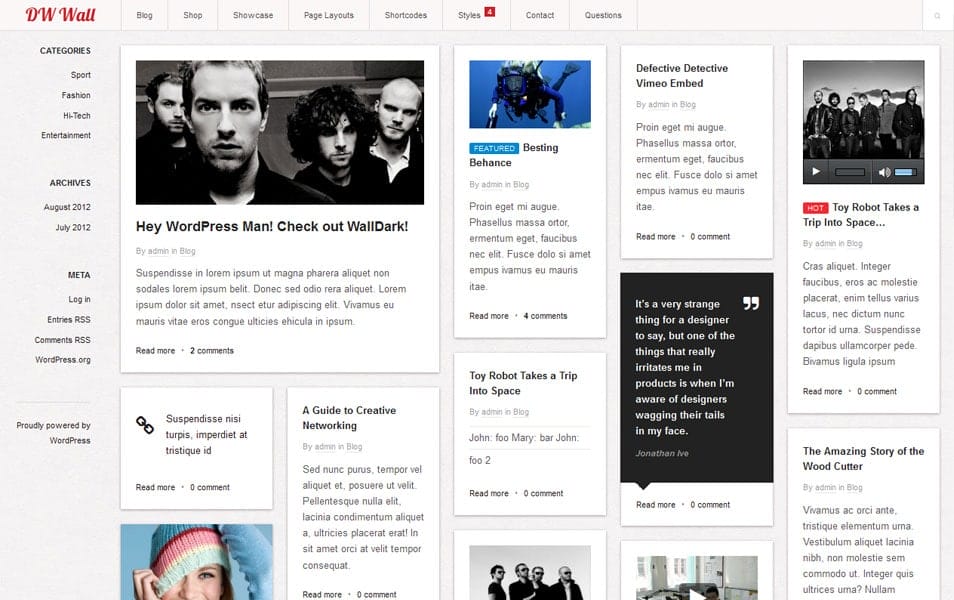 WallPress is a free responsive WordPress Theme which lets your content shine. Be it an online portfolio, newspaper or magazine, all your important social content comes together at one place. Twitter, Facebook, Instagram, Flickr and Vimeo are ready to be plugged in with DW Social Feed.
UNLIMITED DOWNLOADS: 300,000+ Design Assets, Templates & Resources for just $29 per month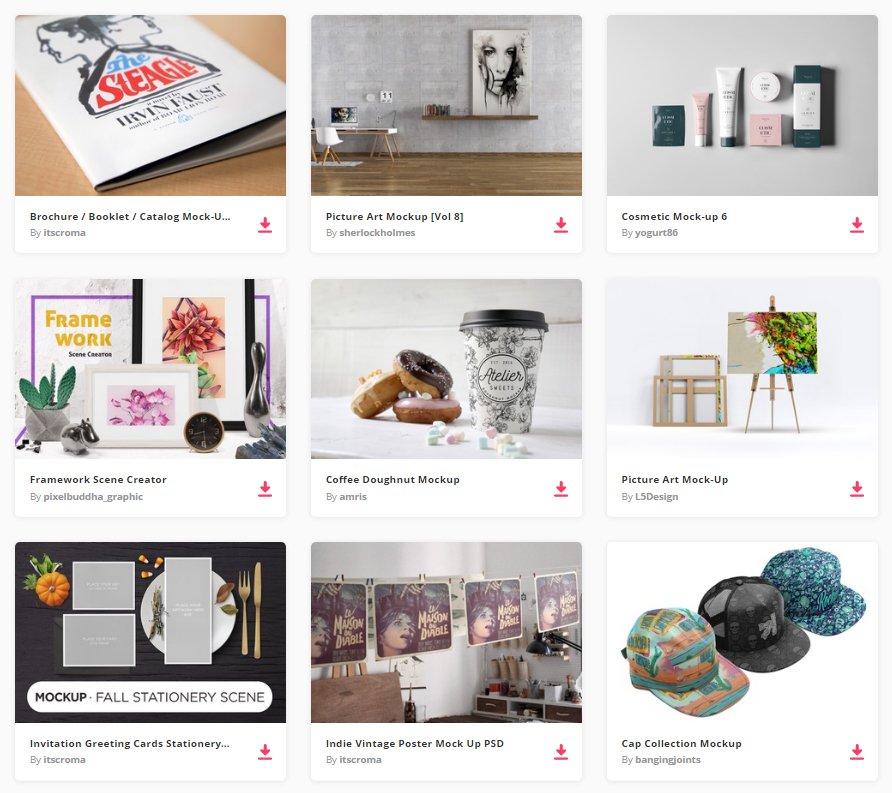 All the awesome design assets and templates you need, including 300,000+ fully licensed stock photos) are available for a single monthly subscription by signing up to Envato Elements. The subscription costs $29 per month and gives you unlimited access to a massive and growing library of 30,000+ items that can be downloaded as often as you need!"