25 High Quality Premium Mobile Themes For WordPress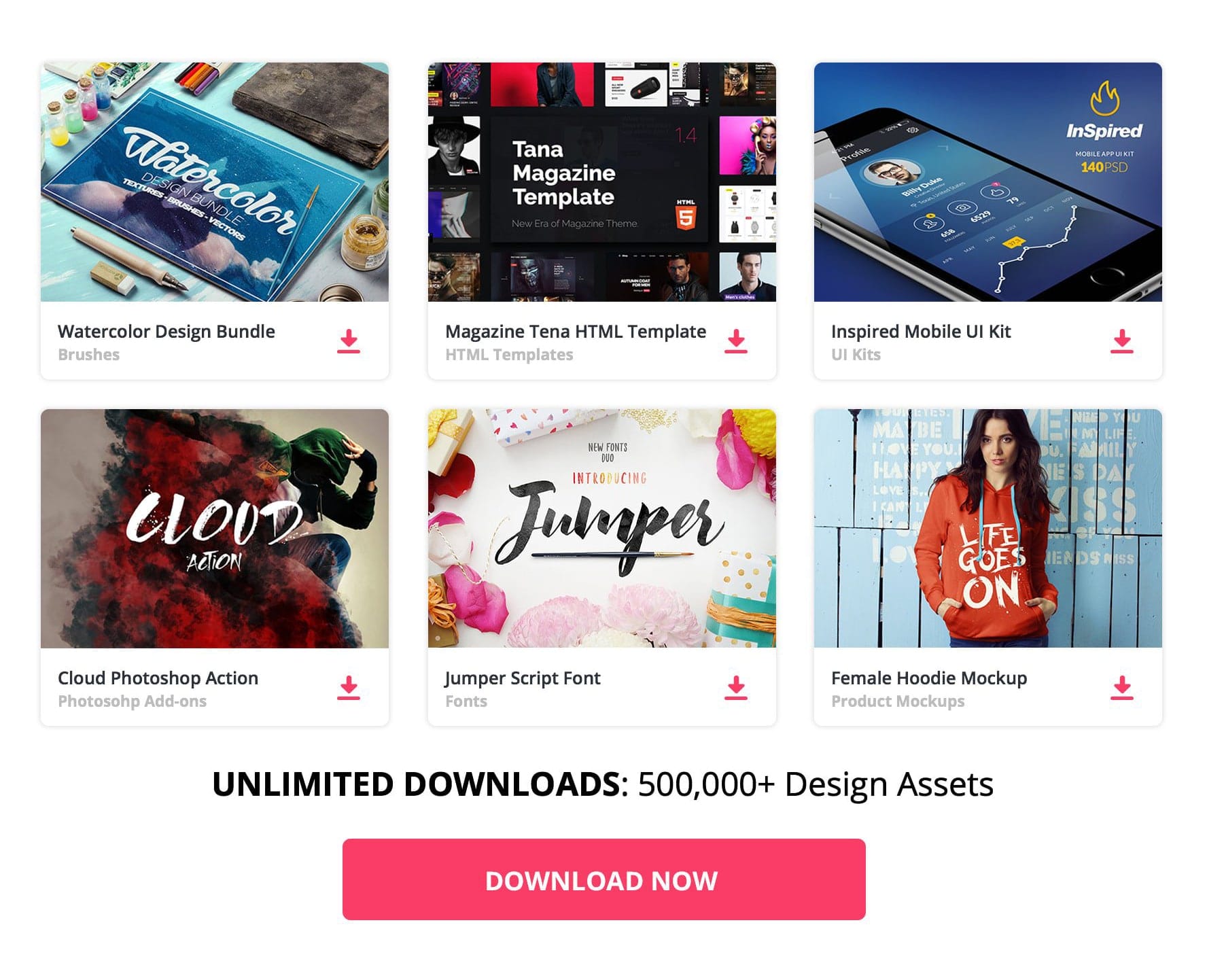 WOW! mySite WordPress Mobile Theme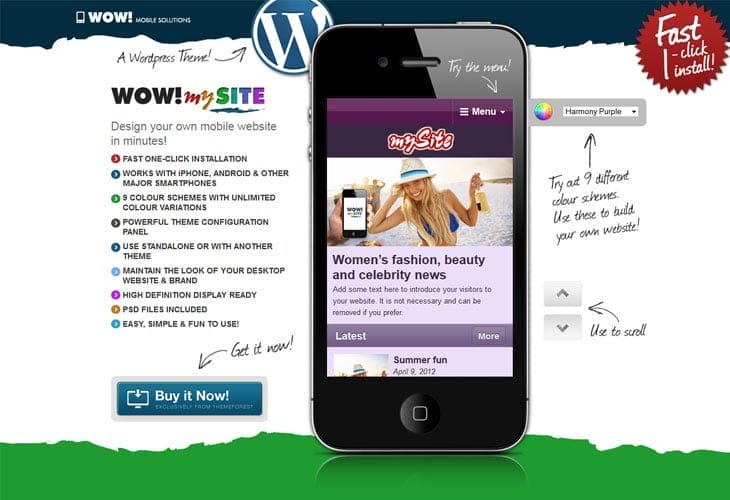 WOW! mySite is a WordPress theme optimised for mobile devices. With WOW! mySite you design your own mobile website with nine customisable preset colour schemes, powerful theme configuration options and multiple page templates. Add your own high resolution logo, custom fonts and shortcodes and fine tune with WOW! mySite's unlimited colour options whilst maintaining the style and branding of your desktop website.
My Mobile Page V2 WordPress Theme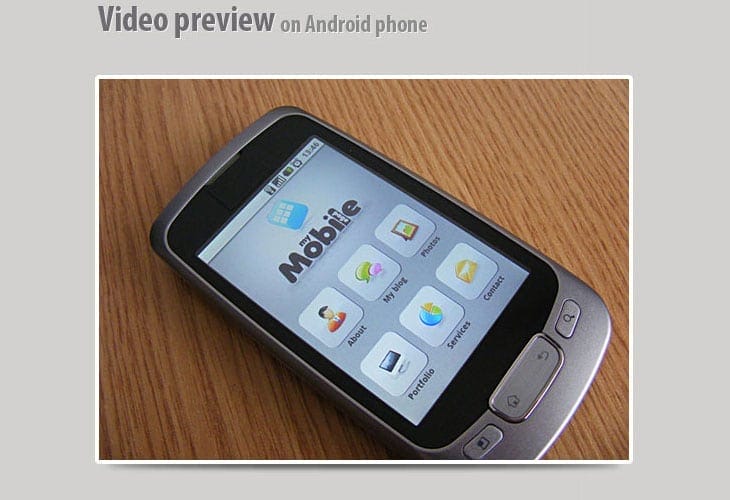 My Mobile Page V2 WordPress Theme is a unique wordpress mobile theme with some amazing new features, 100 % customizable, fluid layout, automatically resized to every mobile resolution, auto device orientation resizable, custom admin panel
Ultimate – CSS3 & HTML5 WordPress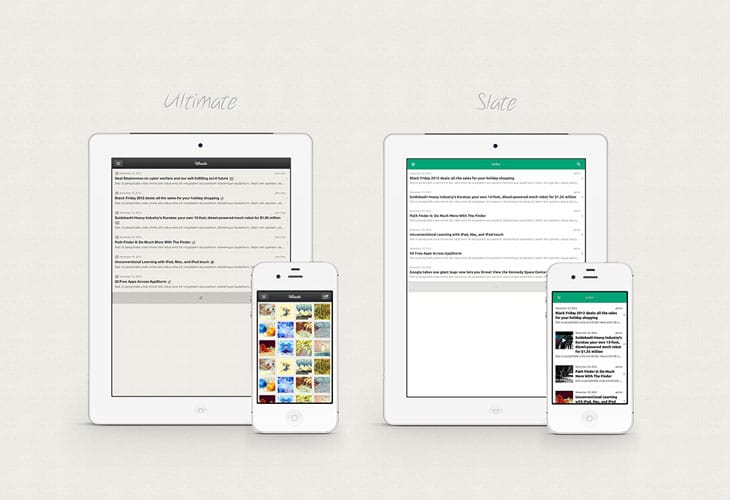 Ultimate – CSS3 & HTML5 WordPress – This is a wonderful mobile theme package with two themes in ONE! Ultimate and Slate are two nice theme. Built in CSS3 and HTML5, with an amazing set of functionality and features with various shortcodes, sliders, contact forms, and a completely touch-friendly interface!
Stacker – Responsive WordPress Theme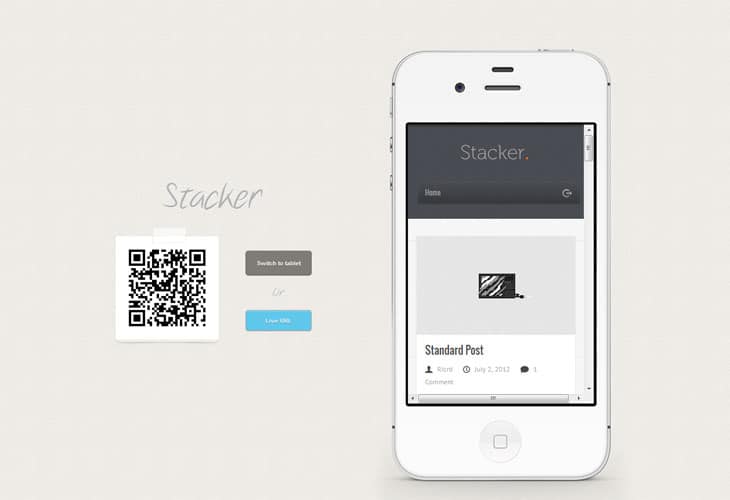 Stacker is a brand new responsive WordPress theme offers a very interesting solution. A responsive theme means will work fine in any device resolution (screen,smartphone or tablet) that will be automatically adjusted without you worrying in creating the version of its screen. It can be an option if you are looking for a portfolio or blog name.
My Mobile Page V3 WordPress Theme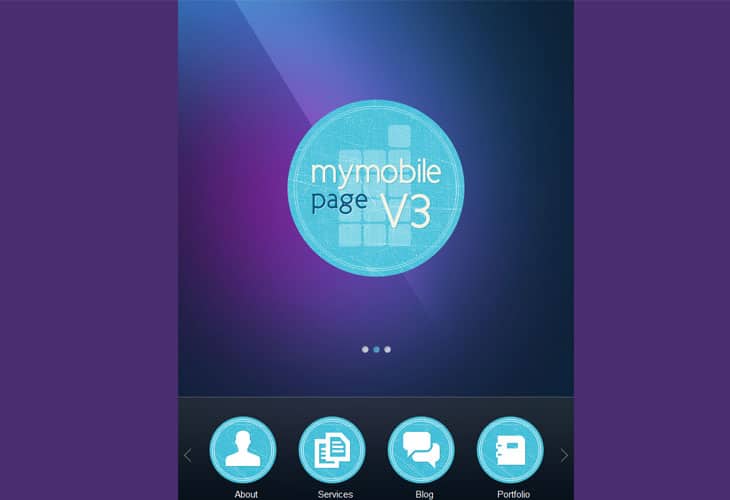 My Mobile Page V3 WordPress Theme is the third version of "My mobile page" wordpress mobile theme series. The WordPress version comes with a custom ajax powered admin panel, from where you can setup the theme and his features. You can customize the home navigation menu, adding and editing the icons and the numbers of pages to display. Also you can create blog pages, photo galleries, portfolio sections with flexible images and videos. Using the allready 12 smart editor shortcodes you can manage your content easily.
SOFA iBloggr – WordPress iPhone theme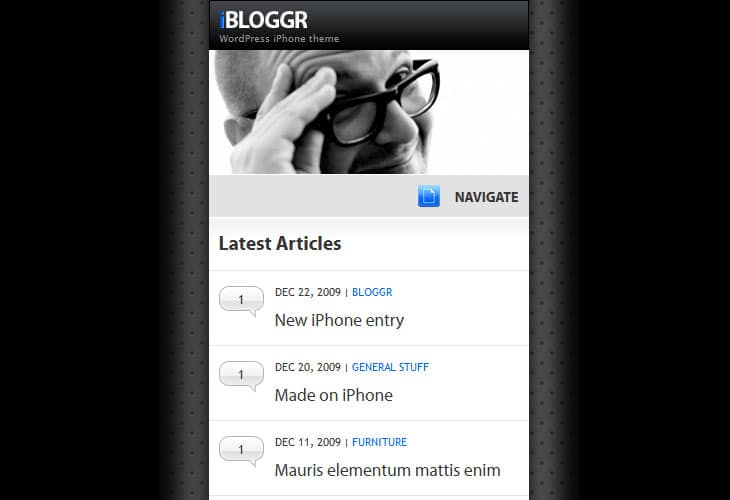 Sofa iBloggr is the very first WordPress theme made exclusively for iPhone and iPod touch devices. It perfectly fits to 320px wide screen without the need for screen orientation switch. All other desktop computer Browsers are capable to run this theme with no issues as well!
Provocateur° Mobile WordPress Theme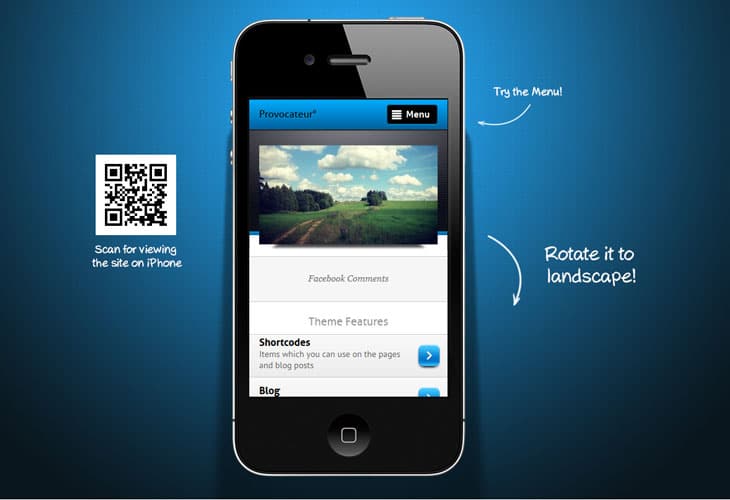 Provocateur° is template build in jQuery Mobile, HTML5 and CSS3 developed for mobile devices. Optimized for Apple devices.
My Mobile Page WordPress Theme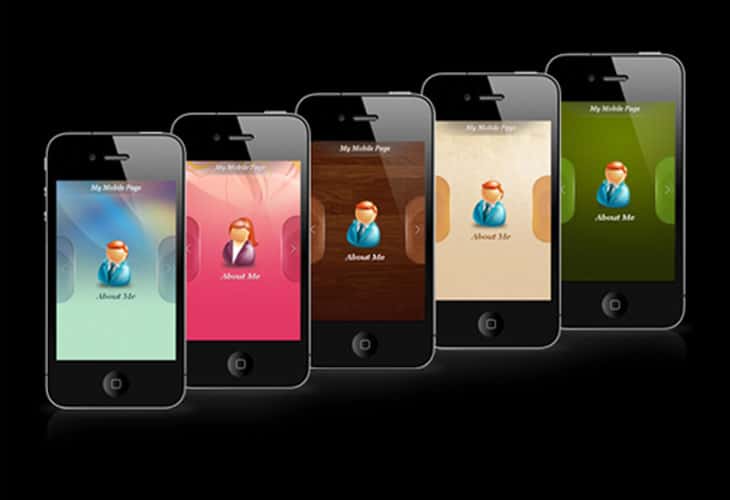 My Mobile Page WordPress Theme is a minimal mobile wordpress theme. With a modern look and a lot of cool features this can be the perfect pesonal mobile website for you. This theme can be used for personal mobile pages, web designers mobile pages, artists mobile pages and many other. The theme use automatic resolution detection so you can use for small screen resolutions and bigger resolutions.
mobiTheme – WordPress Theme for Mobile Devices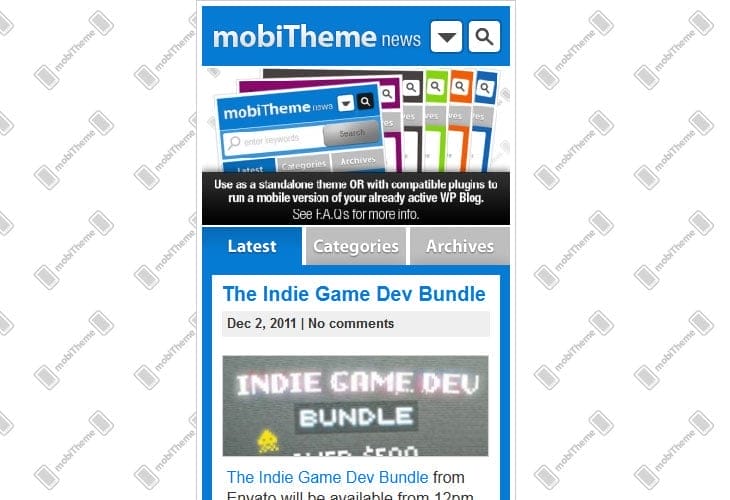 mobiTheme is a mobile theme for WordPress. It can be used either as a standalone blog OR in conjuction with one of the many plugins that offer theme switching according to the users platform. Although compact in design, this theme offers all the features to the user that a normal WordPress blog theme has to offer, in other words it doesn't cripple the users browsing experience by hiding archives and categories selection and other browsing options.
Moby Elite – WordPress Mobile Theme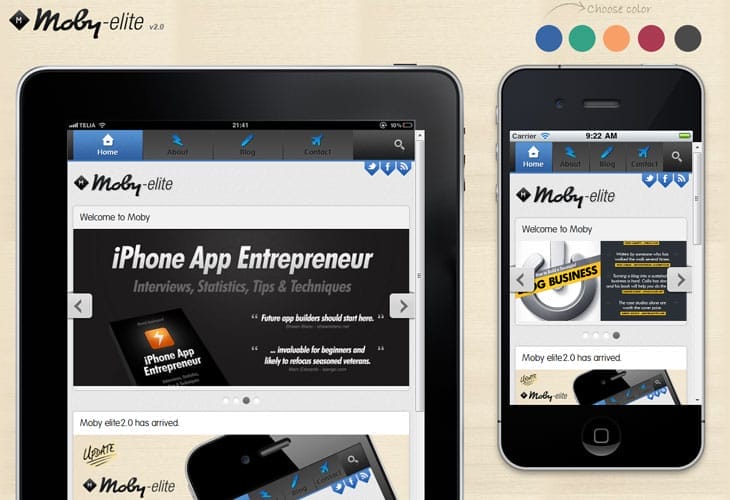 Moby – Elite is a Mobile WordPress Business Template written in HTML5 with clean code and structure, which can be customized very easily according to your business needs.
HERO – A no-nonsense mobile theme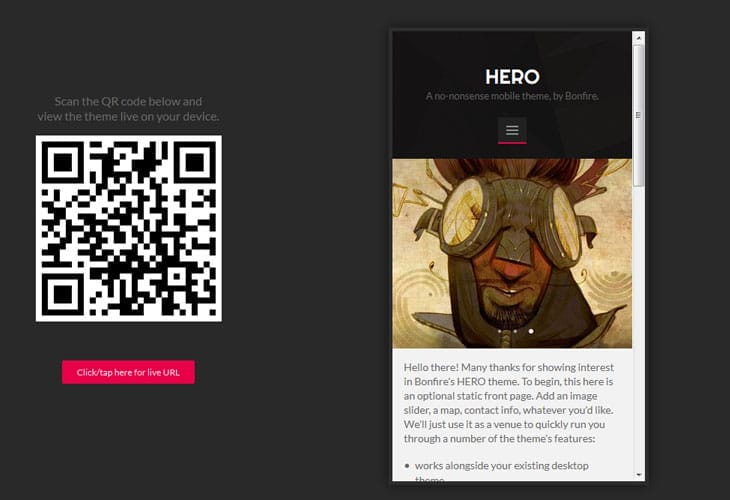 This theme is designed to be super simple, yet provide loads of functionality. Be it the uniquely customizable menu, shortcodes, the touch-enabled gallery, or comment/contact forms, every corner of HERO was crafted with much care.
Spartan: A Fully-featured theme for Mobile+Tablets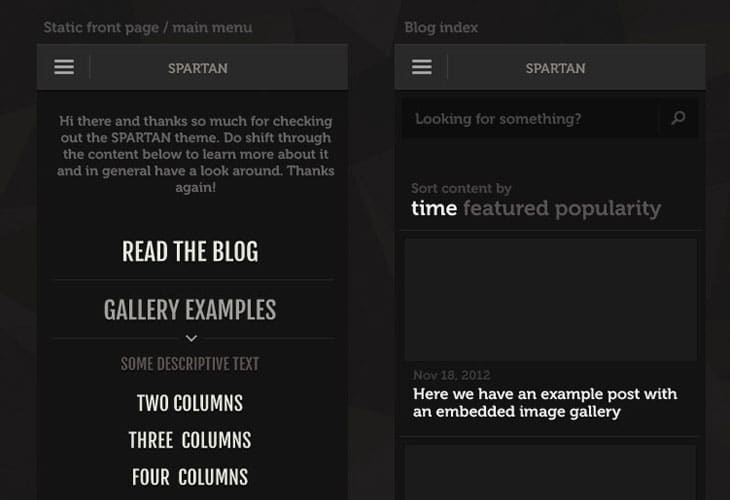 SPARTAN was to create a fully-loaded theme that would serve as the mobile and tablet home for any and all types of WordPress sites while also being a great stand-alone theme. With its color scheme suitable for all businesses, organizations, as well as personal sites, the theme allows your content to take center stage.
Breathe – WordPress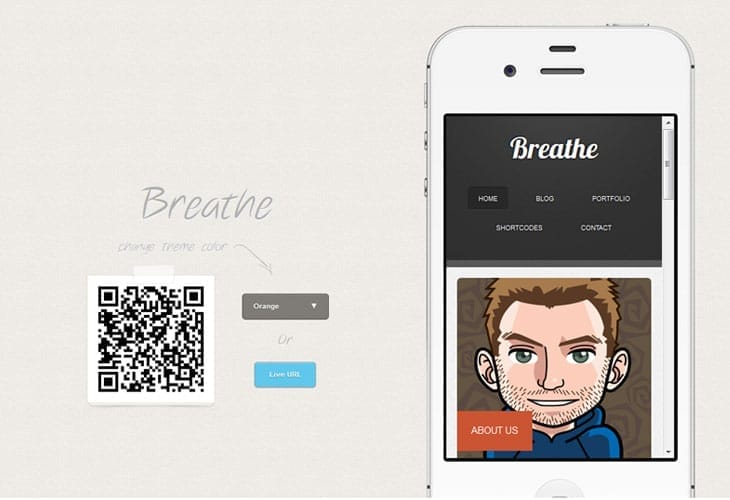 Heavily themed jQuery Mobile based template which suits the best for your blog or portfolio page and it's easy customizable via Theme Options.
Troller Mobile Retina | WordPress Version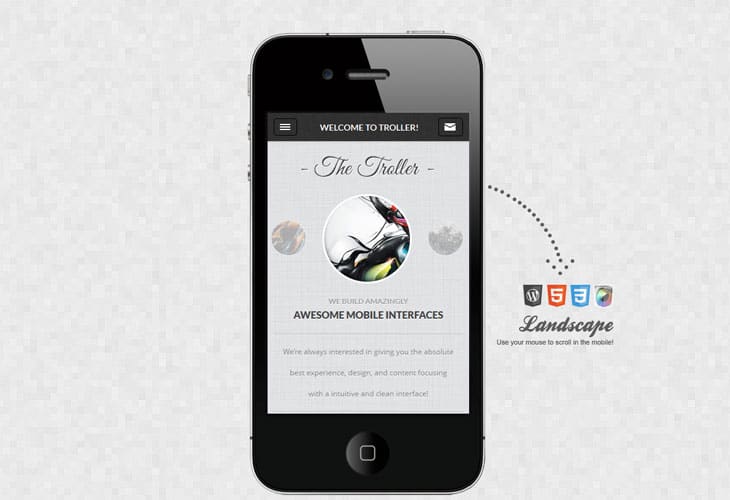 This is an awesome feature for a mobile device, it's made to load quickly, has autoplay, and works by just taping another image to change it! Troller has a JavaScript system that detects what browser your users are comming from! The best part is that you only need to edit the HTML, the rest is done by the JavaScript!
Metro Mobile Premium WordPress Mobile Template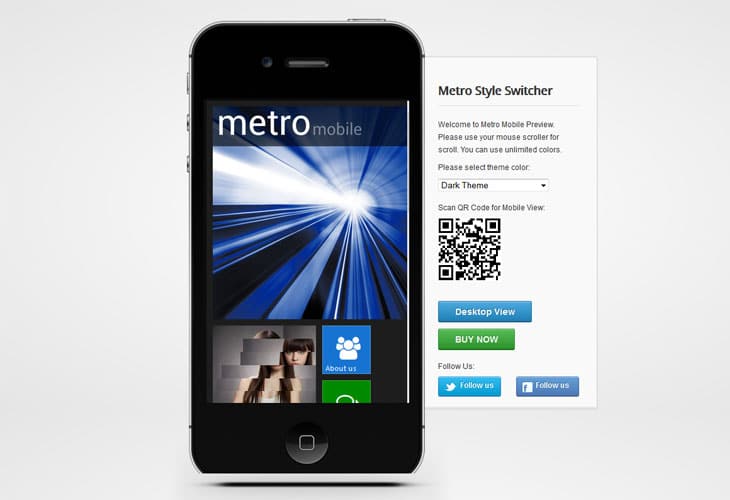 Metro is just limited with your imagination. Create your own metro tiles and own style.
Mobile Pro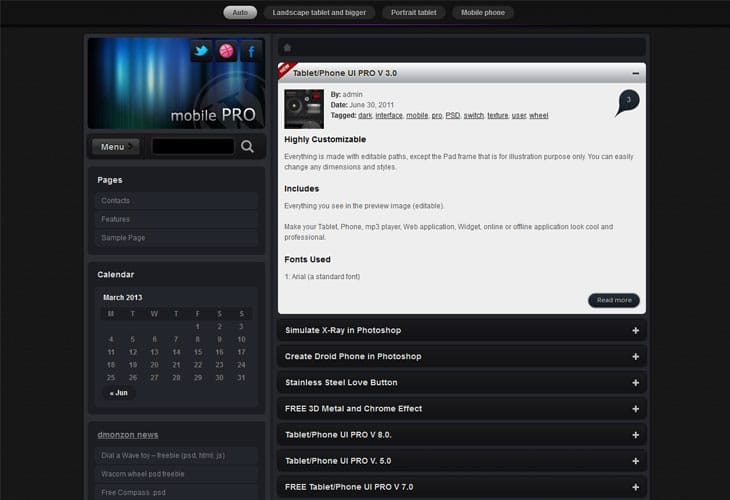 MobilePRO is a beautiful professional WordPress theme for mobile devices. However, it looks great on any computer screen. MobilePRO comes with an intuitive, easy-to-use admin panel. MobilePRO automatically detects your device, and resizes and reorganizes its components to make the best possible use of space.
AxiaMobile – WordPress HTML5 Template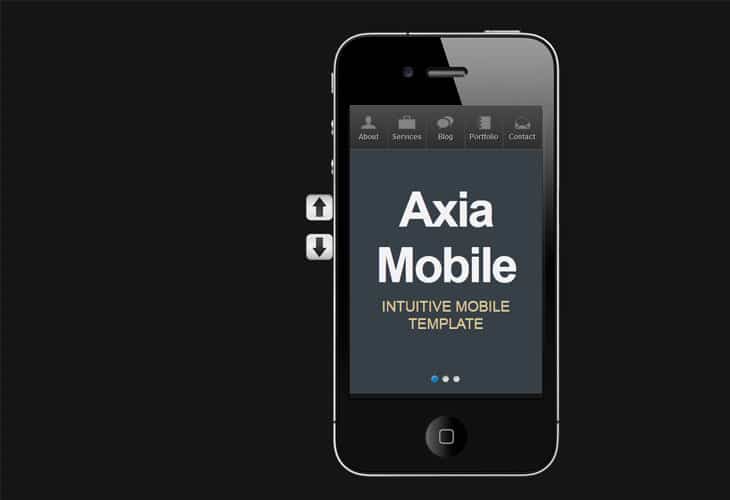 AxiaMobile is template build in HTML5 and CSS3 developed for mobile / portable devices. This theme was developed especialy for mobile devices such as iPhone, Android phones and other mobile devices with modern web browser.