100+ Best Typography Tools for Designers and Developers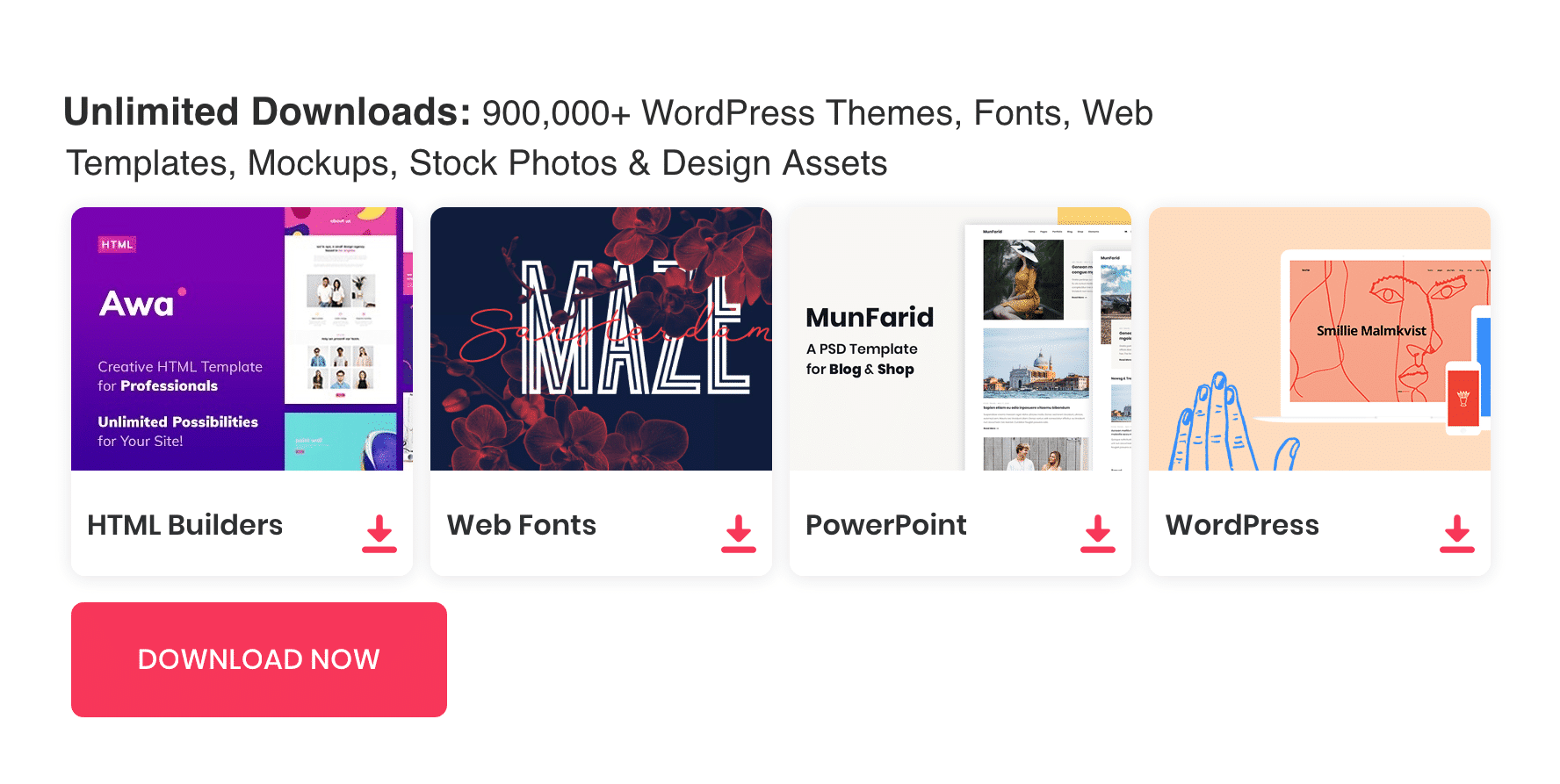 A comprehensive list of typography tools to help you establish a beautiful and user friendly type design for websites. A good typography is something lively for all websites as they are the communication medium.
Good Typography is an significant element in any sort of design; Typography is one of the most important facets of web design. Typography in web design doesn't mean that some fonts used in a website for the text content. A text in a webpage become a way to get people engaged in your site so it is real important to take in a good typographic flow in your site.
There are simple ways to enhance your web typography in different ways, but you have to be too careful when you implement them on your website. Typeface selection is the basis of a good typography design. You require to select a readable typeface for your texts and it has to be safe for your website's theme. You too require to take care of how the font looks in different sizes and colors.
A great web designer should be master of typography as the website design is 90 % text related content. There are lot of typography tools out there to help you design beautiful and user friendly typography in many ways. By using these typography tools you can really automate your design workflow and help you establish good visual hierarchy throughout the design.
See also : 100+ Best Photoshop Plugins for Web Designers
Here in this post you can watch lot of typography tools to help you master in typography design. This is a complete list of web typography tools you needed for your designs. You can see the category list of type tools below, which makes easy to navigate through the content.
Online Typography Tools
Flow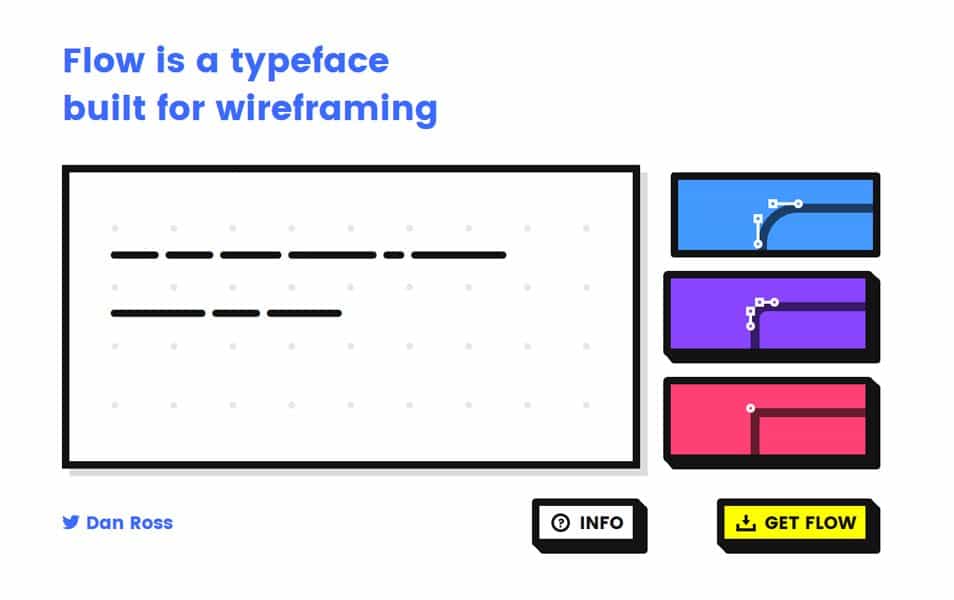 Flow is a typeface built for wireframing.
Type Hero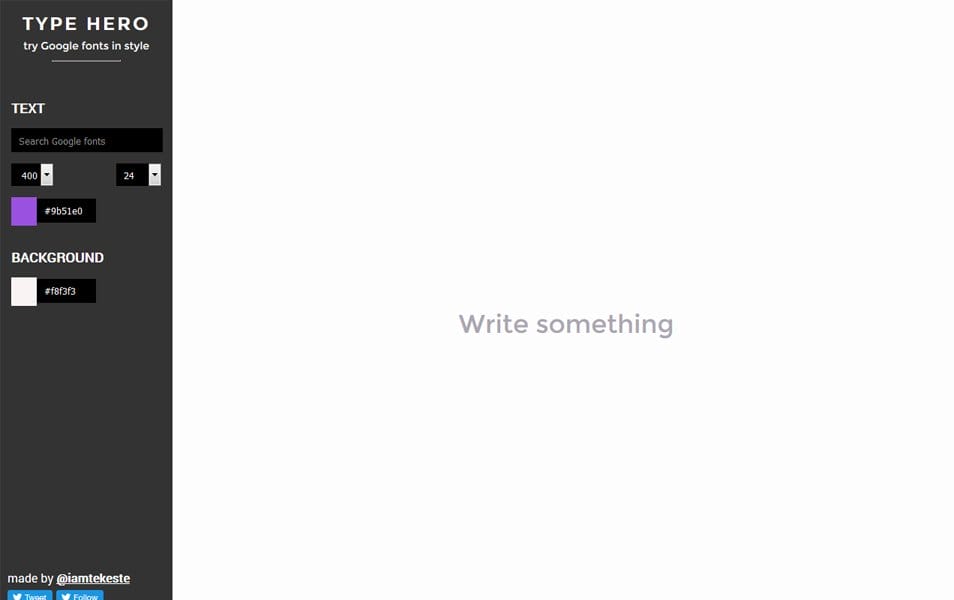 Try Google fonts on beautiful backgrounds & colors.
Gutenberg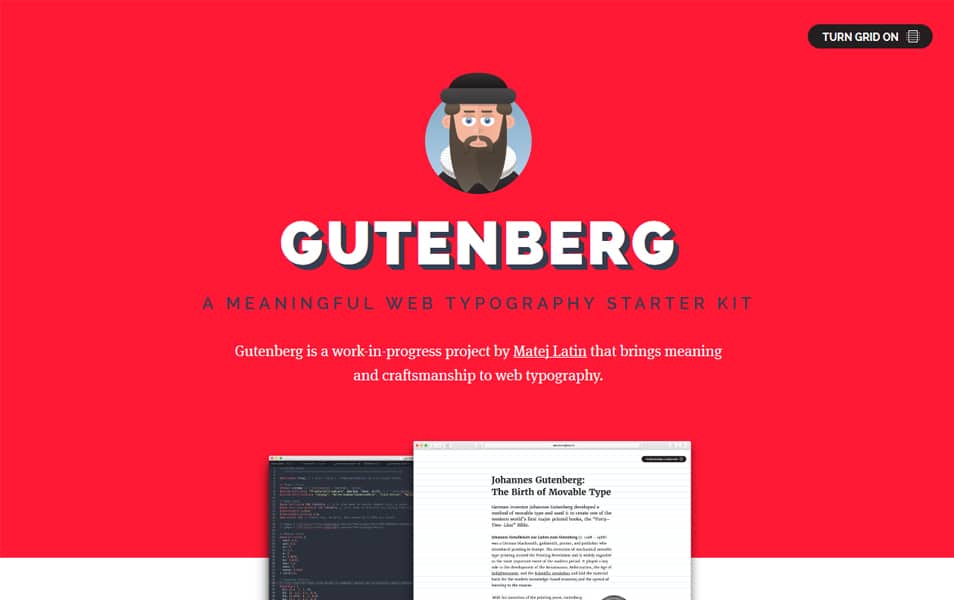 A Meaningful Web Typography Starter Kit.
Type Nugget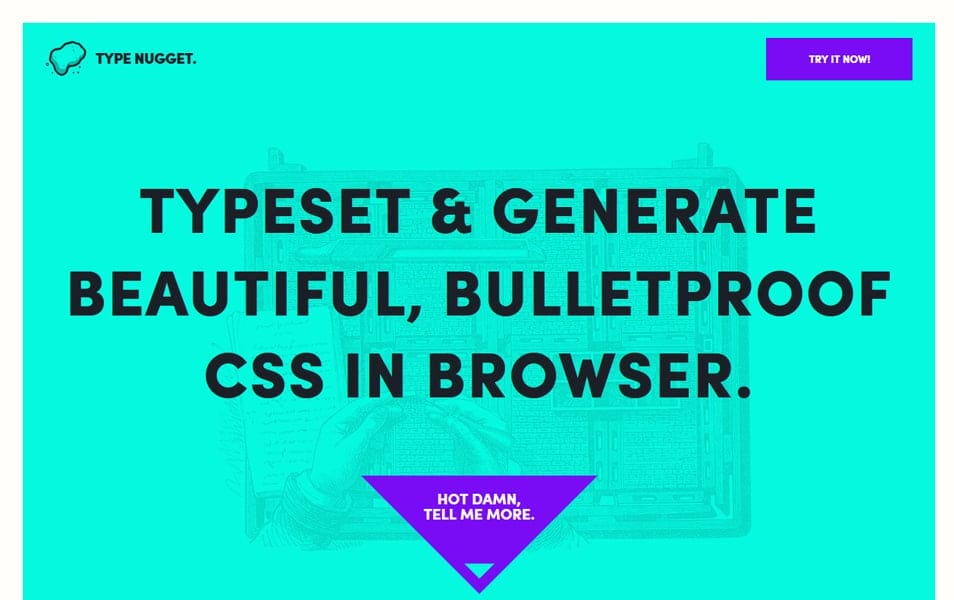 Type Nugget is an online typesetting tool that gives you fine control over a robust base for hella fine web type – all via a pleasant user interface.
TypographyEditor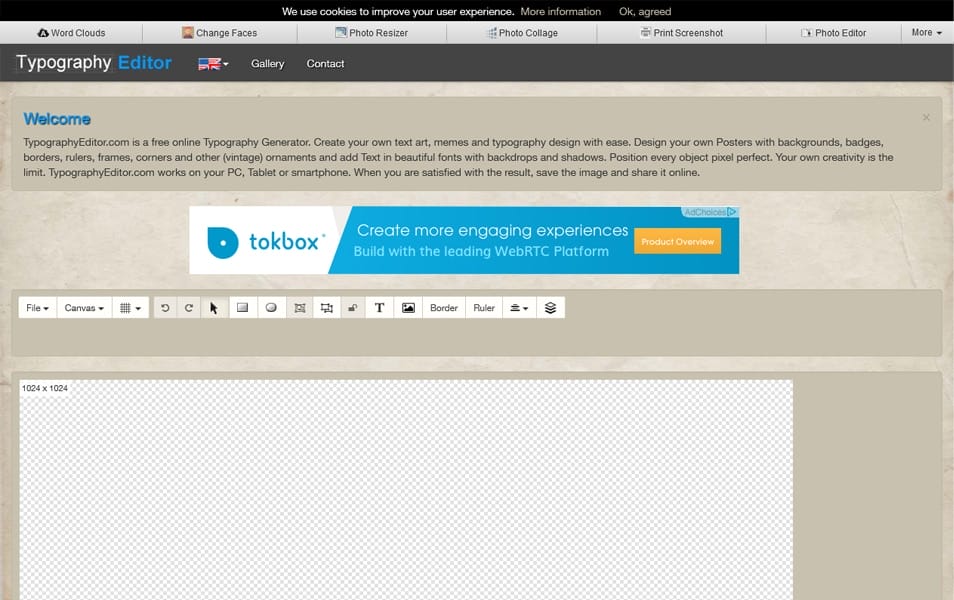 Typography Editor is a free and online tool to make typographic posters and images.
Fontspiration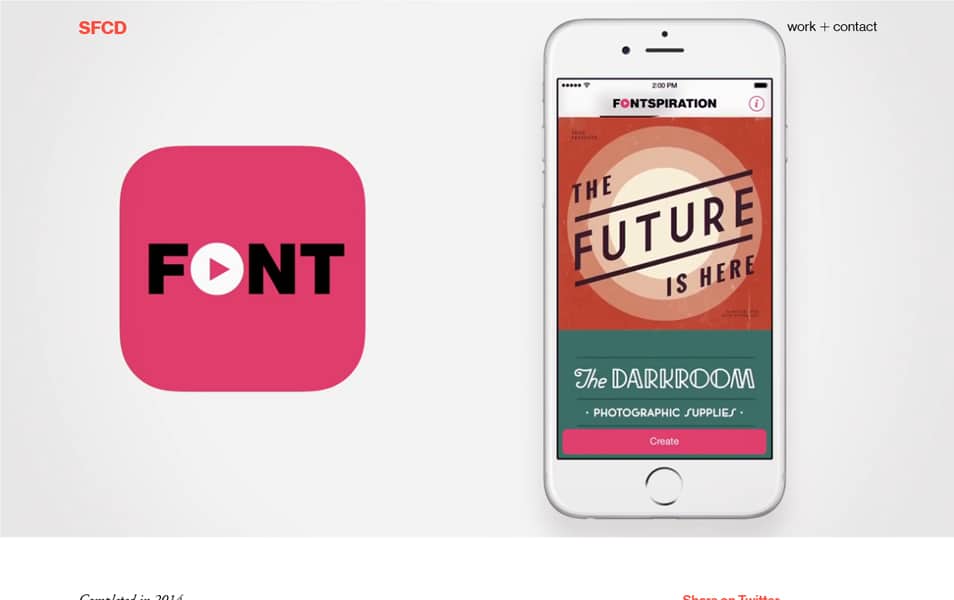 Building a tool for creating fun, animated typographic masterpieces.
Type-Finder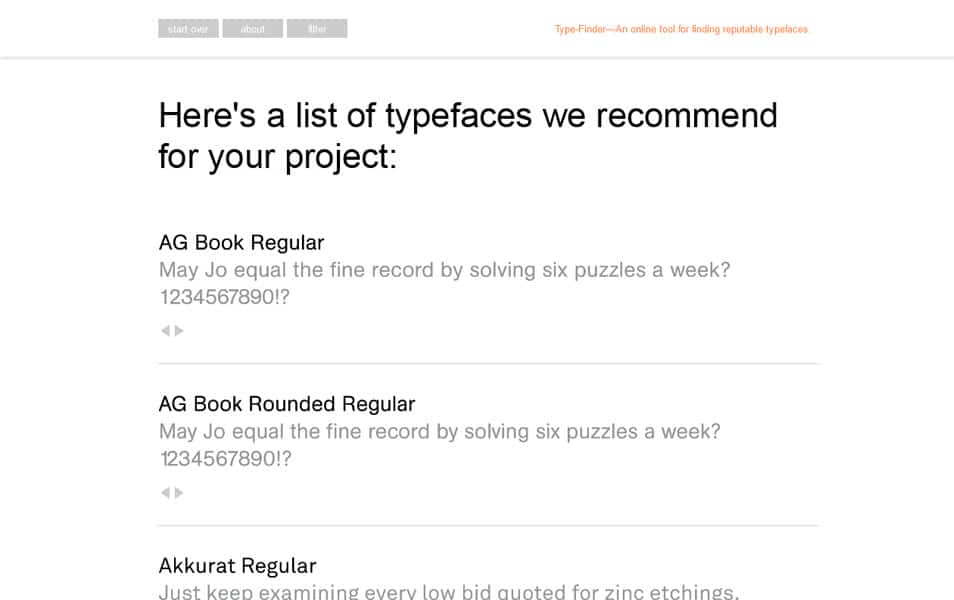 Type-Finder was created to help designers and font-enthusiasts navigate a curated library of typefaces by asking a set of questions that help them select a proper typeface.
Our favorite set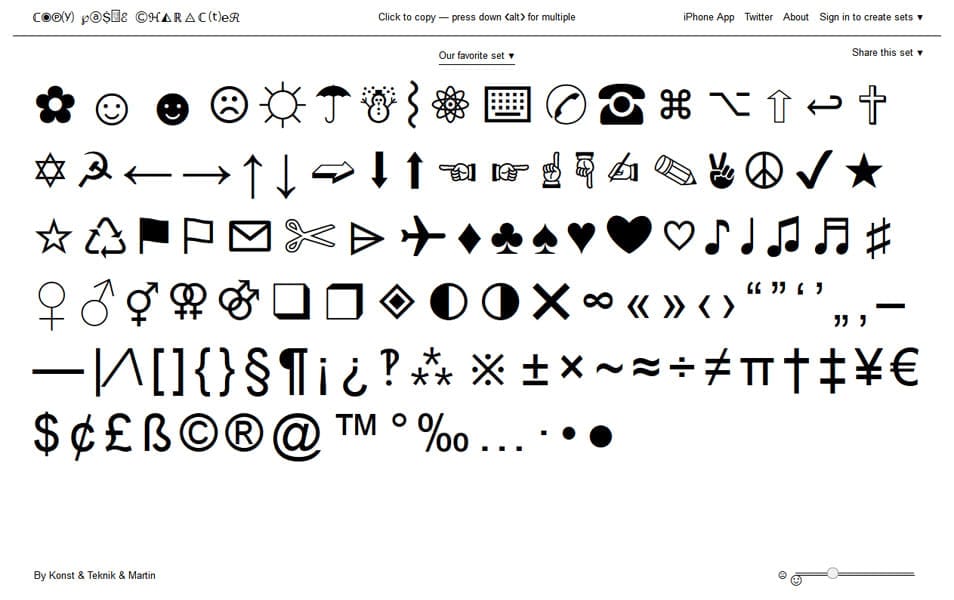 Gridlover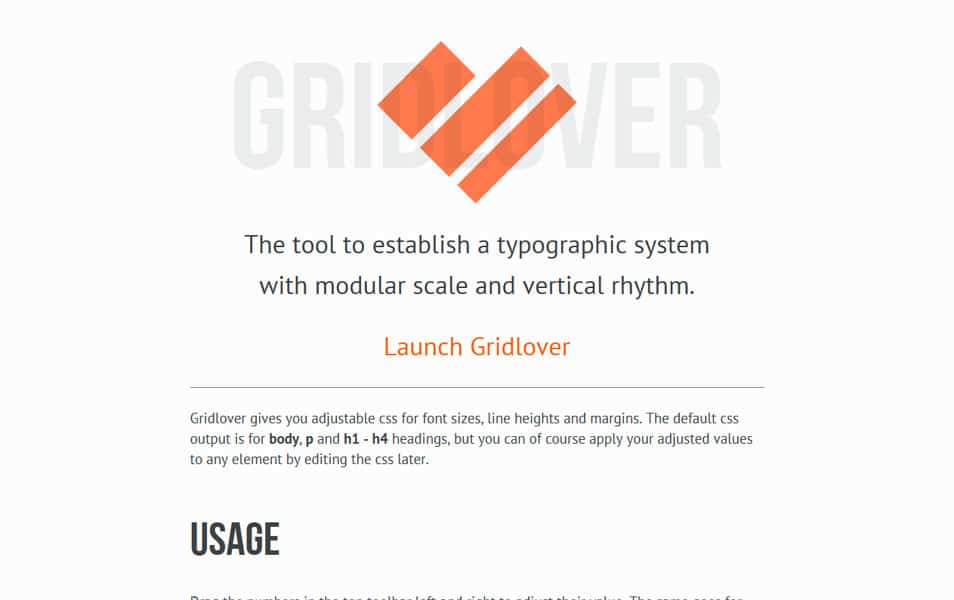 The tool to establish a typographic system with modular scale and vertical rhythm.
Type Genius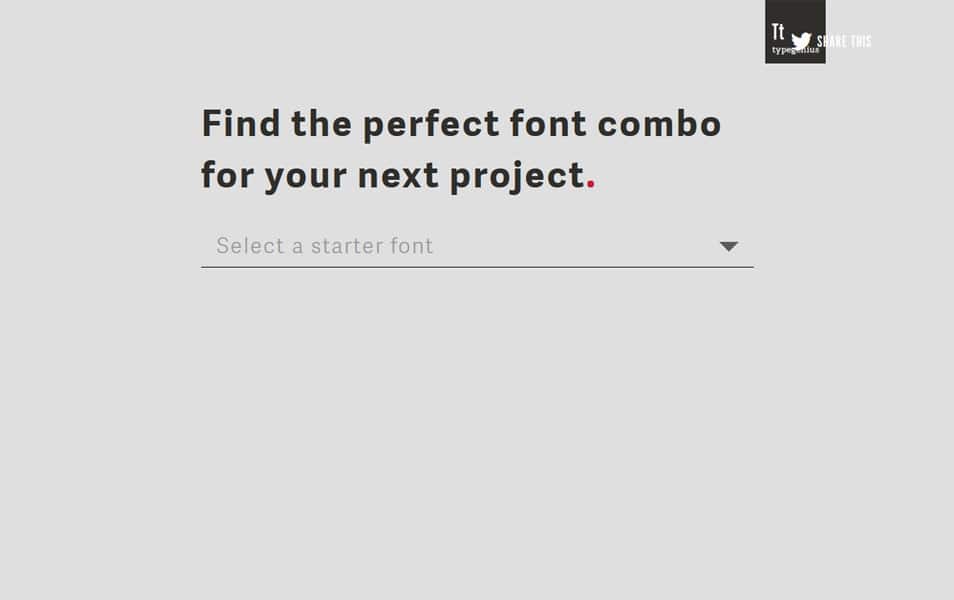 Find the perfect font combo for your next project.
Type Scale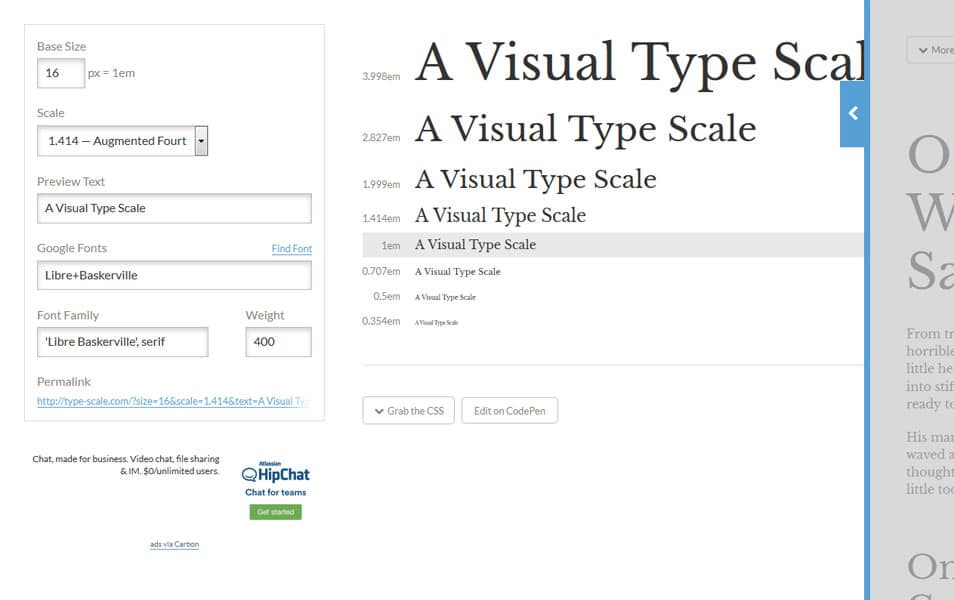 Type Scale is a Visual Calculator.
Just My Type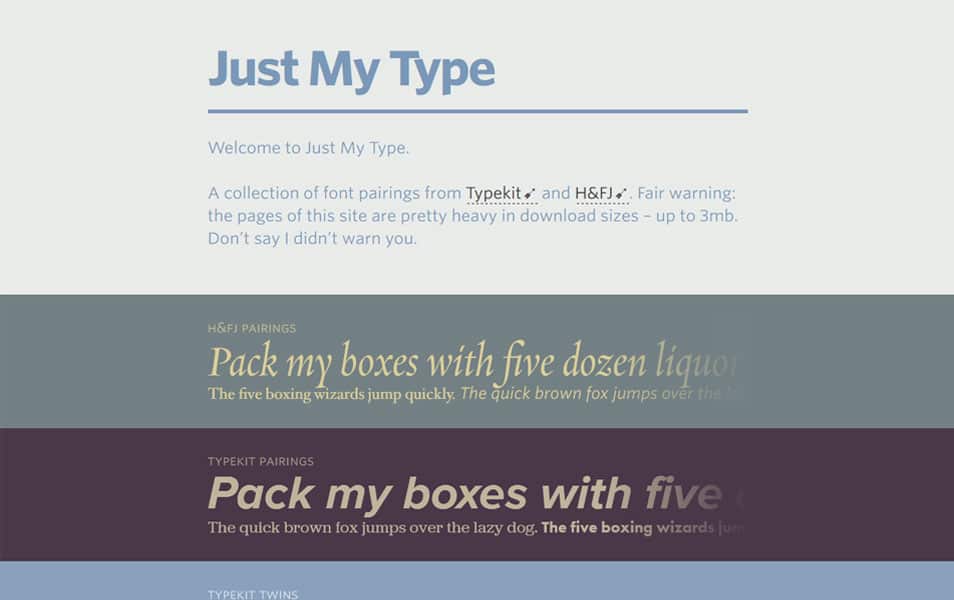 Typ.io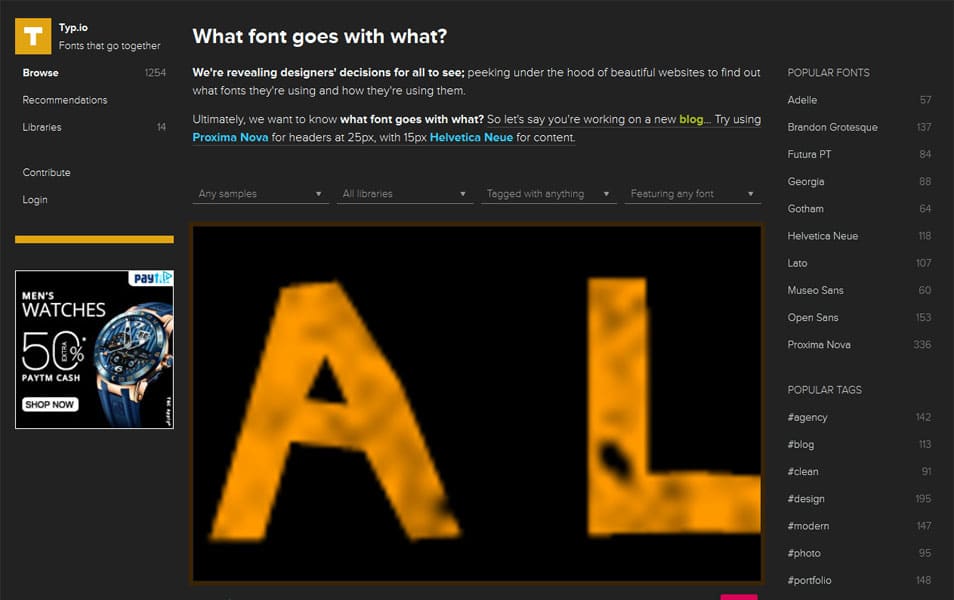 Web Font Load

Install all Google Web Fonts onto your local machine.
Typecast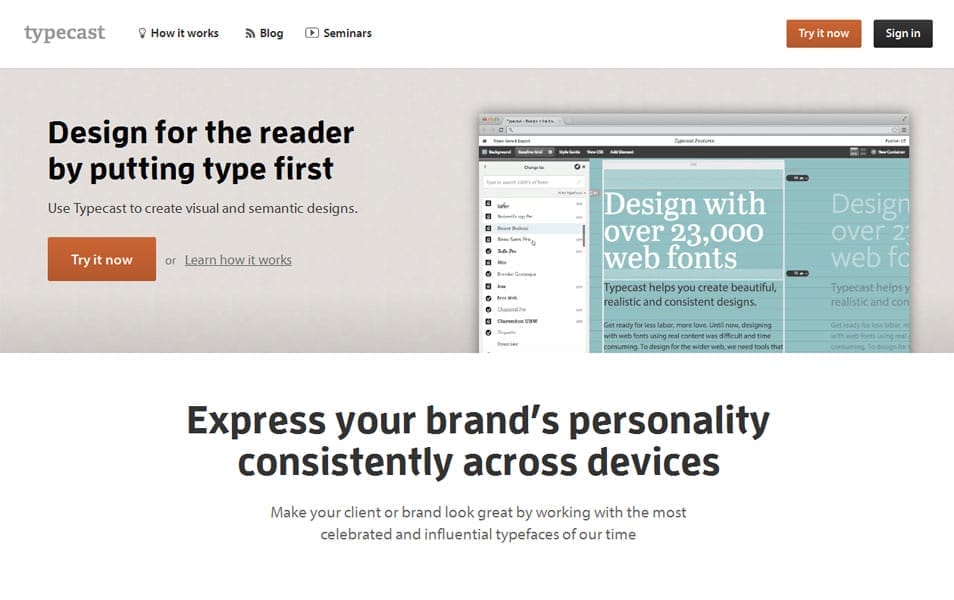 A browser-based app for creating beautiful, realistic and consistent designs based on typography.
FontStruct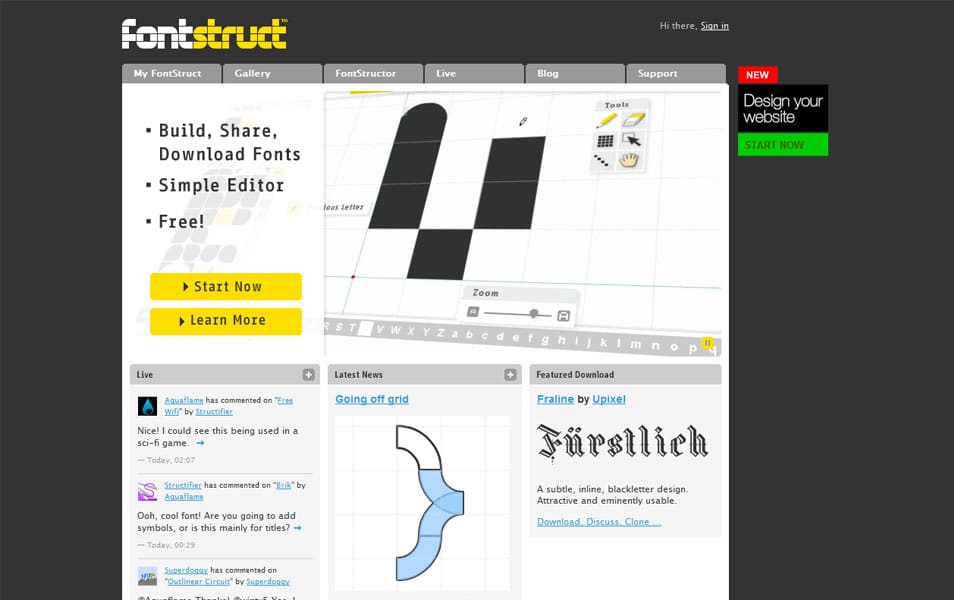 FontStruct is a free font-building tool sponsored by the world's leading retailer of digital type, FontShop. FontStruct lets you quickly and easily create fonts constructed out of geometrical shapes, which are arranged in a grid pattern, like tiles or bricks.
TypeWonder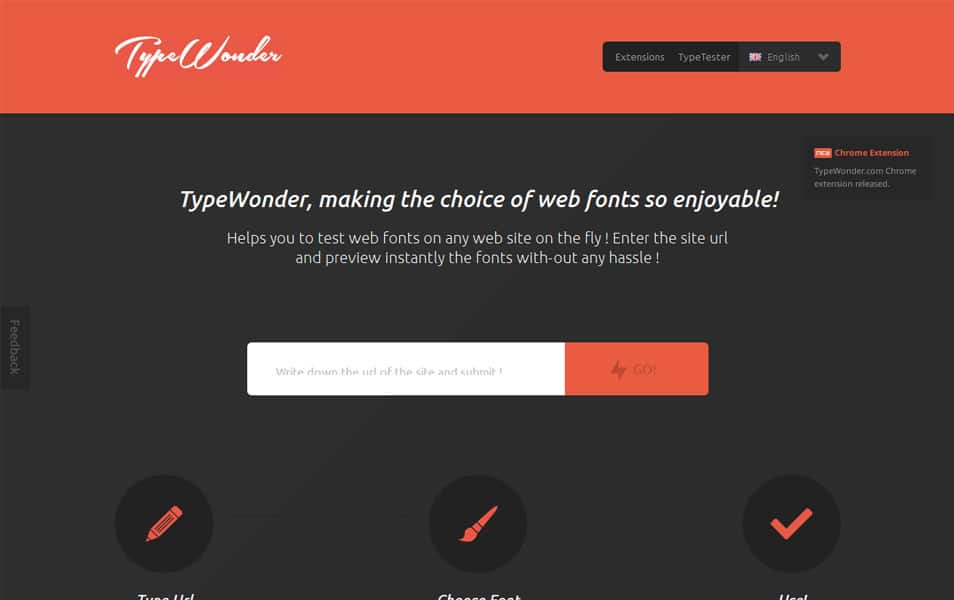 TypeWonder, making the choice of web fonts so enjoyable! Helps you to test web fonts on any web site on the fly ! Enter the site url and preview instantly the fonts with-out any hassle !
CSS Type Set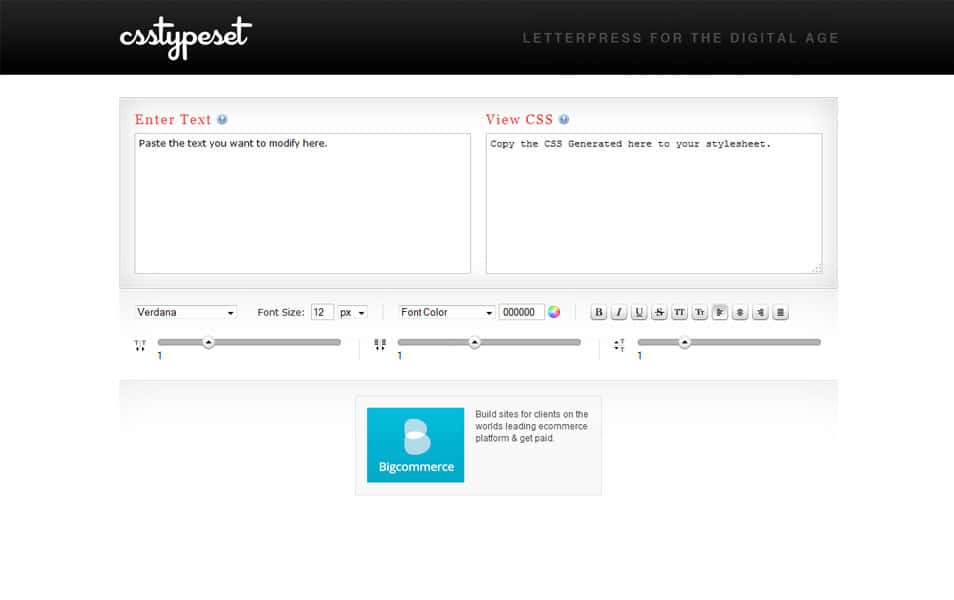 CSS Type Set is a hands-on typography tool allowing designers and developers to interactively test and learn how to style their web content.
Flipping Typical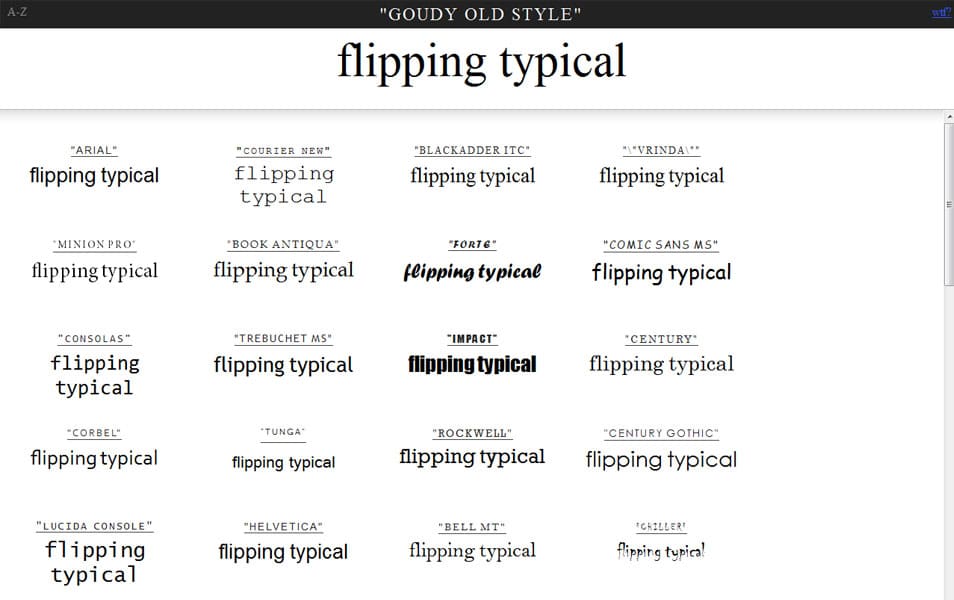 A typography tool, type in the word you want to see and instantly view it set in the typefaces on your computer.
TypeIt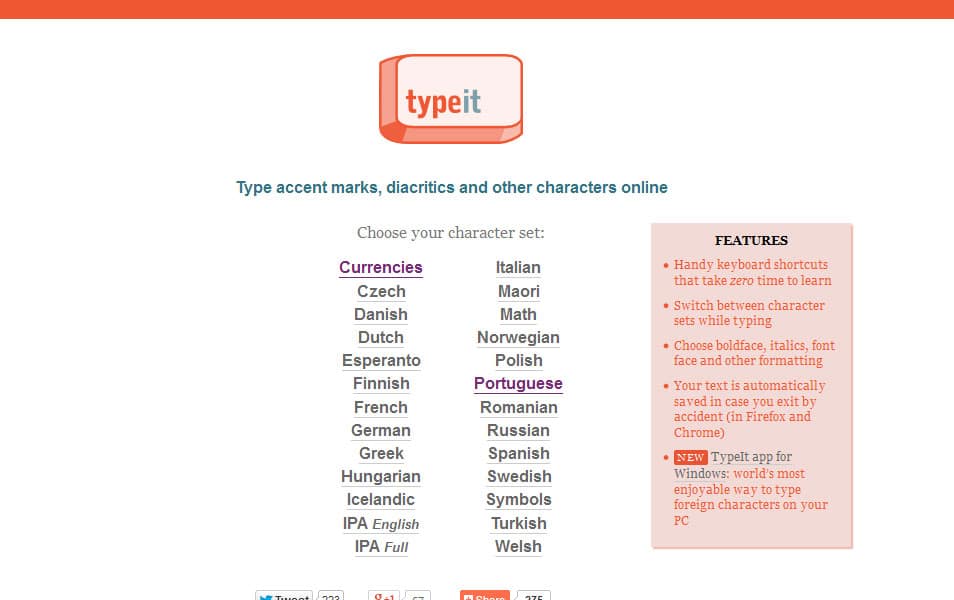 TypeIt – Type accent marks, diacritics and other characters online.
Type Applications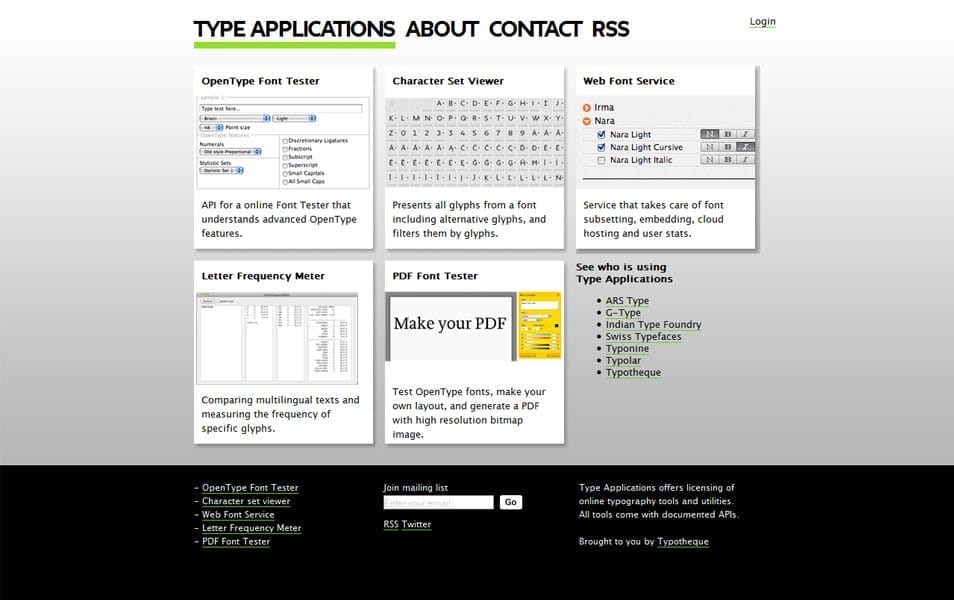 Type Applications offers licensing of online typography tools and utilities. All tools come with documented APIs.
The Web Font Combinator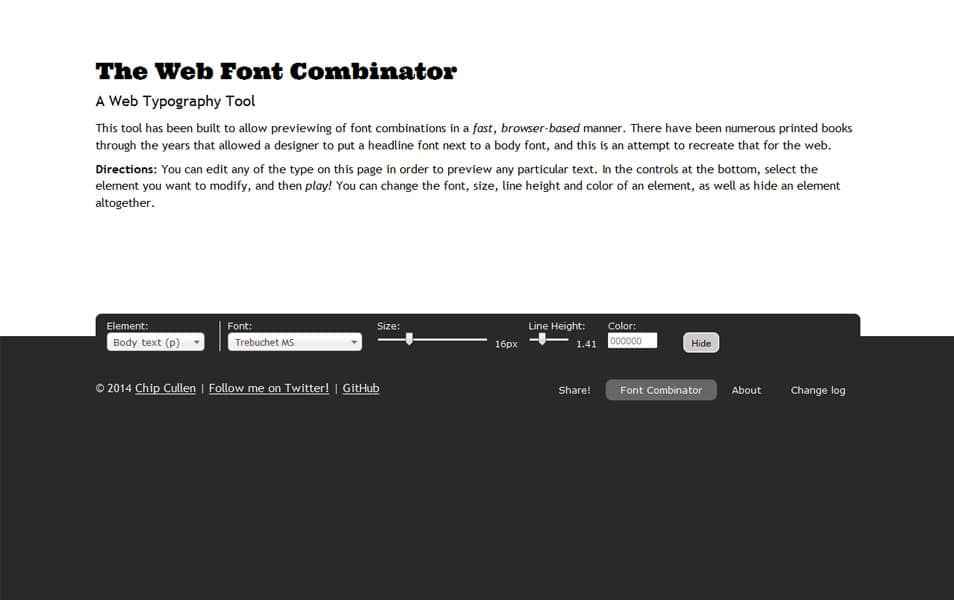 This tool has been built to allow previewing of font combinations in a fast, browser-based manner. There have been numerous printed books through the years that allowed a designer to put a headline font next to a body font, and this is an attempt to recreate that for the web.
Typetester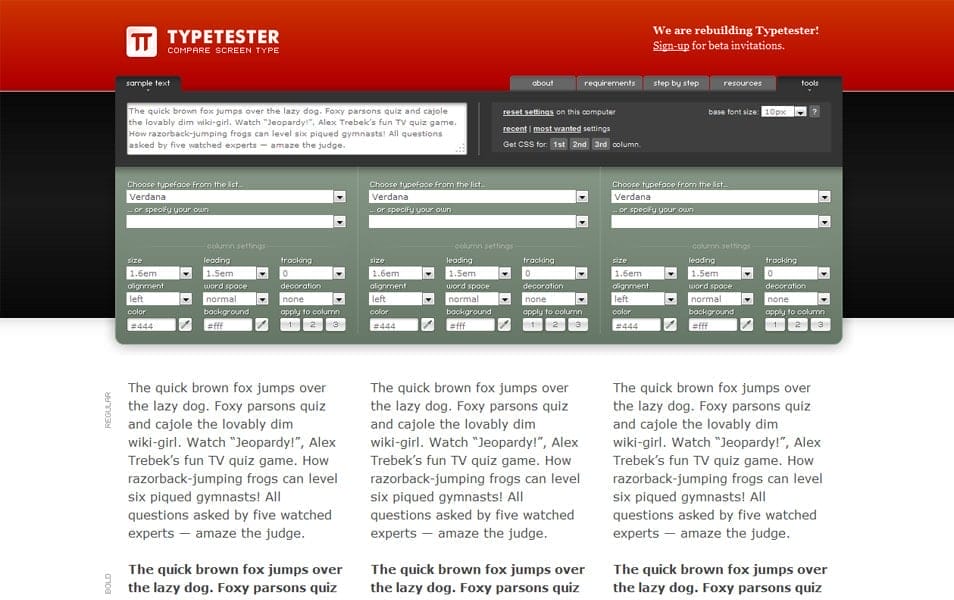 The Typetester is an online application for comparison of the fonts for the screen.
Tiff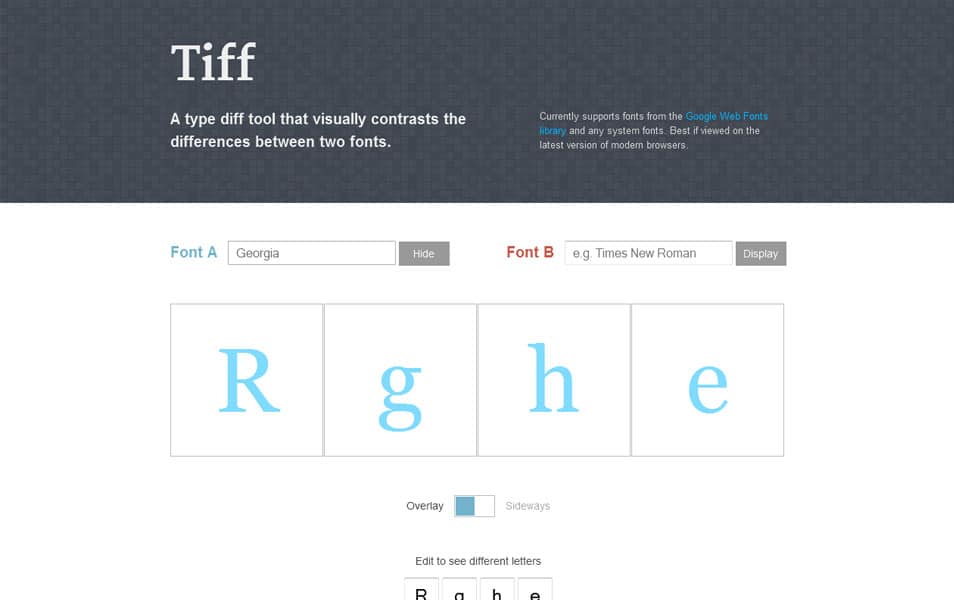 Tiff is a typeface diff tool that visually contrasts the differences between two fonts. I had the idea of creating such a tool to help me compare two fonts while learning about typography.
WhatTheFont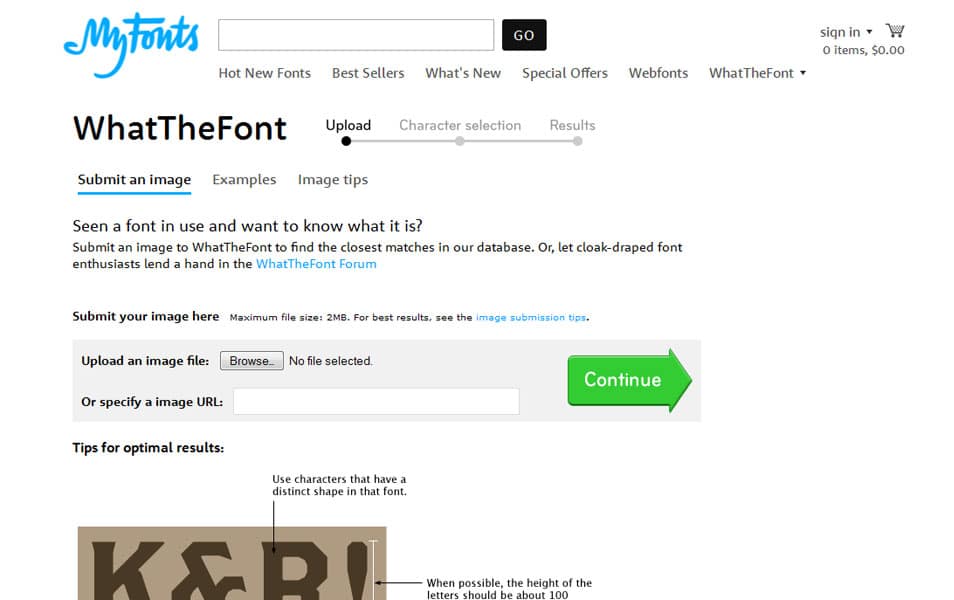 WhatTheFont from MyFonts is an established service for identifying fonts. It works by submitting an image of your selected text and letting WhatTheFont find the closest match in its database.
Font Swapper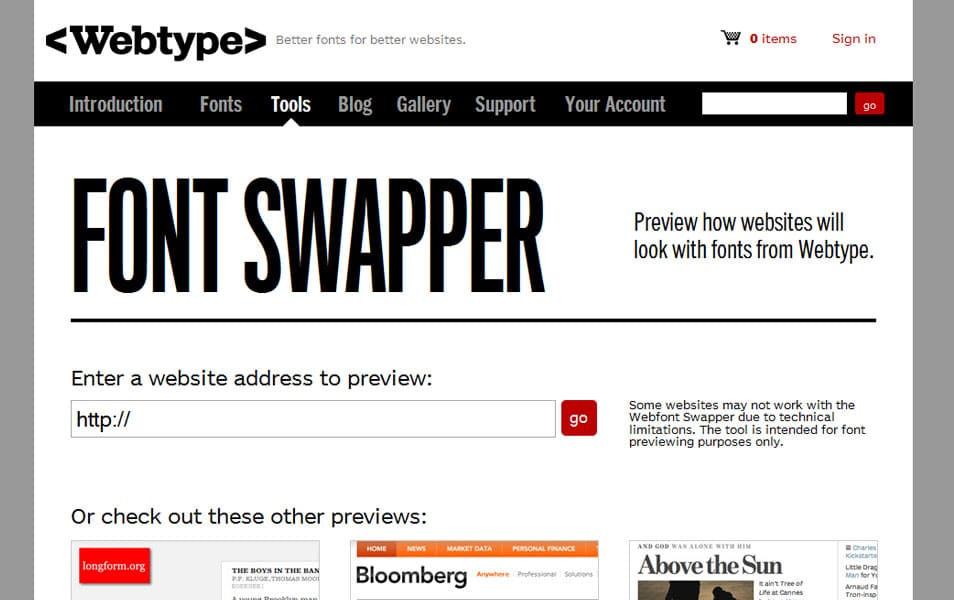 Preview how websites will look with fonts from Webtype.
Typograph – Scale & Rhythm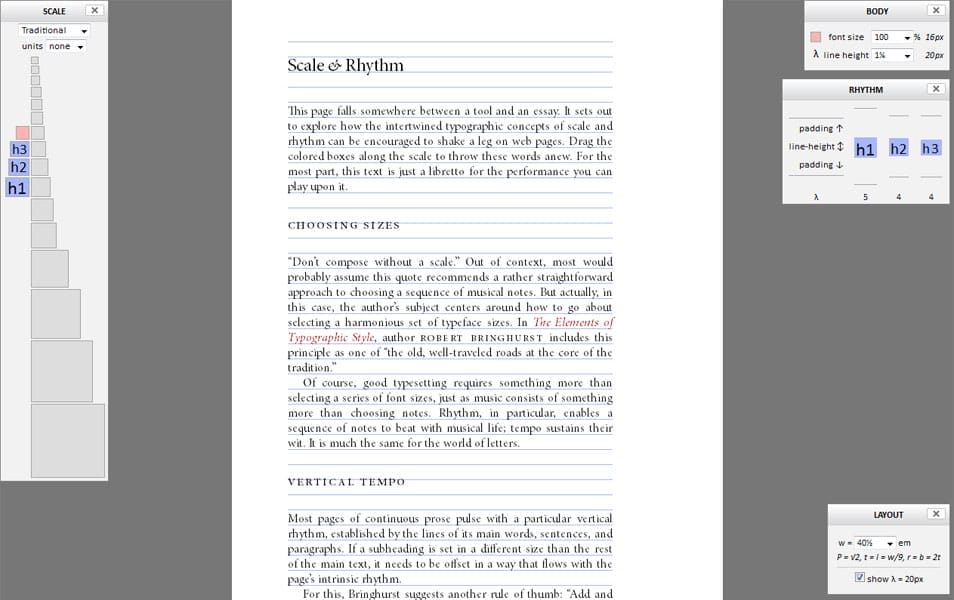 This page falls somewhere between a tool and an essay. It sets out to explore how the intertwined typographic concepts of scale and rhythm can be encouraged to shake a leg on web pages. Drag the colored boxes along the scale to throw these words anew. For the most part, this text is just a libretto for the performance you can play upon it.
Fontifier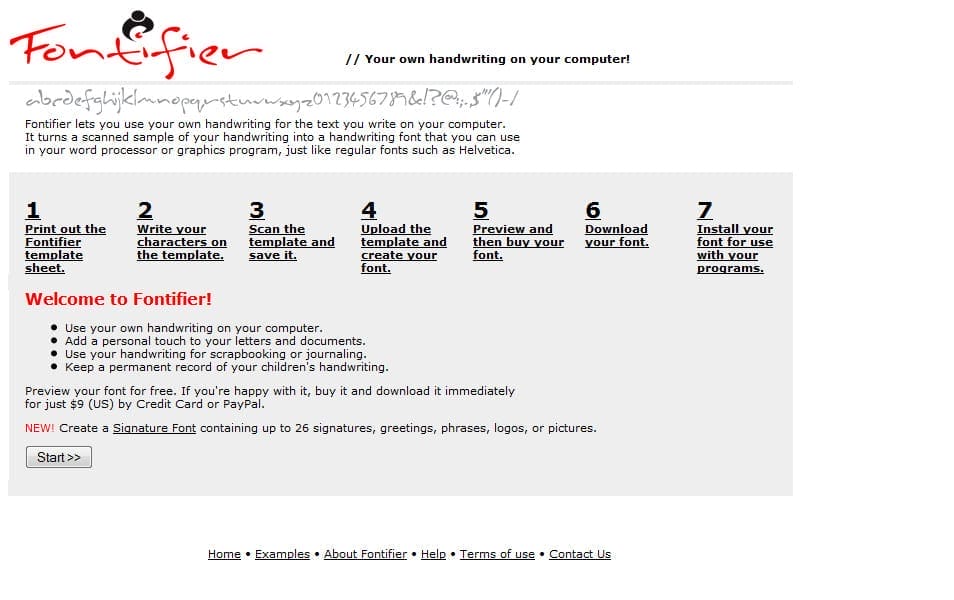 Fontifier lets you use your own handwriting for the text you write on your computer. It turns a scanned sample of your handwriting into a handwriting font that you can use. in your word processor or graphics program, just like regular fonts such as Helvetica.
tinytype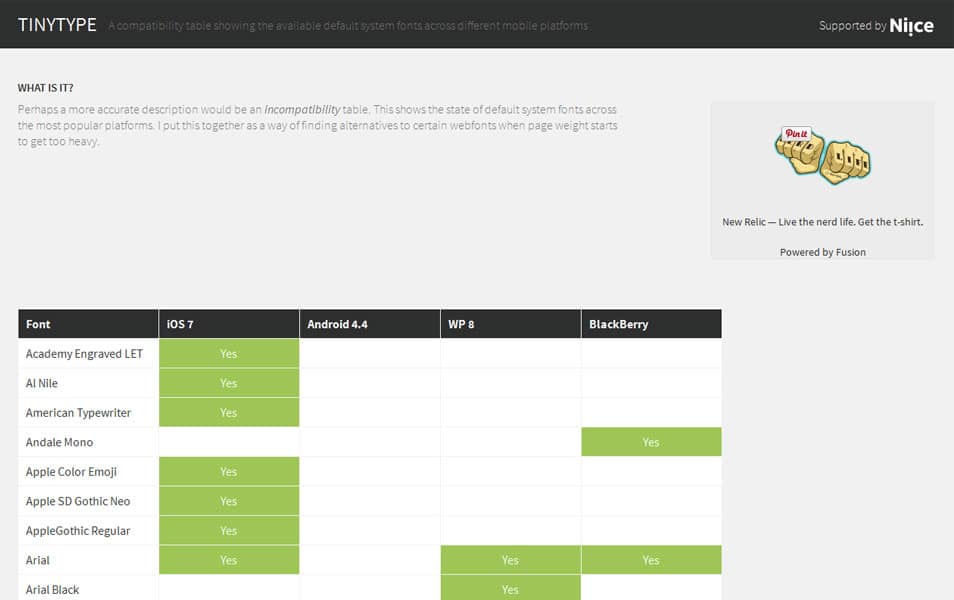 A compatibility table showing the available default system fonts across different mobile platforms.
Font Picker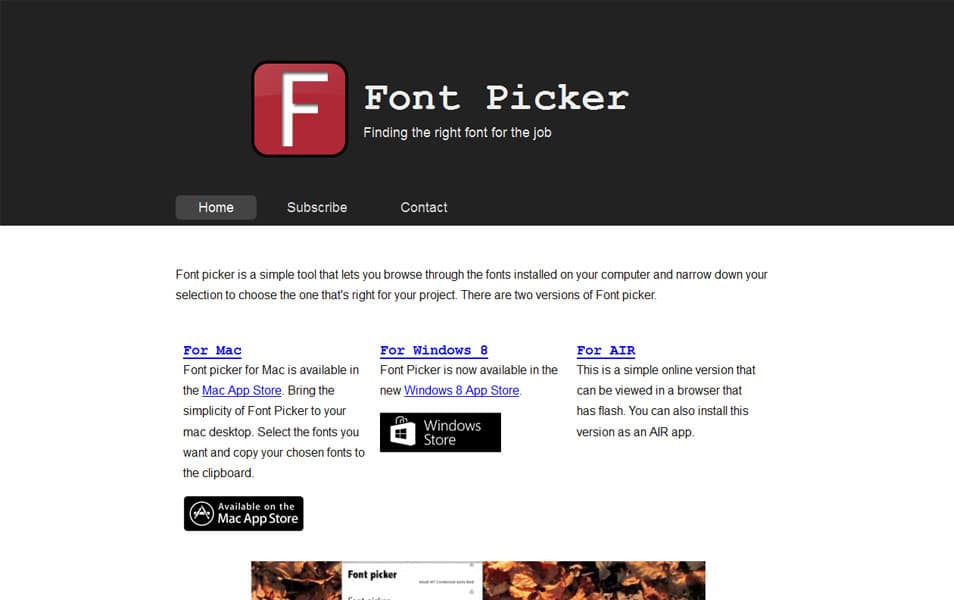 Font picker is a simple tool that lets you browse through the fonts installed on your computer and narrow down your selection to choose the one that's right for your project. There are two versions of Font picker.
Fontlab
Fontlab Typography tools for editing, converting, designing, and manipulating digital typefaces and font families.
Online Font Face Converter Tools
Online Font Converter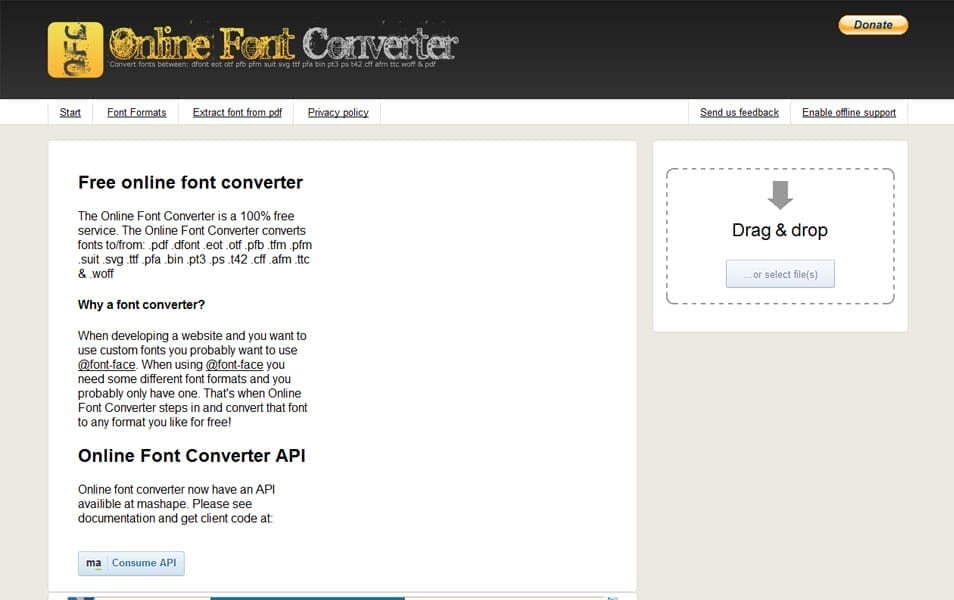 The Online Font Converter is a 100% free service. The Online Font Converter converts fonts to/from: .pdf .dfont .eot .otf .pfb .tfm .pfm .suit .svg .ttf .pfa .bin .pt3 .ps .t42 .cff .afm .ttc & .woff
Font Converter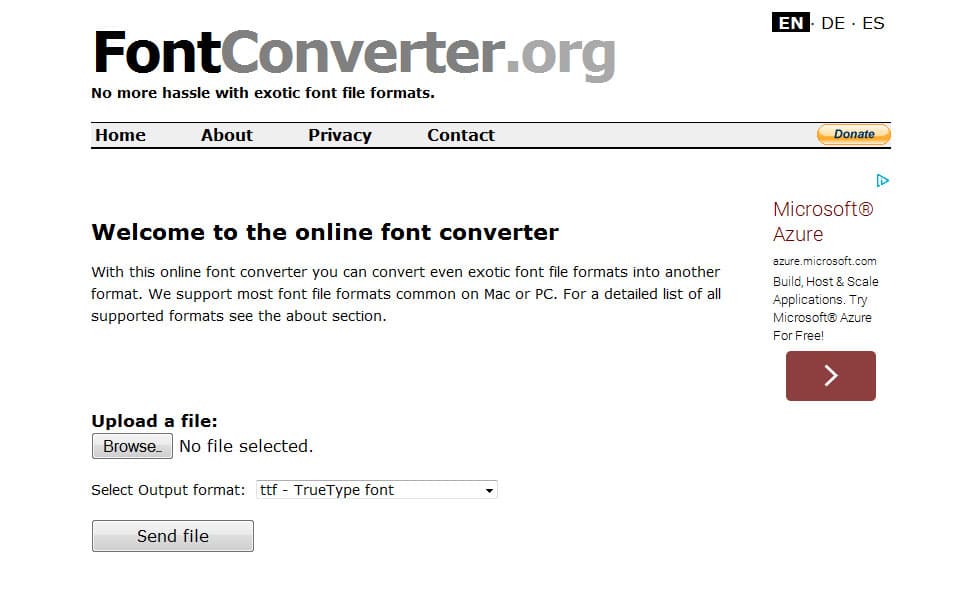 Convert your font files with this free online font converter. We convert almost any font file formats into ttf, otf, fon, pfb, afm (and more).
Font2Web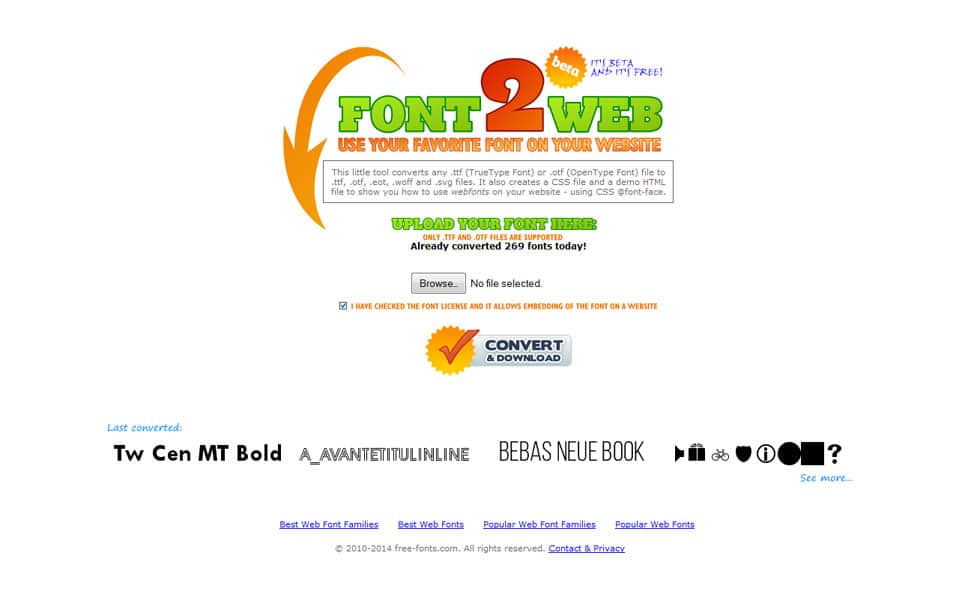 This little tool converts any .ttf (TrueType Font) or .otf (OpenType Font) file to .ttf, .otf, .eot, .woff and .svg files. It also creates a CSS file and a demo HTML file to show you how to use webfonts on your website – using CSS @font-face.
TTF to EOT Font Converter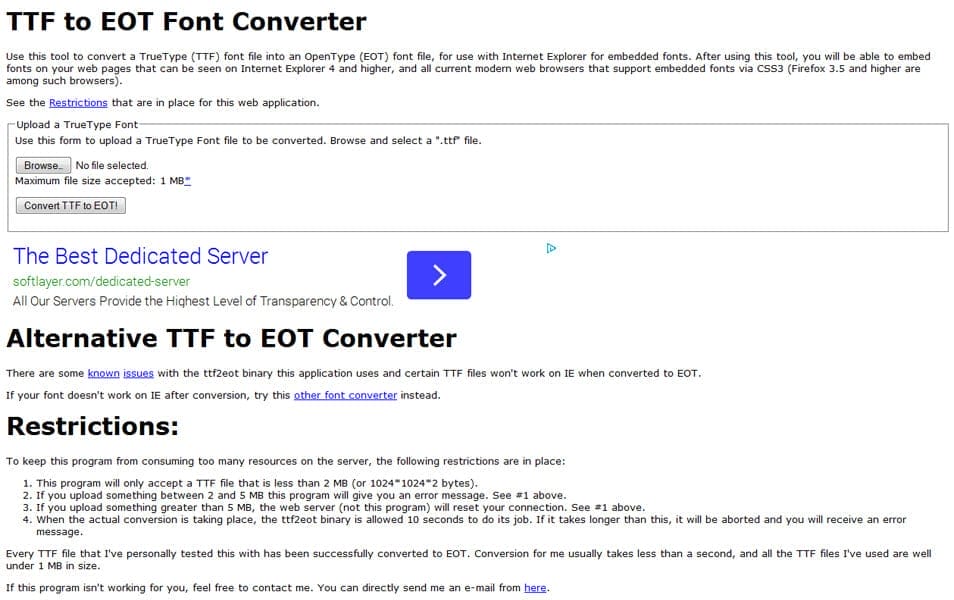 Use this tool to convert a TrueType (TTF) font file into an OpenType (EOT) font file, for use with Internet Explorer for embedded fonts. After using this tool, you will be able to embed fonts on your web pages that can be seen on Internet Explorer 4 and higher, and all current modern web browsers that support embedded fonts via CSS3 (Firefox 3.5 and higher are among such browsers).
otf to ttf converter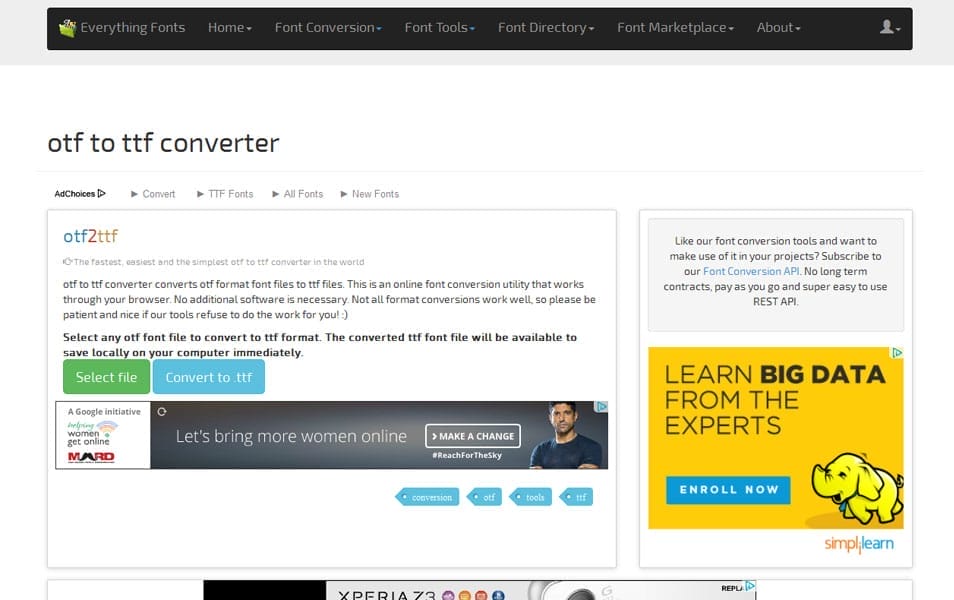 otf to ttf converter converts otf format font files to ttf files. This is an online font conversion utility that works through your browser. No additional software is necessary. Not all format conversions work well, so please be patient and nice if our tools refuse to do the work for you!
Punjabi Font Converter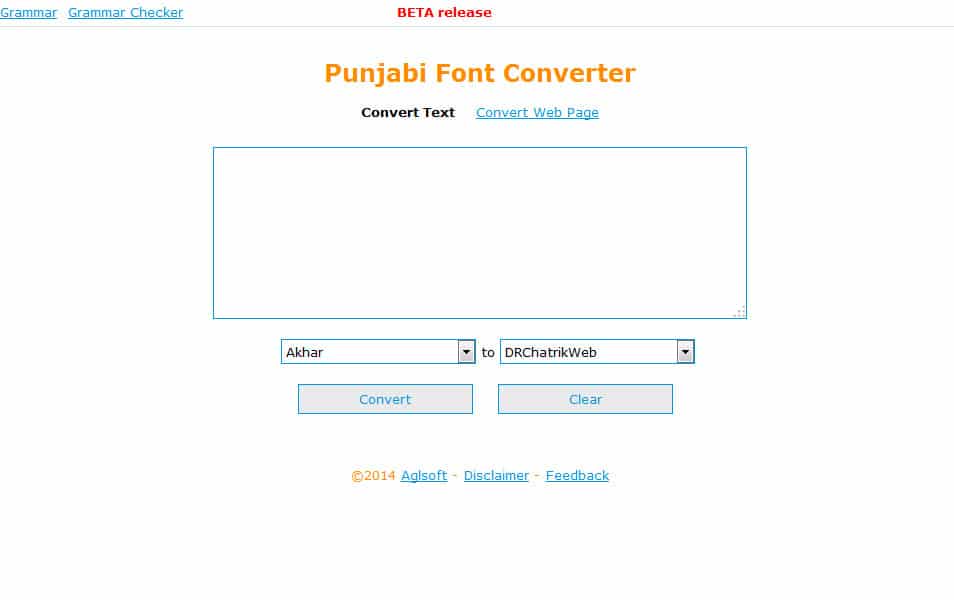 This free online Punjabi font converter can convert Punjabi text in any true type Punjabi Gurmukhi font to its equivalent in another font or Gurmukhi Unicode.
Free Online Font Converter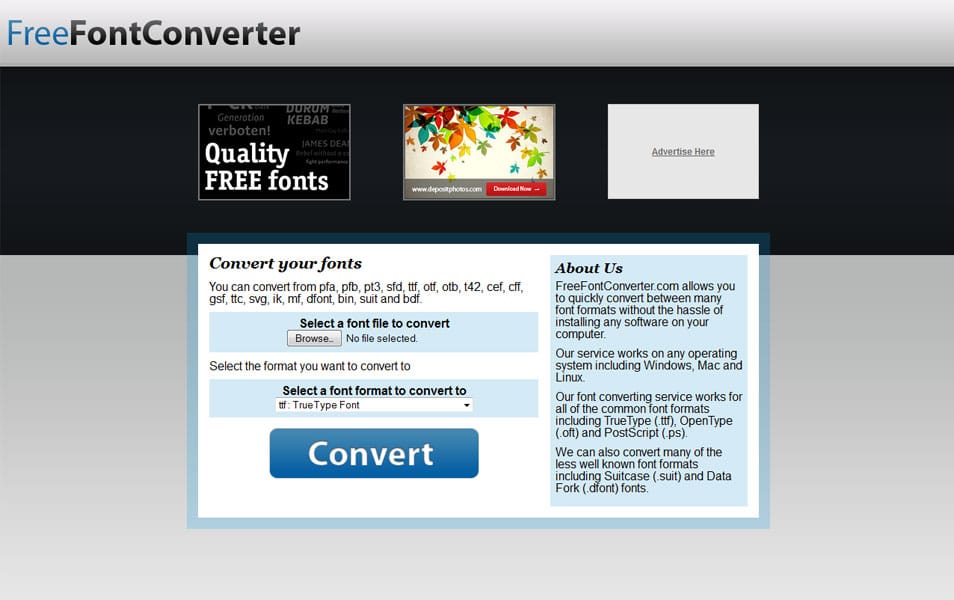 FreeFontConverter.com allows you to quickly convert between many font formats without the hassle of installing any software on your computer.
Online converter – fonts2u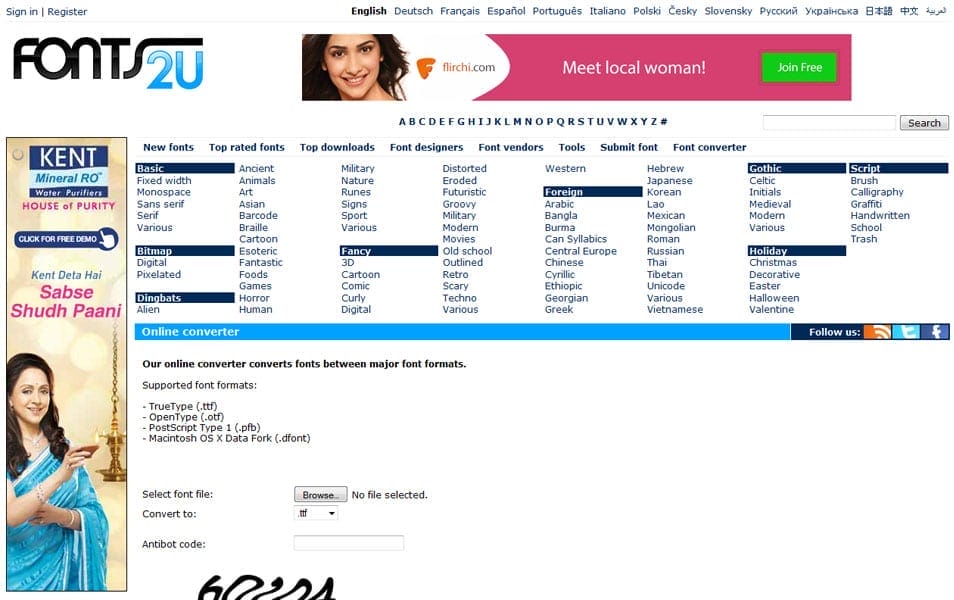 Online converter converts fonts between major font formats. Supported font formats: TrueType (.ttf), OpenType (.otf), PostScript Type 1 (.pfb), Macintosh OS X Data Fork (.dfont).
Convert a font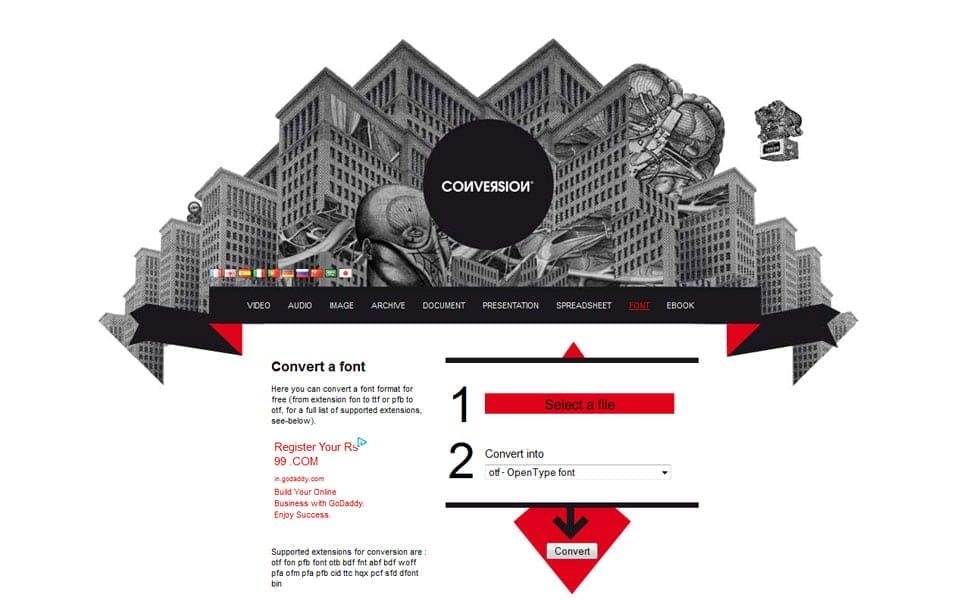 Here you can convert a font format for free (from extension fon to ttf or pfb to otf, for a full list of supported extensions).
Online Font Face Generator Tools
Modulator

YourFonts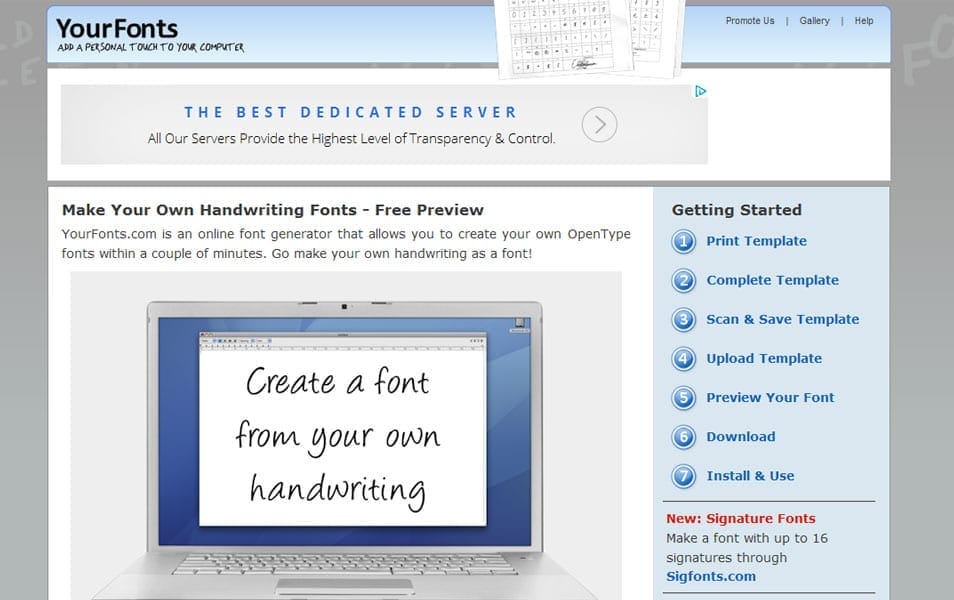 YourFonts.com is an online font generator that allows you to create your own OpenType fonts within a couple of minutes. Go make your own handwriting as a font!
webfont generator – Fontie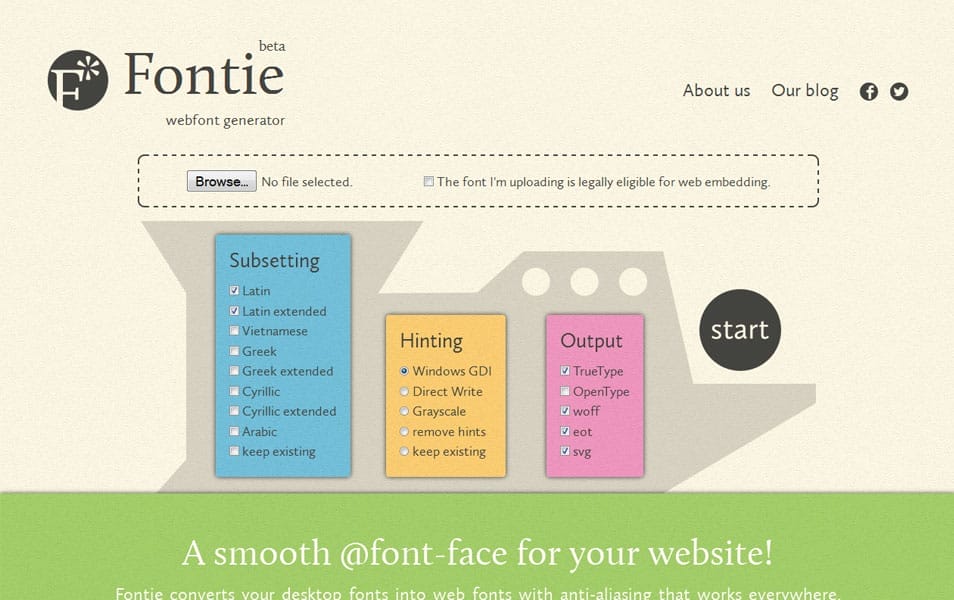 Fontie converts your desktop fonts into web fonts with anti-aliasing that works everywhere. Just insert a TTF or OTF file and you'll get the WOFF, EOT and SVG fonts along with the CSS in one fine @font-face package.
font-face generator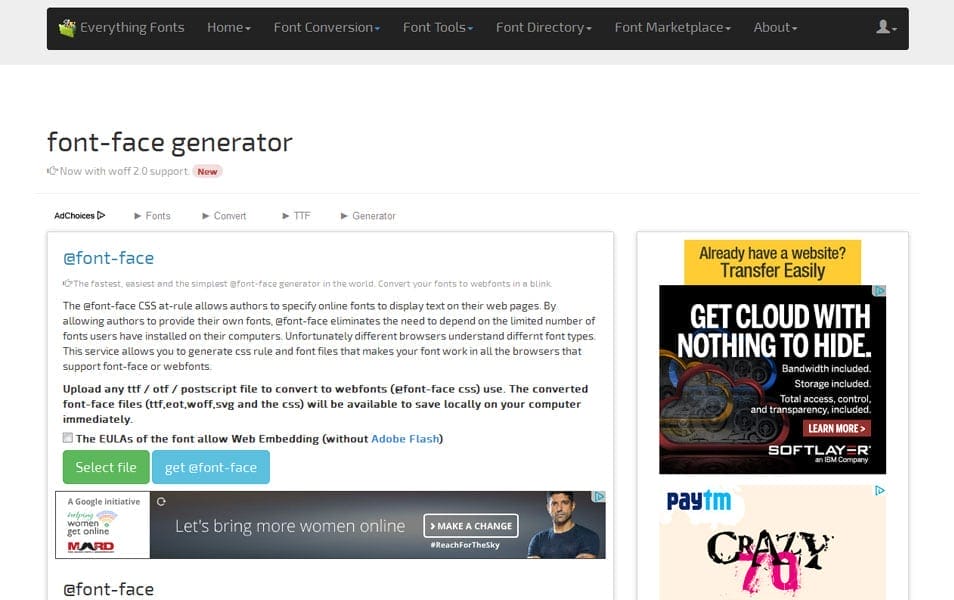 This service allows you to generate css rule and font files that makes your font work in all the browsers that support font-face or webfonts.
Webfont Generator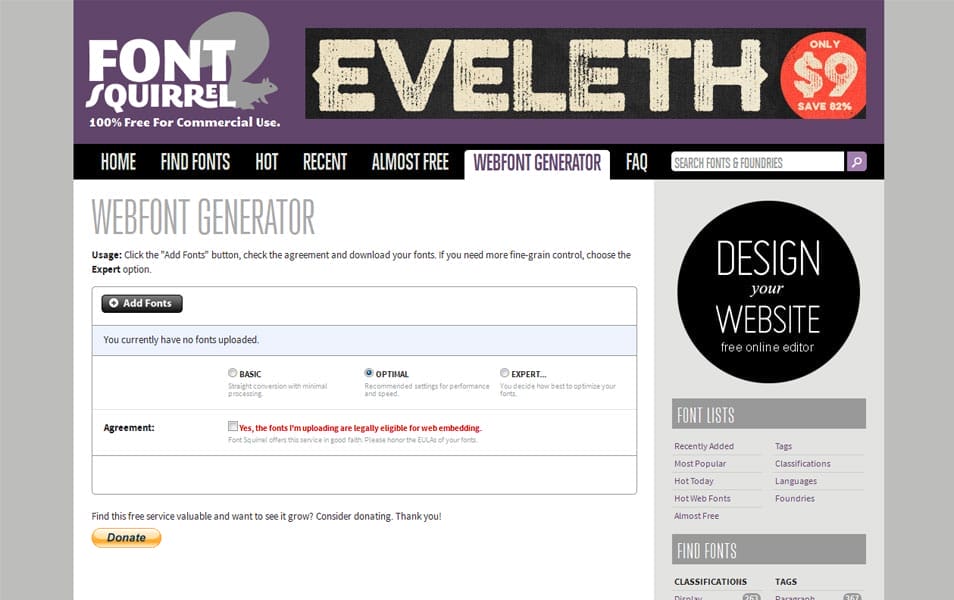 Create Your Own @font-face Kits by uploading the fonts you want to use.
Web Font Generator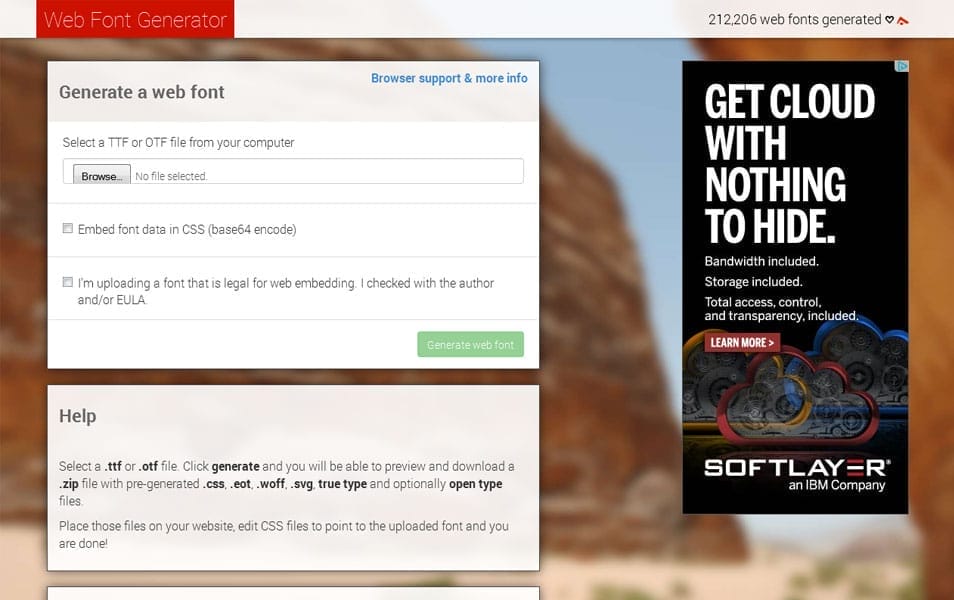 @font-face kit generator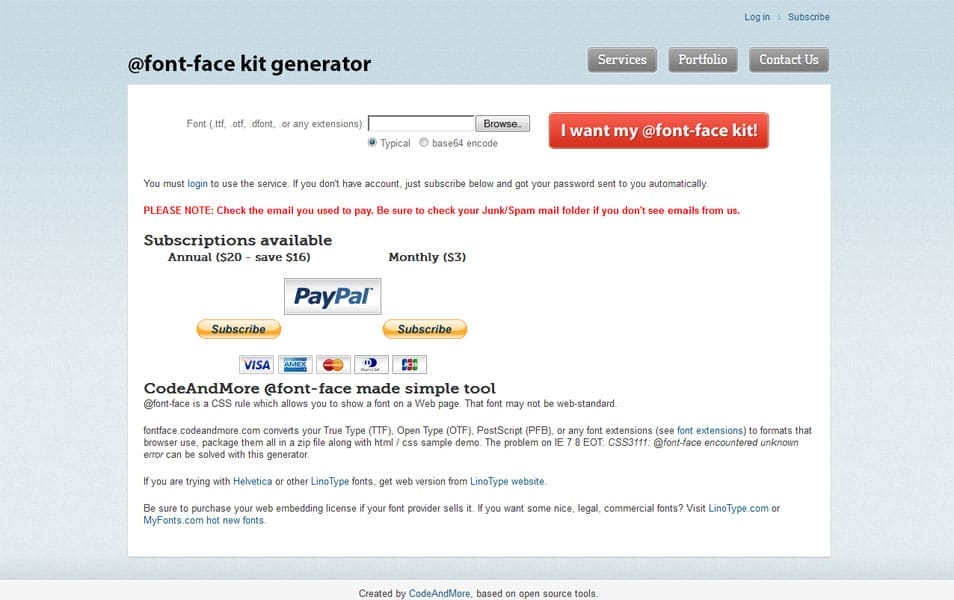 fontface.codeandmore.com converts your True Type (TTF), Open Type (OTF), PostScript (PFB), or any font extensions (see font extensions) to formats that browser use, package them all in a zip file along with html / css sample demo.
Web Font Generator – flaticon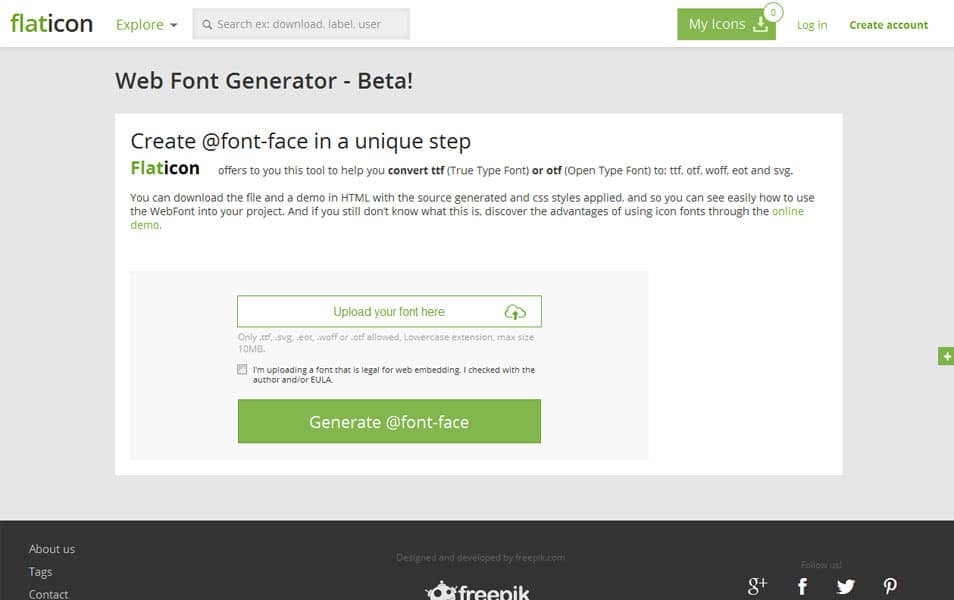 Flaticon offers to you this tool to help you convert ttf (True Type Font) or otf (Open Type Font) to: ttf, otf, woff, eot and svg.
Typography Extension Tools
Type-o-matic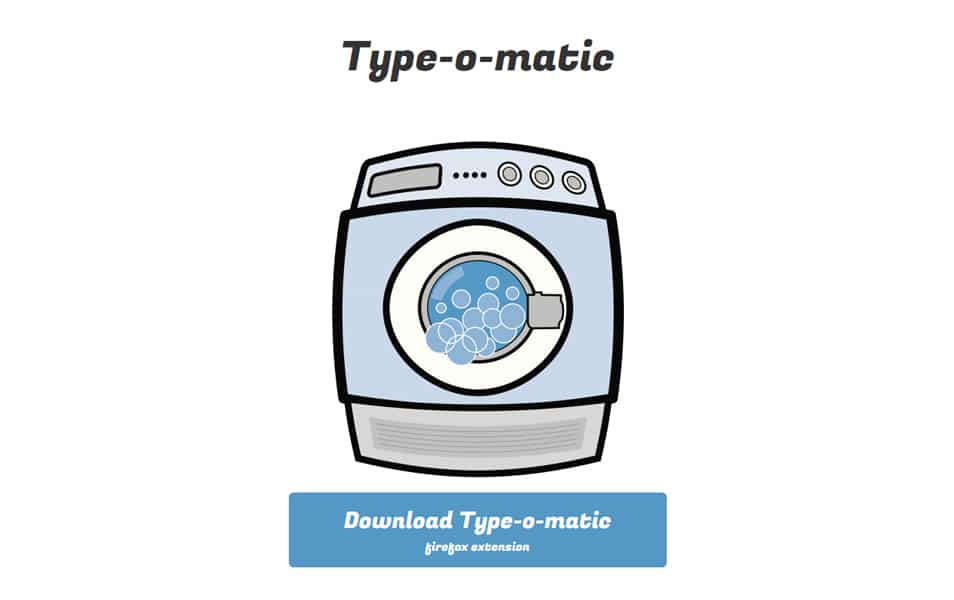 A browser (Firebug for Firefox, currently) extension that counts all the fonts on a page and orders them by color and size before happily outputting some json.
FFFFALLBACK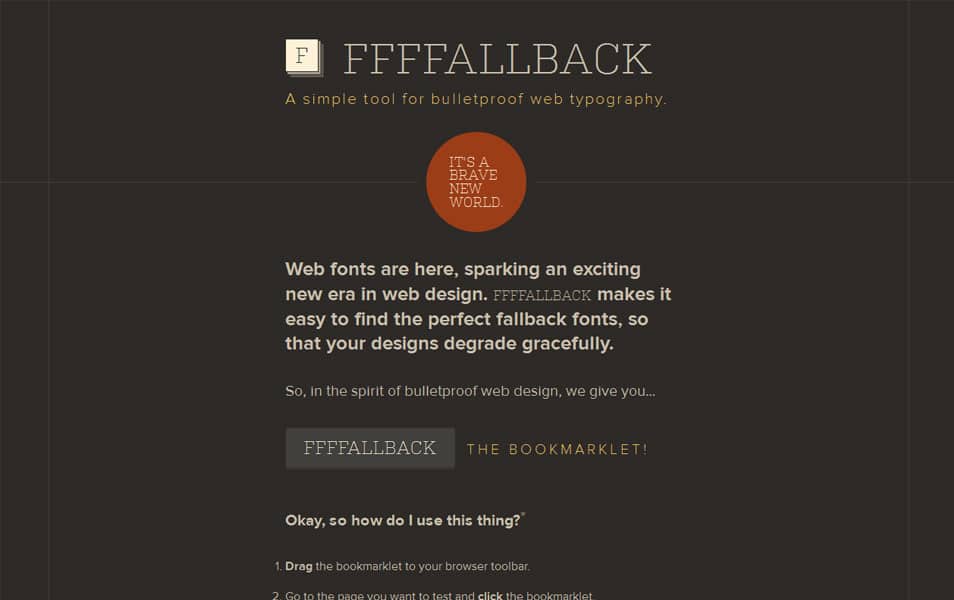 A simple tool for bulletproof web typography.
TypeWonder Extensions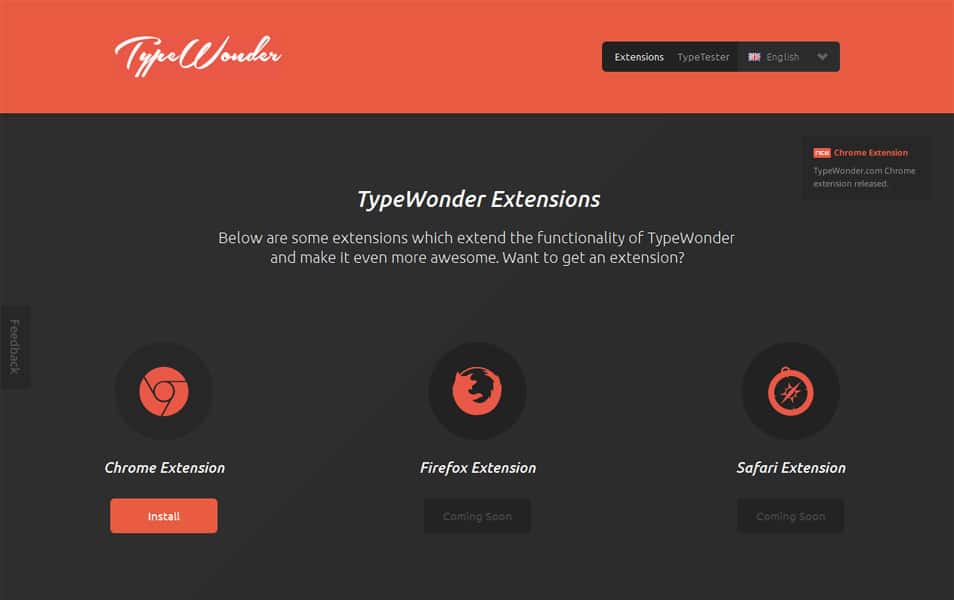 TypeWonder, making the choice of web fonts so enjoyable!
WhatFont Tool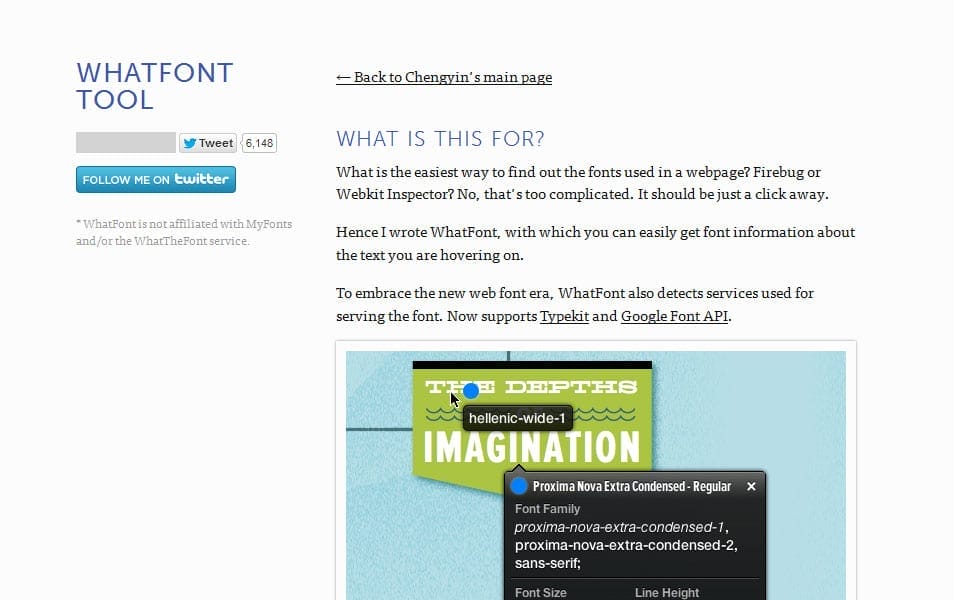 WhatFont, with which you can easily get font information about the text you are hovering on.
FontFriend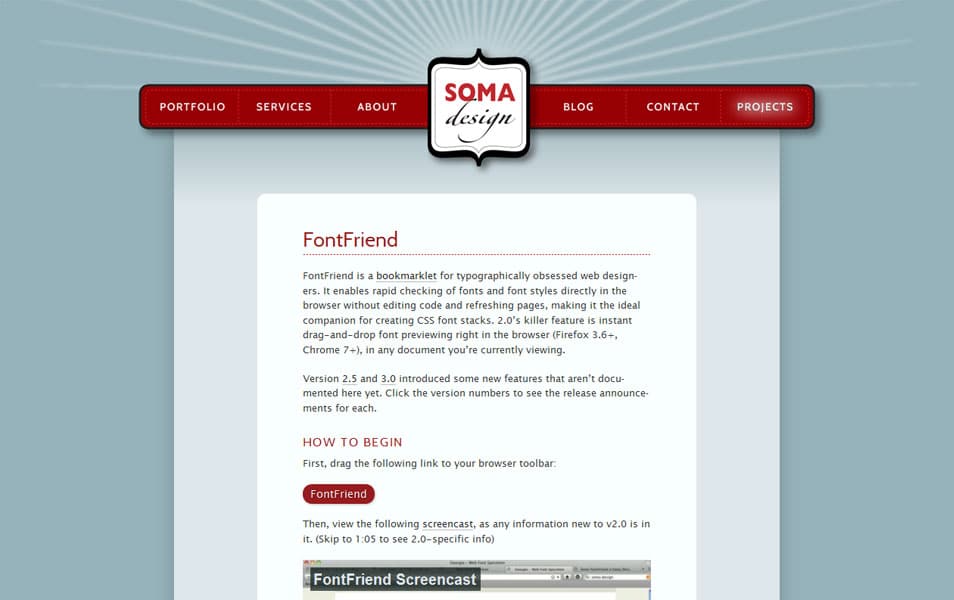 Font­Friend is a book­marklet for typo­graph­i­cally obsessed web design­ers. It enables rapid check­ing of fonts and font styles directly in the browser with­out edit­ing code and refresh­ing pages, mak­ing it the ideal com­pan­ion for cre­at­ing CSS font stacks.
Typography Resources
Letrs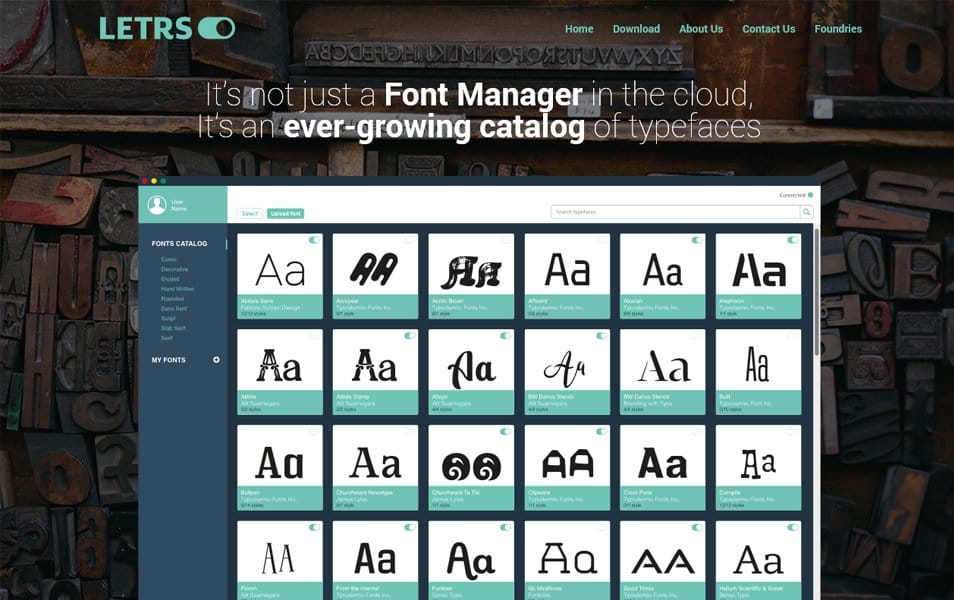 It's not just a Font Manager in the cloud, It's an ever-growing catalog of typefaces.
TypeSlab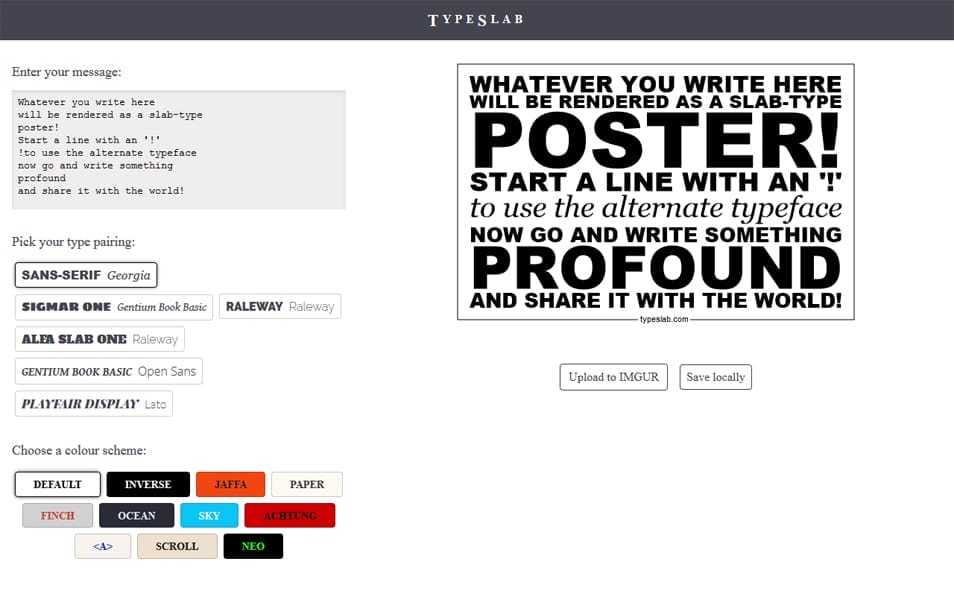 Simple, shareable typographic posters.
Discover.typography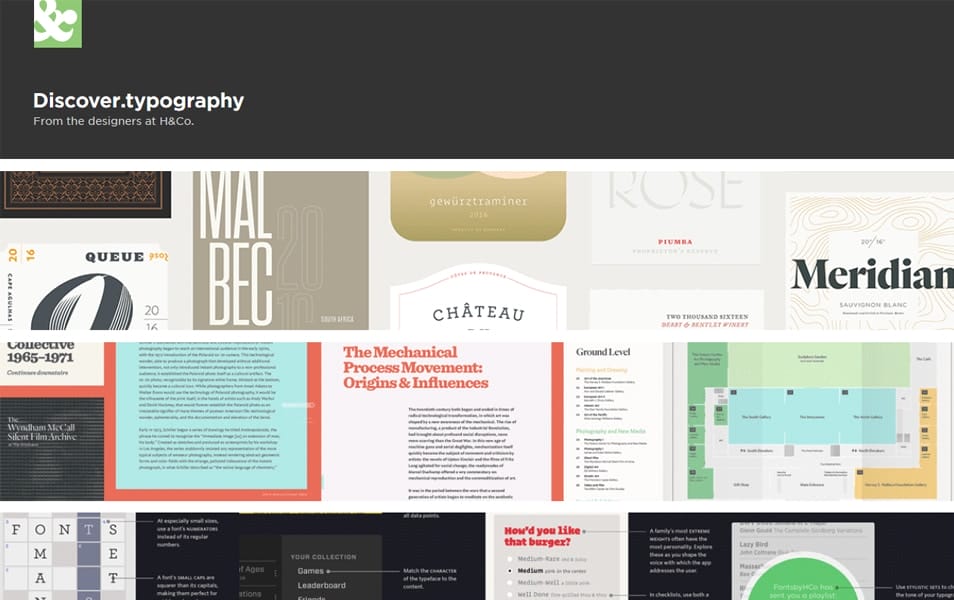 Beautiful Web Type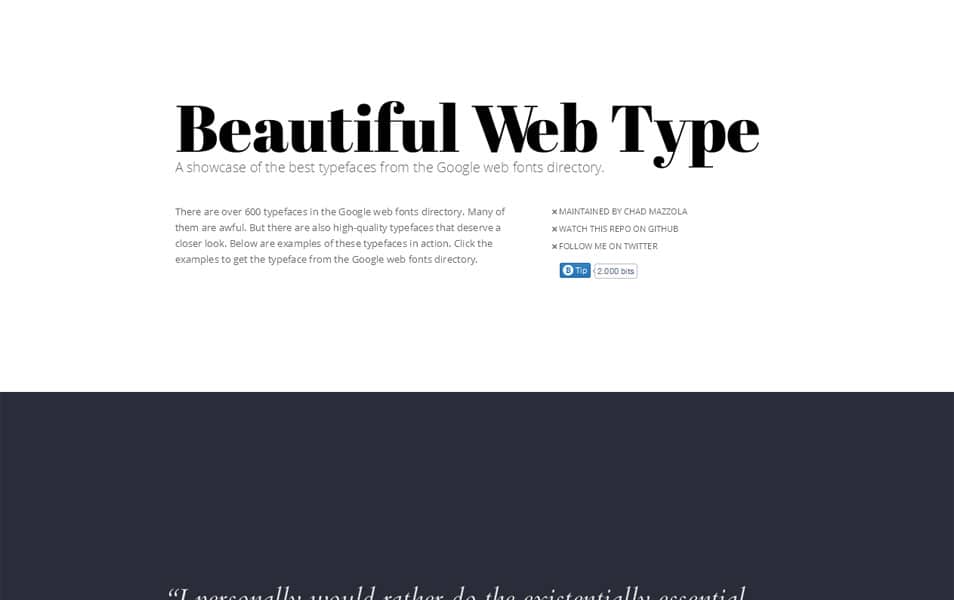 A showcase of the best typefaces from the Google web fonts directory.
Butterick's Practical Typography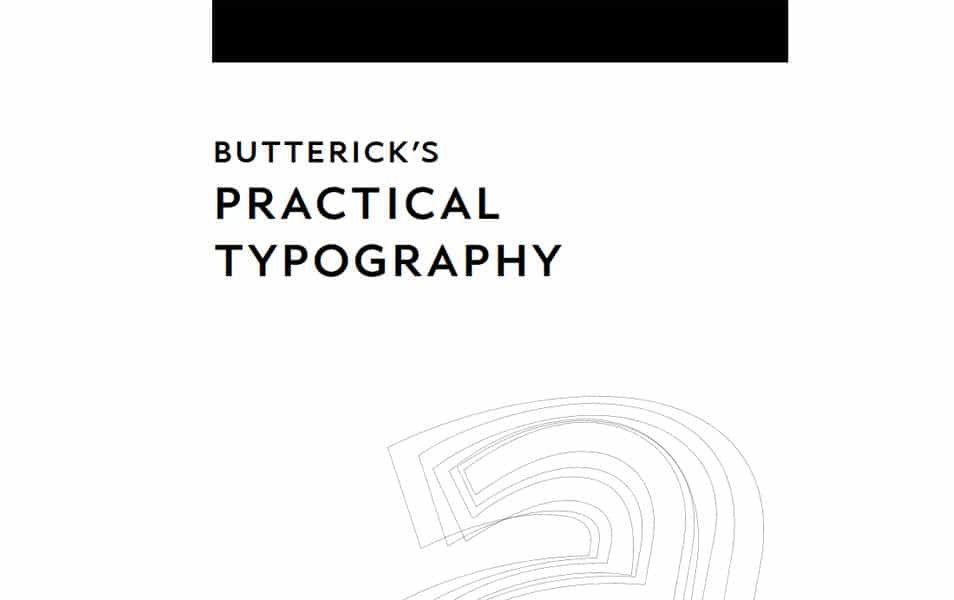 Combining Fonts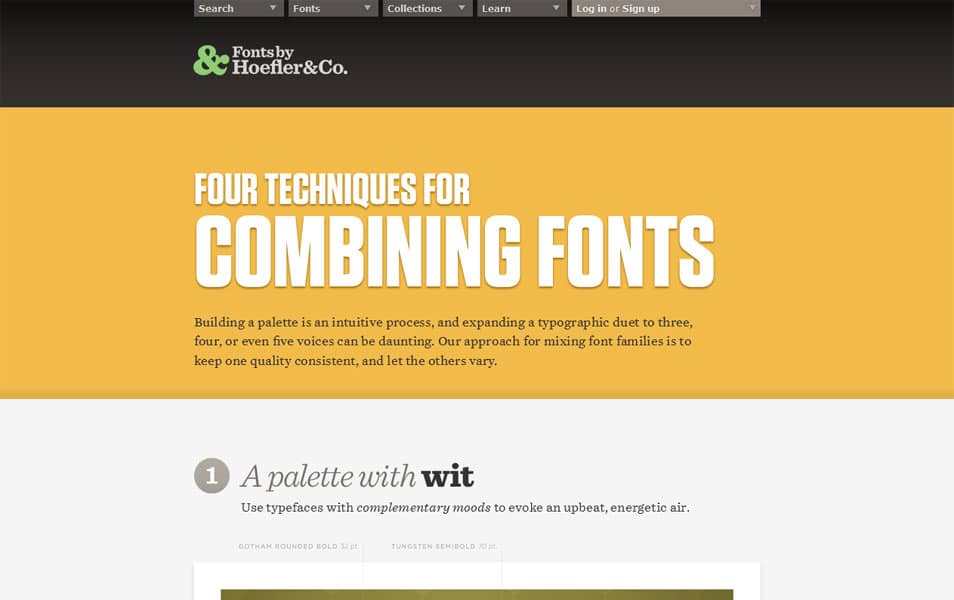 Building a palette is an intuitive process, and expanding a typographic duet to three, four, or even five voices can be daunting. Our approach for mixing font families is to keep one quality consistent, and let the others vary.
idsgn typography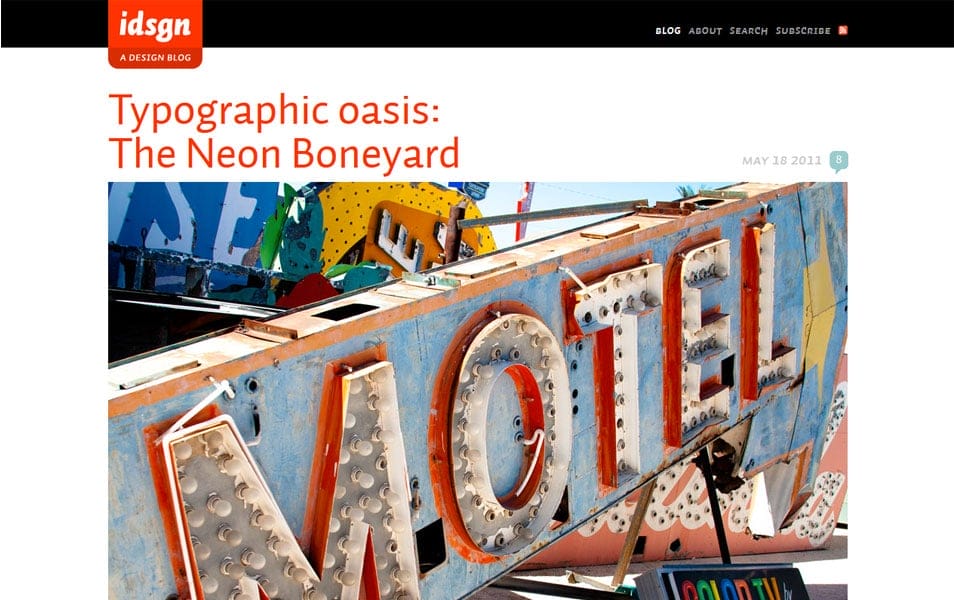 Typekit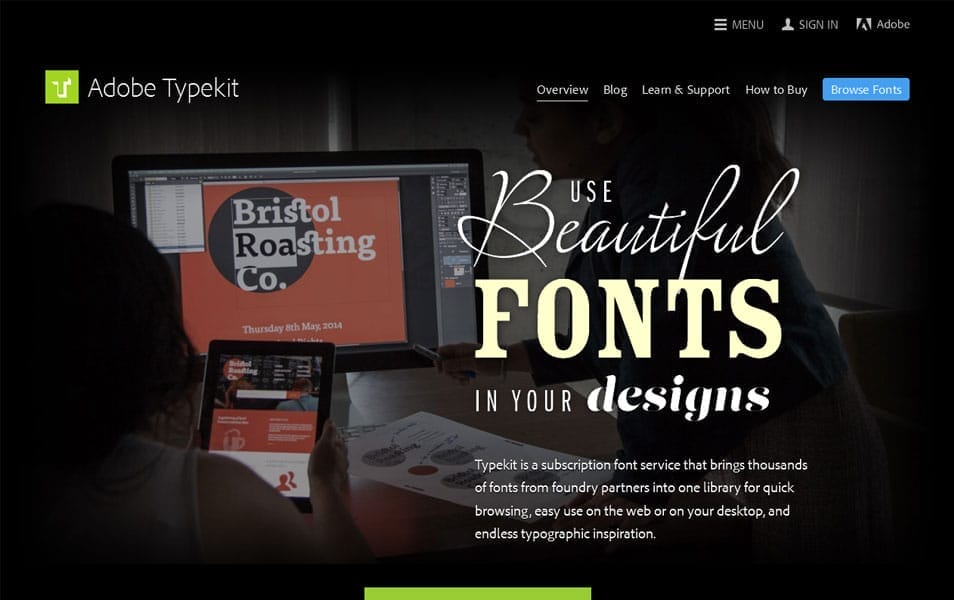 Typekit is a subscription font service that brings thousands of fonts from foundry partners into one library for quick browsing, easy use on the web or on your desktop, and endless typographic inspiration.
Google Fonts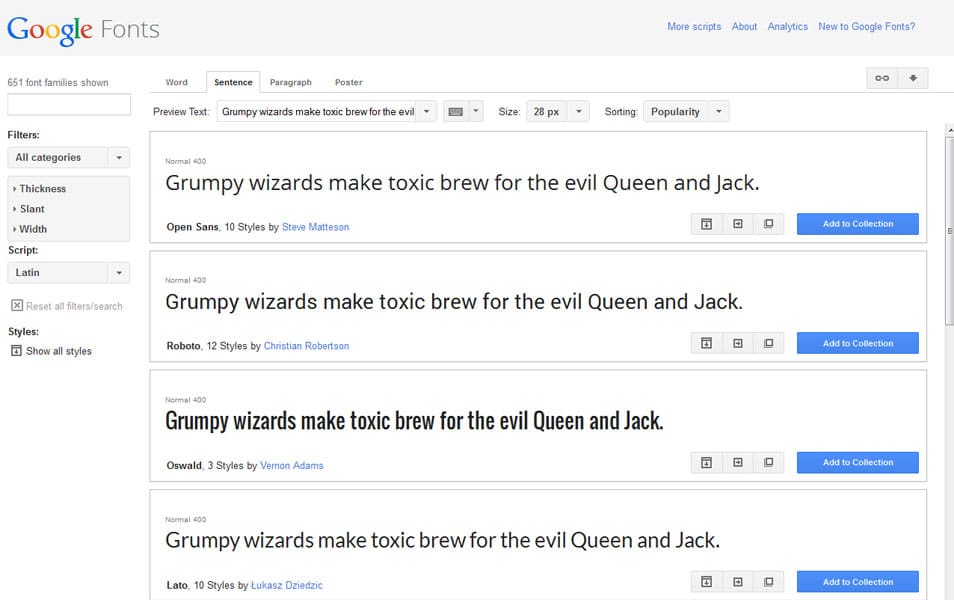 Browse and preview the collection, with customizable options and ready to use CSS. Google Fonts makes it quick and easy for everyone to use web fonts, including professional designers and developers. We believe that everyone should be able to bring quality typography to their web pages and applications.
Typewolf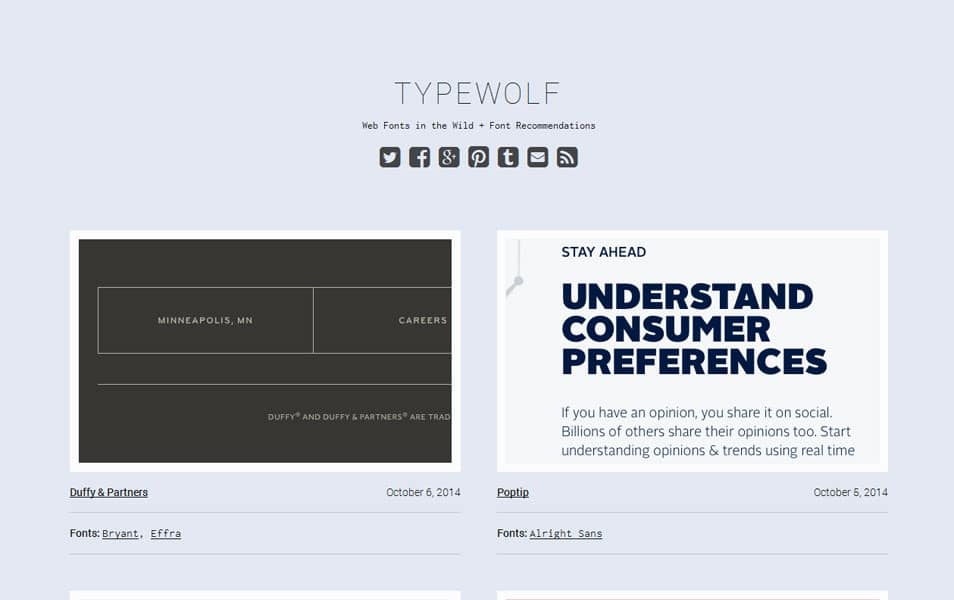 Typewolf helps designers choose the perfect font for their next design project. This site is an independent resource that features fonts from all type foundries.
Typedia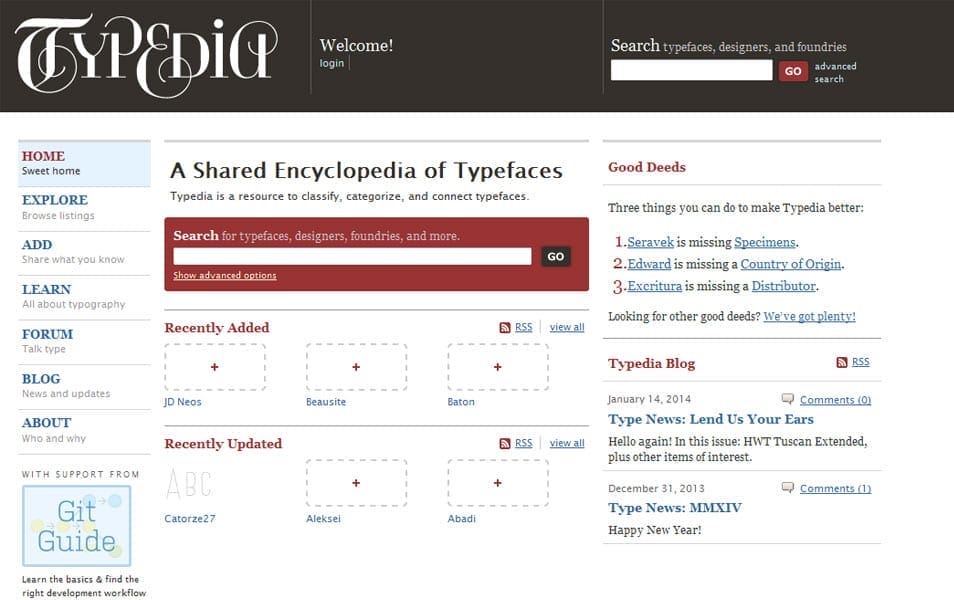 A Shared Encyclopedia of Typefaces. Typedia is a resource to classify, categorize, and connect typefaces. Search for typefaces, designers, foundries, and more.
Webtype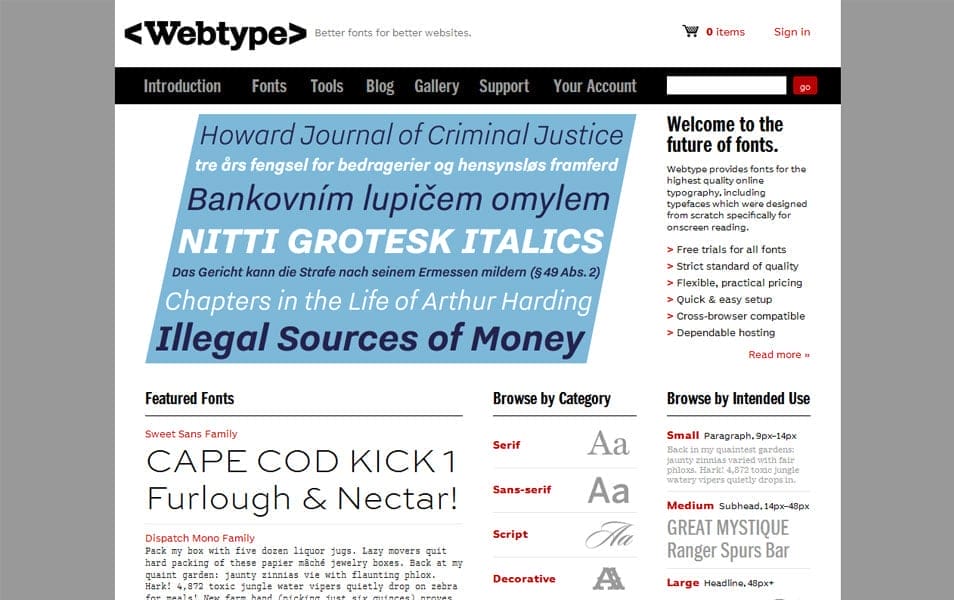 Provides fonts for online typography, including typefaces which were designed from scratch specifically for onscreen reading.
I love Typography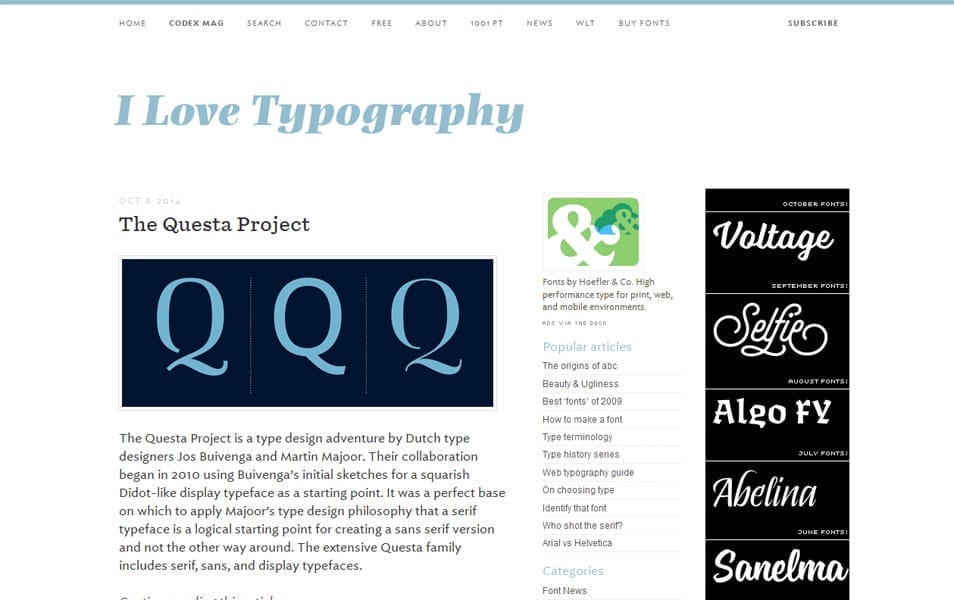 The fonts and typography blog. Typographic design, typeface reviews, interviews, free fonts, and graphic design.
Typographica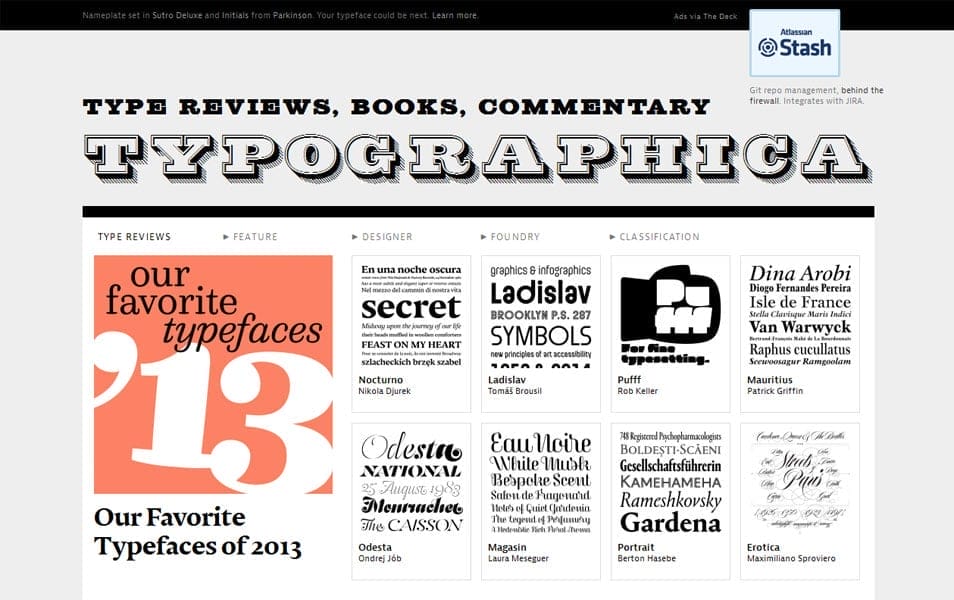 Typographica is a review of typefaces and type books, with occasional commentary on fonts and typographic design.
Typechart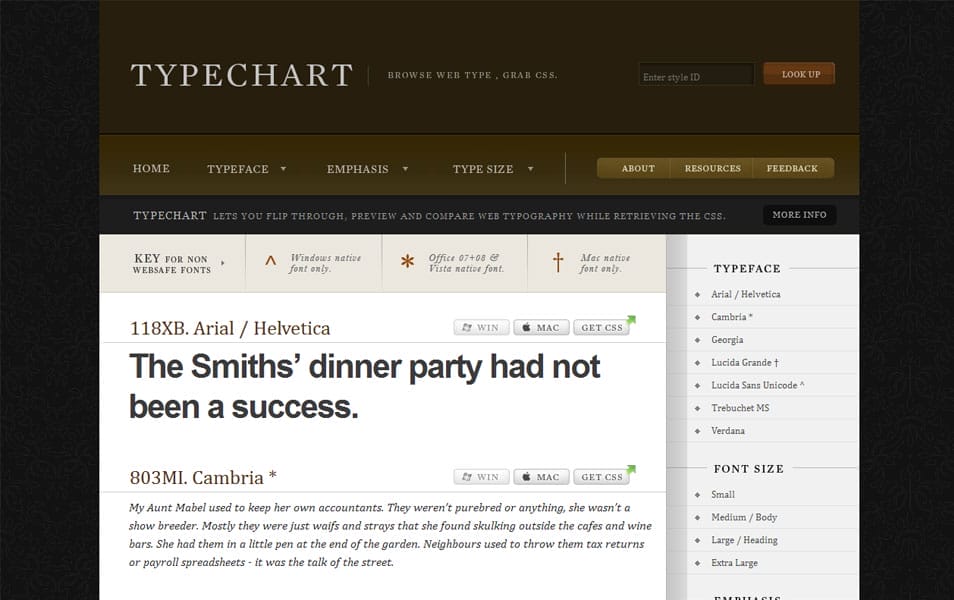 Typechart lets you flip through, preview and compare web typography while retrieving the CSS.
MyFonts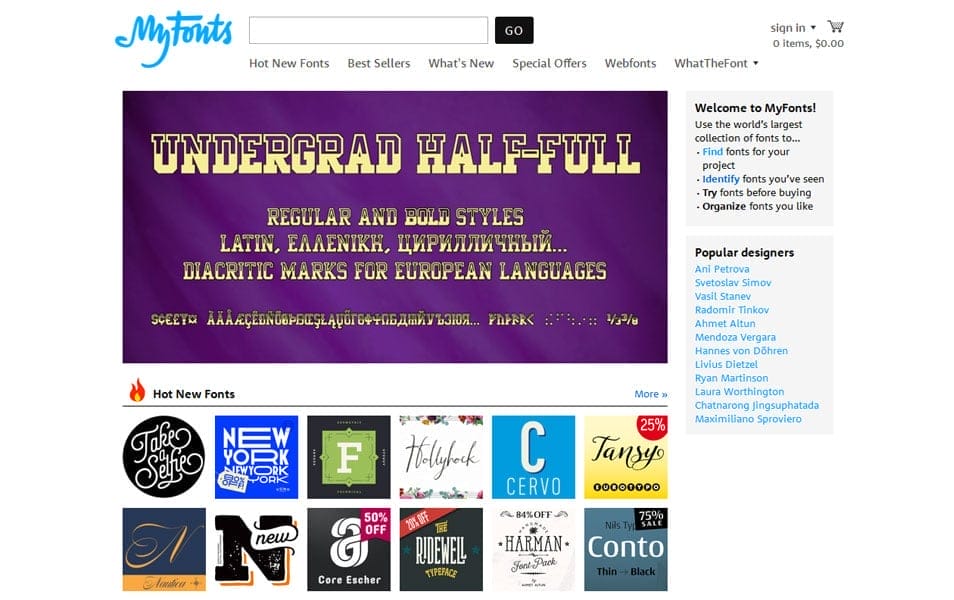 The FontFeed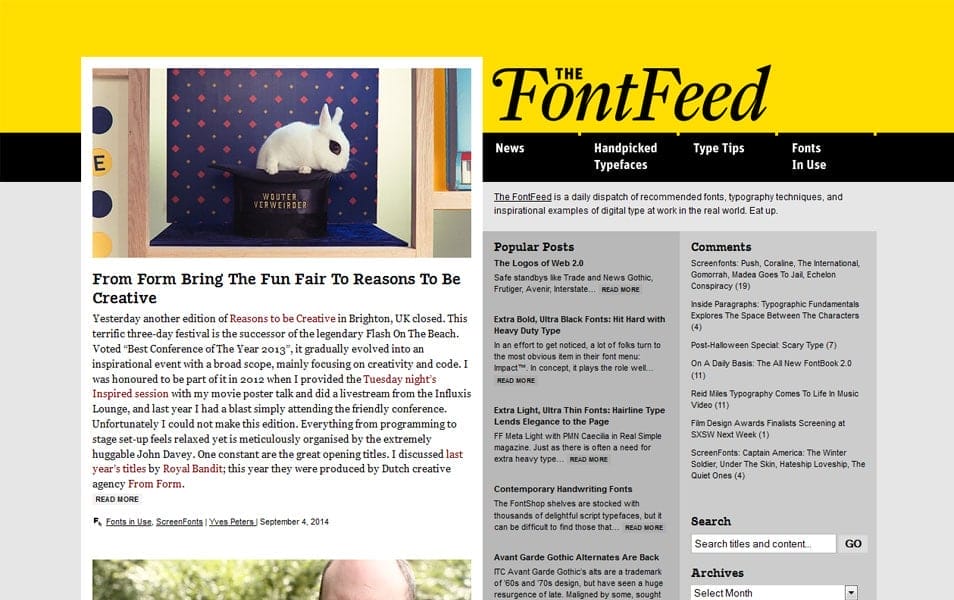 The FontFeed is a daily dispatch of recommended fonts, typography techniques, and inspirational examples of digital type at work in the real world.
Typography Deconstructed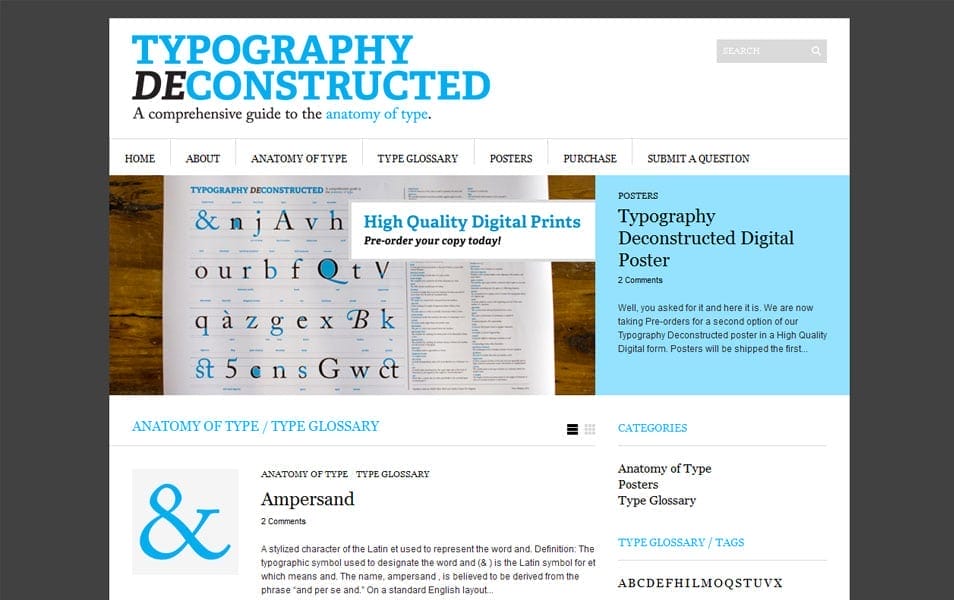 Typography Deconstructed is a resource for designers, graphic artists and type enthusiast which provides helpful posters and other materials.
Type Daily
Type Daily is a collection or aggregation of type-related content on the WWW. All content is scooped up via RSS, so this site will always display the latest, freshest content.
Fonts In Use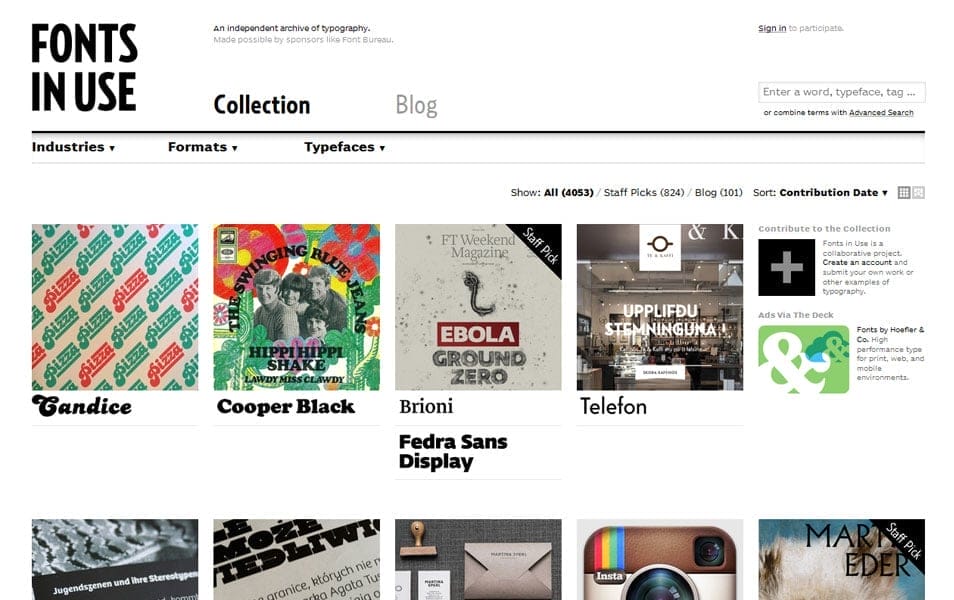 A searchable archive of typographic design, indexed by typeface, format, and industry. Fonts In Use is a public archive of typography indexed by typeface, format, and industry.
Fleurs Coiffeur Liqueur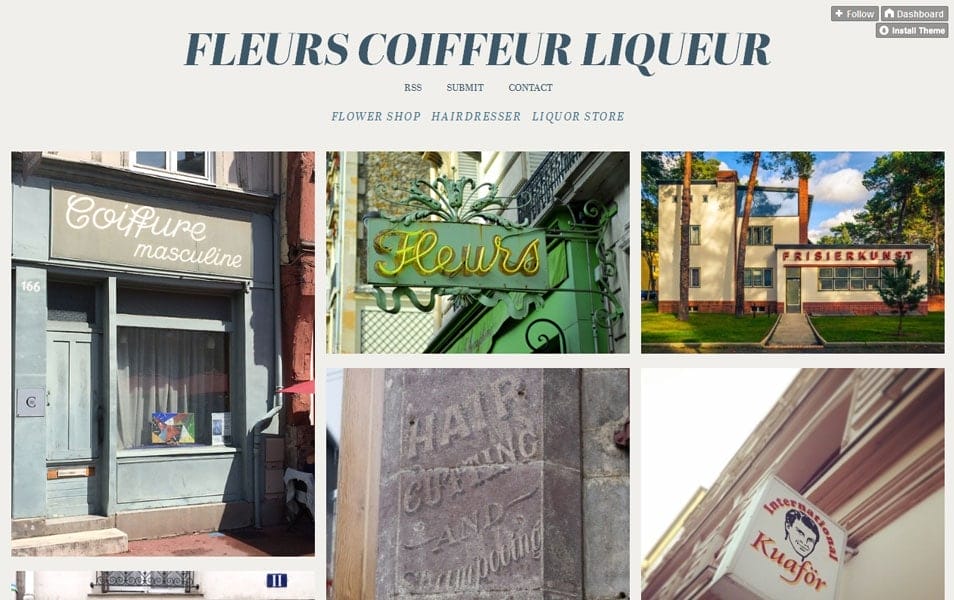 TypeInspire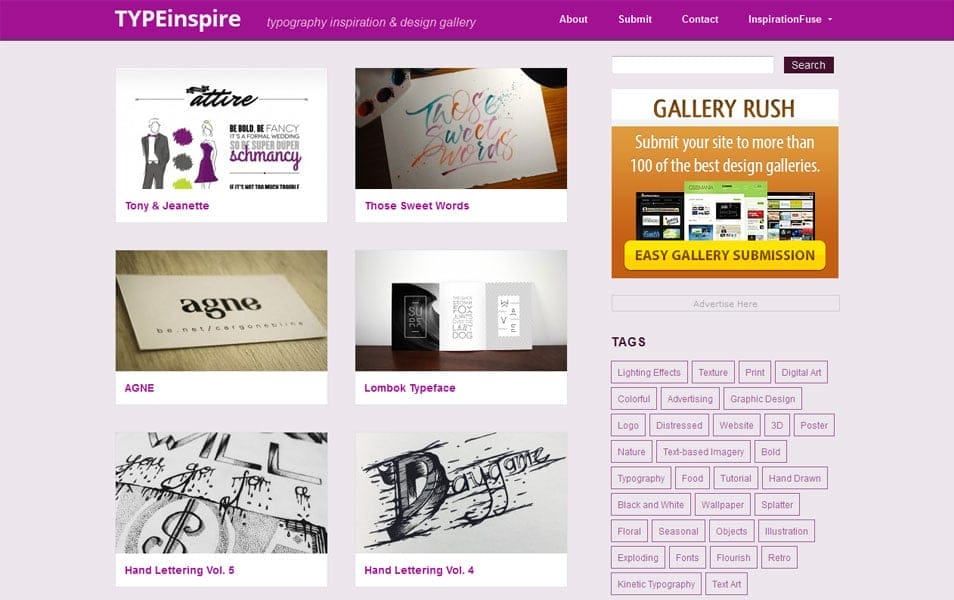 TypeInspire is a showcase of typography. Most of the items that are featured here are the work of graphic designers and web designers. We hope that TypeInspire will provide you with the design inspiration that you need to create excellent typographic works of your own.
Typography Served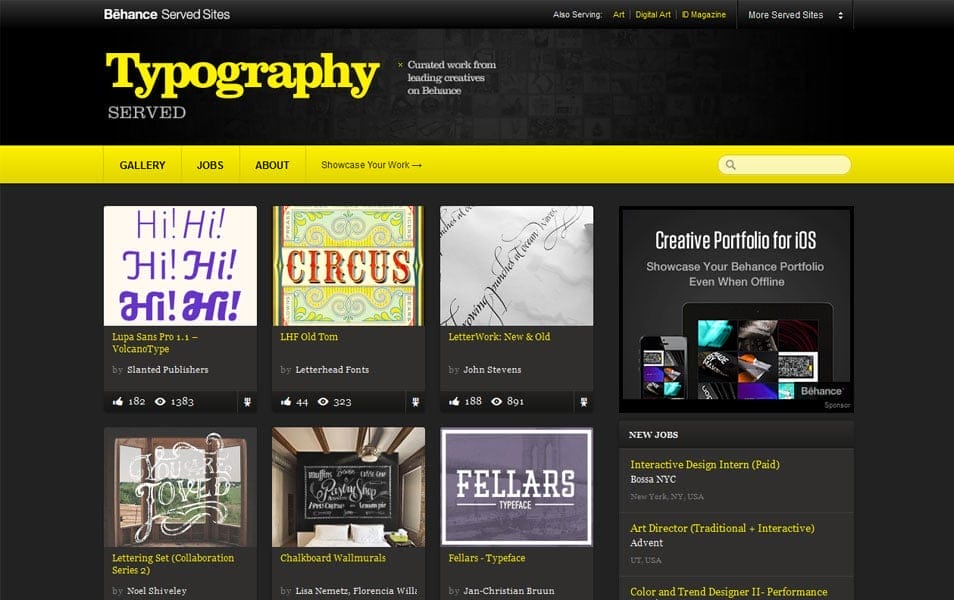 Typography Served features top work in categories such as typeface design, lettering, illustrated typography, or any piece with a strong typographic treatment.
Incredible Types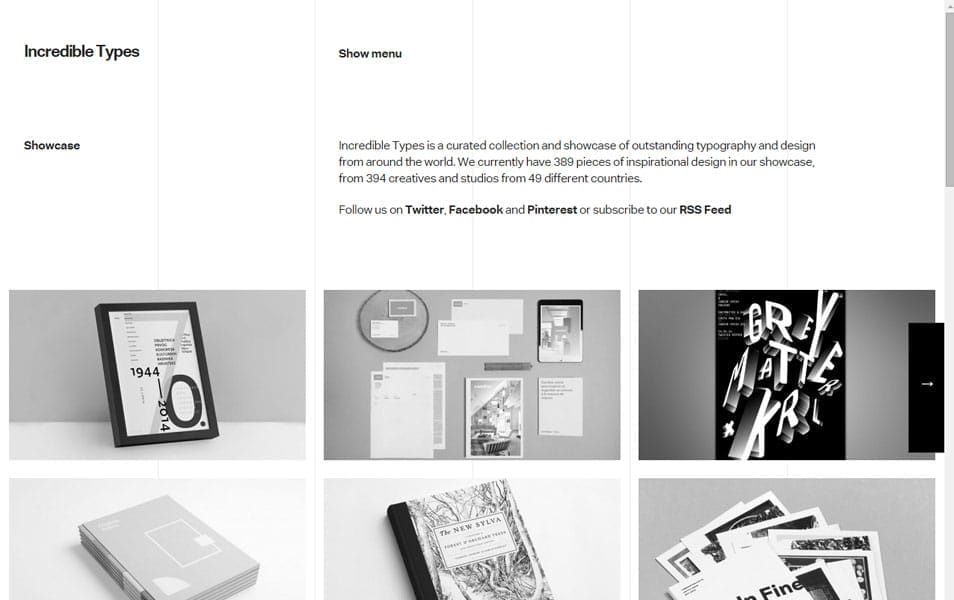 Incredible Types is a curated collection and showcase of outstanding typography and design from around the world.
Type Everything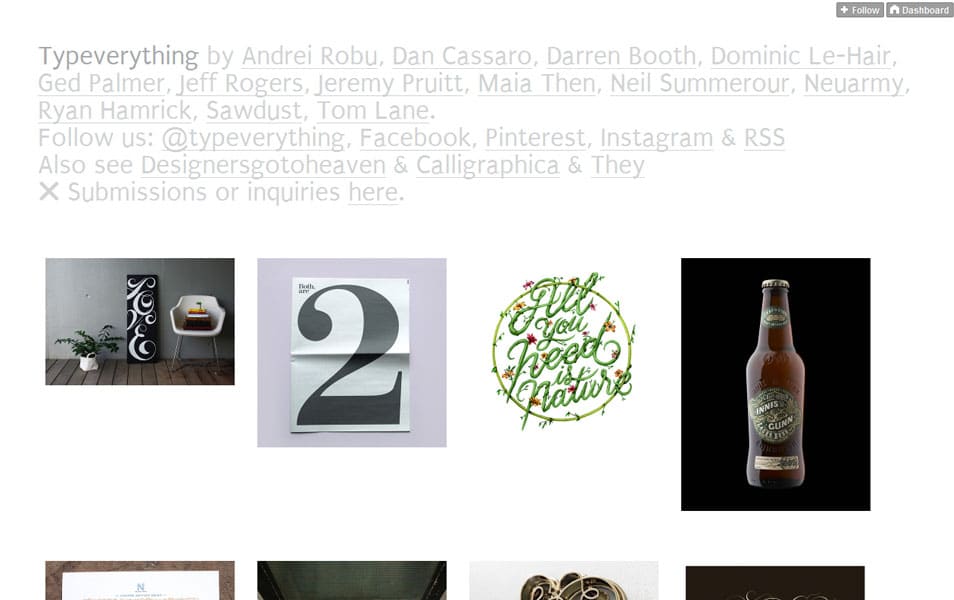 Friends of Type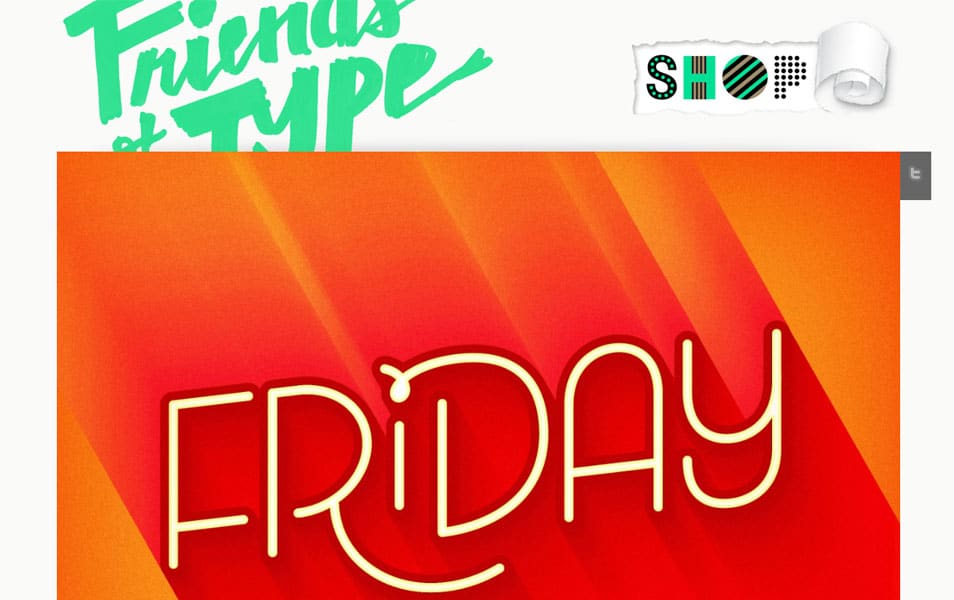 Friends of Type features original typographic design and lettering – fresh visual content – practically every day, by the four primary contributors.
Fonts.com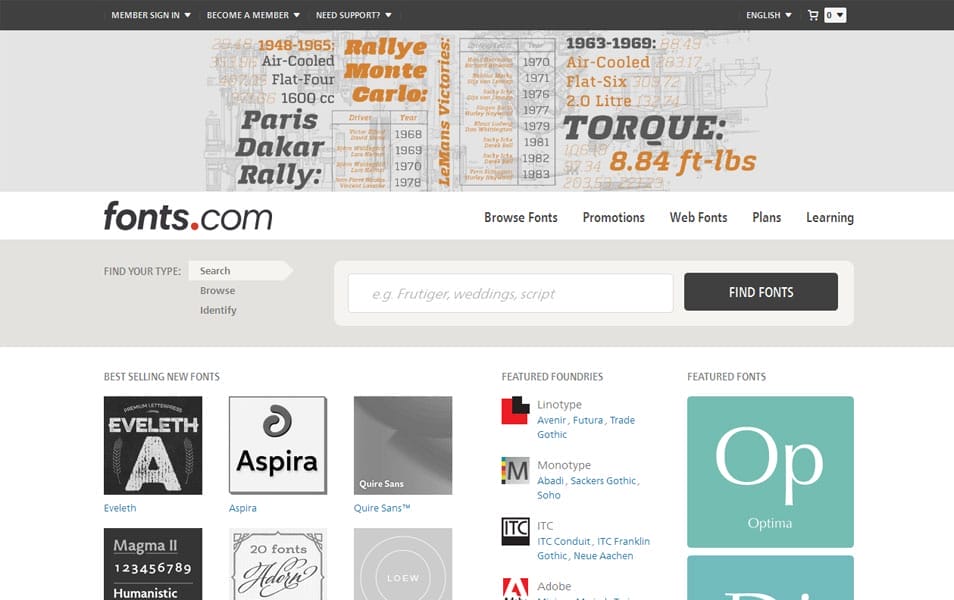 Get your daily dose of typography from the Fonts.com team and other contributors from the world of type. You'll learn about type from print, web, mobile and more.
typo/graphic posters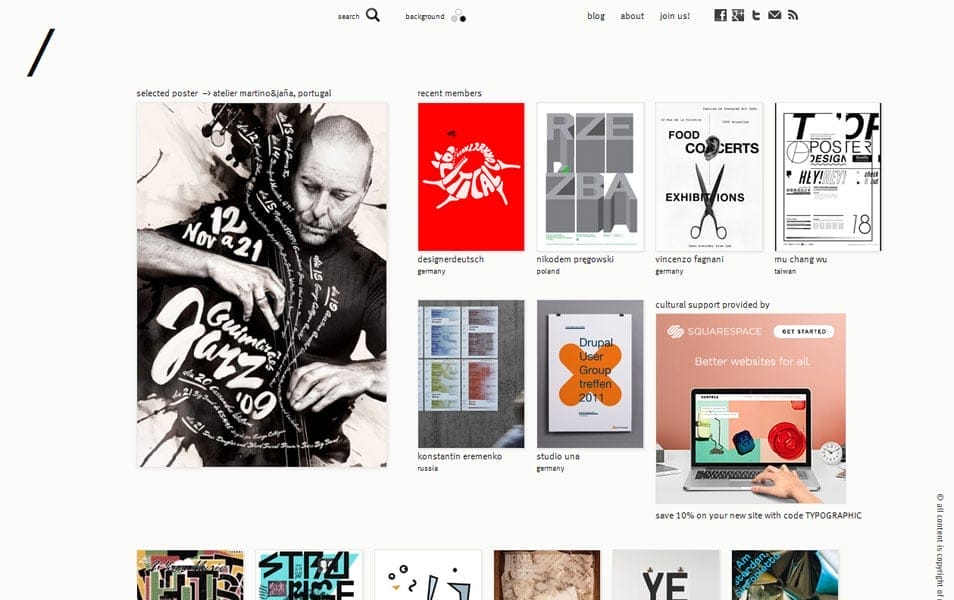 typo/graphic posters is a platform for inspiration and promotion of good design through the poster culture.
Typeforyou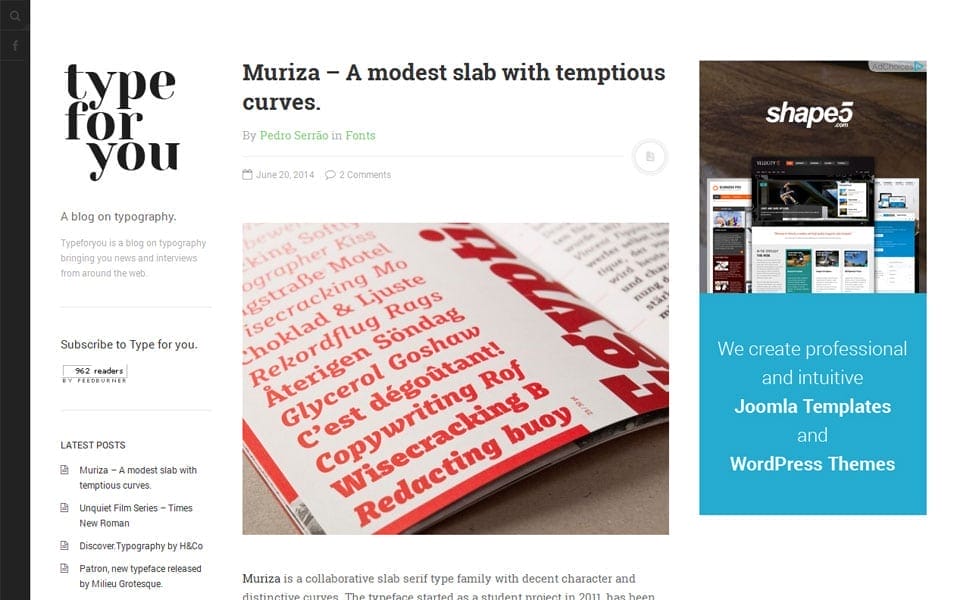 Typeforyou is a blog on typography bringing you news and interviews from around the web.
Lettering versus Calligraphy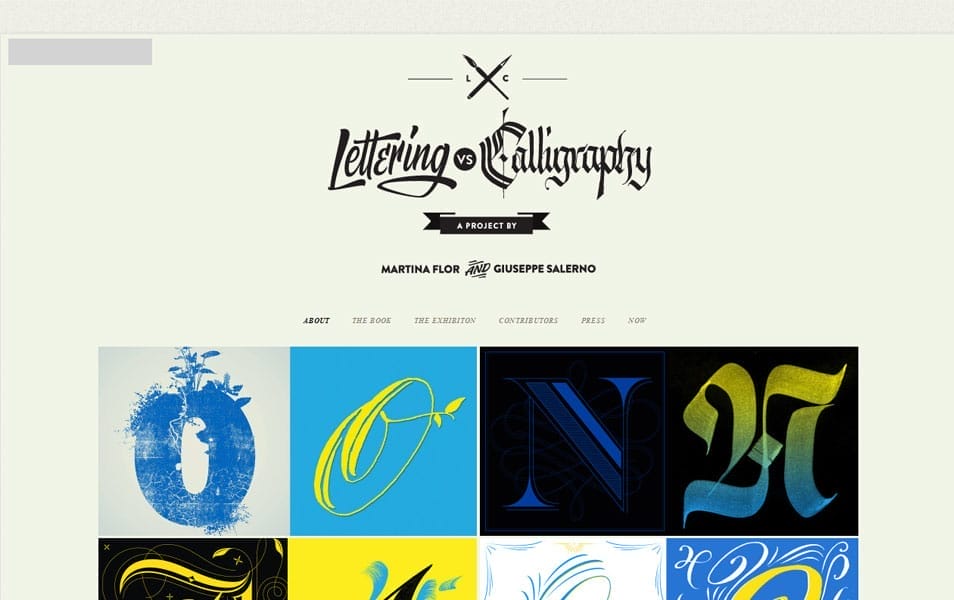 Daily lettering and calligraphy inspiration.
Typography Frameworks
Typeplate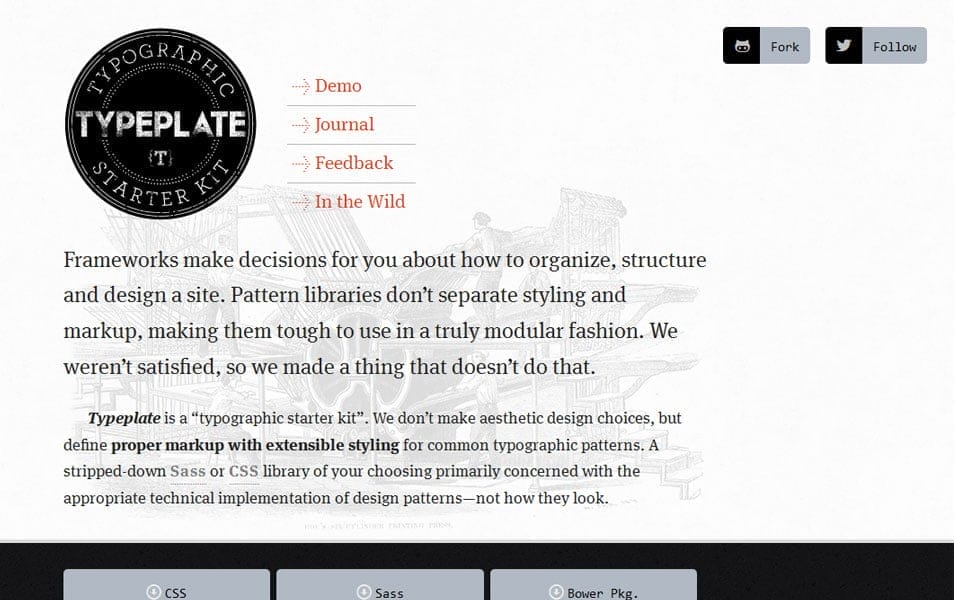 Typeplate is a "typographic starter kit". We don't make aesthetic design choices, but define proper markup with extensible styling for common typographic patterns.
Baseline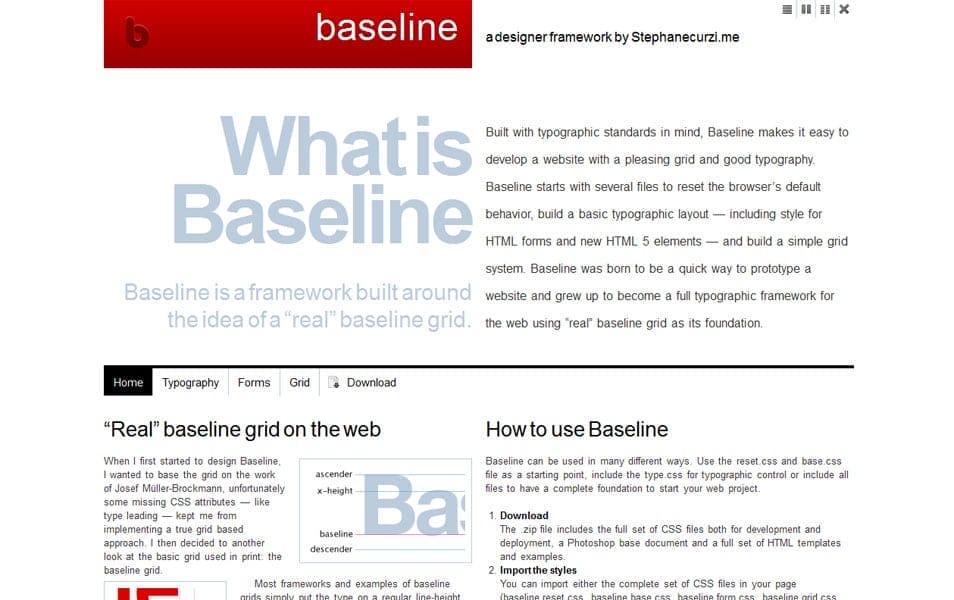 Built with typographic standards in mind, Baseline makes it easy to develop a website with a pleasing grid and good typography. Baseline starts with several files to reset the browser's default behavior, build a basic typographic layout — including style for HTML forms and new HTML 5 elements — and build a simple grid system. Baseline was born to be a quick way to prototype a website and grew up to become a full typographic framework for the web using "real" baseline grid as its foundation.
Responsable Framework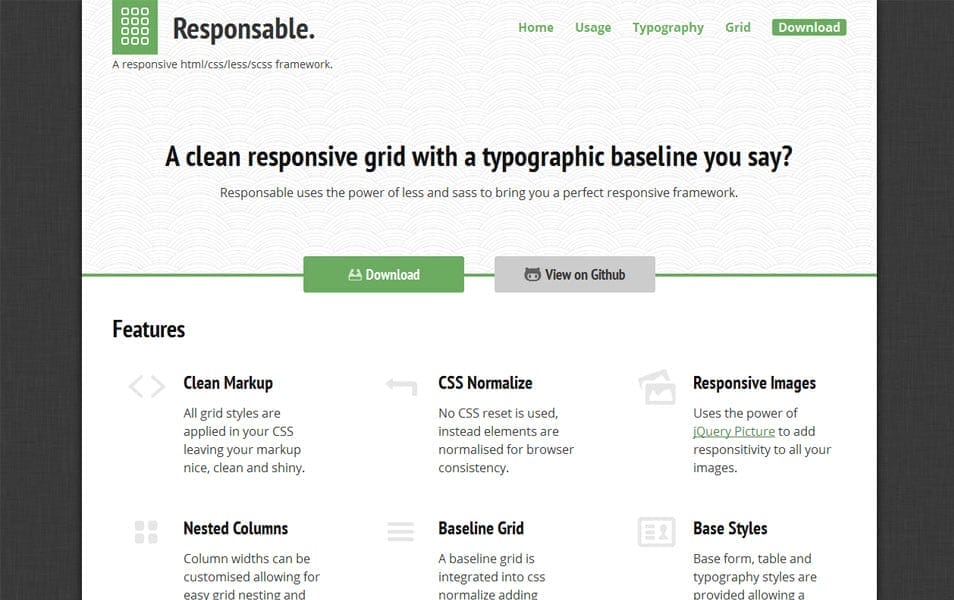 A clean responsive grid system with a typographic baseline powered by LESS/SCSS, based on Semantic.gs.
Font Editors
FontForge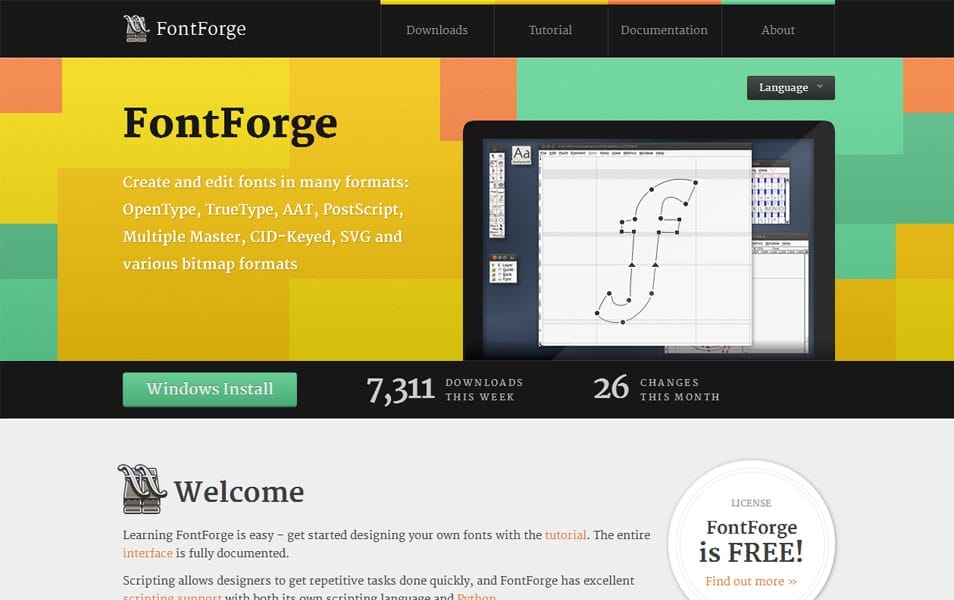 FontForge is a font editor.Create and edit fonts in many formats: OpenType, TrueType, AAT, PostScript, Multiple Master, CID-Keyed, SVG and various bitmap formats.
FontCreator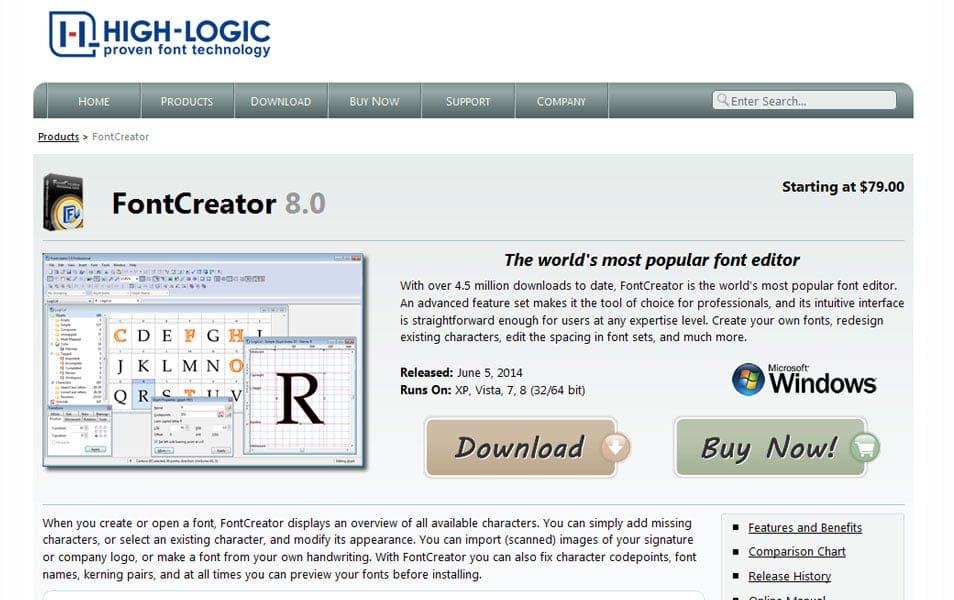 FontCreator is the world's most popular font editor. An advanced feature set makes it the tool of choice for professionals, and its intuitive interface is straightforward enough for users at any expertise level. Create your own fonts, redesign existing characters, edit the spacing in font sets, and much more.
BirdFont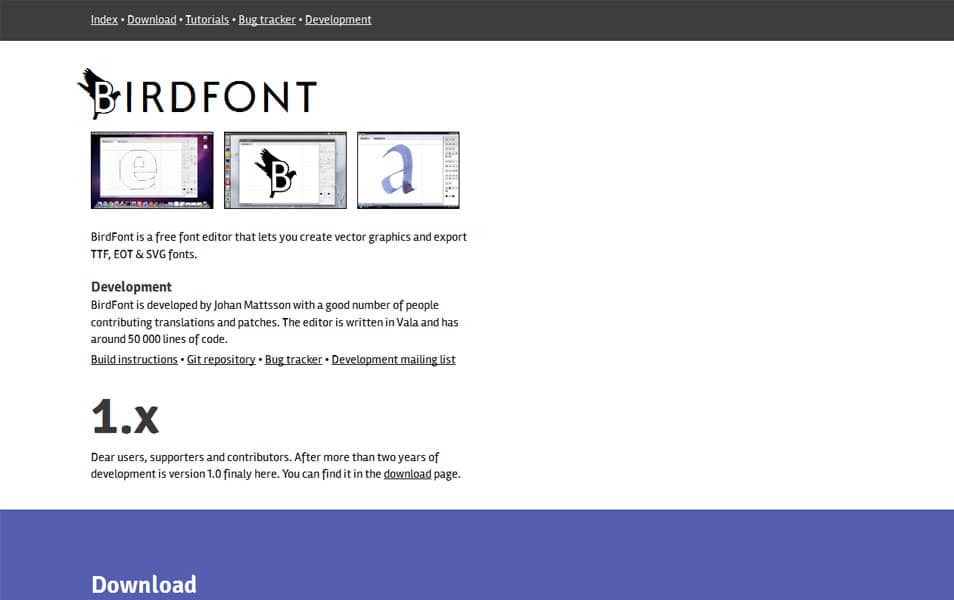 BirdFont is a free font editor that lets you create vector graphics and export TTF, EOT & SVG fonts.
Glyphs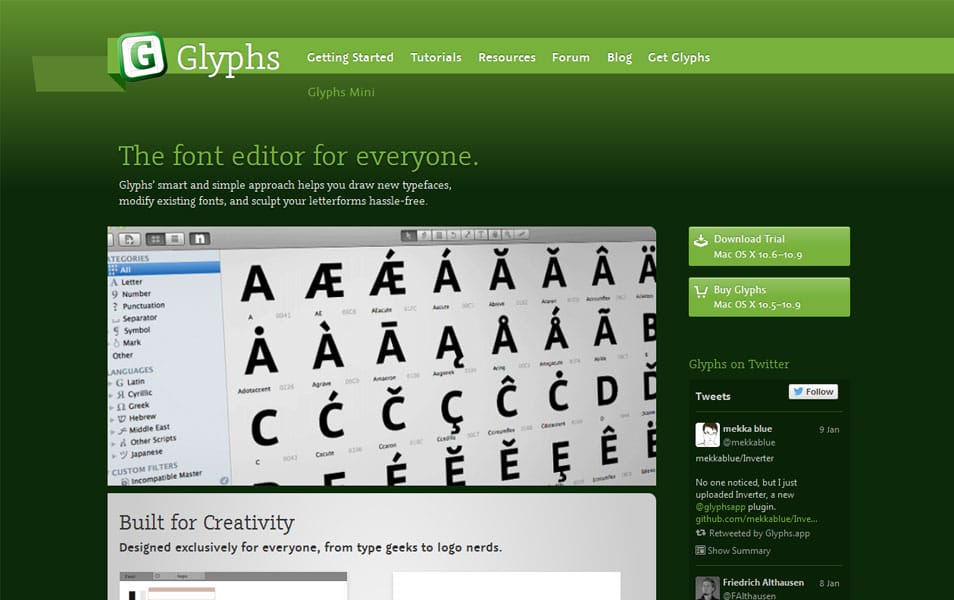 Glyphs' smart and simple approach helps you draw new typefaces, modify existing fonts, and sculpt your letterforms hassle-free.
FontLab Studio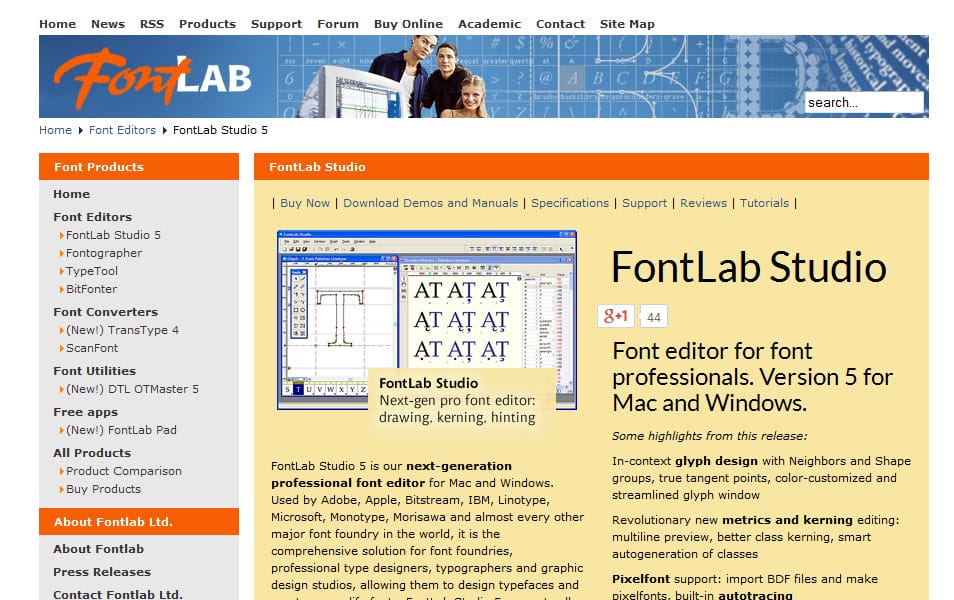 FontLab Studio 5 is our next-generation professional font editor for Mac and Windows.
Fontographer
Font editor for designers. it's easy to design new typefaces and to customize existing fonts, and the result will be high-quality fonts that can reliably work across different operating systems.
TypeTool
TypeTool is our basic font editor for Mac OS and for Windows. For students, hobby typographers and creative professionals who occasionally need to create or customize fonts.
BitFonter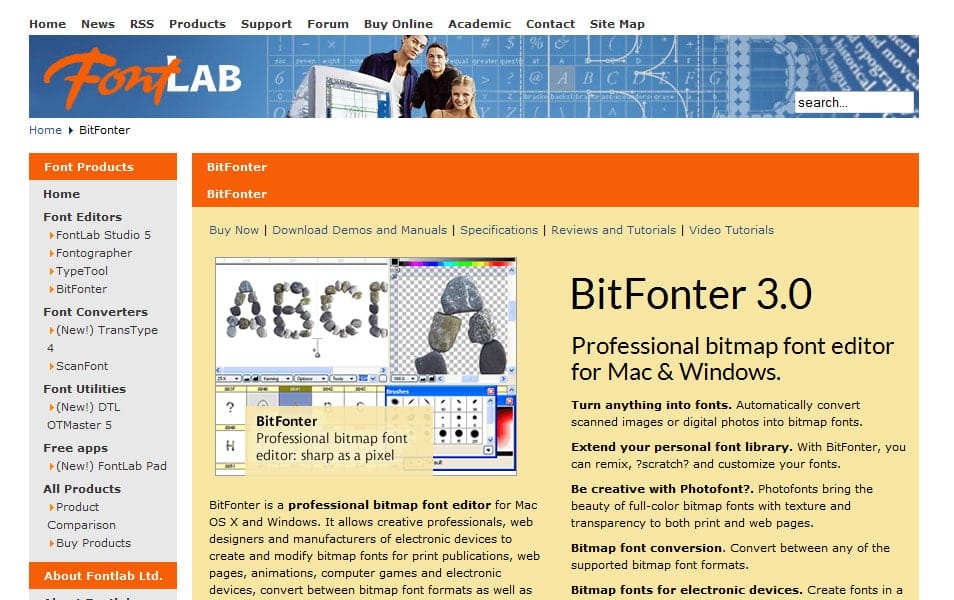 BitFonter is a professional bitmap font editor for Mac OS X and Windows.
Type 3.2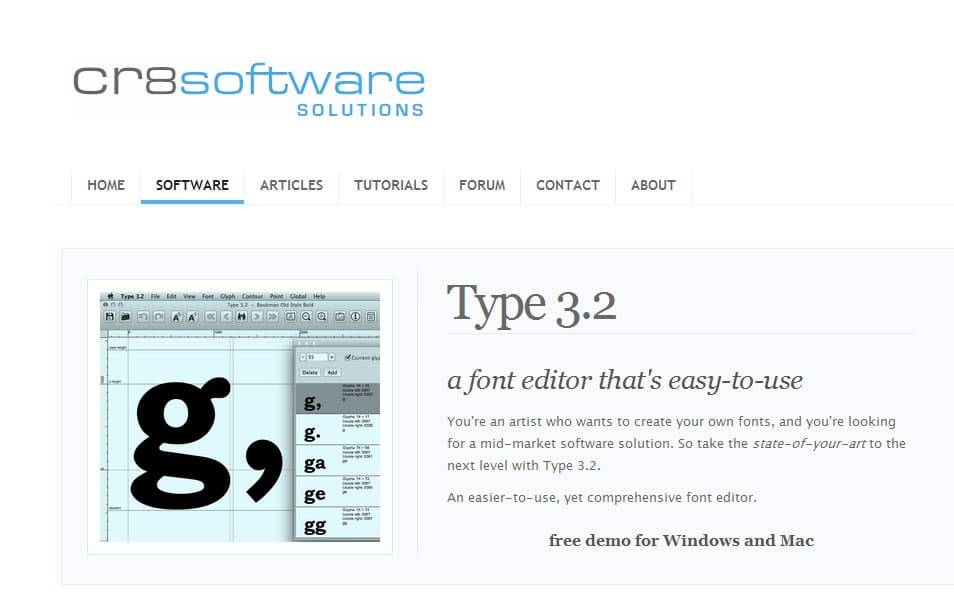 Type 3.2. a font editor that's easy-to-use. You're an artist who wants to create your own fonts, and you're looking for a mid-market software solution.
Altsoft Font Type Master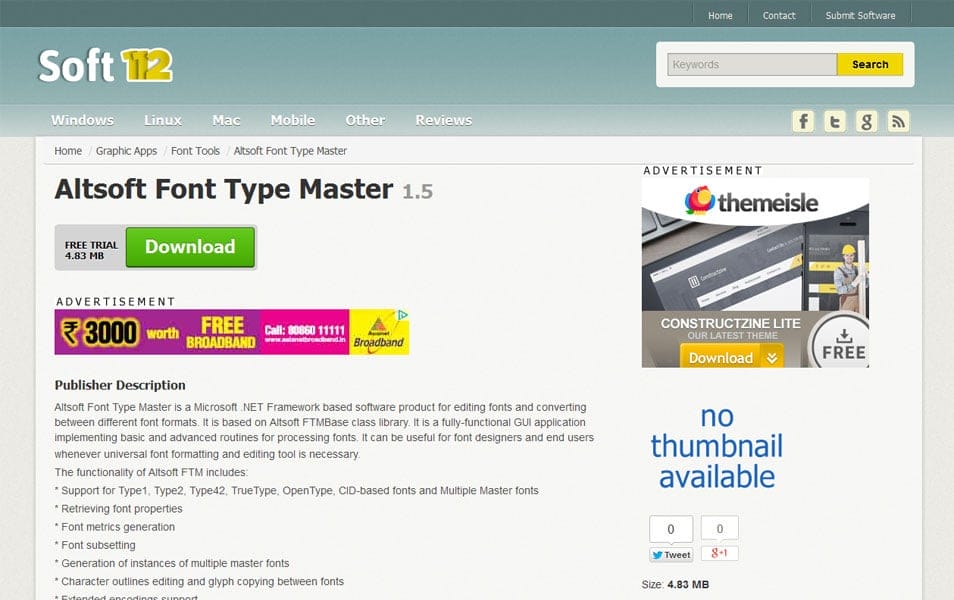 Altsoft Font Type Master is a Microsoft .NET Framework based software product for editing fonts and converting between different font formats. It is based on Altsoft FTMBase class library.
Alphabix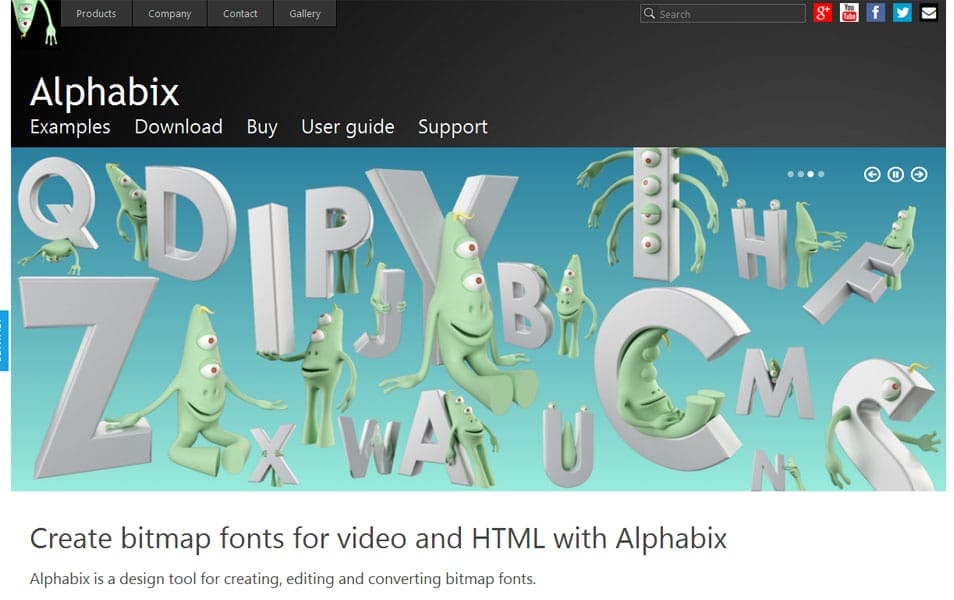 Alphabix is a design tool for creating, editing and converting bitmap fonts.
Scanahand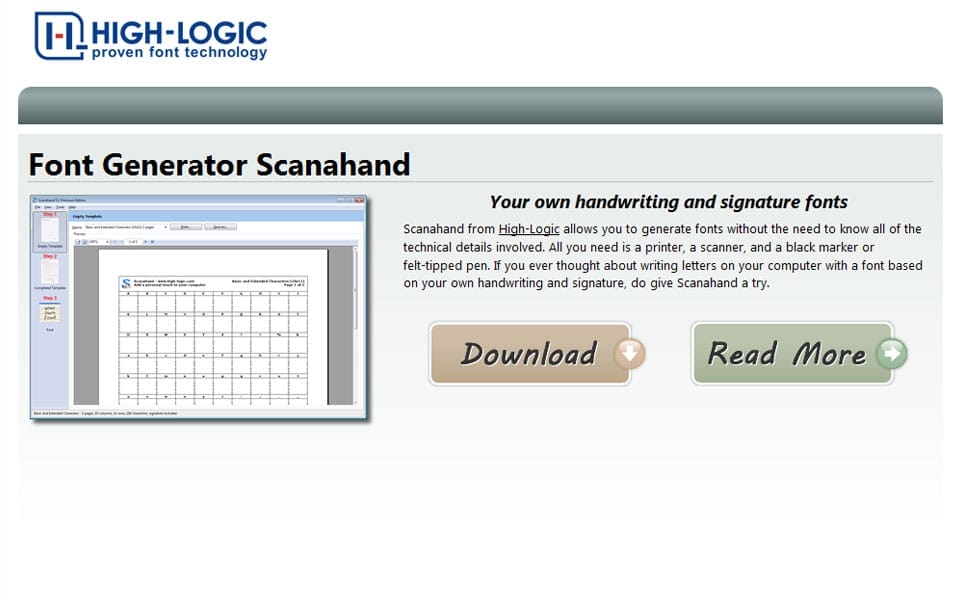 Scanahand from High-Logic allows you to generate fonts without the need to know all of the technical details involved. All you need is a printer, a scanner, and a black marker or felt-tipped pen.