50+ Ruby Frameworks For Developers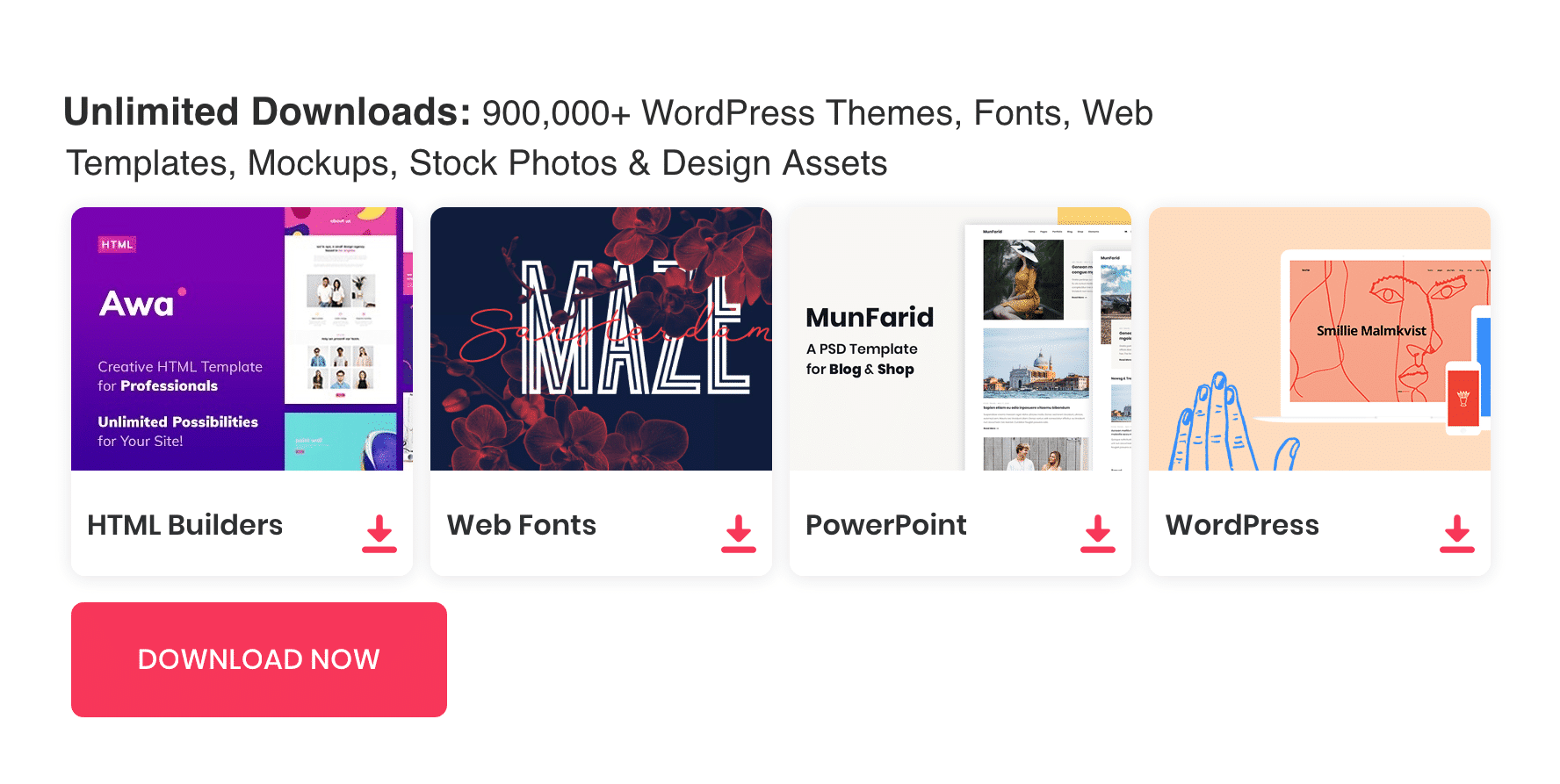 Ruby is a programming language designed by Yukihiro Matsumoto. Ruby expensive, fully object-oriented, concise and elegant. Ruby has the best readable syntax in programming languages, most of the syntax is self-explanatory. Ruby is considered more expressive programming language.
Ruby is very reliable and used by a lot of top brands like Airbnb, Basecamp, Dribbble, GitHub, Kickstarter and more. Ruby is exceptionally well for complex web development.
See also : 100+ Useful Angular JS Tools for Developers
It is always cool to work with the framework, frameworks give you project a new face. Its ways good practice to use frameworks for More organized, reusable, systematic coding experience. In this post, we have summed up the best ruby frameworks for developers. you can see the list below and do some research on it and find the best one that fit for your needs.
Hanami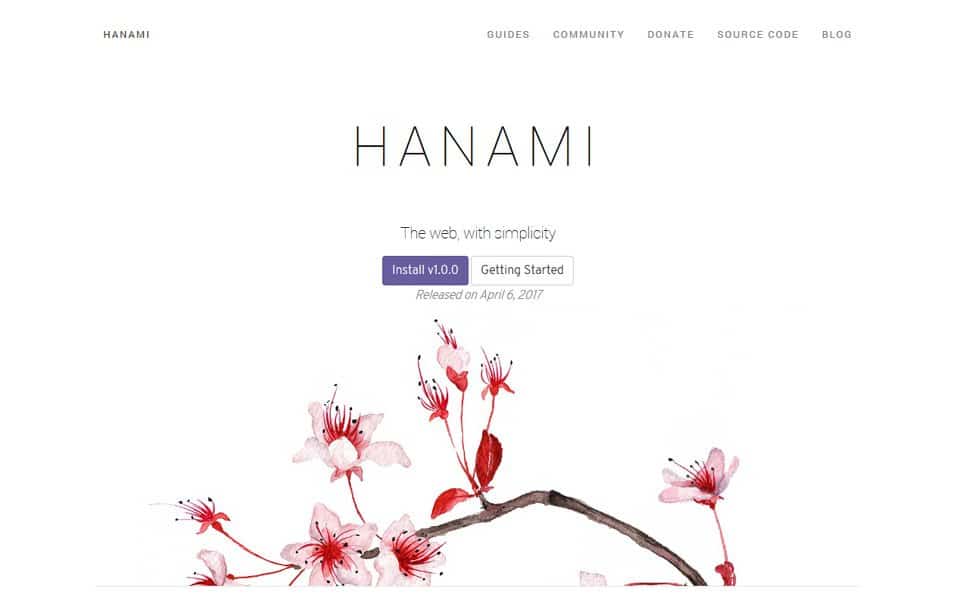 Hanami is a full-stack Ruby web framework. It's made up of smaller, single-purpose libraries.
Ruby on Rails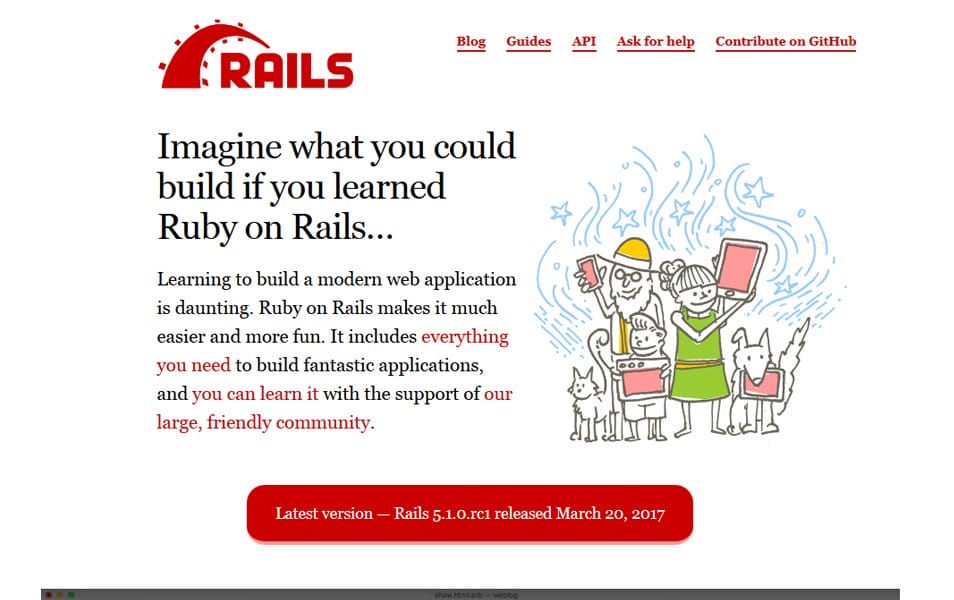 Ruby on Rails is an open-source web framework that's optimized for programmer happiness and sustainable productivity. It lets you write beautiful code by favoring convention over configuration.
Volt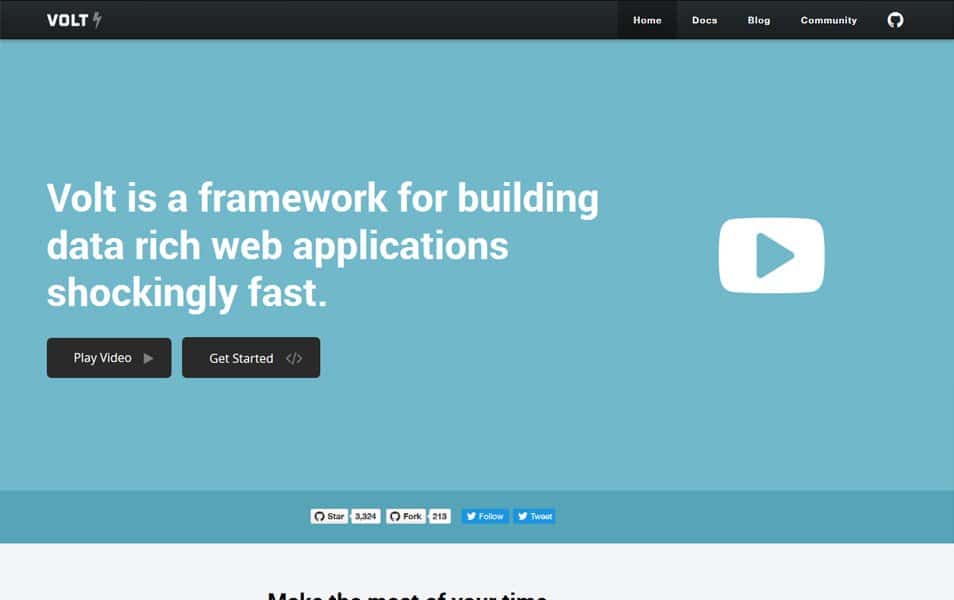 Volt is a Ruby web framework where your Ruby code runs on both the server and the client.
Padrino Ruby Web Framework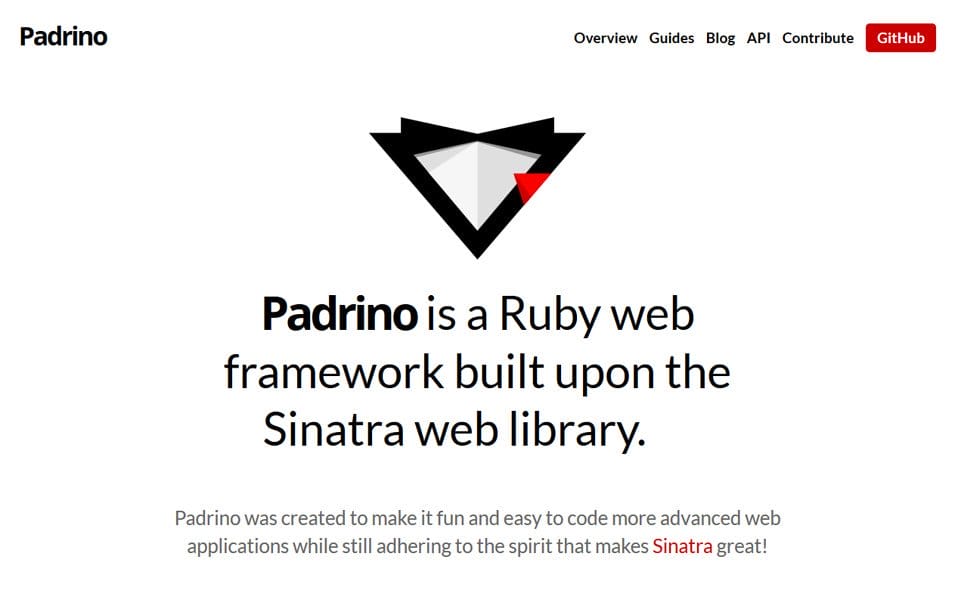 Padrino is a ruby framework built upon the Sinatra web library. Sinatra is a DSL for creating simple web applications in Ruby.
Celluloid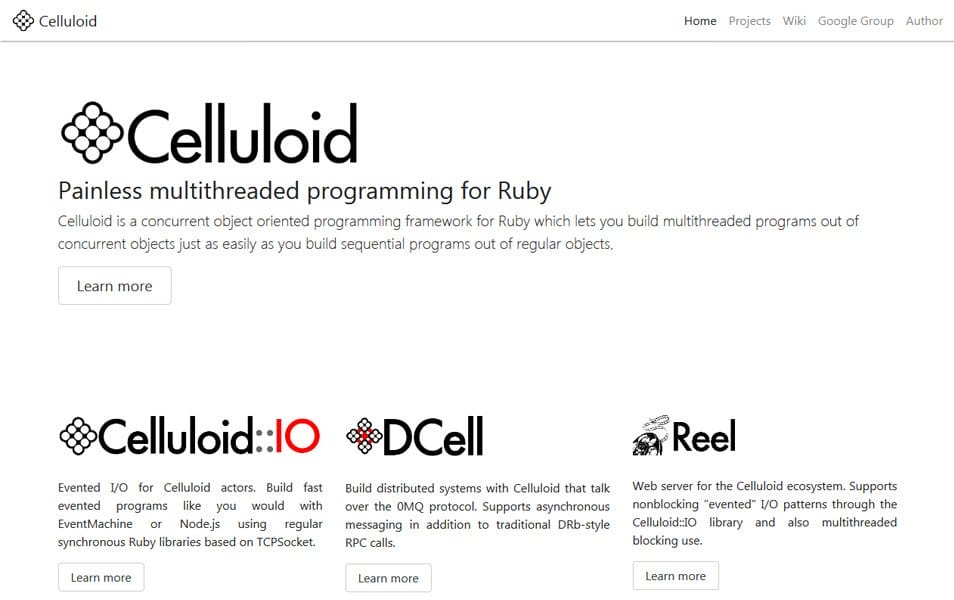 Celluloid is a concurrent object oriented programming framework for Ruby which lets you build multithreaded programs out of concurrent objects just as easily as you build sequential programs out of regular objects.
Cuba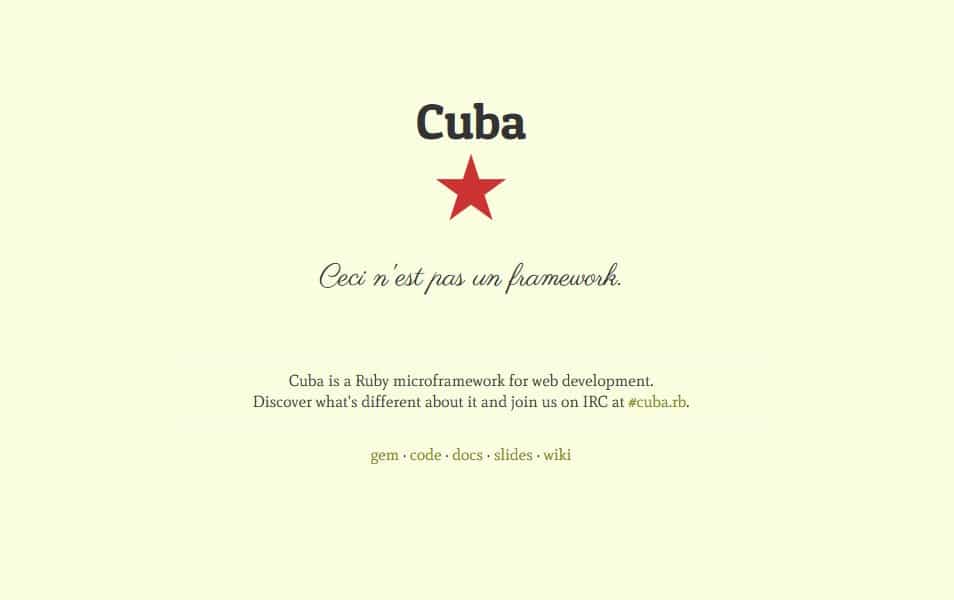 Cuba is a Ruby microframework for web development.
Lotus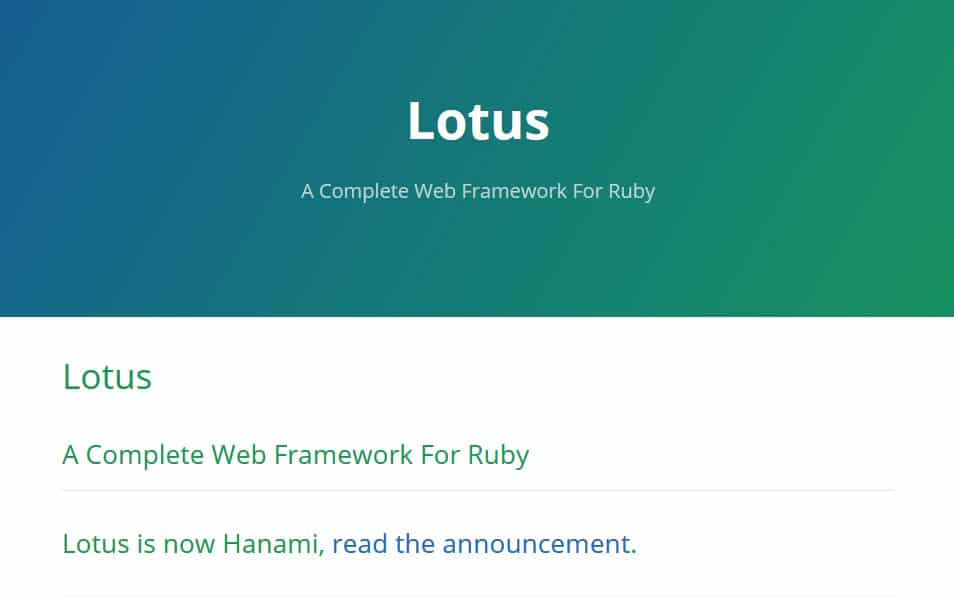 A complete web framework for Ruby. Lotus brings back Object Oriented Programming to web development, leveraging a stable API, minimal DSL and plain objects.
Rack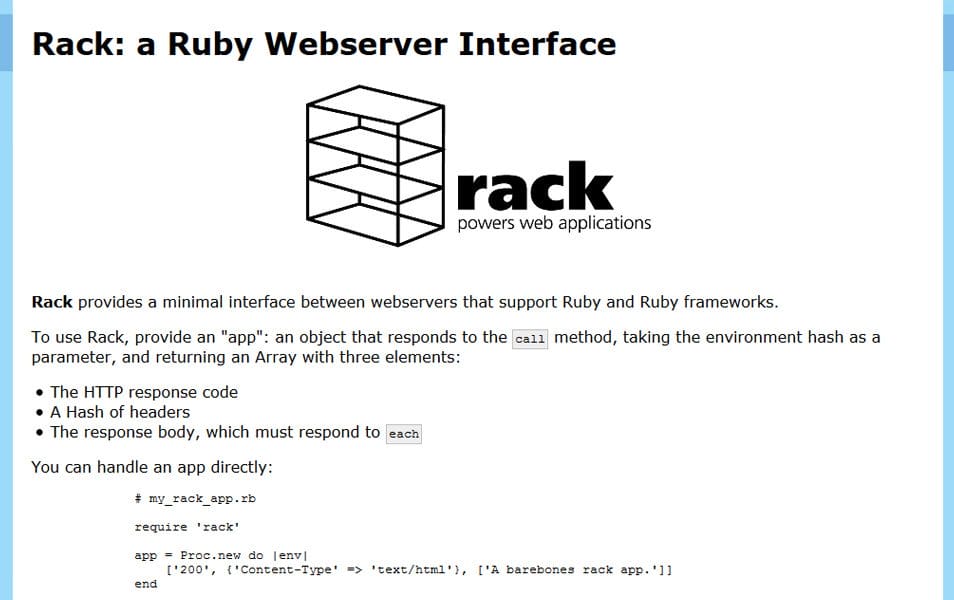 Rack provides a minimal interface between webservers that support Ruby and Ruby frameworks.
Sinatra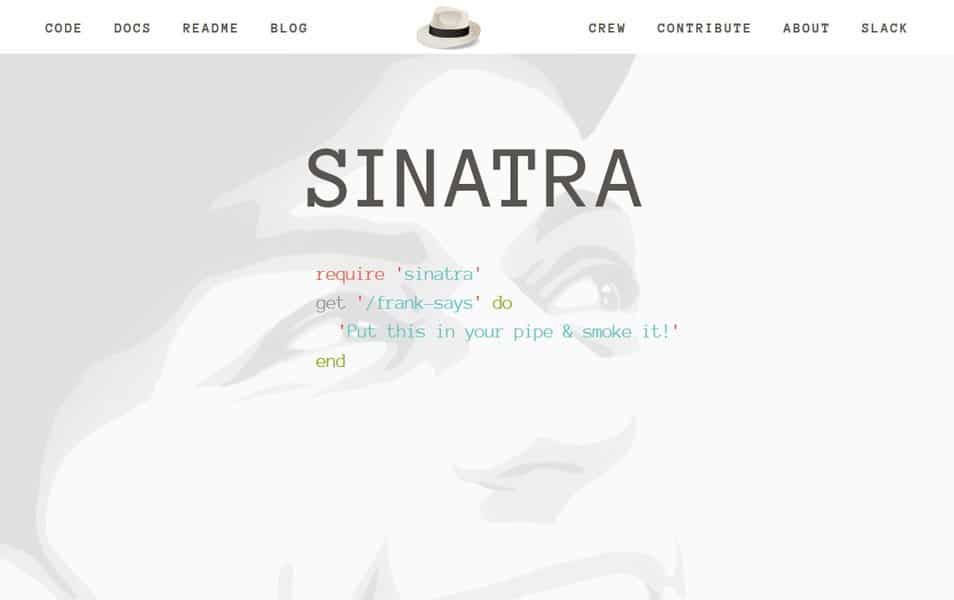 Sinatra is a DSL for quickly creating web applications in Ruby with minimal effort.
Ramaze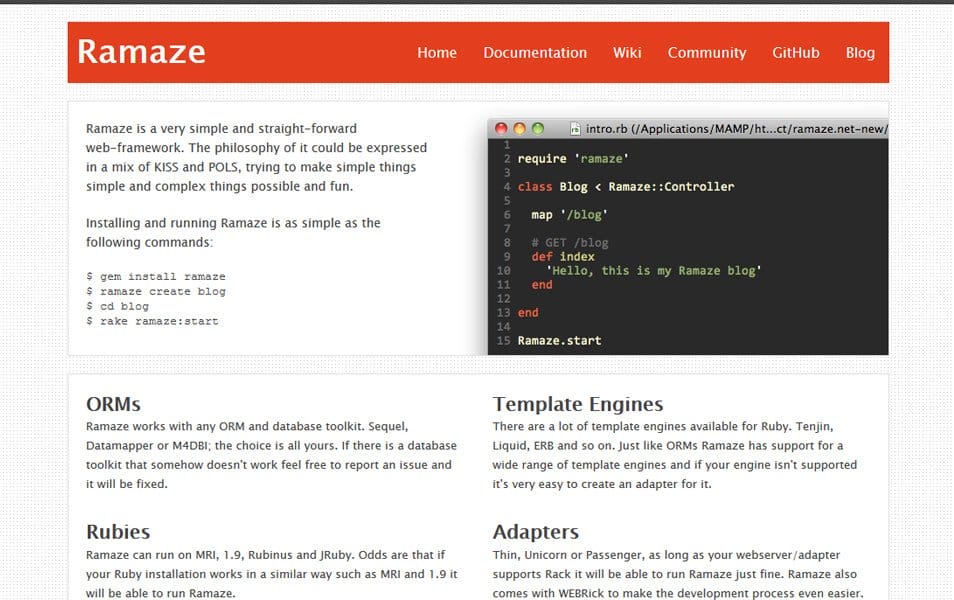 Ramaze is a very simple and straight-forward web-framework. The philosophy of it could be expressed in a mix of KISS and POLS, trying to make simple things simple and complex things possible and fun.
Pakyow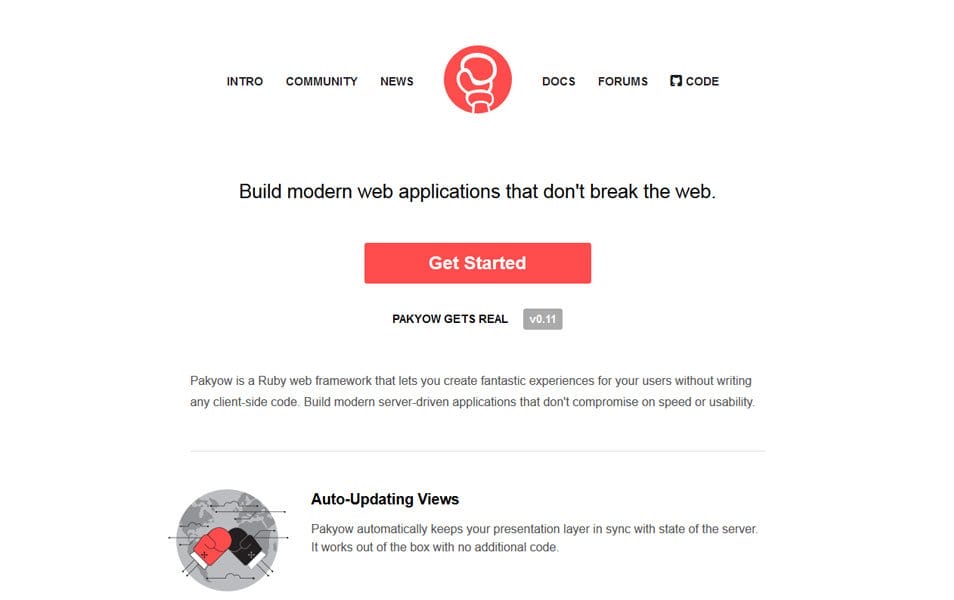 Pakyow is an open-source framework for the modern web. Build websites and web-based apps faster than ever with a view-first development process that's friendly to everyone.
Hobo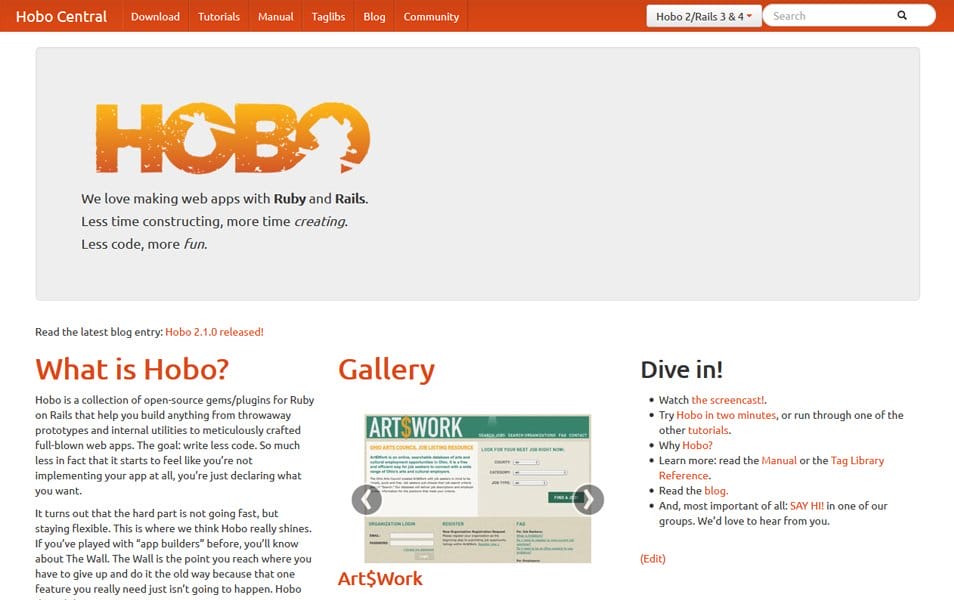 Hobo is a collection of open-source gems/plugins for Ruby on Rails that help you build anything from throwaway prototypes and internal utilities to meticulously crafted full-blown web apps.
Redis Stores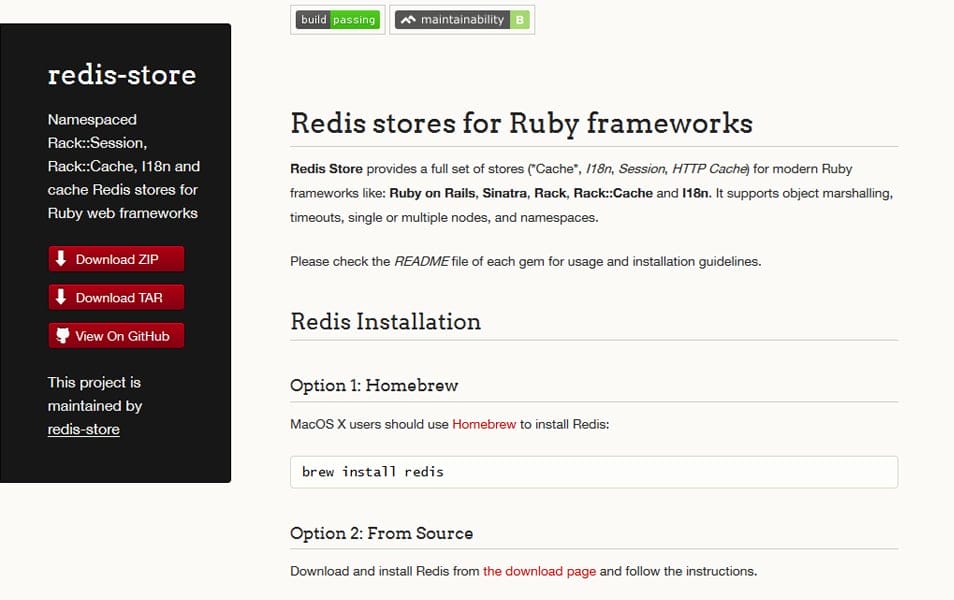 Redis Store provides a full set of stores (Cache, I18n, Session, HTTP Cache) for modern Ruby frameworks like: Ruby on Rails, Sinatra, Rack, Rack::Cache and I18n.
Scorched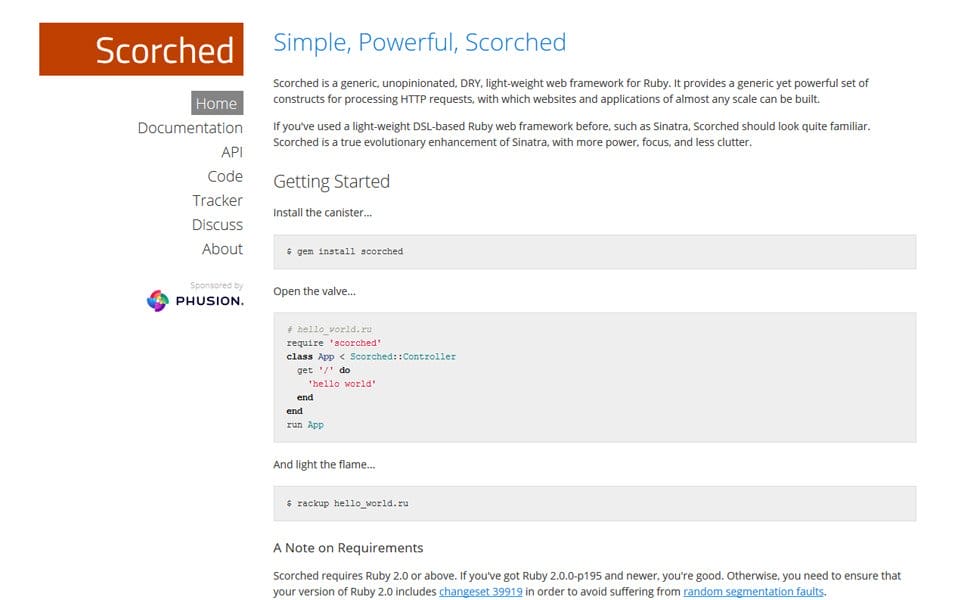 Scorched is a generic, unopinionated, DRY, light-weight web framework for Ruby. It provides a generic yet powerful set of constructs for processing HTTP requests, with which websites and applications of almost any scale can be built.
Goliath
Goliath is an open source version of the non-blocking (asynchronous) Ruby web server framework powering PostRank. It is a lightweight framework designed to meet the following goals: bare metal performance, Rack API and middleware support, simple configuration, fully asynchronous processing, and readable and maintainable code.
Active Admin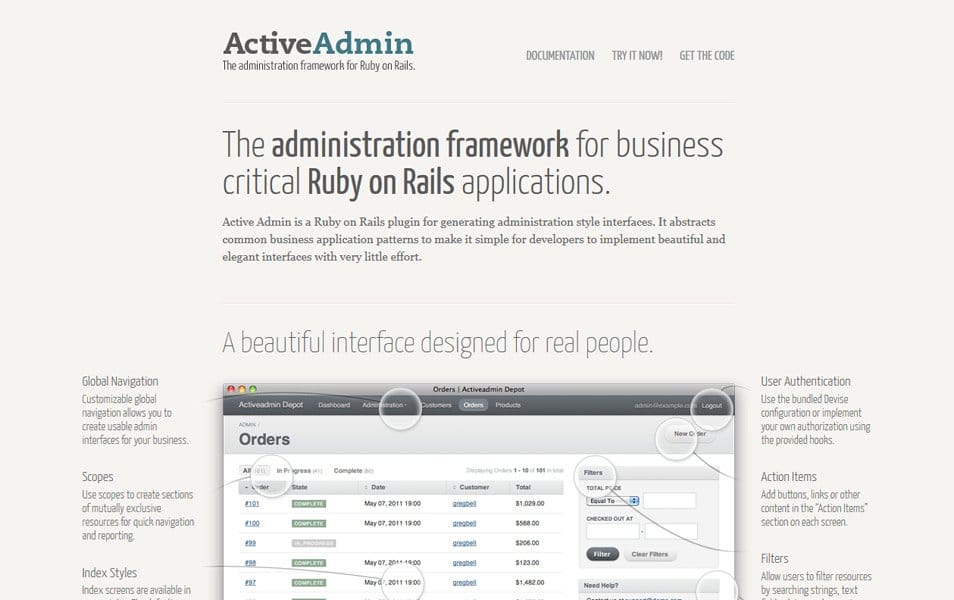 Active Admin is a Ruby on Rails framework for creating elegant backends for website administration.
Grape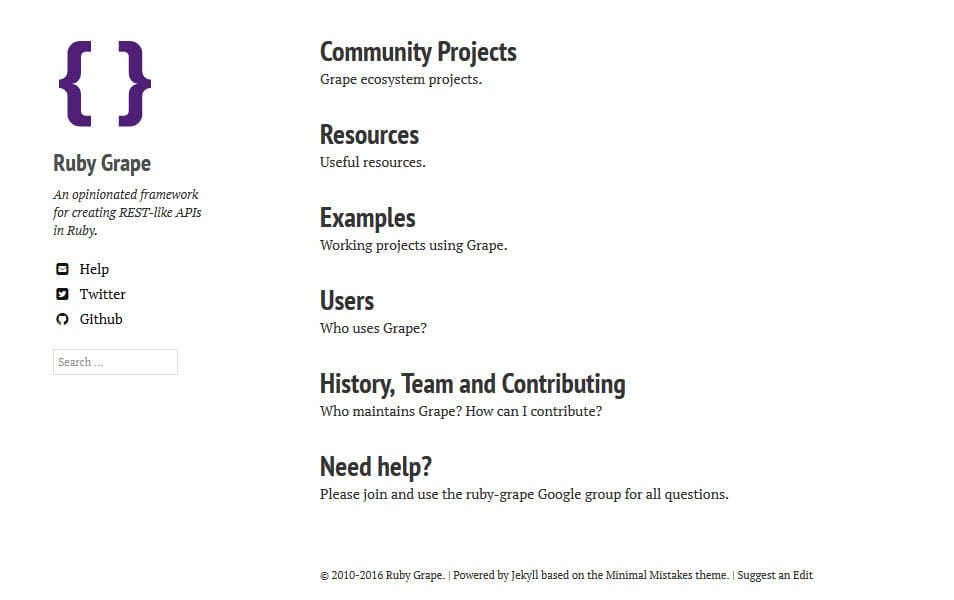 An opinionated micro-framework for creating REST-like APIs in Ruby.
NYNY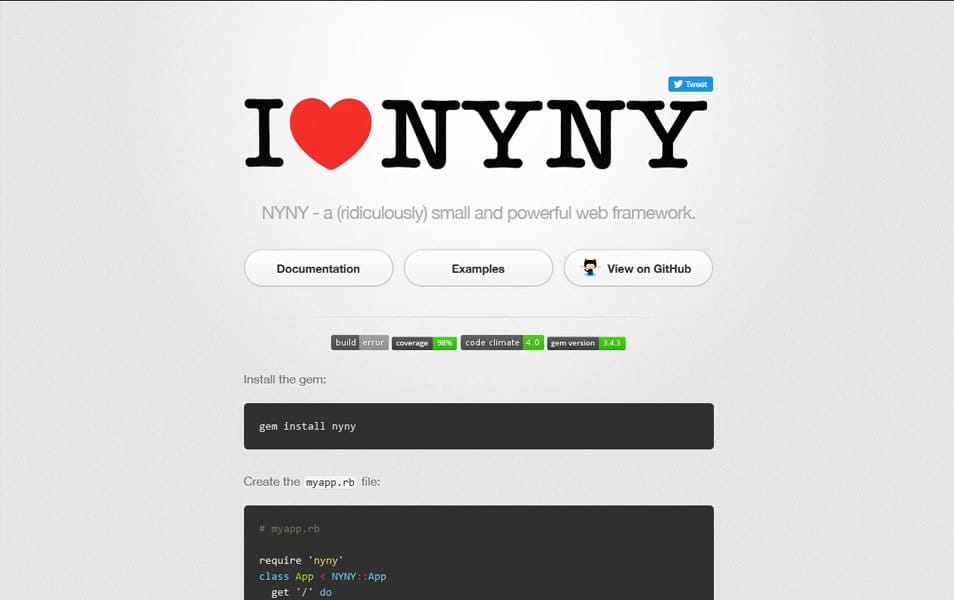 NYNY is a (ridiculously) small and powerful web framework.
Nancy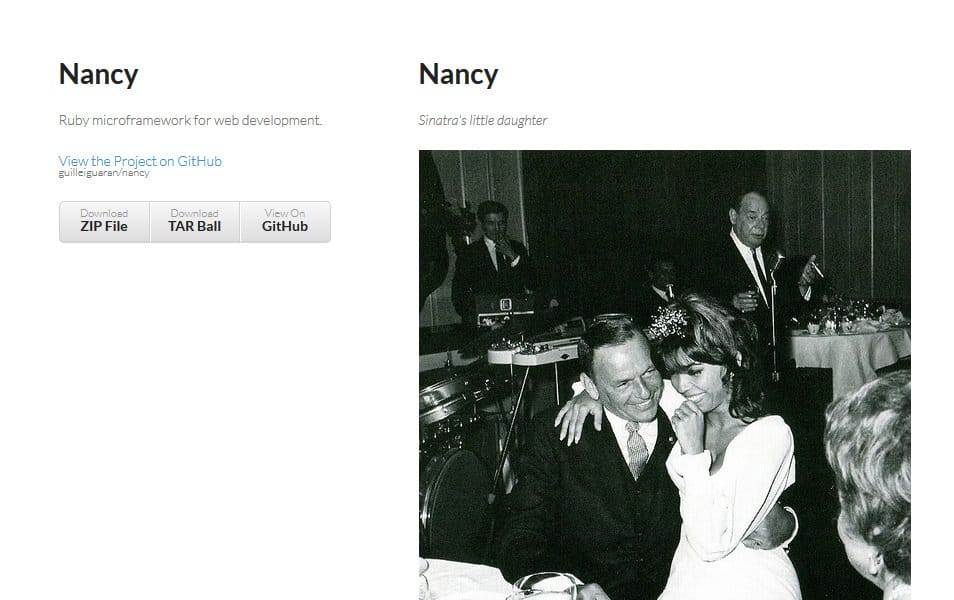 Minimal Ruby microframework for web development inspired in Sinatra and Cuba.
Halcyon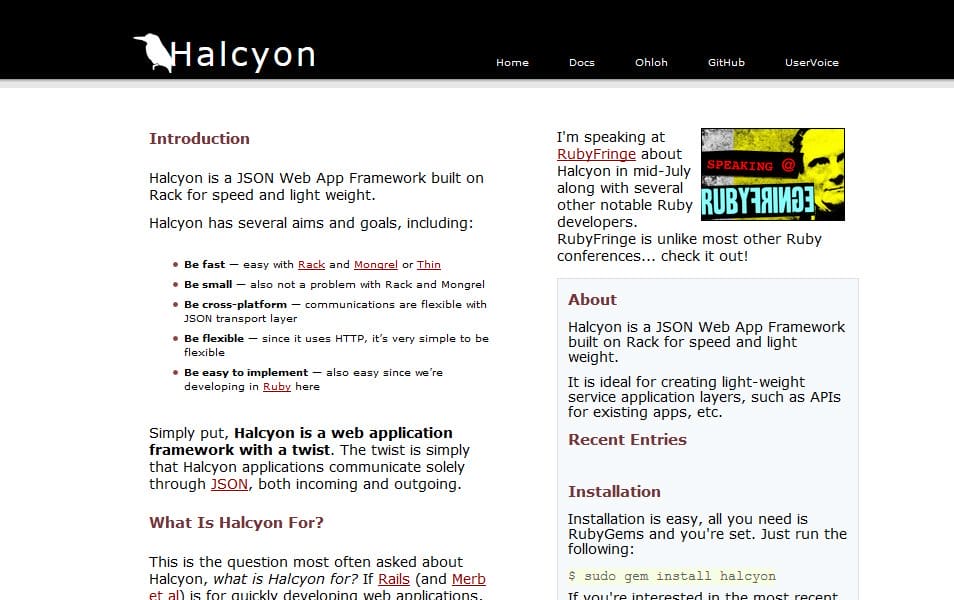 Halcyon is a JSON Web App Framework built on Rack for speed and light weight.
Merb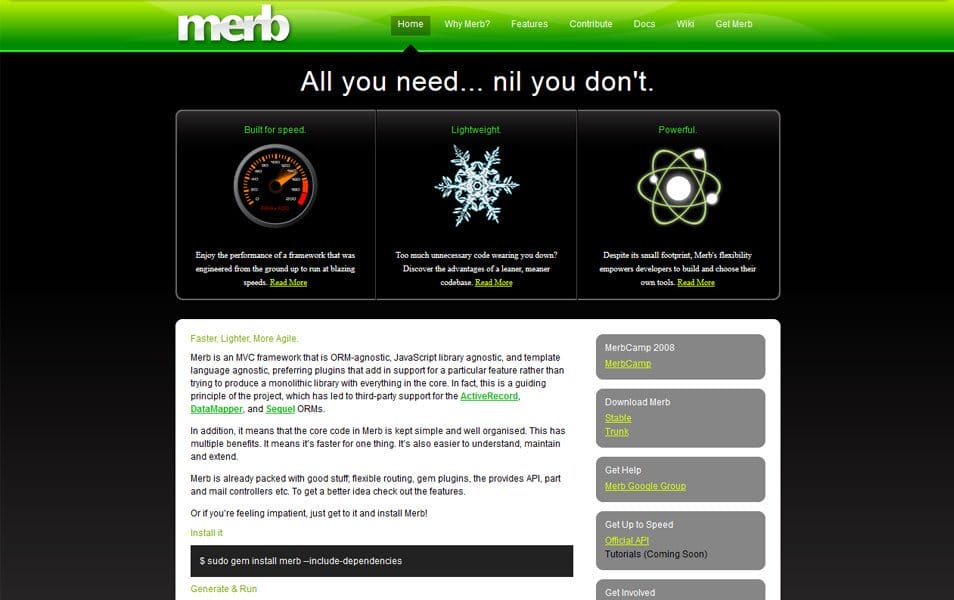 Merb is a web development framework for fast, simple, and powerful development.
Webby
Webby is a fantastic little website management system. It would be called a content management system if it were a bigger kid.
Roda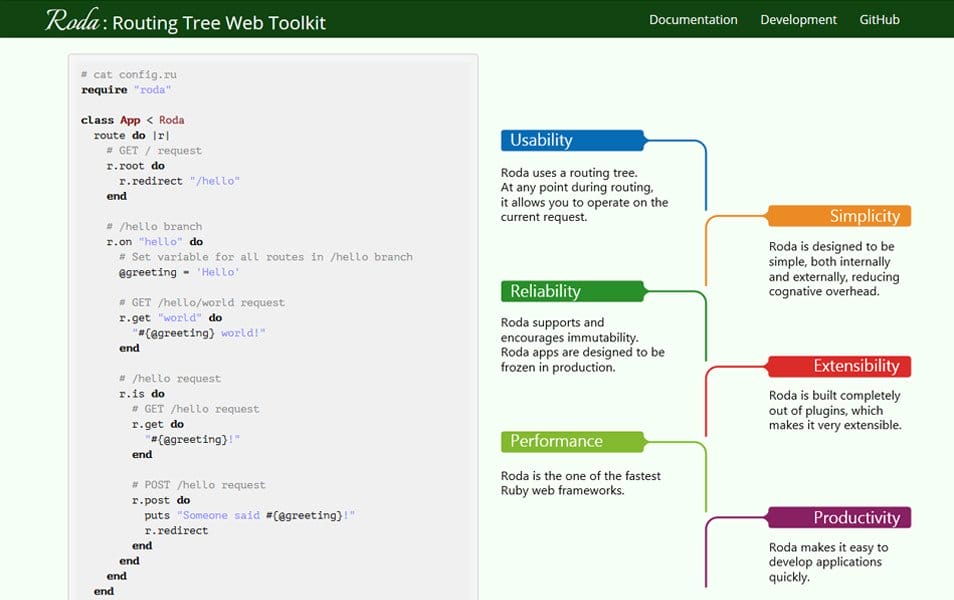 Roda is a routing tree web framework toolkit, with the primary goals of simplicity, reliability, extensibility, and performance.
Praxis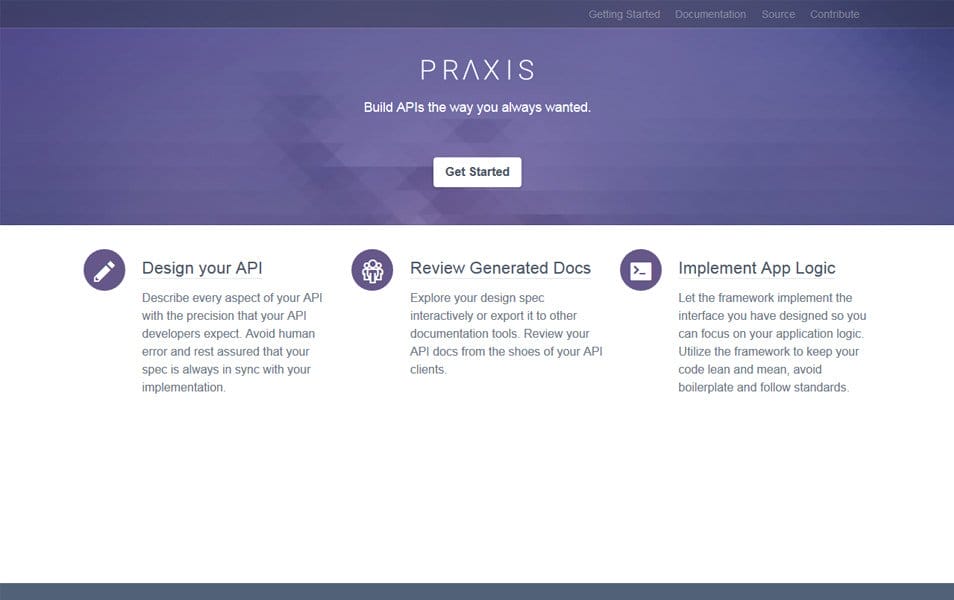 Praxis is a framework that focuses on both the design and implementation aspects of creating APIs.
Radiant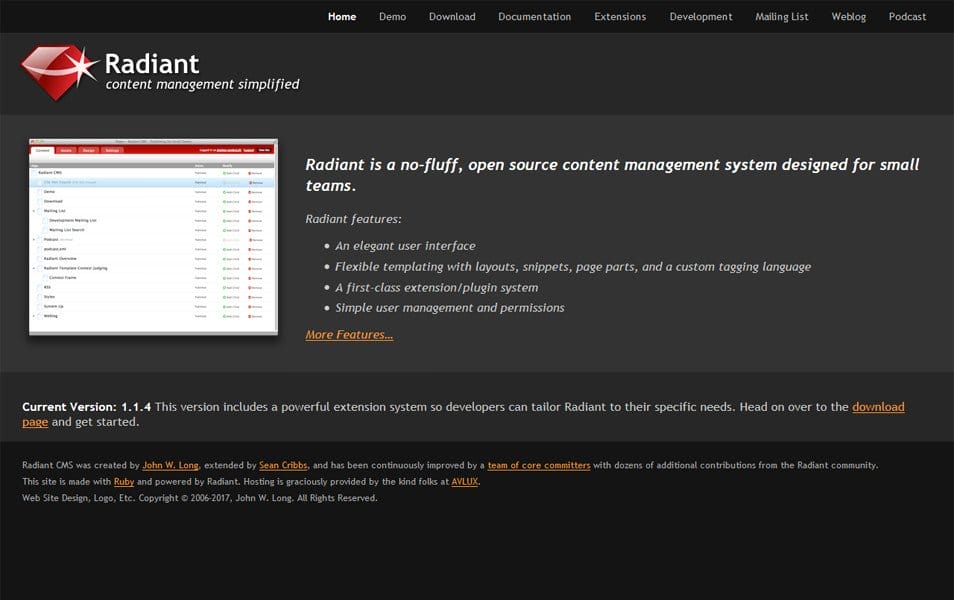 Radiant is a no-fluff, open source content management system designed for small teams.
Mongoid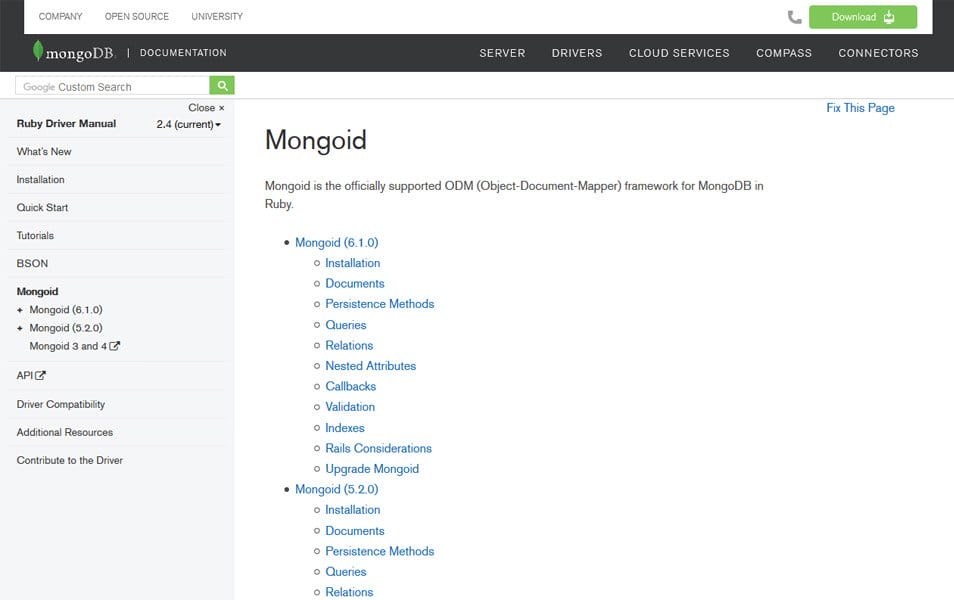 Mongoid is an ODM (Object-Document-Mapper) framework for MongoDB in Ruby.
Airbrake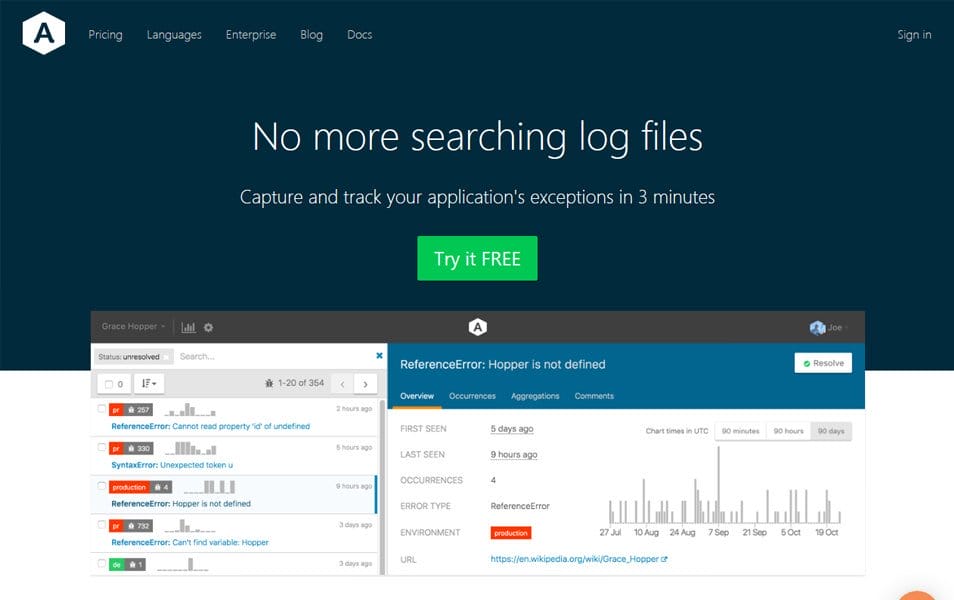 The official Airbrake library for Ruby on Rails. Links to other Airbrake libraries are in the ReadMe.
Spork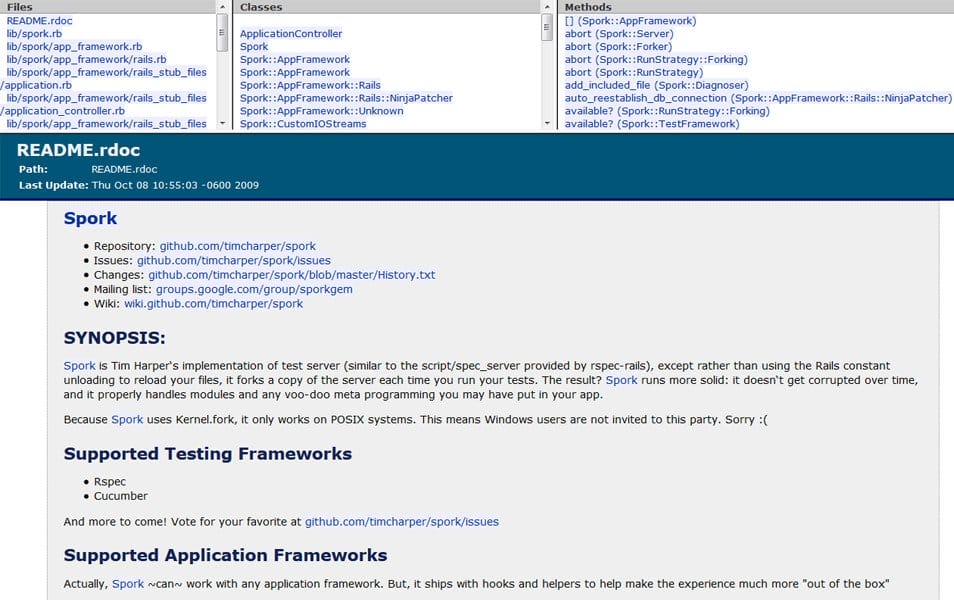 A DRb server for testing frameworks (RSpec / Cucumber currently) that forks before each run to ensure a clean testing state.
Syro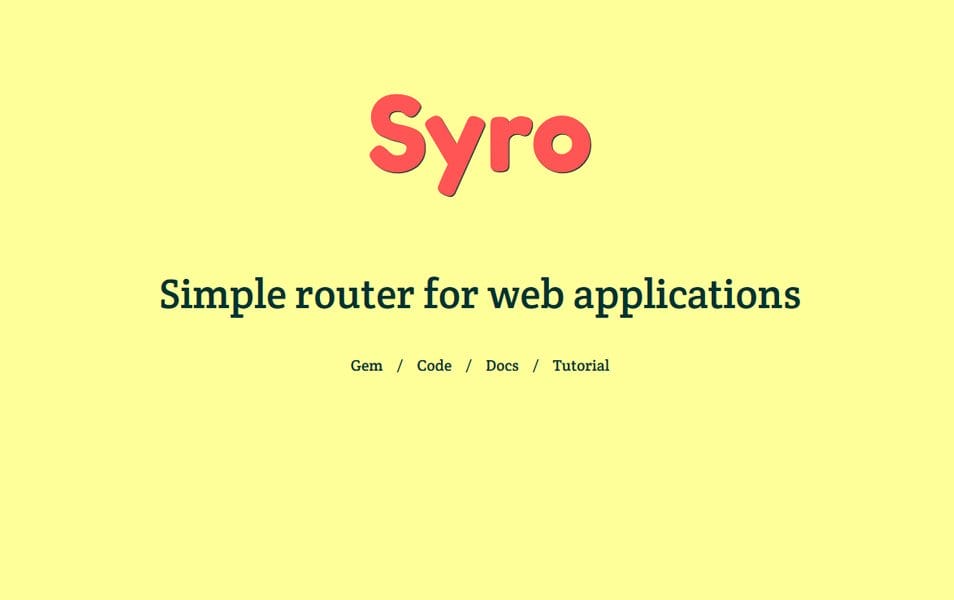 Syro is a very simple router for web applications. It was created in the tradition of libraries like Rum and Cuba, but it promotes a less flexible usage pattern.
Serve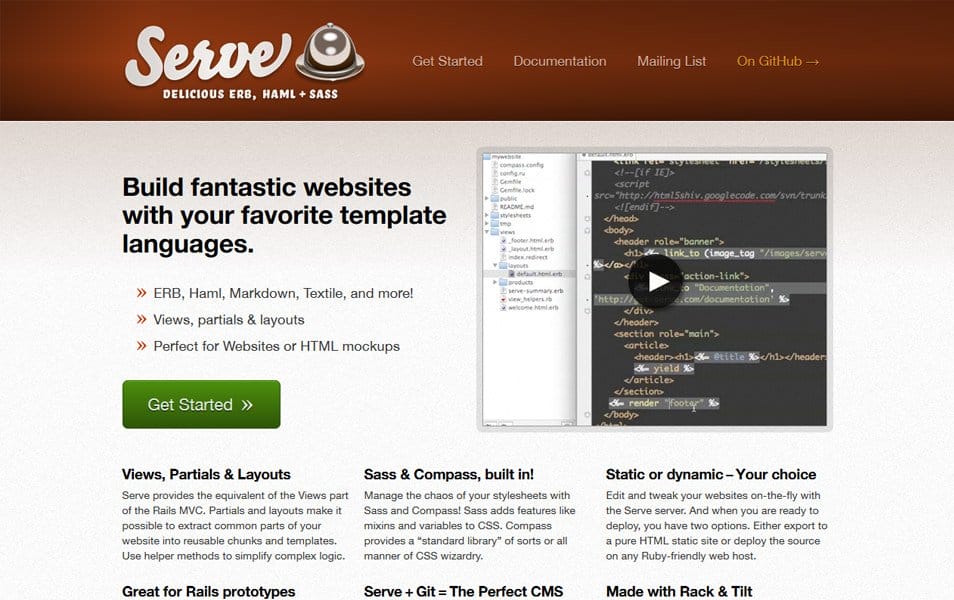 Serve is a small Rack-based web server and rapid prototyping framework for Web applications (specifically Rails apps). Serve is meant to be a lightweight version of the Views part of the Rails MVC.
Godmin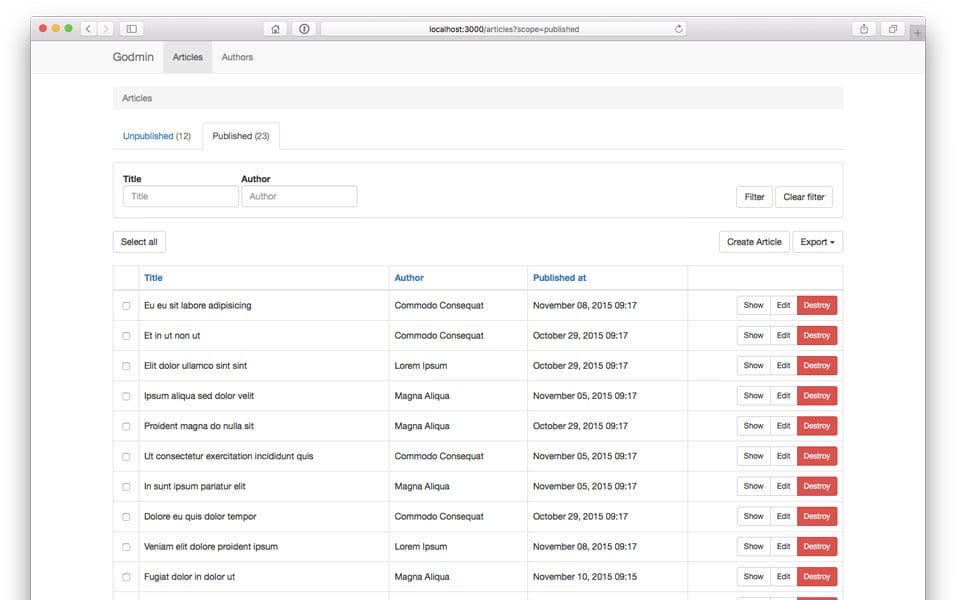 Godmin is an admin framework for Rails 4+. Use it to build dedicated admin sections for your apps, or stand alone admin apps such as internal tools.
Infrataster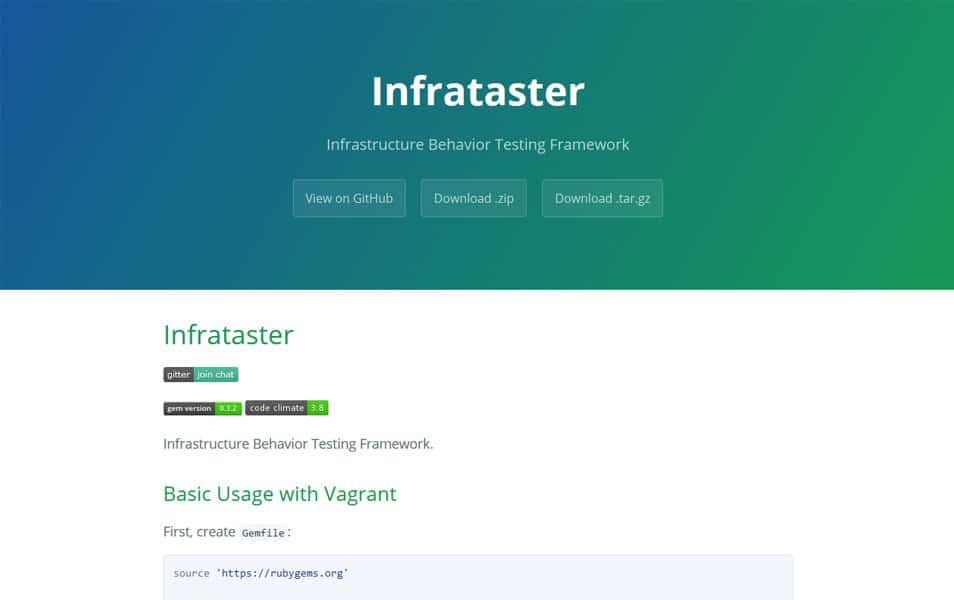 Infrastructure Behavior Testing Framework.
Cramp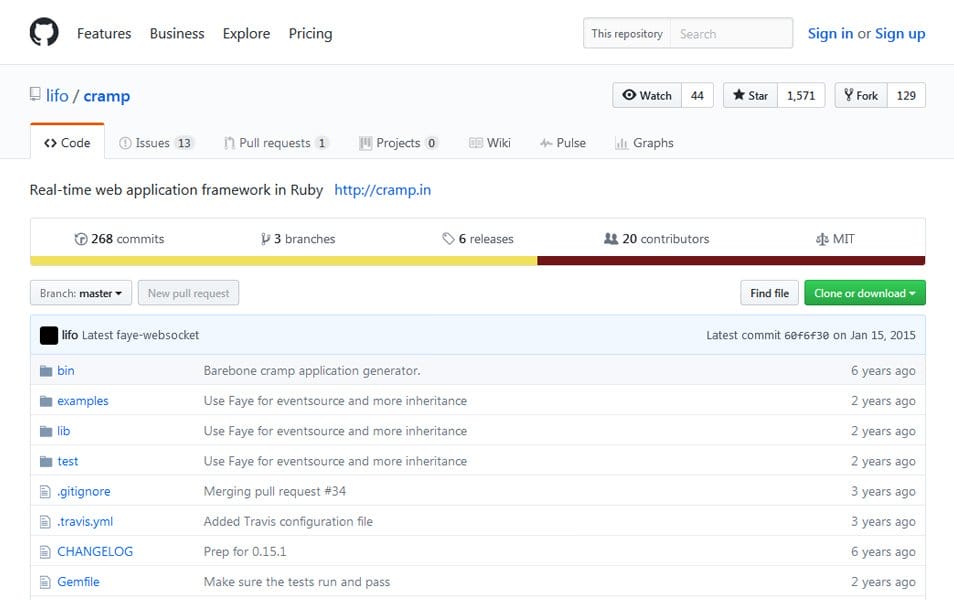 Cramp is a fully asynchronous realtime web application framework in Ruby. It is built on top of EventMachine and primarily designed for working with larger number of open connections and providing full-duplex bi-directional communication.
Camping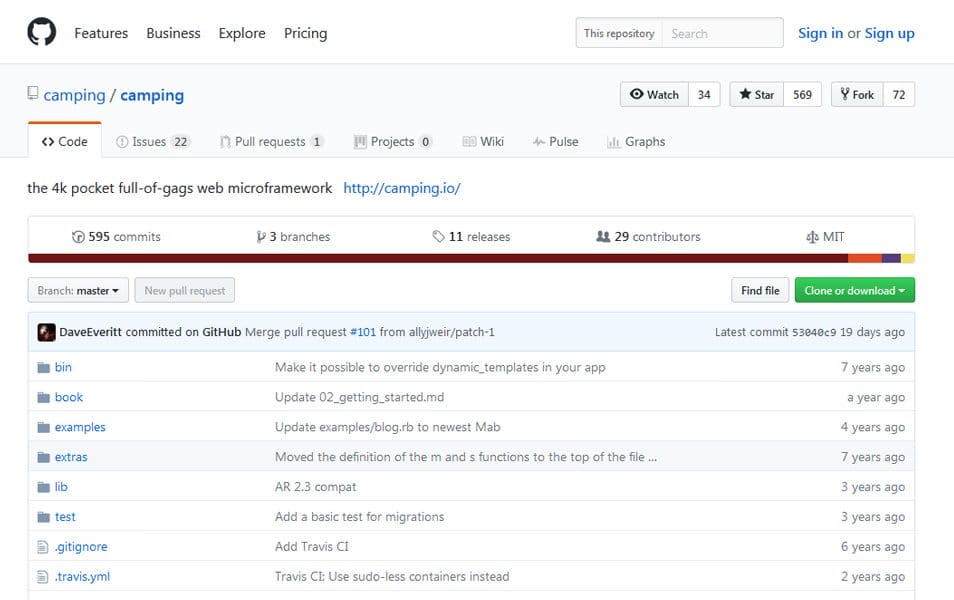 Camping is a small web framework, less than 4k, a little white blood cell in the vein of Rails. See it for yourself. Most camping apps are just one single file, packed full of Vitamins MVC and b12. A pocket full of tricks to free you of the globally namespaced doom of Sinatra, and the complexity of Rails.
Raptor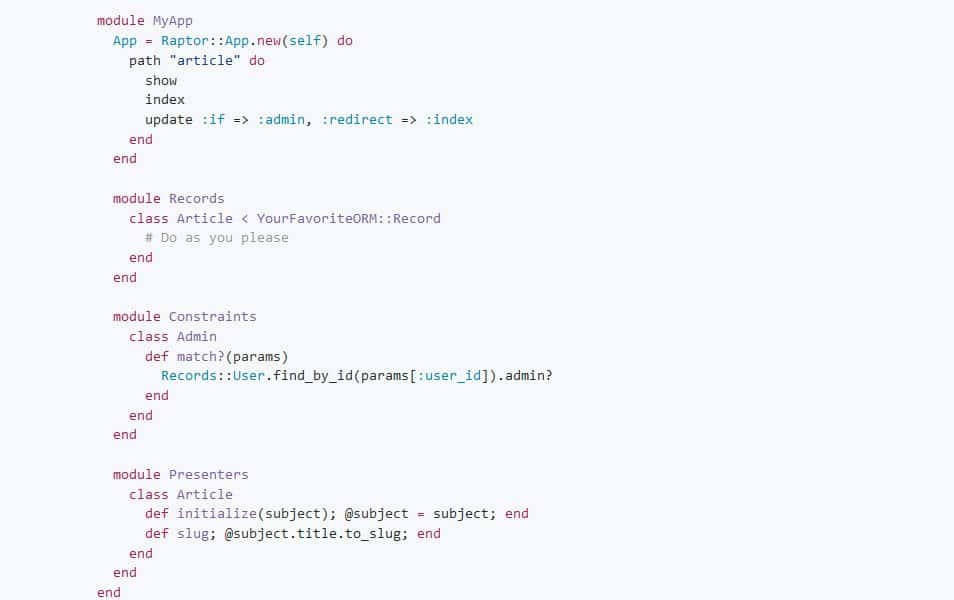 Raptor is an experimental web framework that encourages simple, decoupled objects. There are no base classes and as little "DSL" as possible. Raptor is not MVC; at least, not in the way that frameworks like Rails are.
Rango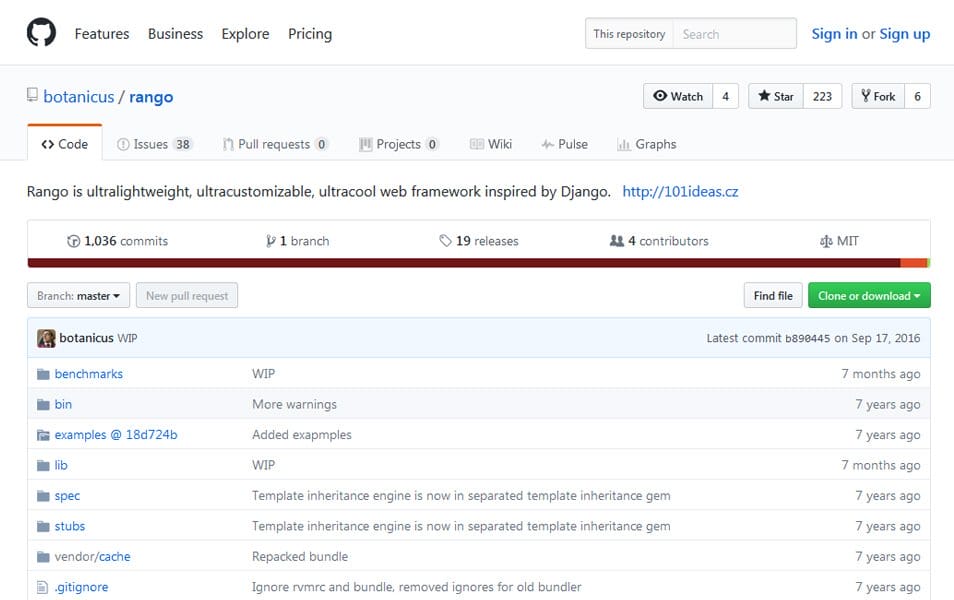 Rango is ultralightweight, ultracustomizable, ultracool web framework inspired by Django.
Espresso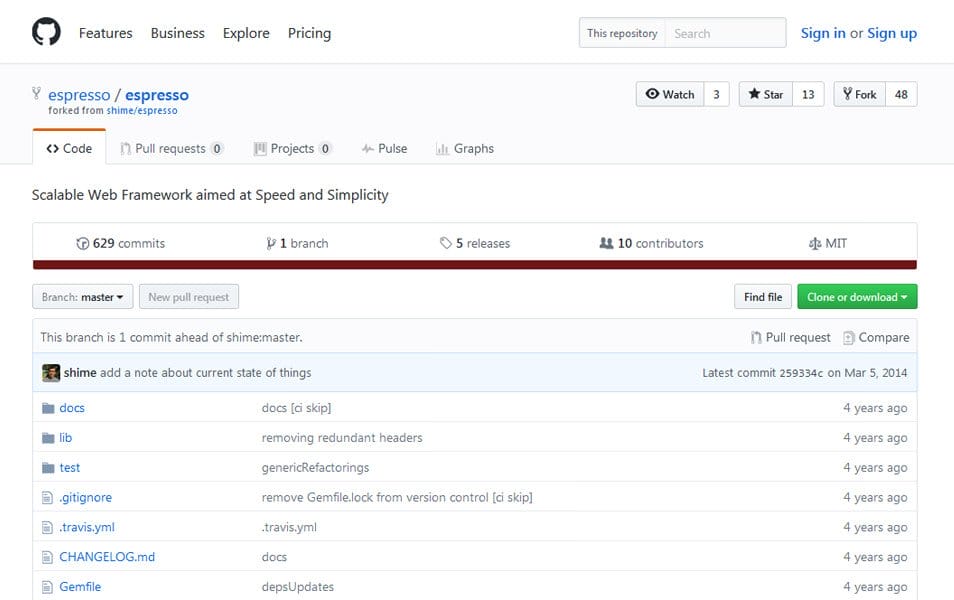 Scalable Web Framework aimed at Speed and Simplicity.
Marley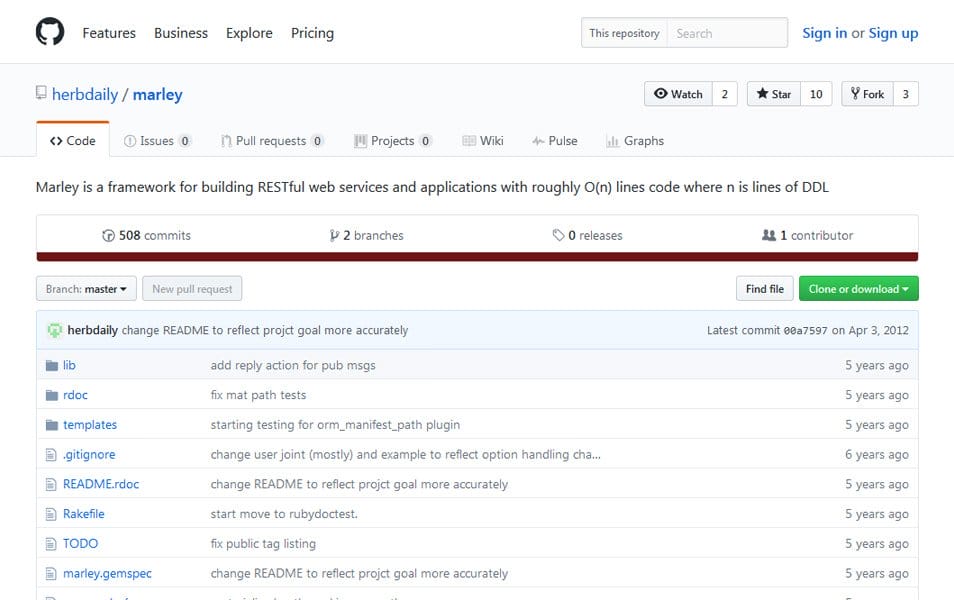 Marley is a framework for building RESTful web services and applications with roughly O(n) lines code where n is lines of DDL.
Strelka
Strelka is a framework for creating and deploying Mongrel2 web applications in Ruby, and for managing a Mongrel2 cluster.
Gin
A small Ruby web framework, built on Rack, which borrows from Sinatra's expressiveness and performance, and targets larger applications.
Crepe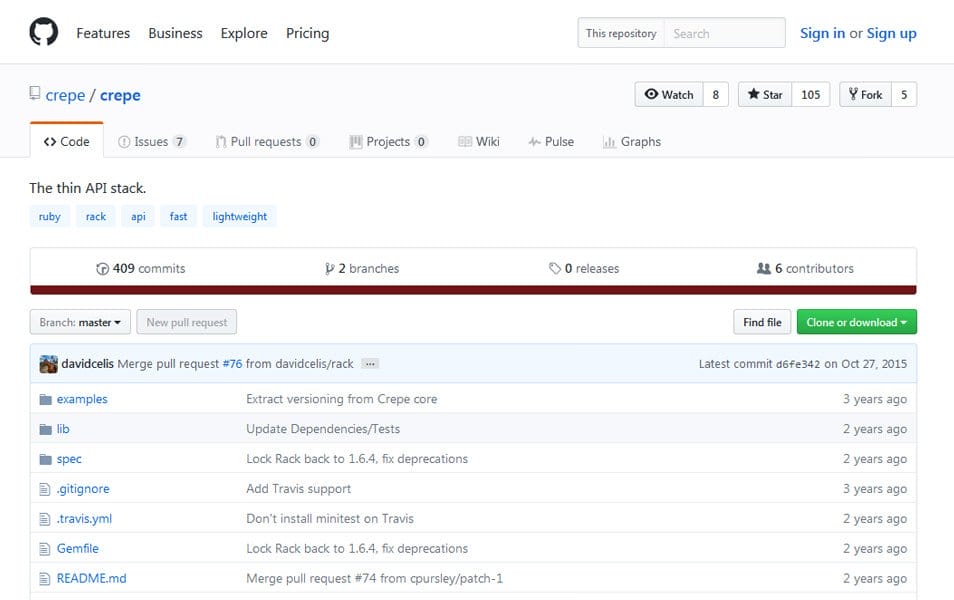 Crepe is a lightweight API framework designed to help you write clean, fast web services in Ruby. With an elegant and intuitive DSL inspired by RSpec, and with a nod to Grape, Crepe makes API design simple.
Hobbit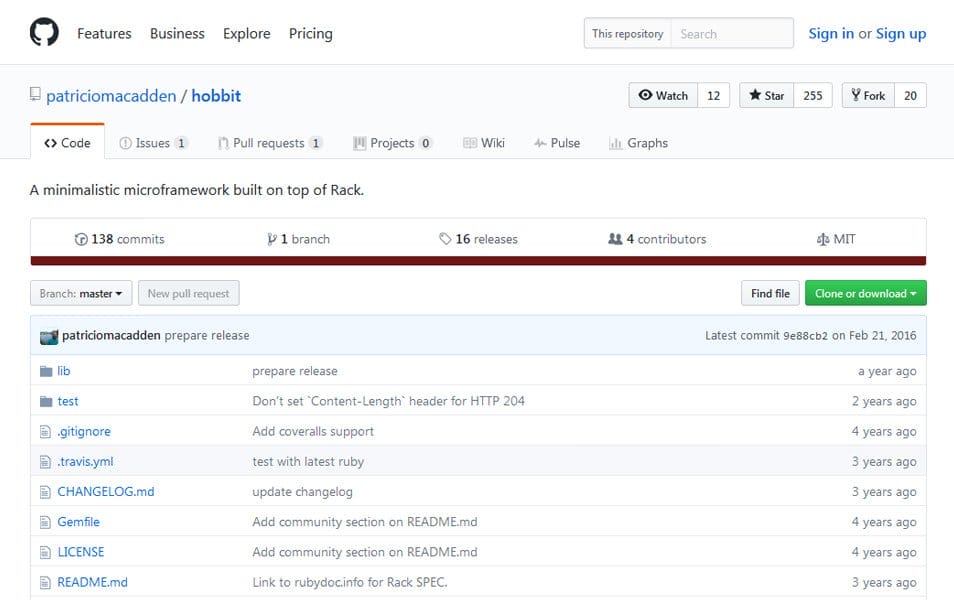 A minimalistic microframework built on top of Rack.
Kenji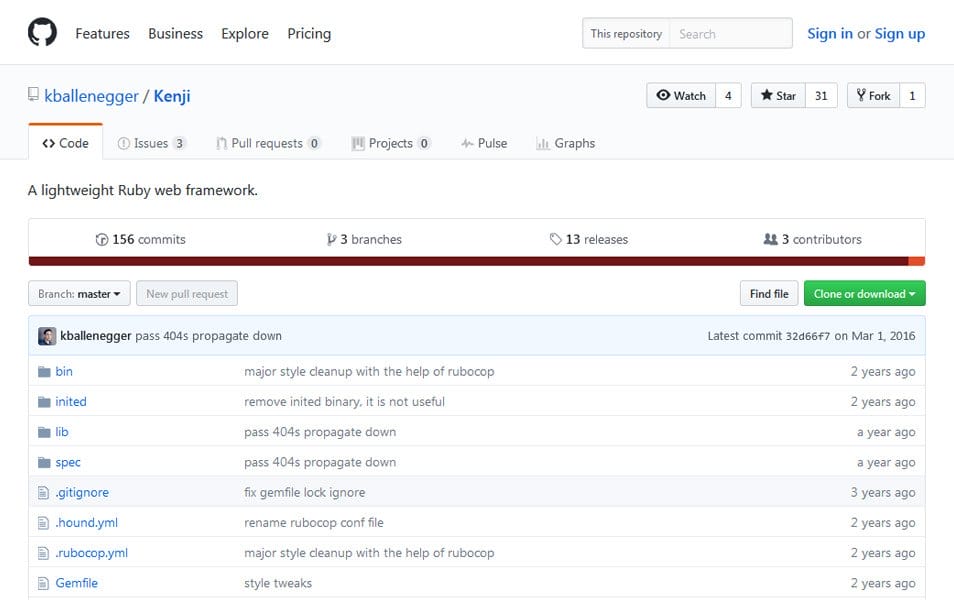 Kenji is a lightweight backend framework for Ruby.
BLAST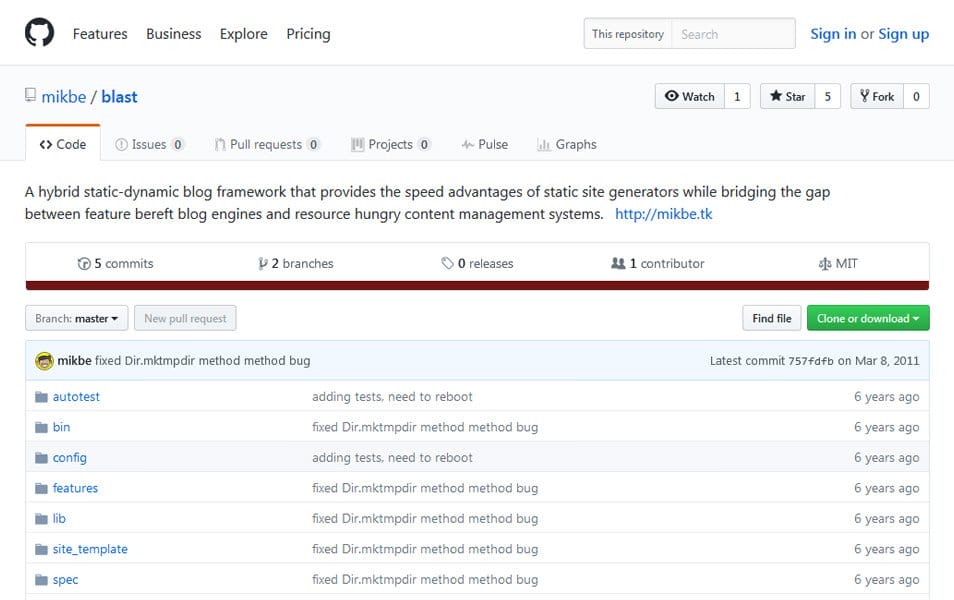 A Ruby based blog framework. Blast (BLog fAST) is a blogging framework that gives you the speed of a static site generator while still allowing dynamic content like comments and searches.
CarrierWave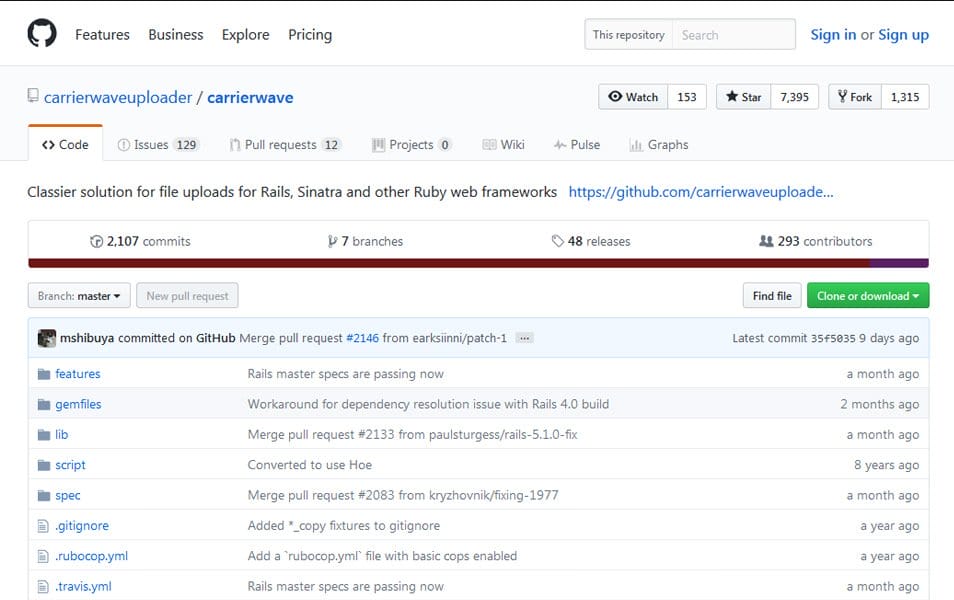 This gem provides a simple and extremely flexible way to upload files from Ruby applications. It works well with Rack based web applications, such as Ruby on Rails.
Kaminari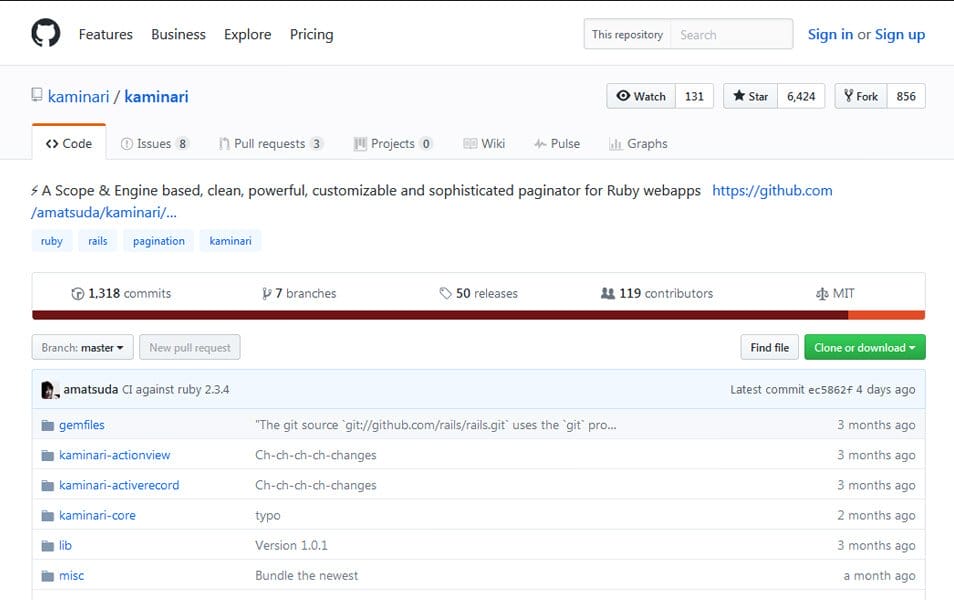 A Scope & Engine based, clean, powerful, customizable and sophisticated paginator for modern web app frameworks and ORMs.
Chewy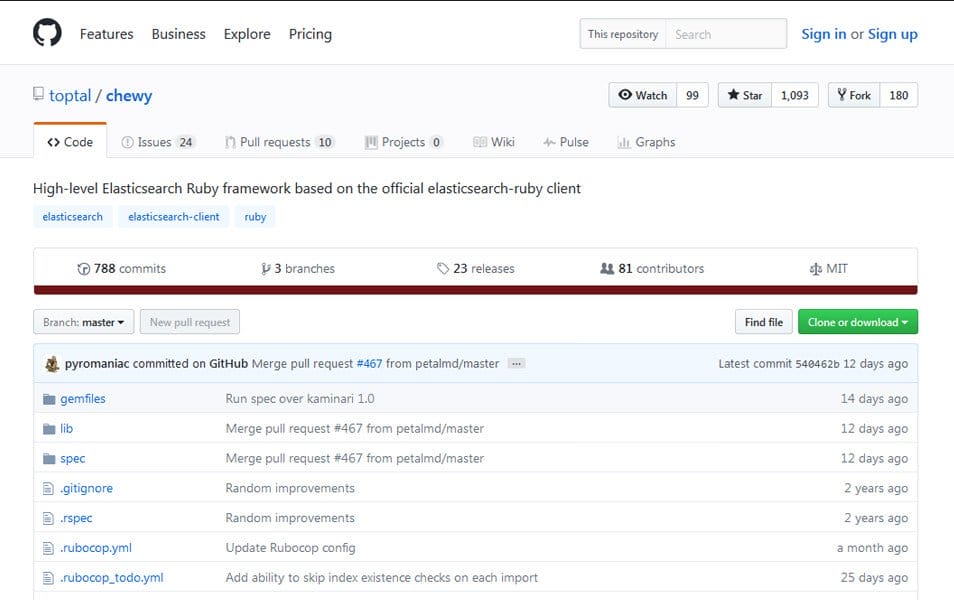 High-level Elasticsearch Ruby framework based on the official elasticsearch-ruby client.
Clamp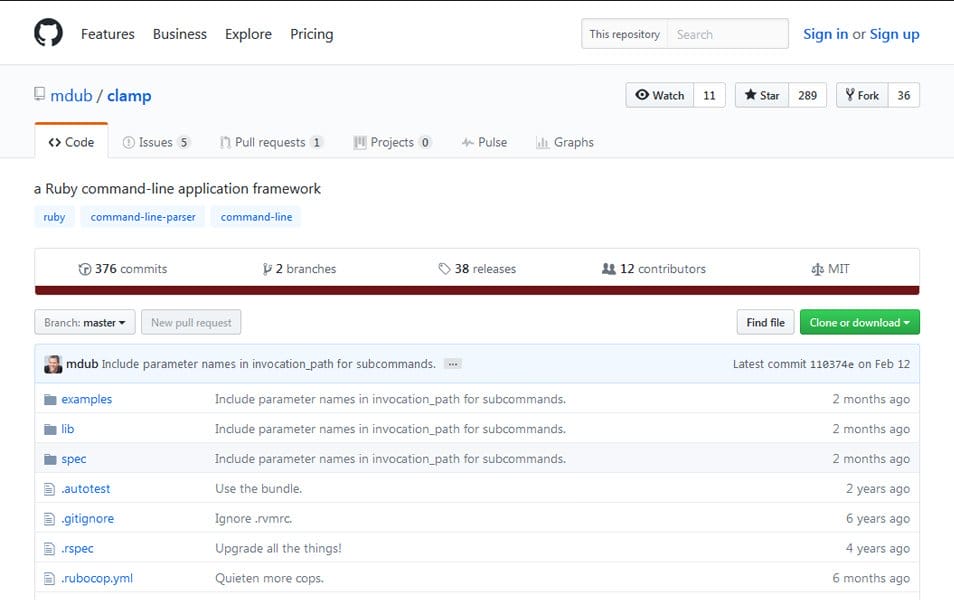 A Ruby command-line application framework.
Busker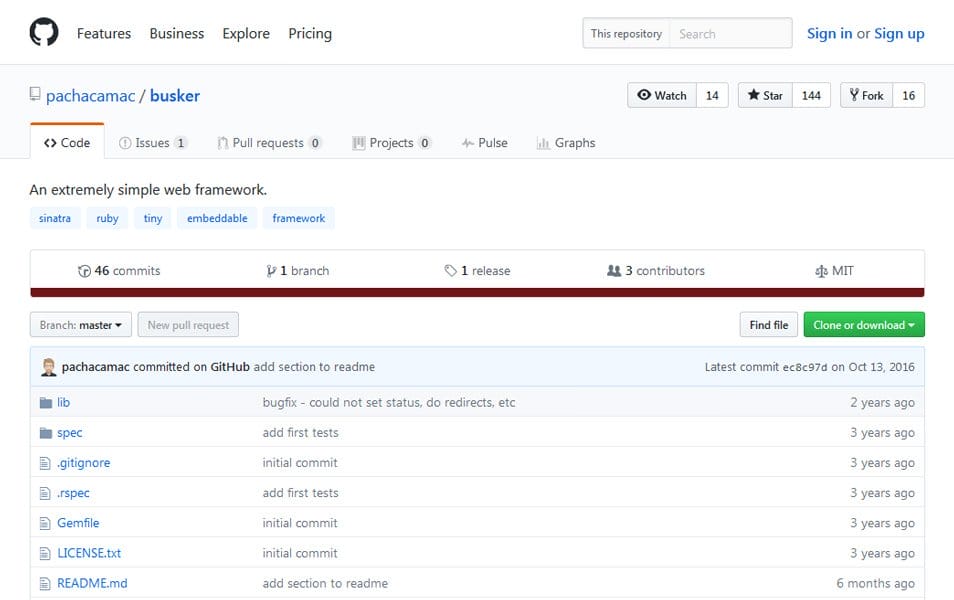 An extremely simple web framework. It's called Busker as a reference to Sinatra.