100+ Best PHP Frameworks for Web Developers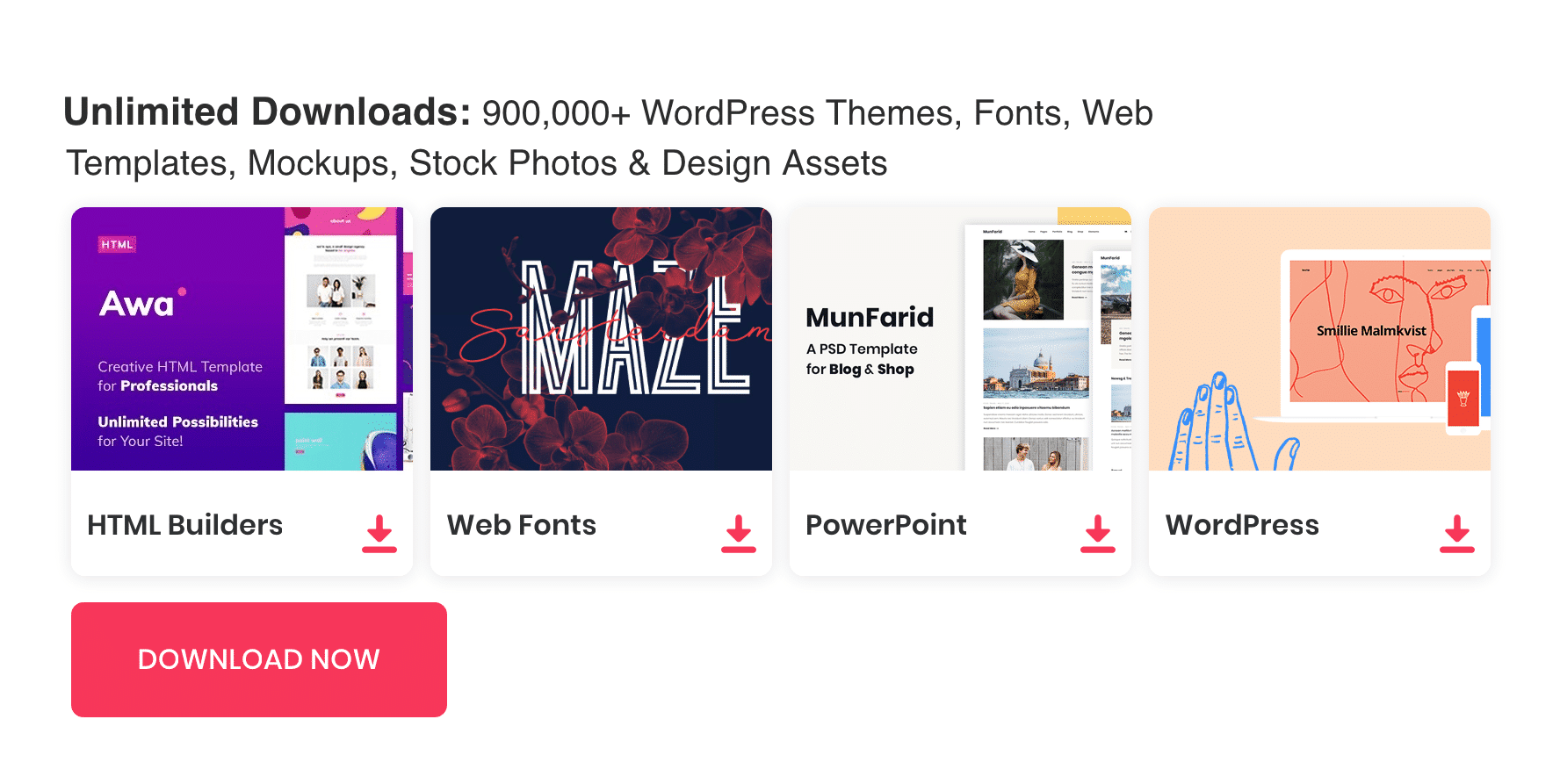 An overview of the best & the latest PHP frameworks for developers, find out the reasons to use a PHP framework to improve your workflow.
Php is the popular server-side scripting language, we need a web server to run it. PHP designed for use with HTML we can use it with HTML or we can embed HTML at the end PHP will return HTML to the browser. Because of its power and flexibility, it is easy to get in there and start coding your application.
We like to write a blog post that might help you choose the best PHP framework. SO what is a framework and why we need to use it? Frameworks provide prepackaged functionality for common application tasks. PHP framework provides a library for clean and organised code. It is easy to test you code at any point if you ran into trouble. Framework allows us to reuse the modules here and there throughout the application. For the same reason, it is easy to make changes, changing one function a bit will update that functionality in every place it's been used.
Advantages of using PHP framework is that the code will be neat and organised. Using PHP frameworks will improve your workflow There are plenty of reasons to use a PHP framework.
See also : 20+ Best CSS Reference Websites
In this post, we have gathered the best PHP frameworks available these days. each of the frameworks is useful in some instance.
Frameworks Categories
Laravel PHP Web Application Framework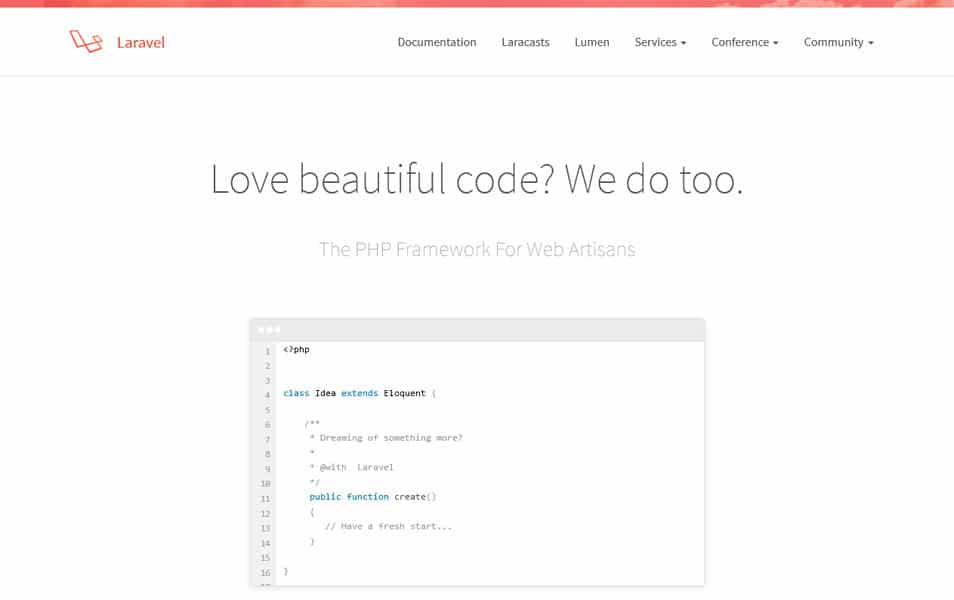 Laravel is a web application framework with expressive, elegant syntax. Laravel attempts to take the pain out of development by easing common tasks used in the majority of web projects.
Symfony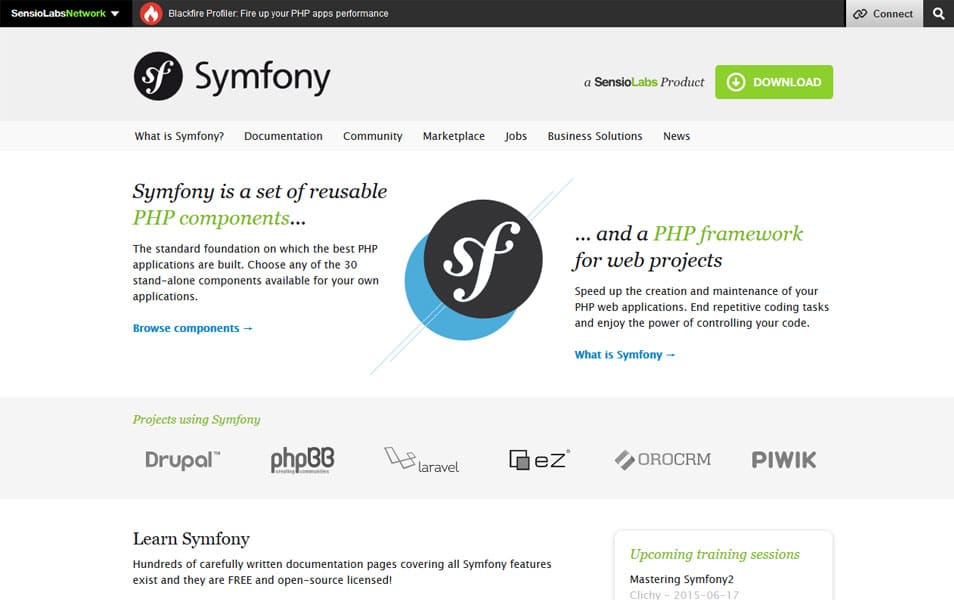 Symfony is a PHP framework for web applications and a set of reusable PHP components. Symfony is used by thousands of web applications and most of the popular PHP projects (including Drupal and Magento).
CodeIgniter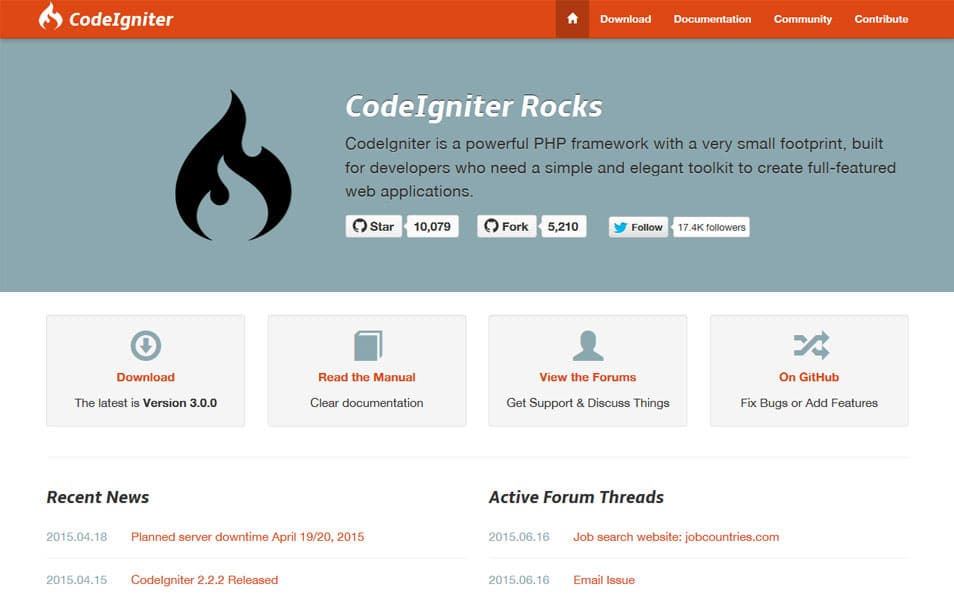 CodeIgniter is a powerful PHP framework with a very small footprint, built for developers who need a simple and elegant toolkit to create full-featured web applications.
Yii PHP Framework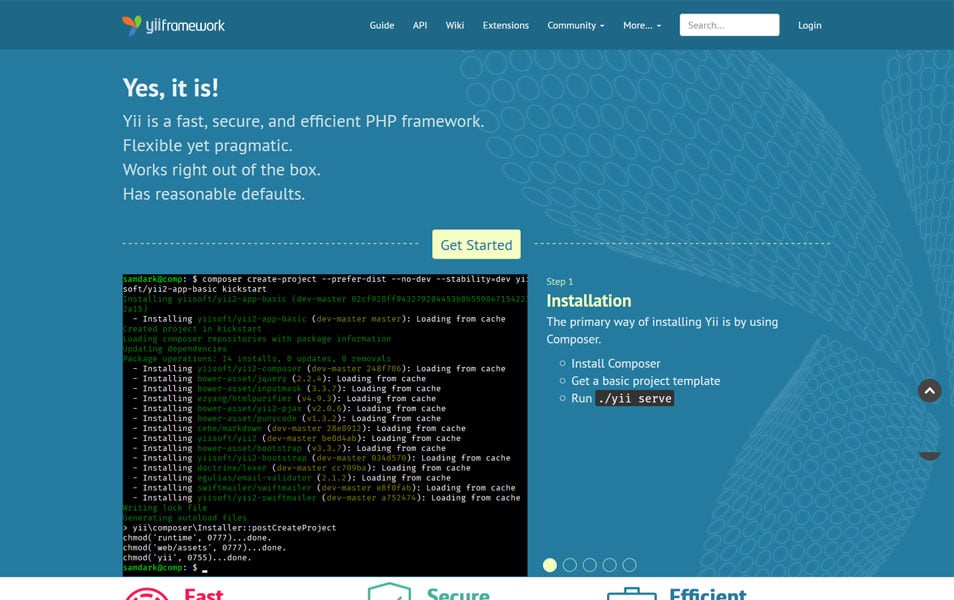 Yii is a high-performance PHP framework best for developing Web 2.0 applications.
PHPUnit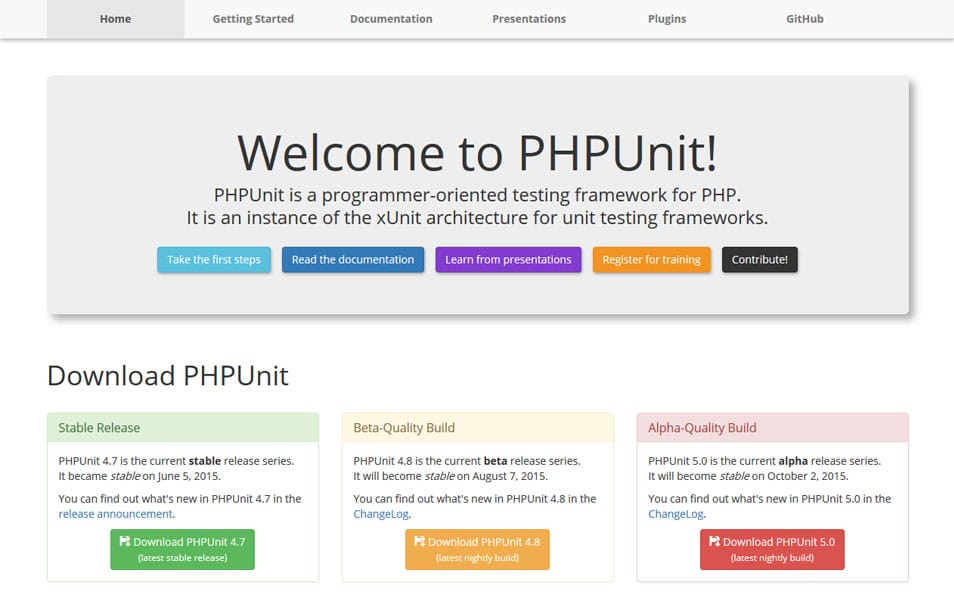 PHPUnit is a programmer-oriented testing framework for PHP. It is an instance of the xUnit architecture for unit testing frameworks.
Phalcon Framework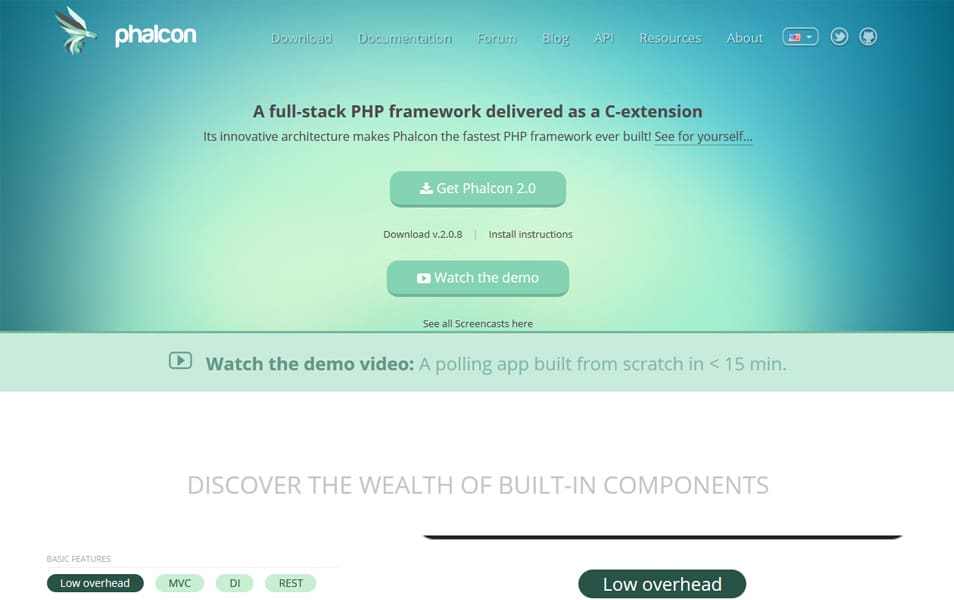 Phalcon is an open source web framework delivered as a C extension for the PHP language providing high performance and lower resource consumption.
CakePHP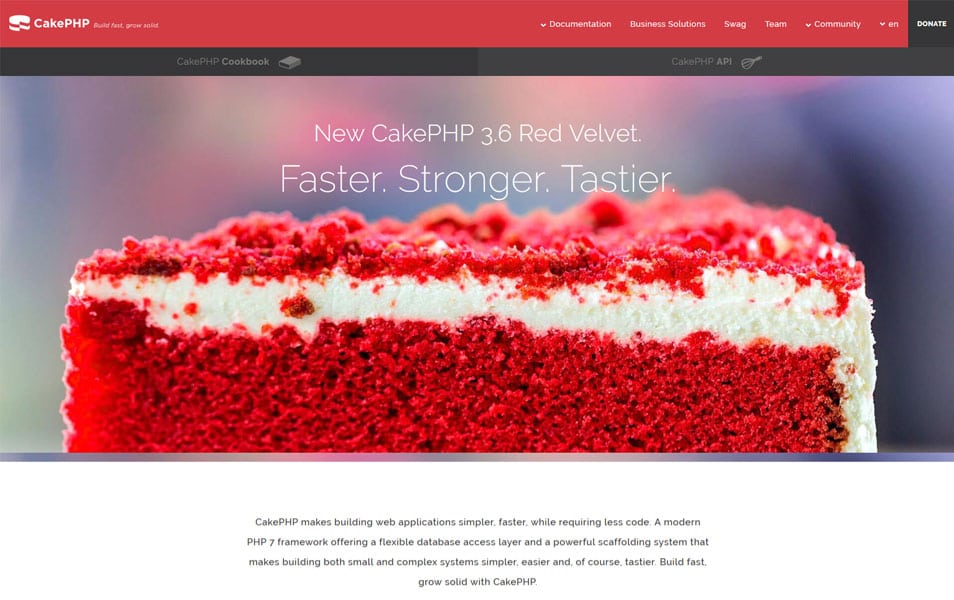 CakePHP makes building web applications simpler, faster and require less code. CakePHP is a modern PHP 5.4+ framework with a flexible Database access layer and a powerful scaffolding system that makes building both small and complex systems a breeze.
Ice Framework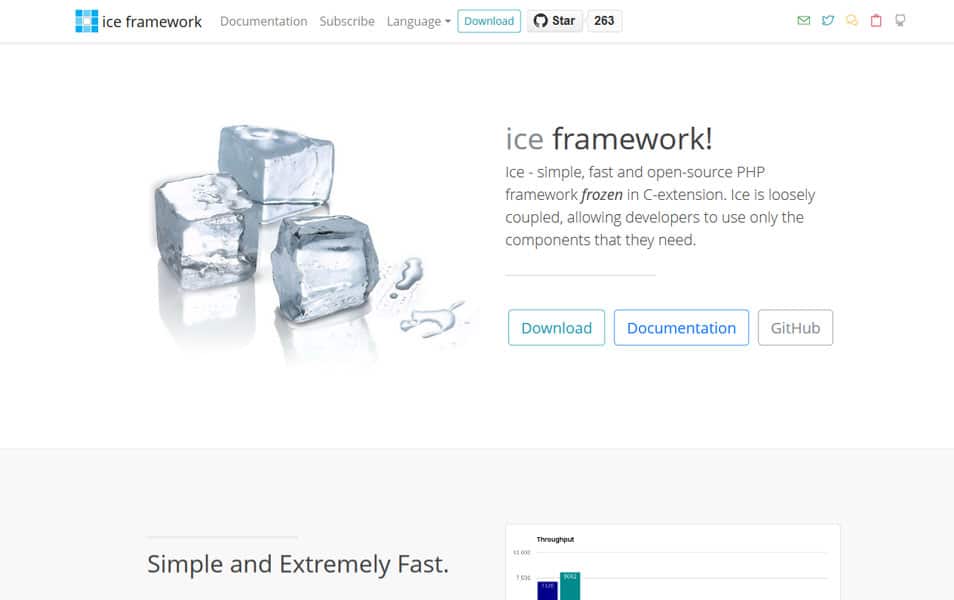 Ice is a simple, fast and open-source PHP framework frozen in C-extension. Ice is loosely coupled, allowing developers to use only the components that they need.
QueryPHP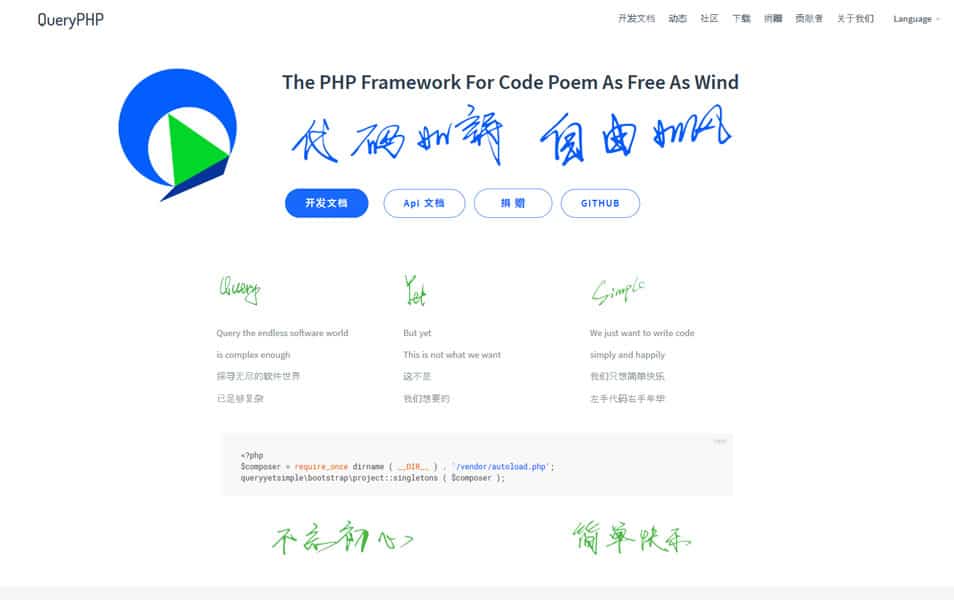 QueryPHP is a powerful PHP framework for code poem as free as wind.
DASH PHP Framework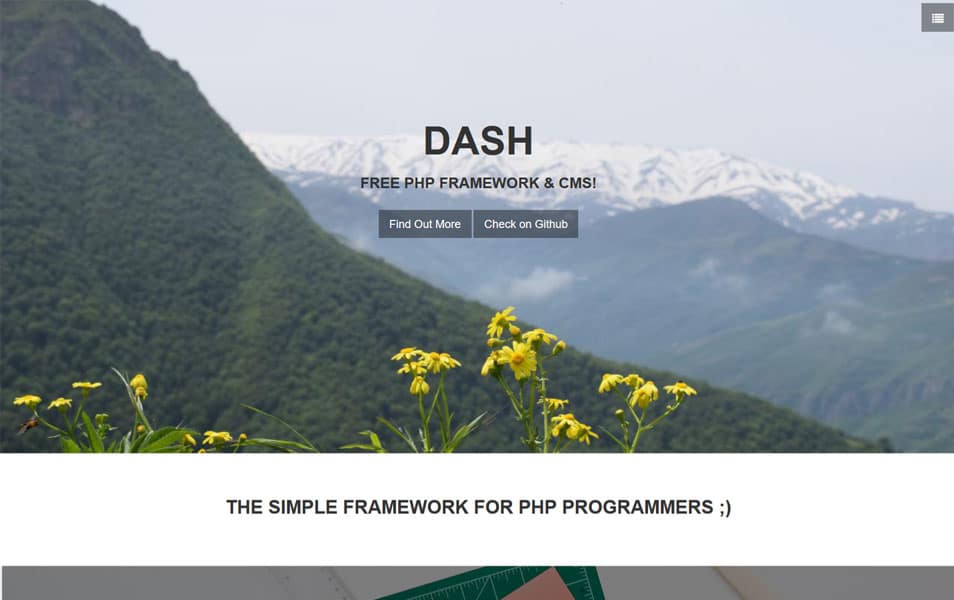 Dash is the simple framework for php programmers.
Zest Framework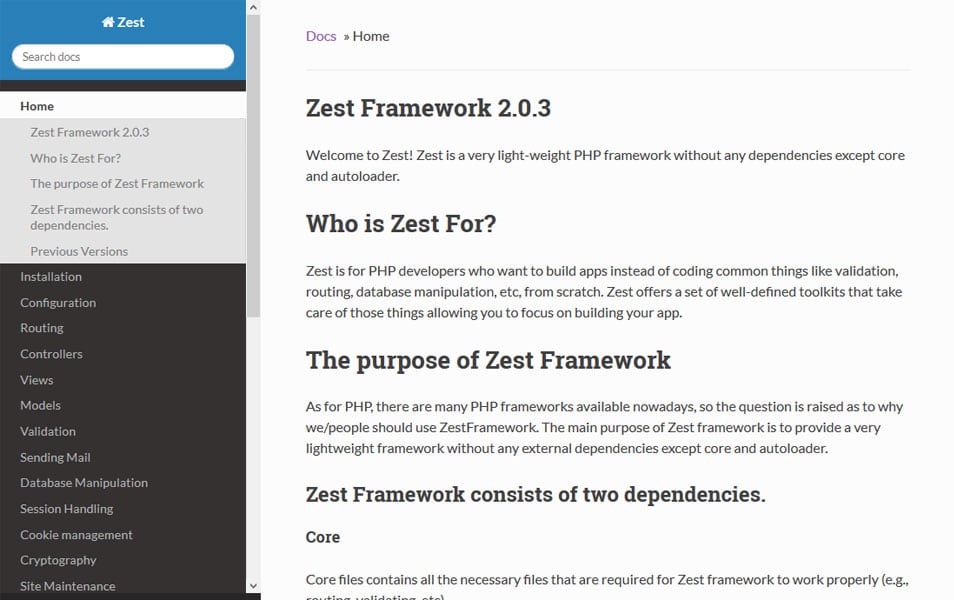 Zest is a very light-weight PHP framework without any dependencies except core and autoloader.
Roducks PHP MVC Framework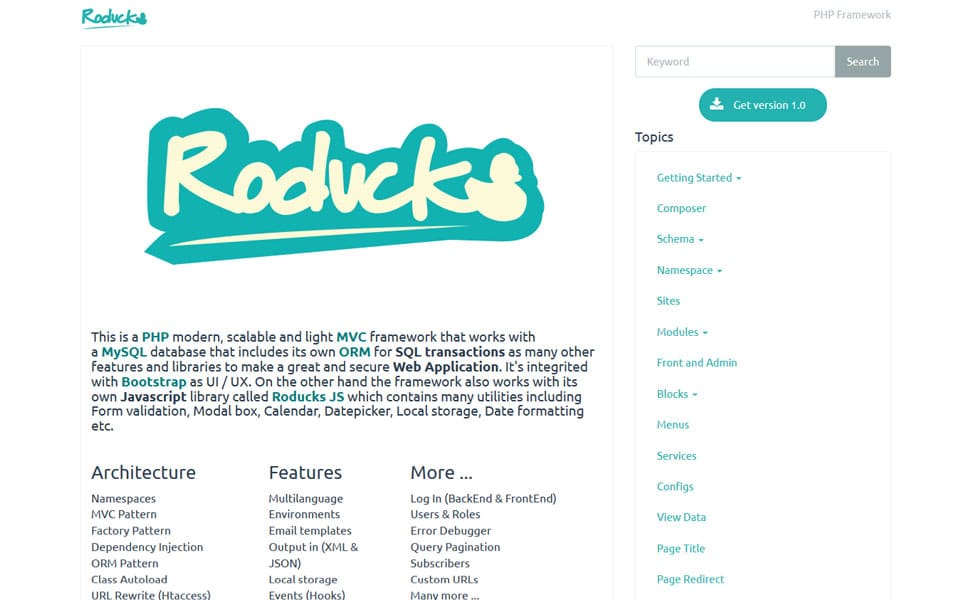 This is a PHP modern, scalable and light MVC framework that works with a MySQL database that includes its own ORM for SQL transactions as many other features and libraries to make a great and secure Web Application.
MODX Revolution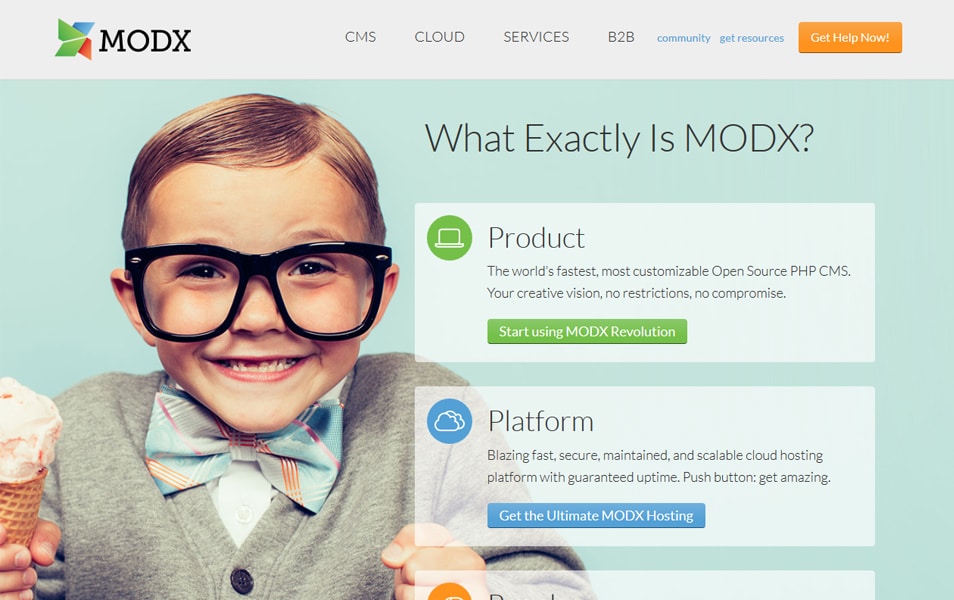 MODX Revolution is the world's fastest, most secure, flexible and scalable Open Source Content Management Framework.
StupidlySimple Framework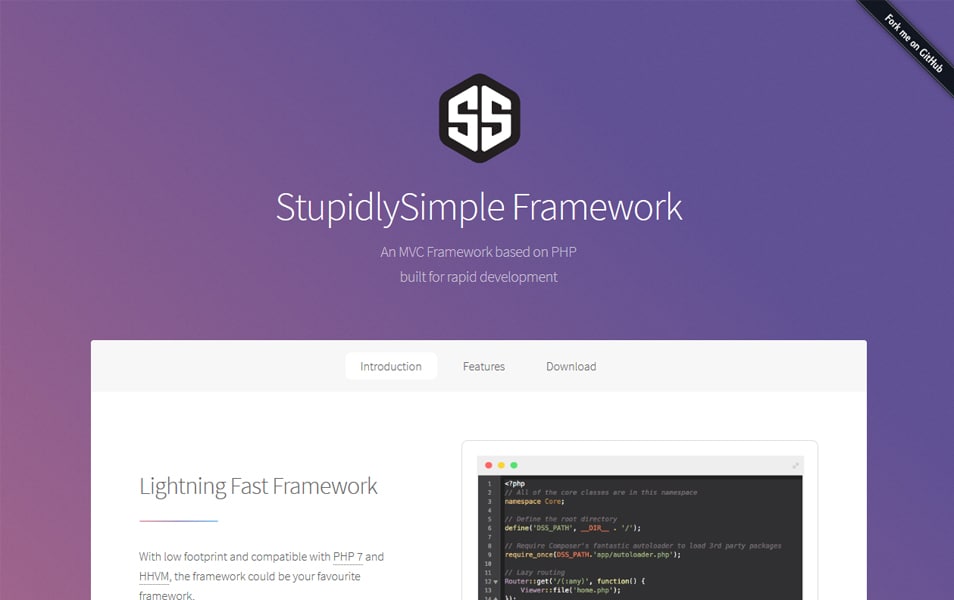 StupidlySimple Framework is a micro framework built for lazy developers.
UserFrosting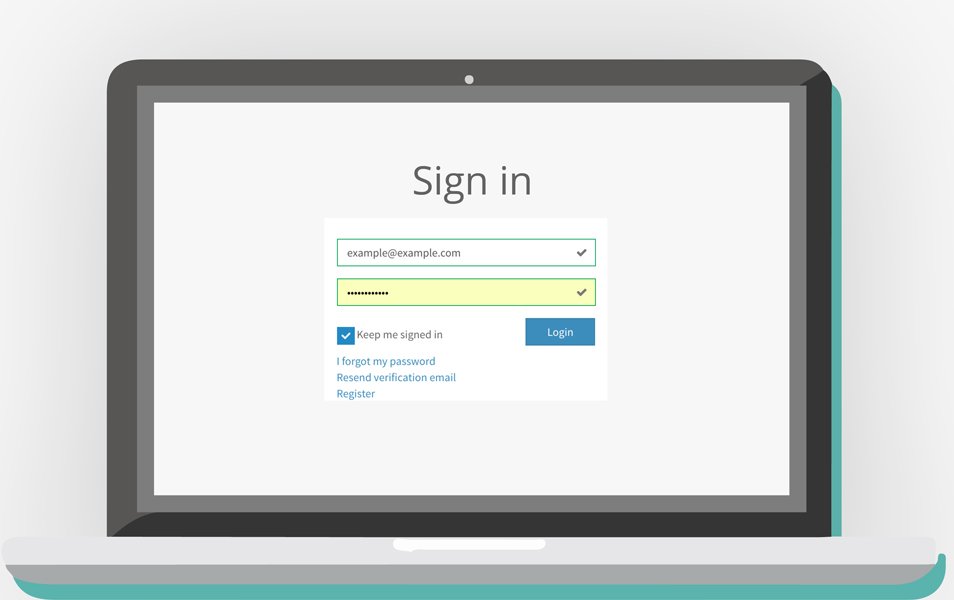 Modern PHP user login and management framework.
MomentPHP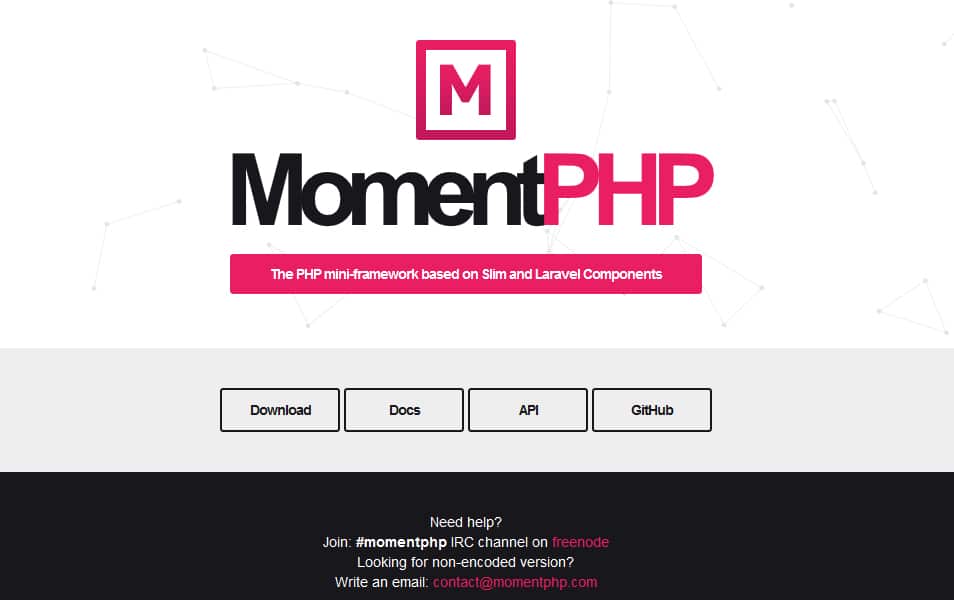 The PHP mini-framework based on Slim and Laravel Components.
RedCat PHP Framework
Rapid Application Development relying on the best-practices with ready-to-use conventions and flexible configuration design scalable and high-performance web application.
Elefant CMS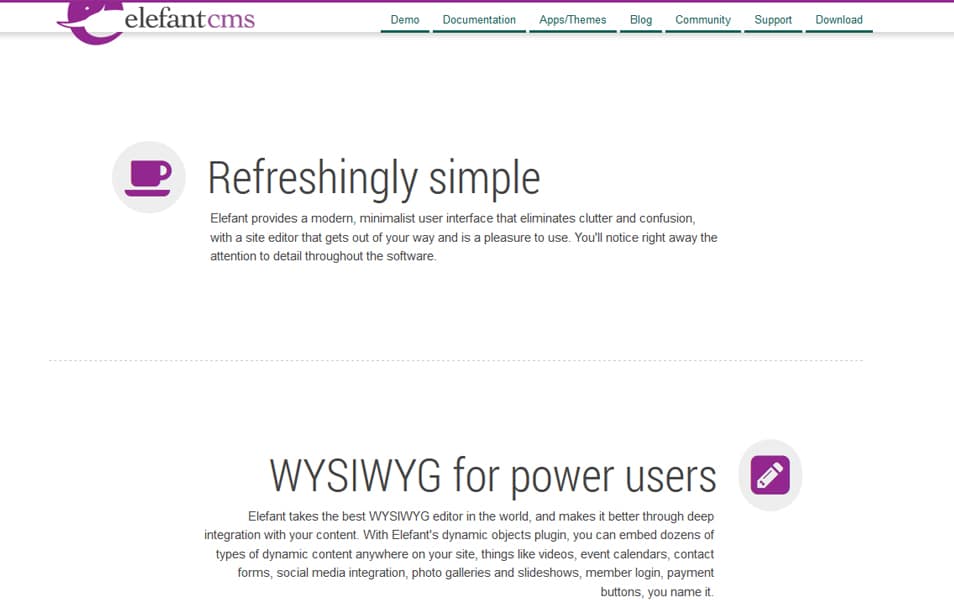 Elefant is a refreshingly simple PHP content management system and web framework. Elefant is a fast, lean tool for building everything from simple websites to complete web applications.
CrossPHP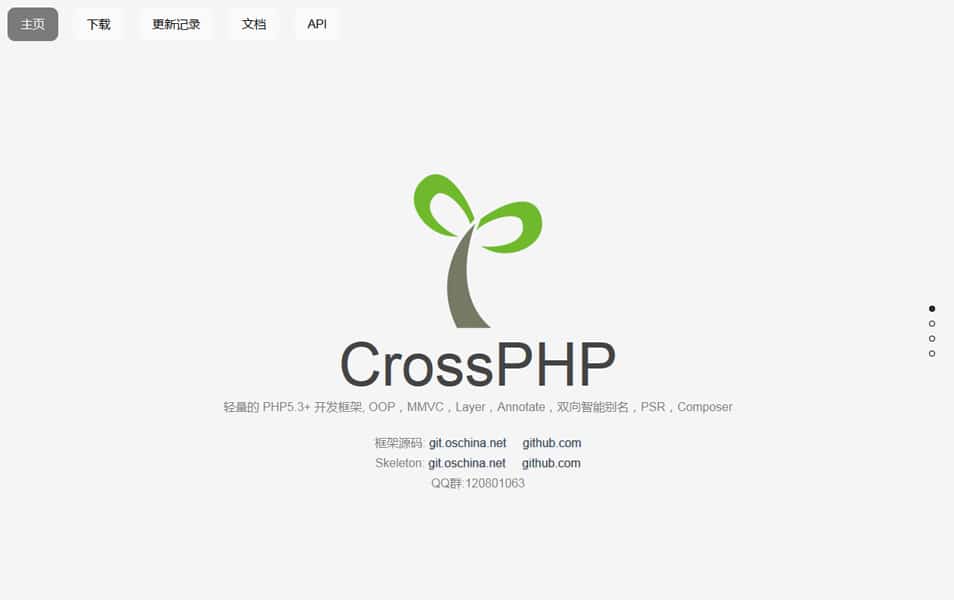 A micro PHP 5 framework, requires PHP 5.3.0.
Hyperframework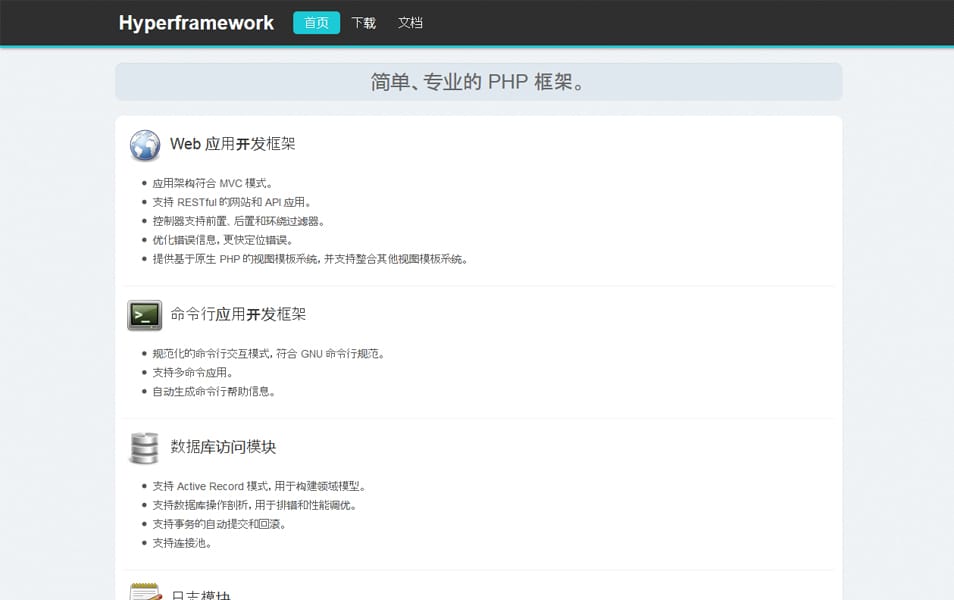 A simple and professional PHP framework.
Mvc5 Framework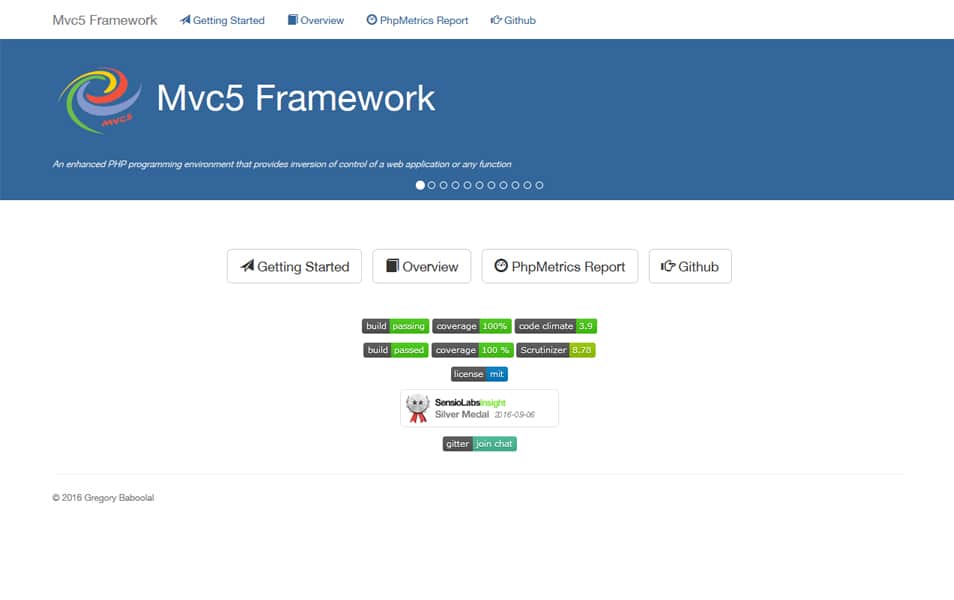 A PHP 7 framework with dependency injection, events, and named arguments.
Octris PHP Framework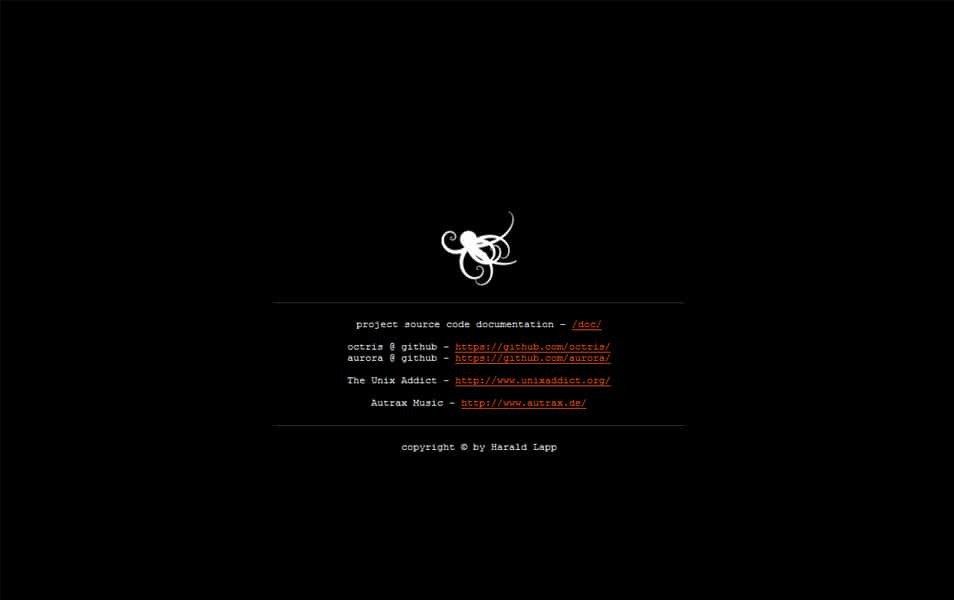 This is a BSD licensed PHP framework. This framework is a work in progress and parts of it may change in future.
Willer Framework
Willer is a PHP framework, it was created based on ideas coming from other frameworks like Django(python), Codeigniter(php) and ZendFramework(php).
li₃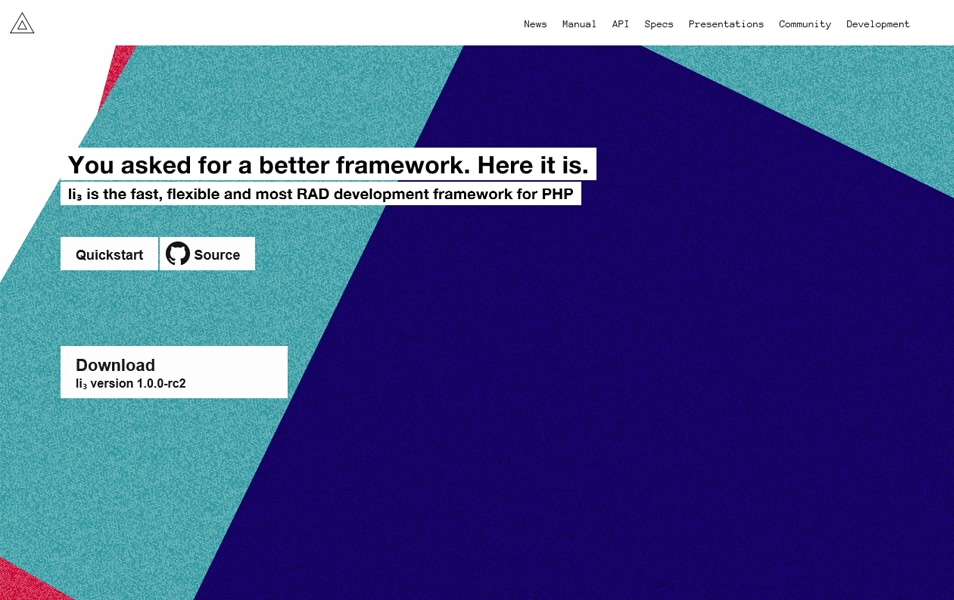 li₃ is fast, flexible and the most RAD development framework for PHP.
Yiistrap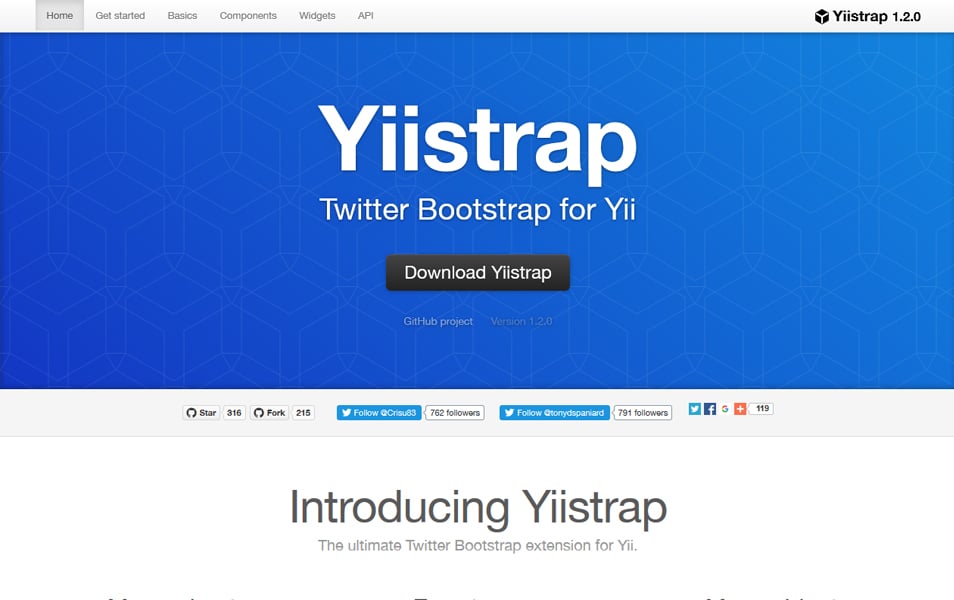 Twitter Bootstrap for the Yii PHP framework.
Mockery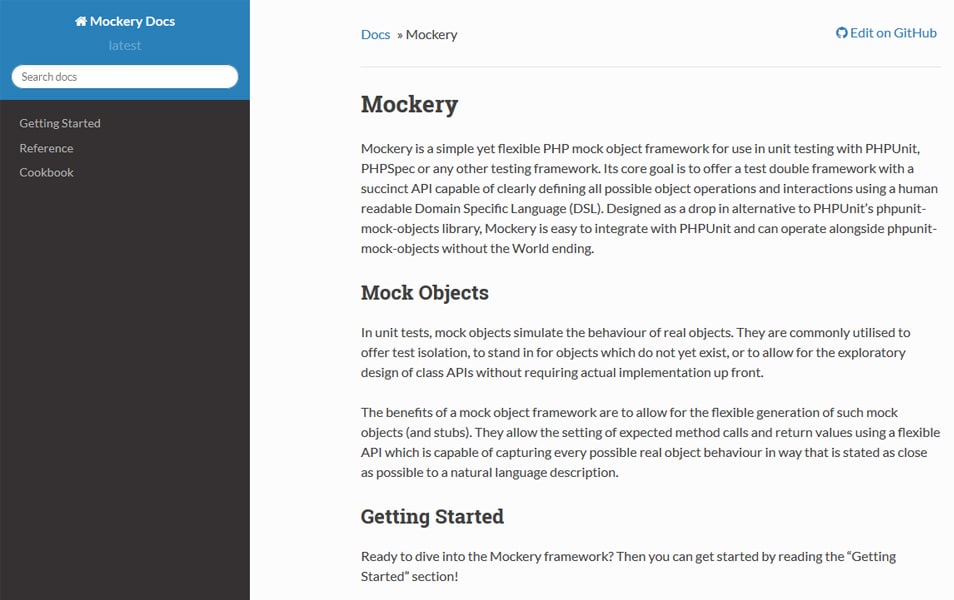 Mockery is a simple yet flexible PHP mock object framework for use in unit testing with PHPUnit, PHPSpec or any other testing framework.
phpDaemon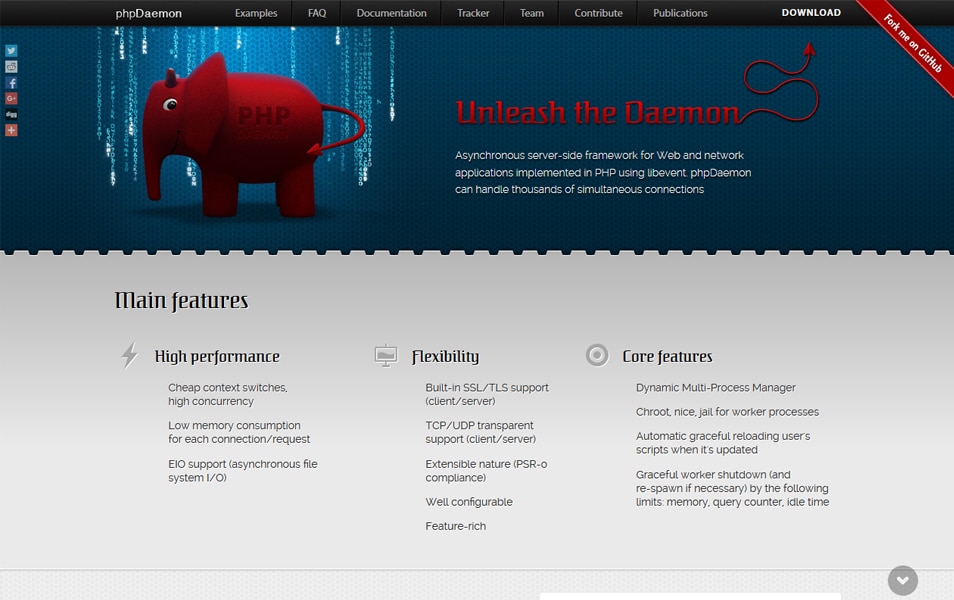 Asynchronous server-side framework for Web and network applications implemented in PHP using libevent.
phpspec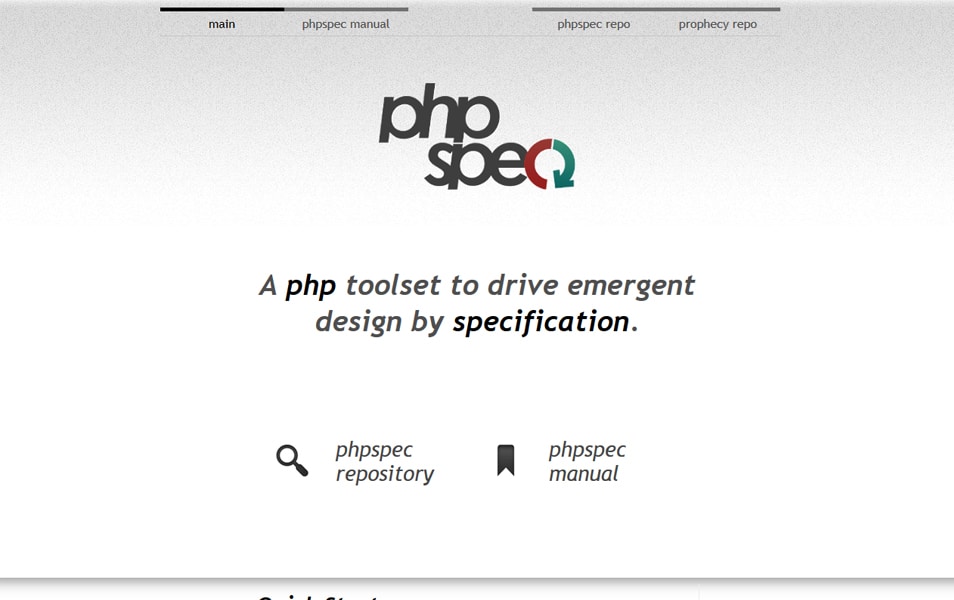 SpecBDD Framework for PHP.
SabreDAV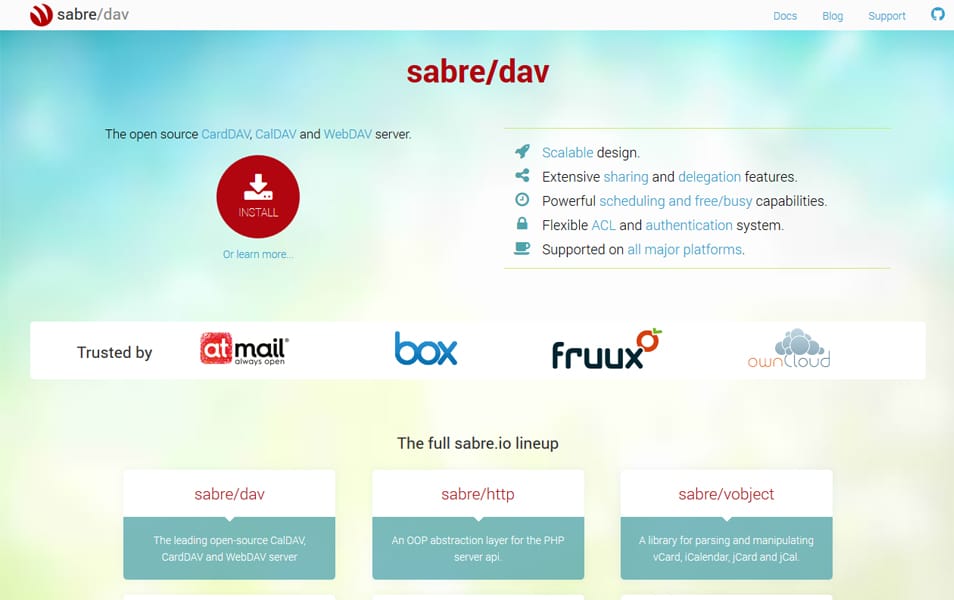 SabreDAV is the most popular WebDAV framework for PHP. Use it to create WebDAV, CalDAV and CardDAV servers.
Swoole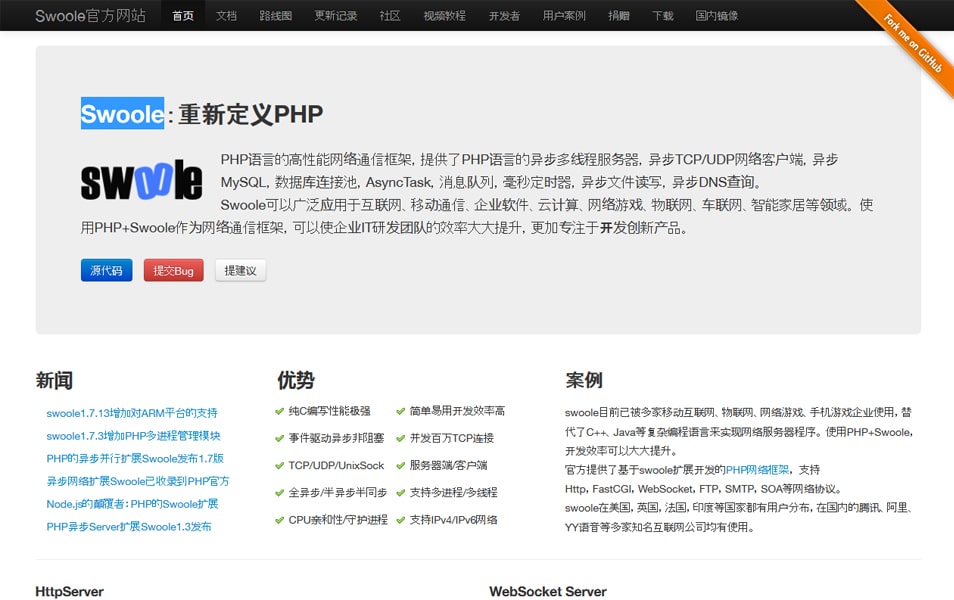 Asynchronous & concurrent & distributed networking framework for PHP.
Workerman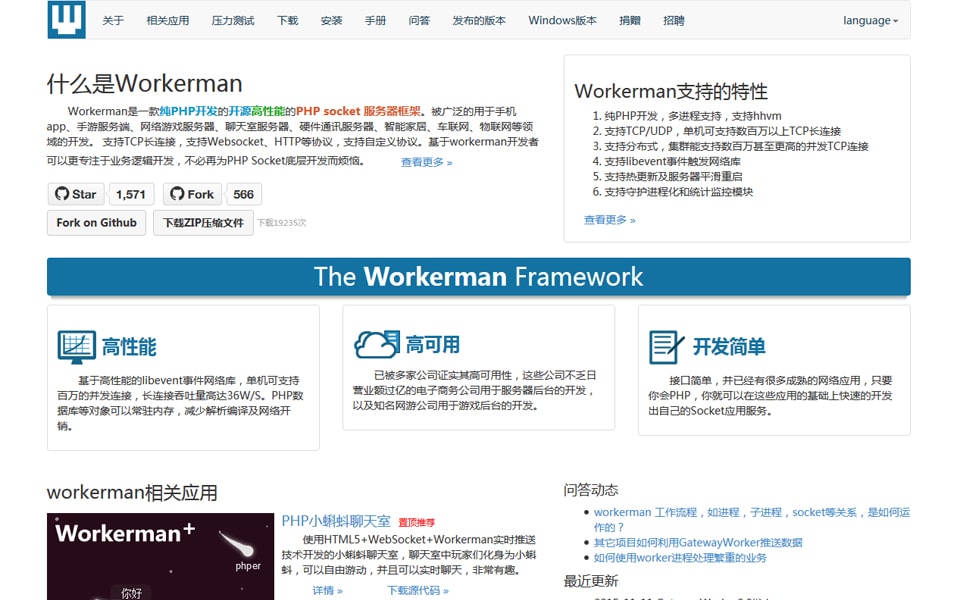 An asynchronous event driven PHP framework for easily building fast, scalable network applications. Supports HTTP, Websocket and other custom protocols. Supports libevent, HHVM.
Behat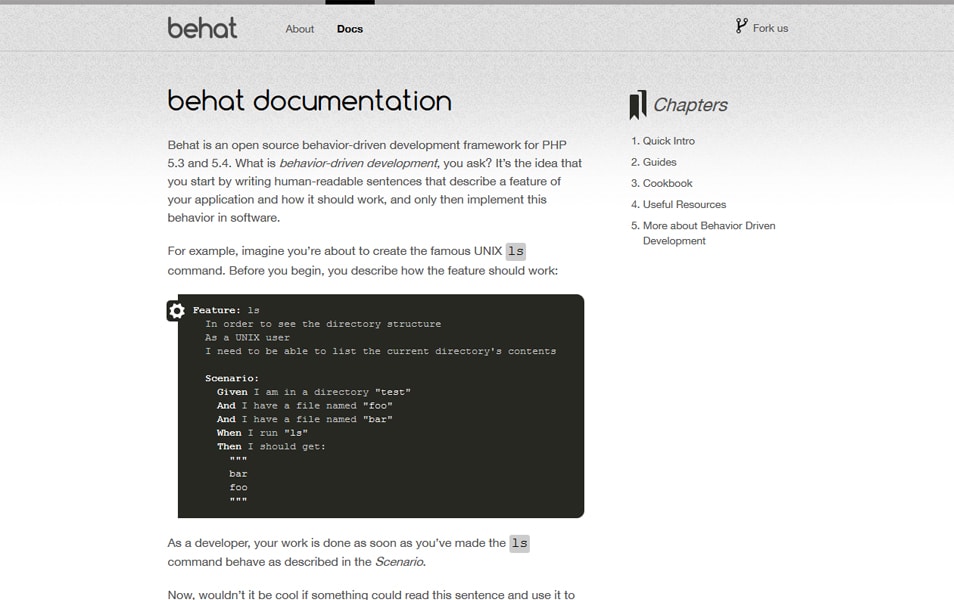 Behat is a BDD framework for PHP to help you test business expectations.
Opauth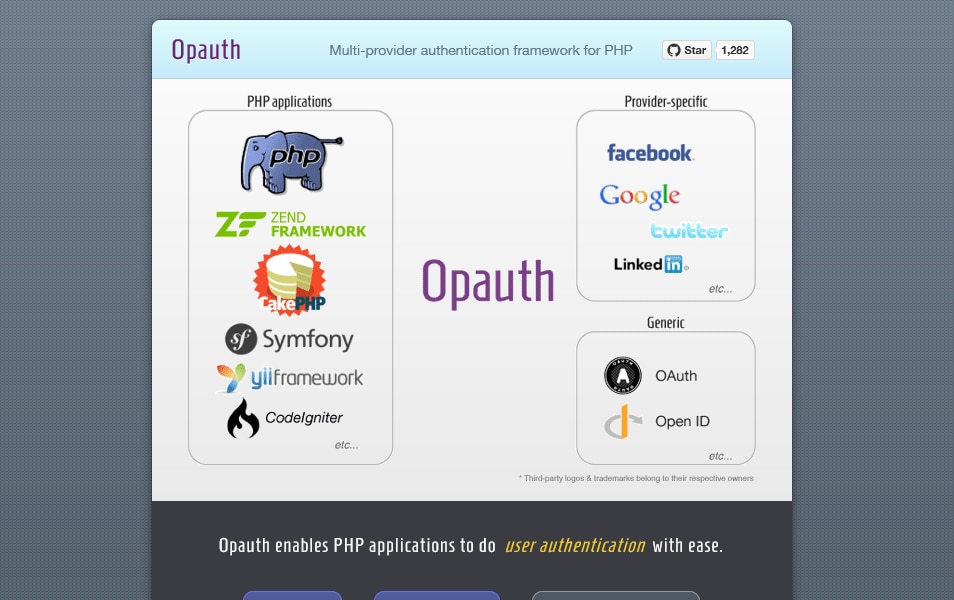 Opauth is a multi-provider authentication framework for PHP.
Lumen PHP Framework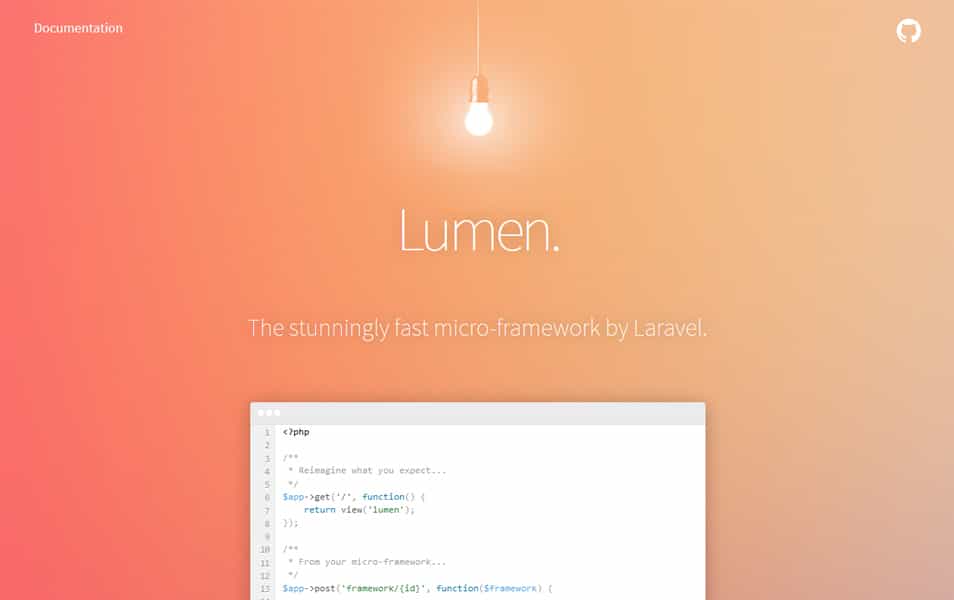 Laravel Lumen is a stunningly fast PHP micro-framework for building web applications with expressive, elegant syntax.
Zend Framework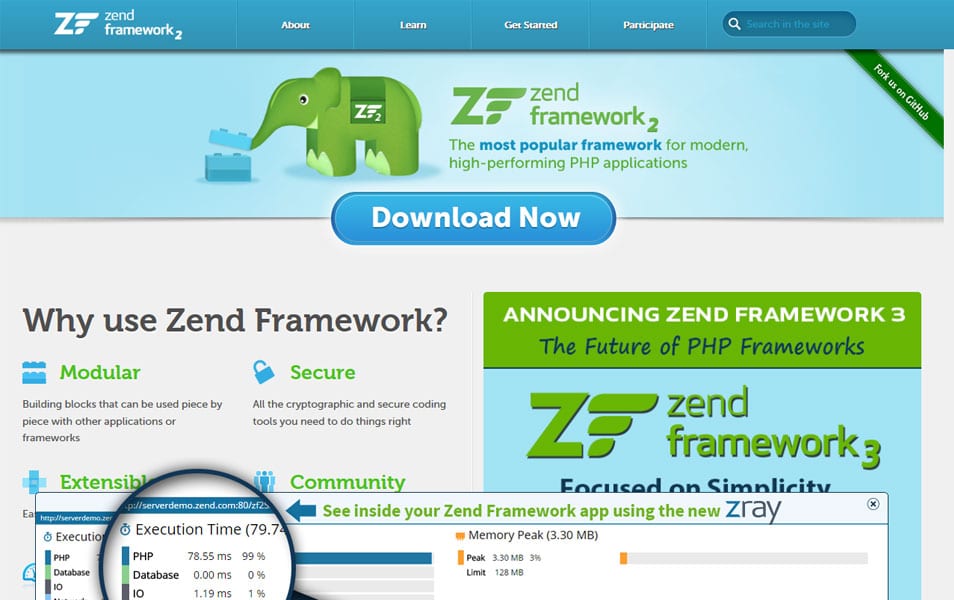 The most popular framework for modern, high-performing PHP applications.
Joomla Framework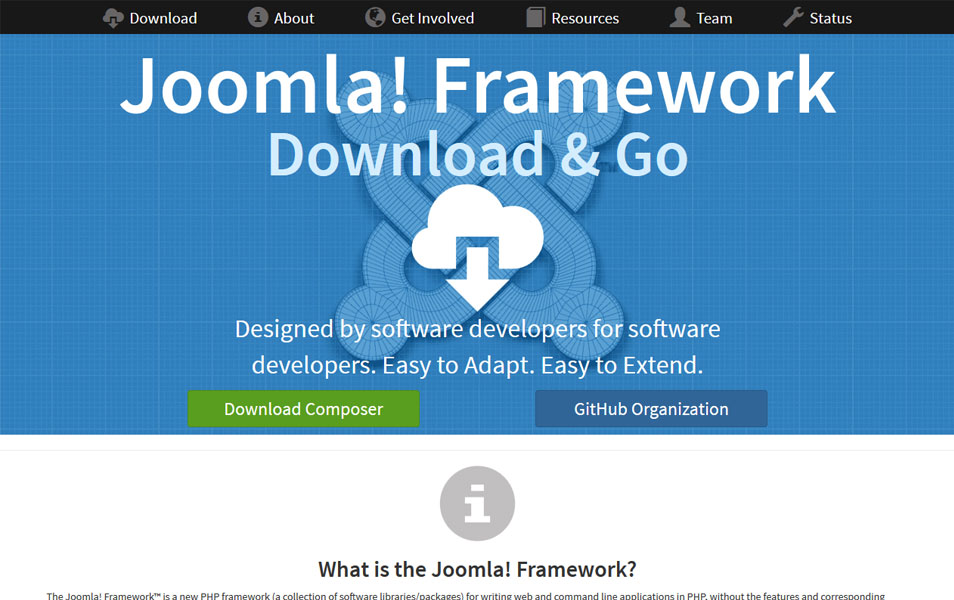 The Joomla! Framework™ is a new PHP framework (a collection of software libraries/packages) for writing web and command line applications in PHP, without the features and corresponding overhead found in the Joomla!
Medoo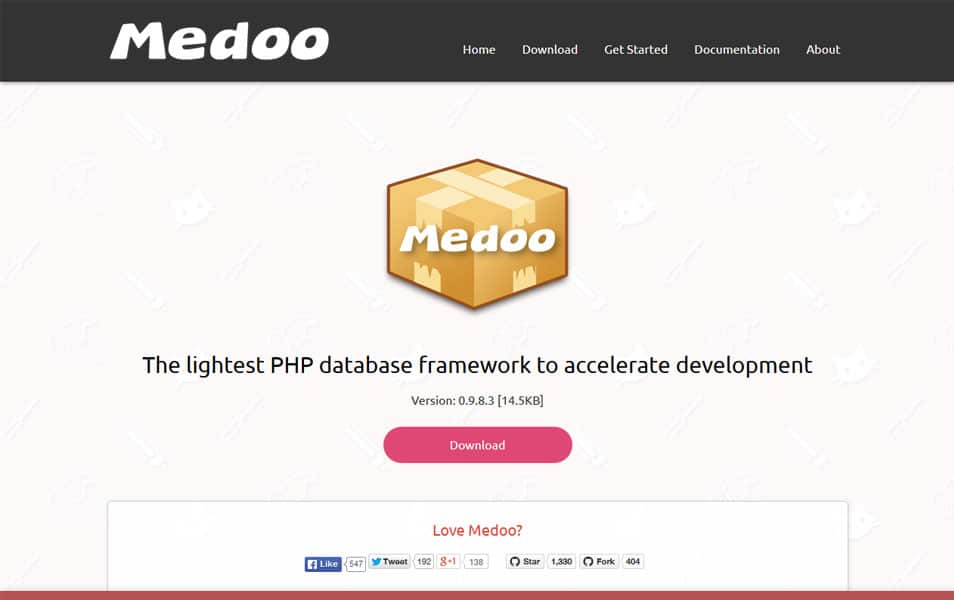 The lightest PHP database framework to accelerate development.
FuelPHP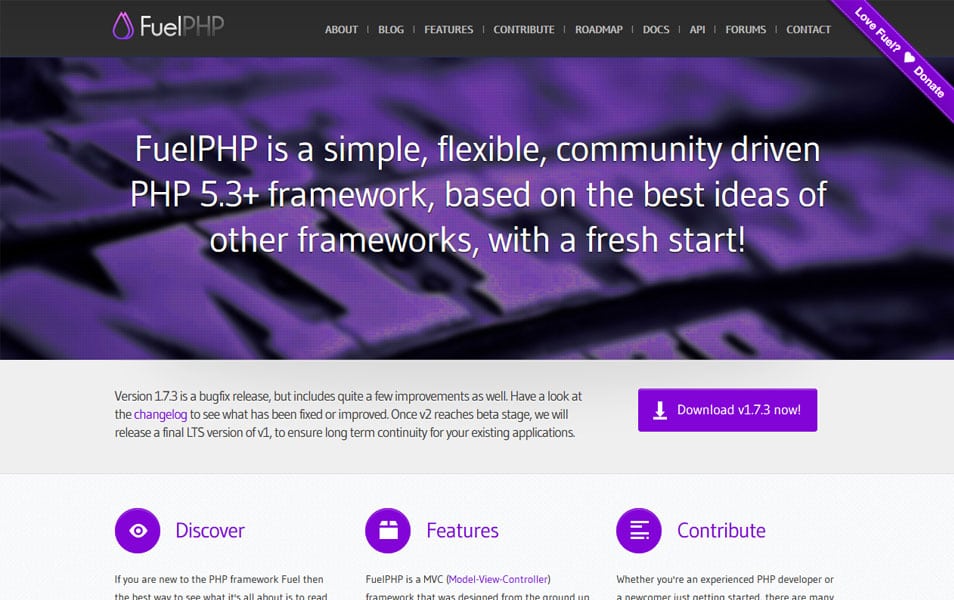 FuelPHP is a simple, flexible, community driven PHP 5.3+ framework, based on the best ideas of other frameworks, with a fresh start!
PRADO PHP Framework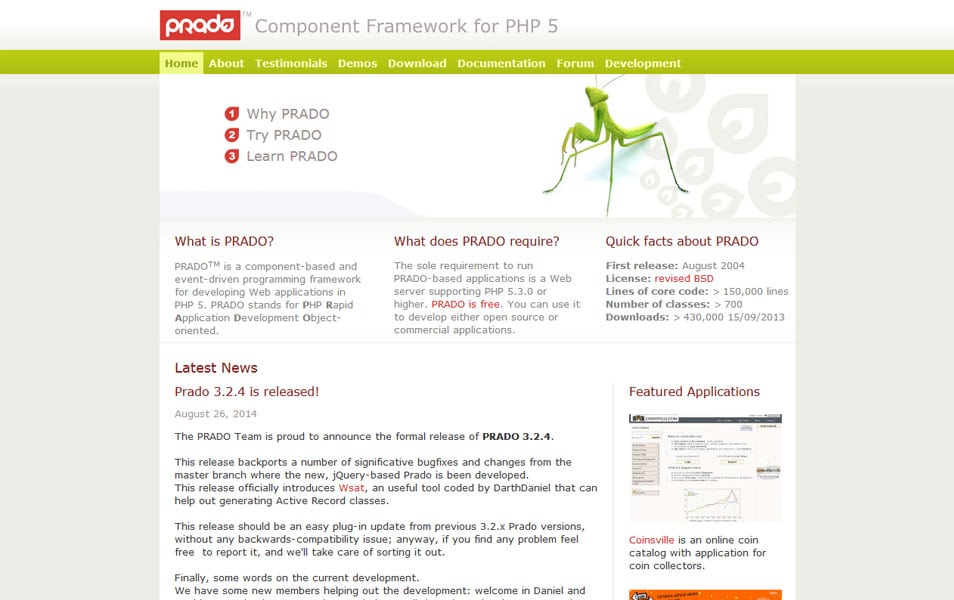 PRADO is a component-based and event-driven framework for Web application development in PHP 5.
Slim Framework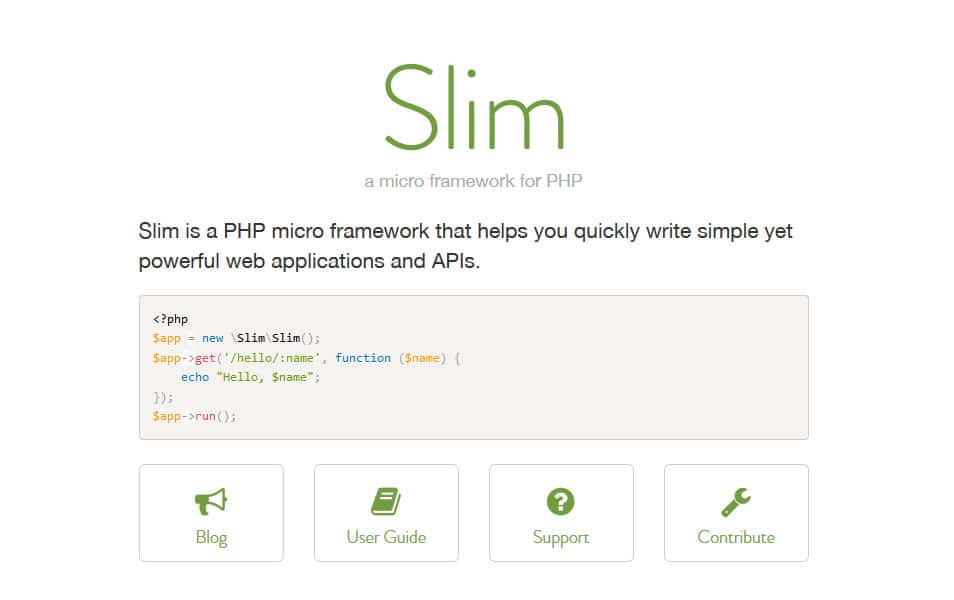 Slim is a PHP micro framework that helps you quickly write simple yet powerful web applications and APIs.
Kohana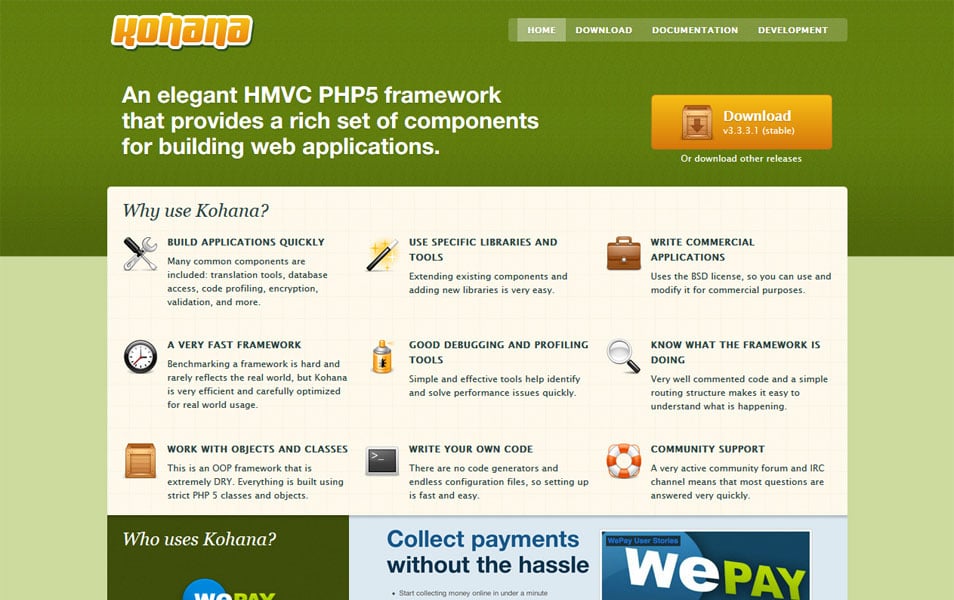 Kohana is an HMVC PHP5 framework that provides a rich set of components for building web applications.
Aura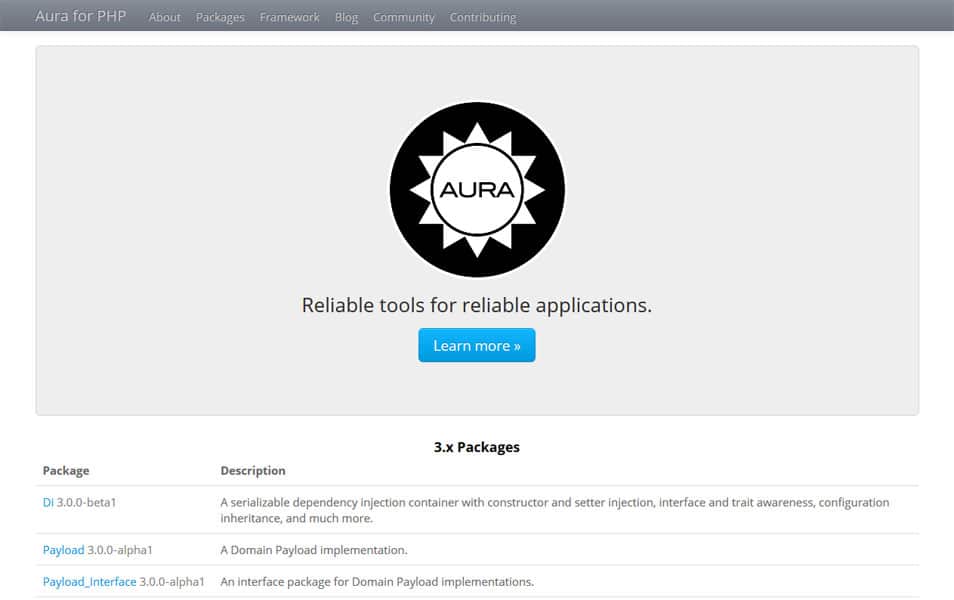 The Aura project centers around a collection of high-quality, well-tested, semantically versioned, standards-compliant, independent library packages that can be used in any codebase.
Fat-Free Framework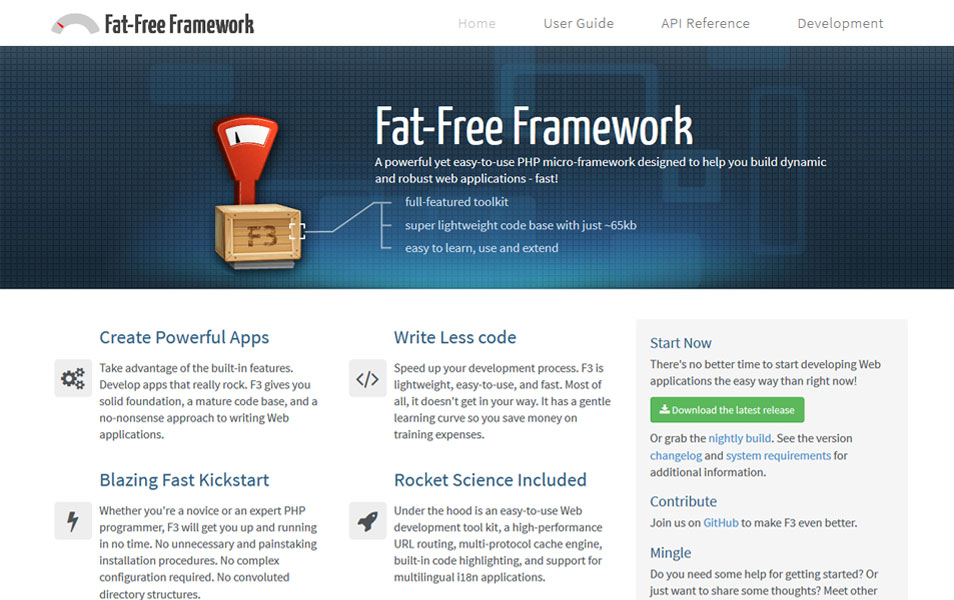 A powerful yet easy-to-use PHP micro-framework designed to help you build dynamic and robust web applications – fast!
Silex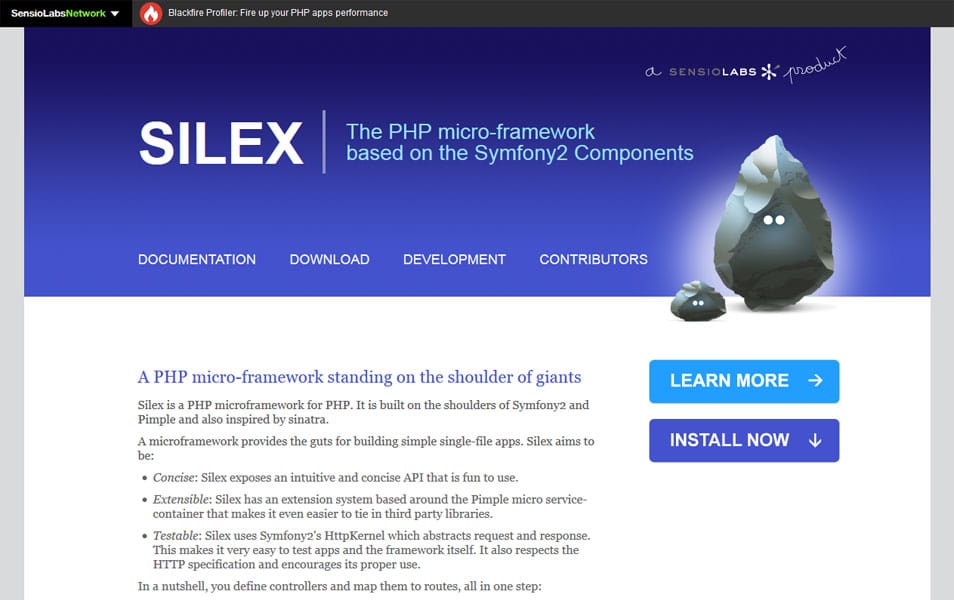 Silex is a PHP microframework for PHP. It is built on the shoulders of Symfony2 and Pimple and also inspired by sinatra.
Agavi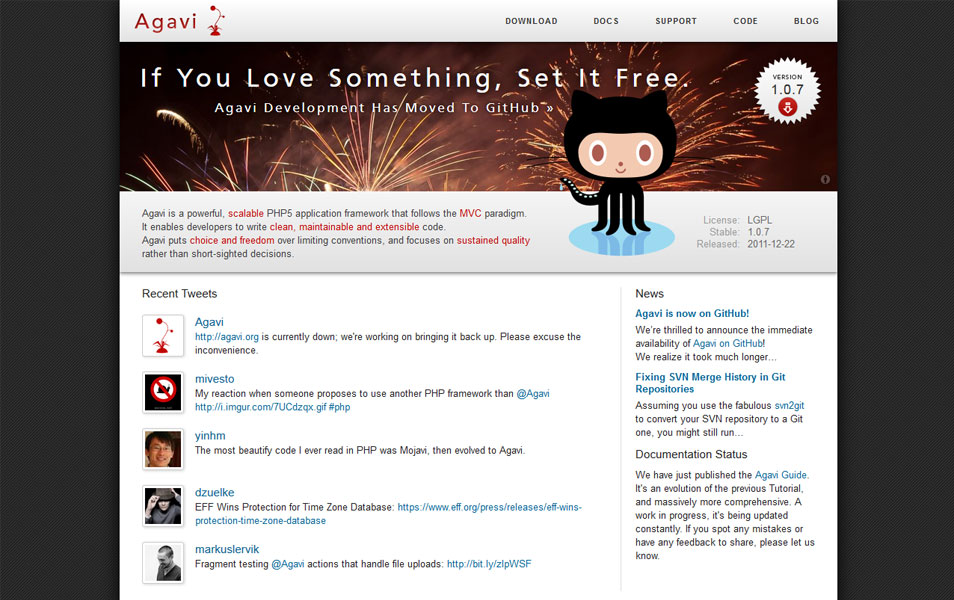 Agavi is a powerful, scalable PHP5 application framework that follows the MVC paradigm. It enables developers to write clean, maintainable and extensible code.
Solar Framework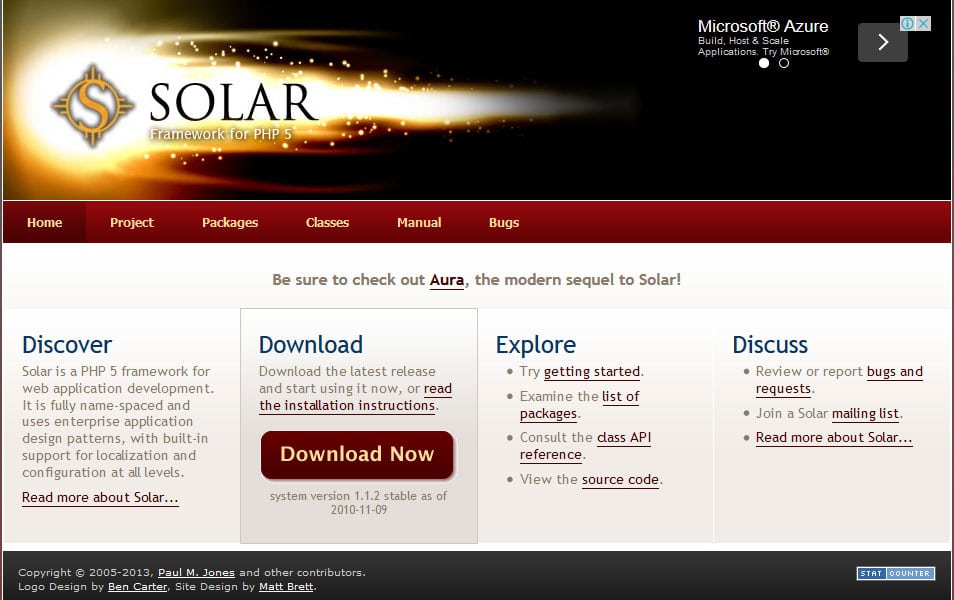 Solar is a PHP 5 framework for web application development. It is fully name-spaced and uses enterprise application design patterns, with built-in support for localization and configuration at all levels.
PHPixie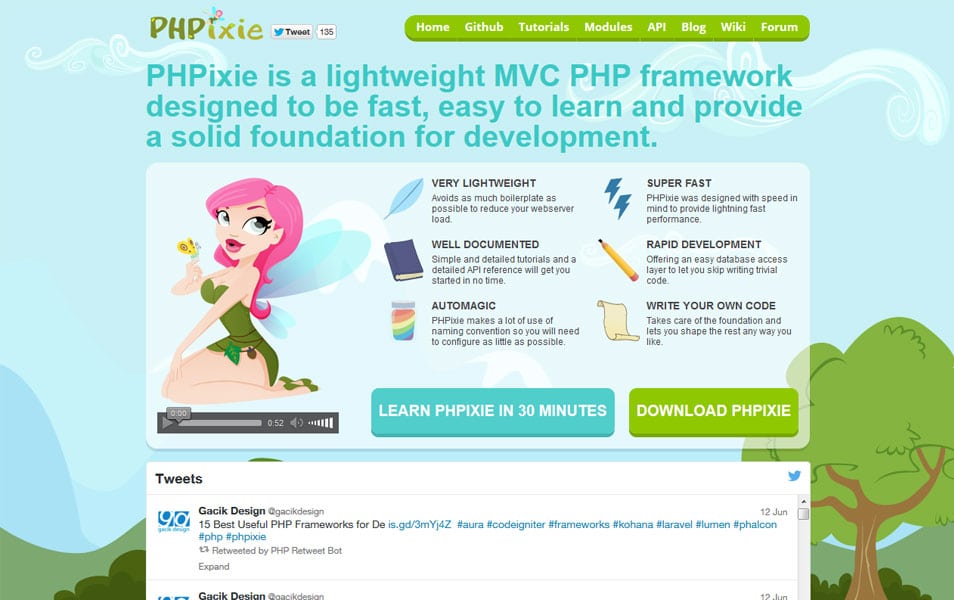 PHPixie is a lightweight MVC PHP framework designed to be fast, easy to learn and provide a solid foundation for development.
Nette Framework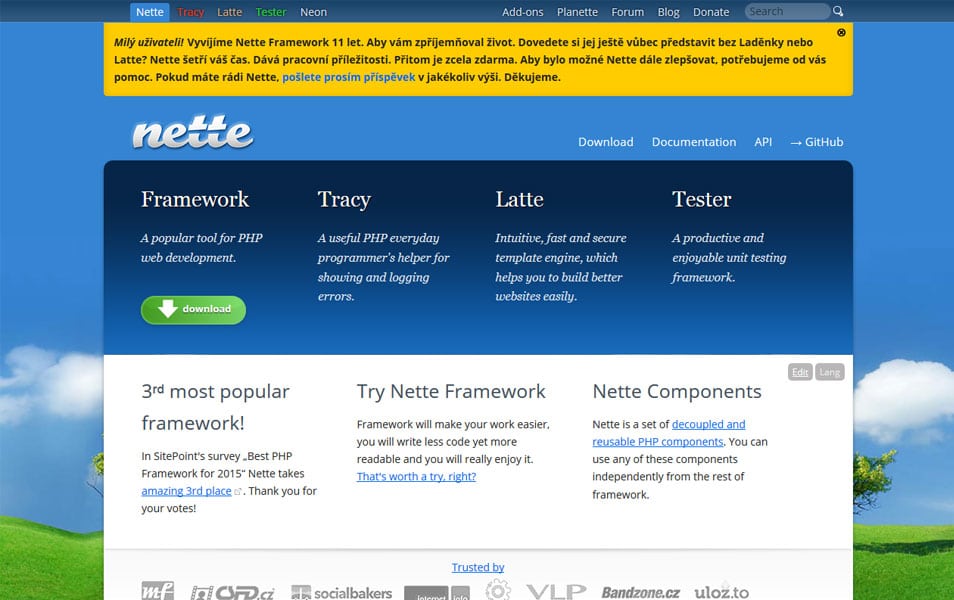 A popular tool for PHP web development. Nette Framework lets you focus on the creative part of being a developer.
ShortPHP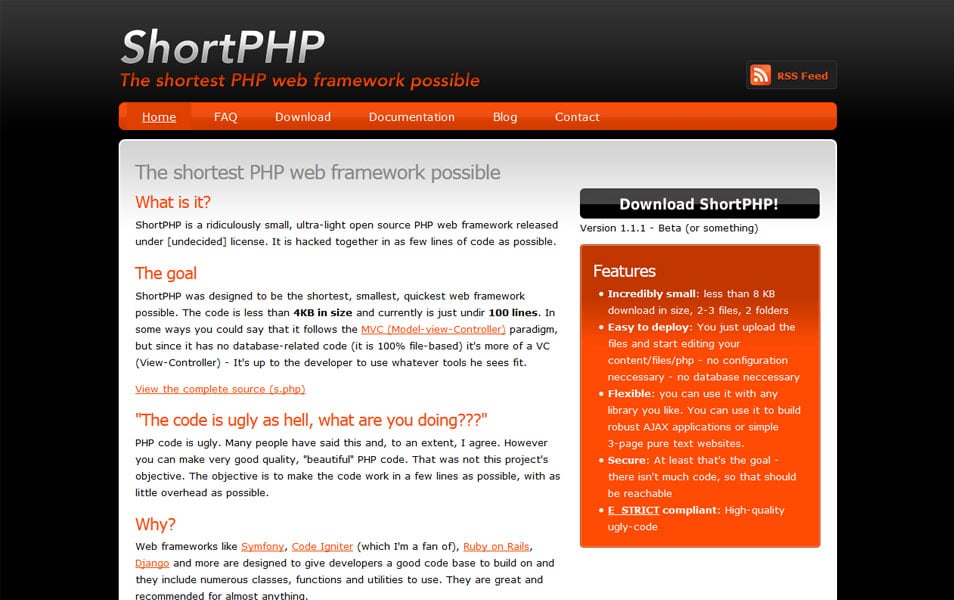 ShortPHP is a ridiculously small, ultra-light open source PHP web framework released under [undecided] license.
Flight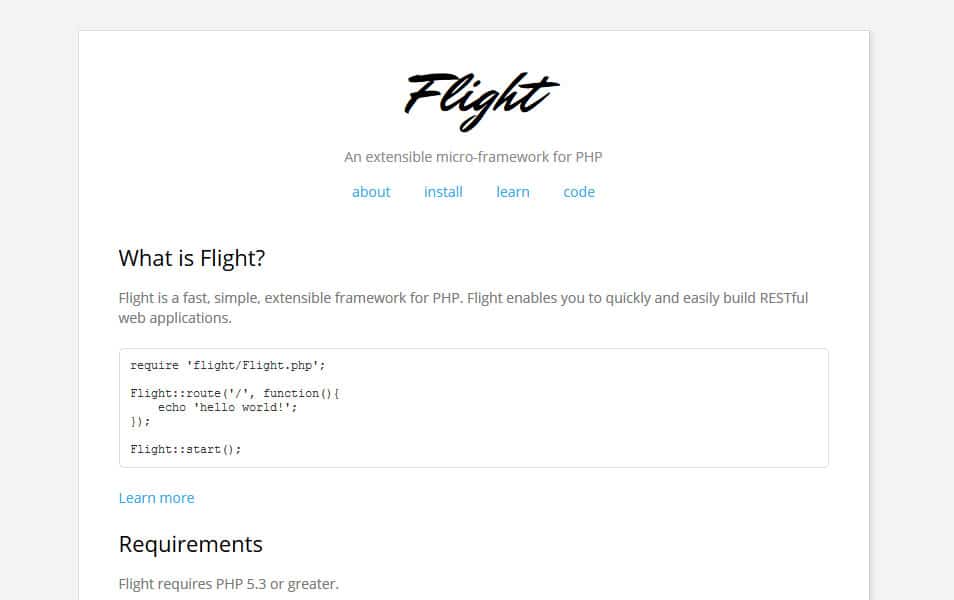 Flight is a fast, simple, extensible framework for PHP. Flight enables you to quickly and easily build RESTful web applications.
MINI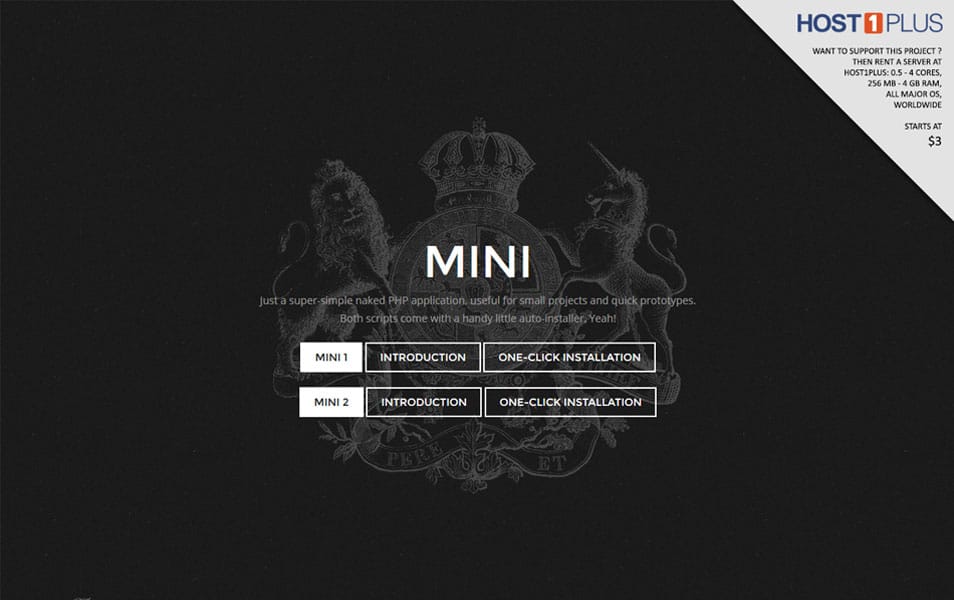 MINI is an extremely simple and easy to understand skeleton PHP application, reduced to the max. MINI is NOT a professional framework and it does not come with all the stuff real frameworks have.
Yaf PHP framework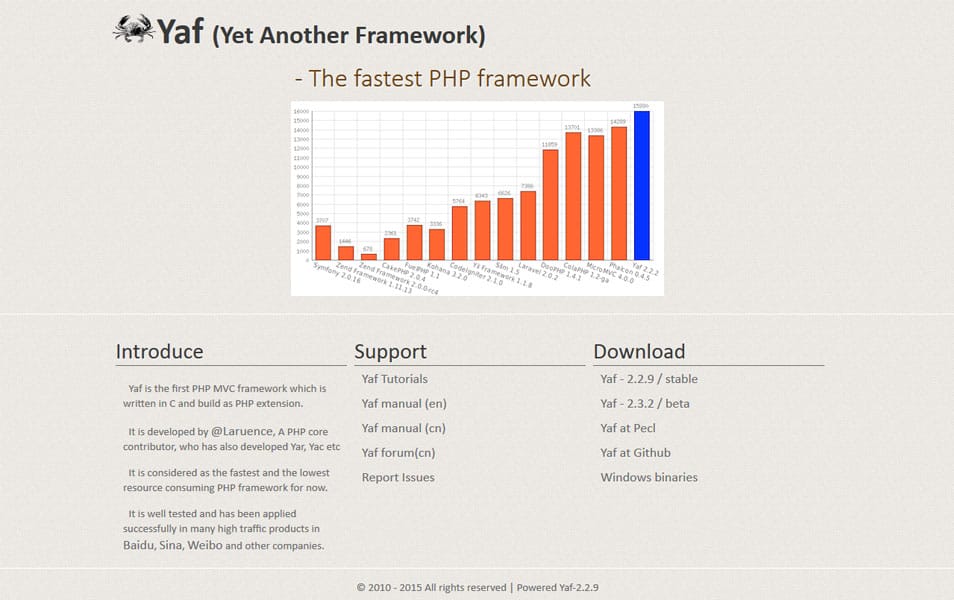 Yaf is the first PHP MVC framework which is written in C and build as PHP extension.
Pop PHP Framework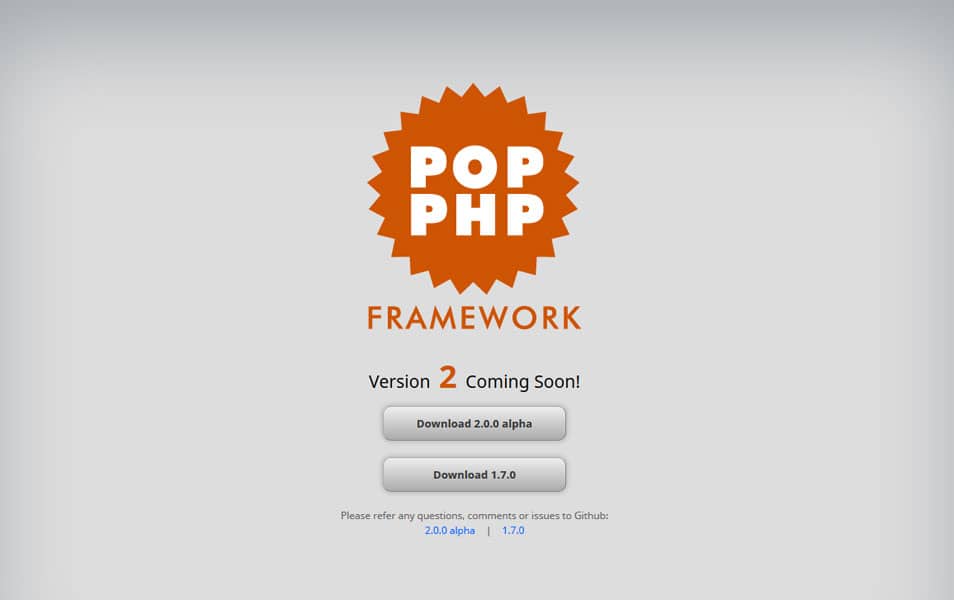 Pop PHP Framework is a lightweight, yet feature-rich PHP framework.
Jelix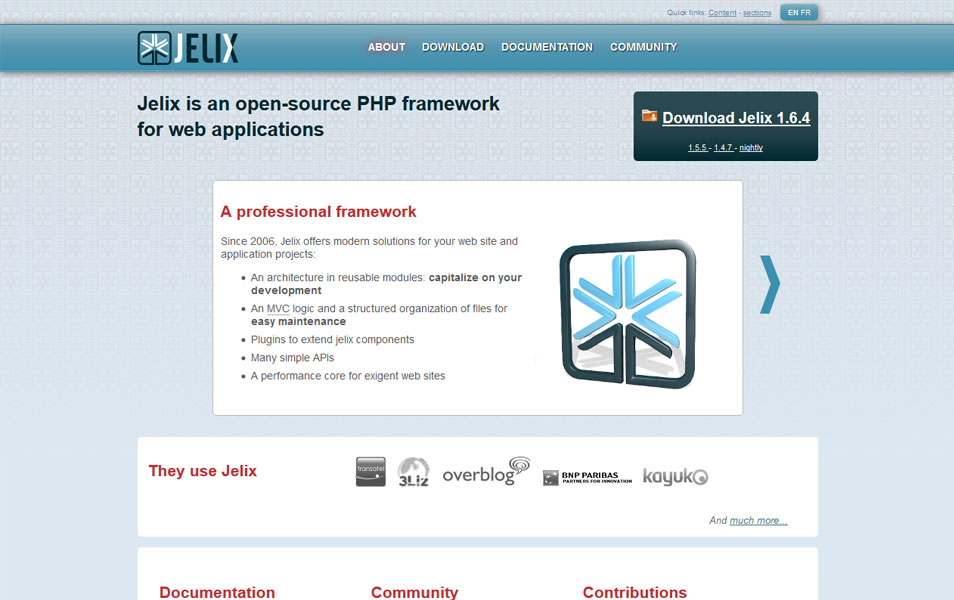 Jelix is an open-source PHP framework for web applications.
Bullet PHP Micro-Framework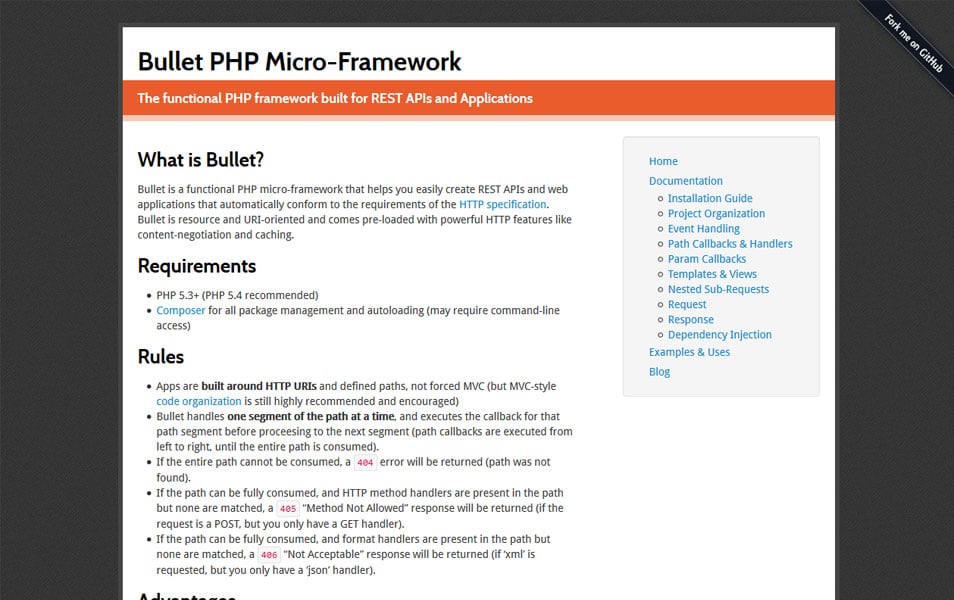 Bullet is a functional PHP micro-framework that helps you easily create REST APIs and web applications that automatically conform to the requirements of the HTTP specification.
YeePHP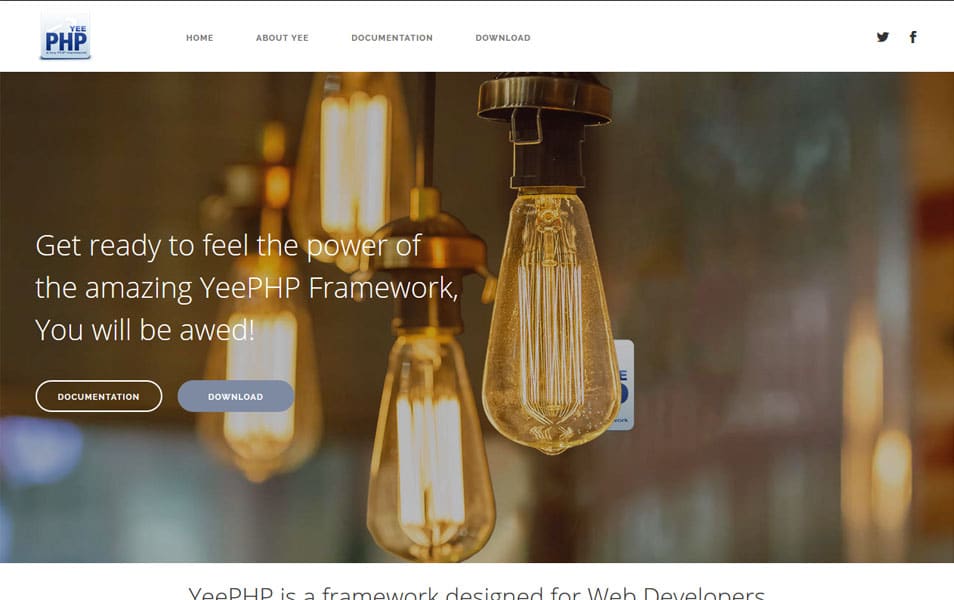 Yee PHP Framework is a tiny jump start Framework that keeps things simple, thus allowing you to quickly get your PHP App or API projects up and running.
Spawn Framework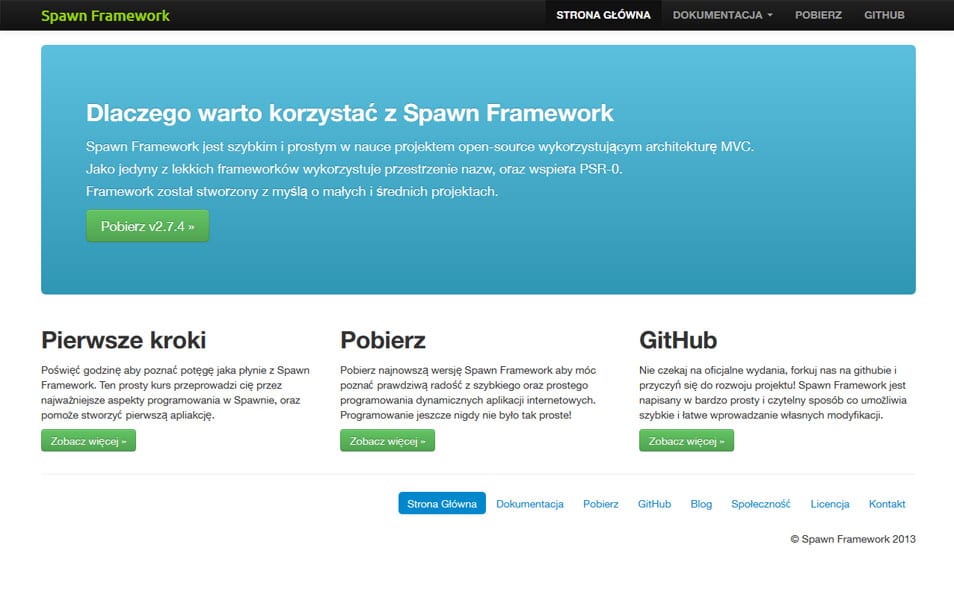 Open-Source php Framework.
DooPHP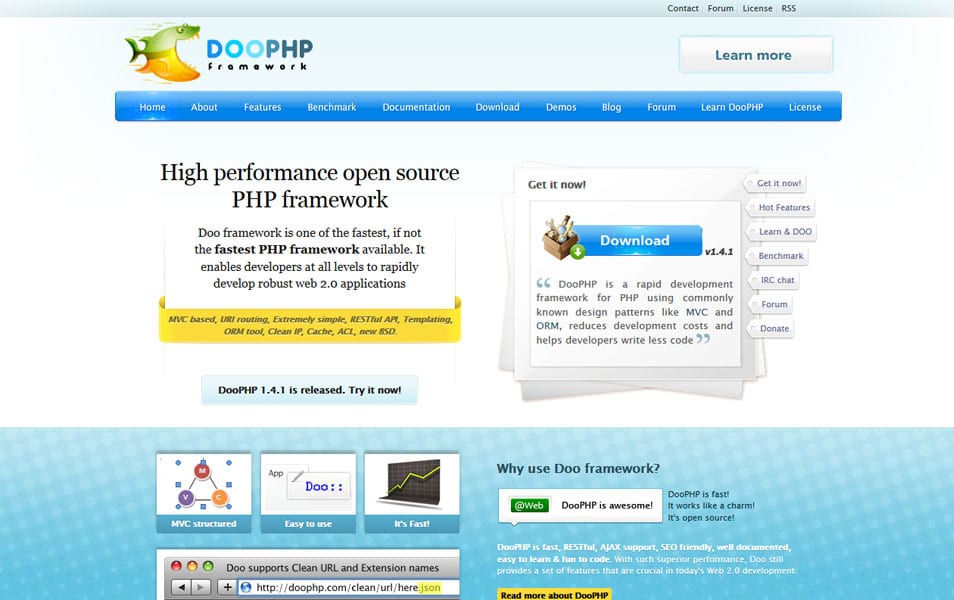 The fastest MVC based php framework.
Limonade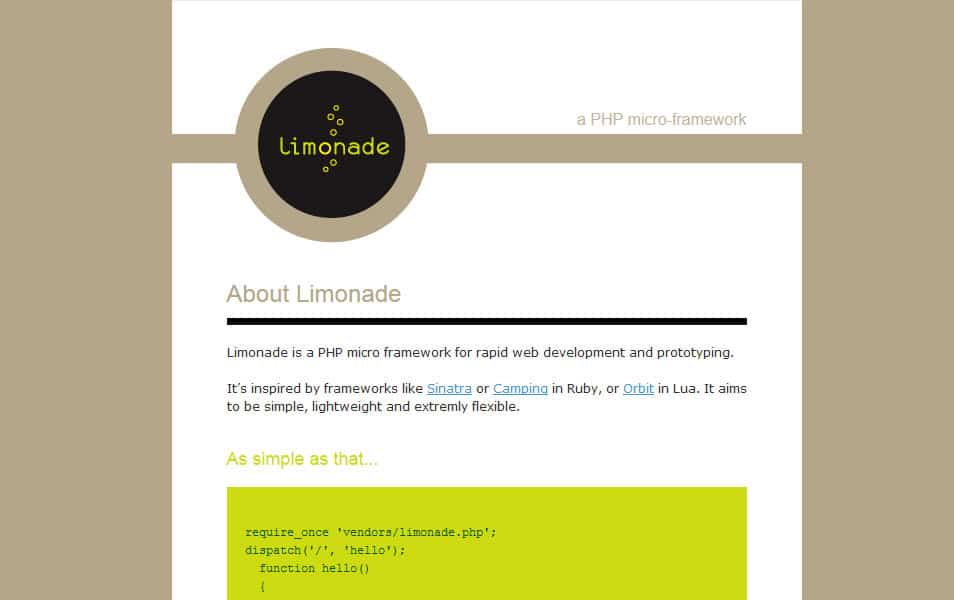 Limonade is a PHP micro framework for rapid web development and prototyping.
Innomatic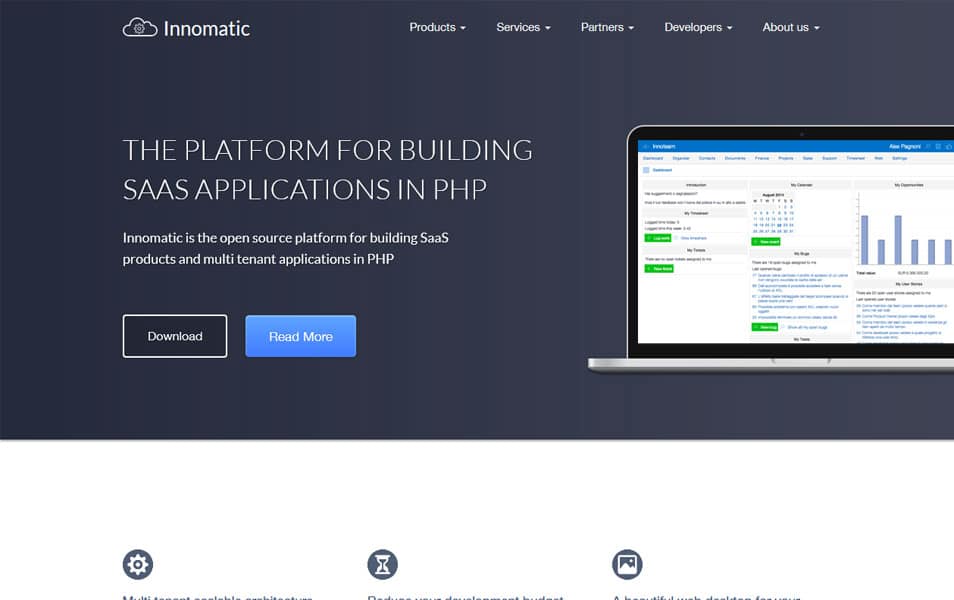 Innomatic is the open source platform for building SaaS products and multi tenant applications in PHP.
Recess PHP Framework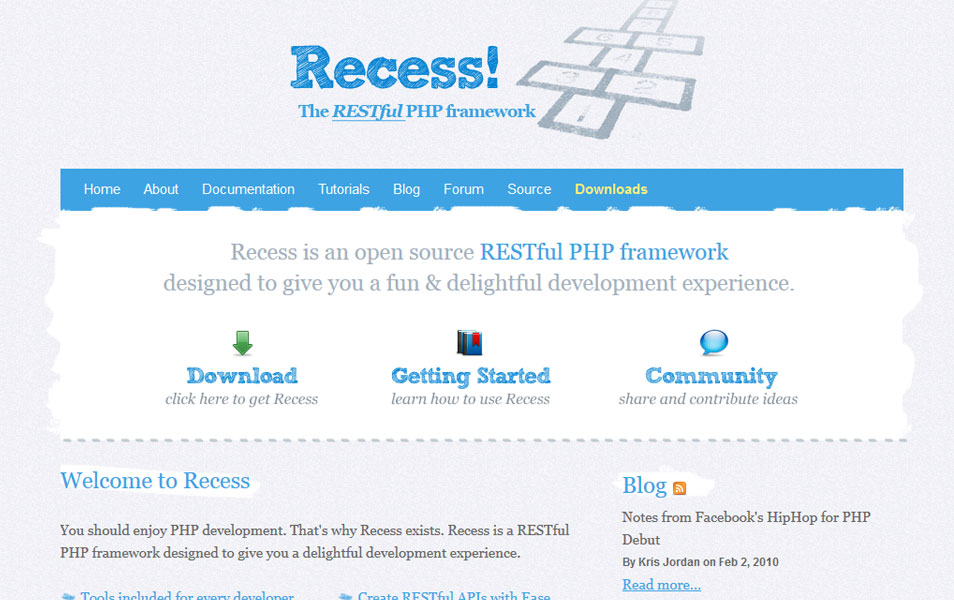 Recess is an open source, full-stack PHP Framework that uses REST, annotations, and strong object-oriented design.
Tonic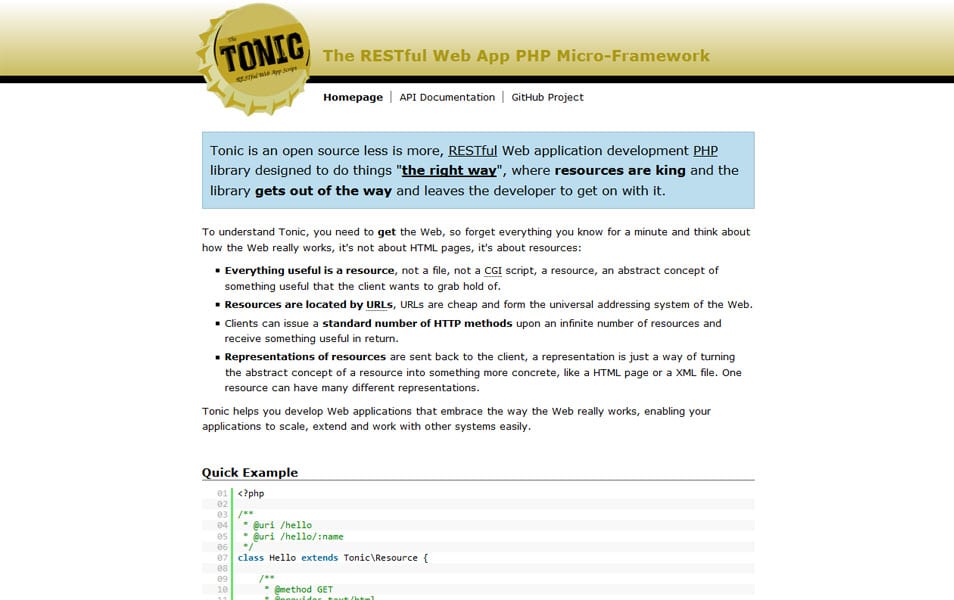 The RESTful Web App PHP Micro-Framework.
Zaphpa
Zaphpa is a super-lightweight, robust and easy library for quickly developing RESTful HTTP APIs in PHP.
ClanCats Framework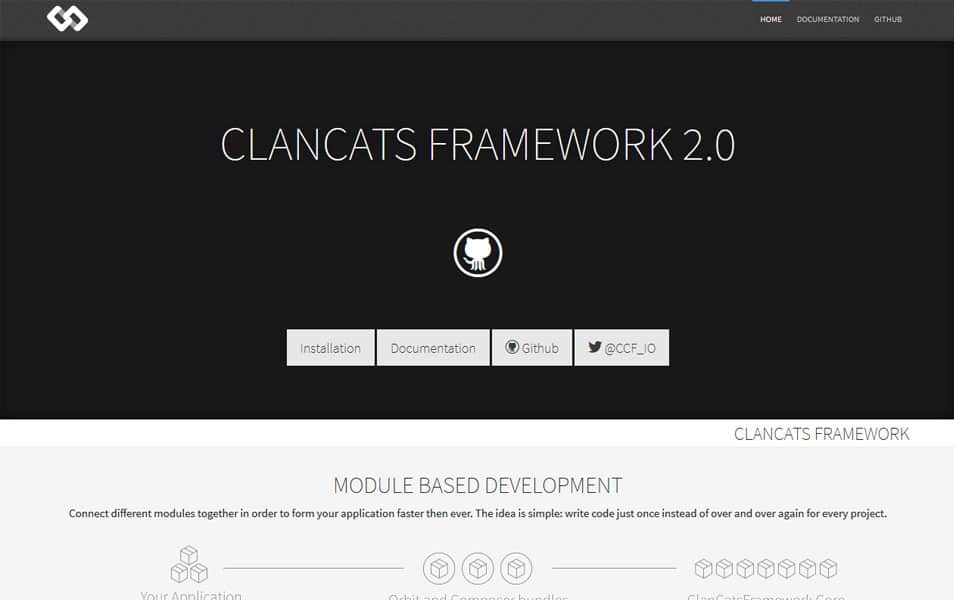 ClanCatsFramework, painless web development no overkill. HMVC PHP framework.
Codeception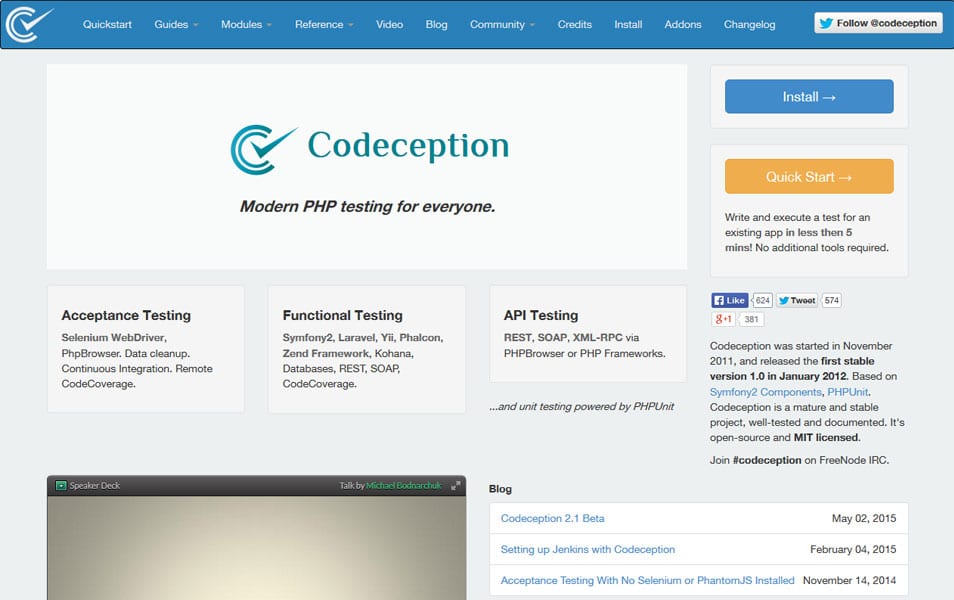 Codeception is a BDD-styled PHP testing framework.
Adventure PHP Framework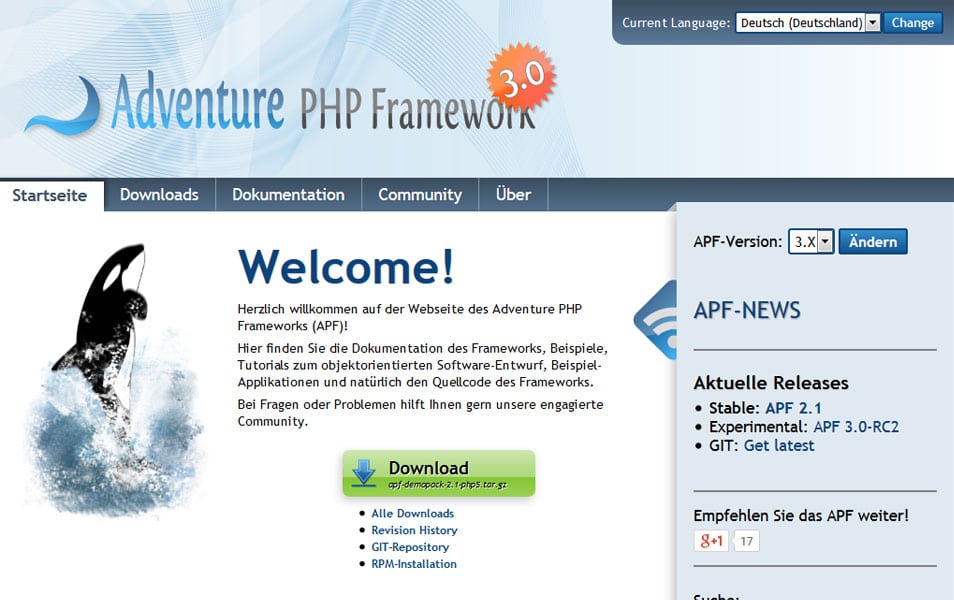 Agile Toolkit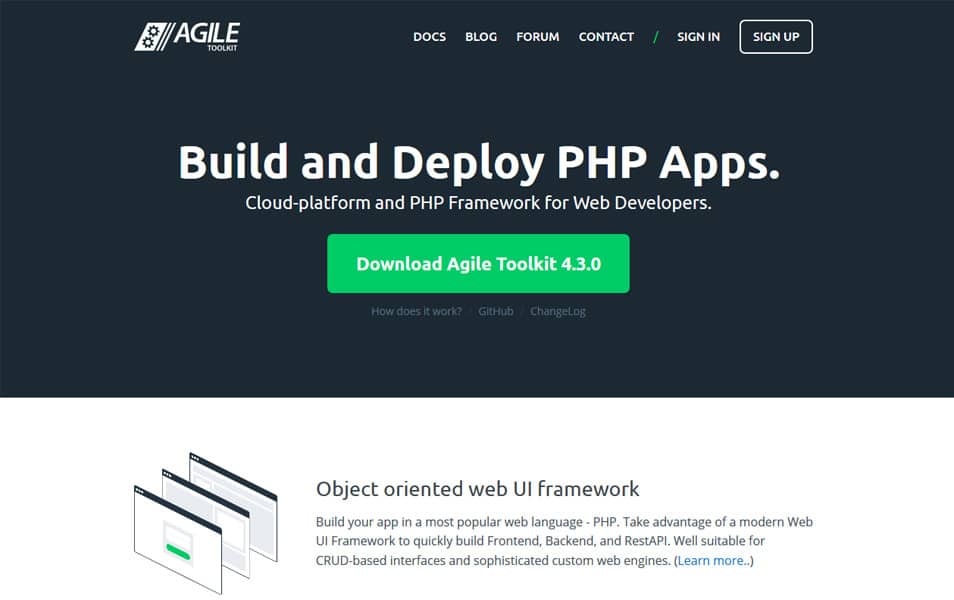 Cloud-platform and PHP framework for web developers.
Banshee PHP framework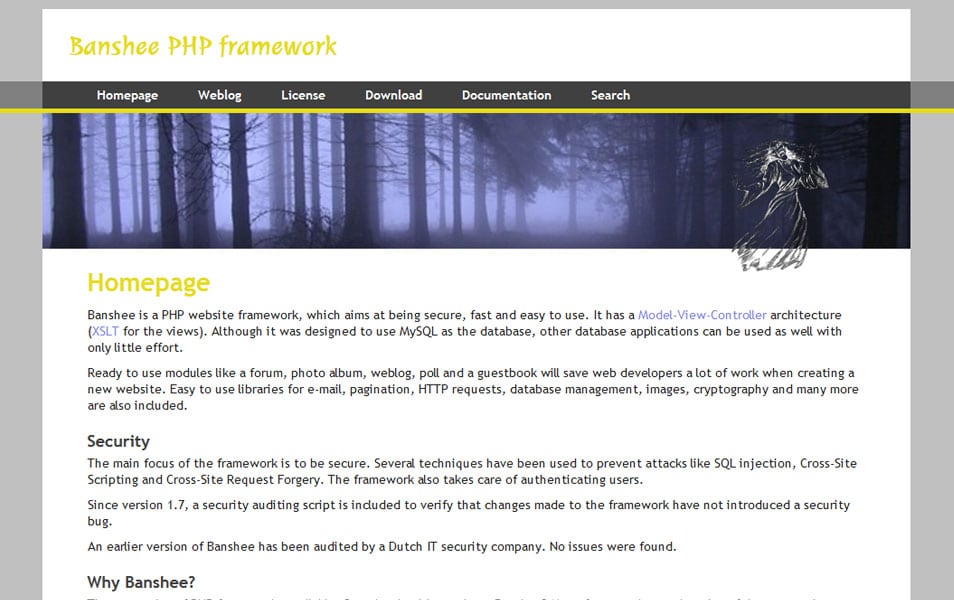 Banshee is a PHP website framework, which aims at being secure, fast and easy to use. It has a Model-View-Controller architecture (XSLT for the views).
Flourish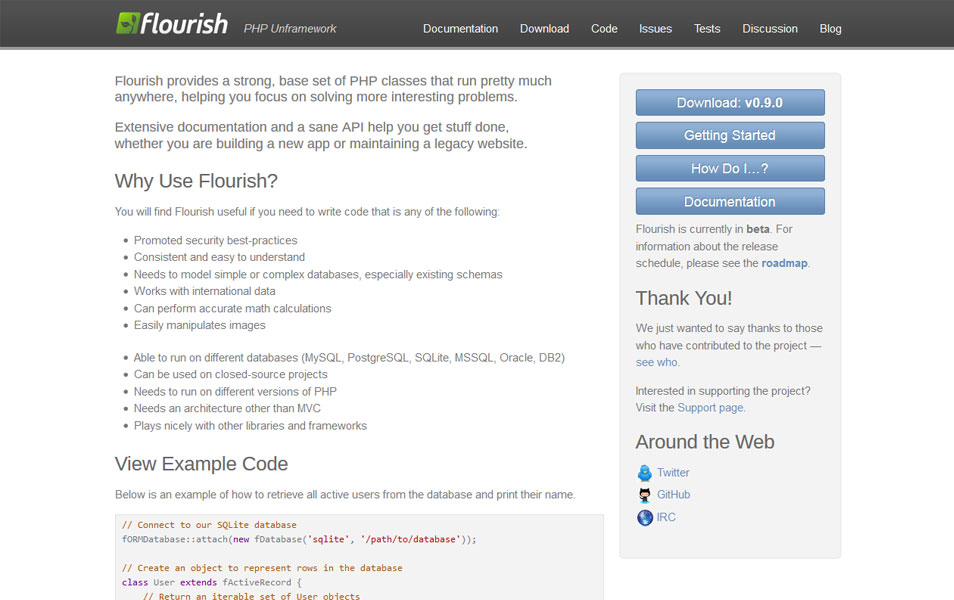 Flourish provides a strong, base set of PHP classes that run pretty much anywhere, helping you focus on solving more interesting problems.
TYPO3 Flow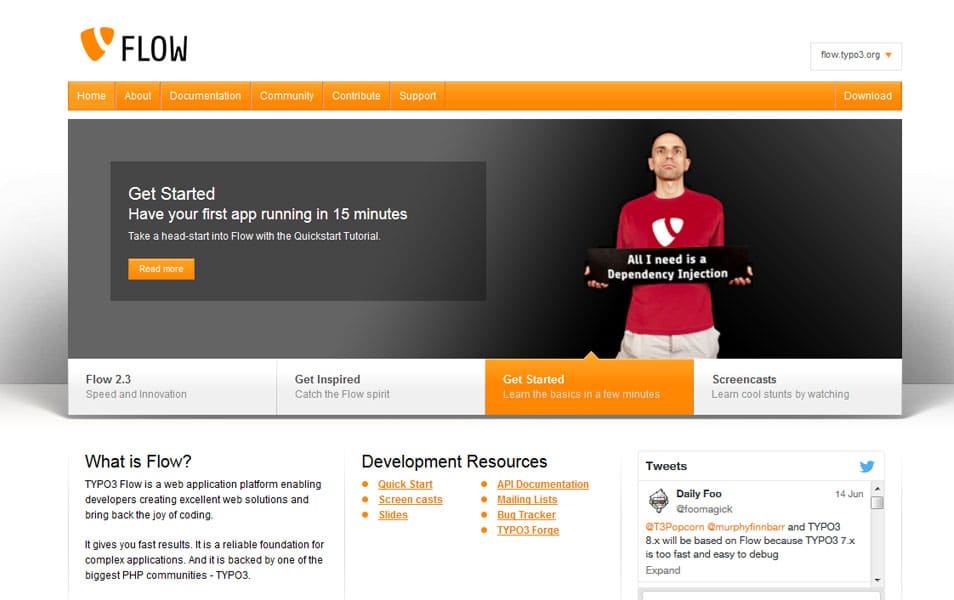 TYPO3 Flow is a web application platform enabling developers creating excellent web solutions and bring back the joy of coding.
Fusebox Framework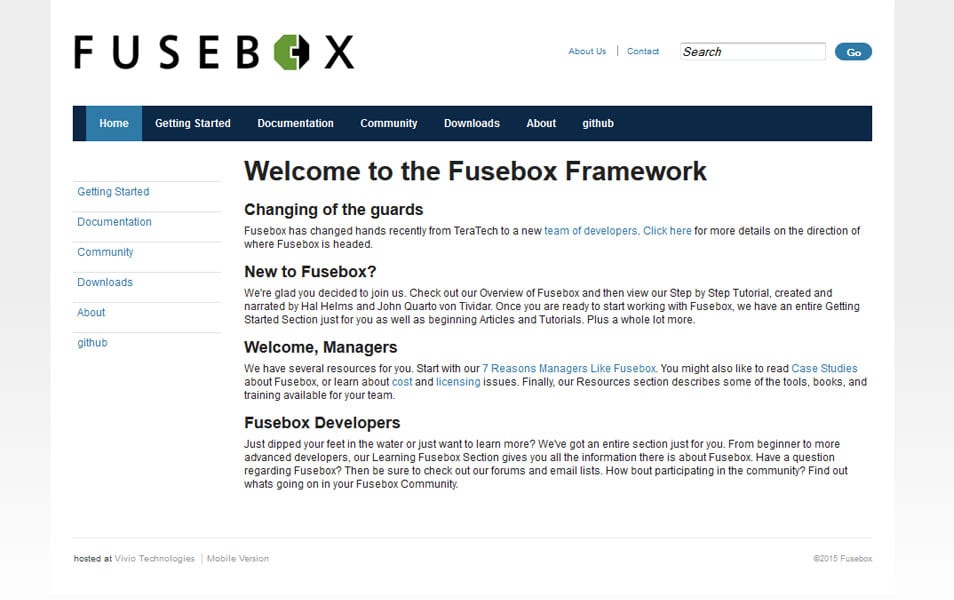 Fusebox is a web application framework for CFML and PHP.
Horde Application Framework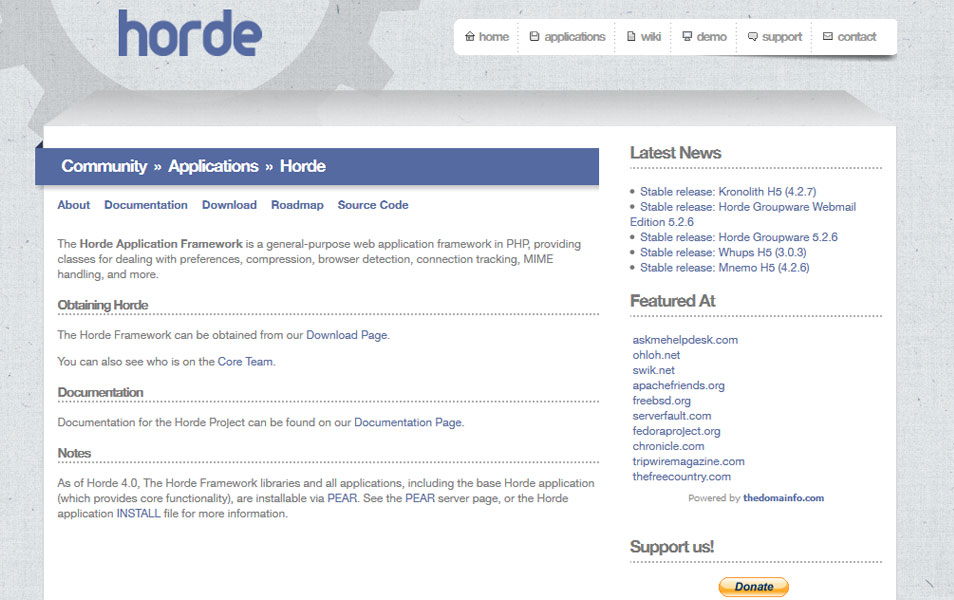 The Horde Application Framework is a general-purpose web application framework in PHP, providing classes for dealing with preferences, compression, browser detection, connection tracking, MIME handling, and more.
KISSMVC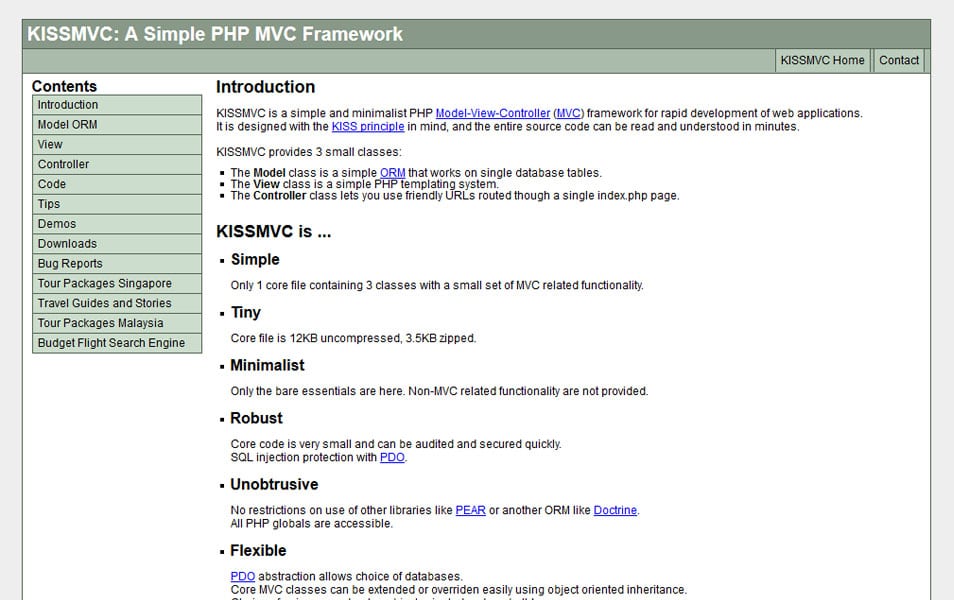 KISSMVC is a simple and minimalist PHP Model-View-Controller (MVC) framework for rapid development of web applications. It is designed with the KISS principle in mind, and the entire source code can be read and understood in minutes.
Openbiz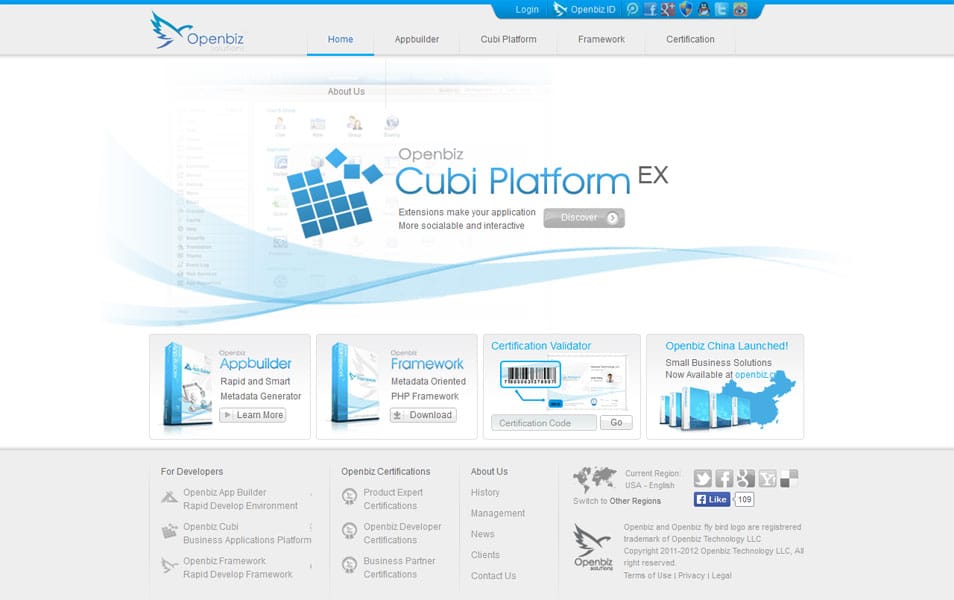 A PHP framework for enterprise level web applications.
One PHP MicroFramework
An extremely light-weight and small Restful Micro-Framework MVC for Web 2.0 in one file, based on Symfony and ExpressJS. Zero config.
Packfire Framework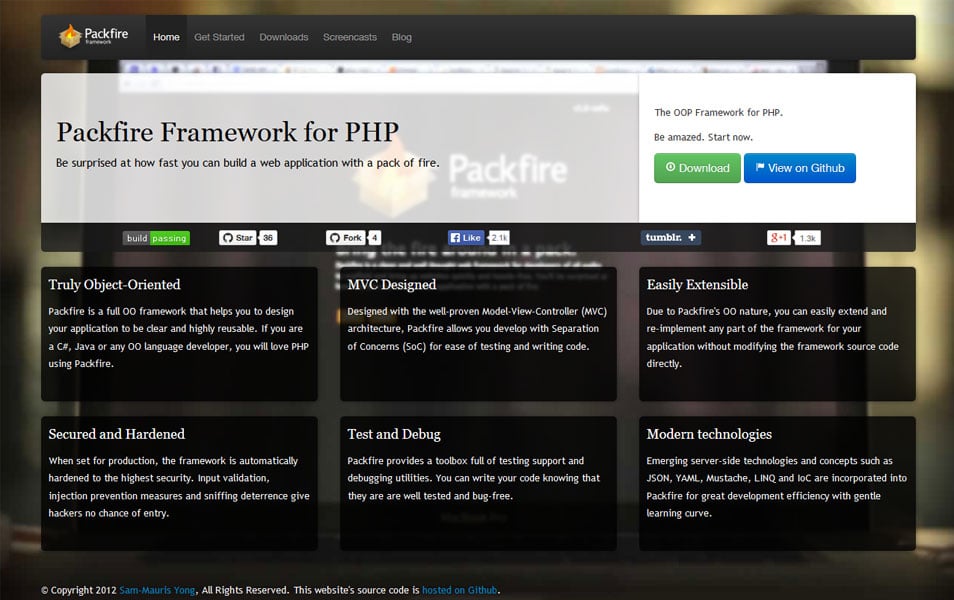 Packfire is a clean and well-thought framework written in PHP for developers of all walks to scaffold and bring up websites quickly and hassle-free.
phpMF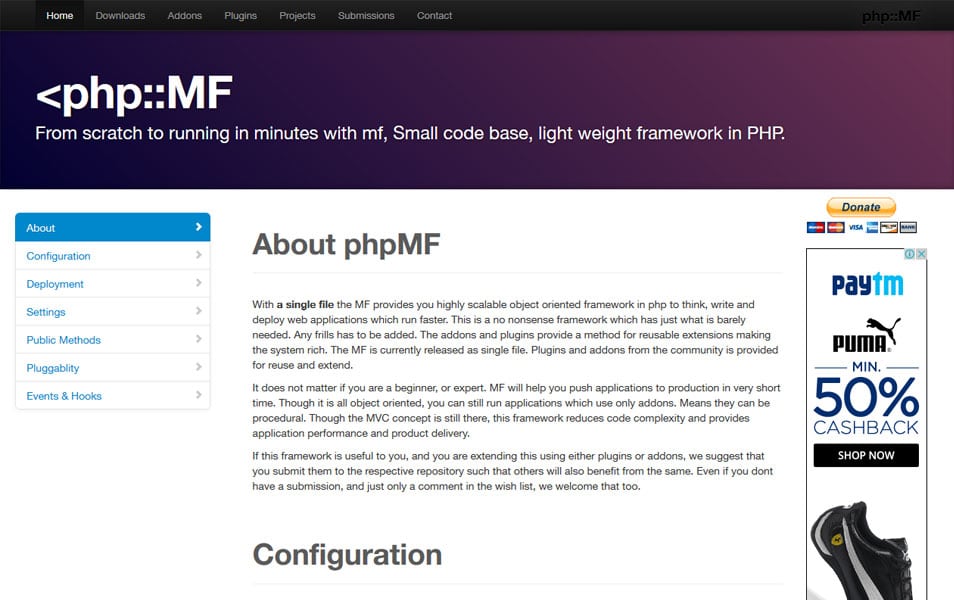 A Small Footprint PHP framework for web application development.
Scorpio Framework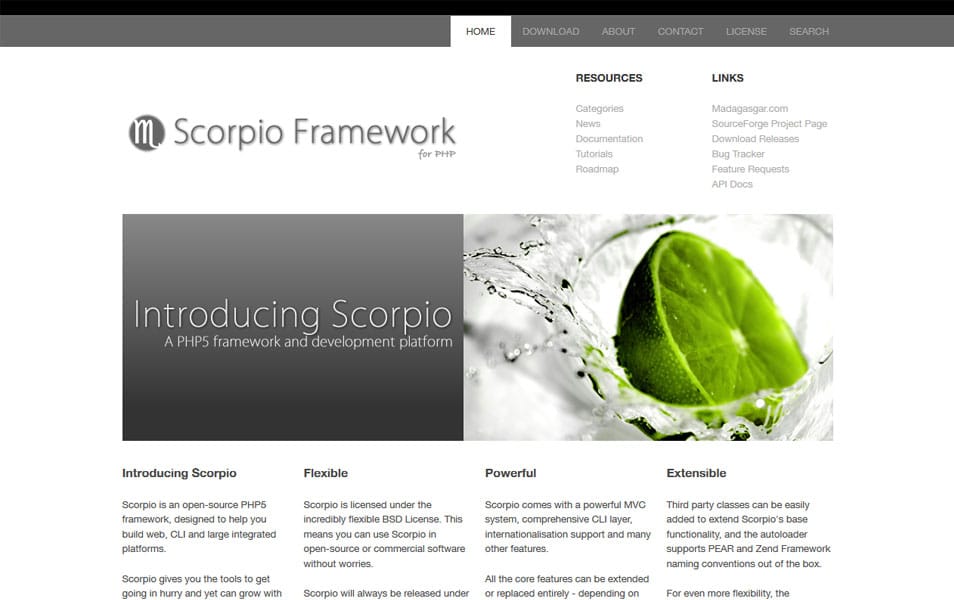 Scorpio is an open-source PHP5 framework, designed to help you build web, CLI and large integrated platforms.
QCubed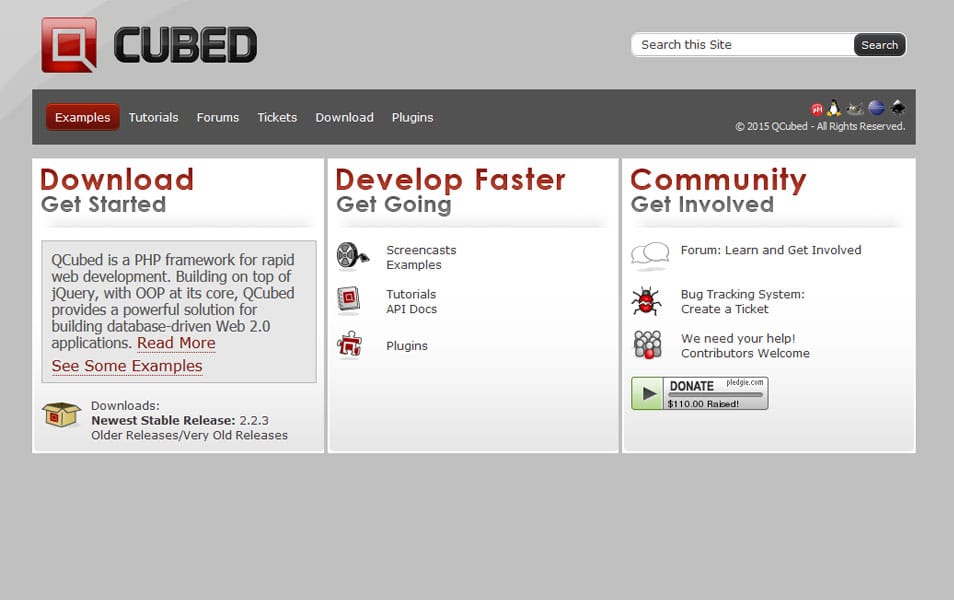 QCubed is a PHP framework for rapid web development. Building on top of jQuery, with OOP at its core, QCubed provides a powerful solution for building database-driven Web 2.0 applications.
PSX Framework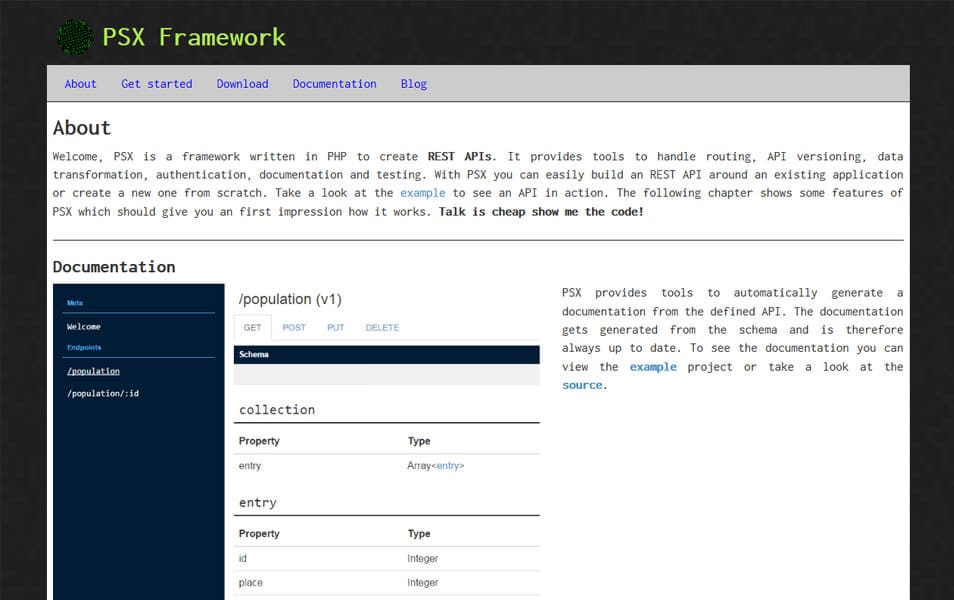 PSX is a framework written in PHP to create REST APIs. It provides tools to handle routing, API versioning, data transformation, authentication, documentation and testing.
Sloths Framework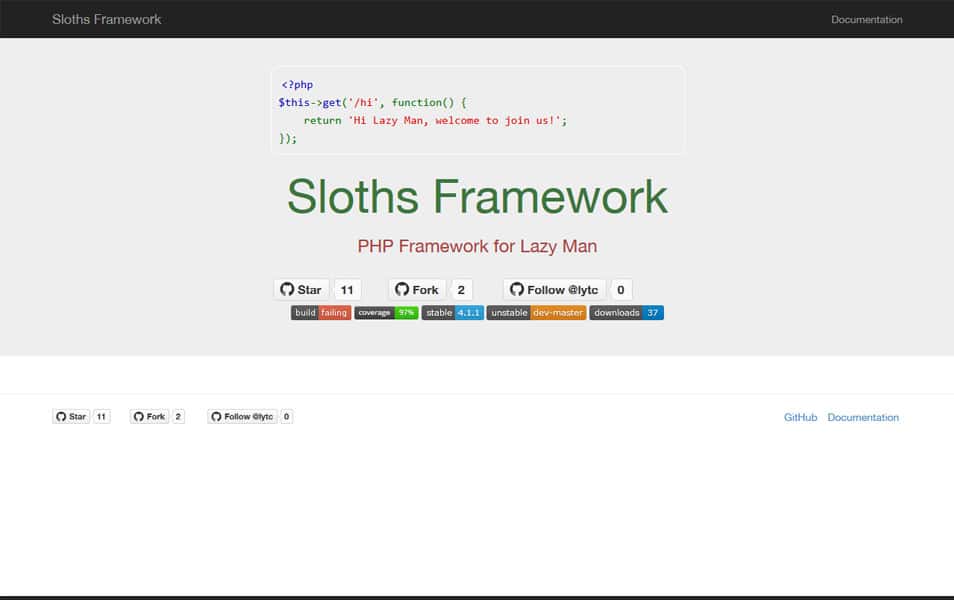 Small PHP 5.4+ framework.
SilverStripe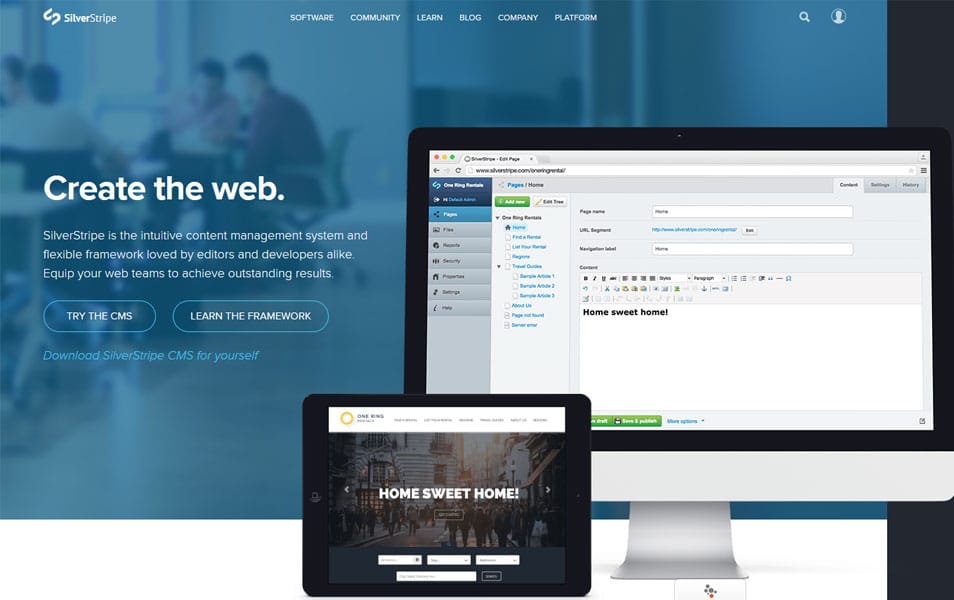 SilverStripe is the intuitive content management system and flexible framework loved by editors and developers alike. Equip your web teams to achieve outstanding results.
TinyMVC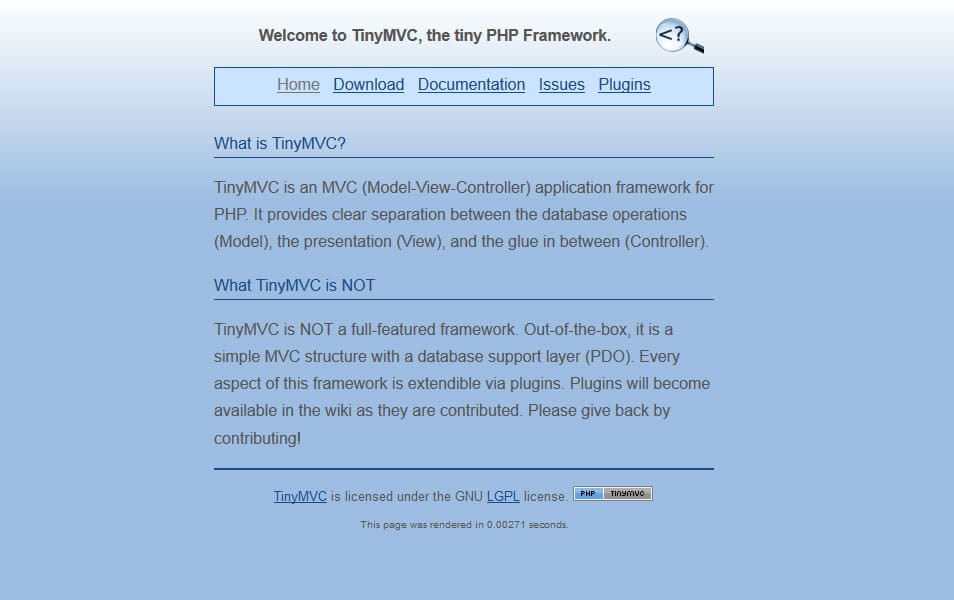 TinyMVC is an MVC (Model-View-Controller) application framework for PHP. It provides clear separation between the database operations (Model), the presentation (View), and the glue in between (Controller).
tinyPHP
tinyPHP is a simple and lightweight MVC framework. It is not as advanced and feature rich as other frameworks, but it is easy to learn and user friendly. If you are a beginner who feels that it is difficult to understand the concept behind MVC, tinyPHP can help.
Web Application Component Toolkit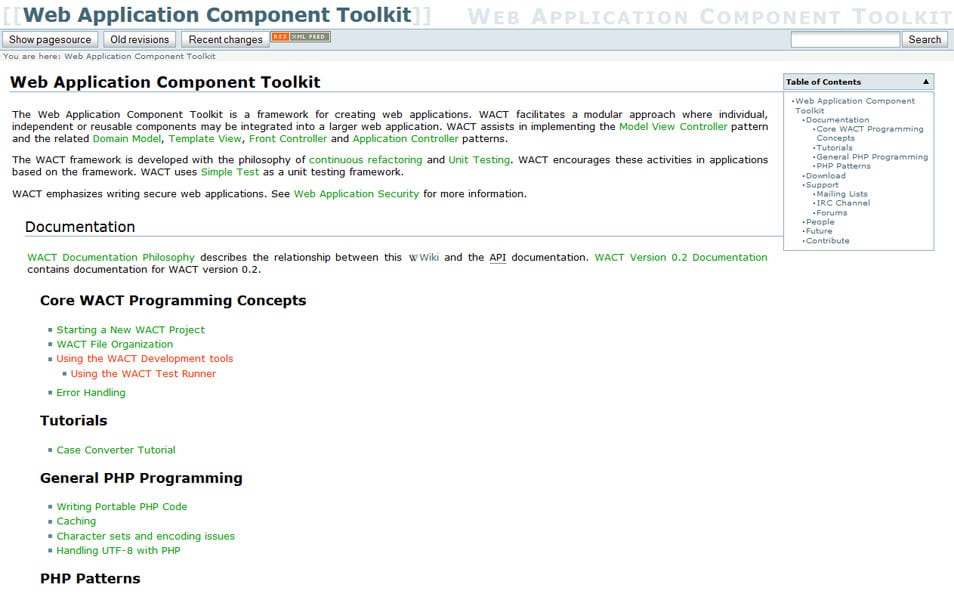 The Web Application Component Toolkit is a framework for creating web applications.
BEAR.Sunday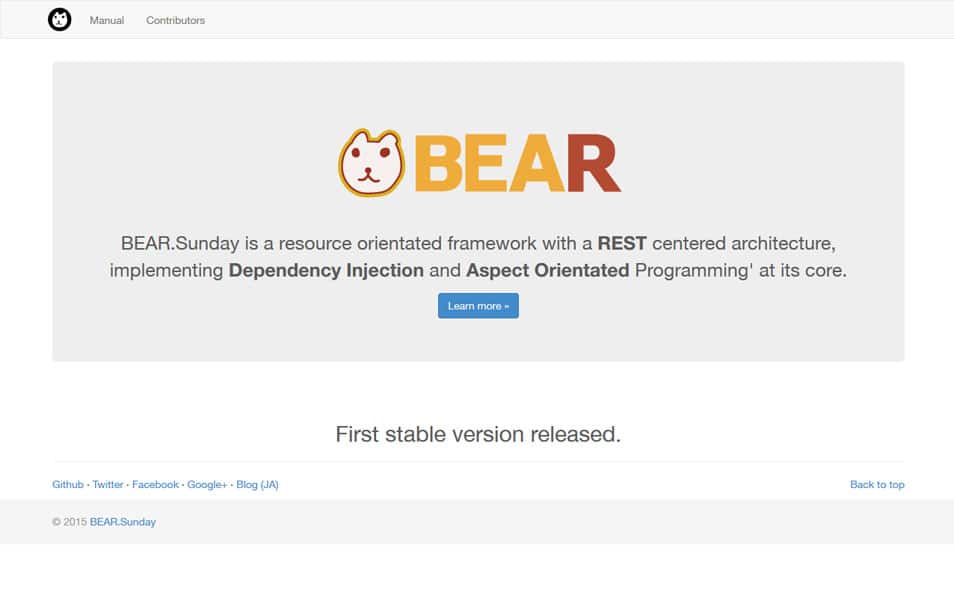 BEAR.Sunday is a resource orientated framework with a REST centered architecture, implementing Dependency Injection and Aspect Orientated Programming' at its core.
zephyr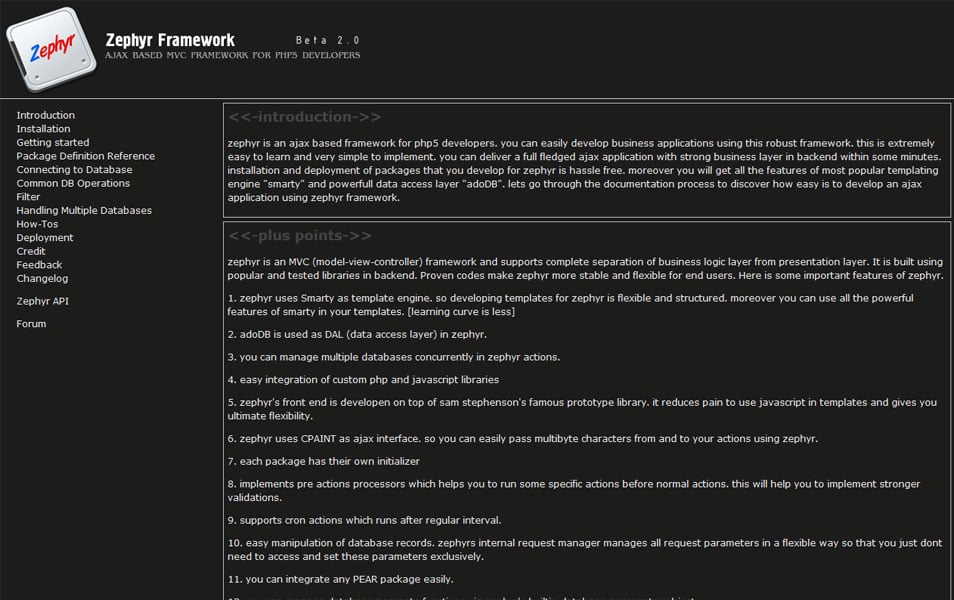 zephyr is an ajax based framework for php5 developers. you can easily develop business applications using this robust framework.
Ambivalence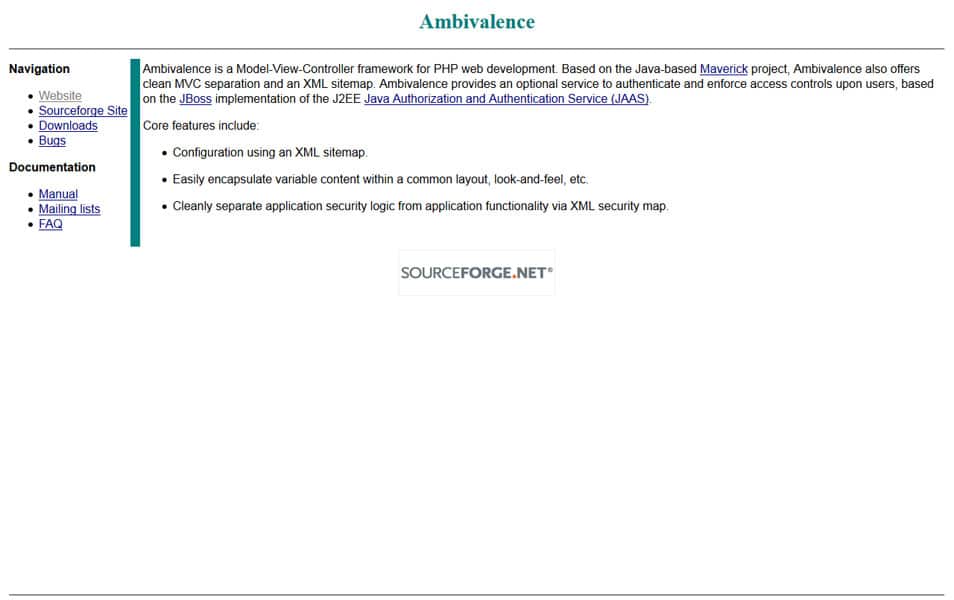 Ambivalence is a Model-View-Controller framework for PHP web development. Based on the Java-based Maverick project, Ambivalence also offers clean MVC separation and an XML sitemap.
binarycloud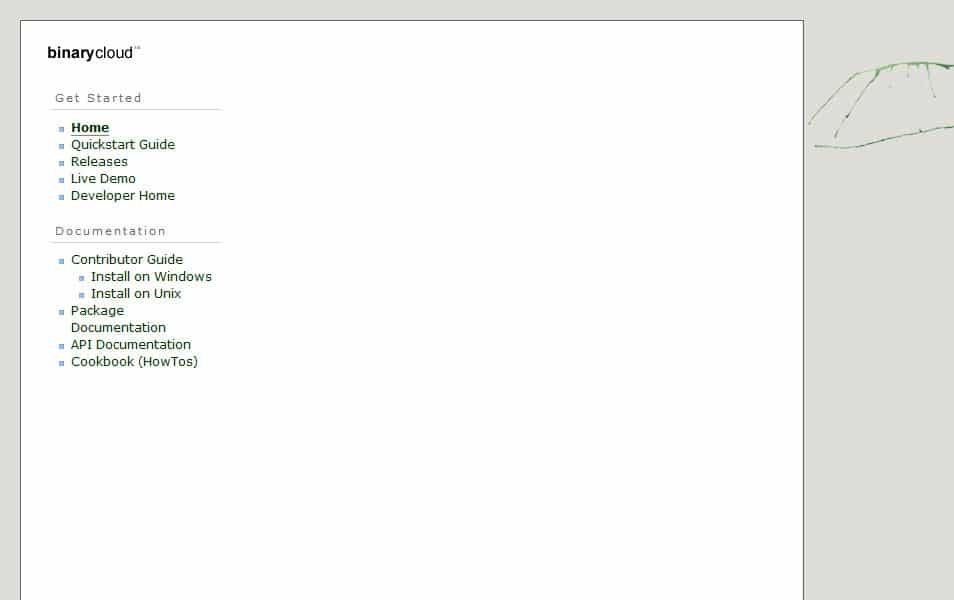 binarycloud is a PHP web application framework.
Bitweaver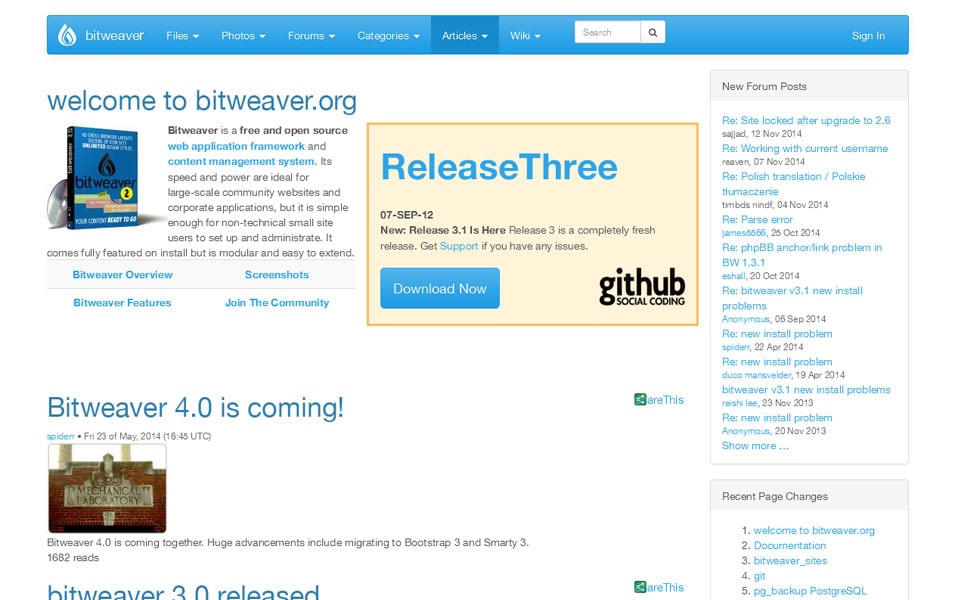 Bitweaver is a free and open source web application framework and content management system.
crVCL PHP Framework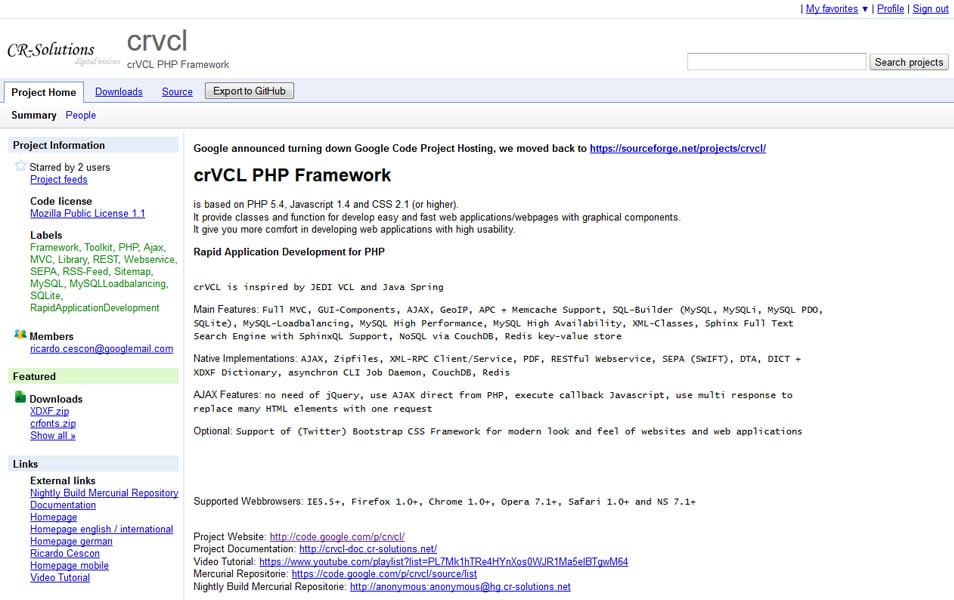 crVCL PHP Framework is based on PHP 5.4, Javascript 1.4 and CSS 2.1 (or higher).
Konstrukt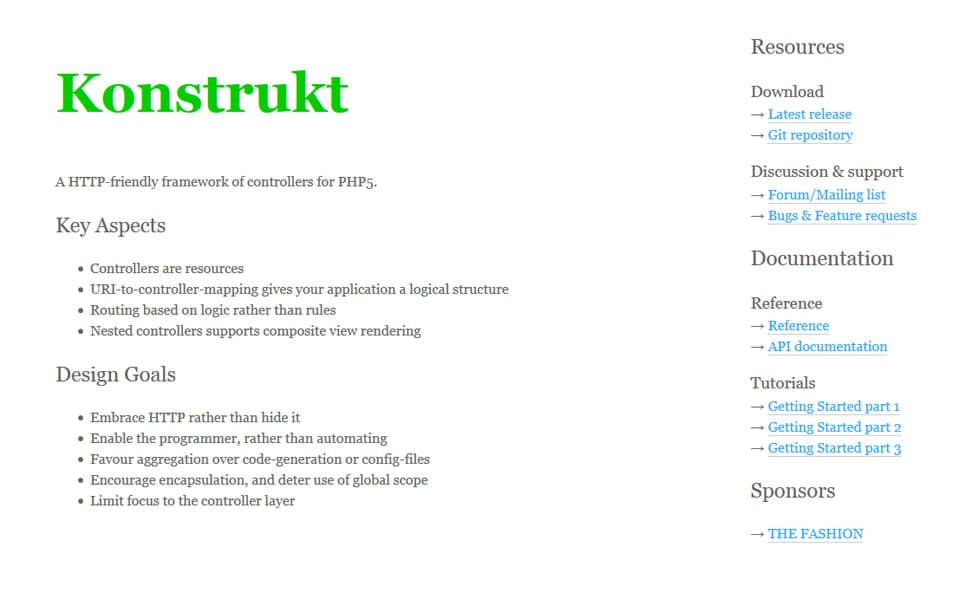 A HTTP-friendly framework of controllers for PHP5.
KumbiaPHP web & app Framework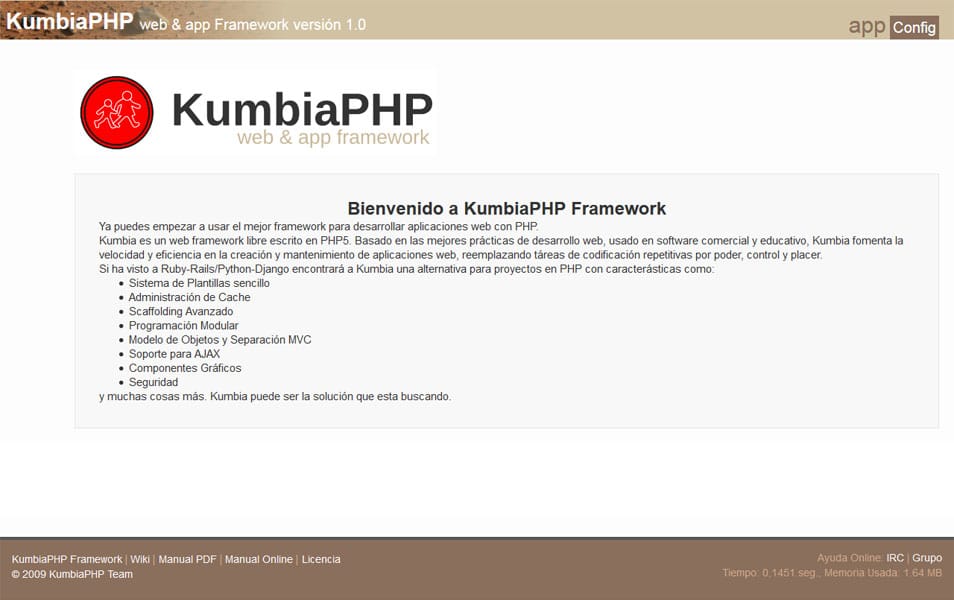 phpPeanuts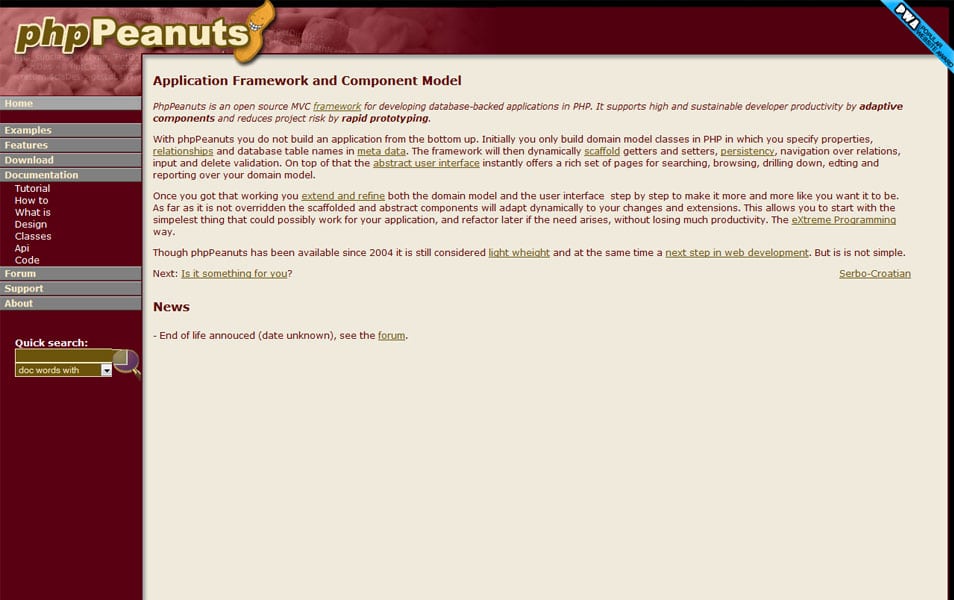 PhpPeanuts is an open source MVC framework for developing database-backed applications in PHP. It supports high and sustainable developer productivity by adaptive components and reduces project risk by rapid prototyping.
Qcodo Development Framework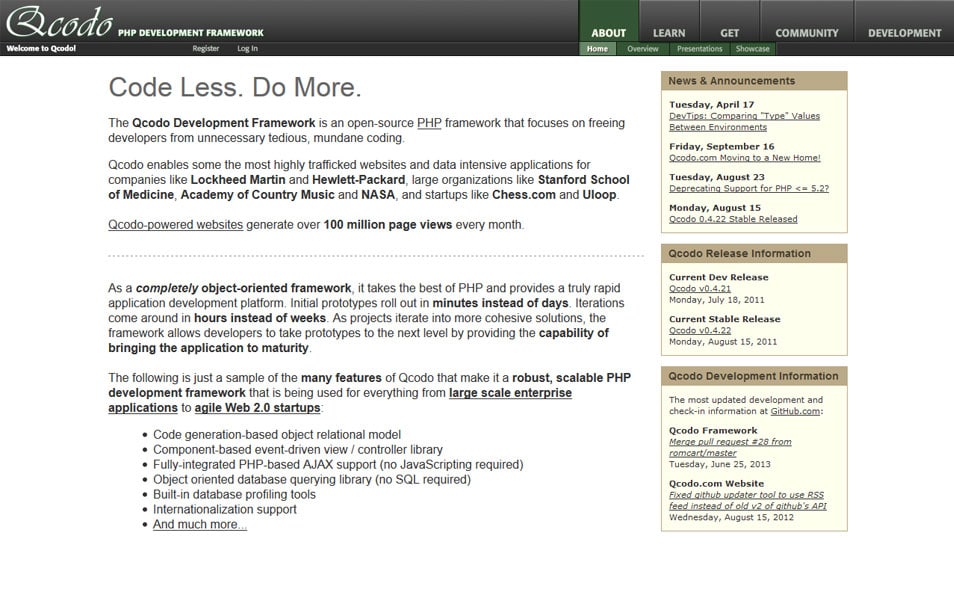 The Qcodo Development Framework is an open-source PHP framework that focuses on freeing developers from unnecessary tedious, mundane coding.
The Pronto Project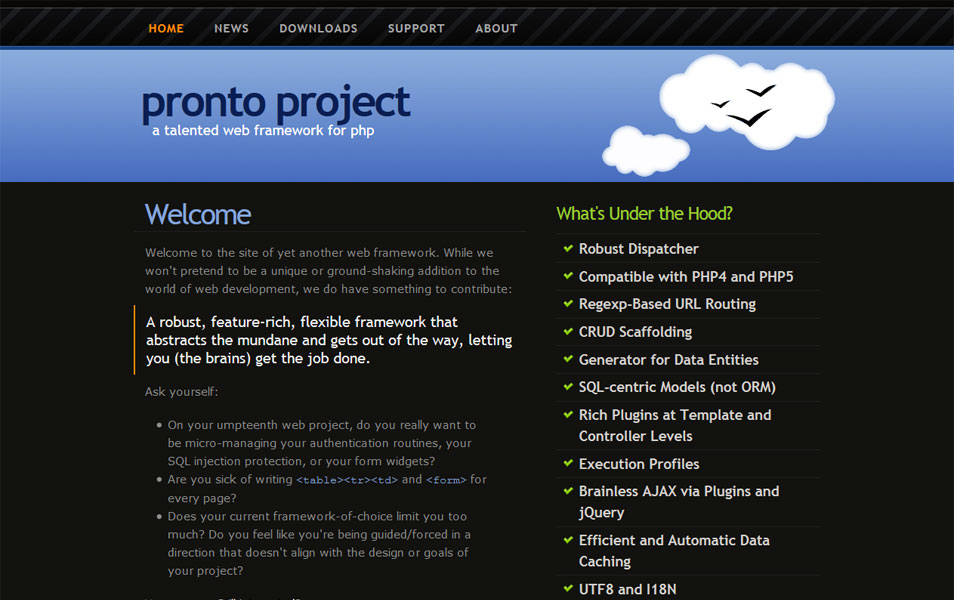 A robust, feature-rich, flexible framework that abstracts the mundane and gets out of the way, letting you (the brains) get the job done.
Studs MVC Framework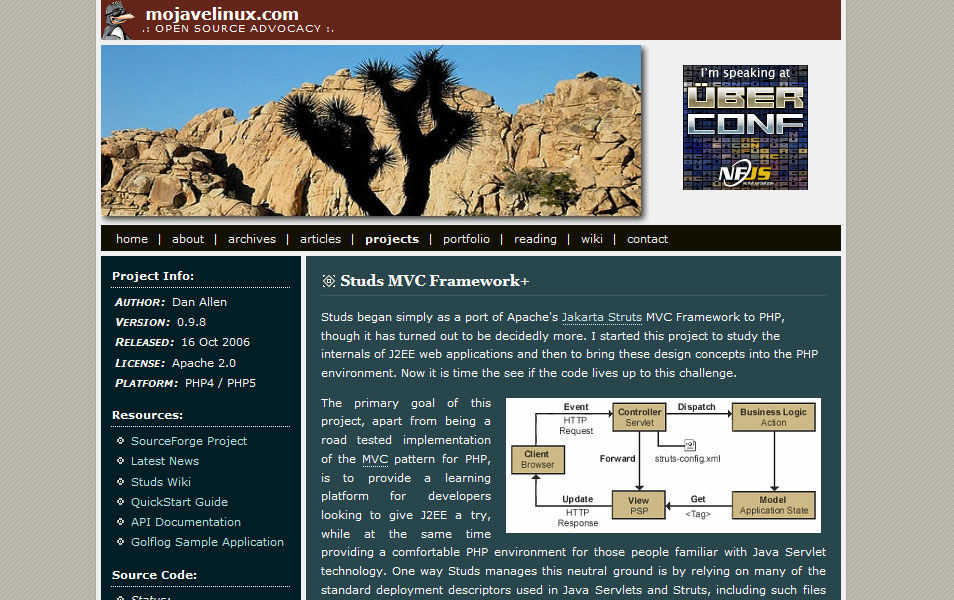 Studs began simply as a port of Apache's Jakarta Struts MVC Framework to PHP, though it has turned out to be decidedly more.
Samstyle PHP Framework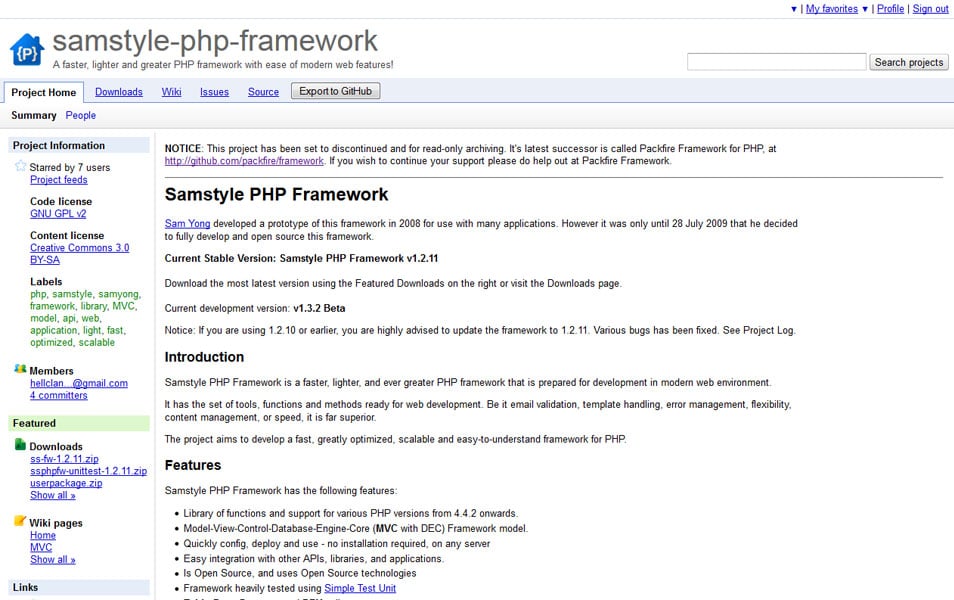 Samstyle PHP Framework is a faster, lighter, and ever greater PHP framework that is prepared for development in modern web environment.
Akelos PHP Framework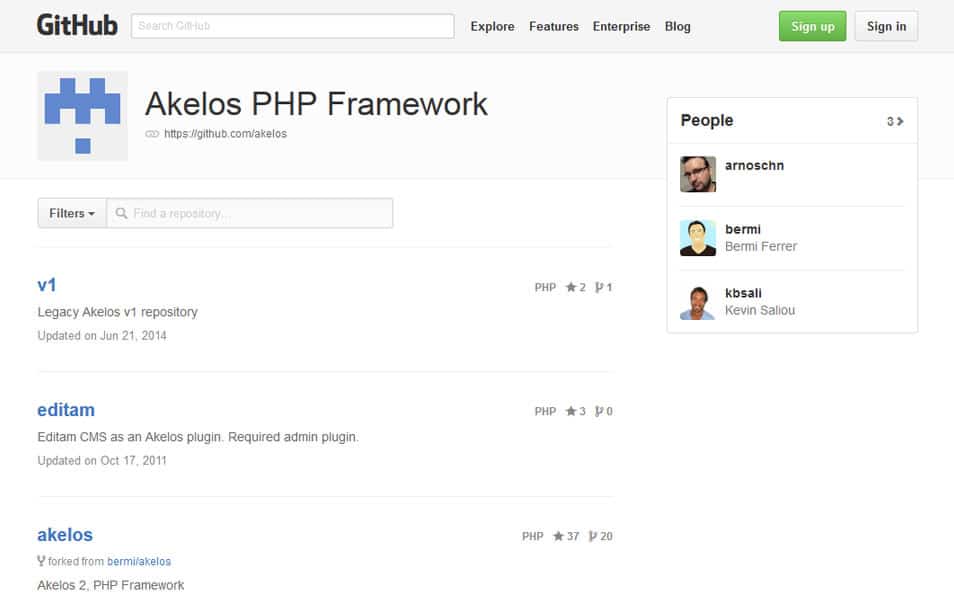 The Akelos PHP Framework is a web application development platform based on the MVC (Model View Controller) design pattern.
Assetic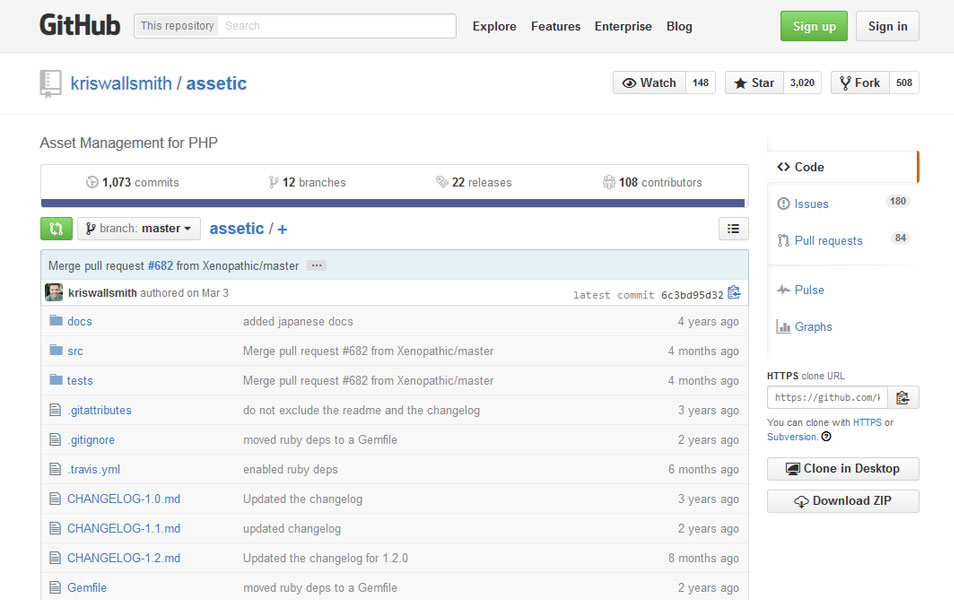 Assetic is an asset management framework for PHP.
Breeze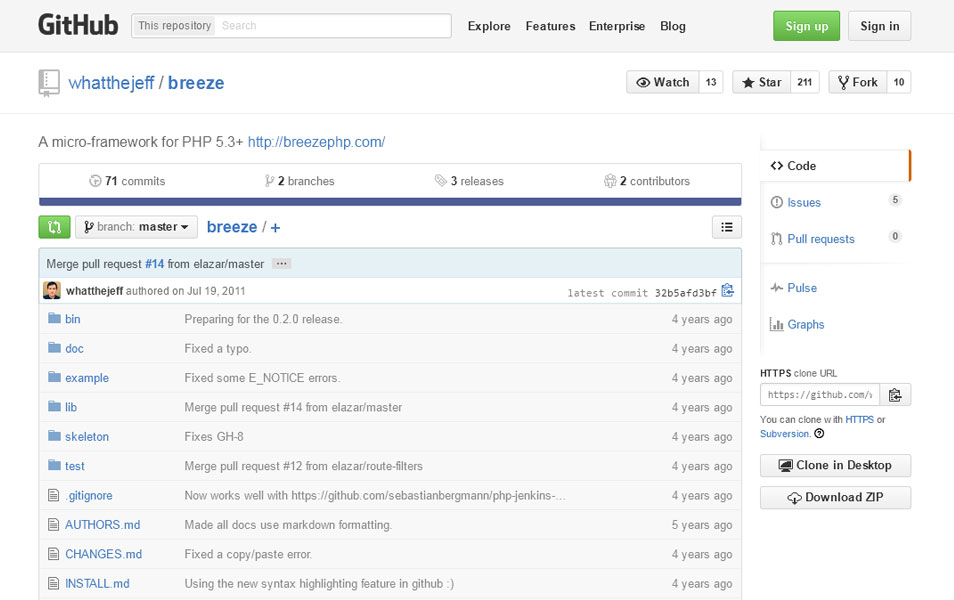 Breeze is a simple and intuitive micro-framework for PHP 5.3+.
DynaPort X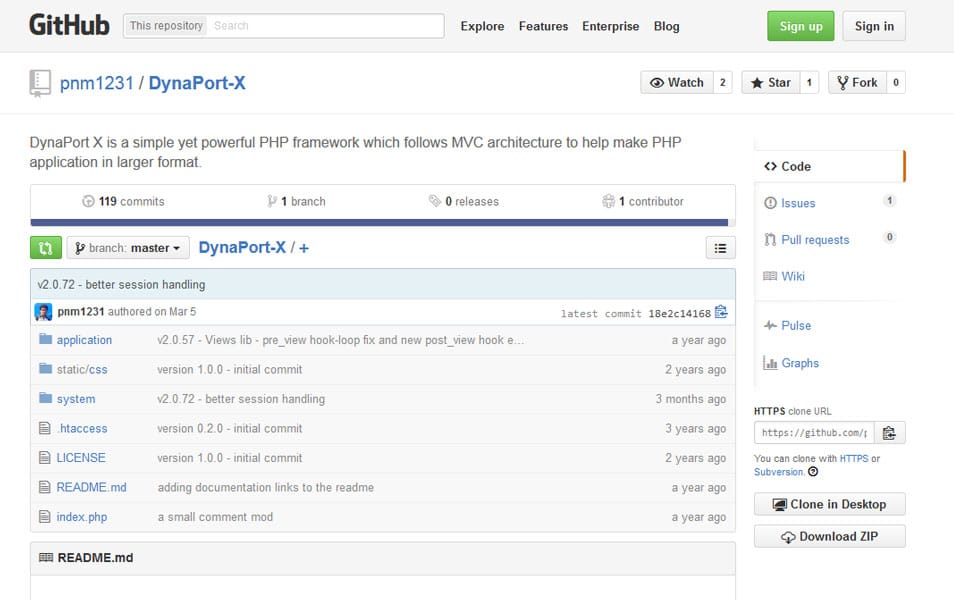 DynaPort X is a simple yet powerful PHP framework which follows MVC architecture to help make PHP application in larger format.
fluf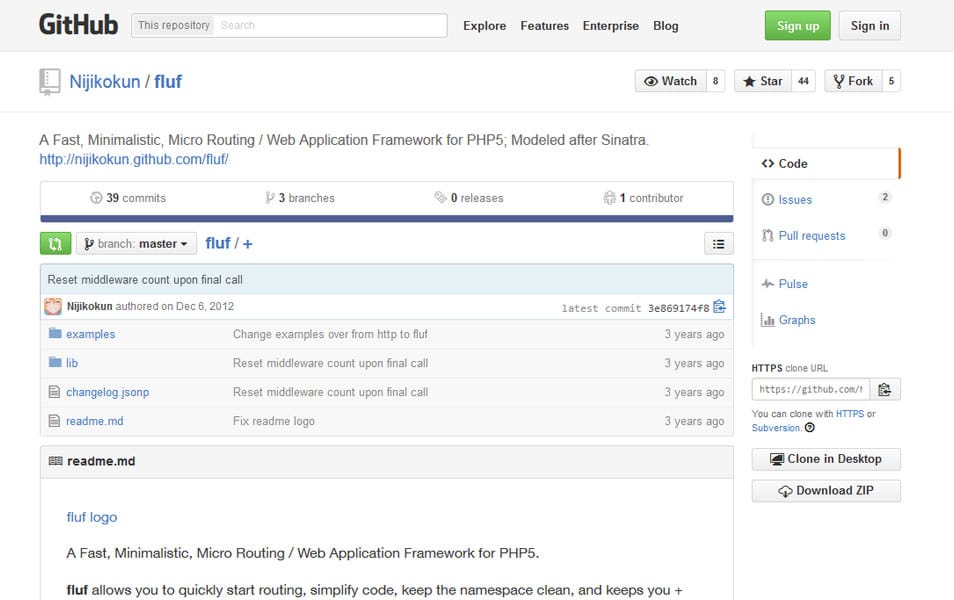 A Fast, Minimalistic, Micro Routing / Web Application Framework for PHP5.
Frostbite Framework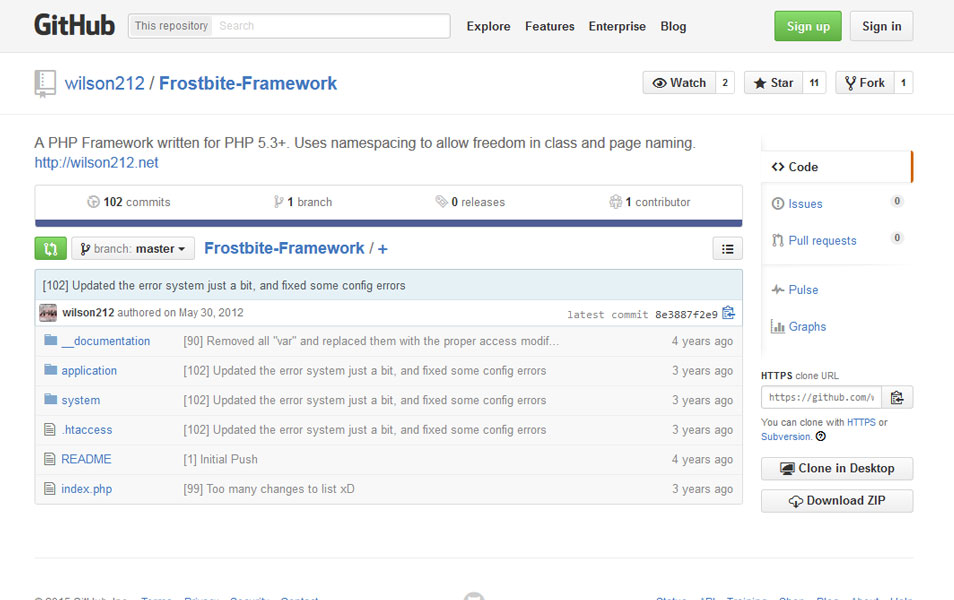 A PHP Framework written for PHP 5.3+. Uses namespacing to allow freedom in class and page naming.
dresscode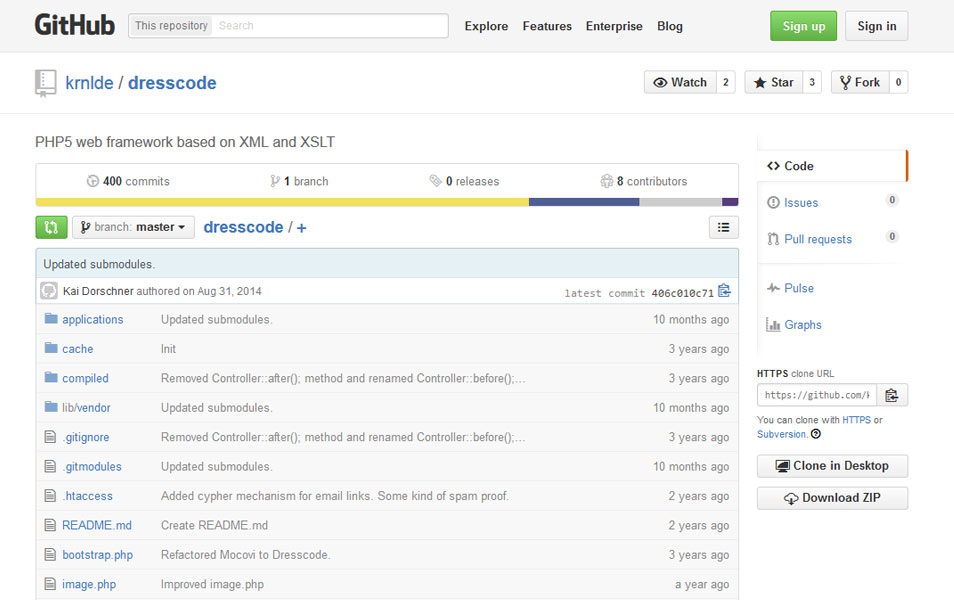 PHP5 web framework based on XML and XSLT.
phunction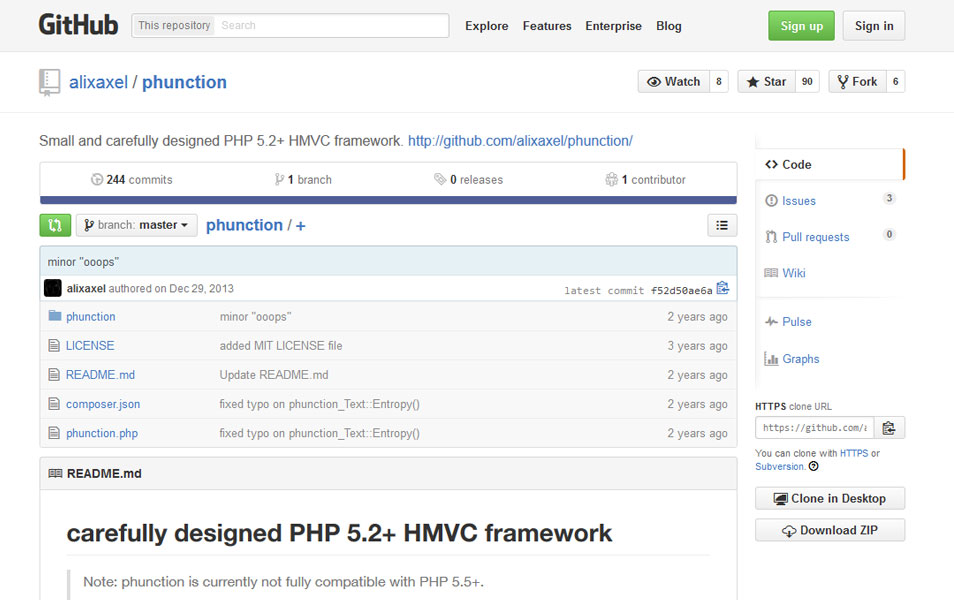 Small and carefully designed PHP 5.2+ HMVC framework.
PHP Web Toolkit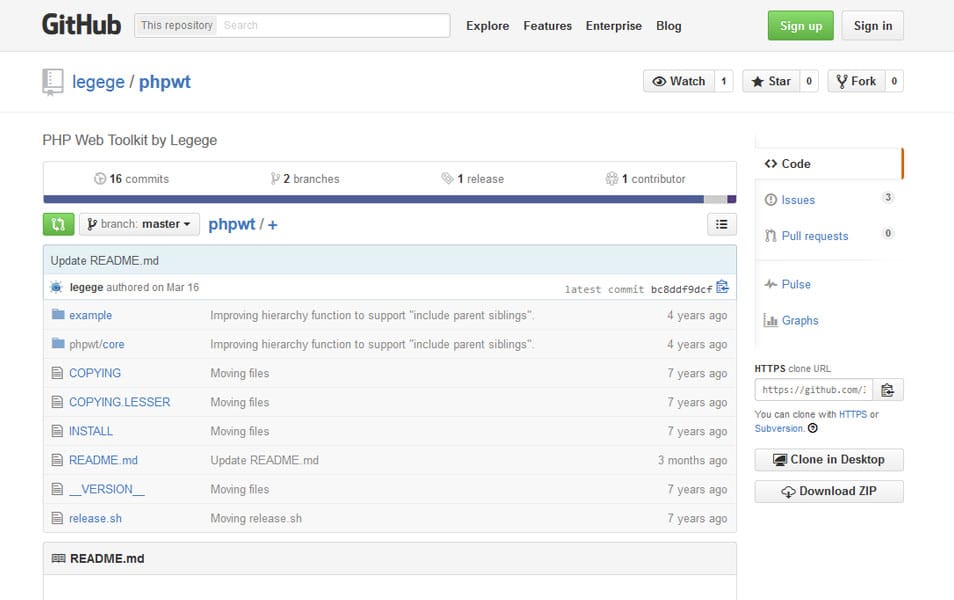 This project is a small PHP website toolkit created over years of web sites development. I've come up with this framework more recently and finally decided to release it under LGPL.
Swiftlet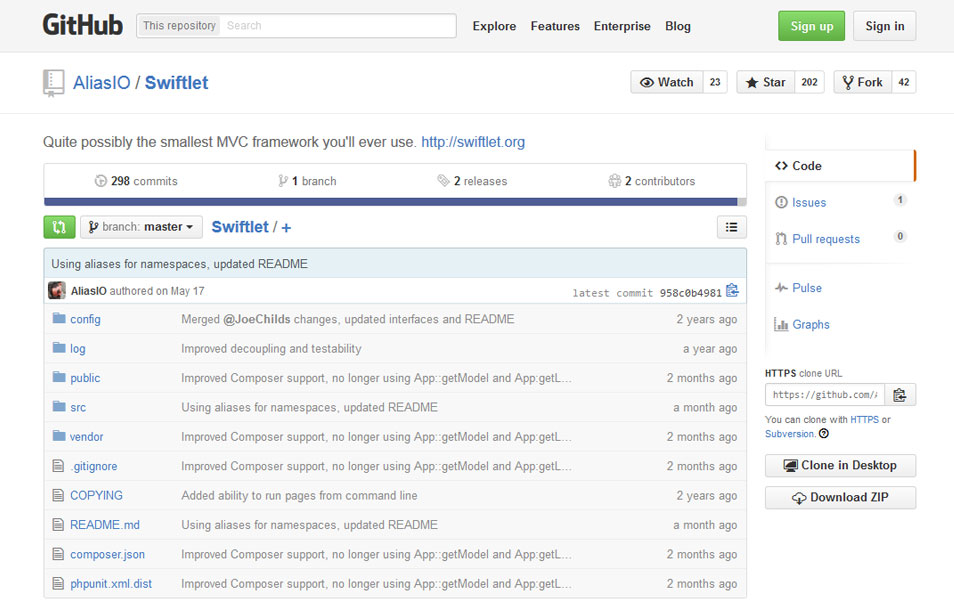 Swiftlet is quite possibly the smallest MVC framework you'll ever use.
Turbo PHP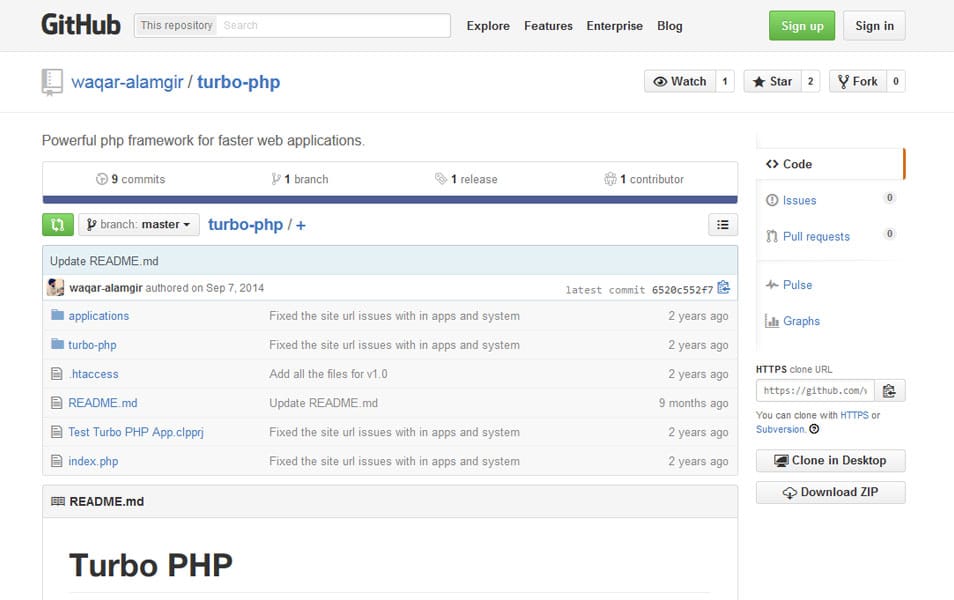 Powerful php framework for faster web applications.
ATK Framework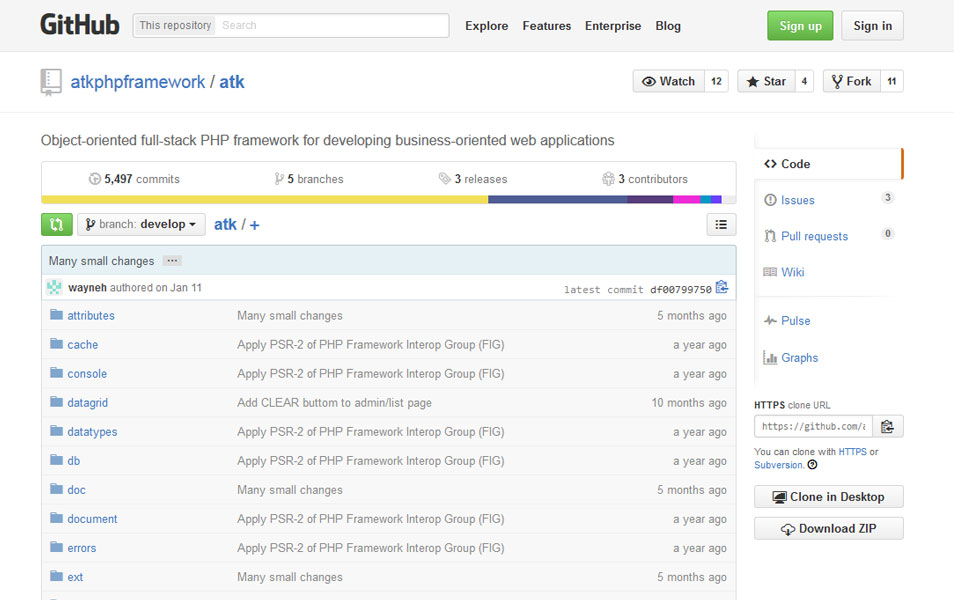 The ATK Framework is a special purpose PHP framework targeted at business applications. It allows you to build an application with very small amounts of code.
Ham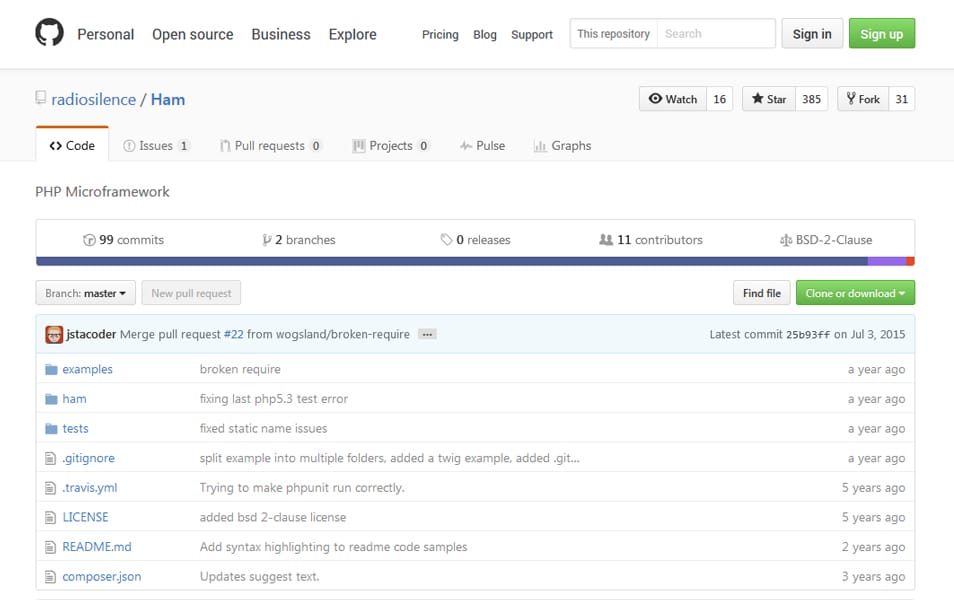 PHP Microframework for use with whatever you like. Basically just a fast router with nice syntax, and a cache singleton. Will add more things as I go, like perhaps an extension system, autoloader and some other stuff to make developing in PHP less irritating than it currently is.
Tencent Server Framework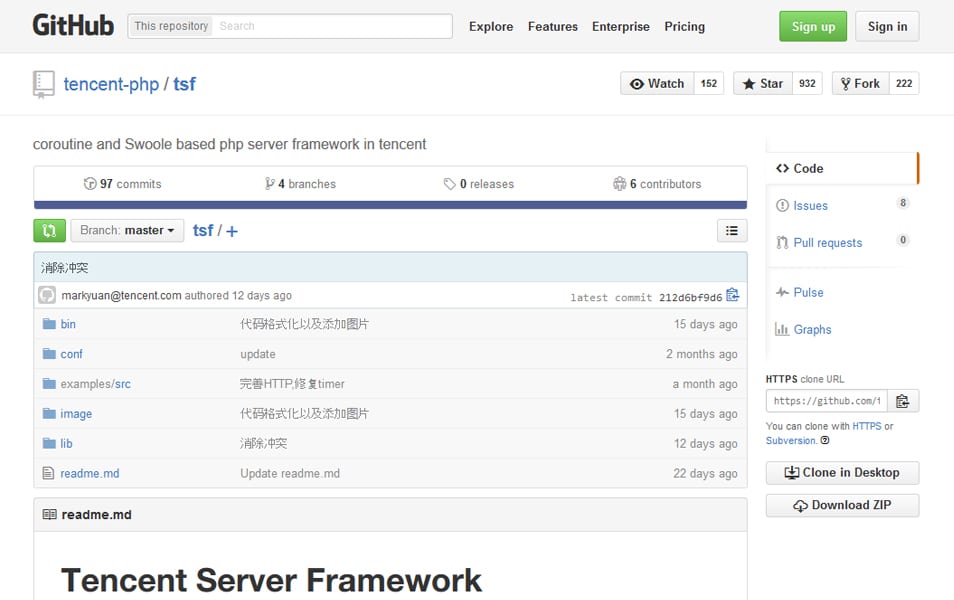 Tencent Server Framework is a coroutine and Swoole based server framework for fast server deployment which developed by Tencent engineers.