50+ Mobile Application Frameworks (HTML, CSS & JavaScript)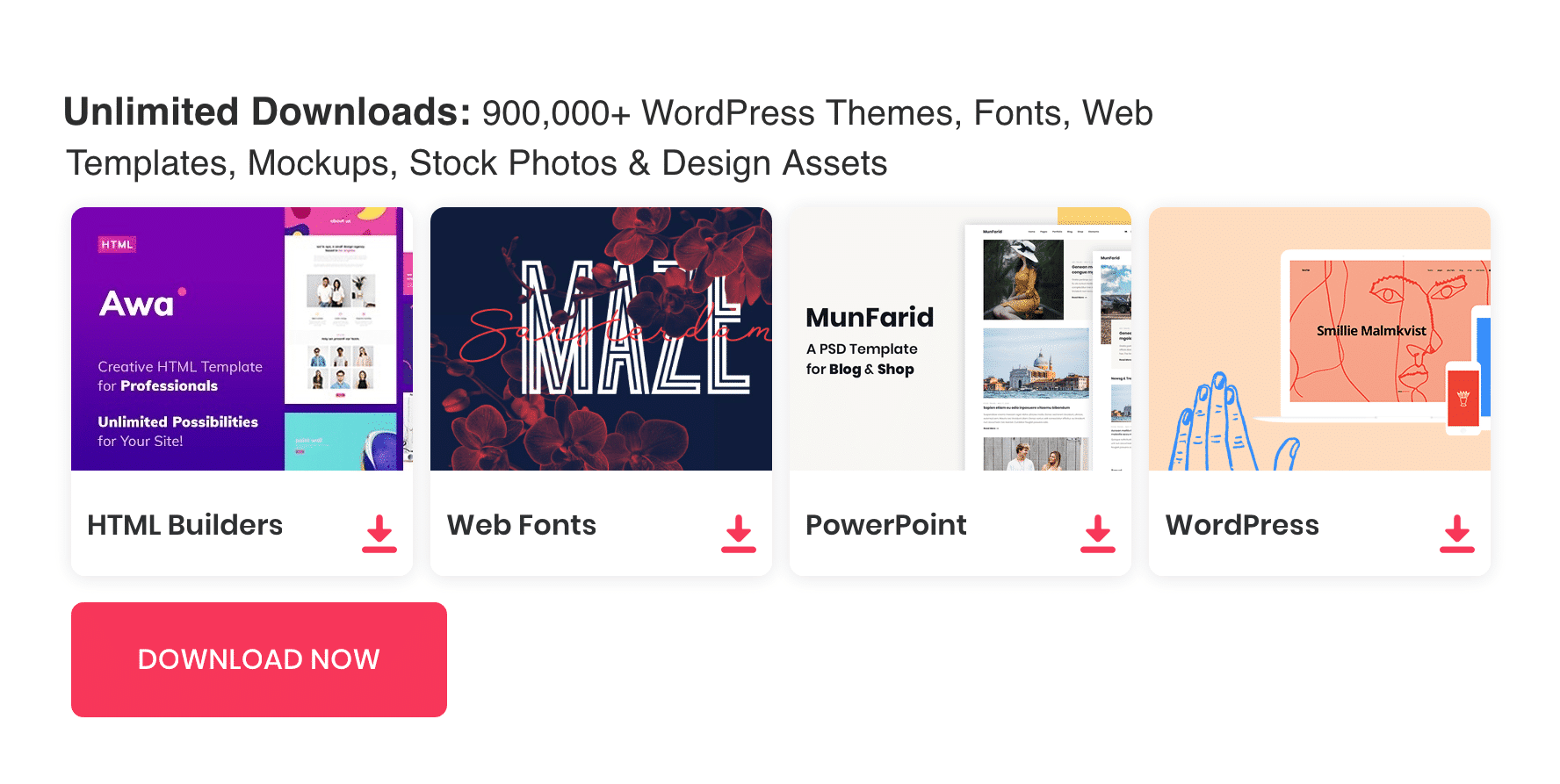 Most of us are Familiar with HTML, CSS and Javascript; we are using it for years to create beautiful websites. Most of us are truly unfamiliar with mobile application development; it is a different story. Mobile applications for ios and android using a different programming language to build native mobile applications.
But these days it is possible to create mobile applications using HTML, CSS, and Javascript. It is easy to create applications using HTML, CSS, and Javascript. By using a package/ compiler, you can develop a cross platform application using the web technology.
See also : 750+ Best Free Responsive WordPress Themes 2018
In this post, we have put together a collection of Best Framework for Mobile Application Development (HTML, CSS and Javascript).
Framework Categories
RAD.js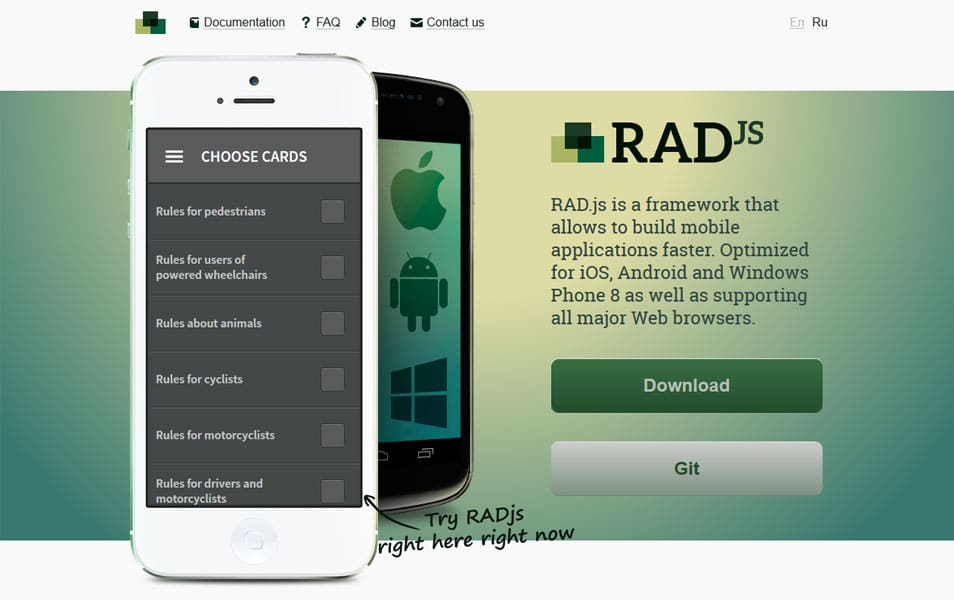 RAD.js is a framework that allows to build mobile applications faster. Optimized for iOS, Android and Windows Phone 8 as well as supporting all major Web browsers.
Ionic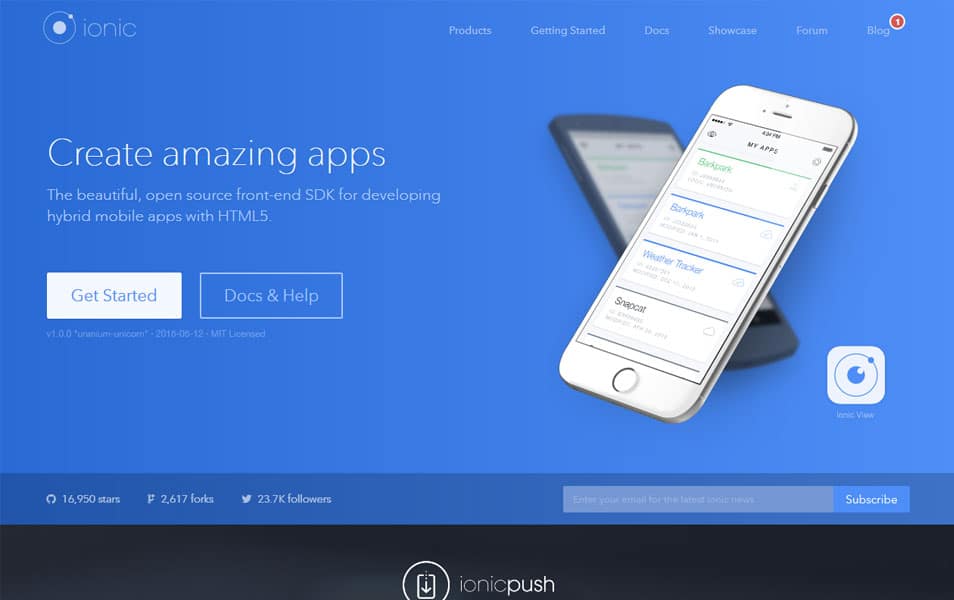 Ionic is the open source HTML5 Mobile Framework for building amazing, cross-platform hybrid native apps with HTML, JavaScript, and CSS.
LungoJS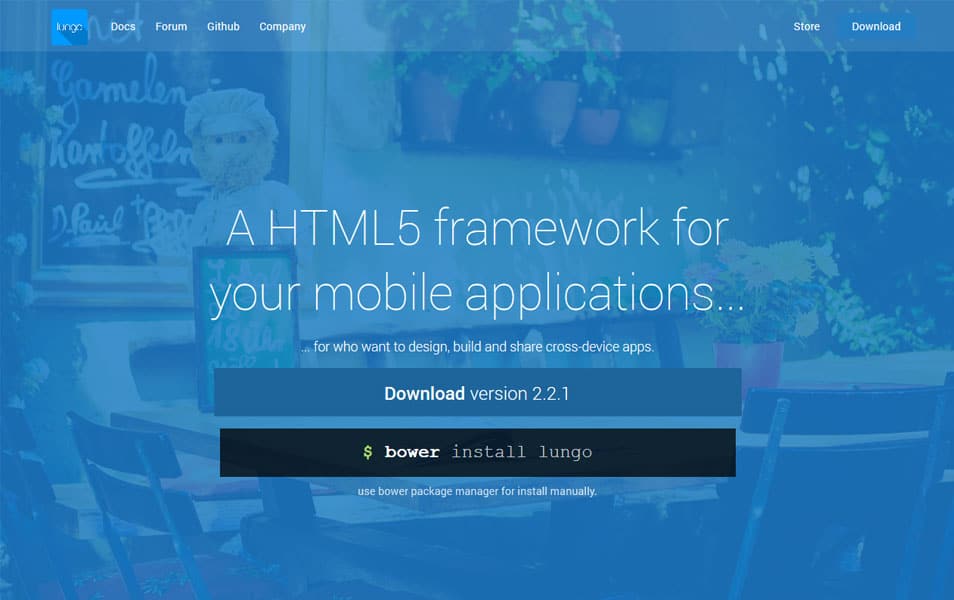 A HTML5 framework for developers who want to design, build and share cross device applications.
Mobile Angular UI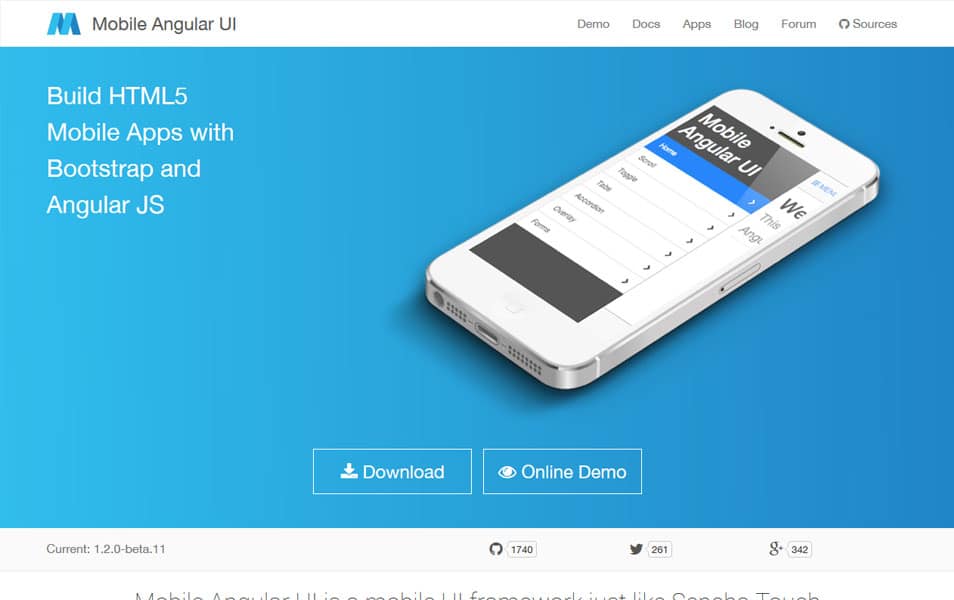 Mobile Angular UI is an HTML5 mobile UI framework that will let you use Angular Js and Bootstrap 3 for mobile app development.
Kendo UI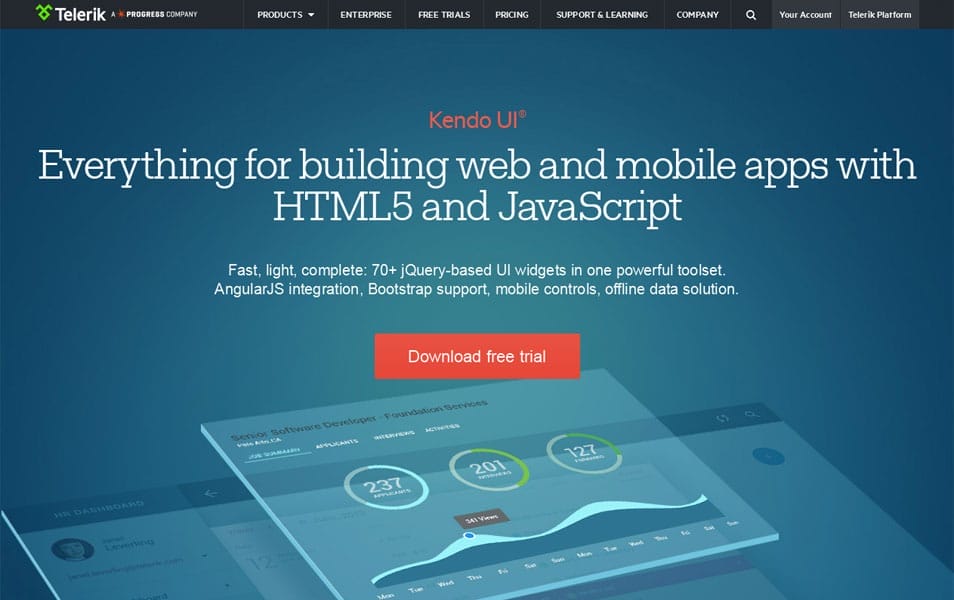 Everything for building web and mobile apps with HTML5 and JavaScript.
Sencha Touch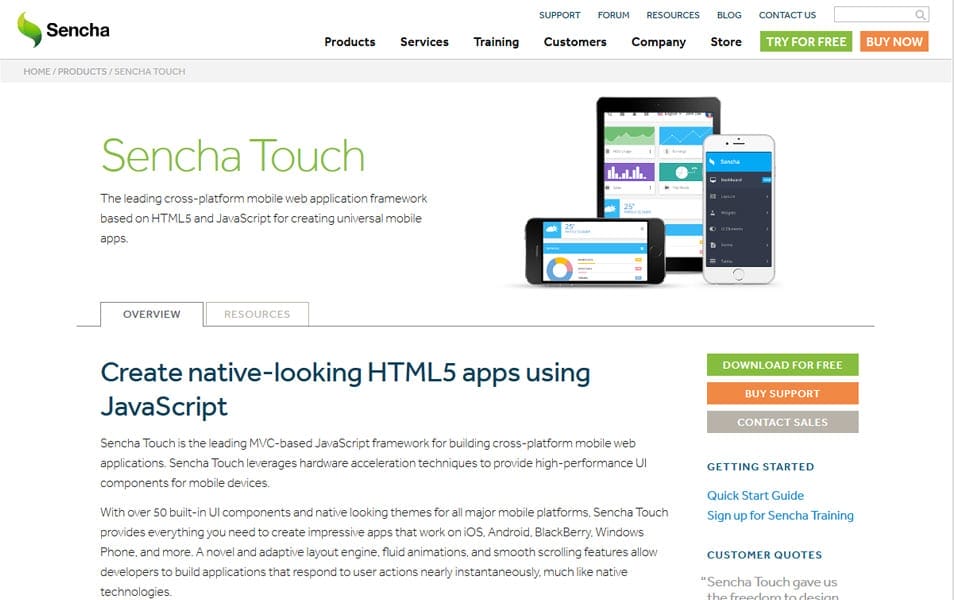 The leading cross-platform mobile web application framework based on HTML5 and JavaScript for creating universal mobile apps.
PhoneGap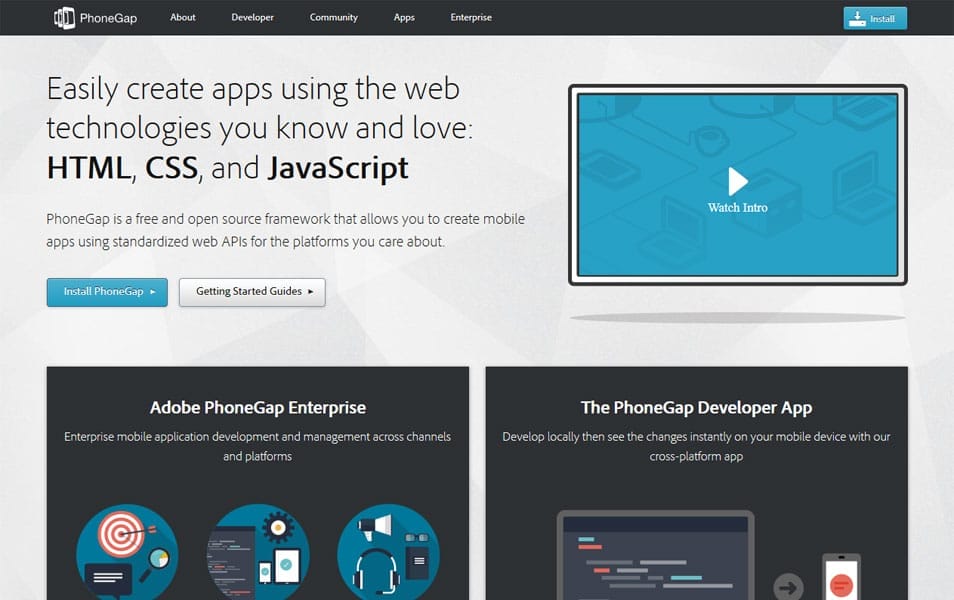 PhoneGap is an open source framework for quickly building cross-platform mobile apps using HTML5, Javascript and CSS.
RhoMobile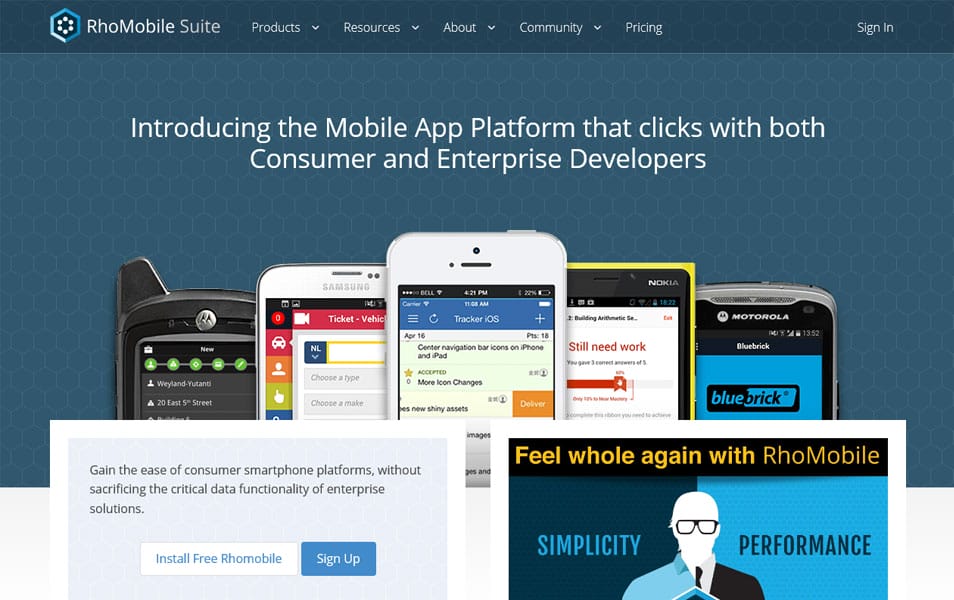 Introducing the Mobile App Platform that clicks with both Consumer and Enterprise Developers.
jQuery Mobile Framework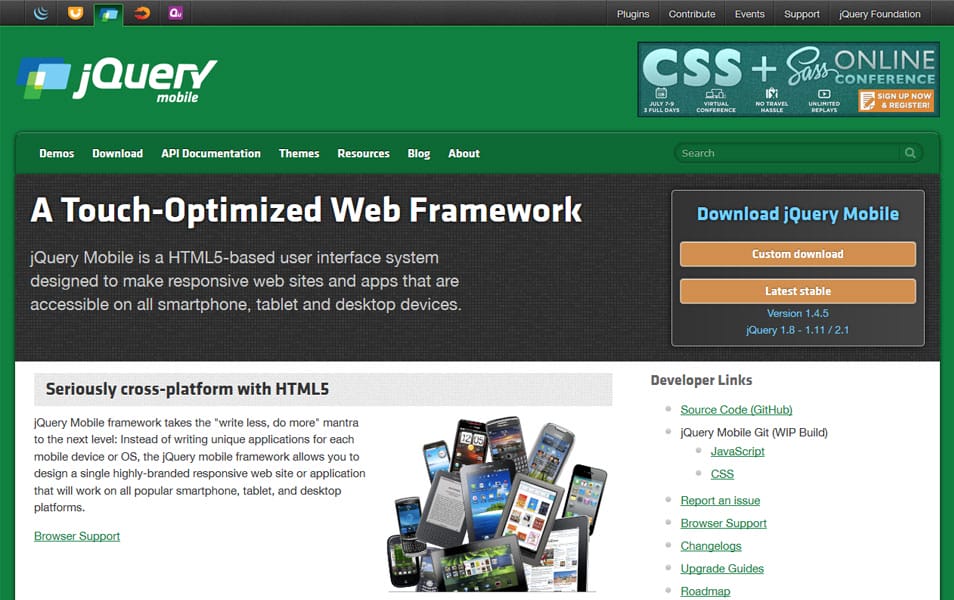 jQuery Mobile is a HTML5-based user interface system designed to make responsive web sites and apps that are accessible on all smartphone, tablet and desktop devices.
Onsen UI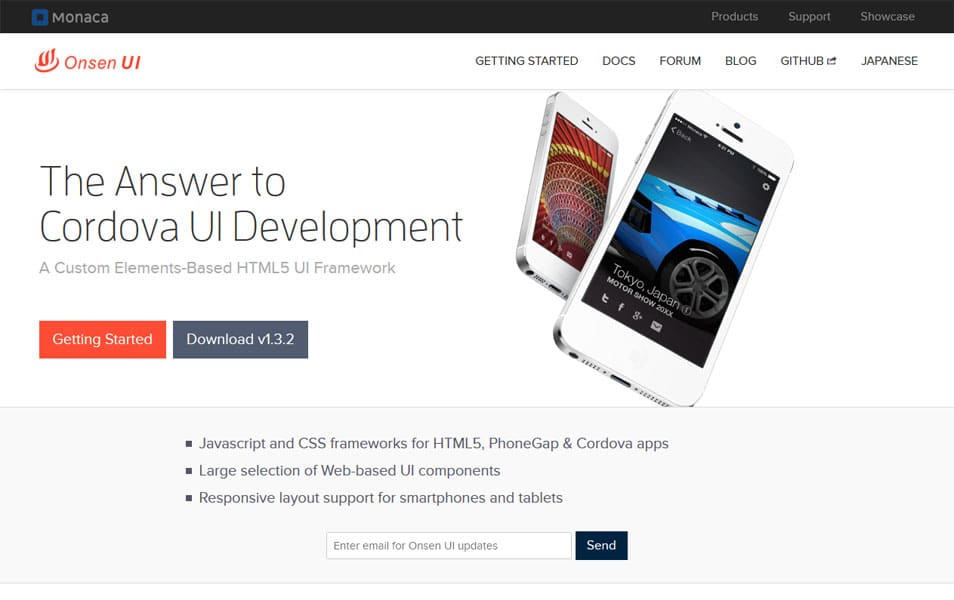 Custom Elements-Based HTML5 UI Framework for Building Your Mobile Front End.
Apache Flex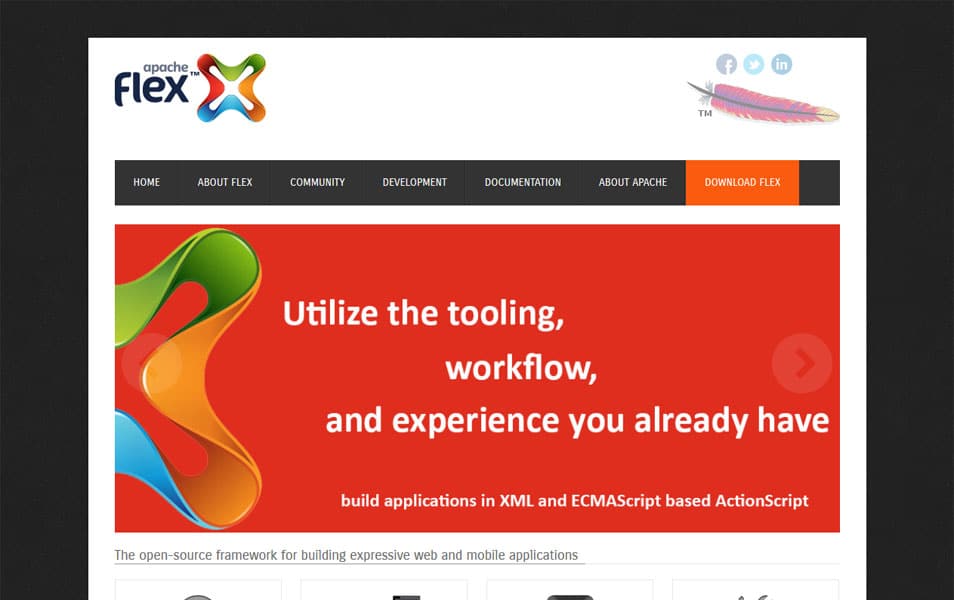 The open-source framework for building expressive web and mobile applications.
eMobc – Mobile Application Development Framework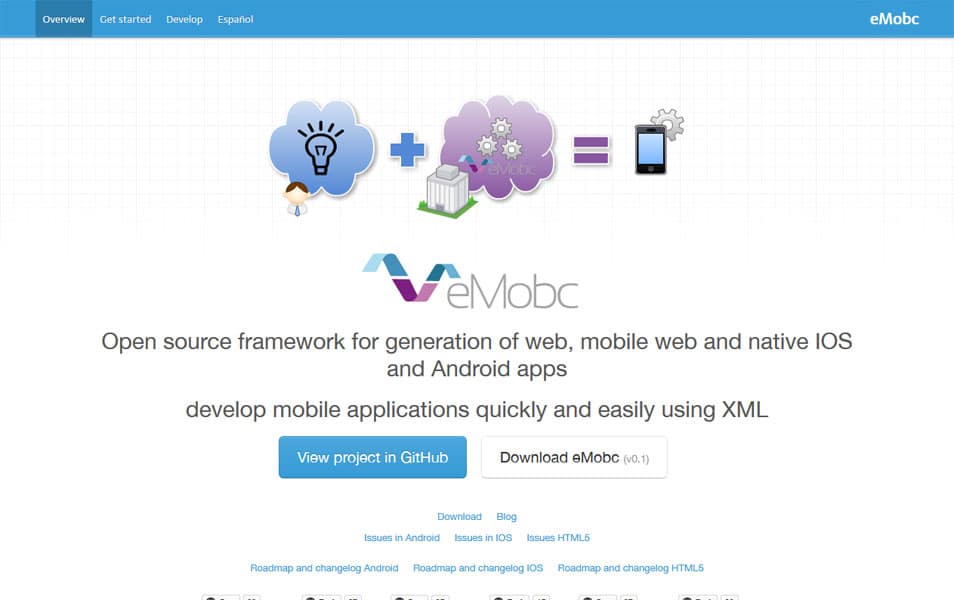 Open source framework for generation of web, mobile web and native IOS and Android apps.
Application Craft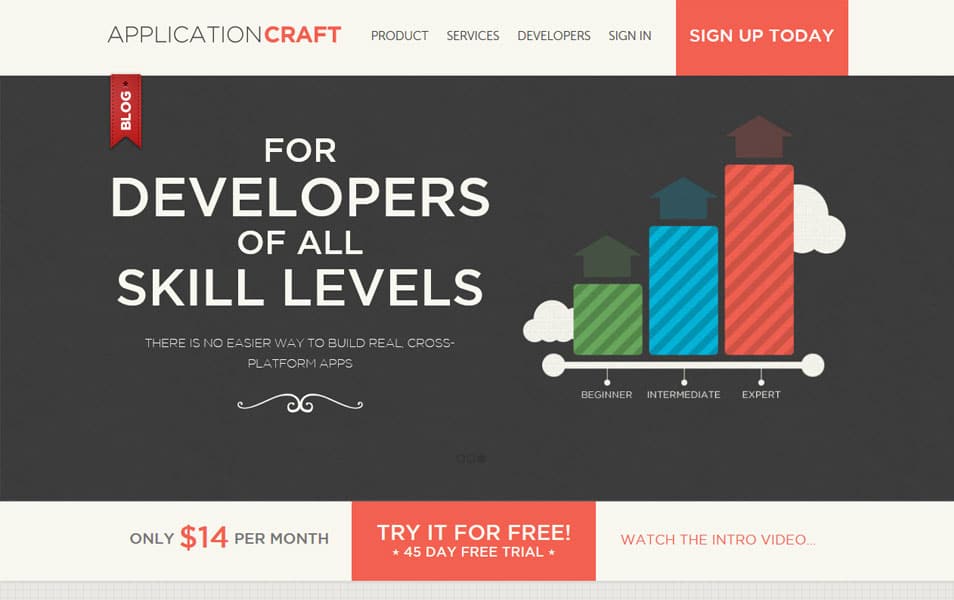 App development for Mobile and Desktop with Application Craft.
ChocolateChip-UI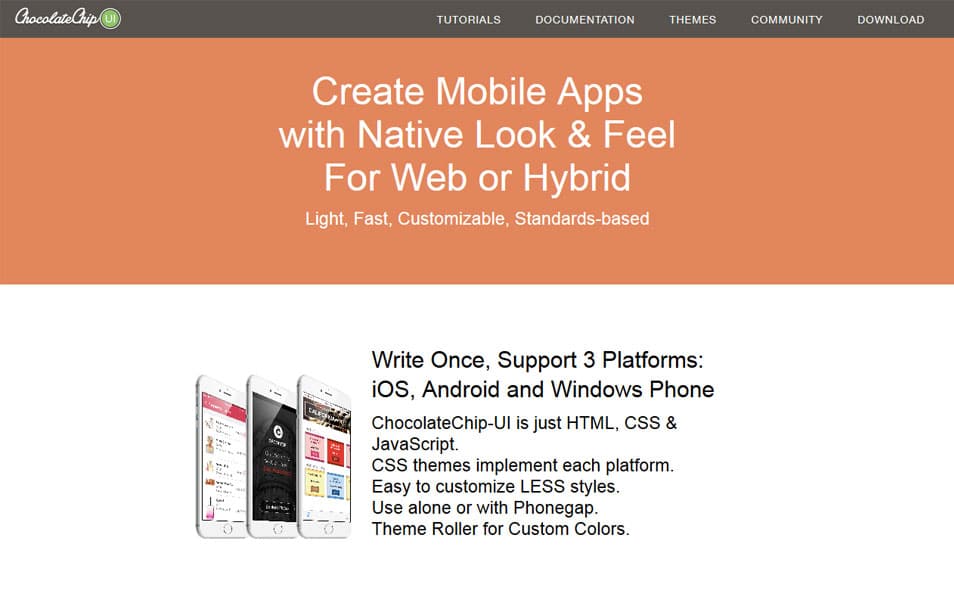 ChocolateChip-UI is a framework for making mobile Web apps. It has three components: semantic HTML5 markup, CSS and JavaScript.
DHTMLX Touch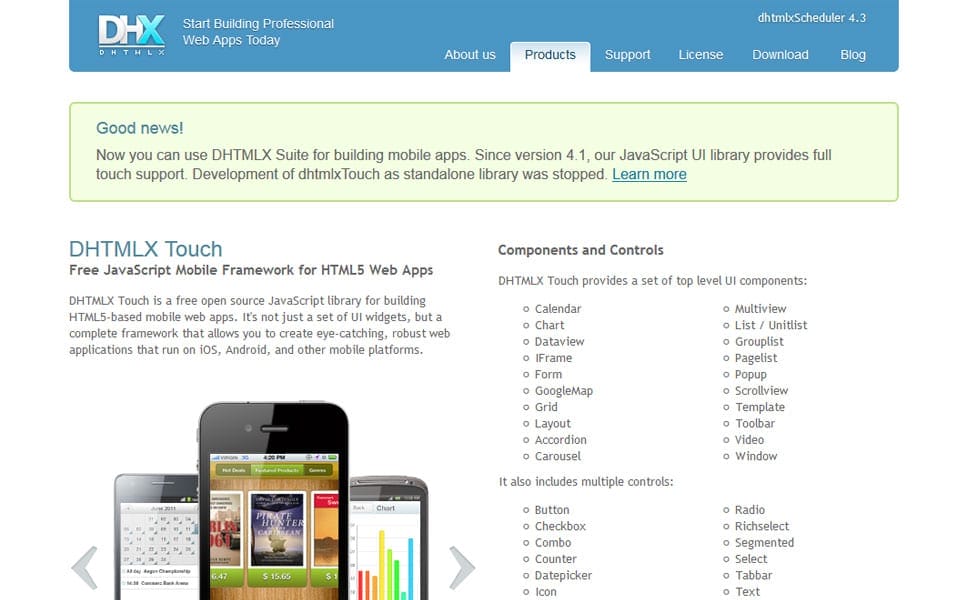 Free JavaScript Mobile Framework for HTML5 Web Apps. DHTMLX Touch is a free open source JavaScript library for building HTML5-based mobile web apps.
Corona Labs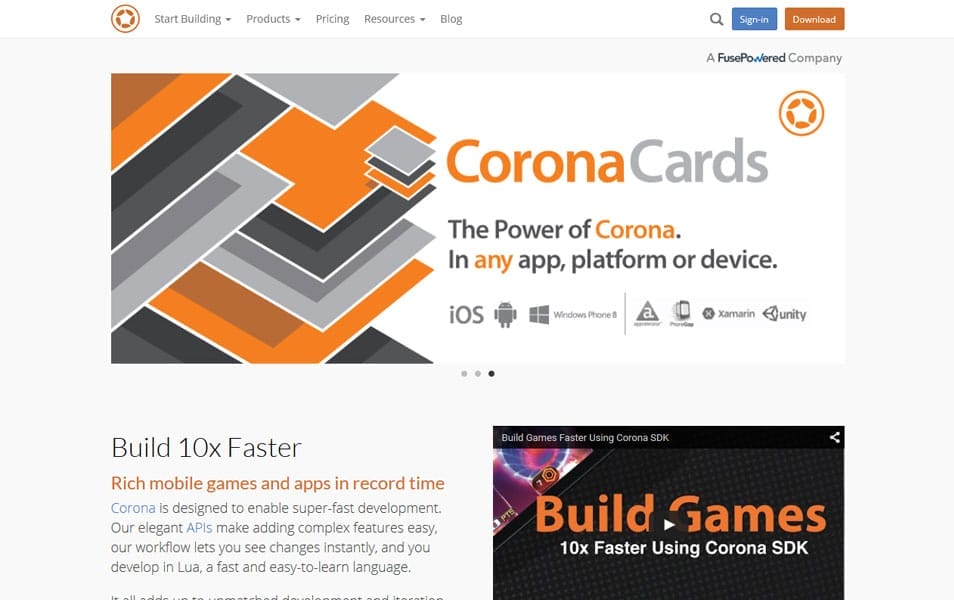 Cross-Platform Mobile App Development for iOS, Android.
Framework7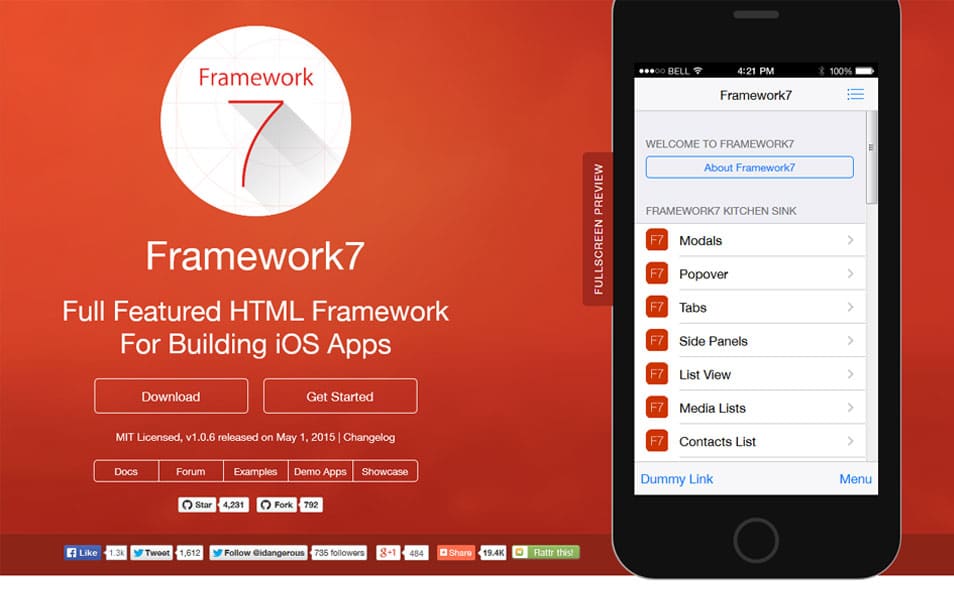 Framework7 is a free and open source mobile HTML framework to develop hybrid mobile apps or web apps with iOS native look and feel.
Gideros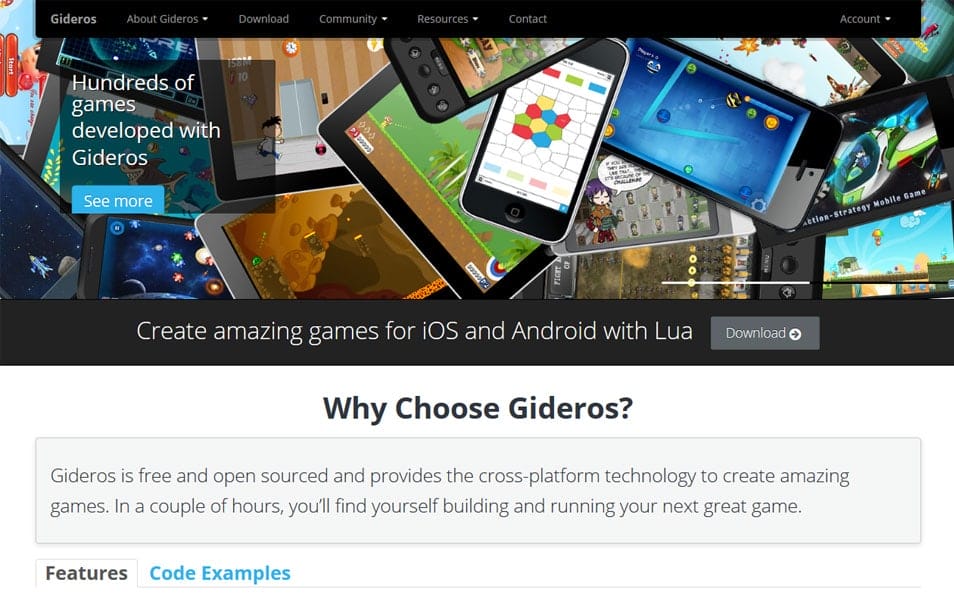 Gideros is free and open sourced and provides the cross-platform technology to create amazing games. In a couple of hours, you'll find yourself building and running your next great game.
Handheld Designer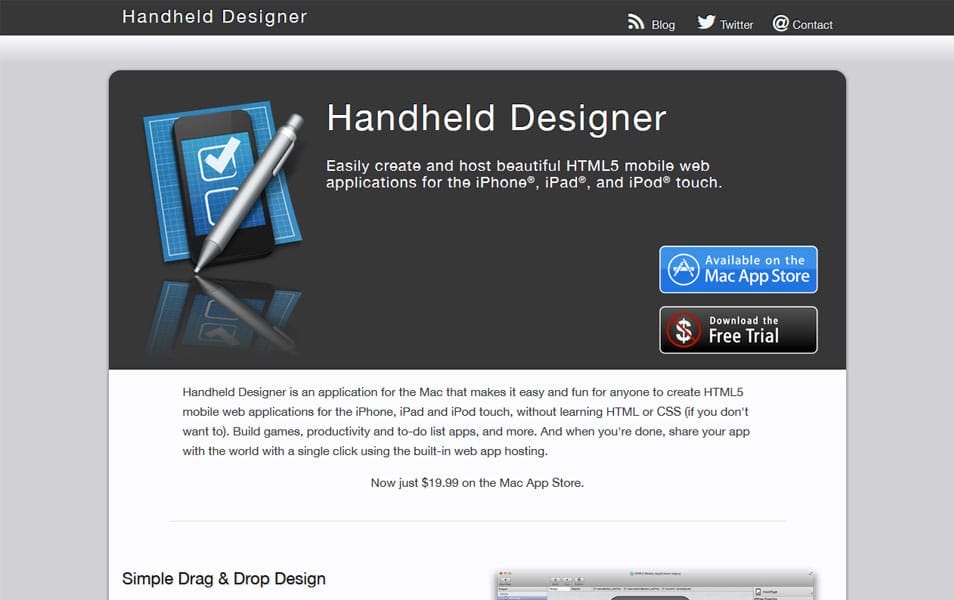 Handheld Designer is an application for the Mac that makes it easy and fun for anyone to create HTML5 mobile web applications for the iPhone, iPad and iPod touch, without learning HTML or CSS (if you don't want to). Build games, productivity and to-do list apps, and more. And when you're done, share your app with the world with a single click using the built-in web app hosting.
jQTouch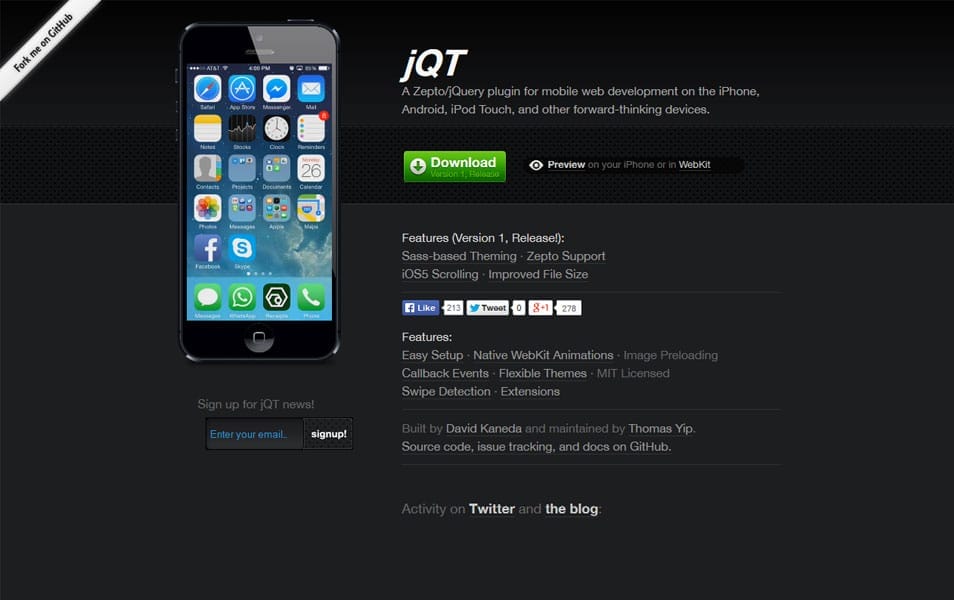 Create powerful mobile apps with just HTML, CSS, and Zepto.js (or jQuery).
Jo HTML5 Mobile App Framework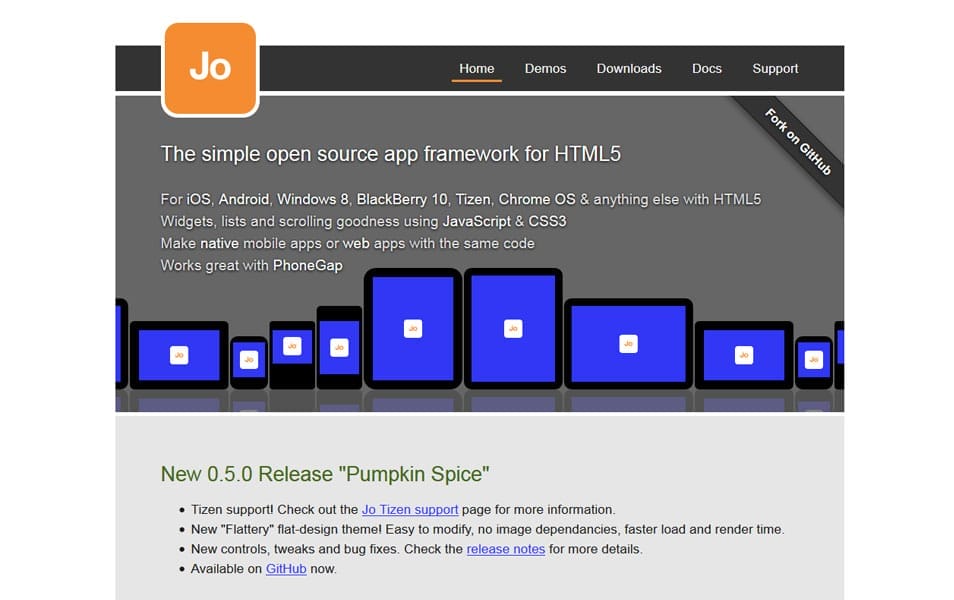 Jo is a JavaScript framework for HTML5 capable browsers and devices. It was originally designed to work on mobile platforms as a GUI and light data layer on top of PhoneGap.
Marmalade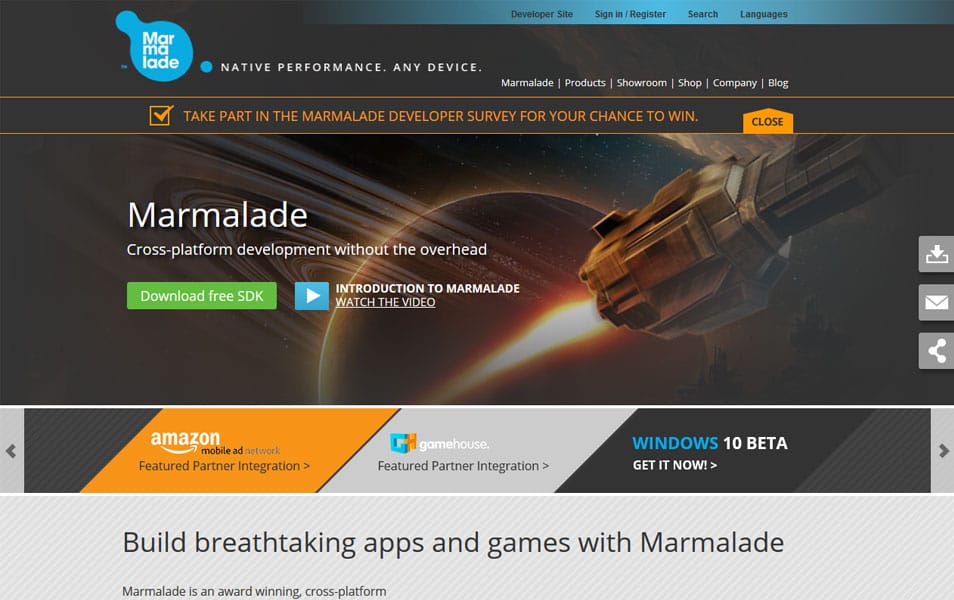 Marmalade is an award winning, cross-platform development tool built around the belief that developers should be free to innovate, create and craft fantastic content for any audience on any device without compromising on performance or creative vision.
Kivy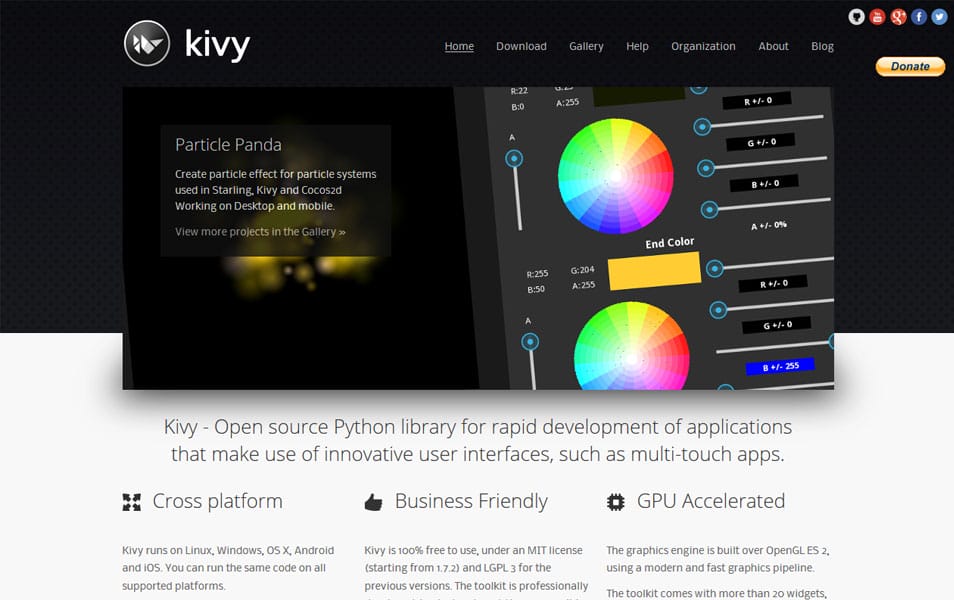 Cross-platform Python Framework for NUI Development.
Moai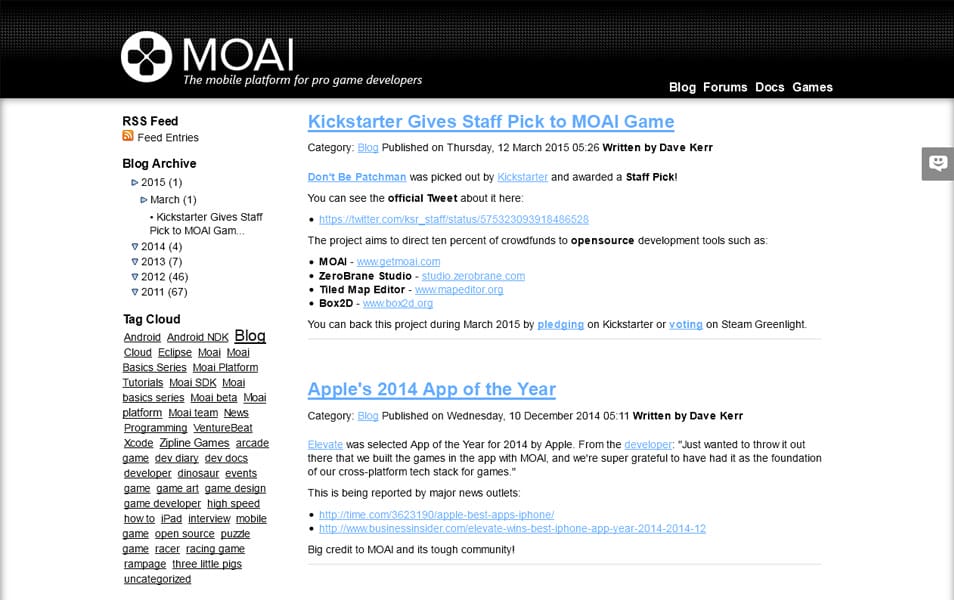 The mobile platform for pro game developers.
Xamarin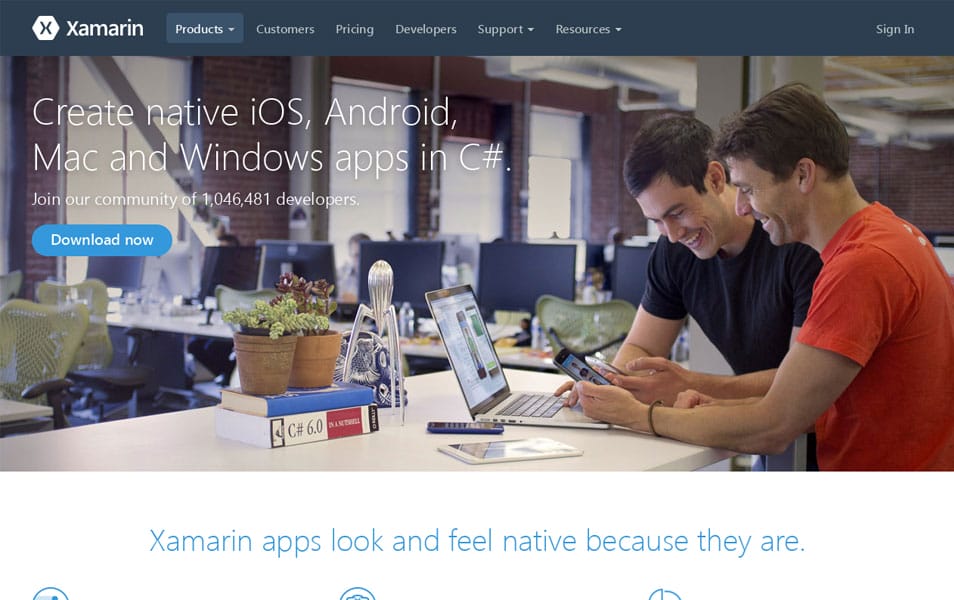 Mobile Application Development to Build Apps in C#.
Mobify.js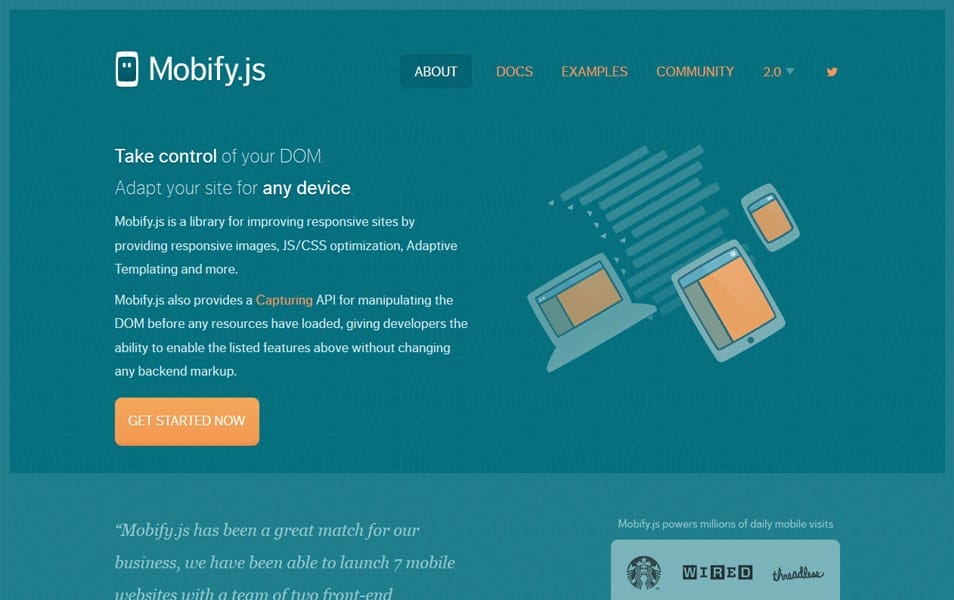 Mobify.js is a library for improving responsive sites by providing responsive images, JS/CSS optimization, Adaptive Templating and more.
NimbleKit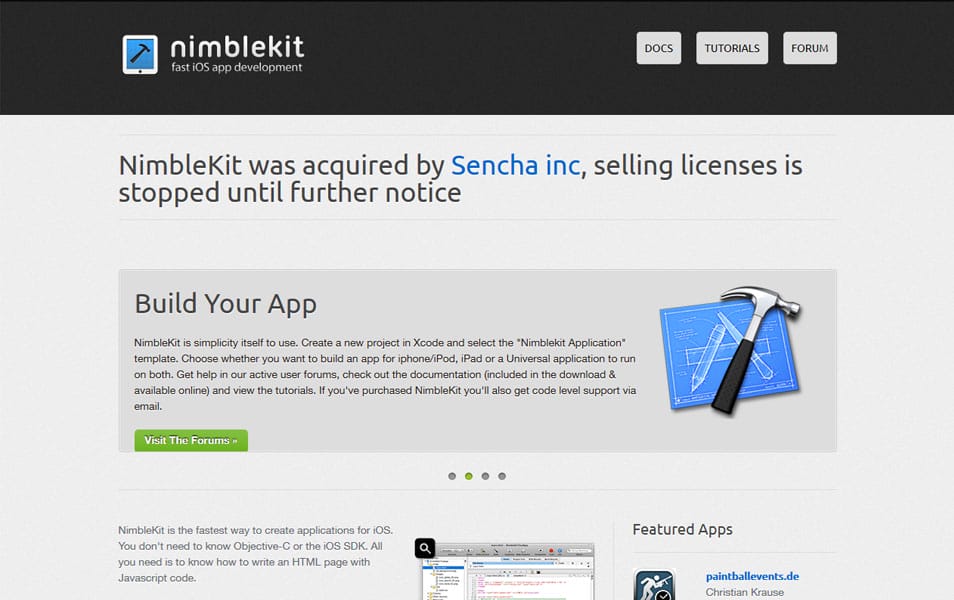 Develop native iOS apps with Html & Javascript.
NeoMAD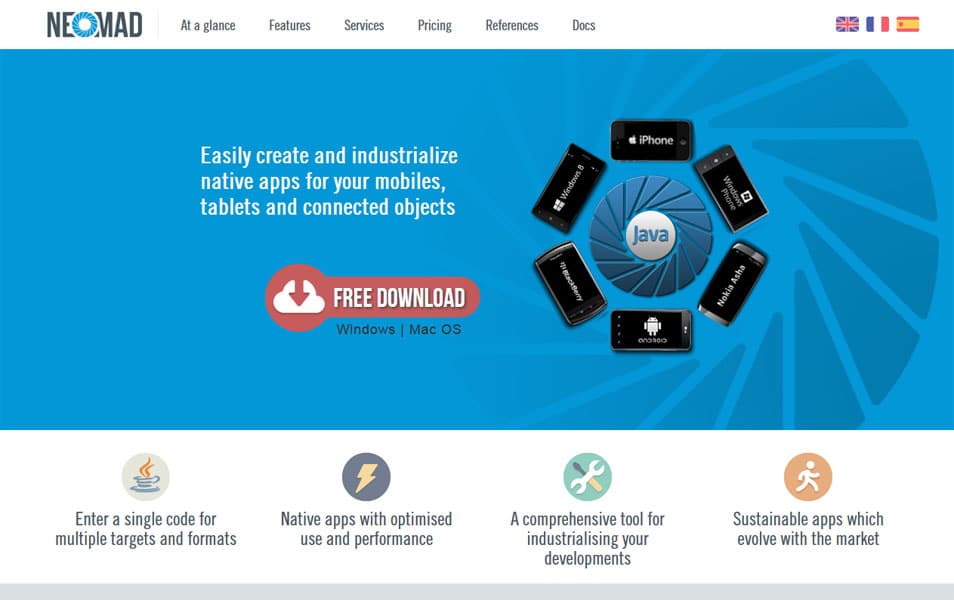 Easily create and industrialize native apps for your mobiles, tablets and connected objects.
The-M-Project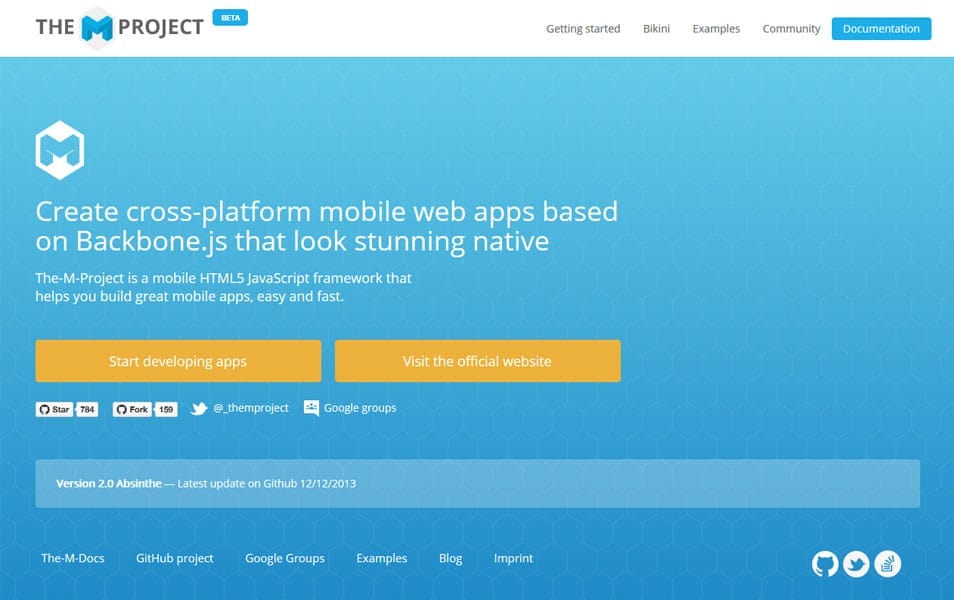 The-M-Project is a Mobile HTML5 JavaScript Framework that helps you build great mobile apps, easy and fast.
NSB/AppStudio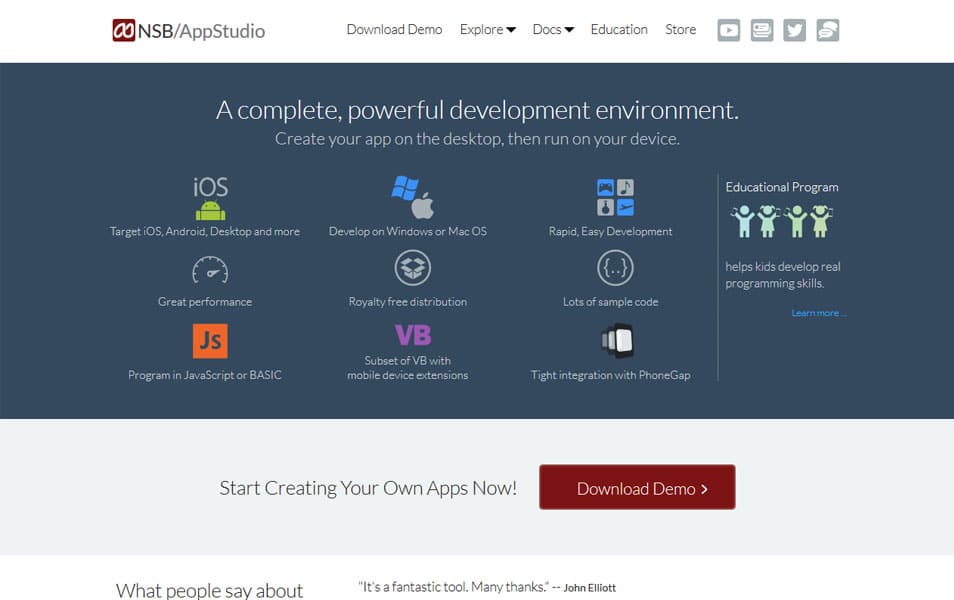 A complete, powerful development environment. Create your app on the desktop, then run on your device.
qooxdoo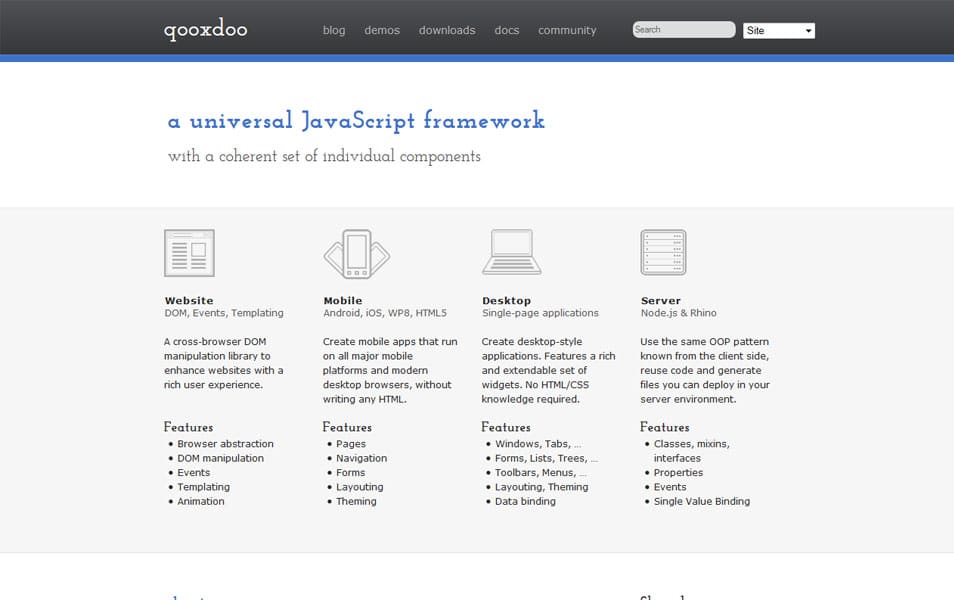 qooxdoo is a universal JavaScript framework with a coherent set of individual components and a powerful toolchain. It is open source under liberal licenses, and supported by one of the world's leading web hosts, 1&1.
ShiVa3D
ShiVa3D is a 3D game and application development suite that comes in a n easy to use, yet very powerful WYSIWYG (what you see is what you get) editor.
Trigger.io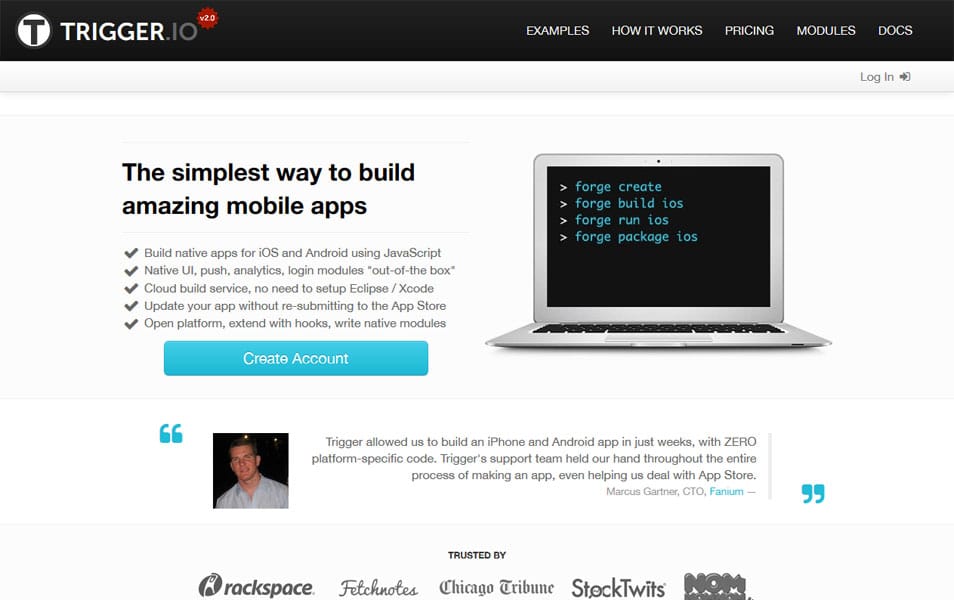 Mobile platform for web developers.
WebApp.Net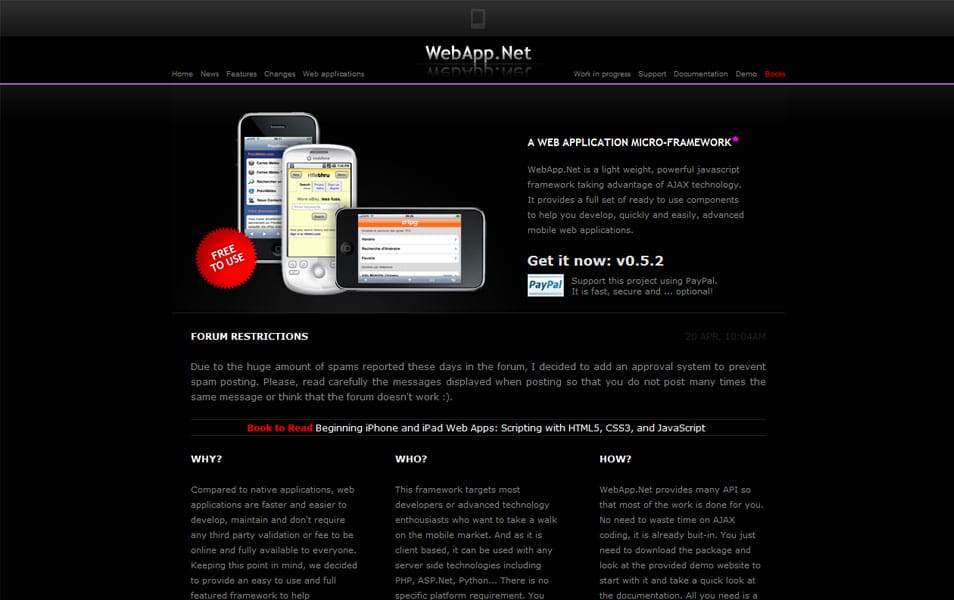 WebApp.Net is a light weight, powerful javascript framework taking advantage of AJAX technology. It provides a full set of ready to use components to help you develop, quickly and easily, advanced mobile web applications.
ViziApps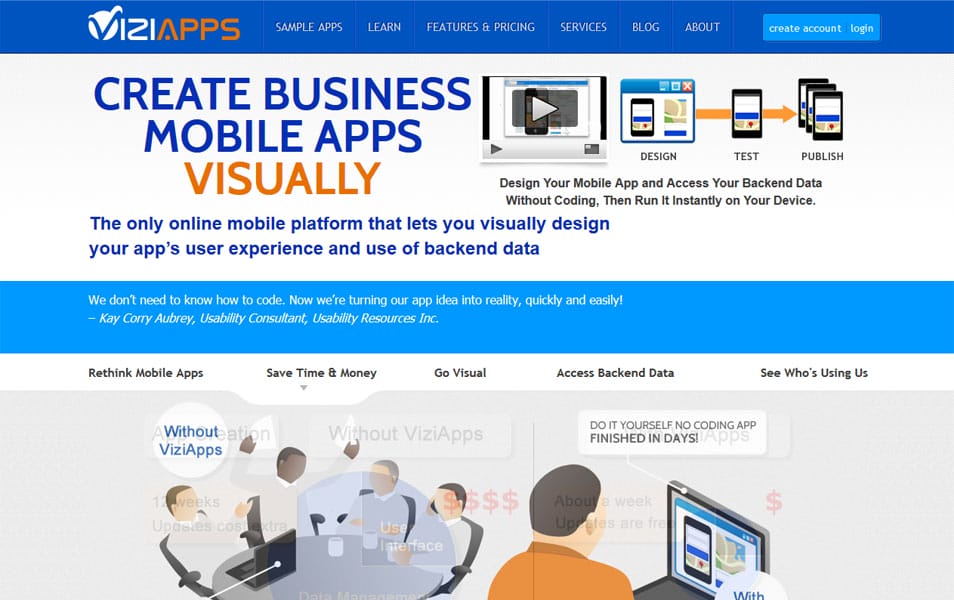 Create Business mobile apps Visually.
Qt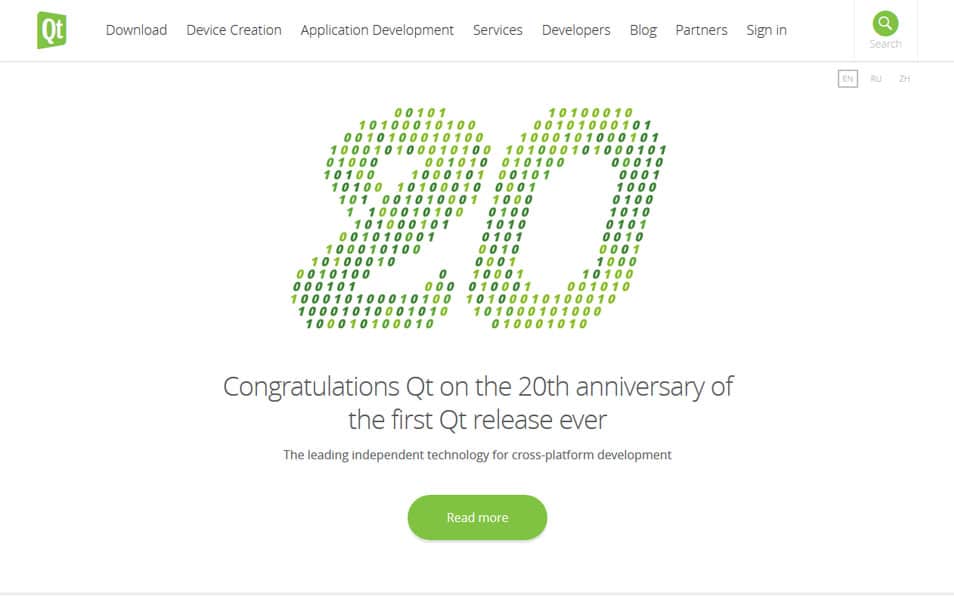 Cross-platform application & UI development framework.
Oracle Mobile Application Framework
Oracle Mobile Application Framework (Oracle MAF) is a hybrid mobile framework that enables developers to rapidly develop single-source applications and deploy to both Apple's iOS and Google's Android platforms.
Ratchet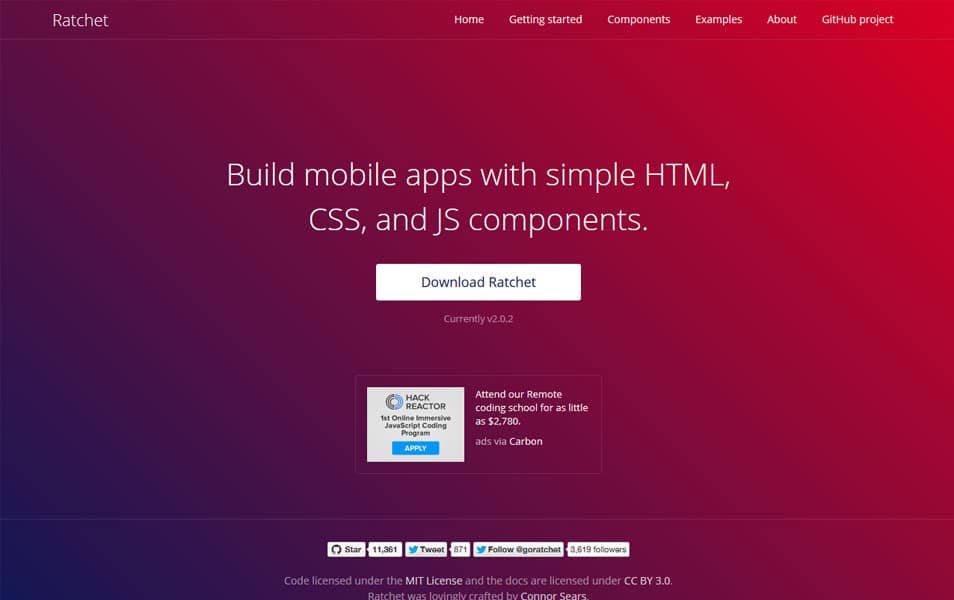 Build mobile apps with simple HTML, CSS, and JavaScript components.
Famous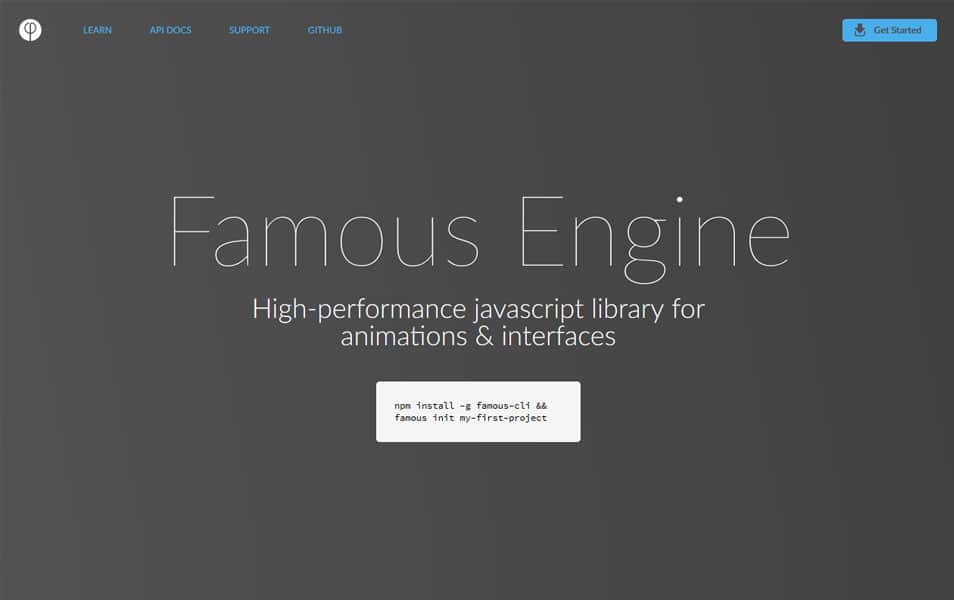 JavaScript Library for Animations & Interfaces.
Intel's App Framework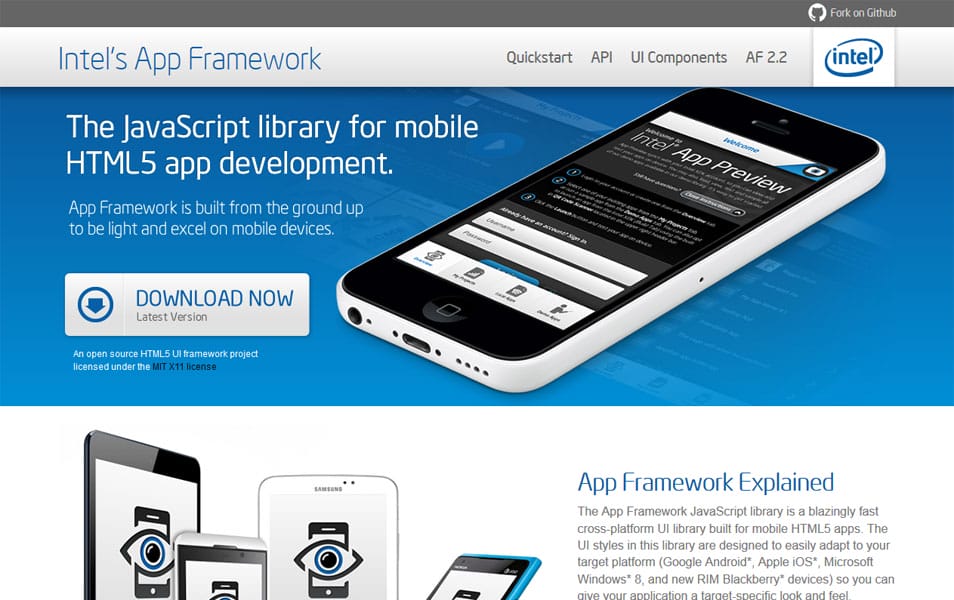 The App Framework JavaScript library is a blazingly fast cross-platform UI library built for mobile HTML5 apps.
appMobi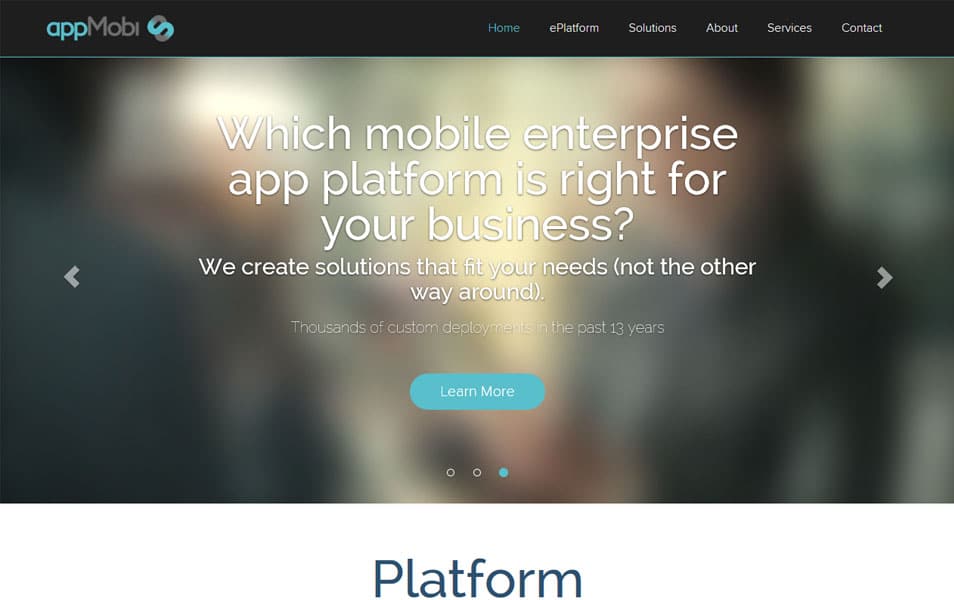 appMobi provides mobile app development tools that allow developers to create games and apps that deploy across all popular mobile devices.
PropertyCross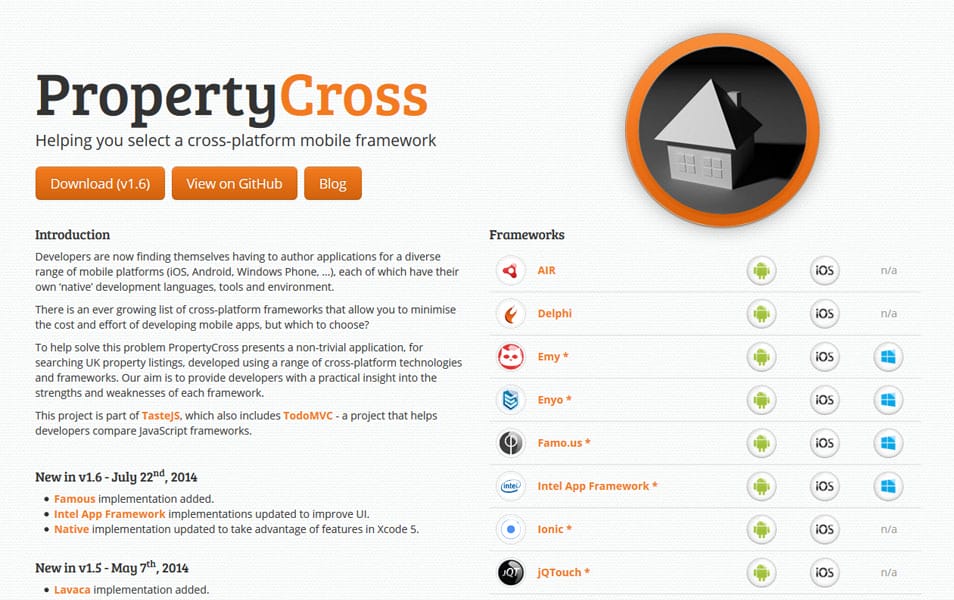 Helping developers select a framework for cross-platform mobile development.
EMY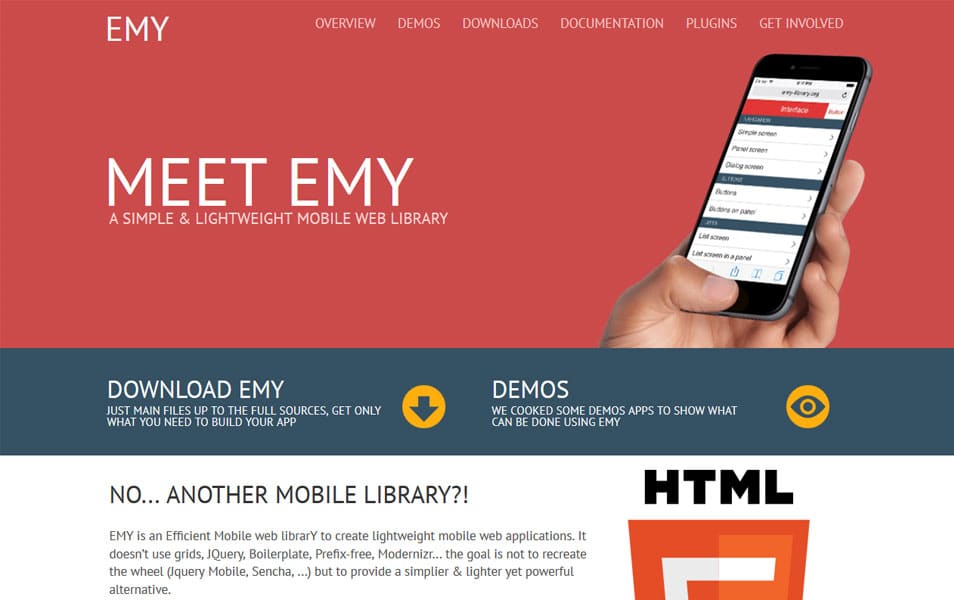 EMY is an Efficient Mobile web librarY to create lightweight mobile web applications. It doesn't use grids, JQuery, Boilerplate, Prefix-free, Modernizr… the goal is not to recreate the wheel (Jquery Mobile, Sencha, …) but to provide a simplier & lighter yet powerful alternative.
Lavaca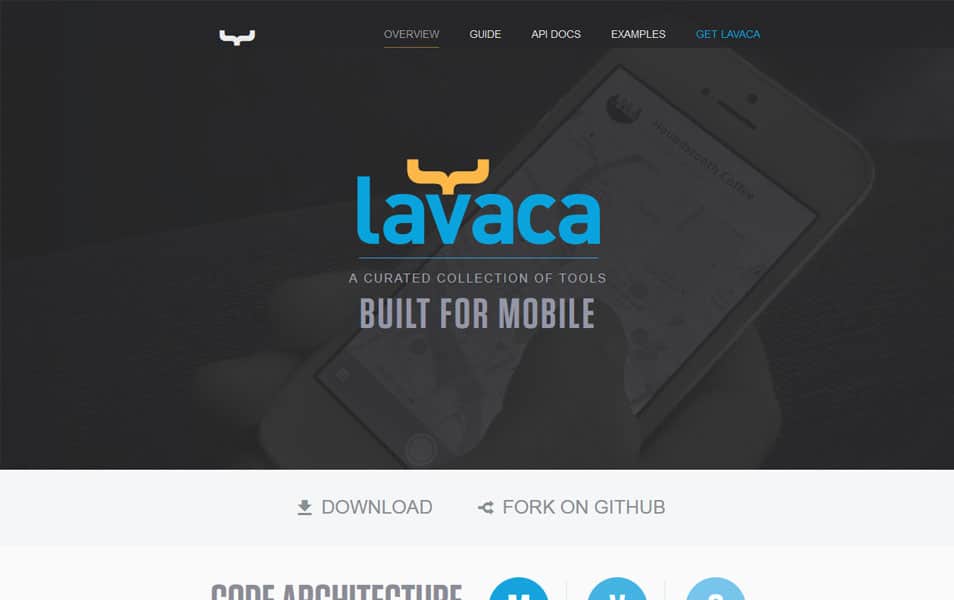 A curated collection of tools Built for Mobile.
mgwt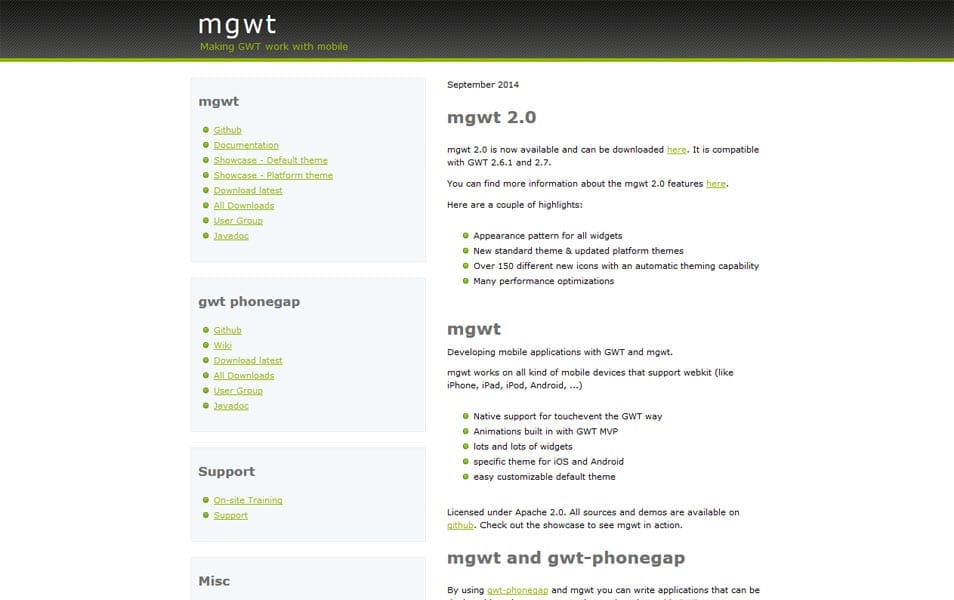 Developing mobile applications with GWT and mgwt.
DevExtreme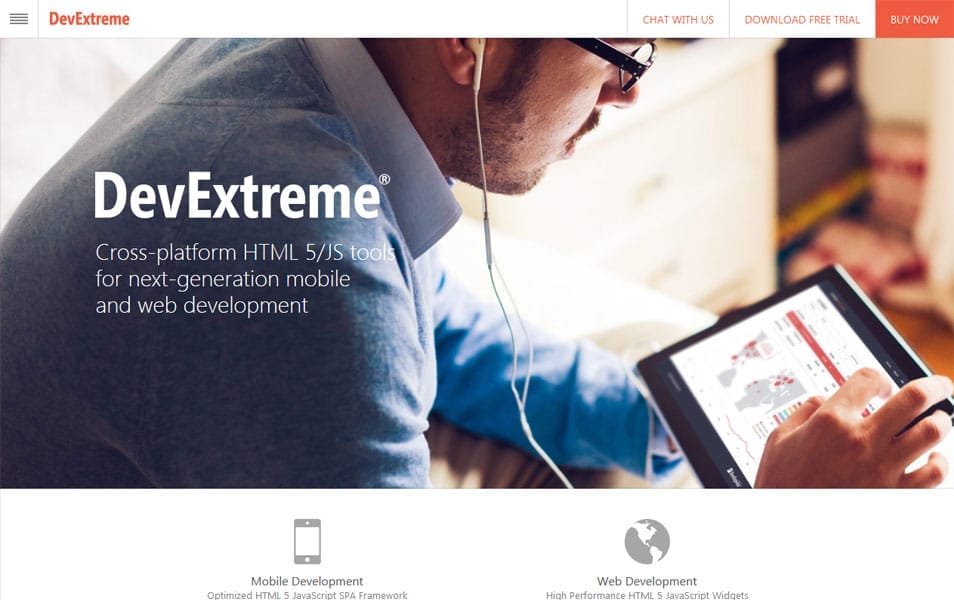 Cross-platform HTML 5/JS tools for next-generation mobile and web development.
Appcelerator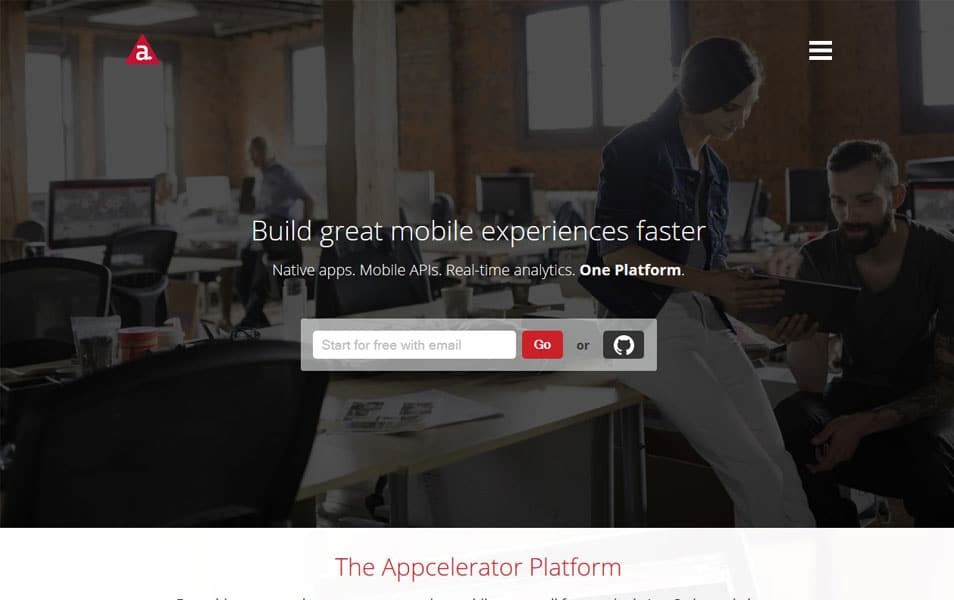 Mobile App Development Platform.