20+ Best Dashboard Frameworks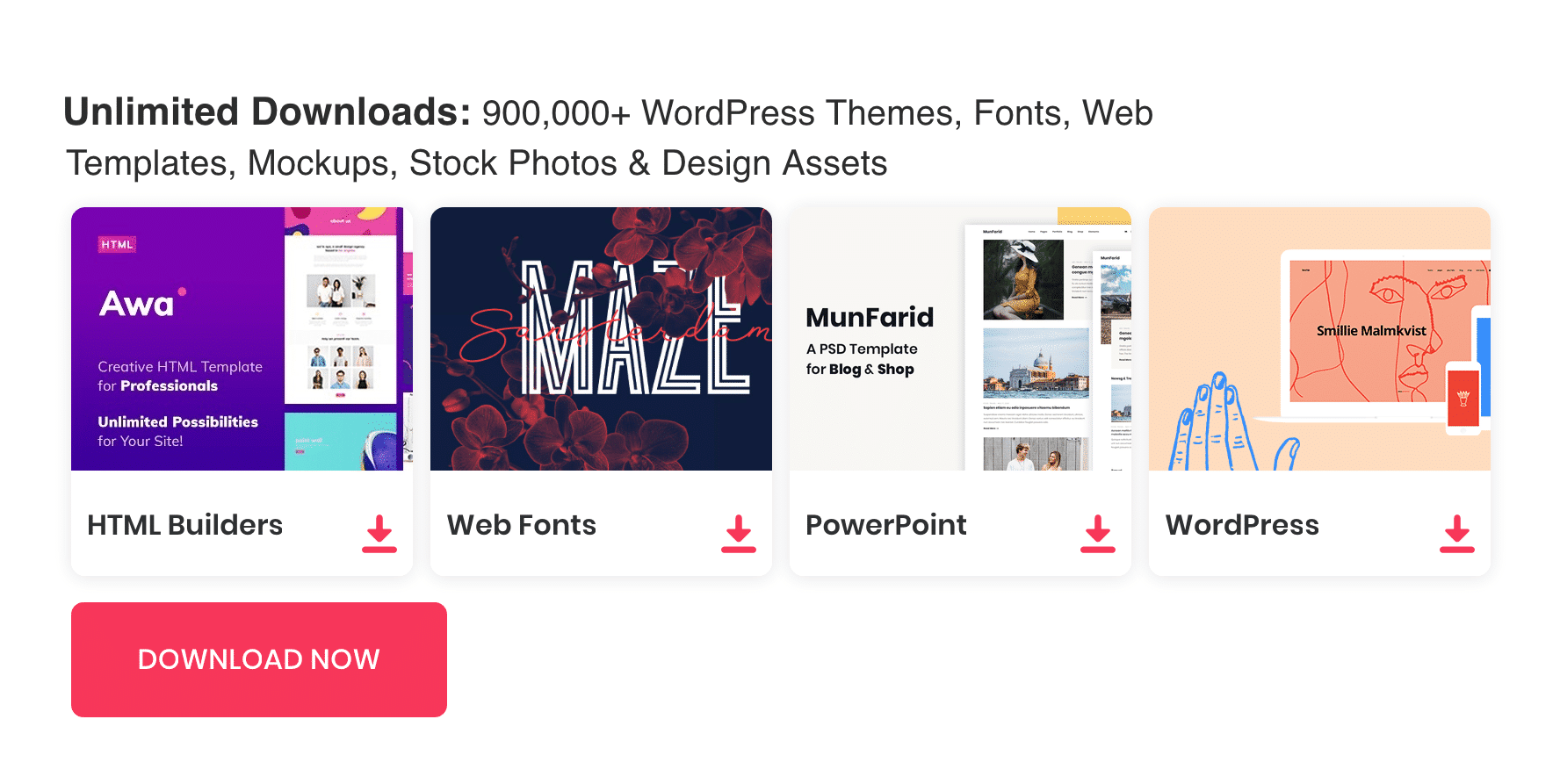 An excellent list of useful dashboard frameworks to help you build sophisticated live visual dashboards for your needs.
The dashboard is a visual indicator of particular aspects or a business process. Live visual dashboards are a graphical display it consist of charts, maps and graphic symbols. A visual dashboard visualises the actual data from an external source. It helps you to evaluate information and allow to make the correct decision.
Dashboard development is a complicated process. Hence, it will take a lot of time and money. To make these process easier, there are some frameworks available for building beautiful dashboards. These are very detailed and sophisticated structures to create dashboards. Below, you can see a good list of dashboard frameworks. 
Frameworks Categories
Tipboard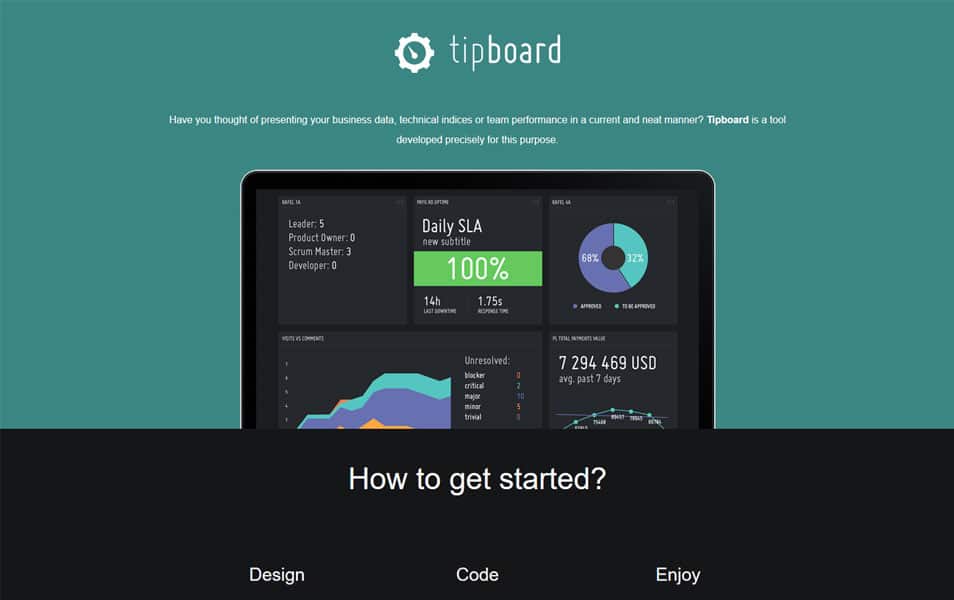 Tipboard is a system for creating dashboards, written in JavaScript and Python. one of the best open source dashboard library. It has ready to use widget library, complete tutorials and great open-source community.
Mozaik – Best Open Source Dashboard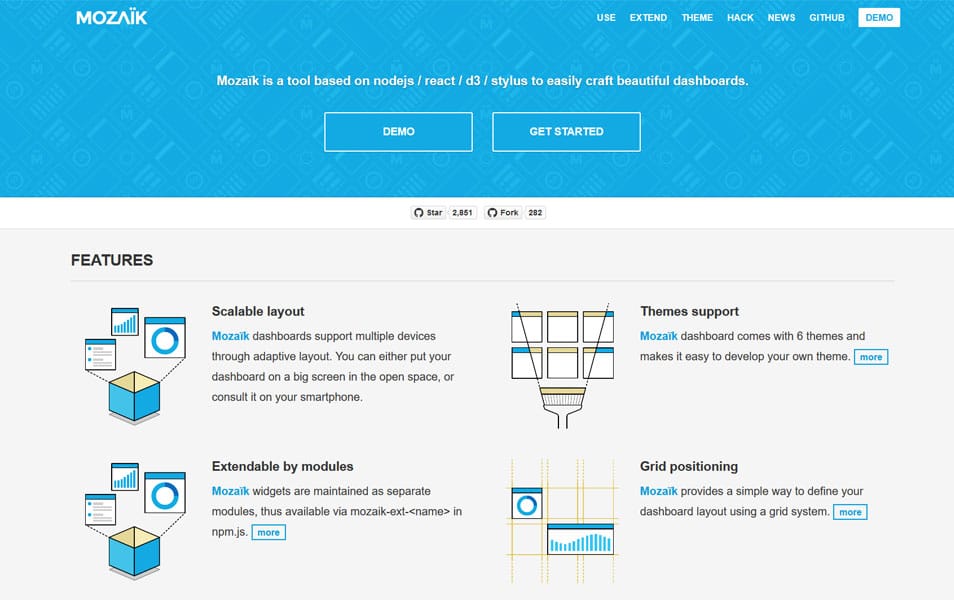 Mozaïk is a tool based on nodejs / react / d3 / stylus. it is a very good responsive dashboard layout. This dashboard comes with several themes but it is pretty easy to develop a custom theme for the dashboard. There are many widgets are available for this dashboard, Mozaïk maintains widgets as separate modules.
Smashing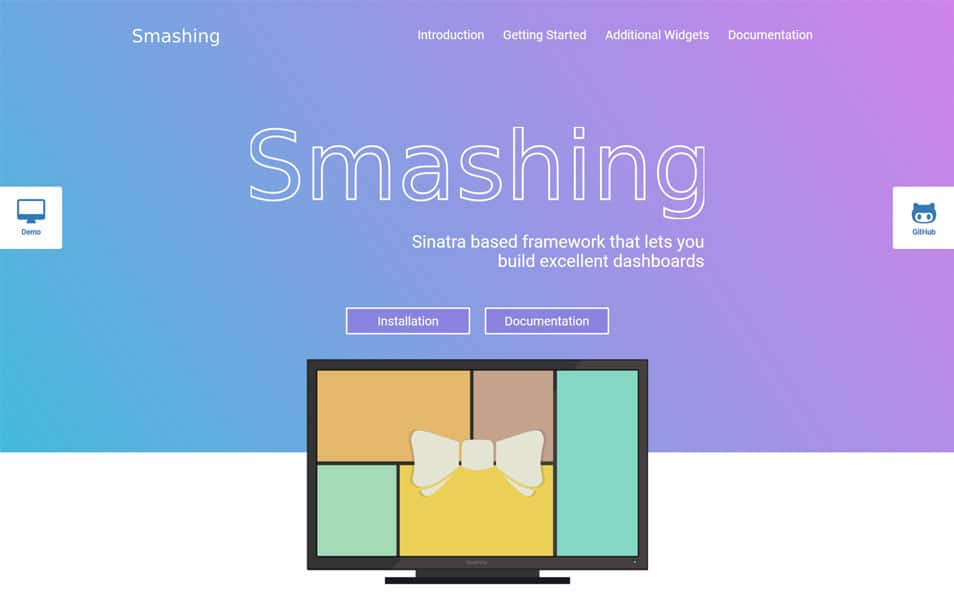 Smashing is a Sinatra based framework that lets you build beautiful dashboards. This project is a fork of Dashing, an excellent framework created at Shopify for displaying custom dashboards on TVs around the office.
JDash – Javascript Dashboard Framework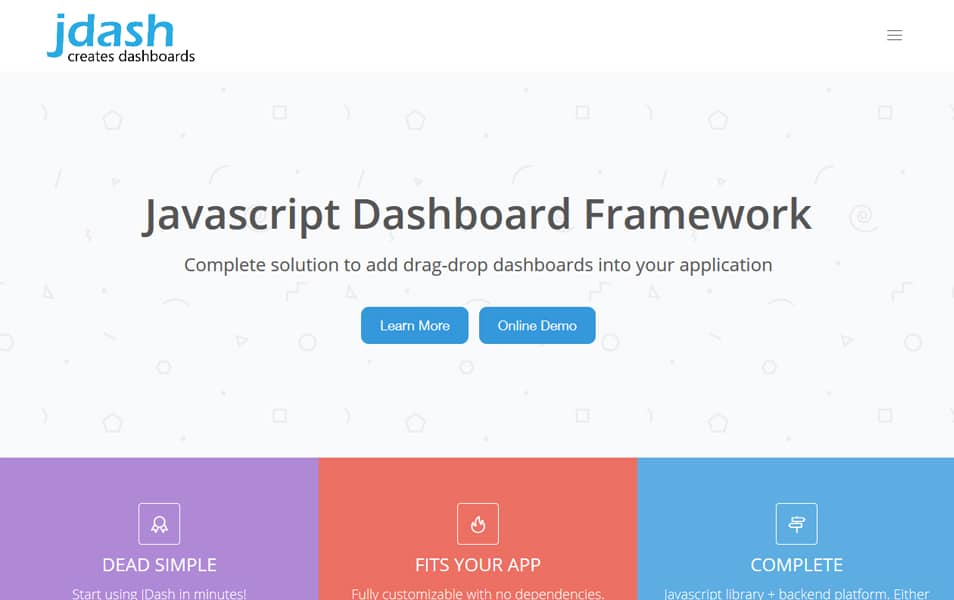 It is an HTML5, CSS3 Based dashboard library. javascript Library + Backend Platform is a complete solution for building great dashboards. it is unique, modern and completely drag and drop dashboard.
Cyclotron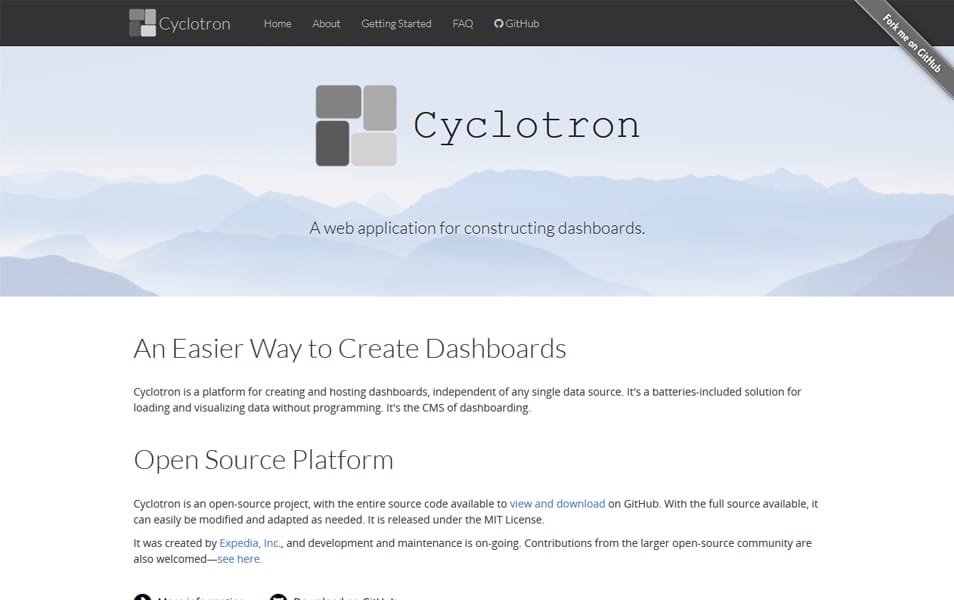 Cyclotron provides the framework and plumbing needed to quickly create new Dashboards.
PatternFly – Open Source Dashboards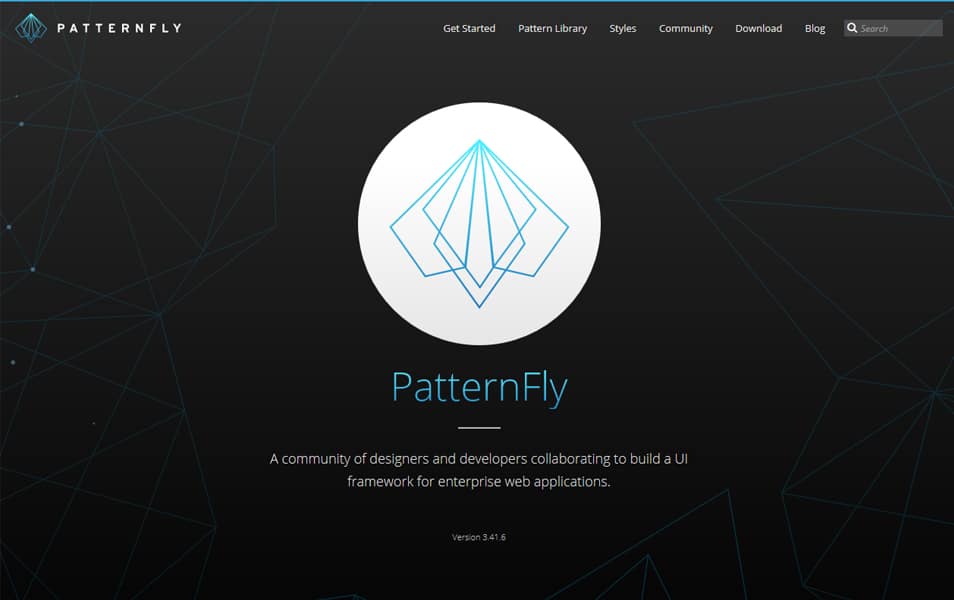 PatternFly is an open source web user interface framework promoting consistency and usability across IT applications through UX patterns and widgets.
Metricio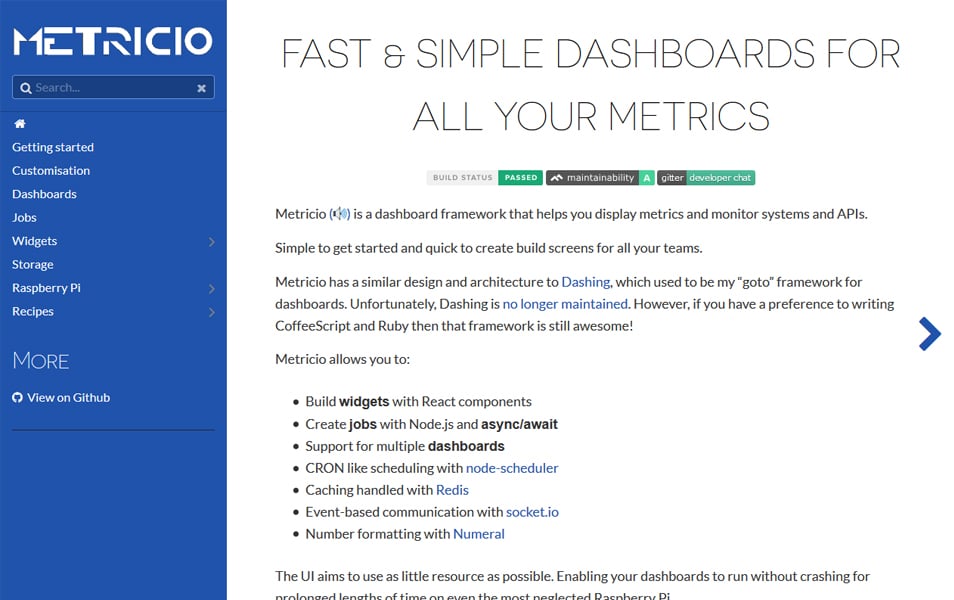 Metricio is a dashboard framework that helps you display metrics and monitor systems and APIs.
RazorFlow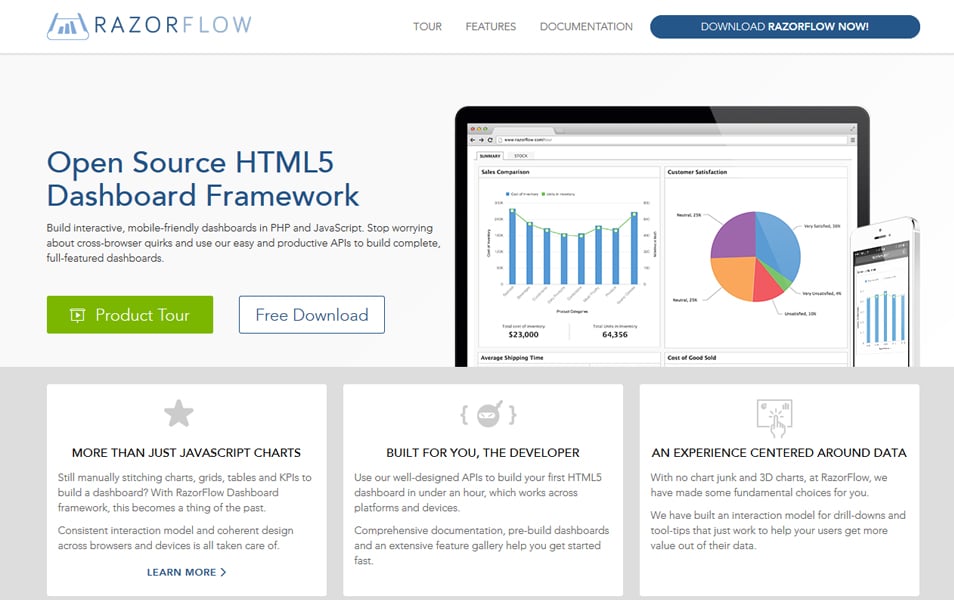 RazorFlow is an Open Source HTML5 Dashboard Framework. It Allows you to create PHP dashboards and interactive Javascript dashboards. It's fully responsive and cross-browser compatible dashboards. RazorFlow is a complete package, it has all the elements that you needed for a dashboard. It has a built-in dashboard theme builder. It is super fast even on mobile devices.
Dashing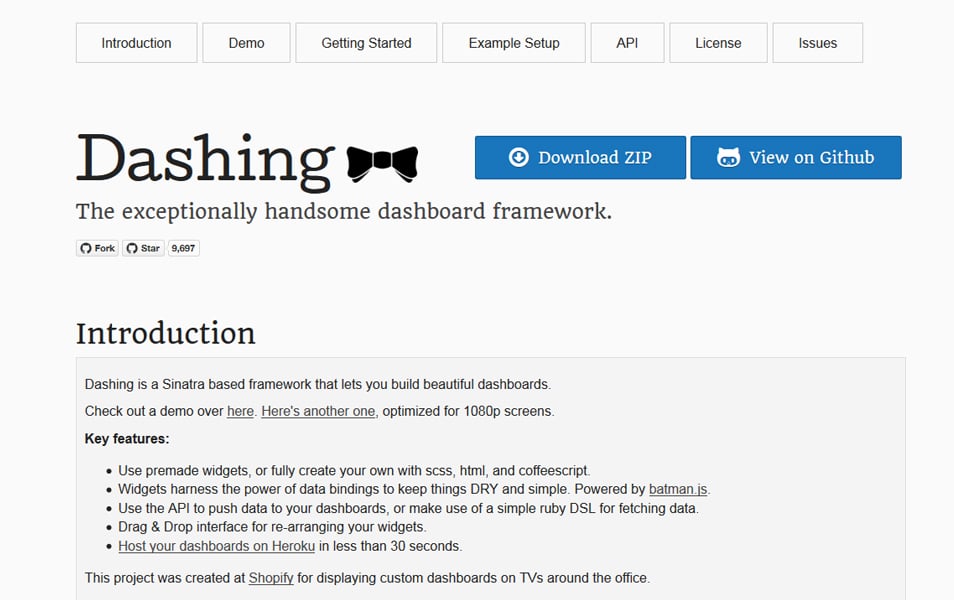 Dashing is a Sinatra based framework that lets you build beautiful dashboards.
FnordMetric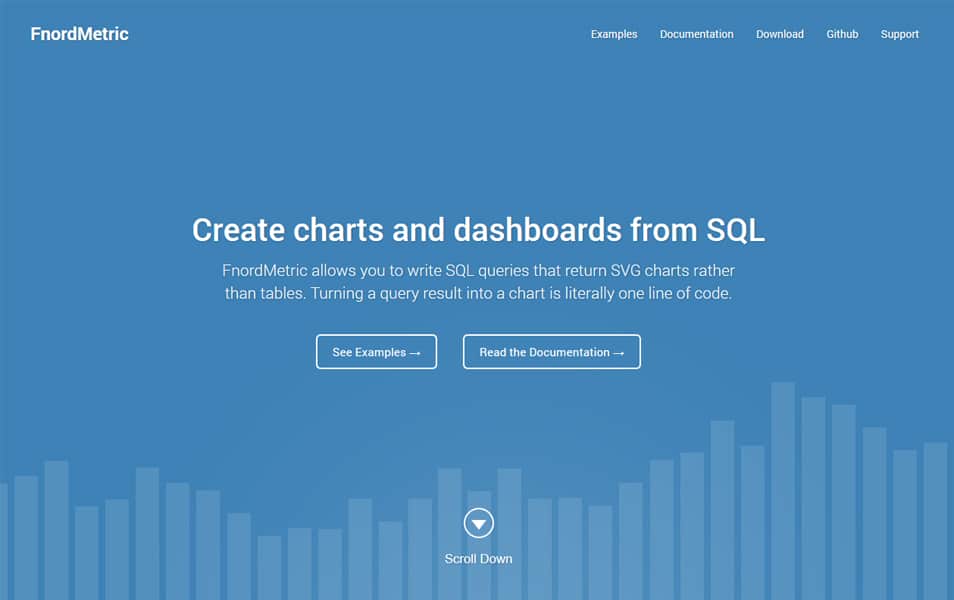 FnordMetric allows you collect and visualize timeseries data using only SQL. It enables you to build beautiful real-time analytics dashboards within minutes.
Dashku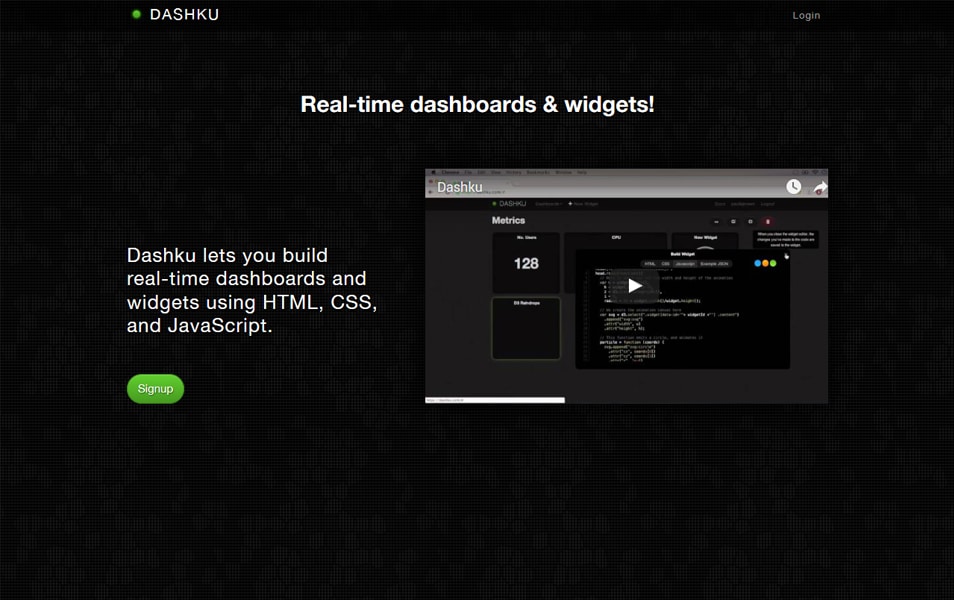 Dashku is a web application for creating dashboards and widgets in HTML, CSS, and JavaScript.
Uchiwa
Uchiwa is a simple dashboard for the Sensu monitoring framework, built with Go and AngularJS.
Flakes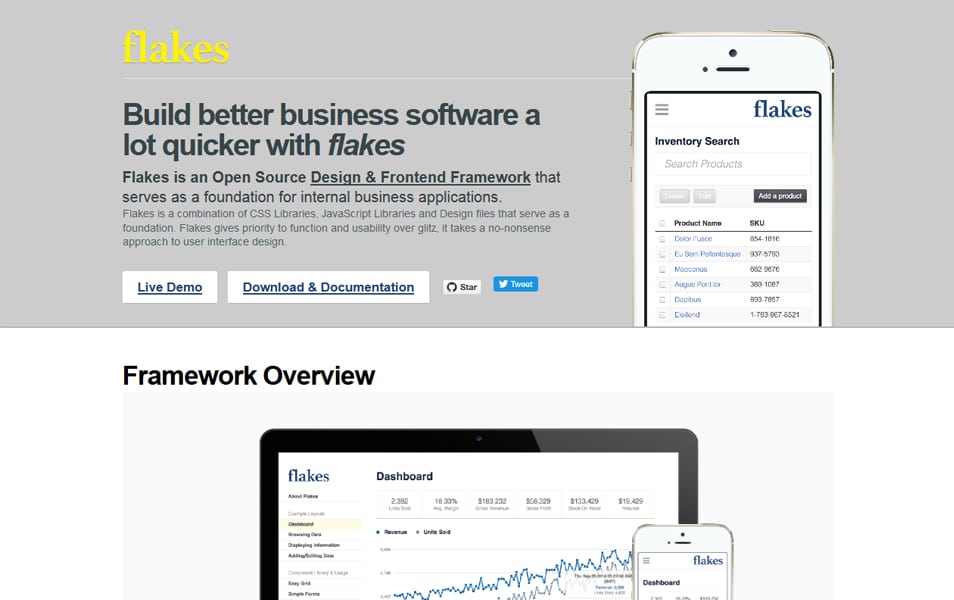 Flakes is an Admin Template Framework. A combination of CSS Libraries, JavaScript Libraries and Design files that help you build business tools very quickly.
Splunk Web Framework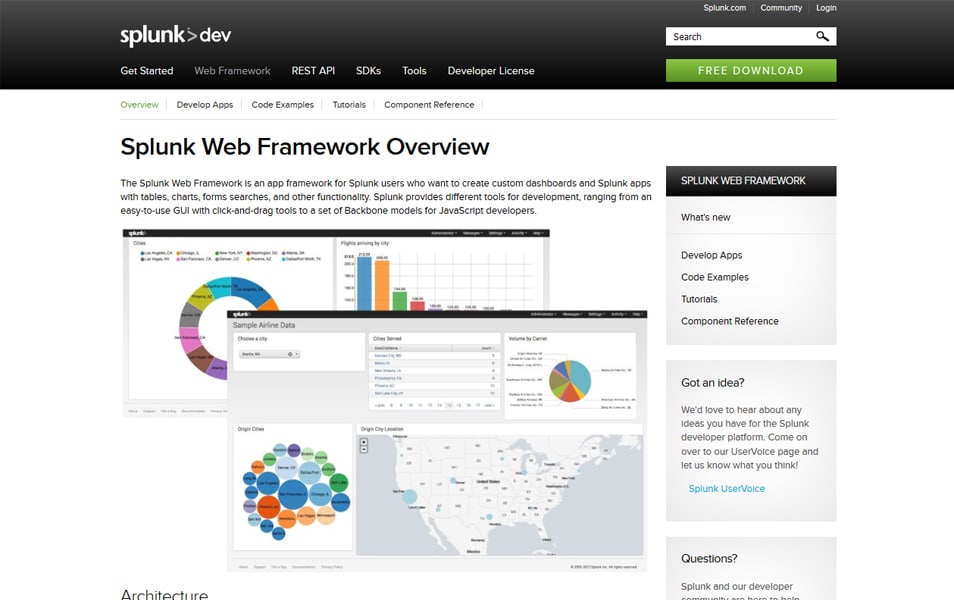 The Splunk Web Framework is an app framework for Splunk users who want to create custom dashboards and Splunk apps with tables, charts, forms searches, and other functionality.
JDash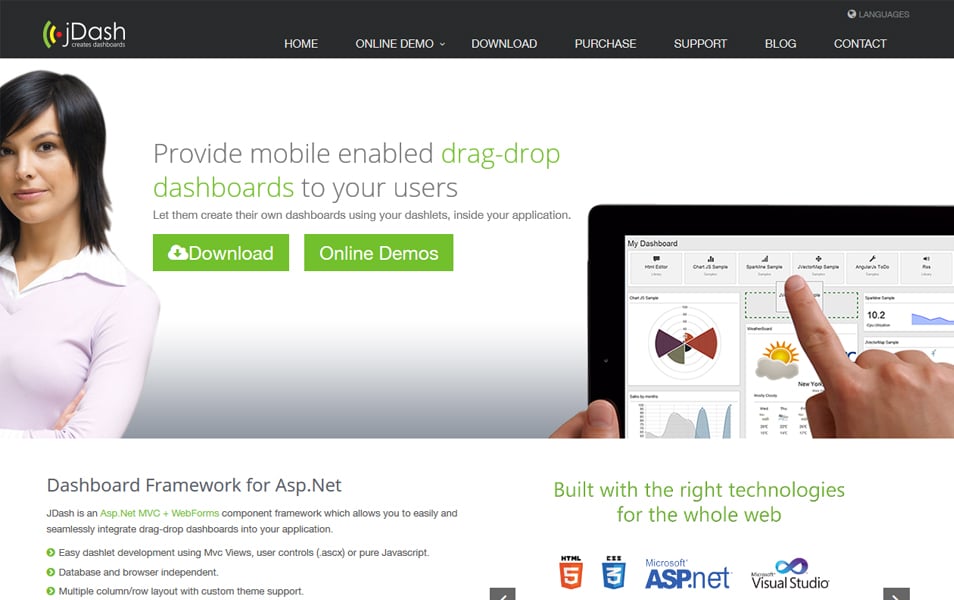 JDash is an Asp.Net MVC + WebForms framework which allows you to easily and seamlessly integrate drag-drop dashboards into your application.
CloudIO Dashboard Framework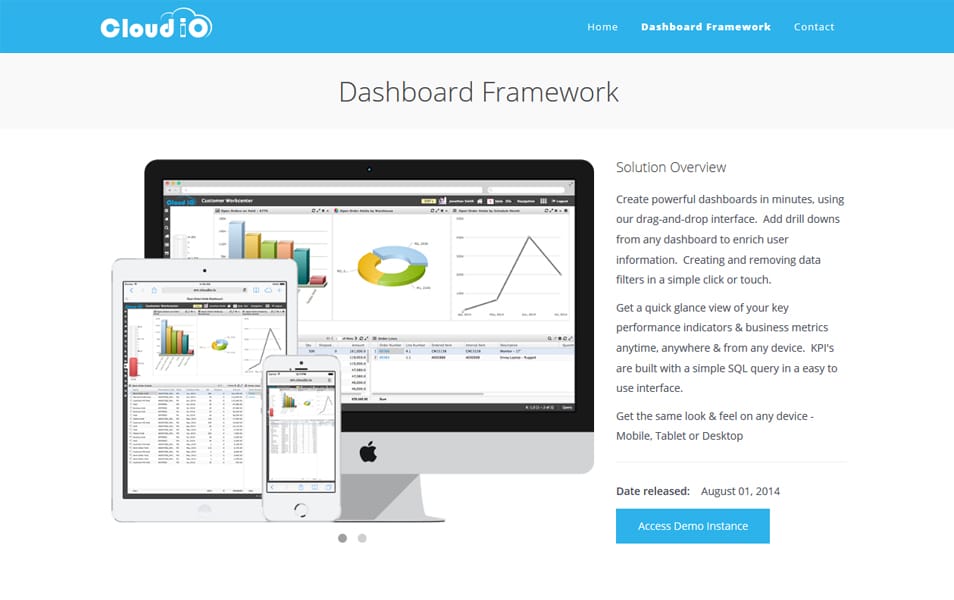 Create powerful dashboards in minutes, using our drag-and-drop interface. Add drill downs from any dashboard to enrich user information.
jSlate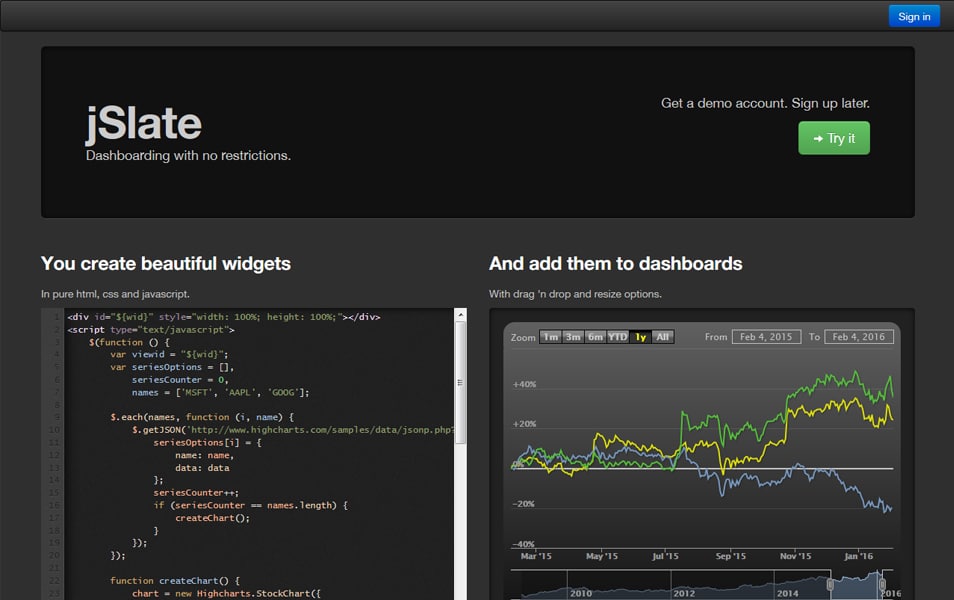 jSlate enables you to setup dashboards for displaying data easily. A dashboard consists of widgets. Widgets are html/javascript and can do anything.
freeboard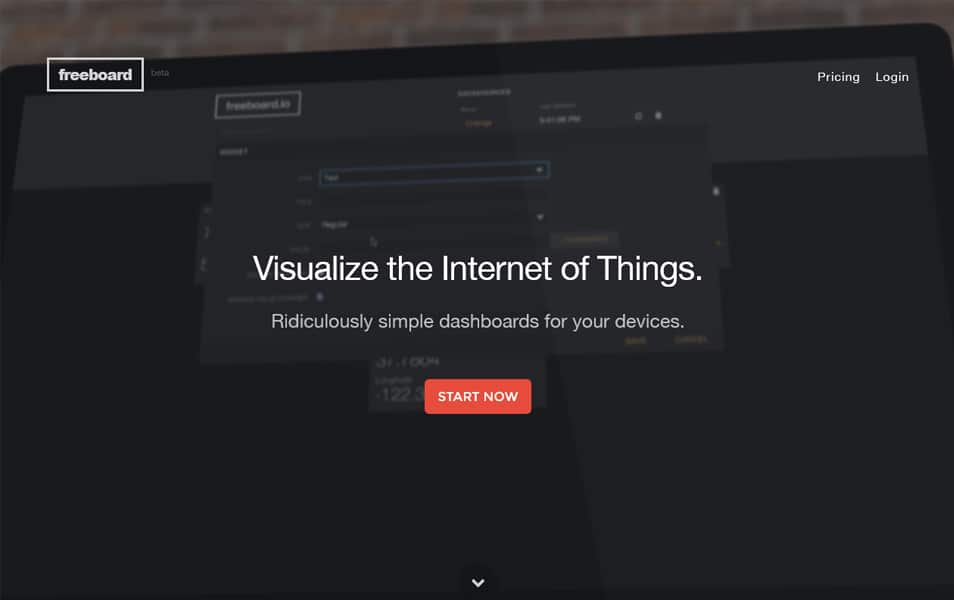 A damn-sexy, open source real-time dashboard builder for IOT and other web mashups. A free open-source alternative to Geckoboard.
Shiny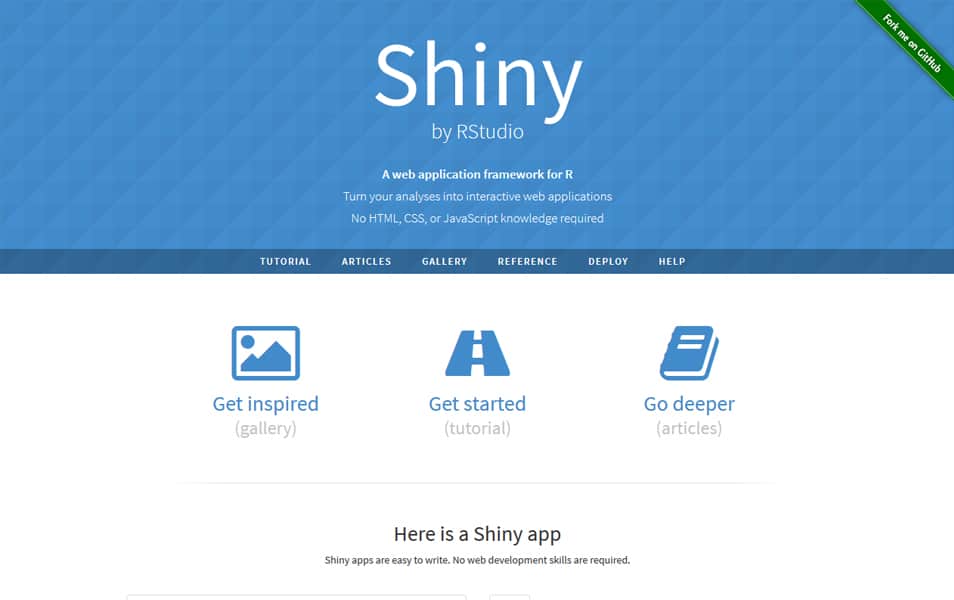 Shiny is a new package from RStudio that makes it incredibly easy to build interactive web applications with R.
Shiny Dashboard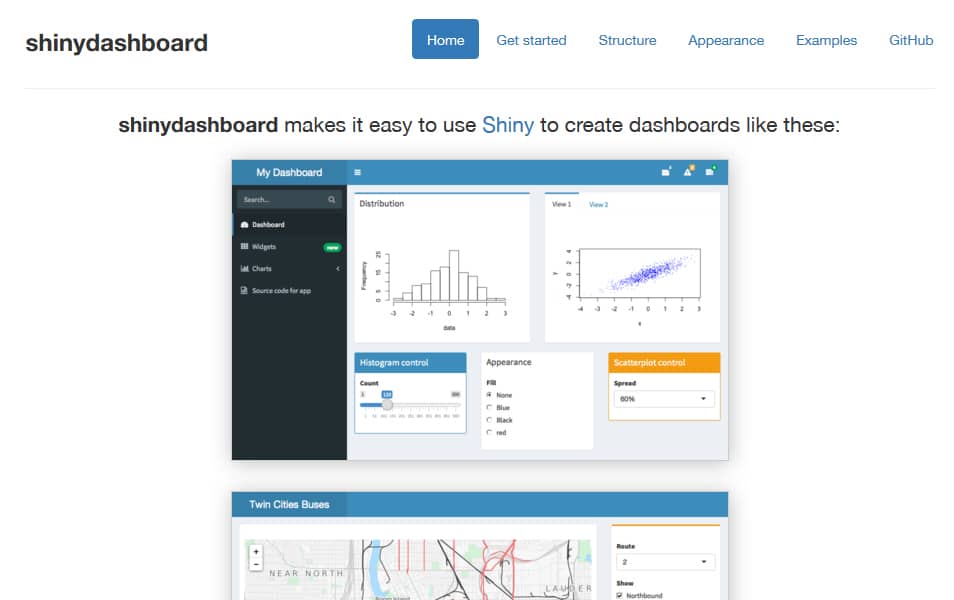 GeoJSON Data Dashboard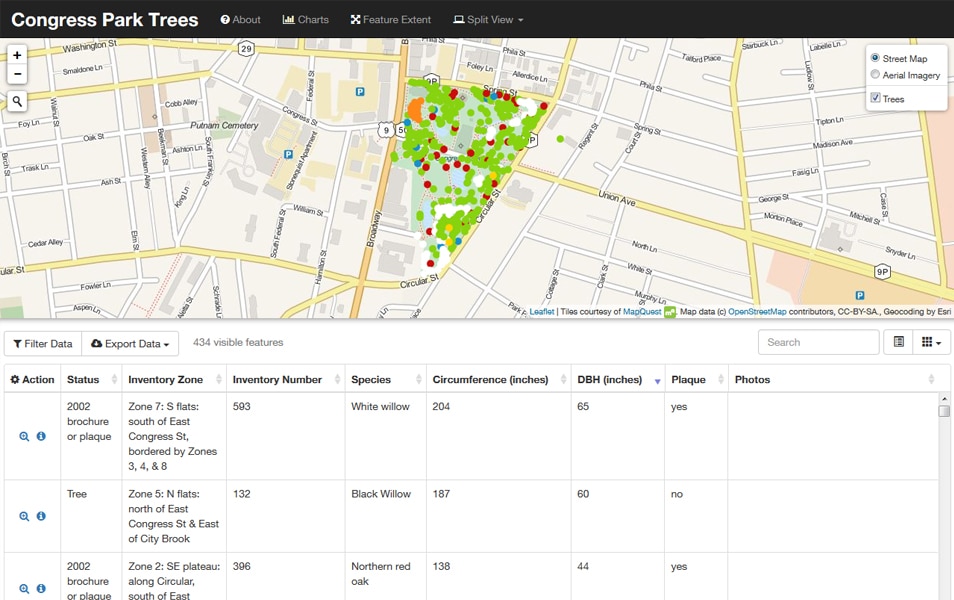 A configurable framework for building a geographic "data dashboard" from a GeoJSON file.
OpenDashboard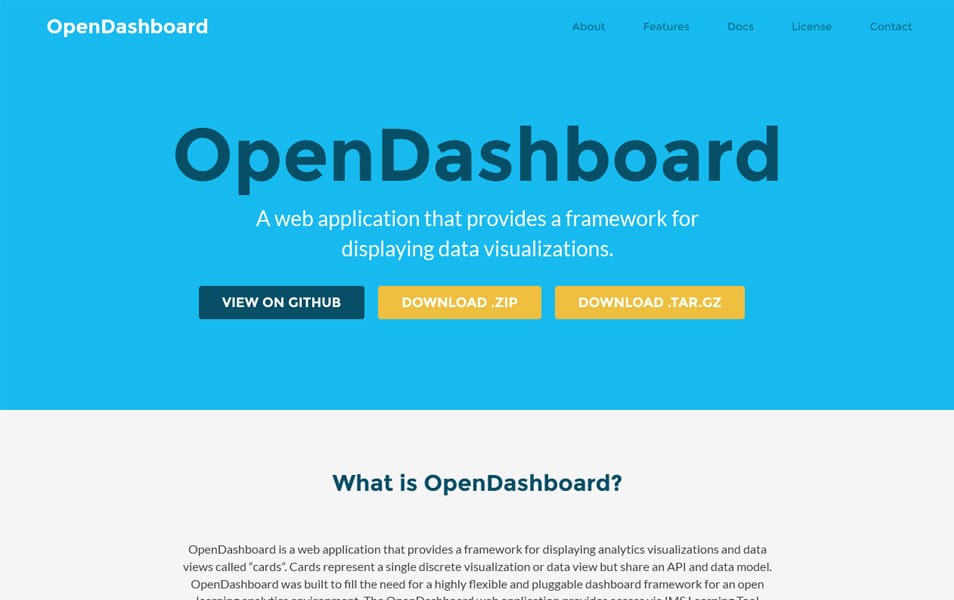 A web application that provides a framework for displaying data visualizations.
Dashboard.js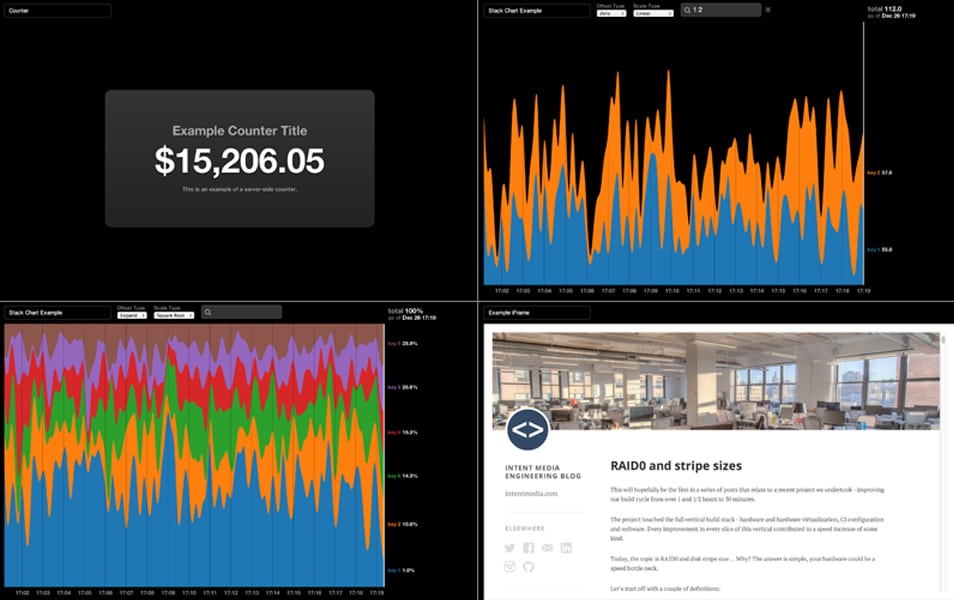 A Node.js Dashboard Framework.
Dashbuilder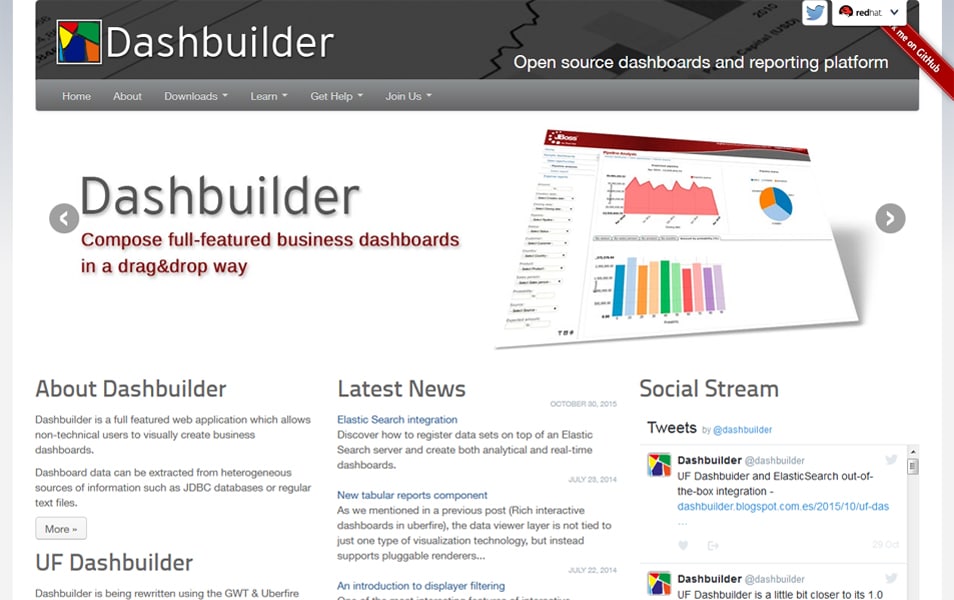 Dashboard composition tooling based on the Uberfire framework.
Ruby Dashboard Builder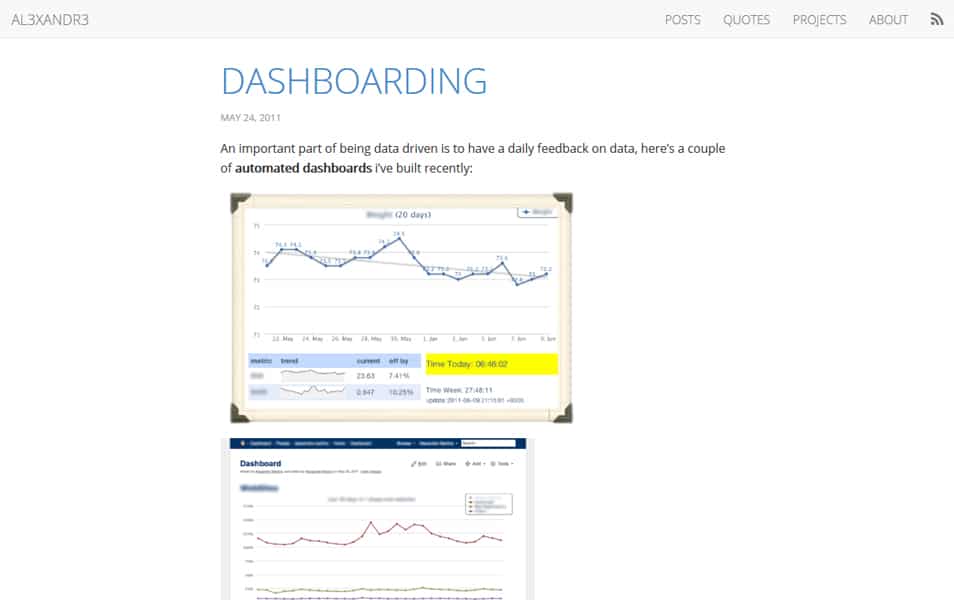 A little framework for building up interactive html dashboards.
django-dash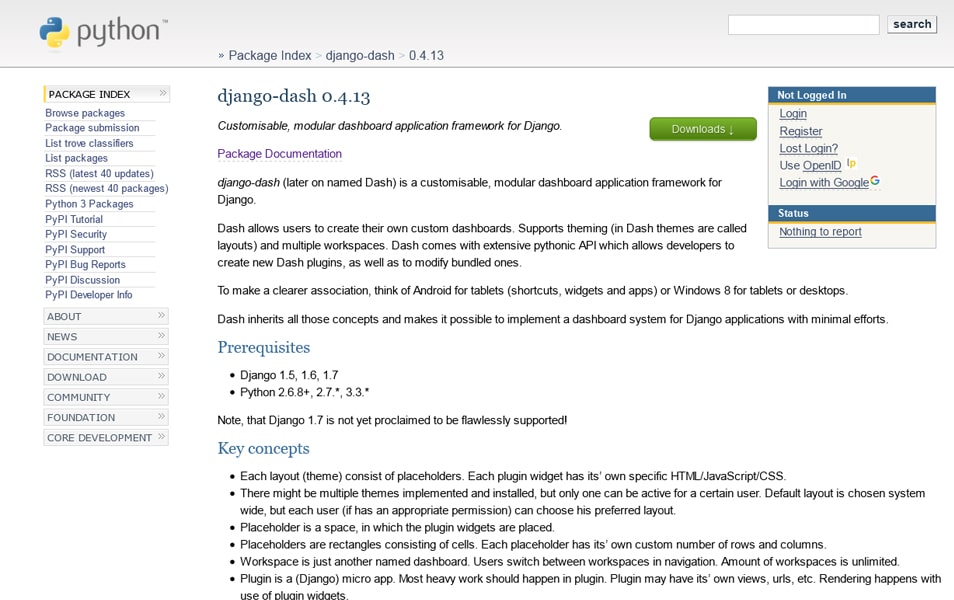 django-dash is a customisable, modular dashboard application framework for Django.
Giraffe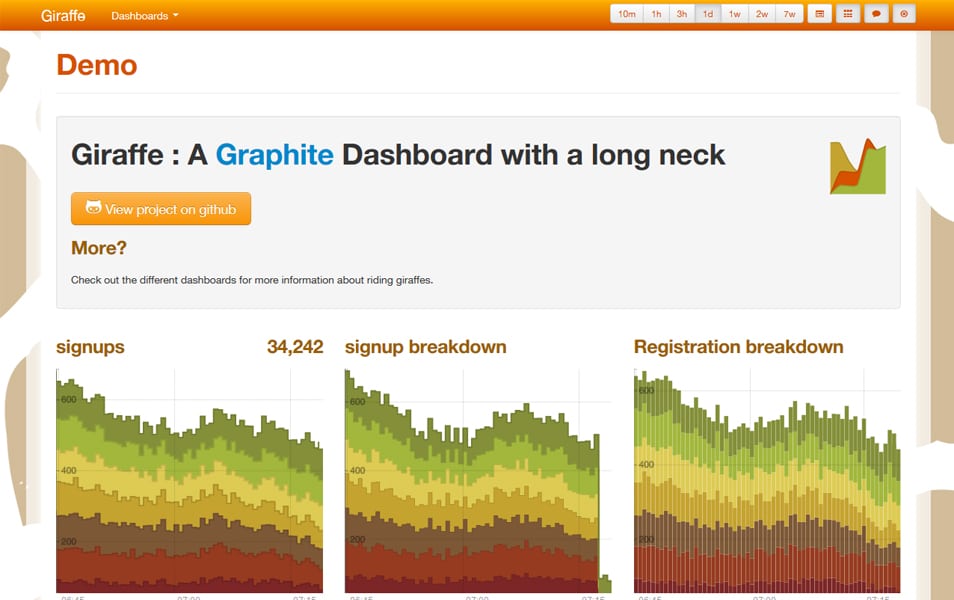 Hubble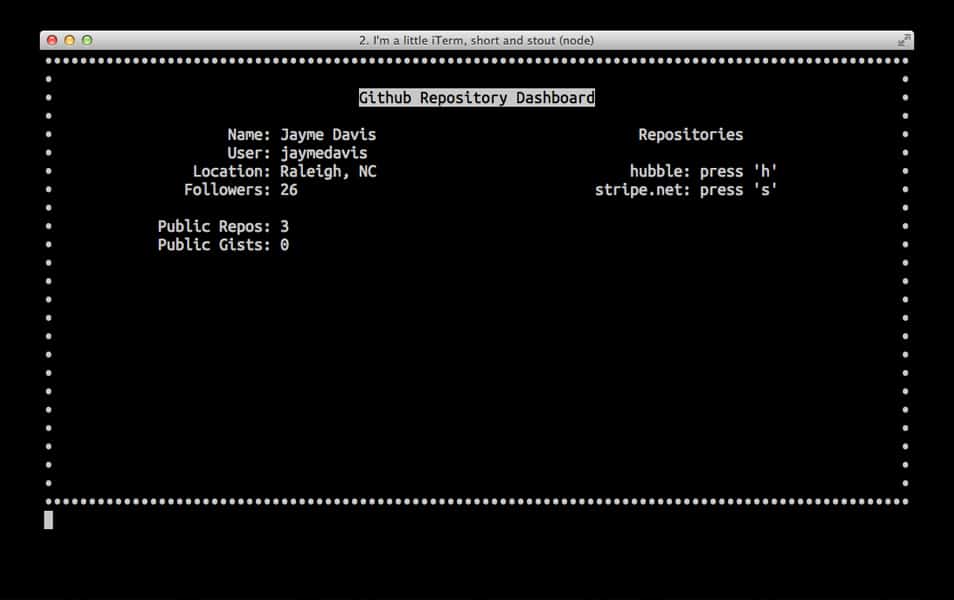 A generic data dashboard that displays in the terminal.
Atlasboard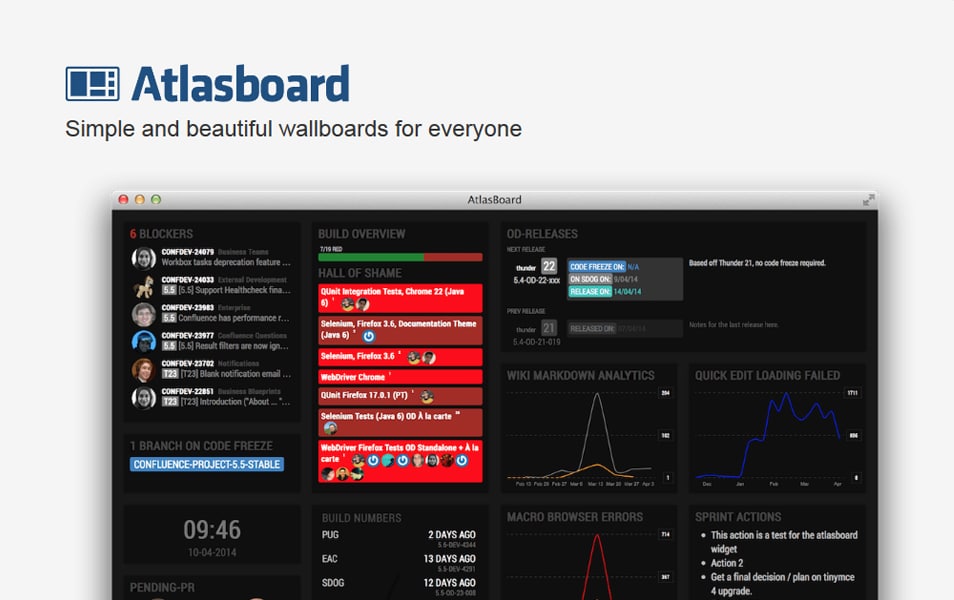 AtlasBoard is dashboard/wallboard framework written all in JS.