100+ JavaScript Frameworks for Web Developers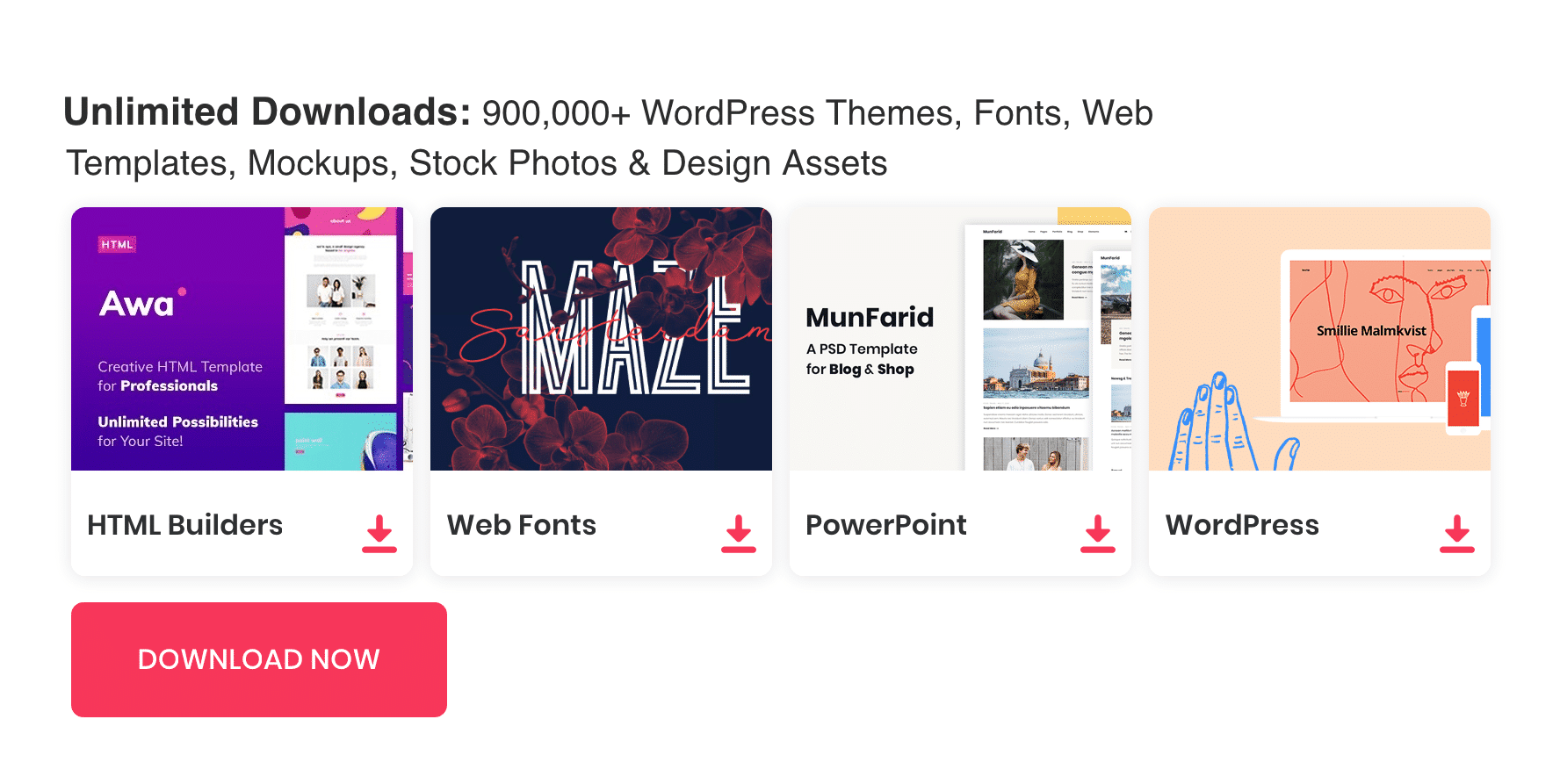 Javascript is a programming language for the web, probably one of the popular and wildly used in the world right now. Javascript let you create rich interactivity in websites, before four or five years back we use flash to do the same. Javascript has the advantage of working with different devices.
Ok, let's talk about Javascript Frameworks. Advanced javascript programming is a pretty difficult task, especially the cross-browser compatibility. Javascript Frameworks developed to solve this issue. Javascript Frameworks are rewritten libraries of javascript functions to help developers to solve complex solutions. It provides an excellent structure hence we can create cross-browser compliant code.
See also : 750+ Best Free Responsive WordPress Themes 2018
There are plenty of Javascript Frameworks are available right now. It is challenging to know which one to use for which project. What framework do you think best for javascript? Well, it depends based on your project. You can see the list of Best Javascript Frameworks below. We have picked the based on some aspects of community strength, weight etc..
Vue.js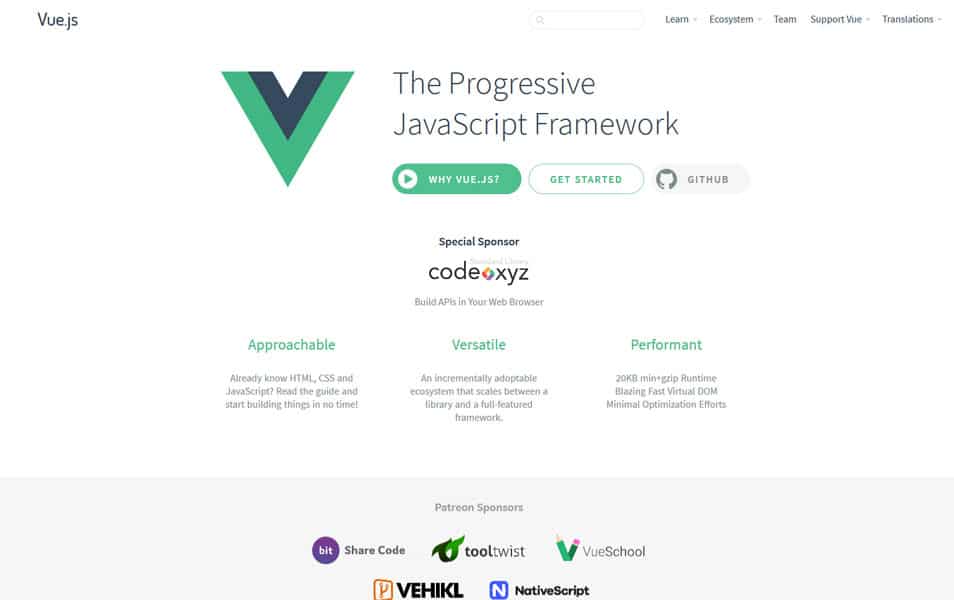 Vue.js is a progressive, incrementally-adoptable JavaScript framework for building UI on the web. Vue.js is a library for building interactive web interfaces. It provides data-reactive components with a simple and flexible API.
Aurelia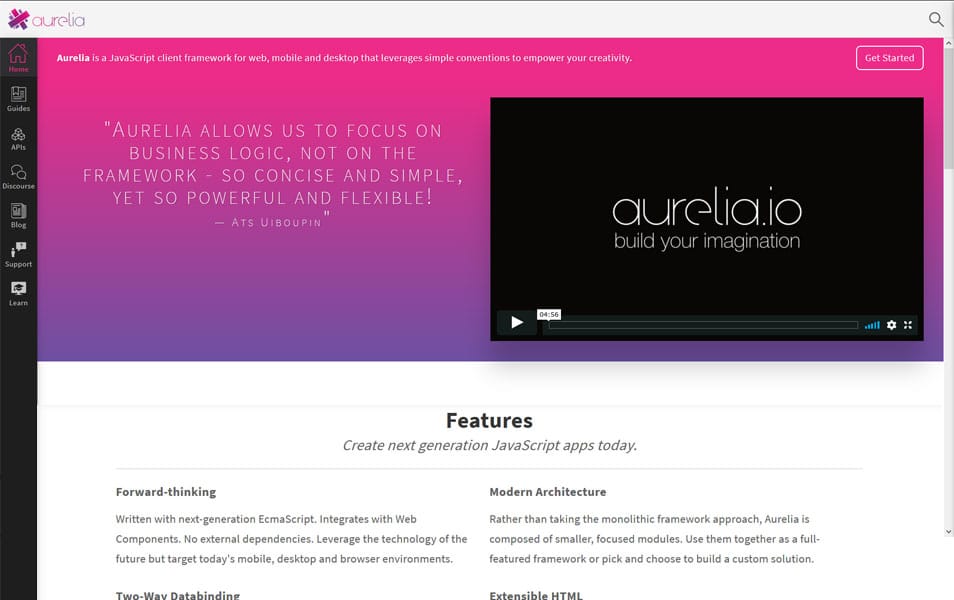 Aurelia is a JavaScript client framework for web, mobile and desktop that leverages simple conventions to empower your creativity.
Ember.js
Ember.js is a JavaScript framework that greatly reduces the time, effort and resources needed to build any web application. It is focused on making you, the developer, as productive as possible by doing all the common, repetitive, yet essential, tasks involved in most web development projects.
Stimulus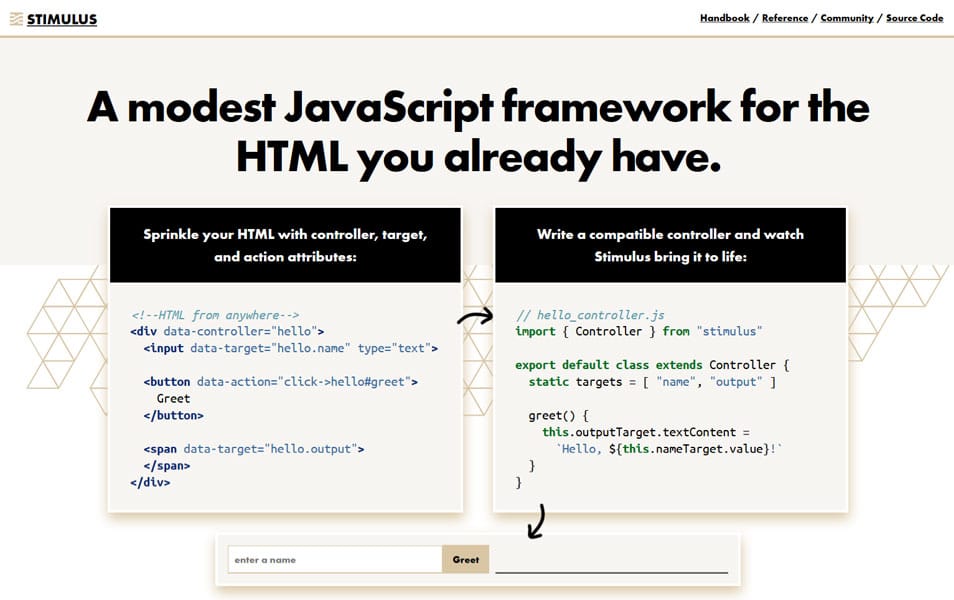 A modest JavaScript framework for the HTML you already have.
NativeScript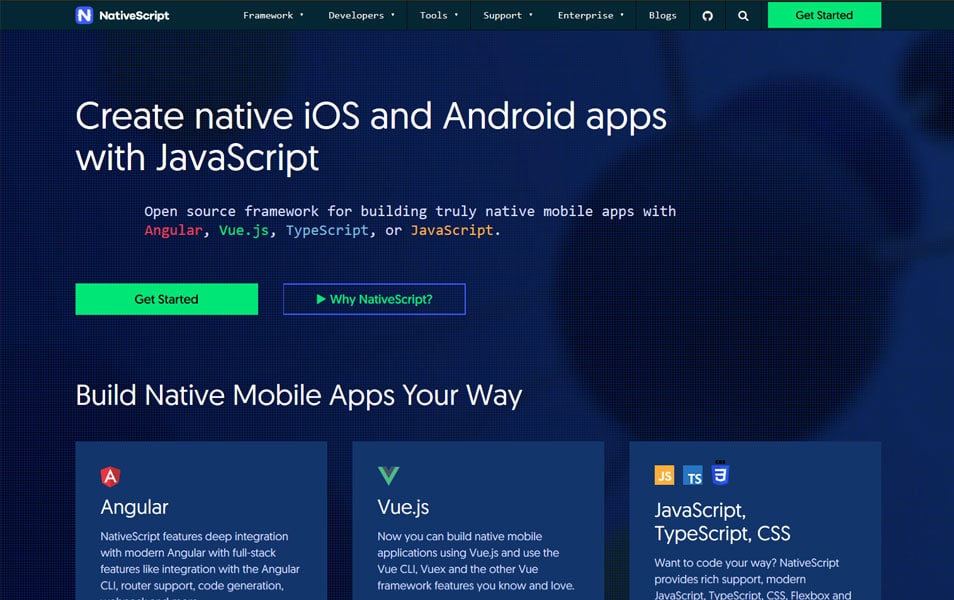 NativeScript is an open source framework for building truly native mobile apps with JavaScript. Use web skills, like Angular and Vue.js, FlexBox and CSS, and get native UI and performance on iOS and Android.
Relay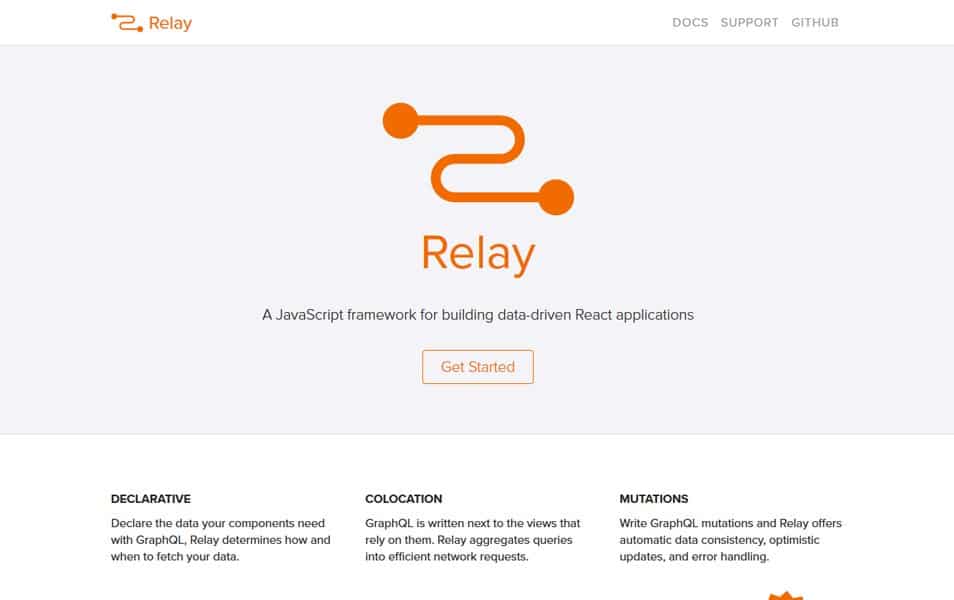 Relay is a JavaScript framework for building data-driven React applications.
Cycle.js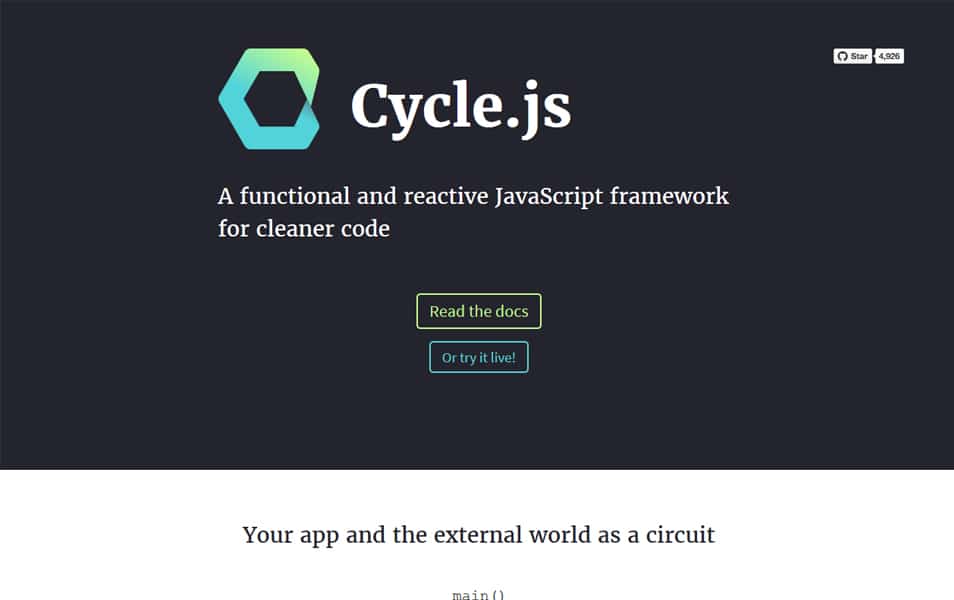 A functional and reactive JavaScript framework for cleaner code.
Babylon.js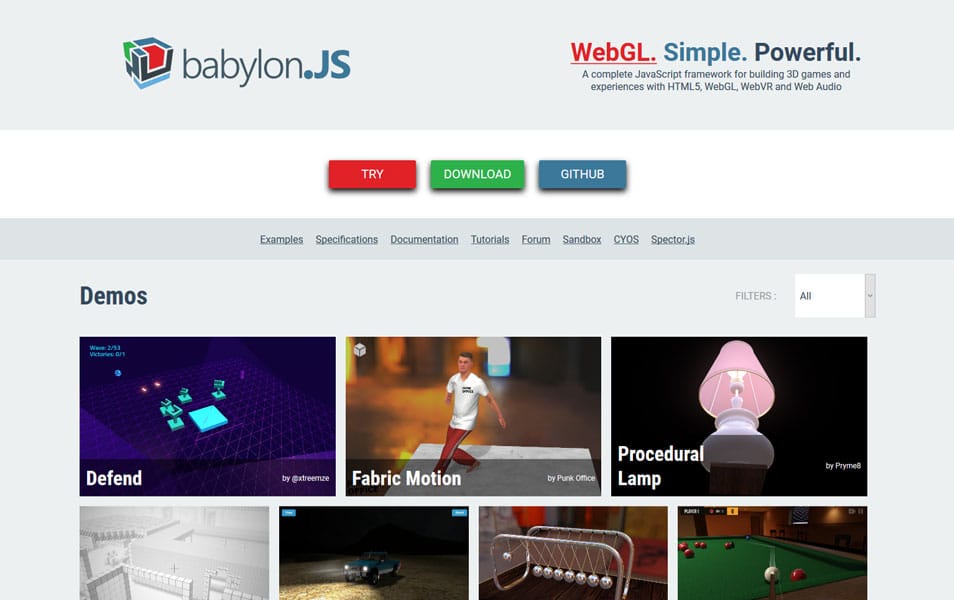 Babylon.js: a complete JavaScript framework for building 3D games with HTML 5 and WebGL.
Flight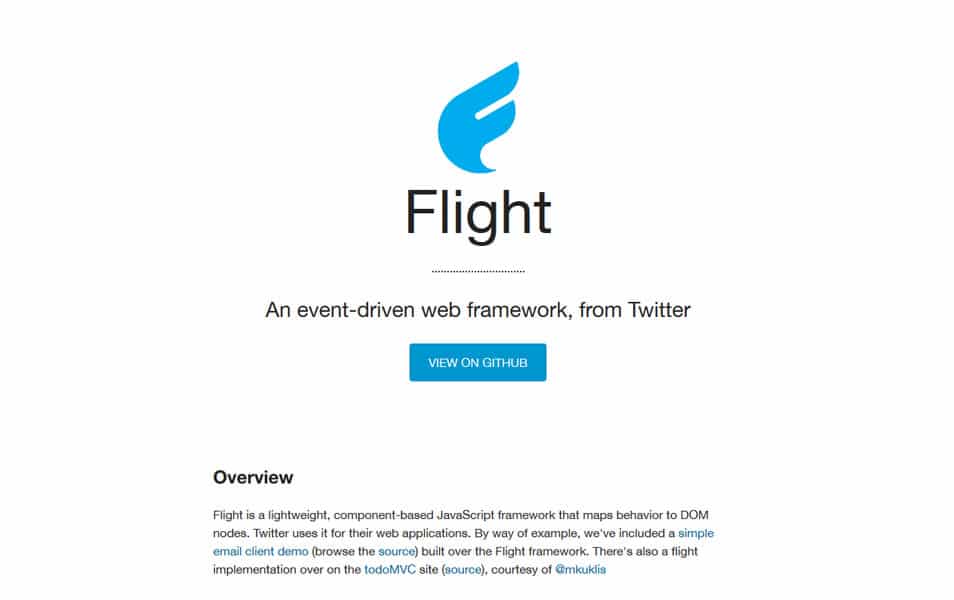 Flight is a lightweight, component-based JavaScript framework that maps behavior to DOM nodes. Twitter uses it for their web applications.
jEliJS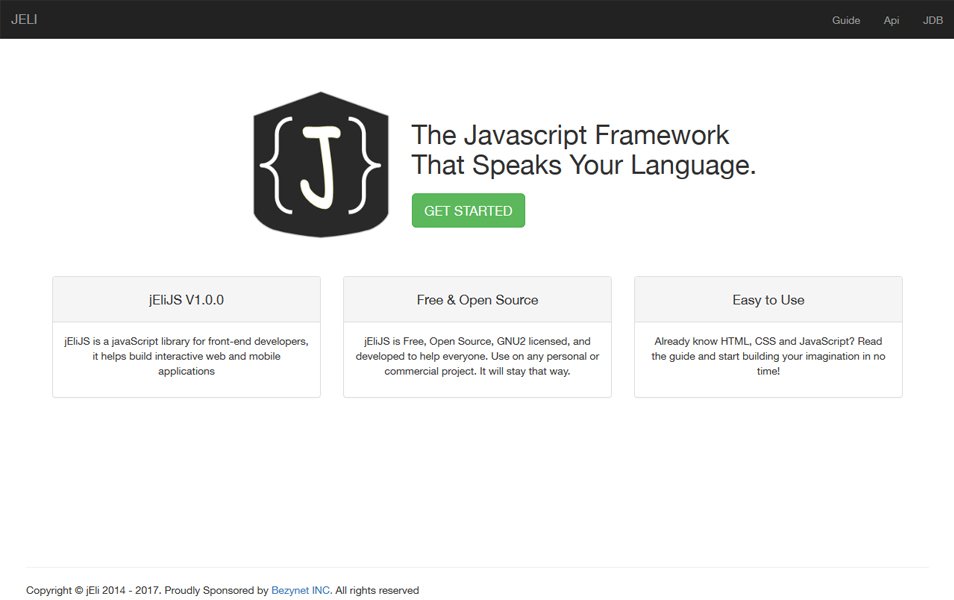 Javascript MVC framework for web development.
Kickoff
A lightweight front-end framework for creating scalable and performant, responsive sites.
Onsen UI
Onsen UI is a library of UI components to help you create beautiful hybrid and mobile web apps for both Android and iOS using Javascript.
Cylon.js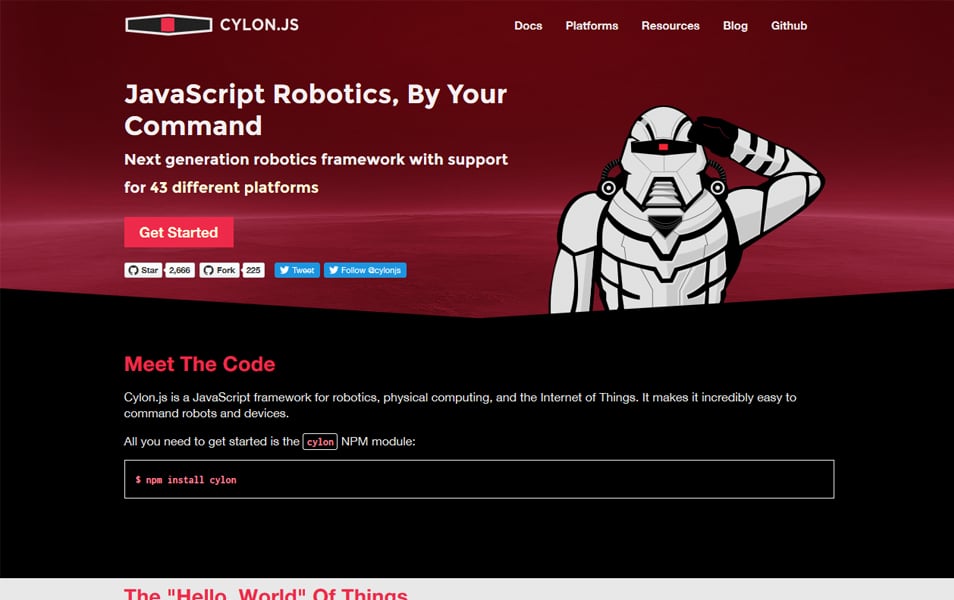 Cylon.js is a JavaScript framework for robotics, physical computing, and the Internet of Things. It makes it incredibly easy to command robots and devices.
Jest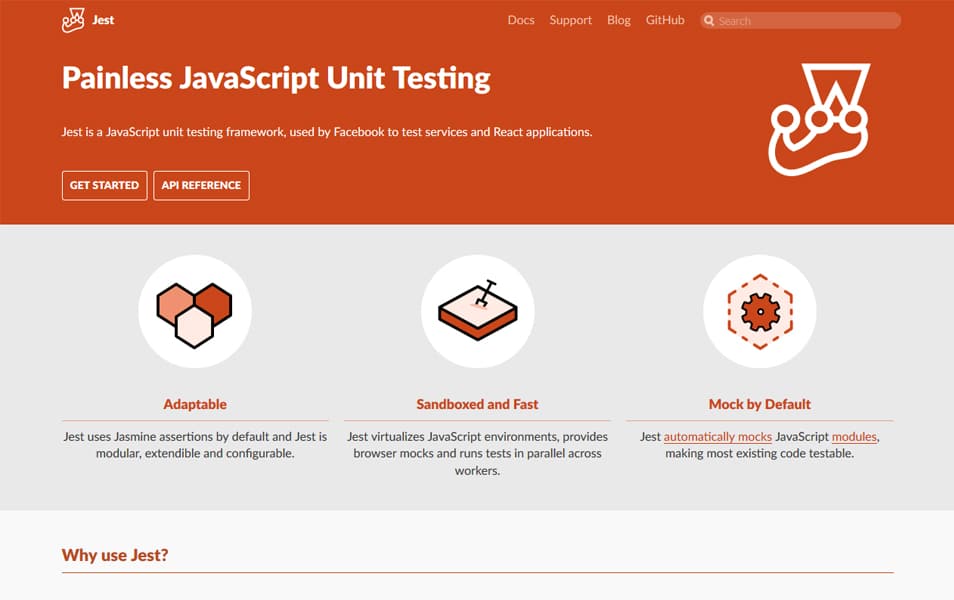 Jest is a JavaScript unit testing framework, used by Facebook to test services and React applications.
Feathers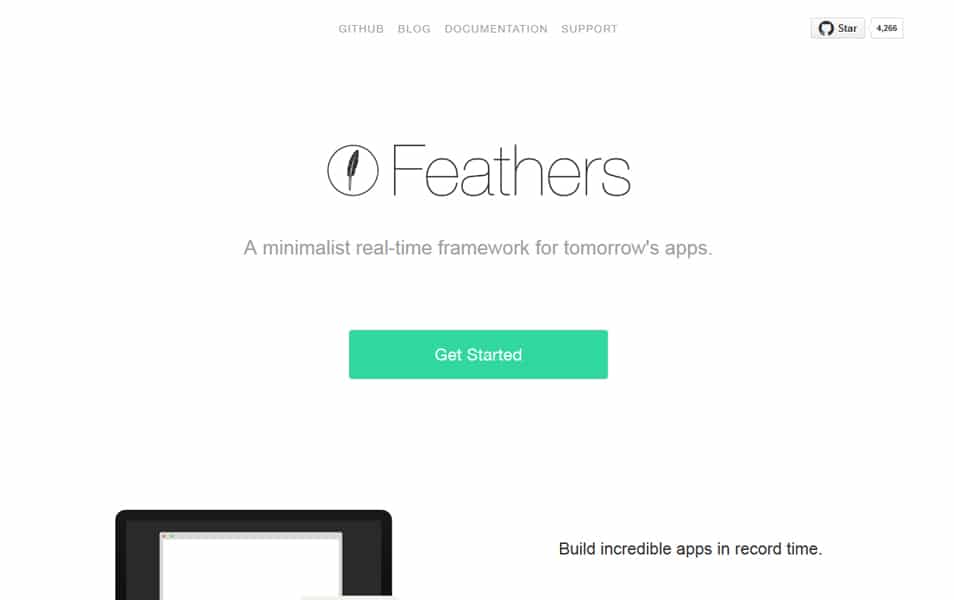 A minimalist, real-time JavaScript framework built for NodeJS, React-Native and the browser.
R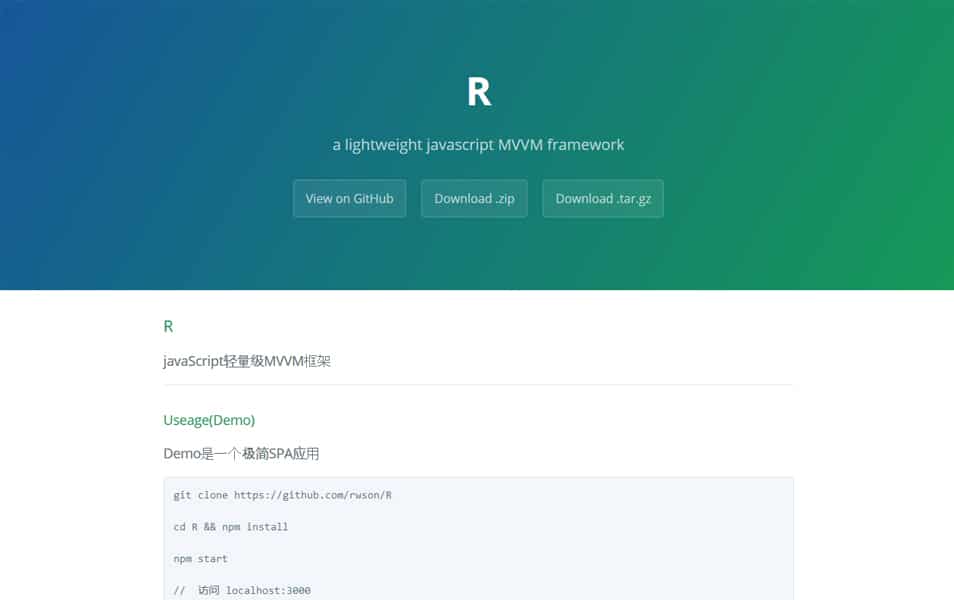 A lightweight javascript MVVM framework.
AVA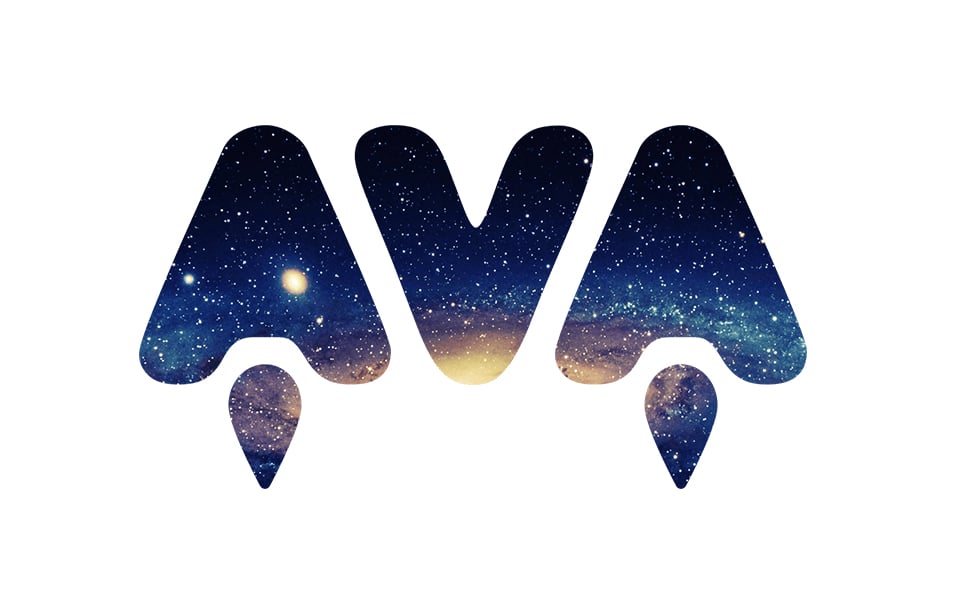 Futuristic JavaScript test runner.
Bootbox.js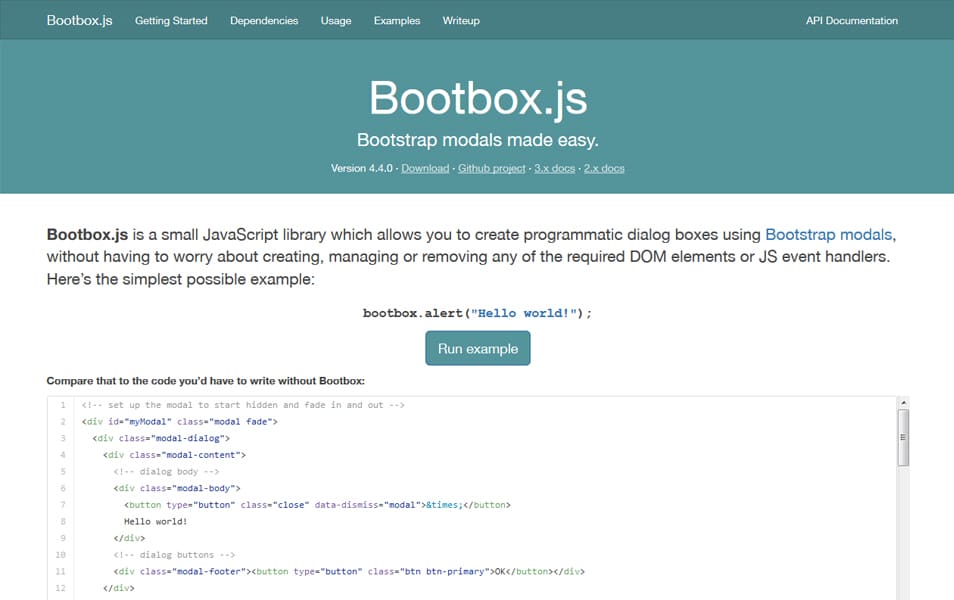 Bootbox.js is a small JavaScript library which allows you to create programmatic dialog boxes using Bootstrap modals, without having to worry about creating, managing or removing any of the required DOM elements or JS event handlers.
PrimeUI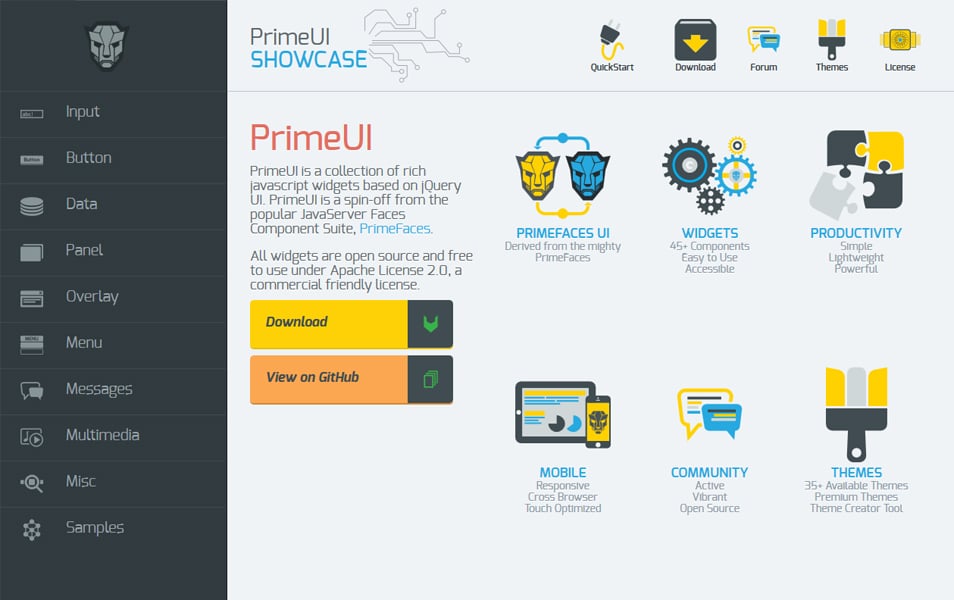 Rich set of javascript widgets with no dependency to a server side framework.
mixin.a.lot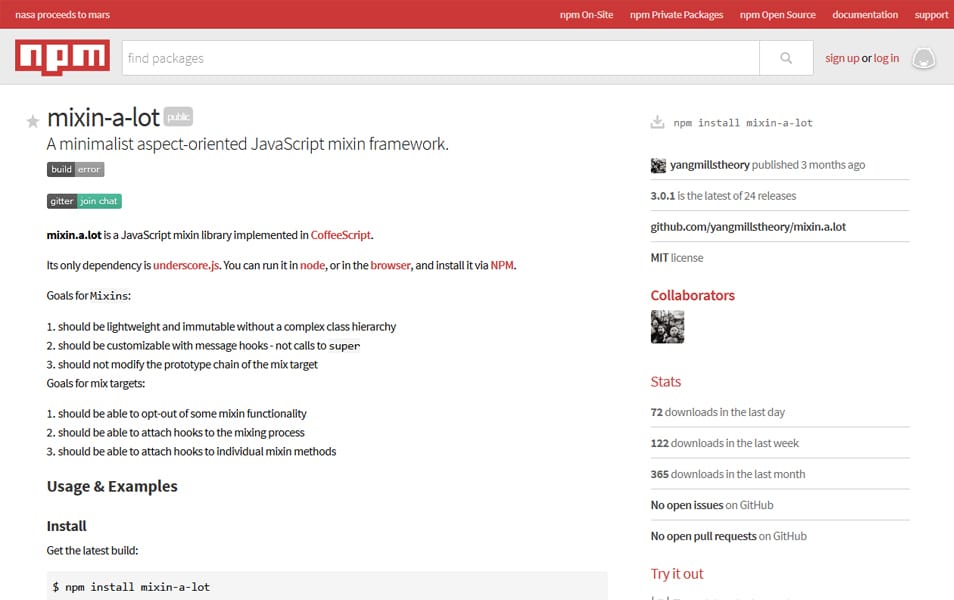 A minimalist aspect-oriented JavaScript mixin framework.
TruckJS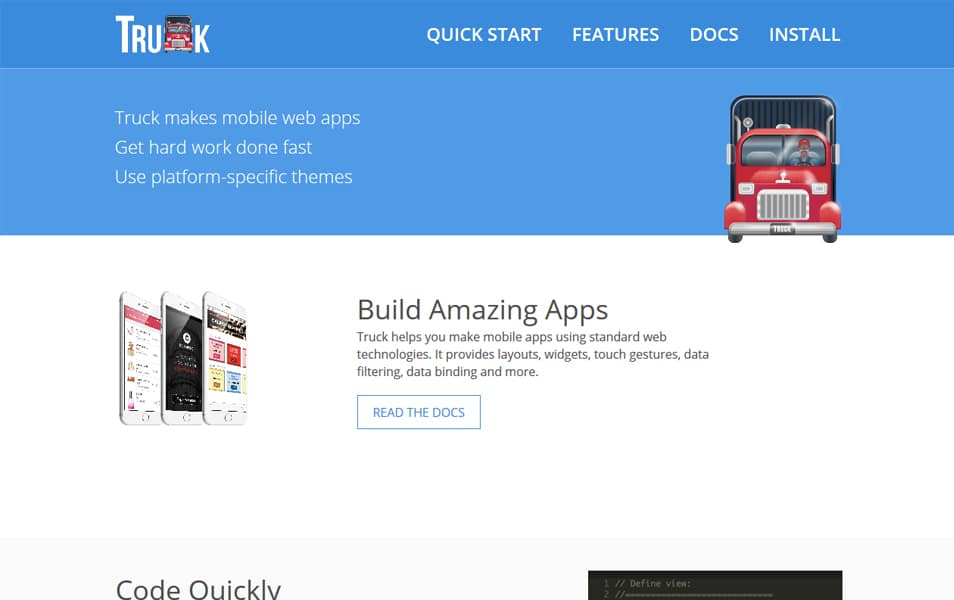 A JavaScript framework for making mobile web apps.
Highcharts JS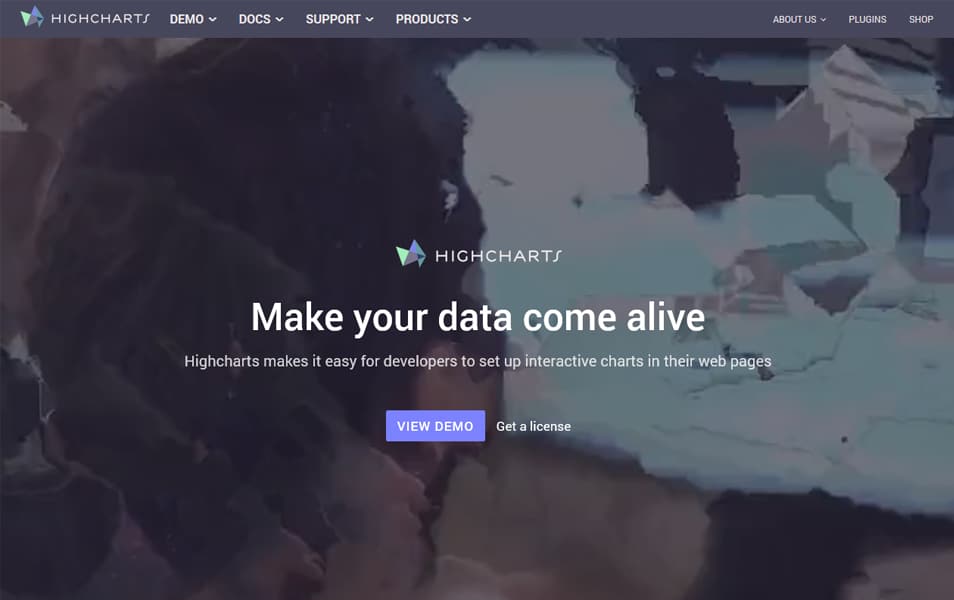 Highcharts JS is a JavaScript charting framework.
Scripty2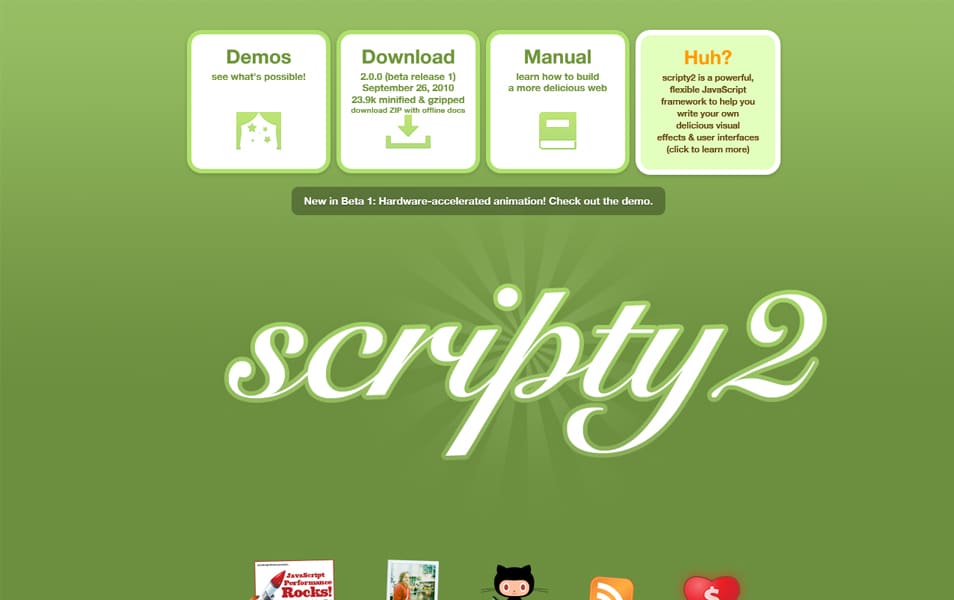 scripty2 is an open source JavaScript framework for advanced HTML-based user interfaces.
Crafty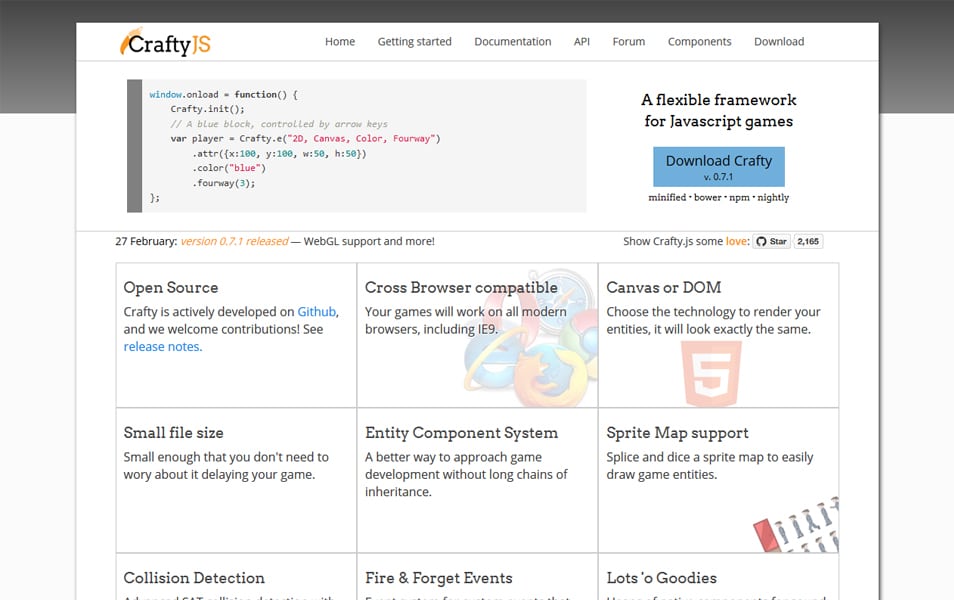 Crafty is a flexible framework for Javascript games.
Modernizr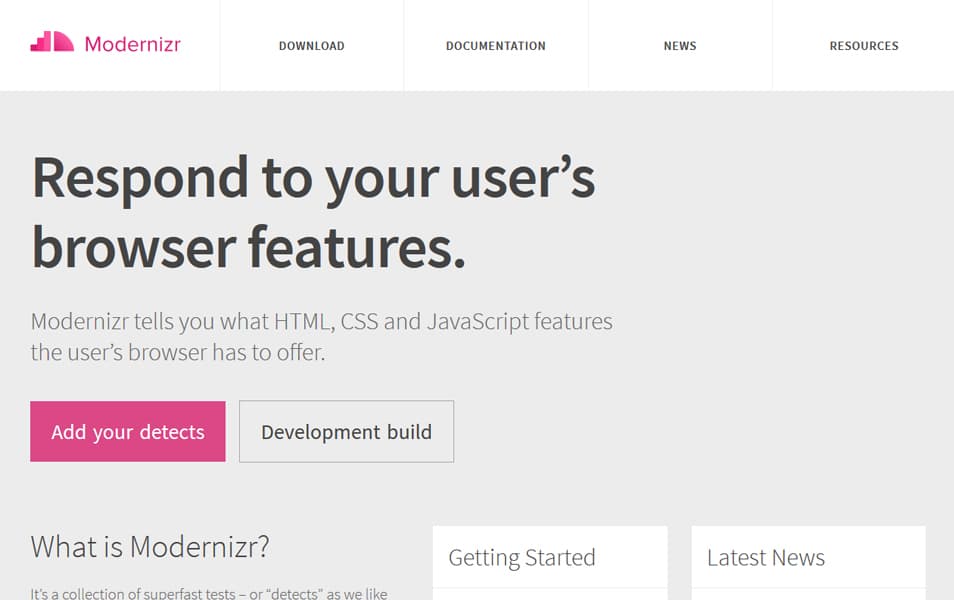 Modernizr is a JavaScript library that detects HTML5 and CSS3 features in the user's browser.
T3 JavaScript Framework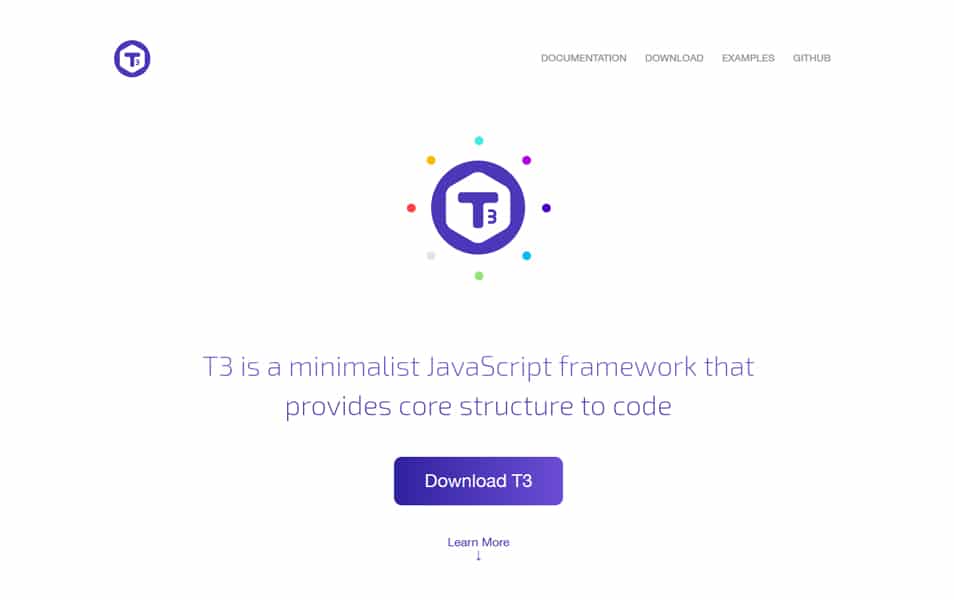 A minimal component-based JavaScript framework.
Processing.js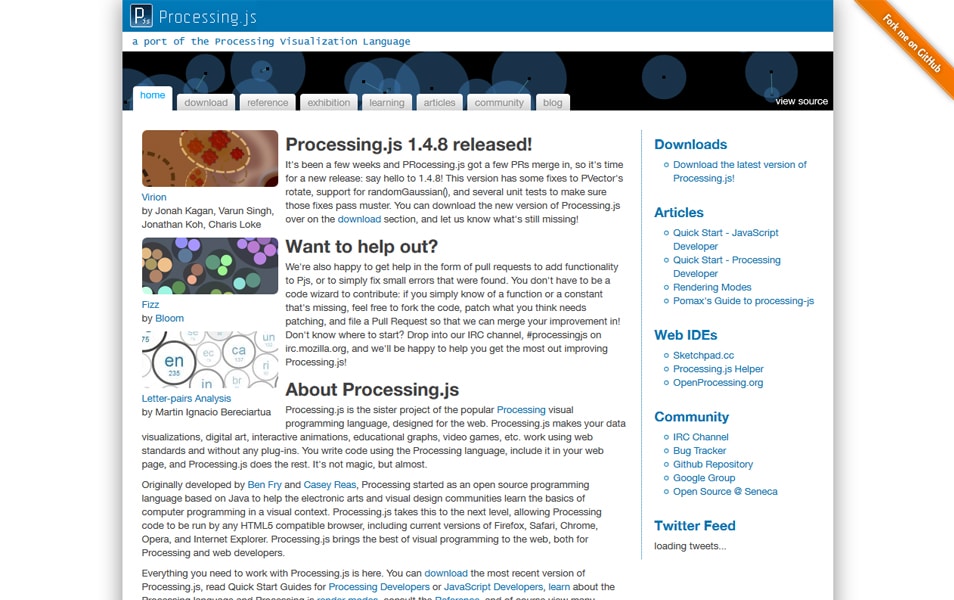 A port of the Processing visualization language to JavaScript.
Raphaël
Raphaël is a small JavaScript library that should simplify your work with vector graphics on the web.
RequireJS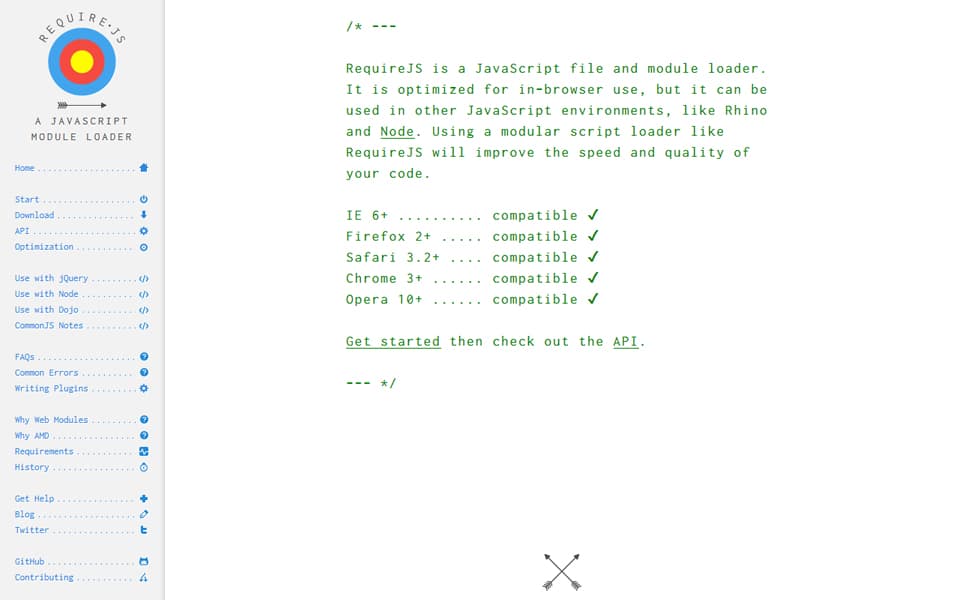 RequireJS is a JavaScript file and module loader.
Snack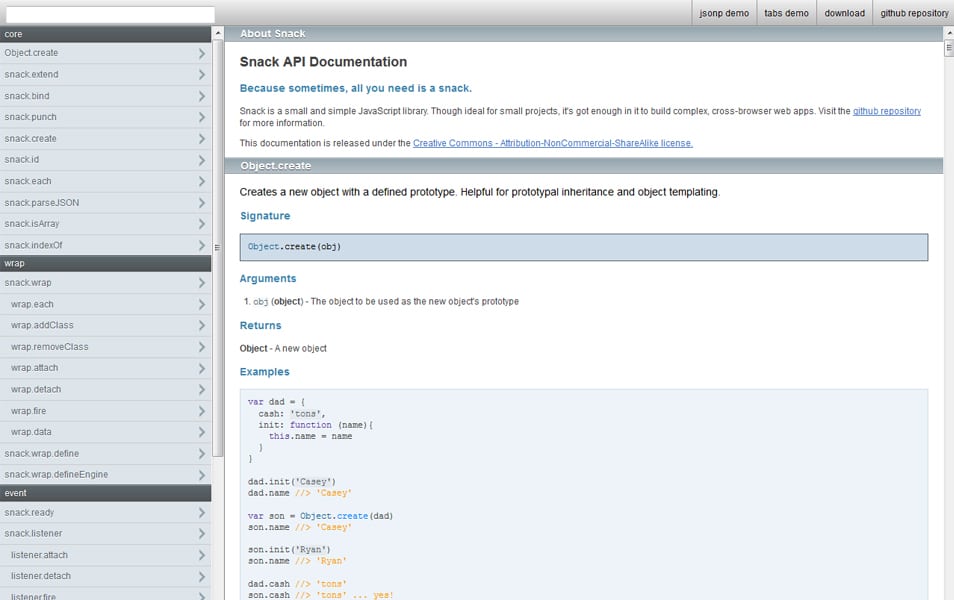 Snack is a small and simple JavaScript library. Though ideal for small projects, it's got enough in it to build complex, cross-browser web apps.
Zepto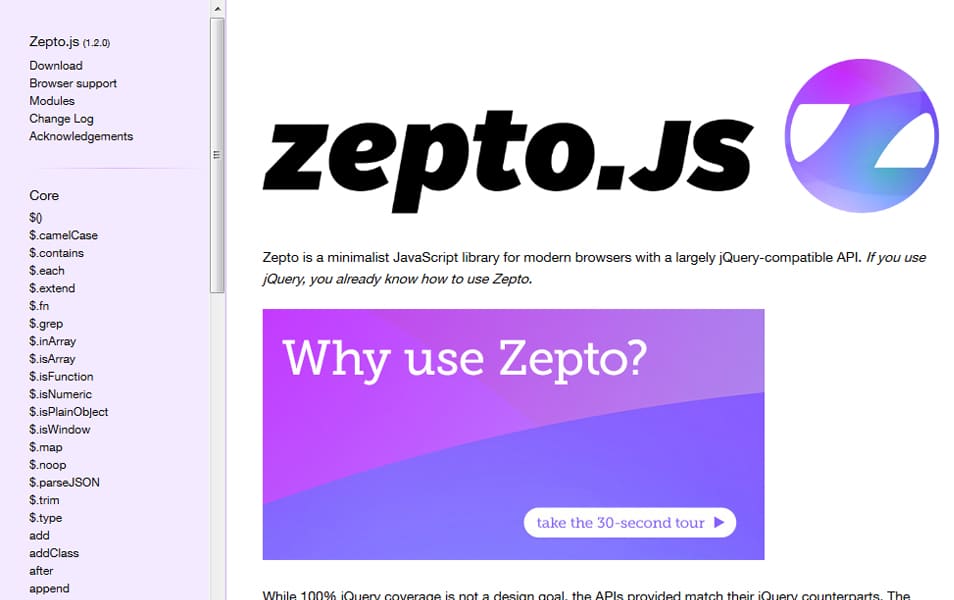 Zepto is a minimalist JavaScript library for modern browsers with a largely jQuery-compatible API.
Jasmine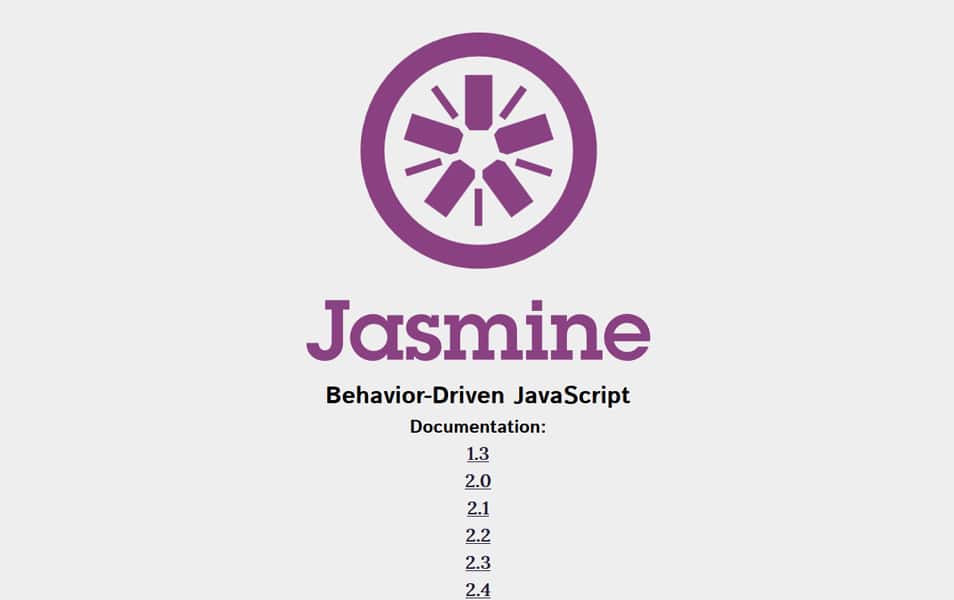 Jasmine is a behavior-driven development framework for testing JavaScript code. It does not depend on any other JavaScript frameworks. It does not require a DOM. And it has a clean, obvious syntax so that you can easily write tests.
QUnit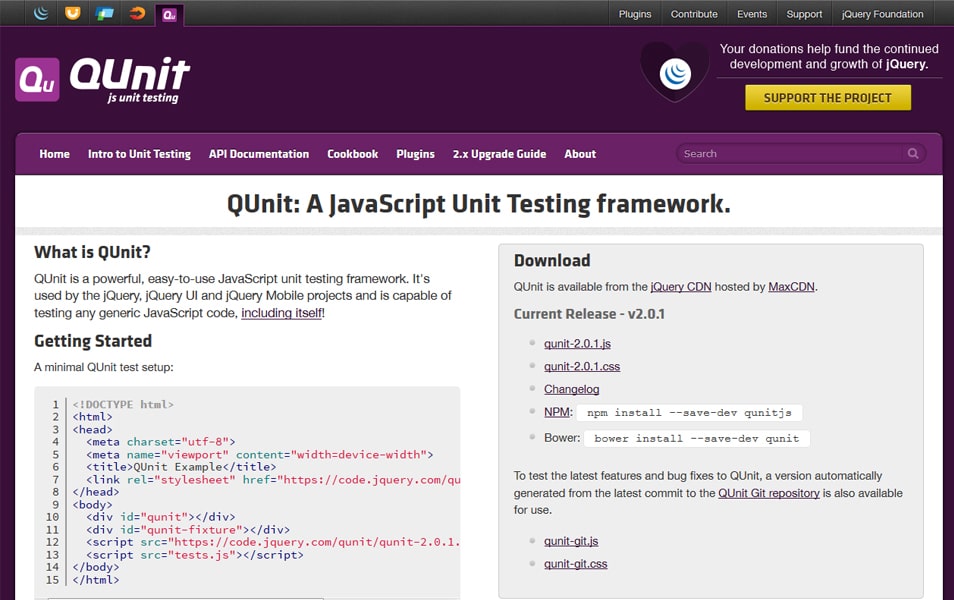 QUnit is a powerful, easy-to-use JavaScript unit testing framework.
Mocha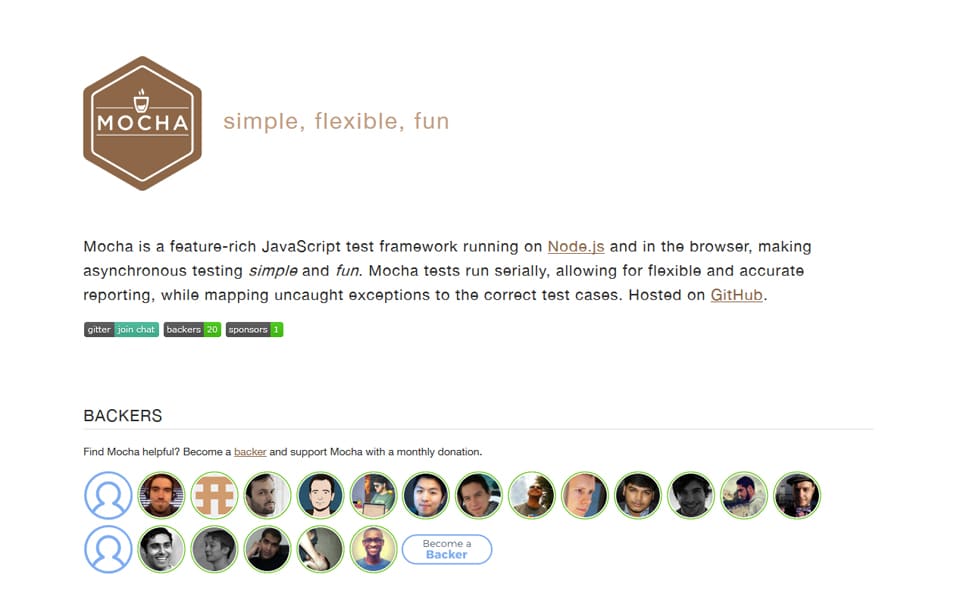 Mocha is a feature-rich JavaScript test framework running on Node.js and the browser, making asynchronous testing simple and fun.
soma.js
soma.js is a scalable javascript framework created to help developers to write loosely-coupled applications to increase scalability and maintainability.
Move.js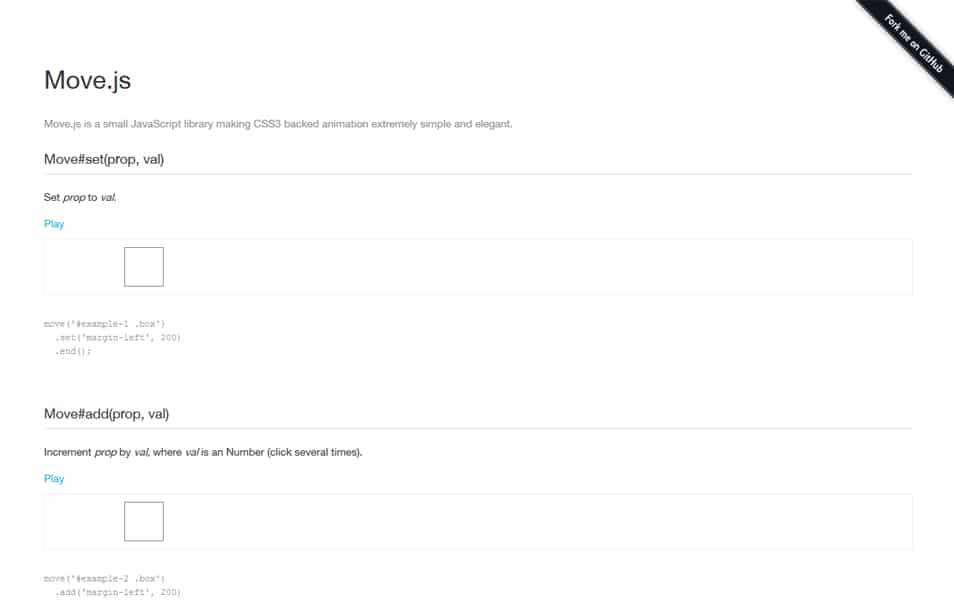 CSS3 backed JavaScript animation framework.
sketch.js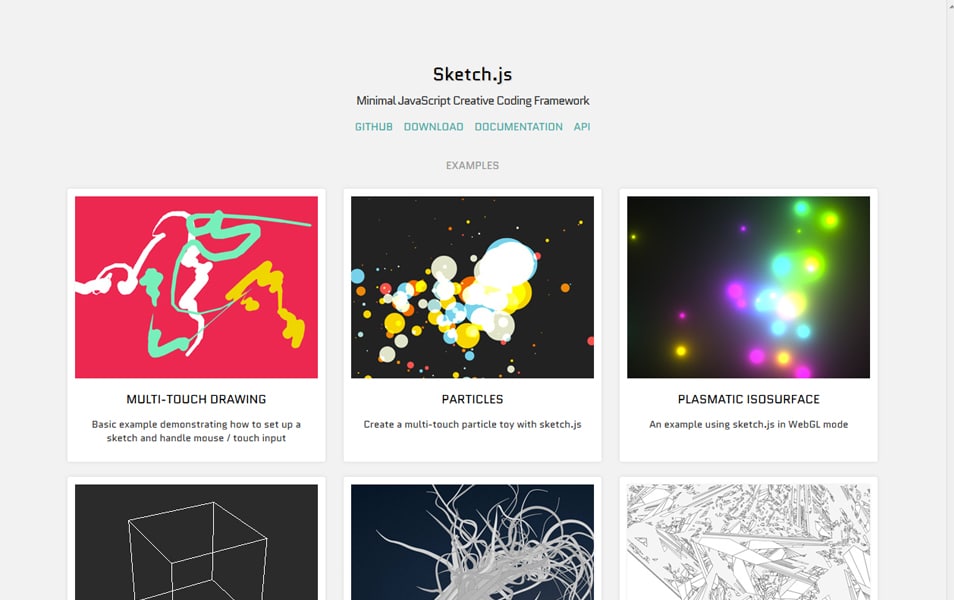 Cross-Platform JavaScript Creative Coding Framework.
Jaggery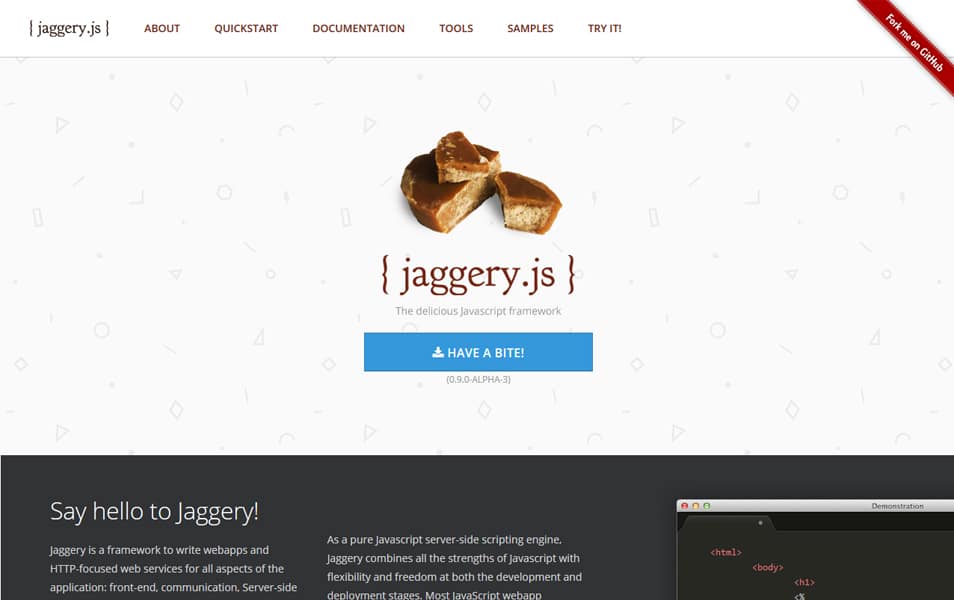 Jaggery is a framework to write webapps and HTTP-focused web services for all aspects of the application: front-end, communication, Server-side logic and persistence in pure Javascript.
Mithril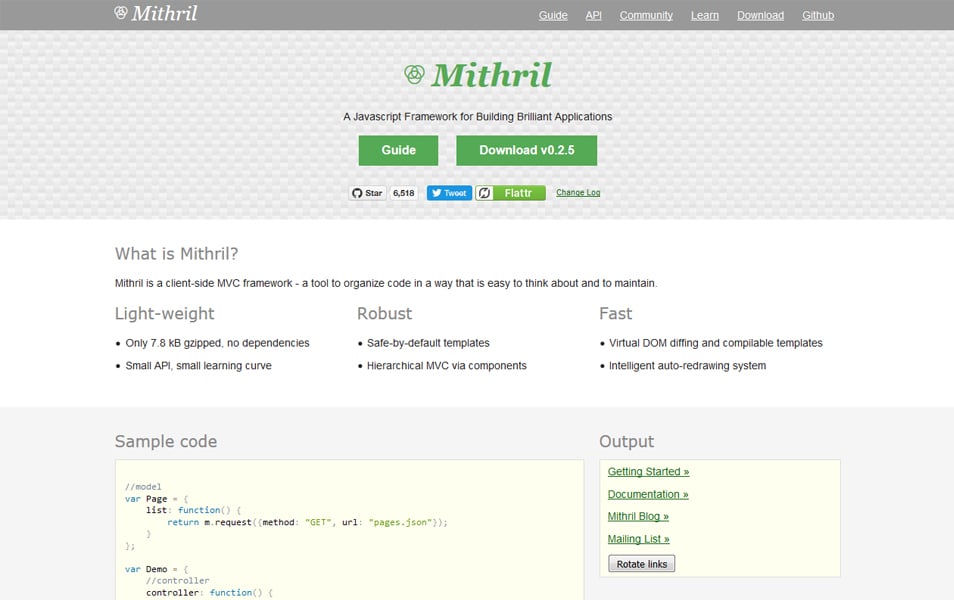 A Javascript Framework for Building Brilliant Applications.
AngularJS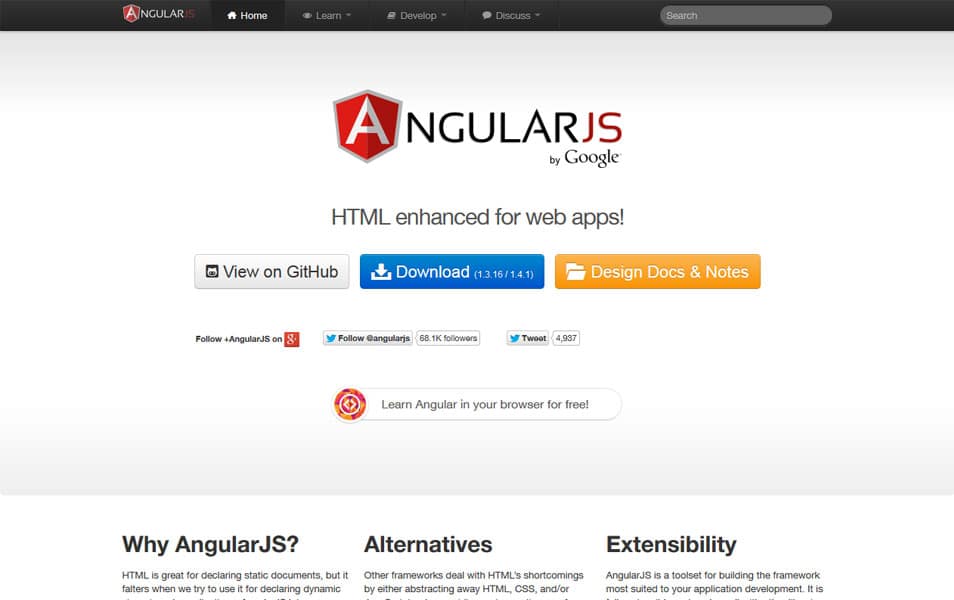 HTML is great for declaring static documents, but it falters when we try to use it for declaring dynamic views in web-applications. AngularJS lets you extend HTML vocabulary for your application.
Enyo JavaScript framework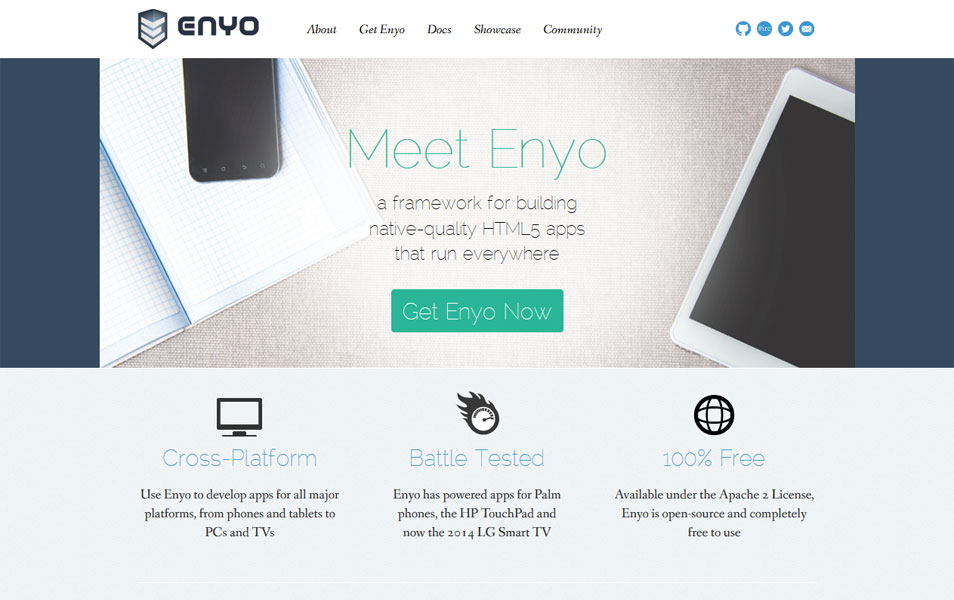 A JavaScript application framework emphasizing modularity and encapsulation.
jQuery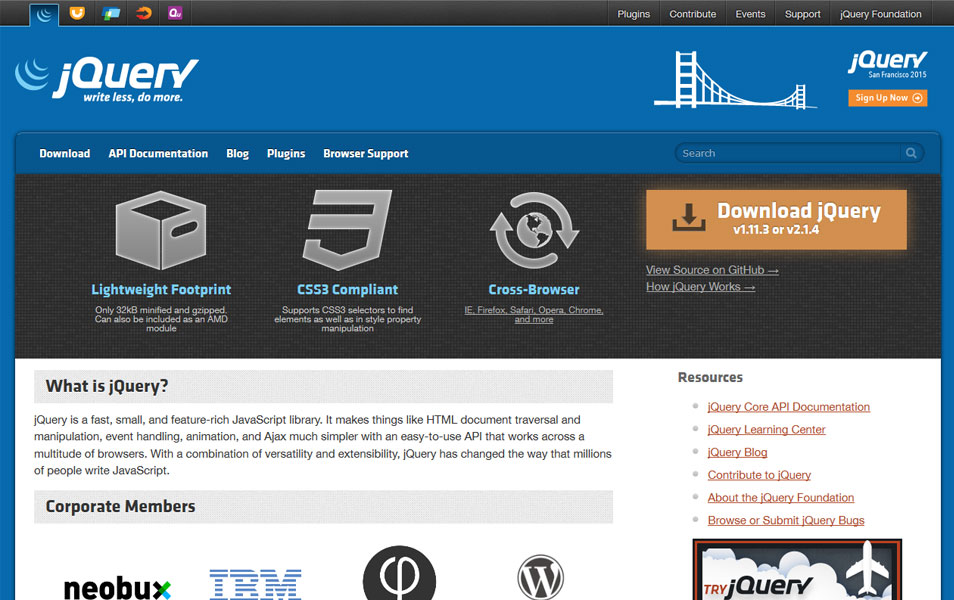 jQuery is a fast, small, and feature-rich JavaScript library. It makes things like HTML document traversal and manipulation, event handling, animation, and Ajax much simpler with an easy-to-use API that works across a multitude of browsers.
Kango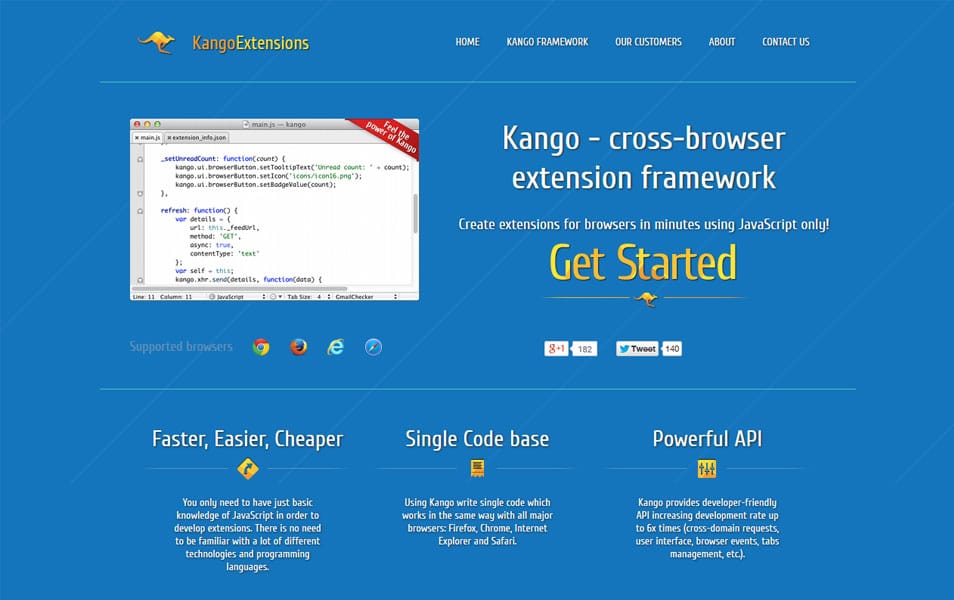 cross-browser extensions framework named Kango. Purpose of Kango is make browser extensions development easier, cheaper and more enjoyable. With Kango you can create extension for all major browser in minutes using JavaScript only.
Cappuccino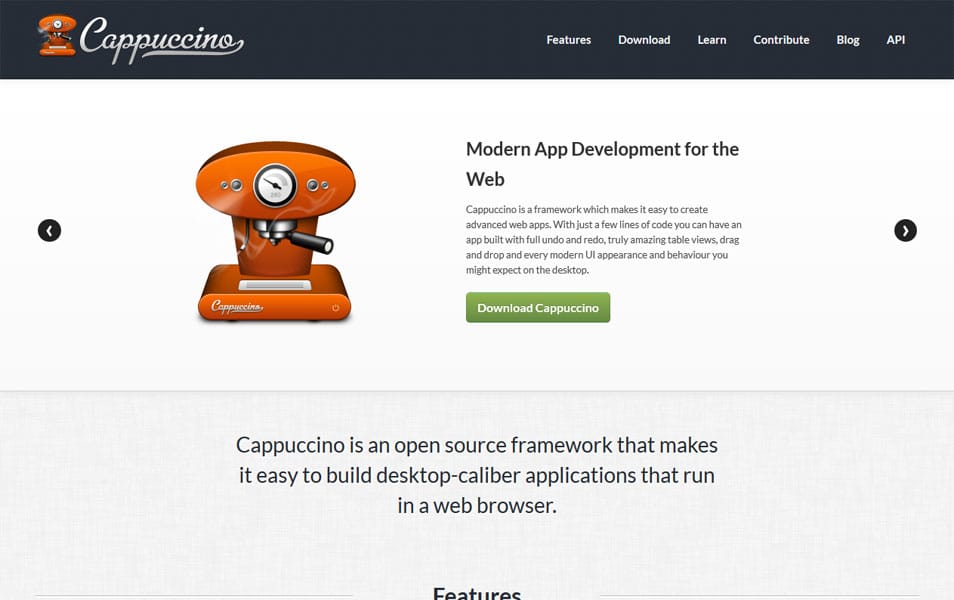 Cappuccino is a framework which makes it easy to create advanced web apps. With just a few lines of code you can have an app built with full undo and redo, truly amazing table views, drag and drop and every modern UI appearance and behaviour you might expect on the desktop.
ZK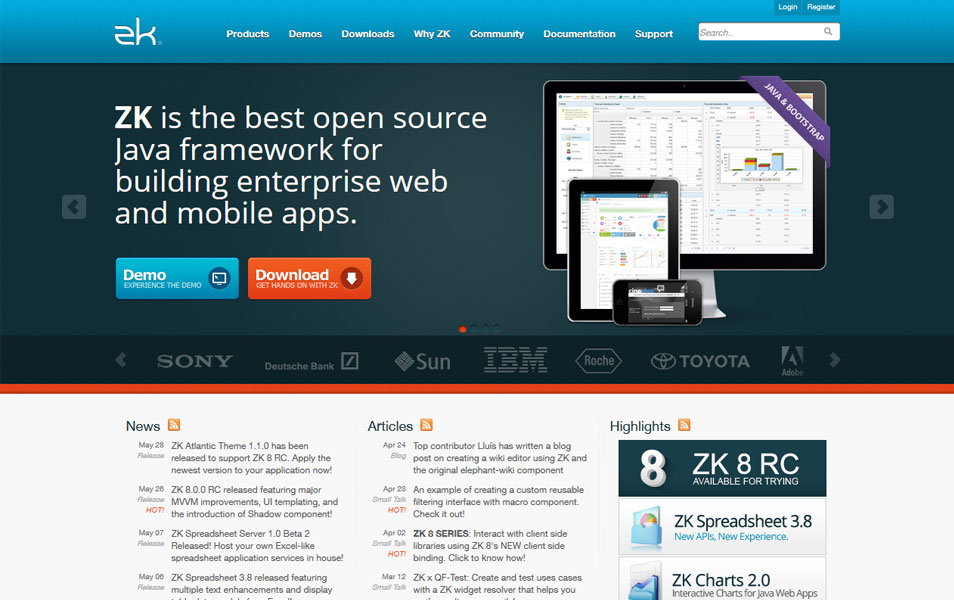 ZK is the best open source Java framework for building enterprise web and mobile apps.
qooxdoo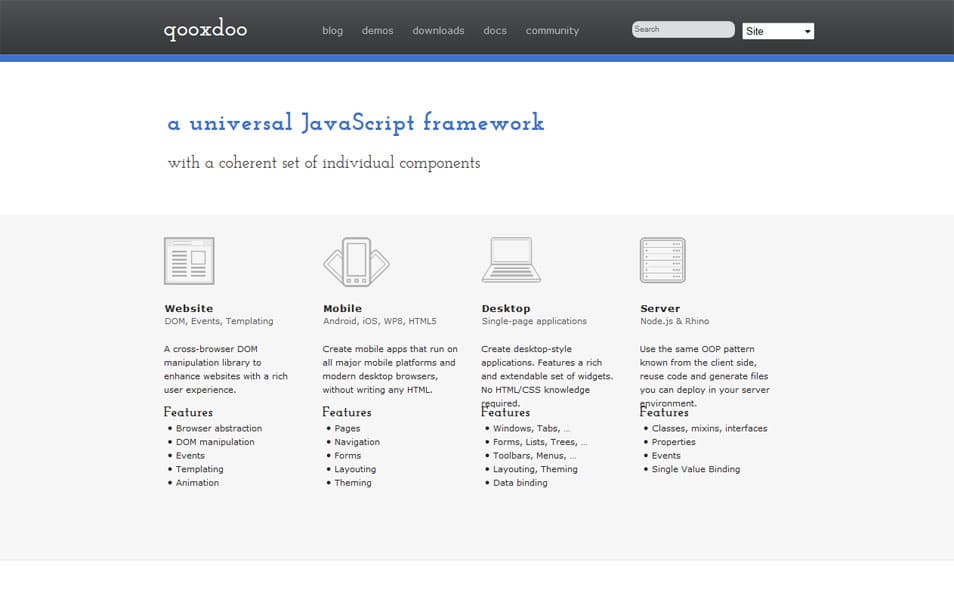 qooxdoo is a universal JavaScript framework with a coherent set of individual components and a powerful toolchain.
Durandal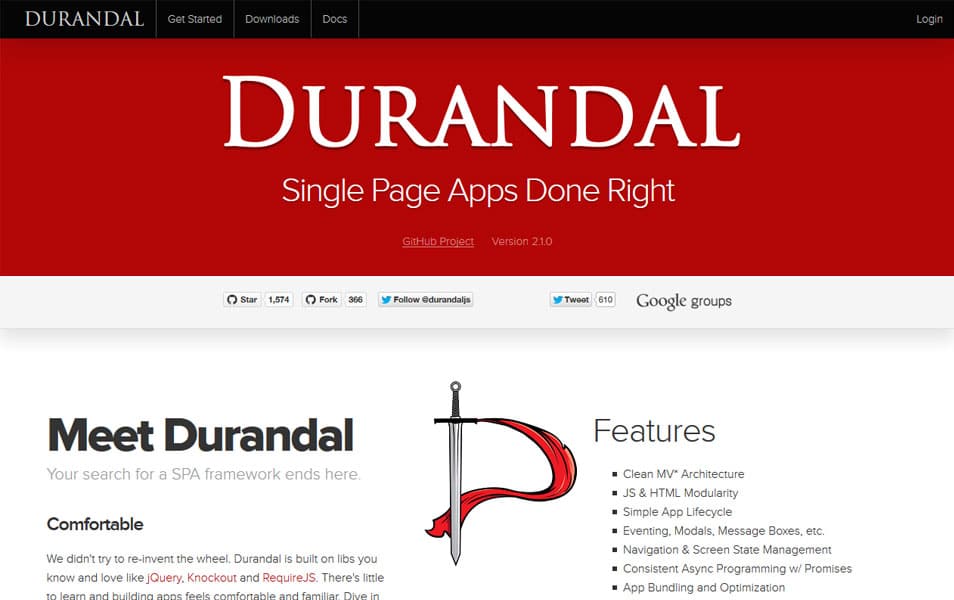 Durandal is a cross-device, cross-platform client framework written in JavaScript and designed to make Single Page Applications (SPAs) easy to create and maintain.
SproutCore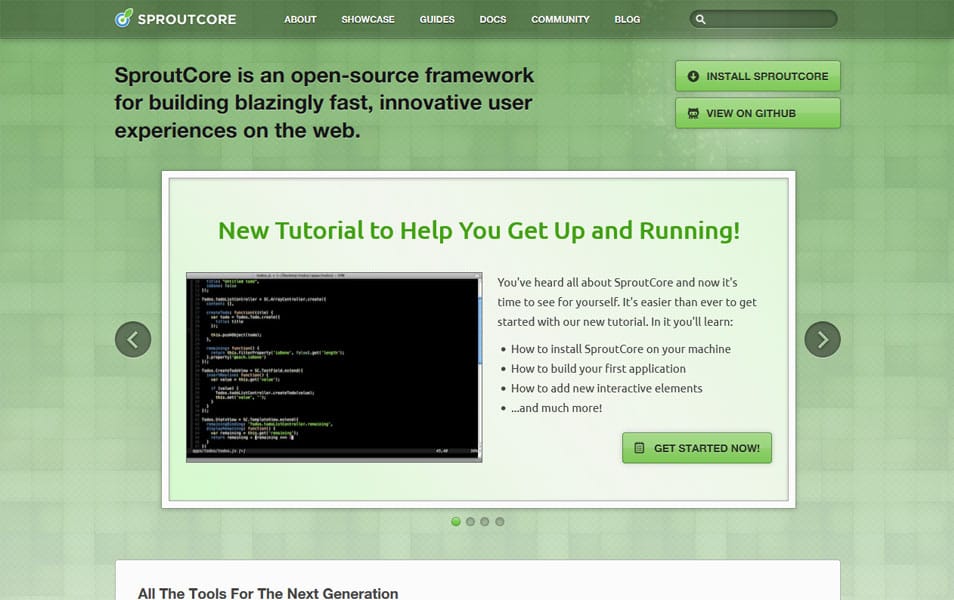 SproutCore is an open-source framework for building blazingly fast, innovative user experiences on the web.
wakanda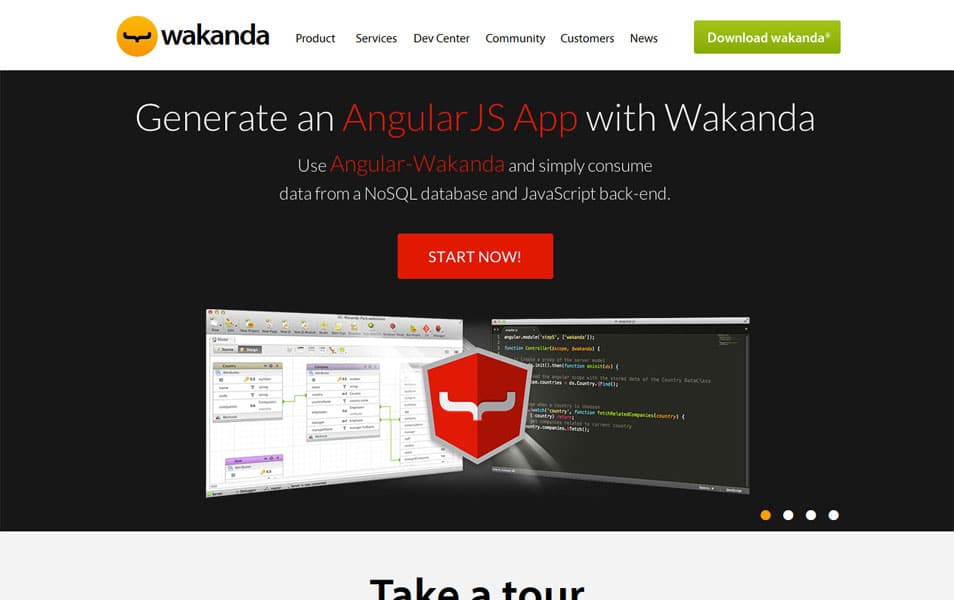 Wakanda is an open-source web application framework for developing web and mobile applications in JavaScript.
Webix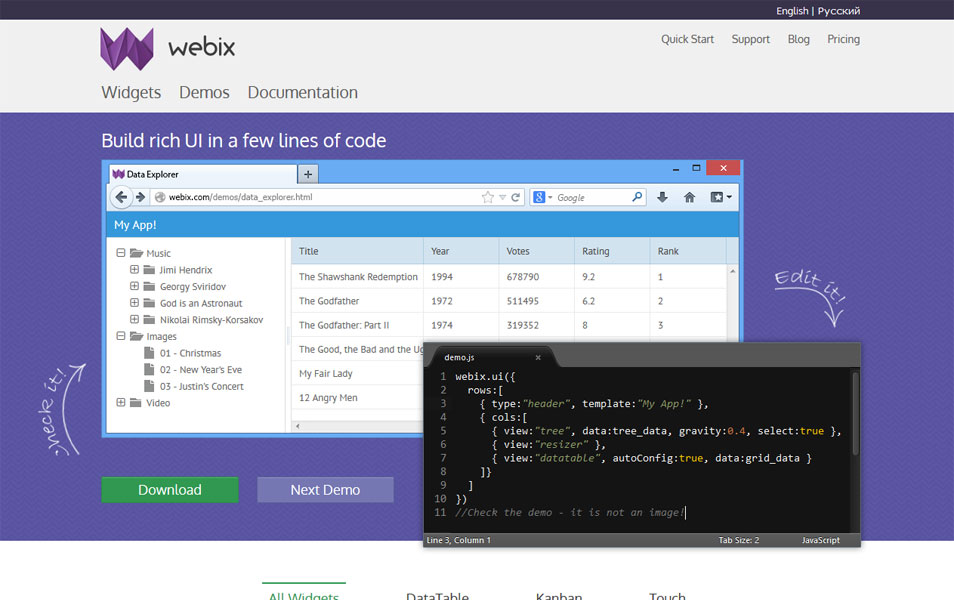 Webix is a cross-browser JavaScript ui widgets library. Build fast mobile and desktop web applications that run on all touch devices with HTML5 framework.
React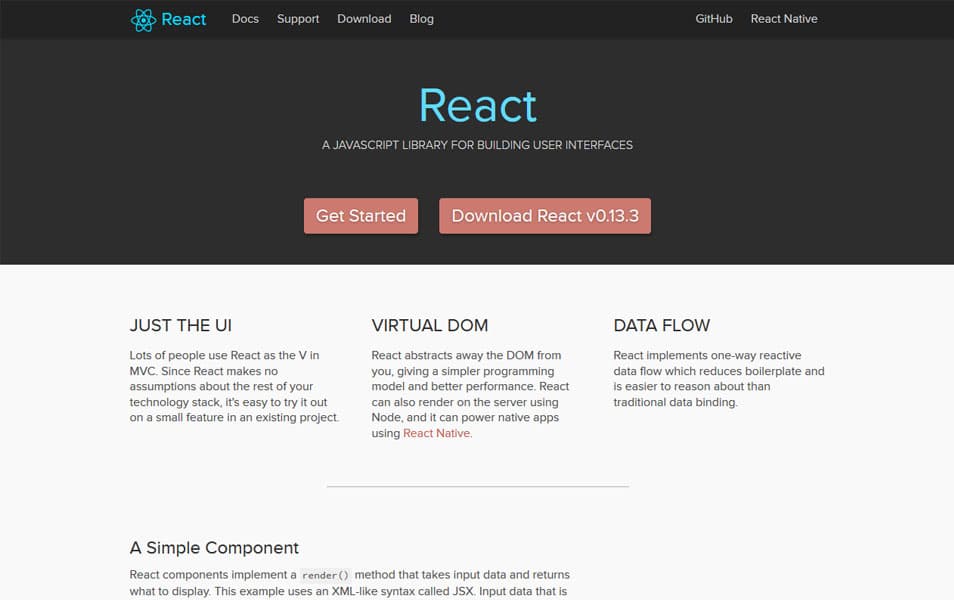 A JavaScript library for building user interfaces.
Sammy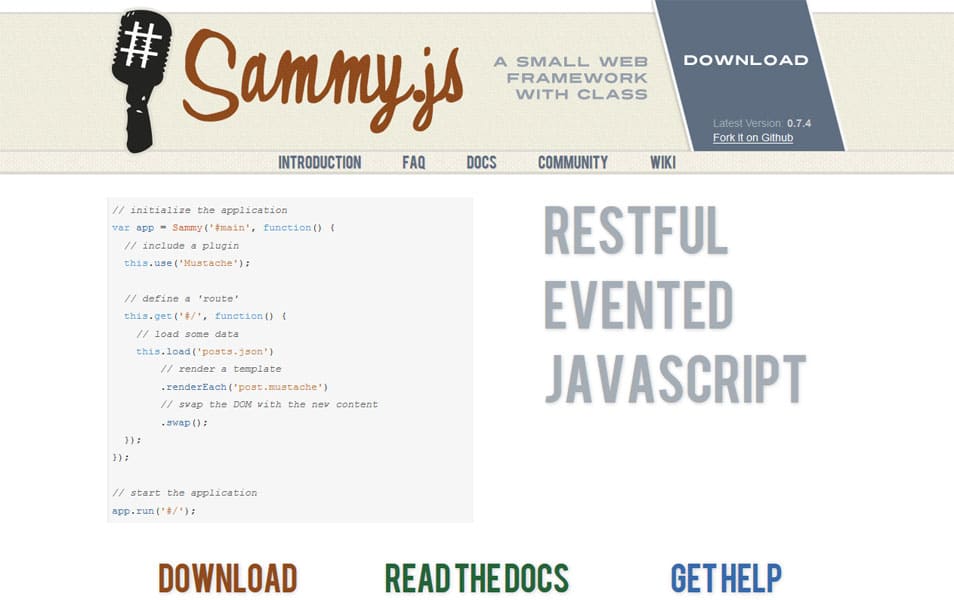 Sammy is a tiny javascript framework built on top of jQuery, It's RESTful Evented Javascript.
TodoMVC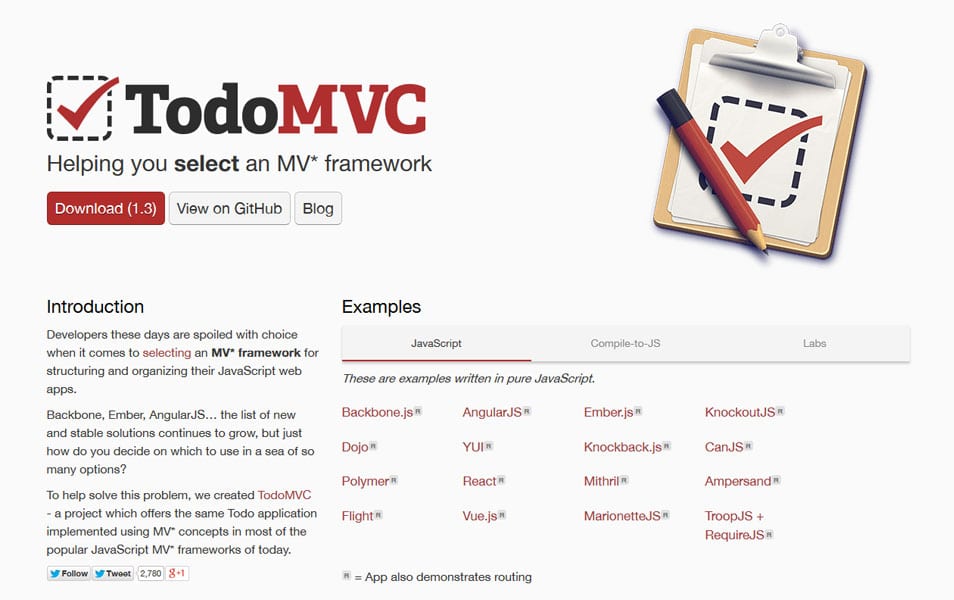 Developers these days are spoiled with choice when it comes to selecting an MV* framework for structuring and organizing their JavaScript web apps.
Knockout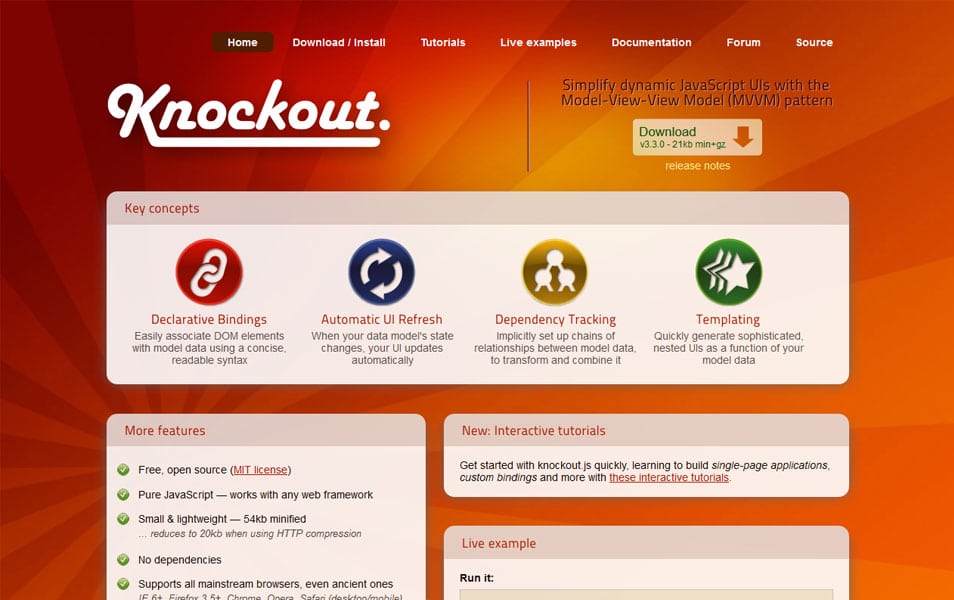 Knockout is a JavaScript MVVM (a modern variant of MVC) library that makes it easier to create rich, desktop-like user interfaces with JavaScript and HTML. It uses observers to make your UI automatically stay in sync with an underlying data model, along with a powerful and extensible set of declarative bindings to enable productive development.
corMVC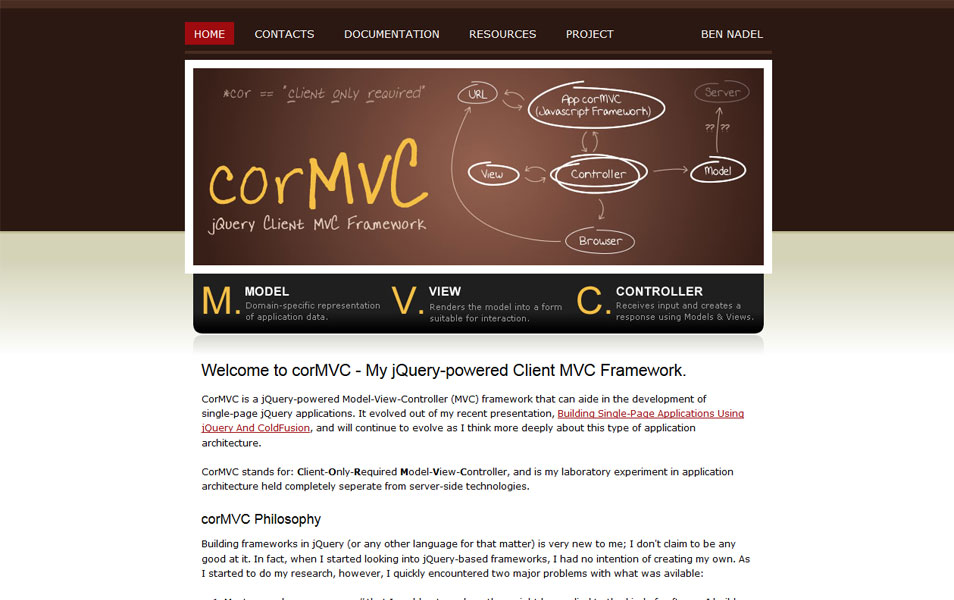 CorMVC is a jQuery-powered Model-View-Controller (MVC) framework that can aide in the development of single-page jQuery applications. It evolved out of my recent presentation, Building Single-Page Applications Using jQuery And ColdFusion, and will continue to evolve as I think more deeply about this type of application architecture.
Polymer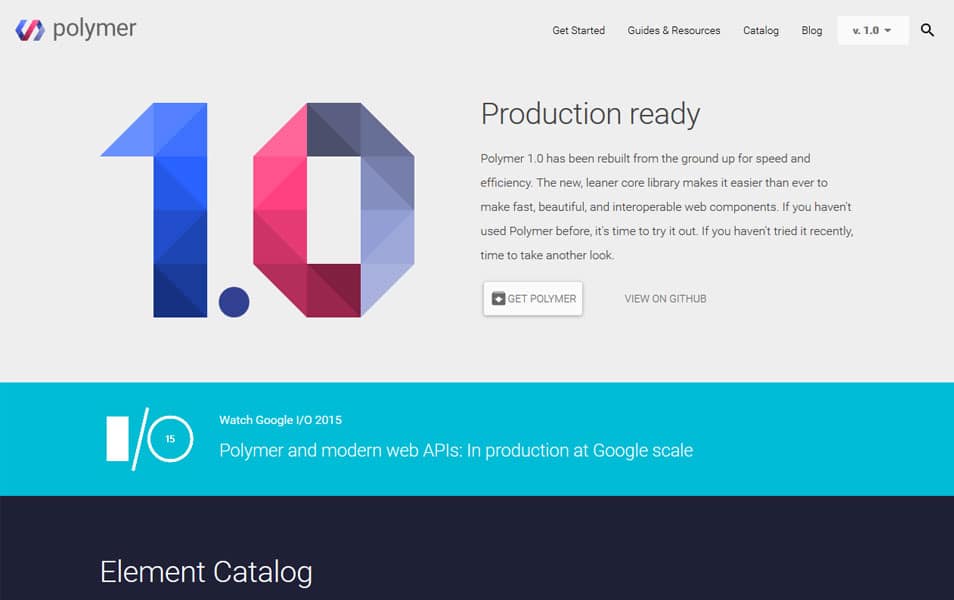 Polymer lets you build encapsulated, re-usable elements that work just like HTML elements, to use in building web applications.
Matreshka JavaScript Framework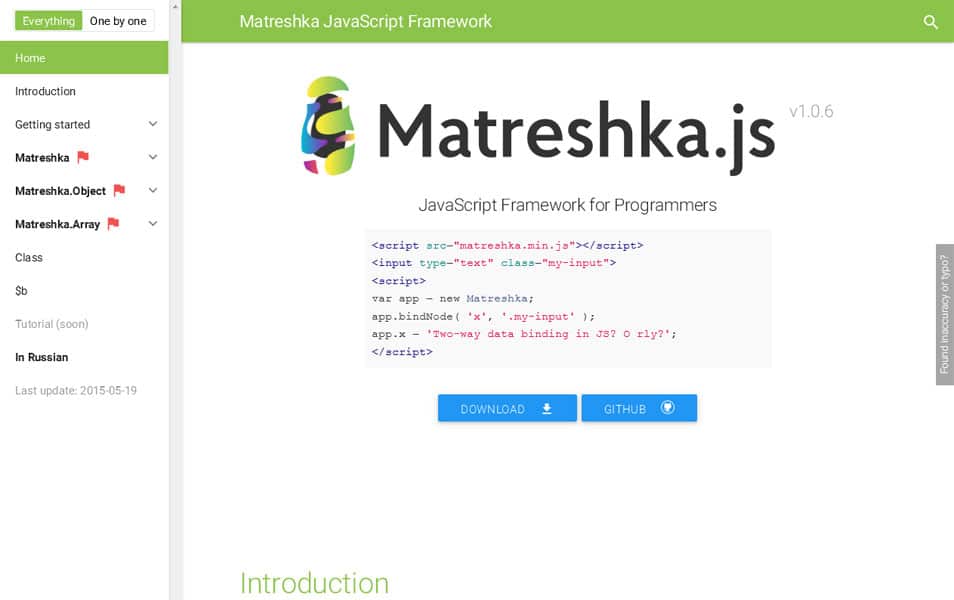 Matreshka is small and powerful client-side JavaScript framework that allows you to build single page applications as simply as possible.
Socket.IO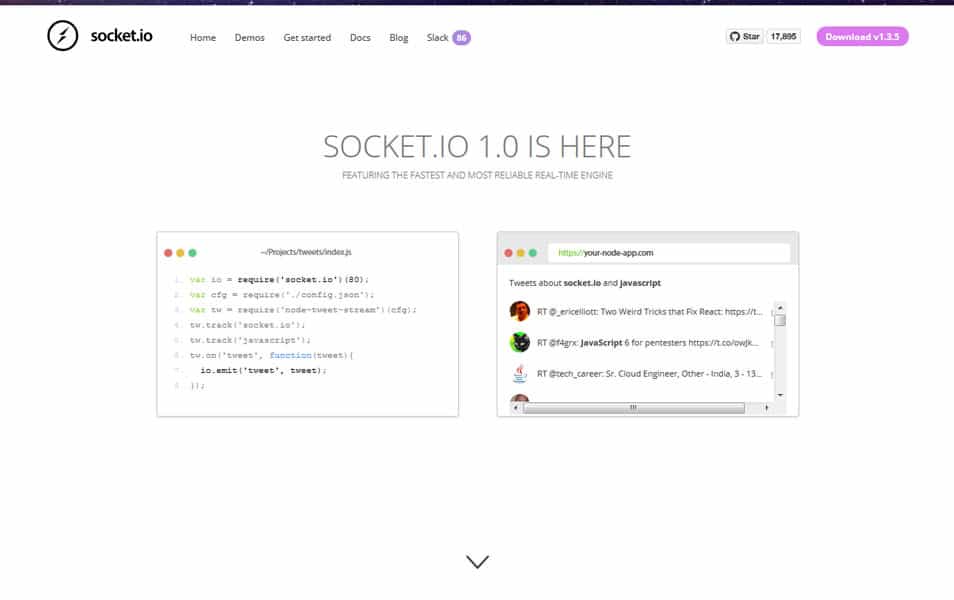 Realtime application framework (Node.JS server).
Meteor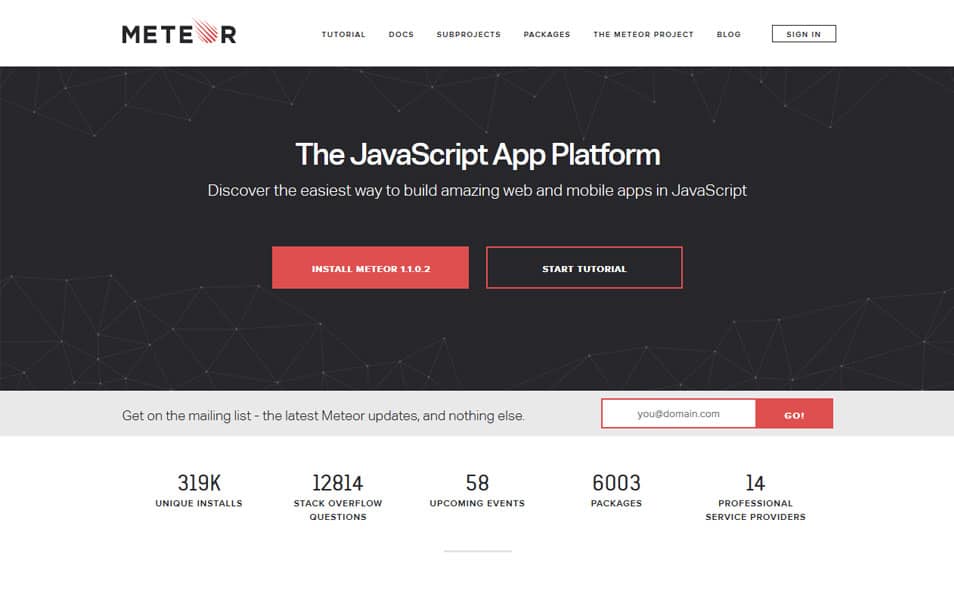 Meteor is a complete open source platform for building web and mobile apps in pure JavaScript.
Ext JS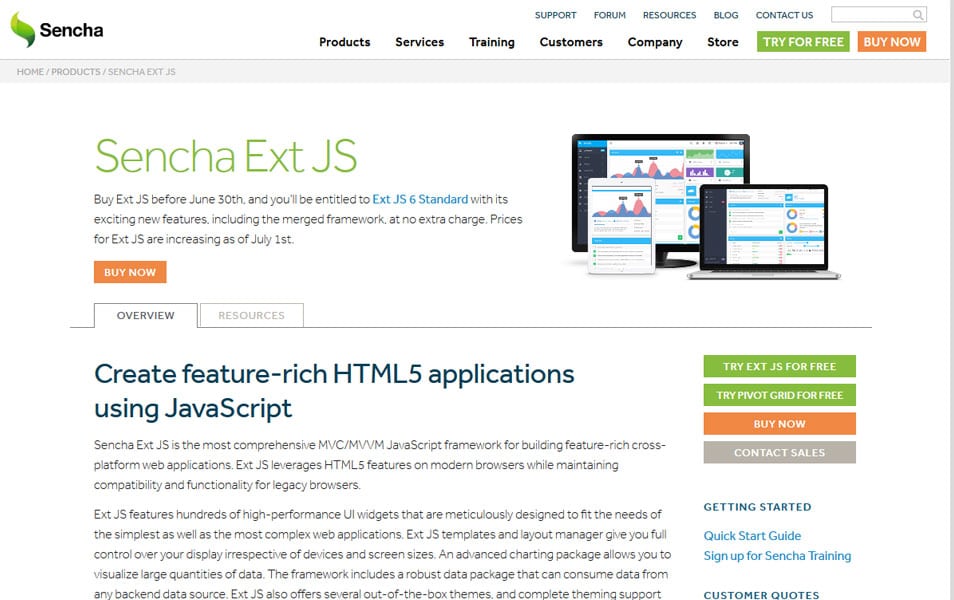 Sencha Ext JS is the most comprehensive MVC/MVVM JavaScript framework for building feature-rich cross-platform web applications. Ext JS leverages HTML5 features on modern browsers while maintaining compatibility and functionality for legacy browsers.
Famous Framework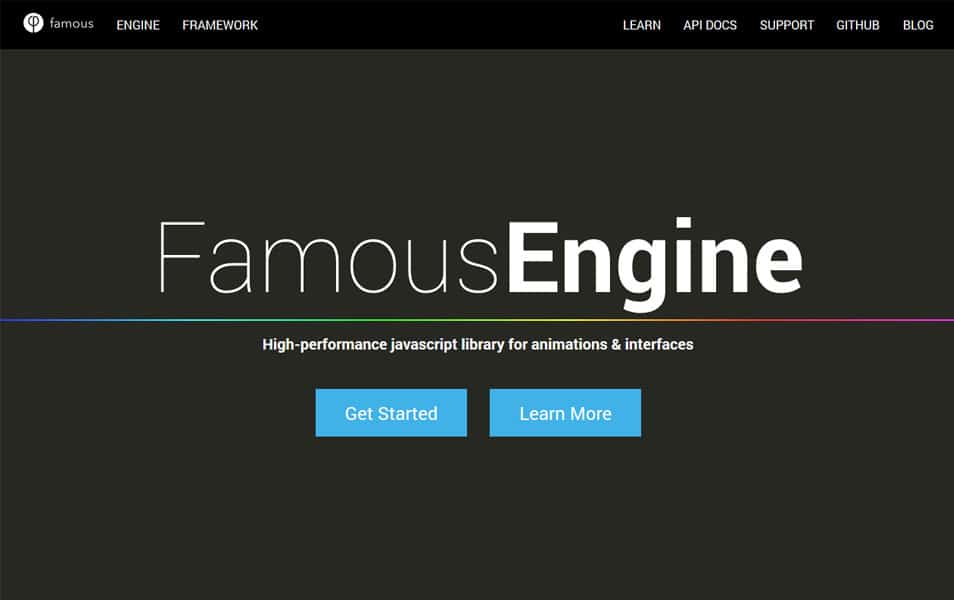 The Famous Framework is a new JavaScript framework for creating reusable, composable, and interchangeable UI widgets and applications. It balances declarative with imperative and functional with stateful, and it's built on top of the Famous Engine.
The Opa Language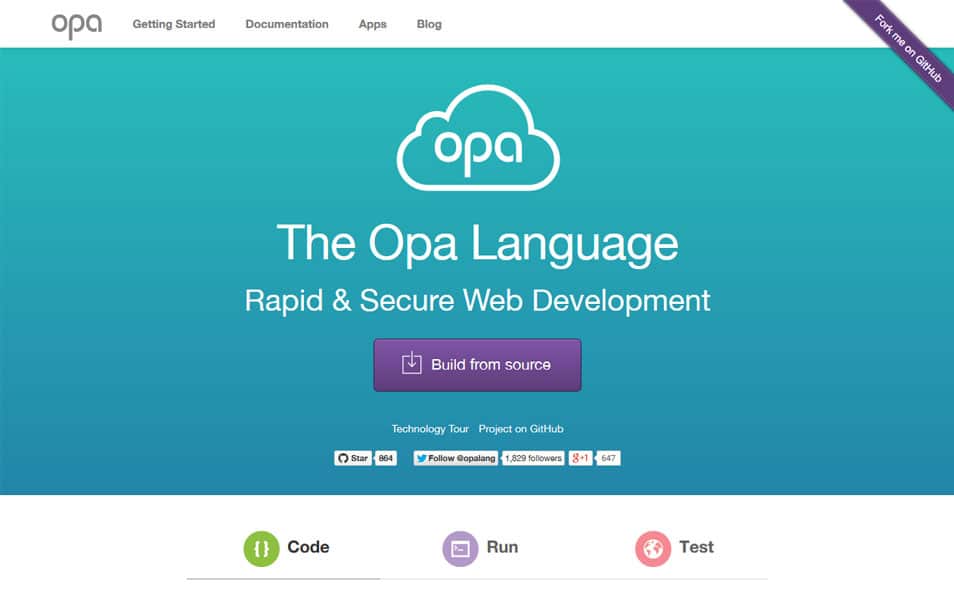 The open source Opa Framework for JavaScript makes web development rapid and secure.
Vanilla JS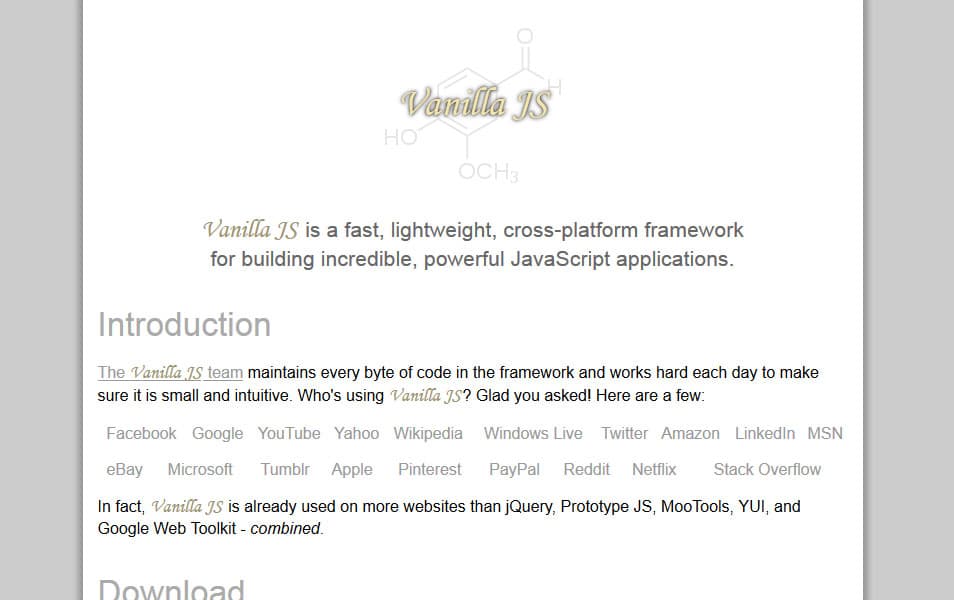 Vanilla JS is a fast, lightweight, cross-platform framework for building incredible, powerful JavaScript applications.
MEAN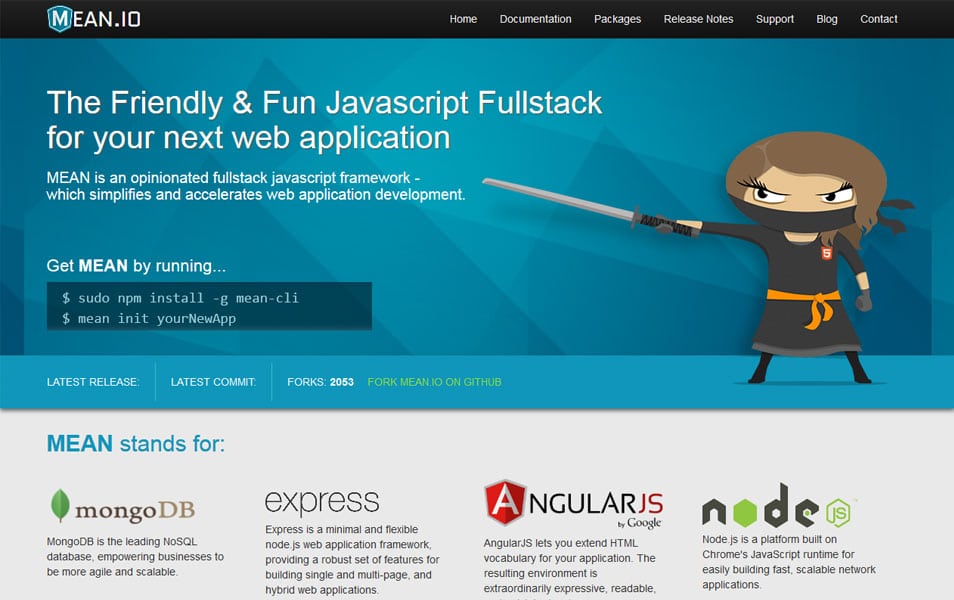 MEAN is a framework for an easy starting point with MongoDB, Node.js, Express, and AngularJS based applications. It is designed to give you a quick and organized way to start developing MEAN based web apps with useful modules like Mongoose and Passport pre-bundled and configured.
Google Web Toolkit (GWT)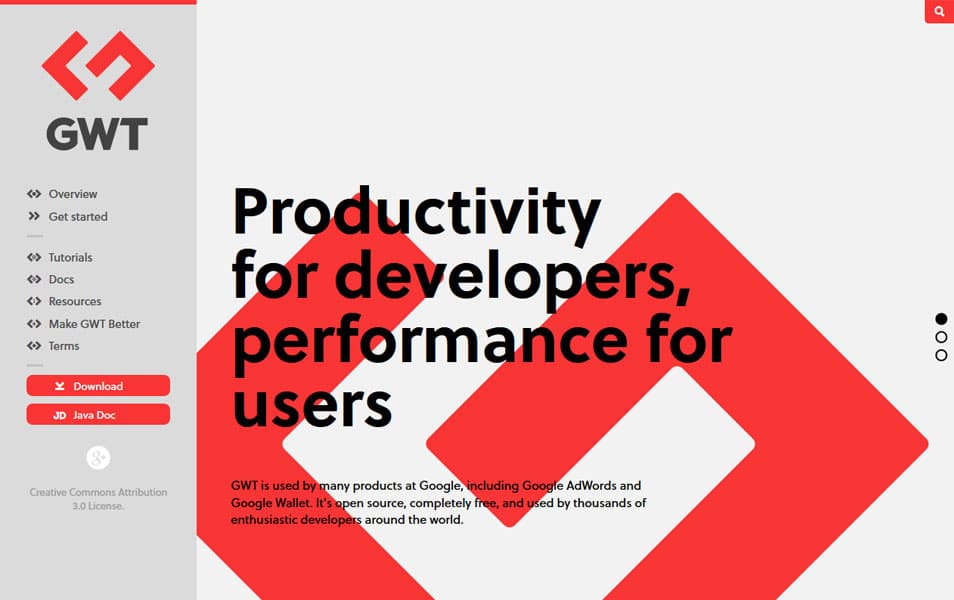 GWT is used by many products at Google, including Google AdWords and Google Wallet. It's open source, completely free, and used by thousands of enthusiastic developers around the world.
Ample SDK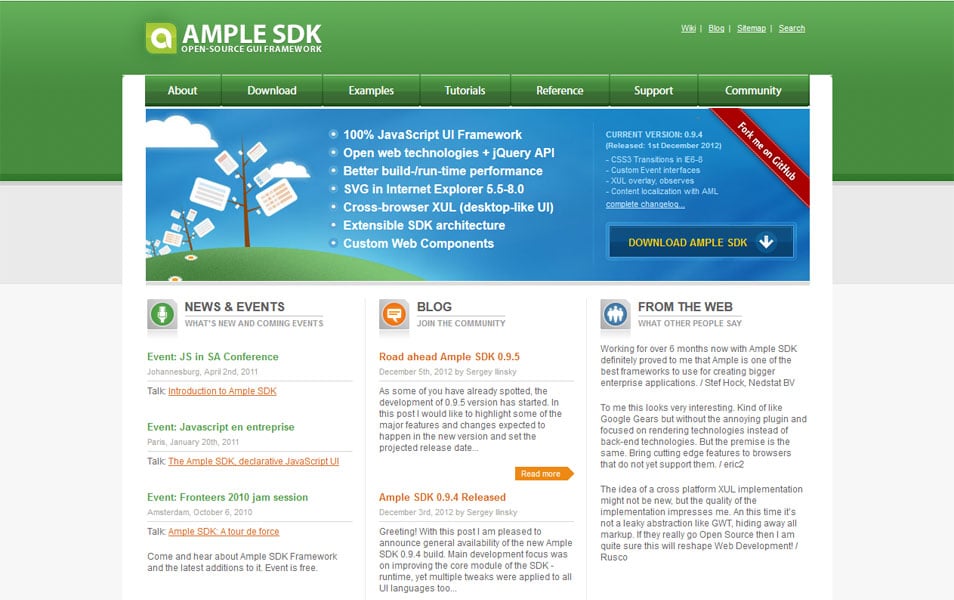 Ample SDK is a standard-based cross-browser JavaScript GUI Framework for building client-side Rich Internet Applications. It employs XML technologies (such as XUL, SVG or HTML5) for UI layout, CSS for UI style and JavaScript with DOM3 or jQuery-like APIs for application logic.
Flatiron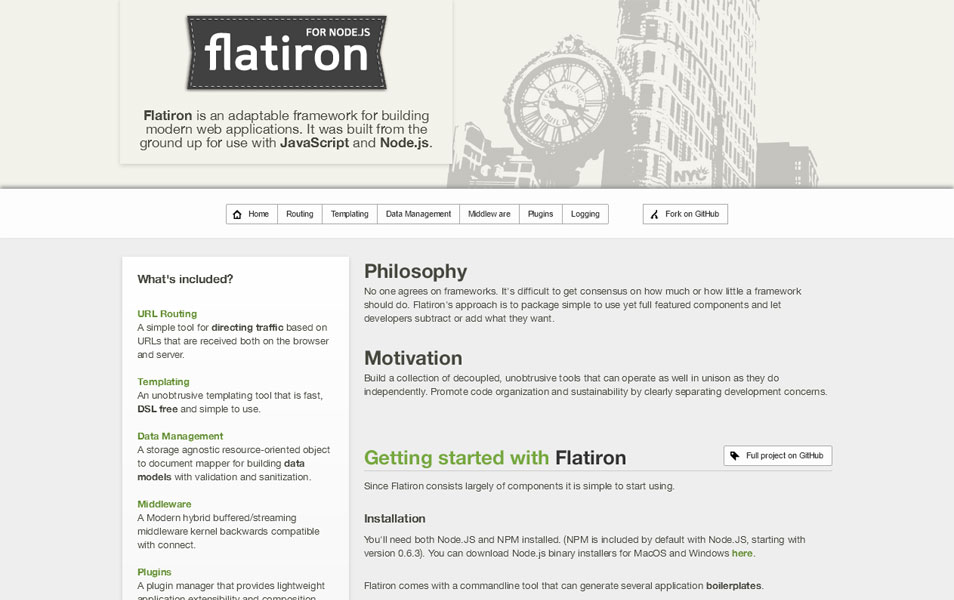 Flatiron is an adaptable framework for building modern web applications. It was built from the ground up for use with JavaScript and Node.js.
P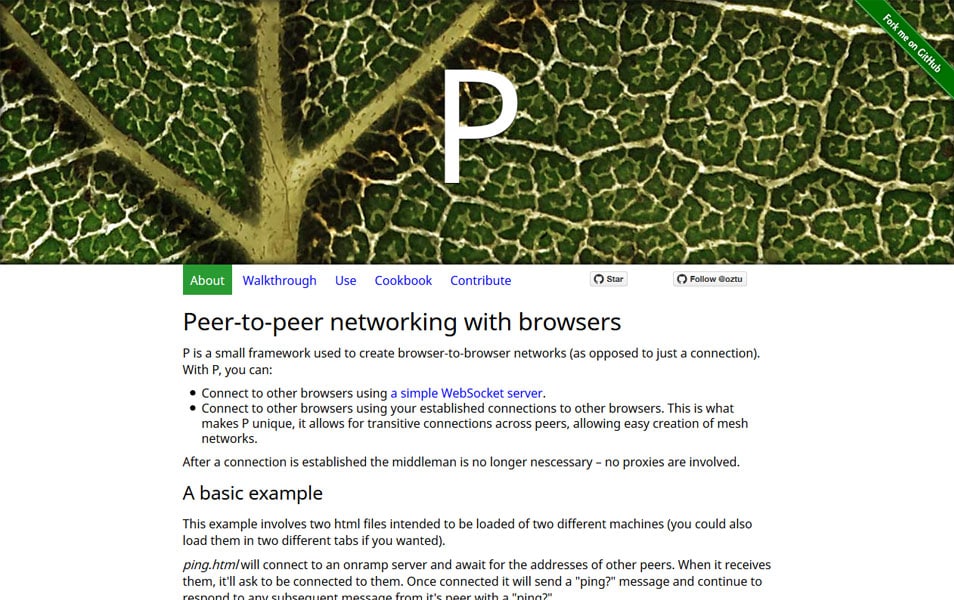 P is a small framework used to create browser-to-browser networks (as opposed to just a connection).
scaleApp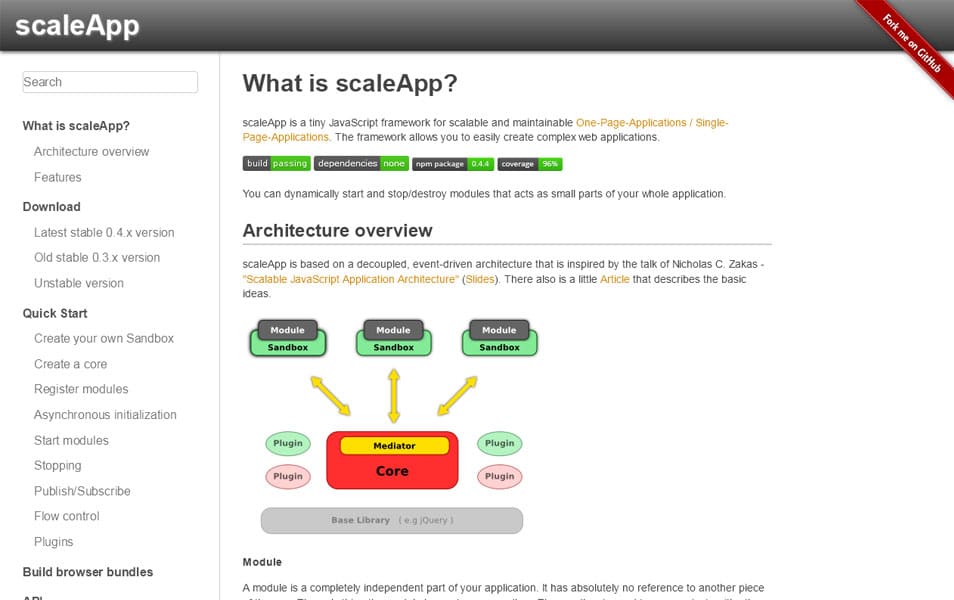 scaleApp is a tiny JavaScript framework for scalable and maintainable One-Page-Applications / Single-Page-Applications. The framework allows you to easily create complex web applications.
MooTools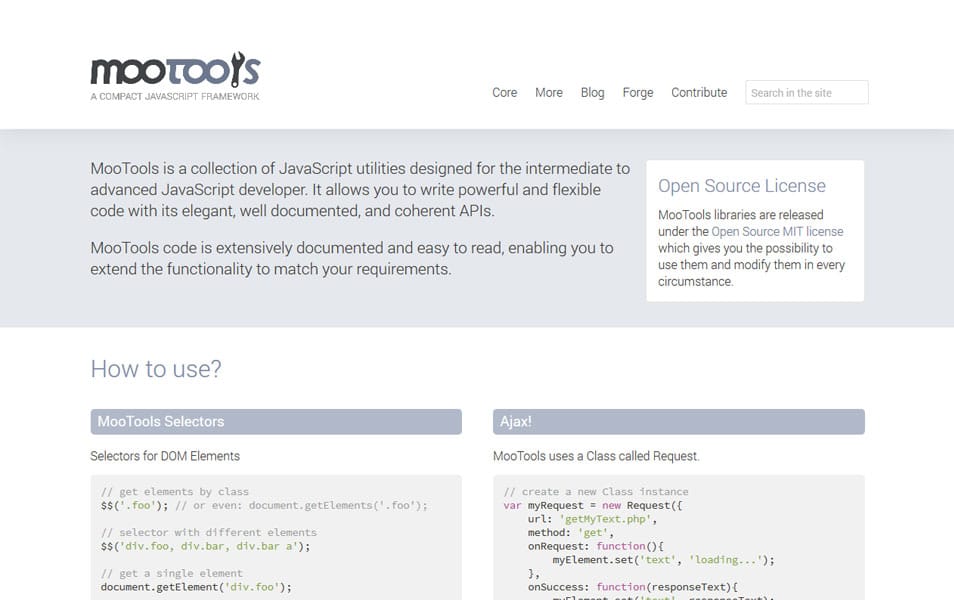 MooTools is a collection of JavaScript utilities designed for the intermediate to advanced JavaScript developer. It allows you to write powerful and flexible code with its elegant, well documented, and coherent APIs.
Minified.js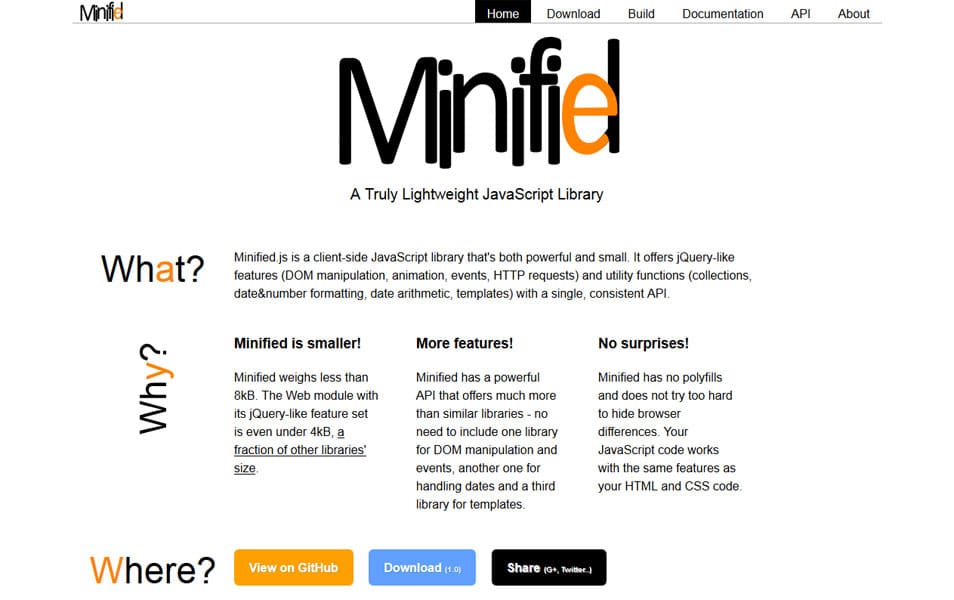 Minified.js is a client-side JavaScript library that's both powerful and small. It offers jQuery-like features (DOM manipulation, animation, events, HTTP requests) and utility functions (collections, date&number formatting, date arithmetic, templates) with a single, consistent API.
Javelin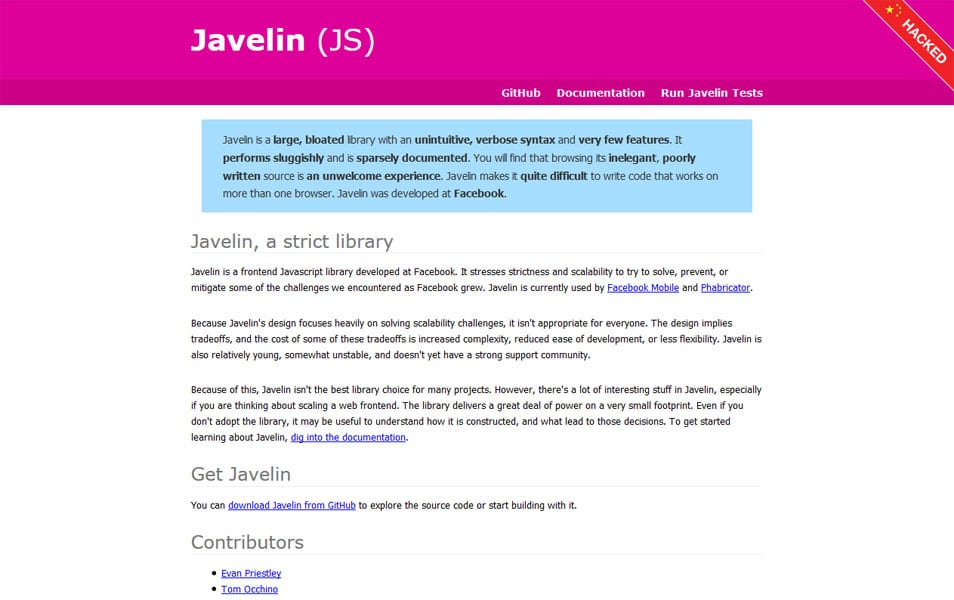 Javelin is a frontend Javascript library developed at Facebook. It stresses strictness and scalability to try to solve, prevent, or mitigate some of the challenges we encountered as Facebook grew. Javelin is currently used by Facebook Mobile and Phabricator.
RightJS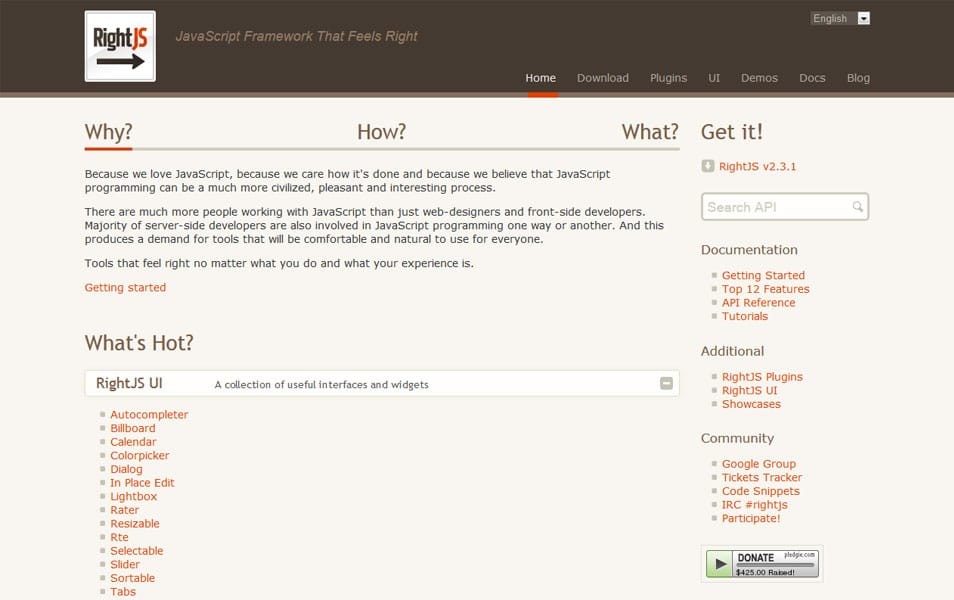 RightJS is a compact JavaScript framework for developing cross-browser web-applications.
ripple.js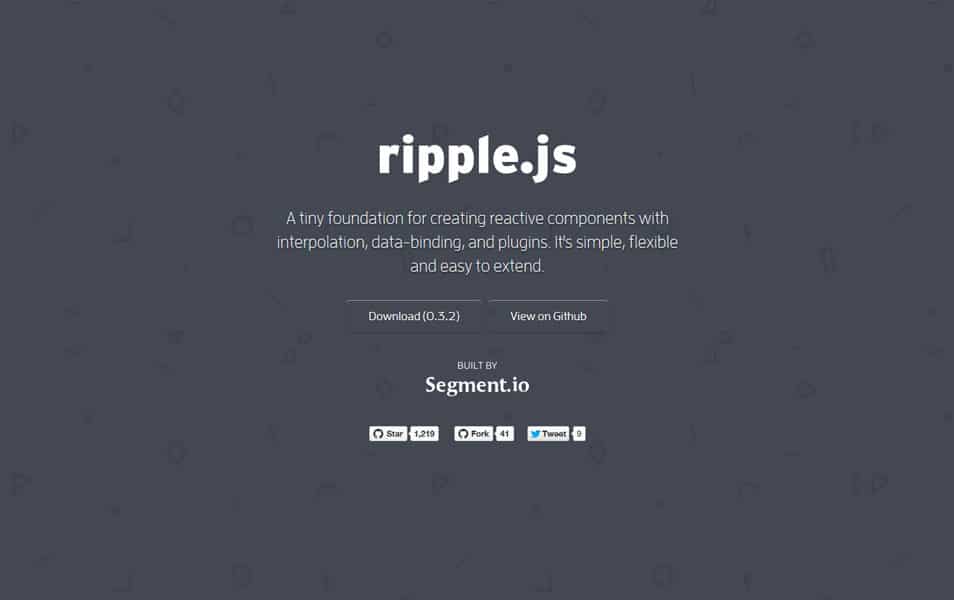 A tiny foundation for creating reactive components with interpolation, data-binding, and plugins. It's simple, flexible and easy to extend.
Sails.js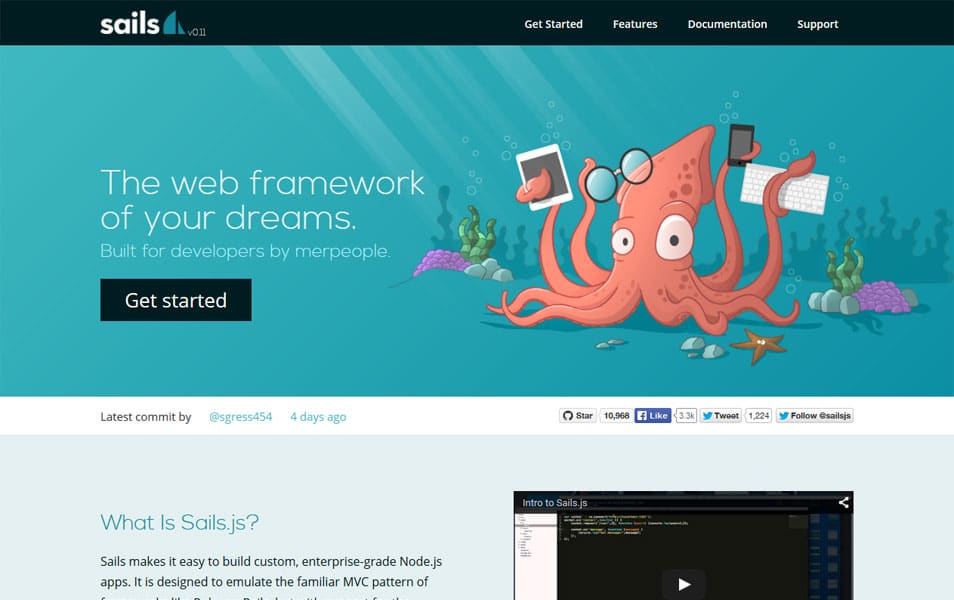 Sails is the most popular MVC framework for Node.js.
midori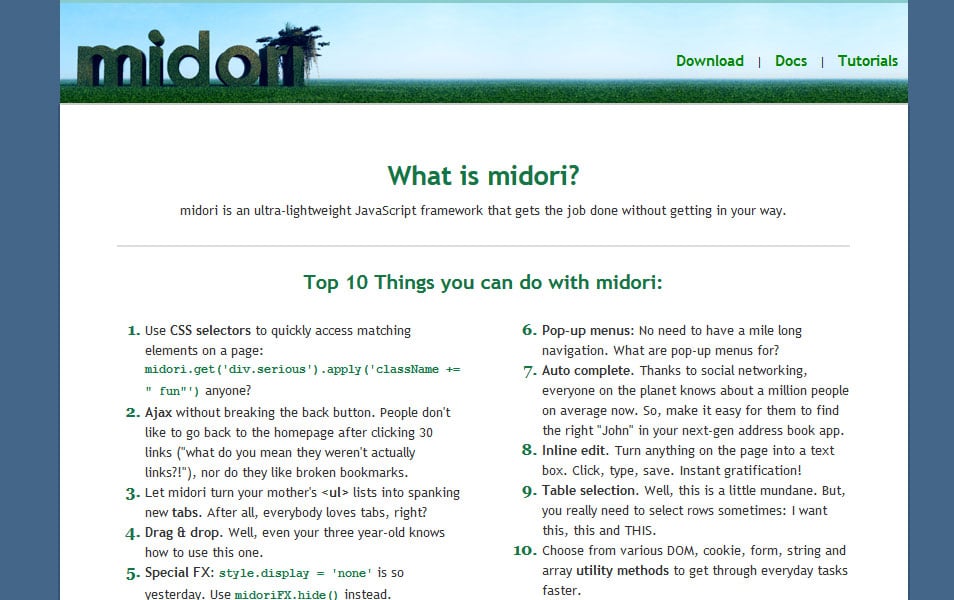 midori is an ultra-lightweight JavaScript framework that gets the job done without getting in your way.
Stapes.js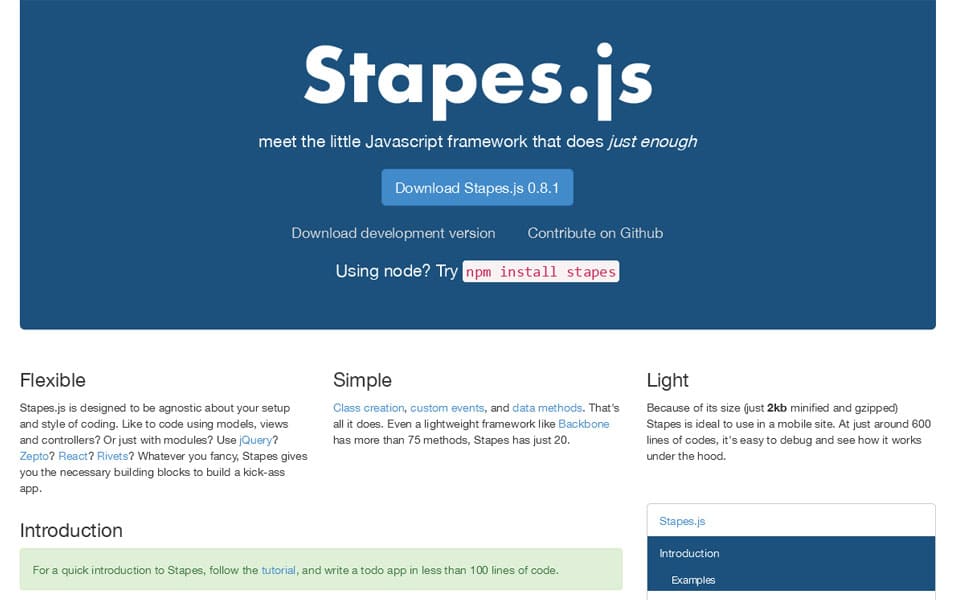 The Javascript MVC microframework that does just enough.
DHTMLX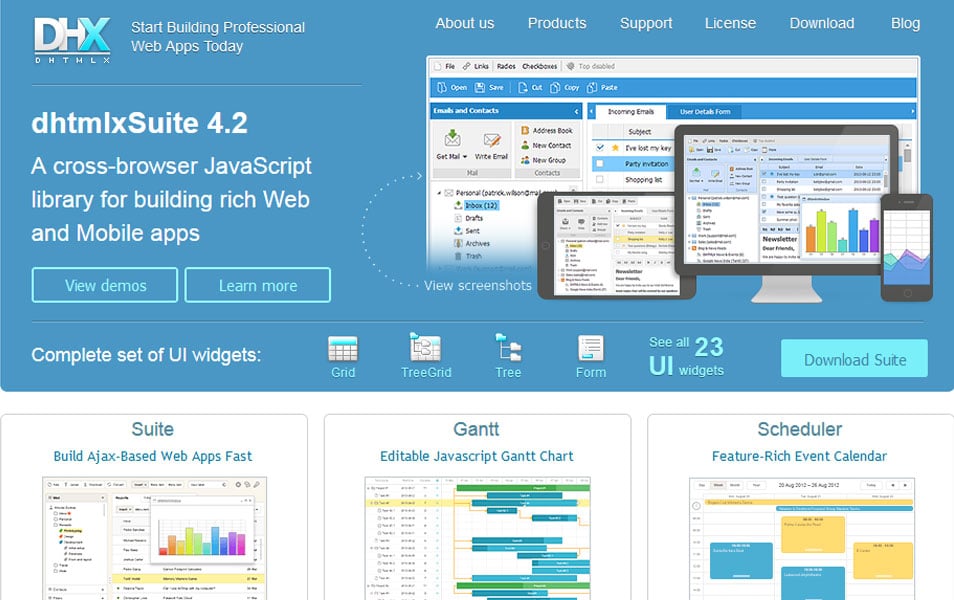 A cross-browser JavaScript library for building rich Web and Mobile apps.
Dojo Toolkit
A JavaScript toolkit that saves you time and scales with your development process. Provides everything you need to build a Web app. Language utilities, UI components, and more, all in one place, designed to work together perfectly.
MochiKit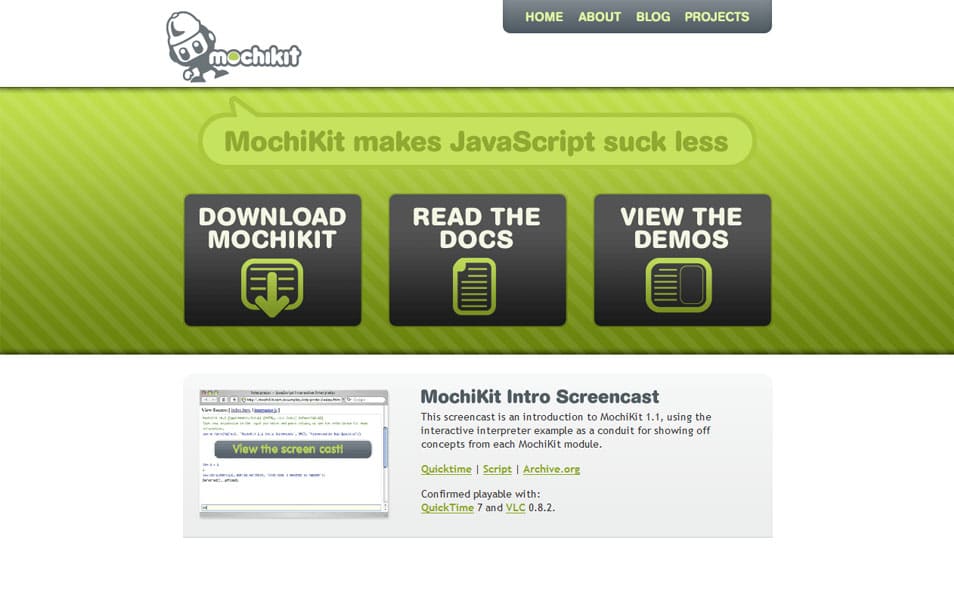 MochiKit is a highly documented and well tested, suite of JavaScript libraries that will help you get shit done, fast. We took all the good ideas we could find from our Python, Objective-C, etc. experience and adapted it to the crazy world of JavaScript.
Echo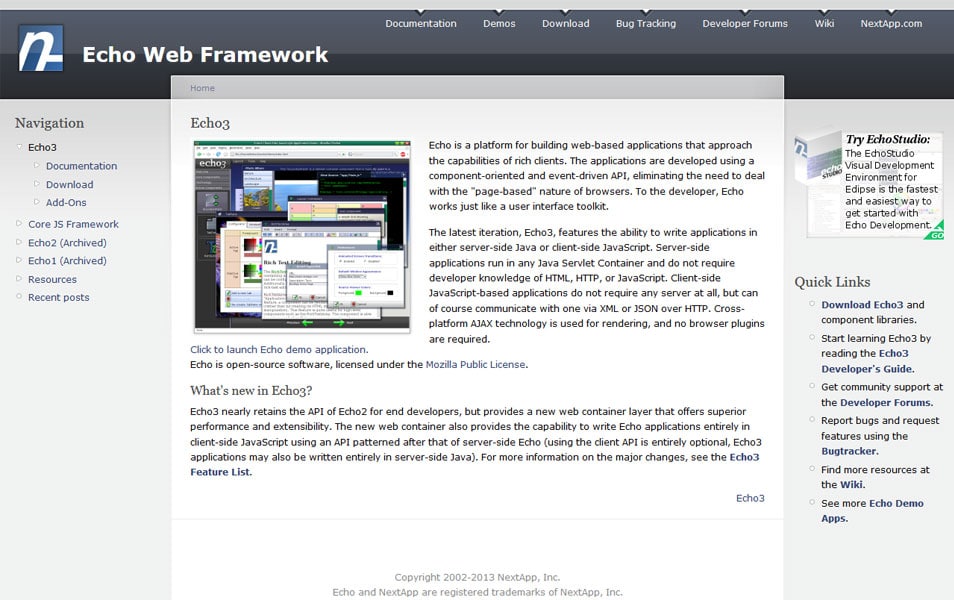 Echo is a platform for building web-based applications that approach the capabilities of rich clients. The applications are developed using a component-oriented and event-driven API, eliminating the need to deal with the "page-based" nature of browsers. To the developer, Echo works just like a user interface toolkit.
Kendo UI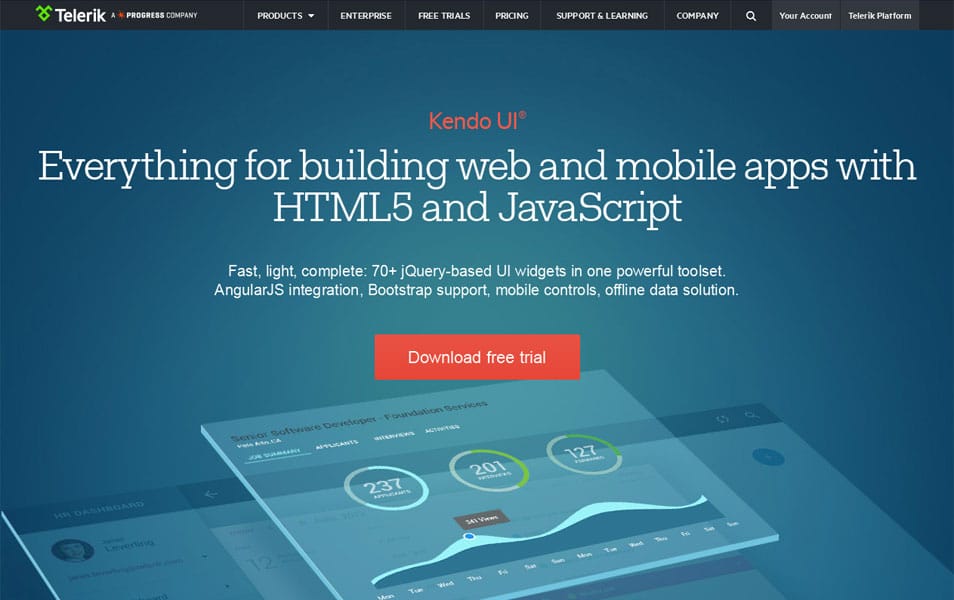 Everything for building web and mobile apps with HTML5 and JavaScript.
NuclearJS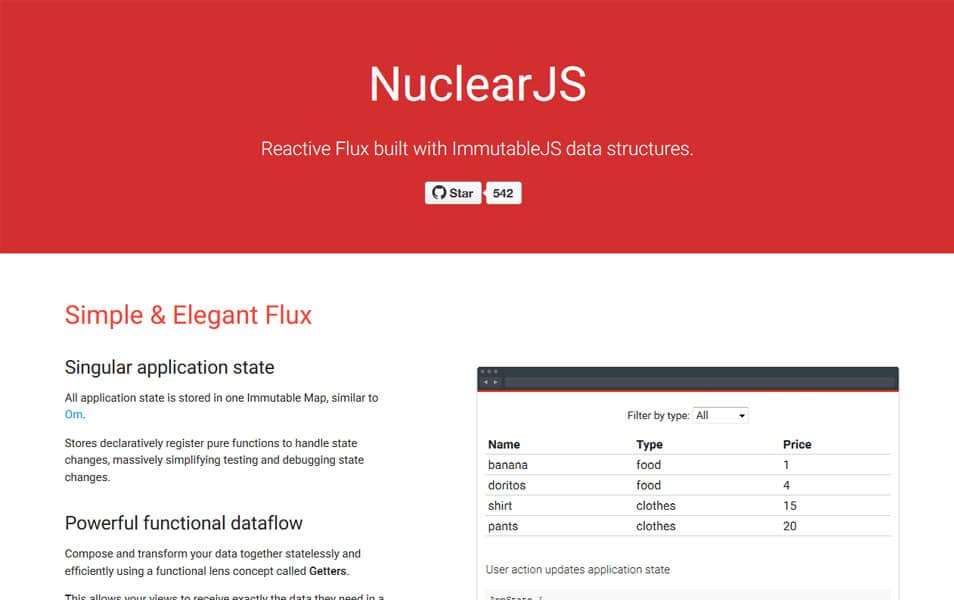 Traditional Flux architecture built with ImmutableJS data structures.
Java Web Toolkit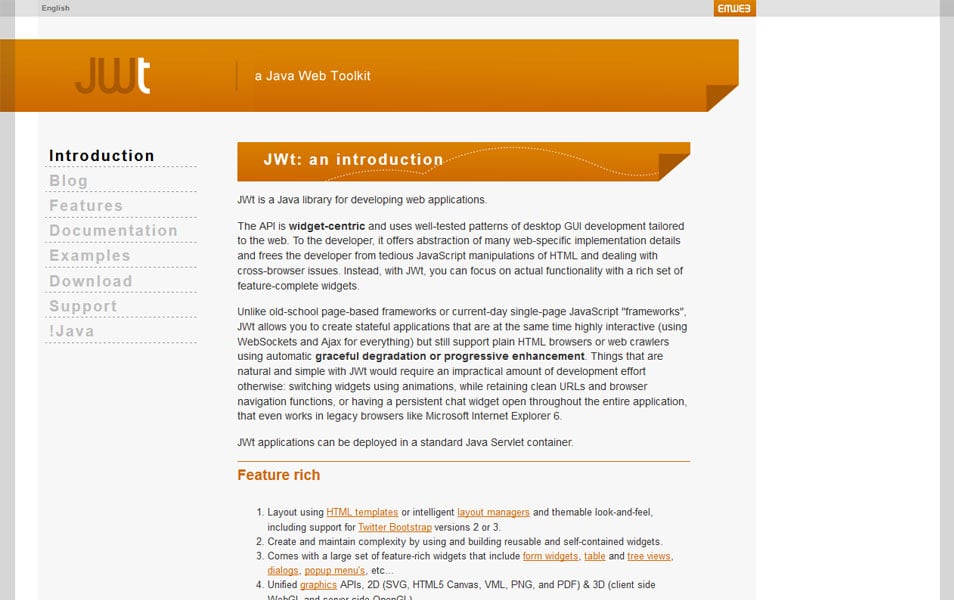 JWt is a Java library for developing web applications.
PureMVC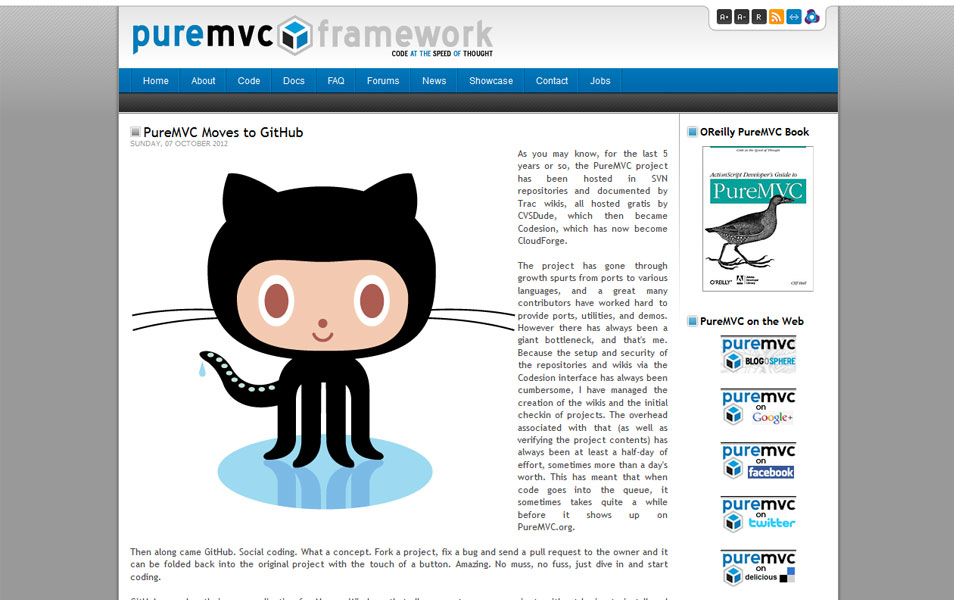 PureMVC is a lightweight framework for creating applications based upon the classic Model, View and Controller concept.
D3.js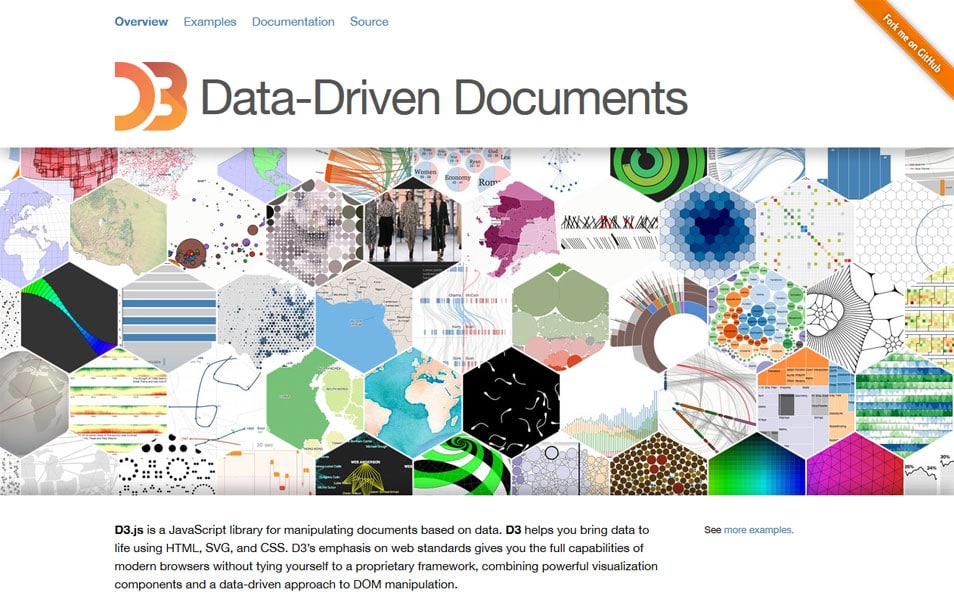 D3.js is a JavaScript library for manipulating documents based on data. D3 helps you bring data to life using HTML, SVG, and CSS. D3 emphasizes web standards and combines powerful visualization components with a data-driven approach to DOM manipulation, giving you the full capabilities of modern browsers without tying yourself to a proprietary framework.
Handlebars.js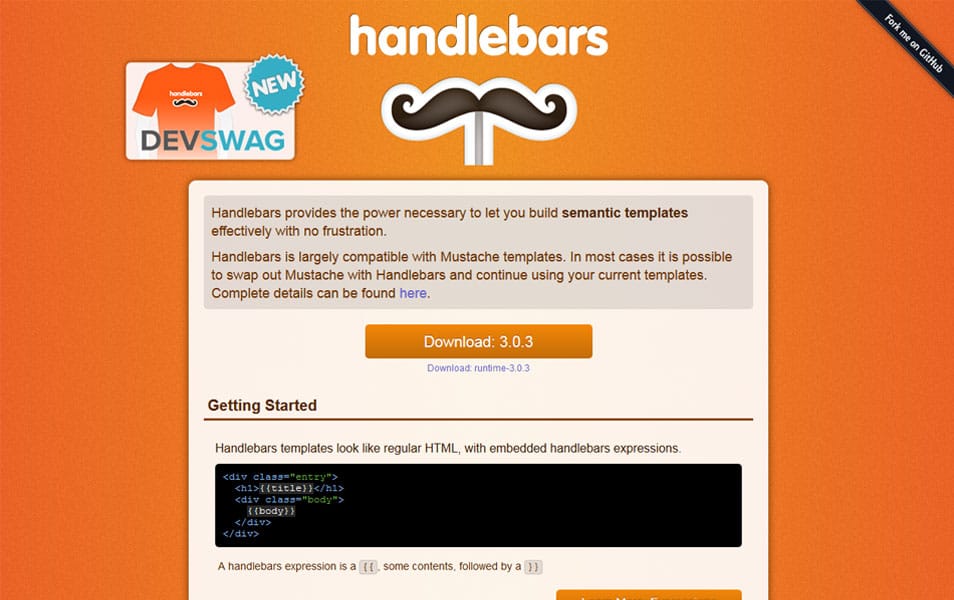 Handlebars.js is an extension to the Mustache templating language created by Chris Wanstrath. Handlebars.js and Mustache are both logicless templating languages that keep the view and the code separated like we all know they should be.
JavaScript Library Boilerplate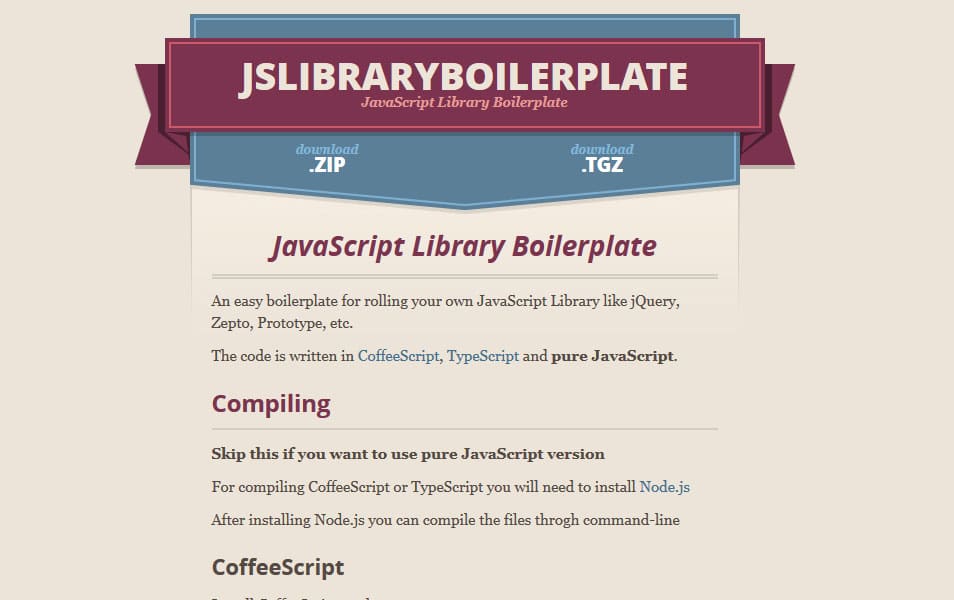 An easy boilerplate for rolling your own JavaScript Library like jQuery, Zepto, Prototype, etc.
Rialto
Rialto (Rich Internet Application Toolkit) is ajax based cross browser javascript widgets library. Because it is technology agnostic it can be encapsulated in JSP, JSF, .Net, Python or PHP graphic components.
Ampersand.js
A highly modular, loosely coupled, non-frameworky framework for building advanced JavaScript apps.
DozerJS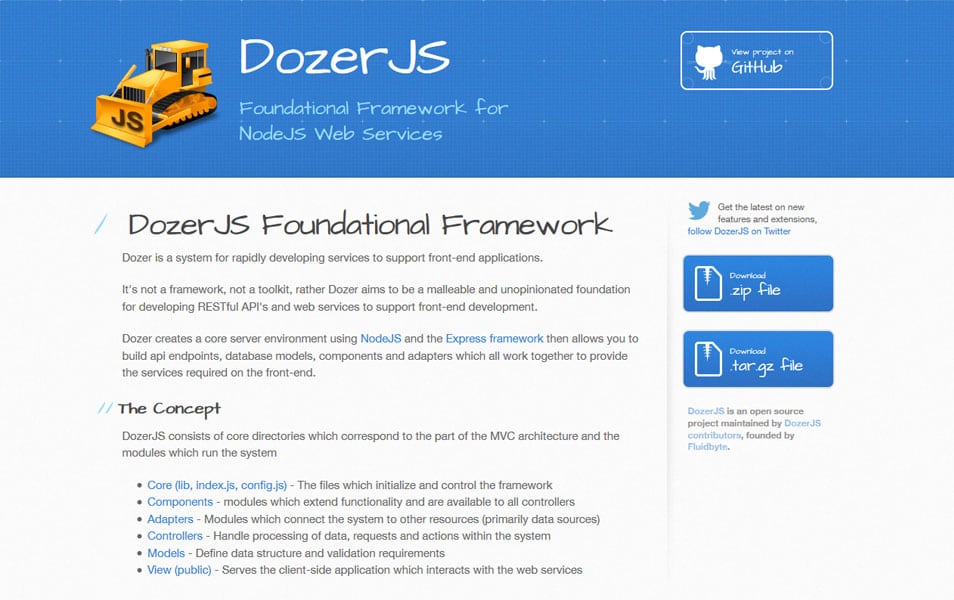 Dozer is a system for rapidly developing services to support front-end applications.
AmplifyJS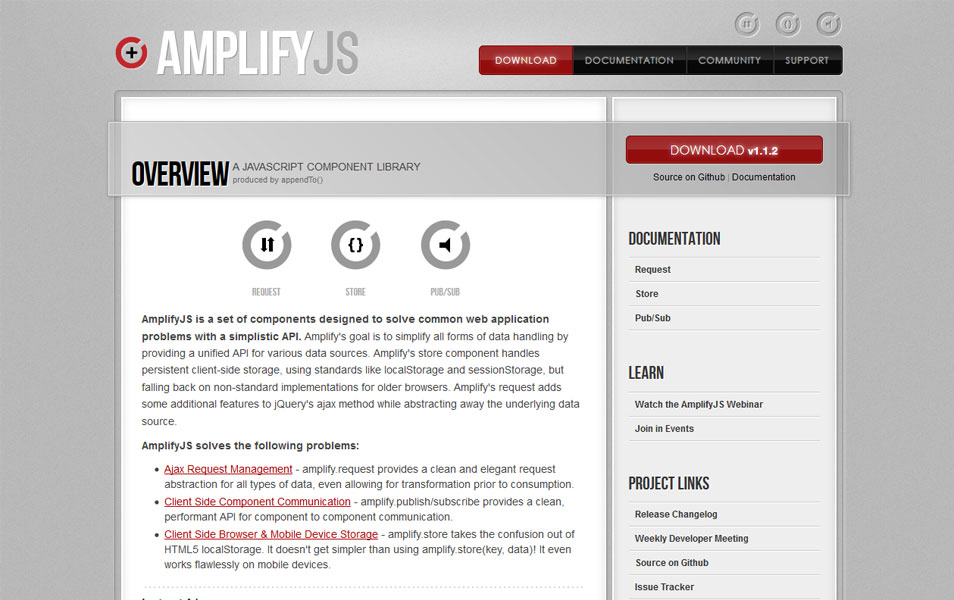 AmplifyJS is a set of components designed to solve common web application problems with a simplistic API.
Noder.io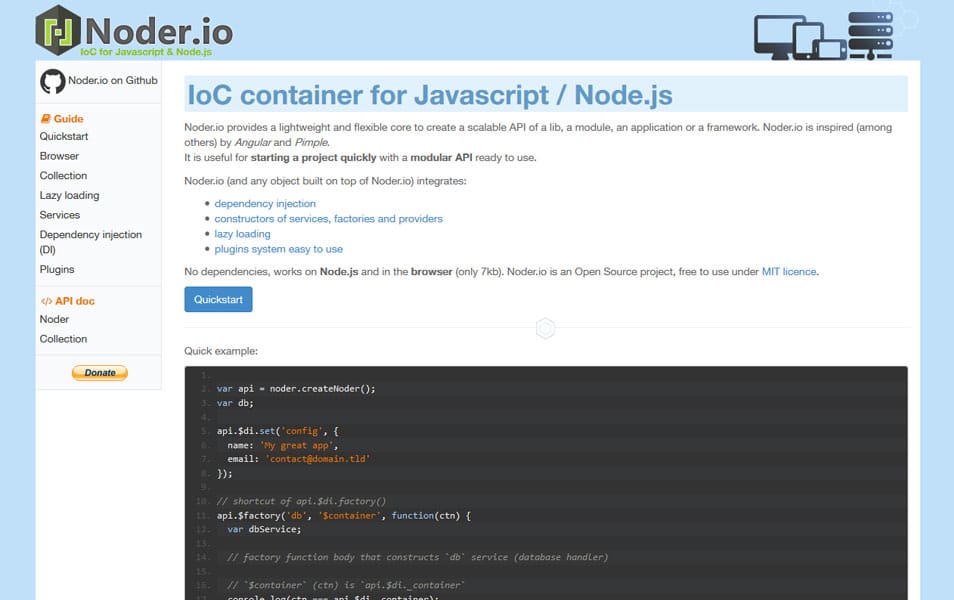 Noder.io provides a lightweight and flexible core to create a scalable API of a lib, a module, an application or a framework. Noder.io is inspired (among others) by Angular and Pimple.
abaaso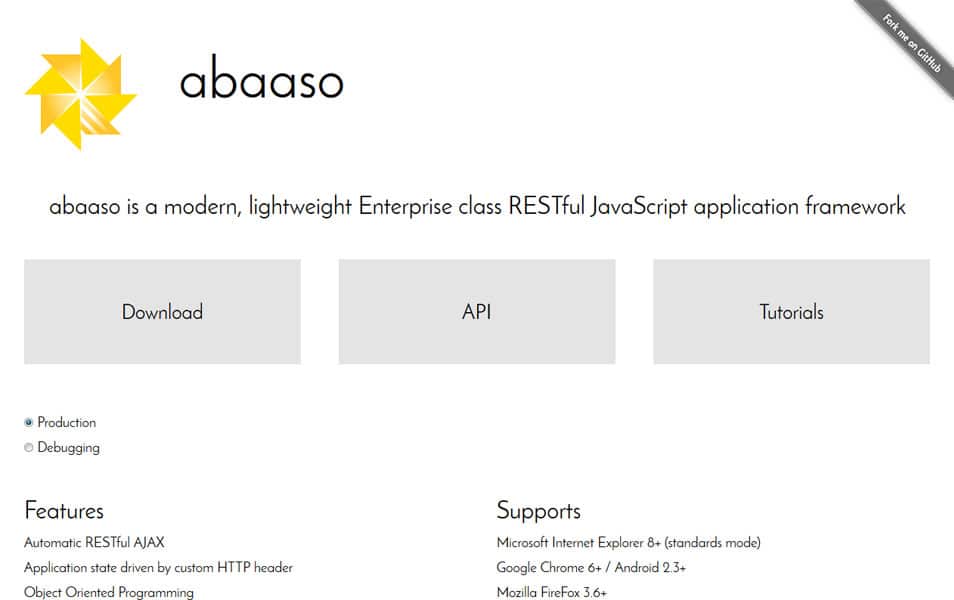 abaaso is a modern, lightweight Enterprise class RESTful JavaScript application framework.
Heisenberg.js
A project base for building modern JavaScript applications.
SharepointPlus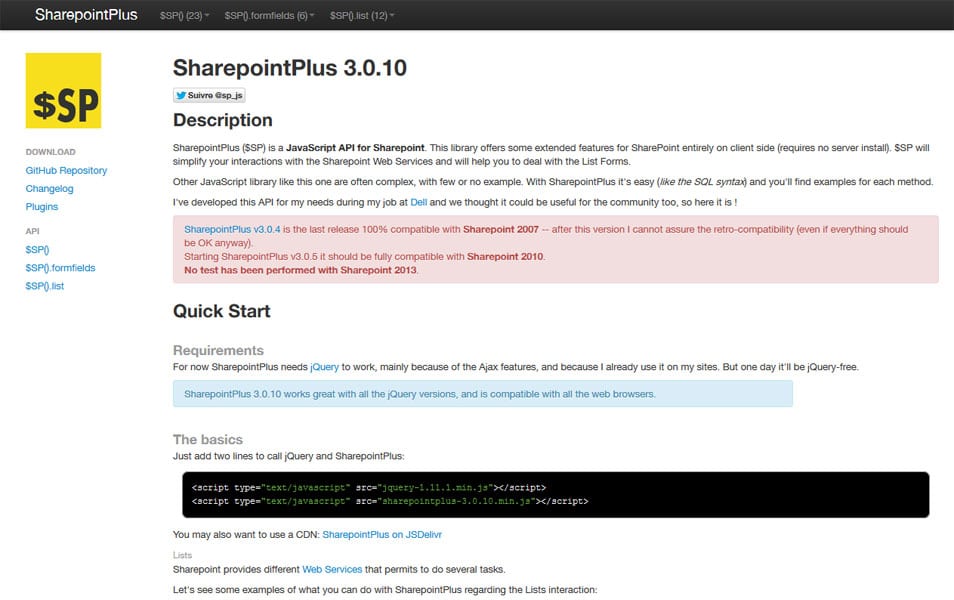 SharepointPlus ($SP) is a JavaScript API for Sharepoint. This library offers some extended features for SharePoint entirely on client side (requires no server install). $SP will simplify your interactions with the Sharepoint Web Services and will help you to deal with the List Forms.
Marionette.js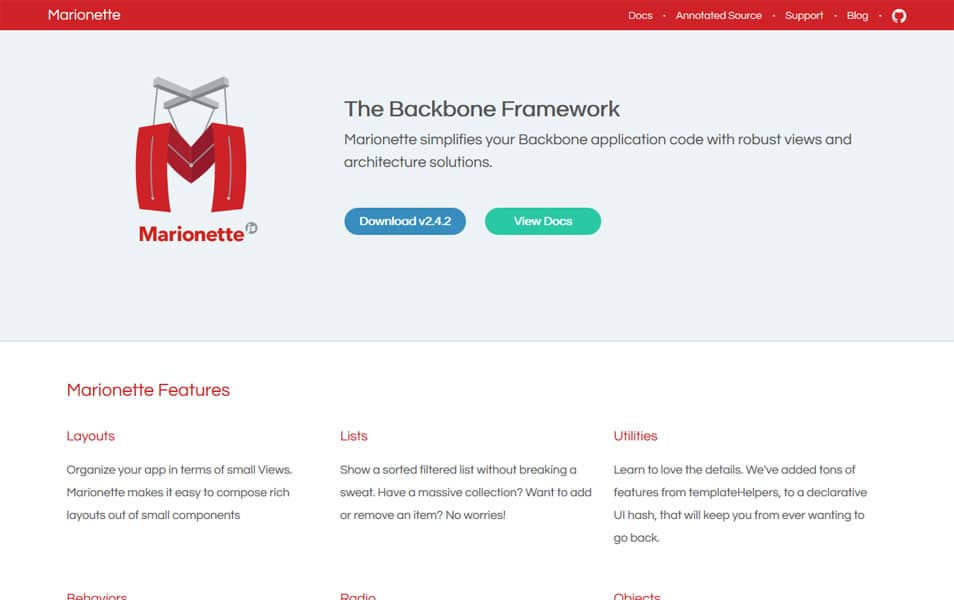 Marionette is a composite application library for Backbone.js that aims to simplify the construction of large scale JavaScript applications. It is a collection of common design and implementation patterns found in applications.
Riot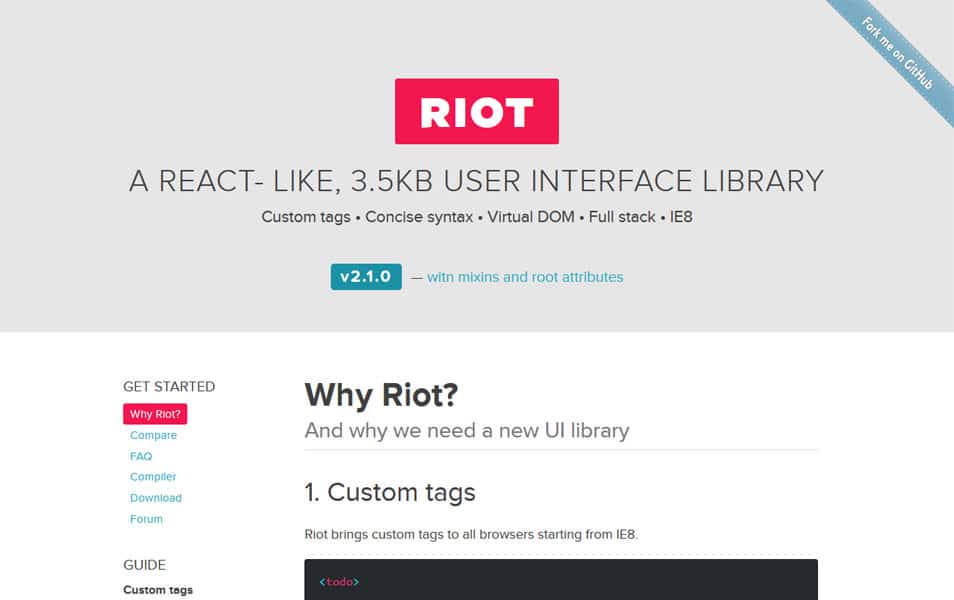 Riot brings custom tags to all browsers, including IE8. Think React + Polymer but with enjoyable syntax and a small learning curve.
pager.js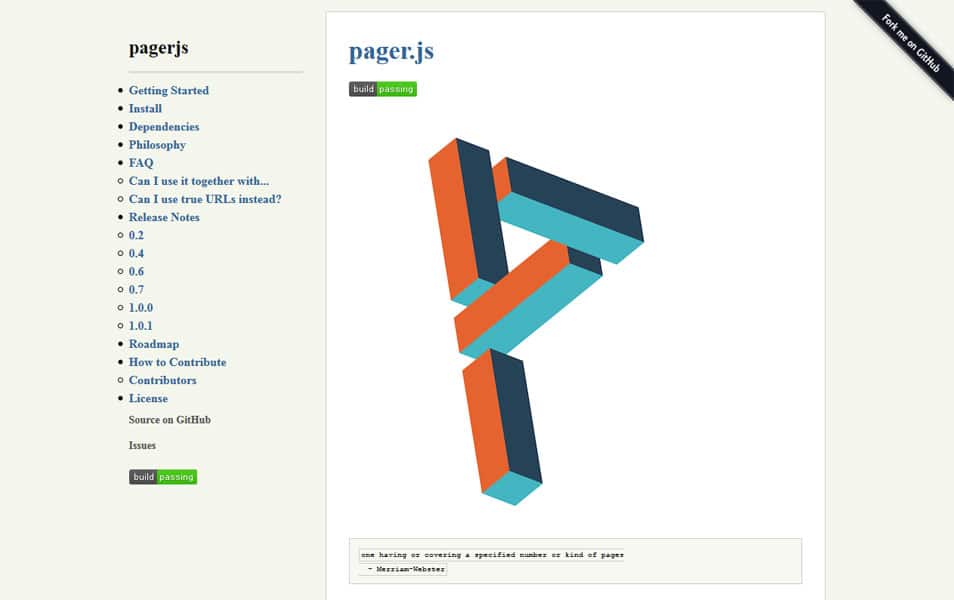 pager.js is a JavaScript library based on KnockoutJS and jQuery that provides the possibility of creating single page applications in a declarative fashion.
CanJS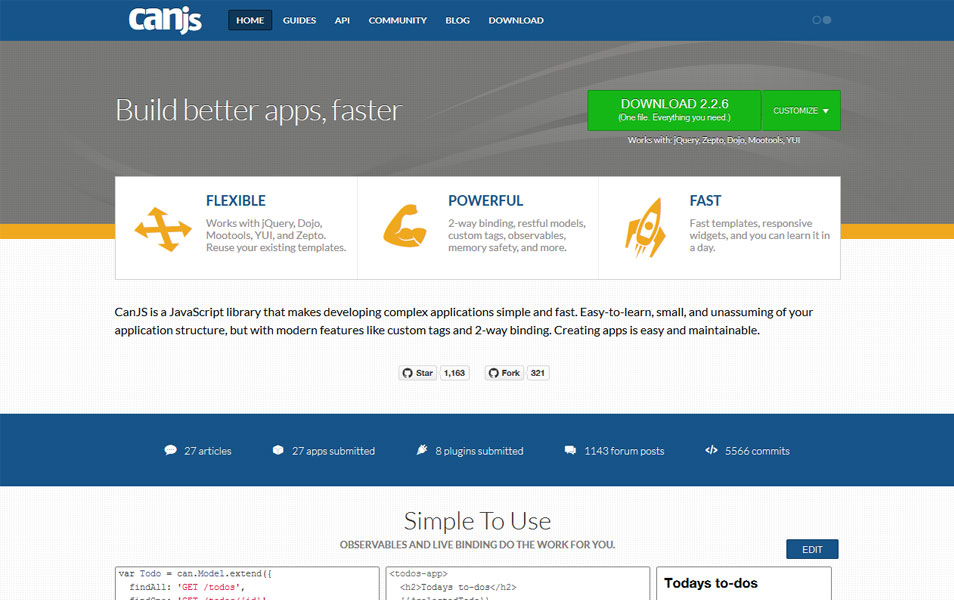 CanJS is a JavaScript library that makes developing complex applications simple and fast. Easy-to-learn, small, and unassuming of your application structure, but with modern features like custom tags and 2-way binding. Creating apps is easy and maintainable.
Rivets.js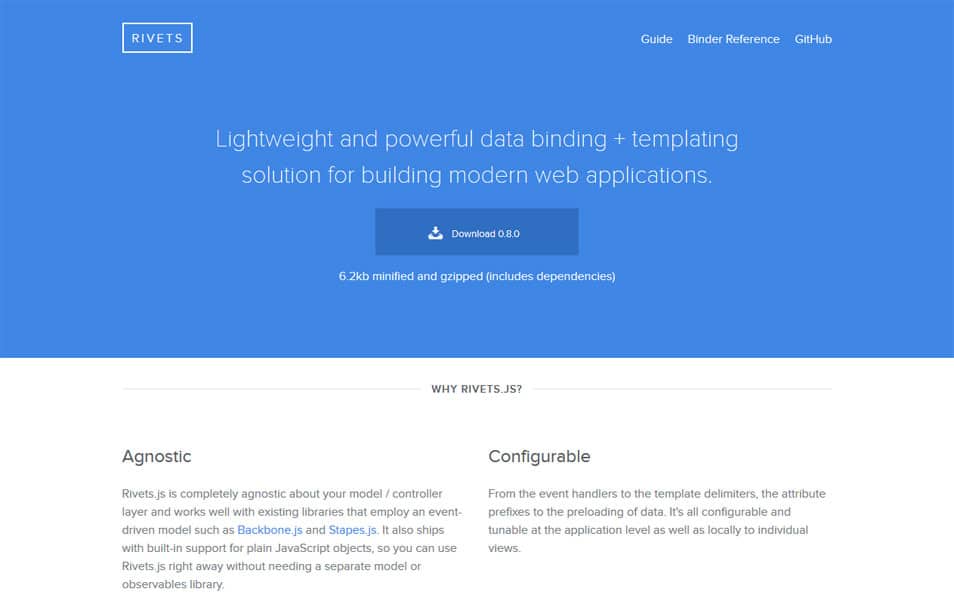 Lightweight and powerful data binding + templating solution for building modern web applications.
Epoxy.js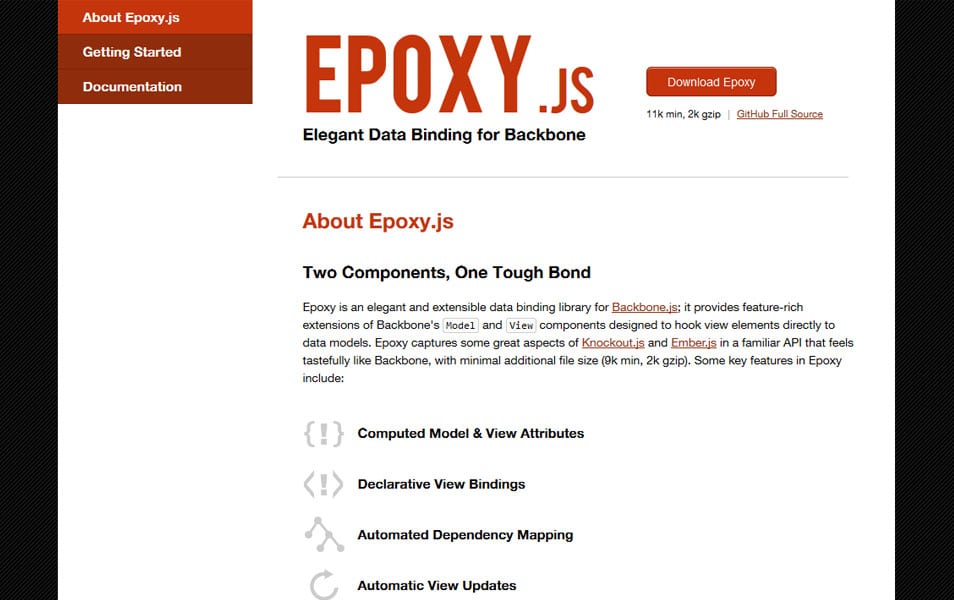 Epoxy is an elegant and extensible data binding library for Backbone.js.
OpenUI5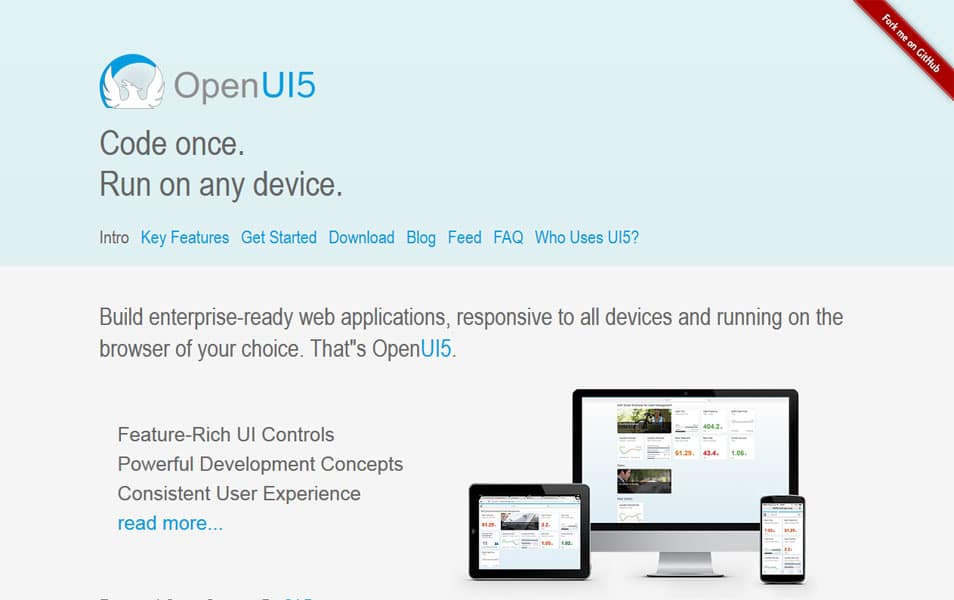 OpenUI5 is an Open Source JavaScript UI library, maintained by SAP and available under the Apache 2.0 license. OpenUI5 lets you build enterprise-ready web applications, responsive to all devices, running on almost any browser of your choice.
script.aculo.us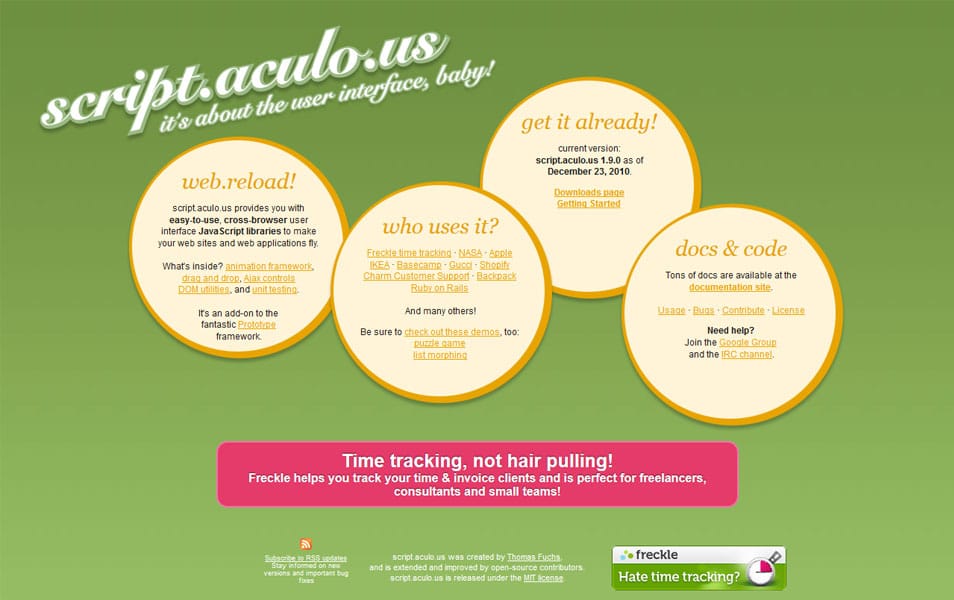 script.aculo.us provides you with easy-to-use, cross-browser user interface JavaScript libraries to make your web sites and web applications fly.
YUI Library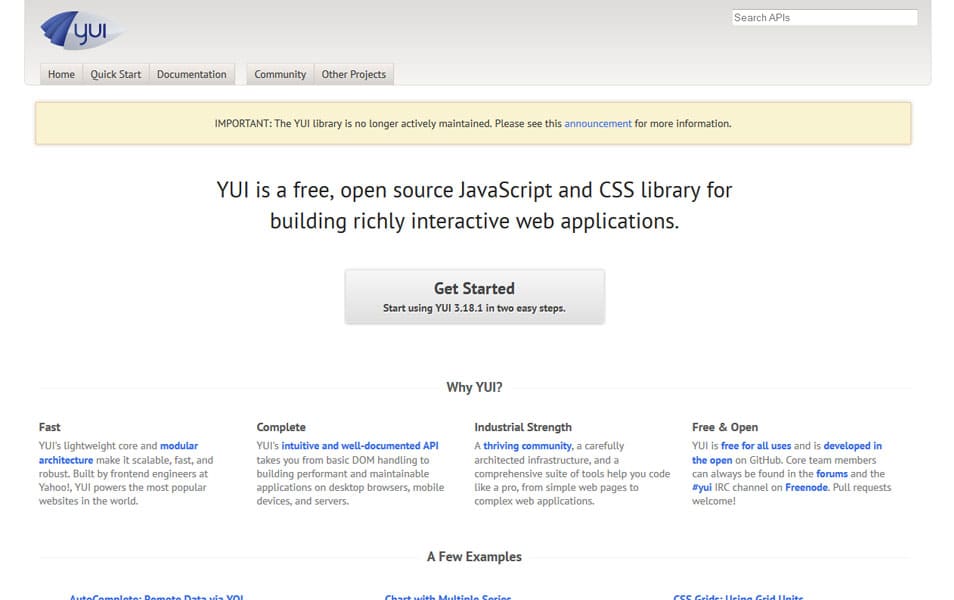 YUI is a free, open source JavaScript and CSS library for building richly interactive web applications.
SmartClient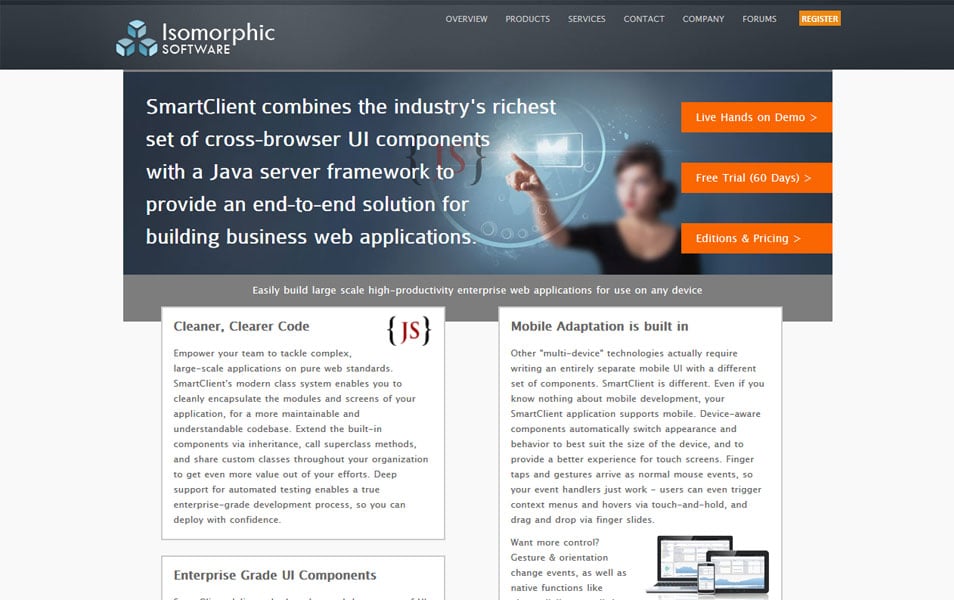 SmartClient combines the industry's richest set of cross-browser UI components with a Java server framework to provide an end-to-end solution for building business web applications.
Backbone.js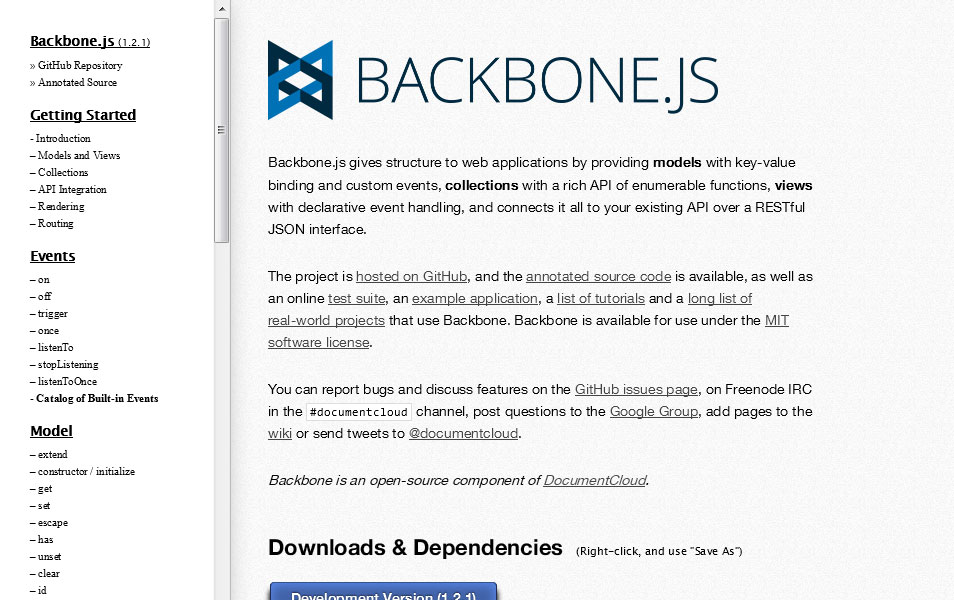 Backbone.js gives structure to web applications by providing models with key-value binding and custom events, collections with a rich API of enumerable functions, views with declarative event handling, and connects it all to your existing API over a RESTful JSON interface.
Brick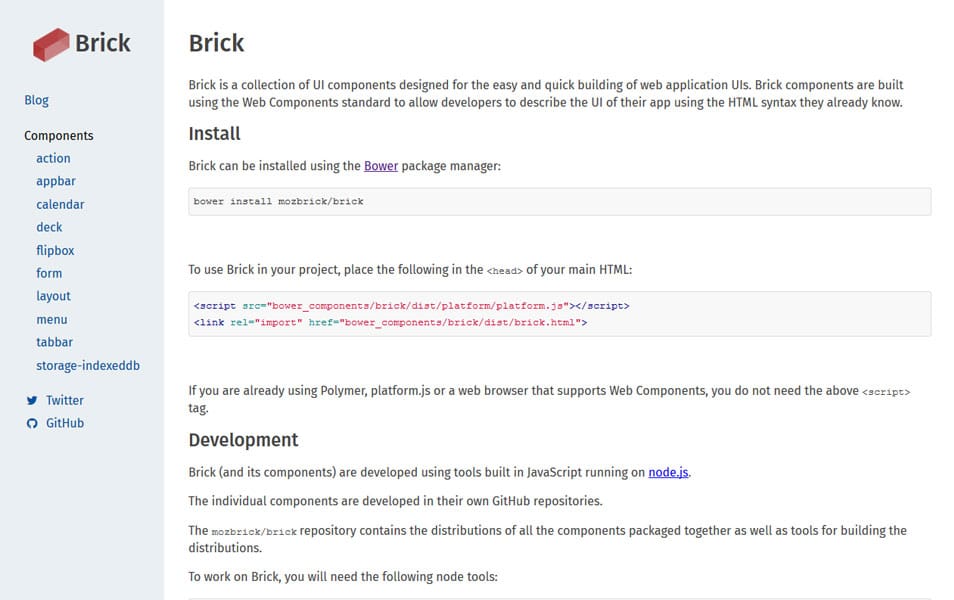 Brick is a collection of UI components designed for the easy and quick building of web application UIs. Brick components are built using the Web Components standard to allow developers to describe the UI of their app using the HTML syntax they already know.
Spine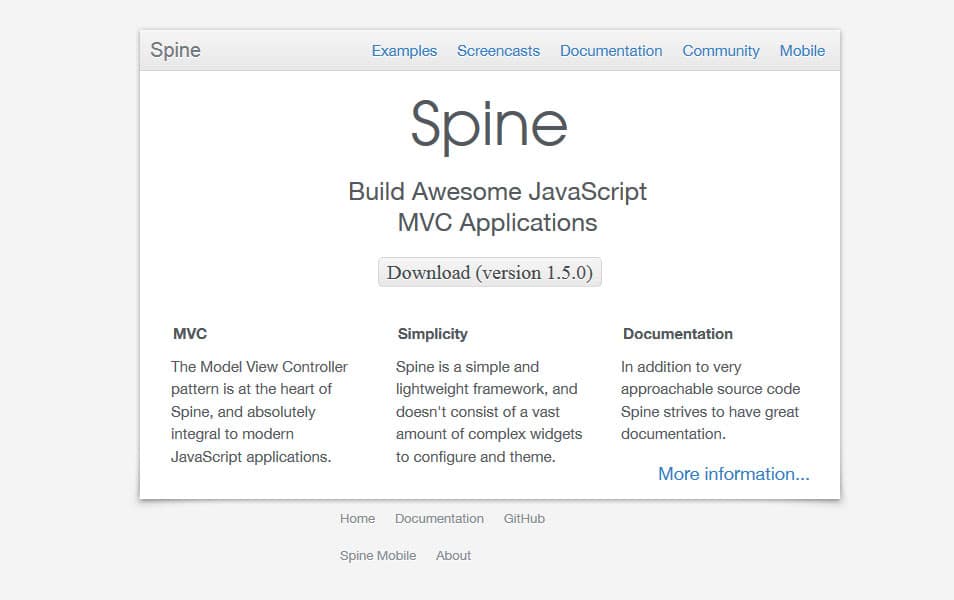 Spine is a lightweight MVC library for building JavaScript web applications. Spine gives you structure and then gets out of your way, allowing you to concentrate on the fun stuff: building awesome web applications.
UIZE JavaScript Framework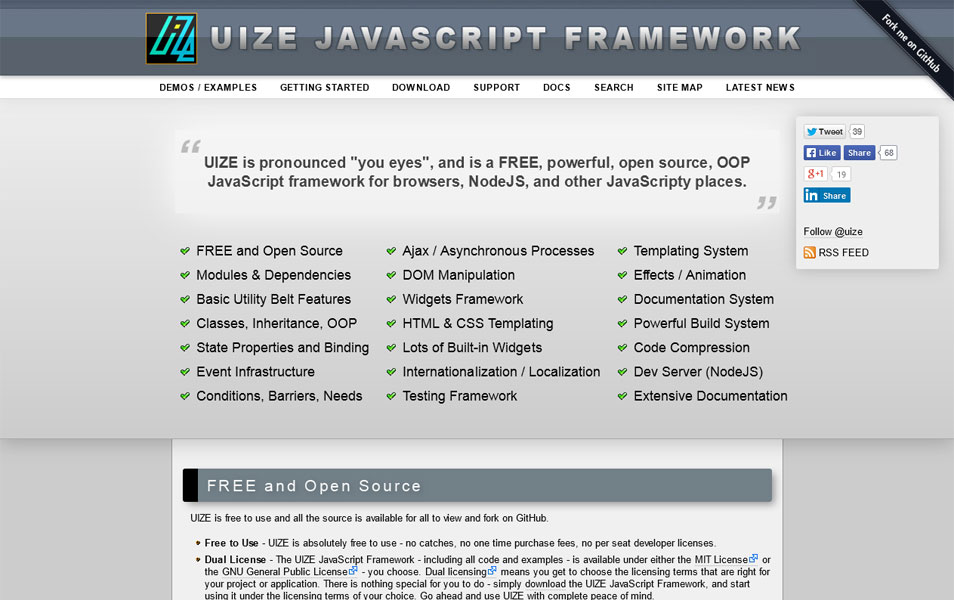 UIZE is pronounced "you eyes", and is a FREE, powerful, open source, OOP JavaScript framework for browsers, NodeJS, and other JavaScripty places.
JavaScriptMVC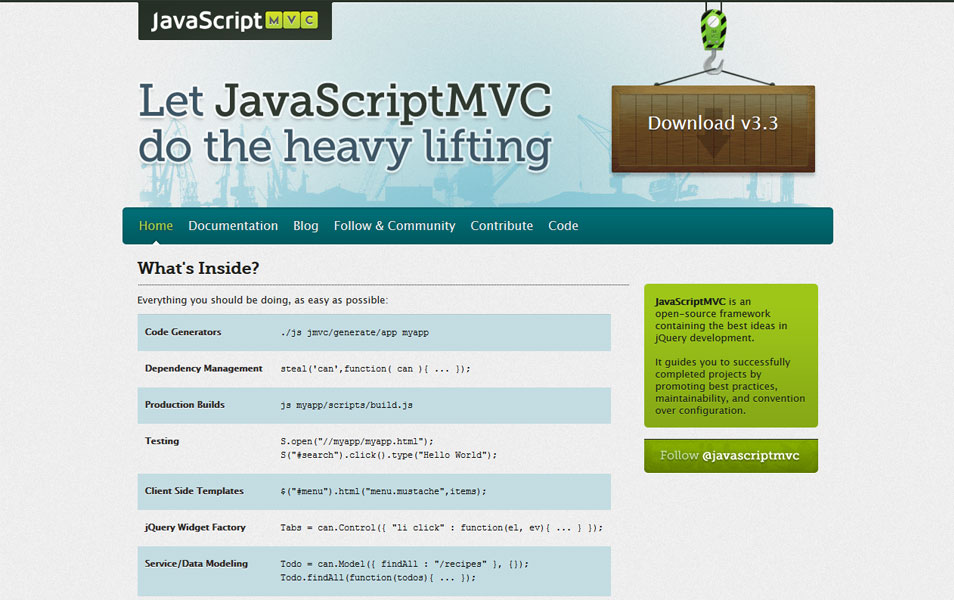 JavaScriptMVC is an open-source framework containing the best ideas in jQuery development.
Agility.js
Agility.js is an MVC library for Javascript that lets you write maintainable and reusable browser code without the verbose or infrastructural overhead found in other MVC libraries.
Underscore.js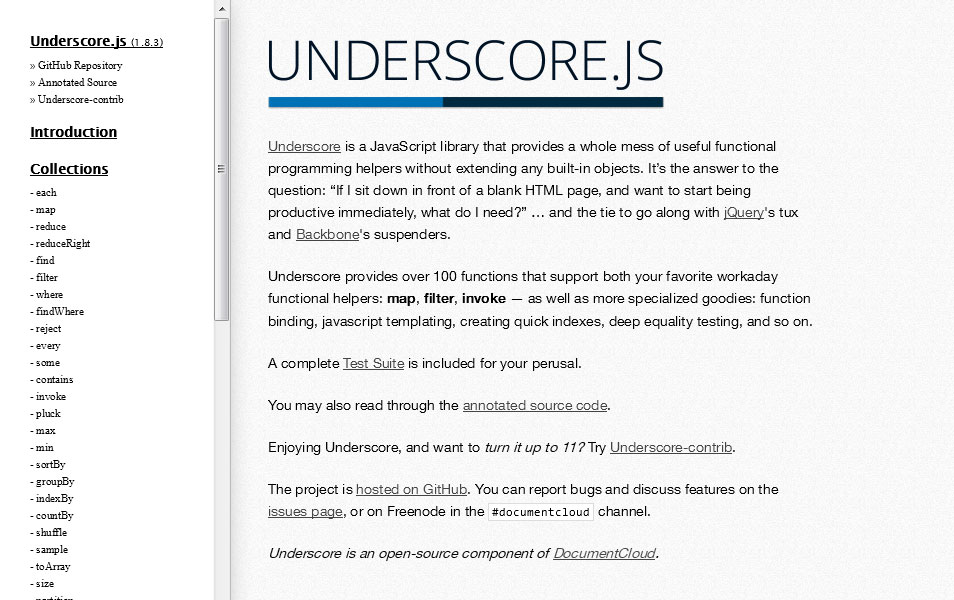 Underscore is a JavaScript library that provides a whole mess of useful functional programming helpers without extending any built-in objects.
Radian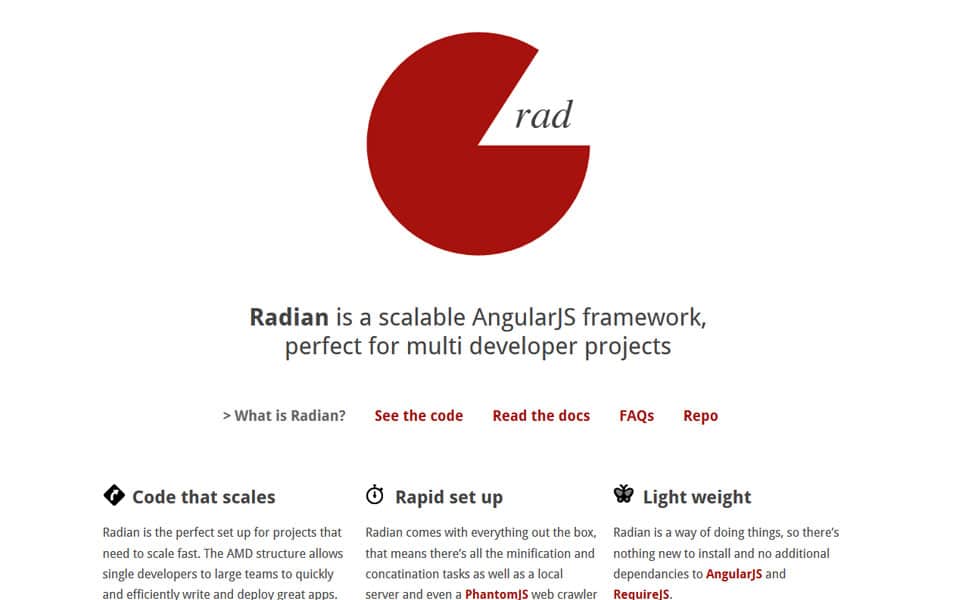 Radian is a scalable AngularJS framework, perfect for multi developer projects.
Ractive.js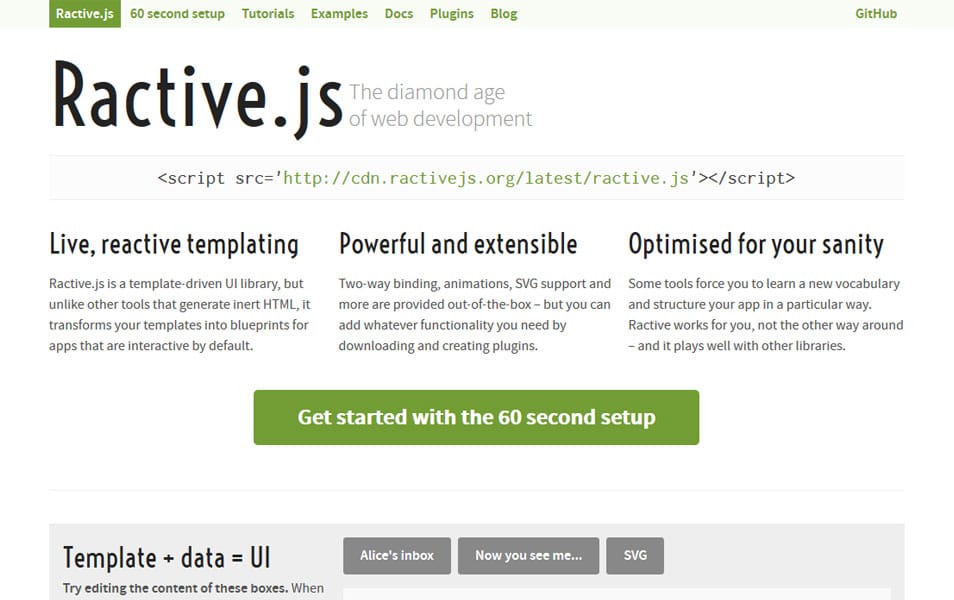 Ractive was originally created at theguardian.com to produce news applications. A typical news app is heavily interactive, combines HTML and SVG, and is developed under extreme deadline pressure.
Geddy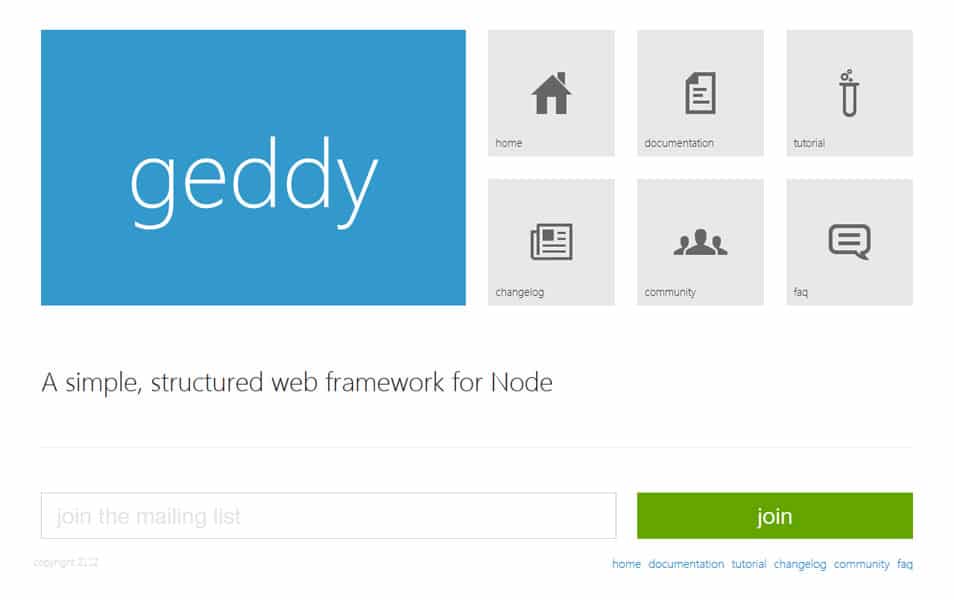 The original MVC Web framework for Node – a simple, structured way to create full stack javascript applications.
Locomotive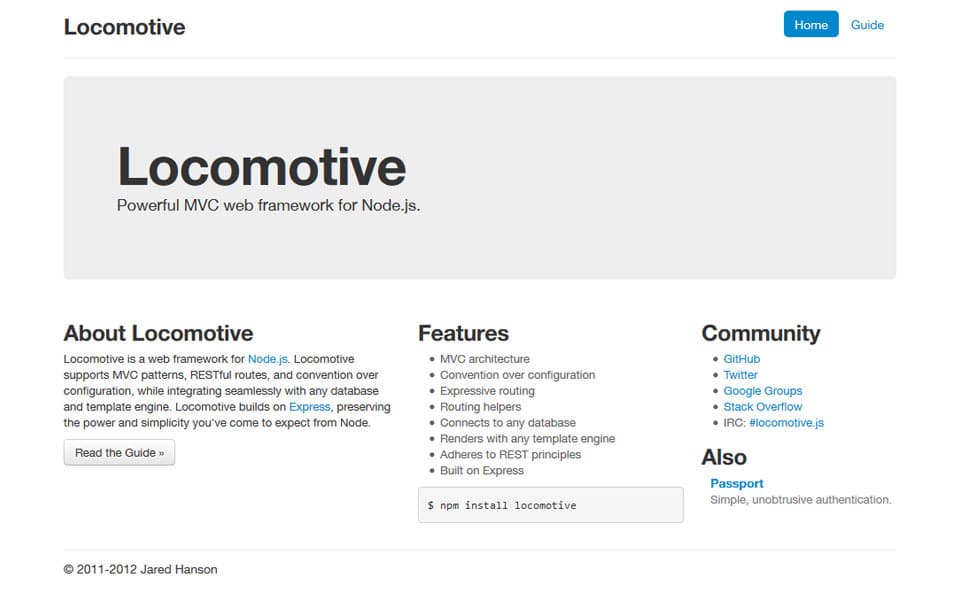 Locomotive is a web framework for Node.js. Locomotive supports MVC patterns, RESTful routes, and convention over configuration, while integrating seamlessly with any database and template engine.
MontageJS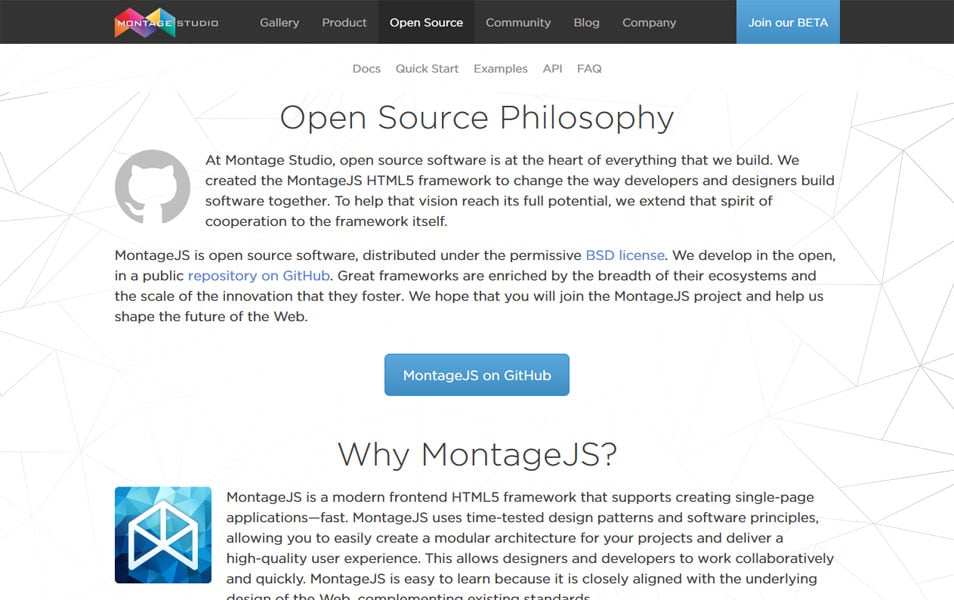 MontageJS is an elegant, open source HTML5 framework maintained by Montage Studio that rivals native SDKs, yet is easier to learn.
Chaplin
Chaplin is an architecture for JavaScript applications using the Backbone.js library. Chaplin addresses Backbone's limitations by providing a lightweight and flexible structure that features well-proven design patterns and best practices.
Mojito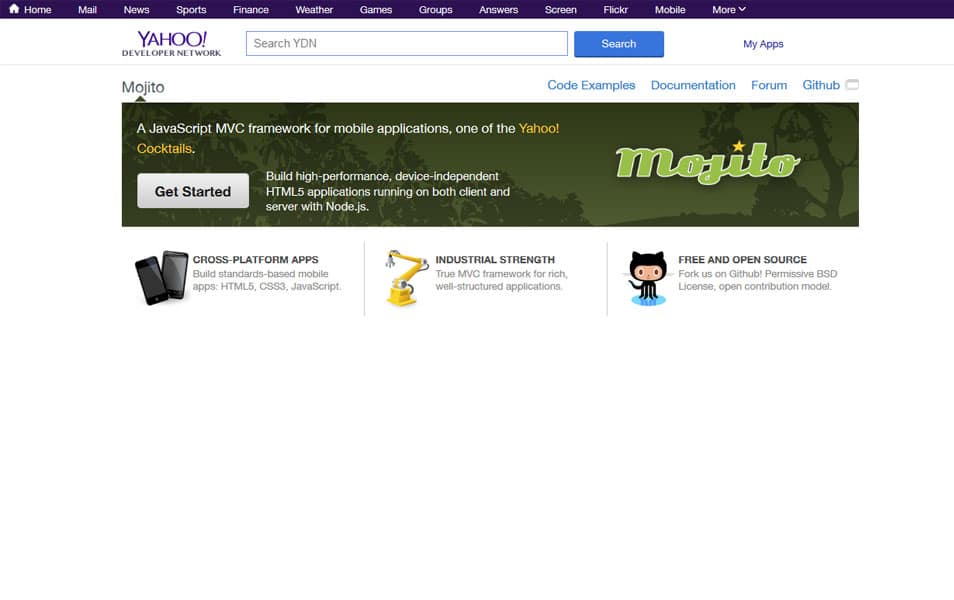 A JavaScript MVC framework for mobile applications, one of the Yahoo! Cocktails.
Tower.js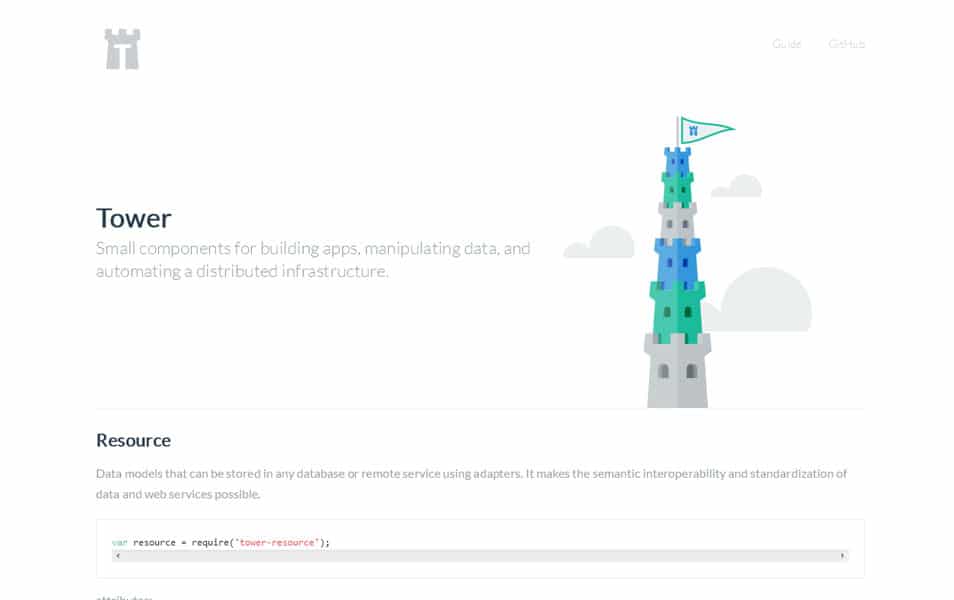 Small components for building apps, manipulating data, and automating a distributed infrastructure.
Serenade.js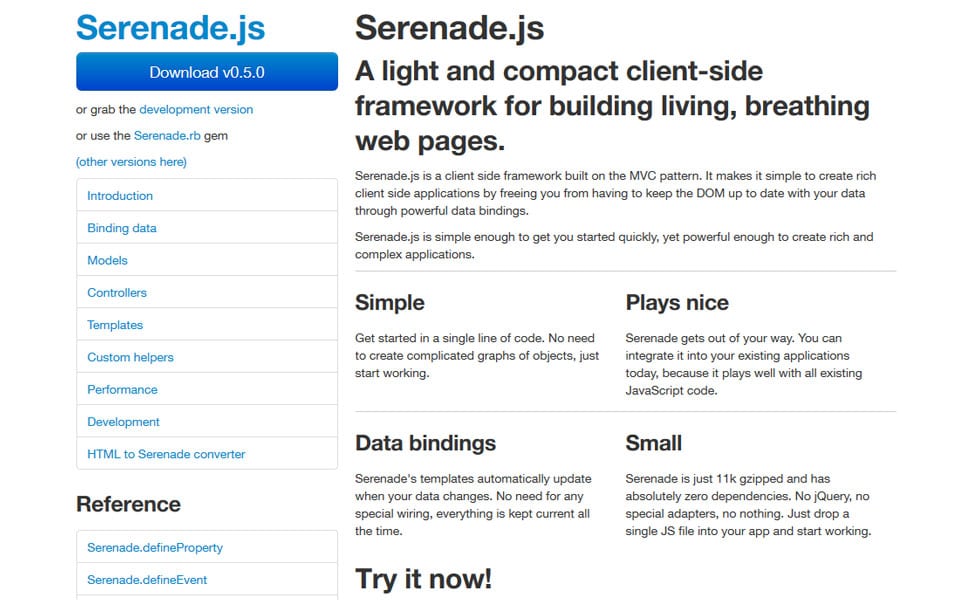 Serenade.js is a client side framework built on the MVC pattern. It makes it simple to create rich client side applications by freeing you from having to keep the DOM up to date with your data through powerful data bindings.
Prototype JavaScript framework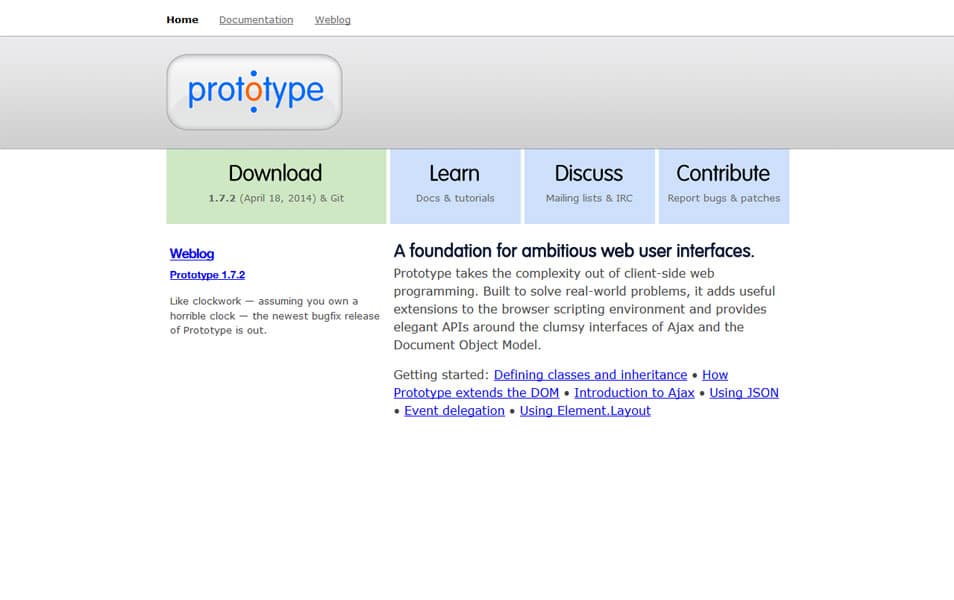 Prototype takes the complexity out of client-side web programming. Built to solve real-world problems, it adds useful extensions to the browser scripting environment and provides elegant APIs around the clumsy interfaces of Ajax and the Document Object Model.
pyjs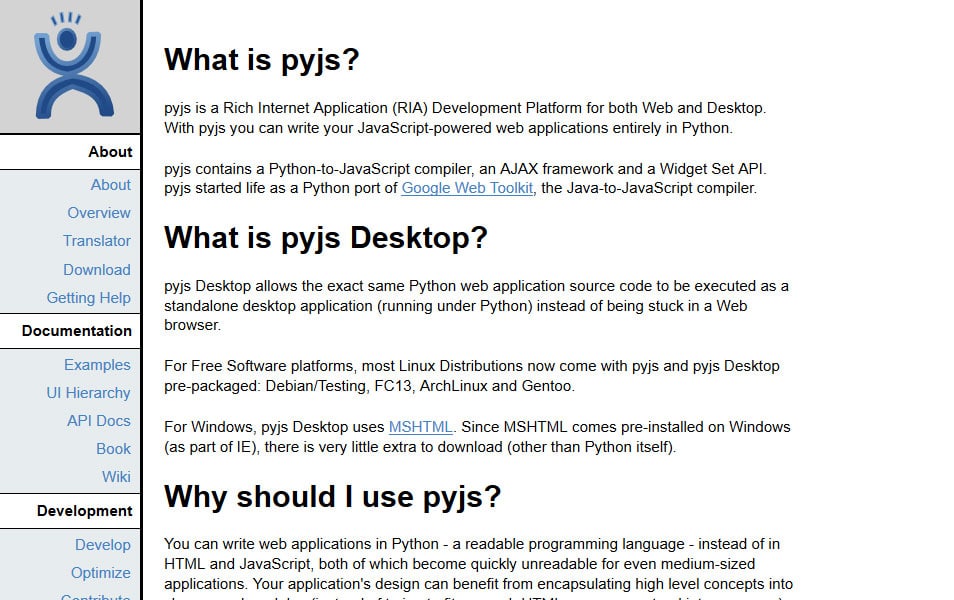 pyjs is a Rich Internet Application (RIA) Development Platform for both Web and Desktop. With pyjs you can write your JavaScript-powered web applications entirely in Python.
jQWidgets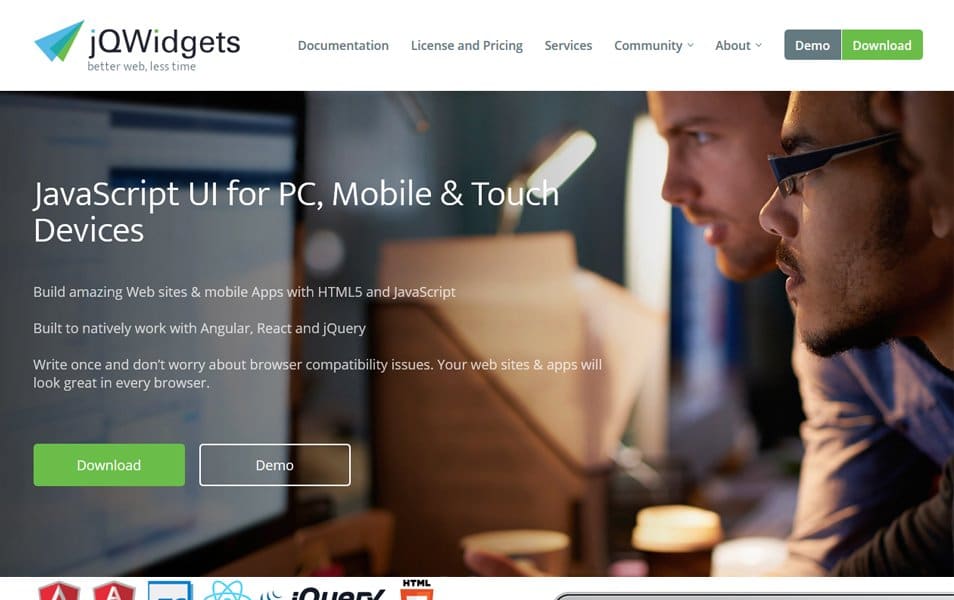 jQWidgets provides a comprehensive solution for building professional web sites and mobile apps. It is built entirely on open standards and technologies like HTML5, CSS, JavaScript and jQuery.
brink.js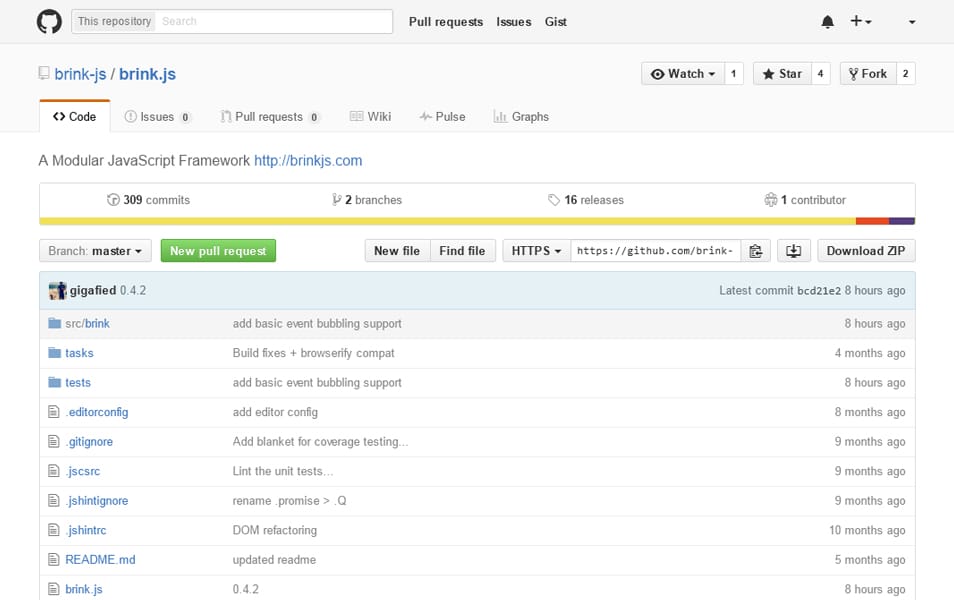 A Modular JavaScript Framework.
Hummingbird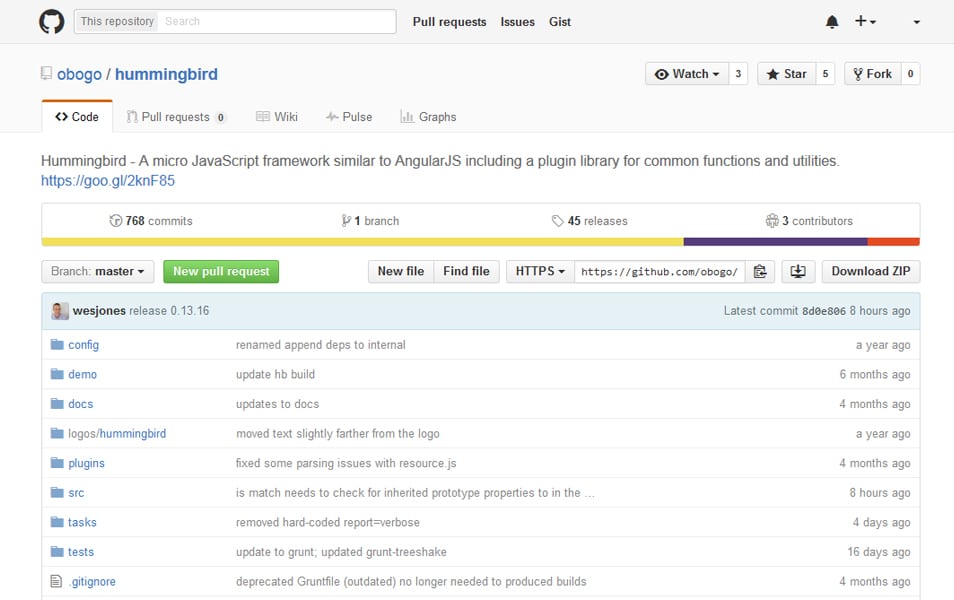 A micro JavaScript framework similar to AngularJS including a plugin library for common functions and utilities.
App Framework
The definitive HTML5 mobile javascript framework.
Rico
Rico is an open source JavaScript framework used to create rich, highly interactive web applications. Rico is based on the Prototype Javascript Framework and is released under the Apache License.
eyeballs.js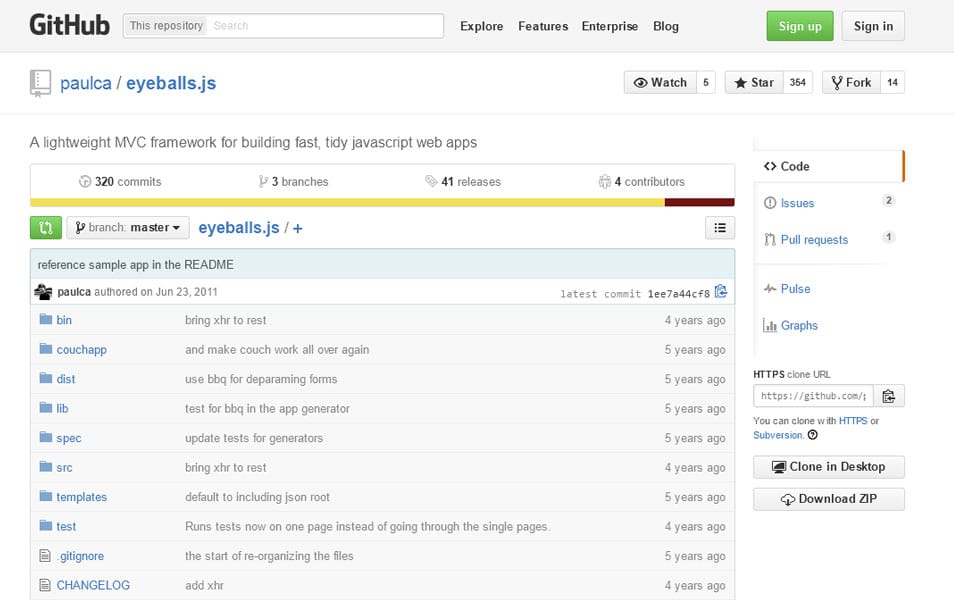 eyeballs.js is a slim javascript library designed to sit on top of a javascript framework, such as jQuery or Prototype.
Choco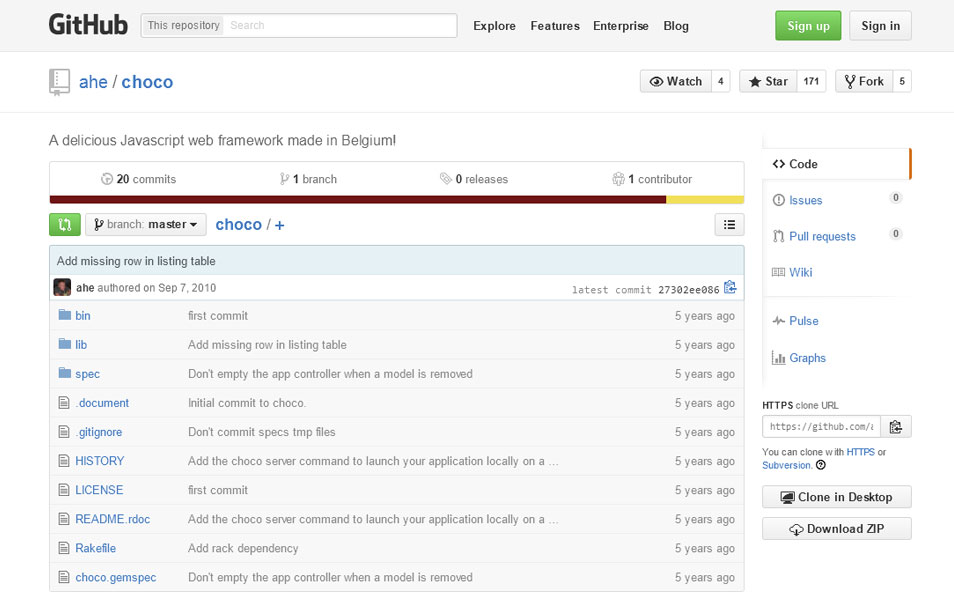 A delicious Javascript web framework made in Belgium!
TrimJunction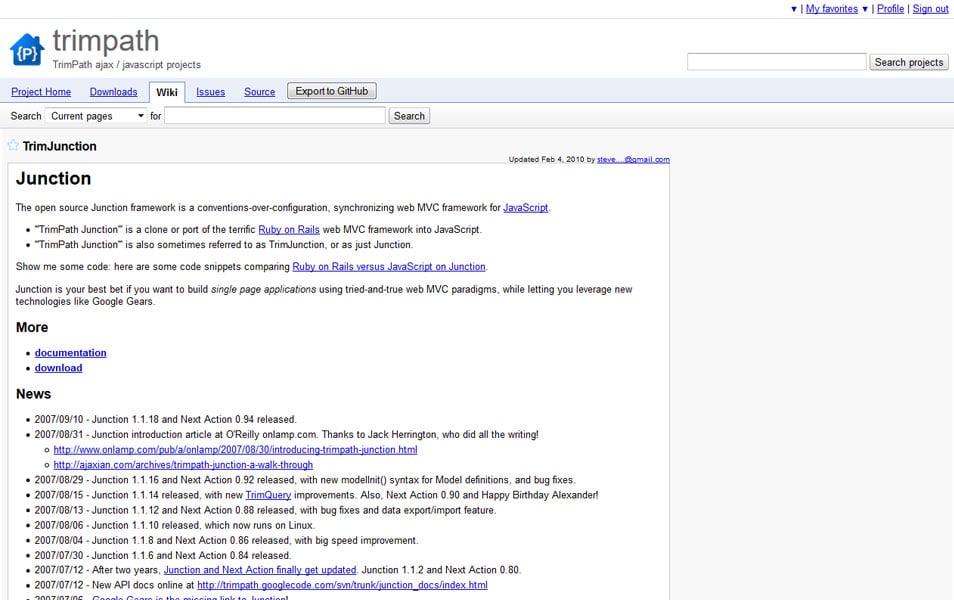 The open source Junction framework is a conventions-over-configuration, synchronizing web MVC framework for JavaScript.
KineticJS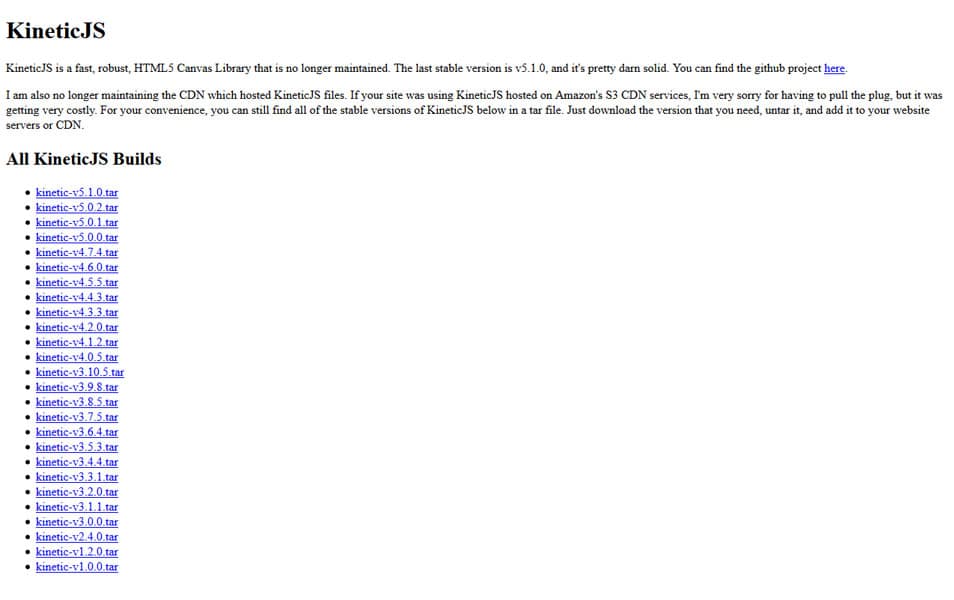 KineticJS is a fast, robust, HTML5 Canvas Library that is no longer maintained. The last stable version is v5.1.0, and it's pretty darn solid.
mercury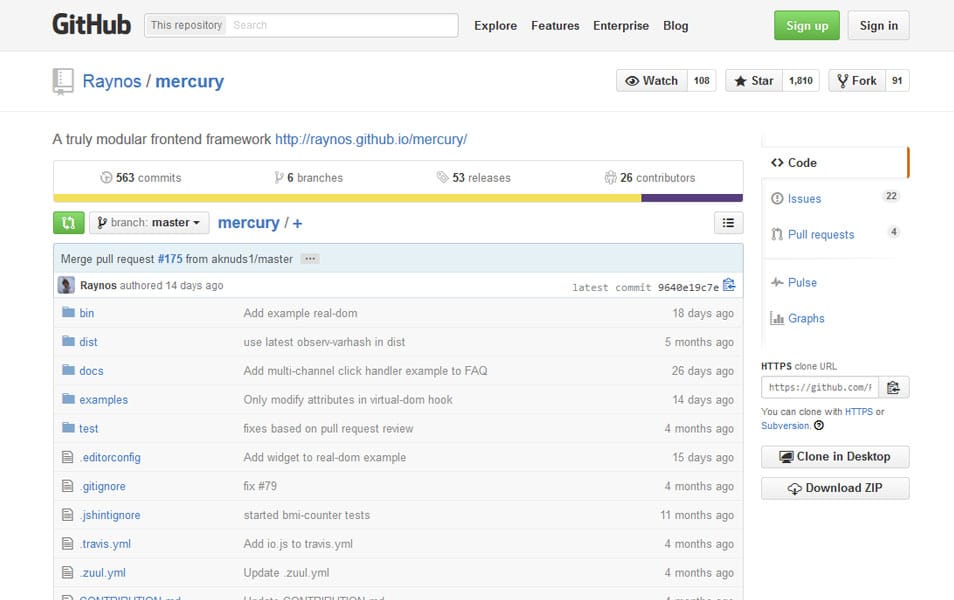 A truly modular frontend framework.
Rendr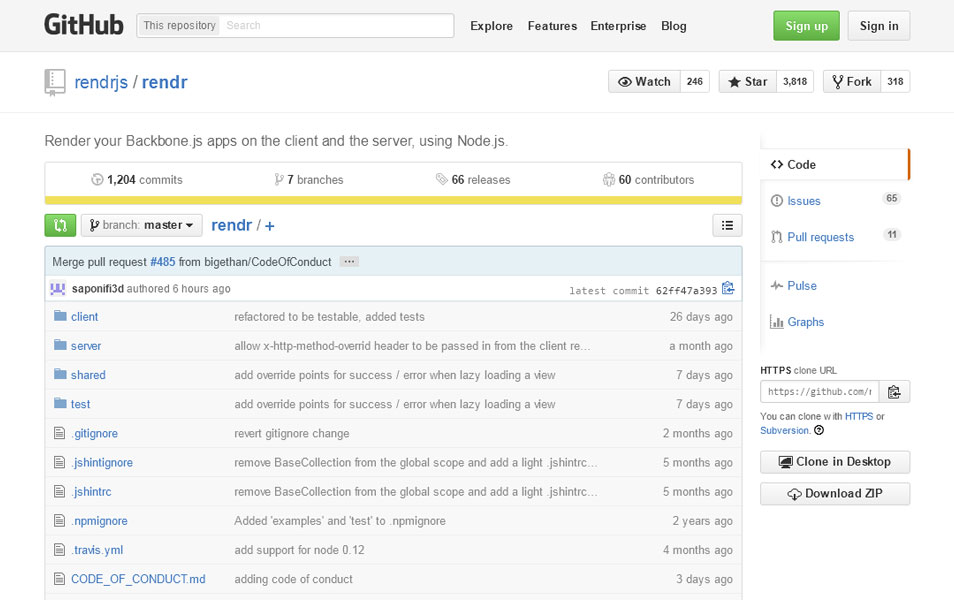 Rendr is a small library that allows you to run your Backbone.js apps seamlessly on both the client and the server. Allow your web server to serve fully-formed HTML pages to any deep link of your app, while preserving the snappy feel of a traditional Backbone.js client-side MVC app.
Spry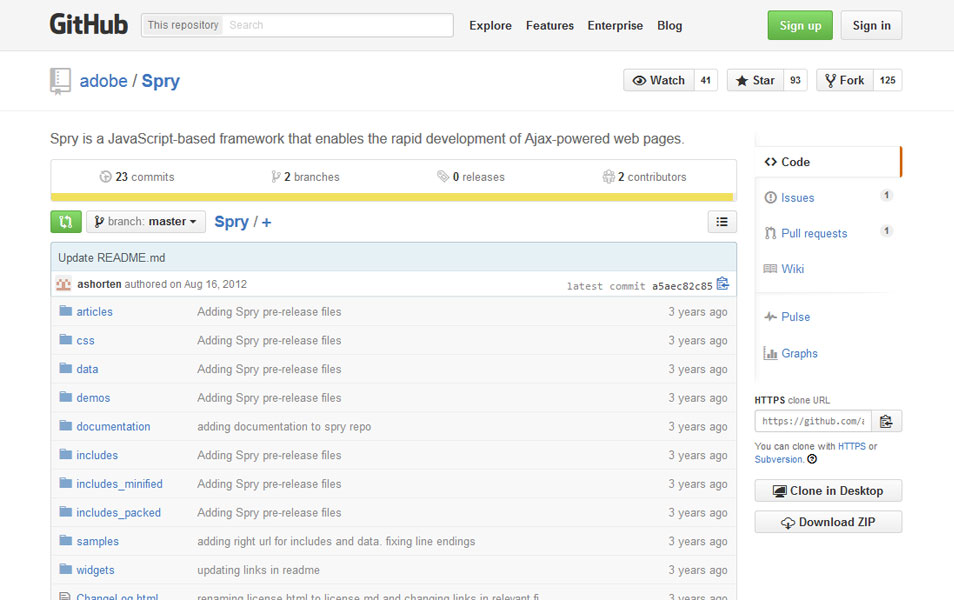 Spry is a JavaScript-based framework that enables the rapid development of Ajax-powered web pages.
Terrific JavaScript Framework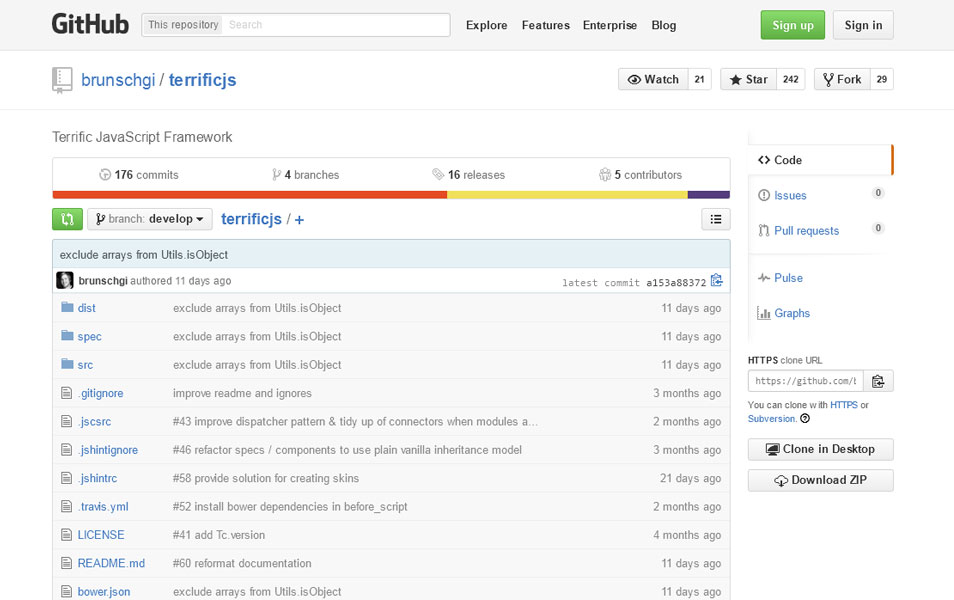 TerrificJS is a neat, clever piece of code that allows you to modularize your frontend code by solely relying on naming conventions.
Atom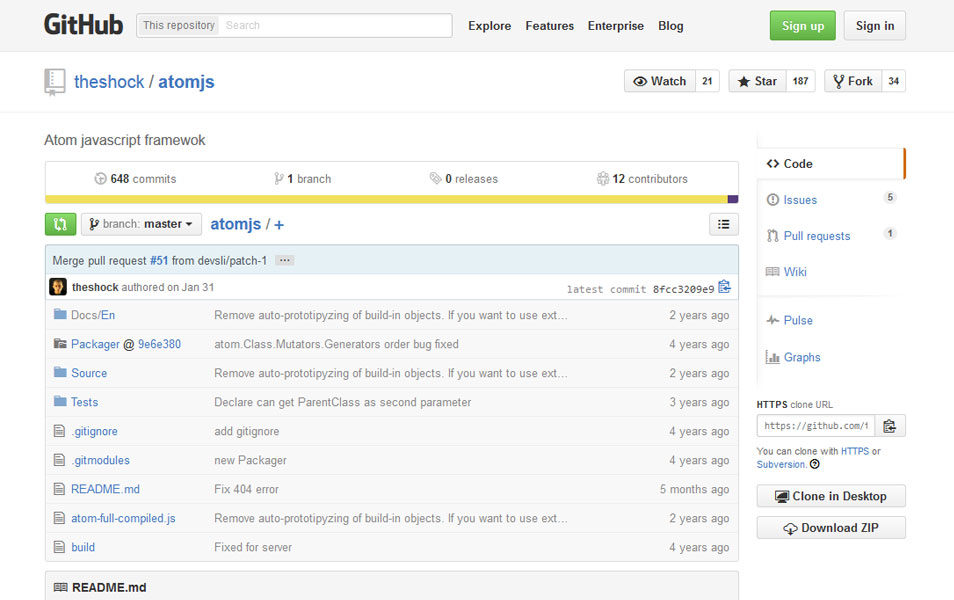 Atom is compact JavaScript framework oriented on modern browsers, which allows to support quite broad list of features without keeping a lot of cruft necessary to implement them in old browsers.