Converters and Calculators for Responsive Design, Color, Typography, Grid, Pixel Density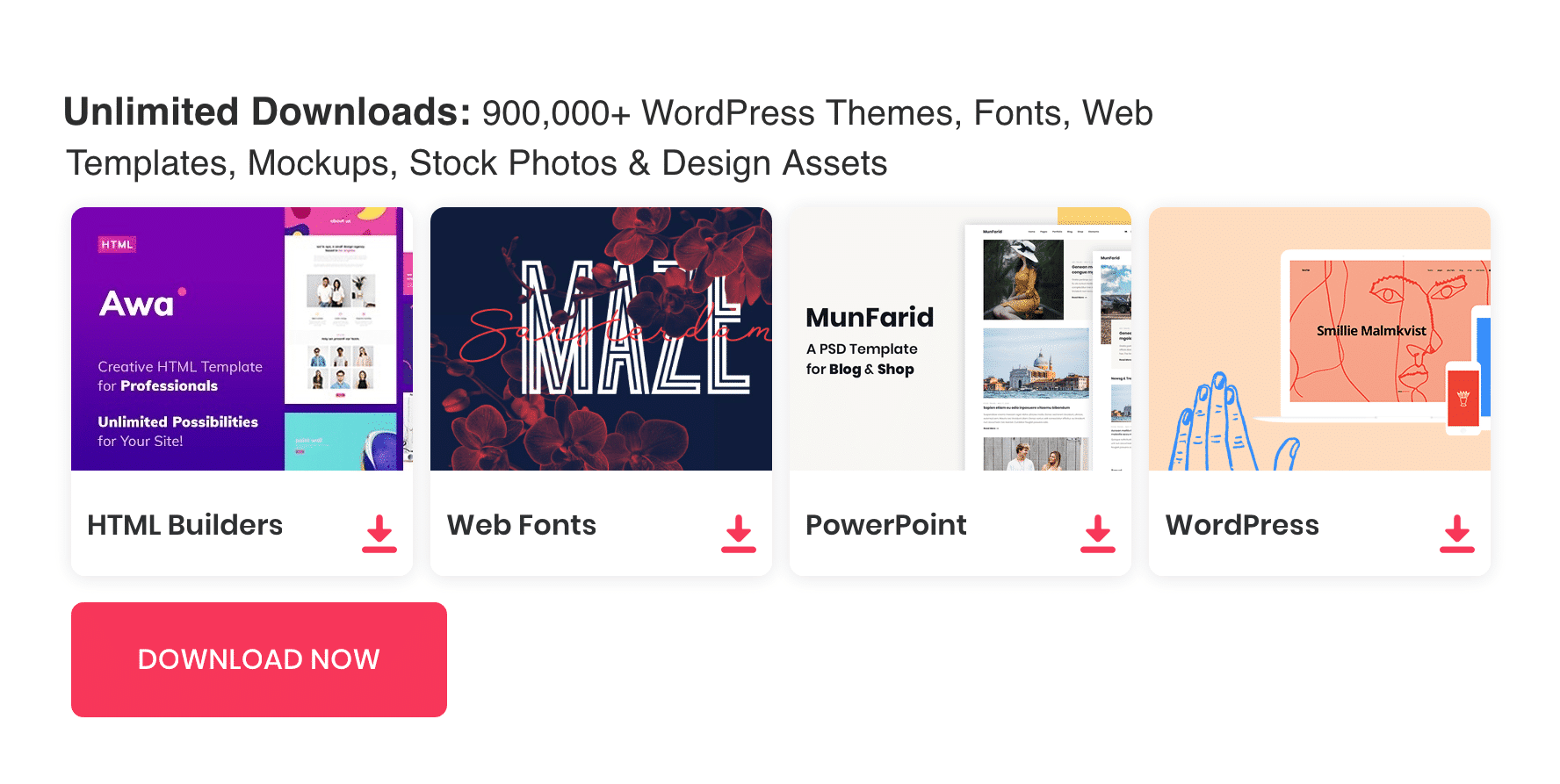 If you are a web designer or a developer you might see a lot of units and values for different aspects of web design. For today's web design, we need to convert most of the standard design units to different formats for flexibility. Exploration of smartphone industry pushes the website design industry to its best form. Designers and developers started thinking away from conventional web design methods. In early days, they have done different websites for different devices. It was not at all practical to build a web site for thousands of devices.
Responsive design is the ultimate solution for this complex situation. One website fit for all devices was the concept behind the responsive design and it was more about the layout. We have travelled far from the initial concept of responsive design. These days, there are many techniques used by developers to build and manipulate responsive websites. They are not just focusing too much to layout, but it covers the different elements to like images, fonts etc..
As these elements (fonts, Images, colour etc..) make a good website they need to have special care when you arrange them for different devices. Most of these laments controlled through certain values or units. If you are a developer, you need to have better understanding of these units and values to create an efficient website.
In this post, we have gathered an amazing list of converters and calculators for responsive design, color, typography, grid, pixel density. These handy tools are huge time savers and improve your workflow.
Color Calculators & Converters
Devoth's HEX 2 RGBA Color Calculator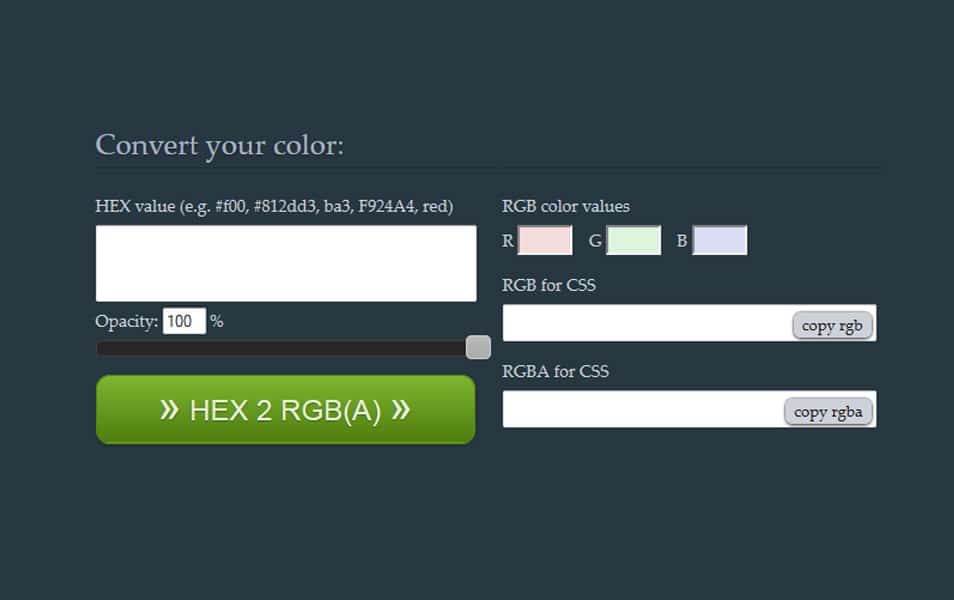 Let's you convert color value in HEX to RGBA and RGB, prepared for inclusion in CSS styles.
Color Hex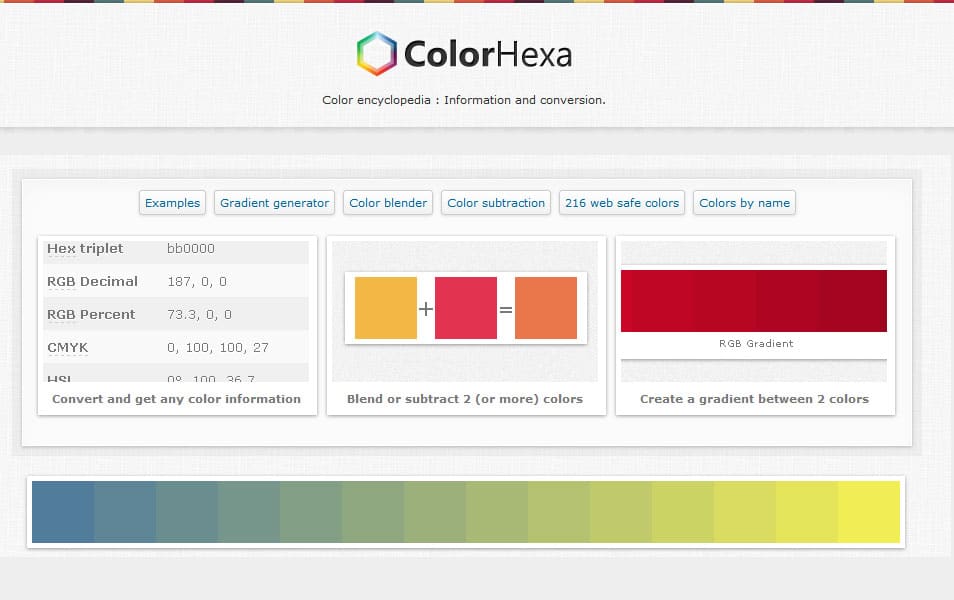 ColorHexa.com is a free color tool providing information about any color. Just type any color values in the search field and ColorHexa will offer a detailed description and automatically convert it to its equivalent value in Hexadecimal, Binary, RGB, CMYK, HSL, HSV, CIE-Lab, Hunter-Lab, CIE-Luv, CIE-LCH, XYZ and xyY.
Contrast Ratio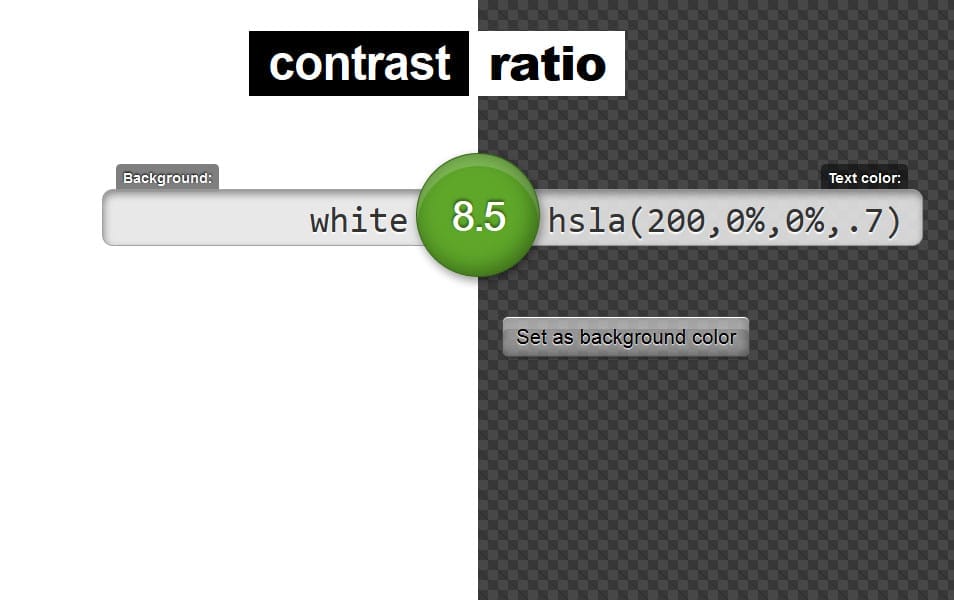 A tool to calculate the contrast ratio between any two valid CSS colors.
Rgb.to Color Conversion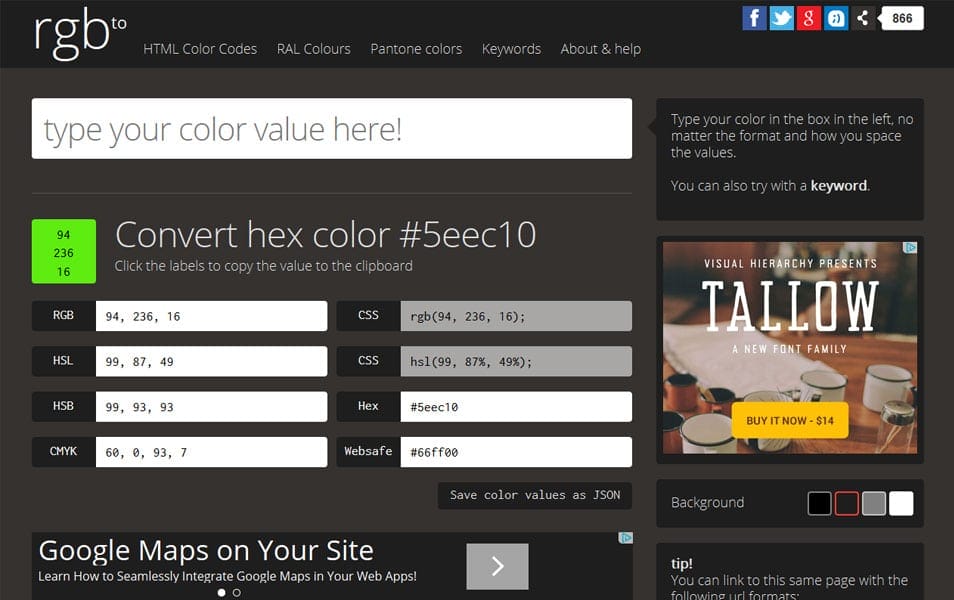 HEX to RGB Converter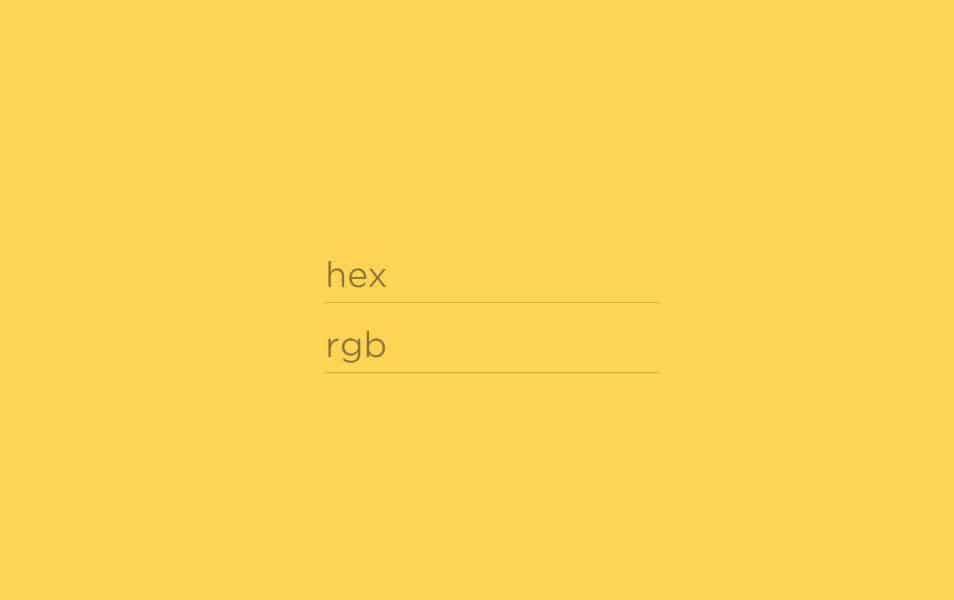 RGB-to-Hex Conversion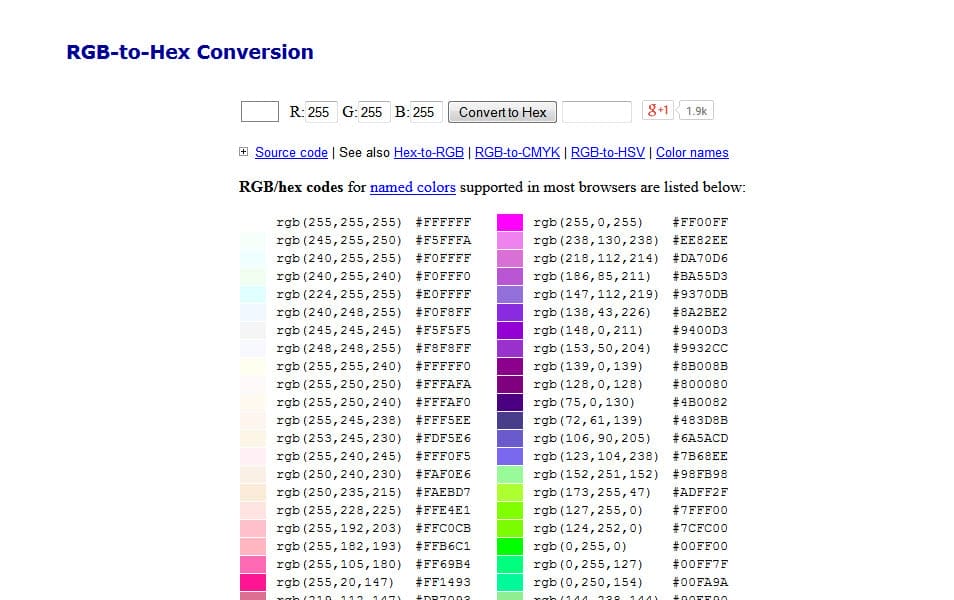 Color code converter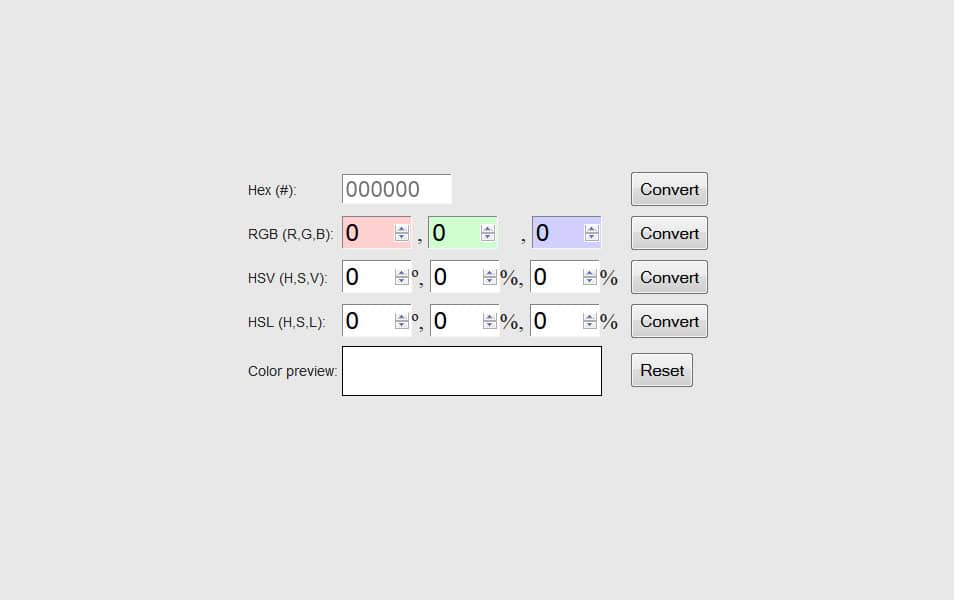 Color Converter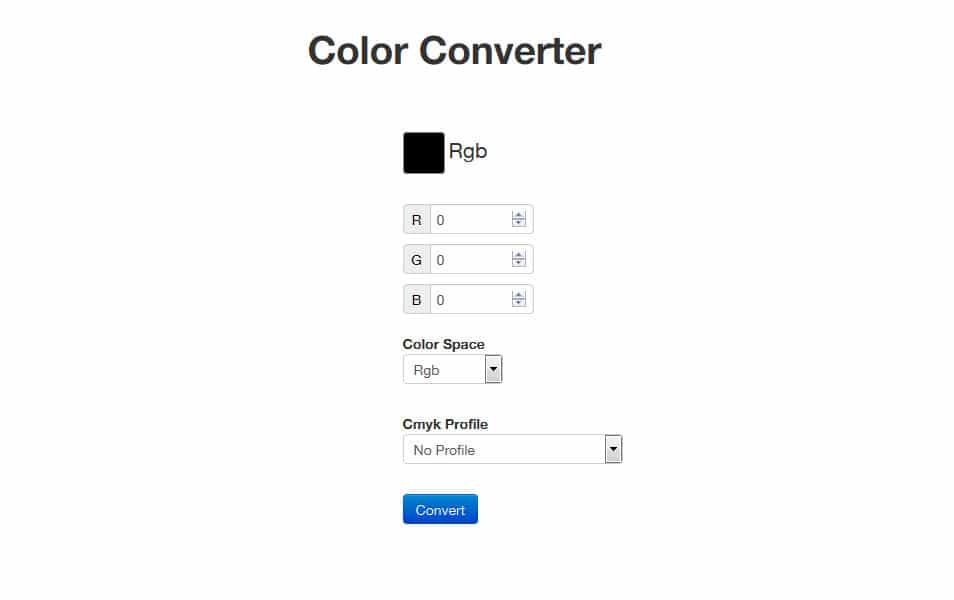 Select a color space and enter your values for accurately convert your selection to Rgb, Cmy, Cmyk, Hsl, Xyz, Lab, Lch and Yxy.
RGB-Hex-Decimal-CMYK Color Conversion Tool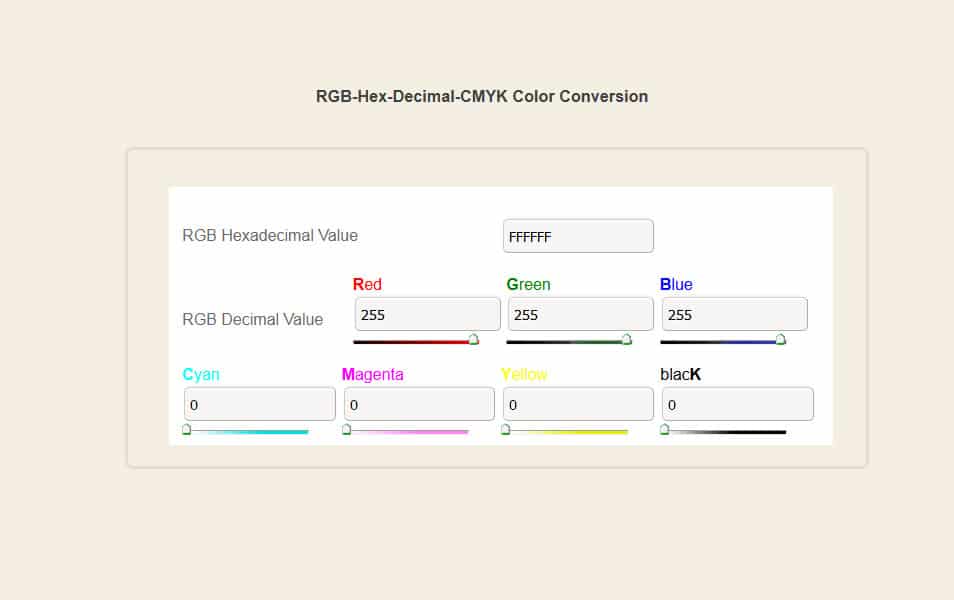 Convert RGB (Red, Green, Blue) color model into CMYK (Cyan, Magenta, Yellow, blacK), Hexadecimal, Decimal color models and vice versa. Online color conversion tool.
Convert hex color code to RGB and RGB to HEX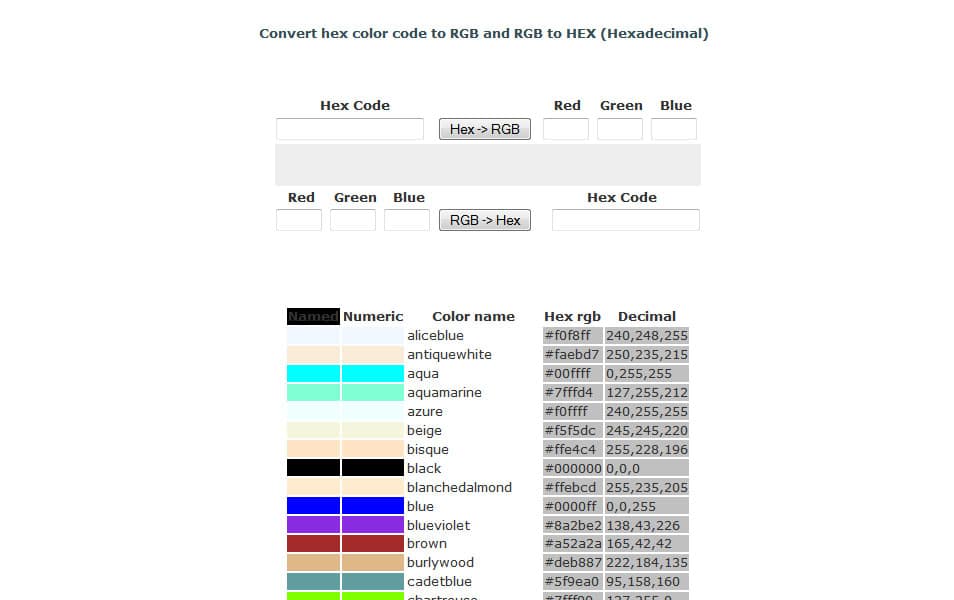 This free color converter gives you the hexadecimal values of your RGB colors and vice versa (RGB to HEX). Use it to convert your colors and prepare your graphics and HTML web pages.
Color Converter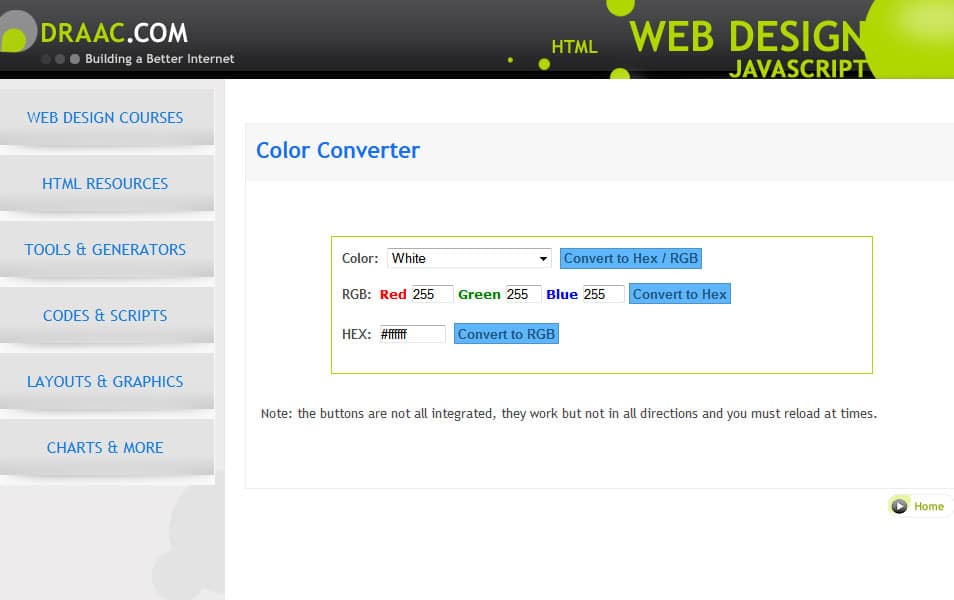 Color Converter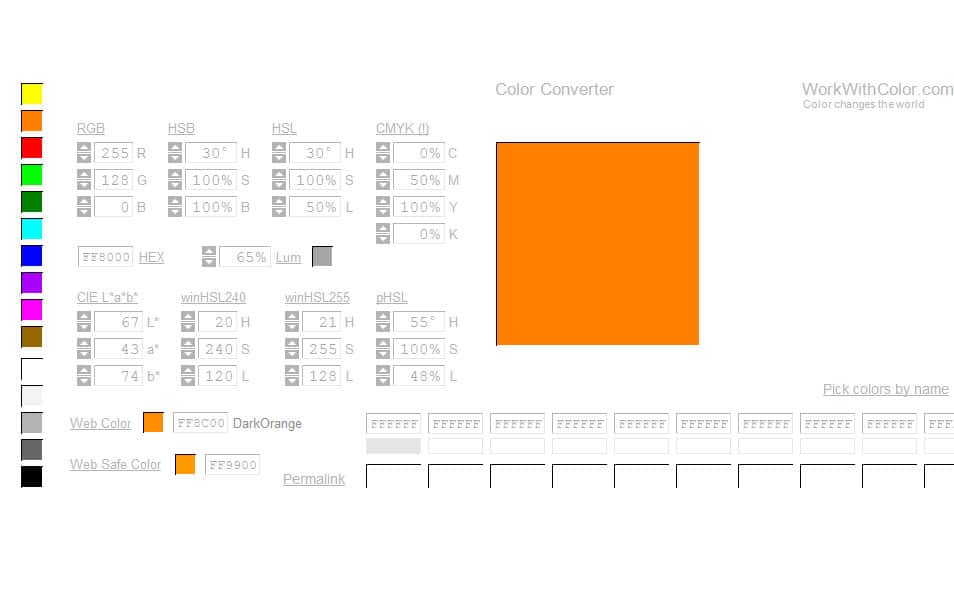 CSS Color Converter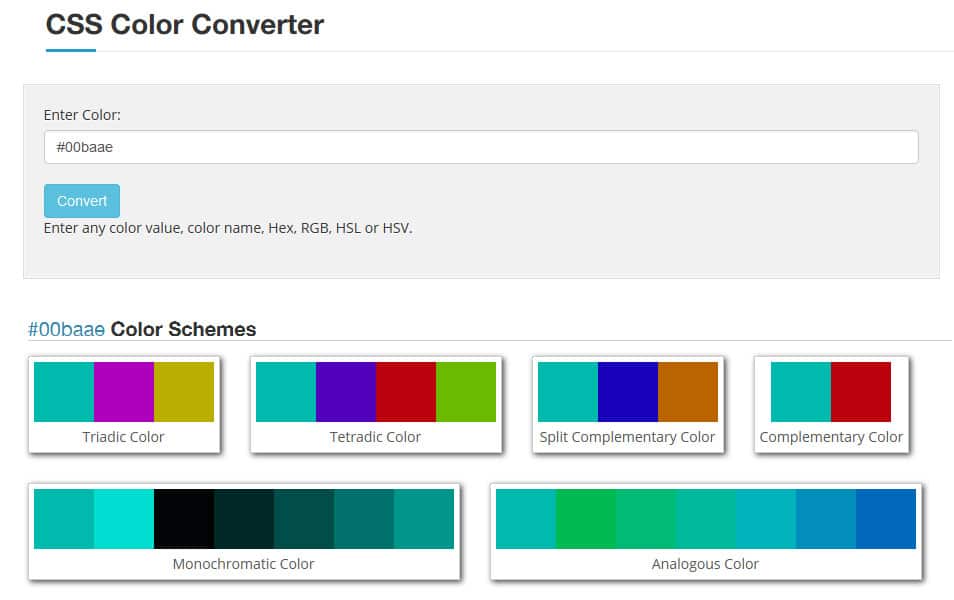 This tool will convert any color you enter into either Hex, RGB, HSL or HSV.
Colorizer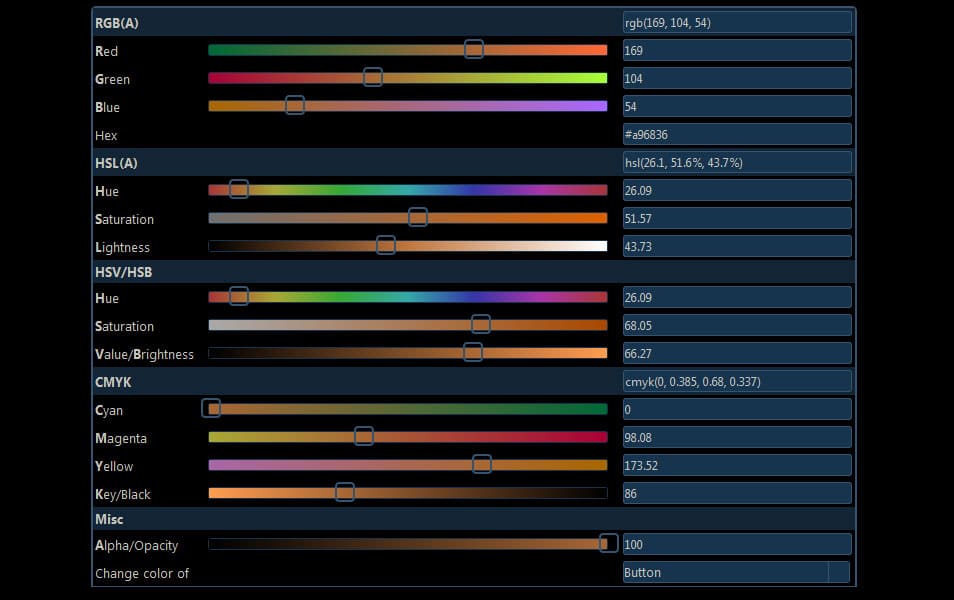 A color picker and converter (RGB HSL HSB-HSV CMYK HEX).
Color Converter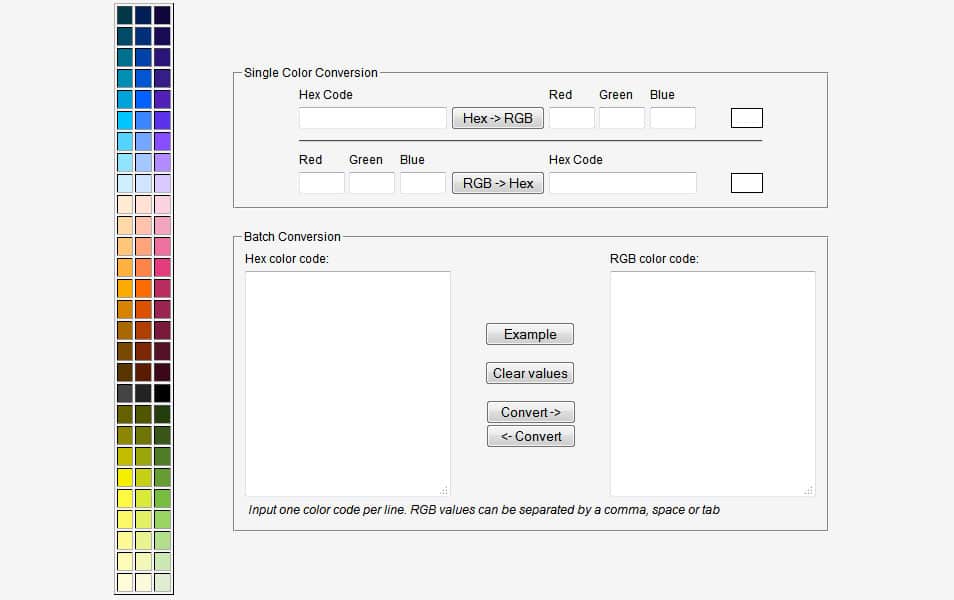 HTML Color Converter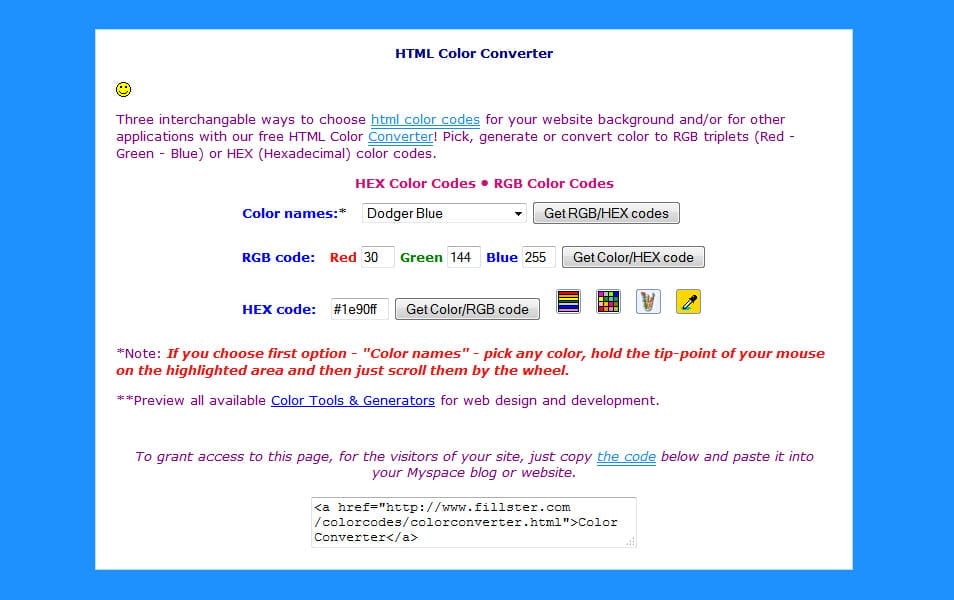 HSL to RGB / RGB to HSL / Hex Colour Converter
Color calculator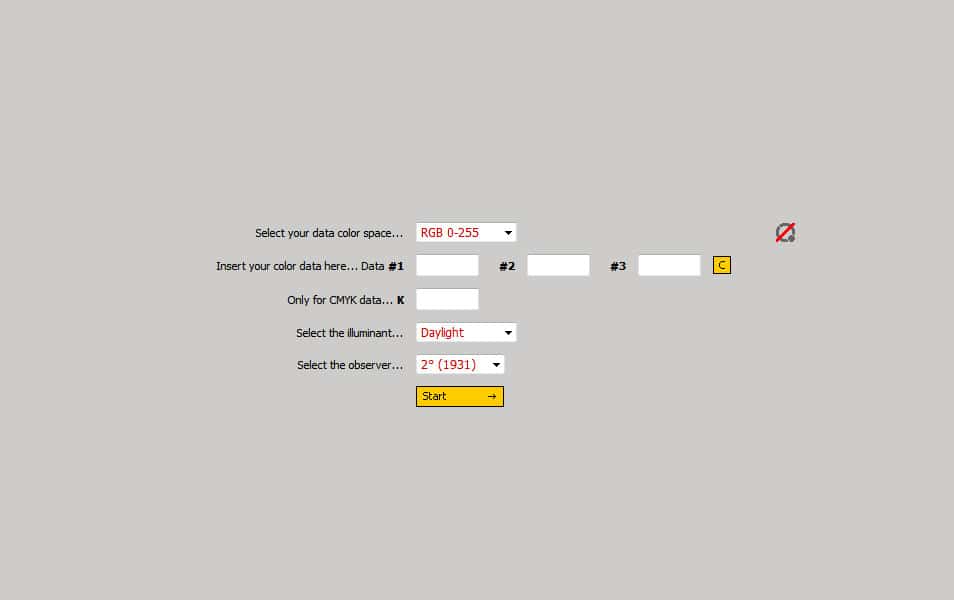 Hex to RGB Converter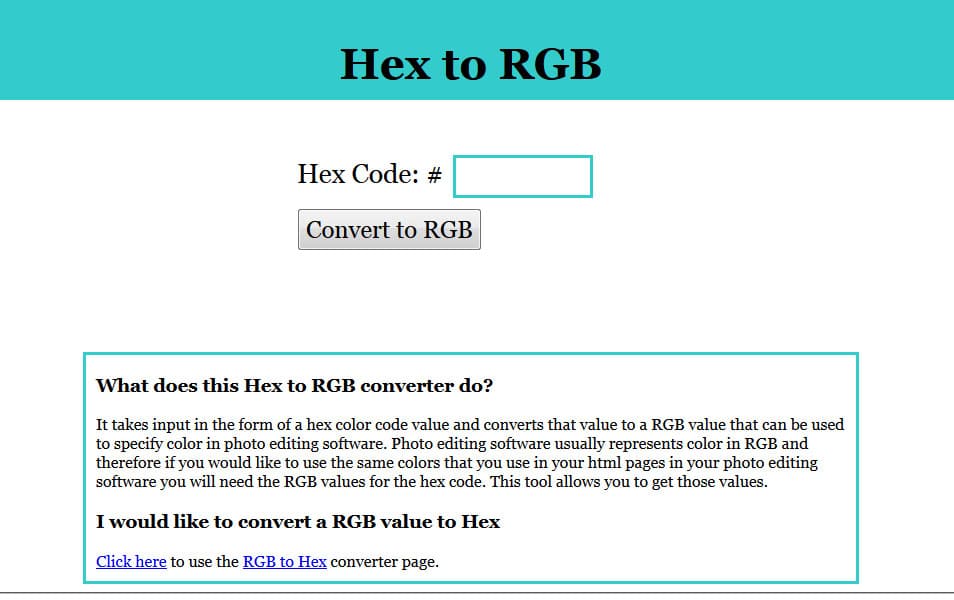 Grid Calculators & Converters
Gridpak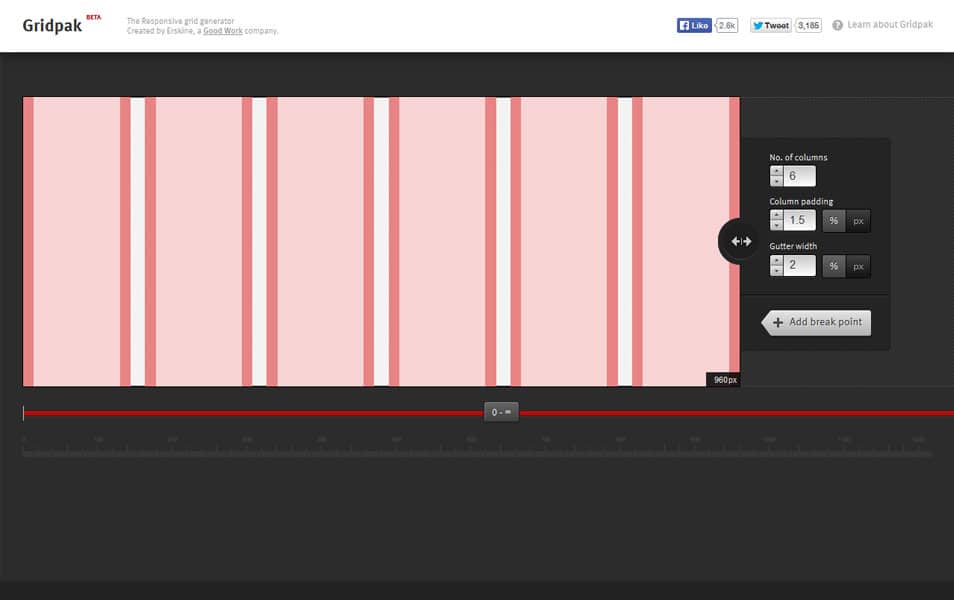 Gridpak is a Responsive grid generator. Gridpak is the starting point for your responsive projects, improving your workflow and saving time. Create your responsive grid system once using the simple interface and let Gridpak do the heavy lifting by generating PNGs, CSS and JavaScript.
Grid Calculator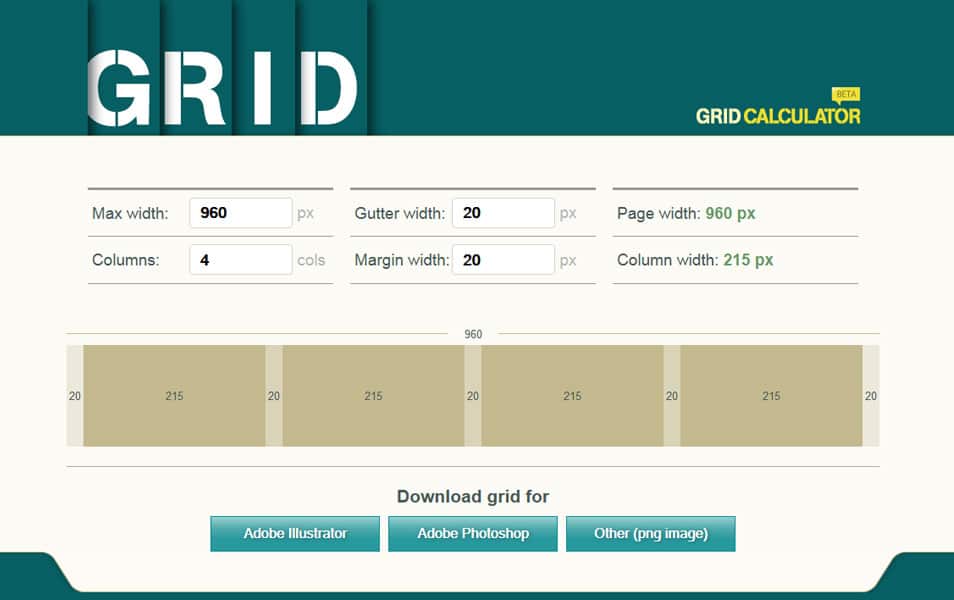 Gridulator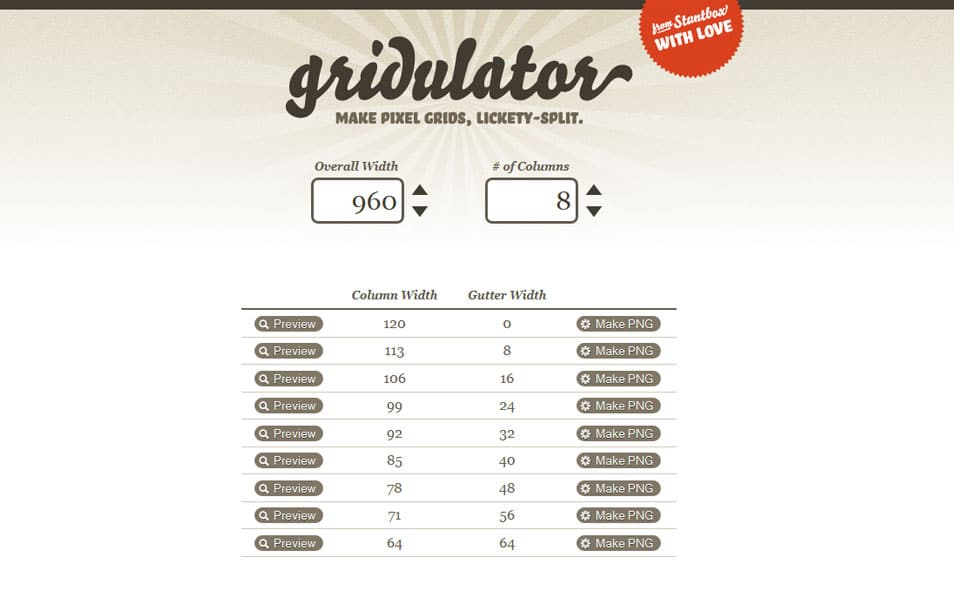 Tell Gridulator your layout width and the number of columns you want, and it'll spit back all the possible grids that have nice, round integers. Just the thing for pixel-based designfolk. There are inline previews, courtesy of the canvas element, and when you're all set Gridulator can crank out full-size PNGs for you.
Grid Generator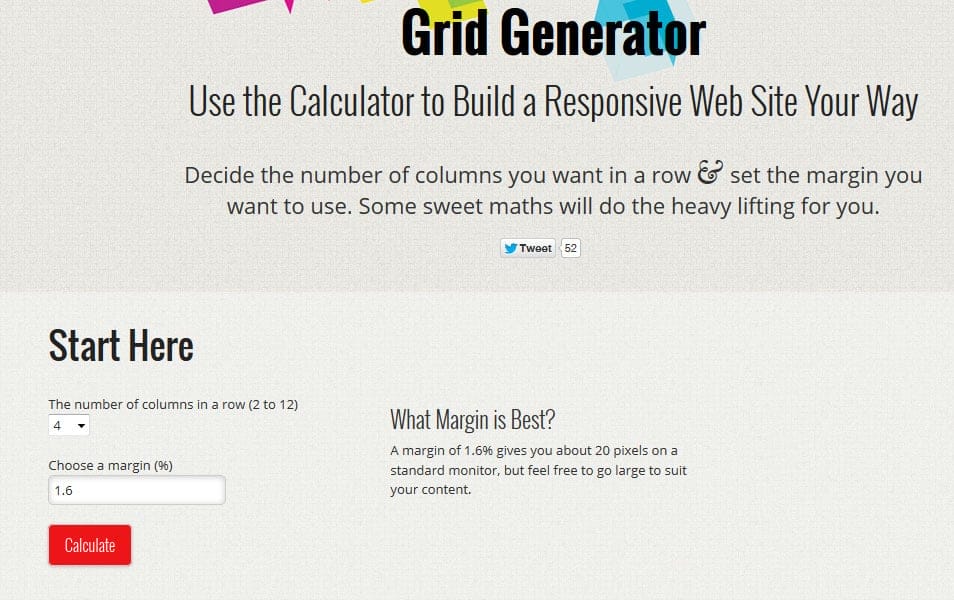 Generate your own Grid with the Responsive Grid System calculator.
Grid Calculator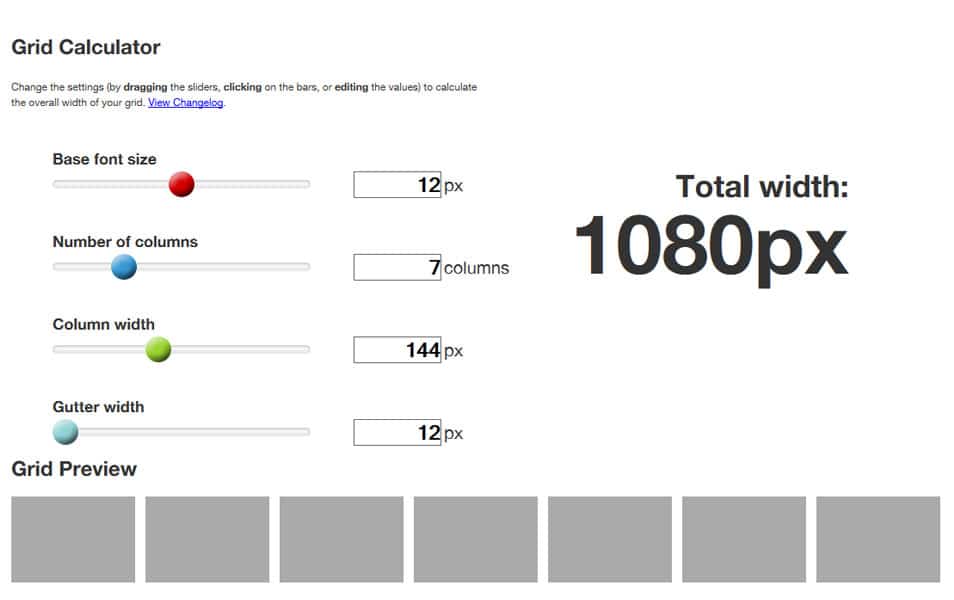 CSS Grid Calculator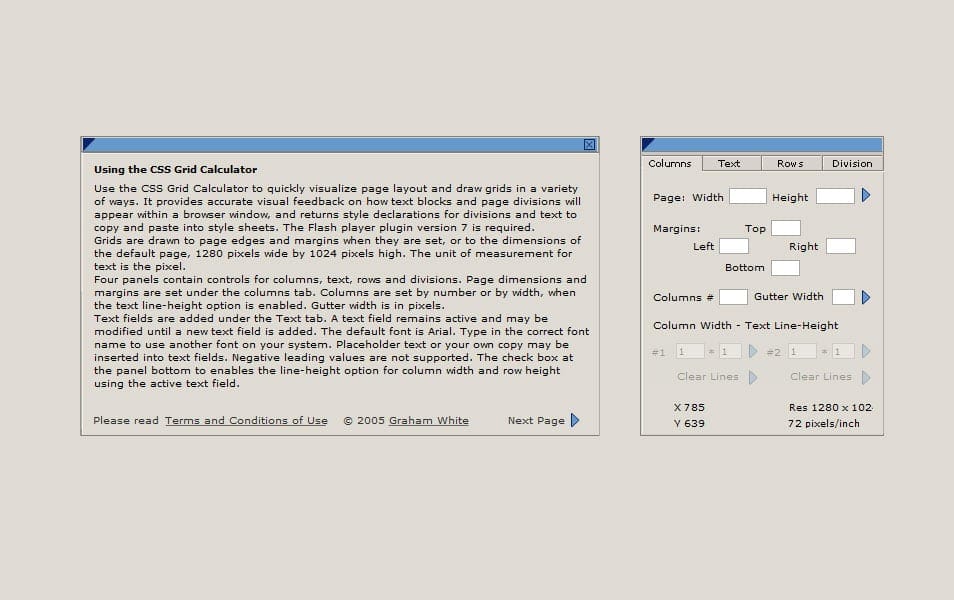 Use the CSS Grid Calculator to quickly visualize page layout and draw grids in a variety of ways. It provides accurate visual feedback on how text blocks and page divisions will appear within a browser window, and returns style declarations for divisions and text to copy and paste into style sheets. The Flash player plugin version 7 is required.
Typography Calculators & Converters
Golden Ratio Typography Calculator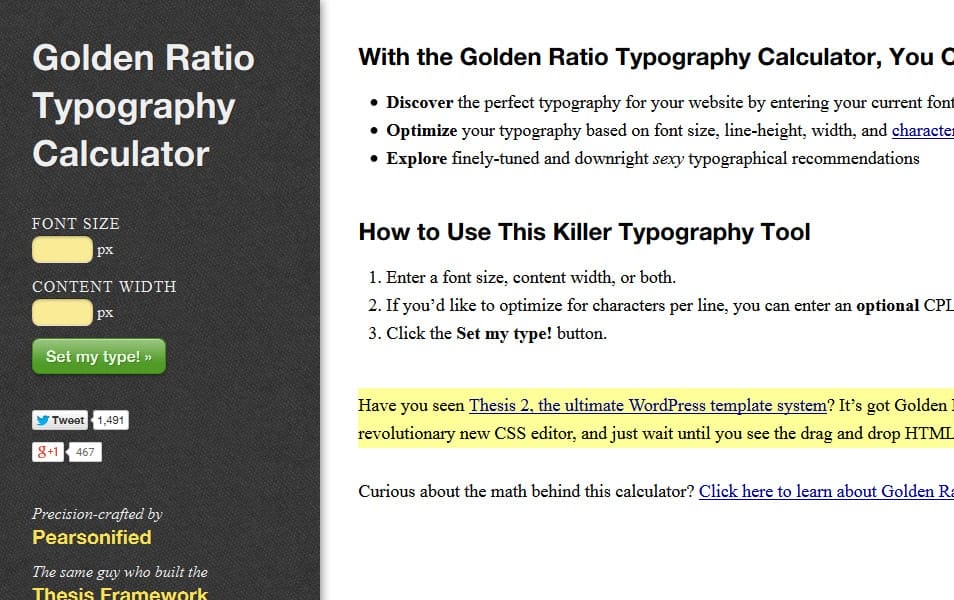 Modularscale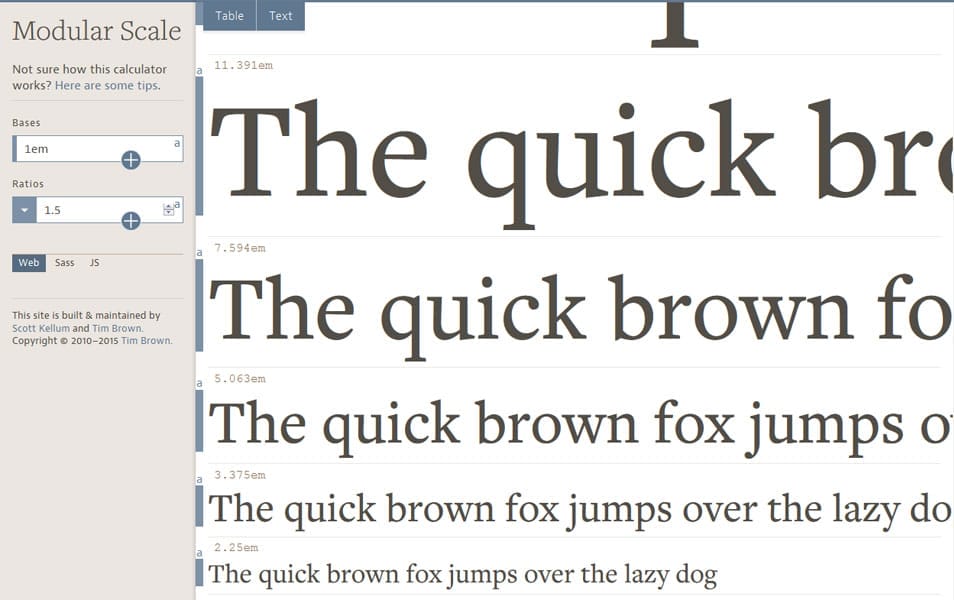 This calculator makes a set of numbers called a modular scale, which you use like a ruler.
Type Scale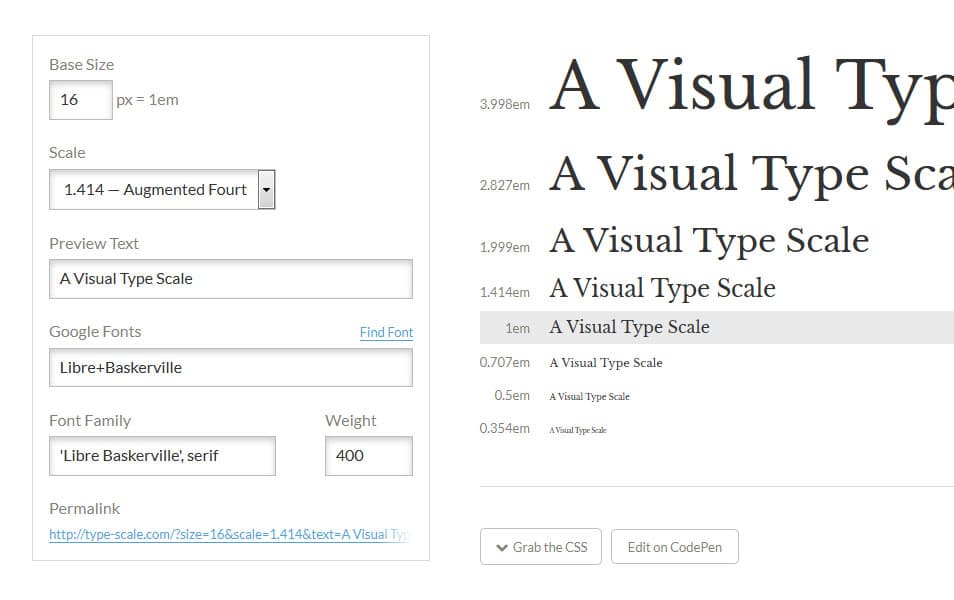 A Visual Type Scale Calculator.
Baseline Rhythm Calculator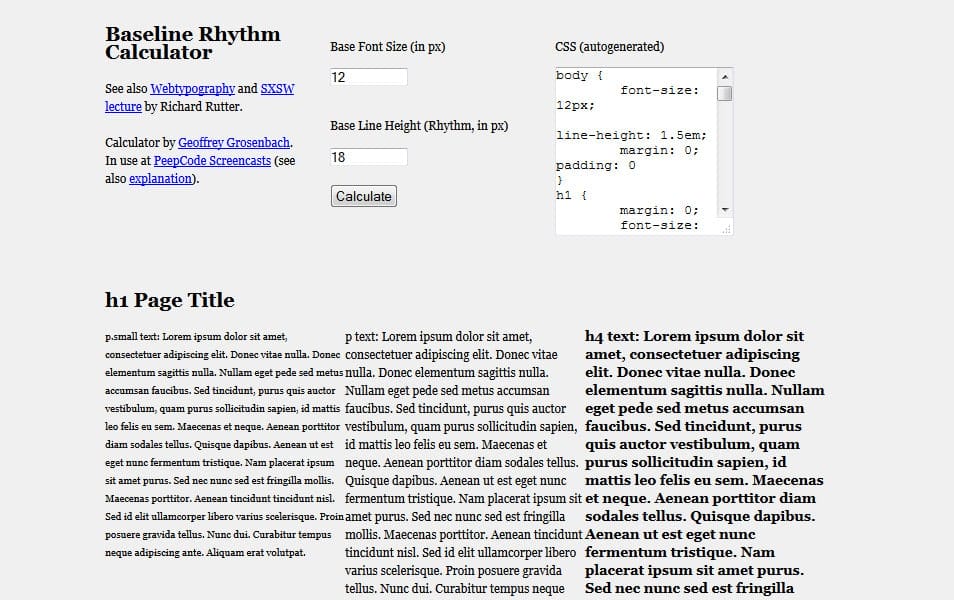 Responsive Calculators & Converters
The Responsive Calculator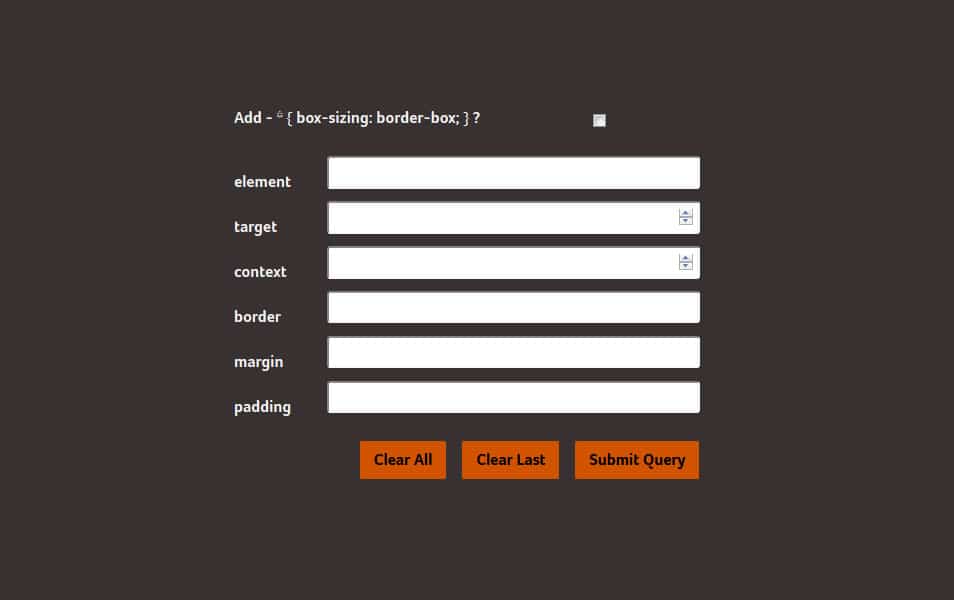 Just a simple calculator to help turn your PSD pixel perfection into the start of your responsive website.
PXtoEM.com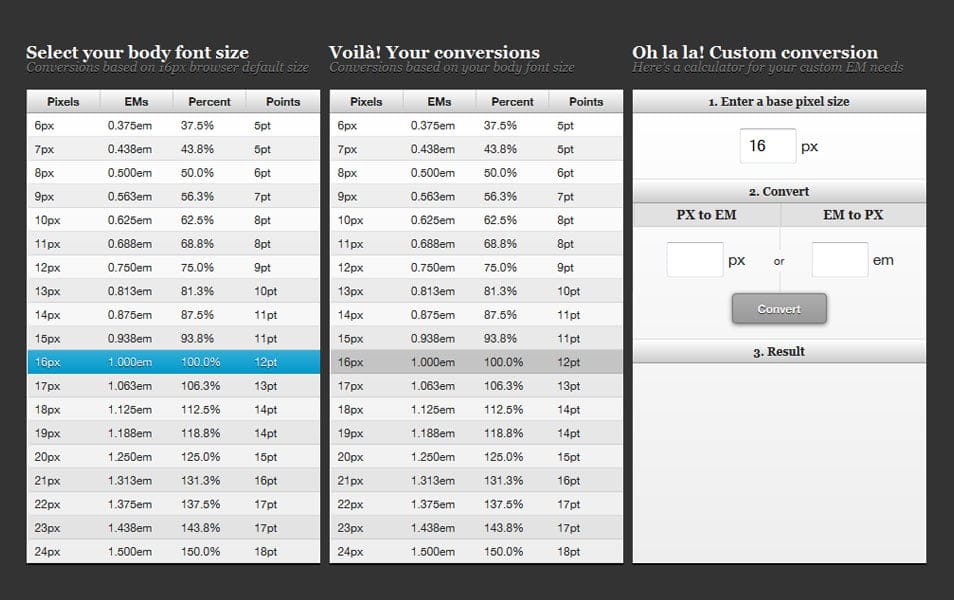 PXtoEM.com is px to em conversion made simple. Choose your body font size in pixels (px)and out comes a complete pixel (px) to em conversion table, making elastic web design with CSS a snap. The once daunting challenge of converting pixels (px) to the elusive em has now been reduced to a booger eating pipsqueak.
RQRWD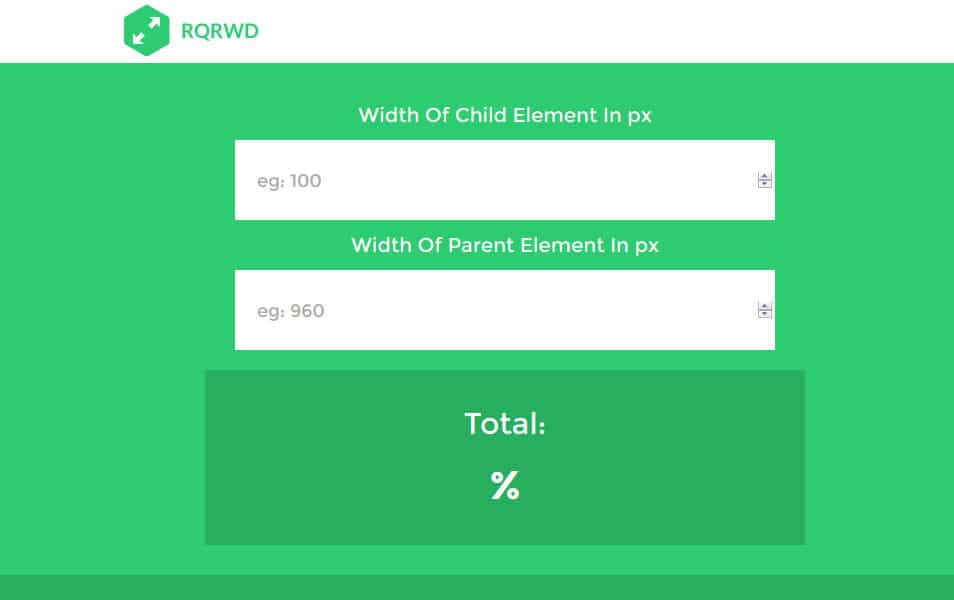 RQRWD is a really quick responsive web design tool which allows you to work out the elements width in % from px. Just add the child element width in the top box, parent element width in the bottom and you're done!
px-em – px to em Calculator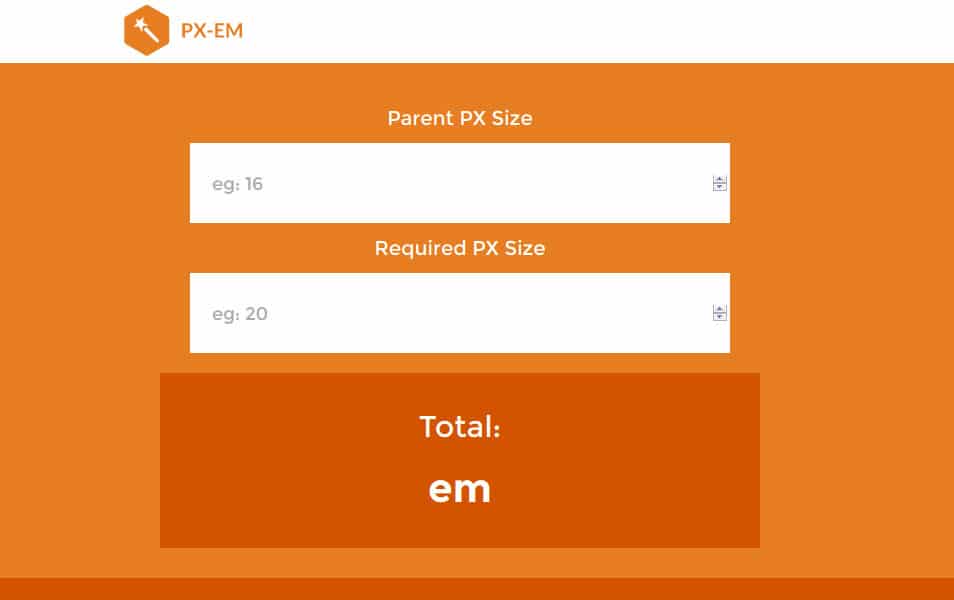 px-em is a px to em tool which allows you to work out the em sizes from px. Just add the parent px size in the top box, required size in the bottom and you're done!
Pixels to Ems Conversion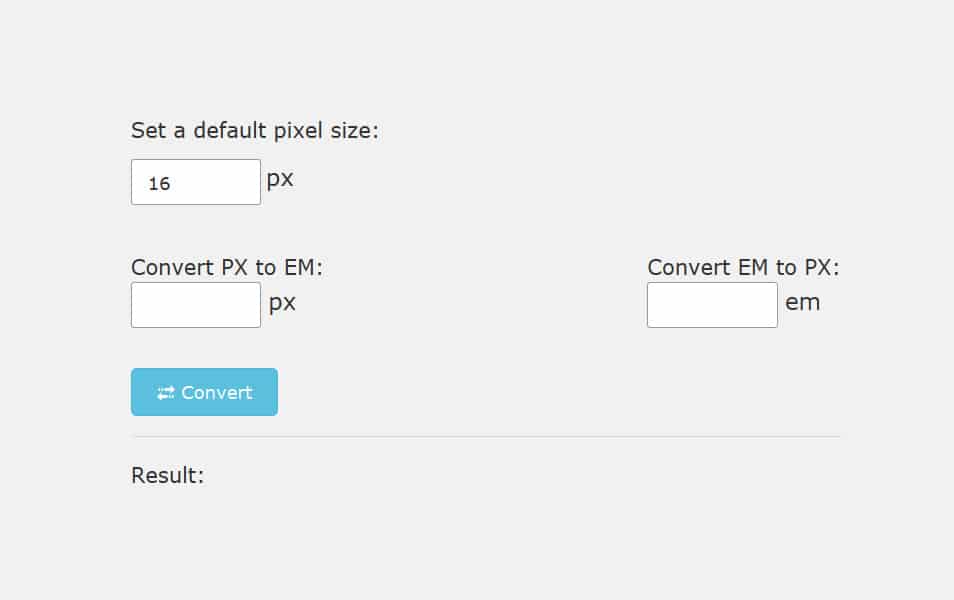 The tool below allows you to work out the em sizes from pixels (or vice versa).
Pixels px to em conversion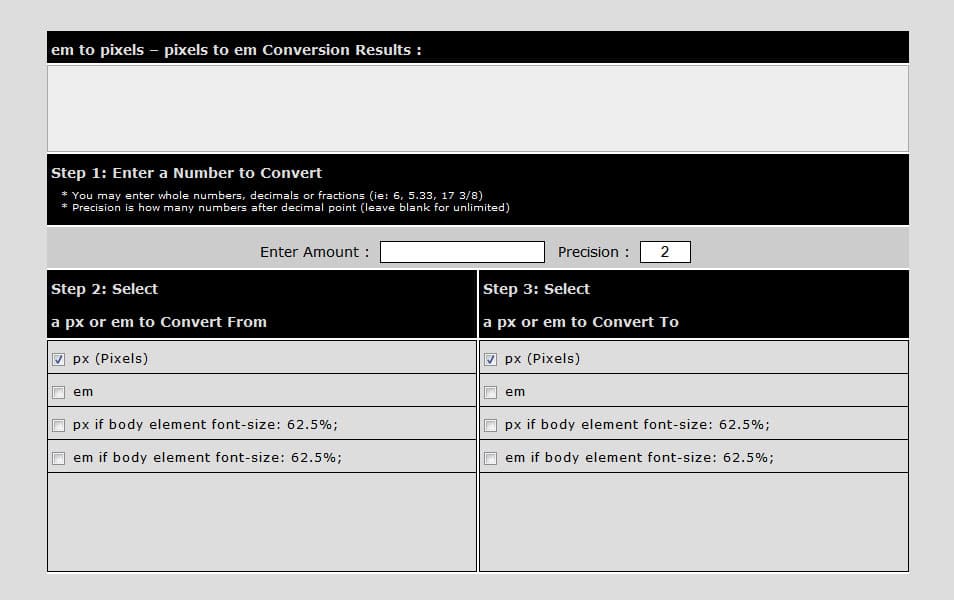 The Responsive Calculator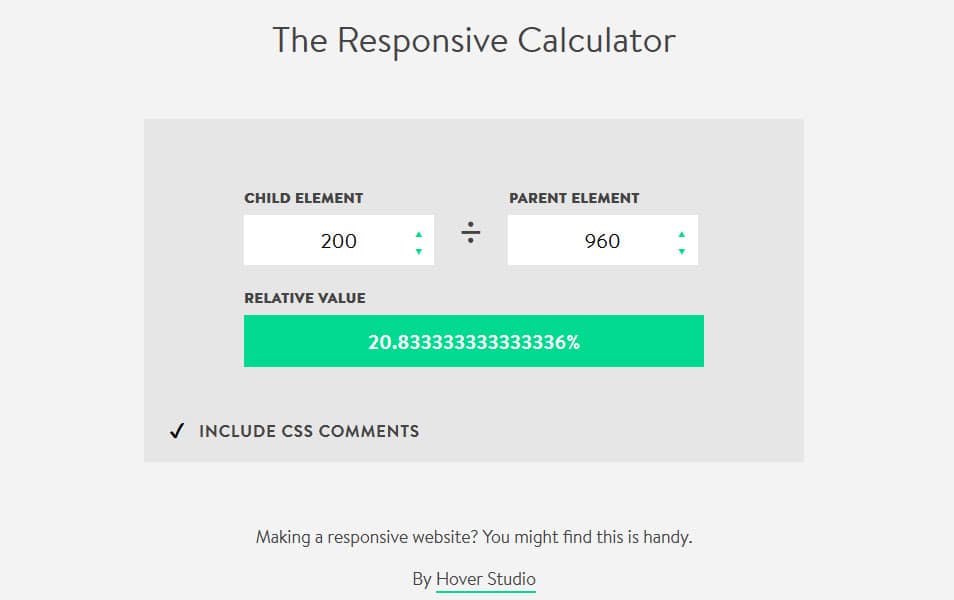 Flexible Math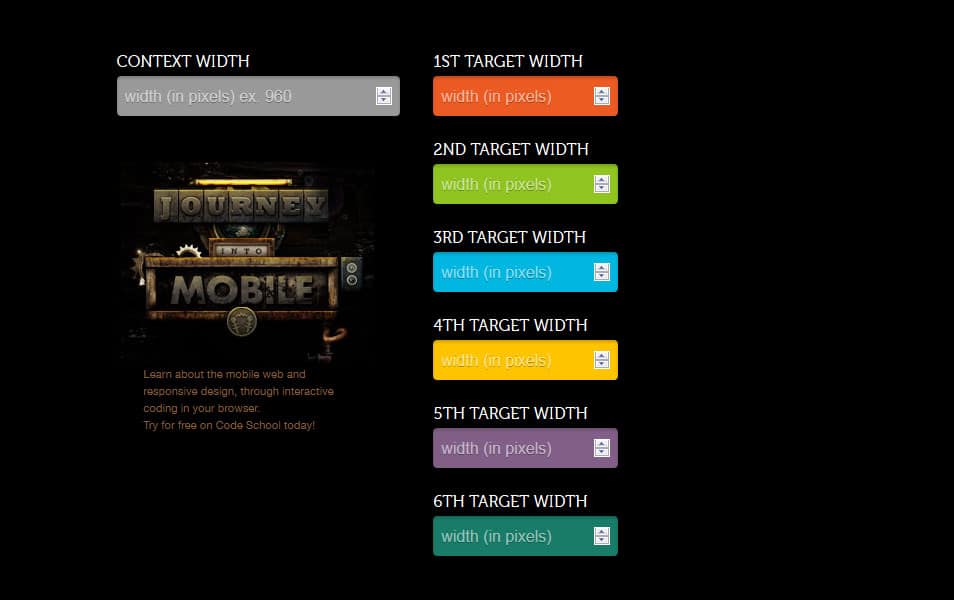 A quick way to get pixel widths in percentages.
Responsive Web Design Formula for Percentage – Easy Calculator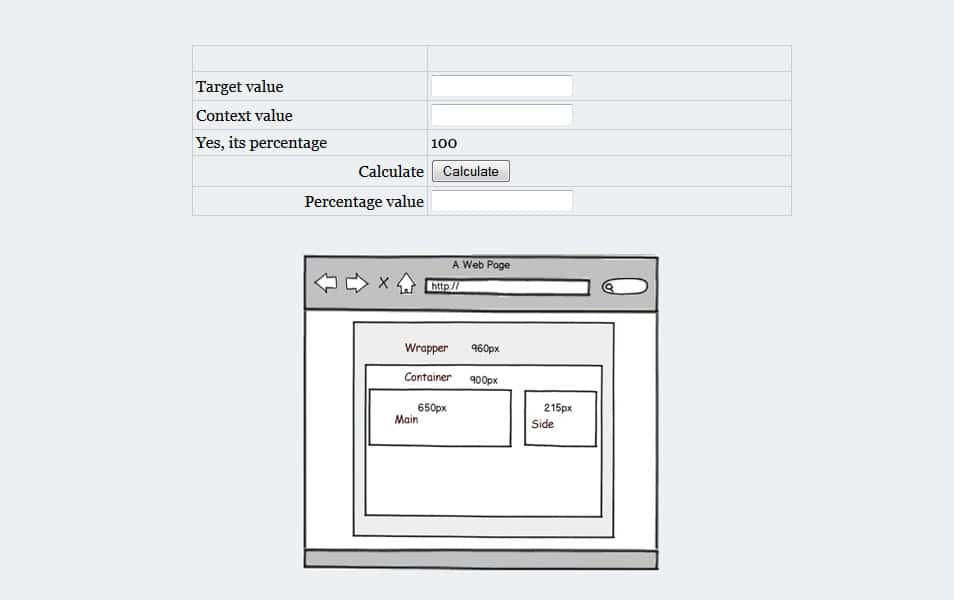 Pixel Density Calculators & Converters
Is This Retina?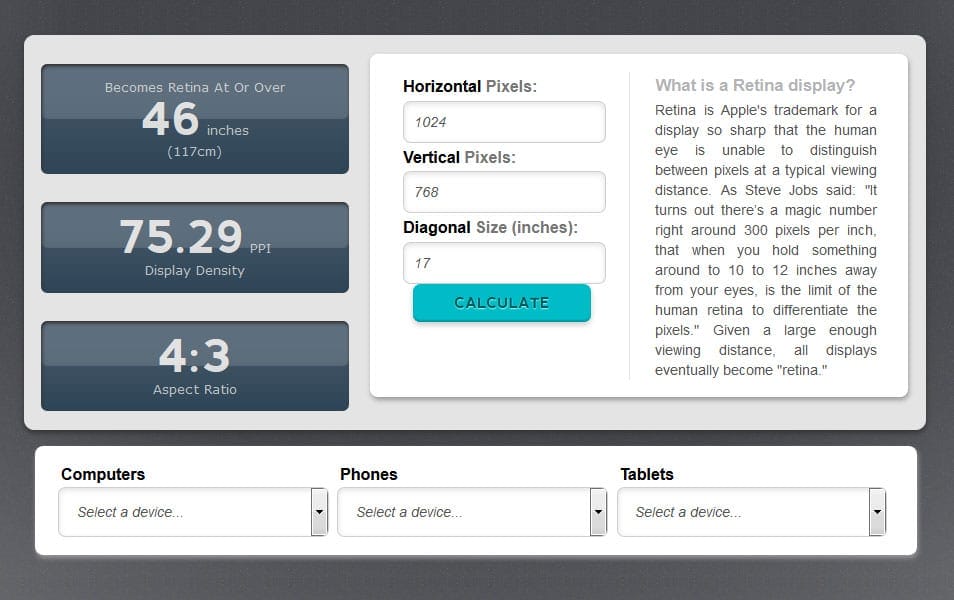 Pixel density & viewing distance calculator for a retina world.
DPI love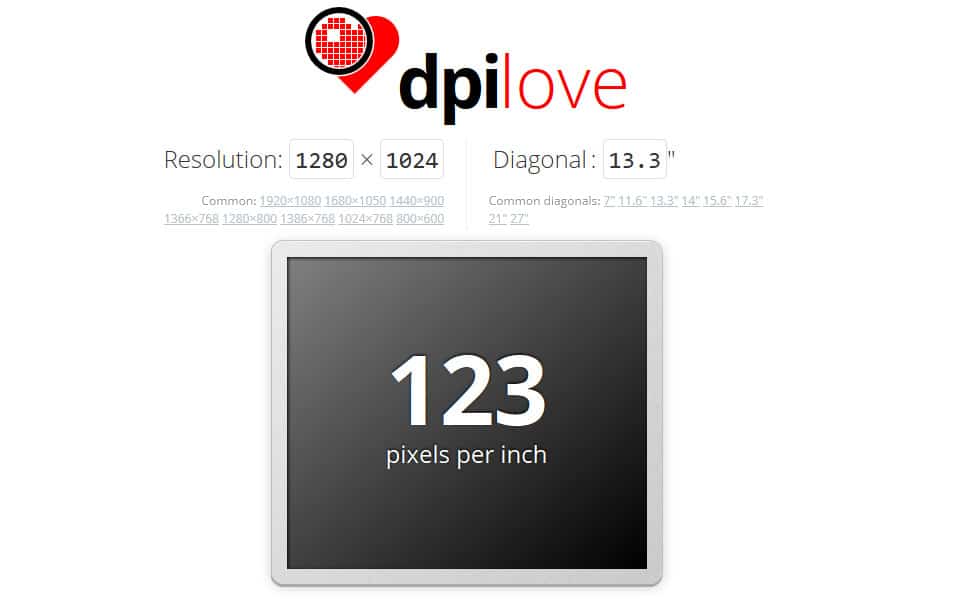 DPI Love is a little web application that easily finds the DPI/PPI of any screen.
teehan+lax density converter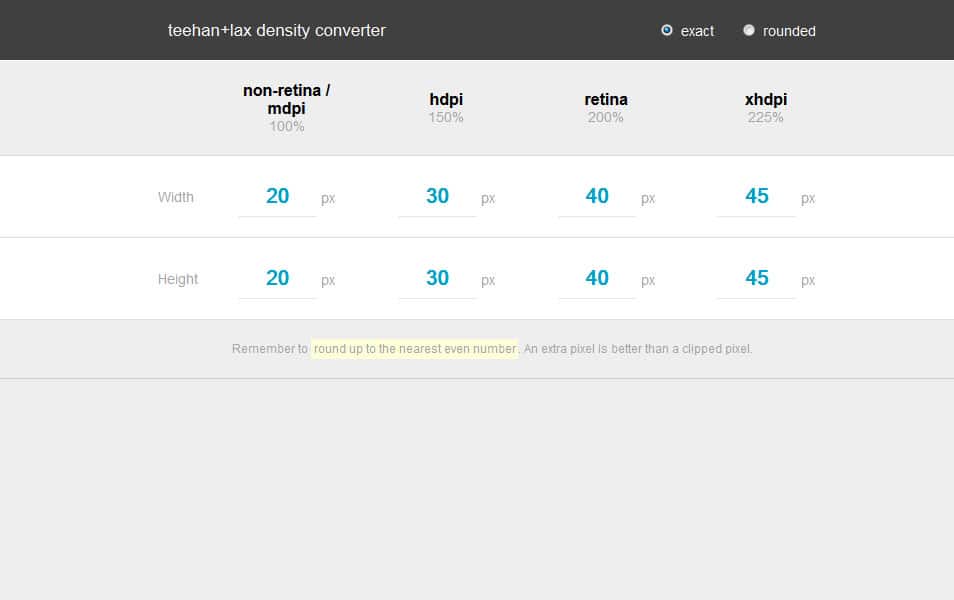 Calculate the height and width of pixel graphics for various hi-dpi-displays.
Snowflake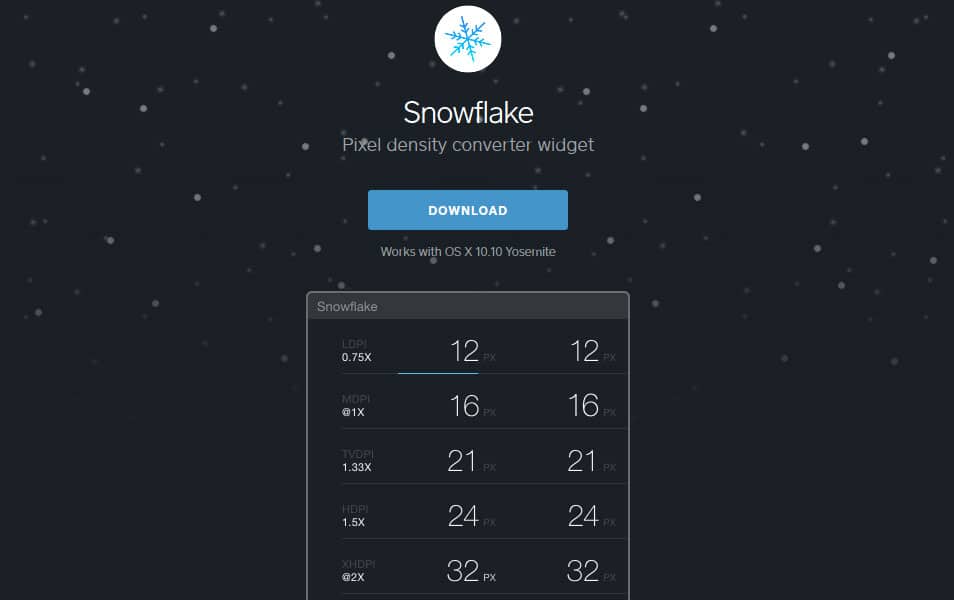 Pixel density converter widget.
Pixel Density Converter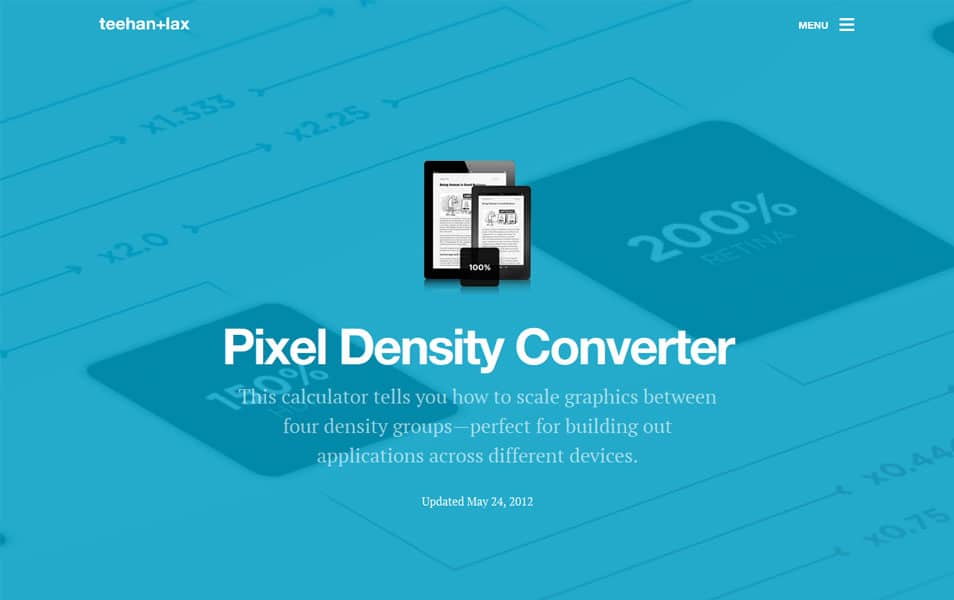 This calculator tells you how to scale graphics between four density groups—perfect for building out applications across different devices.
Pixel Density Calculator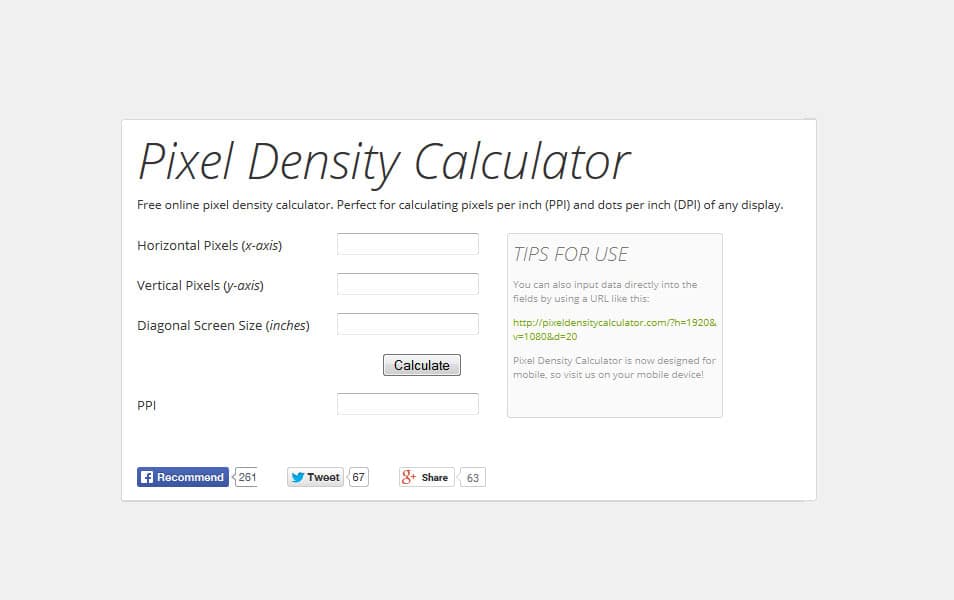 Free online pixel density calculator. Perfect for calculating pixels per inch (PPI) and dots per inch (DPI) of any display.
Density Converter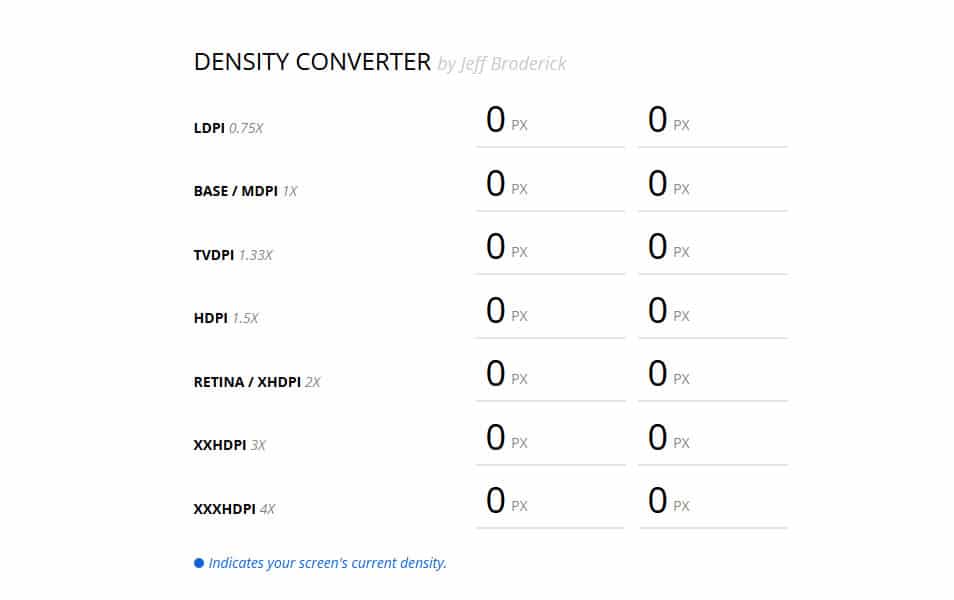 It's actually quite easy to detect the pixel density with just a little CSS.
PX CALC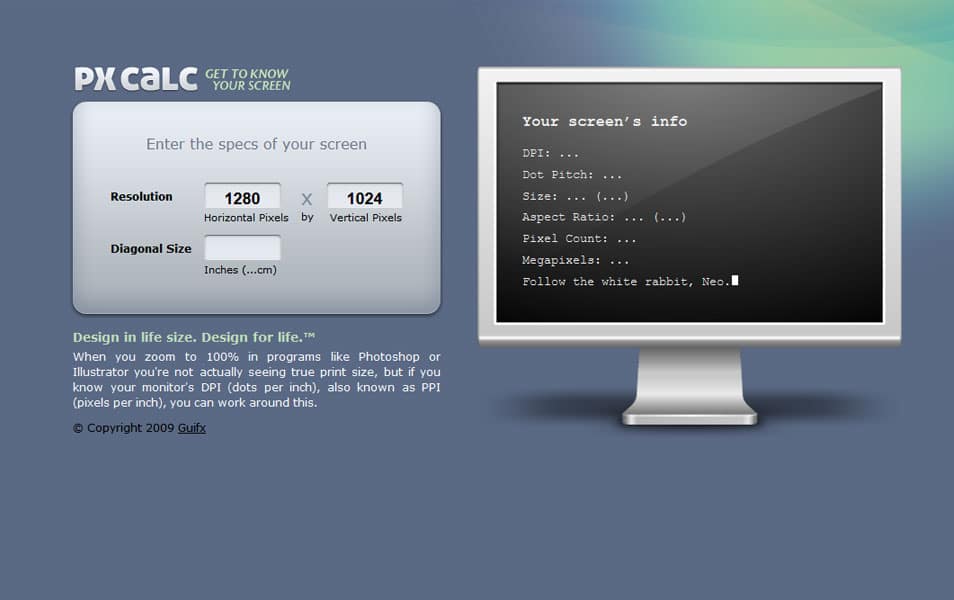 DPI Calculator with Dot Pitch, Size, Aspect Ratio, Pixels, and Megapixels.
Android DP/PX converter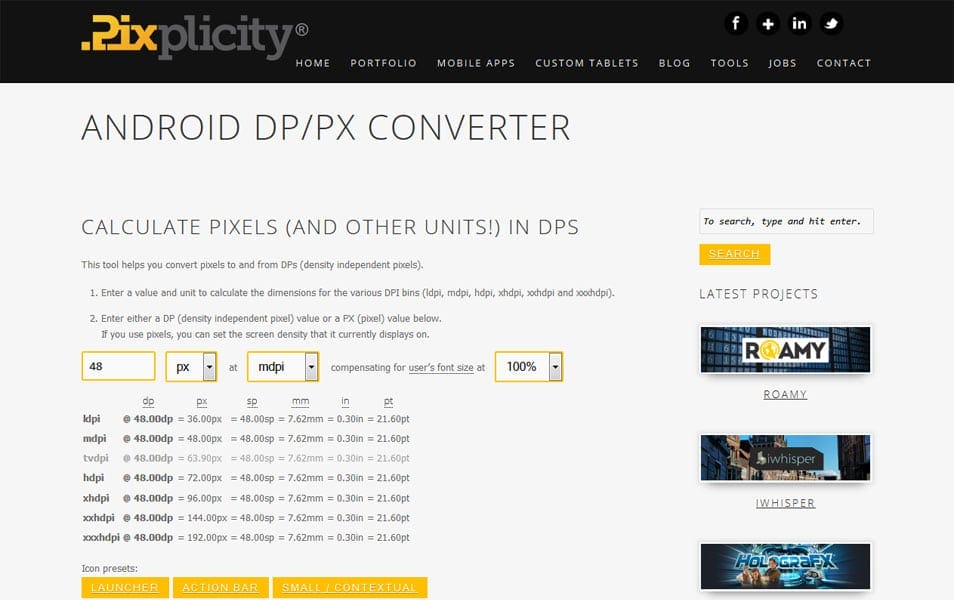 This tool helps you convert pixels to and from DPs (density independent pixels).
Android Pixel Calculator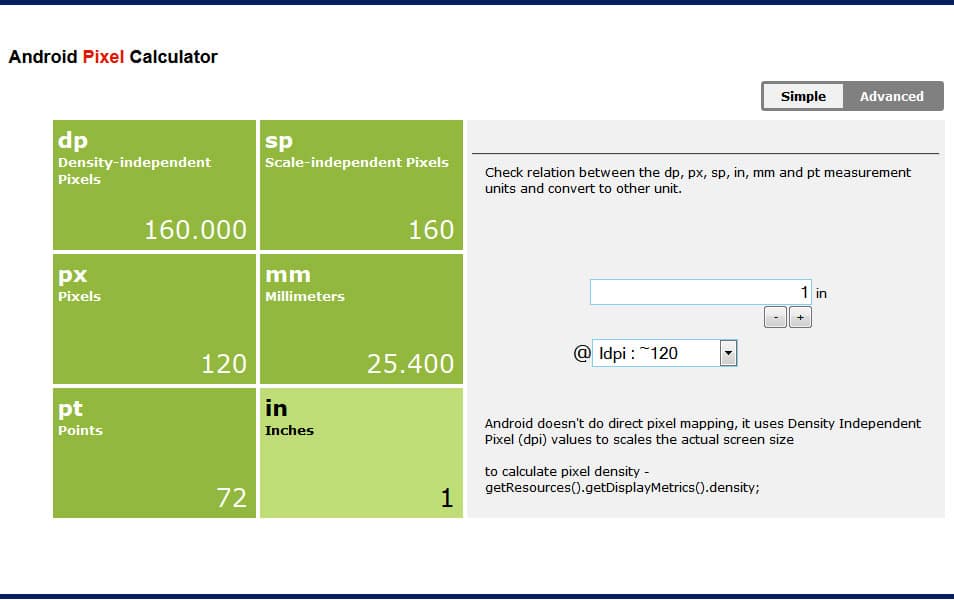 Check relation between the dp, px, sp, in, mm and pt measurement units and convert to other unit.
DPI Calculator / PPI Calculator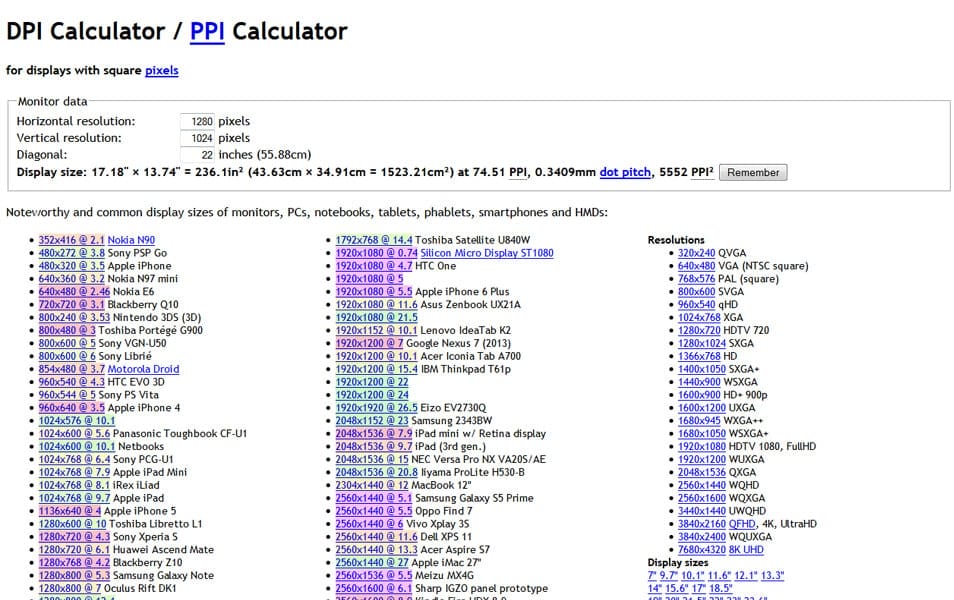 Android DP / PX converter