250+ jQuery & CSS3 Hover Effects (Plugins & Tutorials)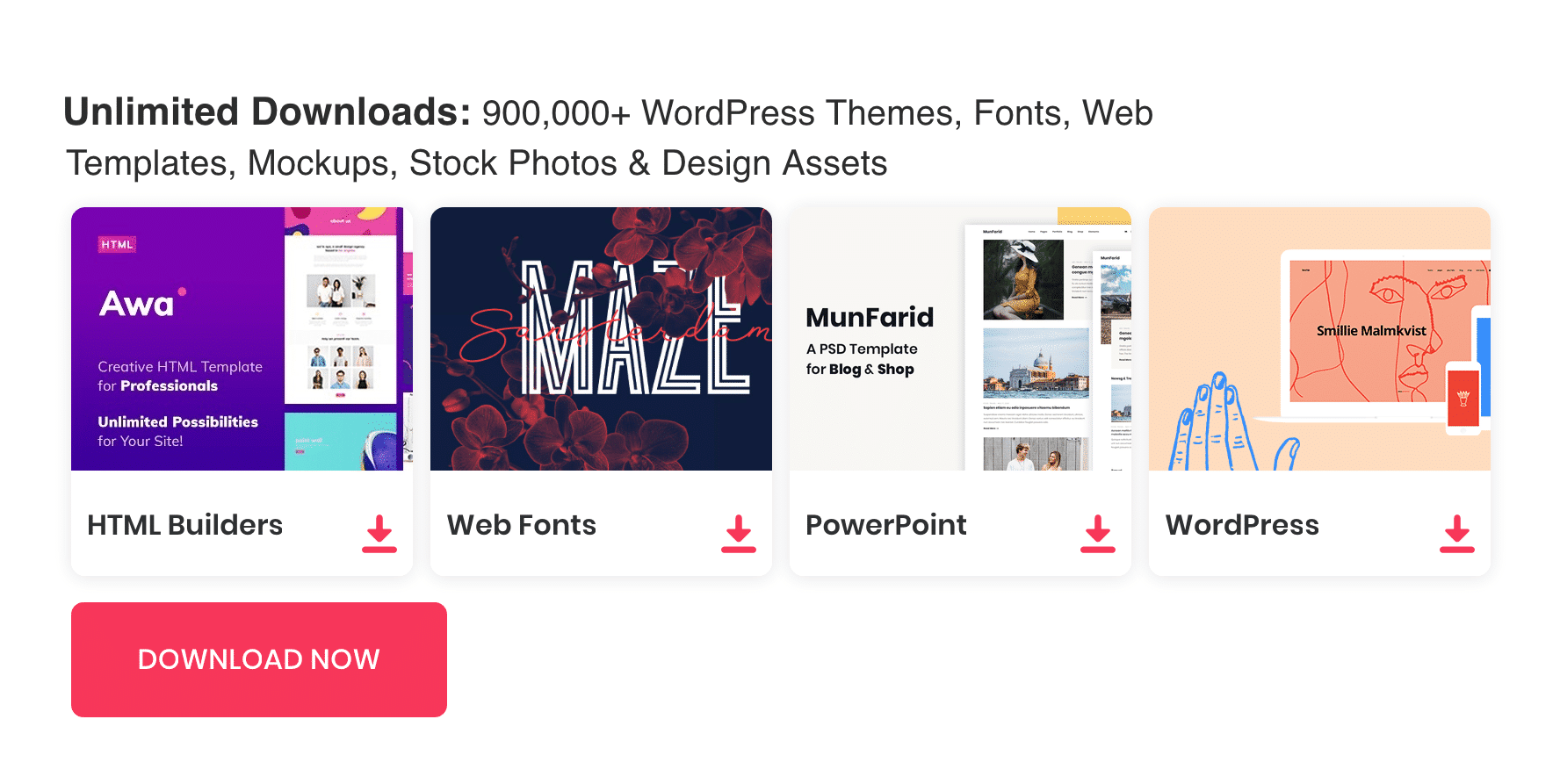 jQuery and CSS3 made a big difference in the webdesign industry. Lot of new features added to make dynamic websites. Hover effects are often used in websites to add usability. There are plenty of ideas to make the hover effect more effective and beautiful. In this post, we have collected a list of amazing hover effects using jQuery and CSS3. You can see many varieties of hover effects below. All these are either using the advantage of jQuery or CSS3.
We have listed all categories of hover effects below so you can navigate easily.
jQuery & CSS3 Hover Effect Categories
See also : 100+ Best jQuery Slider Plugins Free
1. Hover Effect Tutorials
See also : Ultimate CSS Resources (CSS Tools, Frameworks, Ebooks, Snippets..)
Image Hover Effects Tutorials
Sliding Image Divider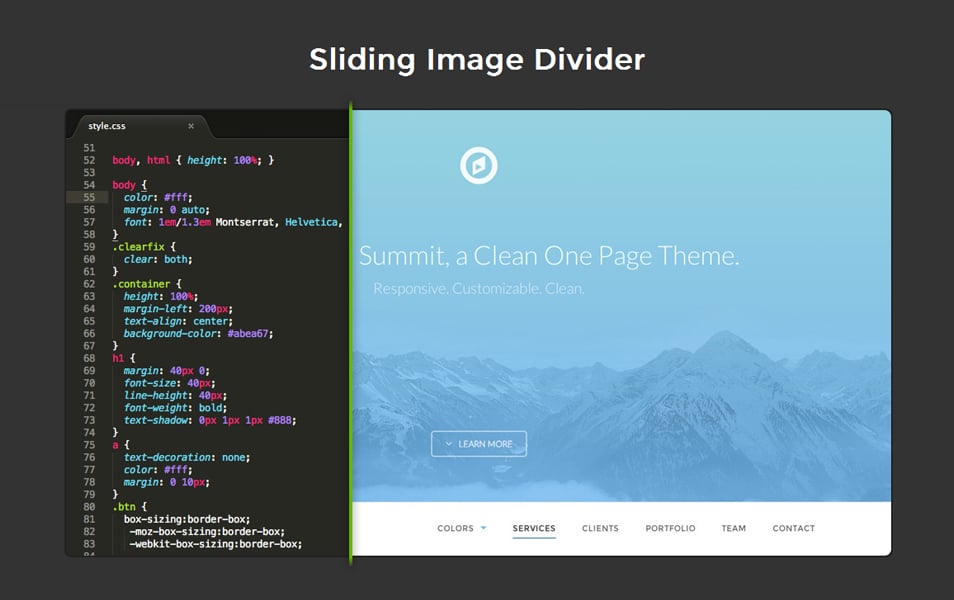 It is an image divider that shows two different images and when you hover over it the partition follows your mouse movements. so if you move it to the left, the right image will be revealed more and vice versa for the left image. This is done using jQuery's on mousemove event along with css transitions to make it smoother.
3D Thumbnail Hover Effects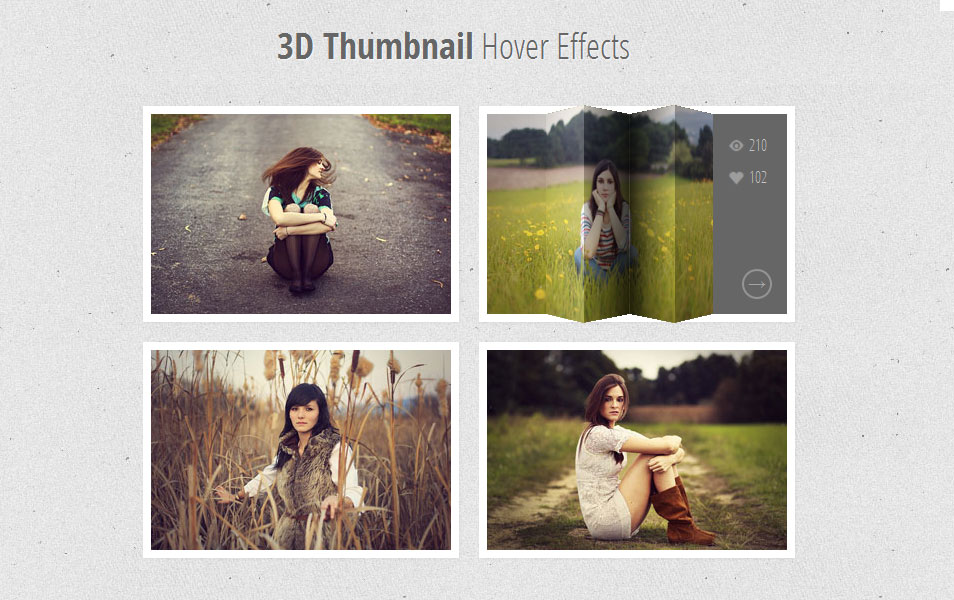 A tutorial about how to create 3D thumbnail hover effects with CSS 3D transforms and jQuery.
3D Hover Effect for Thumbnails and Images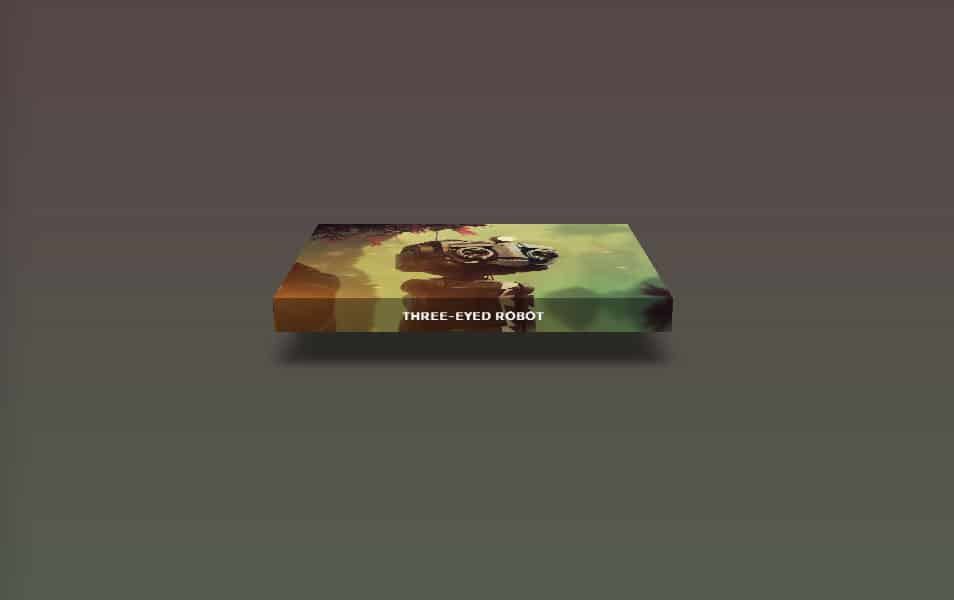 A simple CSS3 3D experiment showing the conversion of an image into a realistic 3D cuboid on hover with a cool shadow effect.
Beautiful Image Hover Effects with jQuery/CSS3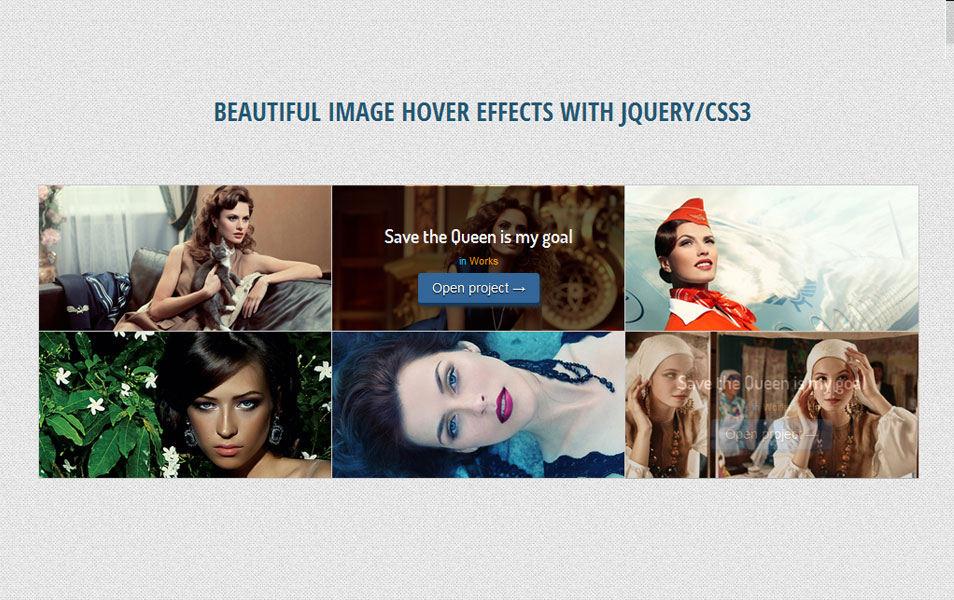 In this tutorial two beautiful image hover effects with jquery and CSS3. This example1 we want to show you, jquery hover effect using animation opacity transform color and the example2 you will see classic effect using zoom overlay using jquery and css.
Caption Hover Effects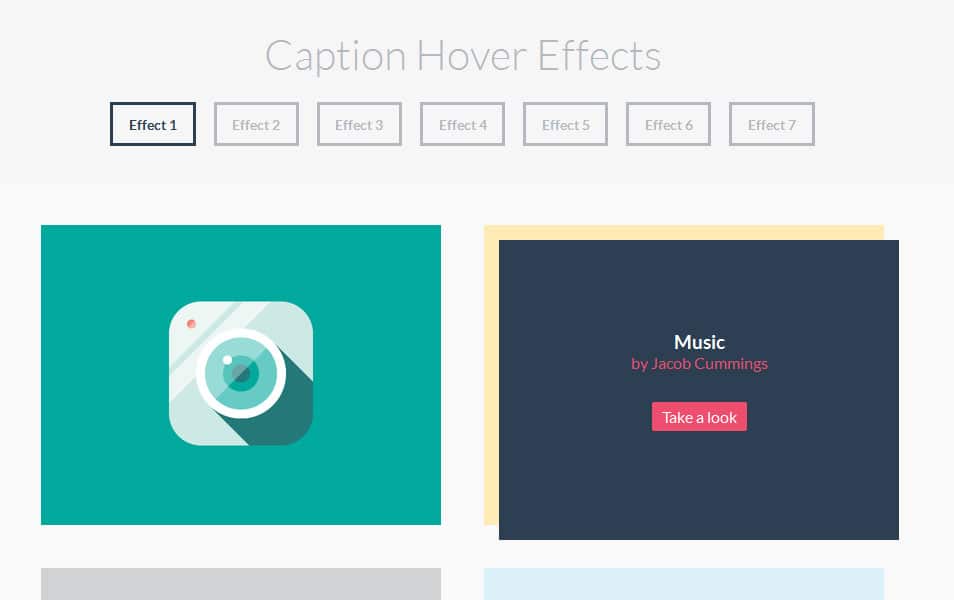 A tutorial on how to create some subtle and modern caption hover effects.
Direction-Aware Hover Effect with CSS3 and jQuery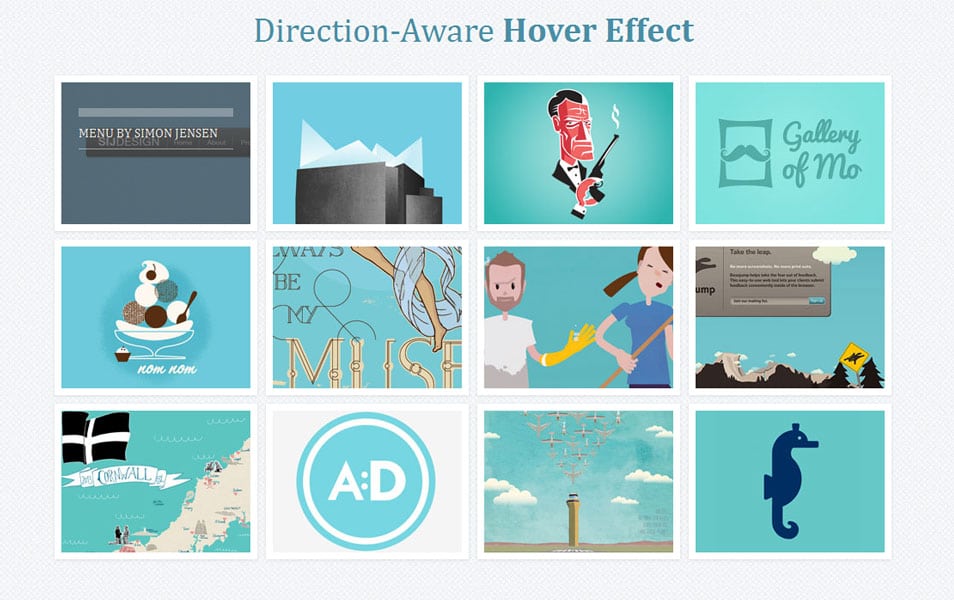 How to create a direction-aware hover effect using CSS3 and jQuery. The idea is to slide in an overlay from the direction we are moving with the mouse.
Original Hover Effects with CSS3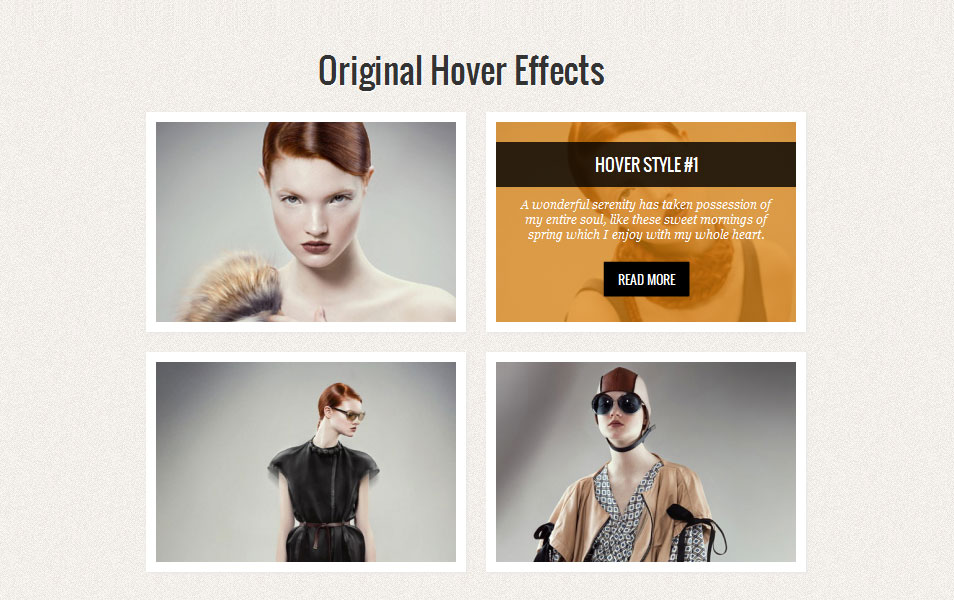 The power of CSS3 is enormous and in this tutorial we will see how to exploit it in a very creative way. We are going to create some thumbnail hover effects with CSS3 transitions. On hover over a thumbnail, we will reveal some description of the thumbnail, using a different style in each example.
jQuery Mouseover Effect Using Parallax Style Tutorial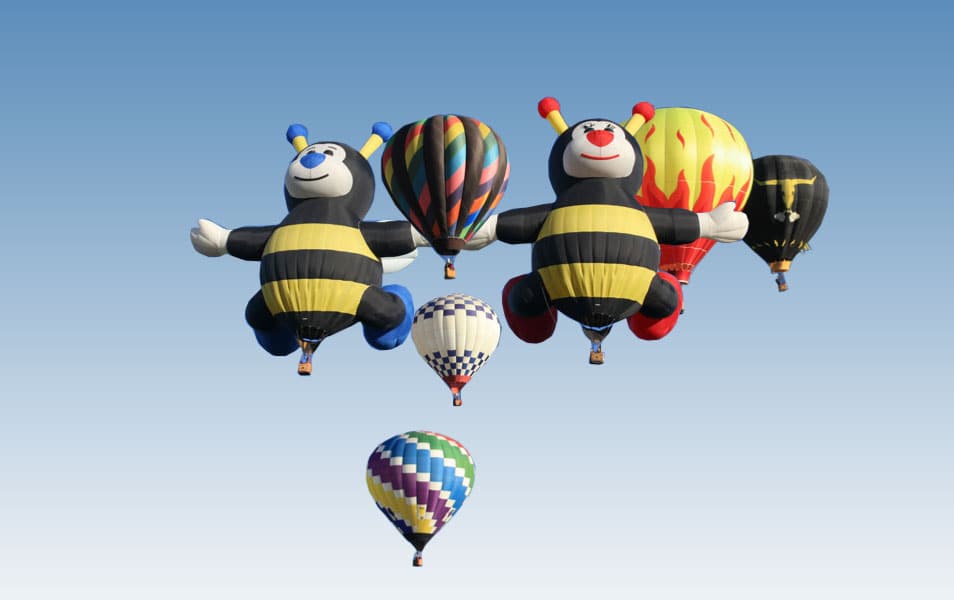 In this tutorial we are going to show you in a very creative way using parallax style with jquery mouse over effect. On mouse over a parallax, animation image layer are response to the mouse travelling the whole width of the mouse port, the position of image move depend on css style that we have defined in different style in example.
Some More Subtle Hover Effect Ideas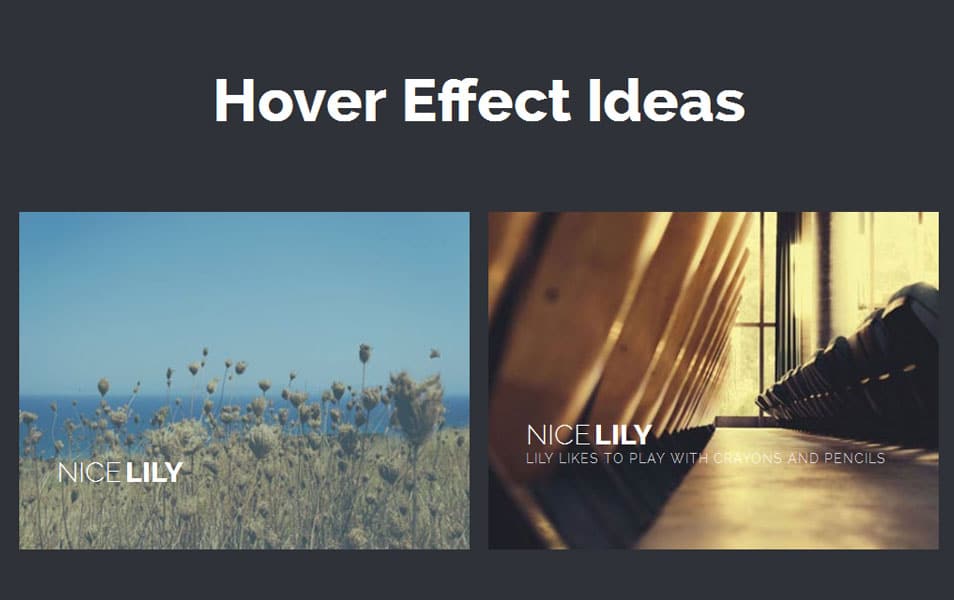 A second set of styles was added to the collection of subtle hover effect ideas. The old set was updated and we've added some fresh effects with various transitions.
Image Caption Animation with CSS3 Transform and Transitions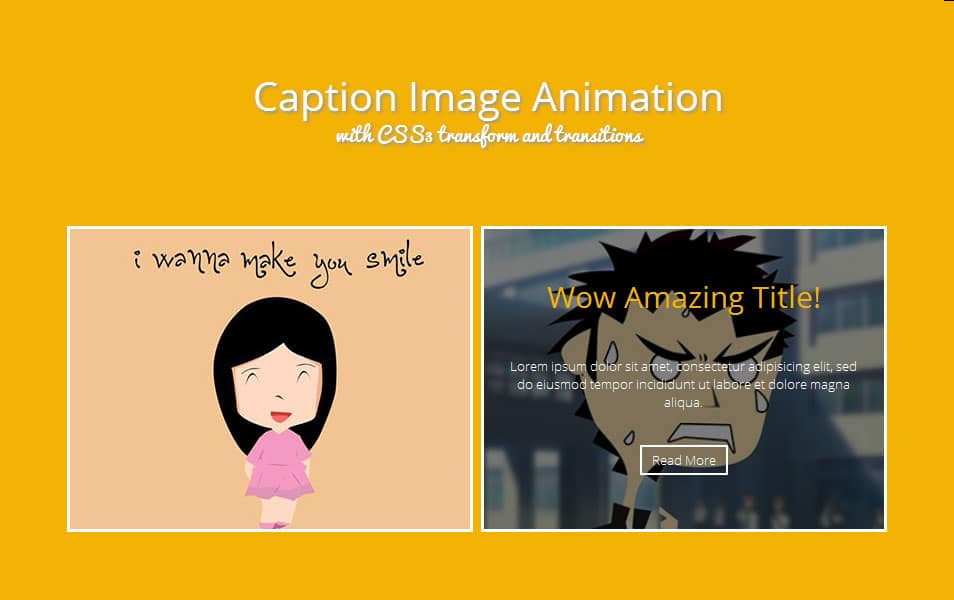 jQuery caption hover effects have been on the Web for a long time. There are plenty of jQuery libraries out there that can be used to obtain a cool and amazing image caption animation and hover effects.
jQuery image slide on hover effect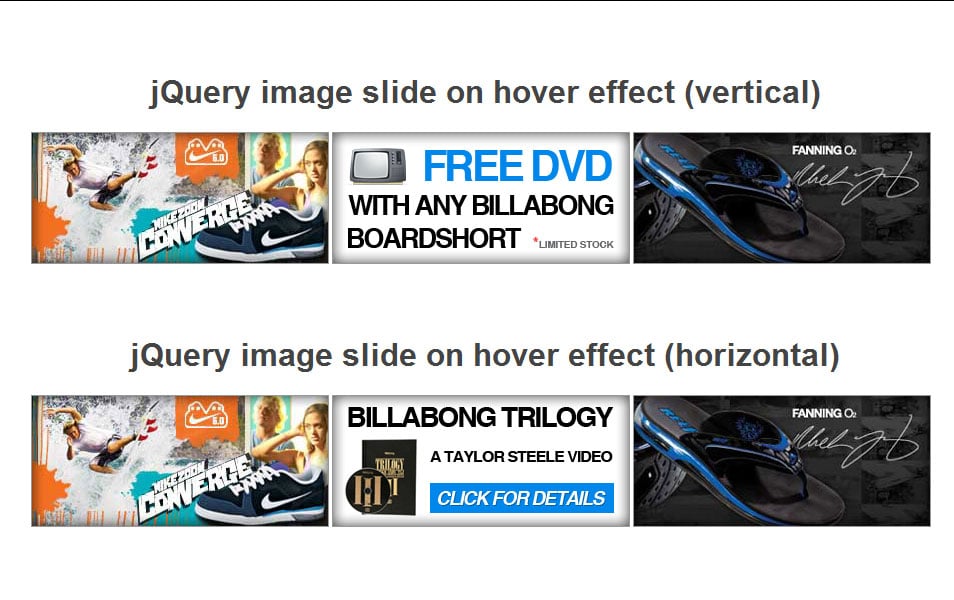 This is a simple technique to animate an image when hovering using jQuery's animate() effect. We will use this effect to manipulate our CSS, creating a seamless transition between two areas of an image.
Image Cross Fade Transition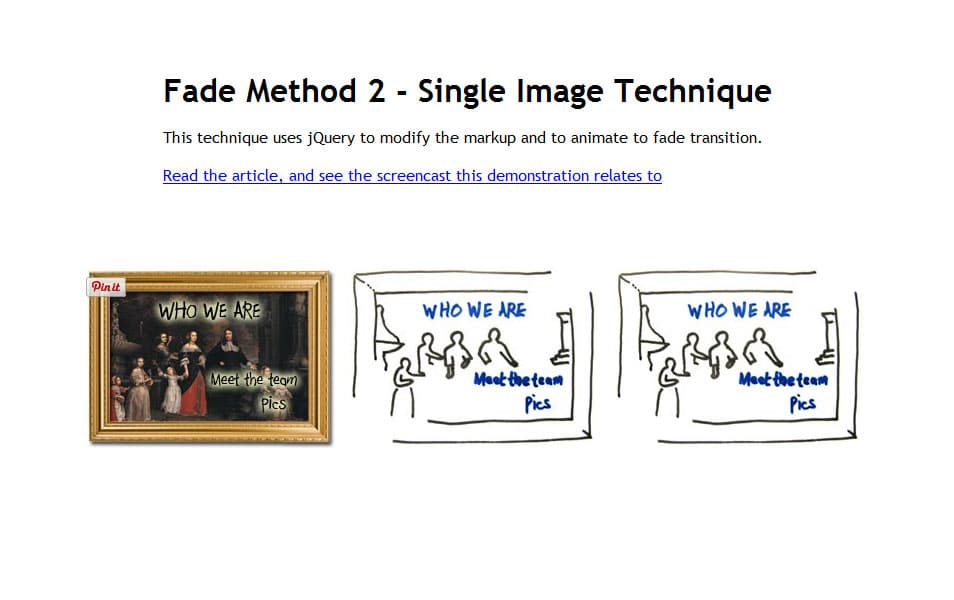 Simple but creative way to use jQuery hover fades effect for your images.
Image Highlighting and Preview with jQuery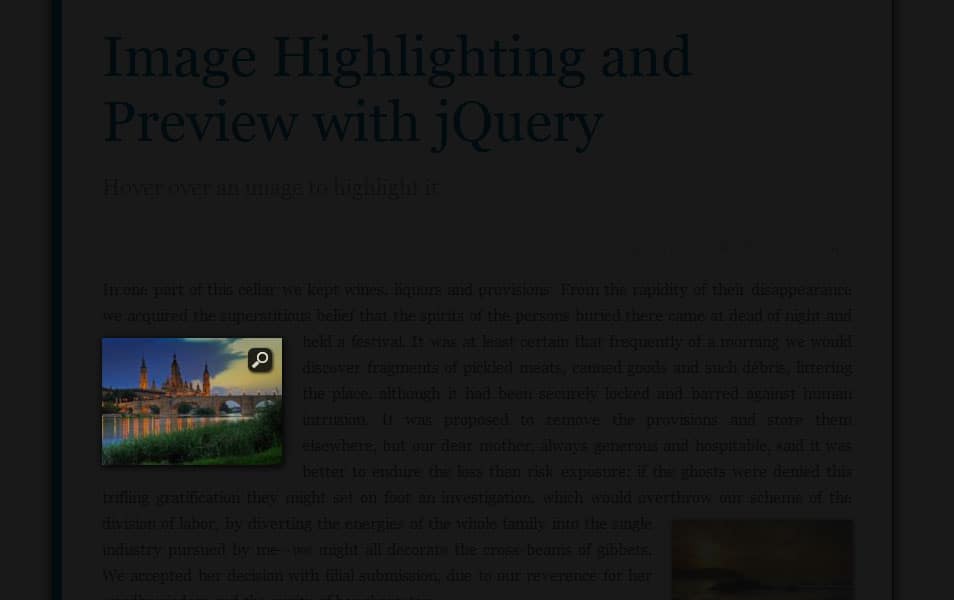 In this tutorial we will show you how to highlight and preview images that are integrated in an article or spread over a page. This is a nice way to allow users to view a bigger version of an image that is relevant to some context.
CSS3 Hover Effect Tutorial with Image Circle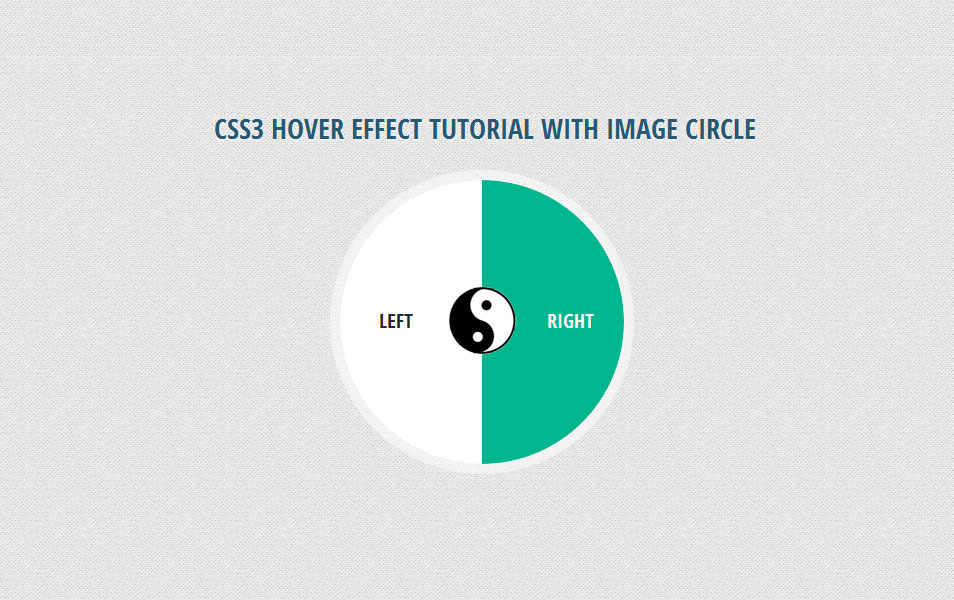 In tutorial we will show you new CSS3 hover effects using image circle animation transform to enhance your web design interface . It looks so much more interesting with creative design using circles image transition style. We always like CSS3 animation effects more than jquery of flash animation, so we would like to share some new creating special CSS3 hover effects for you!
Annotation Overlay Effect with CSS3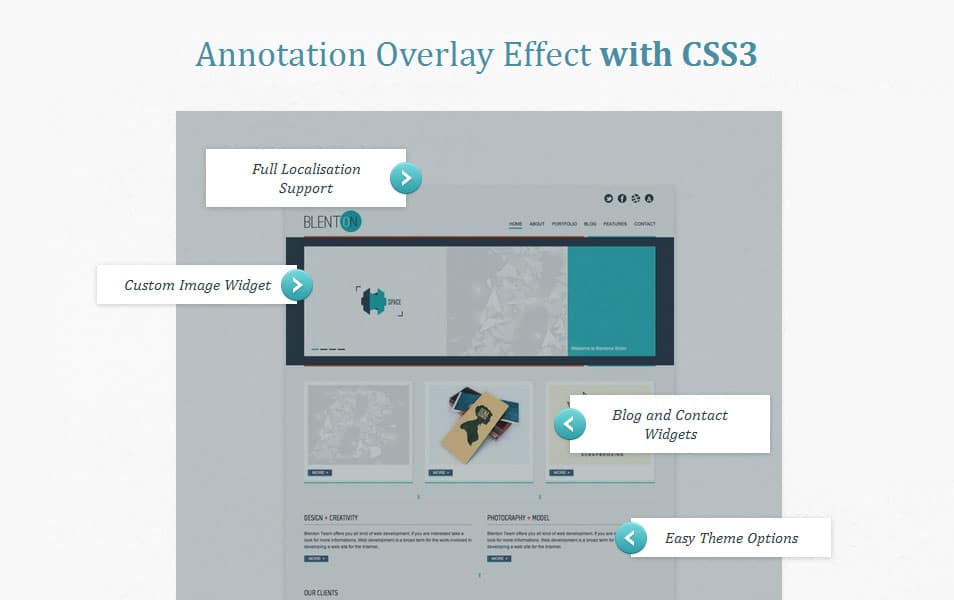 A tutorial about how to create an overlay effect to show some more details of an item or image. The effect is CSS-only and uses a combination of the :checked pseudo-class with the sibling combinator.
PFold: Paper-Like Unfolding Effect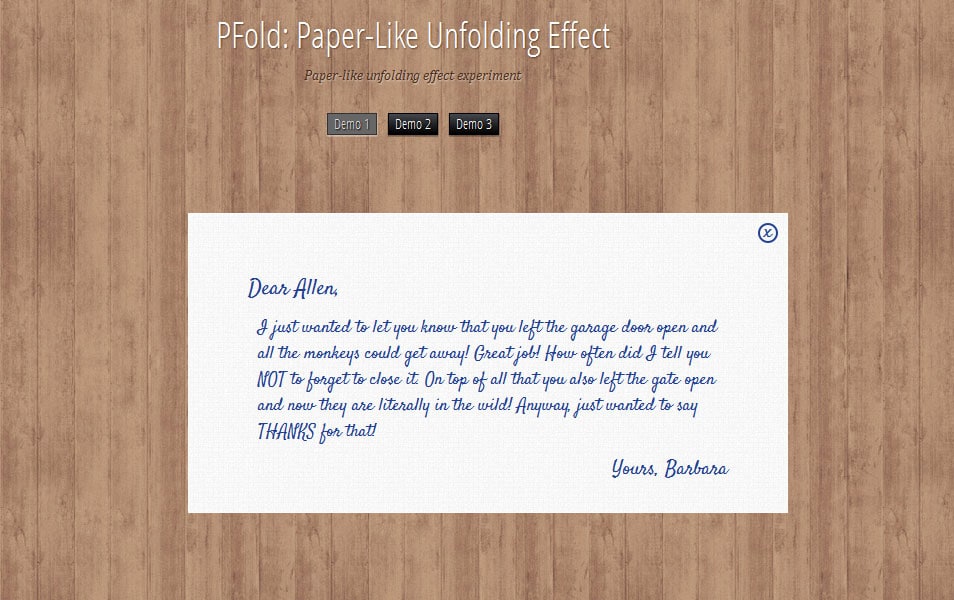 A highly experimental jQuery plugin that let's you unfold elements to reveal more content just like on a piece of paper. Unfolding directions and number of steps can be specified.
Useful and Practical jQuery Image ToolTips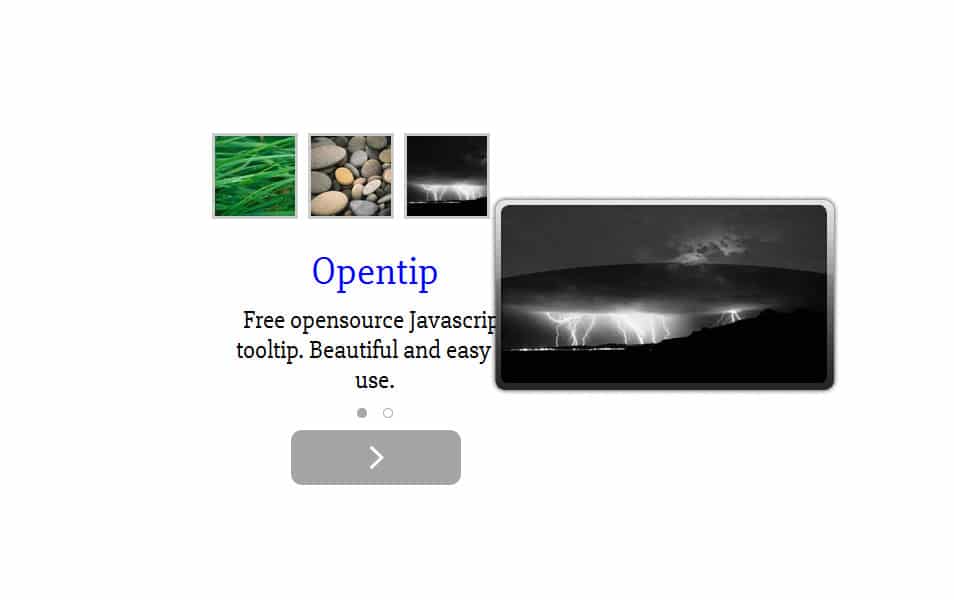 It displays a tooltip image when user hover on the thumbnail with fadein and out effect. it's a useful script for your website.
Bubbleriffic Image Gallery with jQuery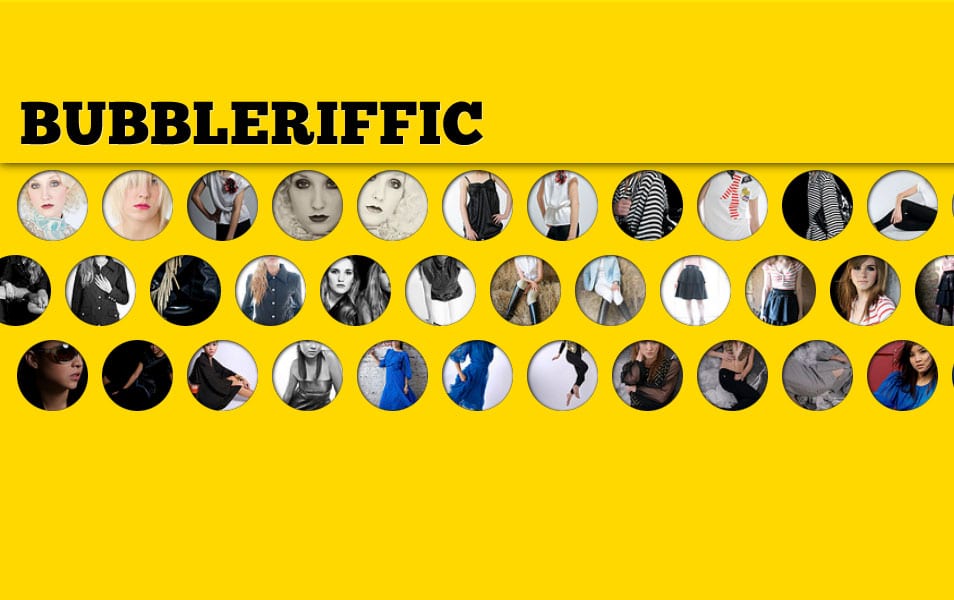 In this tutorial we will create a bubbly image gallery that shows your images in a unique way. The idea is to show the thumbnails of albums in a rounded fashion allowing the user to scroll them automatically by moving the mouse.
CSS Triangle Image Crop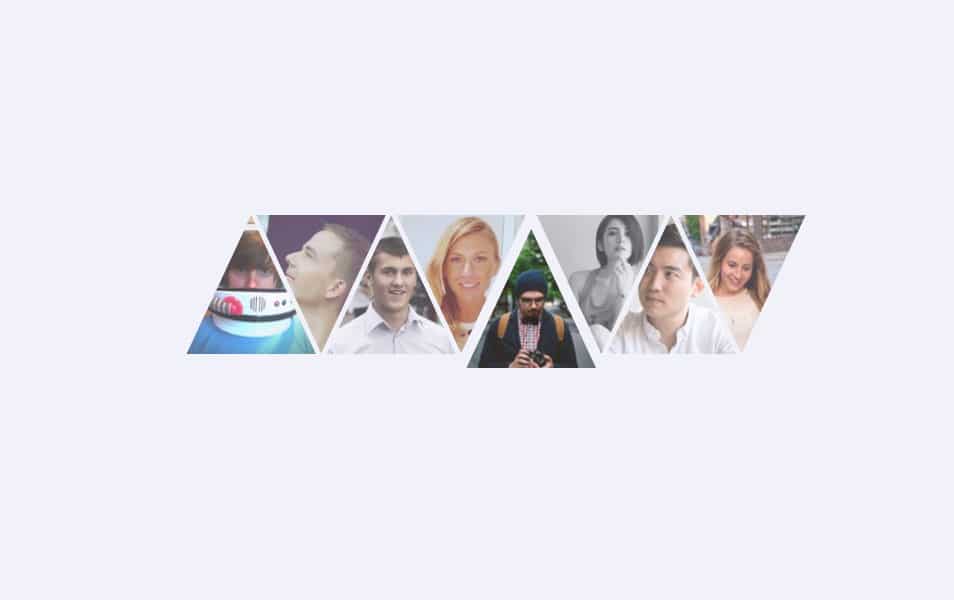 Display Images with Shape Masking and Nifty Zoom Effect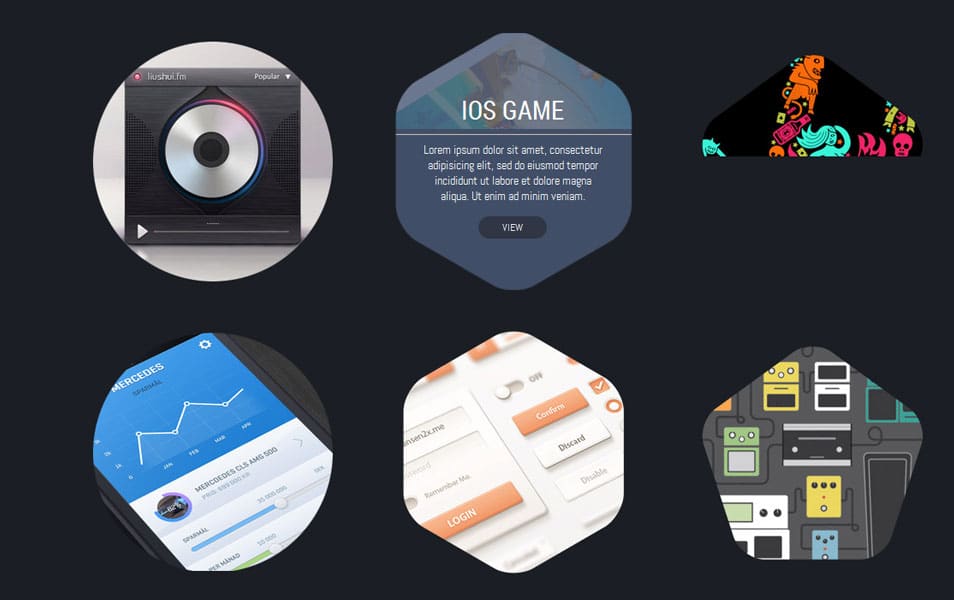 How to mask images with shapes plus some nifty zoom animation effects with just HTML & CSS. I have seen this kind of styling and effect in many portfolio websites and let me show you how it's made.
Thumbnails Preview Slider with jQuery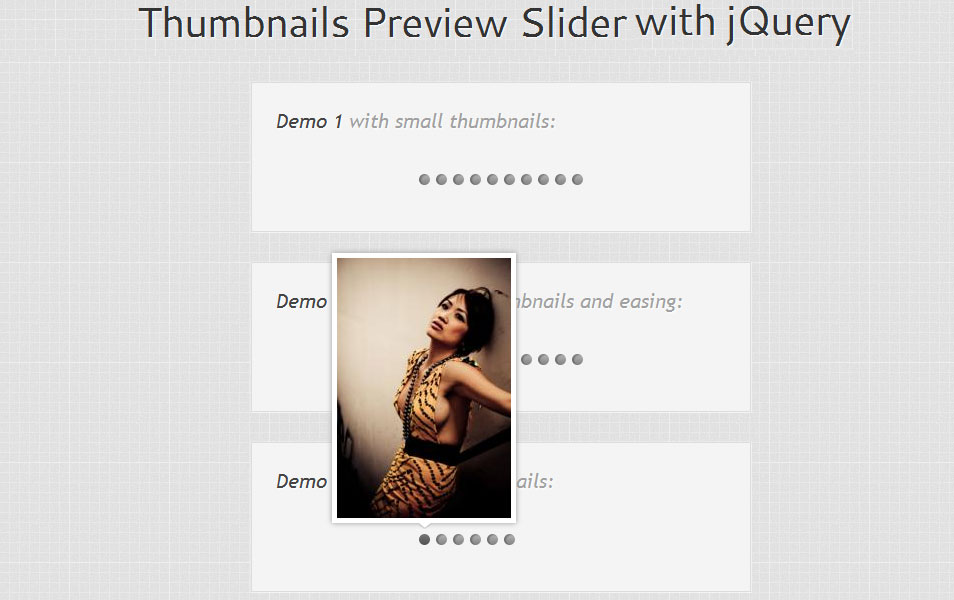 In this tutorial we will show you how to create and use a thumbnails preview slider with jQuery. Since we got a lot of requests to show how to make the preview slider work separately from the full image view.
Hover Slide Effect with jQuery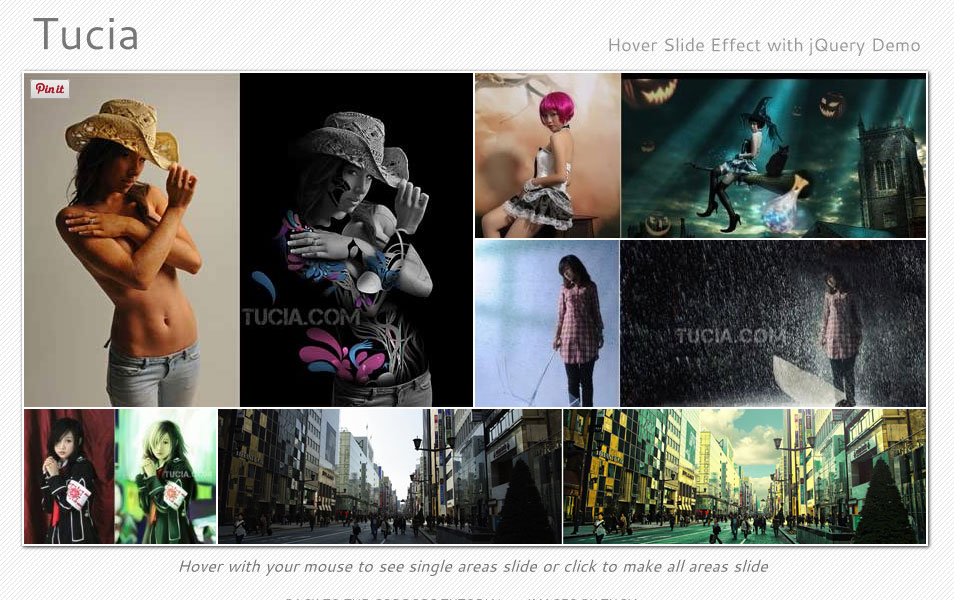 The main idea is to have an image area with several images that slide out when we hover over them, revealing other images. The sliding effect will be random.
Magnifying glass for image zoom using Jquery and CSS3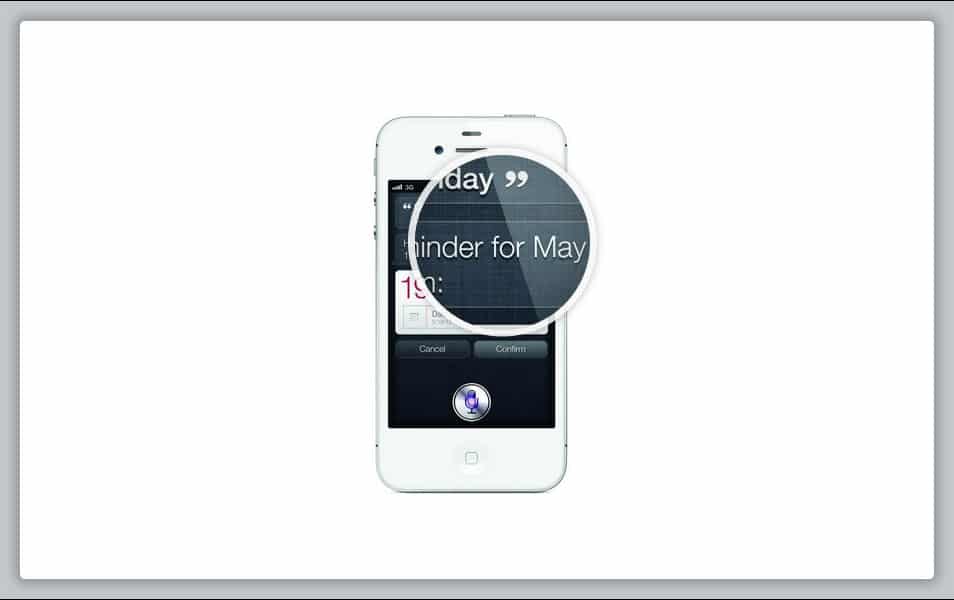 Learn to make a realistic magnifying glass using Jquery and CSS3. Hover above the image to see the action.
Flat Folio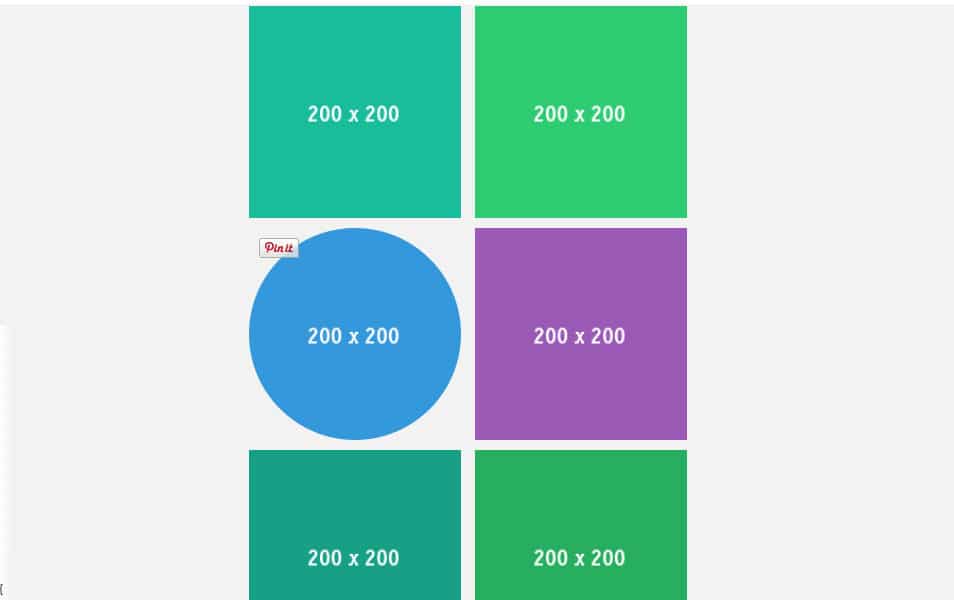 A simple flat portfolio style that doesn't suck. Saw a similar style on a theme and had to re-create it. Added some animate.css by Dan Eden and a hover effect.
Simple yet amazing CSS3 border transition effects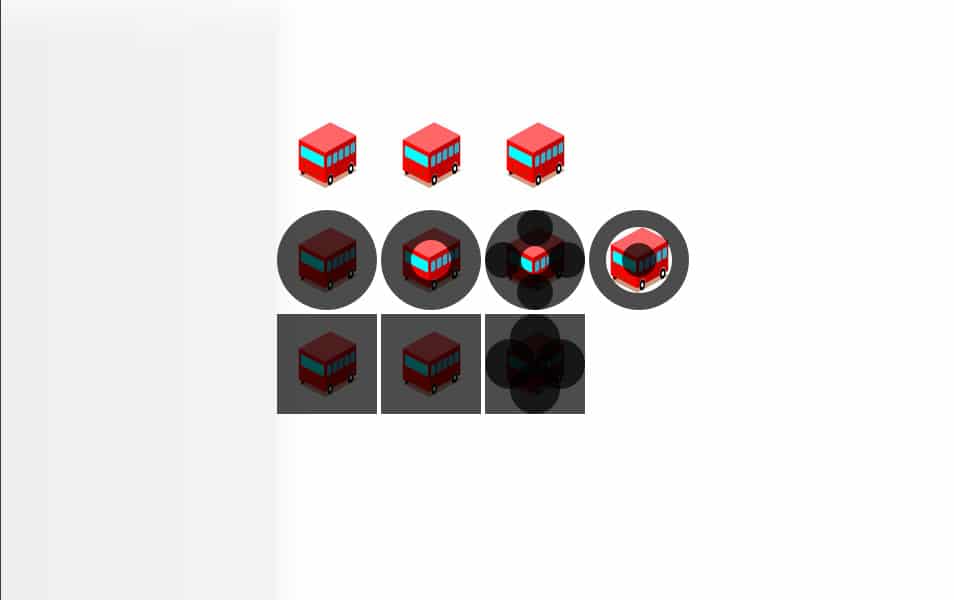 Some crazy effects with Border Transitions. Originally made by ksk1015. Pretty basic CSS3 code, but amazing output.
Text Revel on Hover: Corner Triangle Slide Overlay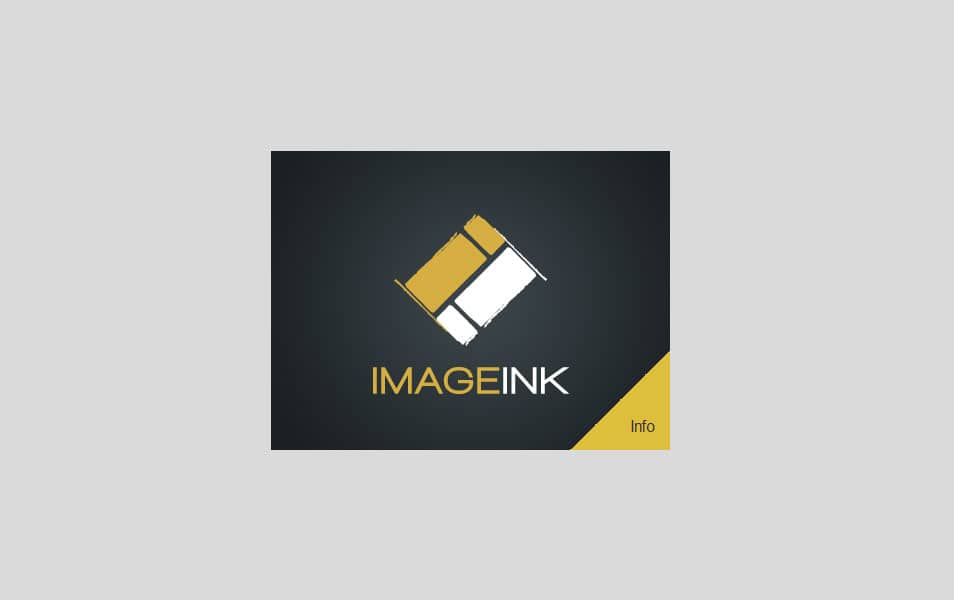 I'm trying to come up with ideas for my new site's homepage and "mem". Just testing out another hover technique.
Animated Skills Diagram with Raphaël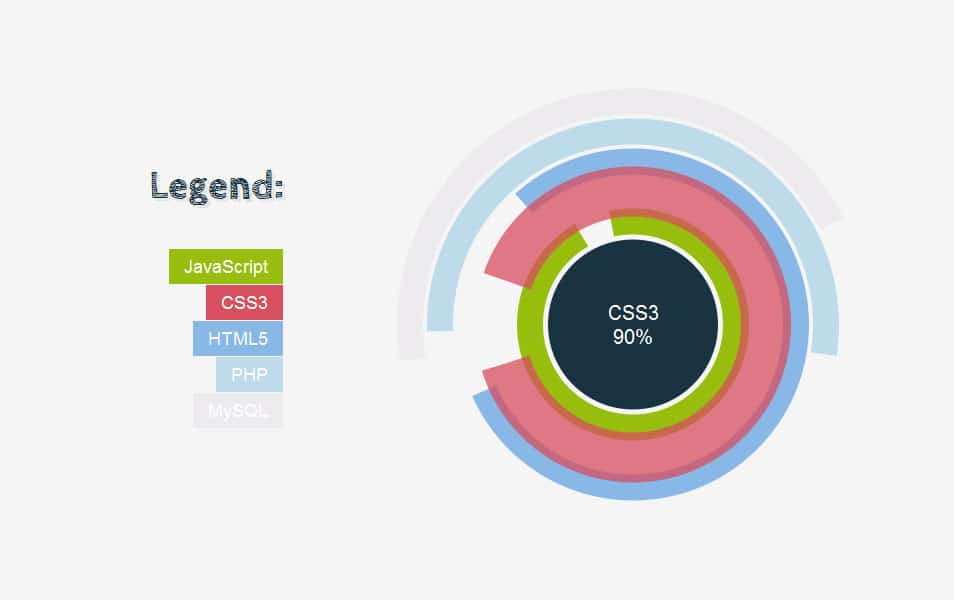 In this tutorial we will show you how to create a diagram using Raphaël – a small JavaScript library that is great for working with vector graphics. The idea is very simple: we will draw some arcs using mathematical functions and we'll be displaying a skill percentage in a main circle.
Simple animated hover effect for images using CSS3 and HTML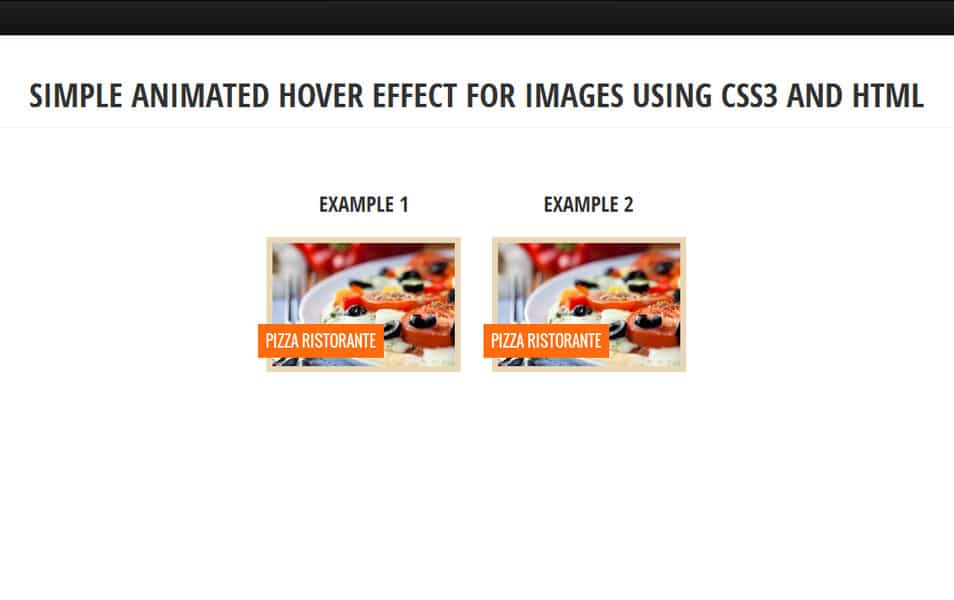 In this article we woud like to introduce some of CSS3 styles that allows to display a code using animated effects. As for example we will take a product, which you can display in a custom HTML module of Joomla.
Ideas for Subtle Hover Effects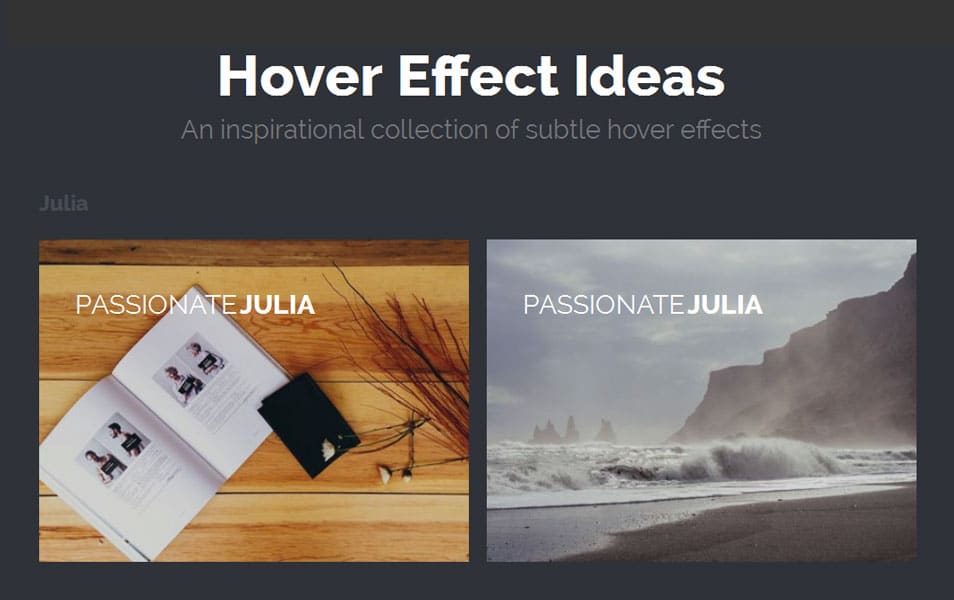 Some creative and subtle hover effect inspiration using modern CSS techniques including 3D translate and pseudo elements.
Create Different Styles of Hover Effects with CSS3 Only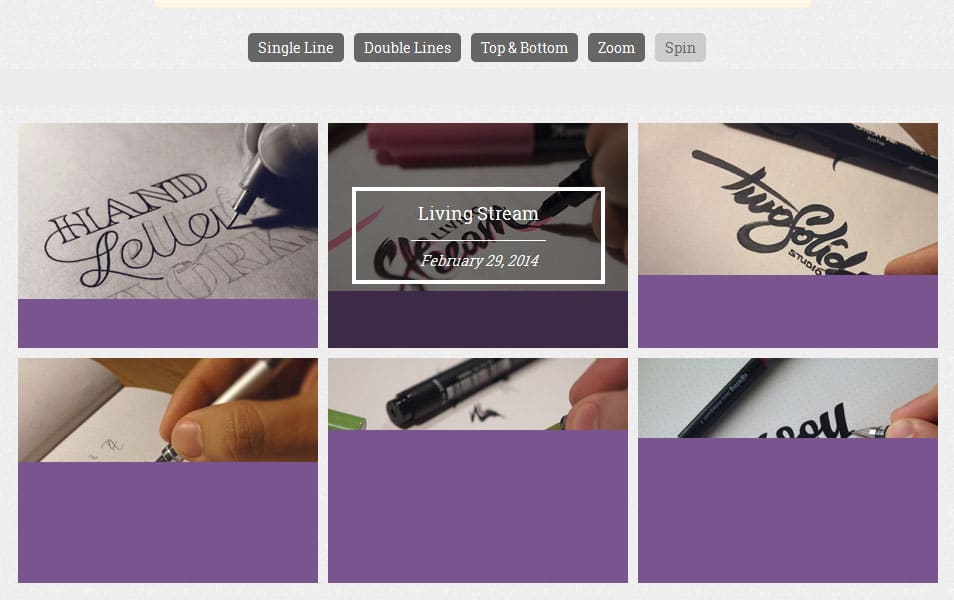 Pure CSS3 animation such as flashing, fading, spinning, zooming, moving and a serial of complicated animations are emerging. What seems to be impossible to achieve with CSS only are now achievable fairly easily.
CSS3 Hover Effects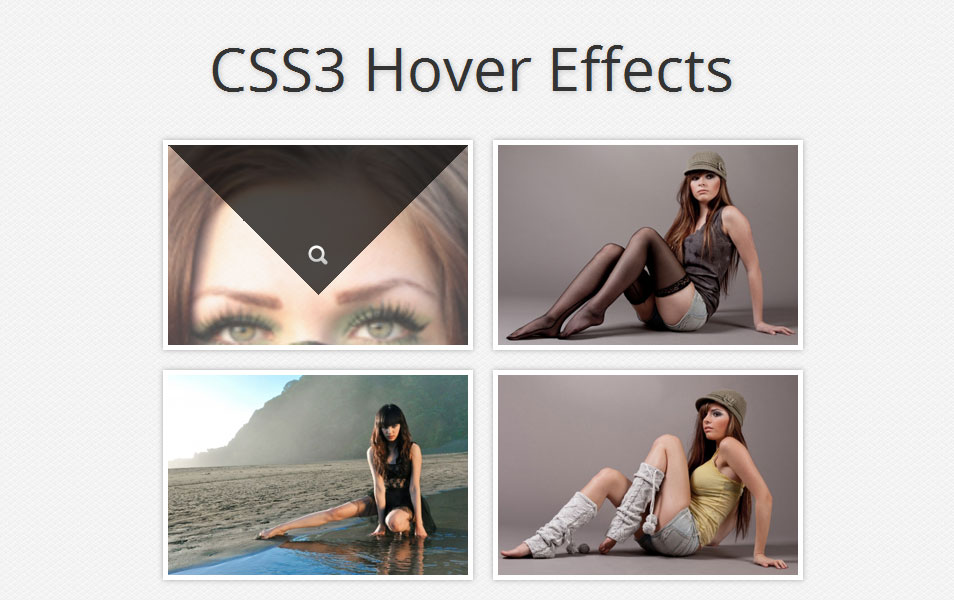 In summary, we seek the same method but we will act especially using the border property, as we shall see later that allows us to create very particular effects.
10 Easy Image Hover Effects You Can Copy and Paste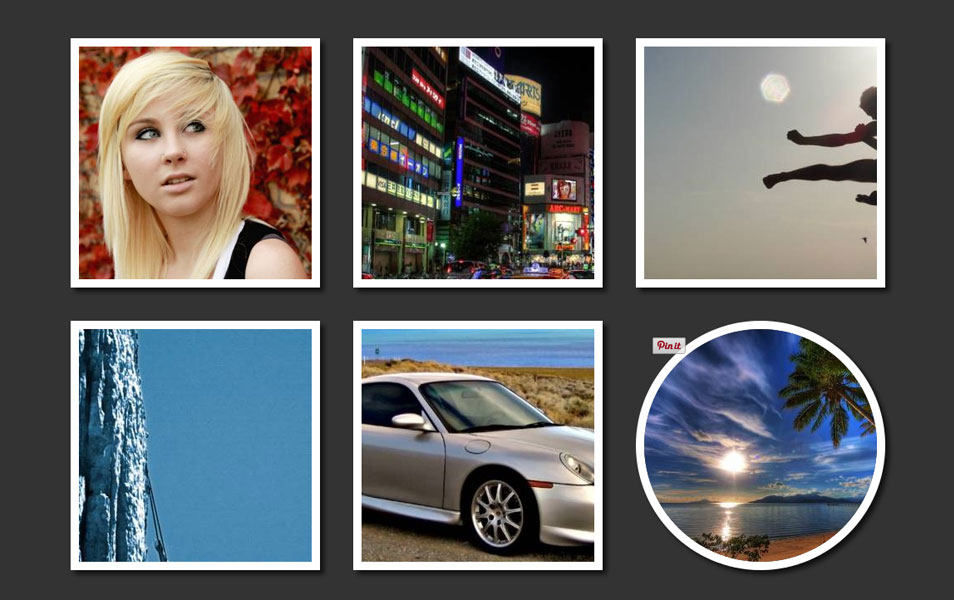 We're going to follow that up with ten new effects specifically built for use with images. Each example comes with an HTML and CSS snippet that you can steal and a live demo so you can see it in action.
Simple hover effects with CSS(webkit) filters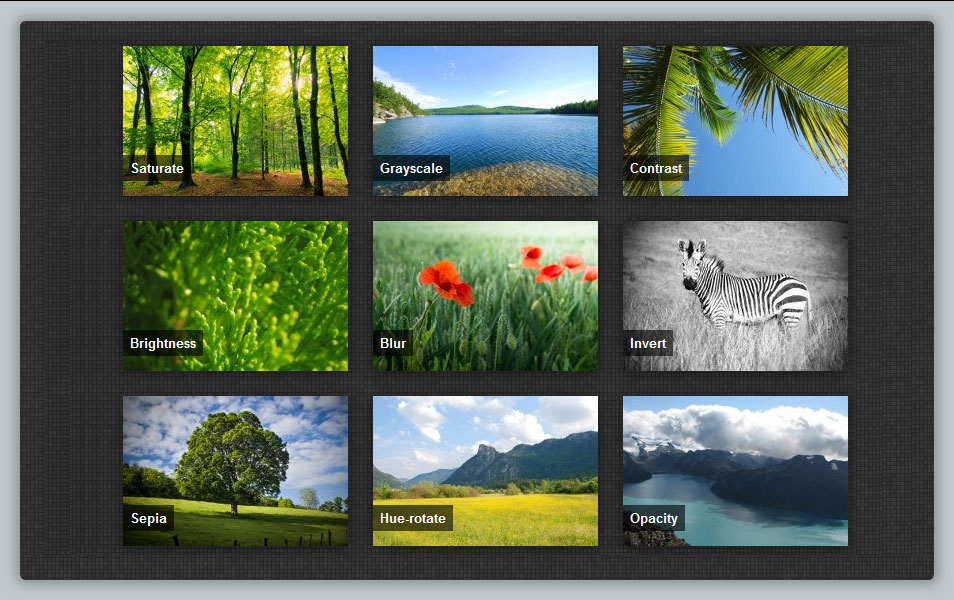 Simple hover effects created with CSS filters. CSS3 filters are currently supported in WebKit nightlies. Hence the walkthrough only uses the -webkit prefix for applying the filter effects.
Create a Pentagon Hover Effect with CSS3 and jQuery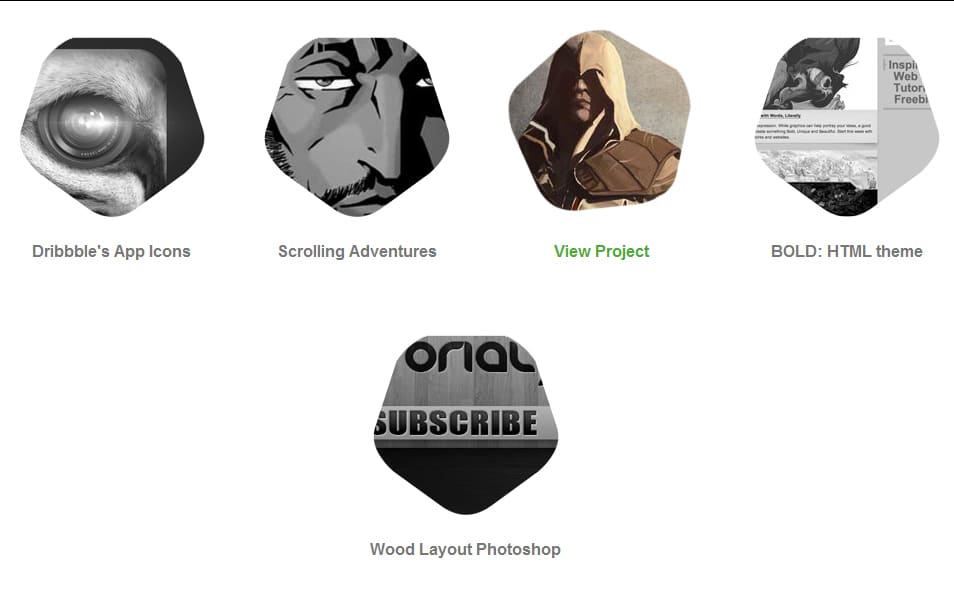 This is a new series that will focus on cool web elements on the web. My goal is to try and replicate these sleek elements using a combination of HTML, Javascript and CSS3 and hopefully teach something along the way. It's a portfolio site that implements a cool pentagon hover effect for displaying his work. It smoothly meshes together a rotate effect with a slight nudge right to the image along with a colorization of the image.
Diagonal Sliding Hover Transition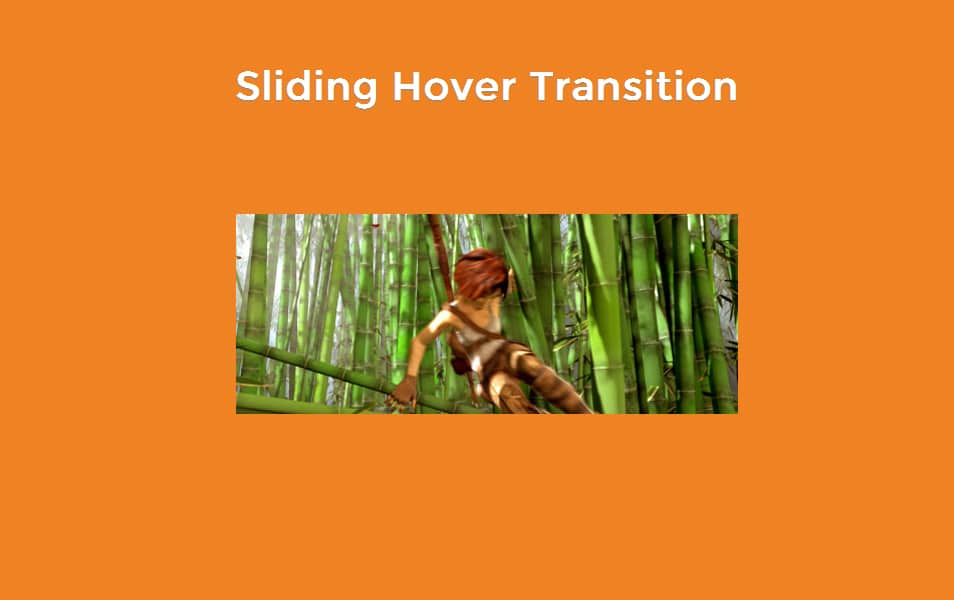 create a hover transition that could be used for image links. A good hover effect can save space on showing more information until hover, while also creating an enticing and interesting effect. The diagonal effect is achieved through positioning a triangle attached to a long rectangle at the right of the image out of sight and transitioning it left through the image so it looks like it is filling up diagonally. This is a CSS only effect.
Navigation Hover Effects Tutorials
Make a simple navigation with hover transitions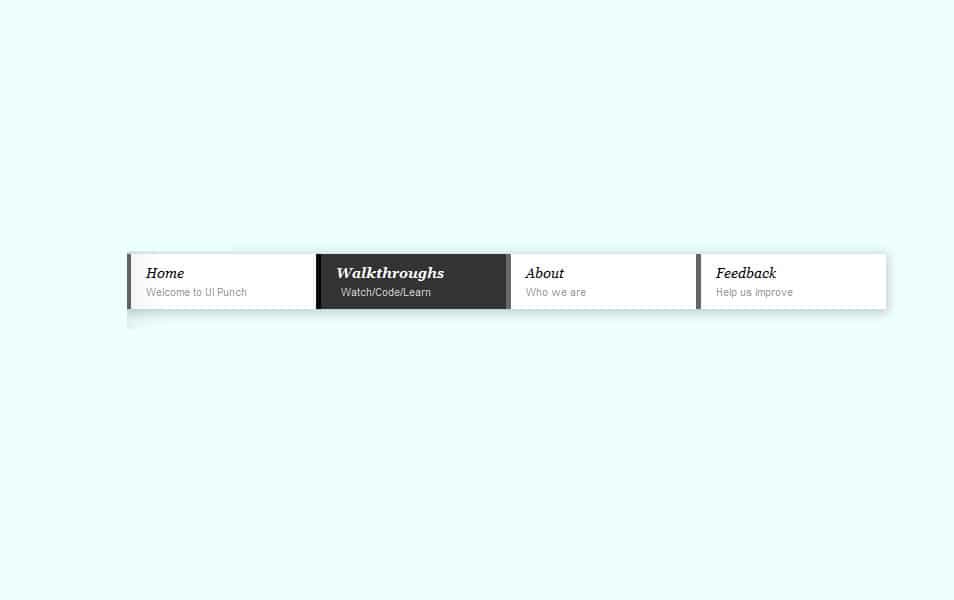 A simple navigation with transition effects on hover.
CSS3 Hover Effect using :after Psuedo Element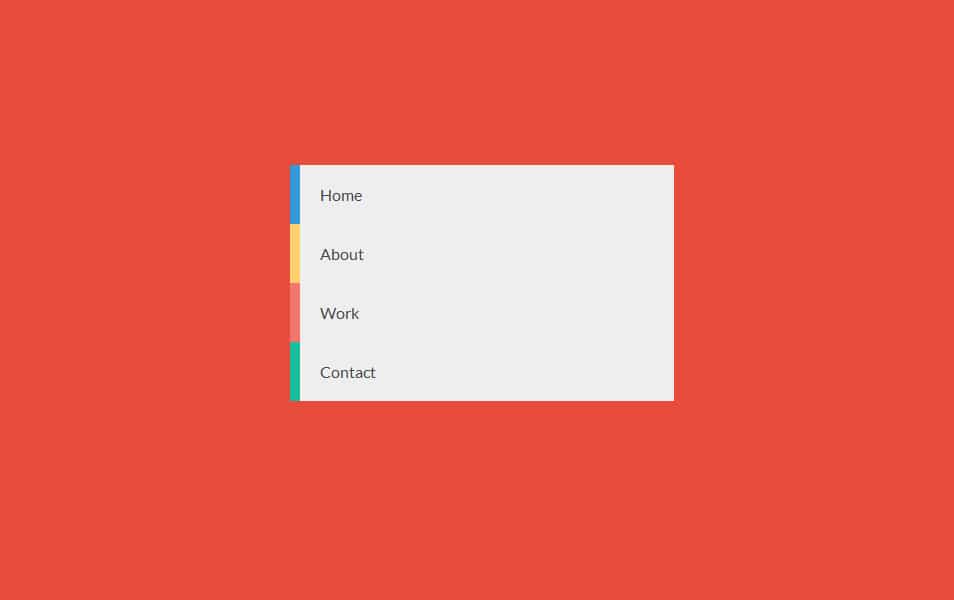 Navigation hover effect using :after psuedo-element.
CSS3 Navigation Hover Effect Simple and clean hover effect for navigation buttons or links.
hover effect Navigation hover effect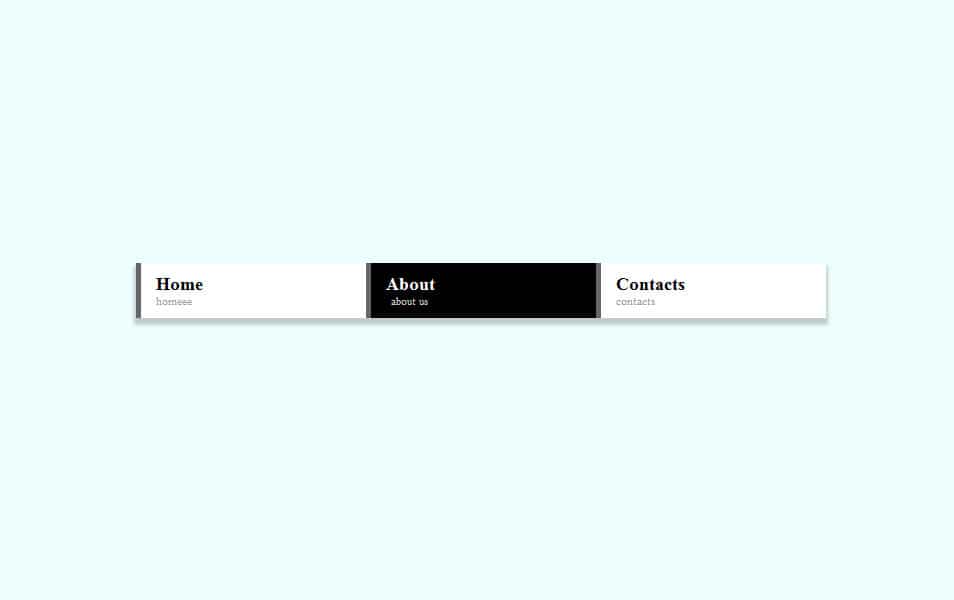 Simple css3 navigation hover effect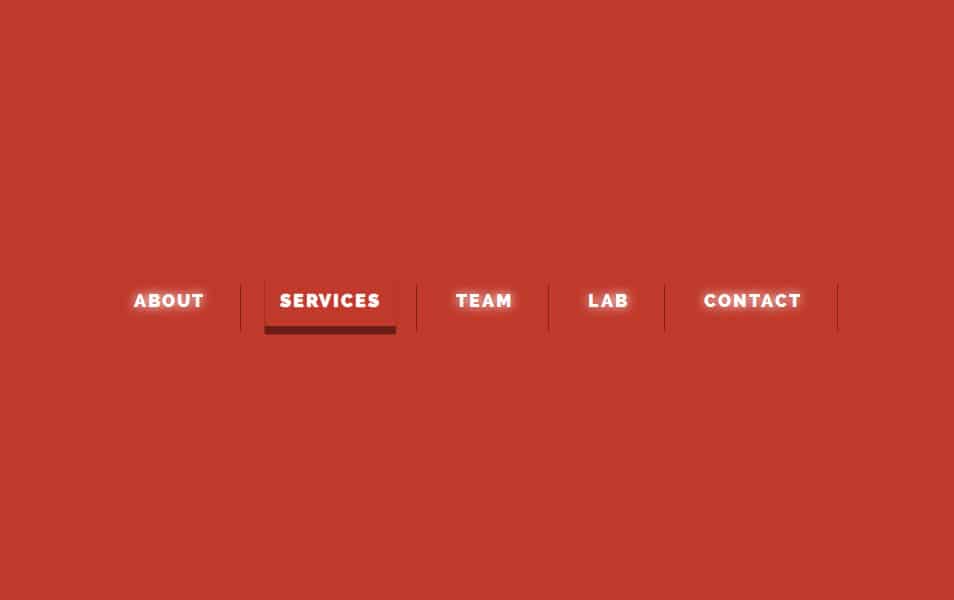 Icon Hover Effects Tutorials
Social Media icons With CSS 3D hover effects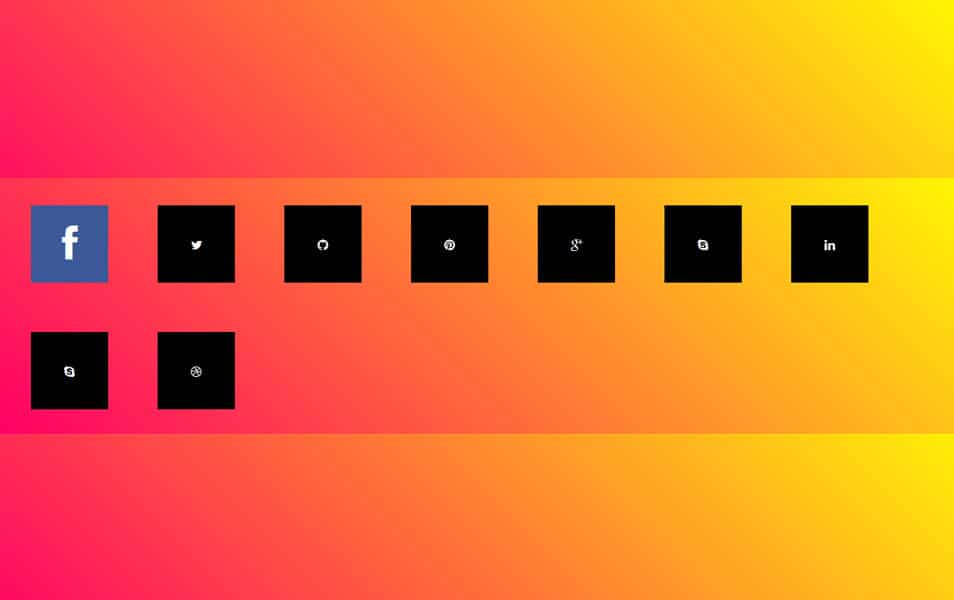 A new CSS3 3D hover effect for social media icons. The result can be seen, as usual, on Dabblet. It uses CSS3 transitions, transforms and 3D properties.
Simple Icon Hover Effects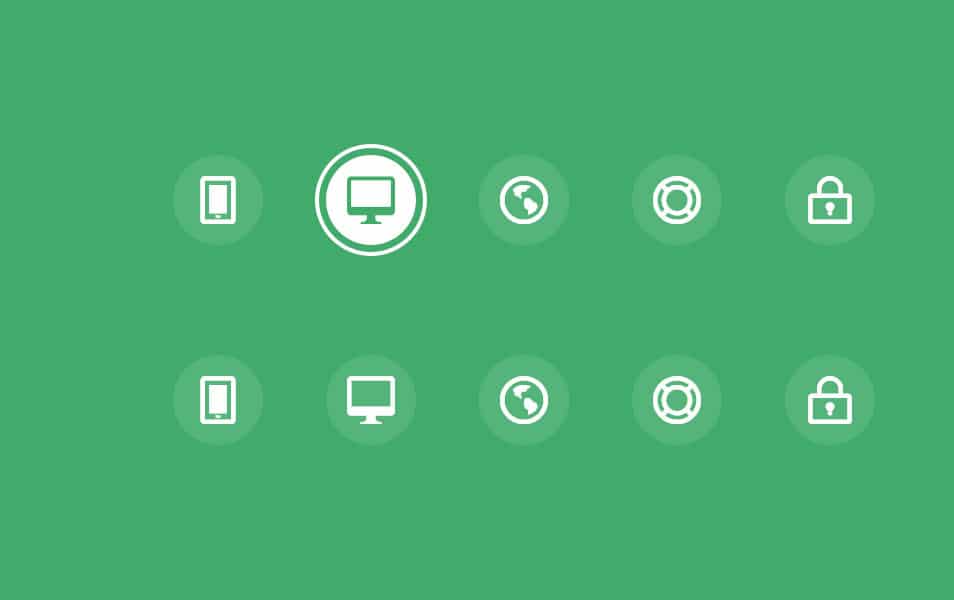 A set of simple round icon hover effects with CSS transitions and animations for your inspiration.
CSS3 Hover Effects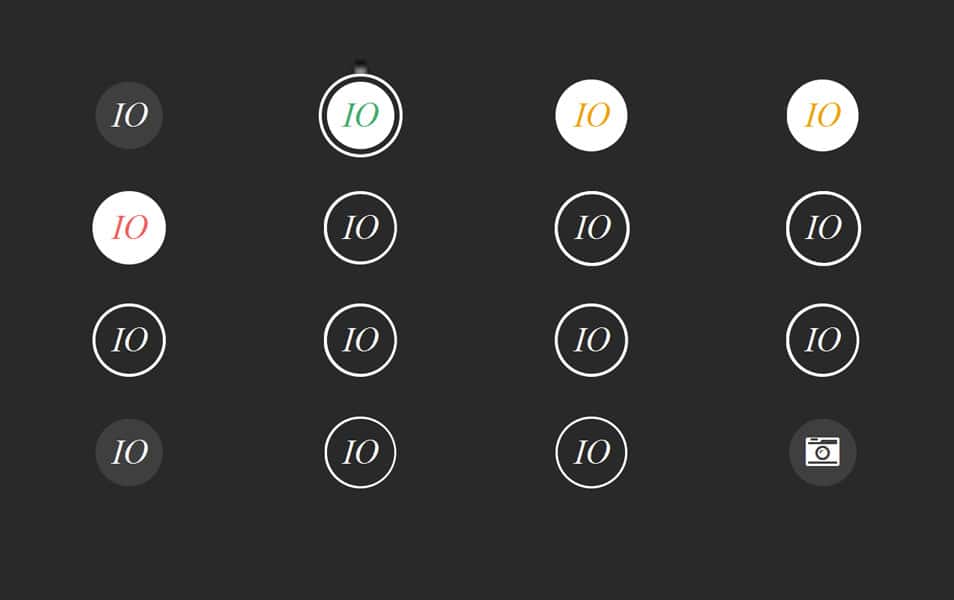 A showcase of most CSS3 hover effects.
Menu Hover Effects Tutorials
3D Cube Rotate Menu
I instantly fell in love with the unique animations and feel of the website that I almost missed the beautiful sidebar menu. It has a sleek 3D cube rotation effect on each link in the menu. Basically, on hover the link is supposed to look like a 3D cube that rotates 90 degrees. This is achieved with CSS3 Transform Matrix 3D.
Scrollable Thumbs Menu with jQuery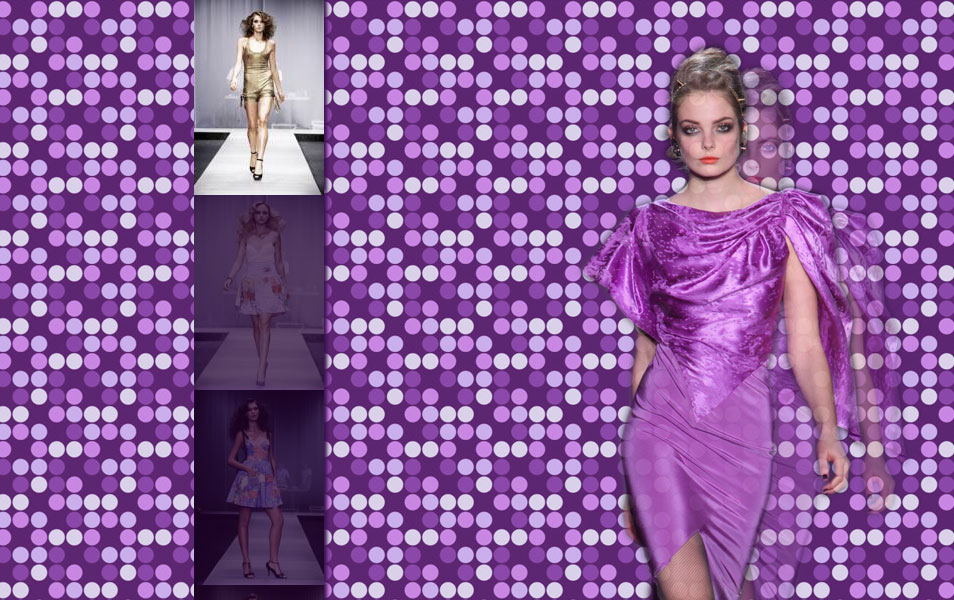 In this tutorial we will create a fixed menu with scrollable thumbs. The idea is to have a menu fixed to the bottom of the page and let a vertical stack of thumbs appear when hovering over a menu item.
Unfolding Menu Animation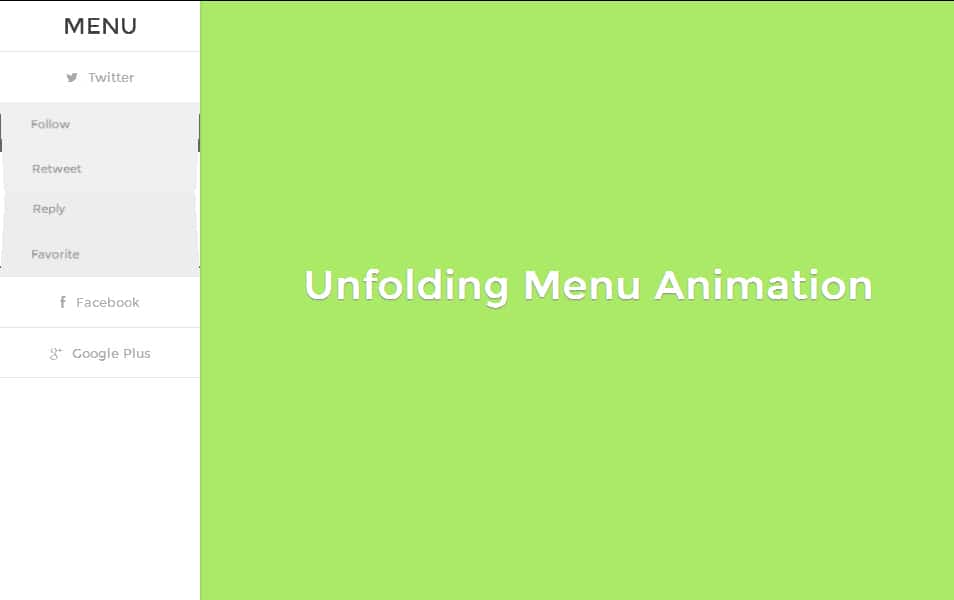 Today I am going to be creating a cool unfolding menu animation. Two panels swing forward to reveal a submenu for the links in the menu. This uses the CSS3 transform: Rotate and perspective.
CSS3 Hover Effects Style Restaurant Menus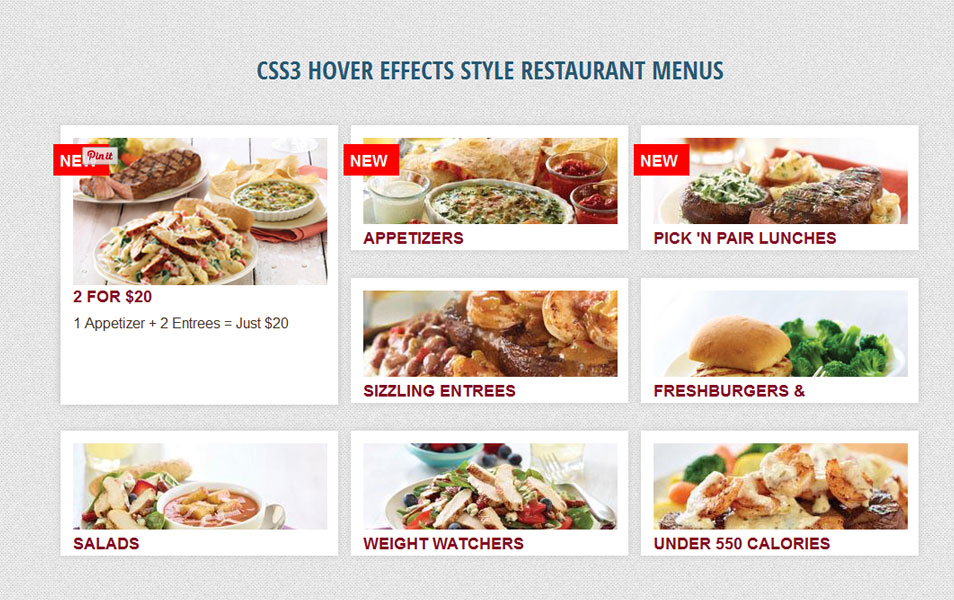 In this tutorial, we only use CSS transition and box shadow style to create beautiful image style with show and hidden text. In fact now we can use more properties of CSS to create style effects in stead of jQuery hover effects.
jQuery Wheel Menu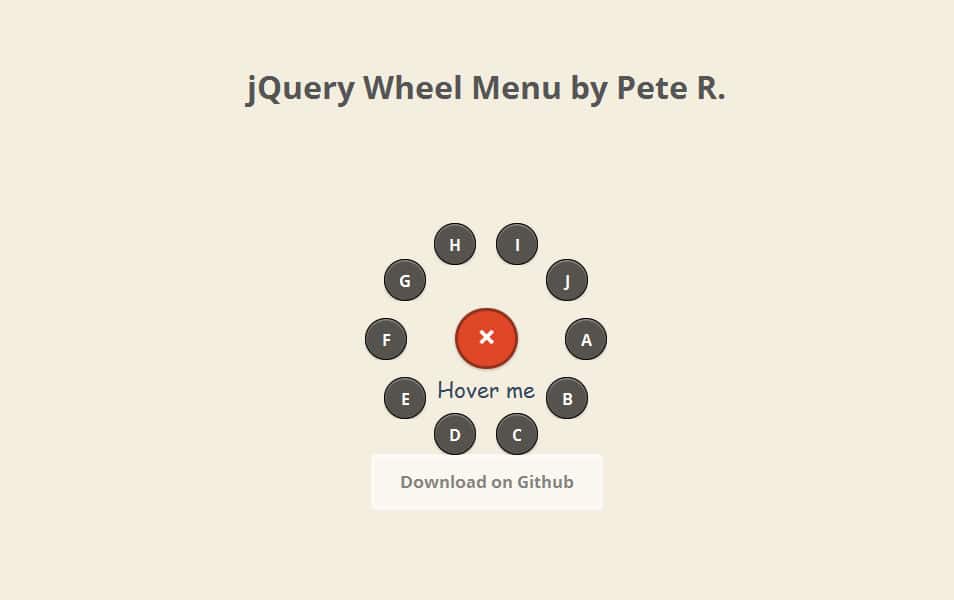 Add a fully customisable Path-like wheel menu button to your website.
SASS: Menu Hover Effect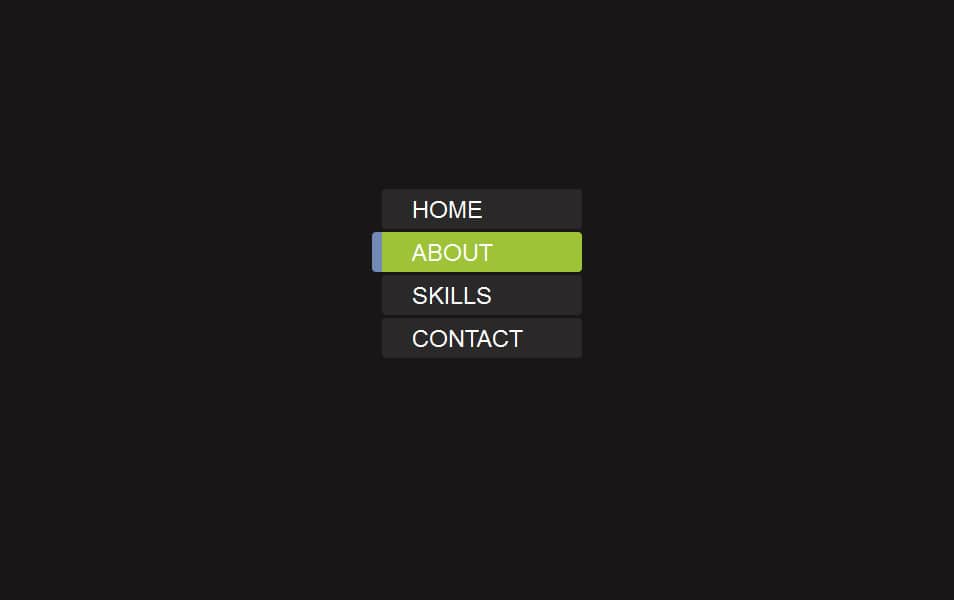 CSS3 Menu hover effects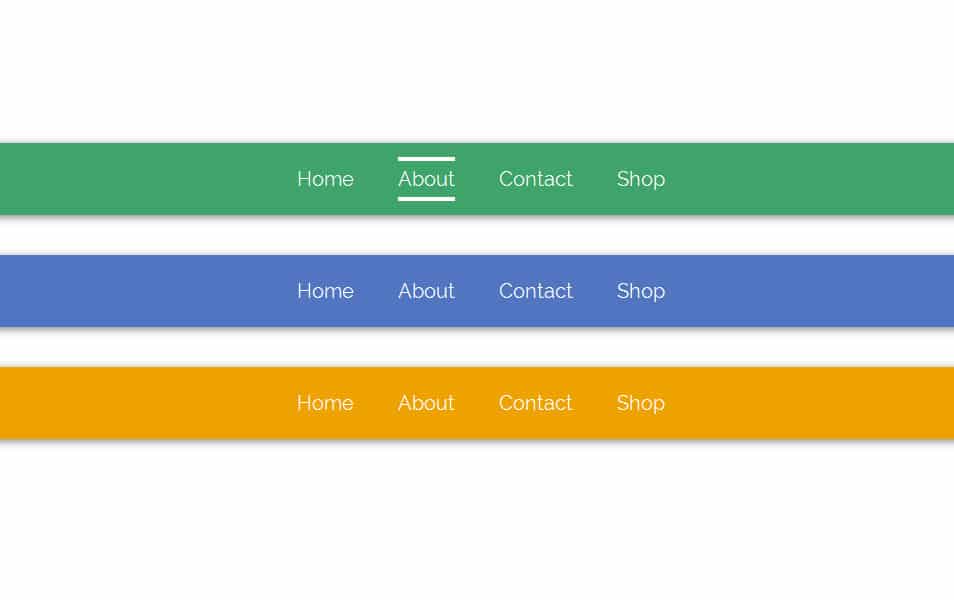 A collection of hover effects for menus, using CSS3 transitions.
Simple menu effect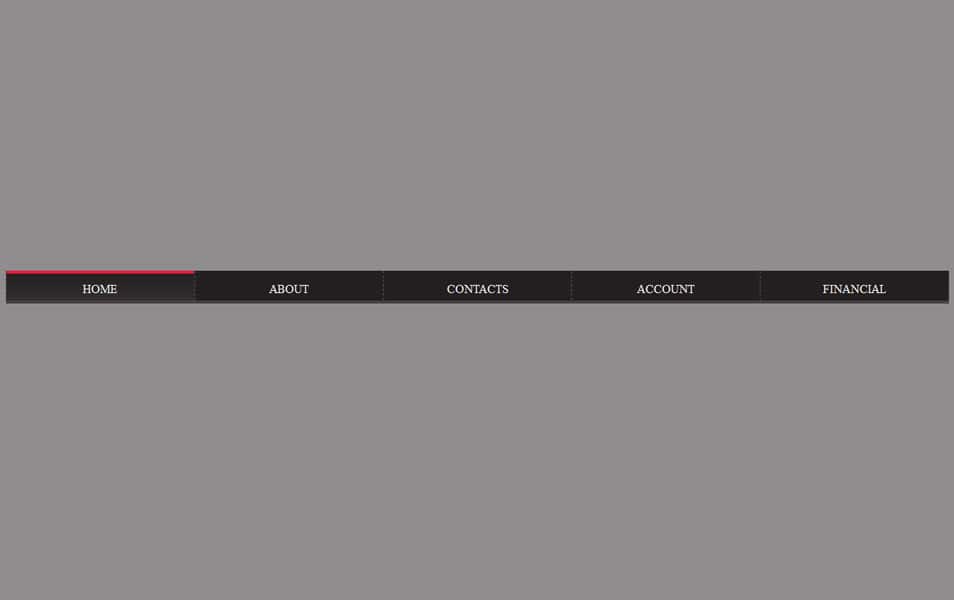 Just simple menu hover effect using background-position and transitions.
Menu Hover Effects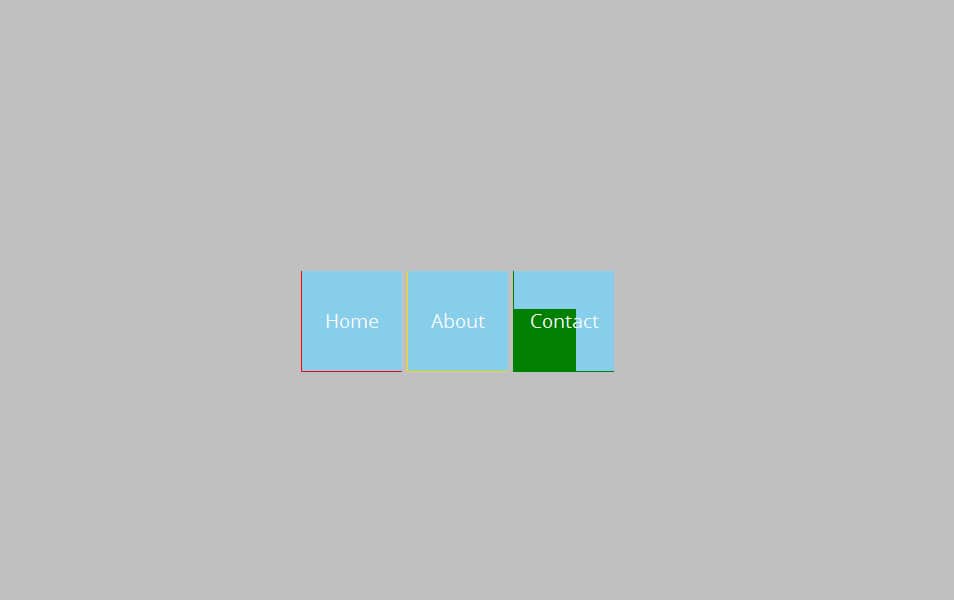 Just messing with a little colourful menu hover effect.
CSS3 Menu hover effects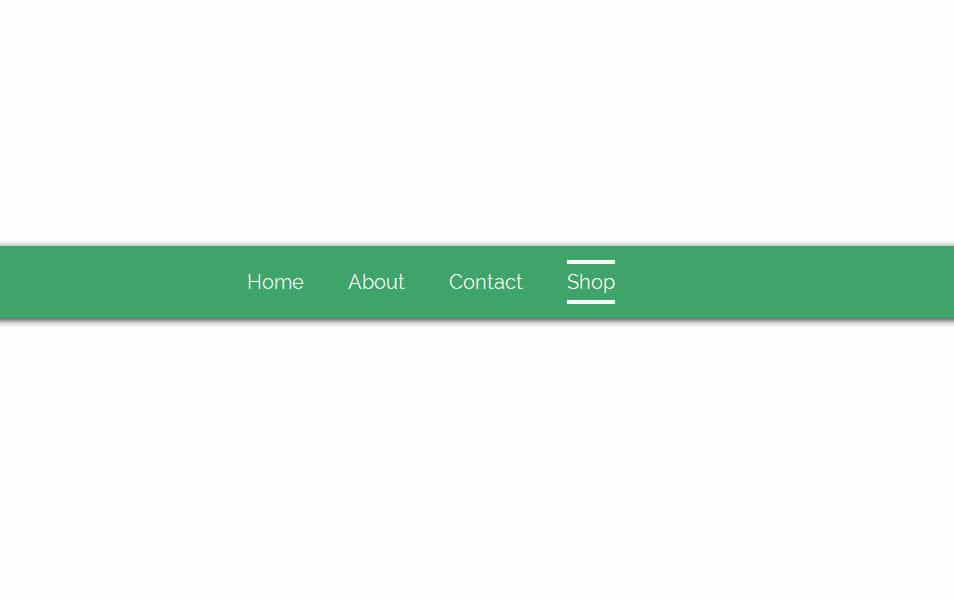 A collection of hover effects for menus, using CSS3 transitions.
Moving border menu hover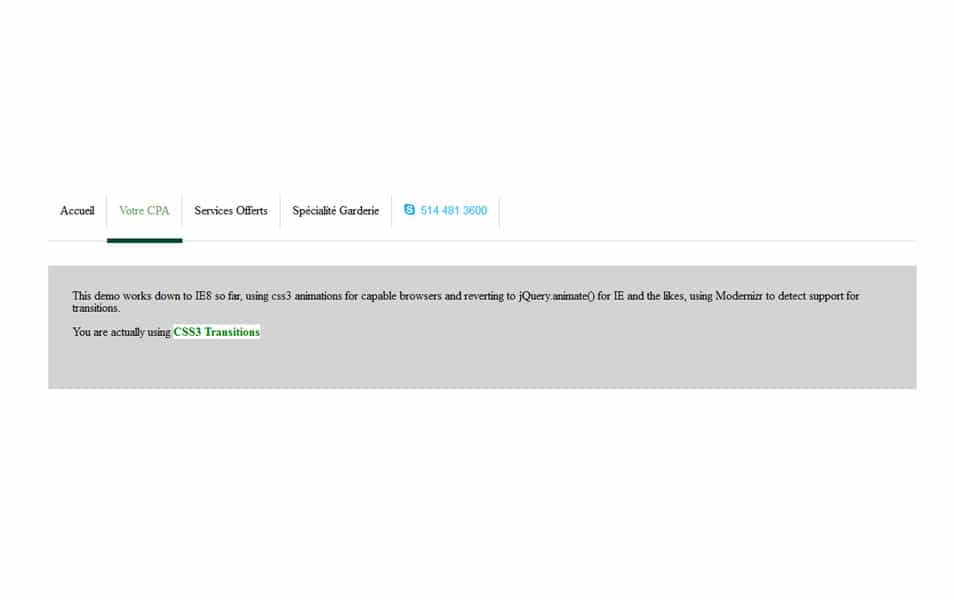 Simple menu hover effect using jquery and css3 transitions.
Simple Menu Hover Effect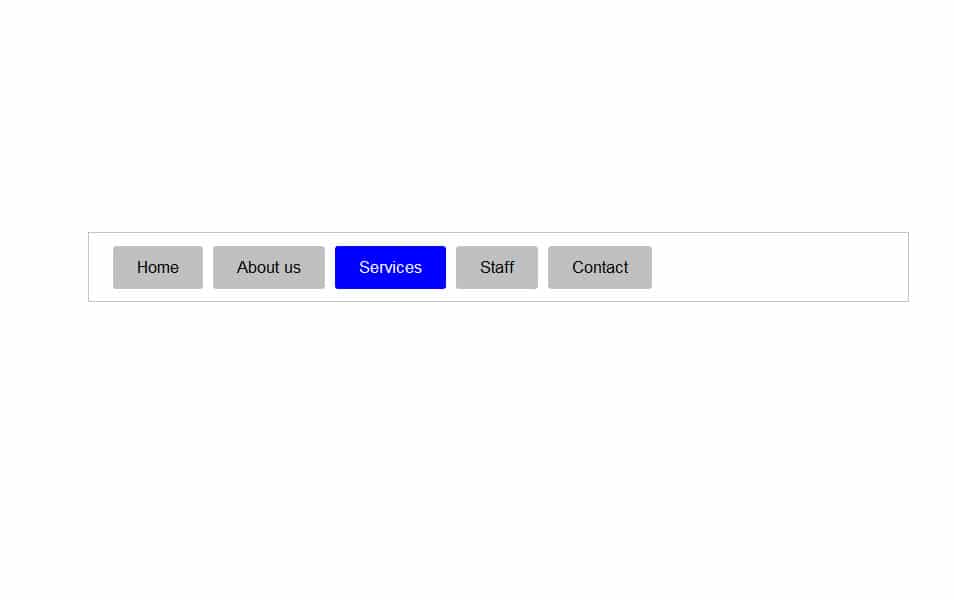 Table Menu Hover Effects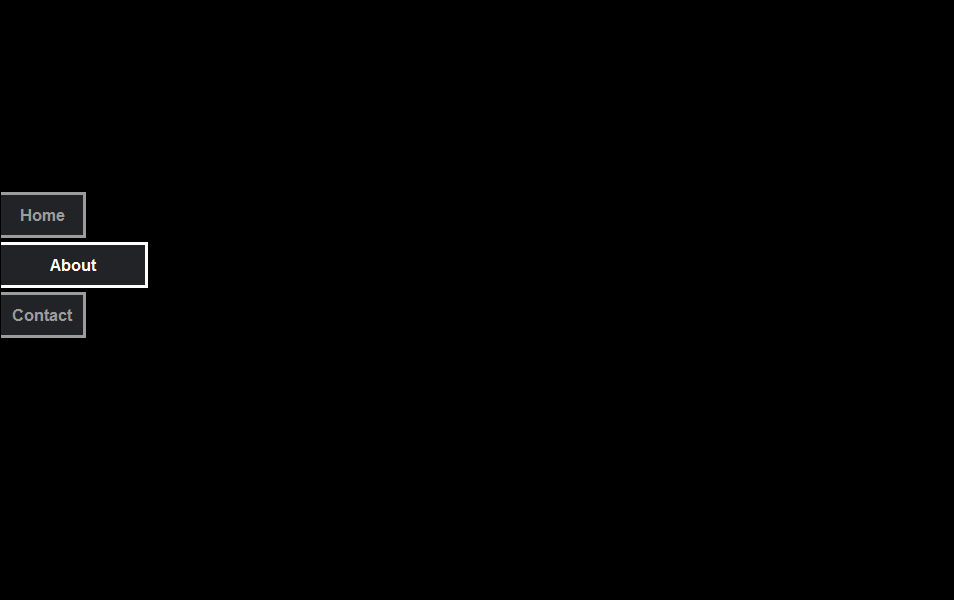 Menu made using tables. Hovering causes it to lengthen and focus on the link in the specific tab.
Simple Horizontal Nav Menu Hover Effects (List Style)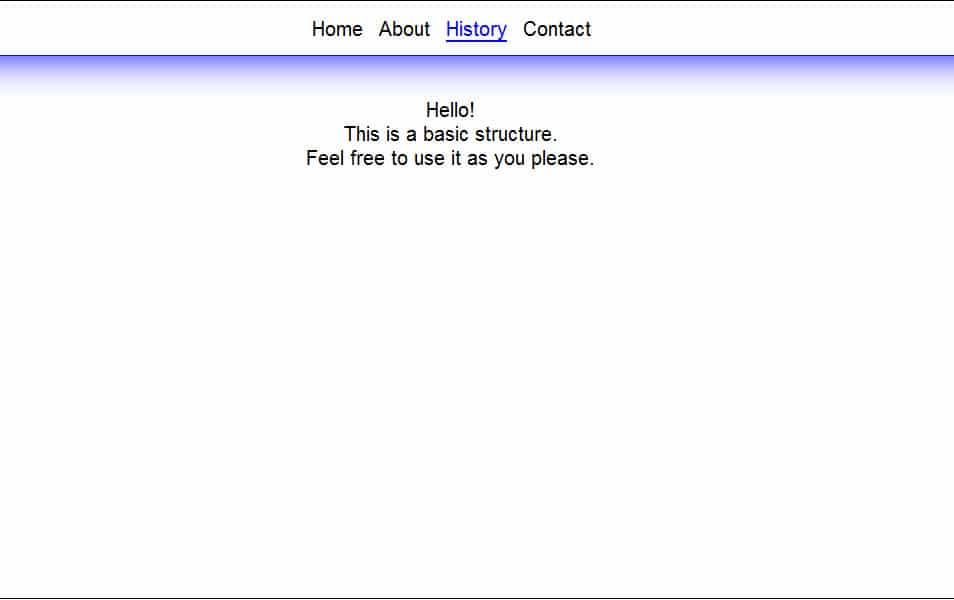 A horizontal list nav menu. Box Shadow, Border Bottom effects, and a fixed menu to stay on the top of the window while you scroll.
Menu Hover Effect Flat Pure CSS Nav Menu Hover Effects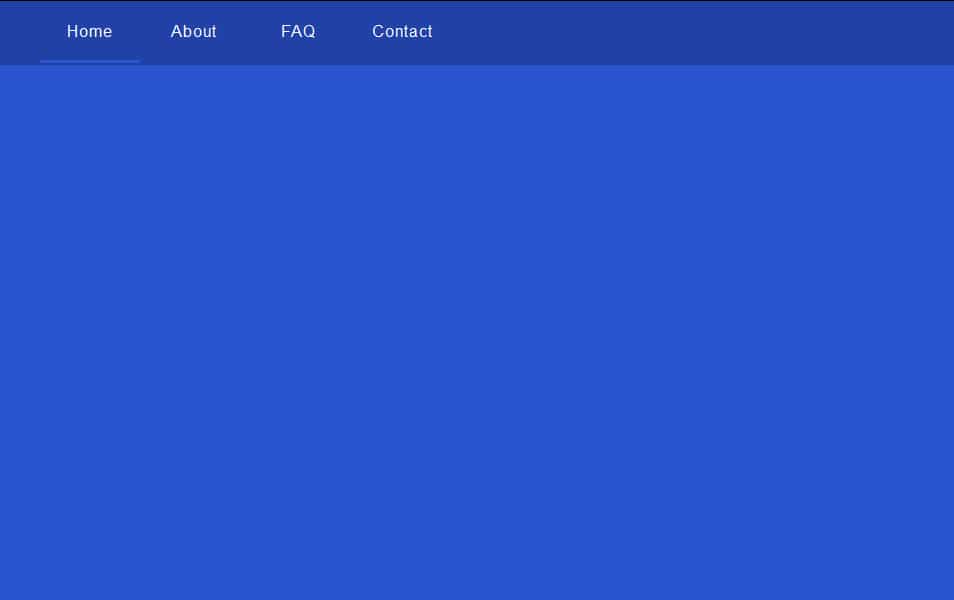 Button Hover Effects Tutorials
CSS Animated Buttons With Icons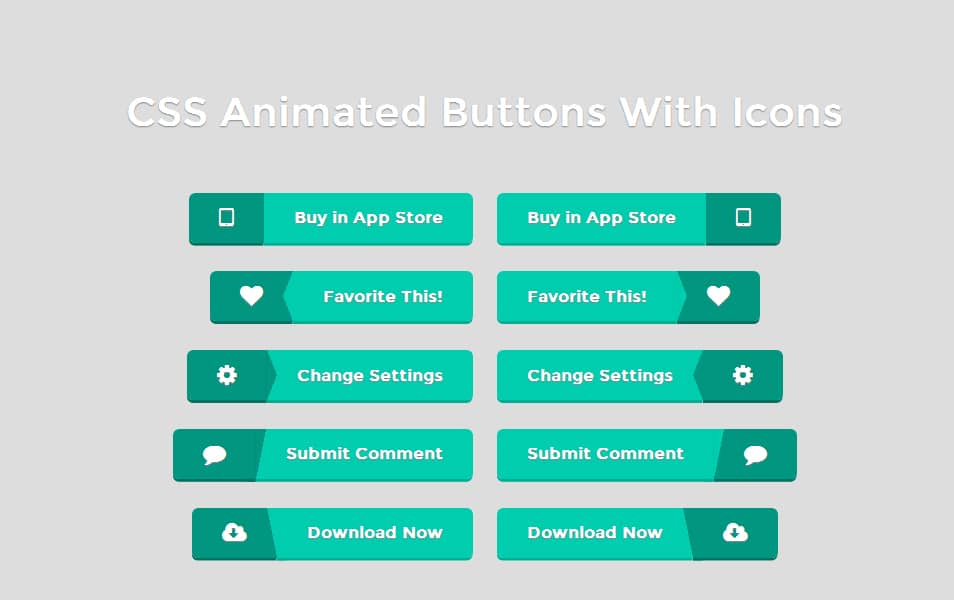 CSS buttons have progressed so far with the help of CSS3. I saw some beautiful buttons from the website but those were all achieved by images. I wanted to recreate that style with CSS only. Using css border tricks to make the triangle arrows and box shadows to create the 3D effect, I created a simple CSS only button that looks just as good. Add transitions to add a little animation and you have a great looking animated button.
CSS Powered Buttons with Hover Tooltips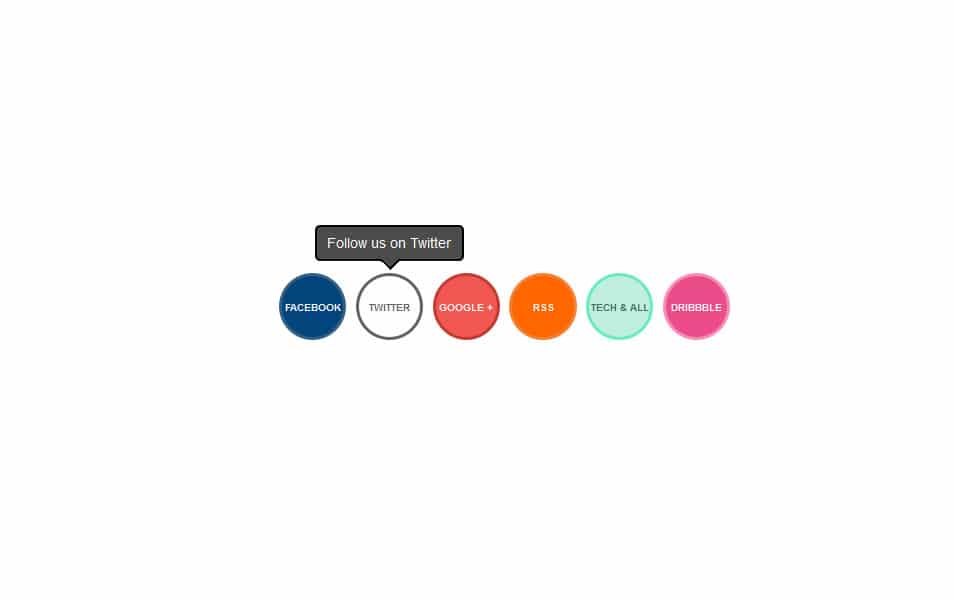 I'm only using social media button as an example, you can pretty much use them for any purposes. From the image you probably noticed the tool tip effect, check out the demo to see the button in action.
Swinging effect with CSS3 animations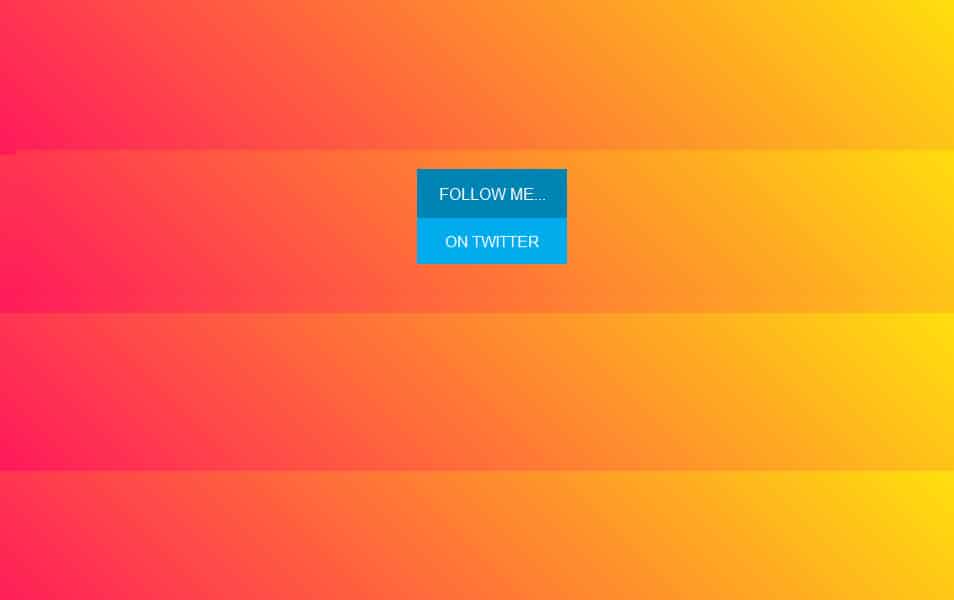 This tutorial demonstrate a nice and easy to achieve swing CSS3 hover effect.
Creative Button Styles
Some creative and modern button styles and effects for your inspiration.
Wacom button hover effect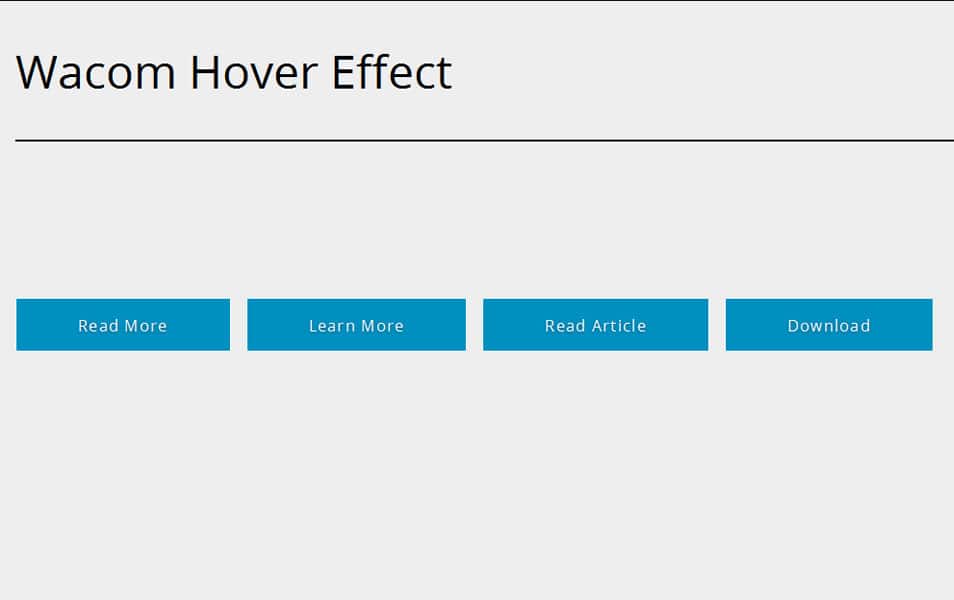 Menu Button Hover Effect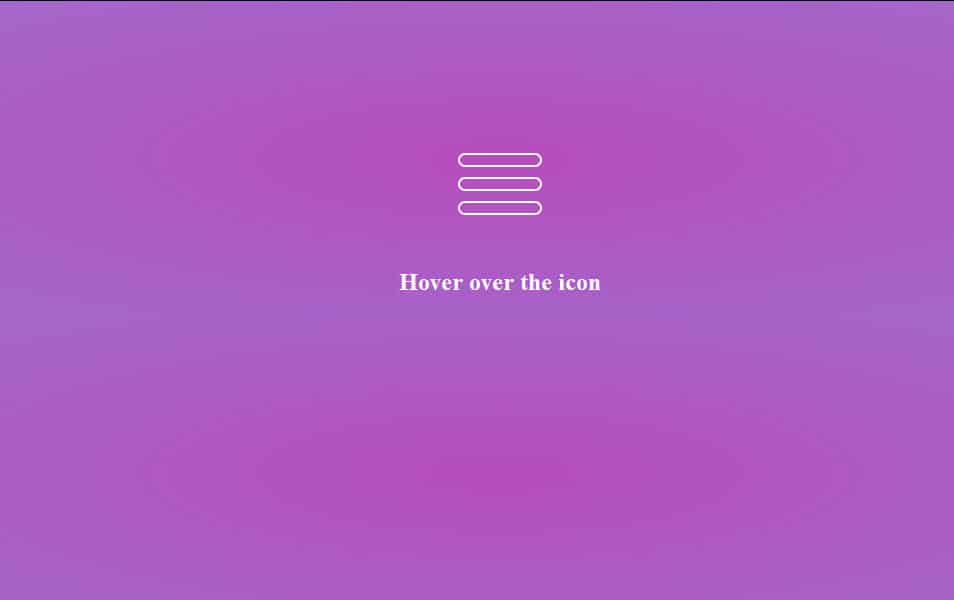 CSS Menu Button with hover effect.
Transitional Buttons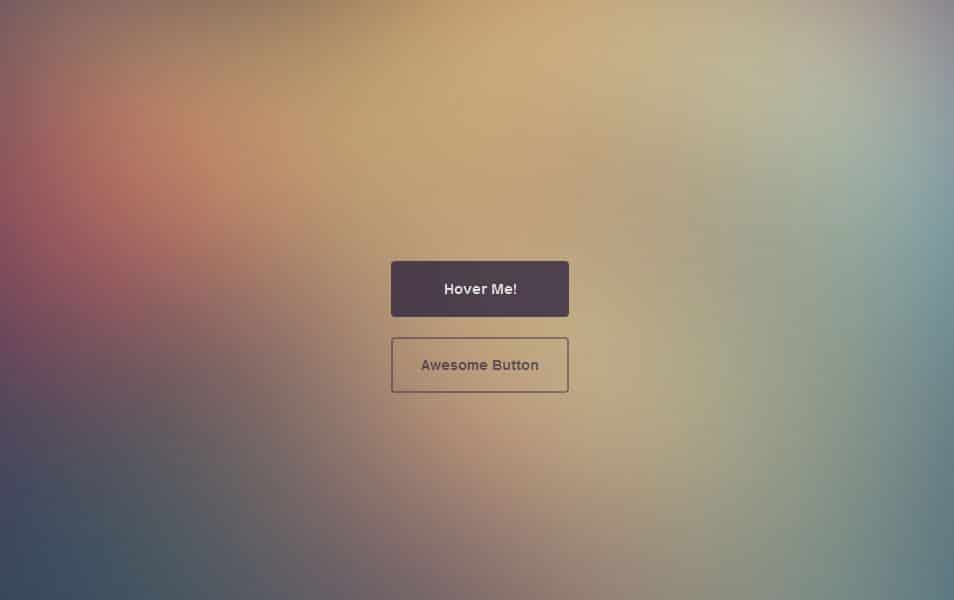 Using of transitions in button hover effects.
Collection of Button Hover Effects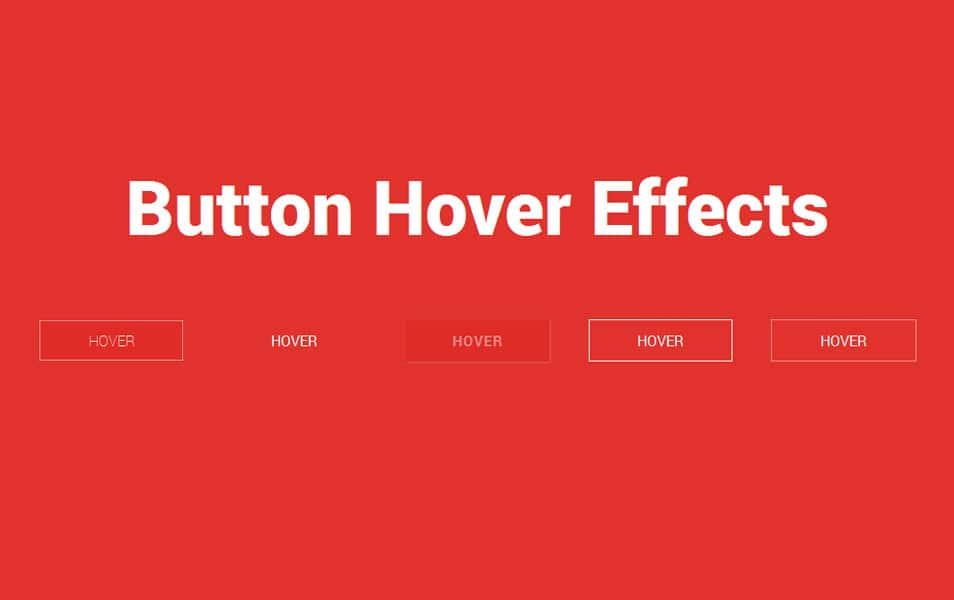 A few examples of flashy hover effects.
Button Hover Effects
Some button hover effects using psuedo elements and borders.
Nice button hover effect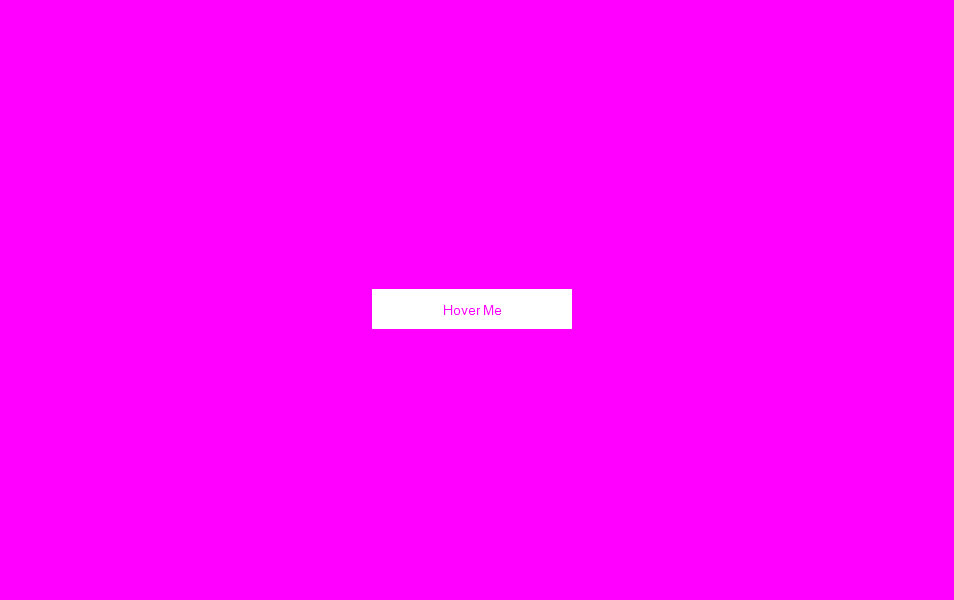 CSS animated button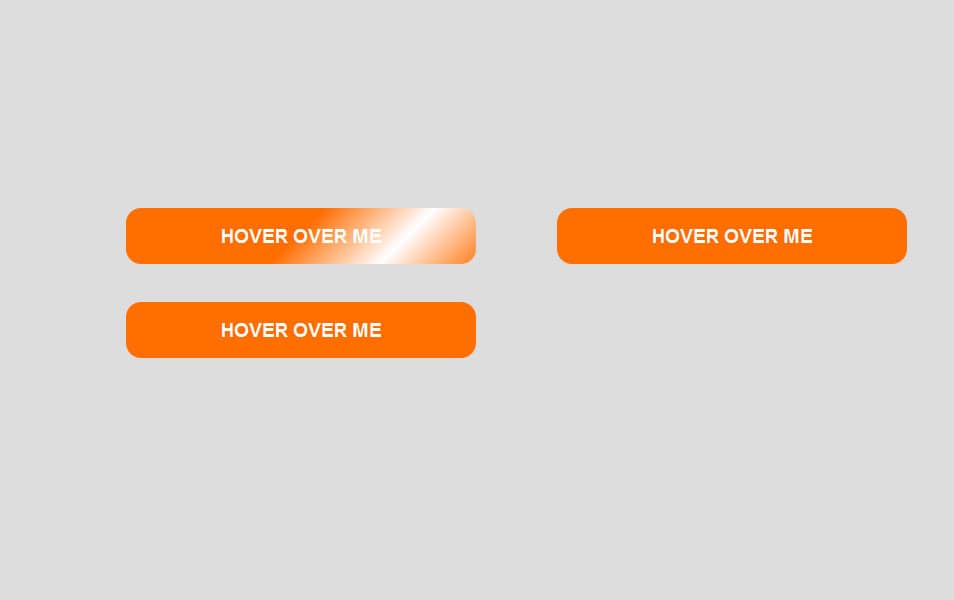 Playing with button hover effects.
Buttons hover effect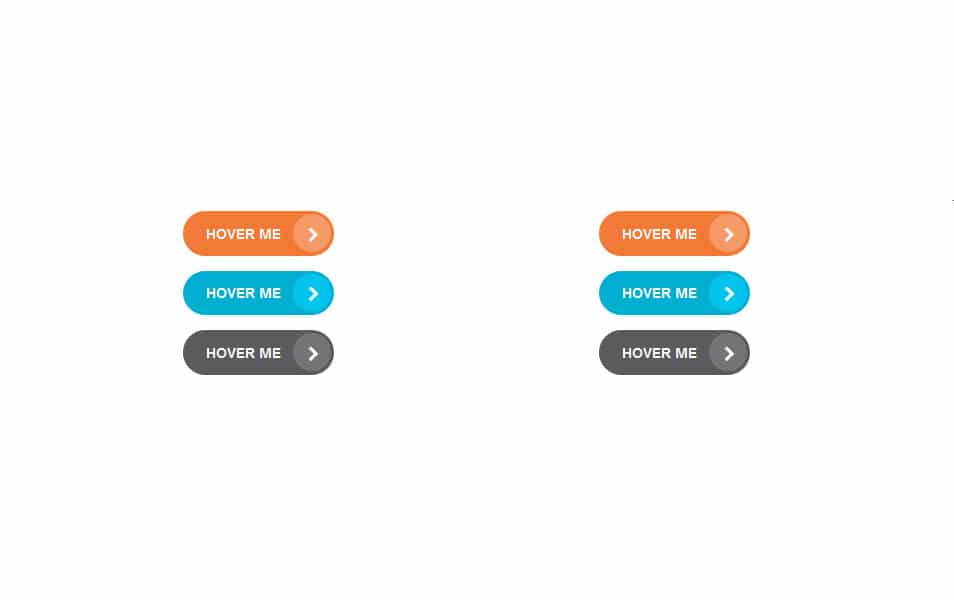 Button hover effects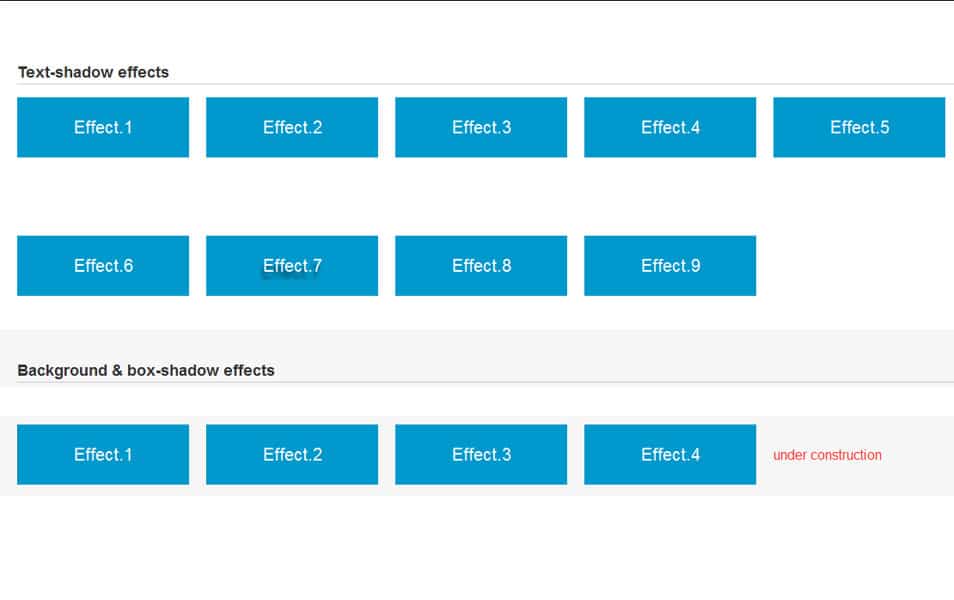 Button hover effect Circle button hover effect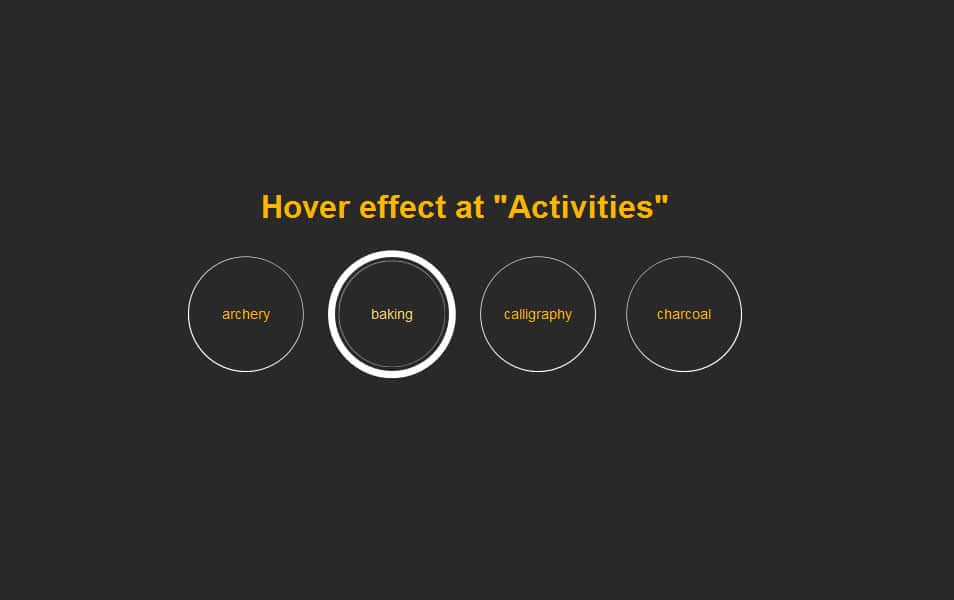 Examples of Pseudo-Elements Animations and Transitions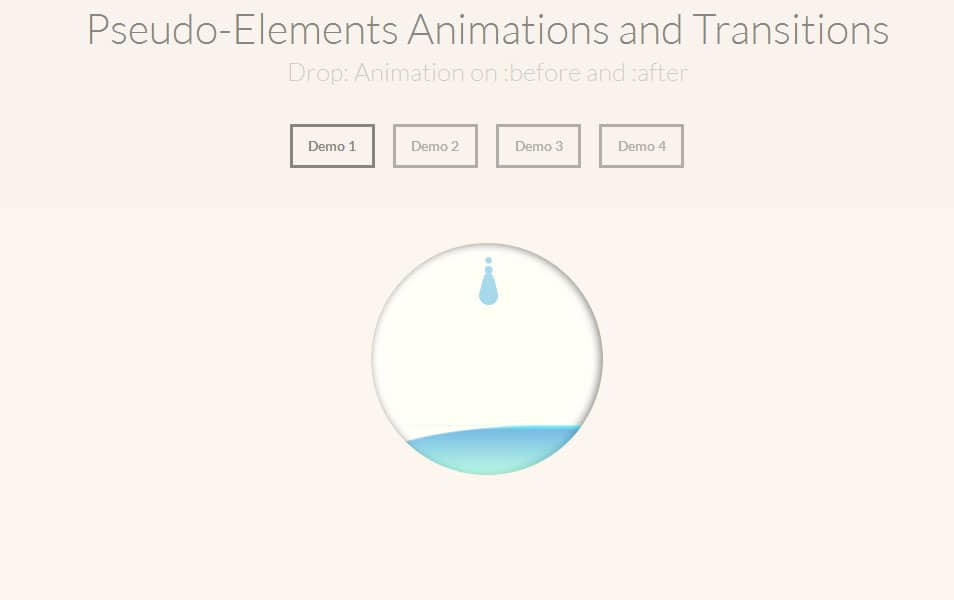 Some creative experiments that use animations and transitions on pseudo-elements to create interesting effects.
CSS3 Hover Effects with Websymbols Tutorial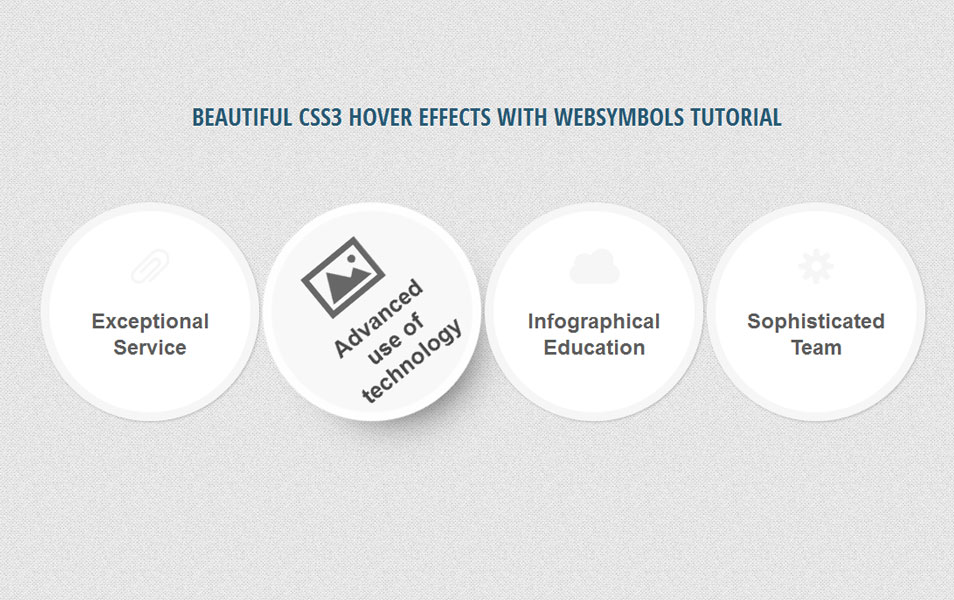 In tutorial we are going to show you new CSS hover effects using CSS transition properties with websymbols. It looks so much more interesting with creative design using circles transition style. We like CSS3 hover effects, so we would like to share some new creating special hover effects for you!
Button Hover Effect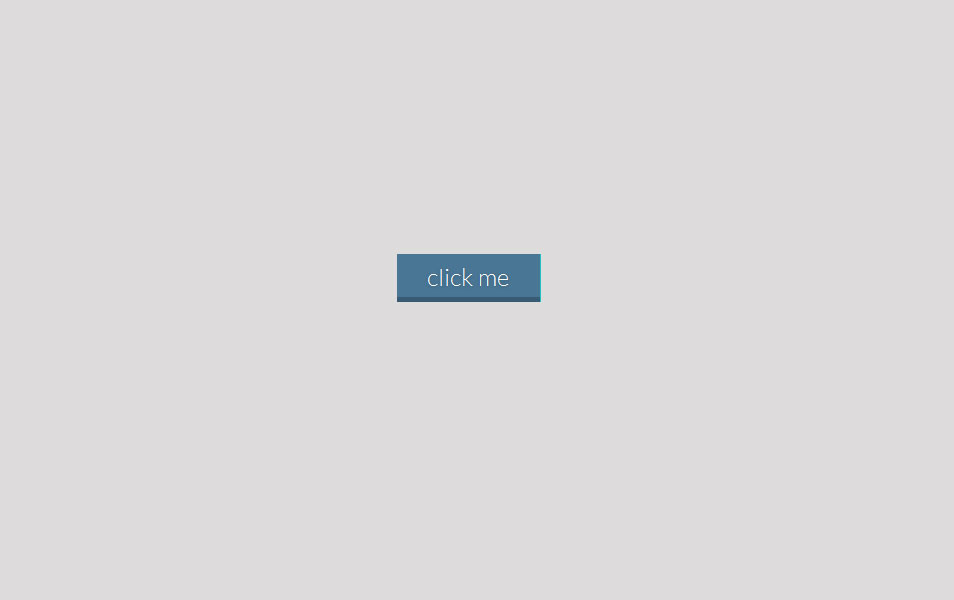 Flat & Shiny Button (hover effect)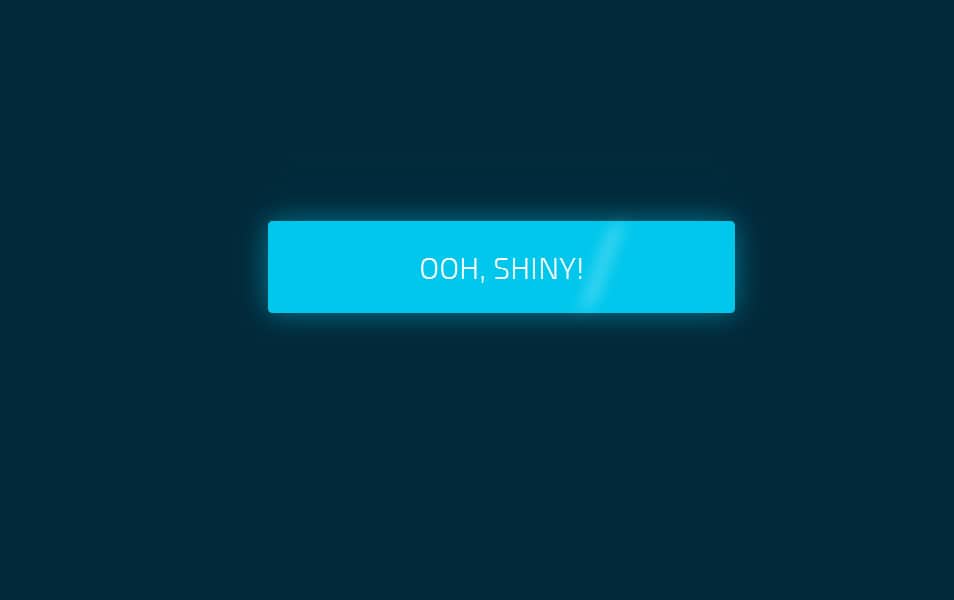 Button with a subtle gloss/shine wipe on hover. No images, just a single HTML element and a CSS pseudo-element.
Button Hover Effect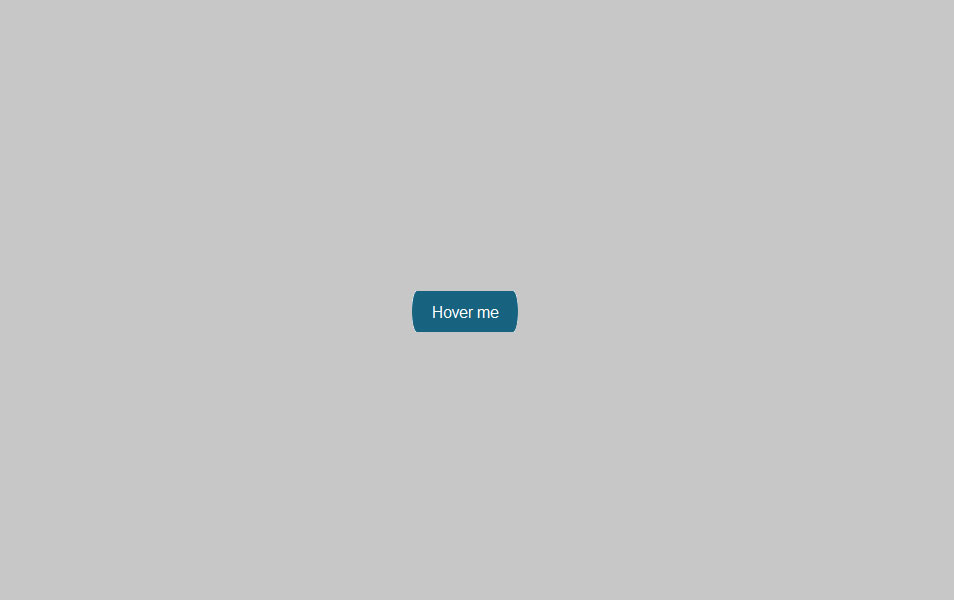 Pure CSS easing button hover effect A simple button with a background that eases in on hover effect.
Flat Bevel button hover effect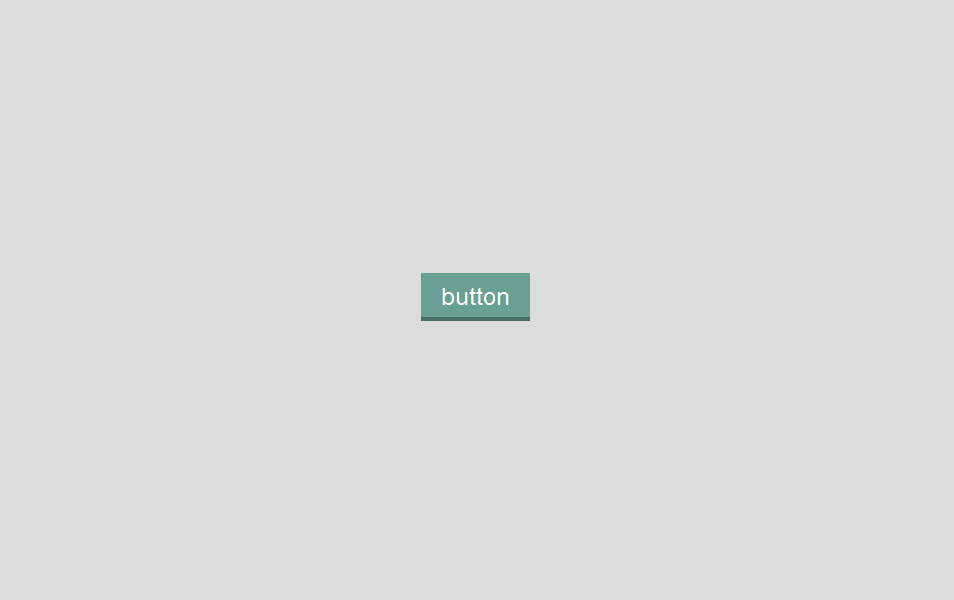 Button hover effect
Simple hover effect using background gradient.
Social Buttons Hover Effect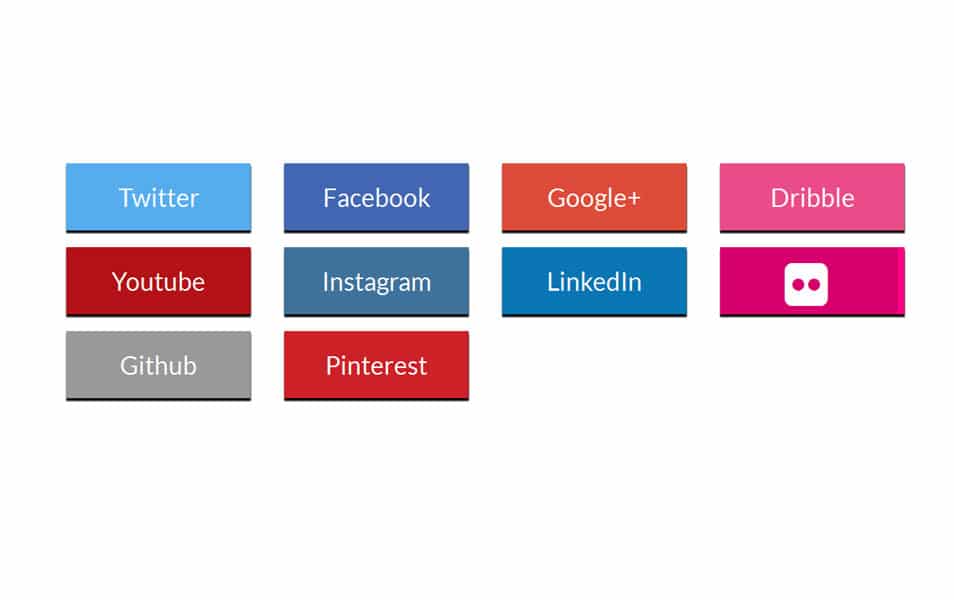 Cool css transition effect upon hover. No images used for logos,font awesome is used.
Menu button hover effect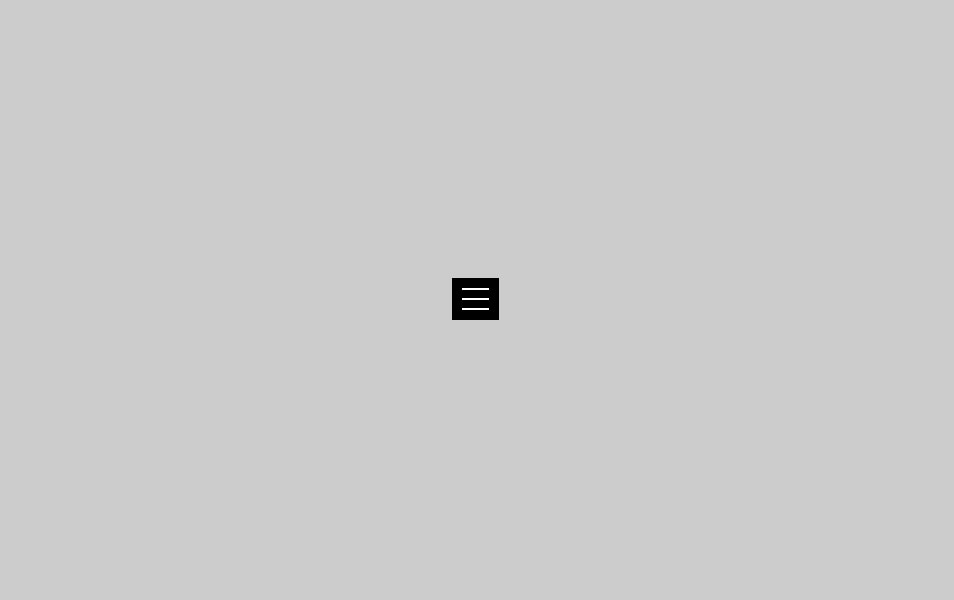 Button hover effect #3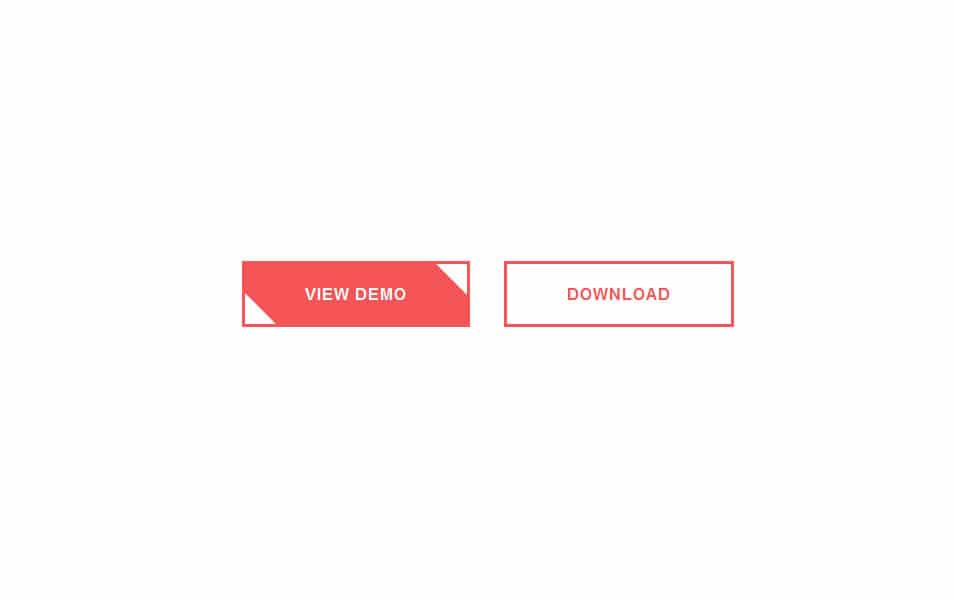 Button hover effect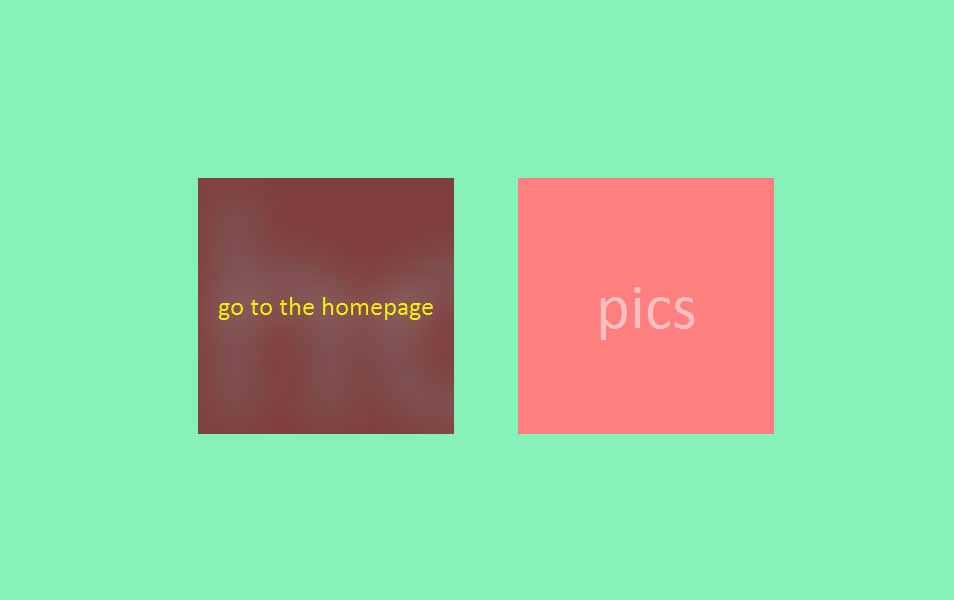 Button Hover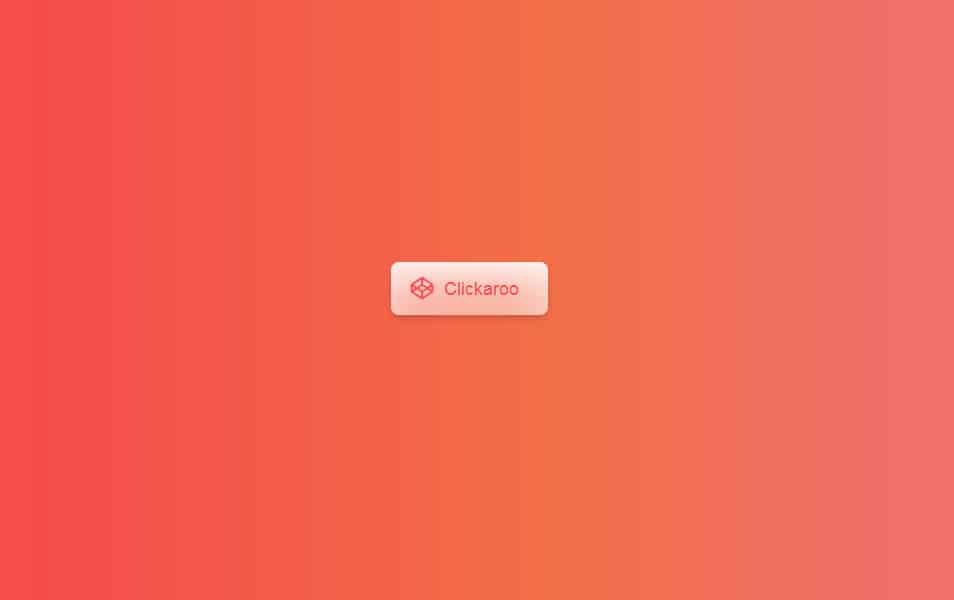 A subtle button hover effect using CSS. Not very scalable, purely for experimentation.
Button Efffect – Color Fill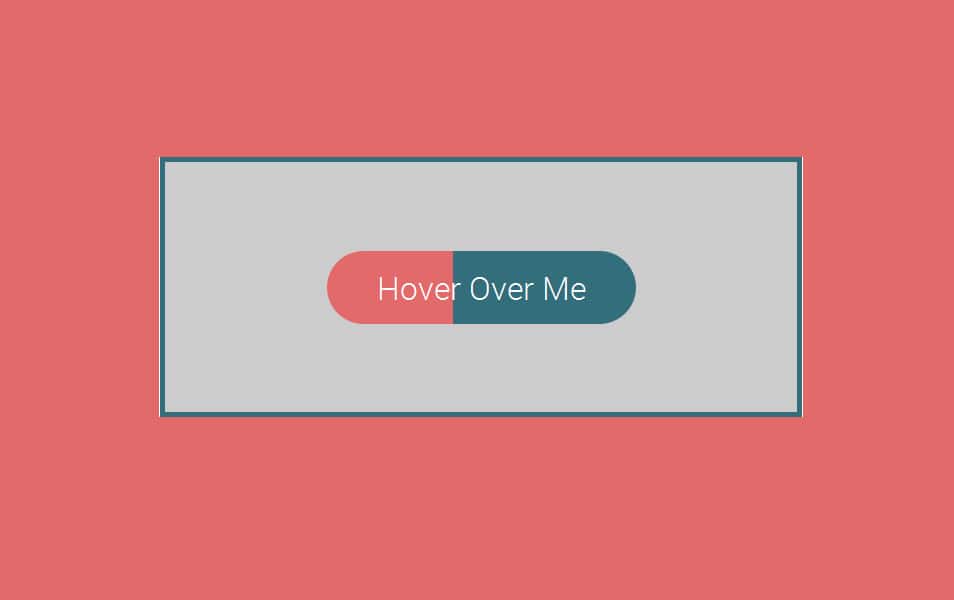 Simple button hover effect using html5 and CSS. Color Fill from right to left.
Traffic Light Buttons Hover Effect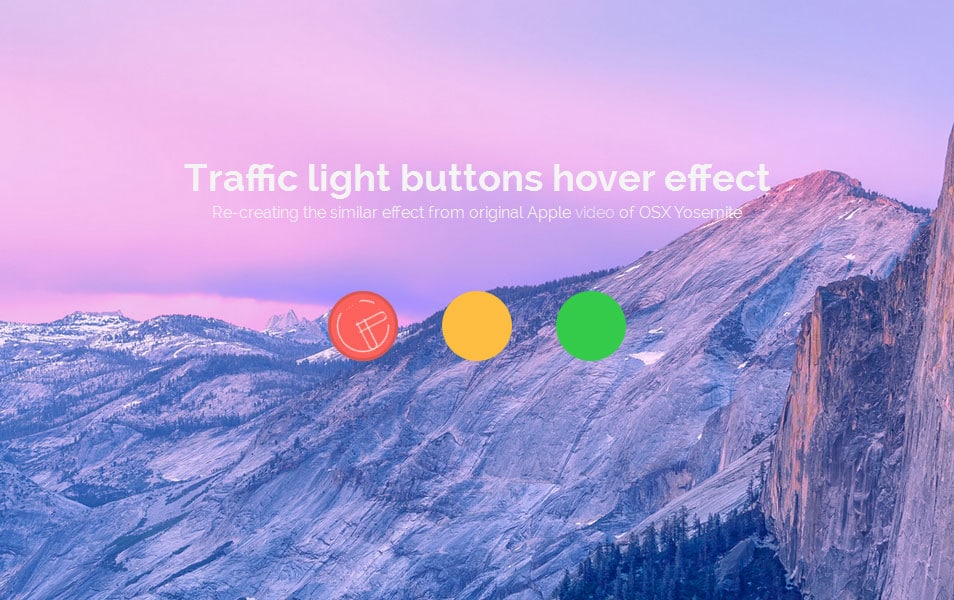 Re-creating the similar effect from original Apple video of OSX Yosemite.
Button Hover Effects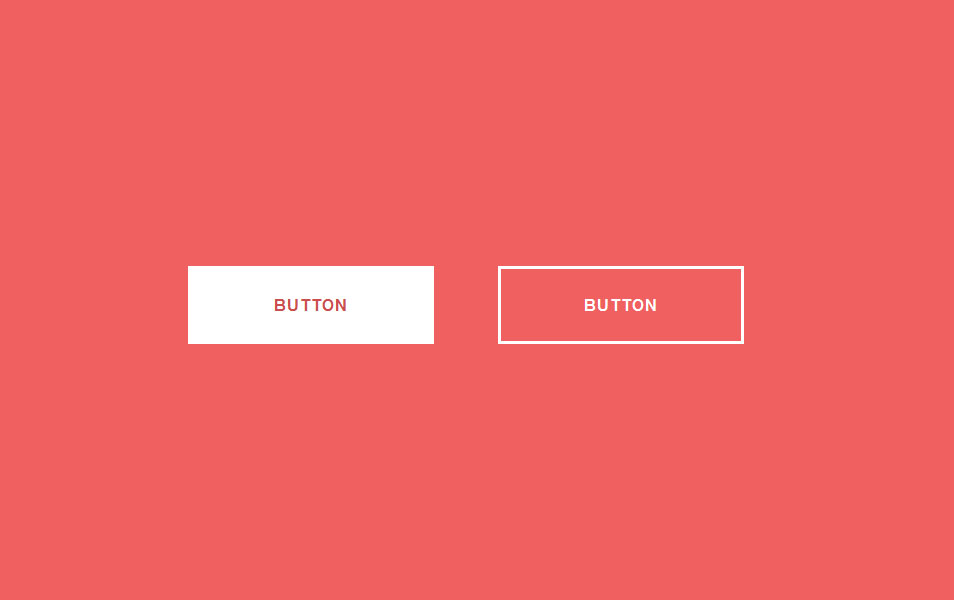 Button hover effect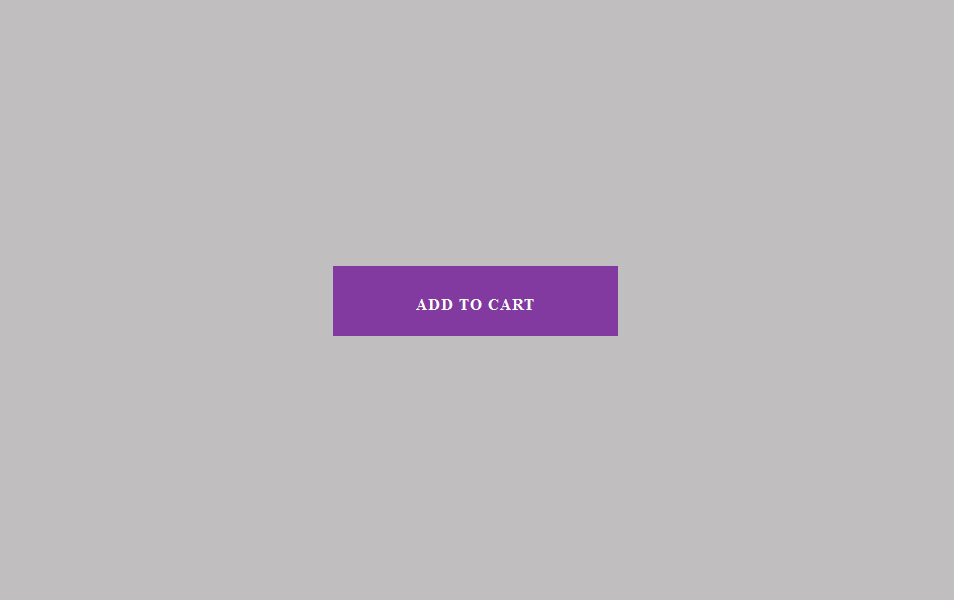 Hover effect with slide down icon.
Simple Button Hover Effect A Pen by Richard Pullinger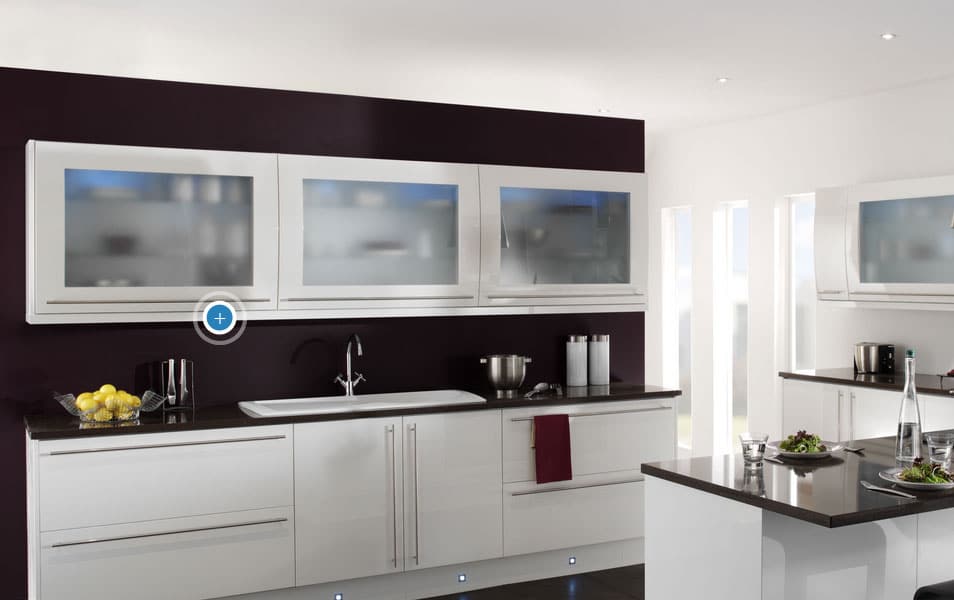 Circle Fill Up Button Hover Effect Diagonal fill button hover effect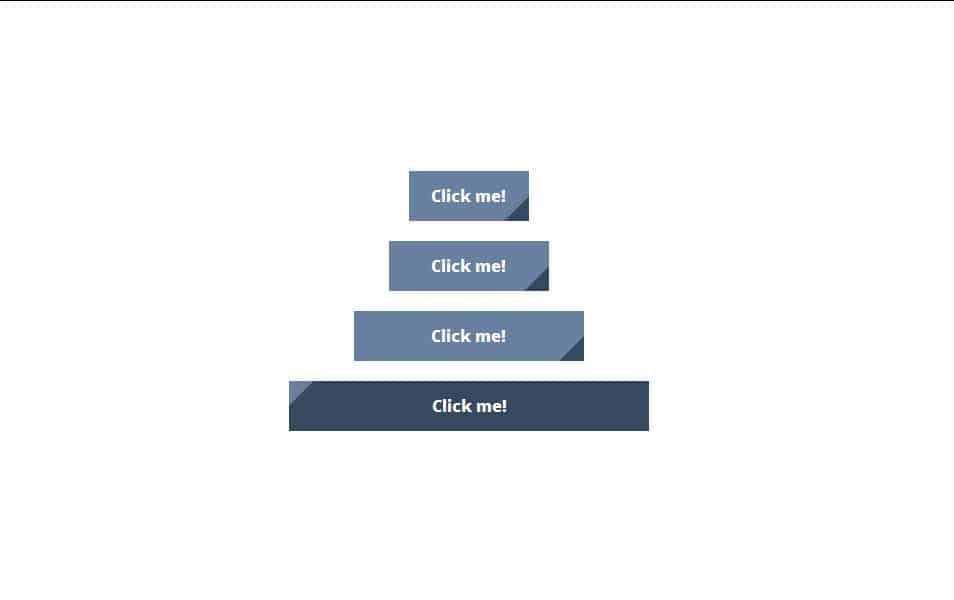 Uses calc to leave symmetrical wedges on either side of the button.
Button Hover Effects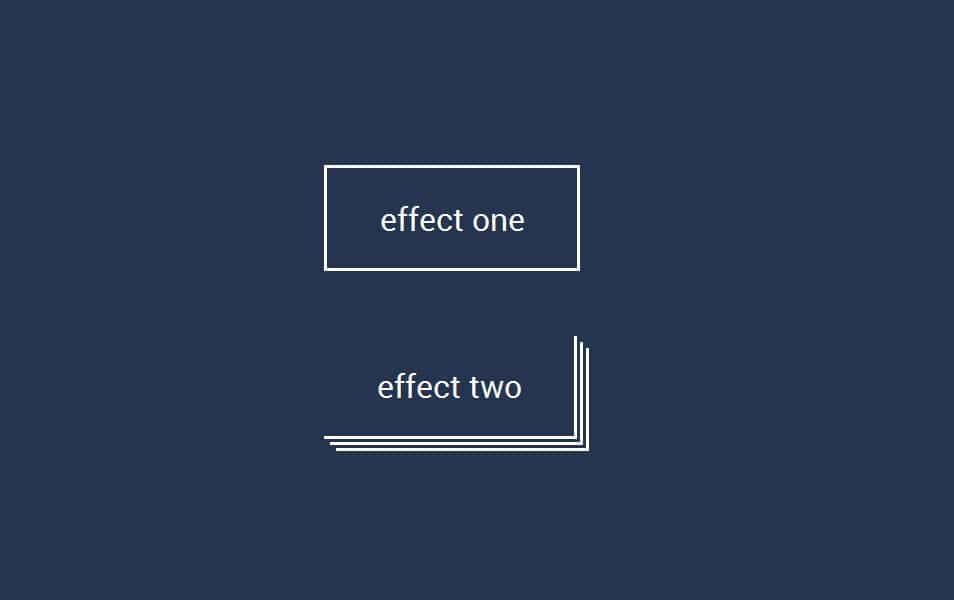 Button hover effect Button hover effect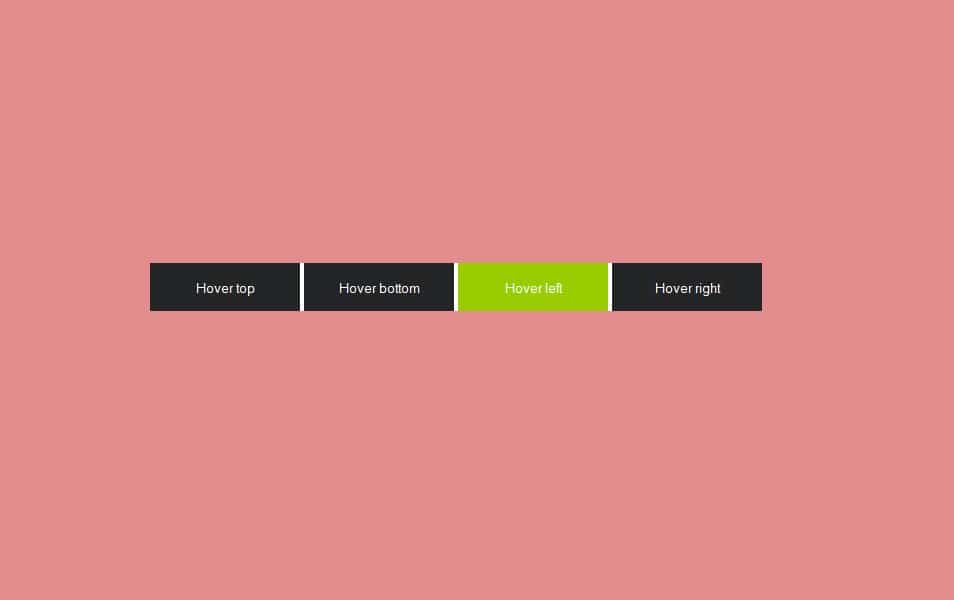 Button Hover Effect 2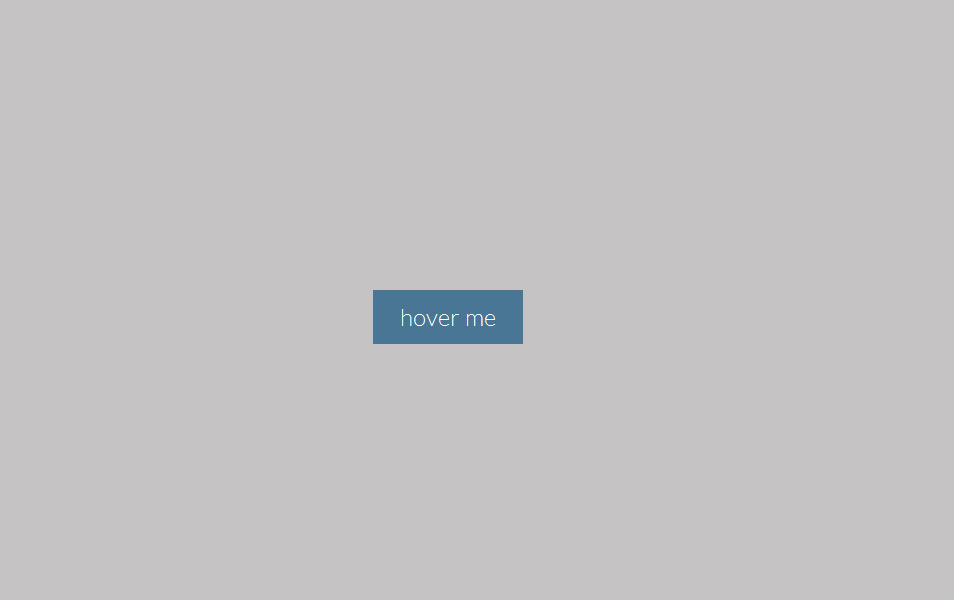 Circle Fill Up Button Hover Effect Logo Hover Effects Tutorials
Logo with Slim and SCSS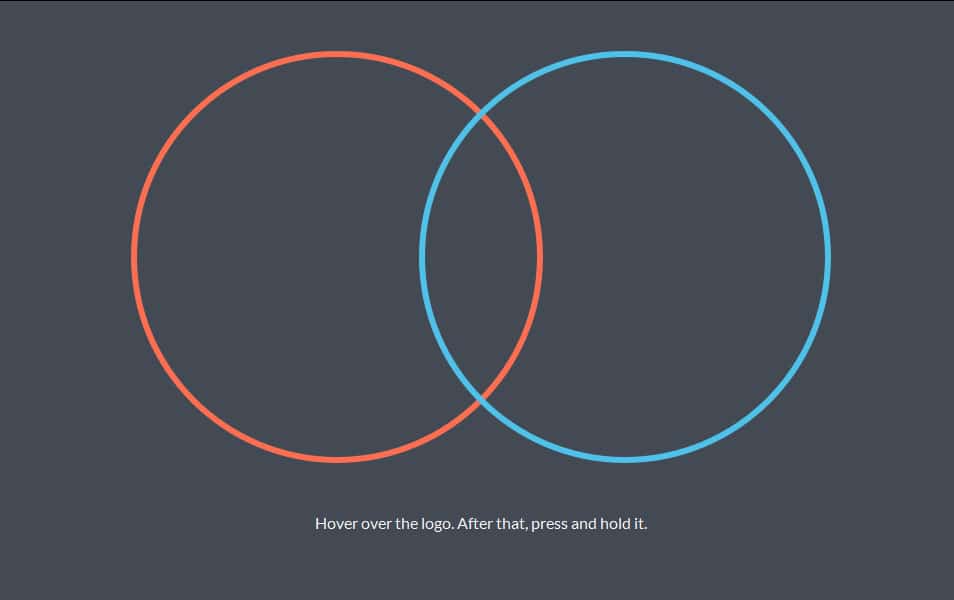 Hover and hold this minimalistic logo.
PF Logo Snap.svg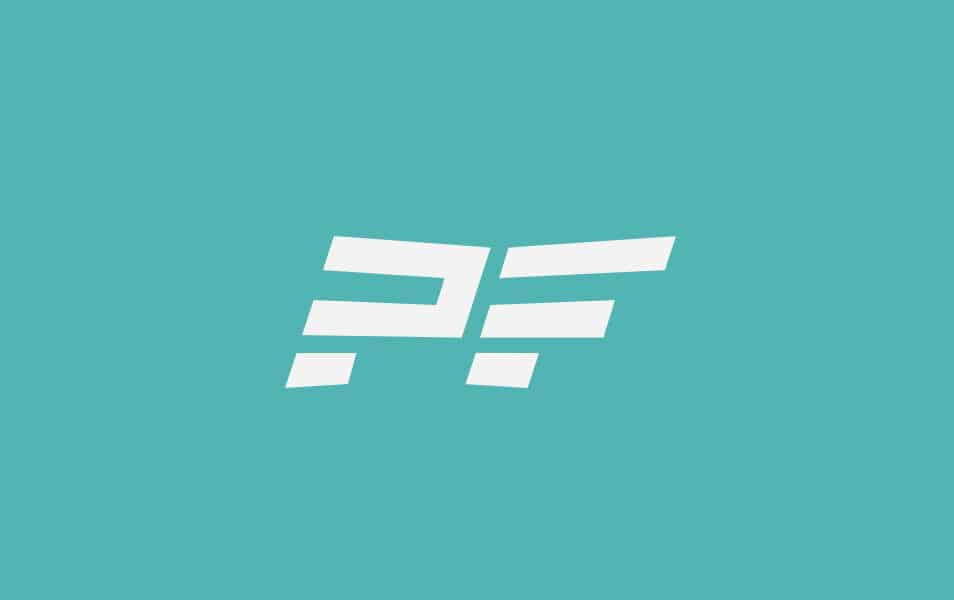 Trial of Snap.svg logo hover effect.
Pyramid Logo Hover Animation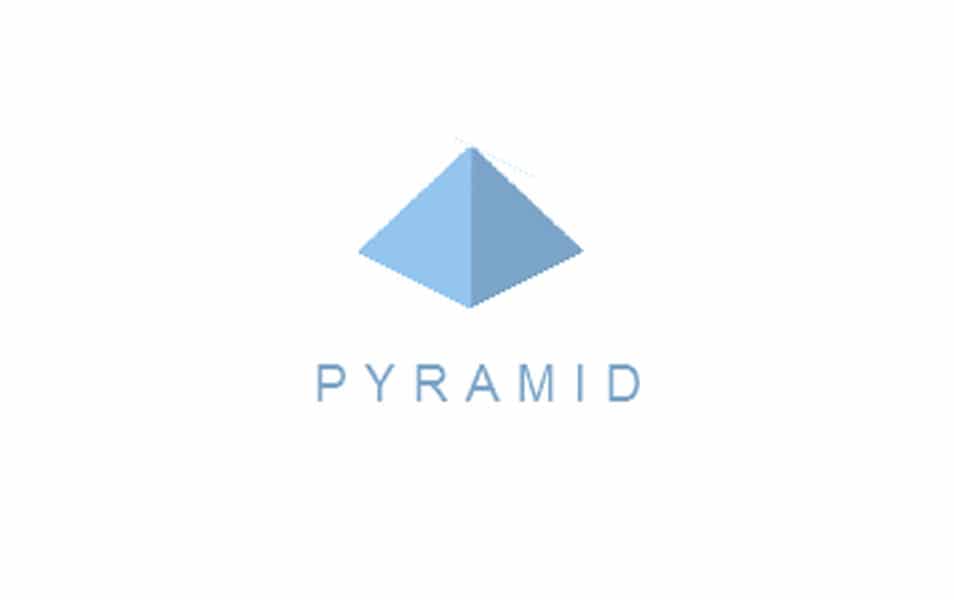 Tried to make a 3d logo hover effect with CSS.
Logo Hover effect Text Hover Effects Tutorials
Animated Opening Type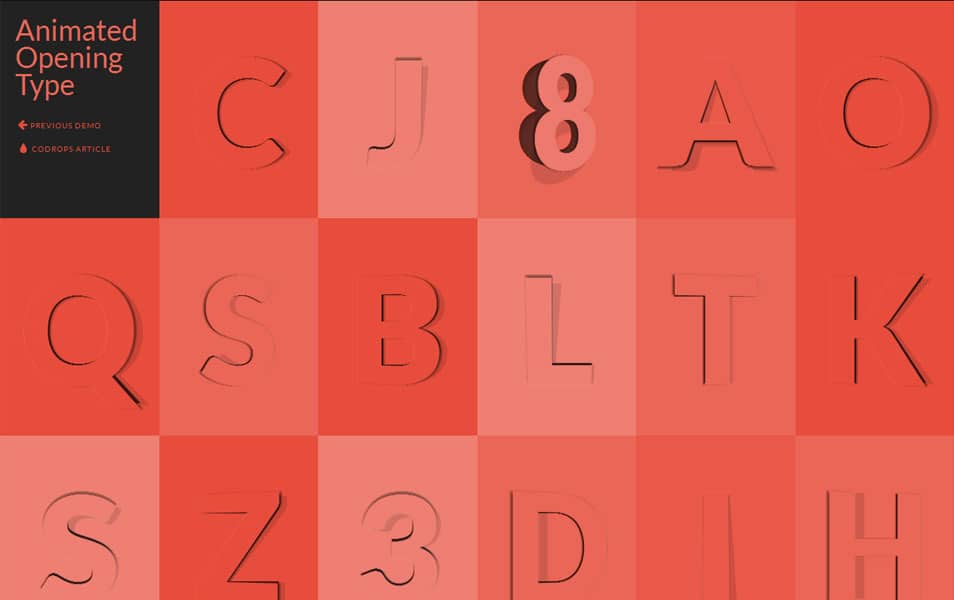 A tutorial on how to create an interesting animated 3D opening type effect with pseudo-elements, CSS transforms and transitions. The idea is based on Edenspiekermann's Open Type project and it's a very creative way to display and play with letters.
Text Hover Effects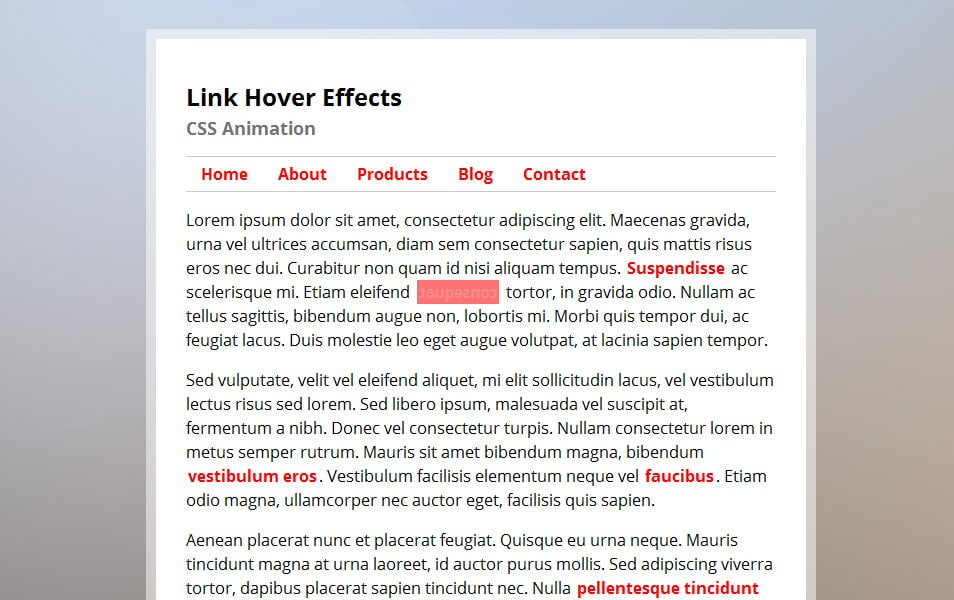 Having fun with links and data-title. Jquery was used as an example of how it could be applied to other elements you have no control of (e.g. pre-built navigation widget) in order to add a second title hover affect and not worry about using pseudos to create a title for every navigation item manually and individually.
Nice CSS3 text hover effect Text hover effect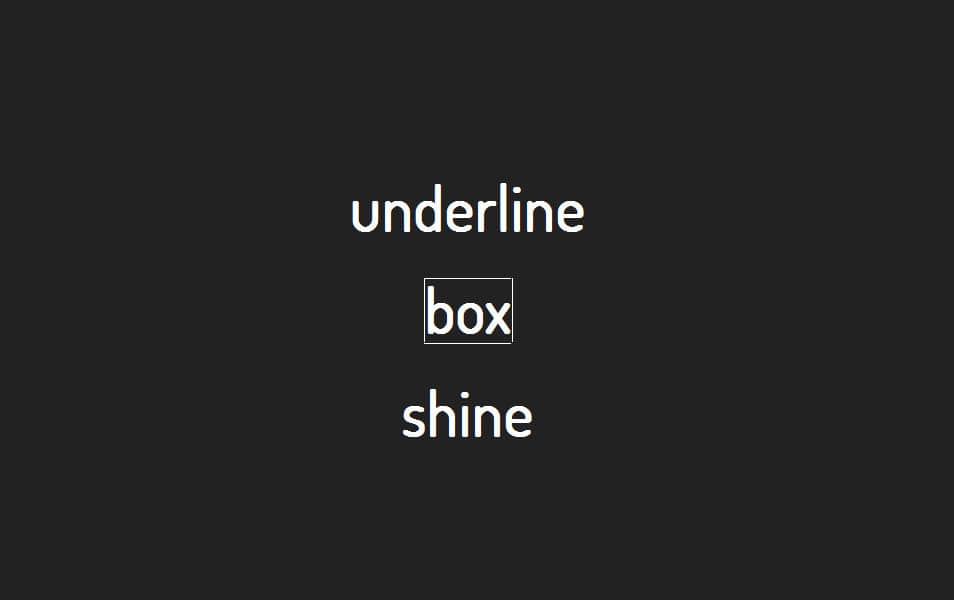 Creative Text hover effects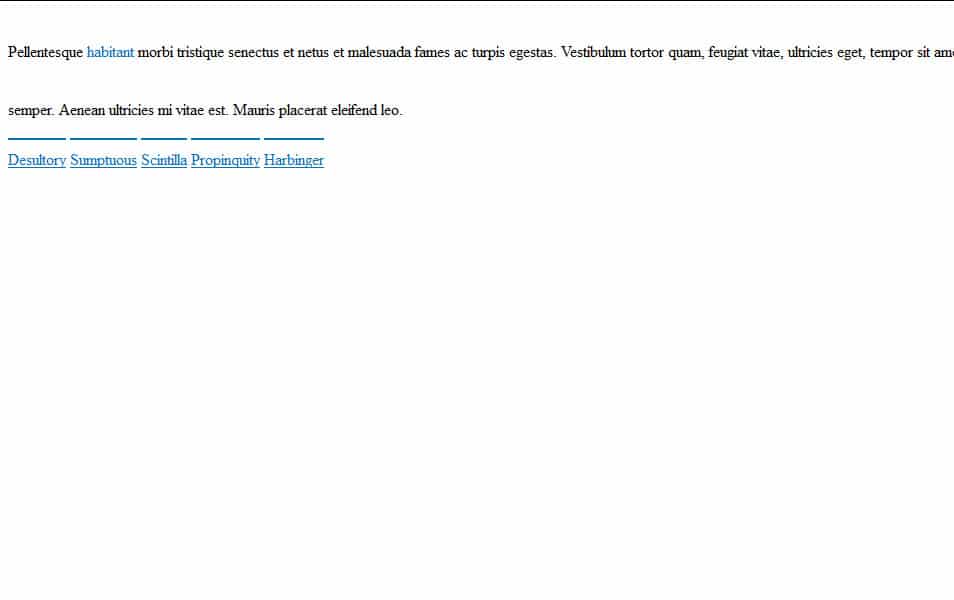 Text hover effect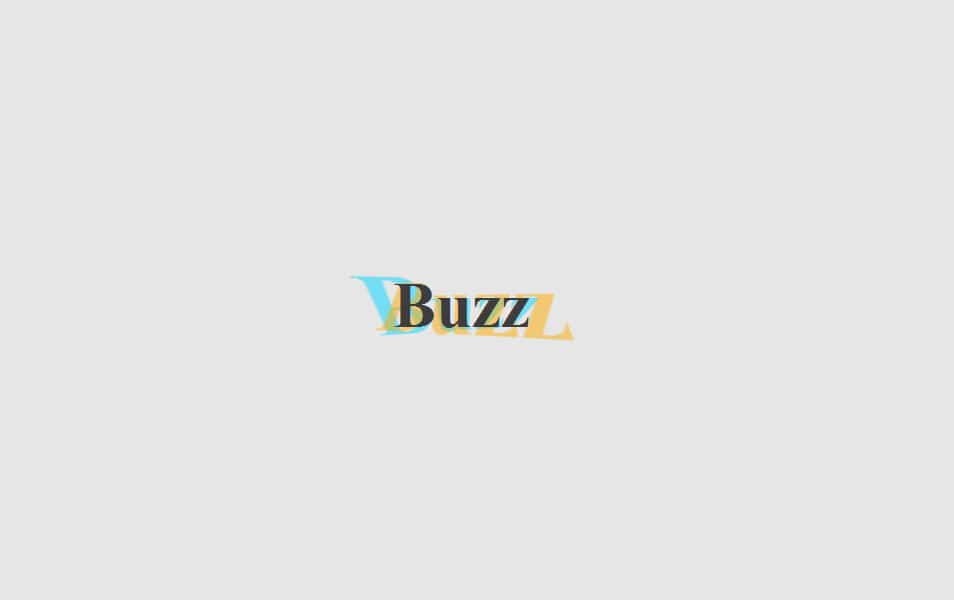 Just playing around with a text hover effect.
Tiles with animated :hover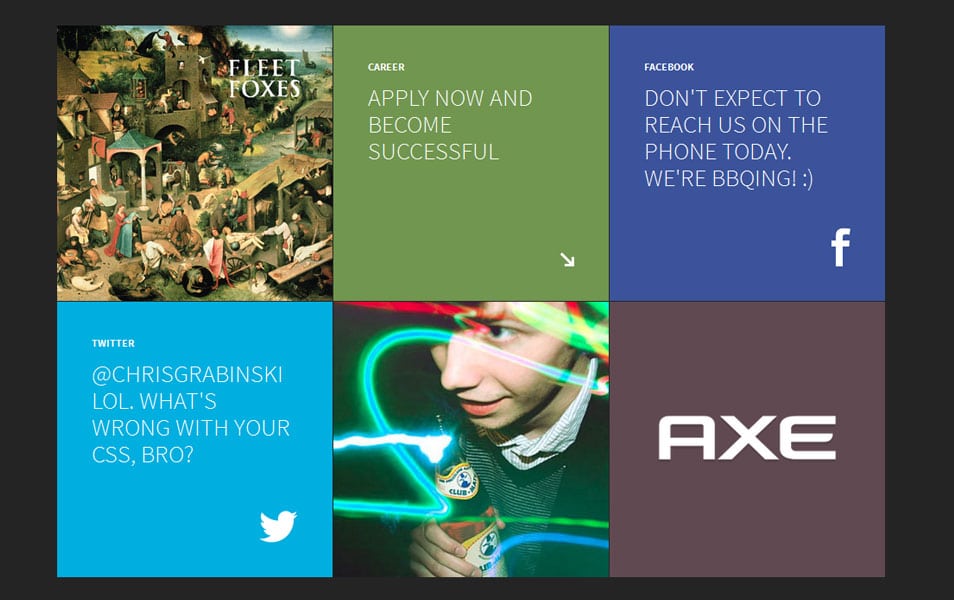 Interaction test for a tile based design.
Link Hover Effects Tutorials
How to Create Five Simple Hover Effects for Your Navigation Links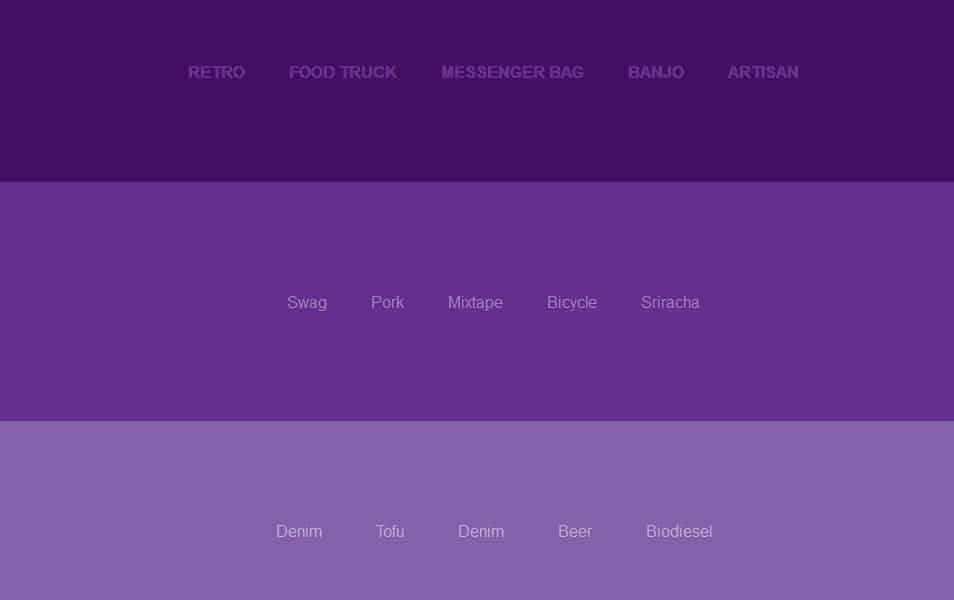 This is a quick tutorial about creating simple hover effects that would be best suited for links within a navigation. The reason for this is that these might be too much when done inline within a paragraph but that is only a word of caution.
Creative Link Effects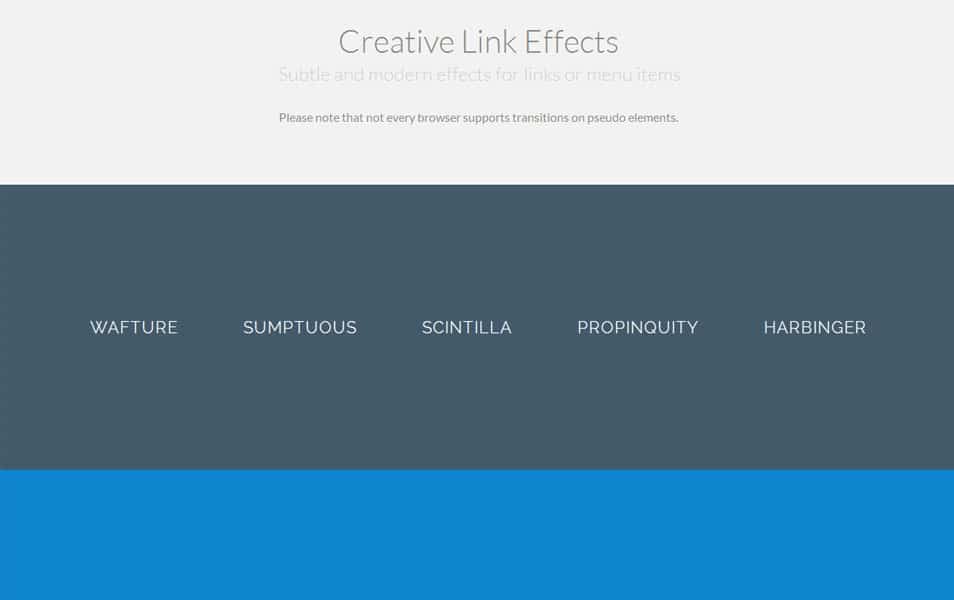 An inspirational collection of experimental link effects mostly using transitions on pseudo-elements. In the examples we are using hover transitions, but you could also imagine these effects on click or as an initial animation.
Use CSS transitions for link effects
Bringing hovers back from the vaults, Jenn Lukas explains how to use CSS3 transitions to create fun link effects and enhance user experience.
3D hover effect in CSS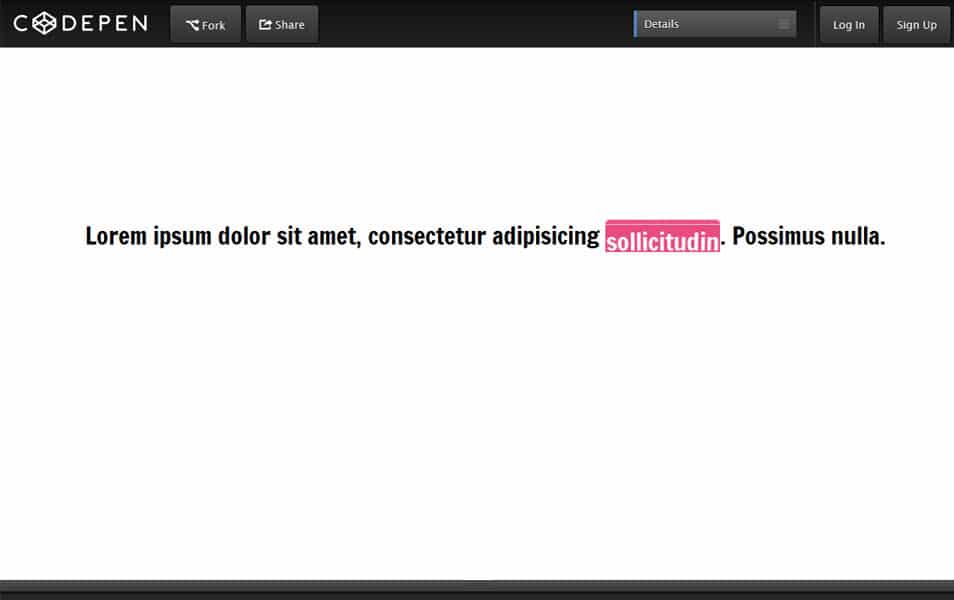 Creative Link Effects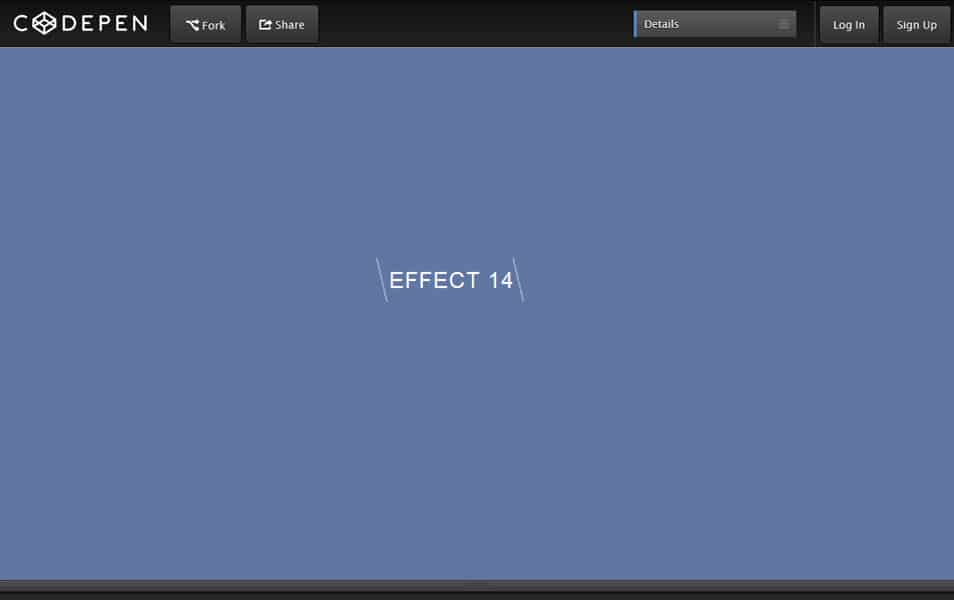 Link Hover Effects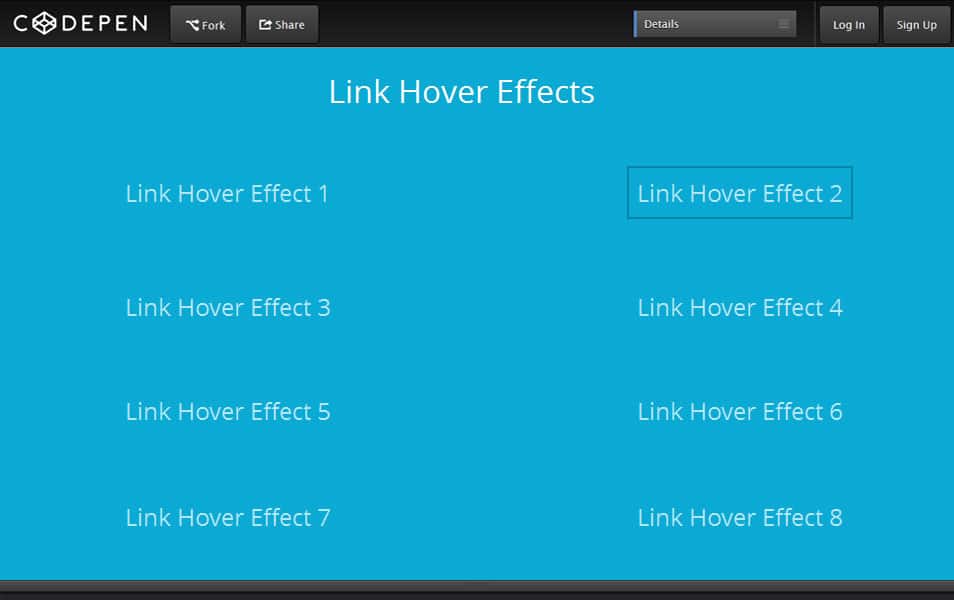 Playing with Link Hover Effects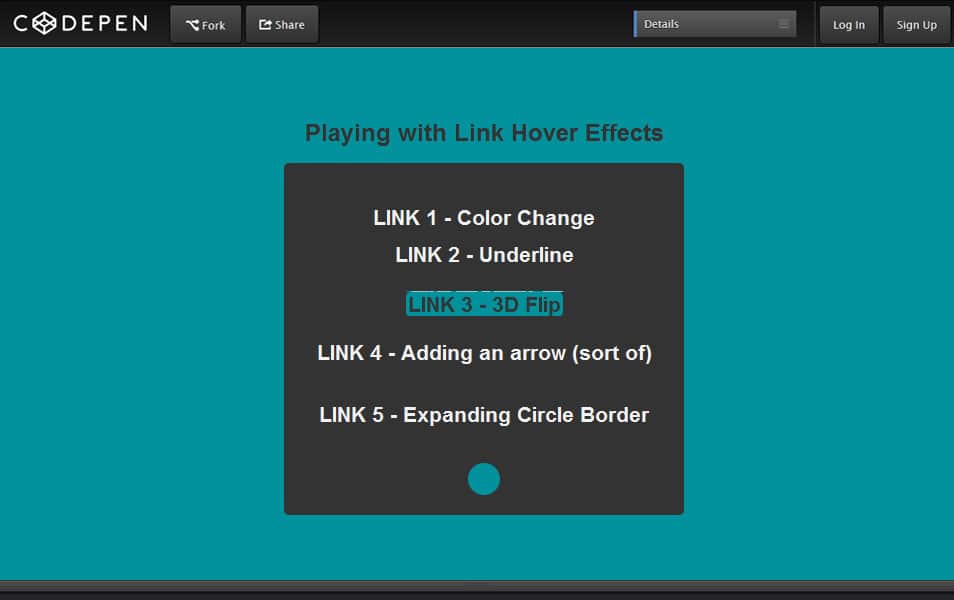 Creative Link Effects #2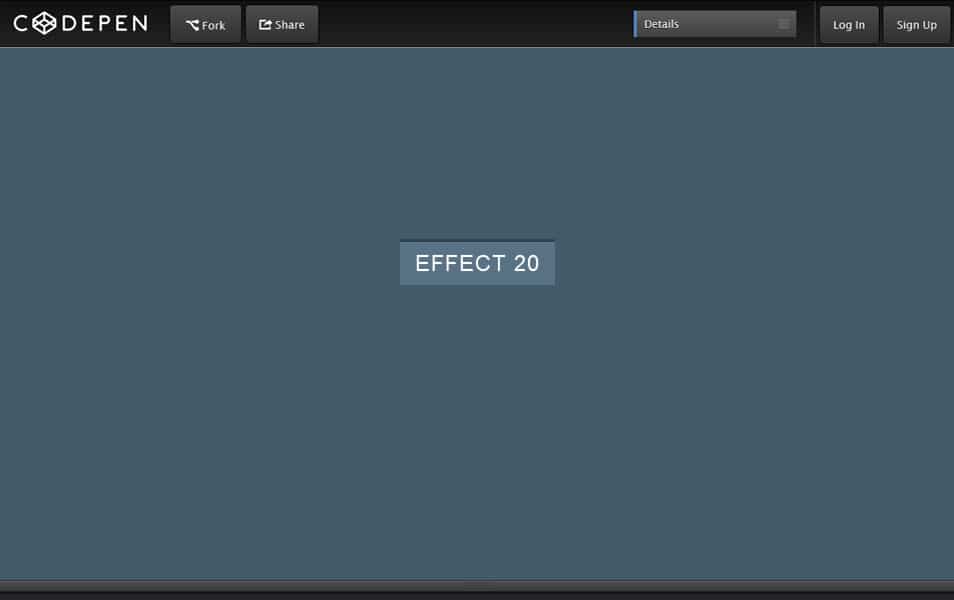 Creative Link Effects #3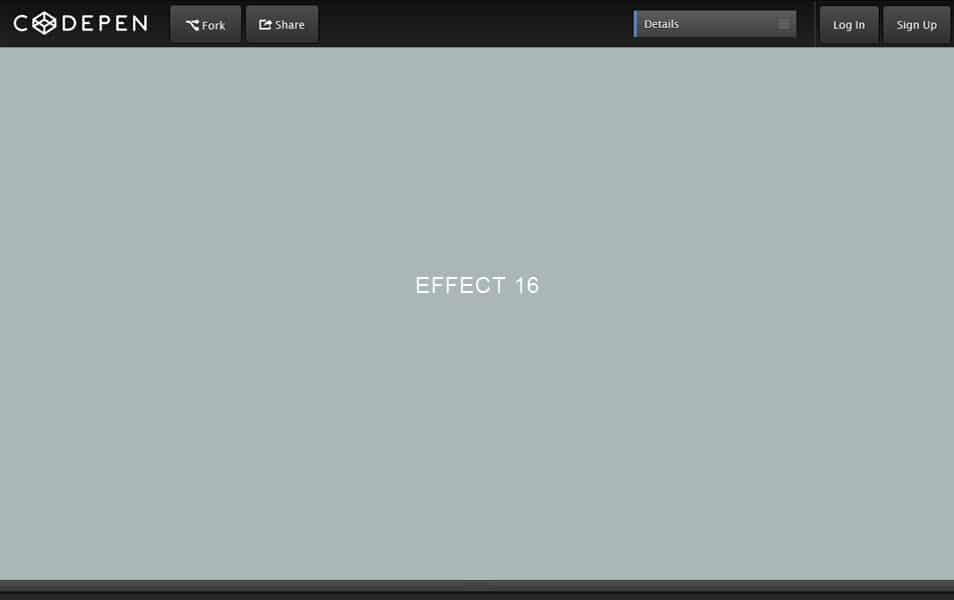 Link Hover Effect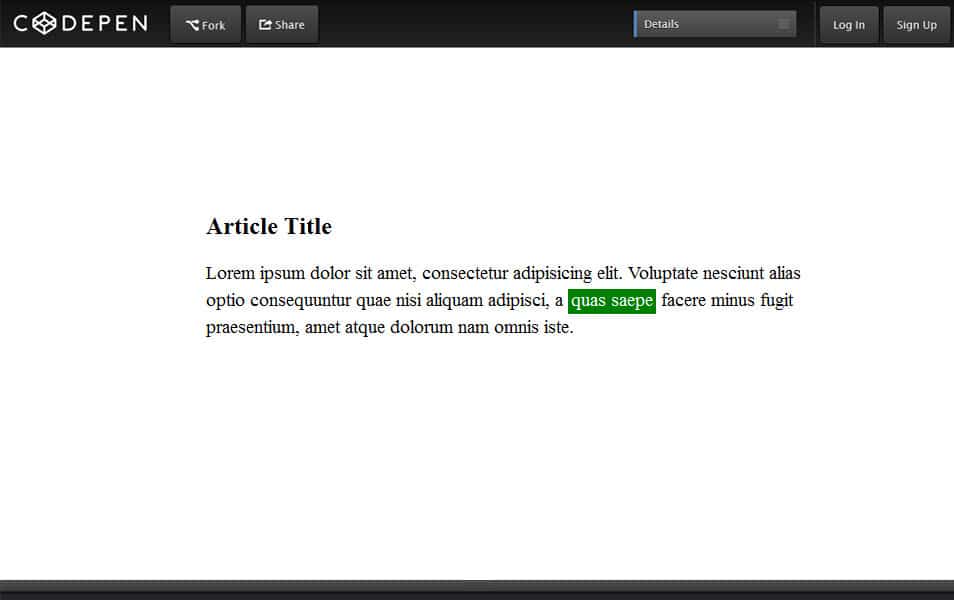 Some way of displaying an inline link that has a different interaction that the usual stuff.
Link Hover Effect #2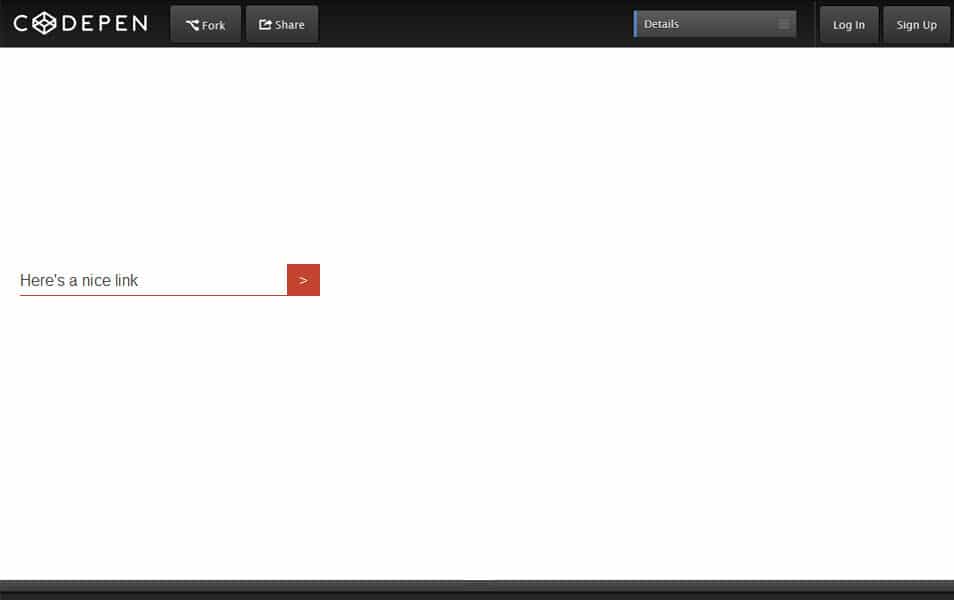 Currently working on a little link hover effect for a clients site.
Creative Link Effects #4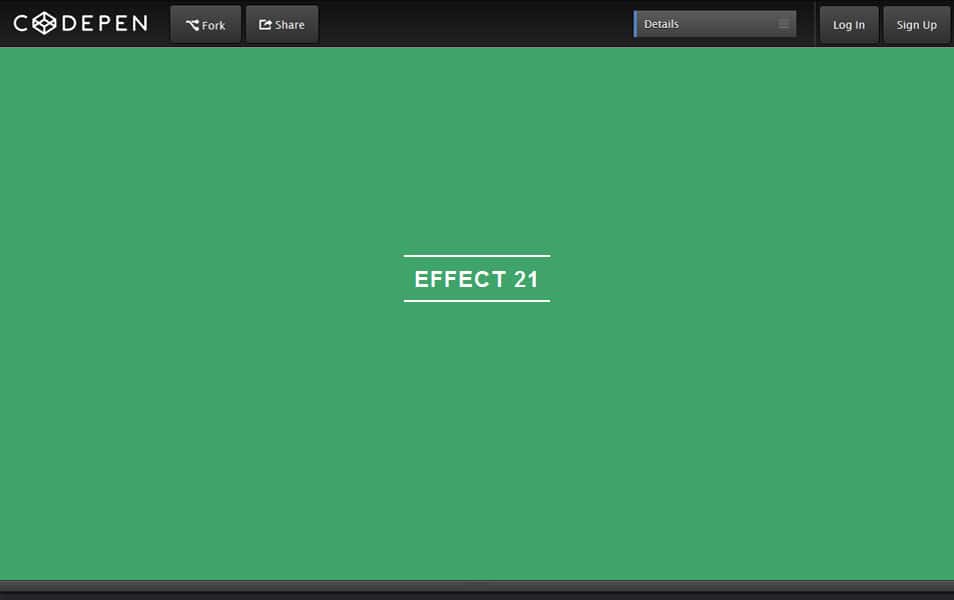 Creative Link Effects #5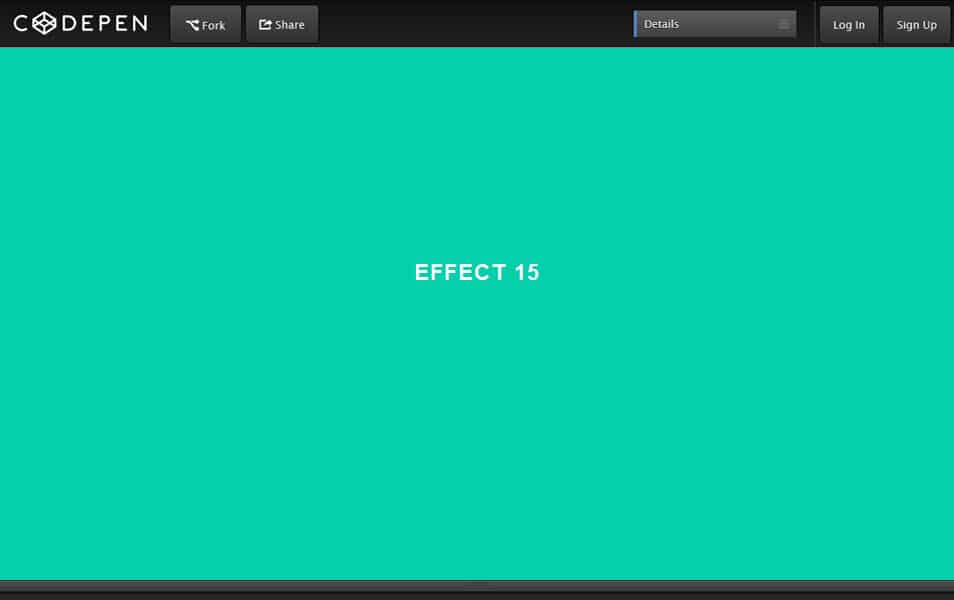 Creative Link Effects #6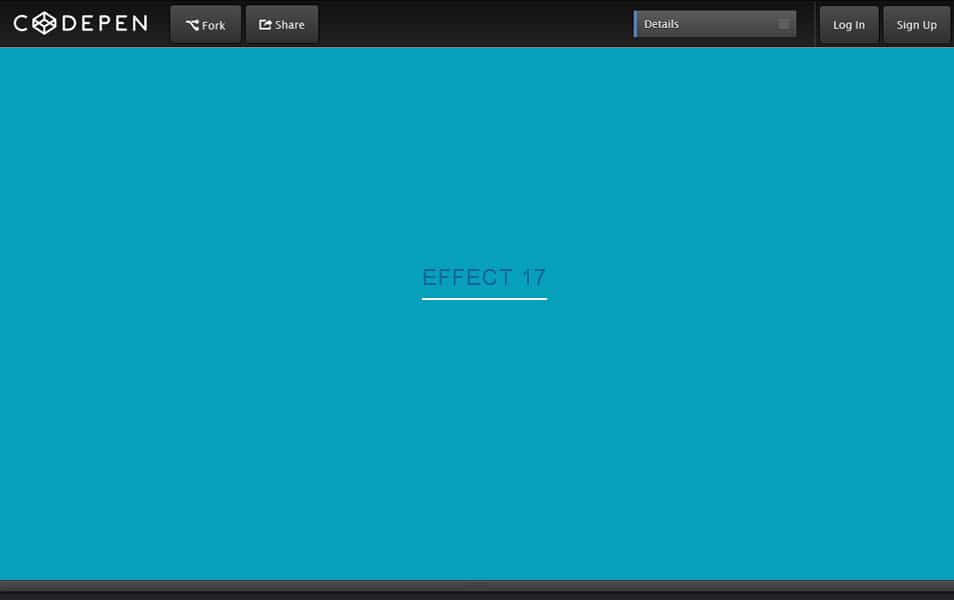 Creative Link Effects #7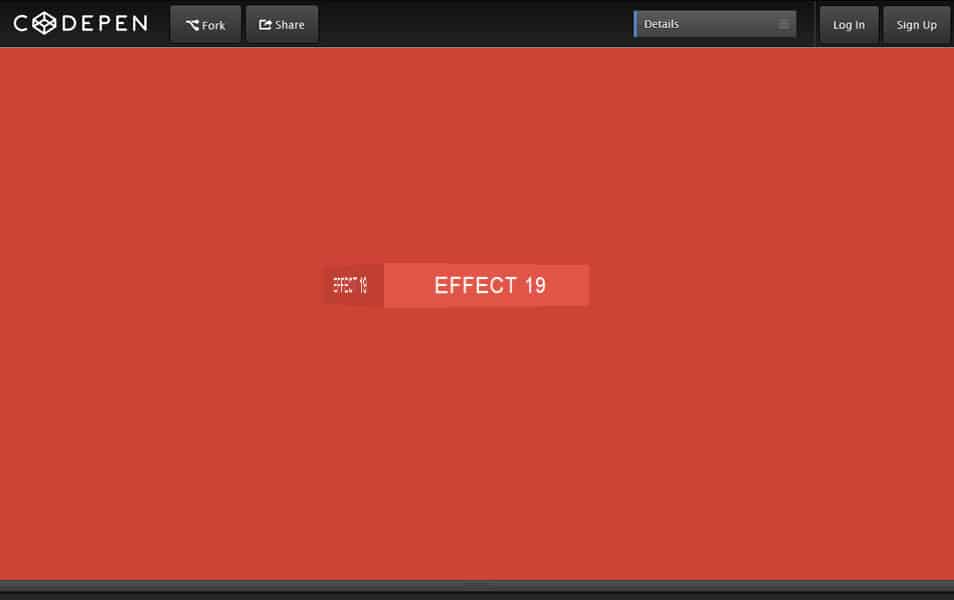 link hover 6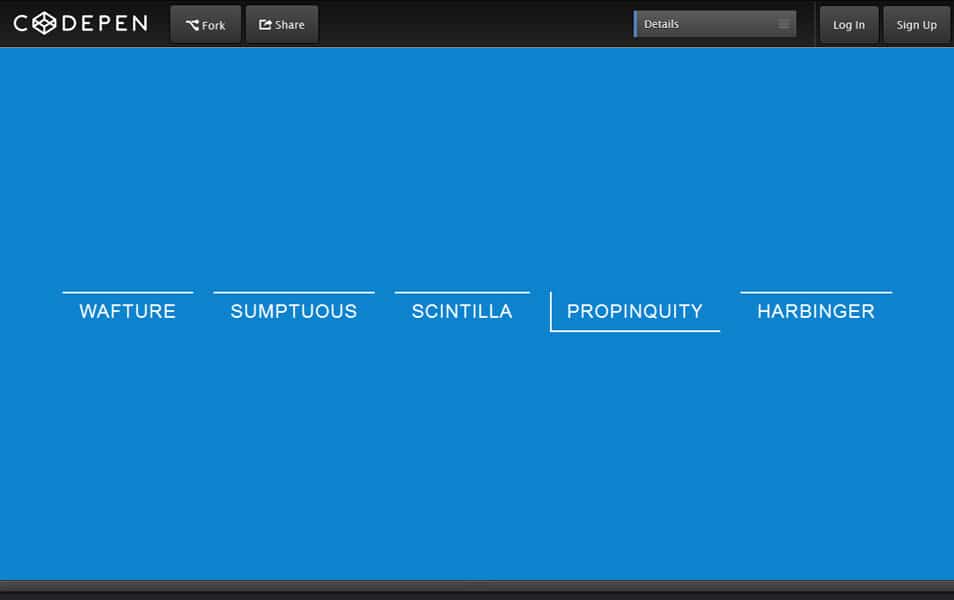 Link text slide up and down
link hover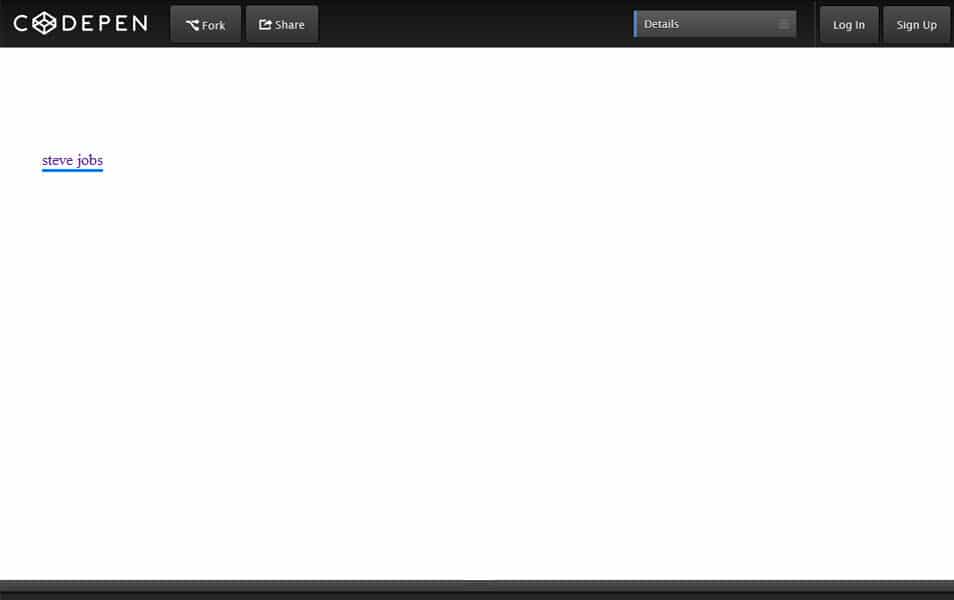 Link hover 8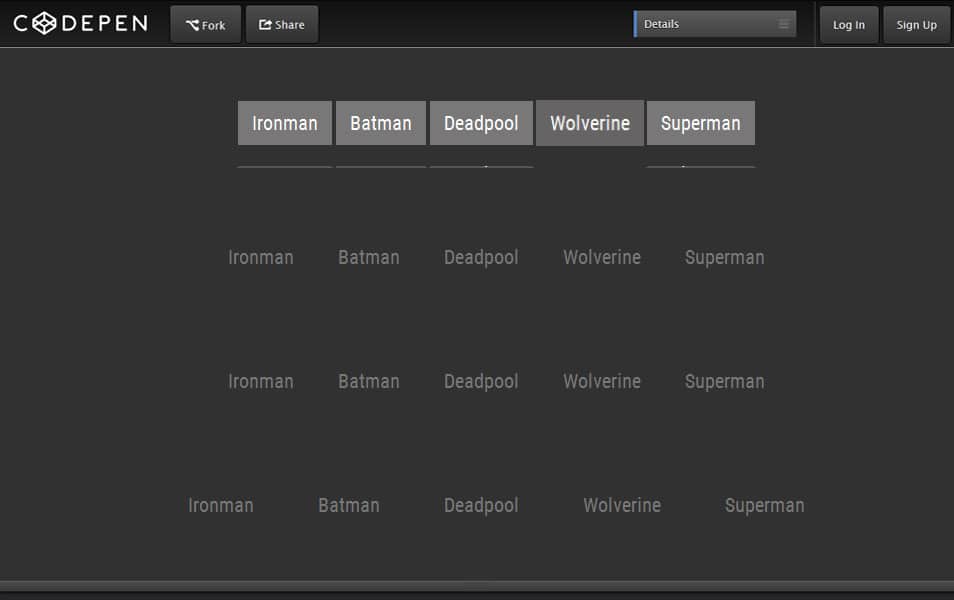 Link hover 7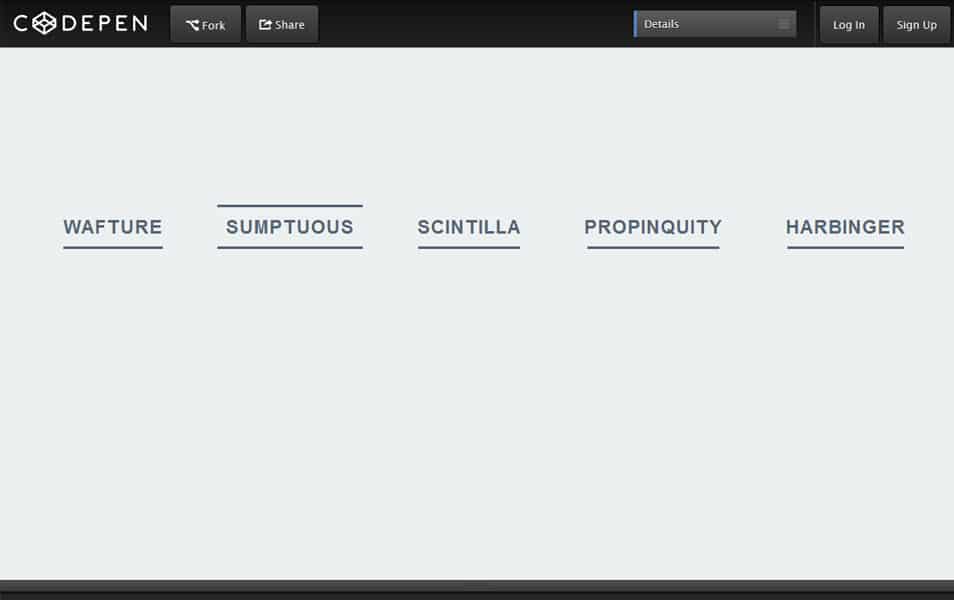 Link Hover Effect #2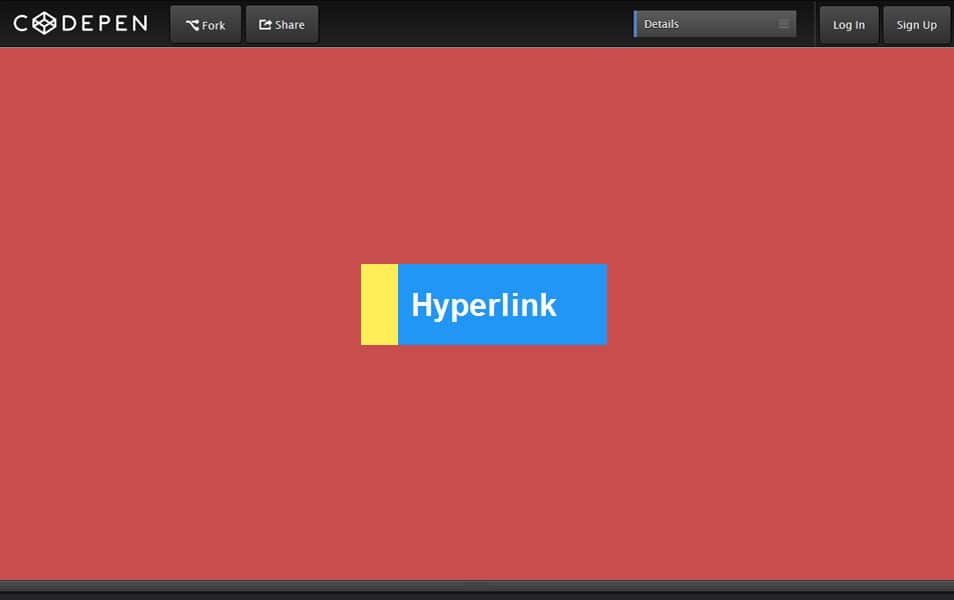 Social Link Hover Hinge Effect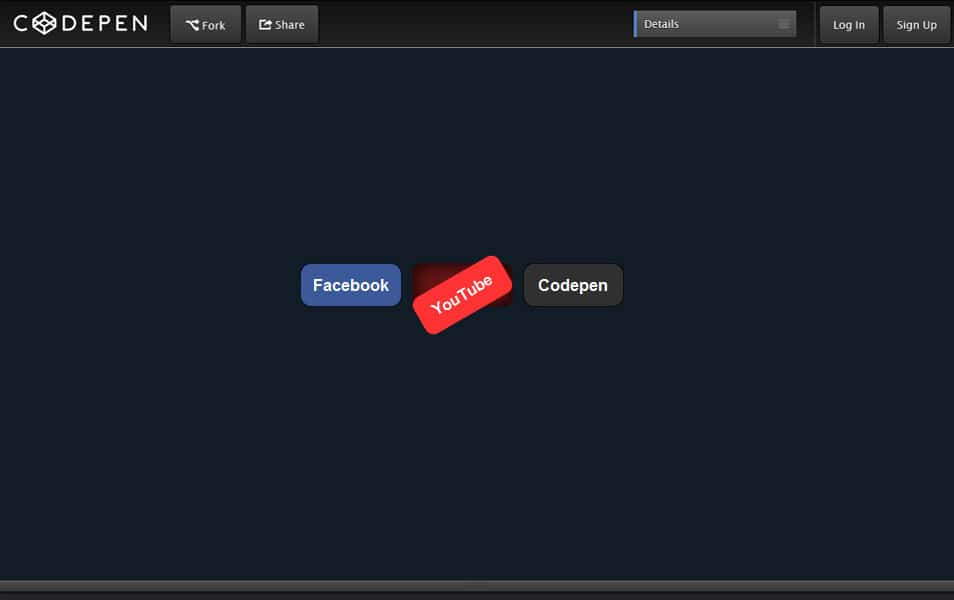 Links hover gradient effect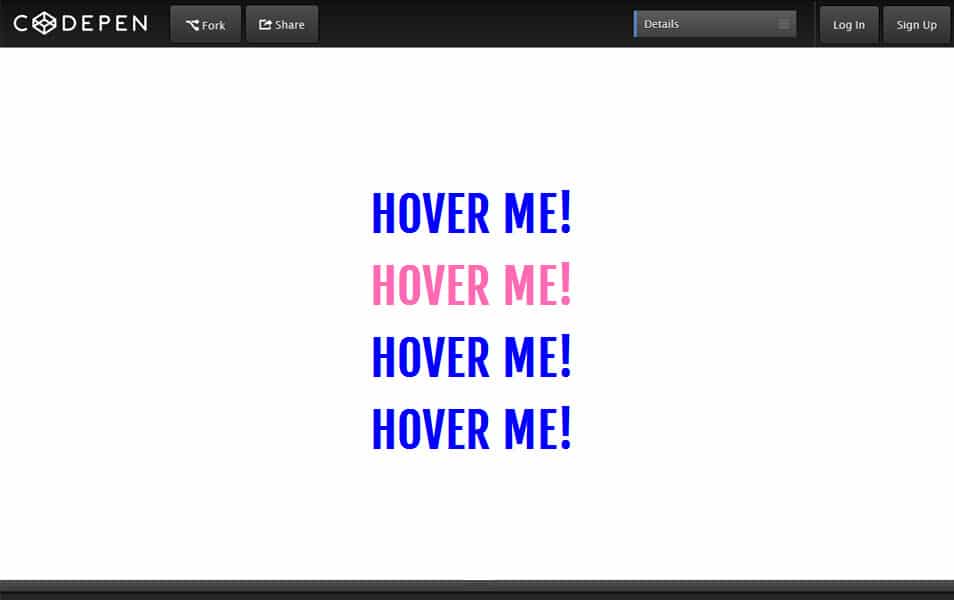 Gradient effect on hovering over a link.
SVG Hover Effects Tutorials
Creating a Border Animation Effect with SVG and CSS
The website of Carl Philipe Brenner has some very creative and subtle animations and today we want to explore how to recreate a border animation effect using CSS transitions on SVG lines.
Shape Hover Effect with SVG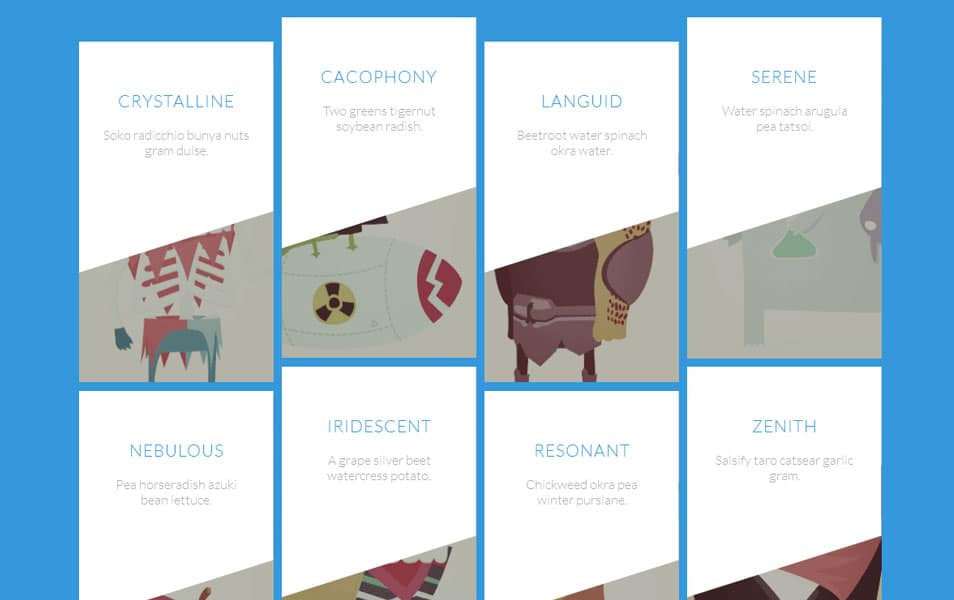 In this tutorial we'll recreate the hover effect as seen on The Christmas Experiments website. We'll be using SVG for the shape and Snap.svg for animating it on hover.
2. Hover Effect Plugins
Hover Effect Plugins Categories
jQuery Hover Plugin
Adipoli jQuery Image Hover Plugin
Adipoli is a simple jQuery plugin used to bring stylish image hover effects.
Flip jQuery Plugin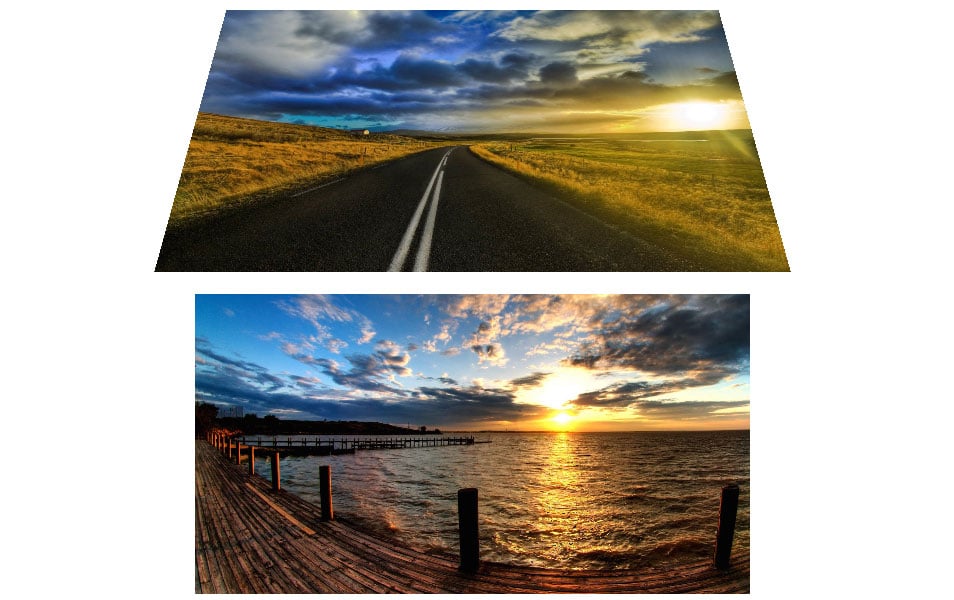 A lightweight jQuery plugin to create 3d flip animation.
Swish jQuery Zoom Hover Effect Plugin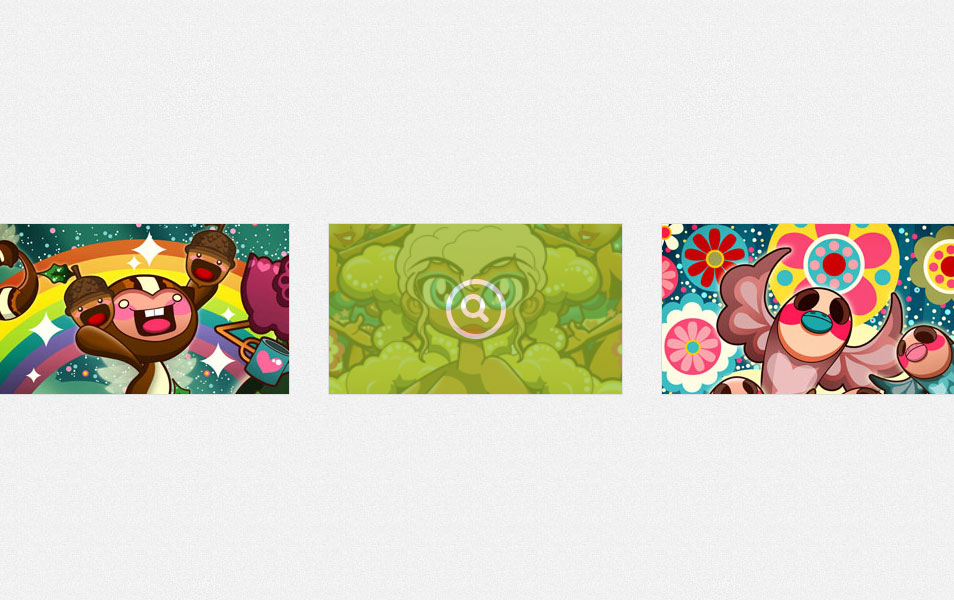 A swish jQuery zoom hover effect plugin which you can use to add a great effect to things such as portfolio item's.
AnythingZoomer jQuery Plugin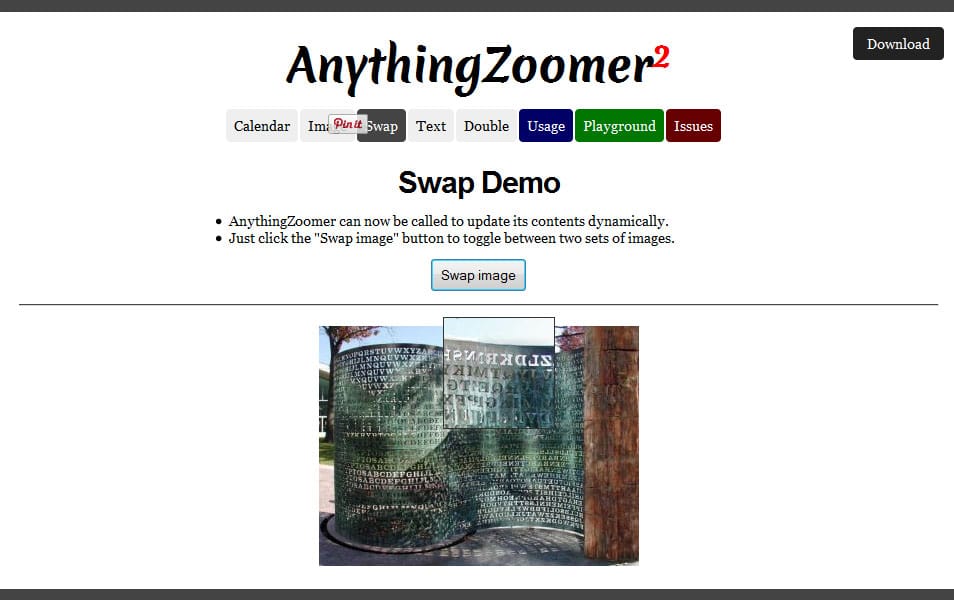 You have a small area. You mouse over it. An area pops up giving you a zoomed in closer look. This is a jQuery plugin that does it. I'm not going to tell you what you should use it for or elaborate use-case scenarios. Your own creativity can help you there.
Zoome – jQuery Image Zoom Effect Plugin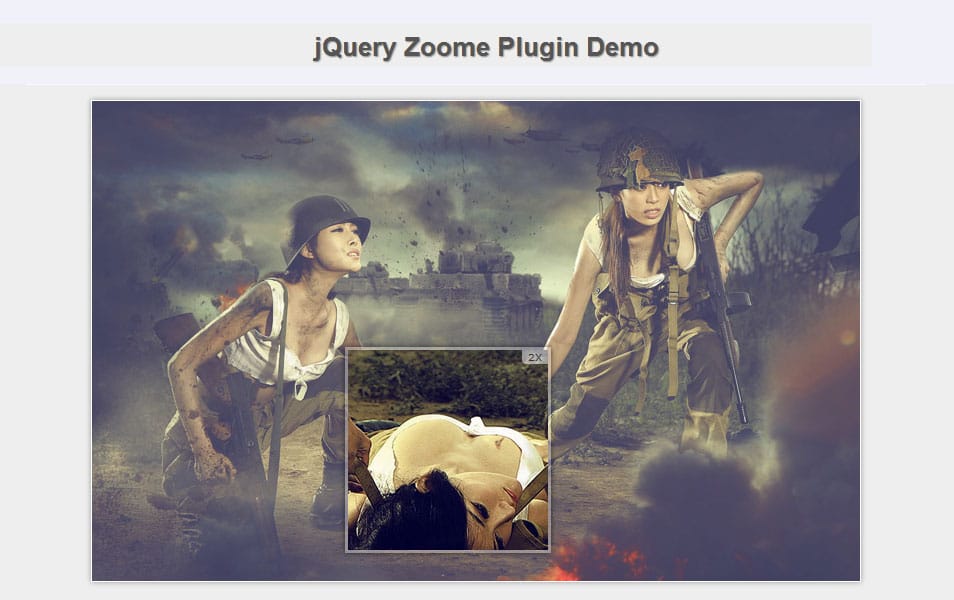 Zoome is a jQuery plugin to help you zoom images with hover effect(grayscale,blur,transparent) and you can zoom-in or zoom-out use mousewheel.
HoverPulse jQuery Plugin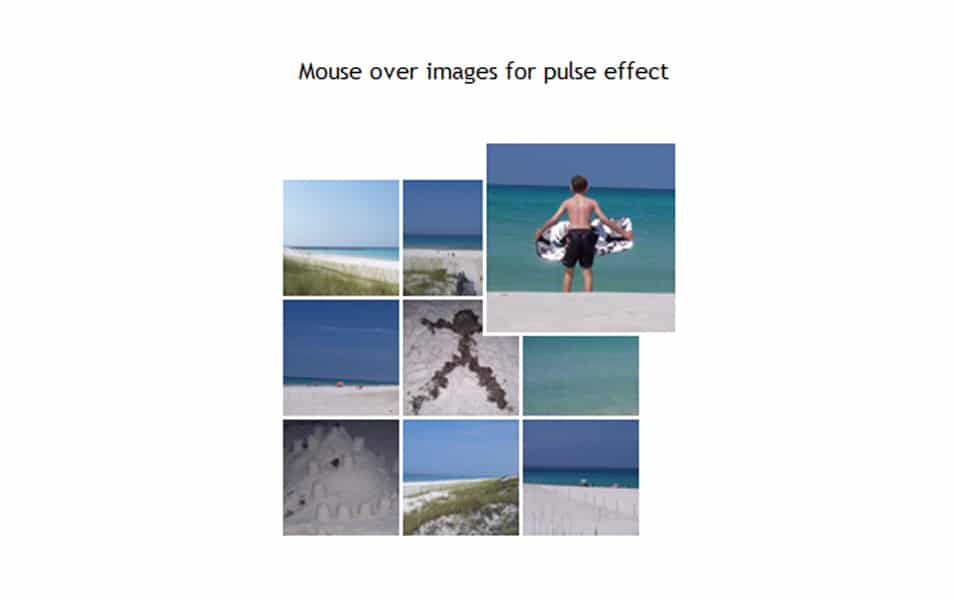 This pages demonstrates a little plugin called 'hoverpulse' which grows and then restores an element's size in response to the mouse hovering over it.
Animated jQuery Content Hover Effect Plugin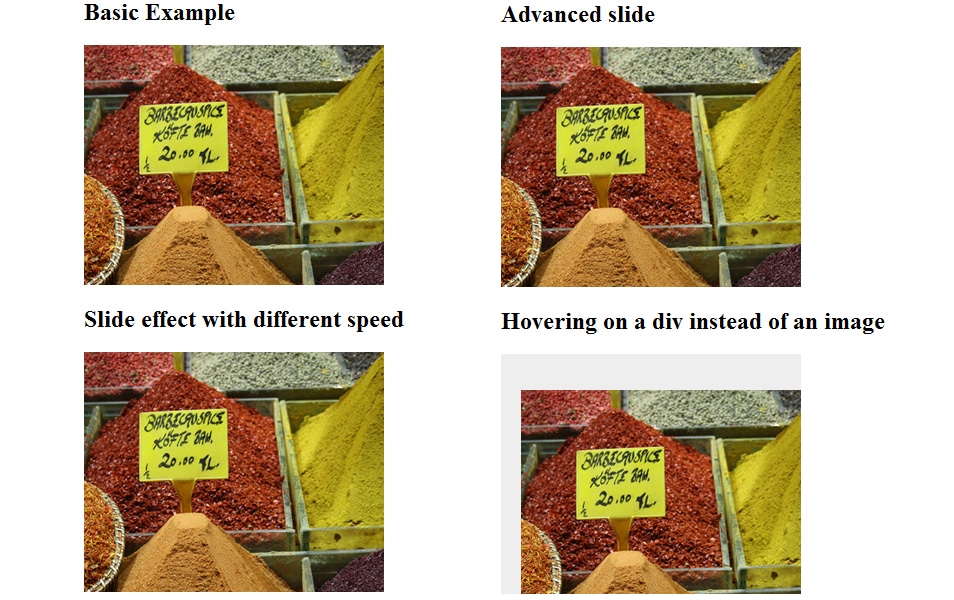 Content Hover is a jQuery plugin for creating an animated content overlay covering an Html element when mouse hovers over it. Comes with some useful options to set the animations, directions, positions and more. Great for creating amazing image caption hover effects to reveal the more details of the image/content.
hoverIntent jQuery Plug-in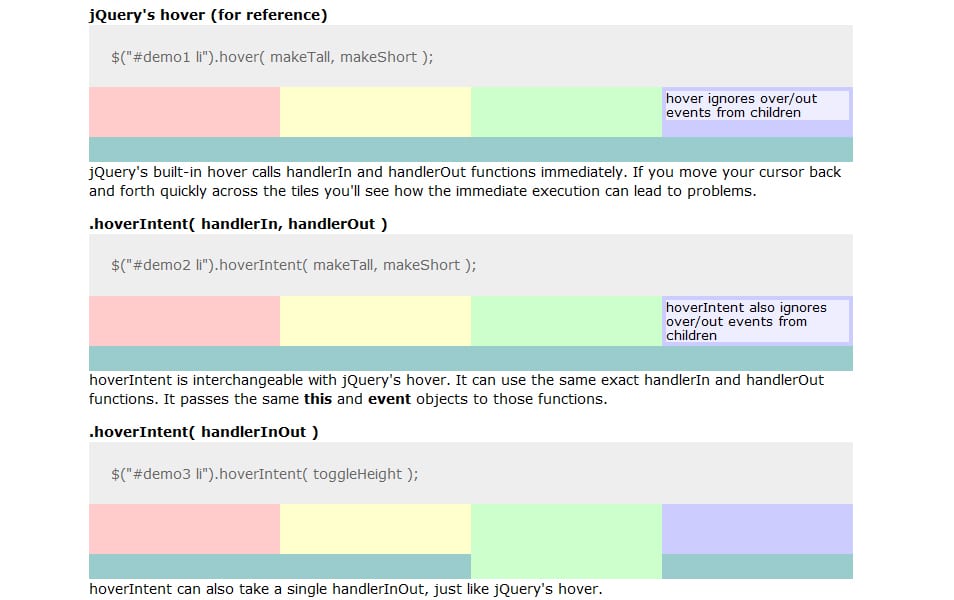 hoverIntent is a plug-in that attempts to determine the user's intent… like a crystal ball, only with mouse movement! It is similar to jQuery's hover method. However, instead of calling the handlerIn function immediately, hoverIntent waits until the user's mouse slows down enough before making the call.
Hover Captions (HCaptions) jQuery plugin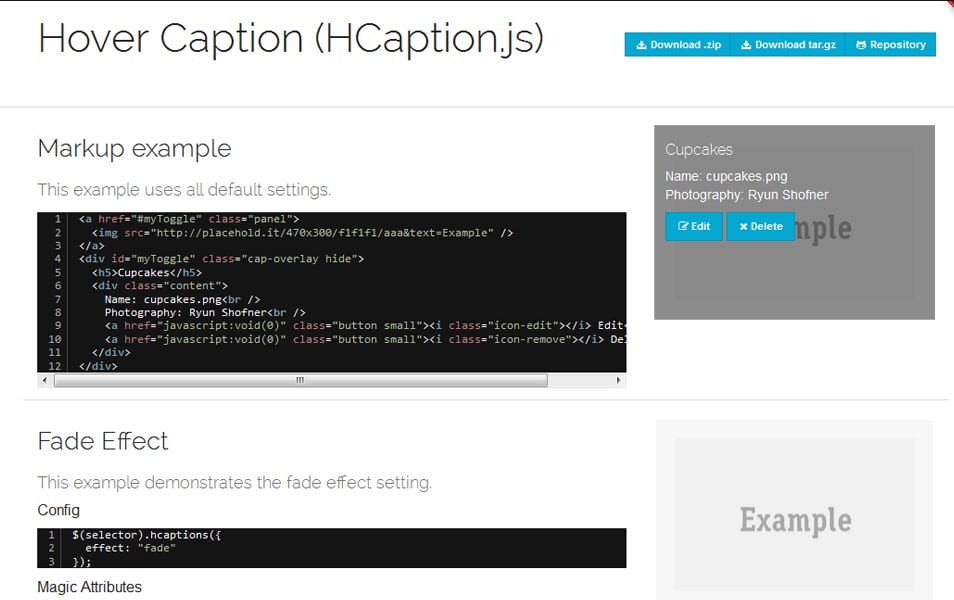 Hover Captions (here in after: HCaptions) is a jQuery plugin that enables you to display caption overlays with cool effects over images, div's, etc..
jQuery.aim Plugin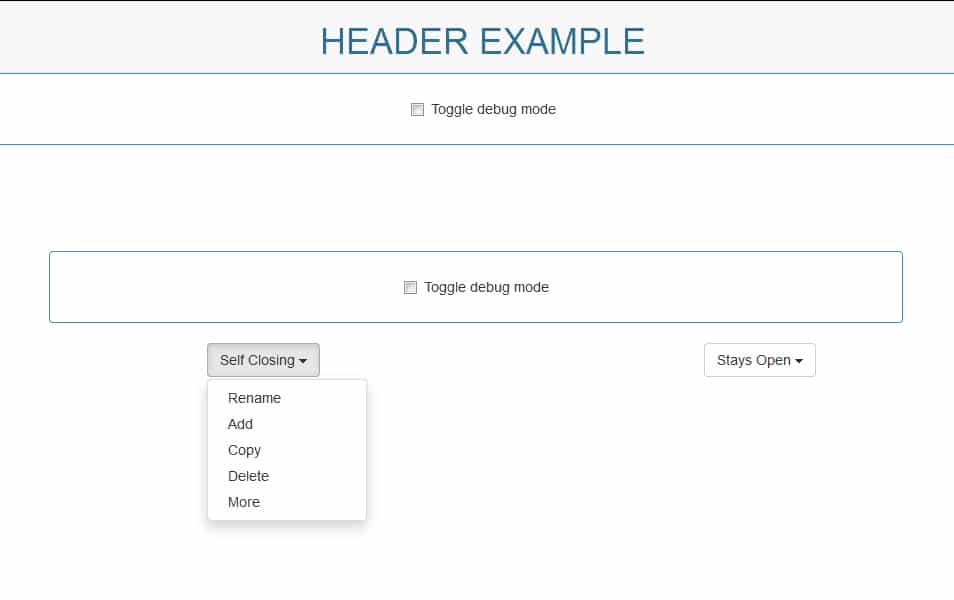 jQuery plugin which guesses which element user is going to be hovered/clicked.
Slickhover jQuery plugin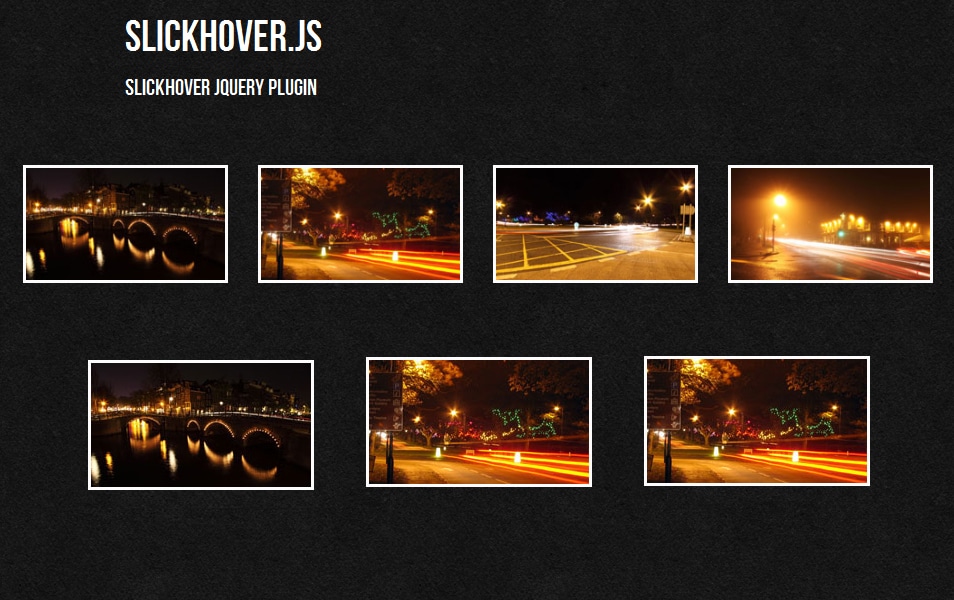 Slickhover.js is a lightweight useful jQuery plugin that produces a slick and smooth hover effect that fades out images and shows a custom icon when a user hovers over an image.
randomizeColor jQuery plugin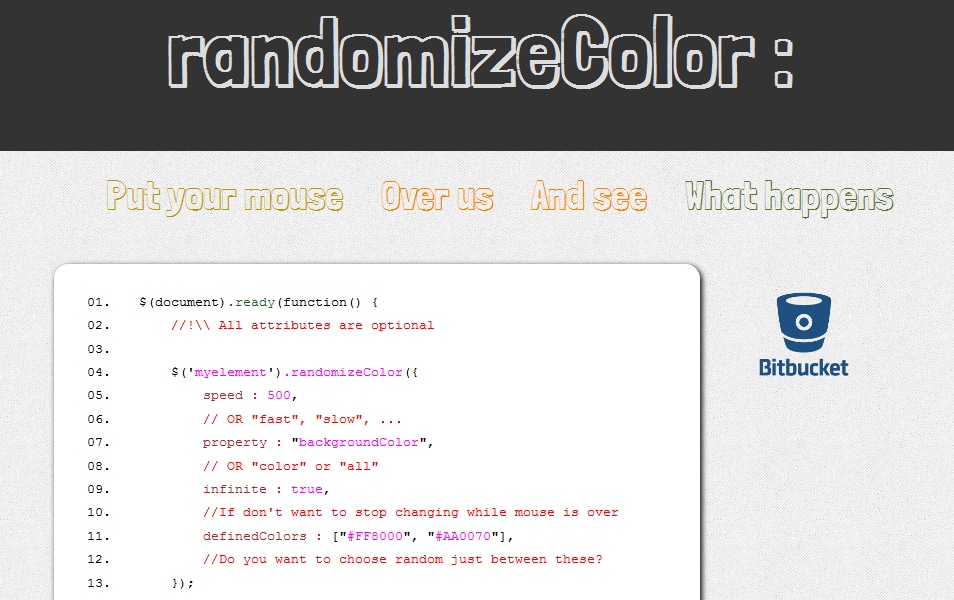 randomizeColor is a jQuery plugin to randomize the text and / or background color on mouse over.
Hovercard jQuery Plugin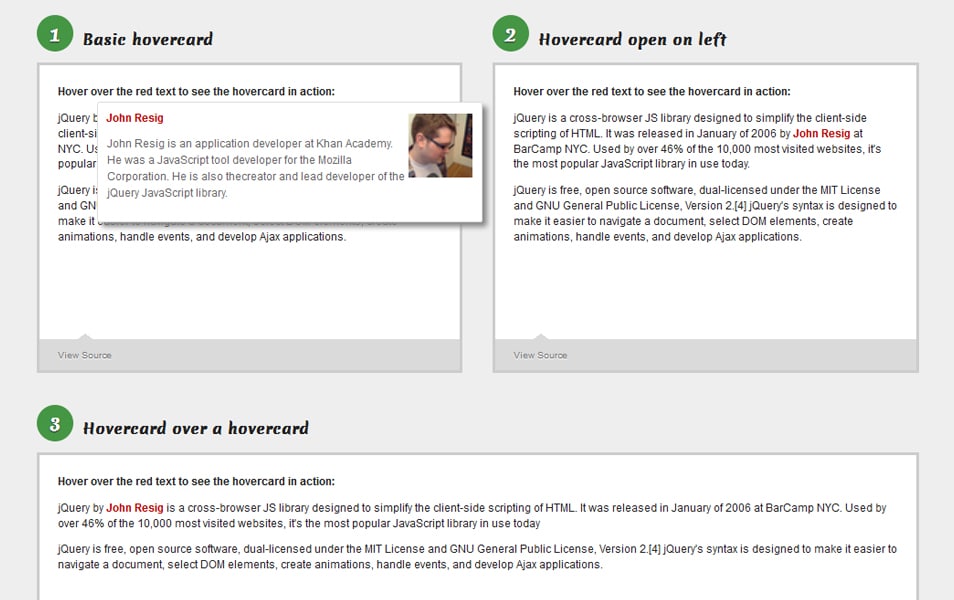 A free light weight jQuery plugin that enables you to display related information with the hovered label, link, or any html element of your choice.
Mate Hover jQuery Plugin
Mate Hover is a jQuery plugin for image hover animations. You can change the appearance of pop-up elements. You can embed your icons, text etc.
Zalki Hover Image – Plugin jQuery
Zalki Hover Img – is a jQuery plugin for image hover animations. Cross browser even IE 7 (even opacity).Easy to use and customize. Supports thirty animation effects from jQuery Easing. No need to adjust the size of the container.
HoverEx – jQuery image hover animation plugin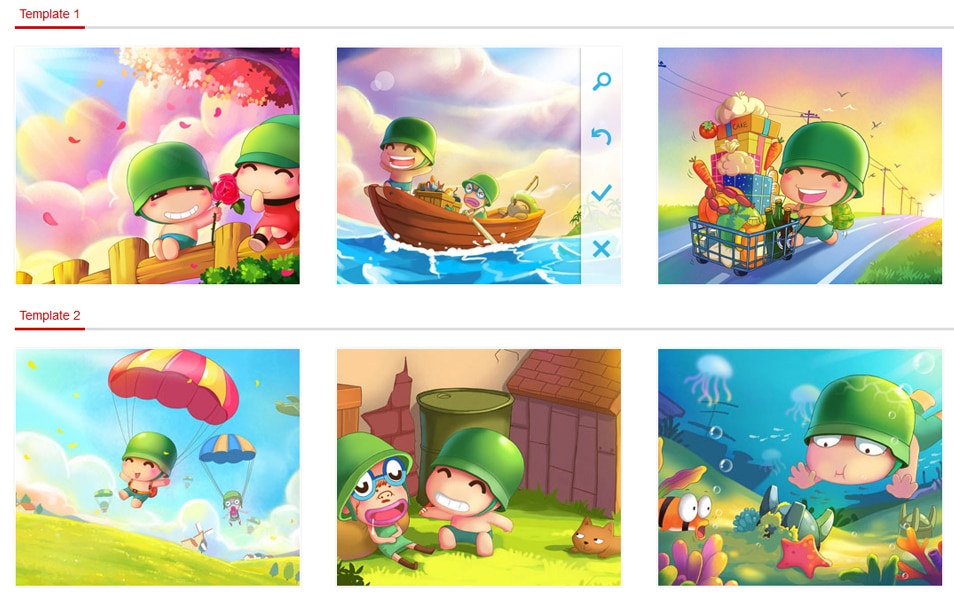 HoverEx is a jQuery plugin for image hover animations.It contains over 36 animations and prepared 18 hover animation templates.It also support for image zoom and slider effect.
hoverOver – jQuery Plugin for Adding Hover Content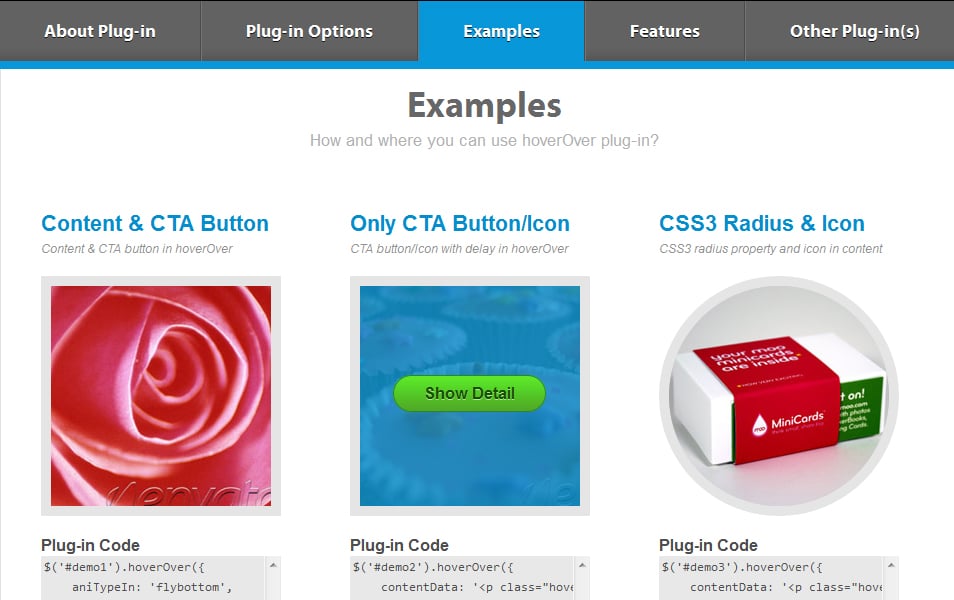 hoverOver plug-in is useful for showing content on image or text blocks to show short information related to product, image etc. Plug-in provides various animation effects to show content.
jQuery Hotspot Plugin with Slideshow
You can use this jQuery Hotspot Plugin in a product introduction or image showcase, which support the auto delay slideshow and can trigger by click or hover. Works fine in the mobile device like iPhone or iPad too.
jQuery Hover Cards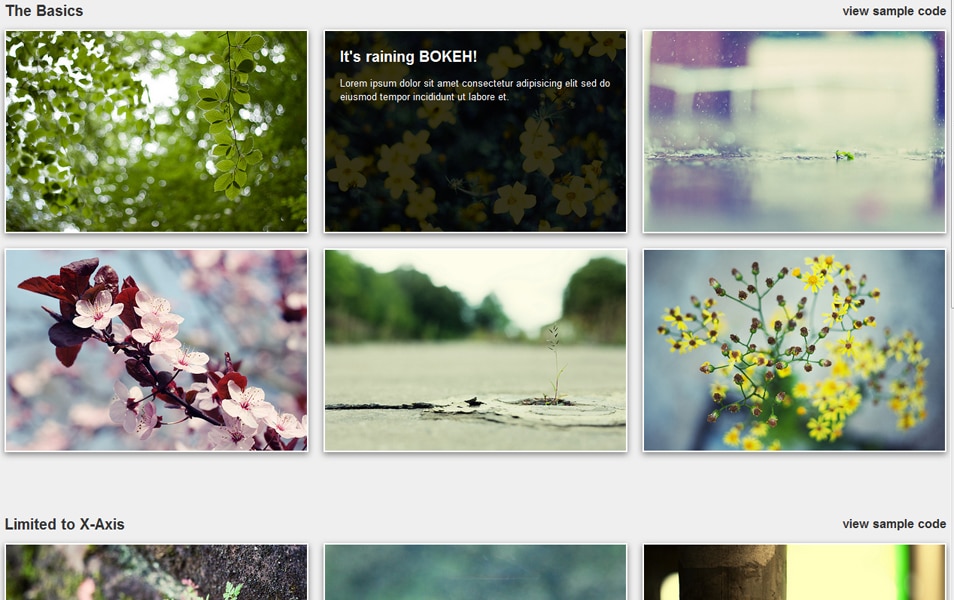 jQuery Hover Cards is a lightweight plugin that gives you the power to create beautiful and interactive hover effects for your images and thumbnails the differ depending on the direction the image was hovered.
SlipHover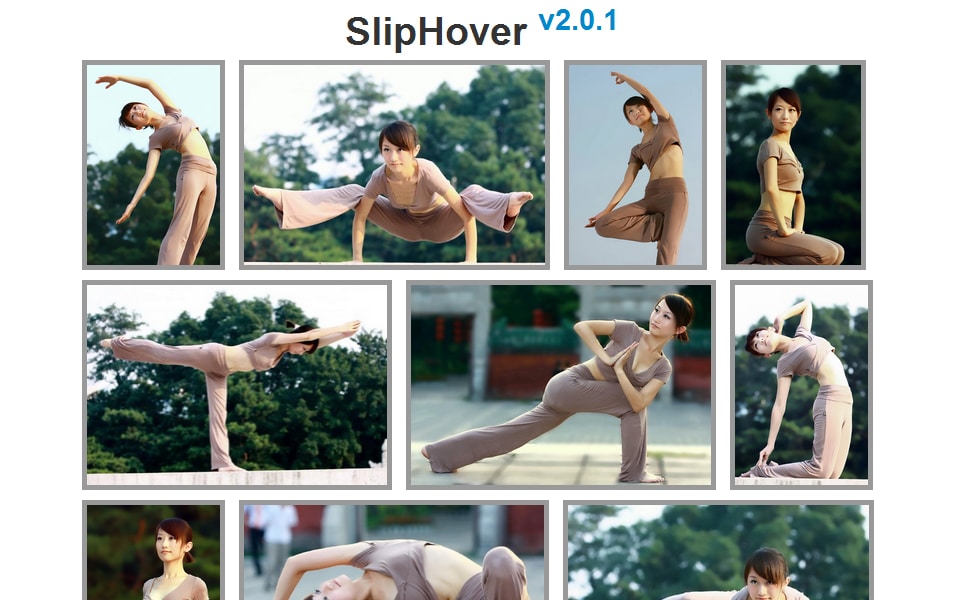 SlipHover apply direction aware hover animation for the caption of an image.
Hoverizr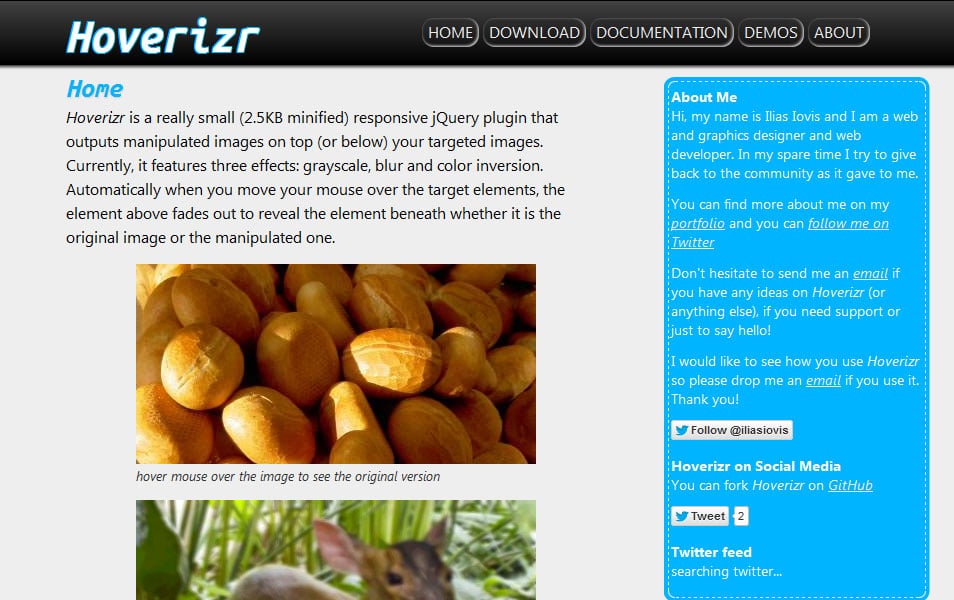 Hoverizr is a really small (2.5KB minified) responsive jQuery plugin that outputs manipulated images on top your targeted images. Currently, it features three effects: grayscale, blur and color inversion. Automatically when you move your mouse over the target elements, the element above fades out to reveal the element beneath whether it is the original image or the manipulated one.
jQuery PowerTip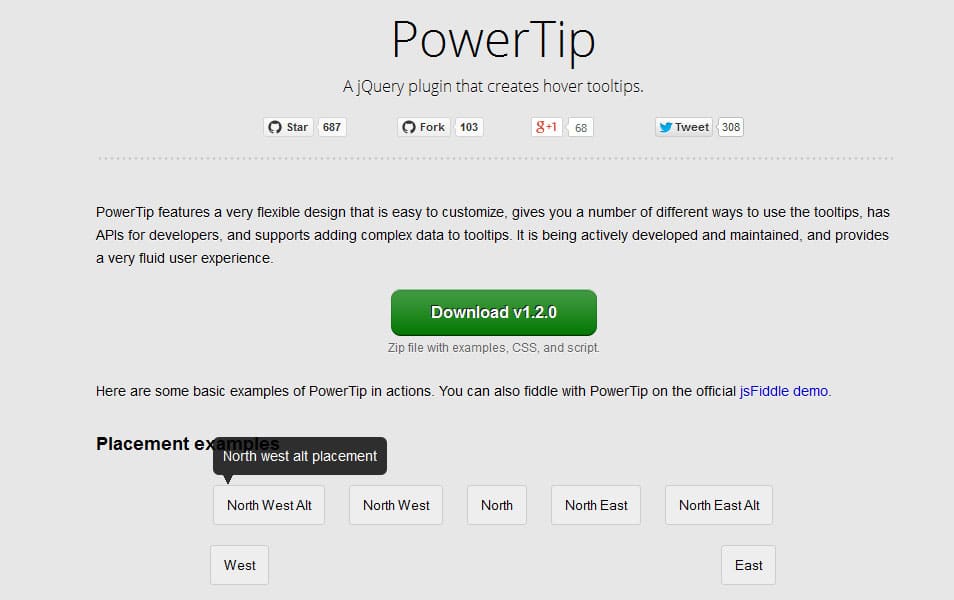 PowerTip is a jQuery tooltip plugin with some advanced features like hover intent testing, tooltip queueing, and support for complex data. It also has that rarest of features in jQuery plugins, it's not abandonware.
HoverScroll jQuery Plugin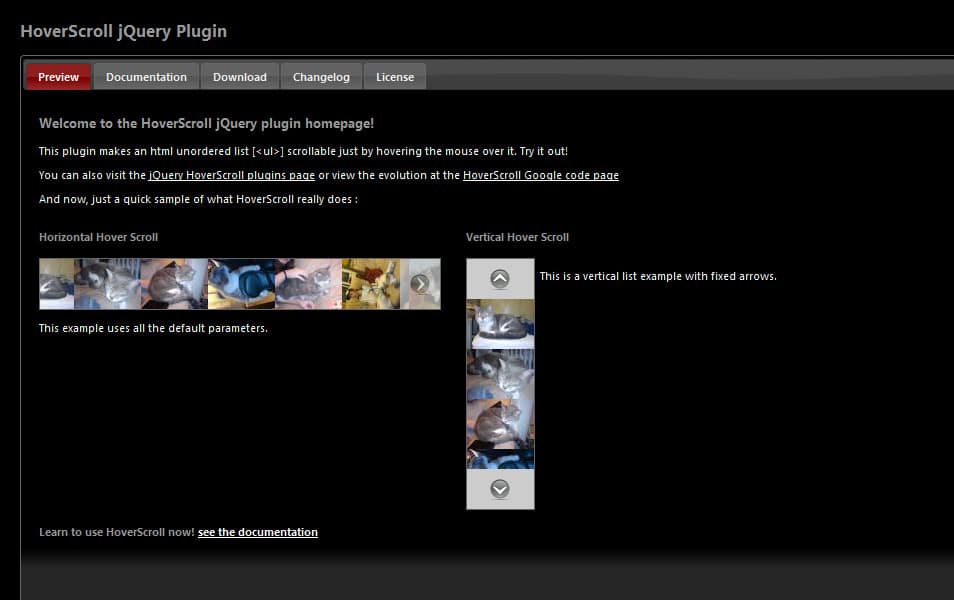 jQuery plugin for scrolling through a list by hovering the mouse over it.
JQuery hover caption plugin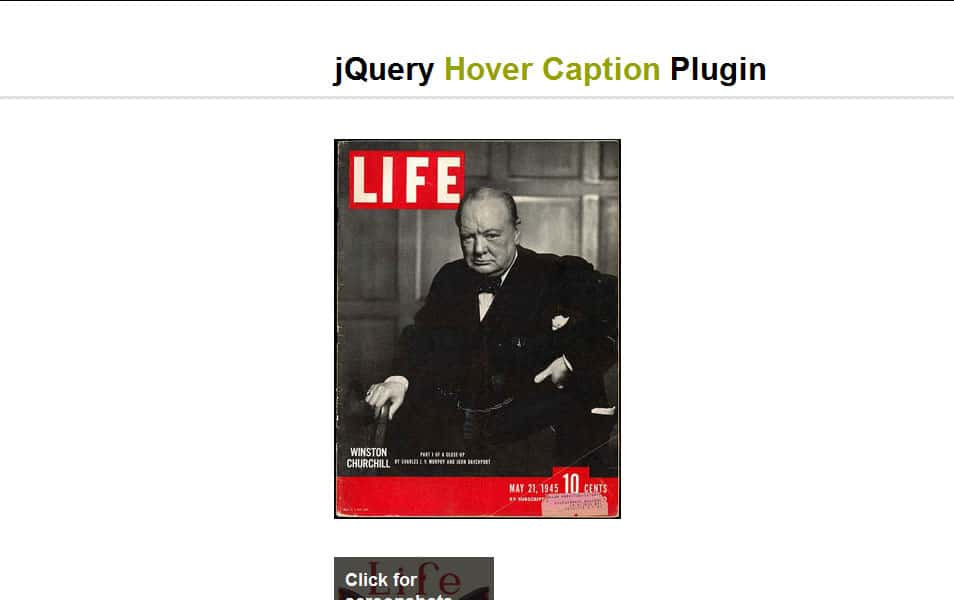 Simple jQuery plugin that adds both a caption and a gray-out effect when hovering over an image.
jquery.hoverGrid
A simple, lightweight jQuery plugin for creating a grid of images which when hovered reveals a caption.
pixelate.js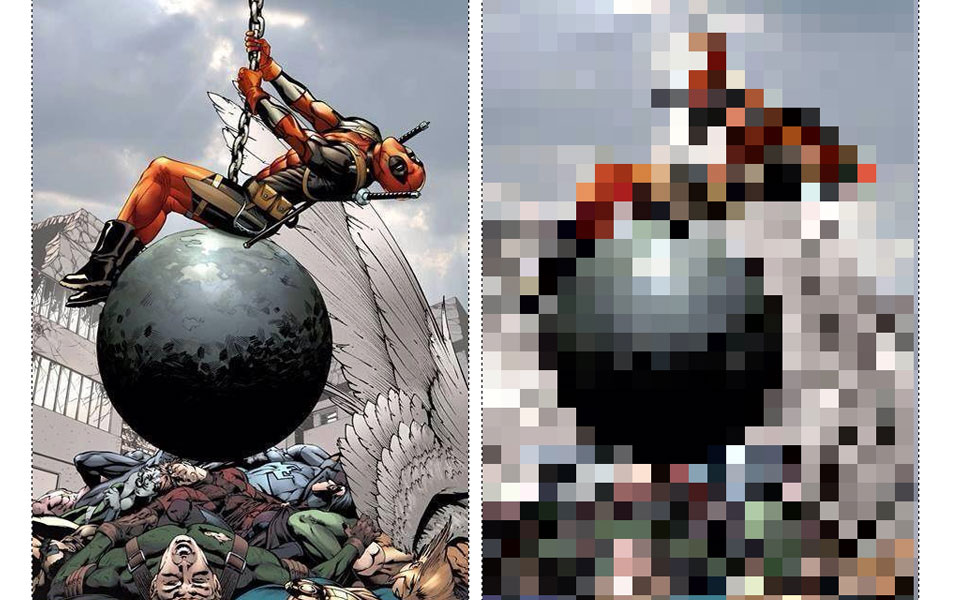 pixelate.js is a simple library and jQuery plugin to pixelate any set of images and optionally reveal them on hover.
jquery-hover-dropdown-box.js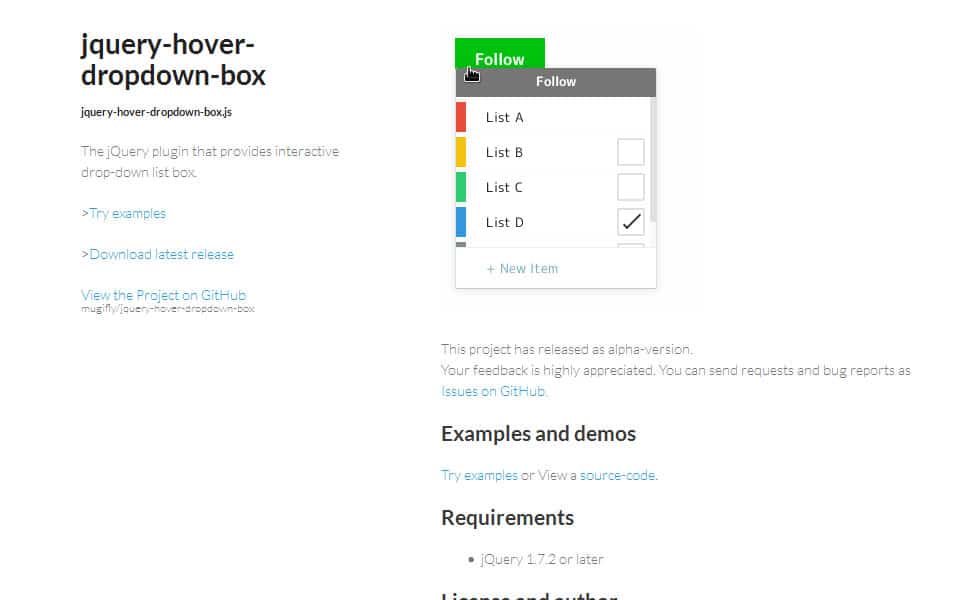 The jQuery plugin that provides interactive drop-down list box.
jQuery HoverCrossfade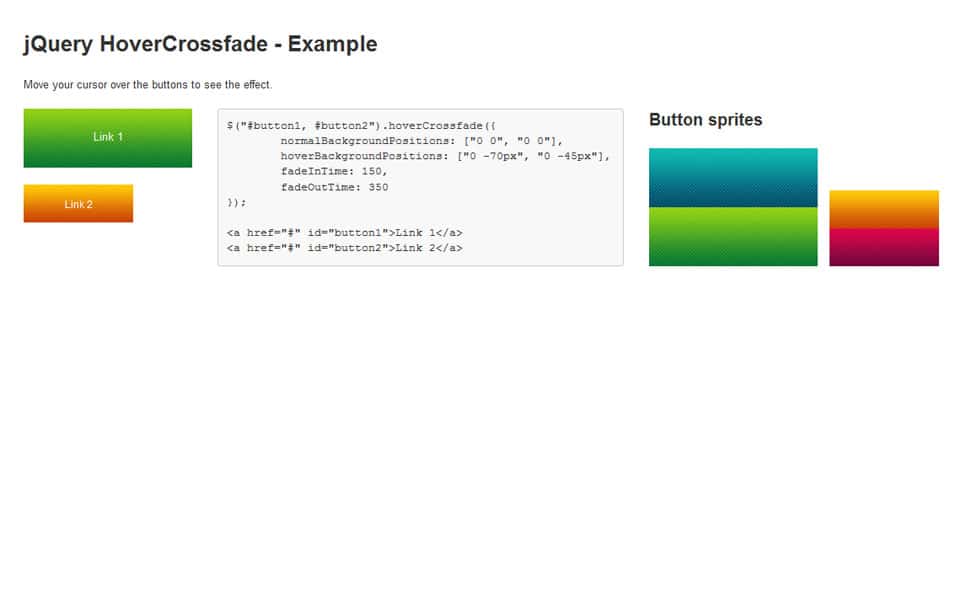 The HoverCrossfade plugin for jQuery is made for changing default hover effects of links or buttons. It's based on the "background-image" attribute and simply crossfades between two images. When applying the plugin to an element, two additional containers are created in order to make the effect work.
FloatingTips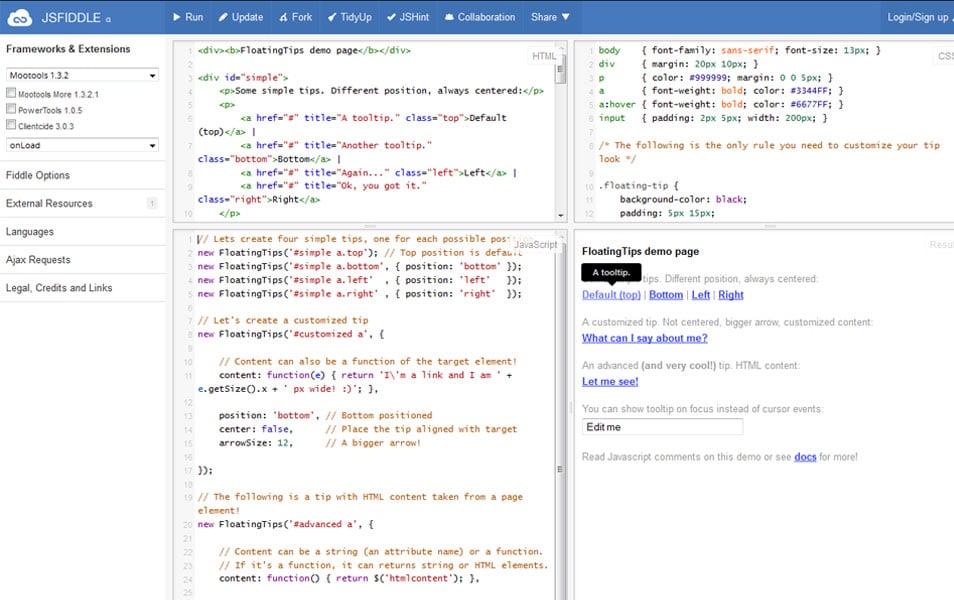 A Mootools plugin for creating floating balloon tips that nicely appears when hovering an element. High customizable using options (tooltip position, centering, arrow size, distance, animation, etc).
Leaflet.TouchHover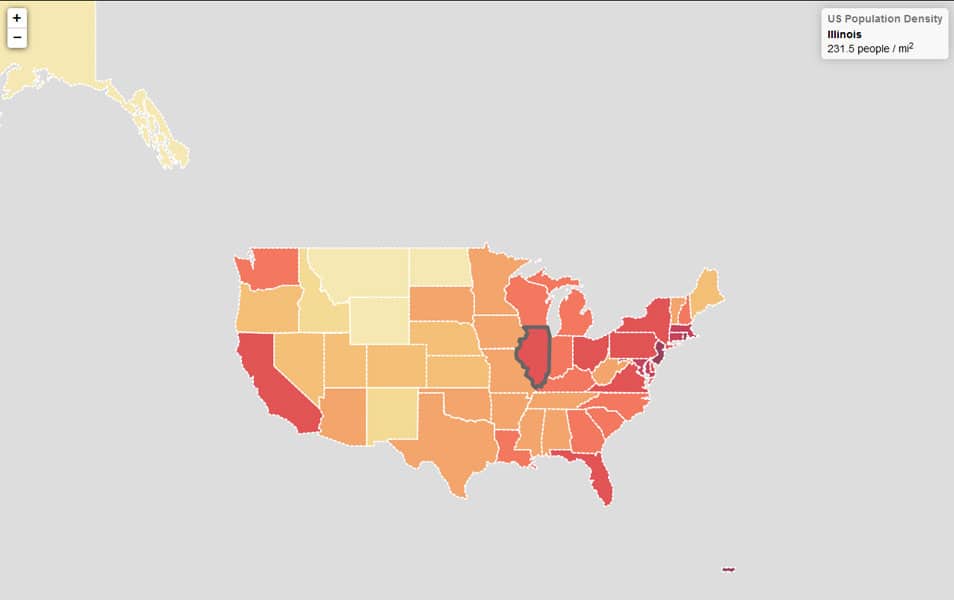 A plugin for adding hover-like interaction to Leaflet maps on mobile devices.
raphael.set.hoverset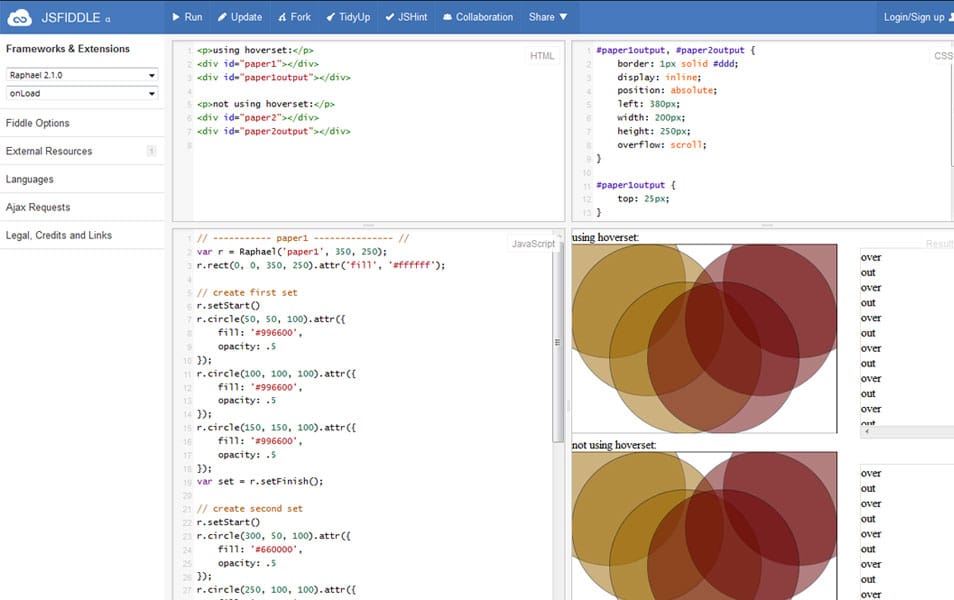 plugin extending the Set object with global mouse over/out events – suppresses over/out events when mousing over overlapping children in a set.
ImageOnHover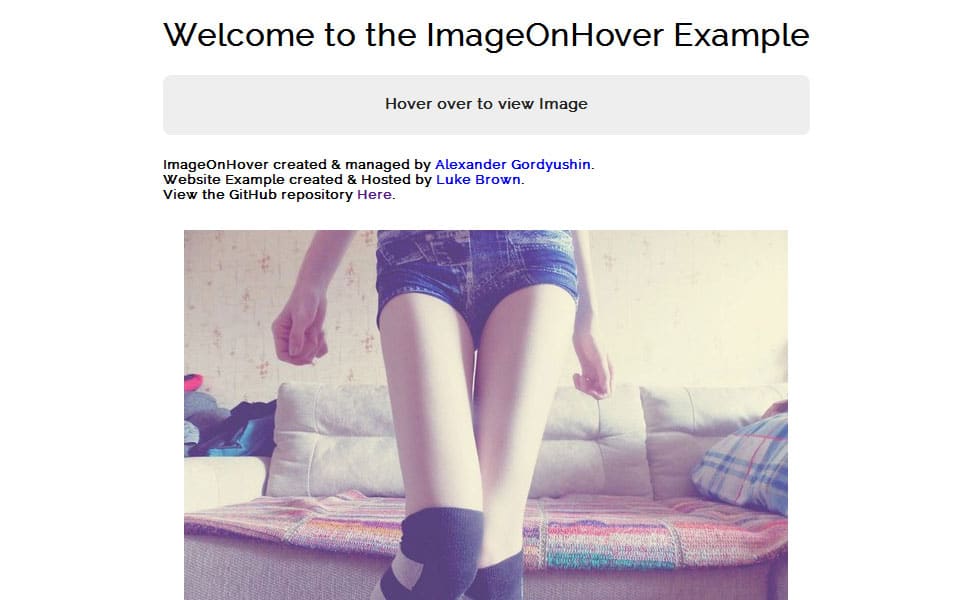 ImageOnHover is jQuery plugin that help you to show image on hovering a link. It's just like fancybox or something like that, except you don't need to click.
a class="btn-source" href="https://github.com/Equals182/ImageOnHover" target="blank" > Download
jQuery CSS3 Hover Transform Plugin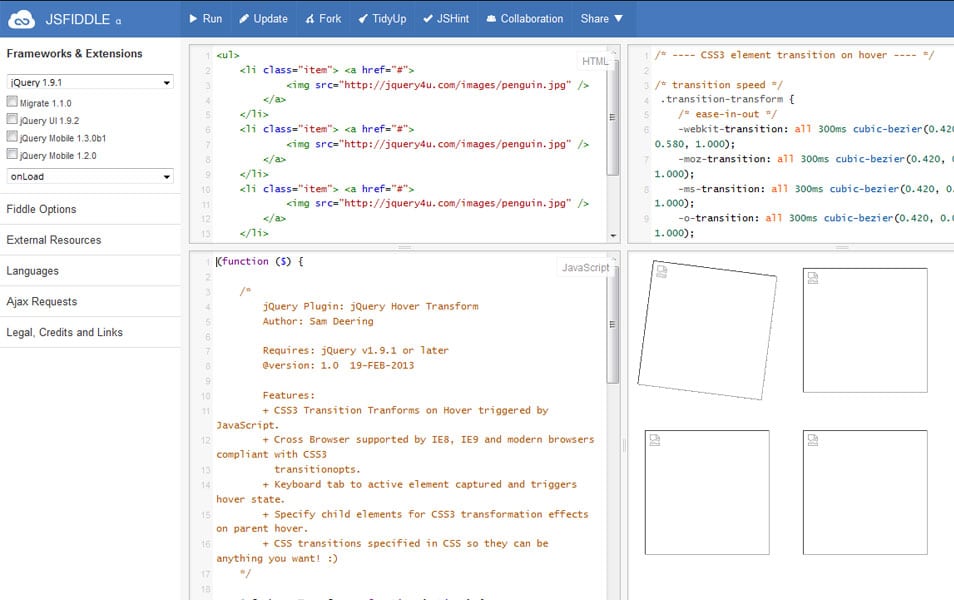 A lightweight (2kb min) jQuery Plugin which handles CSS3 hover tranforms that work cross browser IE8+. Works on all modern browsers Chrome, Firefox, Safari, IE. Old browsers IE9, IE8.
jQuery Image Hover Move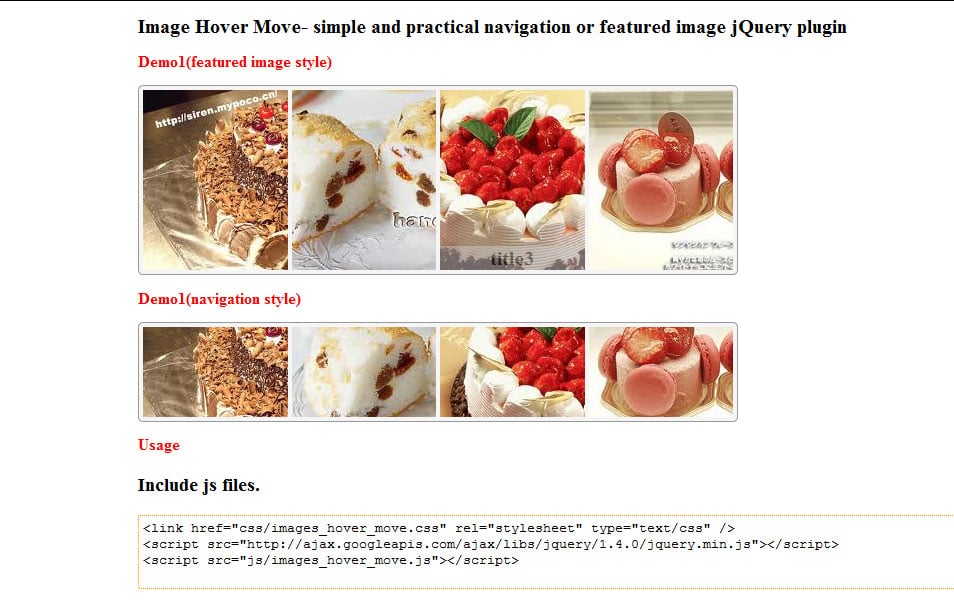 simple and practical navigation or featured image jQuery plugin.
Accelerated Hover Scroll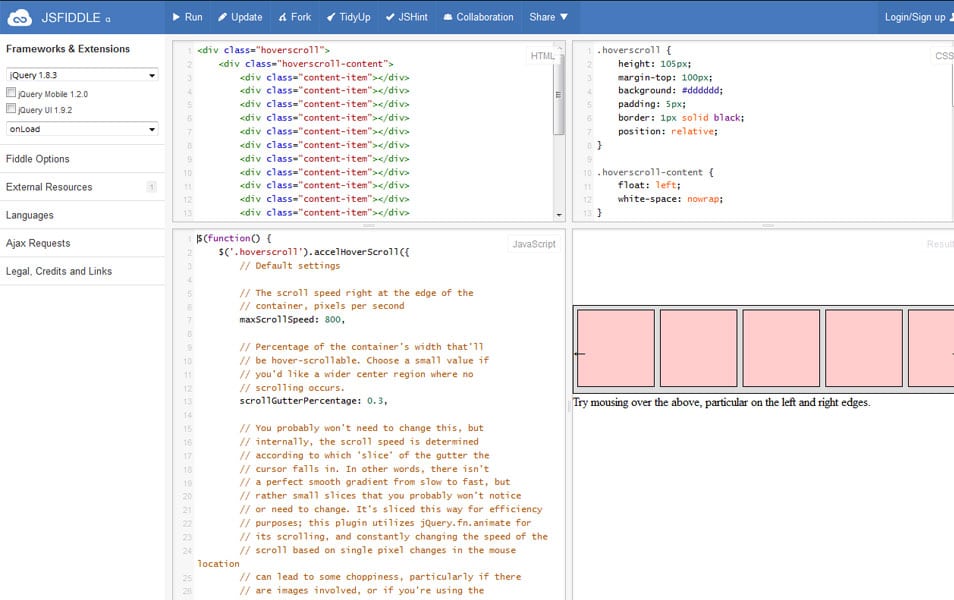 Horizontal, accelerating hover-scroll plugin for jQuery.
videojs-progressTips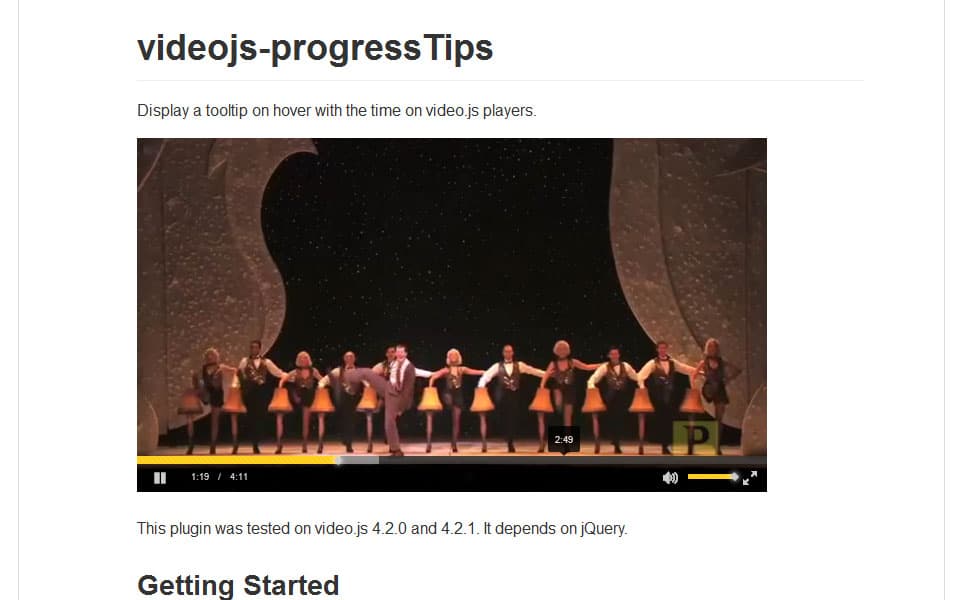 video.js plugin to display the time on hover of the progress bar.
jQuery CSS3 Image Hover Effects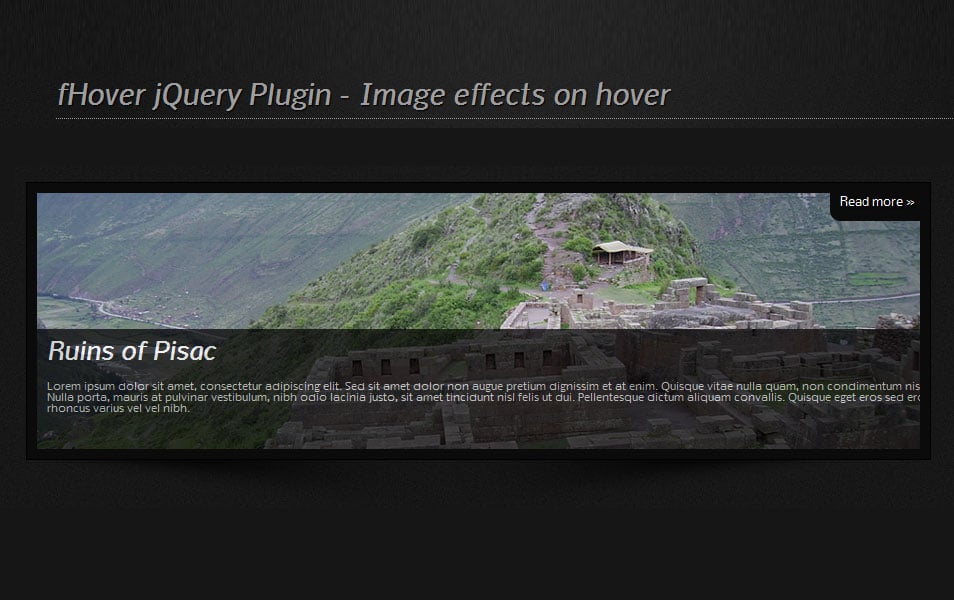 CSS3 Image Hover Effects is a jQuery plugin by Fusiondevs.com for adding superb hover effects to your website's images. Perfect for using on banners, advertisements and custom buttons.
jRumble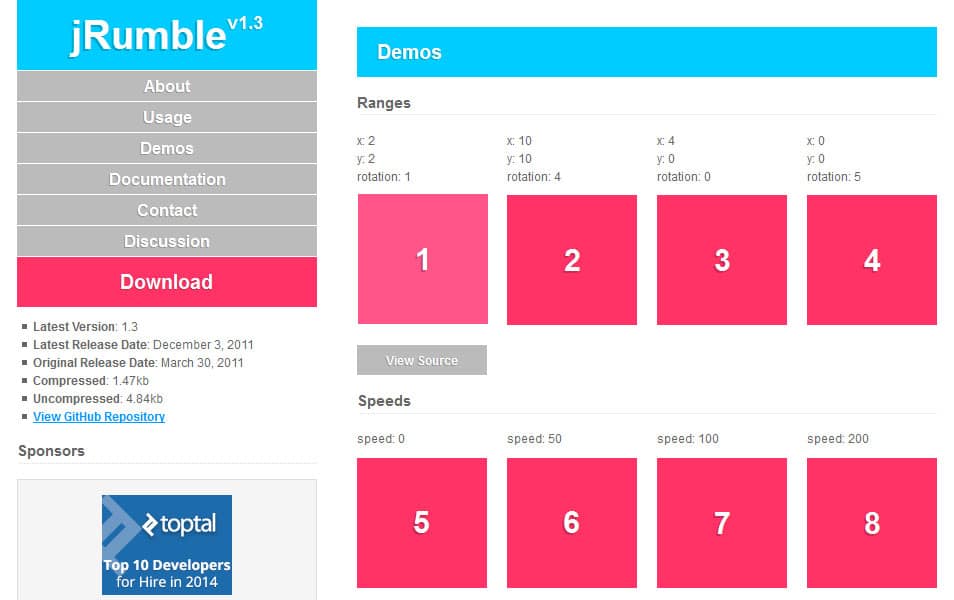 jRumble is a jQuery plugin that rumbles, vibrates, shakes, and rotates any element you choose. It's great to use as a hover effect or a way to direct attention to an element. You can control the X, Y, and rotation range, the speed, and event trigger for the rumble.
showOnHover.js
Simple small 1 kb jQuery Plugin for create a hover effect.
Hover Panels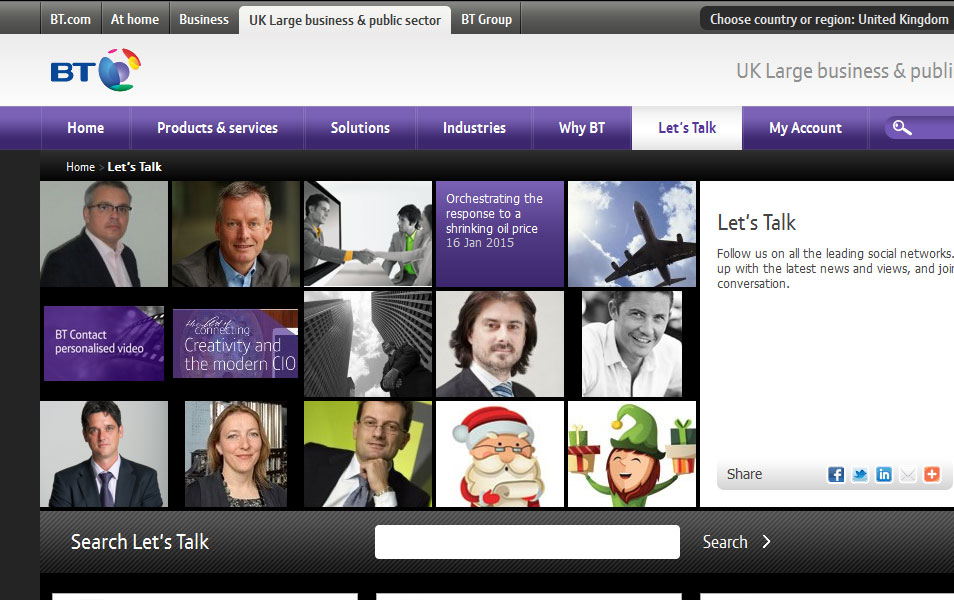 Hover Panels is a simple jQuery plugin I developed several years ago for allowing different content to be shown when the user hovers over an element.
jquery-hovercap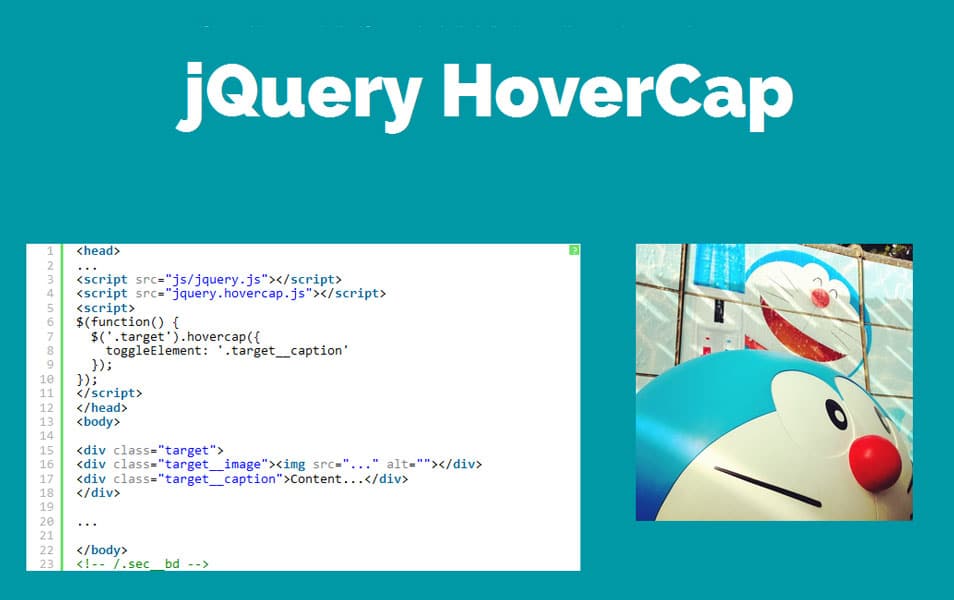 jQuery-Hovercap is the jQuery plugin that display caption overlays over images.
jquery-big-image.js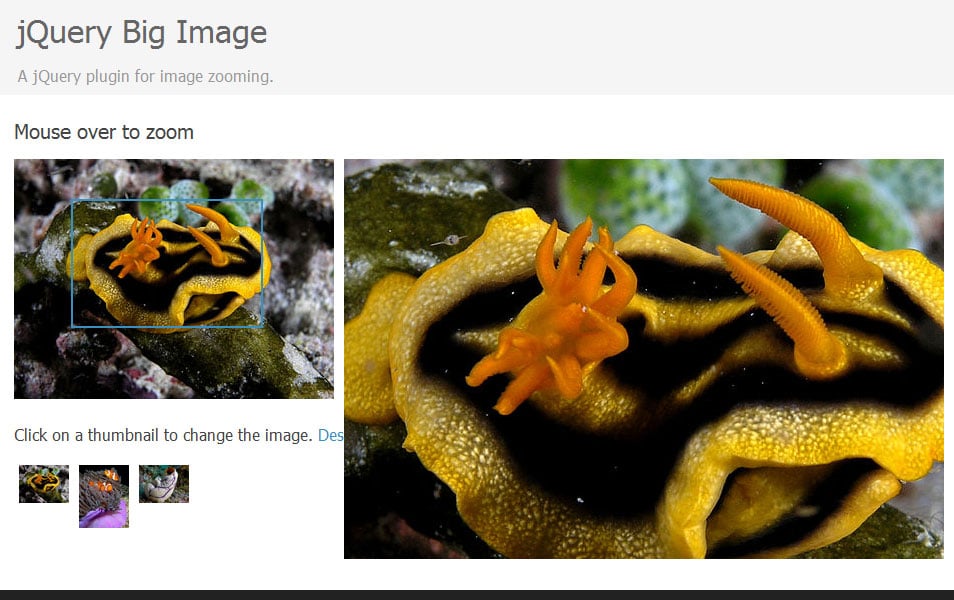 A plugin for hover image zooming that doesn't suck.
Ractive.js hover event plugin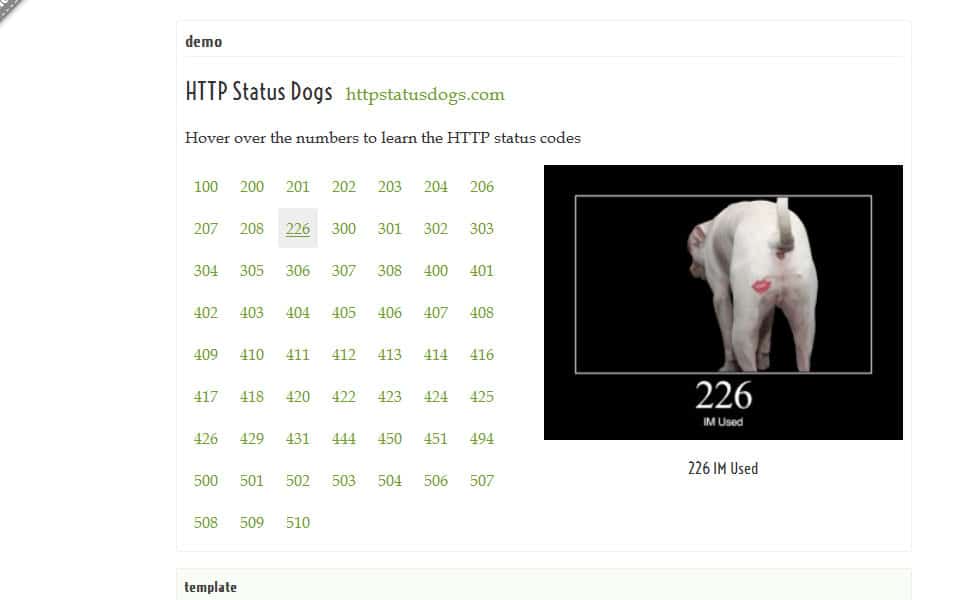 The hover event provides a convenient way to trigger behaviours when the user's mouse enters or leaves an element.
jQuery.hoverDelay.js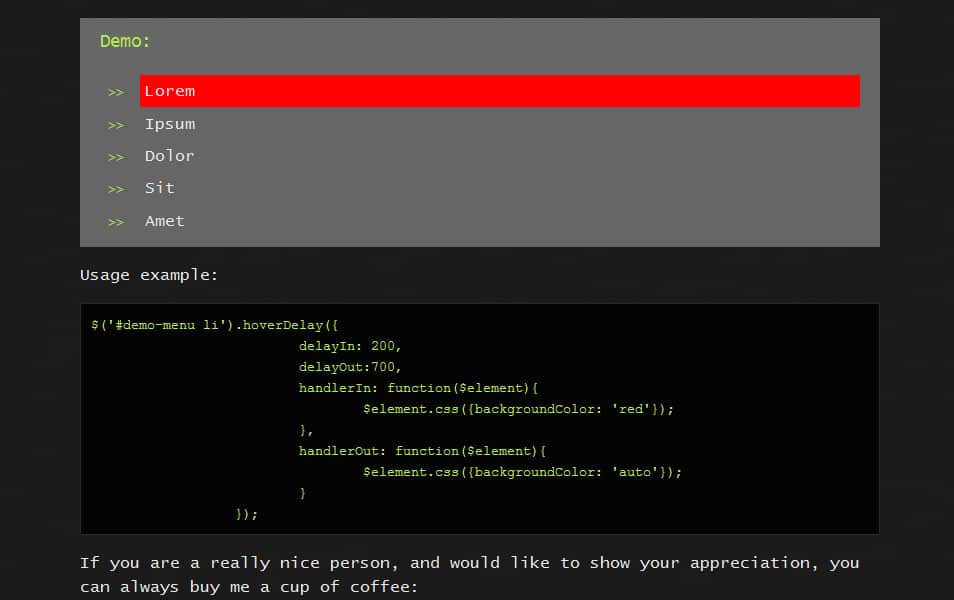 hoverDelay.js is a small and useful jQuery plugin that provides the very commonly wanted effect of "hover", but with configurable delay in the "in" and "out" events.
jQuery socialpic Plugin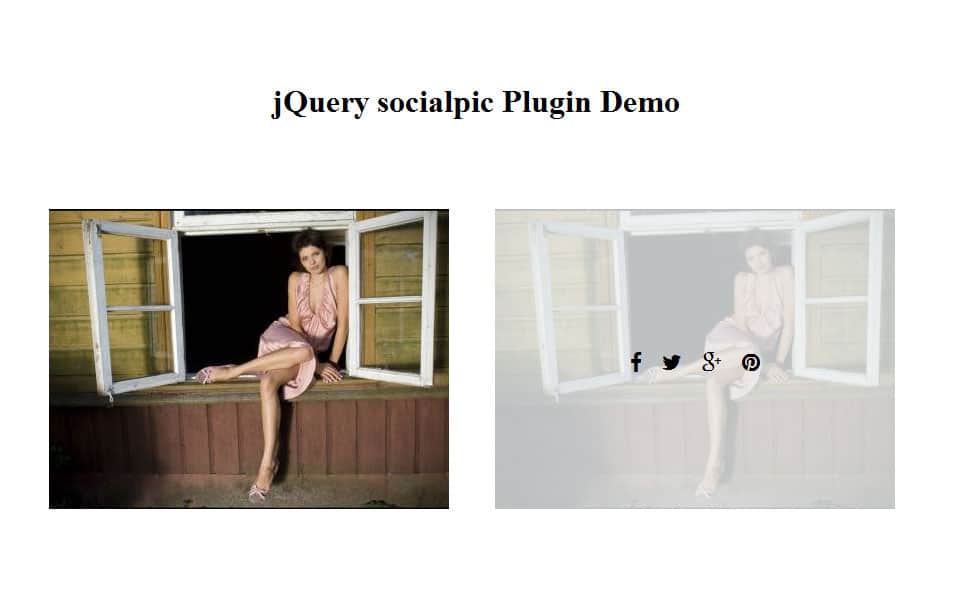 A jquery plugin to share images on social media from your website. Users will be able to hover over an image on your site and share the image on popular social media platforms.
WordPress Hover Plugin
Image Caption Hover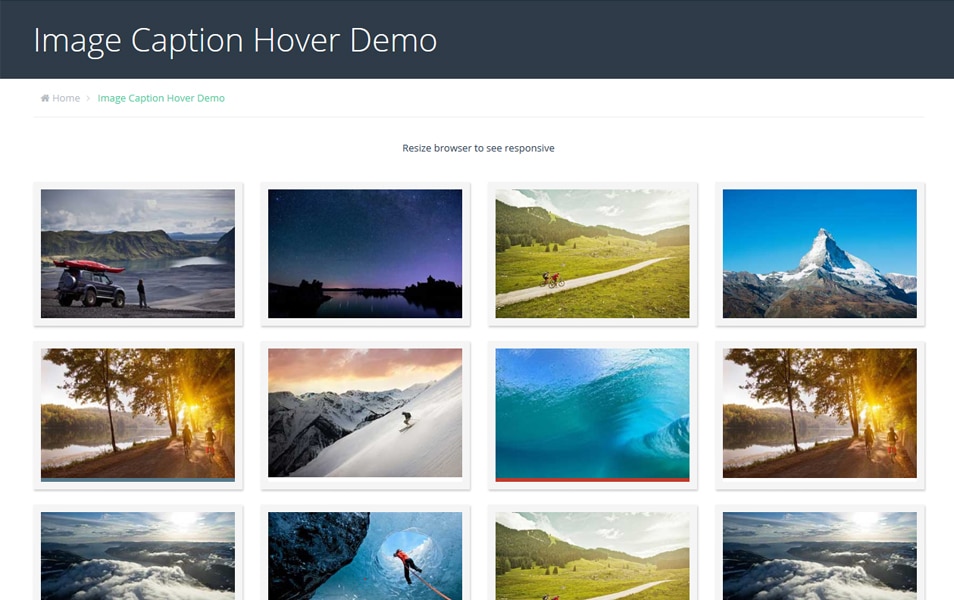 Add images anywhere in your site with 60+ caption hover effects. It is Simple and Flexible.
Caption Pro – Image Caption WordPress Plugin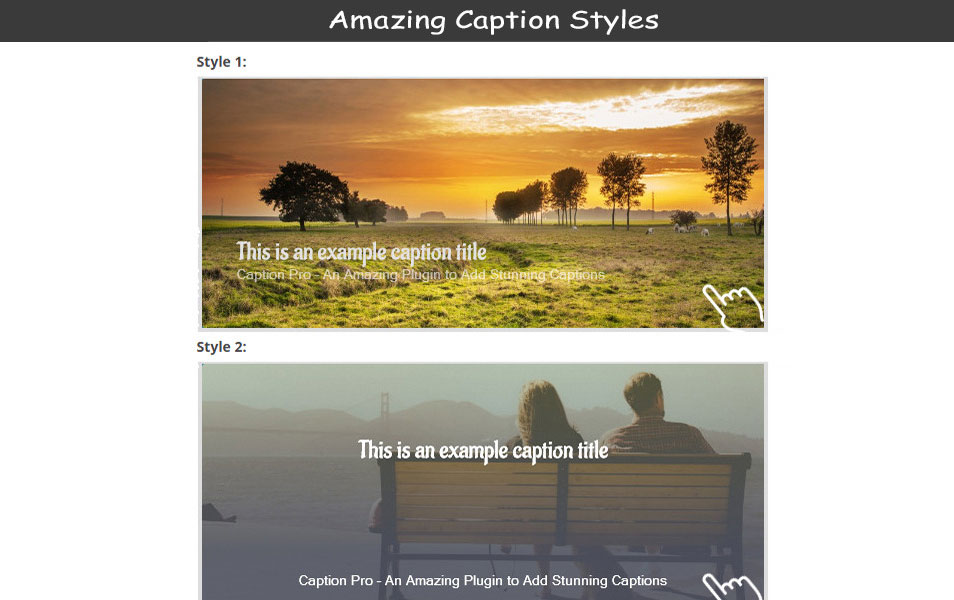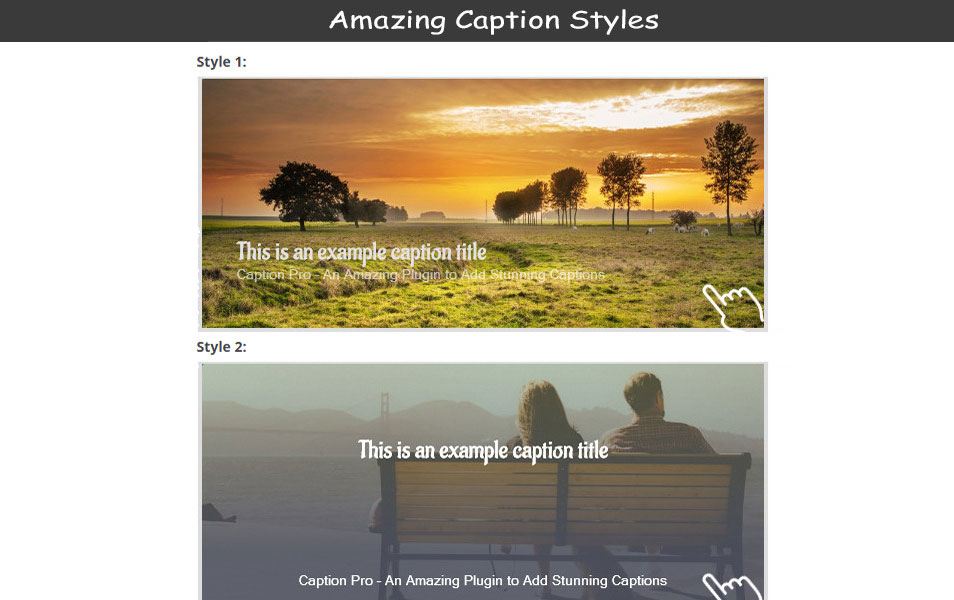 Caption Pro is a next generation Image caption wordpress plugin. Captions pro plugin will allow you to add fantastic captions to your WordPress Images. It allow you to choose predefined 14 caption styles, it has flexible typography options, you can use Google Fonts, as well as change their sizes, colors, spacing and their font-family.
Amazing Hover Effects WordPress Plugin
Amazing Hover Effects is an impressive hover effects collection, powered by pure CSS3 and iHover, no dependency. 55+ effects to choose and 3 styles.
Hover Effects Pack – WordPress Plugin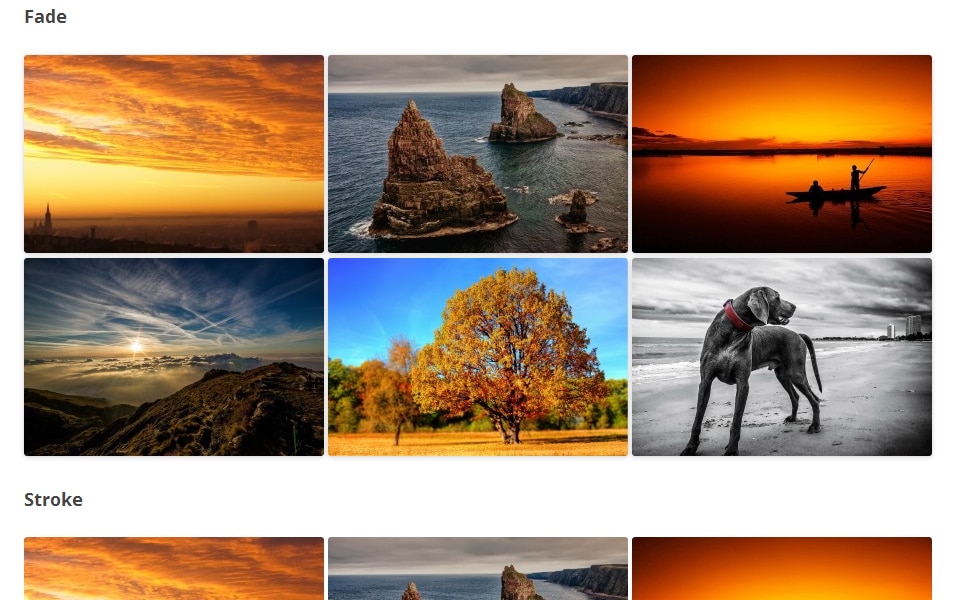 This hover effects pack plugin allows you to add image via shortcode, and set hover animation, text animation and text delay. This plugin adds new button to you WYSIWYG editor and options page, where you can select colors for color layer and text.
WordPress Hover Image & Content Tooltip Plugin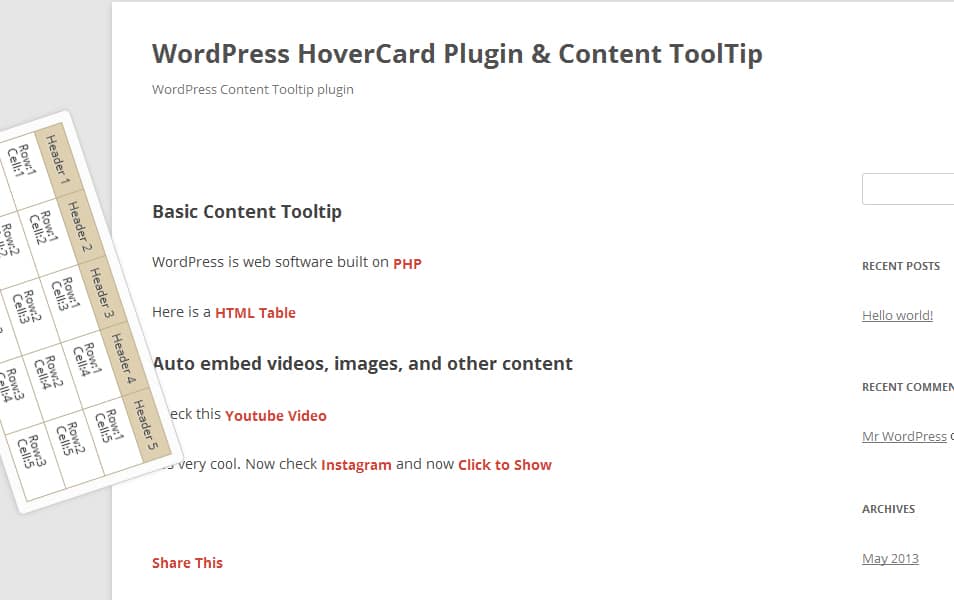 A versatile WordPress hover and click tooltip plugin for displaying custom HTML contents with CSS3 effects and jQuery animation. This WP image, contents, shortcode, tooltip plugin enables your website to display related information on keywords, links, Images, labels, simply.
Image Hover View Woocommerce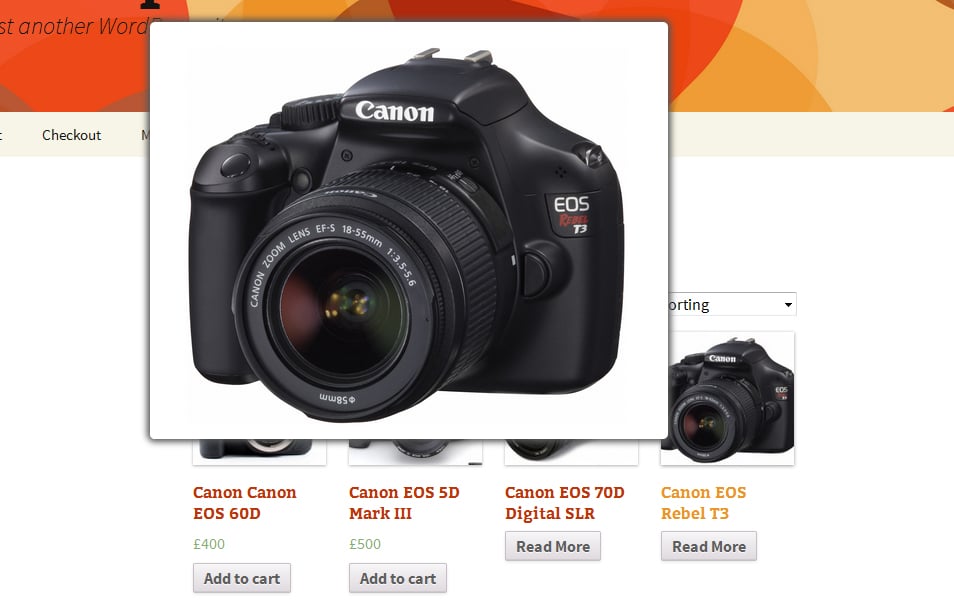 Image Hover View plugin allows to view products quickly anywhere on your site as list image category or thumb images. Especially with Image Hover View you can config any image size to show which allows to see the product images clearly the most, so you easily bring your products closer to customers.
WordPress Image Hover Showcase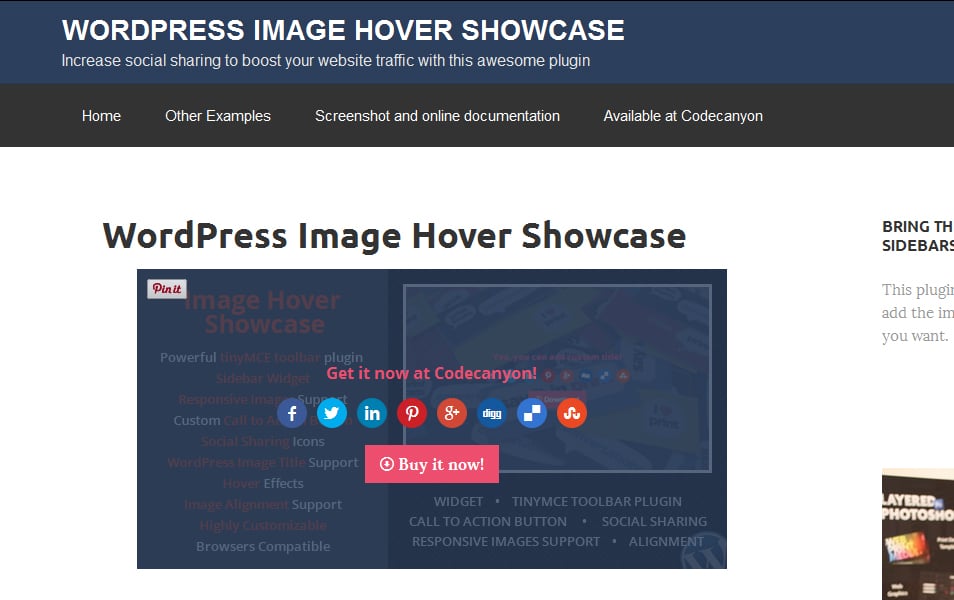 Increase social sharing to boost your website traffic with WordPress Image Hover Showcase. This plugin allows you to easily add social share icons on every images you've added via wordpress editor.
Social Image Hover for WordPress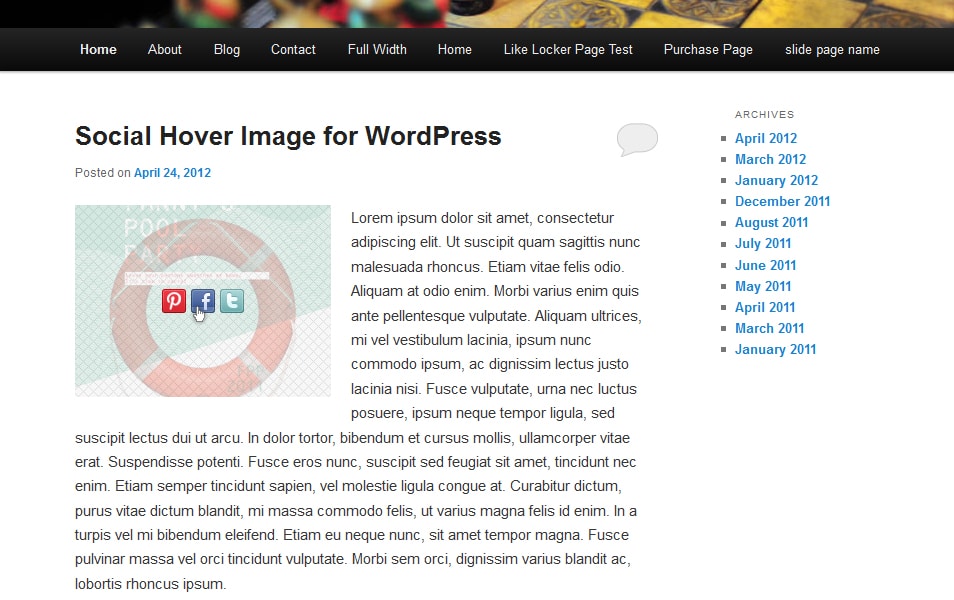 Social Image Hover for WordPress combines all of the web's most popular social services into one easy to use plugin. Social Image Hover allows you to quickly and easily add hover-over social buttons to your images on-the-fly making them instantly "shareable" on Pinterest, Facebook, Twitter, and Google Plus.
Anyhover Image Effects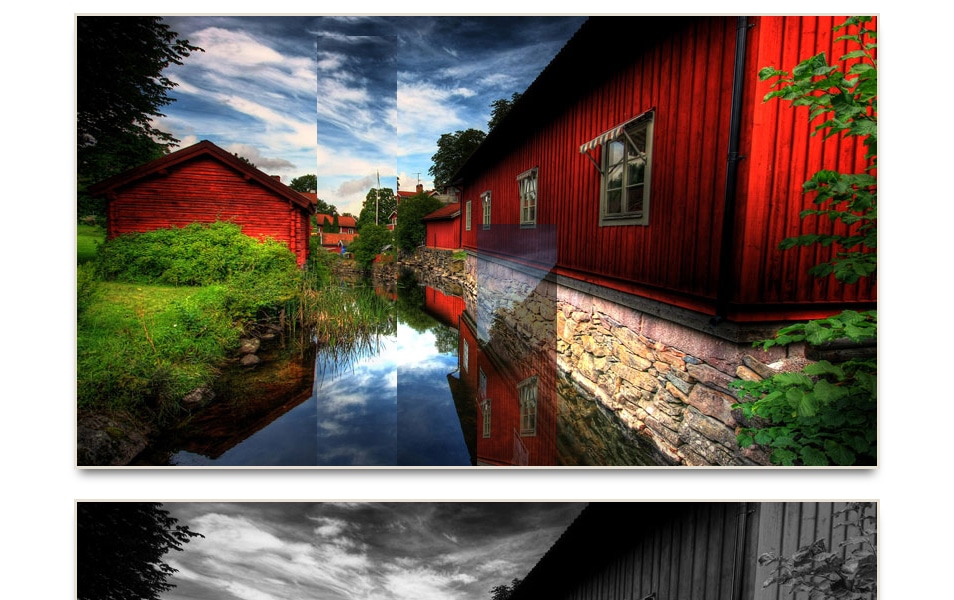 WordPress Plugin – Anyhover Image Effects allows user to add multiple on hover effects to their images using standard WP media tool. This plugin has got 4 starting effects and 16 hover effects so in combination this plugin delivers users 64 cool effects for their images!
WP Easy Social Hover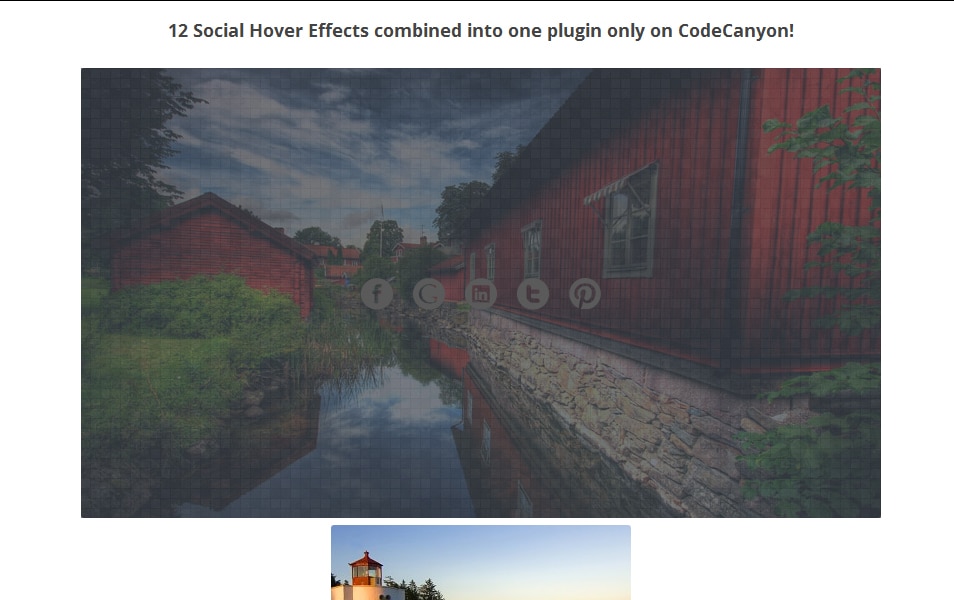 WordPress Plugin – Easy Social Hover allows users to add multiple on hover effects with Social Network Sharing buttons to their images using standard WP media tool. Add Facebook Share, Twitter, Pinterest, LinkedIn and GooglePlus sharing to your Images with a Style!
Smart Grid Gallery – Responsive WP Gallery Plugin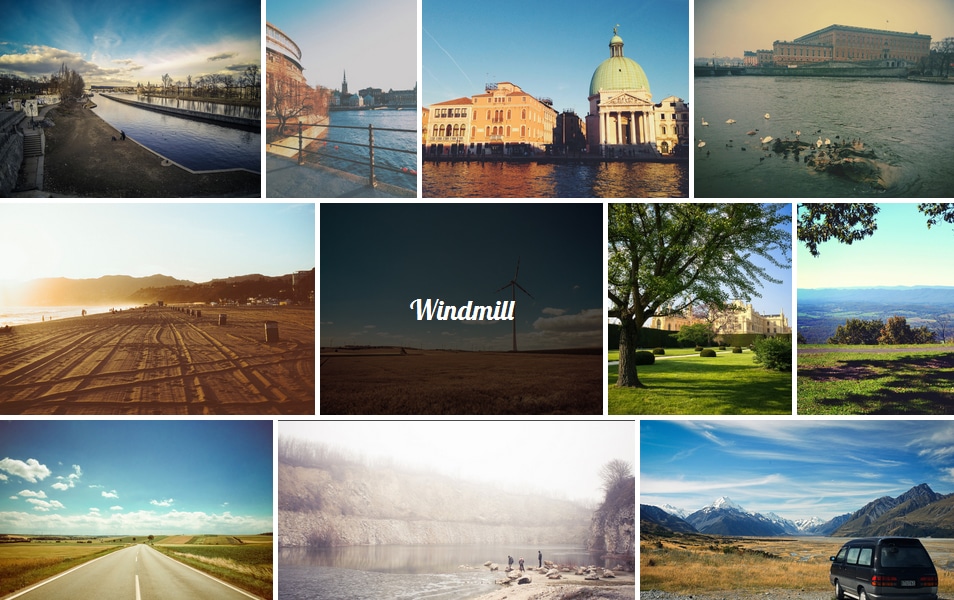 Responsive WordPress grid gallery plugin to create dynamic images grids with lightboxes, CSS3 animations and support for YouTube and Vimeo videos. Turn any WordPress shortcode into dynamic grid gallery with many options. Yes, it is responsive and touch friendly.
WordPress Image Hover Effect Plugin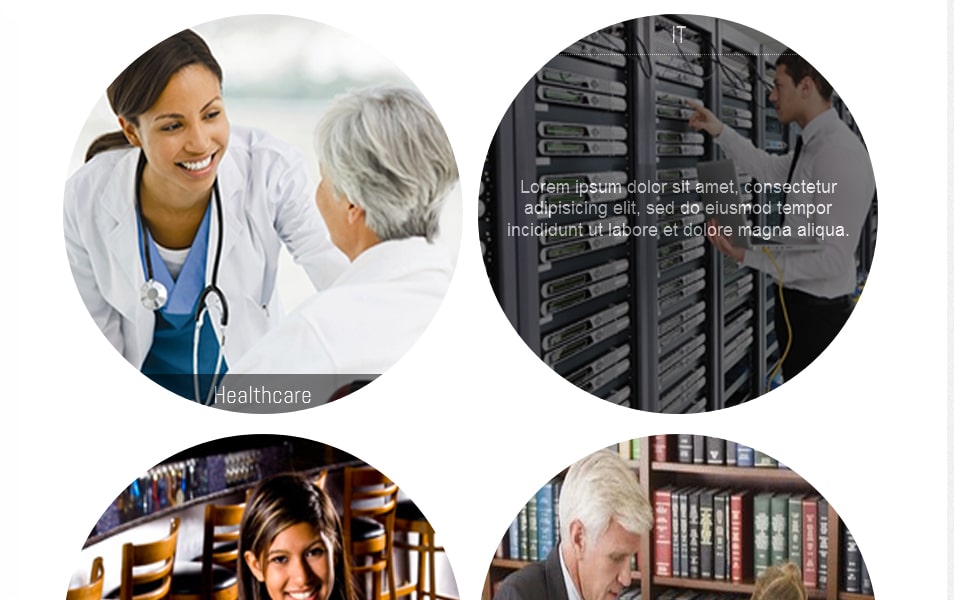 Fancy jQuery and CSS3 driven animations to display inside a box. No coding experience needed – WYSIWYG.
Kings Caption Hover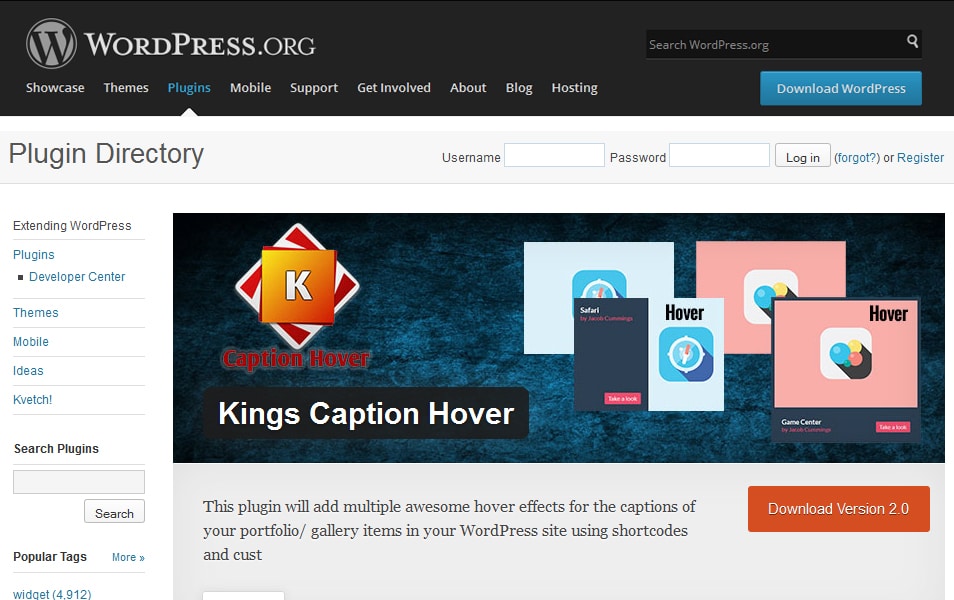 This plugin will add multiple awesome responsive hover effects for the captions of your portfolio/ gallery items in your WordPress site using shortcodes and custom post.
Bootstrap Hover Plugin
3. CSS3 Hover Effect
Hover.css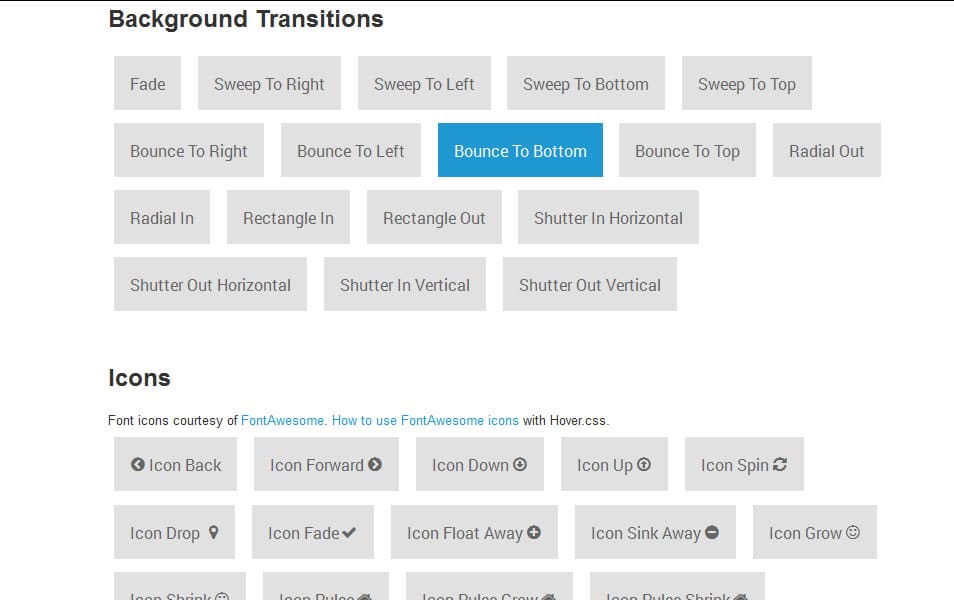 hover.css is a collection of CSS3 hover effects that can be easily applied to your own website's elements, such as links, buttons, logos, SVG, and featured images. Available in CSS, SASS, and LESS.
tFigure – Image Captions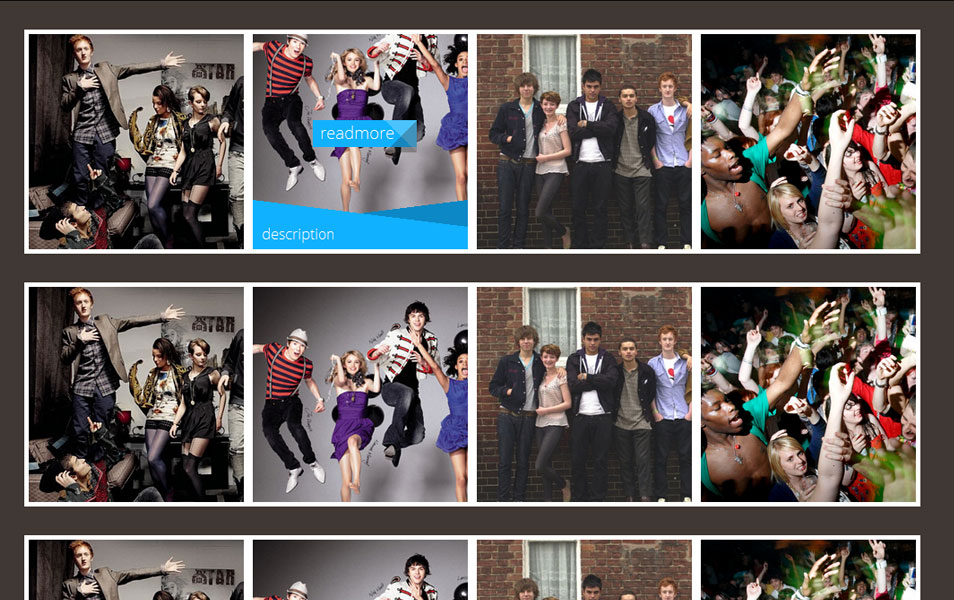 Small collection of 5 CSS-only animated Image Captions. This kit stuff will save you a lot of time when creating websites! They're really easy to use and have very nice interfaces.
CSS3 Hover Effects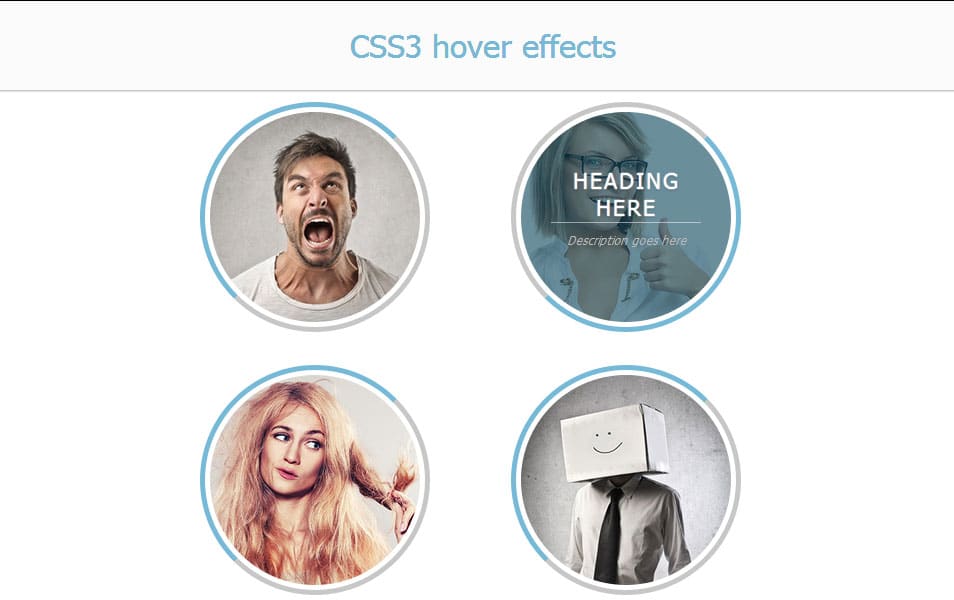 HoverMe – Collection of CSS3 Hover Effects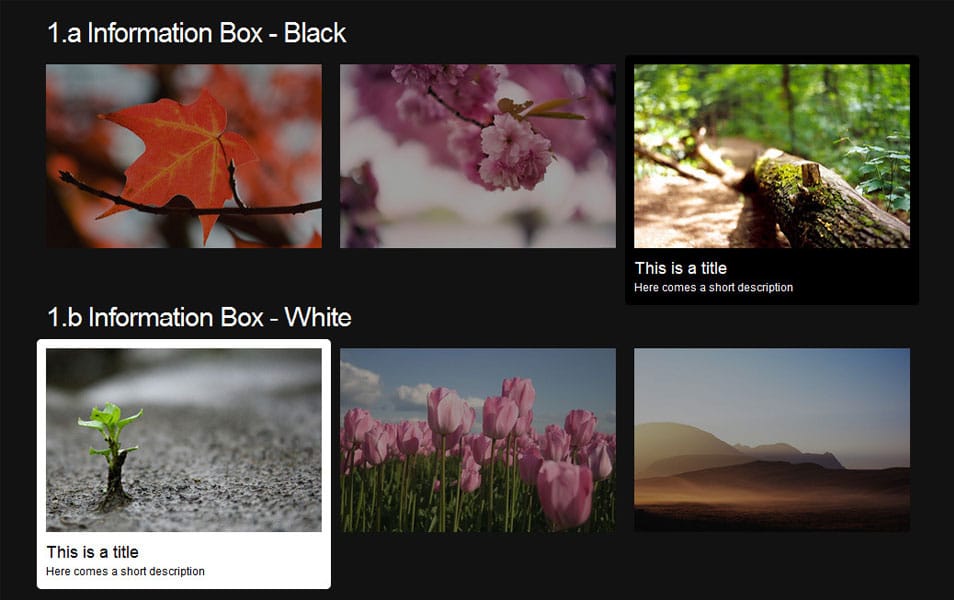 This collection of CSS3 Hover Effects is a simple and effective solution to add some nice features to your website using CSS3 features. It's made with CSS / XHTML only, there is absolutely NO javascript.
CSS3 Image Hover Effects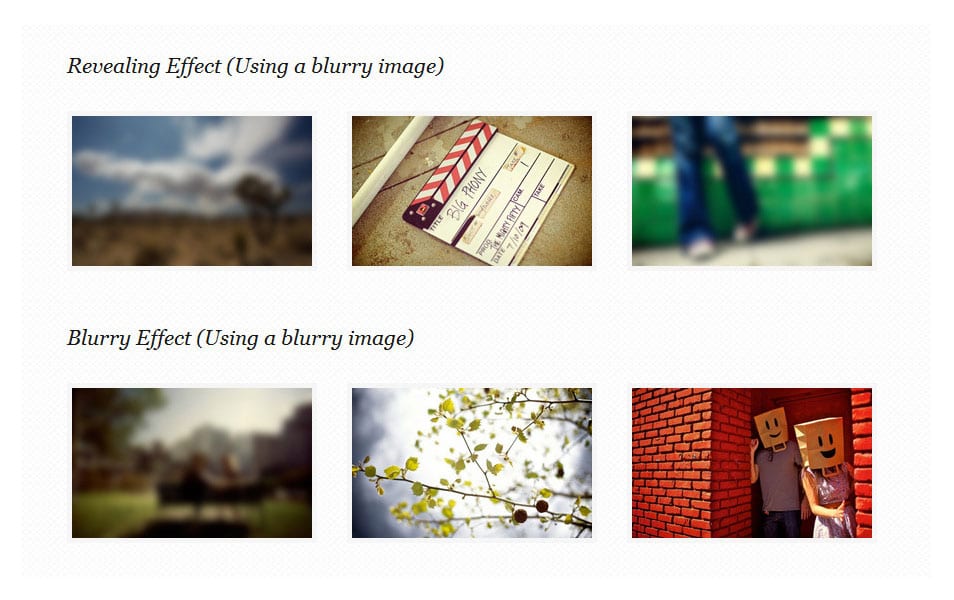 This set of 17 Image Hover Effects uses some of the best and newest CSS3 features to showcase your images in a unique way.
Advanced CSS3 Hover Effects 2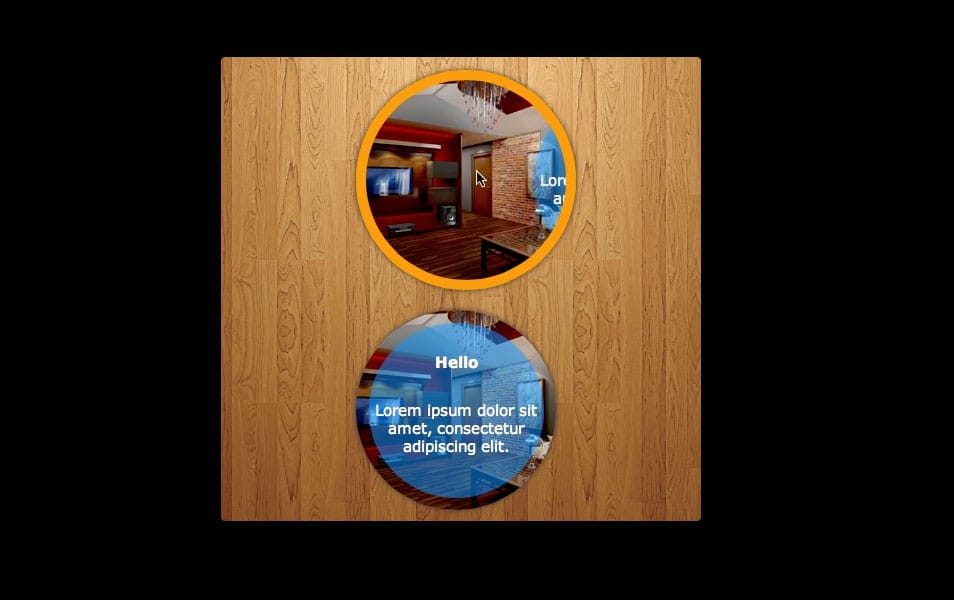 More Advance Hover Effects with 10 new hover effects using CSS3 Keyframes. Very easy to use, alter and ready to go. There is no JavaScript and no JQuery in the code only CSS3 and HTML.
CSS3 Shadow Hover Effects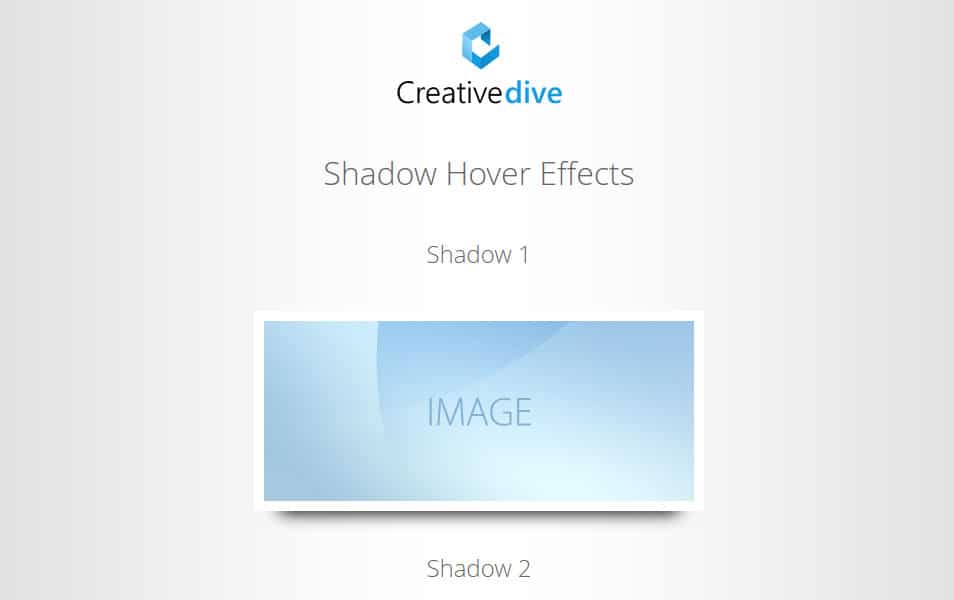 Easy to use the beautiful Shadow Hover Effects for their own website. Simply insert into the existing CSS file and enjoy the new Shadow Hover Effects.
CSS3 Shadow Hover Effects
More Advance Hover Effects with 10 new hover effects using CSS3 keyframes, filters, transitions along with transition and animation delays to help with a timing structure. Very easy to use, alter and ready to go.
CSS3 Image Hover Effects – Pure CSS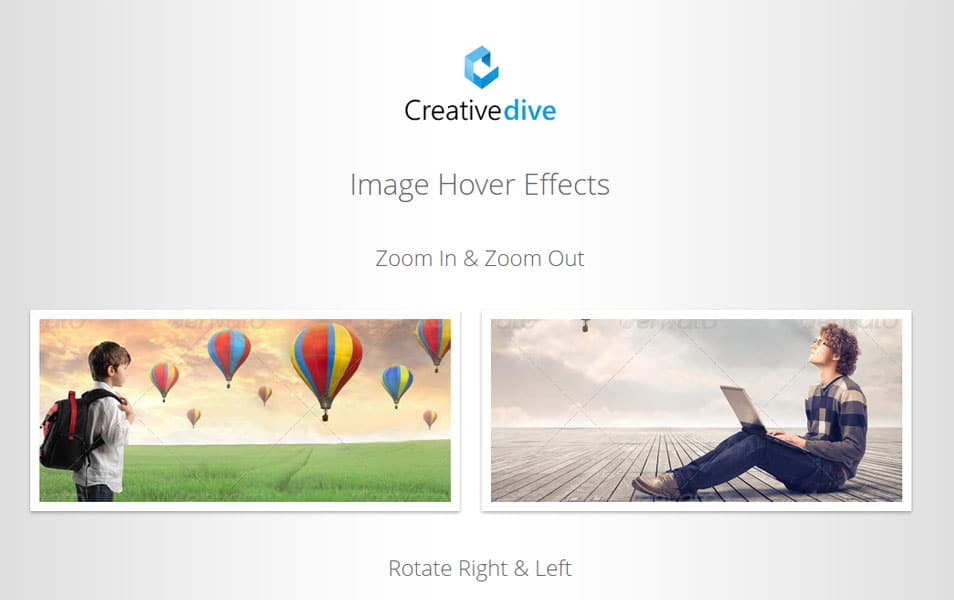 Easy to use the beautiful Image Hover Effects for their own website. Simply insert into the existing CSS file and enjoy the new Image Hover Effects.
Advanced CSS3 Hover Effects 5 w/ Banners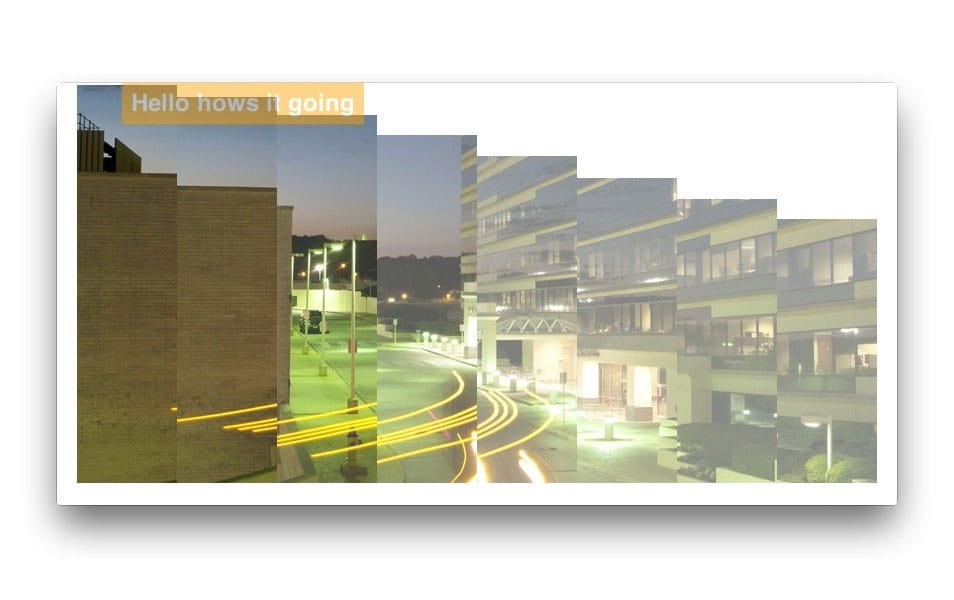 More Advance Hover Effects with new hover effects using CSS3 keyframes, filters, transitions along with transition and animation delays to help with a timing structure. The images that are used are sprite images.
Killer CSS3 Image Hover Effects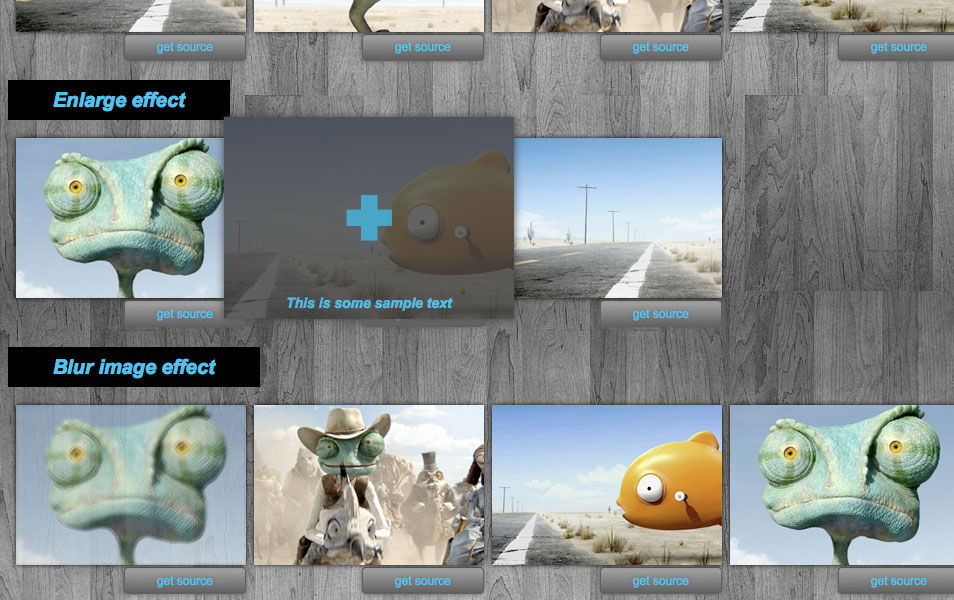 22 Different Image hover effects using just CSS3. These effects will give your images and thumbnails a unique and modern effect.
CSS3 Image Hover Effects Vol.2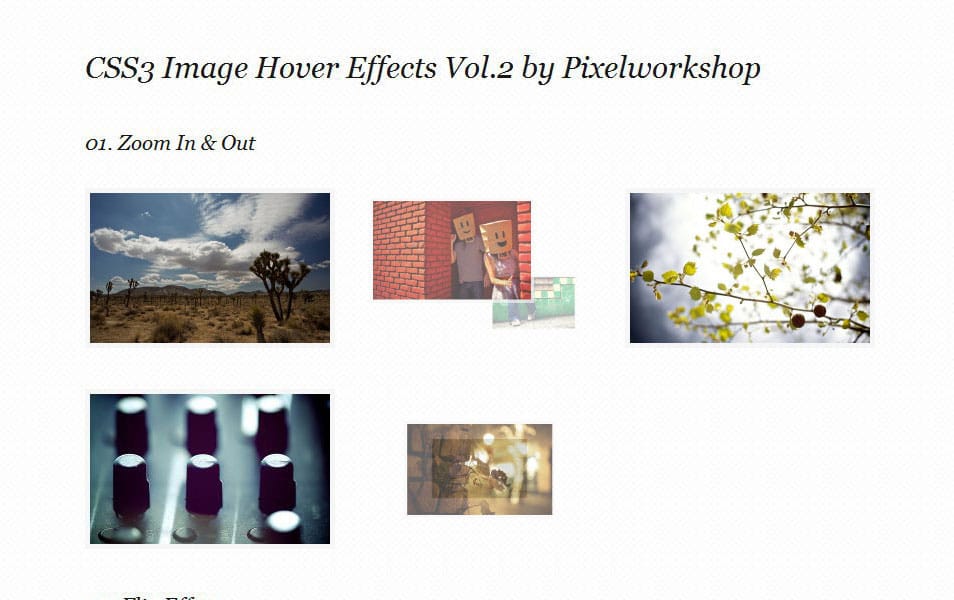 14 effects contains a full range of awesome stuff to showcase your work in a modern and different way.
CSS3 Image – Text Hover Effects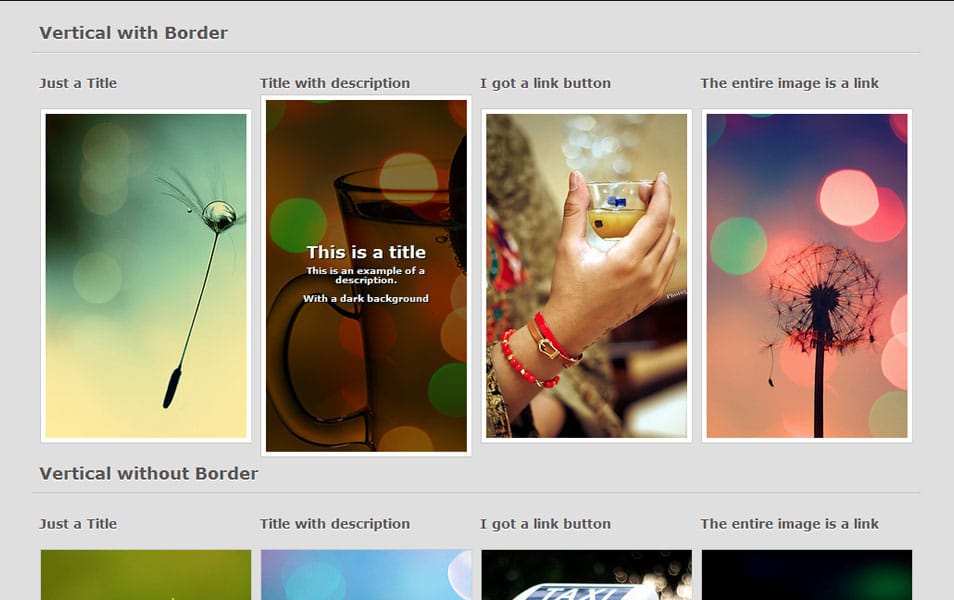 CSS3 Hover Effect Transitions, Transformations, Animations
This post is all about CSS3 effect examples. We're going to find out more about hover effect transitions, transformations and animations. All of them come with visual examples.