25+ Best JavaScript File Upload Library & Plugins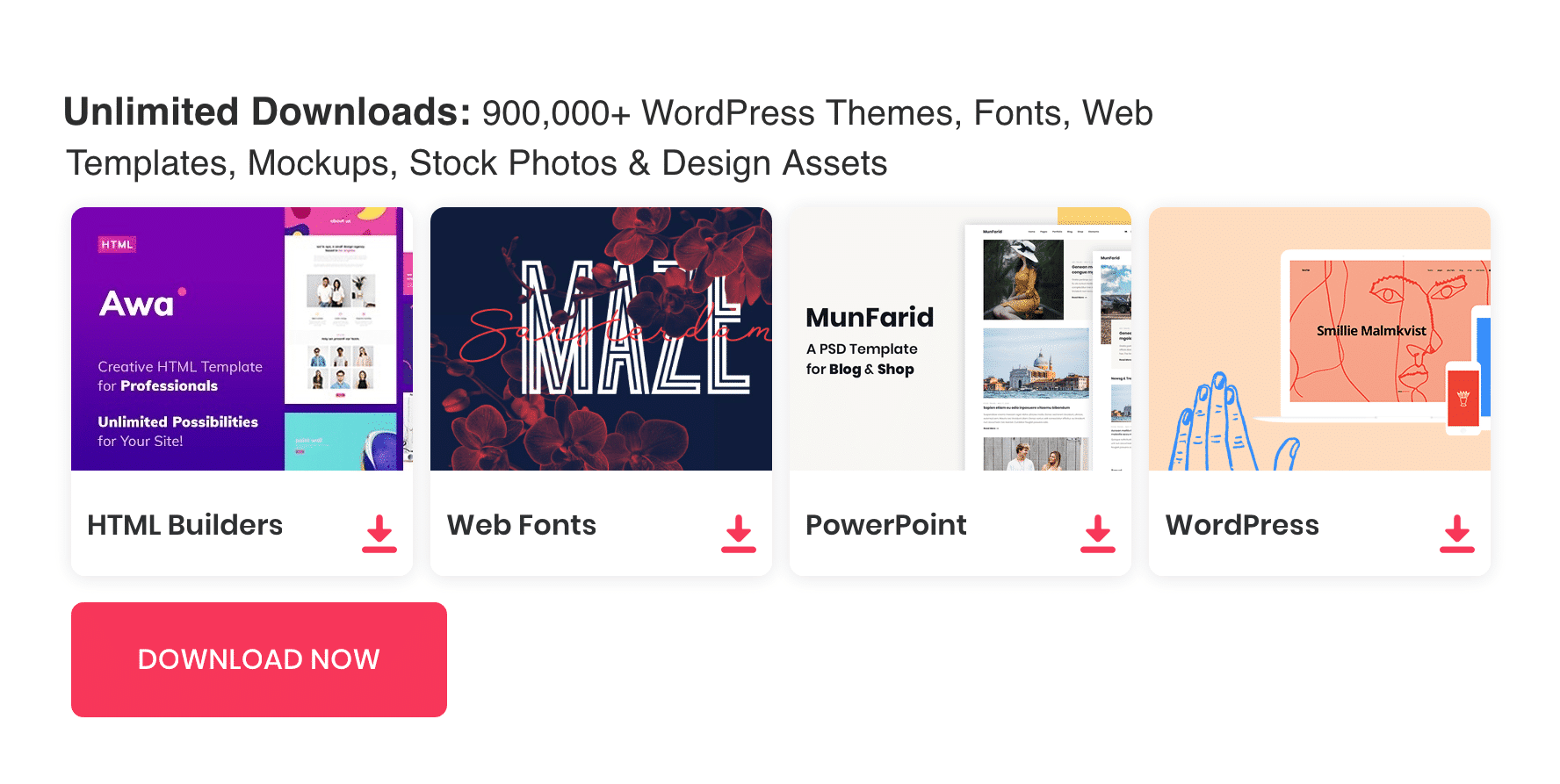 Javascript file upload libraries are used to create interactive and responsive file upload mechanism. If you are a developer, you might at least created a file upload system once. It's not simple to create, it requires coding knowledge.
If you are looking to develop a file uploading mechanism these frameworks can help you in different ways. For an effective, user-friendly file uploader, you should consider some important things that we are going to explain to you. A good file uploader should be simple, clean and easy to understand. It should have an obvious upload button so the user can easily understand. Drag and drop file upload is quite a trend these days if you have two or more files you should consider drag and drop file upload system. Another thing is don't let the user panic while the file is being uploaded. For an optimal user experience, an interactive progress bar is a must. So the user knows the progress of the upload, hence an unwanted panic can be avoided.
See also : 100+ JavaScript Frameworks for Web Developers
We have hand picked these file uploading libraries or plugins to achieve your mission. This collection includes jquery file upload, HTML file upload, Ajax file upload and drag and drop system and more. All these file upload scripts are beautiful and interactive.
Filepond – javascript file upload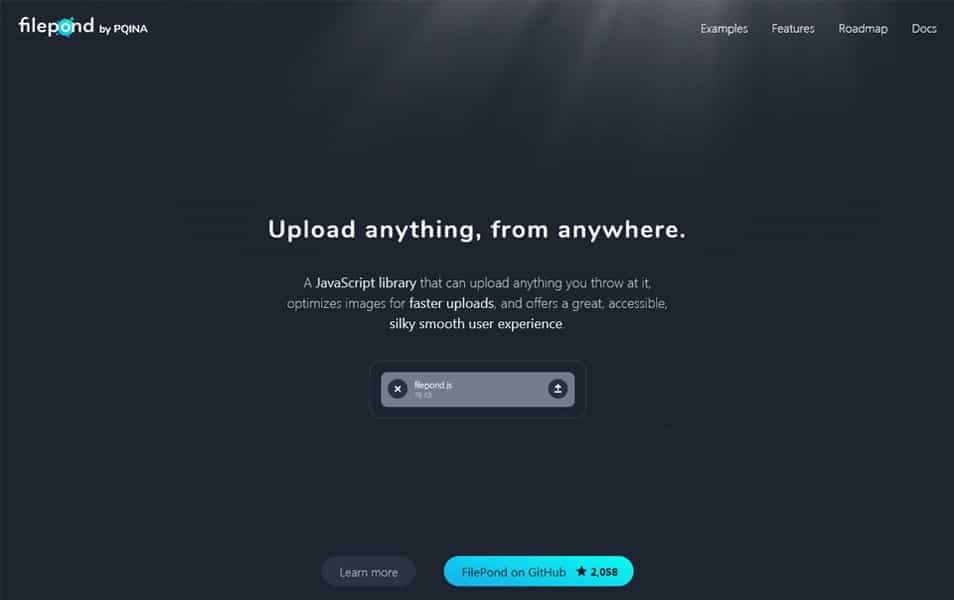 A flexible and fun JavaScript file upload library.
FineUploader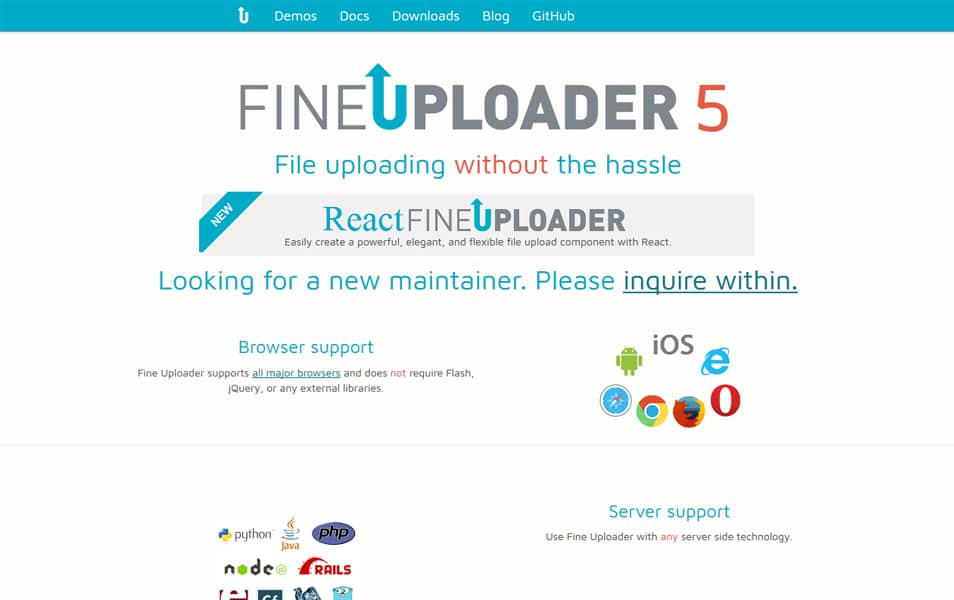 Fine Uploader is a dependency-free, open-source, native browser upload tool.
DropzoneJS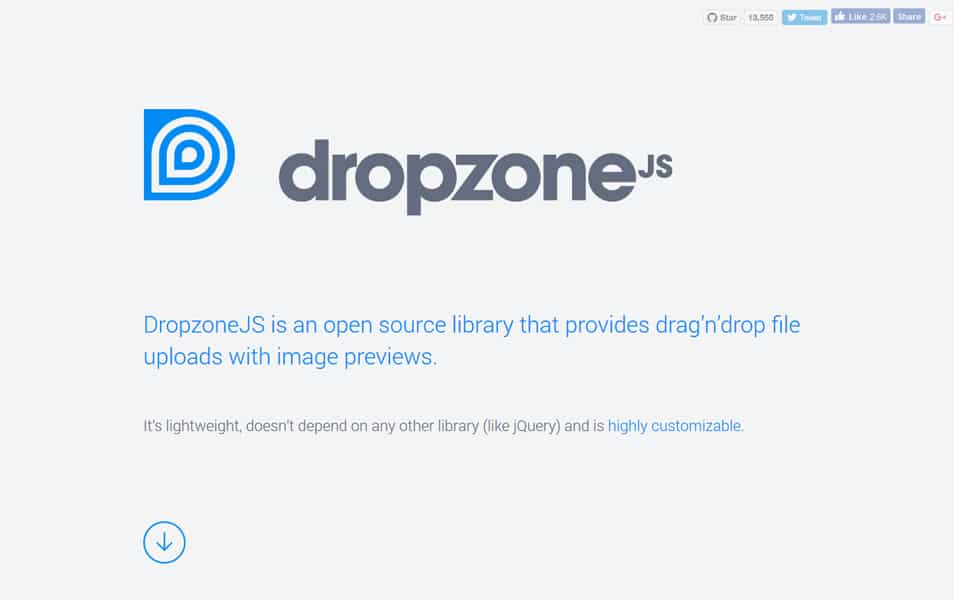 DropzoneJS is an open source library that provides drag'n'drop file uploads with image previews.
Plupload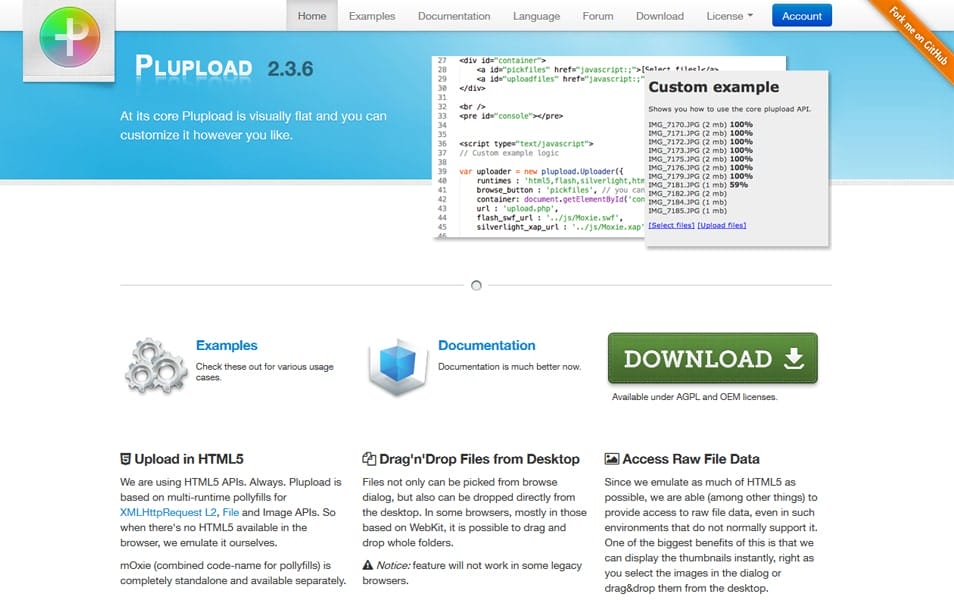 Plupload is JavaScript API for building file uploaders. It supports multiple file selection, file filtering, chunked upload, client side image downsizing and when necessary can fallback to alternative runtimes, like Flash and Silverlight.
Uploadify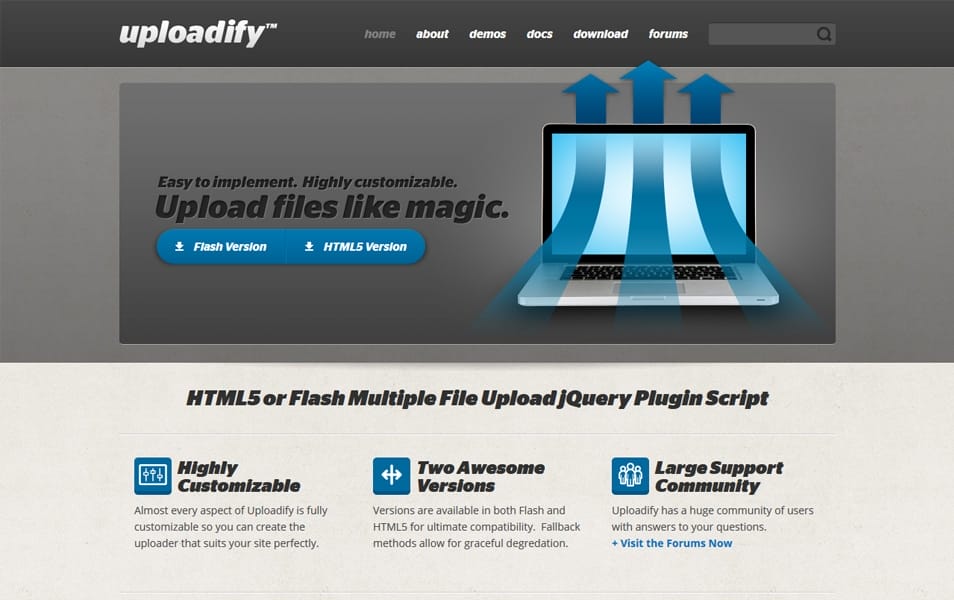 Uploadify is a jQuery plugin that allows you to easily add multiple file upload functionality to your website.
jQuery File Upload Plugin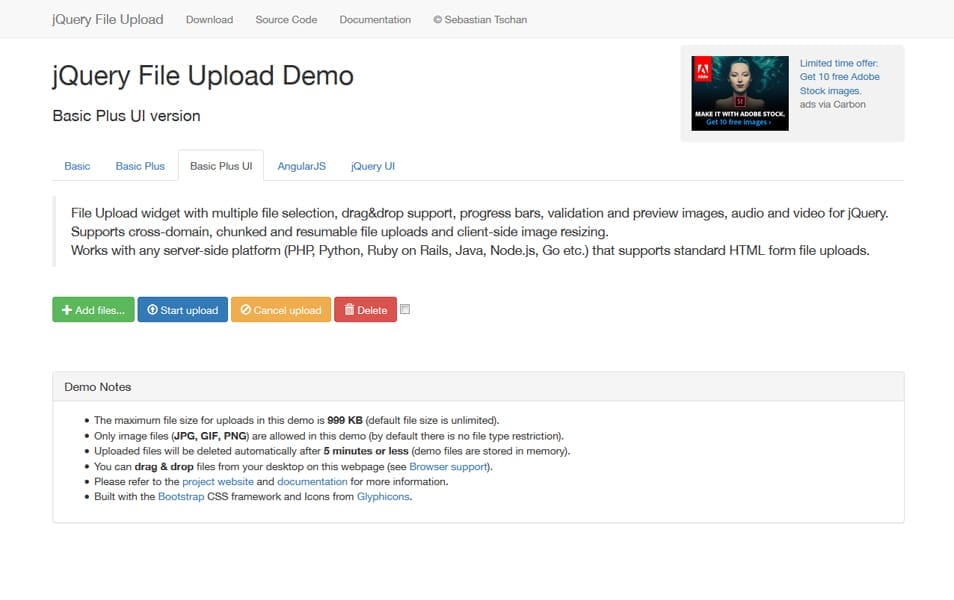 File Upload widget with multiple file selection, drag&drop support, progress bars, validation and preview images, audio and video for jQuery. Supports cross-domain, chunked and resumable file uploads and client-side image resizing. Works with any server-side platform (PHP, Python, Ruby on Rails, Java, Node.js, Go etc.) that supports standard HTML form file uploads.
Filestack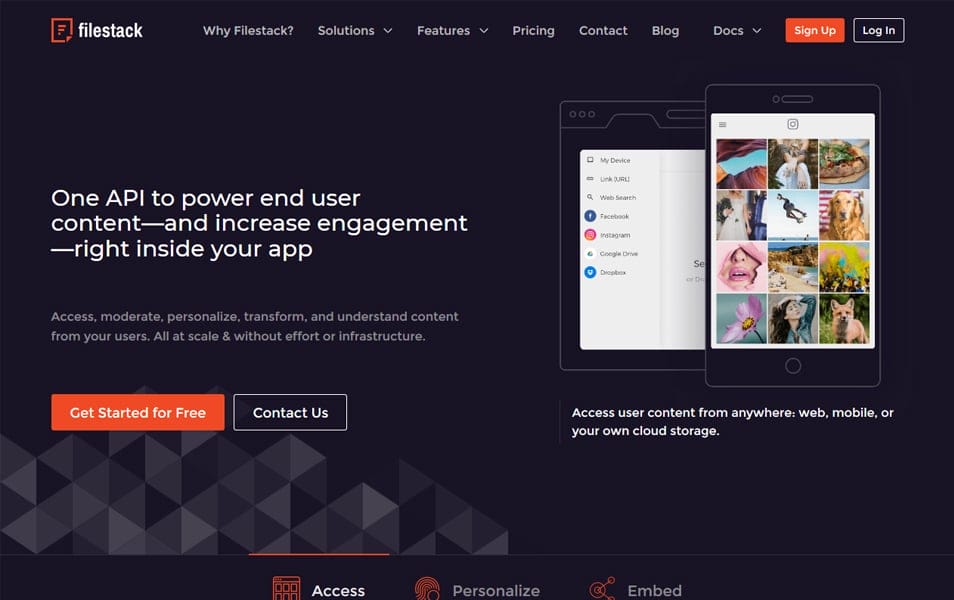 End User Content Management API to access, curate, transform, and understand content from your end users to deliver personalized experiences.
Shield UI Upload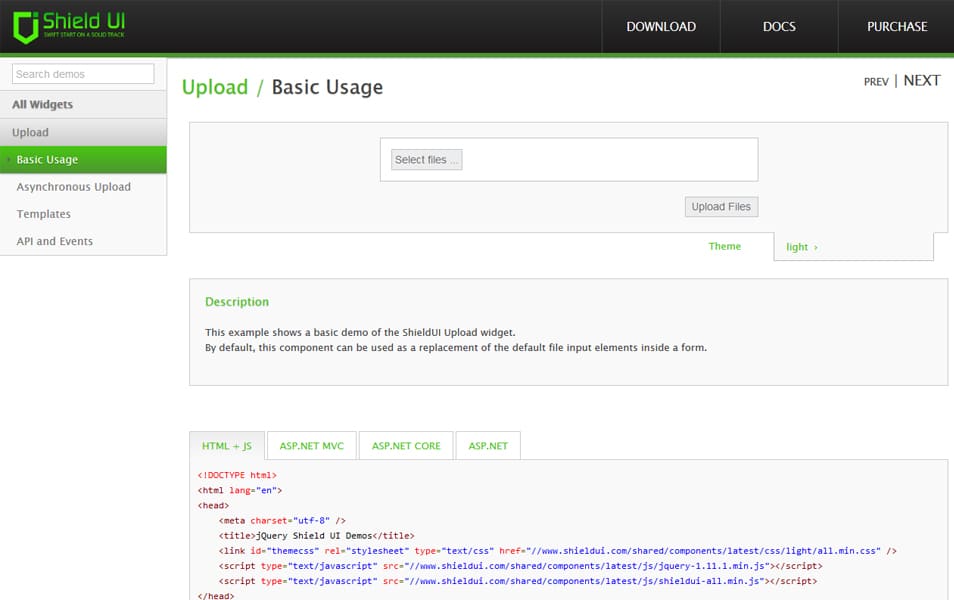 Resumable.js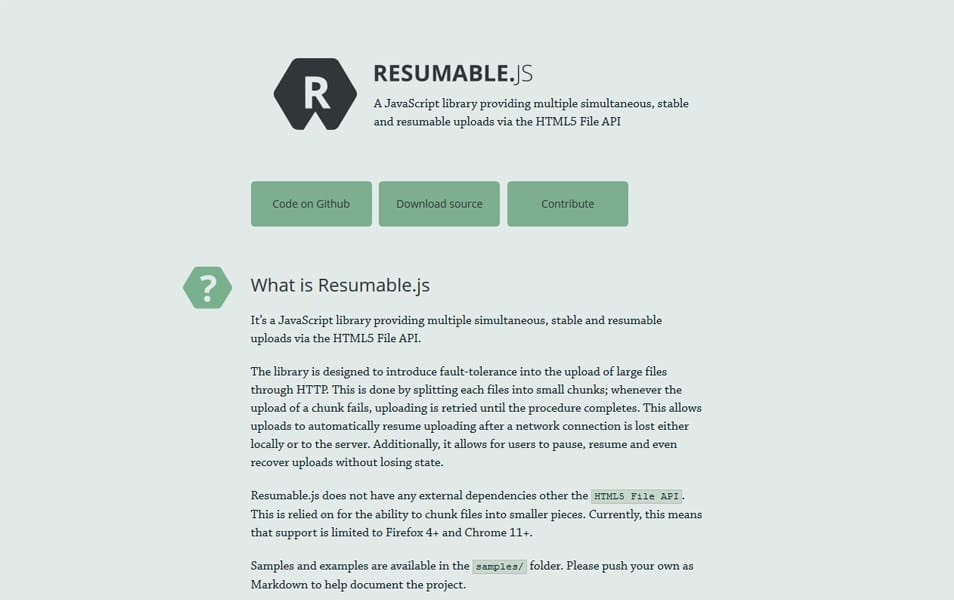 It's a JavaScript library providing multiple simultaneous, stable and resumable uploads via the HTML5 File API.
Uploadcare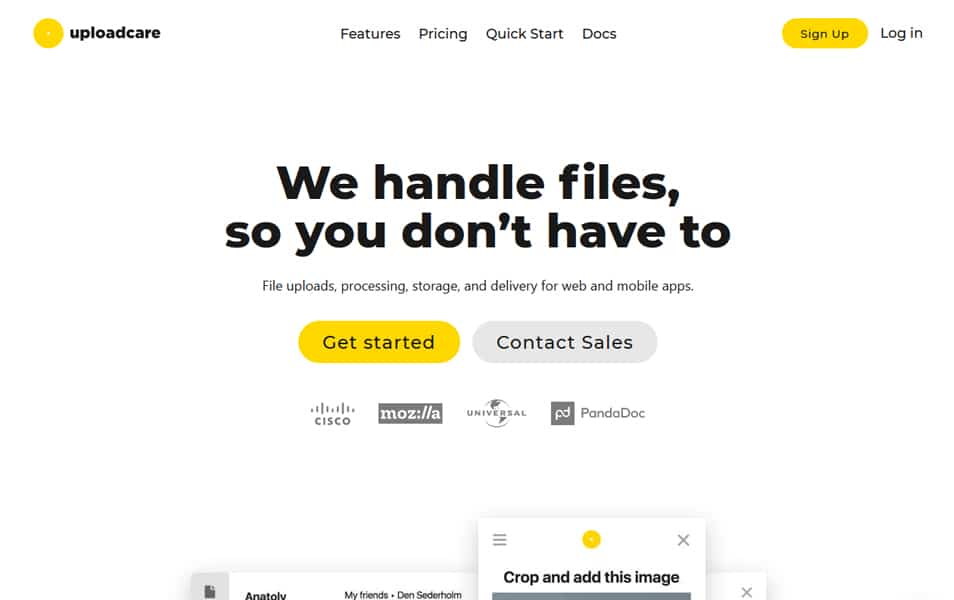 Uploadcare is a service handling CDN, cloud storage, file uploads & hosting, image upload & processing, all in one secure solution with a powerful file upload widget.
FileDrop.js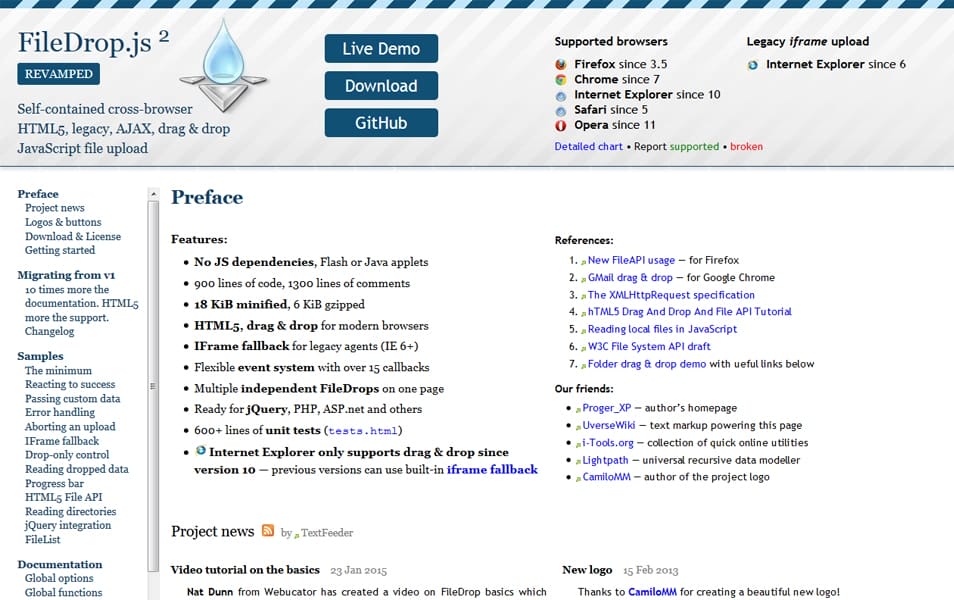 Self-contained cross-browser HTML5, legacy, AJAX, drag & drop JavaScript file upload. Dependencies-free. With jQuery plugin.
jQuery Ajax File Uploader Widget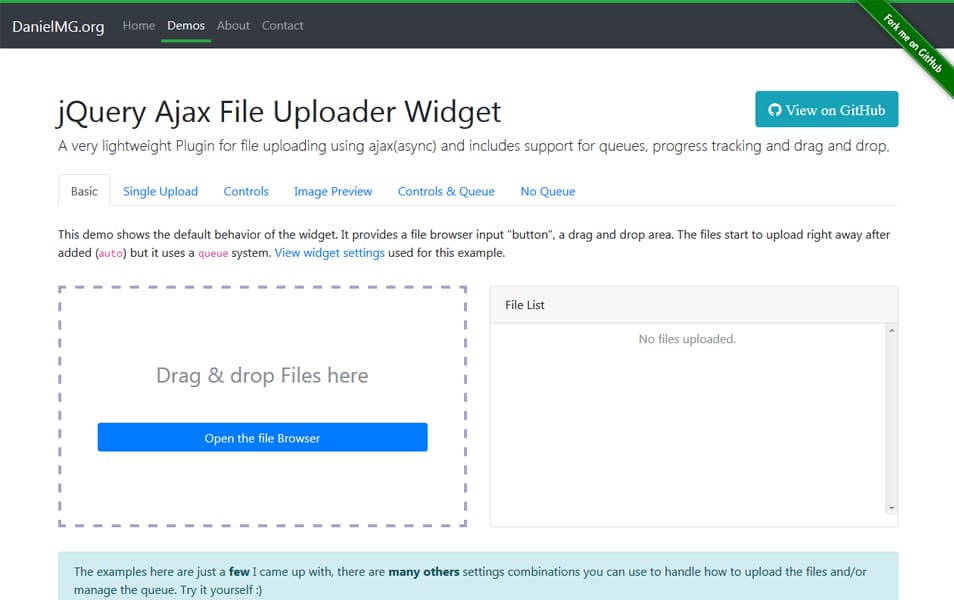 A jQuery plugin for file uploading using ajax(a sync); includes support for queues, progress tracking and drag and drop.
Bootstrap Fileinput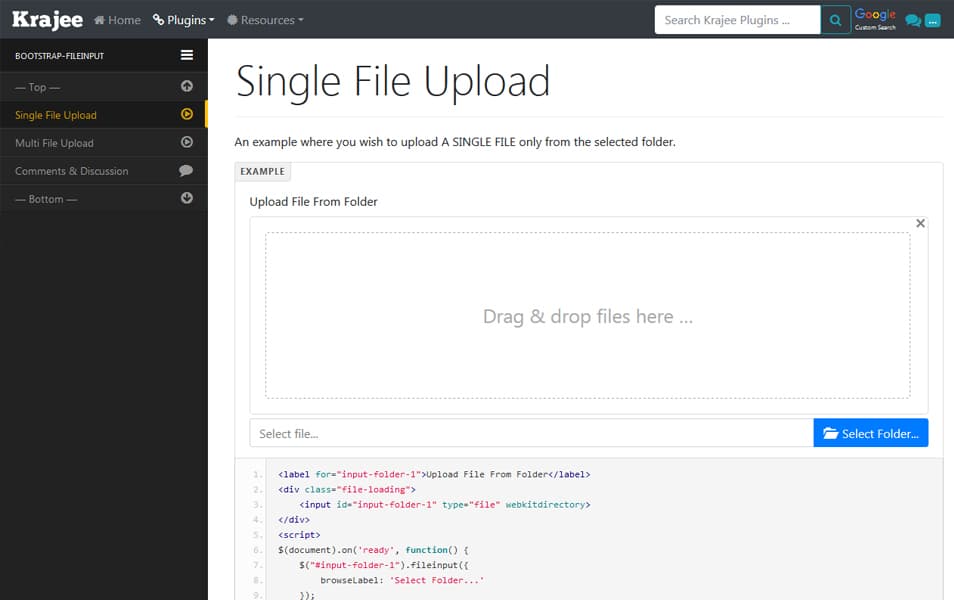 An enhanced HTML 5 file input for Bootstrap 3.x with file preview, multiple selection, and more features.
lolisafe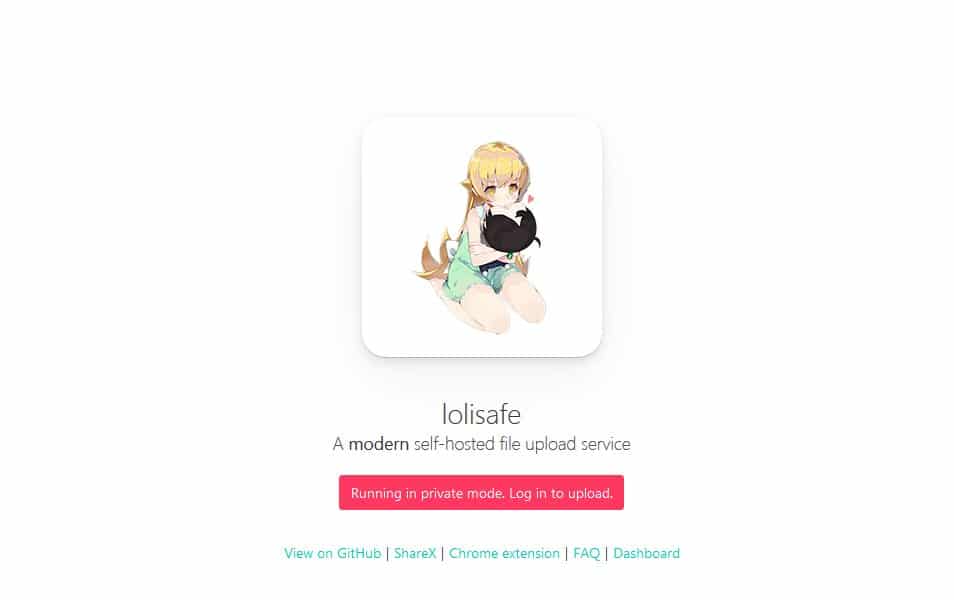 A modern self-hosted file upload service.
PsiTransfer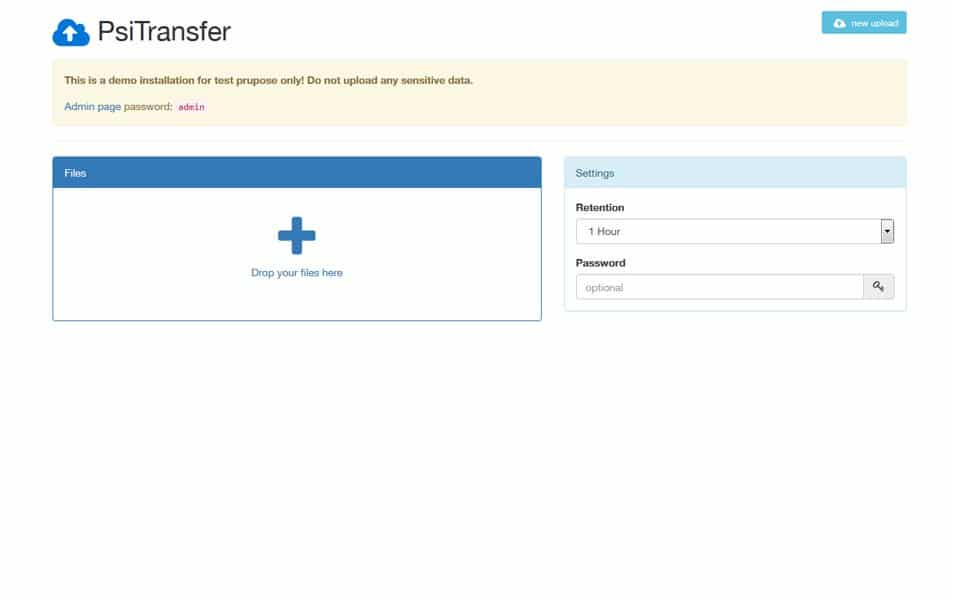 Simple open source self-hosted file sharing solution.
Meteor Files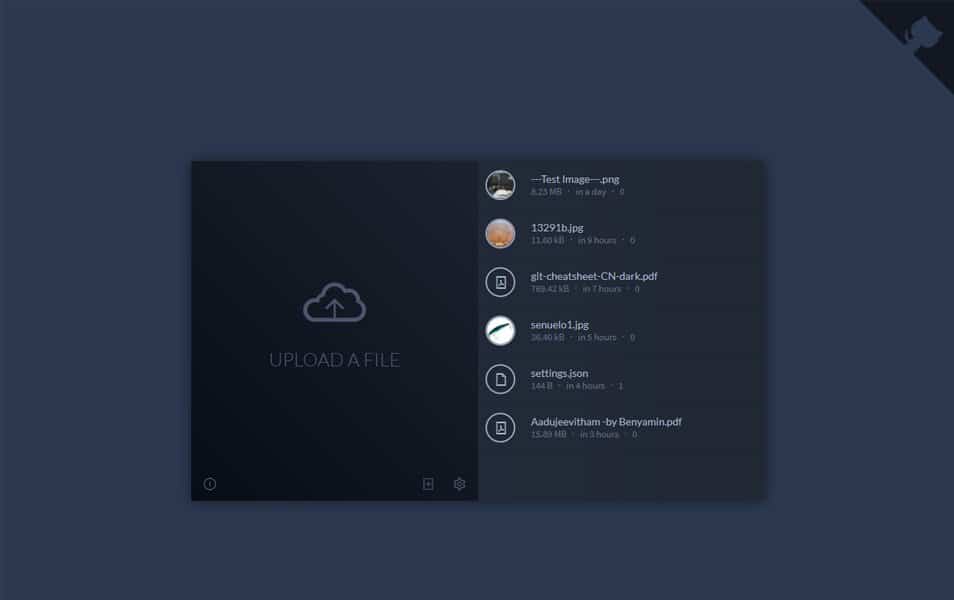 Upload files via DDP, HTTP and WebRTC/DC. To Meteor server FS, AWS, GridFS, DropBox or Google Drive. Fast, secure and robust.
SimpleUpload.js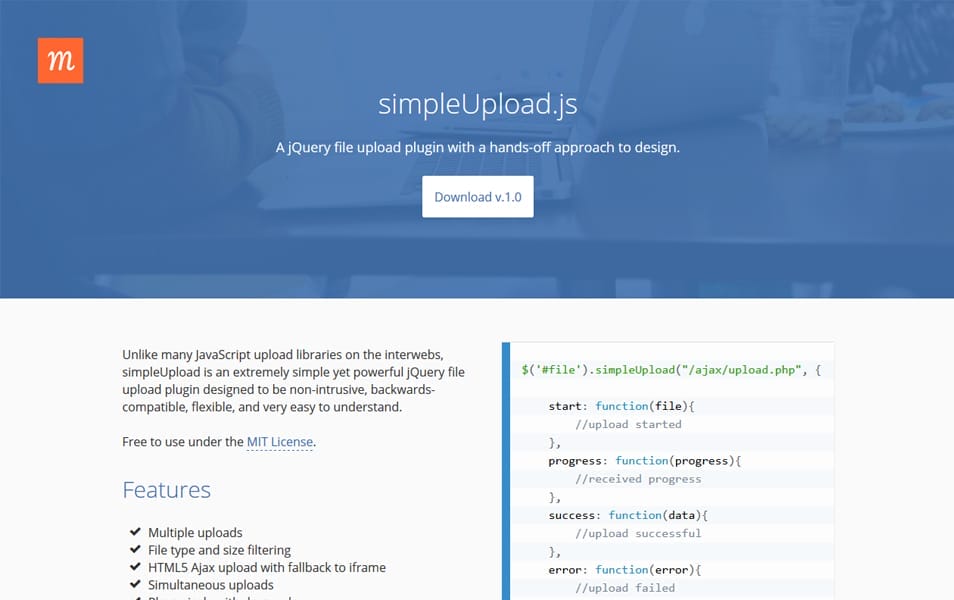 A jQuery file upload plugin with a hands-off approach to design.
FileAPI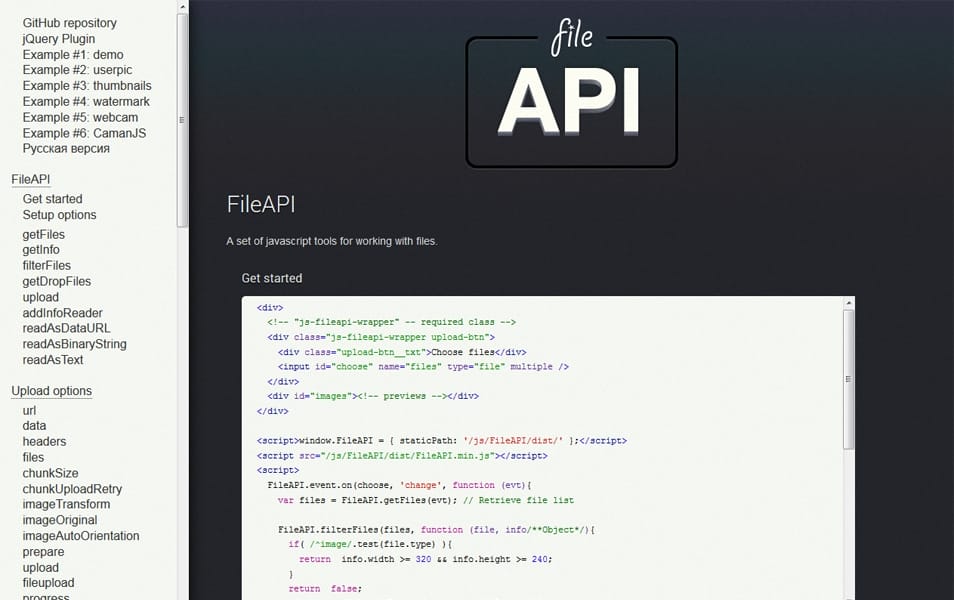 A set of javascript tools for working with files.
Backbone Upload Manager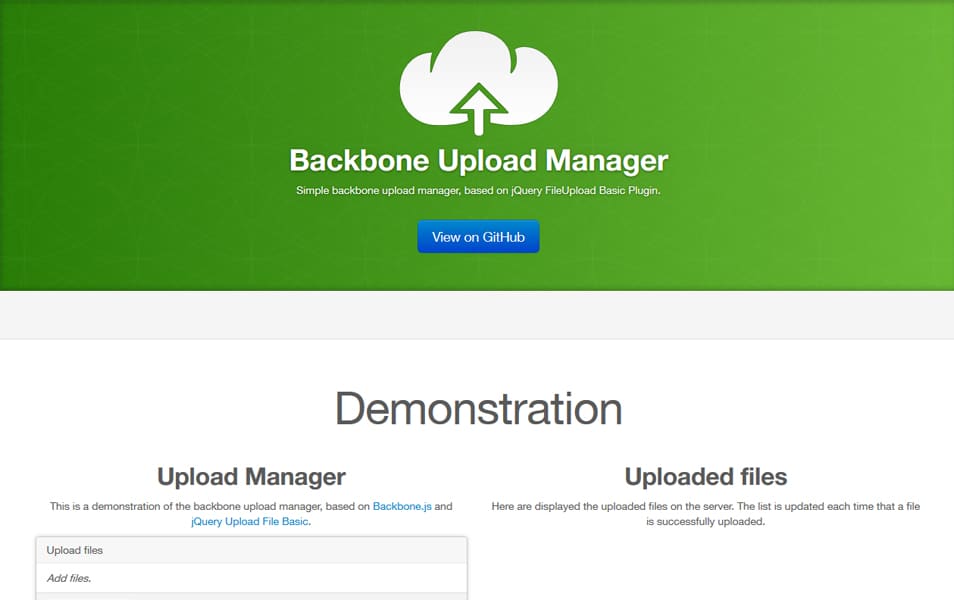 Simple backbone upload manager, based on jQuery FileUpload Basic Plugin.
PekeUpload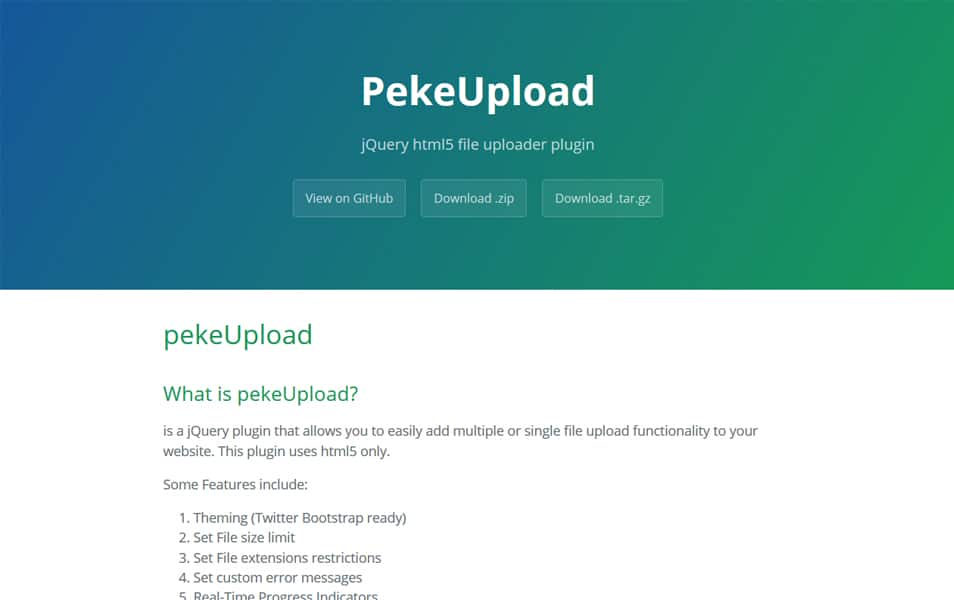 PekeUpload is a jQuery plugin that allows you to easily add multiple or single file upload functionality to your website.
Formstone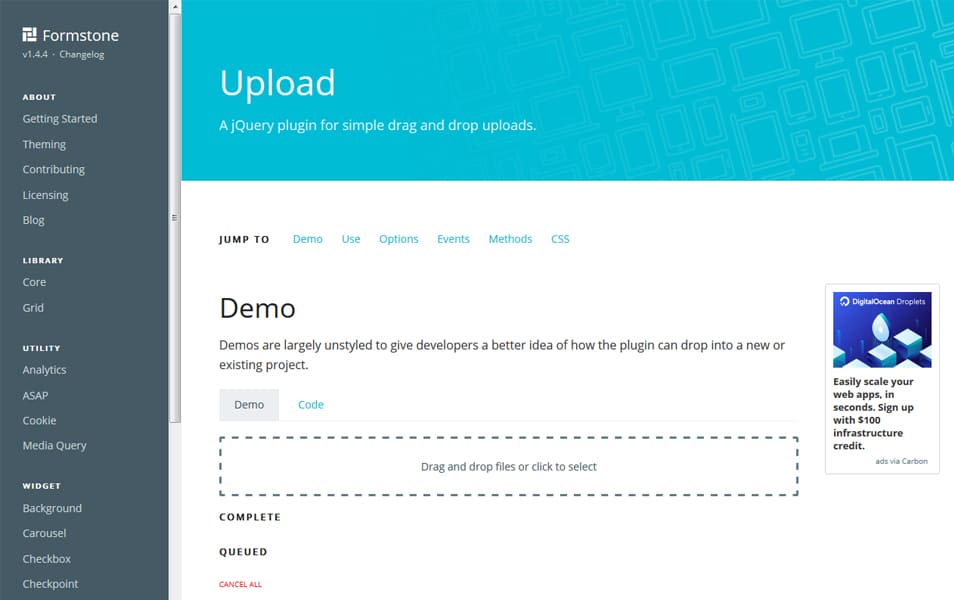 Formstone is a front end library that aids in the rapid development of web projects by abstracting modern web patterns into highly customizable jQuery plugins.
Flow.js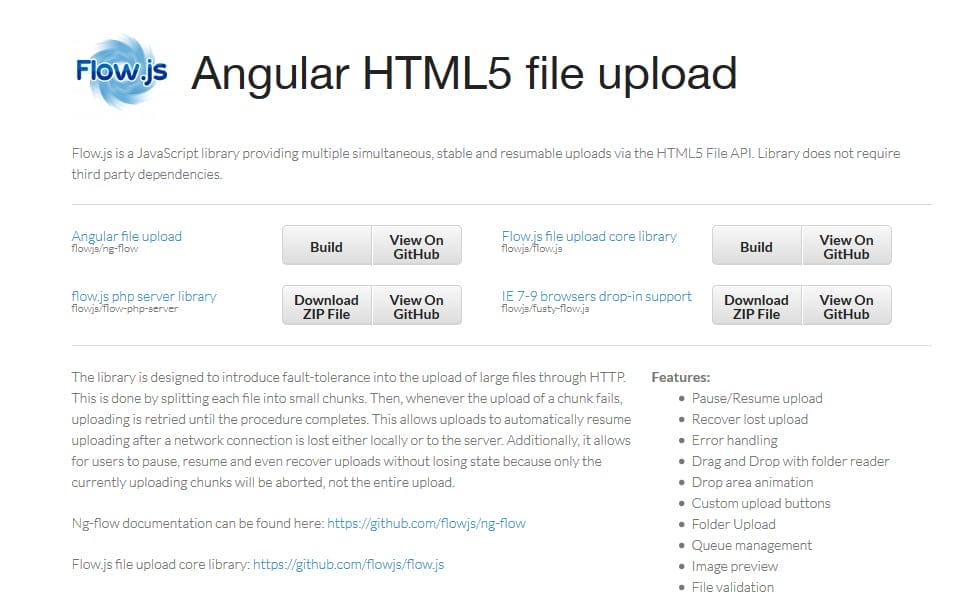 Flow.js is a JavaScript library providing multiple simultaneous, stable and resumable uploads via the HTML5 File API.
jQuery.Fileuploader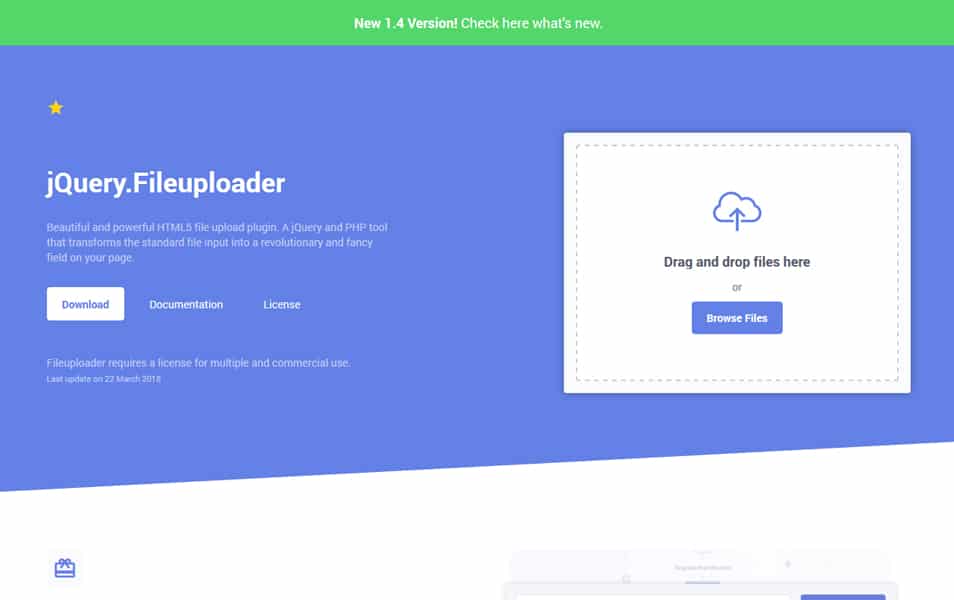 Beautiful and powerful HTML5 file upload plugin. A jQuery and PHP tool that transforms the standard file input into a revolutionary and fancy field on your page.
Closify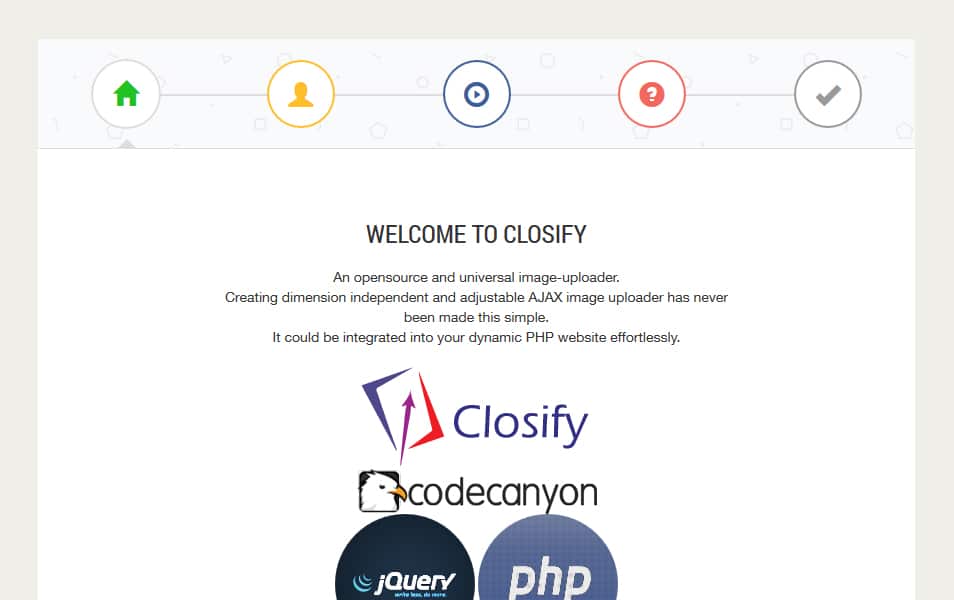 Closify is a jQuery based plugin, that simplifies the developers task to create a dynamic image uploader.
HTML5 AJAX File Uploader Module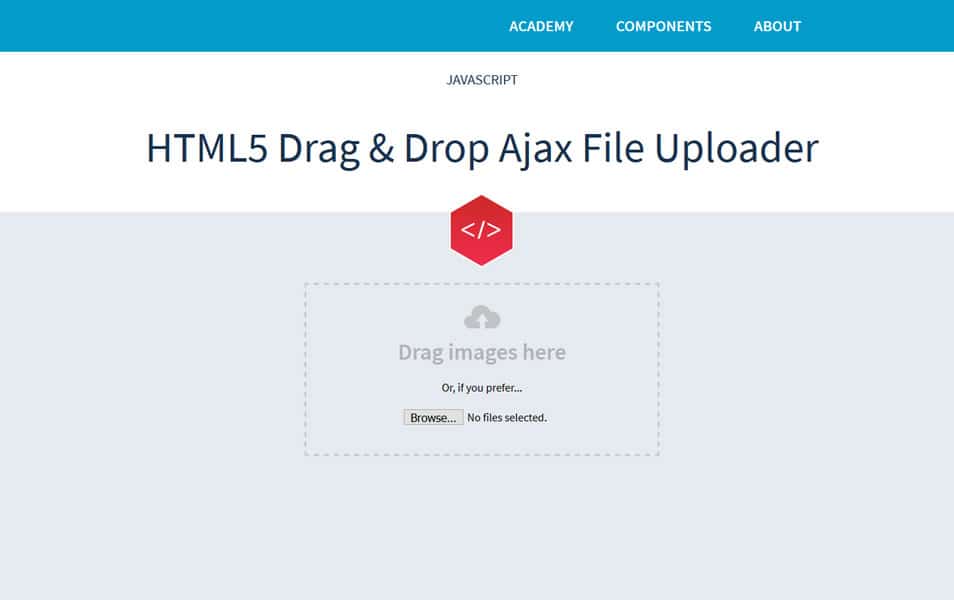 JavaScript library that manages file uploads using html5 drag and drop and file API's.
file-upload-with-preview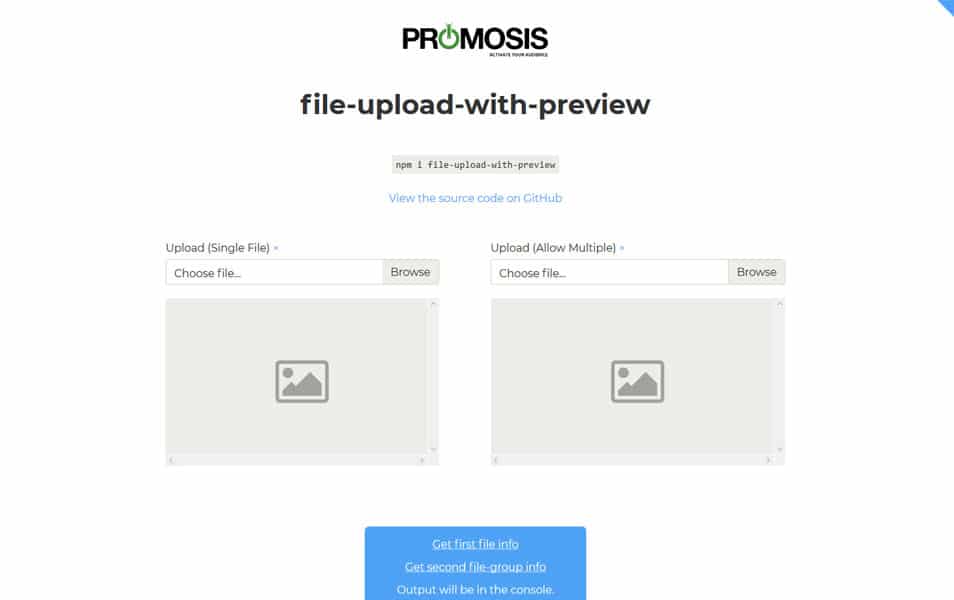 This is a simple frontend utility to help the file-upload process on your website. It is written in pure JavaScript, has no dependencies, and is a small 13.55 kB (gzipped).
Simple Ajax Uploader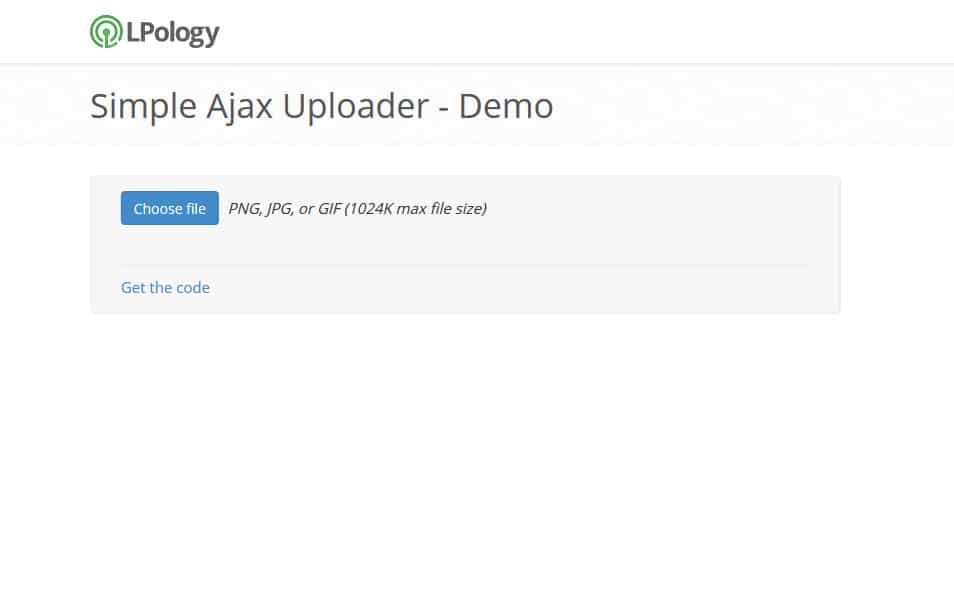 A Javascript plugin for cross-browser Ajax file uploading. Supports drag and drop, CORS, and multiple file uploading with progress bars.
Inline Attachment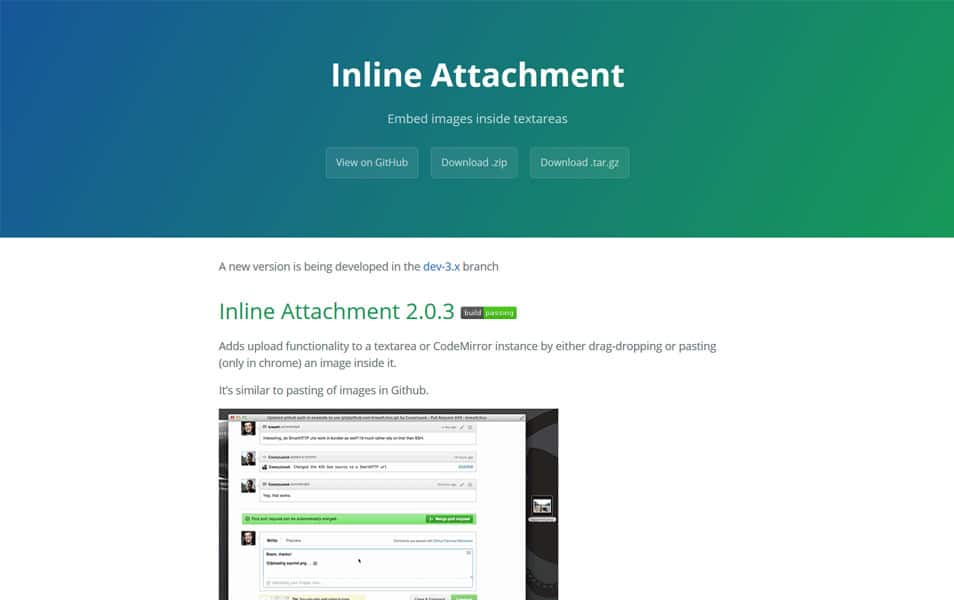 Easily paste and upload files/images in plain textareas.