75+ Best jQuery Scrolling Plugins for Websites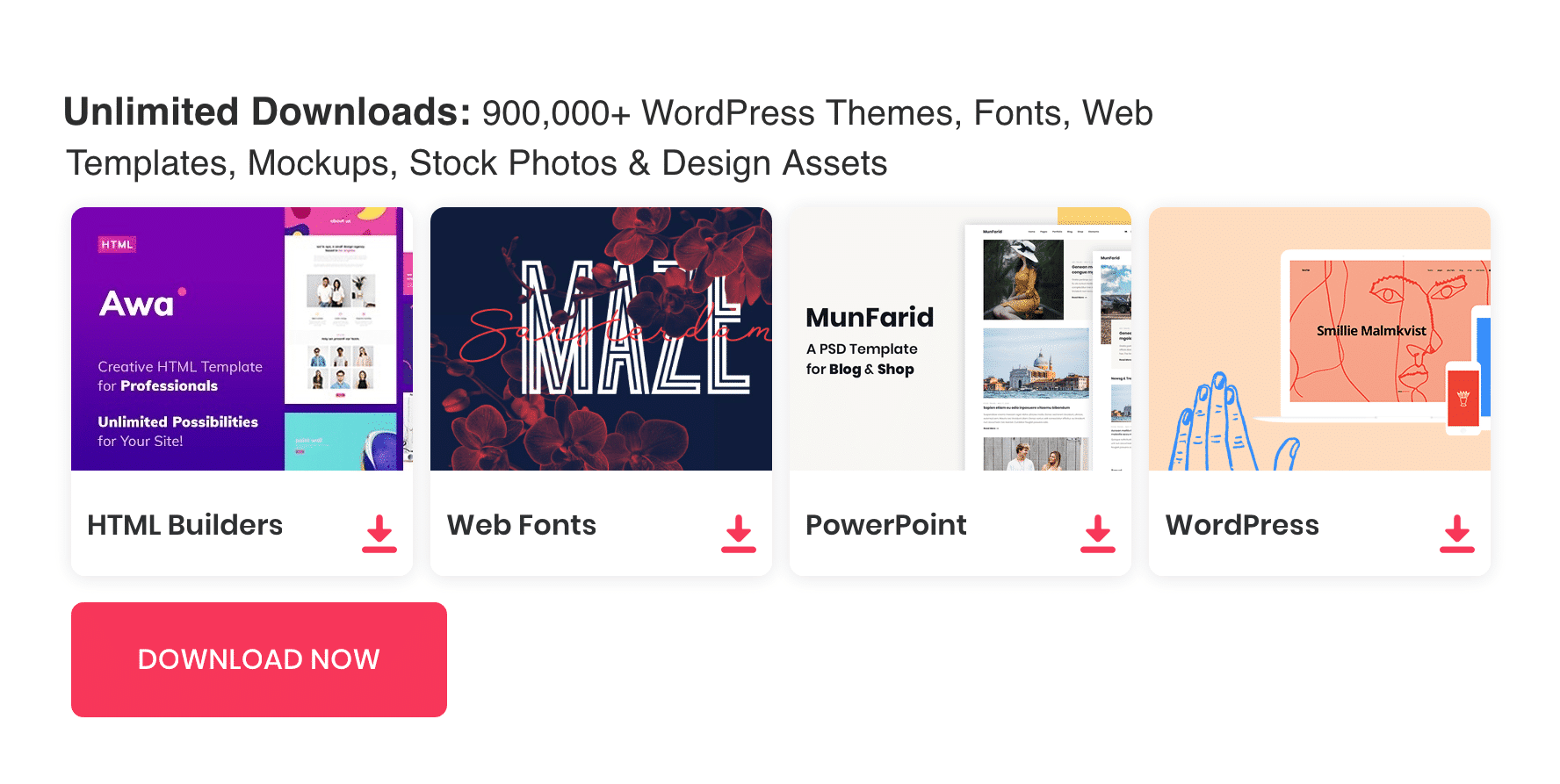 Today we have come up with a great list of 75+ great jQuery scrolling plugins which you can use for free.
Vertical scrolling is quite popular since last two years, majority of the full screen websites using vertical scrolling. Vertical scrolling takes advances of javascript and css3 in order to create the beautiful user experience. You can make the scrolling experience more fun if you can add little creativity, we have already seen plenty of creative scrolling experience in thousands of websites.
scrolling websites are really good for better user experience, user will have all information on a single page without navigate to any other pages. Scrolling websites are really focused on core content with a unique user experience. These scroll websites creates a flow of contents, hence they are good story tellers. Vertical scrolling technique really fit for interactive portfolios, Product showcasing, Case studies etc…
in this post we help you find the best jQuery scrolling plugins for your next project. This is a comprehensive list of best jQuery scrolling plugins for websites.
ScrollMagic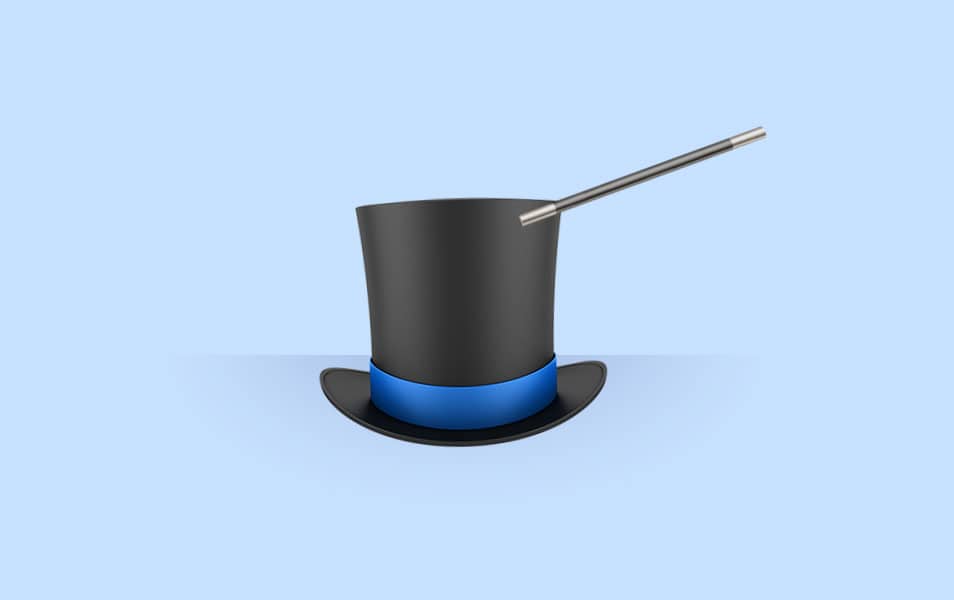 The jQuery plugin for magical scroll interactions. ScrollMagic is a jQuery plugin which essentially lets you use the scrollbar like a playback scrub control.
Webpage Scrolling Animation Effects with CSS3 & jQuery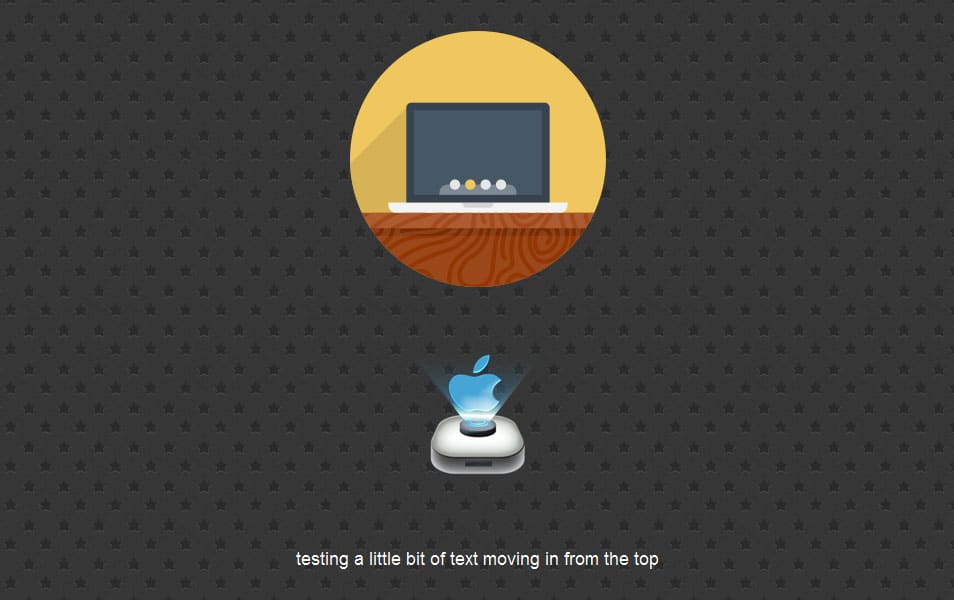 Modern web design has opened doors to allow greater effects to be accomplished with fewer lines of code. Animated page elements do not offer major alterations on content, but can provide a more extraordinary user experience.
Sly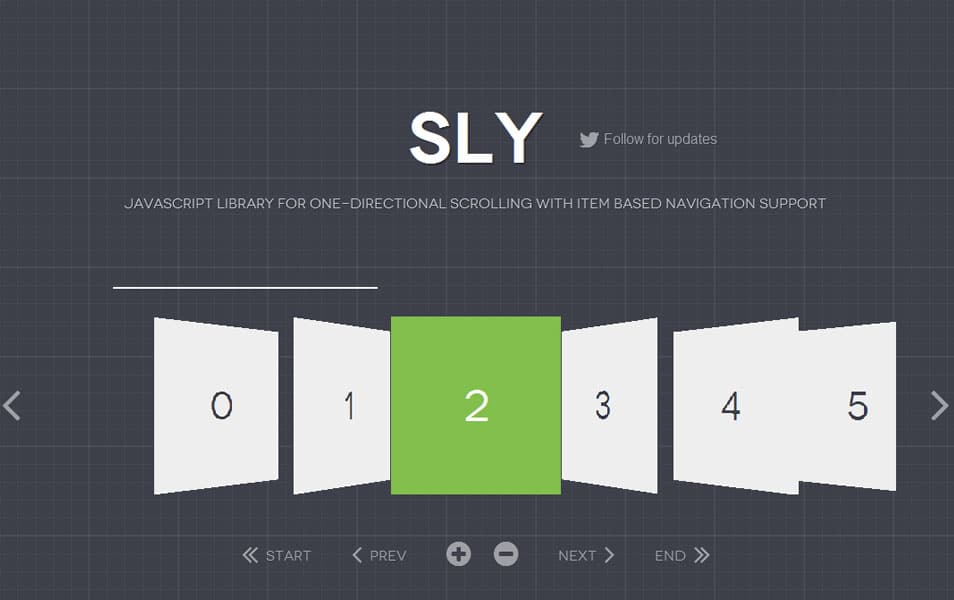 Sly is a JavaScript library for advanced one-directional scrolling with item based navigation support. It can be used as a simple scrollbar replacement, as an advanced item based navigation tool, or as a great navigation and animation interface for parallax websites.
jQuery Scroll Path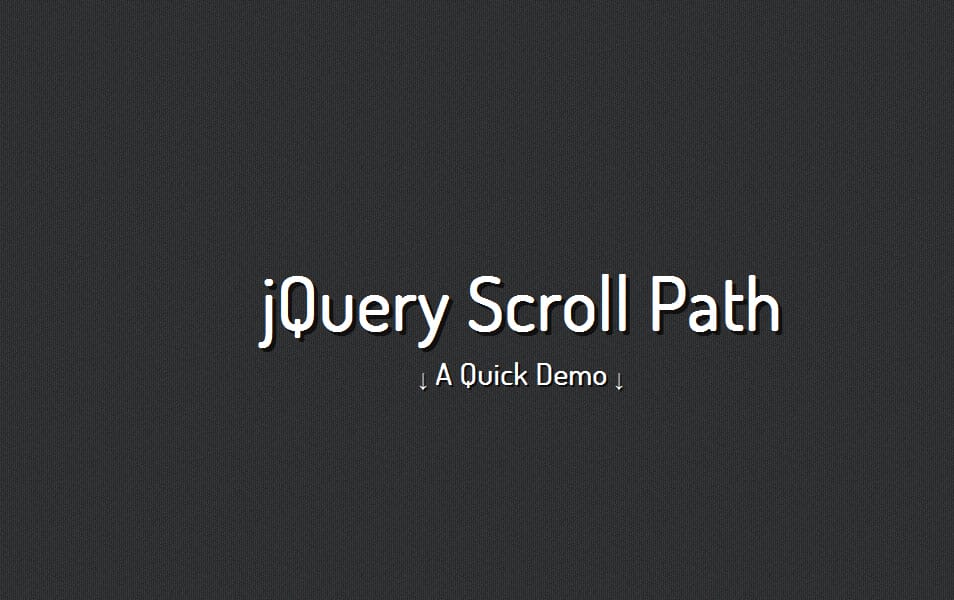 It's a plugin for defining custom scroll paths.
windows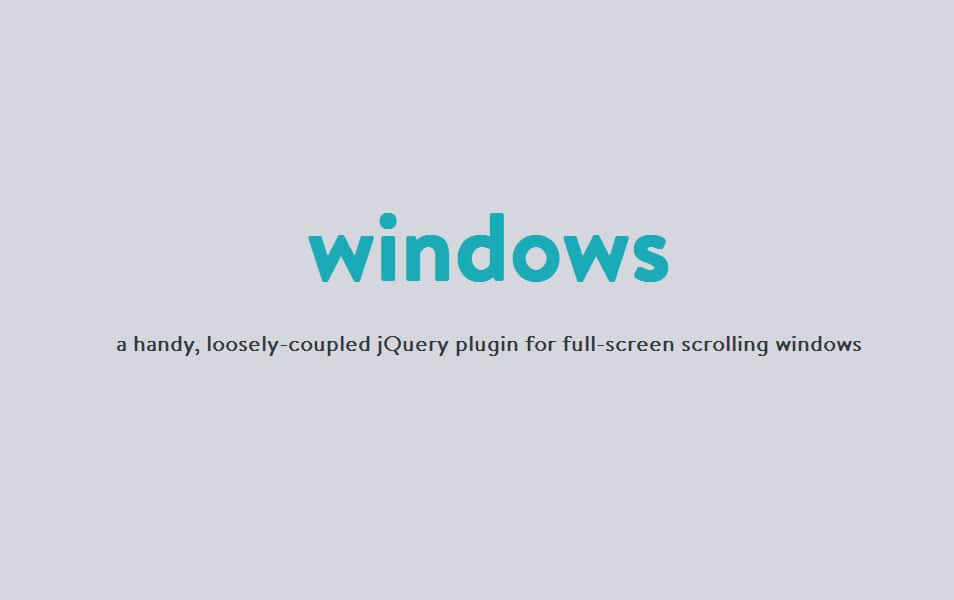 A handy, loosely-coupled jQuery plugin for full-screen scrolling windows.
AnimateScroll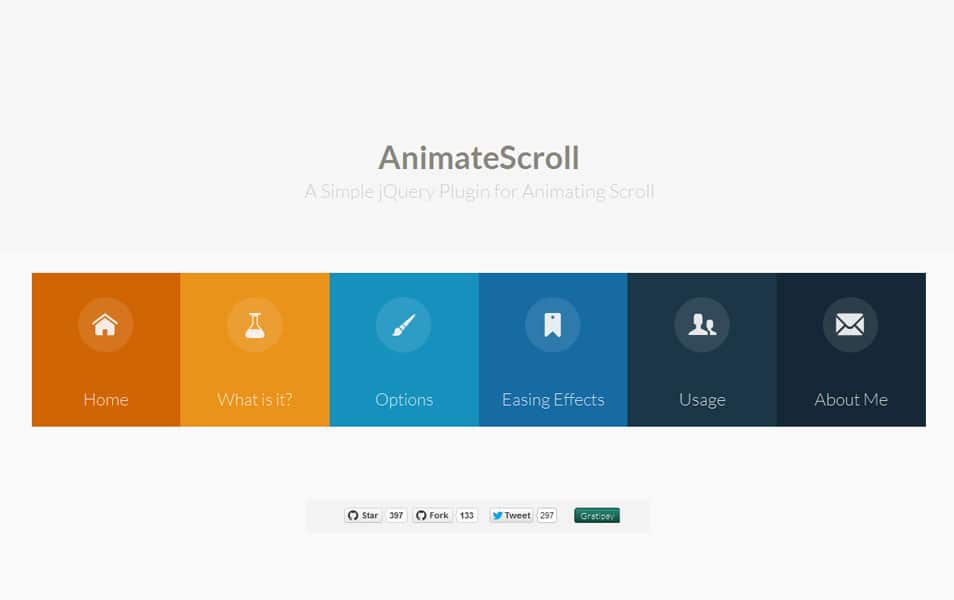 A Simple jQuery Plugin for Animating Scroll.
ScrollMe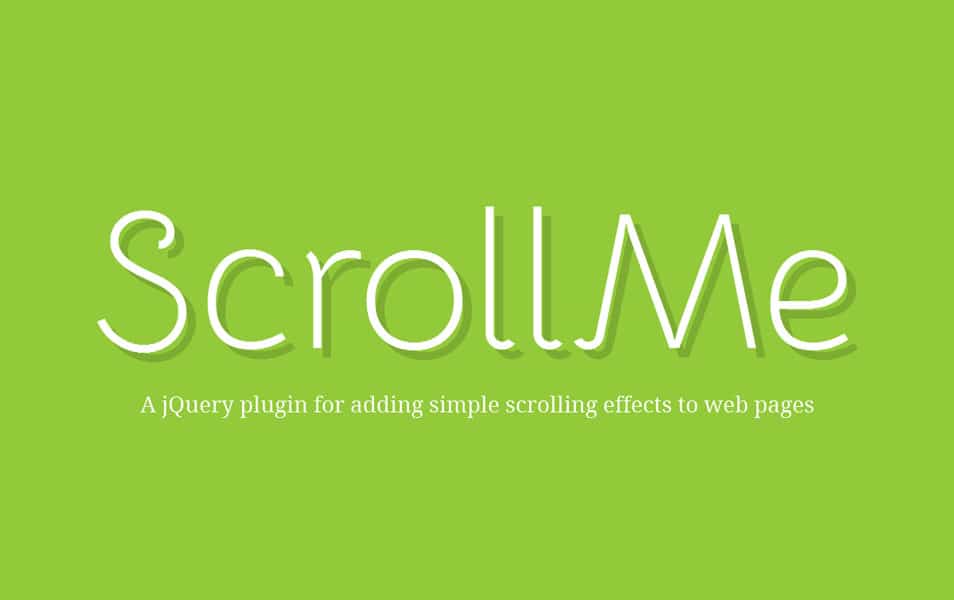 A jQuery plugin for adding simple scrolling effects to web pages.
stickUp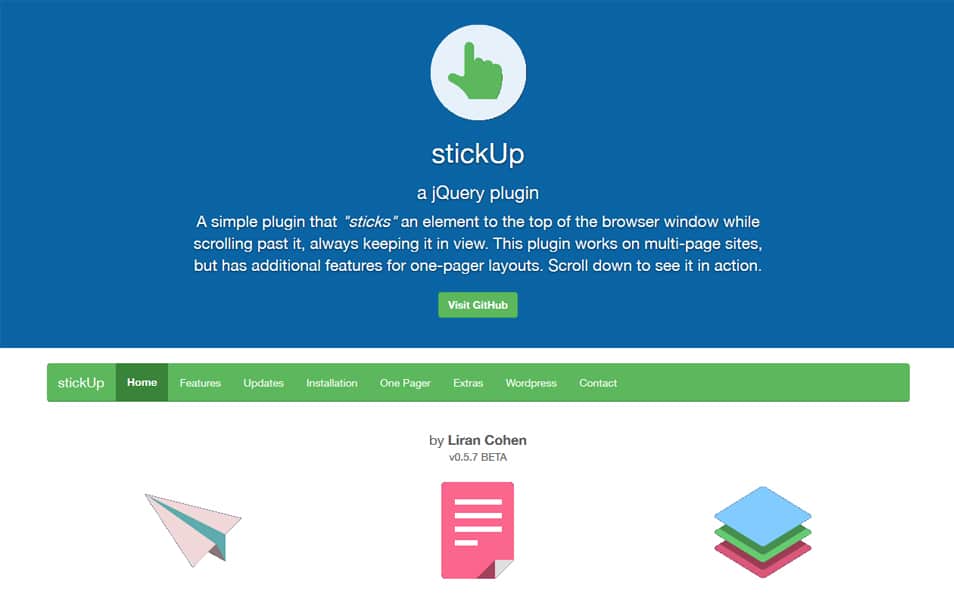 A simple plugin that "sticks" an element to the top of the browser window while scrolling past it, always keeping it in view. This plugin works on multi-page sites, but has additional features for one-pager layouts.
Block Scroll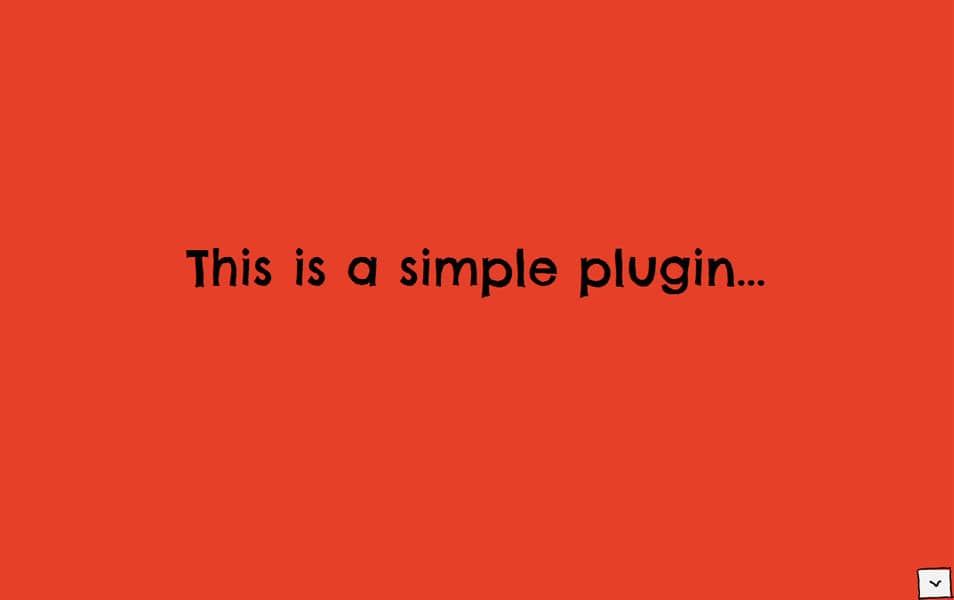 Block scroll is a jQuery plugin that turns a set of elements into a blocks and displays them one screen at a time. The idea is to break up your page into chunks for better presentation and user-flow. Block Scroll automatically turns your page responsive.
Starscroll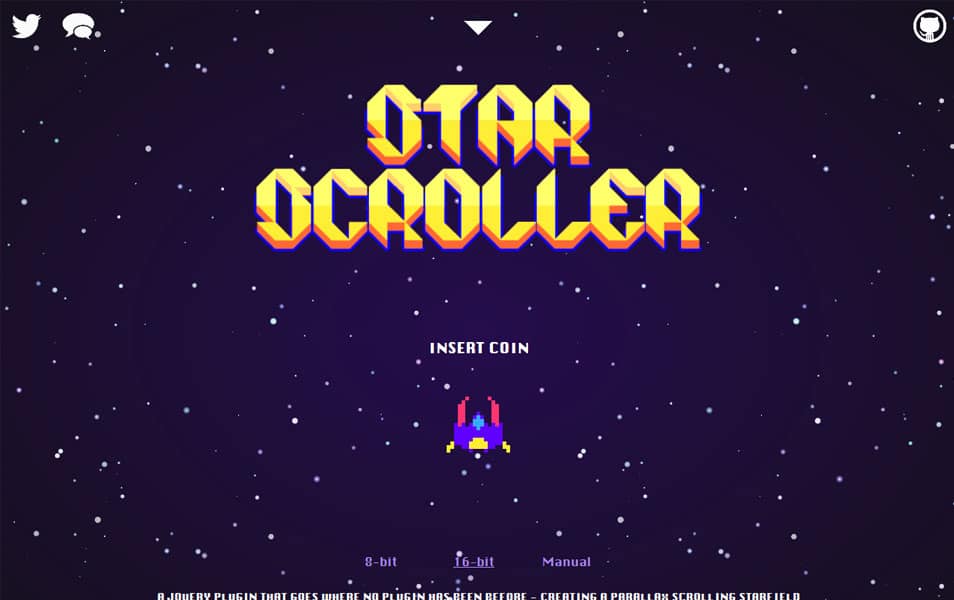 Create a div with purpose as your background .. activate plugin; animated or reactive as the user scrolls. The plugin automatically will fix the div so it works seemlessly.
Scrolldeck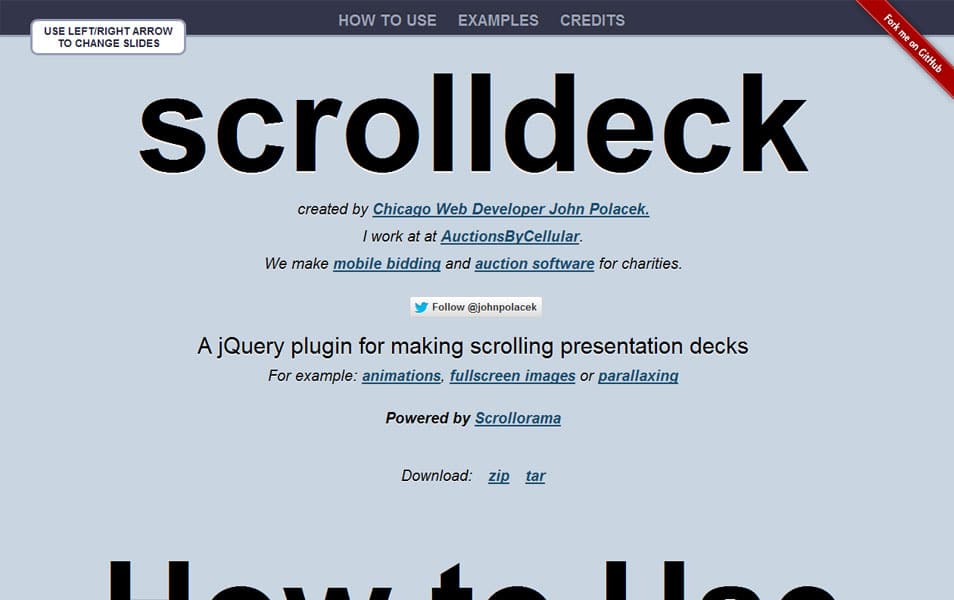 A jQuery plugin for making scrolling presentation decks.
Scrollocue
Scrollocue is a jQuery plugin for building a simple autocue/teleprompter system, to scroll through lines of text.
scrollorama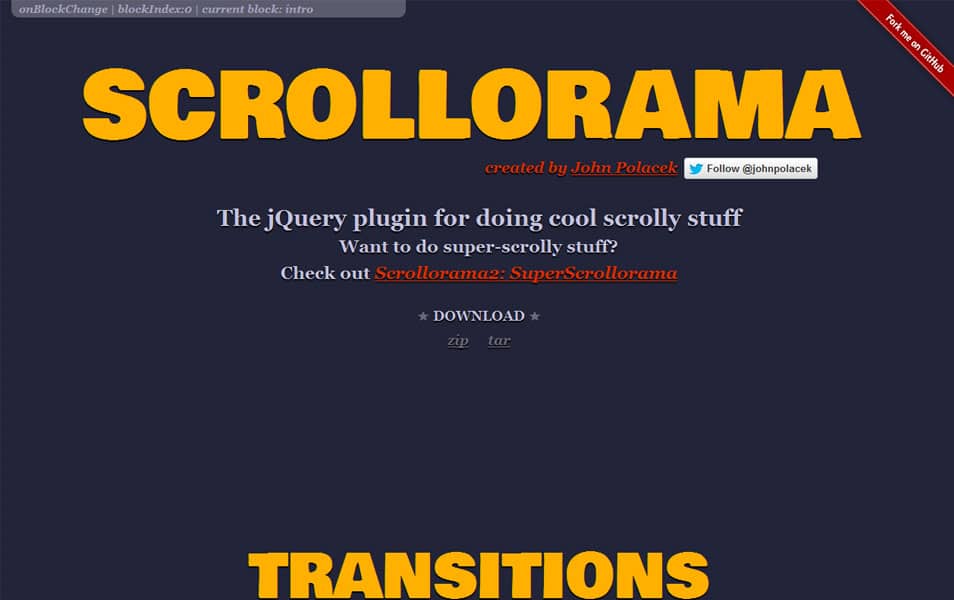 The jQuery plugin for doing cool scrolly stuff.
Stellar.js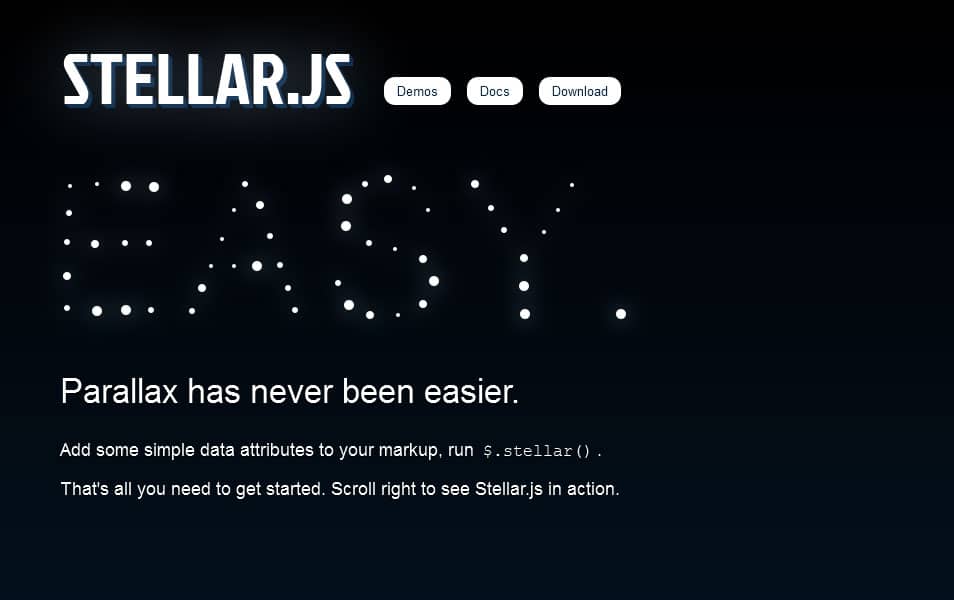 Stellar.js is a jQuery plugin that provides parallax scrolling effects to any scrolling element.
Super scroll orama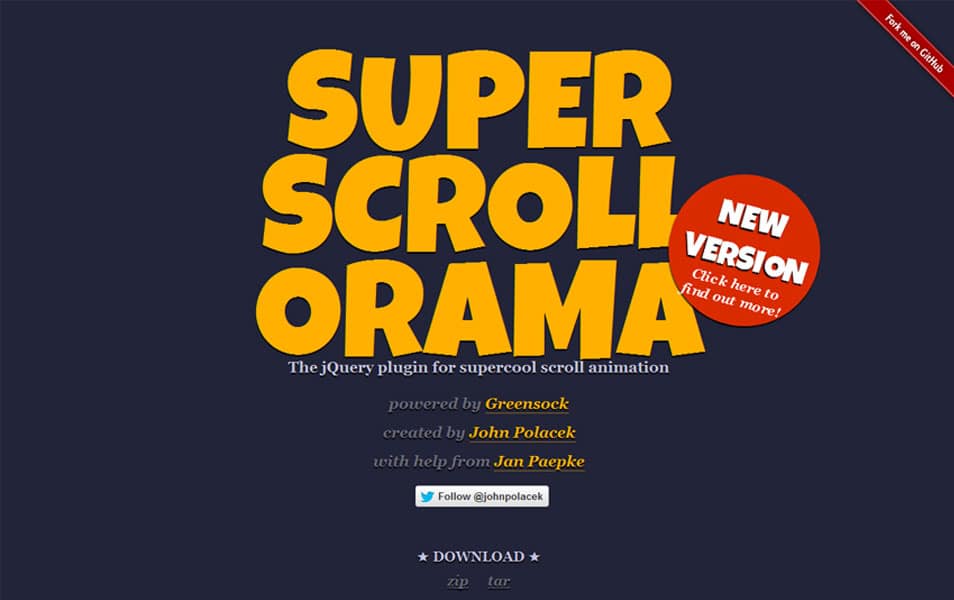 The jQuery plugin for supercool scroll animation.
Parallax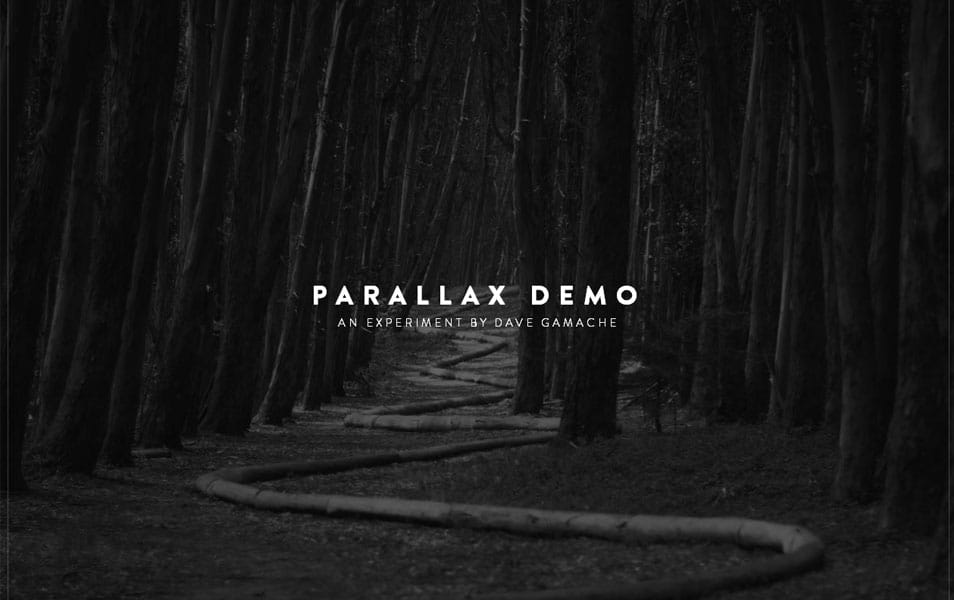 Experimental lightweight JS script to facilitate quick scroll based animations.
Responsive 3d Fold Scroll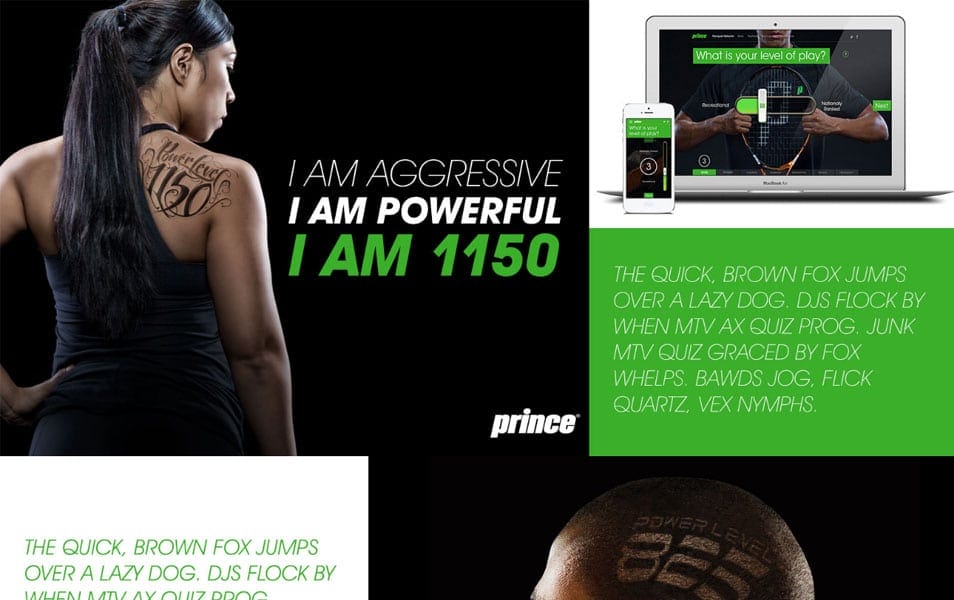 Responsive 3D Fold Animation on Scroll a jQuery plugin.
jQuery Scrollify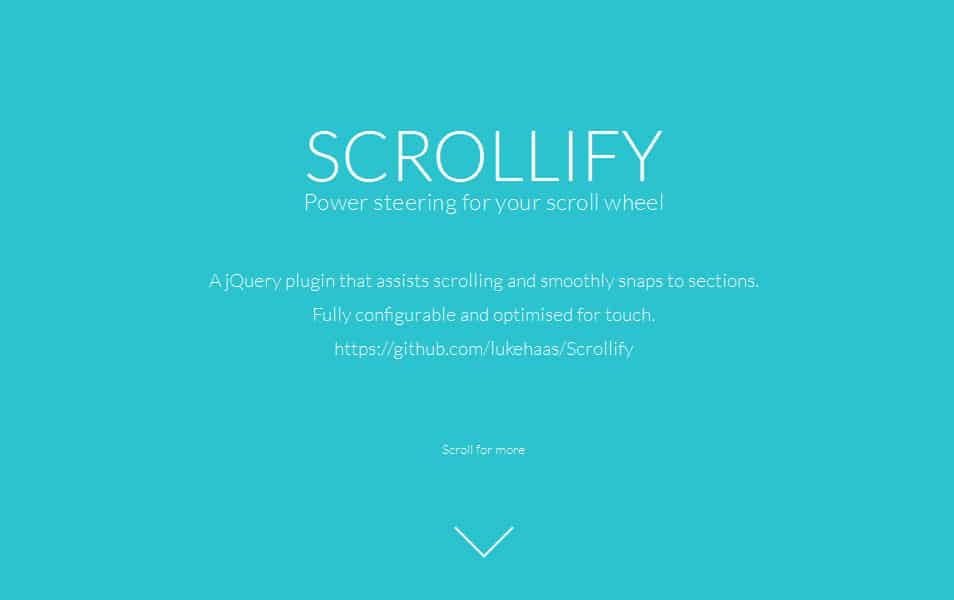 A jQuery plugin that assists scrolling and snaps to sections. Touch compatible.
vivus.js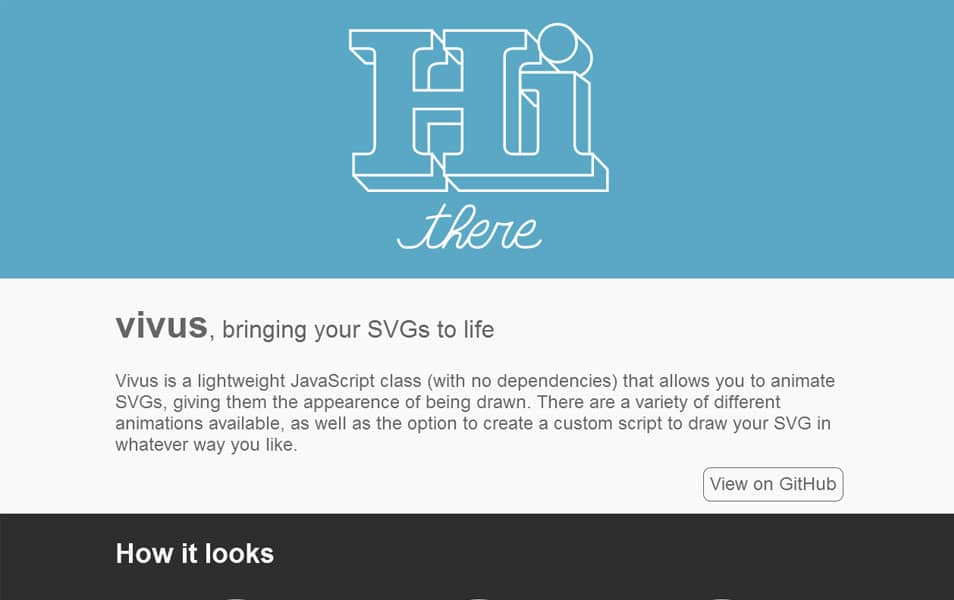 Vivus is a lightweight JavaScript class (with no dependencies) that allows you to animate SVGs, giving them the appearence of being drawn.
jQuery slimScroll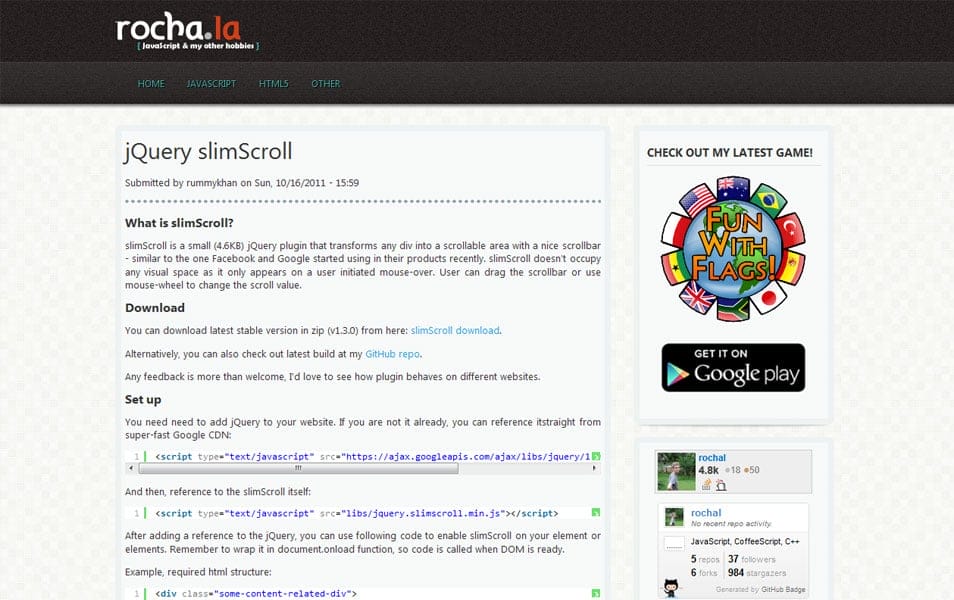 slimScroll is a small (4.6KB) jQuery plugin that transforms any div into a scrollable area with a nice scrollbar.
jQRangeSlider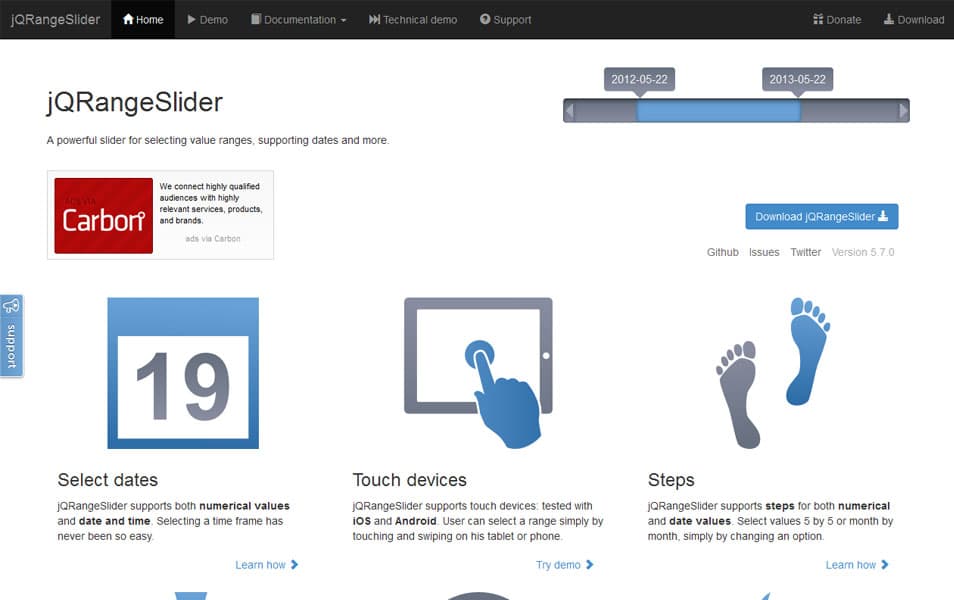 A powerful slider for selecting value ranges, supporting dates and more.
jQuery.pin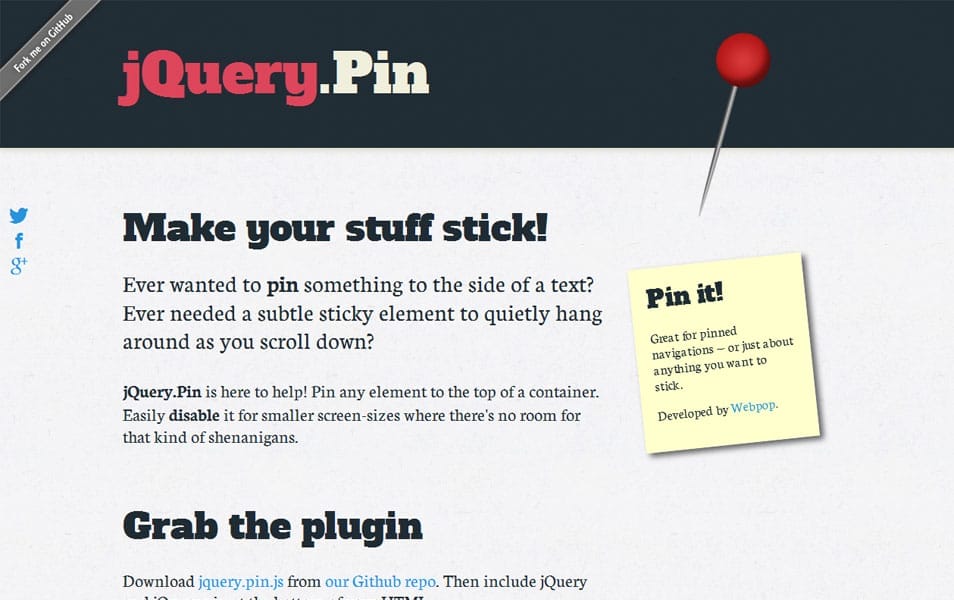 Pin any element within a container.
Infinite AJAX Scroll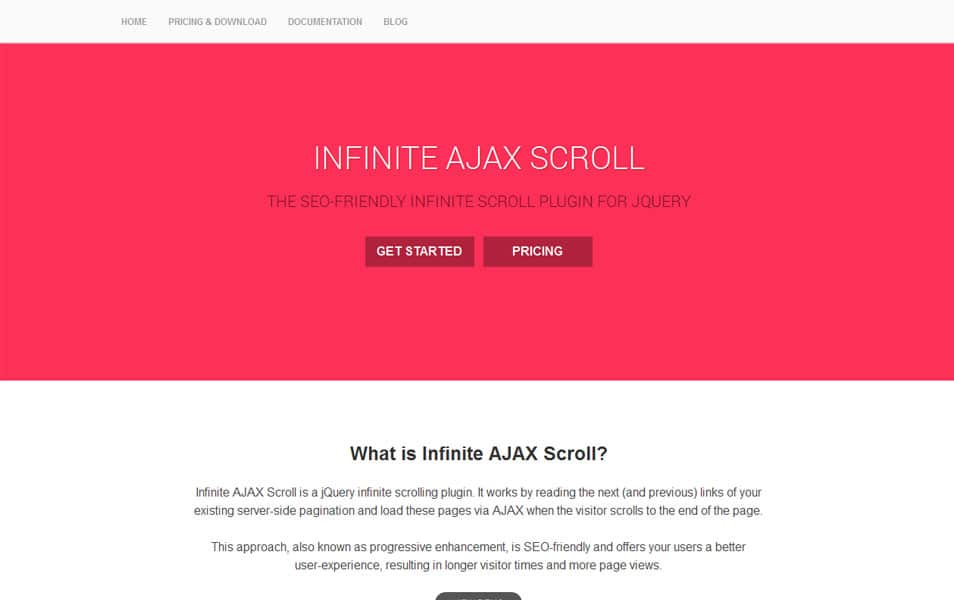 The SEO-friendly infinite scroll plugin for jQuery.
Overscroll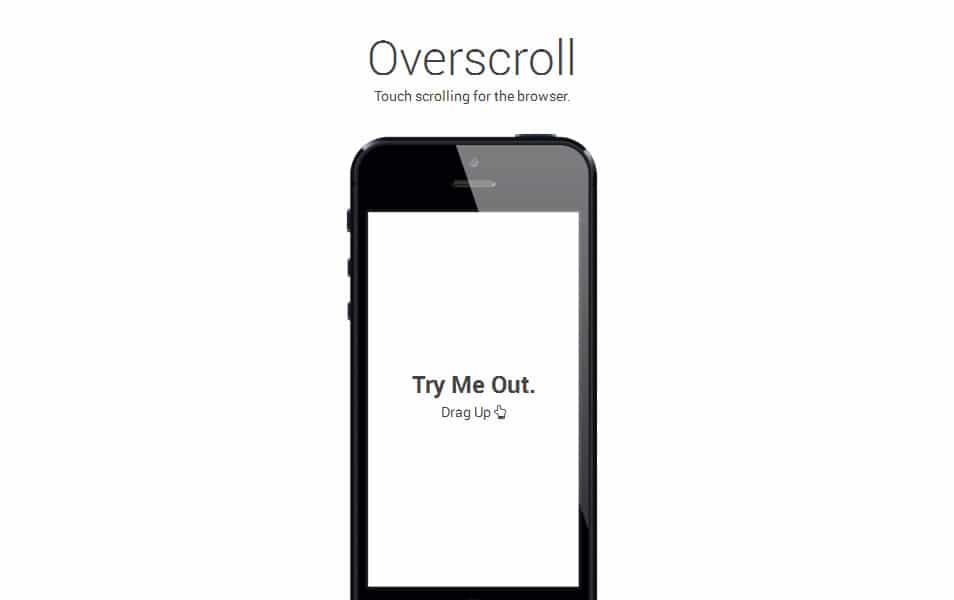 Overscroll is a jQuery Plugin and polyfill for mobile safari's overflow-scrolling style. It is intended for use on desktop browsers, with the latest version of jQuery.
jQuery.localScroll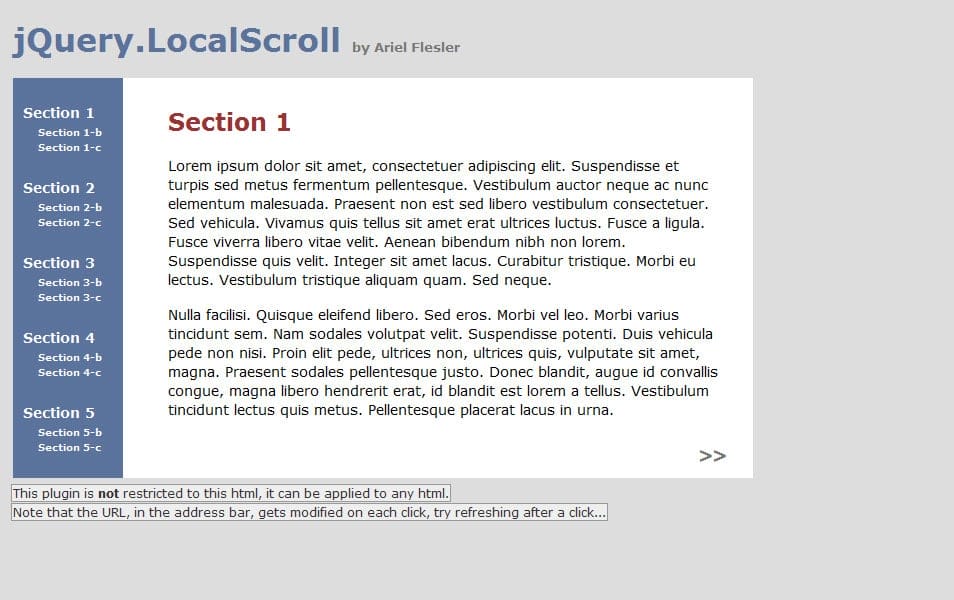 Animated anchor navigation made easy.
Parallax ImageScroll – jQuery plugin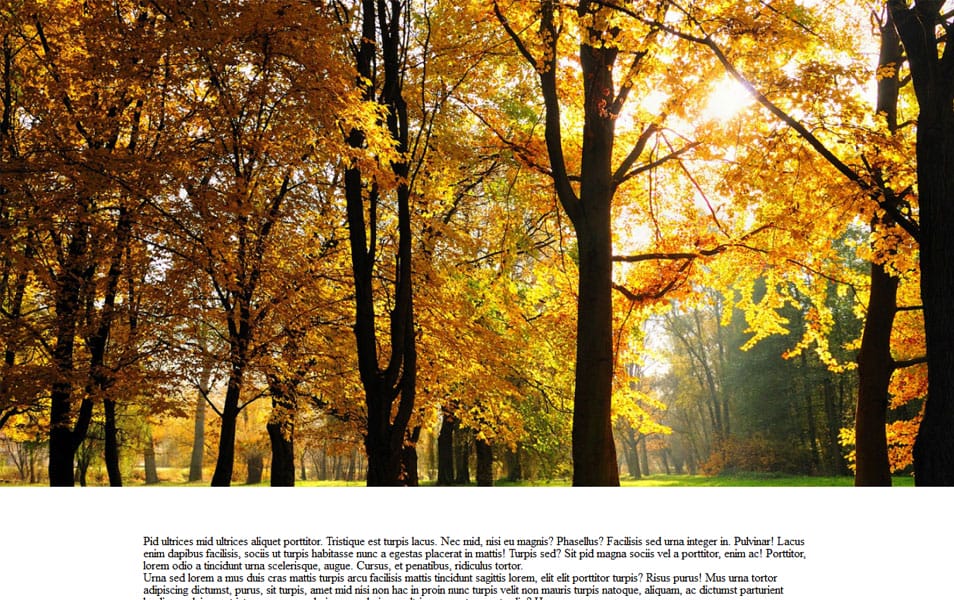 JQuery and amd compatible plugin to create a parallax effect as seen at spotify.com.
fullPage.js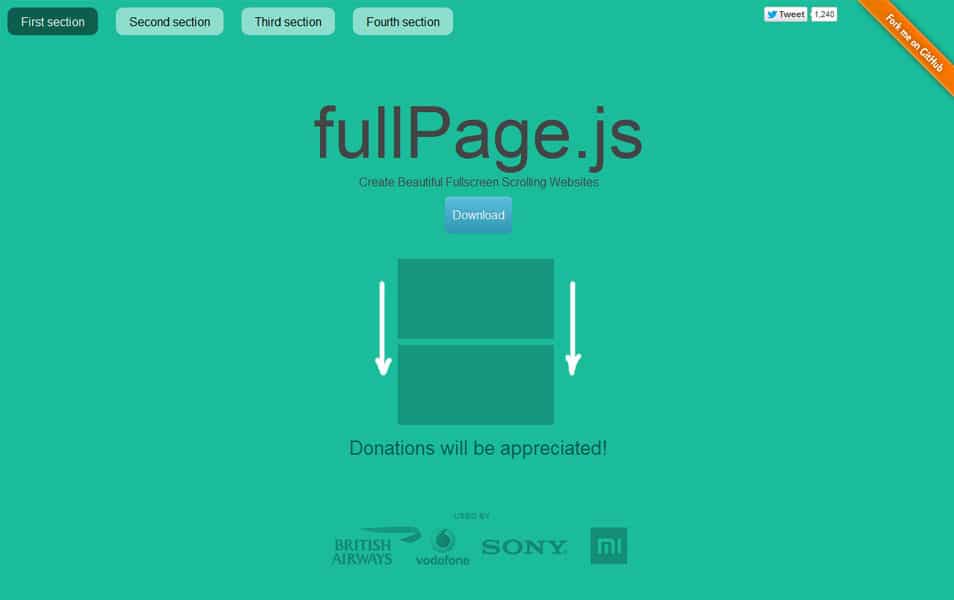 A simple and easy to use plugin to create fullscreen scrolling websites (also known as single page websites). It allows the creation of fullscreen scrolling websites, as well as adding some landscape sliders inside the sections of the site.
Parallax.js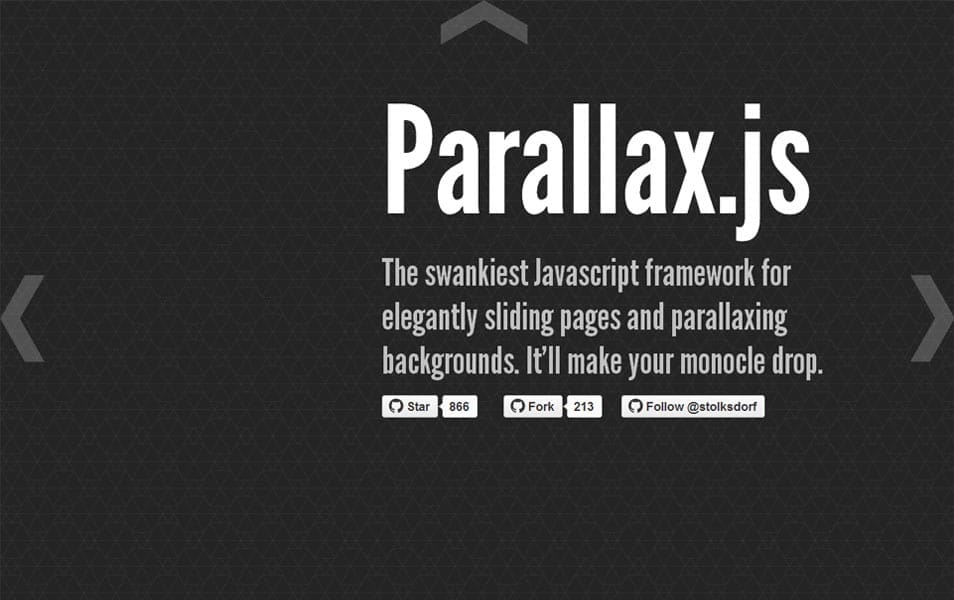 A Library for Javascript that allows easy page parallaxing.
Jarallax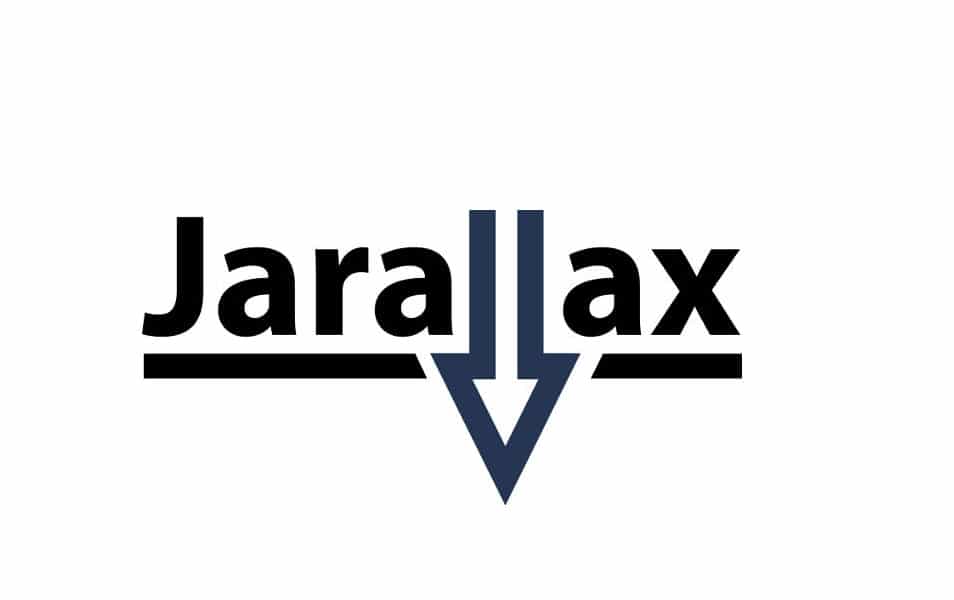 Jarallax is an open-source javascript library which makes adjusting css based on interaction easy. With Jarallax it's easy to create a parallax scrolling website.
jInvertScroll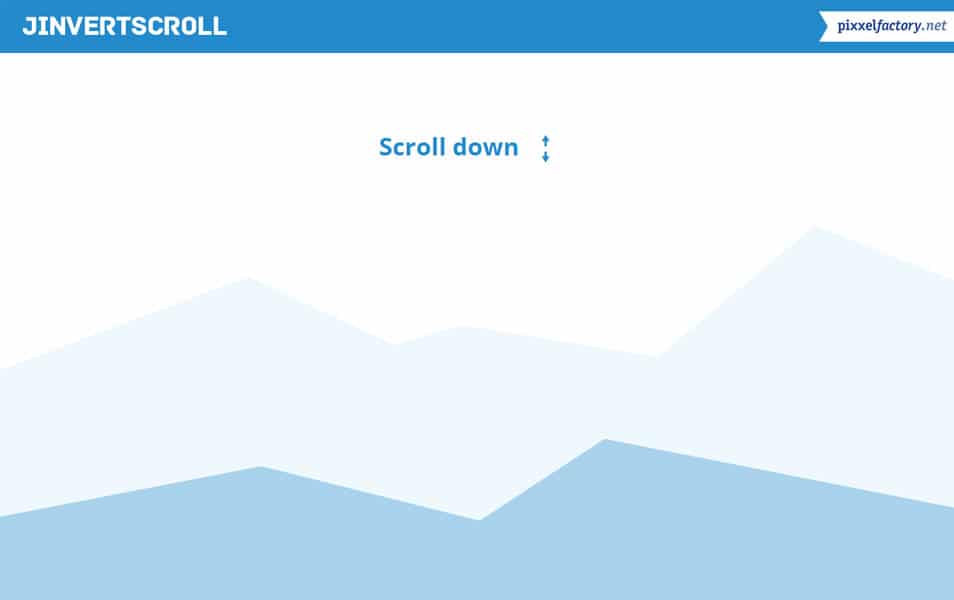 It's a lightweight plugin for jQuery that allows you to move in horizontal with a parallax effect while scrolling down.
Jquery fullContent.js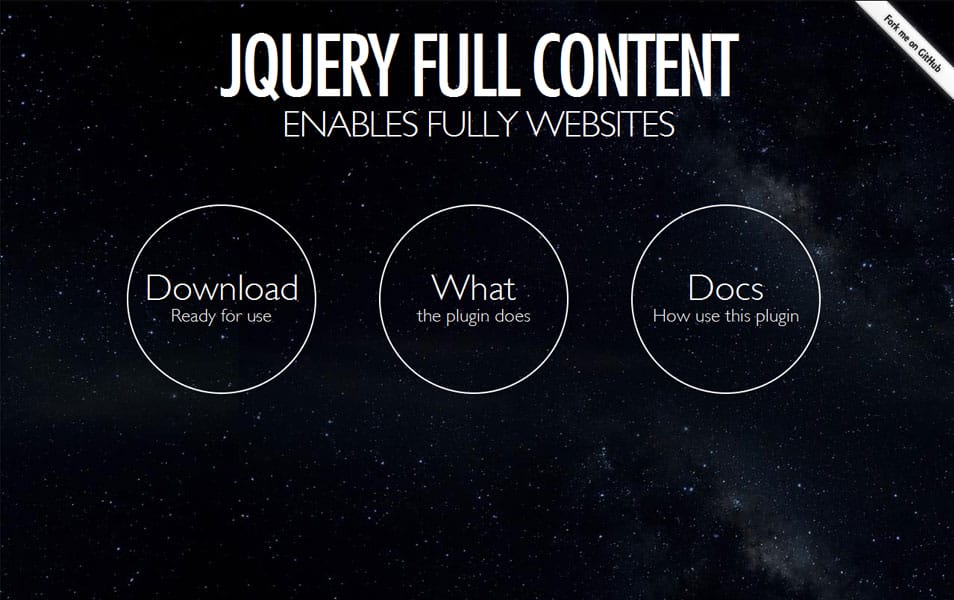 Jquery Full Content Enables fully websites.
jQuery One Page Scroll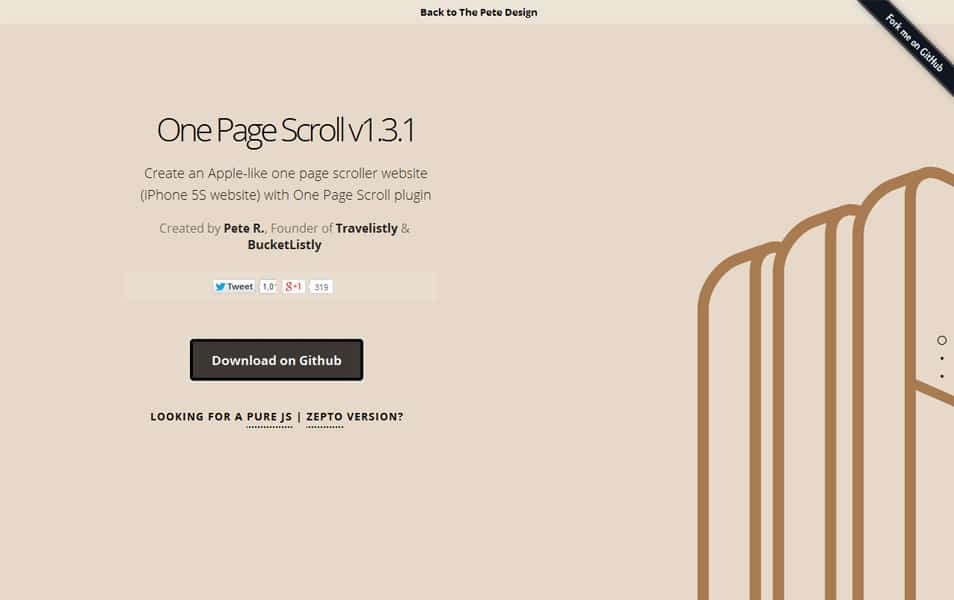 Create an Apple-like one page scroller website (iPhone 5S website) with One Page Scroll plugin.
jQuery Parallax Plugin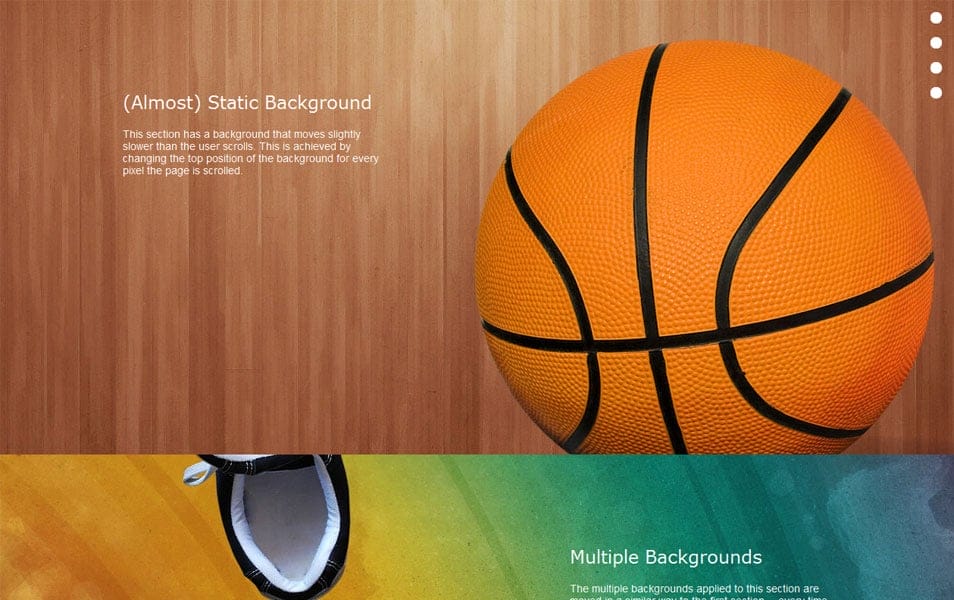 jQuery Parallax is a script that simulates the parallax effect as seen on nikebetterworld.com.
jquery.parallax.js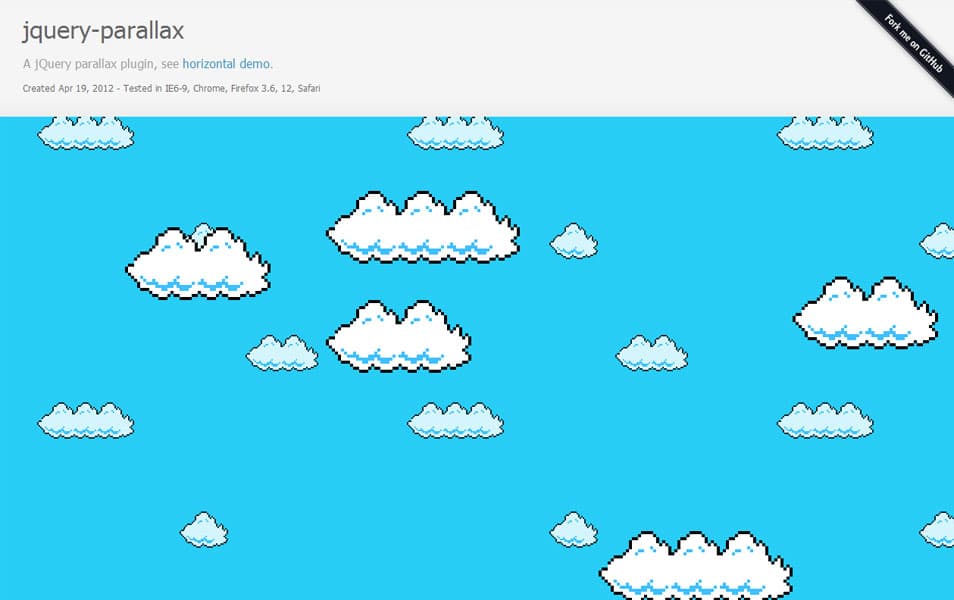 A jQuery parallax plugin.
jquery.arbitrary-anchor.js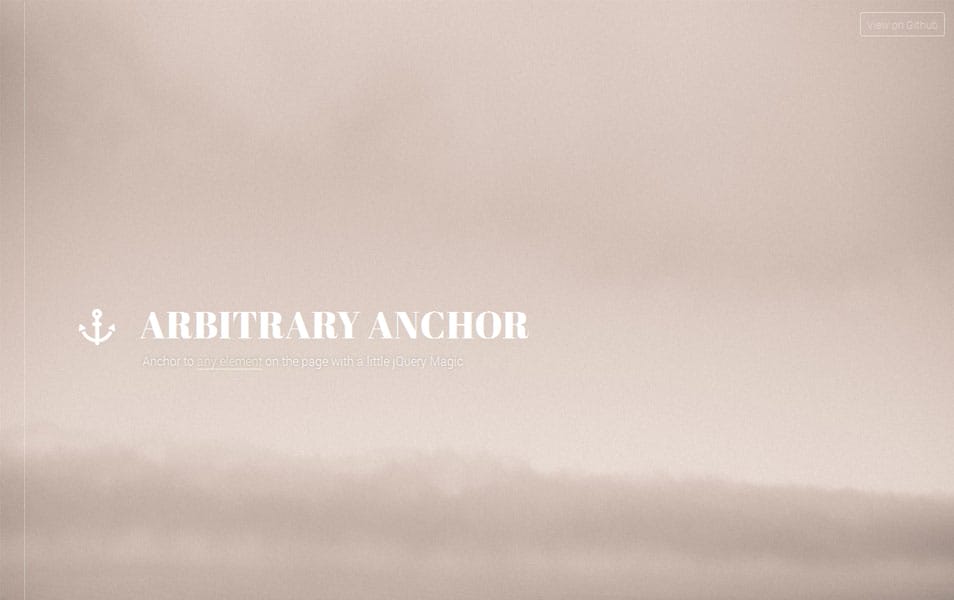 Arbitrary anchors for any element on your page using a little jQuery magic.
Portfoliojs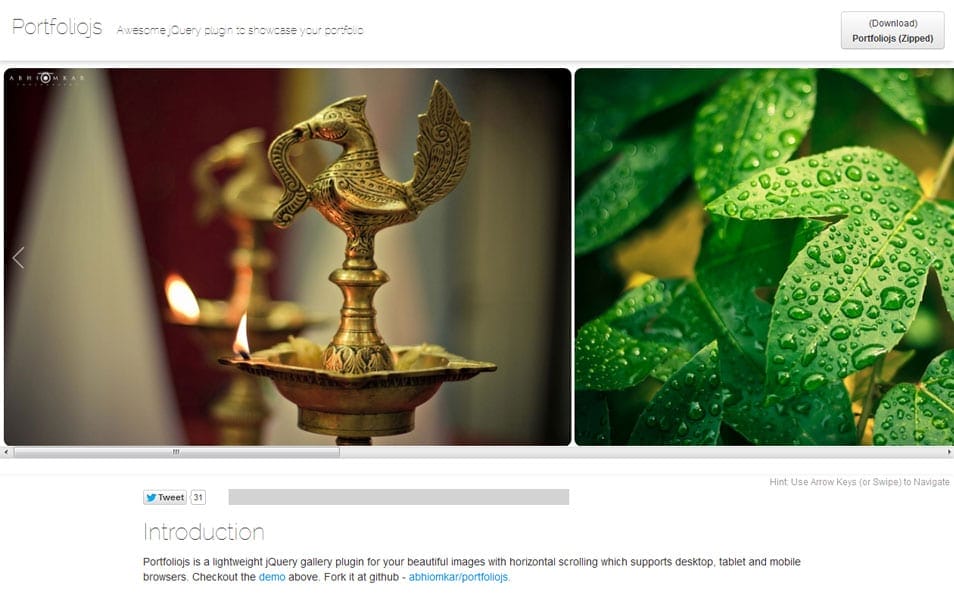 Portfoliojs is a lightweight jQuery gallery plugin for your beautiful images with horizontal scrolling which supports desktop, tablet and mobile browsers.
Scrolling Parallax Plugin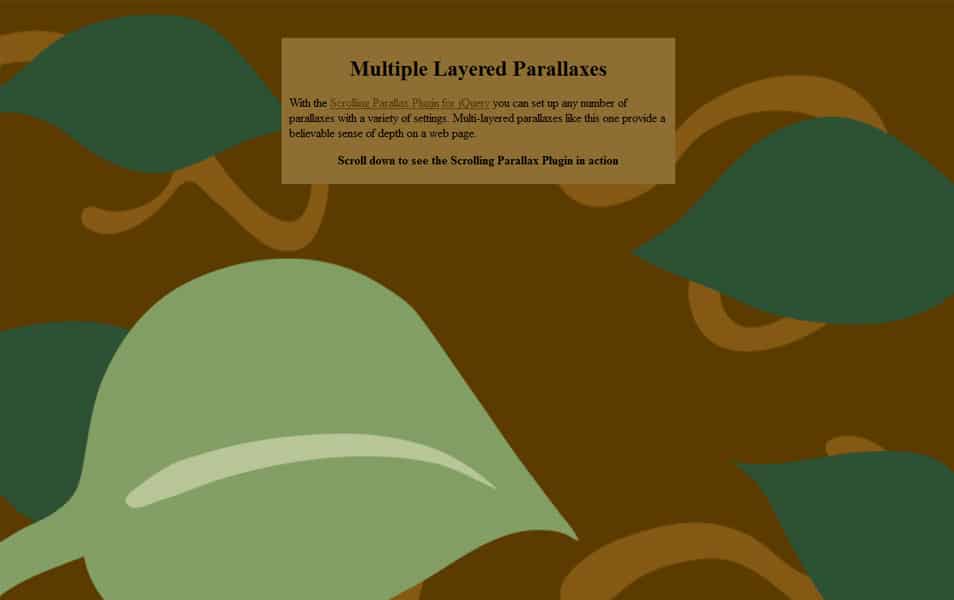 Scrolling Parallax is a new jQuery plugin that binds a parallax effect to the scrollbars and mouse wheel. This allows a background image or anything else to scroll at a different pace than the web page when a user scrolls around. The parallax effect that results is an easy way to create an illusion of depth on your website.
Scrolltab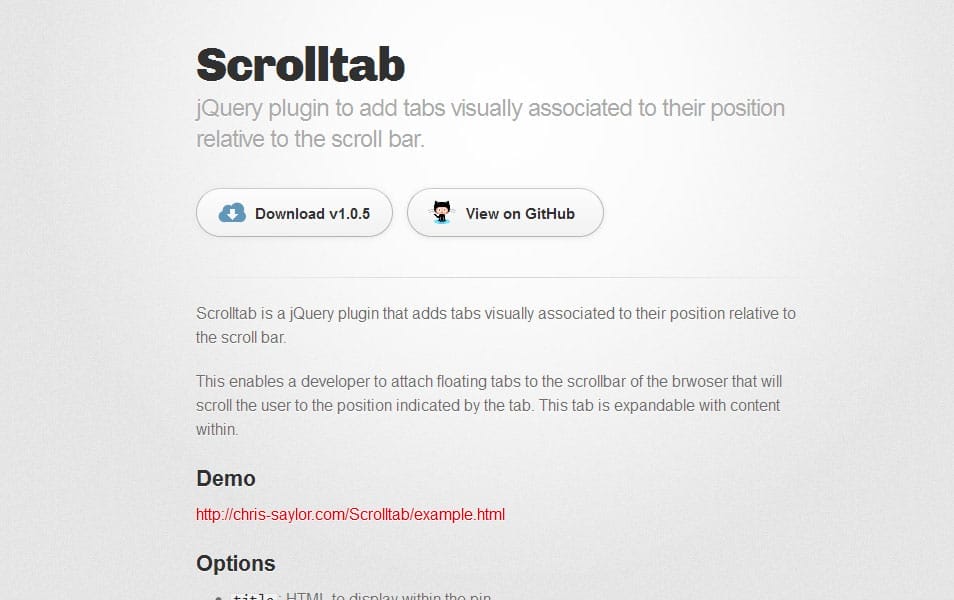 jQuery plugin to add tabs visually associated to their position relative to the scroll bar.
skrollr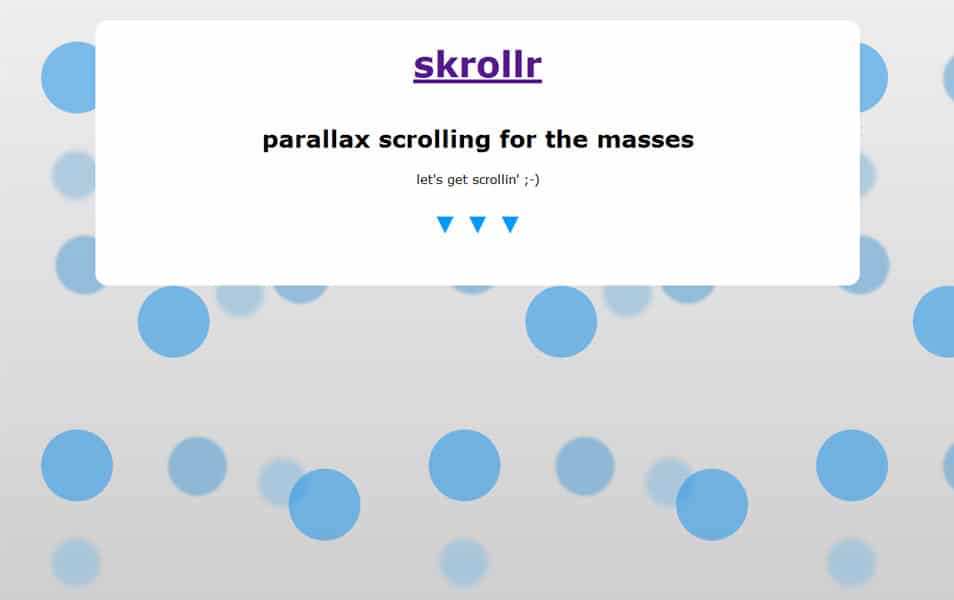 Stand-alone parallax scrolling library for mobile (Android + iOS) and desktop. No jQuery. Just plain JavaScript (and some love).
SMINT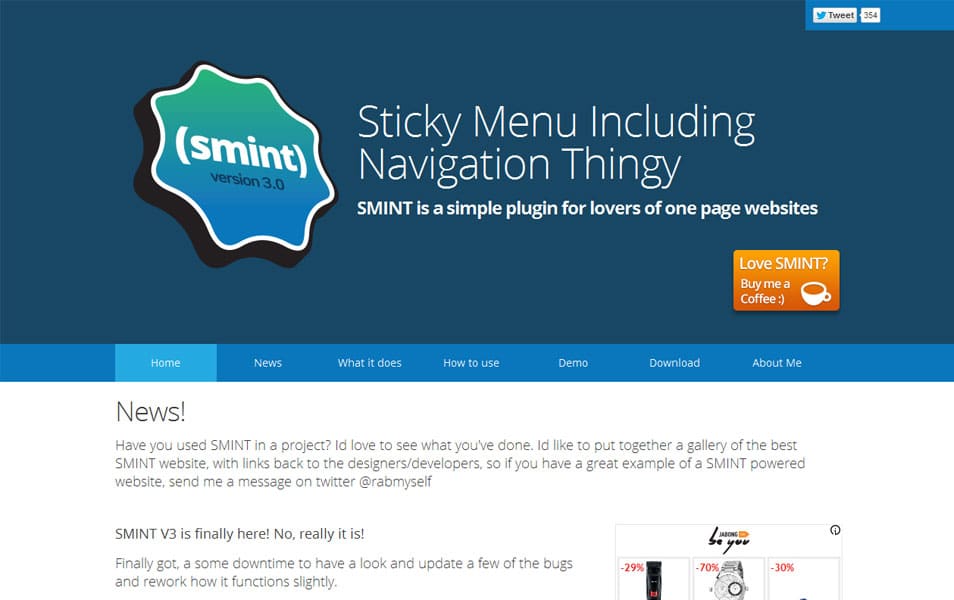 Smint is a simple jQuery plugin that helps with the navigation on one page style websites.
jQuery custom content scroller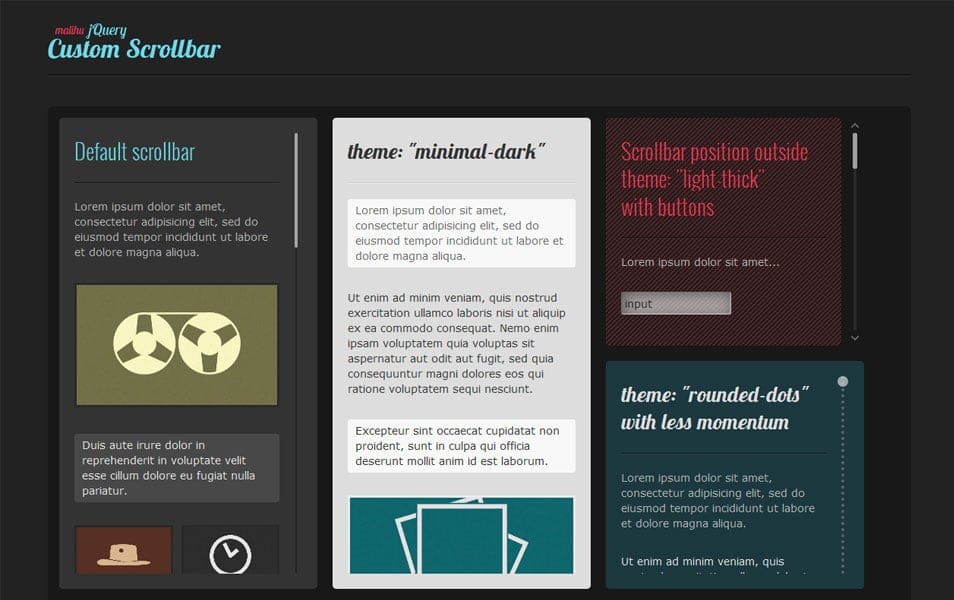 Highly customizable custom scrollbar jQuery plugin. Features include vertical and/or horizontal scrollbar(s), adjustable scrolling momentum, mouse-wheel (via jQuery mousewheel plugin), keyboard and touch support, ready-to-use themes and customization via CSS, RTL direction support, option parameters for full control of scrollbar functionality, methods for triggering actions like scroll-to, update, destroy etc.
ScrollUpBar Plugin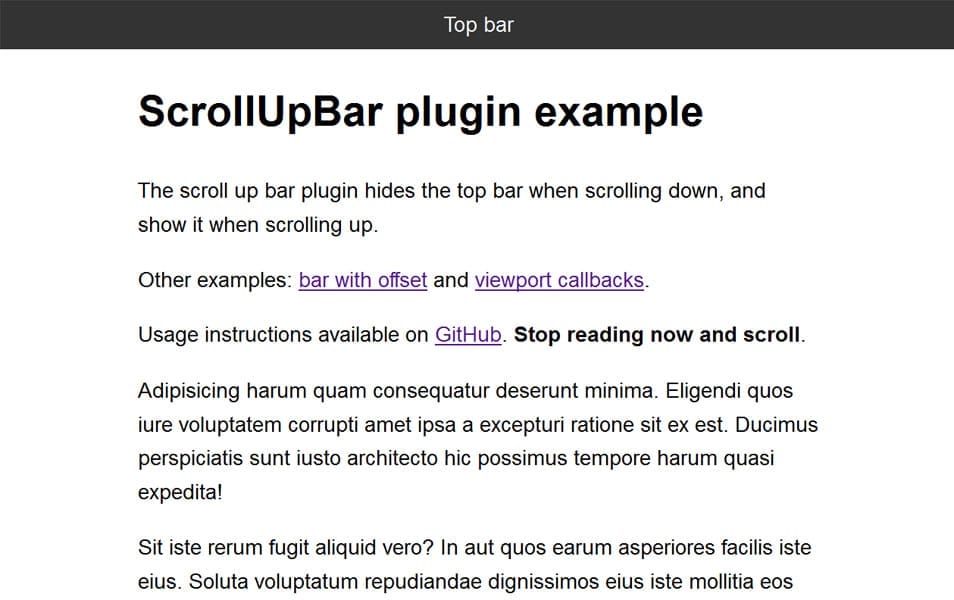 The scroll up bar plugin (jQuery) hides the top bar when scrolling down, and show it when scrolling up. It's specially useful on mobile interfaces to save some precious space.
StickyTableHeaders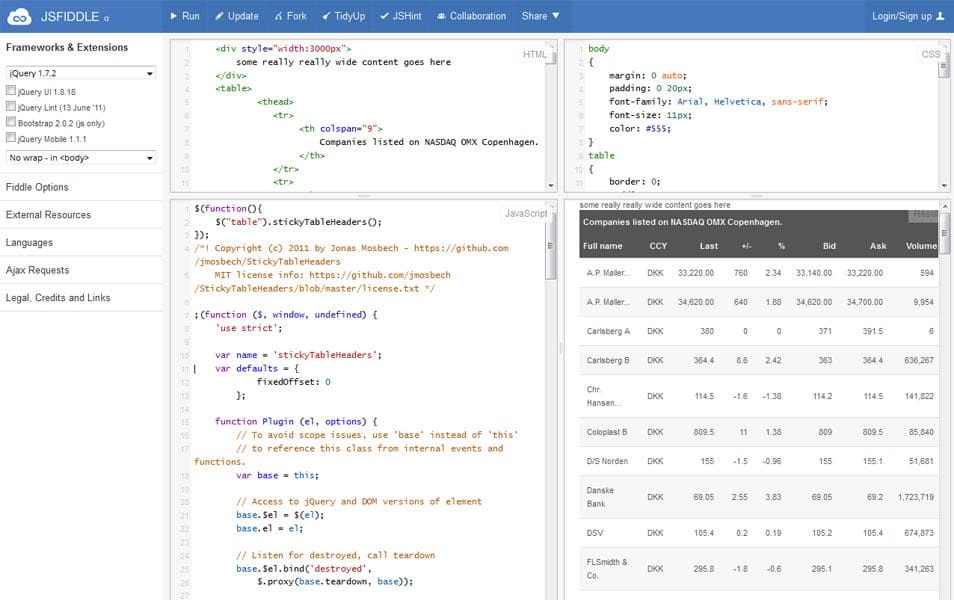 A jQuery plugin that makes large tables more usable by having the table header stick to the top of the screen when scrolling.
isInViewport.js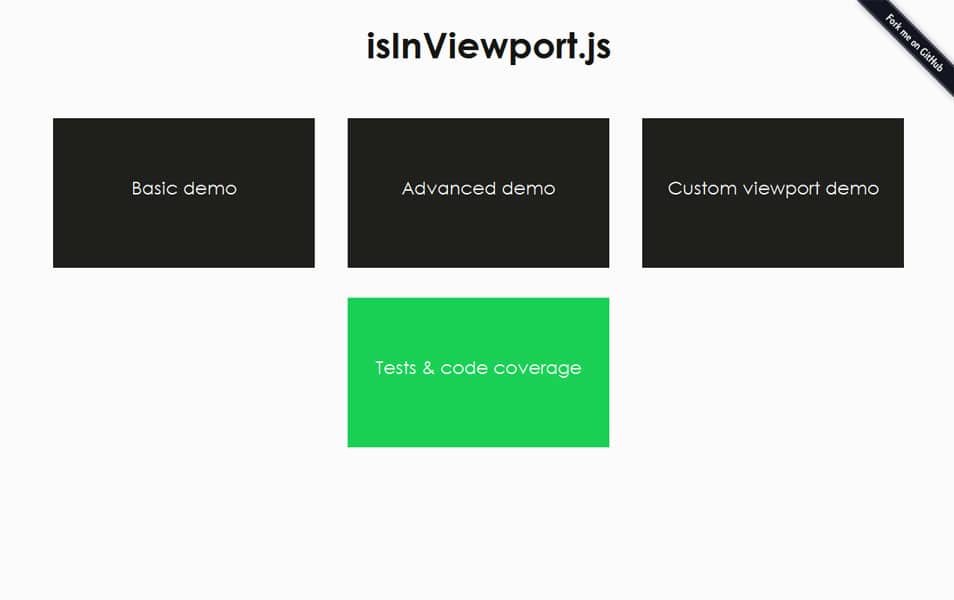 An ultra-light jQuery plugin that tells you if an element is in the viewport but with a twist.
Waterfall
jquery waterfall plugin,like Pinterest、huaban.com、faxianla.com
Scroller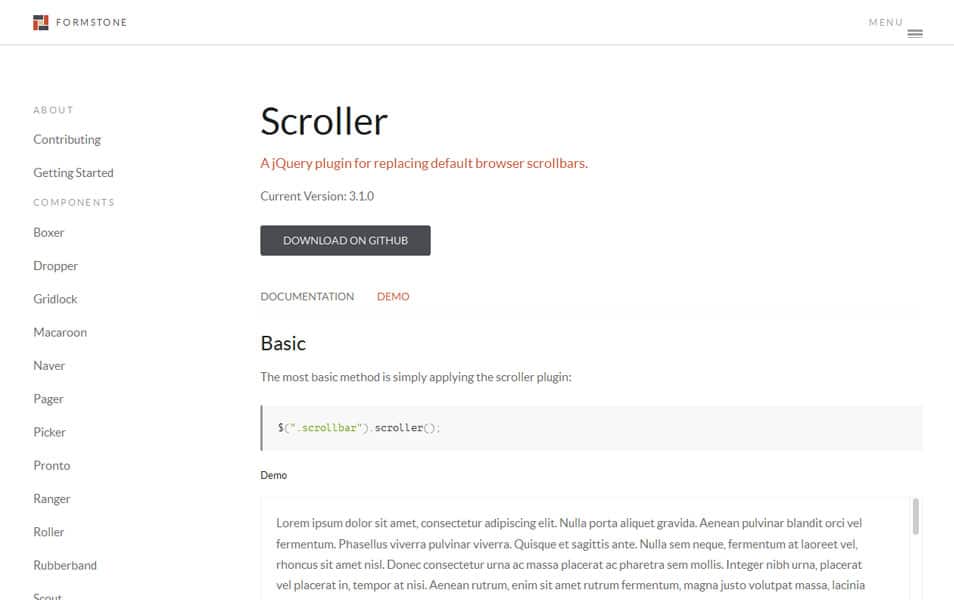 A jQuery plugin for replacing default browser scrollbars.
jQuery.SerialScroll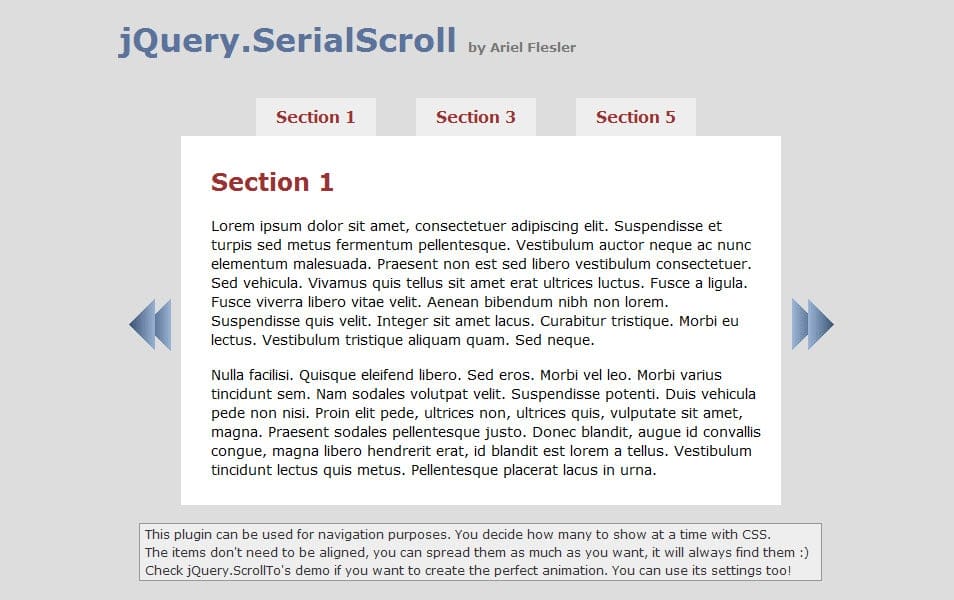 Animated scrolling of series.
jScroll
jScroll is a jQuery plugin for infinite scrolling, written by Philip Klauzinski. Infinite scrolling; also known as lazy loading, endless scrolling, autopager, endless pages, etc.
FoldScroll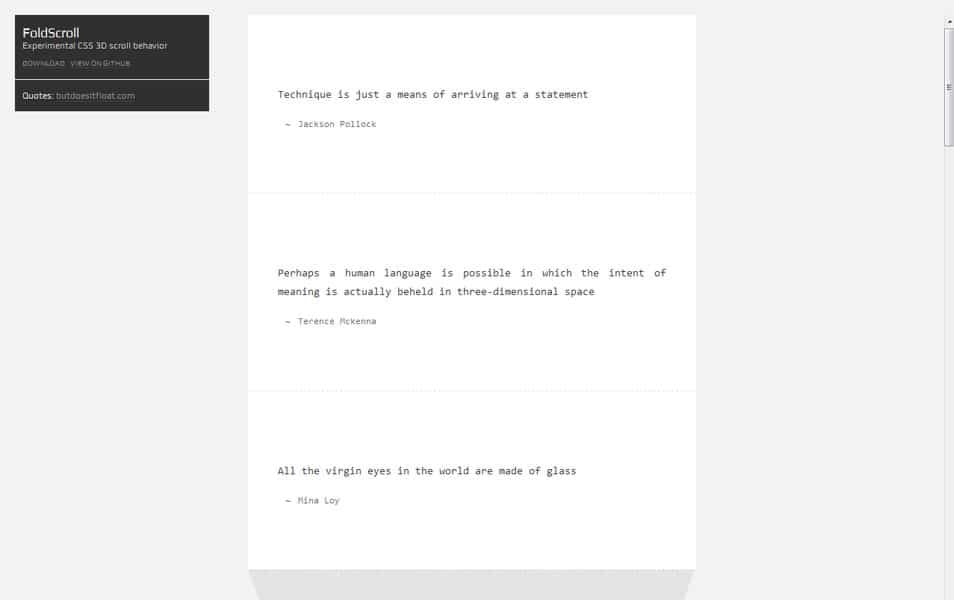 An experimental CSS 3D scroll behavior jQuery plugin.
scrollUp jQuery plugin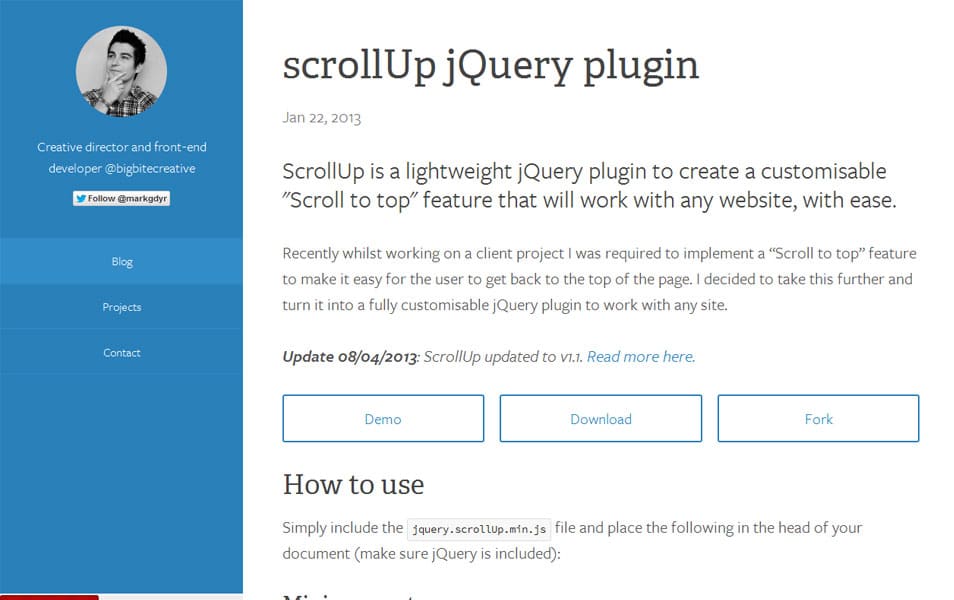 ScrollUp is a lightweight jQuery plugin to create a customisable "Scroll to top" feature that will work with any website, with ease.
multiScroll.js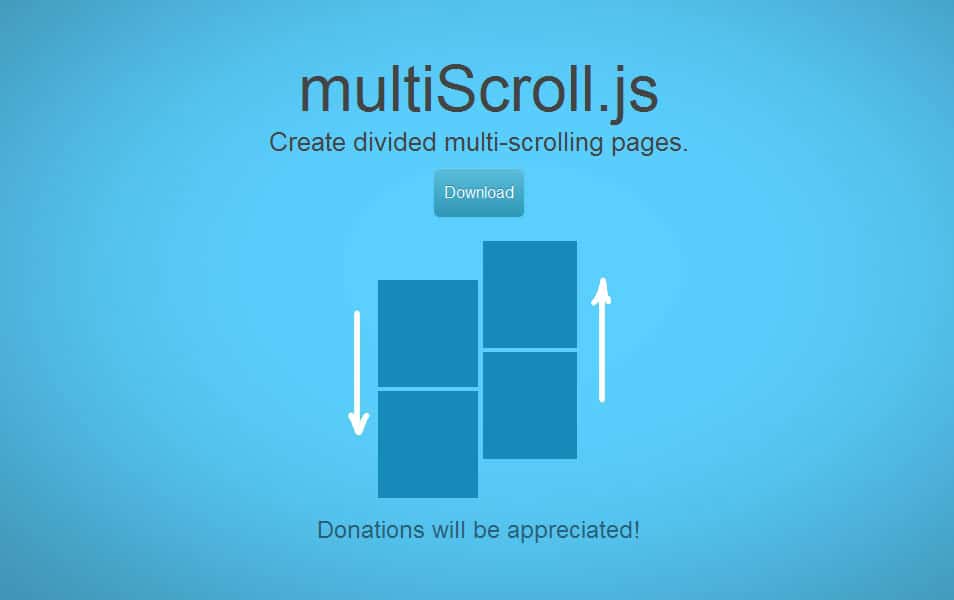 Create split pages with two vertical scrolling panels. Compatible with mobile phones and devices and old bowsers such as IE 8.
Any List Scroller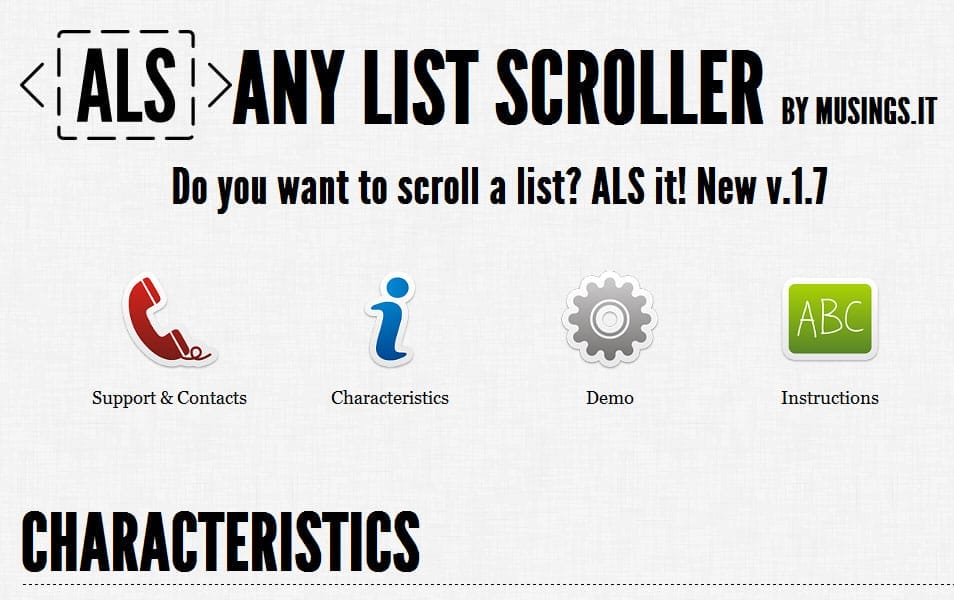 jQuery scrolling plugin by musings.it to scroll any list with any content.
qpScroll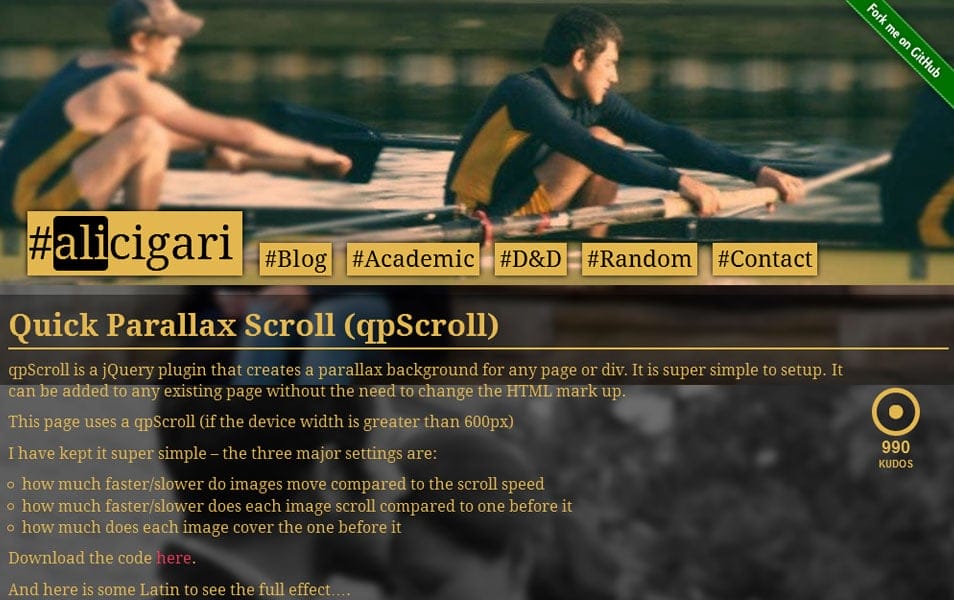 qpScroll is a jQuery plugin that creates a parallax background for any page or div. It is super simple to setup. It can be added to any existing page without the need to change the HTML mark up.
jQuery Stick 'em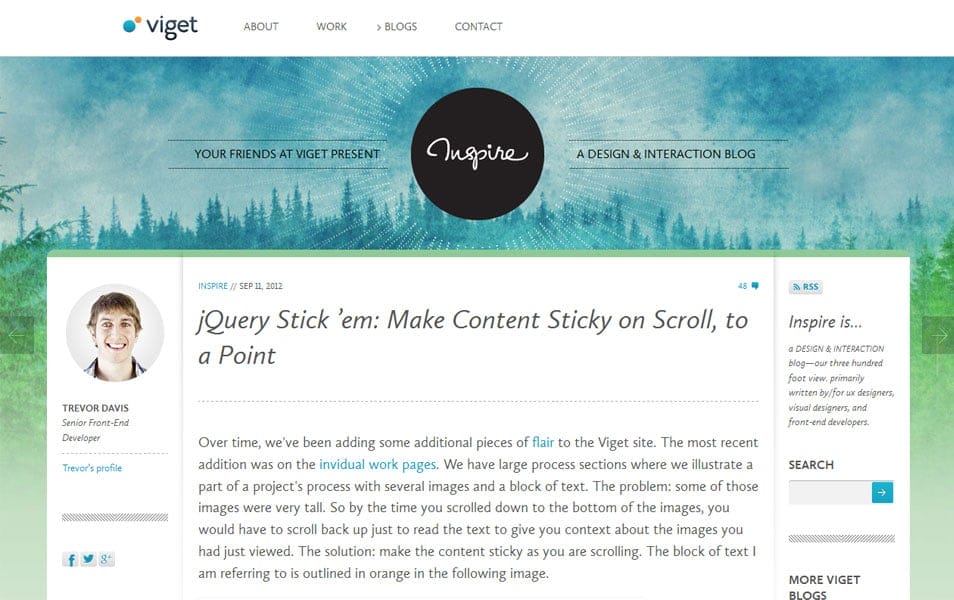 Make Content Sticky on Scroll, to a Point.
Parallax.js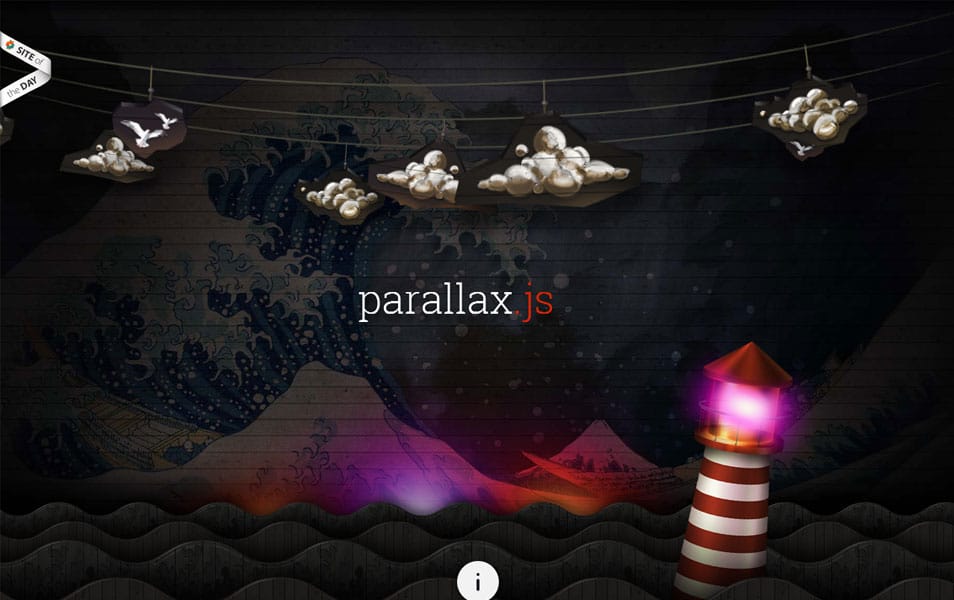 Parallax Engine that reacts to the orientation of a smart device. Where no gyroscope or motion detection hardware is available, the position of the cursor is used instead.
Slinky.js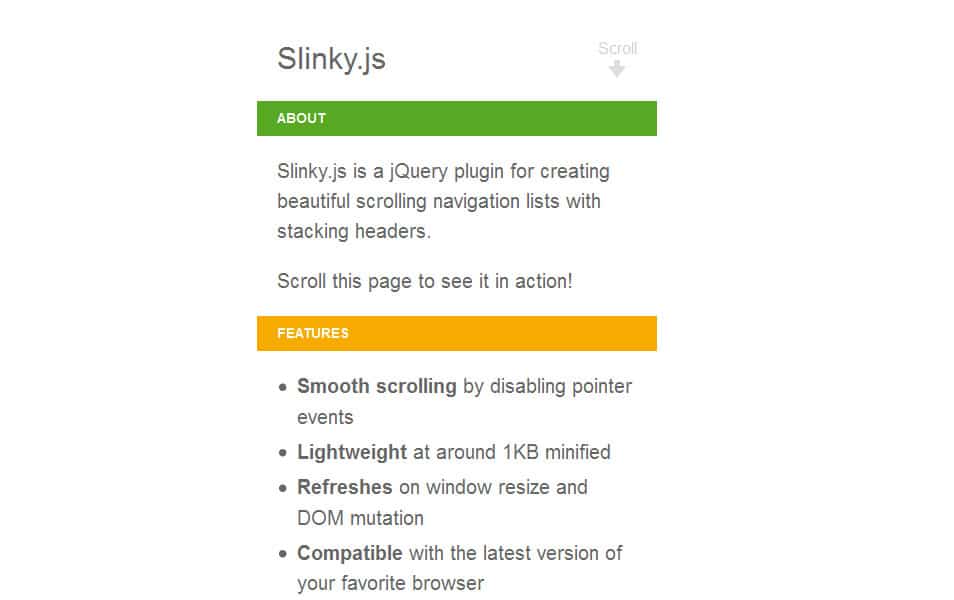 Slinky.js is a jQuery plugin for creating beautiful scrolling navigation lists with stacking headers.
Infinity.js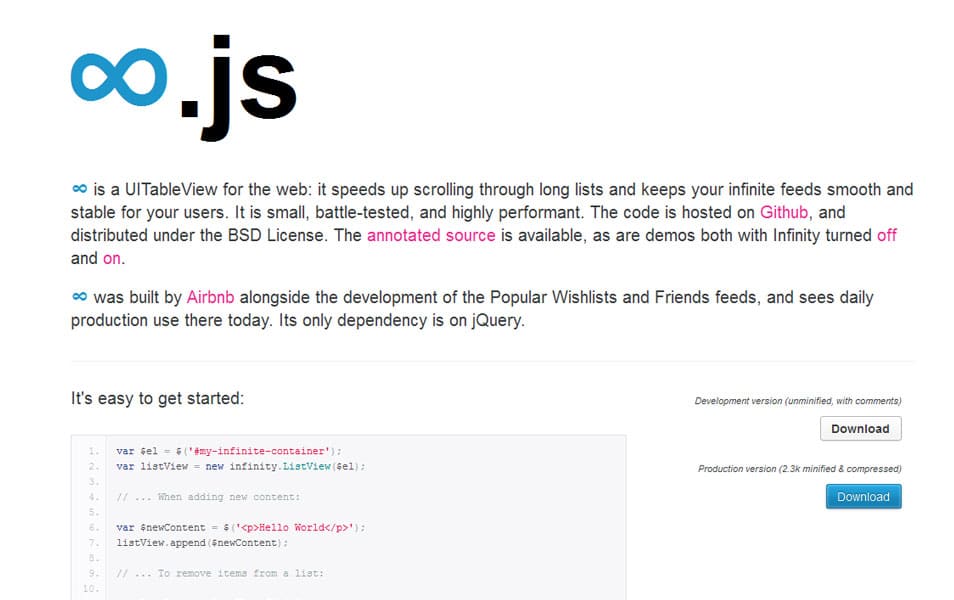 Infinity.js is a UITableView for the web: it speeds up scrolling through long lists and keeps your infinite feeds smooth and stable for your users. It is small, battle-tested, and highly performant.
Arbitrary Anchor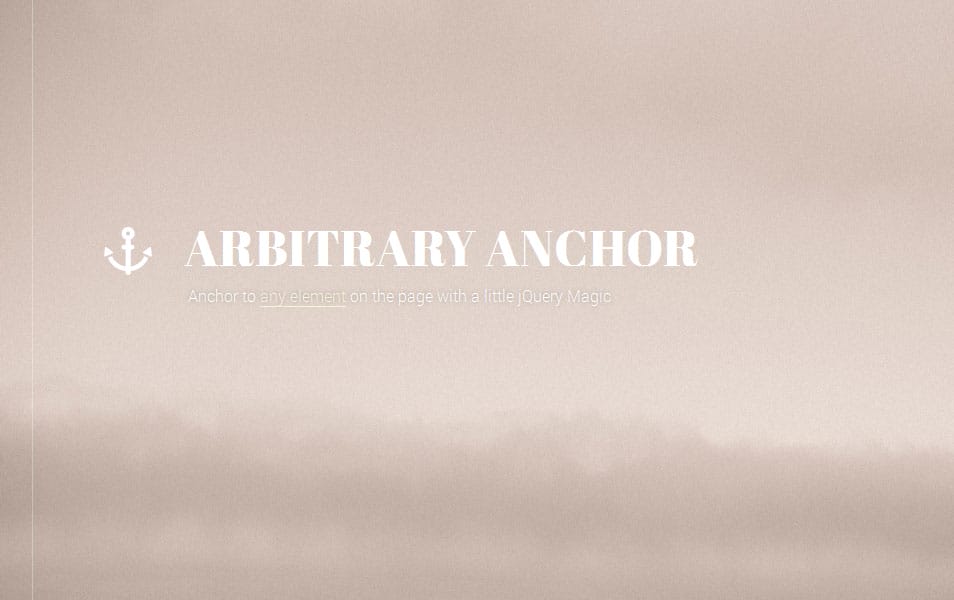 This plugin allows the page to scroll to any arbitrary object on the page based on jQuery/CSS selector.
Waypoints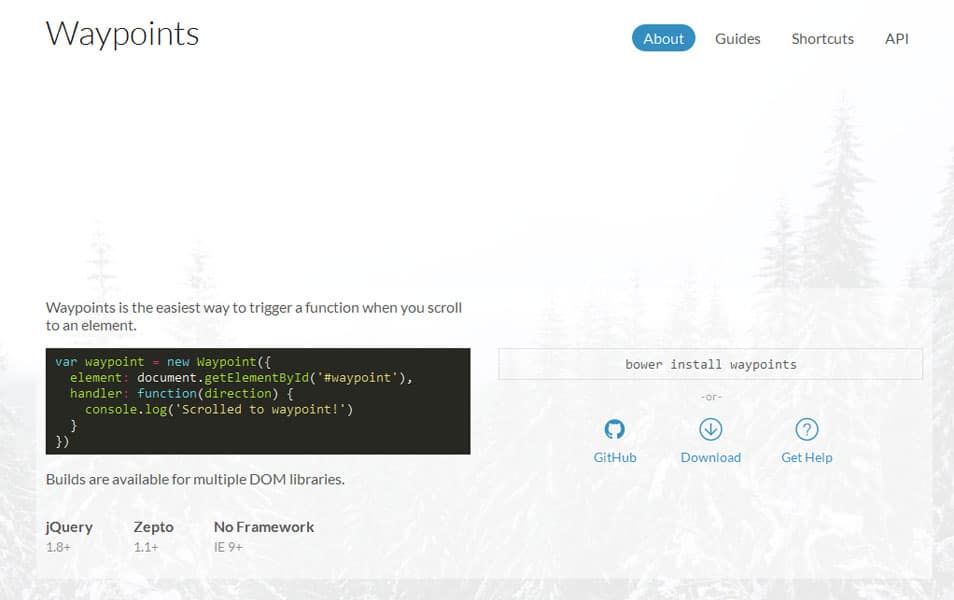 Waypoints is a library that makes it easy to execute a function whenever you scroll to an element.
jQuery.kinetic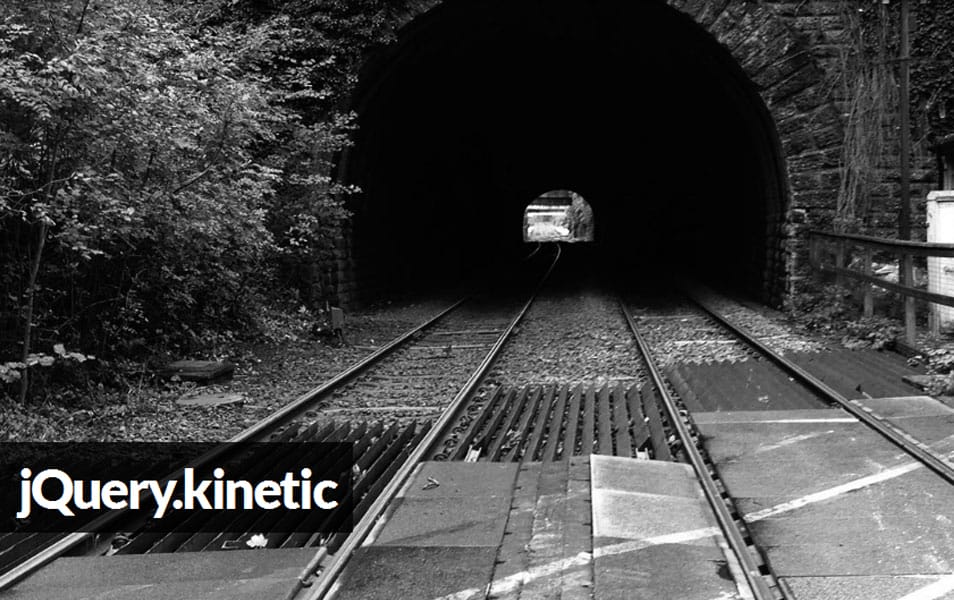 Add kinetic scrolling functionality to a container using mouse or touch devices.
Scrolling Progress Bar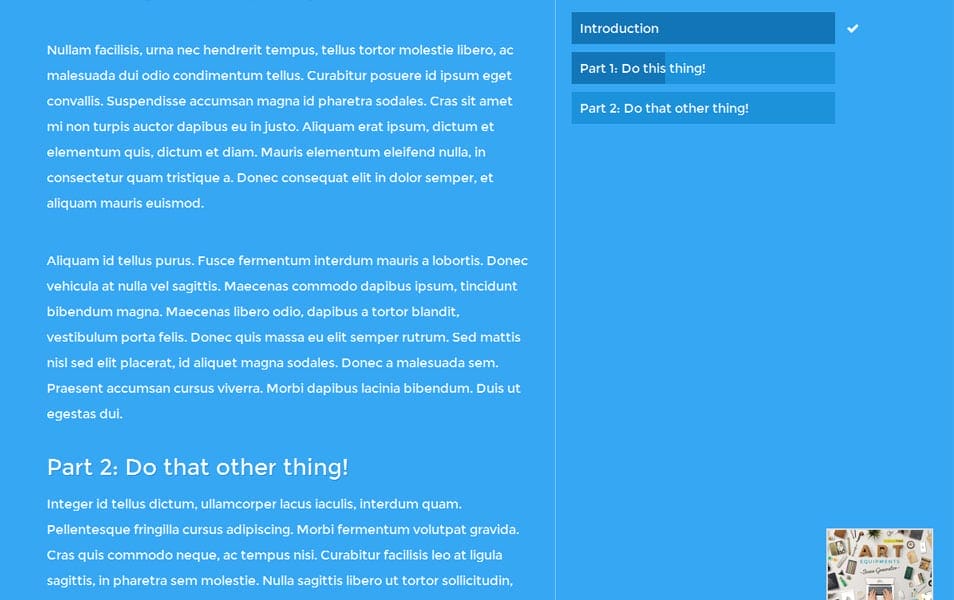 There are two parts to this progress bar effect. The content and the bars. Each section of the content has an id which helps calculate the percentage. Each bar has a link to smooth scroll to that section.
jQuery Smooth Div Scroll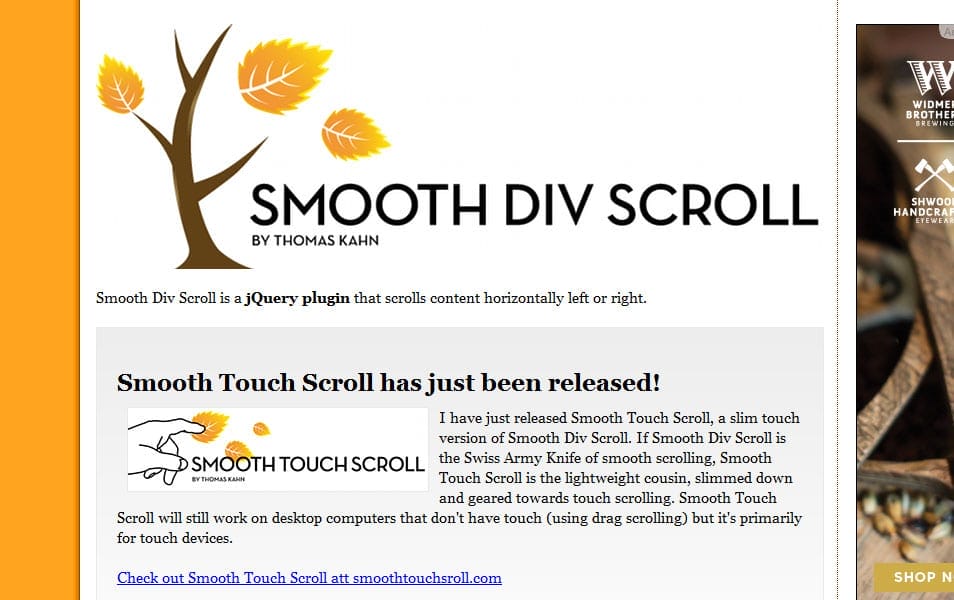 Smooth Div Scroll is a jQuery plugin that scrolls content horizontally left or right.
jQuery Story Tale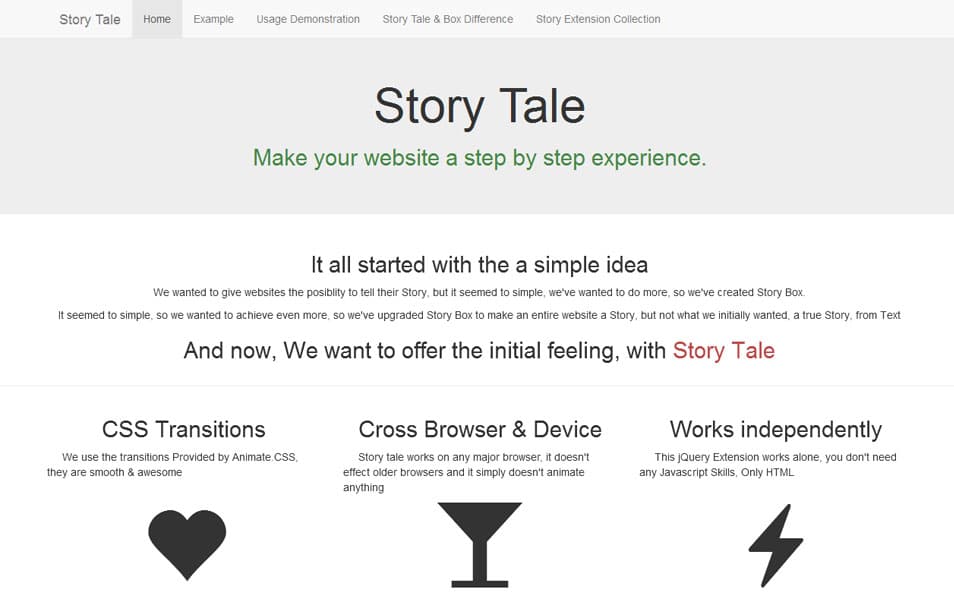 CSS 3 Animations Triggered on Scroll, but with a Twist of a Story.
pagePiling.js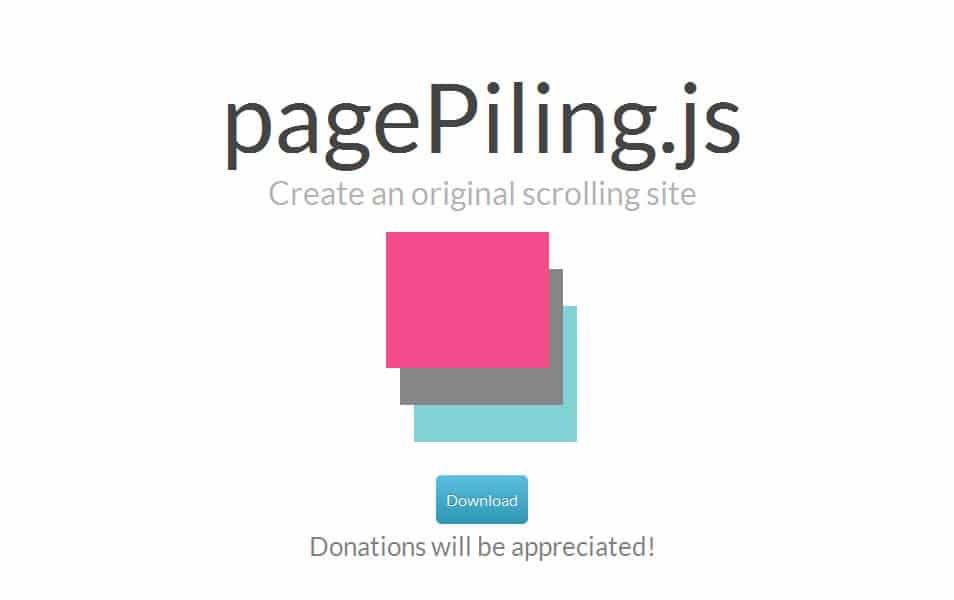 pagePiling plugin by Alvaro Trigo. Create a scrolling pile of sections.
AnimateScrollNavigation.js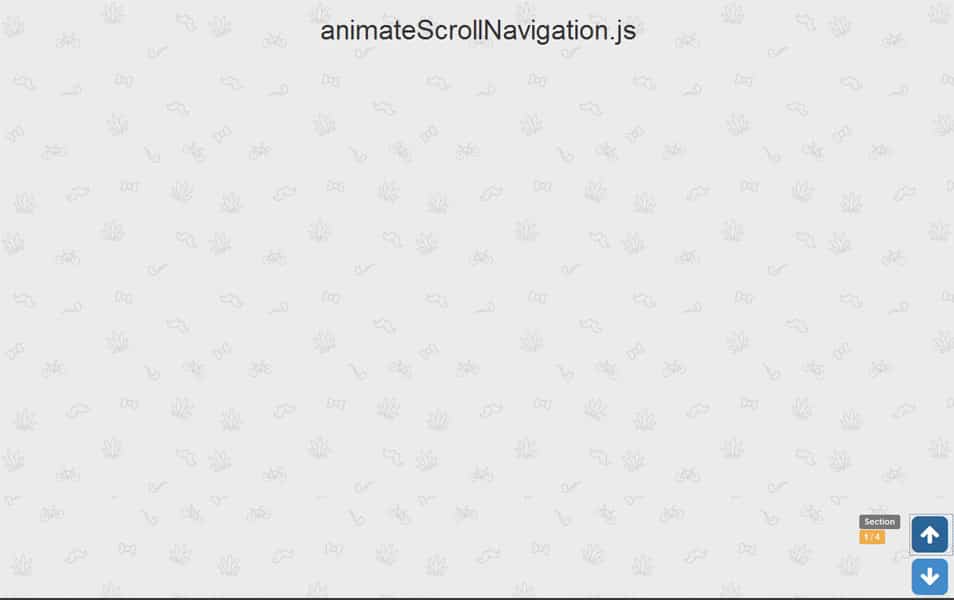 A Simple jQuery Plugin extending animateScroll plugin with Single Page Scroll Capabilities.
jQuery.ScrollTo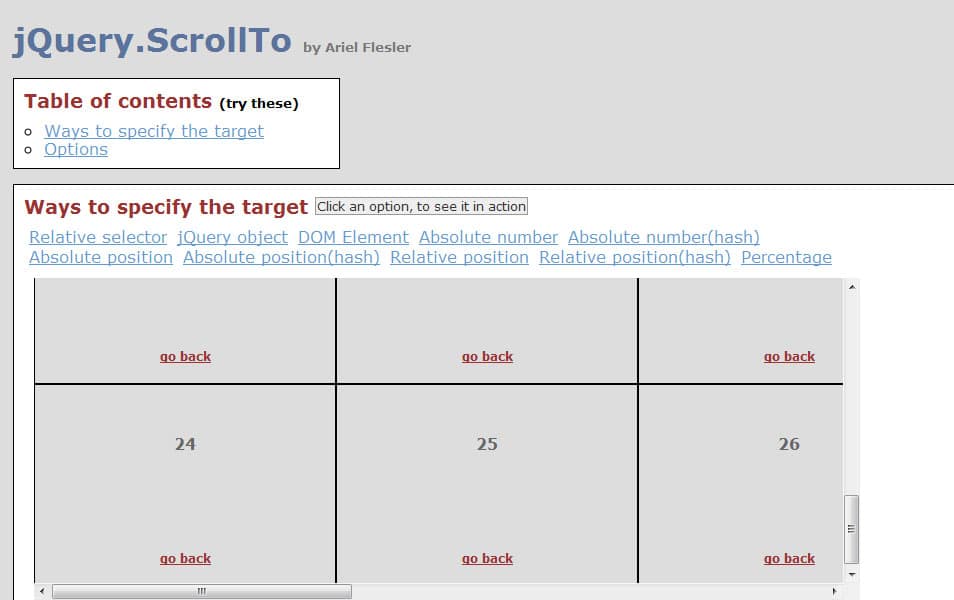 Easy element scrolling using jQuery.
Smooth Scroll Plugin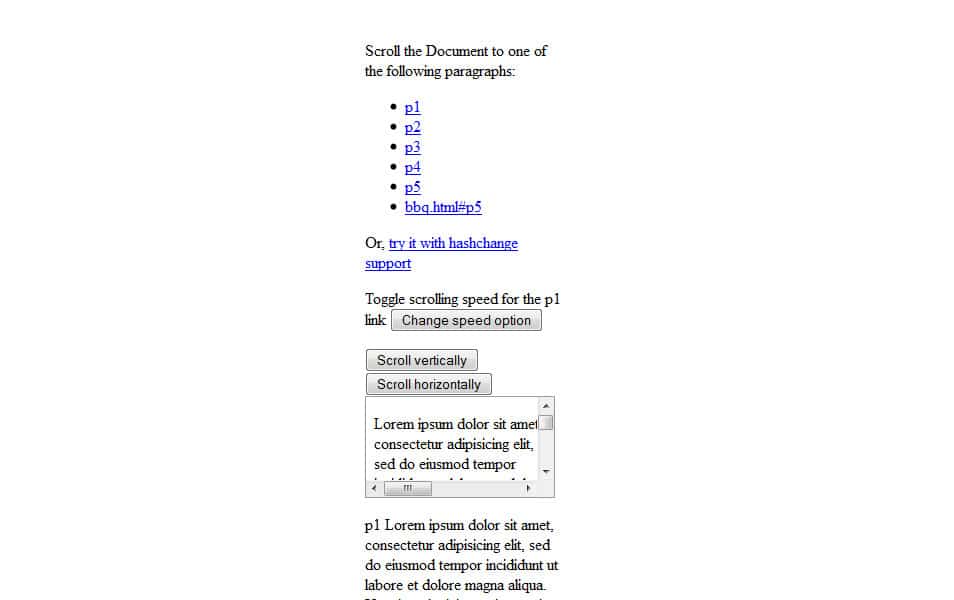 Automatically make same-page links scroll smoothly.
Endless Scroll jQuery Plugin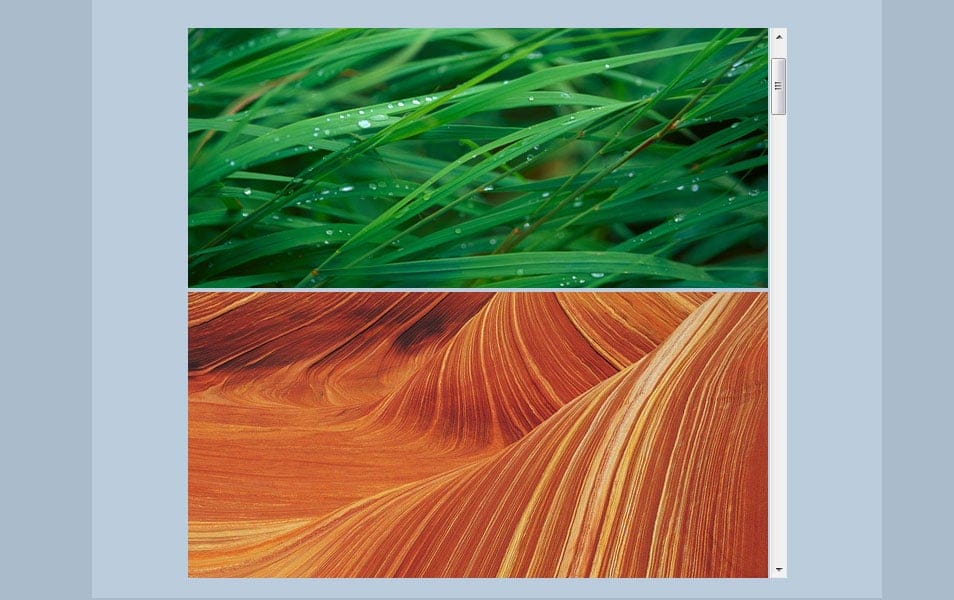 Endless scroll (or infinite scrolling) is a popular technique among web 2.0 sites such as Google Reader and Live Image Search, where instead of paging through items using the traditional pagination technique, the page just keeps loading with new items attached to the end.
Select2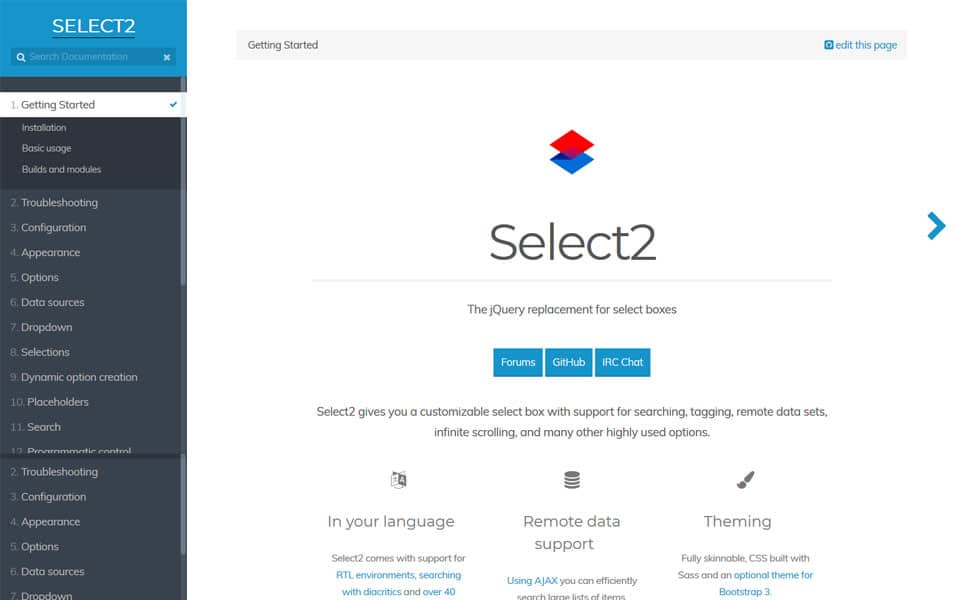 Select2 gives you a customizable select box with support for searching, tagging, remote data sets, infinite scrolling, and many other highly used options.