Best Color Tools and Articles for Designers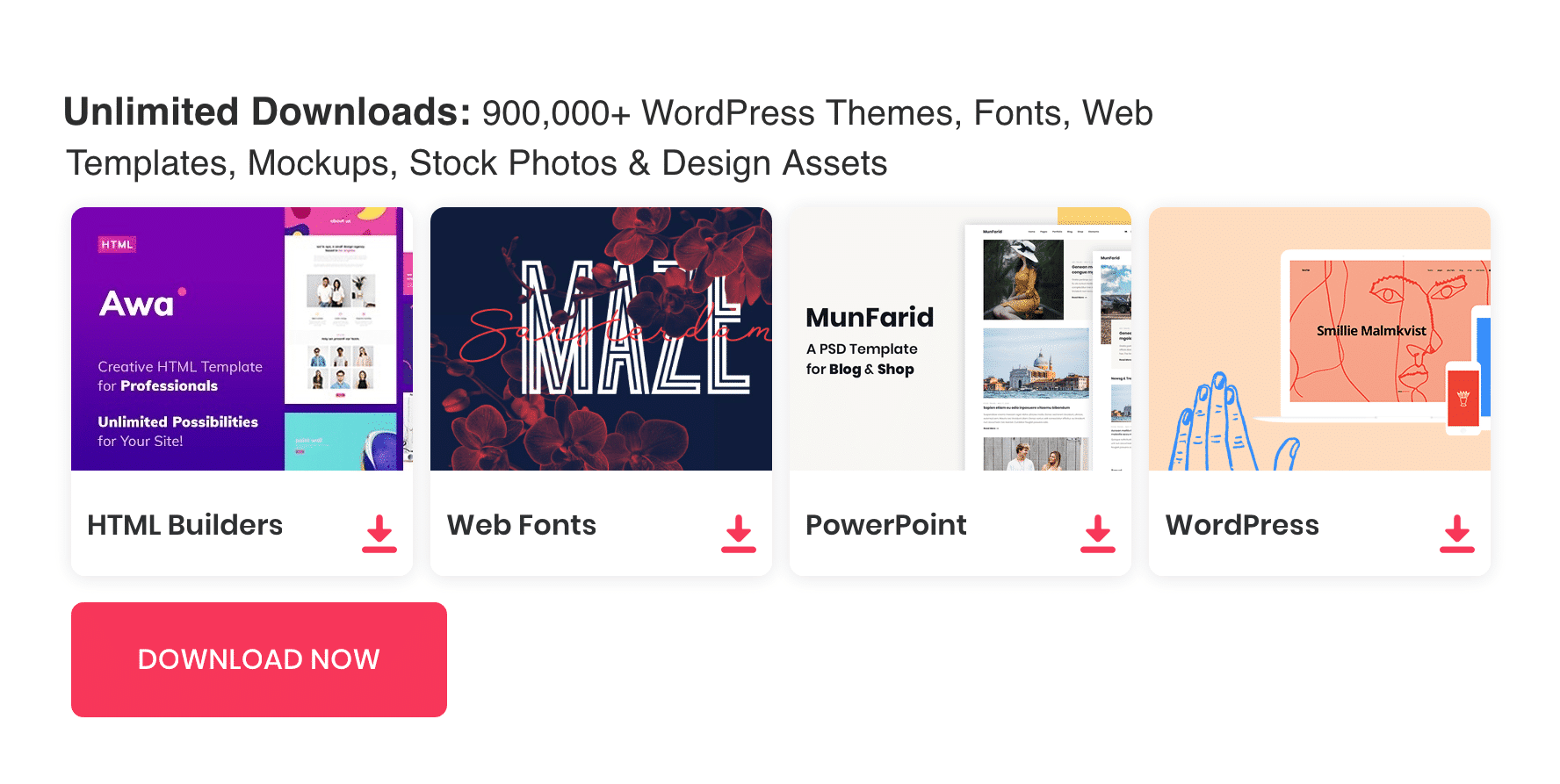 Colors are the very basic and important element of any design, you need to be really careful about creating colors for your designs. Today we are talking a little bit about colors in web design and we have collected some good tools and articles to help you master in creating color combinations.
Colors considered to be the important factor of any kind of design, they can convey messages, create emotions, generate interest. Color theory is a physiological approach to your design as they can change human behaviour. Choosing colors for websites are never so easy, colors might be looks good individually but they are not pleasing together.
To help you choose the best colors for your design we have gathered a collection of color tools and articles here. when selecting appropriate colors for your designs there are several things you need to take care of. We have put together best color tools to make this process easy and effective.
Categories
Color Tools
Accessible Brand Colors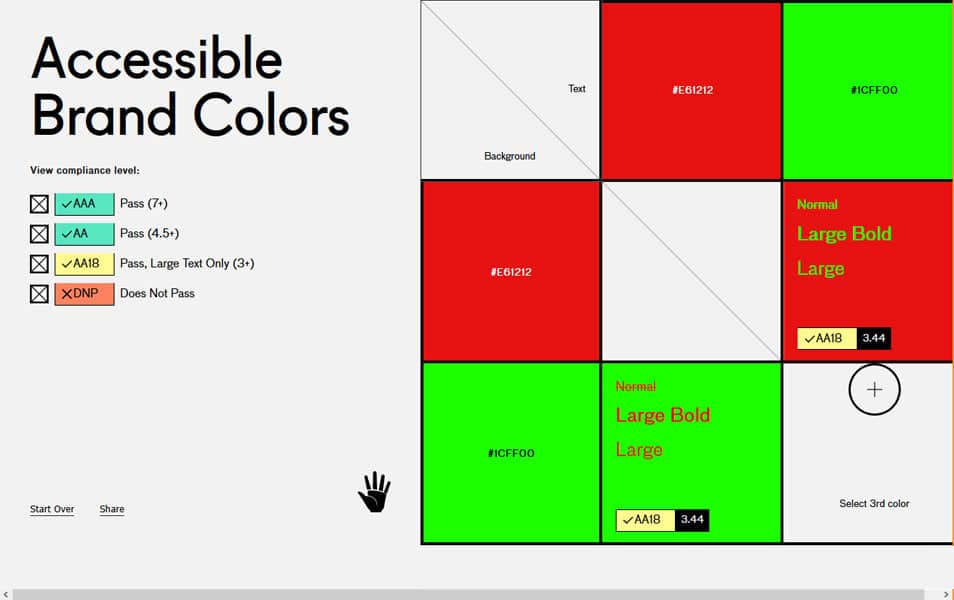 This tool shows you how ADA compliant your colors are in relation to each other. By adding your brand's colors on the right, you can generate a chart to see how they can be used together for accessibility, and find similar colors that work better.
Paletton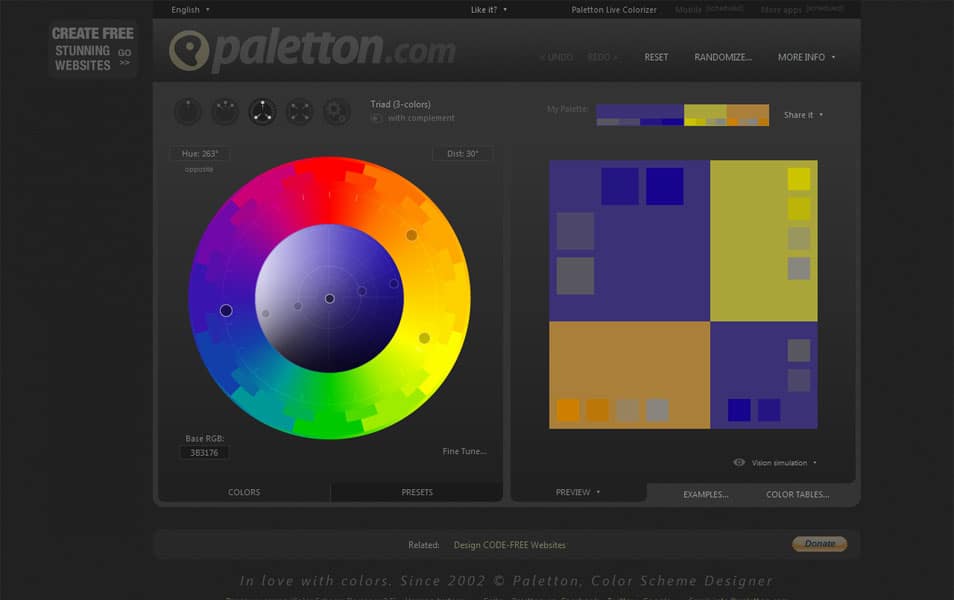 The Color Scheme Designer.
Khroma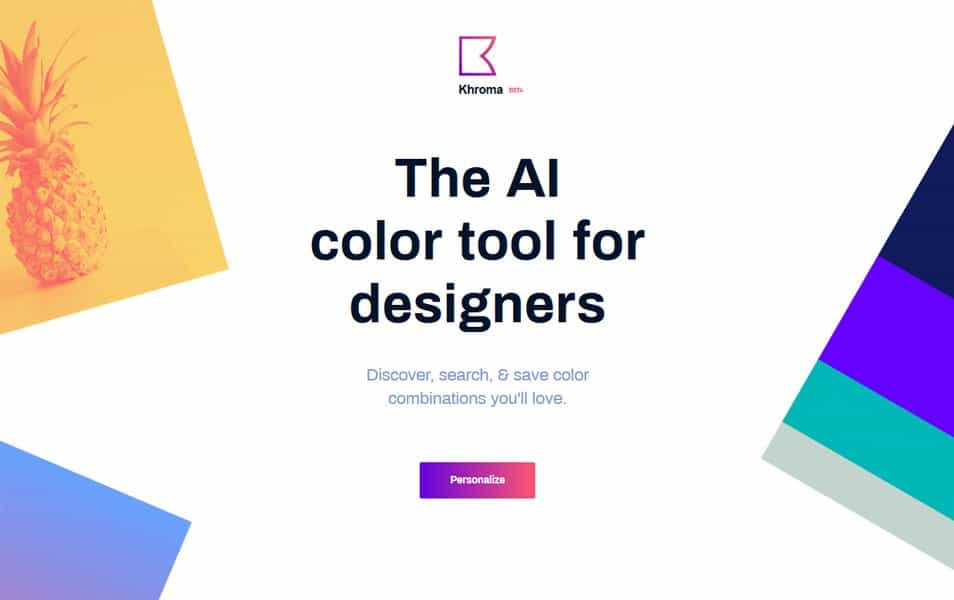 Khroma is the fastest way to discover, search, and save color combos you'll want to use. The AI color tool for designers.
Hello Color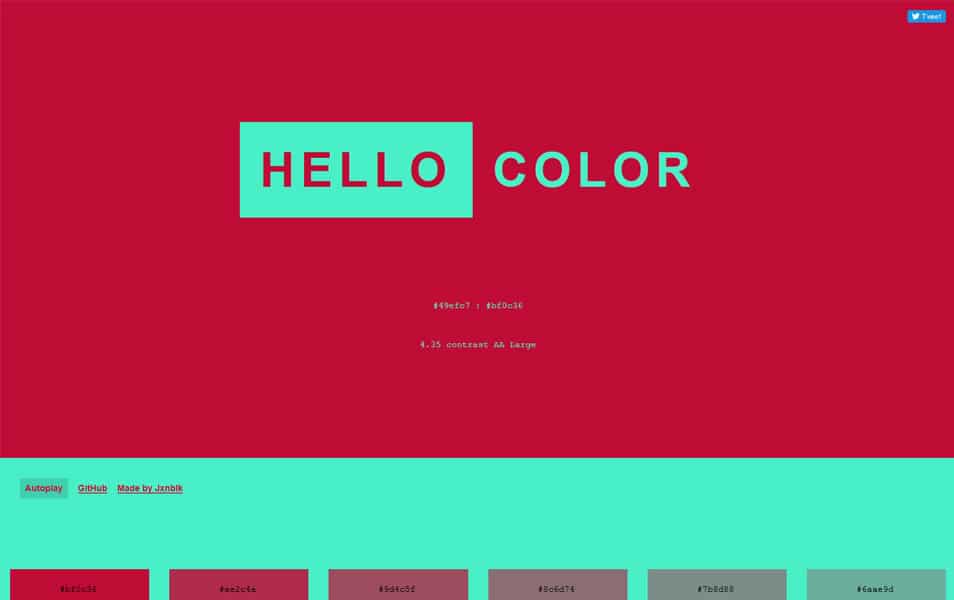 Color contrast generator.
ColorSpark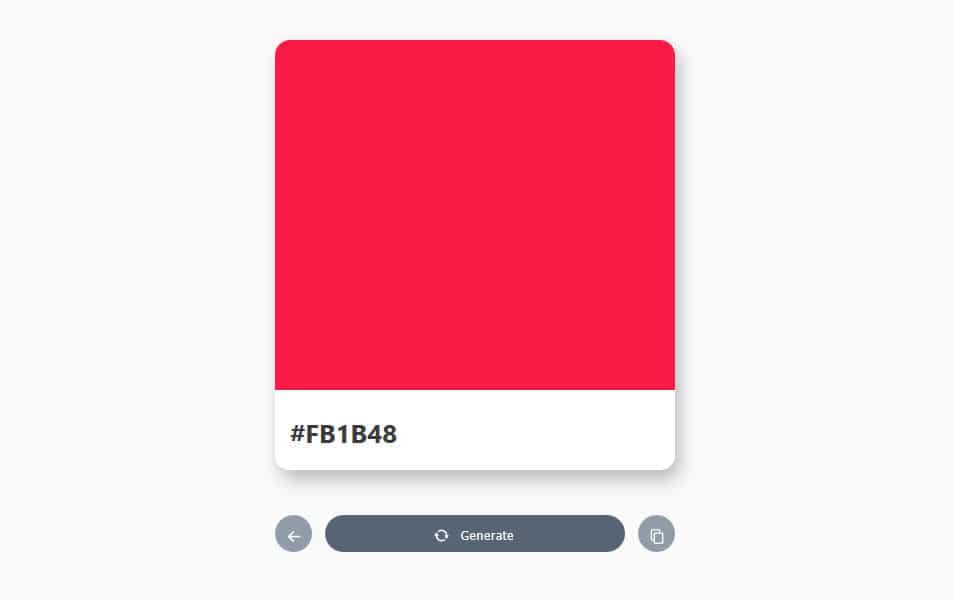 A simple tool to generate better colors and gradients.
Coolors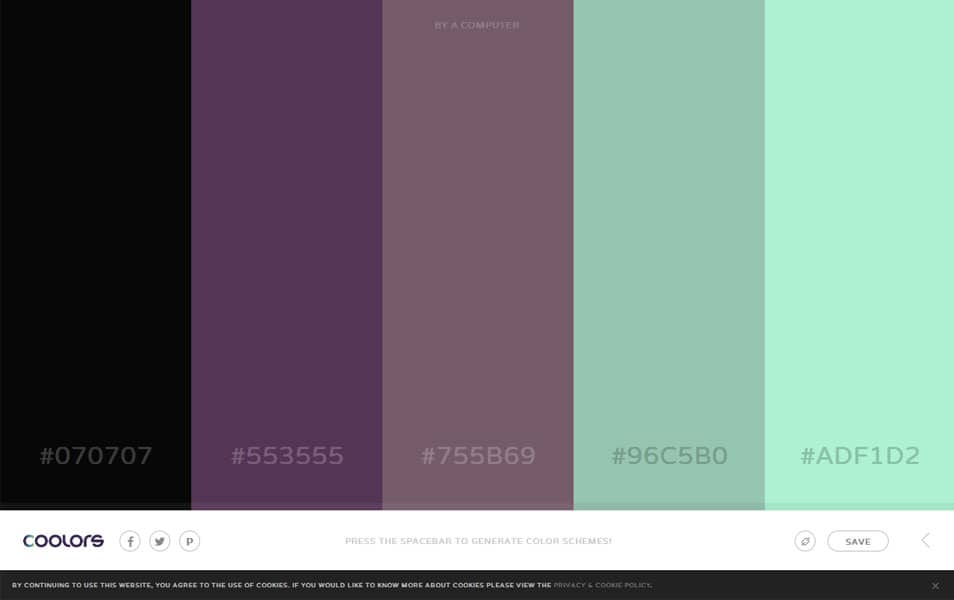 Super fast color schemes generator for cool designers.
Material UI Colors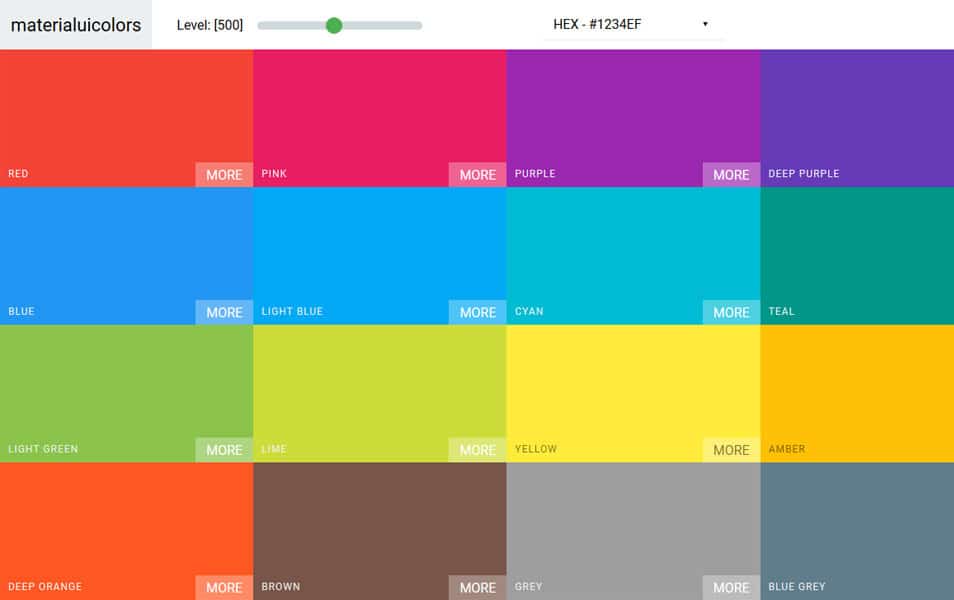 Color palette for material design.
Color Leap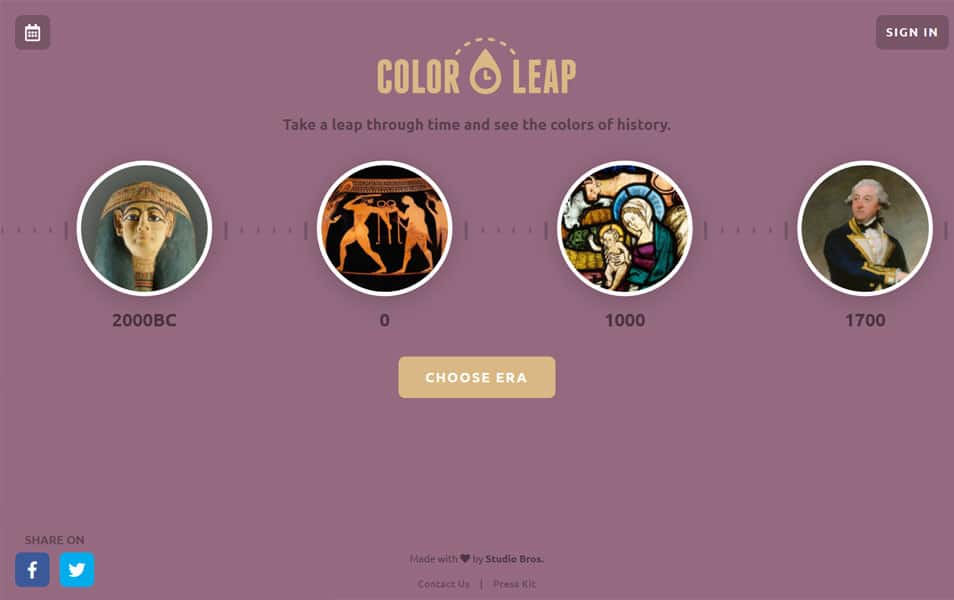 Colorbox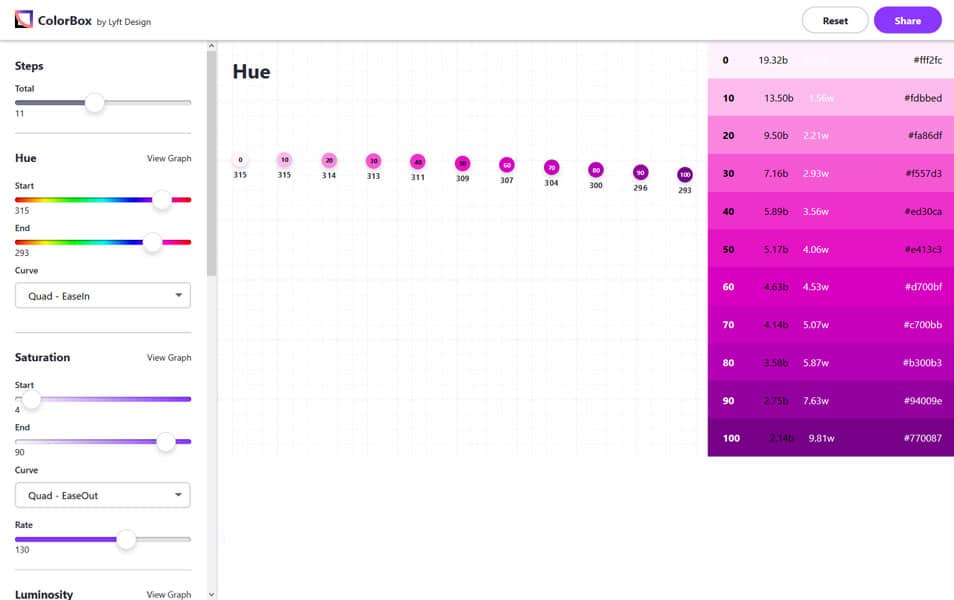 Colors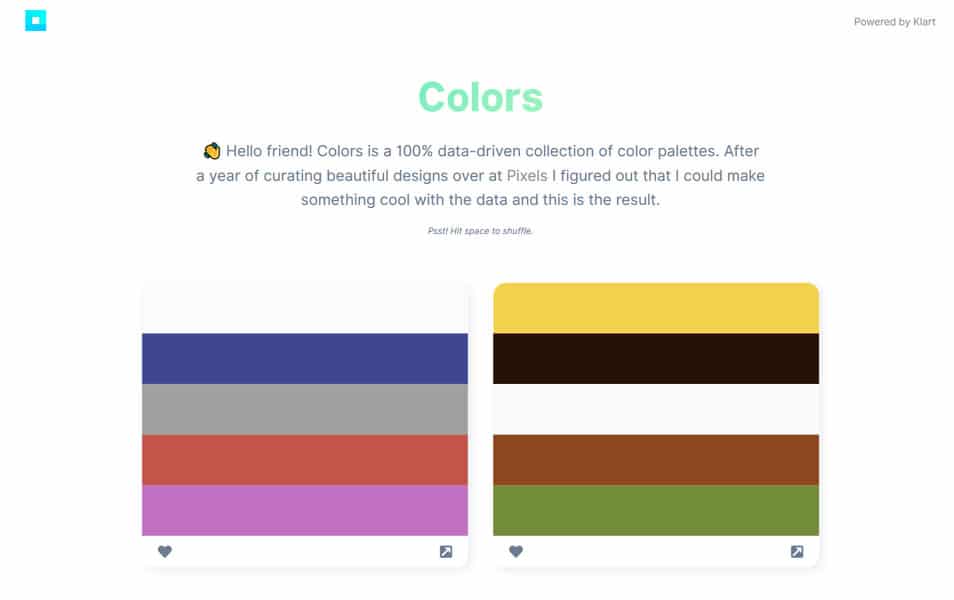 A data-driven collection of beautiful color palettes.
Color Hunt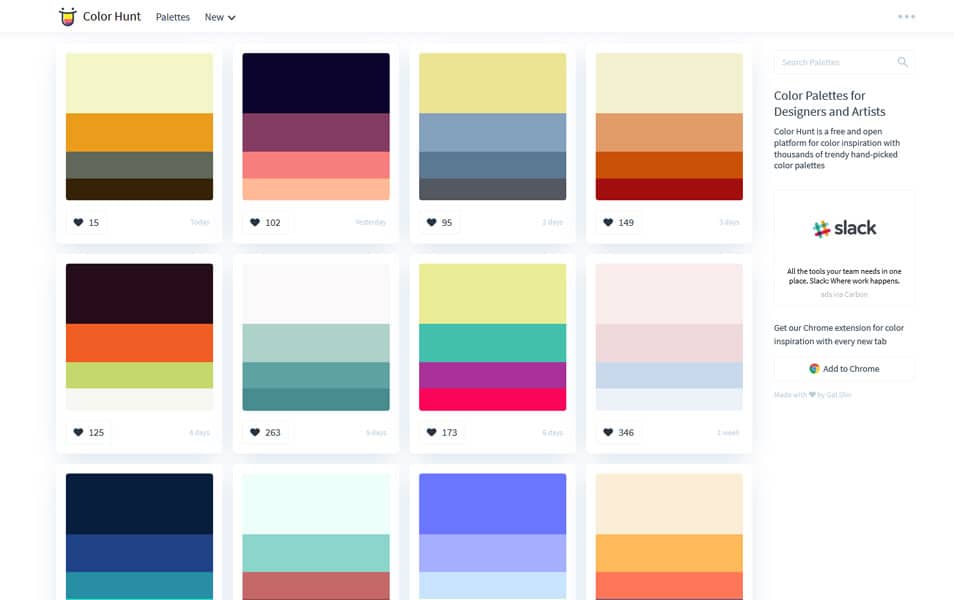 Curated collection of beautiful colors, updated daily.
Flat UI Colors 2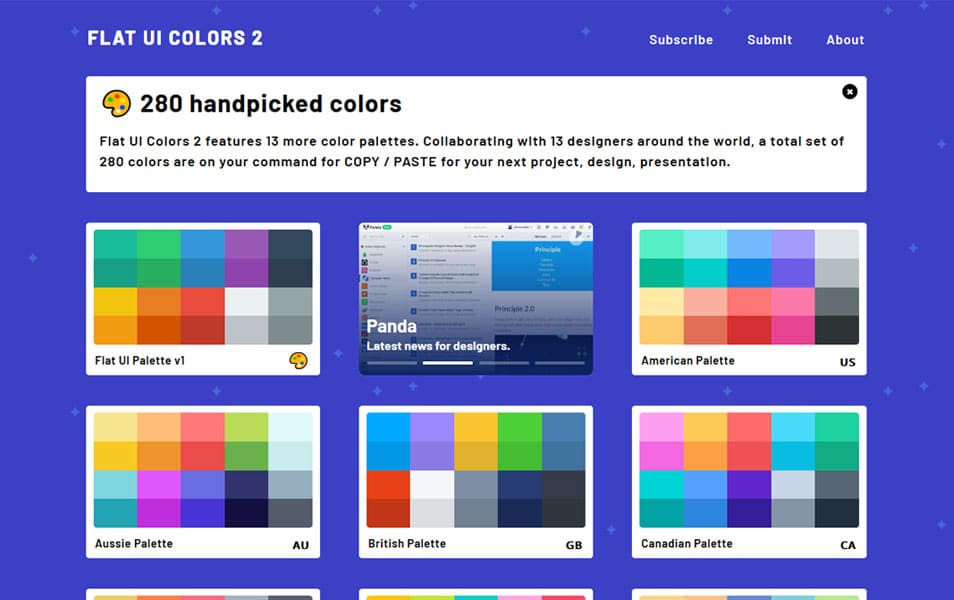 Flat UI Colors 2 features 13 more color palettes. A total set of 280 colors are on your command for COPY / PASTE for your next project, design, presentation.
LOL Colors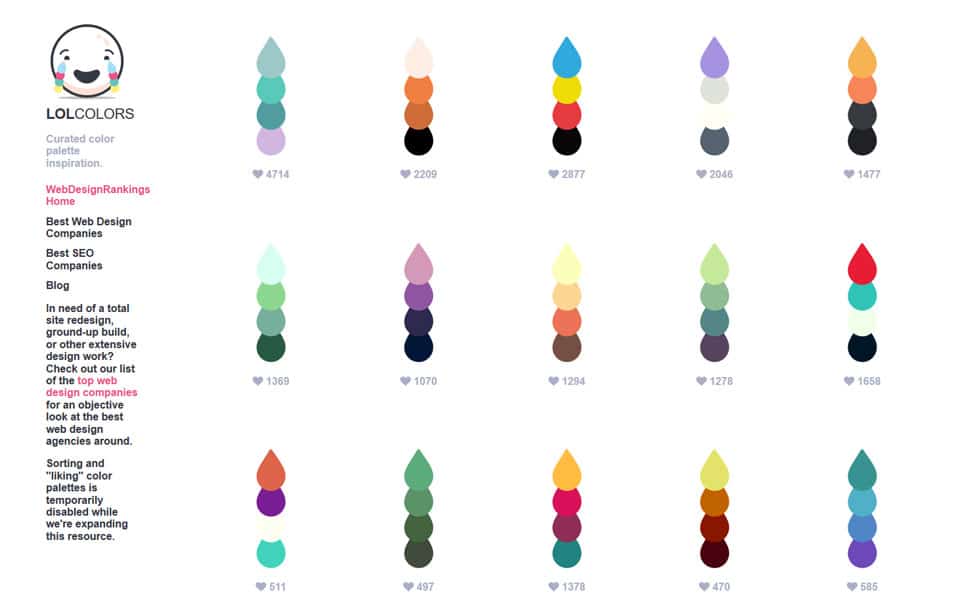 Curated color palette inspiration.
Material Design Color Tool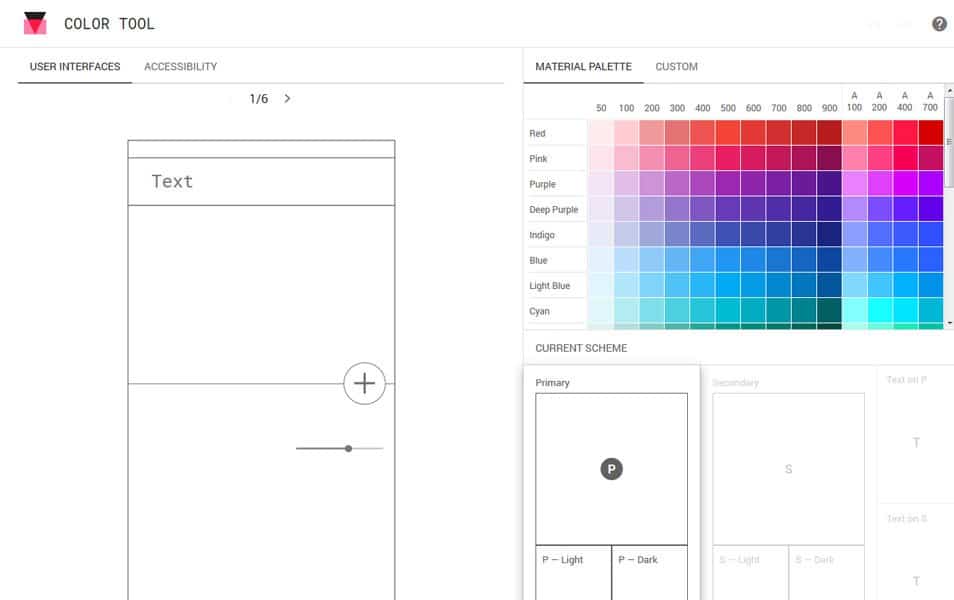 Create, share, and apply color palettes to your UI, as well as measure the accessibility level of any color combination.
ColorMe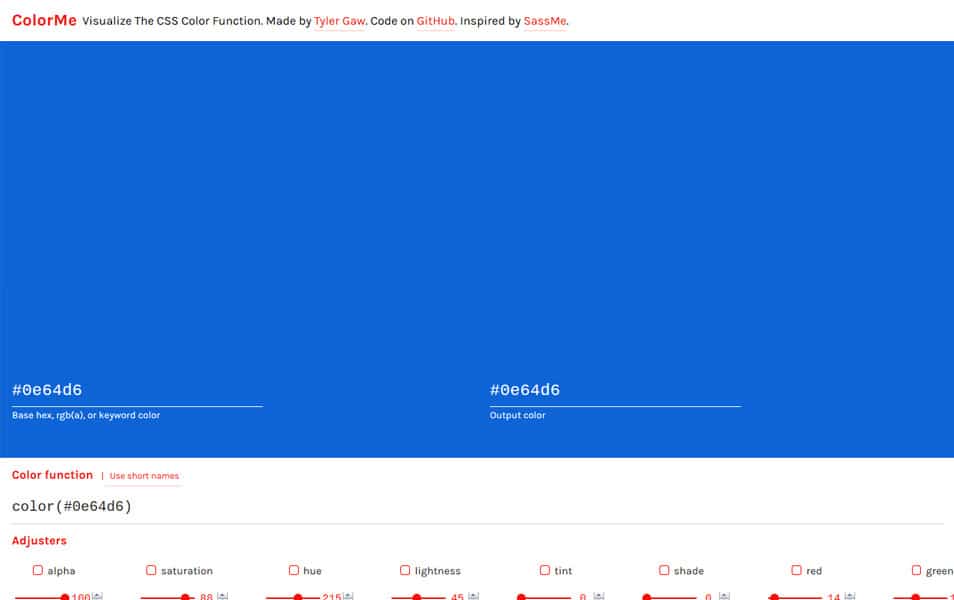 Visualize The CSS Color Function.
Culrs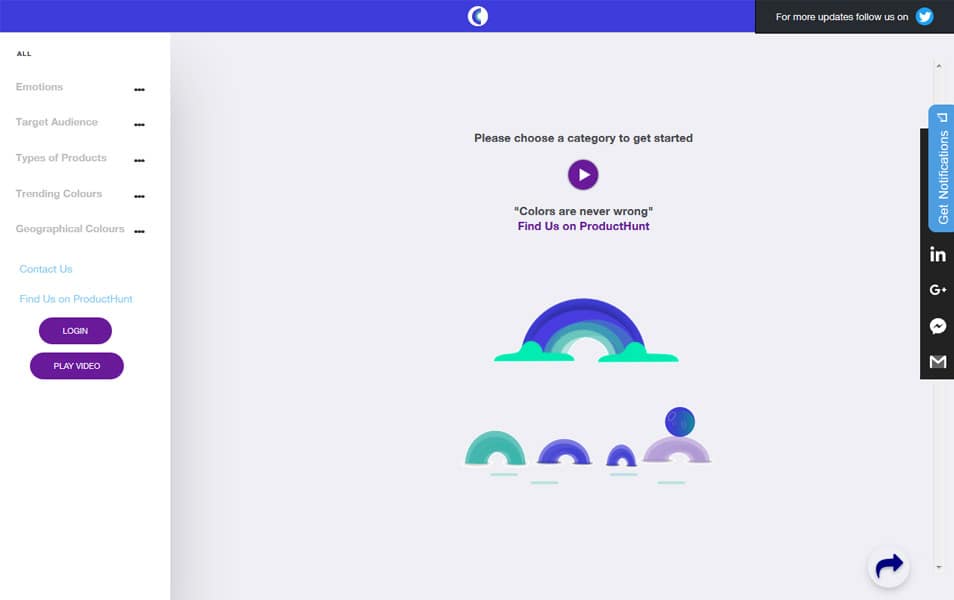 Culrs gives you simple smart approach to choose color palletes.
Color Farm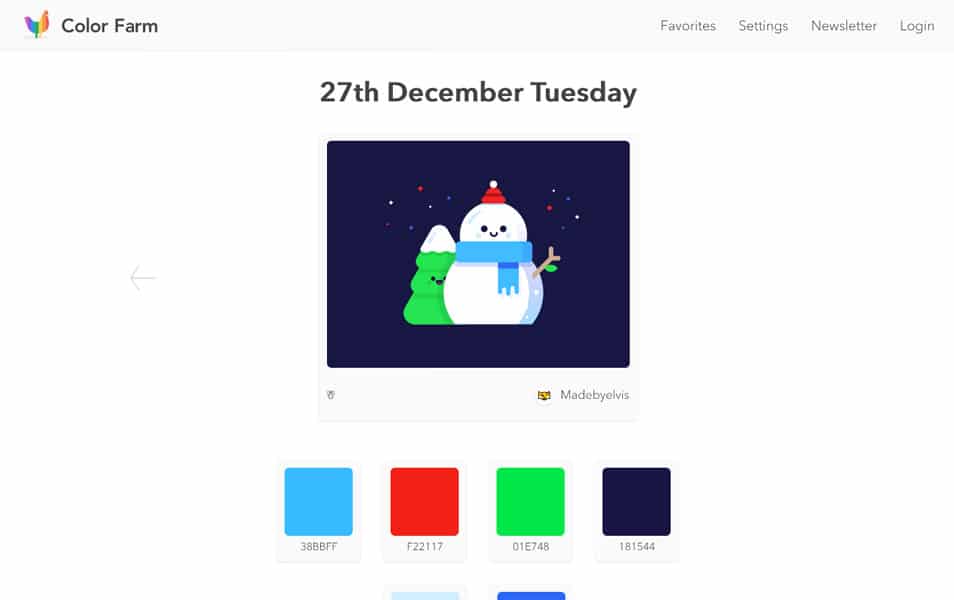 Colicious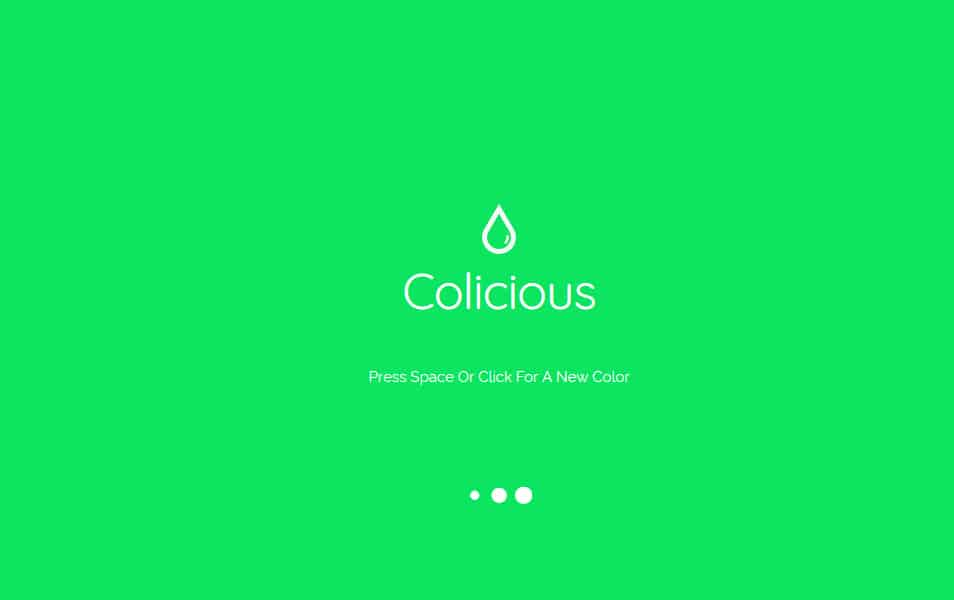 A delicious color generator.
Open Color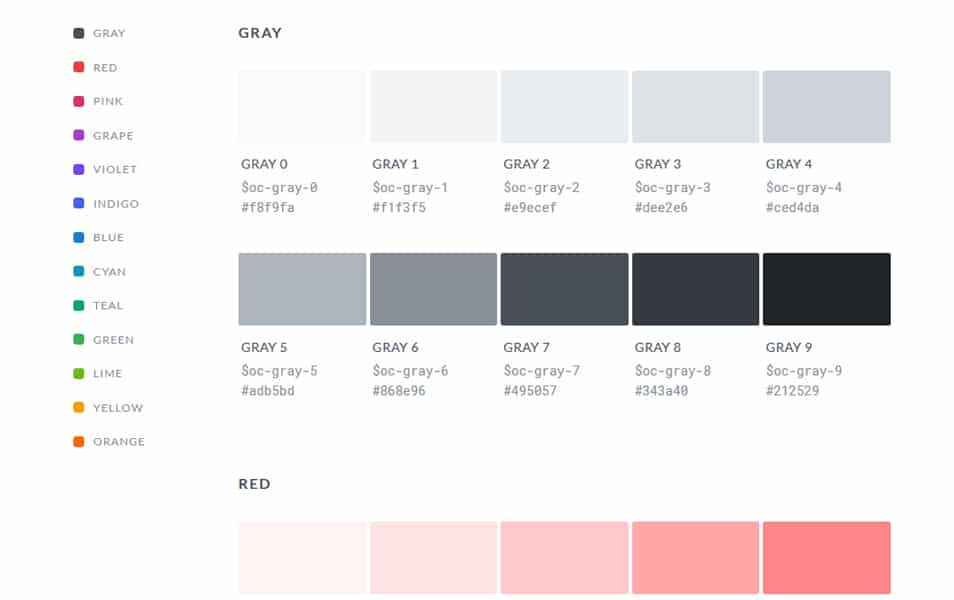 Open color is an open-source color scheme optimized for UI like font, background, border, etc.
Material Colors for Mac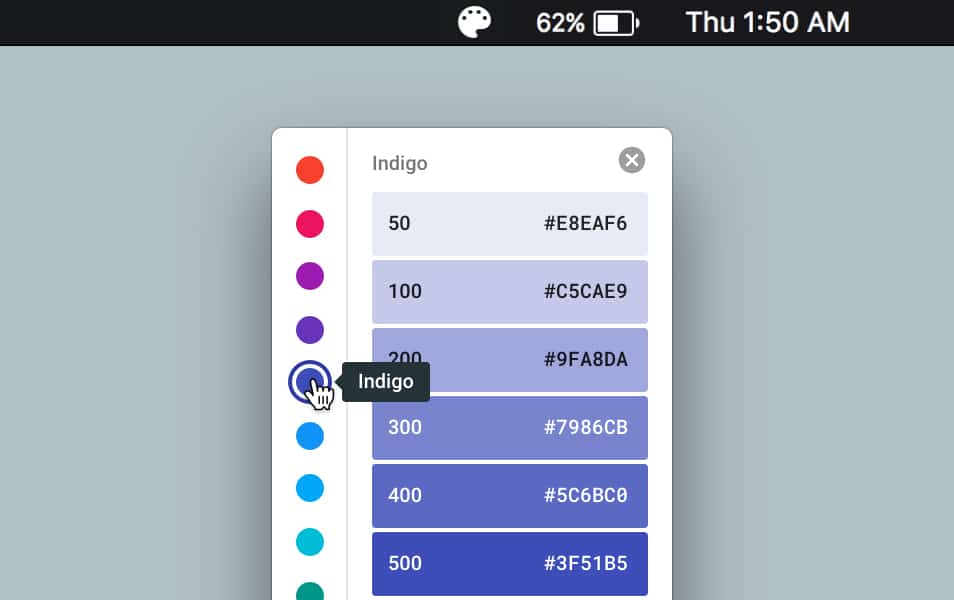 A handy little Mac app that gives you quick access to the standard material design color palette.
Material Color Picker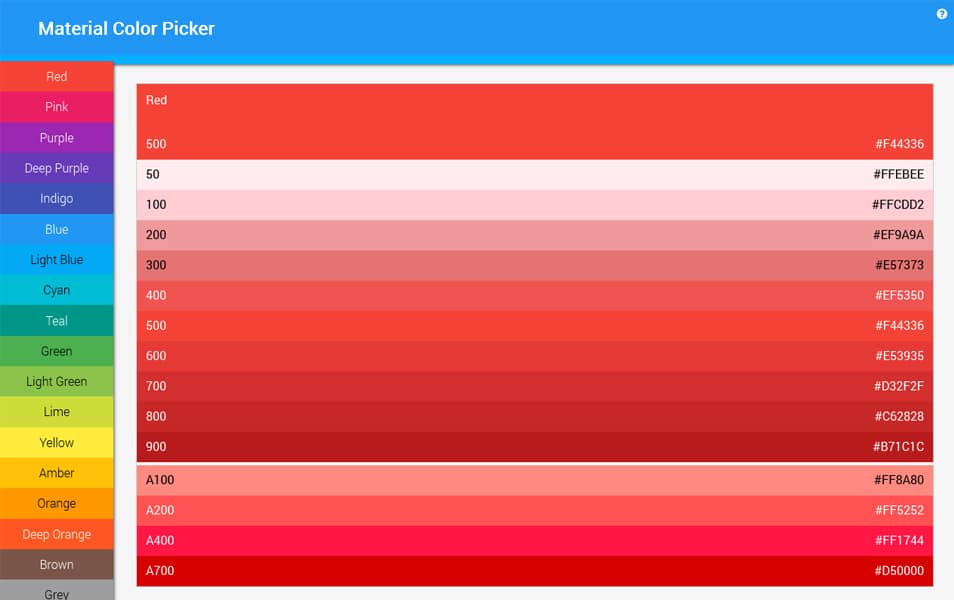 Simple Flat Colour Selector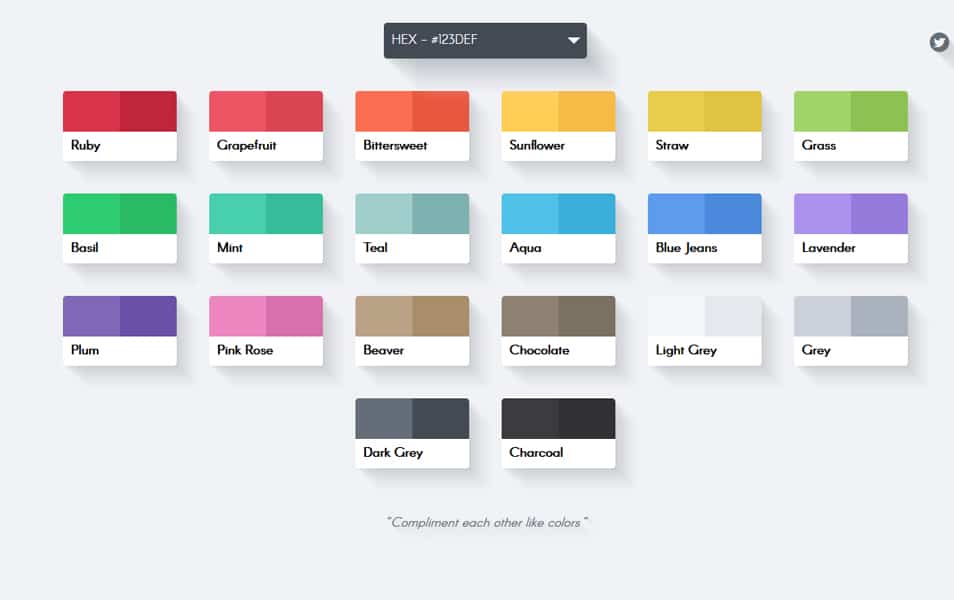 ColorDrop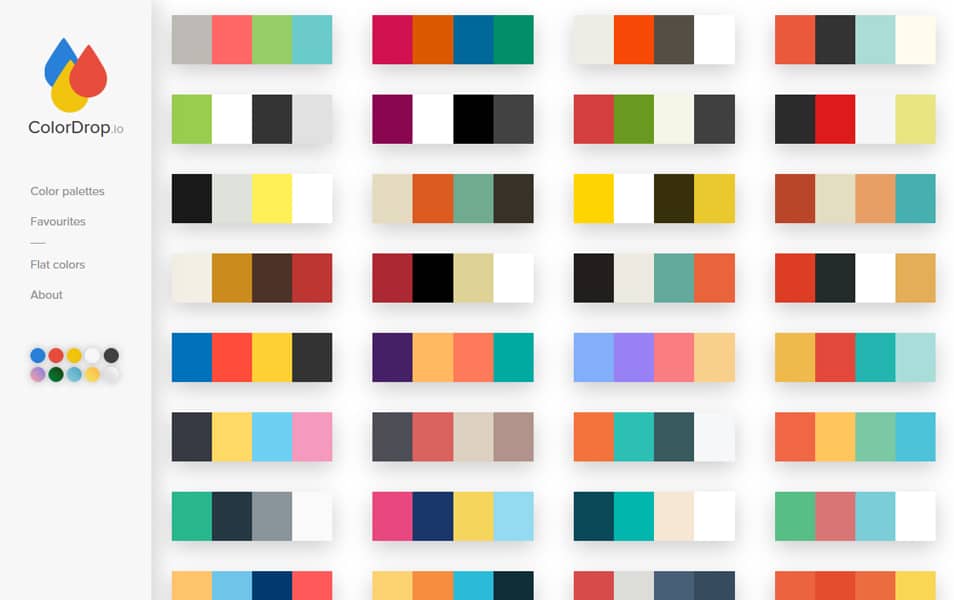 A color matching tool, that lets you save you favourite color combinations.
Palettable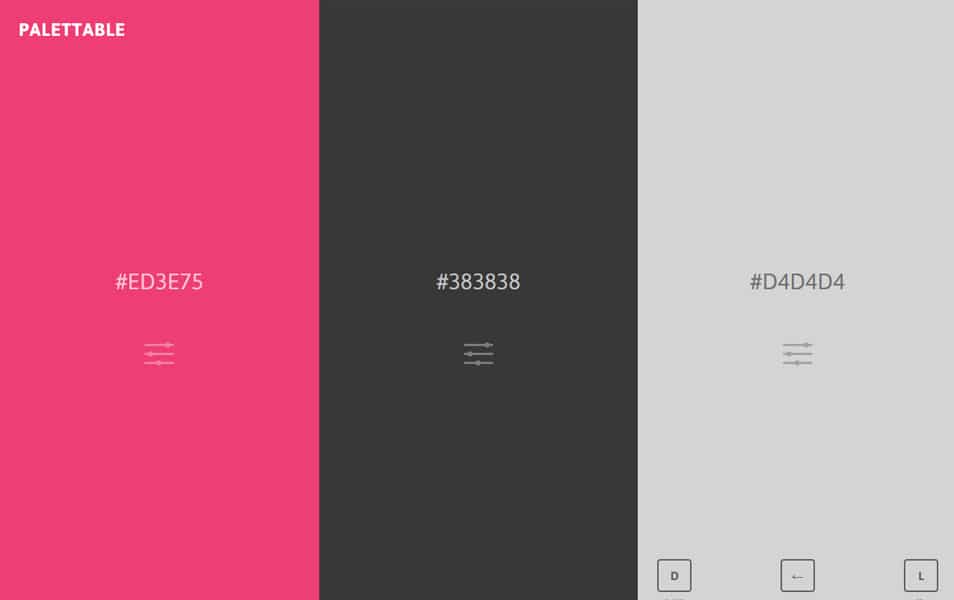 Generate beautiful color palettes with no prior design knowledge.
ColorFavs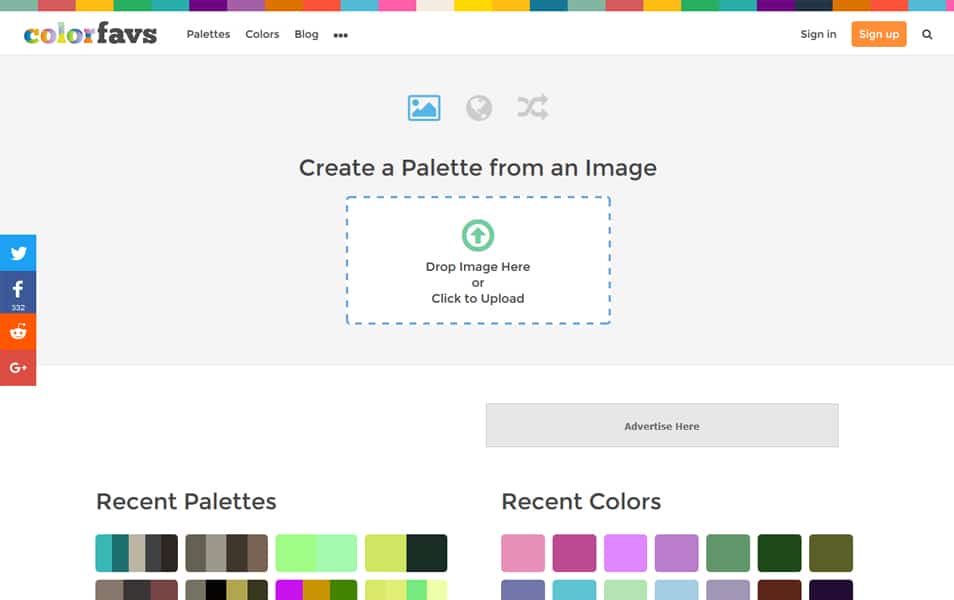 ColorFavs is a great tool where you can easily create a color palette by dragging and dropping your image, inserting a URL or selecting random values.
Crayon.css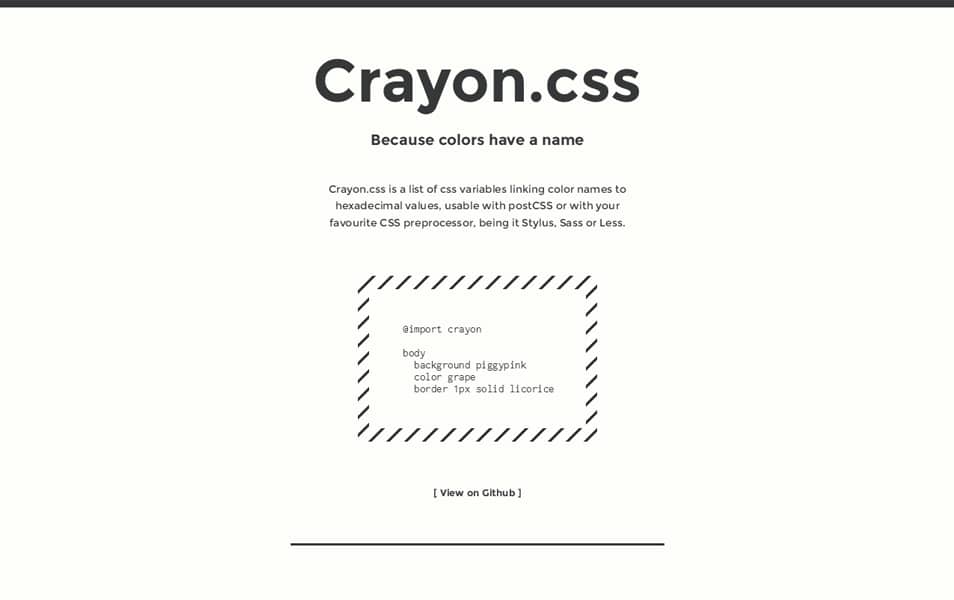 Crayon.css is a list of css variables linking color names to hexadecimal values, usable with postCSS or with your favourite CSS preprocessor, being it Stylus, Sass or Less.
ColorSnapper 2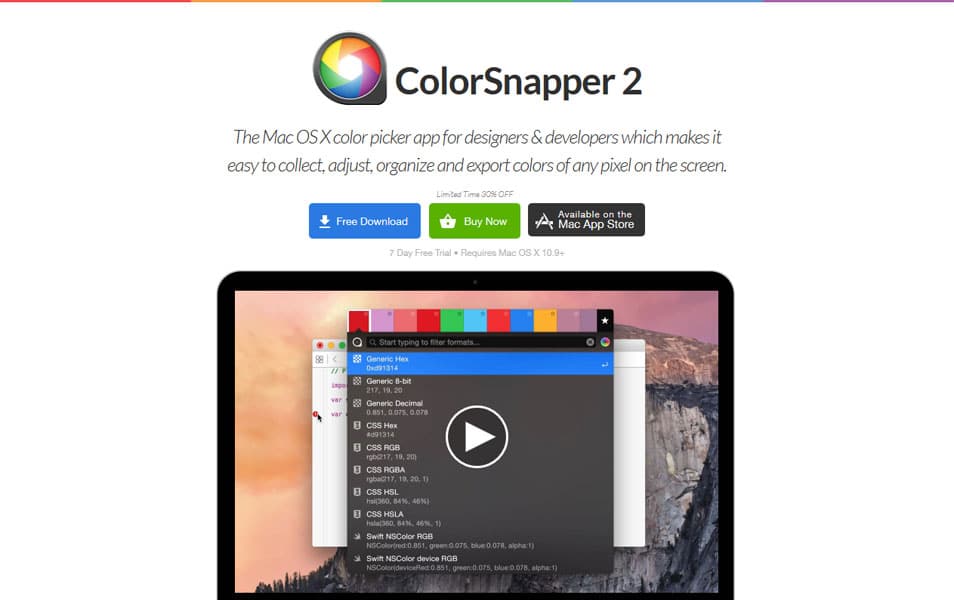 The Mac OS X color picker app for designers & developers which makes it easy to collect, adjust, organize and export colors of any pixel on the screen.
Color Safe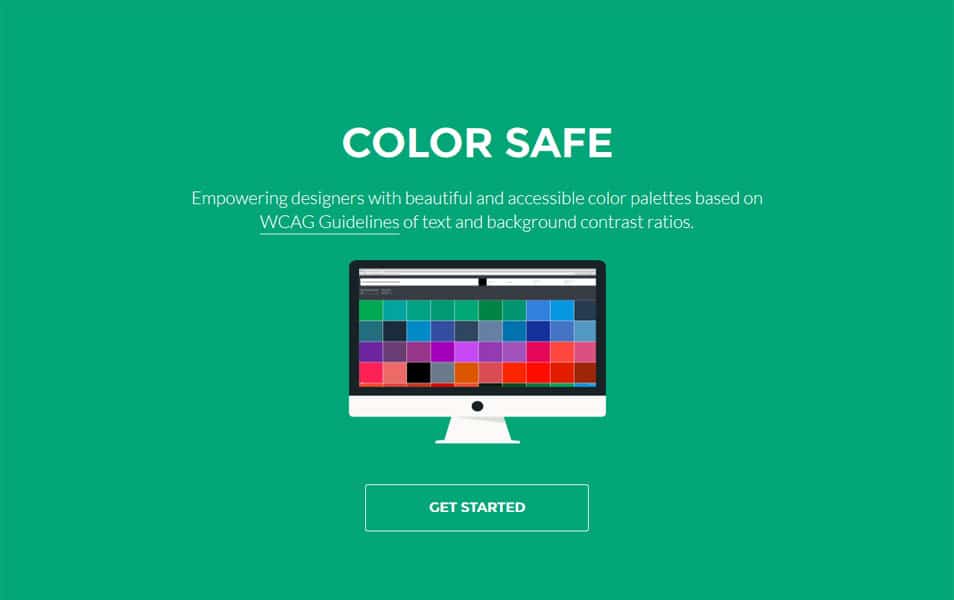 Empowering designers with beautiful and accessible color palettes based on WCAG Guidelines of text and background contrast ratios.
COLORS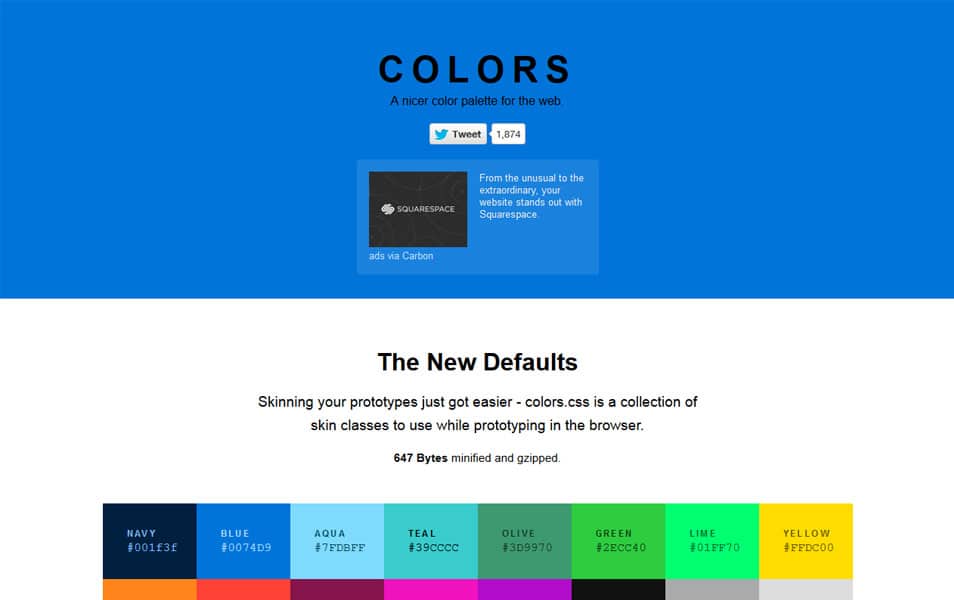 A simple color palette for the web.
SwatchMatic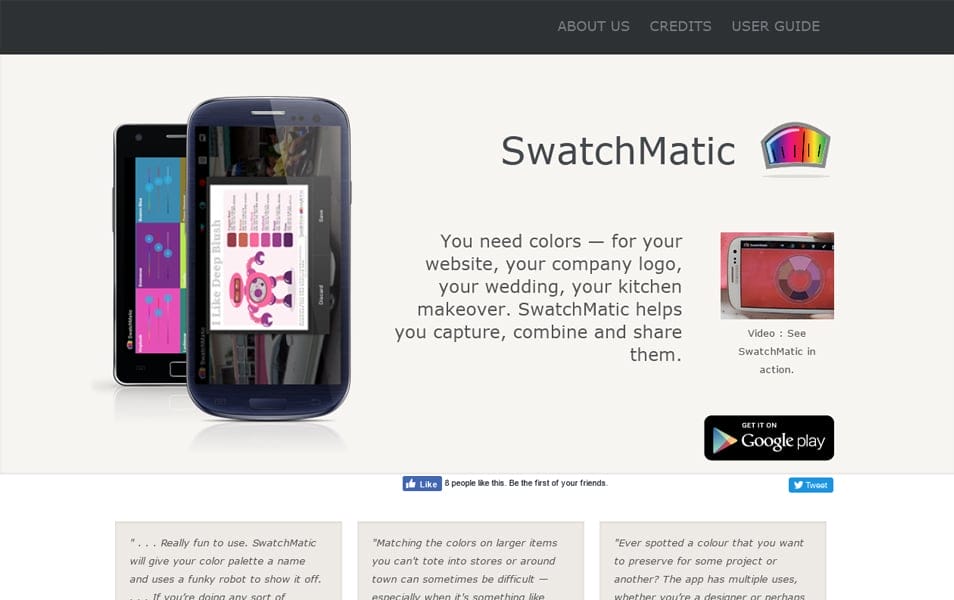 Couleurs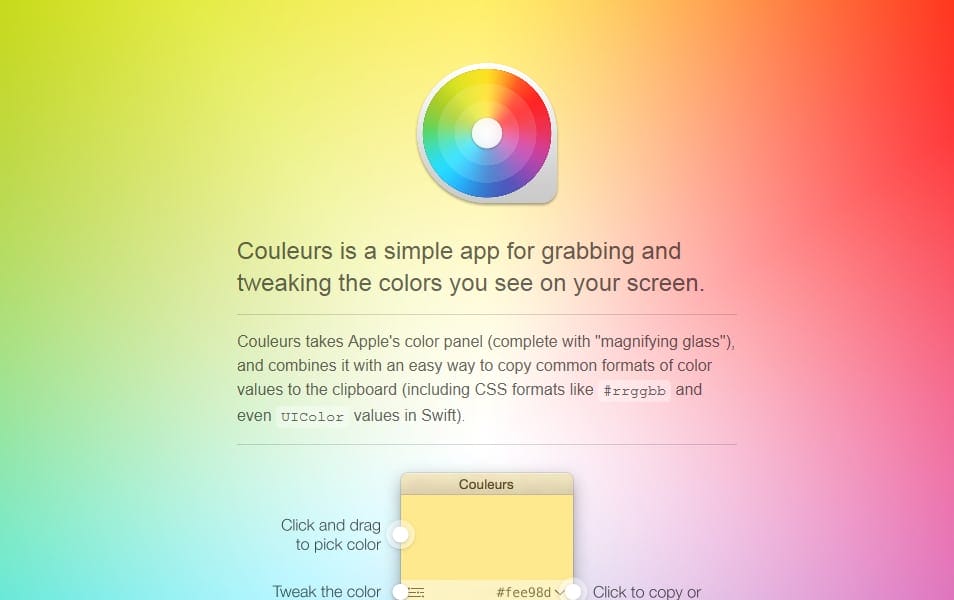 Couleurs is a simple app for grabbing and tweaking the colors you see on your screen.
uiGradients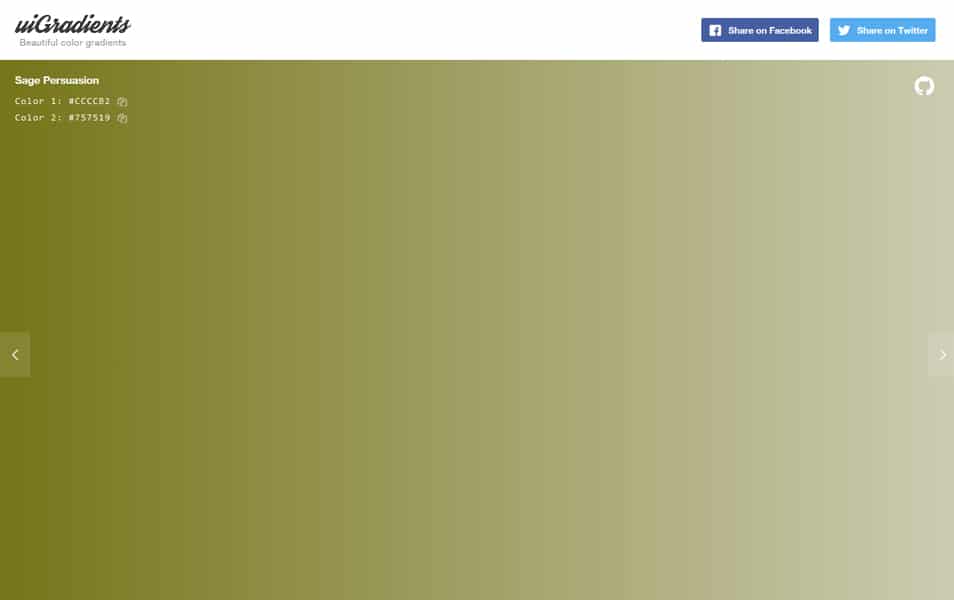 Beautiful coloured gradients.
Web Colour Data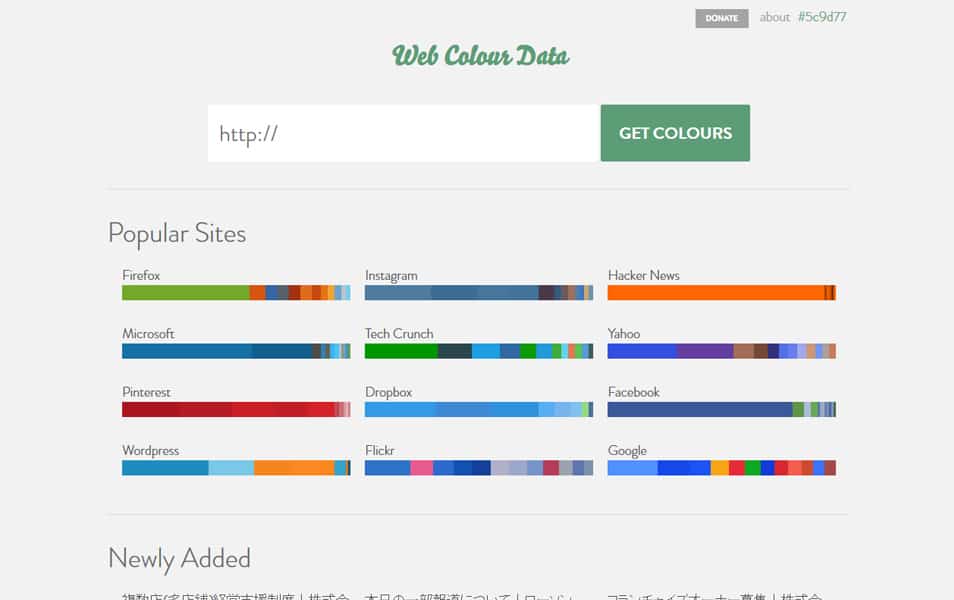 Sip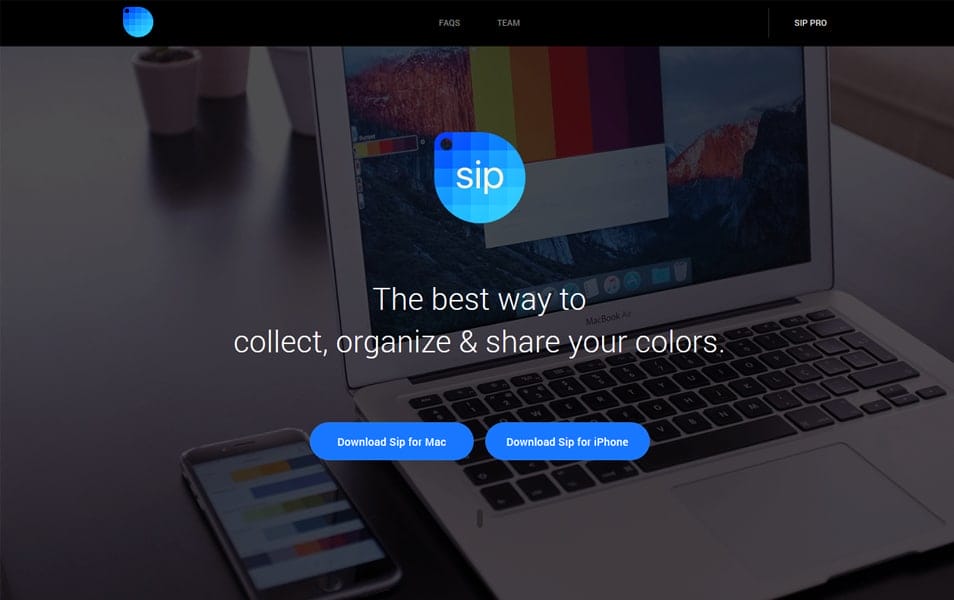 Material Palette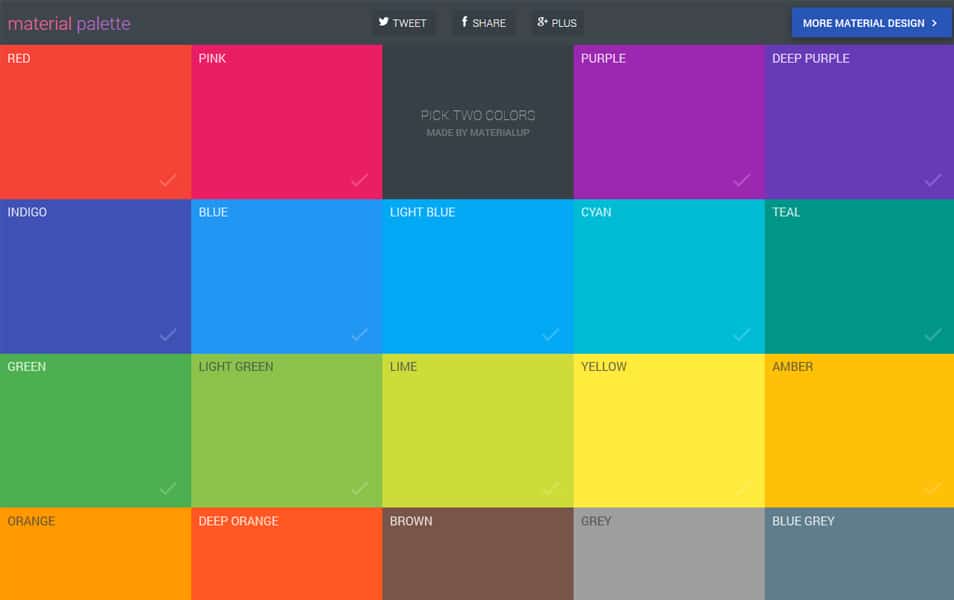 Material Design Color Palette Generator.
Material Colors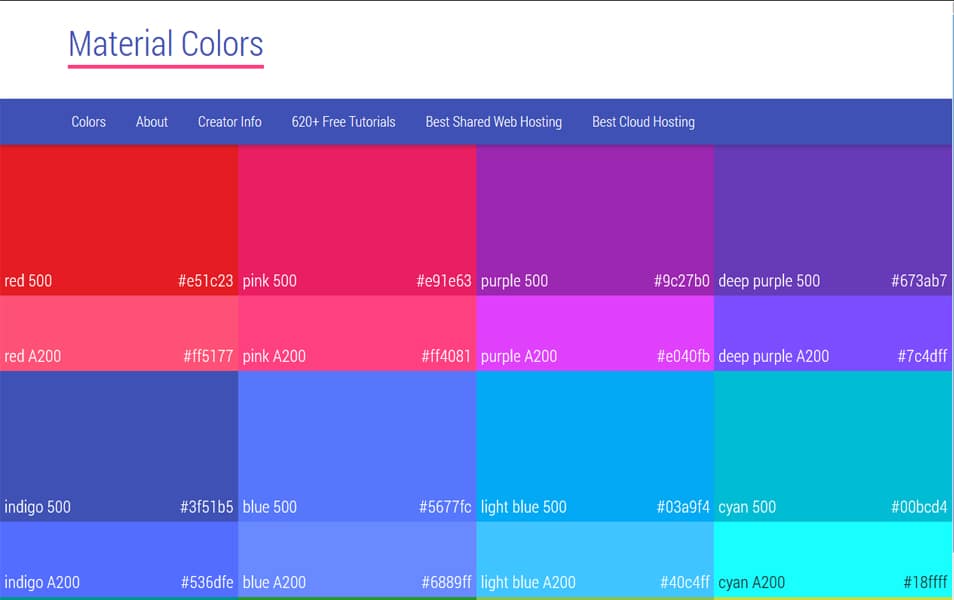 Material Design Colors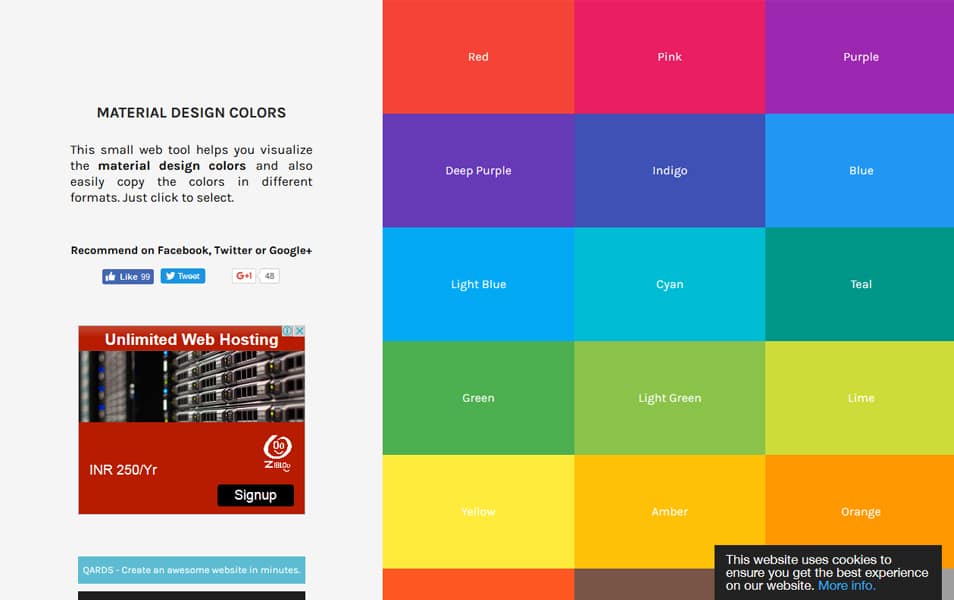 This small web app helps you visualize the material design colors and also easily copy the colors in different formats.
Material Design Color Palette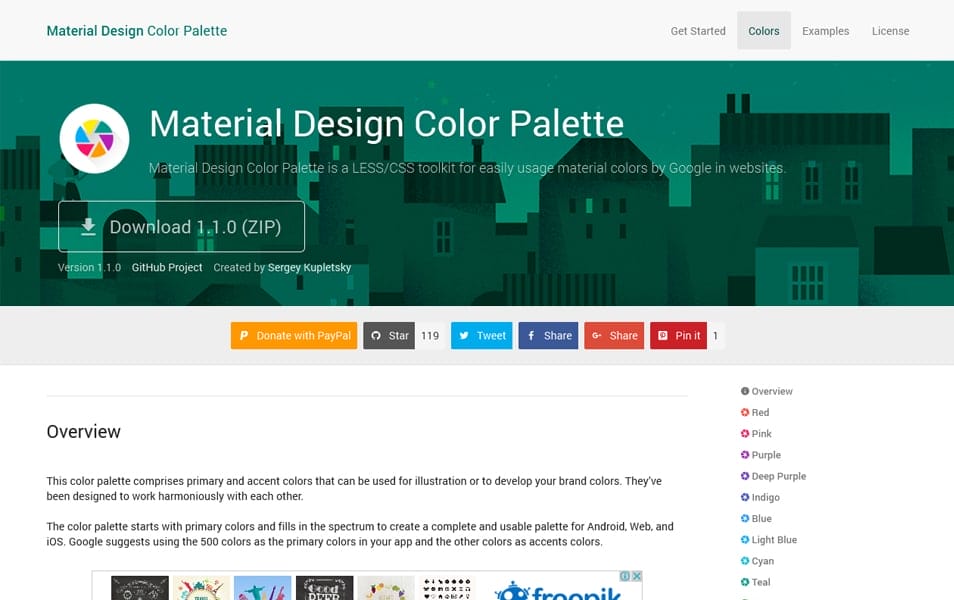 Material Design Color Palette is a LESS/CSS toolkit for easily usage material colors by Google in websites.
Material Design Color Palette Sketch Plugin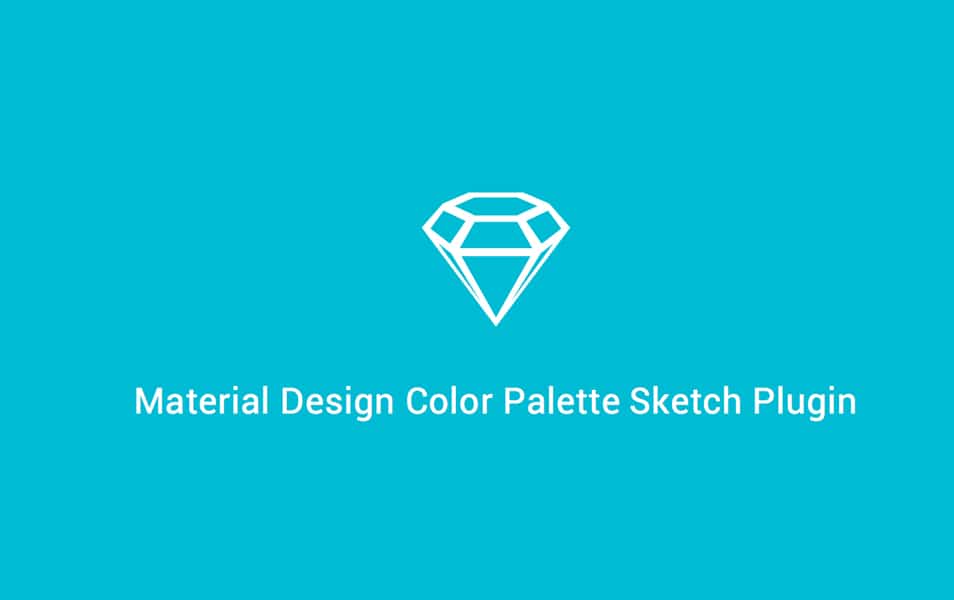 Material Design Palette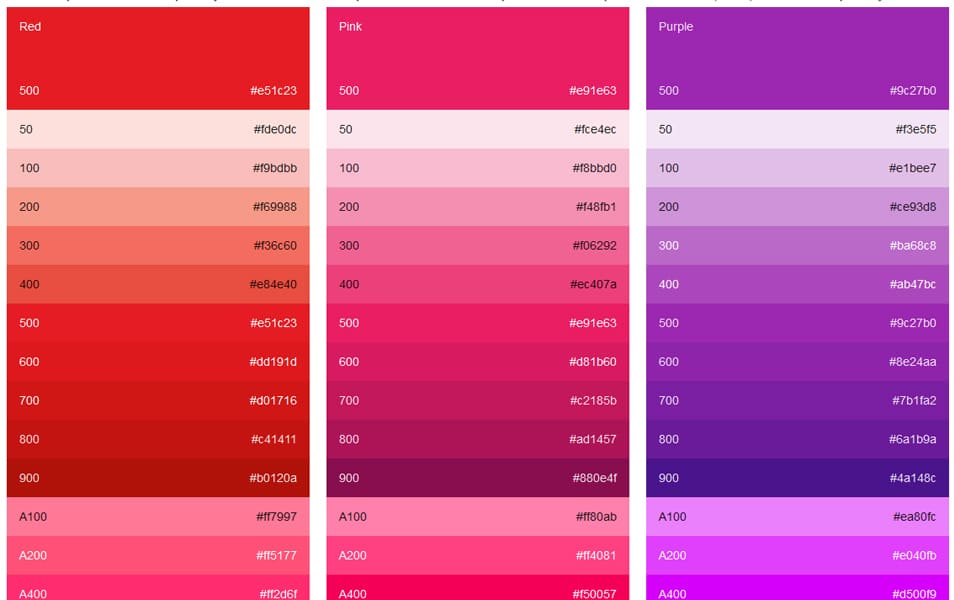 Colorable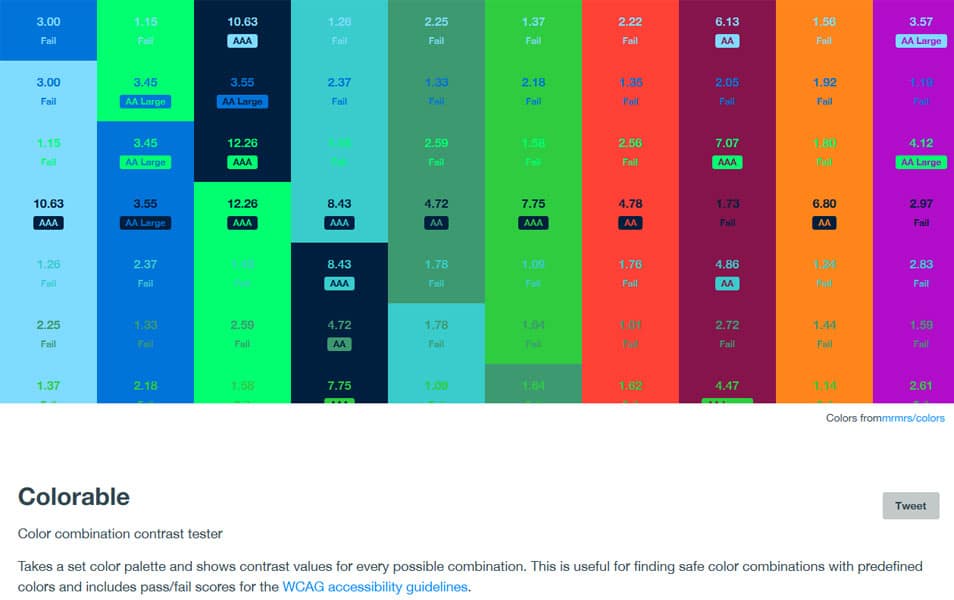 Color combination contrast tester.
Colours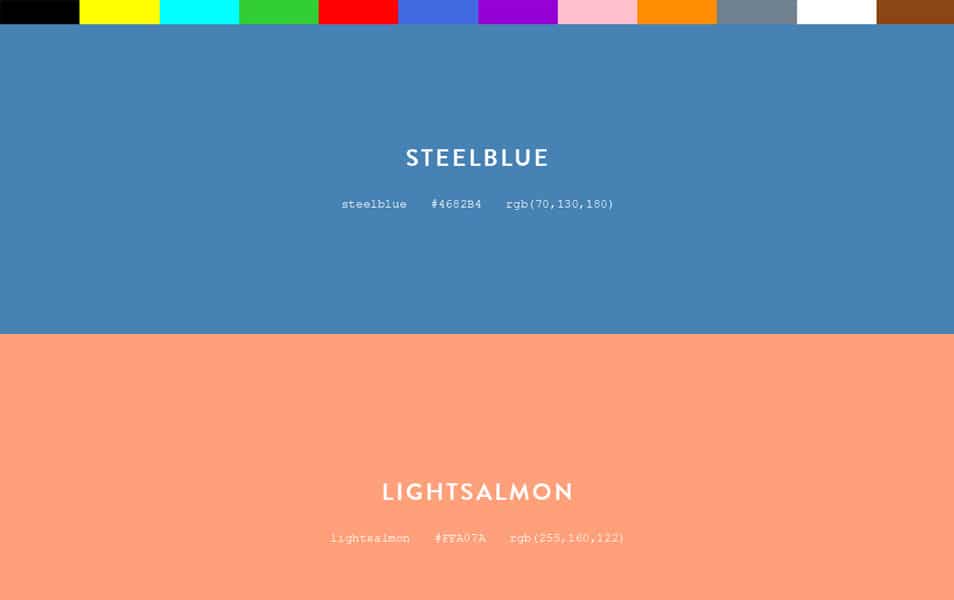 rrggbb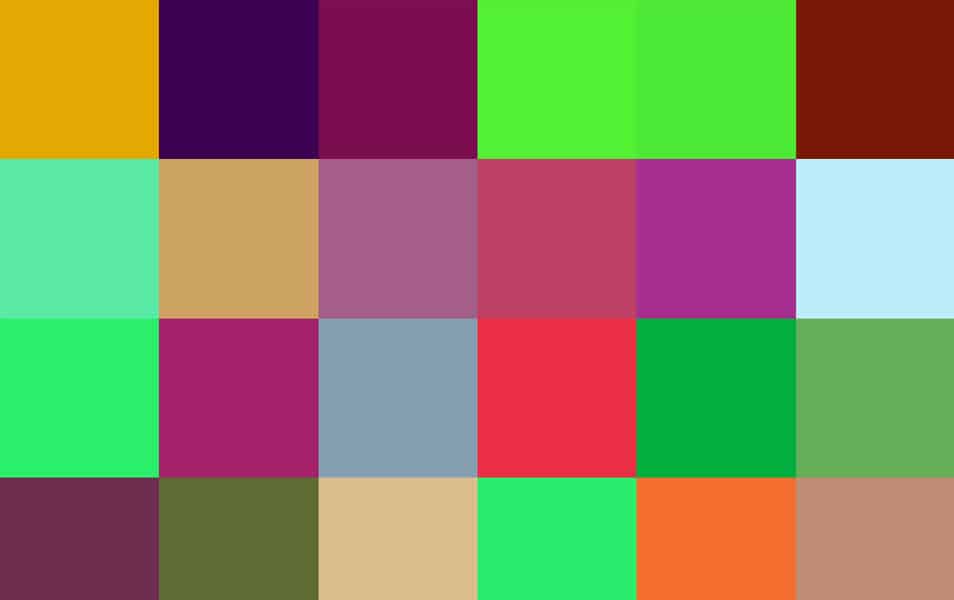 Rgb.to color conversion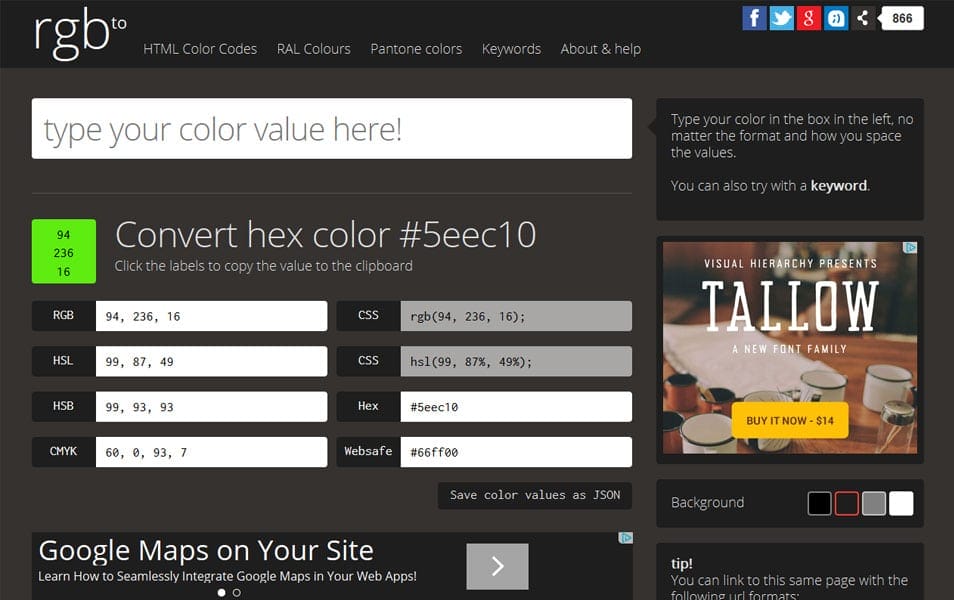 Colour Shades Generator PSD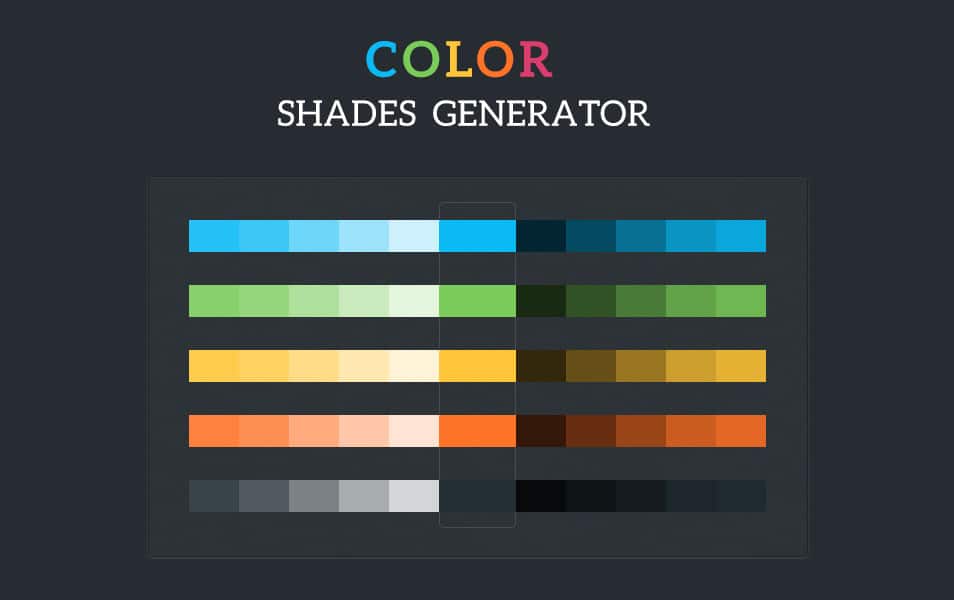 Contrast Ratio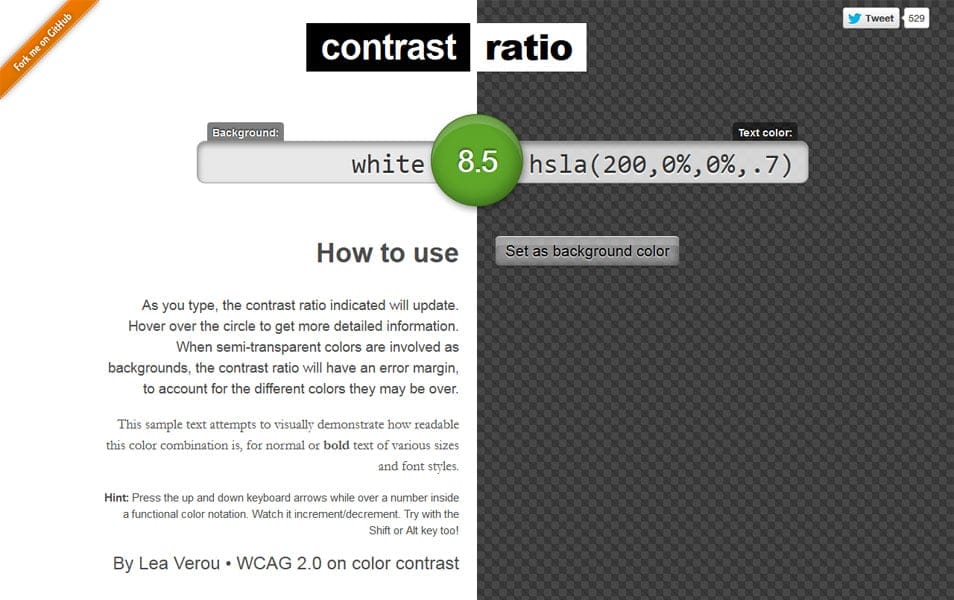 A tool to calculate the contrast ratio between any two valid CSS colors.
Colorbloc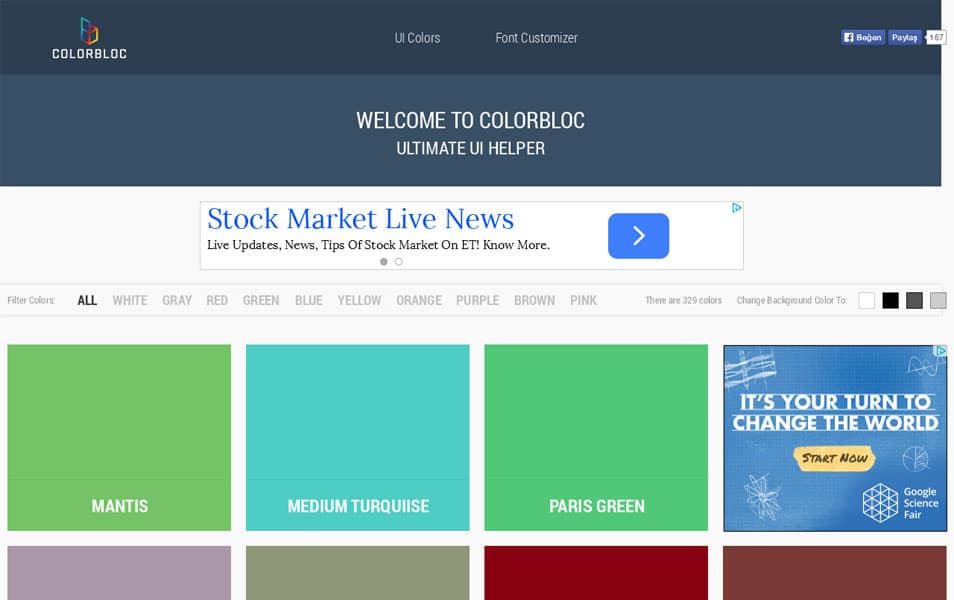 HEX to RGB Converter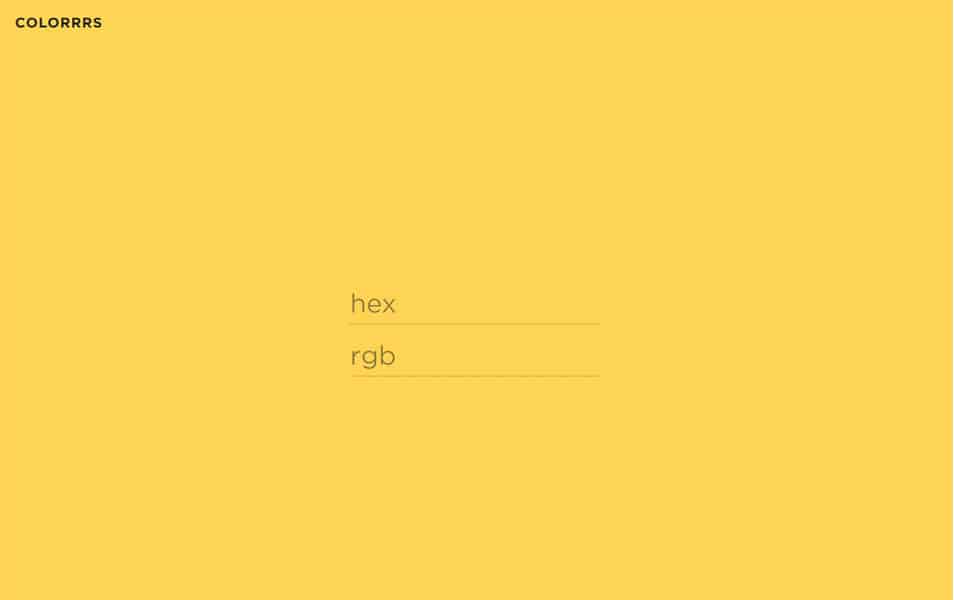 PLTTS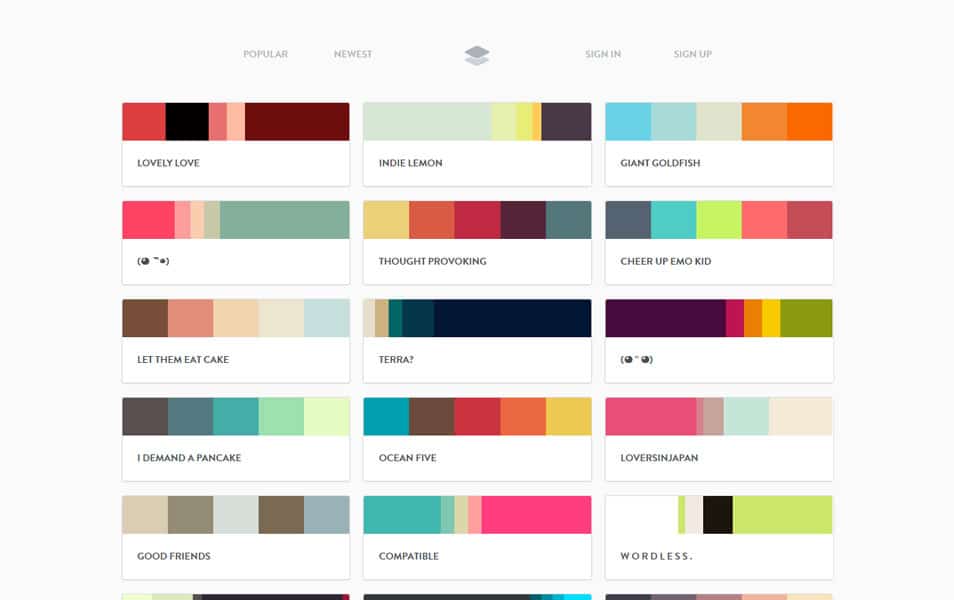 Cymbolism

Cymbolism is a tool that attempts to quantify the association between colors and words, making it simple for designers to choose the best colors for the desired emotional effect.
Material UI Colors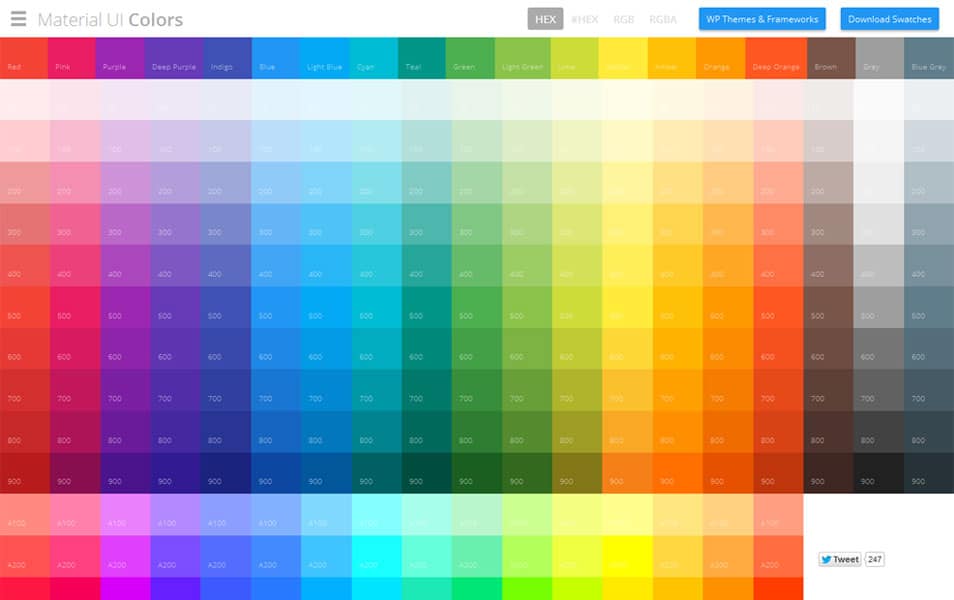 Google's material ui color palette comprises primary and accent colors that can be used for illustration or to develop your brand colors. They've been designed to work harmoniously with each other.
Adobe Color CC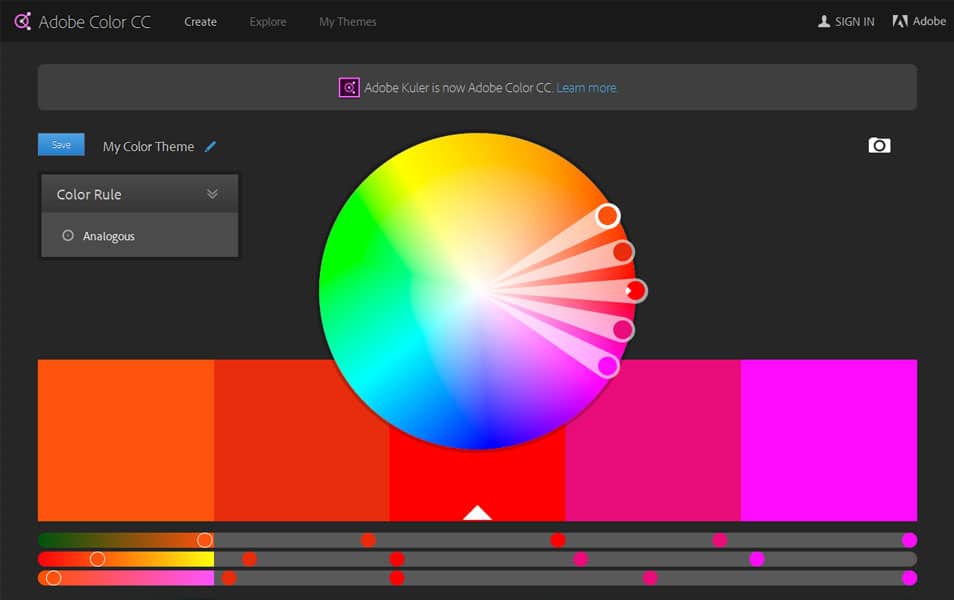 Adobe Color CC makes it easy to capture inspiring color combinations wherever you see them. Simply point the iPhone camera at something colorful and Adobe Color will instantly extract a series of colors.
BADA55.io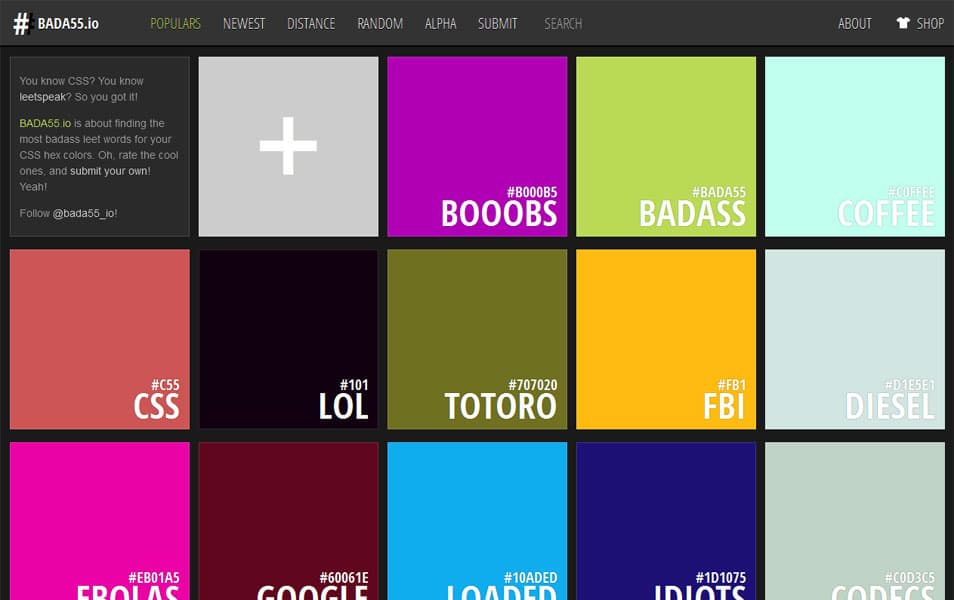 BADA55.io is about finding the most badass leet words for your CSS hex colors.
Genopal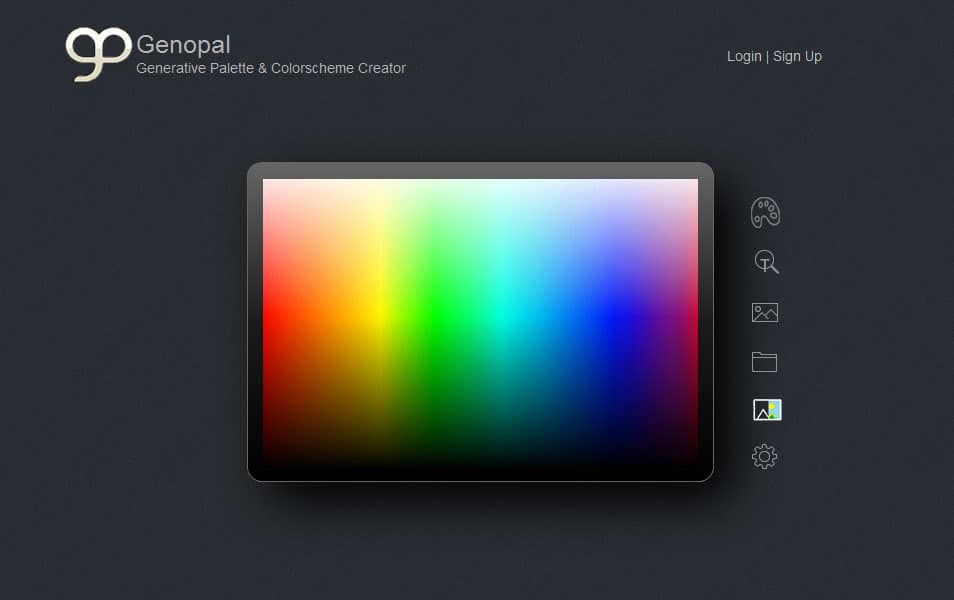 Coleure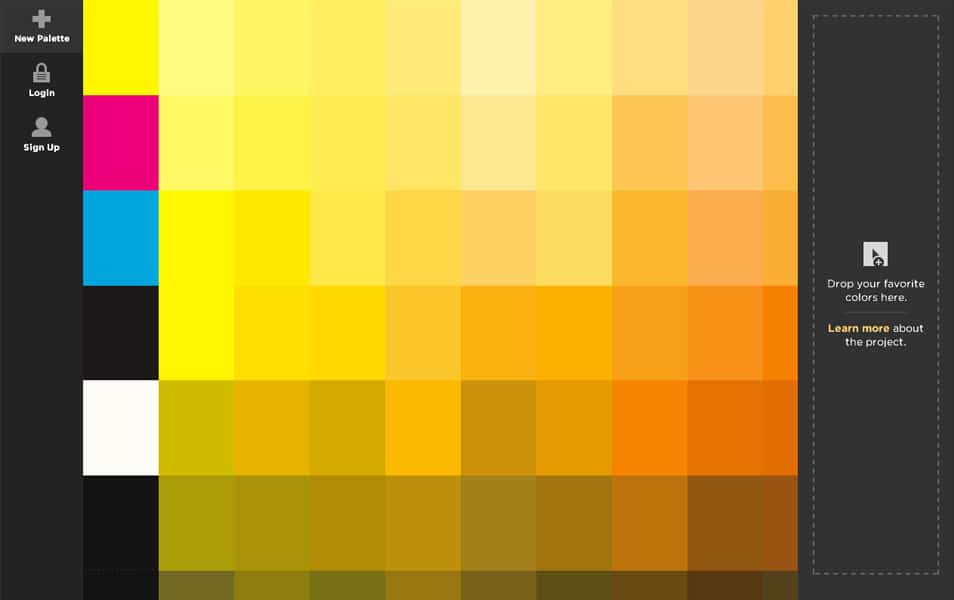 ColRD – Color Creator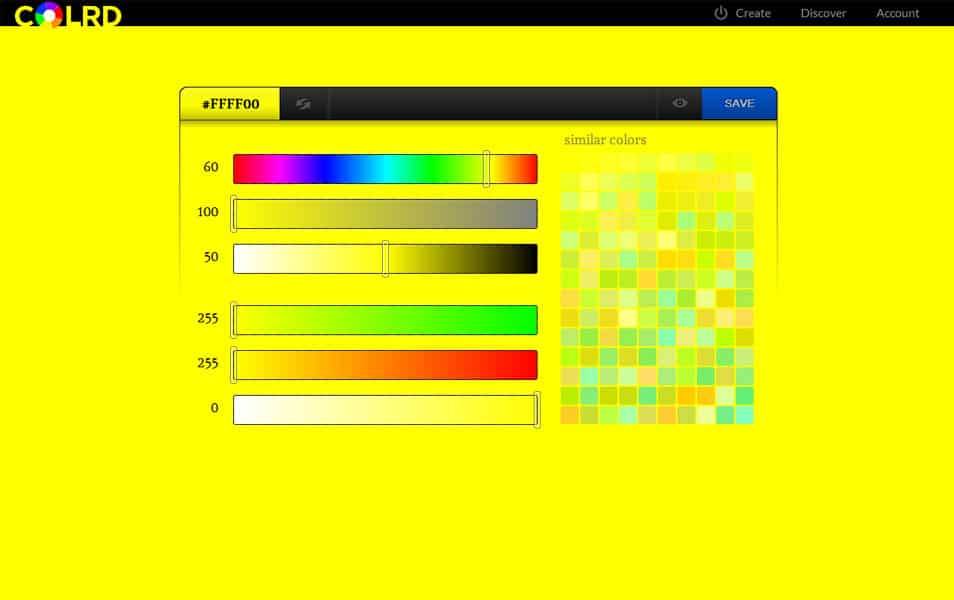 The Color App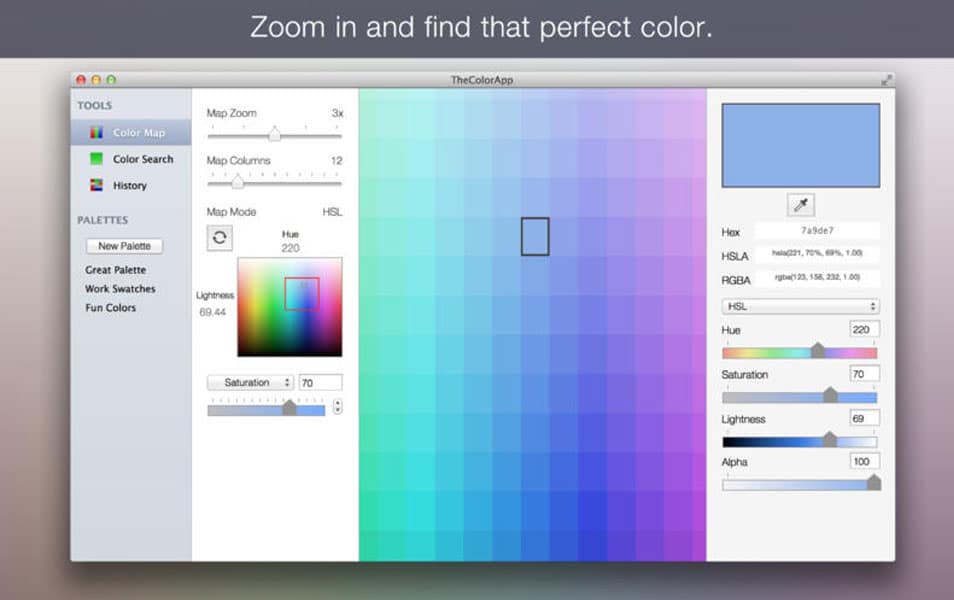 The Color App makes finding colors much easier. Instead of a tiny circle with all colors running together, The Color App creates some separation between colors, making it easier to select the perfect color.
Color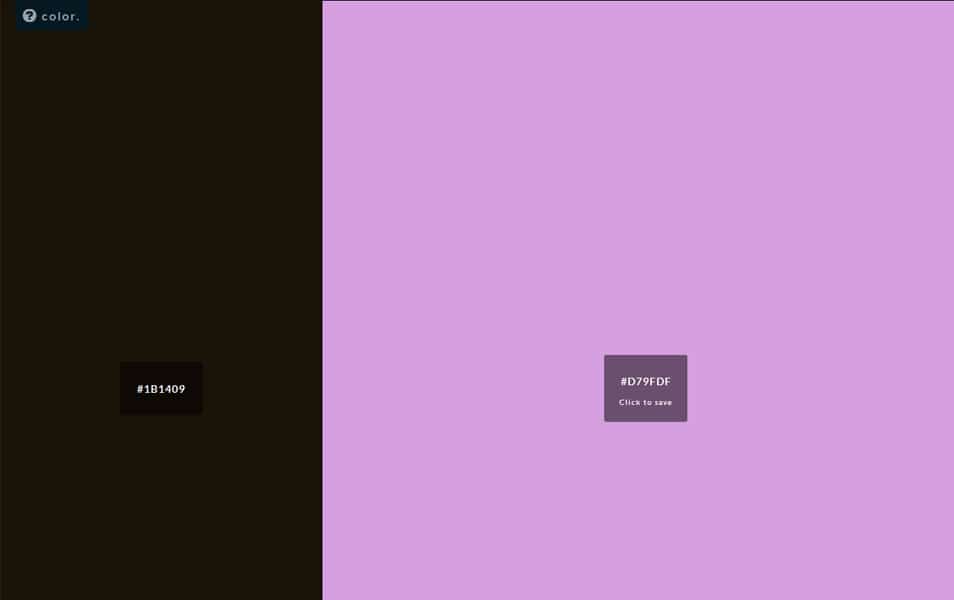 Contrast-A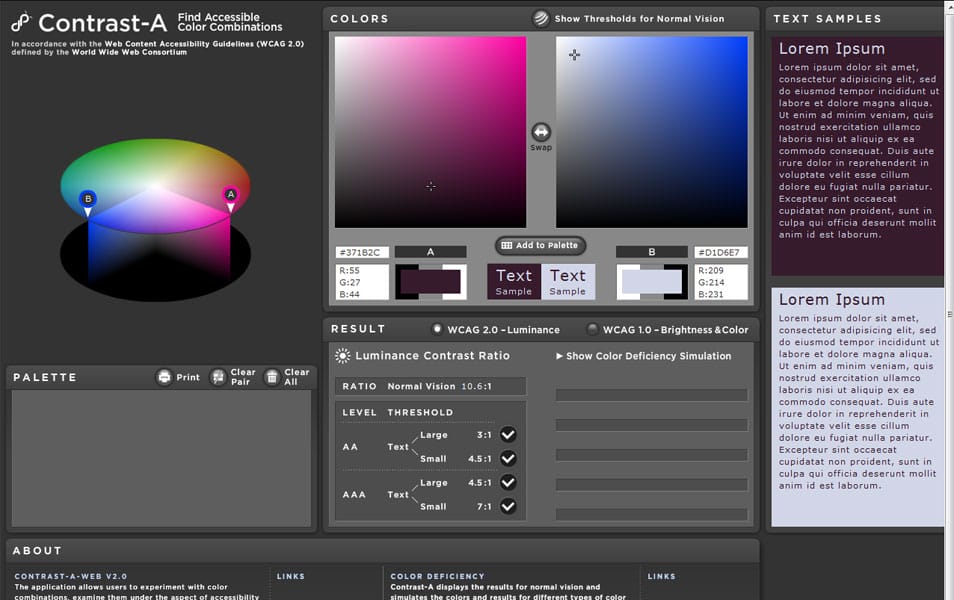 The application allows users to experiment with color combinations, examine them under the aspect of accessibility guidelines and to create custom color palettes.
[ws] Color Scheme Generator 2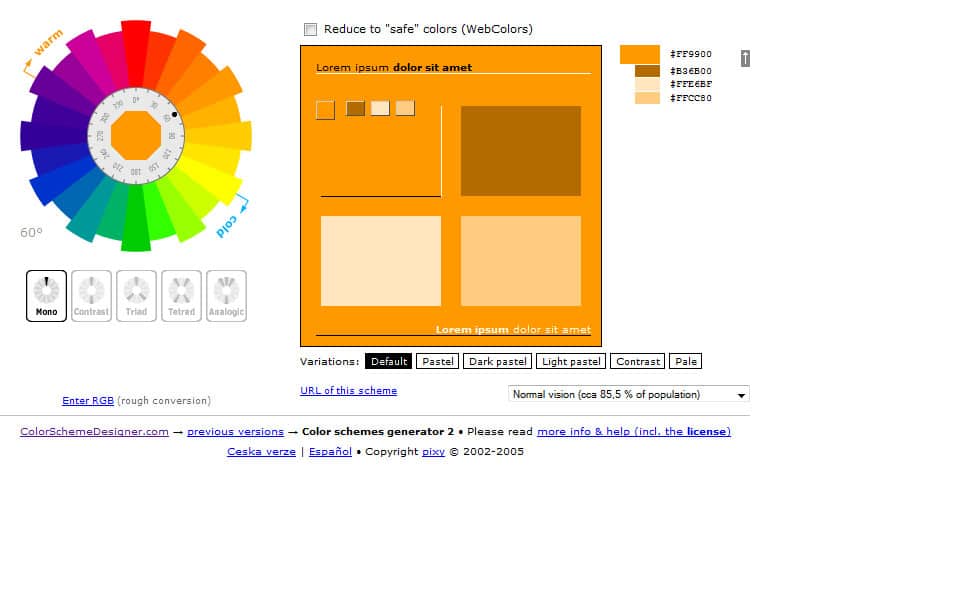 ColoRotate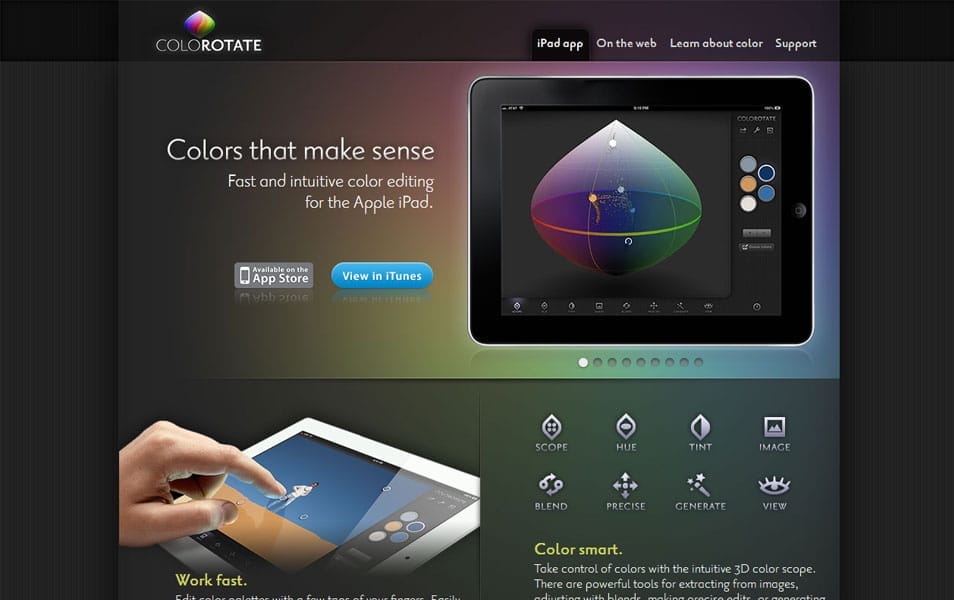 Colourcode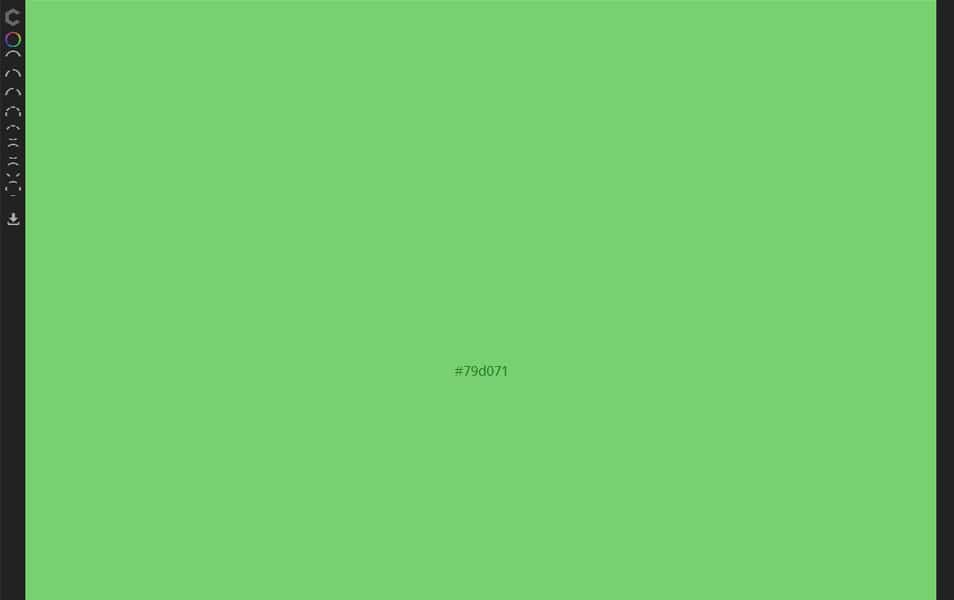 Pick colours based on hsl. Scheme-mode with monochromatic, analogic, complement, triad and quad colours.
Color Palette Generator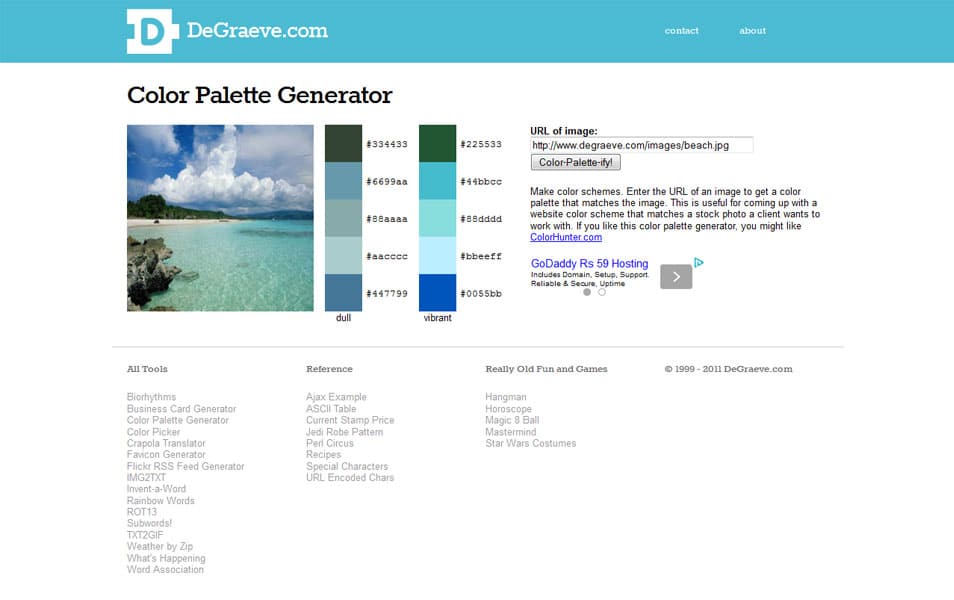 Make color schemes. Enter the URL of an image to get a color palette that matches the image. This is useful for coming up with a website color scheme that matches a stock photo a client wants to work with.
Color Palettes Color Schemes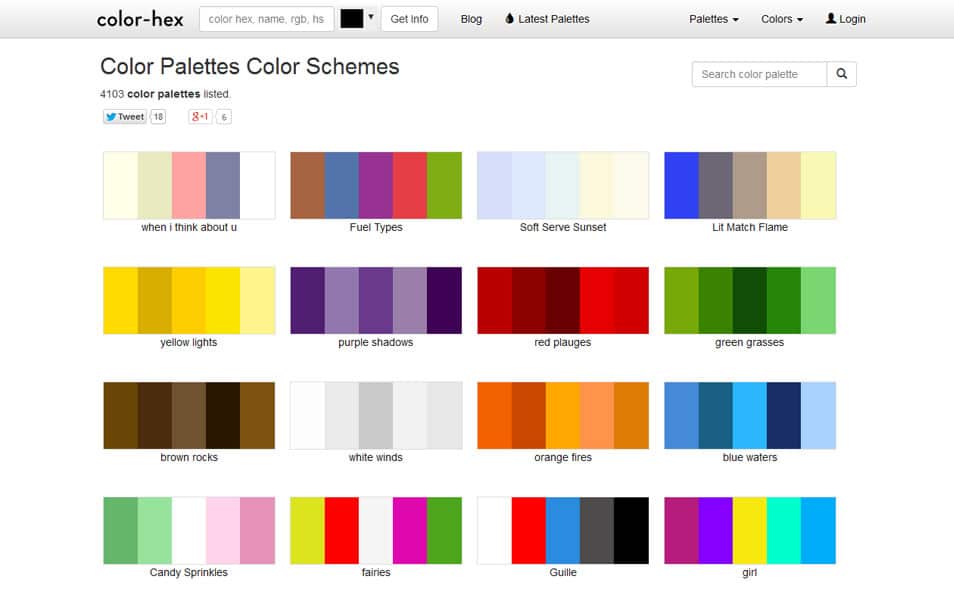 Color Scheme Generator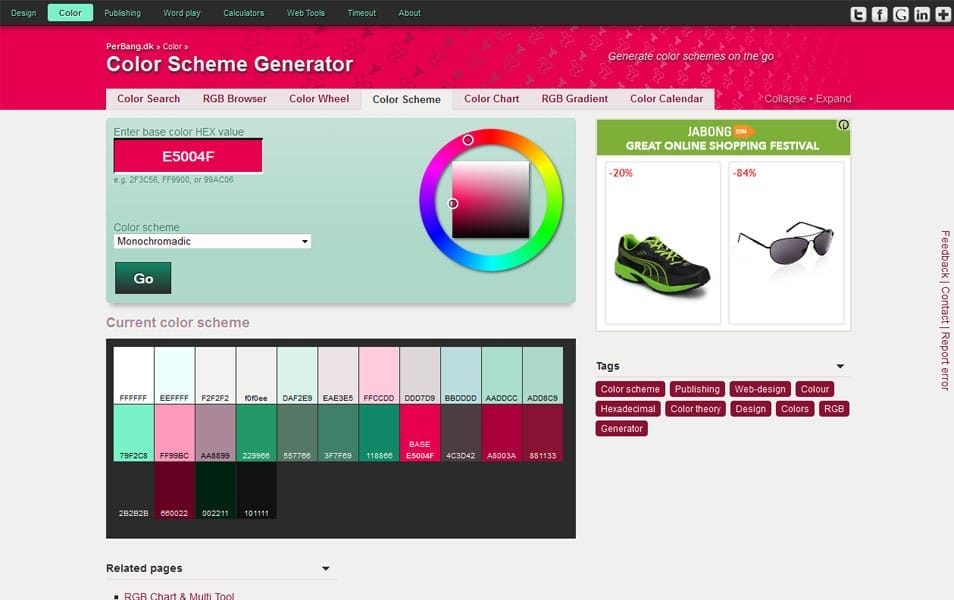 CheckMyColours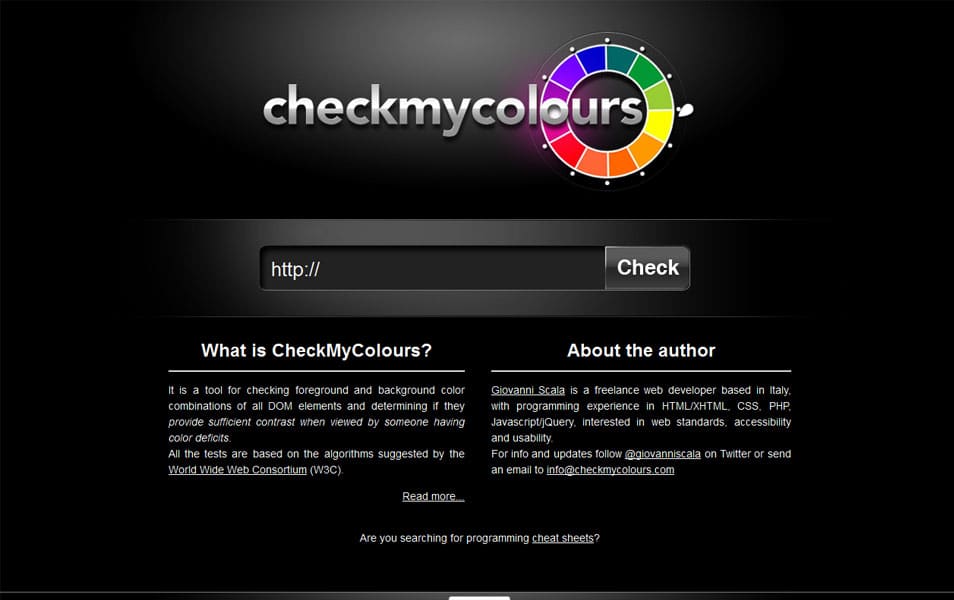 It is a tool for checking foreground and background color combinations of all DOM elements and determining if they provide sufficient contrast when viewed by someone having color deficits.
Color Hunter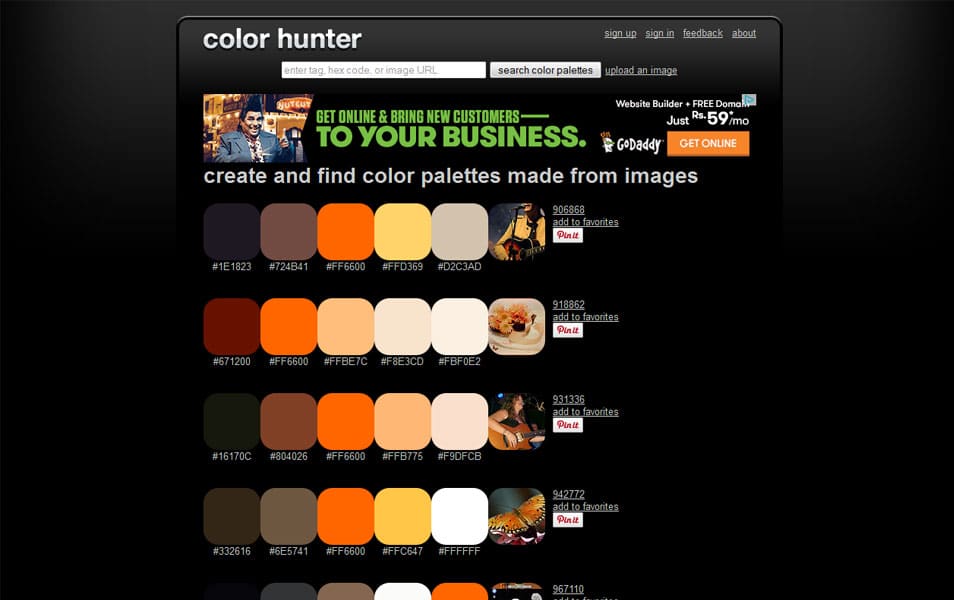 Multicolr Search Lab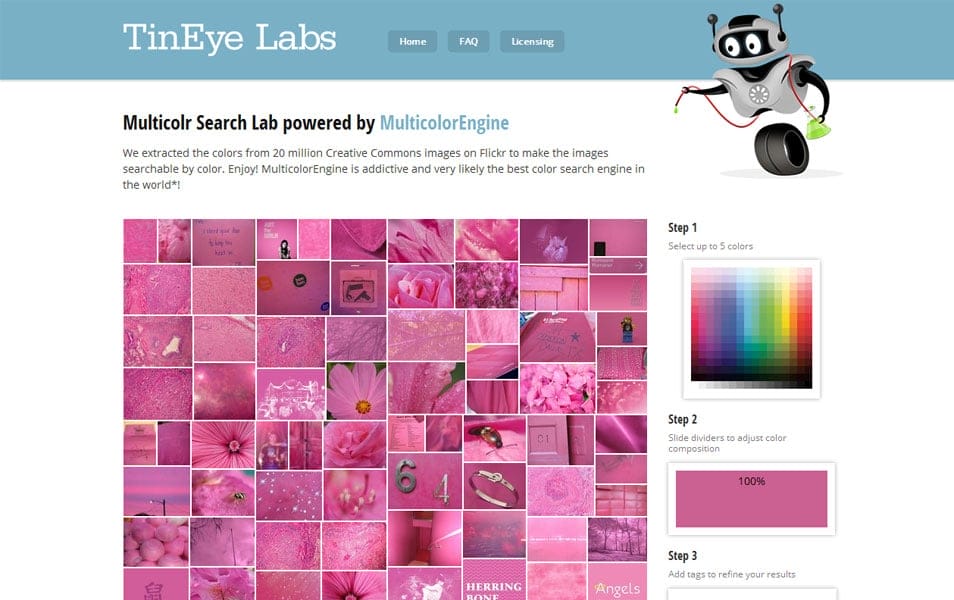 SpyColor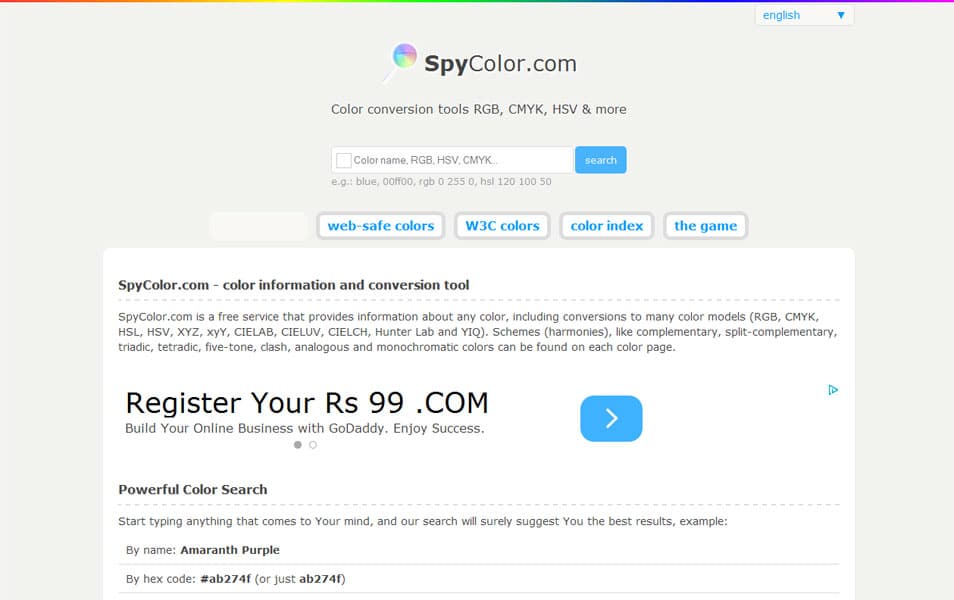 SpyColor.com is a free service that provides information about any color, including conversions to many color models (RGB, CMYK, HSL, HSV, XYZ, xyY, CIELAB, CIELUV, CIELCH, Hunter Lab and YIQ). Schemes (harmonies), like complementary, split-complementary, triadic, tetradic, five-tone, clash, analogous and monochromatic colors can be found on each color page.
Color Explorer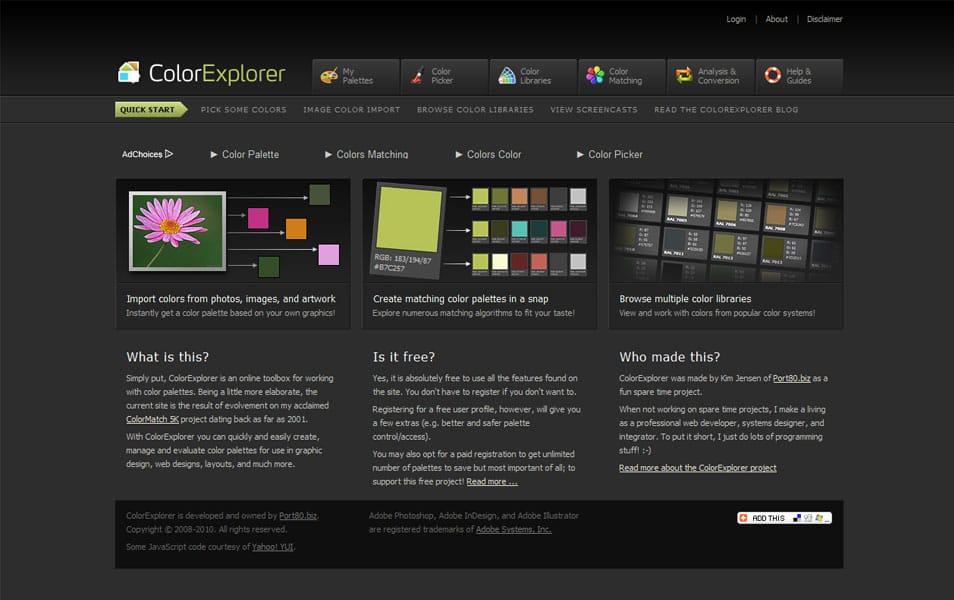 Free tools for working with digital colors.
Hex Color Scheme Generator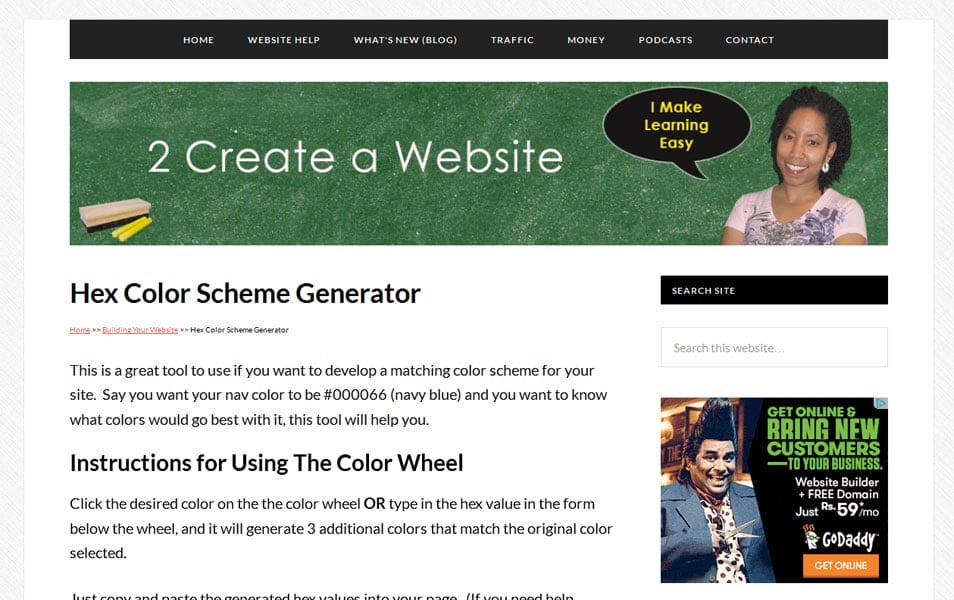 This is a great tool to use if you want to develop a matching color scheme for your site. Say you want your nav color to be #000066 (navy blue) and you want to know what colors would go best with it.
COPASO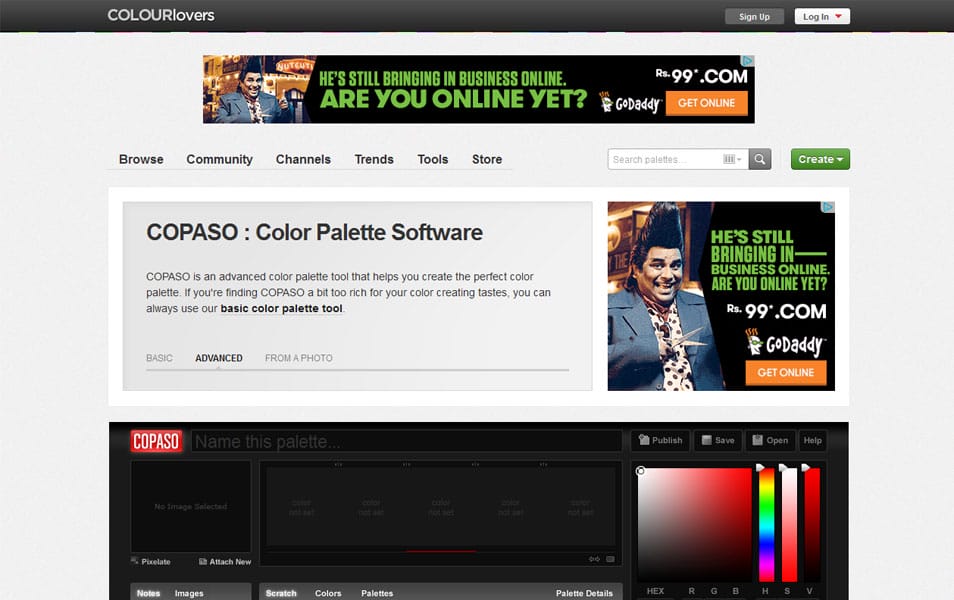 COPASO is an advanced color palette tool that helps you create the perfect color palette. If you're finding COPASO a bit too rich for your color creating tastes, you can always use our basic color palette tool.
ColourMod Dashboard Widget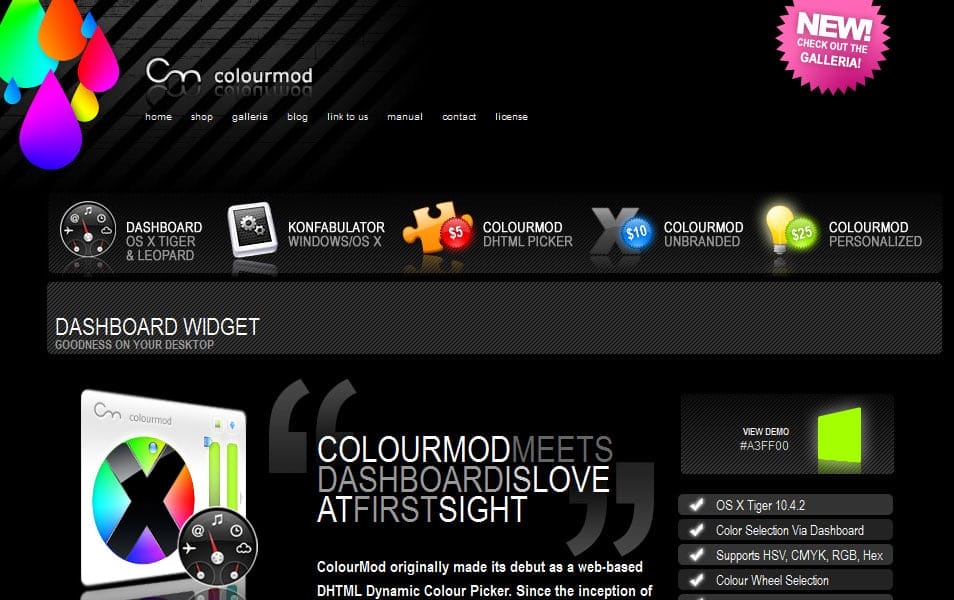 ColourMod originally made its debut as a web-based DHTML Dynamic Colour Picker. Since the inception of OS X from Apple, ColourMod has been ported to the Dashboard interface and is fully functional in OS X Tiger and Leopard, Lion and Mountain Lion.
ColorZilla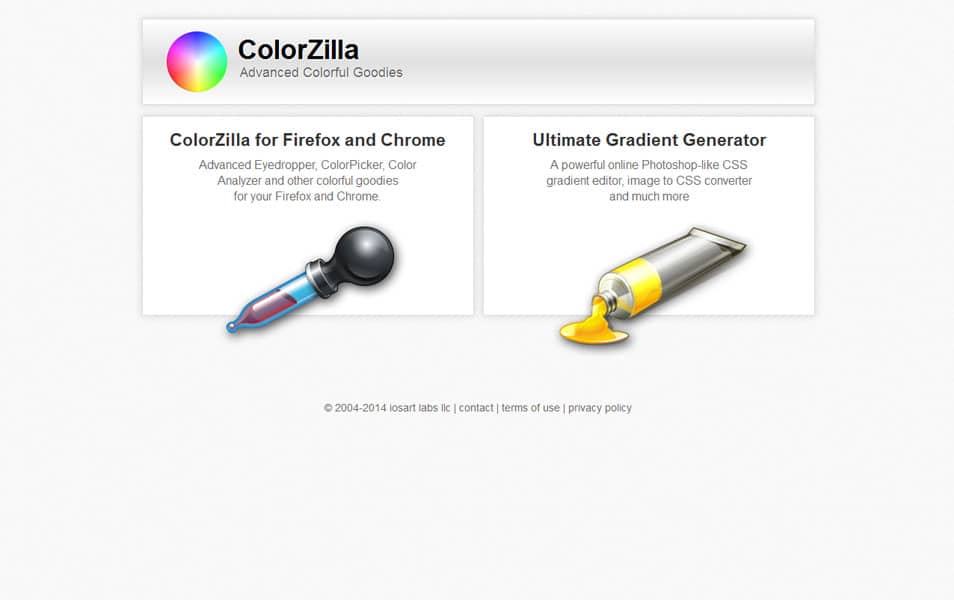 Eyedropper, Color Picker, Gradient Generator and more.
ColorMunki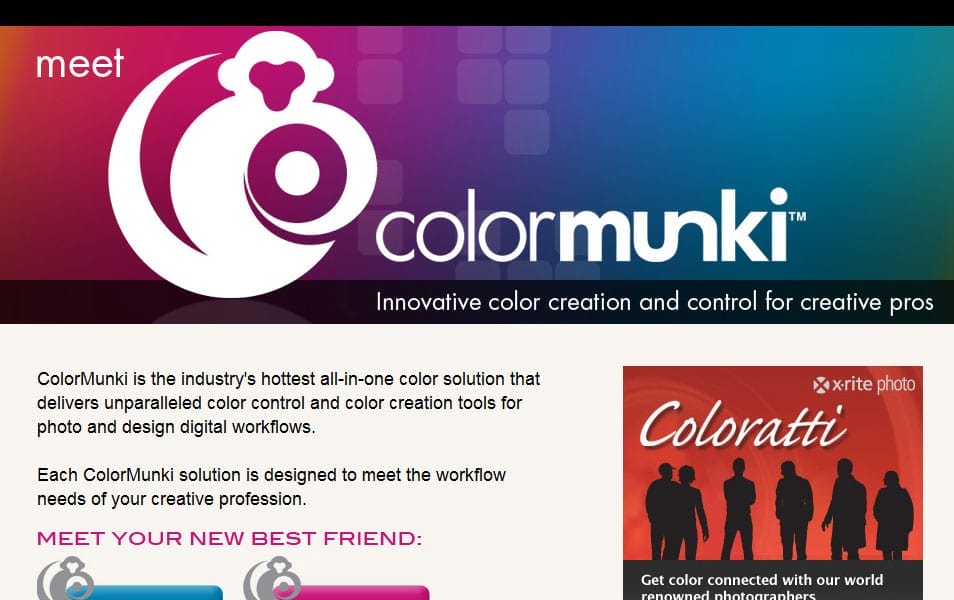 ColorMunki is the industry's hottest all-in-one color solution that delivers unparalleled color control and color creation tools for photo and design digital workflows.
colr.org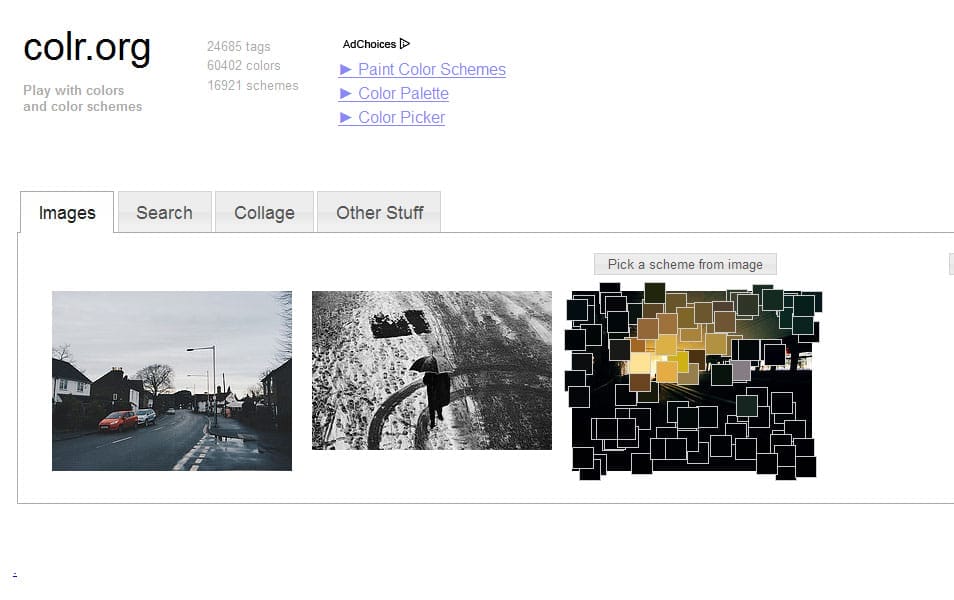 Play with colors and color schemes.
ColourGrab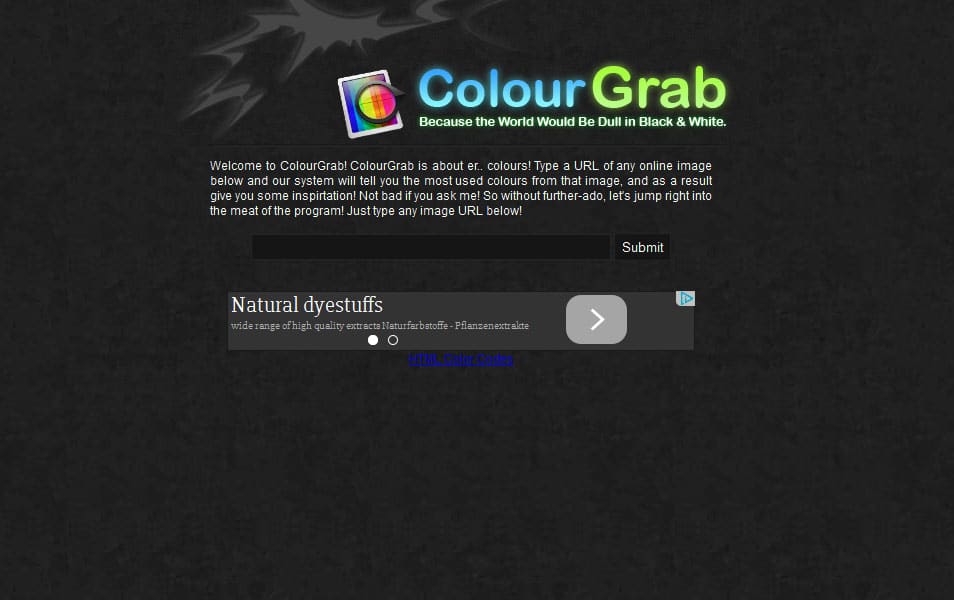 ColourGrab is about er.. colours! Type a URL of any online image below and our system will tell you the most used colours from that image, and as a result give you some inspirtation! Not bad if you ask me! So without further-ado, let's jump right into the meat of the program!
GrayBit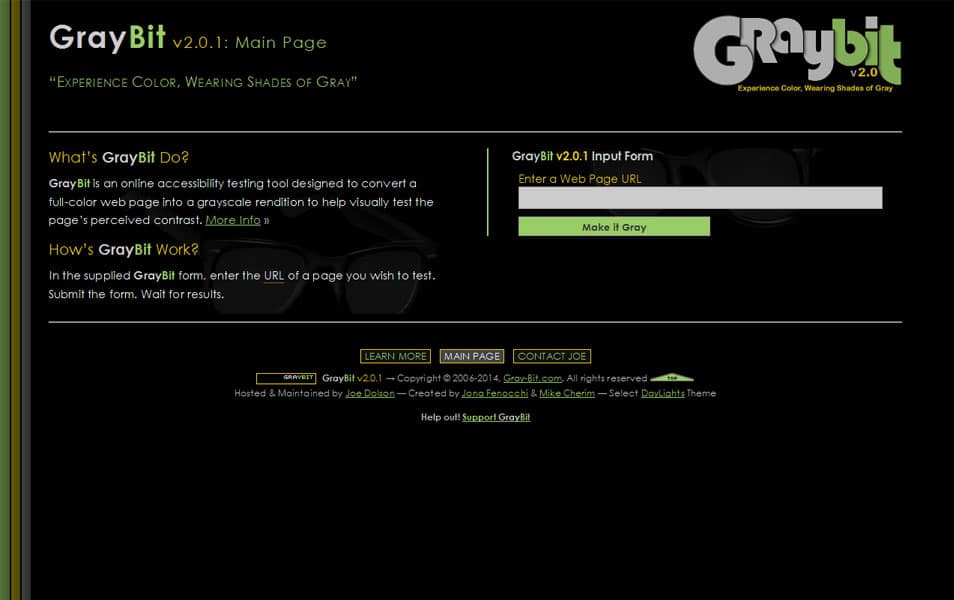 GrayBit is an online accessibility testing tool designed to convert a full-color web page into a grayscale rendition to help visually test the page's perceived contrast.
Color Blender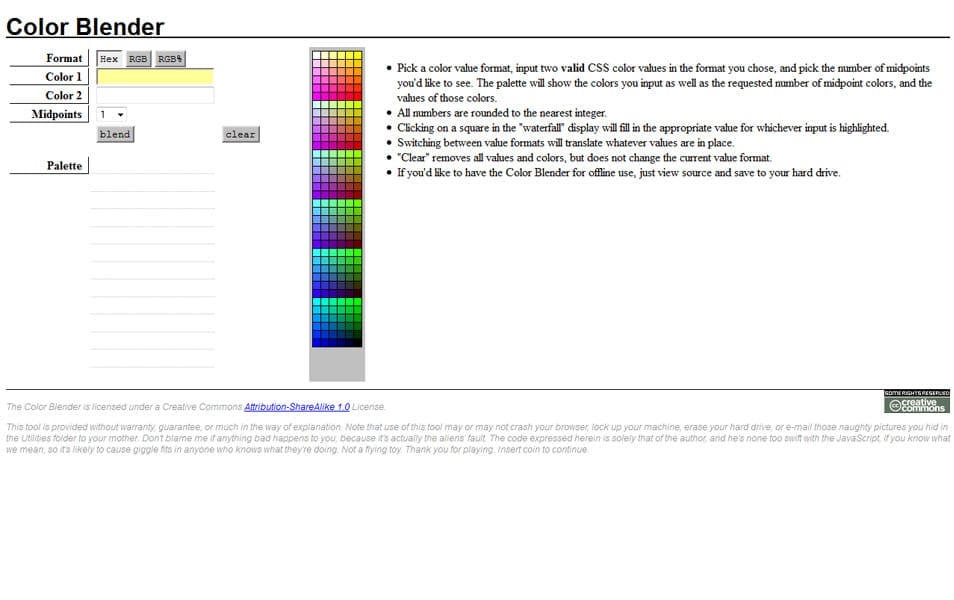 Stripe Generator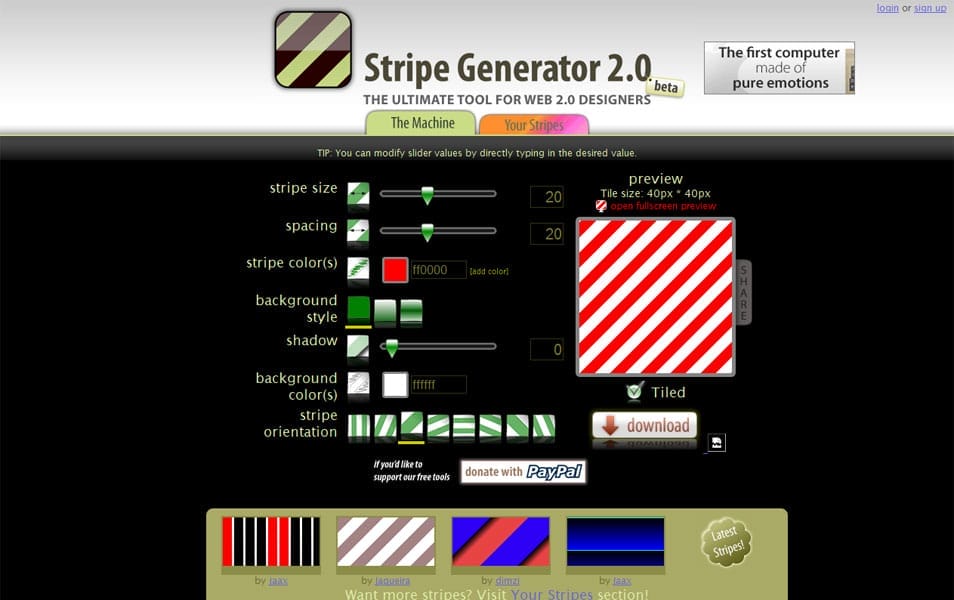 Colors on the Web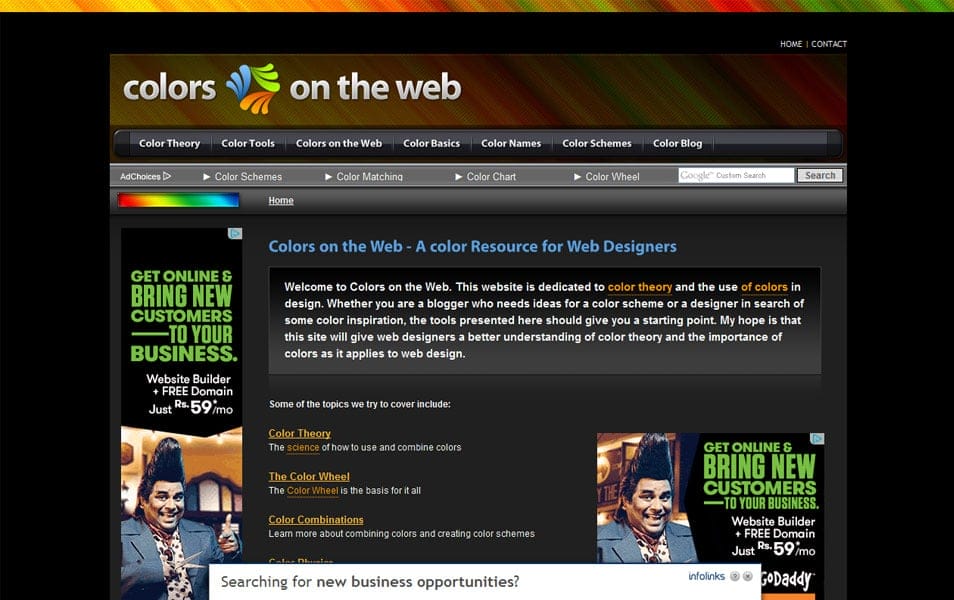 Whether you are a blogger who needs ideas for a color scheme or a designer in search of some color inspiration, the tools presented here should give you a starting point. My hope is that this site will give web designers a better understanding of color theory and the importance of colors as it applies to web design.
Pictaculous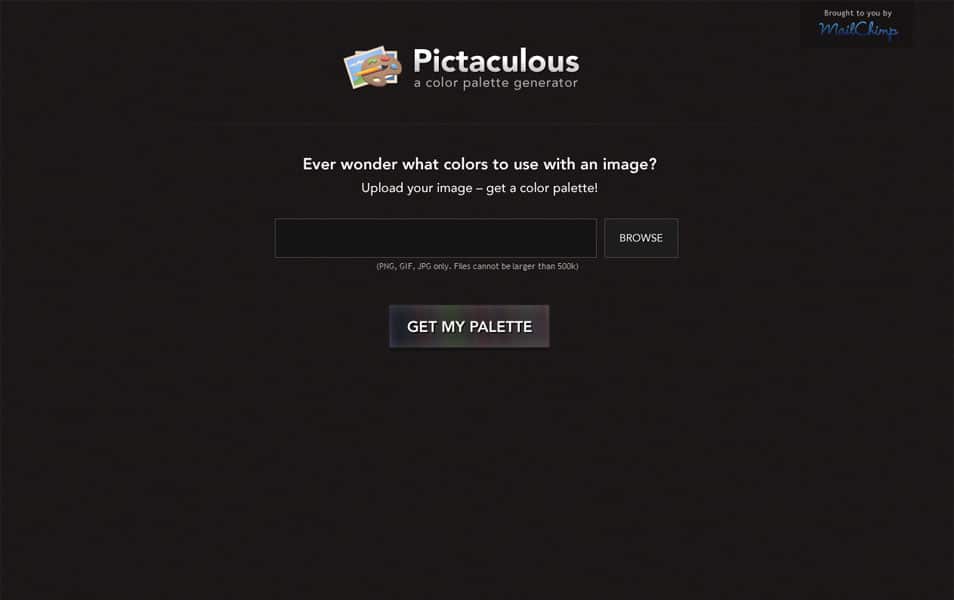 A Color Palette Generator (courtesy of MailChimp)
Color Wizard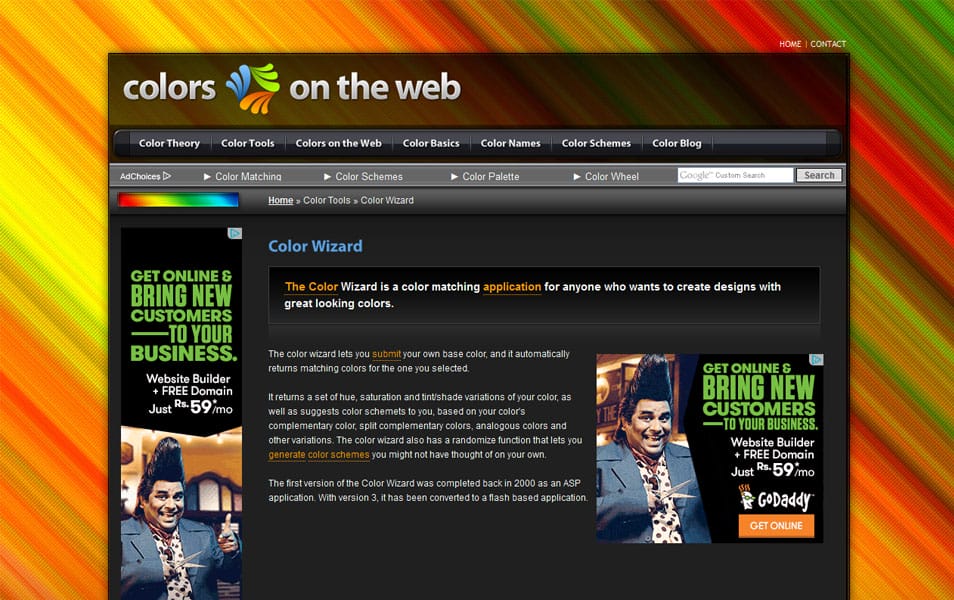 The Color Wizard is a color matching application for anyone who wants to create designs with great looking colors.
Colllor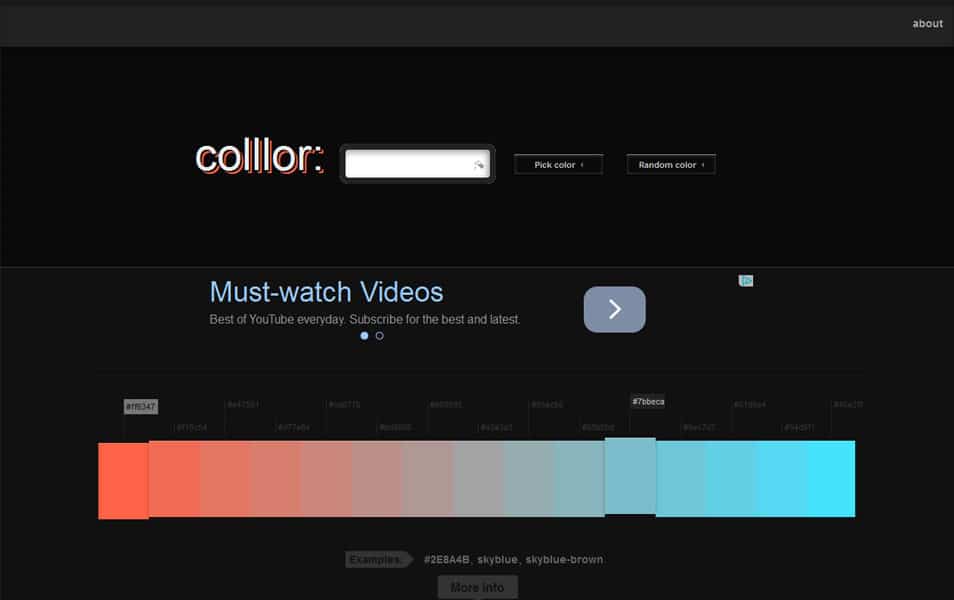 Color Palette Generator.
Hex Color Code Chart & Generator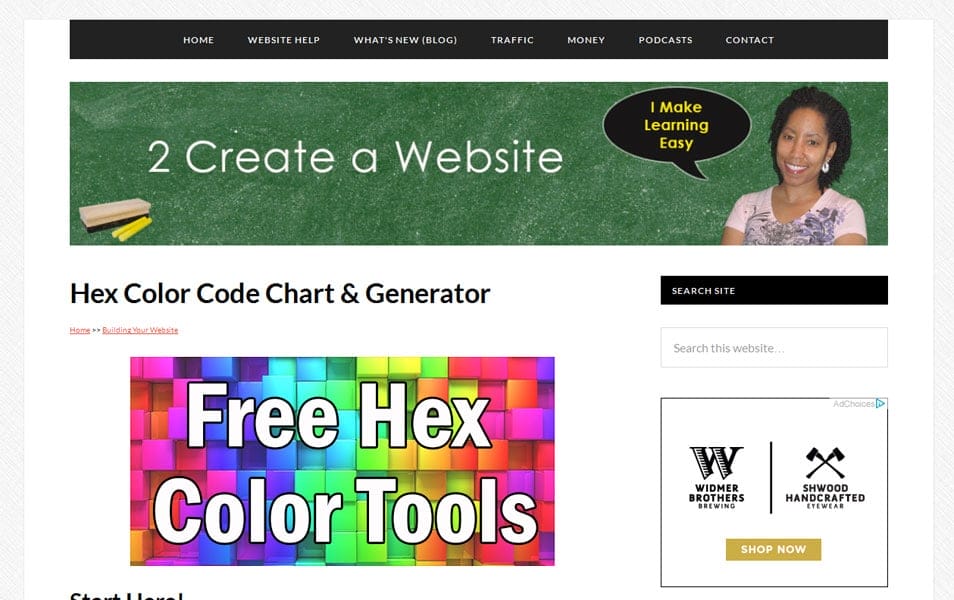 Hexidecimal codes are the 3 or 6-character codes that are often used in HTML and CSS to tell the browser what colors to display. So for example, #FFFFFF is the color white and #000000 is the color black.
Color Scheme Generator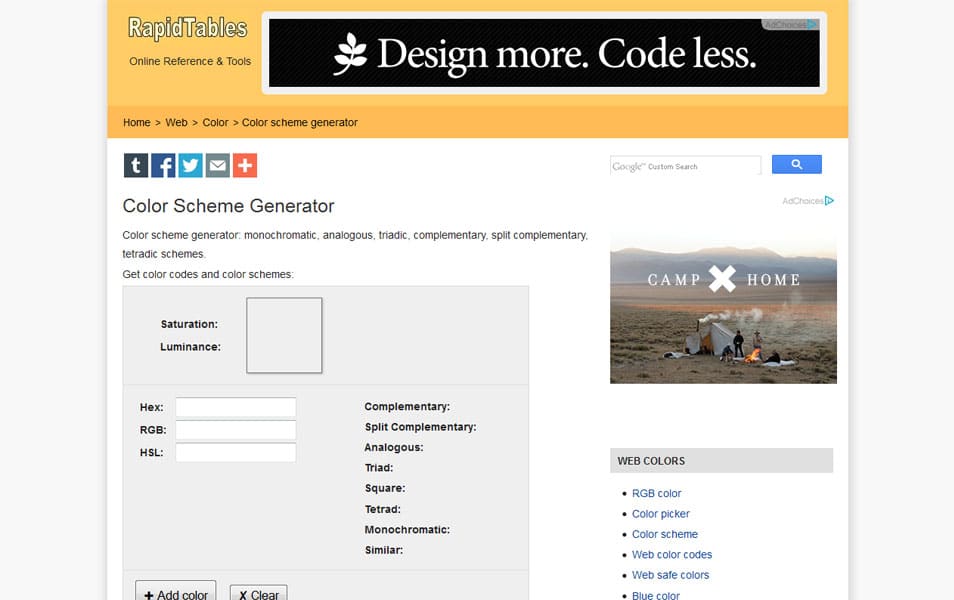 Color scheme generator: monochromatic, analogous, triadic, complementary, split complementary, tetradic schemes.
Color Schemer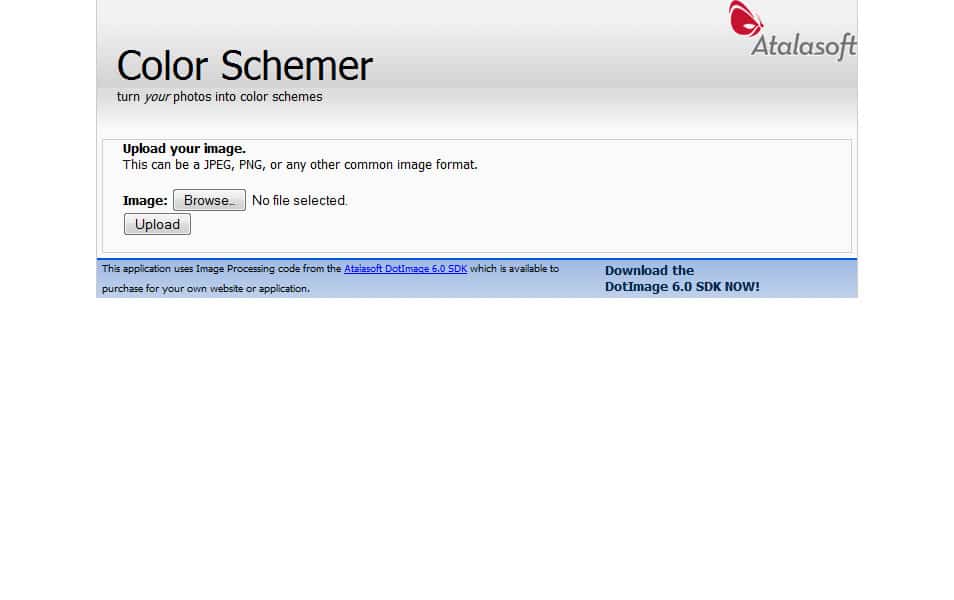 Color Hex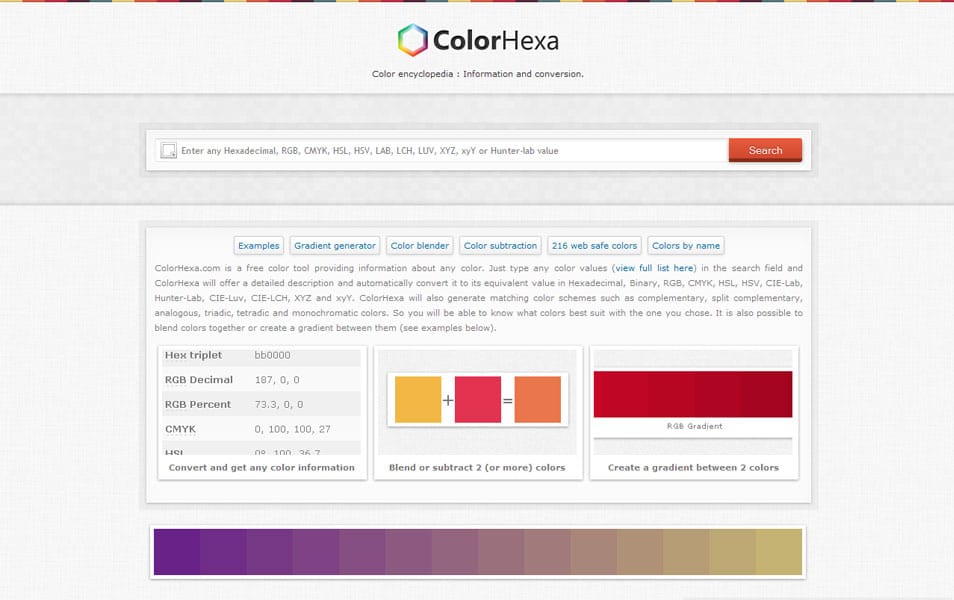 ColorHexa.com is a free color tool providing information about any color. Just type any color values (view full list here) in the search field and ColorHexa will offer a detailed description and automatically convert it to its equivalent value in Hexadecimal, Binary, RGB, CMYK, HSL, HSV, CIE-Lab, Hunter-Lab, CIE-Luv, CIE-LCH, XYZ and xyY.
Hues – Les Teintes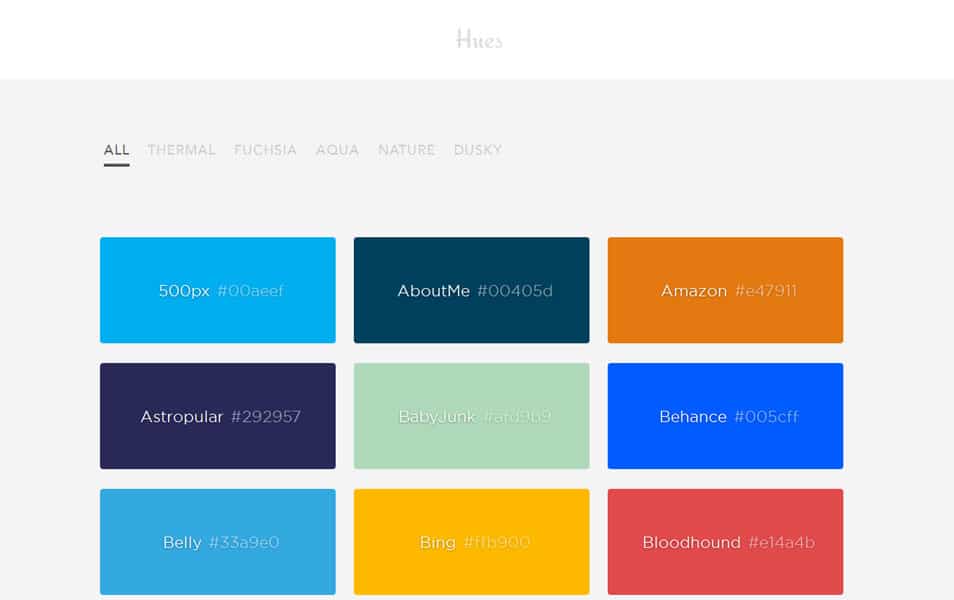 Palette for Google Chrome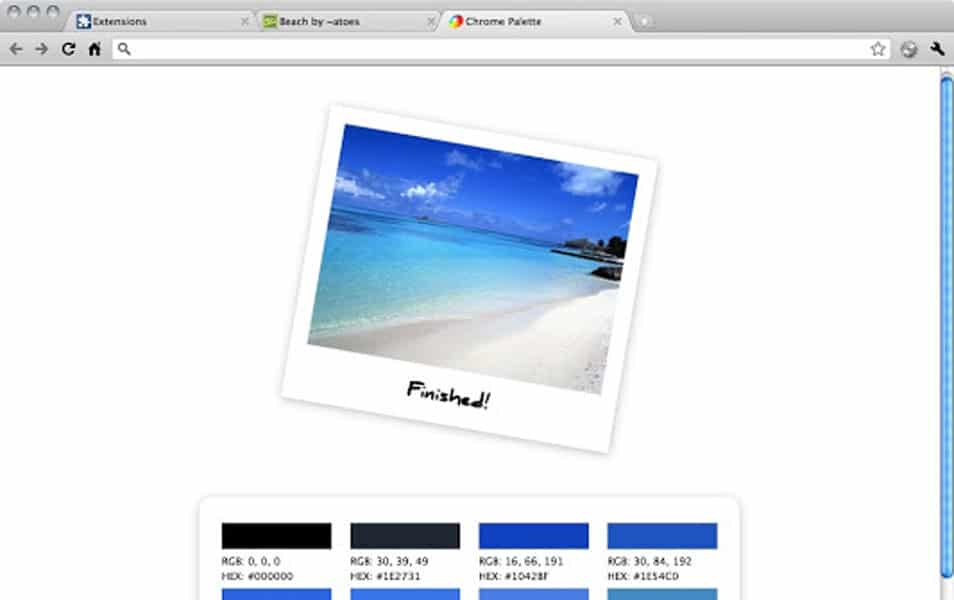 Google Chrome extension that allows you to create a color palette from any image.
Colorrrs Color Picking Tool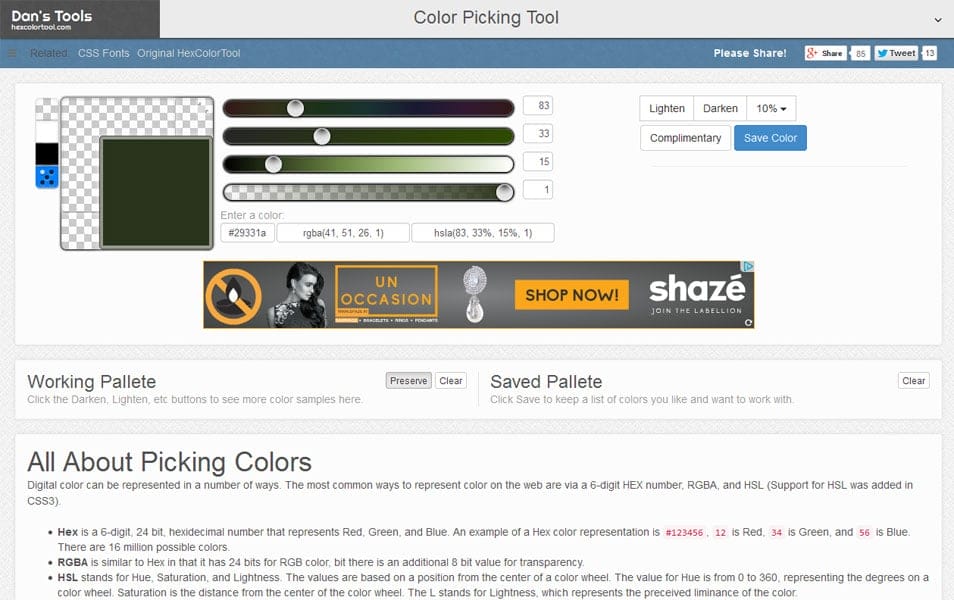 Explore Colors for HTML and CSS.
BrandColors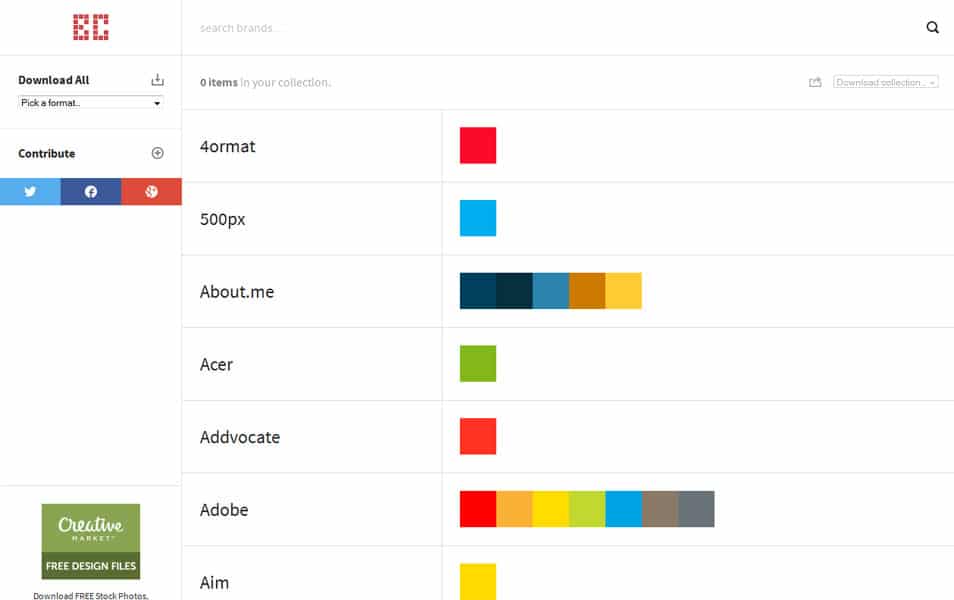 0to255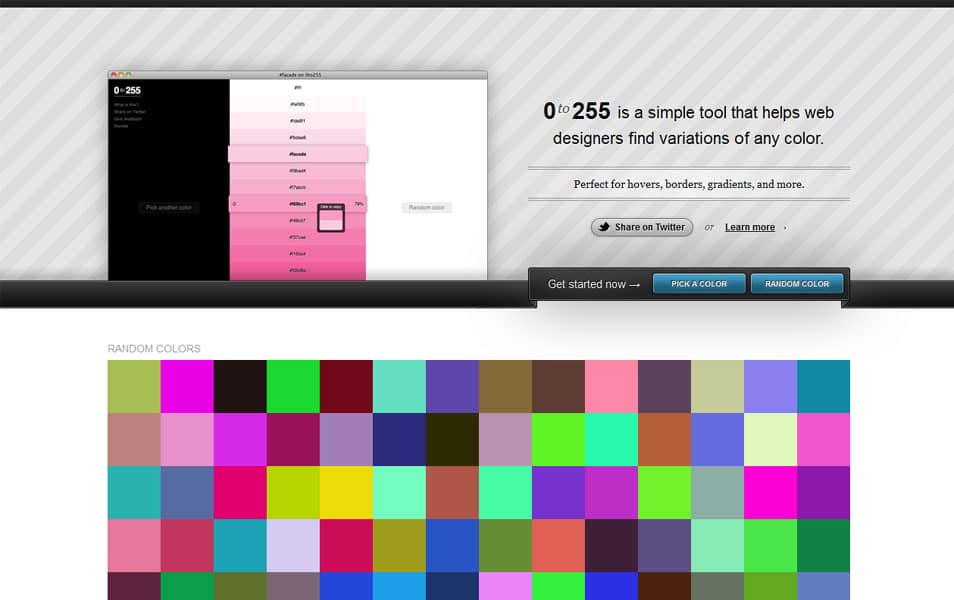 0to255 is a simple tool that helps web designers find variations of any color.
Color Articles
Color Contrast for Better Readability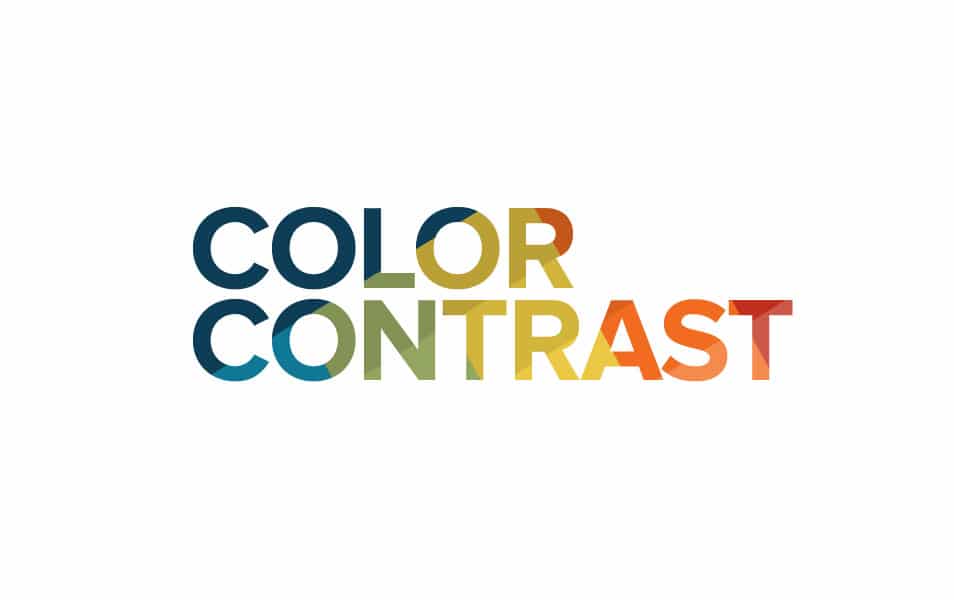 What your users really think about your choice of colors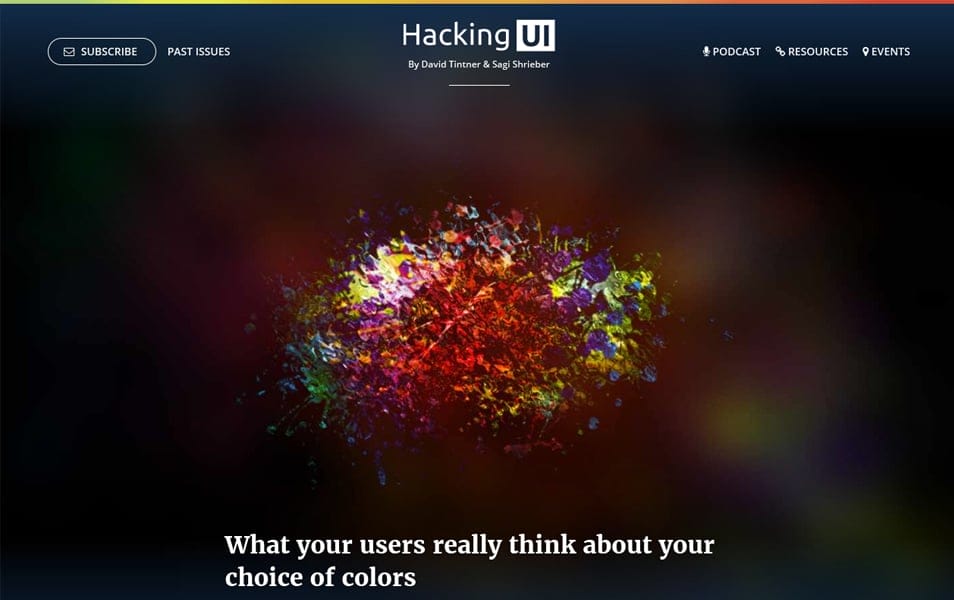 Color carries specific meanings both in marketing and, more specifically, online. In fact, it could be the difference between a user converting and not converting.
Colour management and UI design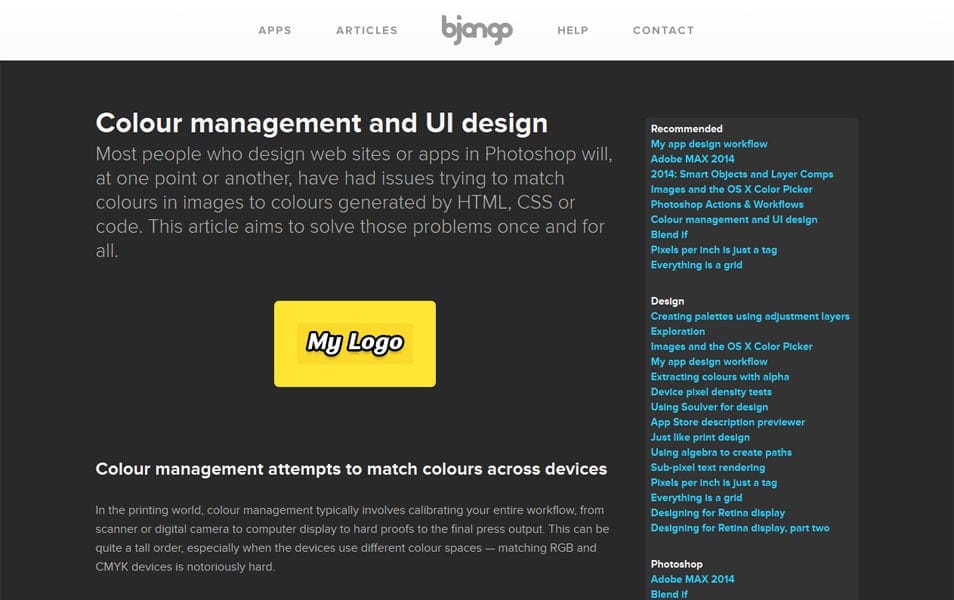 Most people who design web sites or apps in Photoshop will, at one point or another, have had issues trying to match colours in images to colours generated by HTML, CSS or code. This article aims to solve those problems once and for all.
It's Only Color

Working with color while designing is really about creating another dimension in your medium. Choosing a successful palette creates a foundation for adding meaning and hierarchy to your design.
Learn the Basics of Color Theory to Know What Looks Good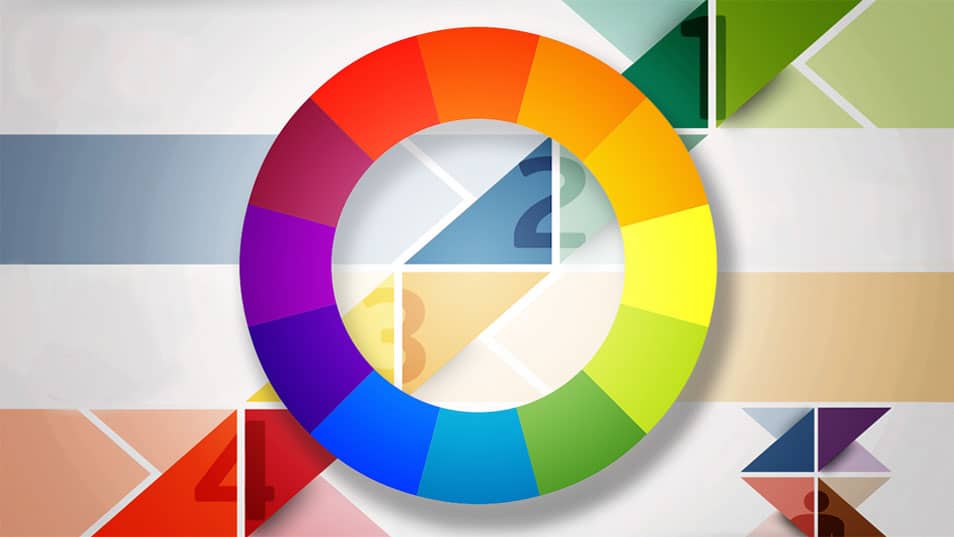 Colors are important to making things look good, whether it's the clothes you wear or the presentation you give at work. But not everyone instinctively knows that orange and blue is a perfect combination. If you can't trust your own judgement, understand and rely on the basics of color theory to always pick the right colors.
Creating Harmonious Color Schemes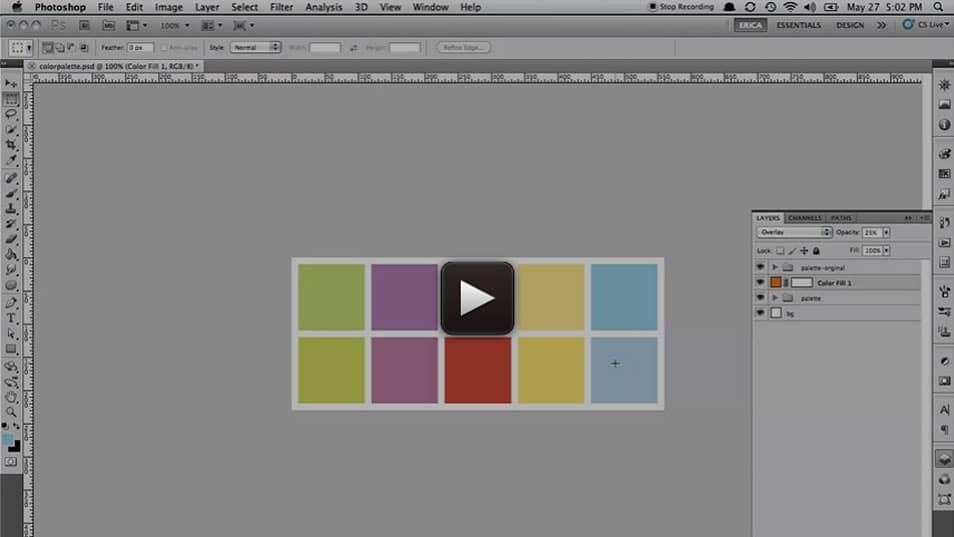 Inspired by the mixing of paint or ink, try this method of tinting your color schemes to craft a perfectly harmonious palette for your projects.
A Crash Course In Color Theory, Part Two: Color Harmony & Combinations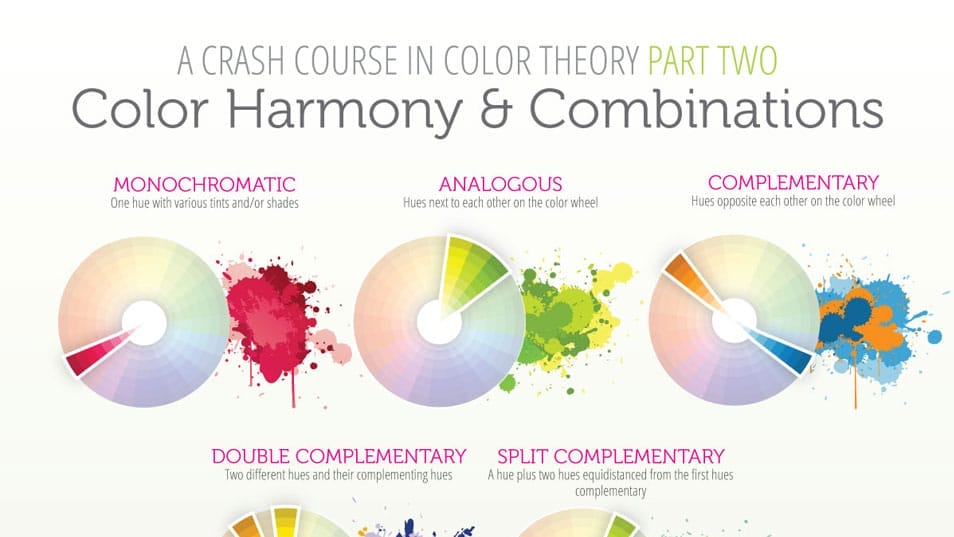 Color theory is part biology, physics ( covered in Part One in this series), psychology (to be covered in Part Three) and geometry. I think one thing I love about playing with color harmony is how simultaneously mathematical and emotional it can be.
Infographic: The science of color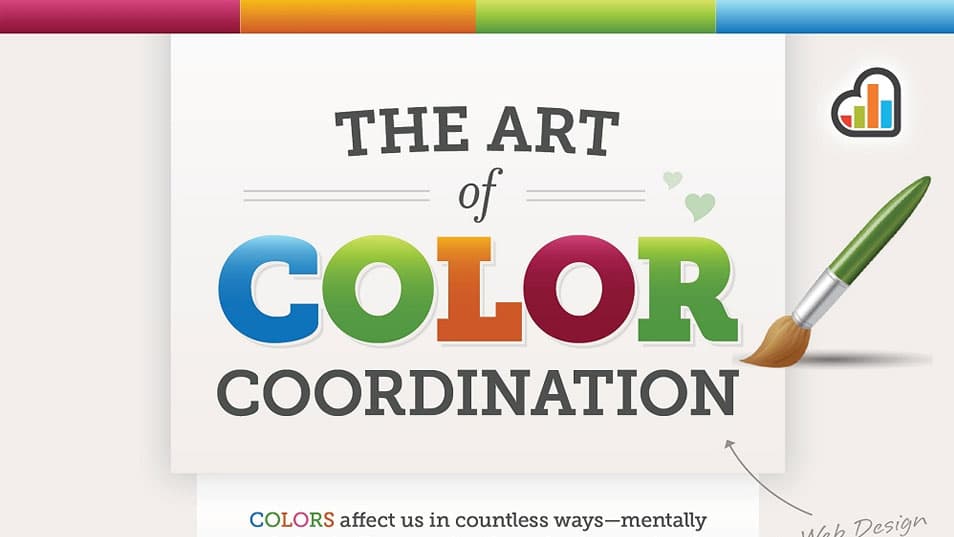 Our today's collection of infographics is about Color. Color is an important component of every website. The final impression of your website depends on correctness of the chosen colors. And you don't should neglect with it.
The Psychology of Color – Must See for Web Designers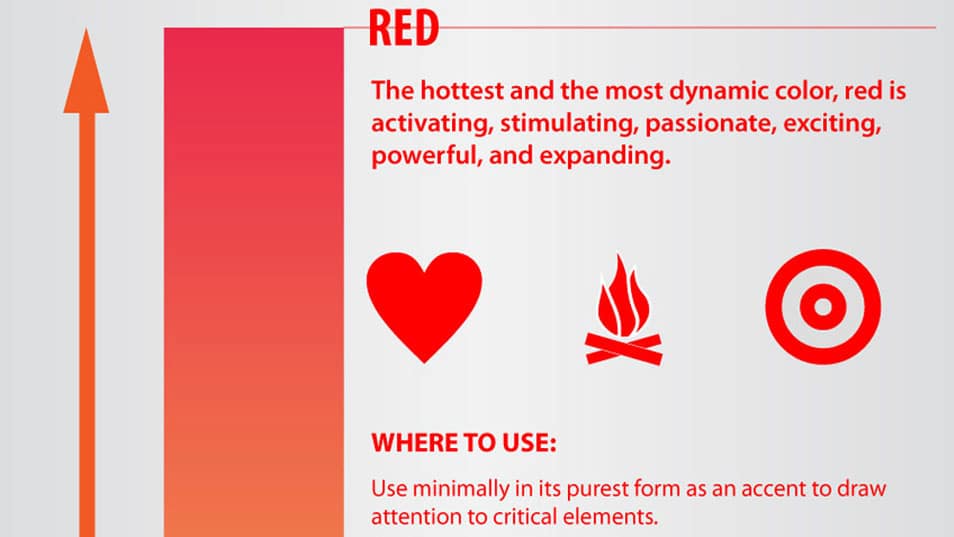 One of the most fascinating and overlooked elements web designers tend to overlook is the influence of color on their website visitors. While a color palette may look visually pleasing, is it psychologically pleasing? When you go to design your next website pay special attention to your color choices and what they actually mean.
Daily UX Crash Course: 13 of 31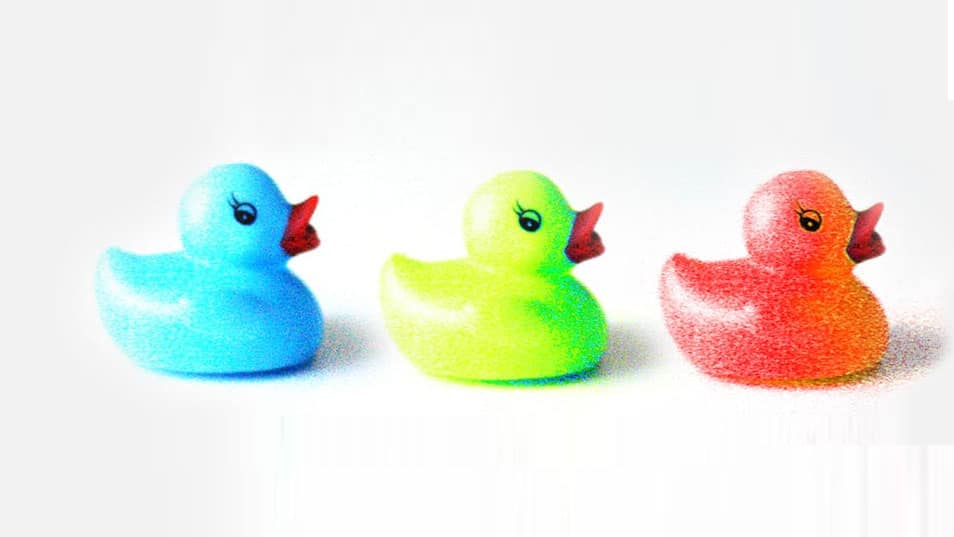 Real life is full of sun light, artificial light, heat, cold, clothing, brands, fashion, and a million other things that effect the way we perceive colours. As a UX designer we may not care about Pantones and brand guidelines, but we definitely have to learn about.
Selecting Your Own Color Scheme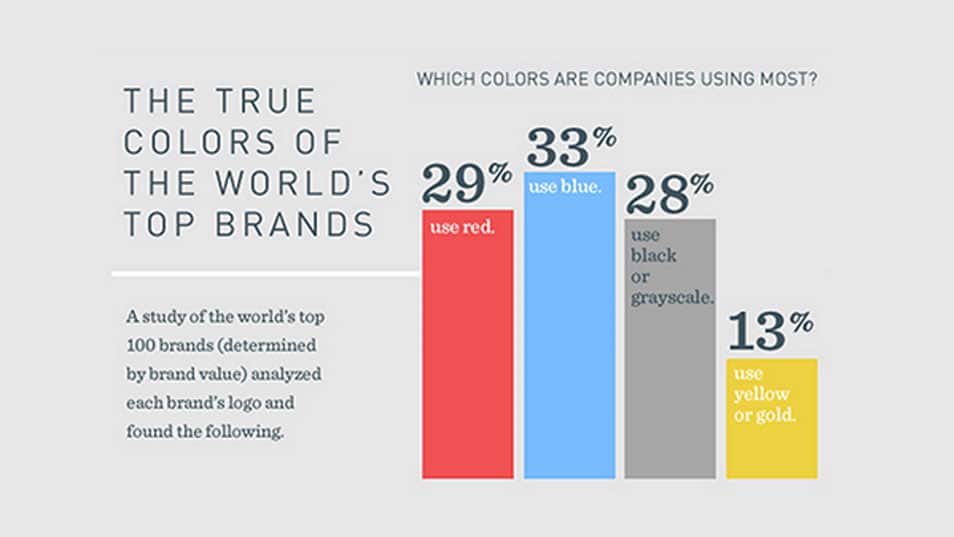 By now you should have a good idea of what color is, what each of the colors mean and have a good understanding of the different types of color scheme available to you. However, knowing all of that doesn't help if you have no idea where to get started, or how to put that information into action.
10 colour management terms designers need to know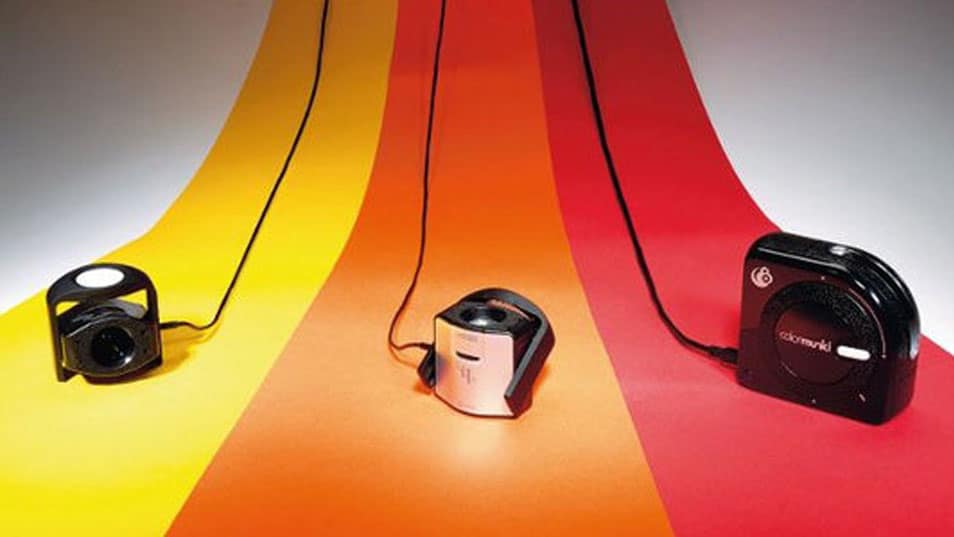 Getting your colours right means getting your head around some tricky terms. Our jargon-busting guide covers all you need to know. Checking the colours you see on screen are the same ones that are reproduced in your printed designs is fairly straightforward.
Color Theory 101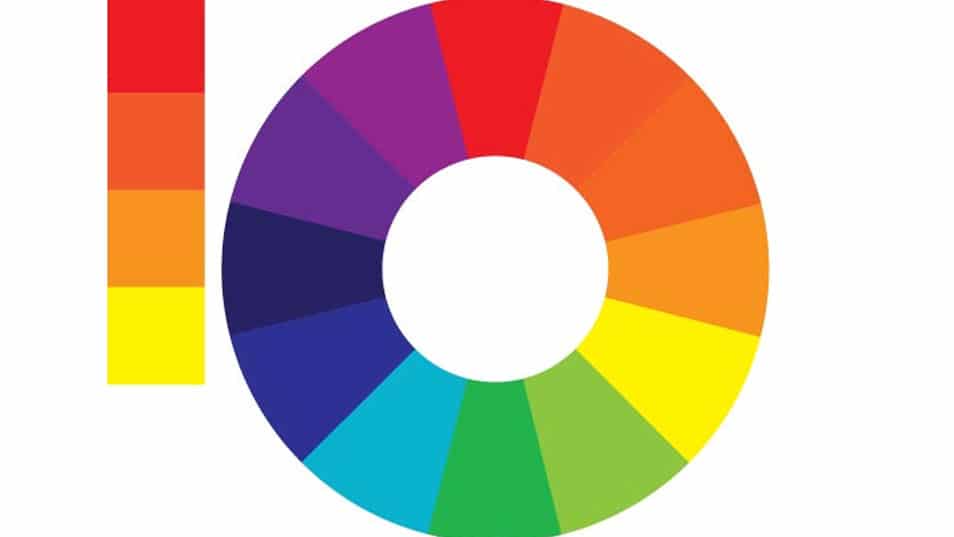 First impressions are everything. How you look and how you present yourself can determine how you are perceived. The same goes for our design work. The impression that our work gives depends on a myriad of different factors.