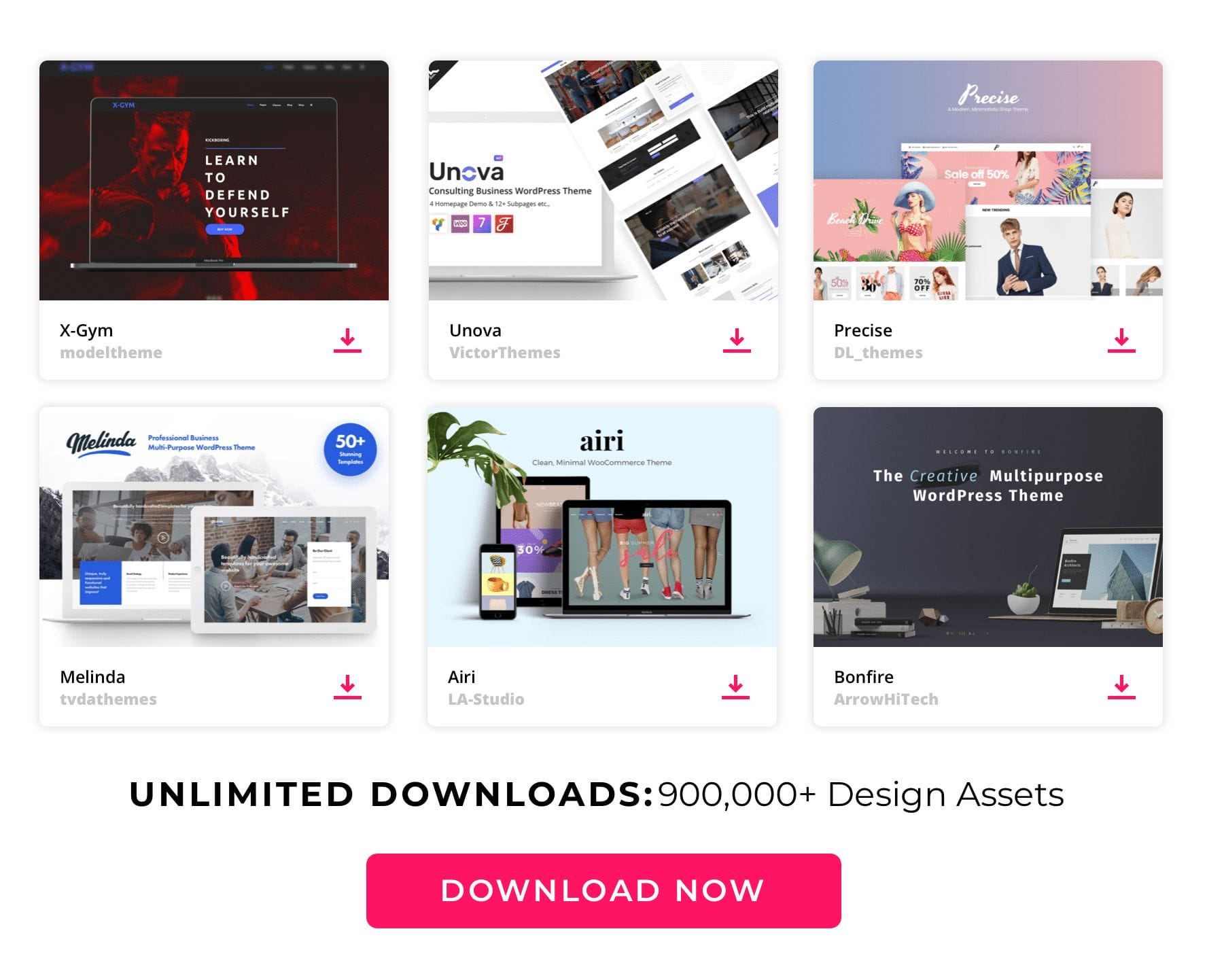 Here's a scenario: As an entrepreneur, you have established a great business and a cool-looking website to match the same. That's good to start with. Now imagine the horror of logging into your website account one morning and finding that your website has been hacked and you have lost all your data. You may think "why me? I am just a small-time entrepreneur."
Well, website hackers are fair to everyone and do not discriminate based on the size of your website. They scan millions of websites around the internet and hack any website with any security-related vulnerability.
WordPress Categories
So, if you are owning a WordPress-powered website, what should you do to ensure its overall security? Invest in a good WordPress security plugin or a WordPress Backup Plugin? We would recommend both as a good security plugin will prevent your website from being hacked while a good WordPress Backup Plugin will ensure in the event of a website compromise, it is restored to normal in quick time and without any major disruption.
Through this article, we will be discussing the best of WordPress backup plugins available in the market and how they compare with each other.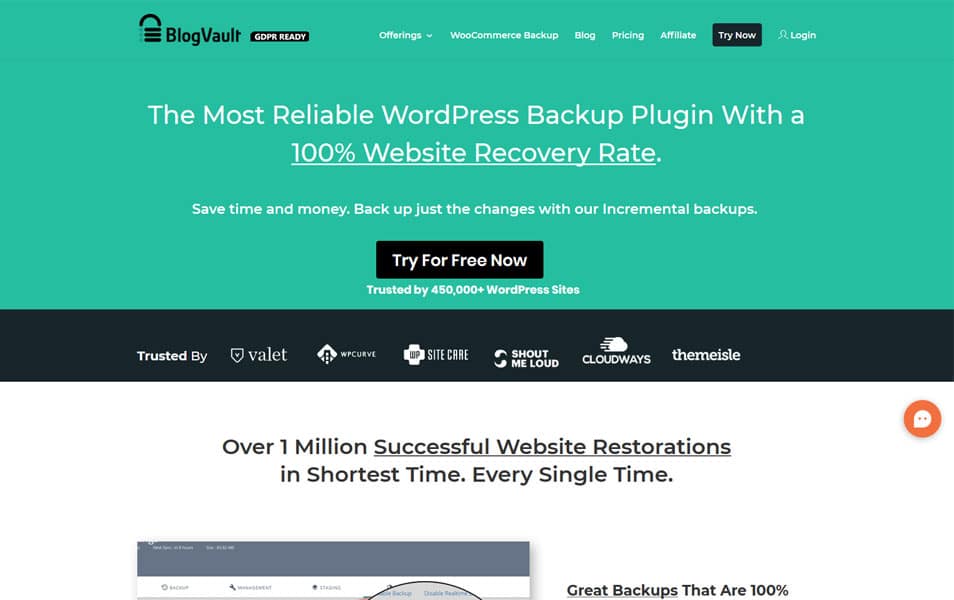 Used by over 40,000 websites, BlogVault is among the most popular WordPress backup plugins in the market today. Along with the reliable backup facility, BlogVault is effective in website recovery, staging, and migration. On average, BlogVault can restore a compromised website to normal in less than 5 minutes. Other useful features include its incremental backup method that saves only the changes on your website and ensuring that its speed or performance is not negatively impacted.
You can also manage the security of multiple websites from a single centralized dashboard, thus saving valuable time and effort.
List of Features
Complete and reliable website backup functionality.
Easy auto-restore feature to restore websites in a few clicks.
Test Restore feature to test the backup data before actual restoration.
Website staging feature to test the changes on your website before making the actual changes.
Designed for WooCommerce websites, which require up-to-date backups.
Migration feature for seamless migration of your website to another domain address.
Easy management of all installed WordPress core, plugins, themes, and multiple site users from a single dashboard.
Comes with website maintenance features including website performance and uptime monitoring.
List of Benefits
Easy and fast to set up and configure. BlogVault plugin takes less than a minute.
Ability to backup or migrate large websites (example, with 300GB data) without any server overload or impact on the website performance. Its incremental backup feature ensures block-wise backing up of the entire website.
A benefit of daily automatic backups is that it can be scheduled according to your convenience.
The facility of on-demand backups for instant backup of the website
Facilitates off-site storage of backup data on Amazon S3, Dropbox, or even on your local computer.
Access to over 365 days of backup data and the ability to restore data from backups with its one-click auto-recovery feature.
Fast data recovery that takes less than 5 minutes to restore a compromised WordPress website.
Facilitates website migration on popular web hosts including WPEngine, Savvii, FlyWheel, Pantheon, LiquidWeb, and Cloudways.
Offers Real-Time Backup feature for WooCommerce websites that store the most updated backups.
Client reporting and white-label solution that enables you to provide better customer care with minimum business risk.
Responsive and knowledgeable customer support team to resolve any queries or problems.
Limitations
Cloud integration limited to only Dropbox
Does not support individual file restores
Pricing
Includes both a free version and paid version that starts from $89 per year (for 1 website)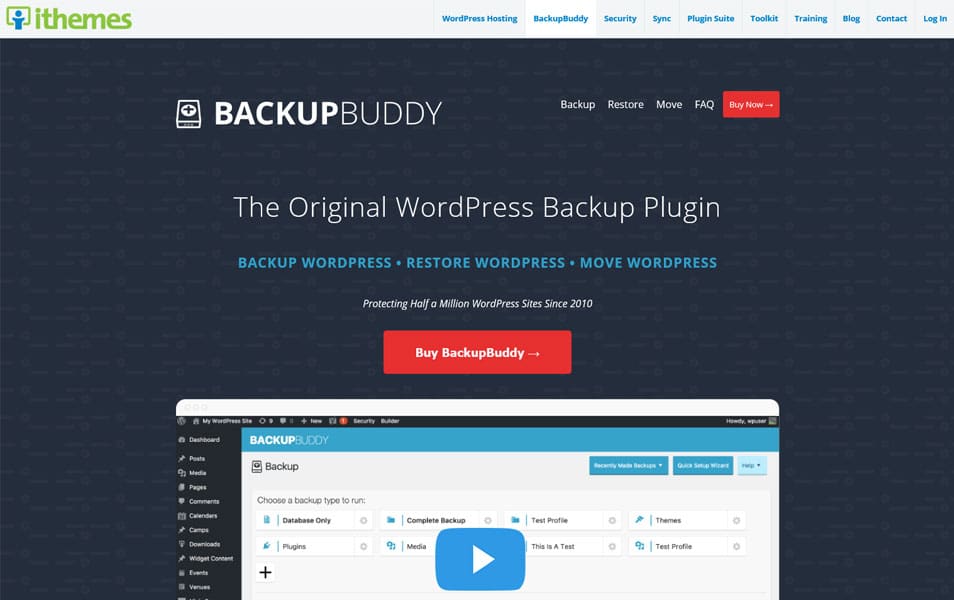 The BackupBuddy plugin from iThemes is a complete WordPress backup and restore solution that can complete a website backup quickly. Along with backup facilities, BackupBuddy can implement a complete migration of a WordPress website to a new domain or web host.
Unlike other WordPress backup plugins, BackupBuddy claims it can create a backup of the entire website including its widgets, settings, and custom post types. It also offers a downloadable zip file containing the backup data that you can store on your local computer or on a cloud platform.
List of Features
A comprehensive WordPress website backup and restore solution.
Can be used for scheduled backups (example on a monthly, weekly, daily, or even hourly basis).
Can store your data backups automatically on cloud platforms such as Dropbox, Rackspace Cloud, Amazon S3, FTP, and BackupBuddy Stash (which is their own cloud service). You can also email the backed-up data as a file attachment.
Enables off-site storage of data by automatically sending backup files to multiple remote storage locations.
Supports downloadable backups (as .zip files). On completion of the backup process, BackupBuddy provides a zip file with your website data that you can download.
BackupBuddy migration feature allows web developers to build their custom websites locally (or on a temporary domain) and then migrate the site to a live domain.
Ability to exclude selected files and database tables from the backup.
Restore feature that enables quick and easy restoration of any WordPress website.
Email notifications sent to users to instantly alert them of backup process completion.
List of Benefits
Enables complete backup of WordPress website data.
Ability to migrate a WordPress website to another web host or domain
Access to online support forums, the latest plugin updates, and around 1GB – 5GB of cloud-enabled storage space for your data backups.
Features the ImportBuddy tool for complete migration and restoration of your website.
Provides website cloning facility on a temporary basis
Provides the status of all recent backups of your website.
Supported by online tutorials and product documentation.
Limitations
No free version of the backup solution is available.
Scheduling of backups is neither easy nor user-friendly to be executed by a regular user.
Website restoration is not easy and quick as downloading of a selected backup version and uploading to the web server takes time.
Does not have built-in support for data encryption that ensures the safety of your backups. Can implement this feature only by integrating with other iThemes products.
Online product support through community forums is not very user-friendly.
Does not support multisite
Pricing
Customer support available only on a paid version that is priced starting from $80 a year (for 2 websites).
With over 2 million installations, the UpdraftPlus backup plugin is among the most used plugins globally for both file and database backups. UpdraftPlus can implement a comprehensive backup of any WordPress website and stores the backup on a variety of cloud platforms, which you can easily download.
This backup plugin supports both on-demand and scheduled backups. As compared to other backup plugins, UpdraftPlus consumes lesser server resources and hence is faster to execute. Tested on over 1 million websites, UpdraftPlus stores data backups on a variety of cloud-based platforms such as Dropbox, Amazon S3, Google Drive, Rackspace, SFTP, and email.
List of Features
Can perform a complete backup of both file and database systems.
Supports storing of WordPress backups on cloud platforms such as UpdraftPlus Vault, Dropbox, Amazon S3, Rackspace Cloud, and Google Drive.
Supports automatic backups and data encryption.
Facilitates backup of each and every WordPress entity (plugins & themes, database, and uploaded content) in separate files and can be managed from the WordPress control panel.
Supports incremental backups that allow you to perform back up of only new website changes that were made since the previous backup.
Supports pre-update backups, that performs a complete website backup before any updates to the website plugins, themes or core are applied.
Supports the restoration of individual files, database files, or your complete website.
Supports migration of your website to a new web domain or cloning of the website temporarily on their server.
List of Benefits
Can implement a backup of websites with over 100GB data (with file sizes limited only by the underlying web host).
Compatible to multisite backups.
Provides 1GB of free cloud storage with the product (with additional storage that can be purchased).
Allows setting up of scheduled backup on an hourly basis (four, eight, or twelve hours), or on a daily, weekly, or monthly basis.
Available in 16 languages.
Automatically retries any failed data uploads.
Can be used for backup of non-WordPress files and external databases.
Allows scheduled backups of files and databases separately at different times
Limitations
As a Do-It-Yourself (DIY) tool, this plugin needs user time to configure for websites.
Professional customer support is available for customers with the paid premium version and not with the free version. Additionally, most of the useful features are only available on the paid version
Not very user-friendly for regular WordPress users to configure and implement.
Pricing
Includes a free and premium version with the premium version starting from $70 monthly (for 2 websites).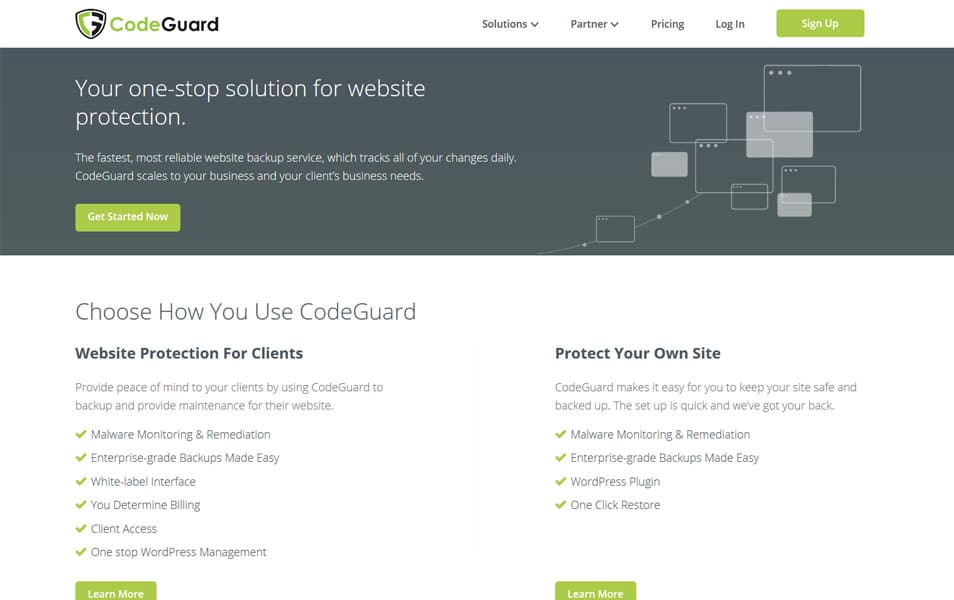 Projected as a one-stop security solution for your website, CodeGuard protects websites from malware attacks and performs enterprise-level backups. Along with website backups, this backup plugins includes features such as automatic WordPress plugin updates, website migration, website staging, and customer management dashboards.
List of Features
Performs an automatic backup of your WordPress website with real-time updates.
Continuous monitoring and automatic backup of any data changes on your website
Includes both website restoration feature (for restoring entire website) and selective restoration feature (for restoring selected files or folders).
Default storage of backup data for 90 days.
Supports storage of backup data on cloud platforms including Amazon Web Services and Simple Storage System (also known as S3).
List of Benefits
Automatic backup of any changes on your WordPress website.
The facility of including (or excluding) selected files, folders, or databases from the backup process.
Incremental and daily backups of only data changes, thus saving disk space.
Built-in technology for automatic user notification of any file additions, changes, or removal.
In addition to WordPress, it supports other web development platforms including Drupal, Joomla, and Magento.
Limitations
Priority queuing for tasks such as on-demand backup process and website restoration.
Depending on the selected plan, customers subscribed to lower-priced plans may have to wait longer for any response to their queries. Customers with higher-priced plans get services like on-demand website backup and website restoration faster.
Pricing
Free and paid version, with the paid version starting from $60 each year (for 1 website).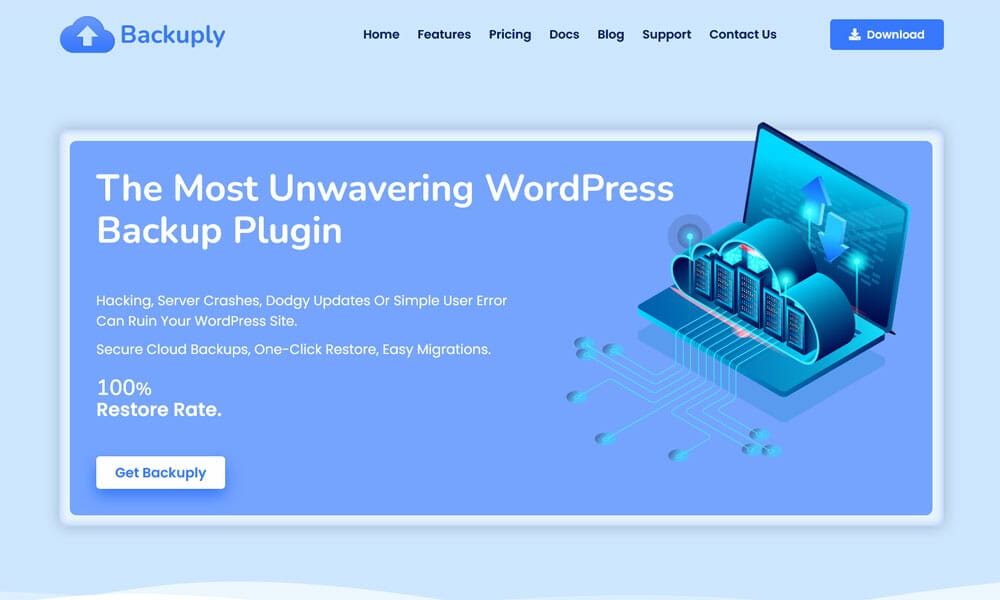 Conclusion
Through this article, we discussed the importance of having a comprehensive backup solution that can restore your compromised WordPress website in quick time to minimize your business losses.
We compared the best of the available backup plugins in the market. While plugins like BackupBuddy and BlogVault are easy to use as compared to the other 2 plugins, their paid versions are also more expensive.
Overall for its price value, BlogVault offers a complete backup and restoration package with useful features like a user-friendly interface, website restoration, and staging features, and dashboard management. Additionally, its reliable customer support can reduce your overall security concerns. Hence, we would recommend BlogVault as the ideal solution for your website backups. However, selecting the right backup tool also depends on the requirement of your specific website and which of these tools fit your requirements to the maximum.
So, do let us know which backup tool are you using for your WordPress website and why? Leave your comments below.
Image Credit: DepositPhotos