Best Content Management Systems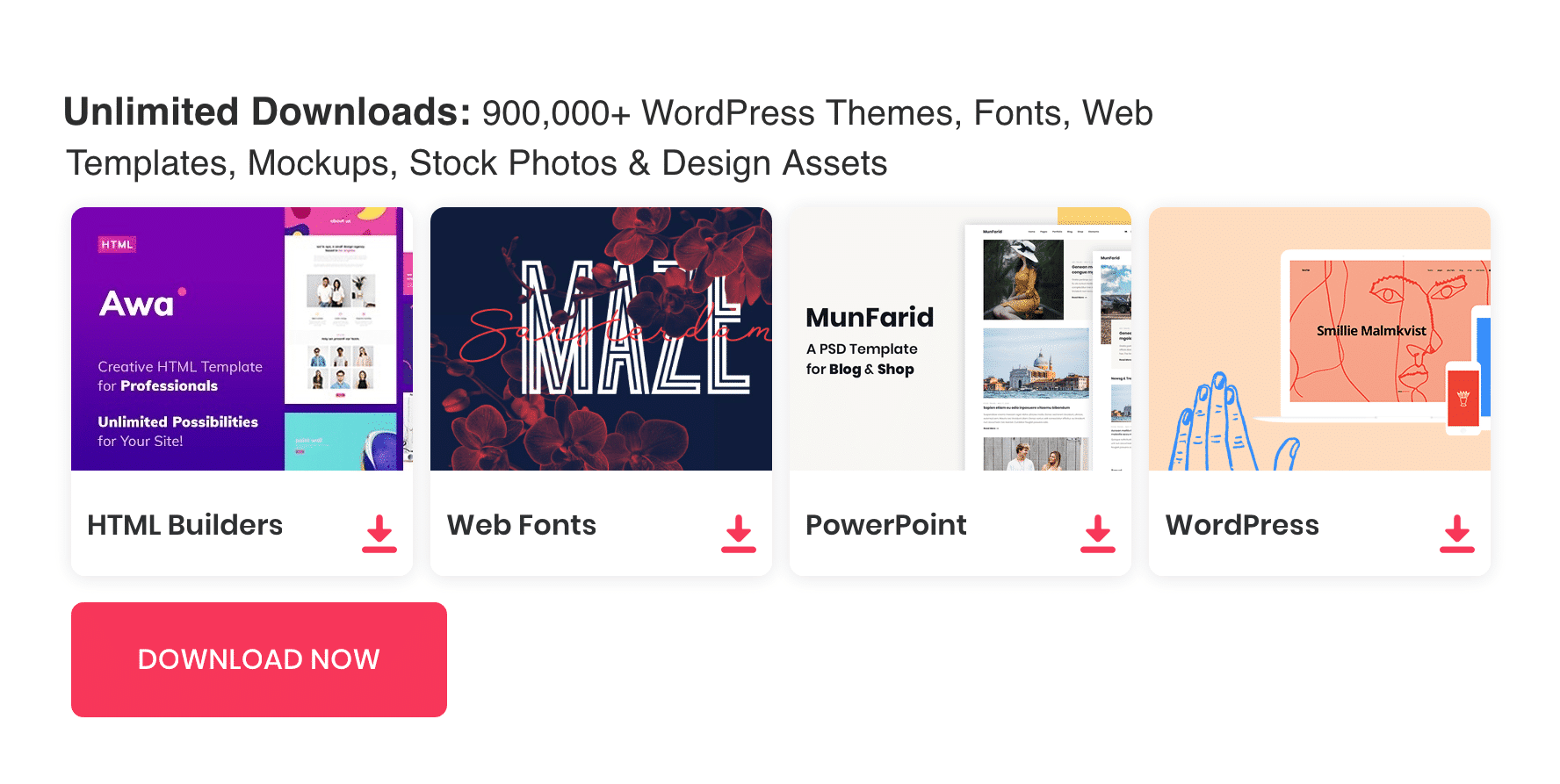 A content management system (CMS) is a computer program that allows publishing, editing and modifying content as well as maintenance from a central interface. Such systems of content management provide procedures to manage workflow in a collaborative environment. These procedures can be manual steps or an automated cascade.There  are  lot  of  CMS  systems  available now  but  it is  hard to find  the    good  one. So  we  are show  casing  Best Content Management Systems for your  next project.
WordPress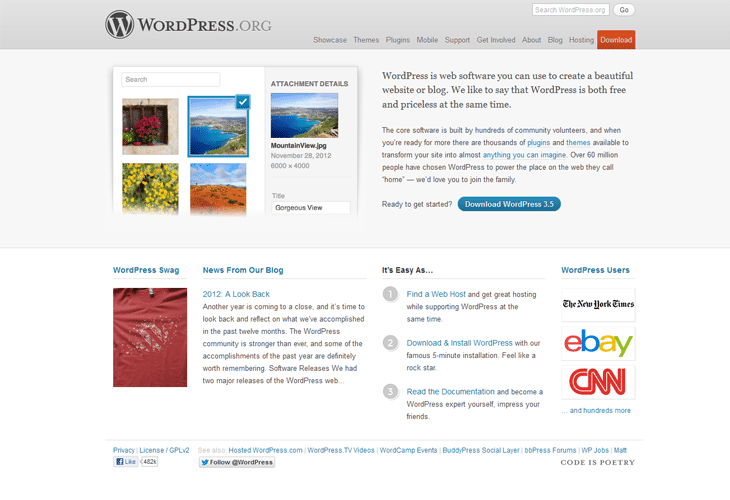 Easily the most accessible and possibly the most commonly used, the strength of WordPress is in its quick installation and the massive user and developer community that results in a vast array of plugins and enhancements for the platform.Throw in the added bonus of a vast template library and easy PHP and CSS file editing from within the admin screen and it becomes quite clear why WordPress is used for everything from personal blogs to e-commerce websites.
Joomla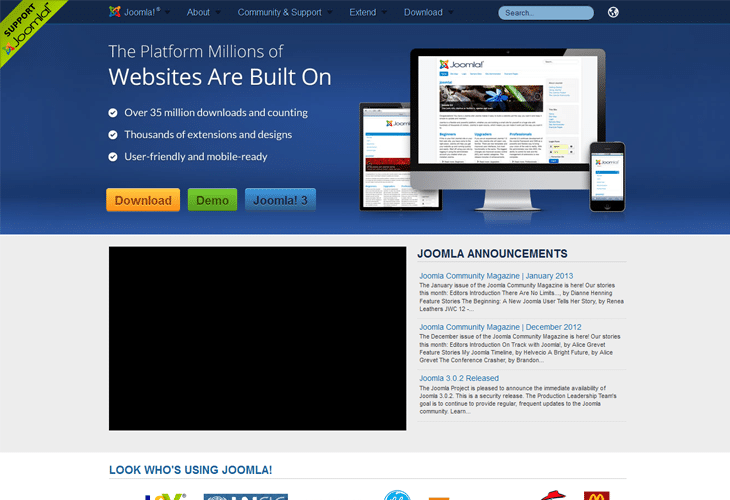 Joomla  is used by some very prominent companies as the CMS for their websites, including MTV, Harvard University, and IHOP. It's suitable for back-end networks, too, and is used by Citibank for just that purpose. Joomla! has been used for everything from inventory control systems to reservation systems, to complex business directories, in addition to normal websites.
Drupal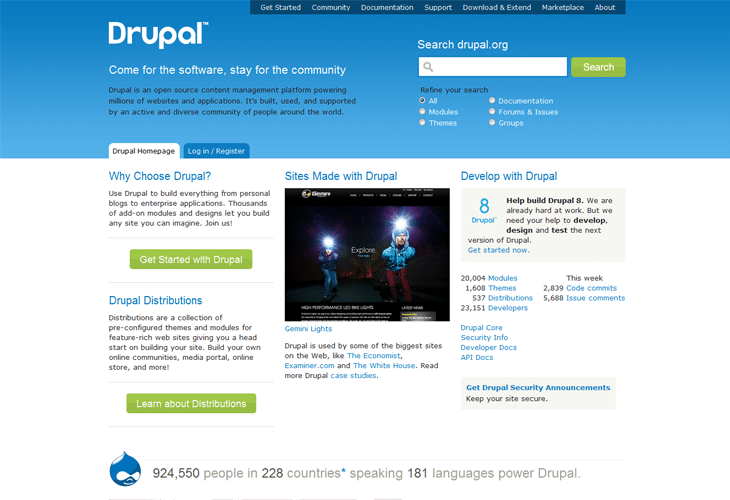 A popular free and open source CMS, Drupal is often one of the first choices when building a new website.  Like many of the other tools listed here, Drupal can be scaled for personal blogs or enterprise mega-sites, and like WordPress there are thousands of modules that can be added to increase functionality.Clicking on the link above will take you to the home page where you will be able to take a look at the showcase of sites made with Drupal. It is worth noting that questions from the user community about perceived failings in recent versions are yet to be fully addressed by developers; however Drupal remains a popular solution.
Expression Engine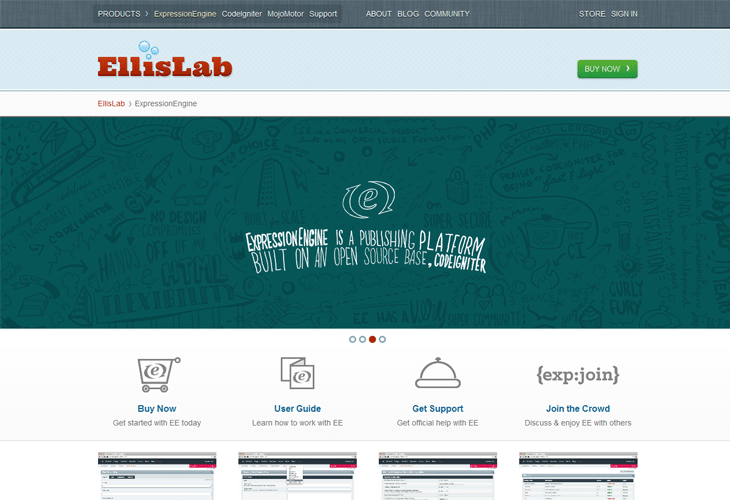 Expression engine is an interested hybrid of commercial and open-source software. The base code for the Expression Engine core is built on Code Igniter, which is their own open-source PHP framework. But the commercial aspect of the CMS means that there's committed developers and technical support people focused solely on EE.There are a ton of great websites built on Expression Engine, and they  have set up a showcase site, Show-EE, specifically to share them. Some sites built on EE include A|X Life, the Canon Ixus site, and Living Social Adventures.
Modx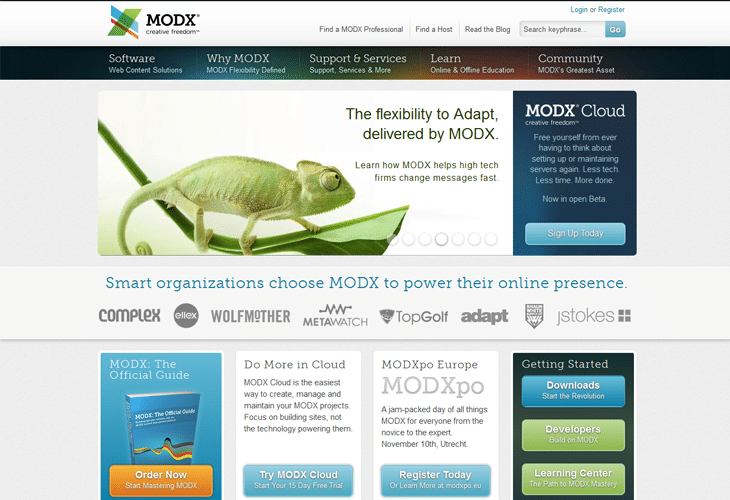 You need little or no coding knowledge to use the best CMS applications, and ModX is a strong example of this. With over 100,000 websites ranging from enterprise-scale businesses to sole traders, ModX  is easy to use, allows non-technical staff to create content and affords various advantages such as using multiple styles on the same page.Additionally, ModX – available from http://modx.com – minimises the need for SEO expertise as it is developed as a "blood brother" of search engines, presenting all of the information required by Google, Bing, etc. without additional plugins.
Dot Net Nuke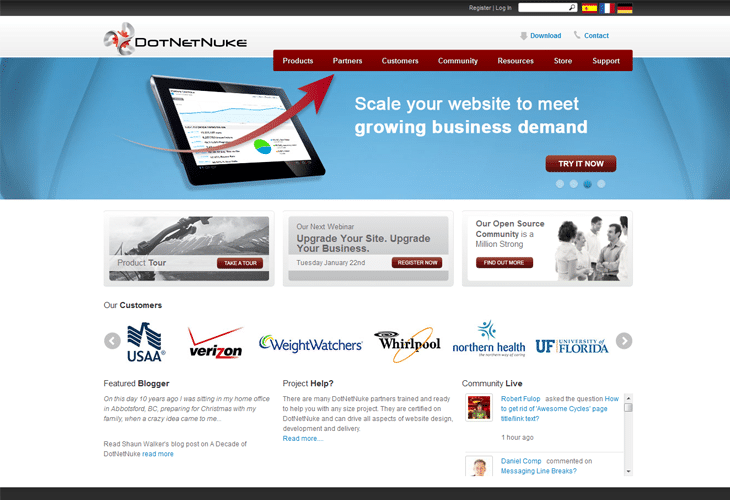 The world of CMS solutions is chock-a-block full of software written in PHP. DotNetNuke, meanwhile, is a rare exception. Software written in Microsoft's ASP .Net is more suited natively to Windows servers, and this consideration (along with the fact that many corporations host their intranets on Windows servers) is one very strong reason to opt for DotNetNuke.Another is the ease with which developers can customise a web application in DotNetNuke thanks to the open API, while end users benefit from an easy to use system.
benedictdaily.com win free prizes
Silver Stripe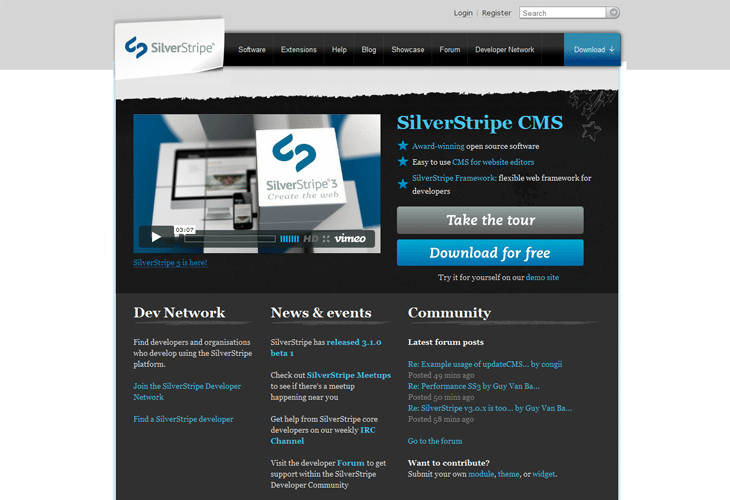 Silver Stripe is an open source CMS that is well-suited for developers and designers who are comfortable with code. They have recipes and tutorials for beginning developers, and plenty of modules for things like blogs, forms, and forums. Code is isolated in Sapphire, so designers can use whatever HTML and CSS they want to style their sites. It also supports multiple page templates to support different needs.
Contao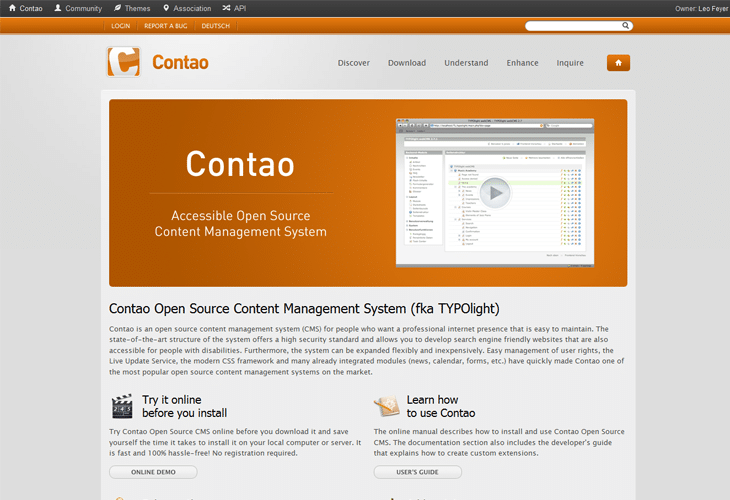 Contao has a user interface that incorporate Ajax and other Web 2.0 features to improve usability. It includes advanced editing features for content, including editing multiple records at once or rolling back to prior versions of content.It also includes a number of common built-in modules. The calendar module supports multiple calendars, all-day and multi-day events, open-ended events, and syndication via RSS or Atom. The built-in newsletter module supports double opt-in emails in either HTML or plain text. You can import recipients from a CSV file, and even personalize newslettersbeing sent. The build-tin news/blog module includes support for multiple categories, archives, featured posts, comments, and RSS or Atom syndication. Tons of additional modules are also available, to further extend Contao's functionality.
Light CMS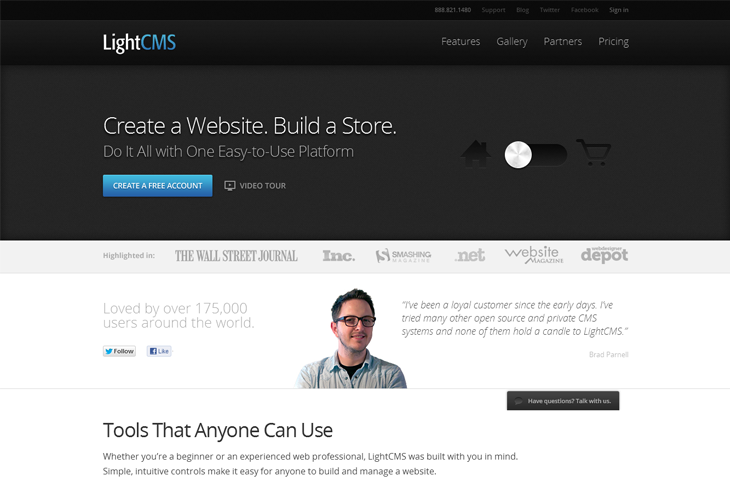 LightCMS is well-featured for a basic CMS. The layout is a "edit-in-place" kind of system, where you're working within the template layout. They have thought through a lot of the basic things that a user wants to do (create a page, web form, photo gallery, etc.) and make it simple to add these elements into your site. Its the kind of system that is easy to understand, and easy to implement.
Text Pattern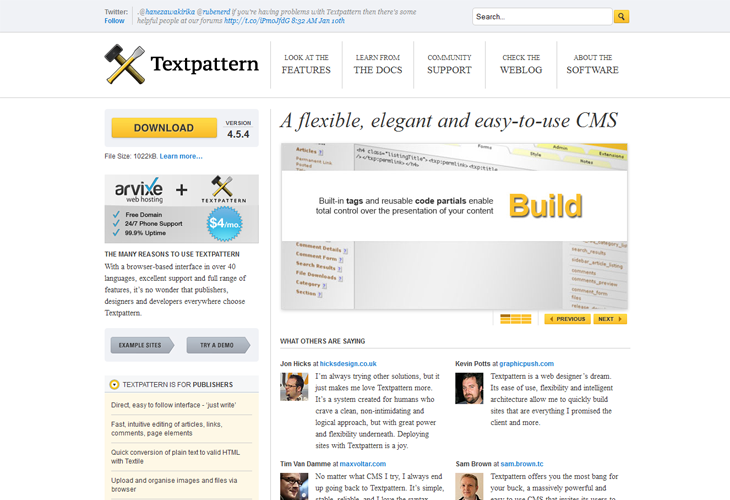 TextPattern is probably one of the more overlooked CMSs out there. TextPattern is a highly flexible CMS, though, that's easy to use out of the box and easy to customize by designers and developers. It uses a tagging system to make content retrieval and display easily controllable. TextPattern uses Textile to quickly convert plain text to valid XHTML in your articles and content, which makes it very user-friendly for less technical users.TextPattern doesn't have the huge variety of themes or templates available for WordPress, Drupal, or Joomla!, with only a little over 120 front-end themes readily available. They also offer back-end admin themes, for customizing the user experience for content creators.
Umbraco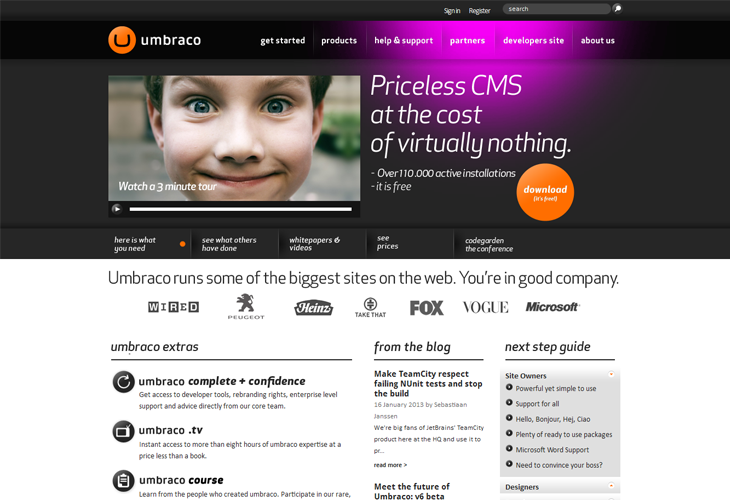 Umbraco gives designers full control over design aspects, and focuses on web-standards and a completely open template system. There are starter kits and skins available to make it faster to get started. It's also easy to integrate Flash and Silverlight content into your Umbraco-based site. A number of high-profile sites are built on Umbraco, including the Heinz and ABBA sites.On the content-creation side, Umbraco makes it easy to manage content by using a tree-based view of your site. It allows for user-defined presentation of information about your content, so you only see what you need to. It supports versioning, scheduled publishing, and previews. One advantage Umbraco has over many other CMSs is that it works well with content created in Microsoft Word, which can be a huge advantage to users who are used to dealing with Office products. (How many times have clients sent you documents with detailed Word formatting that they expected you to recreate perfectly?)