20 Best Books for Web Designers & Developers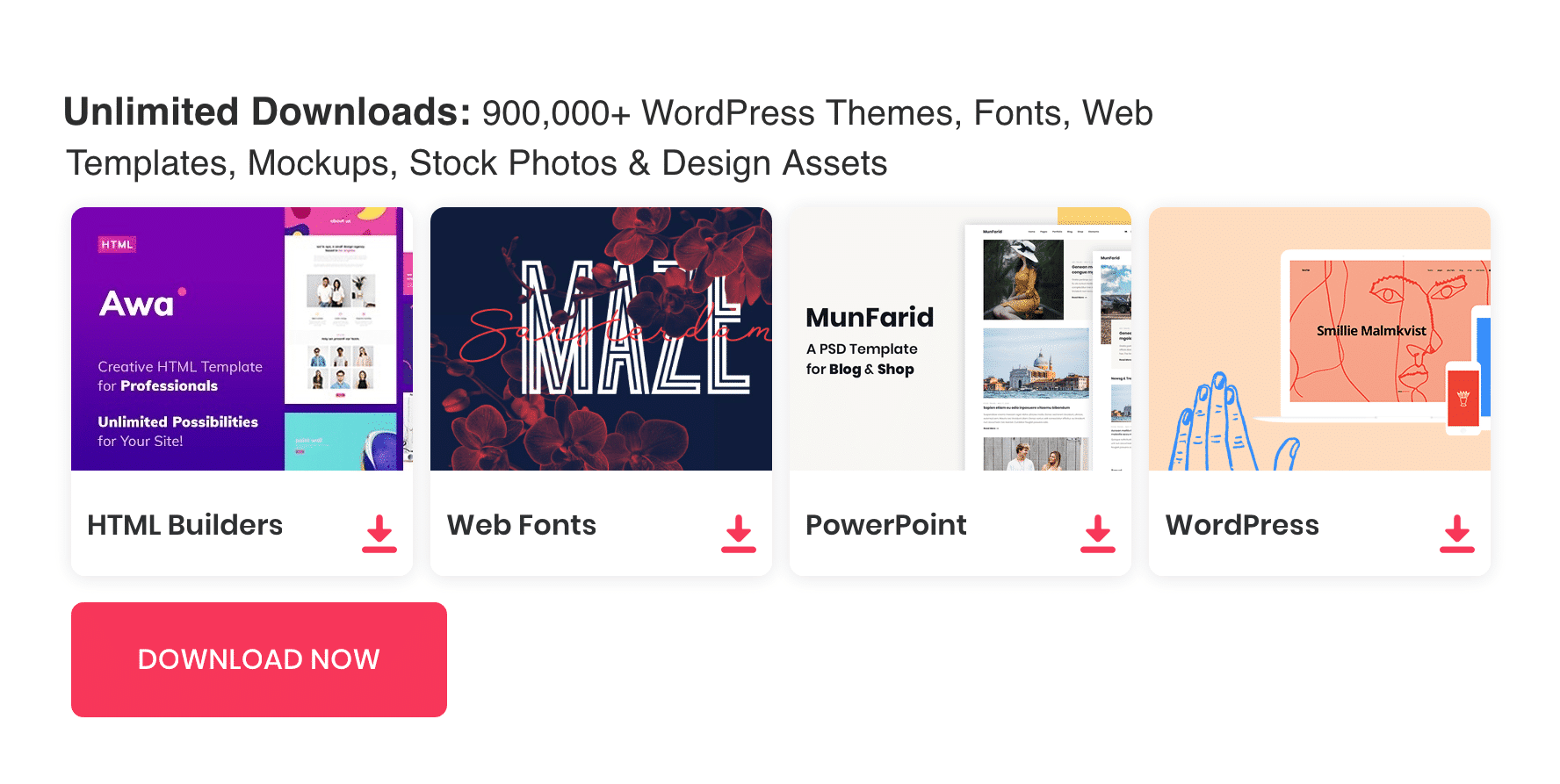 An eBook is an electronic book, one you read digitally on your computer, laptop screen or on devices called ebook readers. You will find them in various formats and until the industry has a standard accessible in all devices these various formats will exist.PDF format is a popular format for e books. All platforms are able to gain access and read PDF formatting.
Web site Design is a very important part of Graphic Design. Designing community always require useful resources and new techniques to bring innovation in their designs. Web designing or web development is a costly subject to learn. The regular printed books of this subject are really expensive On the other hand eBooks are less expensive than any printed books since they do not include the cost of the printing.
In this article, we are mentioning 20 must read Ebook for WebDesigners to open a new world of opportunities for them.
An Introduction to Adobe Photoshop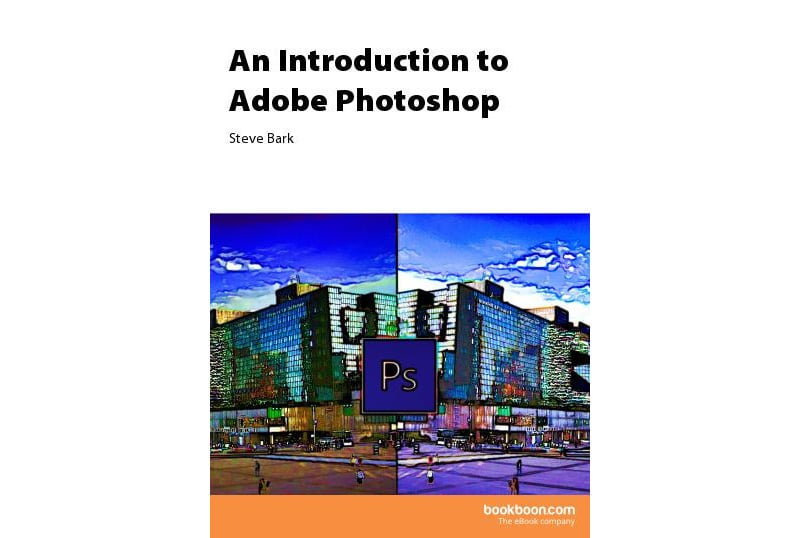 Flat Design and Colors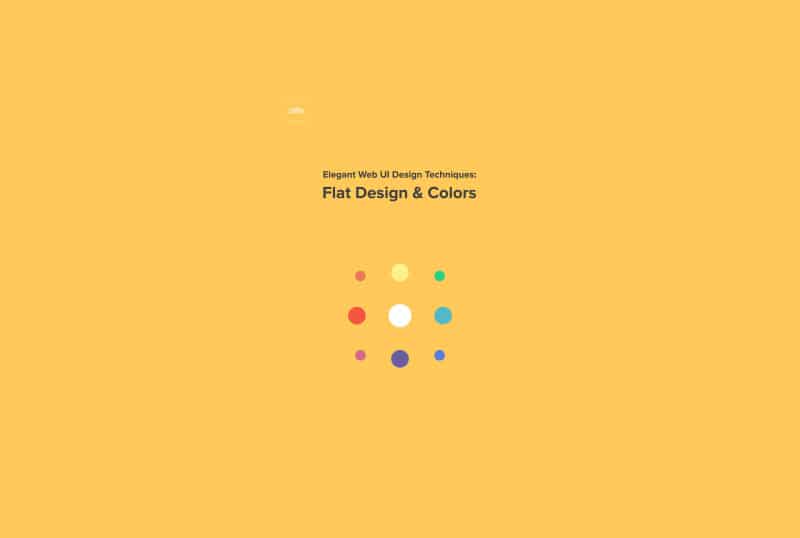 The Shape of Design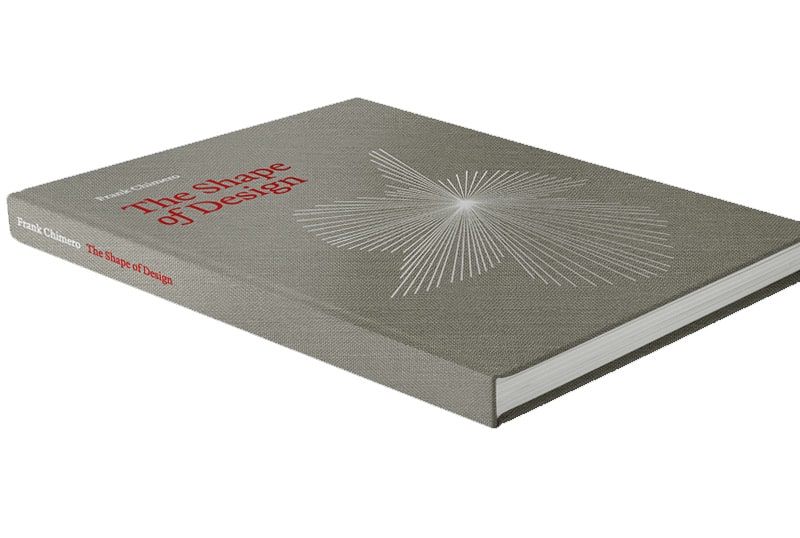 Web UI Design Patterns 2016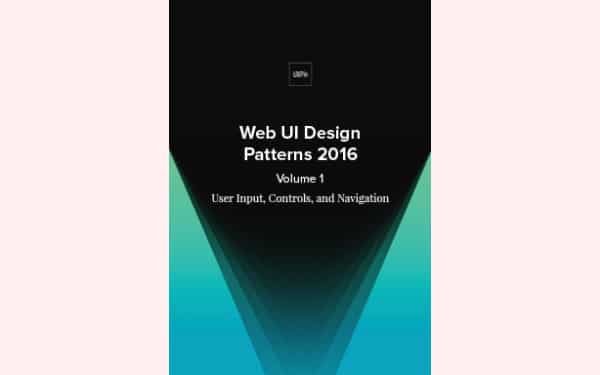 Design's Iron Fist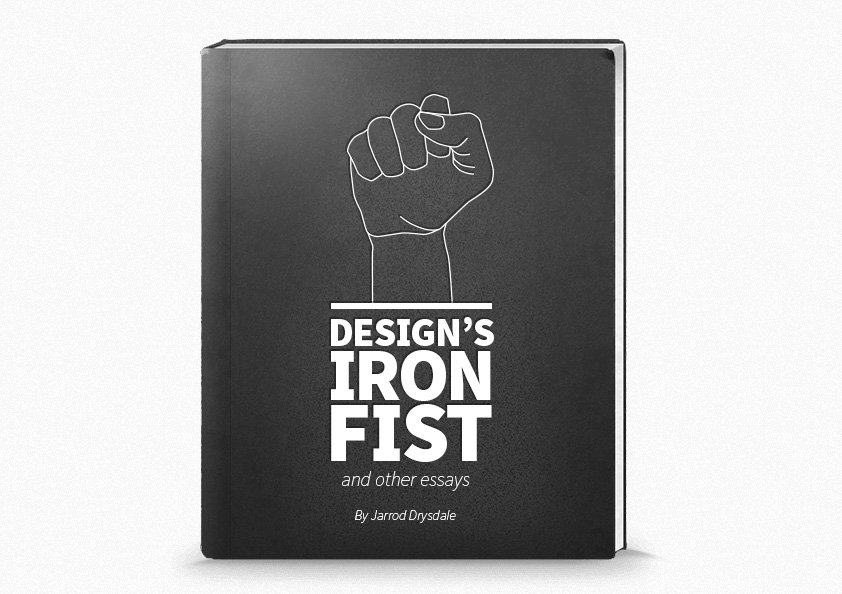 Mobile UI Design Book of Trends 2015 & 2016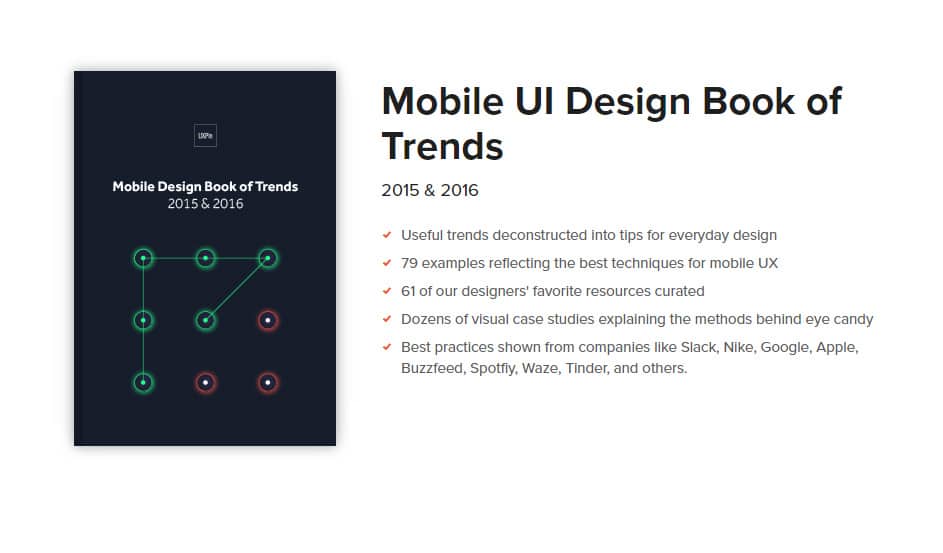 Free e-Book for UX Design Trends 2015 & 2016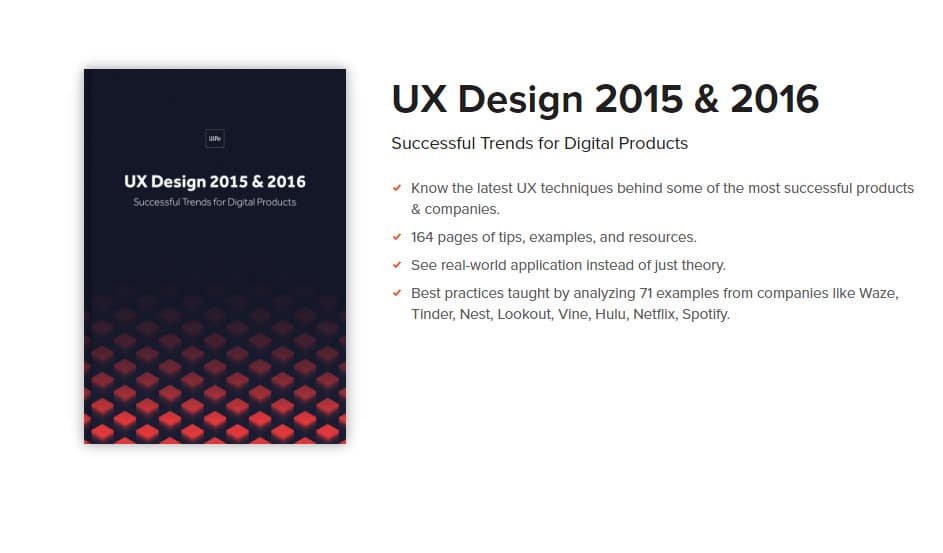 Bright Ideas for User Experience Designers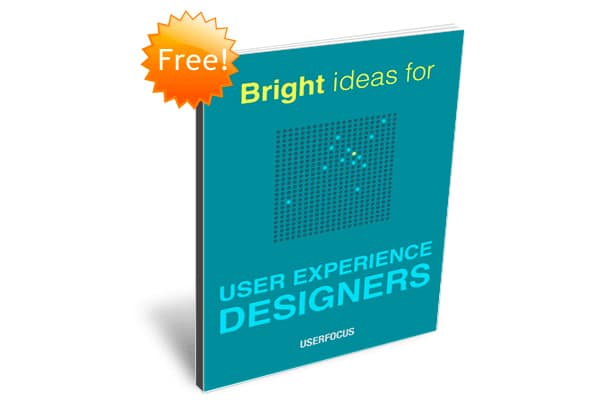 2016 Web Design Best Practices Ebook Bundle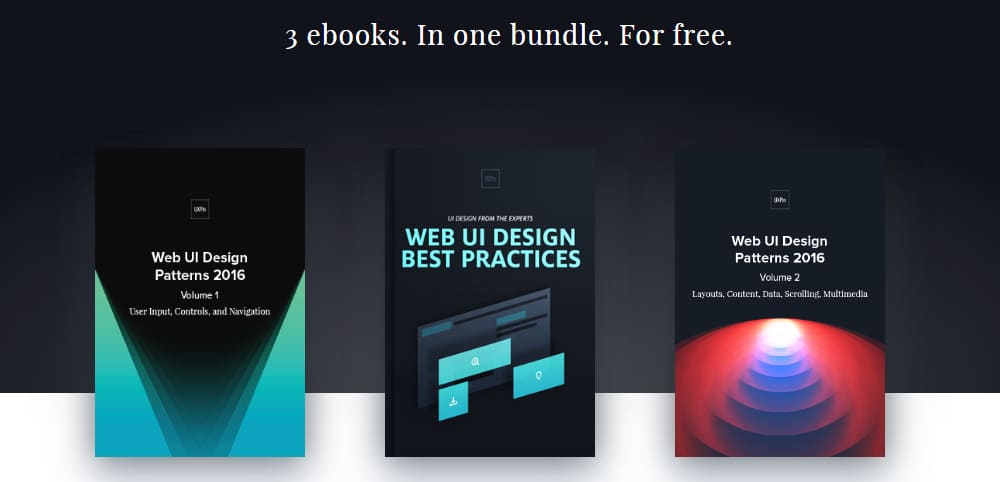 Responsive & Adaptive Web Design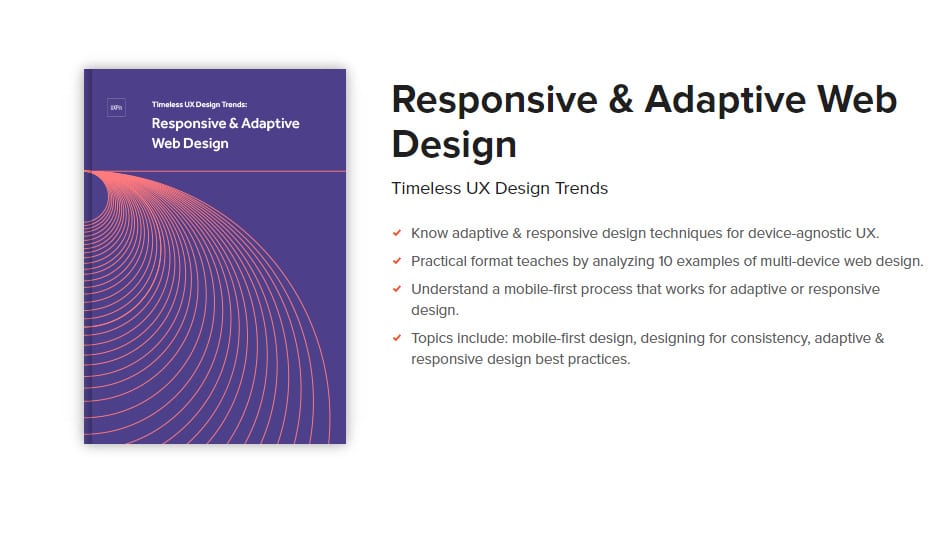 Free Ebook for Web Design Trends 2015-2016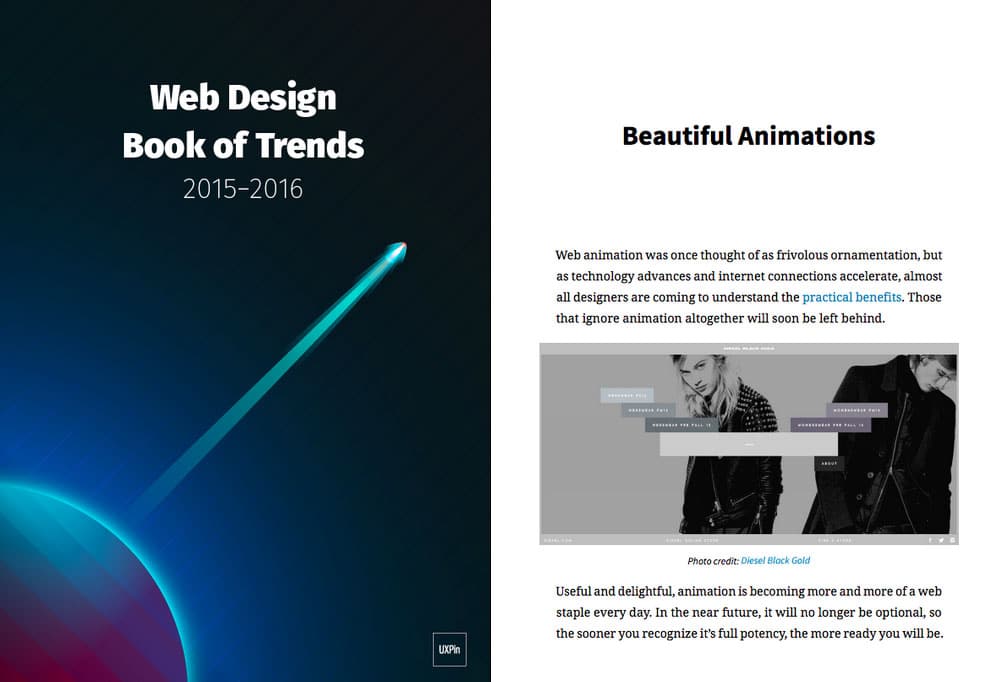 Adaptive Web Design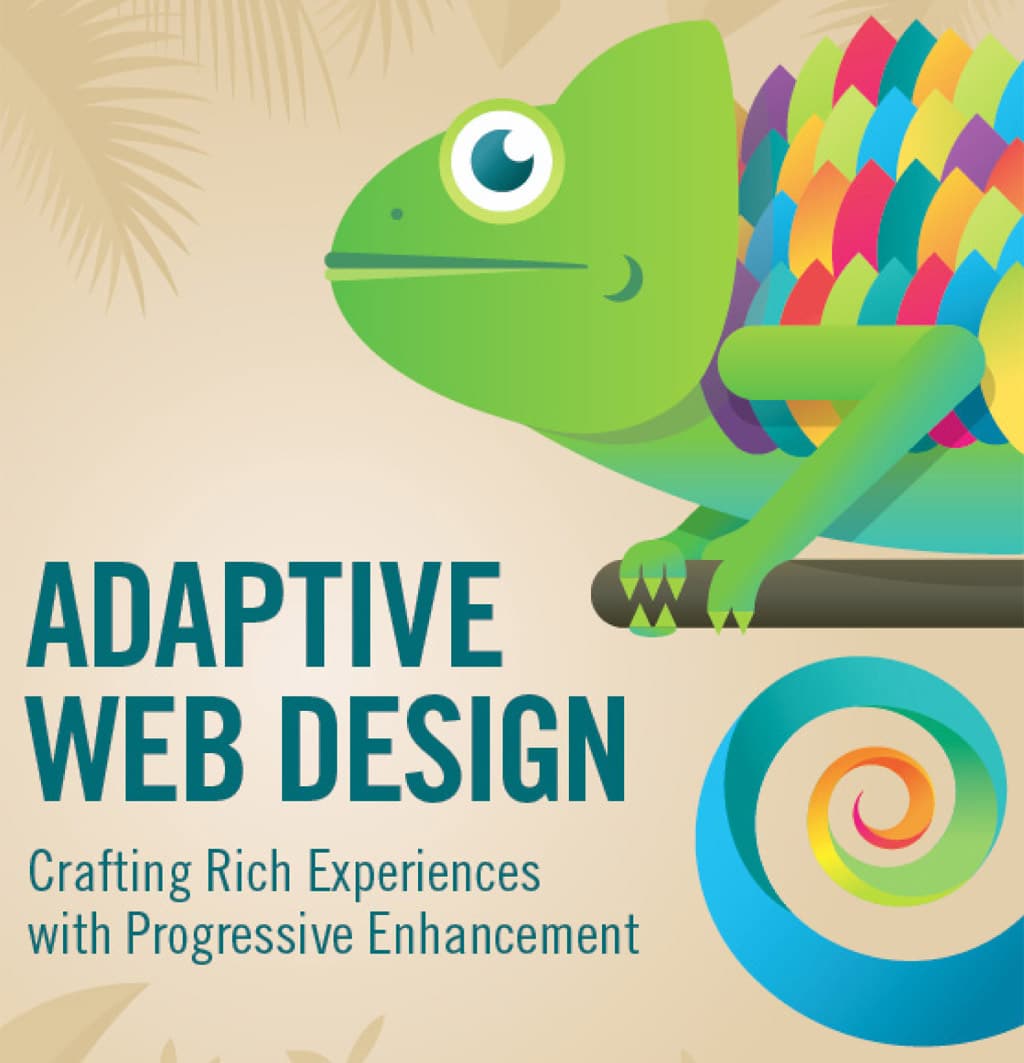 Building Web Apps with Go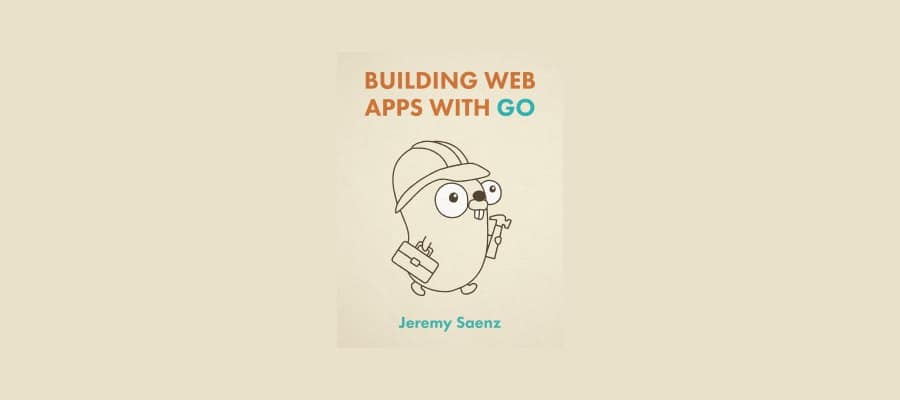 Learn how to build and deploy web applications with Go.
10 Keys to Great Landing Pages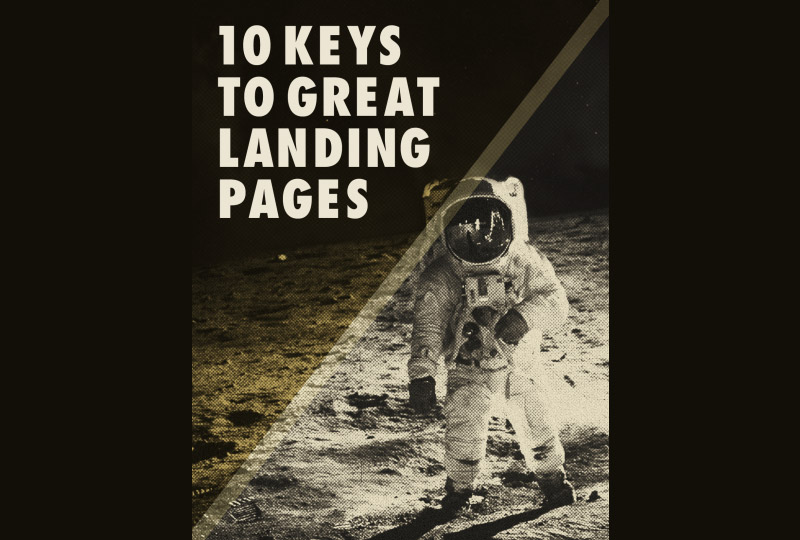 Learn from Great Design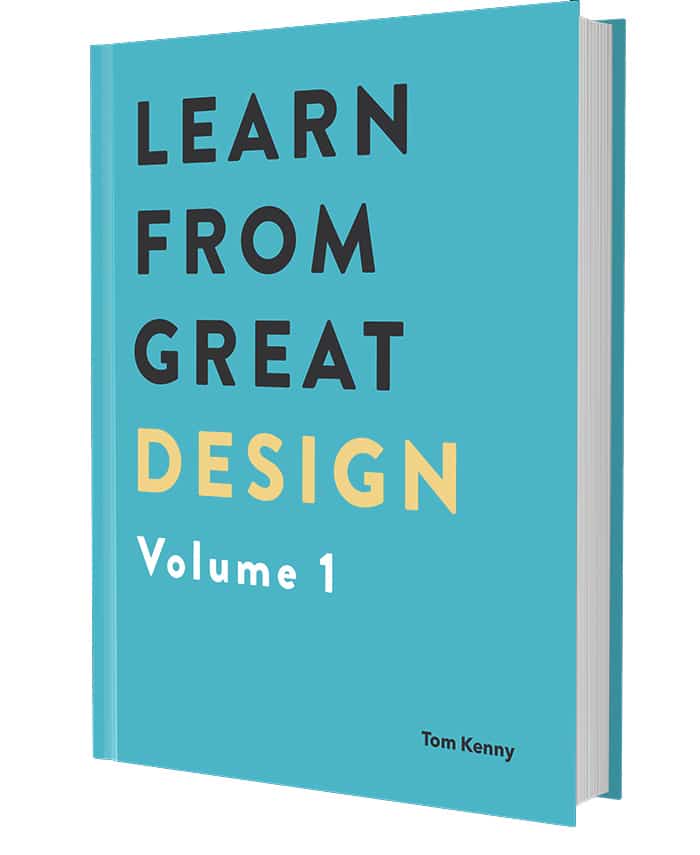 2015 Web Design Trends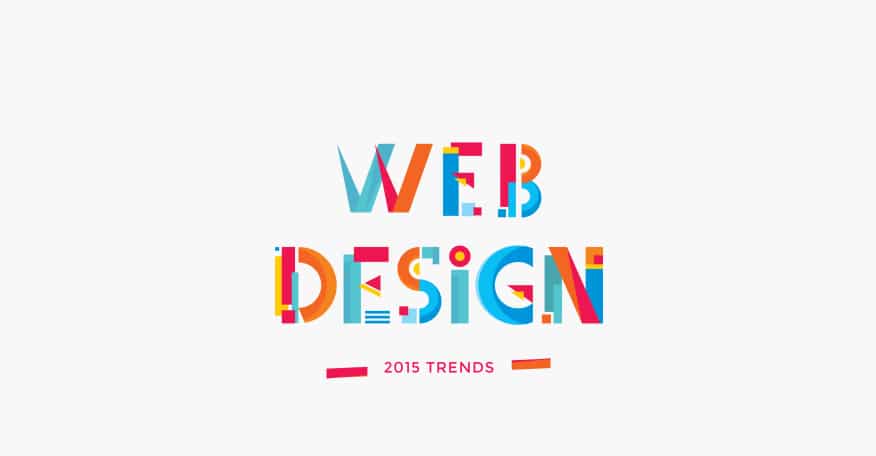 Free Ebook – Creativity & Consistency in UI Design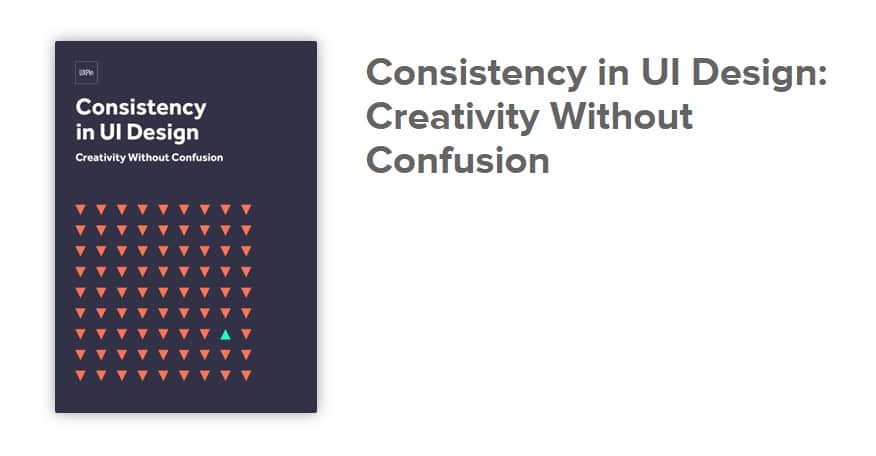 Learn how to design consistent interfaces without resorting To uniformity.
So You Want To Be A Freelancer?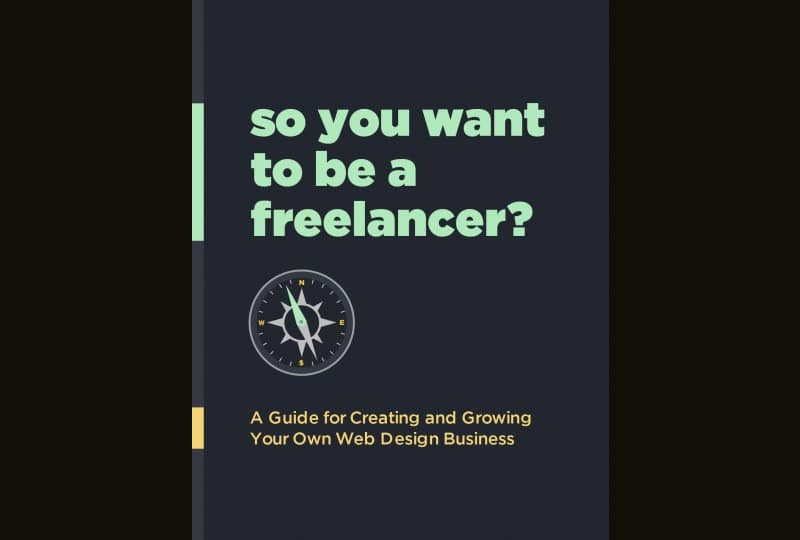 Logo Design Guide
Pocket Guide to Writing SVG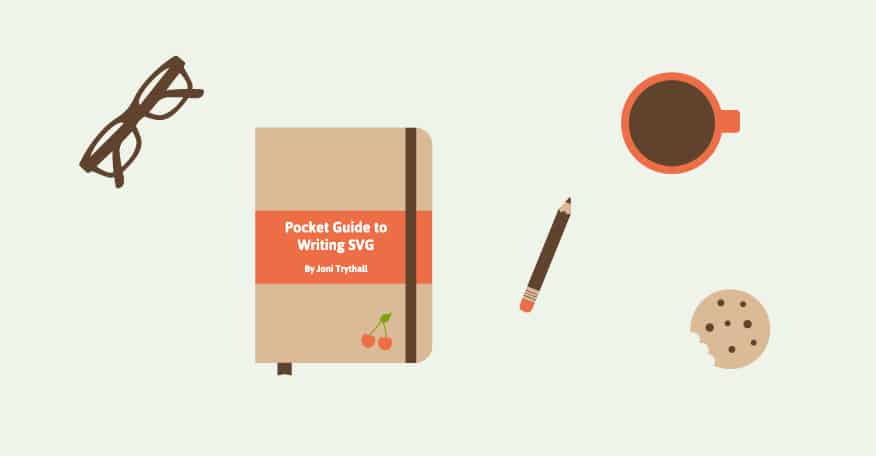 Scalable Vector Graphics (SVG) is a language for describing two-dimensional graphics in XML. These graphics can consist of paths, images, and/or text that are able to be scaled and resized without losing image quality. Inline SVG refers to the embedded code written to generate these graphics in the browser.
Free Ebook – The Evolution of Flat Design Trends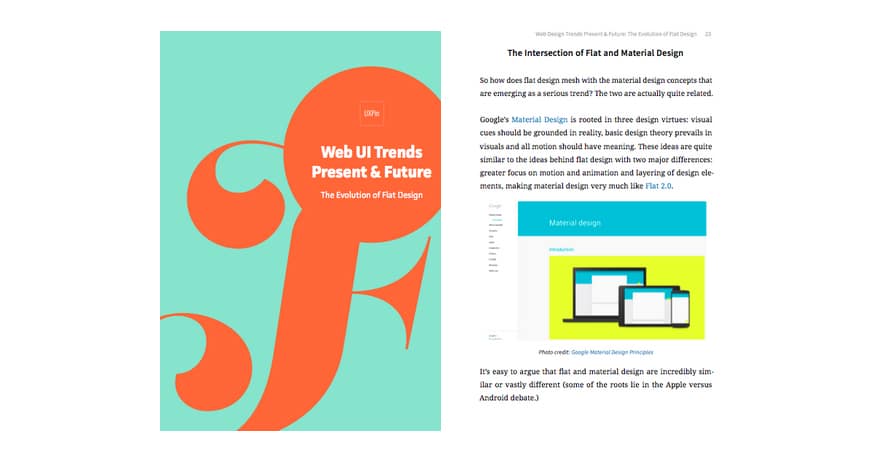 Elegant Web UI Design Techniques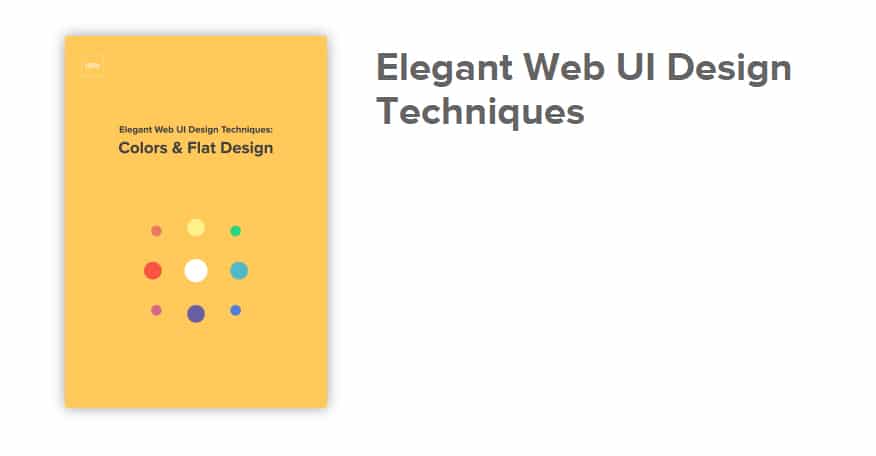 Free Ebook Web UI Design for the Human Eye (Colors, Space, Contrast)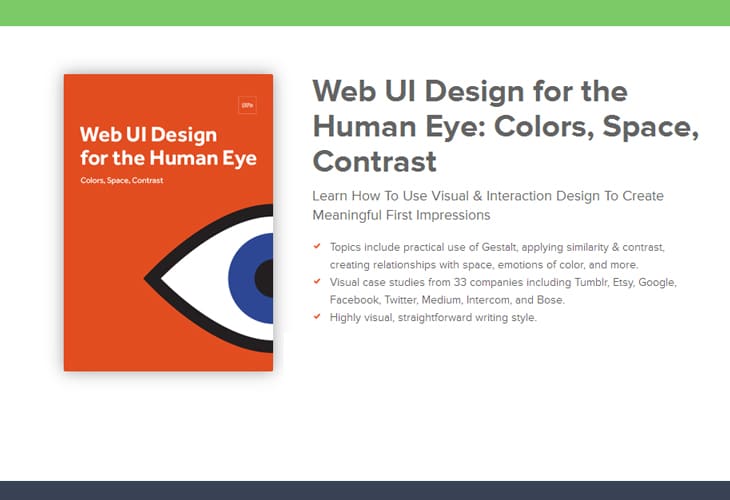 This free e-book by UXPin explores the best way to create the most effective initial impacts through meaningful visual and interaction design. The book addresses topics including UX design, UI design, optical illusions, and human psychology.
11 Things to Do with Every New WordPress Install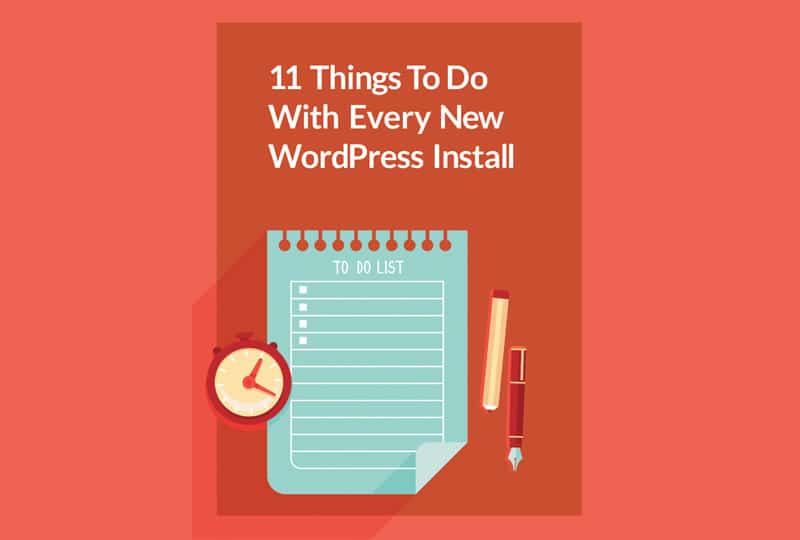 WordPress Security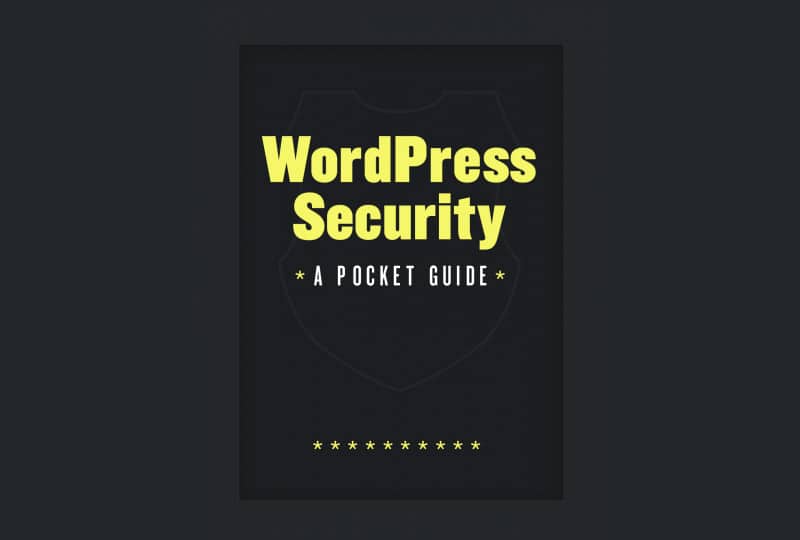 Free E Book – Minimalism in Web Design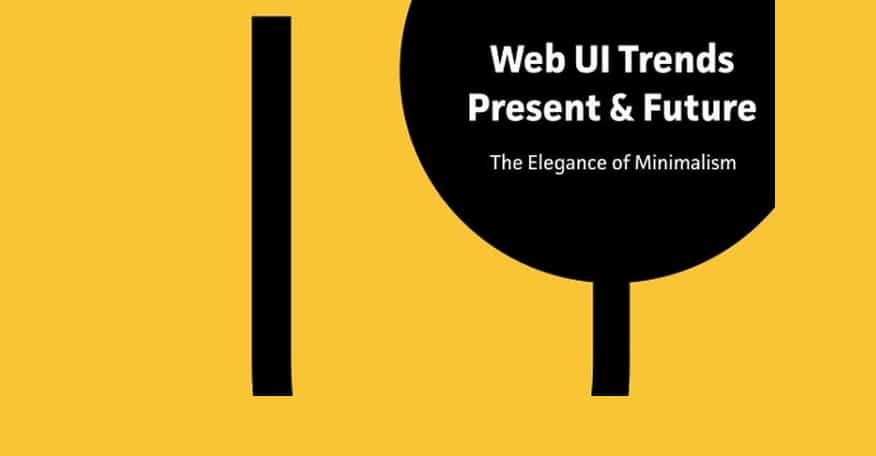 See how to create more elegant and usable interfaces through subtraction.
Designing for the Web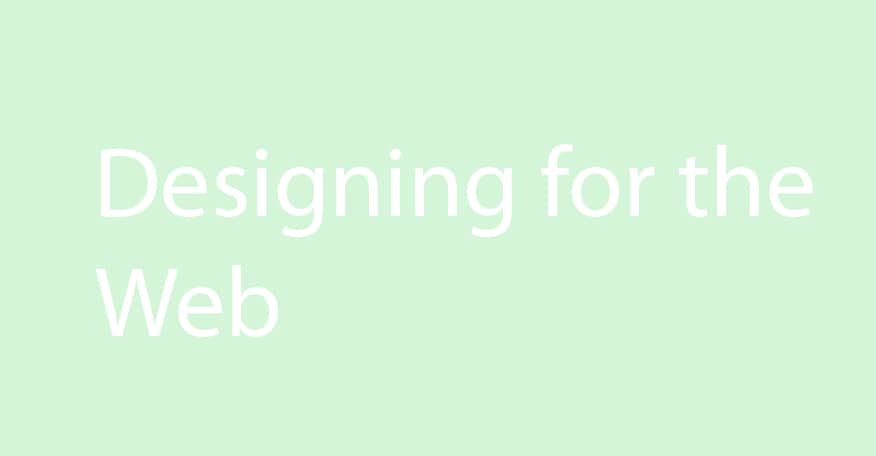 Designing for the web is different than designing for any other medium. The breadth of skills required is sometimes daunting. The depth of experience required, seemingly unobtainable.
Free eBook – A Guide to HTML5 and CSS3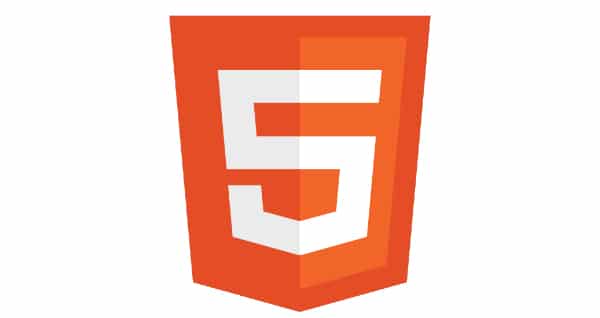 Free Ebook Interaction Design Best Practices (Time & Behavior)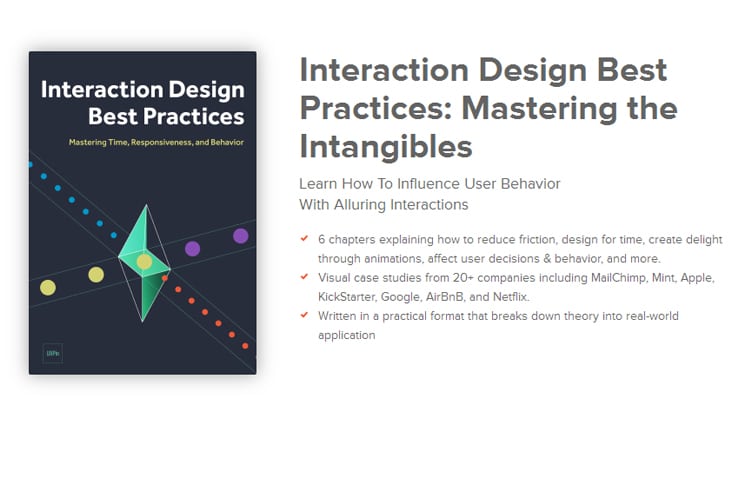 This free e-book include Best practices from 20+ top companies including Mint, MailChimp, Kickstarter, Netflix, Google and AirBnB.Practical explanations of complex topics such as reducing friction, distraction through animation, modifying user habits, and more.Example-driven approach that keeps every chapter interesting through rich illustrations, screenshots, and references to real-world scenarios
Free Ebook – Web UI Trends Present & Future (Typography)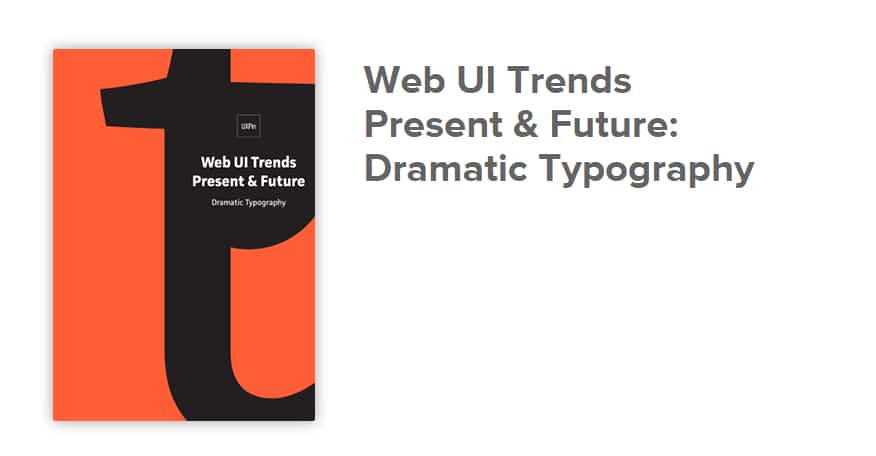 Learn how to apply typography best practices from only the best hand-picked examples.
Essential Career Advice for Developers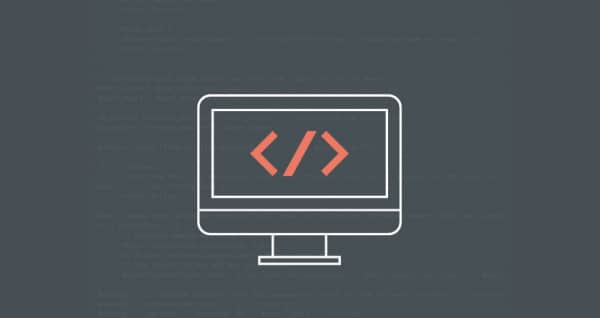 Magic of CSS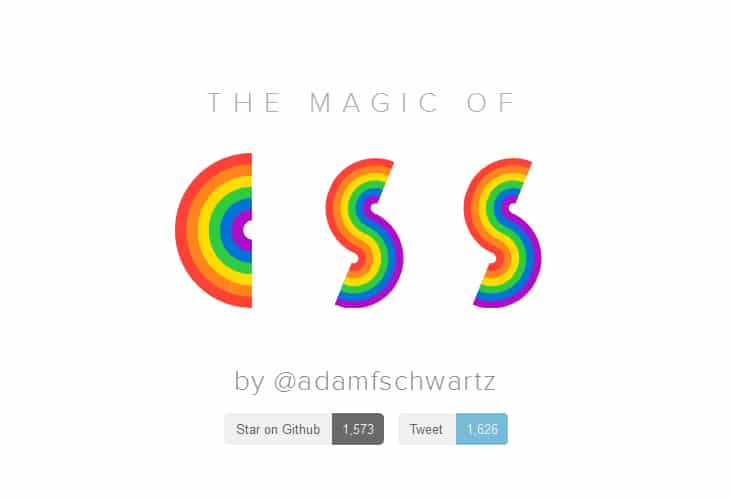 The Magic of CSS is an ebook that will familiarize you with a lot of the trickiest aspects of CSS. It includes chapters on the box model, layout, tables, colour, typography and transitions, and does include interactive examples.This book is written by Adam Schwartz.
Free E Book – Web UI Best Practices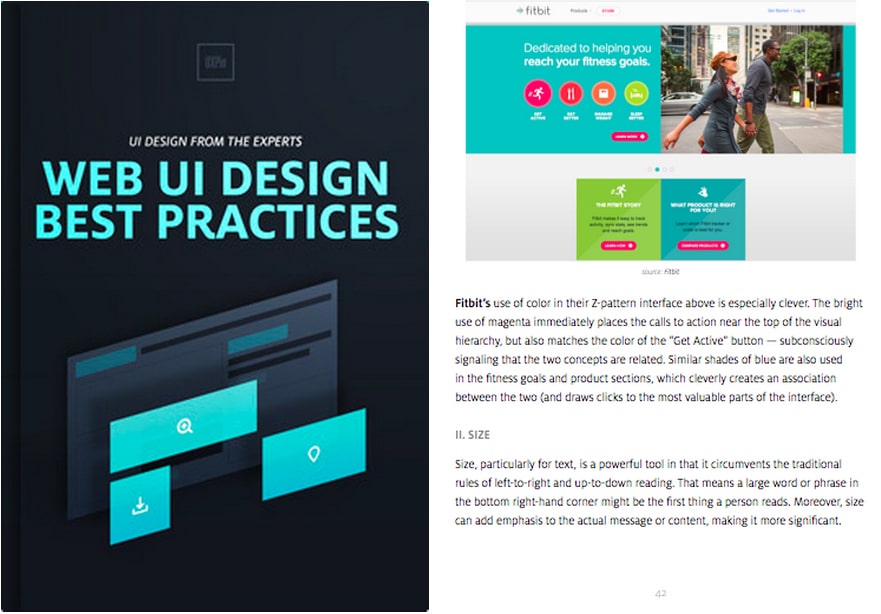 Learn the theory and practice of web UI design from industry leaders and top companies.
Mobile UI Design Patterns 2014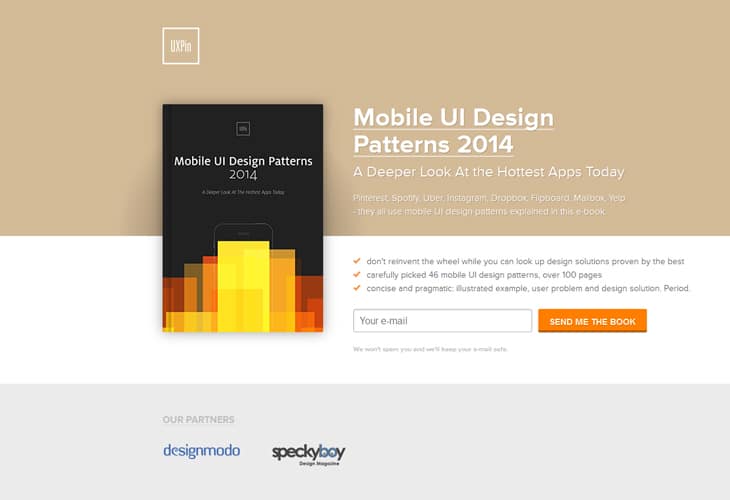 The UX Reader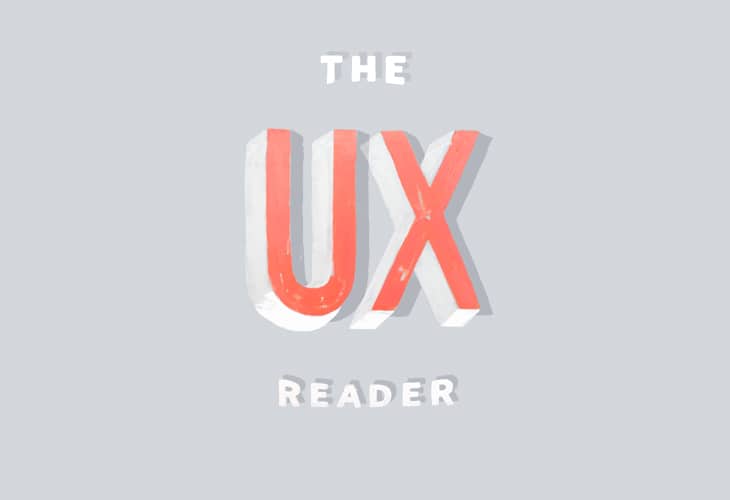 Web Design Book of Trends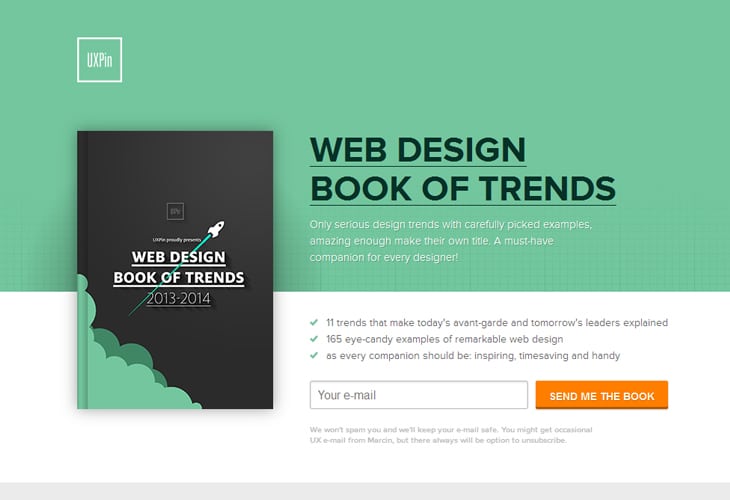 Pocket Guide to Writing SVG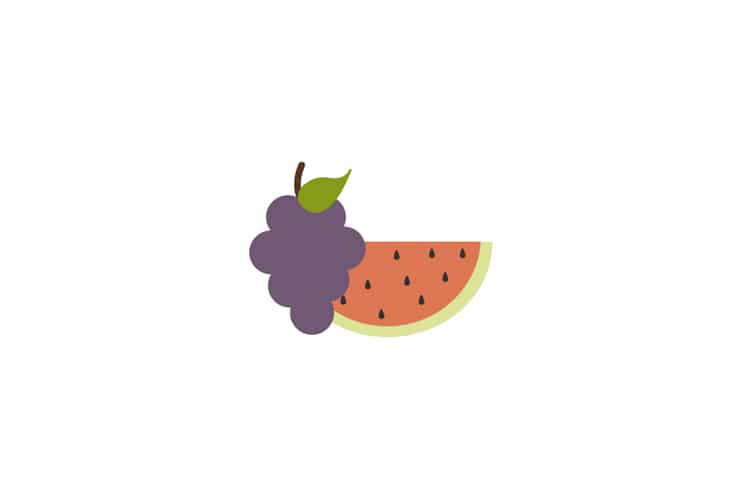 HTML Canvas Deep Dive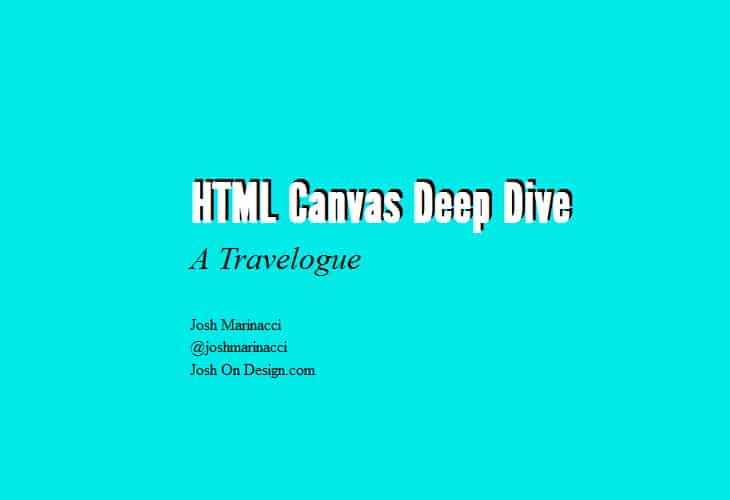 Speaking JavaScript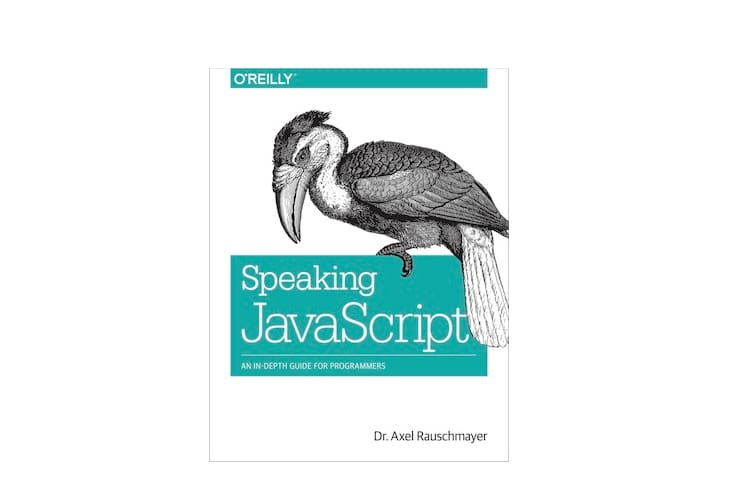 The Elements of Typographic Style Applied to the Web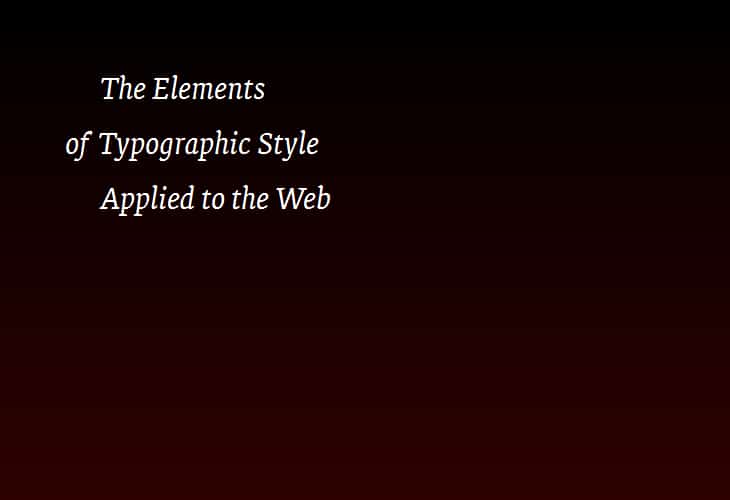 Design Your Imagination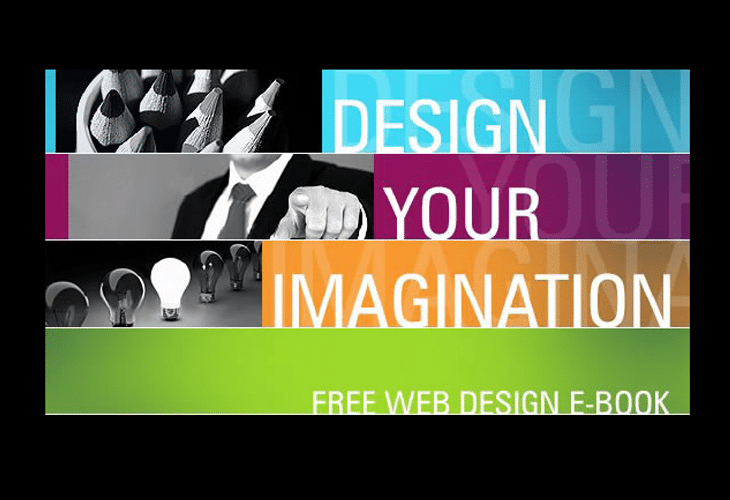 Design Your Imagination is a complete and comprehensive guide on website design suitable for freshers and expert web designers. The book has been written by some of most seasoned professionals and is divided into 28 comprehensive chapters. Each chapter is on a specific topic with a number of examples for better understanding. The language is lucid, to-the-point and easy to understand.
Learning JavaScript Design Patterns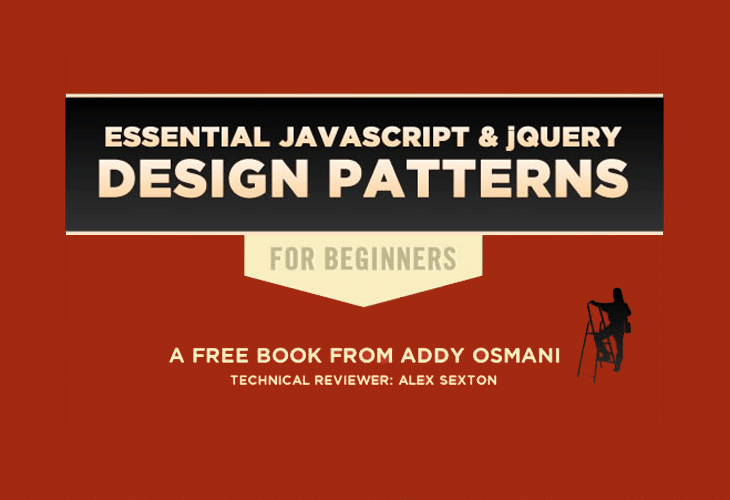 Design patterns are reusable solutions to commonly occurring problems in software development and are a very useful tool to have at your disposal. Addy Osmani wrote this mini-book because he felt that patterns were an area a lot of new and intermediate JavaScript developers may not have had a chance to explore just yet and I'm hopeful my book will encourage you to check them out as they can be quite powerful.
Guide to Guerrilla Freelancing ebook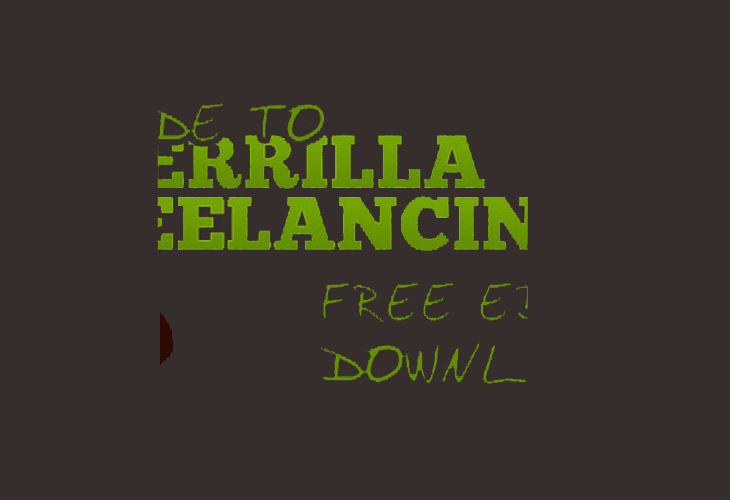 The best articles from Gurilla Freelancing  that will help guide new freelancers in the right direction as well as give them insight into the benefits and drawbacks of freelance life, some things you must be aware of as well as some guerrilla marketing tactics to get them going.
Web Style Guide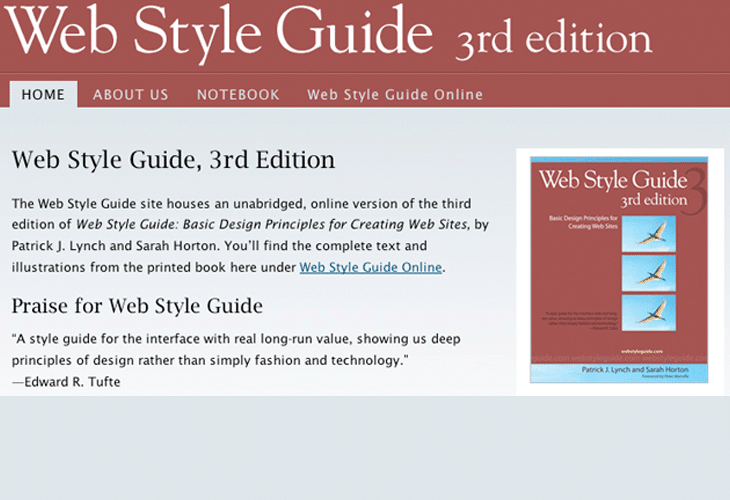 An in-depth resource that offers information and instruction related to several areas of web development, including interface design, information architecture and usability.The book explains established design principles and illustrates how they apply to projects whose primary concerns are information design and efficient search and navigation.Beginner and advanced designers will find this to be one of the most practical guides available.
Adaptive Web Design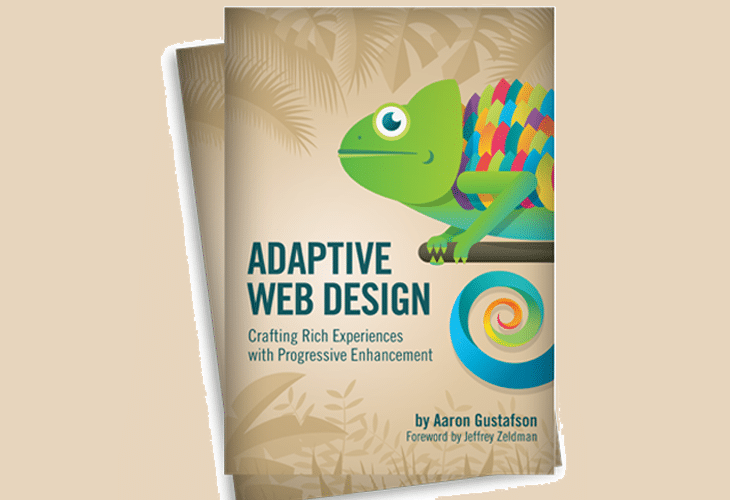 Gustafson's book helps you understand the history, mechanisms and practical application of progressive enhancement. Jeffrey Zeldman, Happy Cog founder, heartily recommends the book: "Coined by Steven Champeon of the Web Standards Project in the early 2000s, 'progressive enhancement' is the key idea behind standards-based web design. Both a method and a philosophy, it yields experiences that are accessible to all. Through mastery of progressive enhancement, we stop designing for browsers and start designing for people. No one has done a better, clearer, or more thorough job of illuminating progressive enhancement in all its richness than Aaron Gustafson … nor is anyone likely to.
The Design Funnel: A Manifesto For Meaningful Design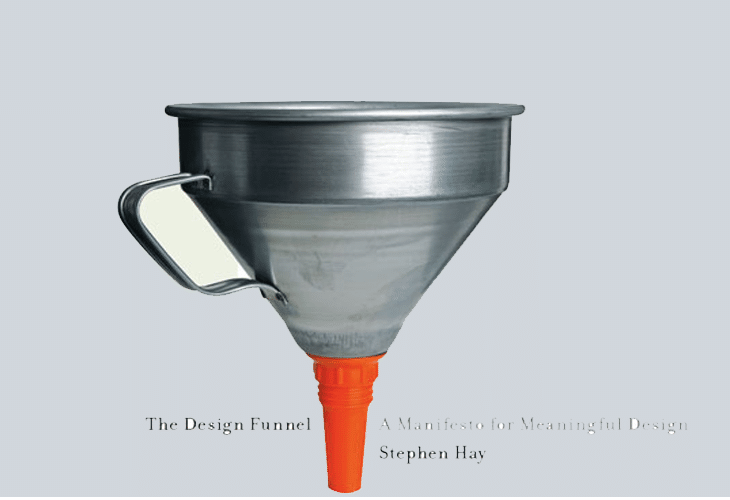 This manifesto is a creative way of approaching the design dilemma. Interesting, well written and still relevant, it is a great web design whitepaper you will be sure to enjoy, especially with Stephen Hay's years of experience thrown in the mix.
Type Classification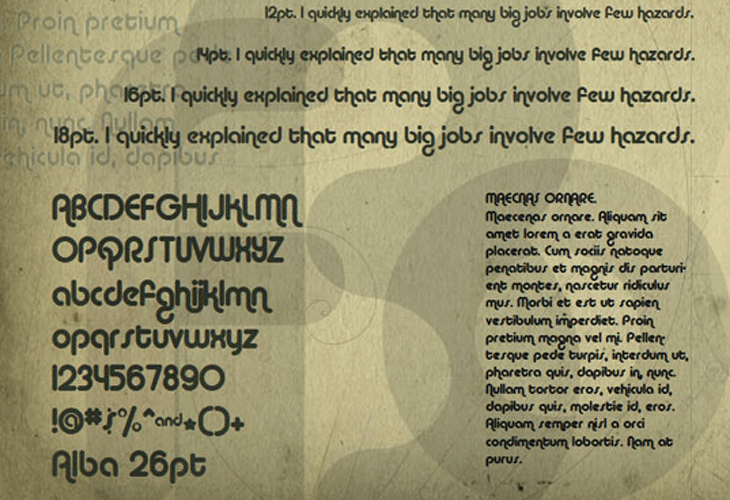 This book has been made to help you learn the 10 broad classifications of type. These are the basic foundations of what you need to learn to learn typography and it is essential for any designer to know how to classify type.
Go Mobile With WordPress (PDF)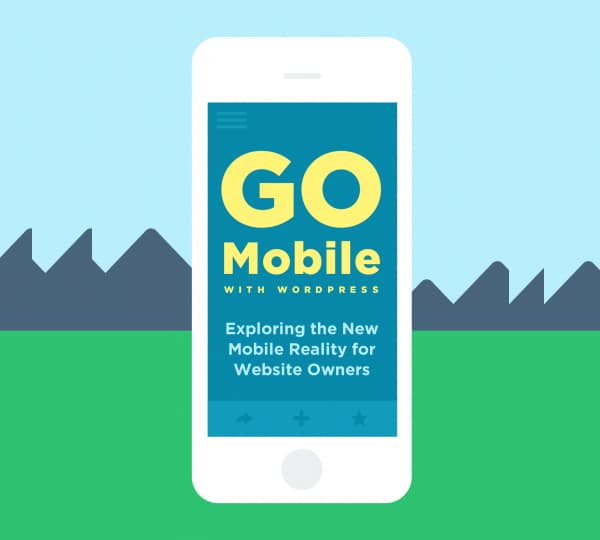 How to Start a Blog (PDF)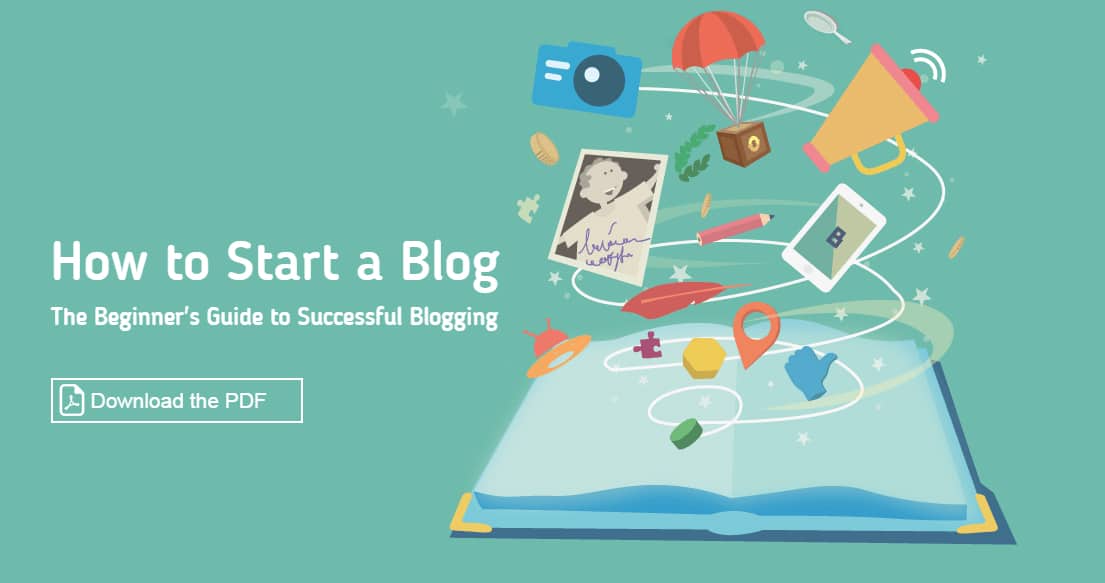 The Beginner's Guide to Successful Blogging.
Programming JavaScript Applications

Developing Backbone.js Applications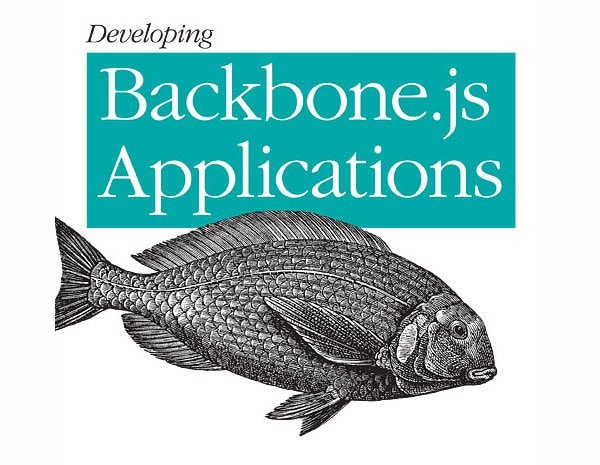 HTML5 Canvas

Eloquent JavaScript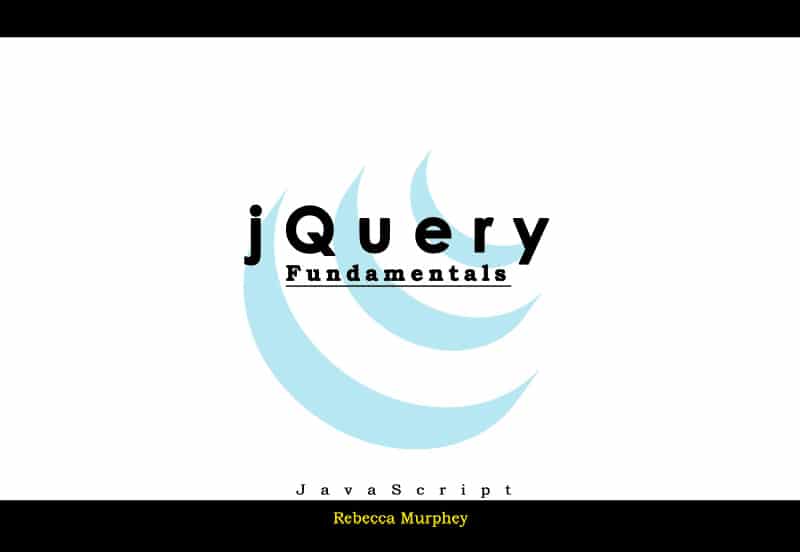 PHP – The Right Way

Locking Down WordPress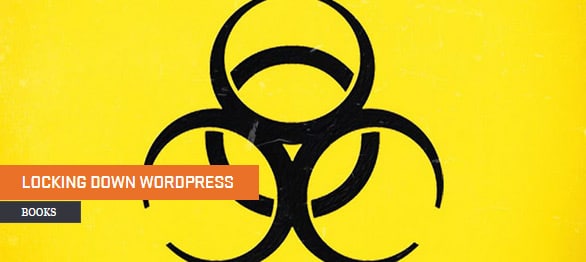 WordPress Meet Responsive Design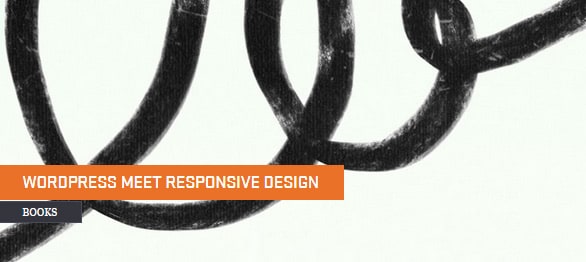 The Guide to Wireframing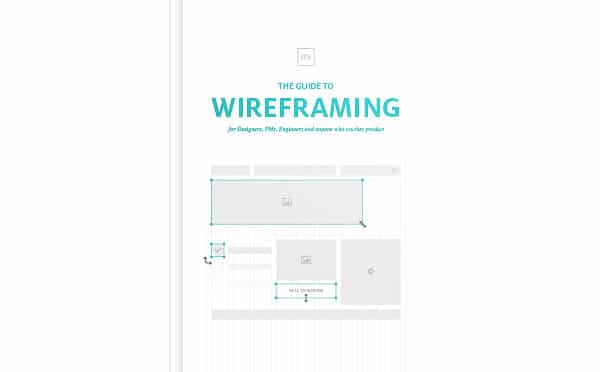 Graphic Design for Non-profit Organizations(PDF)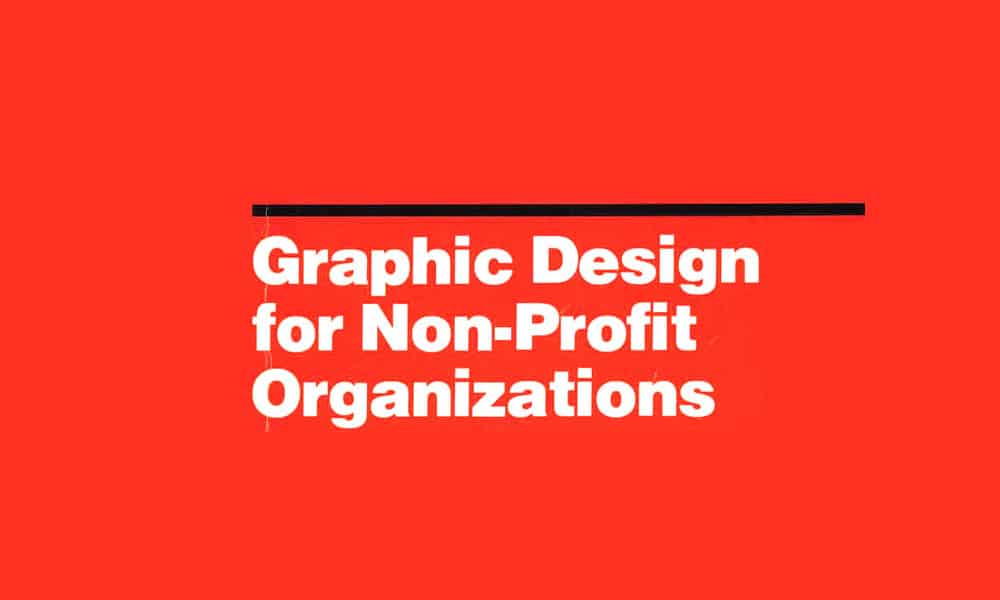 This unusual book is by Vignelli and Peter Laun­dry, and was pub­lished in 1980 in part­ner­ship with AIGA. The ebook focuses on design and finest prac­tices for non-profit orga­ni­za­tions, but the con­tent is a great resource in gen­eral and the teach­ings can be applied basically any­where. There are sec­tions on grids, typog­ra­phy, for­mats, logo­types, and color, just to name a few.
Logo Design Guide (PDF)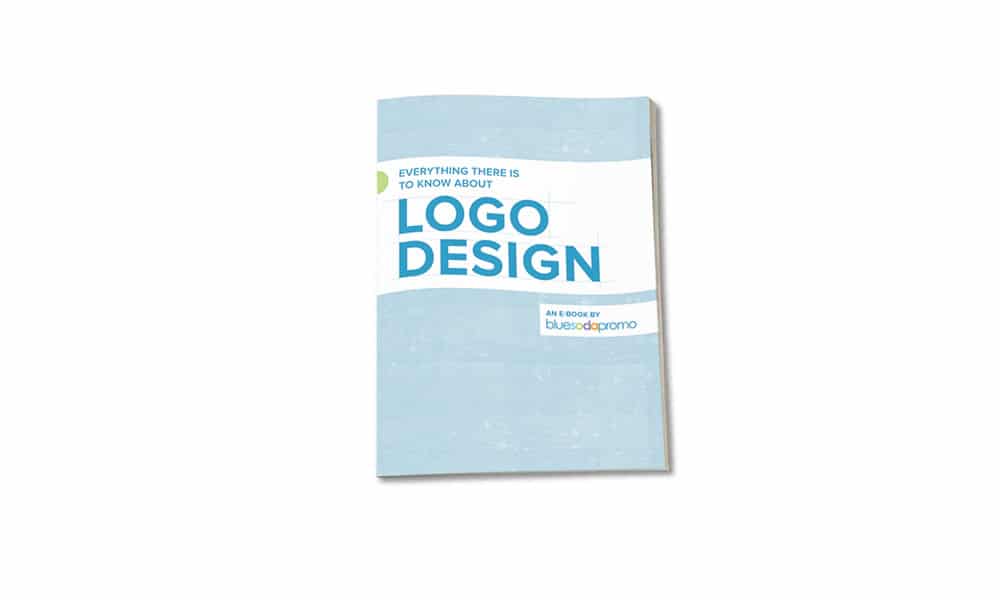 The JavaScript Tutorial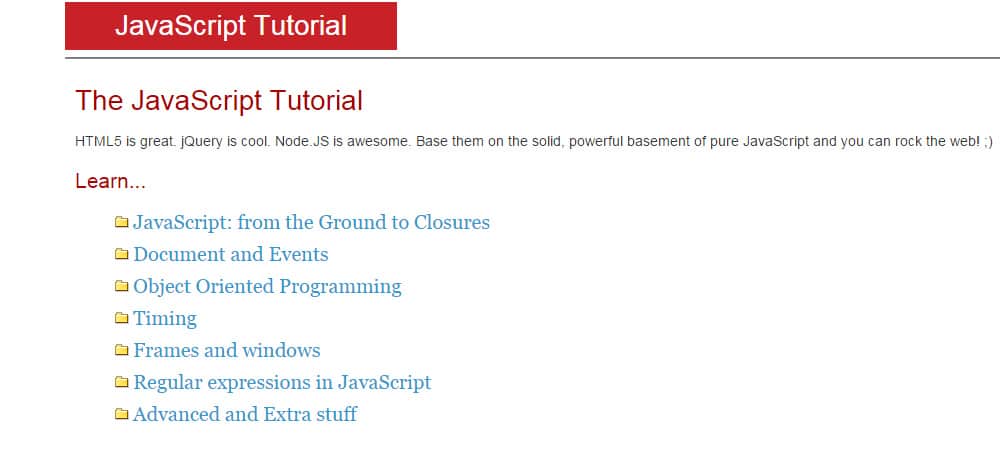 This book provides audience with a summary of basic elements, syntax of JavaScript and the important tips like setting up the environment, testing script with various browsers etc.