20+ Best Mind Mapping Tools for Designers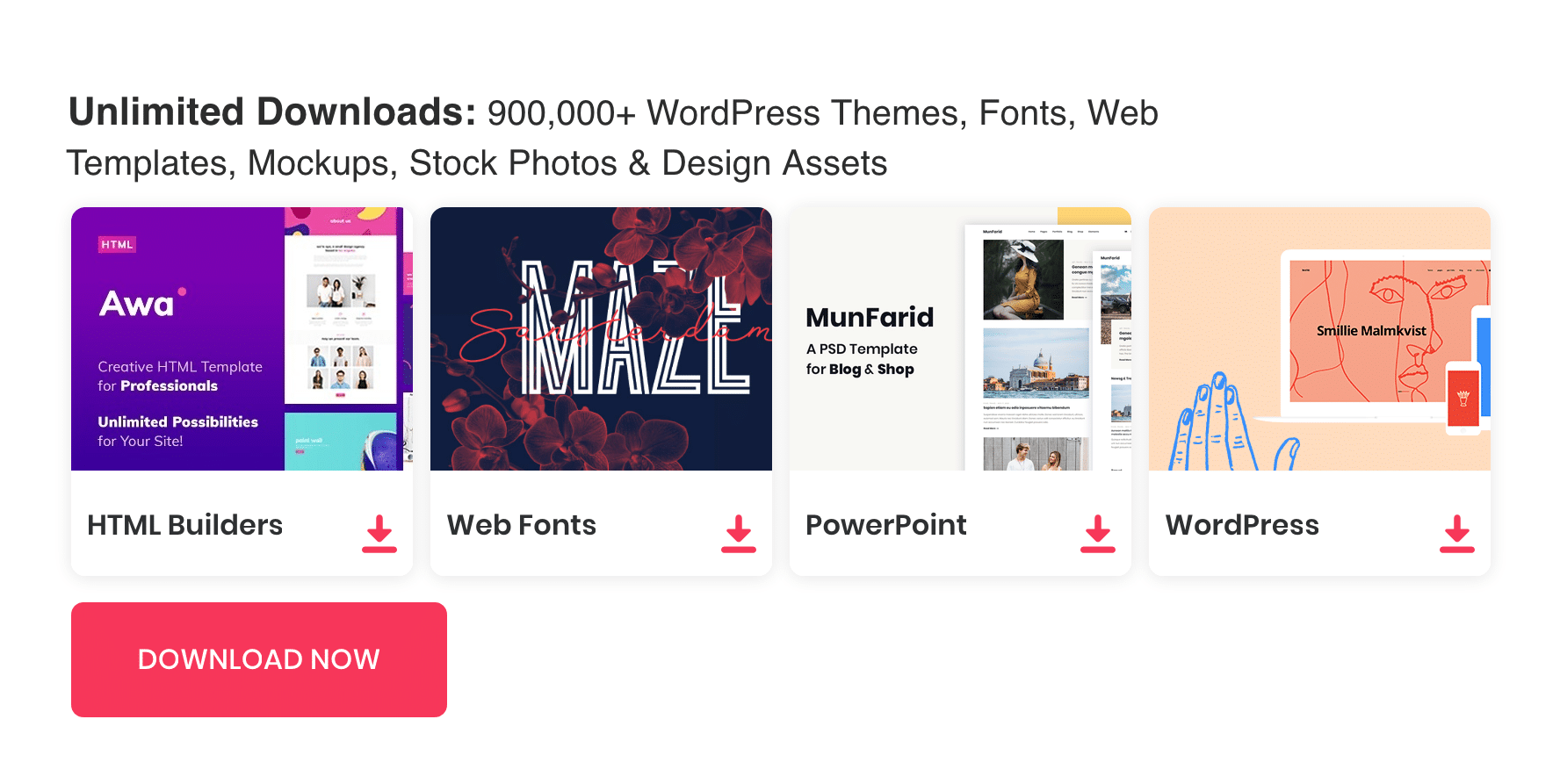 Mind Mapping offers the best way to give your ideas a visual representation. You basically start with a big impression, from which you slowly break down to smaller ideas and concepts to create a tree or branched structure. This can help you better understand your thoughts and encourages brainstorming.
Now, for the purpose of this read, we have included some mind mapping tools or apps that you can use on your PC, laptop, and even mobile devices. These tools also come with integrated collaboration tools for group brainstorming sessions. As such, the tools can help both individuals as well as agencies/companies to give structure to their thoughts.
For designers, these tools can help pre-plan their designs with detailed structural plans on how they want to proceed with the project. As you can imagine, it is an excellent productive tool in their arsenal. So if this is something that appeals to you, here are the 20+ best mind mapping tools for designers.
See also : 10 of the Best Online Tools for Content Writers
MindMeister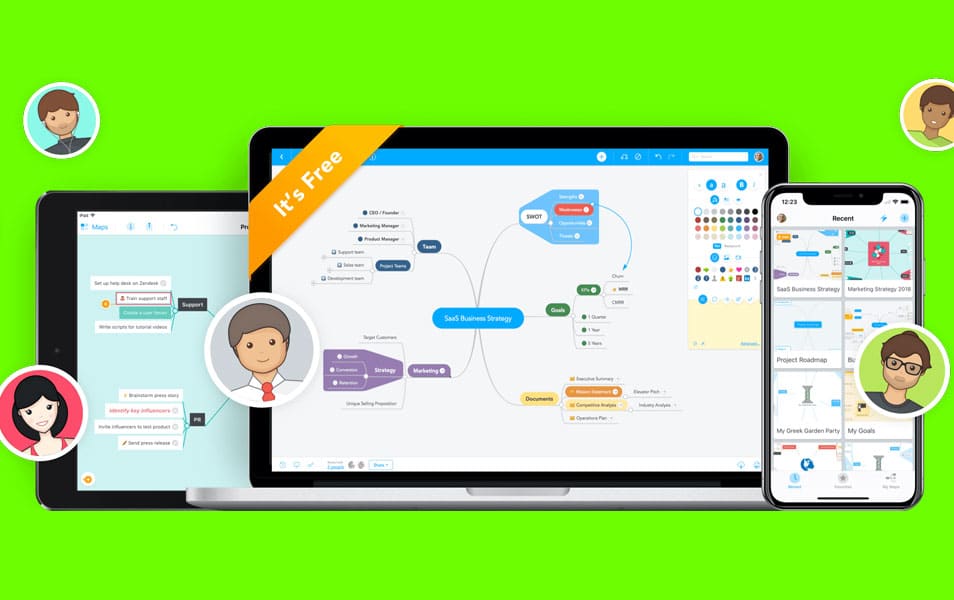 MindMeister mind map tool is trendy and packed with features to help you create a visual canvas for all your ideas. Currently used by over 10 million people to produce over 1.2 billion ideas, it gives you the tools to create amazing visual presentations, an integrated project management system, and powerful collaboration options.
XMind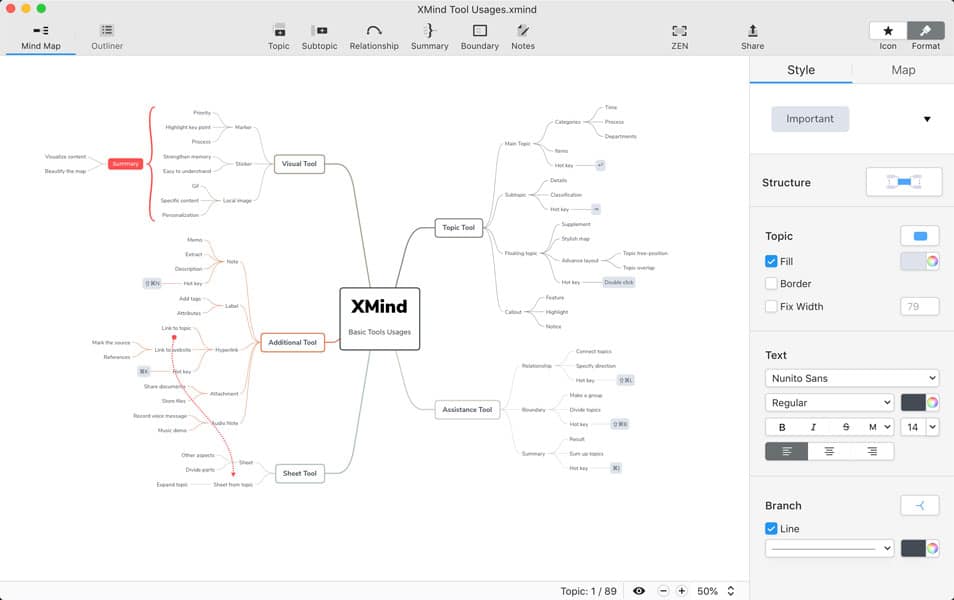 XMind mind mapping tool focuses on delivering a clean and uncluttered UI to help you concentrate and brainstorm original ideas. You will get your hands on a lot of modules that you can use to create a visually meaningful flowchart like structure. Collaborative features are also included to share your ideas and get feedback.
Coggle -Mind Mapping Tool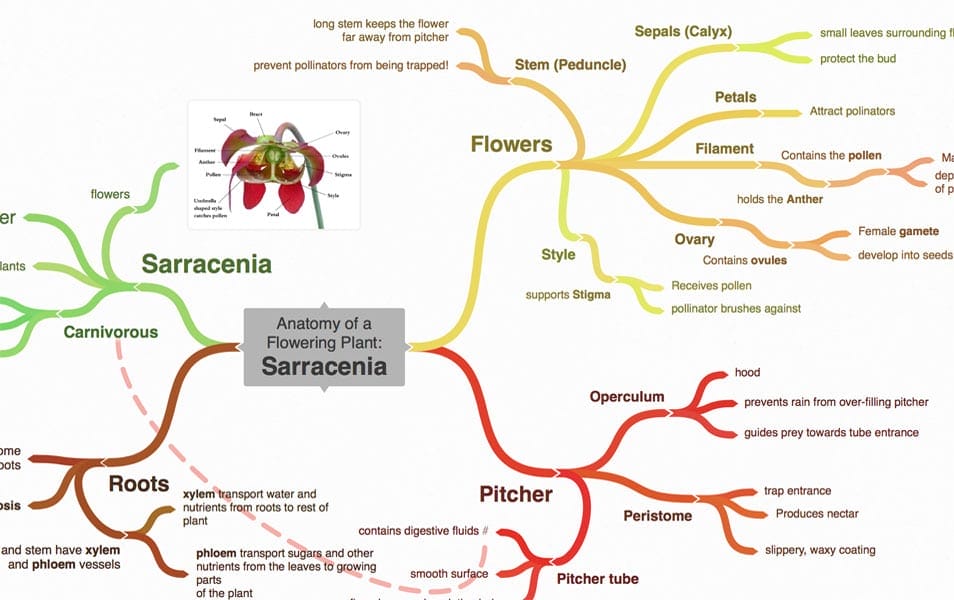 Coggle is a collaborative mind map tool that can help you create flowcharts to organize and visualize your ideas. It is a web-based tool with support for real-time collaboration, unlimited image uploads, the option to create loops and branches for your thoughts, and much more.
Mindomo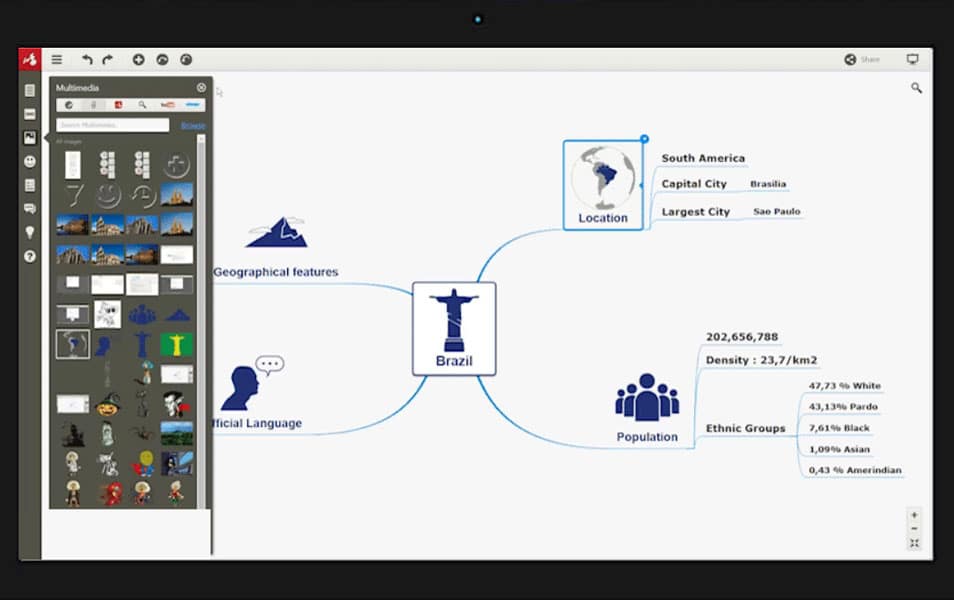 Mindomo offers a cross-platform collaborative mind map. The interface isn't beautiful, but it is jampacked with tons of features to help you create concept maps, outlines, and Gantt charts.
Lucidchart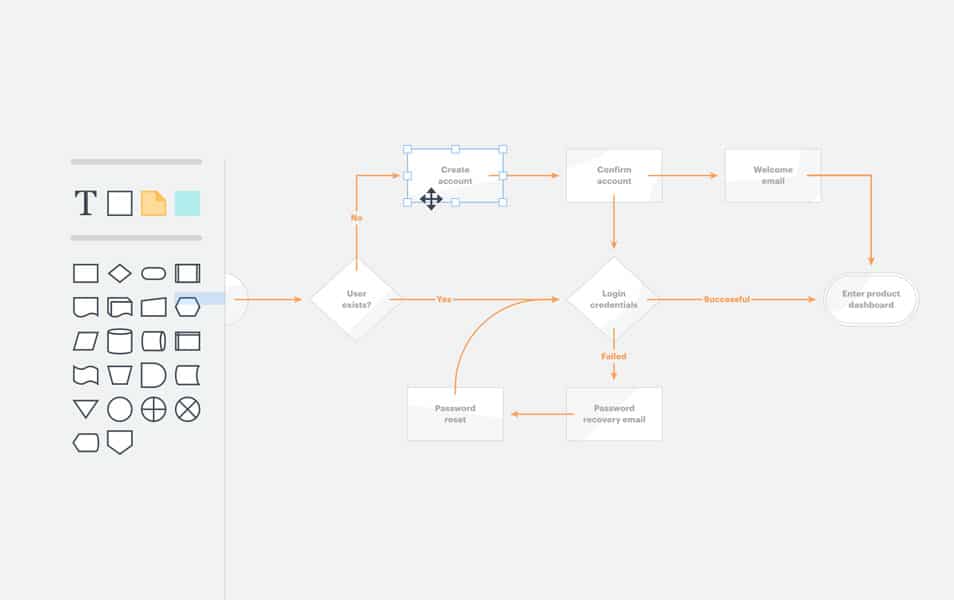 Lucidchart is more than a mind map tool but also offers features such as data visualization, visual workspaces, and collaborative tools to help you brainstorm ideas and present your thoughts in a visual canvas.
Whimsical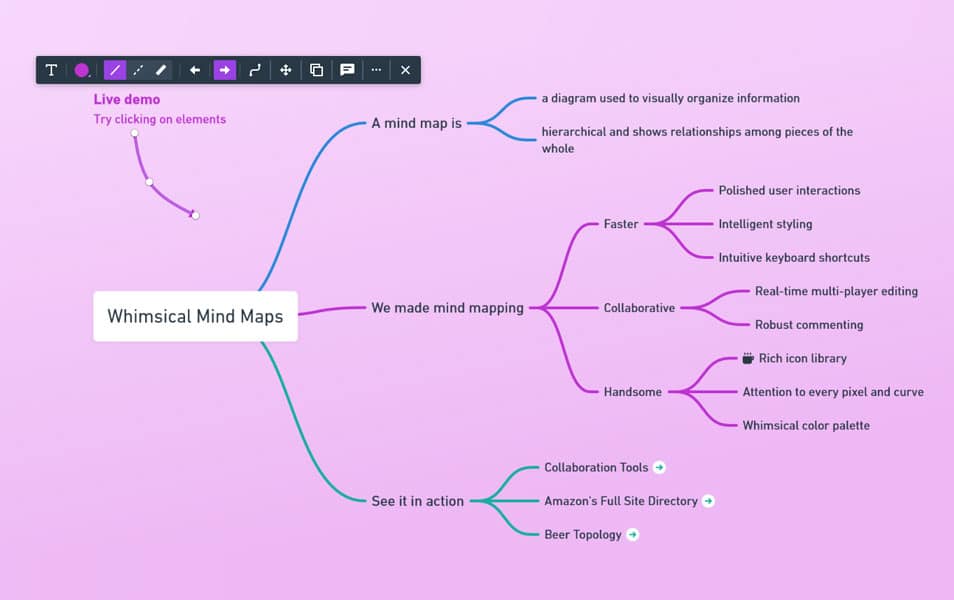 Whimsical is a simple visual workspace that bundles in many tools, including flowcharts, wireframes, sticky notes, and mind mapping. To use all the tools, you will get access to separate boards. For mind mapping, there is a visual WYSIWYG to help you layout your ideas onto the visual canvas.
Gliffy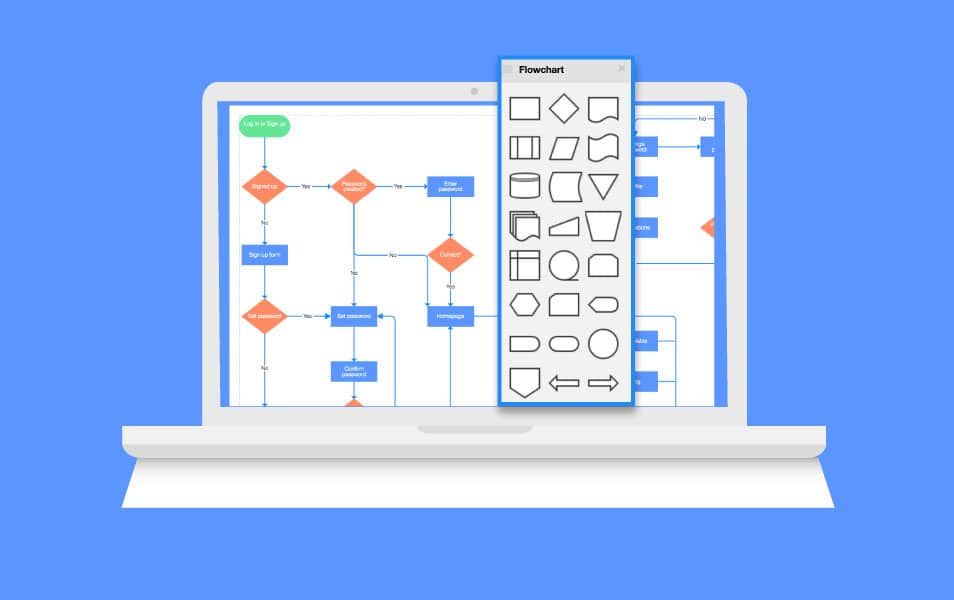 Gliffy is one of the best tools for designers that can help you create visual representations of your ideas. And although the tool can be used for mind mapping, the options and interface are geared towards helping you build an informative flowchart. You can also integrate it with Confluence and Jira to further improve documentation, collaboration, and productivity.
Miro Mind Map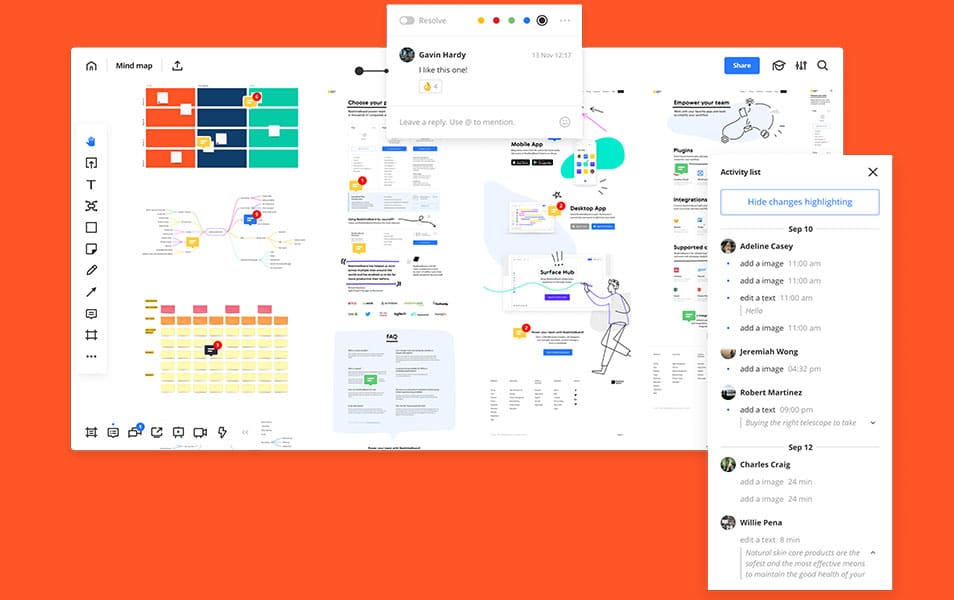 Miro Mind Map offers a quick and easy way to capture and organize your thought-process for better brainstorming and idea generation. Designed as a tool for agencies and organizations, the tool packs in features like a real-time collaboration system with seamless communication, a dedicated presentation mode, multiple design styles, and much more.
iMindQ – Mind Map Tool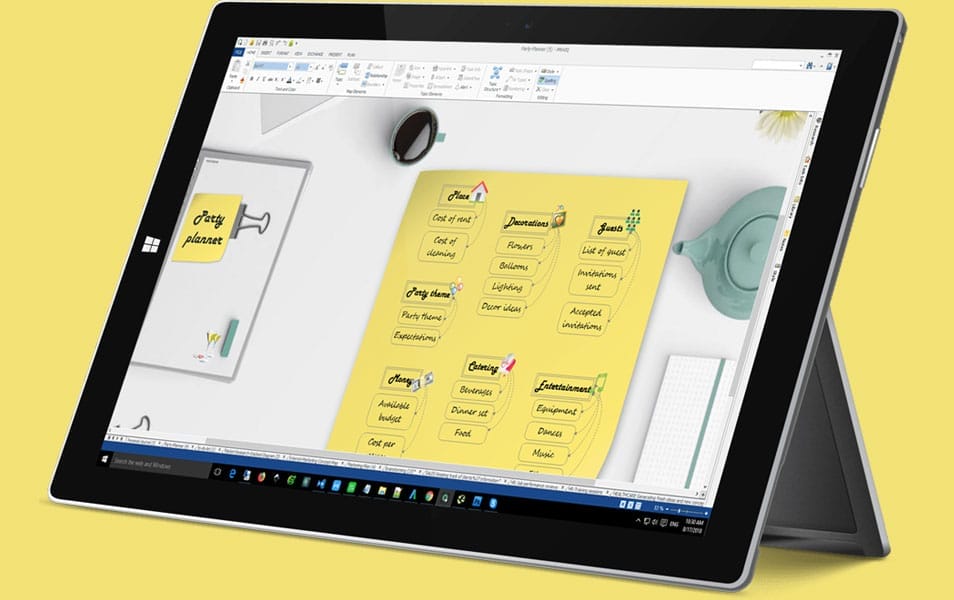 iMindQ is a cross-platform mind map tool that can help you with concept mapping, creative brainstorming, and project planning. It also comes with remarkable presentations and team collaboration settings to help agencies and companies generate ideas with Gantt charts, WBS charts, and so on.
SimpleMind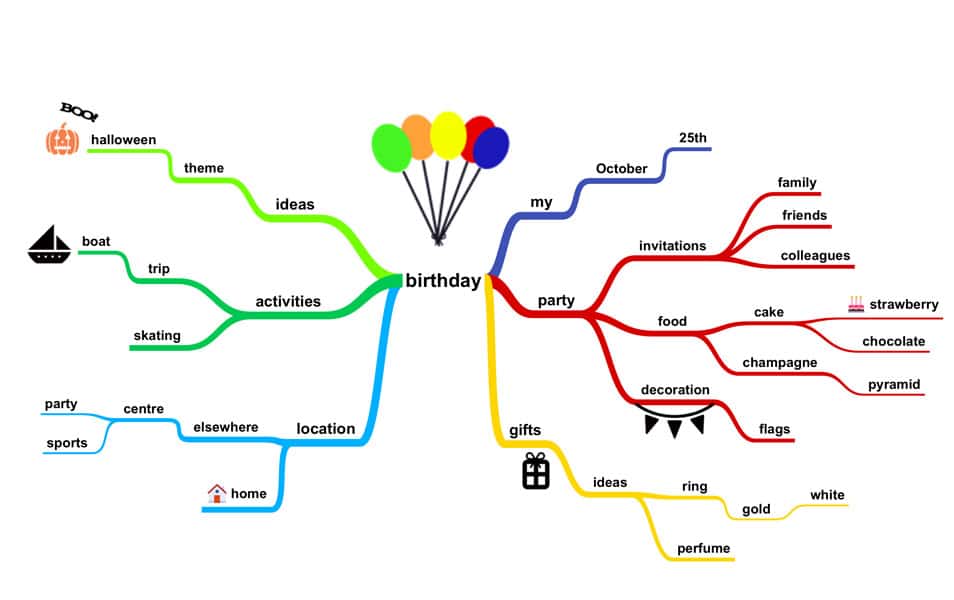 SimpleMind is another super popular and feature-packed cross-platform mind mapping tool. Over 8 million users are using the app on their PC, Mac, iPhone, or Android device. It can help you create multiple mind maps in the same interface so you can freely structuralize your ideas, and brainstorm without any restrictions. You also get support for different file types, including images, videos, and voice memos.
Bubbl.us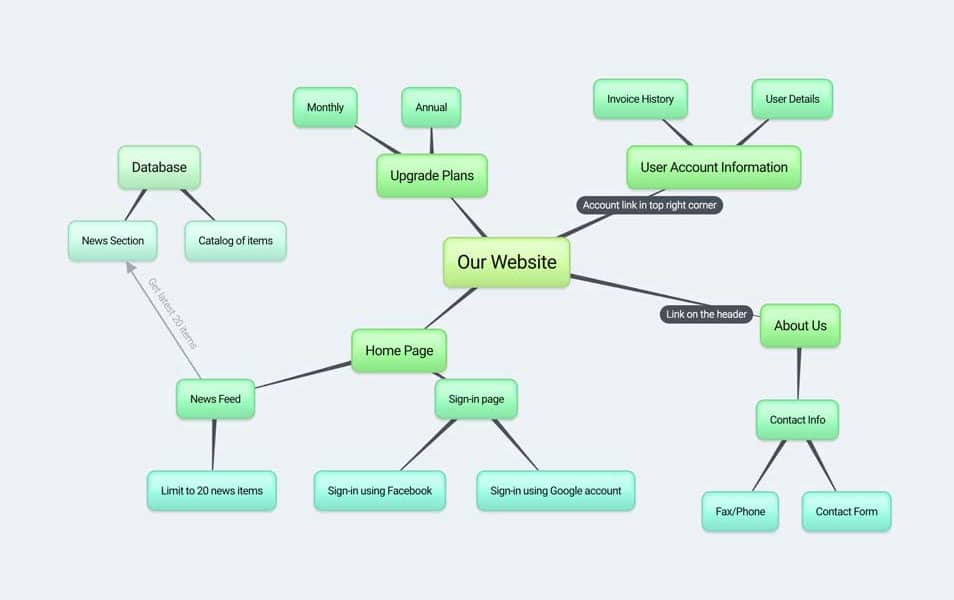 Bubbl.us is one of the best free mind-mapping tools that packs in all the necessary features to help you bring a structure to your thoughts. The tool is available as a web-based app, which means you can access it from anywhere as long as you have a browser and internet. It gives you access to collaborative & communicative features, a one-click presentation mode, and a colorful and engaging layout. There is also an option that allows you to save each mind map as an image.
iMindMap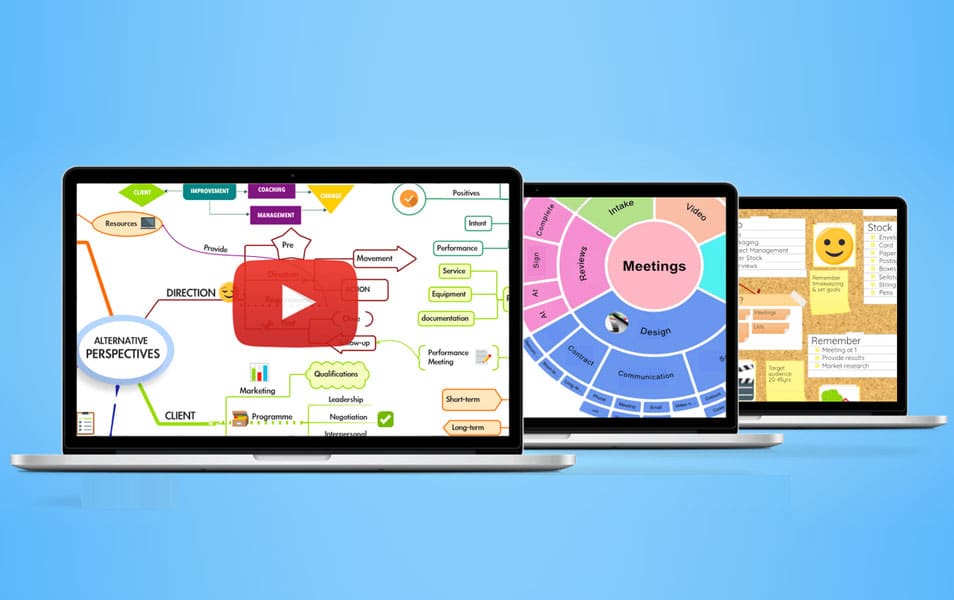 iMindMap currently goes by the name Ayoa and offers a colorful and feature-packed mind mapping tool for all your brainstorming needs. The interface is super intuitive and allows you to jot down your ideas and draw connections effortlessly. There are also inbuilt features for formatting, color, and styling alongside options to add images, files, notes, emoji reactions, and much more. There is also an option to link between different mind maps for large scale ideas.
SpiderScribe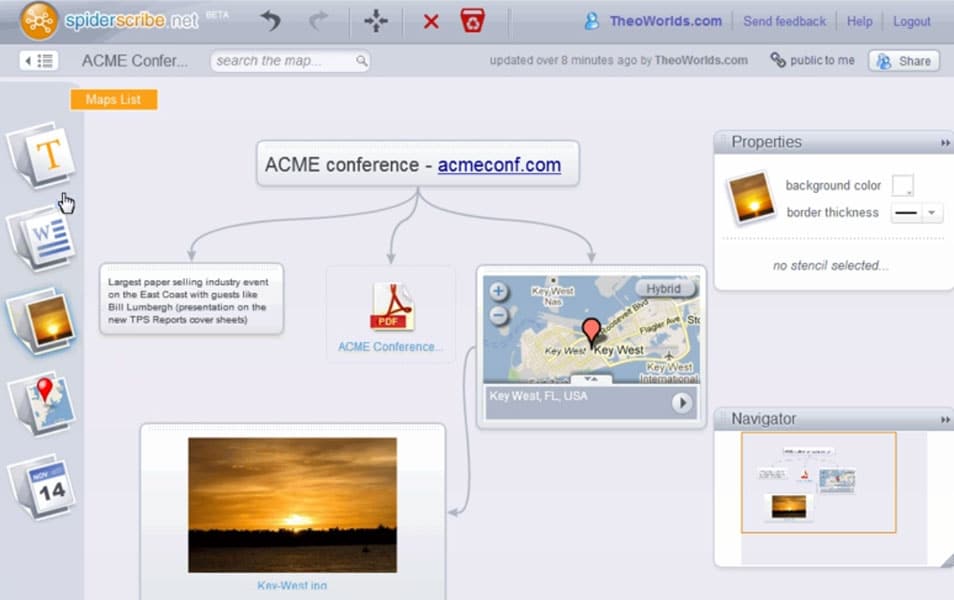 SpiderScribe gives you a free-form mind map tool where you can create and connect notes, files, and calendar events. You can then share and collaborate your mind maps with your colleagues or friends to work on the idea together. Also, being a web-based app, it allows you to access all your mind maps for any platform you like.
Popplet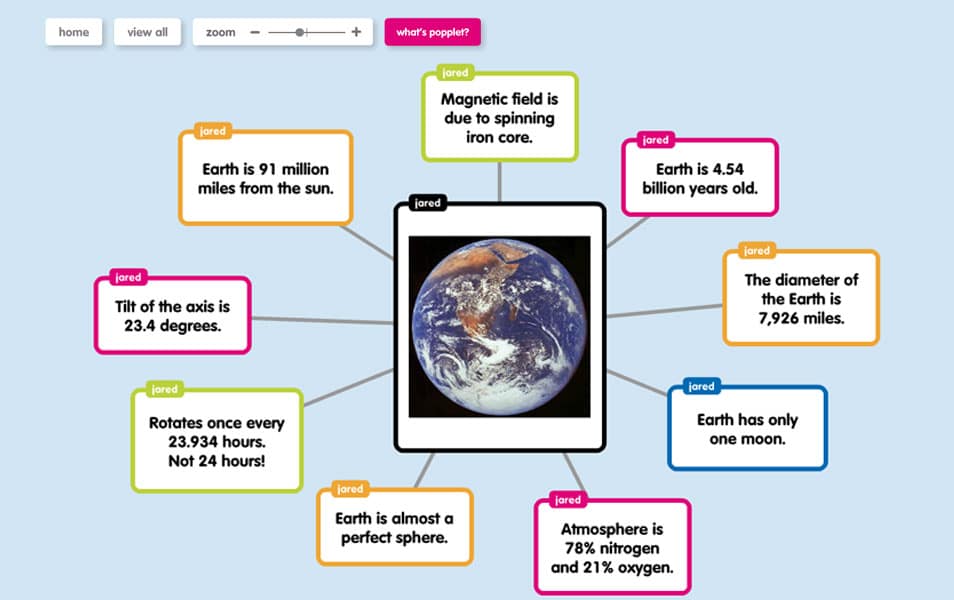 Popplet is an iOS exclusive mind map tool available for the Apple iPad. However, users can also use it if they have access to a browser and an active internet connection. Featurewise, it is fundamental with options to help you create simple mind maps with notes and image integrations. There is also an option to color categorize your different notes for better understanding and readability.
Mind42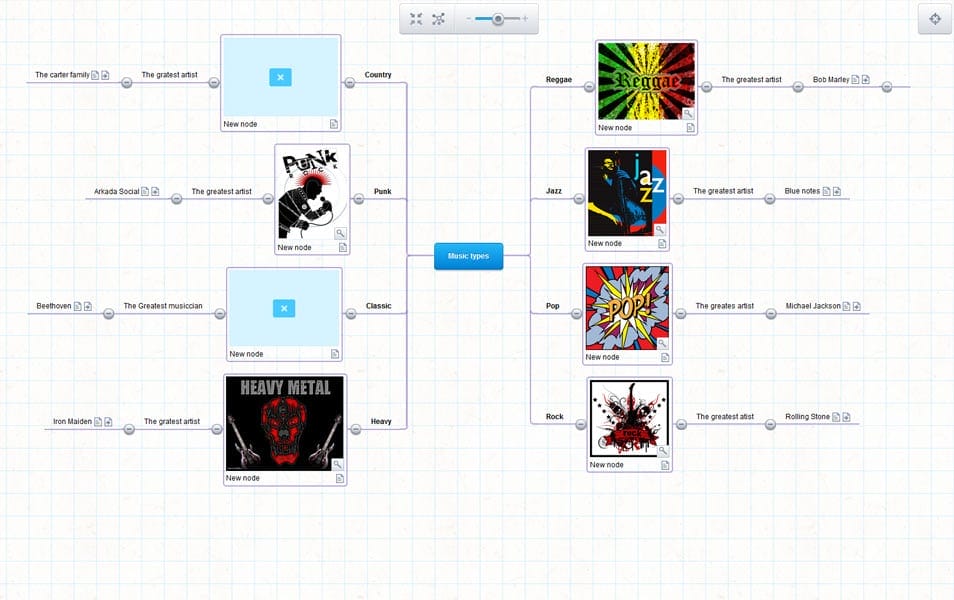 Mind42 is another one of the awesome, free mind mapping tools that are completely web-based for easier access. It allows you to create to-do lists, organize events, and brainstorm ideas, all with its virtual notebook-like freeform canvas. You will also get the option to share your mind maps with others to ask for feedback or pure collaboration purposes.
GroupMap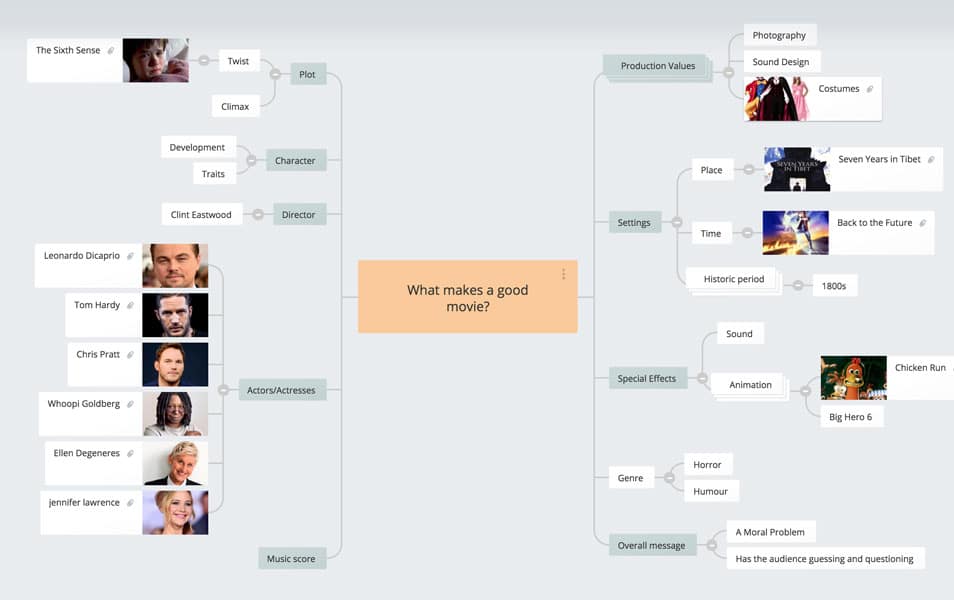 GroupMap is the perfect mind mapping tool to take with you in group meetings or workshops. It helps by capturing individual thinking first and then revealing the group perspective later, in real-time. The tool packs in tons of collaborative options like a voting system, like and dislike buttons, rating system, and an easy way to share & import/export your mind maps.
WiseMapping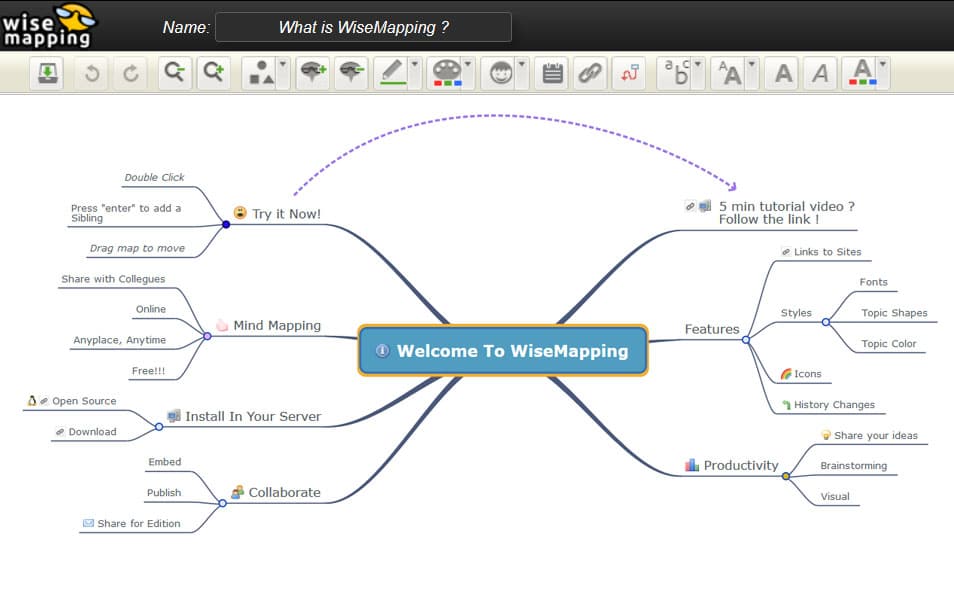 Wisemapping is one of the free mind mapping tools directed at individuals as well as businesses. It is a web-based tool that can help you give your ideas a visual language and represent them on a digital canvas. On the feature front, you will get access to simple formatting options, collaboration functionalities, and the ability to export and import your mind maps.
TheBrain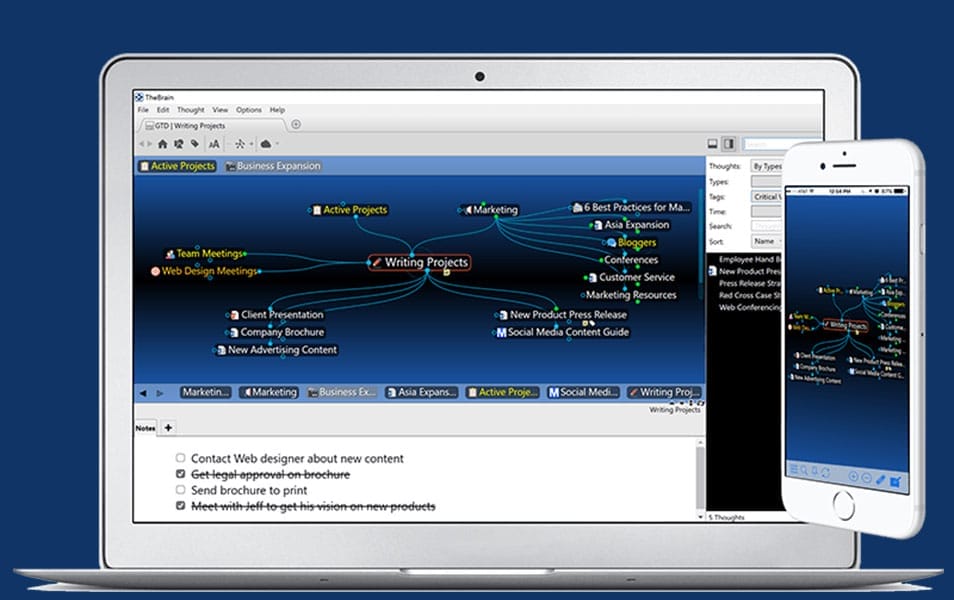 TheBrain mind map tool is developed as an intelligent note-taking application that you can also use as a non-linear file management tool for visualizing your ideas and thoughts. The tool is perfect for creating large mind maps and comes with integrated search functionality that allows you to find any piece of digital information with a quick search.
MindMup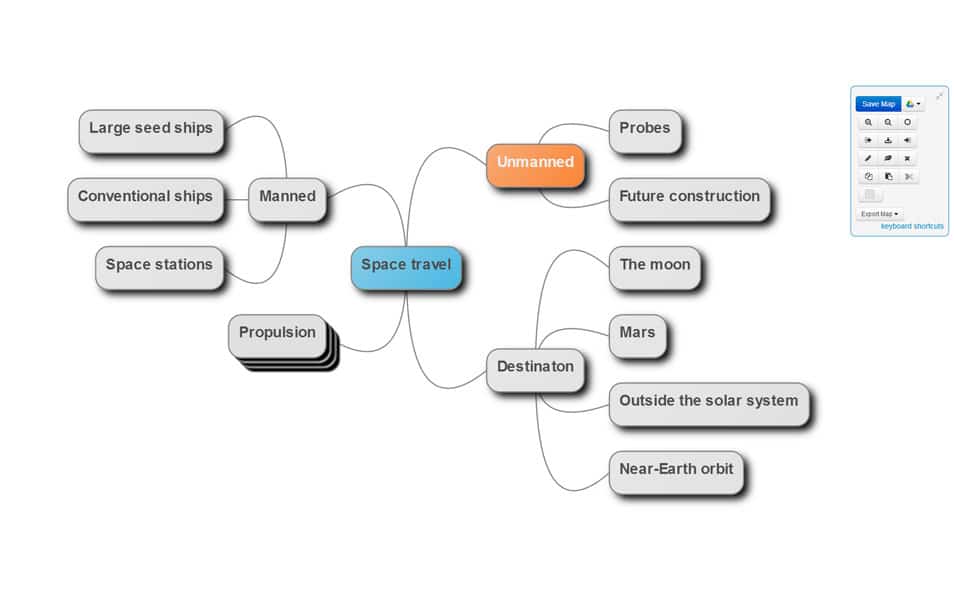 MindMup mind mapping tool brings together tons of features to help you quickly and easily create remarkable visual representations of your ideas. The app comes with a frictionless interface and hotkey support, which gives your brainstorming sessions a super lucid experience. There is also a built-in project management feature that will help you add measurements and map nodes that will automatically calculate the cost, completion, and other factors. Needless to say, powerful collaboration and communication features are also available to help you out.
Scapple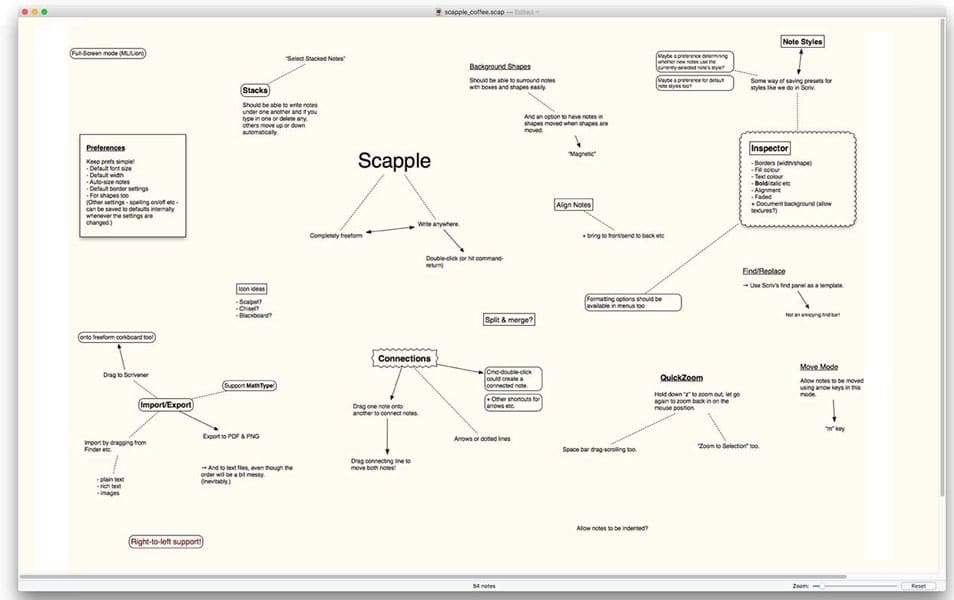 Scapple gives you a virtual paper to bring back the joy of jotting down your ideas in freeform. You can then connect the ideas using drag and drop gestures, or leave them as separate ideas. There is even the option to create background shapes to highlight a group of notes. For more visual diversity, you can also customize the appearance of the notes as you want.