Easy to use Social Media Image Resizer Tools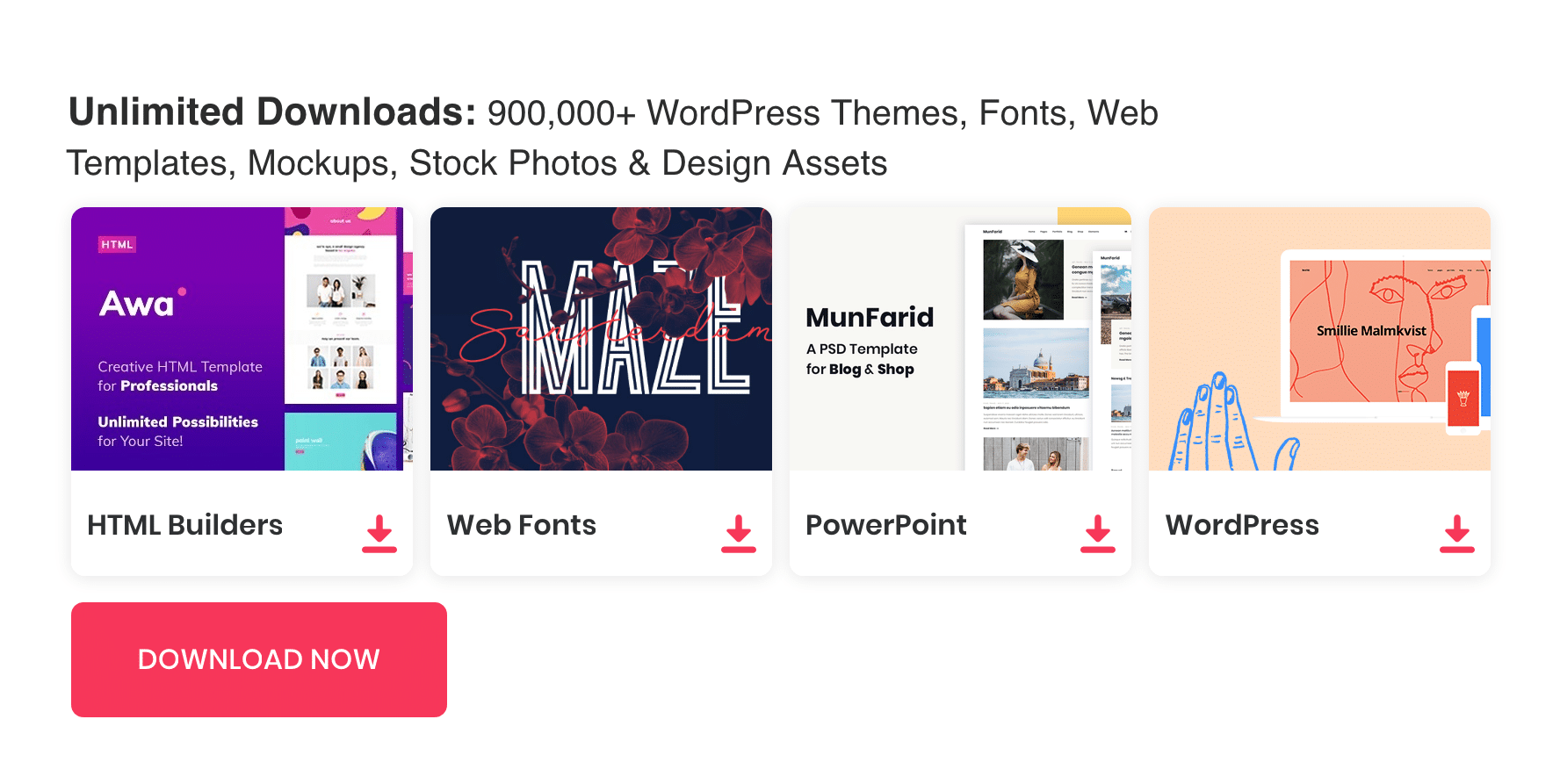 Photos power the web! They give the words the meaning and the eyes as a way to visualize! However, the photos need to be actively resized and managed so that they do not burden your site and make them slow.
In this article, we are going to take a look at some of the best social media image resizers that will help you resize the images for your blog and social media.
See also : 10 Best Mood Board Creators For Designers
Let's get started.
See also
Photo Resizer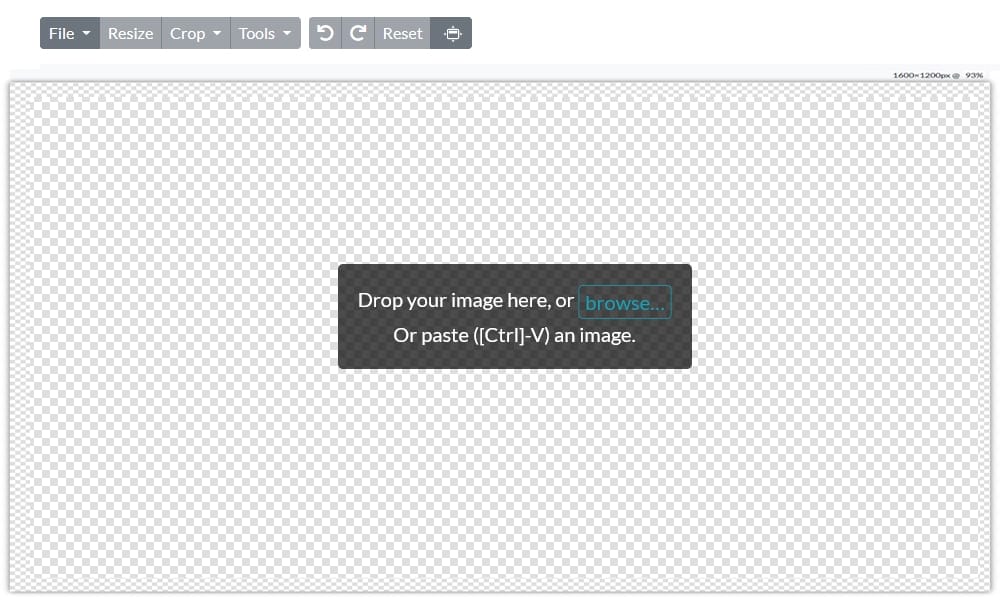 Photo Resizer is a handy web-based tool that can let you resize images easily. All you need to do is upload the file to the tool. You can do so by uploading it from your computer, opening it from dropbox, open the URL, or take a selfie through the camera if your device supports it.
When it comes to cropping/resizing, you can do it either freely or by aspect ratio. In case you are looking to resize images based on social media, you get support for Twitter, Facebook, Linkedin, Tumblr, Youtube, and Instagram. It also lists some traditional resolutions that you can try including 640 x 480 and 1024 x 768.
In the tools list, you get access to flip/rotate, quick erase, grayscale, blur/sharpen, draw shapes, draw text, and free draw. You can also do undo and redo. Finally, it also lets you reset the image.
Landscape – Free Social Media Image Resizer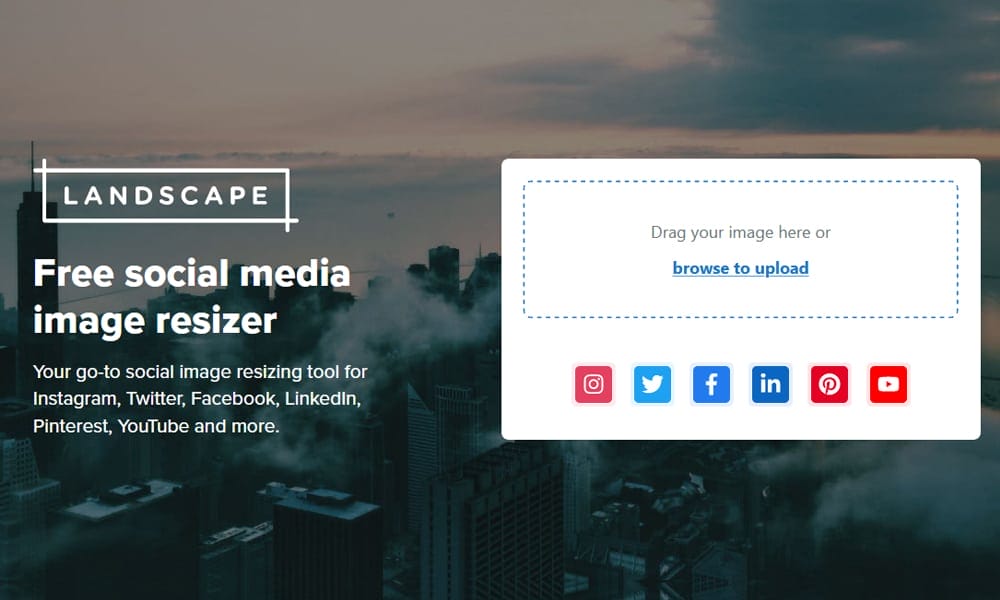 Landscape is a free social media image resizer that provides you a step-to-step way to resize images based on the different social media platforms. It comes with resizing tools for Twitter, Linkedin, Facebook, Youtube, and so on.
It has three steps that you need to go through:
Upload images: In this step, you need to upload the images from your local computer
Choose the social platform you want to resize for. You can use multiple social platforms as per your need.
Resize images based on your selection
The Landscape tool is powered by Sprout social and is made available free from them. The tool is excellent for those who do not want to get overwhelmed by the different choices they have when it comes to creating the perfect social media images.
Free Image Resizer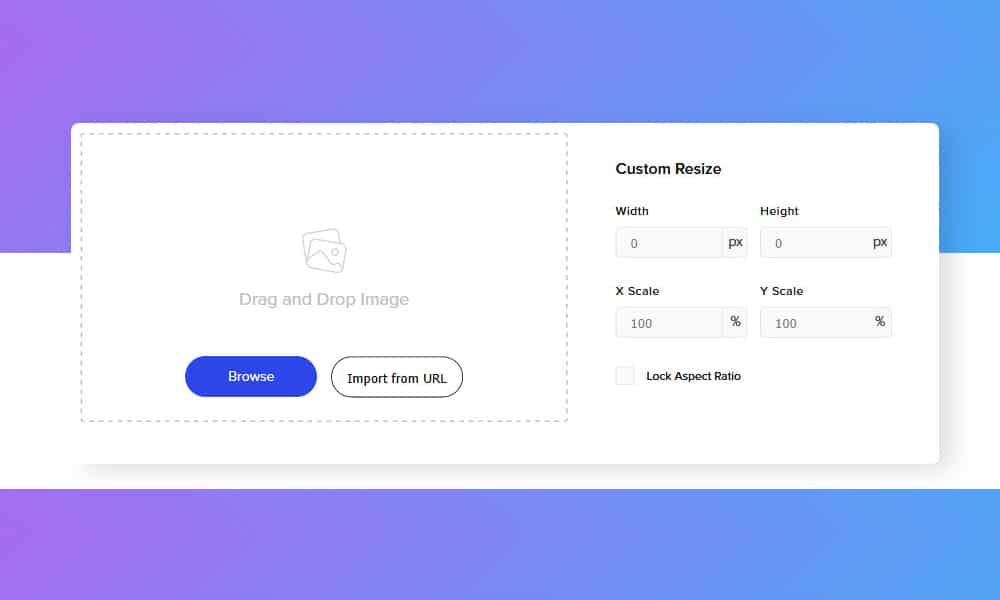 Next, we have the Free Image and Photo Resizer by Promo. It is a one-page application which not only gives you access to creating social media images but also lets you visualize them before you decide which one is best for you. It comes with support for the following social media platforms: Twitter, Instagram, Facebook, Pinterest, Google, Linkedin, Youtube, and many more!
You can also set a custom to resize option if you need to. You can set custom width and height. Once you have uploaded the image that you want to resize, you can also make a selection of images that you need for the different social media platforms, and download them all at once. You can also download all images! That's a very handy feature if you are working on multiple social platforms at once.
Social Image Resizer Tool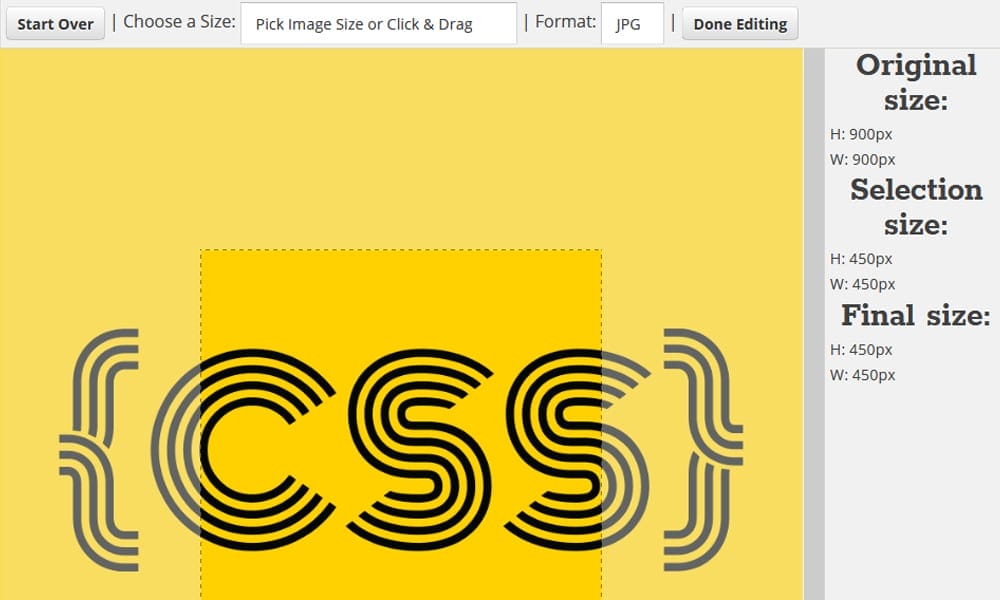 Social Image Resizer Tool is yet another handy tool that you should take into consideration if you are looking for a simple-to-use image resizer for social platforms. All you need to do is upload the image, choose the format of the image you want, and then choose a size based on your requirement. Before you get started, you need to press Upload.
Under the choose a size option, you get the options such as Facebook Tab, Facebook Profile, Twitter, Google, Linkedin, and so on!
You can also get access to the drag and drop resizer where you can simply resize it.
Free Online Image Resizer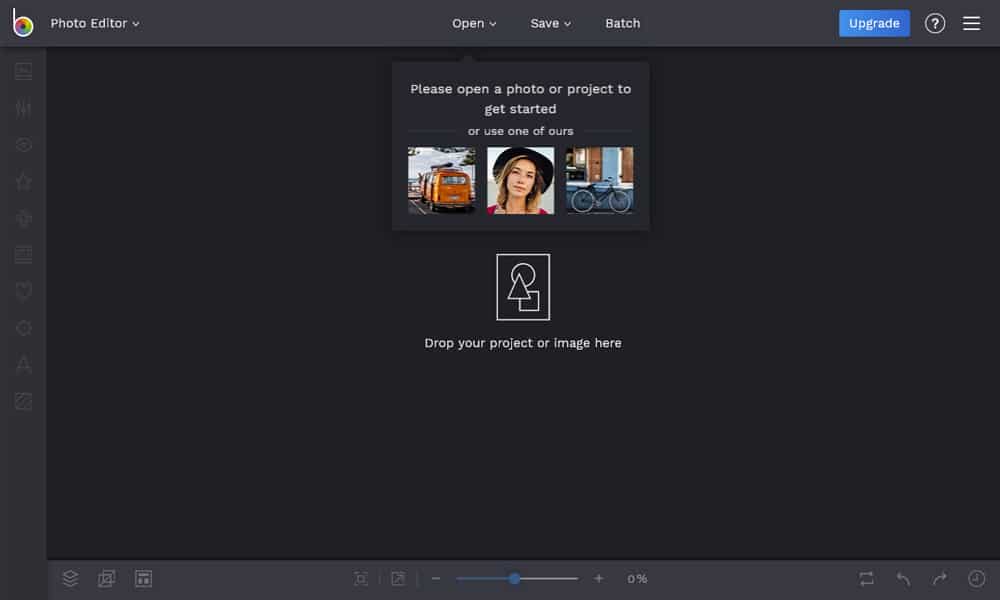 Free Online Image Resizer is a feature-rich photo editor which lets you do more with your images.
To get started, you need to upload the image. It supports different sources including your local computer, Google photos, Google Drive, Dropbox, Facebook, and so on! However, there is one big difference that you need to know. It doesn't have pre-listed image resizes for different social media platforms. This means that you need to know what image size you need before you can use the tool to make the changes.
But, then why have we listed it? Well, it offers tons of other amazing features including touch up, effects, frames, graphics, overlays, and so on!
Overall, it is an excellent tool that lets you do more with your images than you can do with a traditional image resizer tool.
Free Online Image Resizer | Shopify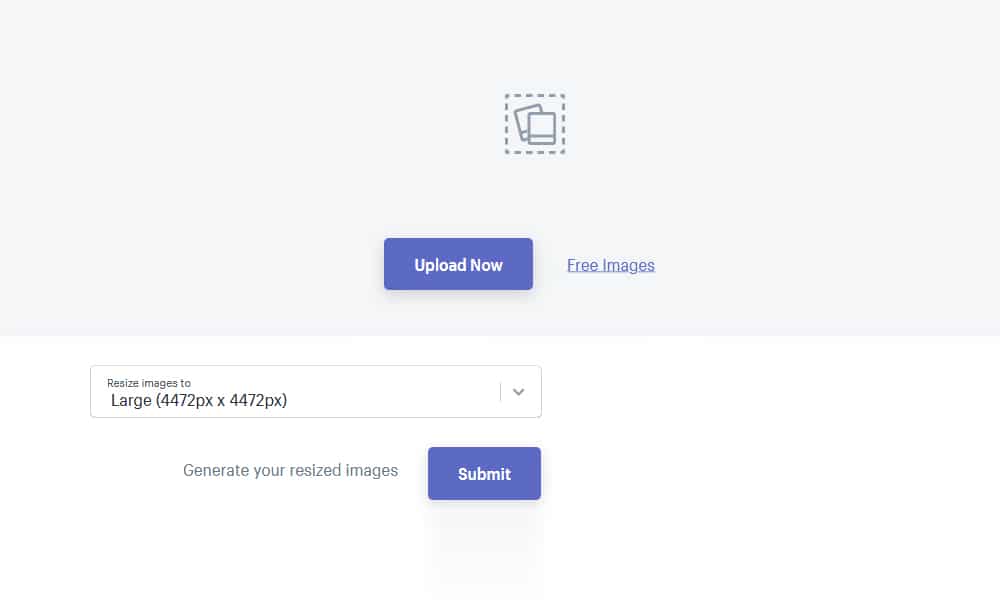 Shopify is one of the most used eCommerce platforms out there. If you are using Shopify to sell your products, then you know it is important to resize your images. However, this tool is more than just for Shopify. With it, you can easily resize images for different application platforms.
It can be for an online store or a social profile or even for an e-newsletter. By default, you get the option to add six images at one time. From there, you can select the pre-defined sizes which include compact, medium, or large.
However, there is no option that we found that lets you resize an image based on your requirements.
Resize image online | Adobe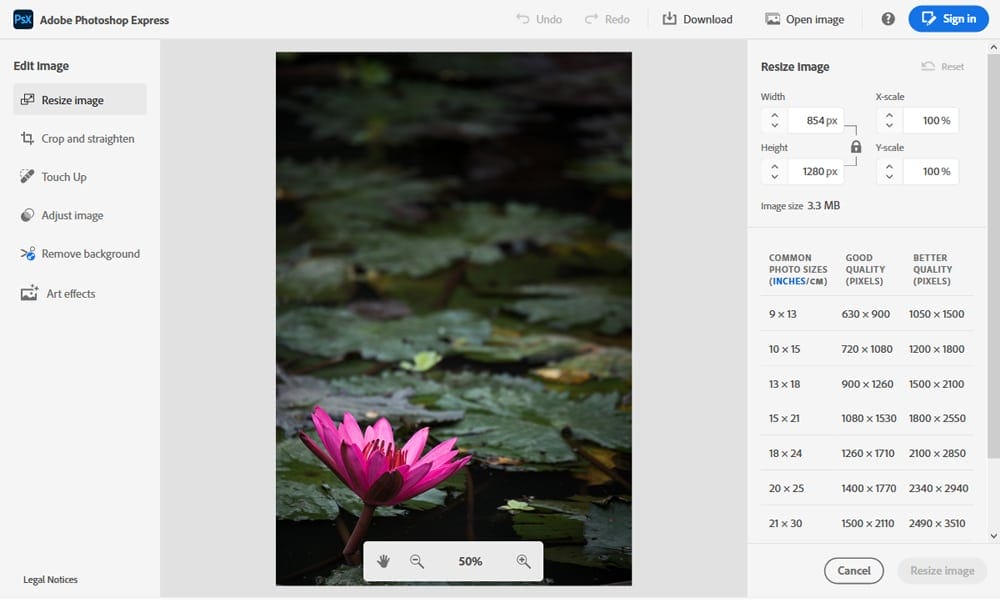 If you are someone who uses Adobe products, then you may want to try out their online image resizer tool. The free online photo image resizer lets you resize your image directly from your browser. Behind the tool, they offer their Adobe Photoshop Express which lets you make any image larger or smaller — in a matter of seconds. The resized image can be used for social media platforms or even printing.
To resize the image using their tool, you need to do it in three steps:
Upload the image to the resizer. You can use the PNG or JPG format.
Use the dimensionsor to resize the image using percentage.
With it done, you can then use it to save the image, and download it and use it as per your intended purpose.'
The other key features offered by the Adobe PhotoShop Express include Touch Up, Adjust Image, remove background(paid), and art effects. Moreover, it also offers to undo and redo functionality.
Image Resizer | Fotor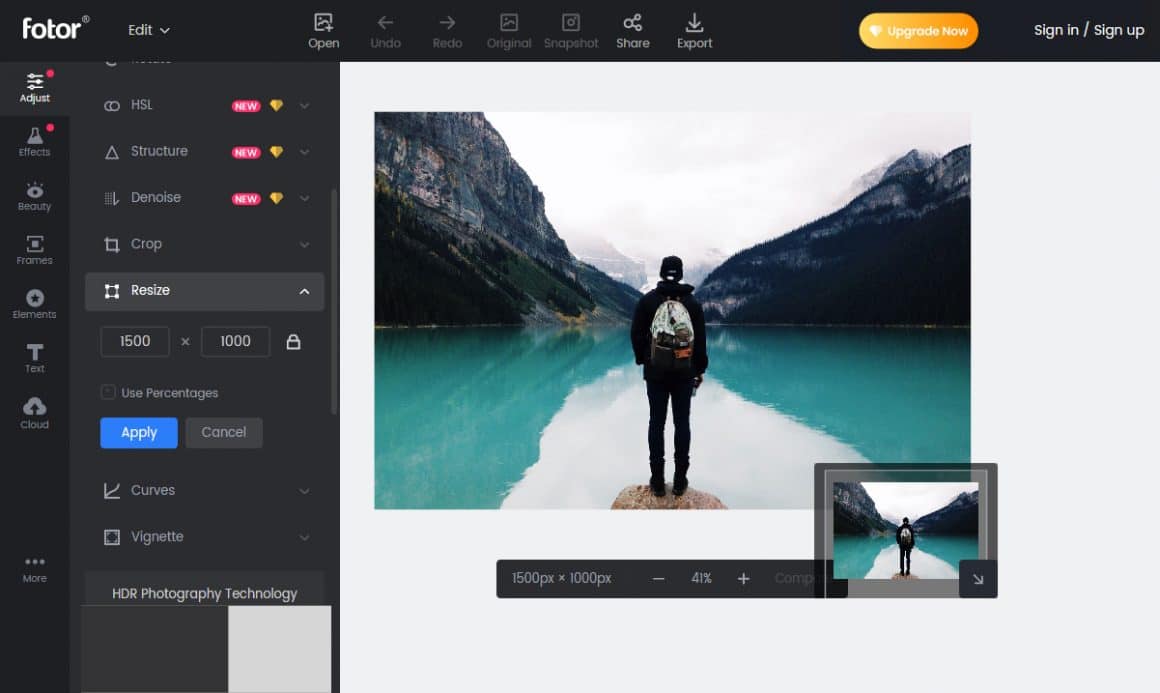 Our next tool in the social media image resizer list is the Fotor Image Resizer. It lets you quickly resize the image directly from the browser. Also, it is made specifically to social media platforms. This means that you can easily resize the images without degrading them. It supports a wide range of platforms including YouTube or Facebook.
The other key feature that are offered by Image Resizer by Fotor is the photo frame. Also, you do not need to do cropping if you want to resize — the tool has the ability to resize without degrading or cropping the image.
To use the photo resizer, you need to do the four steps:
Choose the image to edit
Choose height and width
Choose to keep proportions if needed
After resizing the image, you need to save the file.
BIRME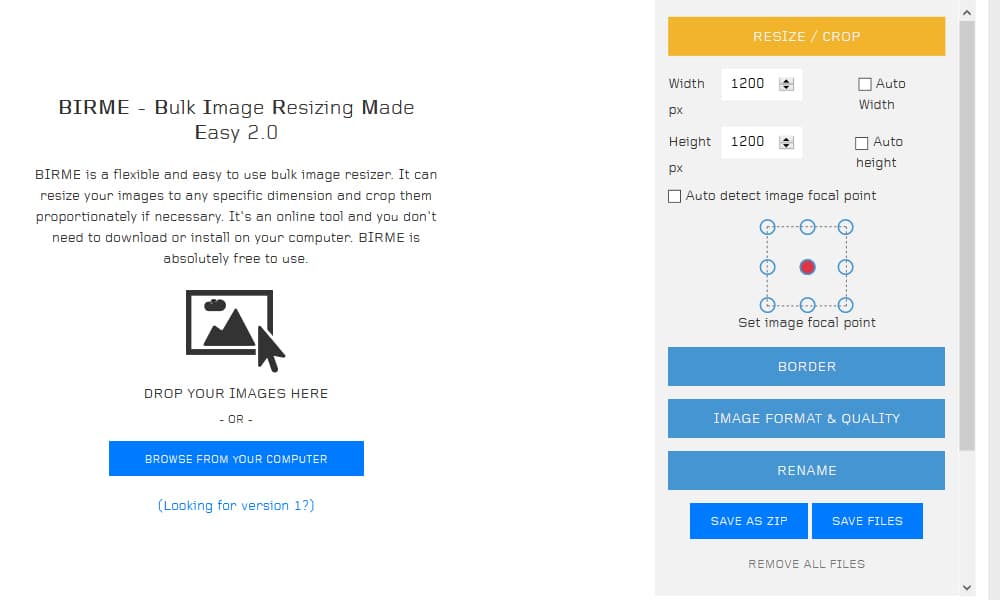 Birme is another nifty bulk image resize that lets you resize to different dimensions. You can also do a bulk image resize with the tool. Using Birme is easy. All you need to do is upload the images from your computer. After that, you can set the width and height yourself. If you are not sure about the height or the width, you can also set the auto width or auto height. Lastly, to ensure that the resize is perfect, you can set the ratio yourself.
Other key features offered by Brime include Border, Watermark, Rename, Image Quality, and Format. If you upload more files for resize, you can also save the files as zip.
Brime is constantly updated with news features added including support for WebP format, focal point adjust, auto focal point detention, and so on!
Online Image Resize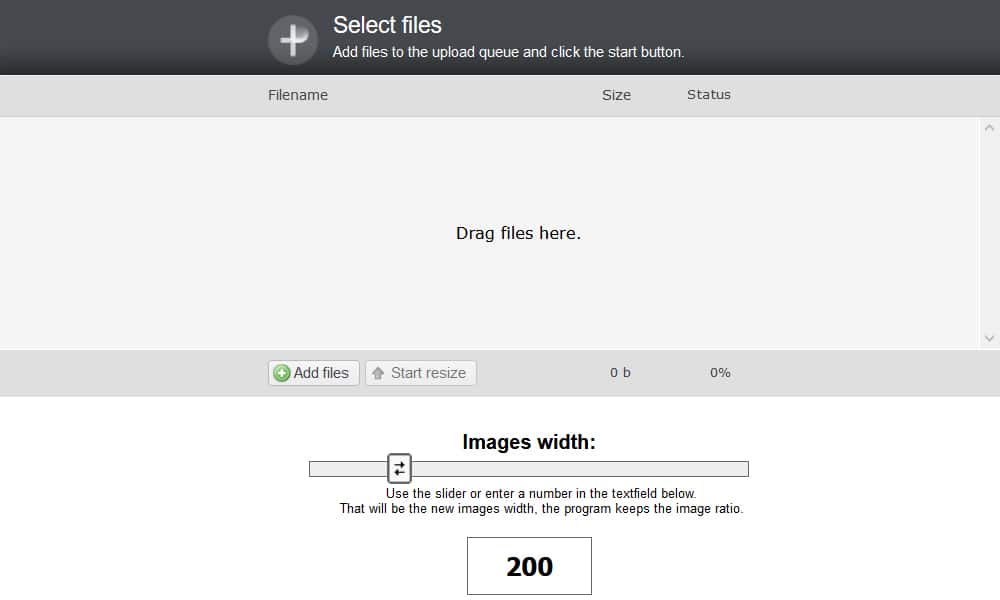 Online Image Resize is a simple yet effective way to resize your images for social media. You can choose to upload and resize multiple images at once. To add images, you can click on the "Add files" button or simply drag and drop them into the resizer. It is a very simple tool where you can set the image's width using the slider. Other key functionalities that you can carry out are crop, mirror, and rotate. If for some reason, things go wrong, you can always reset and start over again.
PicResize
Picresize enables you to easily resize, crop, or edit your images for free. Just like other online offerings, it also comes with the option to easily upload from your computer. In addition, you can also choose images from URLs or add multiple pics in one go.
One nifty feature that it supports is clipboard support. So, you can easily use Ctrl + V to paste the clipboard when needed.
The tool gives you a good selection of options to work with. For instance, you can do crop selection and deselection, rotate and flip(counter wise and clockwise). You can also experiment as they offer a revert to the original option.
Resize Images Online | Resizing App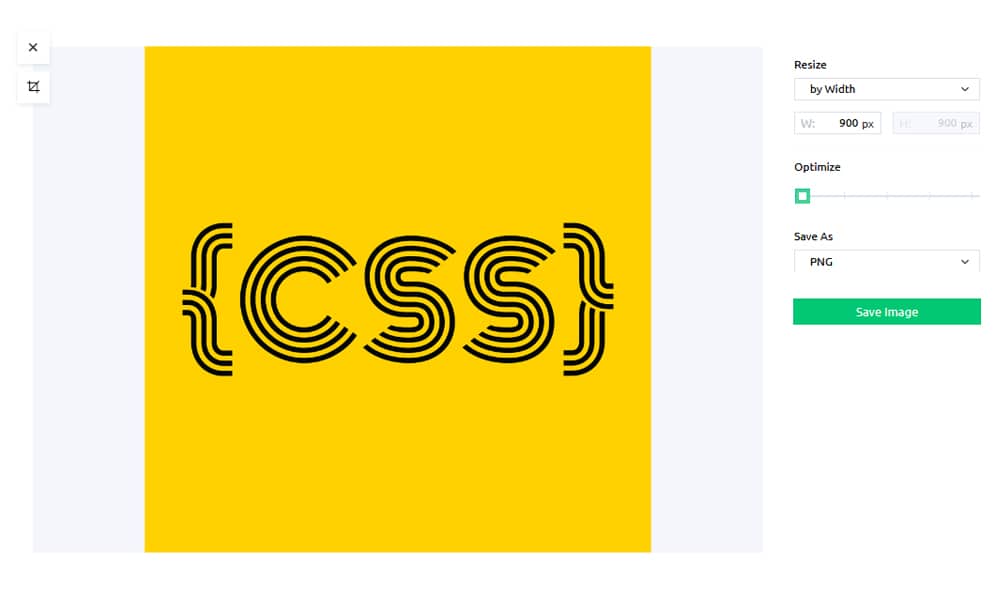 The last social media image resizer that we are going to discuss is the Resize Image Online by Resizing App. You can upload images directly to the browser and start resizing. It also comes with an Add to Chrome button which enables you to quickly resize images without the need to go anywhere!
You can resize by width or height. It also offers an optimized option that lets you save images as JPG, PNG, WEBP, BMP, and TIFF.
Once you have made the changes, click on save the image to download the image!