50+ Best JavaScript Charting Libraries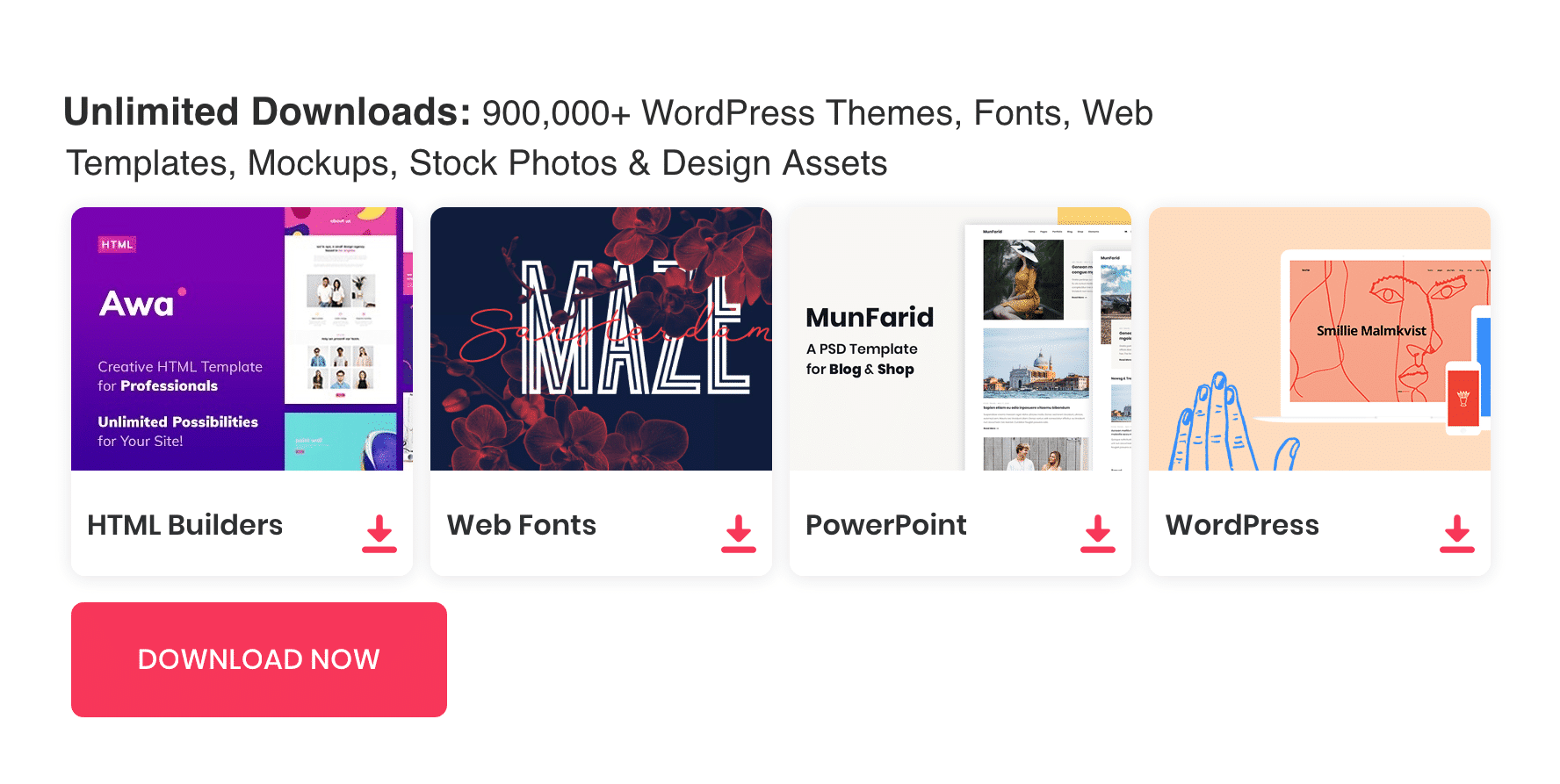 Data visualization is the most discussed topics among companies these days. Data is the very powerful tool but sometimes it is very hard to understand it in text format hence visualization is used. There are many tools are available these days for data visualization.
By using data visualization we will get the best possible results even when the data is large or complex. in today's business environment a large amount of data is collected and analyzed. These days, companies need data quickly and efficiently. Data visualization is much faster and easy for people to understand the data when they are displayed in charts and graphs.
It is easy to understand, but it is not easy to build. building UI for data visualization is a hard job for developers, especially in this Mobile era. Luckily there are some good JavaScript Charting Libraries are available to make the life easier.
In this post, we have gathered a list of great JavaScript Charting Libraries for data visualization.
Chart.js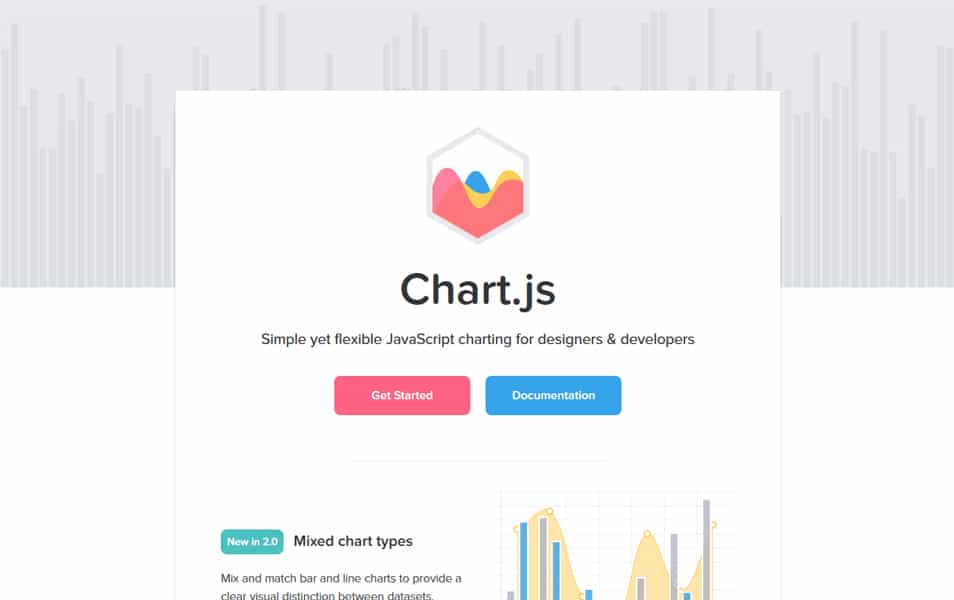 Simple yet flexible JavaScript charting for designers & developers.
Pizza Pie Charts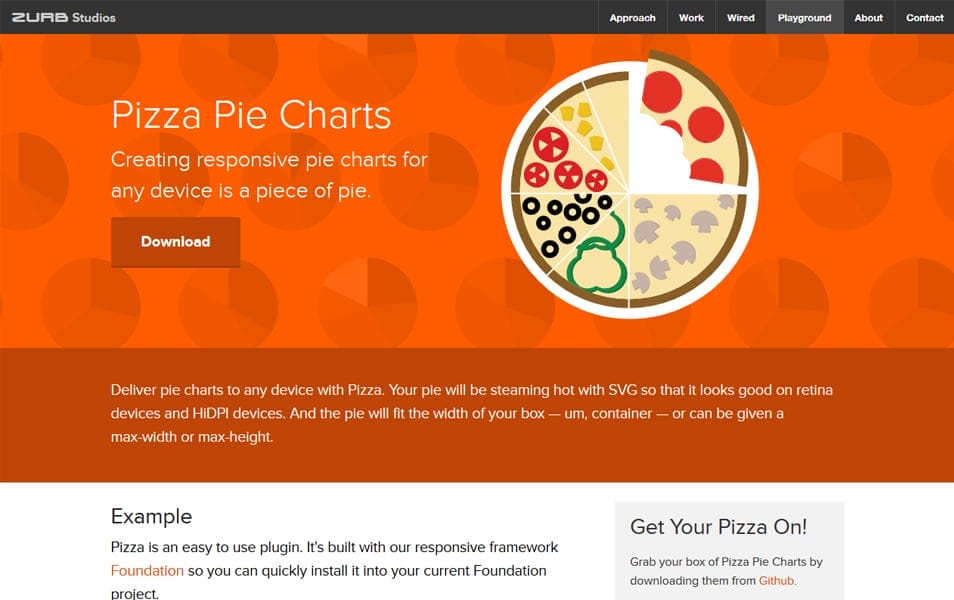 Pizza is a responsive pie, donut, bar, and line graph charting library based on the Snap SVG framework from Adobe. It focuses on easy integration via HTML markup and CSS instead of JavaScript objects, although you can pass JavaScript objects to Pizza as well.
FusionCharts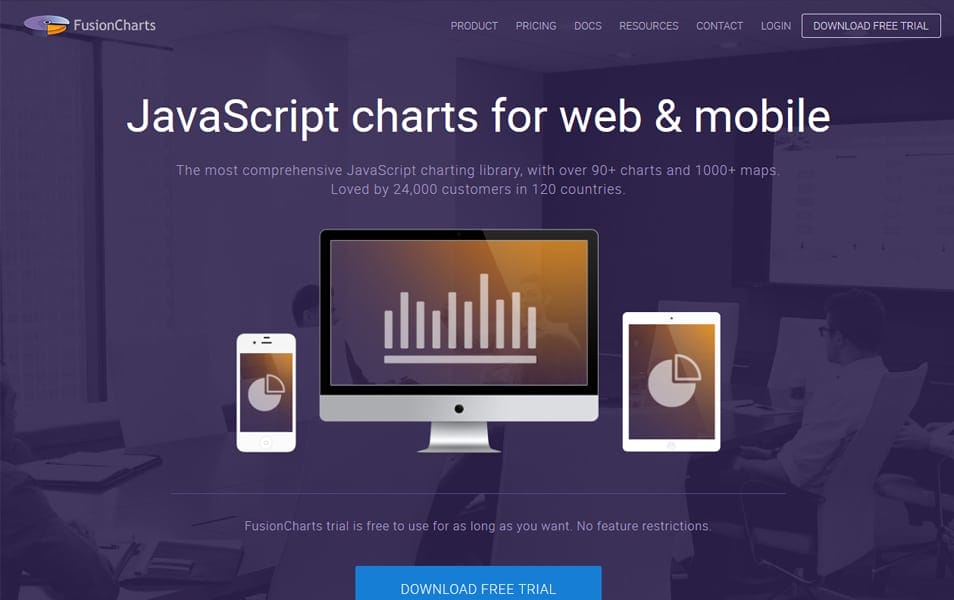 The most comprehensive JavaScript charting library. with over 90+ charts and 1000+ maps. Loved by 24,000 customers in 120 countries.
Google Chart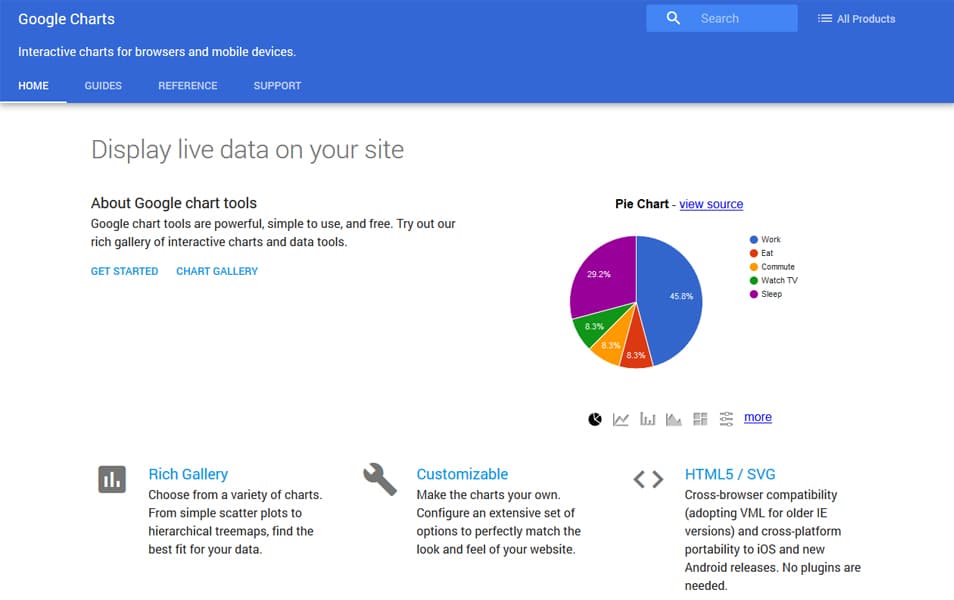 Google chart tools are powerful, simple to use, and free. Try out our rich gallery of interactive charts and data tools.
PlusCharts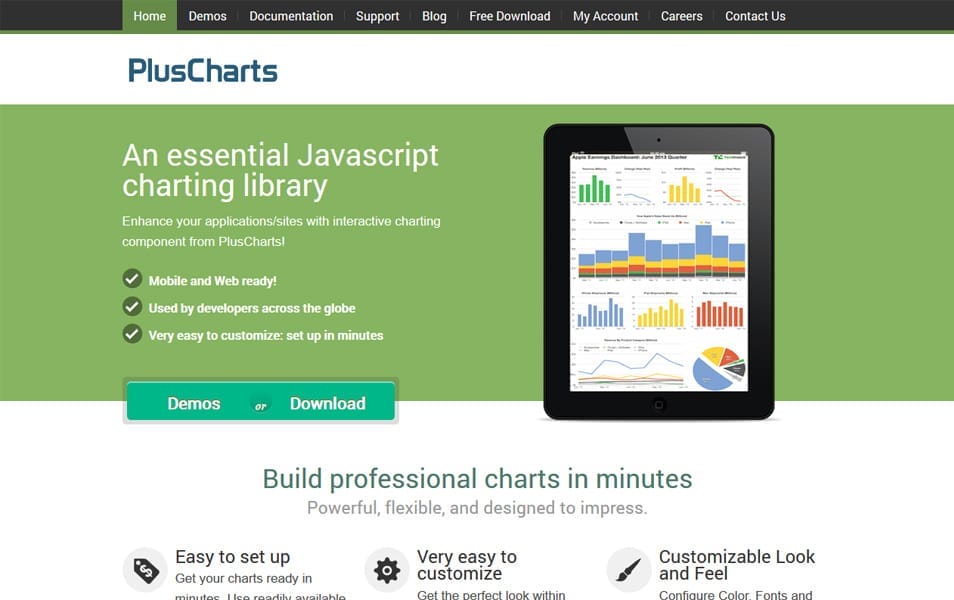 An essential Javascript charting library. Enhance your applications/sites with interactive charting component from PlusCharts!
Highcharts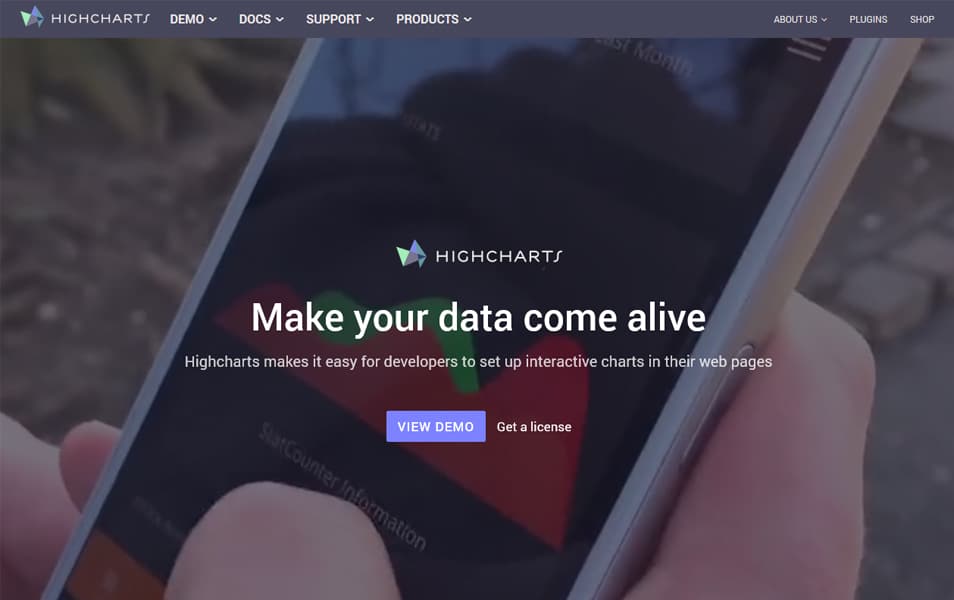 Highcharts JS is a JavaScript charting library based on SVG, with fallbacks to VML and canvas for old browsers.
D3.js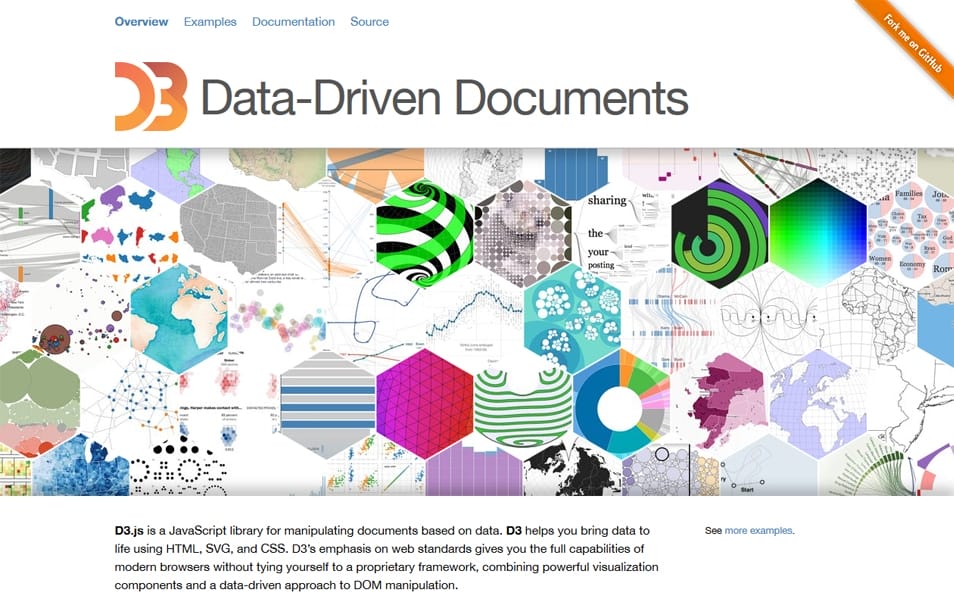 D3 (or D3.js) is a JavaScript library for visualizing data using web standards. D3 helps you bring data to life using SVG, Canvas and HTML.
Ember Charts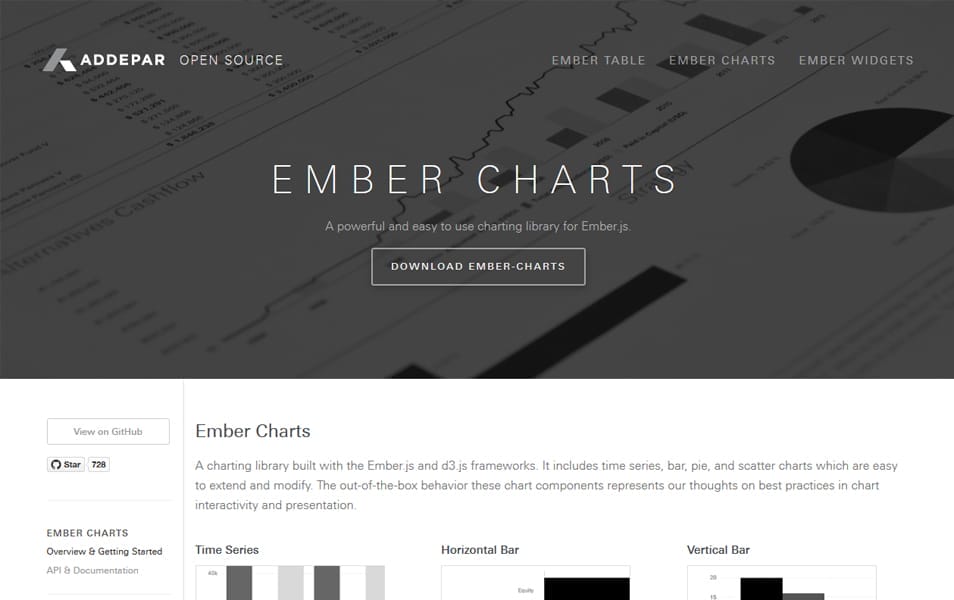 A powerful and easy to use charting library for Ember.js.
Plottable.js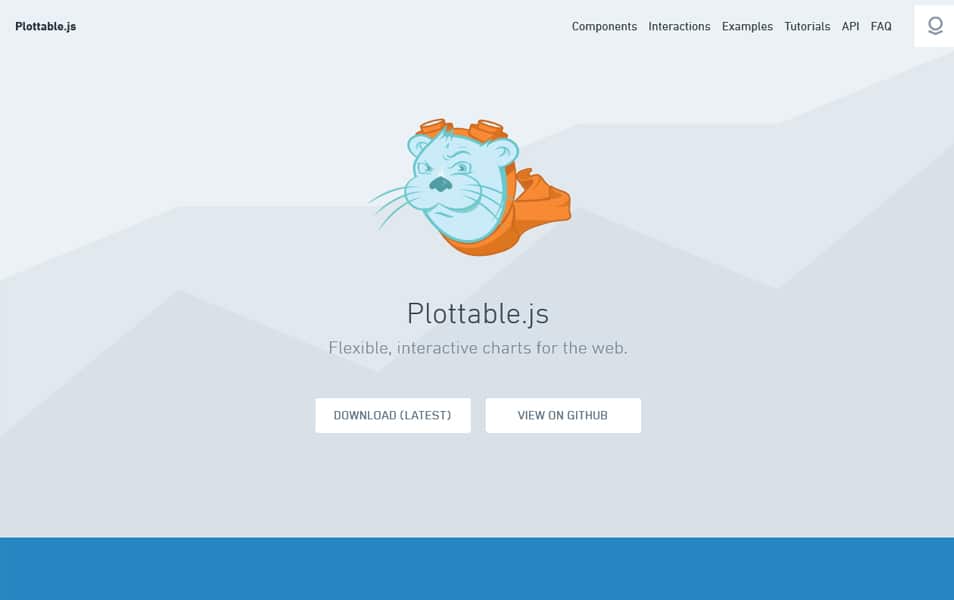 Plottable.js is a library of chart components for creating flexible, custom charts for websites.
amCharts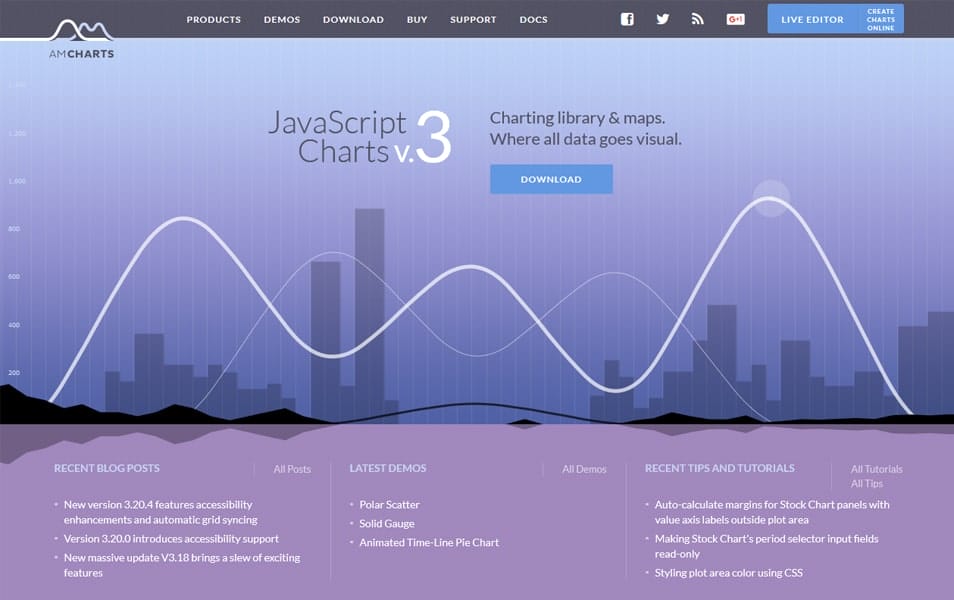 amCharts is an advanced charting library that will suit any data visualization need.
EJSCharts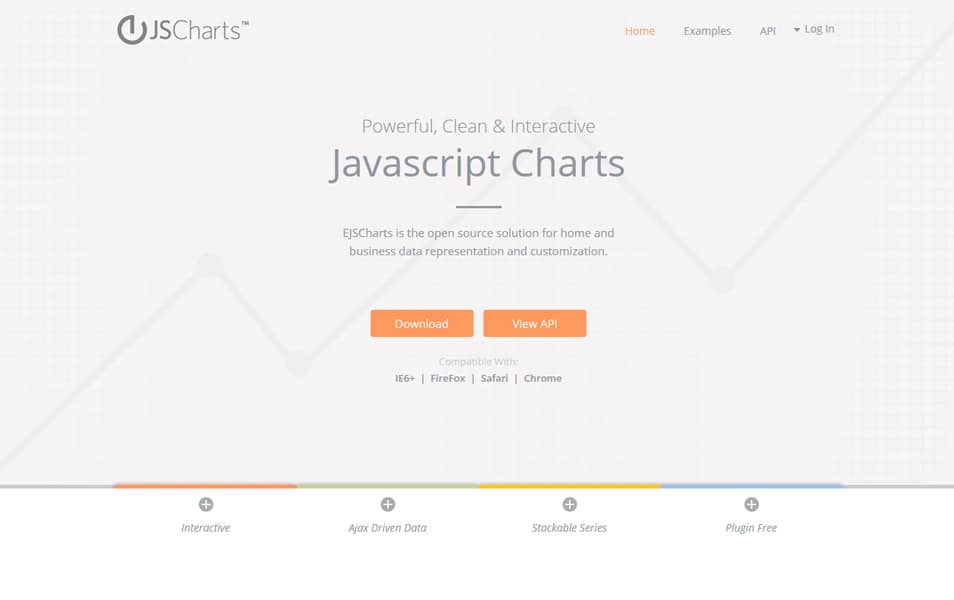 EJSCharts is the open source solution for home and business data representation and customization.
AnyChart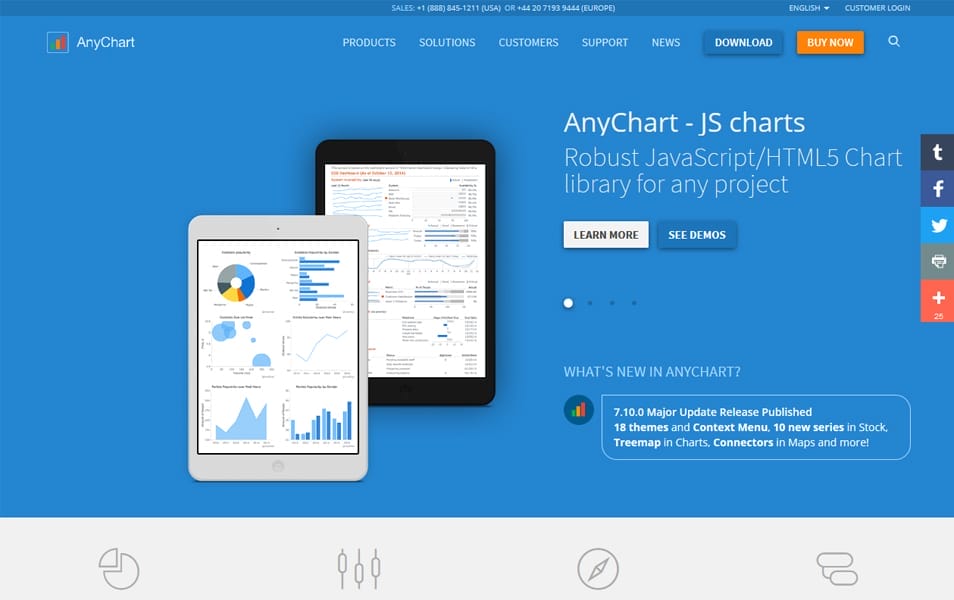 AnyChart is a flexible JavaScript (HTML5) based charting solution which will fit any need for data visualization.
plotly.js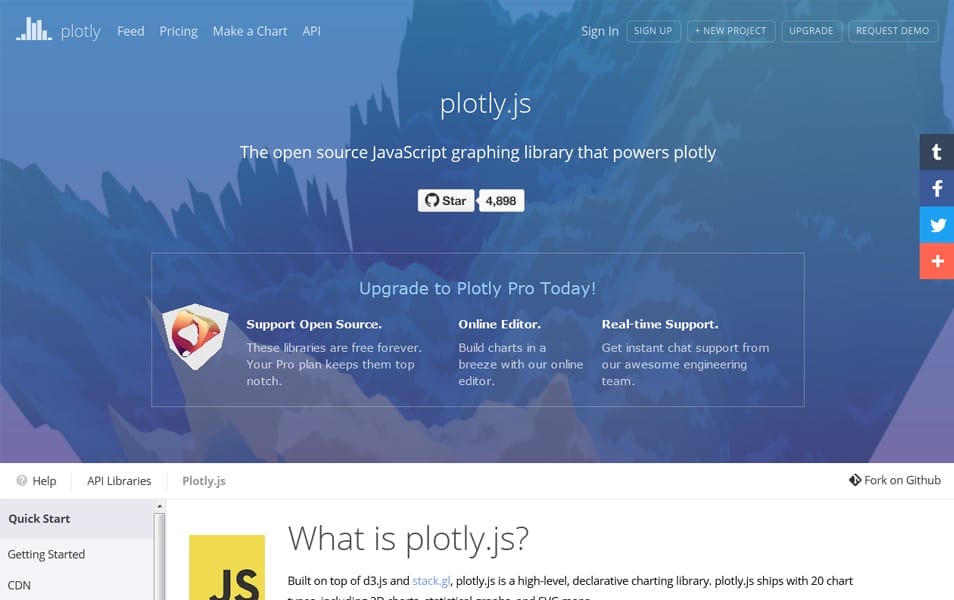 plotly.js is a high-level, declarative charting library. plotly.js ships with 20 chart types, including 3D charts, statistical graphs, and SVG maps.
DHTMLX Charts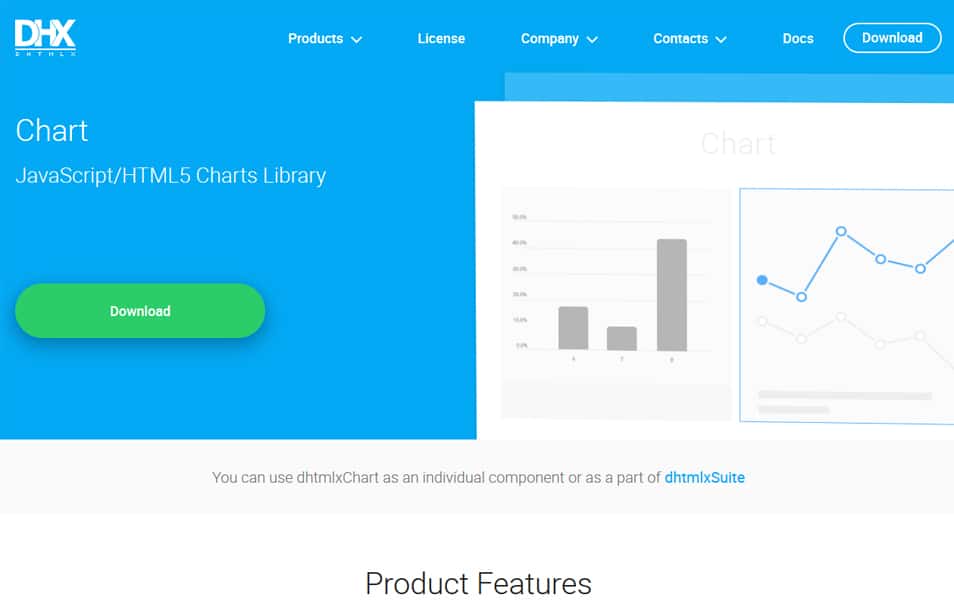 DHTMLX Charts is a JavaScript charting library for generating cross-browser HTML5 charts.
Factmint Charts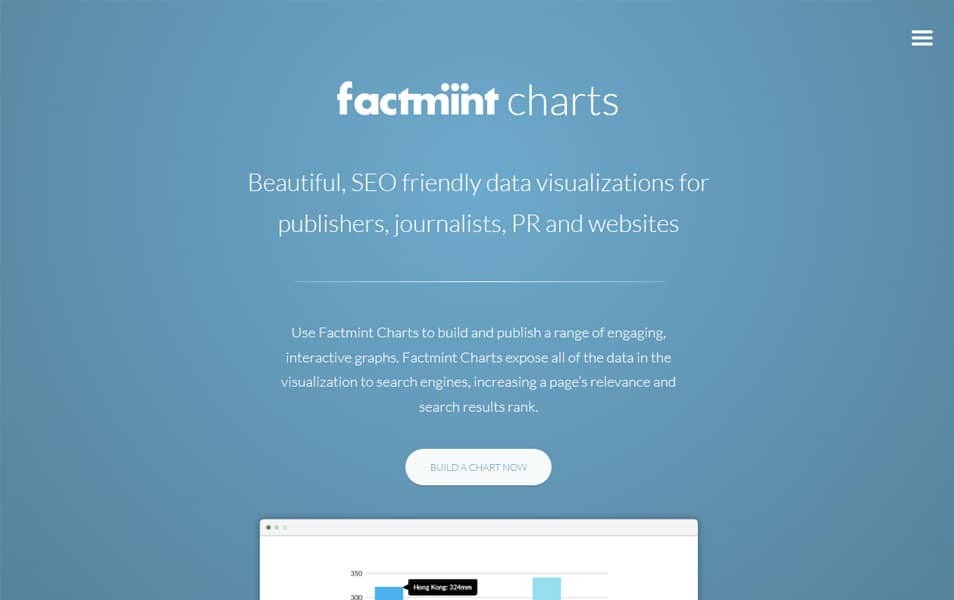 Factmint Charts is a simple, yet powerful way to publish data visualizations from your HTML tables.
KoolChart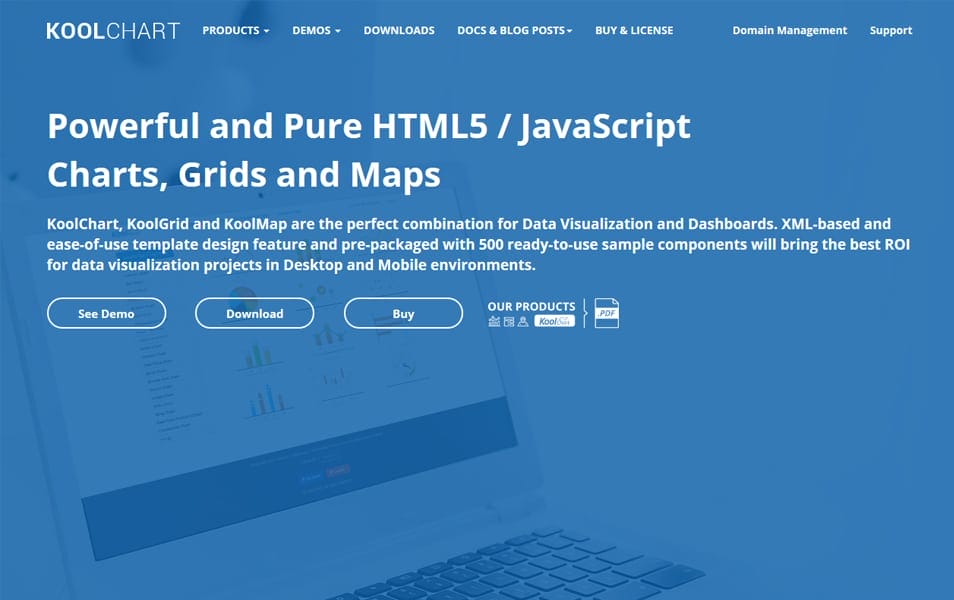 KoolChart is a pure JavaScript / HTML5 (Canvas) charting solution that allows you to add visualization features into your web applications.
Shield UI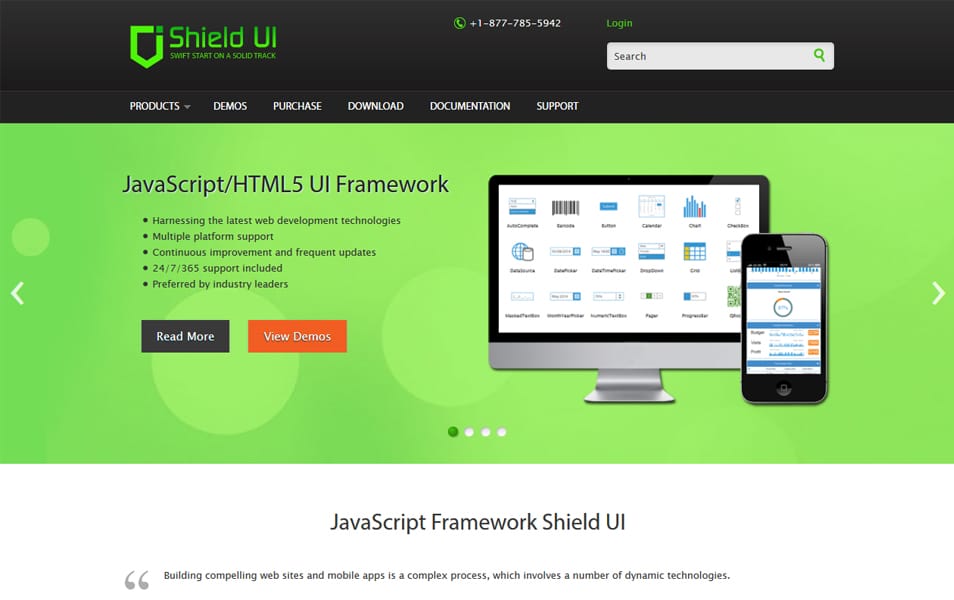 jQuery Plugins and JavaScript UI Framework.
Syncfusion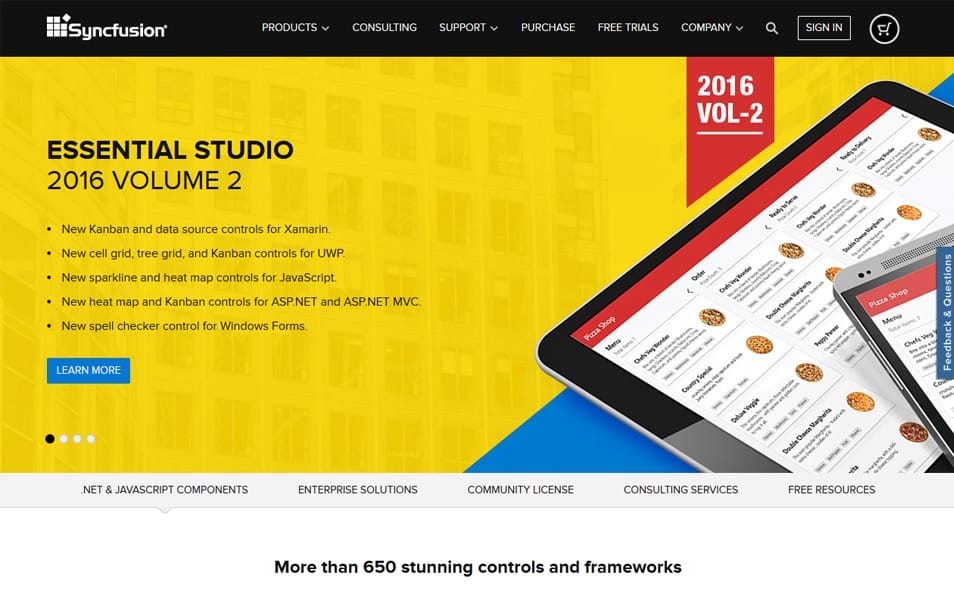 The most comprehensive suite of components available for .NET and JavaScript, including charts, grids, diagrams, schedulers, Gantt controls, maps, gauges, docking, ribbons and much more.
Steema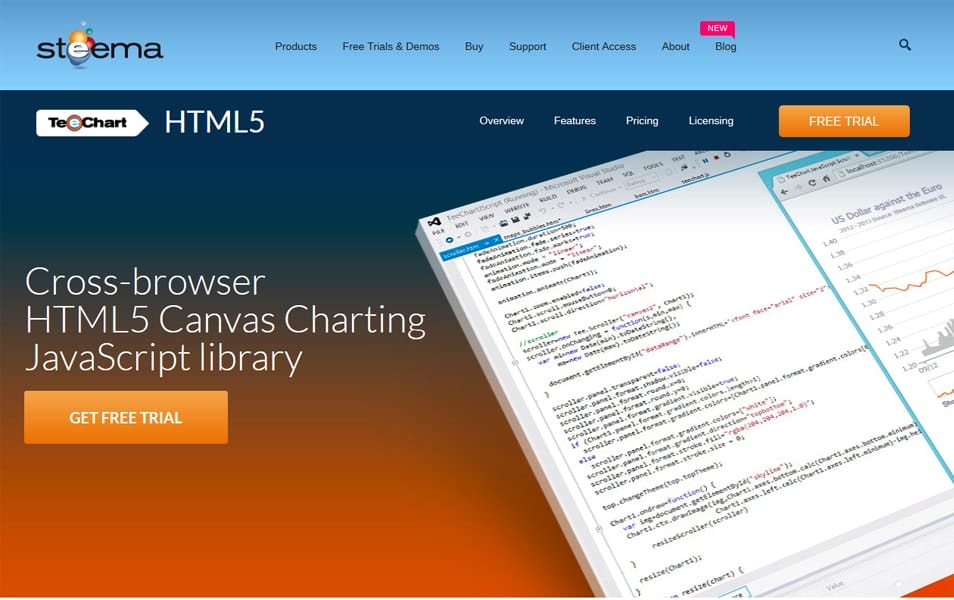 TeeChart for JavaScript is a 100% JavaScript/HTML5 charting library that plots graphs to all compatible browsers in native JavaScript format using the HTML5 Canvas element.
Vaadin Charts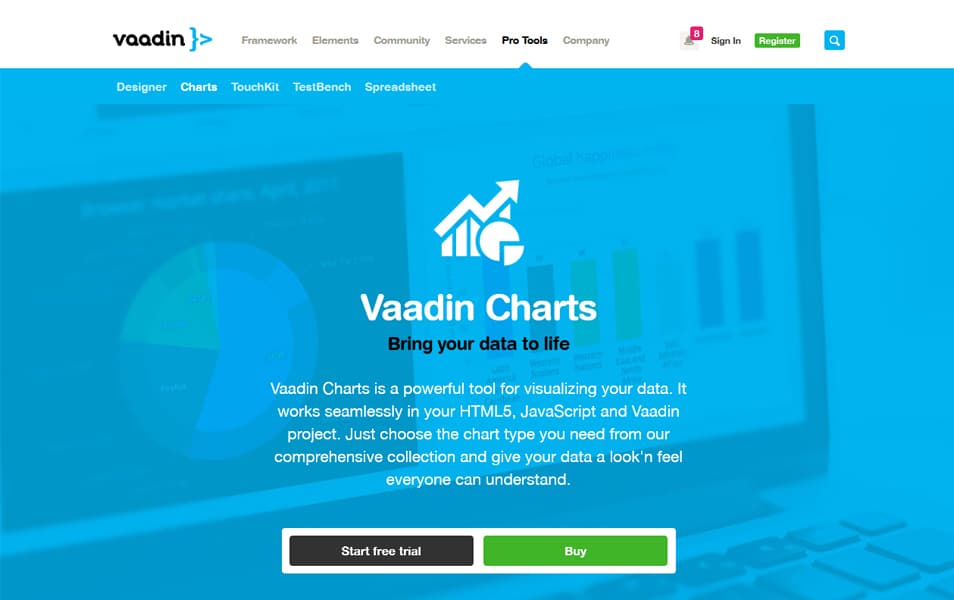 Vaadin Charts is a powerful tool for visualizing your data. It works seamlessly in your HTML5, JavaScript and Vaadin project.
VanCharts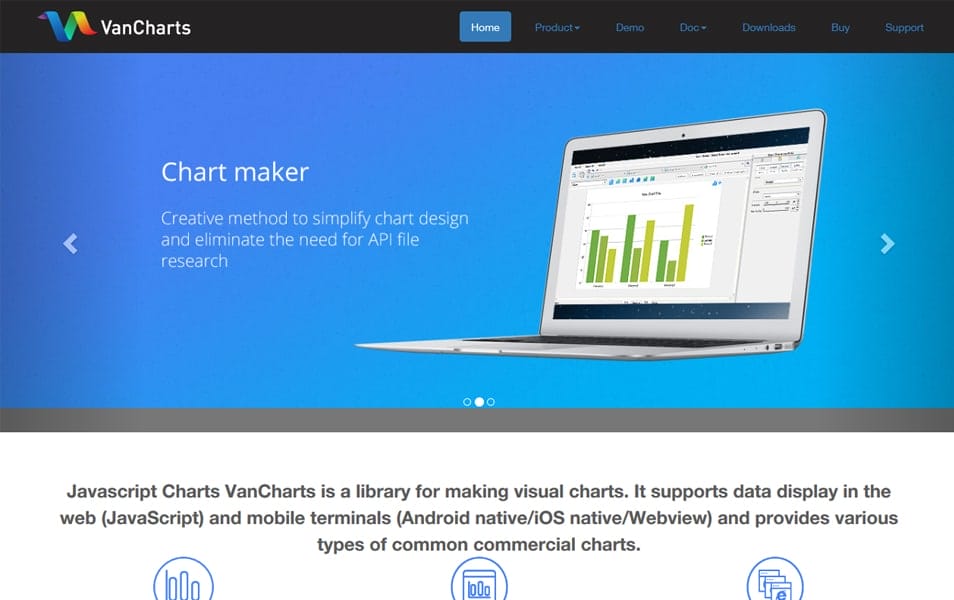 Javascript Charts VanCharts is a library for making visual charts. It supports data display in the web (JavaScript) and mobile terminals (Android native/iOS native/Webview) and provides various types of common commercial charts.
ZoomCharts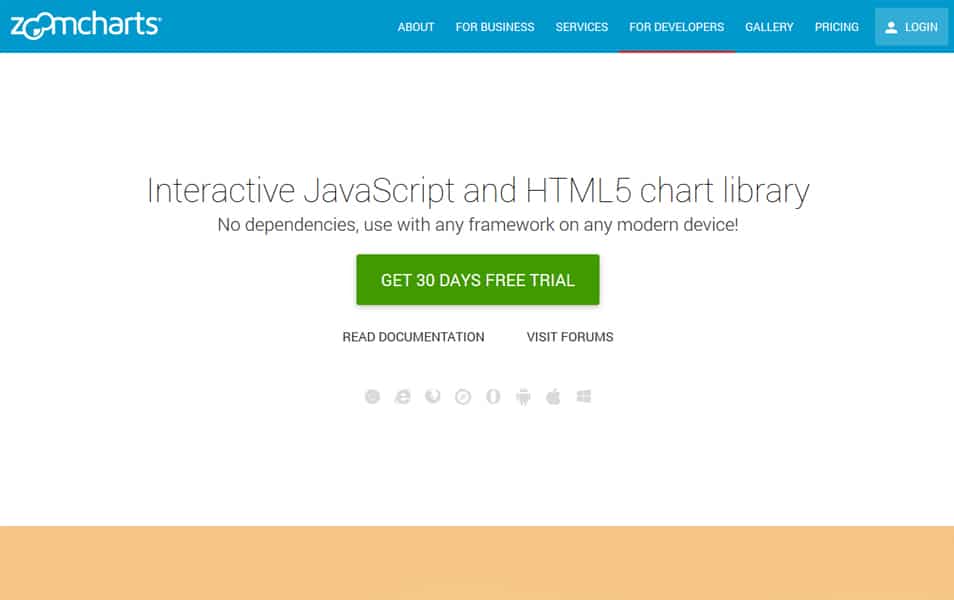 Interactive JavaScript and HTML5 chart library.
Taucharts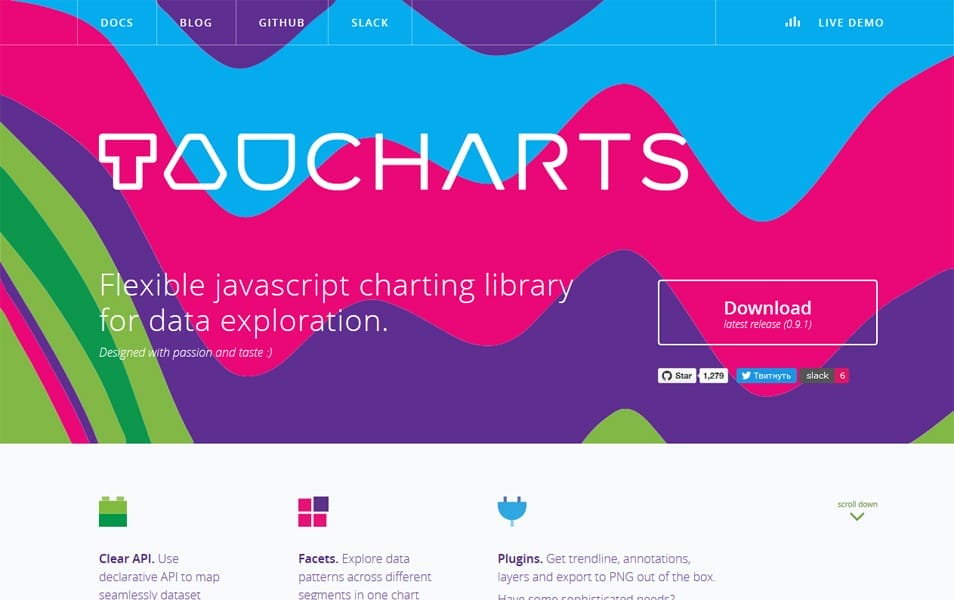 Flexible javascript charting library for data exploration.
vis.js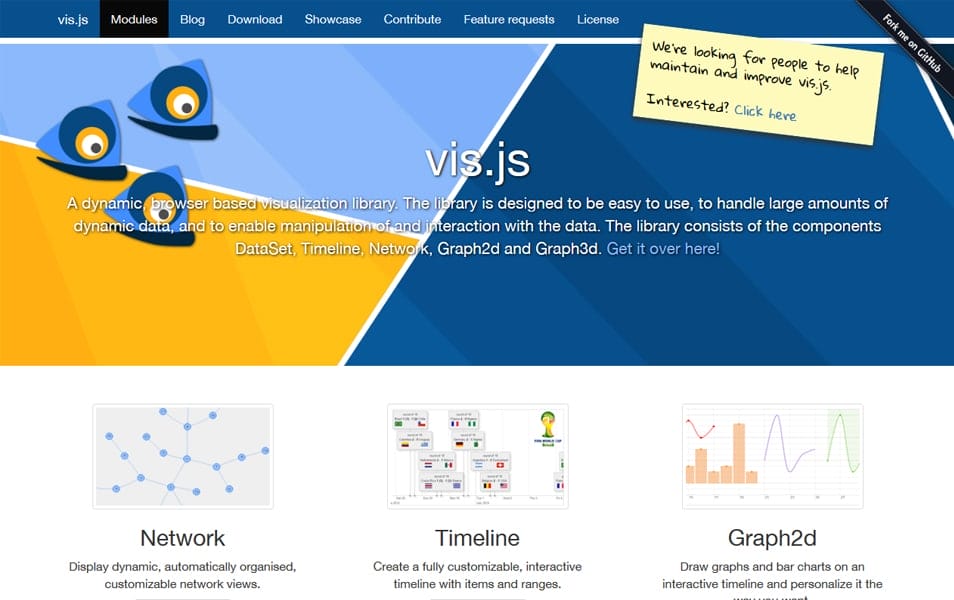 A dynamic, browser based visualization library. The library is designed to be easy to use, to handle large amounts of dynamic data, and to enable manipulation of and interaction with the data.
Chartist.js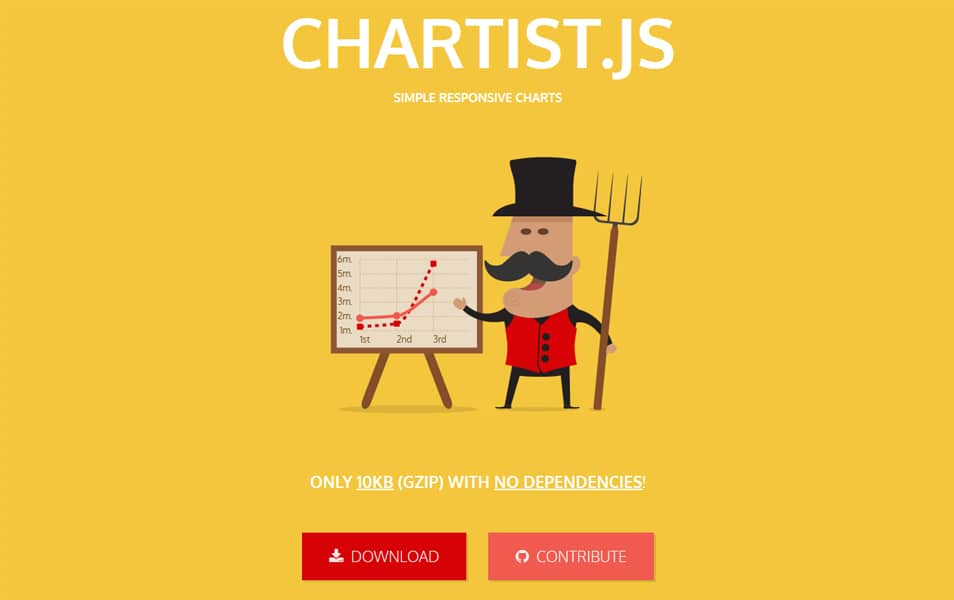 Chartist.js is a simple responsive charting library built with SVG.
C3.js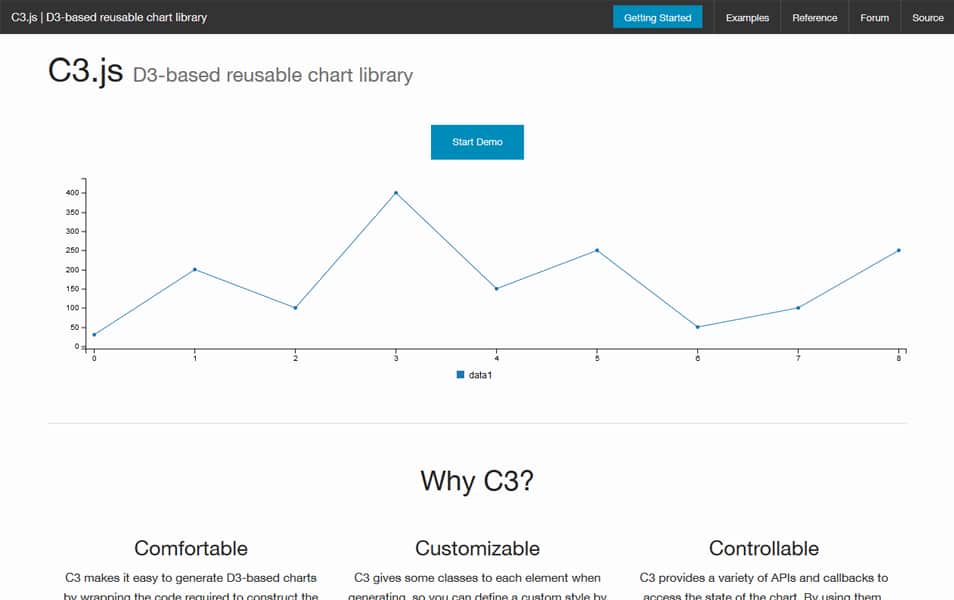 c3 is a D3-based reusable chart library that enables deeper integration of charts into web applications.
n3-charts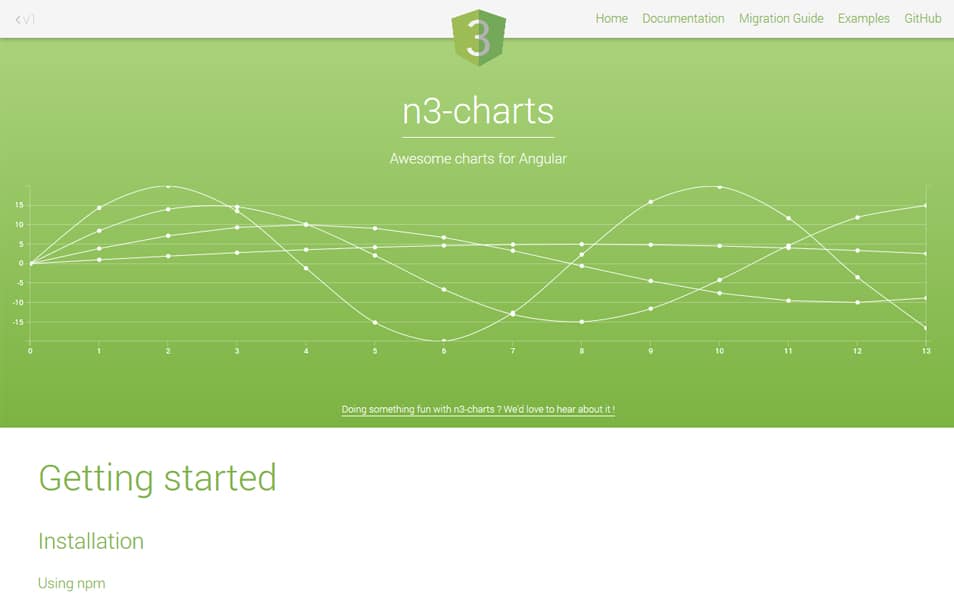 n3-line-chart is an easy-to-use JavaScript library for creating beautiful charts in AngularJS applications and it is built on top of D3.js.
Sigma js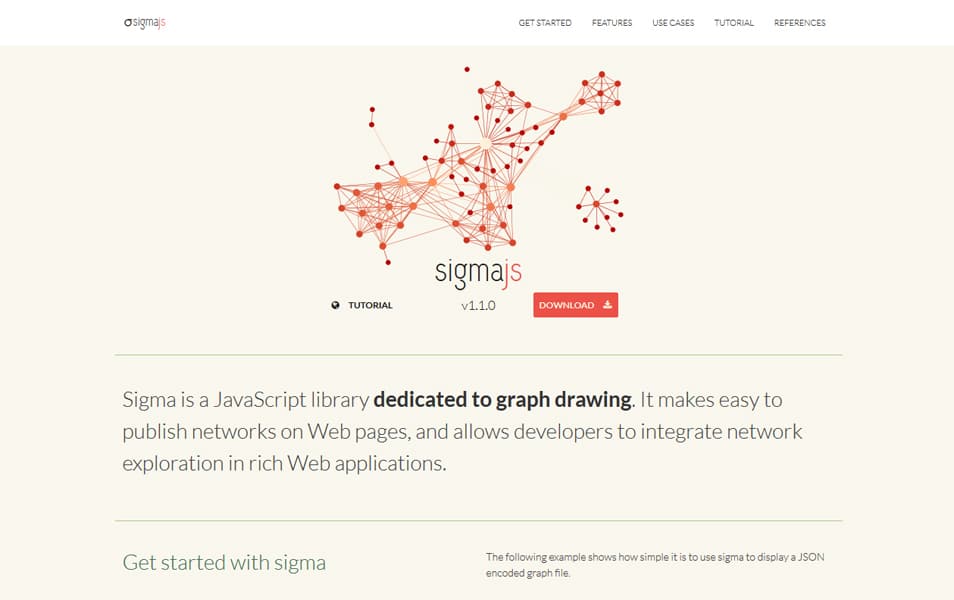 Sigma is a JavaScript library dedicated to graph drawing. It makes easy to publish networks on Web pages, and allows developers to integrate network exploration in rich Web applications.
Morris.js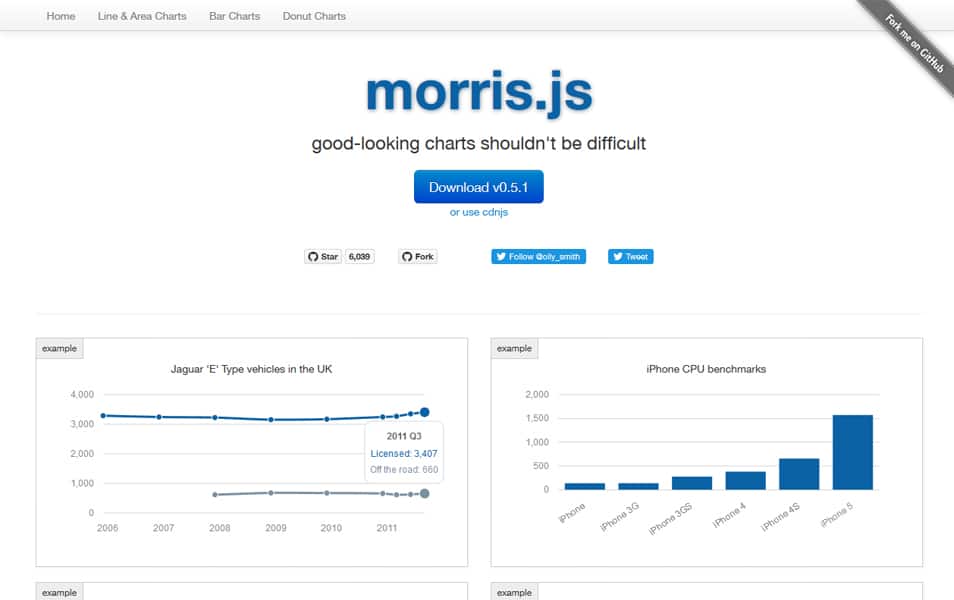 Morris.js is the library that powers the graphs. It's a very simple API for drawing line, bar, area and donut charts.
CanvasJS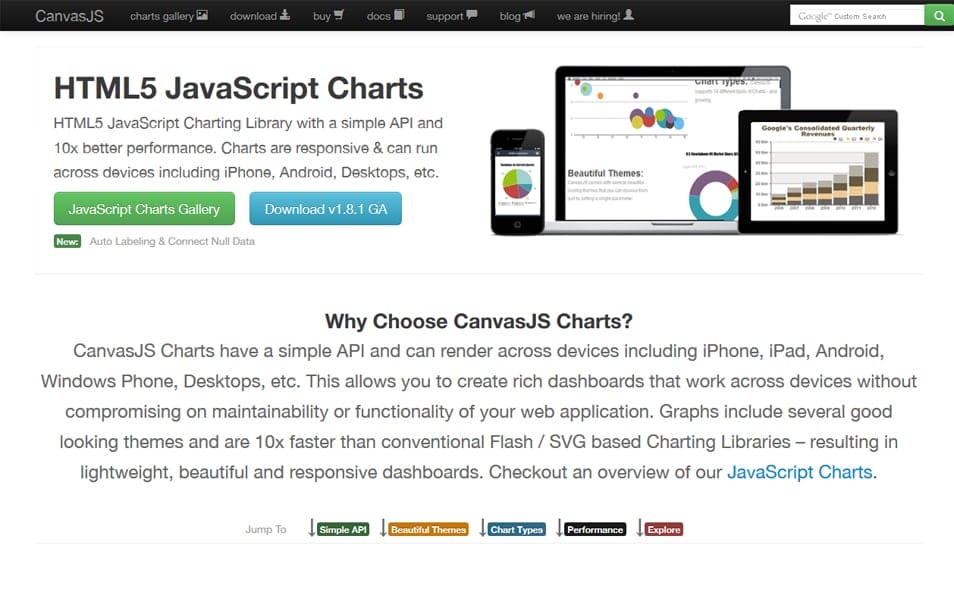 HTML5 JavaScript Charting Library with a simple API and 10x better performance. Charts are responsive & can run across devices including iPhone, Android, Desktops, etc.
ZingChart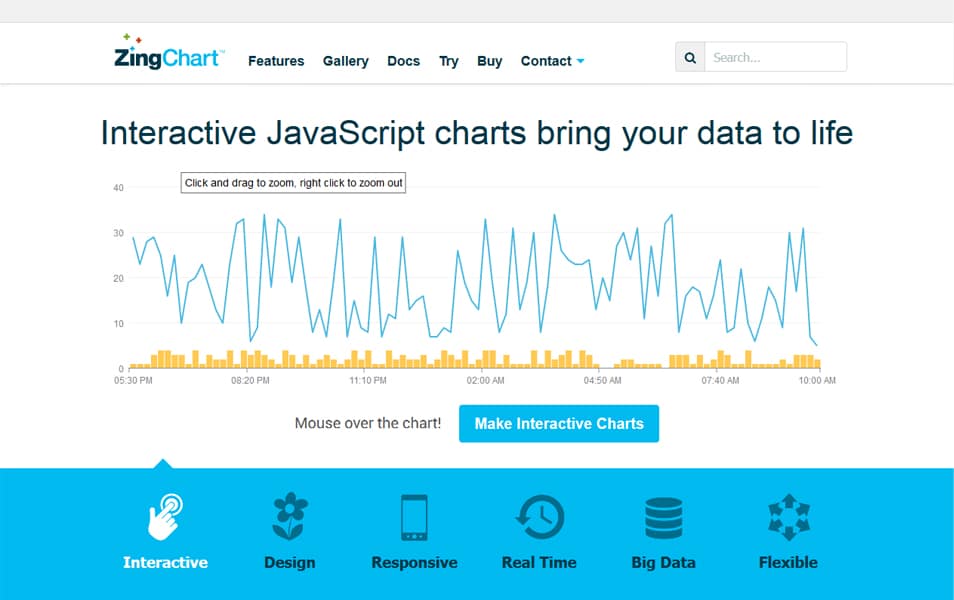 ZingChart is a powerful library that provides users with the ability to quickly create beautiful charts, dashboards, and infographics.
Charts 4 PHP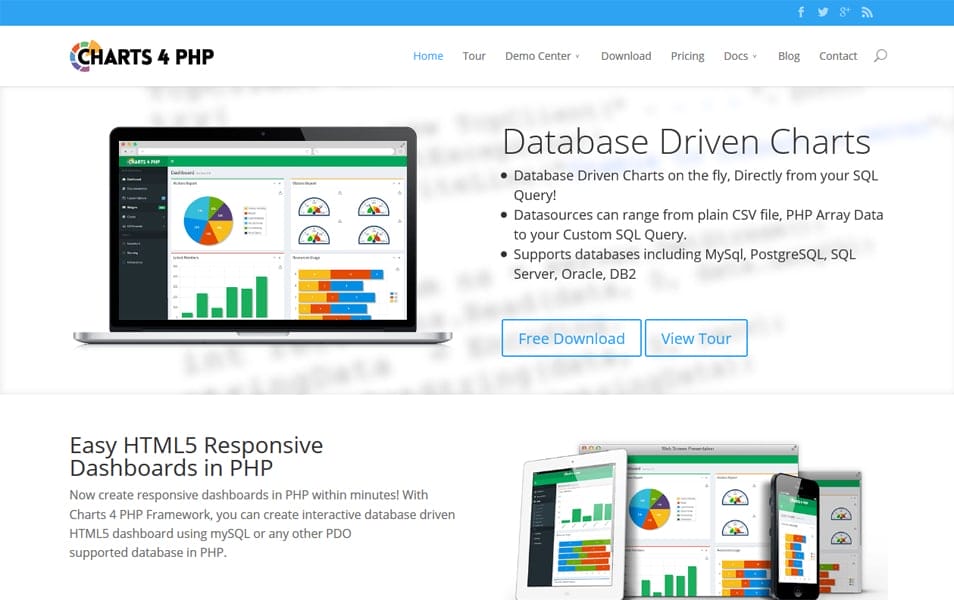 HTML5 powered PHP Chart & Graph for Web and Mobile devices.
MetricsGraphics.js
A library optimized for concise, principled data graphics and layouts.
Webix Charts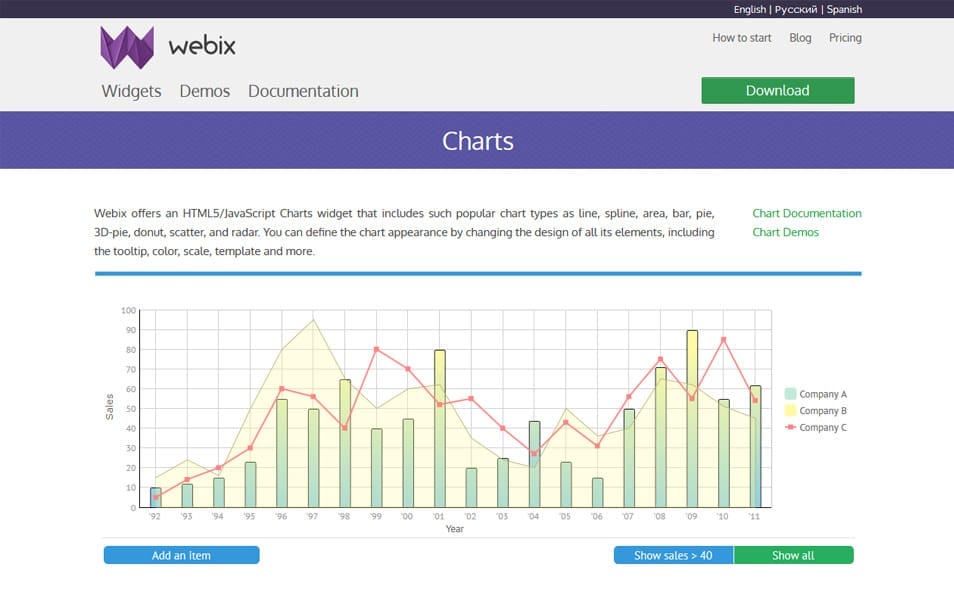 Webix offers an HTML5/JavaScript Charts widget that includes such popular chart types as line, spline, area, bar, pie, 3D-pie, donut, scatter, and radar. You can define the chart appearance by changing the design of all its elements, including the tooltip, color, scale, template and more.
OLAPCharts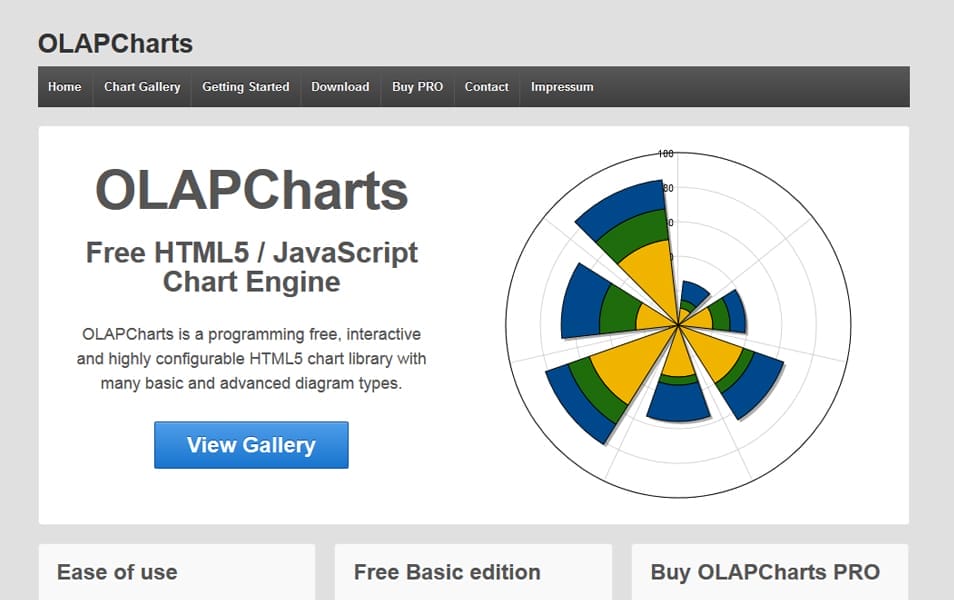 OLAPCharts is a programming free, interactive and highly configurable HTML5 chart library with many basic and advanced diagram types.
Raphaël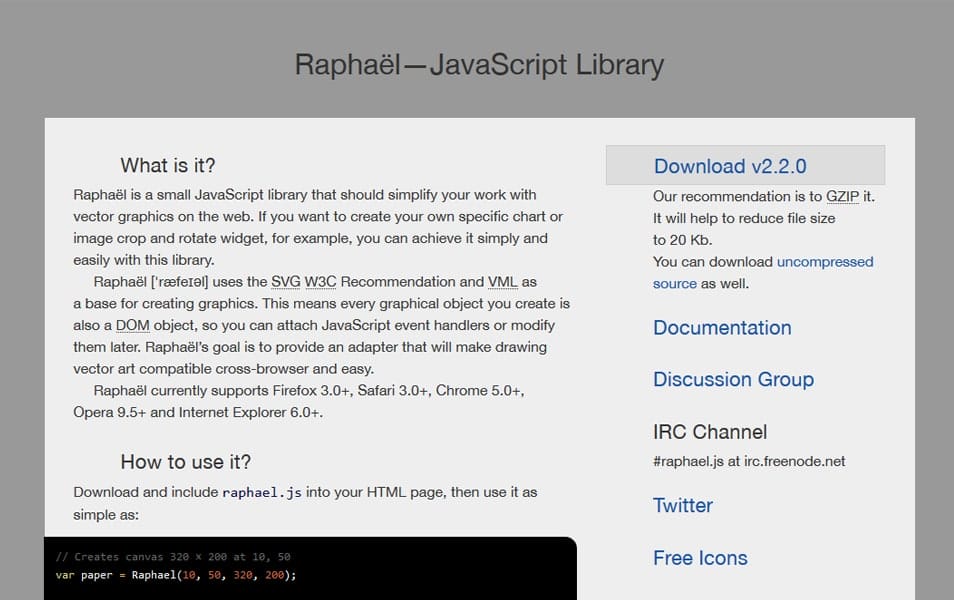 Raphaël is a small JavaScript library that should simplify your work with vector graphics on the web. If you want to create your own specific chart or image crop and rotate widget, for example, you can achieve it simply and easily with this library.
LiveGap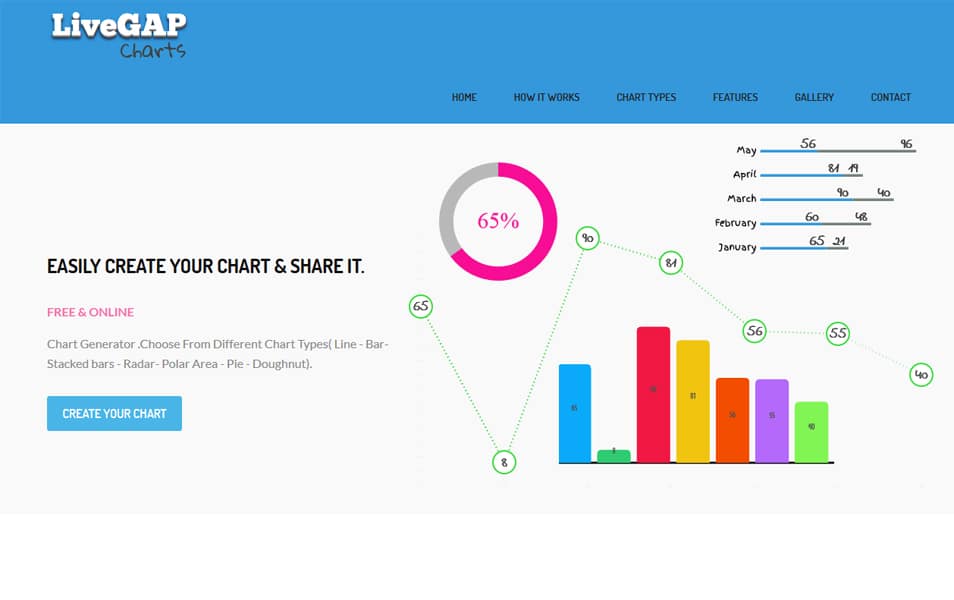 LiveGap is a free Online Chart Maker.
NVD3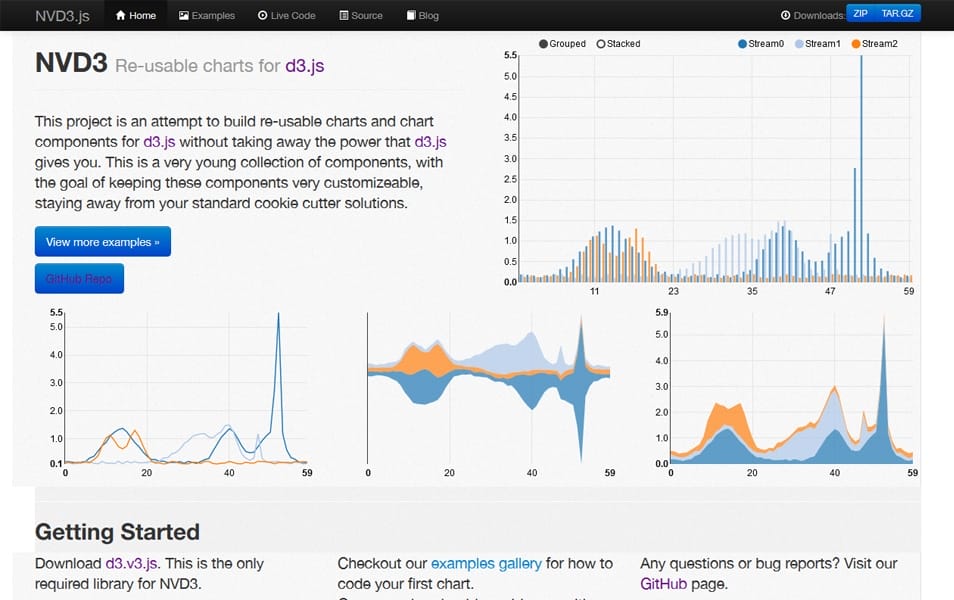 A reusable charting library written in d3.js.
Cytoscape.js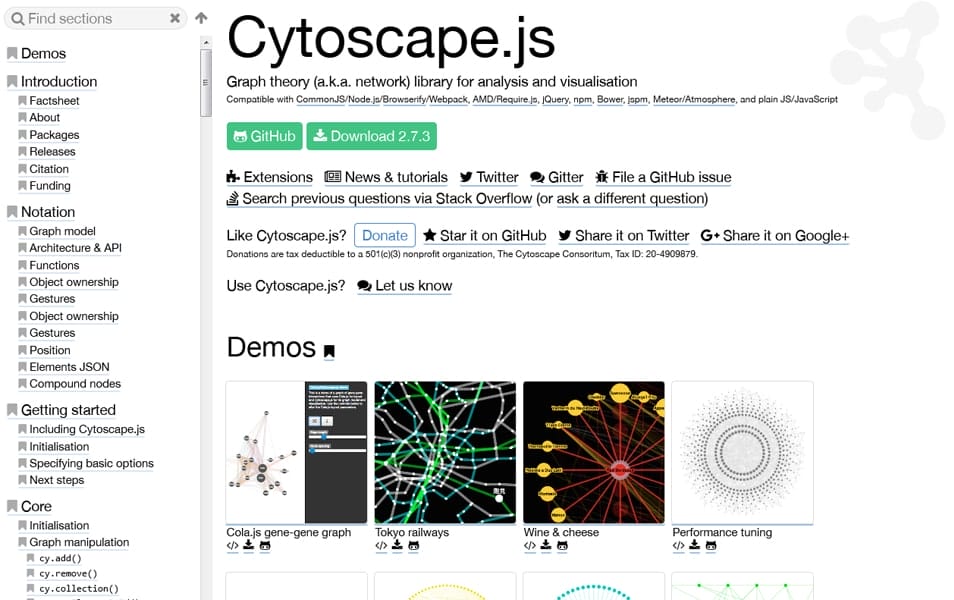 Cytoscape.js is an open-source graph theory (a.k.a. network) library written in JS. You can use Cytoscape.js for graph analysis and visualisation.
Cubism.js
Cubism.js is a JavaScript library for time series visualization.
uvCharts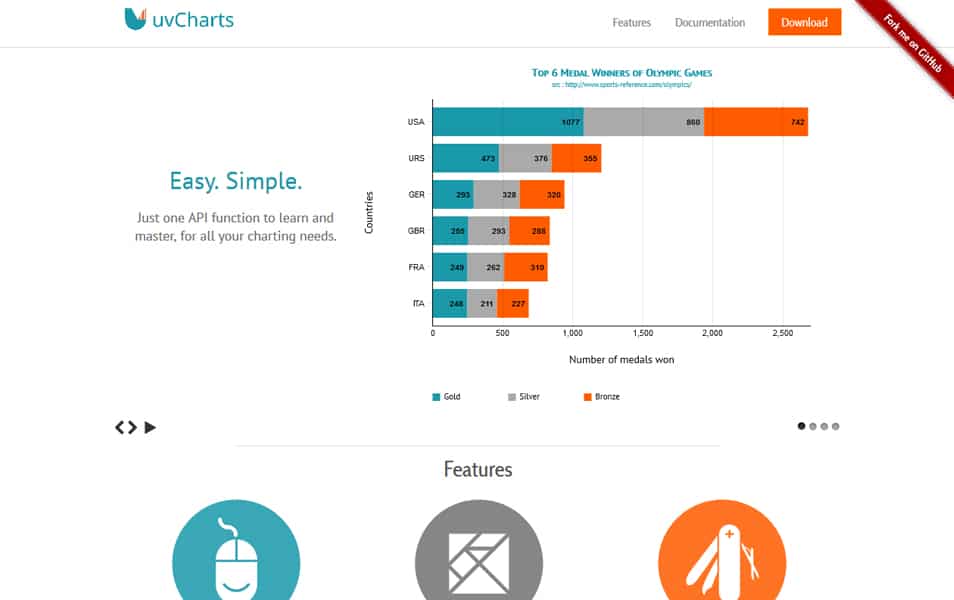 Simple yet powerful JavaScript Charting library built using d3.js.
jqPlot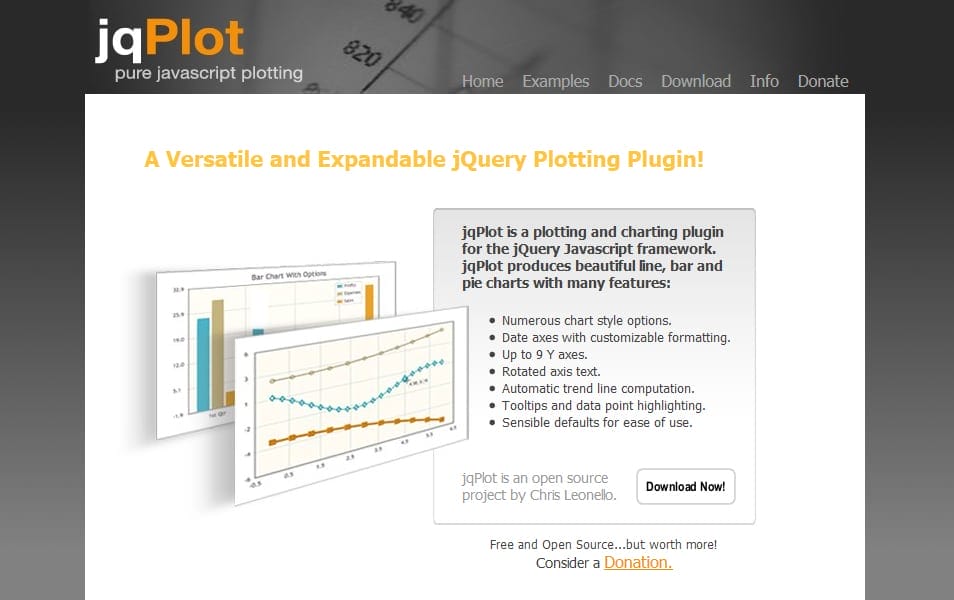 jqPlot is a plotting and charting plugin for the jQuery Javascript framework.
jQuery HighchartTable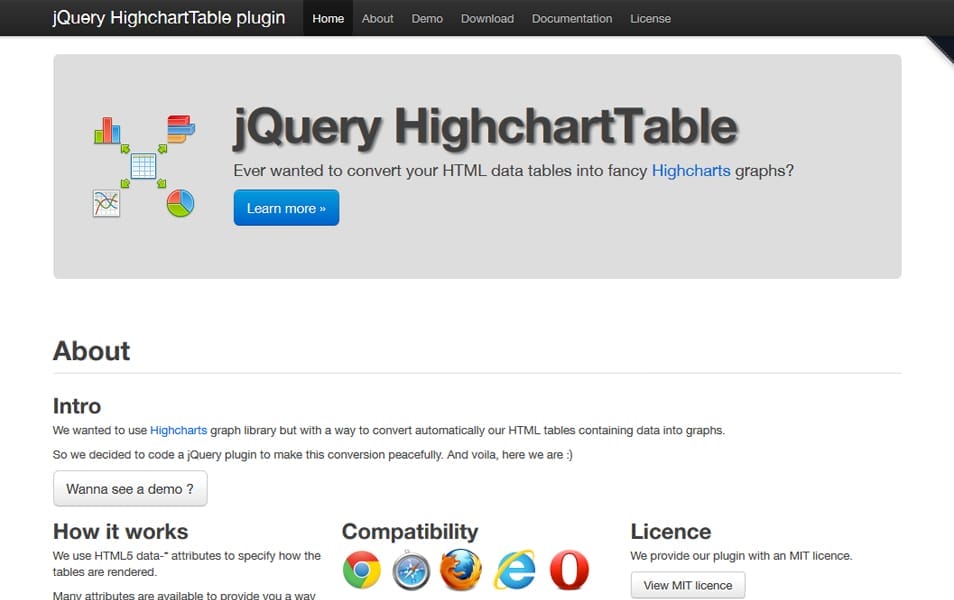 jQuery plugin to convert HTML tables to HighCharts graphs.
Protovis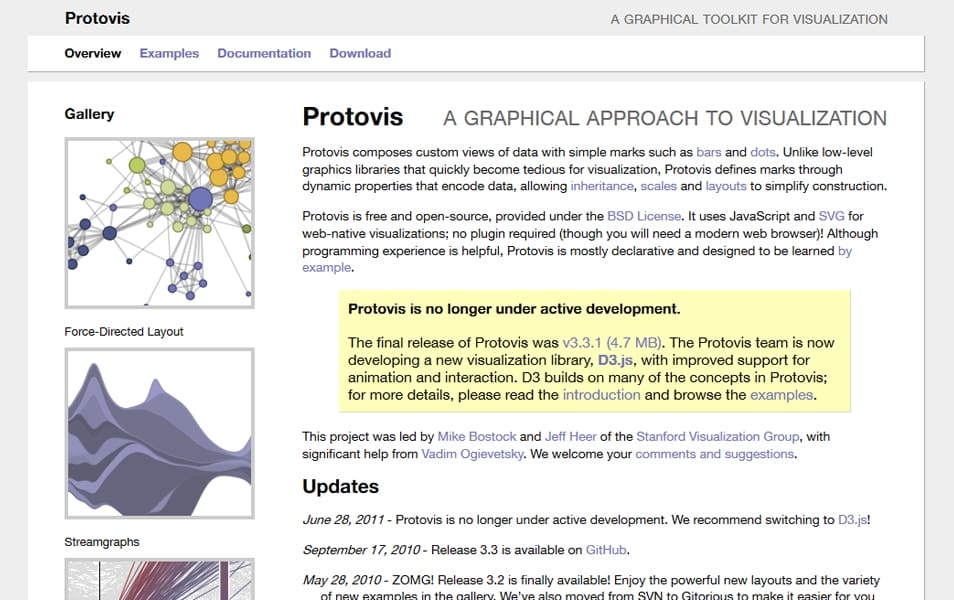 A visualization toolkit for JavaScript using SVG.
Flot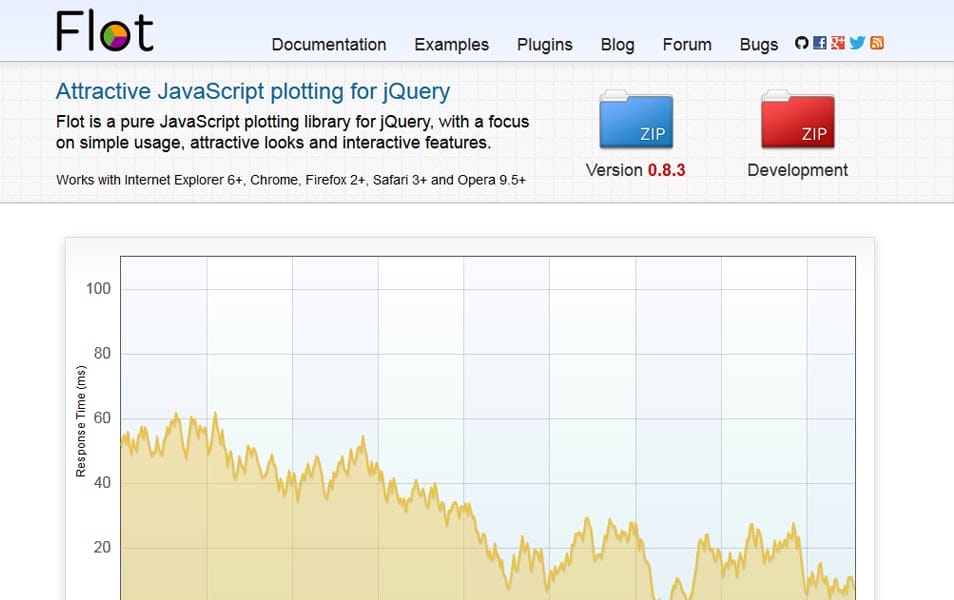 Flot is a pure JavaScript plotting library for jQuery, with a focus on simple usage, attractive looks and interactive features.
Dygraphs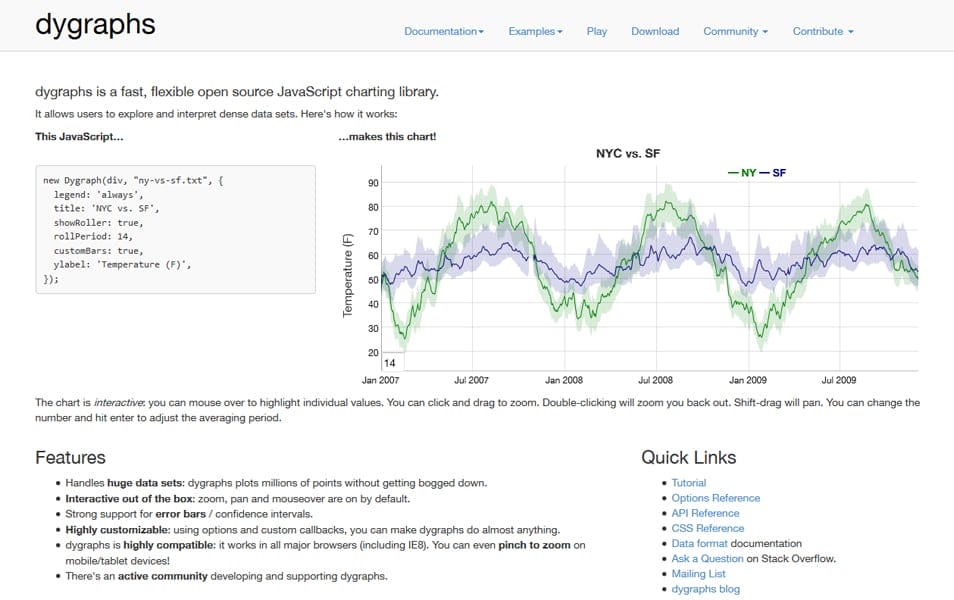 Dygraphs is a fast, flexible open source JavaScript charting library.
jQuery Sparklines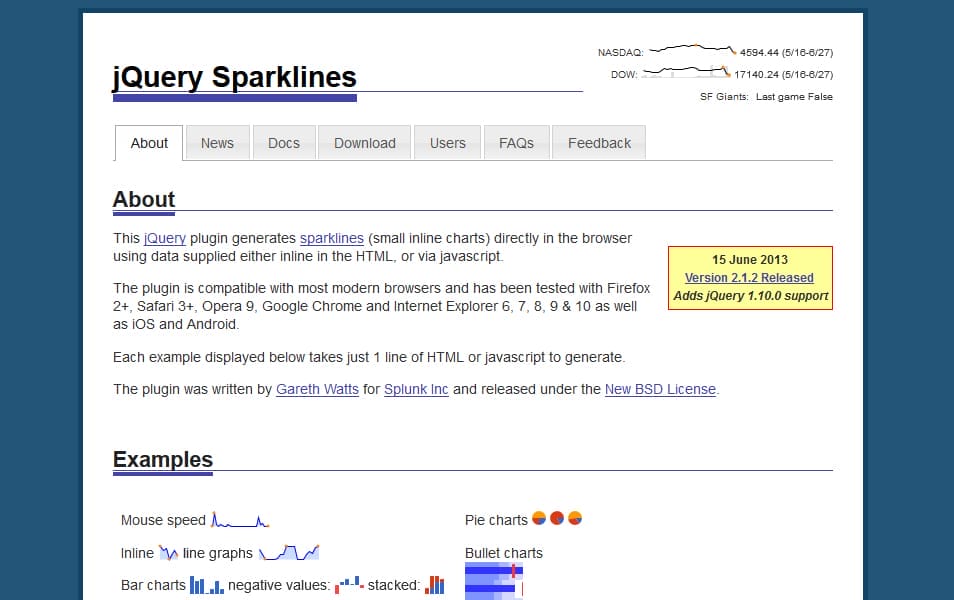 This jQuery plugin generates sparklines (small inline charts) directly in the browser using data supplied either inline in the HTML, or via javascript.
Smoothie Charts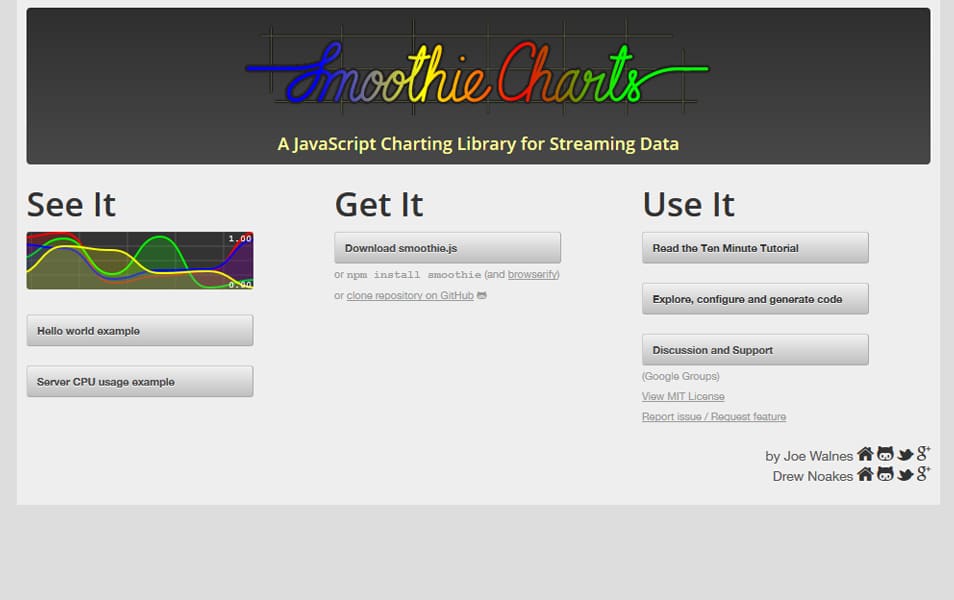 A JavaScript Charting Library for Streaming Data.
Chartkick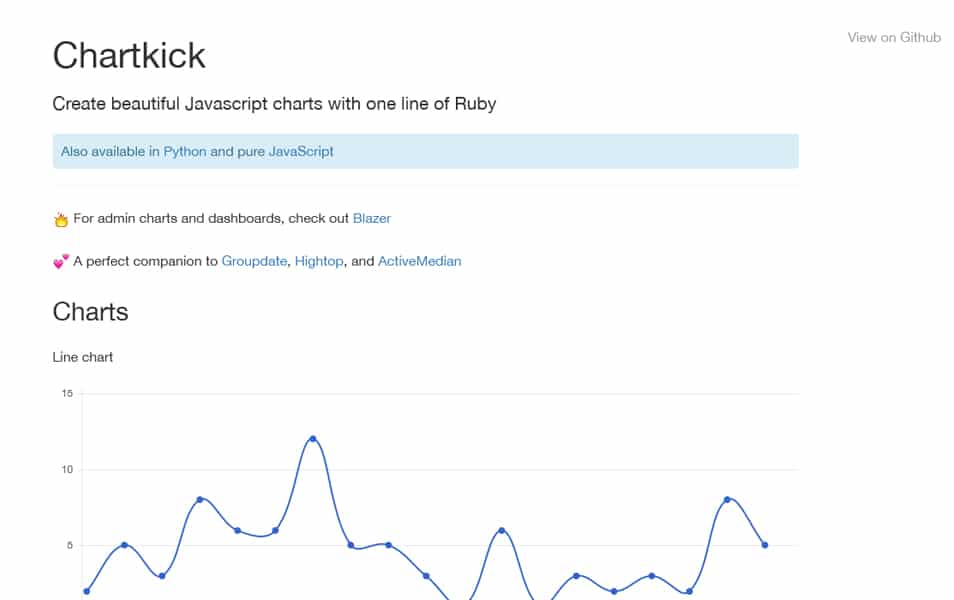 Create beautiful Javascript charts with one line of Ruby.
CanvasXpress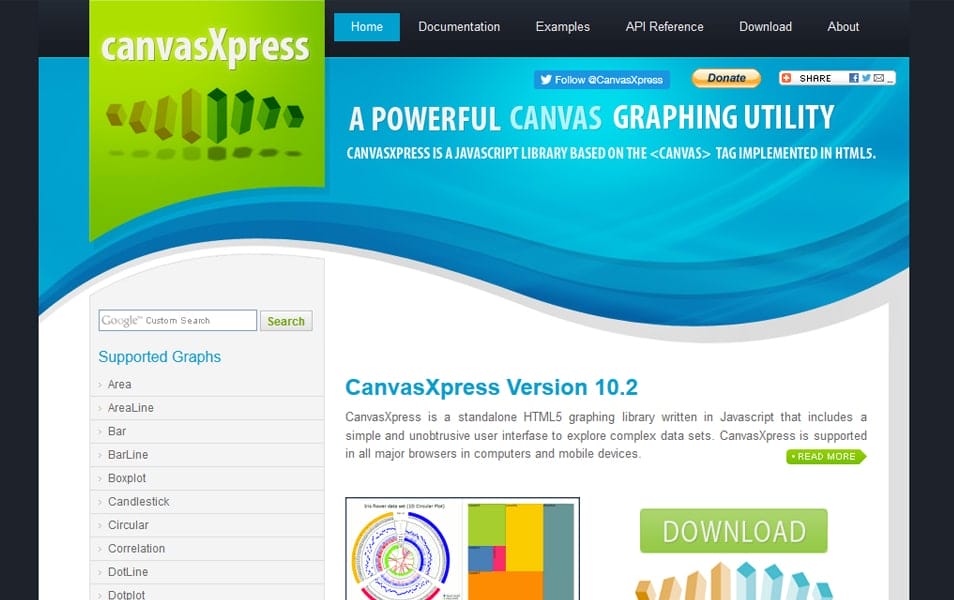 CanvasXpress is a standalone HTML5 graphing library written in Javascript that includes a simple and unobtrusive user interfase to explore complex data sets.
dc.js
dc.js is a javascript charting library with native crossfilter support and allowing highly efficient exploration on large multi-dimensional dataset.
Dimple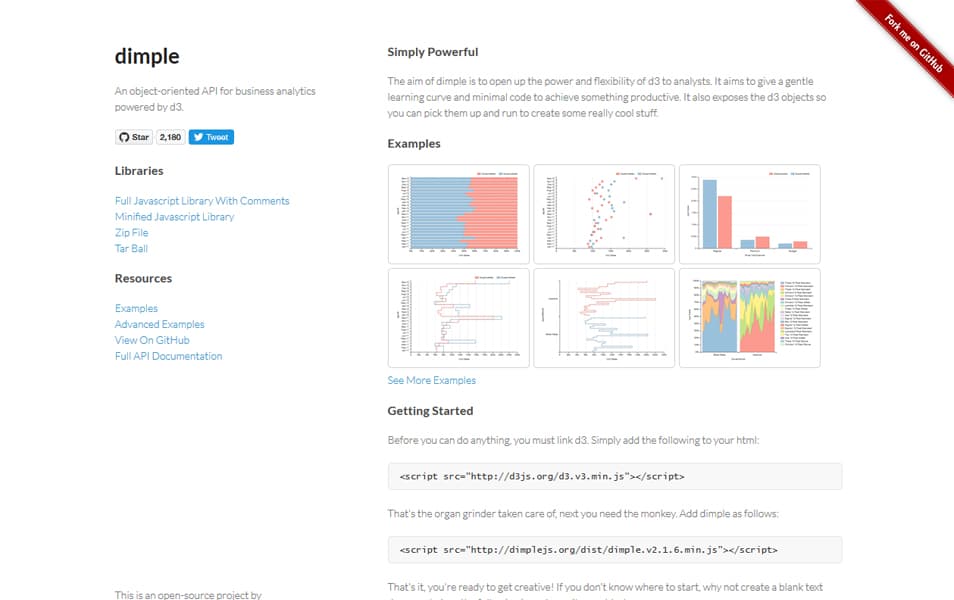 A simple charting API for d3 data visualisations.
Flotr2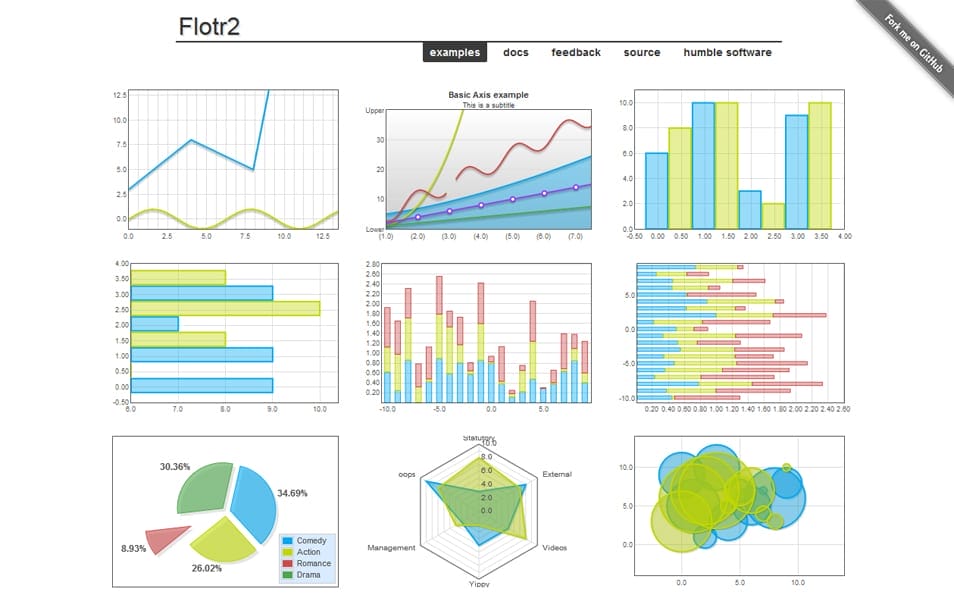 Graphs and Charts for Canvas in JavaScript.
JenScript JS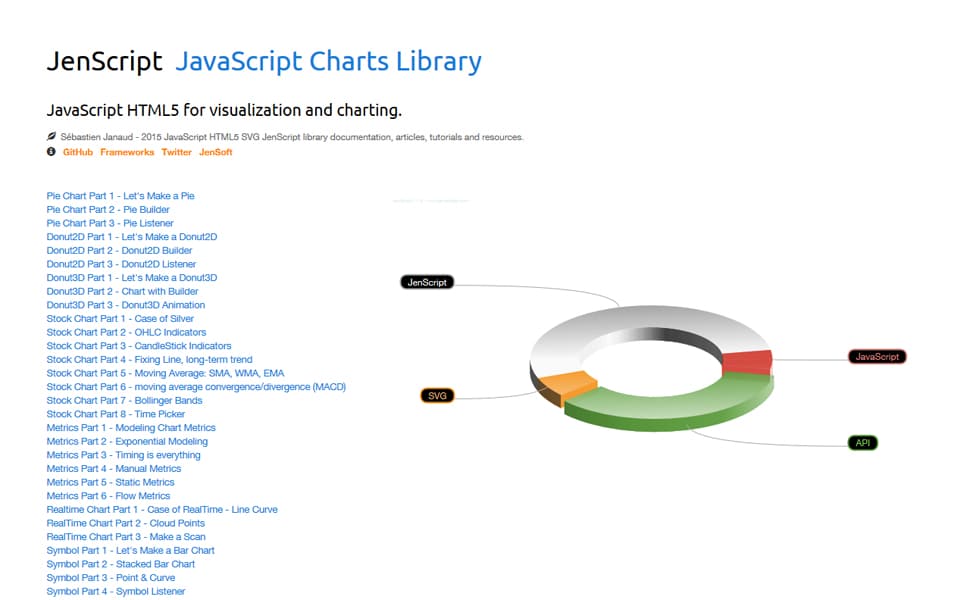 JenScript JS is a JavaScript Chart library.
NextCharts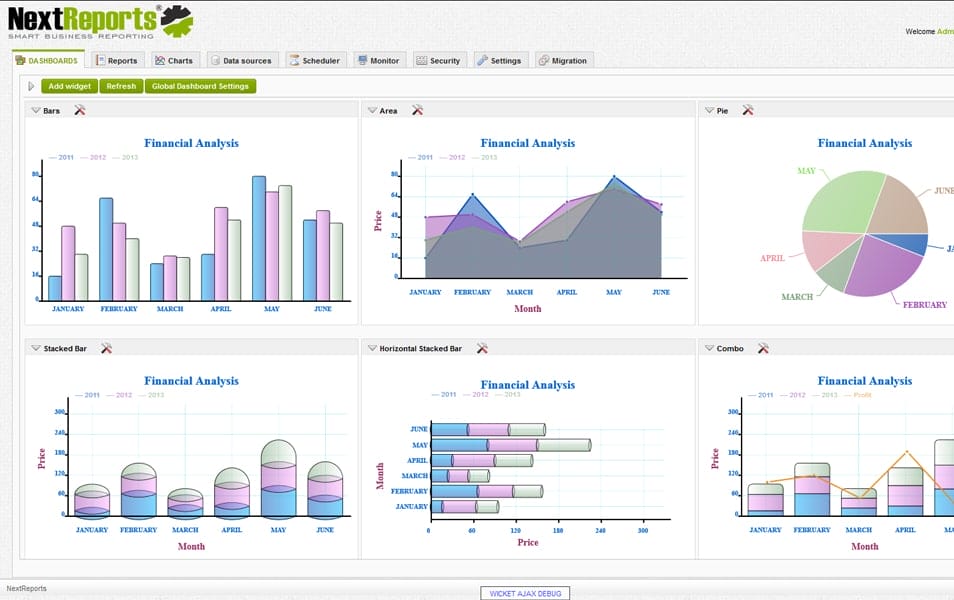 NextCharts is an open source HTML5 charts library which uses the canvas tag for drawing.
RGraph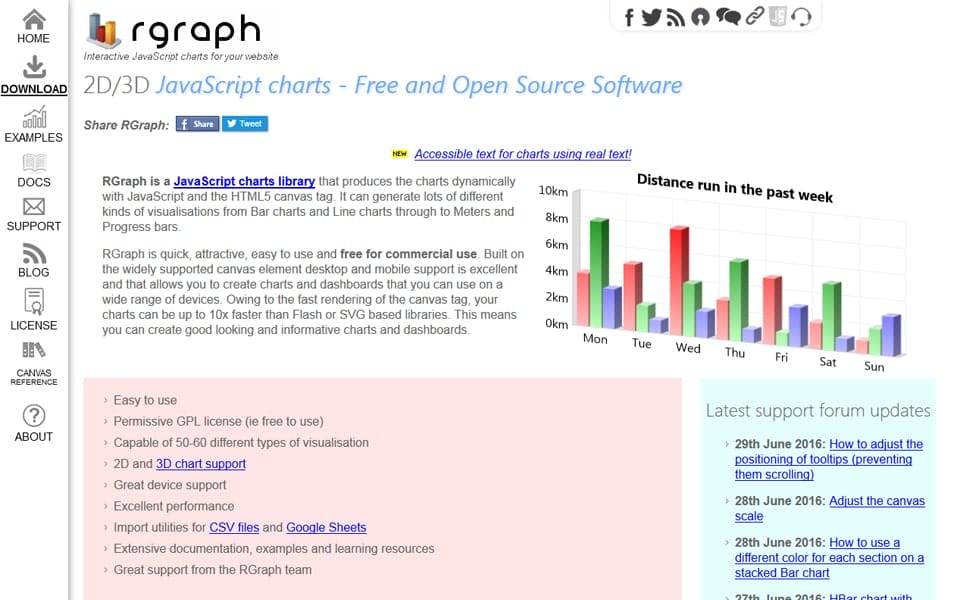 RGraph is a JavaScript charts library that produces the charts dynamically with JavaScript and the HTML5 canvas tag.
TOAST UI Chart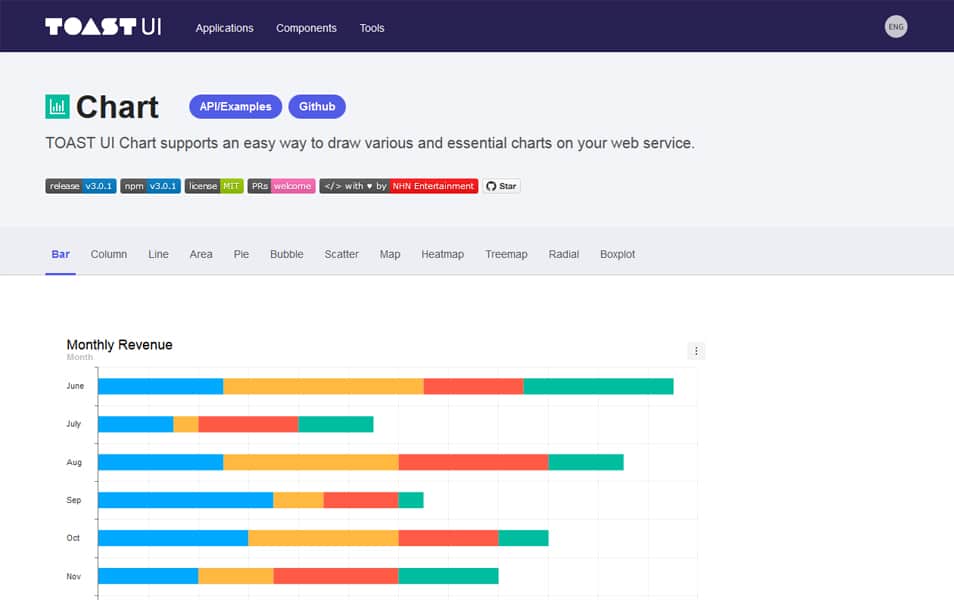 TOAST UI Chart supports an easy way to draw various and essential charts on your web service.