250+ Best Free Responsive Blogger Templates 2015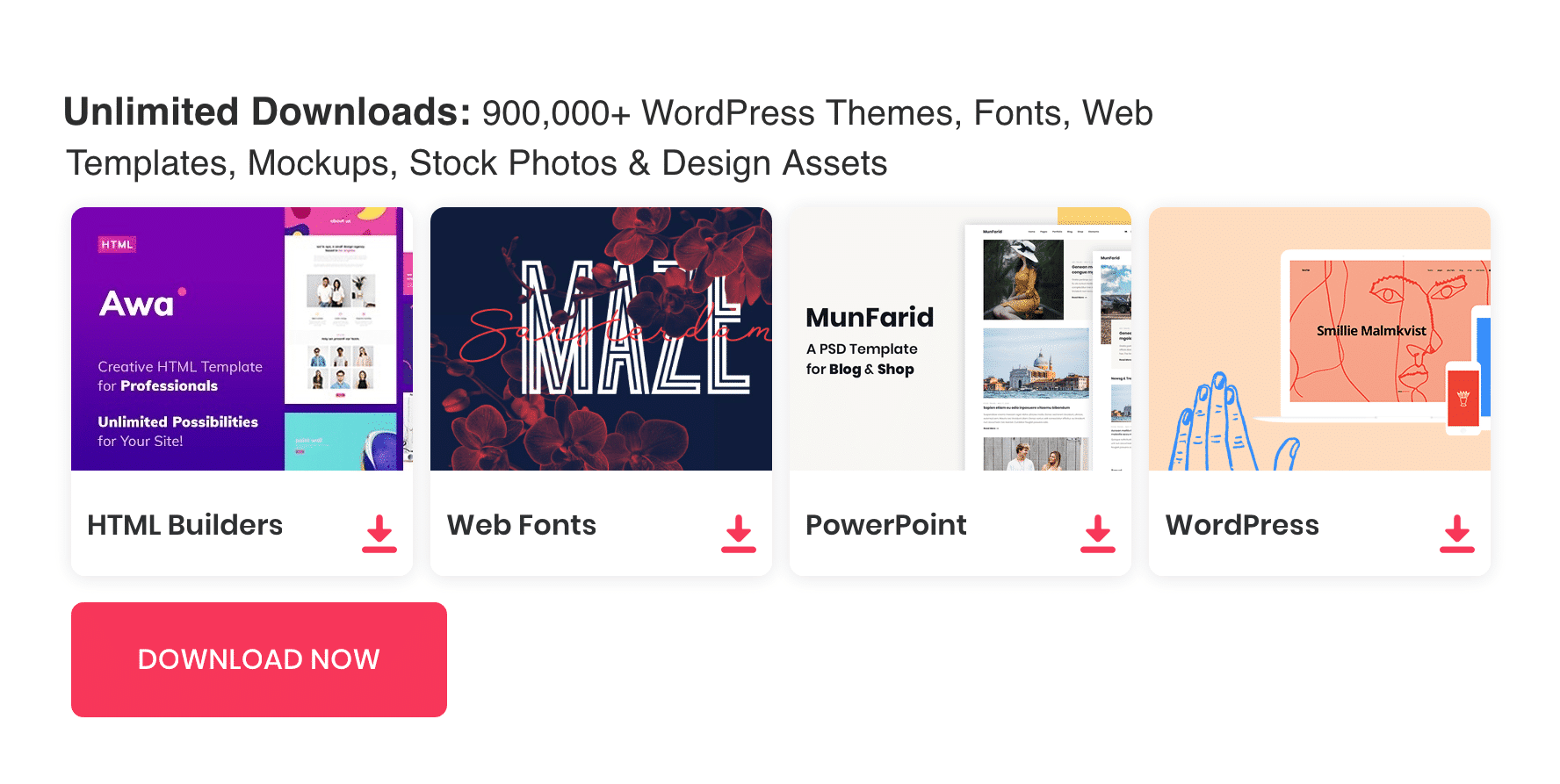 Blogger is being one of the hot topics since it stated, the community is popular and active on the web. There are plenty of blogger lovers out there who are looking for an update on blogger resources.
Today in this post we are showcasing the best free responsive blogger templates 2015. Our aim is to provide the latest blogger templates for our readers. All these blogger templates are in many categories, we have done the categorisation pretty well.
We have found that most of the blogger template this year cloned from popular WordPress themes. Blogger templates are pretty easy to develop compared to WordPress themes. We can't imagine the number of blogger templates releasing each year. We have just narrowed down your search for latest blogger templates by picking the best templates.
See also : 300+ Best Free Responsive Blogger Templates 2018
Please don't forget share this post if like this collection. Also, if you know any Good quality templates, please share with us.
See also : 750+ Best Free Responsive WordPress Themes 2018
Responsive Magazine Blogger Templates 2015
Cool Mag Responsive Blogger Template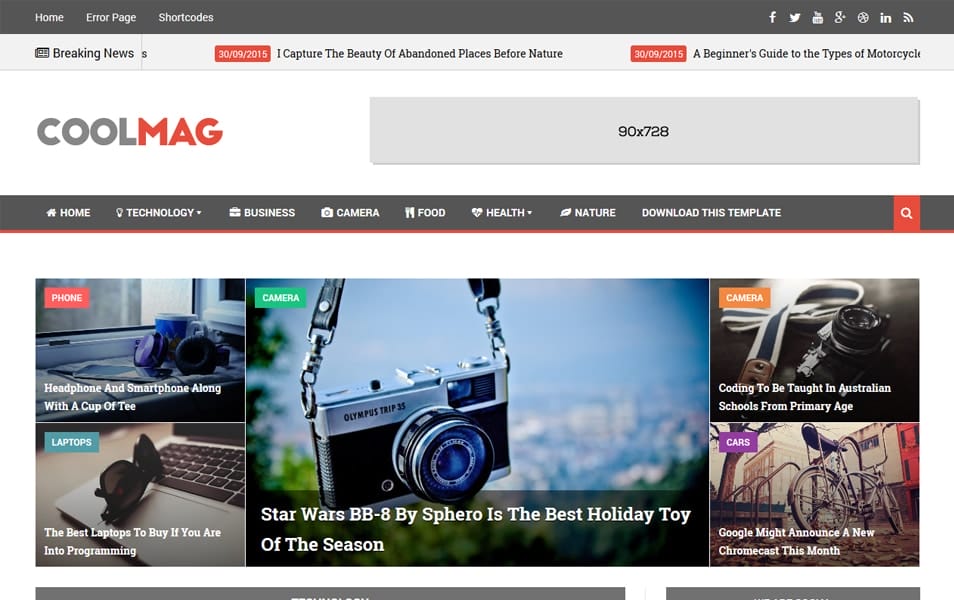 Cool Mag is a clean, simple and easy-to-use news & magazine blogger theme that is built for you to create your own pages exactly as you want.
Yo!Mag Responsive Blogger Template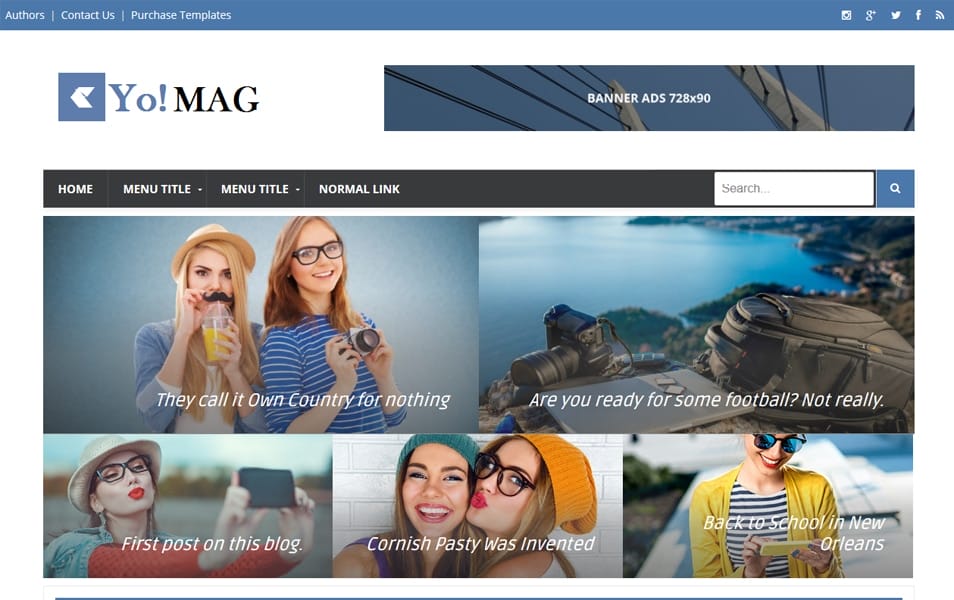 "Yo..! MAG" is a versatile Free Blogger Template with an awesome magazine style blogger template.
PressMania Responsive Blogger Template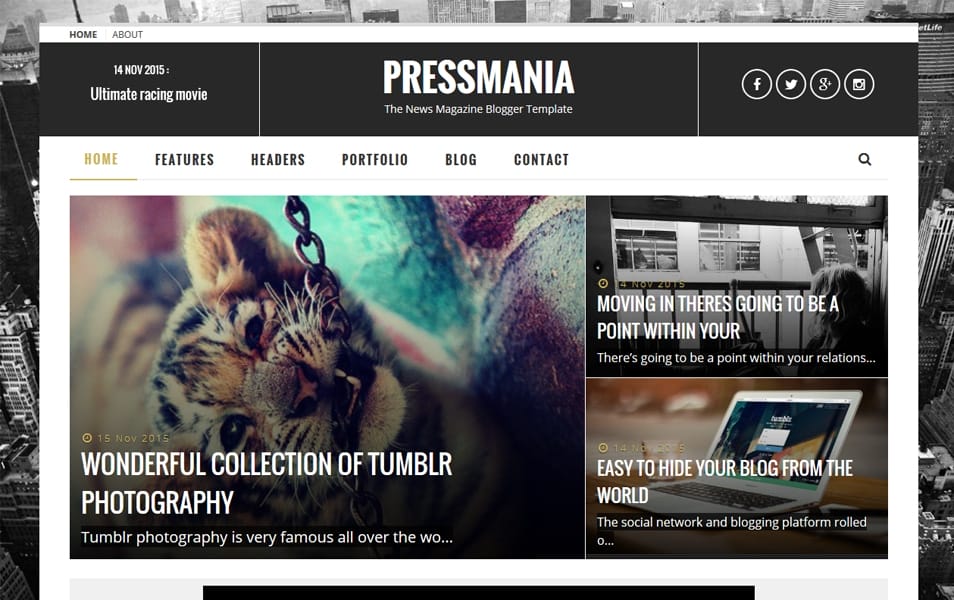 PressMania is a responsive magazine news blogger template for modern online magazines, news websites, professional blogs and other editorial websites.
Glossy Responsive Blogger Template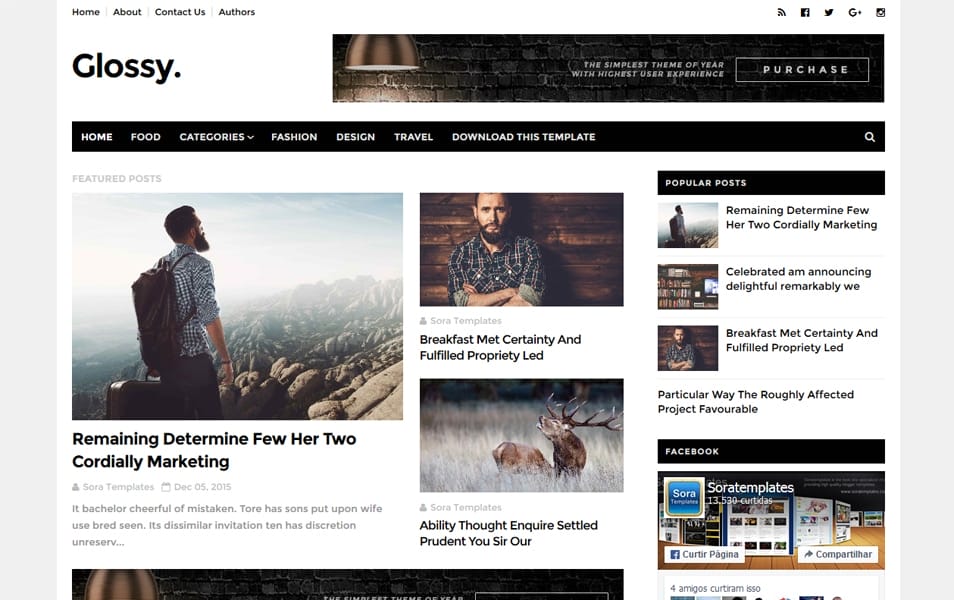 Glossy is a Clean Responsive News, Magazine and Blogger Theme. With a specific & beautiful design style, it is very suitable for bloggers, travelers, writers, photographers, illustrators, food or sport lovers even fashion shopper to share important something, hot news, events, personal stories or daily simply life on their own blog websites.
Sense Responsive Blogger Template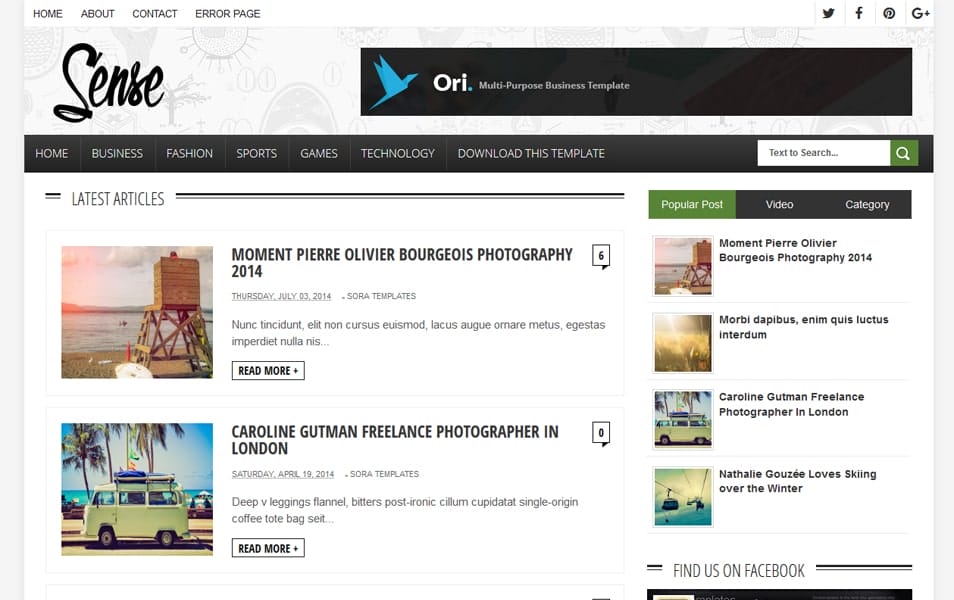 Sense is a fresh, modern and easy-to-use magazine blogger theme with flexible and responsive layout. Sense is suitable for any kind of personal, travel, hobby, life style and tutorial blog etc.
Ocean Mag Responsive Blogger Template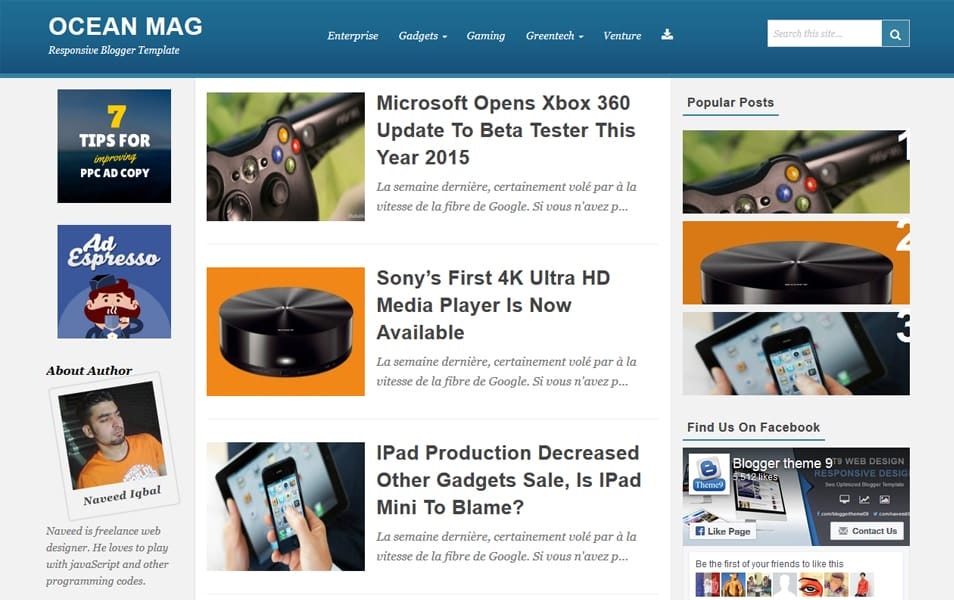 Ocean Mag is a three column template designed for high resolution screens to a mini cell phone. Choose this template only if you have a blog with long post. There should be long description or article written along with h2 headings.
Crown Responsive Blogger Template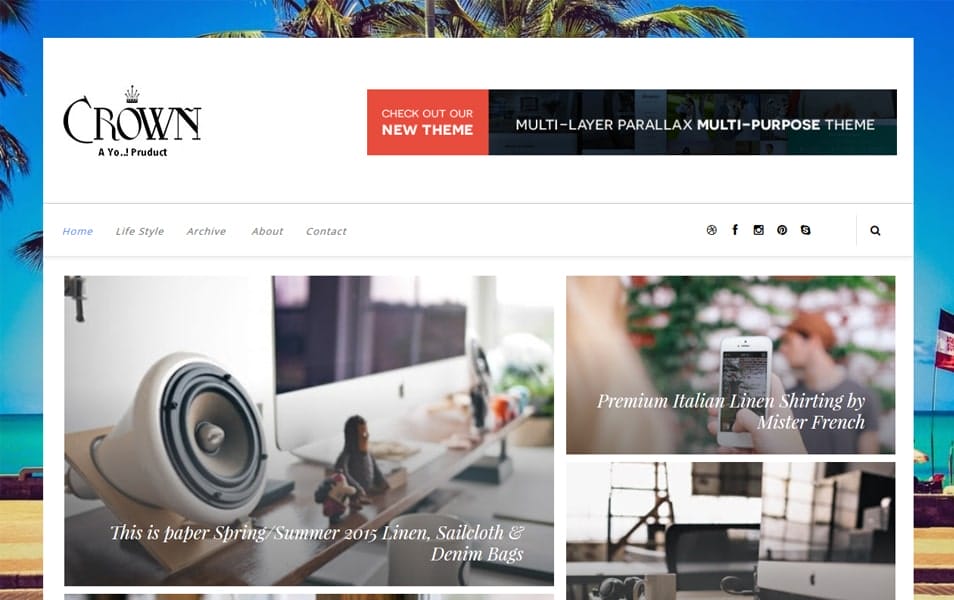 Crown is a clean and Light Weight design that gets rendered very quicky and it is optimized for All small Devices. It is an easy-to-use blogger template, A perfect fit for Bloggers, Content Providers, Magazines etc.
Aerial Responsive Blogger Template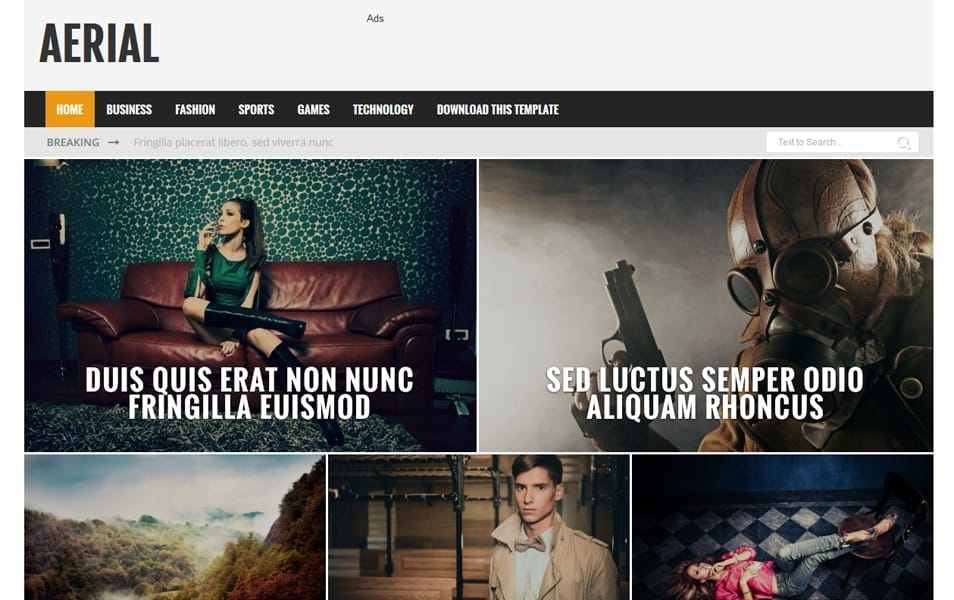 Aerial is a beautiful designed blogger template which gives you the freedom to focus on your content and enhance it with great images. Loaded with the latest and most useful functionality with combination of practical elegance and powerful features. Aerial is a perfect choice for a news, newspaper, magazine, blog, publishing or review site.
Sendigo Responsive Blogger Template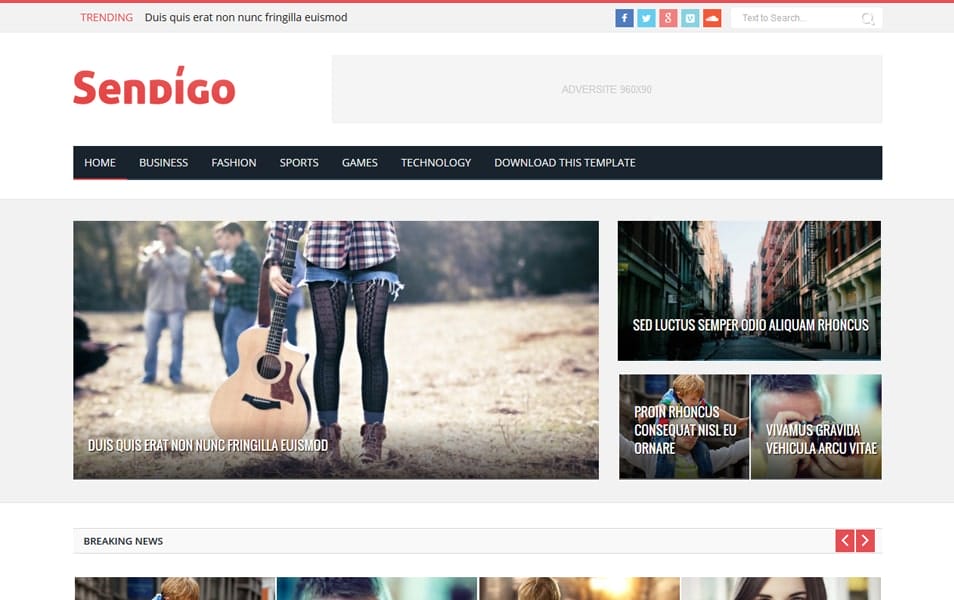 Sendigo is a nice looking responsive Magazine blogger template for the blog and magazine sites. Sendigo blogger template is developed with the modern features and technologies that a person needs if he wants to create a professional magazine or blog.
Magation Responsive Magazine Blogger Template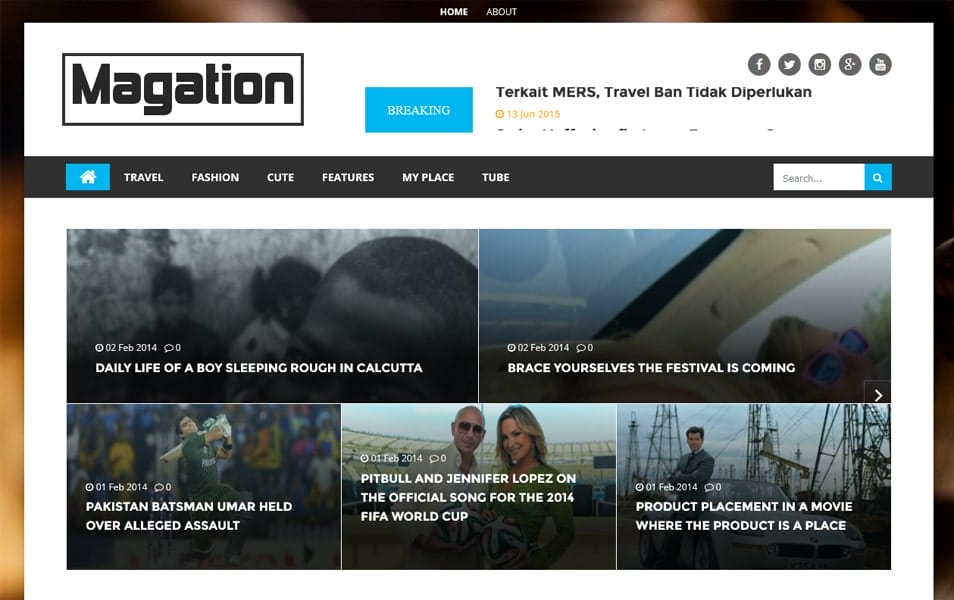 Magation is responsive magazine blogger template. Following the new trends in design. Magation template would be a good choice for any news, newspaper, magazine, publishing or review website…
Sky Blog Responsive Blogger Template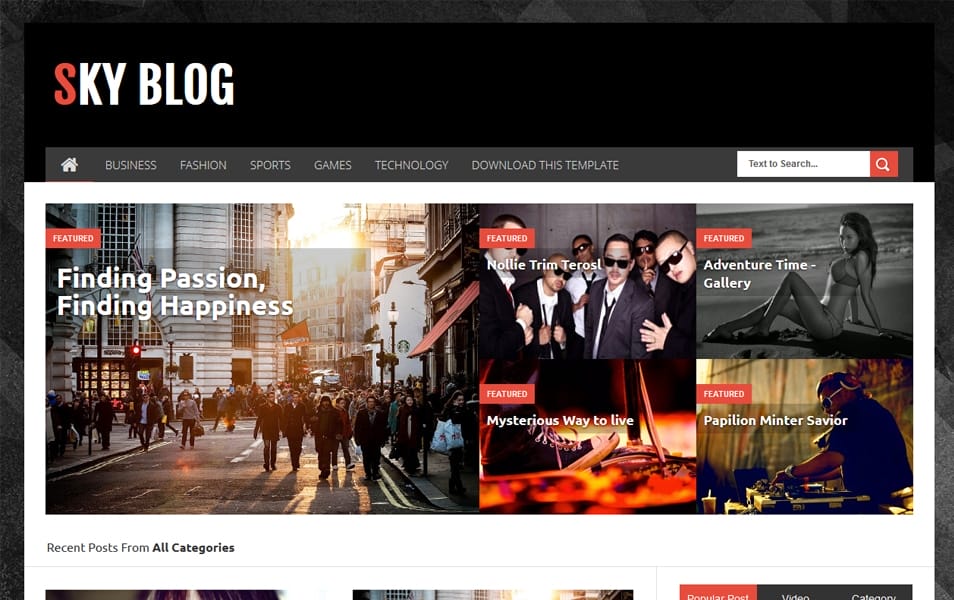 Sky Blog is a another beautiful and modern blogger template from Sora. Sky Blog Blogger Template is a clean and fresh flat color based responsive blogger design and high user friendly blogger template. This theme is perfect for news, magazine and personal blog.
Perfect Mag Responsive Blogger Template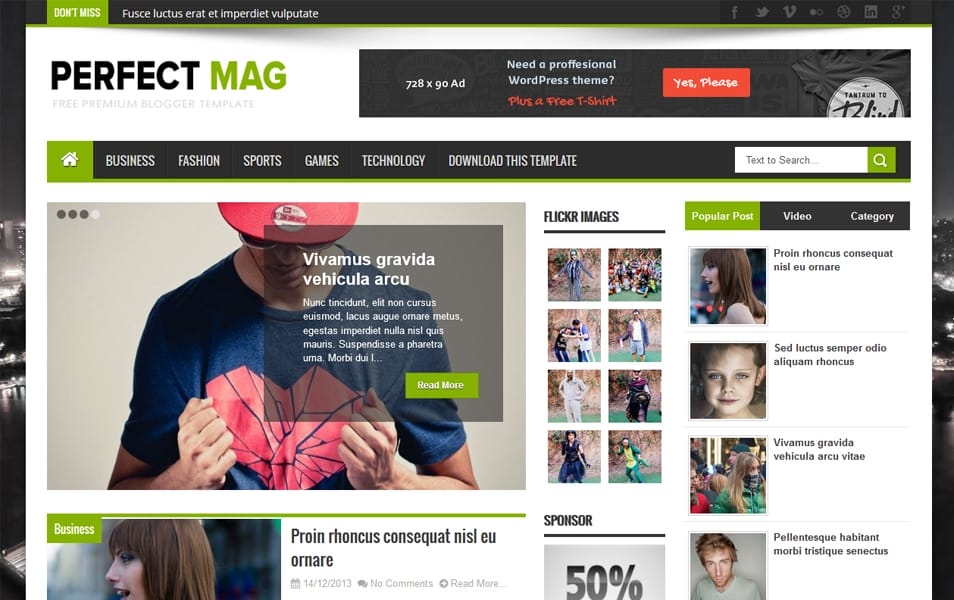 Perfect Mag is a complete Blogger theme for a news or magazine site with the focus of attracting and keeping visitors on their site. It uses the best clean SEO practices, and on top of that, it' s fast, simple, and easy to use. It is sweet and simple and is perfect for writers, collectors, fashion, beauty, and just about any other form of blogging required.
Viewer Responsive Blogger Template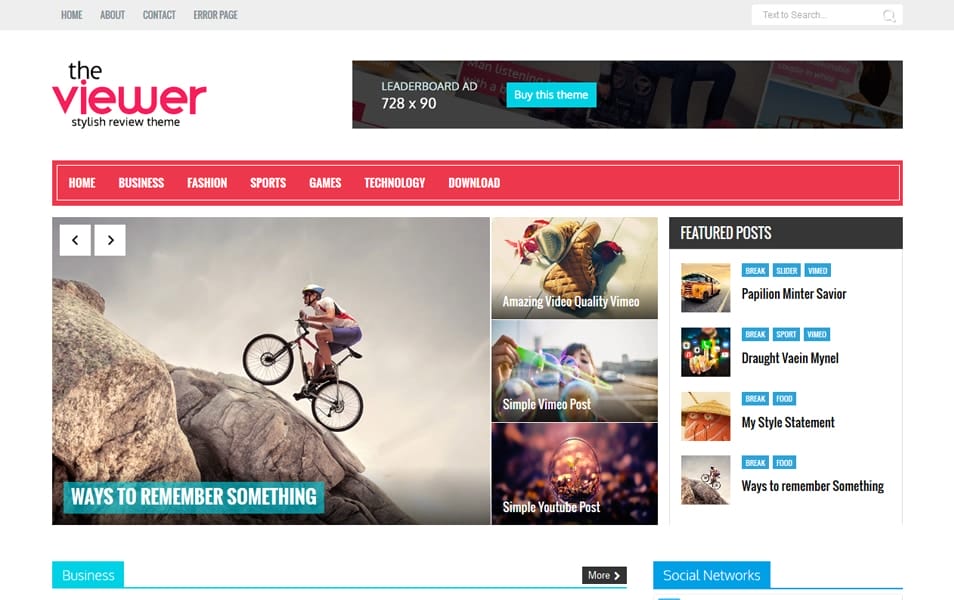 The Viewer is a clean stylish review and magazine responsive blogger template that allows you to focus on content including games, travel destinations, films, technology etcs.
Sora Clean Responsive Blogger Template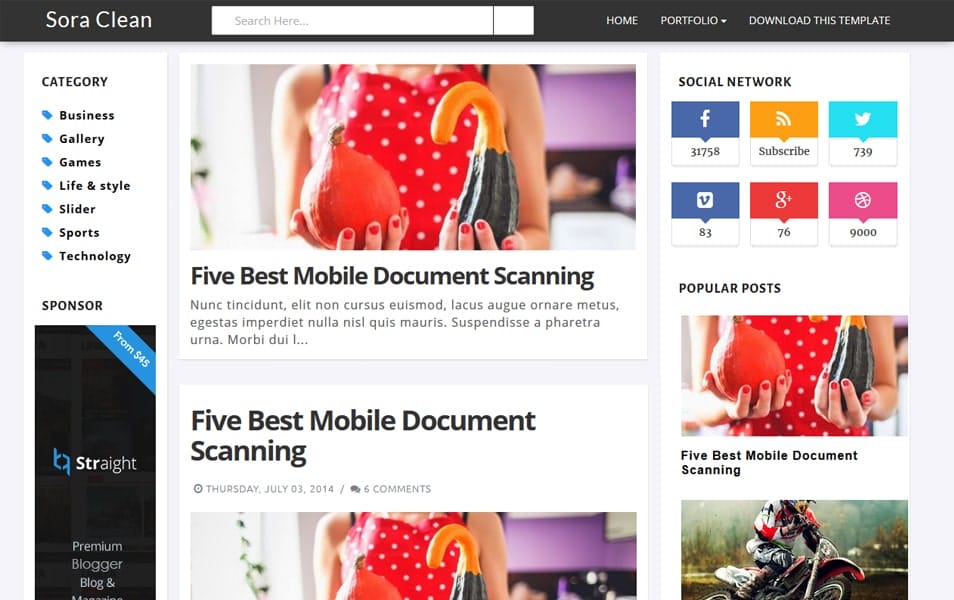 Sora Clean is a feature rich Blogger Template which comprise of clean designs and flexible functionalities. By using this Template you can get the professional way to well design a fully fledged magazine website. It's a perfect template choice for creating any sports magazine, city magazine, life style magazine, informative, business, employment and anything in between.
Social Mag Responsive Blogger Template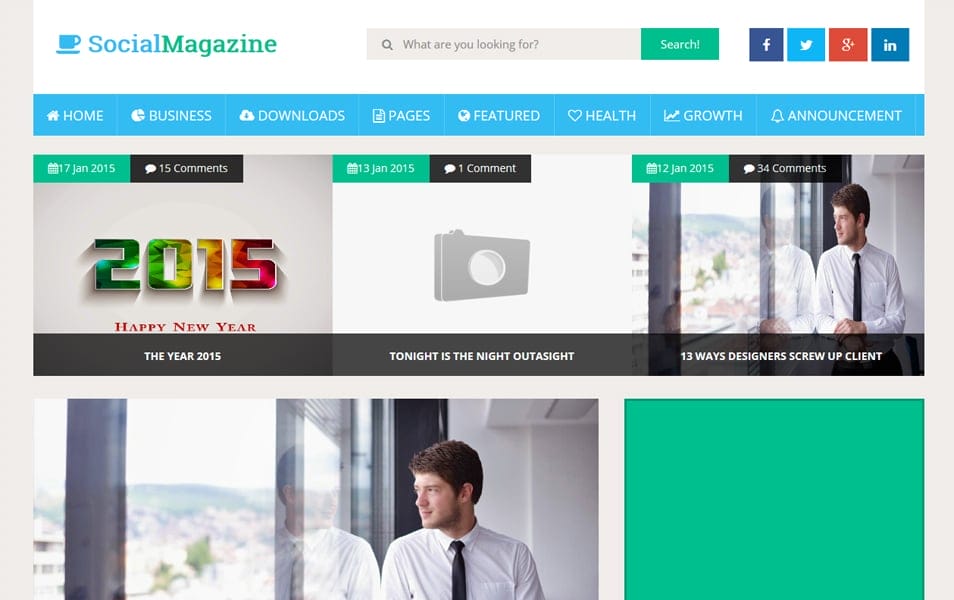 Social Mag is a based on Modern UI with futuristic interface. With features that makes it social media friendly. You'll find almost all key features on this template that are needed to run a blog or a magazine based site.
Sincup Magazine Blogger Template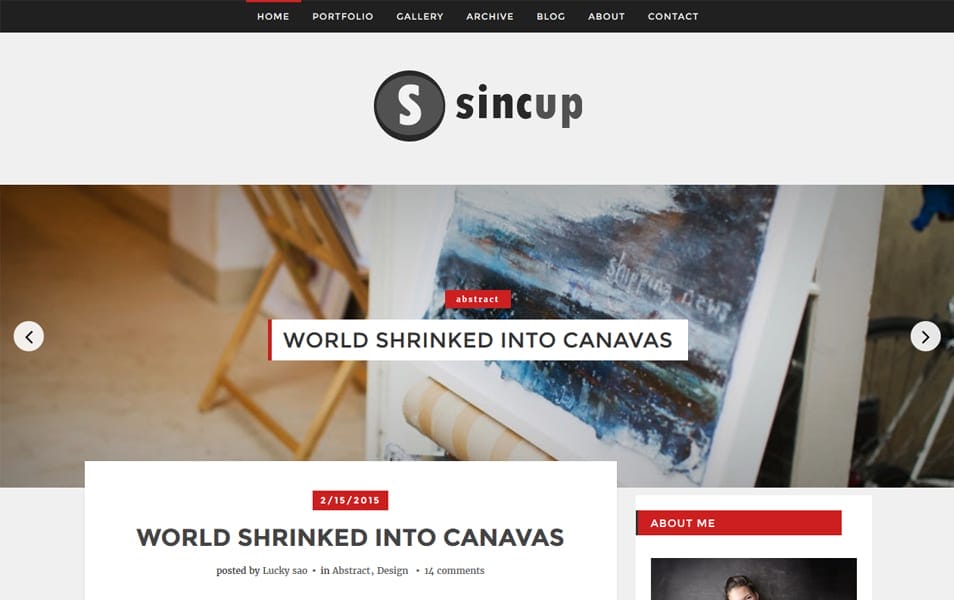 Sincup a classic magazine theme for blogger platform. Including lots of widgets with a super unique design and ready to buff up your old looking blog.
Optimal Responsive Blogger Template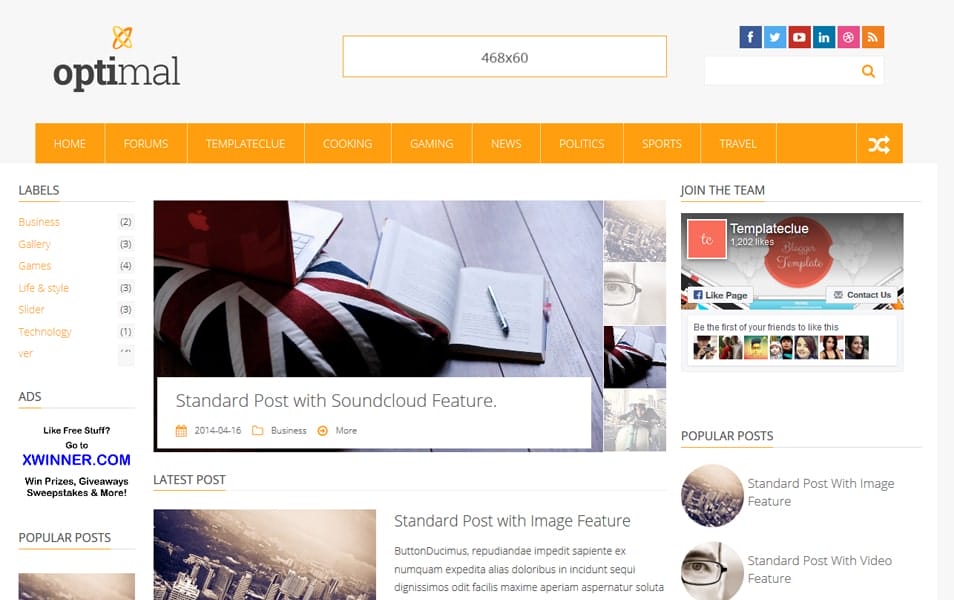 This Elegant And Professional News Theme Is Great For Anyone Looking Display A Lot Of Content In A Clean And Userfriendly Manner. Featuring A 3-column Grid And Many Homepage Content Outlets.
Signature Responsive Blogger Template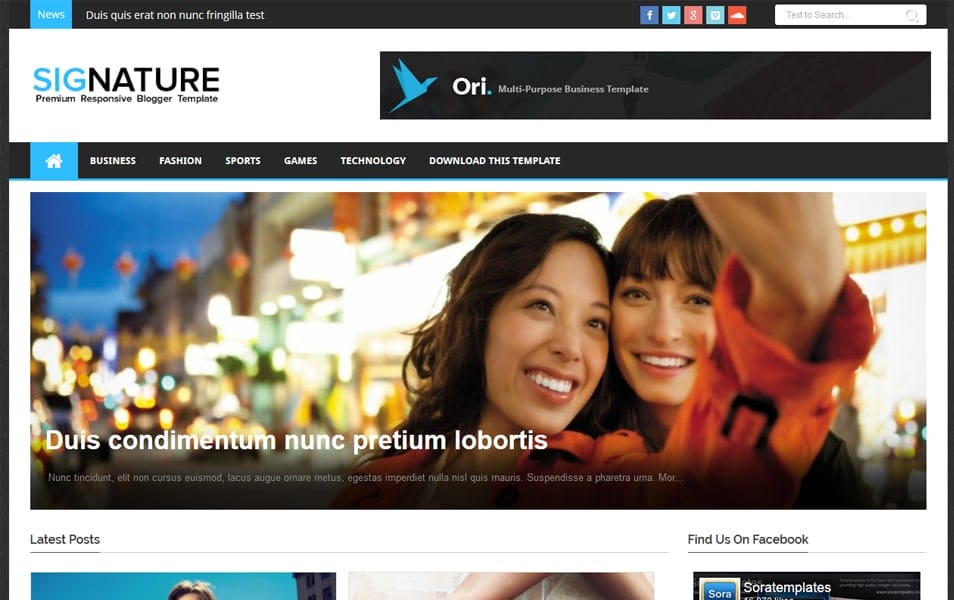 Signature is a complete Blogger theme for a news or magazine site with the focus of attracting and keeping visitors on their site. It uses the best clean SEO practices, and on top of that, it' s fast, simple, and easy to use. Not only is it responsive but it also keeps that magazine feel right down to mobile screen sizes.
Responsive Personal Blog Blogger Templates 2015
2016 Responsive Blogger Template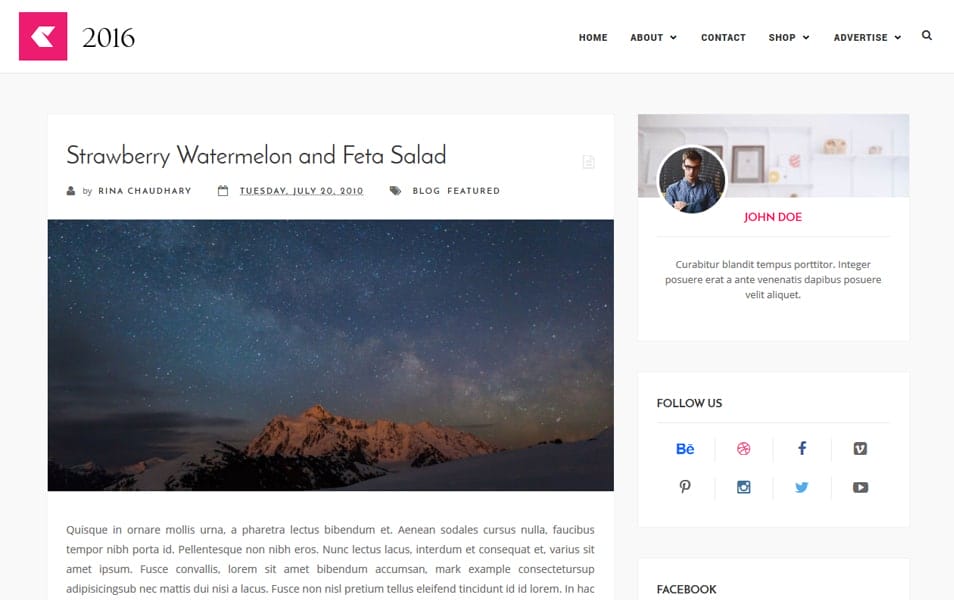 2016 is a clean and Responsive Blogger Template. It is a light & bright blog theme, tailored to showcase your content in an effortlessly timeless style.
Beehive Responsive Blogger Template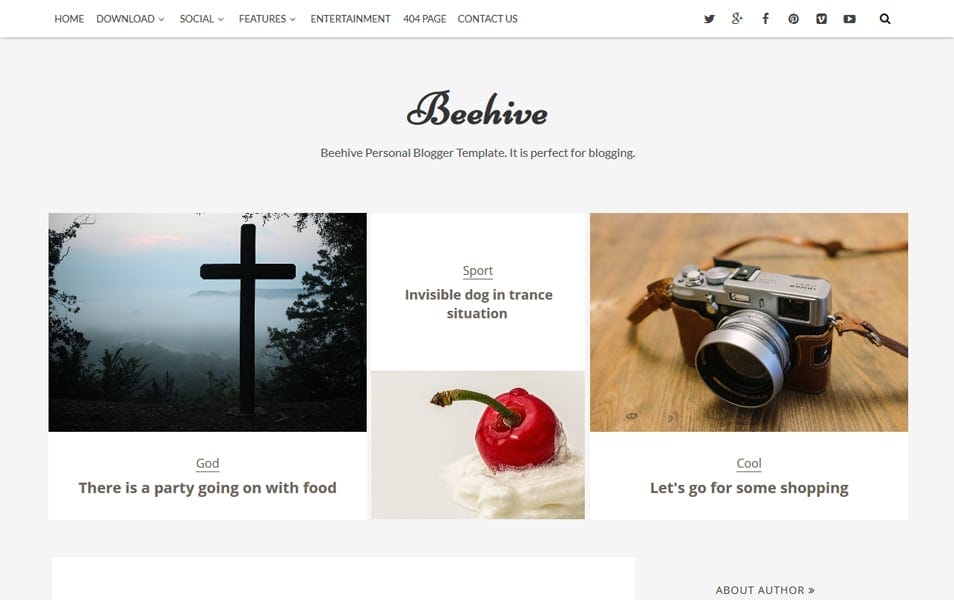 Beehive is a unique personal free blogger template, focused on minimalism, elegance and lots of features.
Blogari Responsive Blogger Template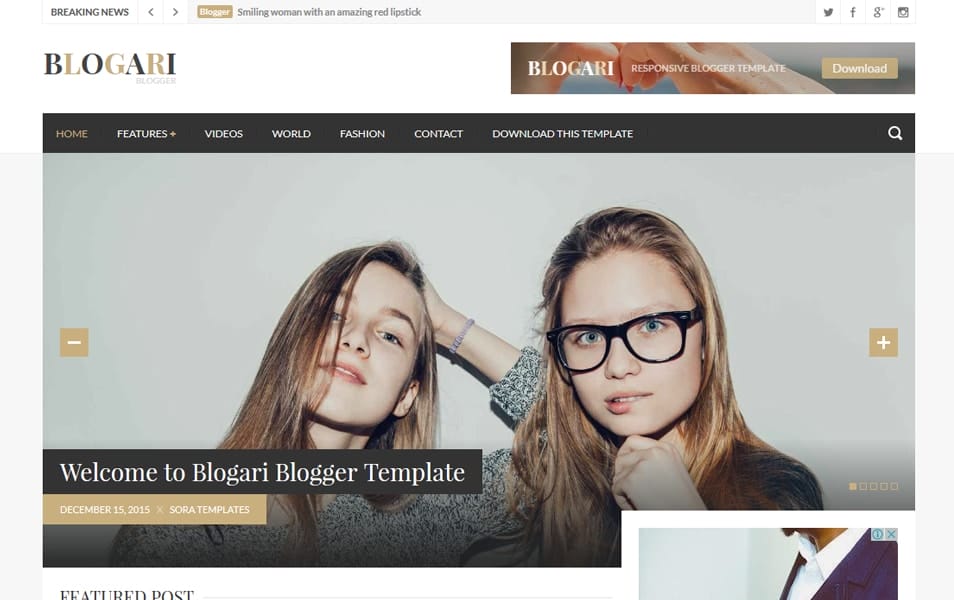 Blogari is a very simplistic yet professional high quality theme for Blogger. It offers a highly optimized design for faster browsing, better search engine rankings, and super easy customization. Blogari is a Blogger theme meant for the needs of every passionate blogger.
Honey Responsive Blogger Template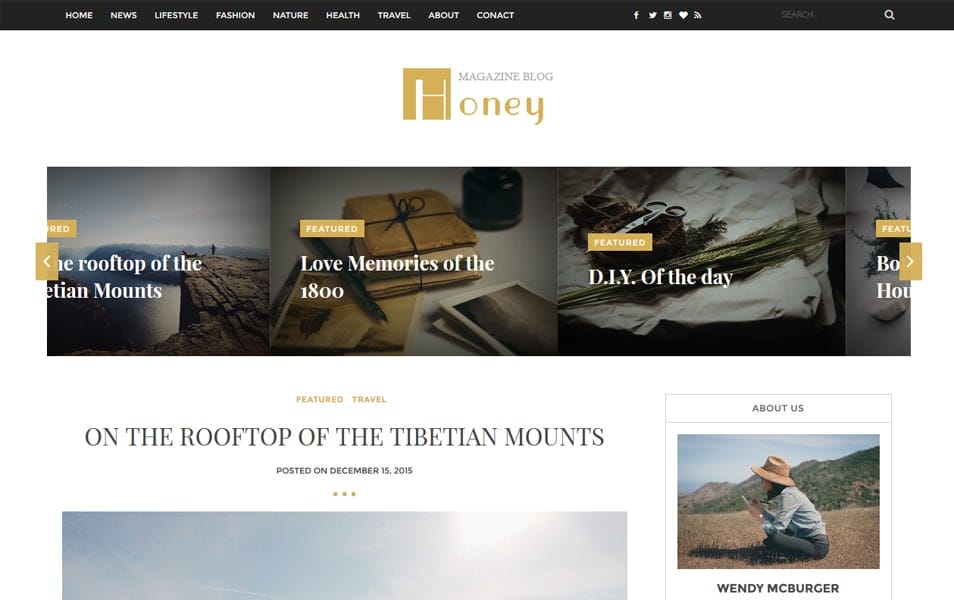 Honey is crafted for the lifestyle & travel bloggers to share their stories in a beautiful way. It's content focused, socially integrated and have good mobile friendly design which promises to boost the number of readers of your blog.
mSora Responsive Blogger Template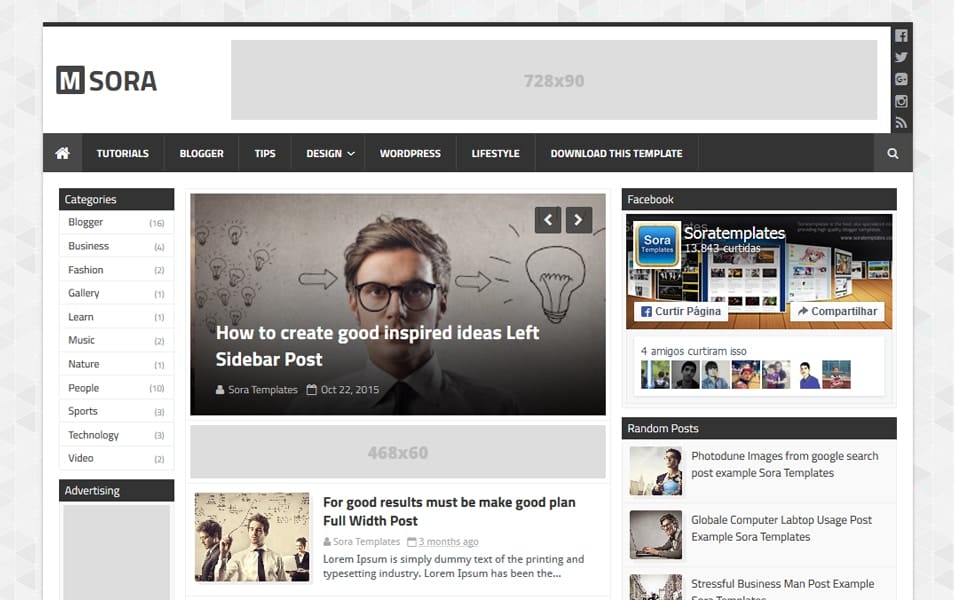 mSora is a blogger theme designed for a personal blog. If you are bloggers, travelers, instagram lovers or you have story to tell, mSora blogger theme can be what you are looking for.
iPrime Responsive Blogger Template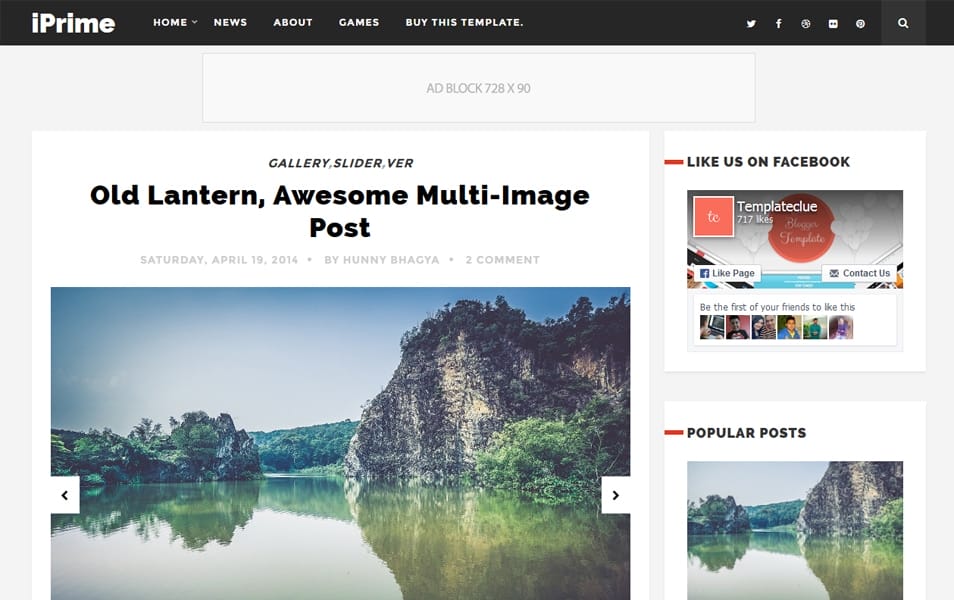 iPrime Is A Blogging Template In Clean And Bold Design. It's Perfect For Any Personal Blog.
Oracle Responsive Blogger Template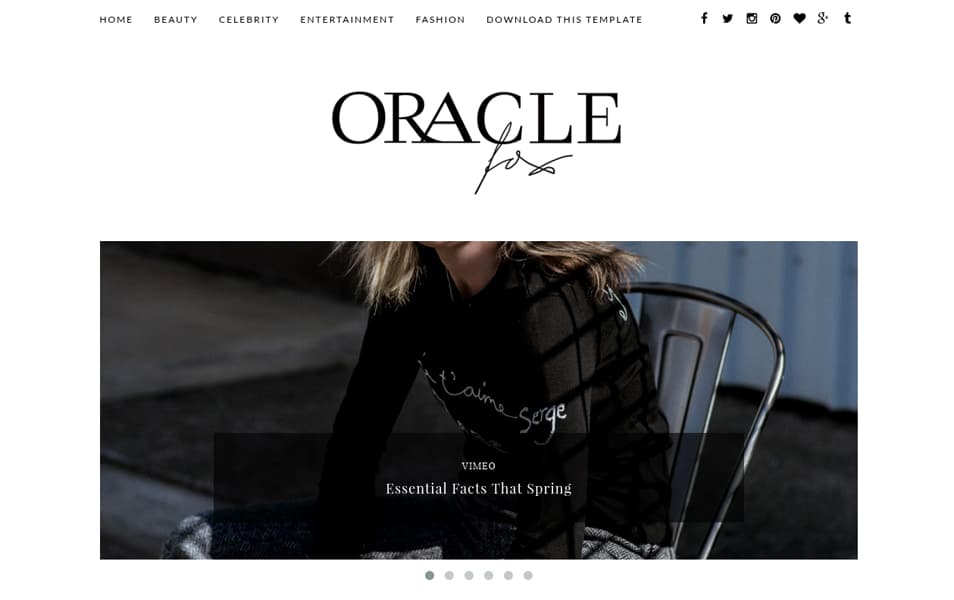 Oracle is a simple, clean, personal, modern and professional blog ideas for spreading stories. Complete control over the layout of your blog.
Vienna Responsive Blogger Template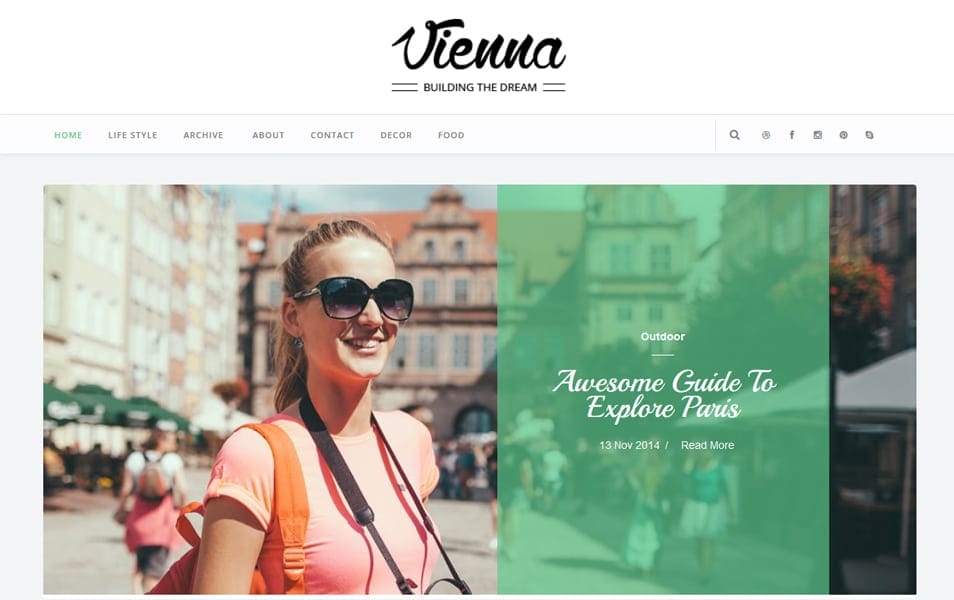 Vienna Blog Template is a Free Blogger Template build especially for daily/hobby bloggers, who love to share their story, whether it is about Fashion, Travel, Lifestyle, Beauty or just a Personal Blog or anything else.
Flamous Responsive Blogger Template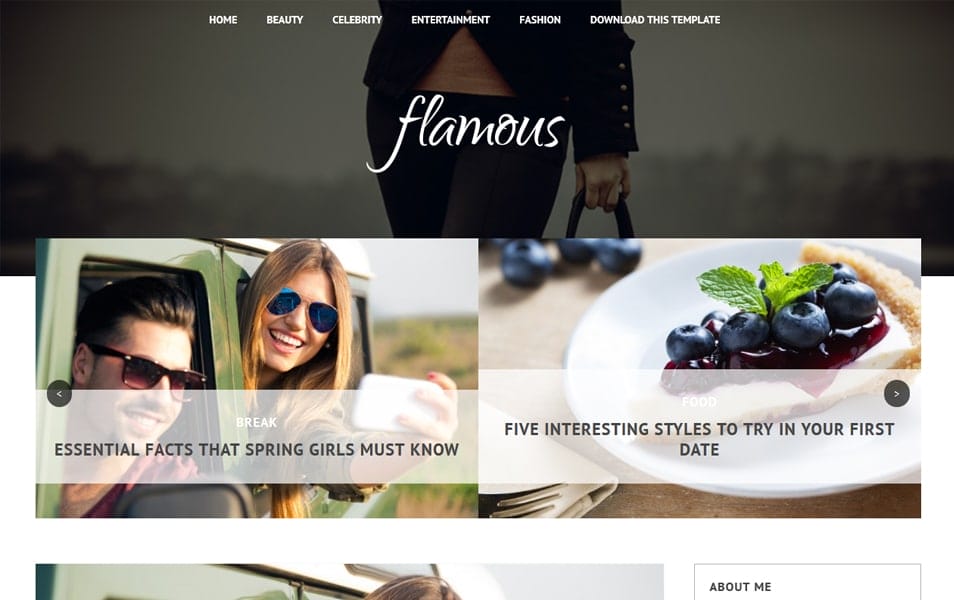 Flamous is an elegant, clean and modern blogger theme for creative bloggers and authors. It's perfect for sharing travel photos and telling your stories.
Dzine Responsive Blogger Template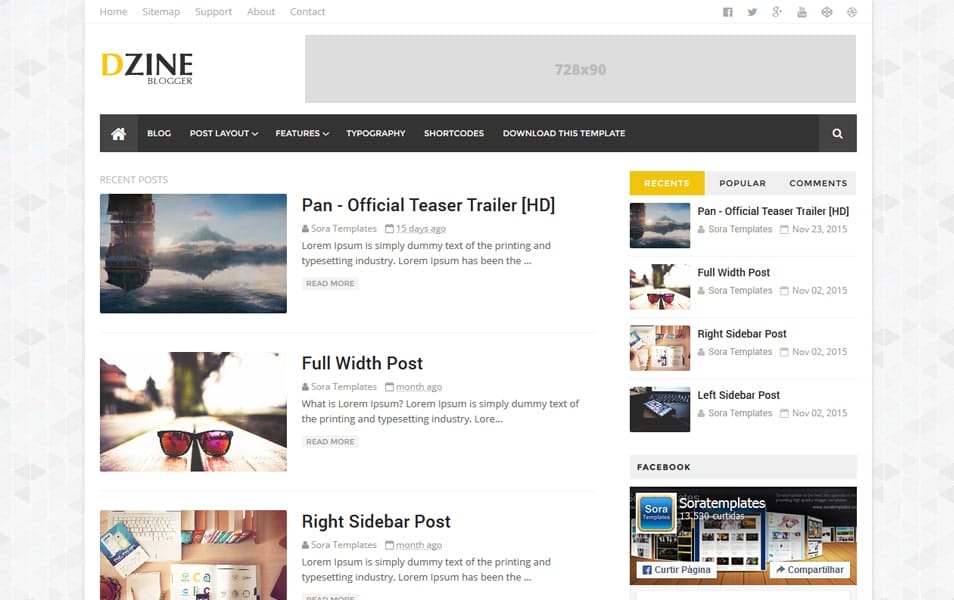 Dzine is a light and elegant theme tailored to be exceptional on all kinds of blogs.
Glam Up Responsive Blogger Template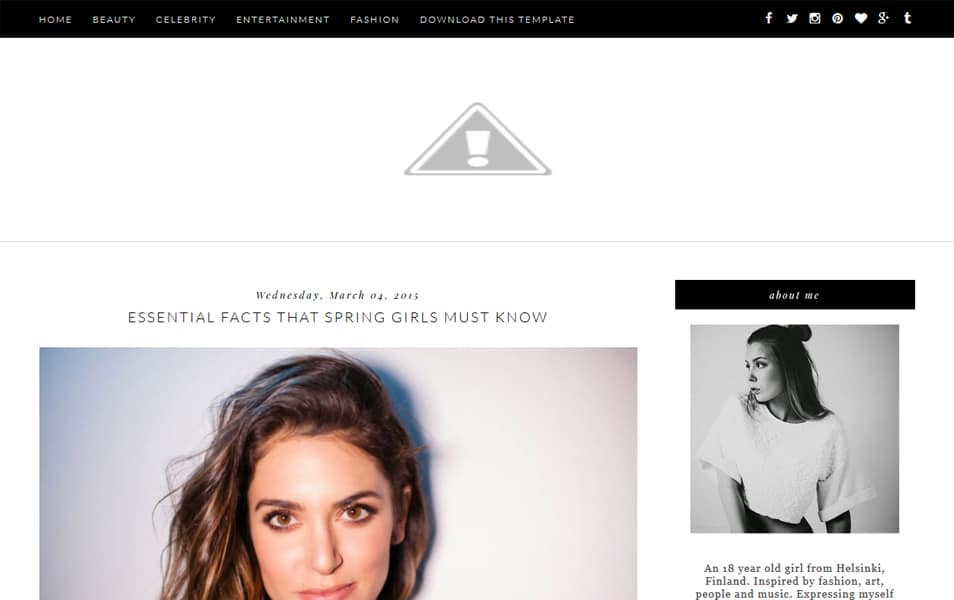 Glam Up is an ultra-clean blogger theme. Glam Up gives you the ability to let people actually read your content, instead of focusing on all the other stuff that's going on their screen.
Blue Theme Responsive Blogger Template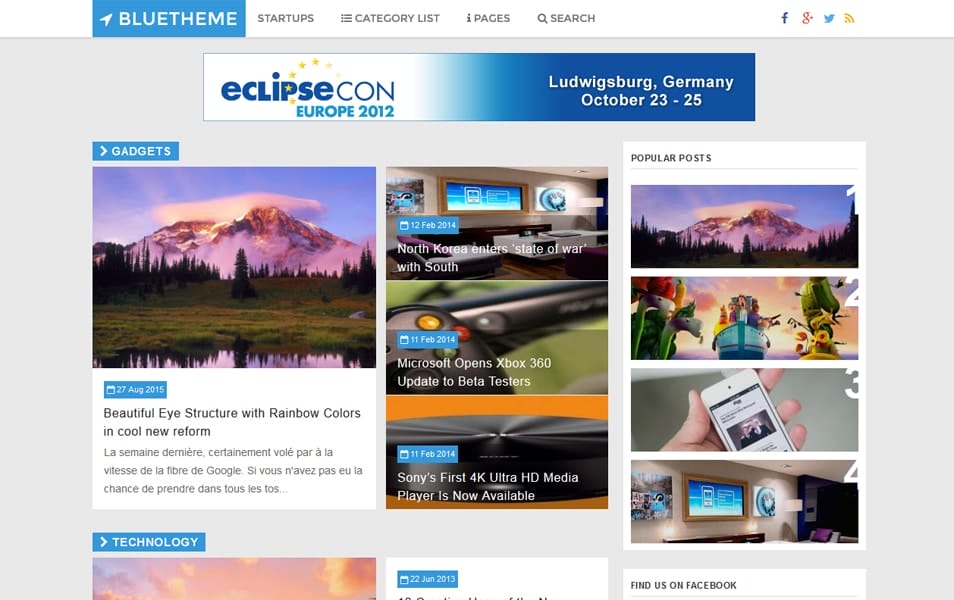 Modish Responsive Blogger Template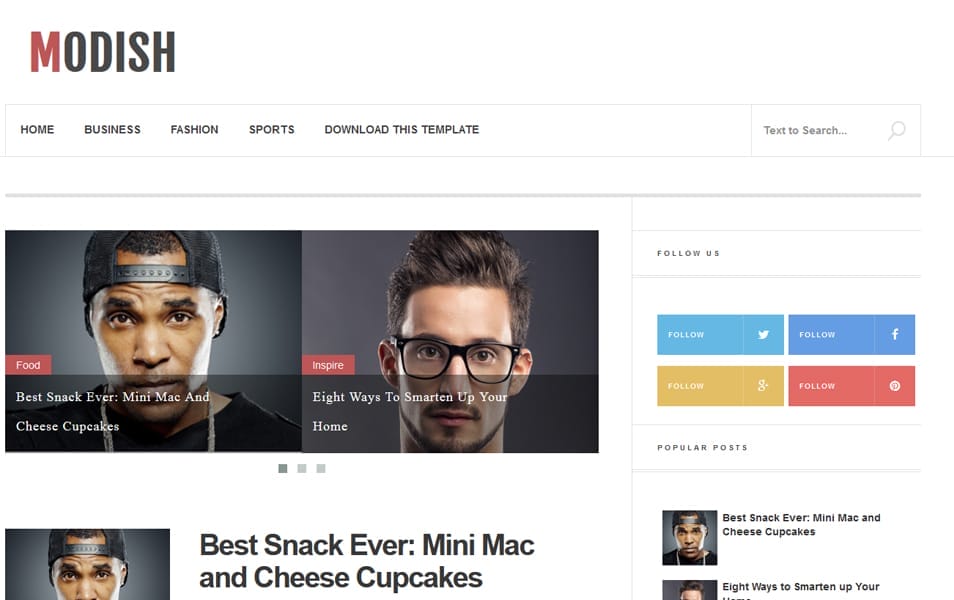 Modish is a clean personal blog theme which have clean and beatiful layout to share your stories, photos collection and others. A lot of features on theme option will give you powerfull and easy control to customized every detail of your website.
PinPress Responsive Blogger Template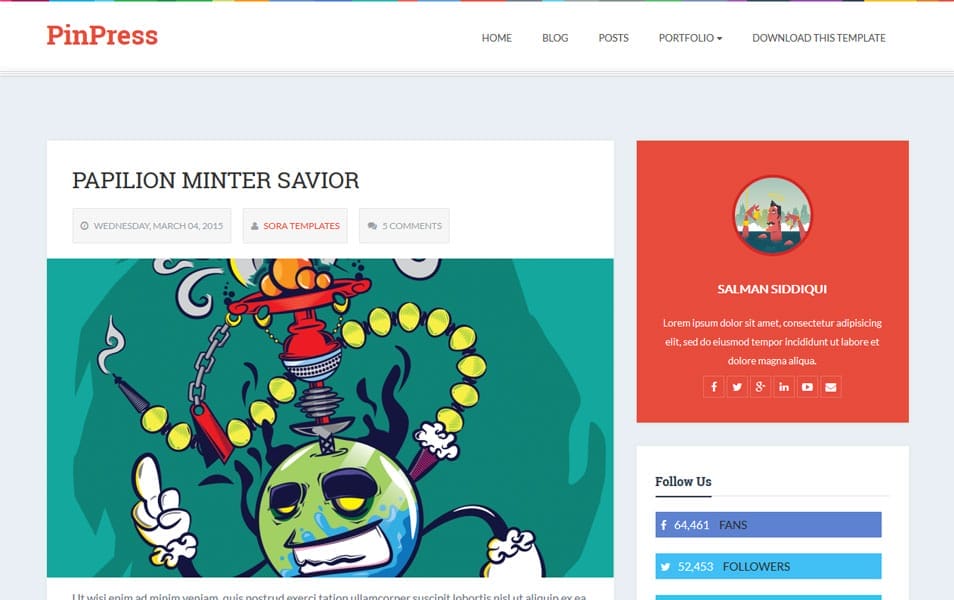 PinPress is a creative Flat Blog/Magazine blogger template and it is the perfect choice for professionals who's looking for a magazine template or a personal, niche, corporate, and marketing blogs.
Winters Responsive Blogger Template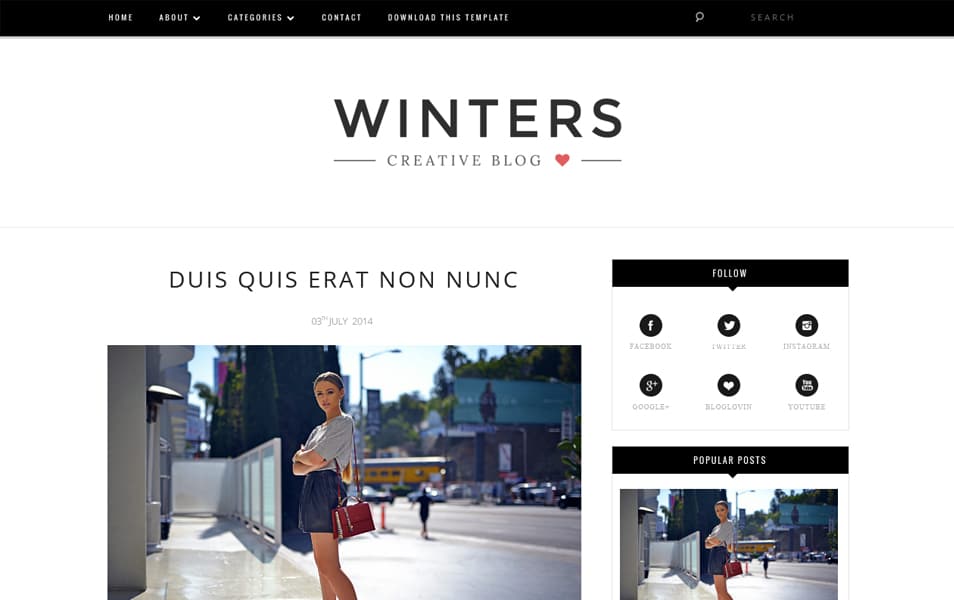 Winters is a stylish and elegant blogger template which has really great look and is perfect for your personal blog. Winters blogger template will help you to get a unique look for your blog as it has a lot of great features.
Ripple Pro Responsive Blogger Template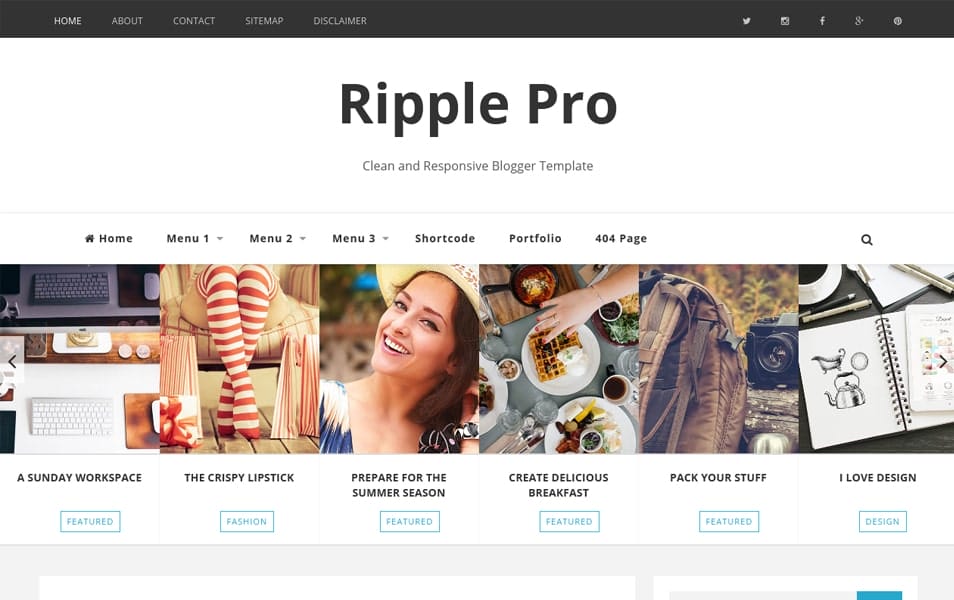 Aventurine Responsive Blogger Template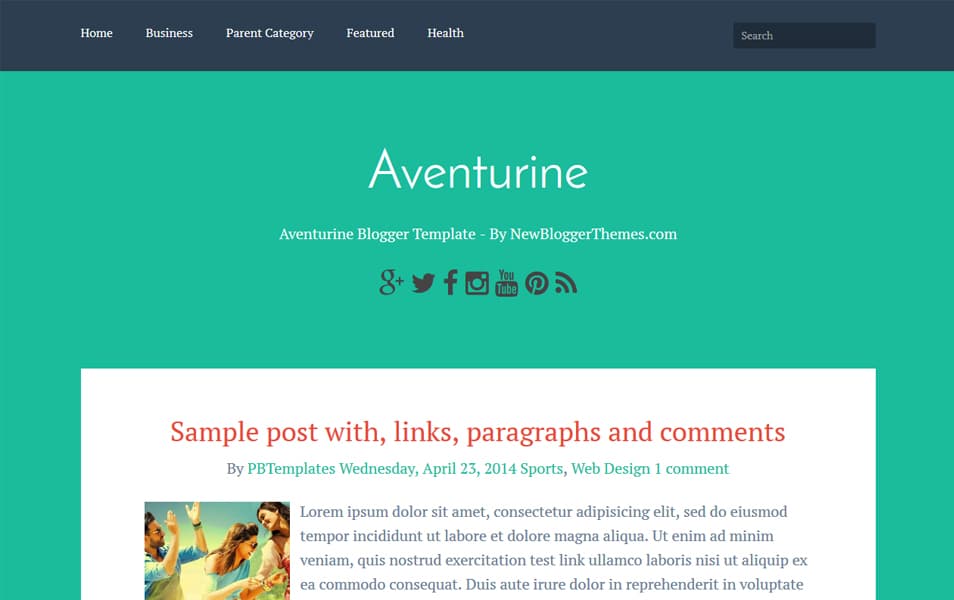 Aventurine theme puts the focus back on your content, with large type and bright colors. Aventurine blogger template is responsive and built with accessibility in mind, your content can be easily available to your entire audience.
Charm Personal Blogger Template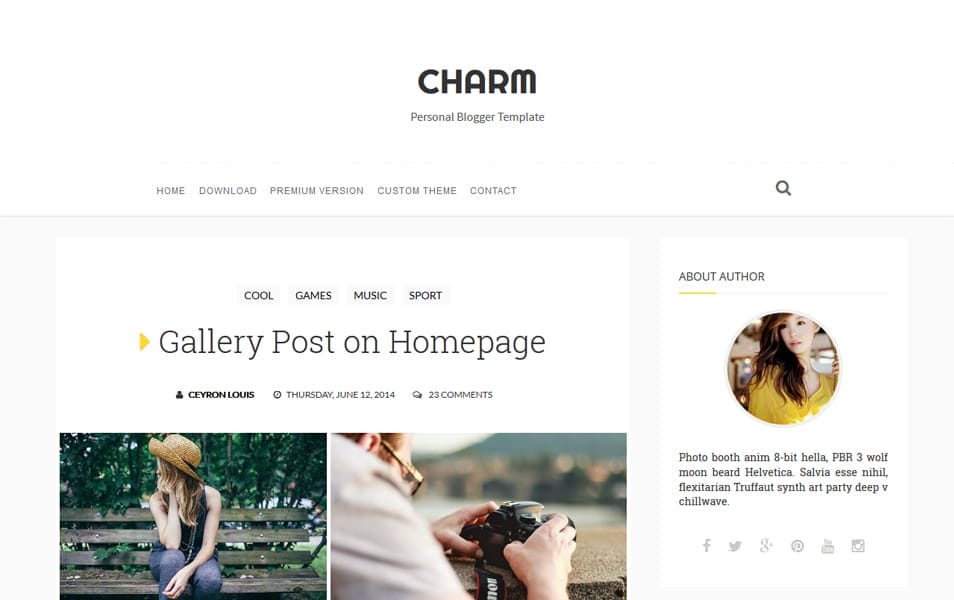 Charm is a clean and personal responsive blogger template. This theme is designed for personal blogging and is a responsive blogger template that comes with 2 column layout given which is SEO optimized to come up in SERP as fast as possible.
LiveRide Responsive Blogger Template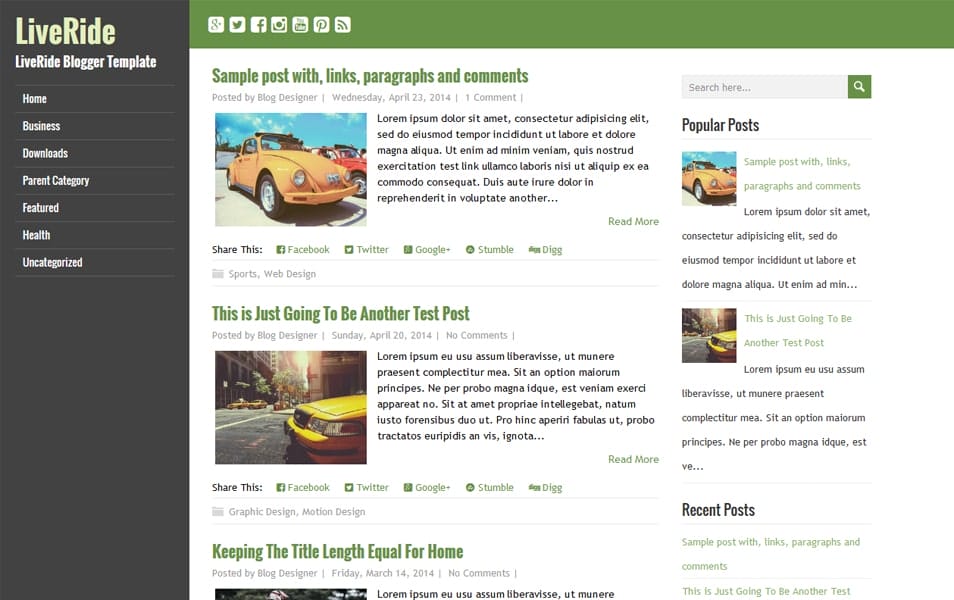 LiveRide is a simple and easy to use, fast loading, SEO friendly, 2 columns blogger theme with auto read more on homepage. It is a fully responsive theme that allows for easy viewing on any device.
Alexis Responsive Blogger Template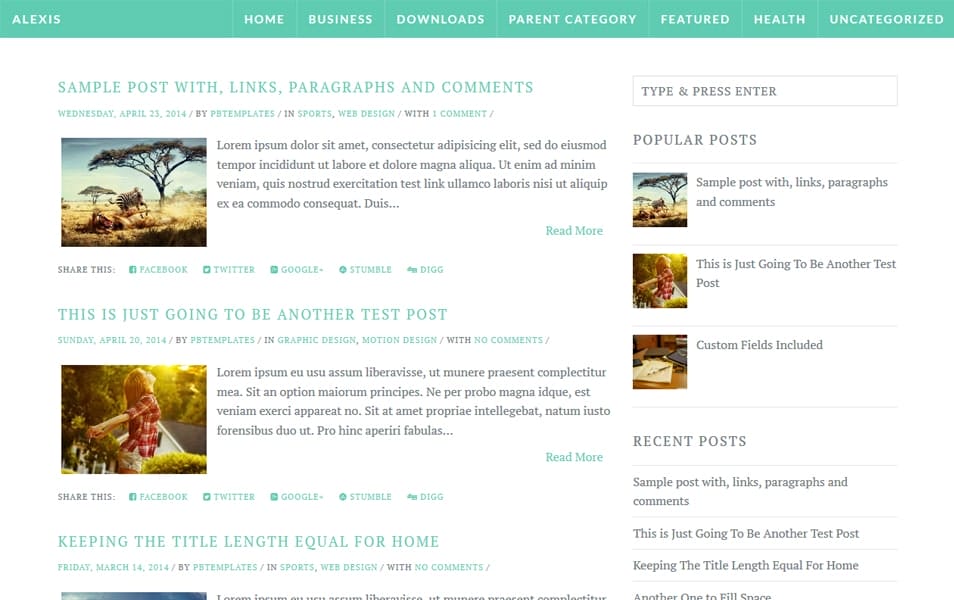 Alexis is a mobile responsive, flat design Blogger theme with a touch of minimalism. Alexis blogger template comes with 2 columns, right sidebar, auto read more, related posts, sharing buttons, Google fonts and more.
Responsive Portfolio Blogger Templates 2015
Pebbles Portfolio Blogger Template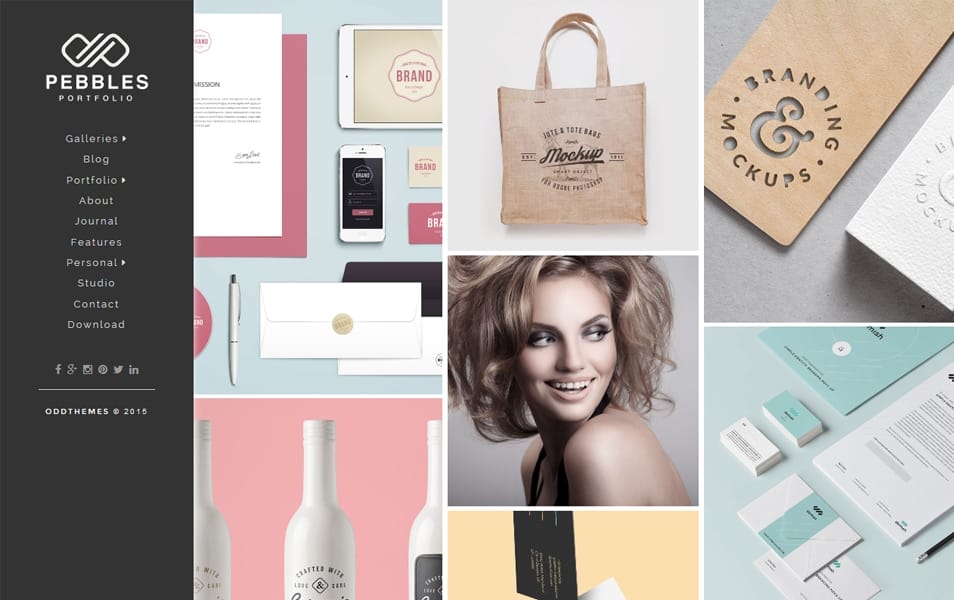 Pebbles is a unique portfolio responsive blogger template, focused on minimalism, elegance and simplicity. It's created around a modular concept and an amazing masonry portfolio grid. Packed with a lot of amazing features, this template offers the best solution for any niche.
Arbutus Responsive Blogger Template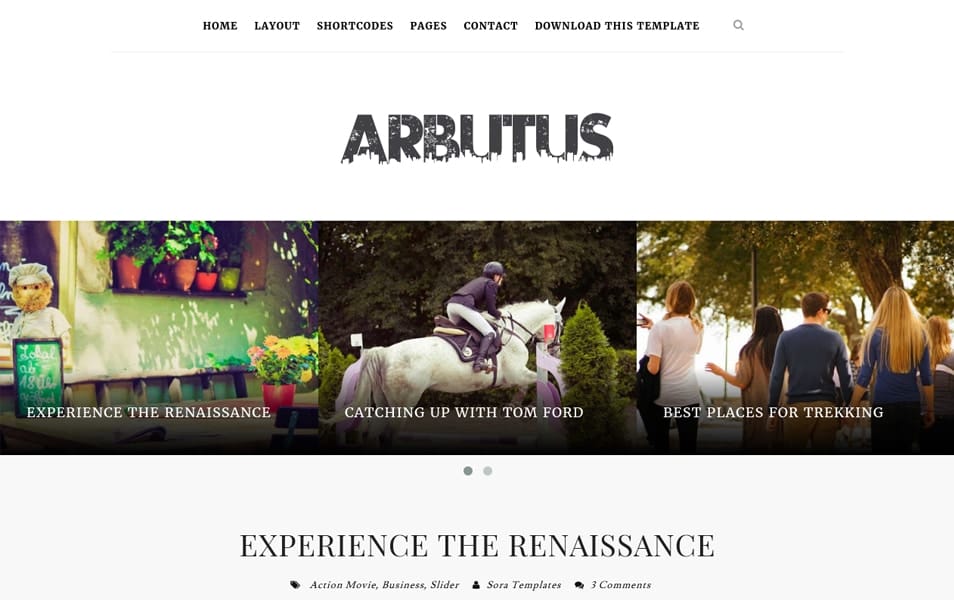 Arbutus is a minimal blogger template for people who love to share their thoughts with others. Like the design, installing this template is very simple. It's focus on user-experience, usability, and beautiful typography and it will shows you how cool and flexible Blogspot Blogging, Portfolio and Photography template can be.
Vanilia Responsive Blogger Template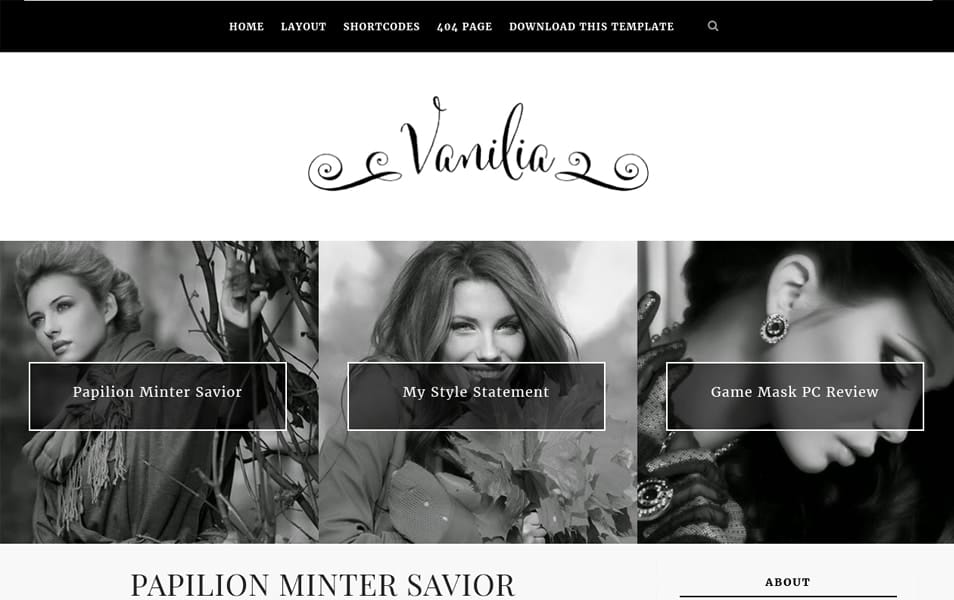 Vanilia is a Clean & Personal Blogger Template. Vanilia is a simple, clean, personal, modern and professional blog ideal for making a professional blogging, portfolio, elegant websites.
Happy New Year Responsive Blogger Template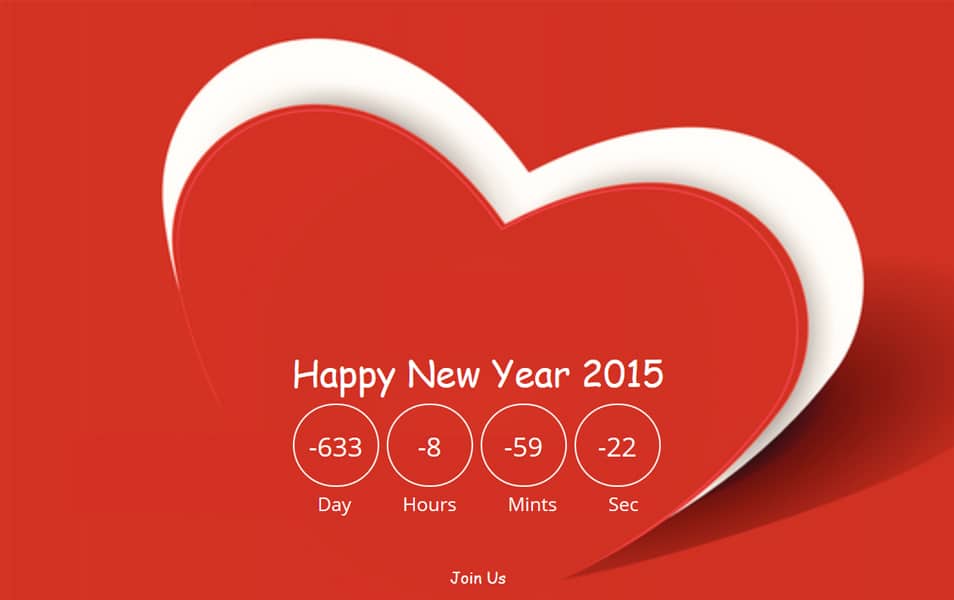 Happy New Year Blogger Template is 100% fully Responsive theme that comes in two different layouts like OnePage and Portfolio Blog. It is stylish, Magazine, Responsive and Entertainment Base blogger template.
Responsive Minimalist Blogger Templates 2015
Blogus Responsive Blogger Template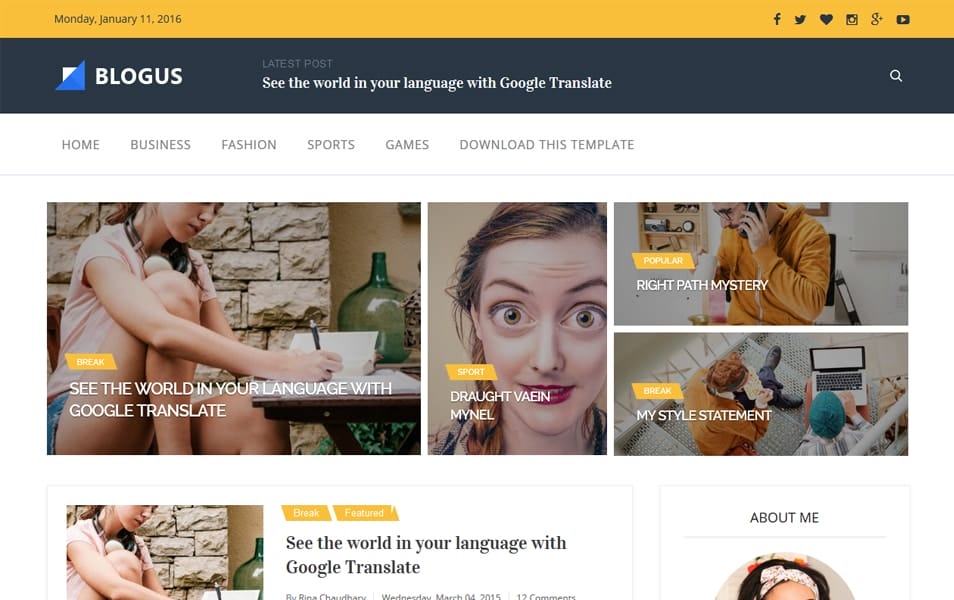 Blogus is a clean and Professional Blogger blogging theme.
Prism Responsive Blogger Template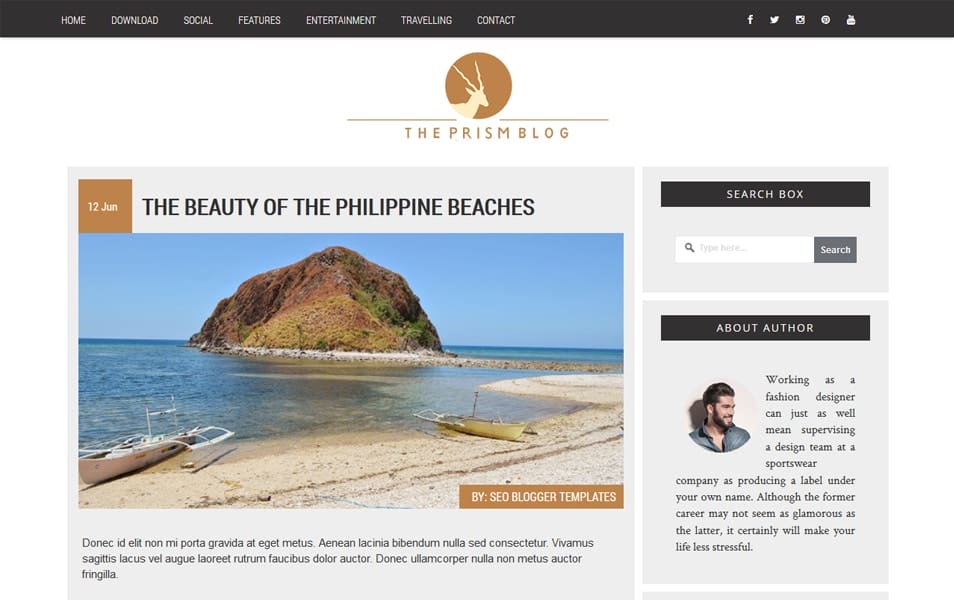 Prism is a latest simple and minimalistic blogger design from Seo Blogger Templates, a clean and minimalistic template which has more focus on your content as well as SEO.
Slate Responsive Blogger Template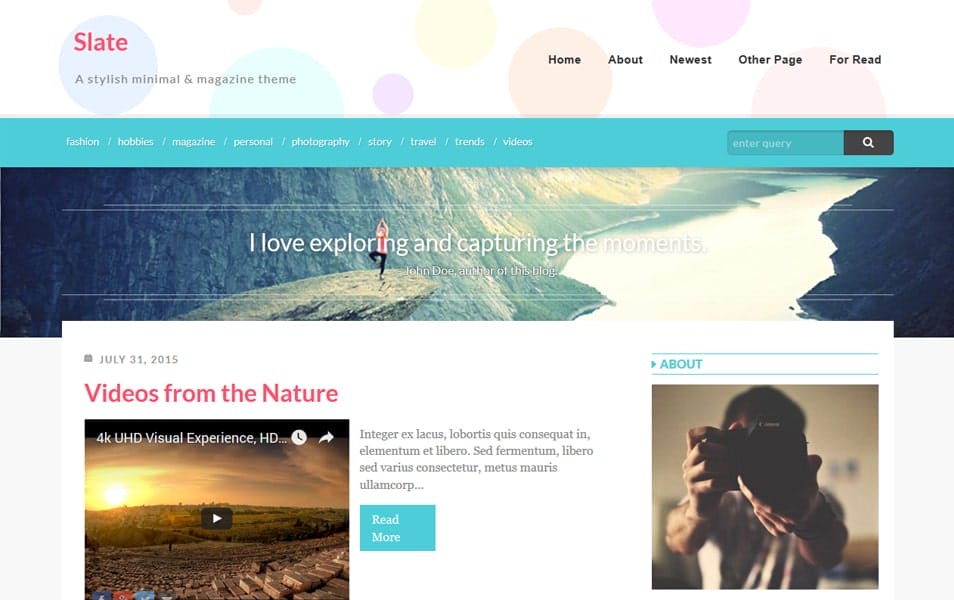 Slate is a responsive and stylish blogger template that comes with a lot of customization options. We have optimized the template for search engines. The template is perfect for hobby and personal bloggers.
Simplart Minimal Responsive Blogger Template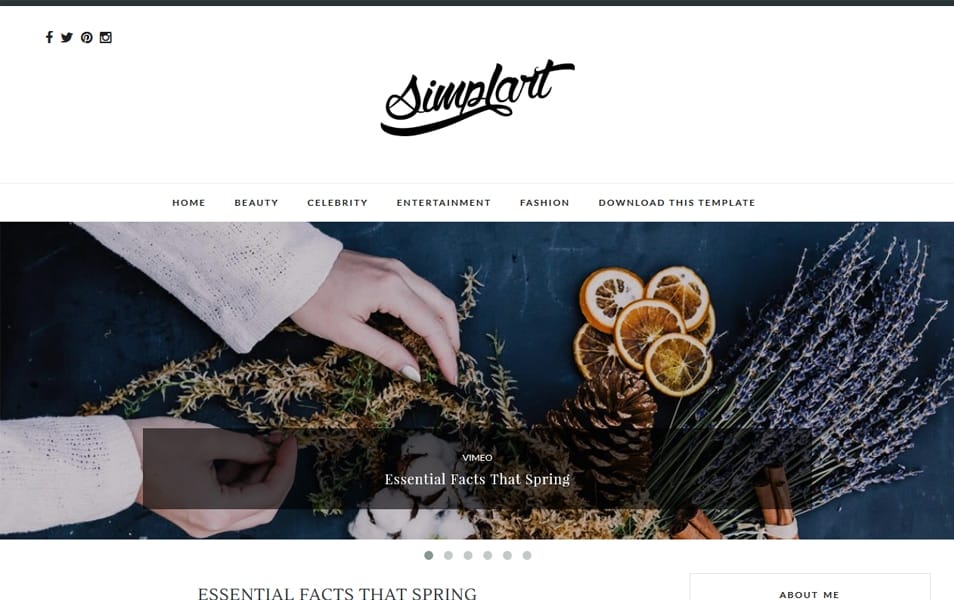 Simplart is a simple, minimal and clean Blogger Theme. A perfect theme for artists, photographers, personal bloggers and writers. All features of the theme are brought down to only the most necessary features when publishing a blog.
Acacia Minimal Responsive Blogger Template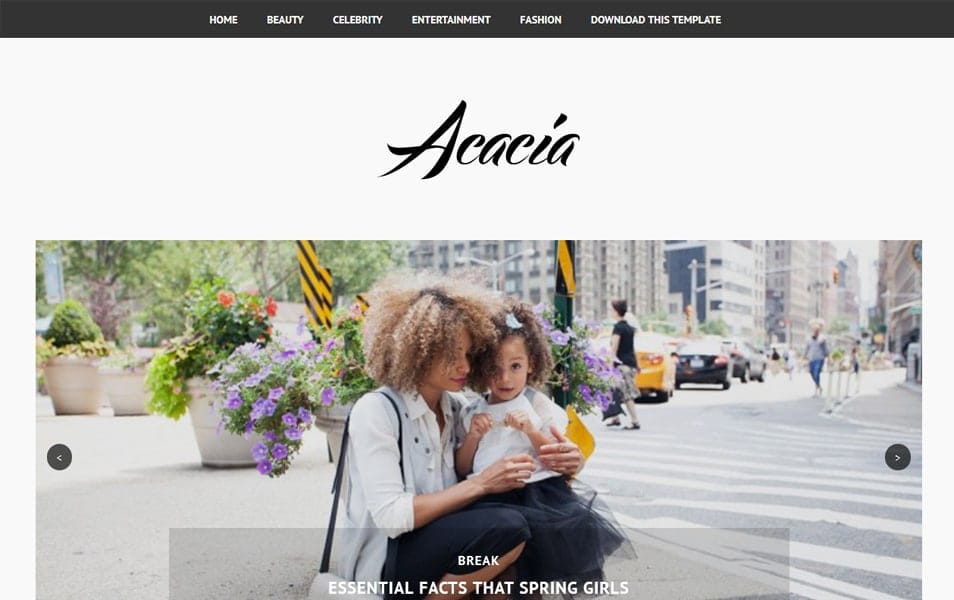 Acacia is a fully responsive blogging theme especially for fashion & lifestyle bloggers. With minimal and clean layout is a content-first to delivers comfort for your readers. It adopts to any device no matter the size.
Masterpiece Responsive Blogger Template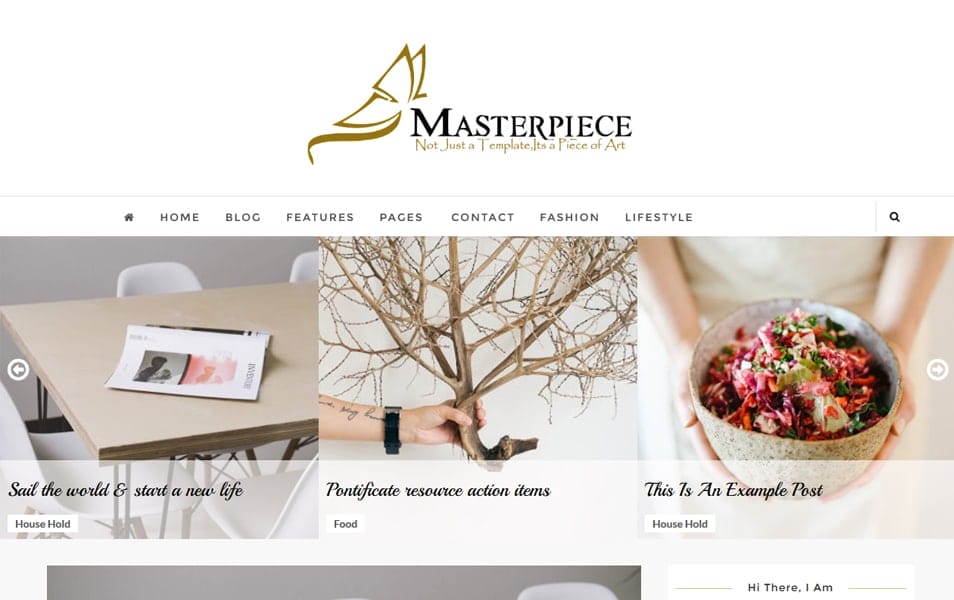 Masterpiece is a Clean and Minimalist blogging theme. It is an easy-to-use blogger template, a perfect match for Fashion/Beauty Bloggers, Personal Bloggers, Content Providers, and Simple Creative Magazines etc.
Check My Style Responsive Blogger Template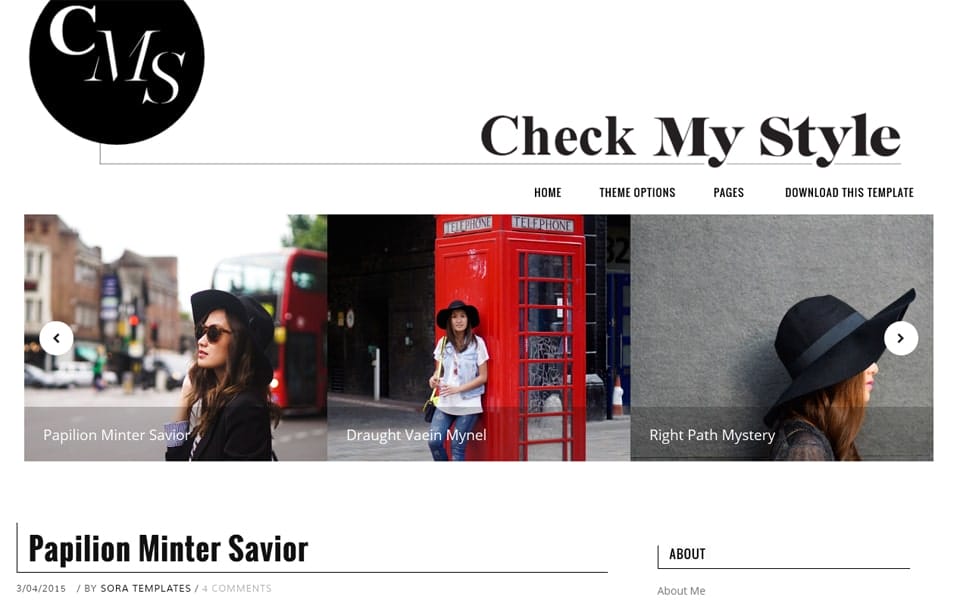 Check My Style is a premium blogger template which has clean and modern look. When your readers visit your blog, beautifully designed featured posts with custom labels will attract their eyes first. A Clean, minimalistic and contemporary design is guaranteed to wow and inspire!
Minimal – Clean & Responsive Blogger Template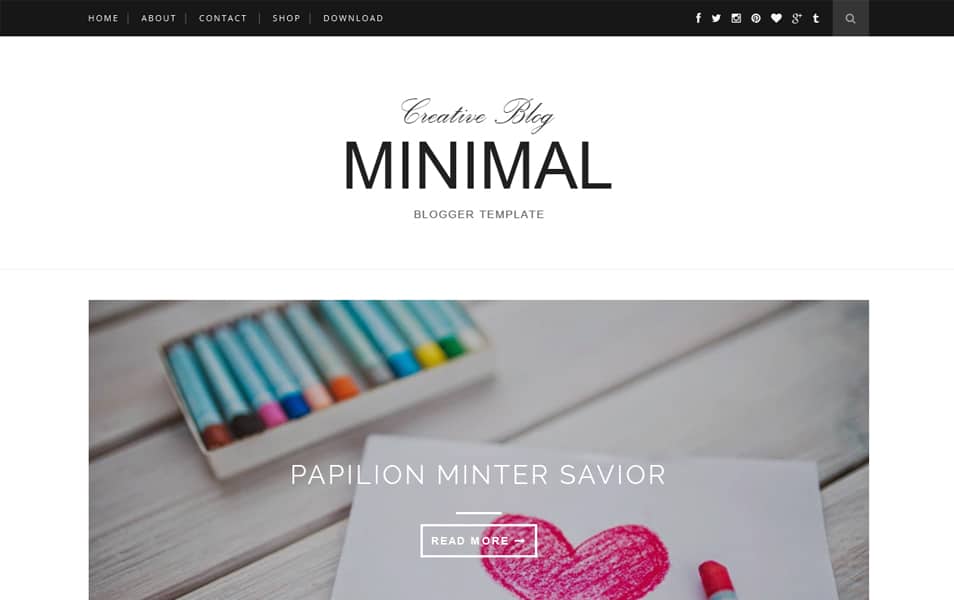 Minimal is a clean and minimalist Blogger blogging theme. It is a light & bright blog theme, tailored to showcase your content in an effortlessly timeless style. Perfect choice for your personal blog, niche blog, Fashion blog, OOTD blog, authority blog or any type of creative blog or simple magazine.
F2 Responsive Blogger Template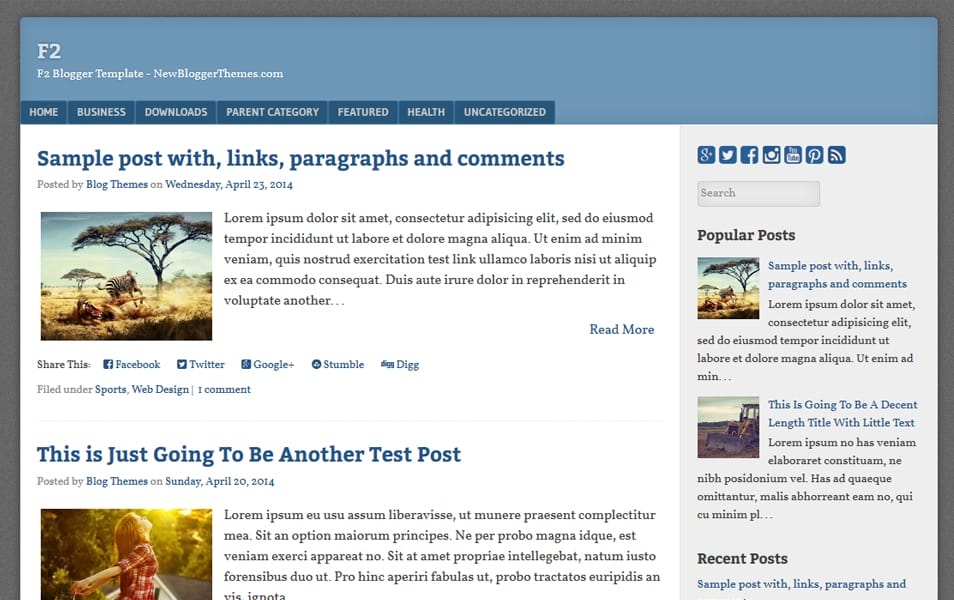 F2 is a minimal, clean looking responsive theme for Blogger blogs. WPTuts Blogger Template has google web fonts, right sidebar, rounded corners, social icons, share links, drop-down navigation menu, auto read more, related posts and more.
Clean Mag Responsive Blogger Template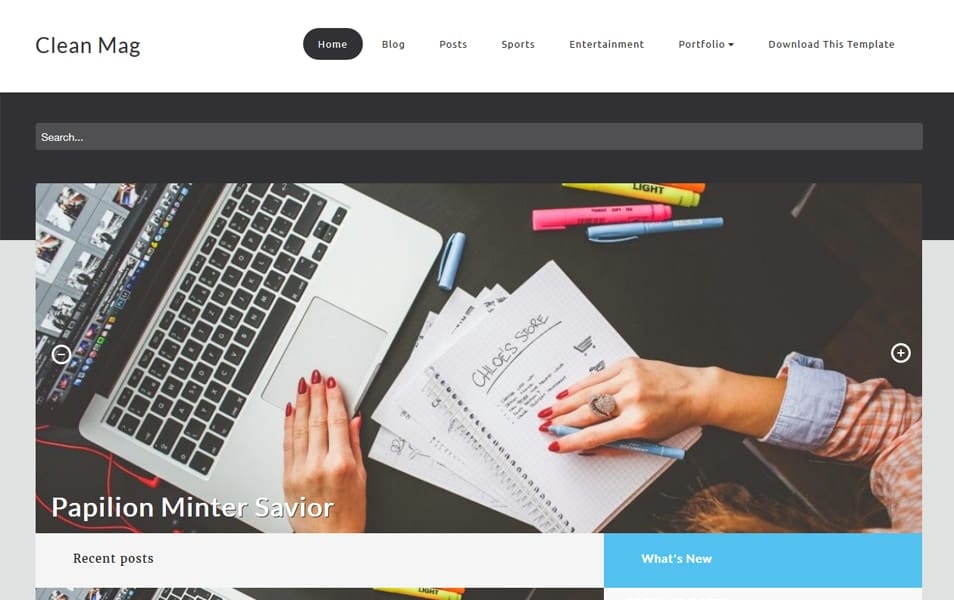 Clean Mag is a latest simple & responsive blogger design from Sora Templates, a clean and minimalistic which is having more focus on your content as well as Seo. It is clean and fresh style and high user friendly blogger template.
Patus Responsive Blogger Template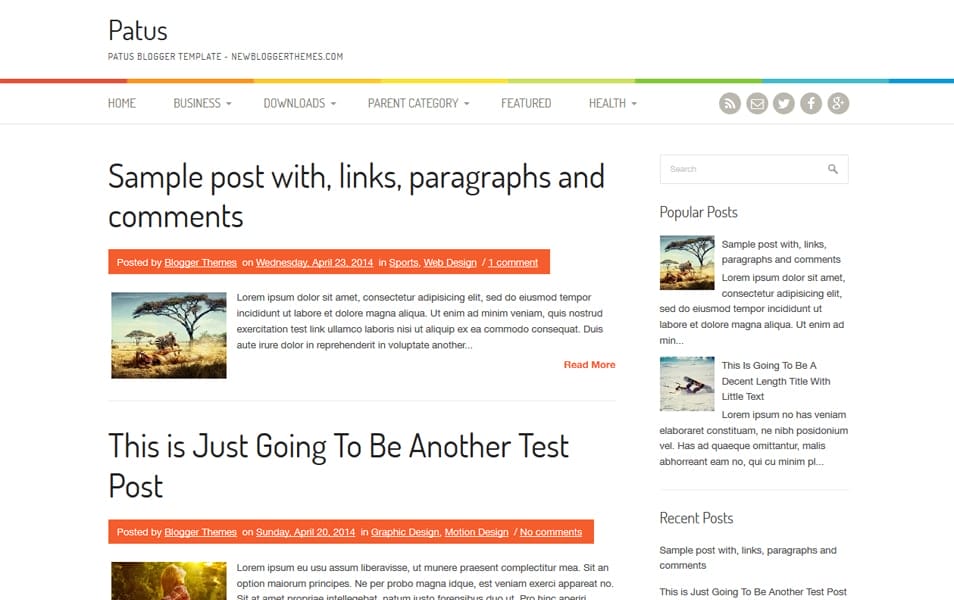 Patus is a minimal, fast, personal blogging Theme for Blogger blogs with auto post summaries on homepage. Patus blogger template has features such as top multilevel navigation menu, social profile buttons, post share links, SEO friendly, related posts, Google fonts and more.
Fantasy Mag Responsive Blogger Template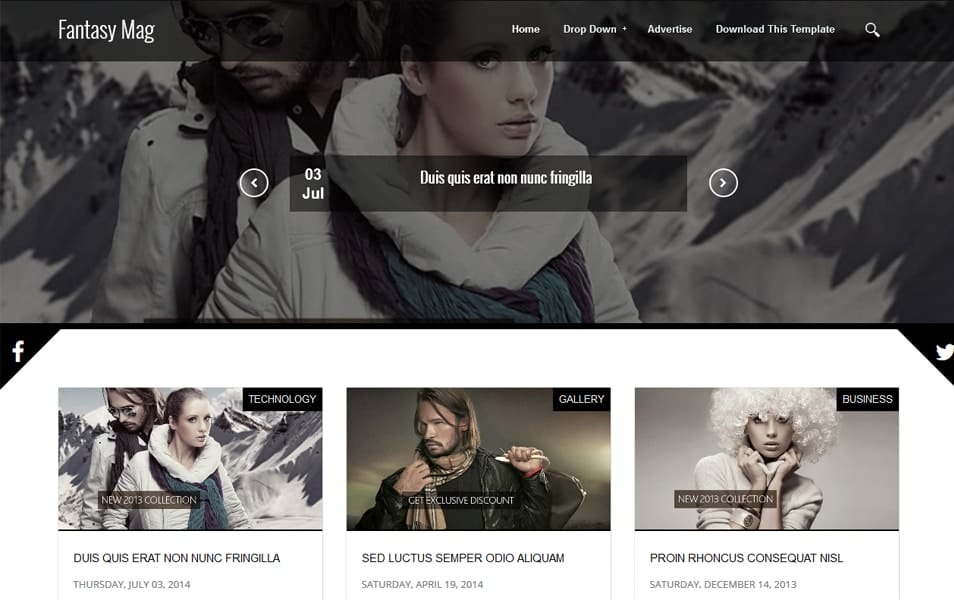 Fantasy Mag is a Minimalistic Blogger Template with Responsive layout and suited for all blogs. It's design with modern style, simple color combination, clean and modern look, SEO Optimized, and has been built by using some of the most popular current design trends. Fantasy Mag Blogger Template is a perfect choice for all type of blogs.
Responsive Photography Blogger Templates 2015
Fabulous Responsive Blogger Template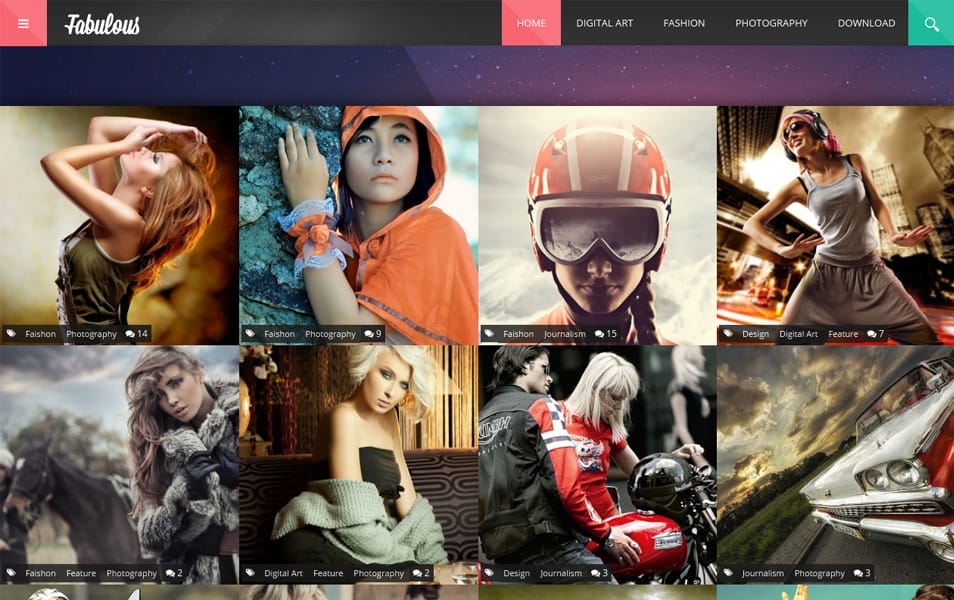 Fabulous is a blogger template with responsive design and it's High User Friendly Blogger Template. It's design simple and clean, perfect for a variety of purposes, although focused towards Photographers and those using Portfolios to display their past and present work collections.
Blend Responsive Blogger Template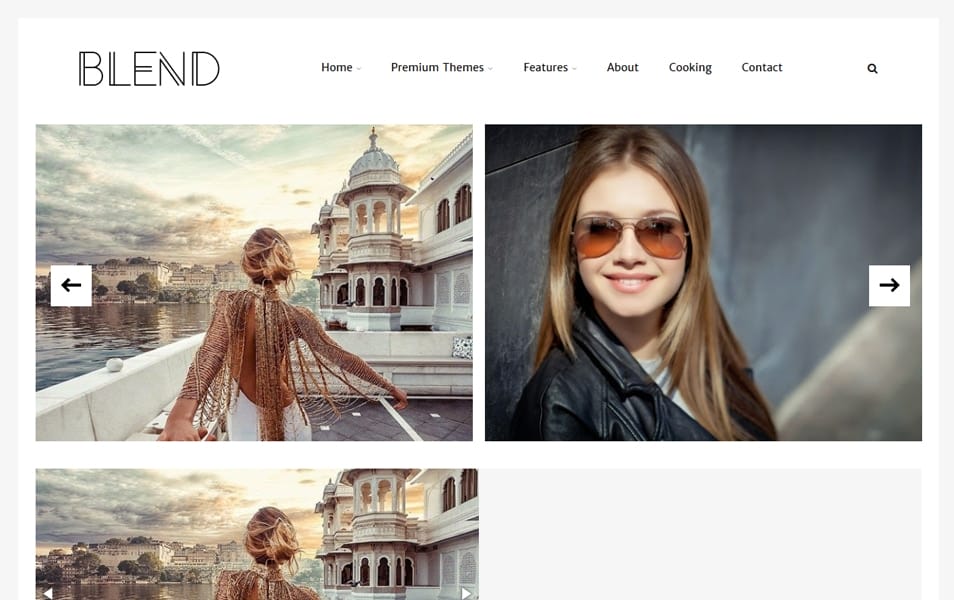 Blend is a simple beautiful blogger template that focuses on personal blog writing. The unique design concept with minimalist features will reflect amazing quality style writing to your visitor.
Responsive Multipurpose Blogger Templates 2015
Manual online Docs Responsive Blogger Template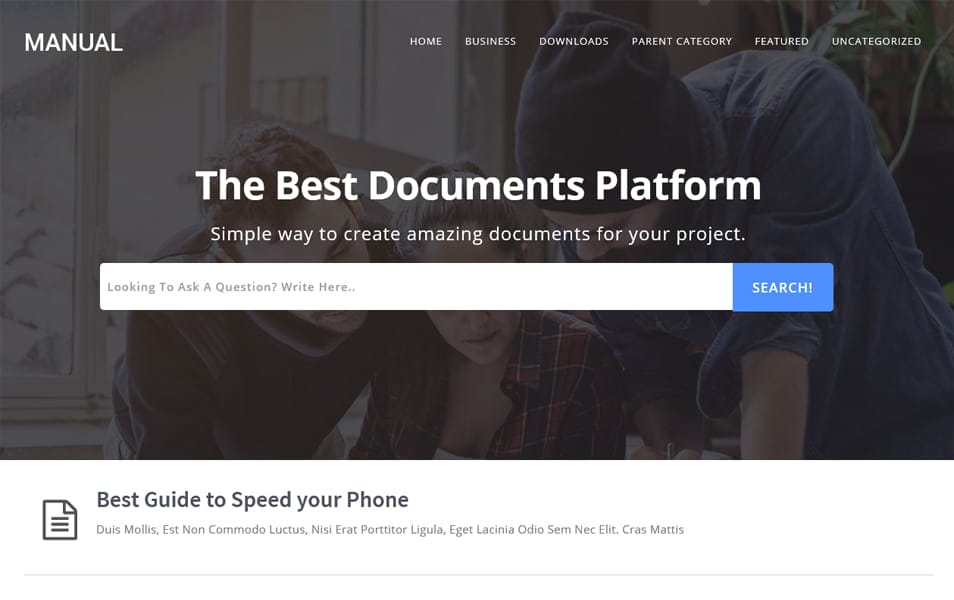 Manual online Docs Blogger template is a way to write professional looking online tutorials, documentations, knowledgeable in no time. It is a multipurpose template with features that it can also turn into a blog, you just need to customize it according to your needs.
Invento Responsive Blogger Template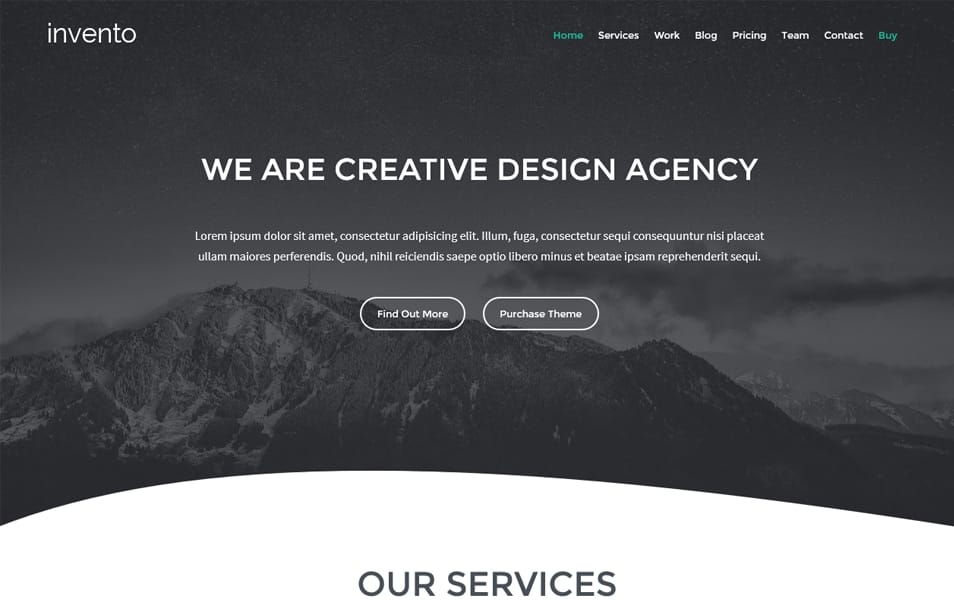 Invento is All-in-one, Multipurpose, OnePage and Responsive Template! This template is fully responsive and easily customizable. It is perfect if you like a clean Design.
Livre Respo Blogger Template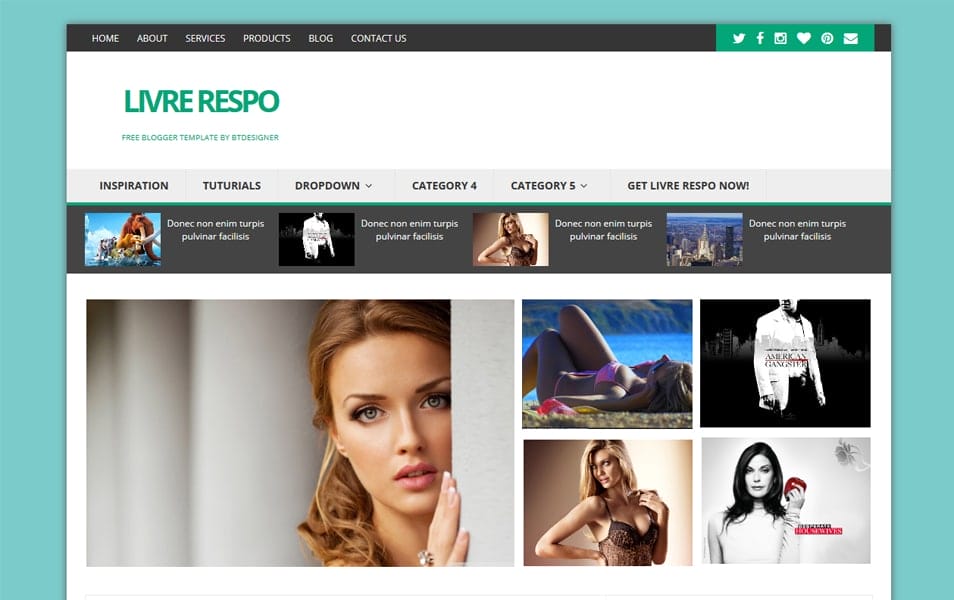 Livre Respo is a multi-purpose Blogger template, with a modern, clean, professional design. With infinite skin colors, Livre Respo is very flexible and easy to customize. So, dont waste your time it's FREE.
Responsive Grid Style Blogger Templates 2015
Cleansis Responsive Blogger Template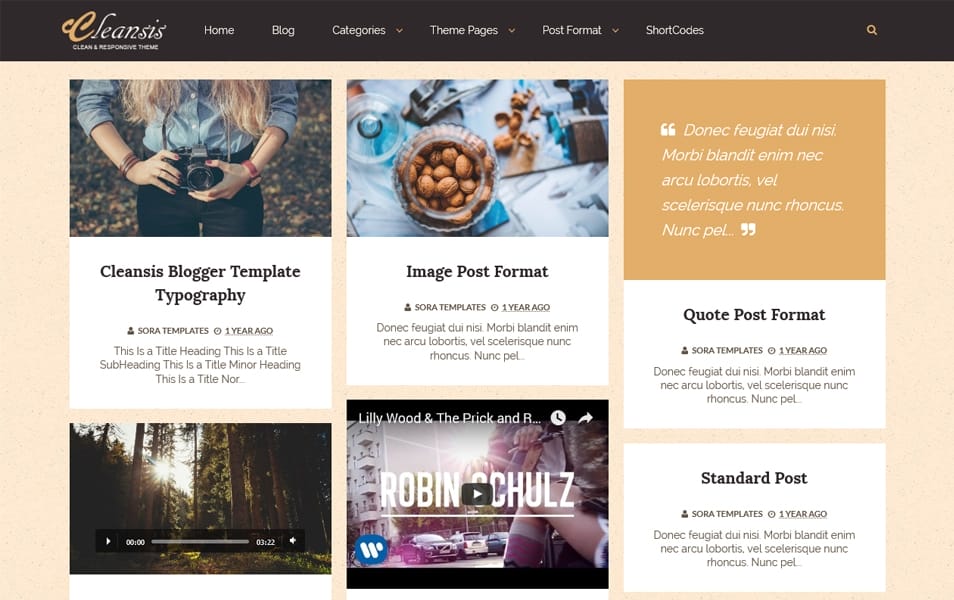 Cleansis is a Awesome Masonry blog style theme that allows you to choose from a 8 Post Formats. Cleansis Blogger Template will surely amaze you at the first sight. It is the fully responsive HTML5 & CSS3 template that best used for blogging, personal portfolio, even business portal.
Grider Responsive Blogger Template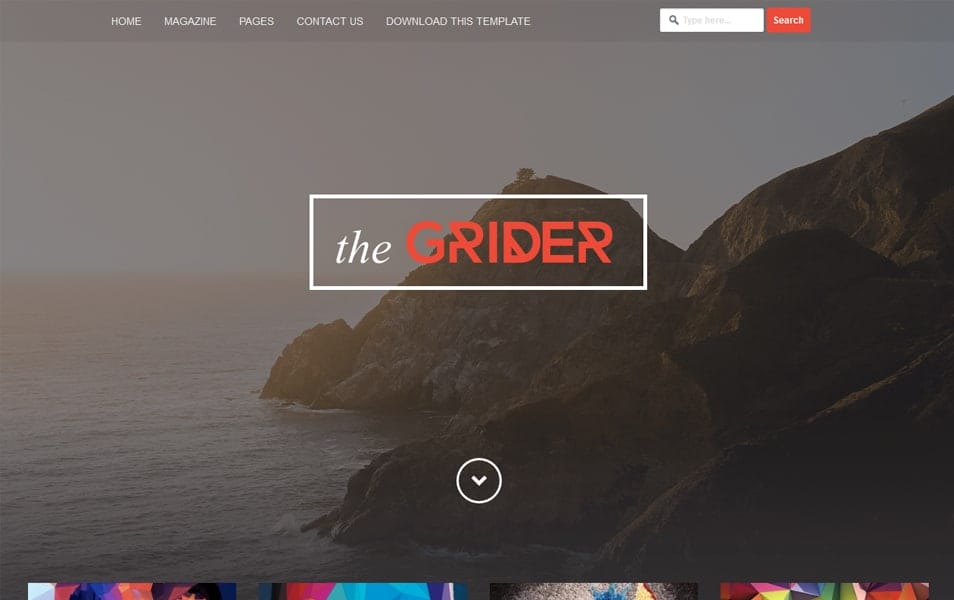 Grider is a Responsive blogger template which brings simple and clean design. It's very flexible and fully customizable. We take care of every detail to create awesome blog for you. It's a perfect fit for photographers, artists, writers, or people looking for a template with clean design to share their photos, galleries, videos and articles.
Griddy Responsive Blogger Template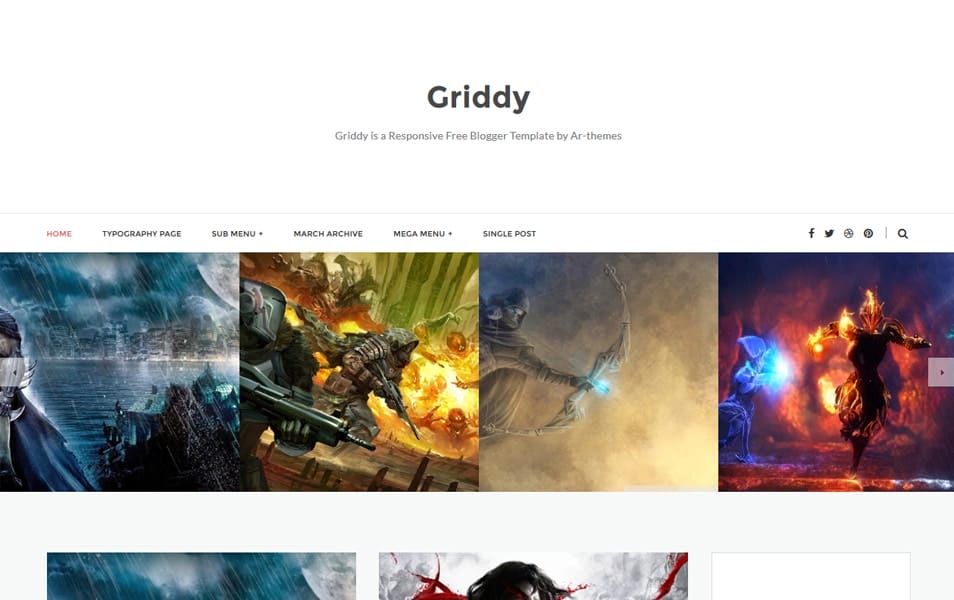 Griddy is a responsive free blogger template by Ar-themes. SEO optimized. Support all brwosers including IE, Firefox, Google Chrome, Opera and Safari. 2 Columns. Grid gallery enhanced style with responsive carousel. Enhanced pages with special typographic style.
Responsive Technology Blogger Templates 2015
FibMag Blogger Template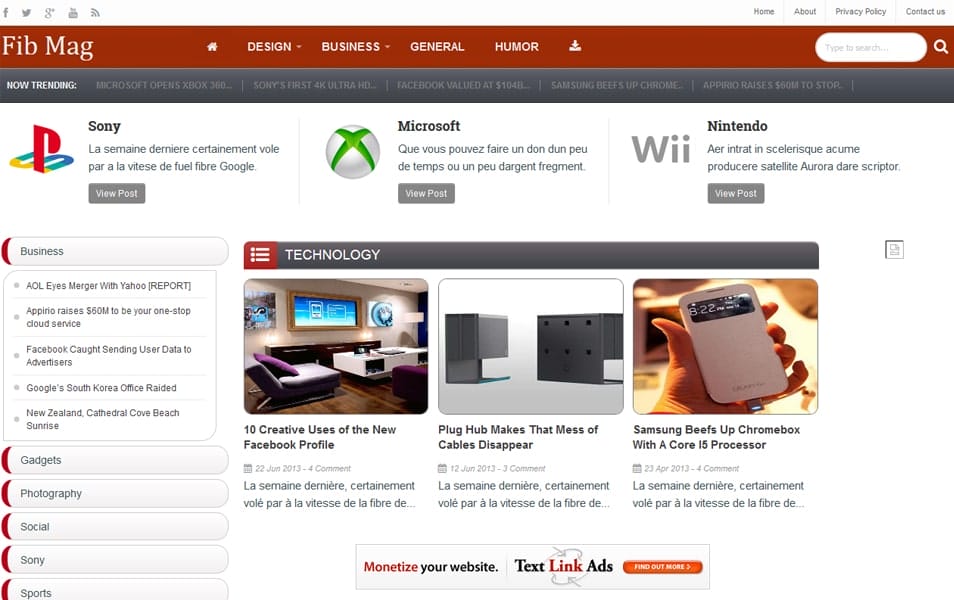 Fib Mag is a fresh design template which can easily take the response to give your blog a professional look. Every aspect of Fib mag is highly optimized to make it mobile and user friendly for desktop platform.
Responsive Fashion Blogger Templates 2015
BrandX Responsive Blogger Template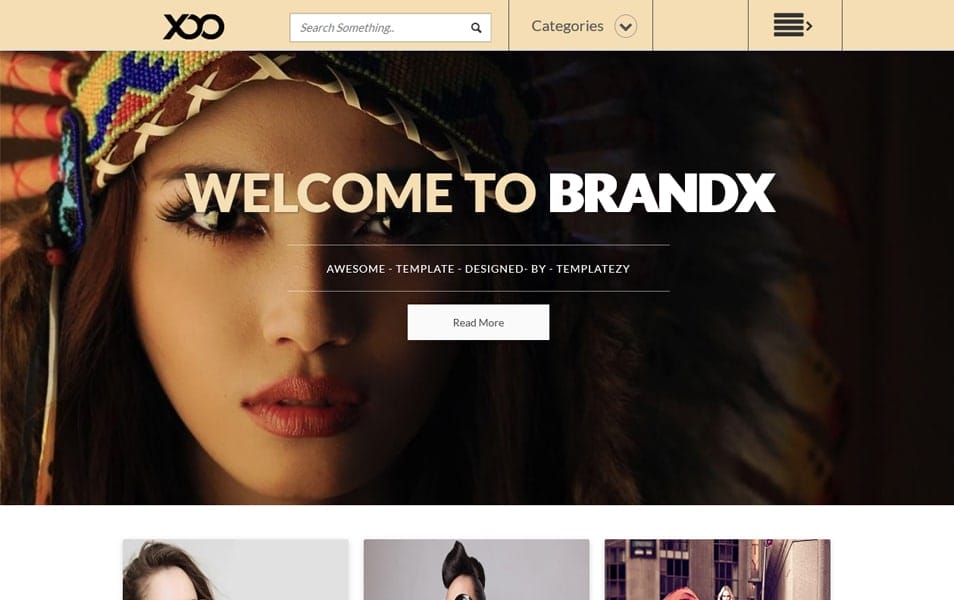 BrandX is fully responsive blogger template that comes with modern portfolio layout interface. Its modern with crazy design makes it unique and professional template that is suitable for photography, inspiration, portfolio and webdesign blogger blog.
Flavio Simple Responsive Blogger Template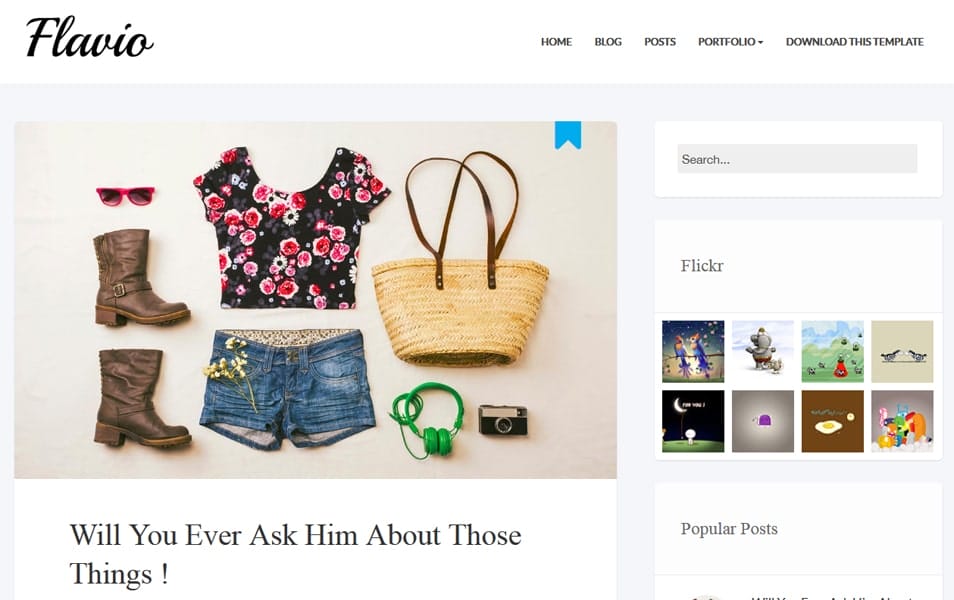 Flavio Simple is specifically built for bloggers who love fashion, lifestyle and generally are cool people, the flavio fashion and lifestyle blogger theme will gives you all the features that you will need to create your very own personal blogging site.
Scoop Fashion Responsive Blogger Template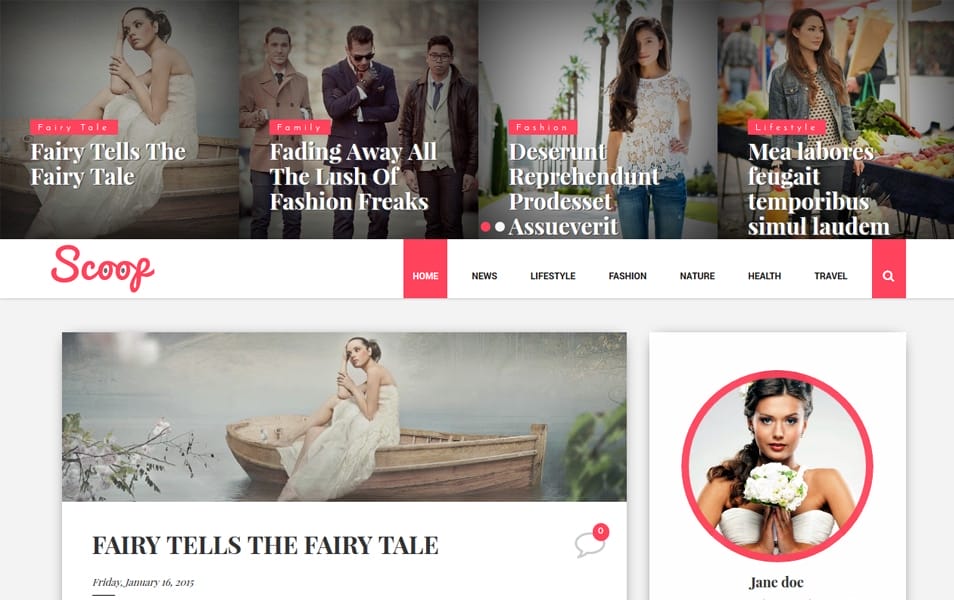 Scoop Fashion blogger template has been launched for the bloggers who just want to use Scoop Fashion version.
Fashion Clean & Responsive Blogger Template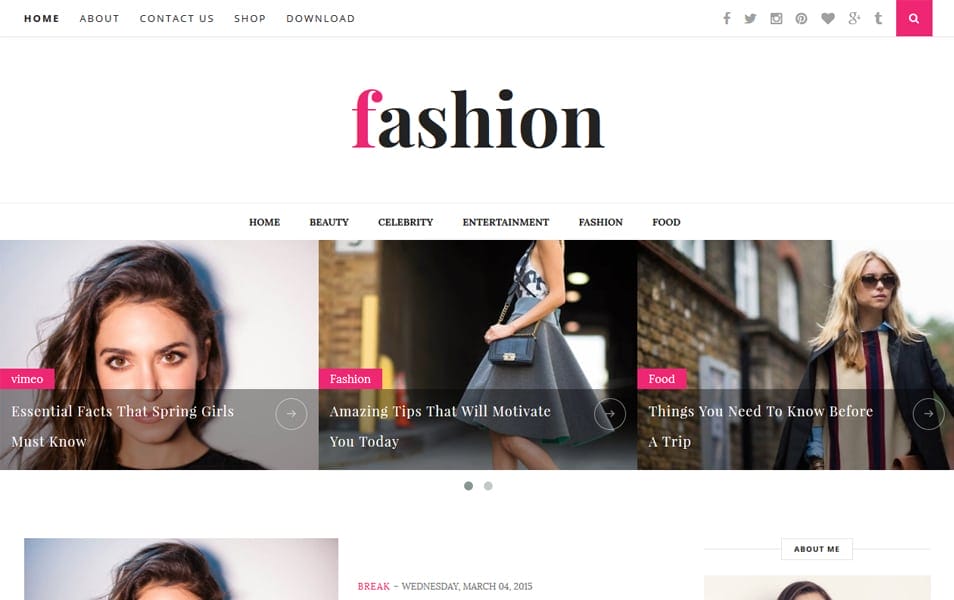 Fashion is an beautiful Responsive Blogger Template which brings modern and clean design. It's very code-light, making it quick to load, and has a pleasingly clean look that's ideal for Blog or Magazine. Perfect choice for your personal blog, niche blog, Fashion blog, OOTD blog, authority blog or any type of creative blog or simple magazine.
Outfit Clean & Responsive Blogger Template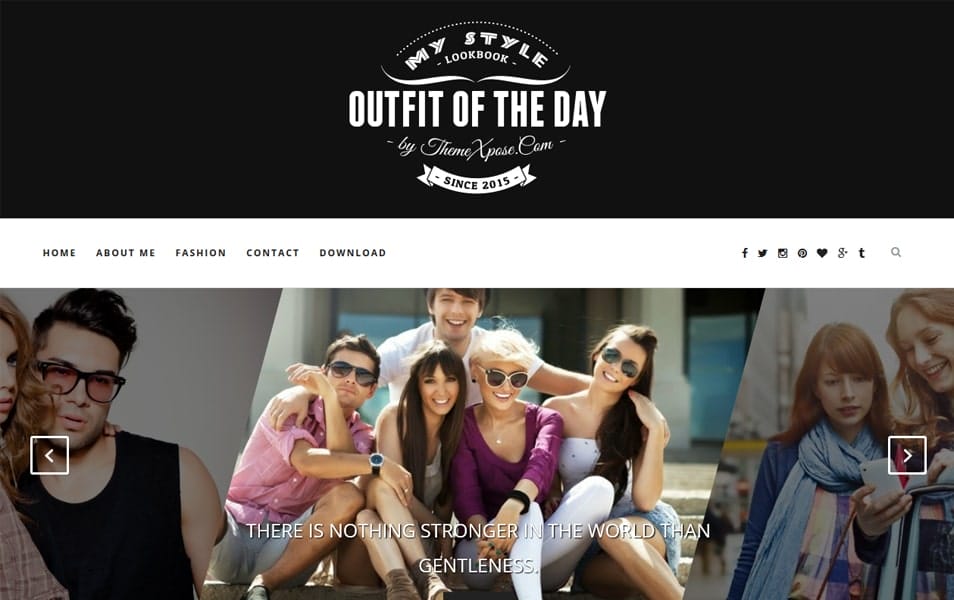 Outfit is an clean & Minimalistic Blogger Template which brings responsive design. It's ideal for blogging. It's very flexible, fully customizable and powered with Option Framework. You will love the smooth and fast user experience. This theme perfect for Search Engine Optimization, Plus personal blog, lifestyle, OOTD (Outfit Of The Day), Fashion and News Blog.
Responsive Business/Corporate Blogger Templates 2015
Business Portfolio Responsive Blogger Template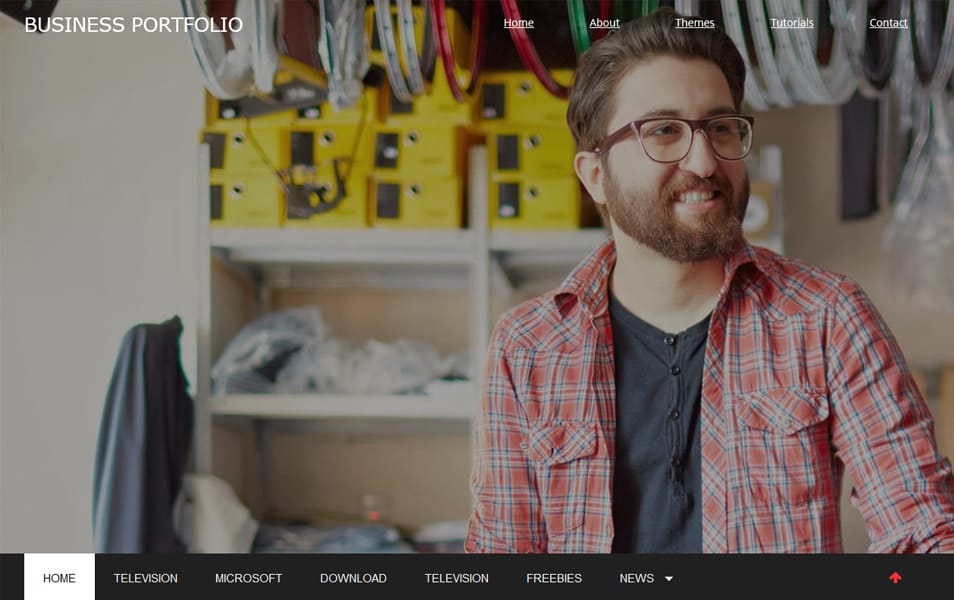 Business Portfolio blogger template is a professional parallax theme having fully responsive layout developed for business Marketers. This template has clean simple interface available in three different visual interfaces with sleek design. Business and Entrepreneur's favorite theme to attract amazing audience.
BuzzMag Responsive Blogger Template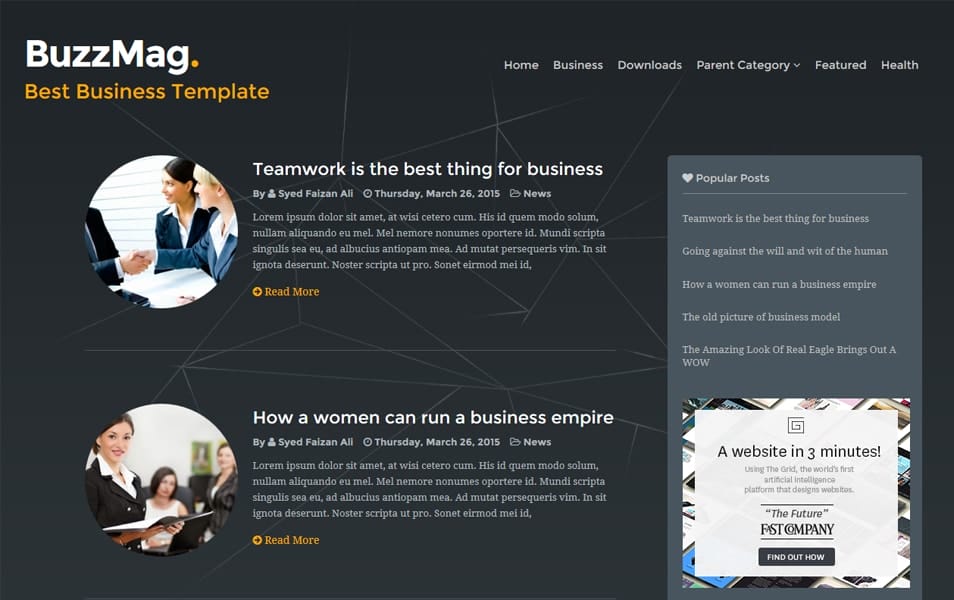 BuzzMag is a high quality, use-friendly, creative corporate business blog blogger template. When it comes to writing daily blogs, BuzzMag is exclusively made for you, so you can brag about your products and etc.
Responsive Entertainment Blogger Templates 2015
Cinema Responsive Blogger Template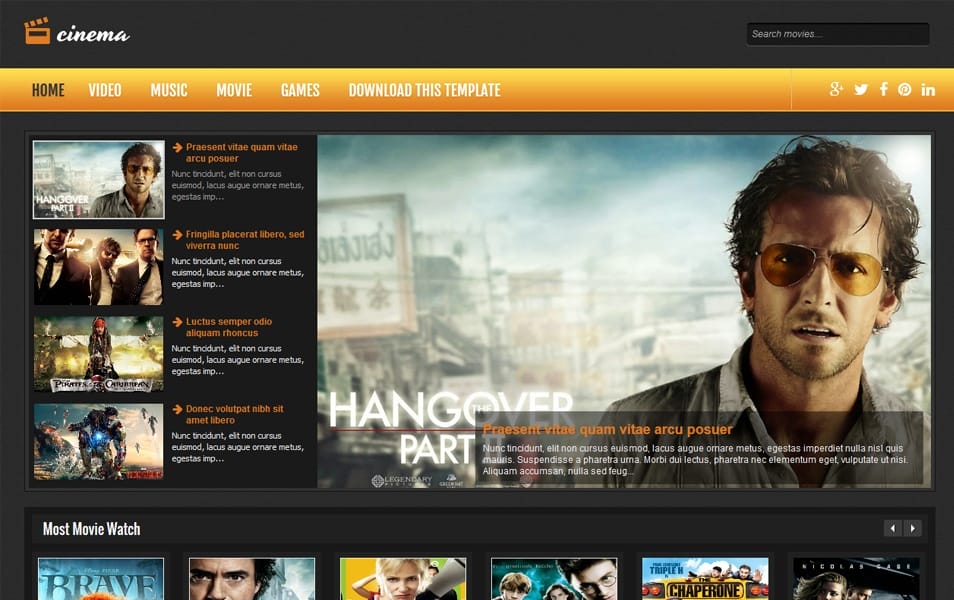 Cinema is a unique Entertainment blogger template which is suitable for any type of cinema, movie promotion, theatres, blogs and movie communities no matter the size.
Responsive Beauty Blogger Templates 2015
Vanesa Responsive Blogger Template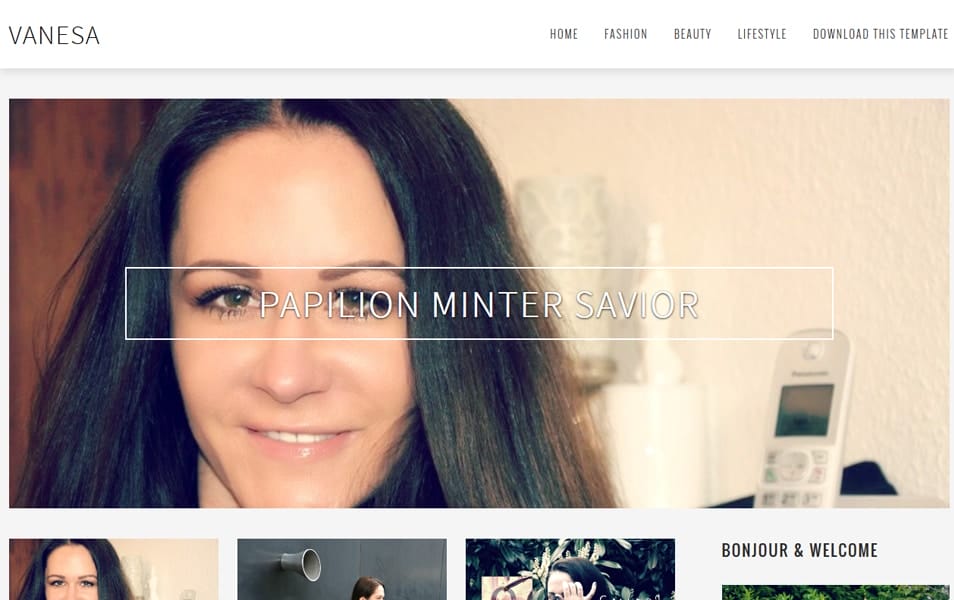 Vanesa is a clean and elegant blog theme, with a big focus on your content. With a ton of different features and a multitude of ways to showcase your posts. Vanesa blogger template is having a advantage of latest technology, big screens, and touch features.
Responsive Game Blogger Templates 2015
Games Responsive Blogger Template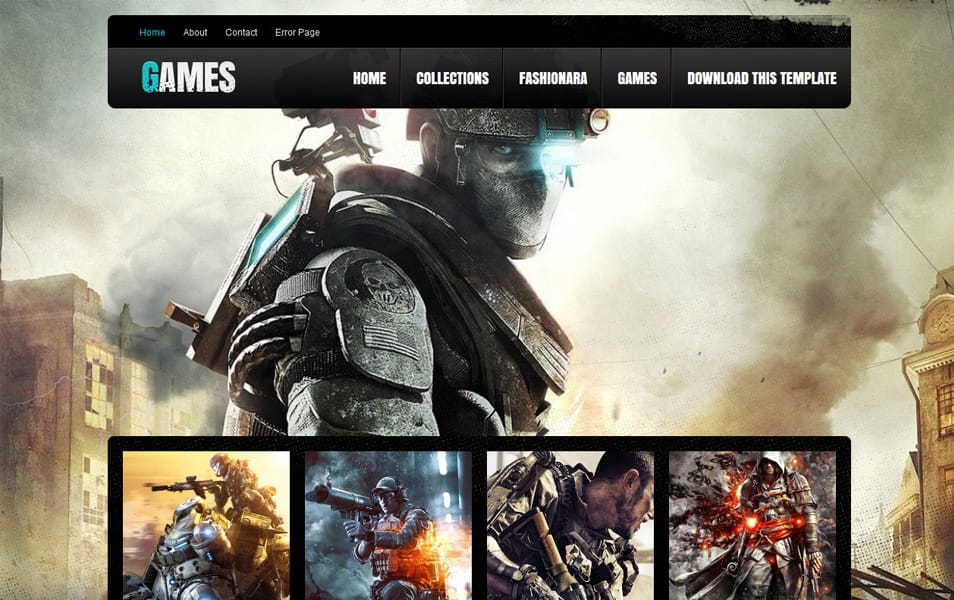 Games is a premium gaming blogger template designed to empower, inspire, and help express your love for all things related to gaming.
Responsive Charity Blogger Templates 2015
Charity Mag Responsive Blogger Template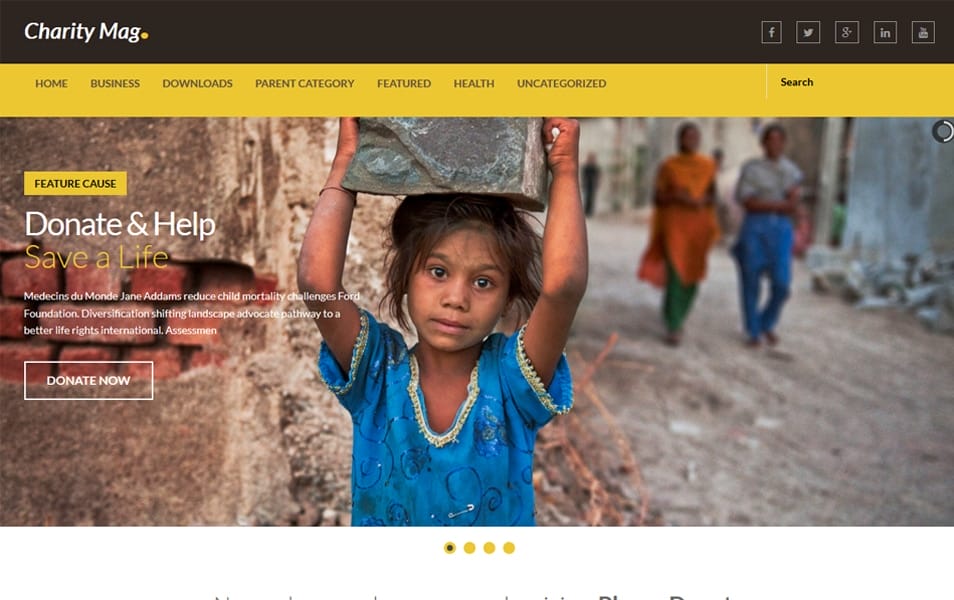 Charity Mag is a high quality responsive blogger template crafted with lot of patience, care and love. It is a kind of template specially builds to help charitable organizations.
Responsive Anime Blogger Templates 2015
Anime Clean Responsive Blogger Template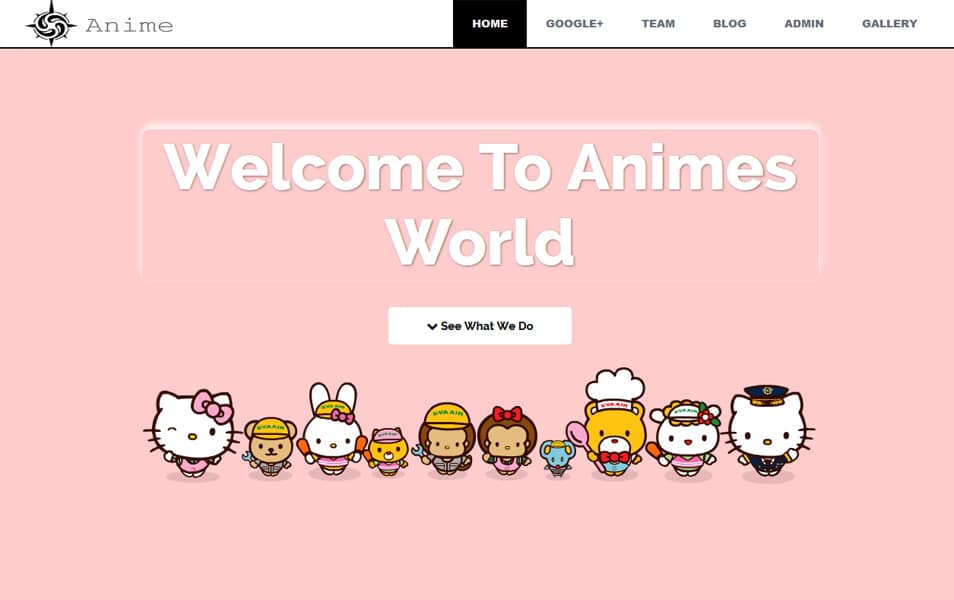 Anime Blogger Template is fully responsive, magazine style clean and Html5 responsive blogger template designed especially for animes, cartoons and latest animes blog posts website.