35 Best Responsive jQuery Slider Plugins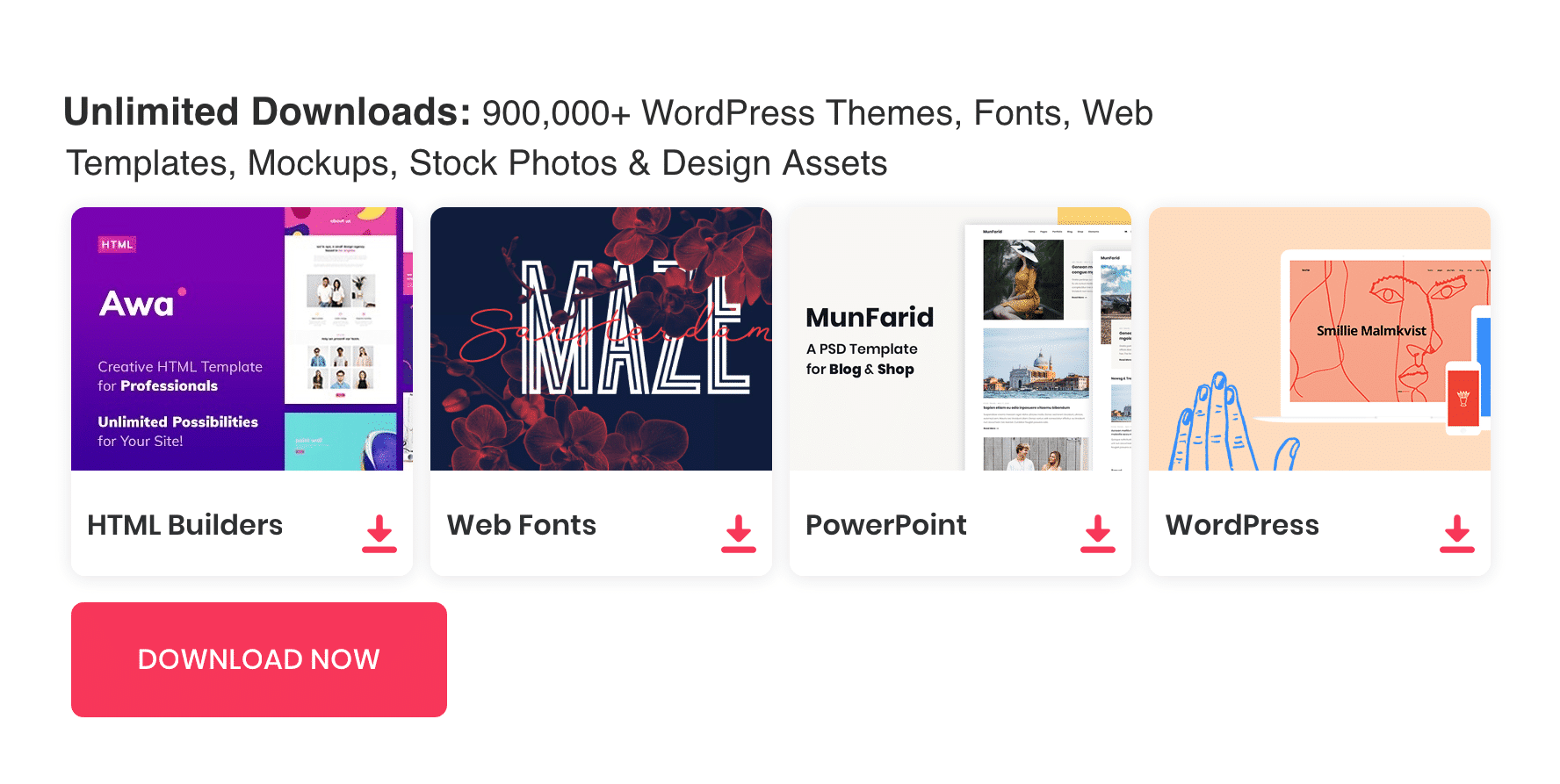 As the mobile computing continues to play a vital role in daily lives Responsive layout is becoming a hottest trend in web design recently. Creating a fully responsive website that only consists of text and basic images is easy enough, but what about "real world" websites which often times consist of image galleries and sliders? that why you must read this article, here we gathered best responsive image slider plugins that will help you create a beautiful responsive image slider with many awesome effects, transitions for your website.
LayerSlider – The Parallax Effect Slider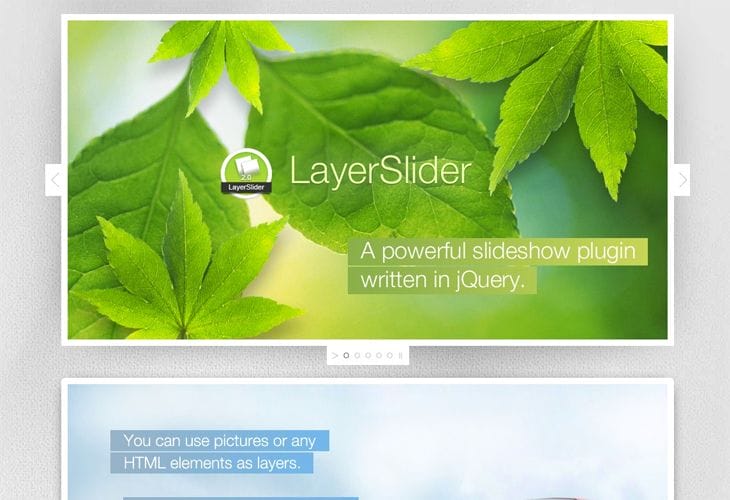 LayerSlider was the first parallax slider and we offer the most feature-rich plugin in this category. We didn't stop, we are continuing to improve our products with adding features based on your requests. The new version of LayerSlider WP is out now! We have added a really clever responsive mode which works with images, text or videos, even the yourLogo feature works with it. And there are many other new features and improvements! We hope that you will like it as much as we do.
Blueberry – Simple, fluid and responsive jquery image slider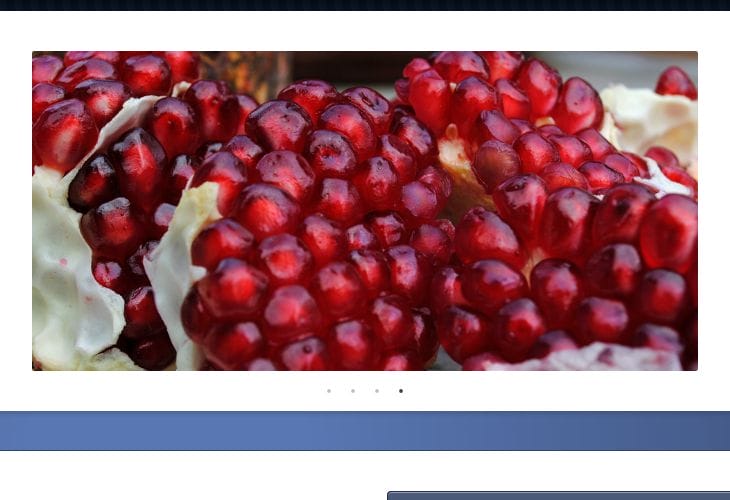 Blueberry is an experimental opensource jQuery image slider plugin which has been written specifically to work with fluid/responsive web layouts.
jQuery Banner Rotator / Content Slider / Carousel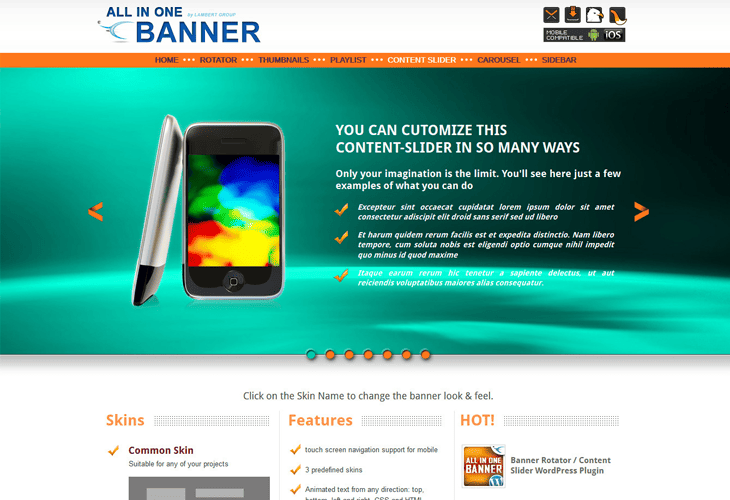 All In One is an Advanced Jquery Slider which comes in 5 flavors: Banner Rotator, Thumbnails Banner, Banner with Playlist, Content Slider, Carousel. It allows you to easily create powerful sliders with animated text using HTML standard tags, making the slider very easy to setup and maintain.
FlexSlider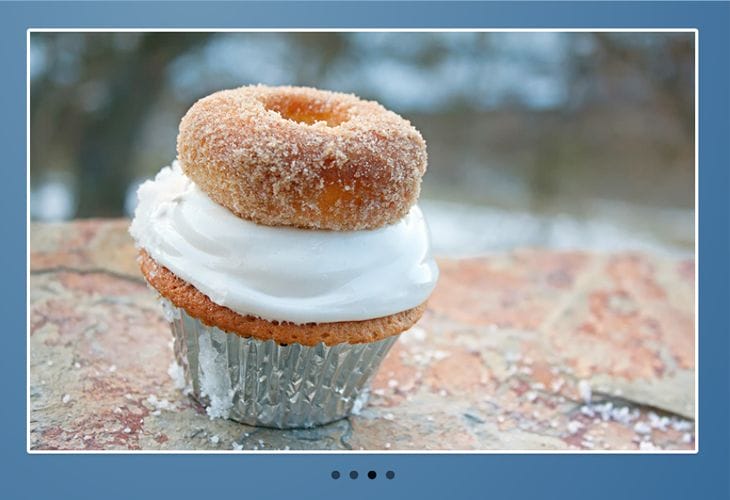 FlexSlider was built to serve up the best responsive jQuery slider around. I had built a few implementations of responsive sliders on different client projects and noticed that there was a glaring hole for plugin support with the concept.
Wow Slider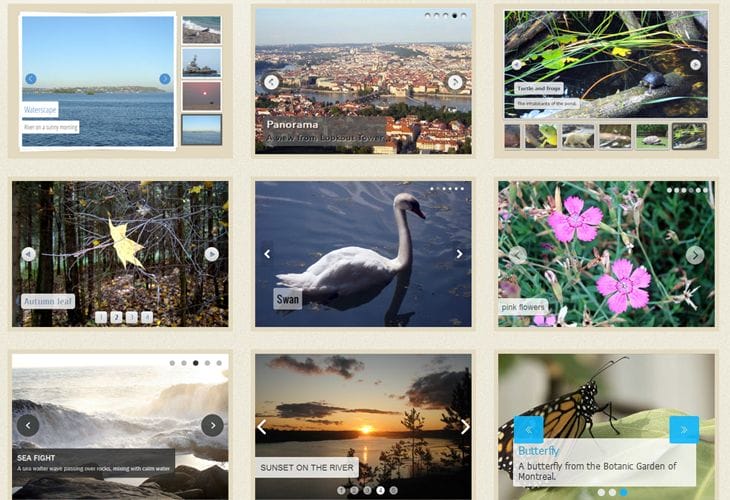 The most strong and popular web design trend over last couple of years is a sliding horizontal panels also known as Sliders or Carousels. It's a very effective method to increase the web site usability and engage the user.
Slider Revolution Responsive jQuery Plugin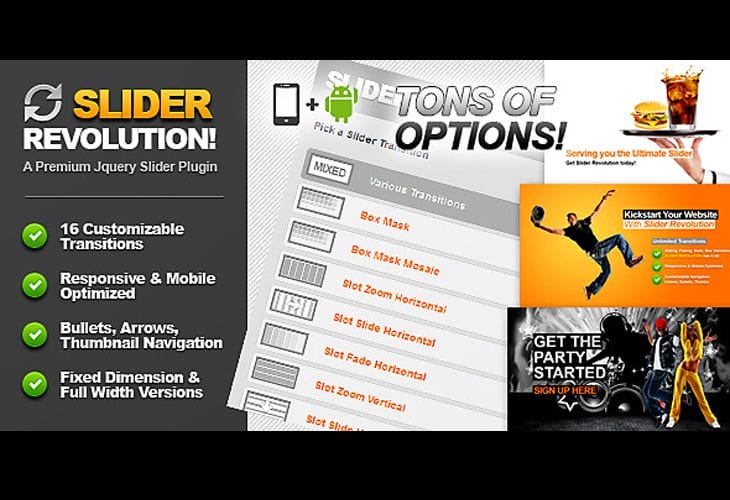 Turn simple HTML markup into a responsive(mobile friendly) or fullwidth slider with must-see-effects and meanwhile keep or build your SEO optimization (all content always readable for search engines). See the heaps of custom transitions/animations for each object on the page! Customize this slider with just a little HTML and CSS to your very needs.
jQuery OneByOne Slider Plugin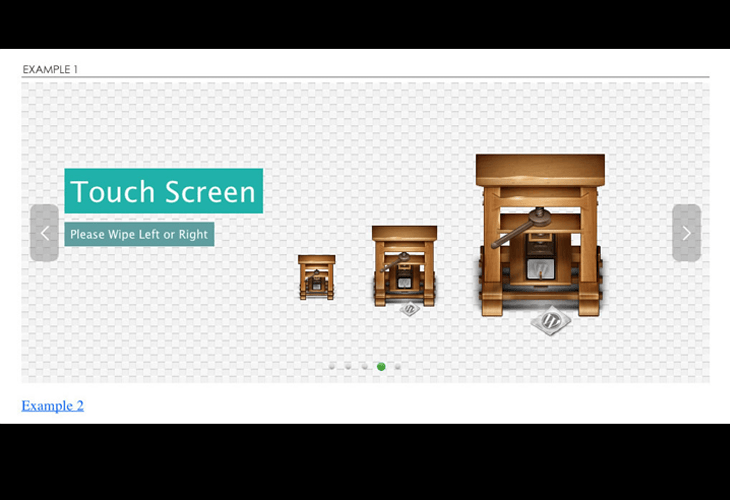 The OneByOne Slider is a lightweight, responsive & layered jQuery plugin you can use to display your image and text one by one.
Translucent – Responsive Banner Rotator / Slider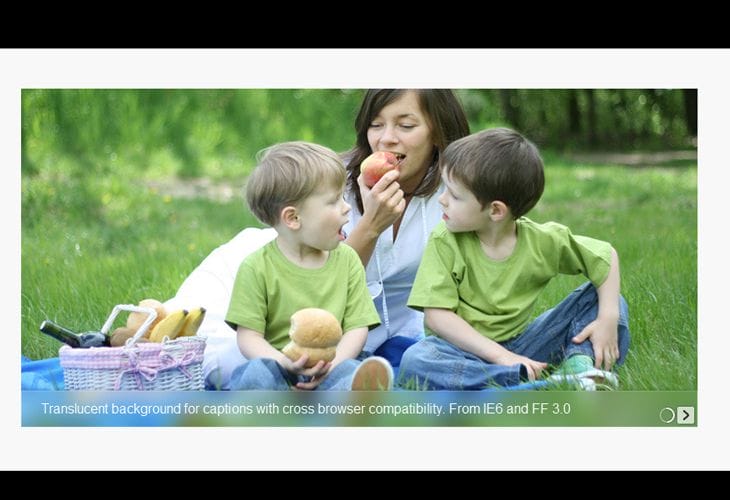 This is a jQuery Banner Rotator / Slideshow with translucent background set for caption. Supports Responsive and fluid layouts. Supports touch swipe navigation on iPad and Android tablets. 8 example variations included with source package. Around 55 plugin settings included for deeper customization. The captions can be customized by both plugin settings as well as CSS.
Saloon – The jQuery Banner Rotator Plugin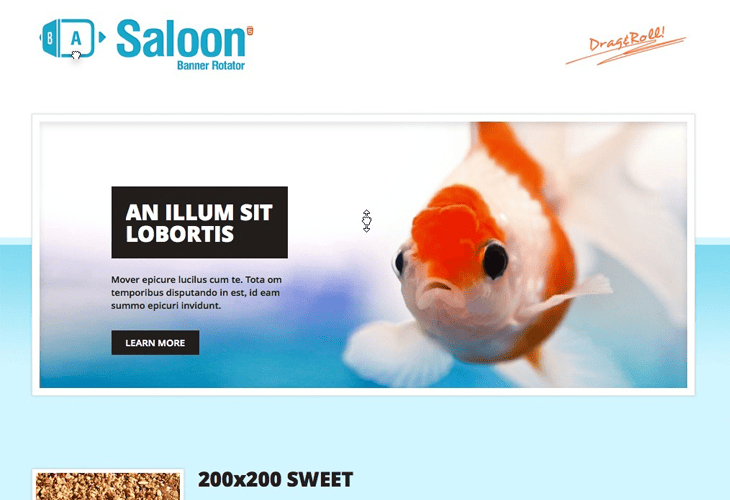 Saloon – The jQuery Banner Rotator animates your image and text slides with transition effects of the wide library. Easy installation, state-of-the-art transitions and text animations define the freshline style.
CCSlider – jQuery 3d Slideshow Plugin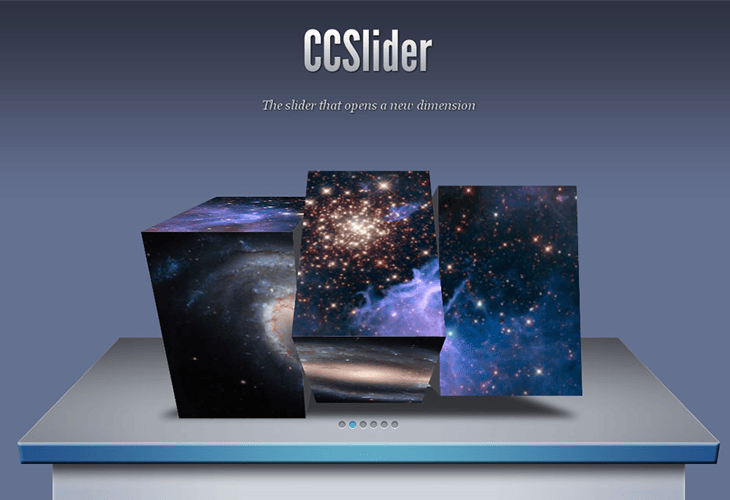 CCSlider is an unique jQuery slideshow plugin. It supports 3d transitions! There are 14 stunning 3d transitions available, and also 16 stylish 2d transitions.
RoyalSlider – Touch-Enabled jQuery Image Gallery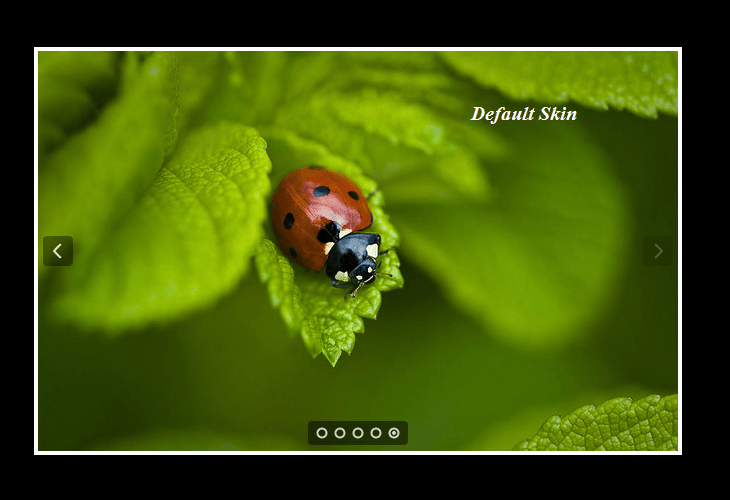 RoyalSlider is easy to use jQuery image gallery and content slider plugin with animated captions, responsive layout and touch support for mobile devices. As navigation you can use thumbnails, tabs or bullets. Use it as image slider, slideshow, HTML content slider, gallery, banner rotator, video gallery, carousel or even presentation. Developed in best practises of HTML5 , CSS3 transitions are used for all animations.
Factory Galleries jQuery Plugin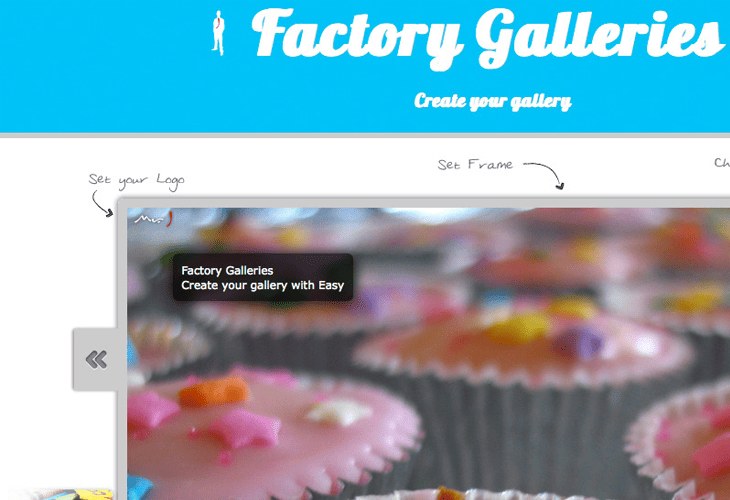 jQuery Banner Rotator / Slideshow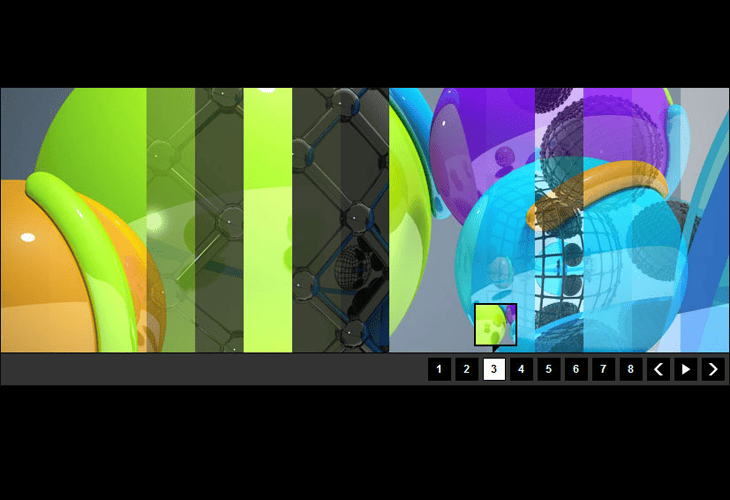 This is a jQuery banner rotator plugin featuring multiple transitions. The thumbnails and buttons allow for easy navigation of your banners/ads. The banner rotator is also re-sizable and configurable through the plugin's parameters.
Thumbnails Navigation Gallery with jQuery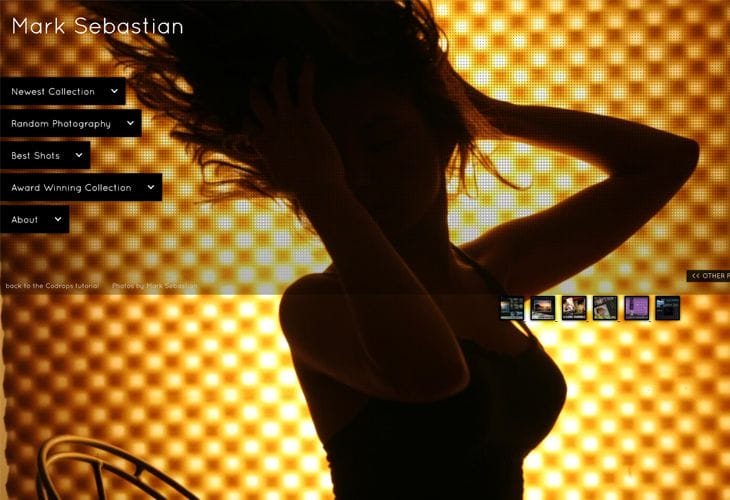 Thumbnails Navigation Gallery with jQuery – extraordinary gallery with scrollable thumbnails that slide out from a navigation. We are going to use jQuery and some CSS3 properties for the style. The main idea is to have a menu of albums where each item will reveal a horizontal bar with thumbnails when clicked. The thumbnails container will scroll automatically when the user moves the mouse to the left or right.
SlidesJS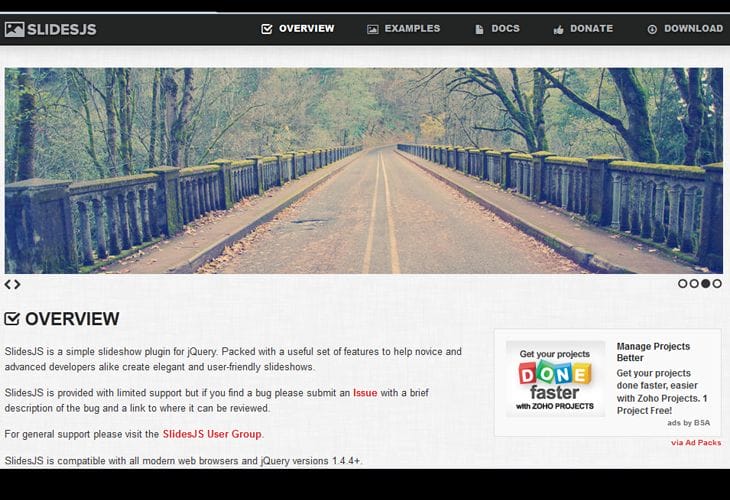 SlidesJS is a simple slideshow plugin for jQuery. Packed with a useful set of features to help novice and advanced developers alike create elegant and user-friendly slideshows.
Elastislide – A Responsive jQuery Carousel Plugin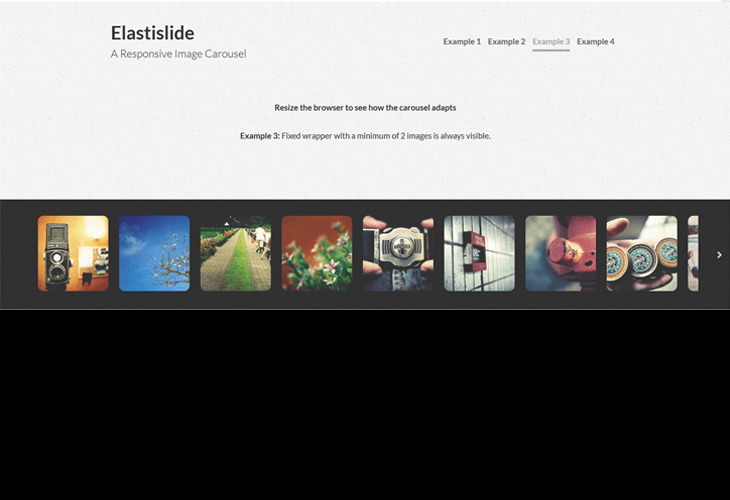 Elastislide is a responsive image carousel that will adapt fluidly in a layout. It is a jQuery plugin that can be laid out horizontally or vertically with a pre-defined minimum number of shown images.
Learning jQuery: Revealing Photo Slider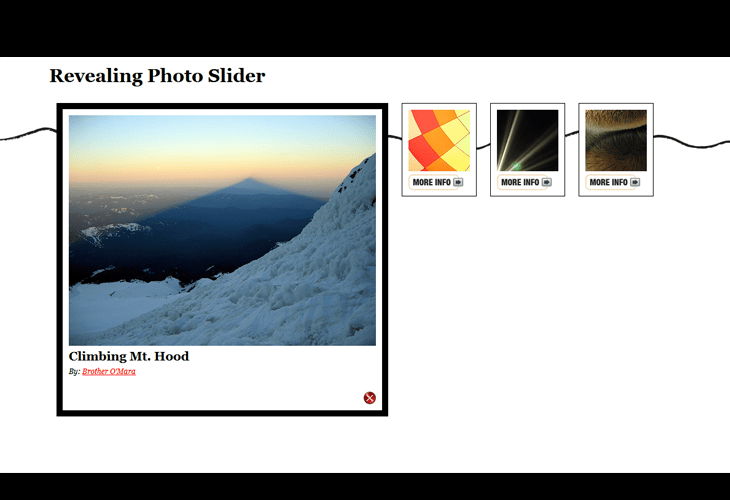 So in my journey to to learn jQuery, I'm trying to learn to do some things that CSS can already do but that jQuery can do "sexier". Jonathan Snook has an article up "Content Overlay with CSS" in which extra content is revealed in a certain area when it is moused over. This inspired me to try to do something similar with jQuery. My first thought was a thumbnail photo gallery, where clicking a button would reveal the entire photo and more information about that photo.
Elastic Image Slideshow with Thumbnail Preview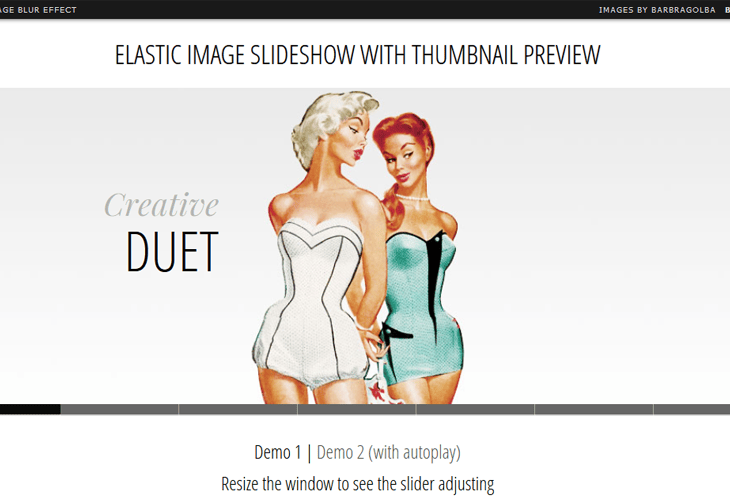 The slideshow will adjust automatically to its surrounding container and we can navigate through the slides by using the thumbnail previewer or the autoplay slideshow option.
jQuery Grid Style Slider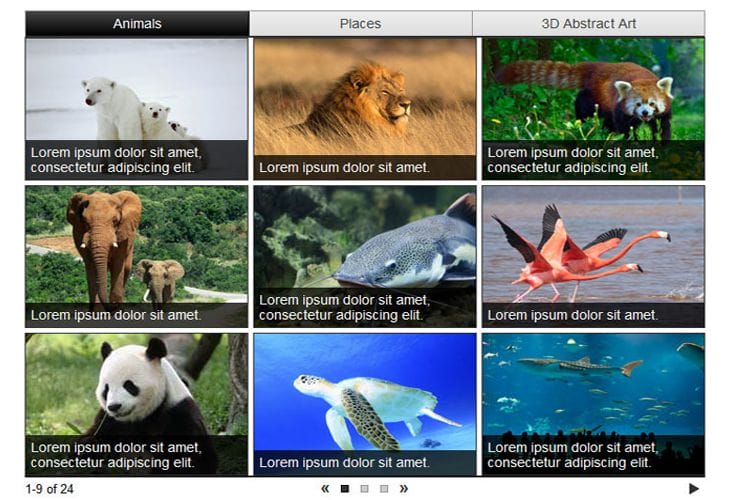 This is a jQuery grid slider with support for multiple categories, expandable html content, and lightbox. The slider is fully configurable and resizable through the plugin's parameters and stylesheet.
Responsive Image Gallery with Thumbnail Carousel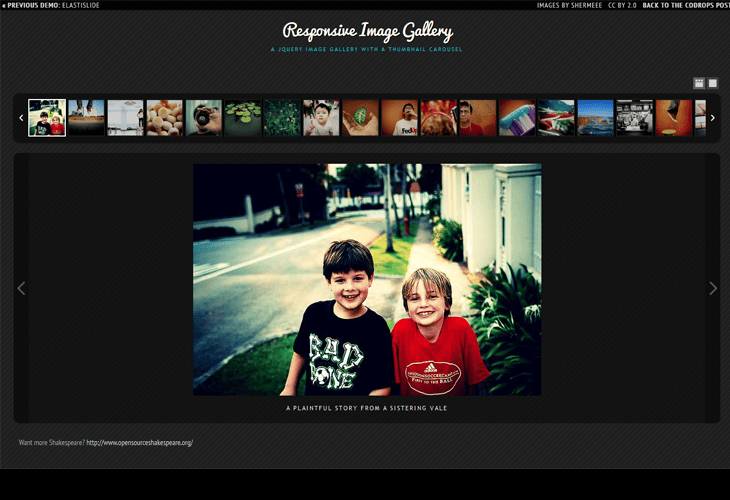 A responsive image gallery with a thumbnail carousel using Elastislide. Inspired by Twitter's "user gallery" and upon a request to show an integration of Elastislide, we want to implement a responsive gallery that adapts to the view-port width. The gallery will have a view switch that allows to view it with the thumbnail carousel or without. We'll also add the possibility to navigate with the keyboard.
An HTML5 Slideshow w/ Canvas & jQuery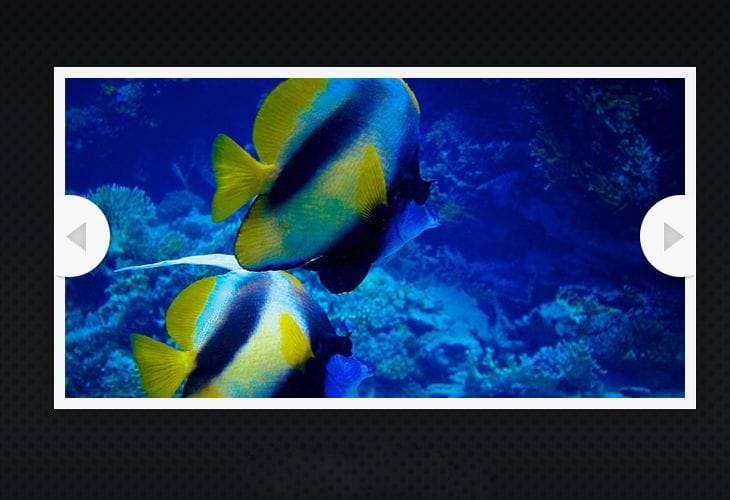 You've probably heard a lot about the new HTML5 canvas element. As the name implies, this is a special element that allows us to create and modify graphics. In addition, we can also use it like any other element on the page – apply jQuery animations on it, listen for events and integrate it deeply into our layouts.
ResponsiveSlides.js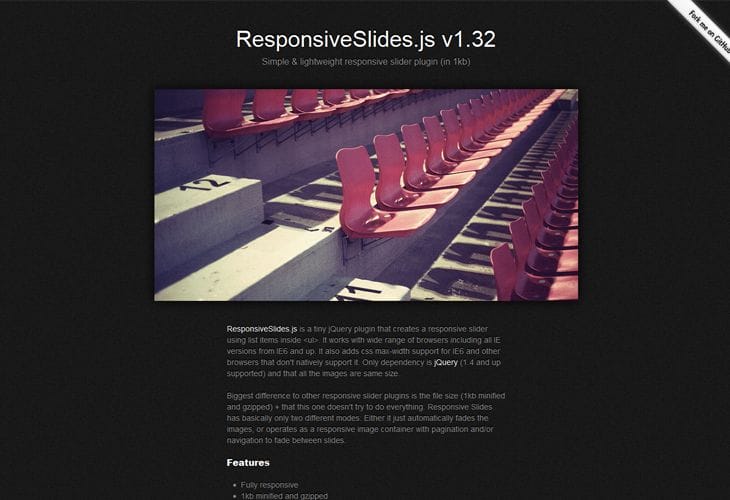 ResponsiveSlides.js is a tiny jQuery plugin that creates a responsive slider using list items inside <ul>.
SIDEWAYS – jQuery fullscreen image gallery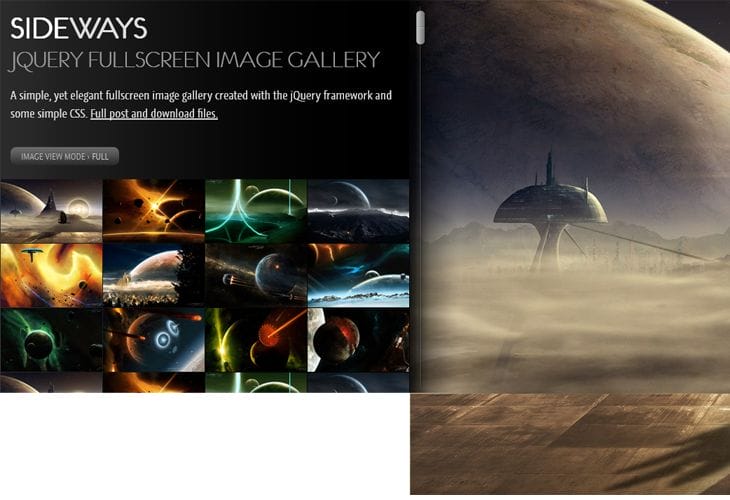 A simple, yet elegant fullscreen image gallery created with the jQuery library and CSS. The gallery features fullscreen images in various modes and custom scrollbars.
Seamless Responsive Photo Grid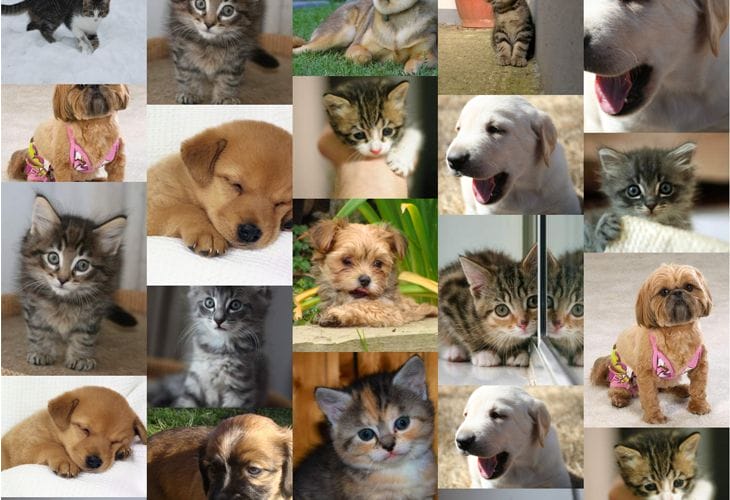 Let's say you have a bunch of images you want to display, and the goal is to get them edge-to-edge on the browser window with no gaps. Just because you think that would be cool. They are of all different sizes. You don't care if they are resized, but they should maintain their aspect ratio.
Sexy Slider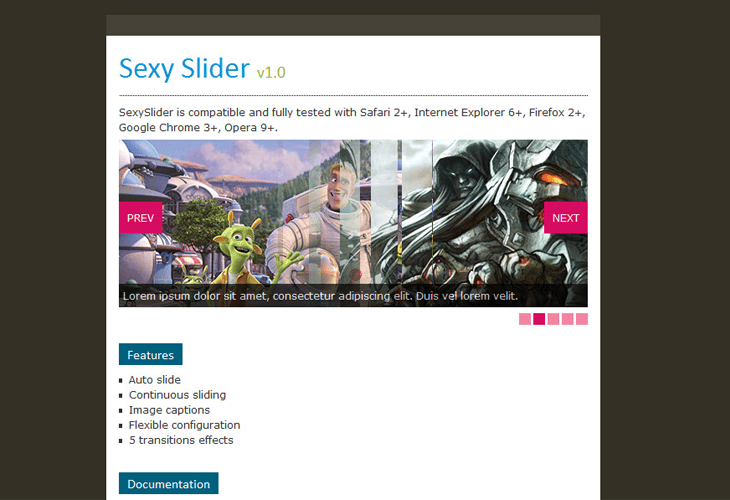 SexySlider is a JQuery plugin that lets you easily create powerful javascript Sliders with very nice transition effects. Enhance your website by adding a unique and attractive slider!
jQuery Slider Evolution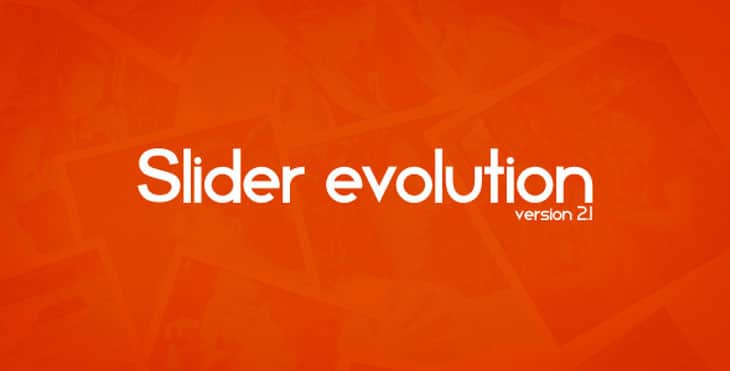 Slider Evolution is a JQuery plugin that lets you easily create powerful javascript sliders with very nice transition effects. Enhance your website by adding a unique and attractive slider!
TouchCarousel – jQuery Content Scroller and Slider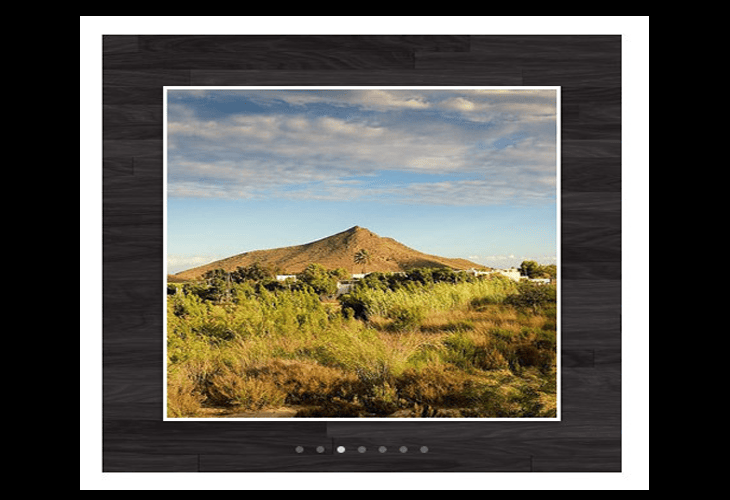 TouchCarousel is mobile-friendly and lightweight jQuery content scroller with touch navigation for mobile and desktop. May be used as carousel, banner rotator and image gallery.