200+ Latest Free UI Kit PSD Collection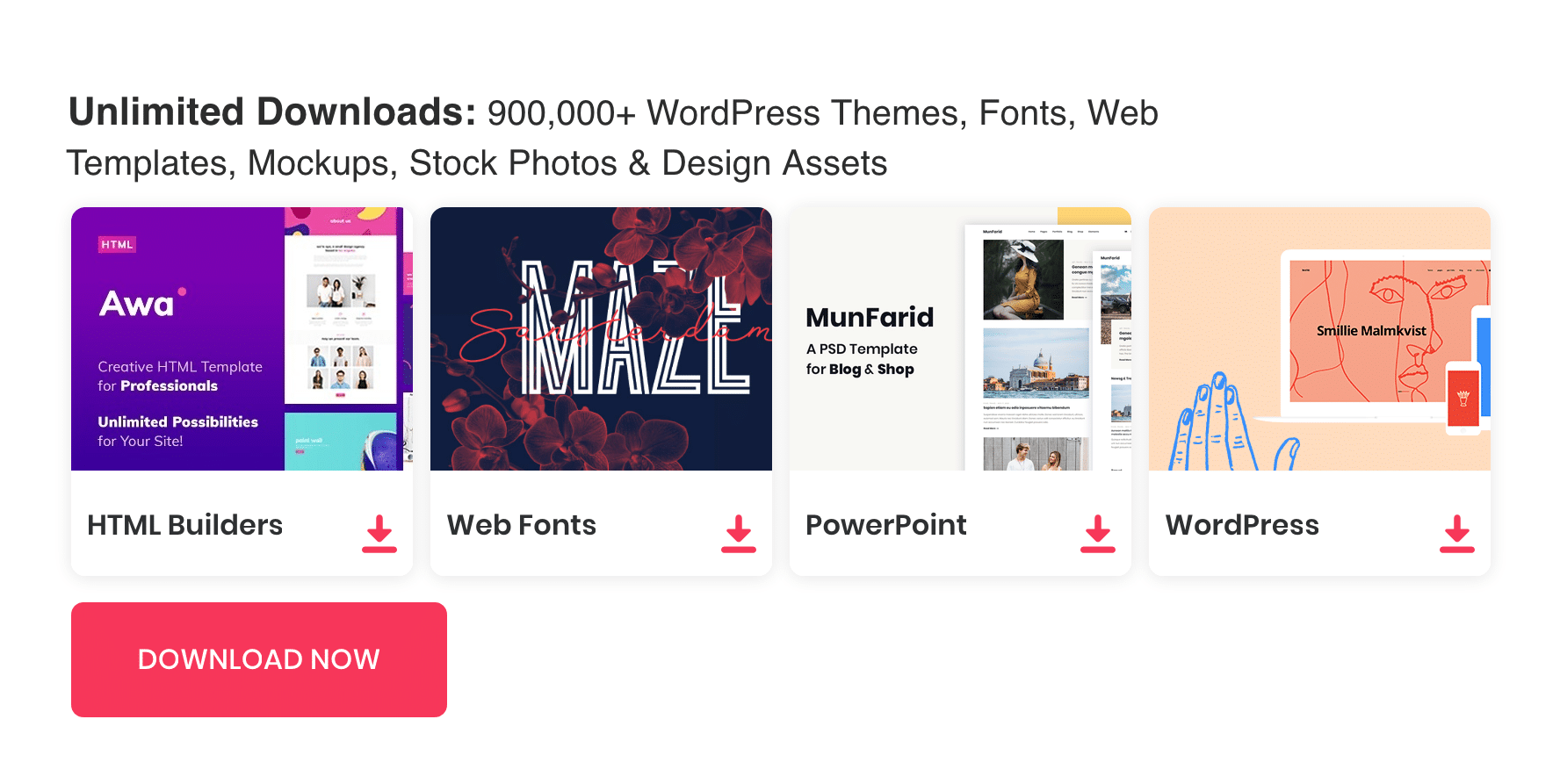 UI Kits are very useful because they can save a lot of time during development especially for Developers. This post is a round up of 50+ Latest Free UI Kit PSD Collection, you can find the best user interface design kits from various designers around the world. User interface is a very important factor where a user has role to do some action. User interface enables the interaction between the user and a device. A good UI can make the communication easy as possible. What is a good user interface ? Well there are some factors to consider From a designer Perspective.
The clarity of a user interface design.
Strong visual hierarchies.
Color of user interface design.
Typography of user interface design.
Highlight important elements.
Contrast
Overall look and feel.
Consider the above list if you are a UI Design , it might improve your design. I don't want to move away from our topic, user interface designs are used to design mobile application , web application, softwares.. . These Free UI kits contain various items of User interface elements as Dropdown menus , Call to action Buttons, progress bars, form elements, pagination styles .. Designing a UI is a tough and time consuming task, These UI kit contains many elements you don't need to waste time to create new user interface elements. The Latest Free UI Kits PSD listed below are fresh, professionals and latest trend followers, this way you can make sure that your User interface designs are up-to-date . Please be sure to read their license and terms before you use it for your project.
See also :Latest Free UI Kits From 2015
Free Real Estate/Booking UI Kit PSD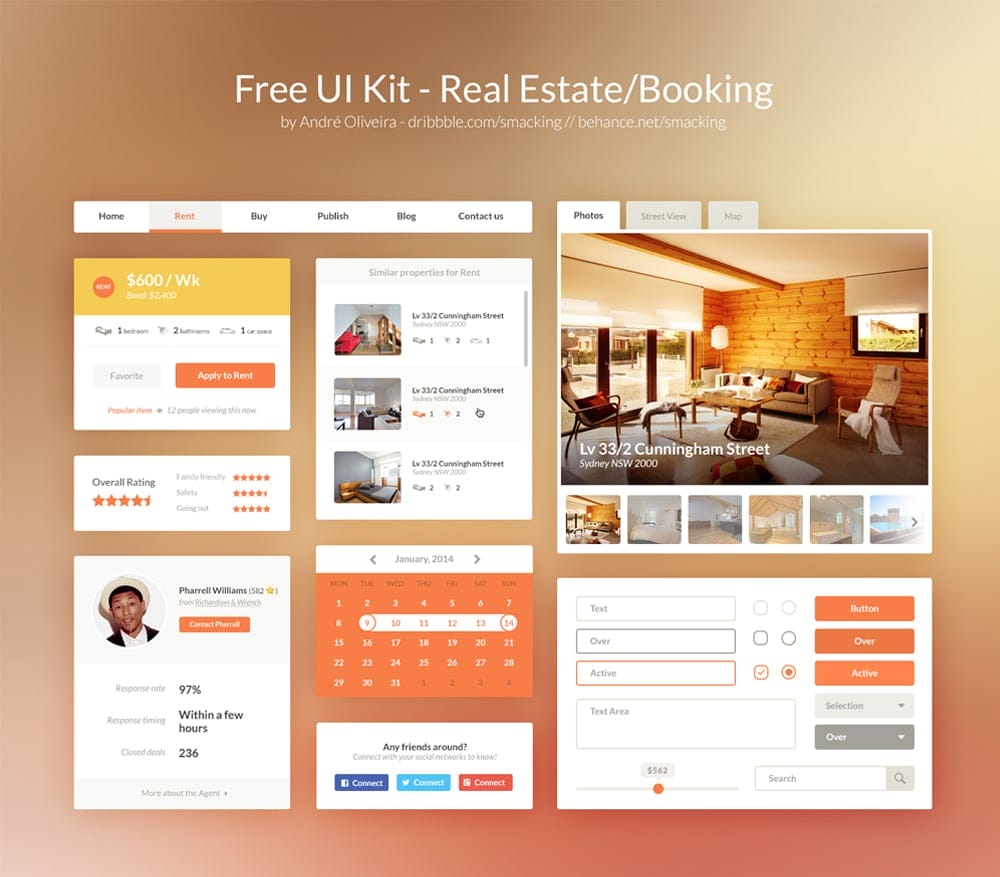 Snow Flakes Free UI Kit PSD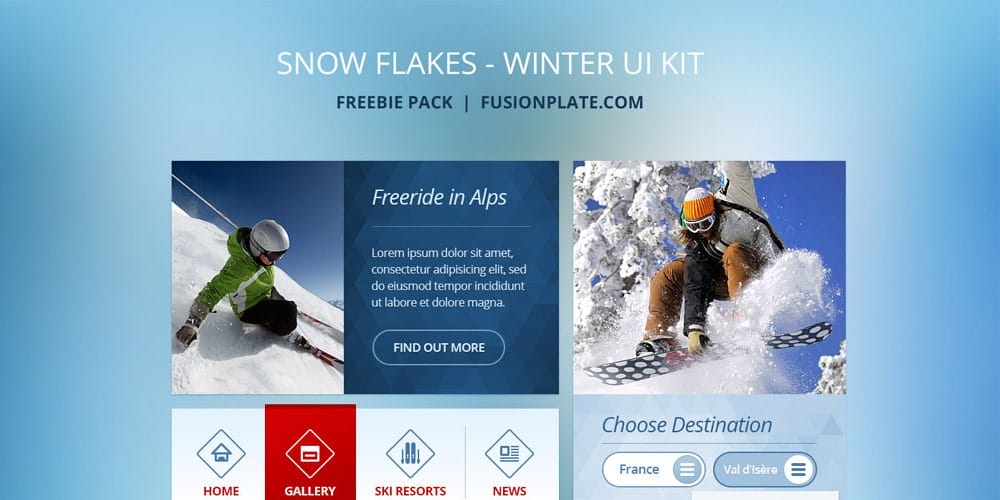 Flatty UI Kit

Free Material UI kit PSD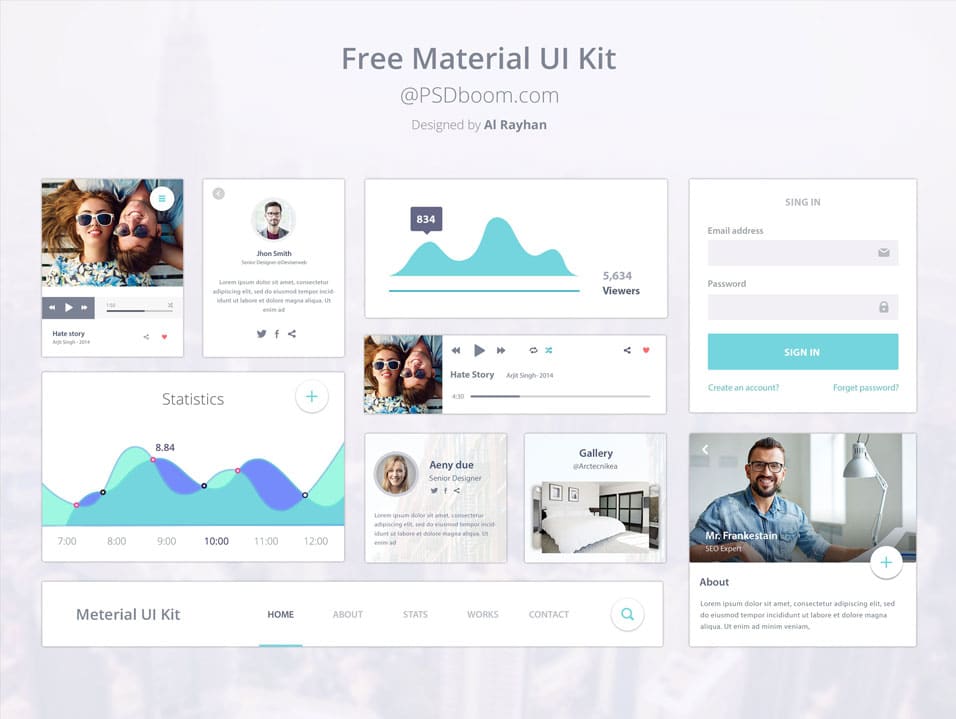 Material Design UI Kit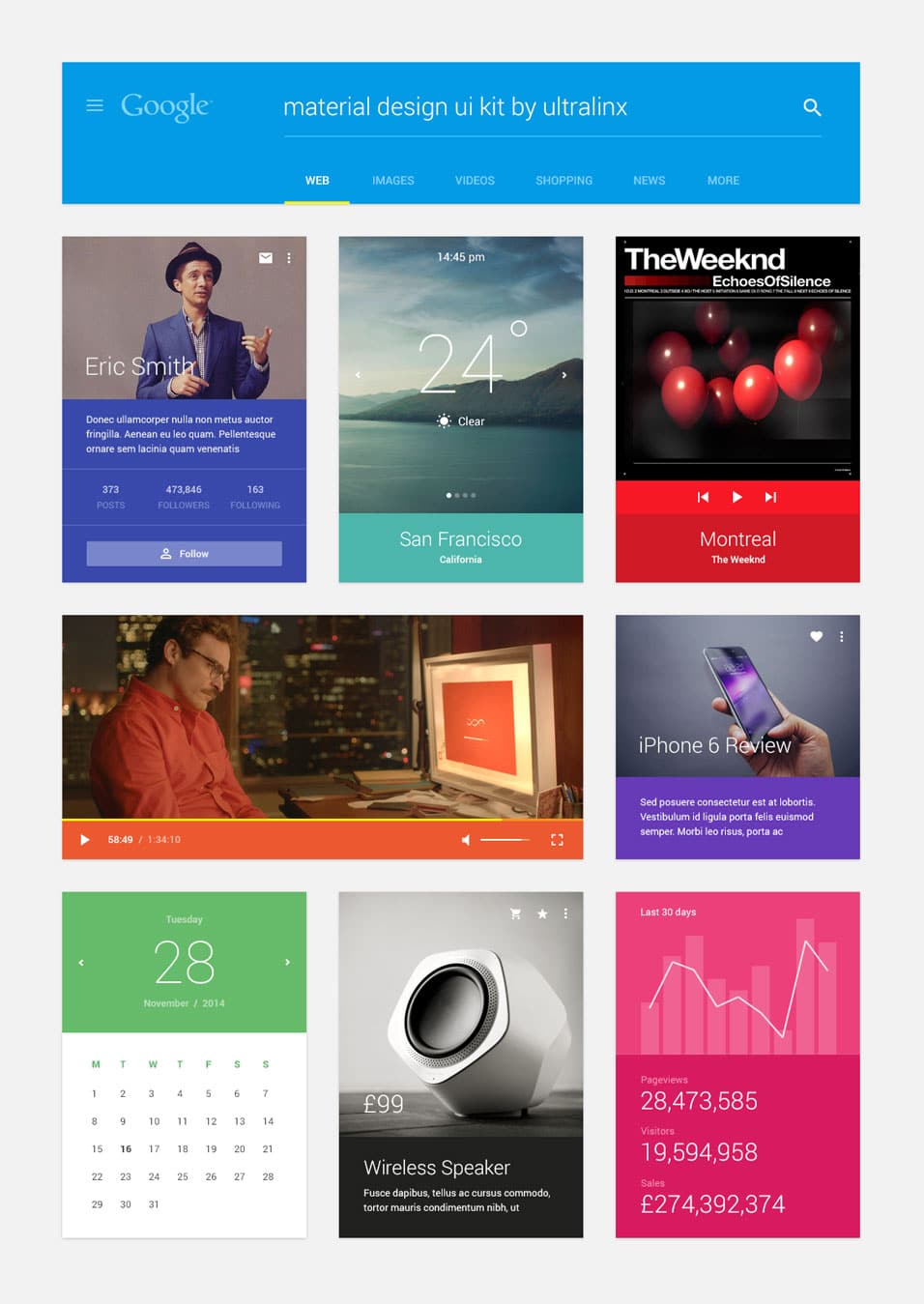 Free UI Kit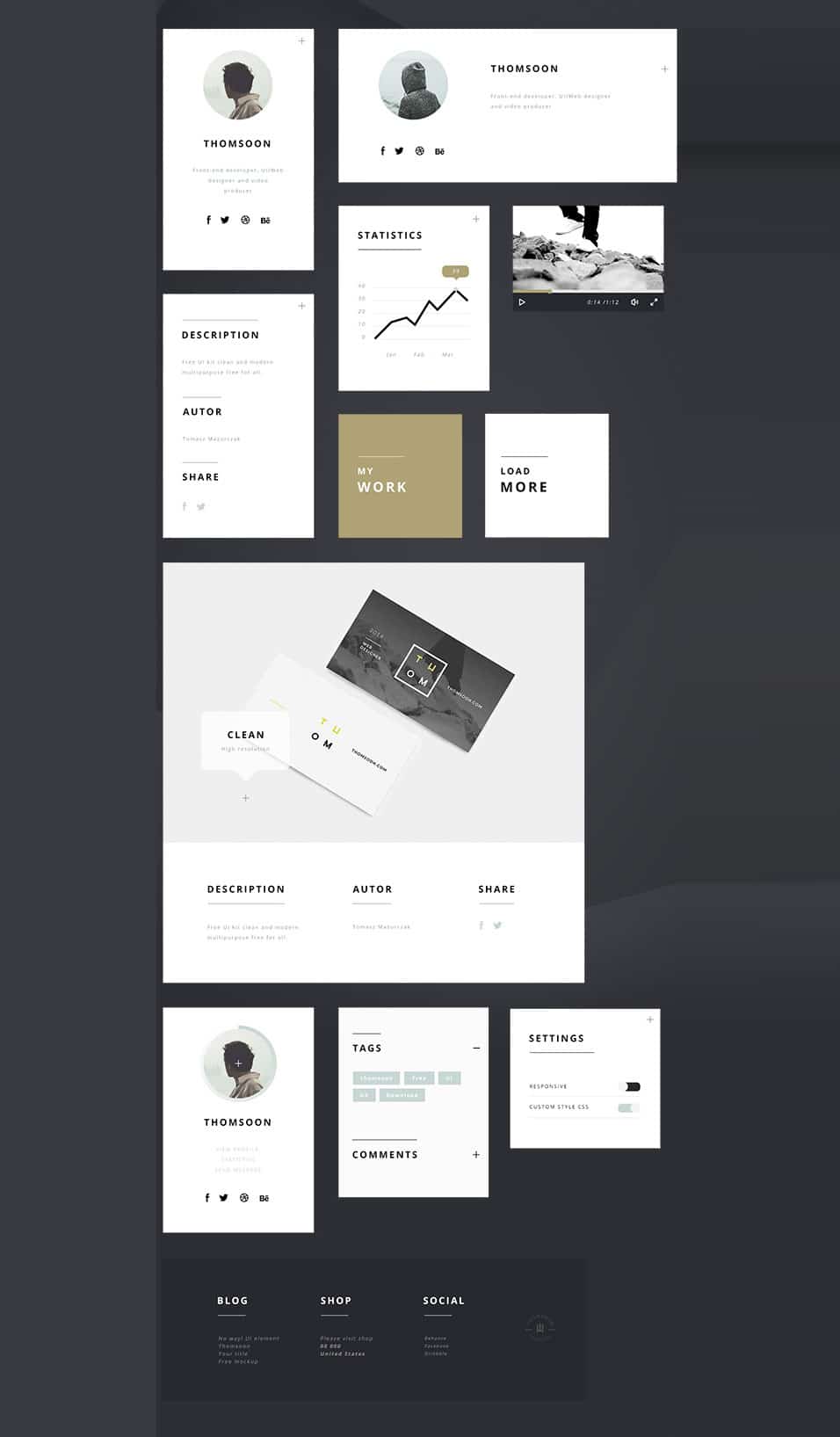 Flat UI Kit PSD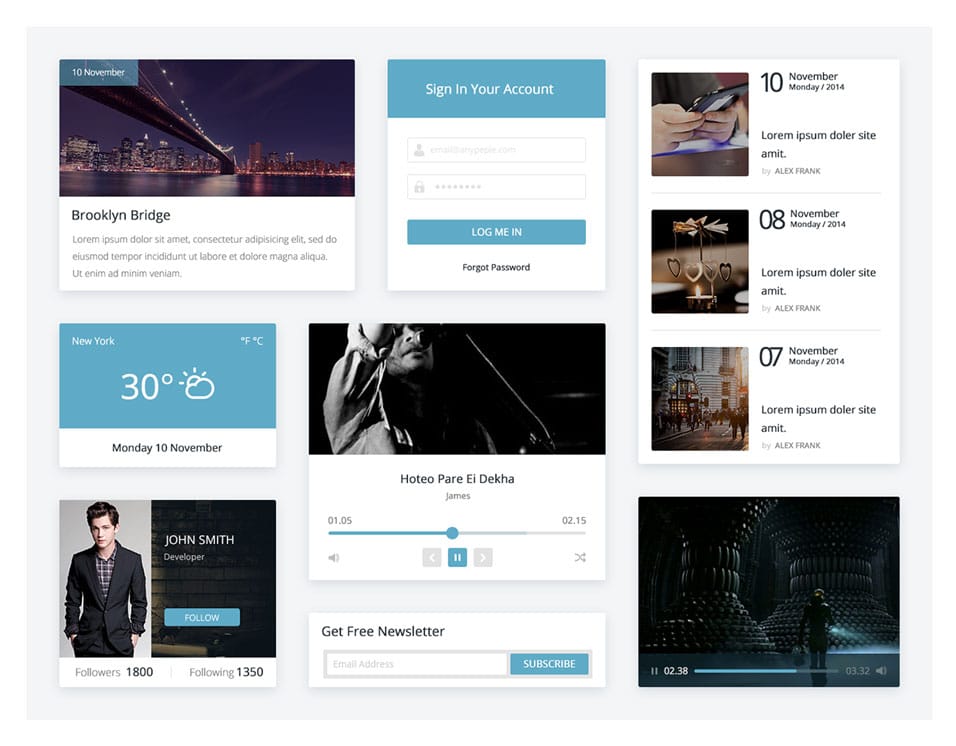 Shapes UI Kit Free PSD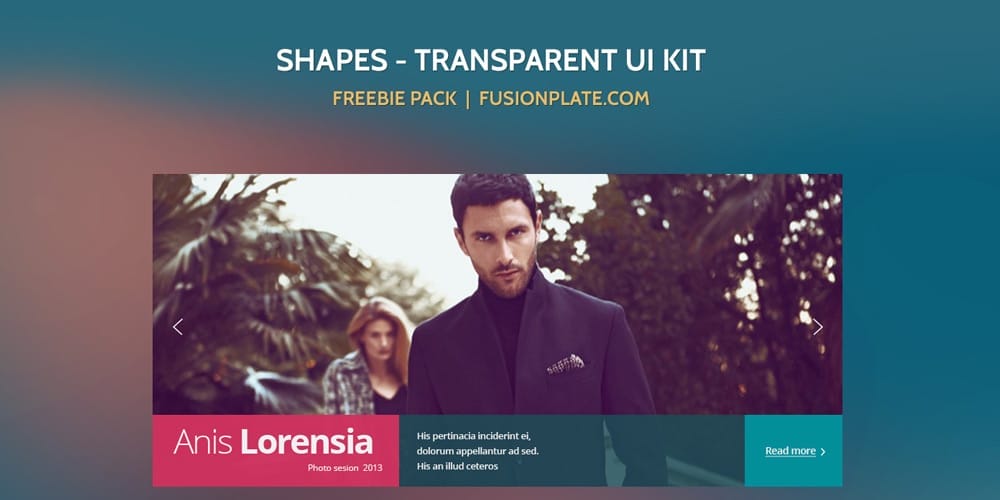 Free Flat UI Kit PSD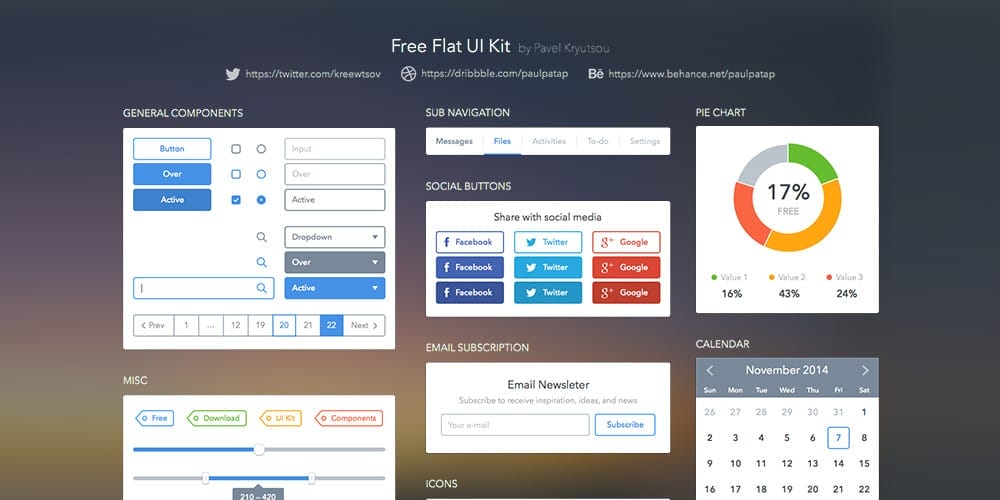 Publica UI Kit (AI, PSD)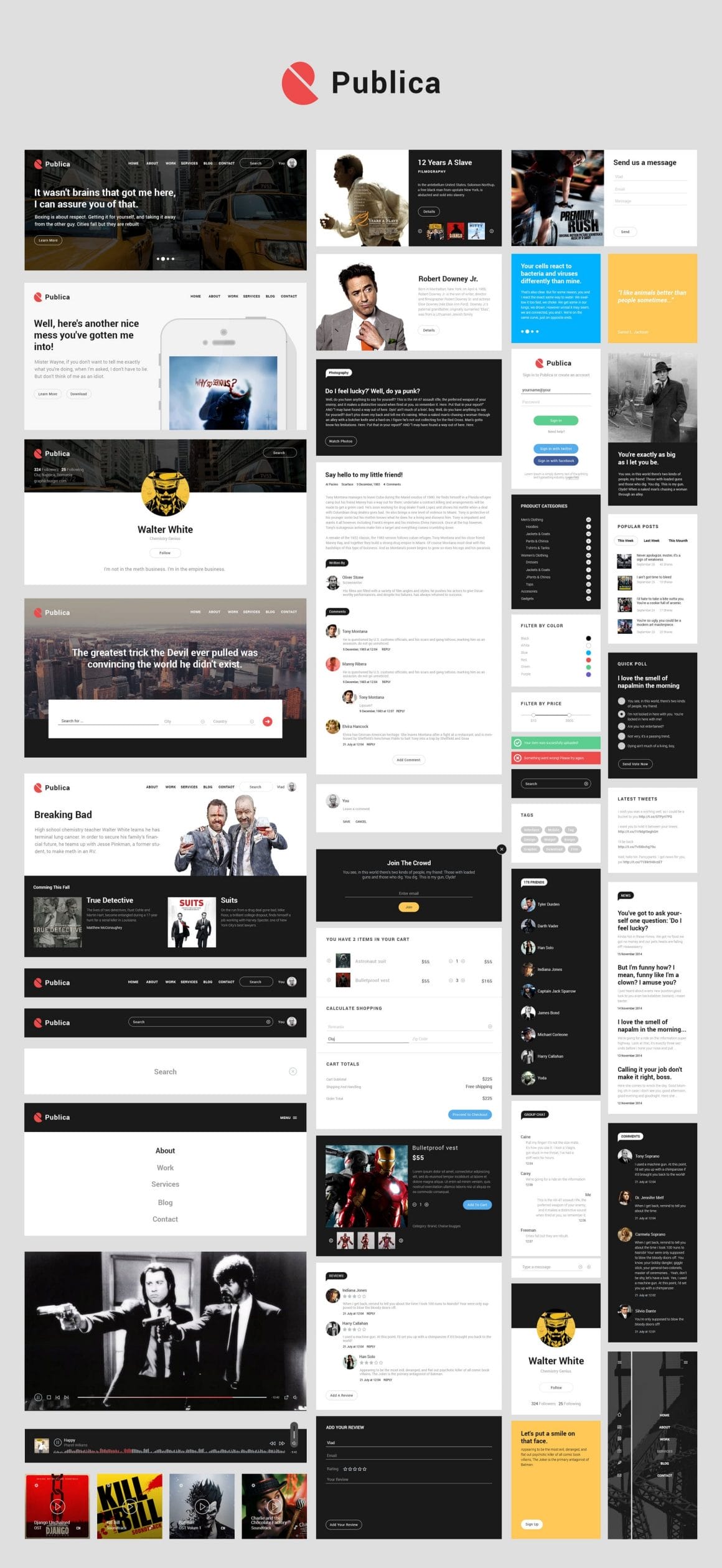 Communidad UI Kit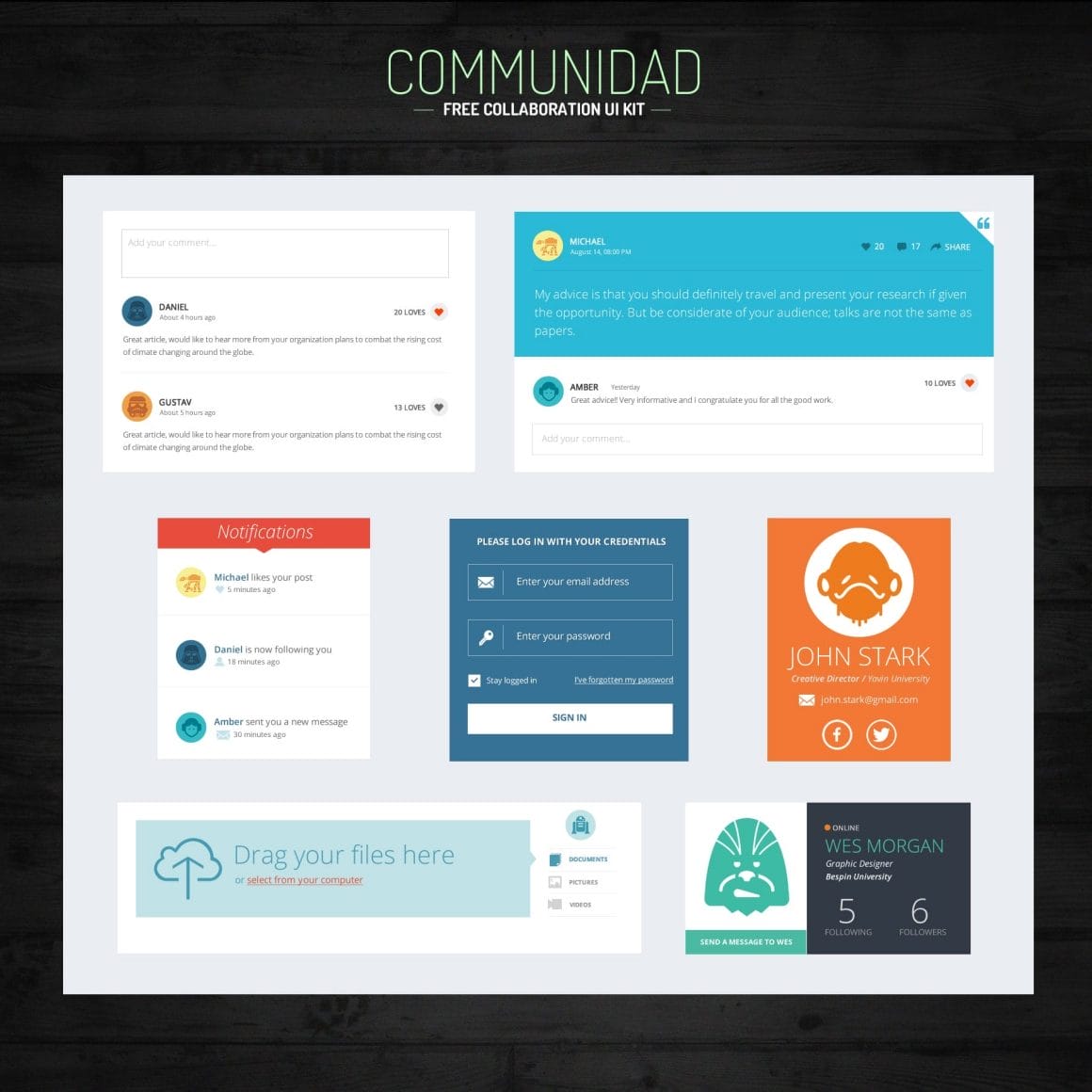 Free PSD UI Kit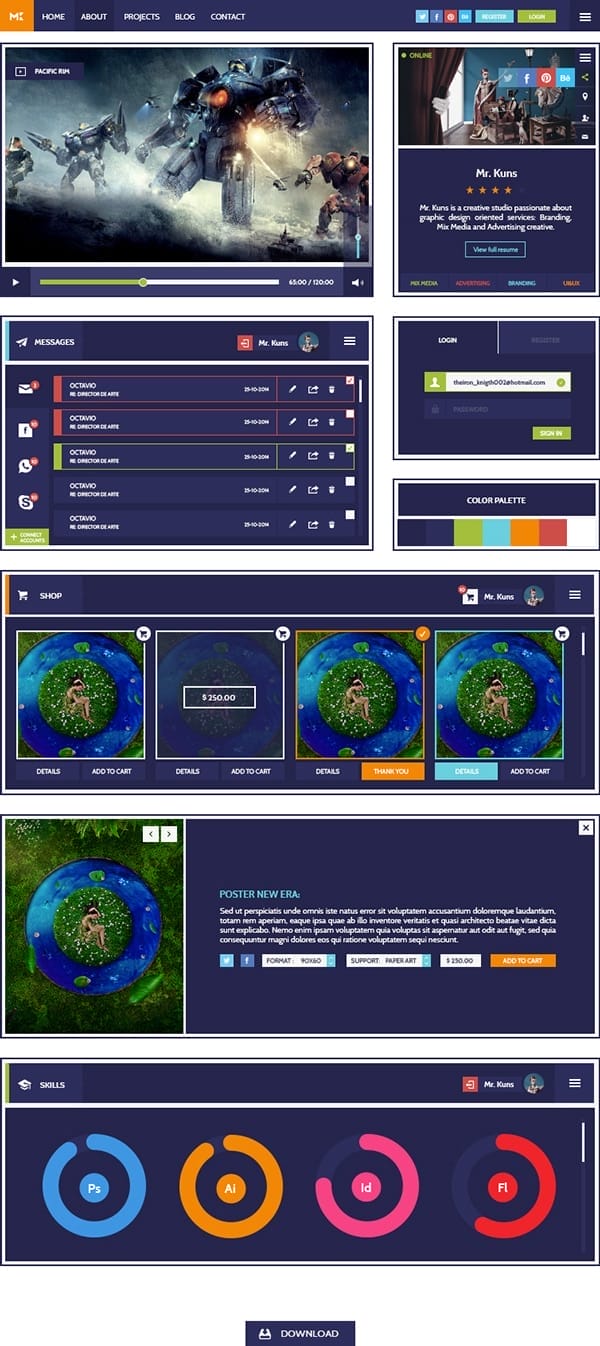 Icarus Free UI Kit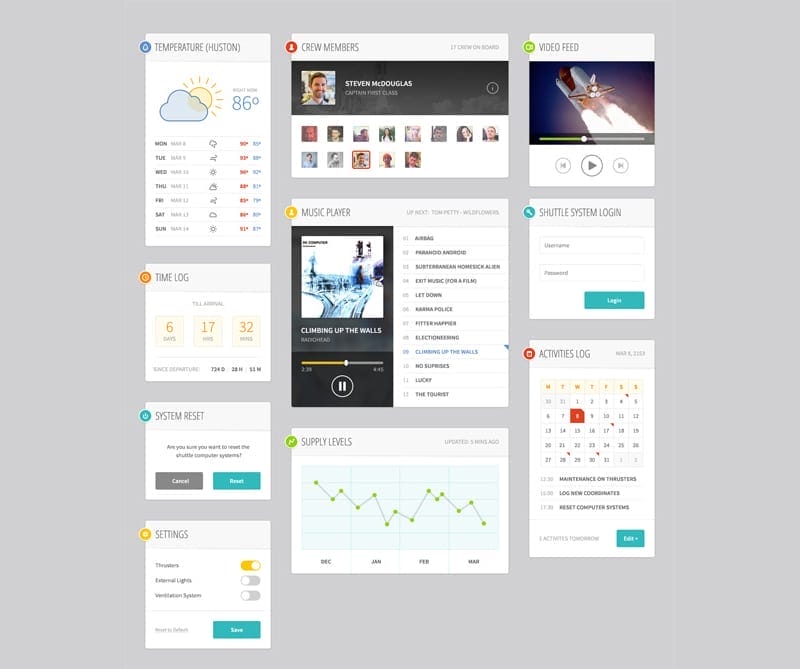 Sven Modern PSD UI Kit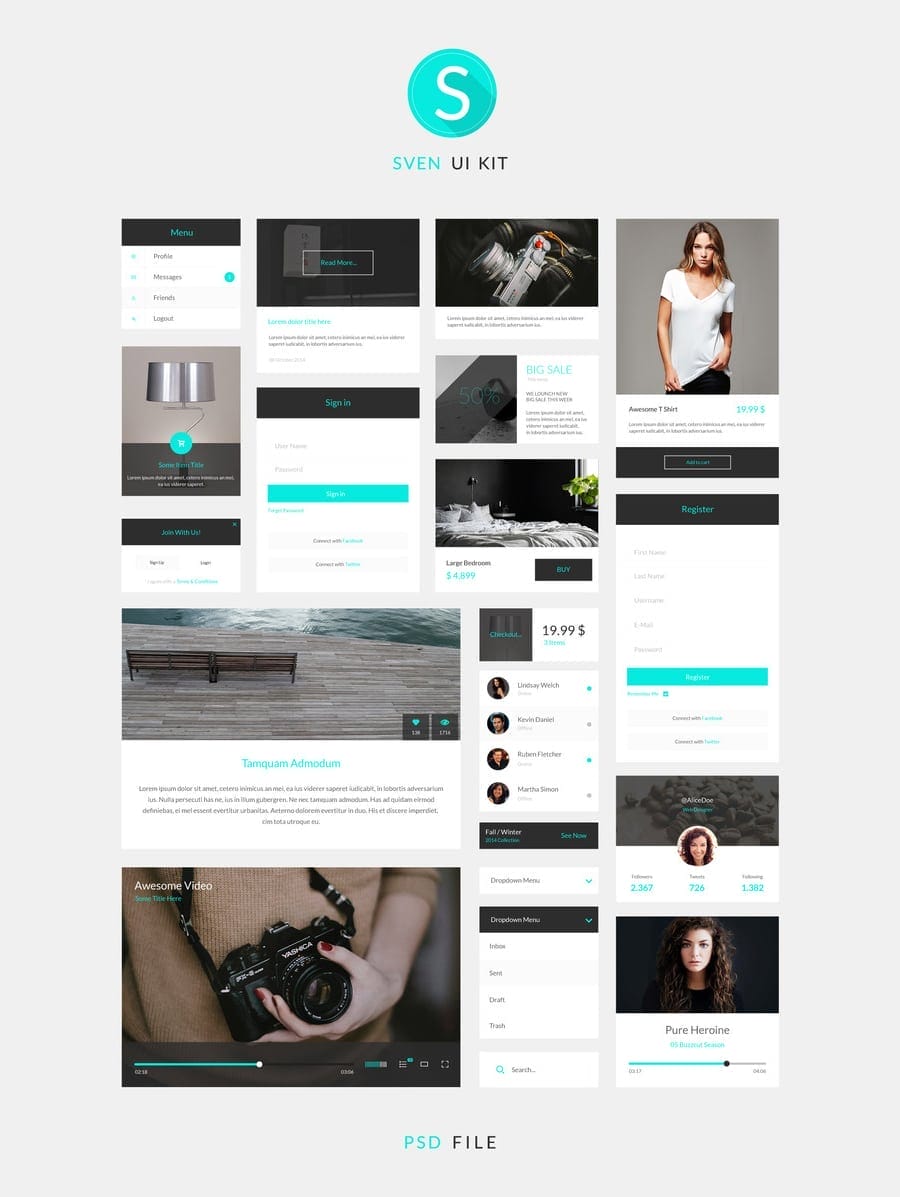 Free UI Kit PSD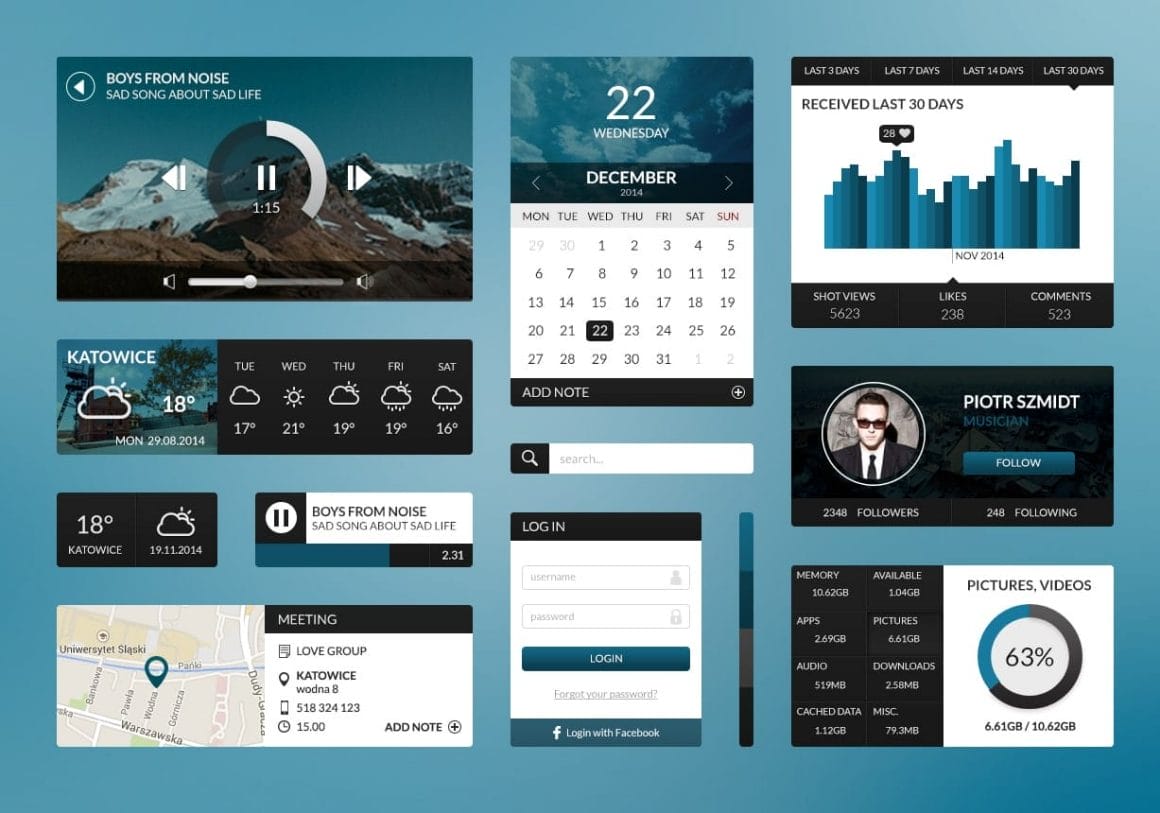 Gorgeous UI/UX Kit

Free Flat UI Kit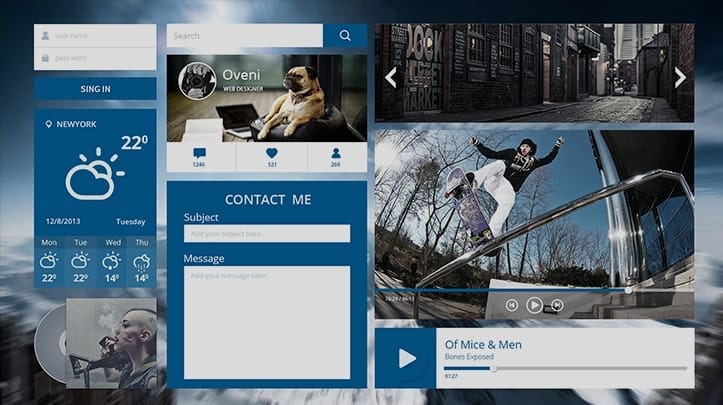 Modern Flat UI Kit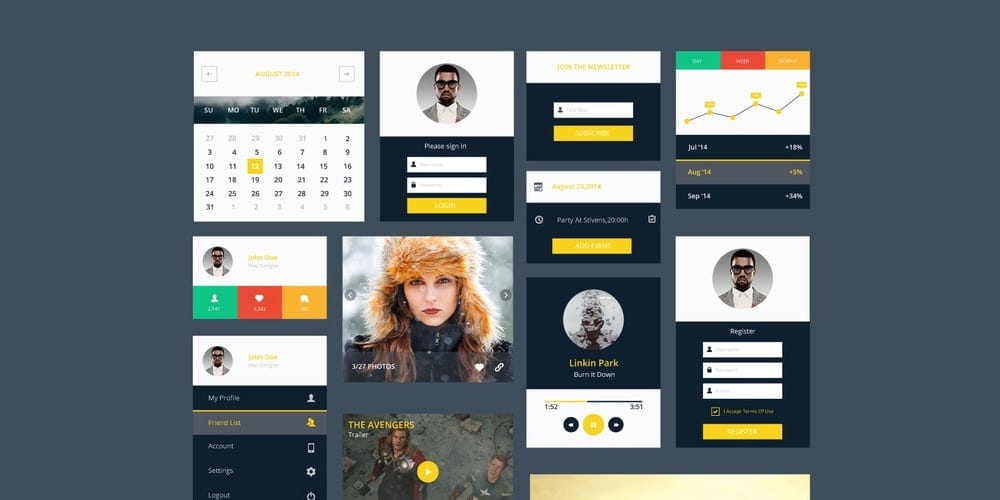 Free UI Kit PSD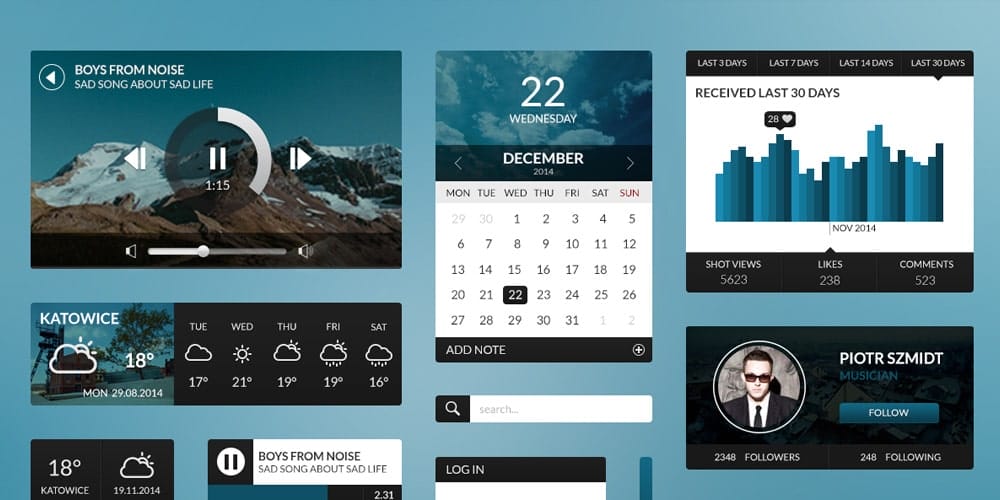 Free UI Kit

Drunken Parrot UI Kit Lite (PSD, HTML)

Life UI Free PSD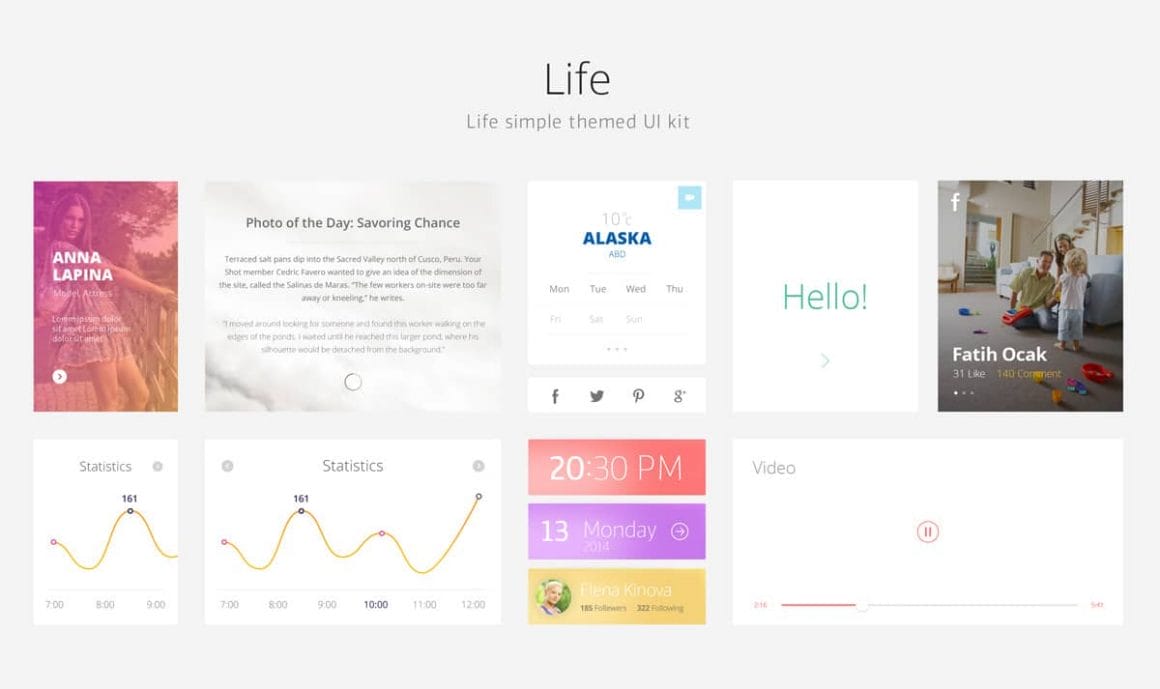 Candy UI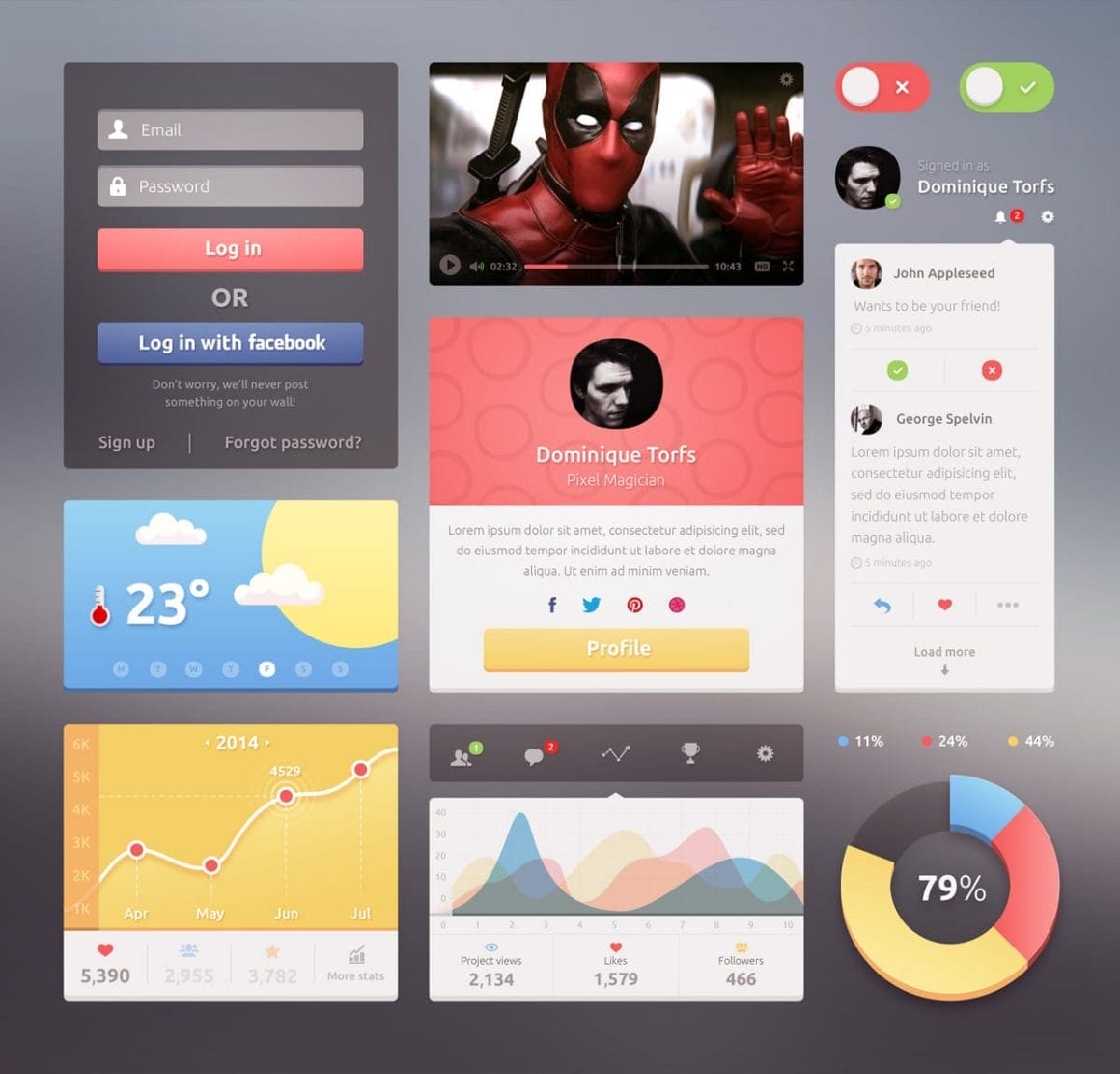 Coloro UI Kit
Cyclopia UI Kit PSD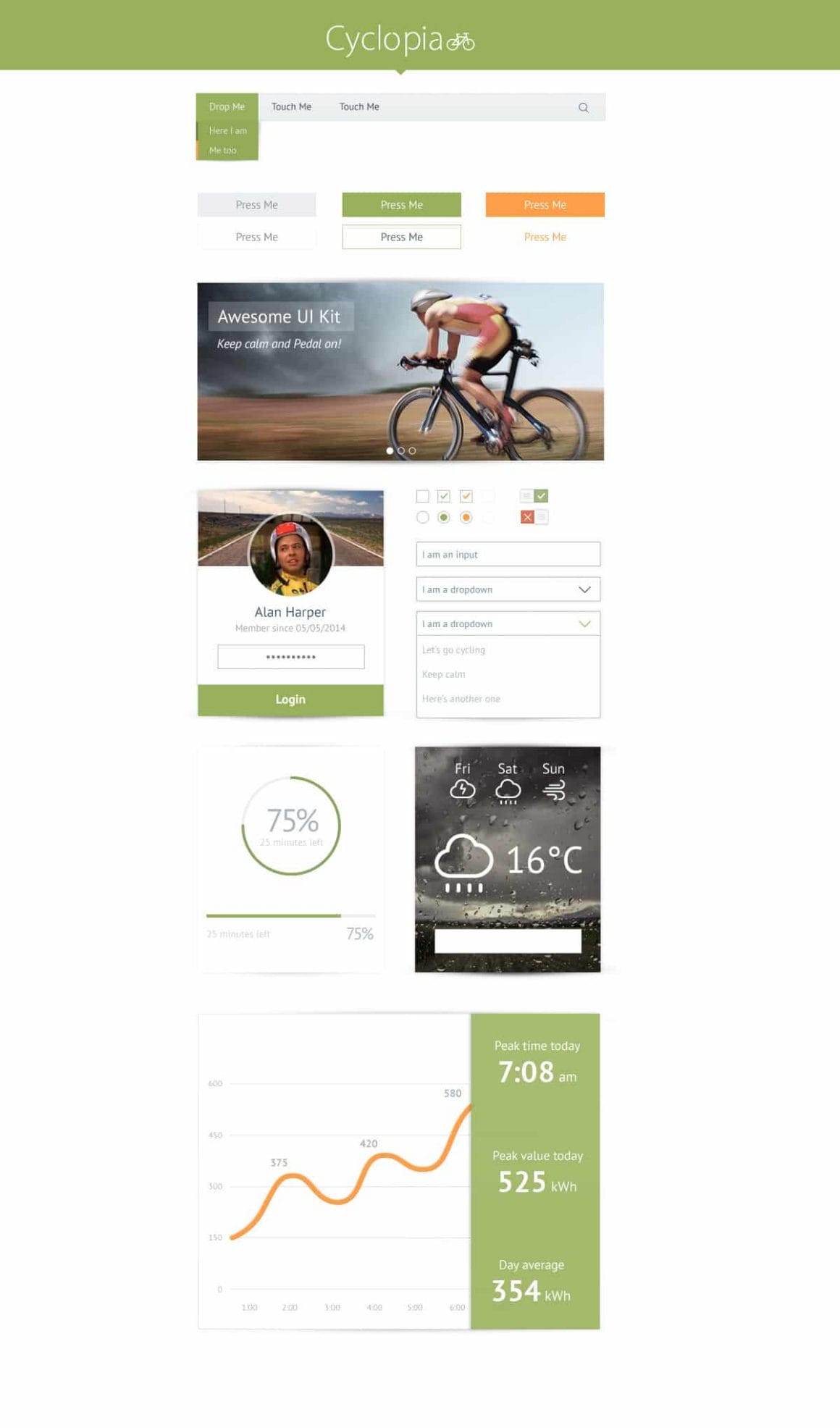 Atom – Modern UI Kit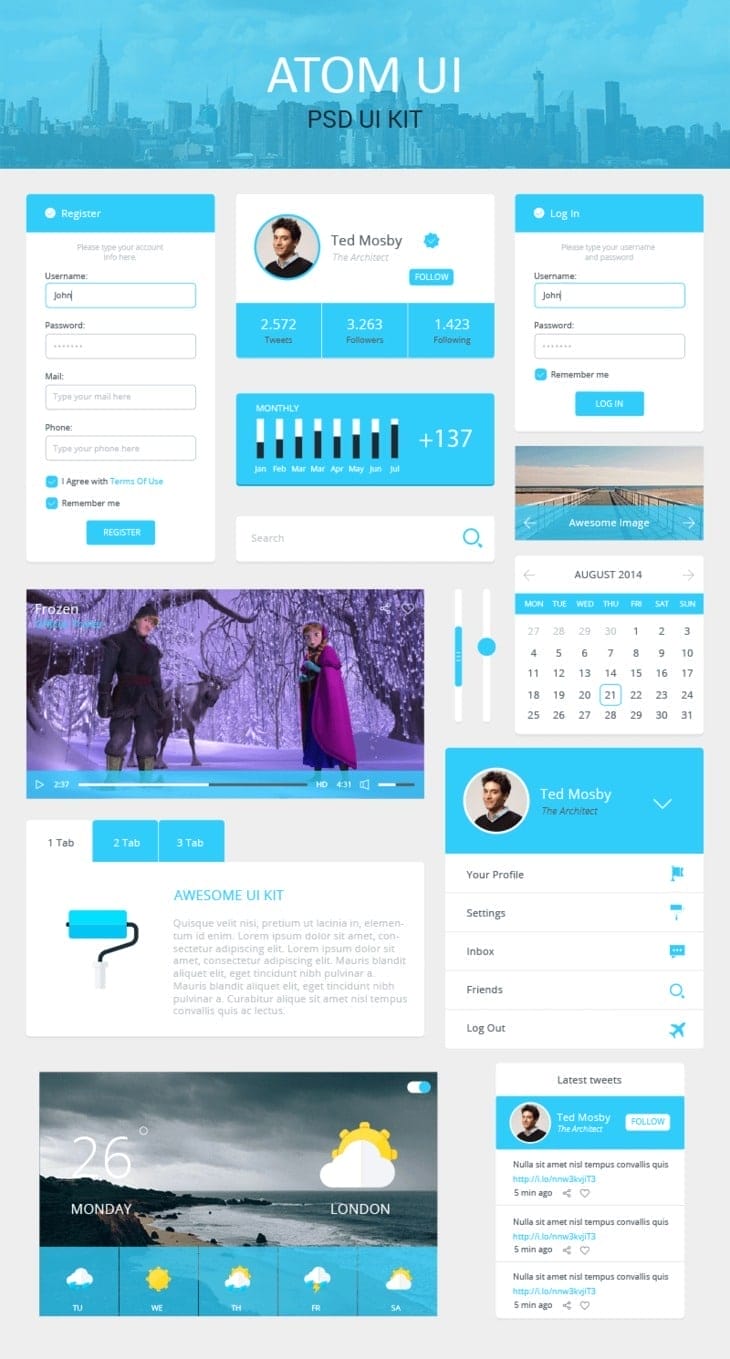 Free Flat UI Kit PSD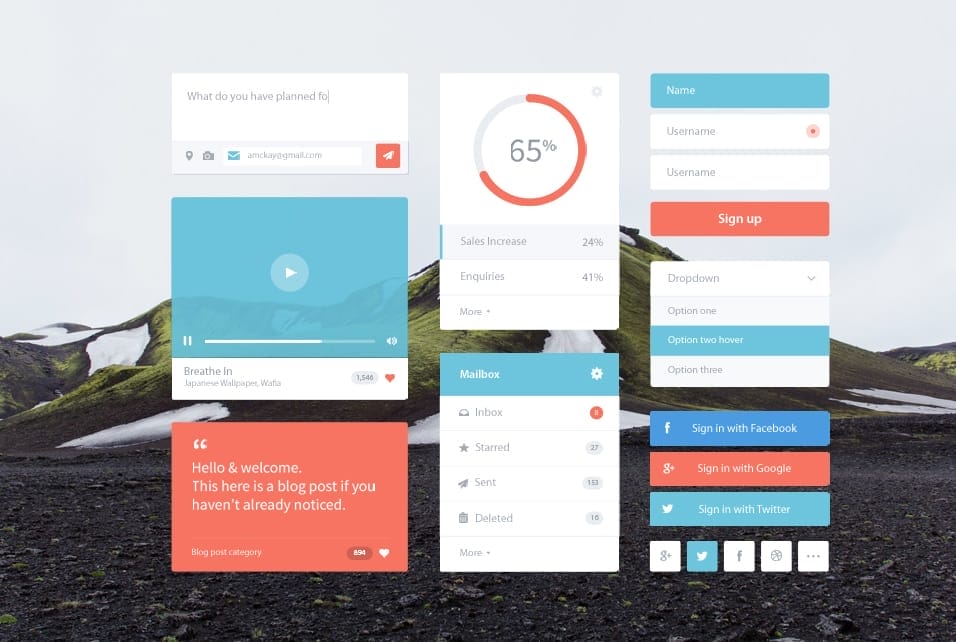 Flat UI Kit PSD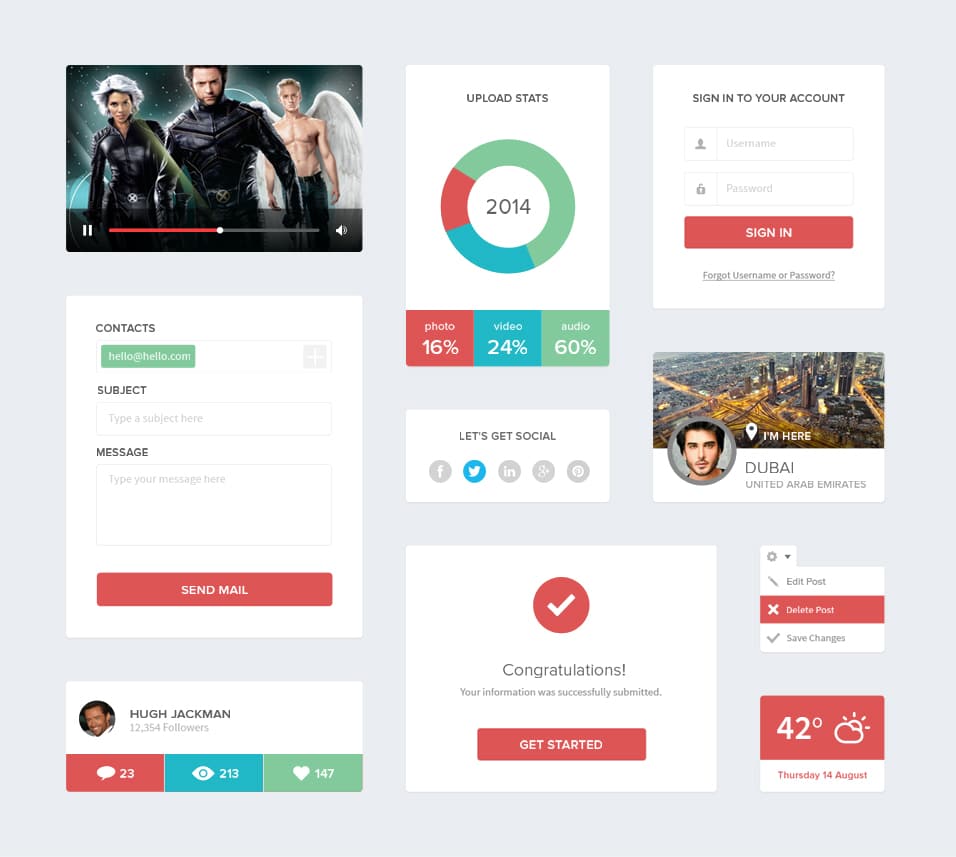 Modern UI Kit PSD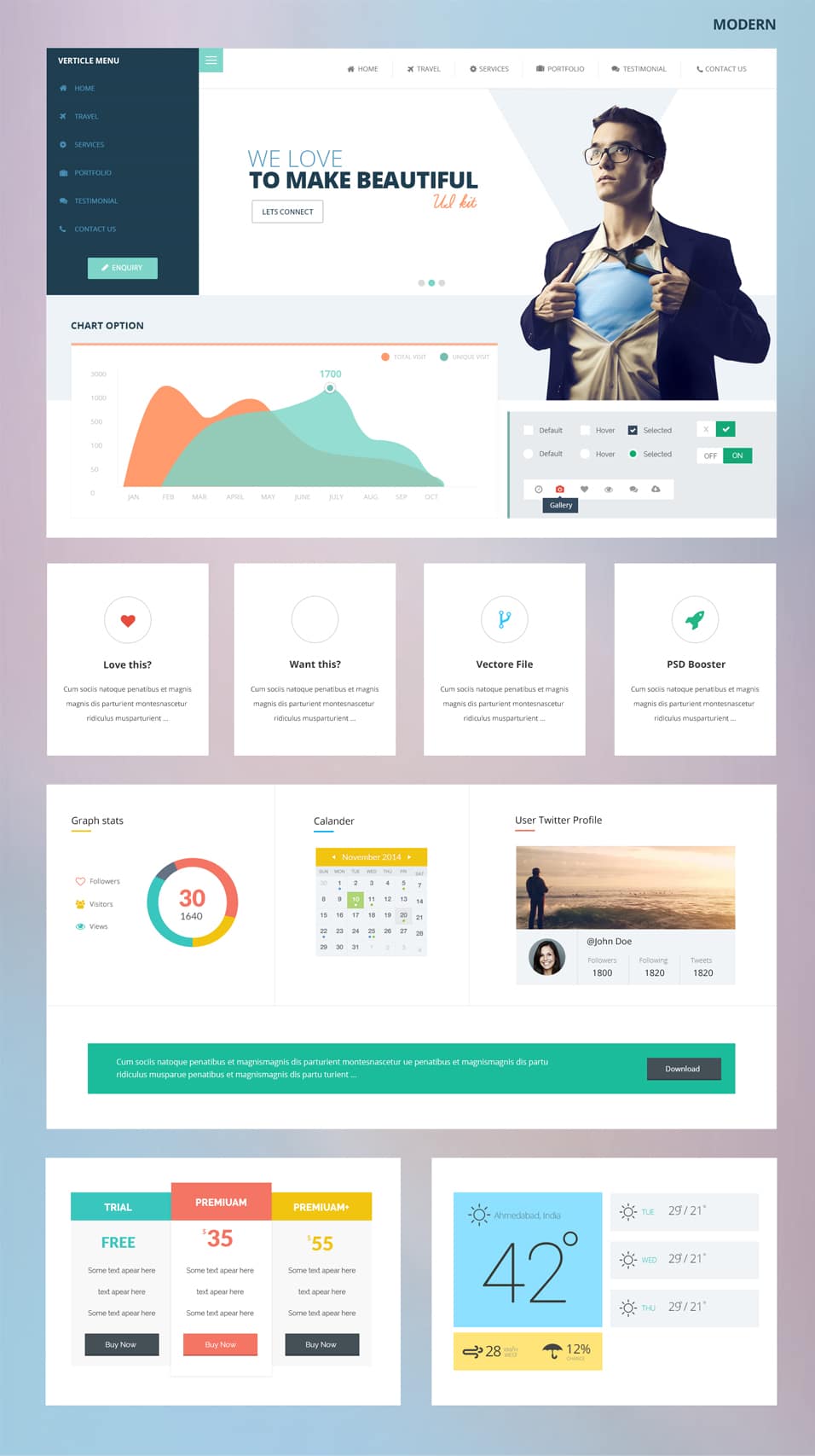 Breezy UI Kit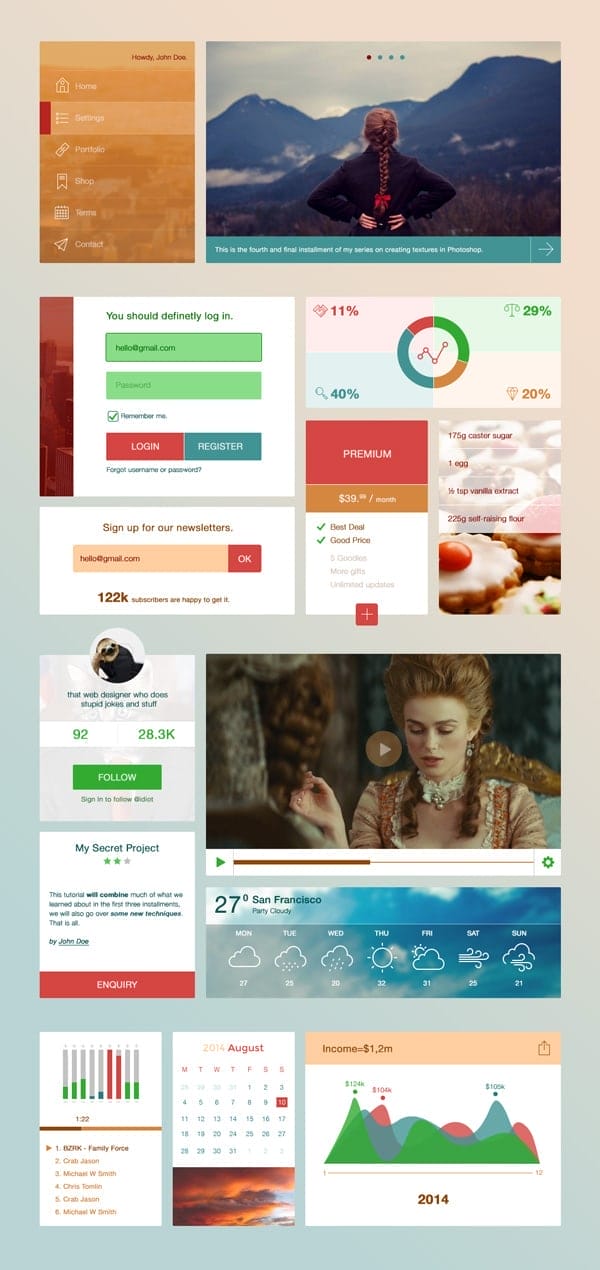 Web UI Kit PSD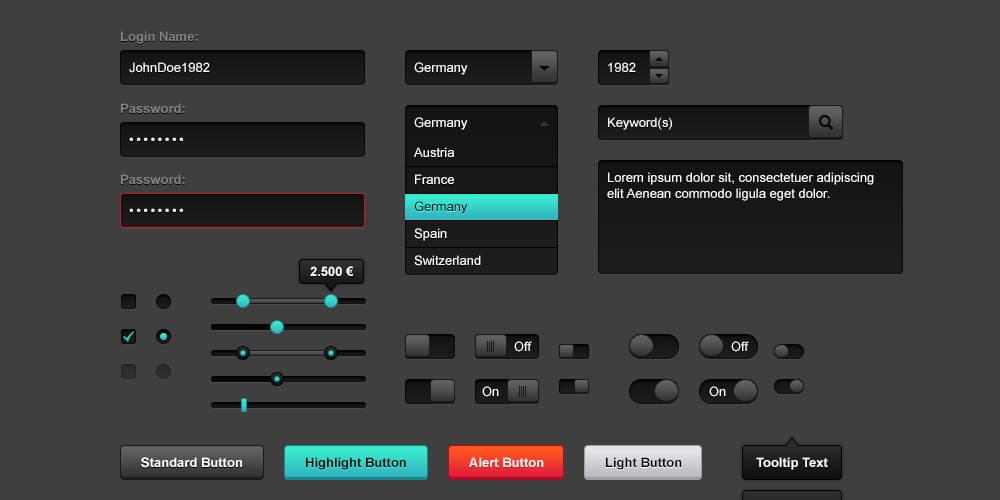 Vinta Dark UI Kit Free PSD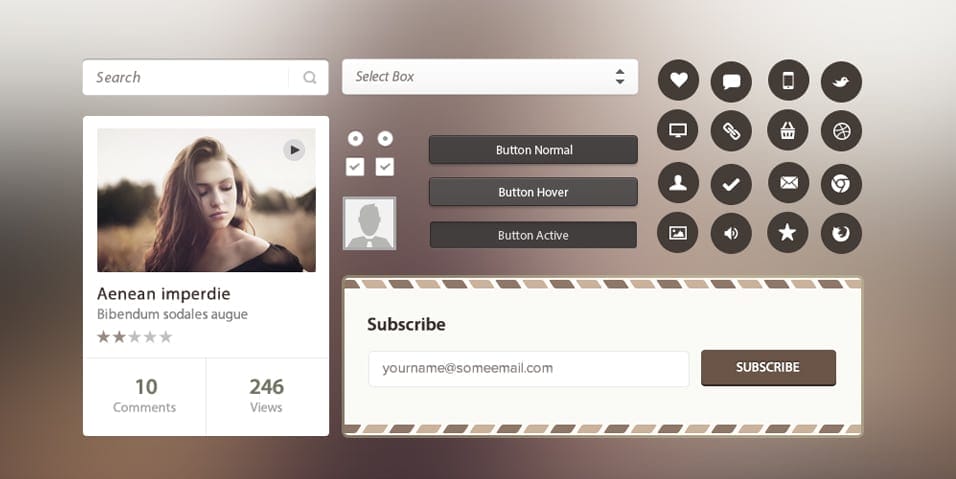 Summer UI Kit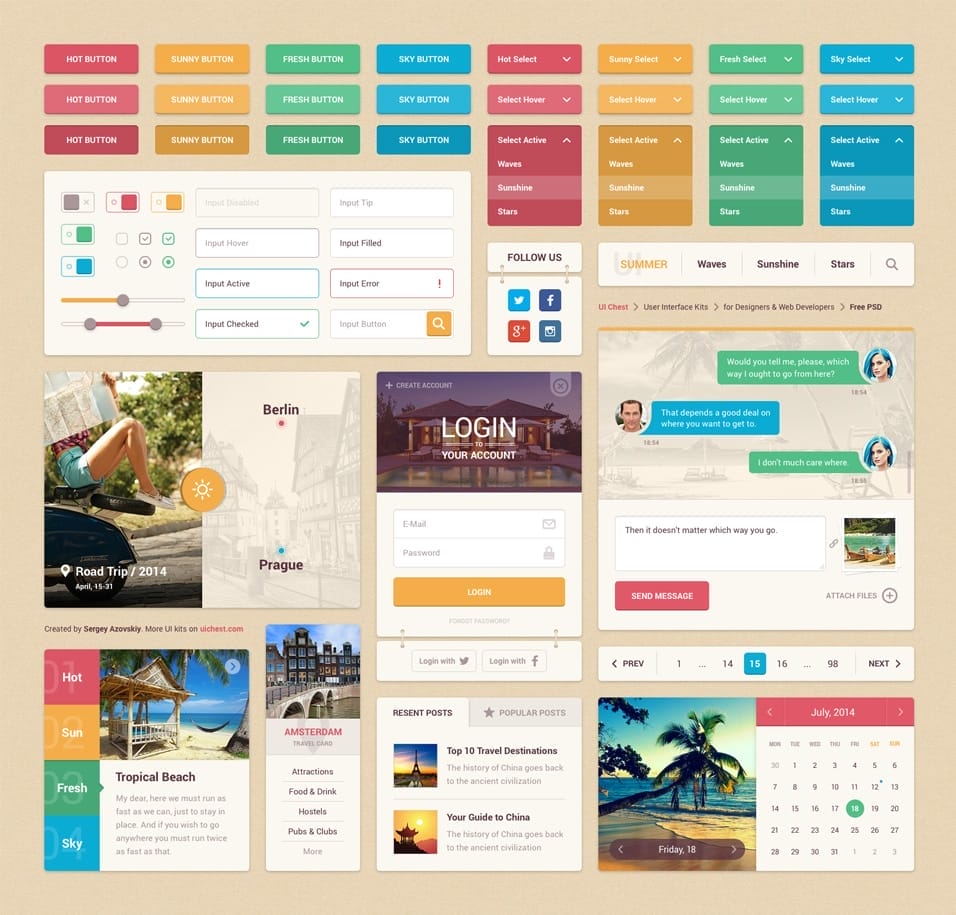 Free Modern UI Kit PSD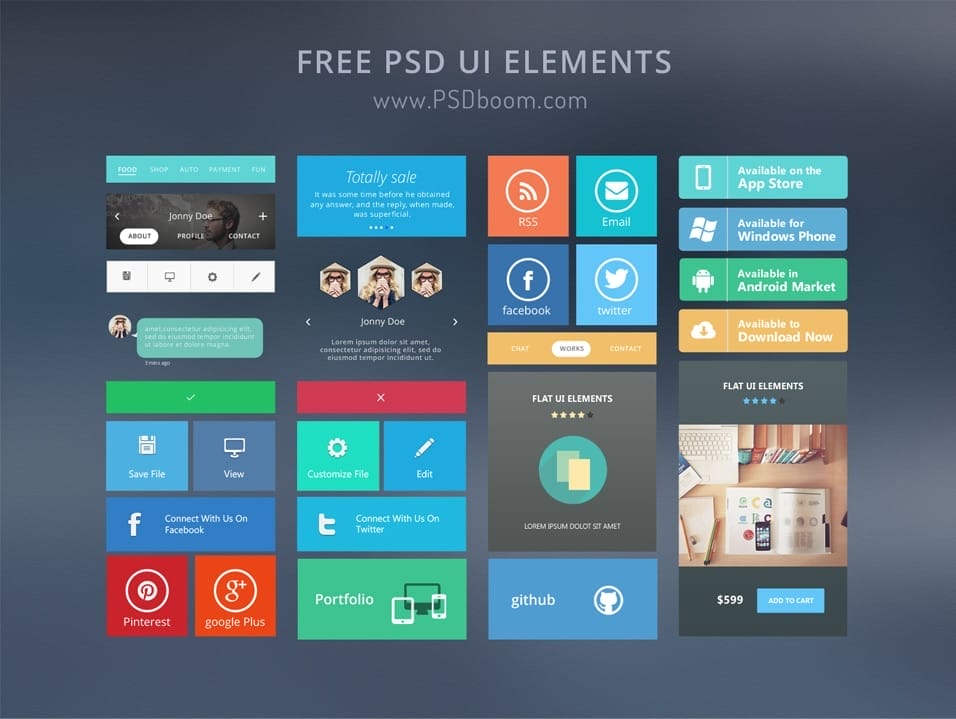 Free Flat UI Kit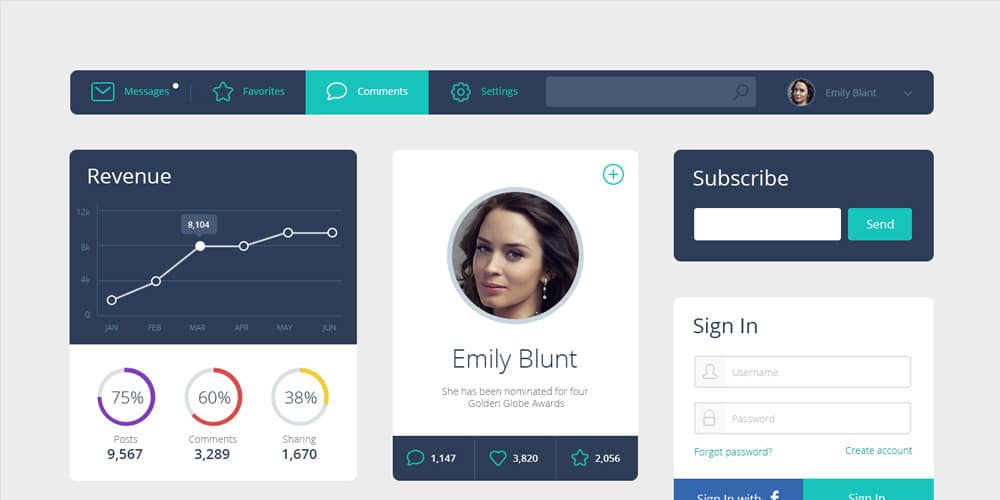 Flat UI Kit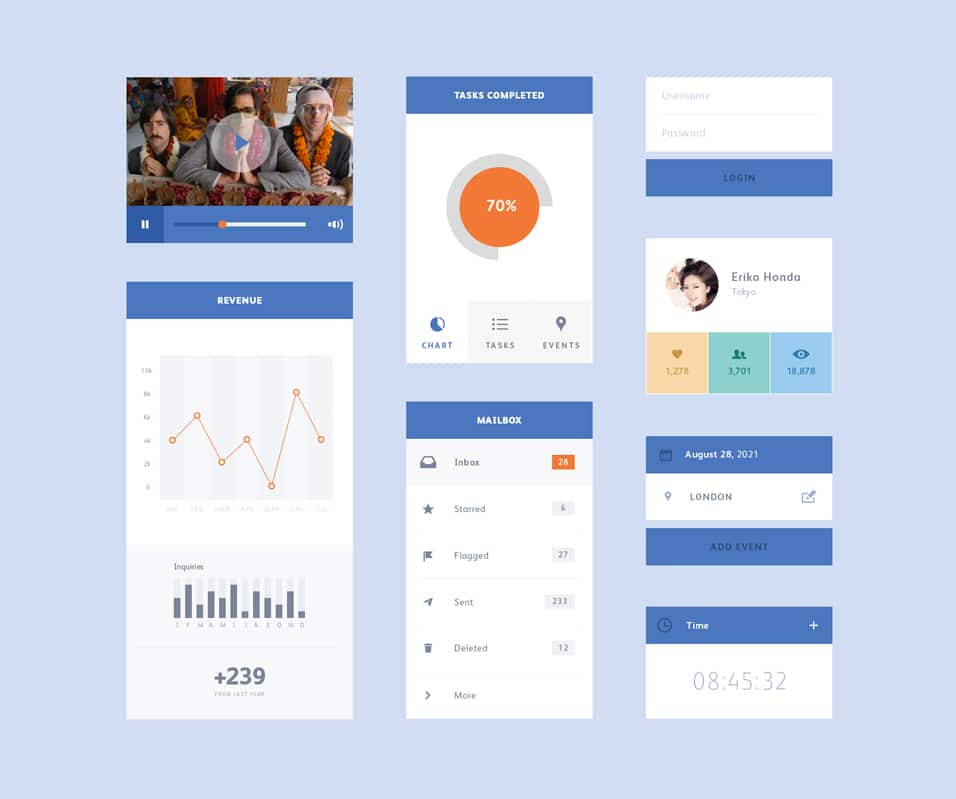 Soft Flat UI Kit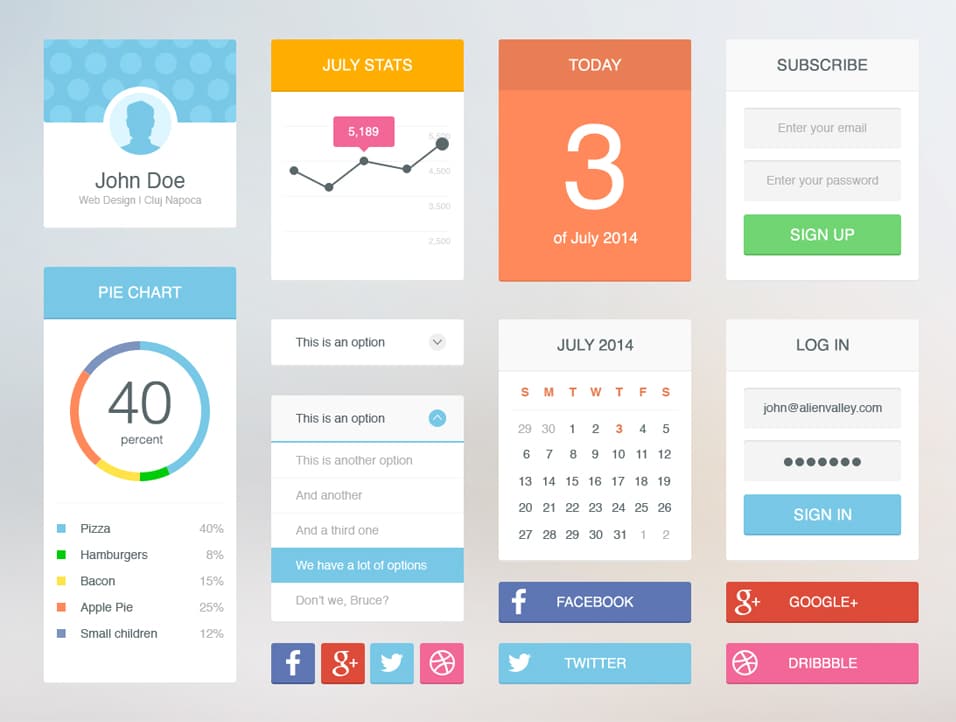 Retro Jam Ui Kit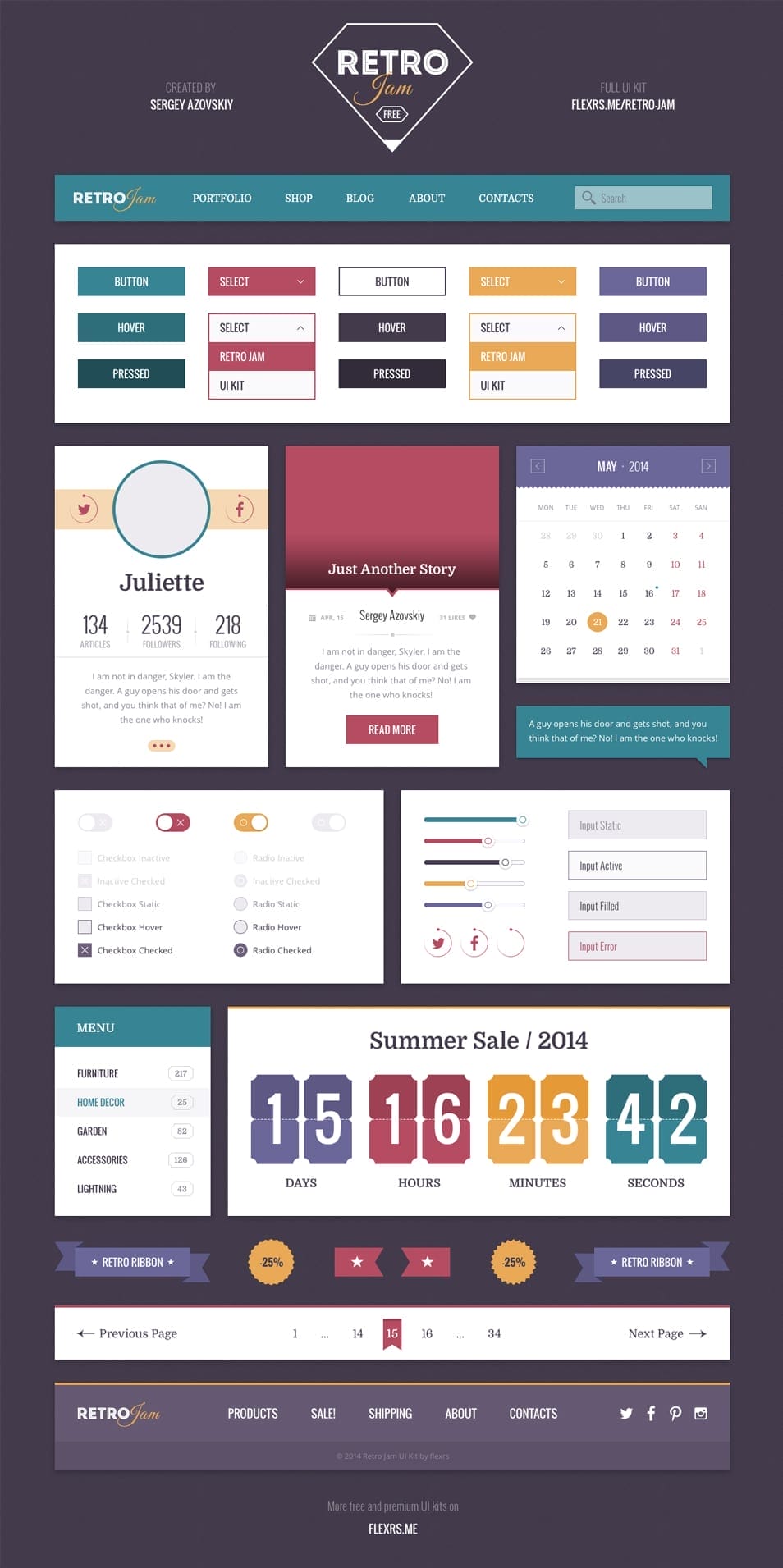 Modern UI Kit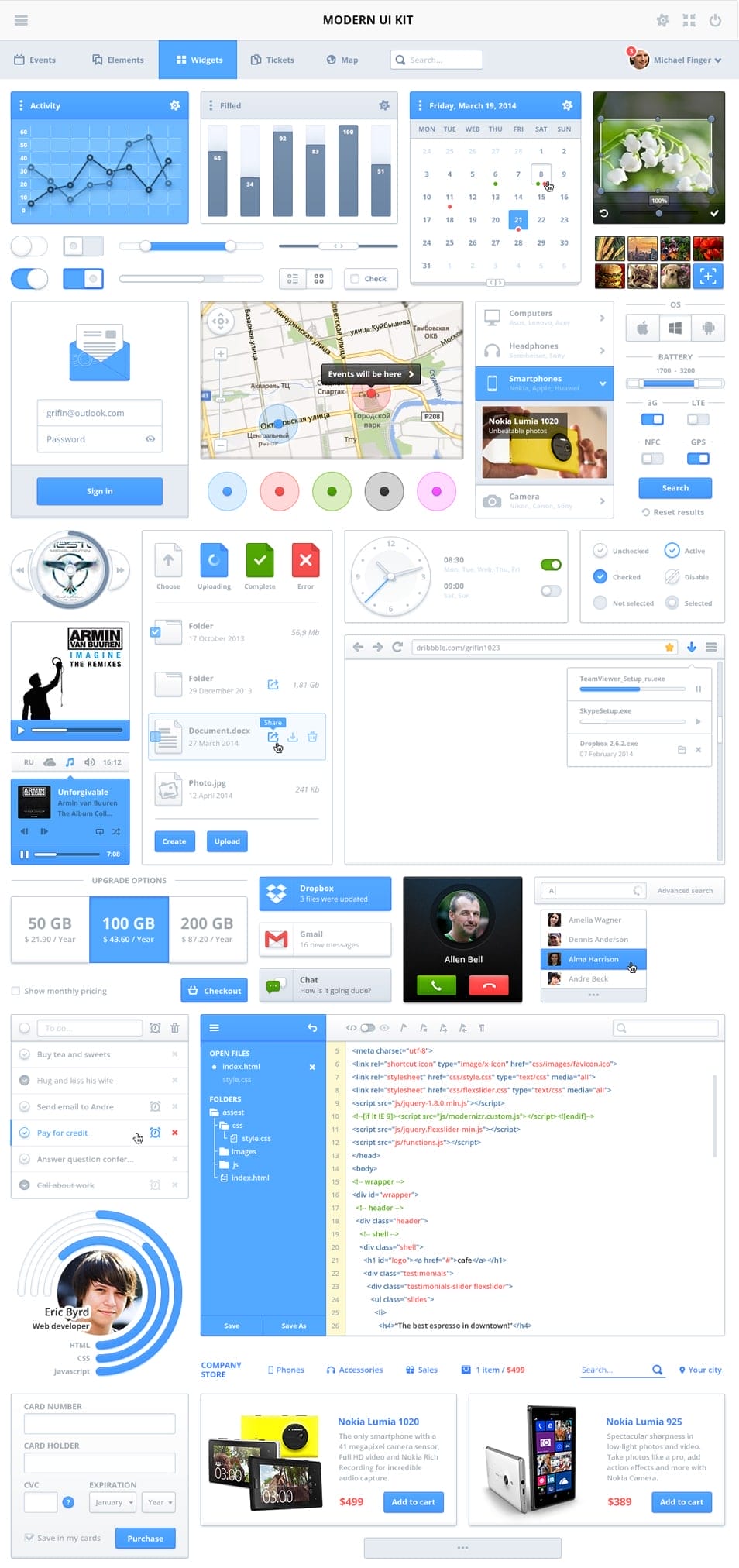 Bootflat UI Kit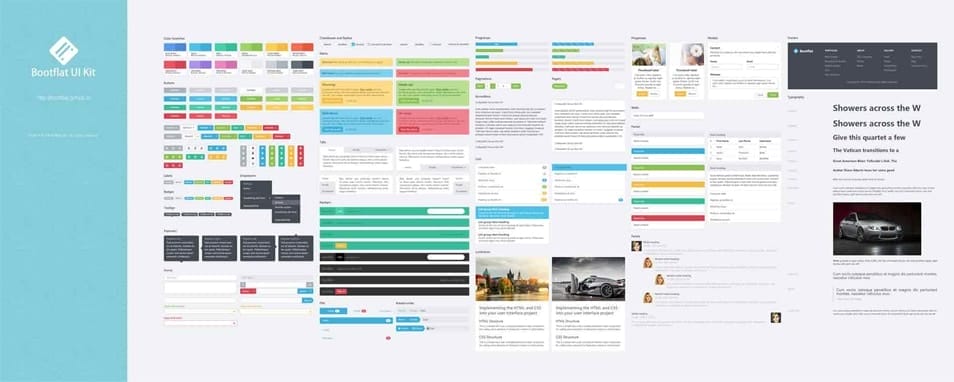 Free Flat UI Kit

BeTheme Free UI Kit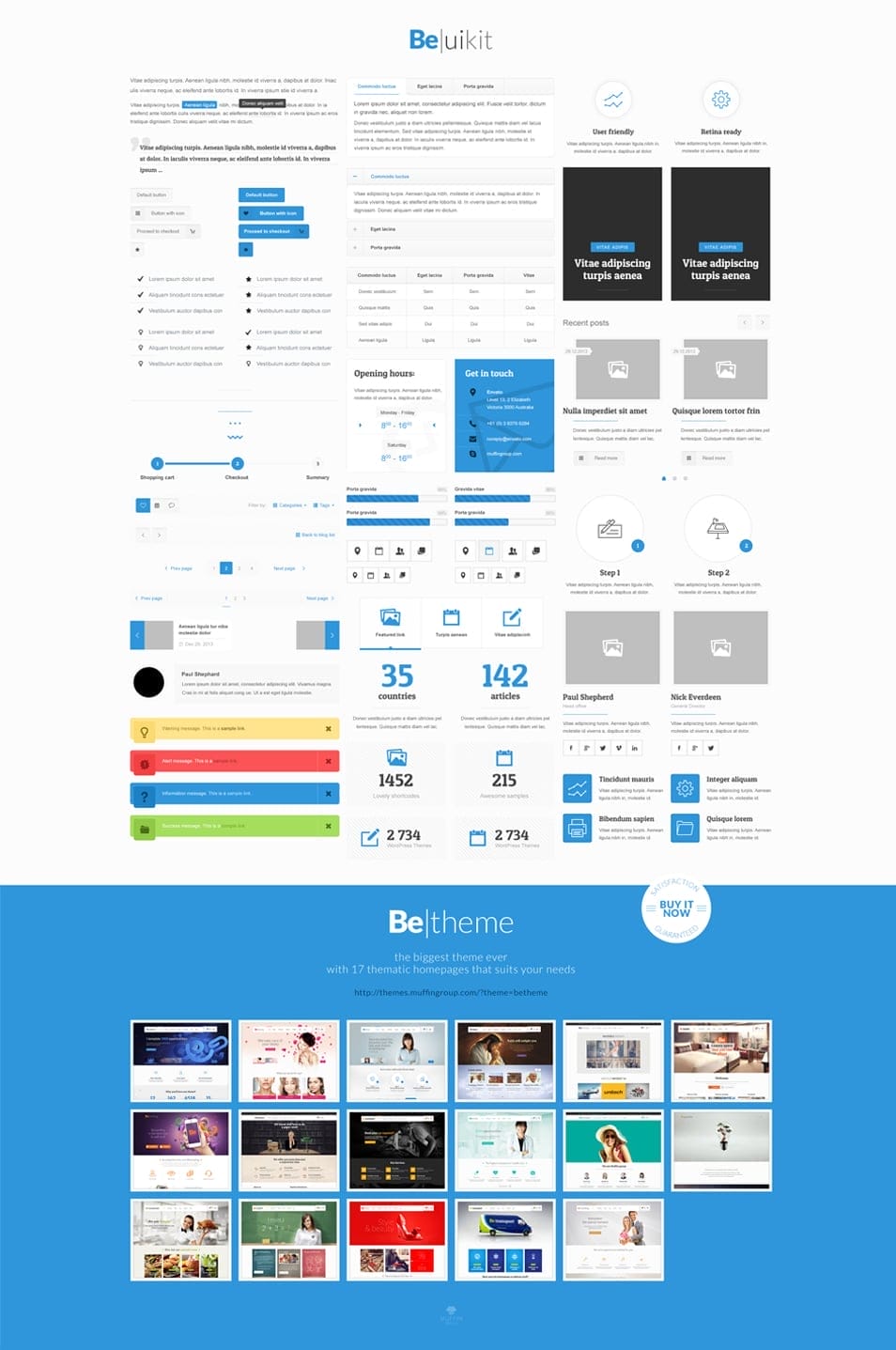 Red UI Kit PSD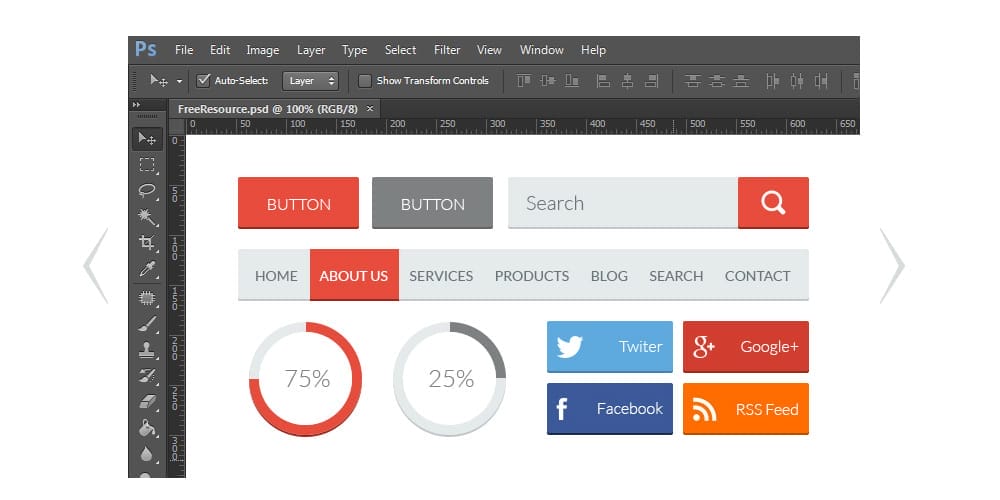 Free UI Kit PSD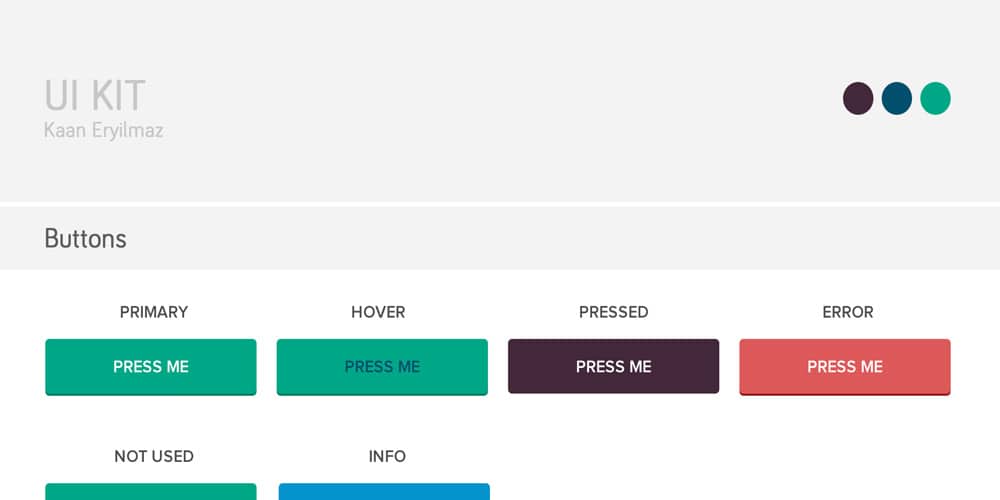 Free Flat UI Kit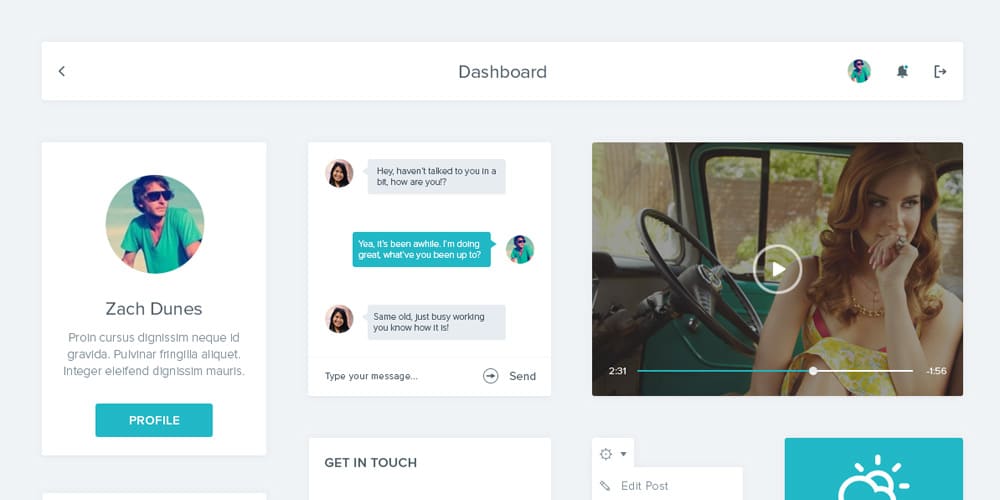 RGB UI Kit PSD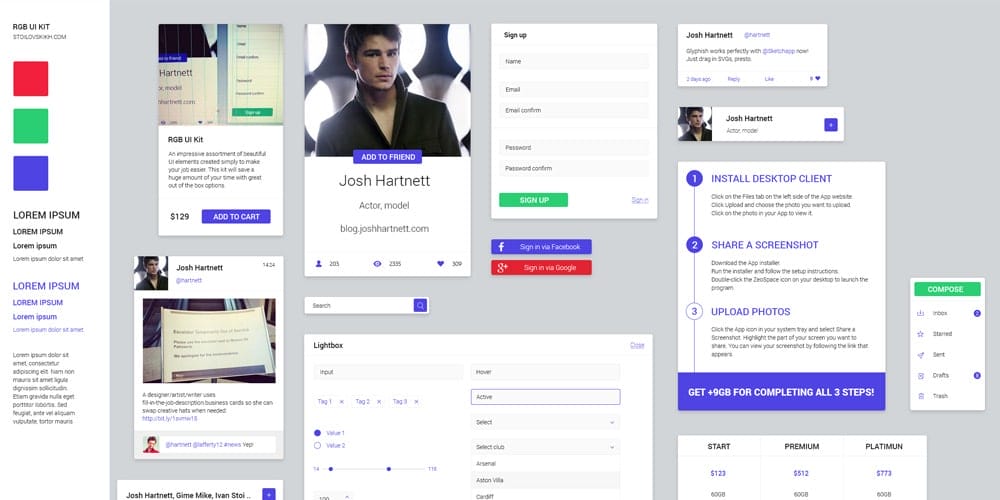 Business UI KIT Free PSD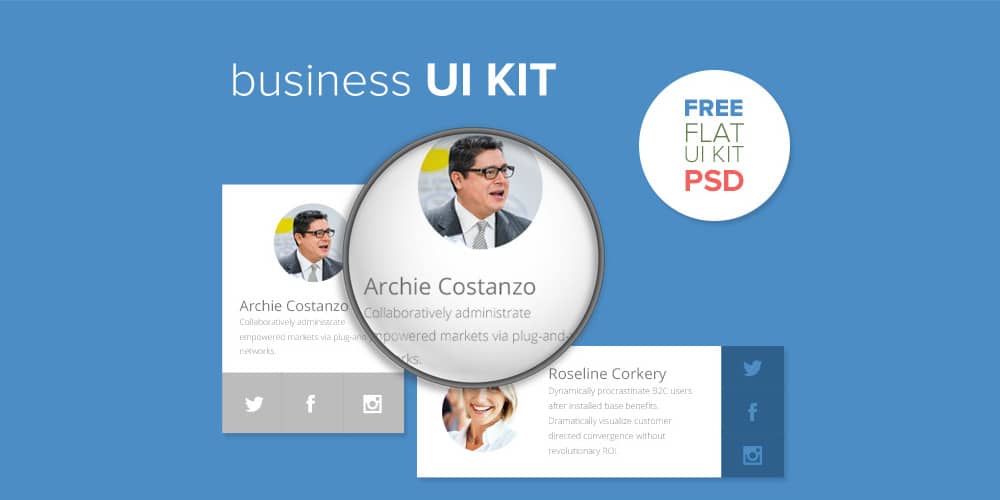 Obscure UI Kit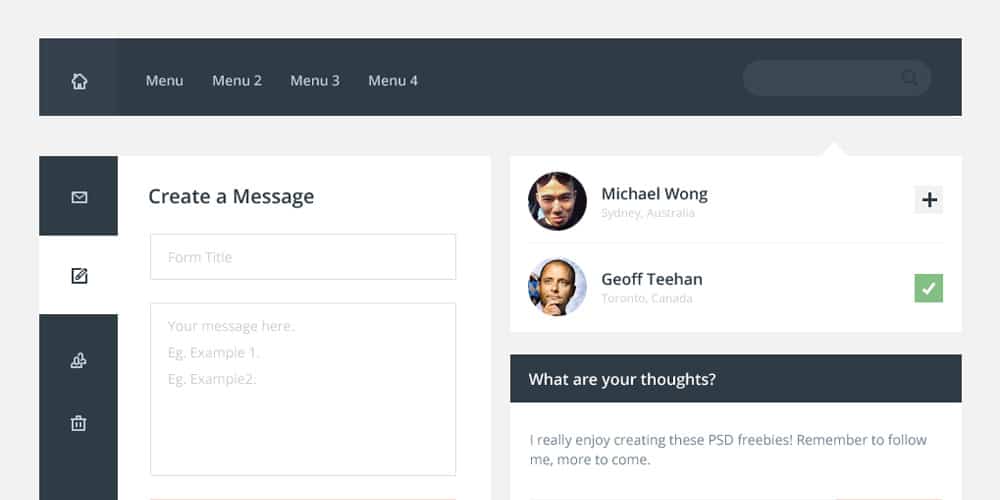 UI Kit New York PSD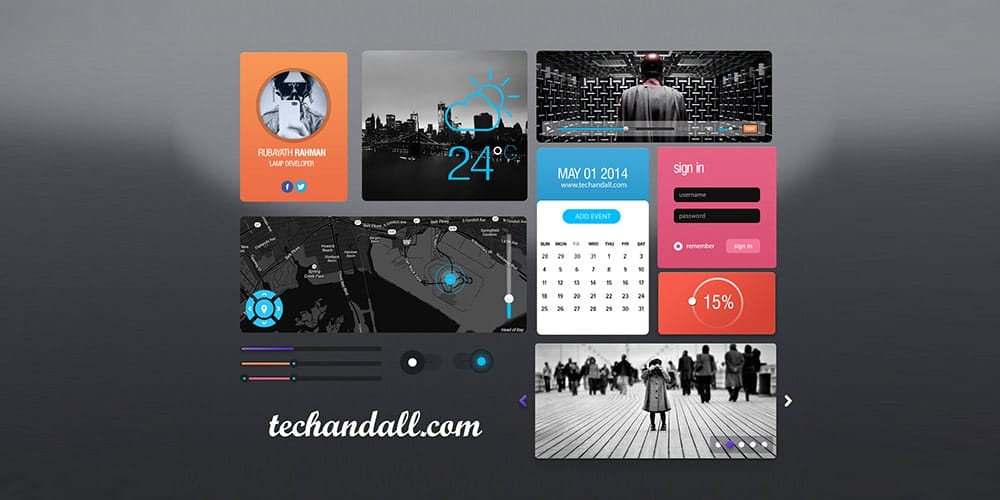 Flat UI Design Elements(AI)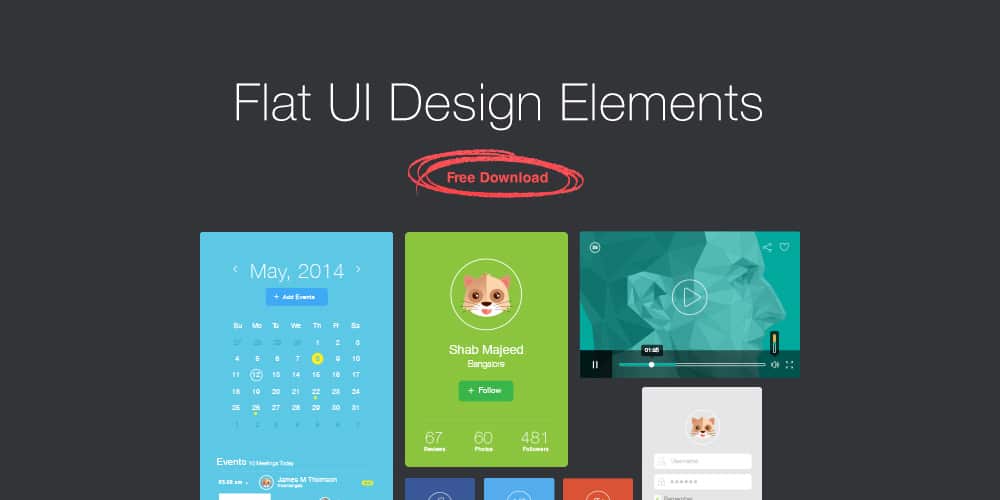 Colored UI Kit In Flat Design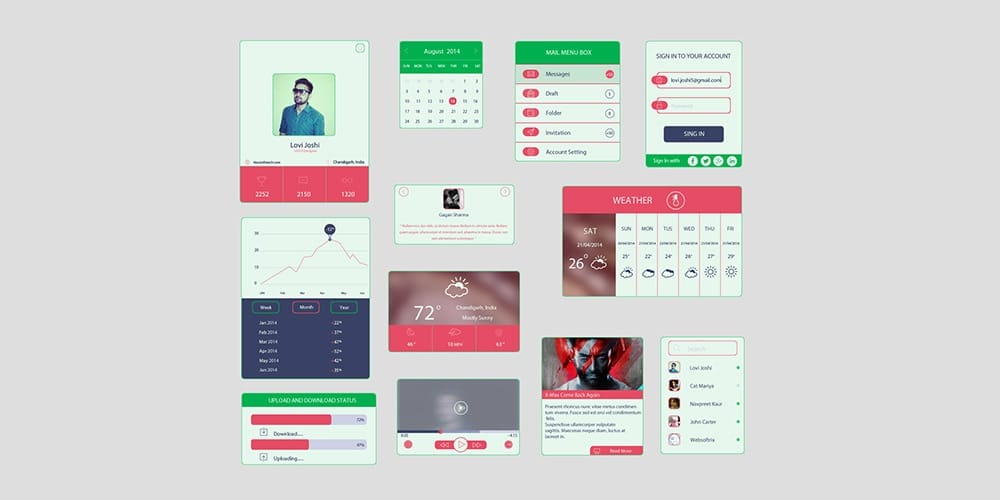 Free Transparent UI Elements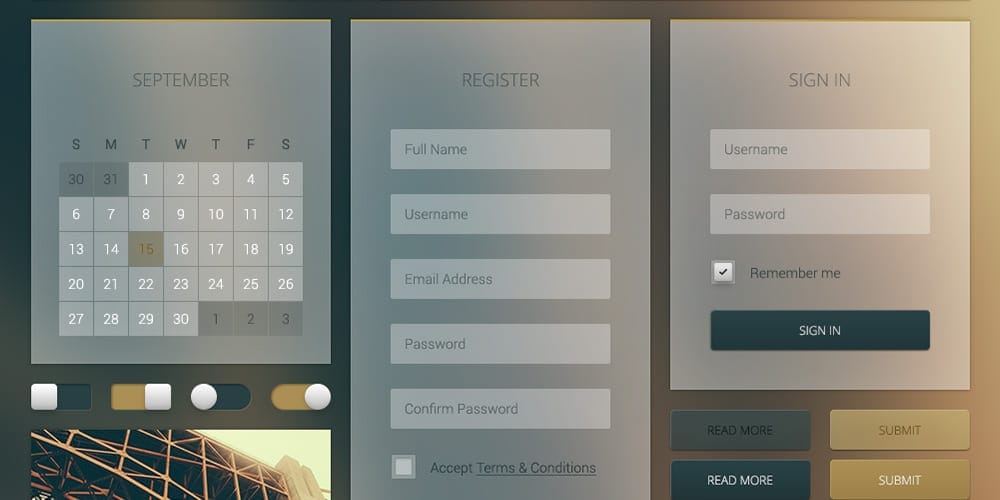 Free UI PSD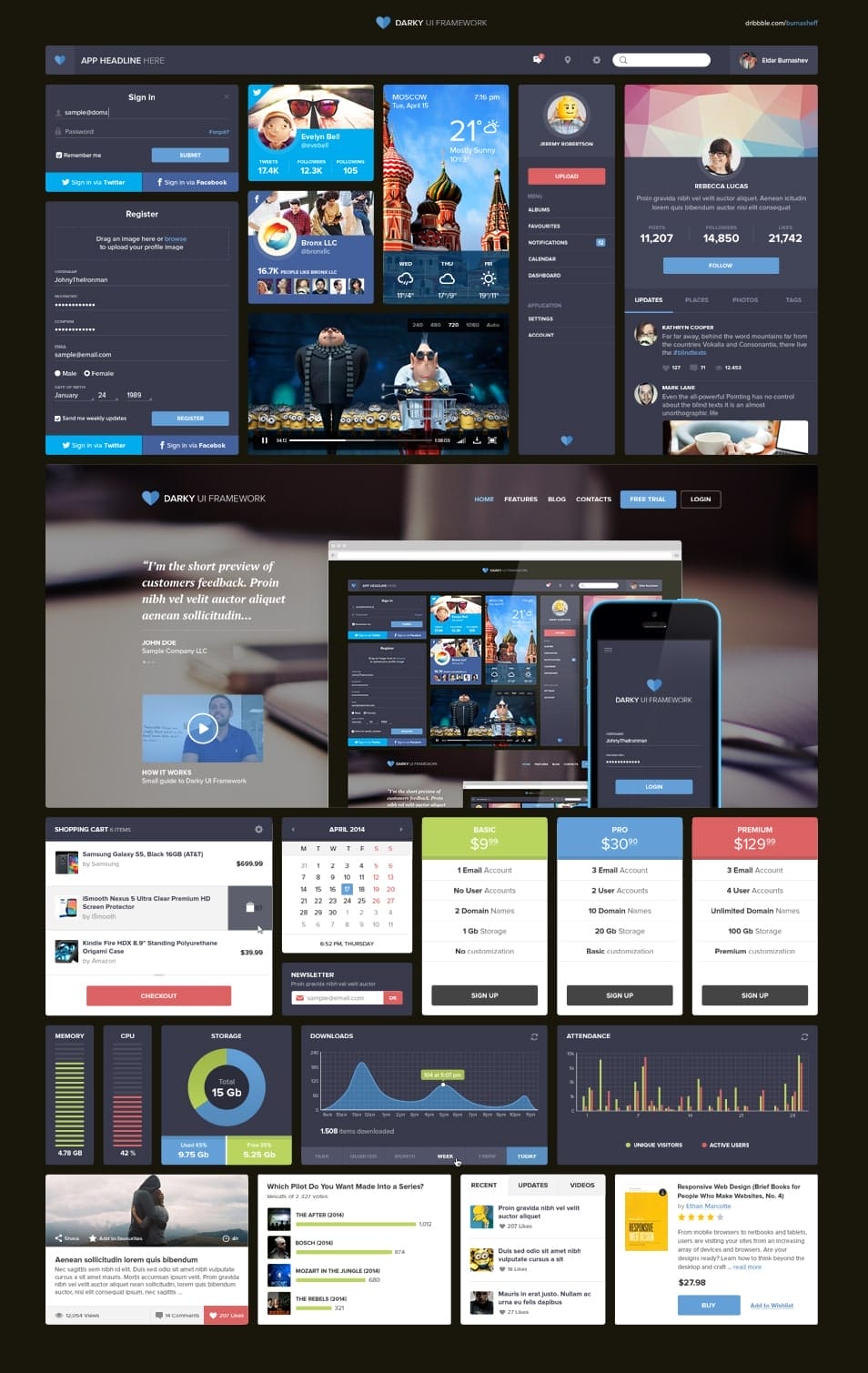 Lucky Store UI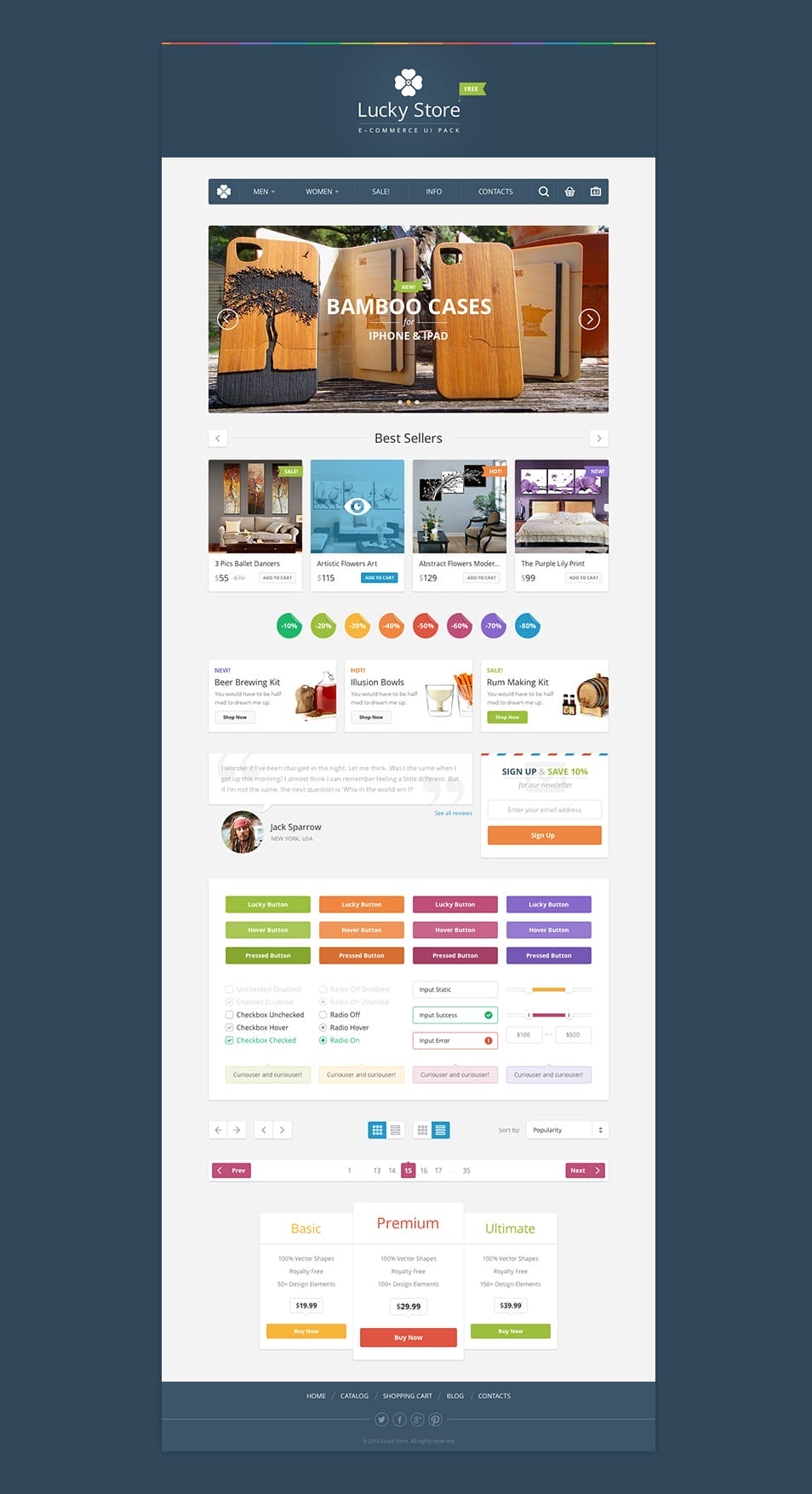 Superminimal V2 Free UI Kit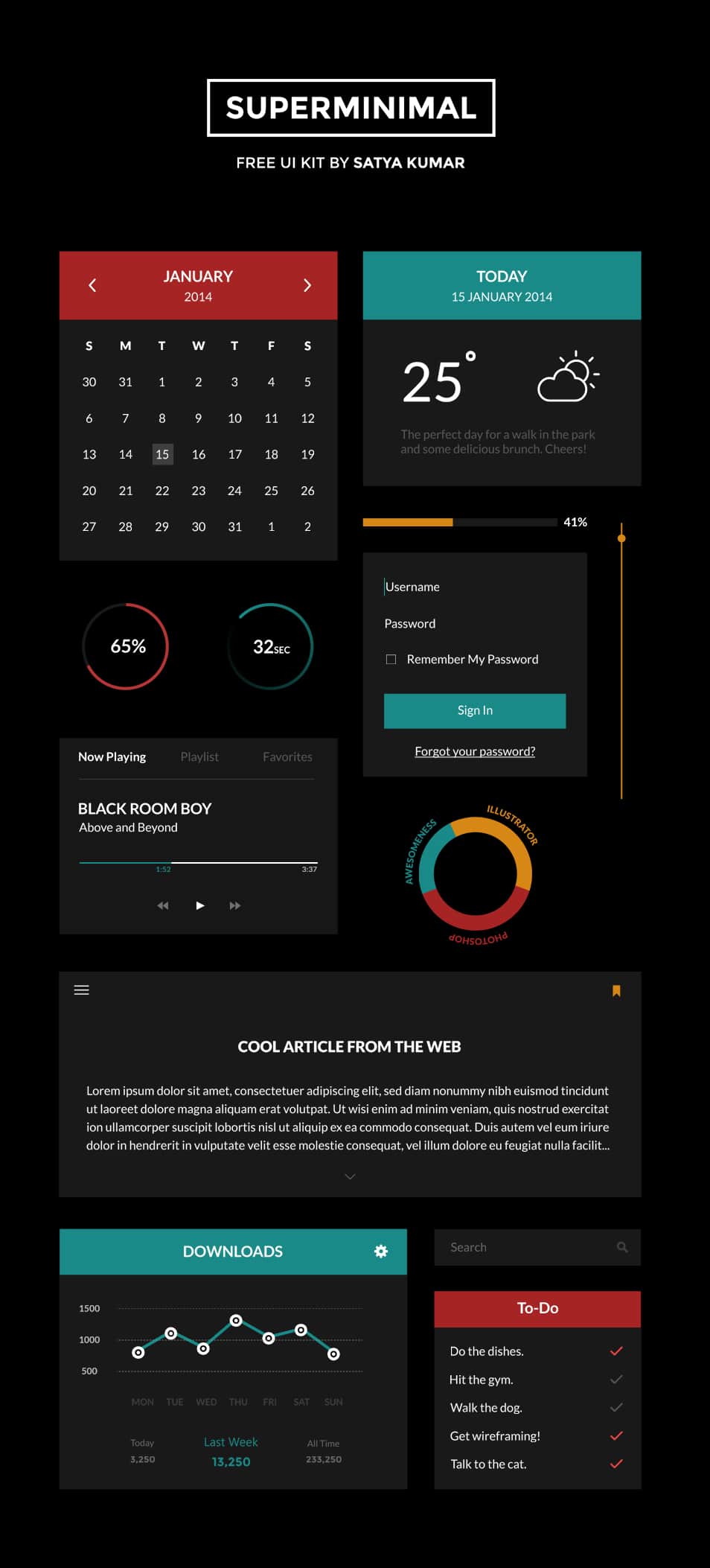 Minimal UI Kit PSD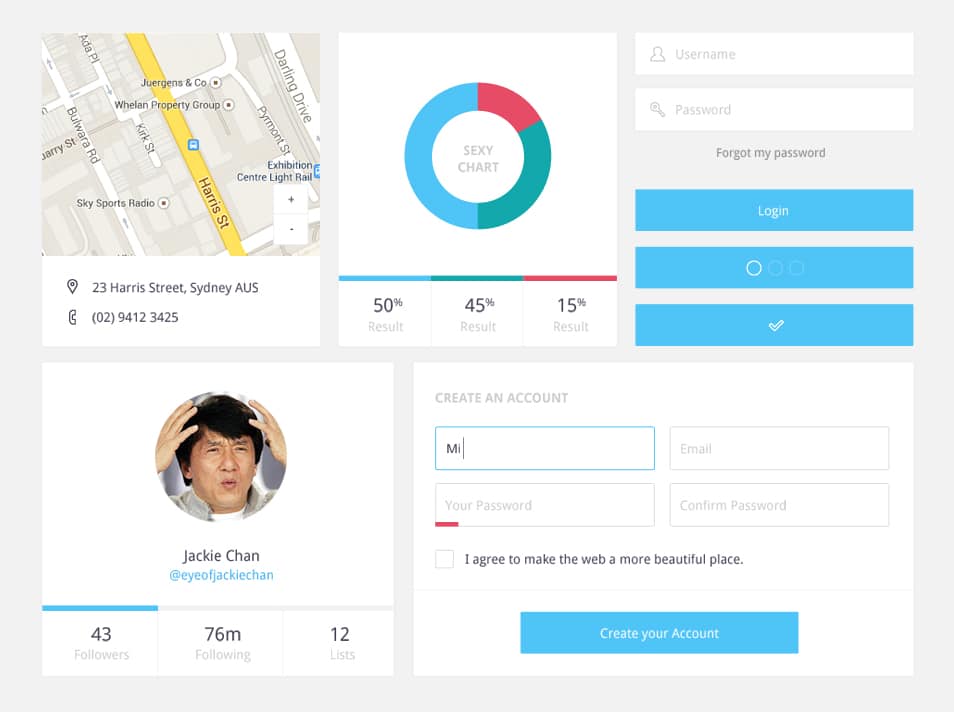 Minimal UI Kit PSD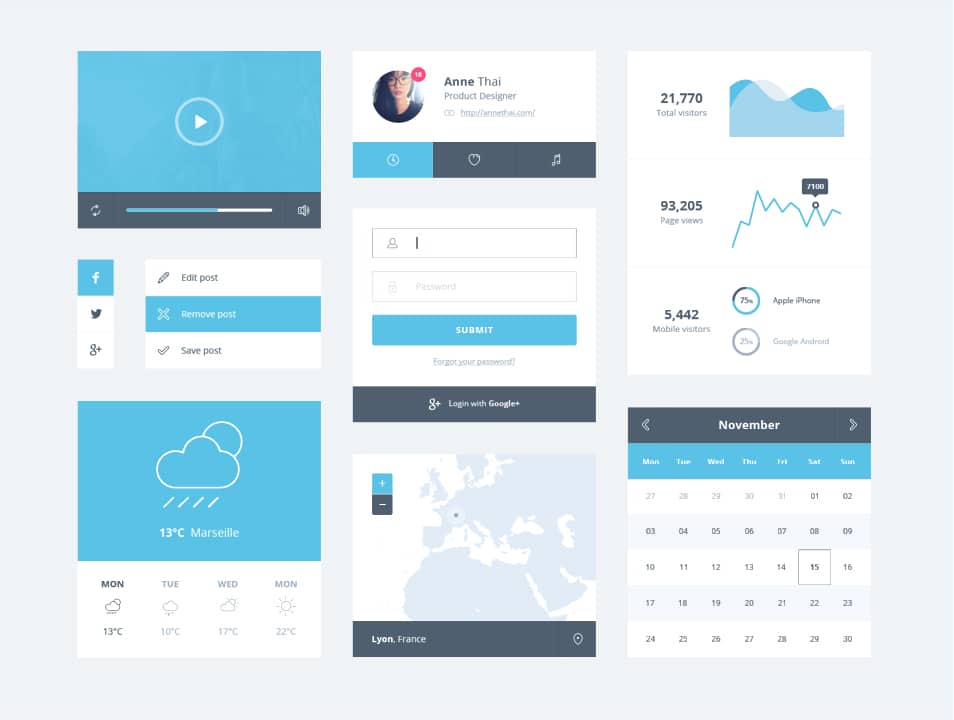 Numbers UI Kit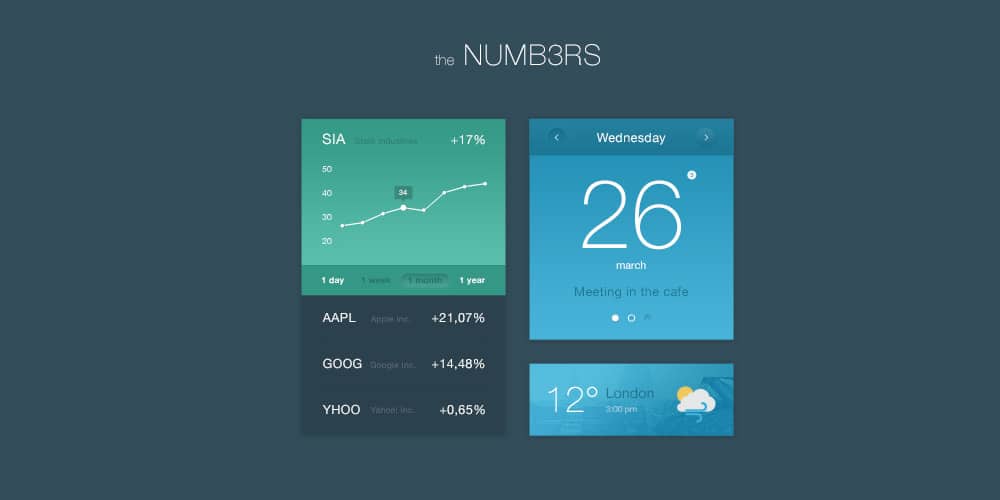 Oak Grain UI Kit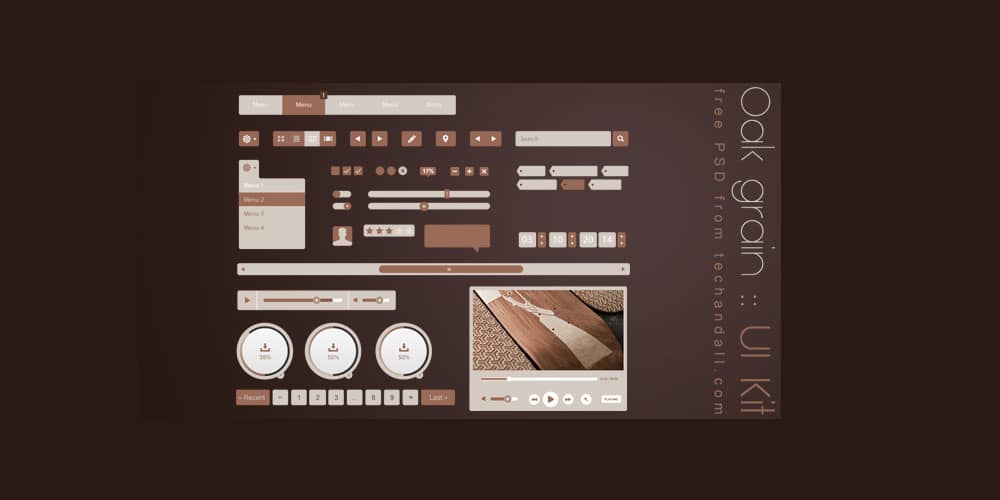 Transparent UI kit Free Psd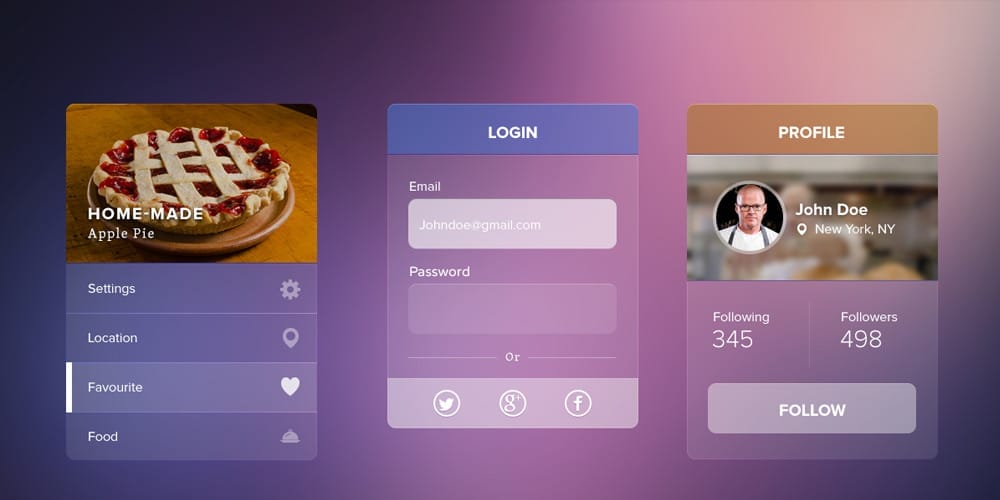 Just Another Flat UI Kit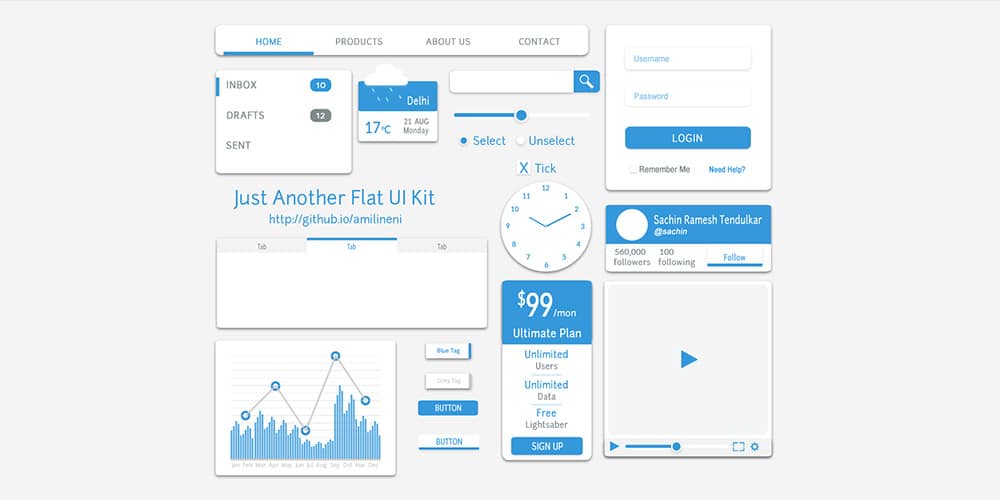 Carbon Black UI Kit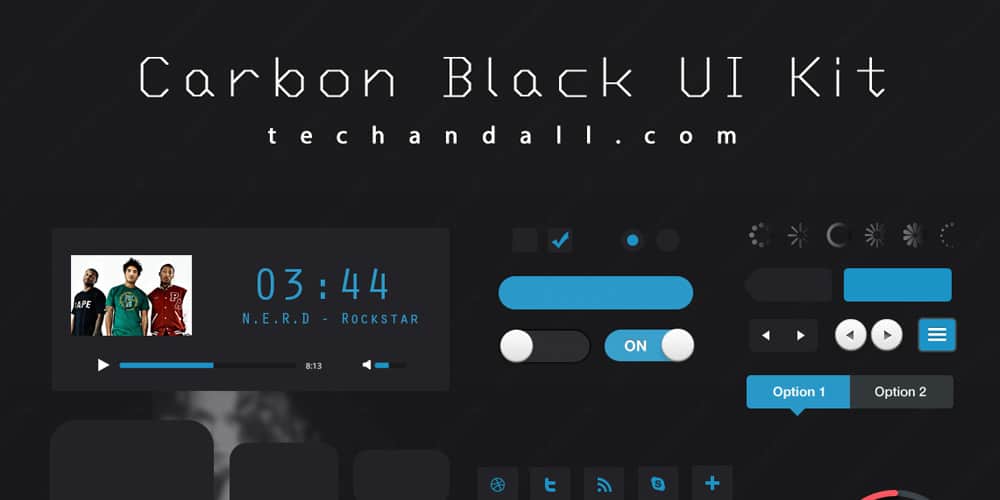 Light UI/UX Kit PSD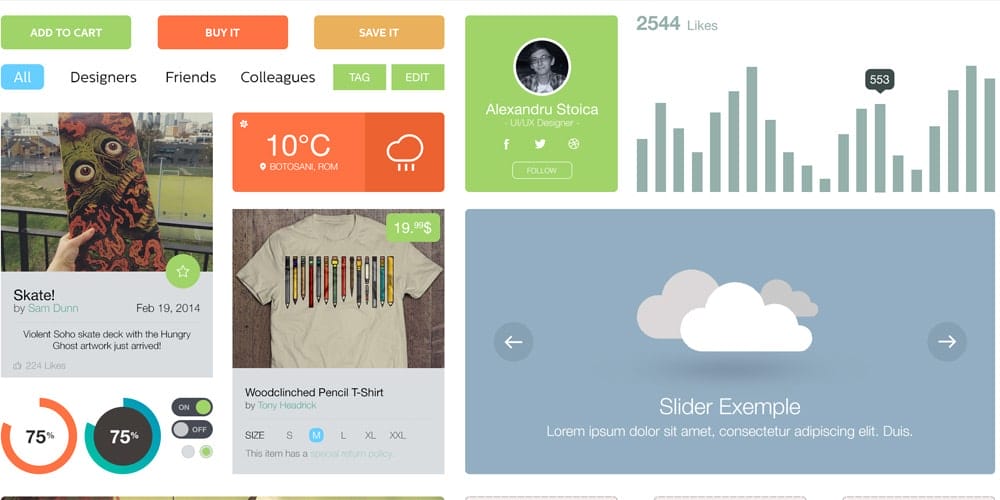 ROBOTIC UI

Free Light Flat UI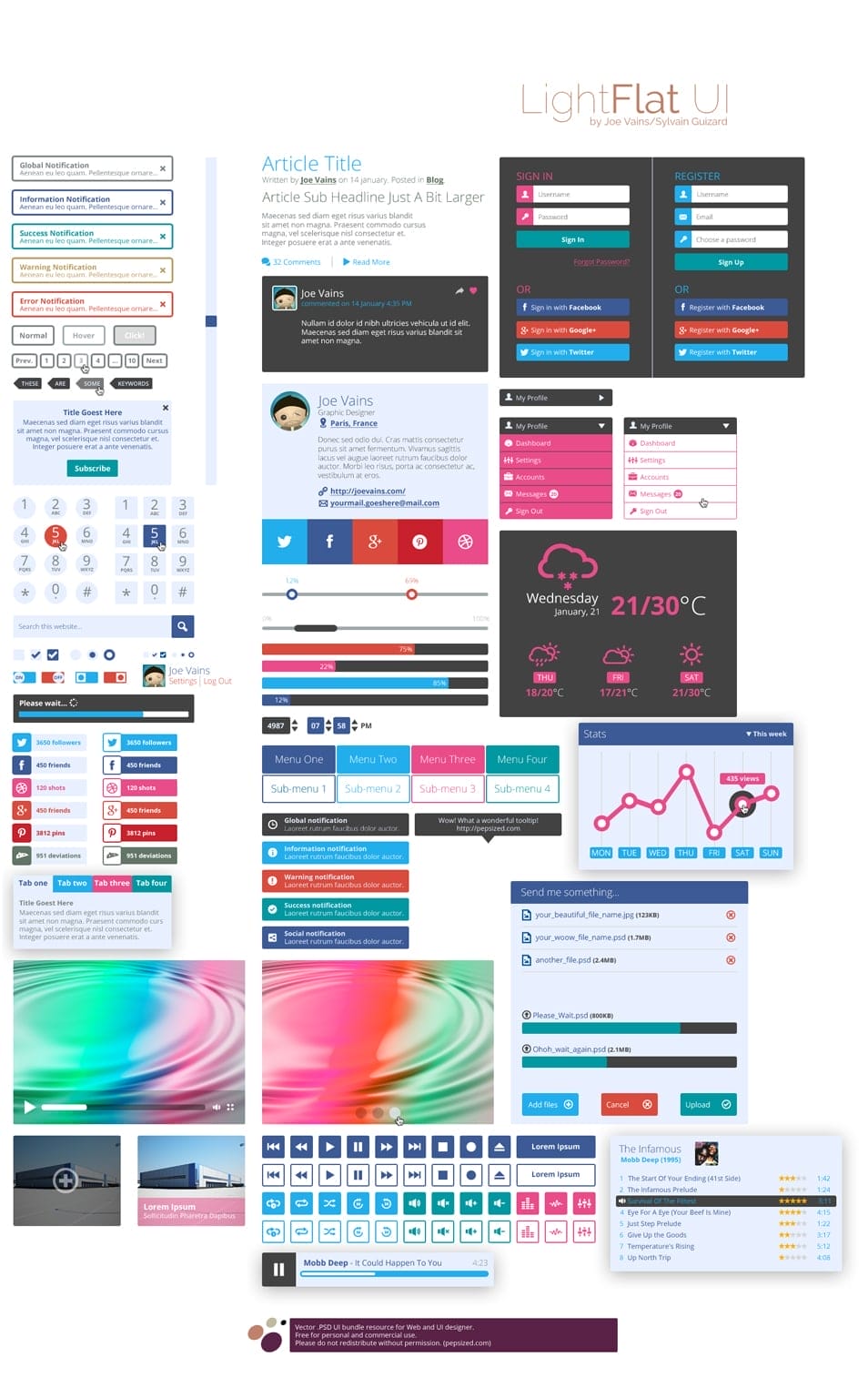 UI Kit Free PSD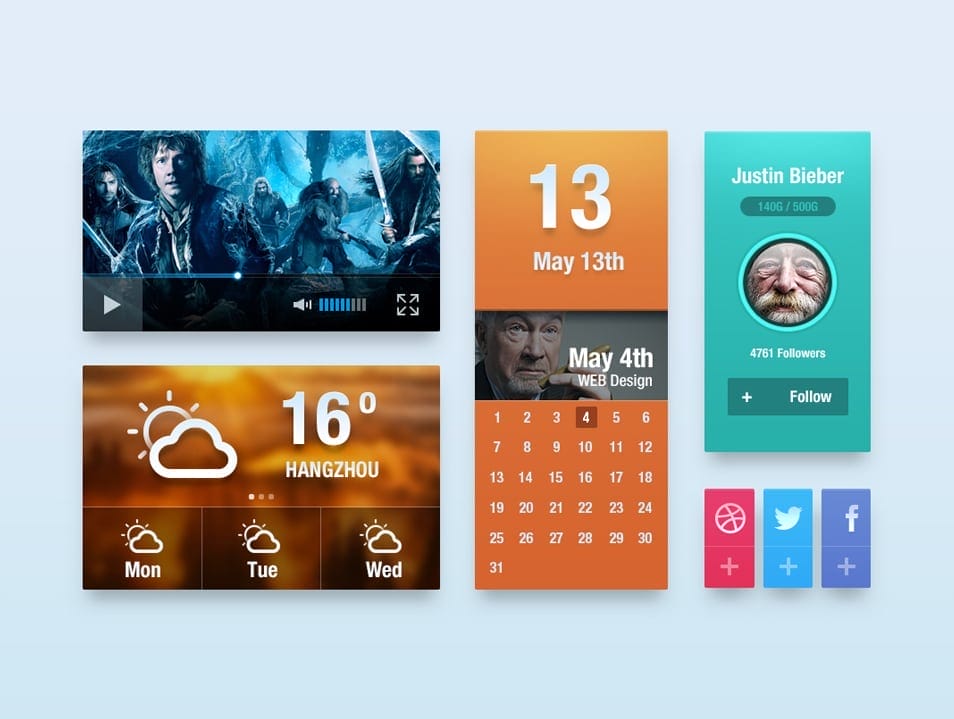 UI Kit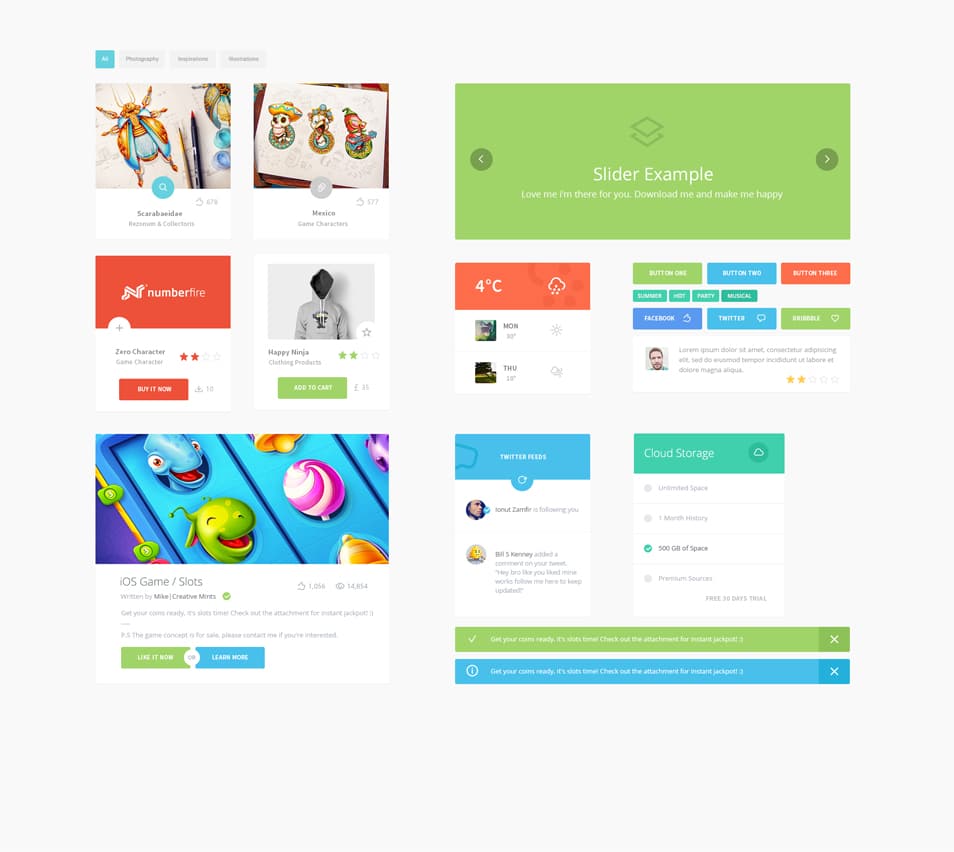 Moon UI Set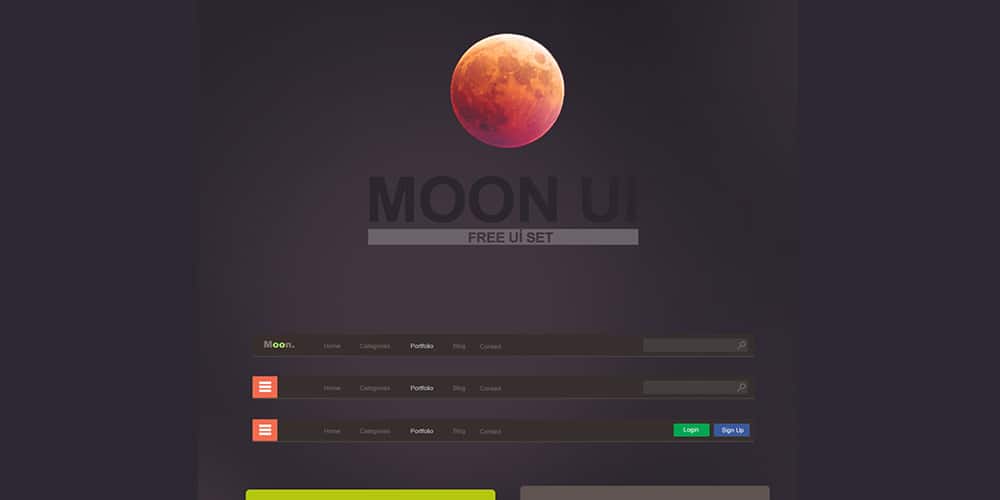 Free UI Kit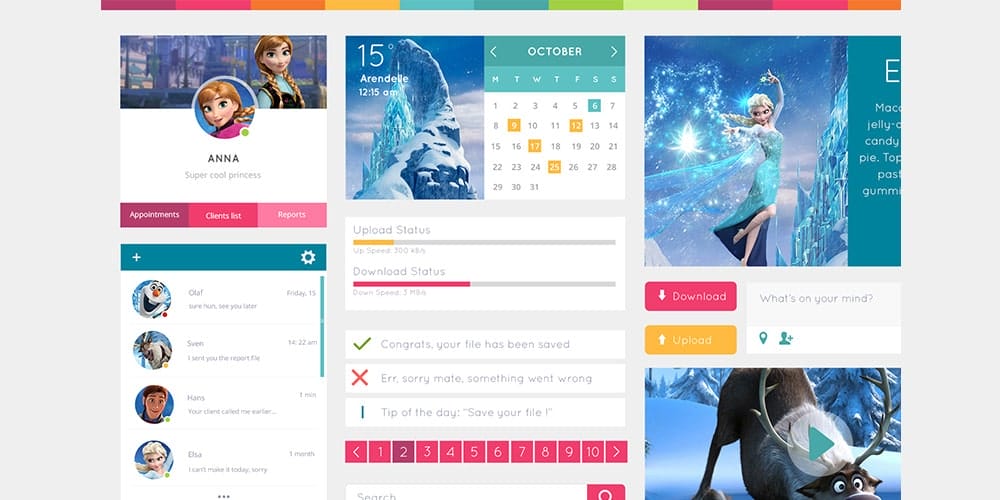 Designer Portfolio App UI Kit PSD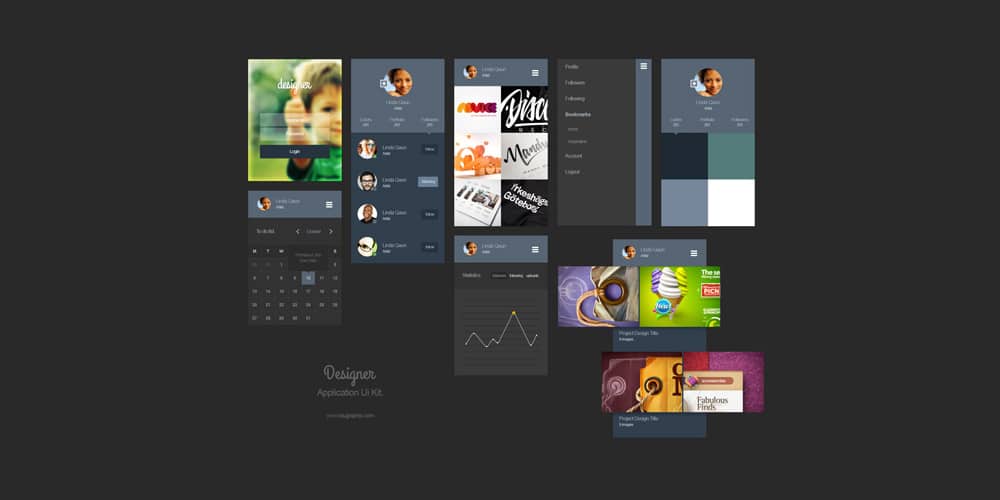 Free UI Kit PSD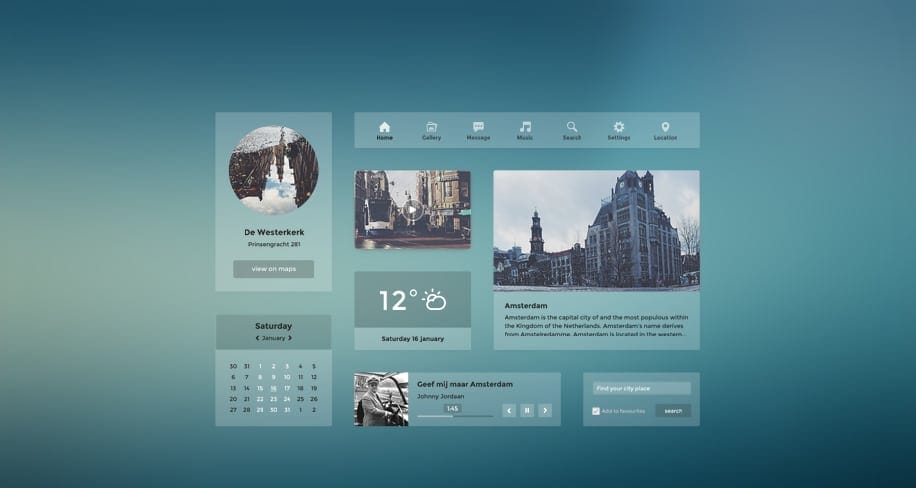 Free Flat UI Kit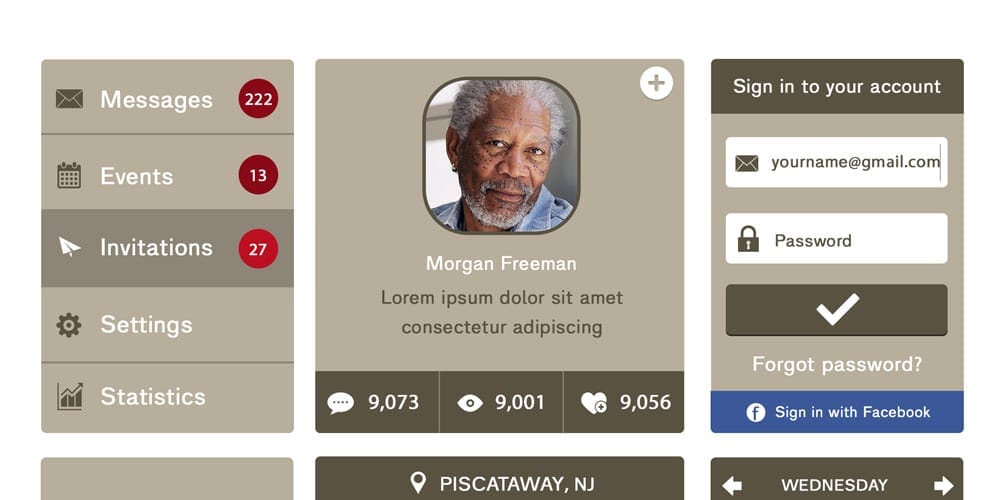 Flat UI Kit Free PSD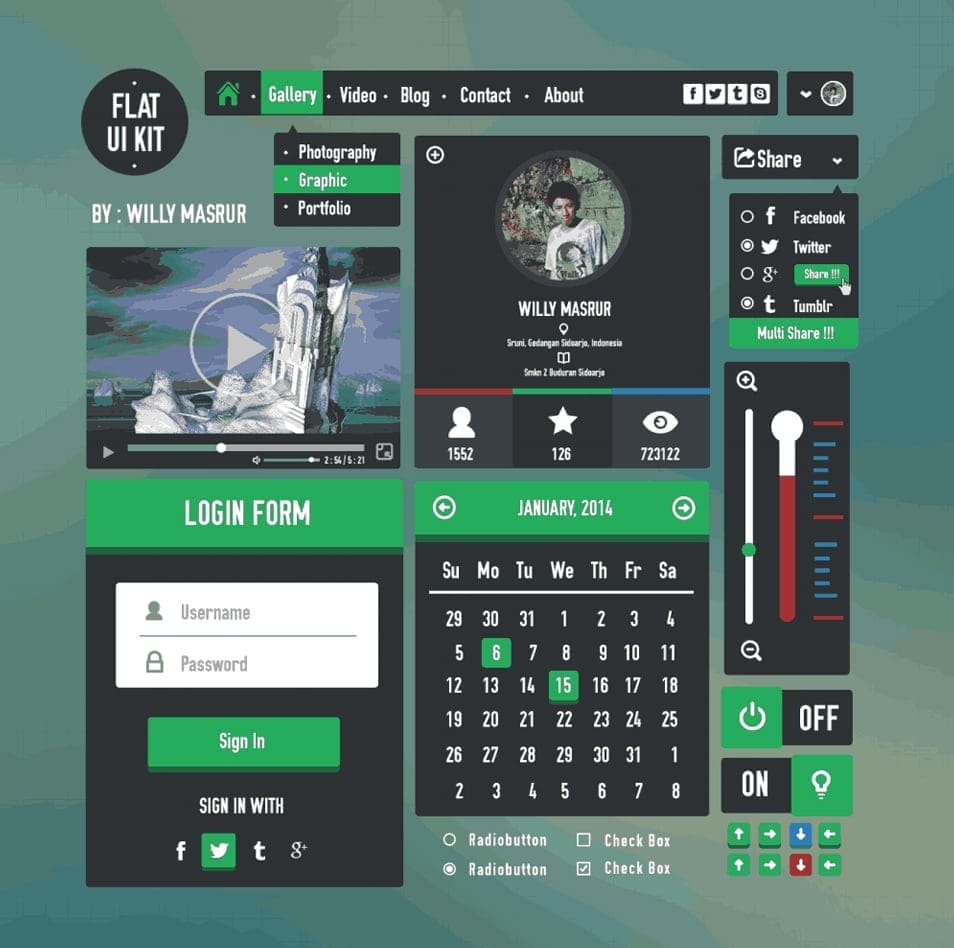 Flat UI Kit PSD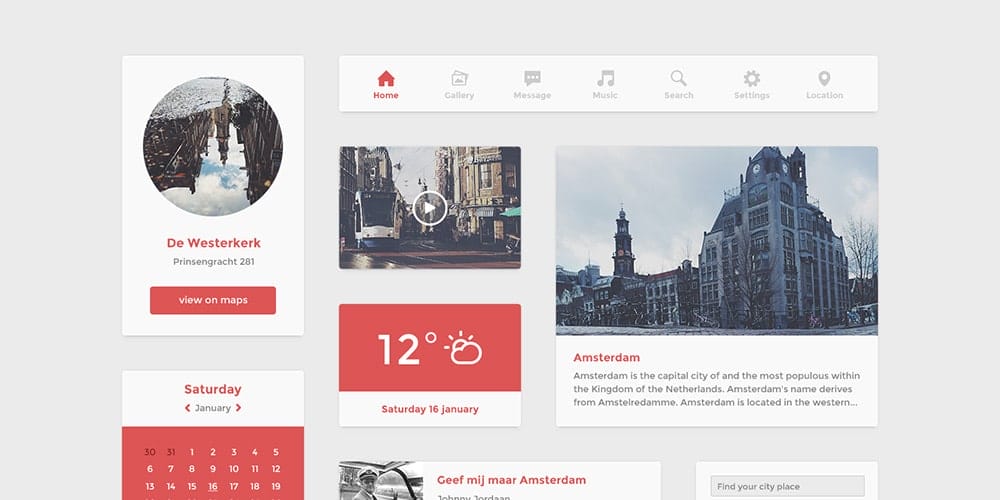 Real Estate Booking UI Kit PSD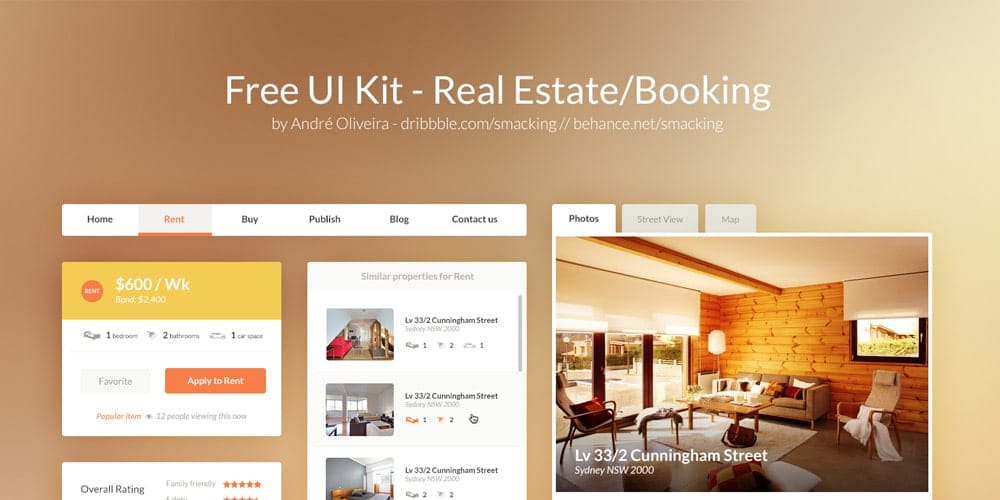 UI kit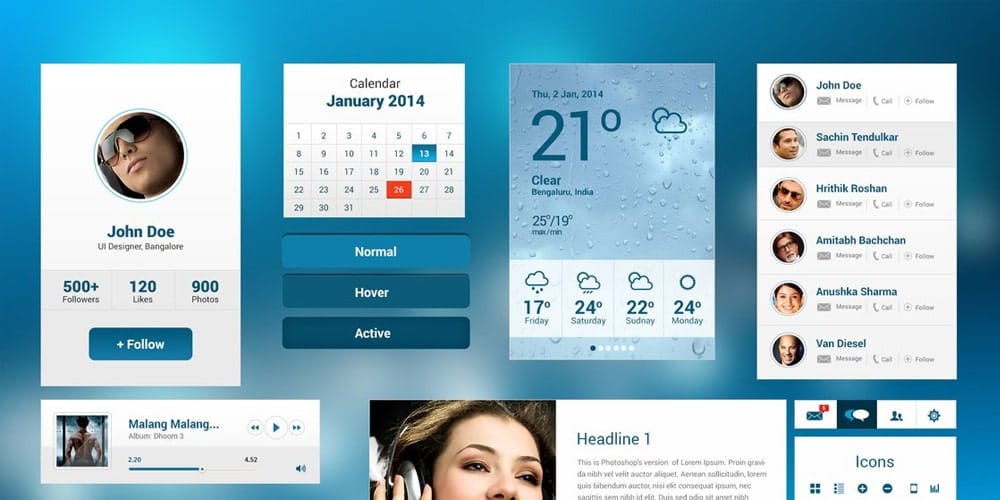 Free Combination UI Pack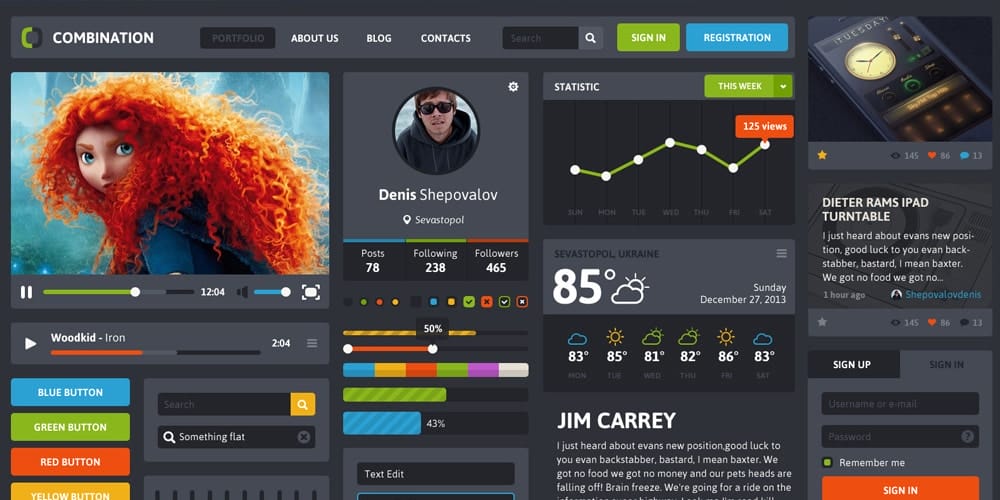 Free UI Kit PSD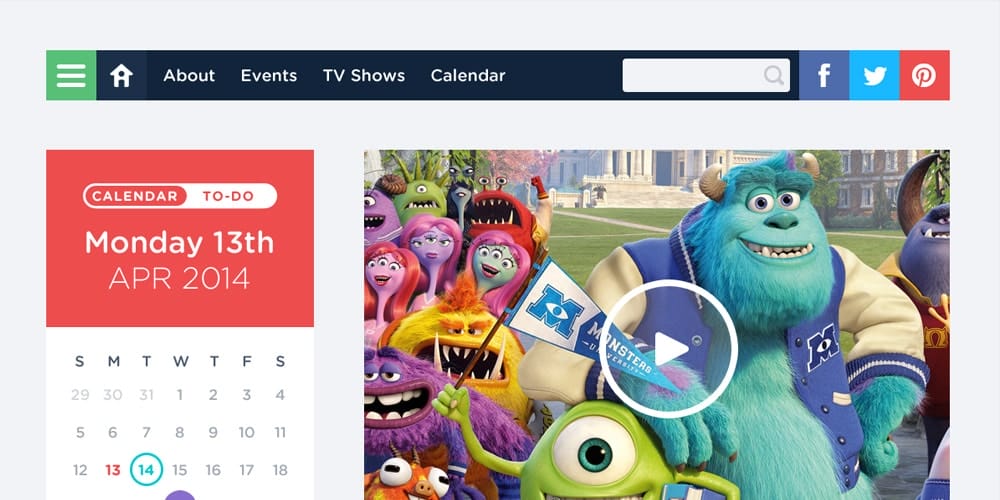 Free UI Kit
UI Kit PSD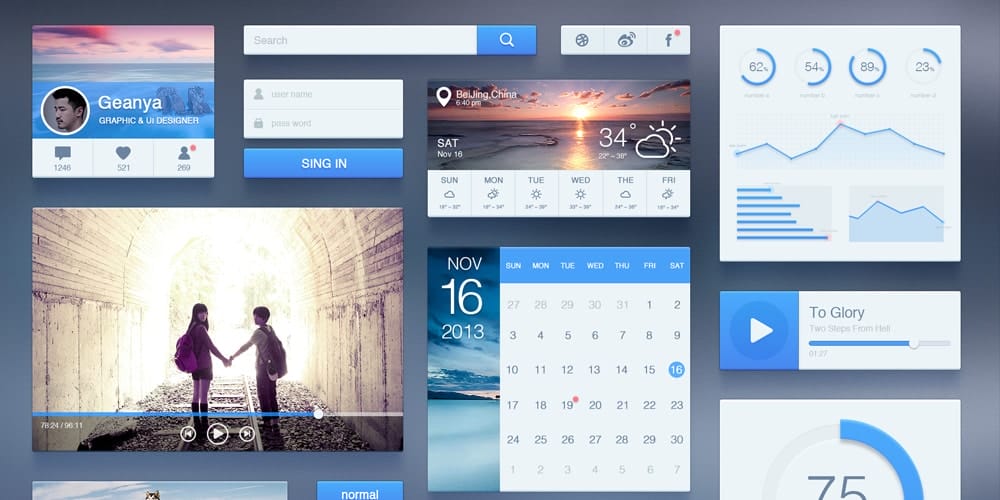 Grudge UI Kit PSD

Whey UI White Kit PSD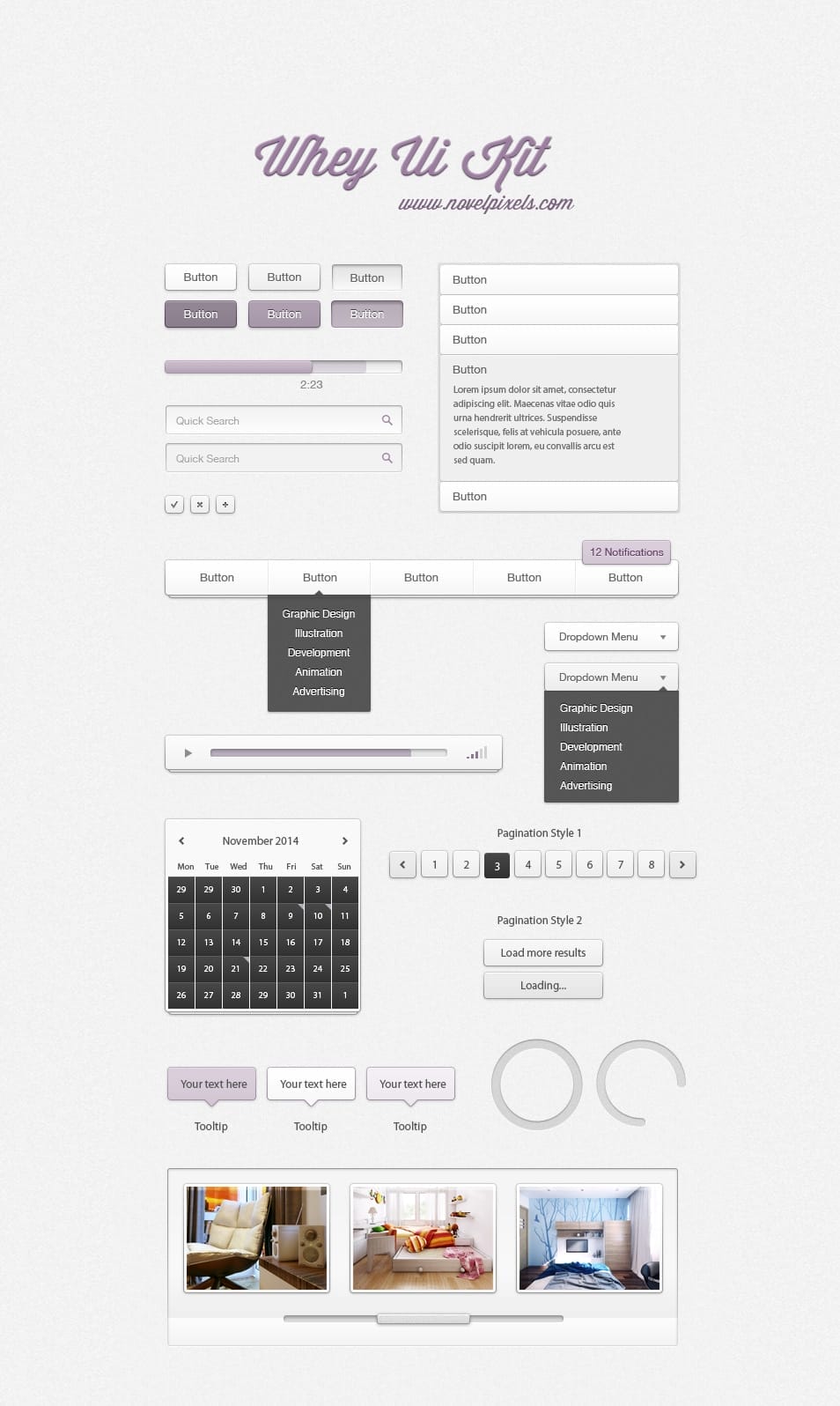 Yellow UI Kit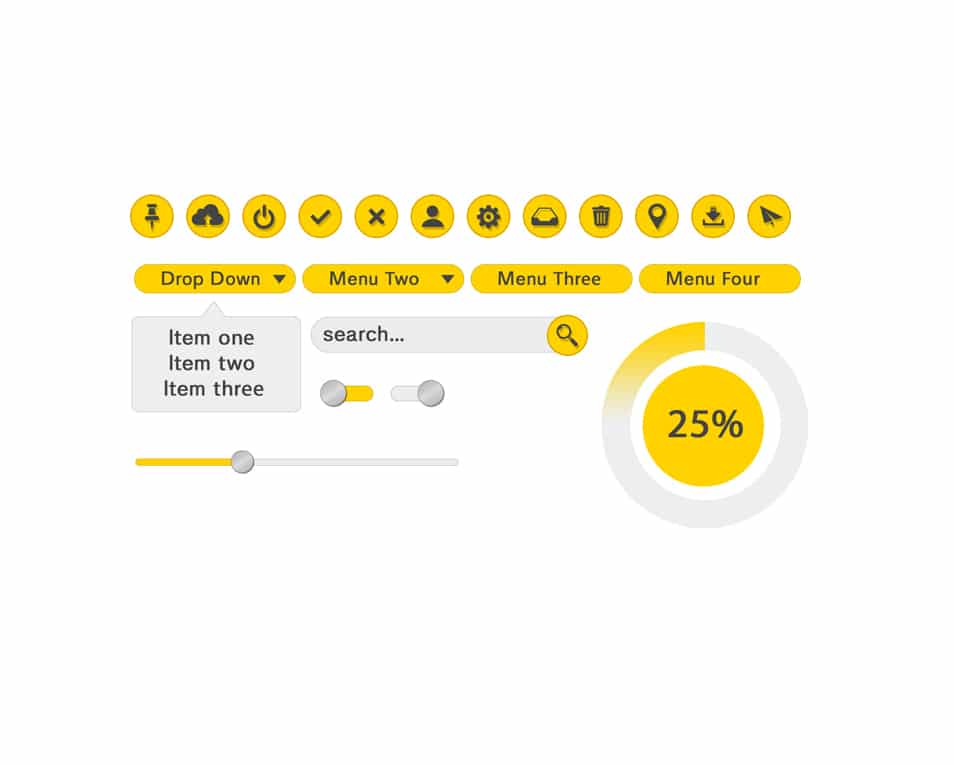 This Looks Great PSD UI Kit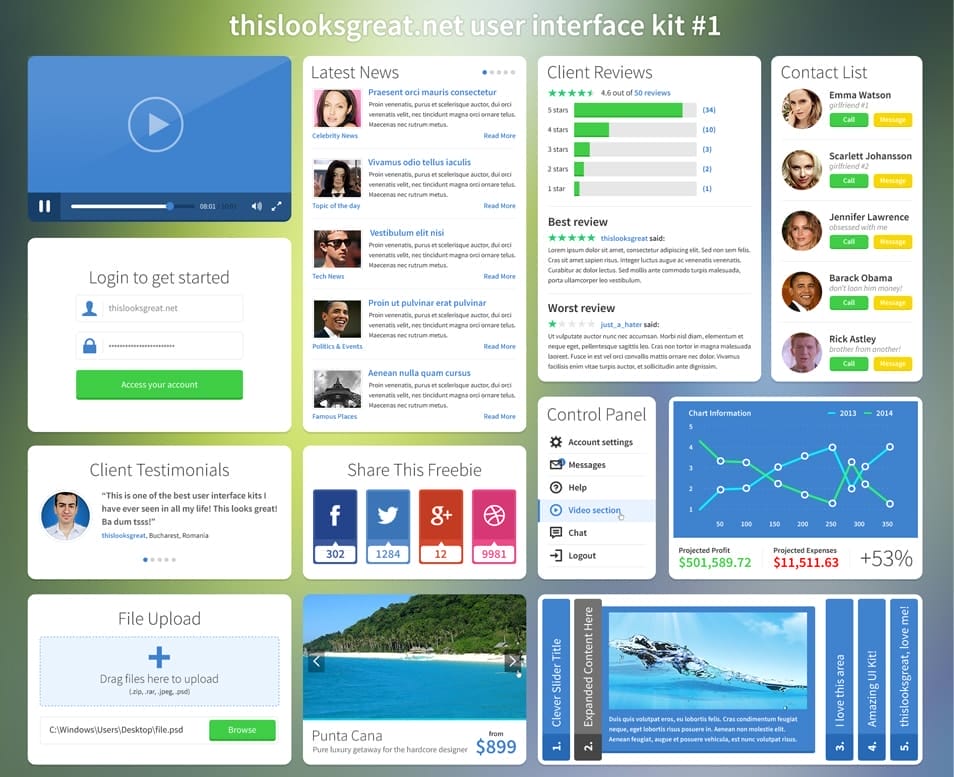 Latest Free UI Kit PSD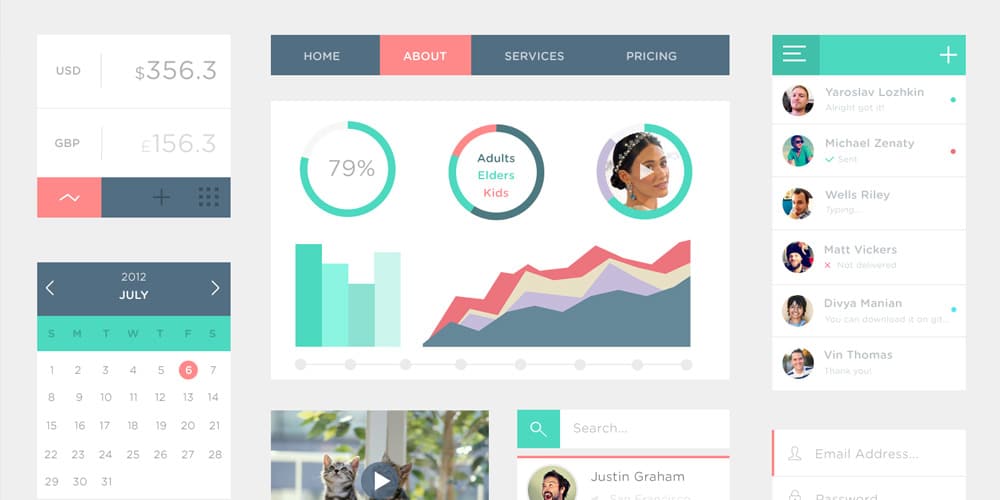 Free PSD UI Kit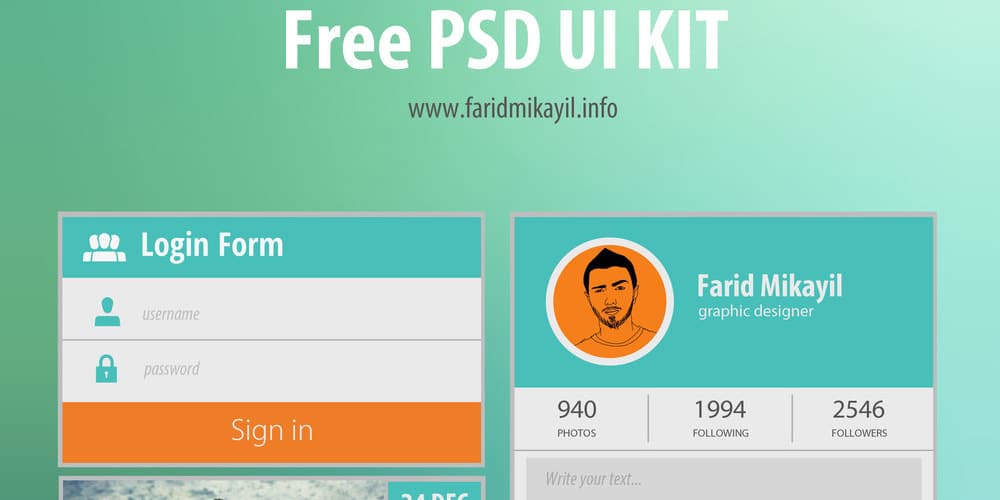 Free UI Kit By KeMoo Fahmey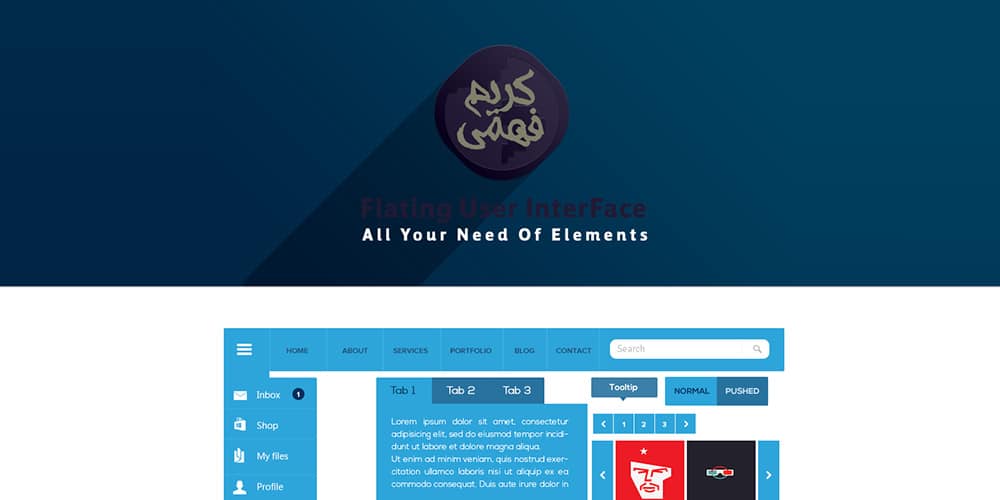 Rampy Flat UI Kit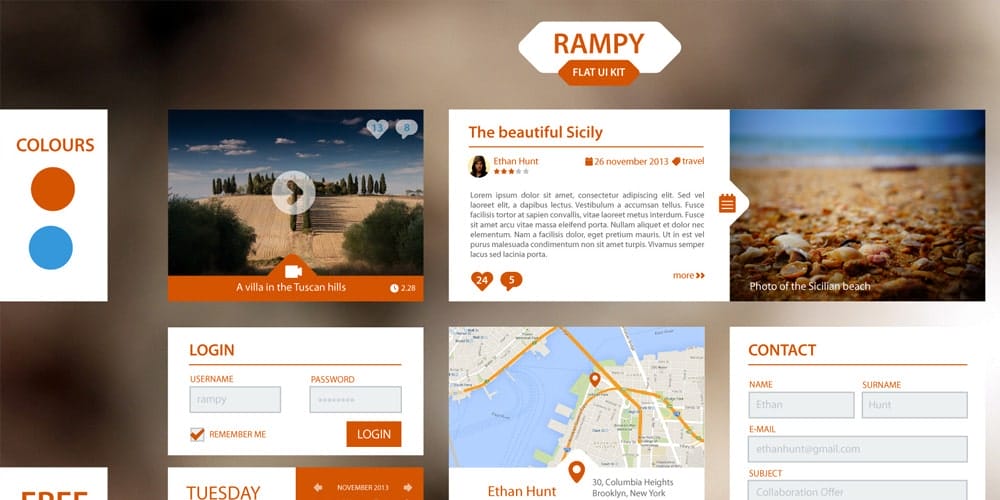 Metro Tiles UI Kit PSD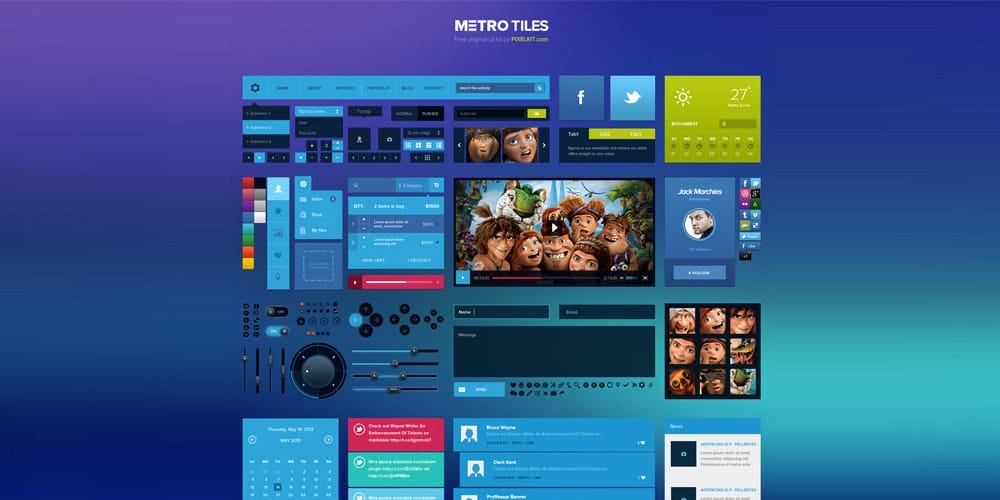 Lucent UI kit PSD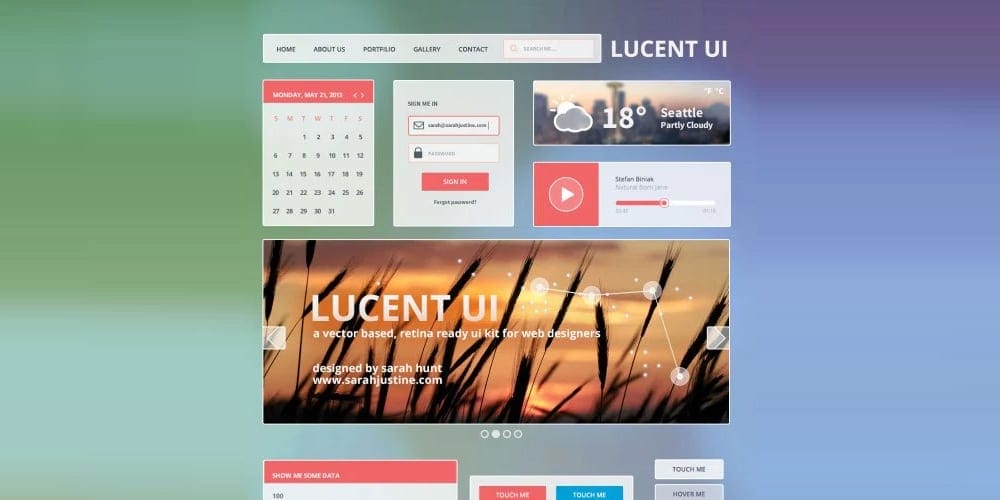 Blog / Magazine UI Kit

The Ero Widget UI Kit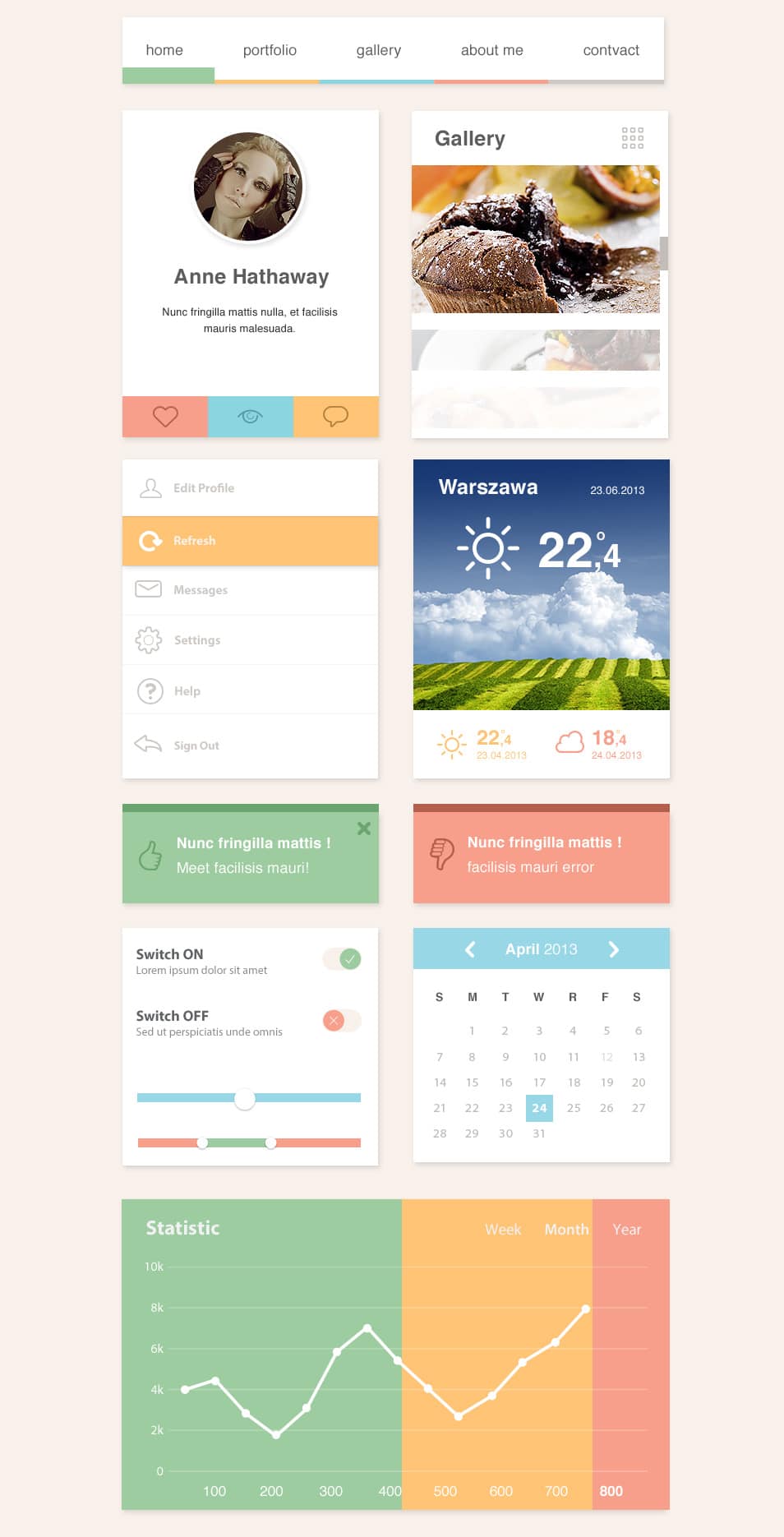 Free Web User Interface Design Kit PSD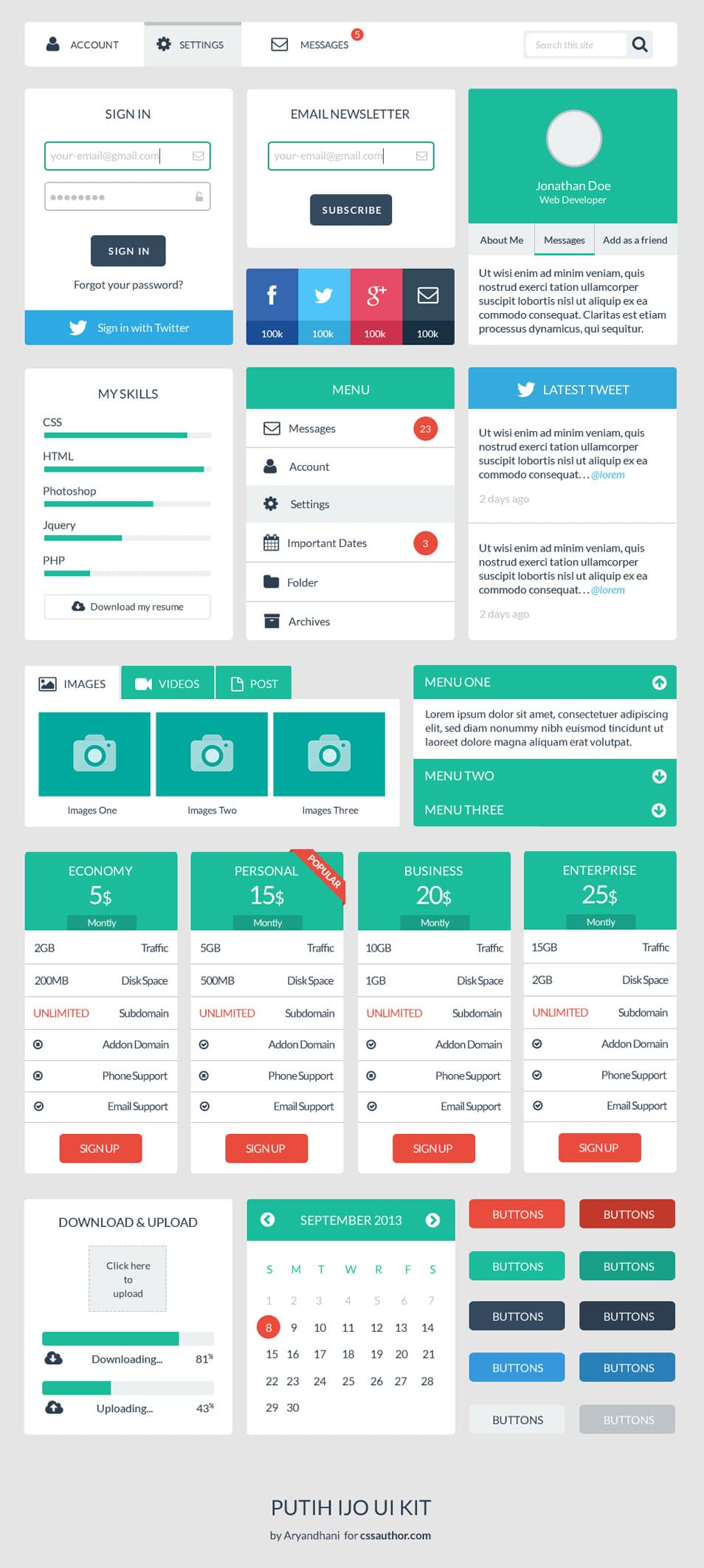 Flat Rounded Square UI KIT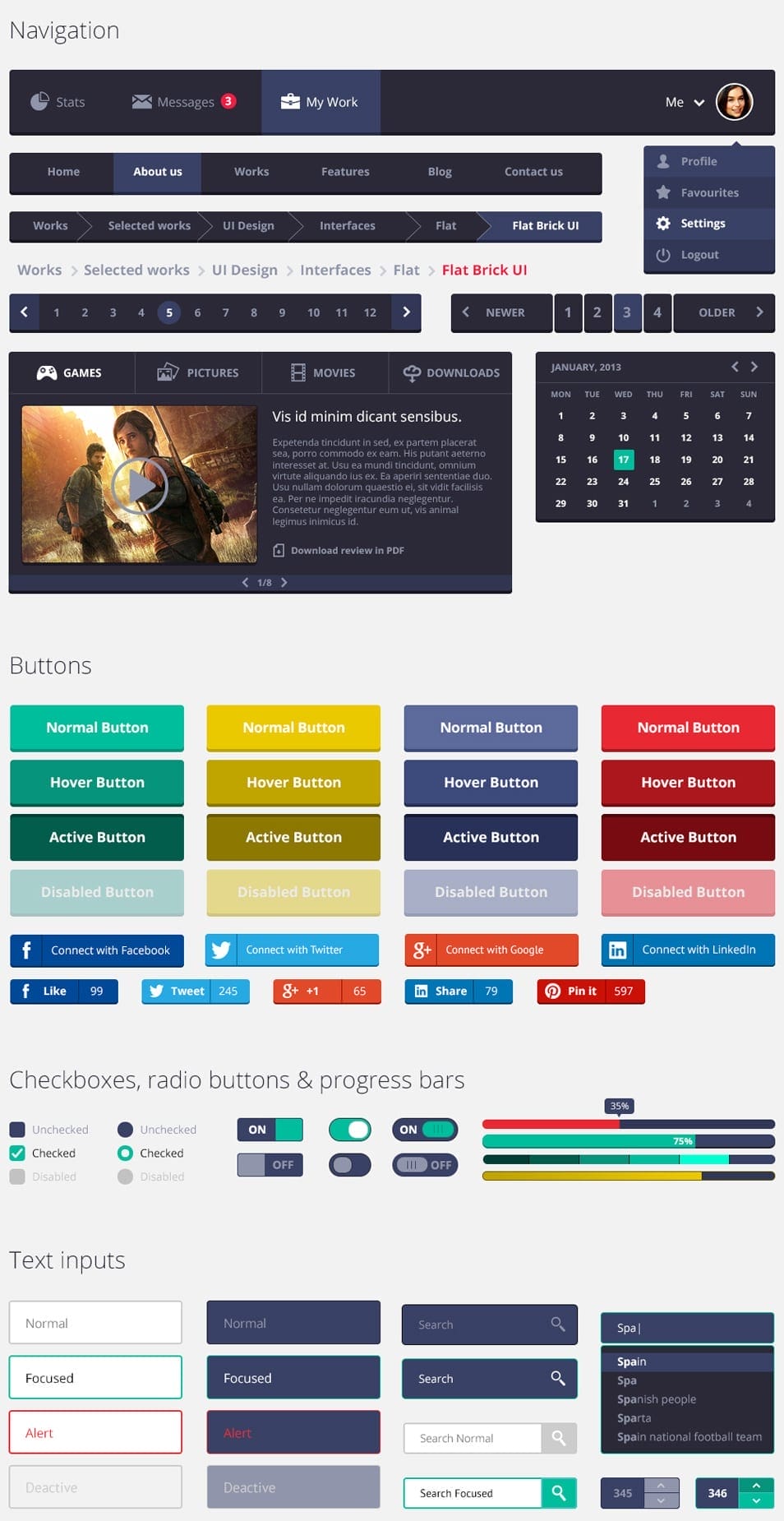 Flat UI Kit Free PSD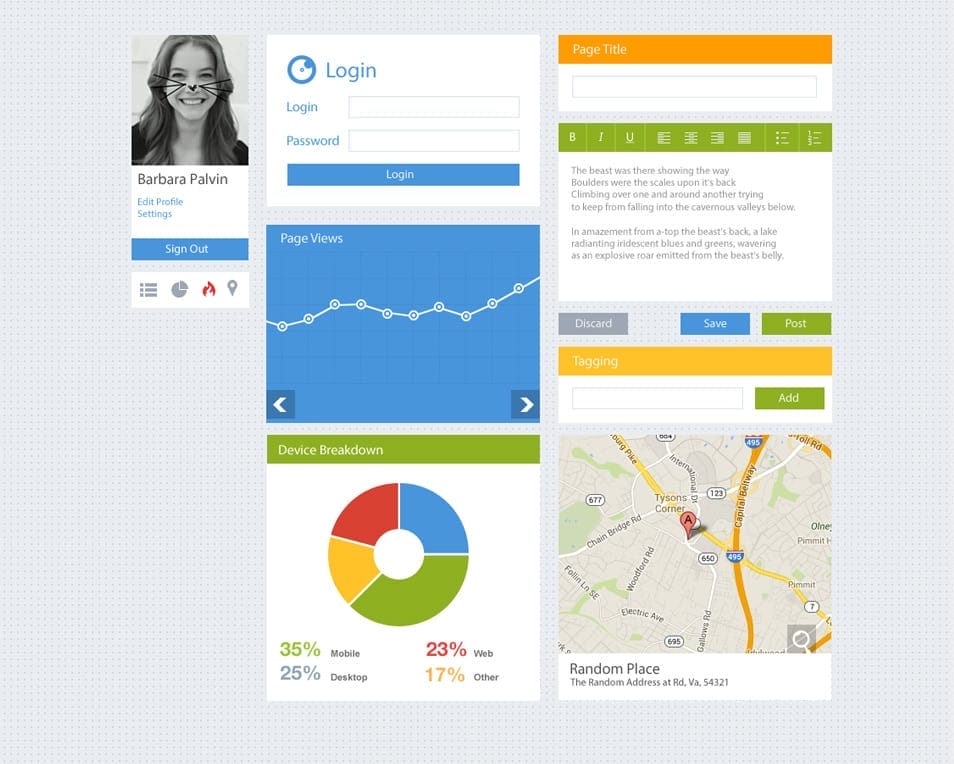 Flat Design User Interface Elements PSD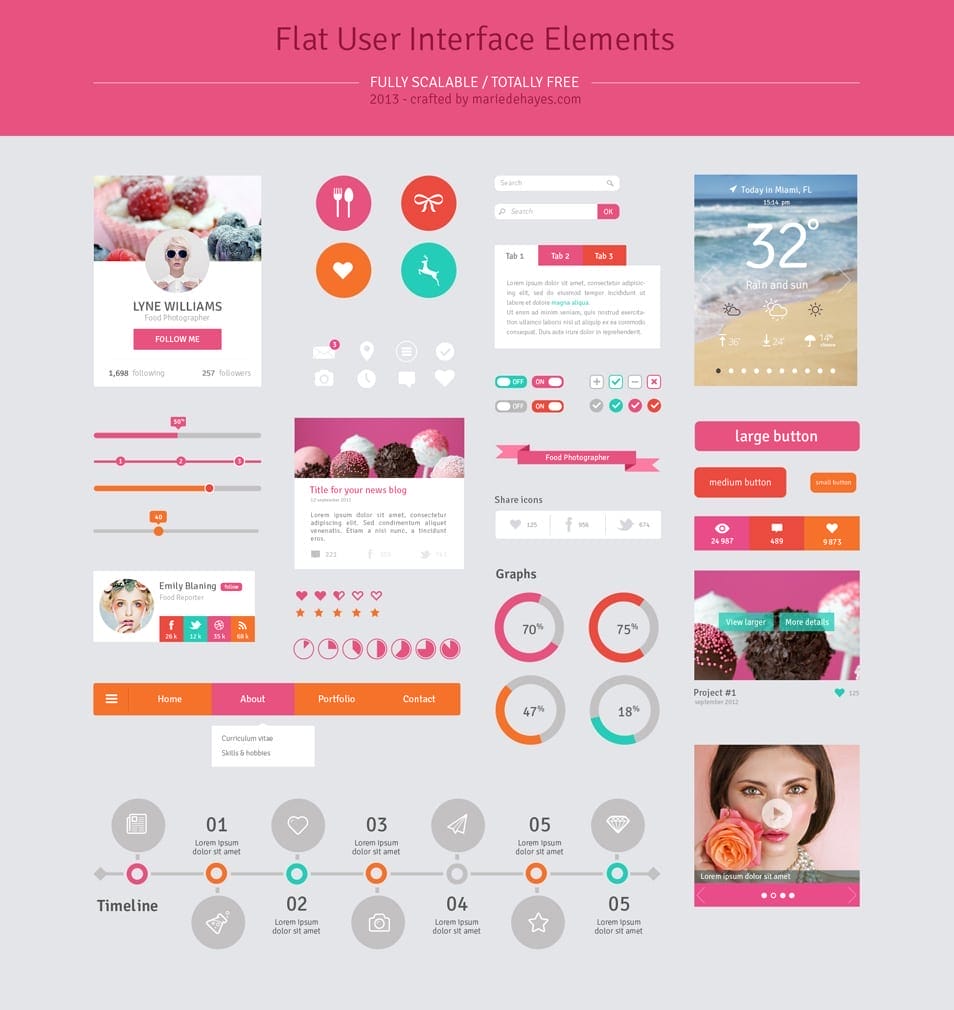 Flat or Skeuomorphic UI kit
Free PSD UI Kit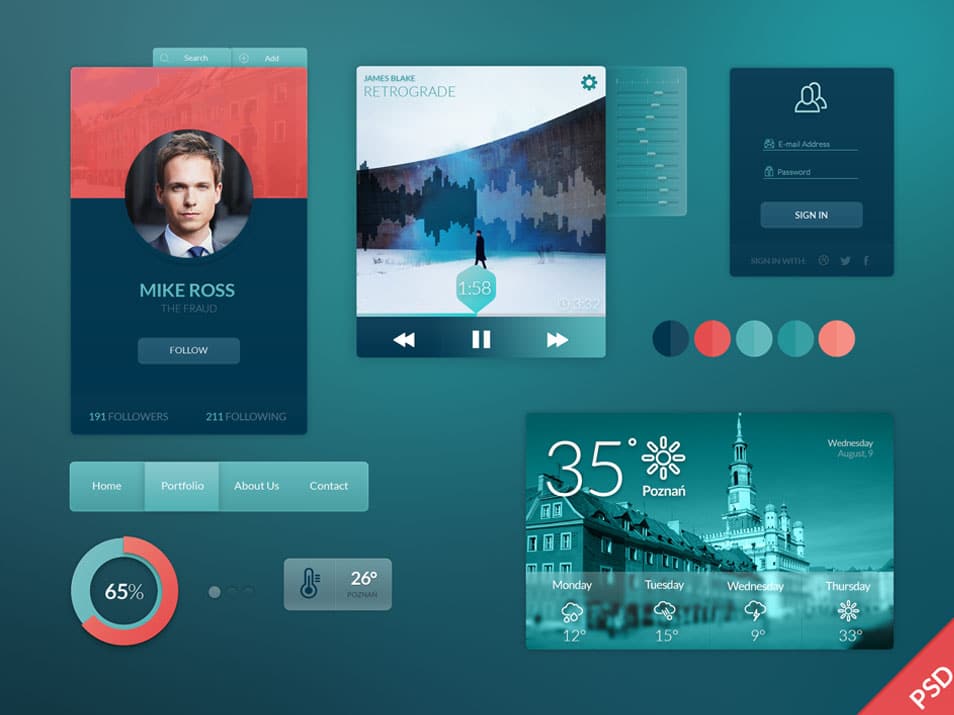 UI Kit PSD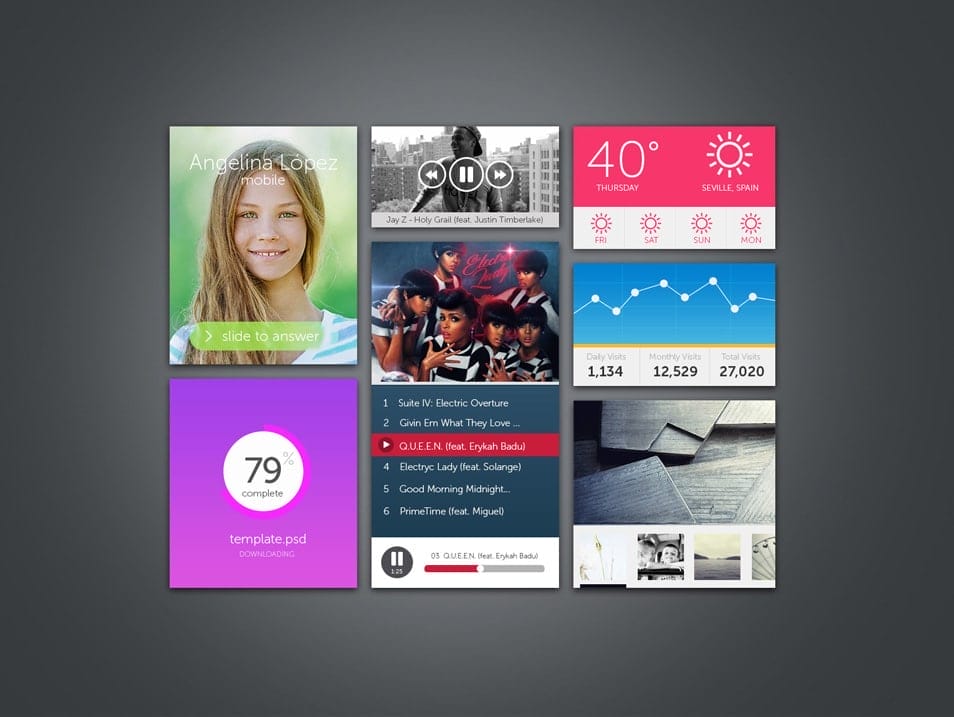 Simple UI Kit with Flat Colors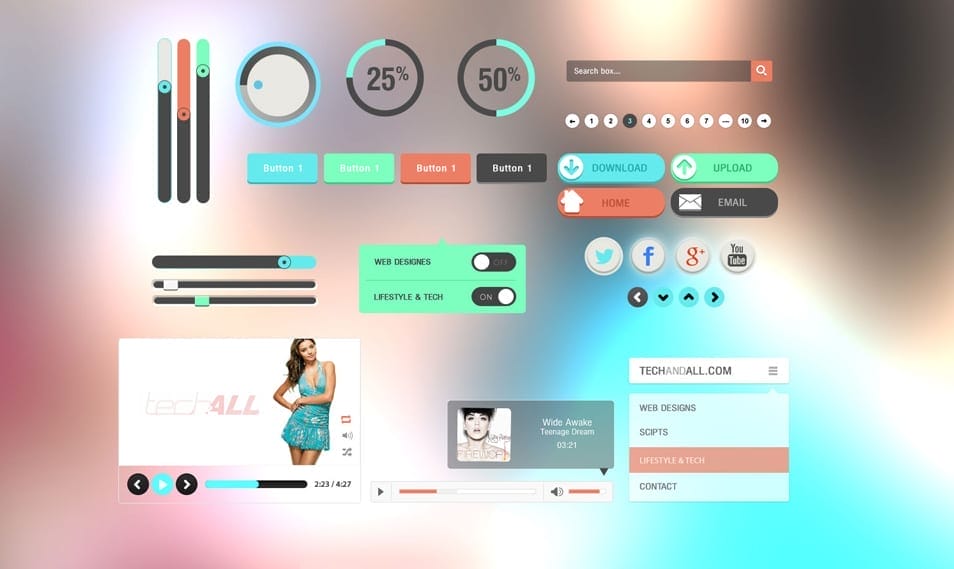 Social Summer UI Kit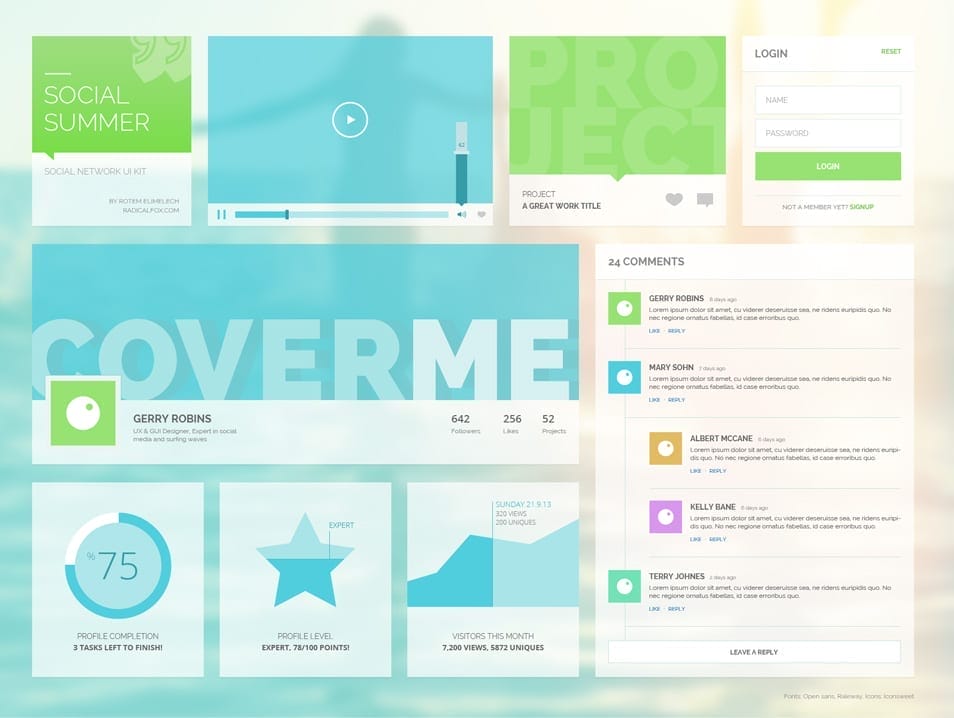 RED UI User Interface Design Kit PSD

UI Kit Free PSD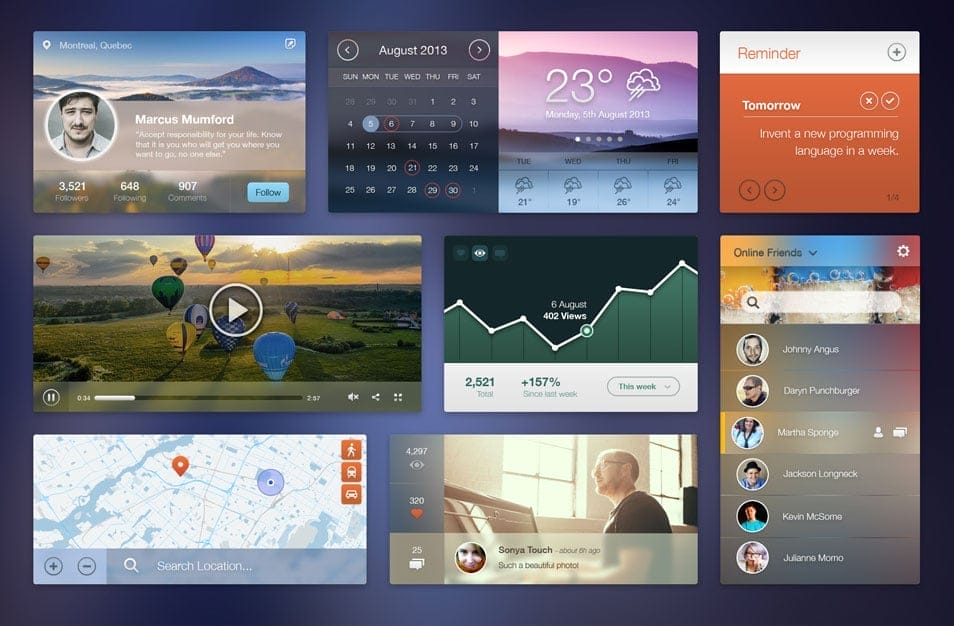 UI Kit Free PSD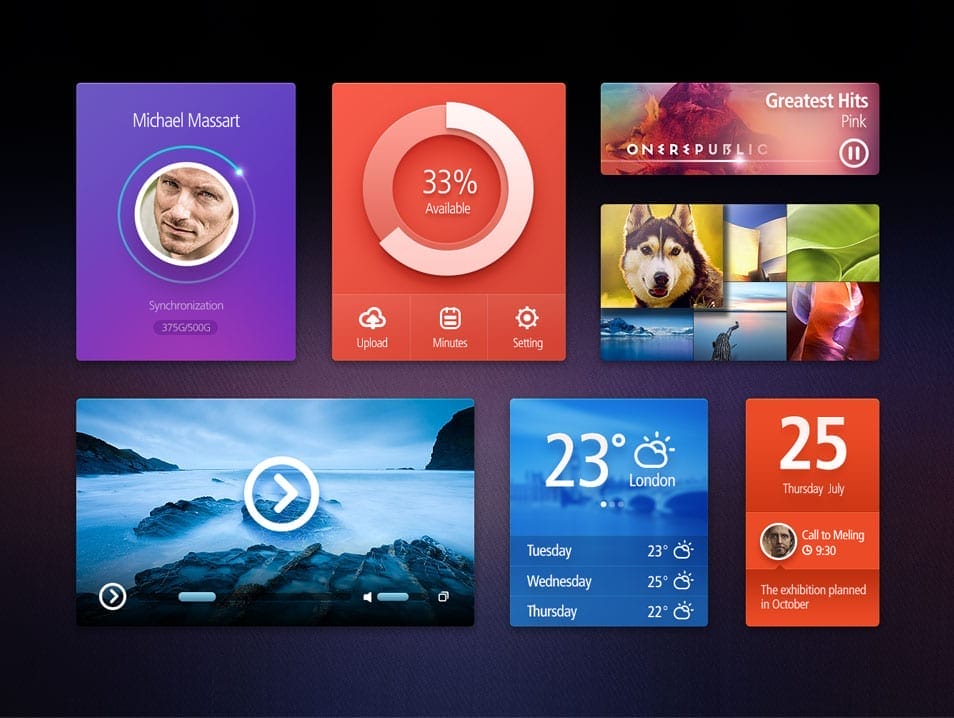 Flat Design UI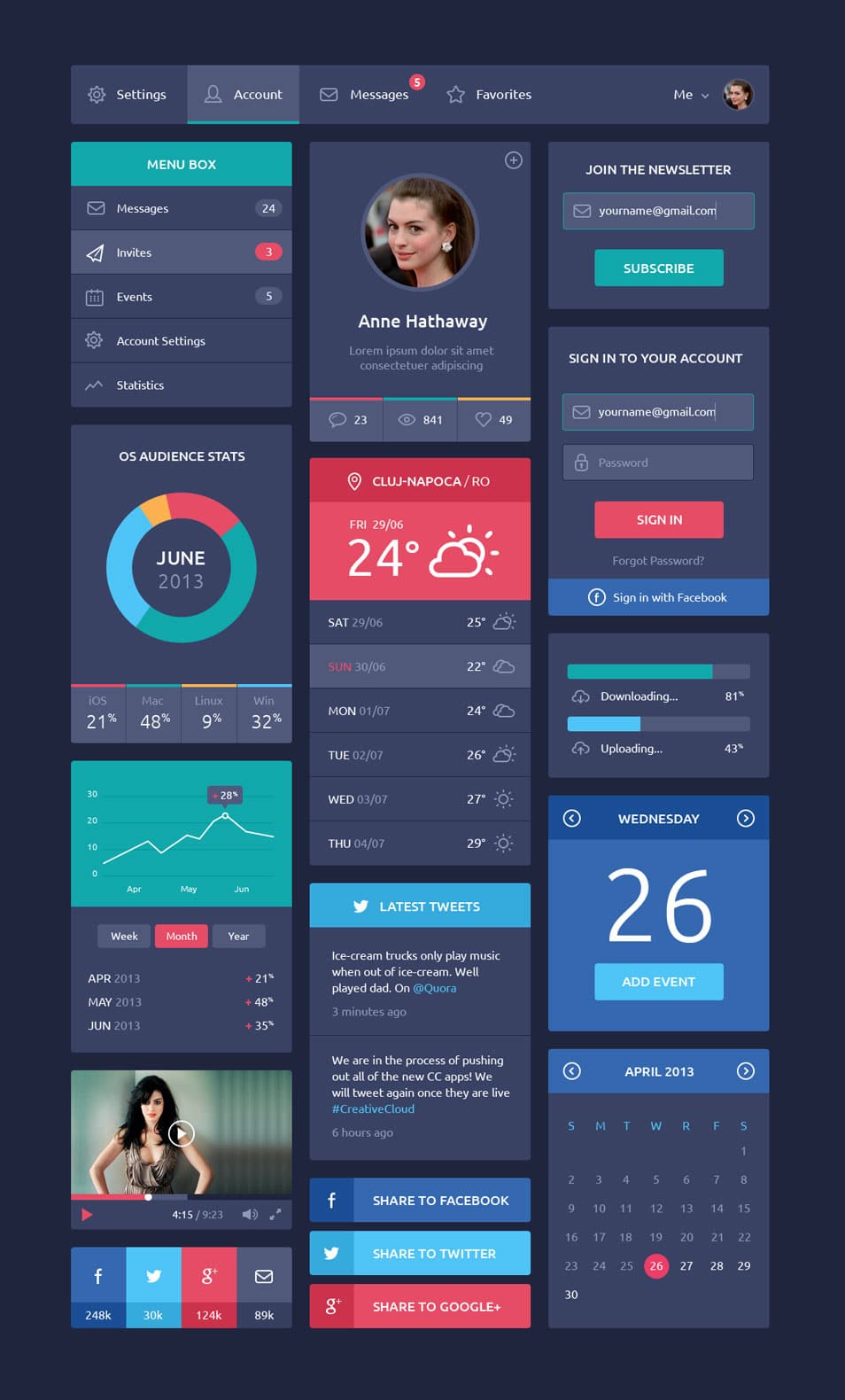 Vertical Infinity

Flatty UI Kit PSD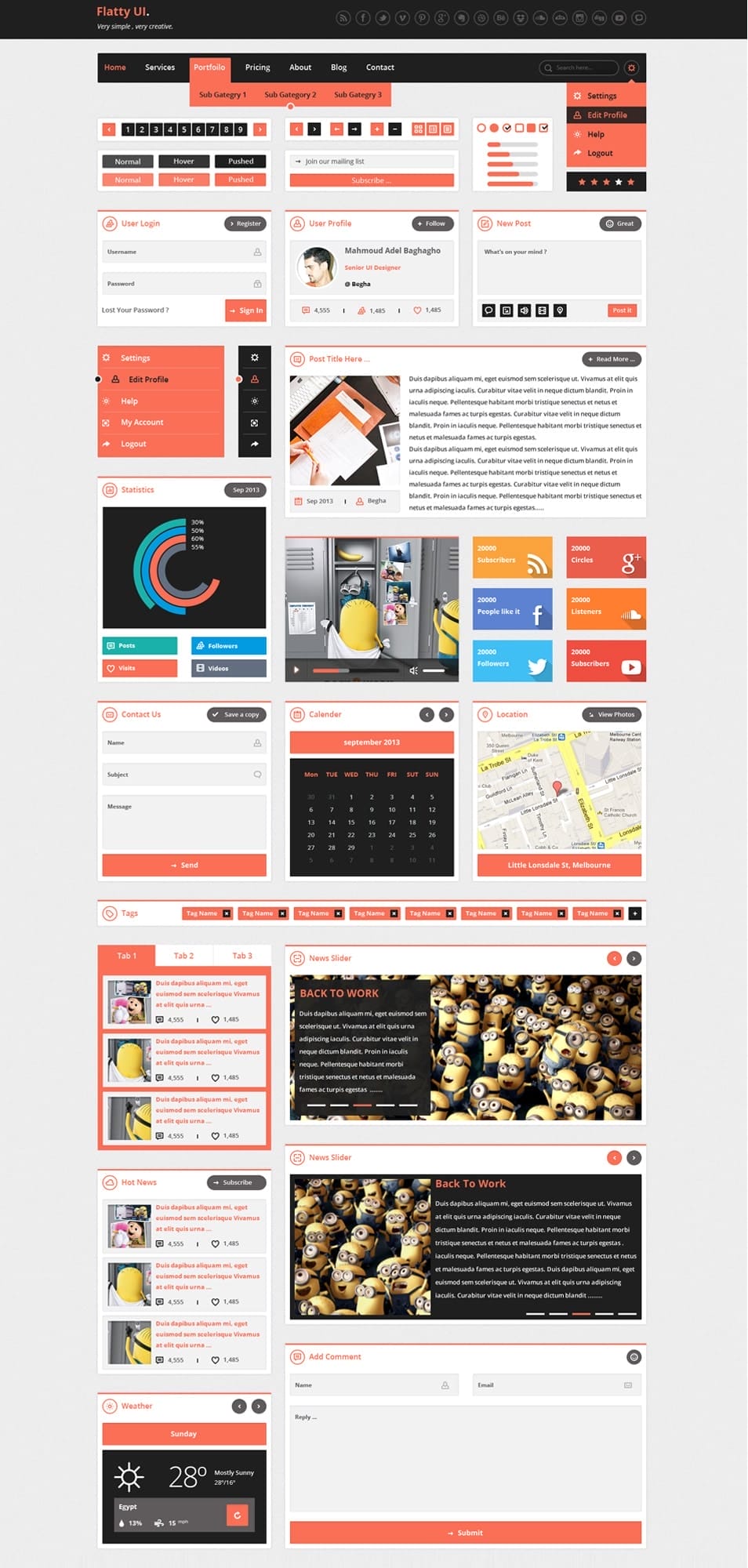 Flat UI Kit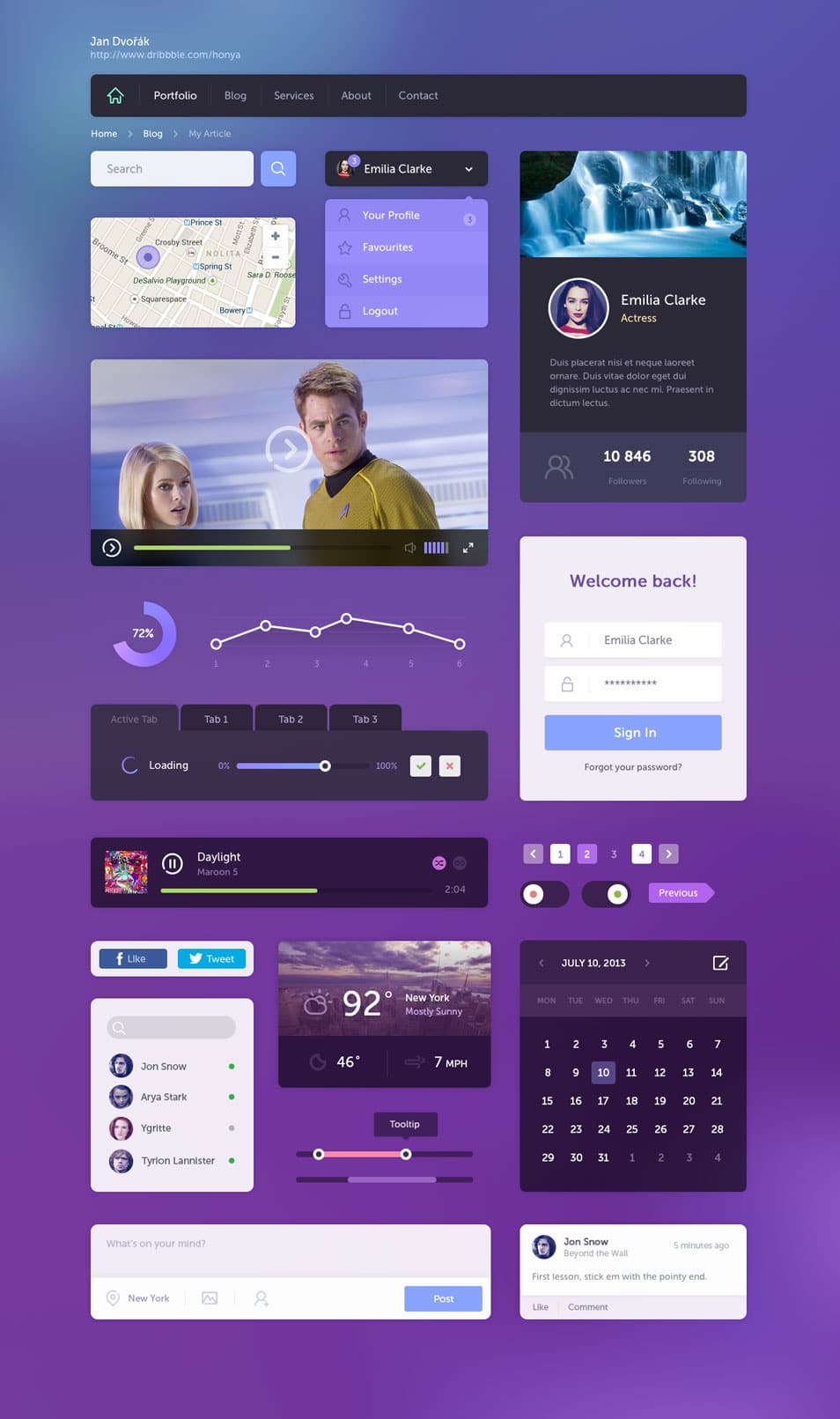 3 in 1 User Interface Elements Kit

Purple UI Kit PSD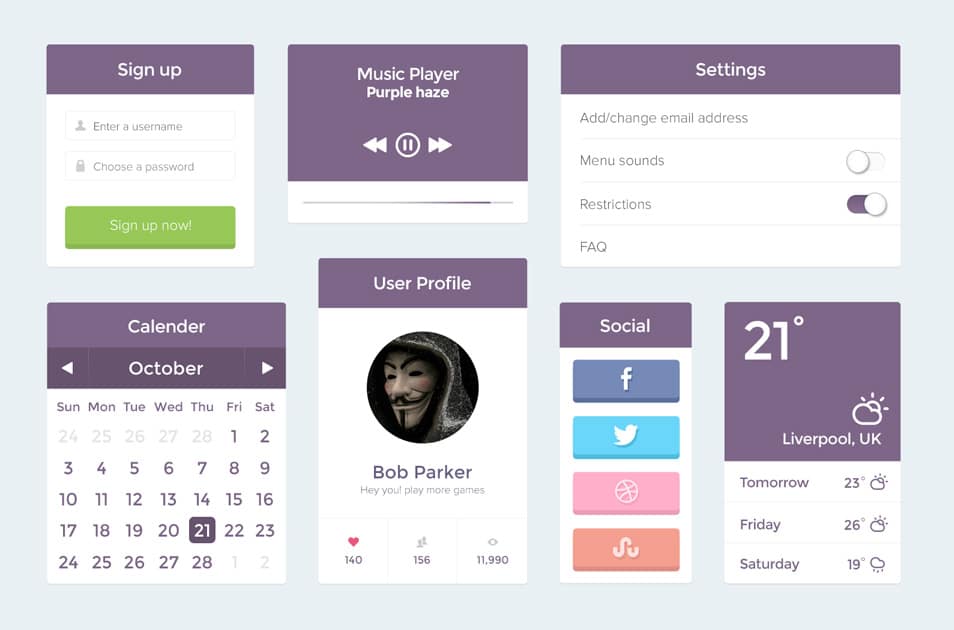 Grayscale Ui Kit Free PSD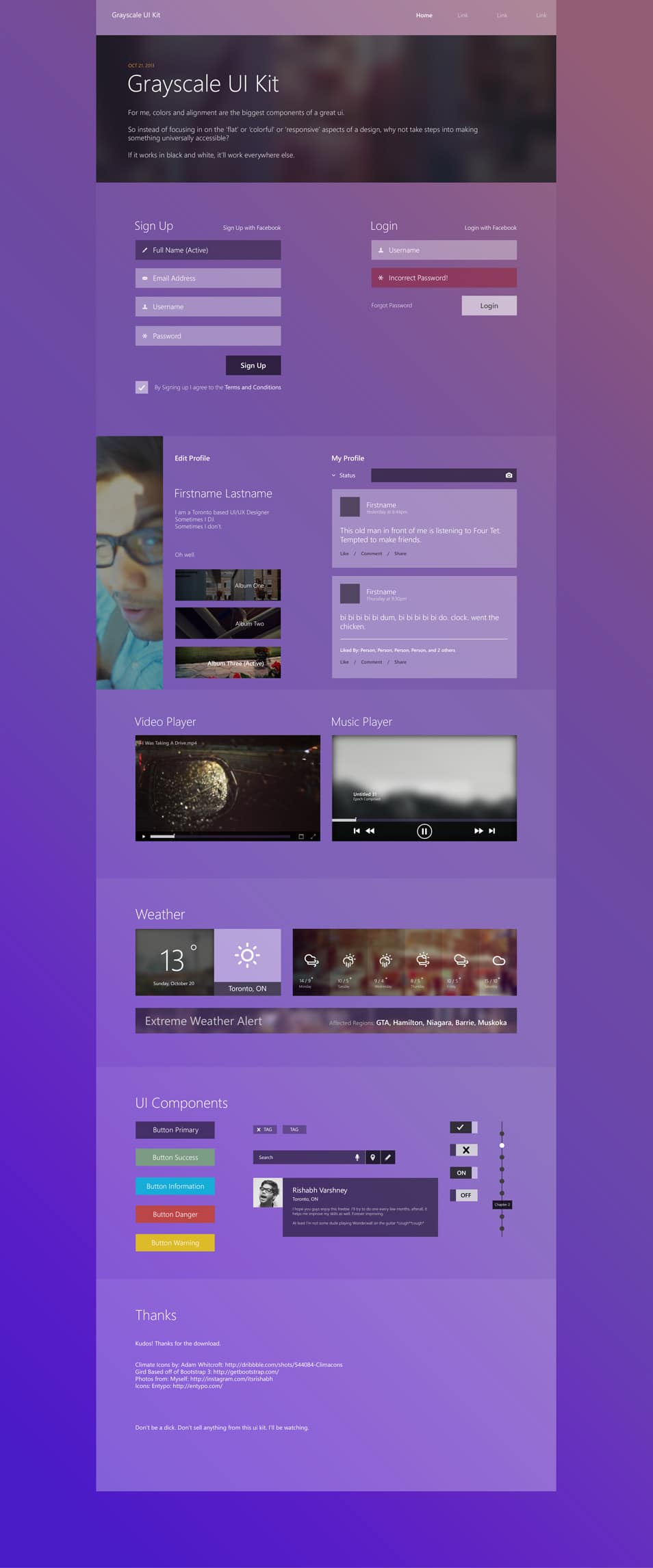 Complete Web UI Components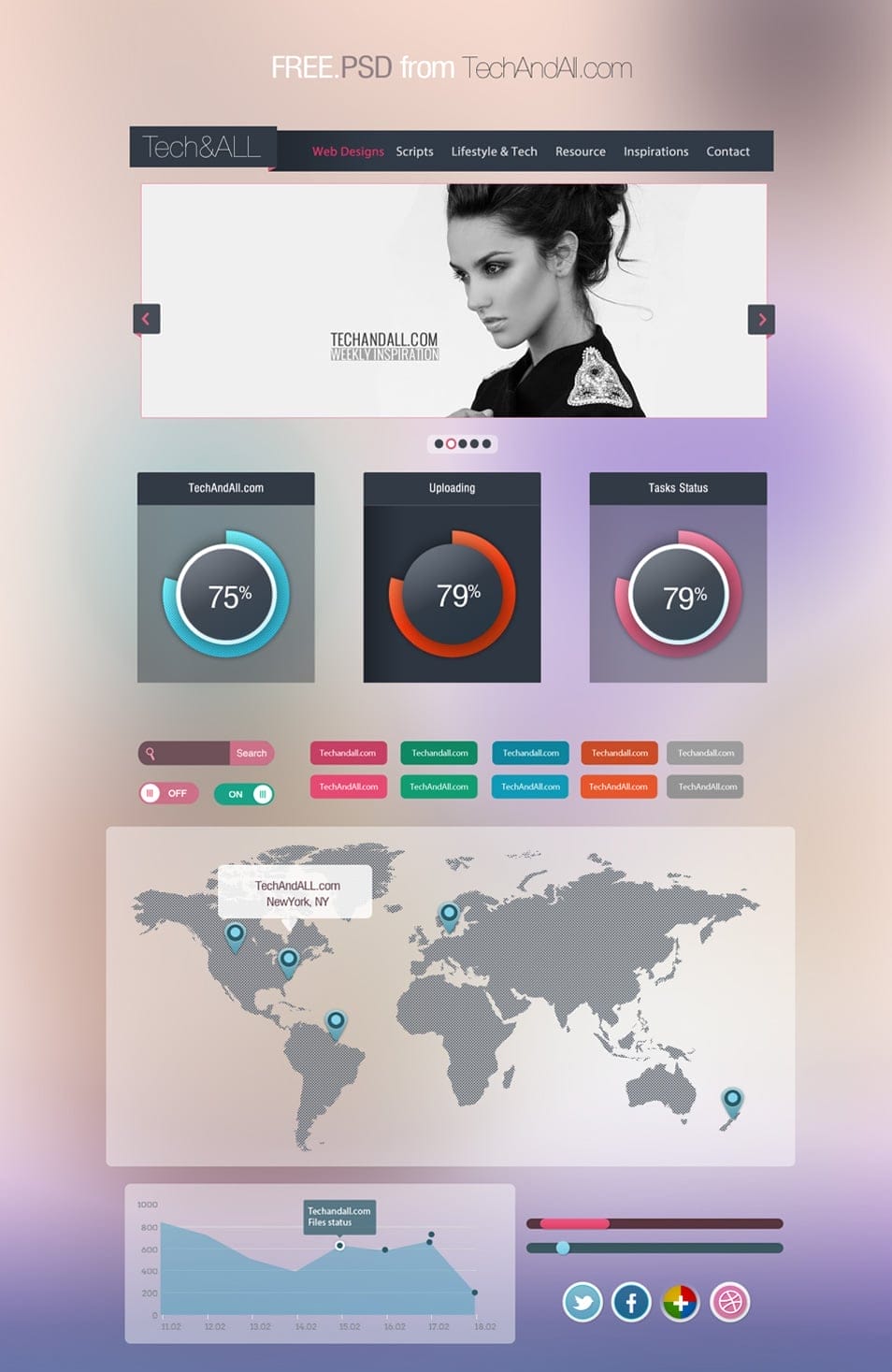 Free UI kit

Metro Vibes UI Kit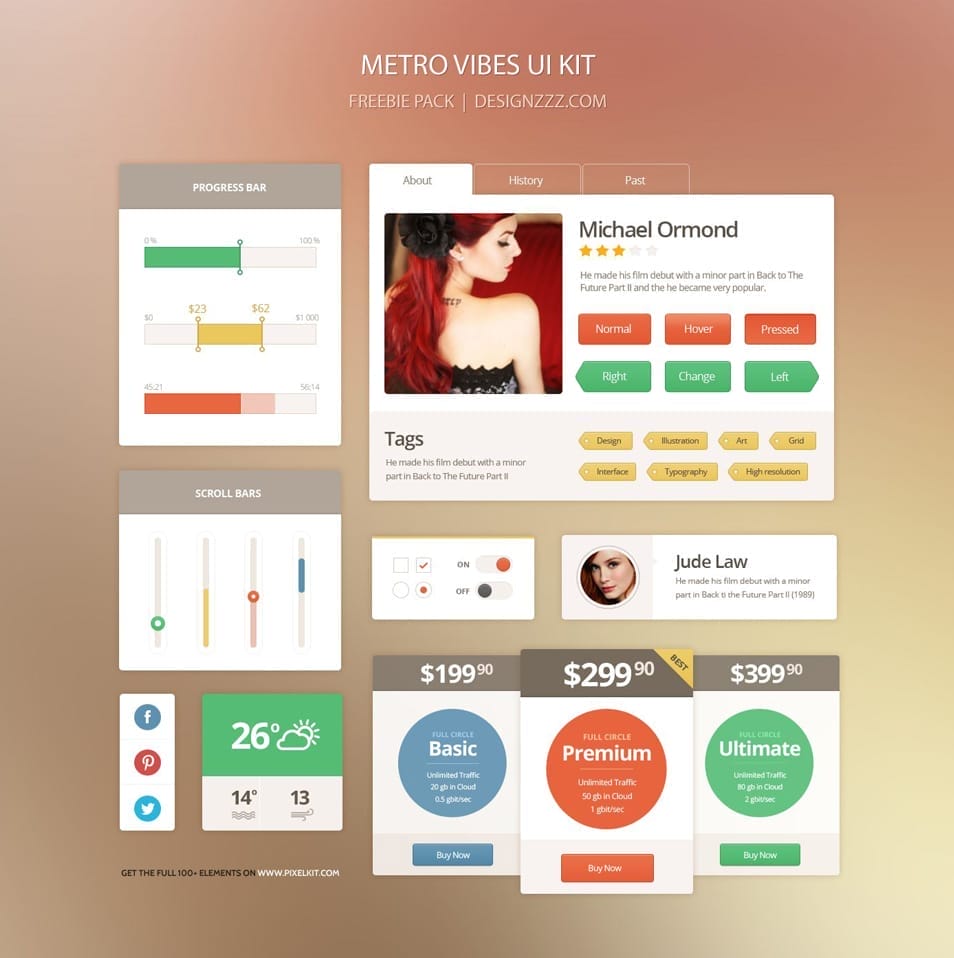 Behance Style Flat Ui Kit PSD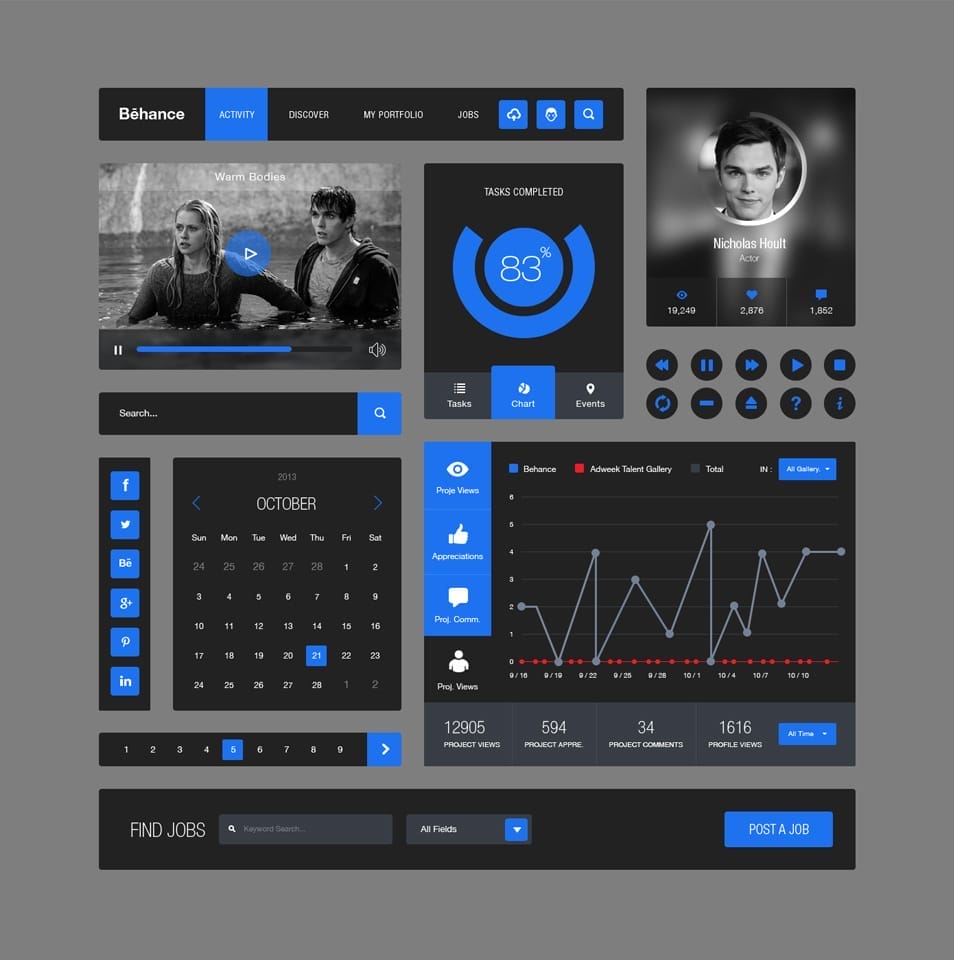 Flat UI kit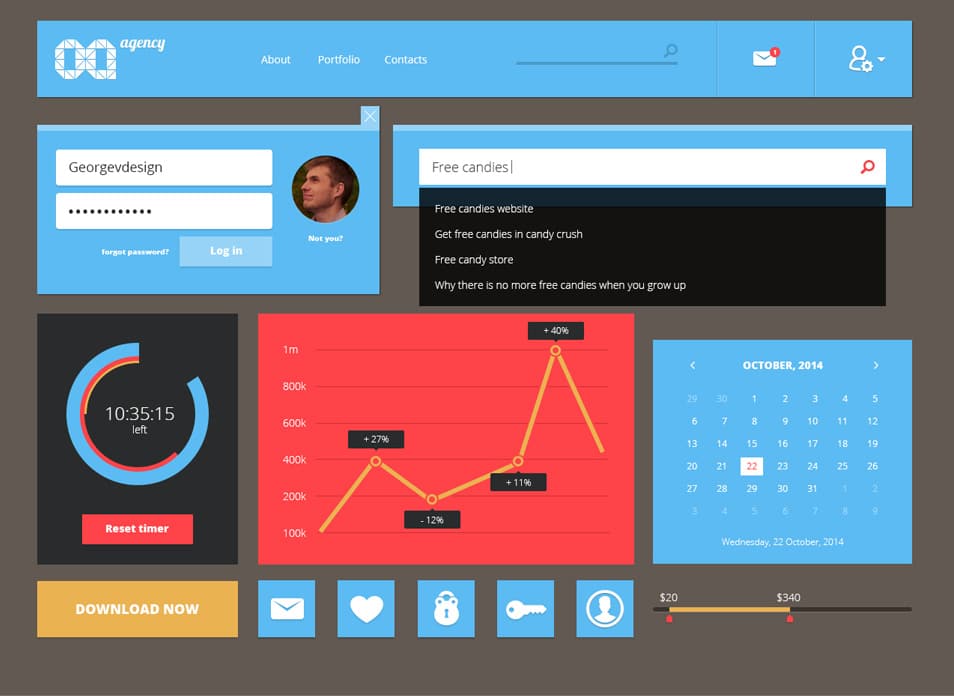 Beach UI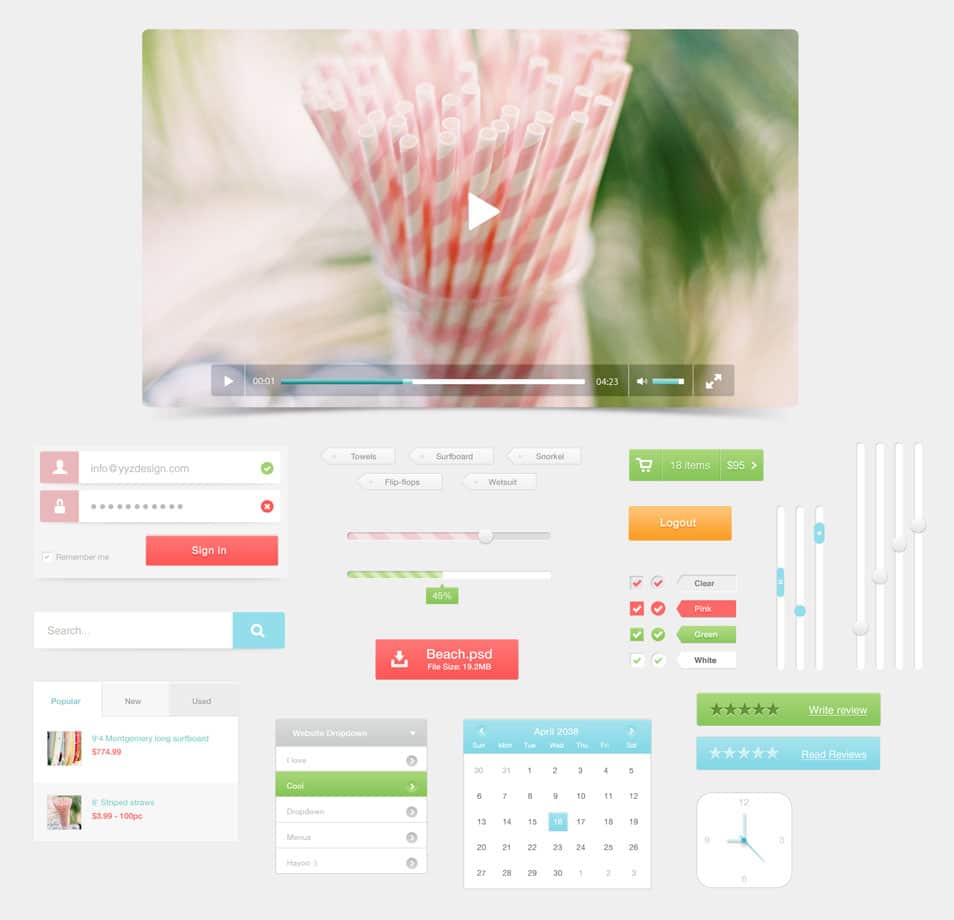 Purple UI Elements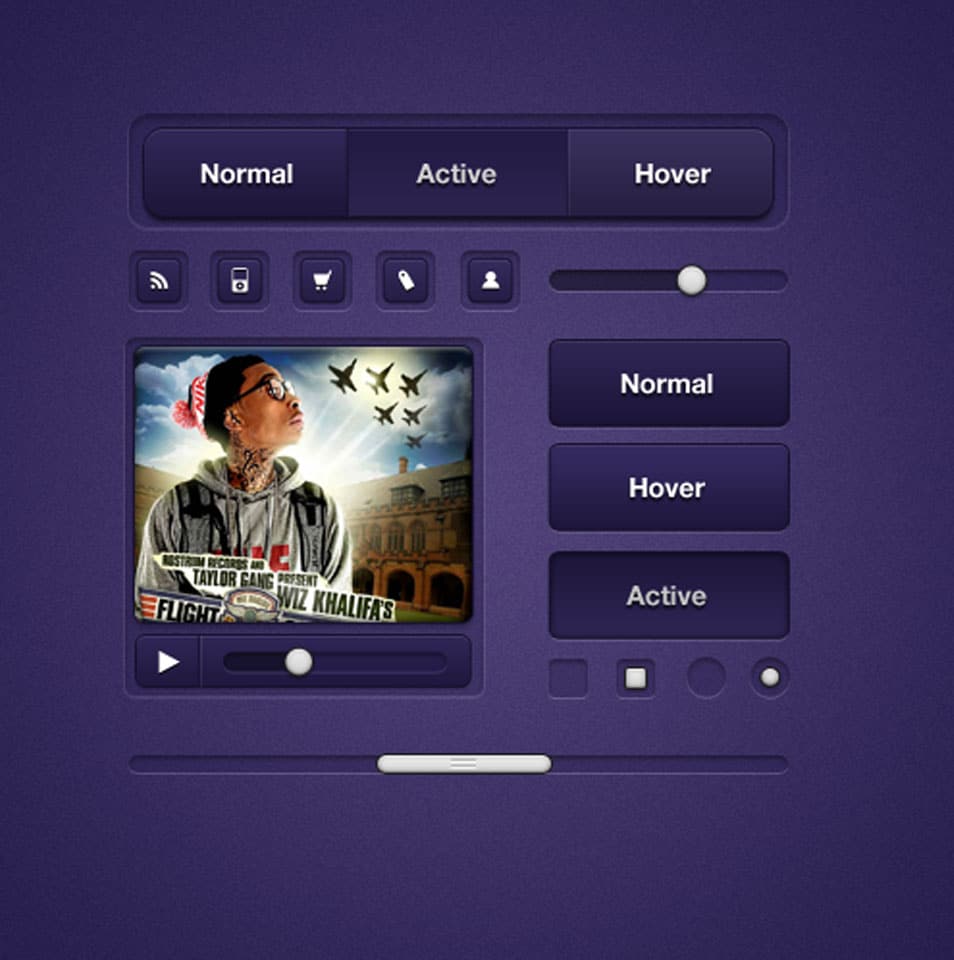 Flat UI Kit Blog PSD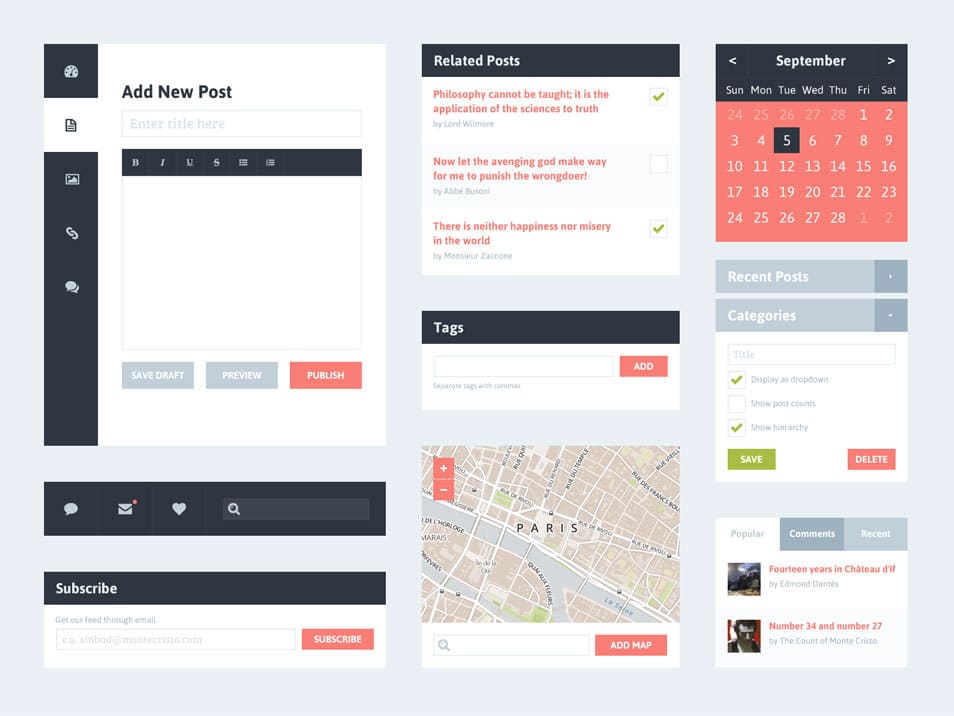 Sticky Butterscotch UI Kit PSD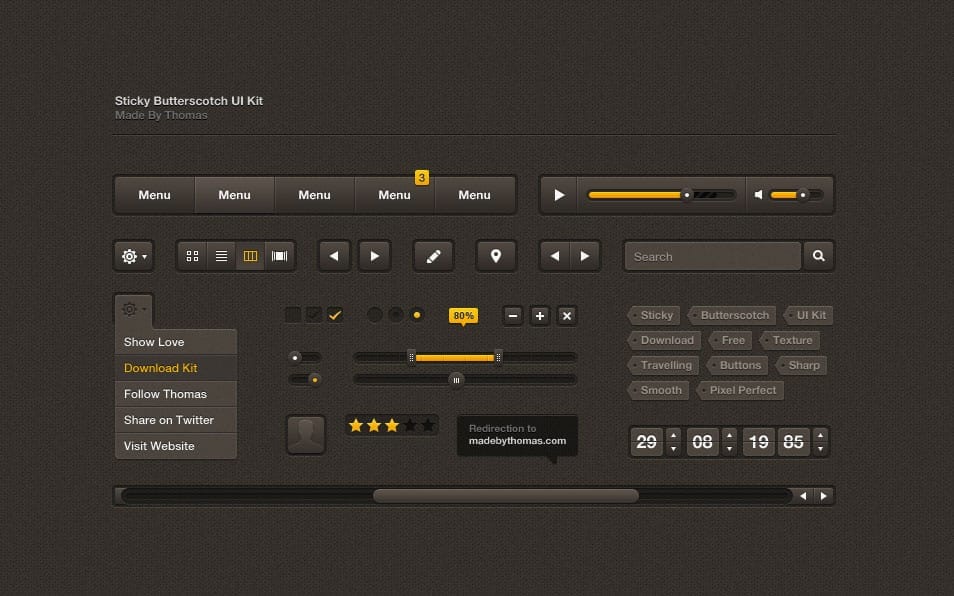 Flat UI Kit PSD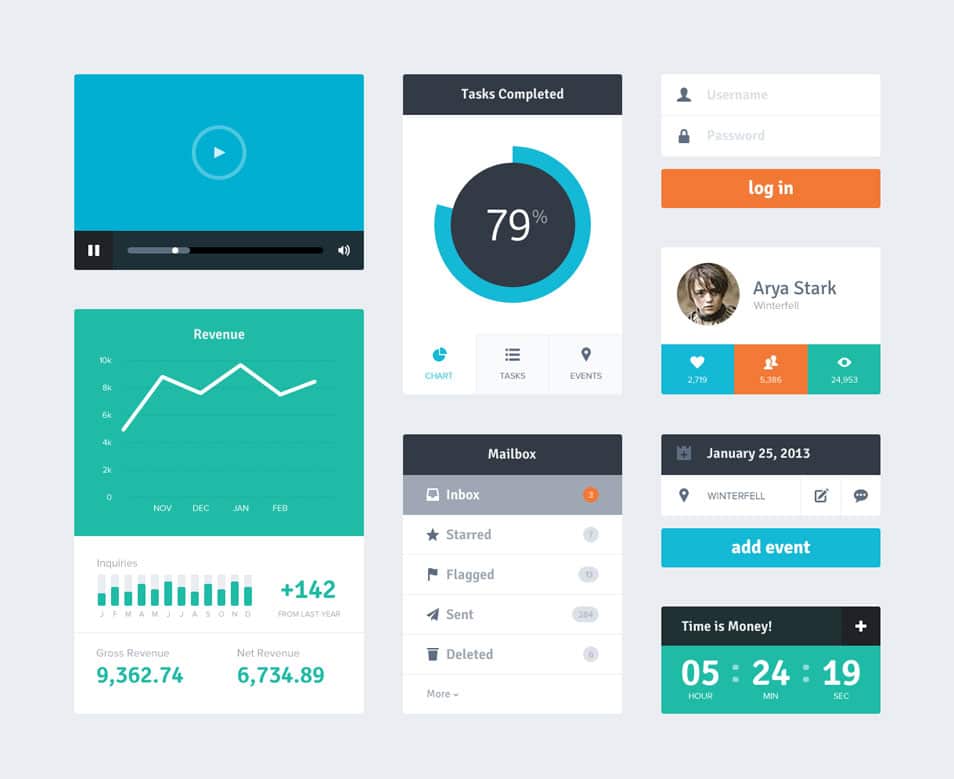 UI Kit PSD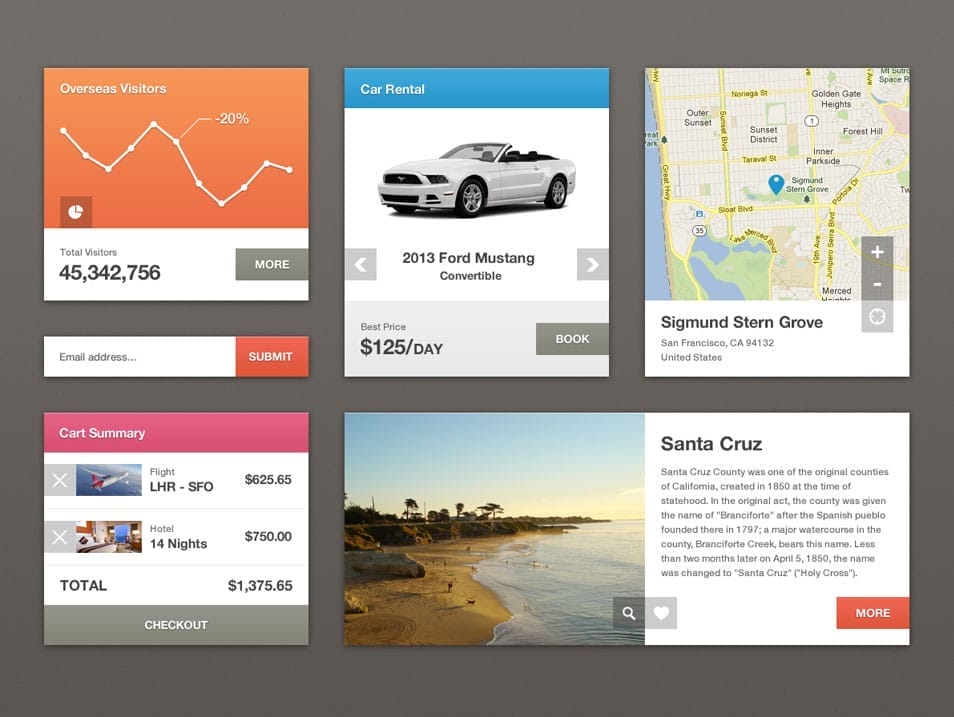 Dark Chart UI Kit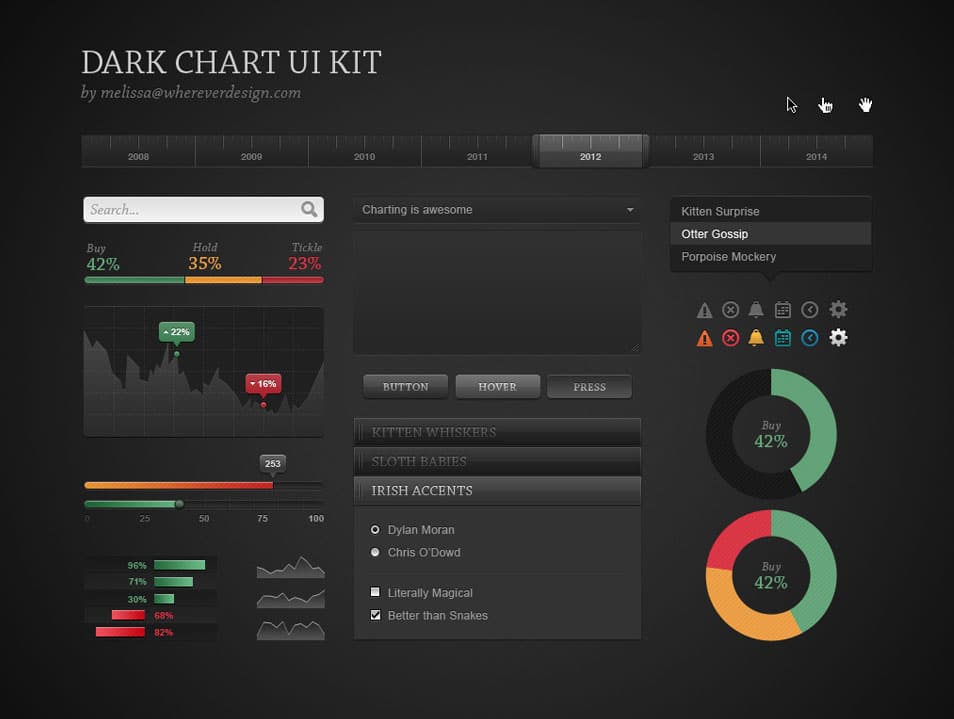 UI Kit Milky PSD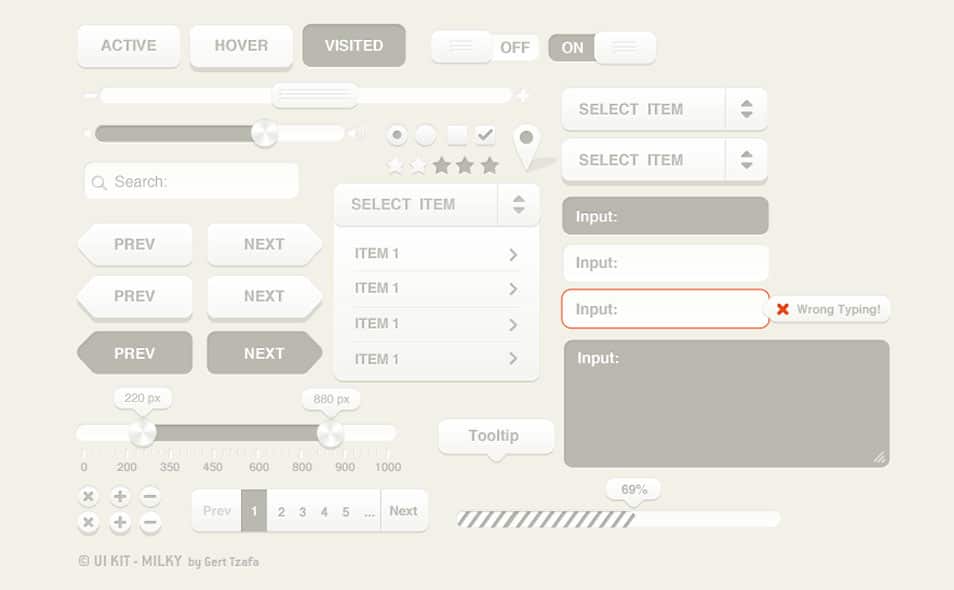 Cloudy UI Kit PSD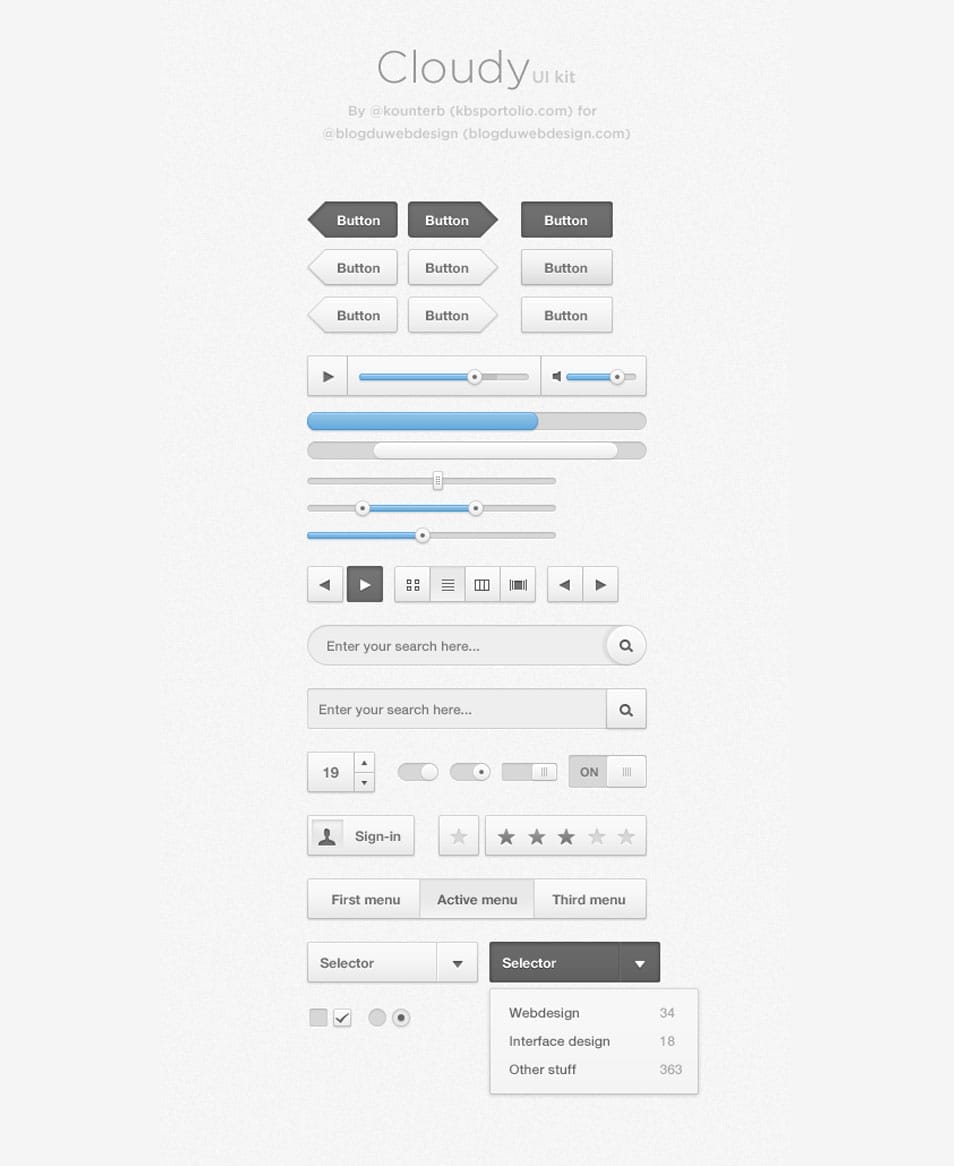 Smooth Web App UI Kit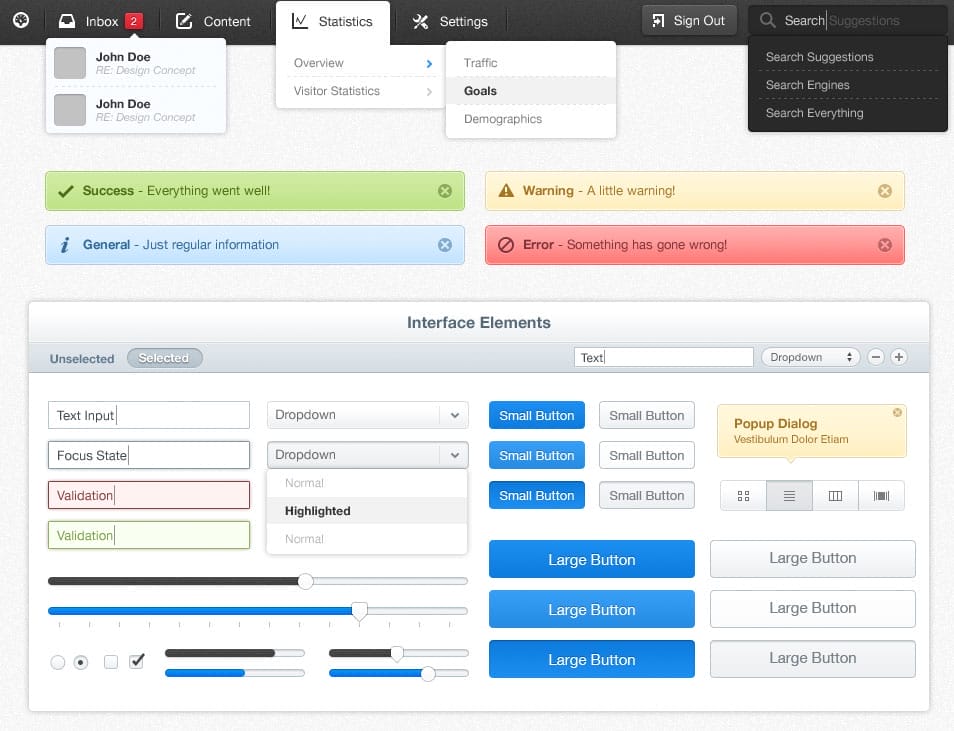 Futurico UI Free User Interface Elements Pack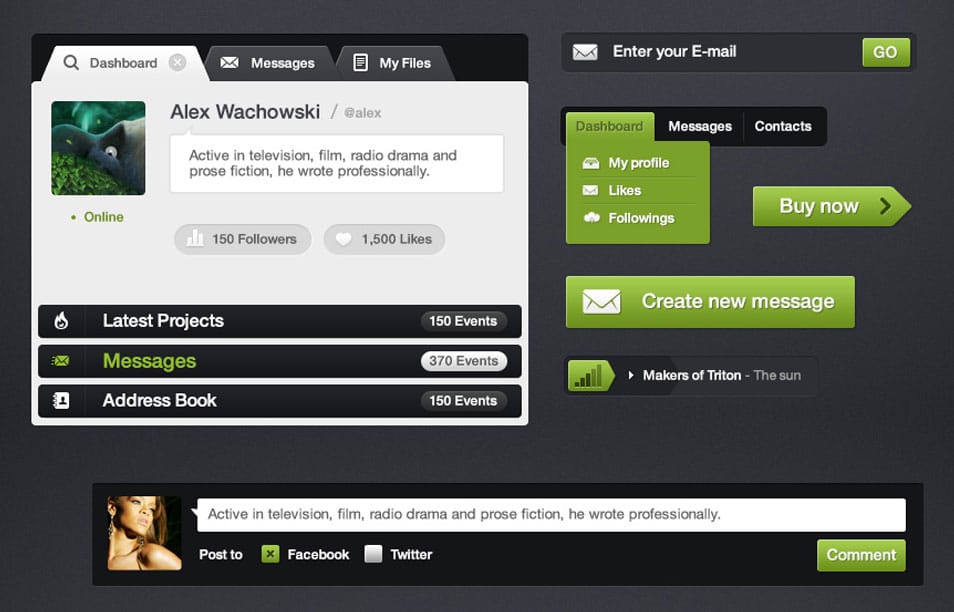 Long Shadow Flat UI Kit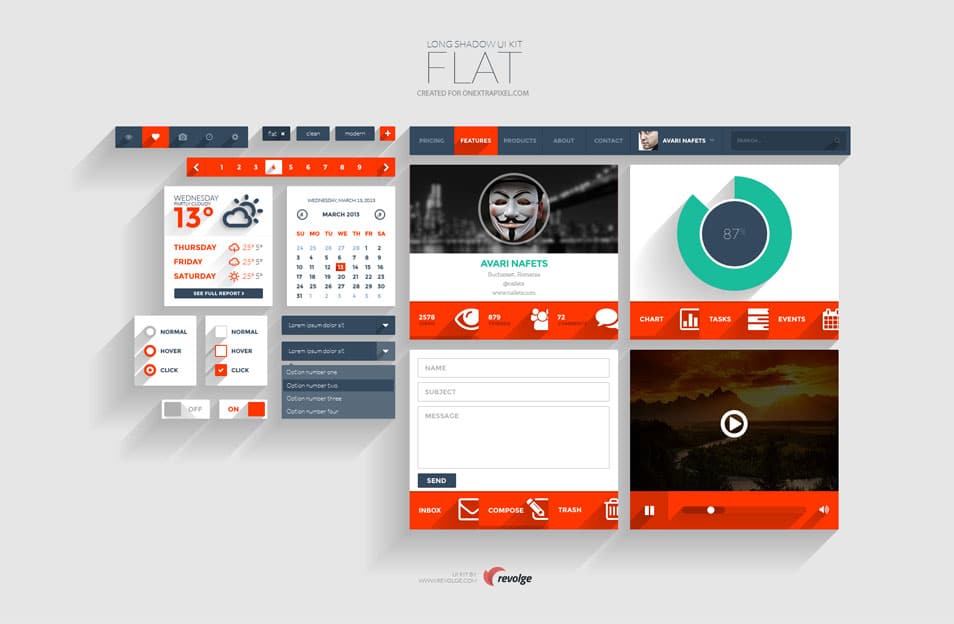 Flat UI Elements

Free Download Flattastic UI kit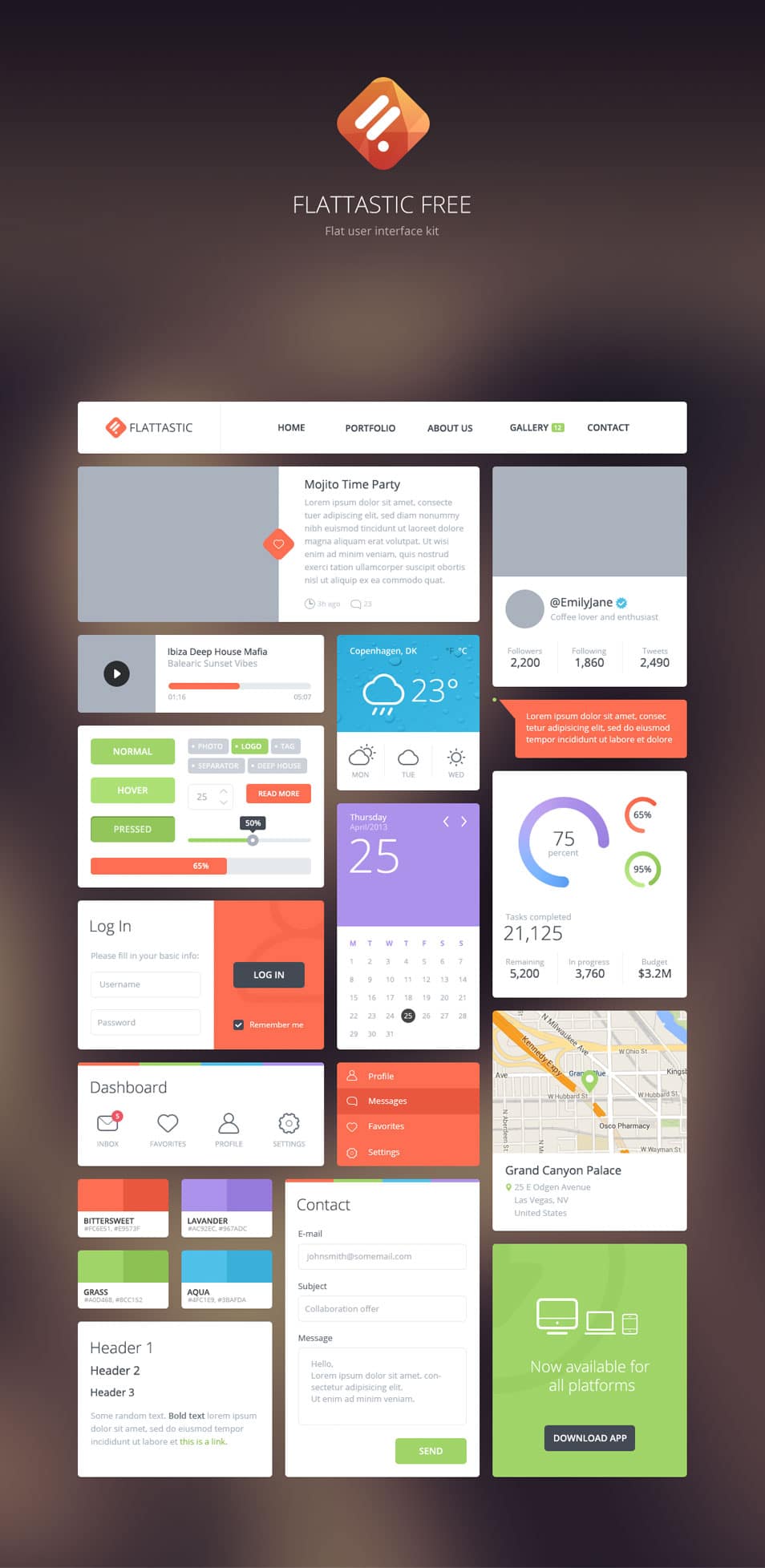 Free Web UI Elements Kit PSD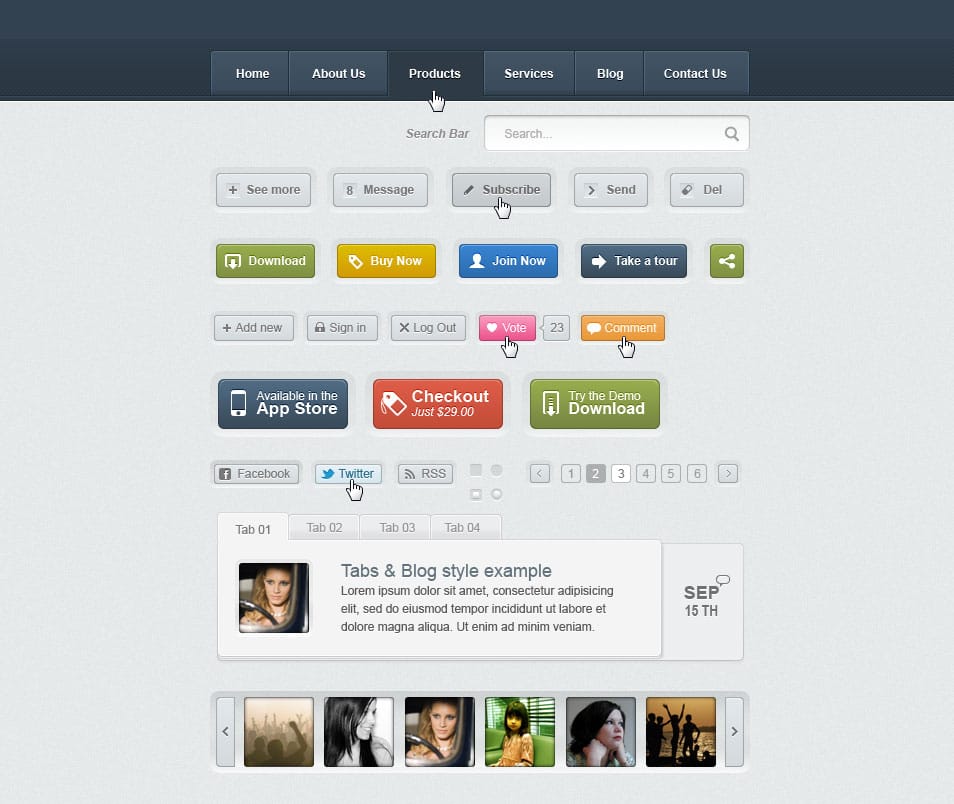 Viro Media Players UI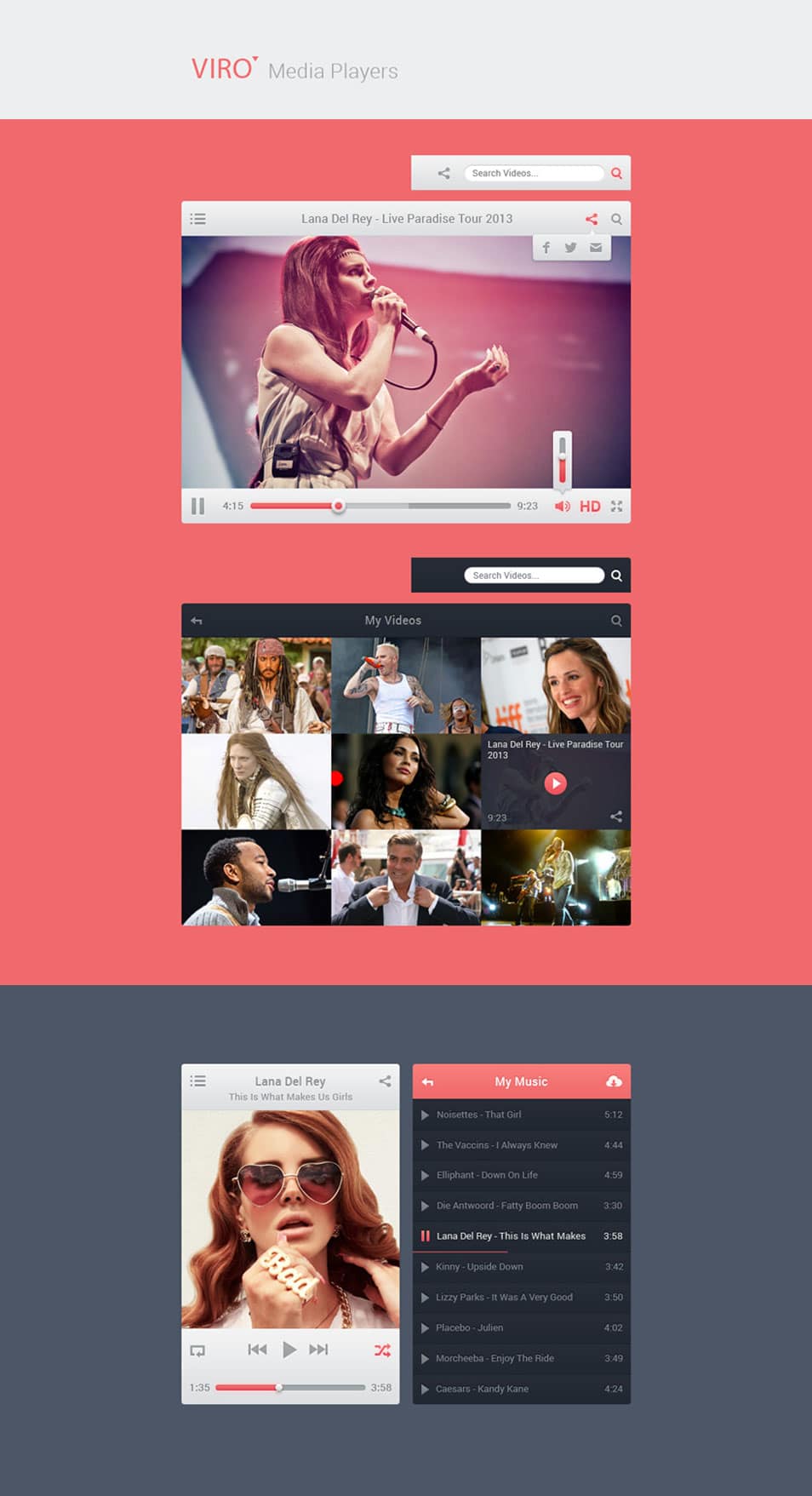 Blog or Magazine Flat UI Kit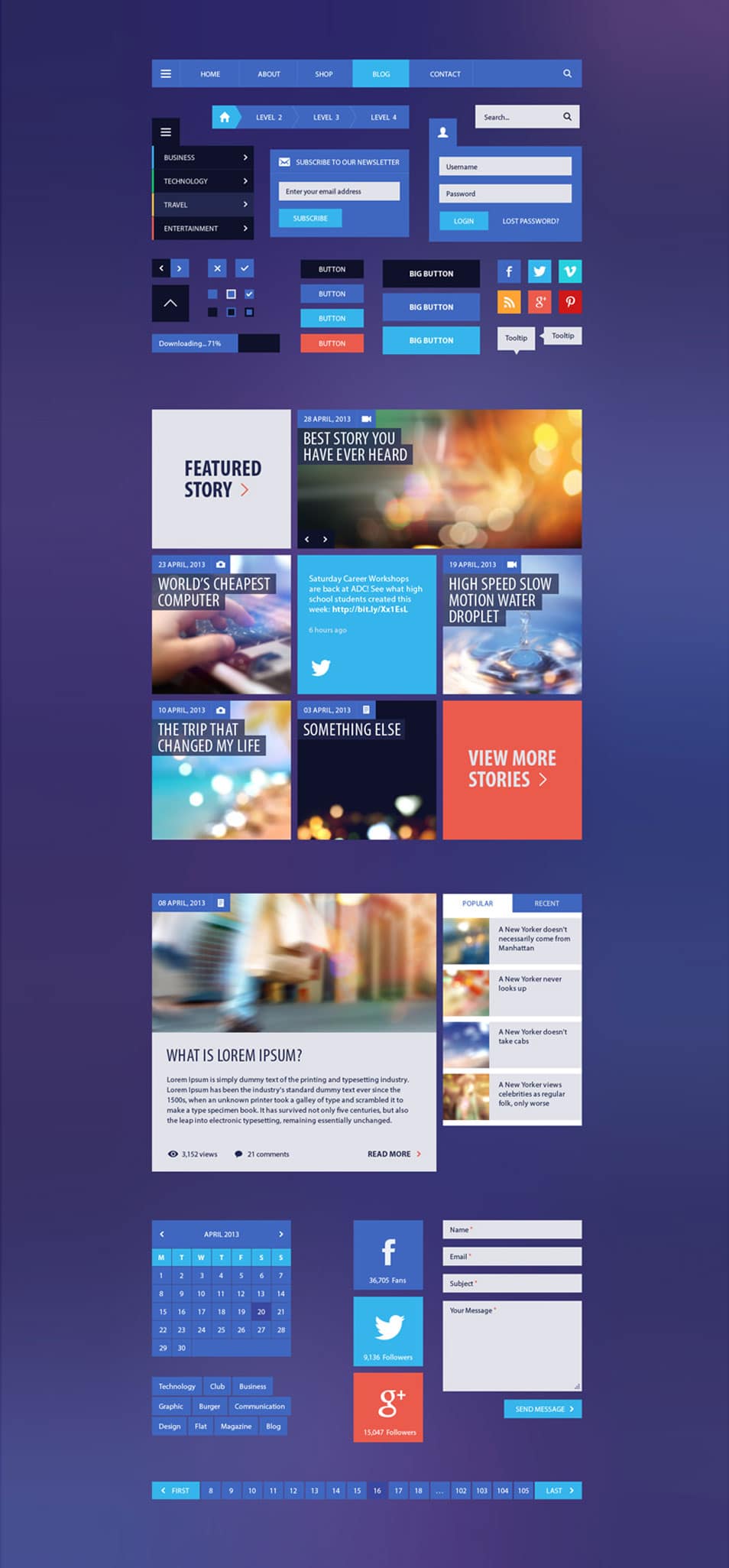 Free Deal Flat User Interface Set

UI Kit Free PSD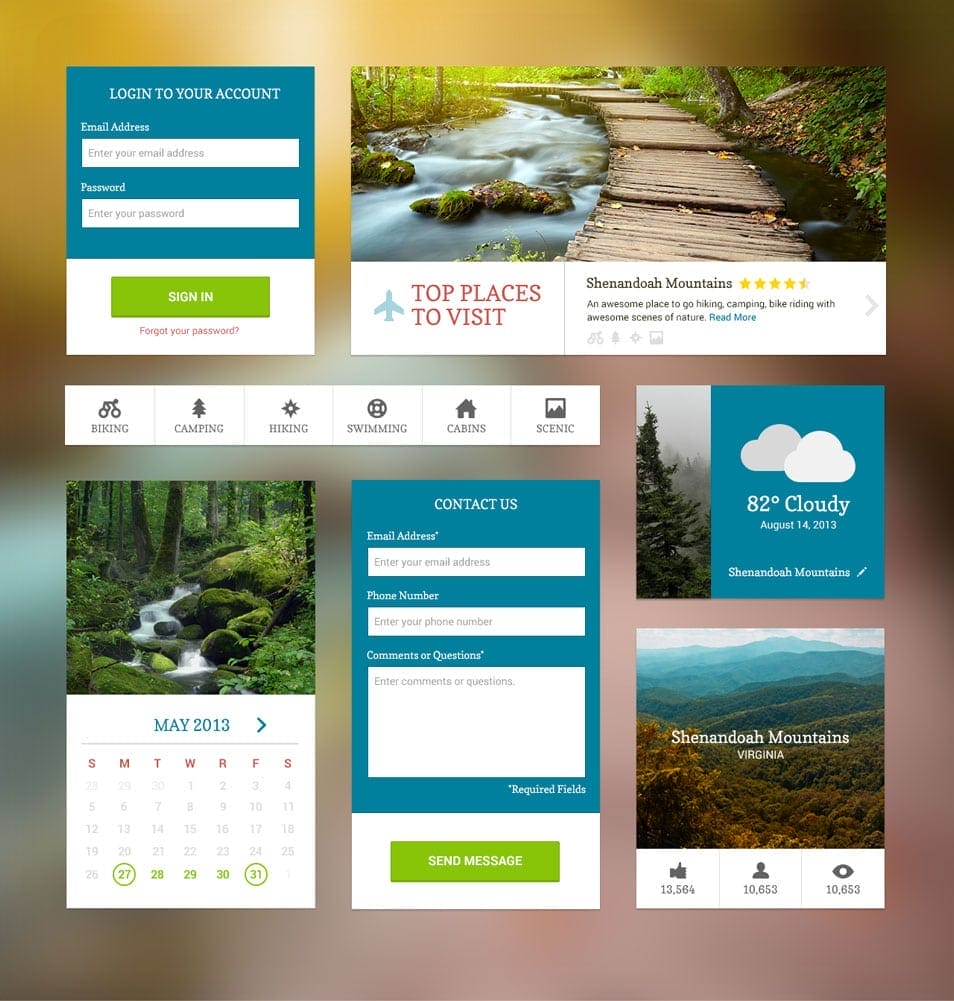 Flat UI Kit Free PSD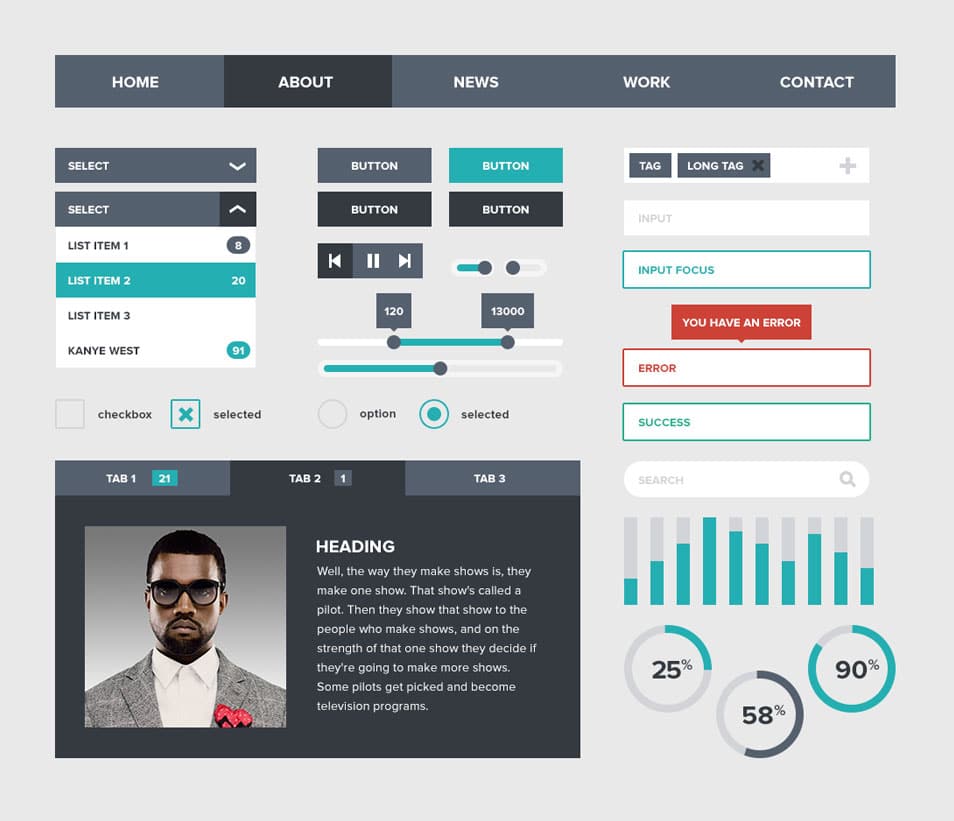 Metro Vibes UI Kit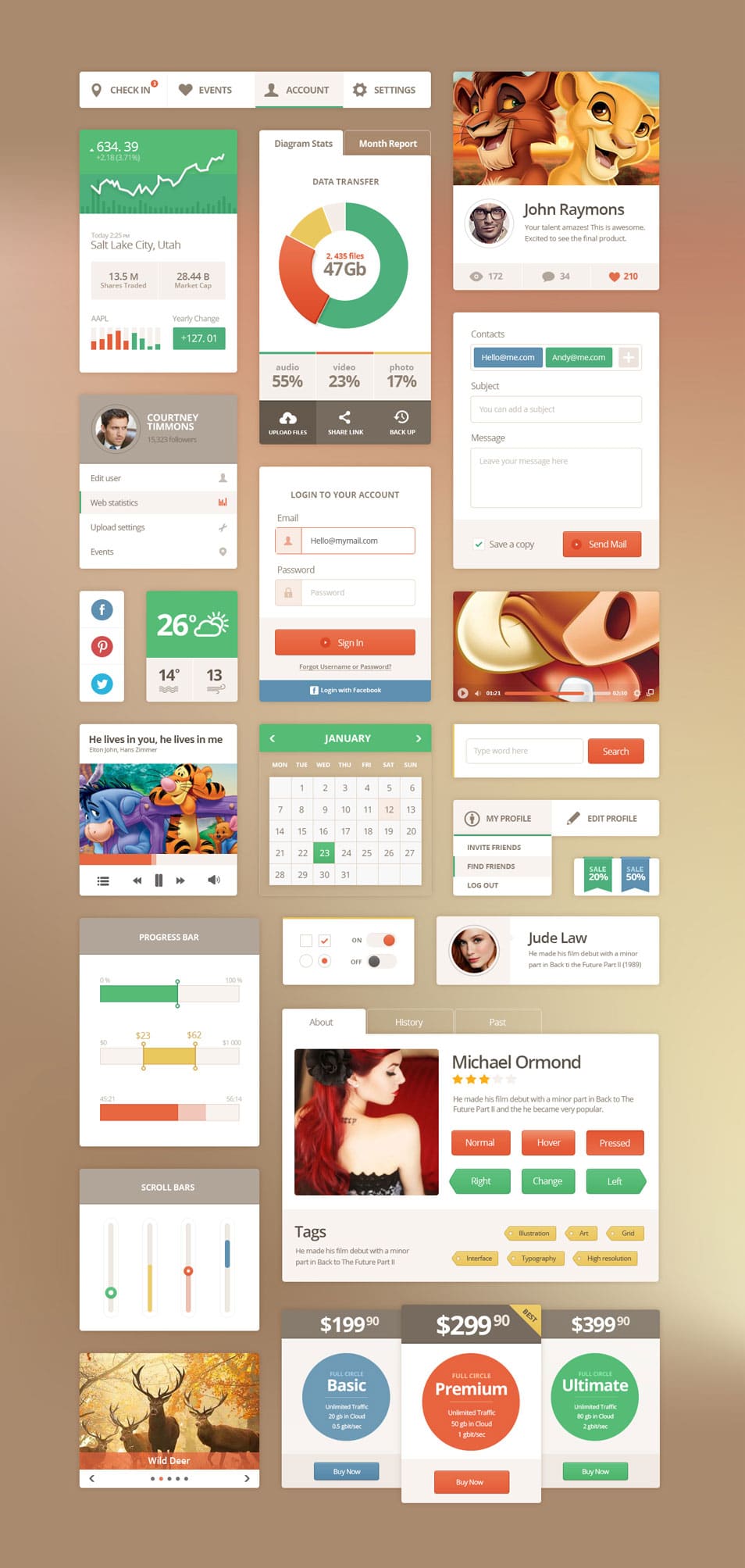 Featherweight UI PSD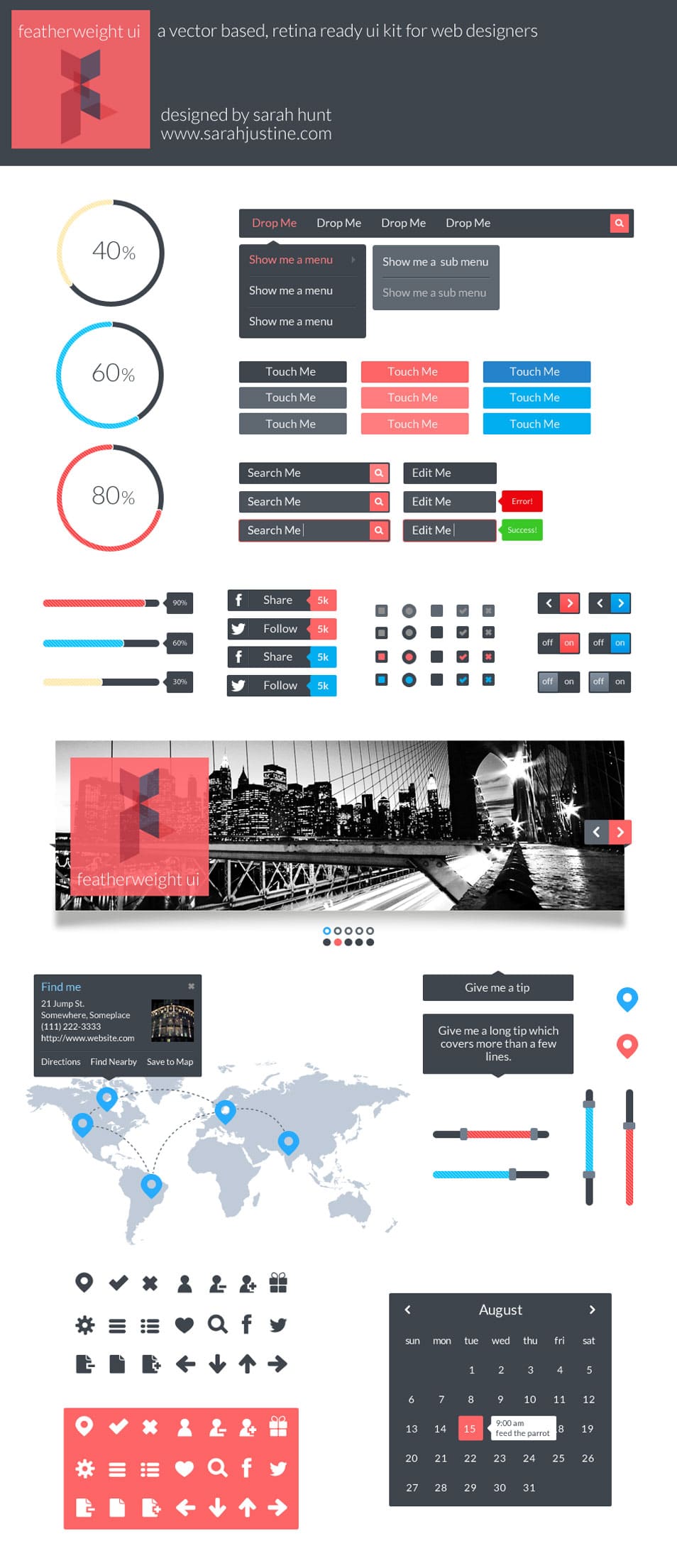 Register UI Free PSD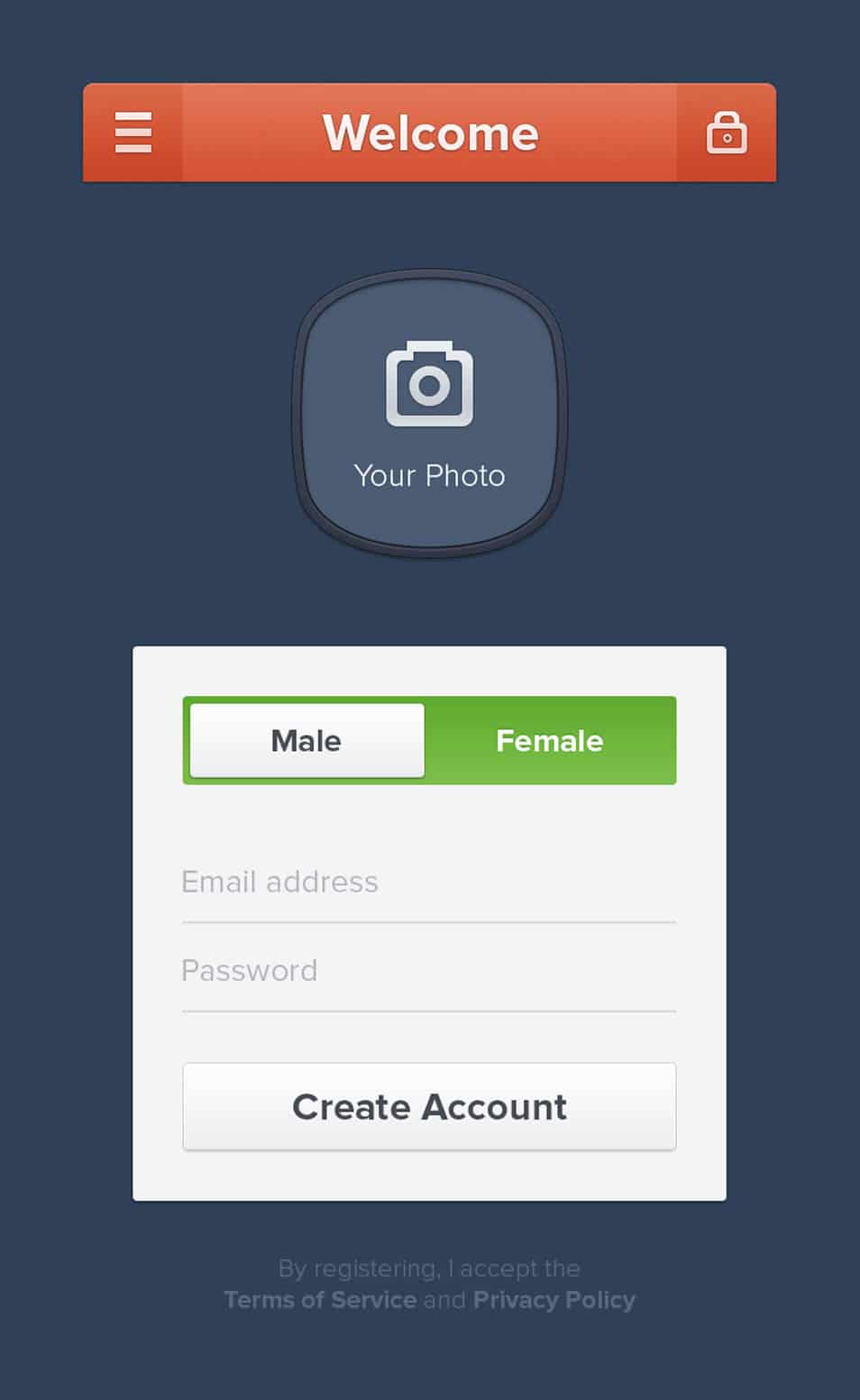 Simple UI Pack

Adventure Time UI Kit PSD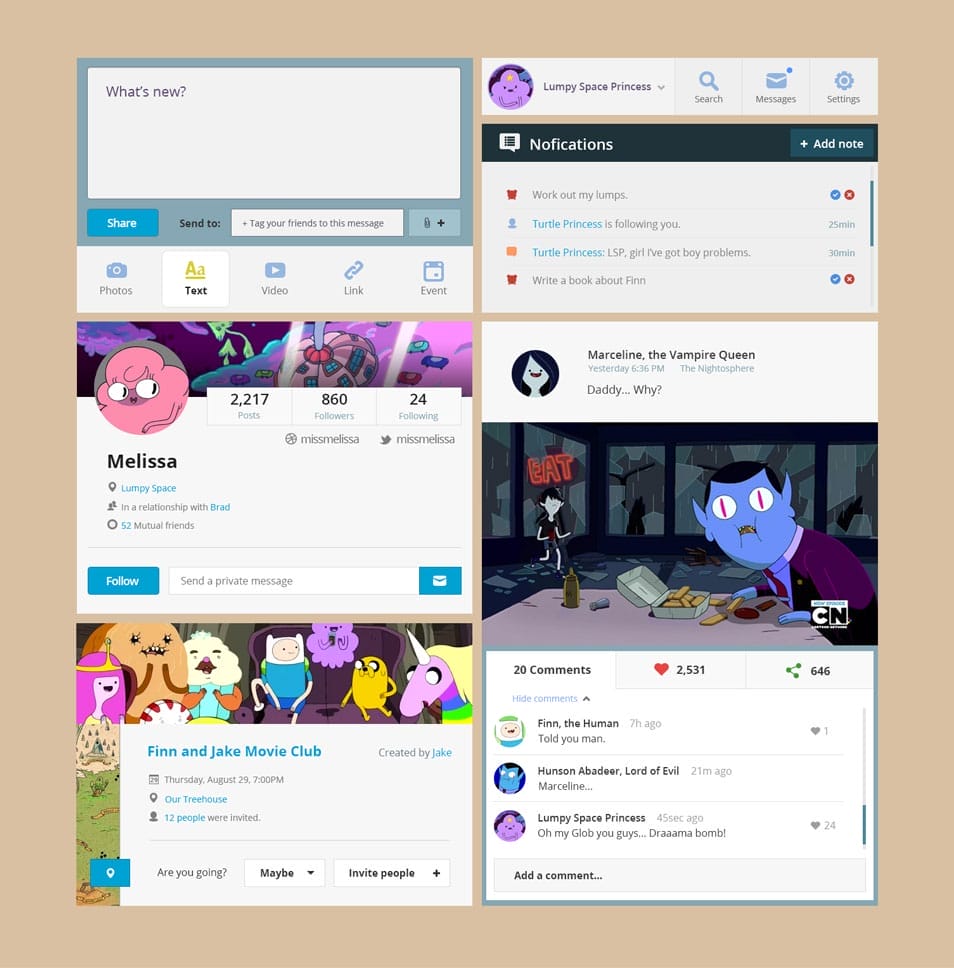 UI Kit Complete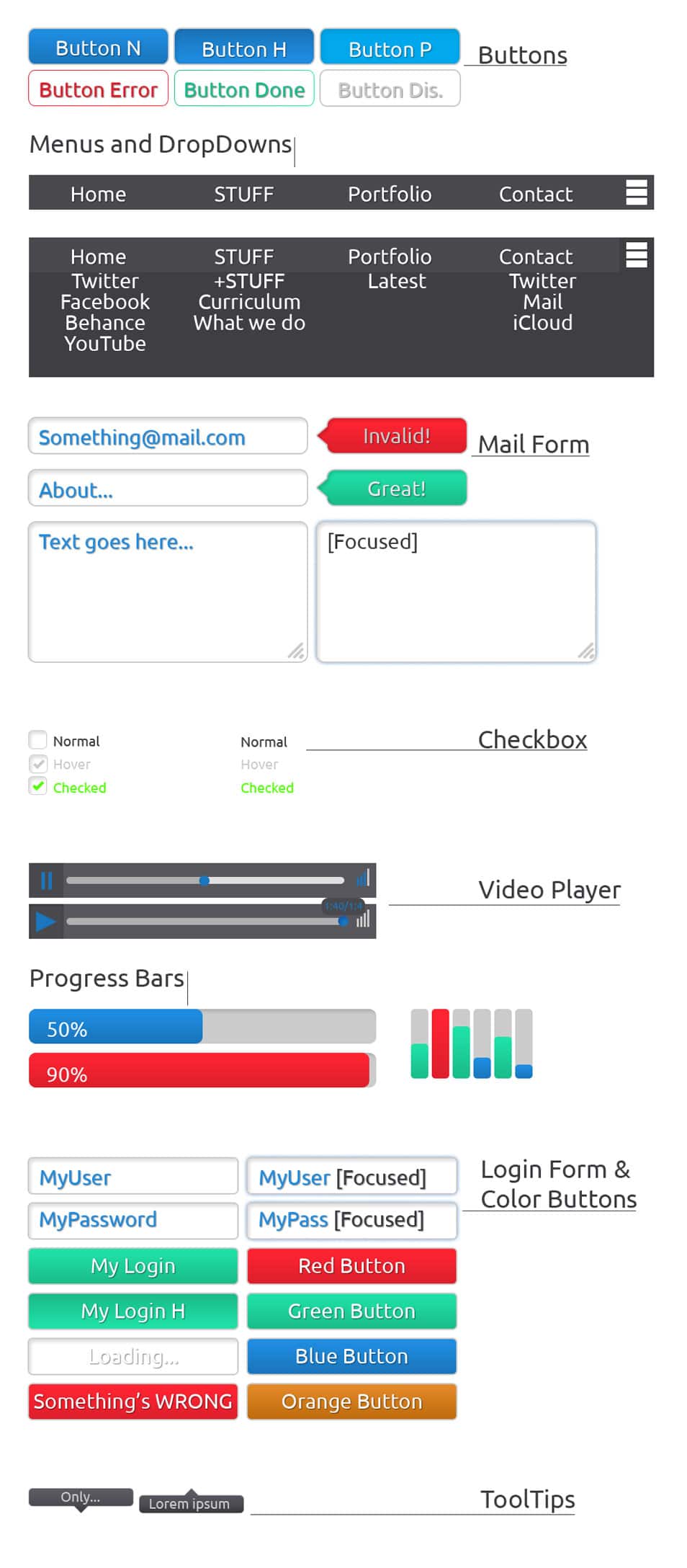 Blitz UI Kit PSD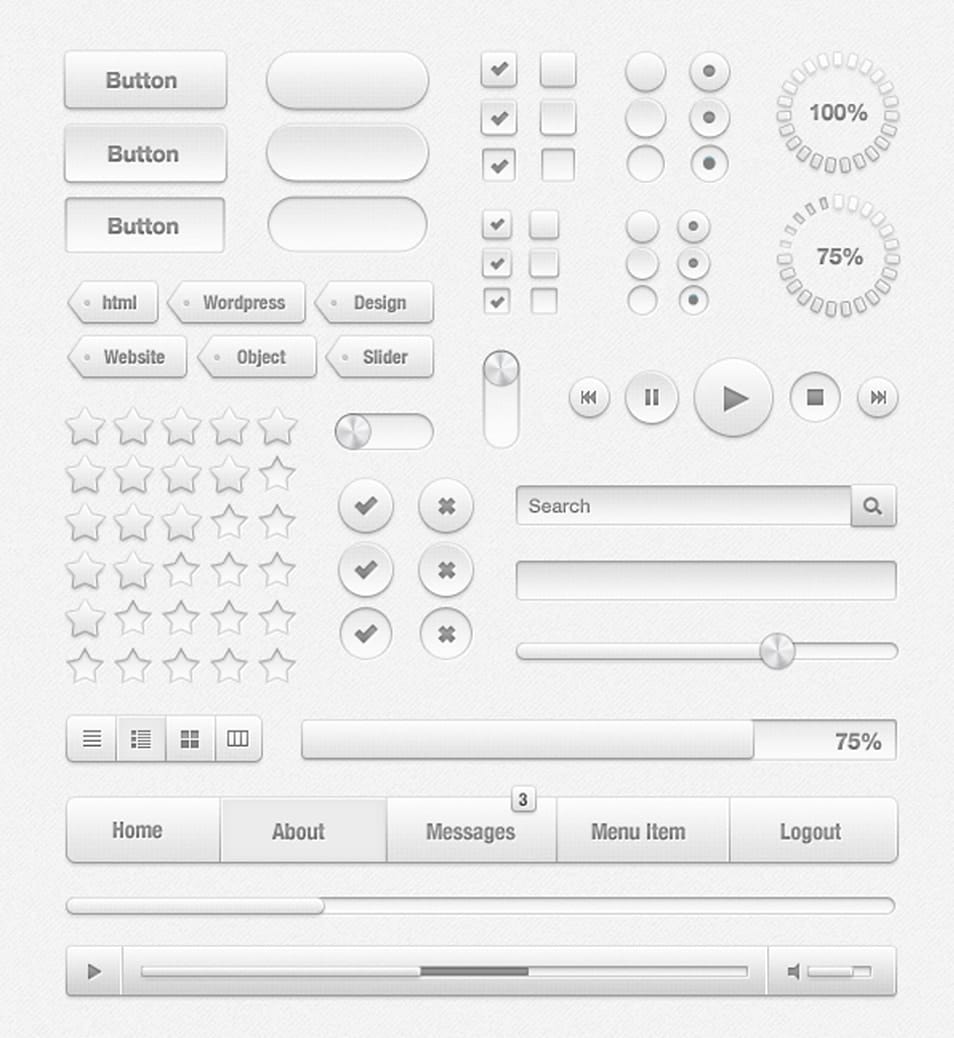 Colorful Flat GUI Set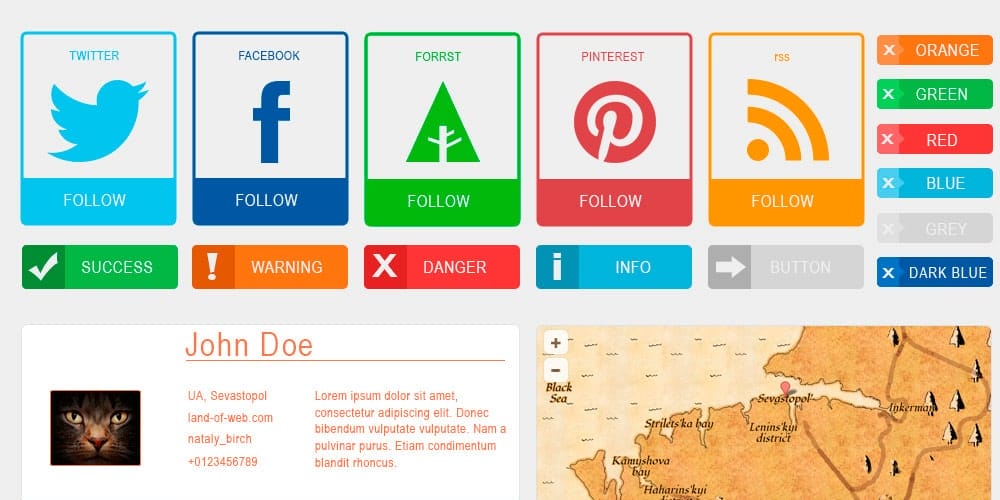 UI Components Purpel City PSD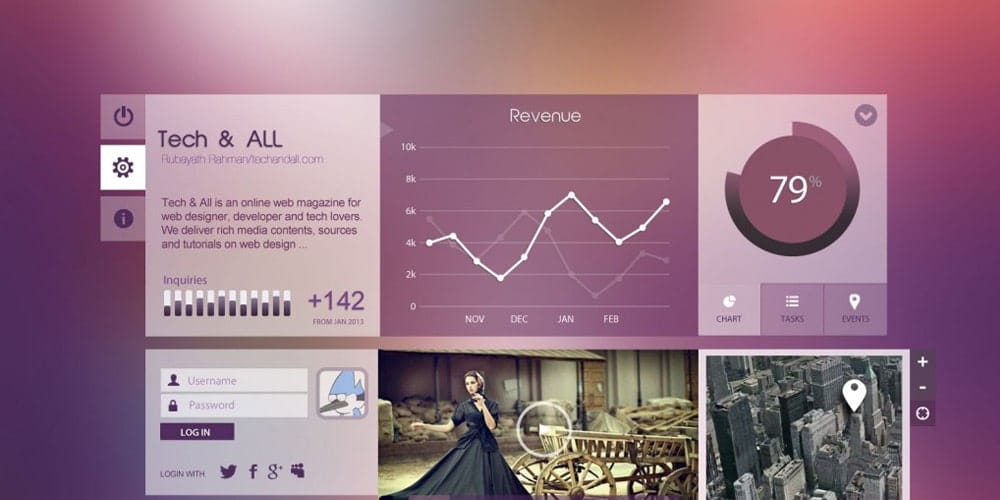 Free PSD UI Kit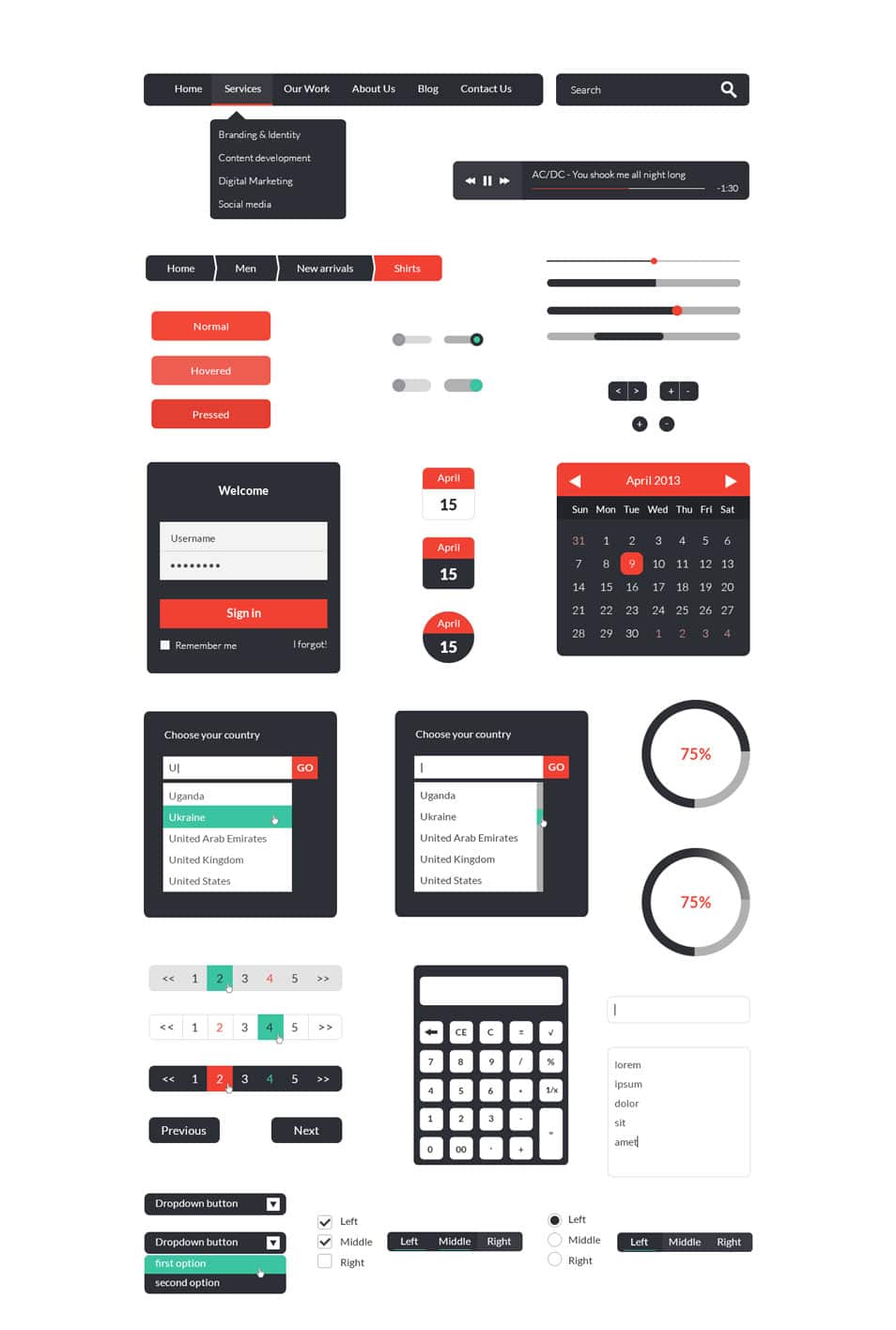 Social and Subscribe Flat UI Kit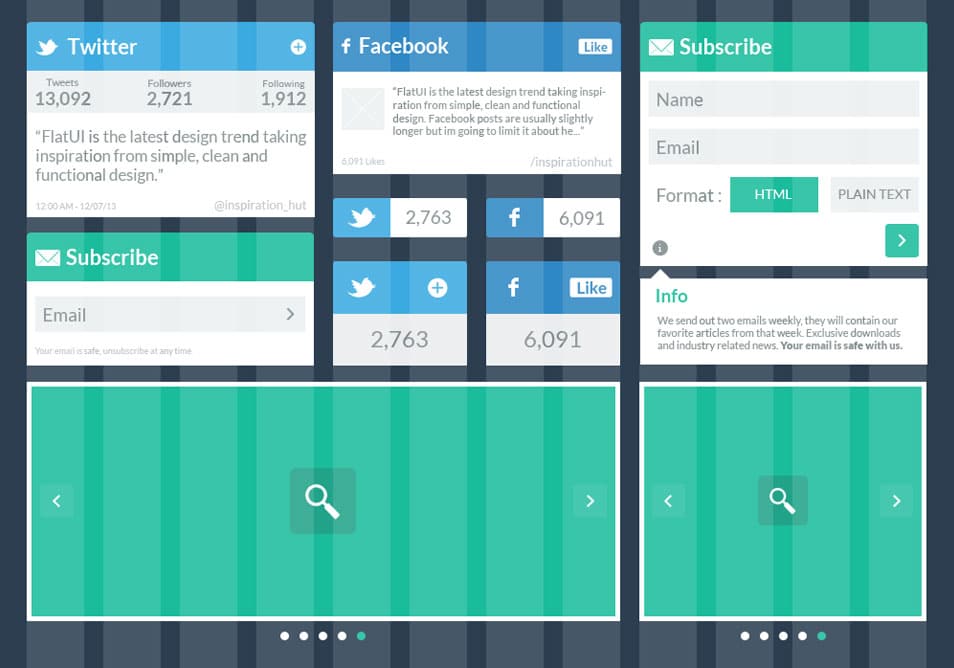 Flat UI Kit Free PSD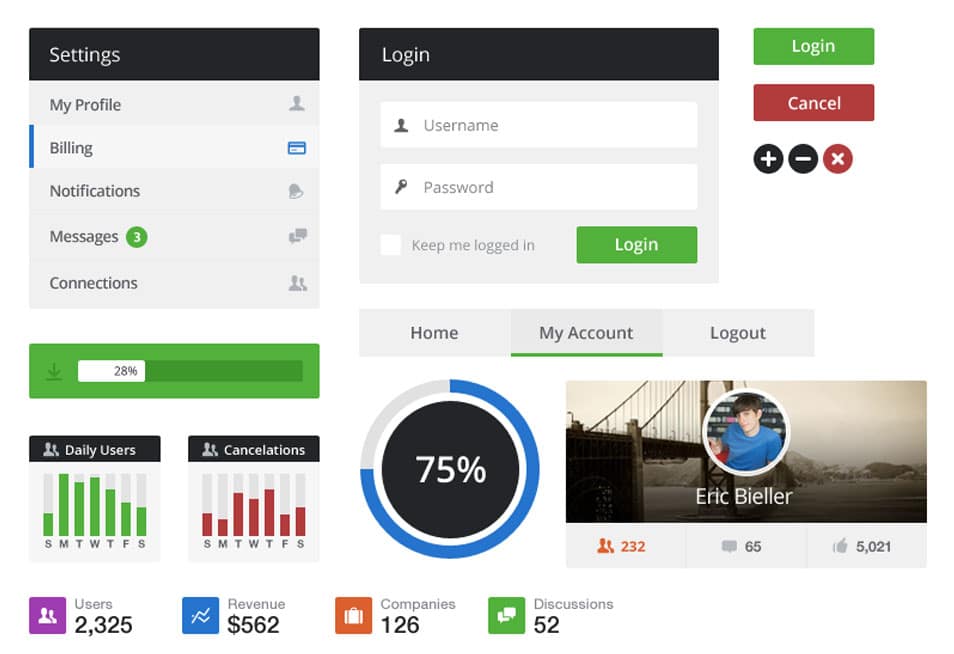 Oniam UI Kit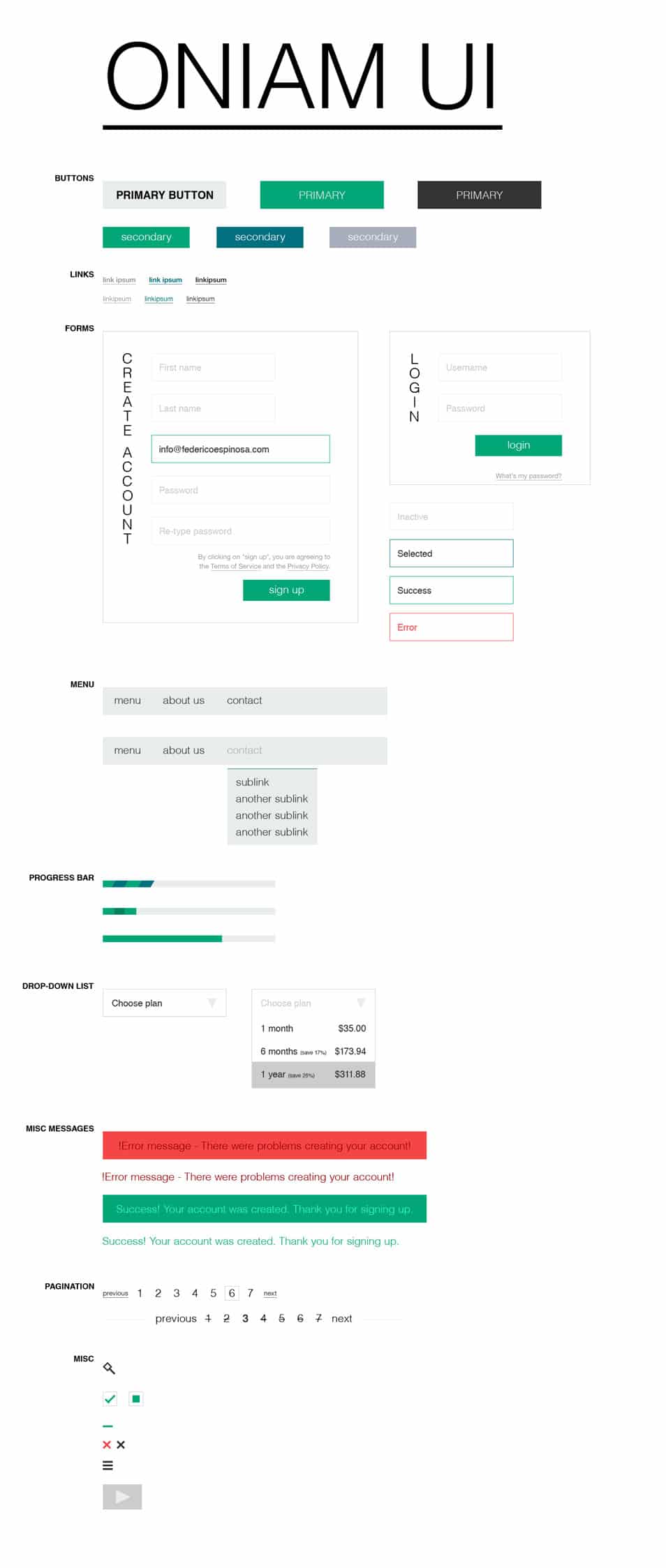 Flat UI Kit Free PSD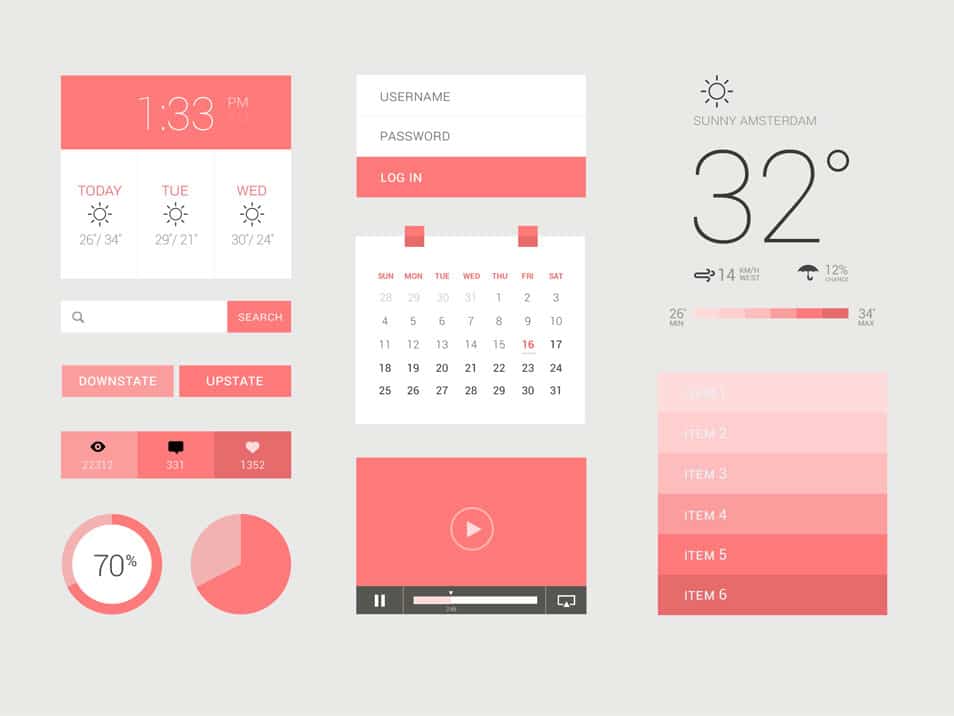 Free Flat UI kit

Orange or Cyan Flat UI Elements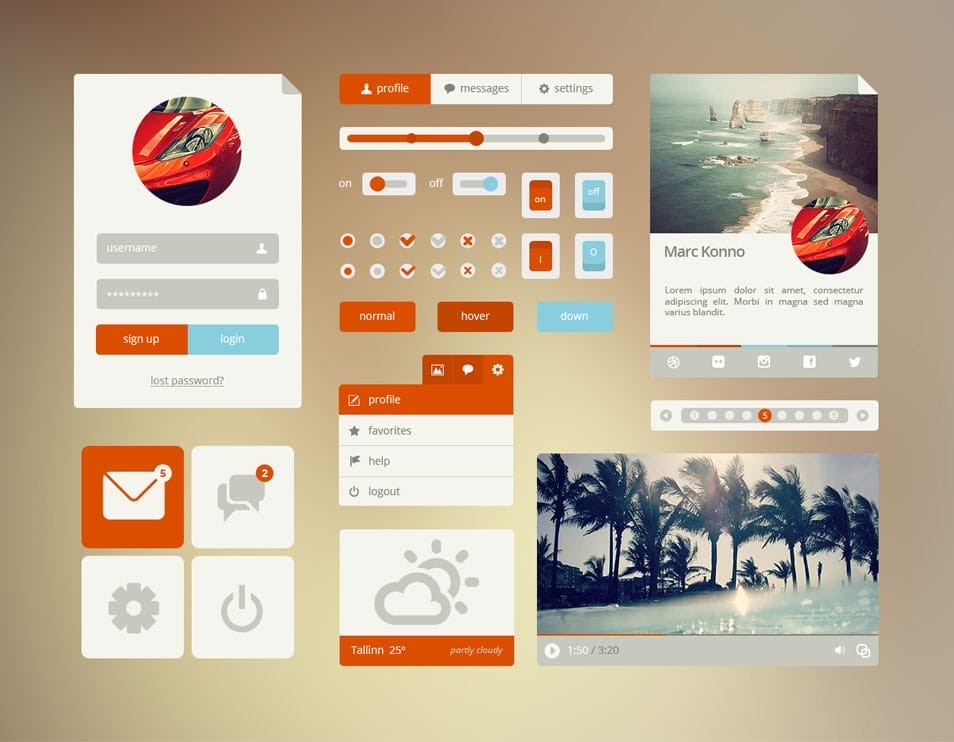 Flat UI Kit Free PSD

Eerste Flat User Interface Kit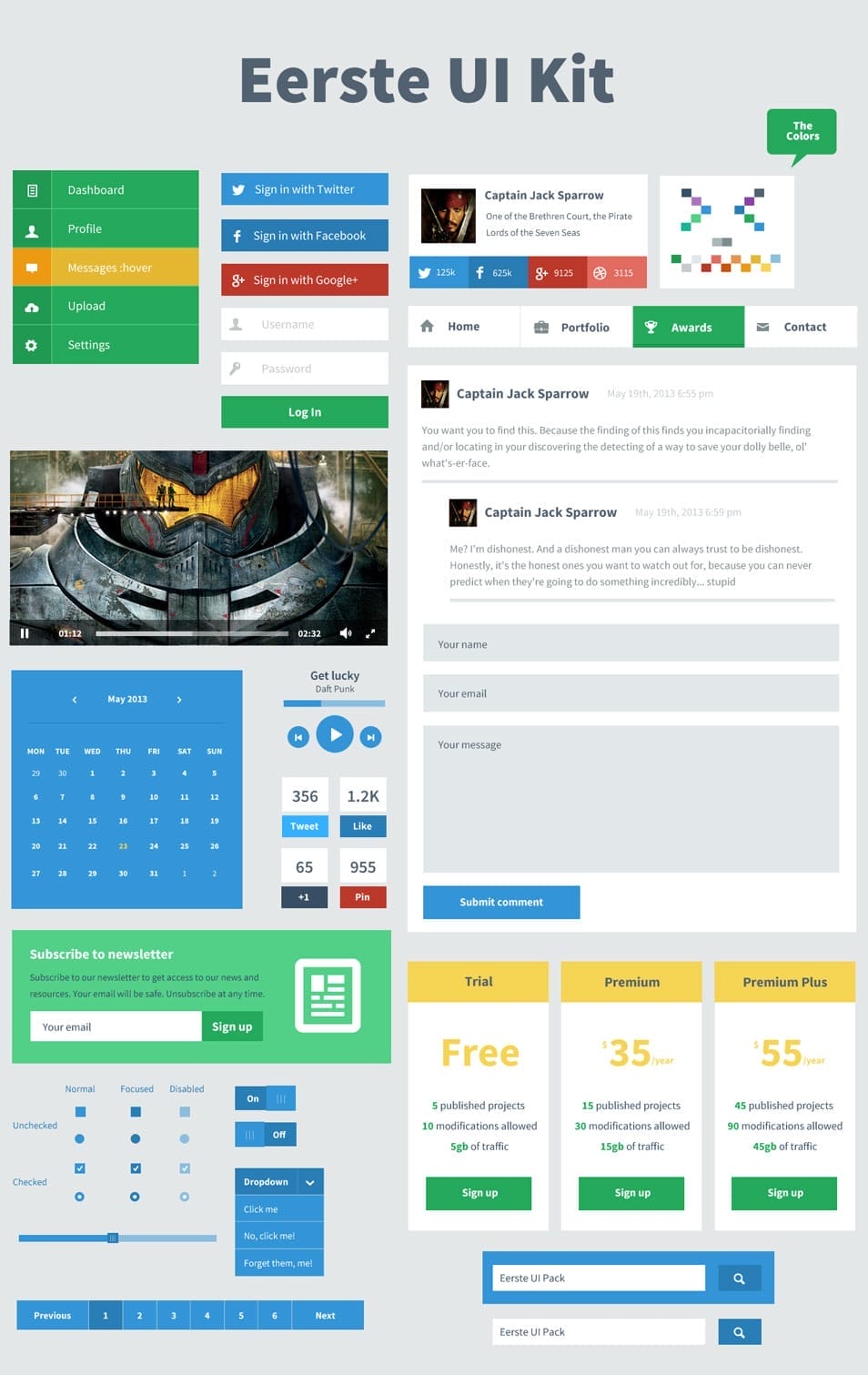 Flat Transparent UI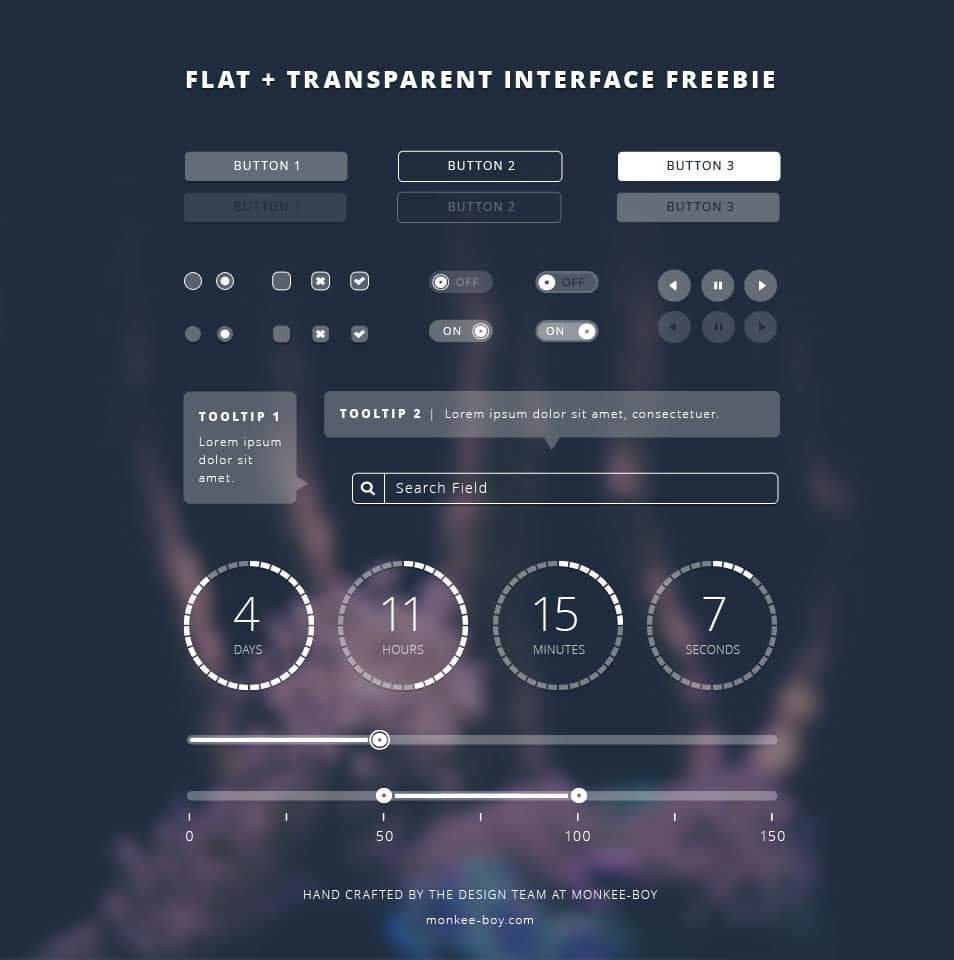 Flat UI kit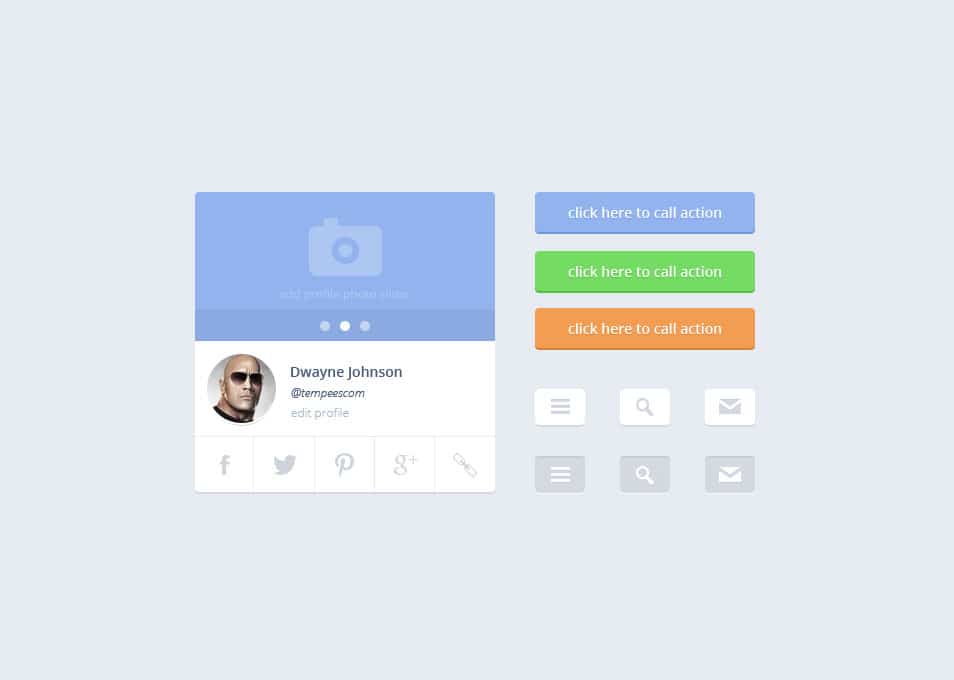 Ecommerce Flat UI Kit Free PSD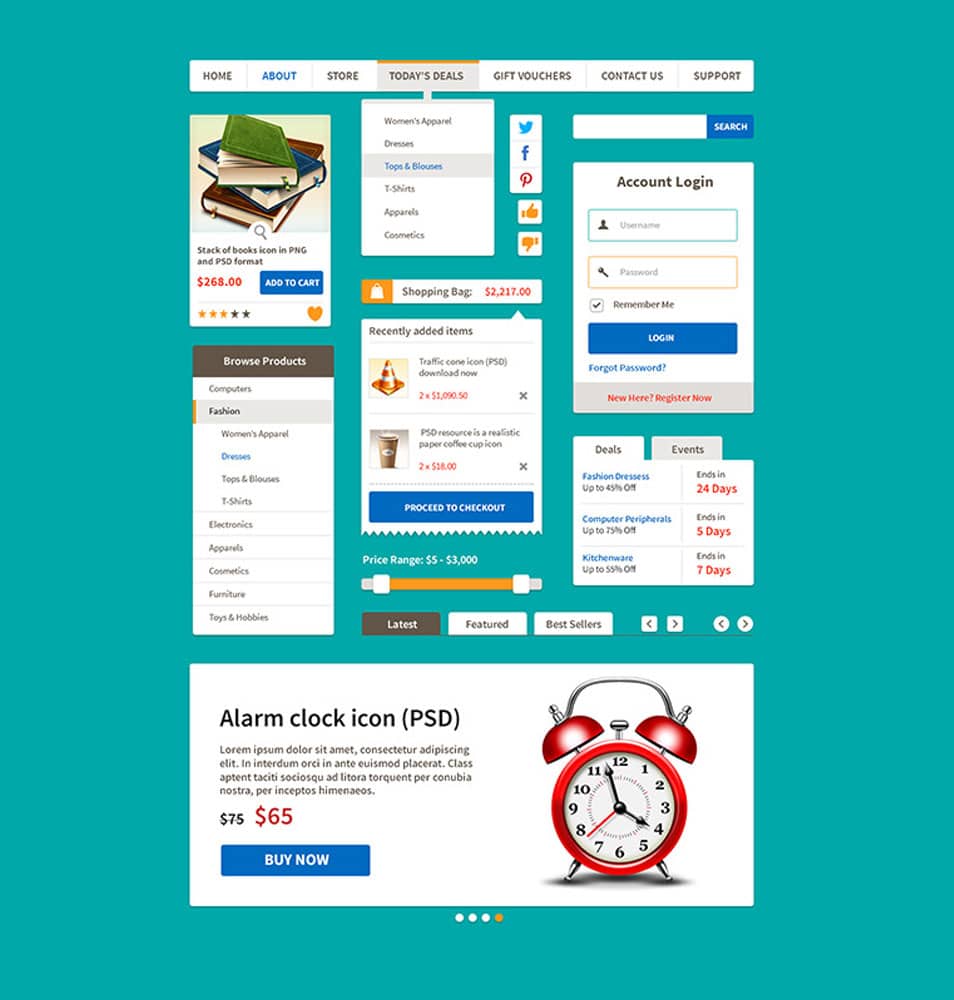 Dark UI Kit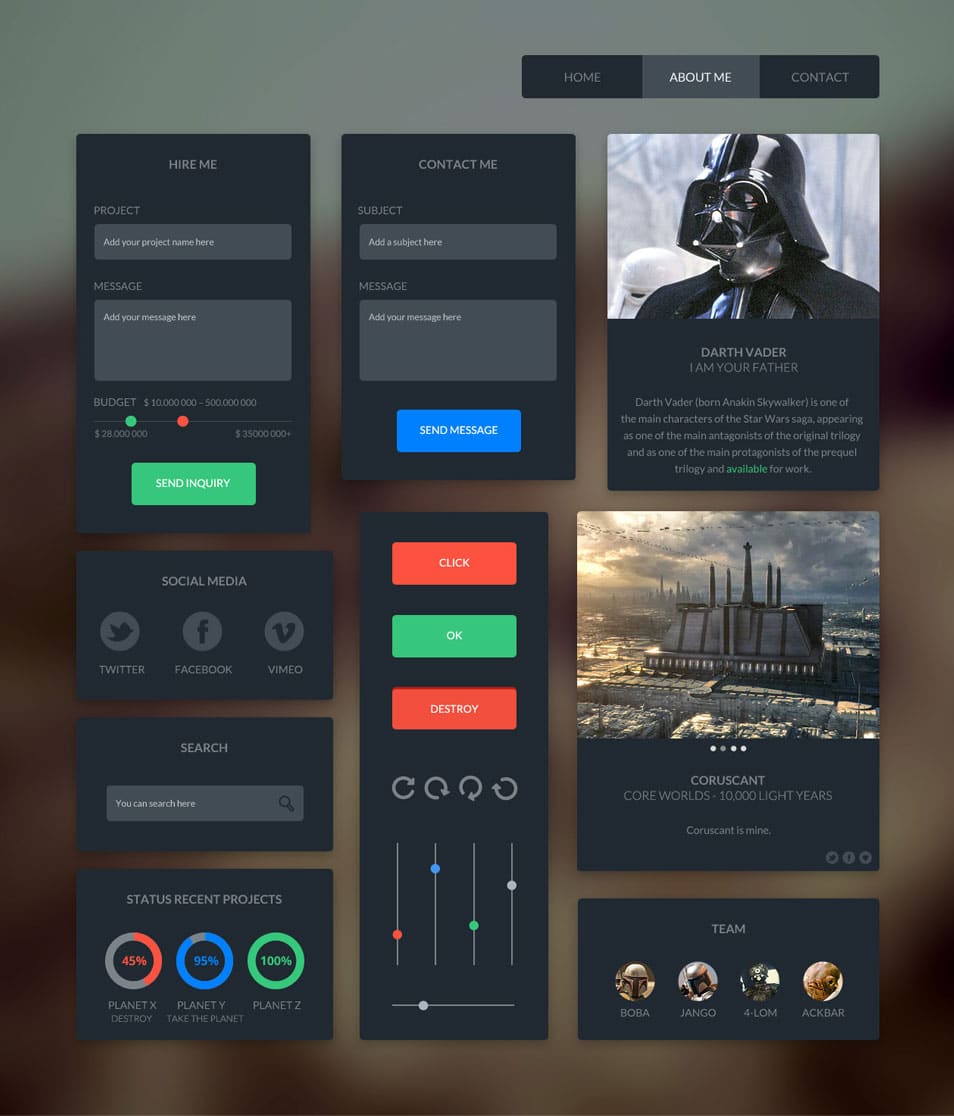 Flat UI kit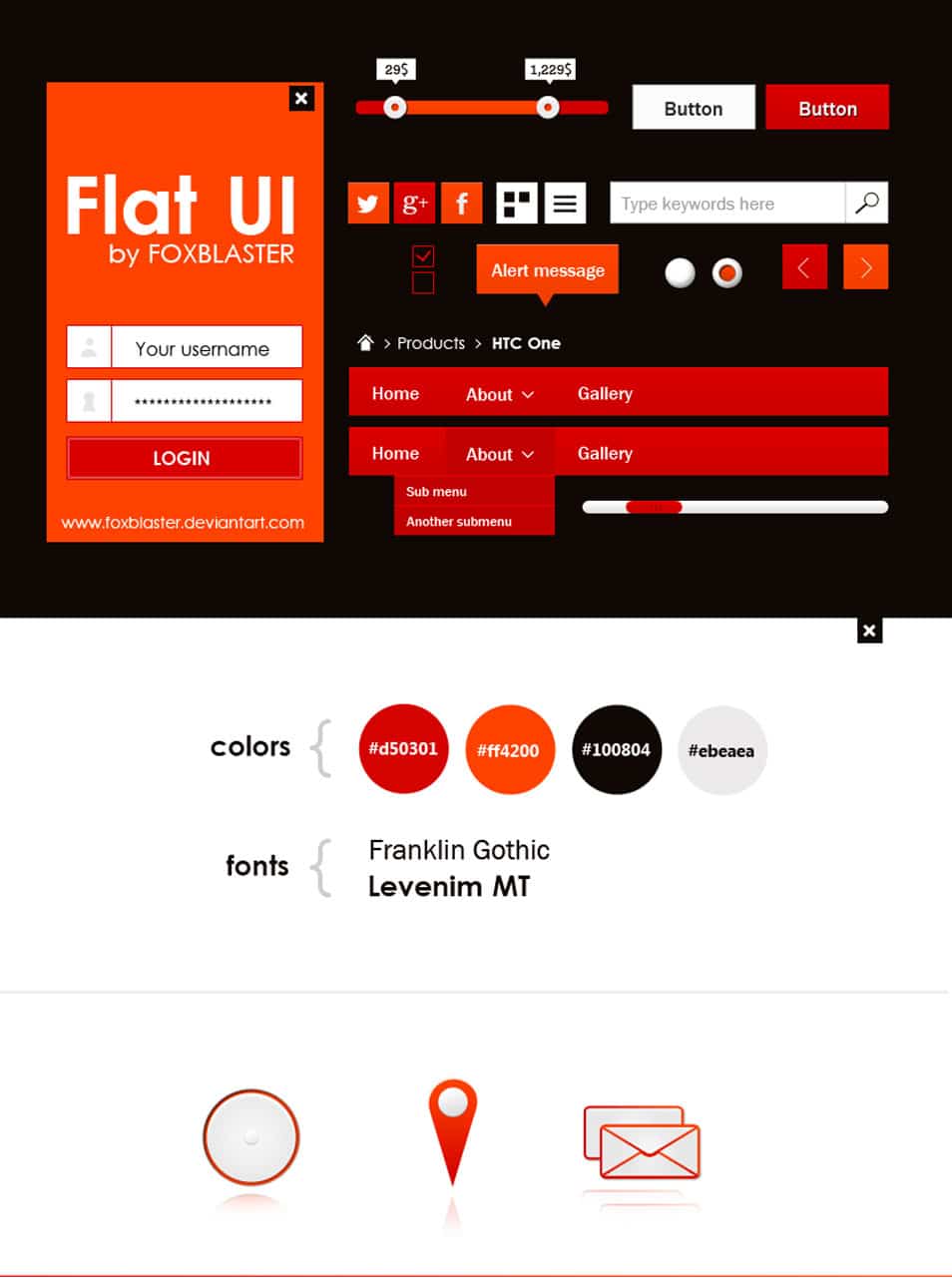 SmoothBerry Free UI Kit

Free Flat UI Kit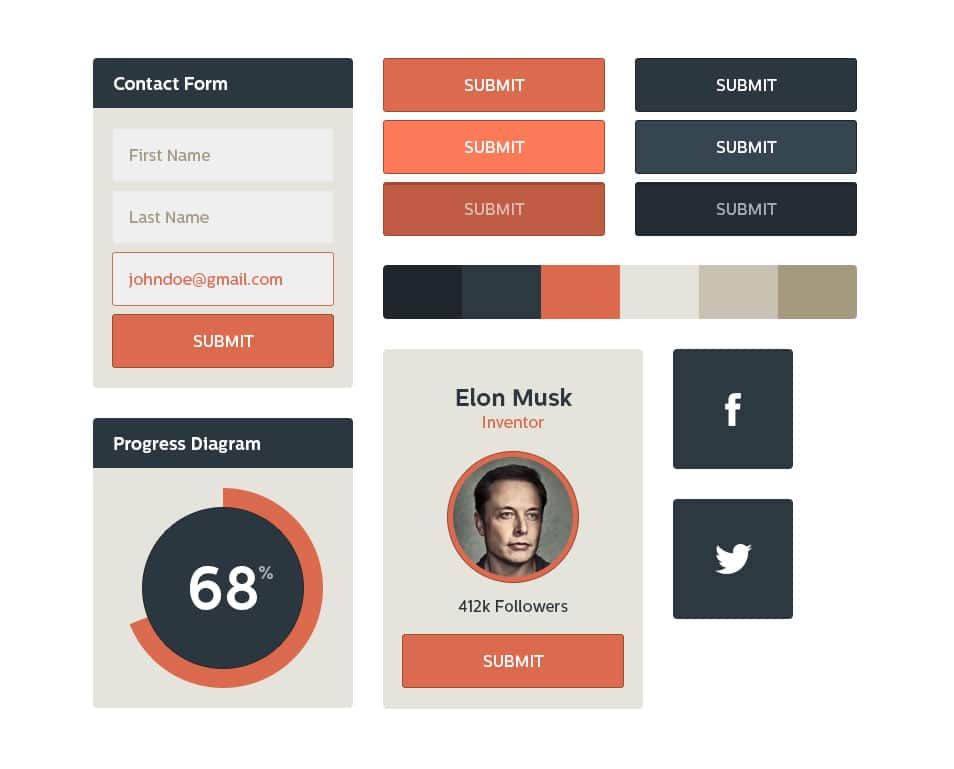 Almost Flat Dark UI Pack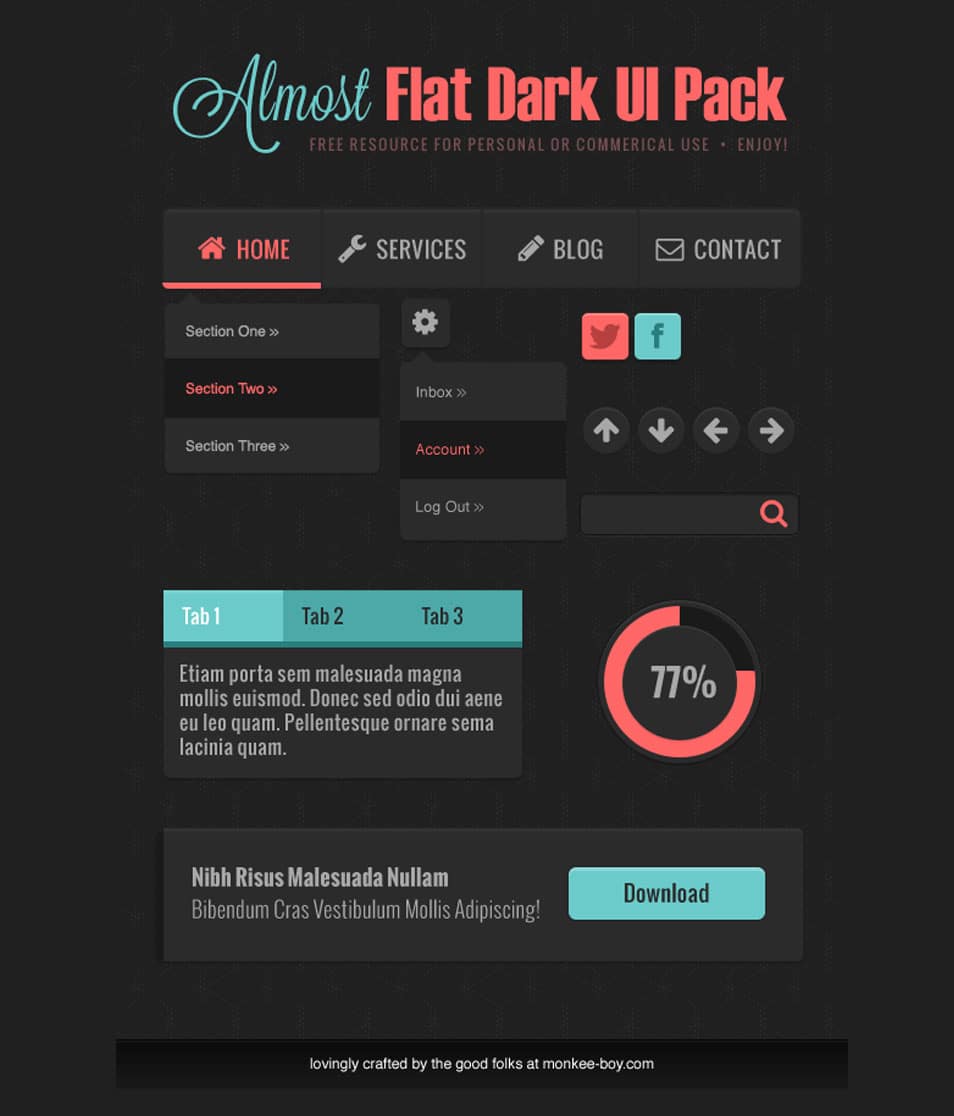 Flat UI Kit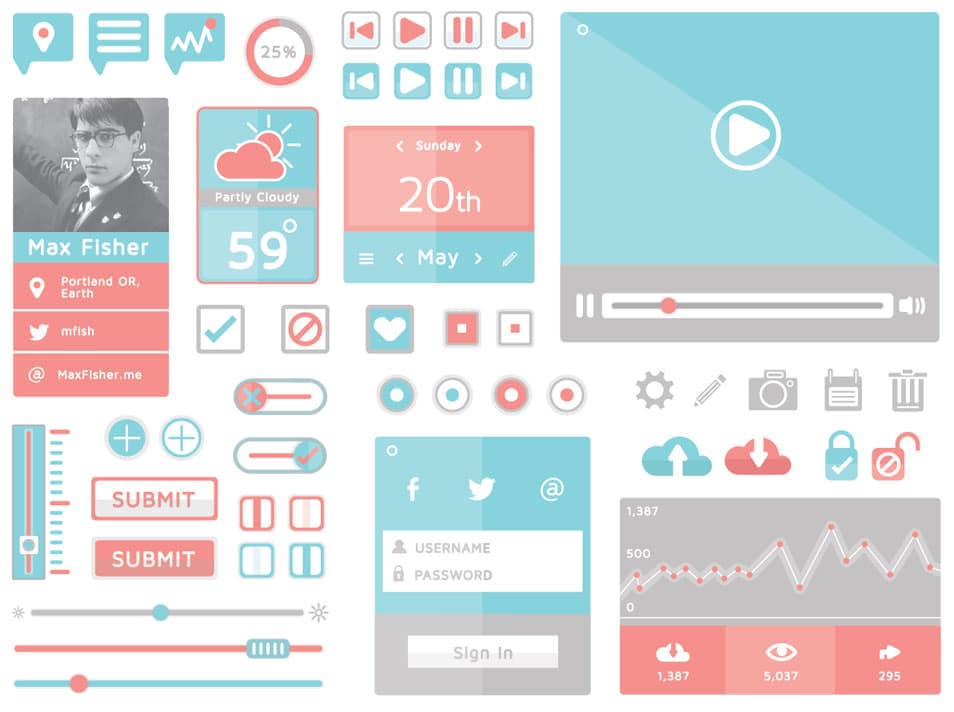 Flat and Casted Long Shadow UI Kit Free PSD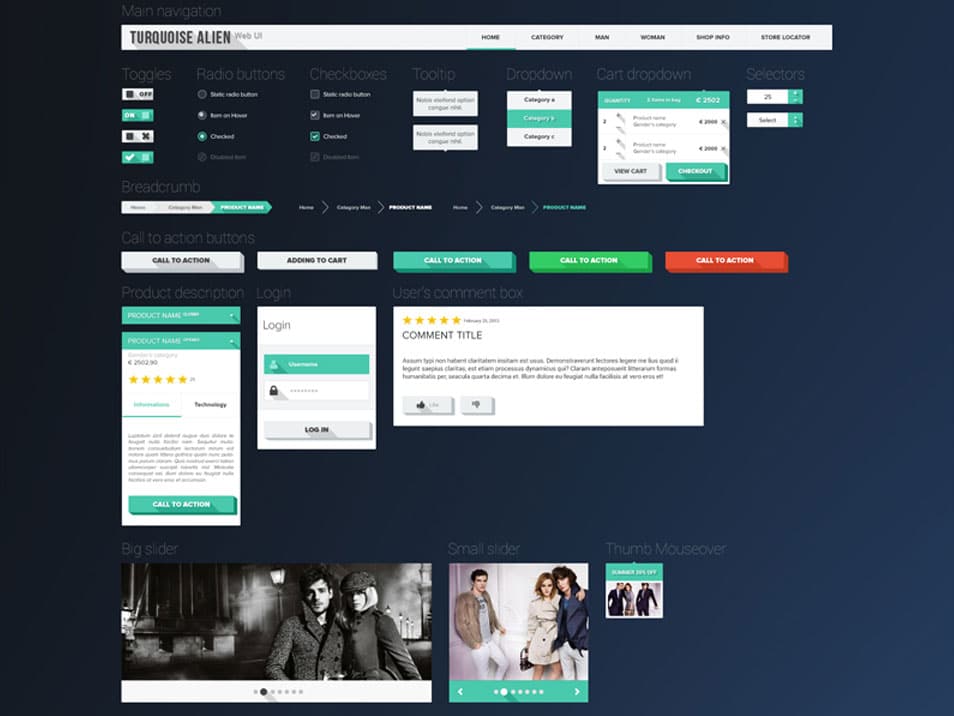 Putty Free PSD UI kit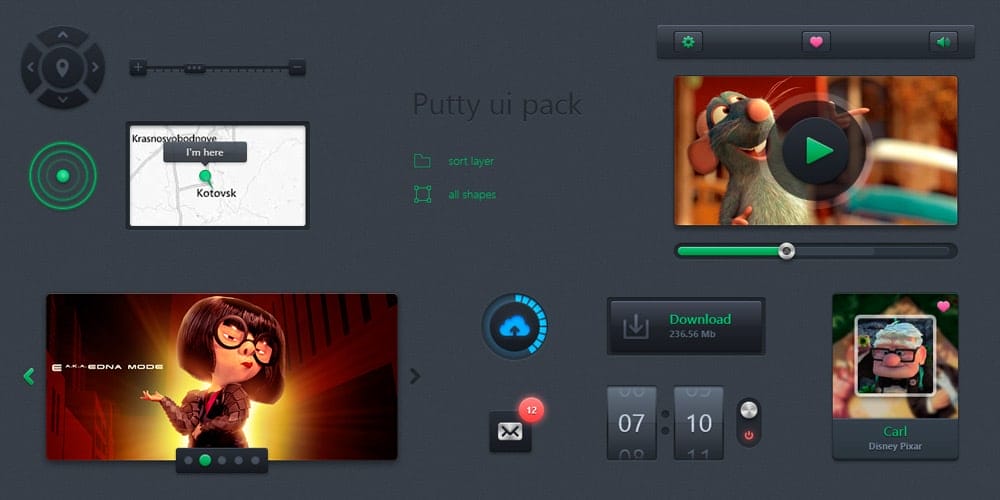 Awesomeness UI Widgets PSD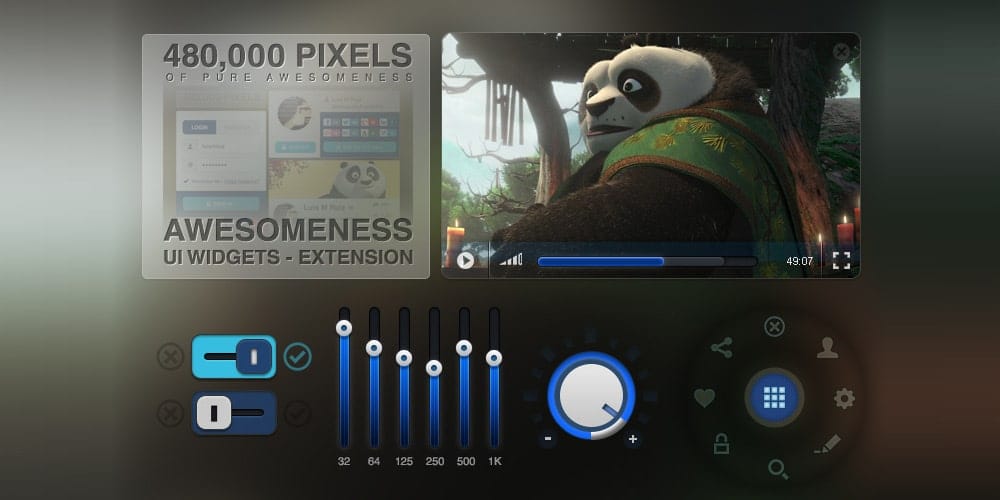 Awesomeness UI Widgets Free PSD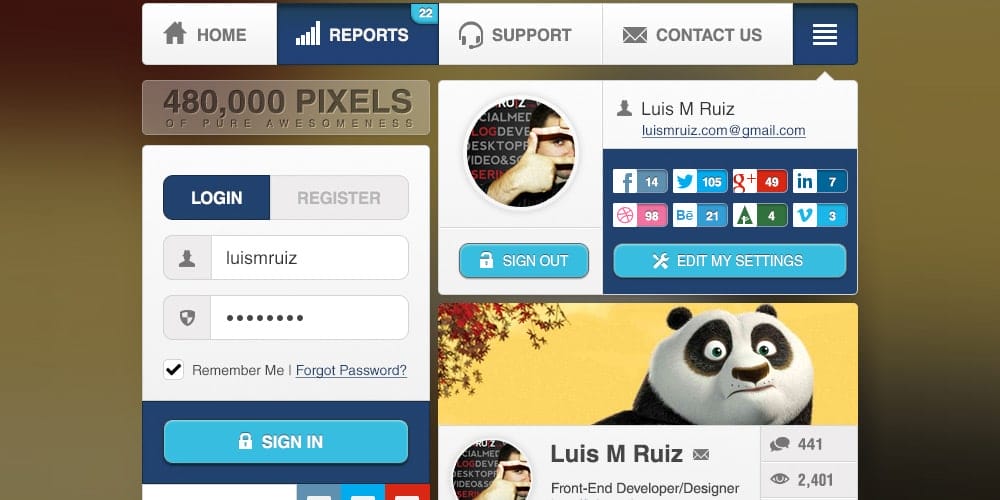 Free PSD UI Kit for Web App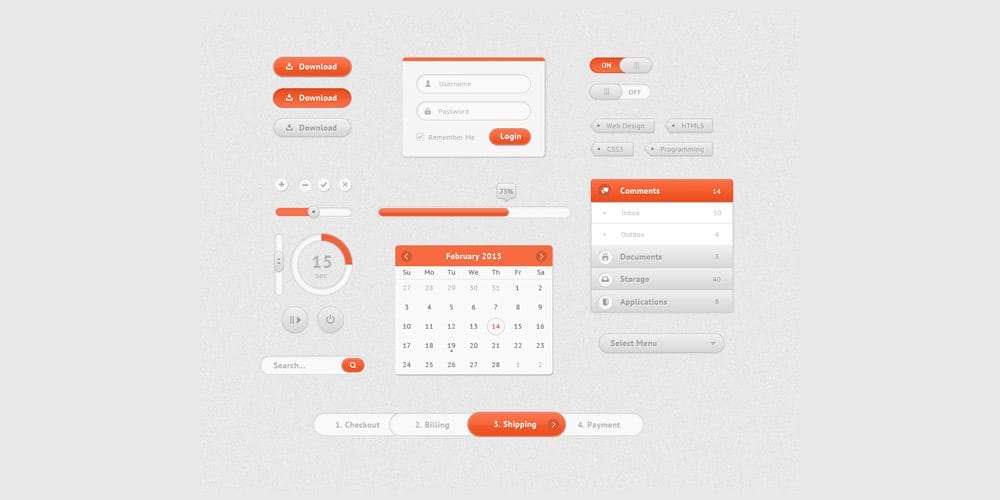 Sweet Dark UI Kit Free PSD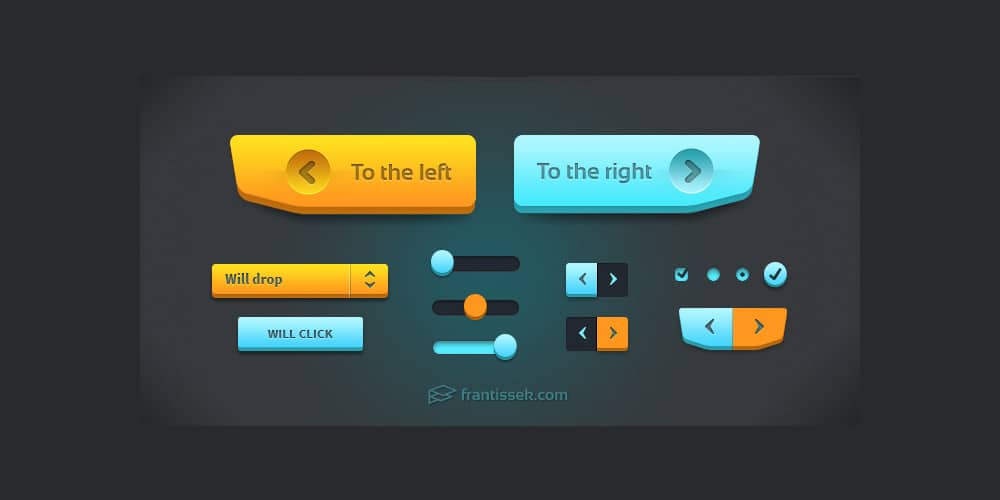 Transparent UI Kit PSD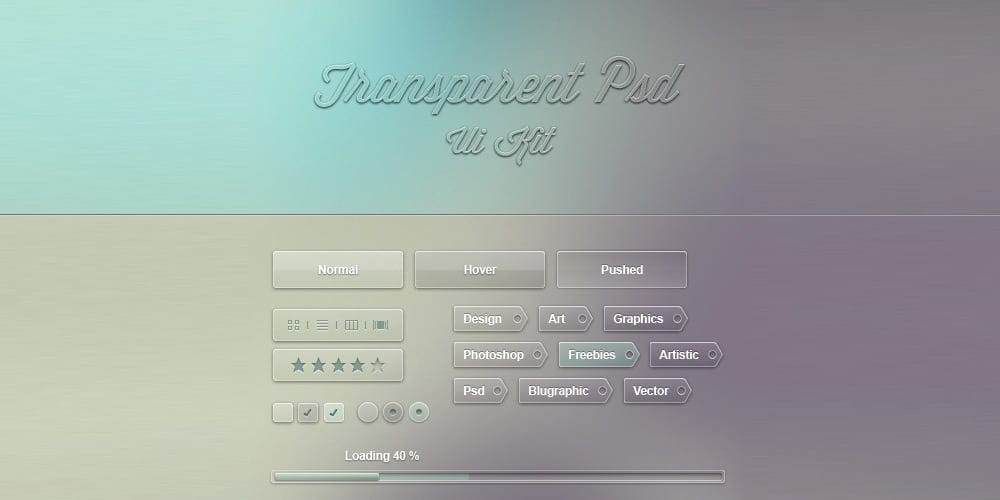 Responsive UI Kit PSD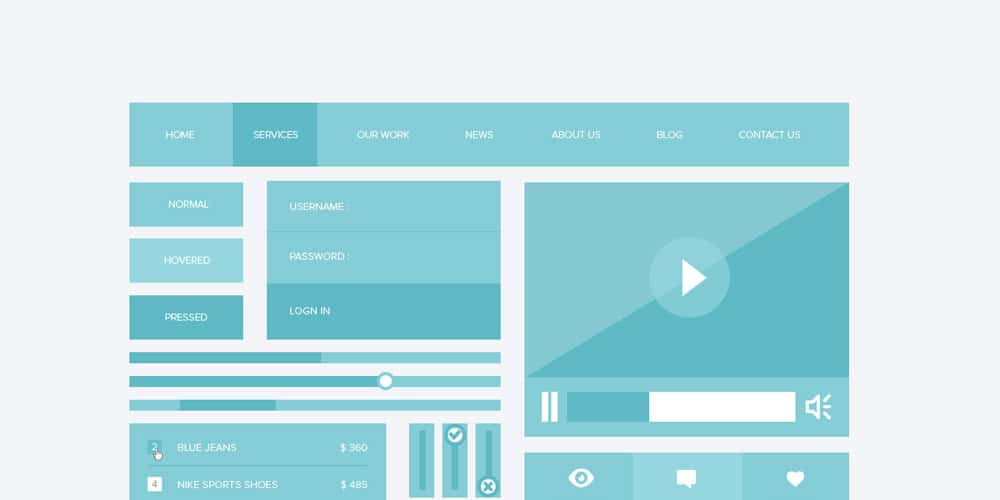 Tactile UI Kit PSD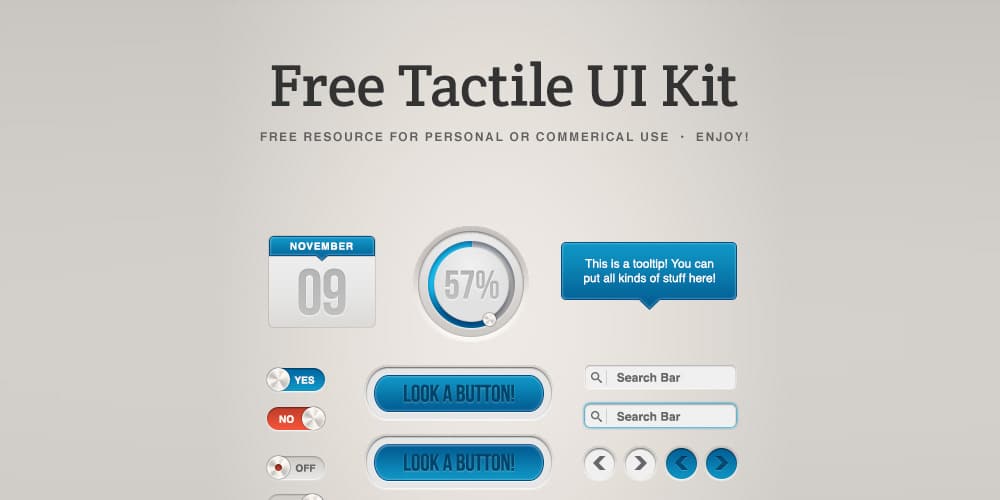 Crisp UI Kit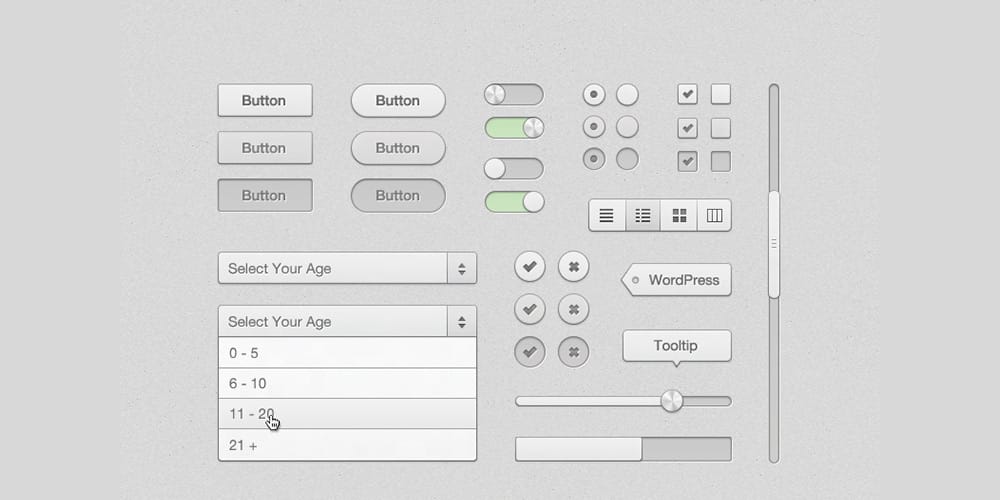 PSD UI Component Neo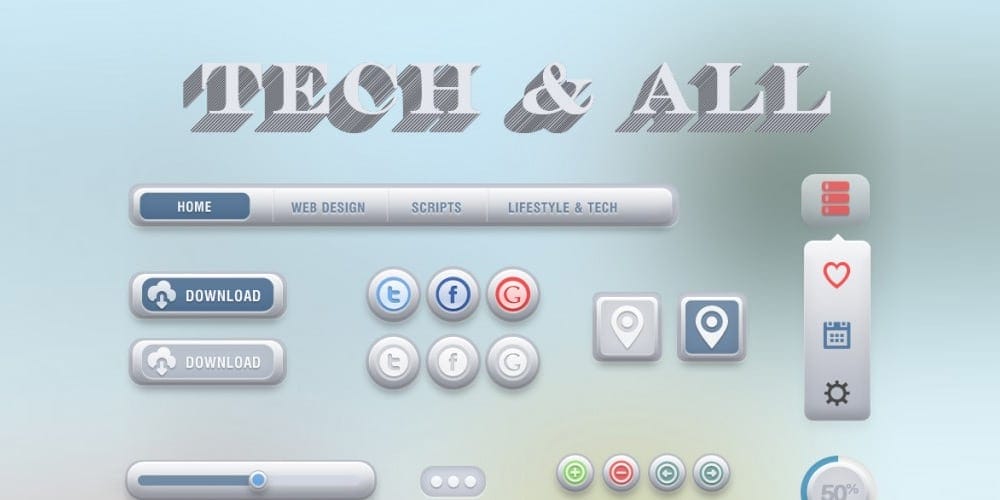 Soft UI Kit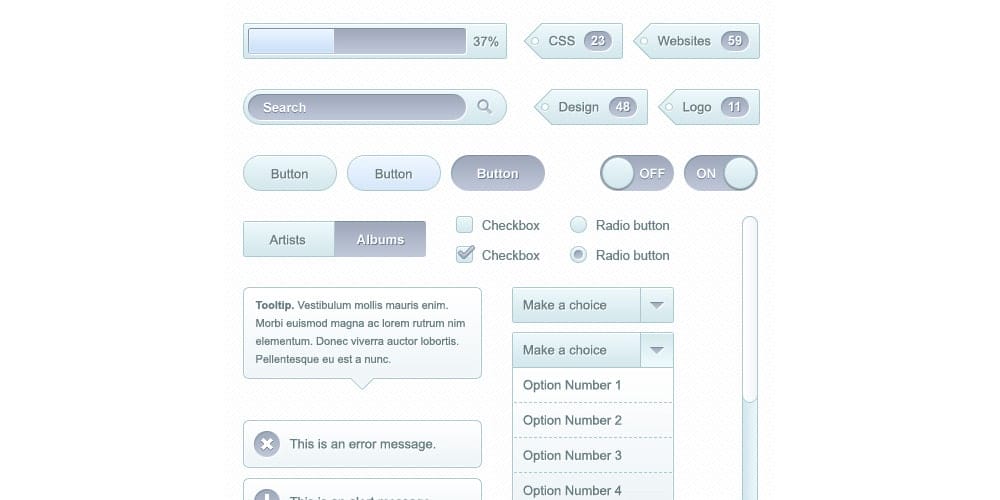 Afterglow UI Kit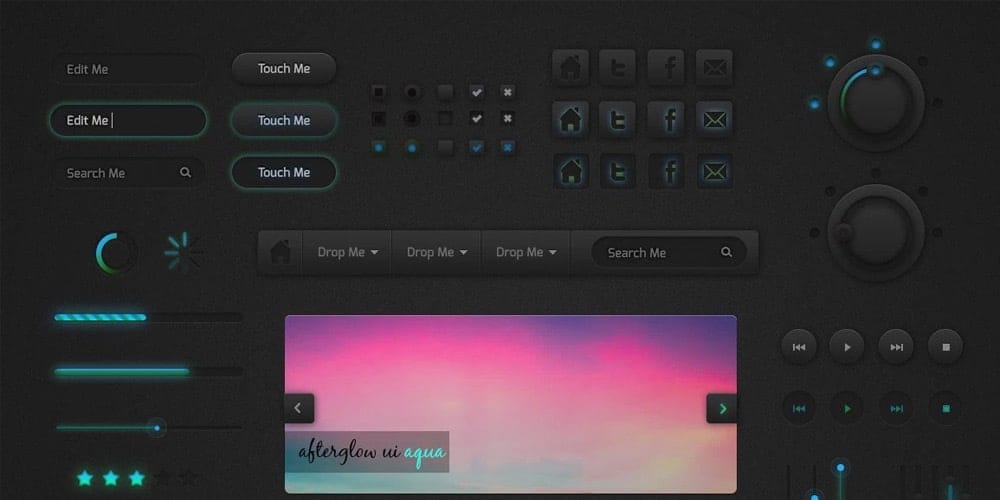 Vintage Pixels UI Kit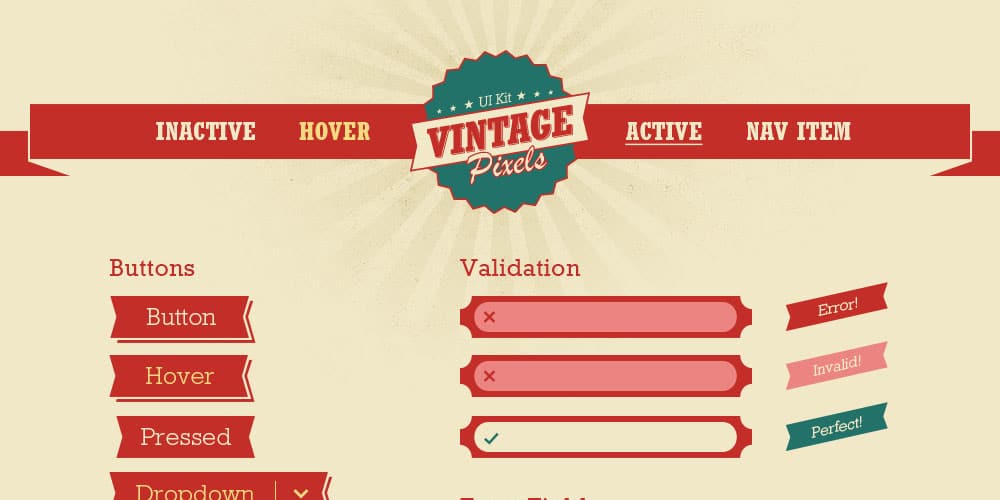 Minty Fresh UI Kit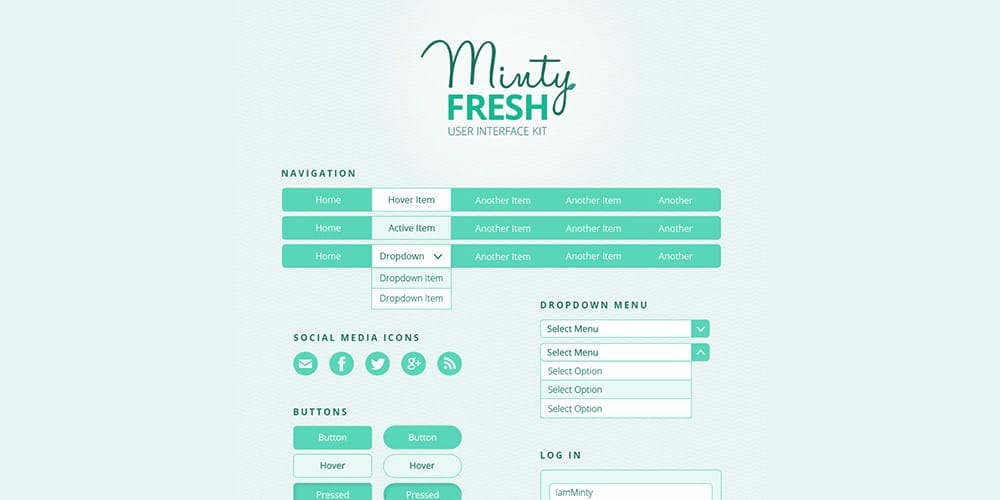 Free Flat UI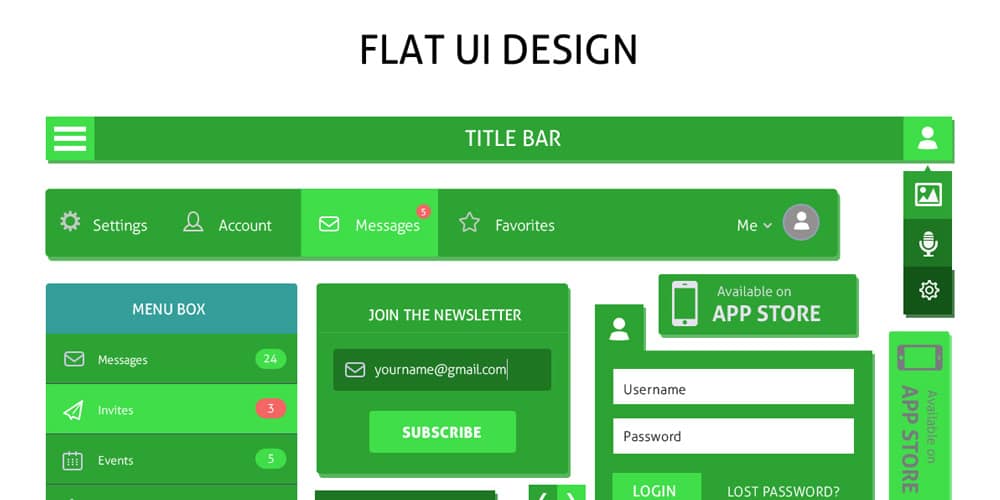 Free UI Kit by Wacho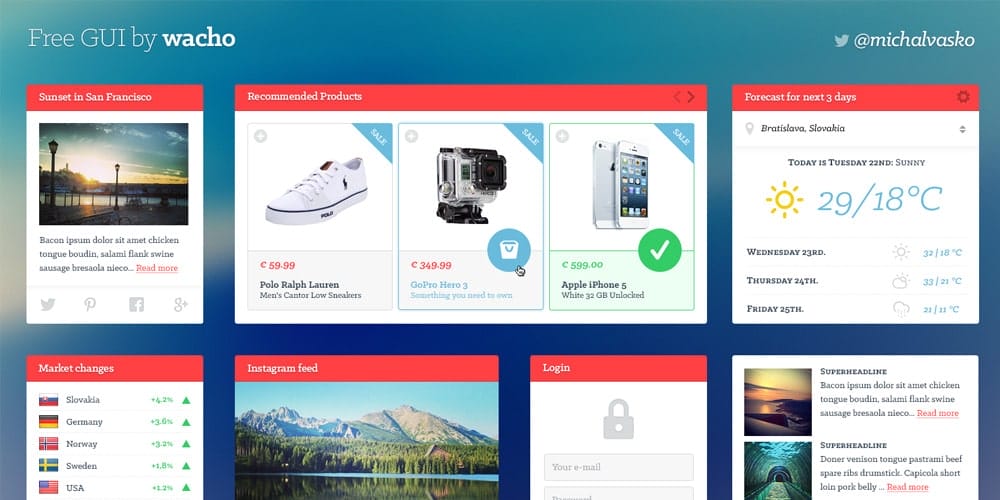 Bleya UI Kit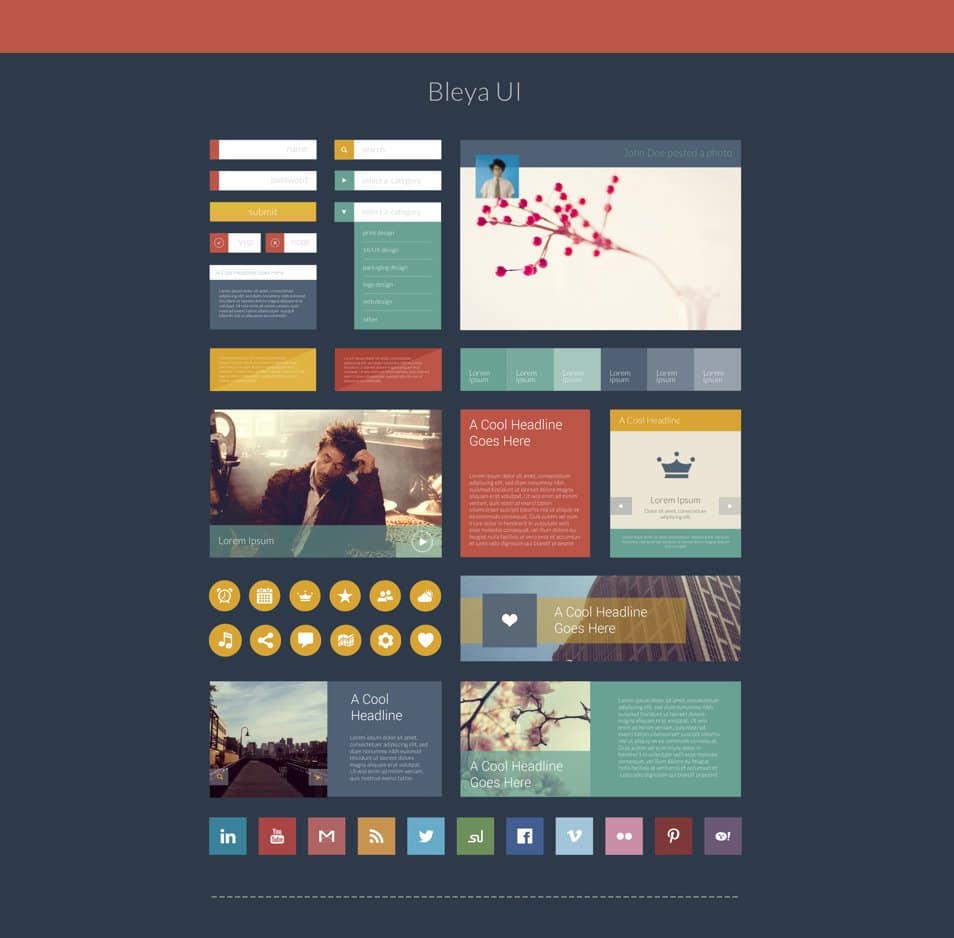 Just Another UI Kit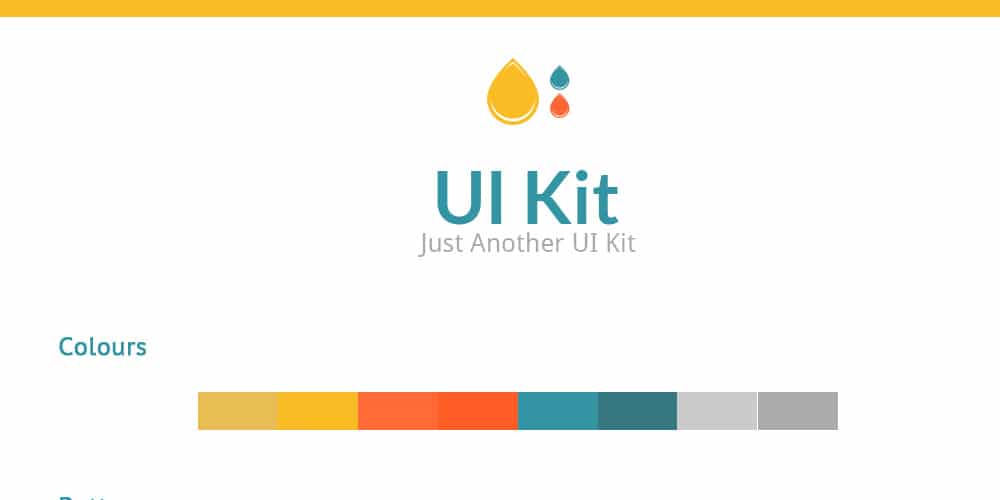 Mellow UI Kit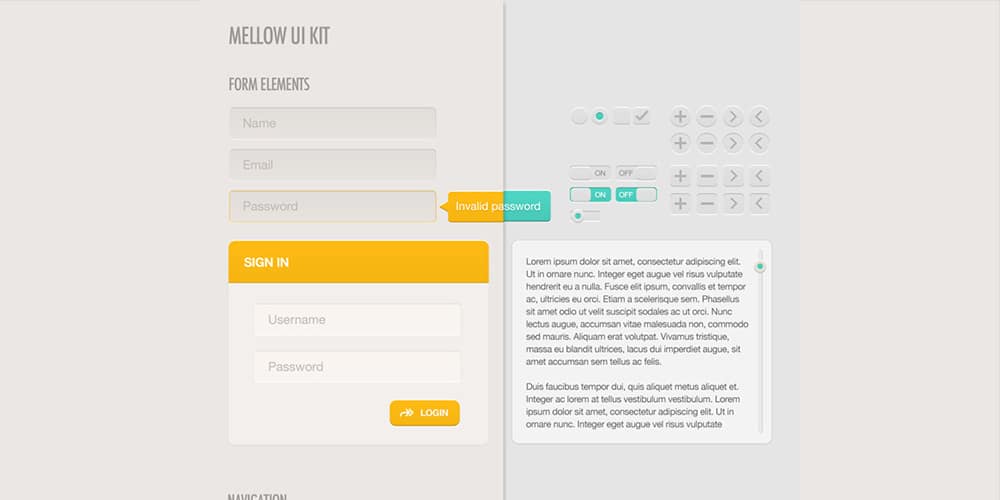 Pink UI Kit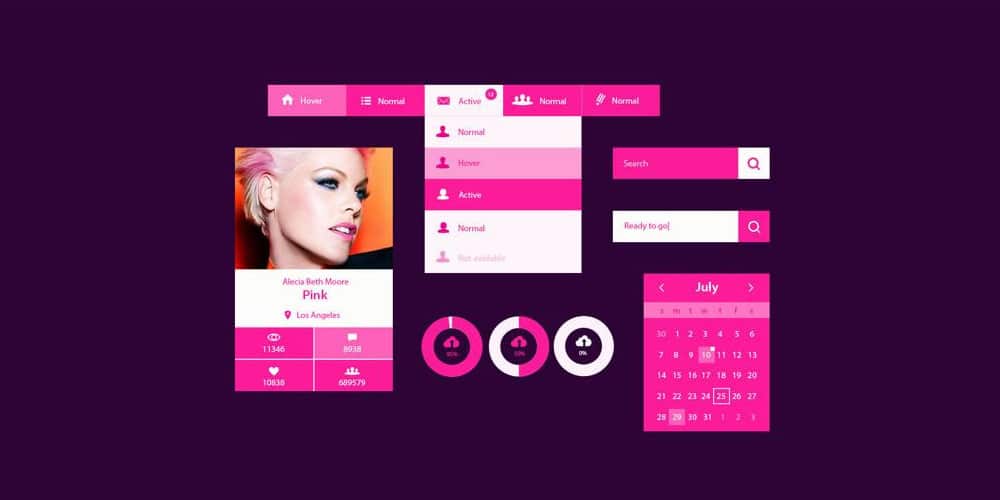 Awesome UI Kit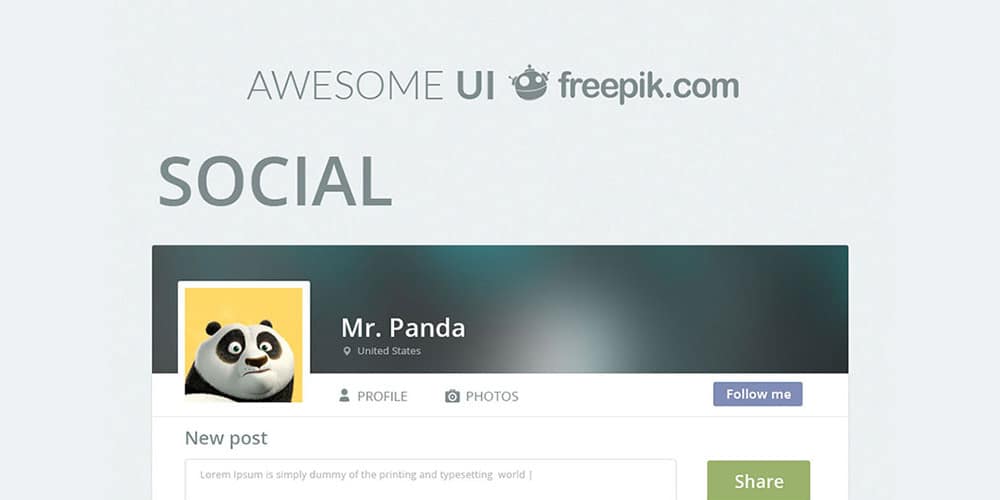 UI Kit PSD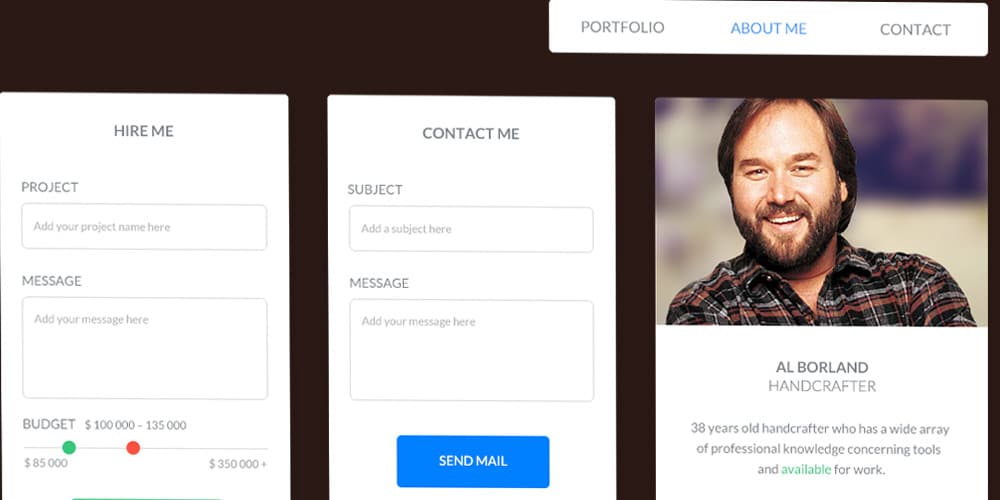 Splash of Color Premium UI Kit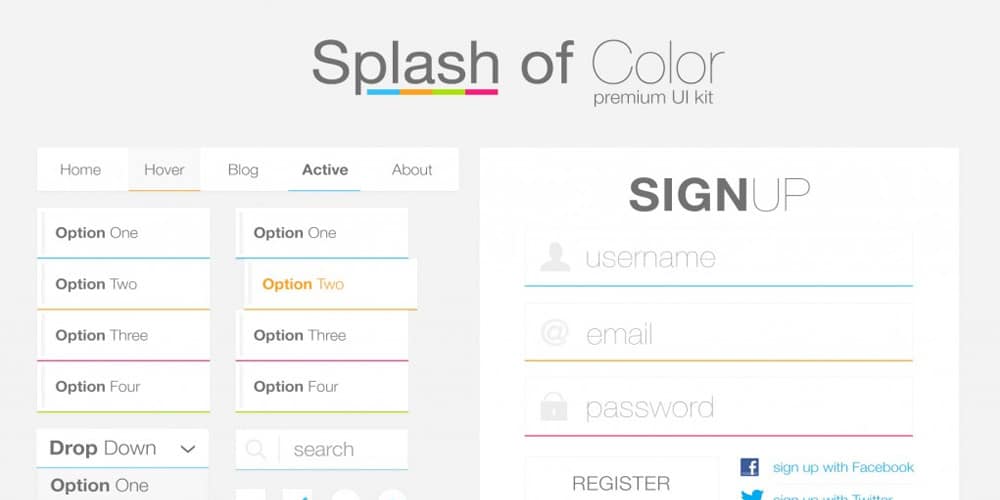 Dark Bionic UI Kit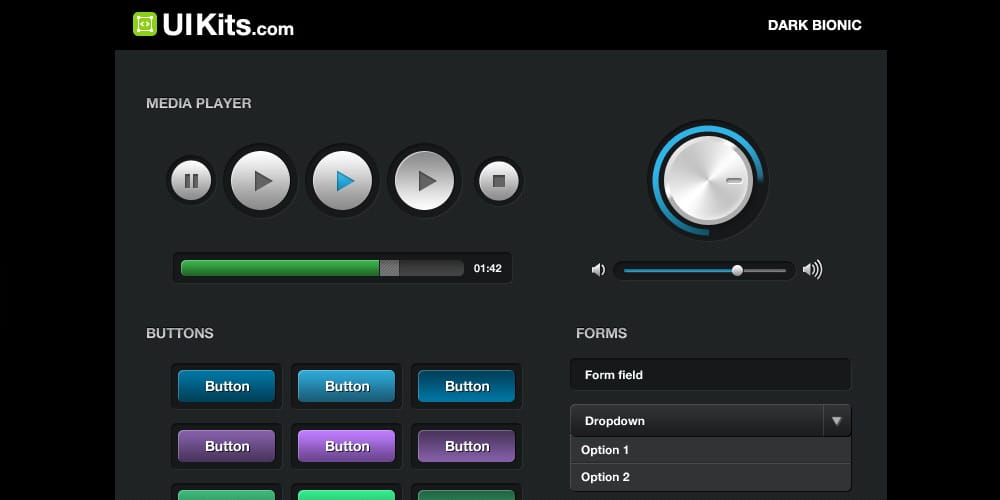 Fashion Red and Black Web UI Kit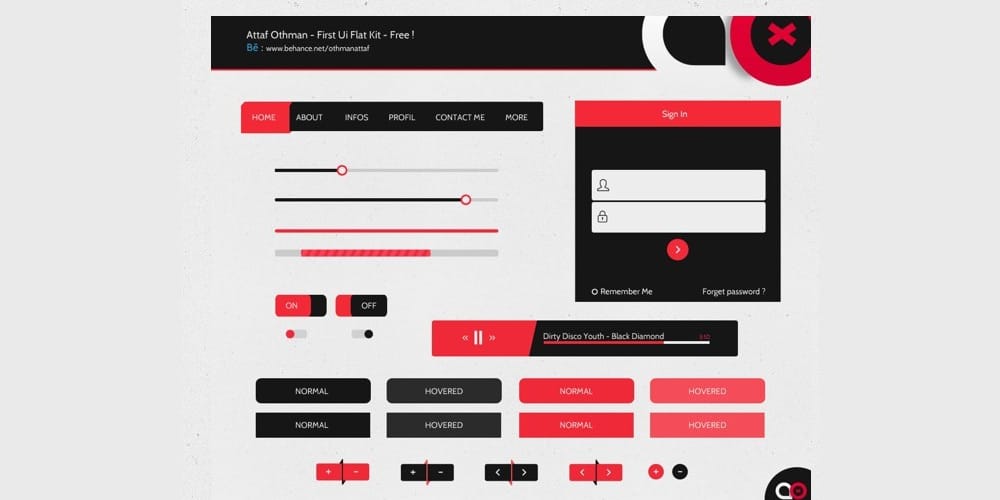 Rounded Flat UI Kit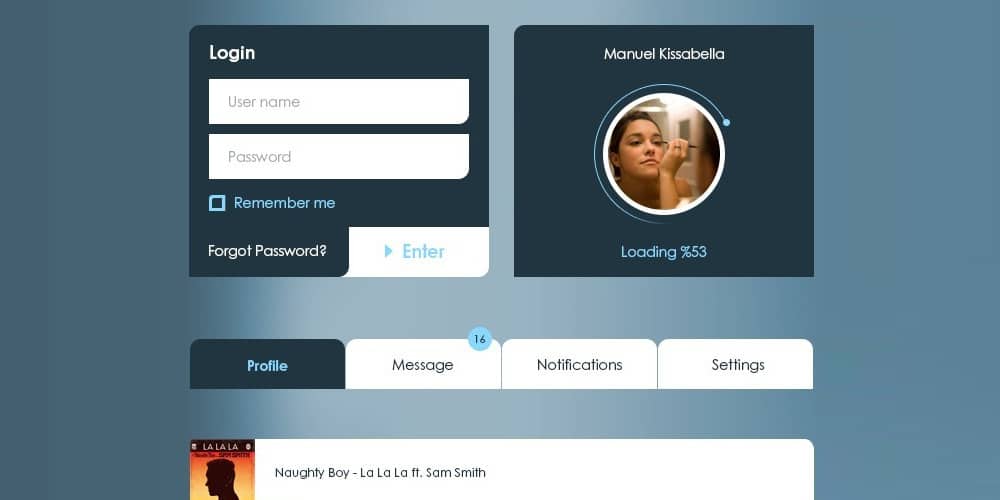 Shelby Web UI Kit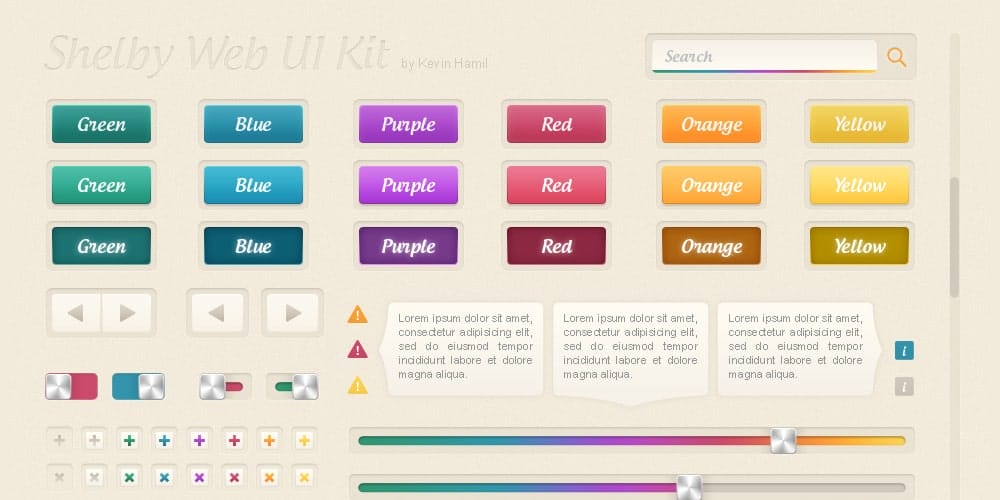 Blugraphic Dark UI Kit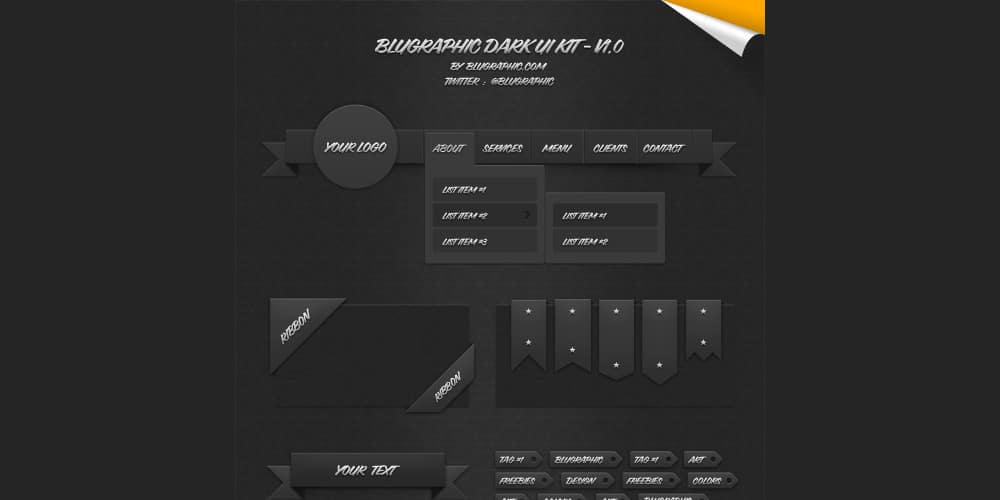 Minimalistic UI PSD
Blue UI Kit PSD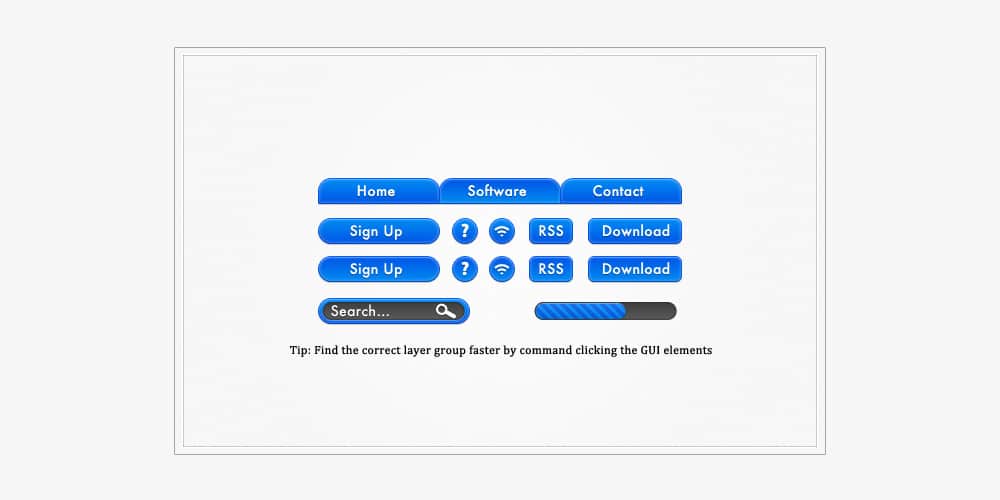 Metro Style UI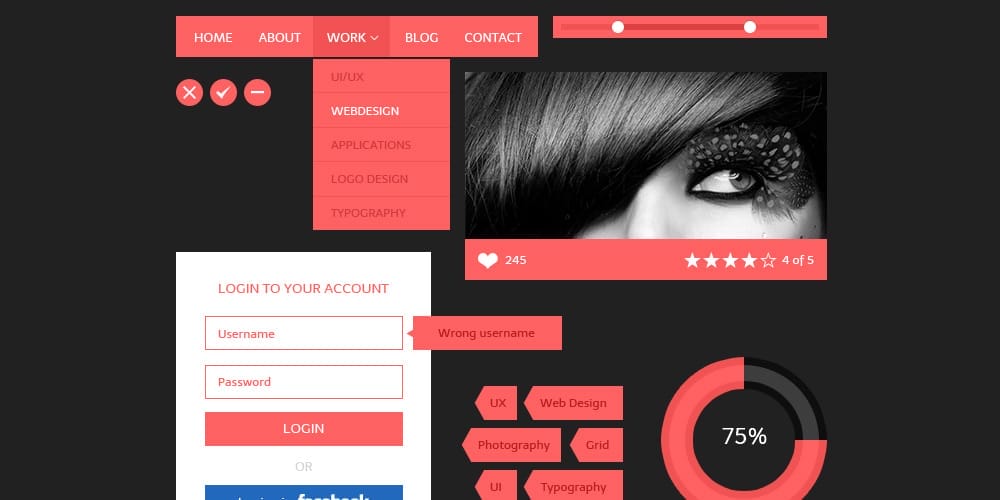 Simple UI Kit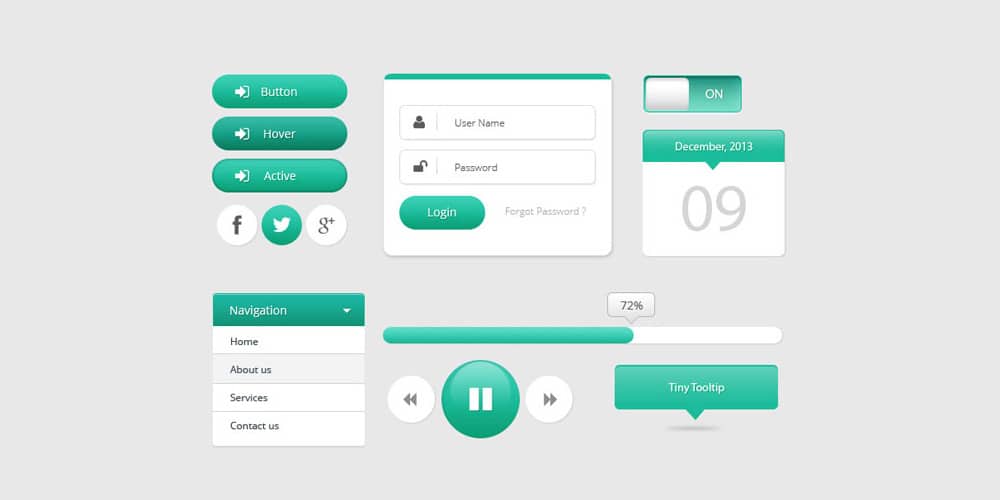 Rounded Flat UI Kit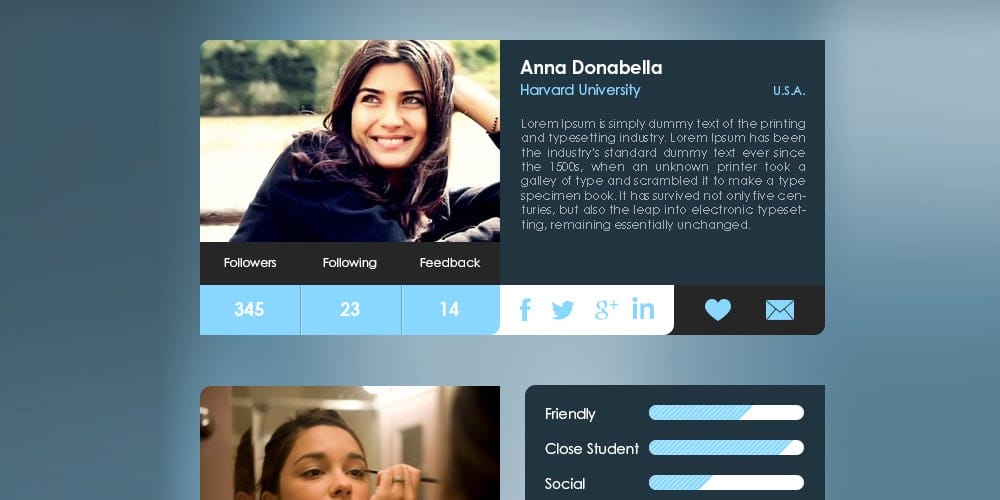 Black UI Kit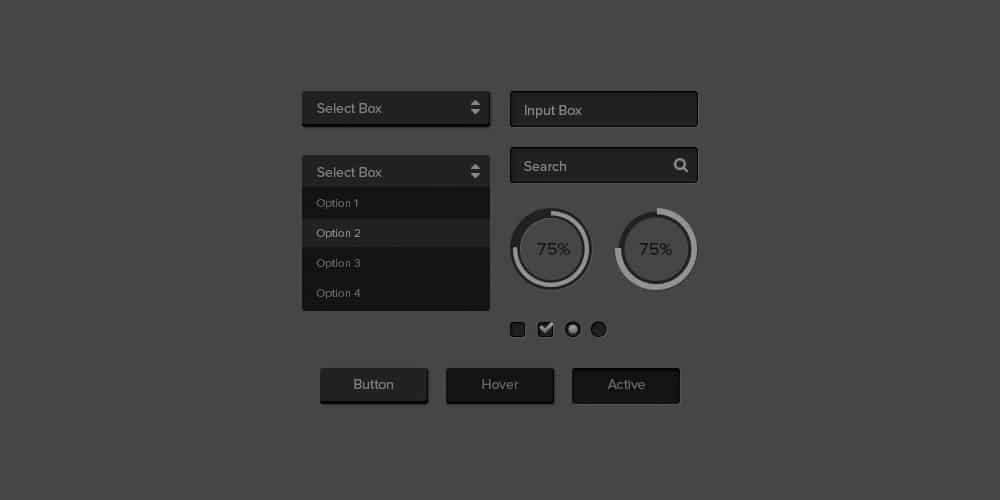 Minimo UI Kit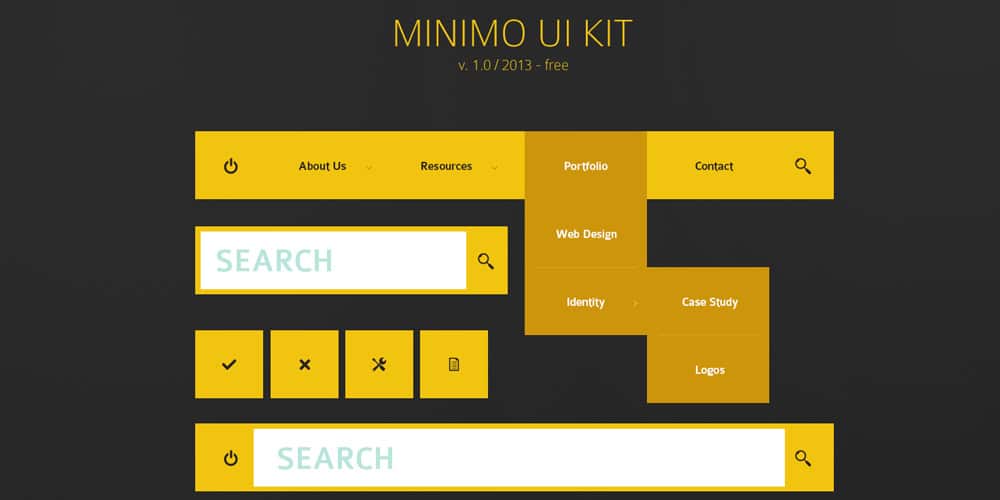 Free Flat UI Kit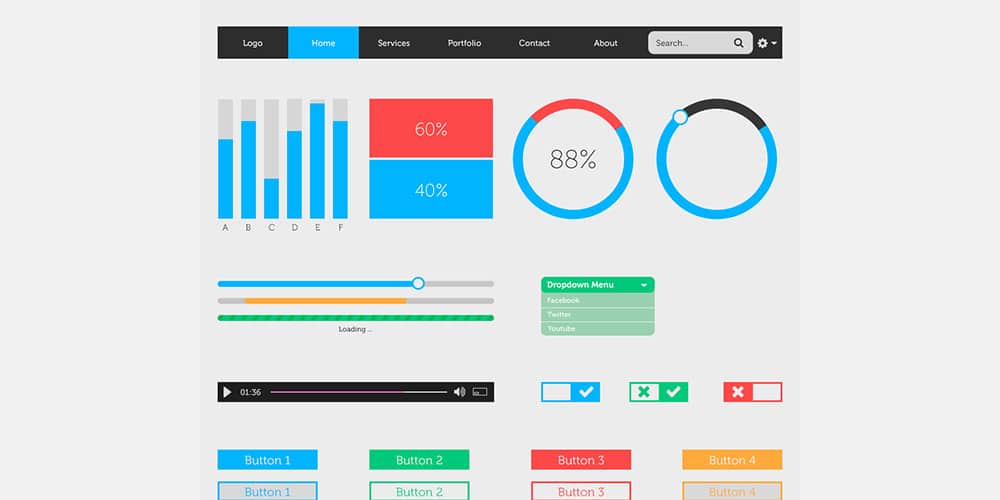 UI Flat Design Kit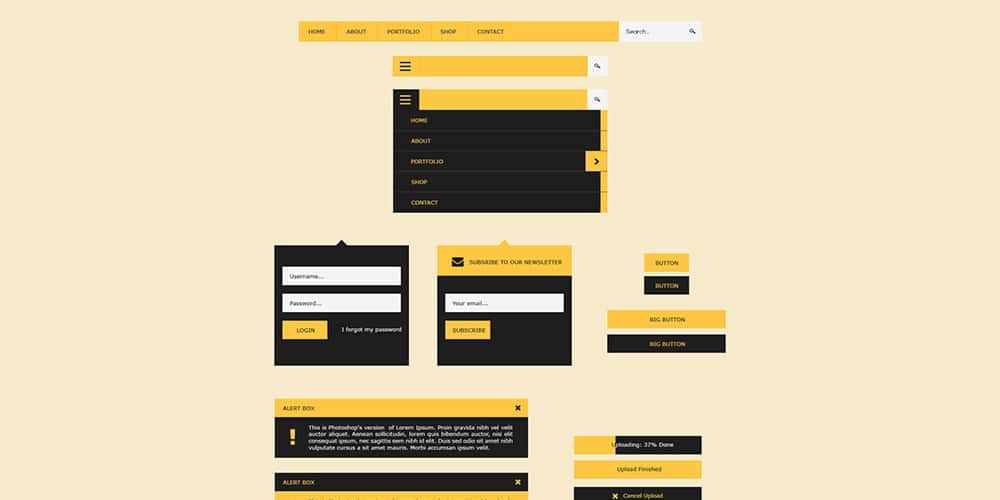 Cyan UI Pack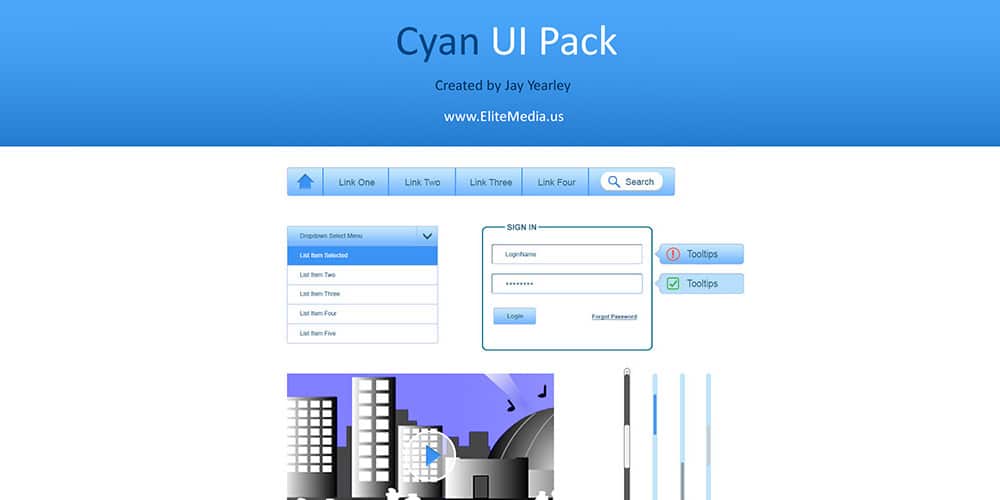 Massive UI Design Pack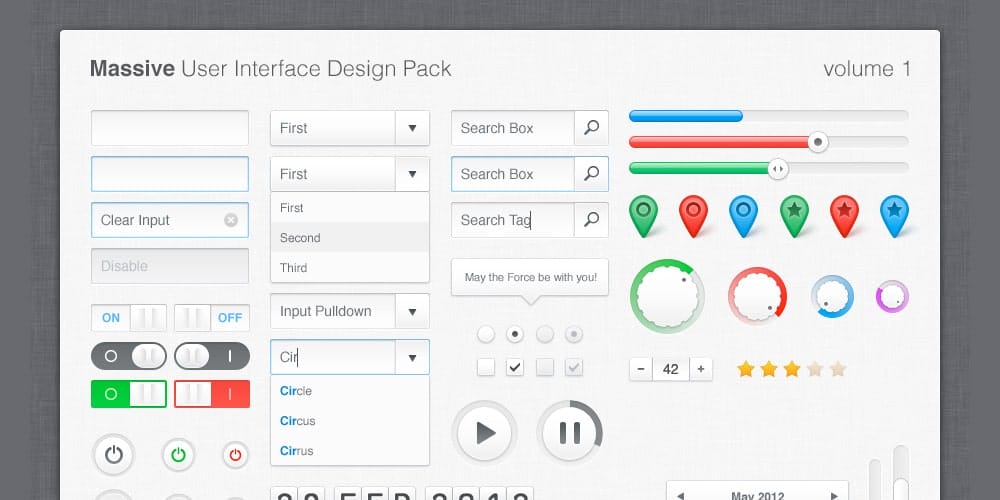 Free Ultimate UI Kit PSD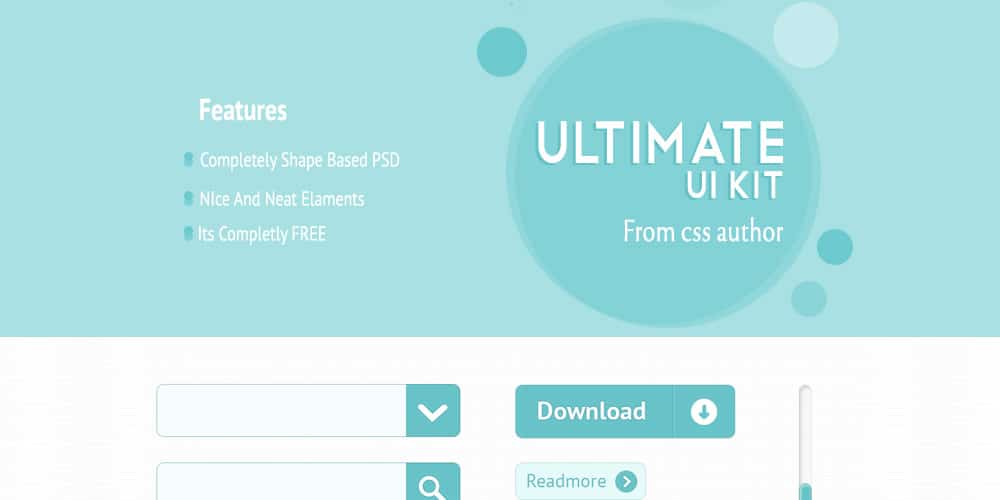 Thin and Bright UI Kit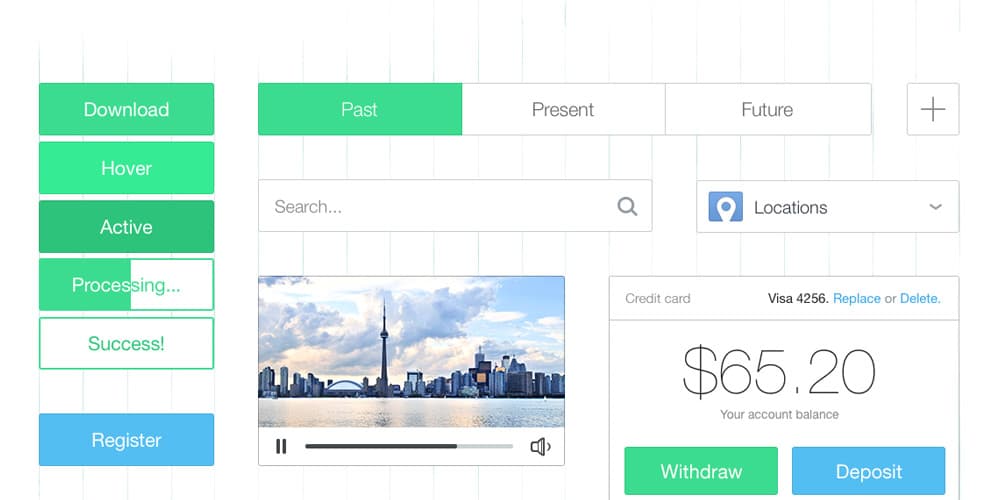 Rainbow UI Kit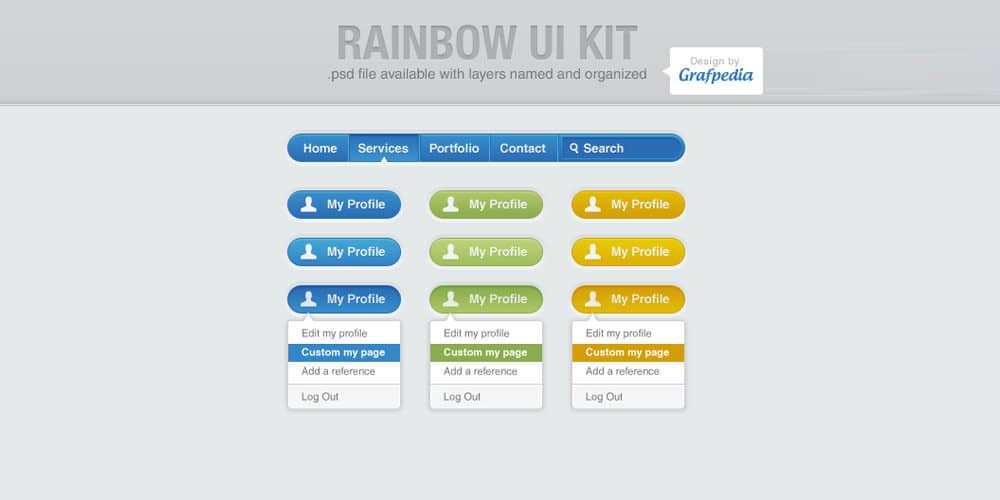 UI Blue Web Kit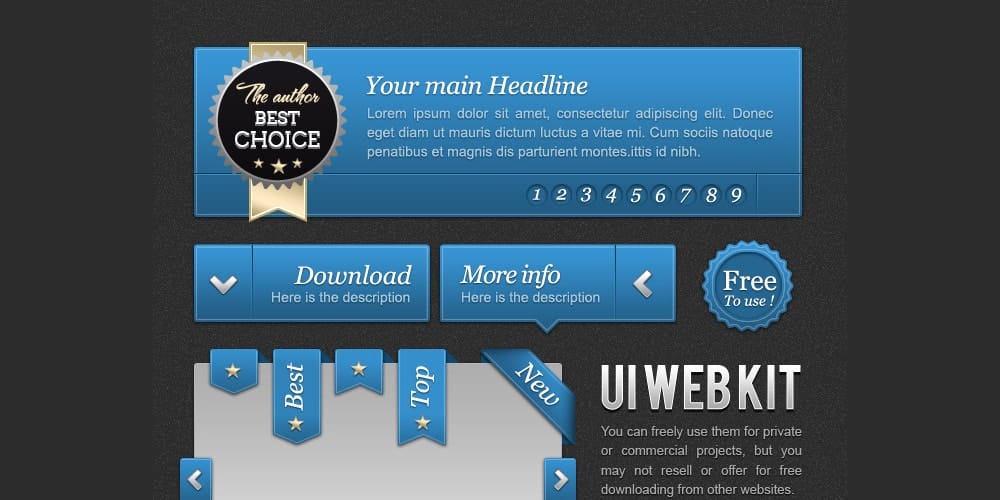 Time Graph UI