30 Best Premium Responsive Magento Themes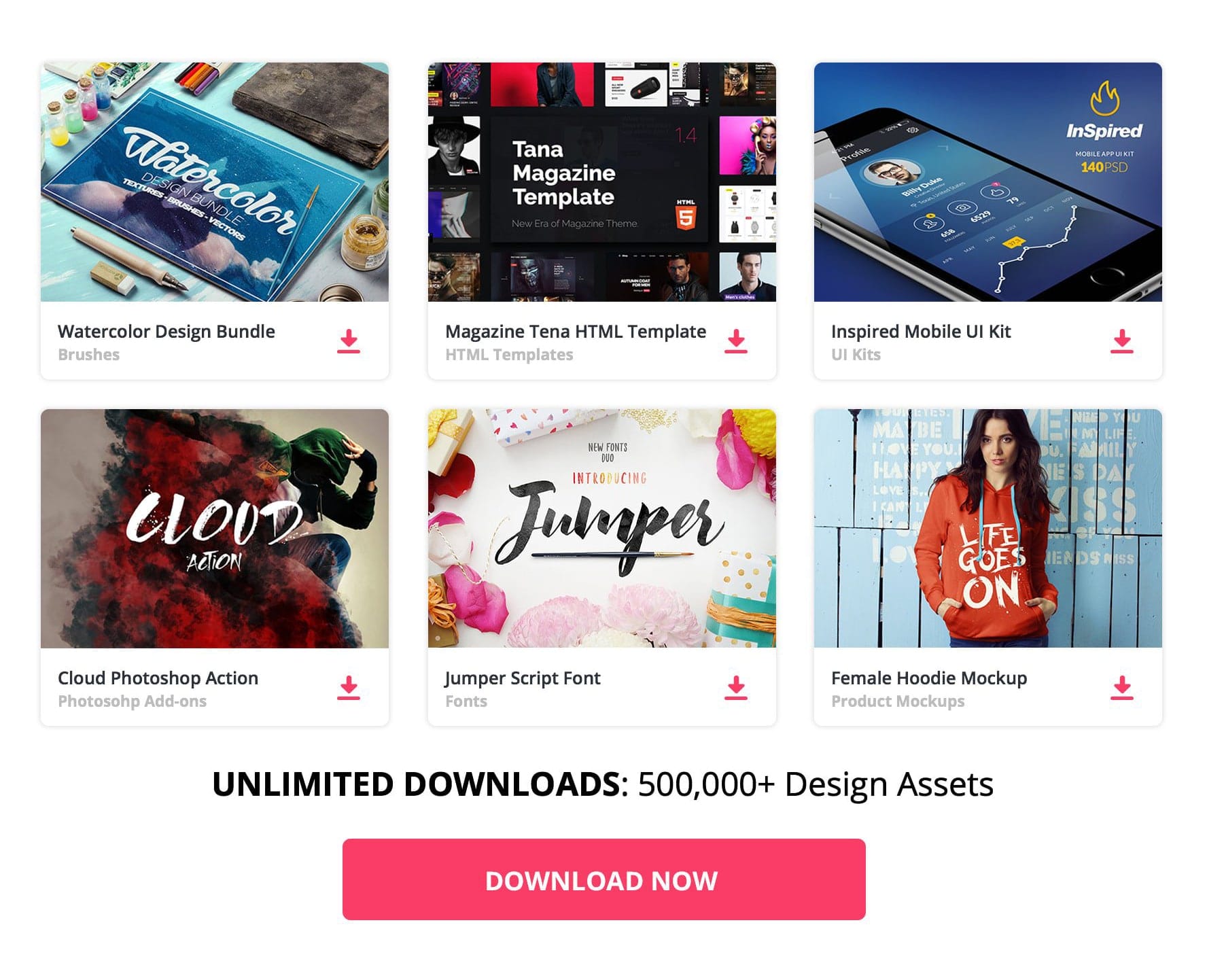 Magento is one of the leading E-commerce platform developed in open source technology. If you are looking for excellent Magento Template for your next E-commerce project, we have gathered very best Premium Magento Themes here. We all know there are thousands of Magento Themes are available over World Wide Web, but choosing best one is the difficult part, this particular point make this article important. You can find 30 Best Premium Responsive Magento Themes below. Enjoy !!!
HelloMix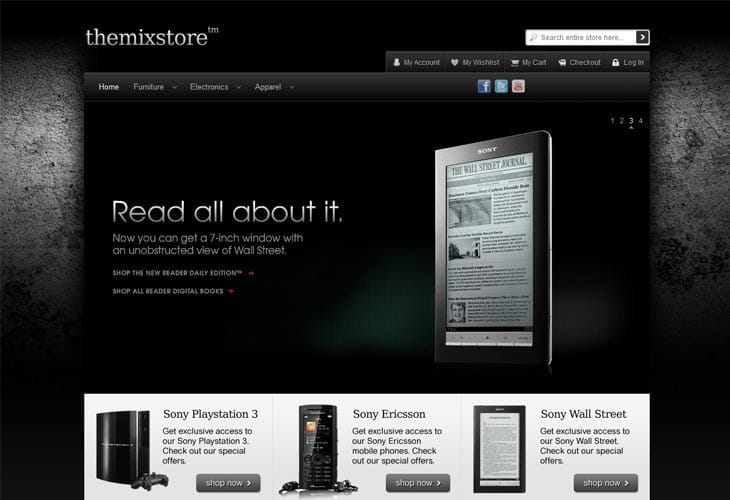 This fascinating theme really stands out from the rest. A clean and sophisticated design, perfect for an electronic, gadgets or sports and fitness store. Includes a completely customizable homepage slider, showcasing all your beautiful products, plus our great featured product…
EM Fashionist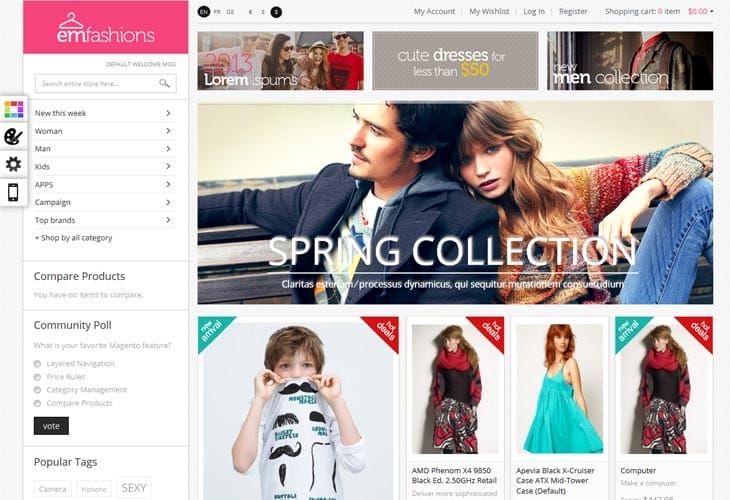 Any shopaholic would fall in love with this layout, EM Fashionist Responsive Bootstrap Magento theme. Super neat design, really modern and high fashion skin for the website. With variety available colors, probably, your website will be congruent with your store image. Need to change? You want a very own color combination? Pieces of cake, you can change it to any color you wish with color variation function.
Gift Store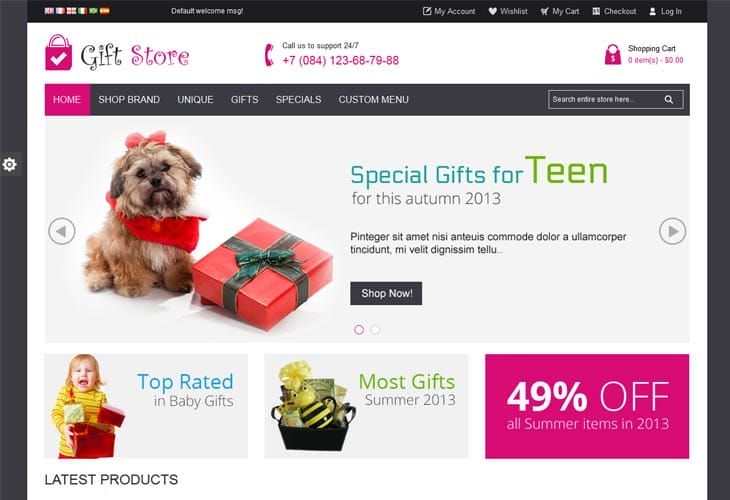 This magento theme is designed for a gift shop, souvenir and toys. It comes with a product slideshow, very attractive graphics, and it is one of the most stylish magento themes available for your gift shop. This theme is very easy to customize so it could help you to instantly have a beautiful and powerful gifts shop online. You will be proud to have this theme represent your online business and your customers will fully appreciate it's unique artistic beauty.
EM Digital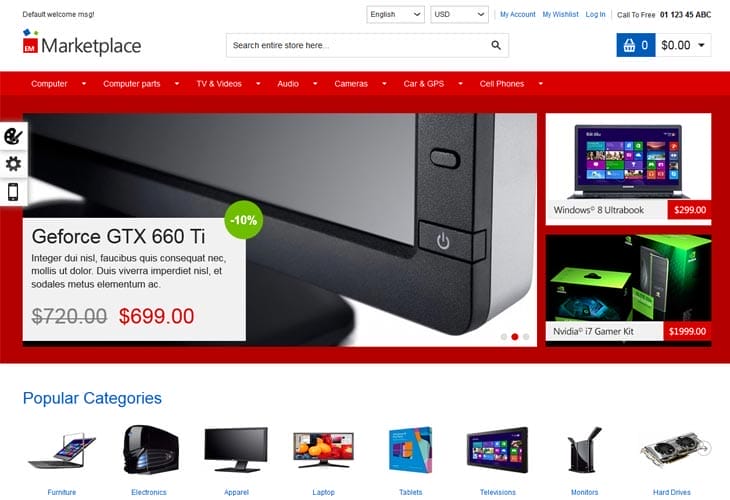 You own a big store with an enormous number of products, and you need something to show it out. This is really the one for you, EM Digital Marketplace. Be a modern enterprise with Red and White of this theme, which show your enthusiasm, and profession. Don't want this color? No worries, you can change it just in second with theme variation to any color you wish. Extremely neat product organization to avoid fussy look for your website won't let you down.
HelloNikola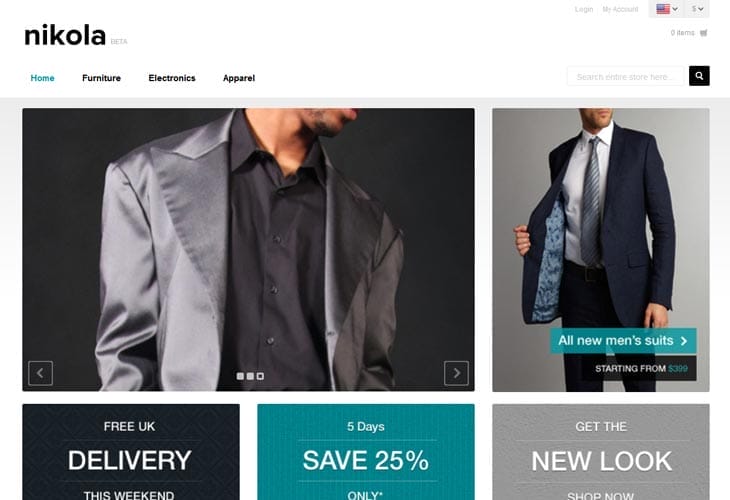 A fully responsive magento theme with minimal, clean, modern and stylish design. It was designed with focus on usability, user experience, speed, and SEO, to make Magento shopping easy, quick and elegant.
Drink Shop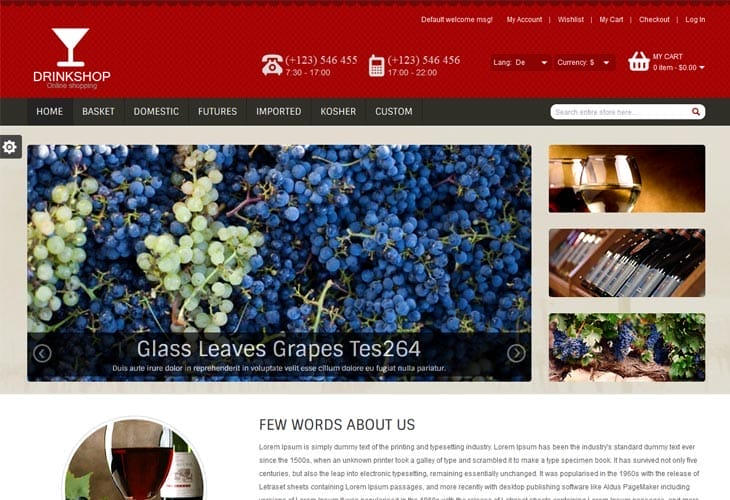 Drink shop is a Magento Theme designed for alcohol product. Extremely nice and clean layout. The theme would be a perfect reflection of your magnificent products.
EM Taobaus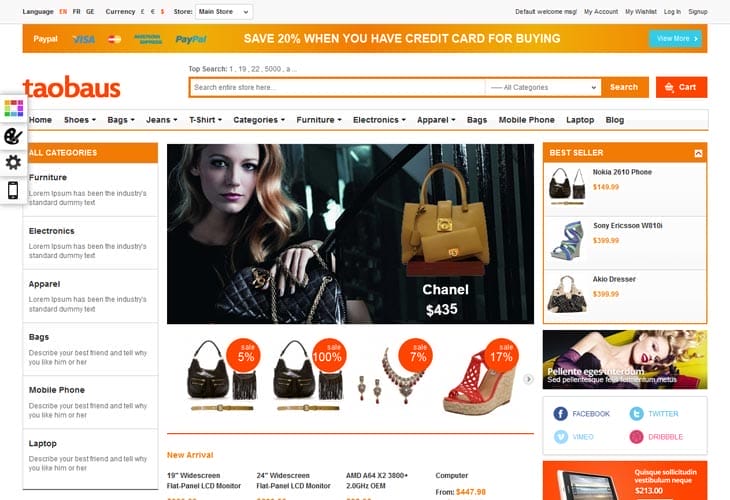 EM Taobaus – Responsive Magento Template for supermarket, online shopping center. Features: EM Theme Framework, Drag & Drop Mega Menu, One Step Checkout, Revolution Slideshow module, Filtered products widget, product labels, slider, tab widgets and more…
EM Junky Store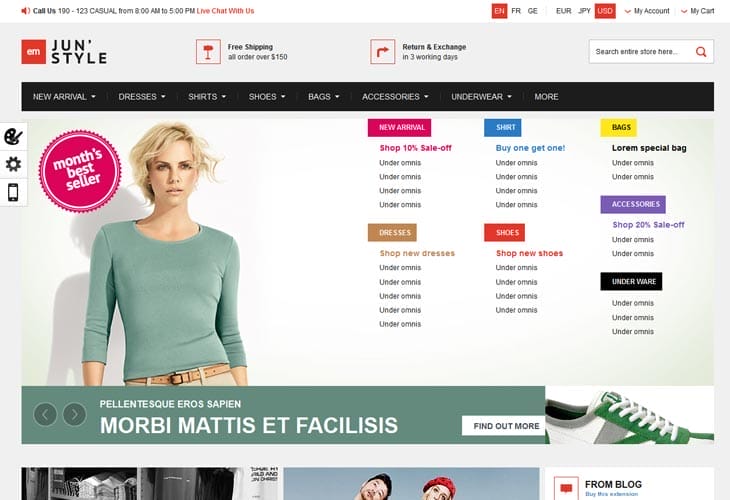 EM Junky Magento Theme is specially designed in high-fashion, dynamic and comfortable style for luxury fashion stores. Simple black and white become a perfect background for your colorful product range.
Graffito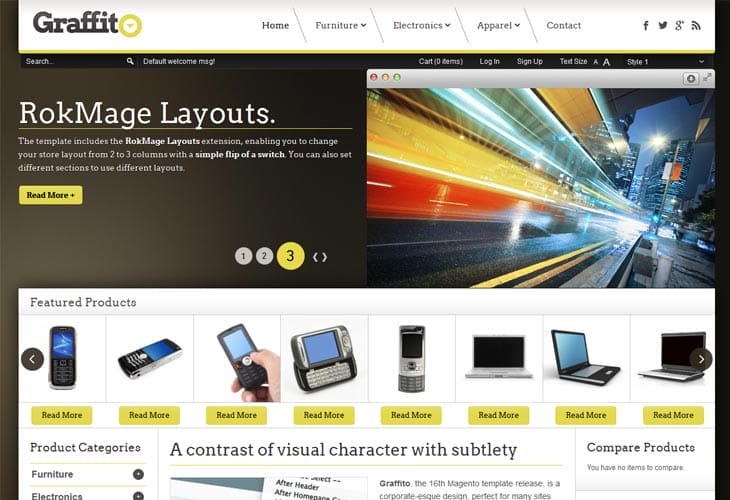 Graffito, the 16th Magento template release, is our second responsive Magento theme. A responsive design adapts itself to a particular viewing environment such as desktop or mobile, without the need for separate layouts for varying platforms.
HelloShopper GO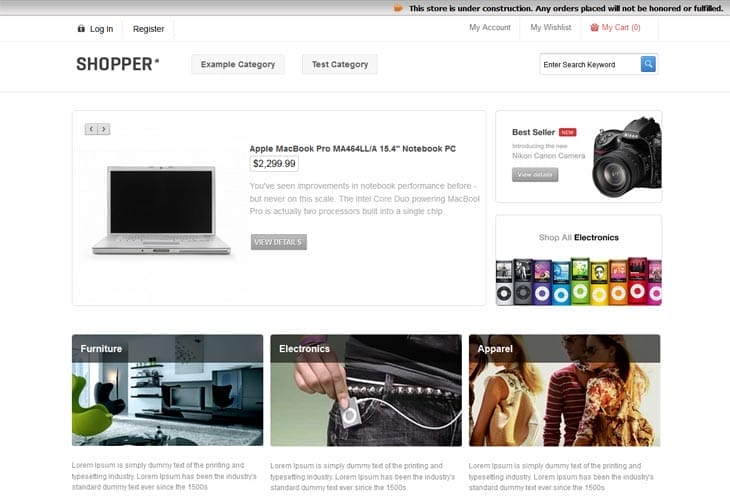 HelloShopper is a theme designed for any type of store. With this simple, elegant and clean theme, you will definitely impress your customers.
EM Elise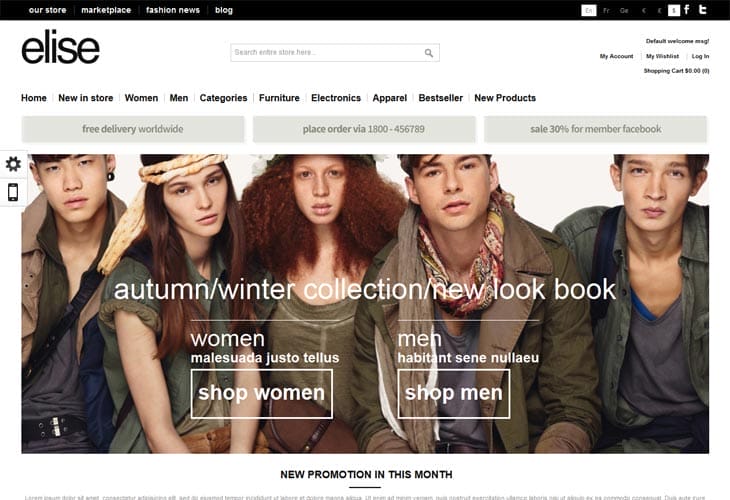 Something new, special and fashionable and absolutely an icon of beauty are what you can find in Elise Magento Theme. It is a specialized design for fashion world, such as cloths, hats, caps, accessorizes and many others fashion types. A colorful layout for young generation sets off your outlet spirit as well as your products.
HOLIDAY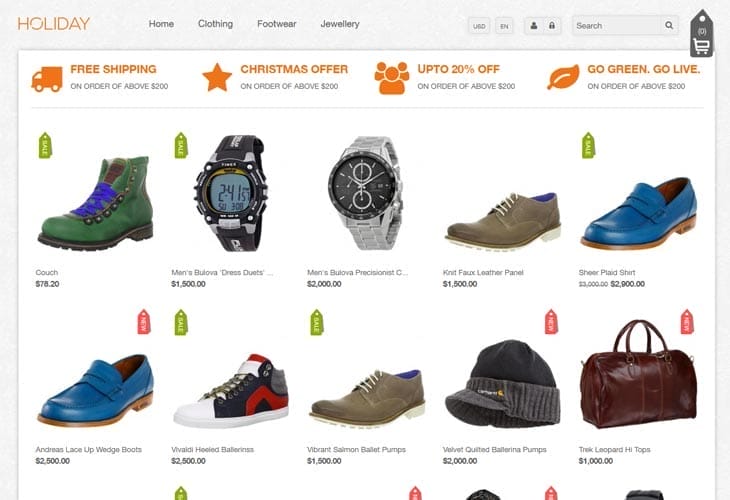 Features: – Custom Background, Colors and fonts configurable from admin, Create Multi-Store easily, Fully Responsive, Fully Customizable through Admin to manage your own store, Google Web Fonts,Custom AJAX Add to Cart Extension.
EM Extroic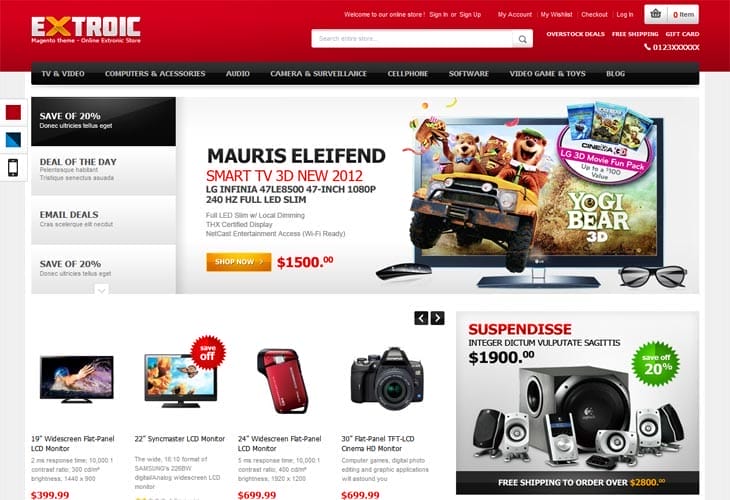 EM Extroic Magento Theme is another specialized template for technology, electronic equipment stores with an extremely eyes-catchy design. Background and the further decoration color blocks bring a bright and professional view for the website. Besides, flexible arrangement guarantees the highest economic efficiency.
Kirigami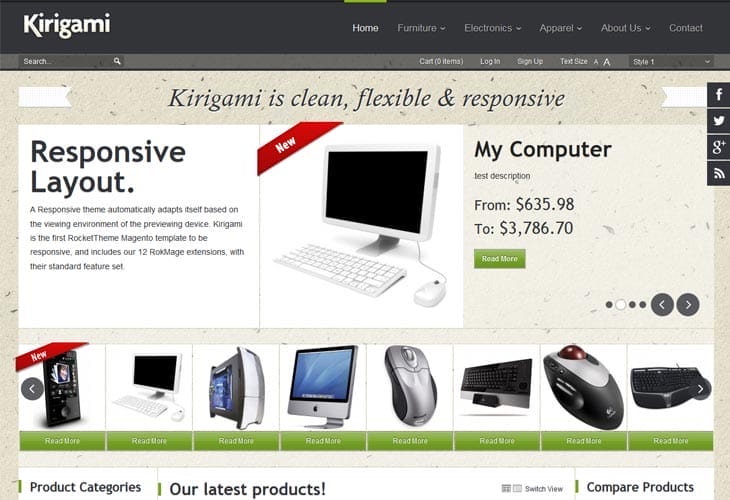 Kirigami, the 15th Magento template release, is our first responsive Magento theme. A responsive design adapts itself to a particular viewing environment such as desktop or mobile, without the need for separate layouts for varying platforms.
Hillside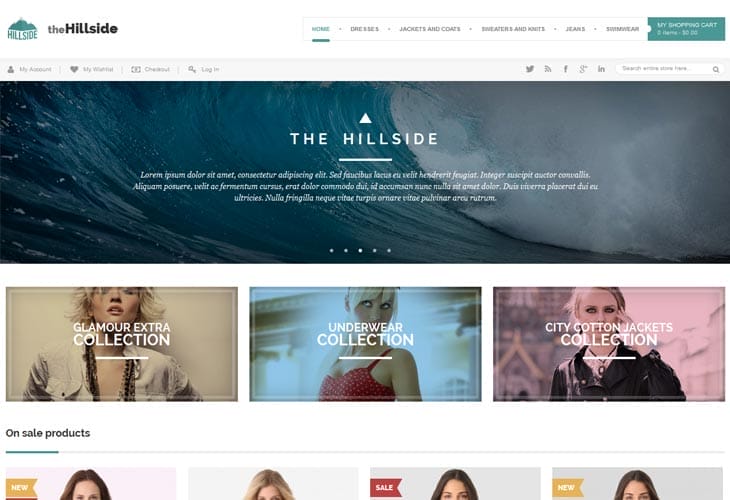 Hillside – is a premium responsive and retina ready magento theme suitable for any kind of store. Compatible with Magento: 1.7.x.x (1.7.0.0, 1.7.0.1, 1.7.0.2)
HelloSportz EE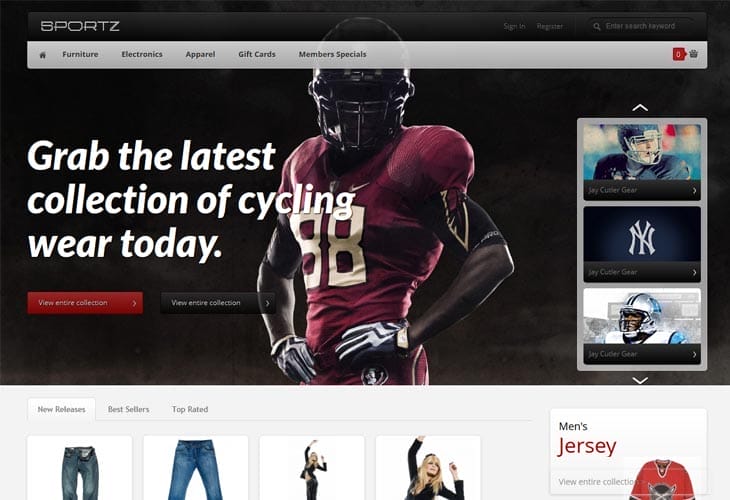 HelloSportz is a theme designed for any type of store. With this theme, you will increase your sales by displaying your featured products in an elegant way on the homepage and category pages.
HelloGorilla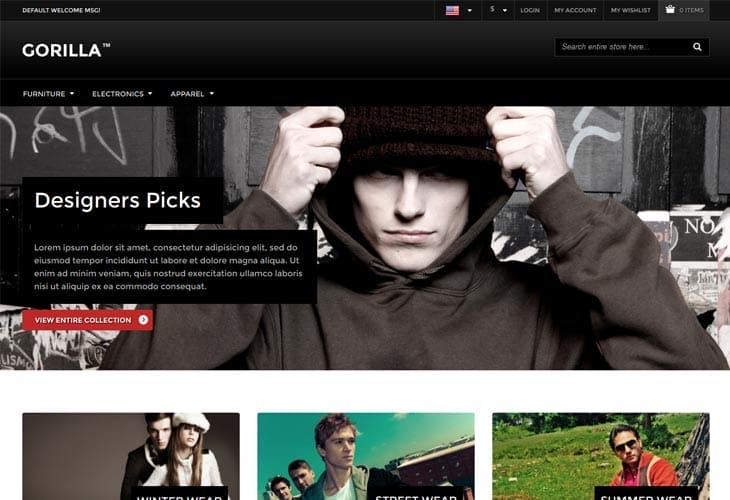 HelloGorilla is a Responsive theme with a modern and elegant design. With this theme your store will be look like so cool and stylish.