40 Amazing Premium Tumblr Themes for Inspiration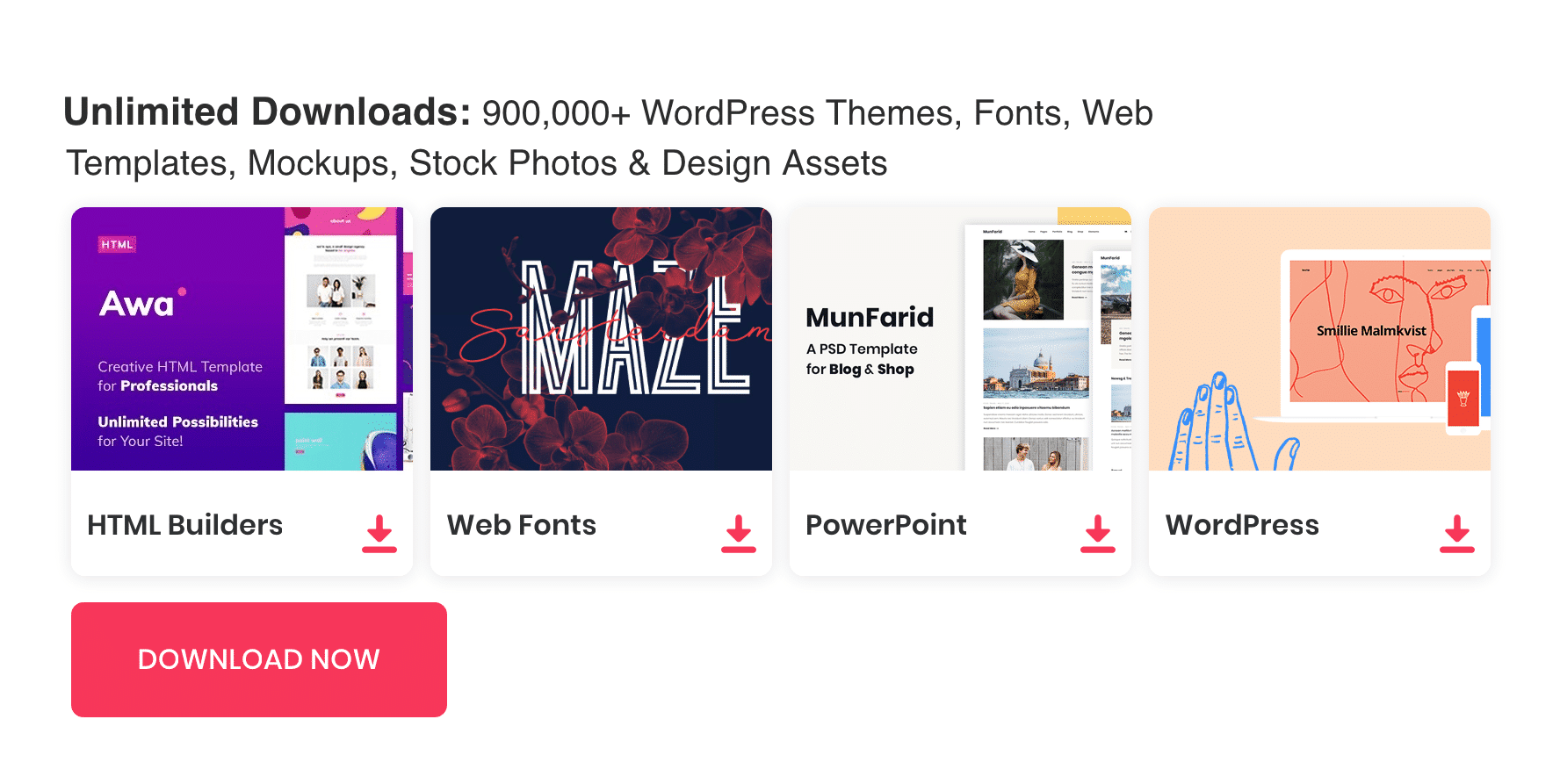 Tumblr allows users to post multimedia and other content to a short-form blog. Users can follow other users' blogs, as well as make their blogs private. Much of the website's features are accessed from the "dashboard" interface, where the option to post content and posts of followed blogs appear. If you want to create a blog which contains rich media, and you don't know much about the technology it sits on, then it's hard to beat the simplicity and capability of Tumblr.
See also : 50+ Best Free Responsive Tumblr Themes 2019
Timeline – Premium Tumblr Theme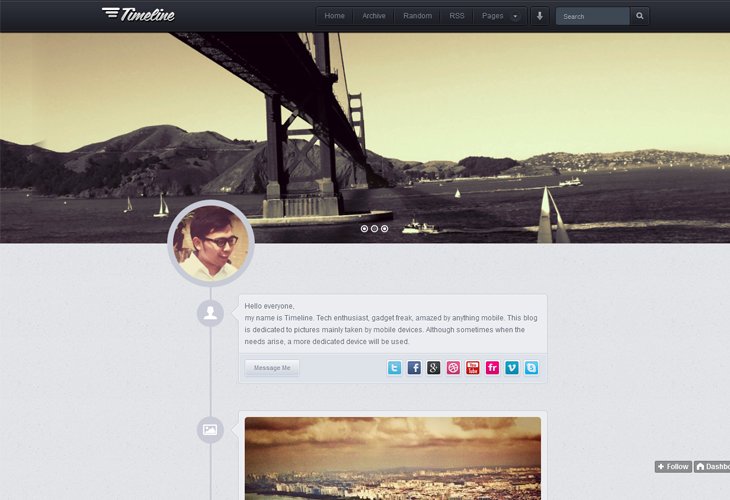 TIMELINE is a Premium Tumblr Theme that was designed to view your tumblog as timelines. This is a personal theme that's suitable in use for people who have an active and enjoyable life.
Pop Gallery Tumblr Theme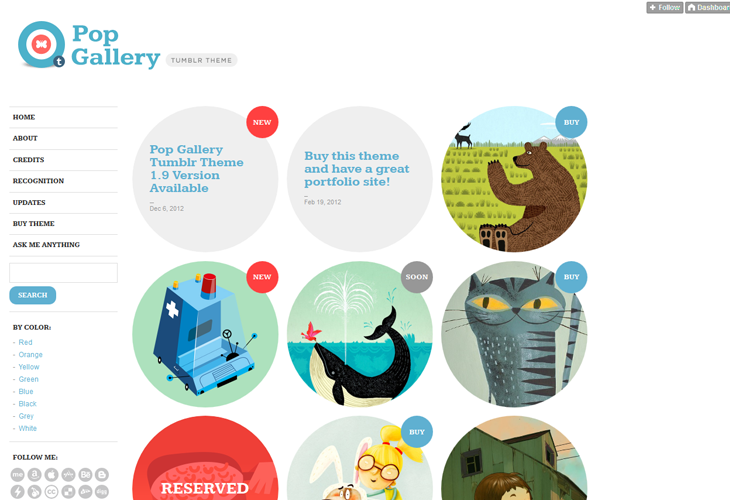 Pop Gallery is a Tumblr theme for visual portfolios, galleries, handcrafts shops, with the unique possibility to present distinct thumbnails for new, sold and reserved items. It has a beautiful and clean design with circular thumbnails.
The Playground Tumblr Theme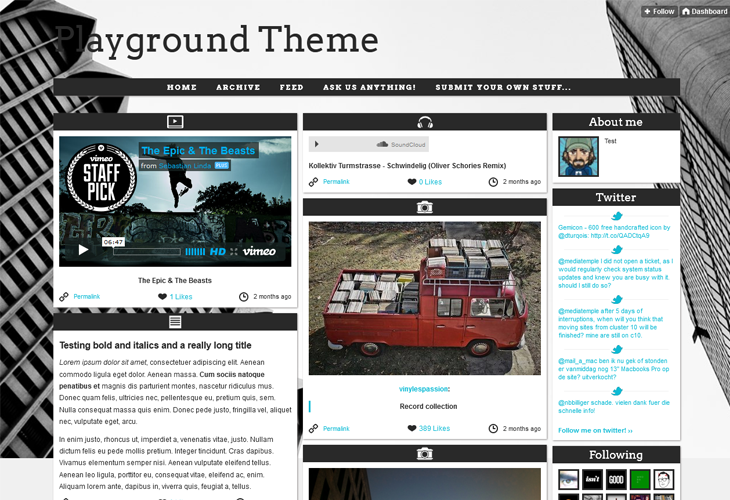 The Playground, a highly customizable Tumblr theme based on the famous jQuery masonry plugin. If you have questions about the installation or configuration of this theme, please check the FAQ section first in order to see, if there is an answer to your questions. Should that not be the case, feel free to contact me using the contact form in the lower right corner of my profile page.
Rapture Tumblr Theme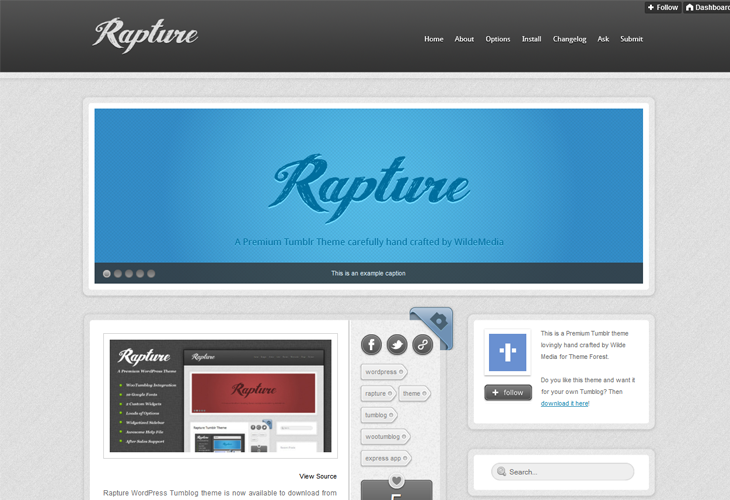 Rapture Tumblr theme is perfect for anything from a portfolio, personal blog, group blog or business blog. It features an image slider to showcase your best work, which can optionally be switched off if you would prefer not to have one.
Nuance Tumblr Theme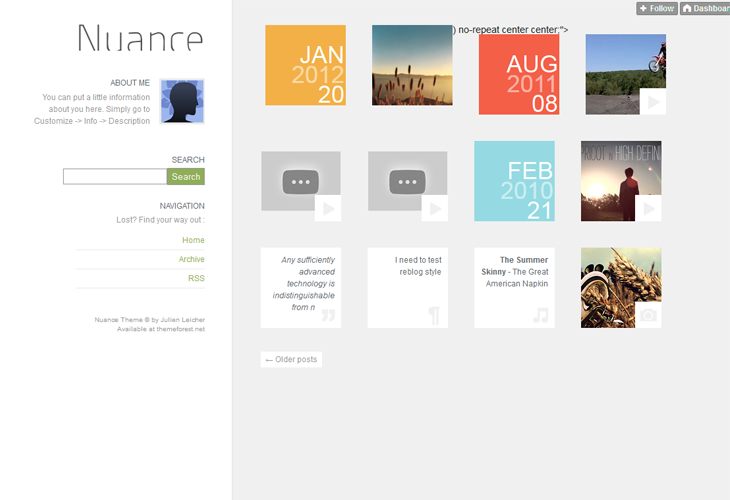 Nuance is a clean, minimal, customizable and unique tumblr theme.
Forma – Premium Tumblr Theme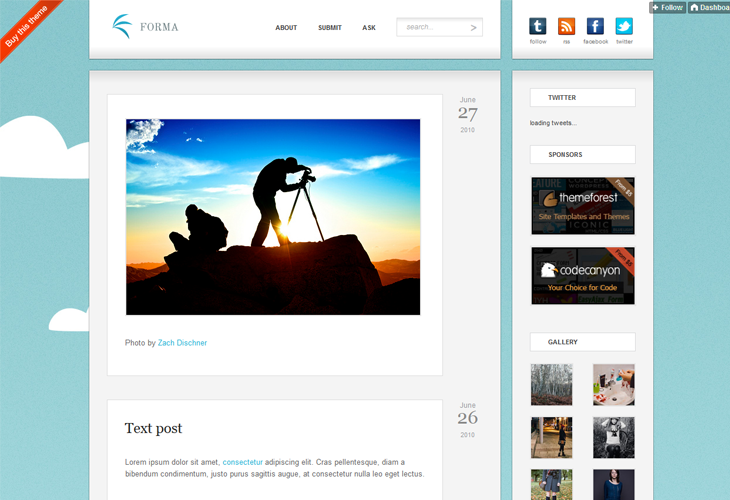 Forma focuses on real content, presented in a refined design. The flawless user experience is the most notable feature of Forma. At the same time the blog author has full control over the theme, thanks to the theme options. Last but not least, Forma comes with extensive documentation, so you don't feel lost when you buy it.
Shift Tumblr Theme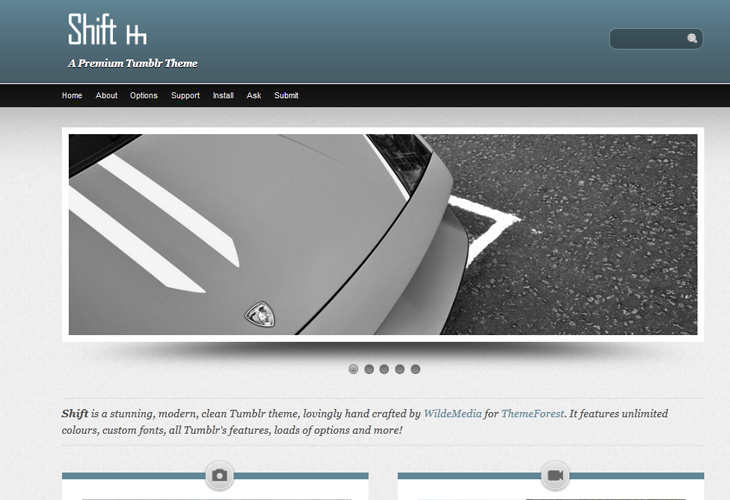 The Shift Tumblr theme is ideal for any blog, from a personal blog to portfolios! The image slider allows you to showcase your favourite images or best portfolio work. Shift supports all of the Tumblr post types and also features a custom post page with a sidebar to add affiliate links or a Flickr photo feed.
Desire Tumblr Theme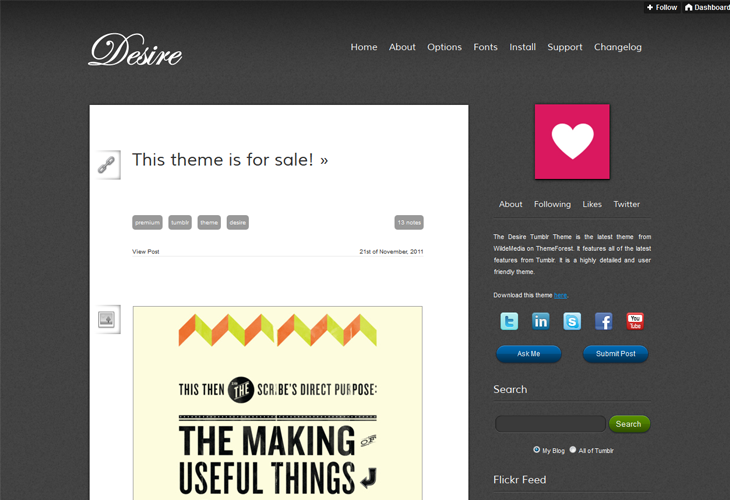 The Desire Tumblr Theme uses all the latest features from Tumblr. It is perfect for any type of blog be it for a professional business, creative portfolio or a personal blog. The Desire Tumblr Theme features a wide array of jQuery interactive effects to make yours and your viewers experience that little bit nicer.
Polaroid Tumblr Theme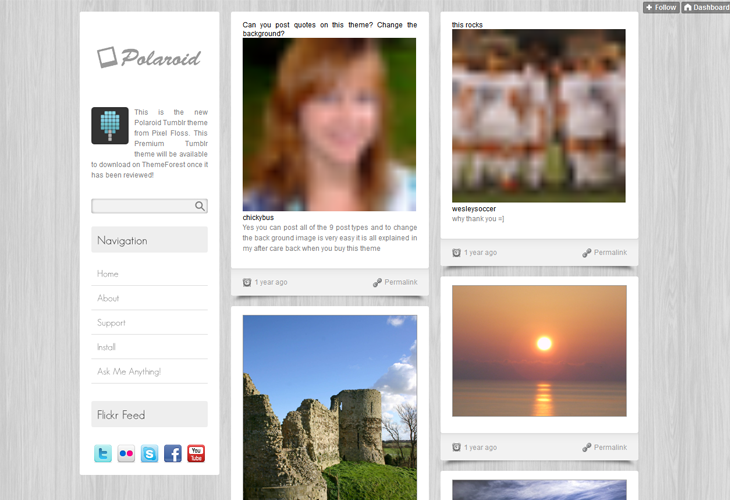 The Polaroid Tumblr theme is a premium tumblr theme that was designed by Pixel Floss to display your work, your views, and your life in a clean and clear format. The theme has been designed so it is easily changed and adapted to how you want it, from the colour of the links, the background and the amazing features in the side bar, you control everything.
Crisps Tumblr Theme
This is a clean, minimal and easily customisable theme for Tumblr. Nav Bar is now 100% CSS and the gradient can be adjusted to any color you like. Changes to the Theme can now be made using the Tumblr appearance tool.
NIFTY – Clean Tumblr Theme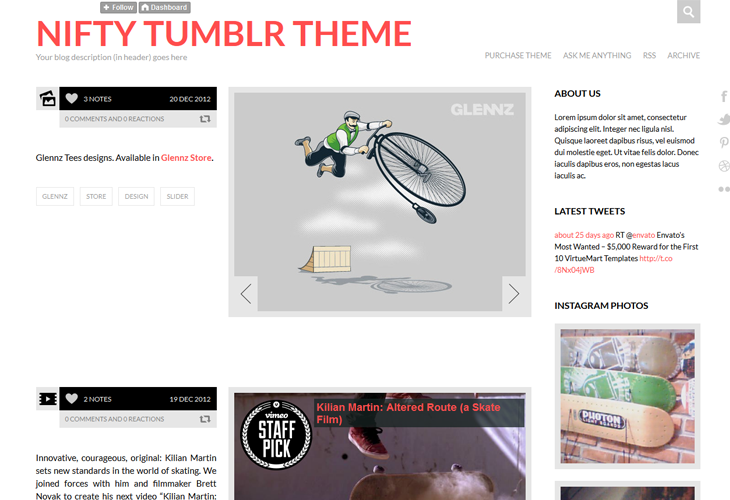 NIFTY is a sleek, minimal theme for blogging system – Tumblr. Variety of custom options makes it multipurpose use! You can easily change the overall view of the theme (for best start, we've prepared a well documented user guide file).
Vision Tumblr Theme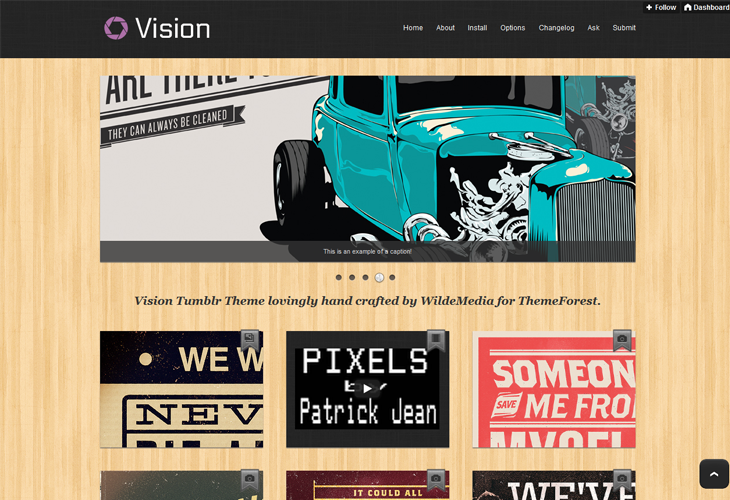 Vision Tumblr Theme is perfect for a freelancer, agency or business portfolio. Vision features a snippet of the posts content on the home page so more can be seen at one time.
Pixelated Tumblr Theme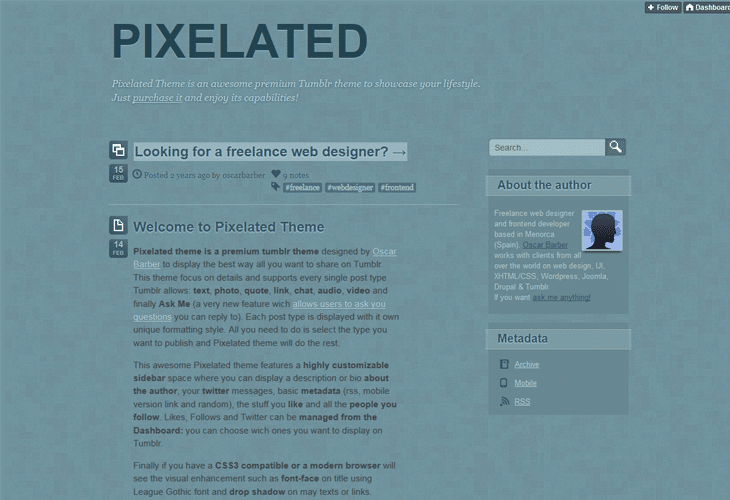 Pixelated theme is a premium tumblr theme designed by Oscar Barber to display the best way all you want to share on Tumblr. This theme focus on details and supports every single post type Tumblr allows: text, photo, quote, link, chat, audio, video and finally Ask Me (a very new feature wich allows users to ask you questions you can reply to). Each post type is displayed with it own unique formatting style. All you need to do is select the type you want to publish and Pixelated theme will do the rest.
Heterotelic Tumblr Theme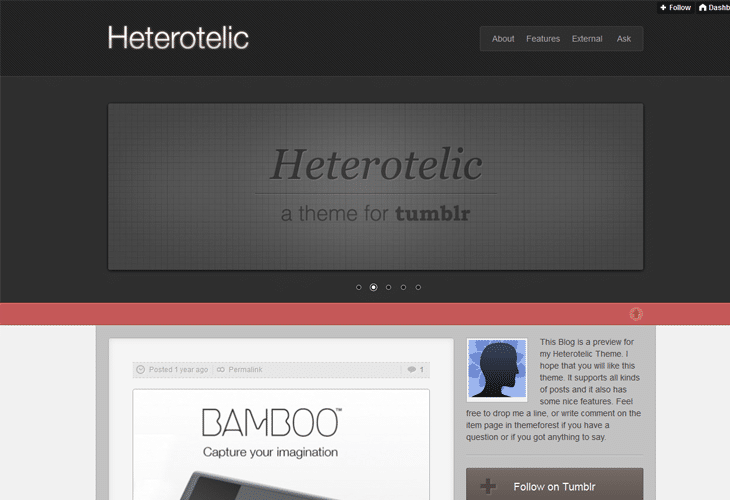 Heterotelic is a two column tumblr theme.
Mars Tumblr Theme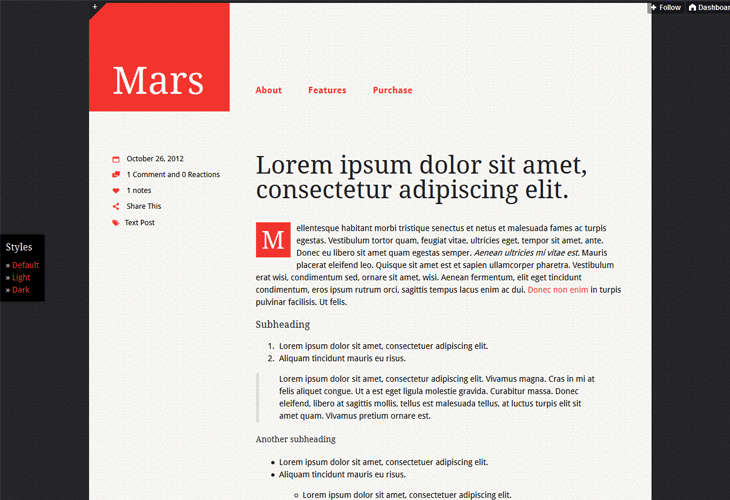 Clean and responsive magazine-style Tumblr theme. Comes with pre-defined dark and light themes.
Pastel Tumblr Theme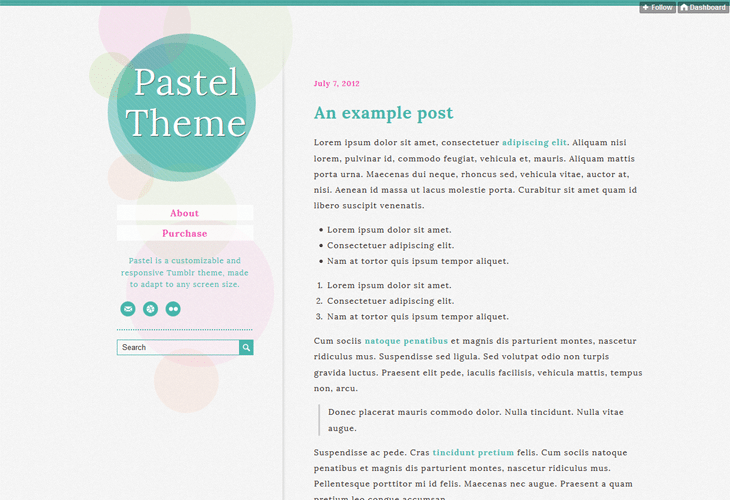 Pastel is a customizable and responsive Tumblr theme, made to adapt to any screen size.
Halftone – Tumblr Theme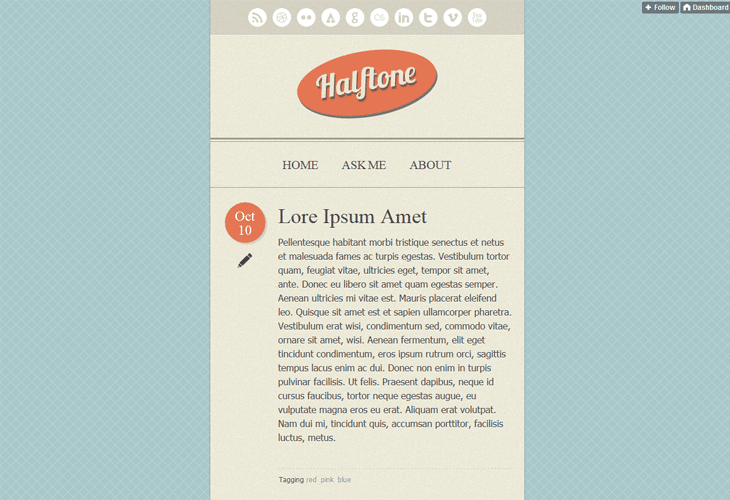 Halftone – Tumblr Theme – Responsive Design, Creative blog retro style theme for tumblr. Upload your own logo, have widgets on the footer and more.
Baroness – Clean Tumblr Theme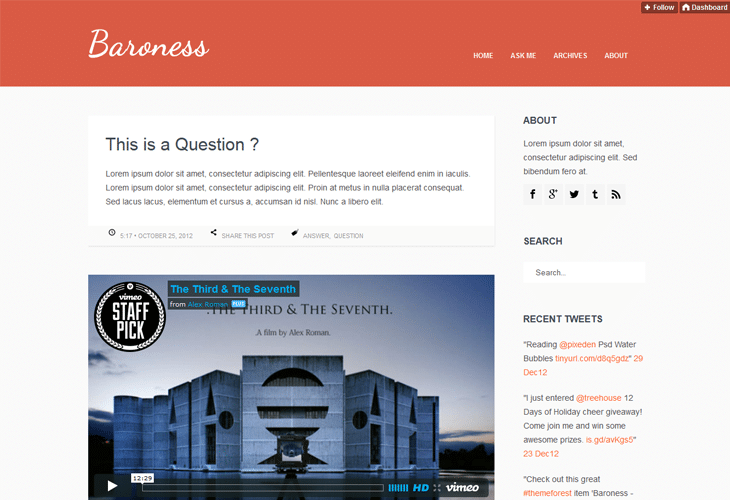 Baroness – Clean Tumblr Theme – A Clean and Minimal Tumblr theme for bloggers.
Diana Theme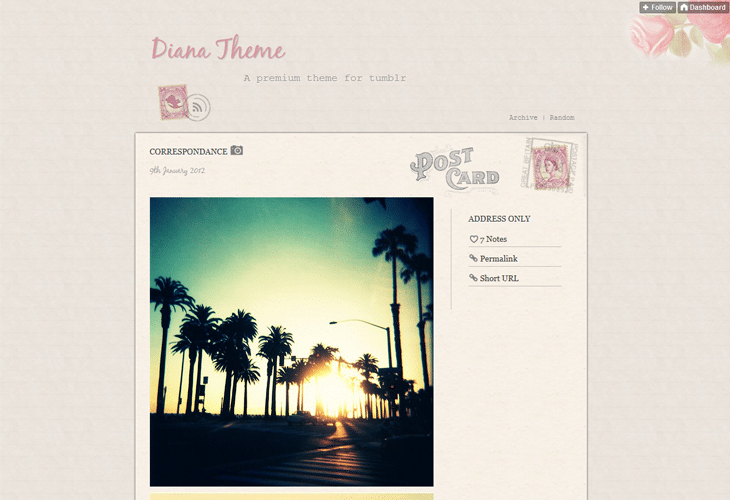 Diana Theme – A vintage style fully customisable theme for tumblr. Supports all tumblr post types, recent tweets and flickr photos in a unique postcard layout.
Athens Theme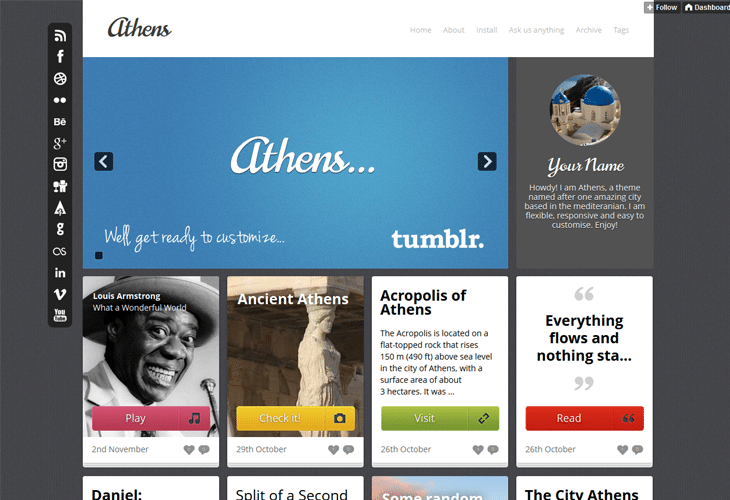 Athens theme is perfect for normal blogging, portfolio, entertainments and everything you want to use it for. This theme is useful because is customizable and responsive.
Druid A Premium Tumblr Theme