20 Amazing Infographic Templates (Free & Premium)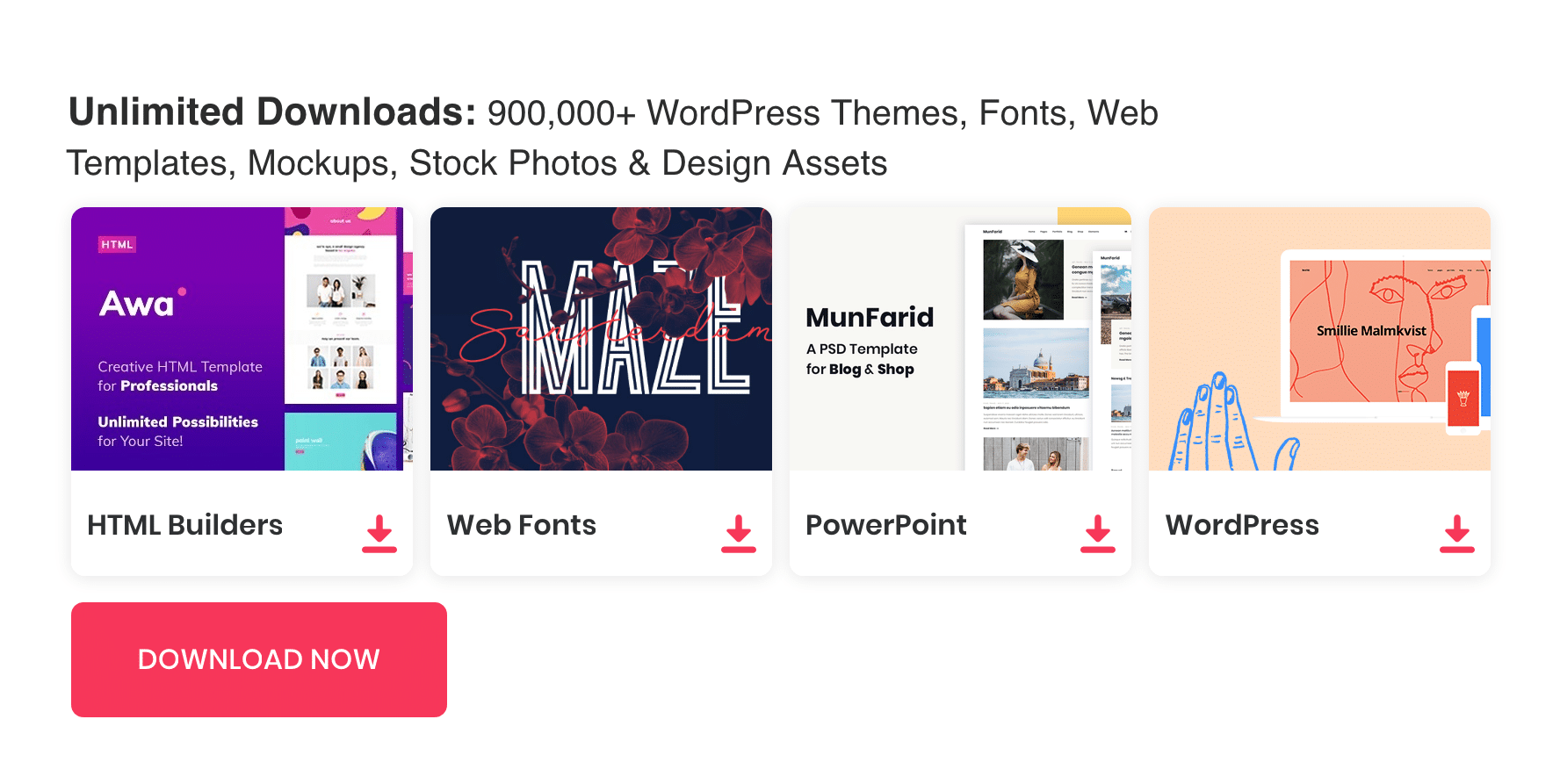 Social network users run faster than natural evolution. They have developed immunity to advertising. Today they can easily recognize promotion almost everywhere. People become quickly disillusioned with the content and lose interest in reading very fast. An alternative way for this situation is infographics. It is a great option because the audience gains useful knowledge, and advertising is not so obvious.
What is an Infographic?
Infographic is a "visual text". It displays any data using elements of textual, illustrative and graphical information. It gives even the most complex topic an effective visual image and simplifies the process of its assimilation.
There are different types of infographics. Mainly, this is an image or a large header and smaller items nearby. Also, it can be:
pictures
graphs
diagrams
tables
sketches
and maps
What are infographics for?
To inform readers. Visual images are perceived more easily.
To attract a new audience. So, you will attract the attention of those who previously did not know about you.
To return old subscribers. Here you have a great way to remind yourself: to breathe new life into the old edition.
To gain popularity. As practice shows, articles and posts with infographics are often shared (repost) in social networks.
To increase profits. How? With the help of new customers.
Since 2012, infographic elements became the most actively developing a type of content. Instead of a boring text with a bunch of numbers — a bright and accessible visual. The more original the presentation, the more interesting it is to come back and talk about it.
Nowadays you can find so much information about infographics such as websites, portals, infographic creator tools, magazines, and books. But in pursuit of beautiful pictures, you should not forget about the accuracy of the data.
Today I have chosen for you free and premium quality resources for your toolkit. Scroll down and let me know what your favorite is.
See also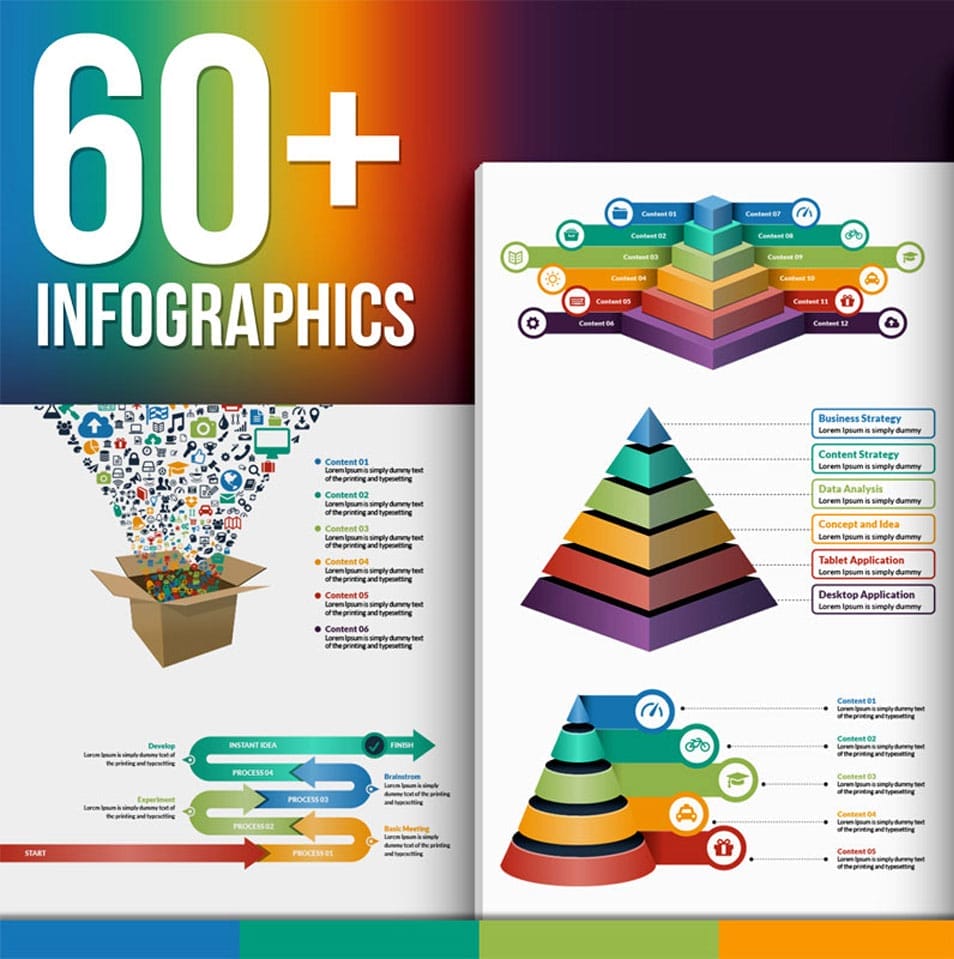 This is a large set of fresh infographic elements, with many options to help you create your own infographics. You can use these infographic elements for magazines, your website, content marketing, PowerPoint presentations, advertisements, emails or flyers or brochures for your business.
Among more than 60 elements, you can find such types as:
pyramid infographics;
cube infographics;
business goals infographics;
arrow process diagrams;
creative bar infographics;
three infographics;
analysis diagrams;
mountain infographics, and many more.
There is a wide range for a little price. You will find here infographics for SEO, social media, business, brands, a content strategy and so on.
All these elements are 100% vector, so you can change them, rescale to any size, change colors and fully customize without loss of quality graphics. Accelerate your infographic workflow by starting with a professional set of templates. Visualize your data in great style! Additionally, you will have access to free fonts. This bundle works with Adobe Illustrator CS5+ and has AI CS5 and EPS CS5 vector files.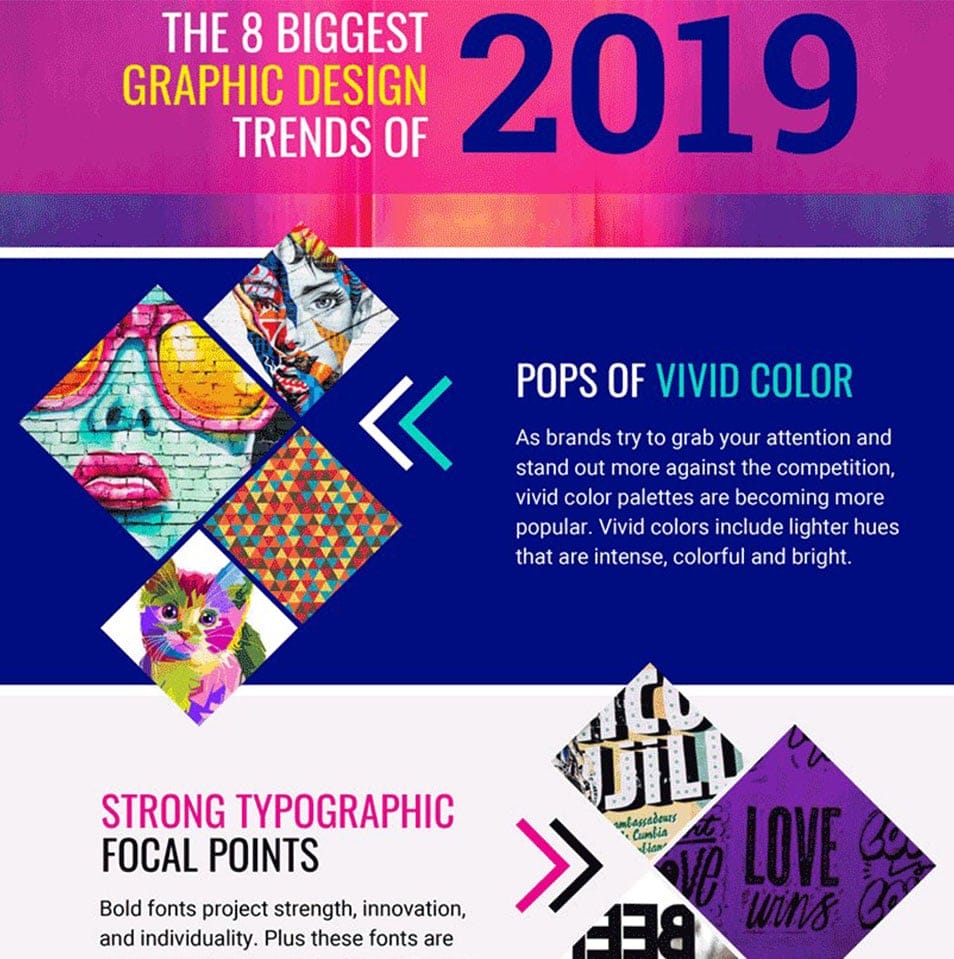 Infographics should be big, bright and stand out on the page. That is the point of it. Ideally, there will be only one infographic on a regular page. It could be also a few infographics on a page if they complement each other and form something like a comic strip. Do not be afraid of bright contrasting colors, large fonts, catchy headlines.
The perfect example is Graphic design trends template from Venngage. It is so eye-catching but at the same time well-structured. On the website, you will find numerous free infographic template.
You can't modify the structure of the scheme, but you can do a lot more things as:
change colors palettes,
add text in different styles,
pick icons (tons of free categorized icons with a convenient search bar),
add charts of any form (line, pie, area, bar, column, cloud, etc.),
customize graphics objects,
add maps,
add videos and questions,
add custom pictures from the search bar or your pictures by drag-and-drop.
You can view the created project without a subscription and share it, but to download it you need to get a paid subscription.
Venngage allows you to save projects for further editing. All your projects are displayed on the main profile page.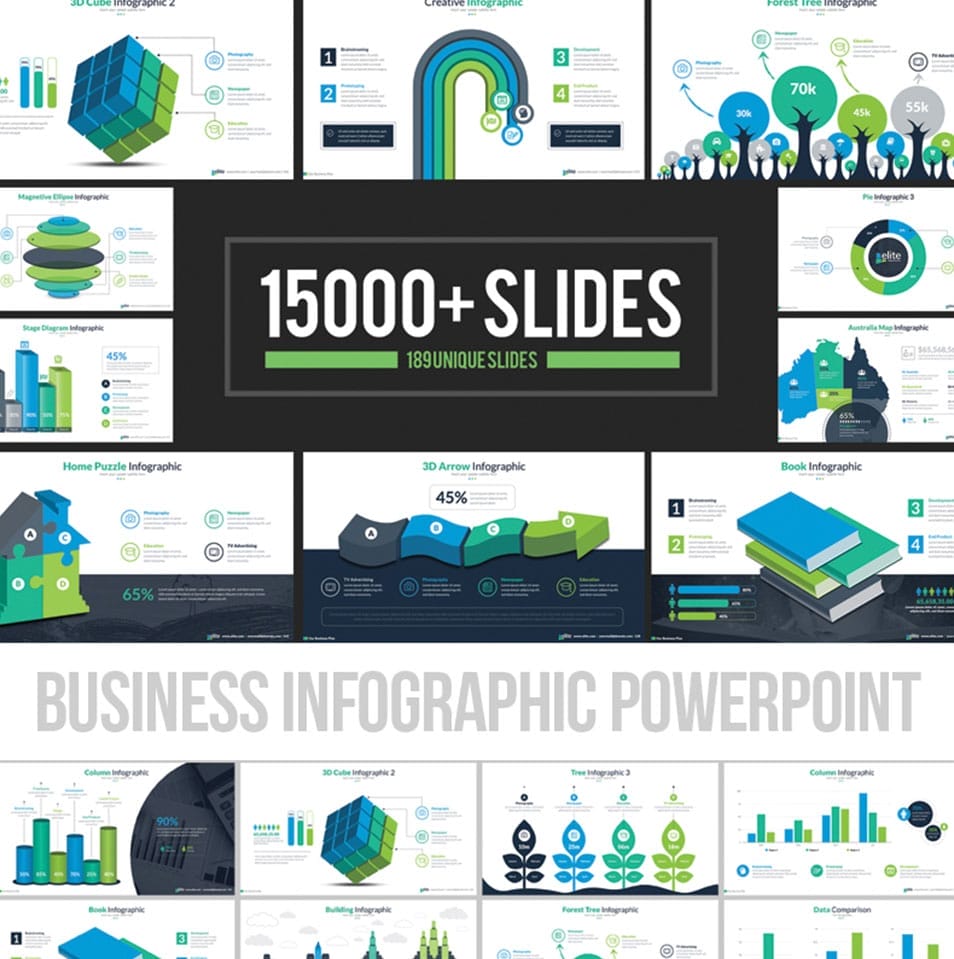 Many of us face the task of creating a good presentation at work. In most cases, presentations are a rather long and boring action.
But there is a solution, and I am talking about ready-made PowerPoint presentation templates that will help you make your presentation interesting, vivid and memorable.
This template is a huge set of data visualizations that you can use to create an infographic. This set is packed with beautiful diagrams, elegant graphs, and complex tables. It includes a set of vector elements, such as world maps, shapes, a variety of icons, and universal flat graphics. These infographic template files are organized for easy use and quick customization, so you can quickly incorporate your data into a compelling visual story!
Main features:
Over 15,000 ready-made slides;
180+ unique slides;
Color switcher;
Mobile layout;
Multipurpose modern design.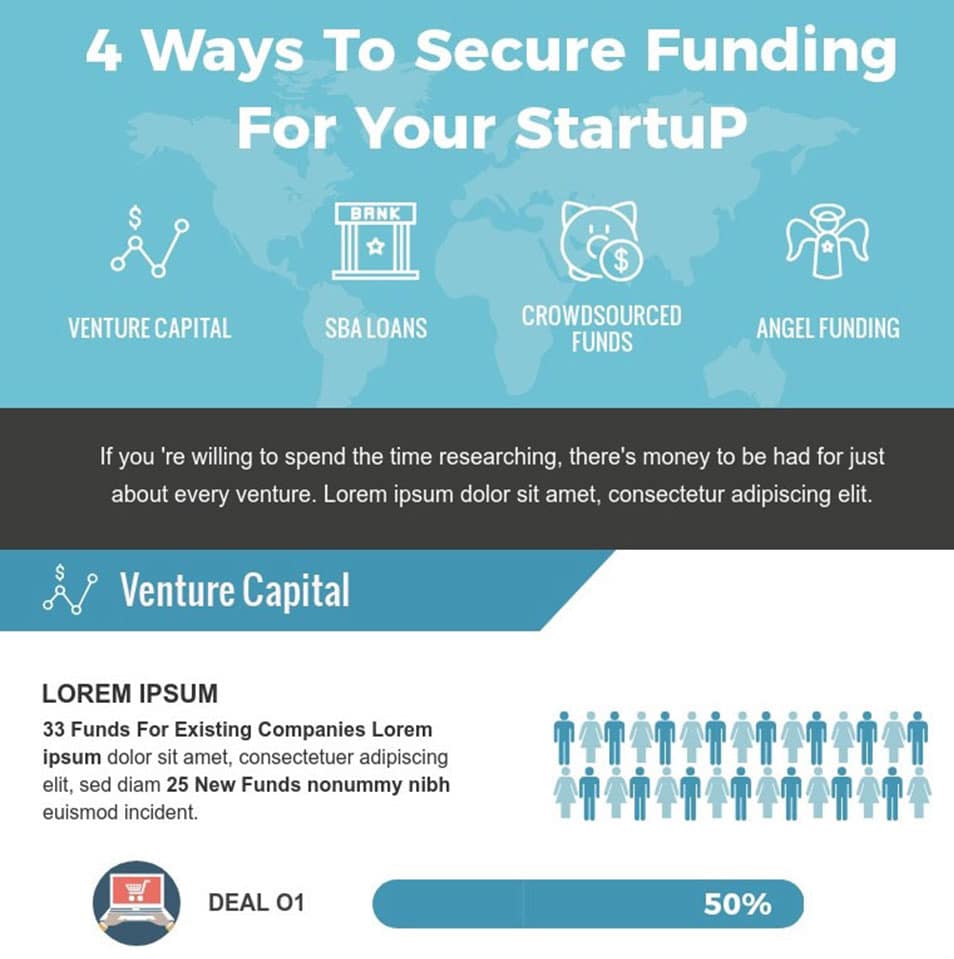 Infographics are simple to use for every niche. With the help of this infographic, companies can visually demonstrate to stakeholders the main milestones on their way to market success. Also, it is a good help for marketers. It clearly shows the advantages and disadvantages of the product and other characteristics. Such infographics help to sell goods and services without overloading the potential buyer with a large amount of information.
So, if you have a start-up and you want to look professional, you don't need lots of money or creativity. This free template might be just for you. This business infographic is easy to customize. In addition, you can use free stock images. There is no problem to edit content, delete or add a new block. You can even pick any color you want.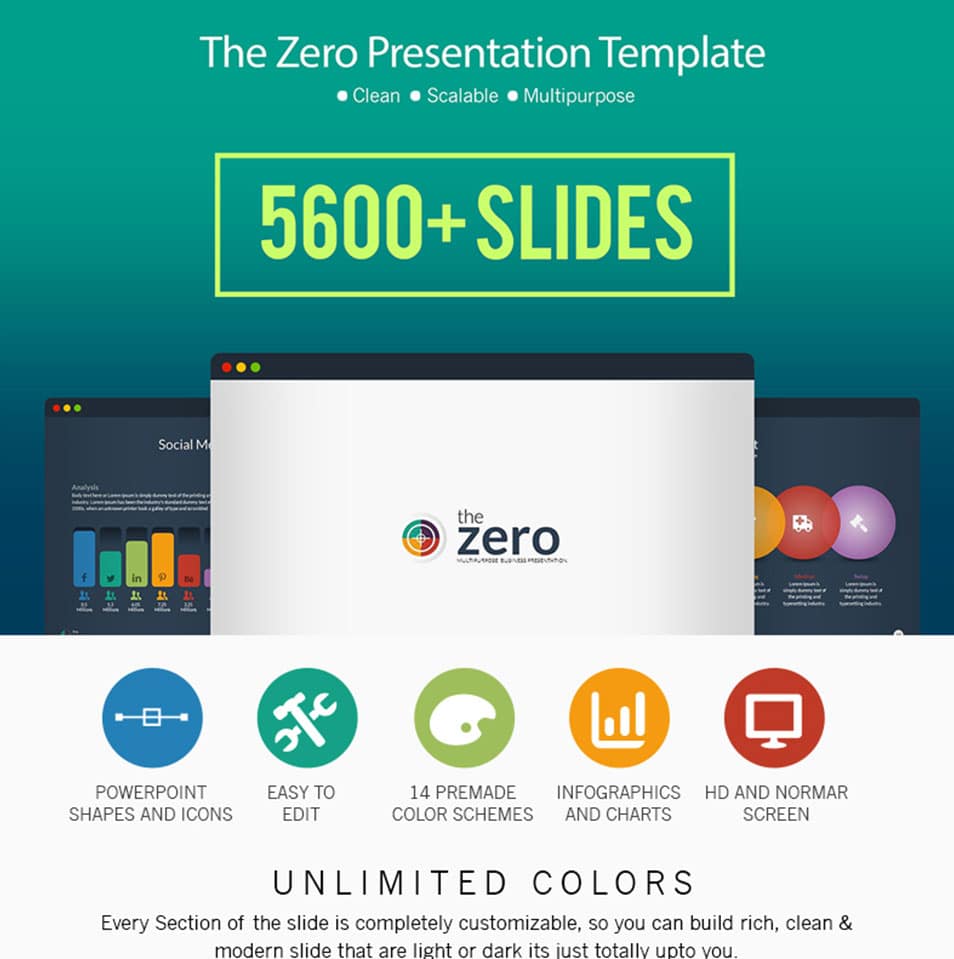 Business Infographic Presentation is a clean business presentation template. In this template, you will find a set of more than 5600 slides that can be made out in 14 different color schemes. With the Business Infographic Presentation template, you can create presentations of any stage of business development. In the template, you will find slides for both the HR department and financial or strategic development.
This is one of a few templates that allow you to create presentations for 4: 3, 16:9 screens in HD quality. Thus, on whatever screen you view the presentation, even the smallest details will be clearly visible there.
There is a huge selection of infographics with 7 color variations. All infographics are divided into many categories (three infographics, basic infographics, photorealistic 3D infographics, scalable map infographics, etc.)
Main features:
Normal and widescreen mode;
Handcrafted slides;
Canvas animation;
Long-term efficient support;
CV;
Easy installation.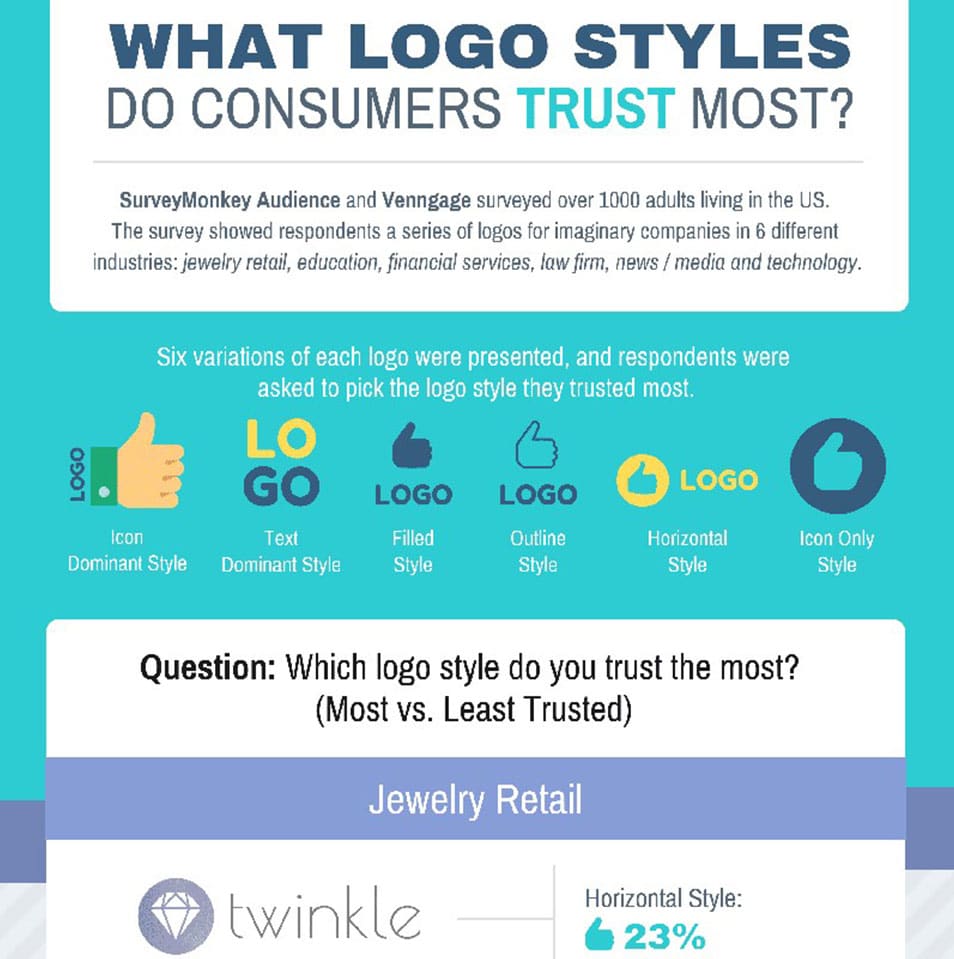 This template is perfect for presenting information about logos. There is no problem if you want to use this infographic for another topic. It is just ideal if you want to present new educational material or give an overview of the upcoming big topic.
As a rule, such informational infographics are divided into sections with special headings. Numbering each section will help to structure the information flow.
People receive knowledge almost like children – in a playful way. Information presented in this form is better stored.
Also, you can create an instruction with this template. People love to read the instructions. For this, you need to structure the data properly. And this logo template is already well-structured for you.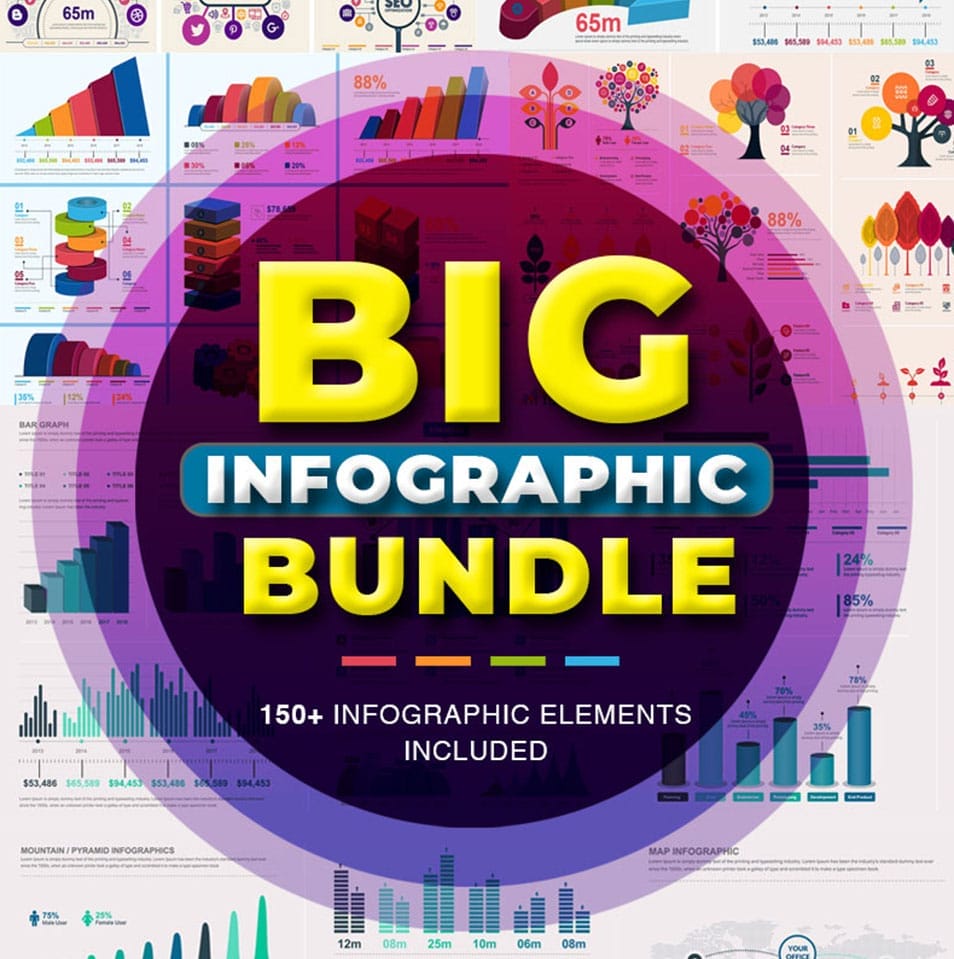 With this mega infographic set, you are armed to make attractive infographics. If you need to create an infographic for your business blog or add an infographic to another project, this set is provided with a huge number of options for work. Vectors are set up correctly to add your data and export it quickly.
There are some great illustrations that work with data visualization in this set. It will give an instant visual insight into your audience. If you have an interesting story that you can tell with your data, take this set of infographic templates.
This infographic template bundle contains over 250 3D elements. It included 4 handmade color themes, both light and dark, as well as a variety of options for visualizing data, icons and simple illustrations.
Main features:
Different types of infographics:

Mountain;
Cube;
Pyramid;
SWOT analysis;
Icon three;
Action item three;
Business goals;
Arrow process diagram, etc.

Timeline;
Services;
Schedule;
Extra pages layout;
Easy to install;
Great support.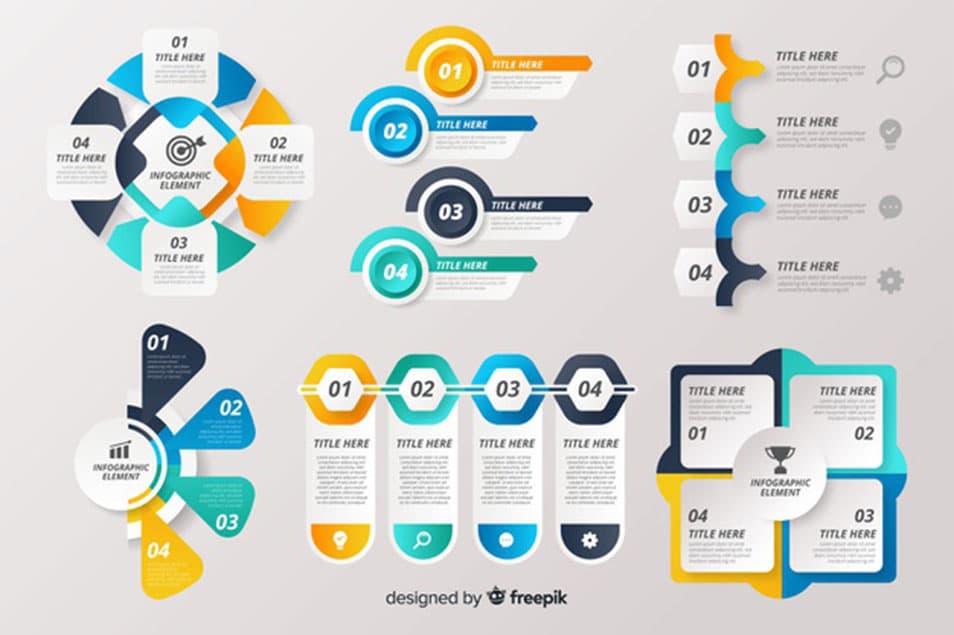 You can use infographics everywhere. The most beneficial and useful to a reader at news sites and online publications.
In the media and the news, it is very difficult to hook a reader. A loud title, successful typography, unique style saved the situation. And then infographics appeared, and life became easier and more fun. With it, you can beat even the most boring news. In a sheet of text, the information could get lost. But at the infographic, everything is in sight, clear and accessible.
When you need to bring very much information, in the textual form it would be a long read. With infographics, it is the opposite. It can be quite readable with an excellent balance of text and images.
Infographic element collection is free and included 6 types of graphics. It is a vector in EPS format. So, you can edit it easily with Adobe Illustrator.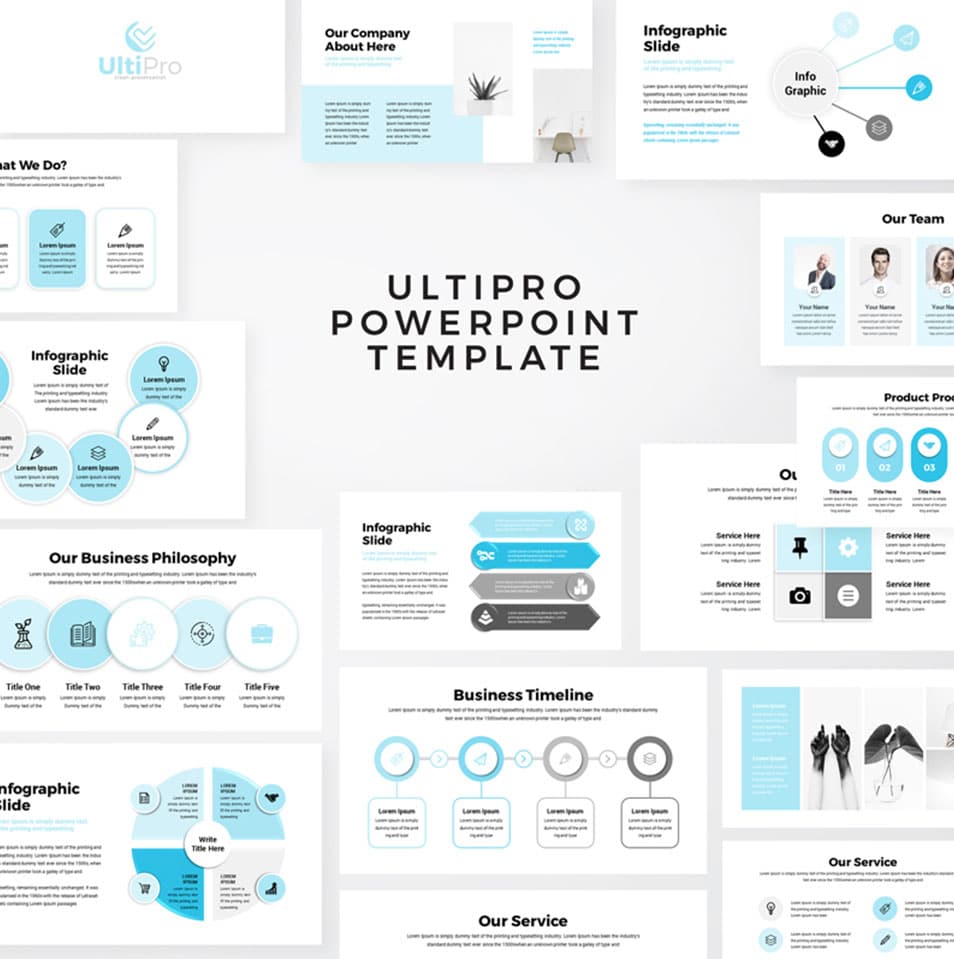 UltiPro PowerPoint template is a great solution for creating presentations in any field. The template has a neutral color scheme in the white-gray-blue spectrum. The proposed color scheme allows you to create presentations for both the medical center and the online store. This template will fit any business idea thanks to its minimalist design.
The template contains 32 modern and unique slides, free fonts and an excellent selection of a variety of charts and graphs.
It has the ability to present infographics on the world map which allows the use of the template in large companies. The presentations created in UltiPro perfectly adapt to any screen size. It is just perfect for 16:9 full HD widescreen. Also, UltiPro is filled with a variety of graphic elements, and icons.
The versatility of the premium template allows you to use it in different presentations, changing the combination of slides and color settings. UltiPro PowerPoint template is one solution for a variety of ways.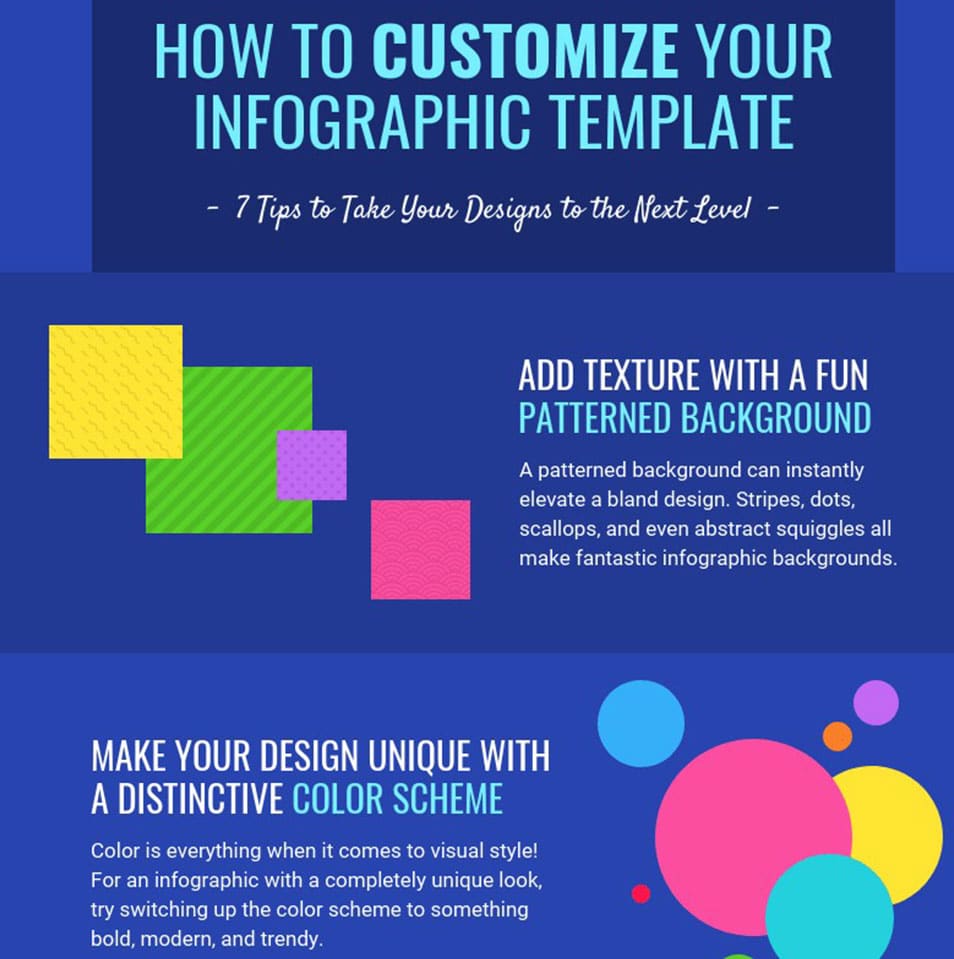 Creating graphics using boring and not helpful information is a waste of time. If you really do, then do cool. Otherwise, it is better not to try. Choose the most important information, news, commercial offer – and go!
The best topic is giving useful tips. This How to Infographic template is a great example. It is bright and structured. With Venngage it is easy to customize. You can add interactive effects by creating infographics online. There is such a big and free rage of icons, graphs, charts, images, and color palettes. You can even add YouTube video if you want to.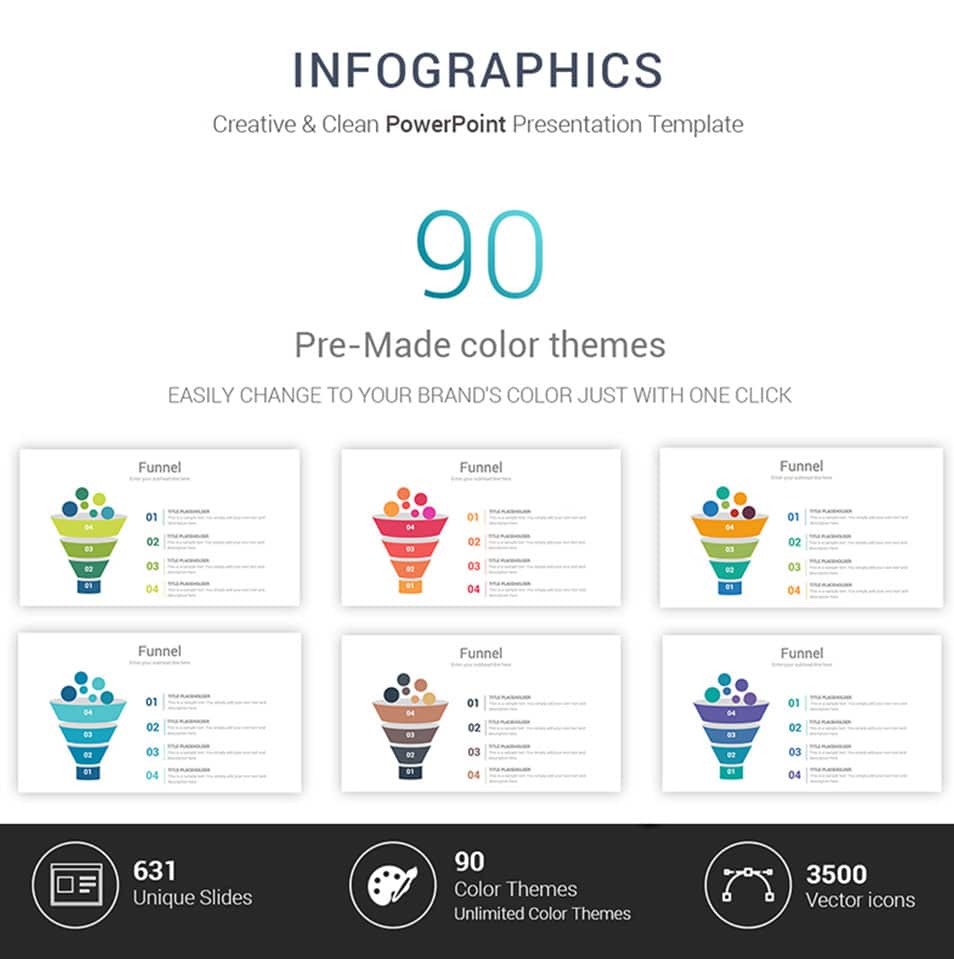 In continuation of the theme of business, consider a template for presentations with an incredible number of slides and color themes.
So, this Business Infographics PowerPoint Presentation Template has a collection of 631 slides that allow you to create a presentation of your dreams in any area of business or personalities.
The template has 90 premade color themes, which means that the presentation can be created absolutely in any style, theme, and mood.
For such many slides provided an extensive library of vectors and icons. There are more than 3,500 of them. You will get also free icons and font. At this template are two ratios 4:3 and 16:9. In the Infographics PowerPoint Template, you can create the most bizarre charts, graphs, and diagrams. The main background of the presentation template is always white, but you can add your images easily by dragging and dropping to the desired point. This is a universal solution for creating presentations for all cases of business life.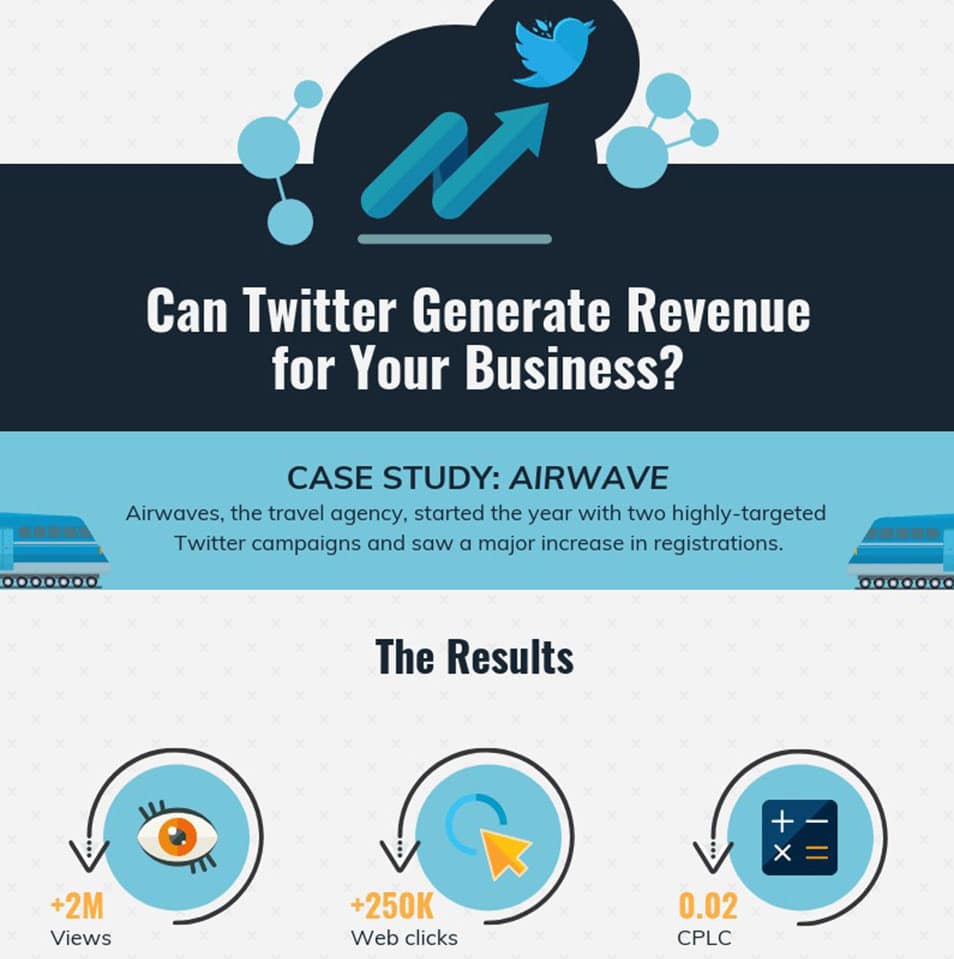 I have already mentioned that infographics are perfect to use for sales and product promotion. Indeed, infographics have a hidden effect on the reader. There is a great probability that a person follows his instinct and will buy something.
You don't need to write long texts anymore or to make professional step-by-step photos. It takes lots of time. Creating infographics is a faster way. Some images, a couple of words, arrows and other design things — and you are ready. People usually think. If once the guys made a cool infographic — it means they are talented in their own field.
Use this template to tell about your strategy of success. Online editor at Venngage will help you to make it look more professional and share it in social media.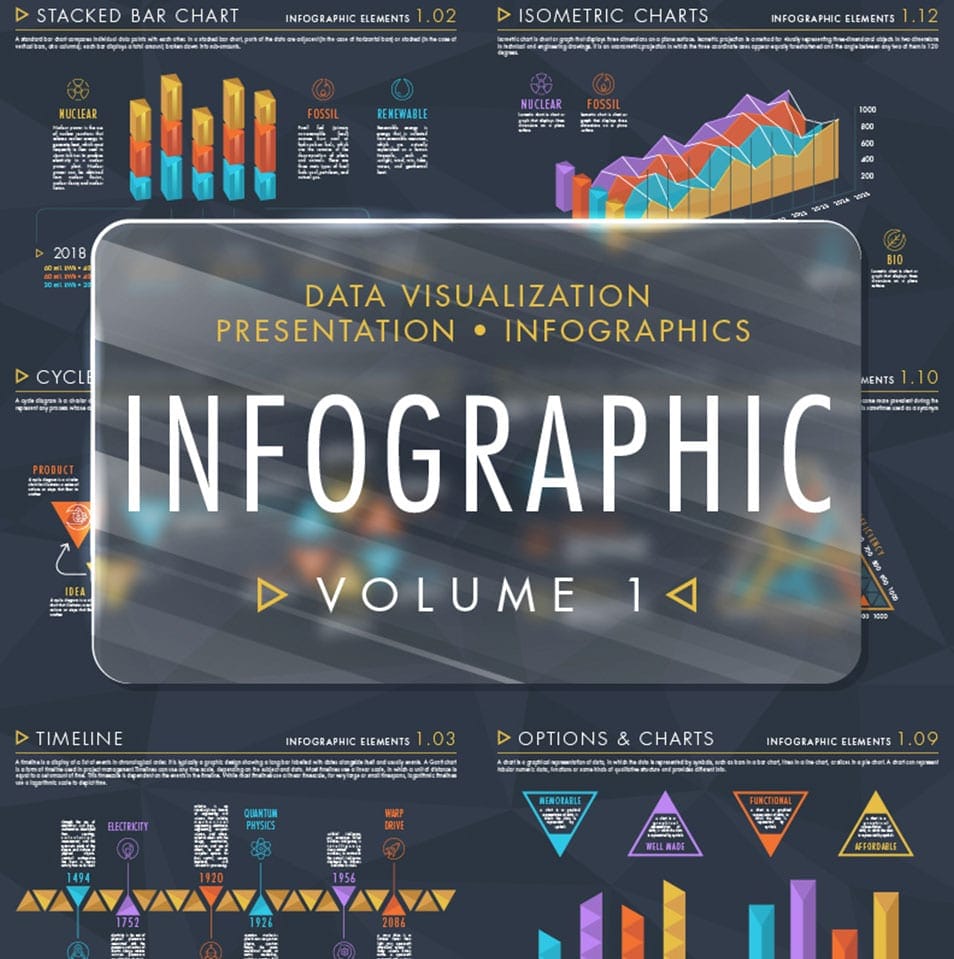 This creative infographic package includes a wide range of premade vector elements. There are lots of files with graphics data and visualization elements.
It includes:
timelines,
maps,
area and column charts,
stacked bar chart and hybrid bar pie chart,
category matrix,
cycle diagrams,
pyramid layers and more.
You will be able to edit colors, layout, sizes, texts, stroke weight and so on. That will give you plenty of opportunities to create infographics.
Everything is layered and designed with shaded depth, so your images will be popular!
Main features:
resizable resolution;
works with Adobe Illustrator and other vector editors;
Fully customizable;
layered and well-organized objects.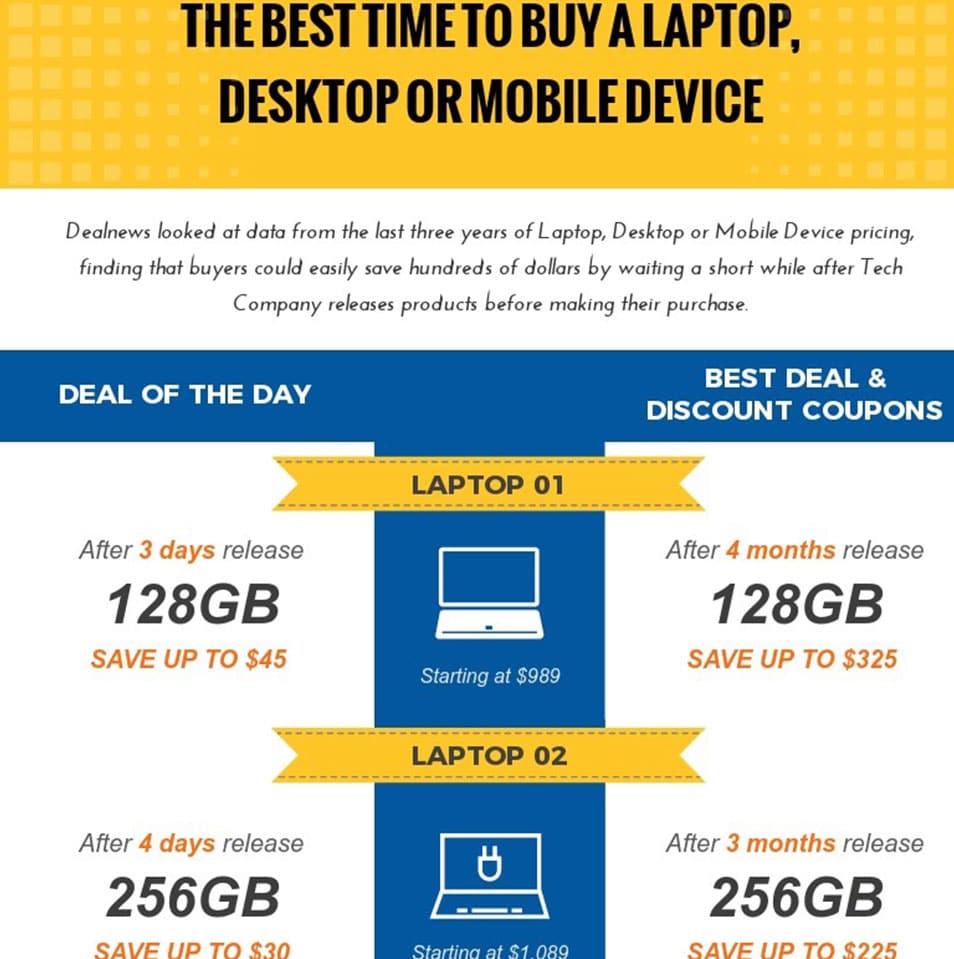 This tall template is a great infographic for marketing strategy. Here is an example of a comparison of purchase time.
It often happens that you need to compare two or more objects. It can be objects, people, concepts – a lot of things. You can describe comparison criteria in the text or you can make infographics. For example, as the authors of this graphic masterpiece did. This infographic has not so many words but it is extra useful and easy to understand.
You can compare everything: photo, equipment, gadgets, major victories, etc. It turned out interesting and people love it! Use fewer words but more information. This is the main rule of a good infographic.
This free template is multipurpose. You can change its size, add content blocks, delete redundant blocks, change pictures, apply another color, share it in public or with friends via a link. You can download this file as PDF, HTML5, PNG, and JPG.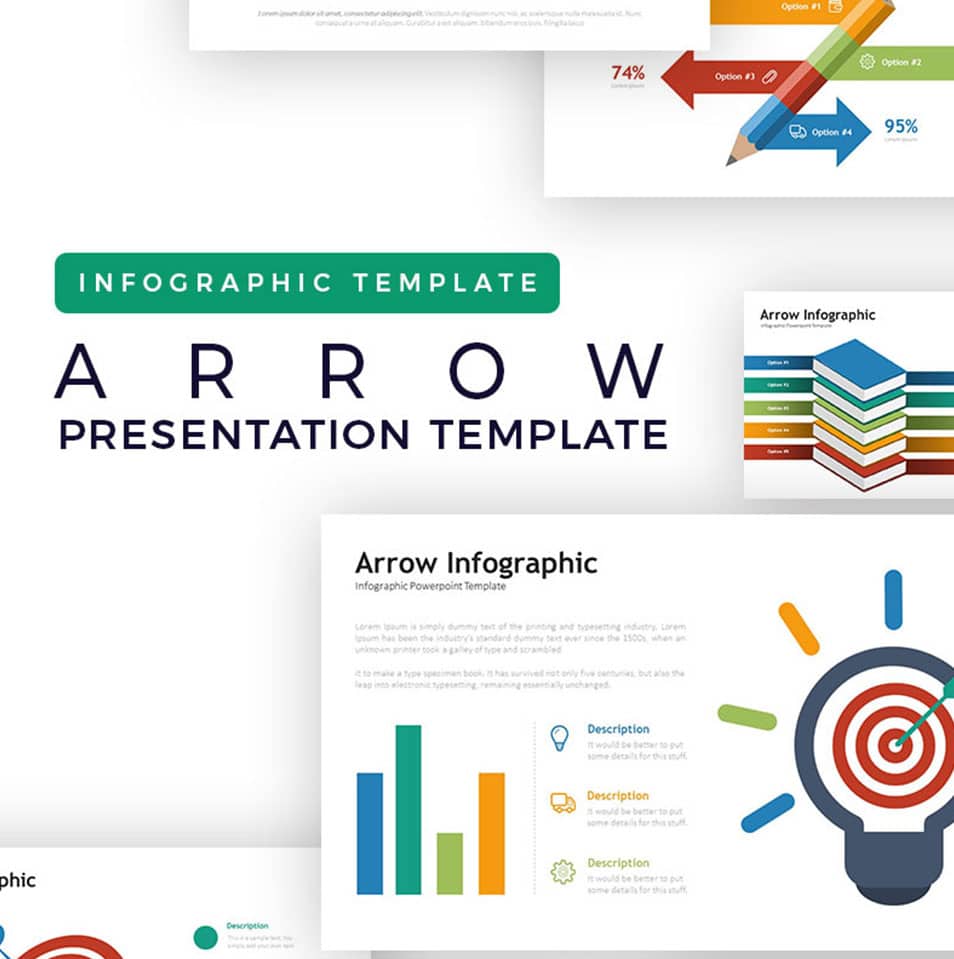 Arrow Infographic PowerPoint template is a versatile multi-page PowerPoint template for creating presentations. 35+ slides will help you to form presentations in various fields and directions.
With Arrow template, you can create a presentation to represent your team, store or a new product. Also, the template is ideal for presentations in the field of polygraphy and even in a large insurance or consulting company.
Arrow Infographic PowerPoint template has full responsive widescreen slides. So, the presentation will look great both on the screen of a smartphone and on a large monitor. Color schemes allow you to create more light or dark themes for the presentation.
Arrow template is a large selection of slides, graphic elements, icons, and colors for a variety of your presentations.
Main features:
Icon pack included;
Lifetime update;
Easy to use and customize;
Fast and free support;
Multipurpose slides;
Great color scheme.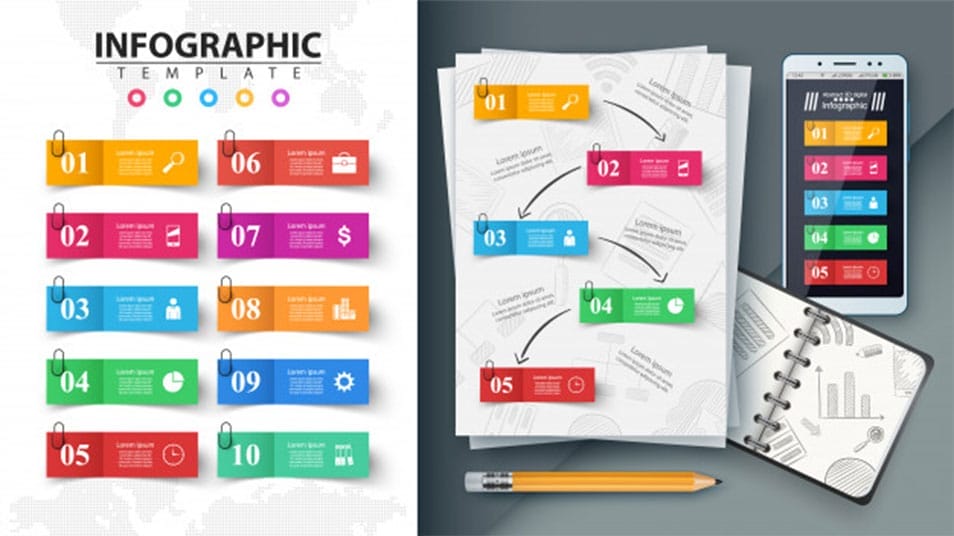 Infographics start with collecting and sorting data. Initially, the data will be raw and erratic. You may need to work with Excel spreadsheets, customer survey results or statistics collected from a reliable source.
You need to read everything to understand the data comprehensively before you begin to extract convincing facts.
Highlight the main thing. What should be the main thing? It depends on the goal you set when doing infographics.
This business infographic template fits great for a step-by-step guide. Think about what you can learn your readers and create a step-by-step list. For example, productivity is a great topic which is very popular today. You can pick this theme for your first infographic. Your readers will love it.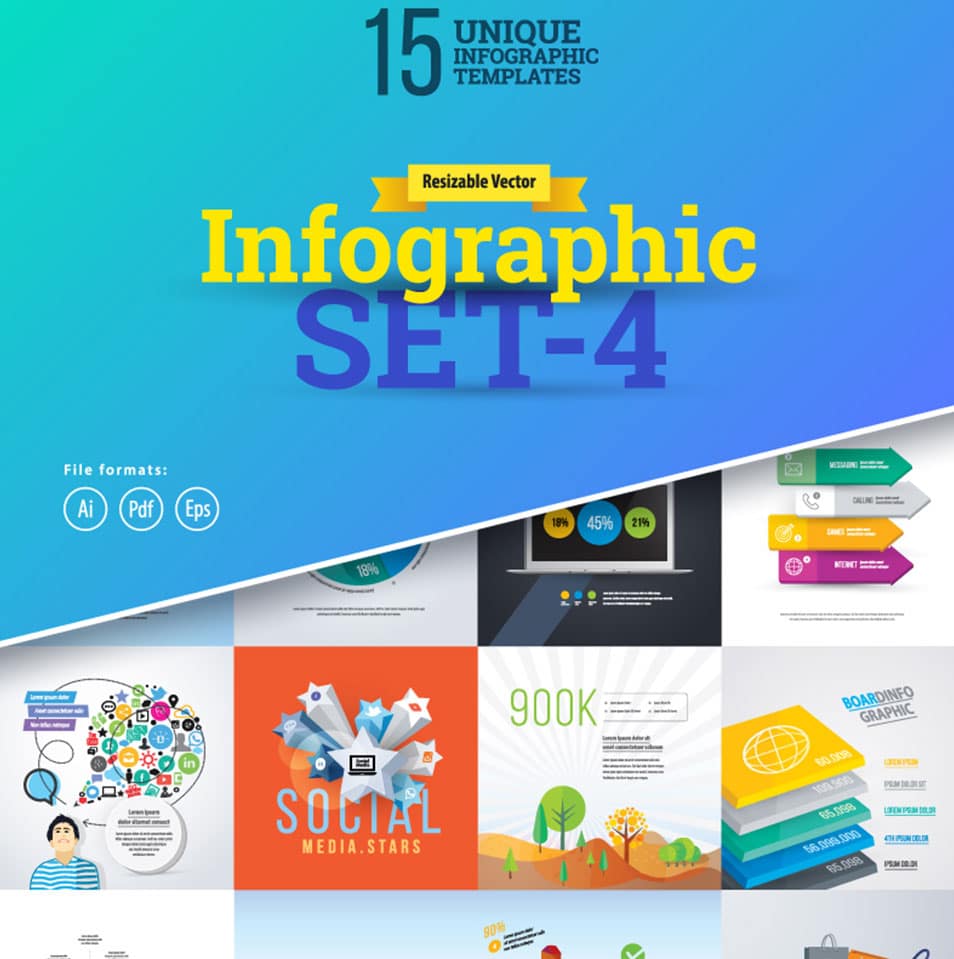 With this mega-infographic set, you are armed to make an attractive infographic. If you need to create an infographic for your business blog or add an infographic to another project, this set is provided with a huge number of options for work. Vectors are set up correctly to add your data and export it quickly.
There are some great illustrations that work with data visualization in this set that give an instant visual insight into your audience. If you have an interesting story that you can tell with your data, take this set of infographic templates.
Main features:
15 unique infographic templates;
High-quality elements;
Easy to customize and edit;
10 EPS files;
PDF, Ai files;
Documentation and instructions.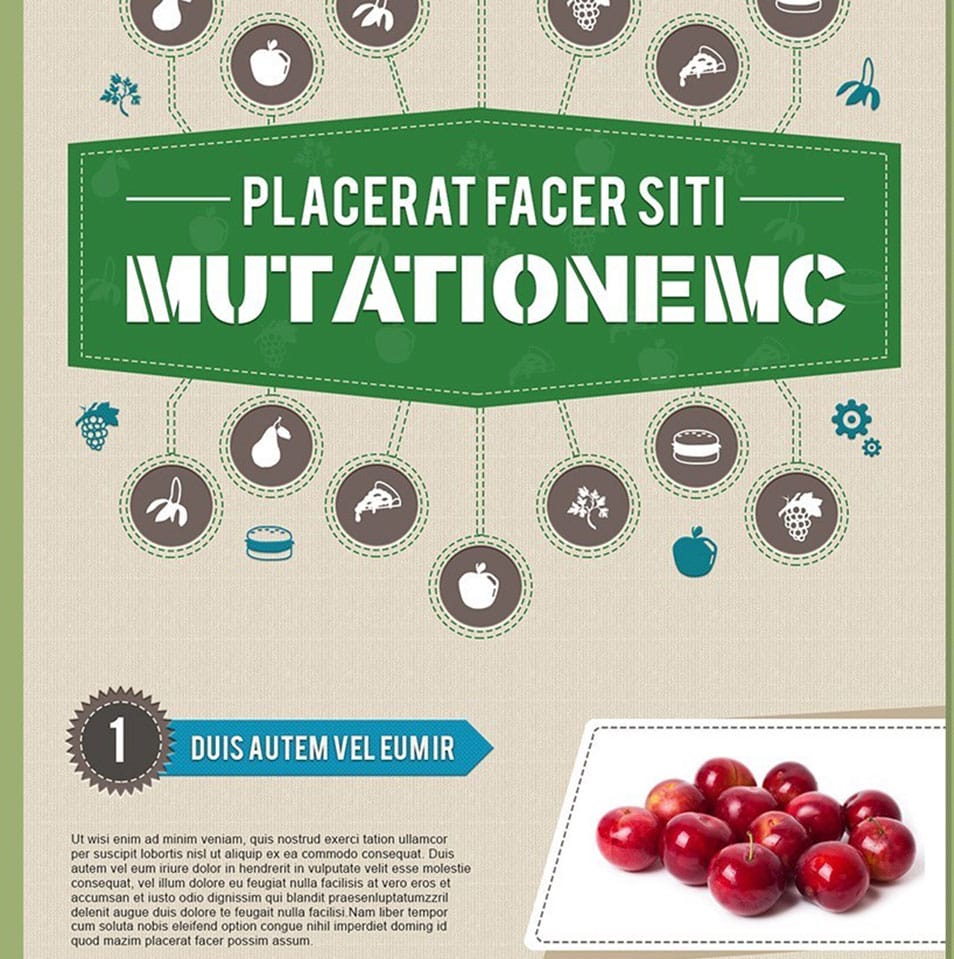 Healthy food is topic number 1 nowadays. This free PSD template will help you to tell your story visually. You can use this template as a set of vector elements. It contains many infographics that are customized and ready to use. Simply add your data, customize the callouts, and you are ready to export simple, well-designed infographics. It is easy to work with professionally configured. Take this popular template and incorporate it into developing your own infographic.
Main features:
Available in three color options;
100% vector;
Perfect for food theme;
Layers are easy to edit;
Required Adobe CS4+.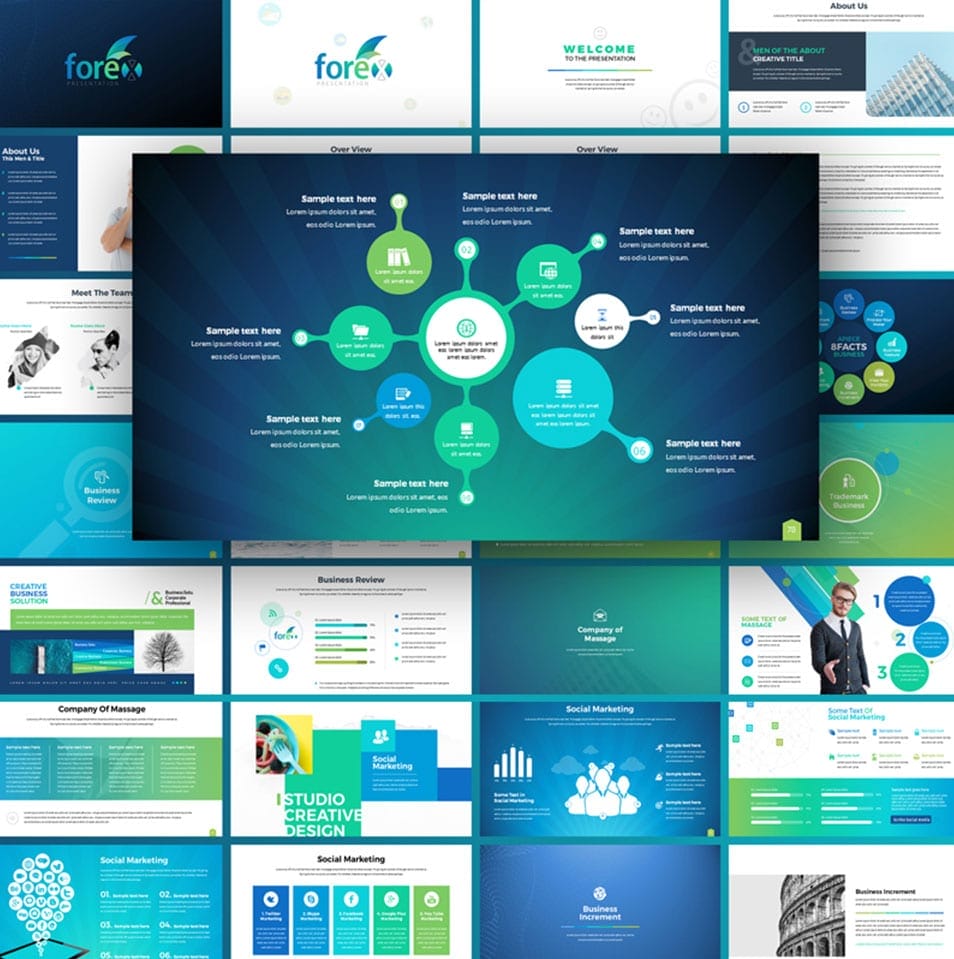 One of the best features of multipurpose PowerPoint Template is that it thought out to the smallest detail. Forex Infographic PowerPoint template is a clear confirmation of this.
There are 100 unique slides, created in the same style and several colors. It is easy to edit content and pick any color. So, every user can create any color combinations for the realization of his most daring ideas.
A distinctive feature of Forex is a beautifully inscribed animation and over 5000 special icons and characters in various categories. This template has a 16:9 aspect ratio, free fonts and icons.
Thus, with this template, you can create a presentation of the team, products or the whole business. Choosing Forex, every user gets a modern, stylish and thoughtful template that will help create more than a dozen creative presentations.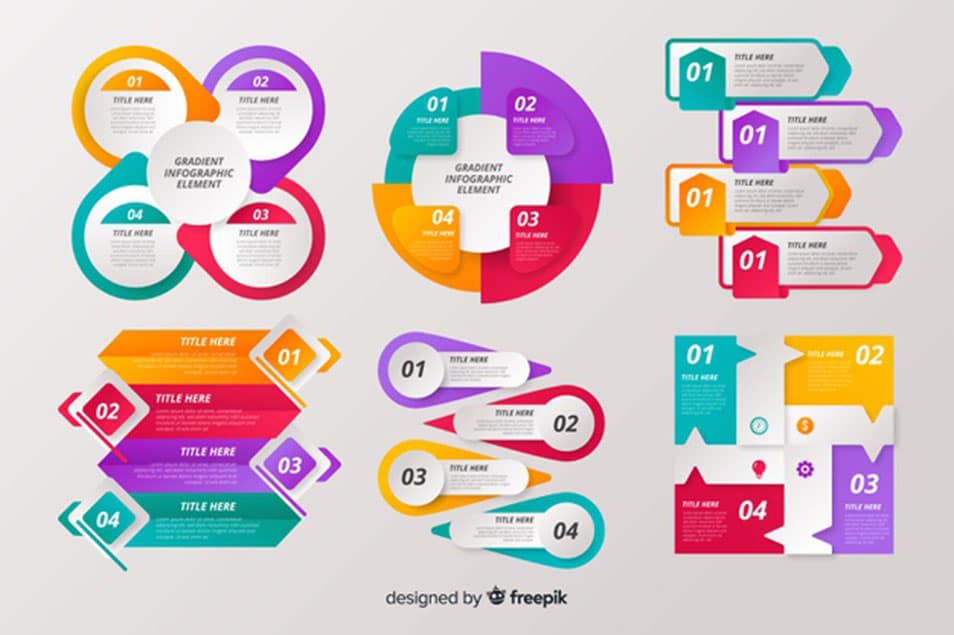 This free pack contains six bright and eye-catching infographic elements. You can use them to create your own infographics for your content marketing, landing page or process visualization.
Infographics are centered around colorful vector shapes, arrows, and numbers. If you need simple infographics focused on the visual concept, then this collection is an excellent choice.
These are pure modern designs that can bring your visualization of a presentation or content marketing to a living standard. They are ready for blending and combination to fit the needs of the project. Tell a visual story that will catch your audience's attention and connect it quickly with this vector set!
Remember! Infographics have obviously entertaining format. If it uses funny memes, images, and jokes – this is only a plus. Your readers will appreciate better healthy humor than a serious presentation of the facts. This is true even for reputable publications.
To sum up
If you (or your client) have information with rich data to share with the world, then high-quality infographic design is your choice! It accepts complex figures, numbers, and statuses. And the most important it presents everything in a simple, convincing visual way.
If you are looking for an inspiration for creating bright and interesting content for your websites, infographic templates are a great solution for you.
A smart graphic designer always has some infographic sets and elements just in case.
One clear graphic text display can replace five printed sheets. Figurative thinking rules.
Take care!