Best UI/UX Design Podcasts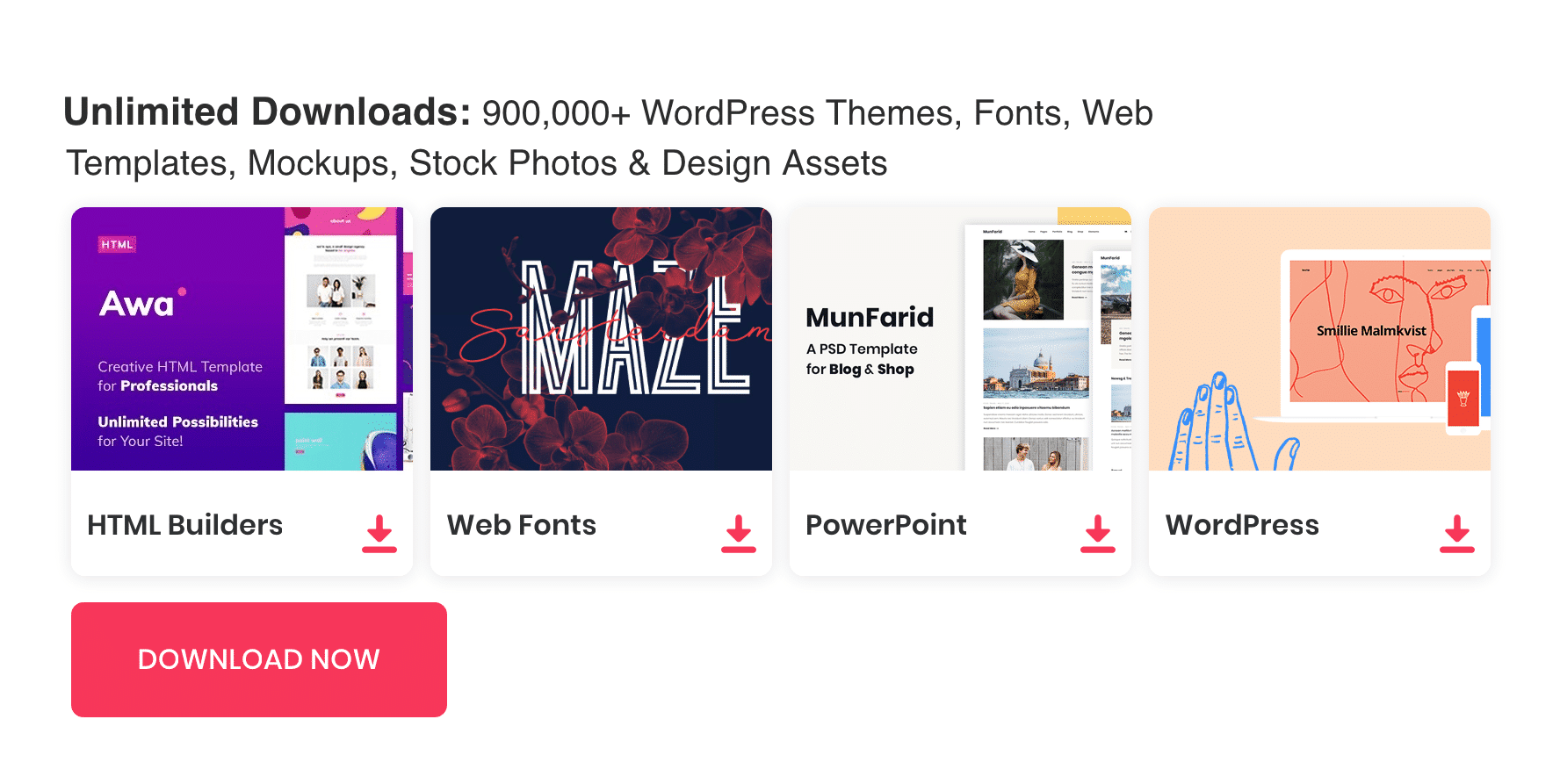 Podcasts are the easiest way to find out what is going on in the design industry, what had changed and what is coming. It is always great to learn from top players in this industry. You can listen to interviews with top designers and entrepreneurs, these are super inspiring.
We have a made list of best design podcasts which cover different areas of UI/UX designs. if you are keen to learn new things, you can really benefit from these podcasts.
See also :Best YouTube Channels for UI/UX Designers
Syntax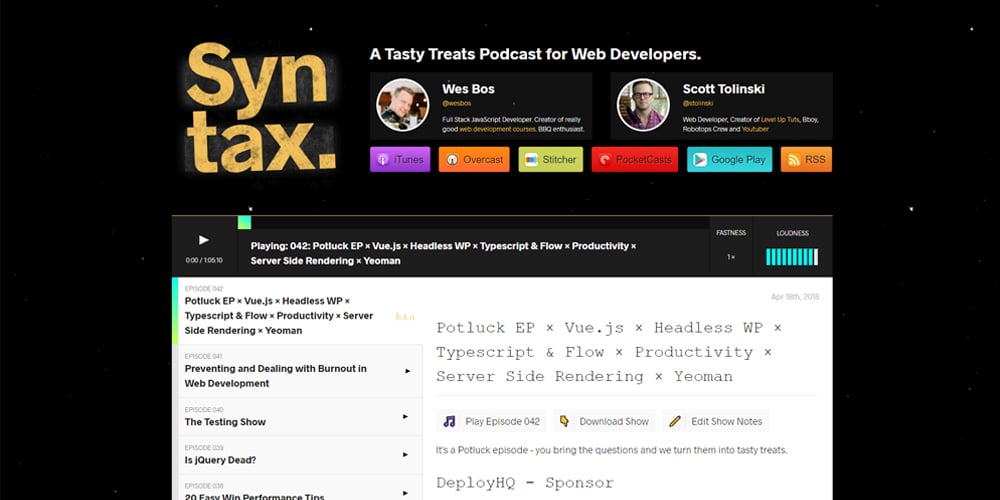 The Web Platform Podcast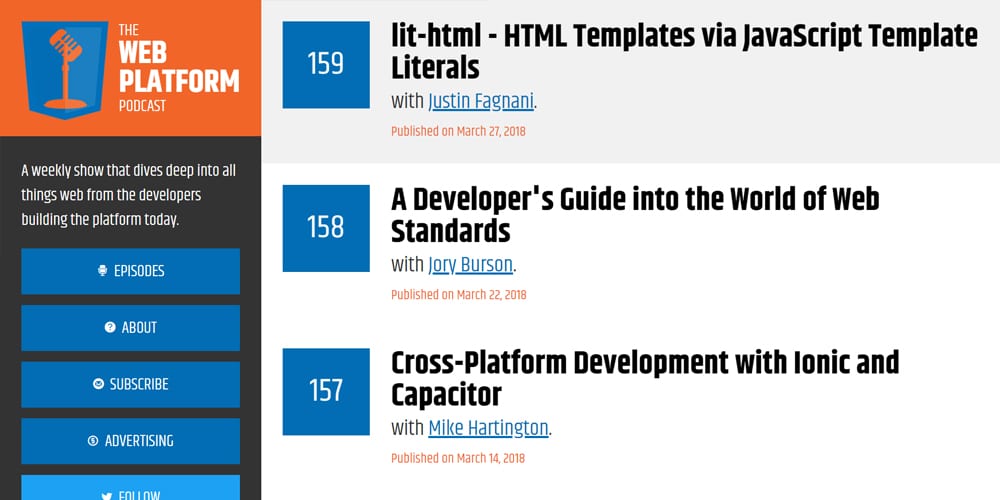 Devchat Podcast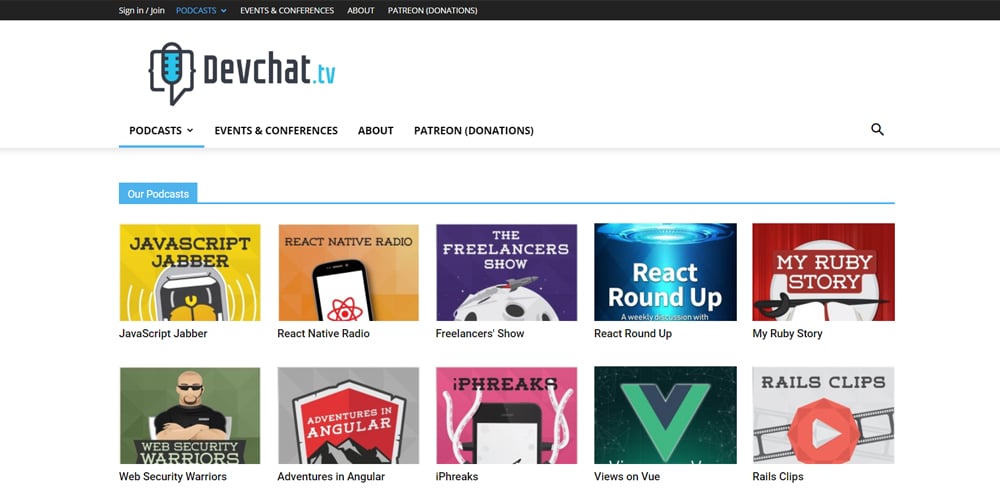 Two Minutes of Greatness Podcast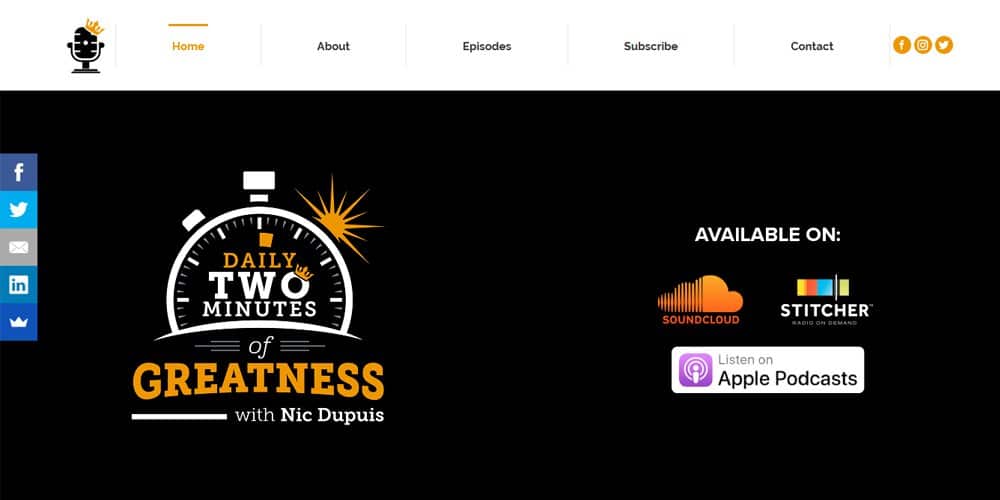 The DesignBetter Co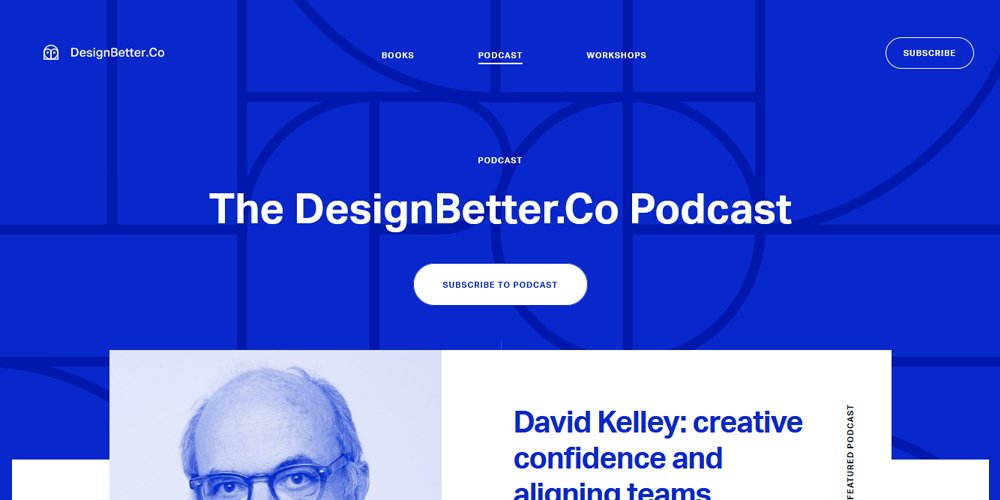 Working File Podcast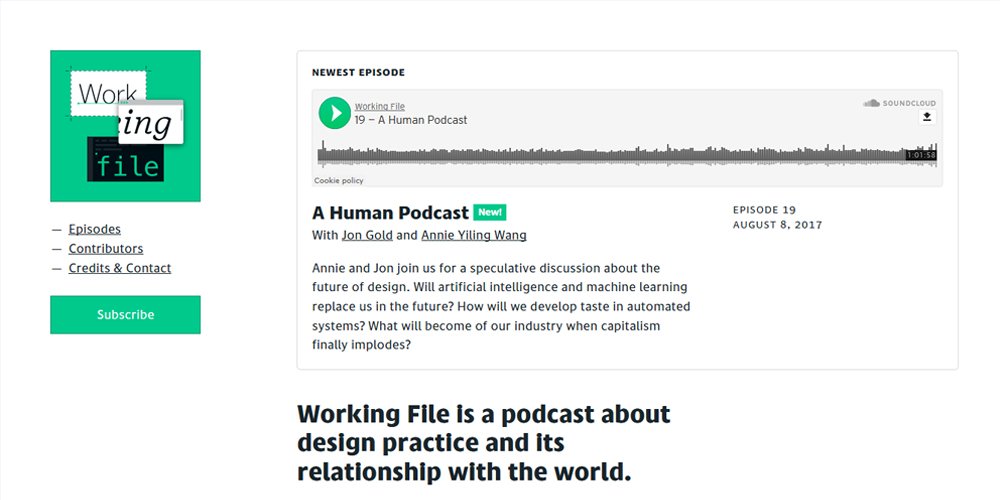 NTMY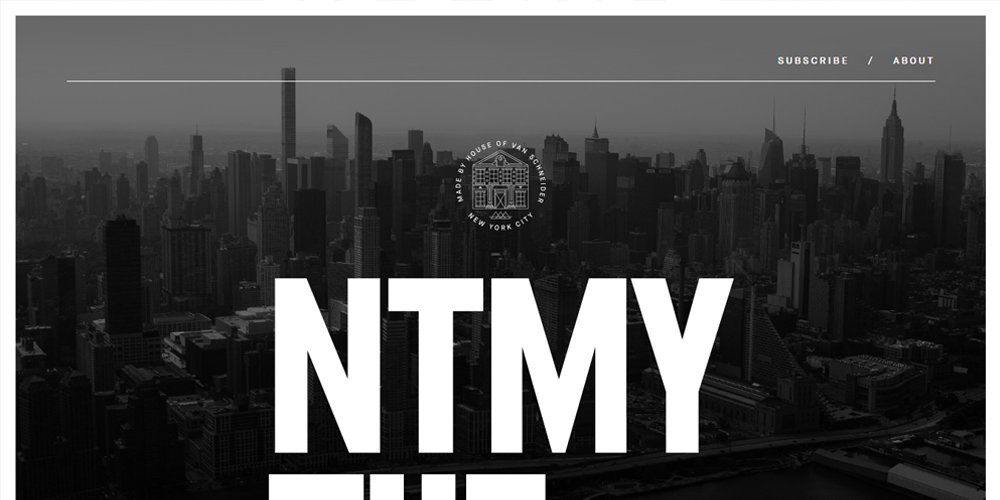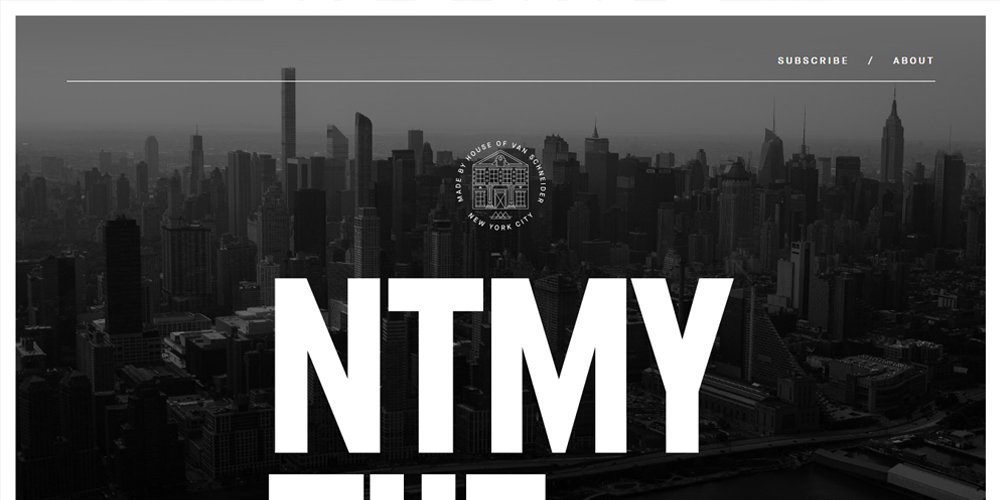 UX and Growth Podcast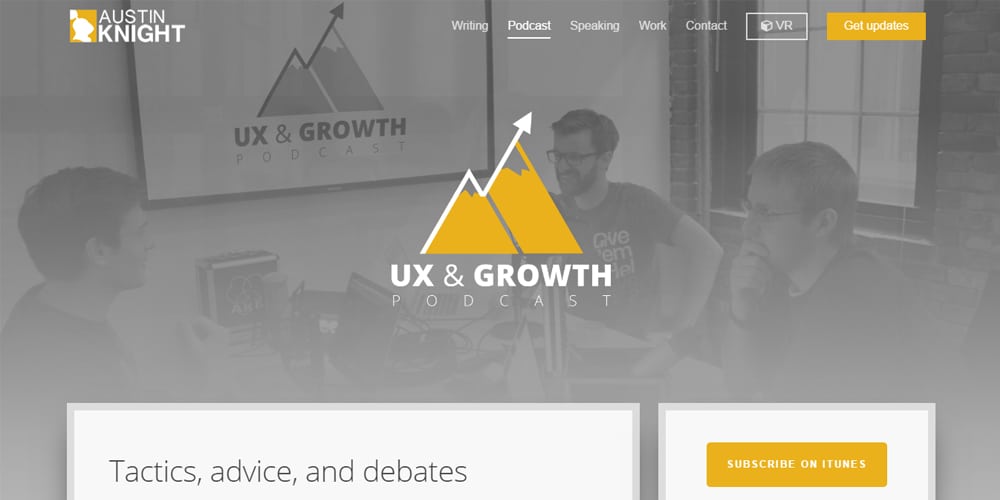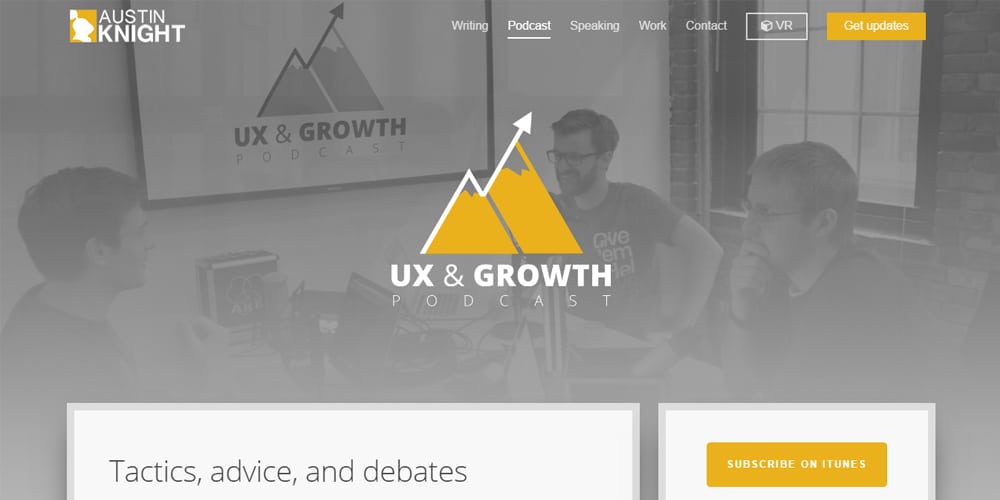 Iterate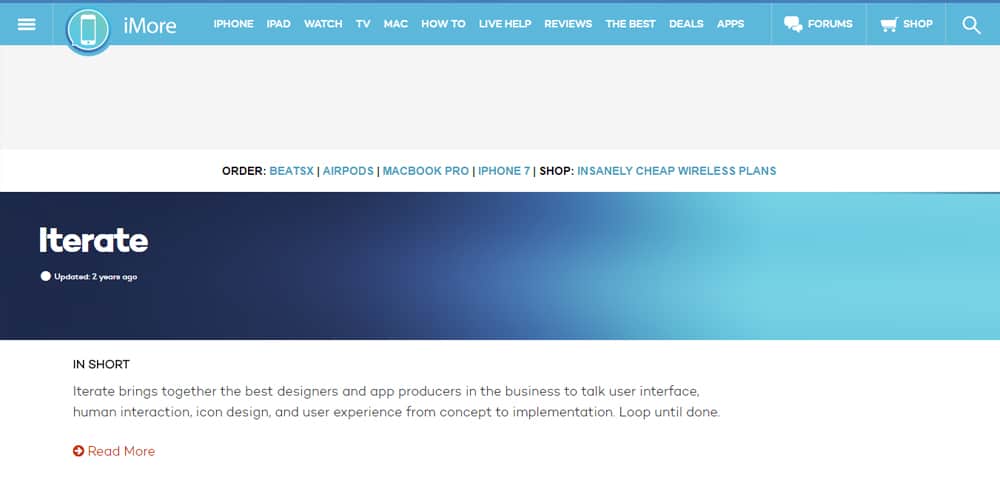 Iterate brings together the best designers and app producers in the business to talk user interface, human interaction, icon design, and user experience from concept to implementation.
Ideas – Design Podcast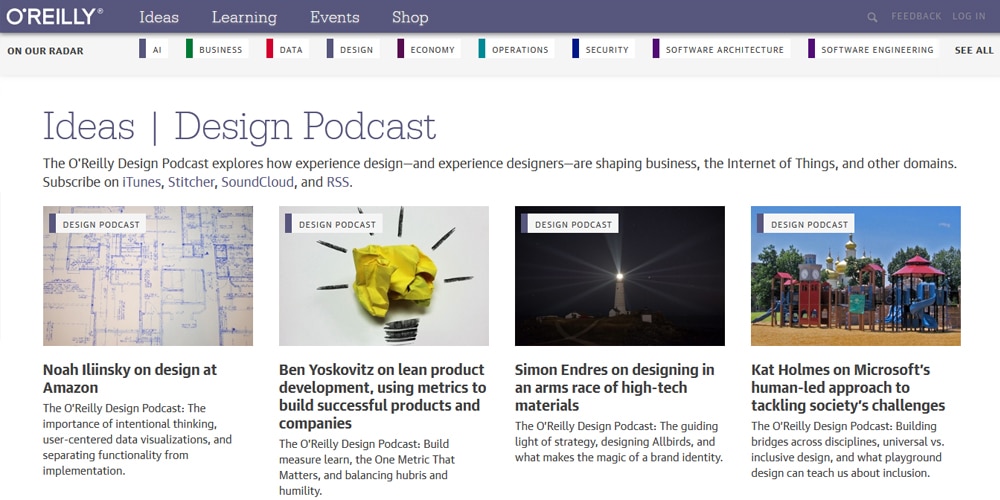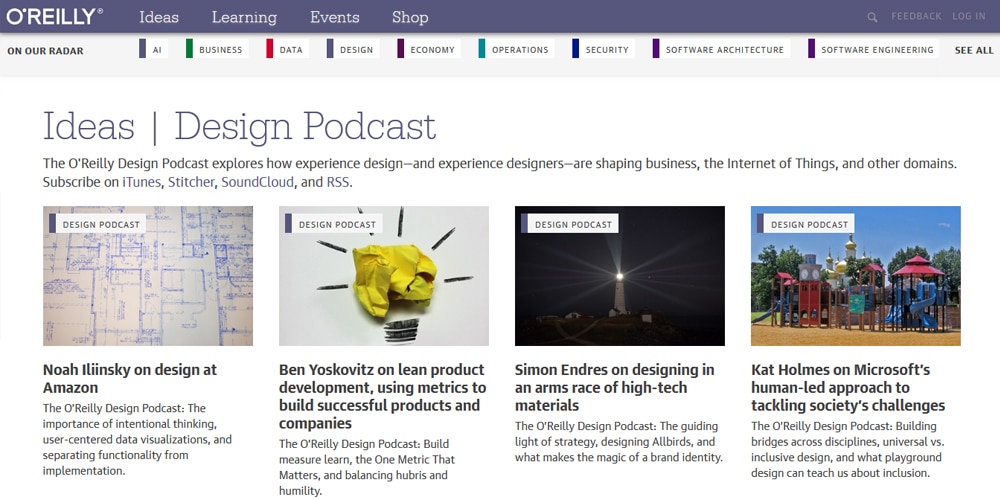 The O'Reilly Design Podcast explores how experience design—and experience designers—are shaping business, the Internet of Things, and other domains. Subscribe on iTunes, Stitcher, SoundCloud, and RSS.
User Defenders Podcast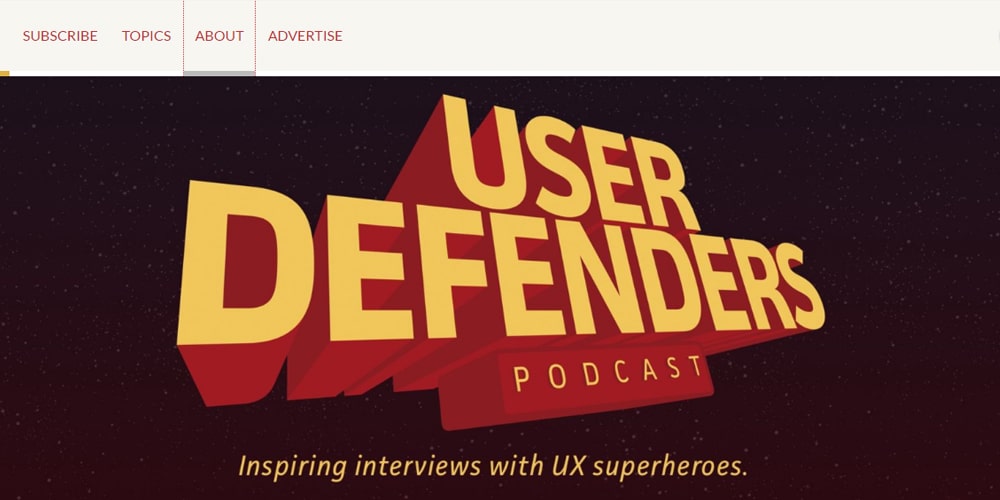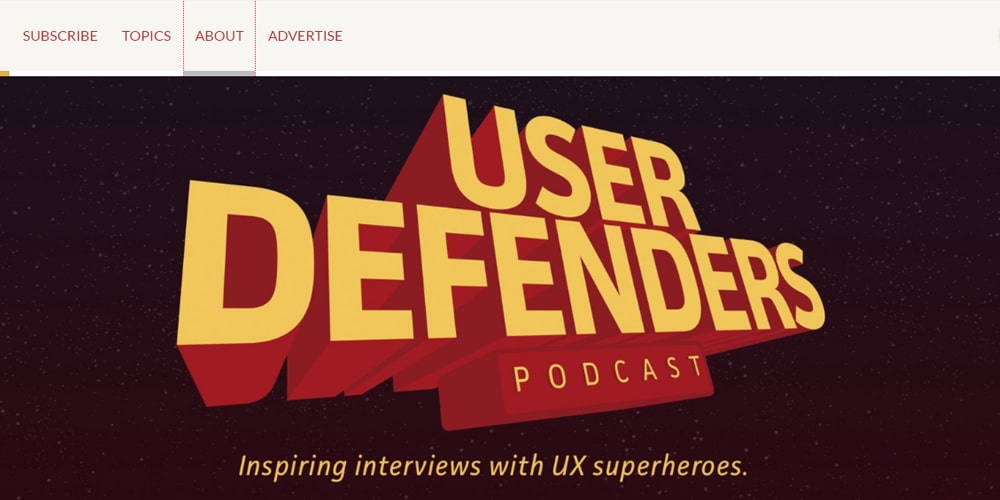 Inspiring Interviews with UX Superheroes.
Design Education Today Podcast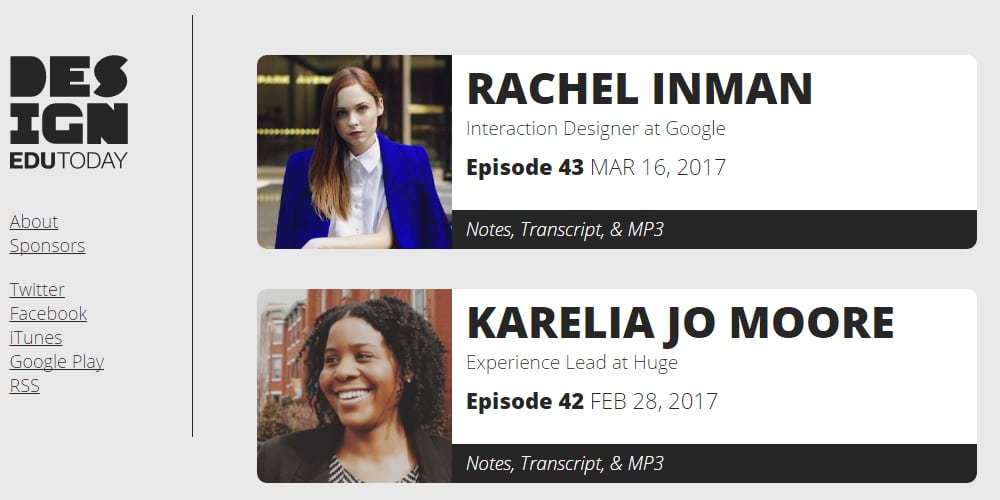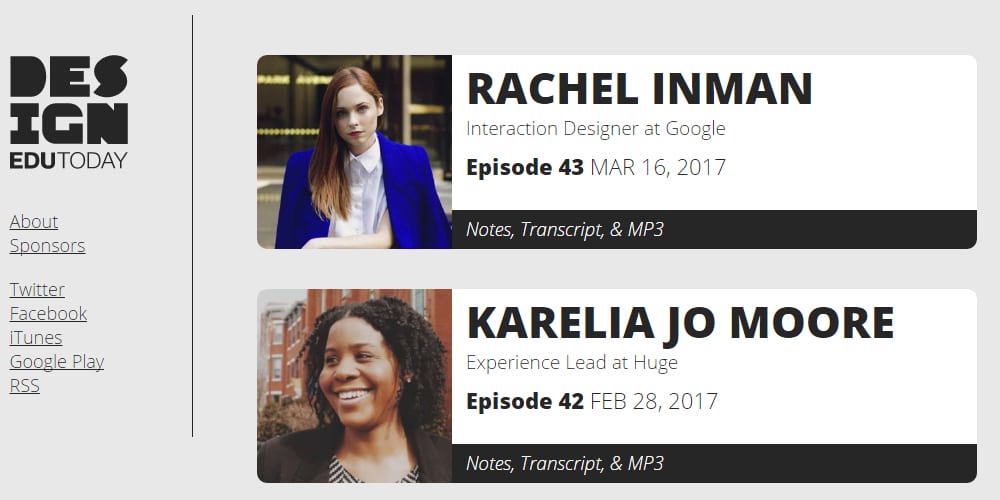 Design Edu Today is the podcast series discussing topics concerning the state of interactive design education at institutions of higher learning.it discussing what is necessary to be a successful design a contemporary, screen based interactive world.
UI/UX Podcasts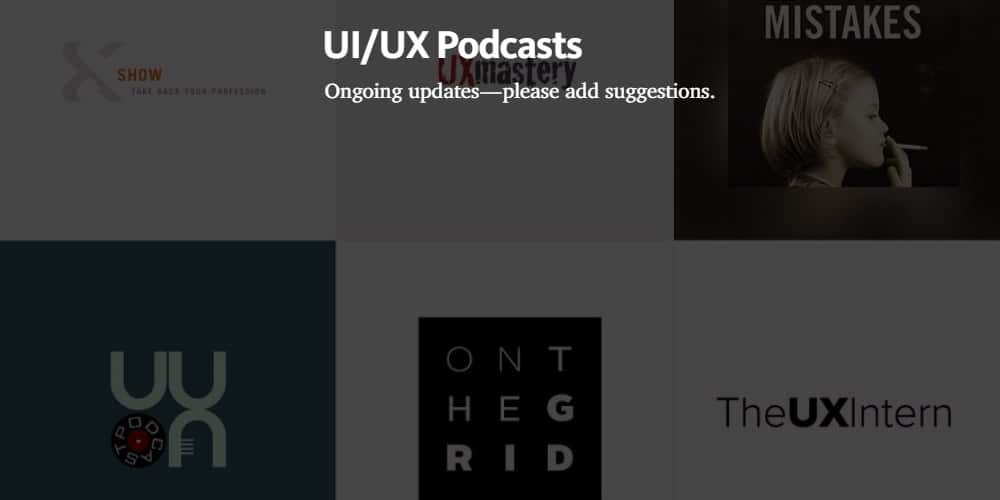 Responsive Web Design Podcast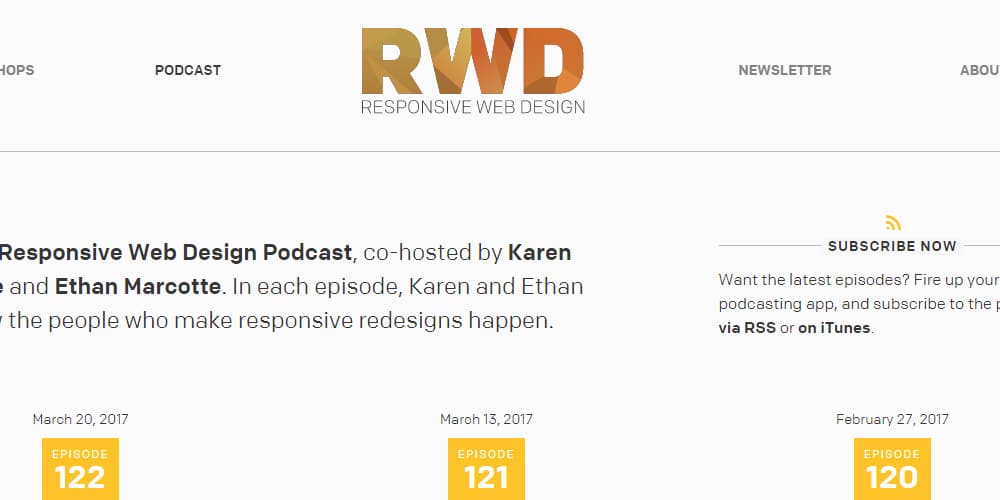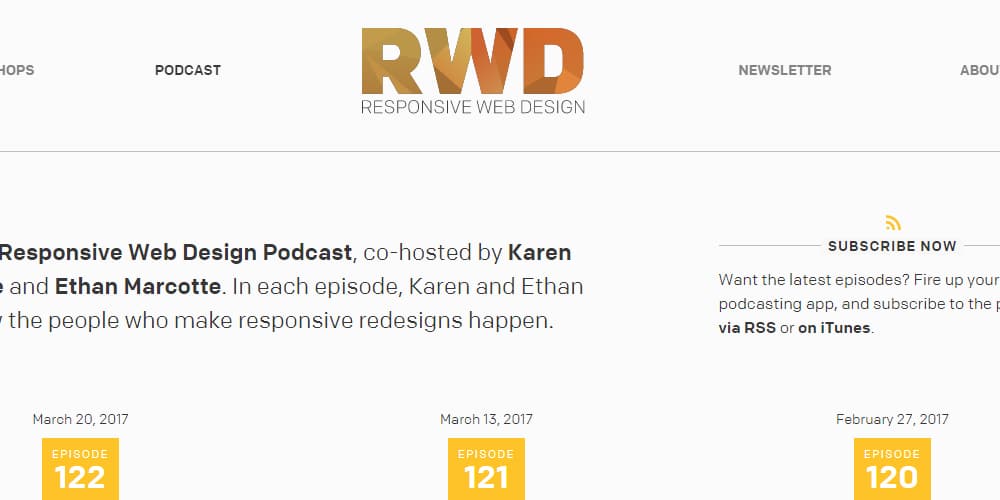 This is a Responsive Web Design Podcast, co-hosted by Karen McGrane and Ethan Marcotte. In each episode, Karen and Ethan interview the people who make responsive redesigns happen.
Workmode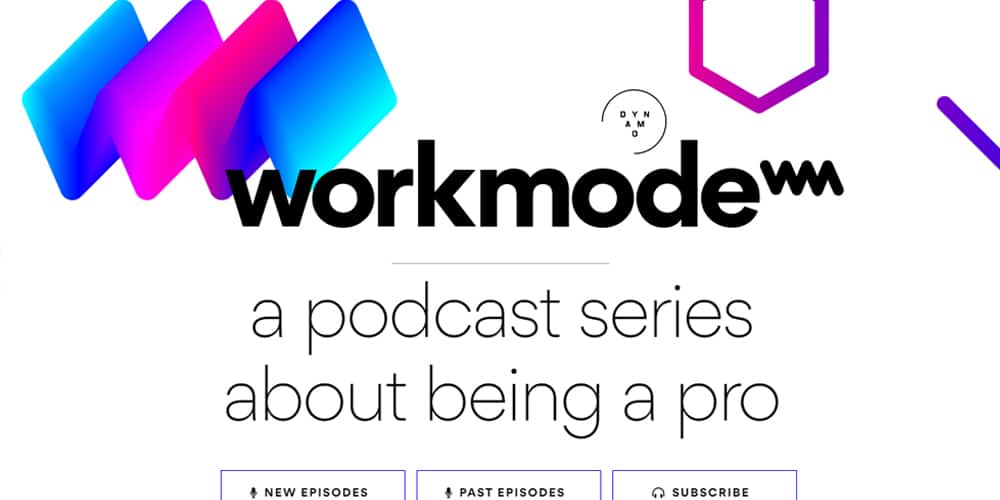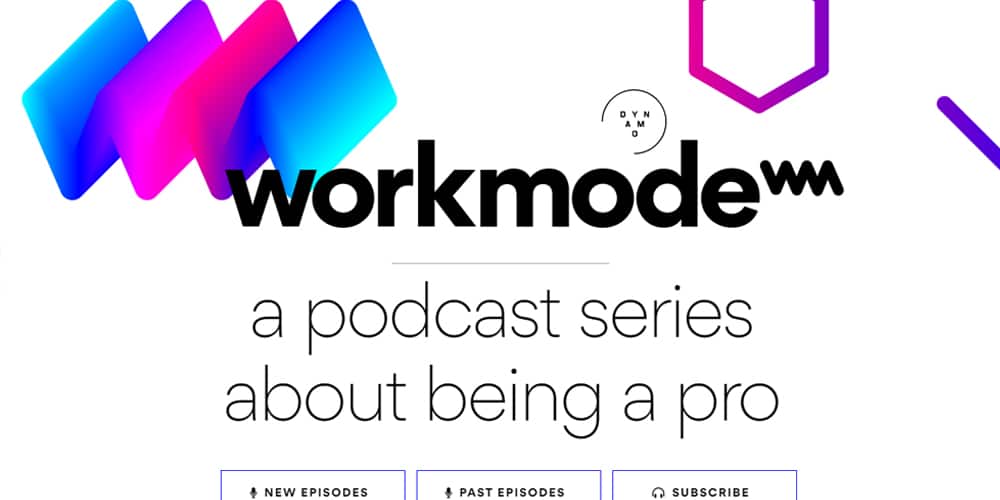 DN FM – Designer News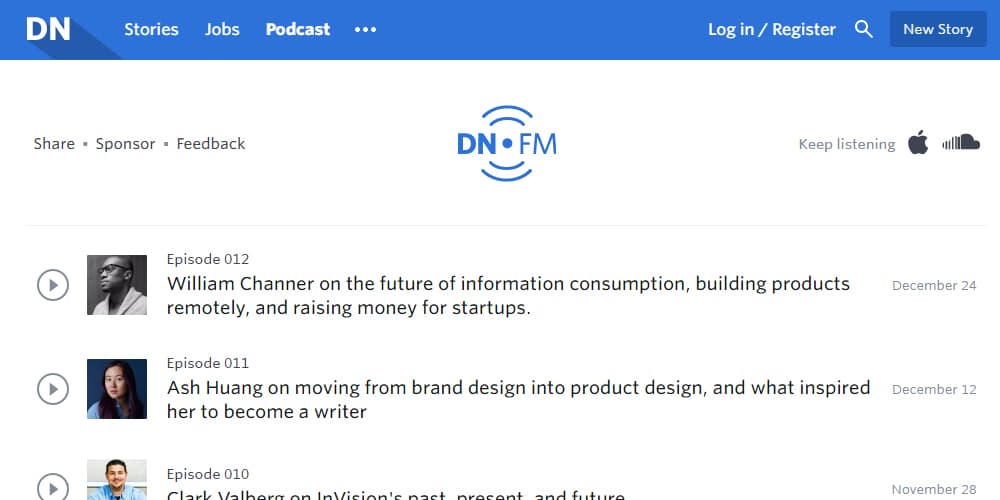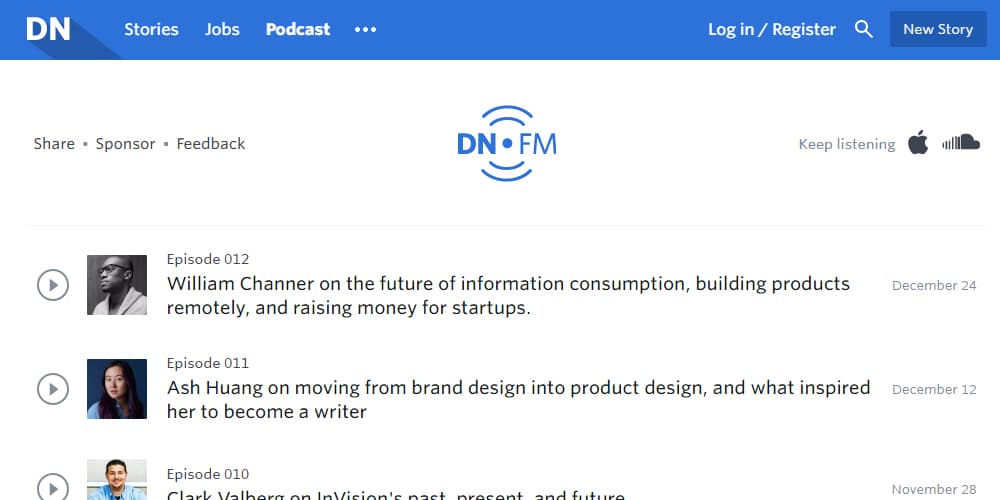 Designer News is a large, global community of people working or interested in design and technology.
The Hacking UI Podcast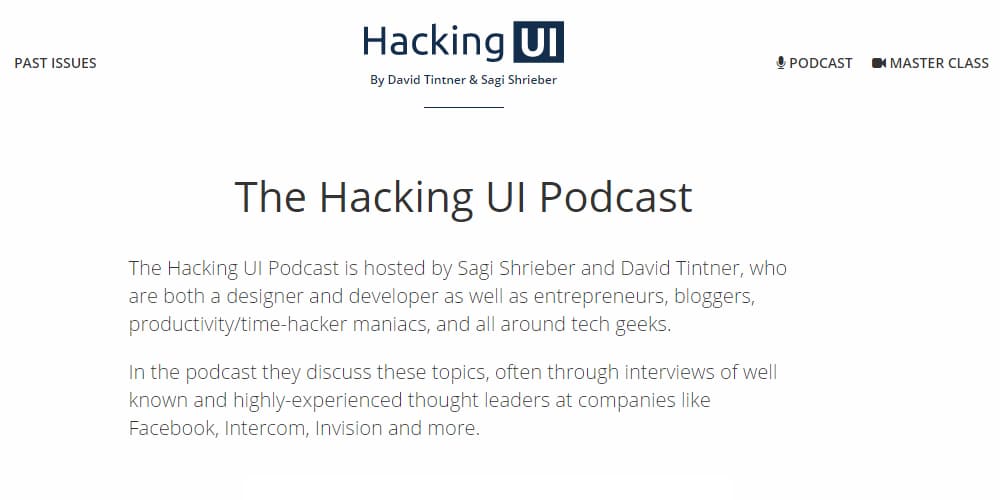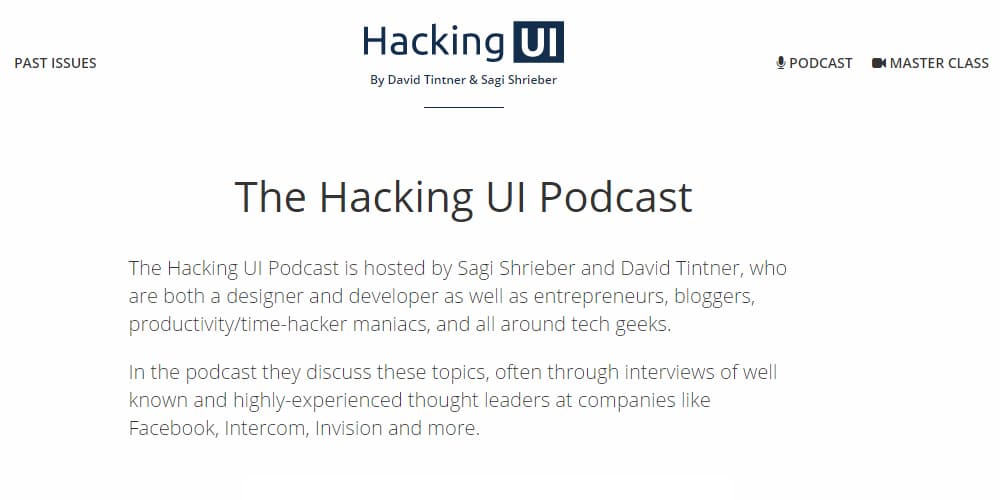 The Hacking UI Podcast is hosted by Sagi Shrieber and David Tintner, who are both a designer and developer as well as entrepreneurs, bloggers, productivity/time-hacker maniacs, and all around tech geeks.
Motion and Meaning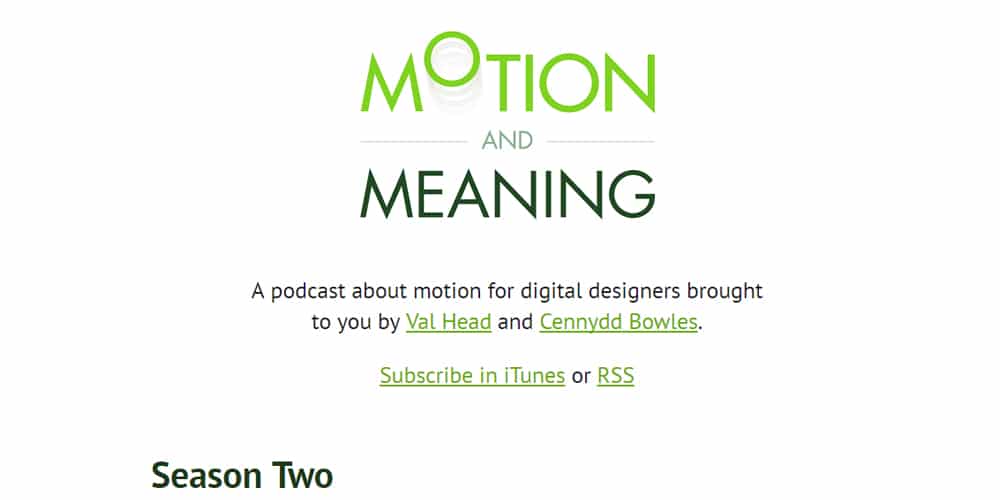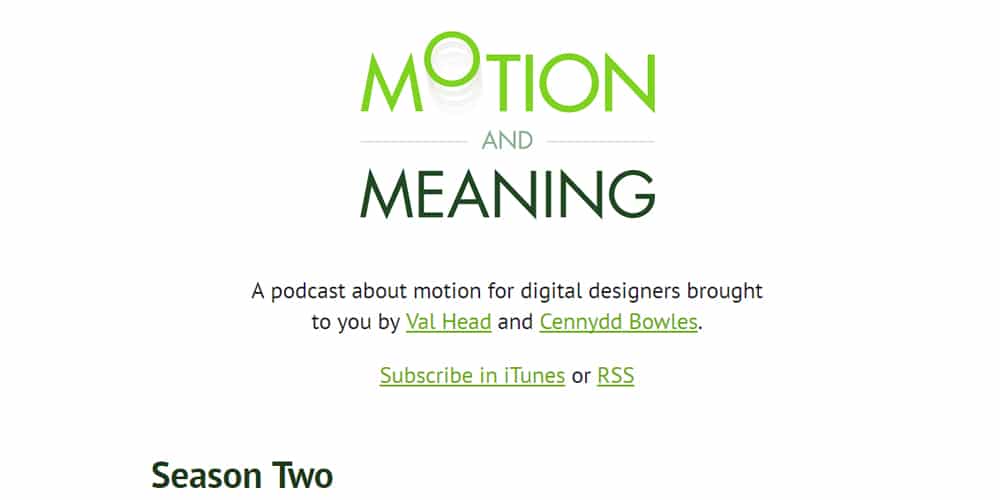 A podcast about motion for digital designers brought to you by Val Head and Cennydd Bowles.
The Web Ahead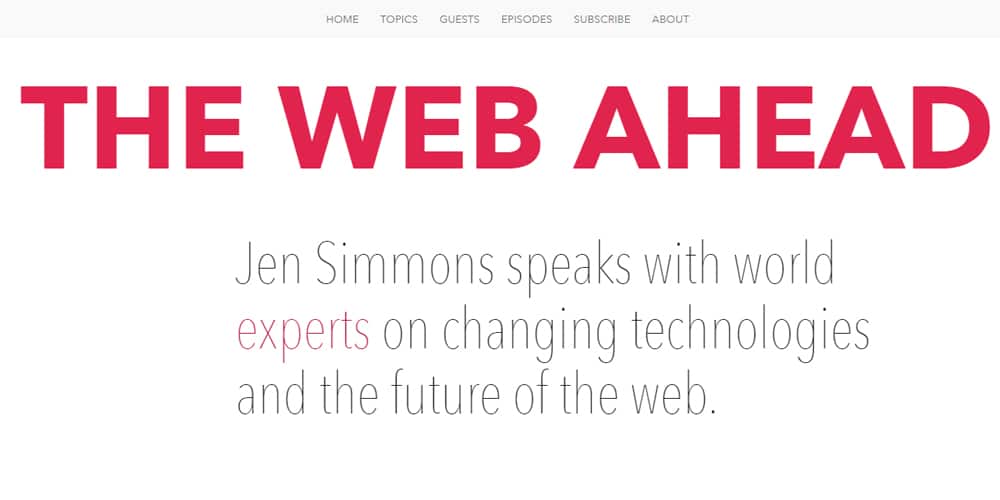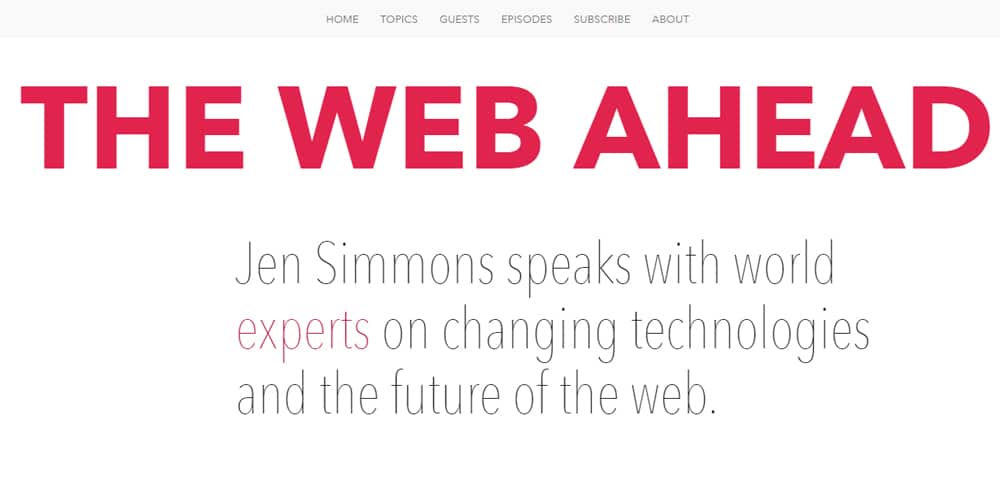 A weekly conversation on changing technologies and the future of the web.
Late Nights with Trav and Los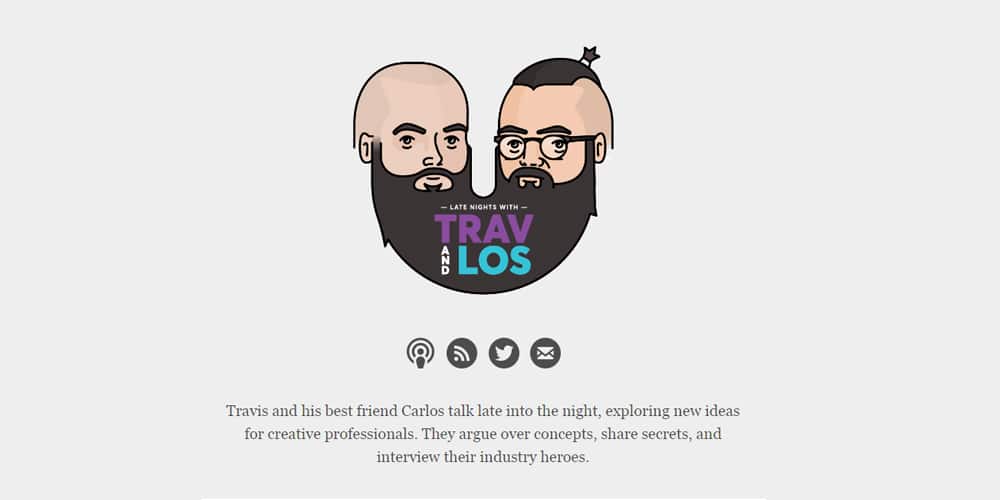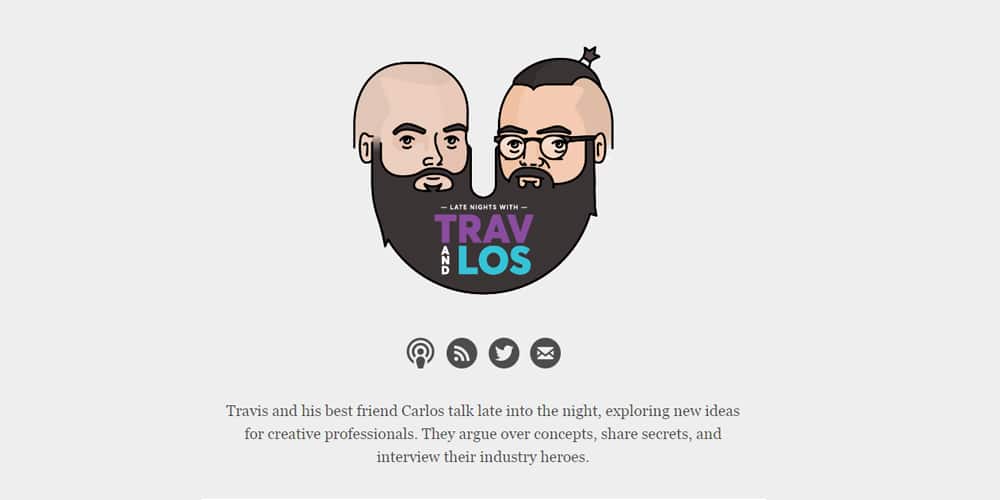 Travis and his best friend Carlos talk late into the night, exploring new ideas for creative professionals. They argue over concepts, share secrets, and interview their industry heroes.
Product People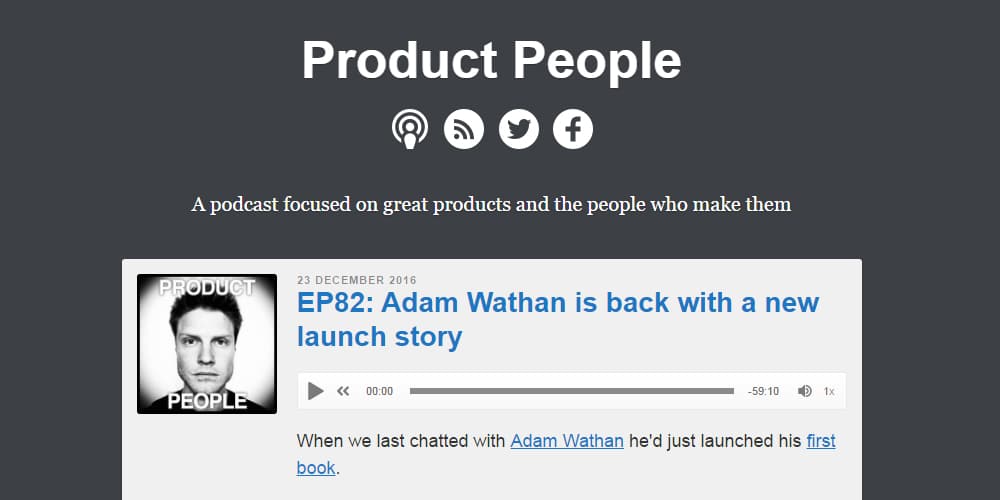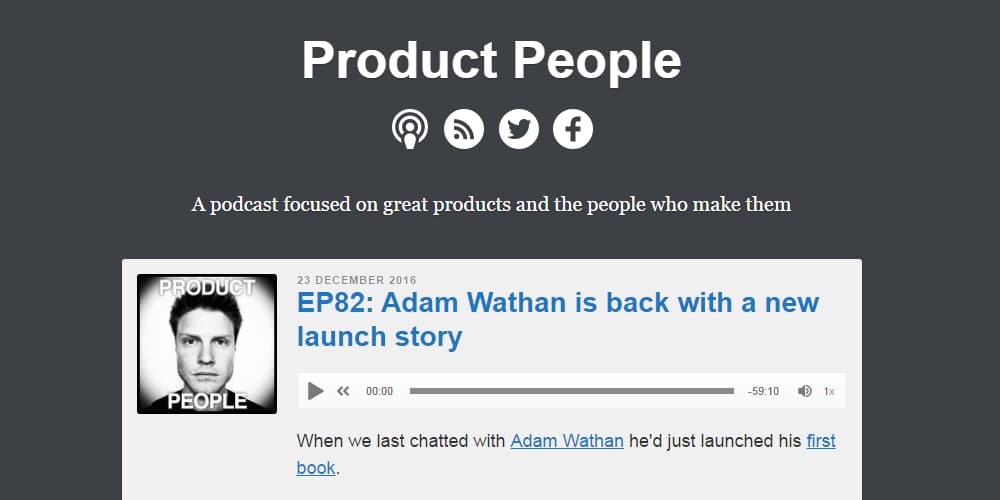 A podcast focused on great products and the people who make them.
Tentative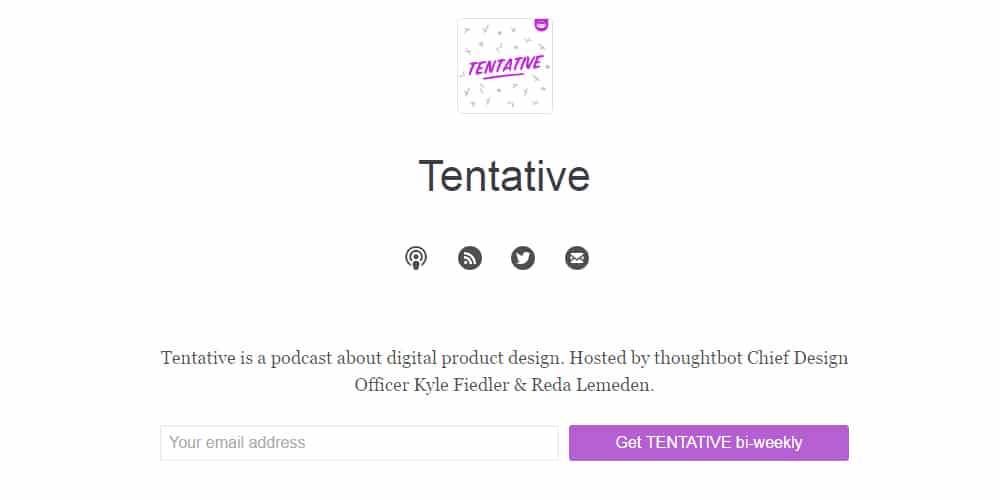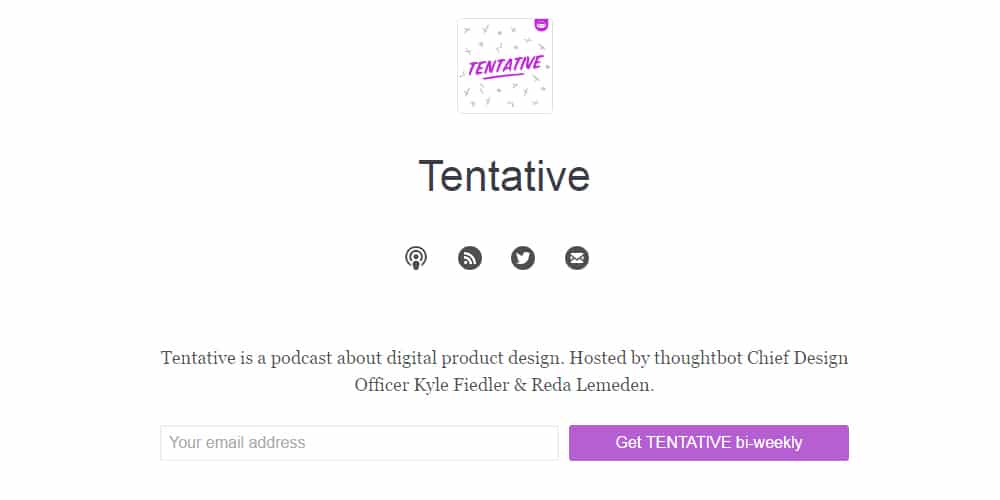 Tentative is a podcast about digital product design. Hosted by thoughtbot Chief Design Officer Kyle Fiedler & Reda Lemeden.
Happy Monday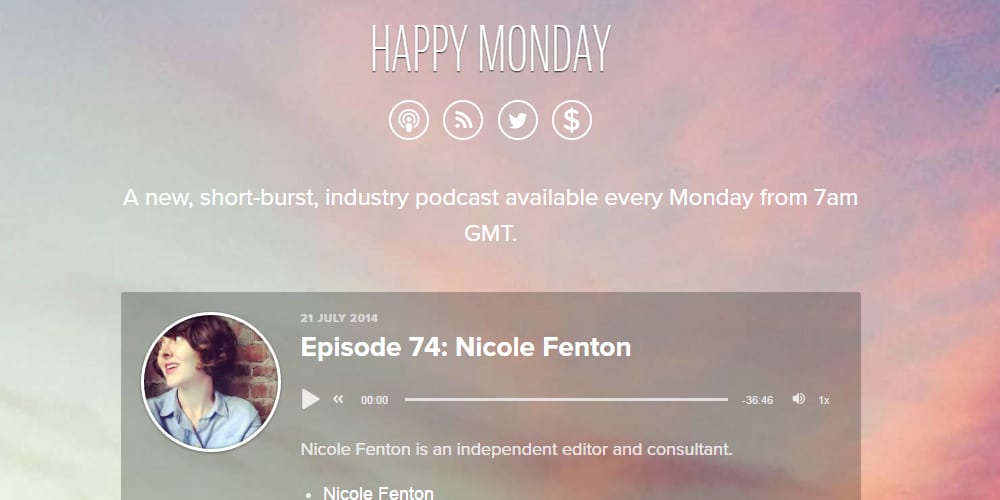 A new, short-burst, industry podcast available every Monday from 7am GMT.
UX Mastery Podcast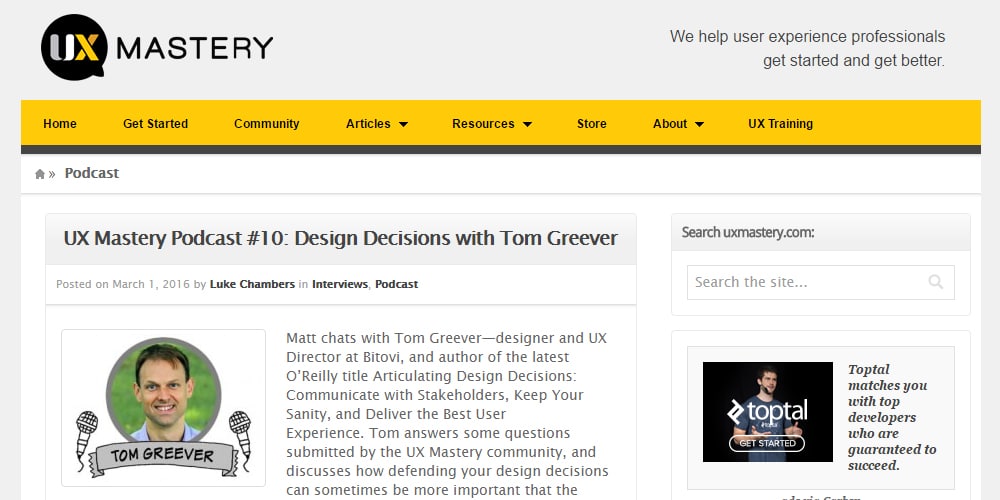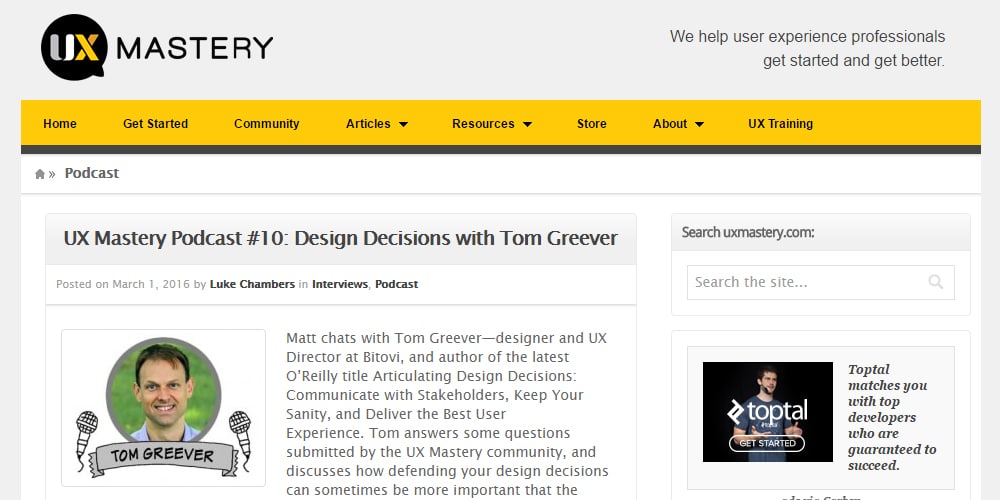 The UX Intern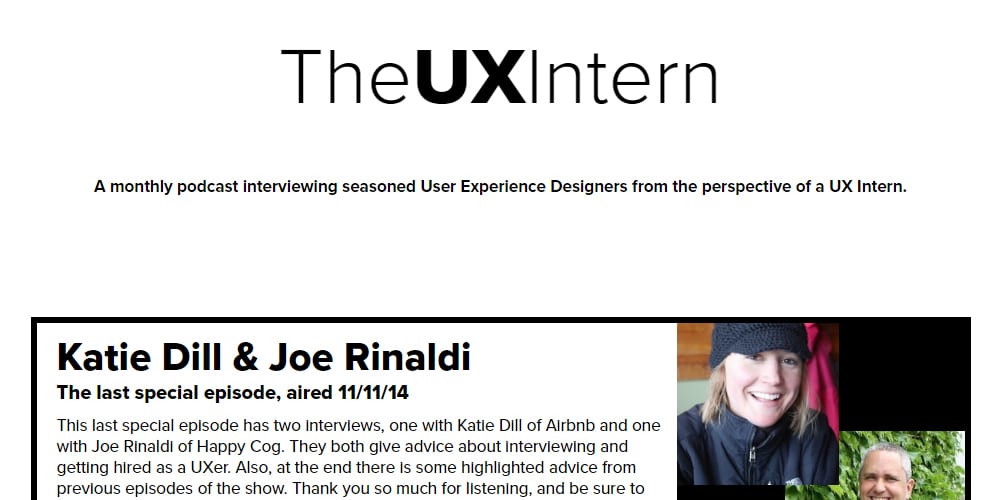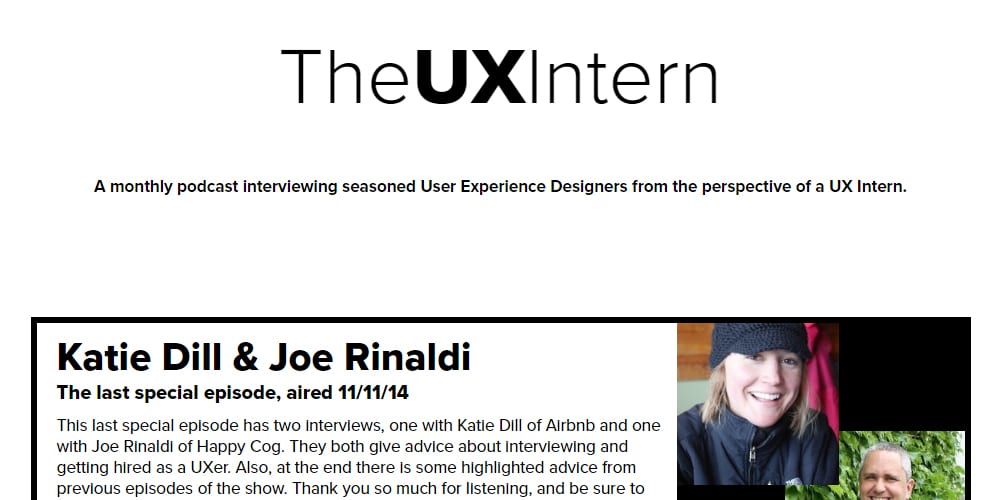 A monthly podcast interviewing seasoned User Experience Designers from the perspective of a UX Intern.
UX Podcast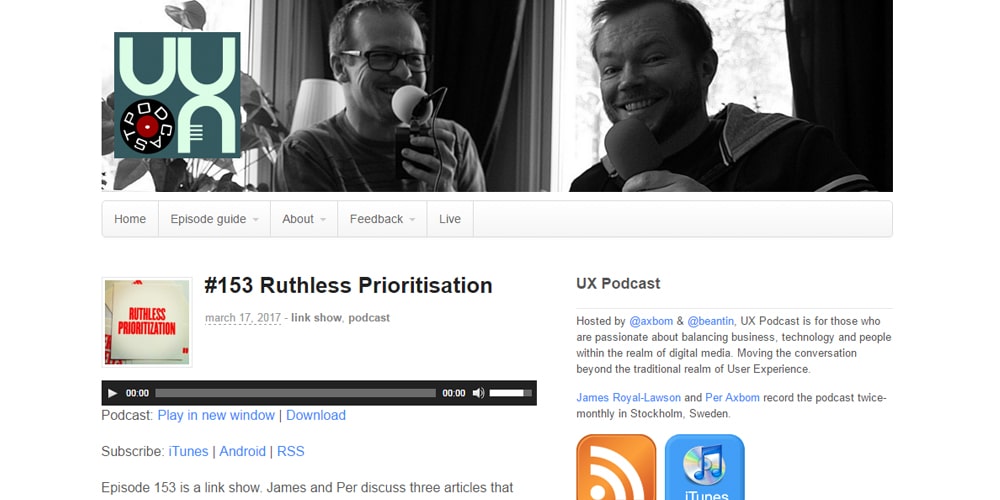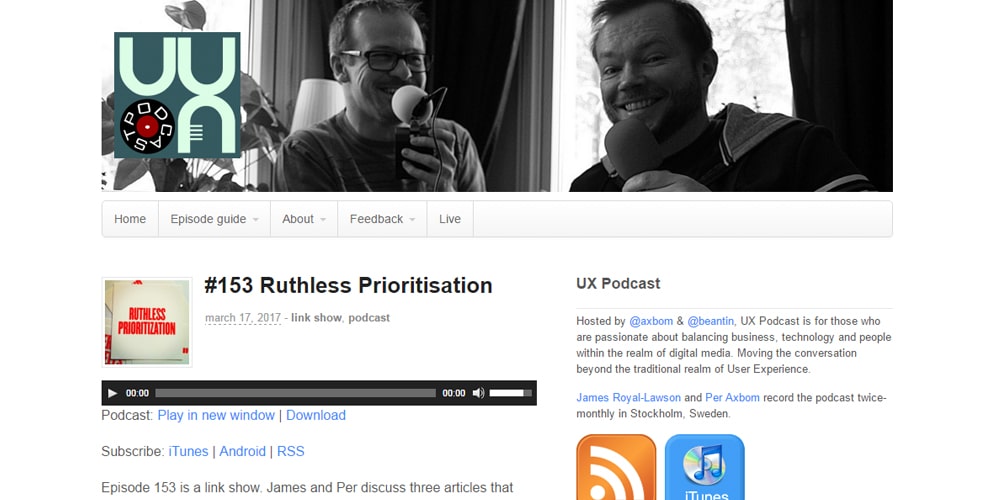 Hosted by axbom & beantin, UX Podcast is for those who are passionate about balancing business, technology and people within the realm of digital media. Moving the conversation beyond the traditional realm of User Experience.
User Experience Podcast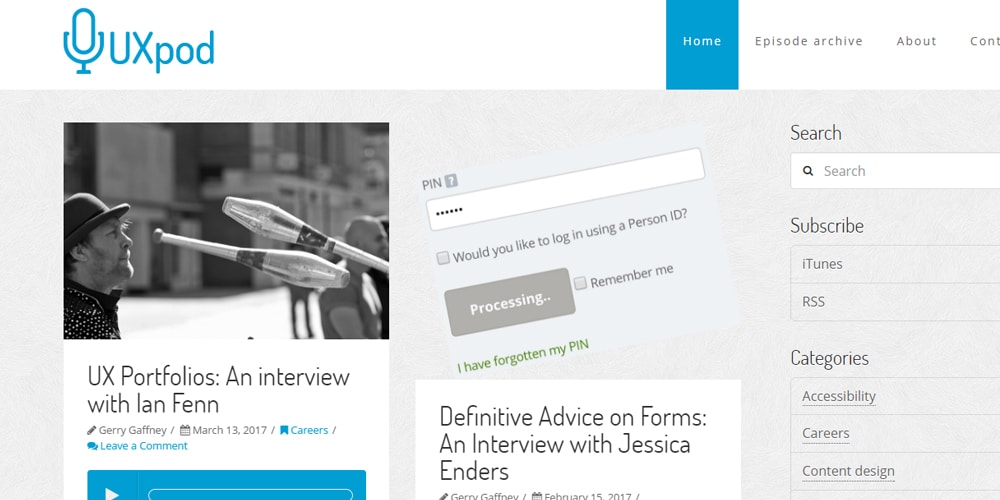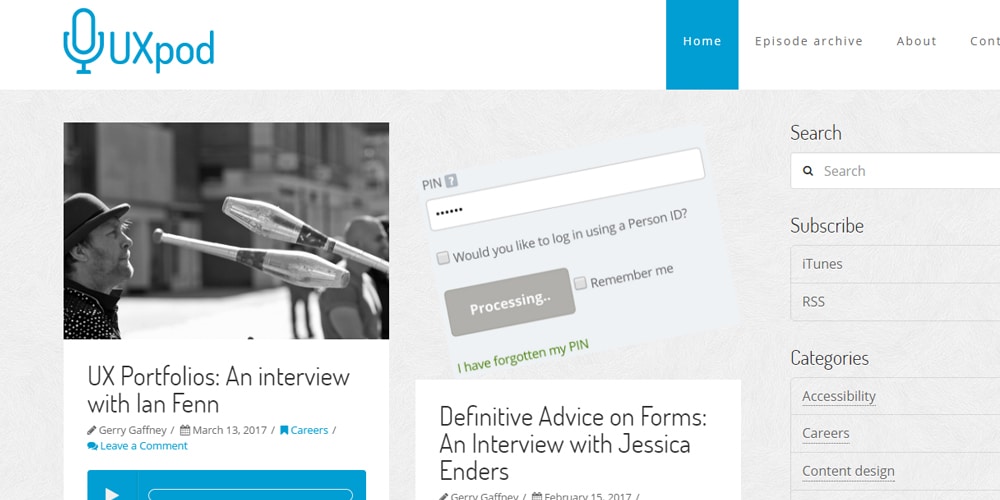 Fresh Tilled Soil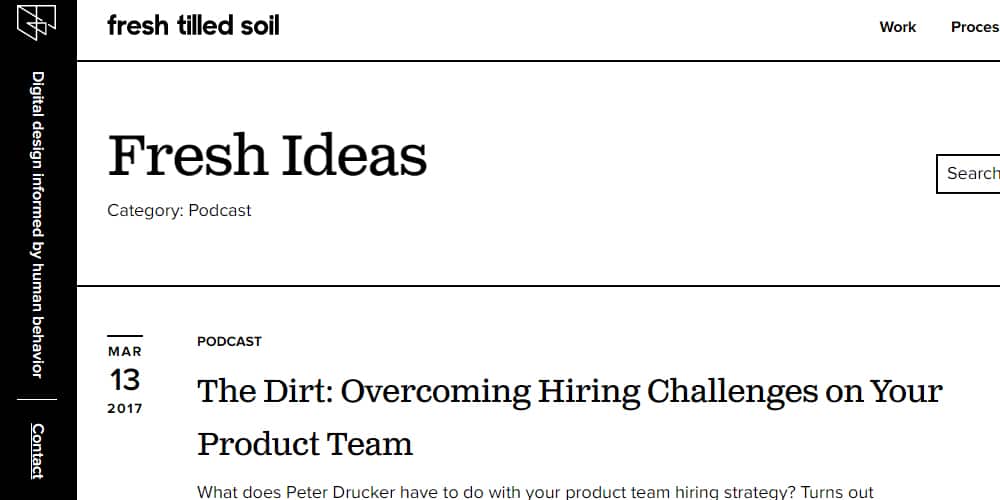 Foundation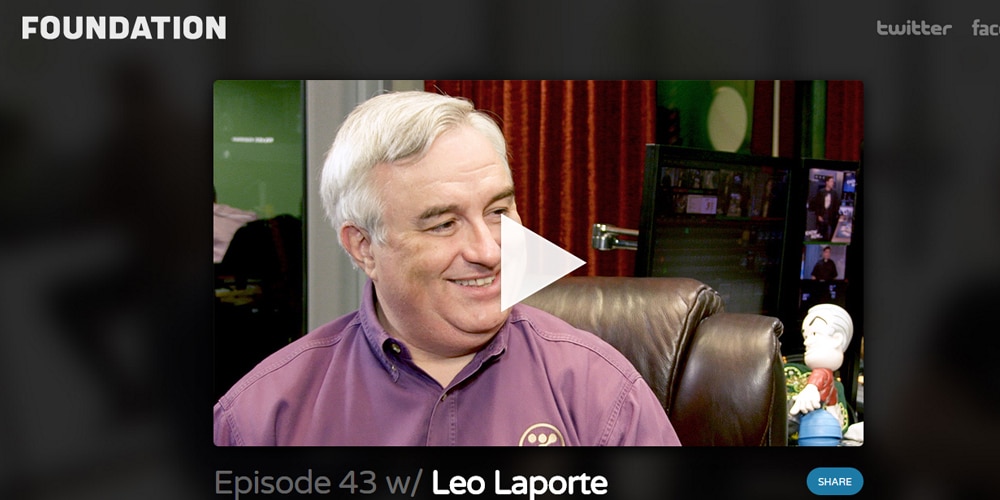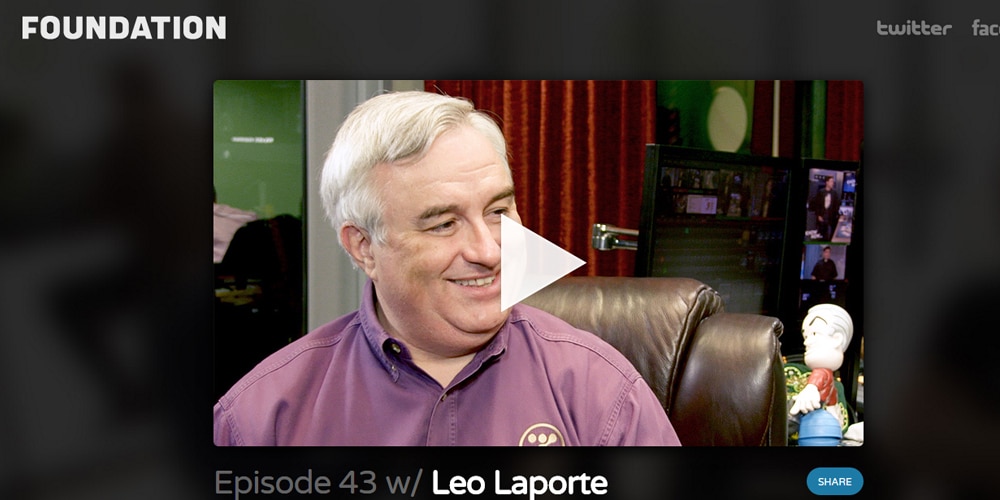 Designmatters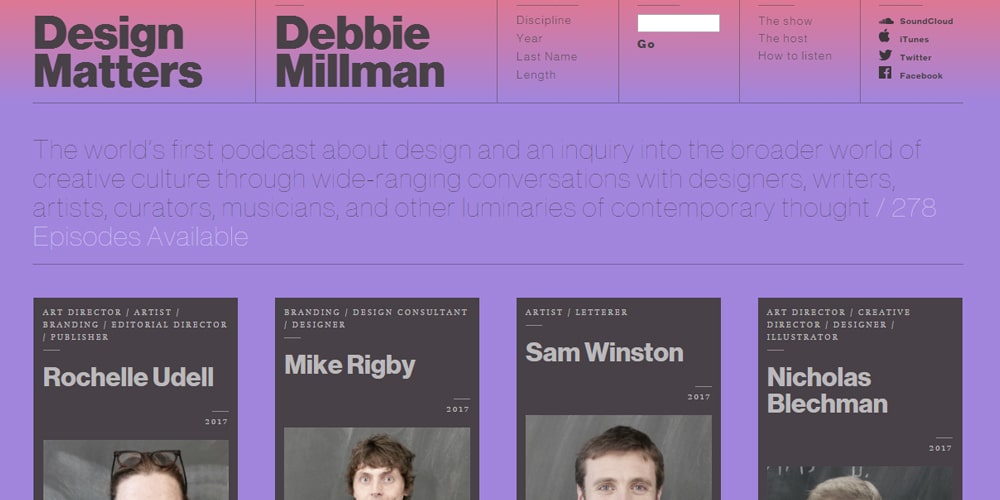 The world's first podcast about design and an inquiry into the broader world of creative culture through wide-ranging conversations with designers, writers, artists, curators, musicians, and other luminaries of contemporary thought / 278 Episodes Available.
Users Know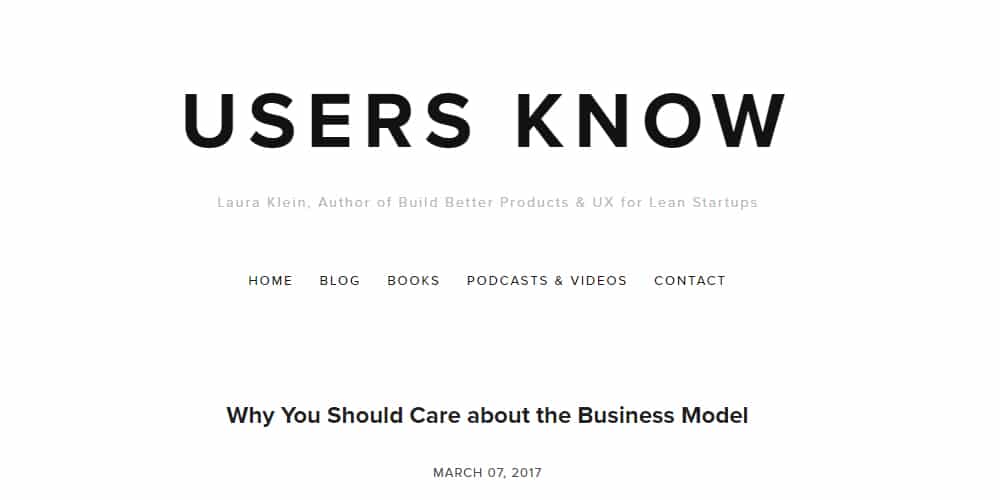 The Design Review Podcast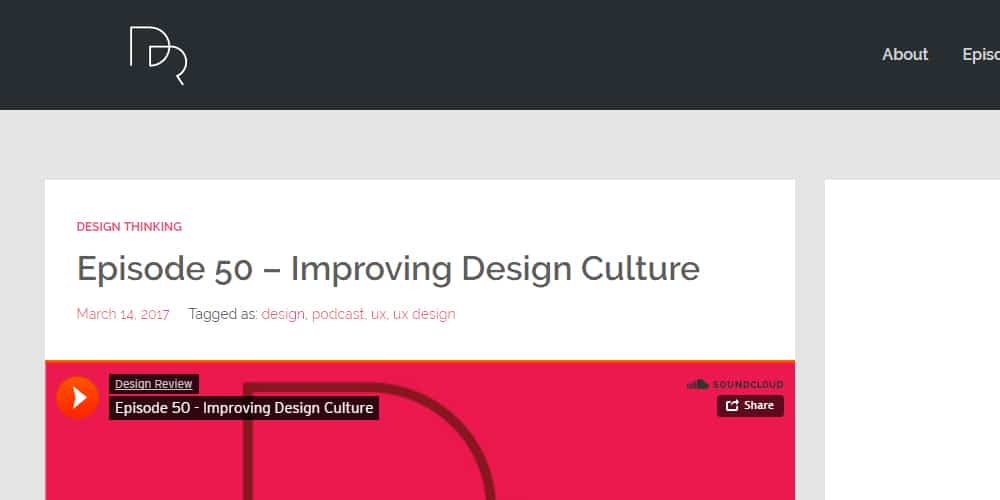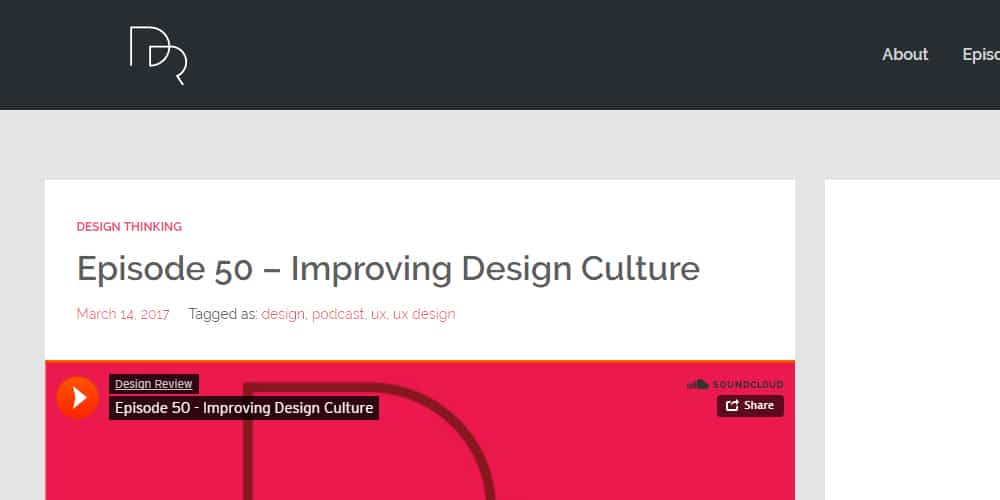 The Design Review Podcast is a weekly podcast about products and their UX.
Design Details – Spec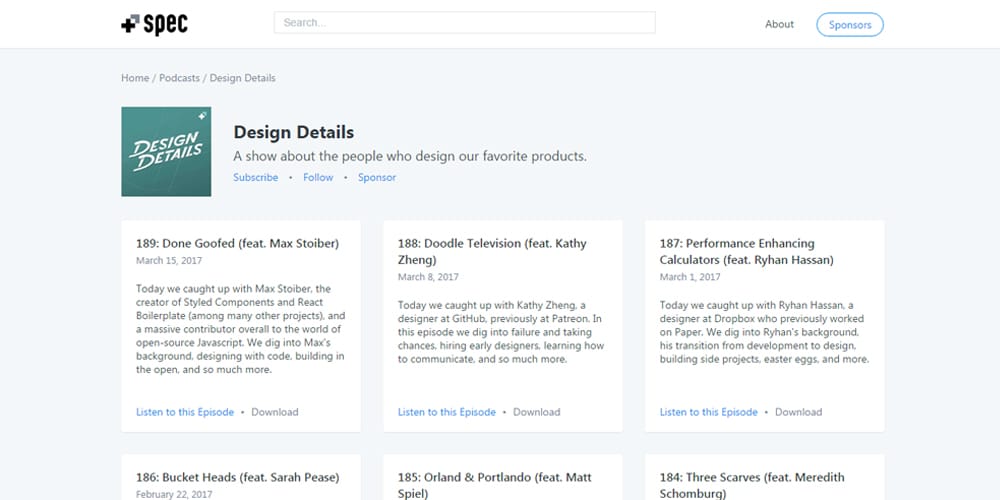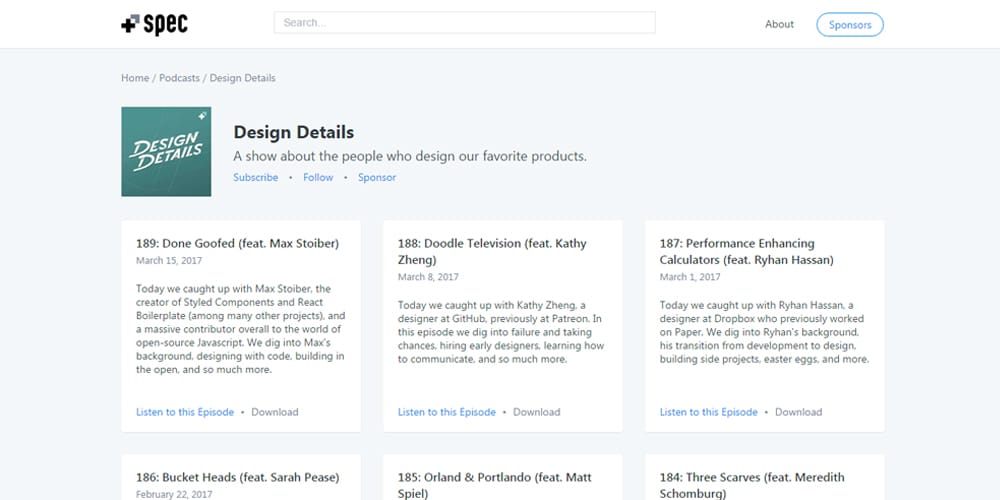 A show about the people who design our favorite products.
Shoptalk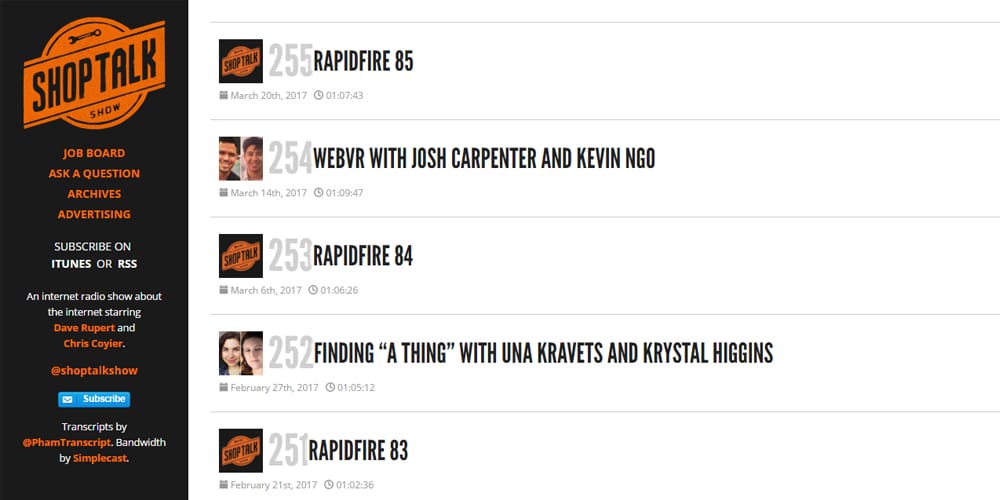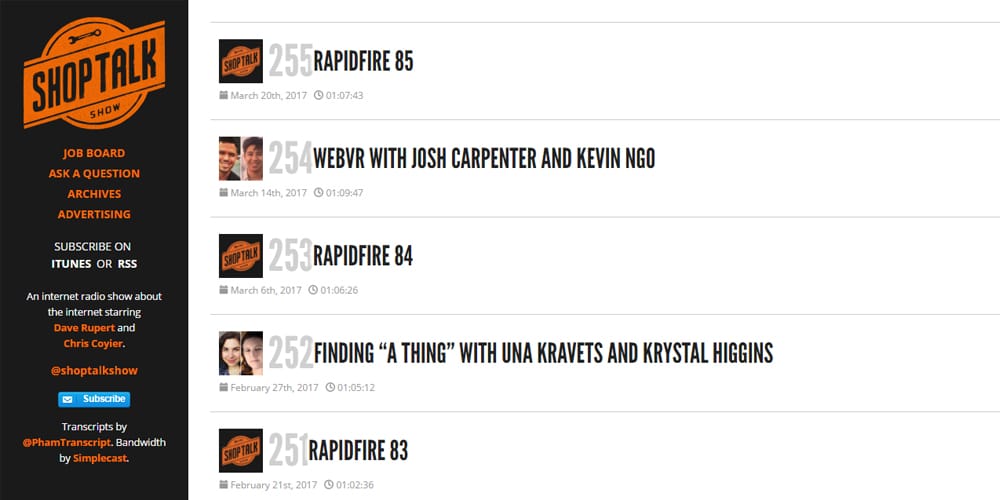 CodePen Radio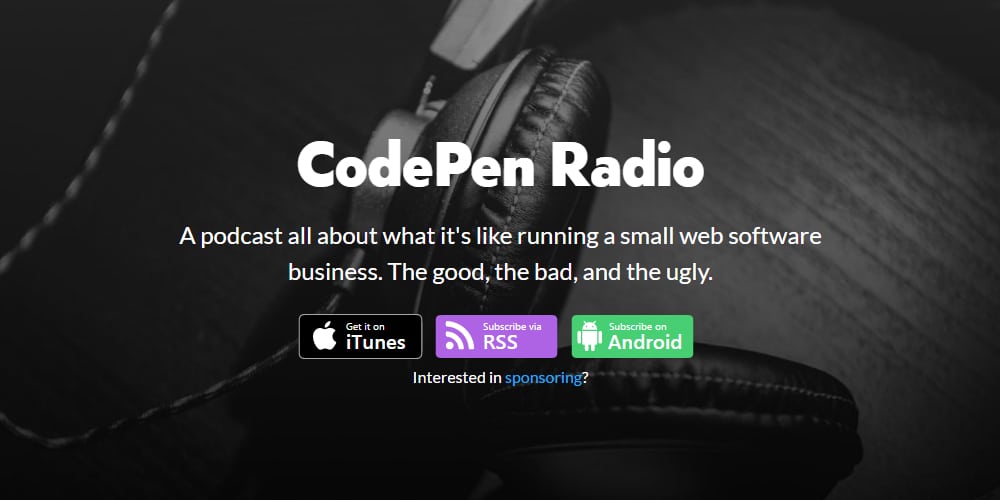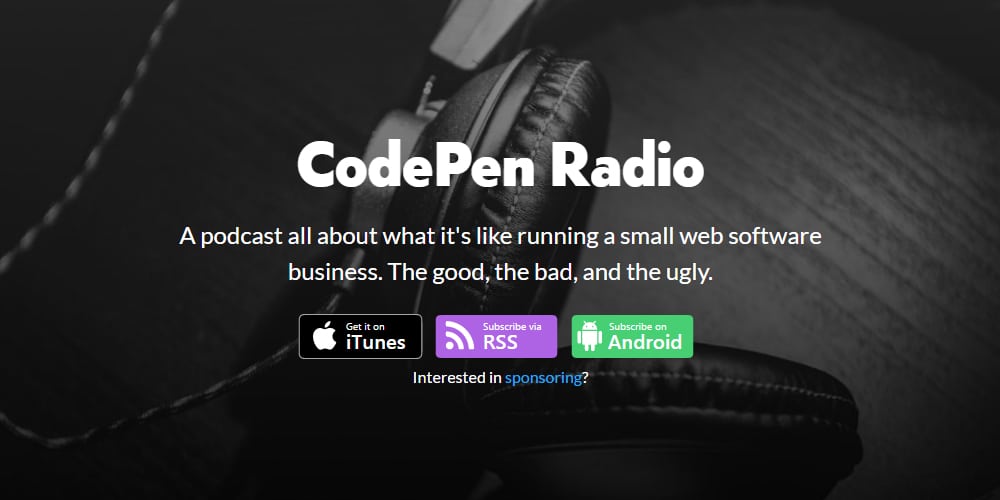 A podcast all about what it's like running a small web software business.
UI Breakfast Podcast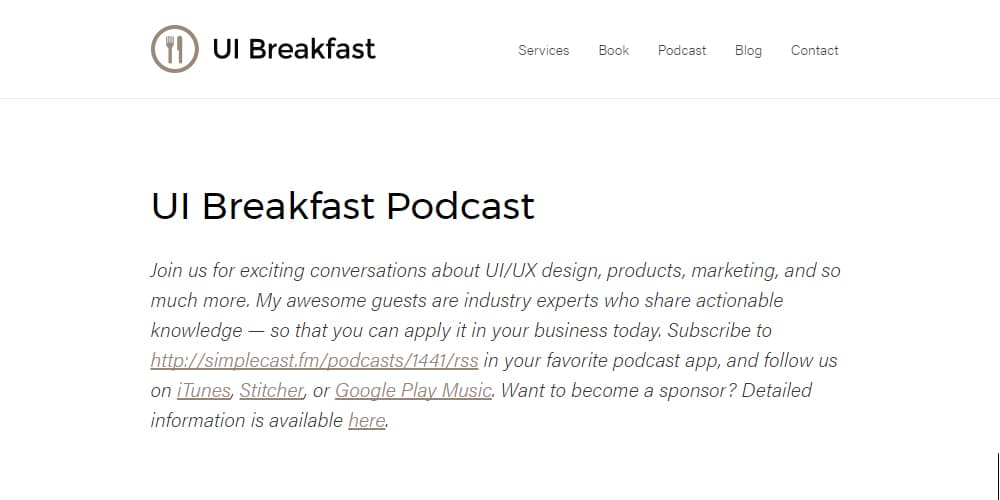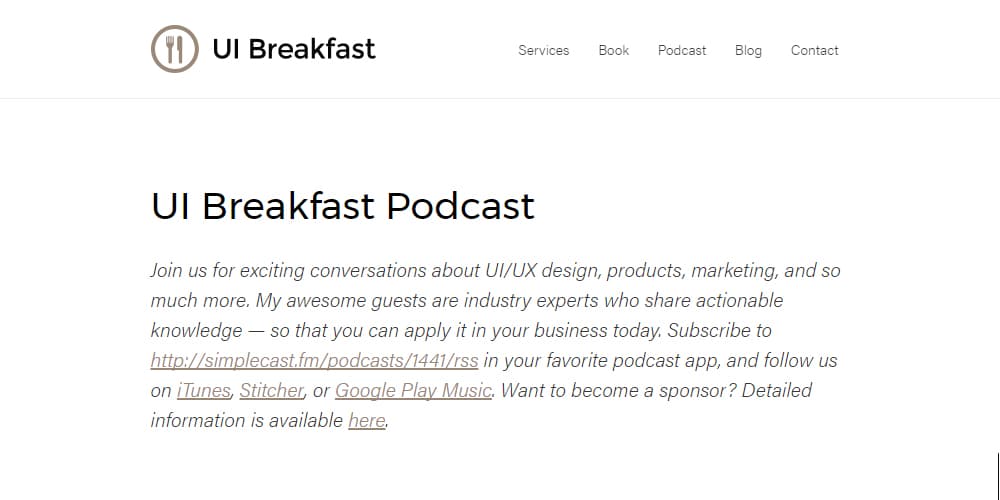 Join UI Breakfast Podcast for exciting conversations about UI/UX design, products, marketing, and so much more.UI Breakfast's guests are industry experts who share actionable knowledge.
The UX Blog Podcast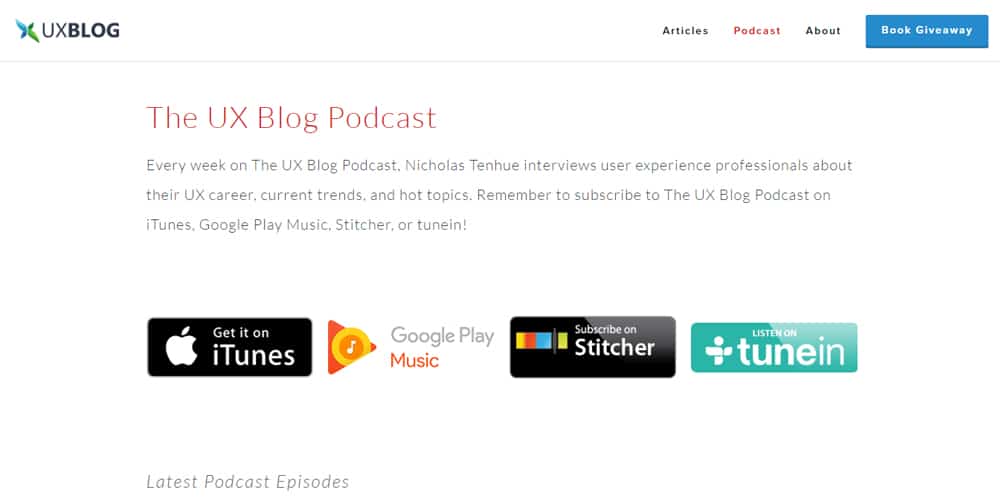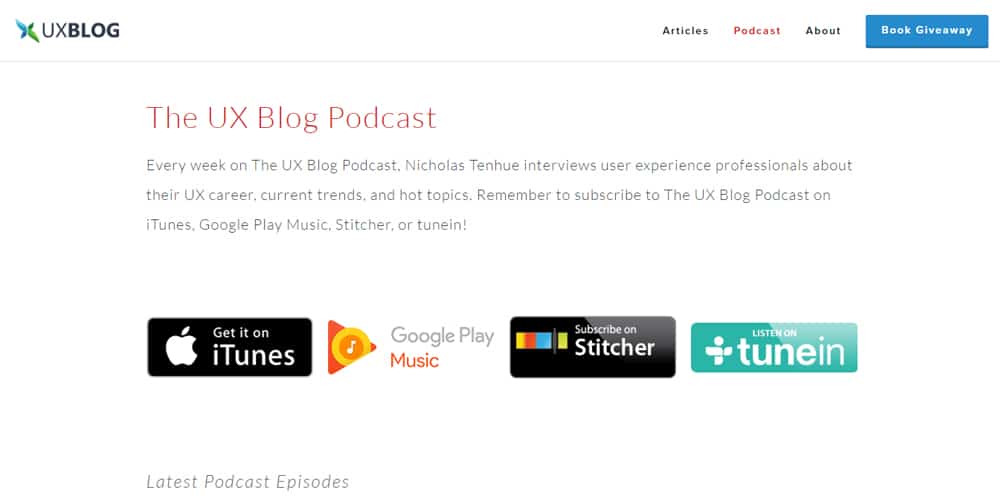 Every week on The UX Blog Podcast, Nicholas Tenhue interviews user experience professionals about their UX career, current trends, and hot topics.
99% Invisible Podcast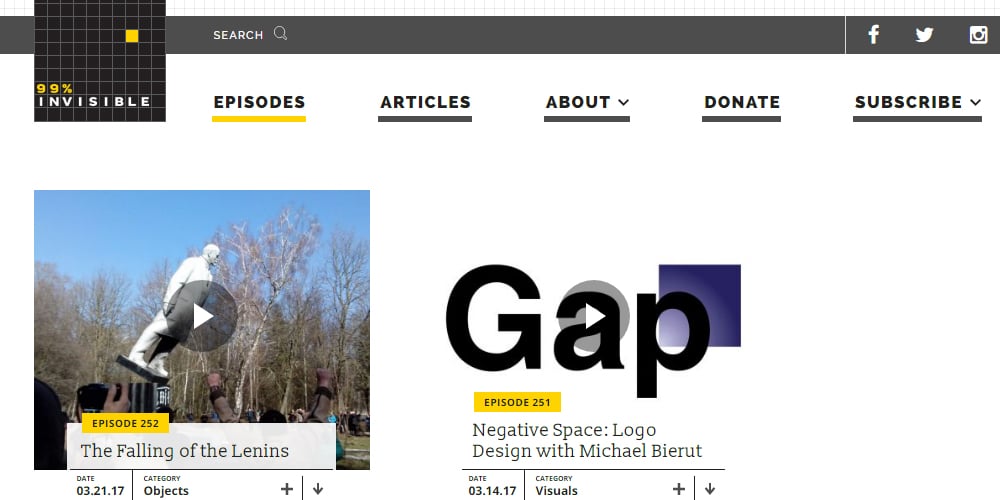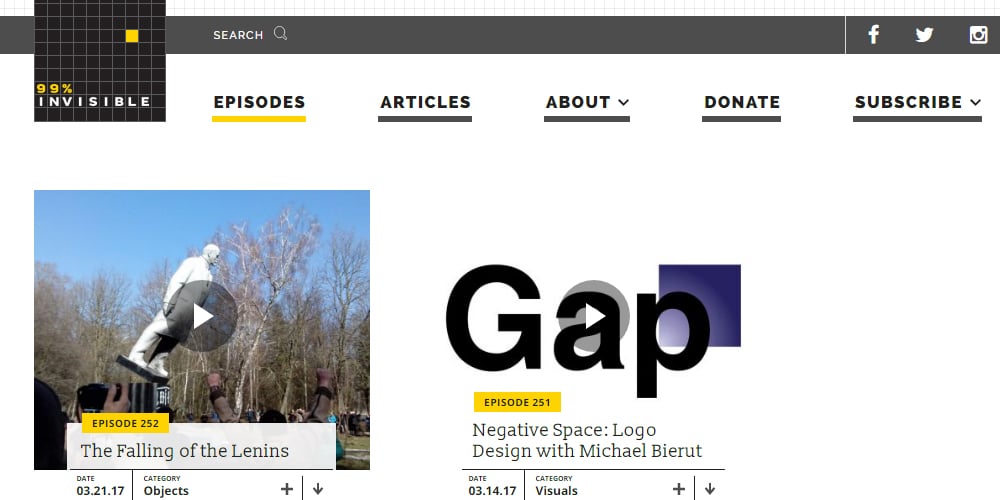 UX Radio Podcast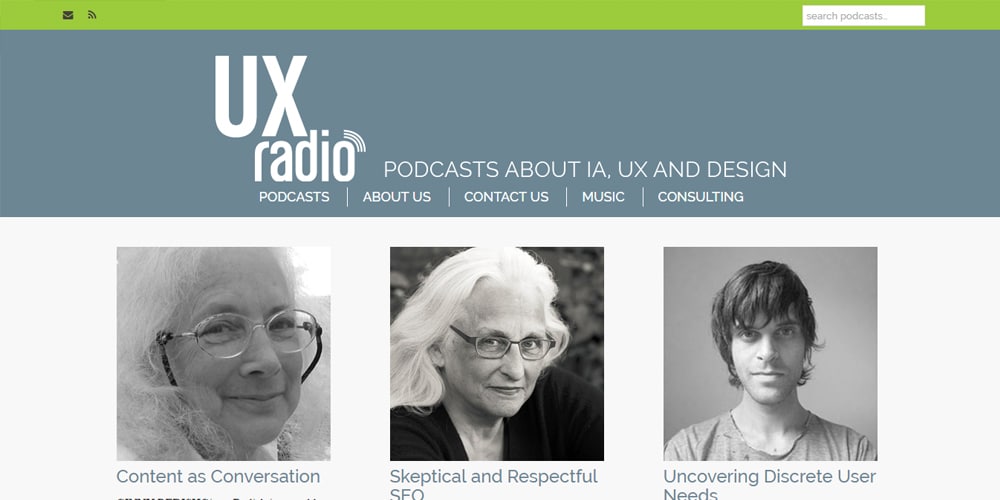 UX-radio was created by lara fedoroff out of a love for user-centered design, information architecture, content strategy, interaction and design. Her background is in marketing, Information Architecture, and user experience. The show is designed to inspire, educate, share resources and to expand the conversation about:
Sprint UX Podcast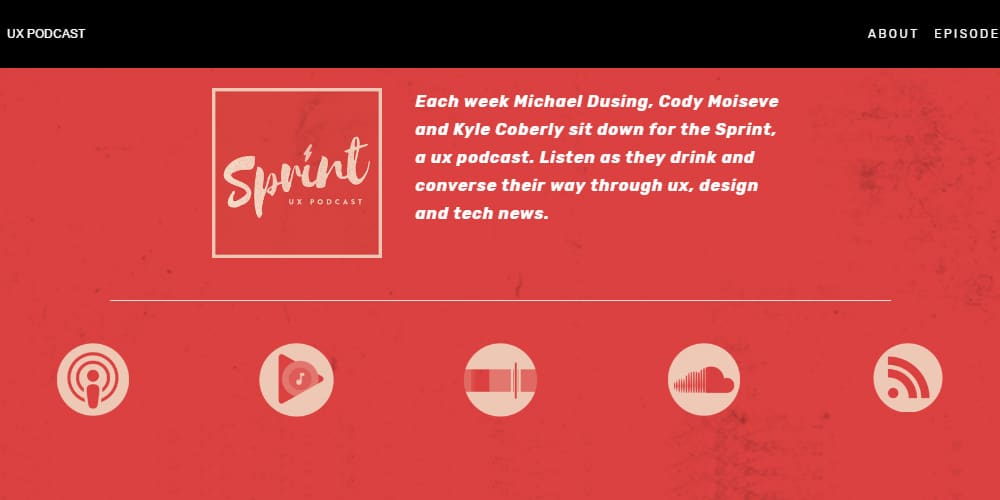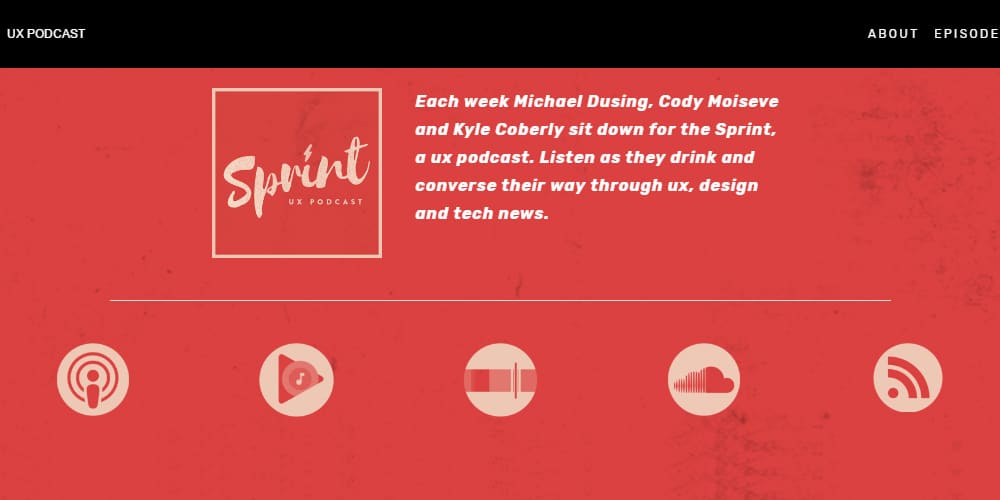 Each week Michael Dusing, Cody Moiseve and Kyle Coberly sit down for the Sprint, a ux podcast. Listen as they drink and converse their way through ux, design and tech news.
UX Discovery Session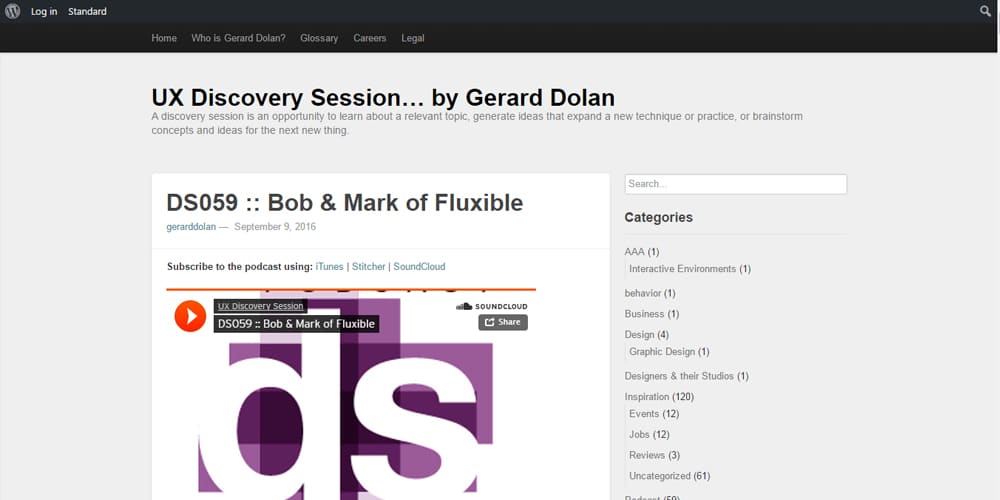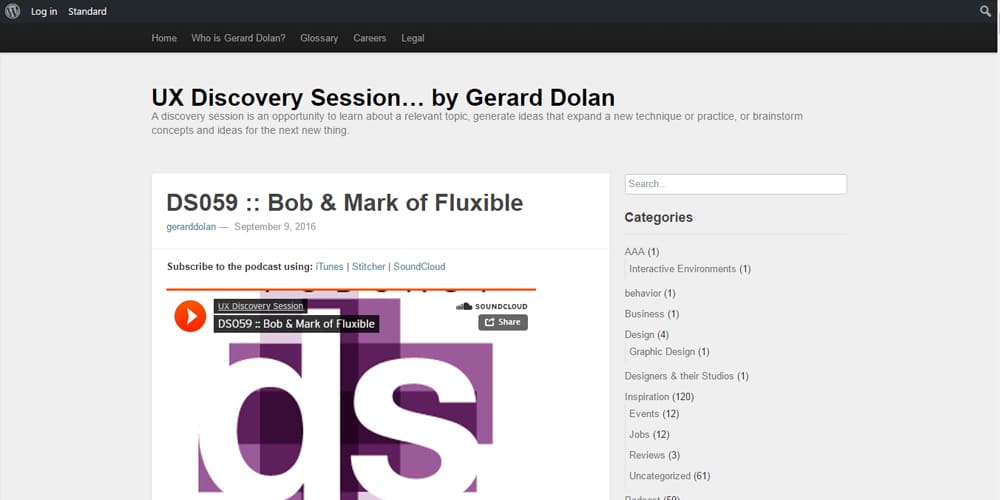 A discovery session is an opportunity to learn about a relevant topic, generate ideas that expand a new technique or practice, or brainstorm concepts and ideas for the next new thing.
The Big Web Show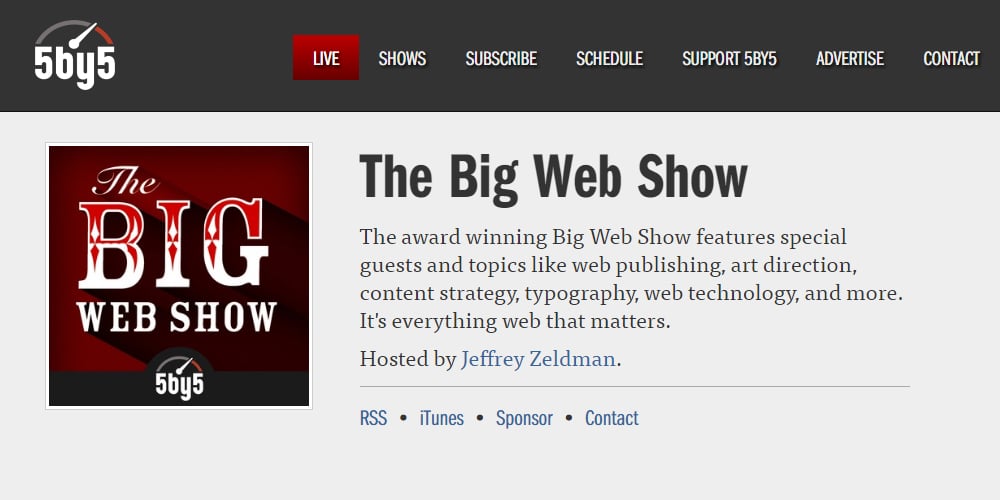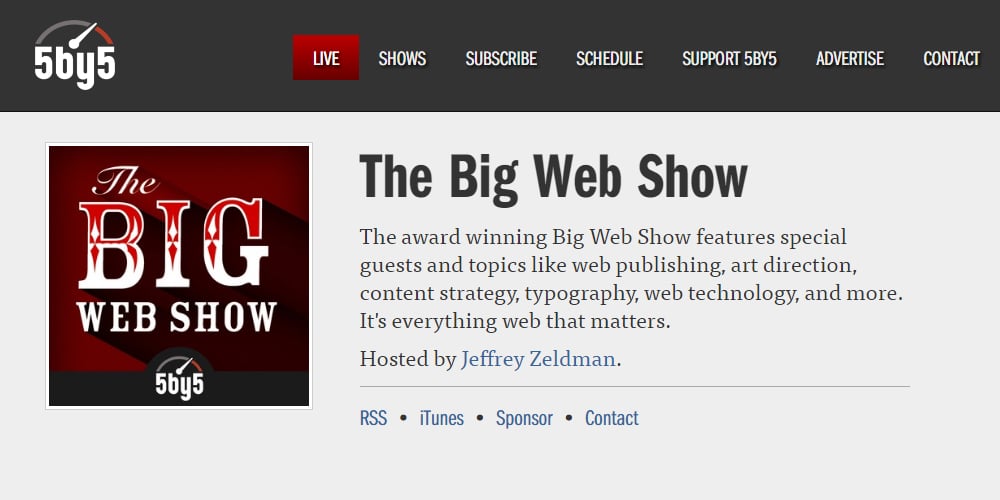 The award winning Big Web Show features special guests and topics like web publishing, art direction, content strategy, typography, web technology, and more. It's everything web that matters.
Style Guide Podcast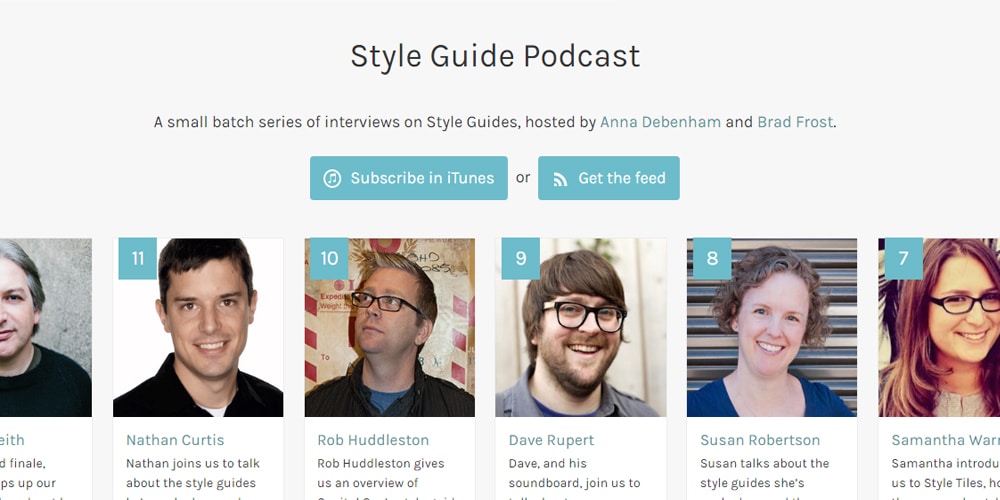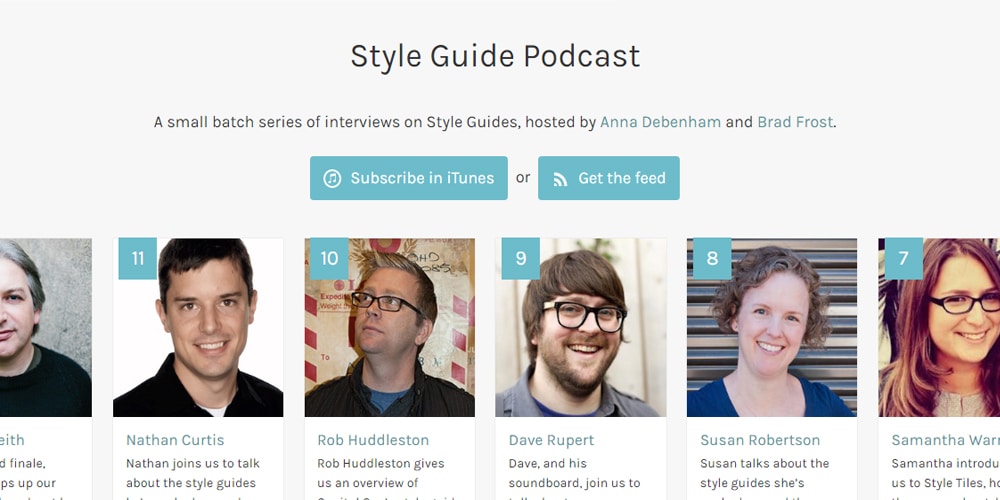 A small batch series of interviews on Style Guides, hosted by Anna Debenham and Brad Frost.
Designers Drink Podcast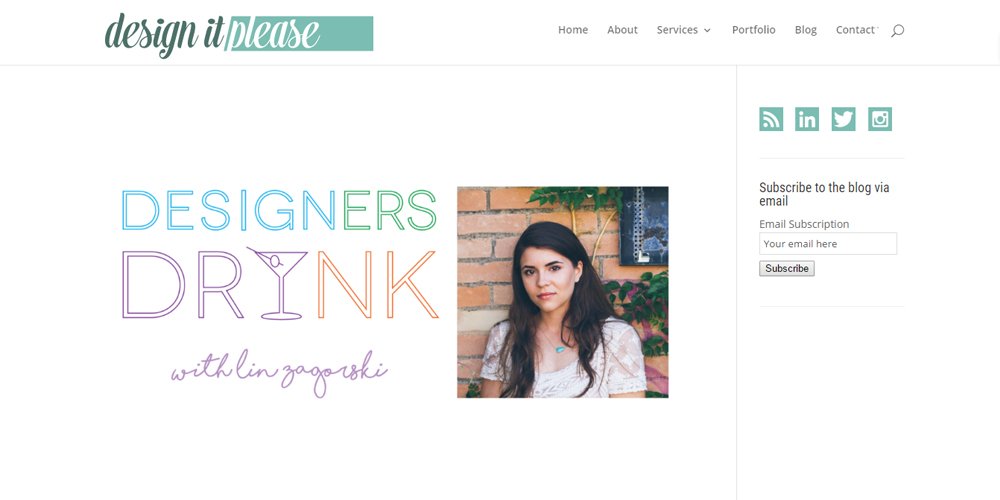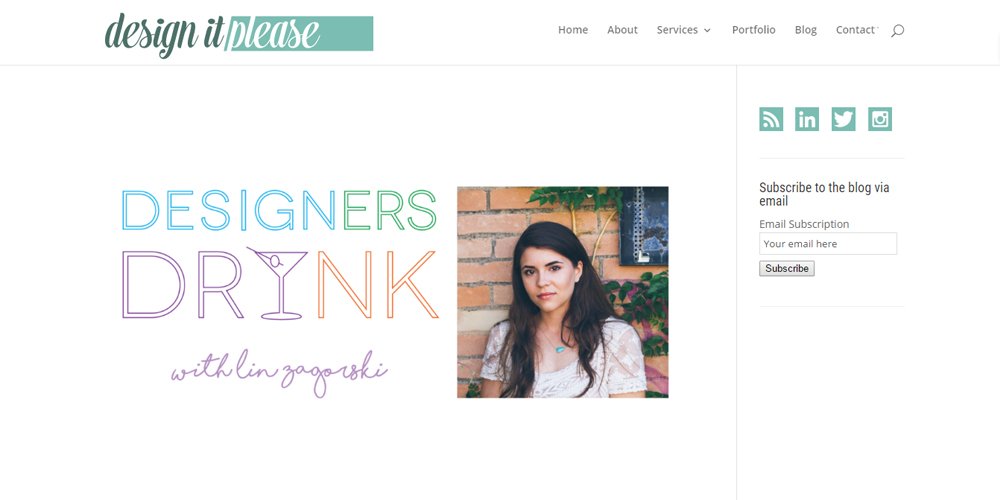 Designers Drink is a podcast with designers for designers, anyone interested in design, anyone who works with designers, and anyone who wants to be a designer.
Tubik Podcast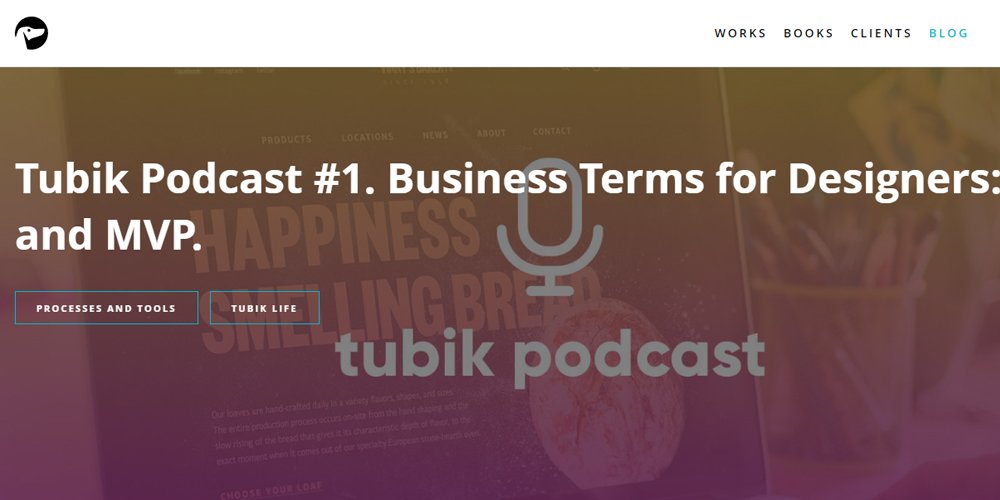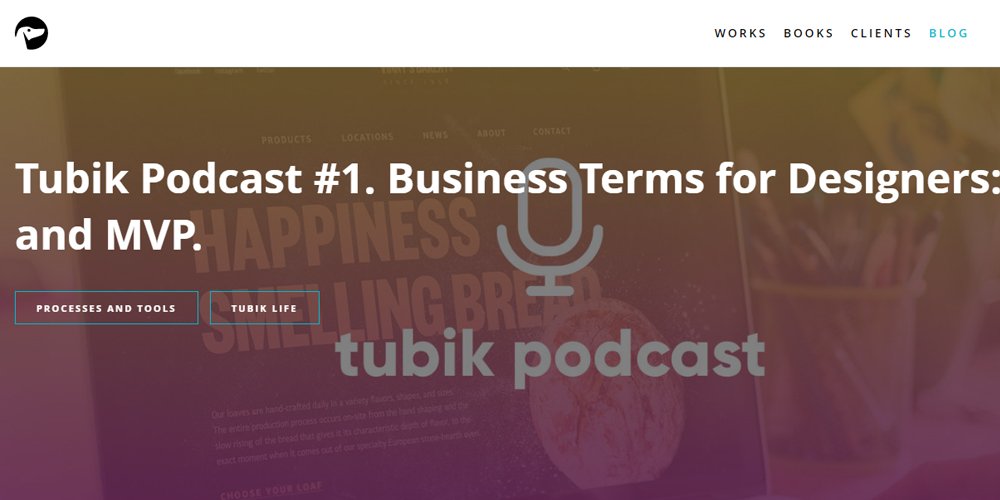 Tubik Podcast is a series of free audio talks devoted to various aspects of design.
Spec – Design Details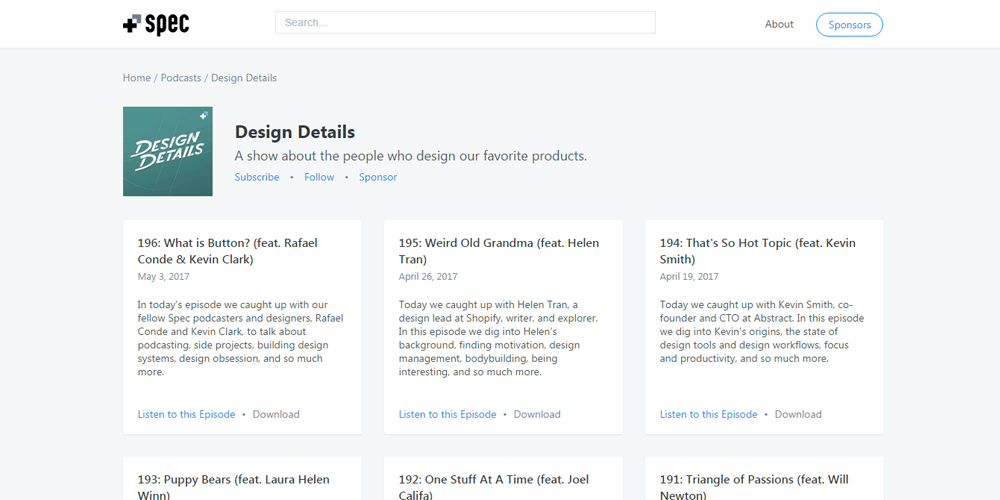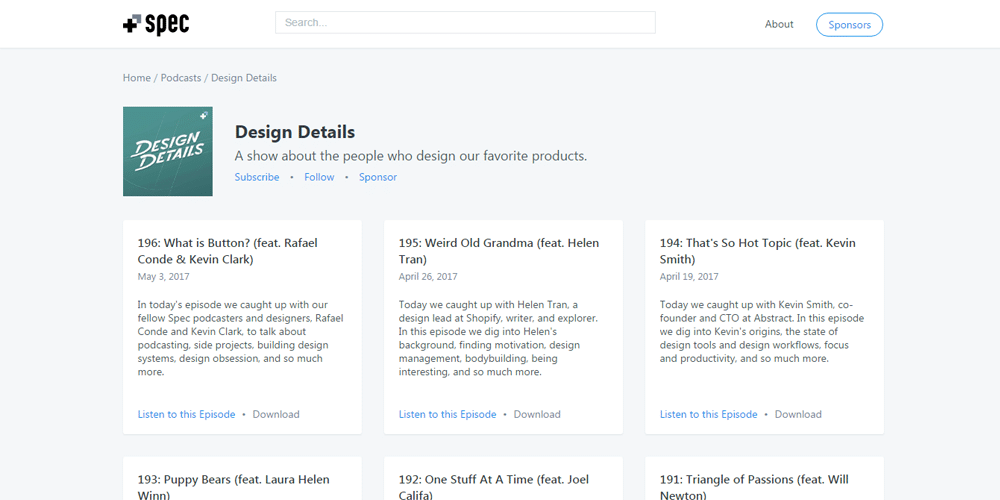 A show about the people who design our favorite products.
Player FM UX Design Podcast
Design Life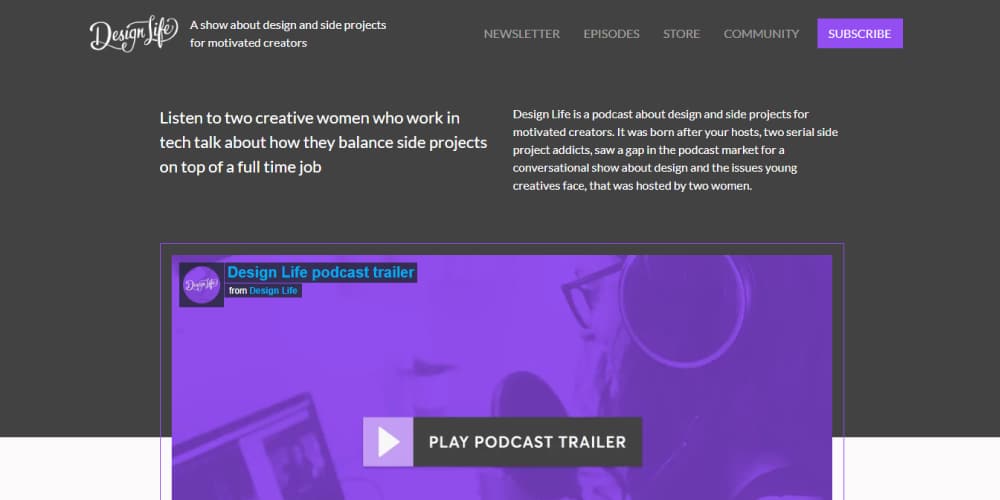 Let's Make Mistakes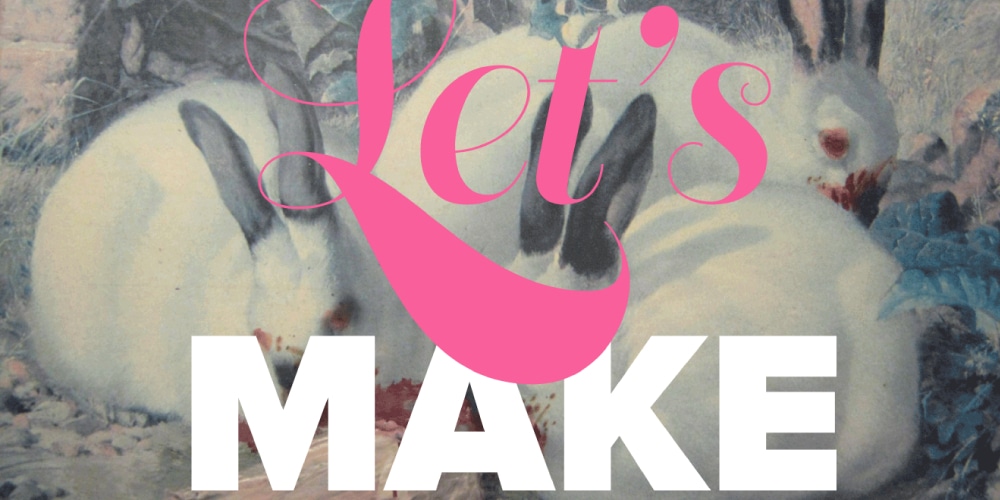 JavaScript Jabber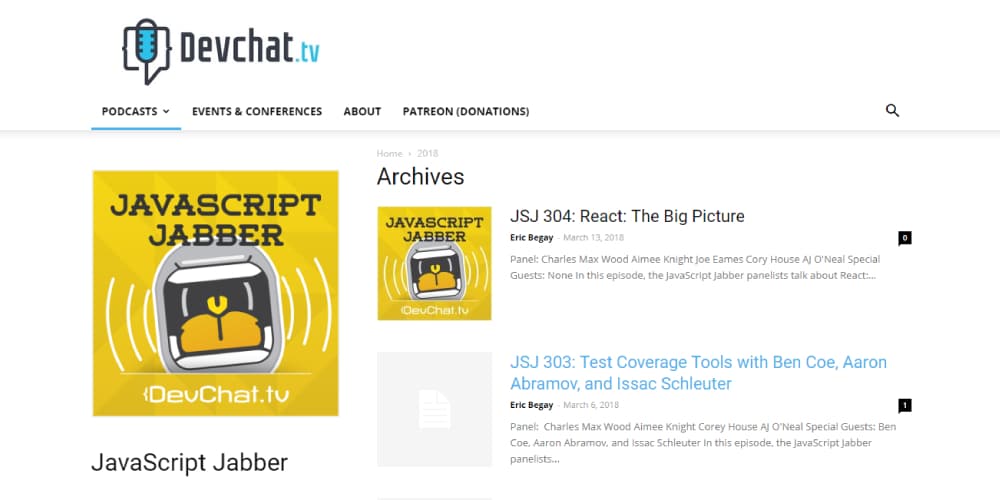 Responsive Design Podcast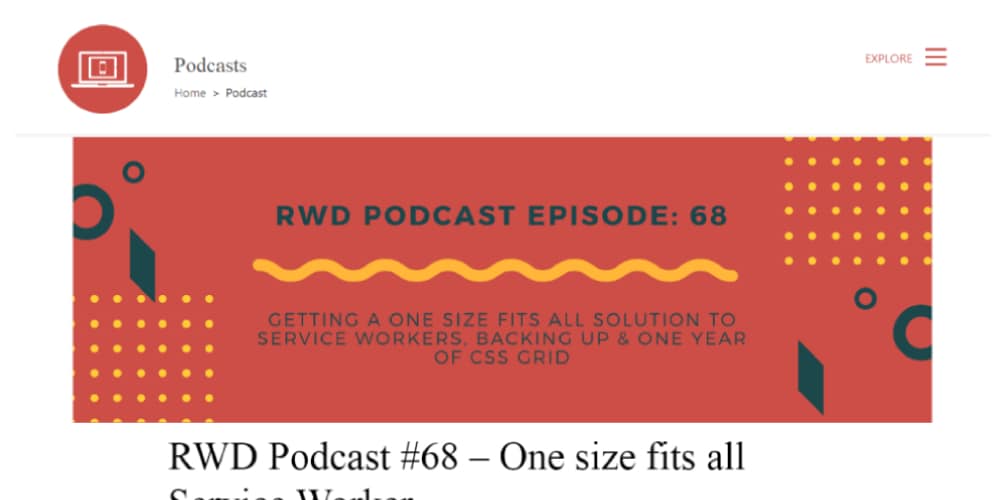 Developer Tea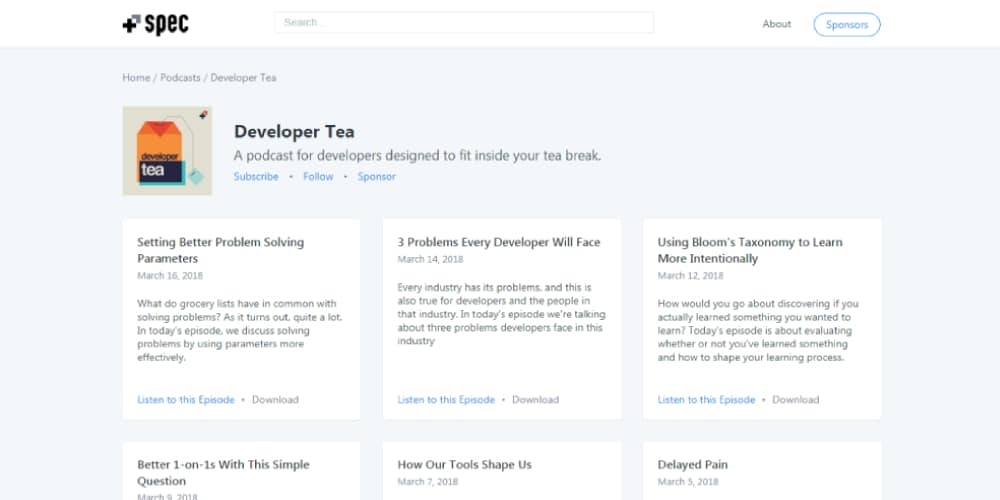 BizCraft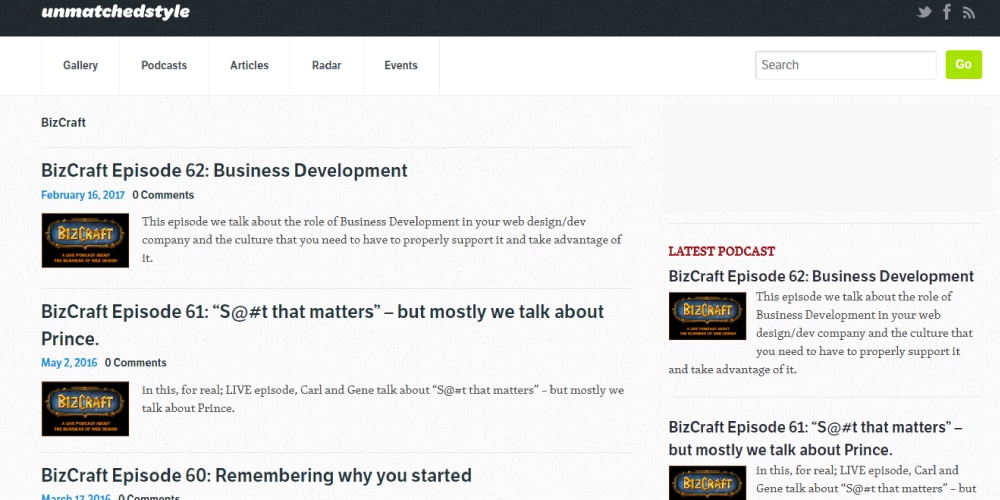 The Bike Shed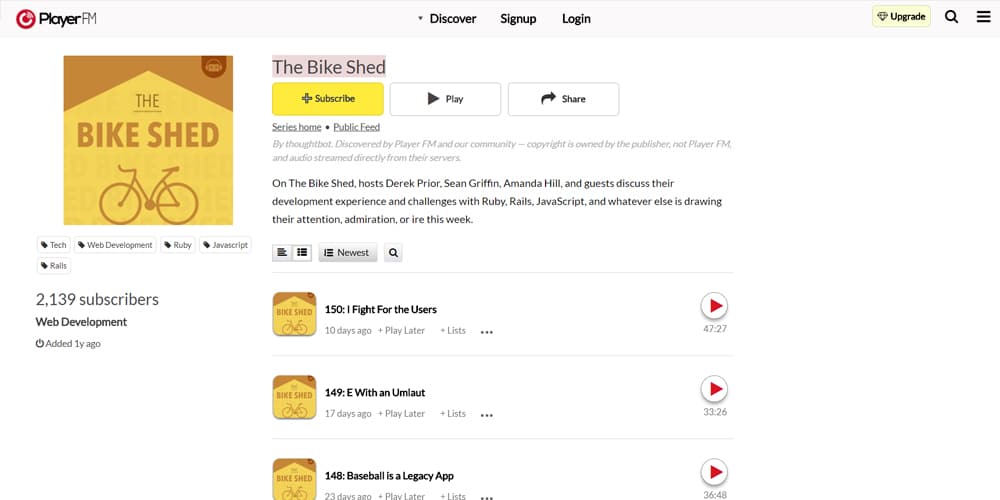 Net Rocks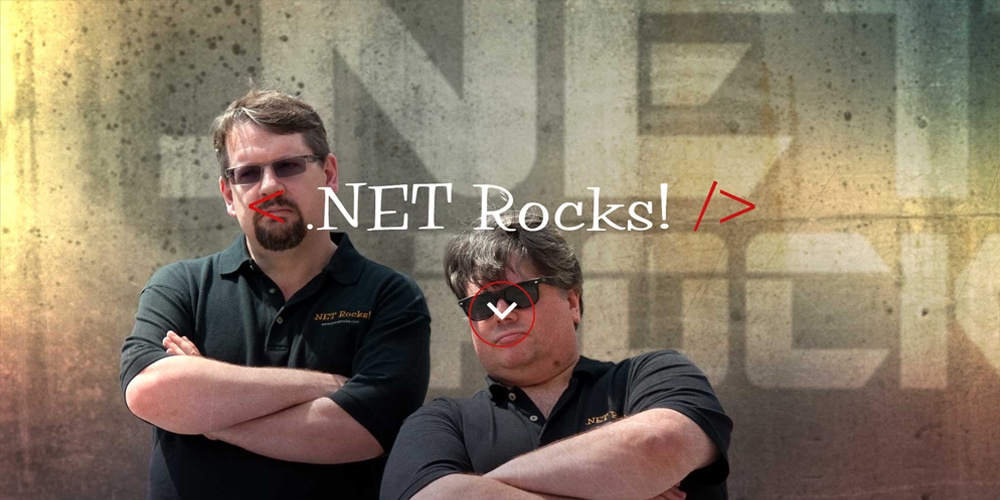 Three Devs and a Maybe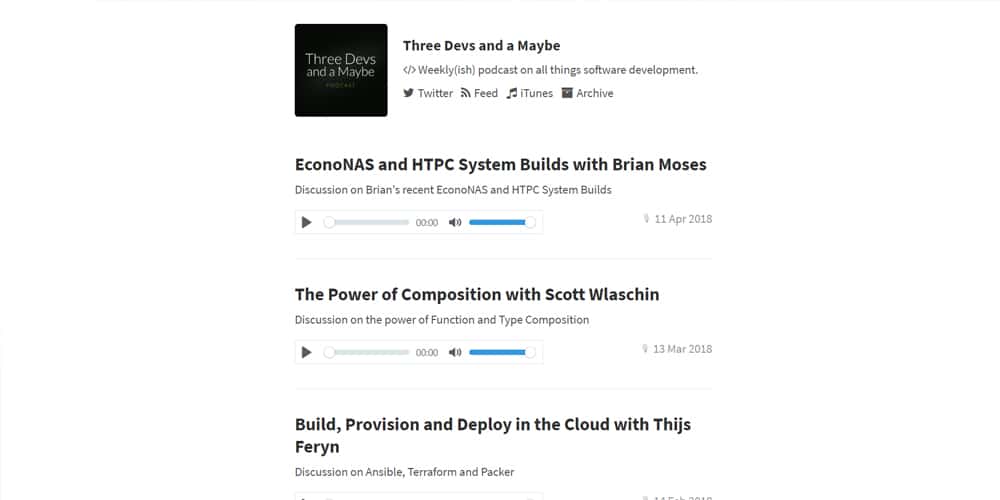 Weekly Dev Tips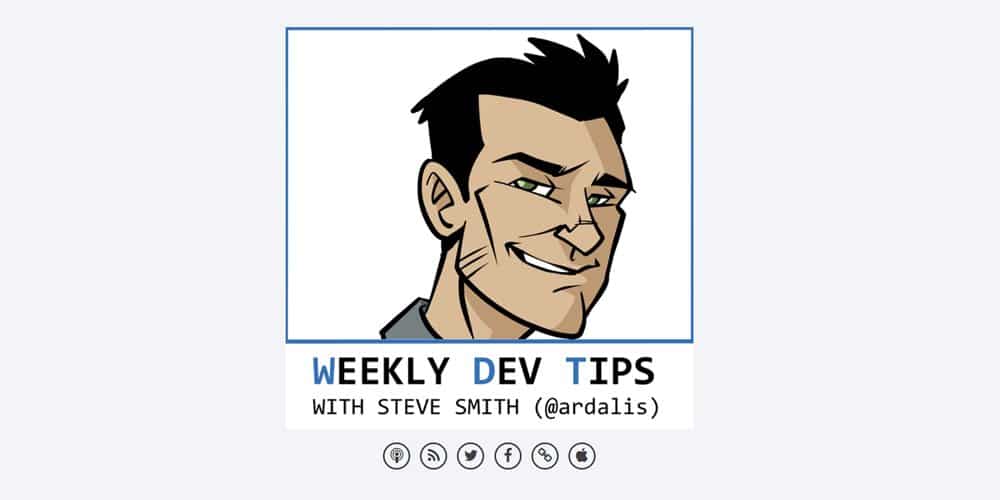 CodeNewbie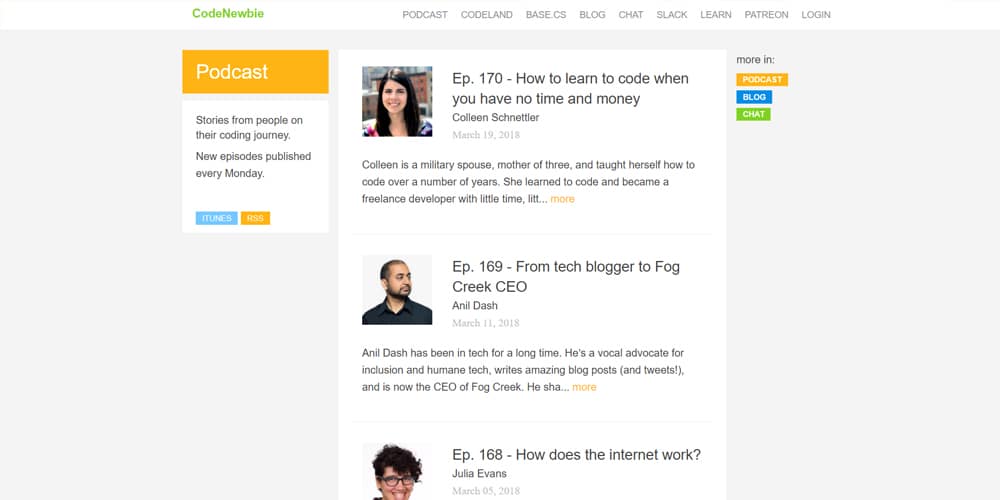 Under the Radar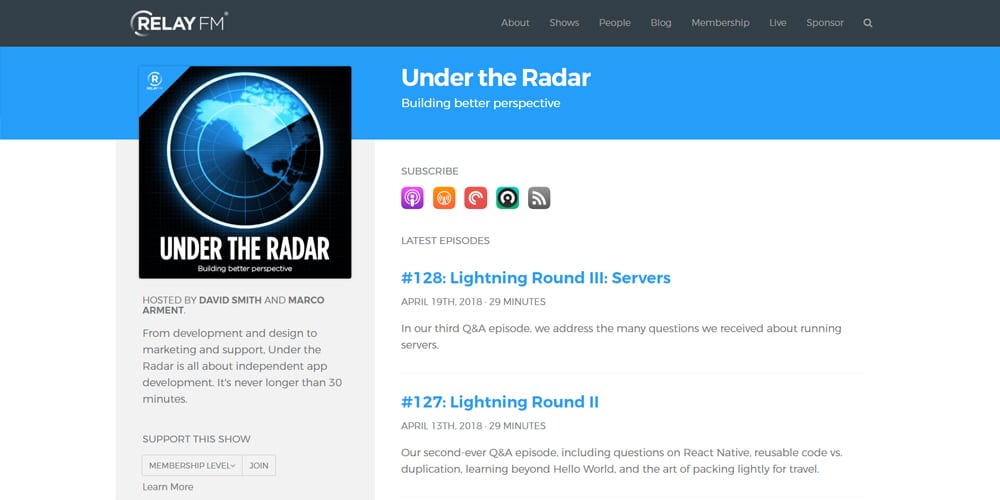 Hanselminutes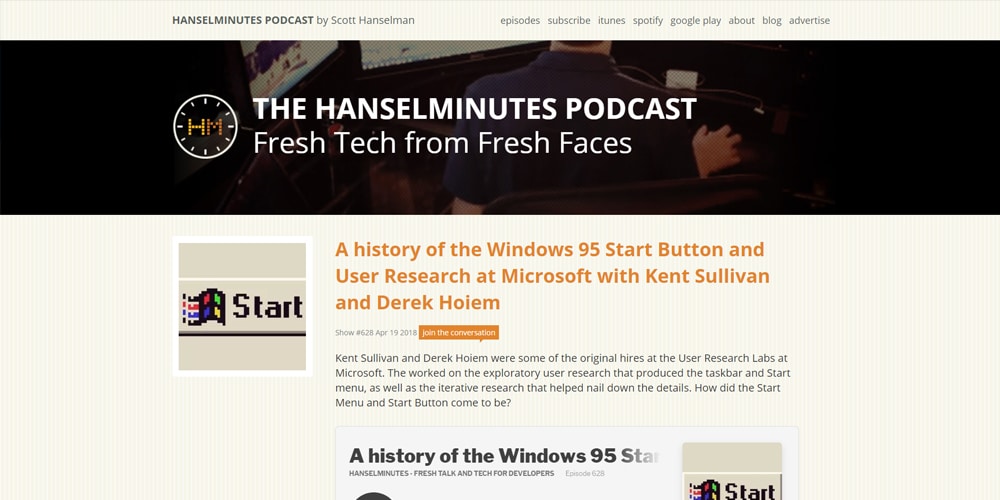 Fixate On Code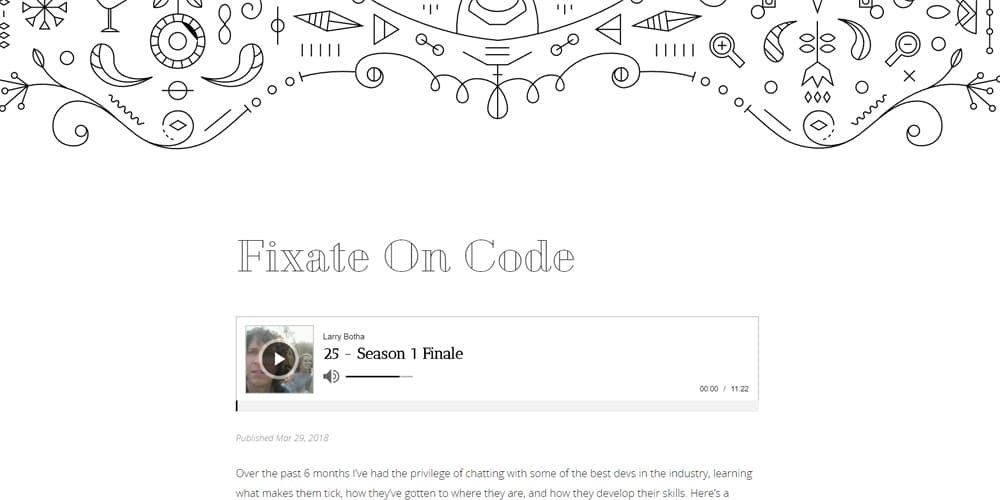 The Drunken UX Podcast
Efficiently Effective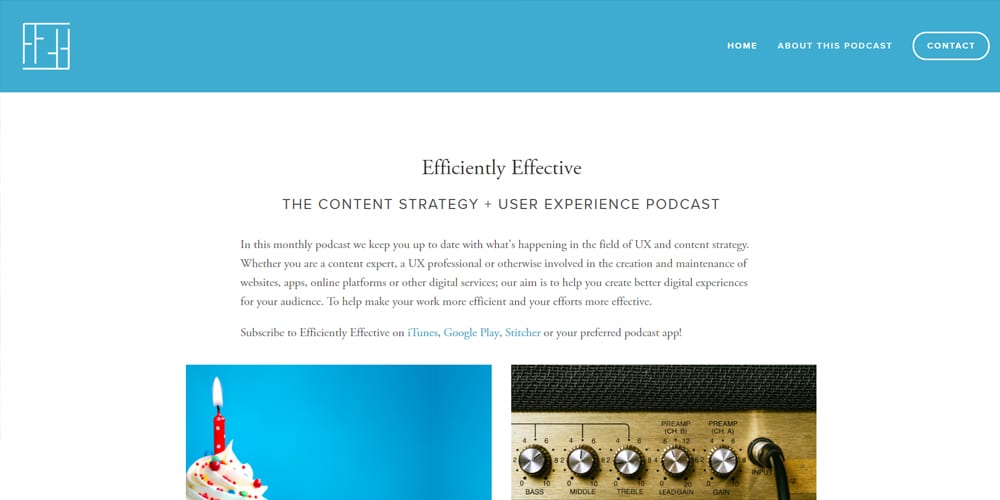 The Honest Designers Show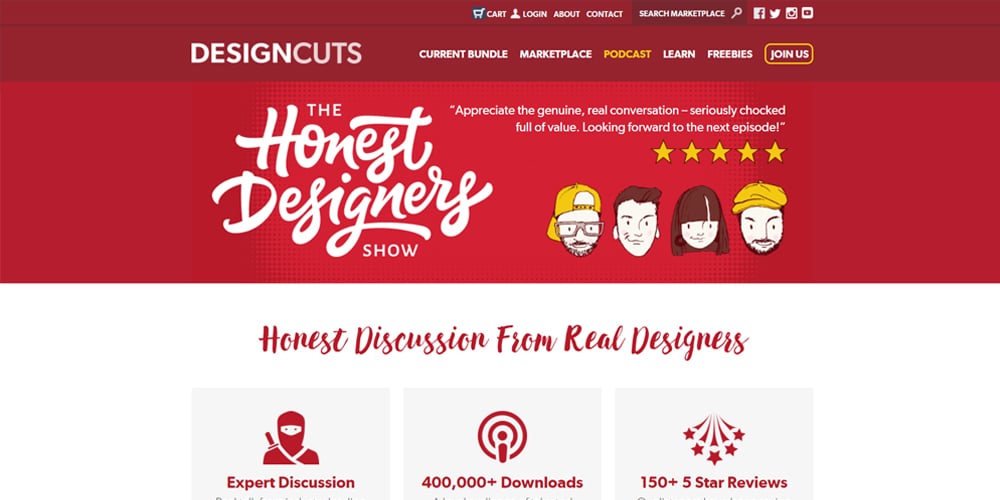 Layout FM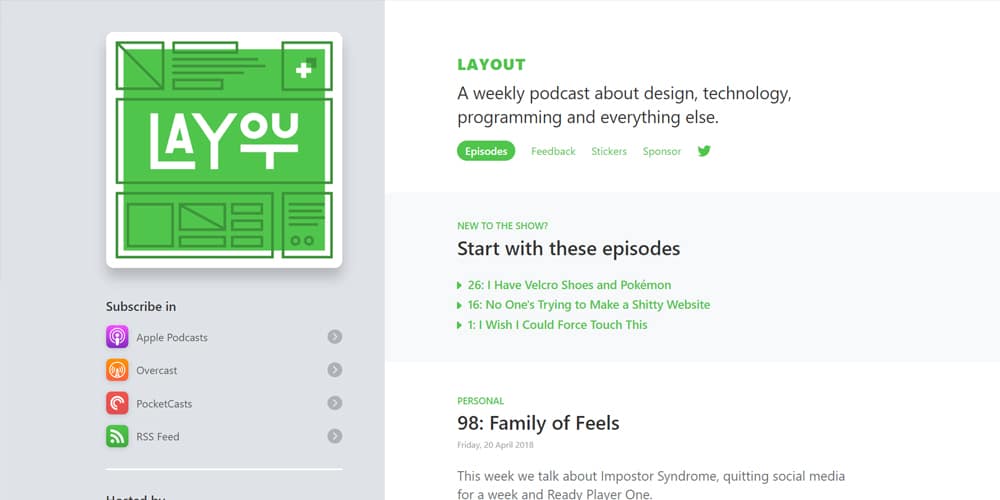 Bread Time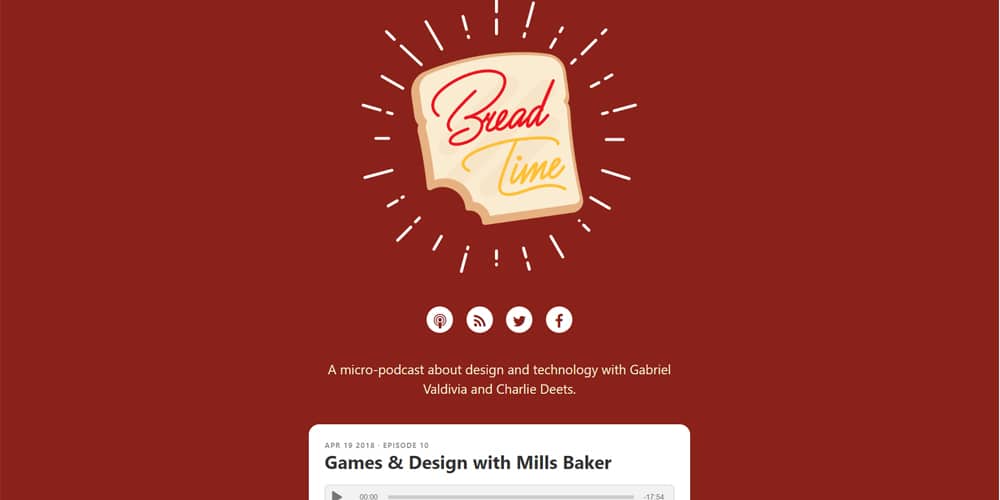 The Deeply Graphic Design Cast