30 Best Responsive Joomla 3 Templates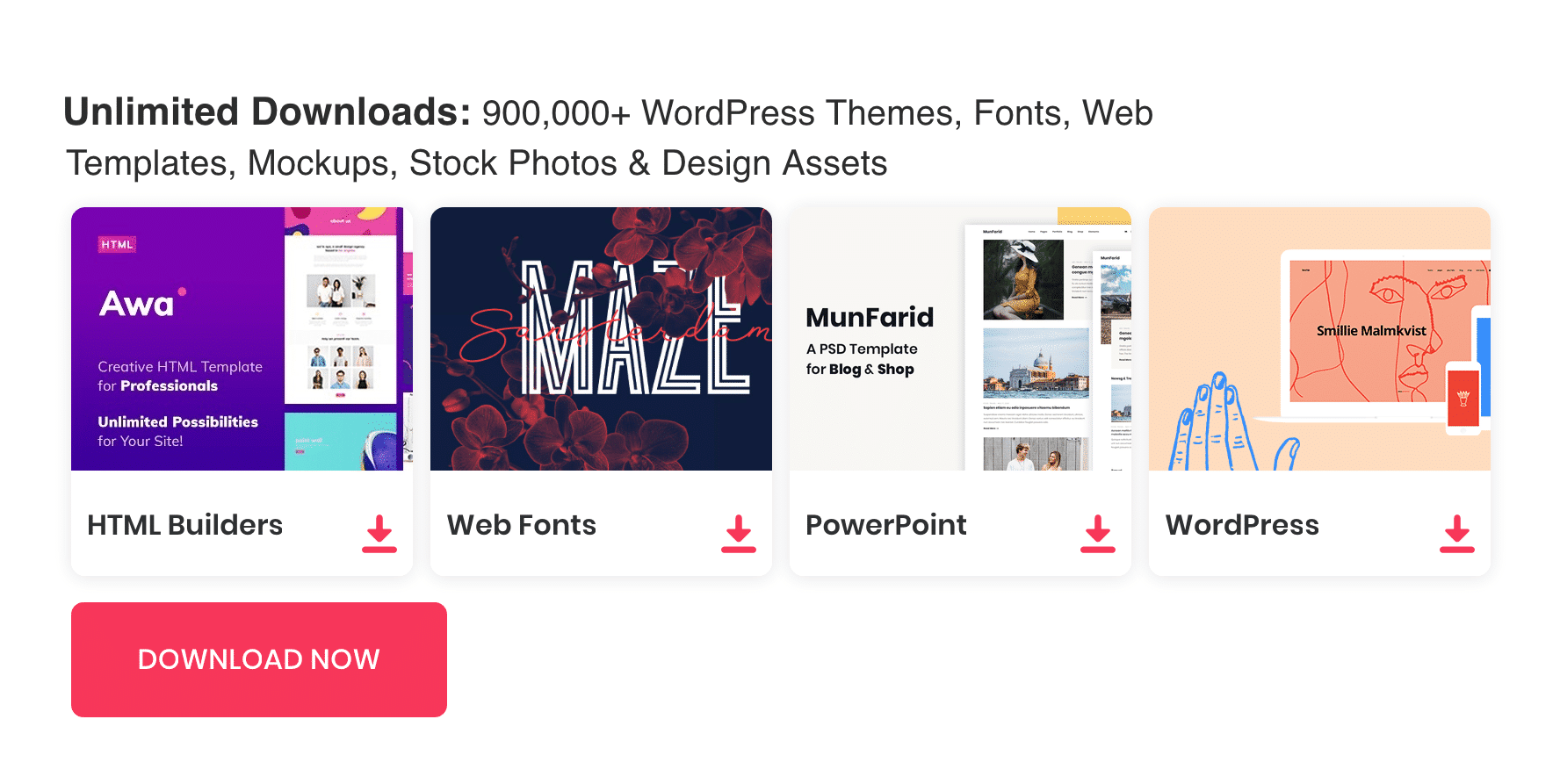 Joomla! the most powerful and popular open source content management system which enable you to build websites and powerful online applications. Joomla is open source and free to use, millions of websites using Joomla. Thousands of joomla themes are available now in www but there are few points to consider before you choose your joomla template.
1. First you should make a rough layout and select a template which suits your layout.
2. Second thing is, the template should match your brand and which is very important, make sure the joomla template fulfills your requirements.
3. Make sure the templates follows a good code formatting, if so you can easily edit your template in future if needed
4. Choose SEO friendly Joomla Templates
5. Make Sure the template has customer support included
6. Always buy templates from a well-known provider
Today in this post we gathered 30 latest and Best Responsive Joomla 3 Templates of 2013. All Joomla template below are fresh and equipped with advanced features, all templates are compatible with the latest Joomla 3. If you know good template please mention them in comment section.
See also : 25 Best Premium Responsive CMS Drupal Themes 2013
JSN Metro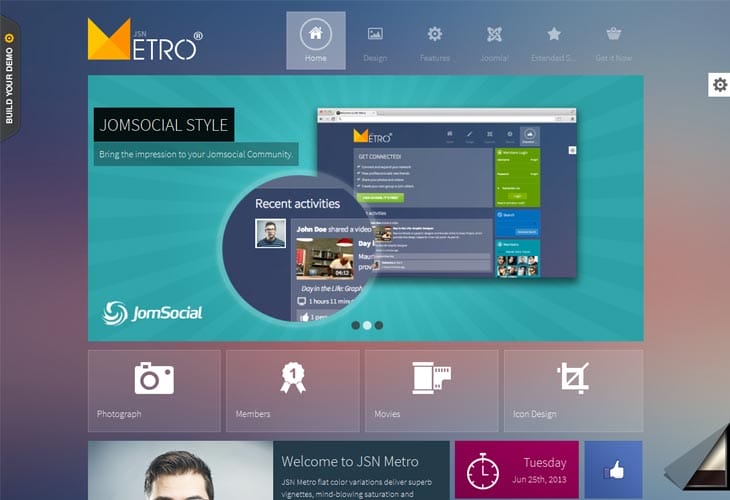 JSN Metro is the latest innovation in the Metro legacy. Its interfaces are supposed to encourage the sense of depth, experiment and usage. About the design, JSN Metro is color drenched with lots of pop. Its extended style was crafted specially for JomSocial – the powerful community software for Joomla! This Joomla! template also works seamlessly with K2 & Kunena components.
Oculus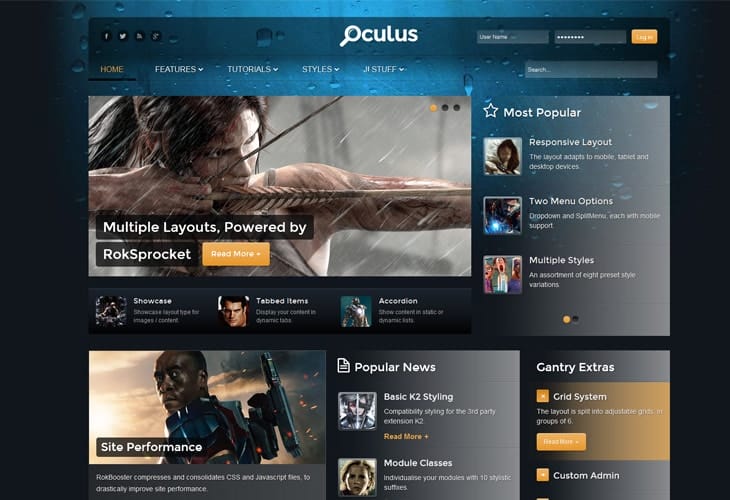 Oculus is a semi-transparent focused design, allowing rich and subtle full page backgrounds to filter through, to stunning effect. Both light and dark style variations are included.
Based on the Gantry Framework, a standard and extensive set of features are available. Custom styling for RokSprocket's layout types and 3rd party K2 styling is also included, amongst many other features.
RiverS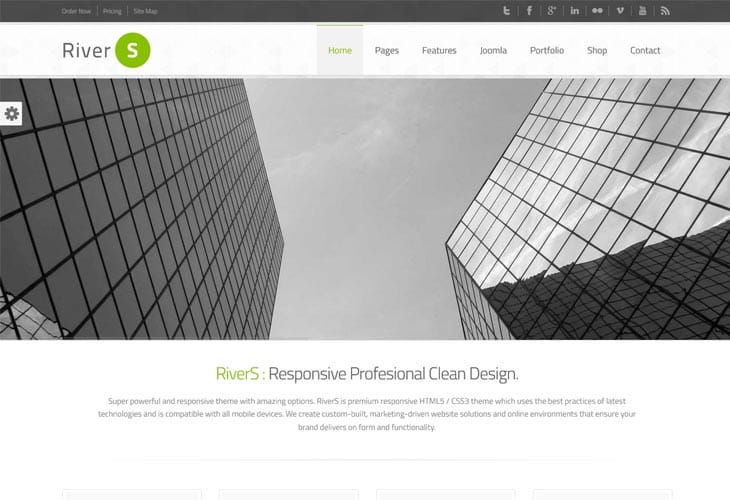 RiverS is one of the most complete, clean, super flexible and fully responsive Premium Joomla Templates for 2.5 and 3.1. It will suit ideally for business, hosting, software, portfolio, store, product, or blog websites. The theme features clean, modern design and a lot of convenient options to manage and modify any aspect of the theme regardless of your coding skill level. With 100+ features RiverS is providing you with the professional look your website might be looking for.
Hexeris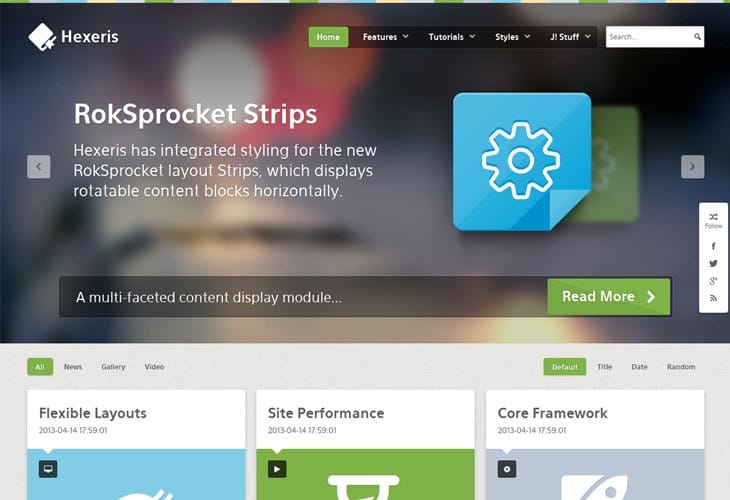 Hexeris is a beautifully versatile template with rich style elements to invigorate your site content. The template supports integrated styling for the new RokSprocket layout: Strips; as well as other layout modes.
A standard assortment of features are also available, predominantly powered by the Gantry Framework, such as intuitive layout controls; as well as others, such as the advanced Dropdown Menu and RocketTheme/Third Party extension styling.
Alerion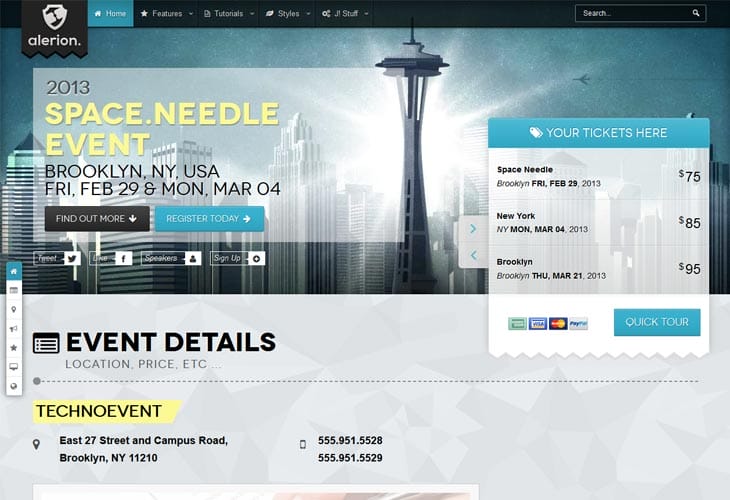 Alerion is a visually intense design, focusing on rich elements split into distinct sections to add depth to content. Additional design features include configurable floating modules and quicknav feature, as well as parallax background effects.
The Gantry Framework provides a standard core of features, such as an advanced template manager; amongst other template features. Further, RokSprocket benefits from Alerion specific integrated styling, for its various layout types.
Chapelco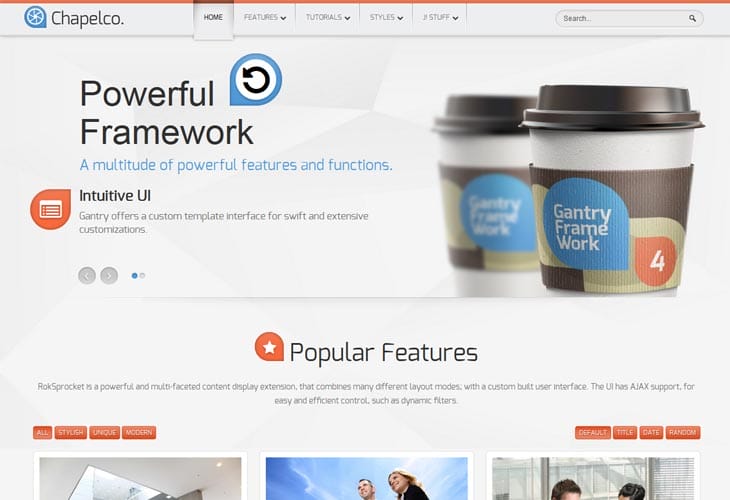 Chapelco is designed with an intricate mix of subtle style elements to add depth and create a clean and professional appearance.
A standard array of powerful features and functions are brought to Chapelco via the Gantry Framework, a dynamic and powerful template framework. RokSprocket, a complex and diverse content display extension, has integrated styling with this template.
MY FOLIO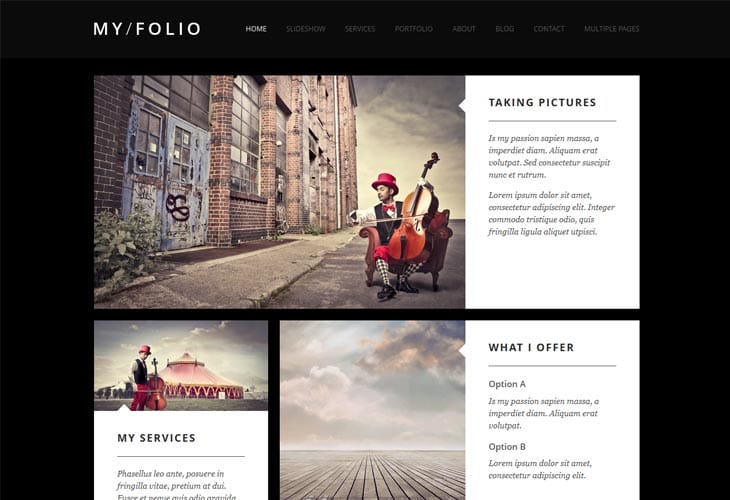 This template is a responsive and retina ready Joomla one-page/multiple pages template with grid system layout. Mobile Touch optimized.
Lumiere
Lumiere, the February 2013 template release, uses HTML5 to offer video functionality in the header, to create a dynamic and interactive user experience. The design complements the modern approach, with rich, subtle and sophisticated visuals.
The template is founded on the Gantry Framework, the core that underpins the templates features. Numerous design features are also included such as RokSprocket integrated styling for its various layout modes.
Leviathan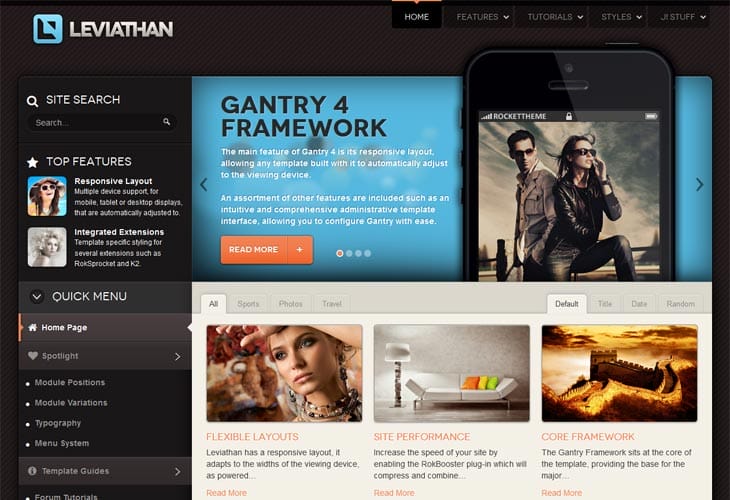 Leviathan, the January 2013 template release, is a visually enriched design with stunning graphics, contrasts and tones. Its sidebar adds focus and boldness, that complements and contrasts with the mainbody area to great effect.
The core of the template is based on the Gantry Framework, which provides a plethora of standardized features and functions. Also included is support for extensions such as RokSprocket.
JSN Sky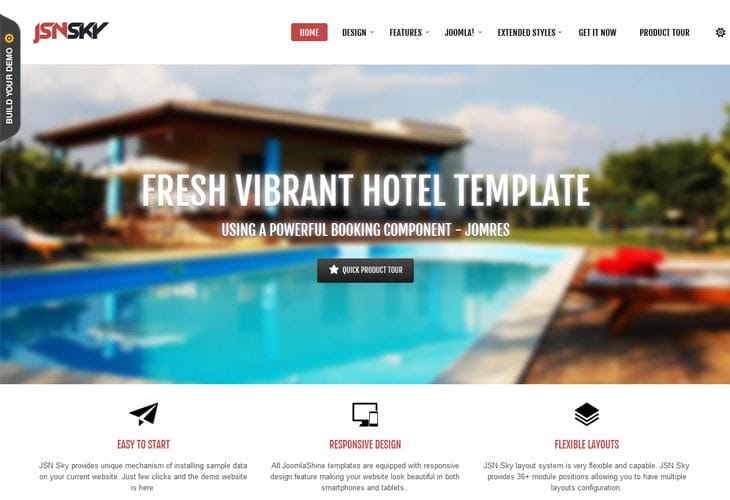 JSN Sky will take a significant part in replenishing your Joomla! template collection because it has an exclusive style for Jomres – a powerful booking component. The front end design is kept extremely minimal with clean lines to highlight the beautiful background. It is perfectly used for hotel booking websites and property rental websites such as car or boat for rent. Along with the built-in file compression for faster loading speed and responsive layout, JSN Sky also works seamlessly with K2 & Kunena components.
Degree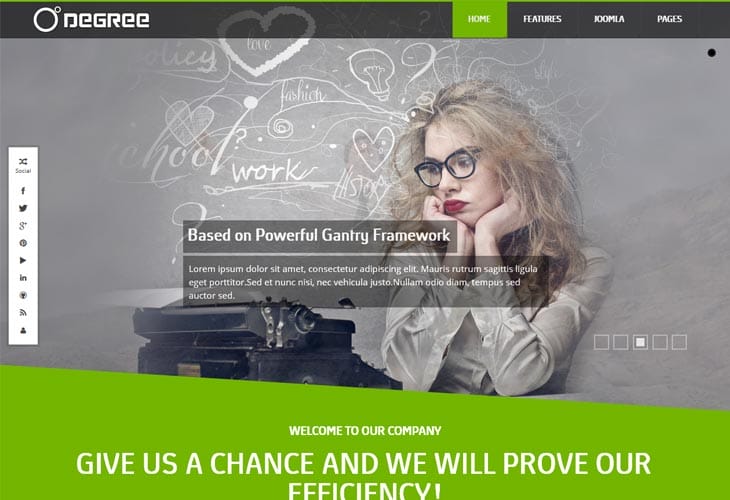 Degree is a very powerful Template which suits both, users with no programming background as well as advanced developers. It will help you build your site easily and no time to your liking with minimal effort. Degree empowers you to set any color to elements such as all part of template, backgrounds, links, text, menu links, etc. You can completely change the look and feel of your site in seconds from friendly admin panel. You can also choose from over 600+ fonts (standard and google), it will grow day by day. The Template also support roksprocket, news show pro gk5, revolution slider, kunena 3.0 forum, k2 latest version and many more extensions. also included 13 page demonstration for easy to use.
JSN Epic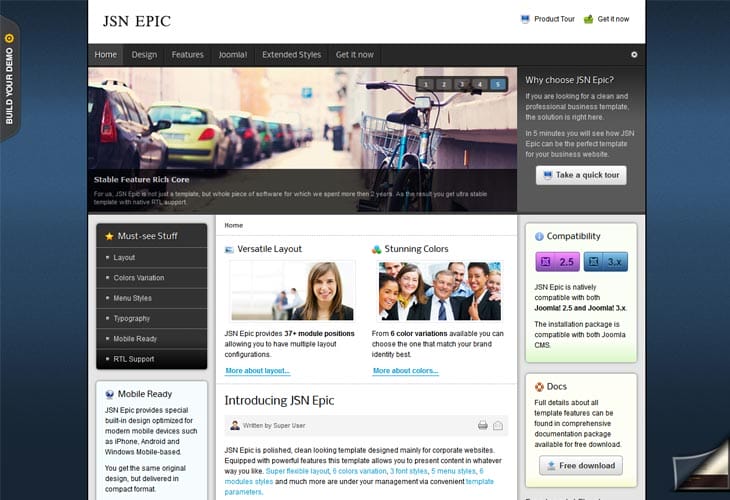 JSN Epic is a clean and professional looking Joomla template designed mainly for corporation websites. Equipped with powerful features, this template allows you to present content in whatever way you like.
This elegant business template is not only beautiful but also very functional. The vast array of customizations is excellent, giving you more control on the look and feel without having to dig into the theme editor (and PHP / HTML / CSS code).
Fascino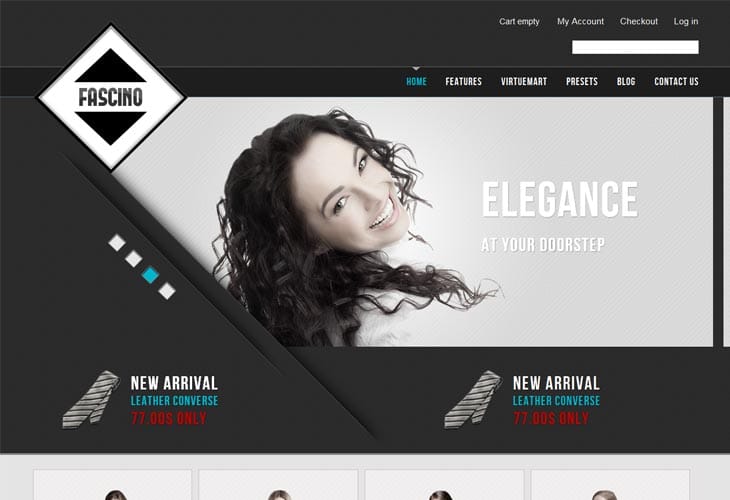 Fascino – Responsive Joomla & VirtueMart Template. 4 Usable color Presets (ready to go), Super Unique Slideshow (Melodious), Daynamic Shipment Page, Multiple layout options, Easily configured from backend., Fully Responsive.
JSN Pixel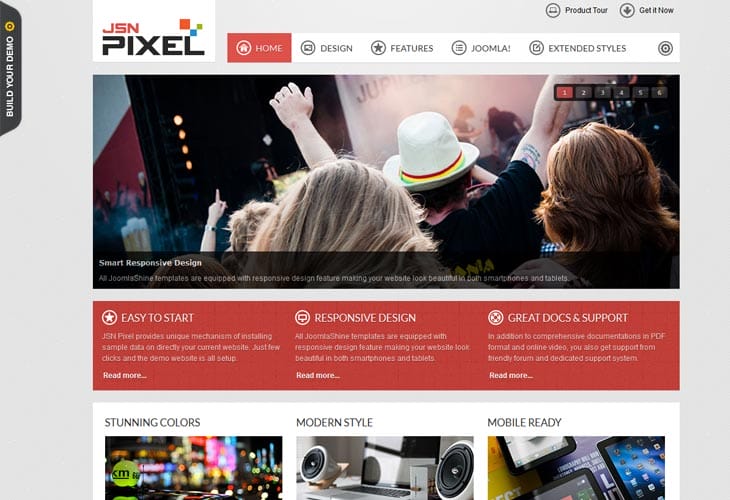 JSN Pixel is the clean and moderm Joomla template with the built – in responsive feature. It comes with the eyes catching design for the most popular blogging component Easyblog from Stackideas.
JSN Pixel comes with the Responsive built – in feature which allow your visitiors to surf the website perfectly on PC, Mac or tablet devices. One of the main feature of this awesome template is it has the special component and mobule styling for the popular blog component Easyblog. JSN Pixel and Easyblog allow you to create the great blog solution.
JSN Air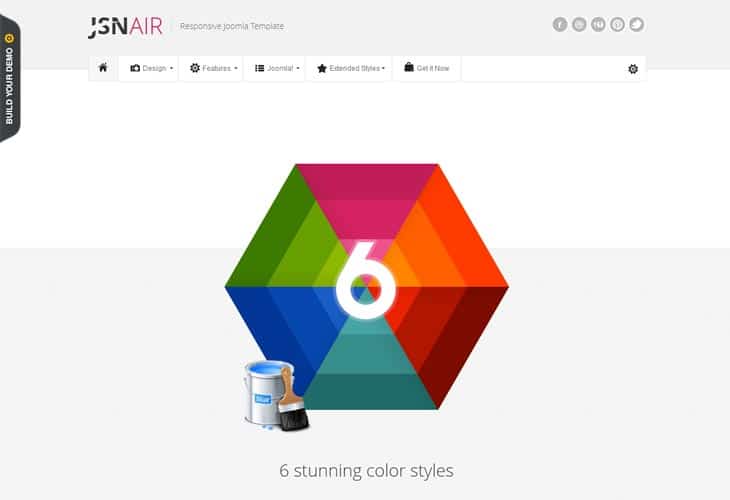 JSN Air has stunning design that brings a beautiful display in wide range of devices and browsers with its responsive layout. It also includes all advanced features and work seamlessly with the painless configuration.
Looking for a template that is truly clean for your business portal but still easy to customize? It also has to work seamlessly on any devices and browsers. JSN Air has them all!
JSN Boot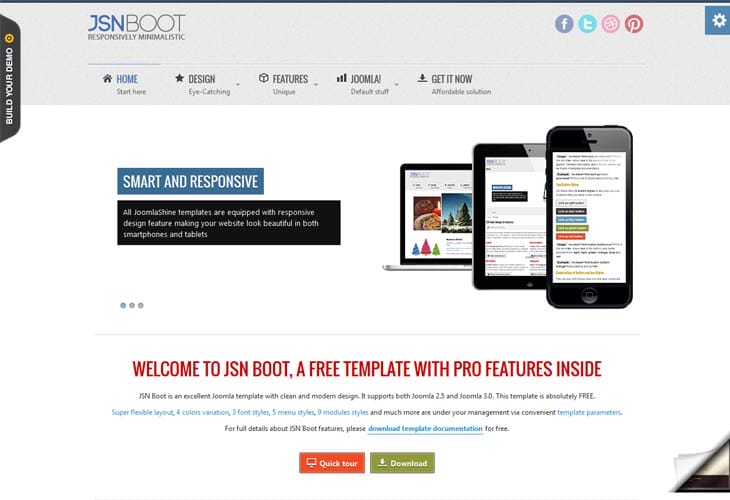 JSN Boot is a totally free Joomla! template that brings a beautiful display in wide range of devices with its responsive layout. It also includes all advanced features as in professional edition of other templates.
JSN Boot is our first Joomla! template that comes in free edition only. You will have the once-in-a-lifetime opportunity to experience the outstanding features which are made exclusively for professional edition of template. JSN Boot looks great with any website due to its easy-to-customize layout. Don't miss out the built-in responsive mechanism, RTL layout or helpful template parameters.
JSN Escape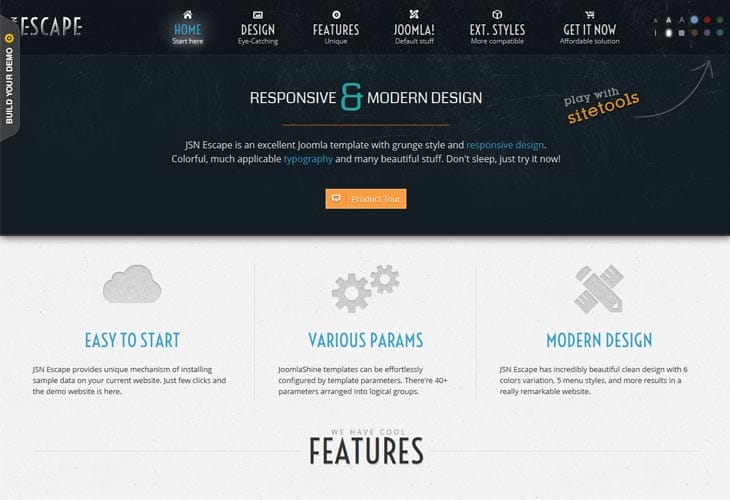 JSN Escape is a creative template with hard texture background, much applicable typography and 42 beautiful predefined icons for retina display. Let's enjoy all the powerful built-in features such as responsive design, flexible layout and great ability with popular extensions.
JSN Escape is an exotic template that stands out from the crowd with the grunge style and the retina display icons included. It is also the diversified template suited for any websites, and perfectly used for design magazine, game forum and personal portfolio. Along with the built-in file compression for faster loading speed and responsive layout, JSN Escape also works seamlessly with K2 & Kunena components.
NEWS24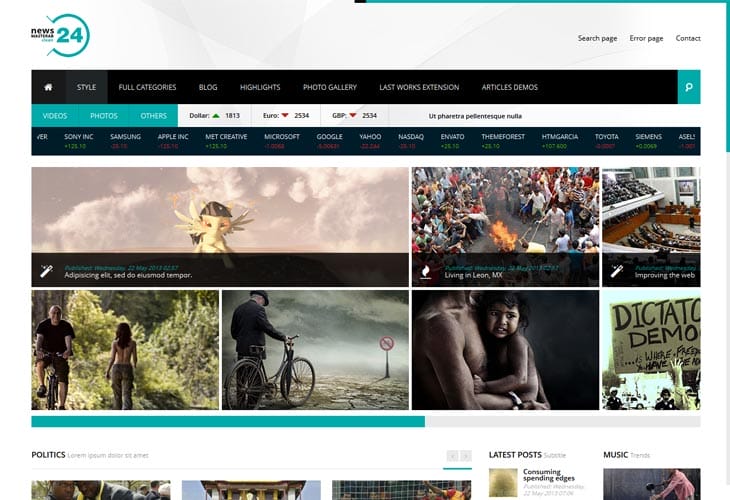 News24 is a clean coded/documented General News, Magazine, Sports News template. It comes with 4 different styles and some custom widgets for that style.It supports all modern browsers. Also for high resolution devices News24 uses retina display images.
JSN Nuru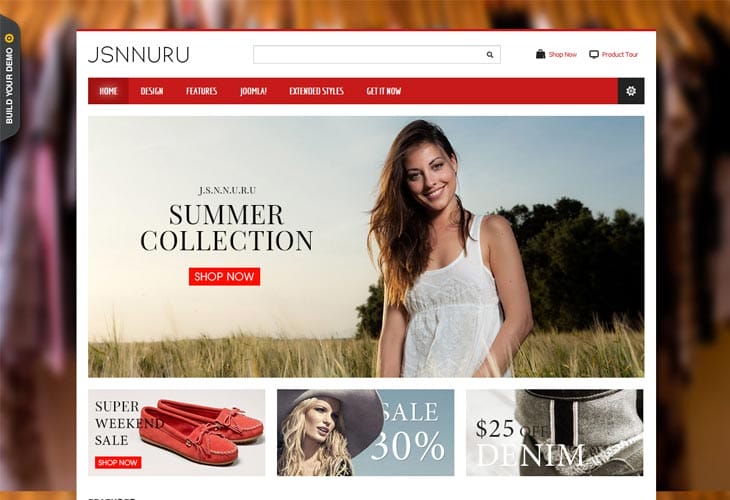 JSN Nuru has everything you need for a shopping website, especially when it is equipped with the extended style for MijoShop. Let's enjoy all the powerful built-in features such as the responsive design, flexible layout and SEO optimization.
JSN Nuru is a premium Joomla! template exclusively crafted for MijoShop – a powerful shopping-cart component. Therefore, it is aimed to serve any kind of online shopping website. JSN Nuru has neat, clean and straightforward design which visually conquers the client due to the large background, vibrant color variations and catchy graphic arrangement. Along with the built-in file compression for faster loading speed and responsive layout, JSN Nuru also works seamlessly with K2 & Kunena components.
RokSmart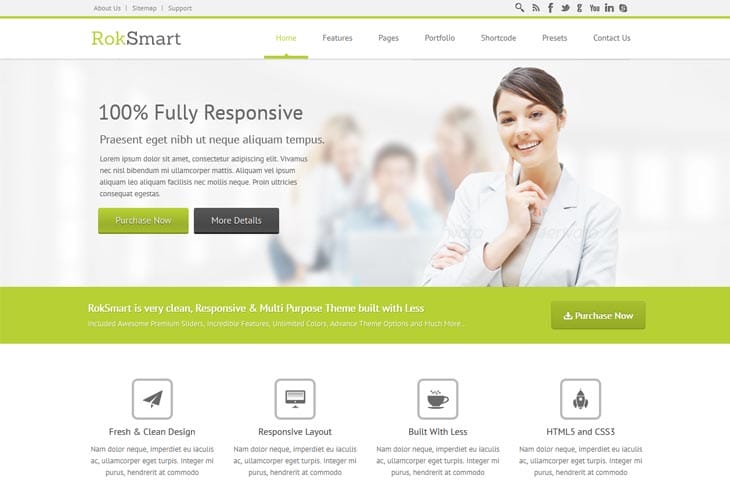 The RokSmart Template is one of the best light and feature rich responsive template for Joomla. It is so easy to develop and control of Joomla templates for you and your website. RokSmart will make your experience of creating website much smoother than ever before. This Template ready for use Industries, School, hospital, corporative, travel, fashion, jewellery and any business.
Bismuth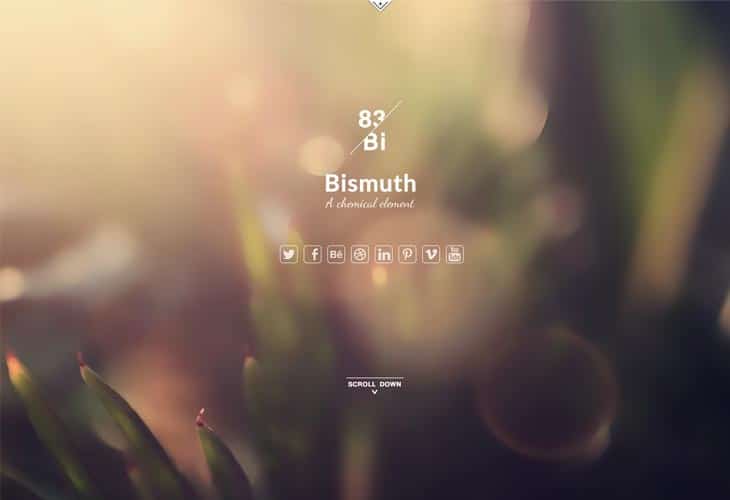 Bismuth is a sophisticated and clean responsive Joomla One Page template and no one better than you to describe this theme. So, check out the preview and enjoy.
Mazaya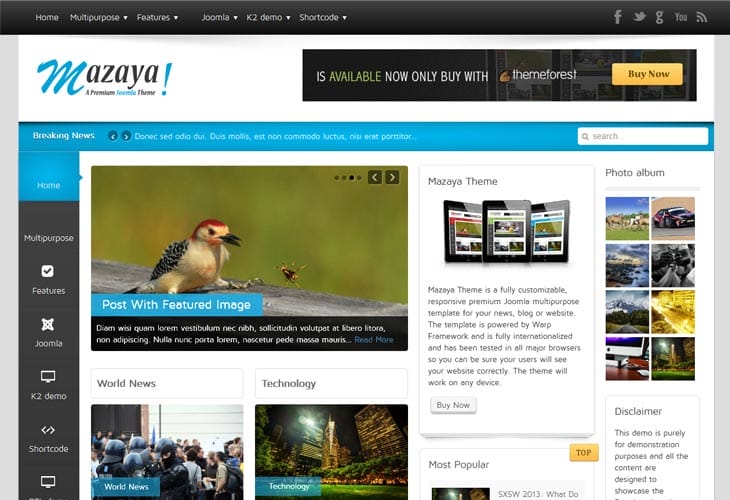 Mazaya is a powerful responsive and multipurpose Joomla templates for your news or magazine, blog website, it is designed in a clean and minimalistic style and packed with all the features you need to present yourself with style and professionalism.
Mazaya is built on Warp framework, which gives the theme an immeasurable weight of flexibility and agility, fast loading – using built in compression of files, data URIs and gzip minification.With all the styling options provided you can easily customize the appearance of the theme and build you own custom skin.